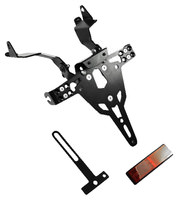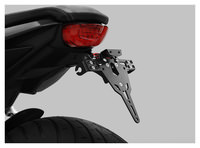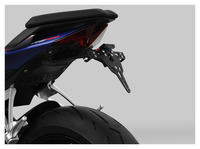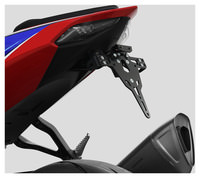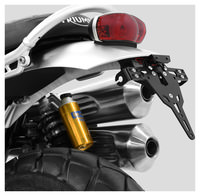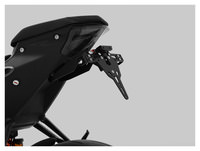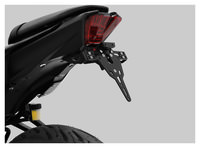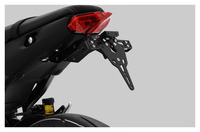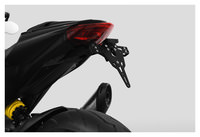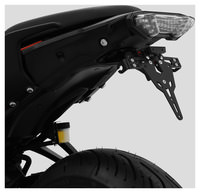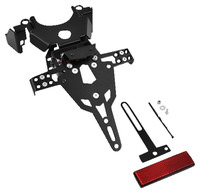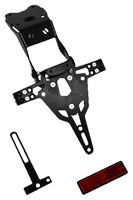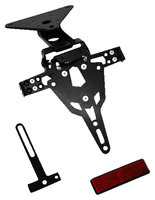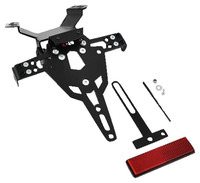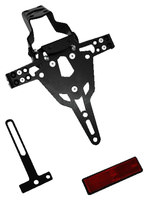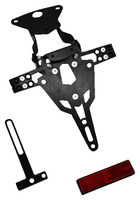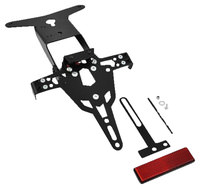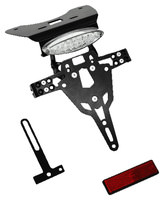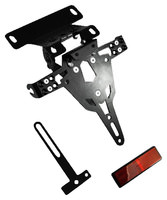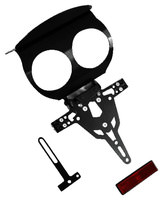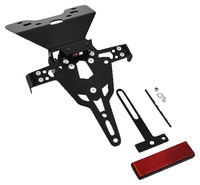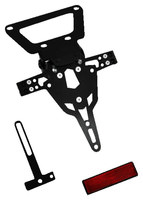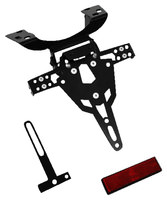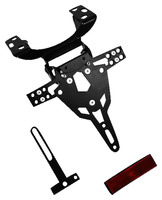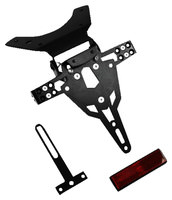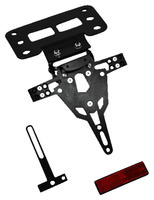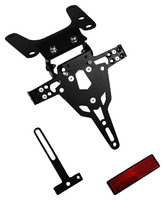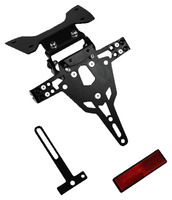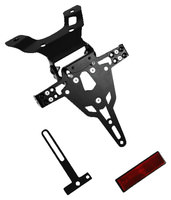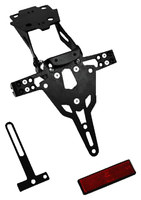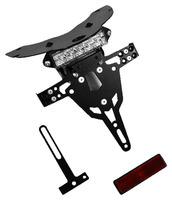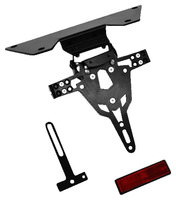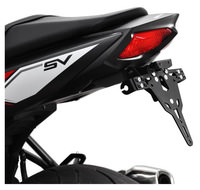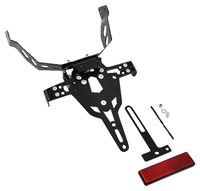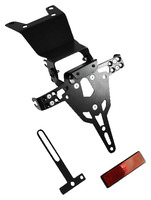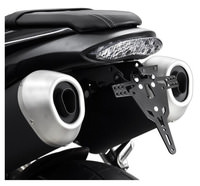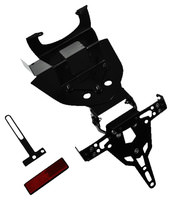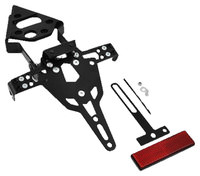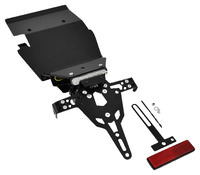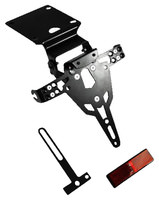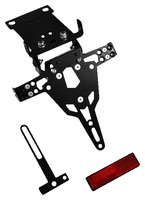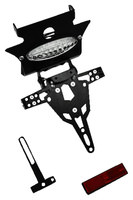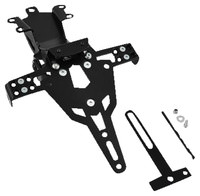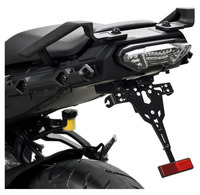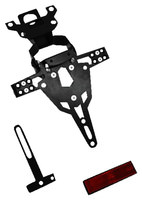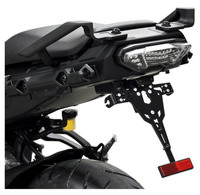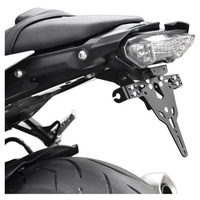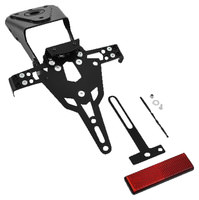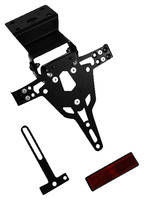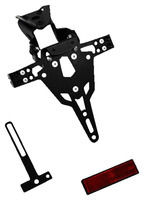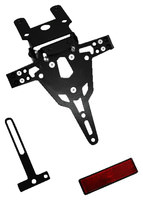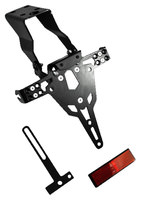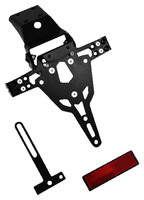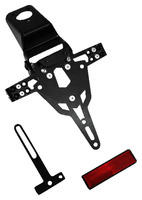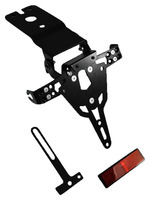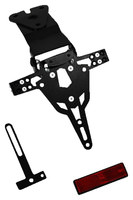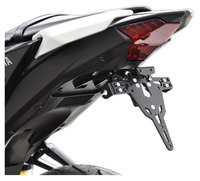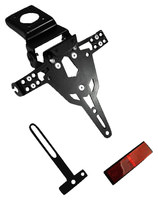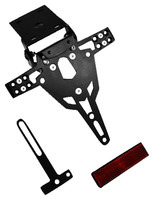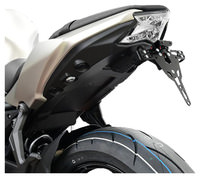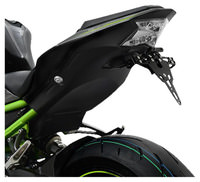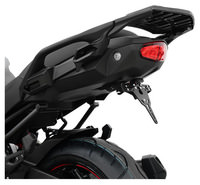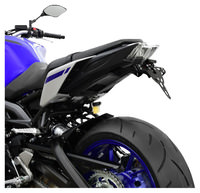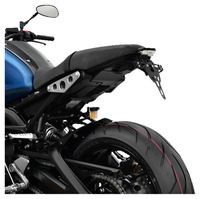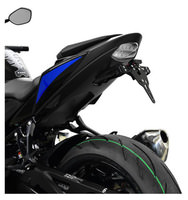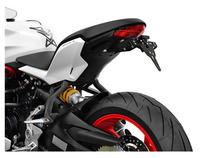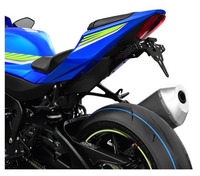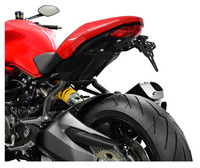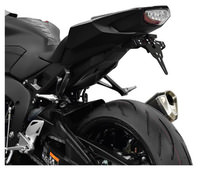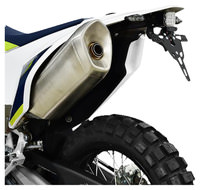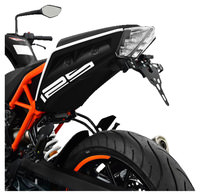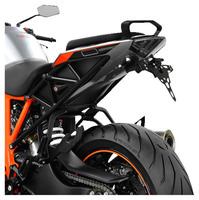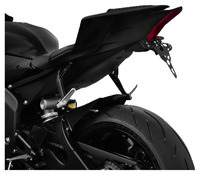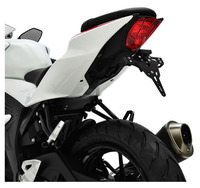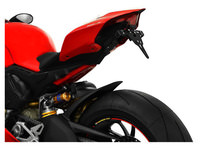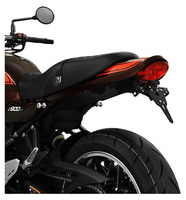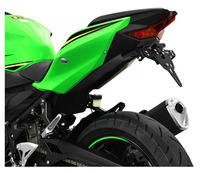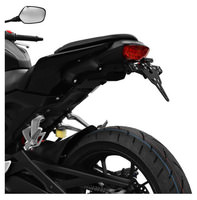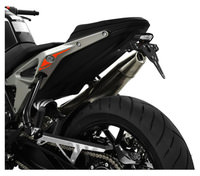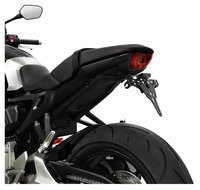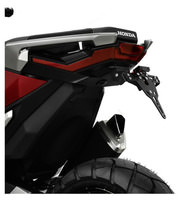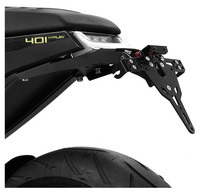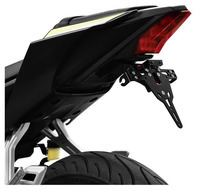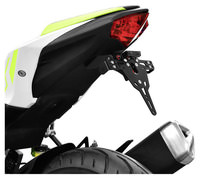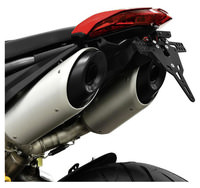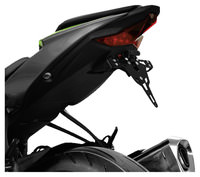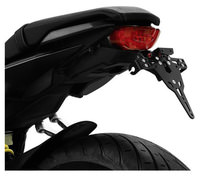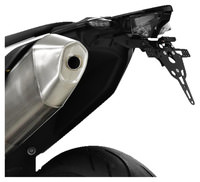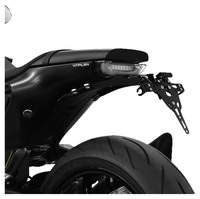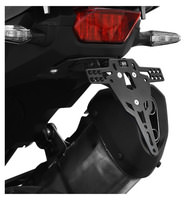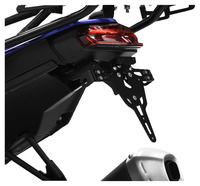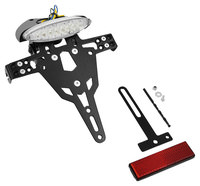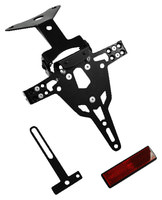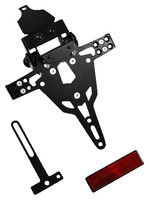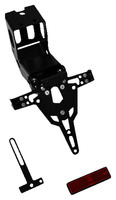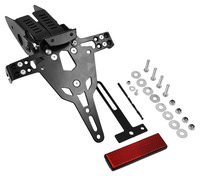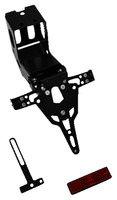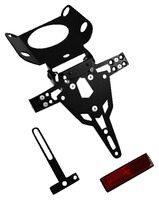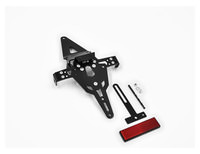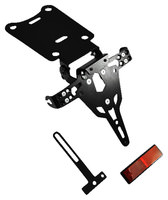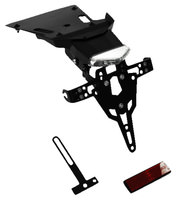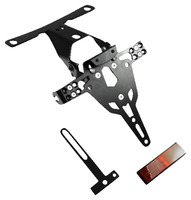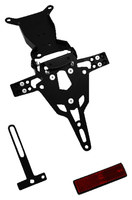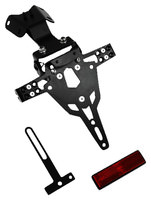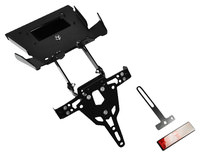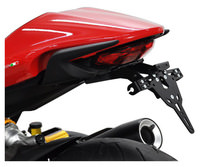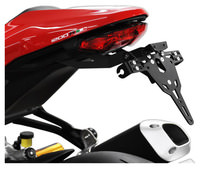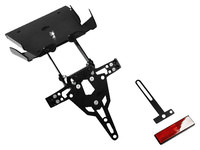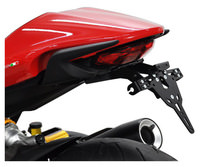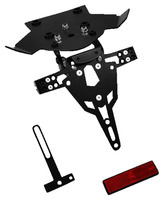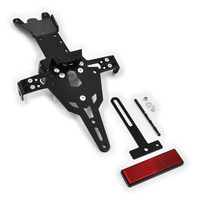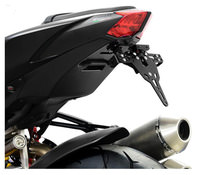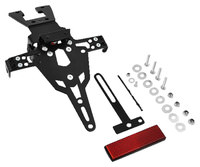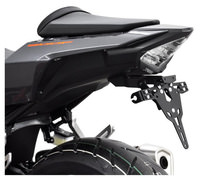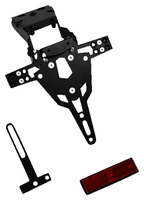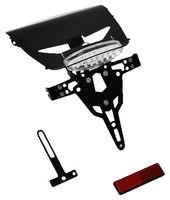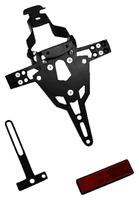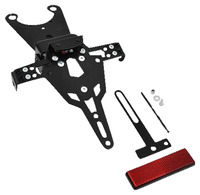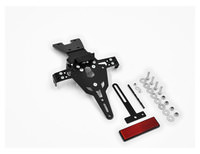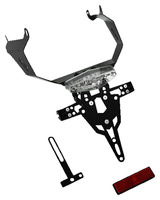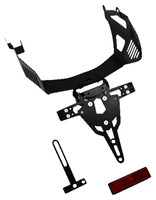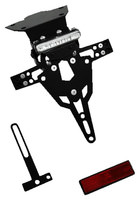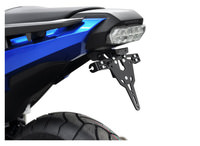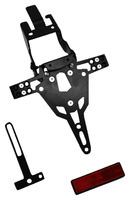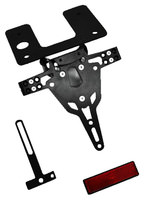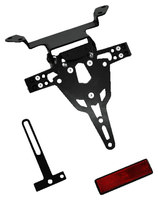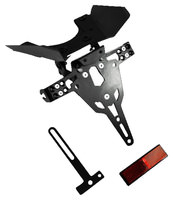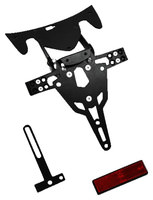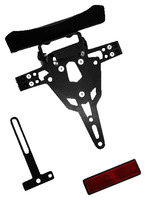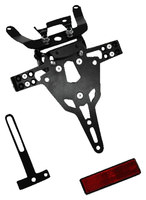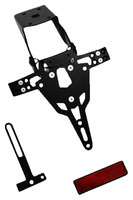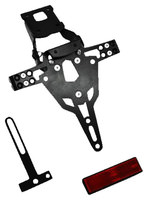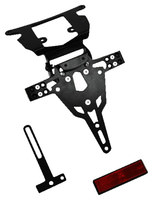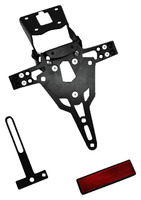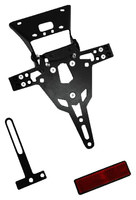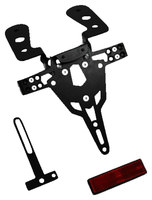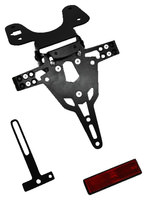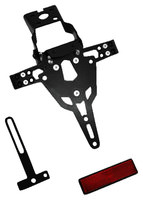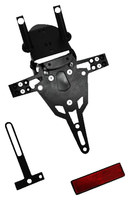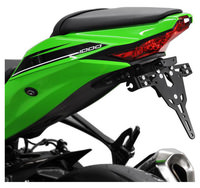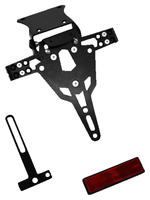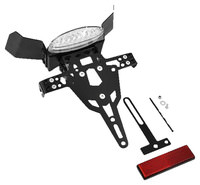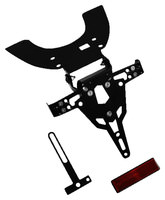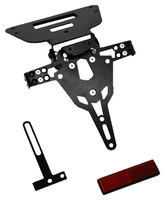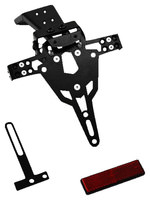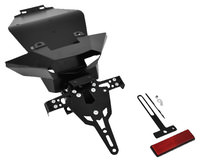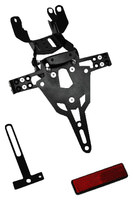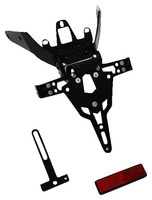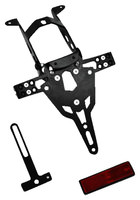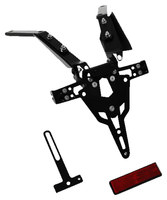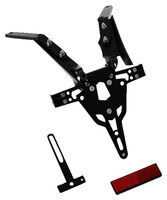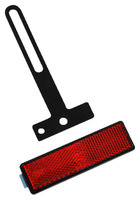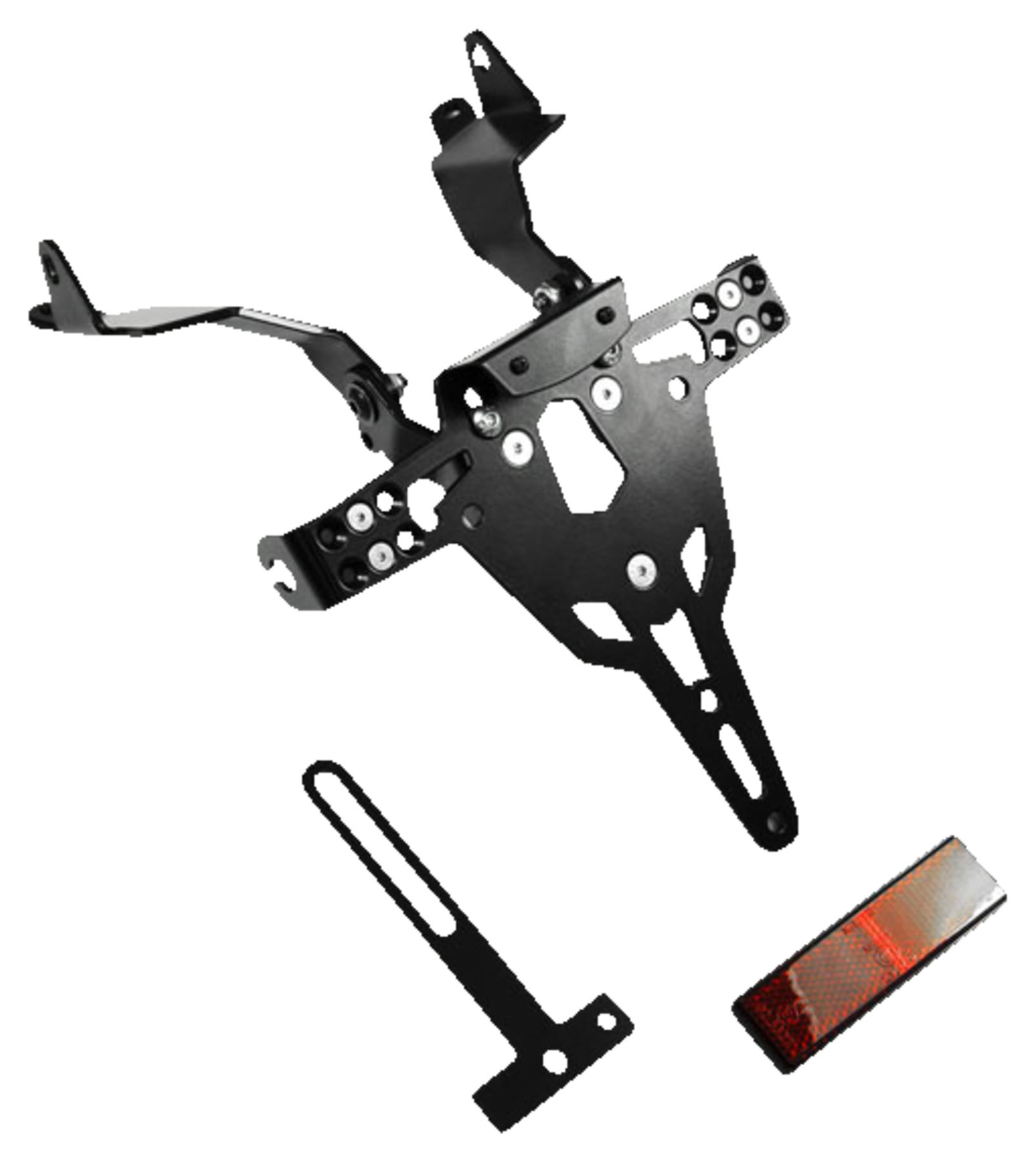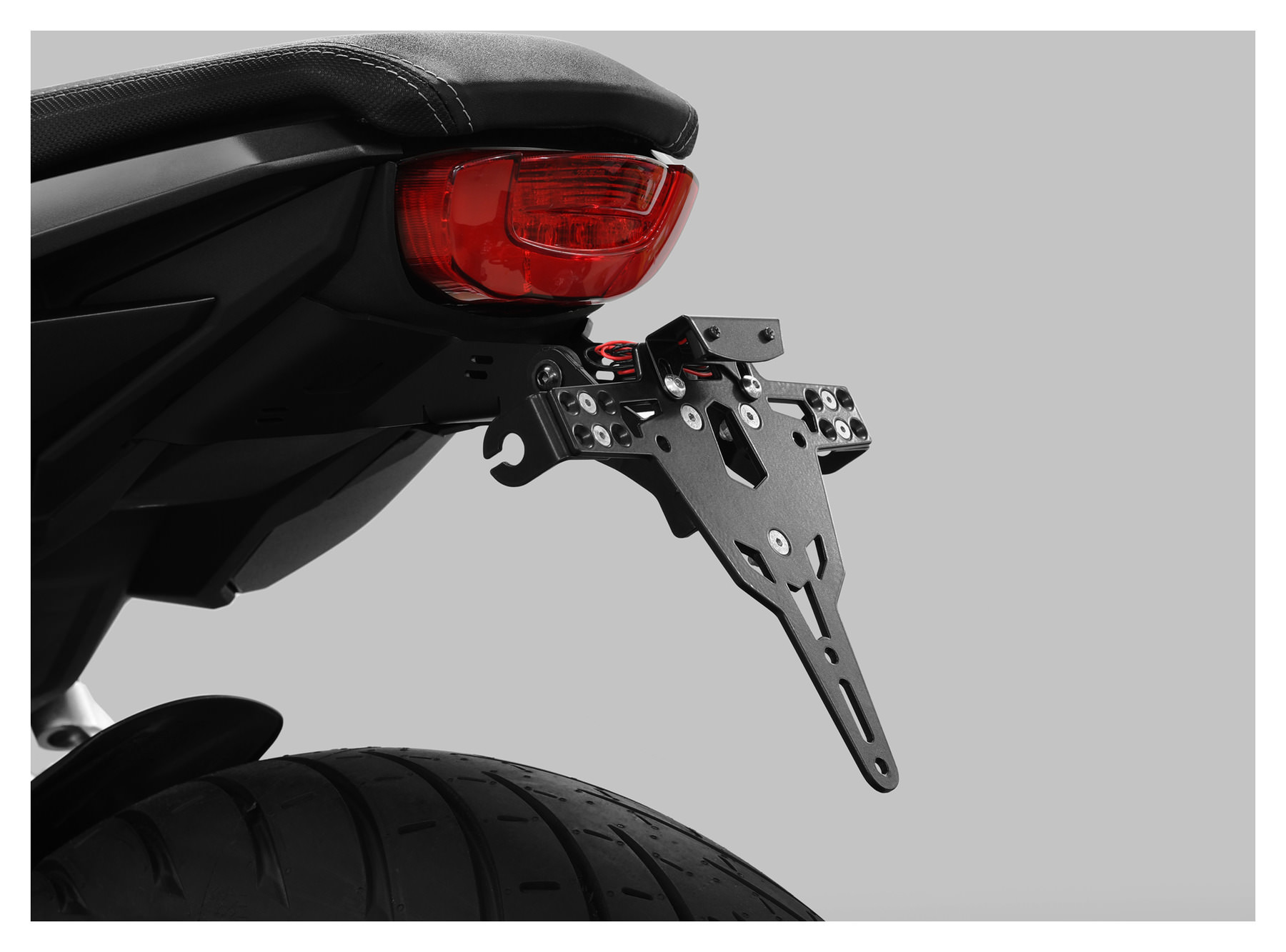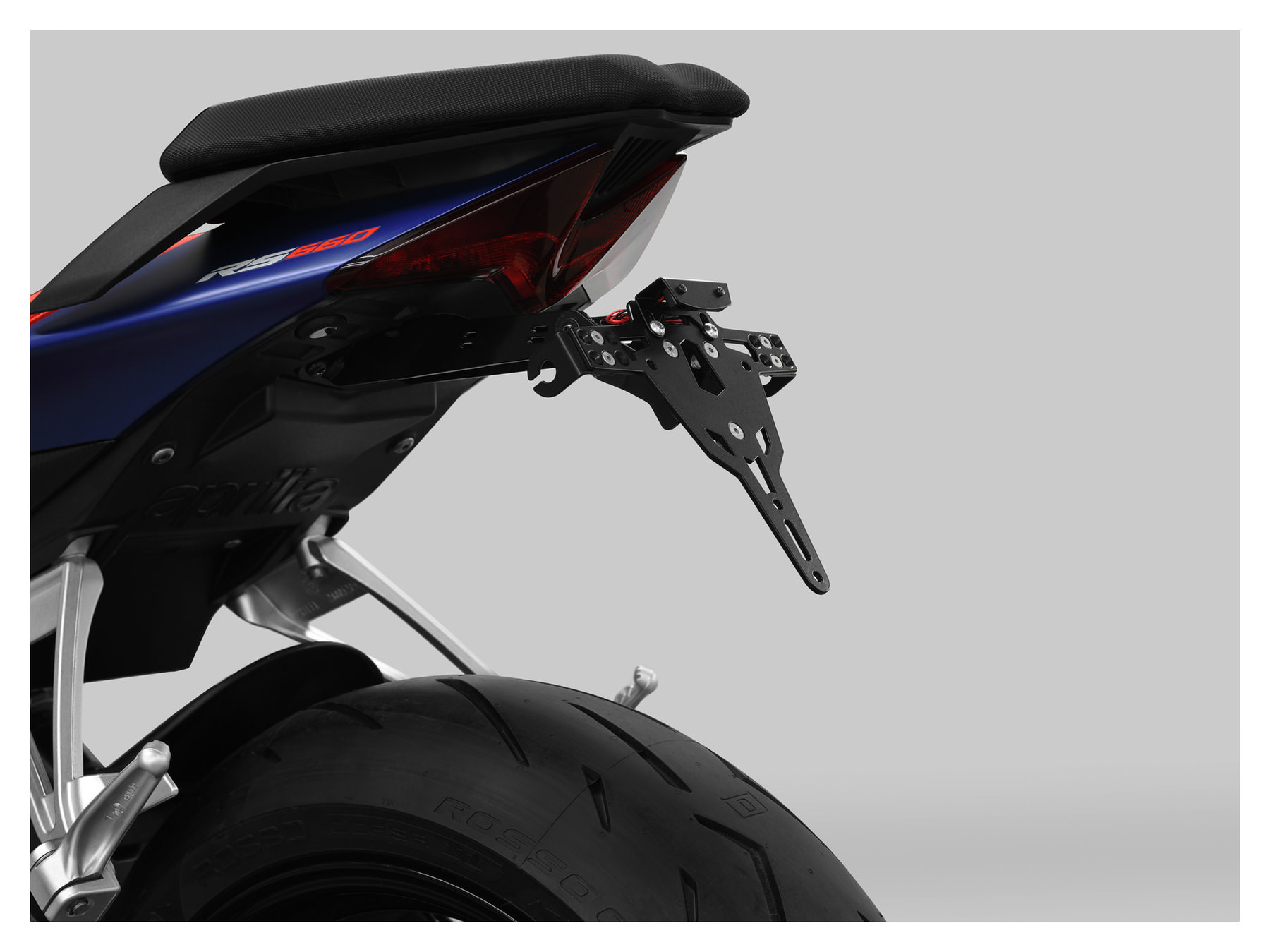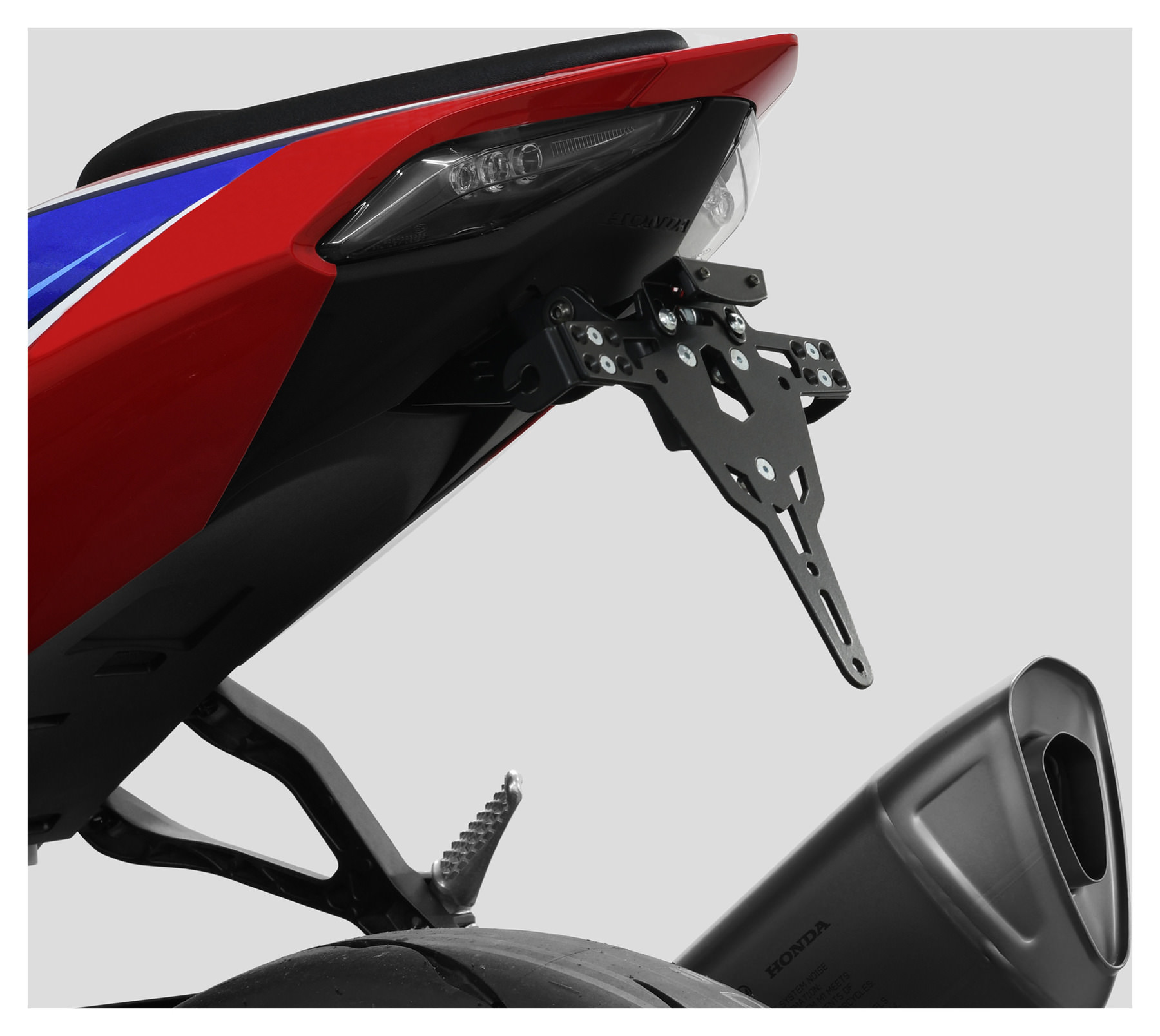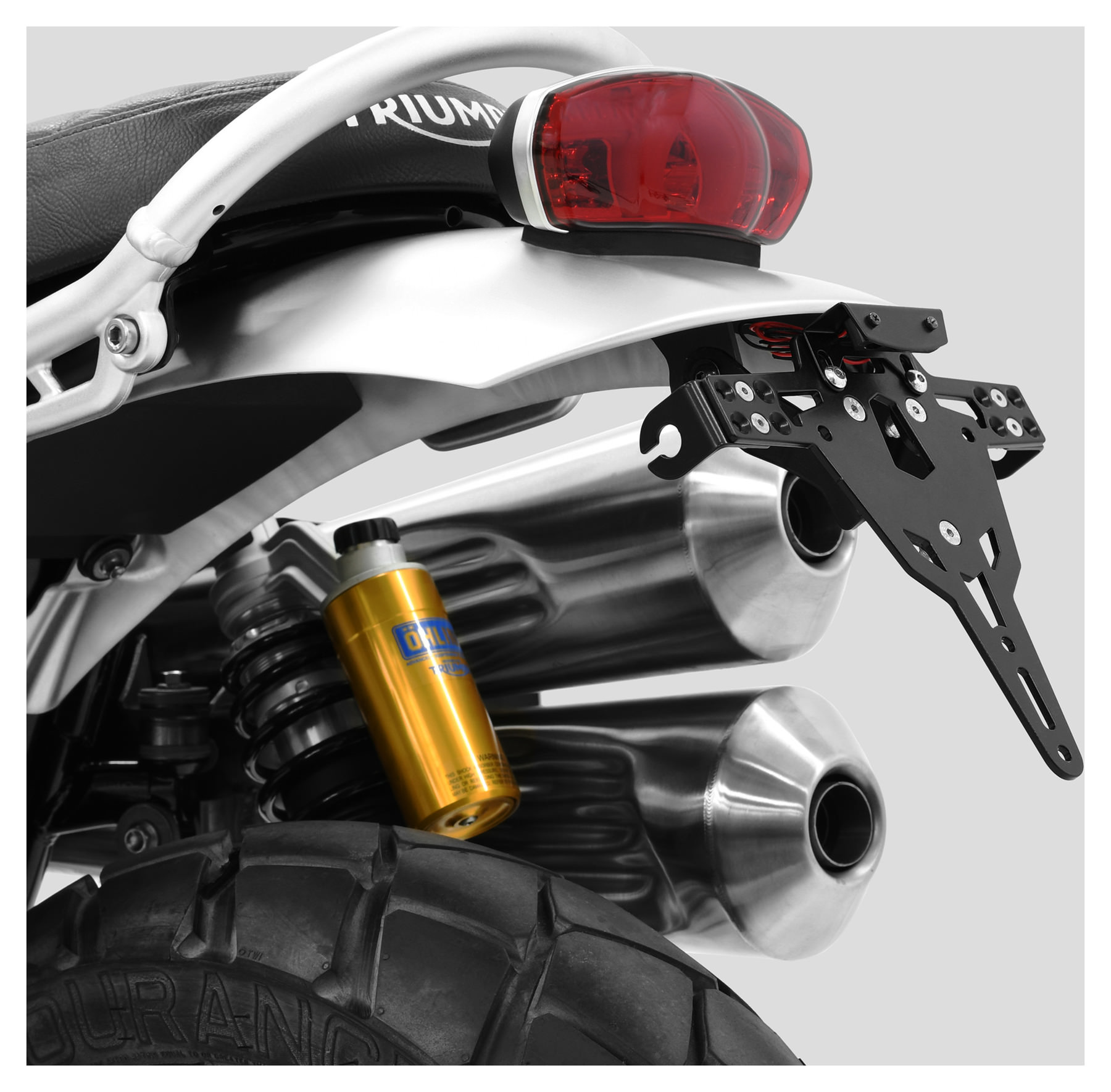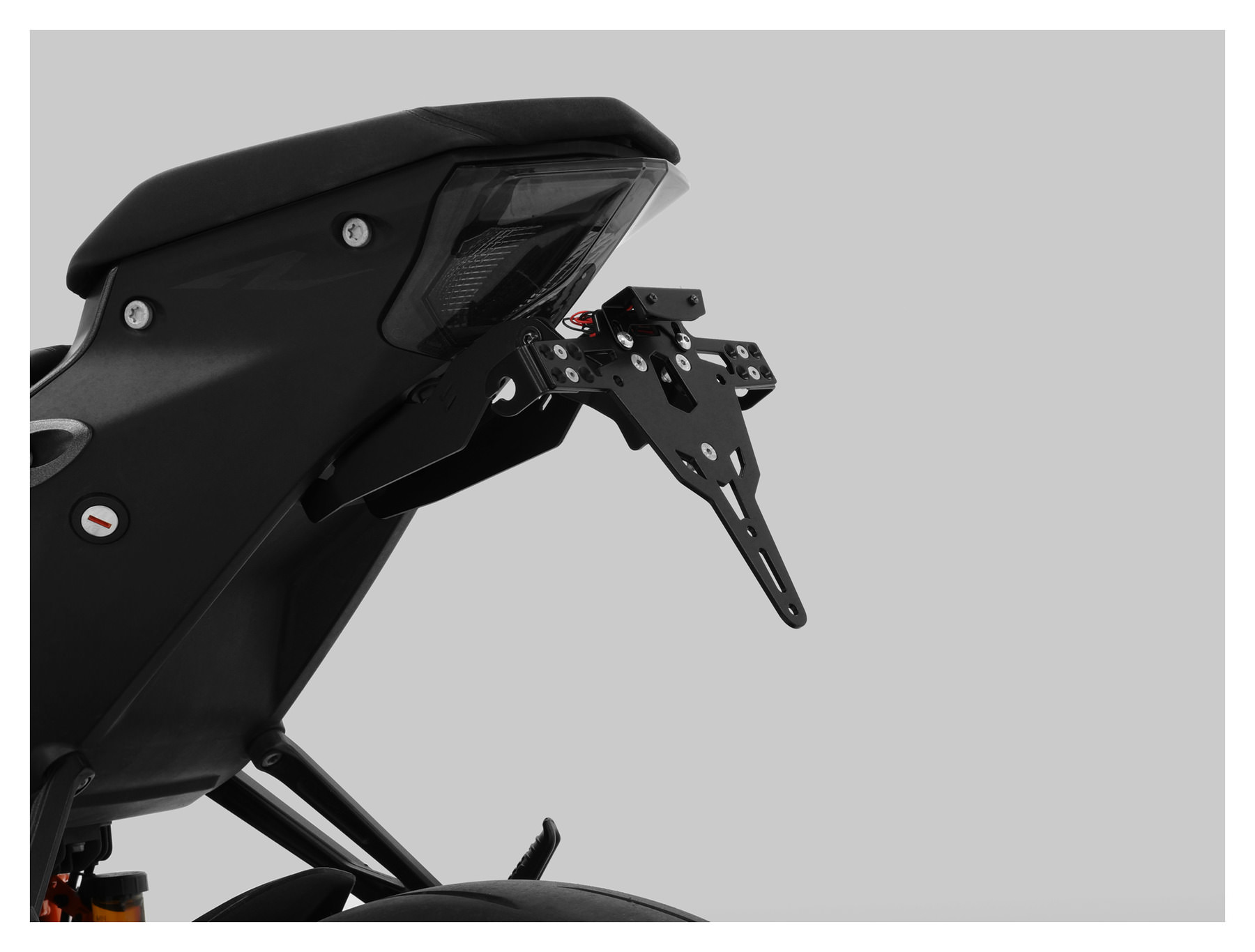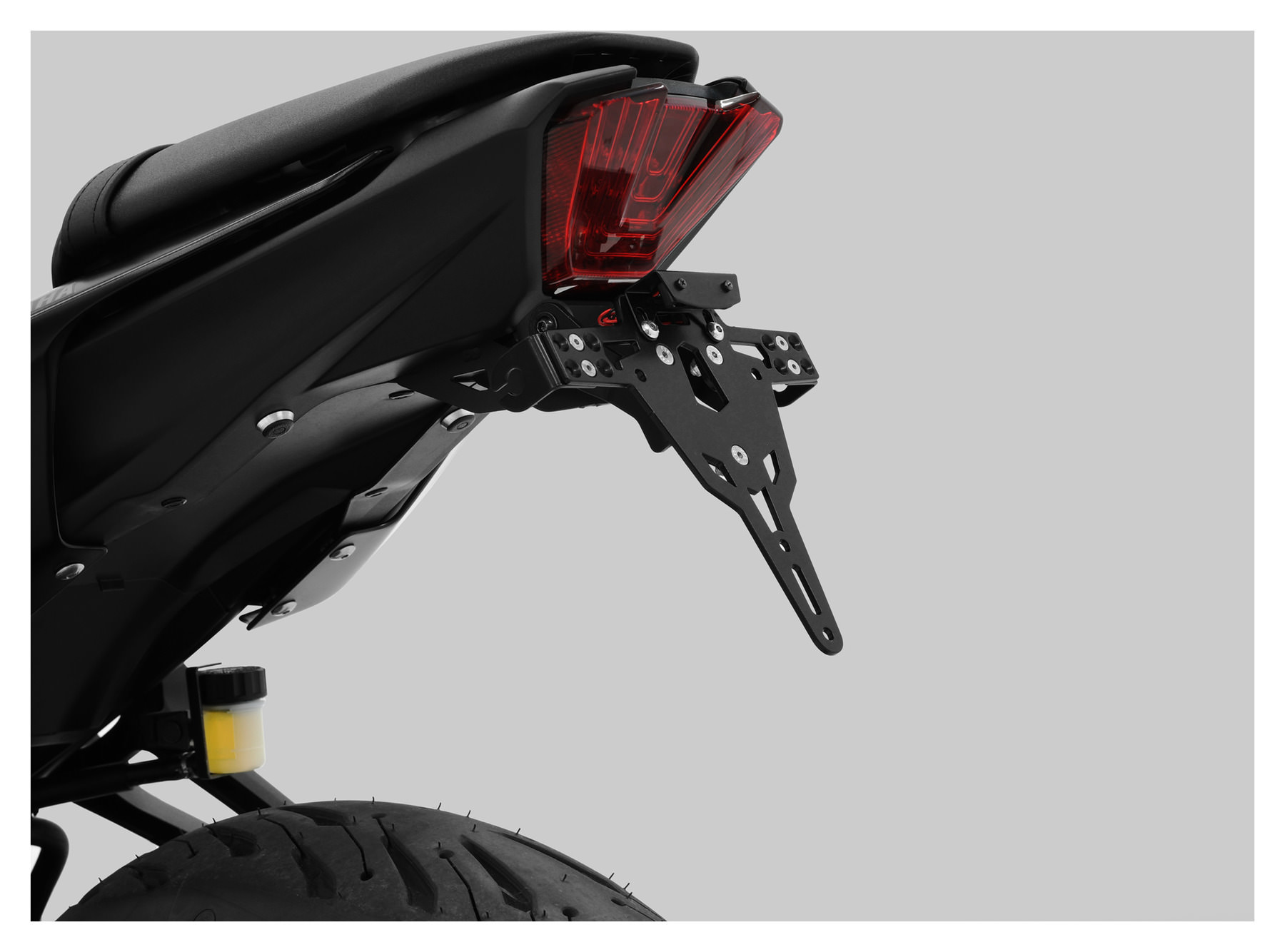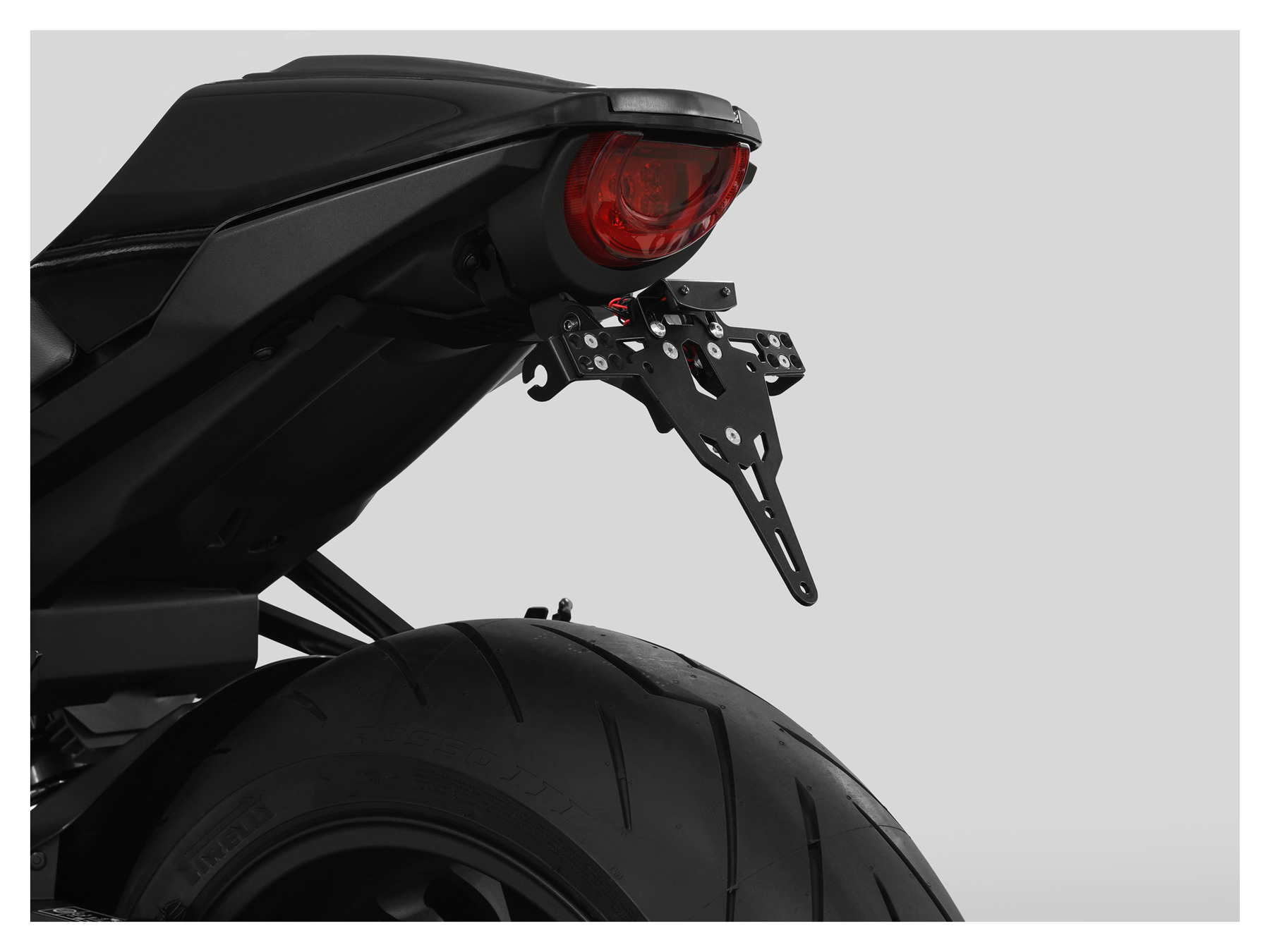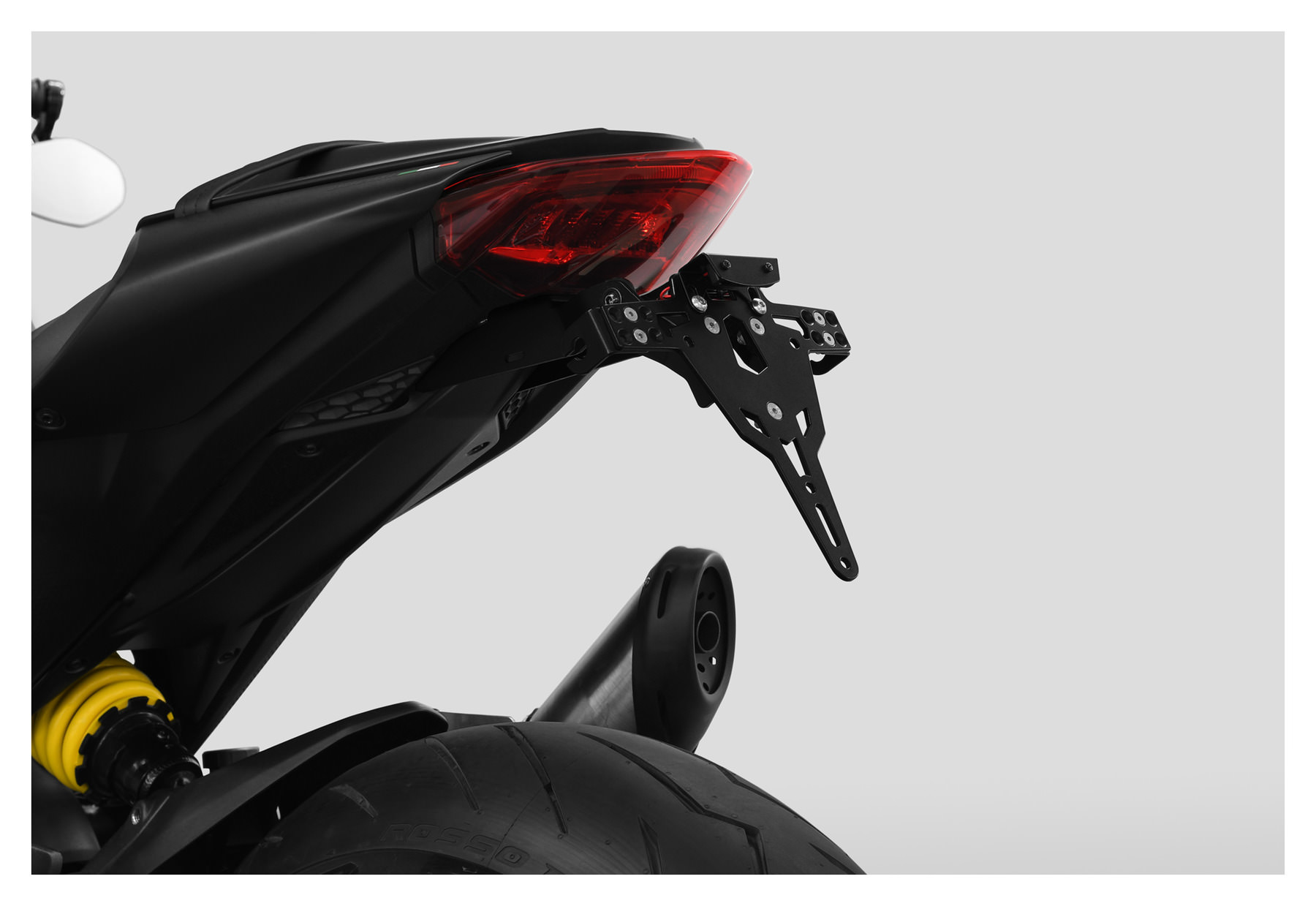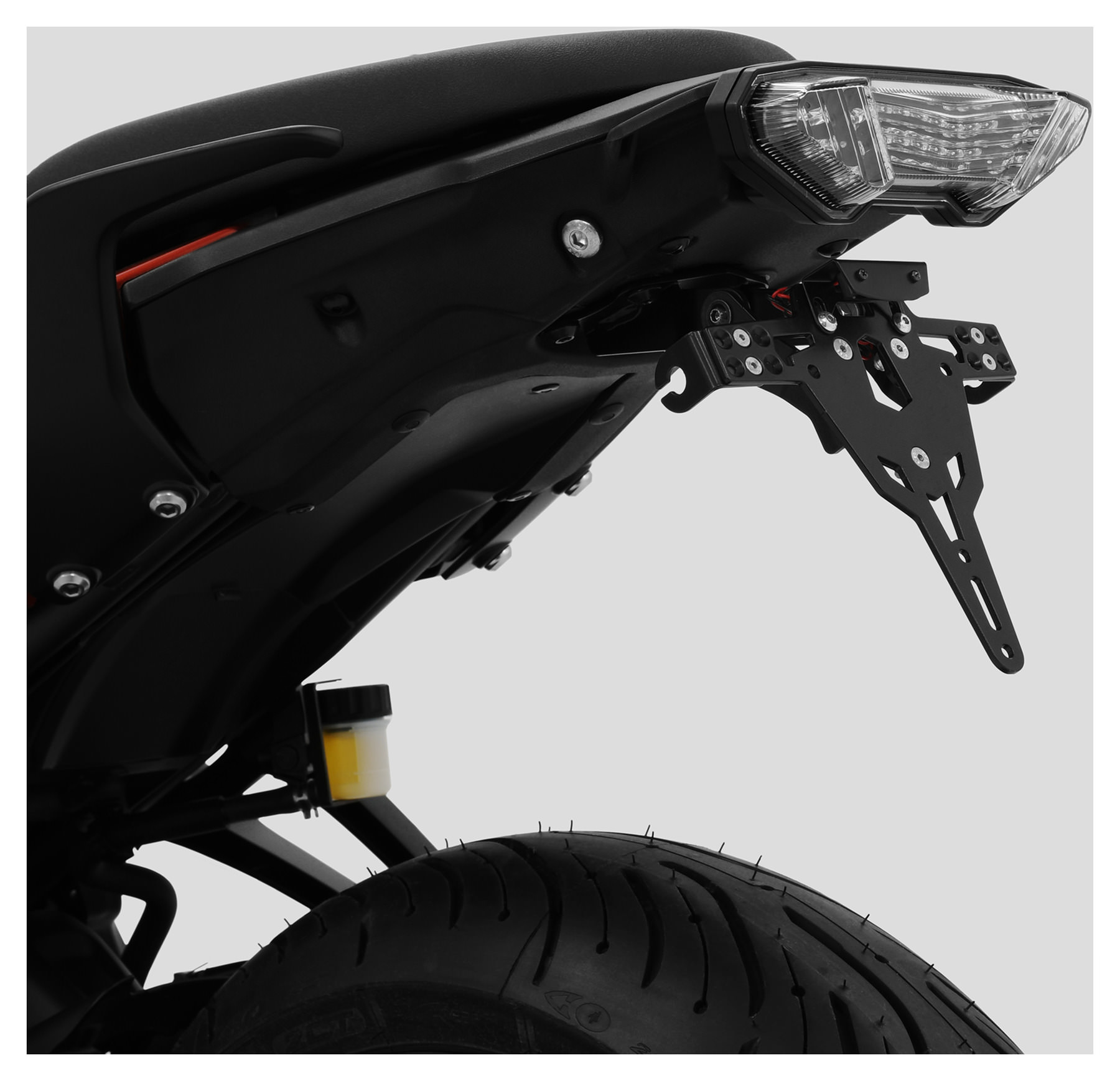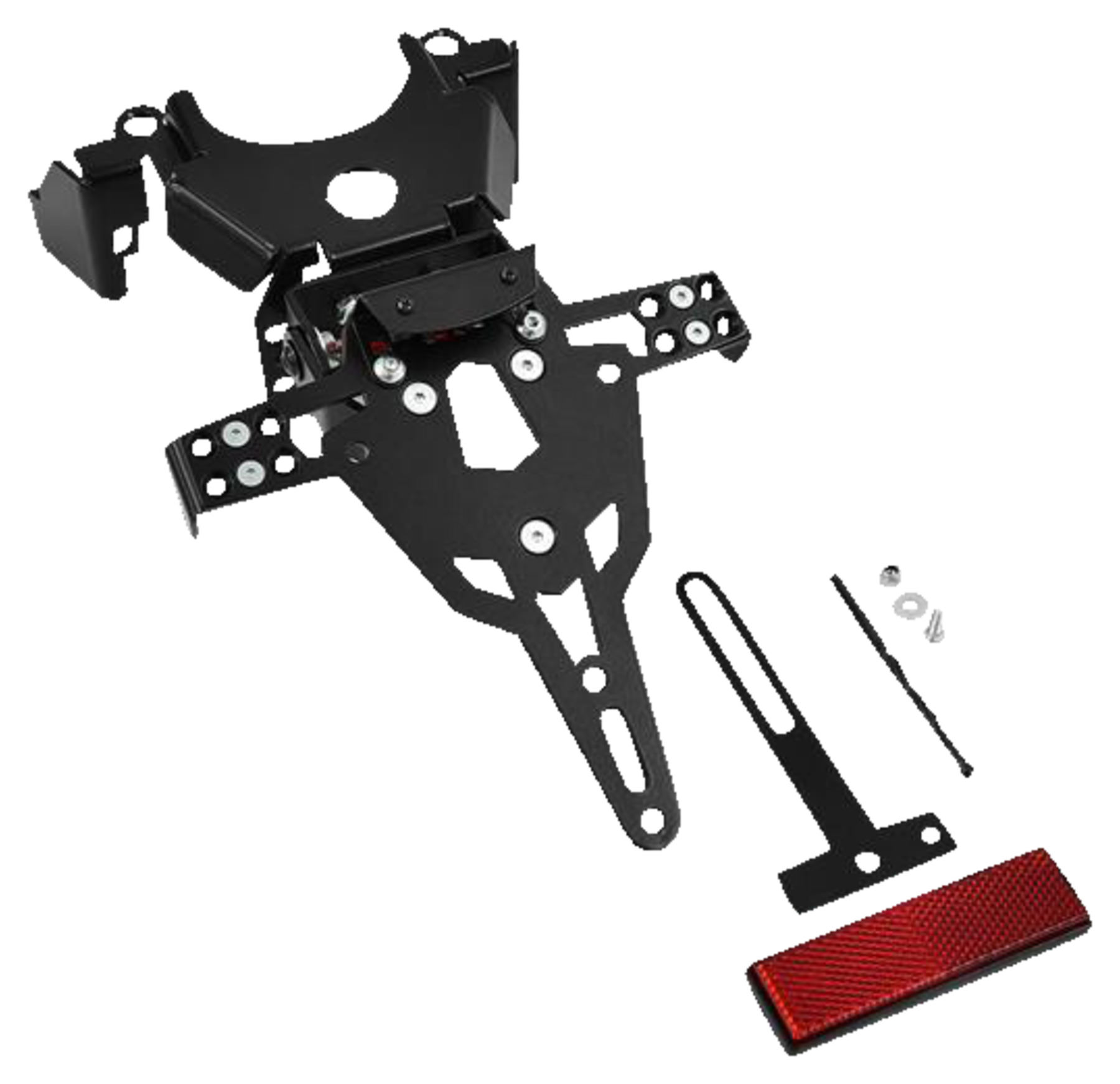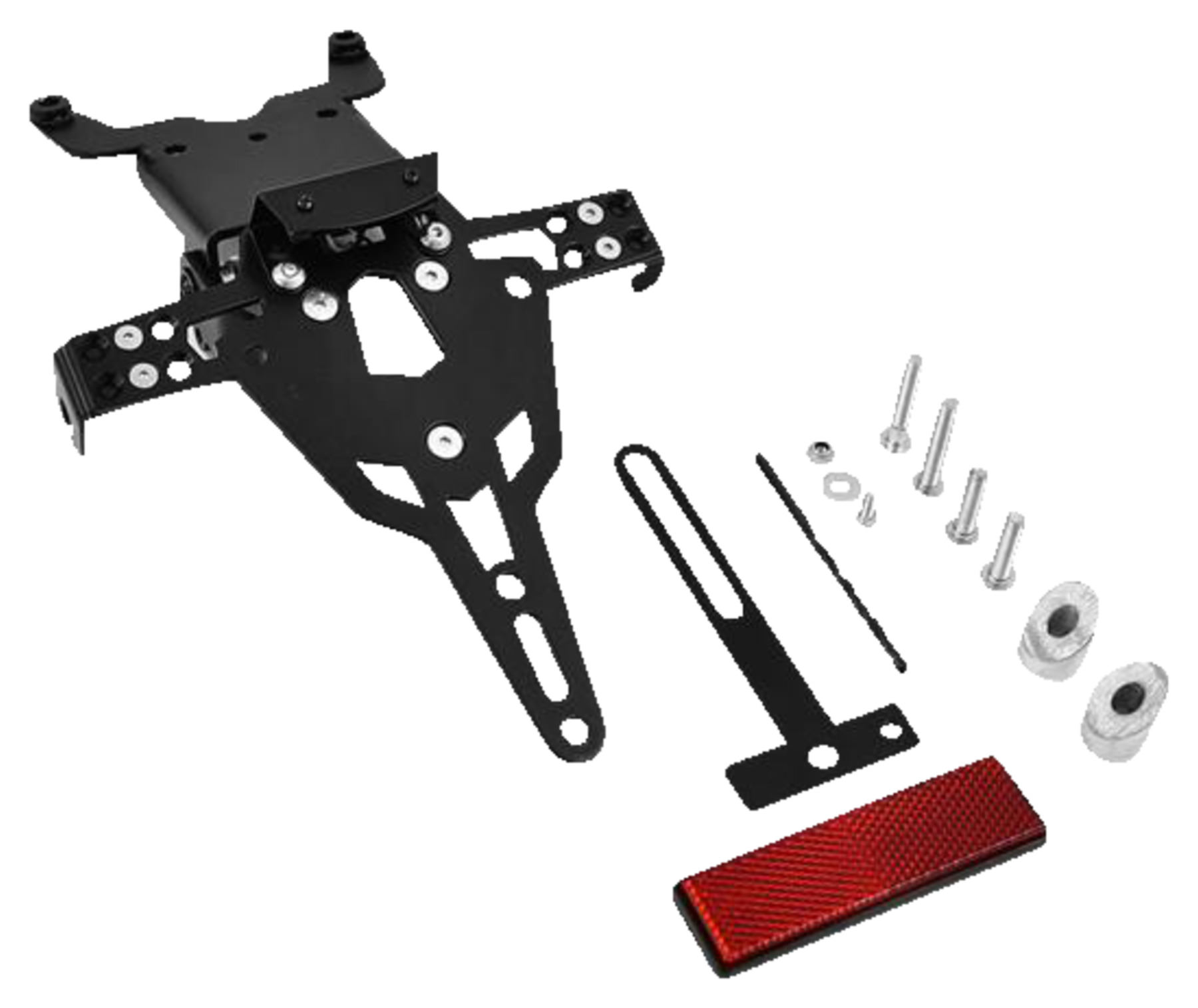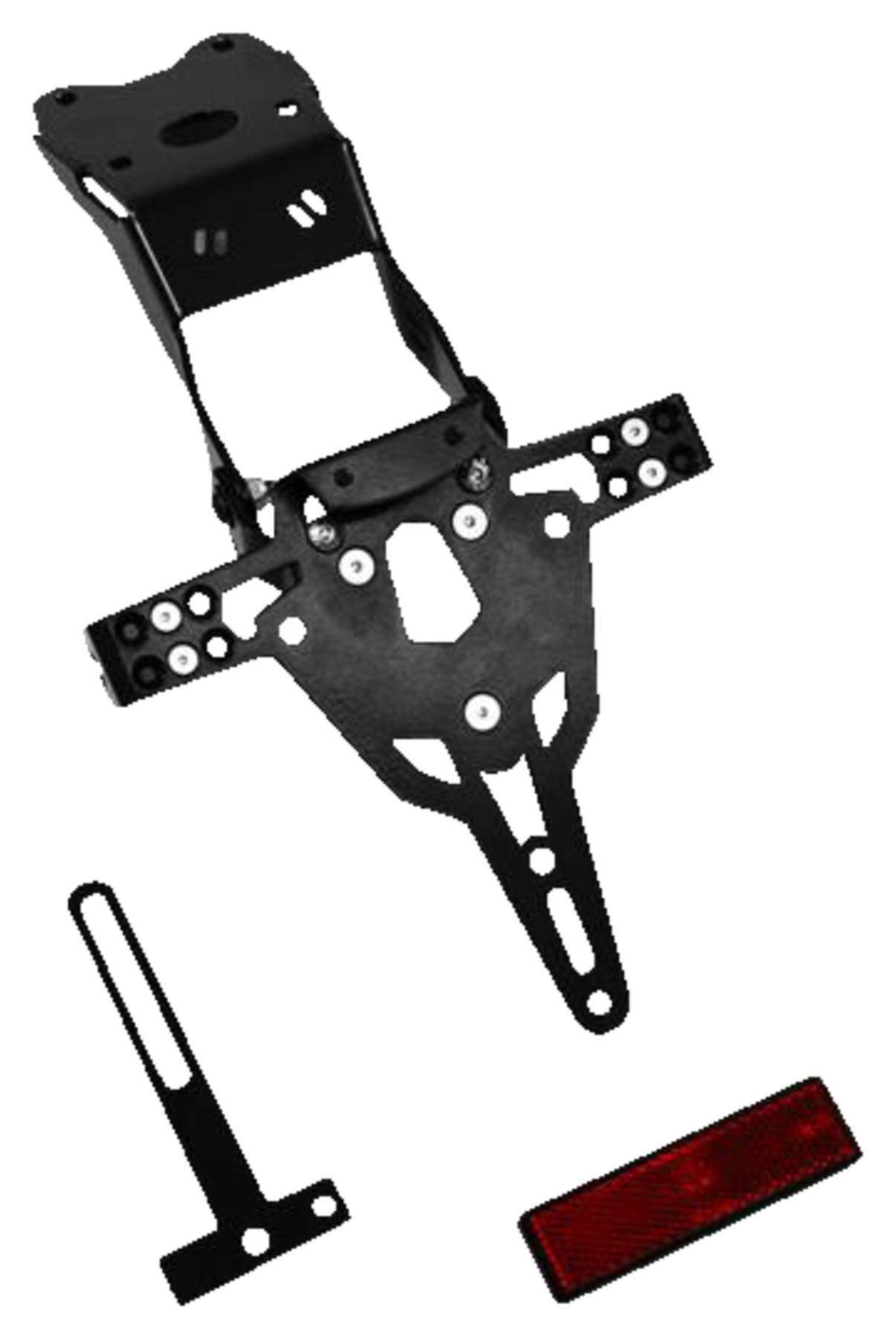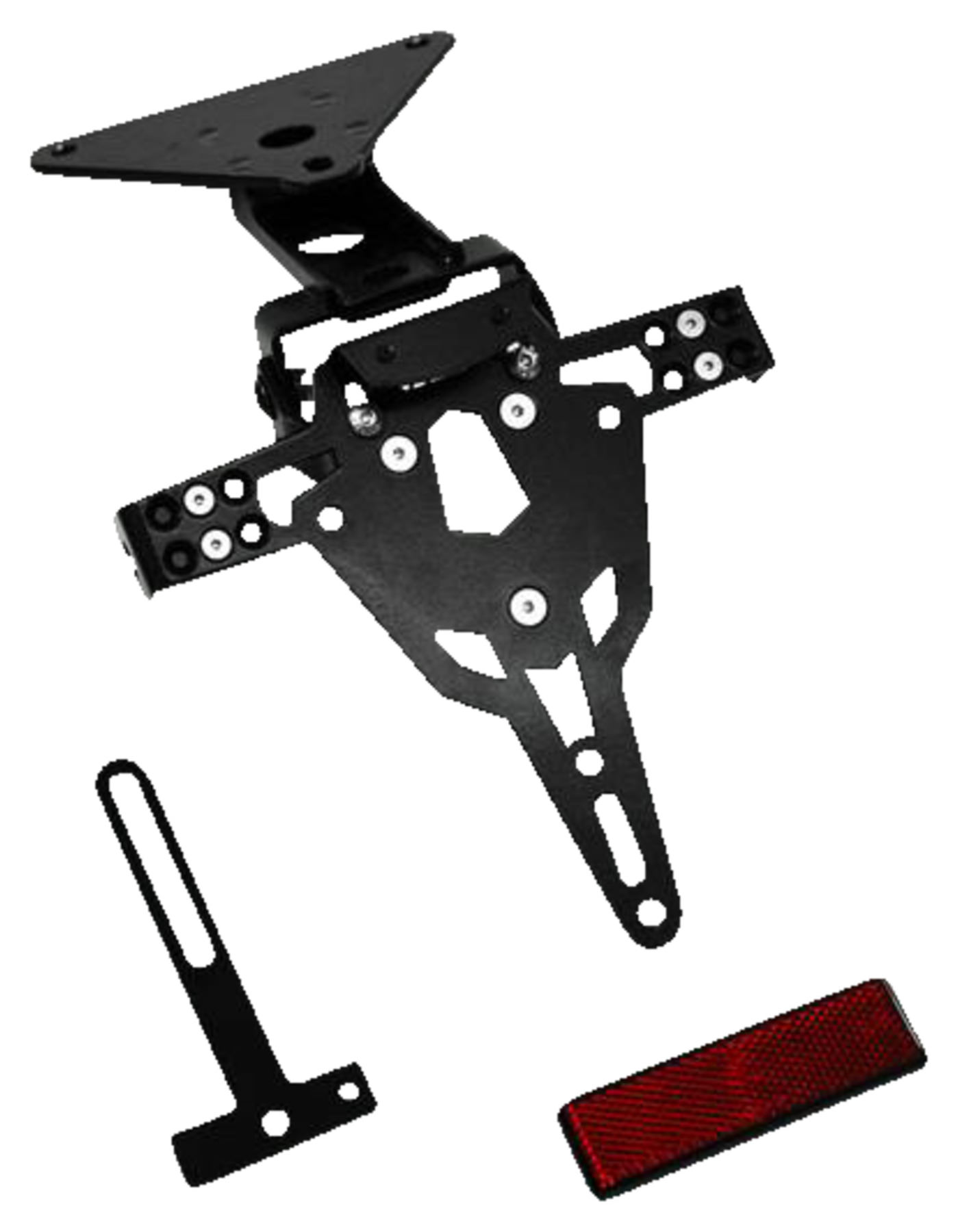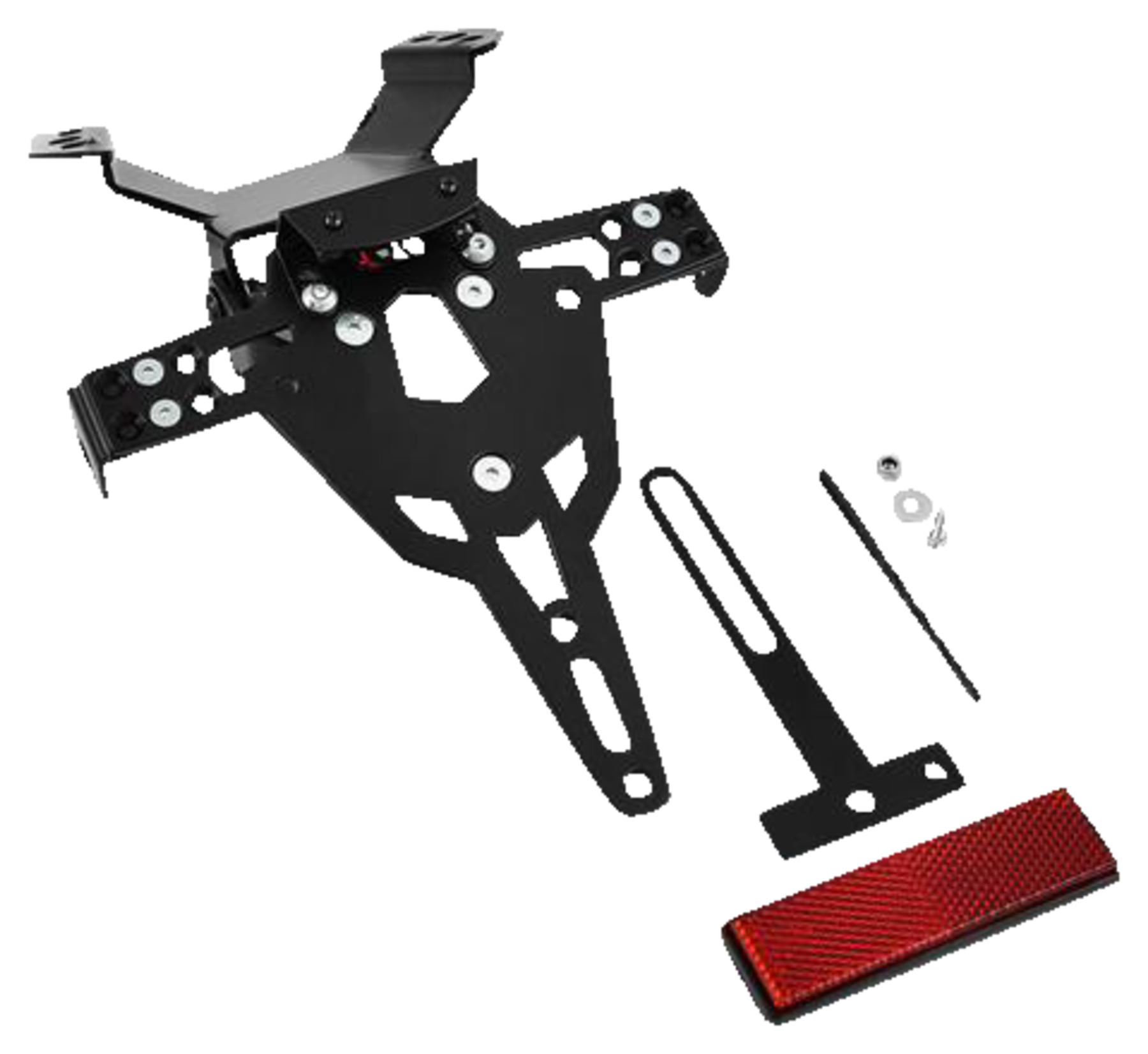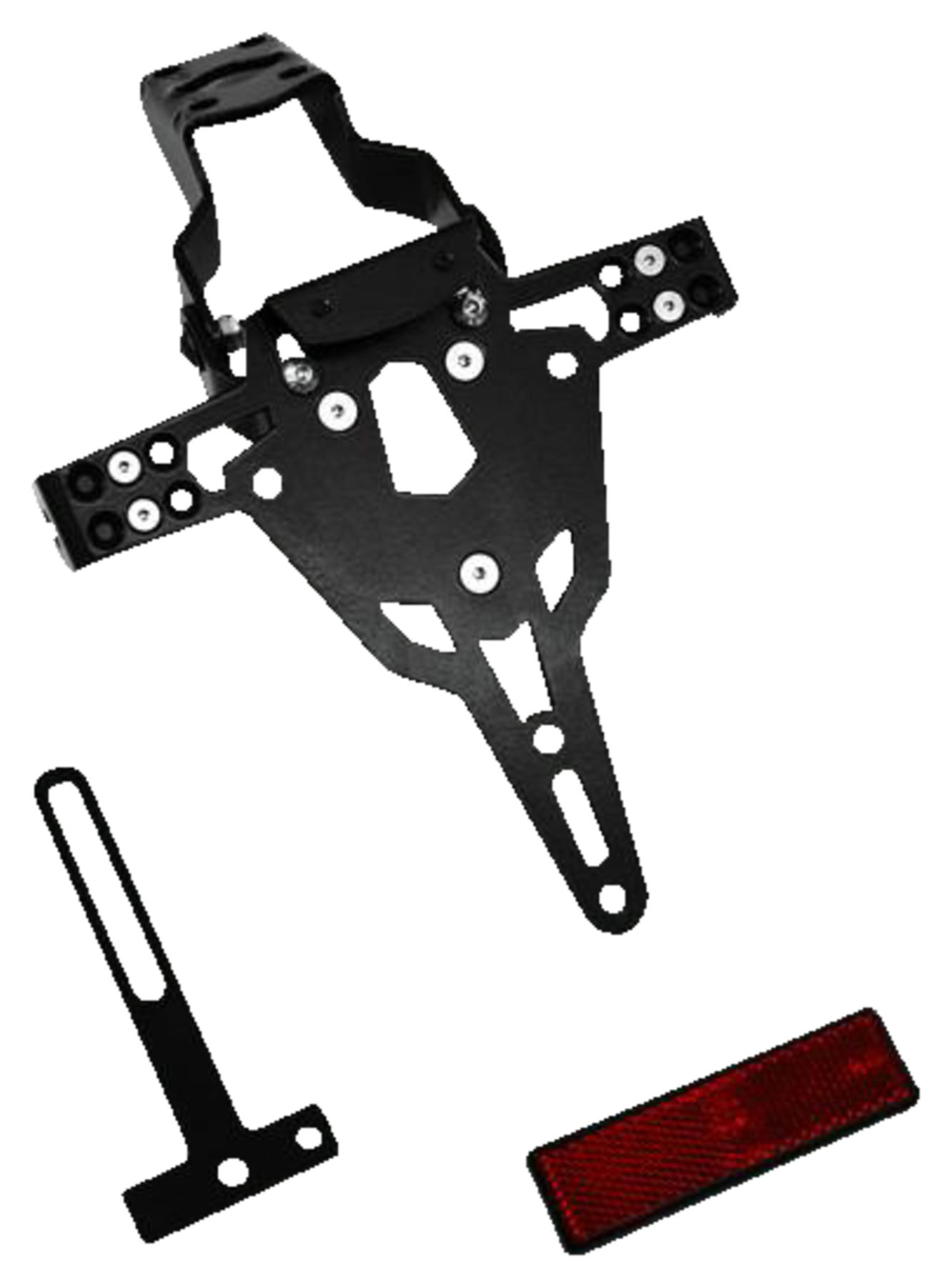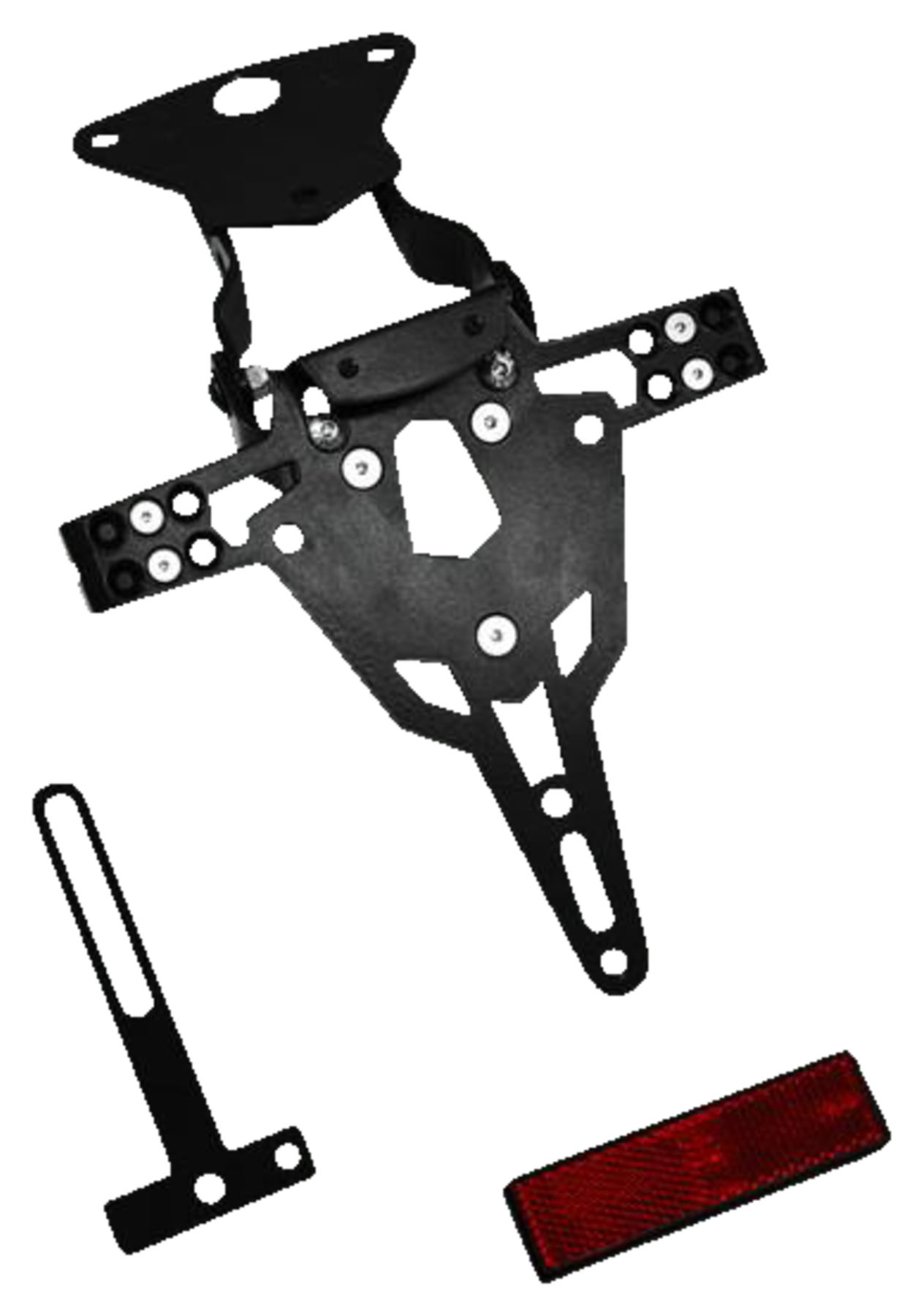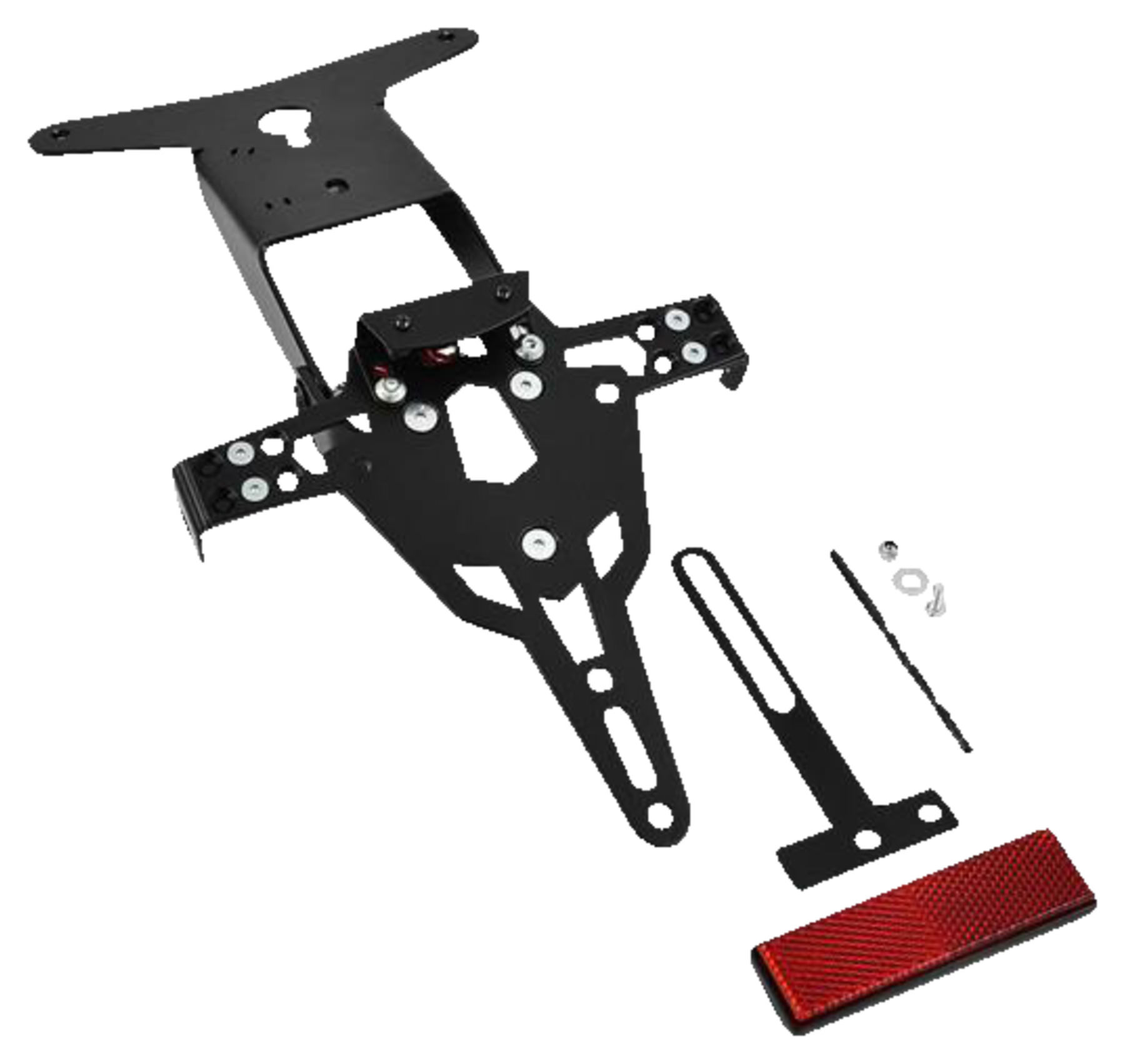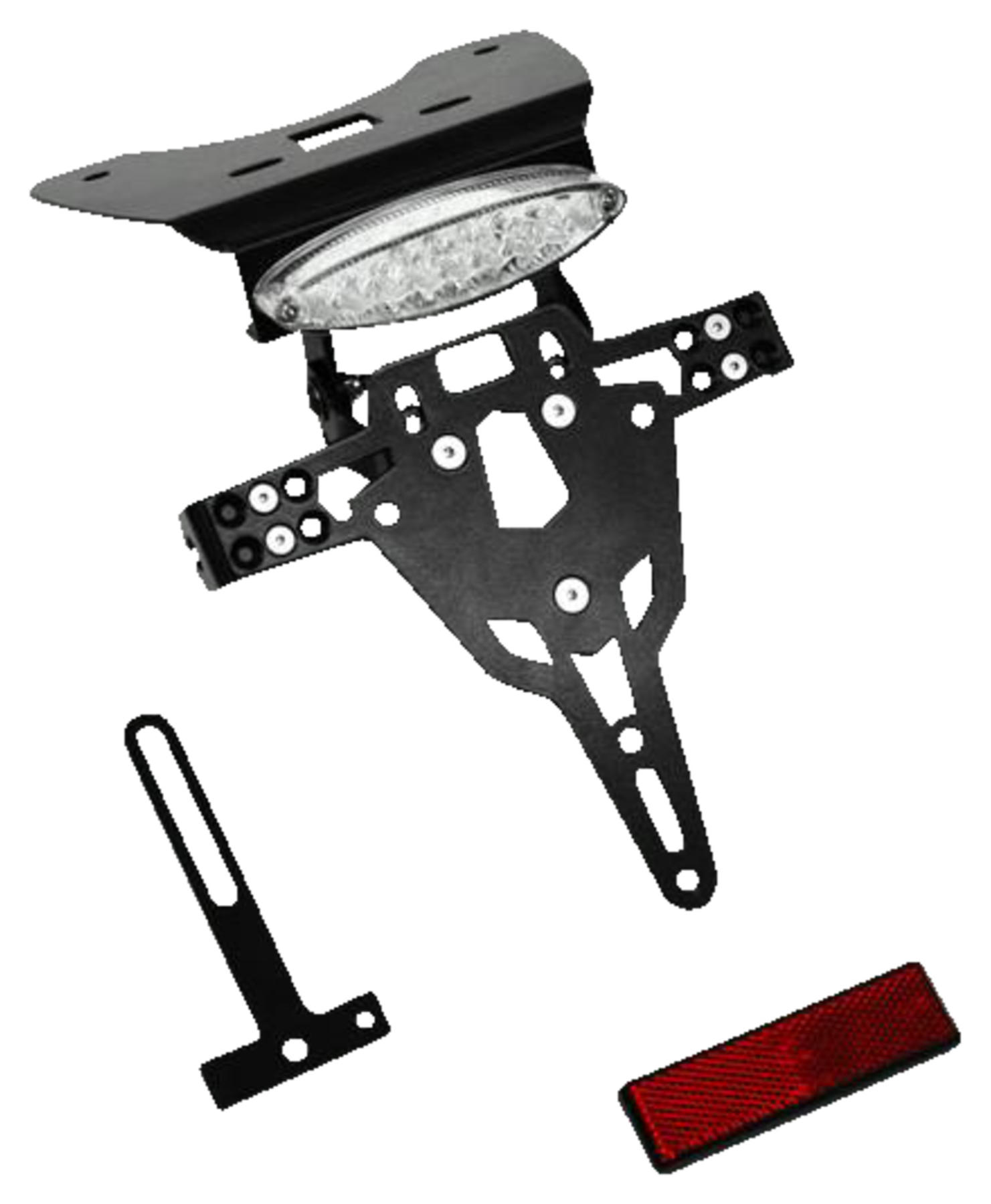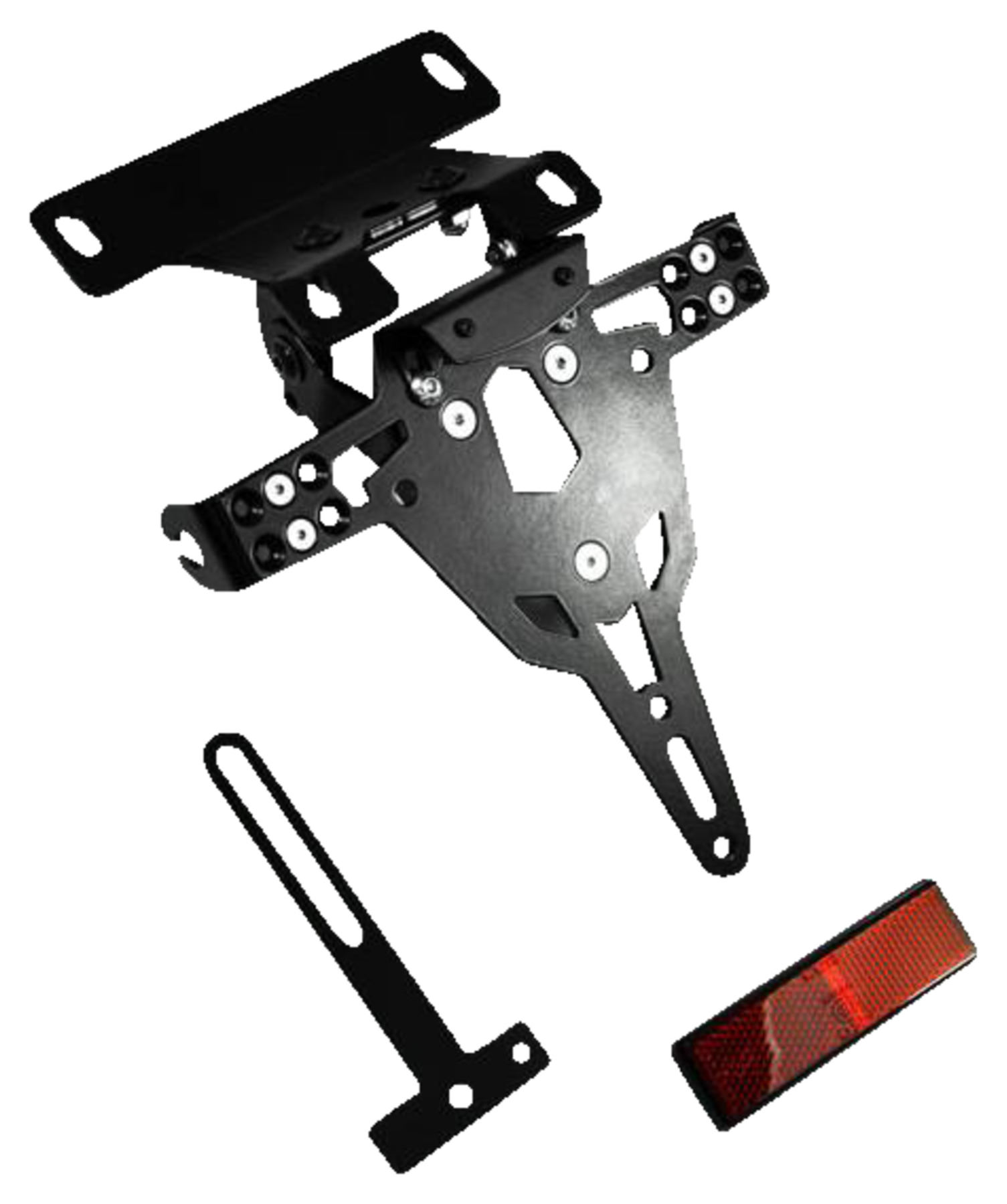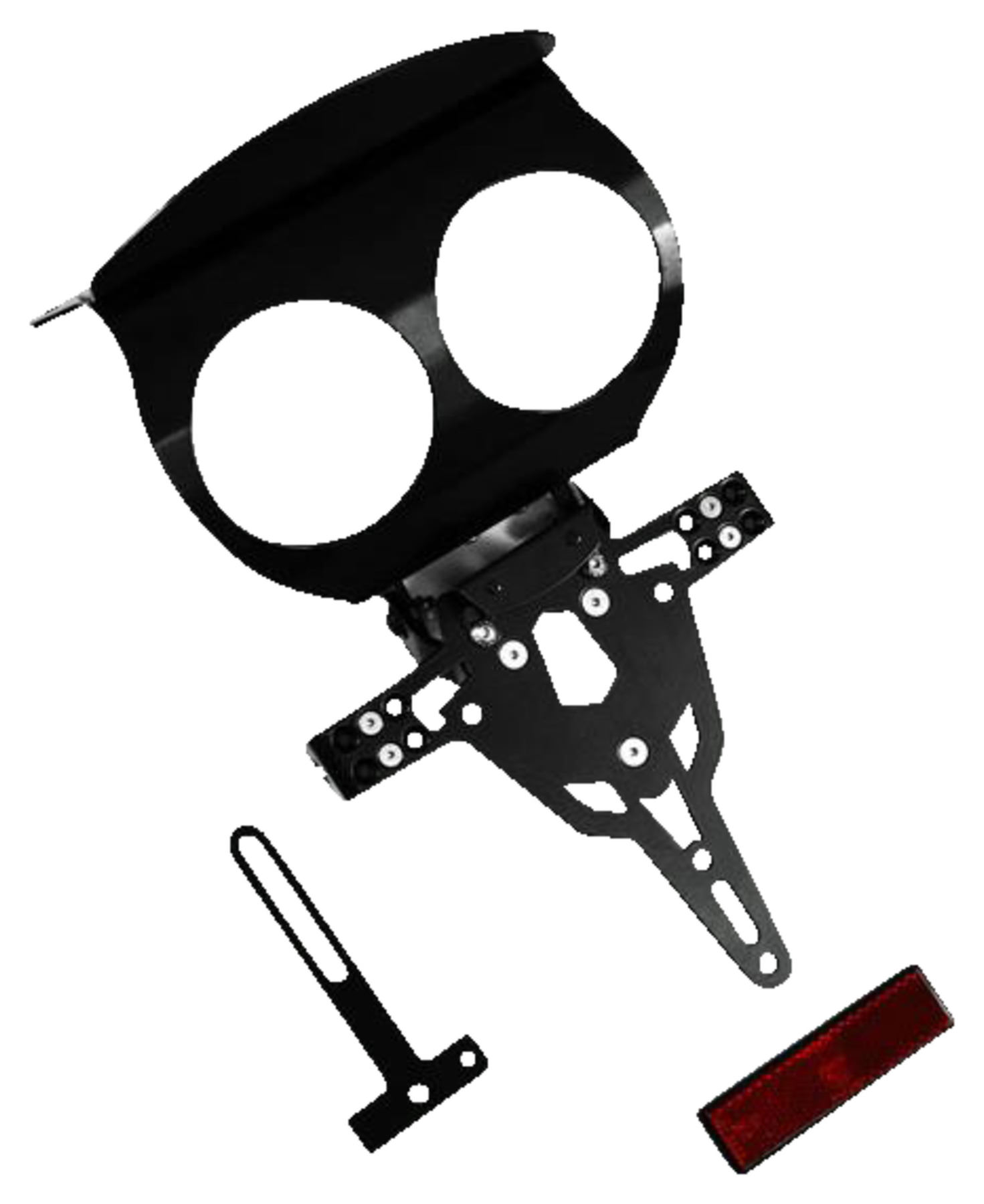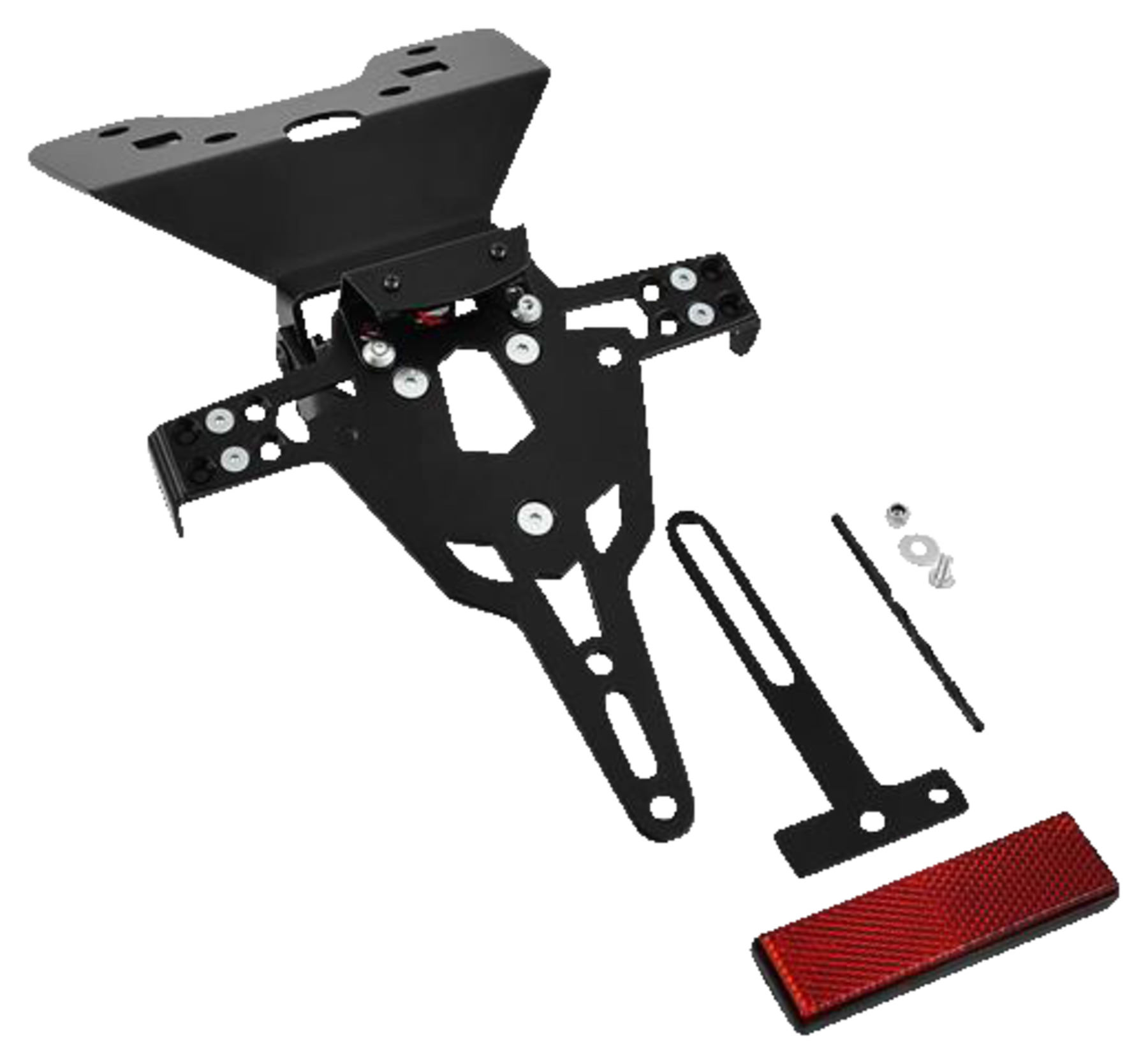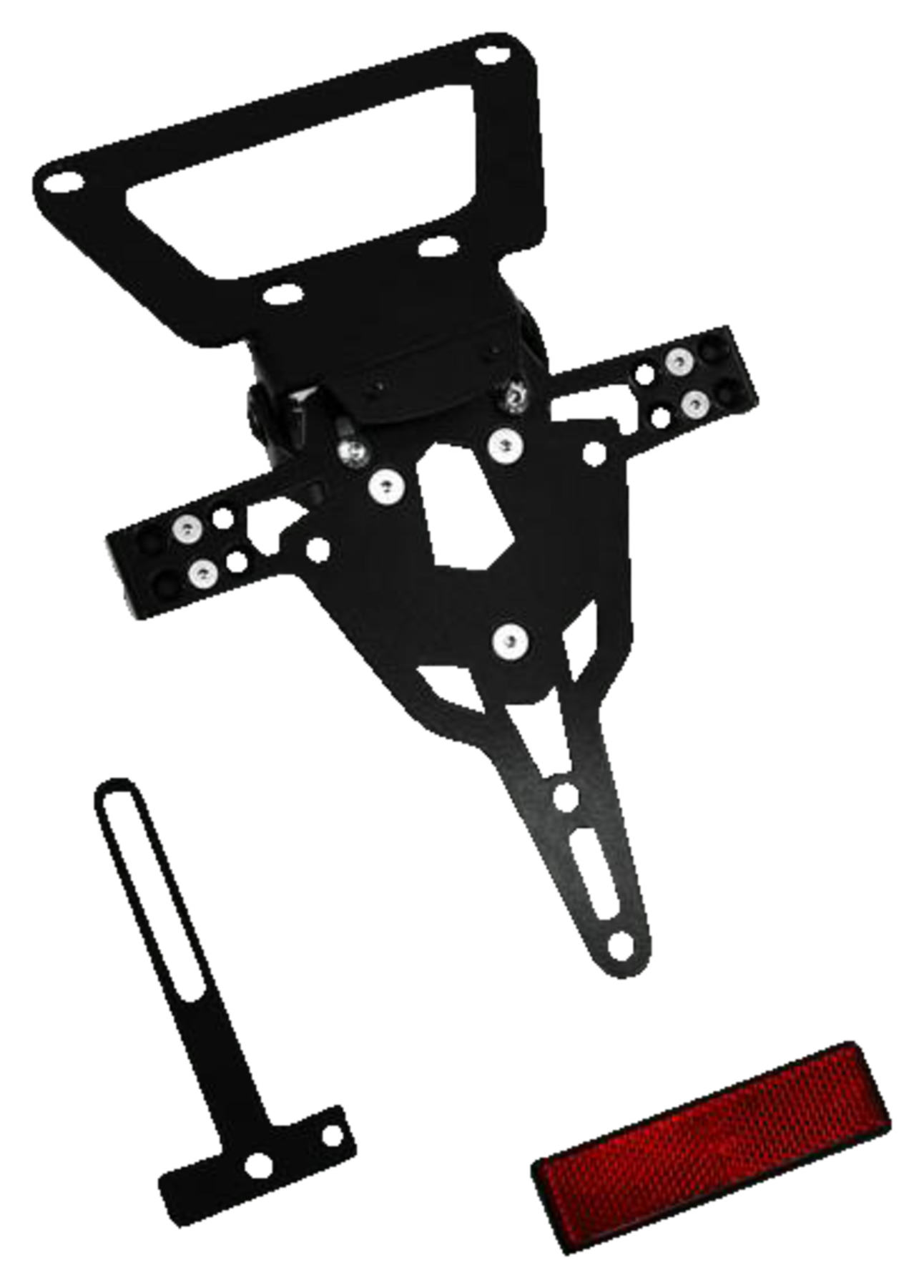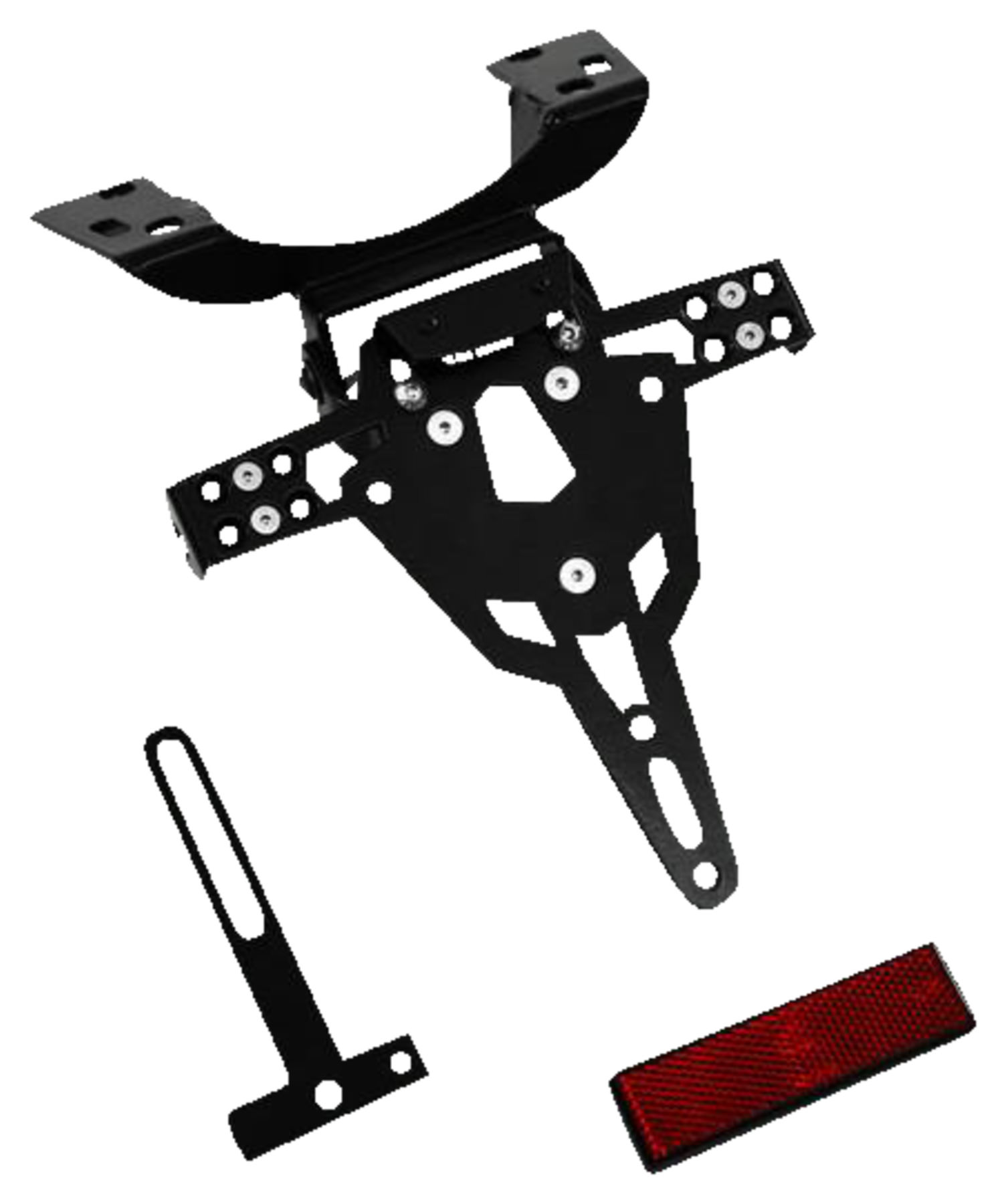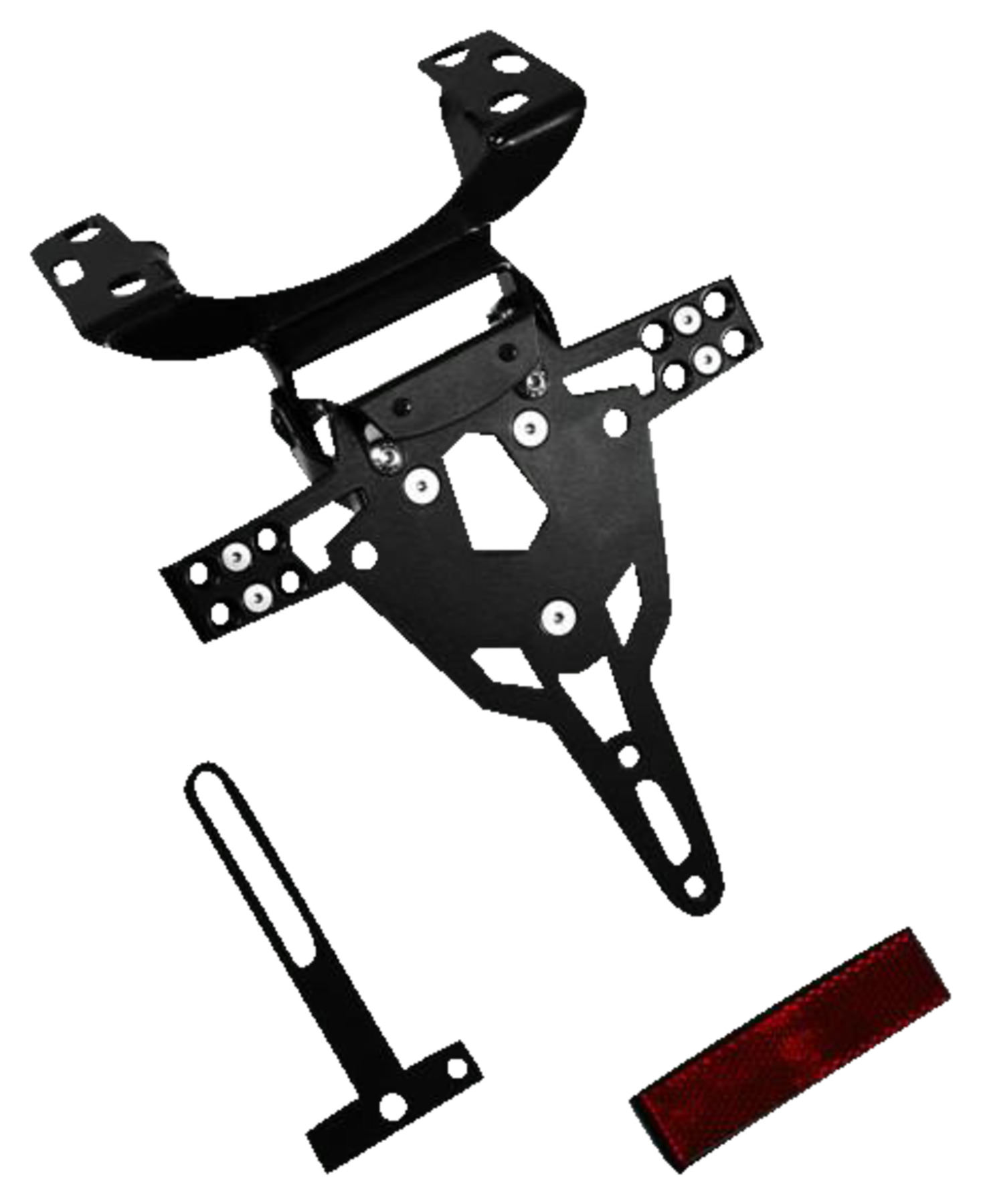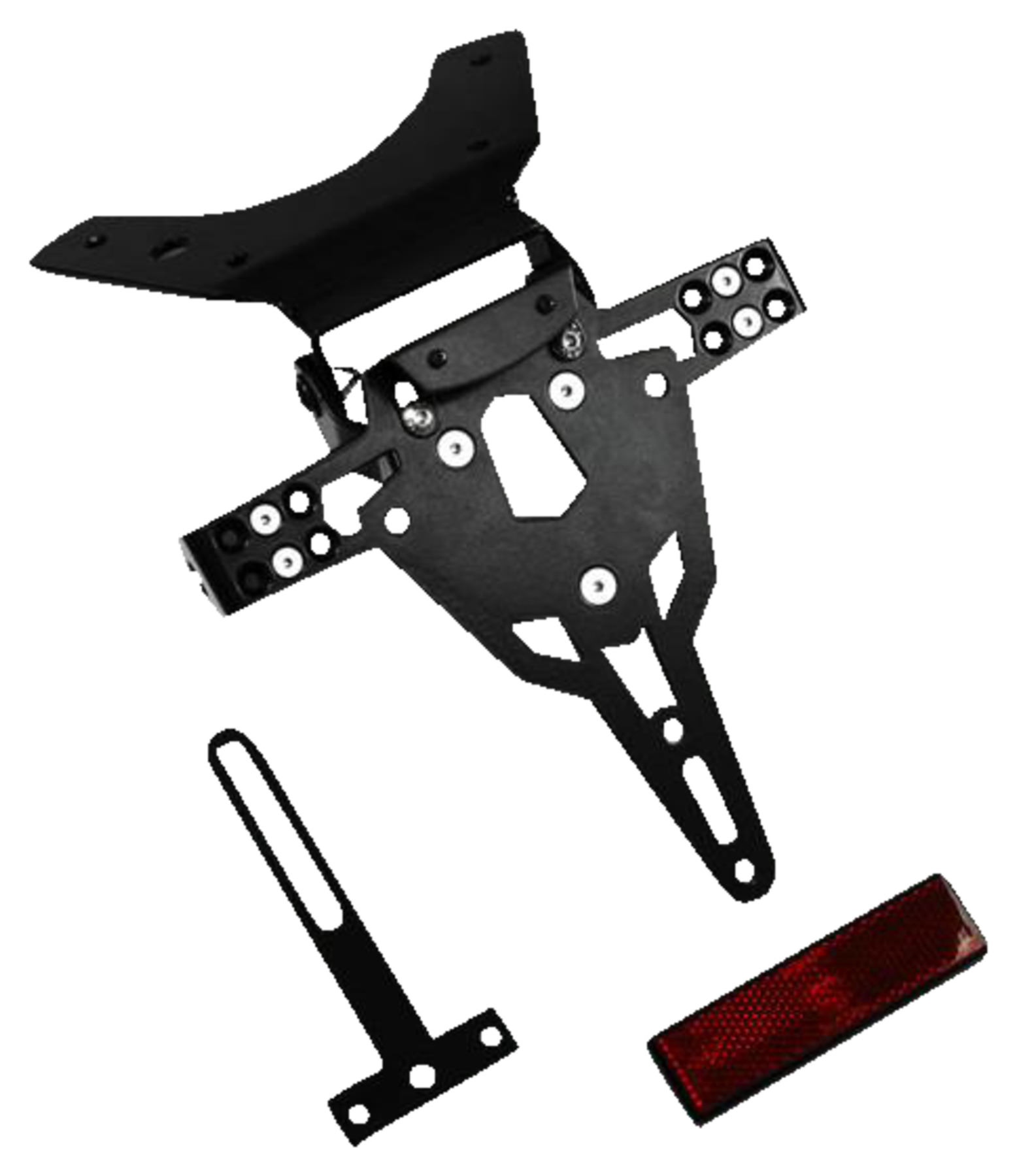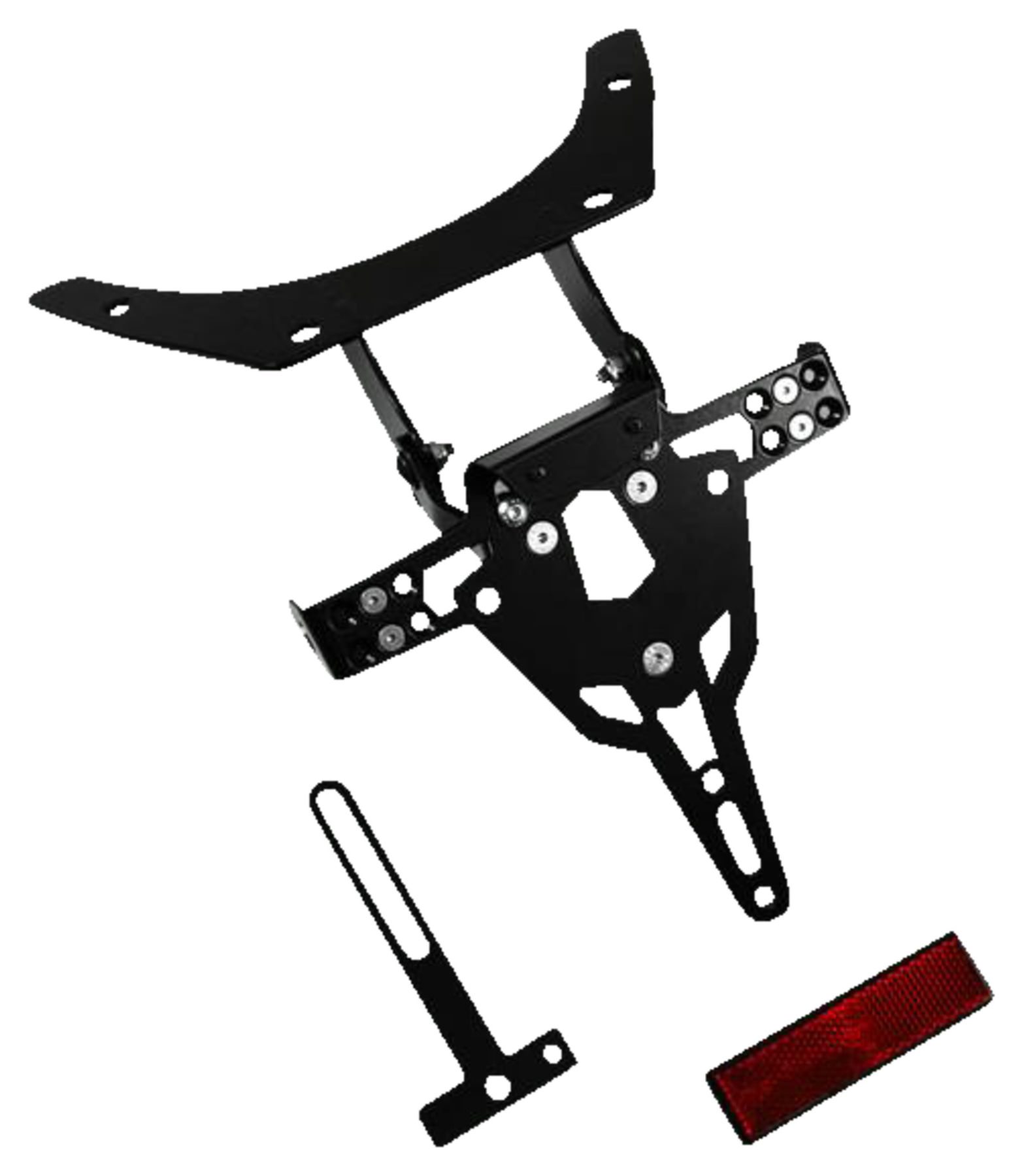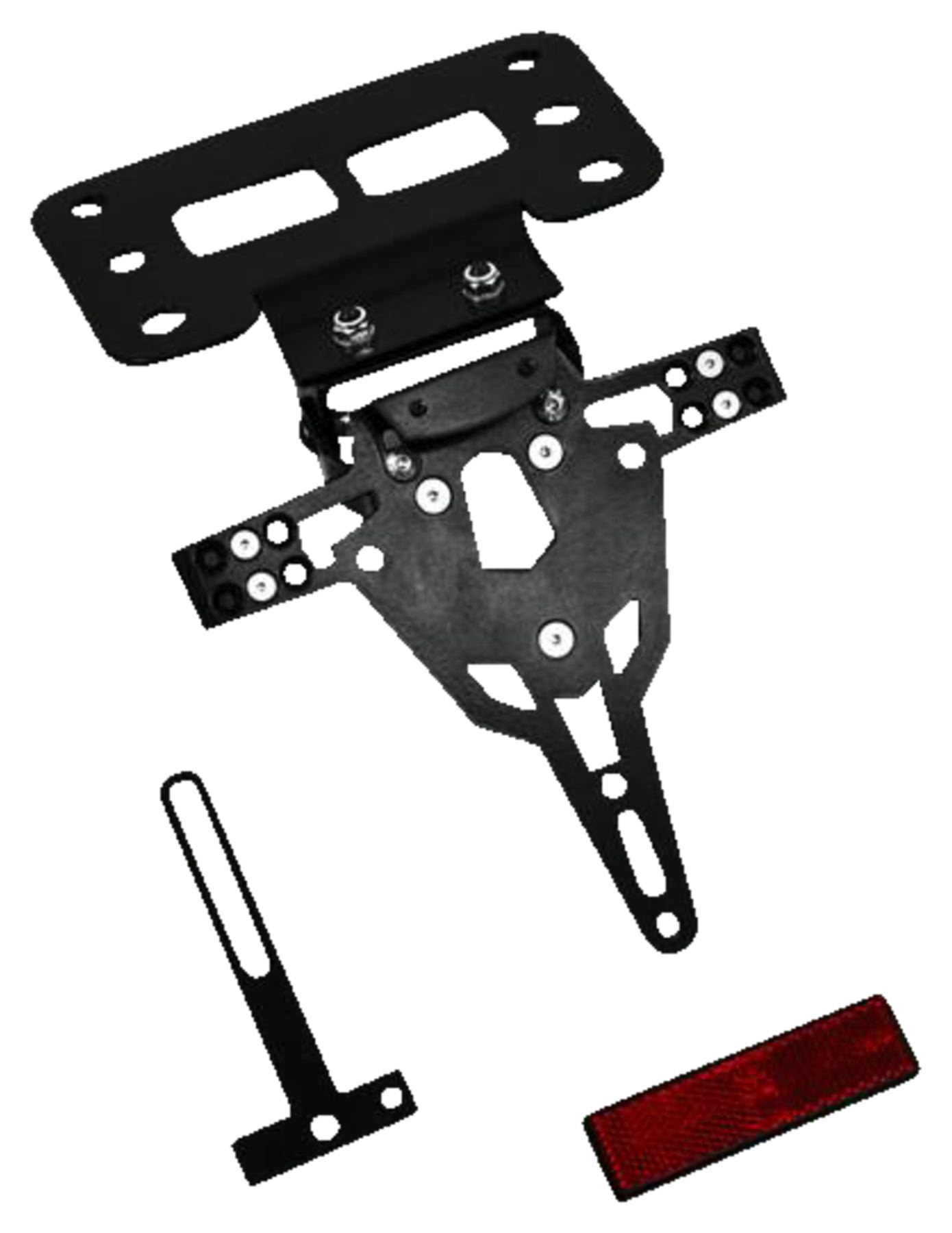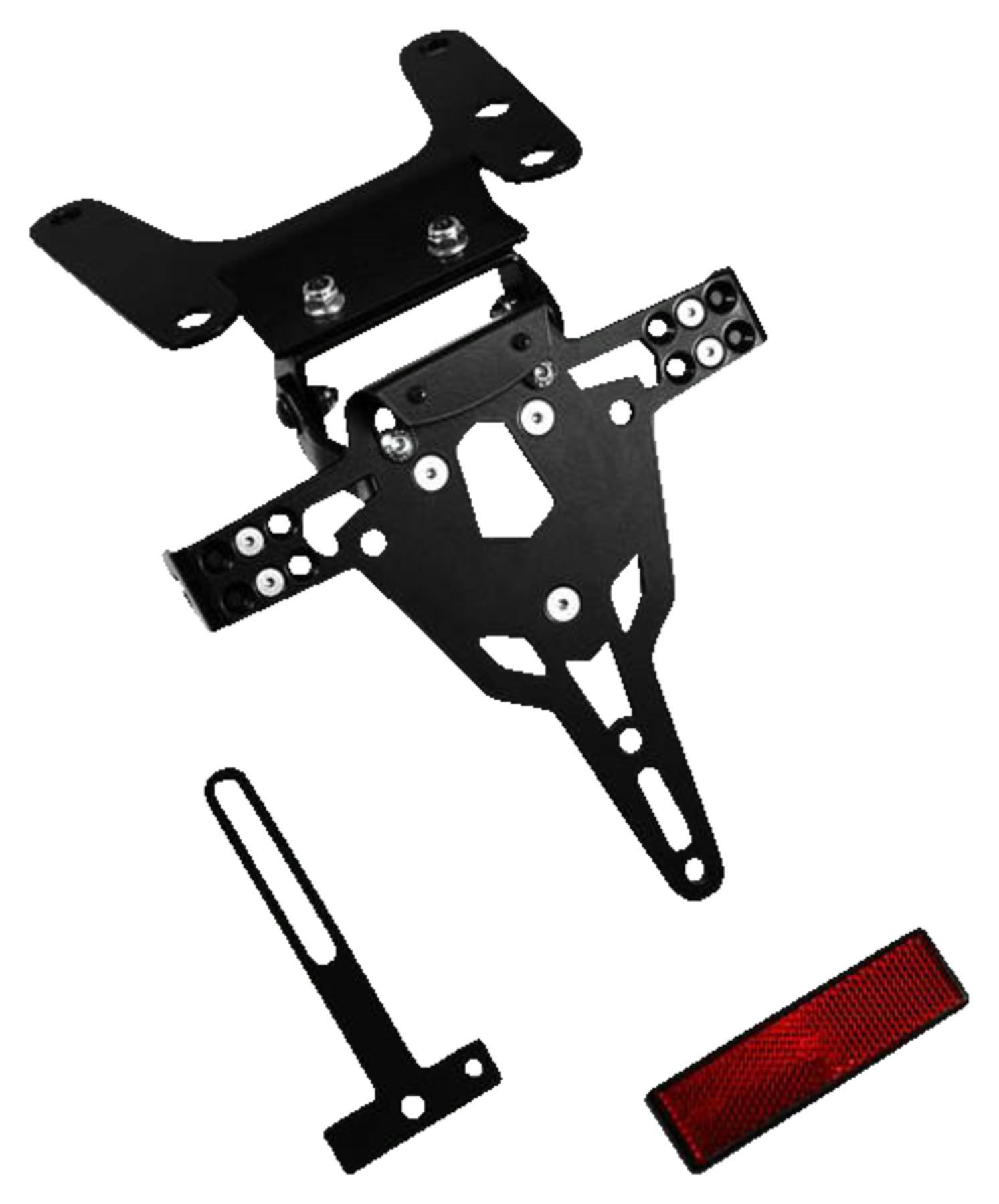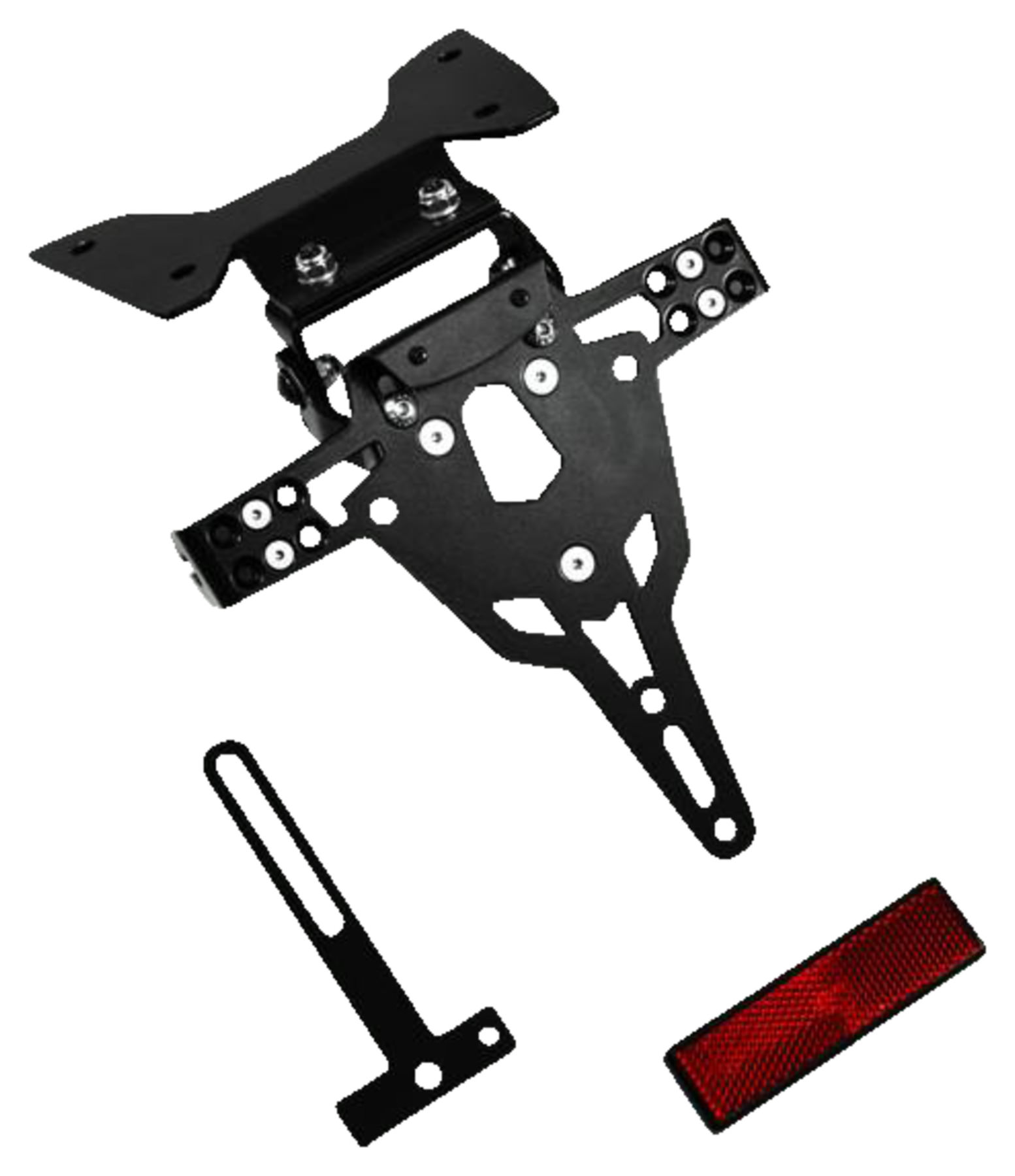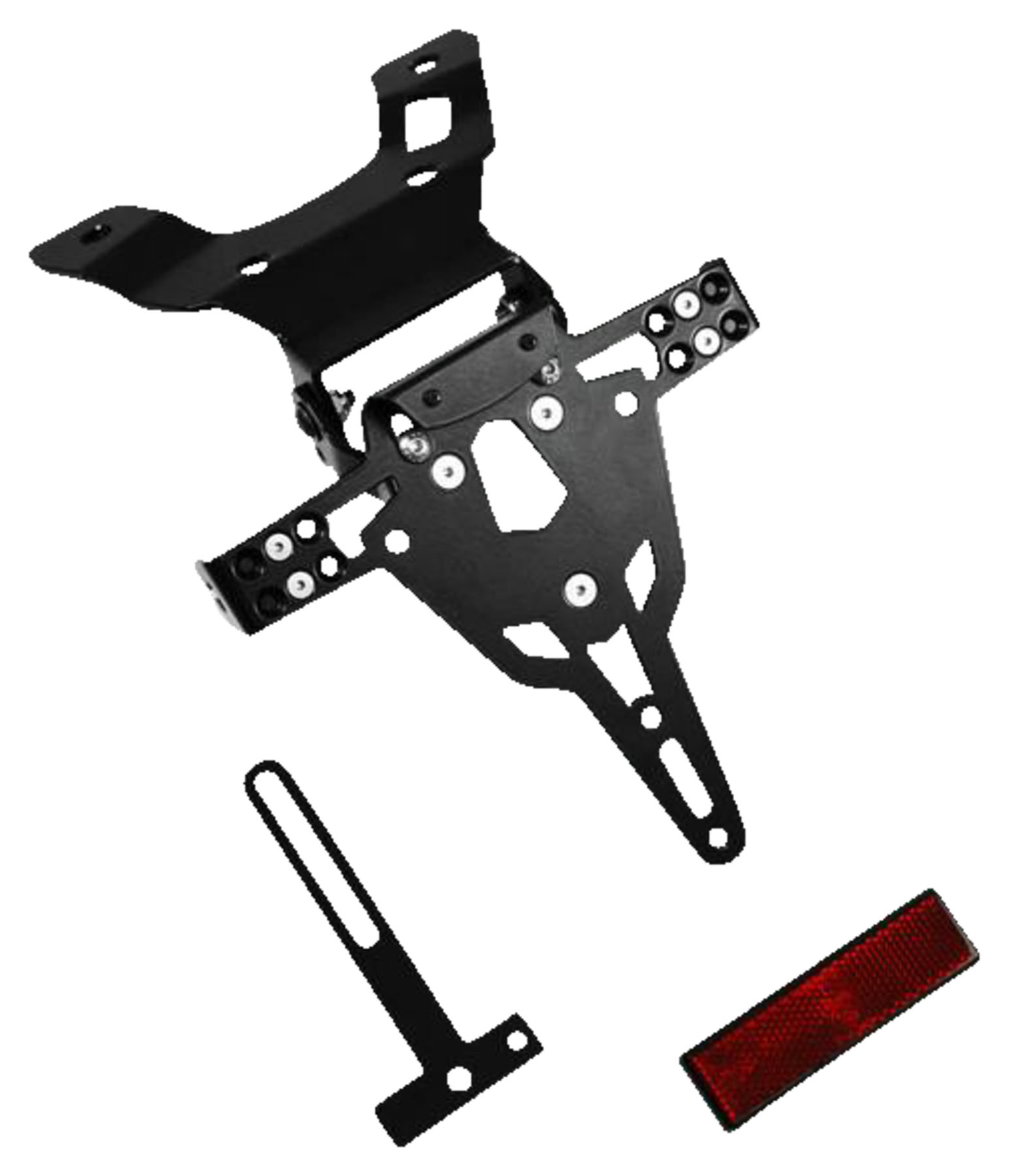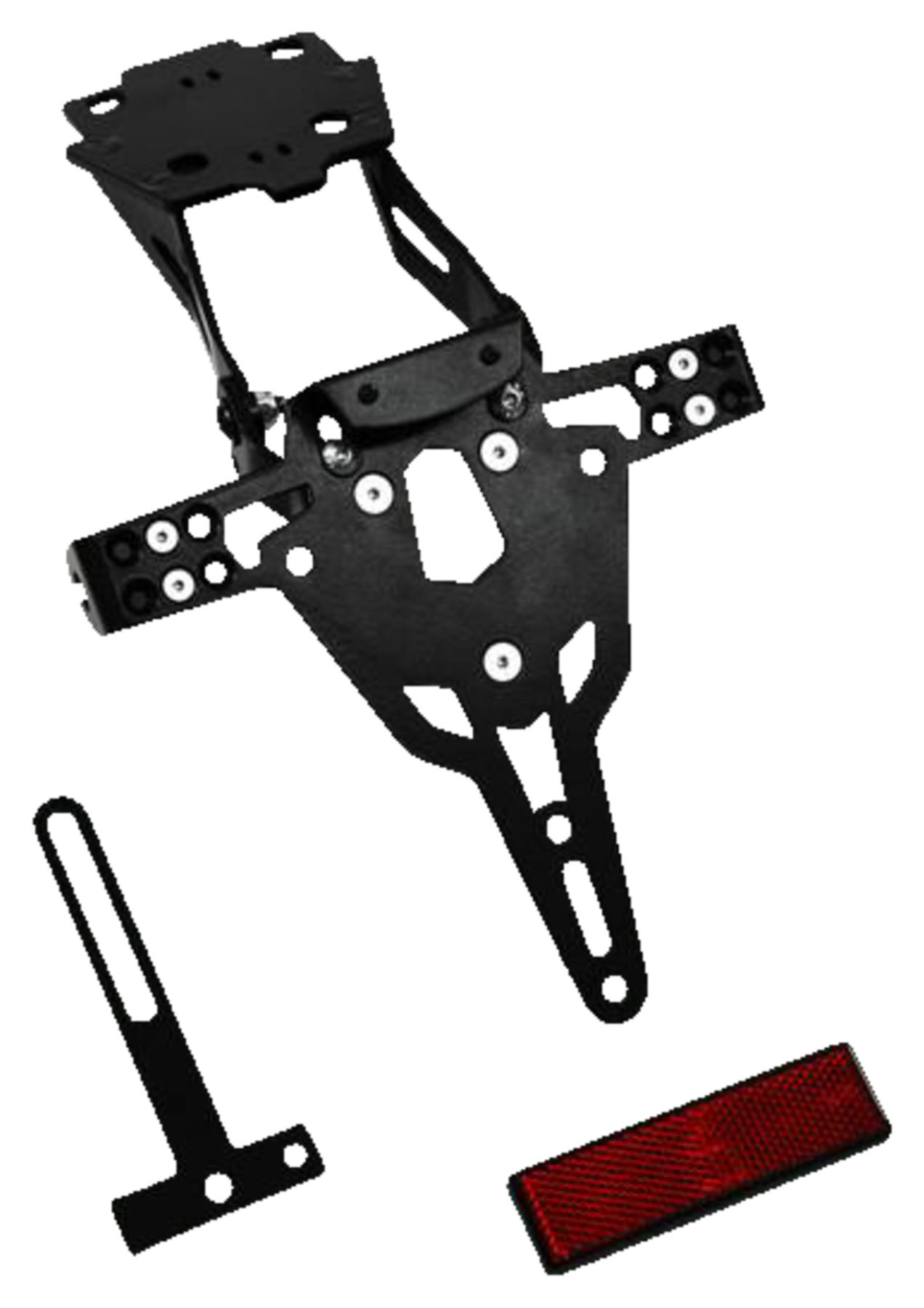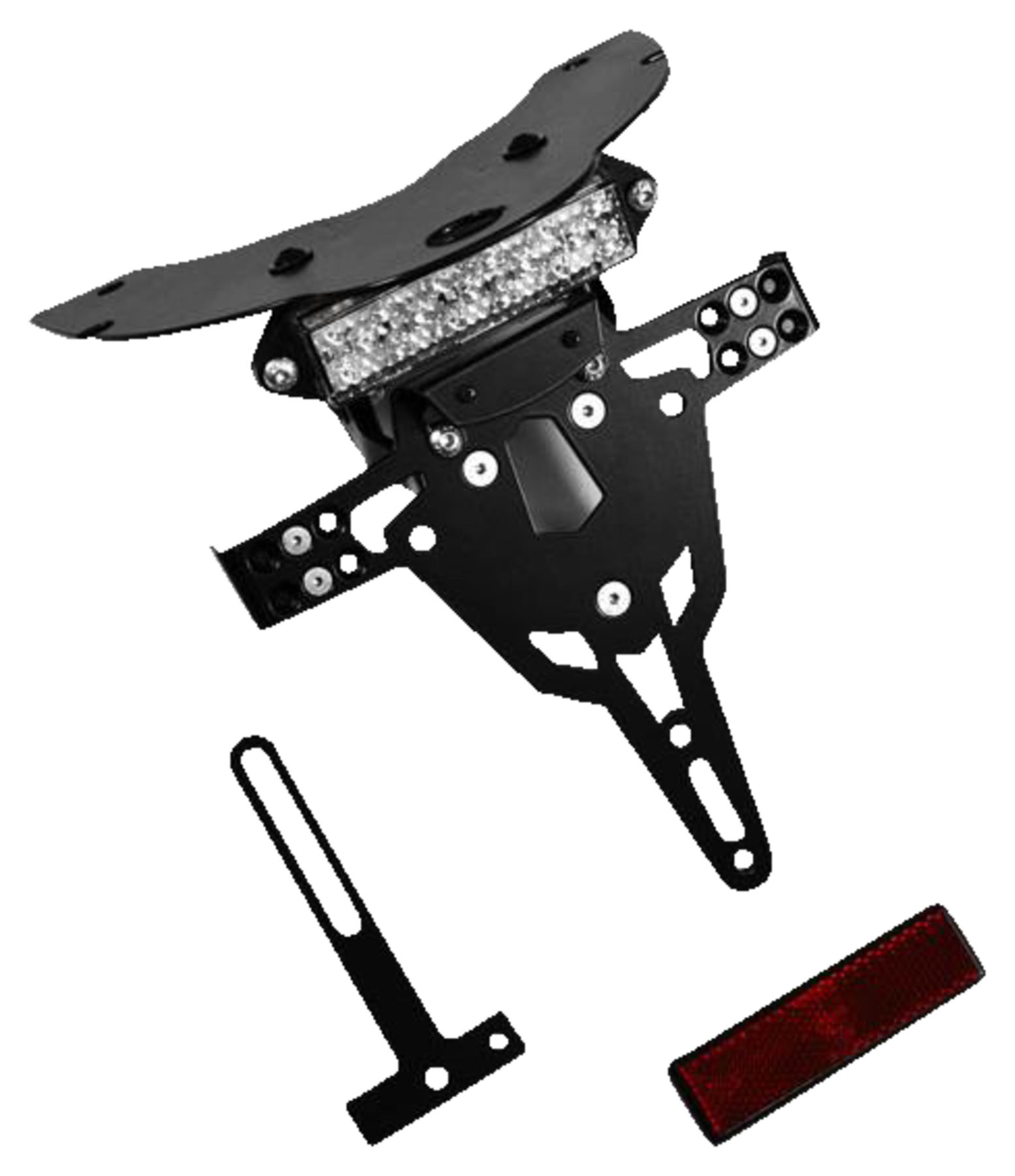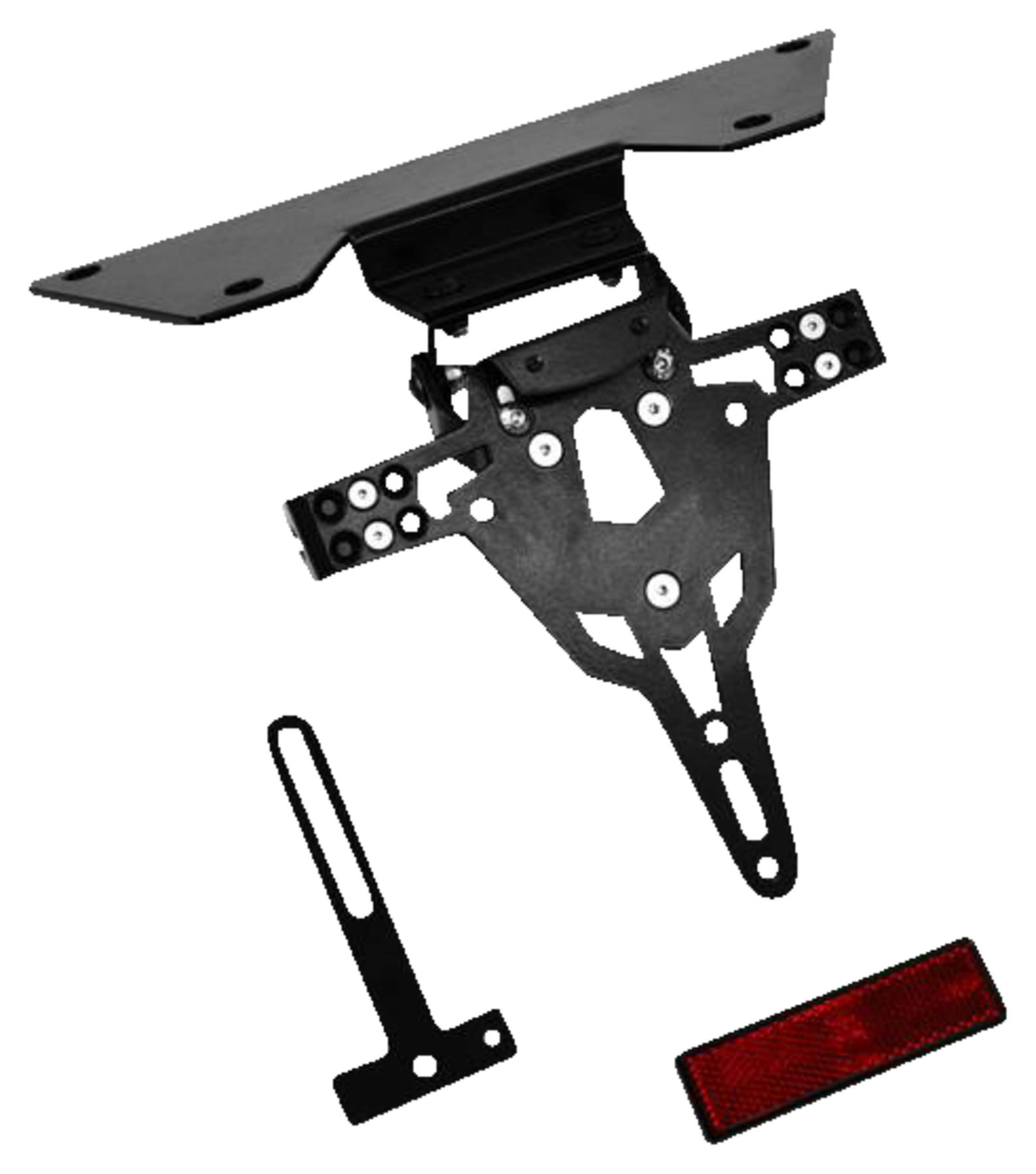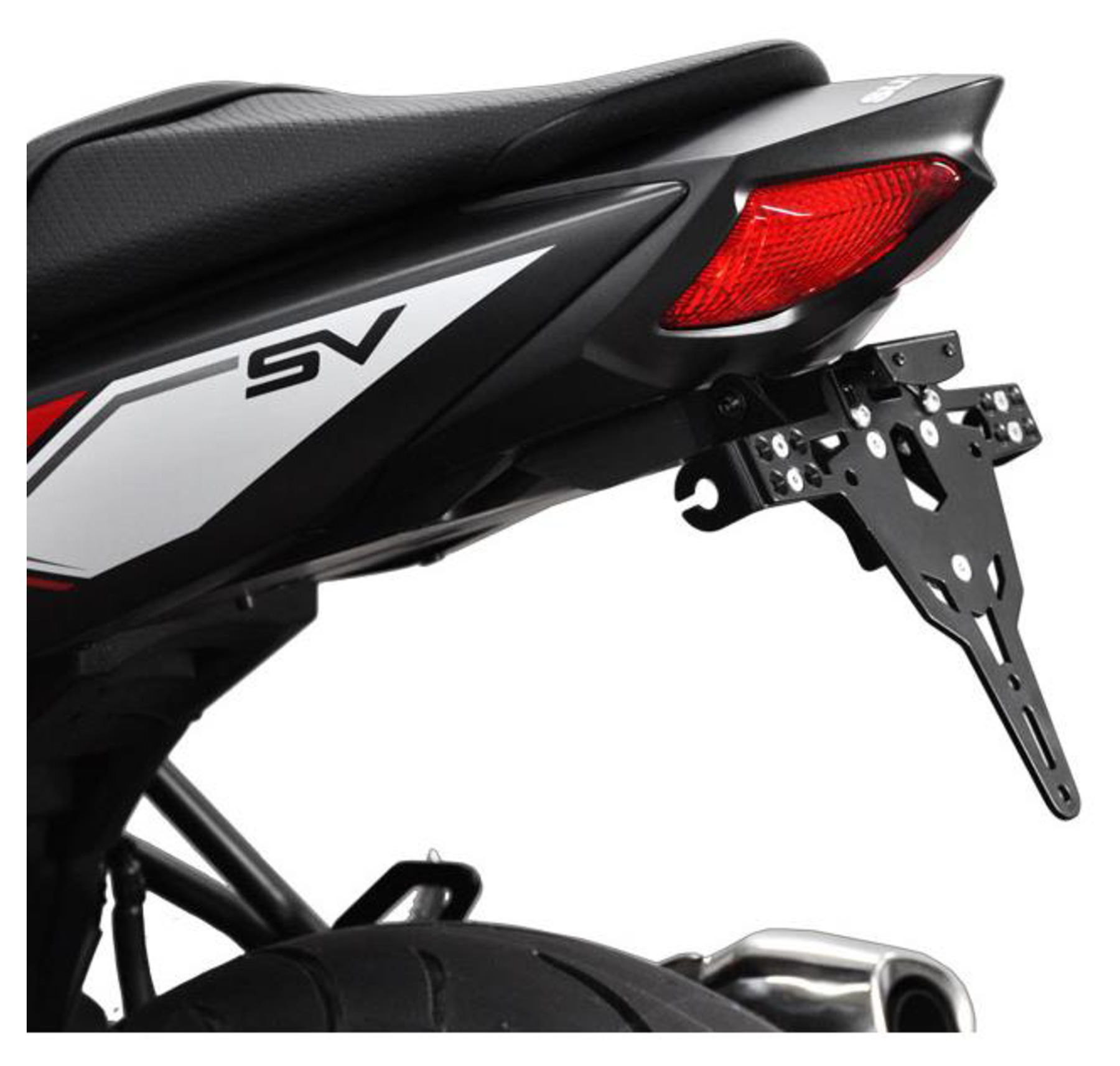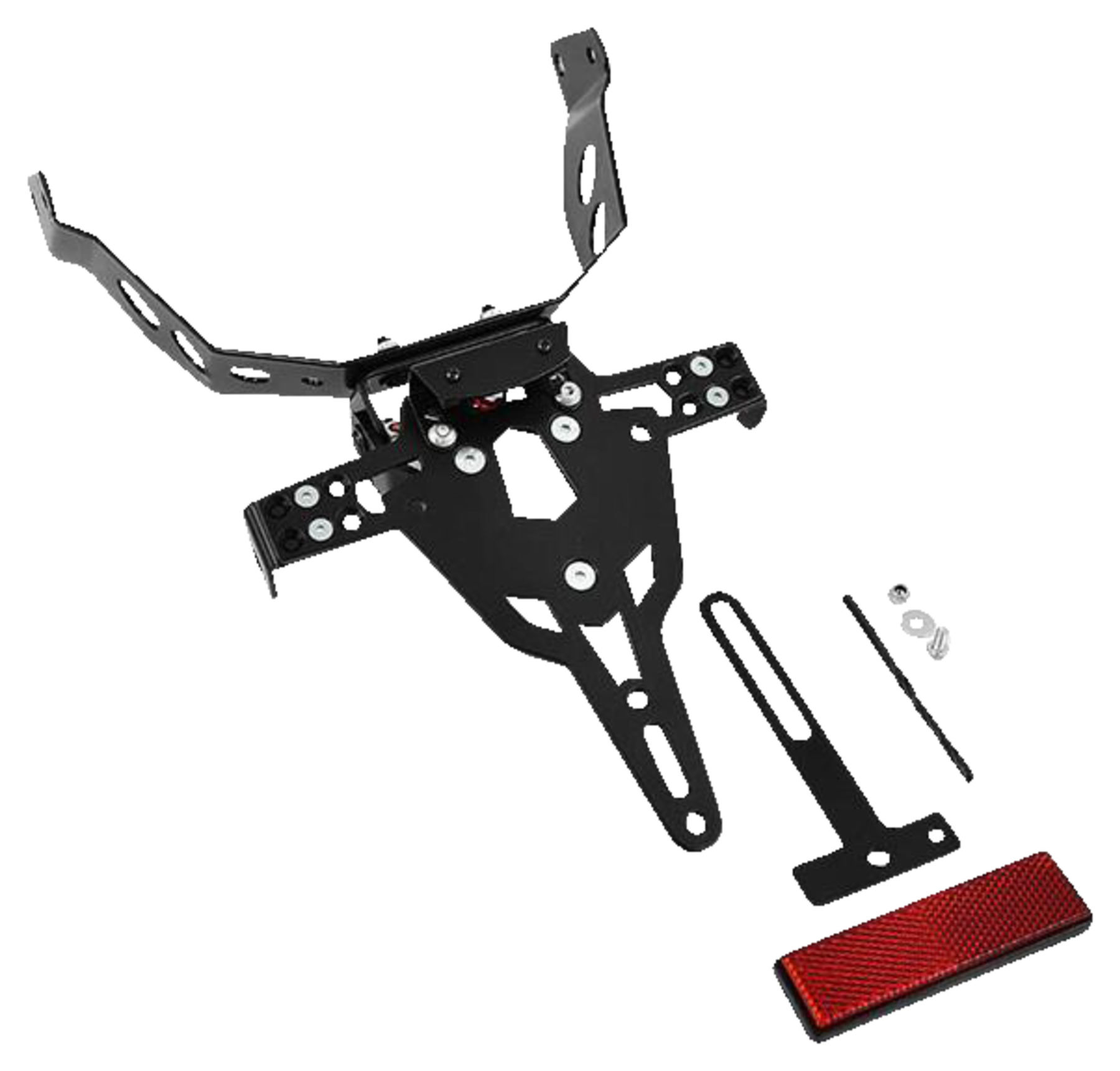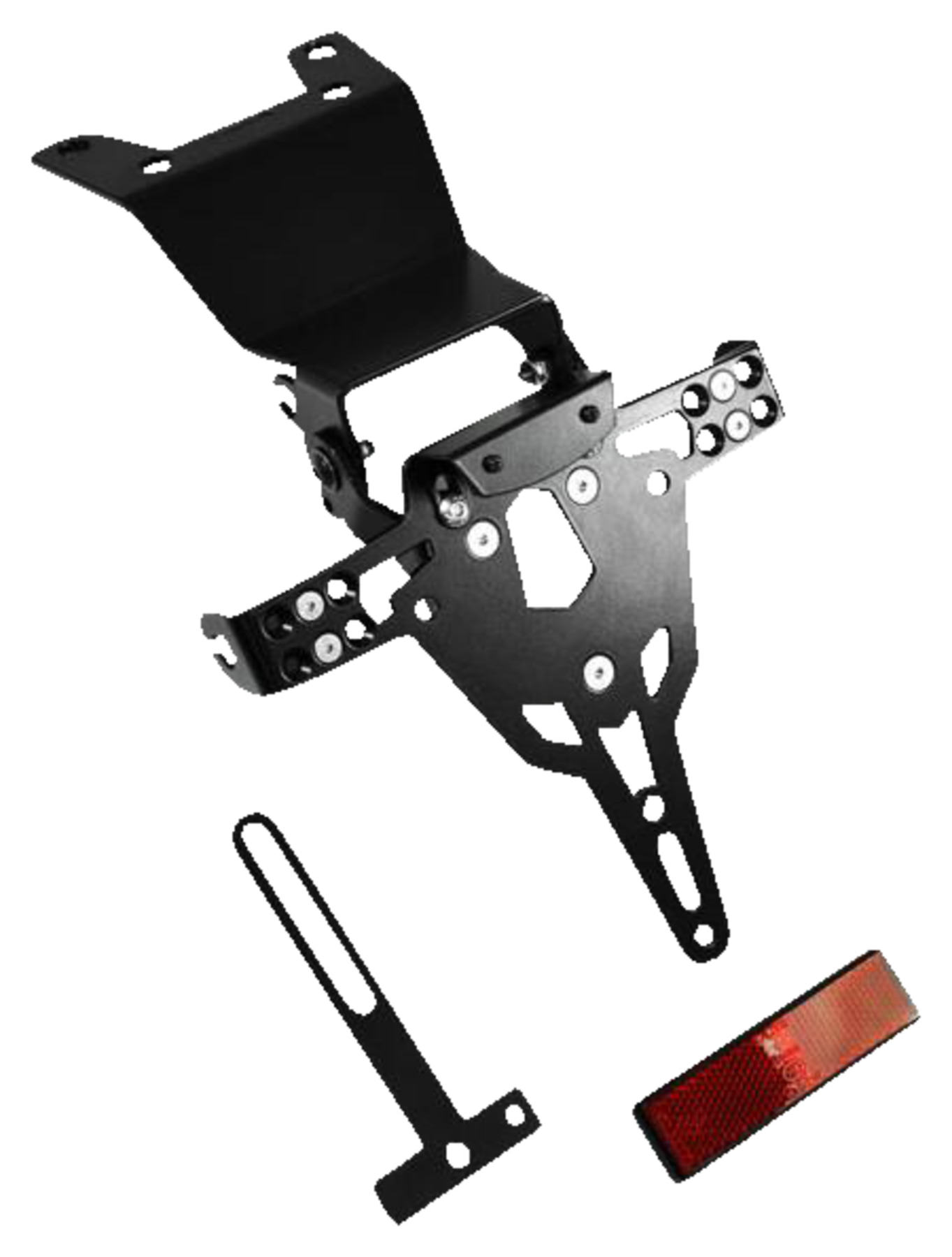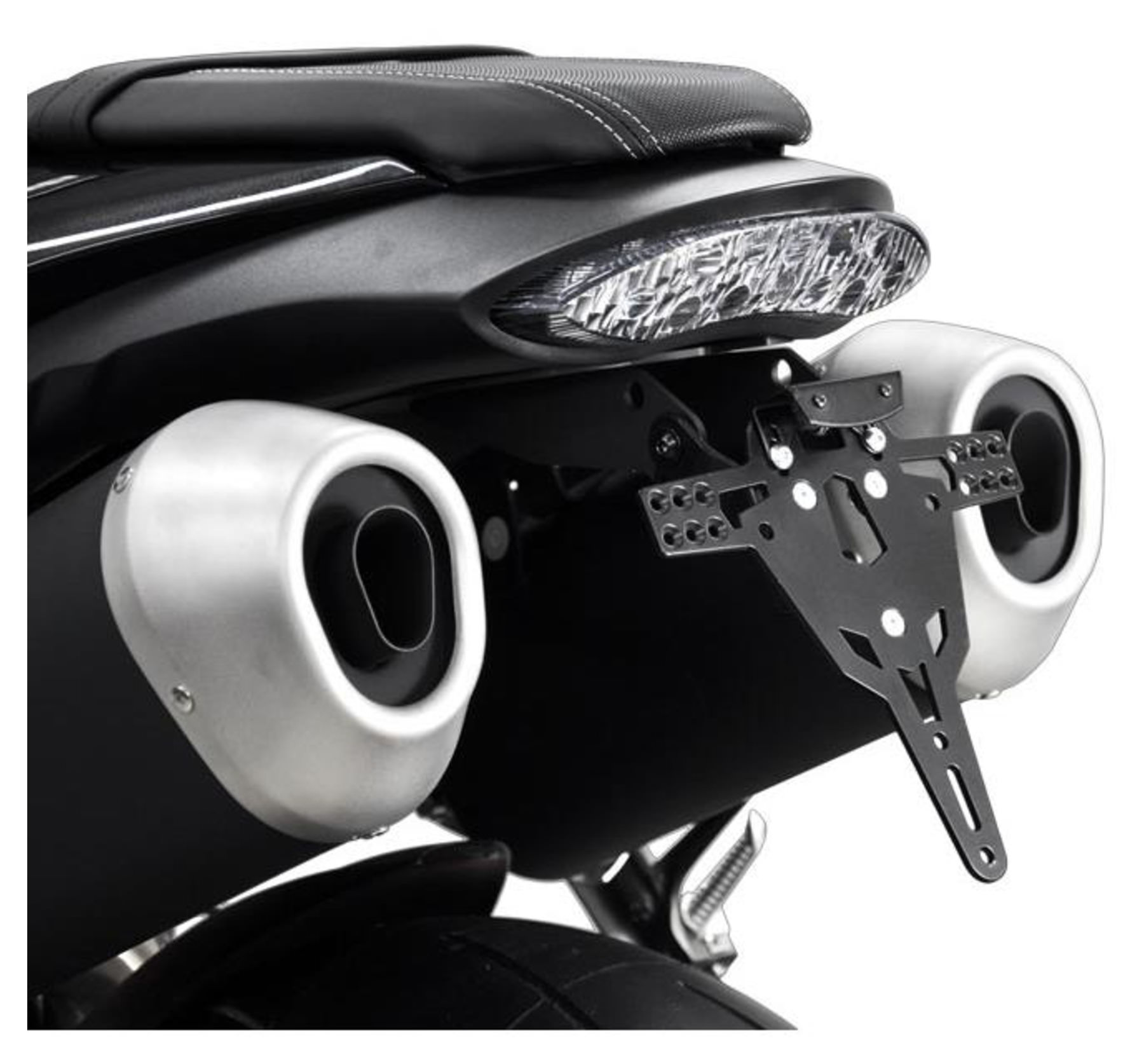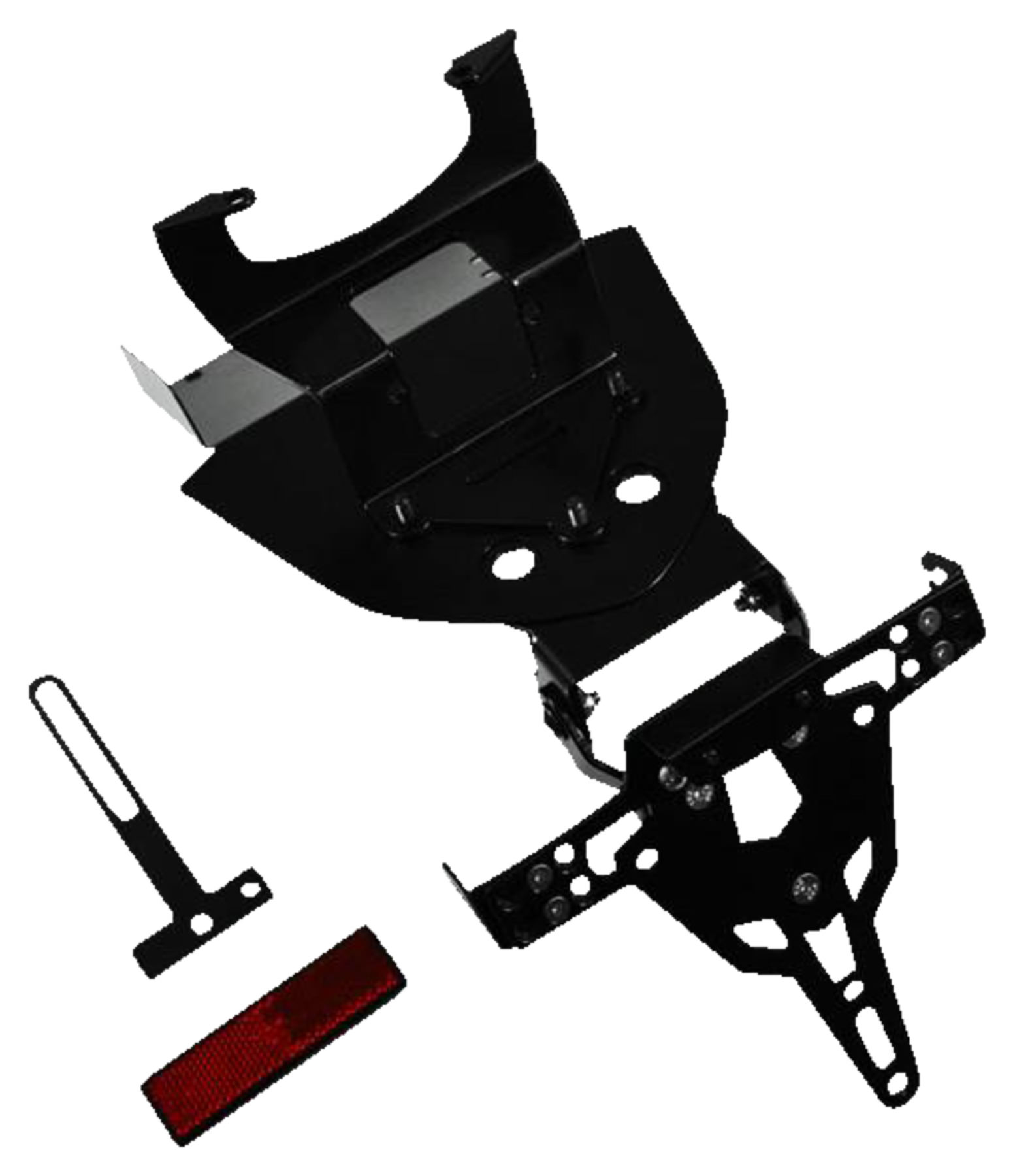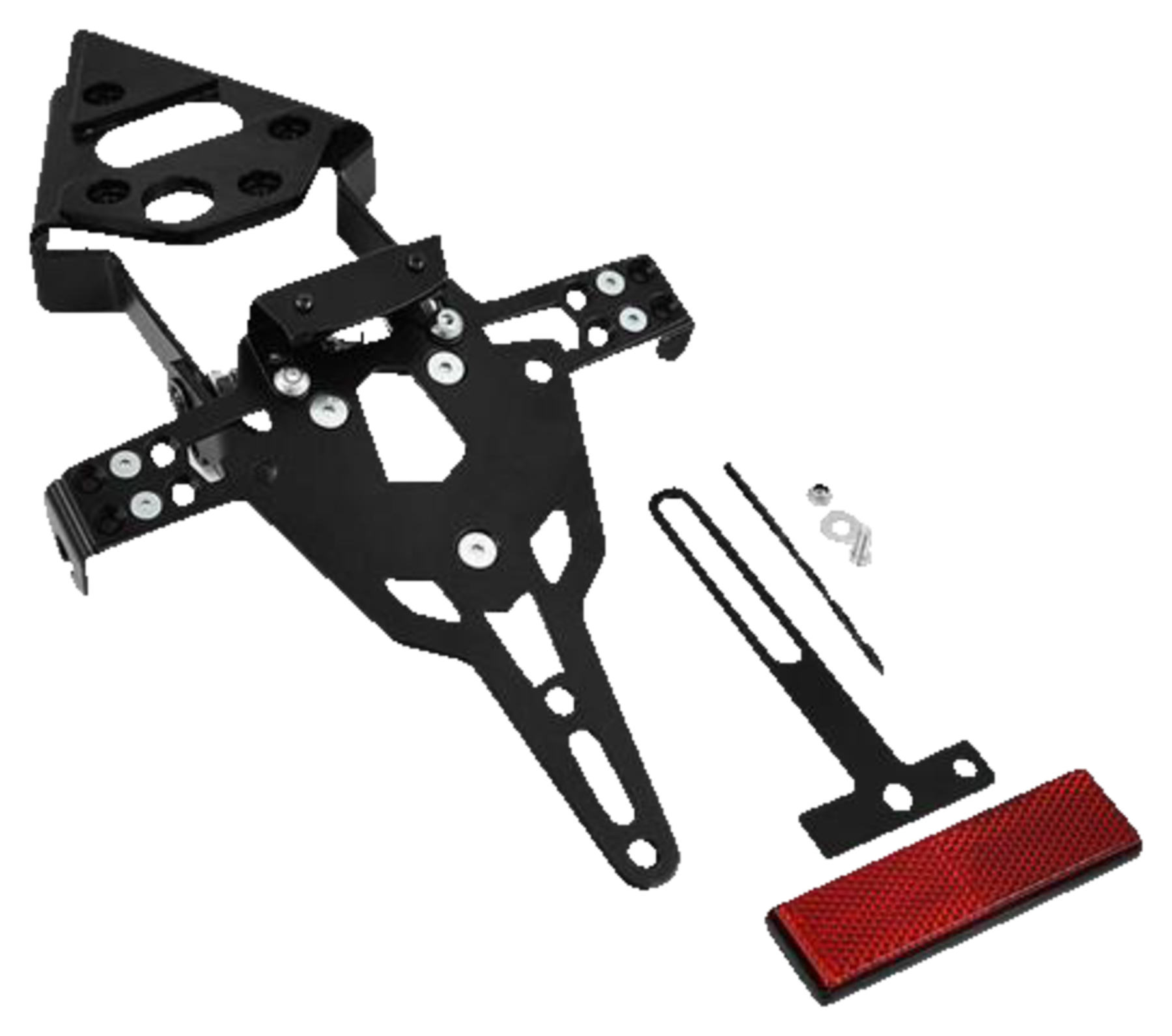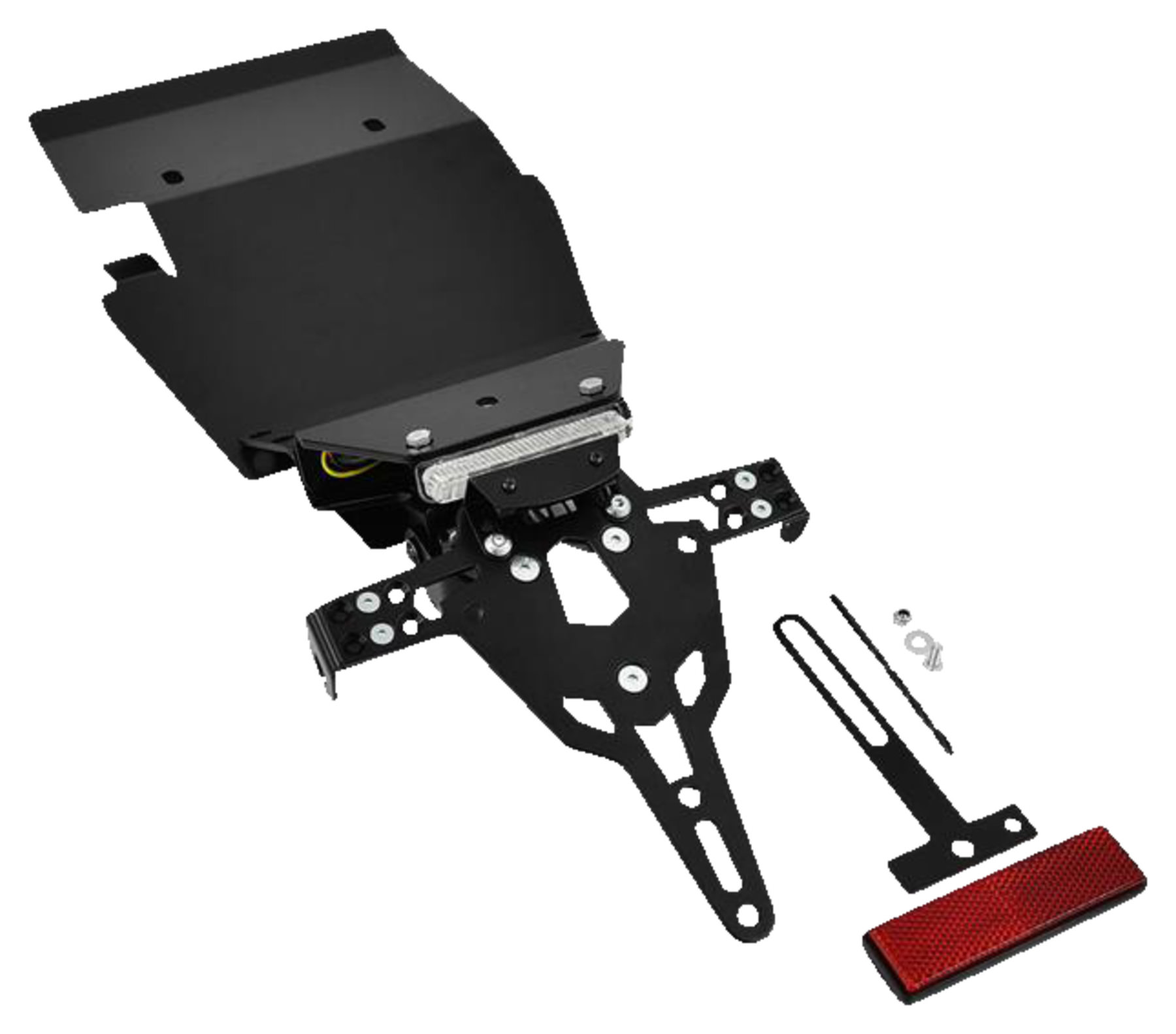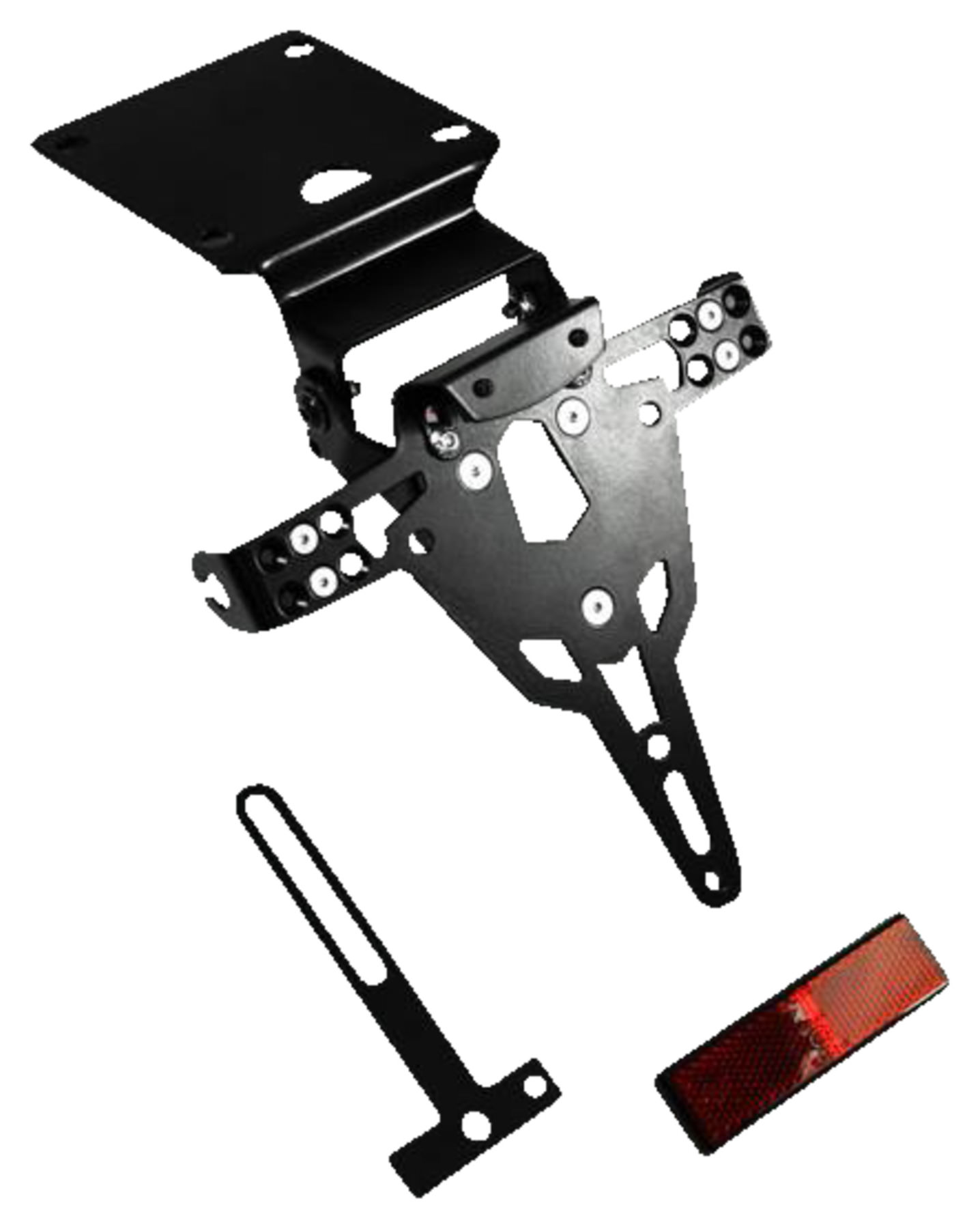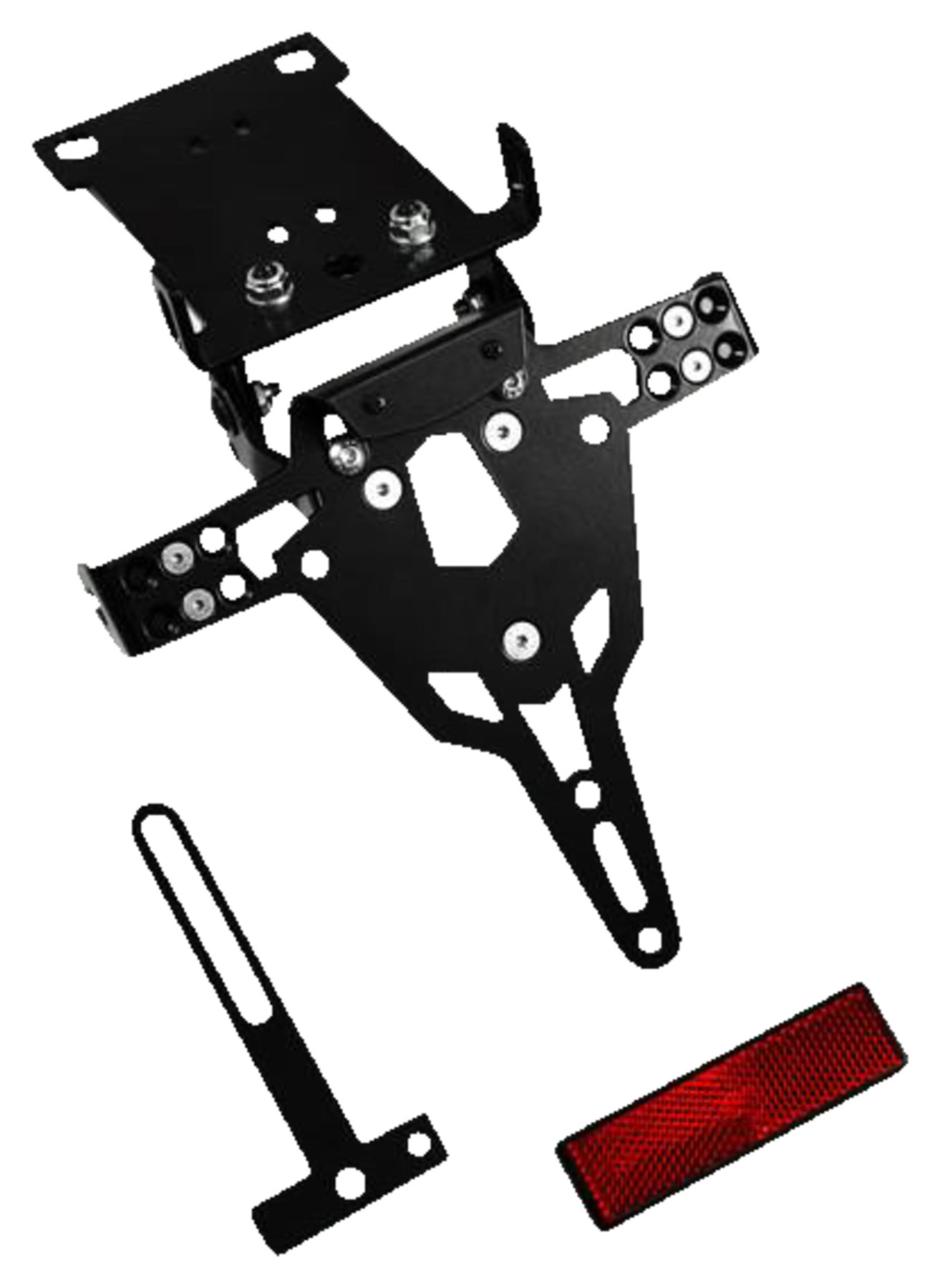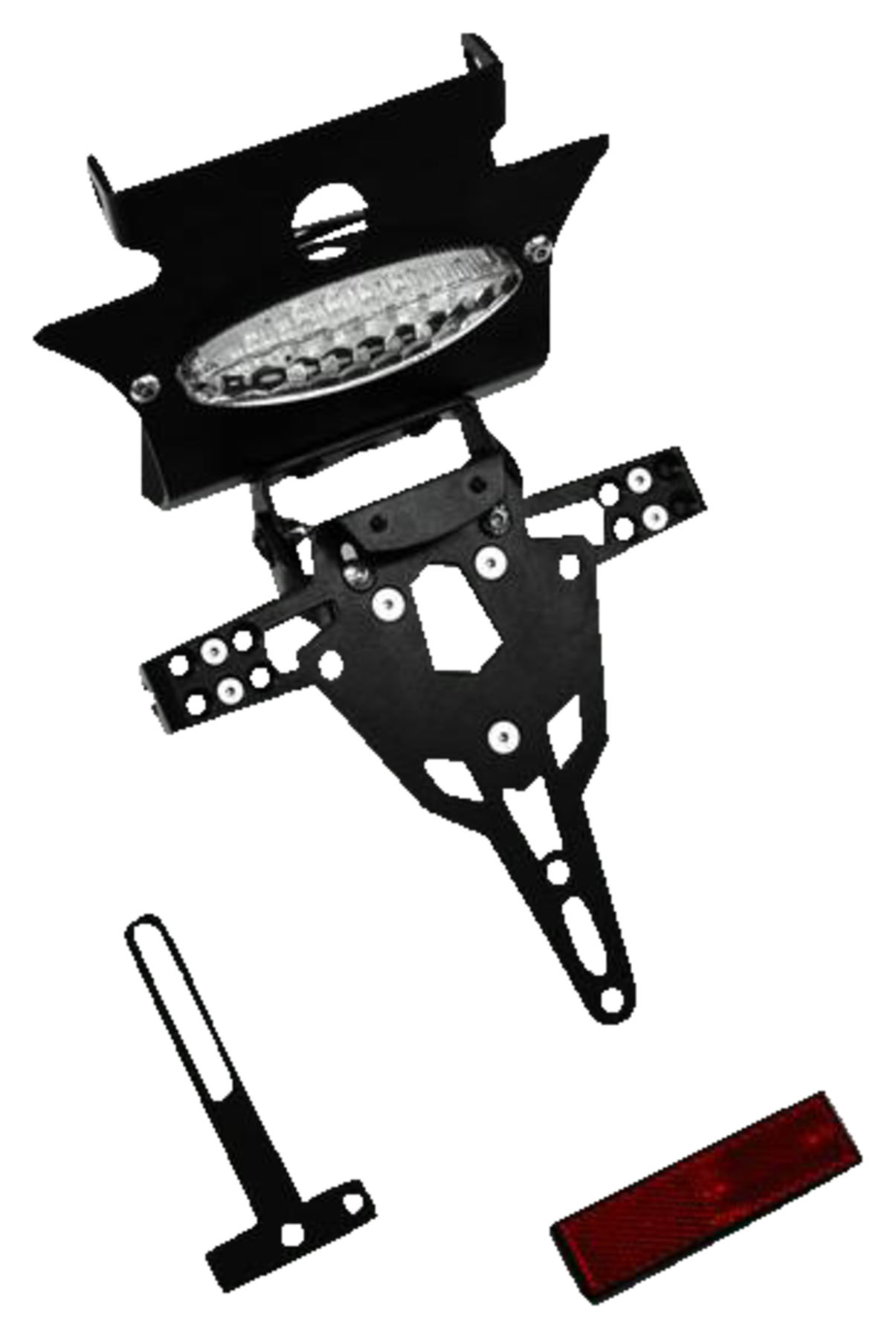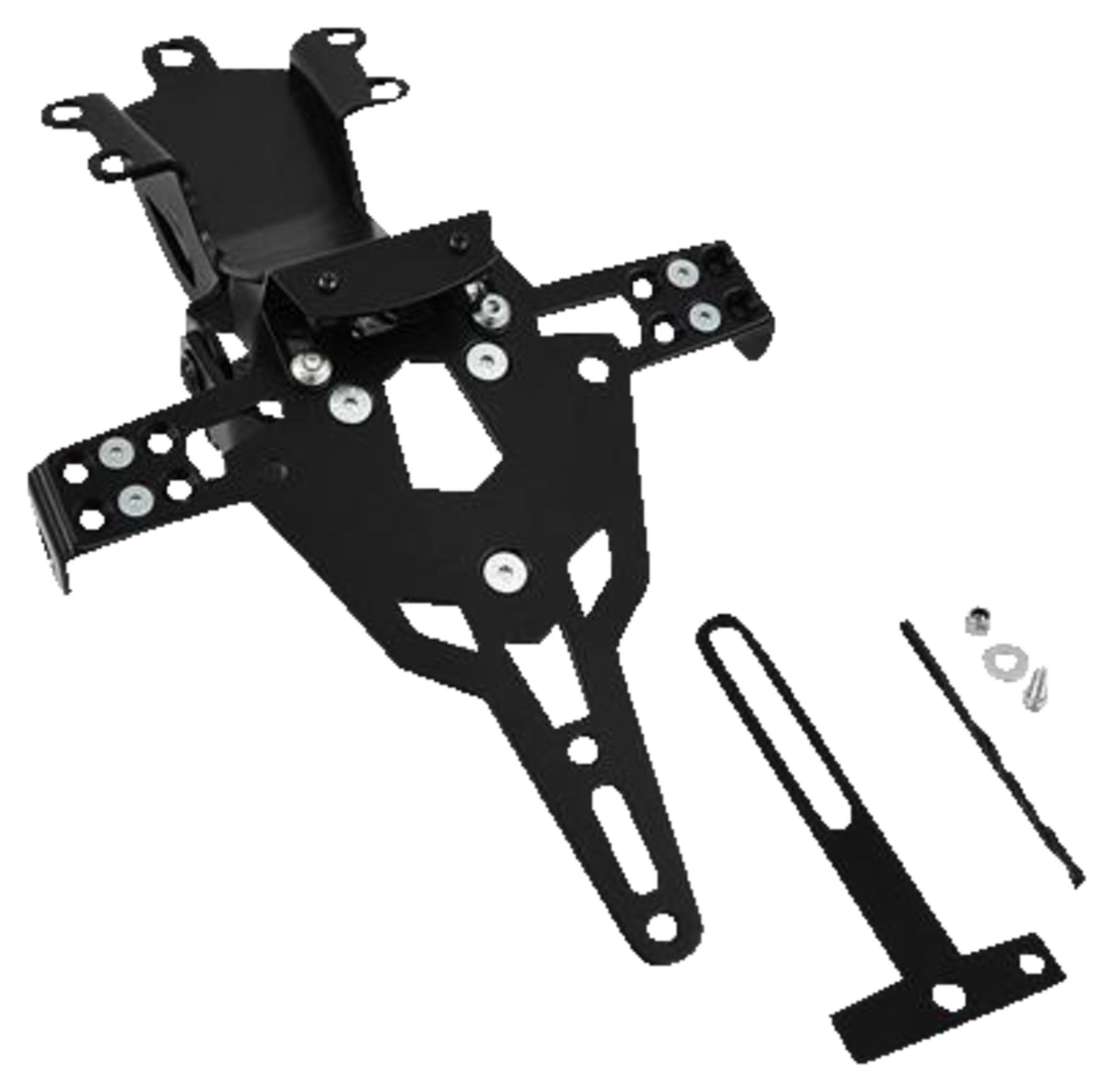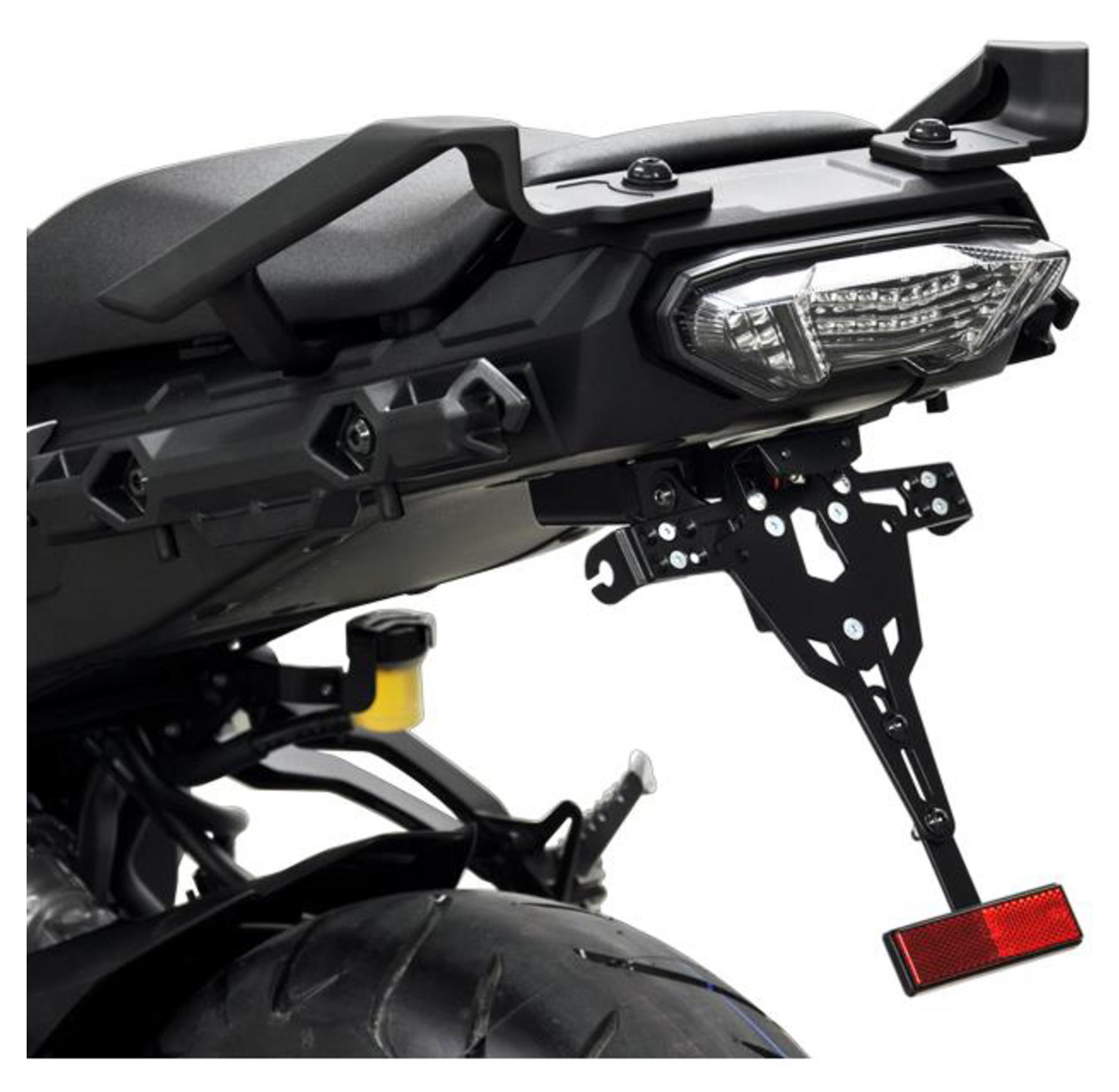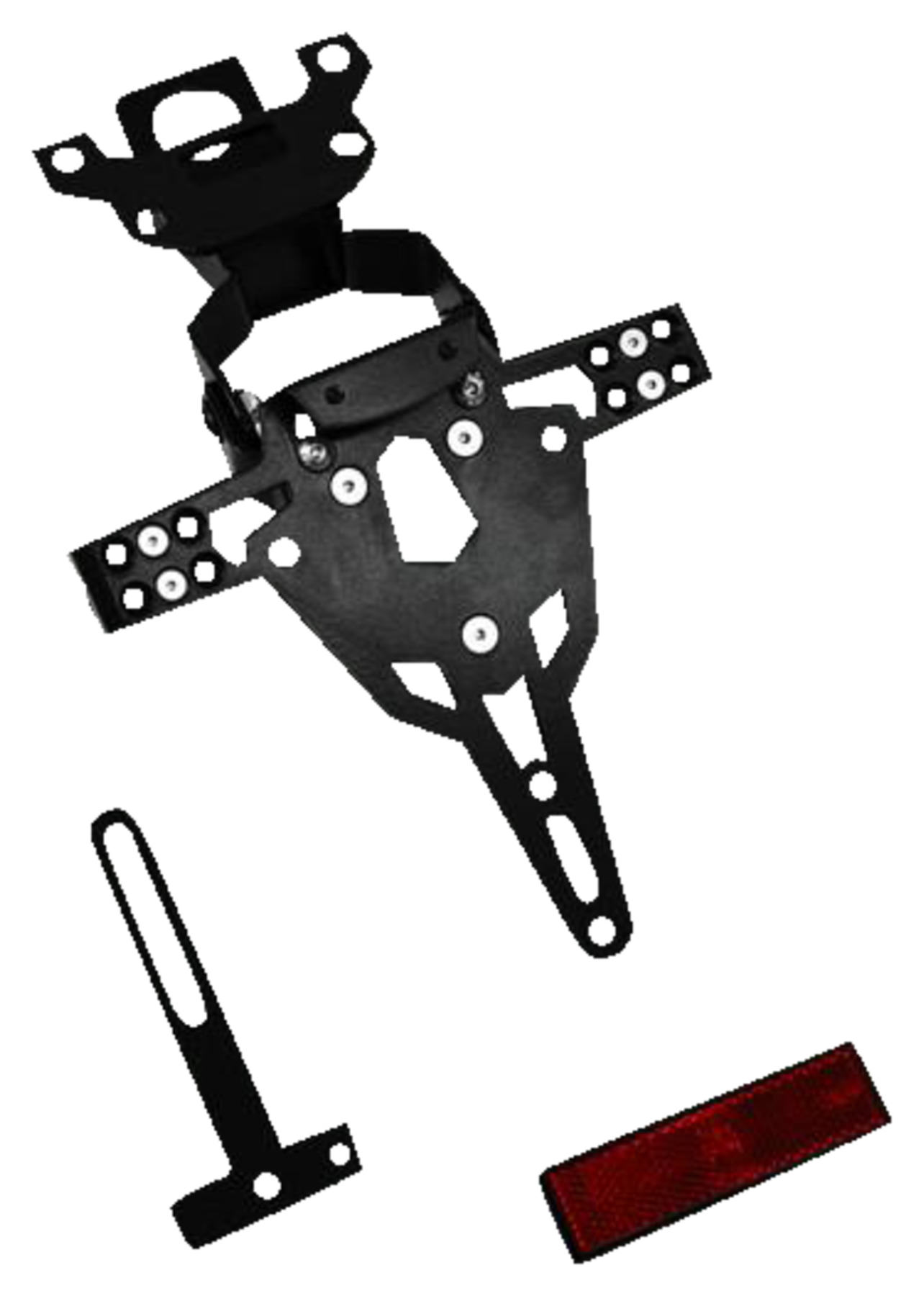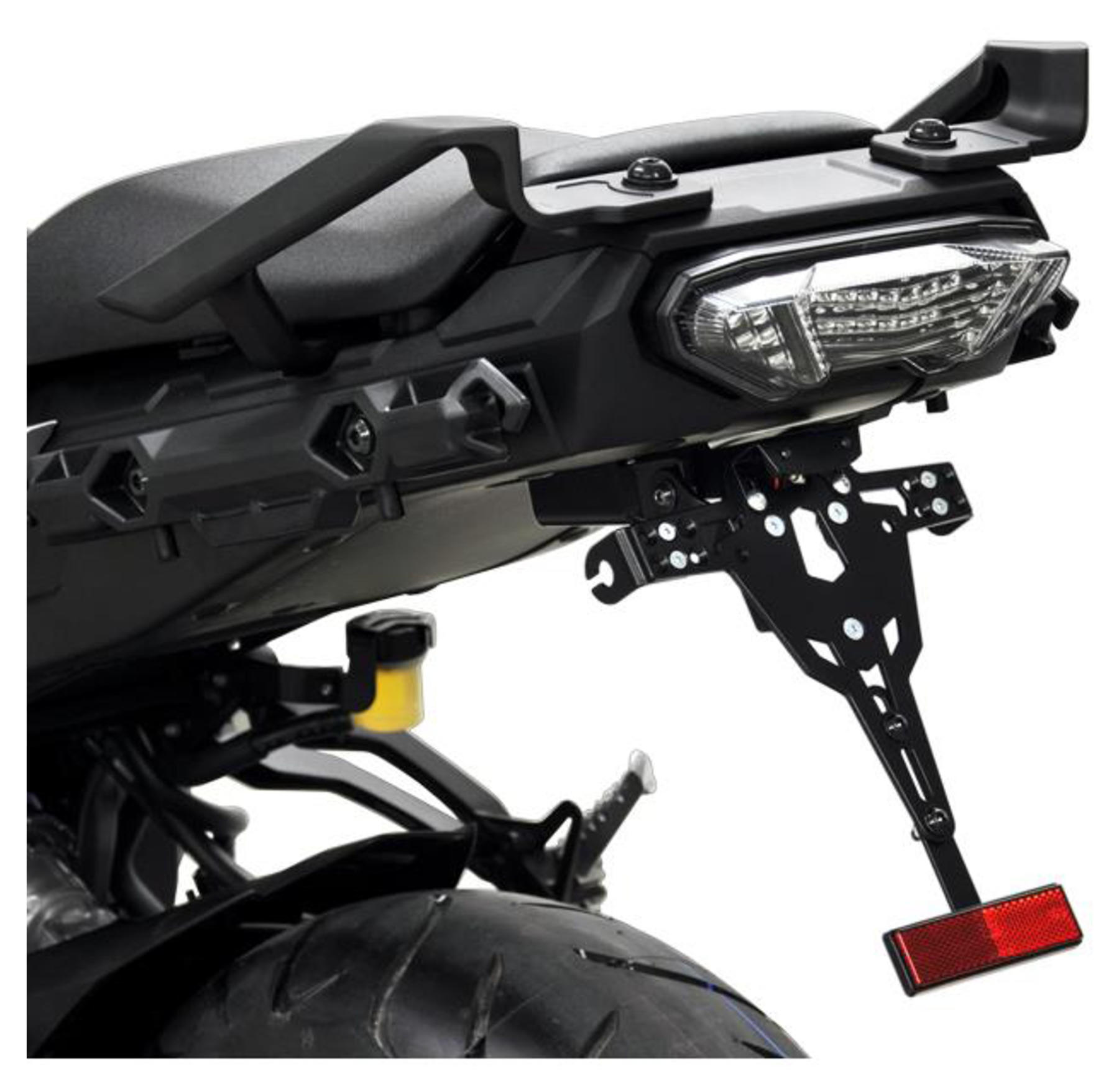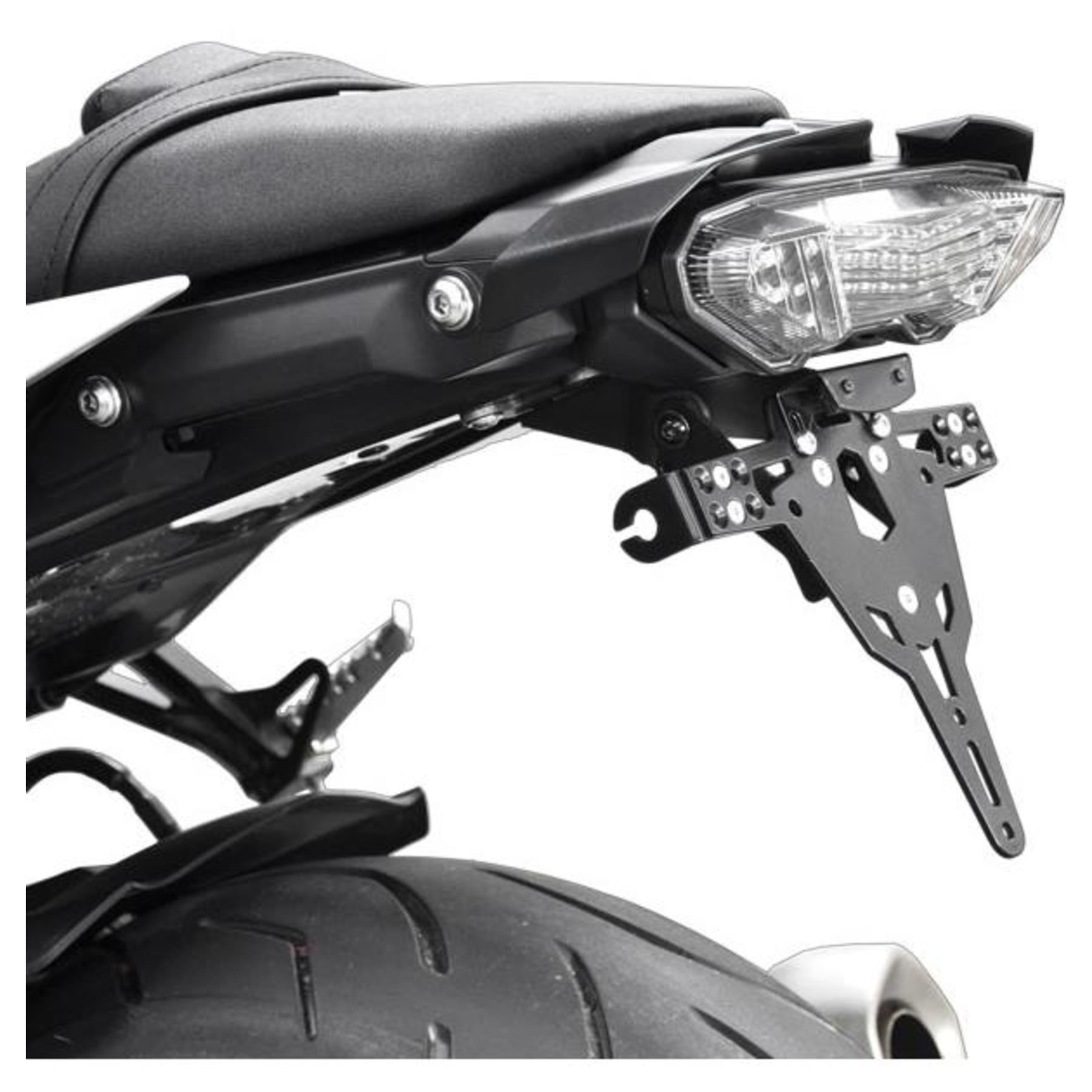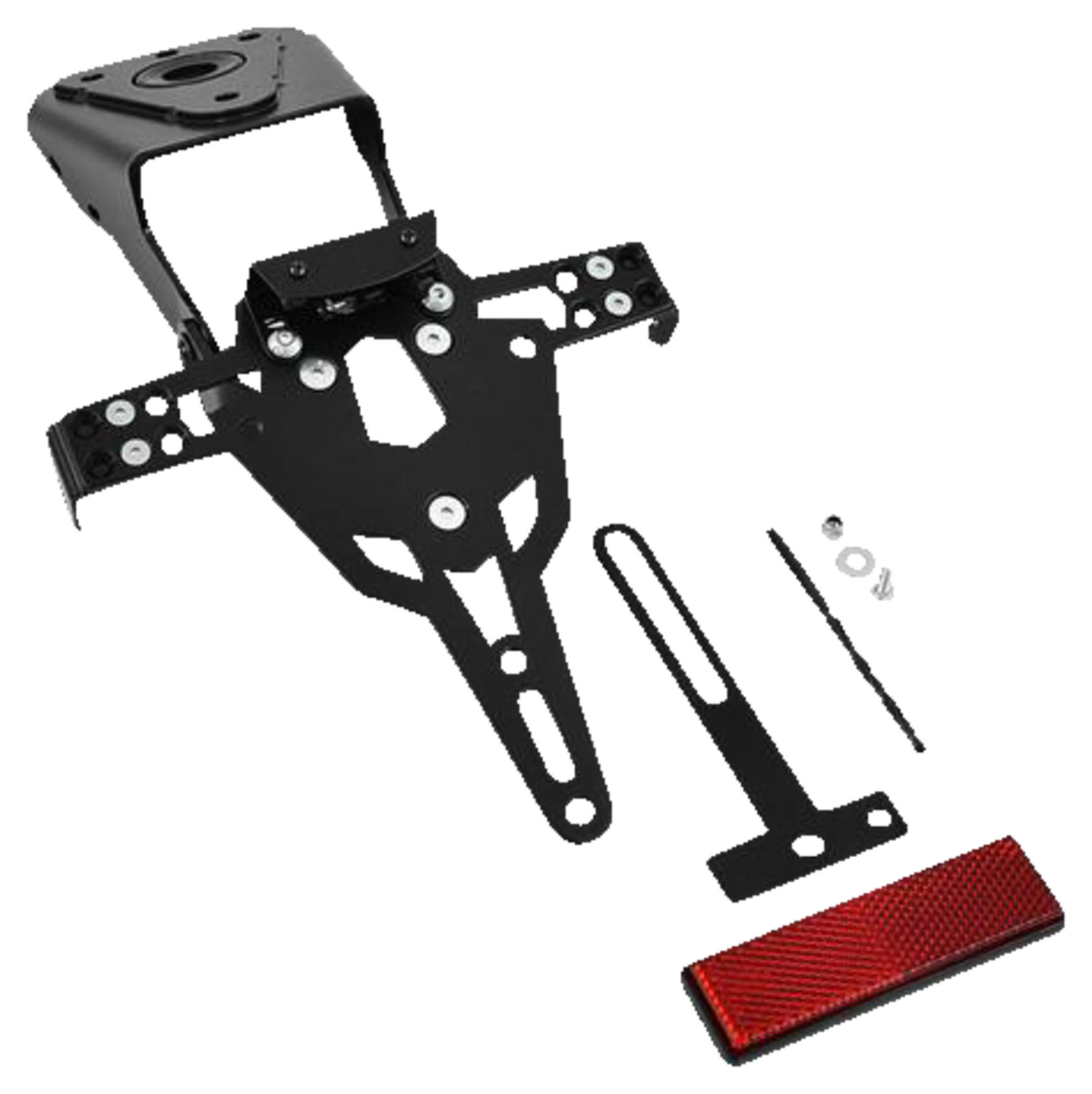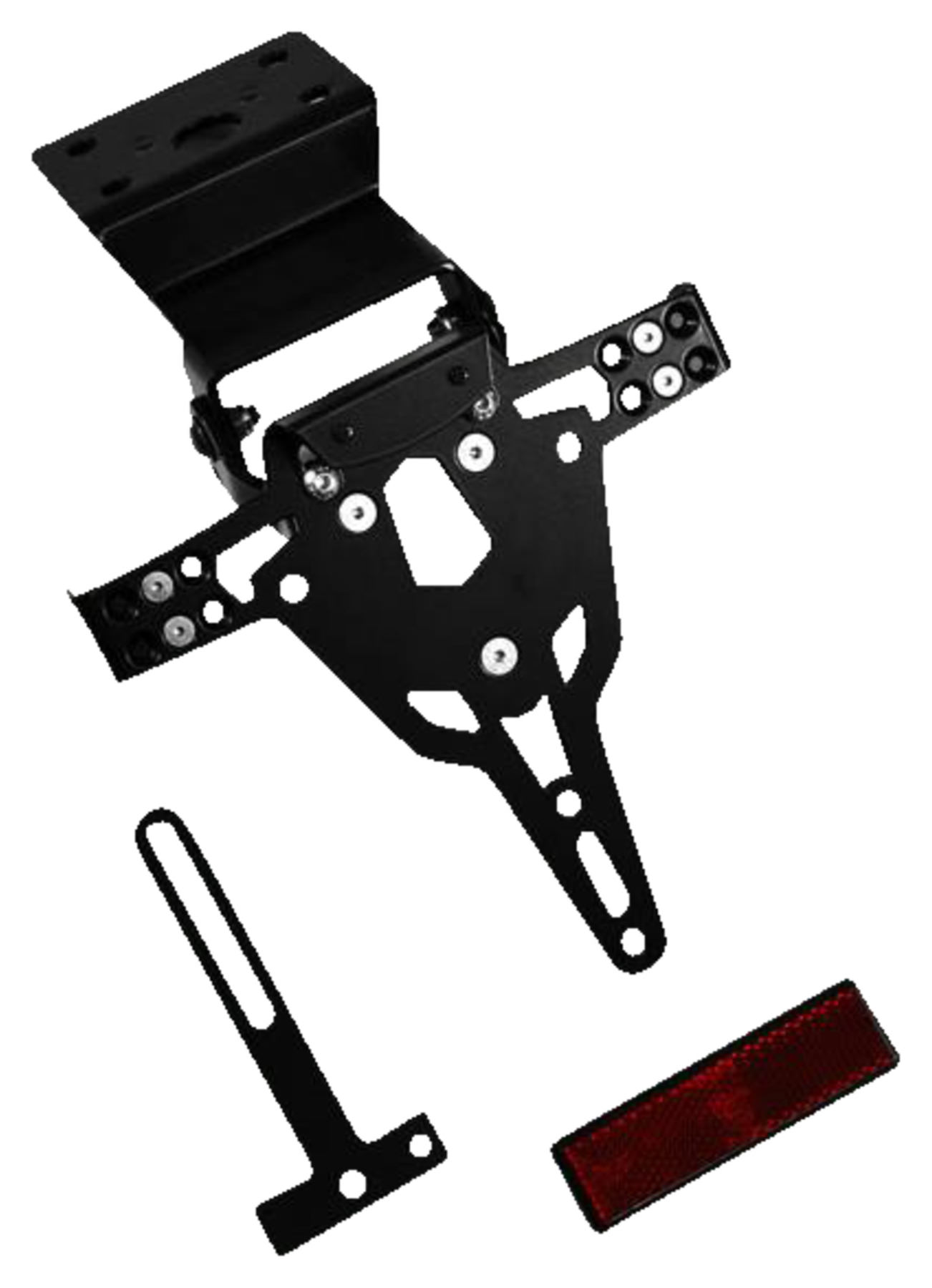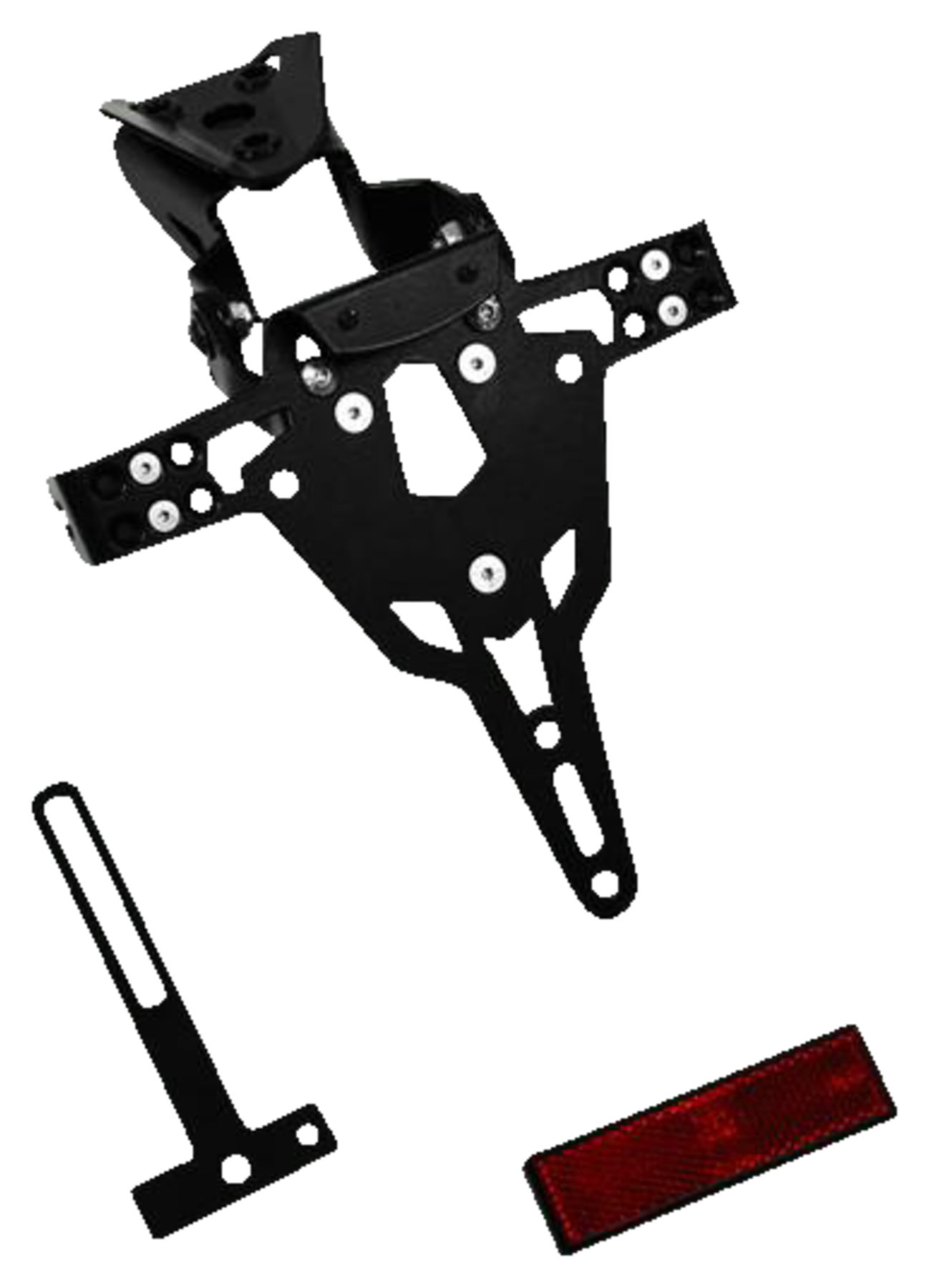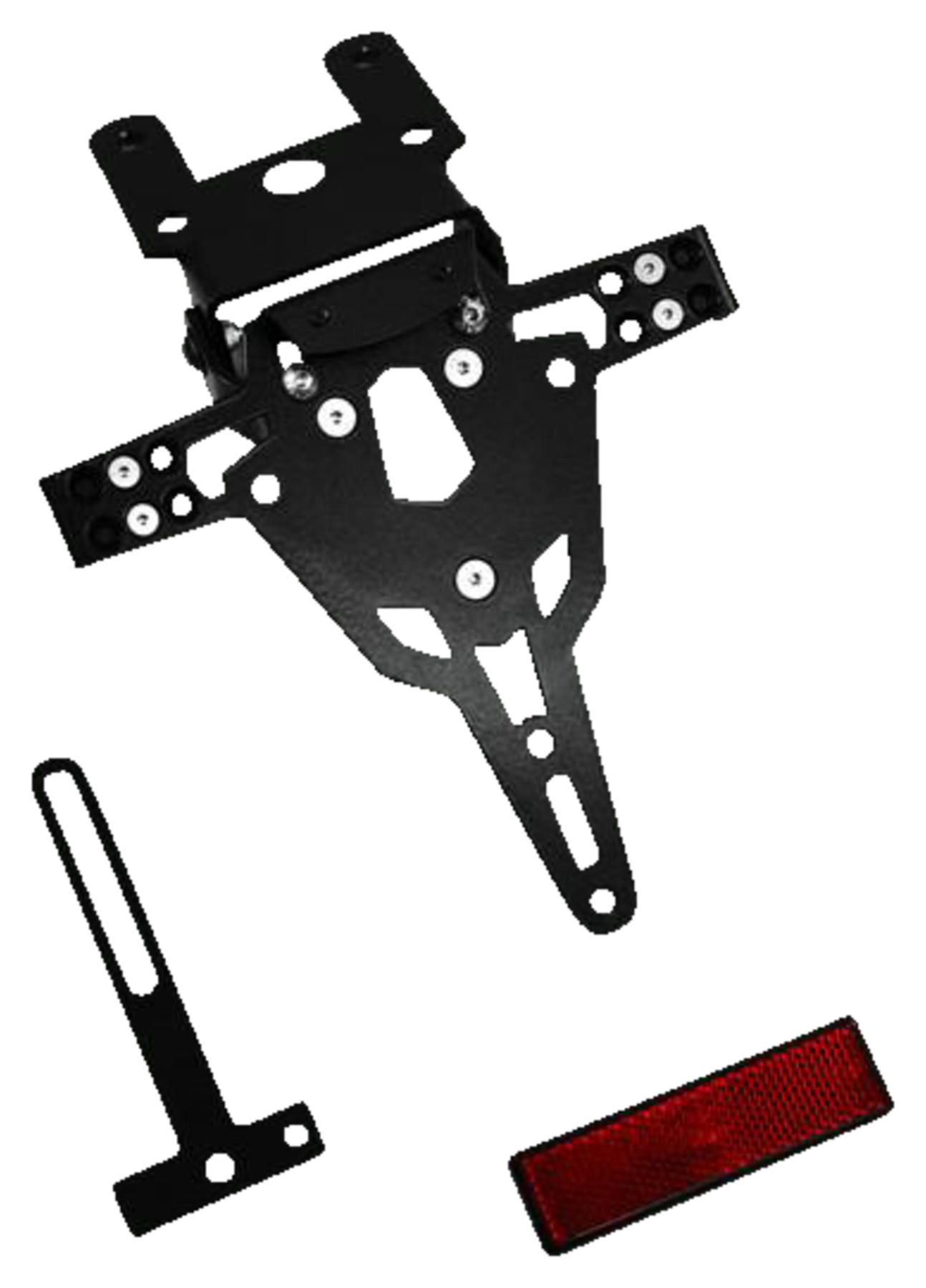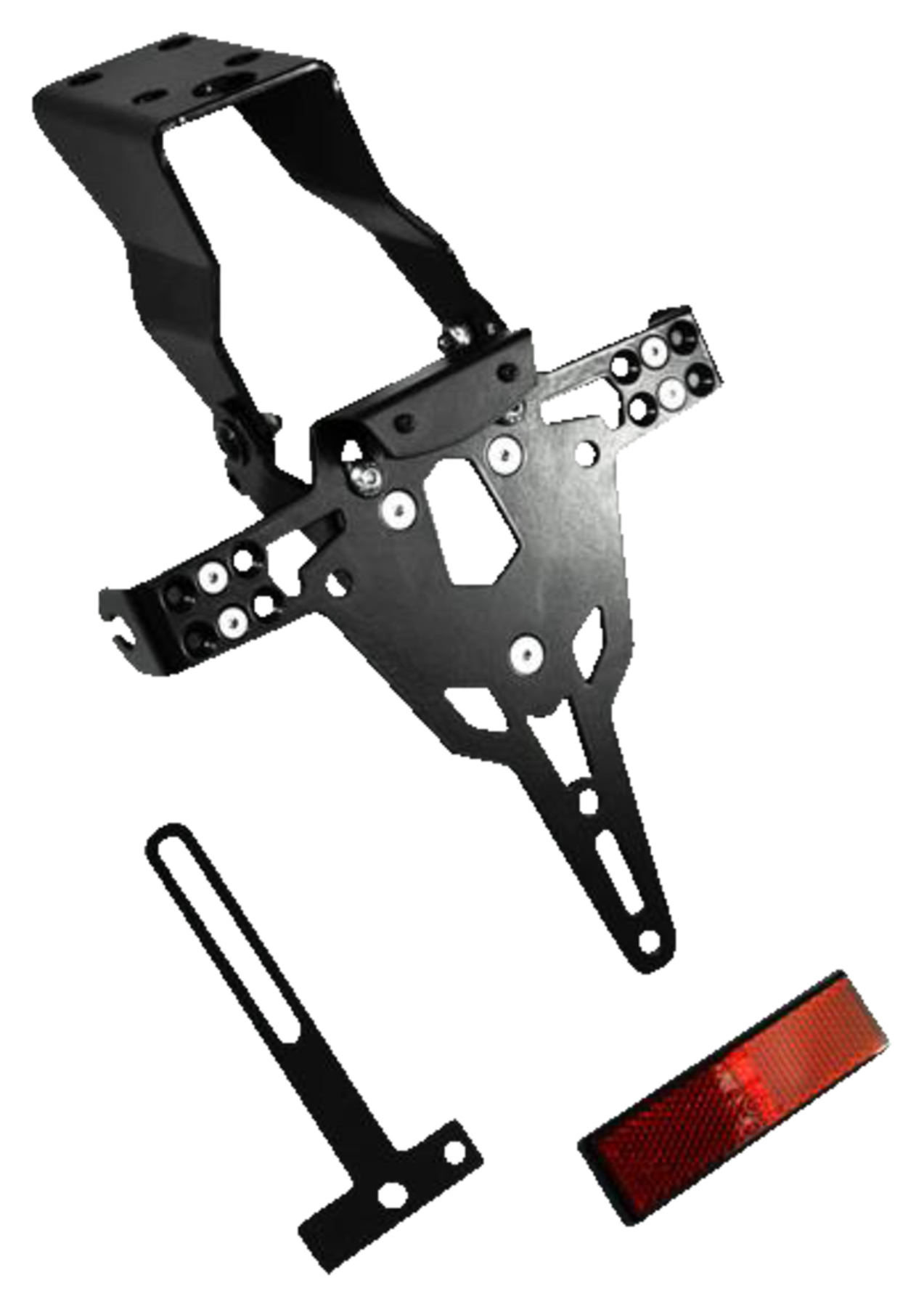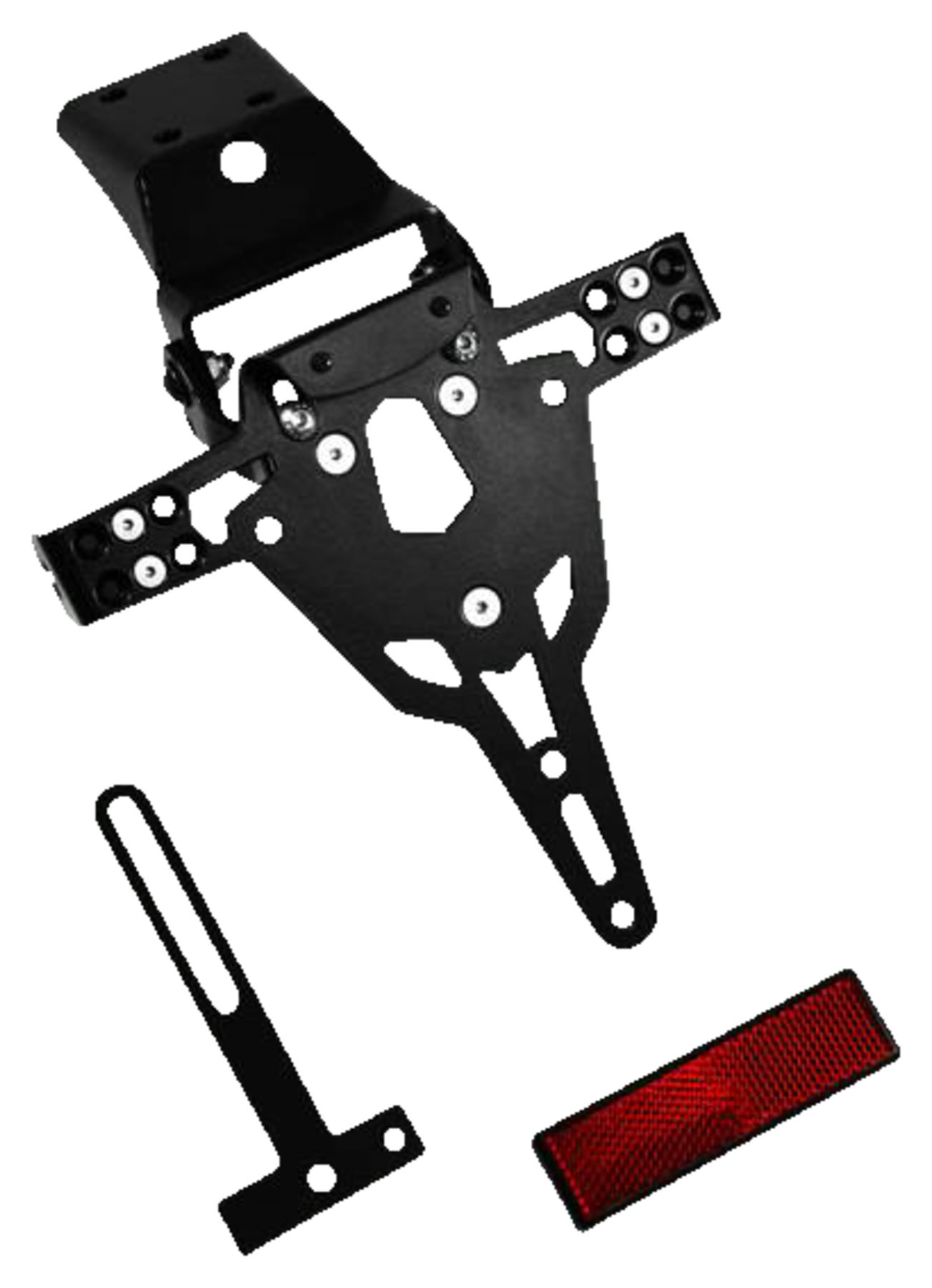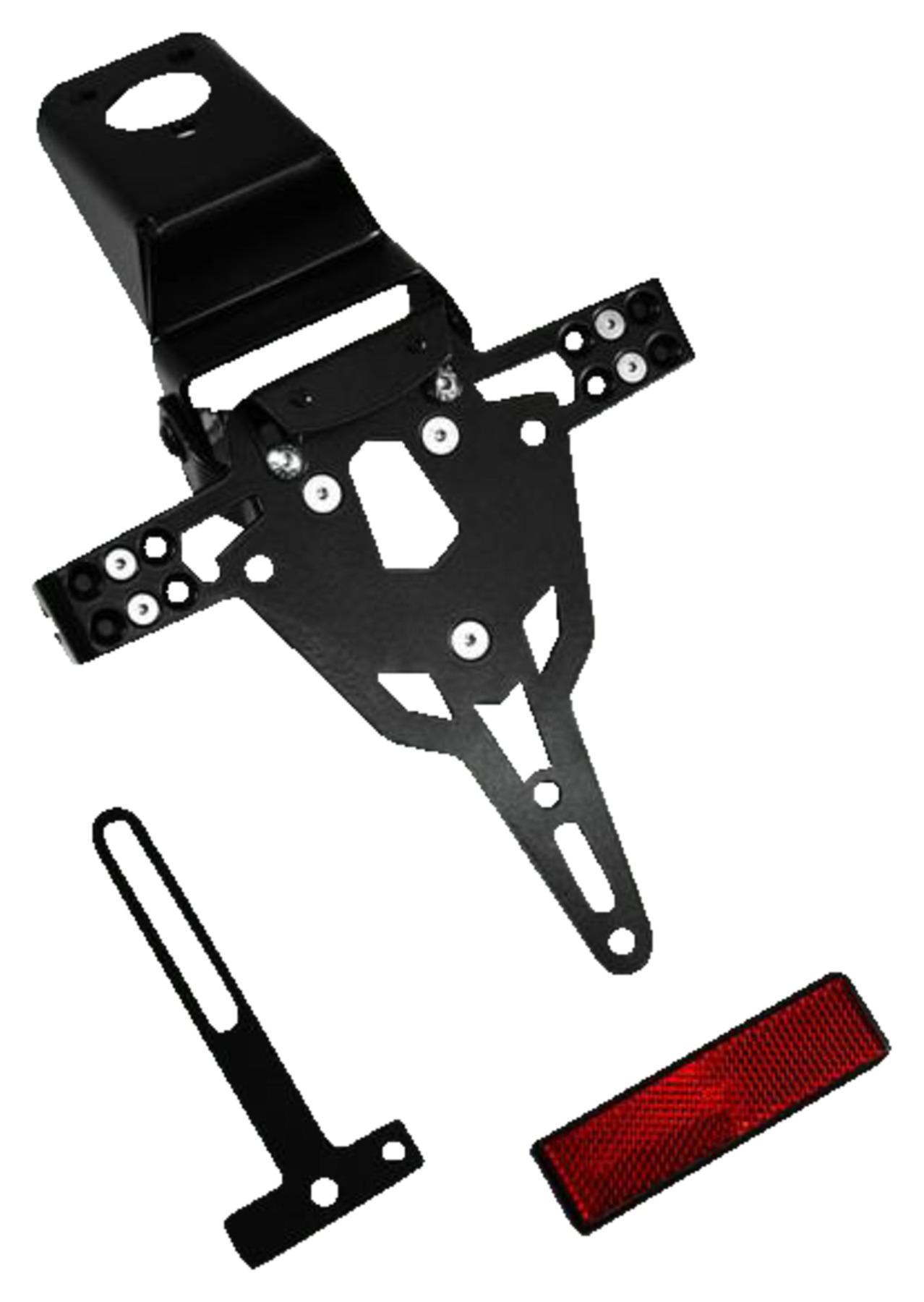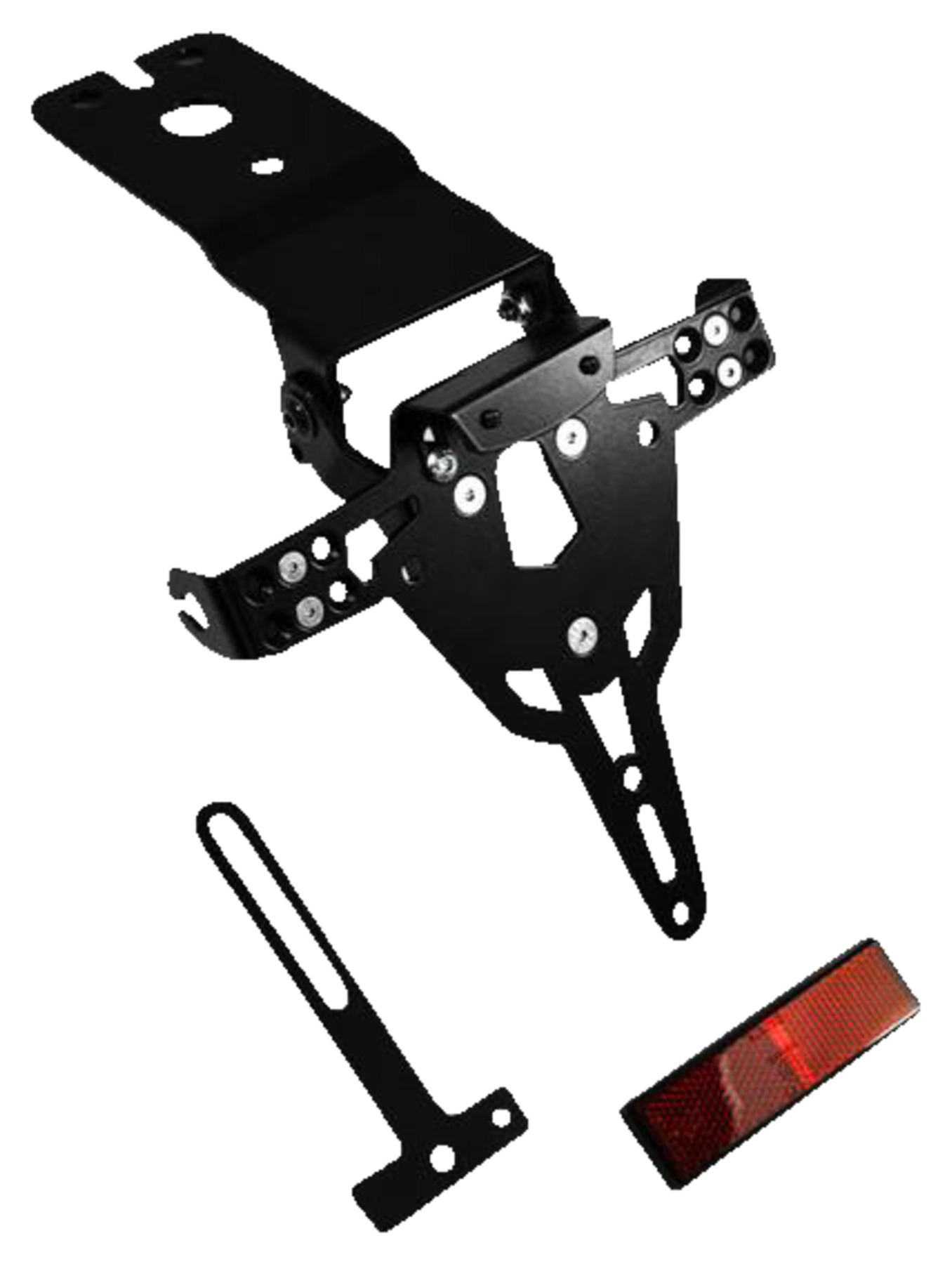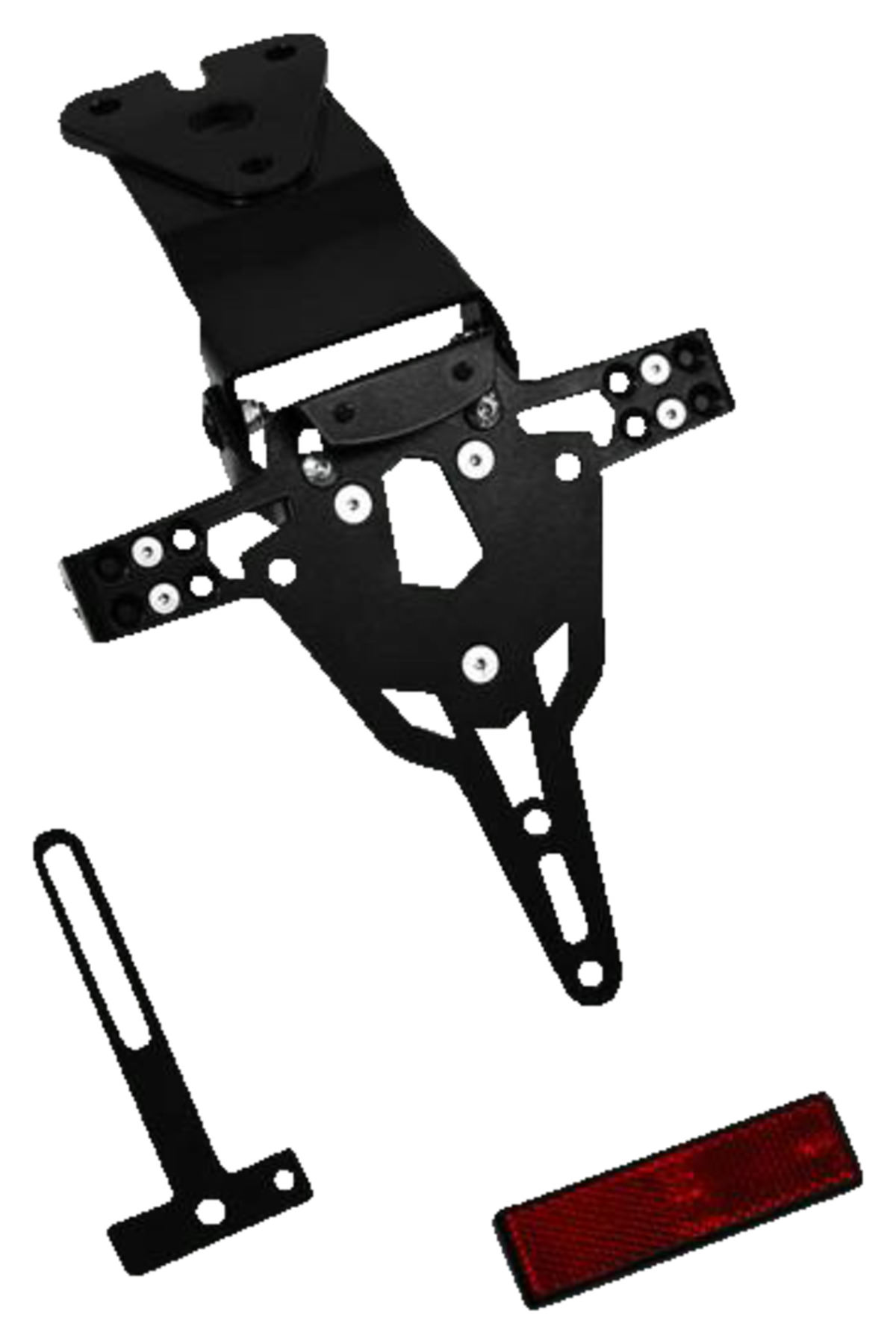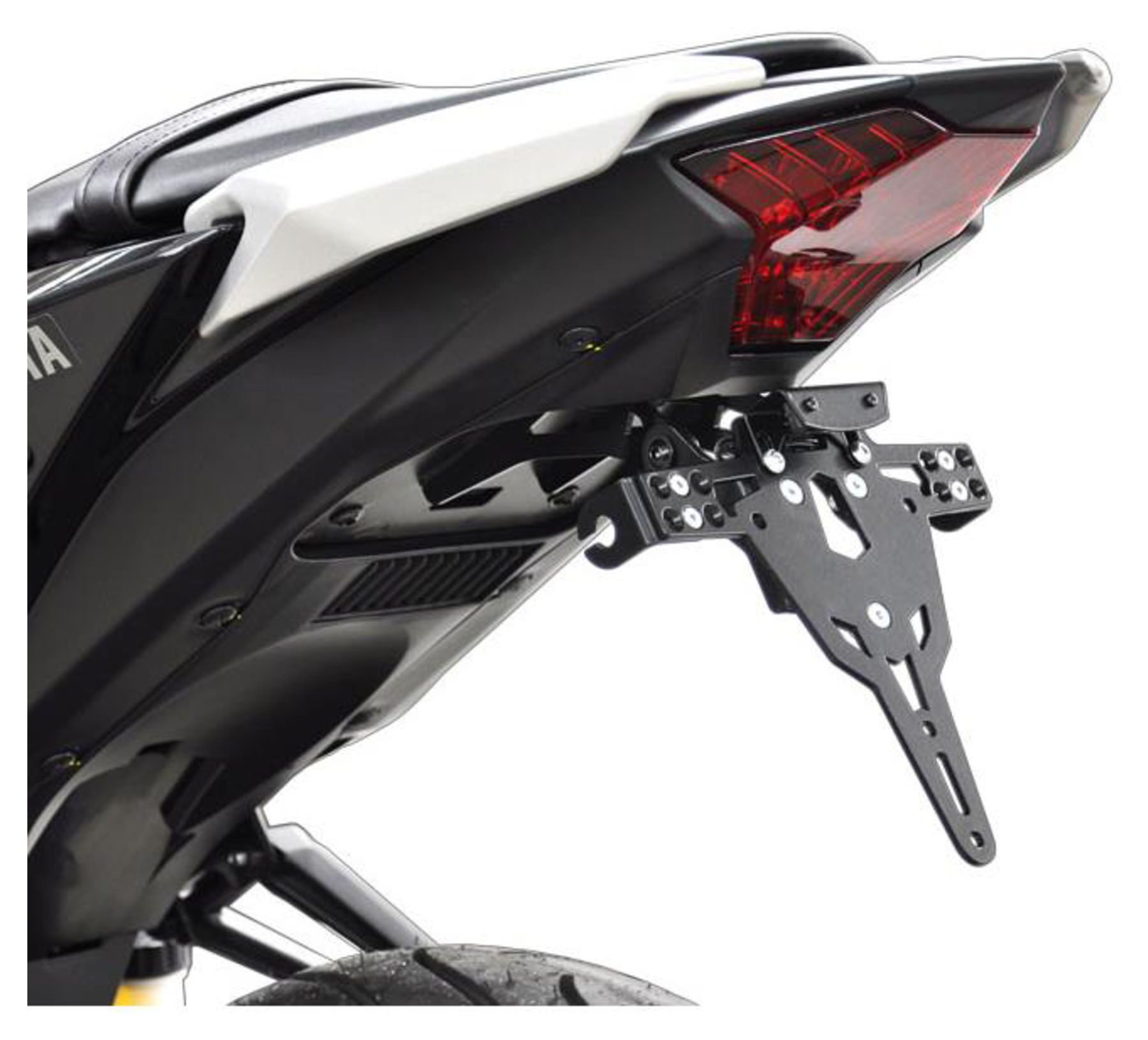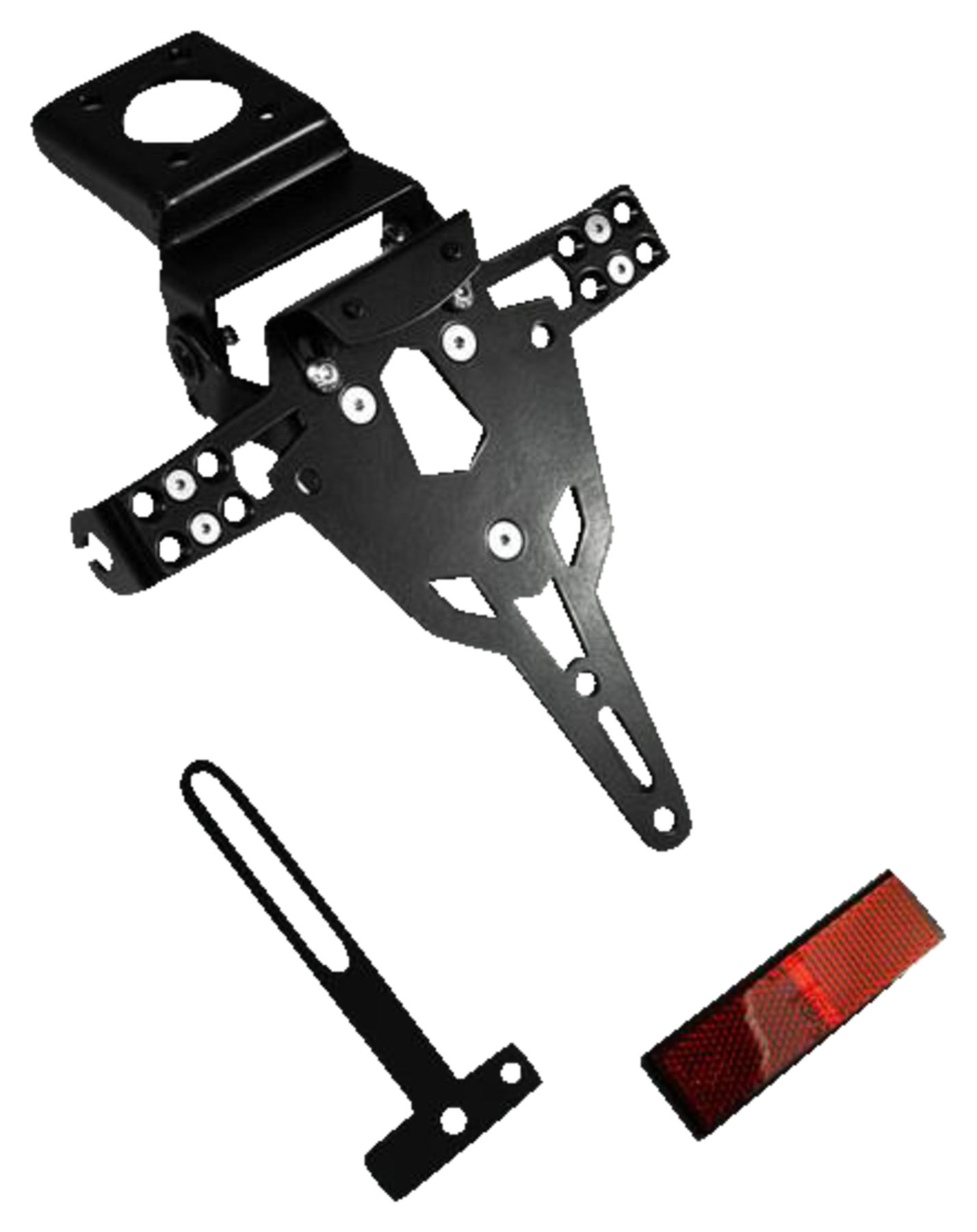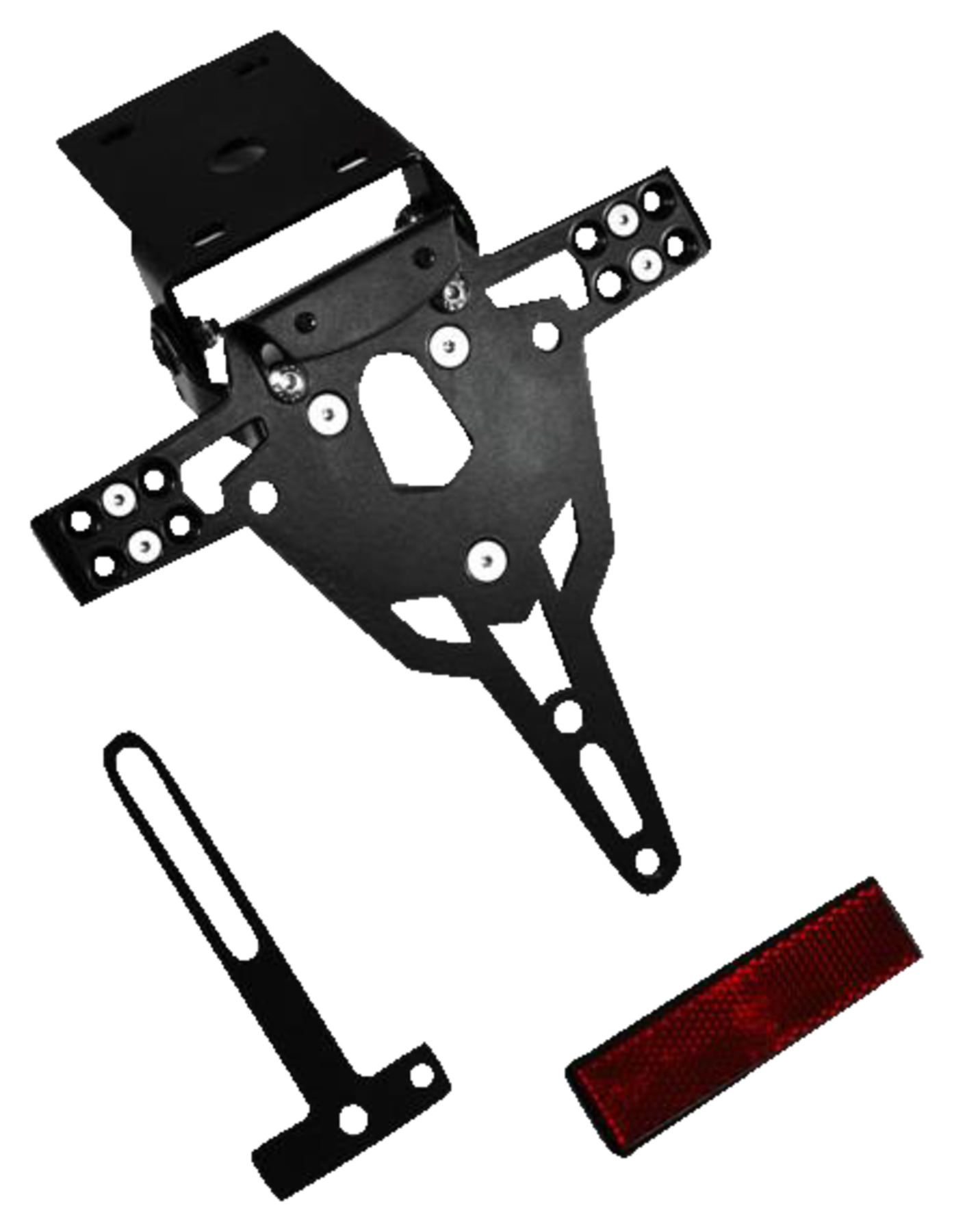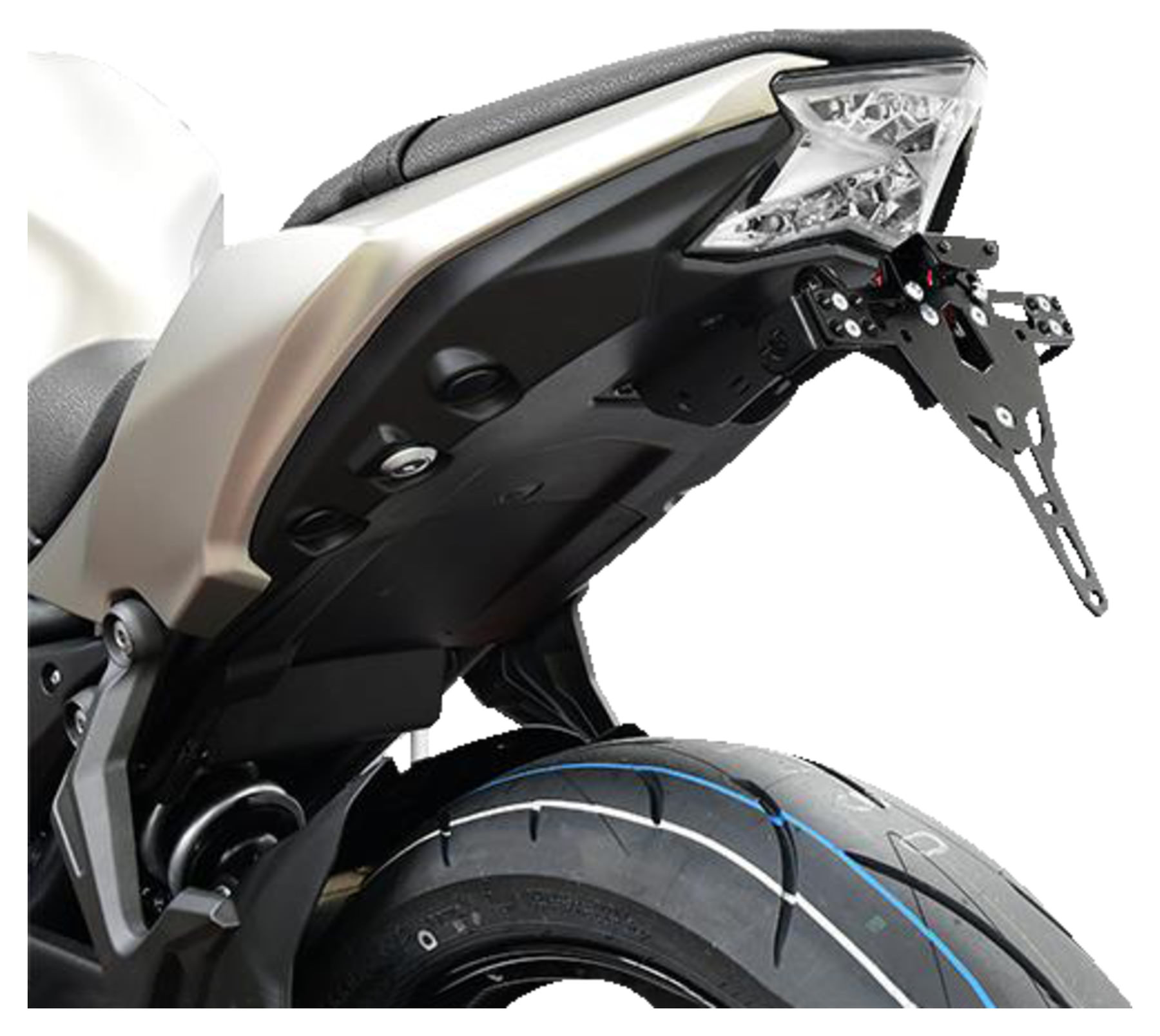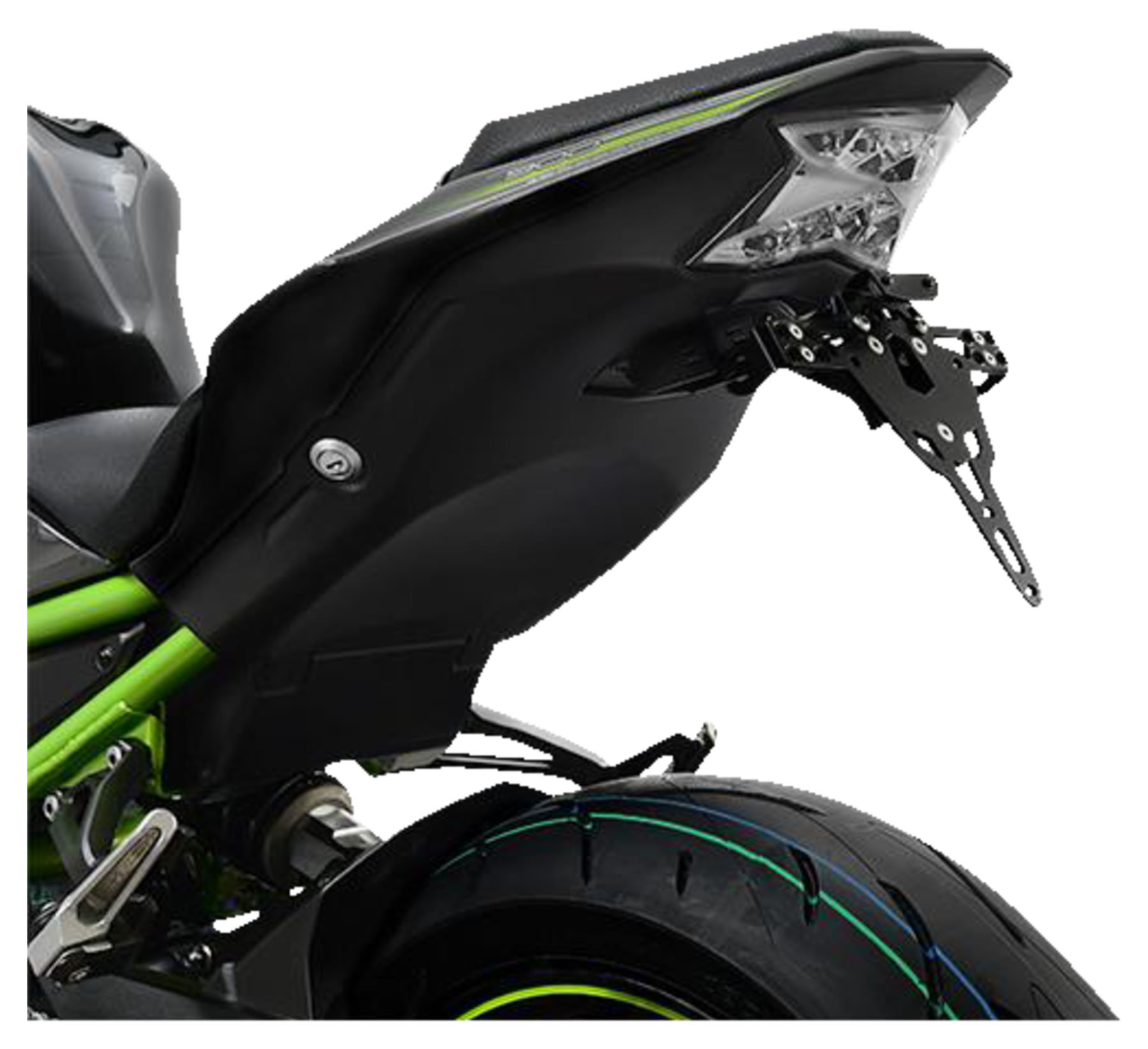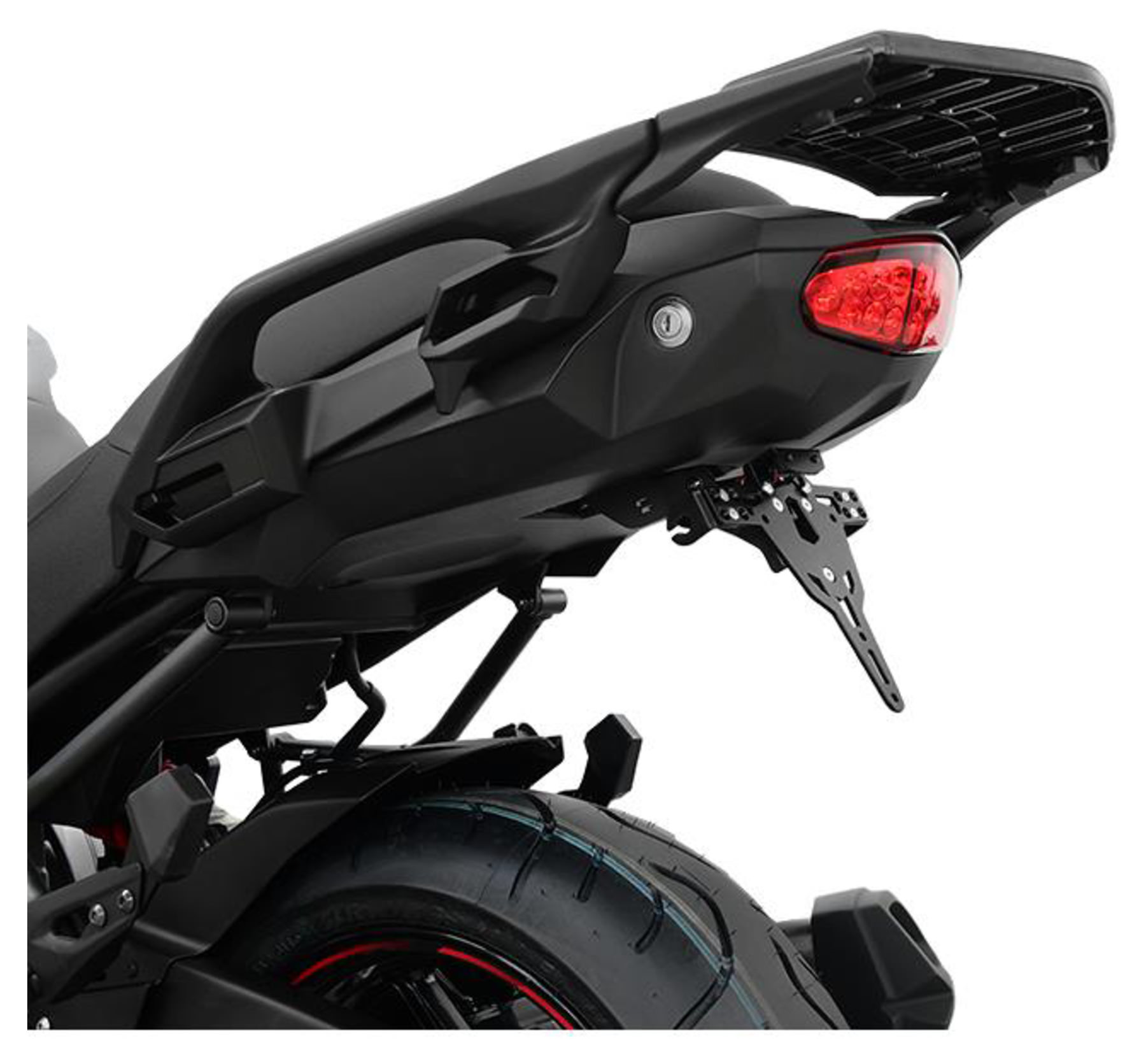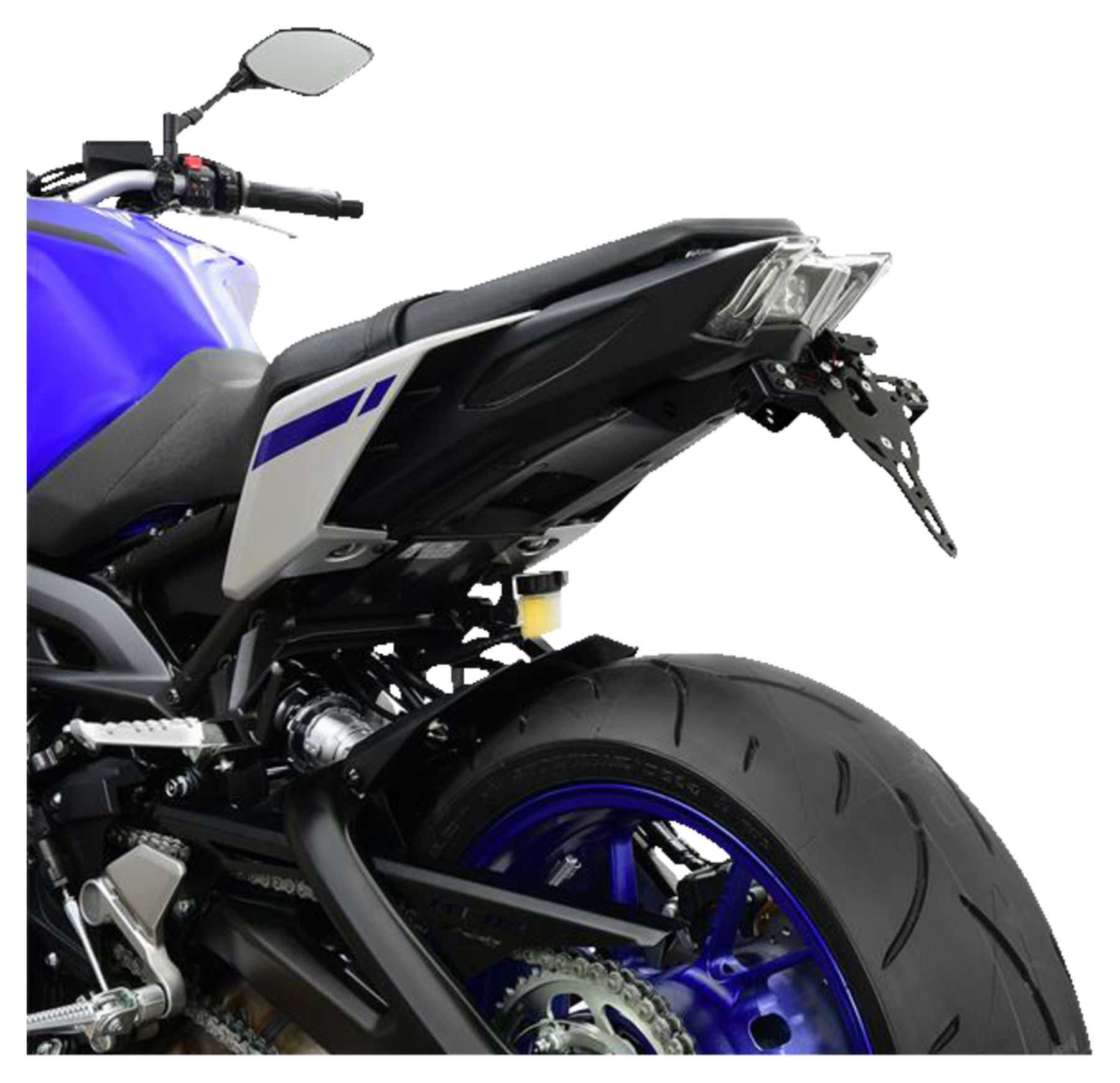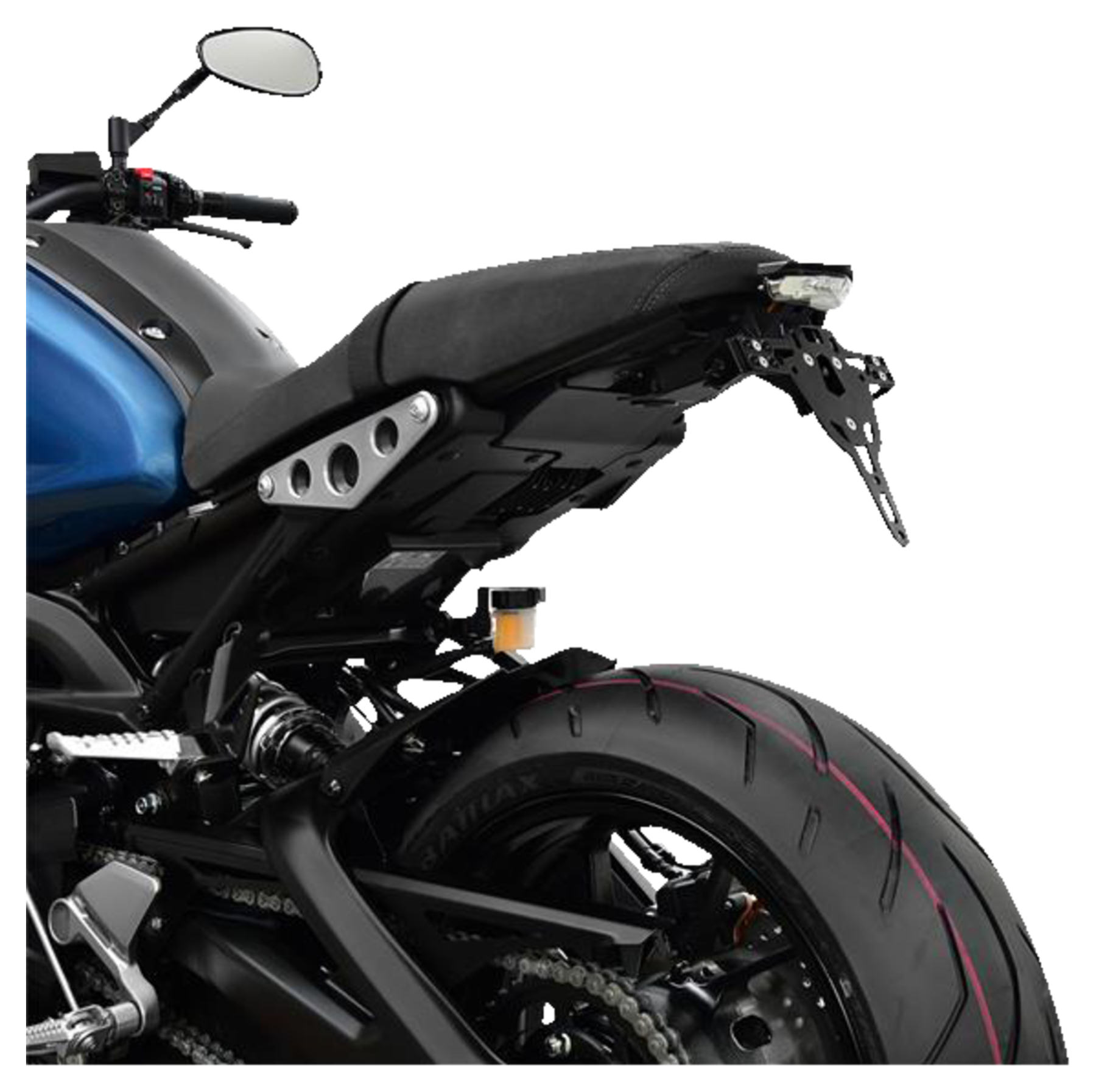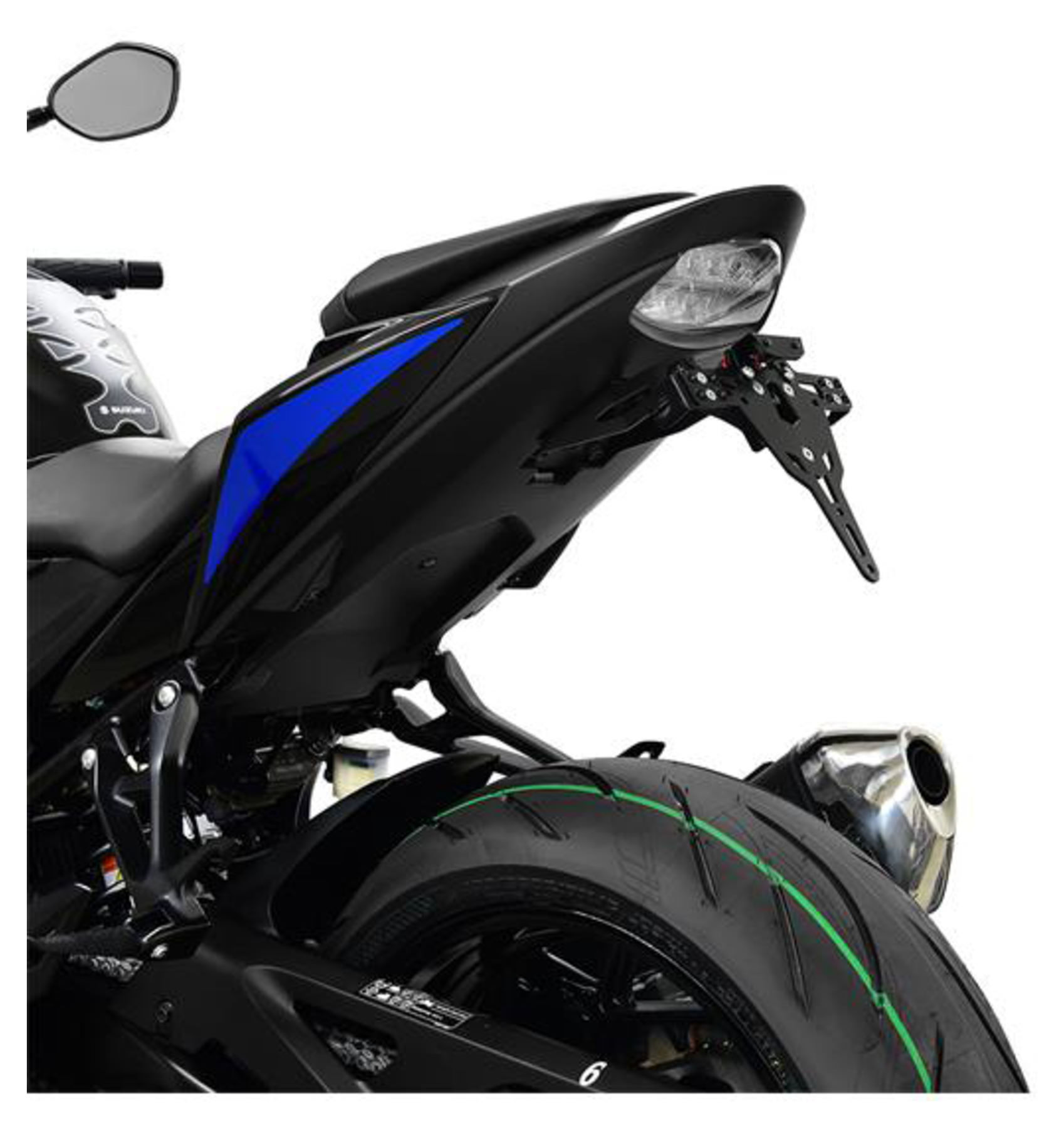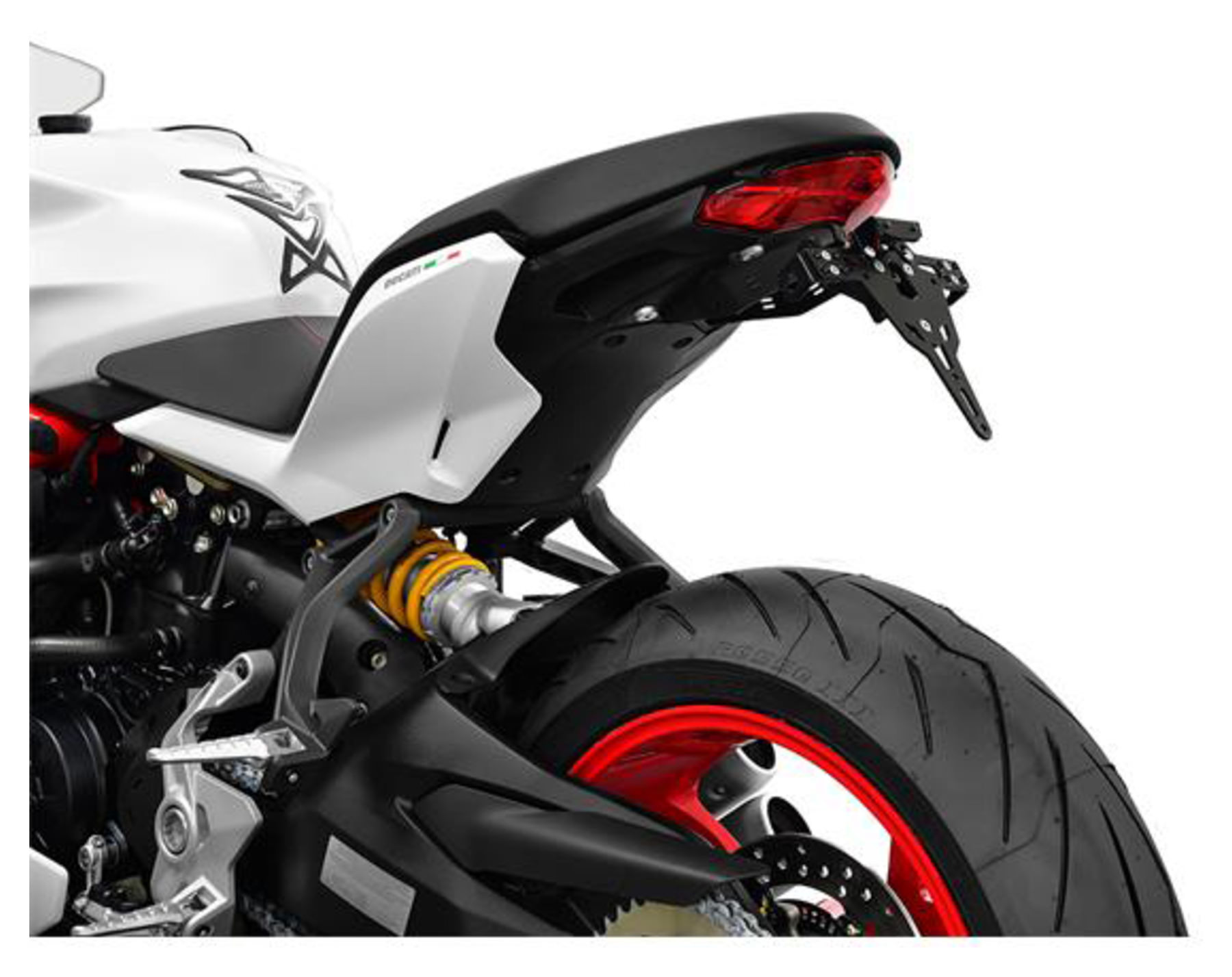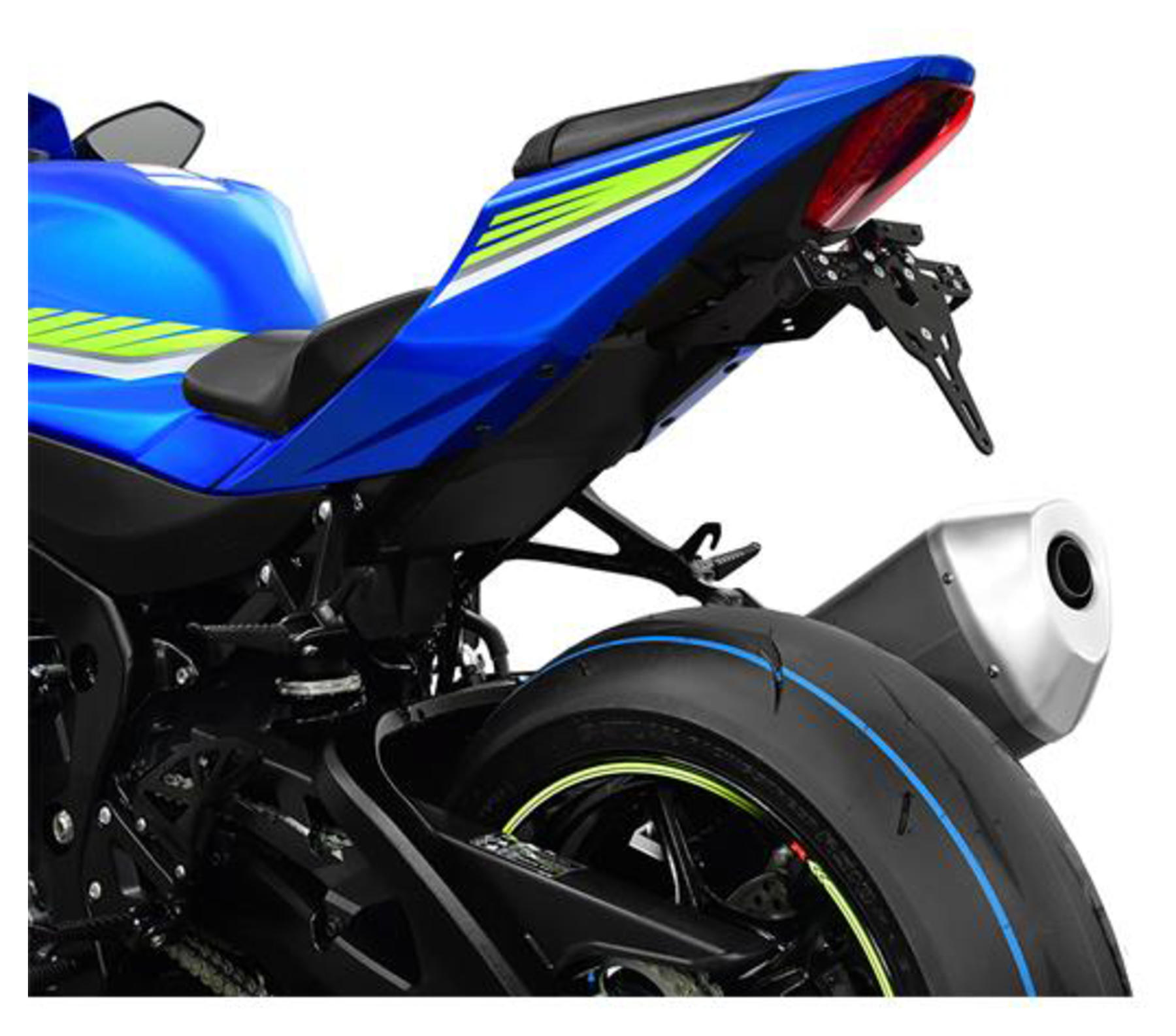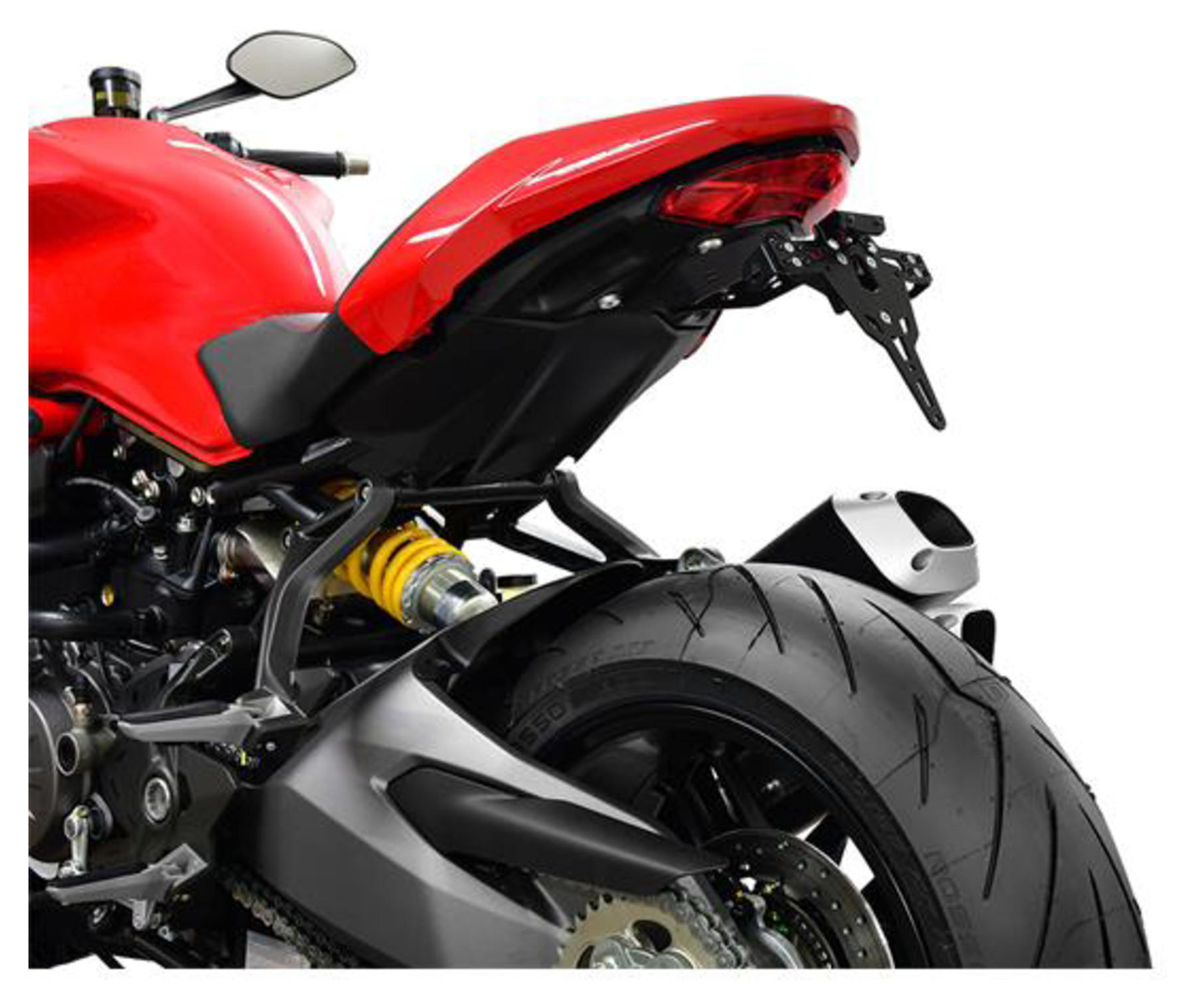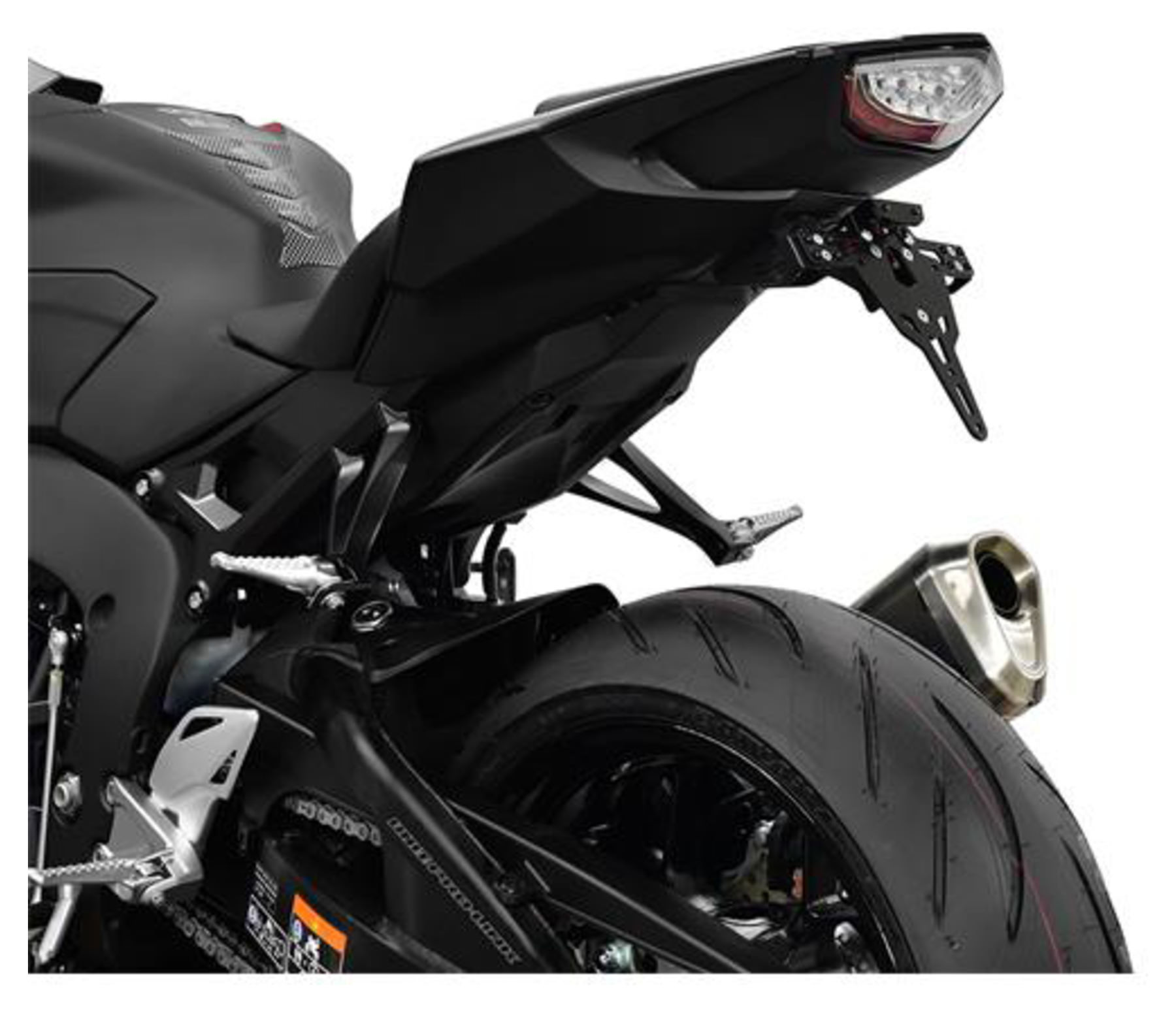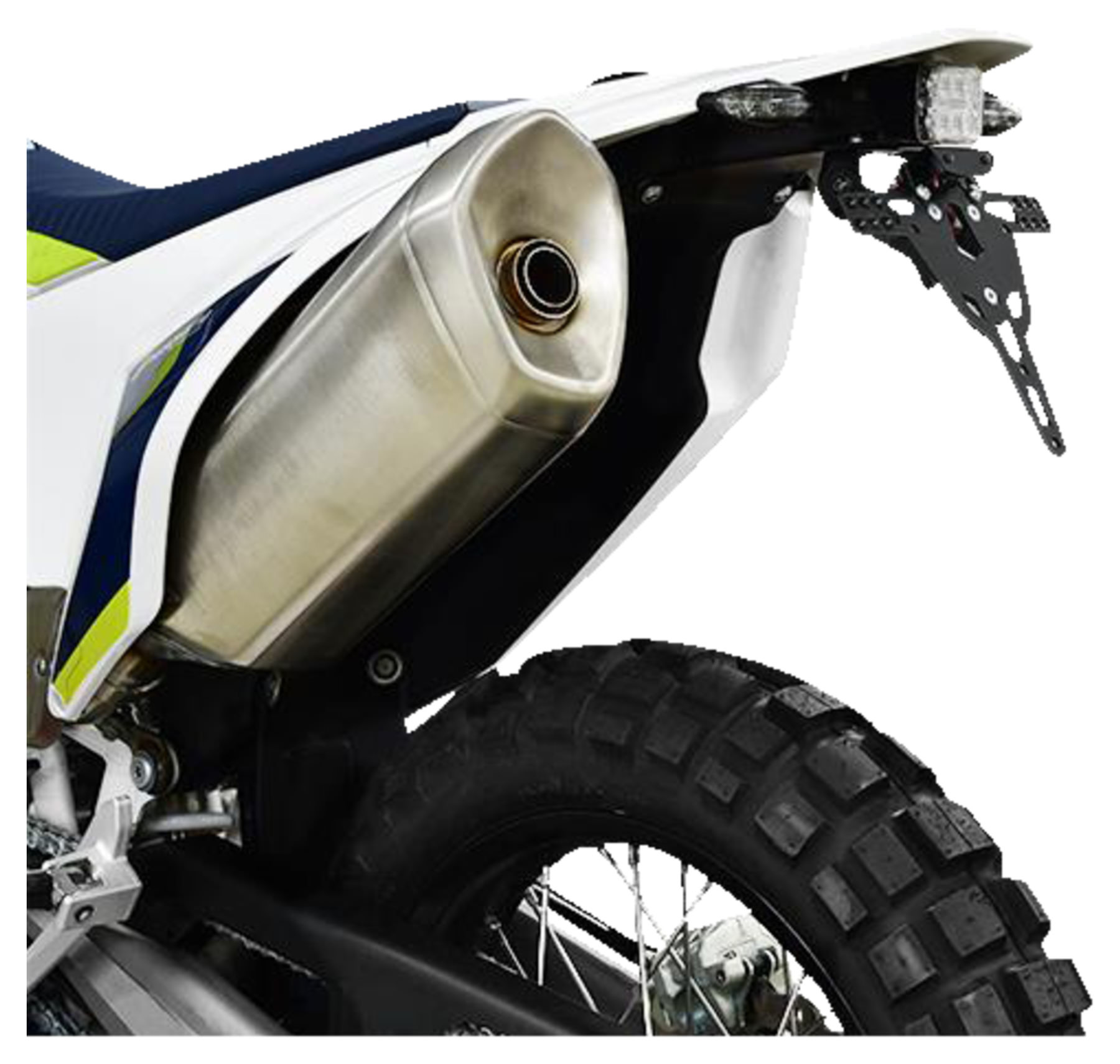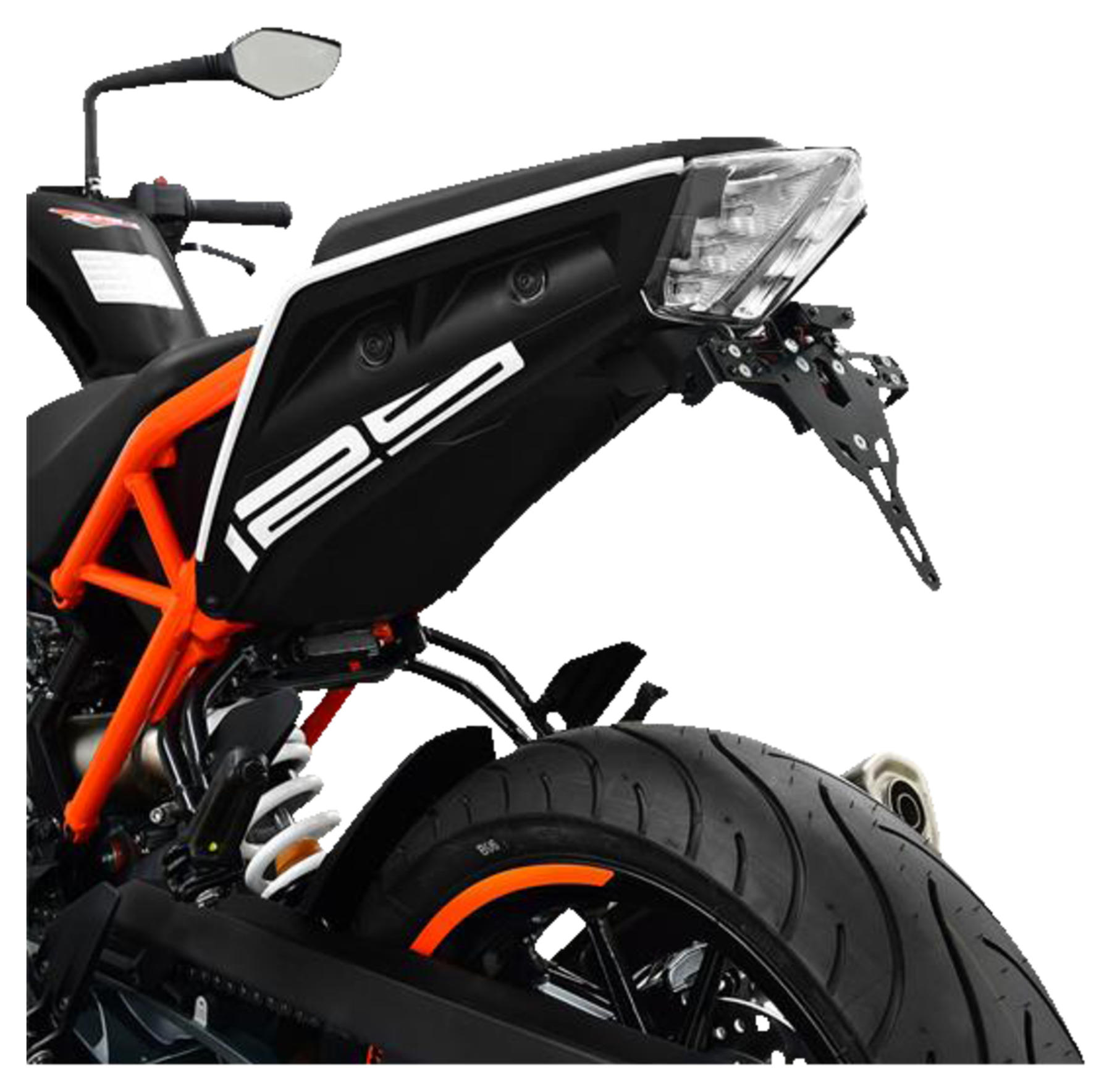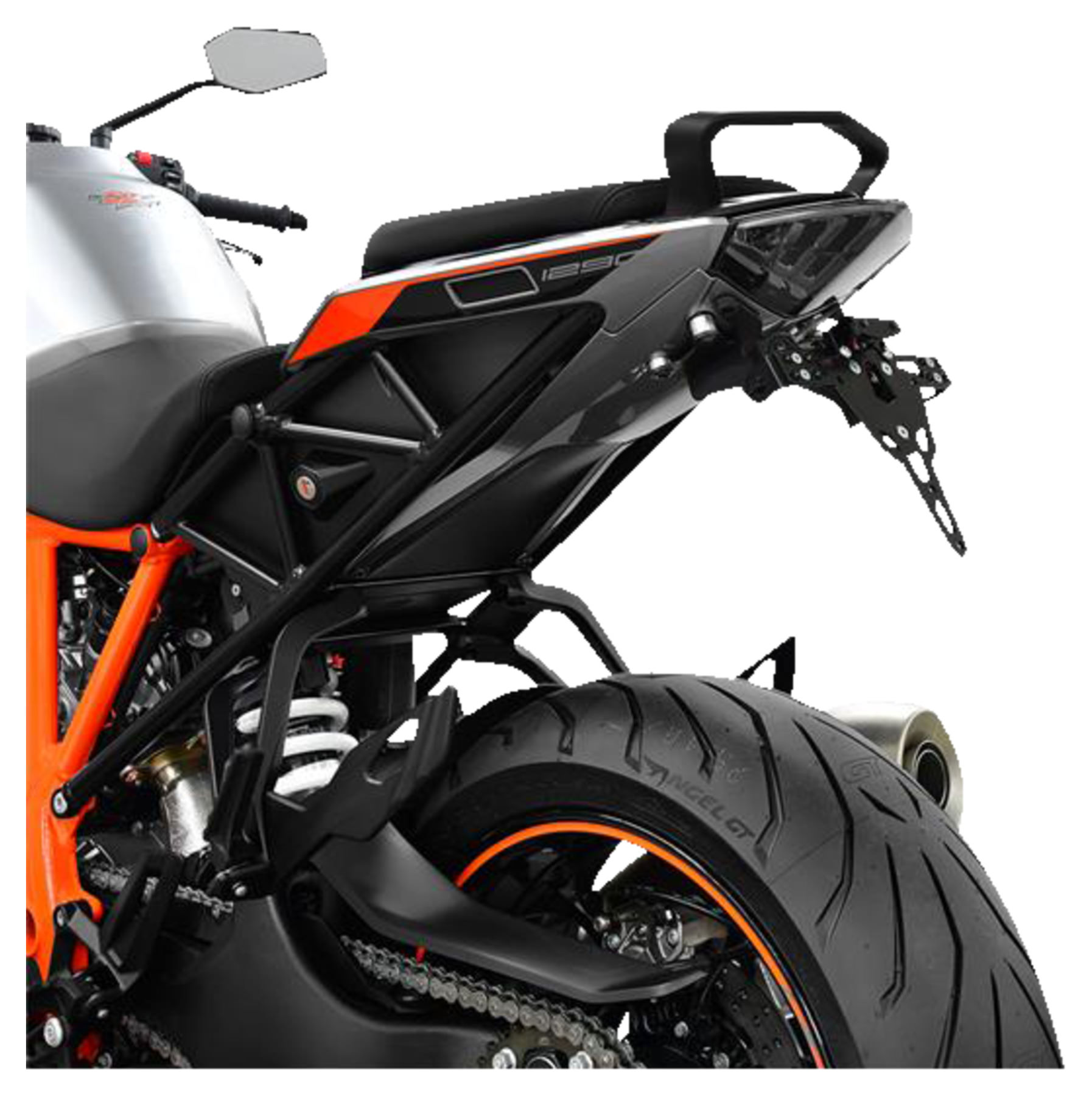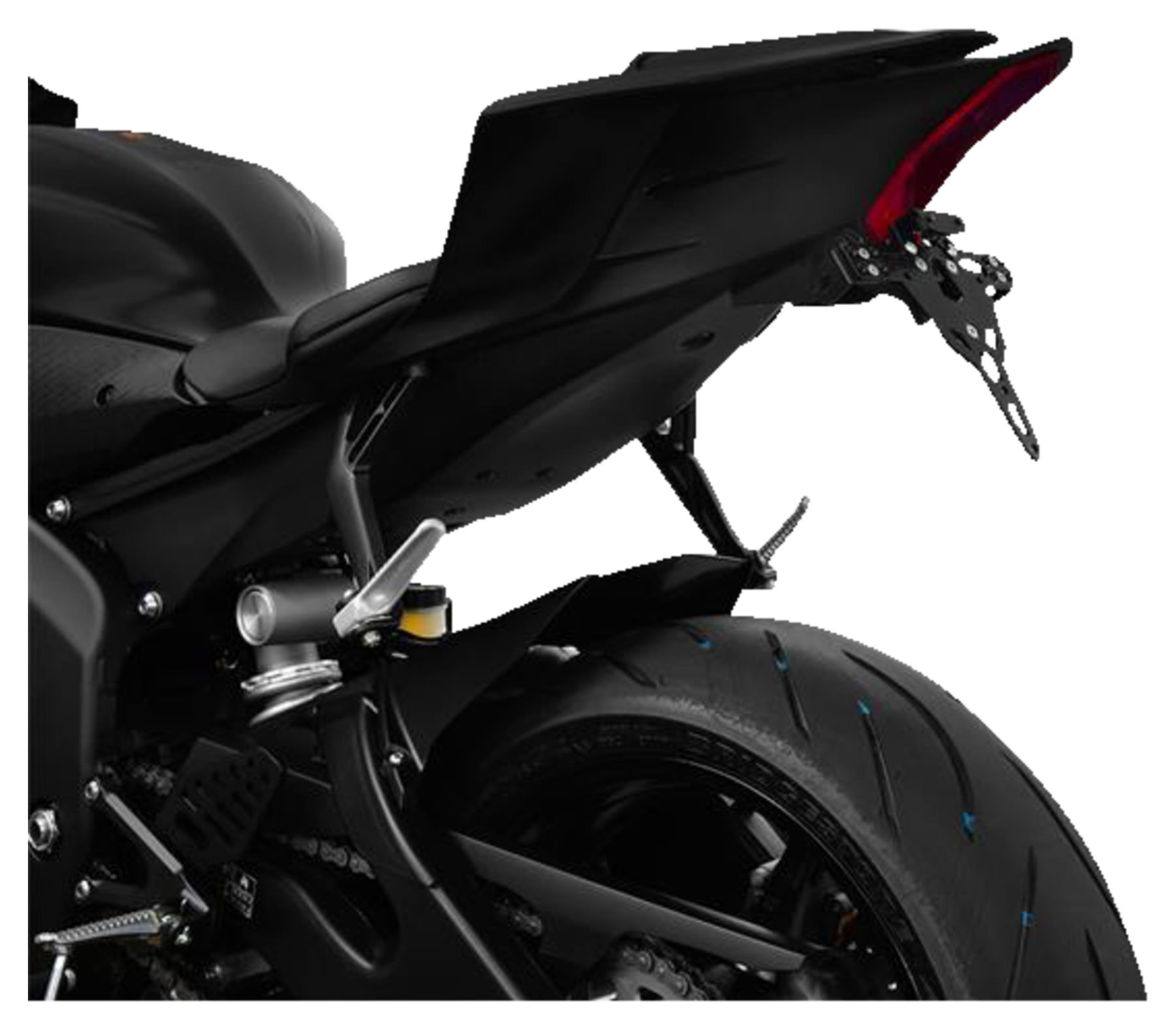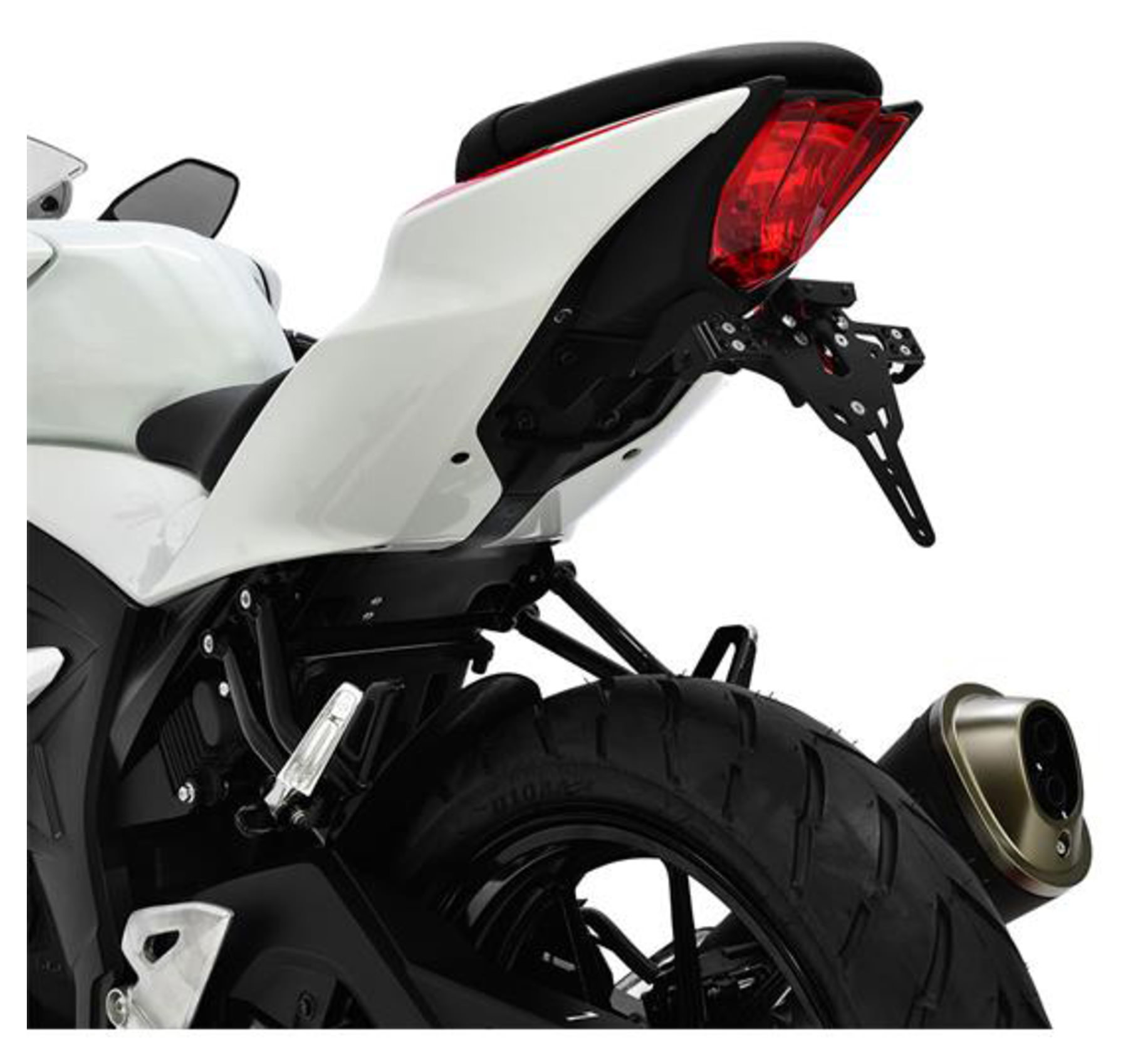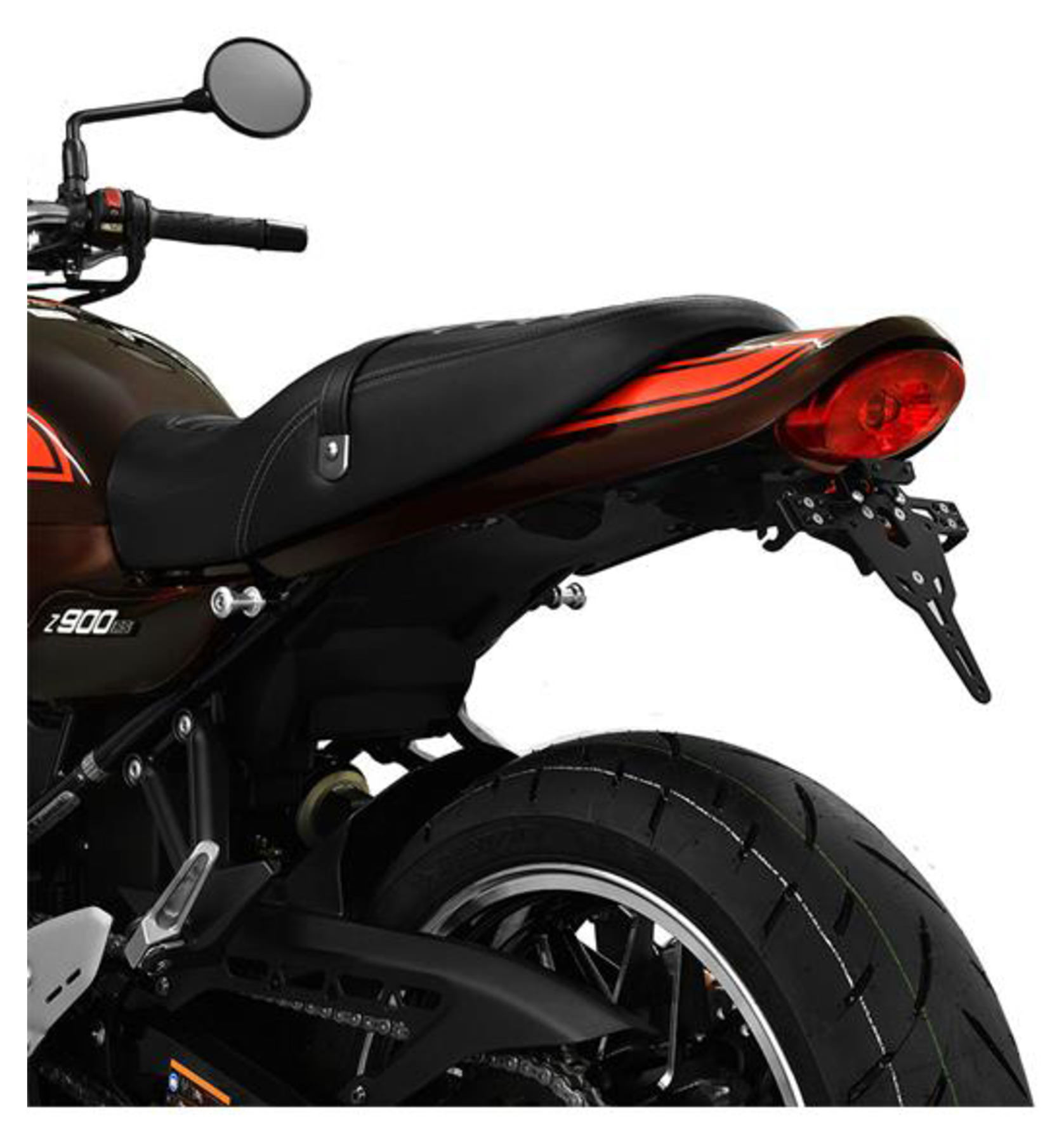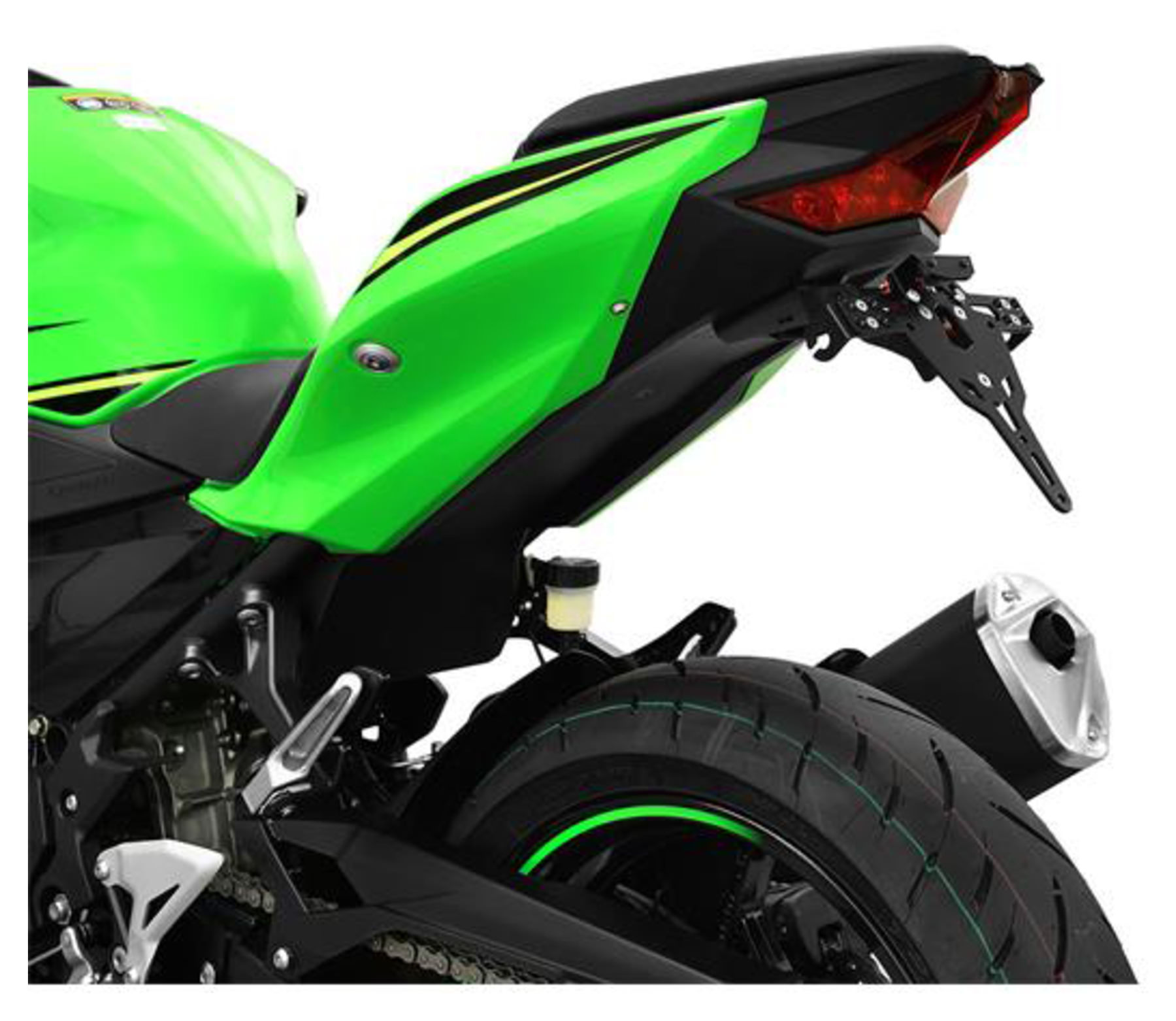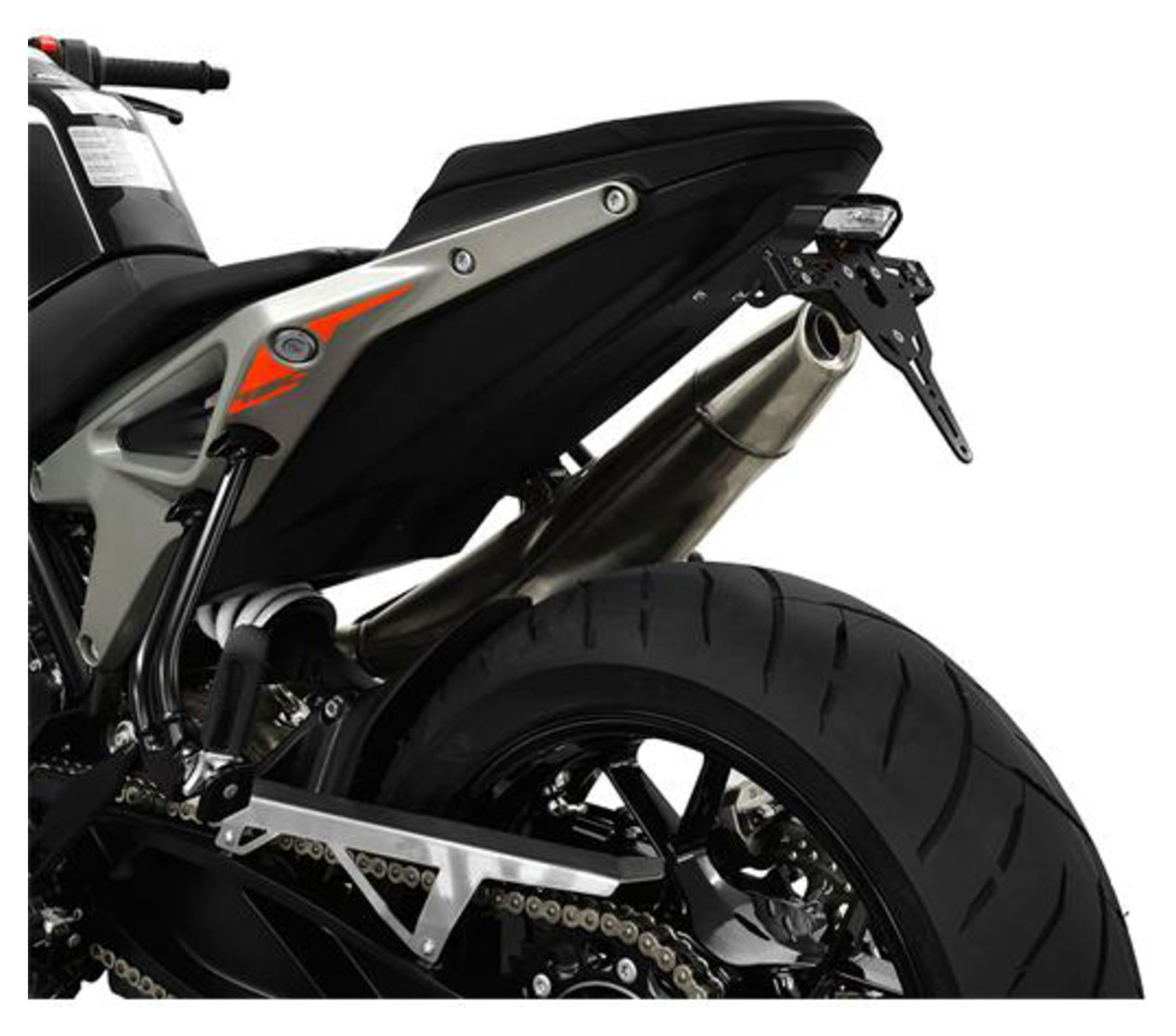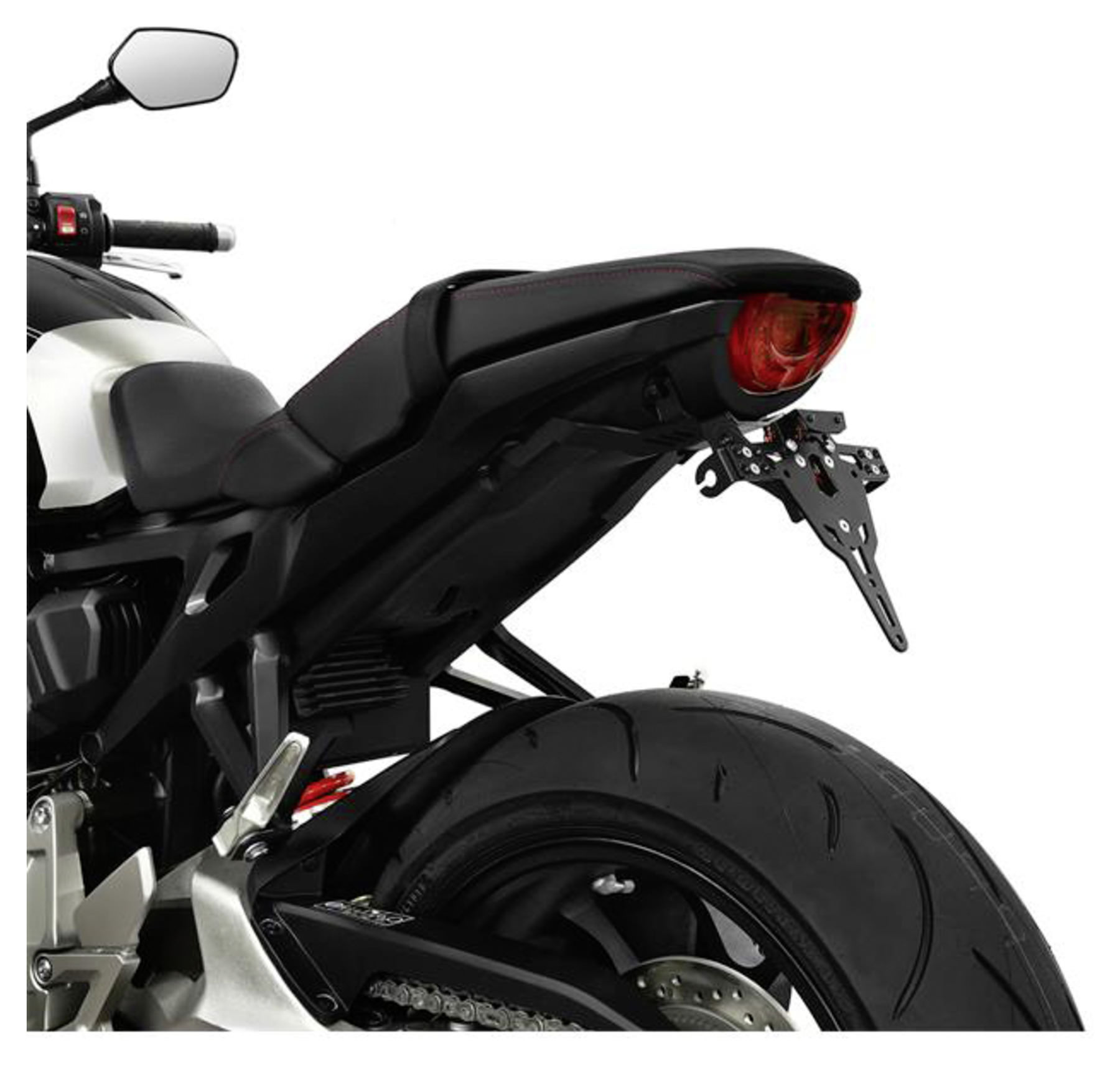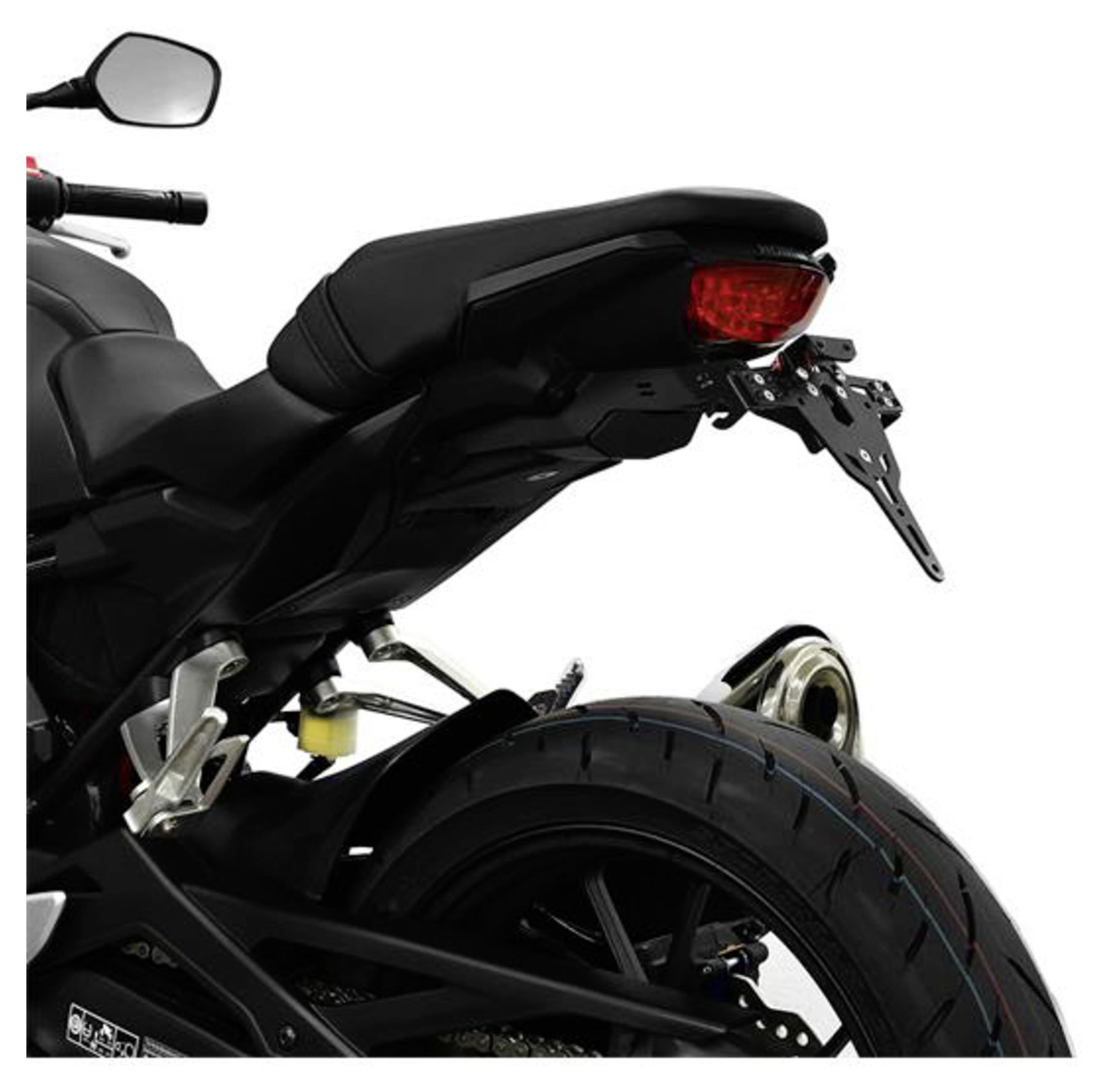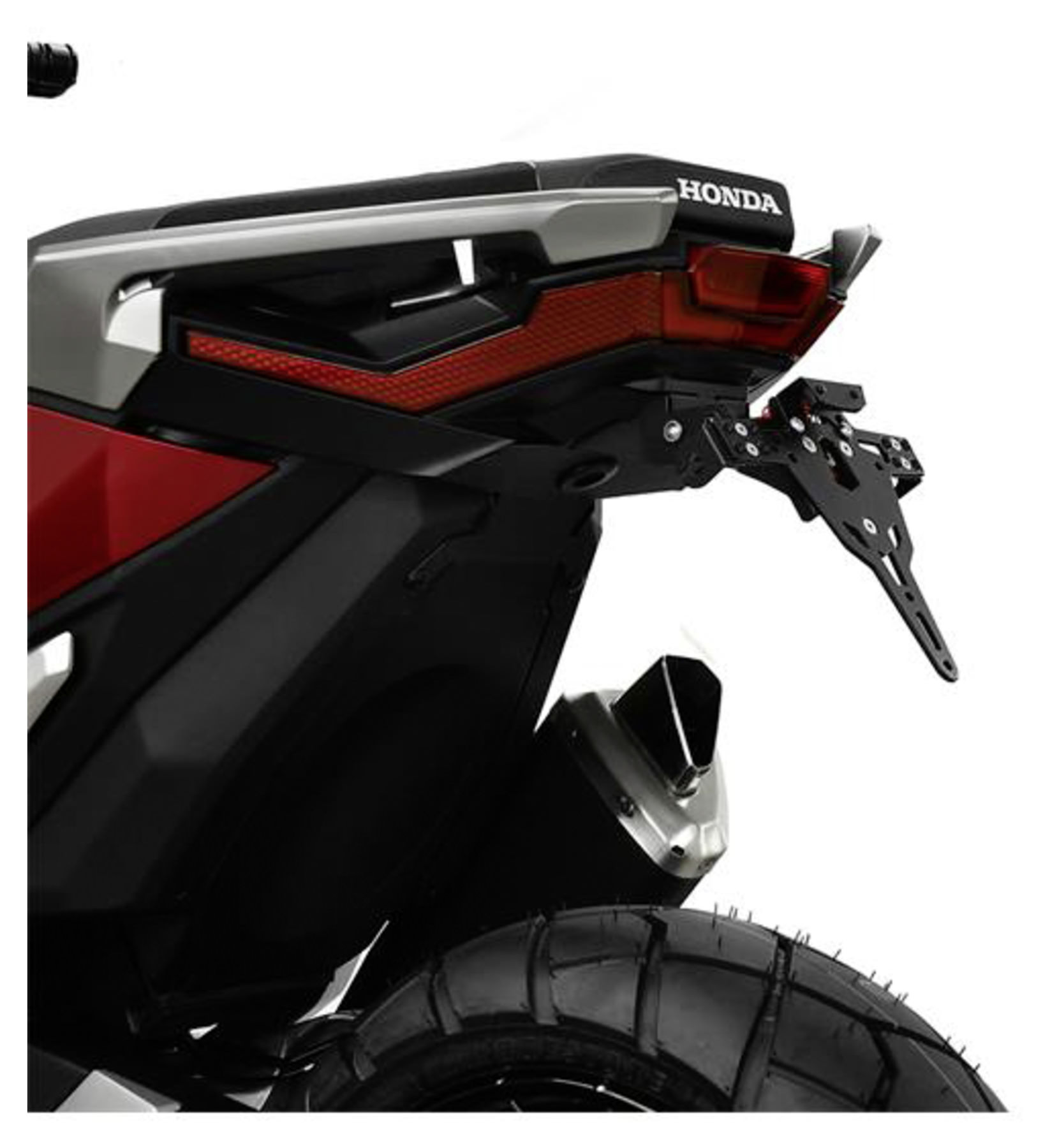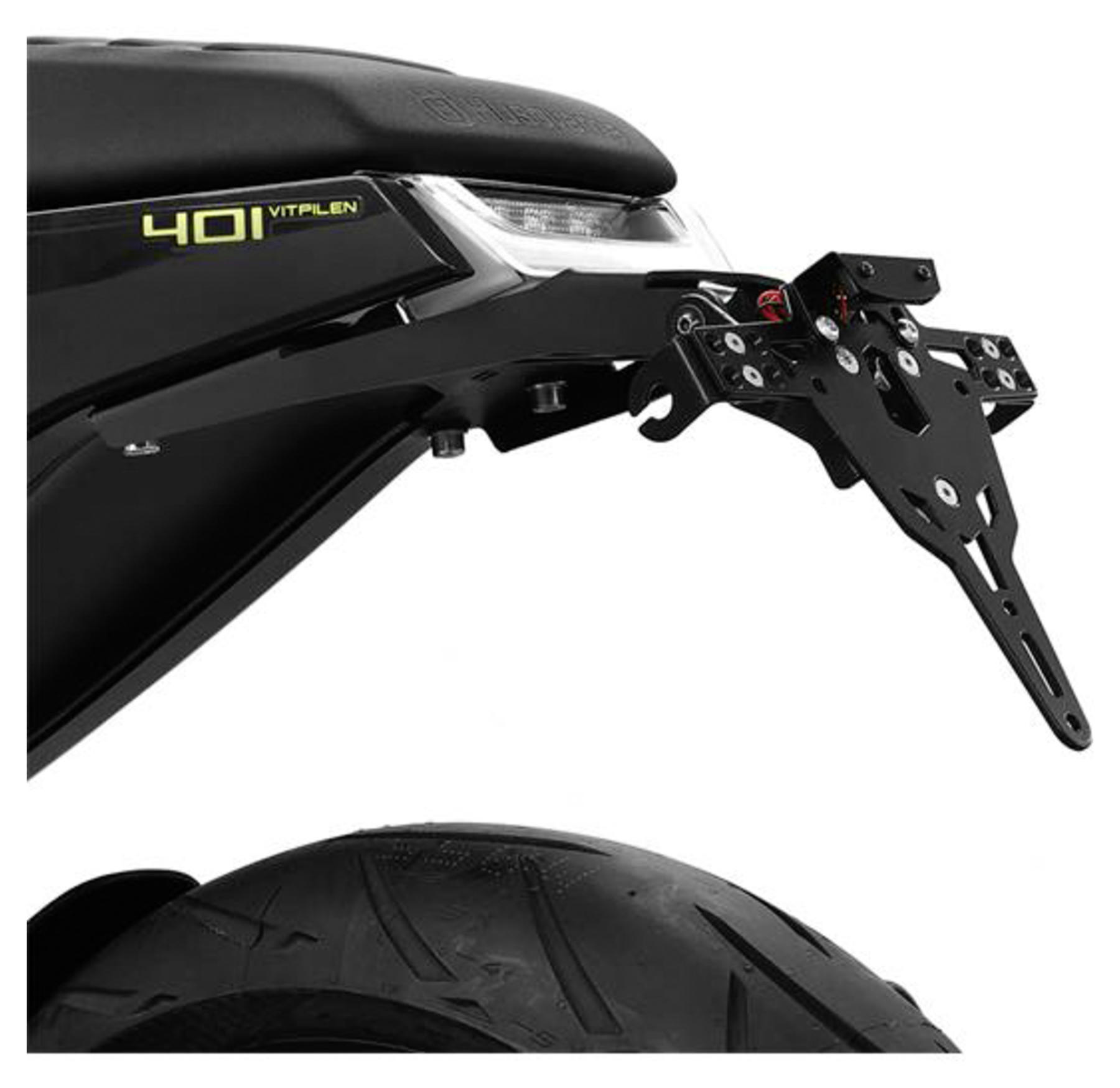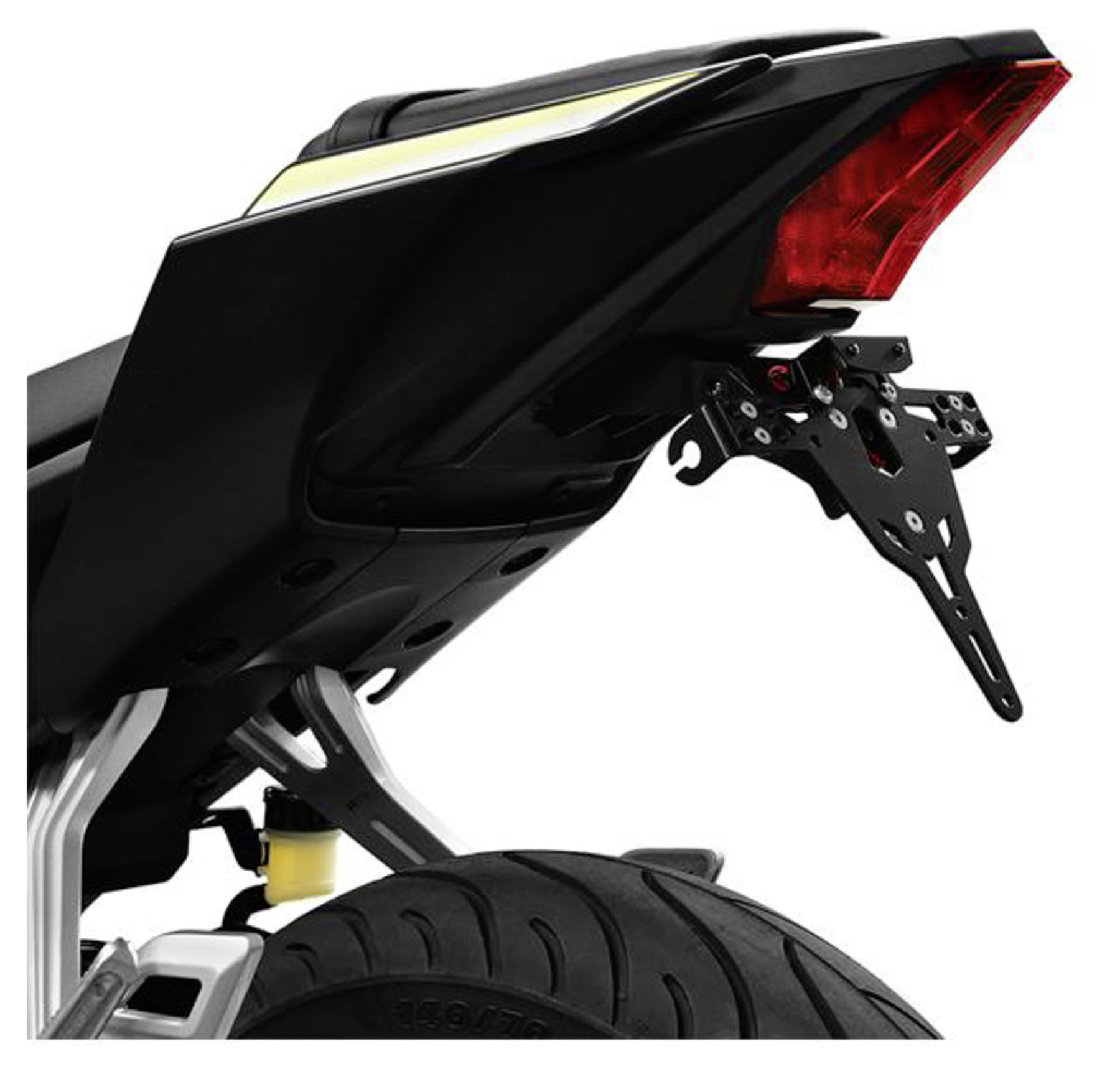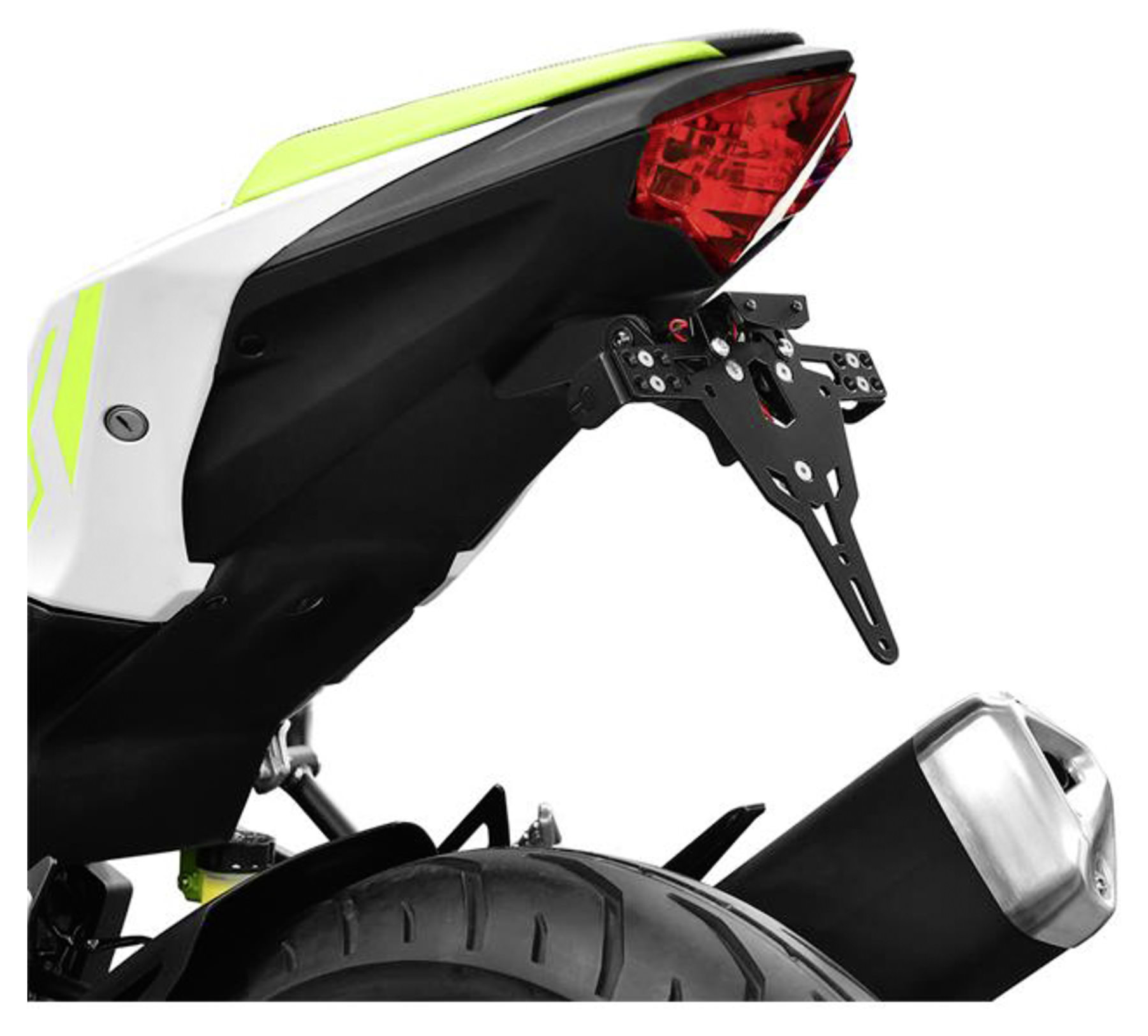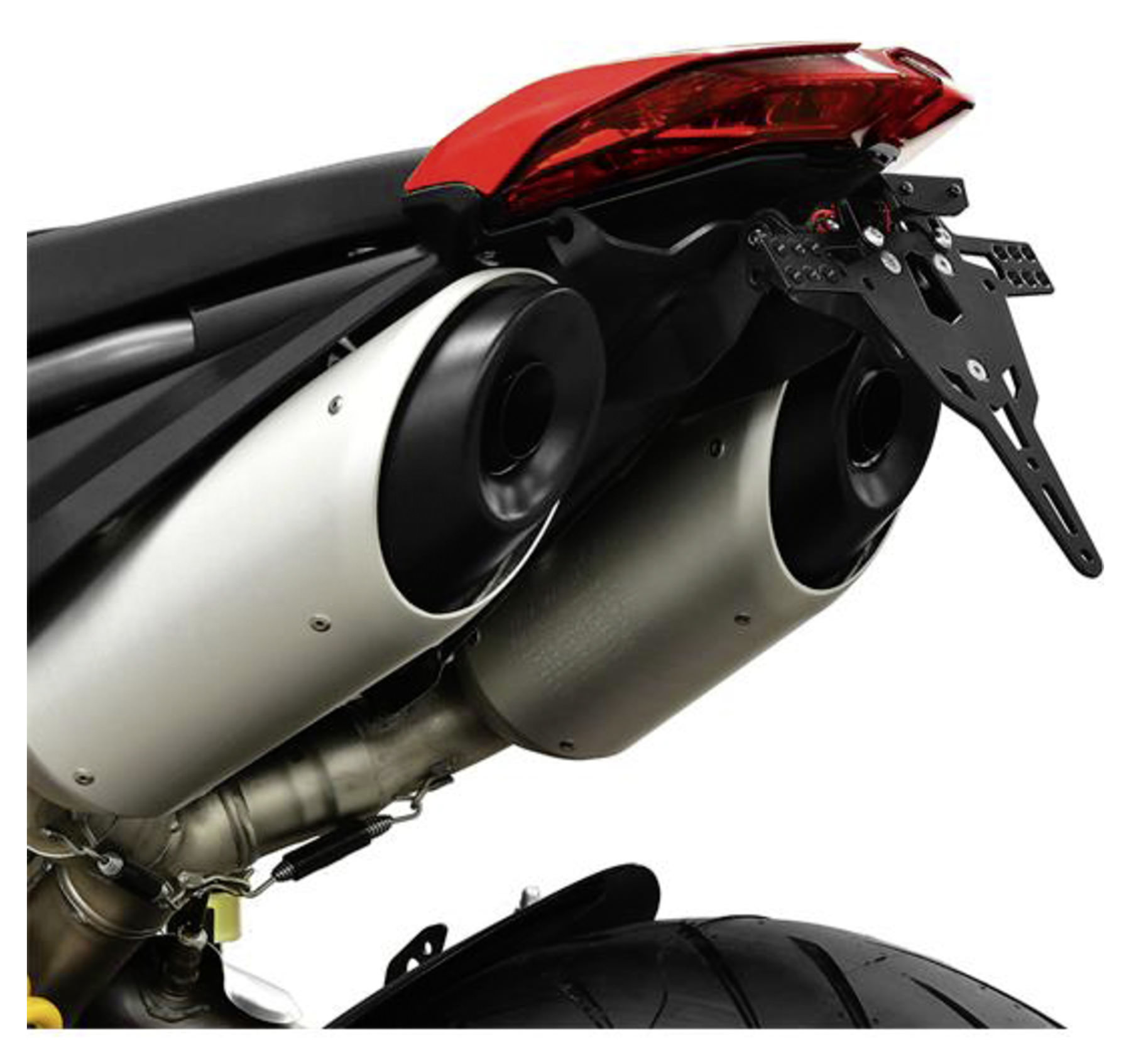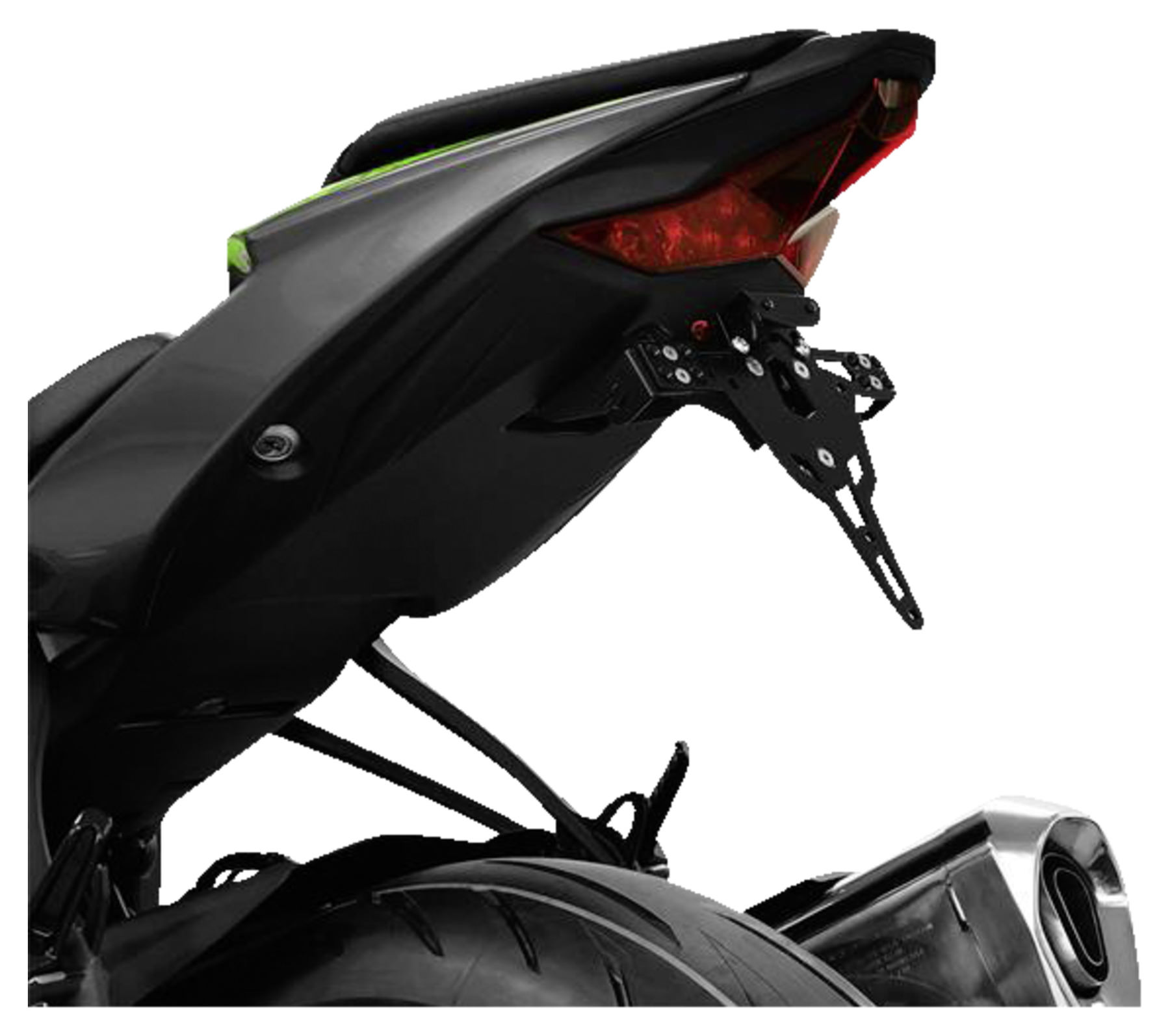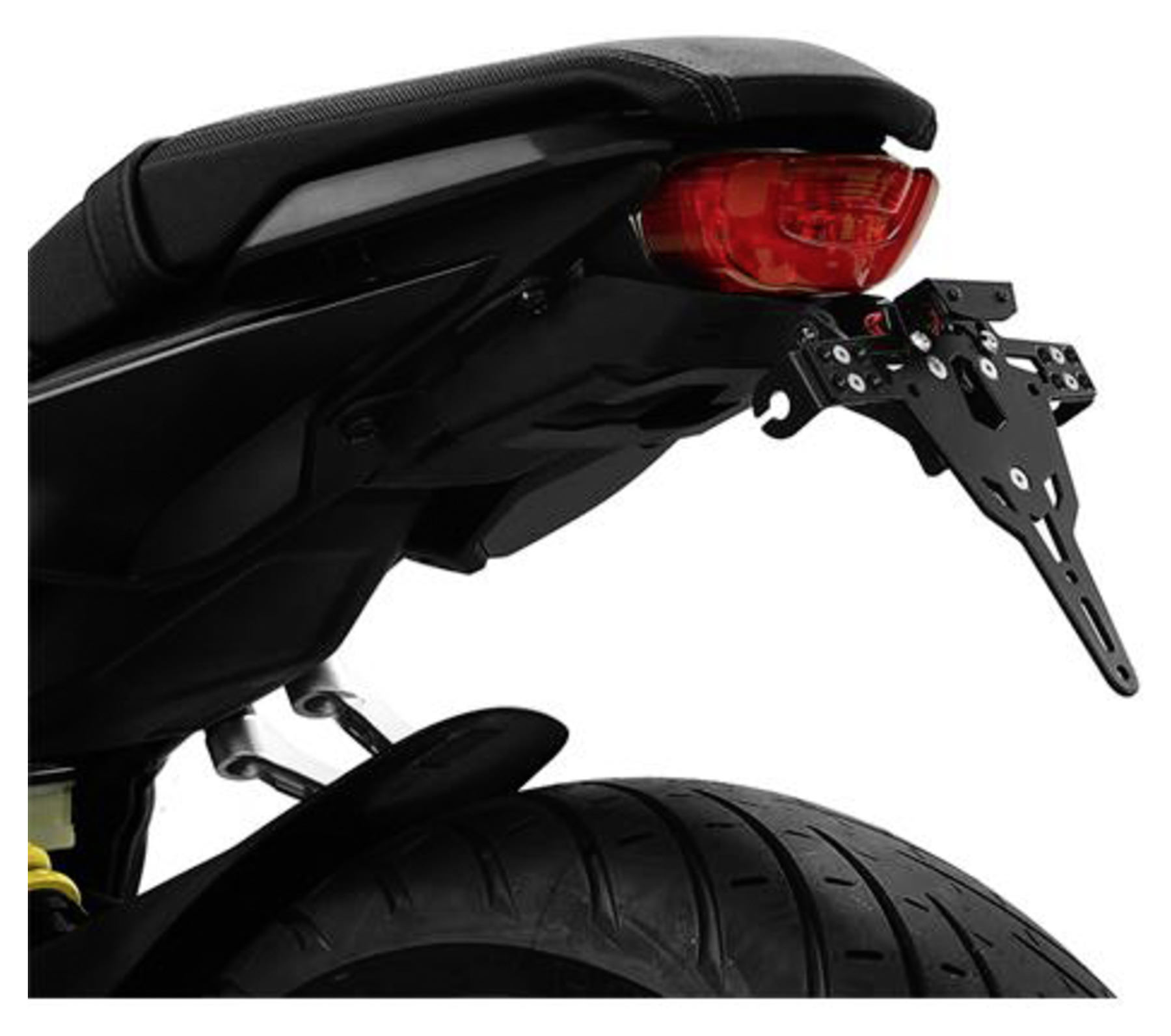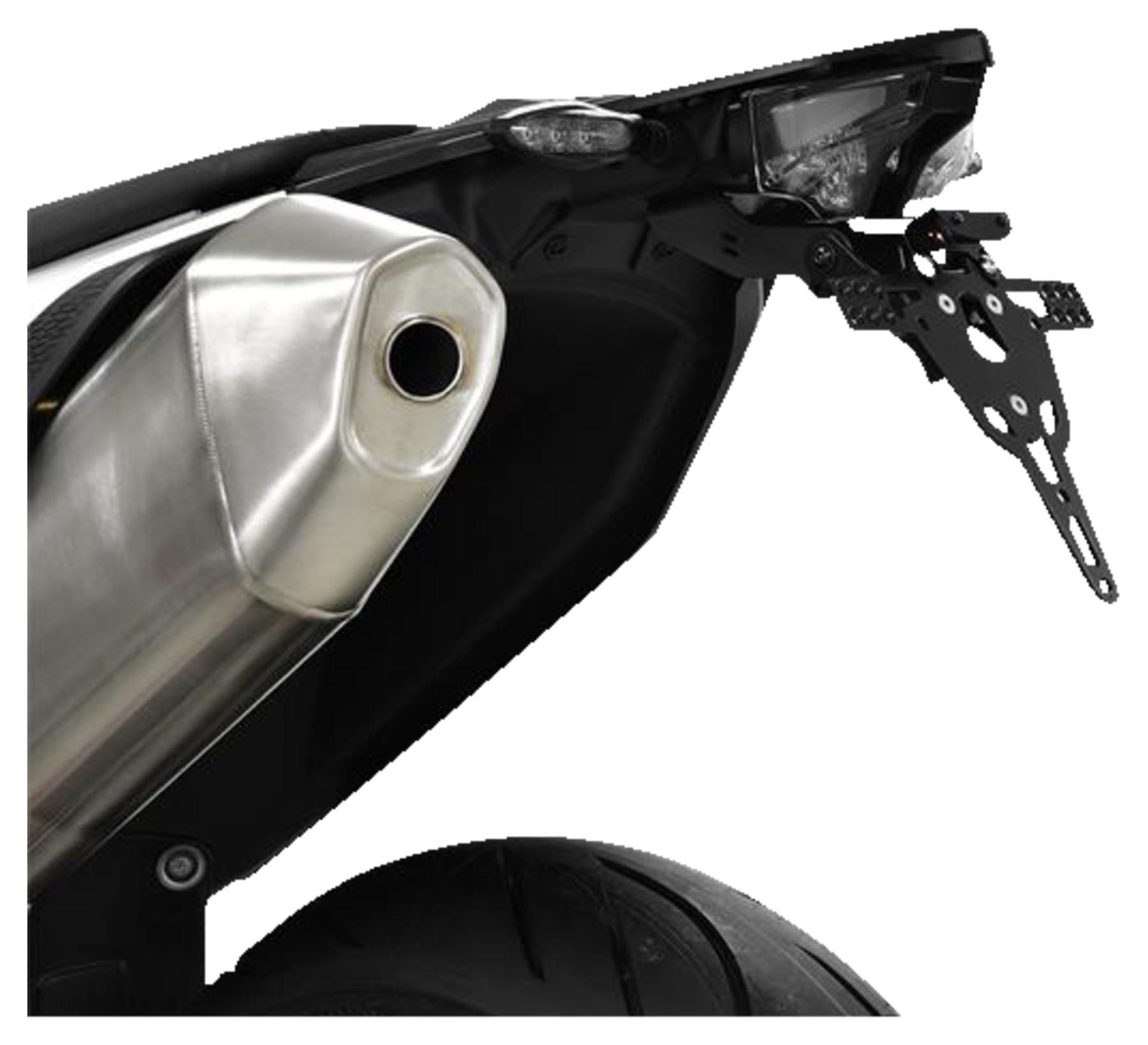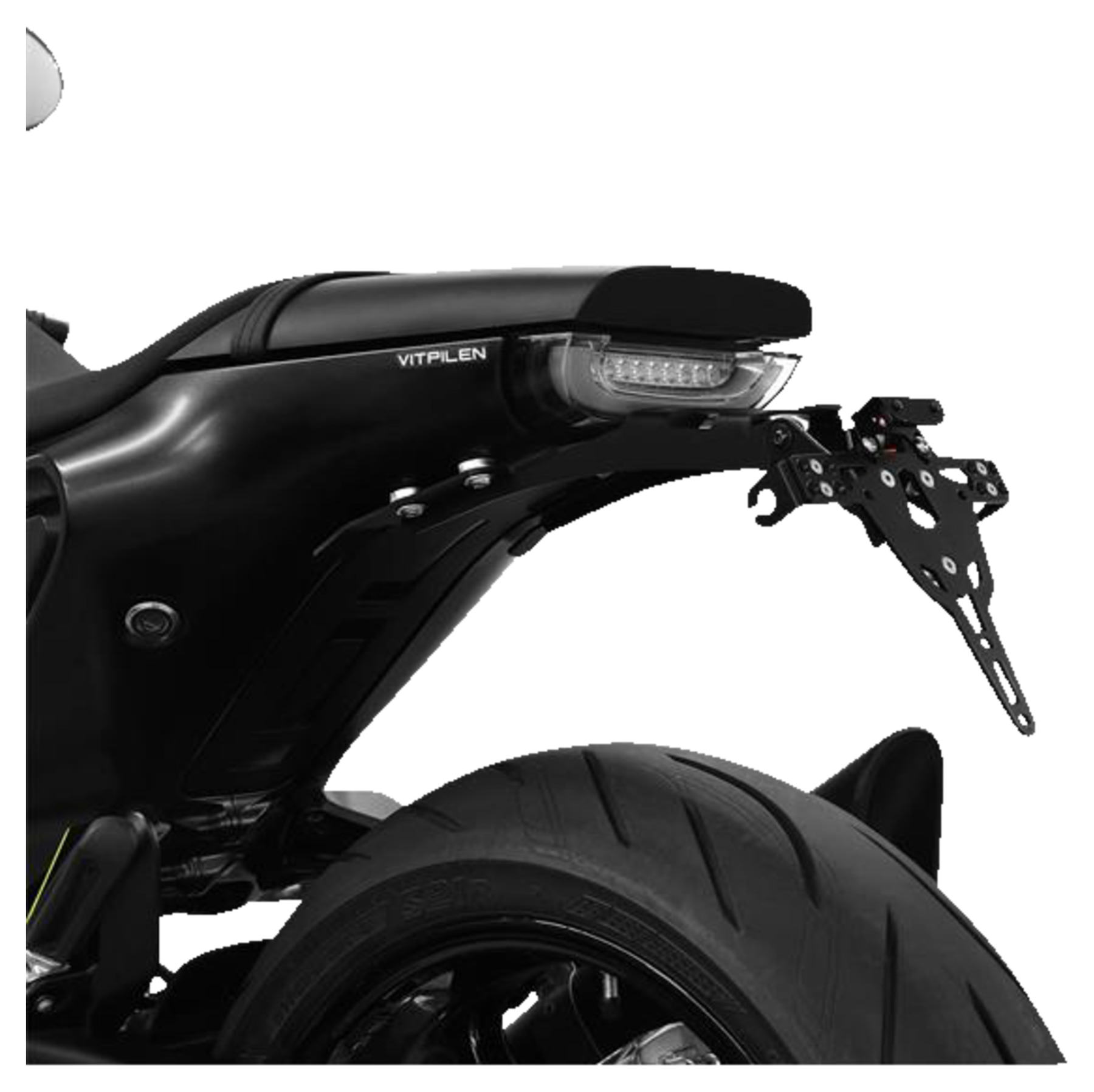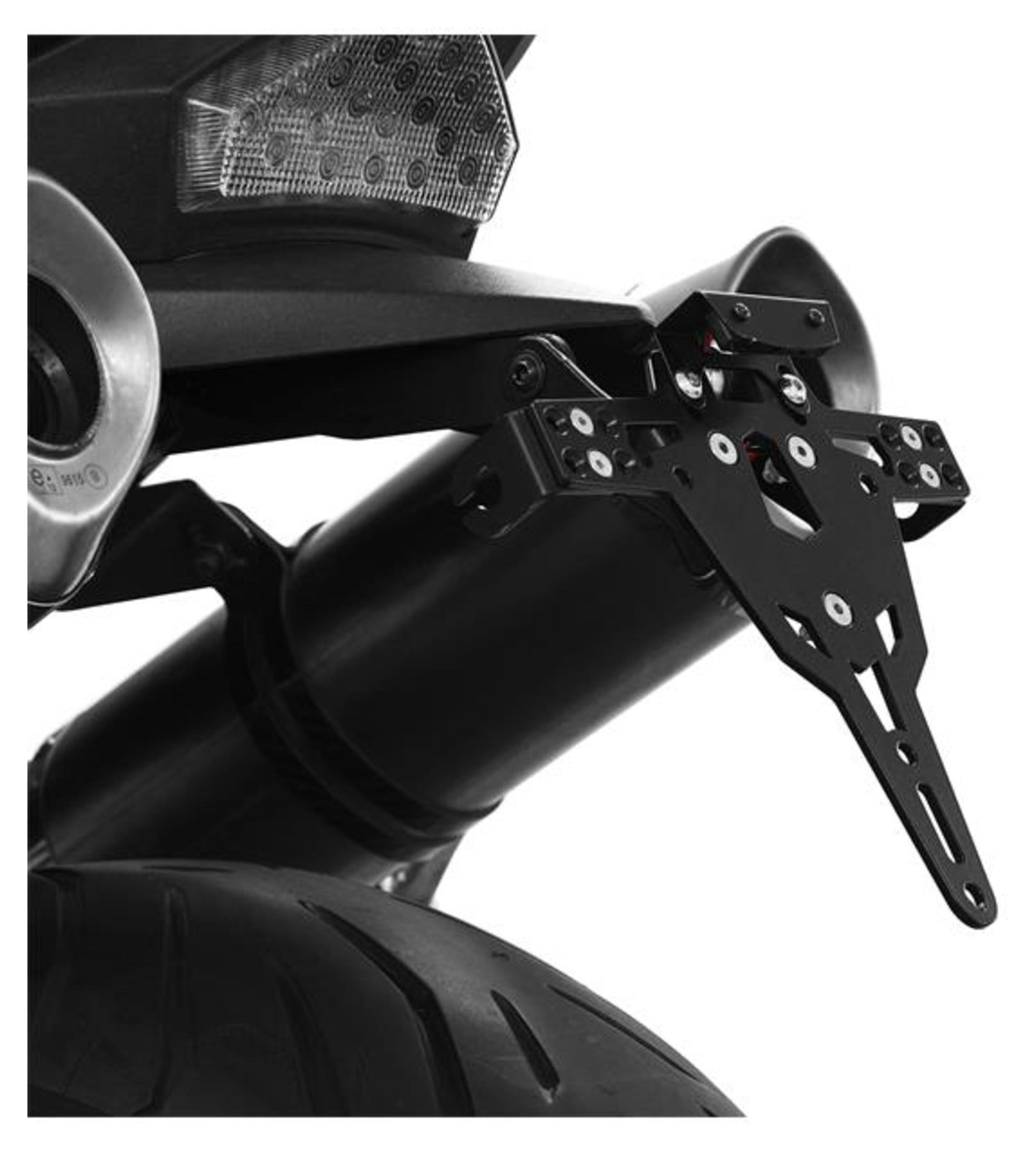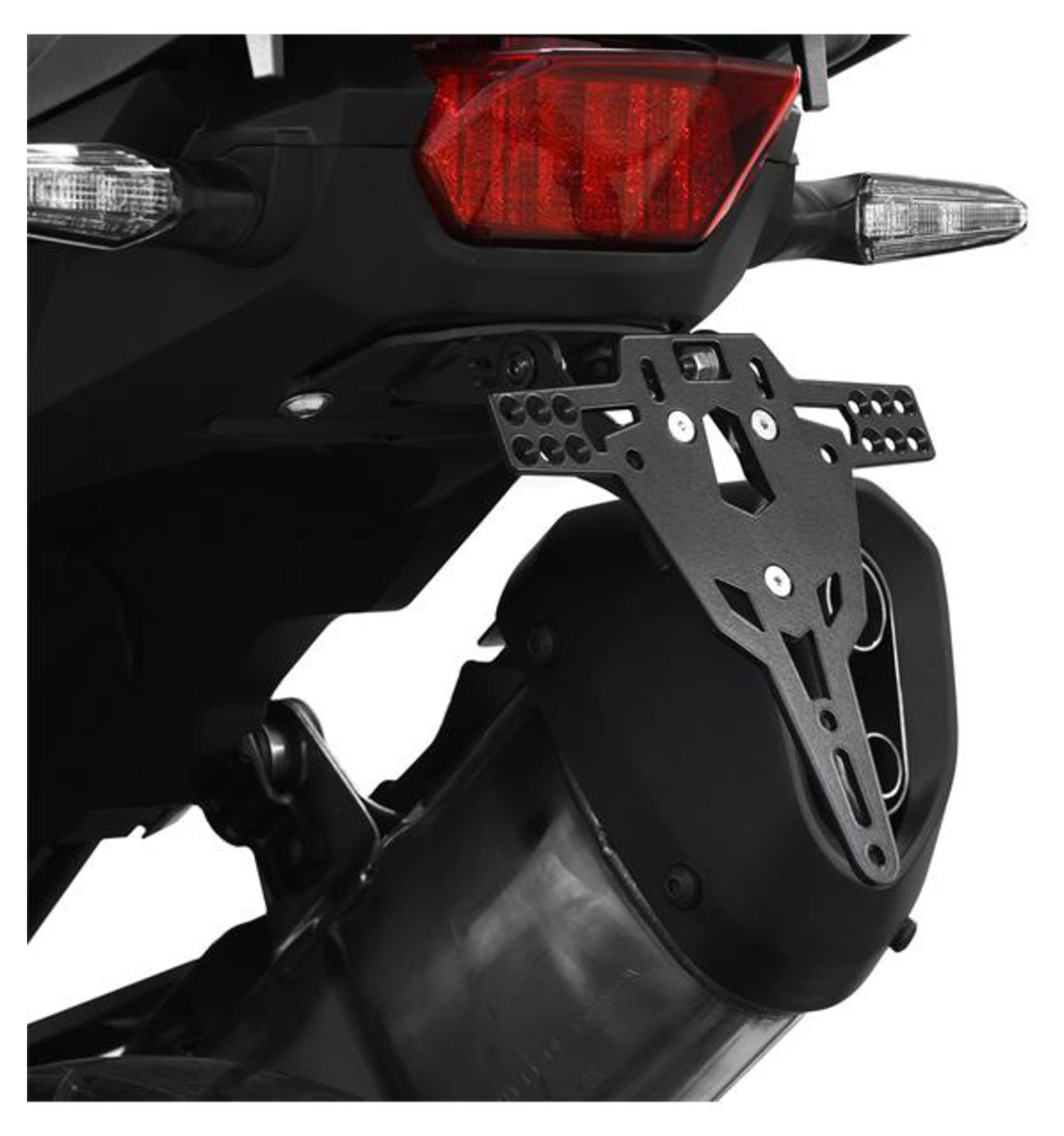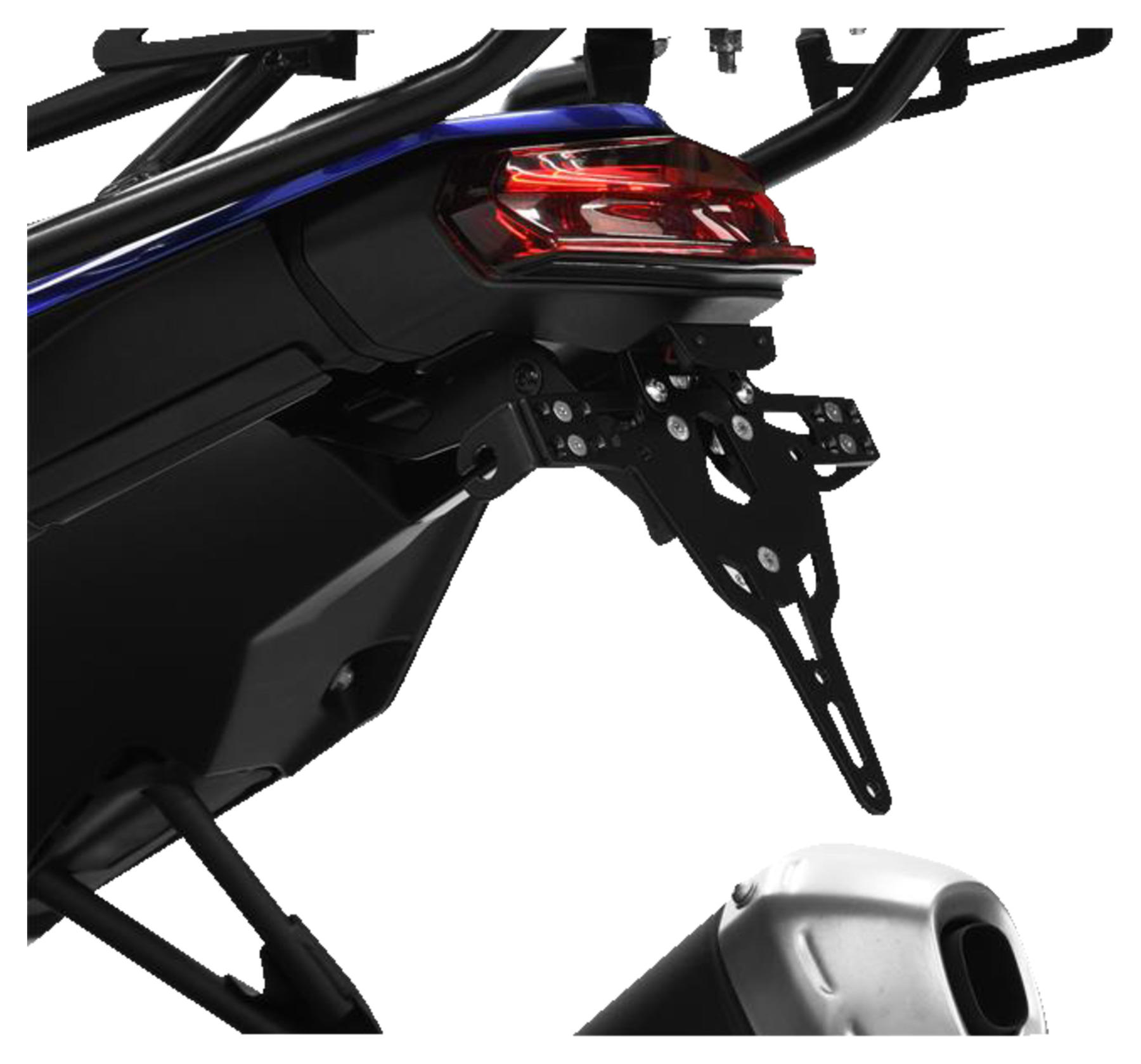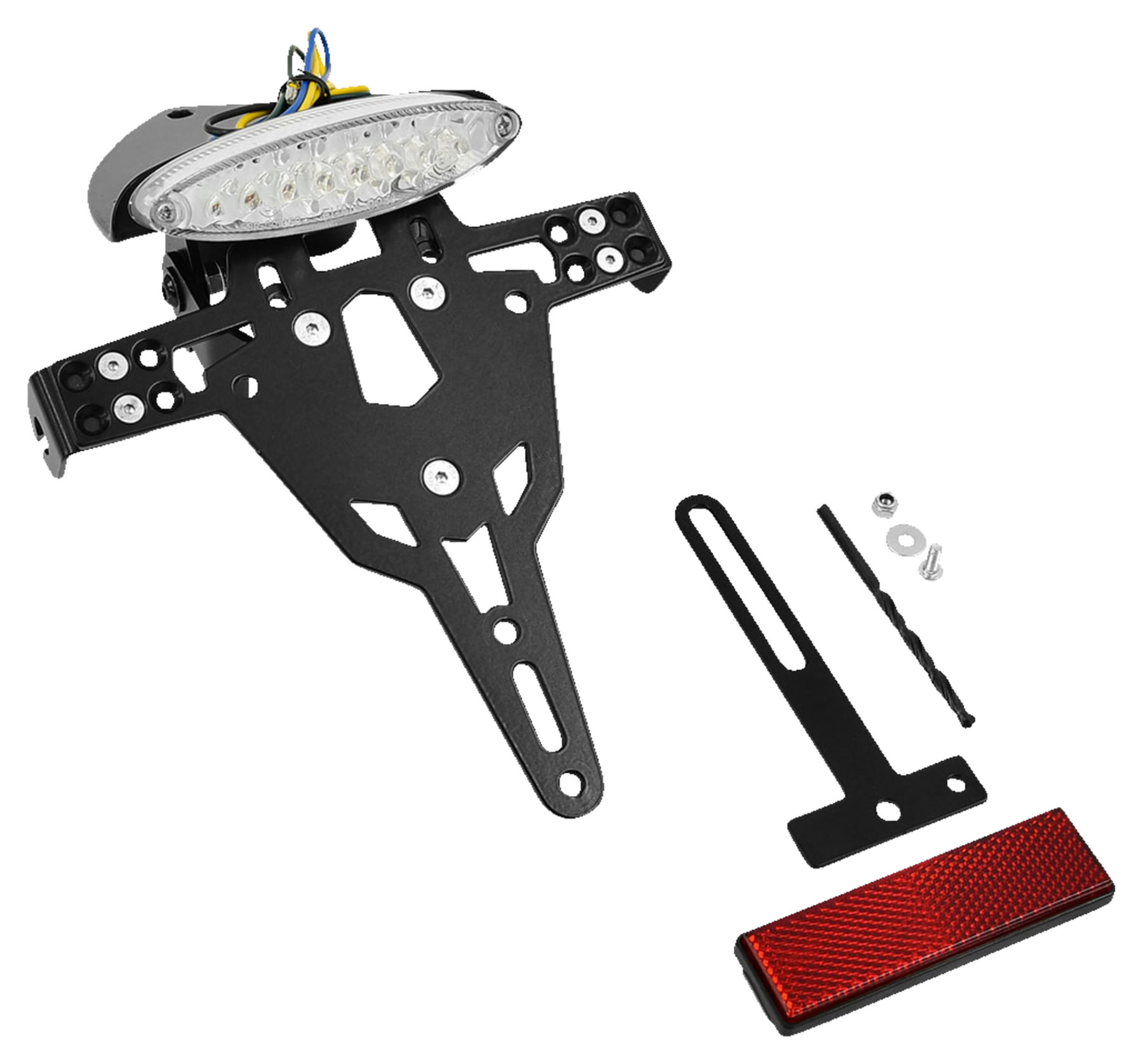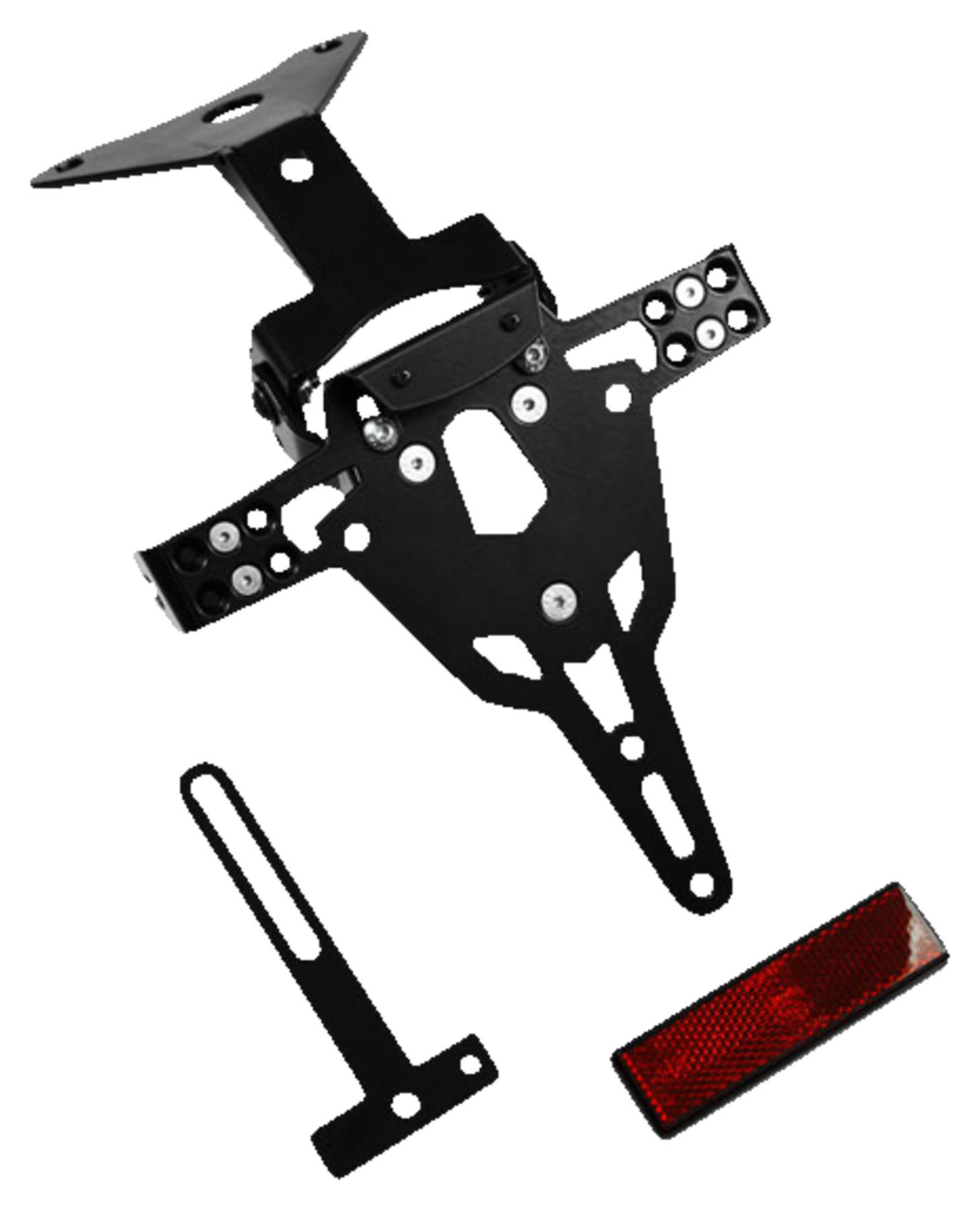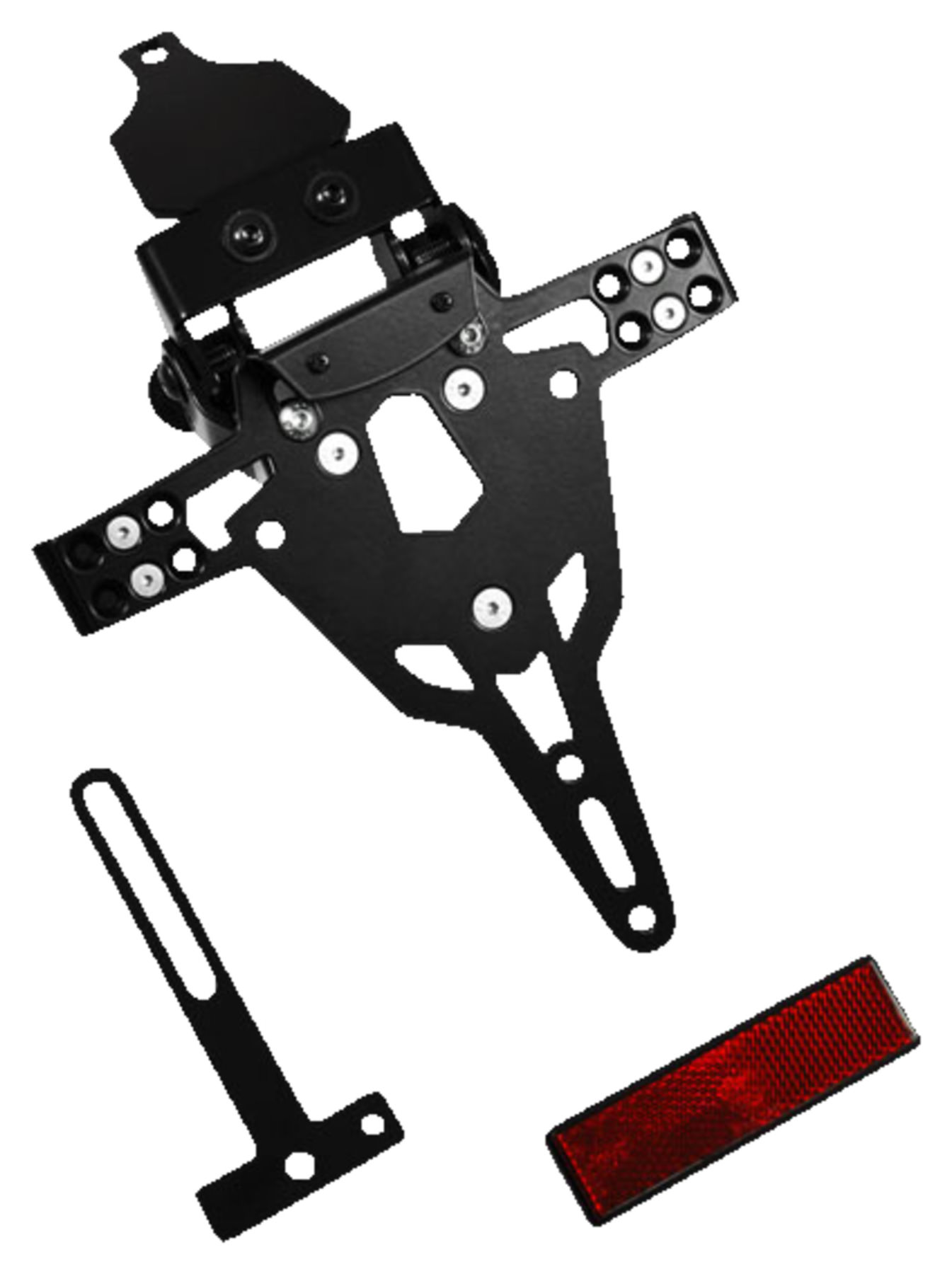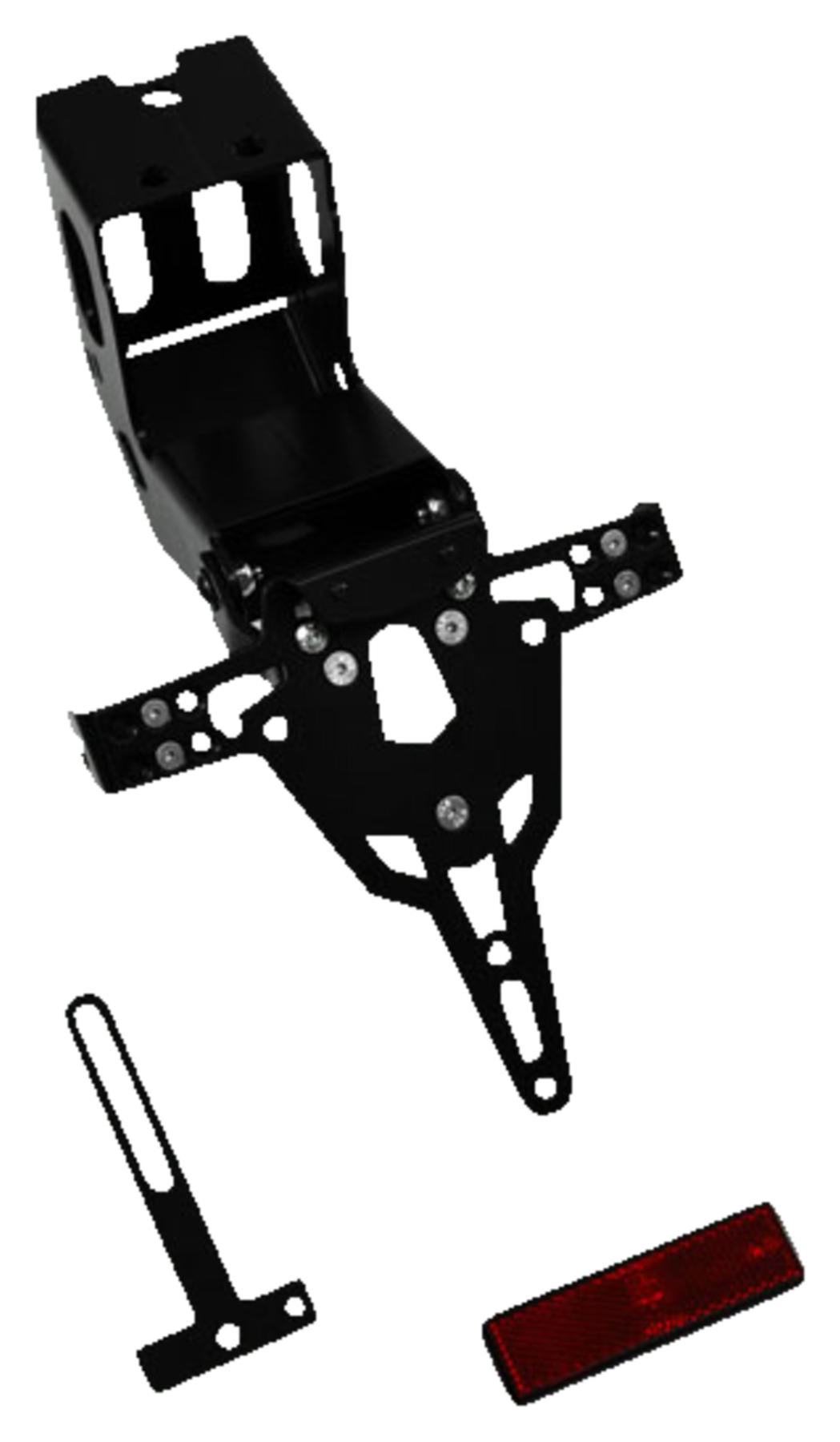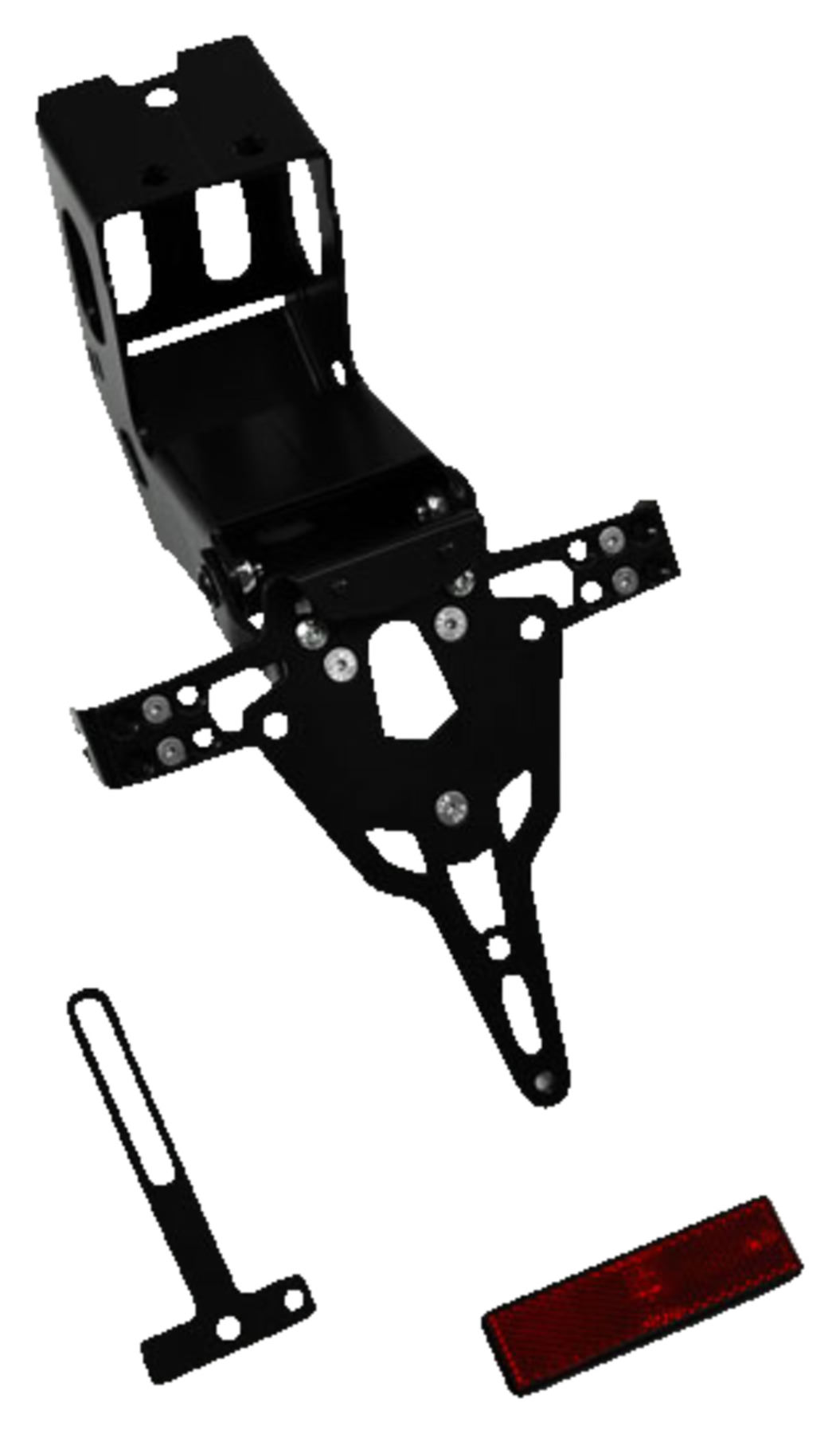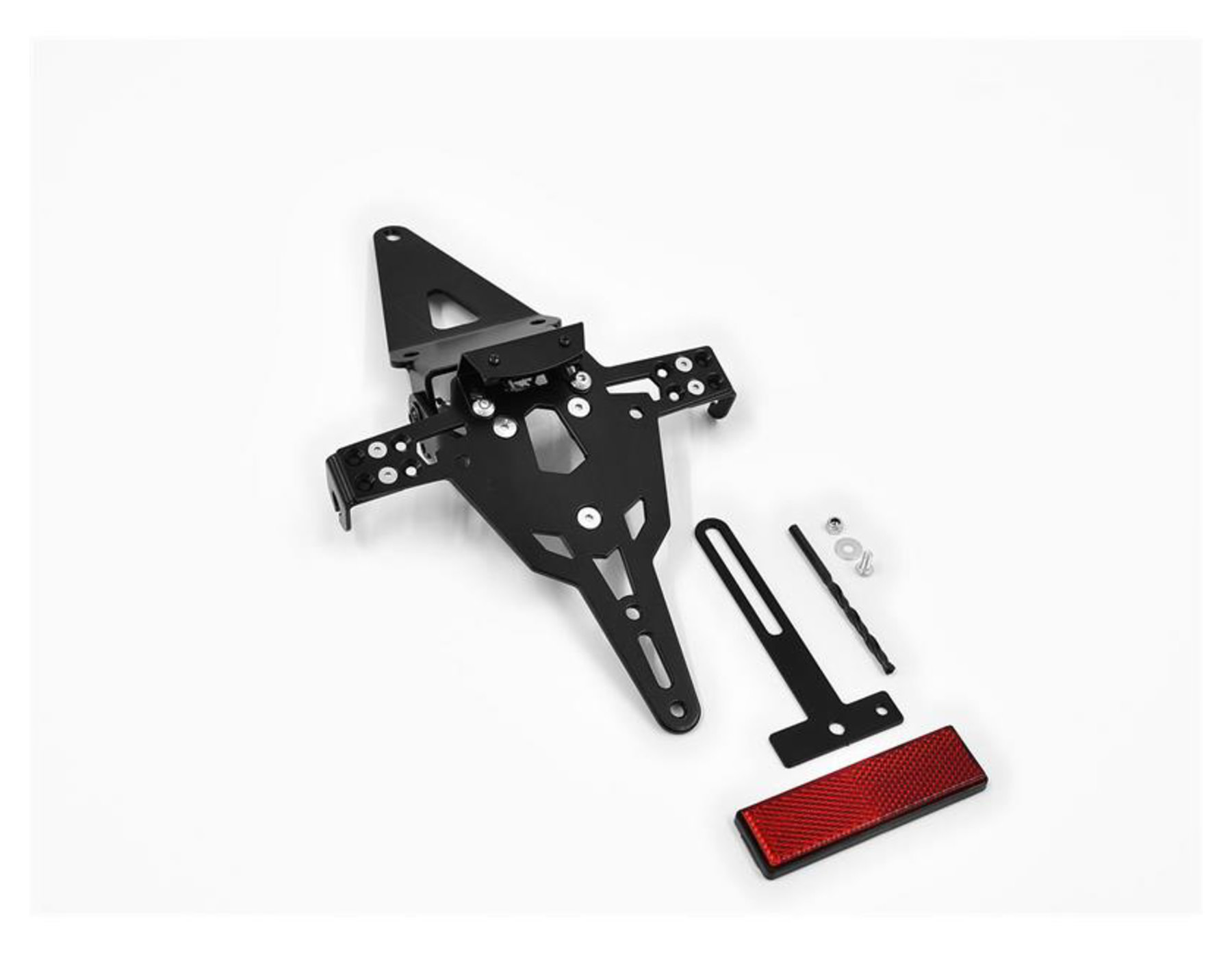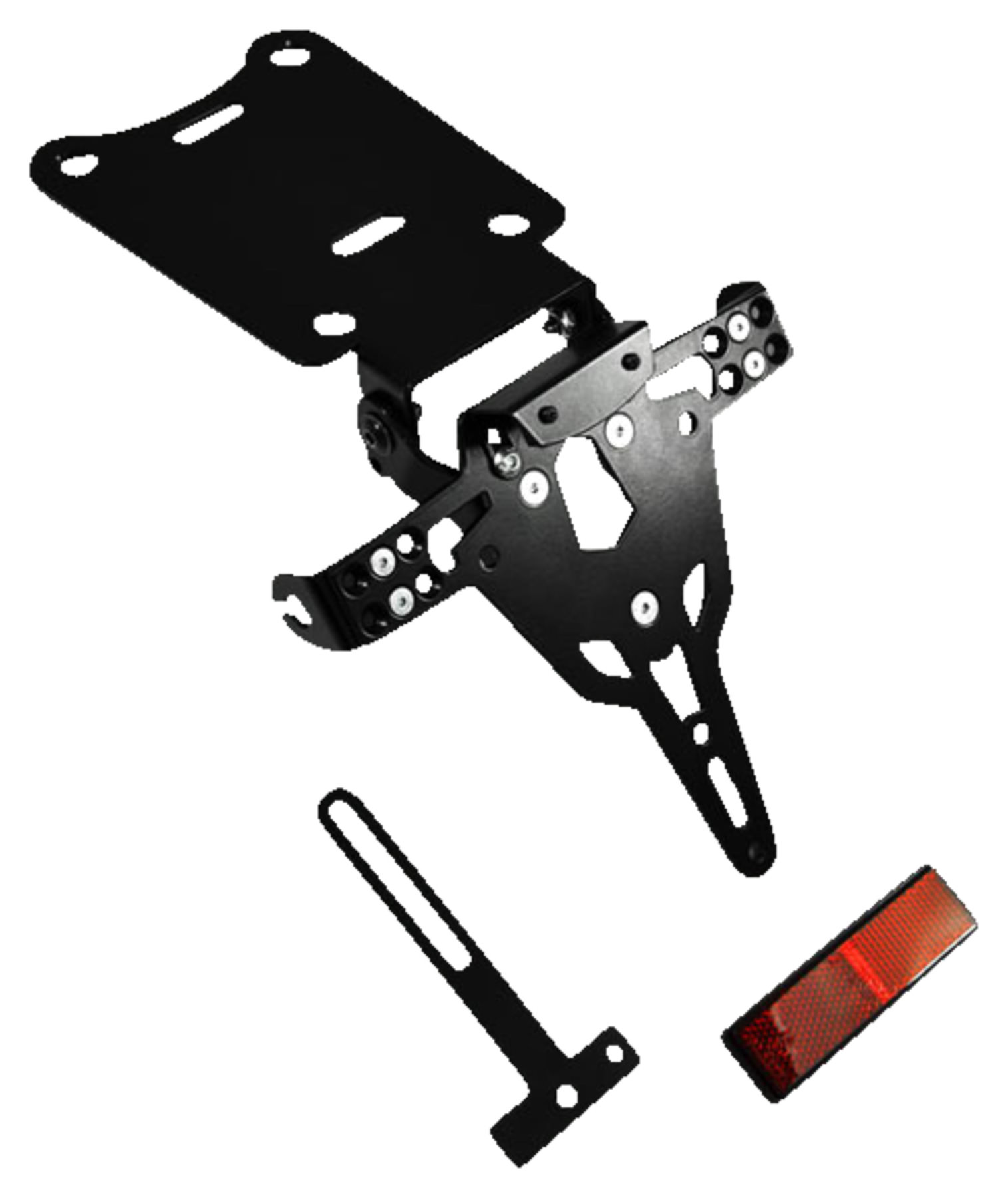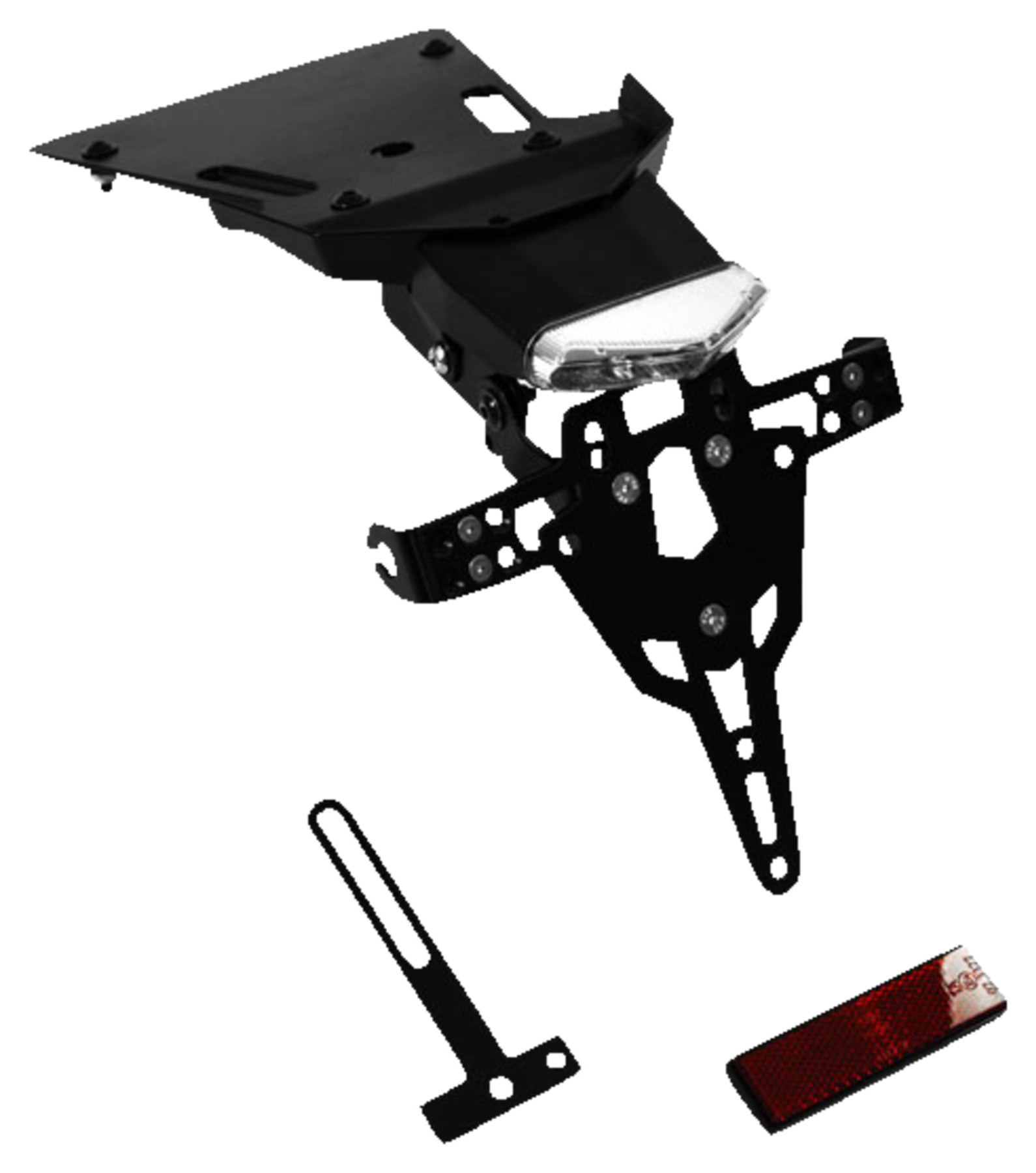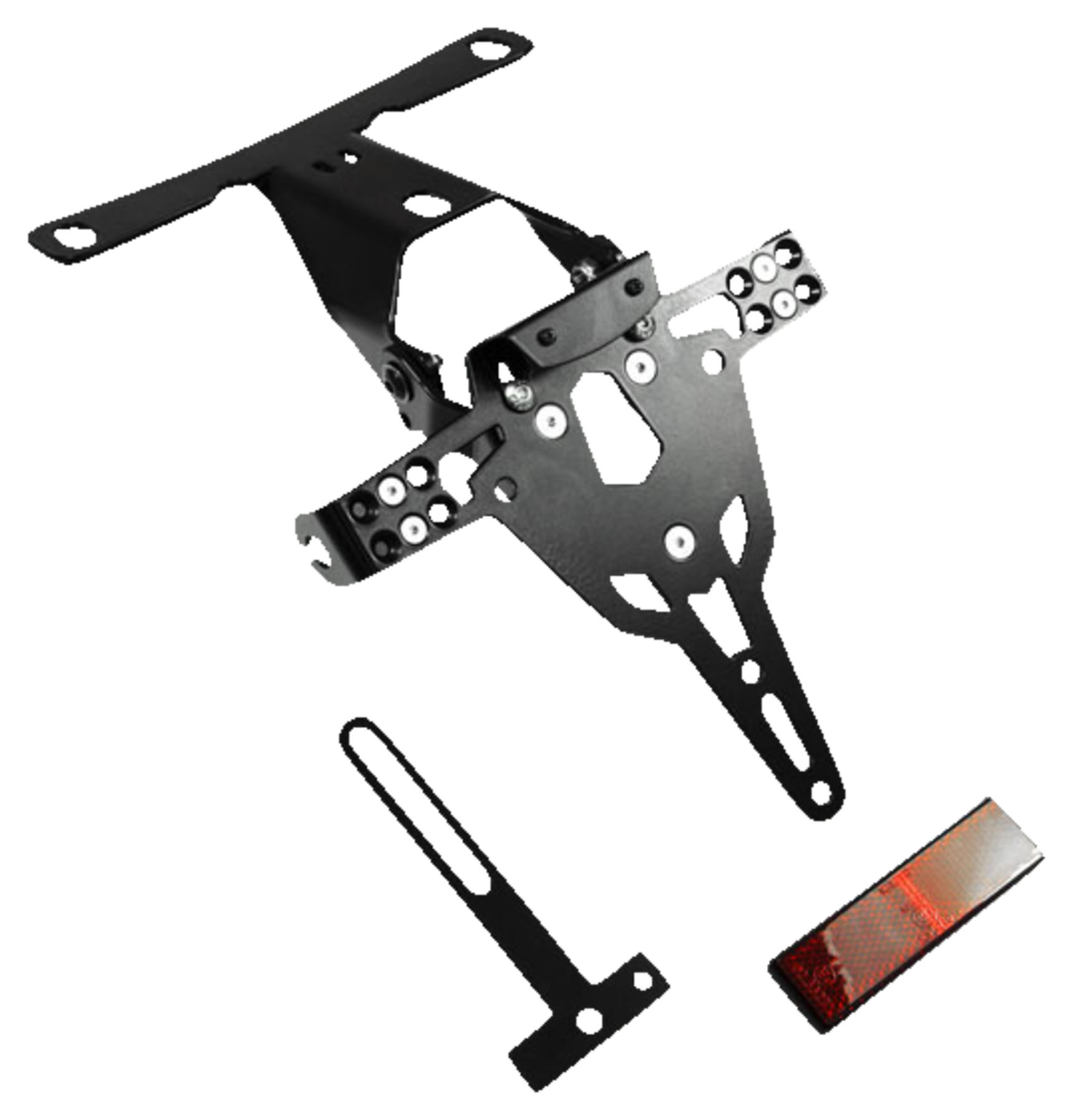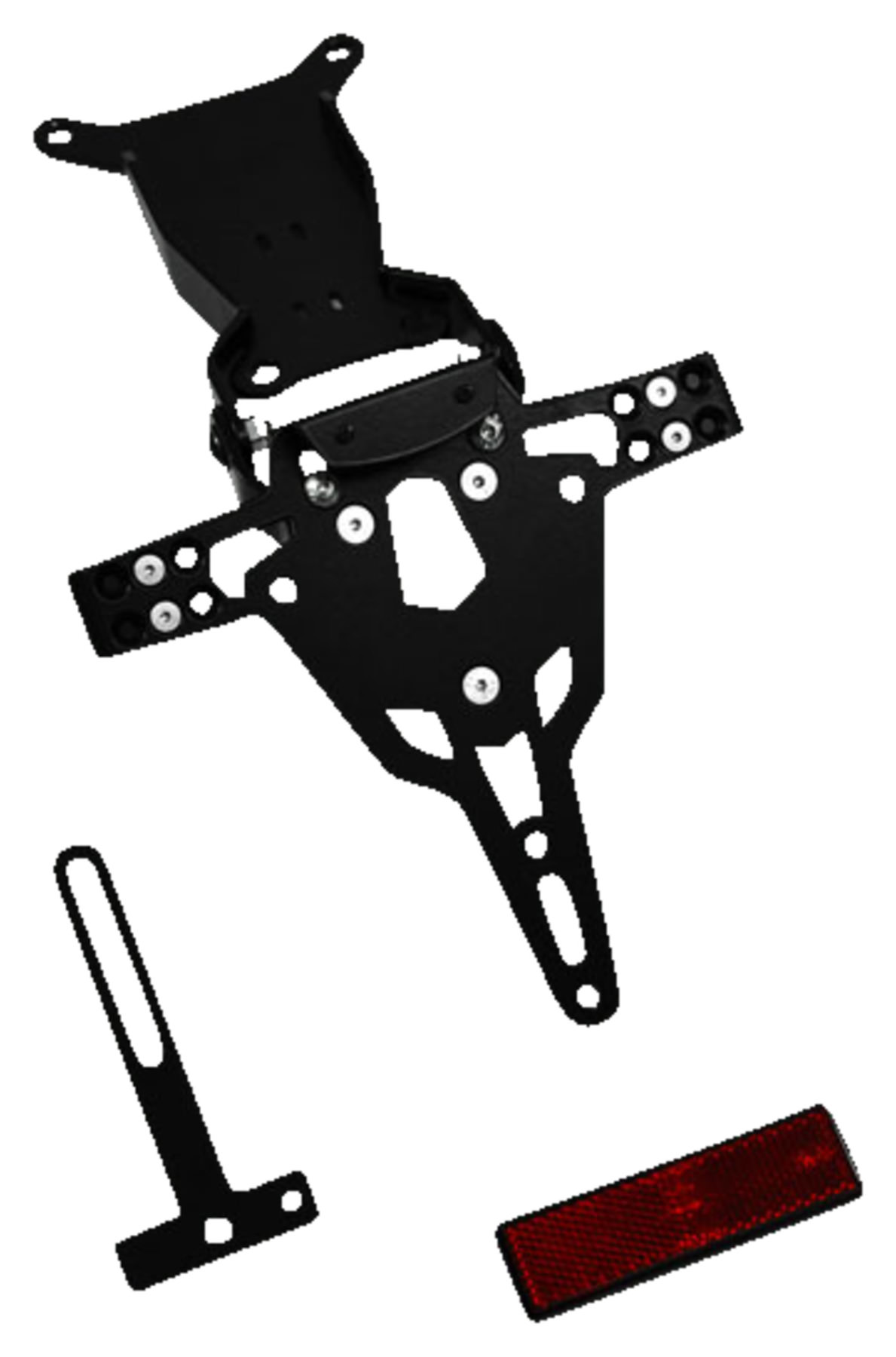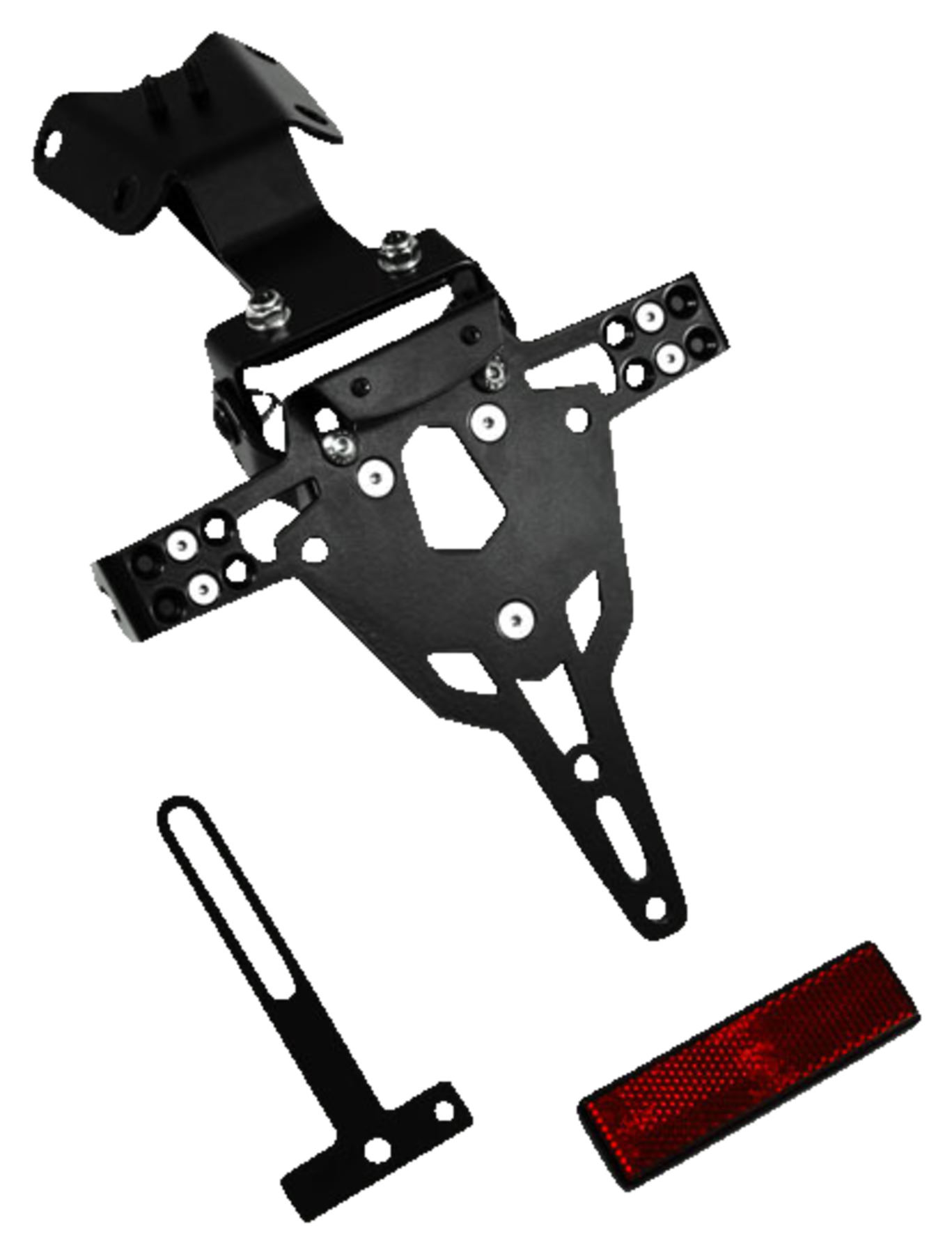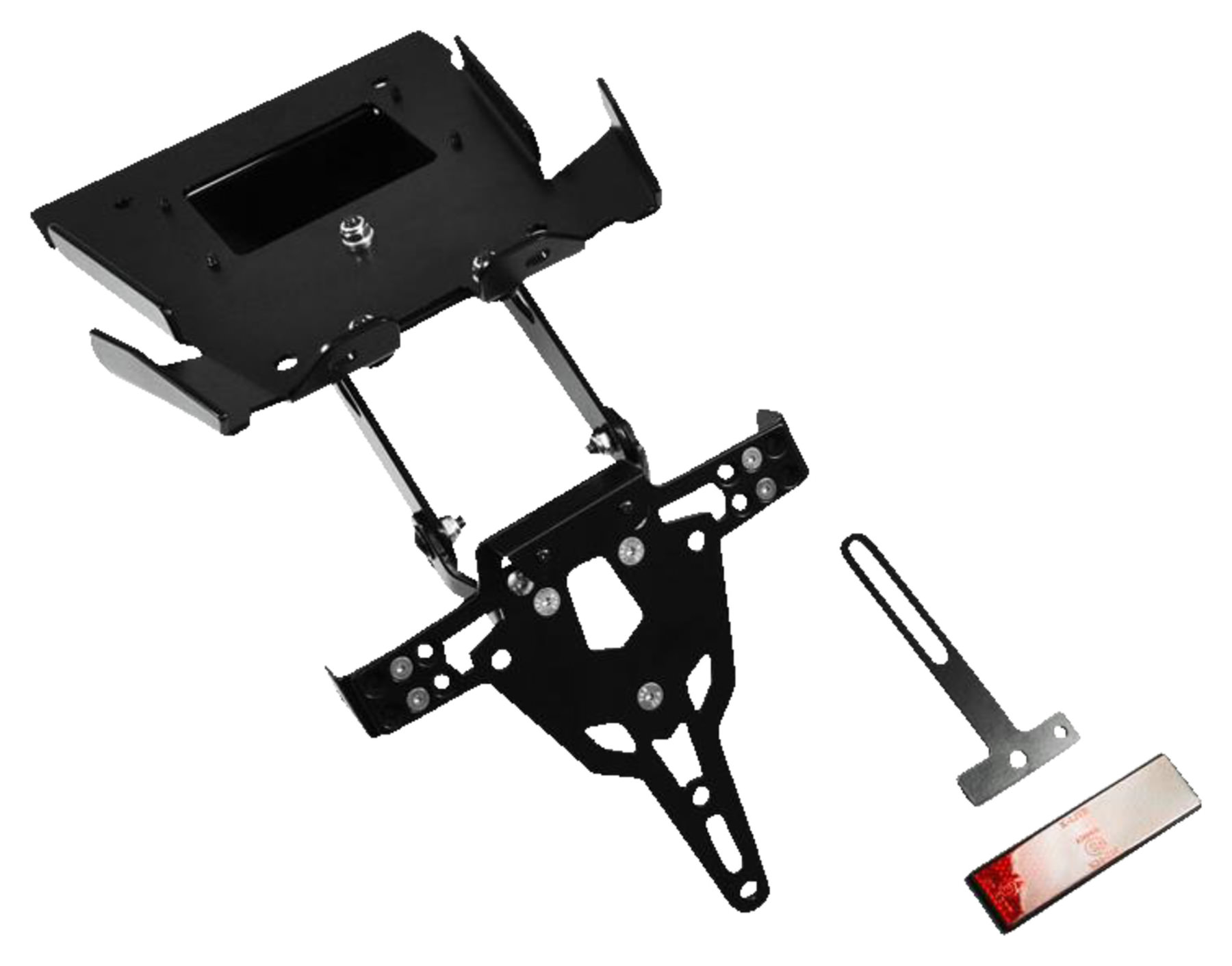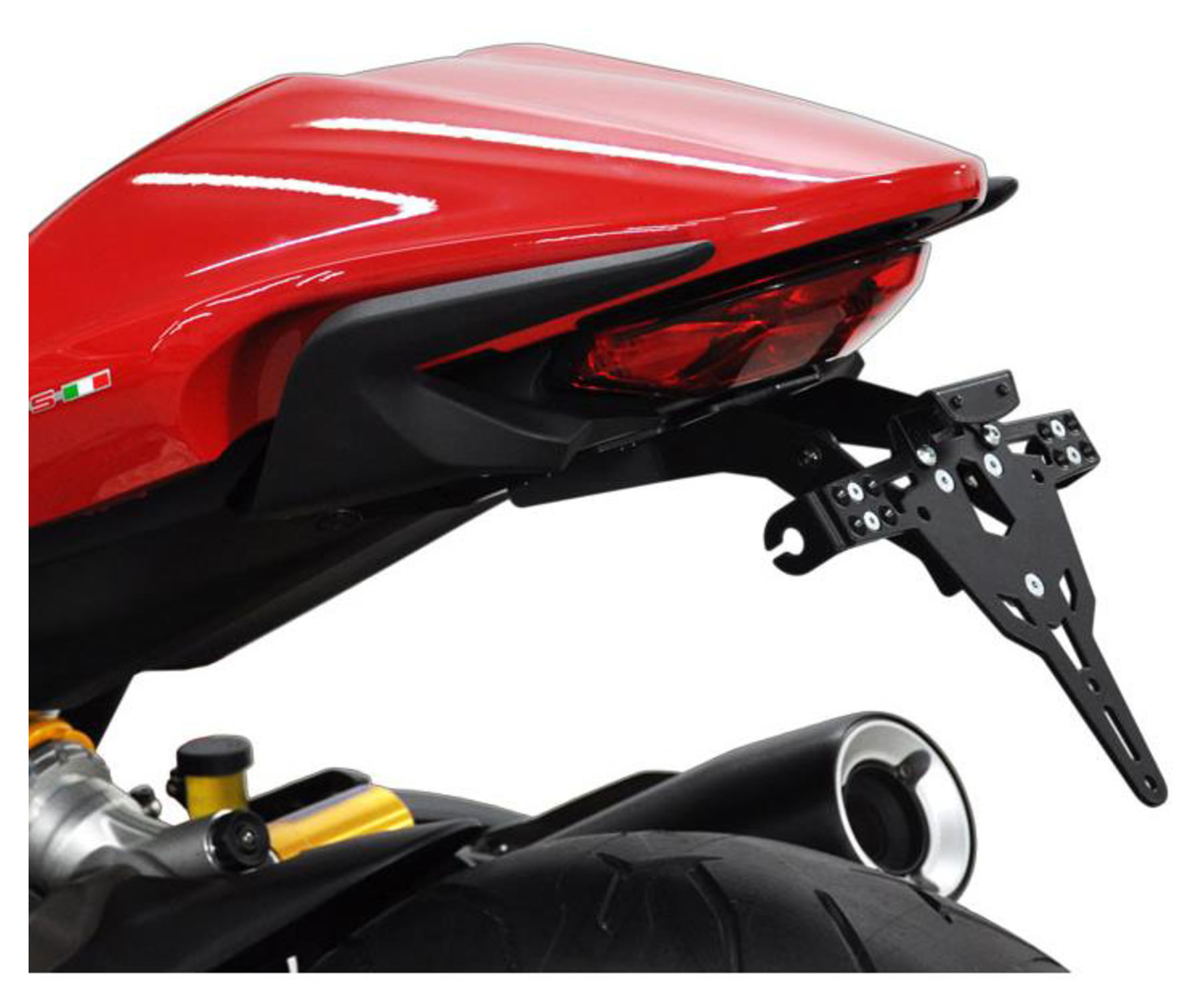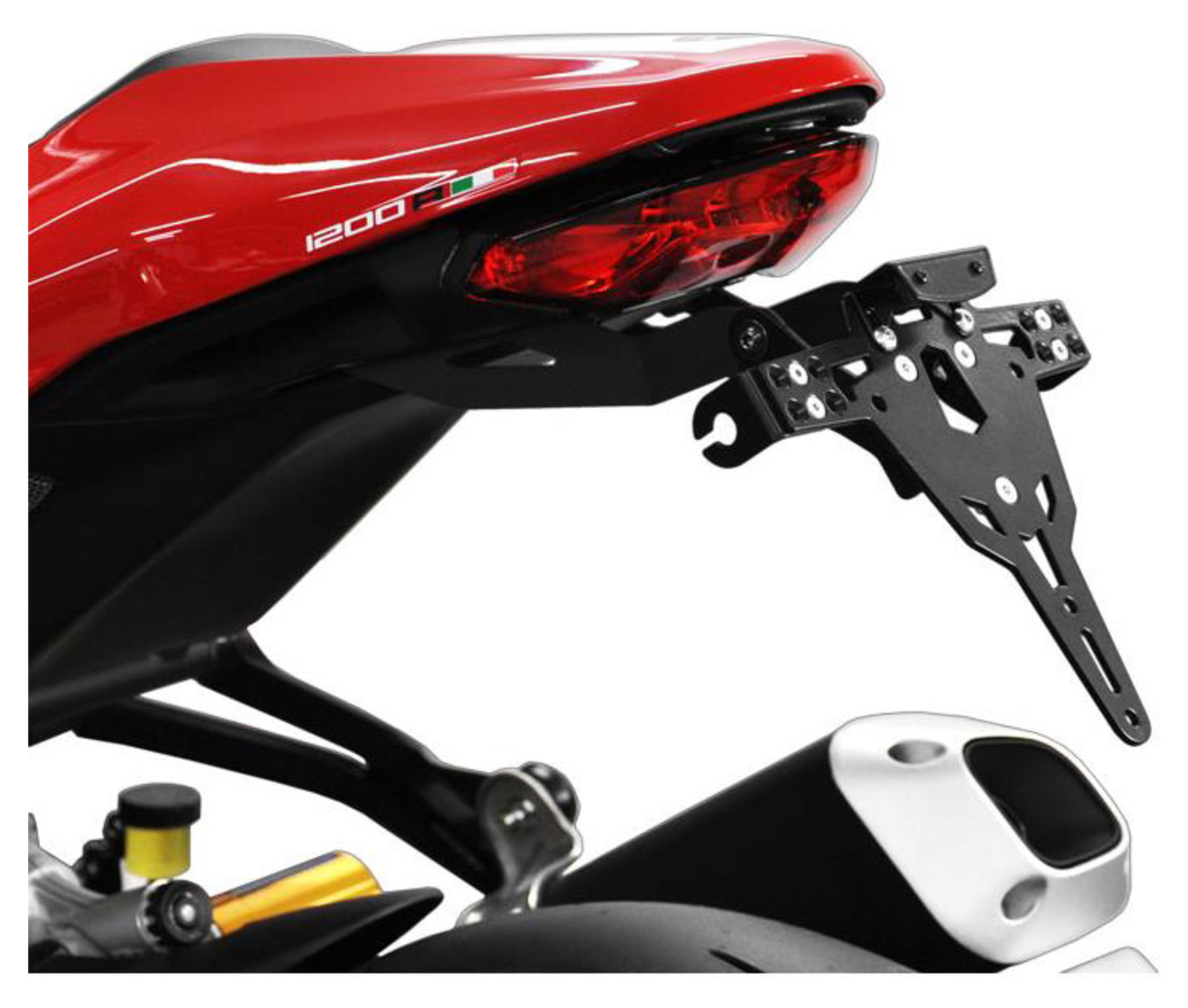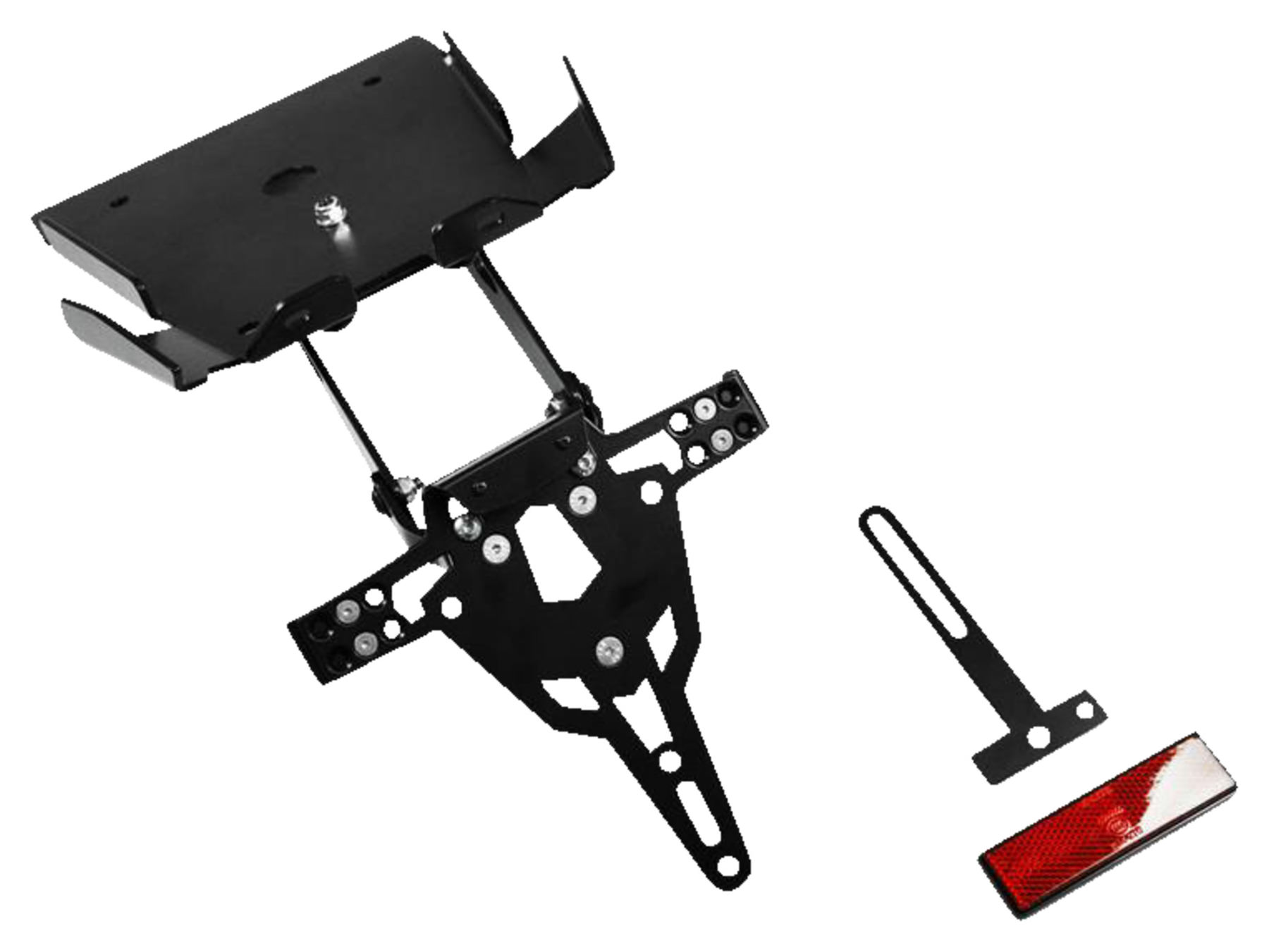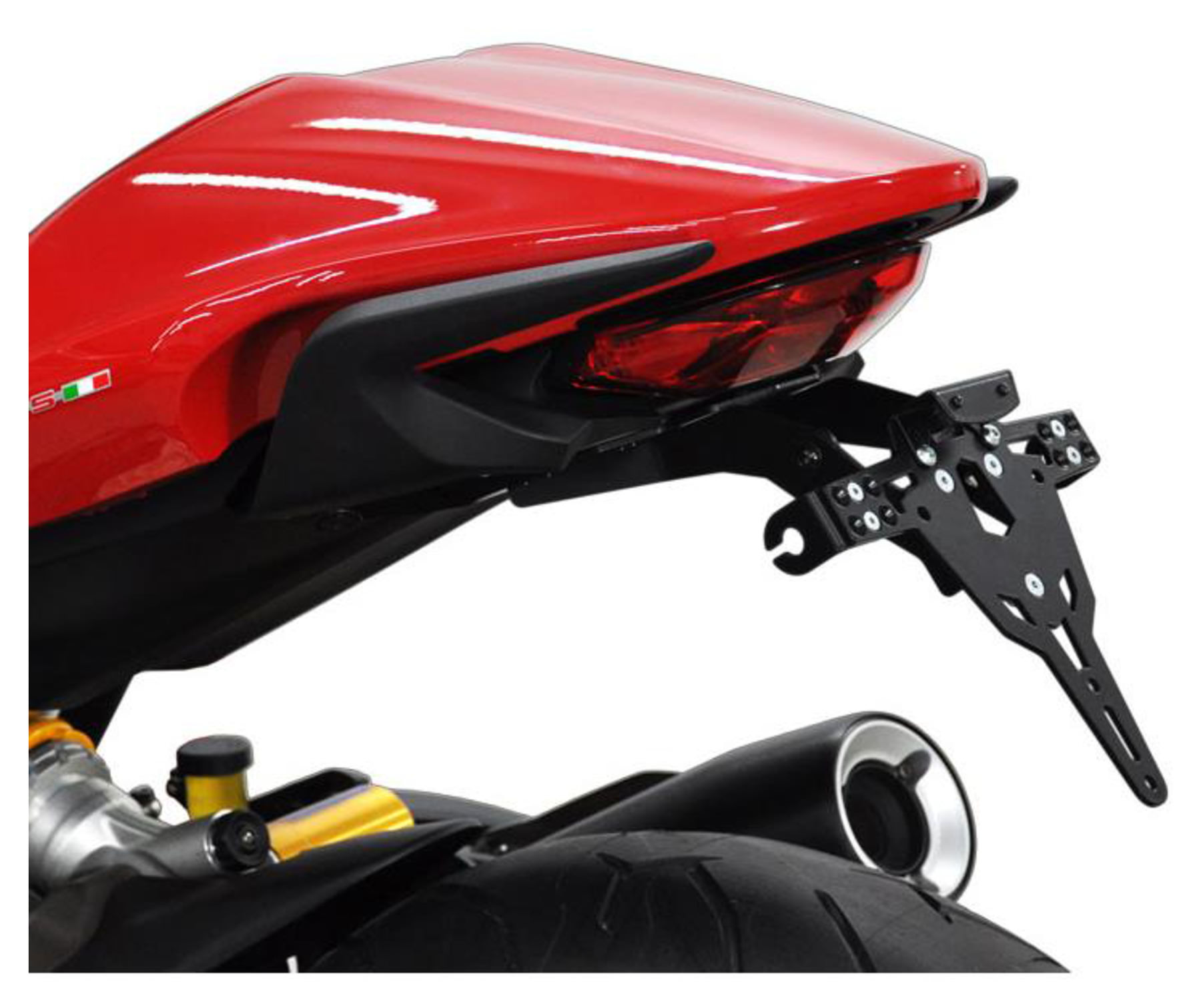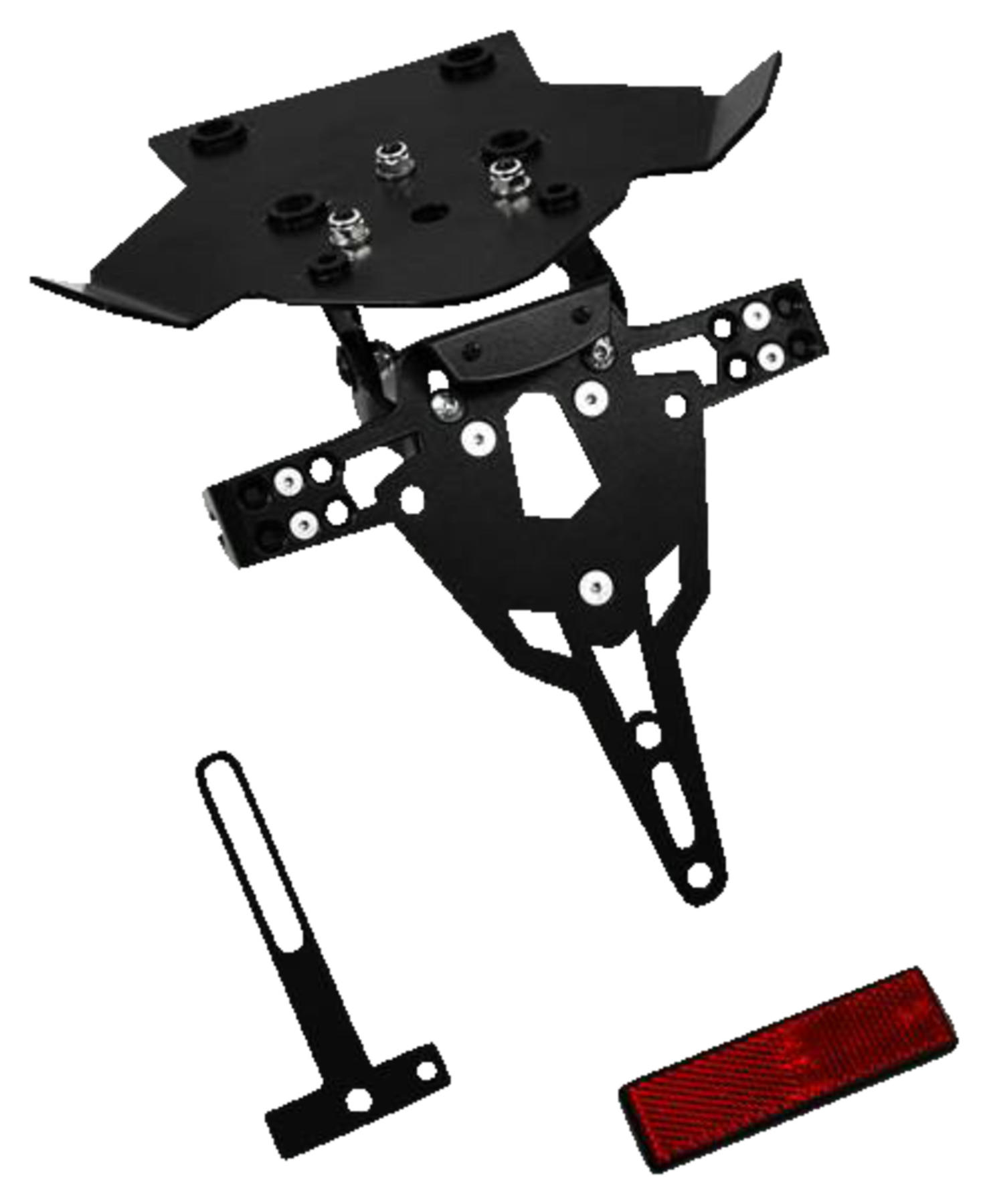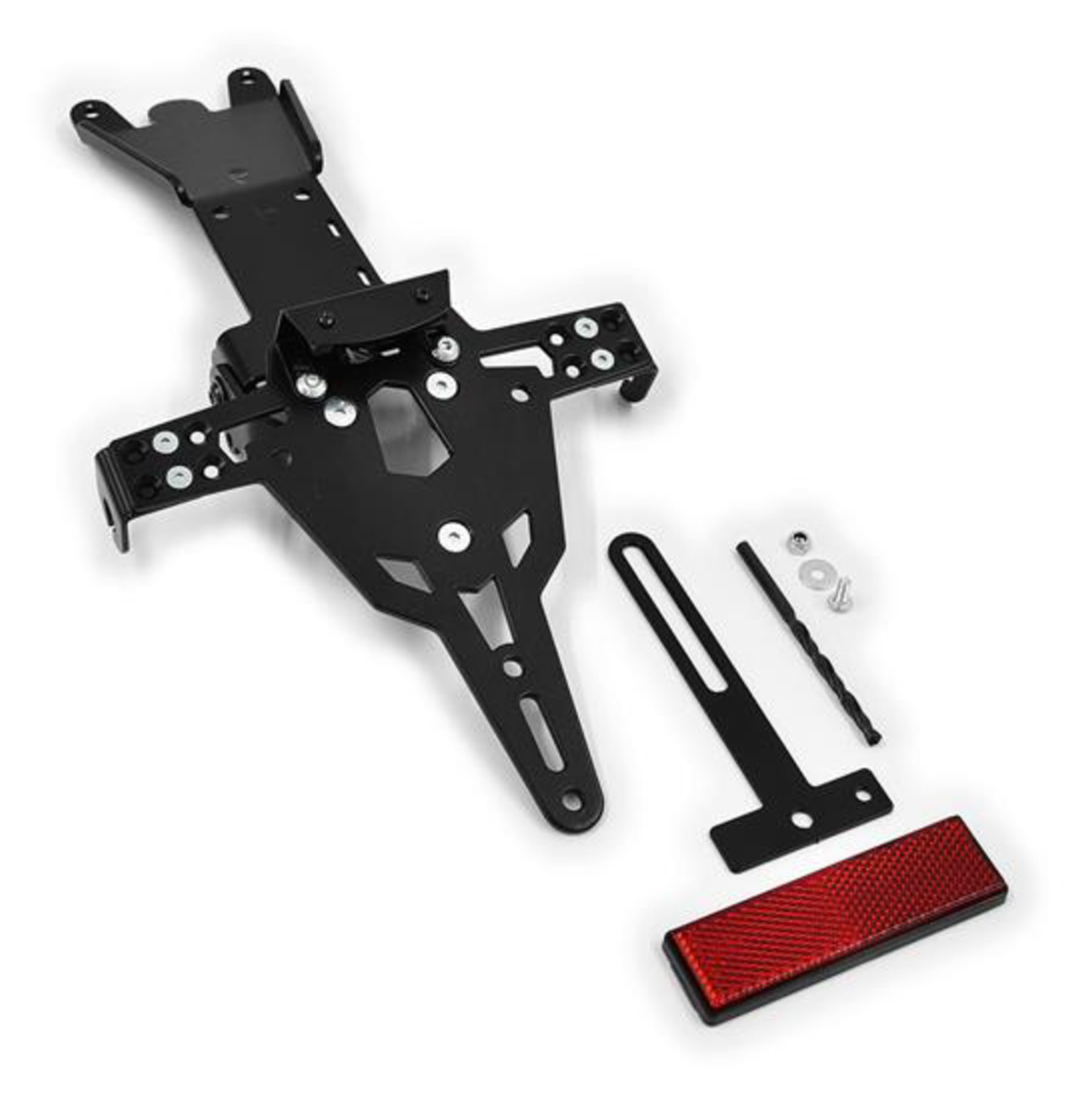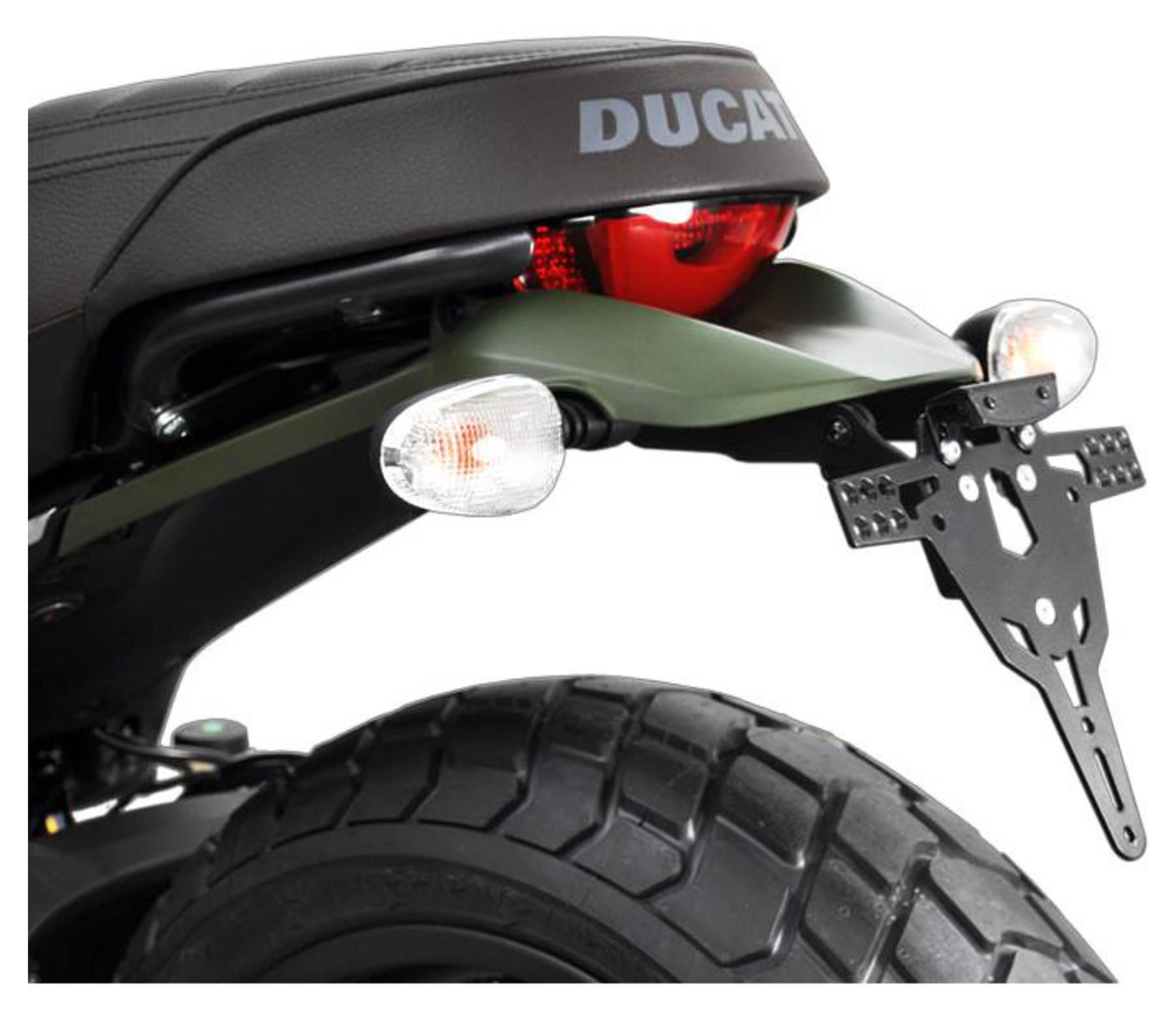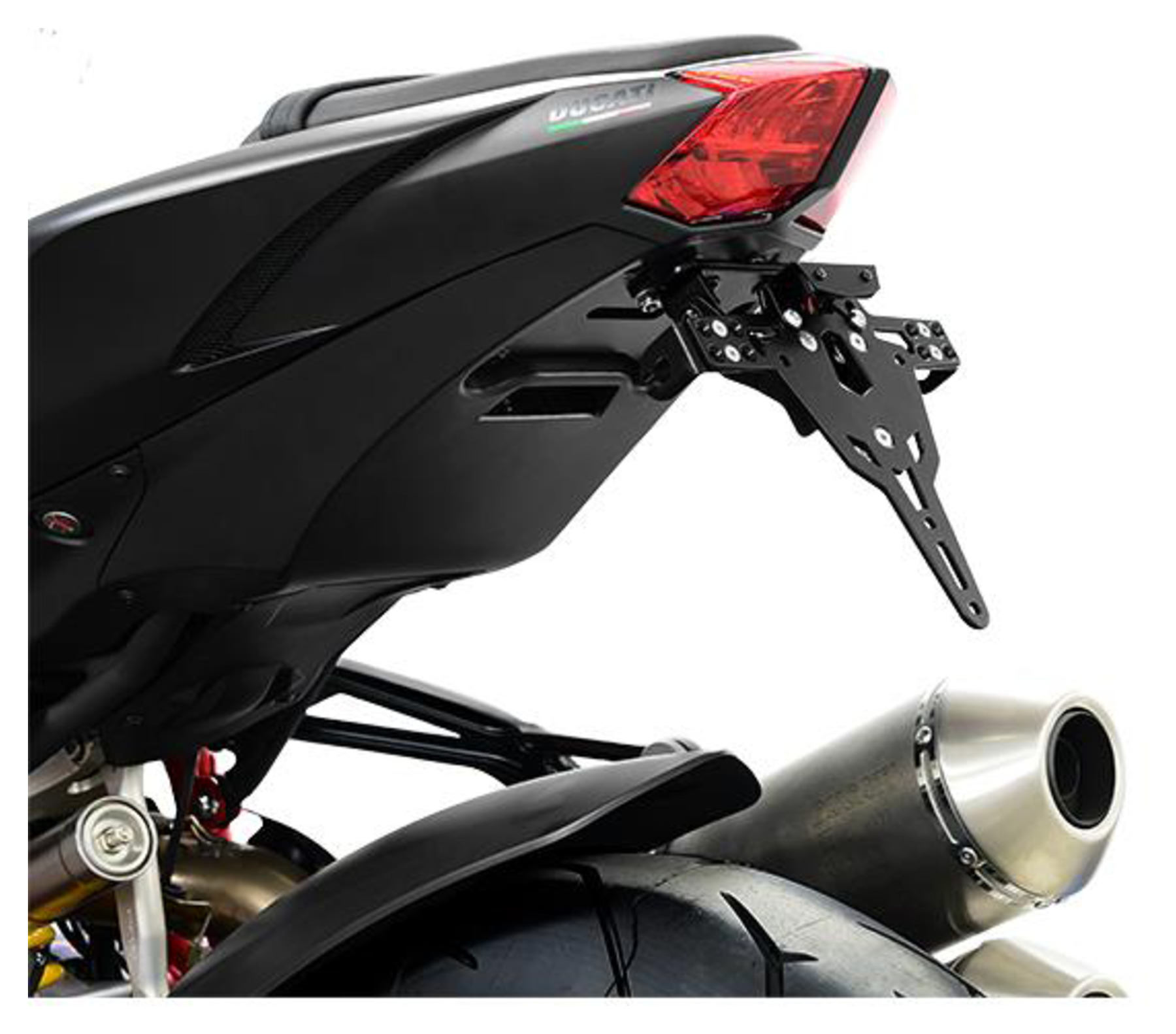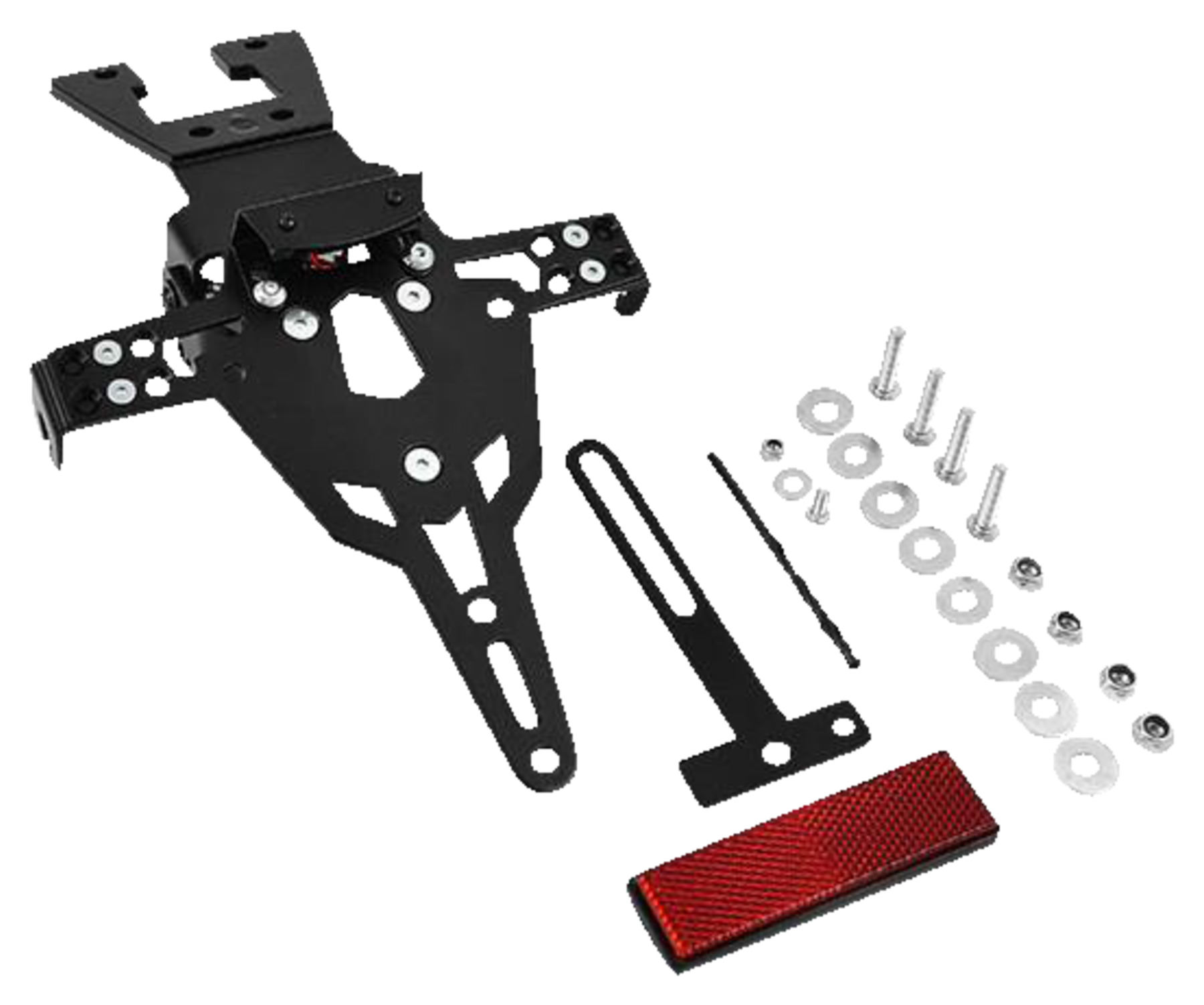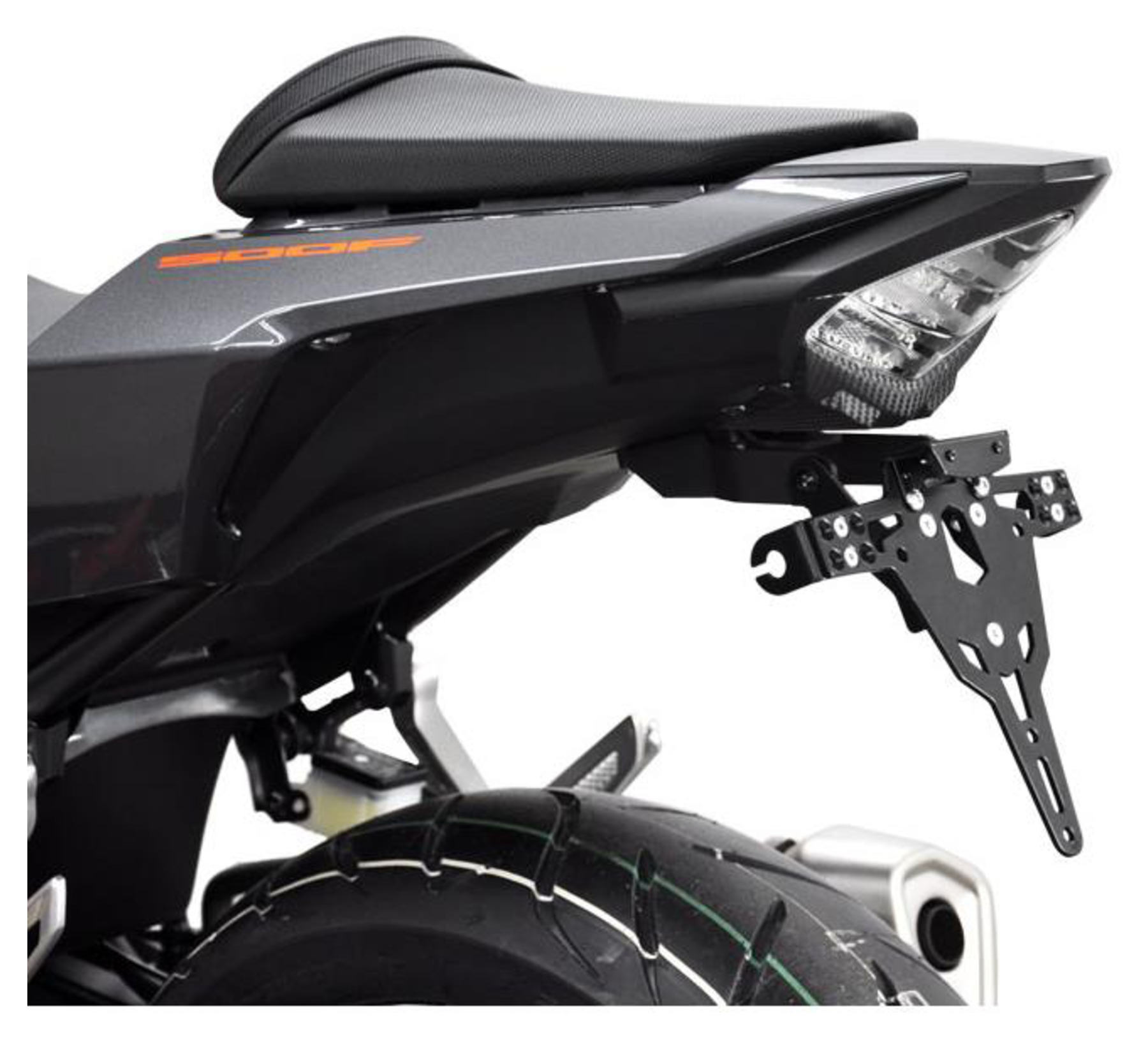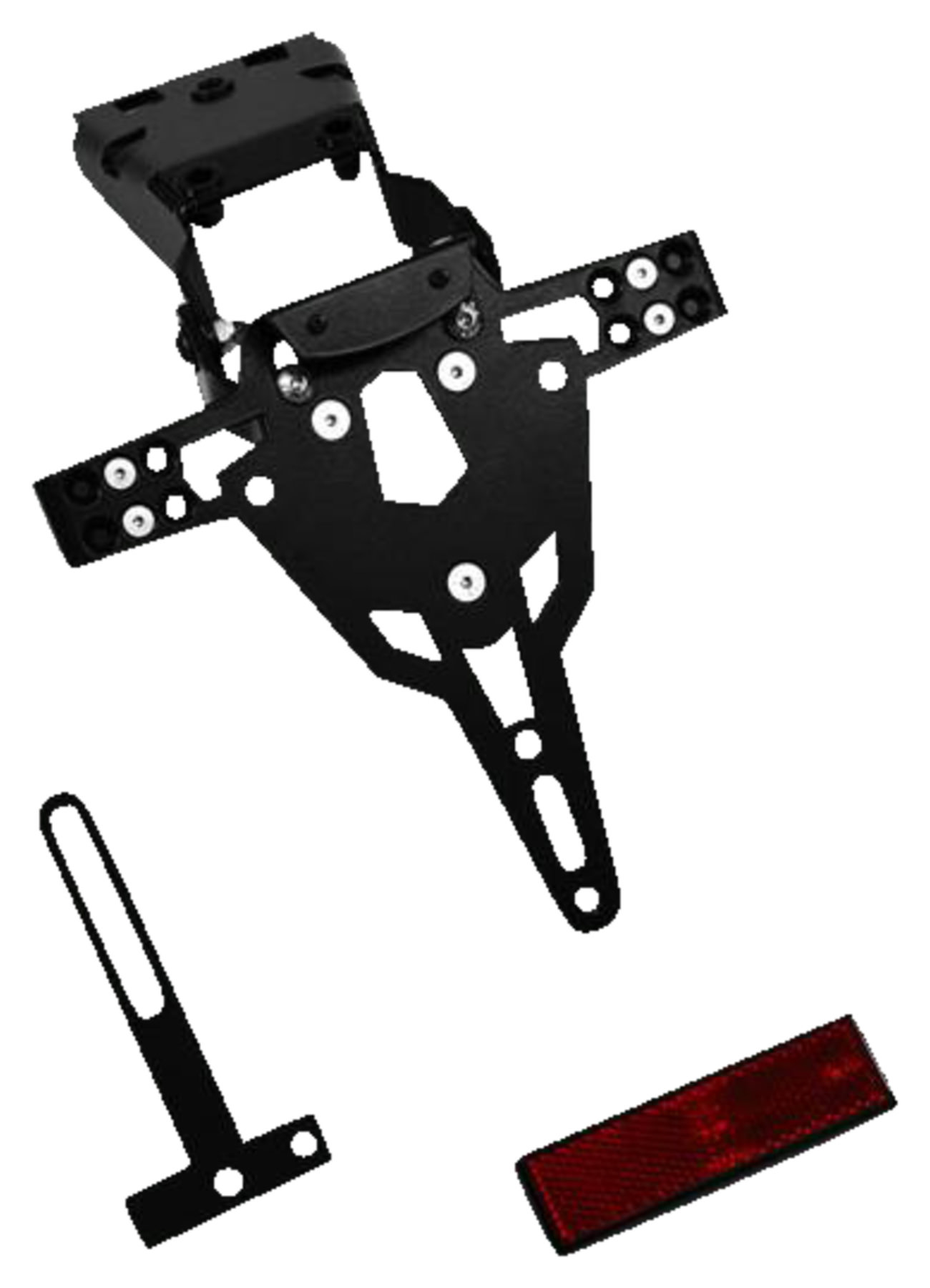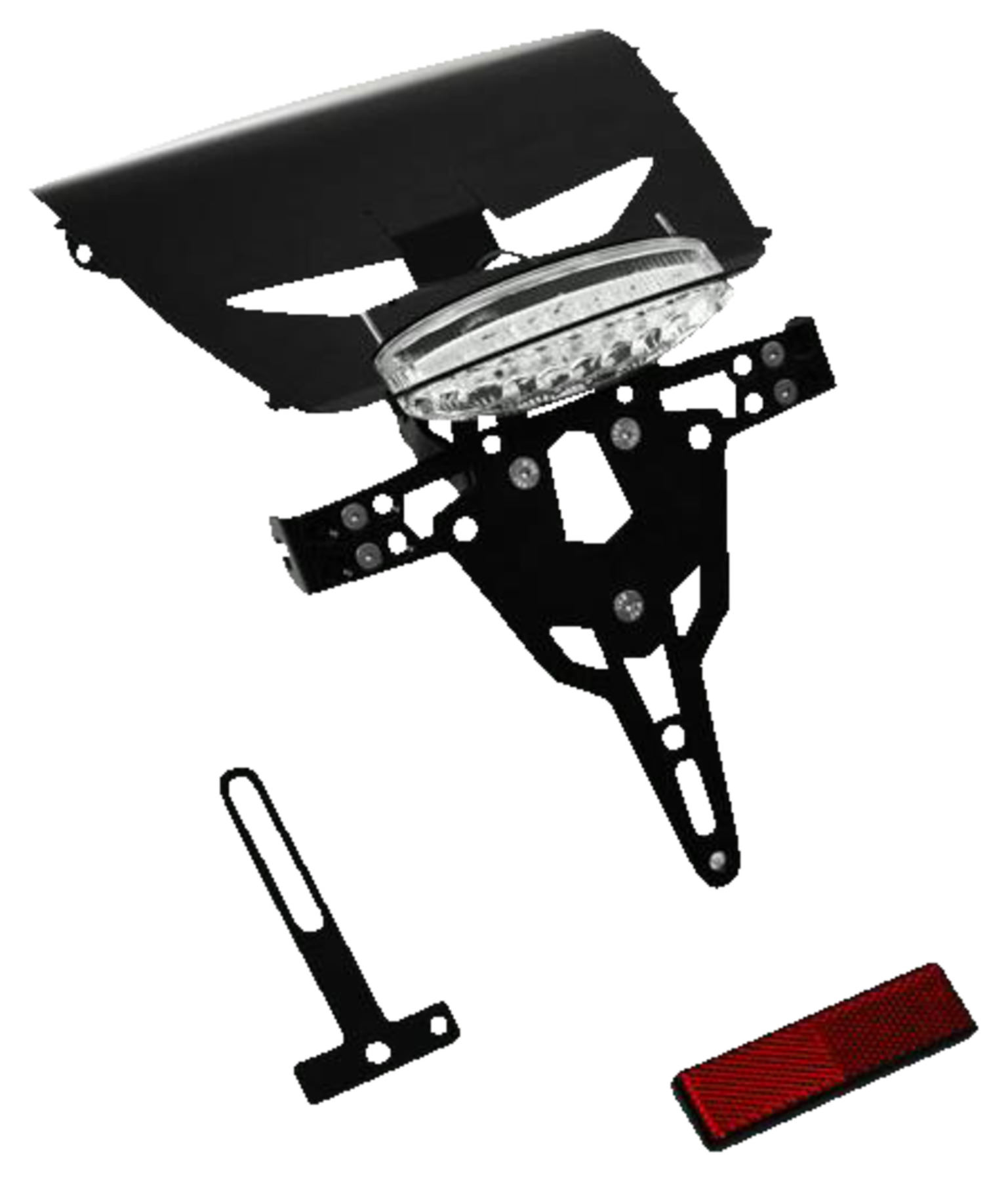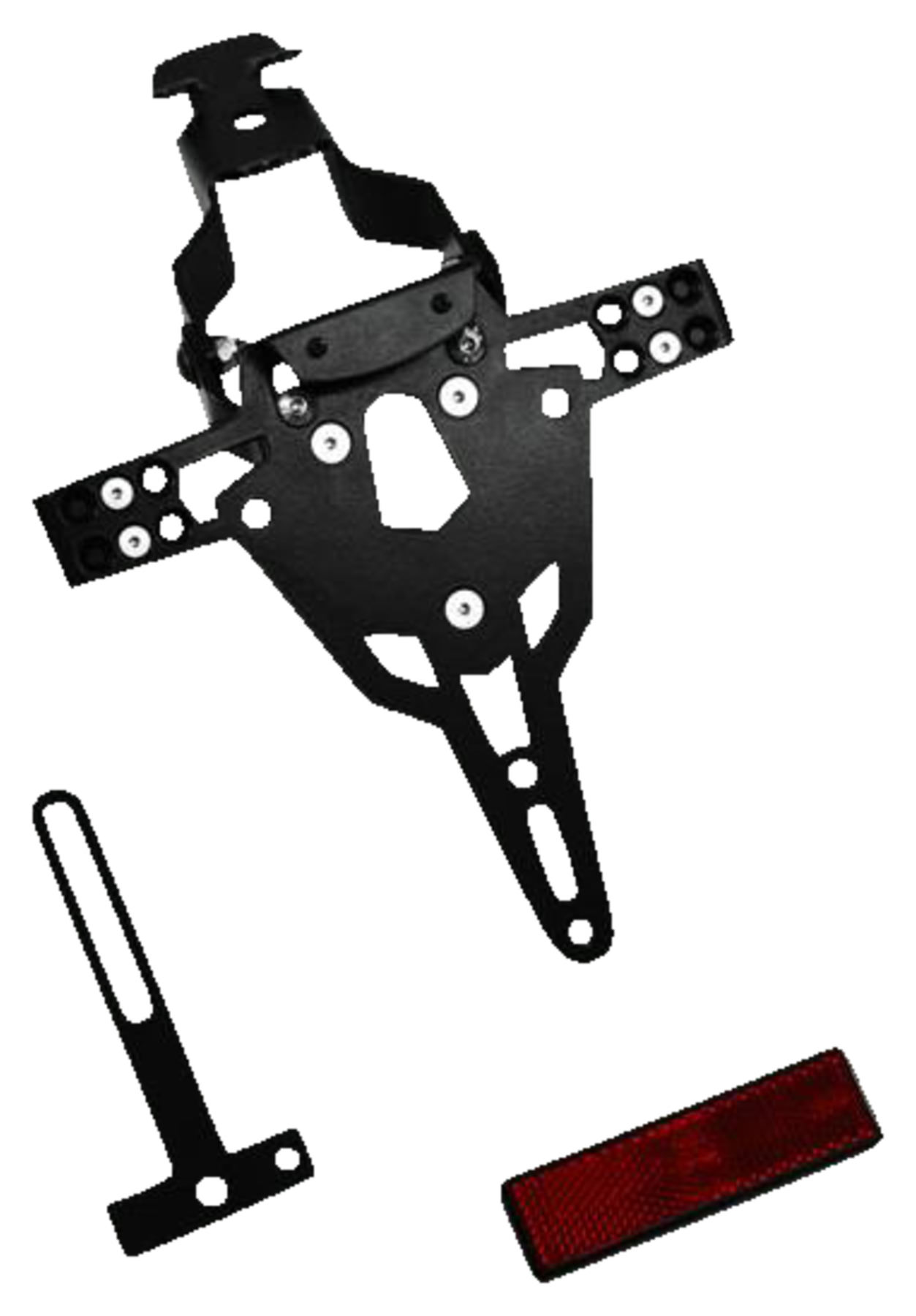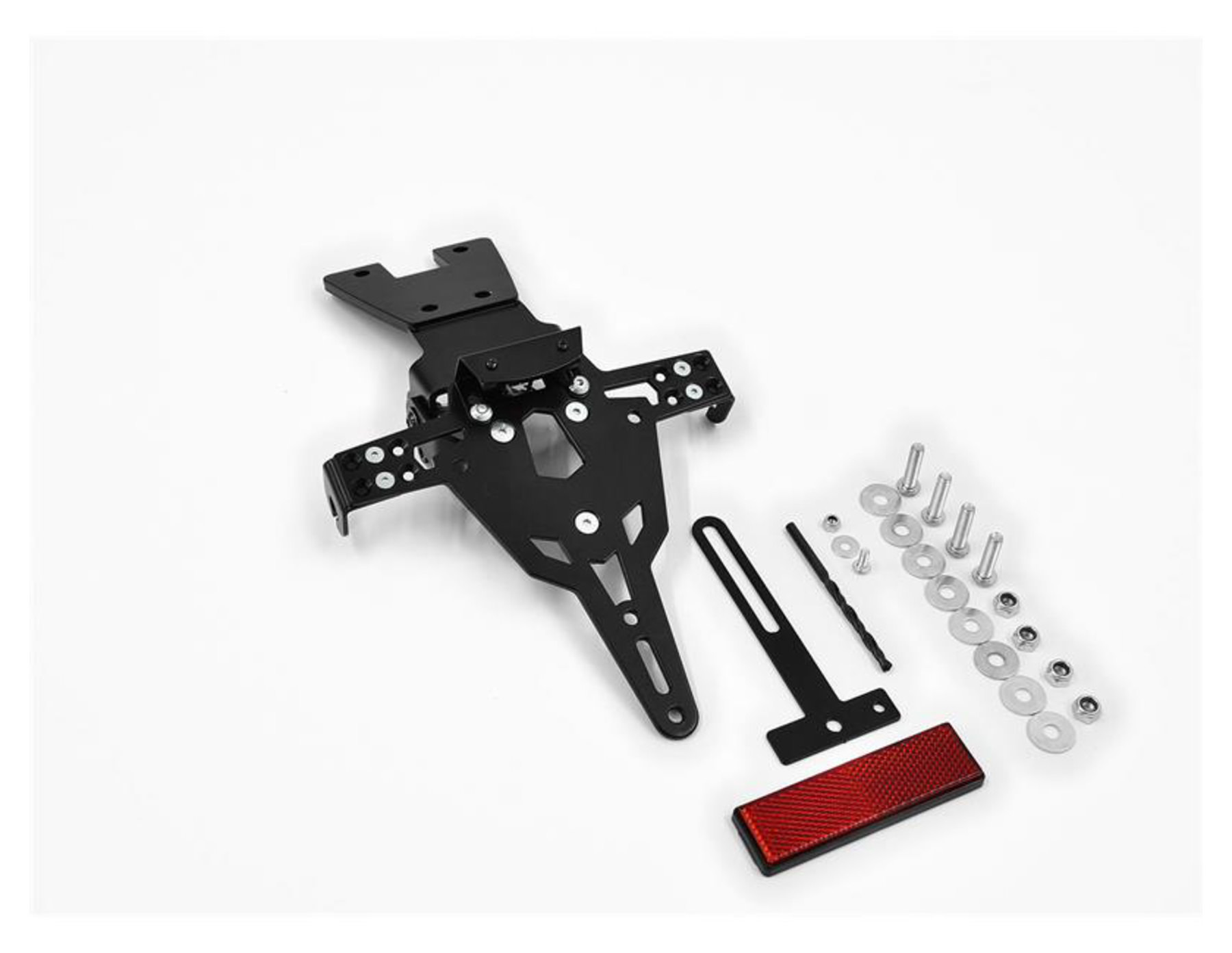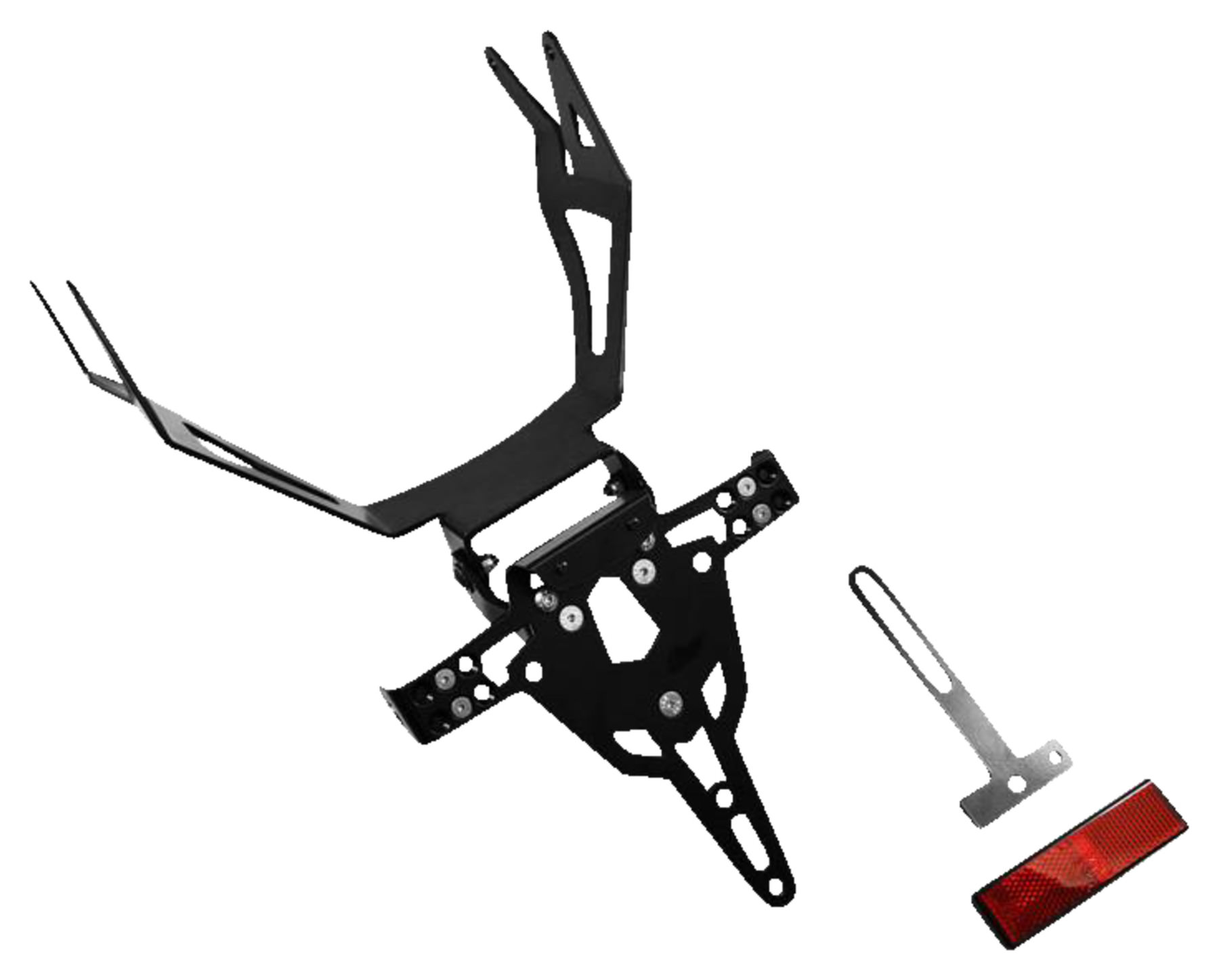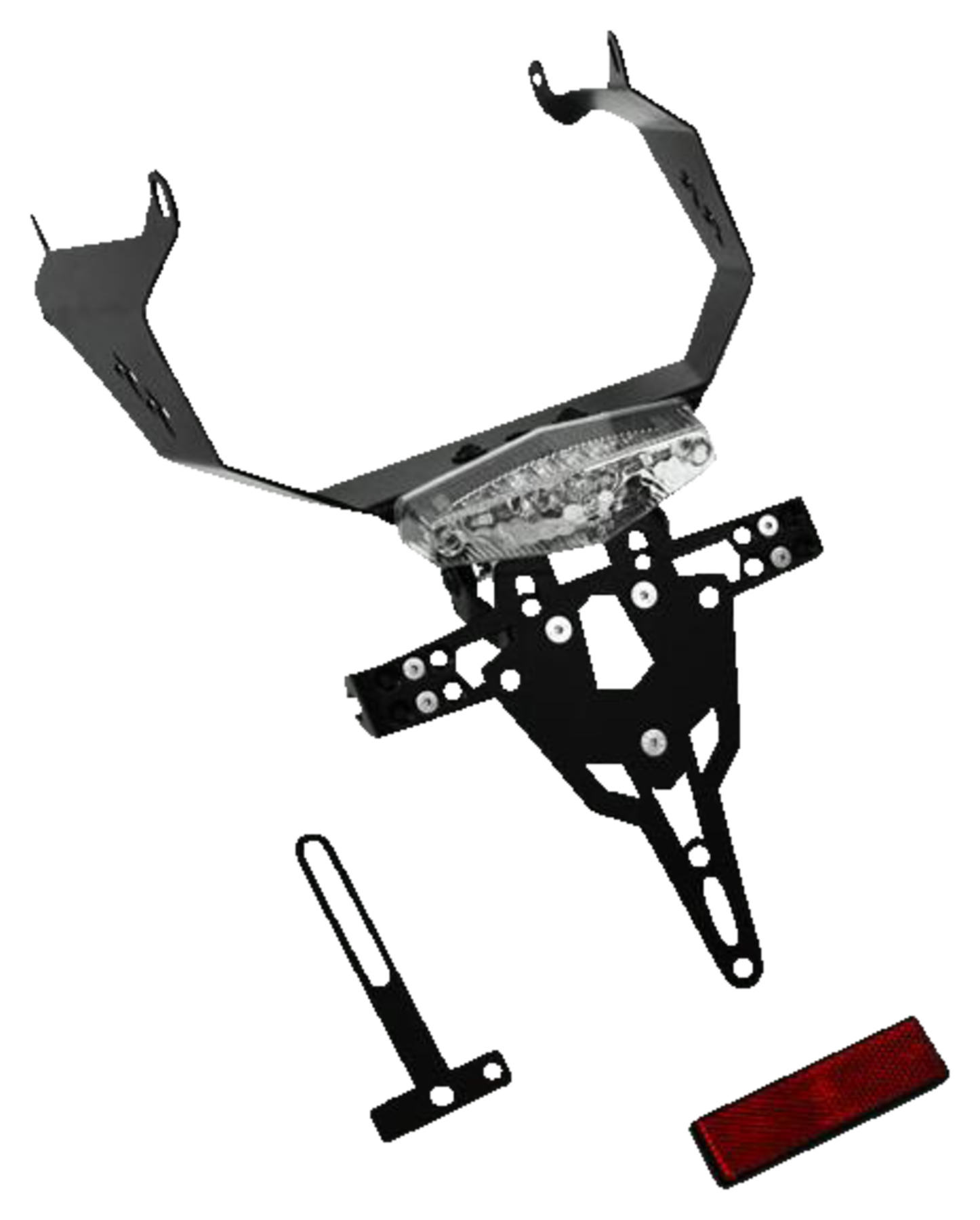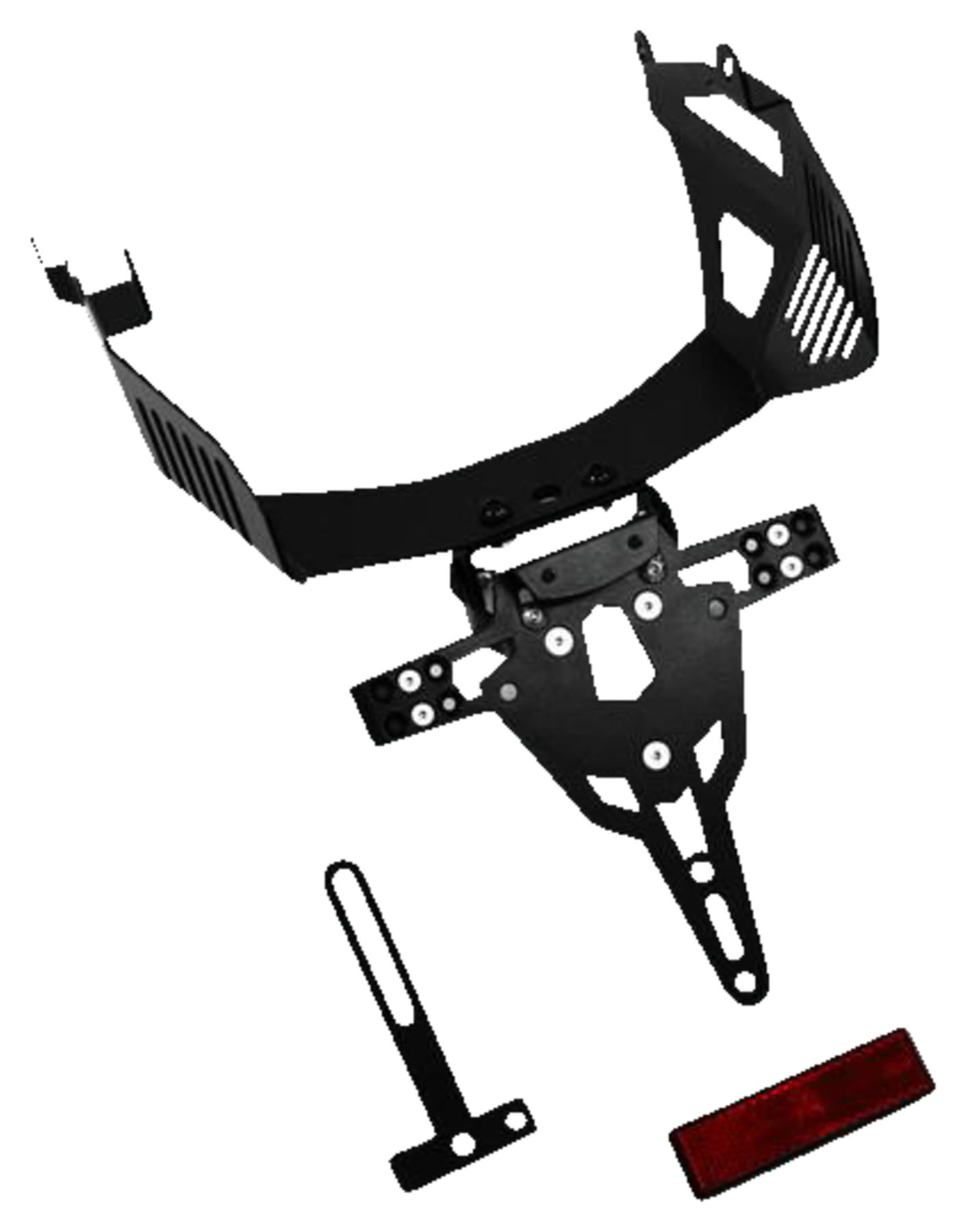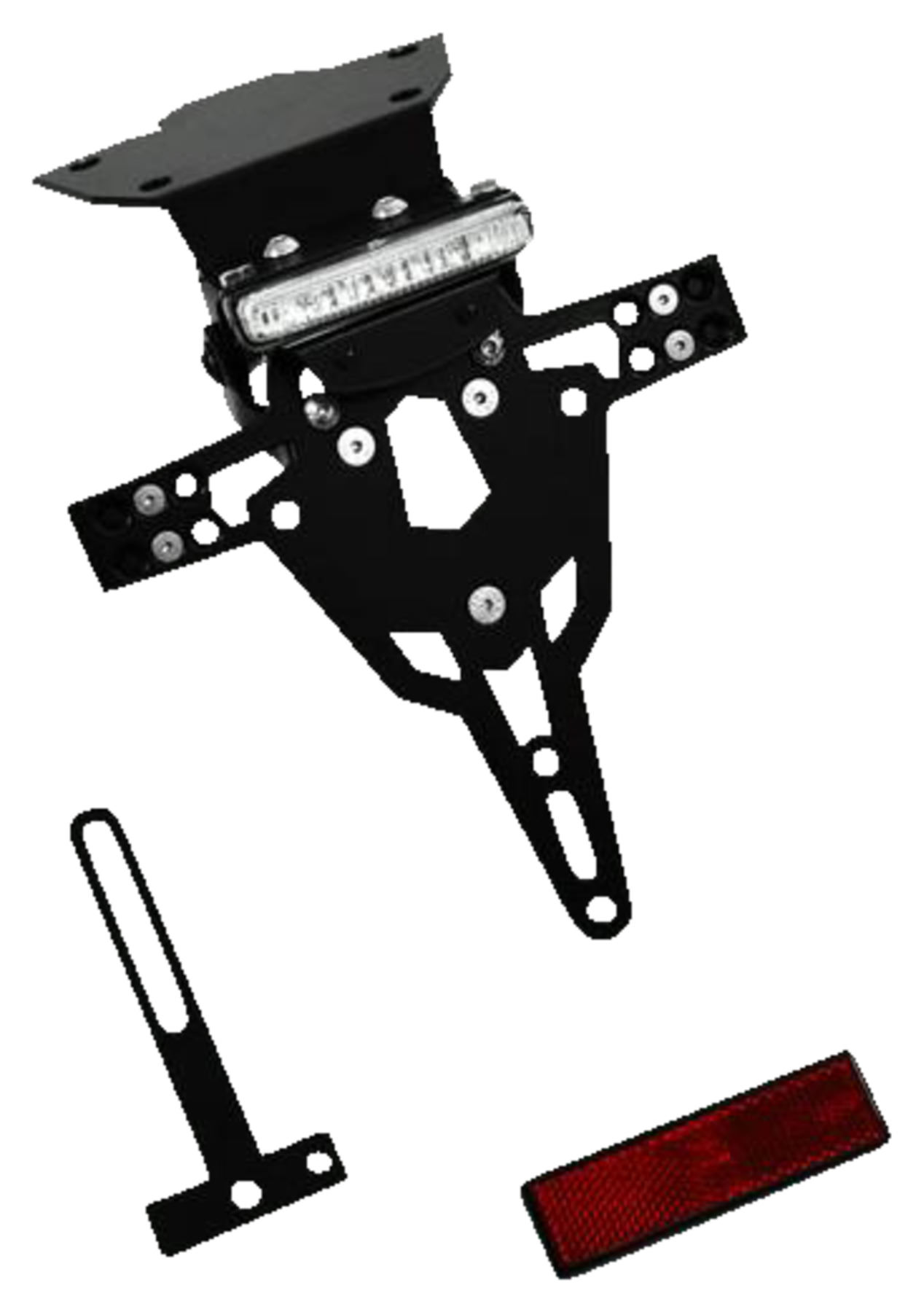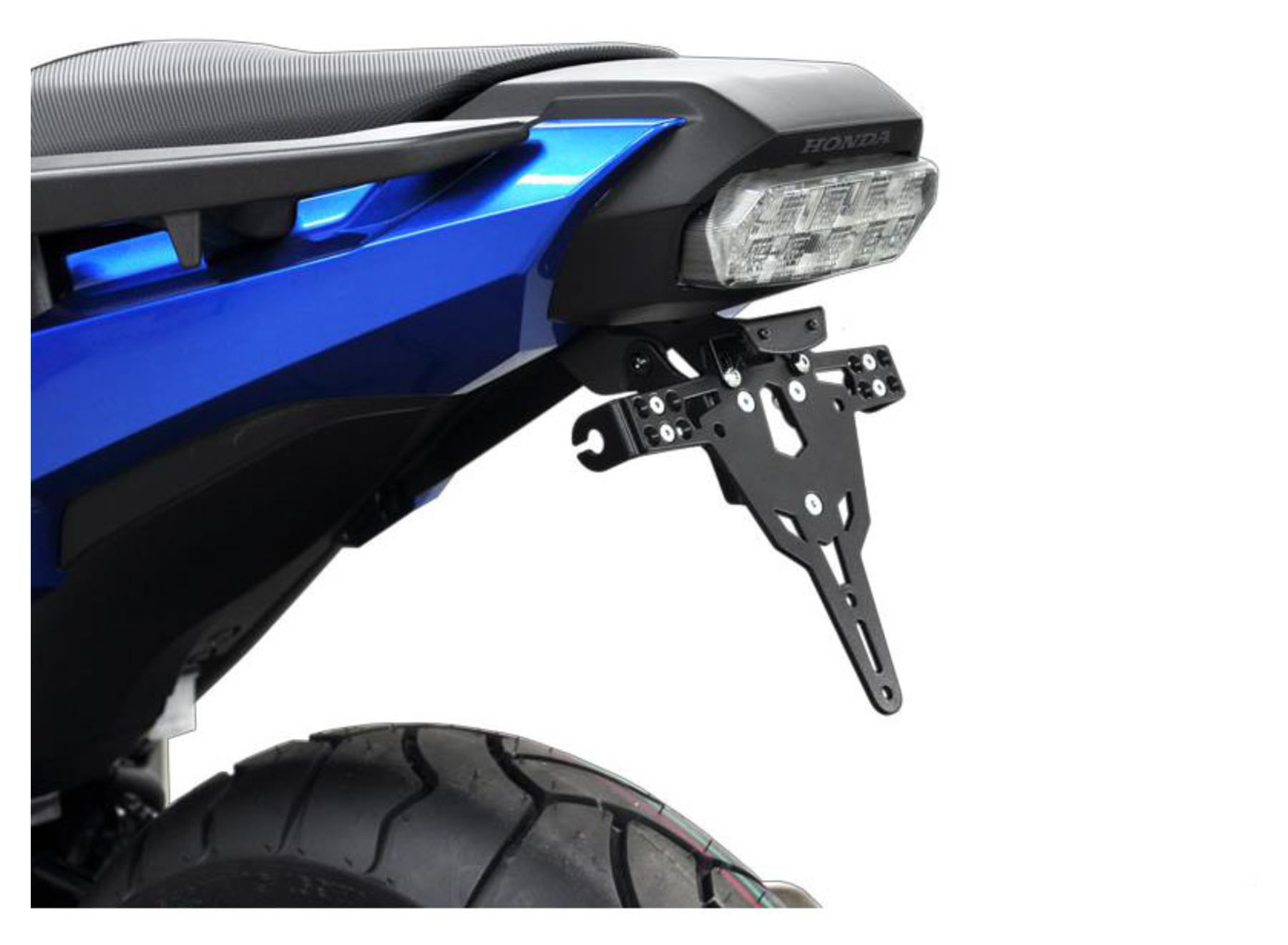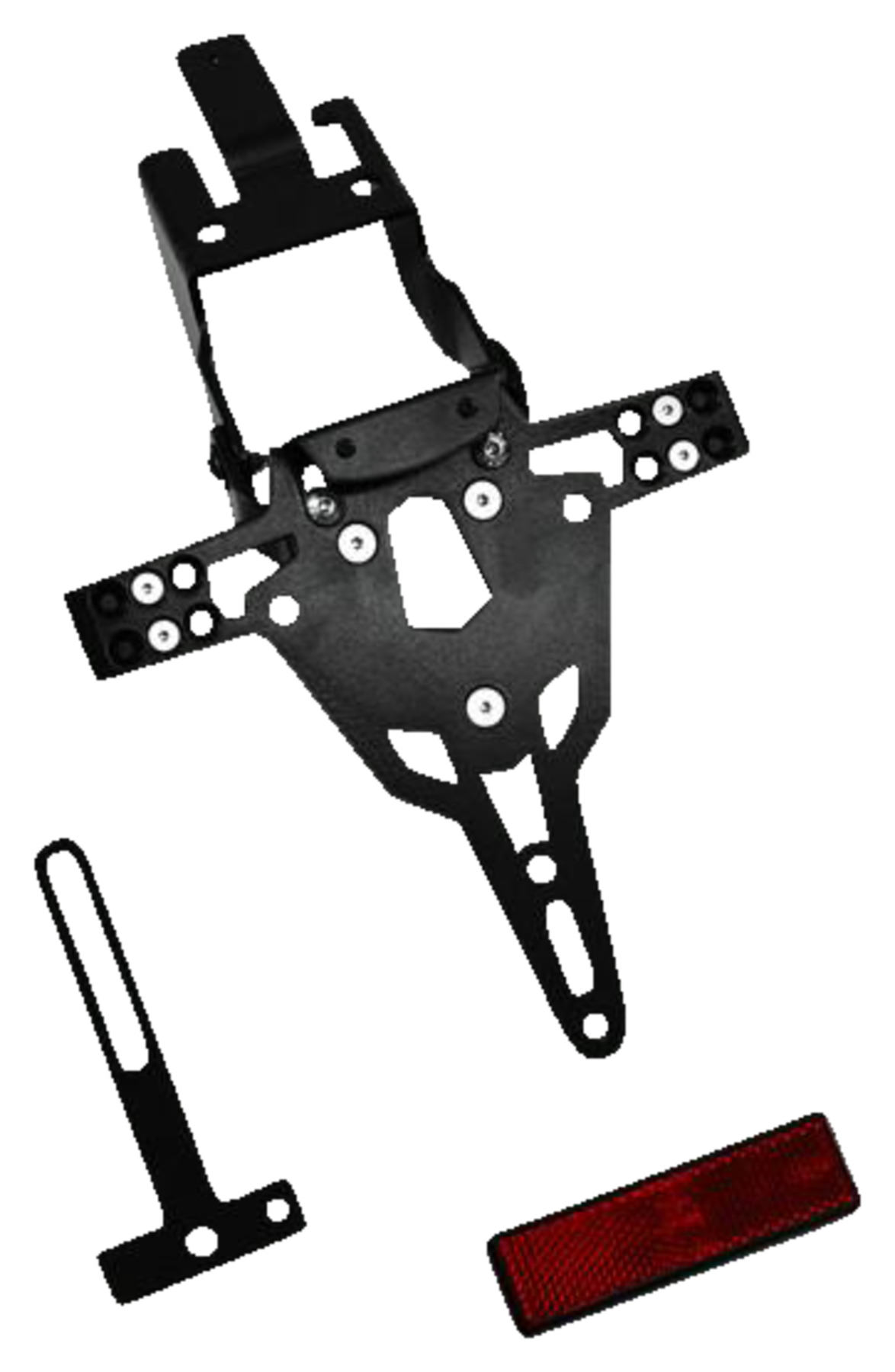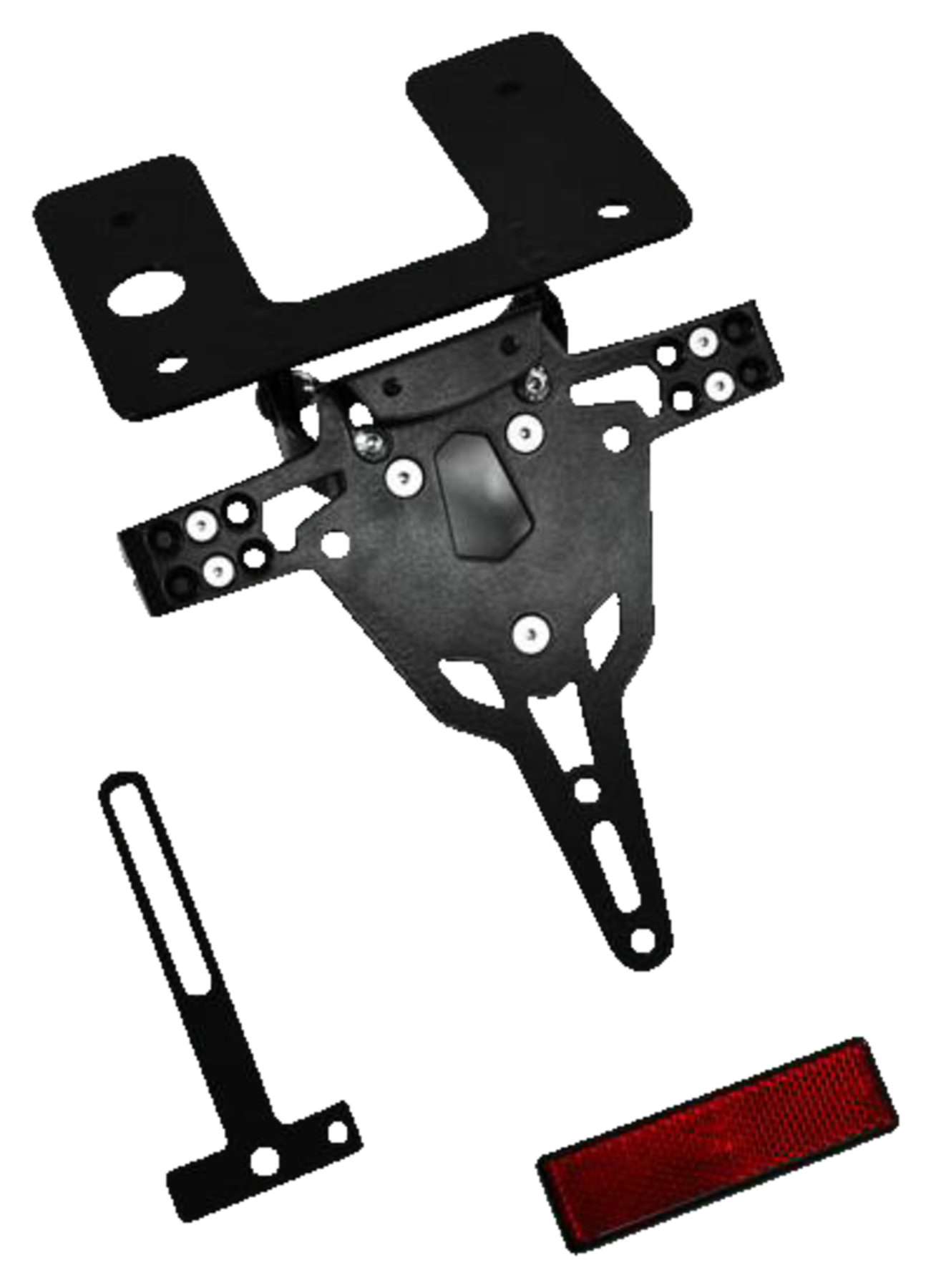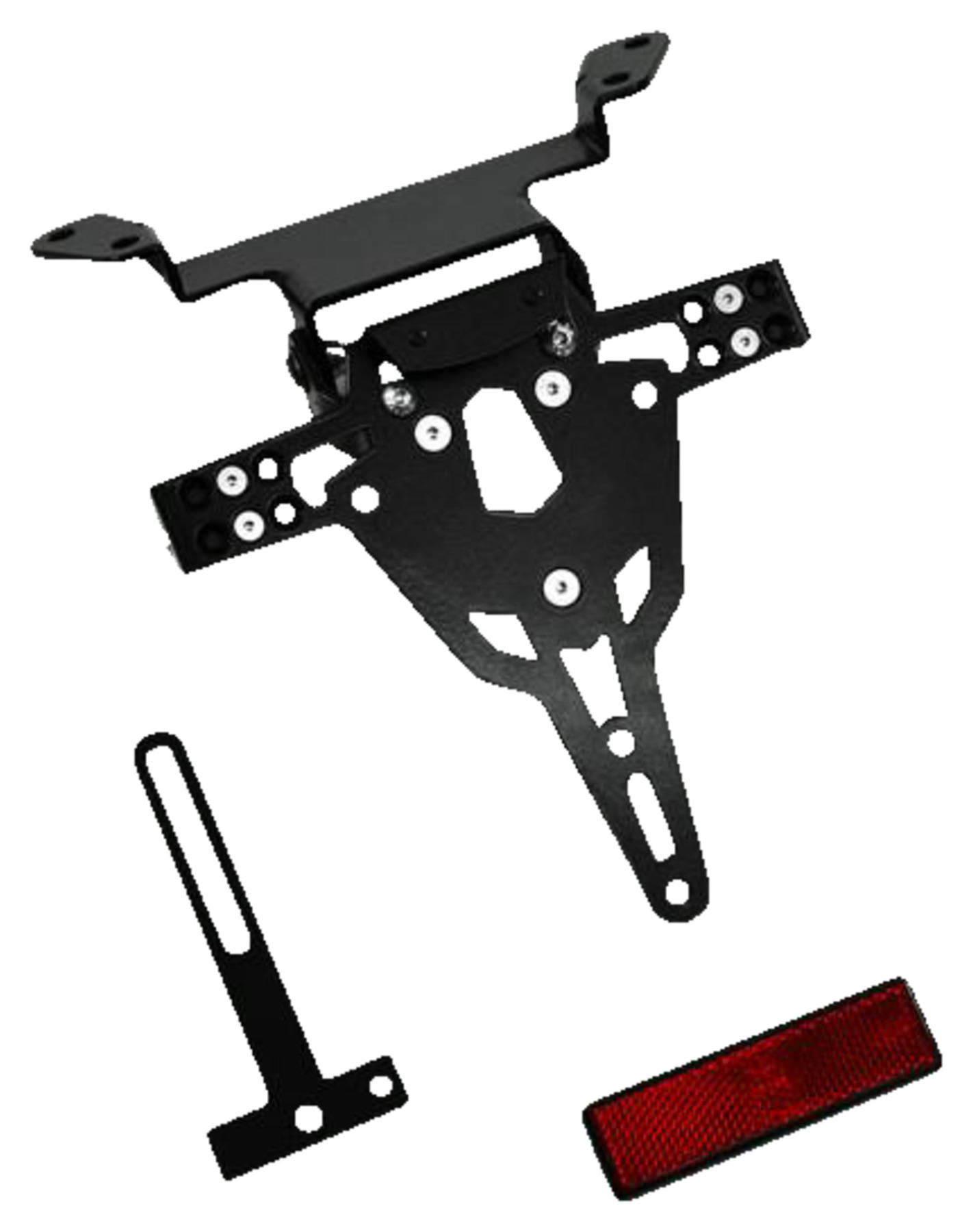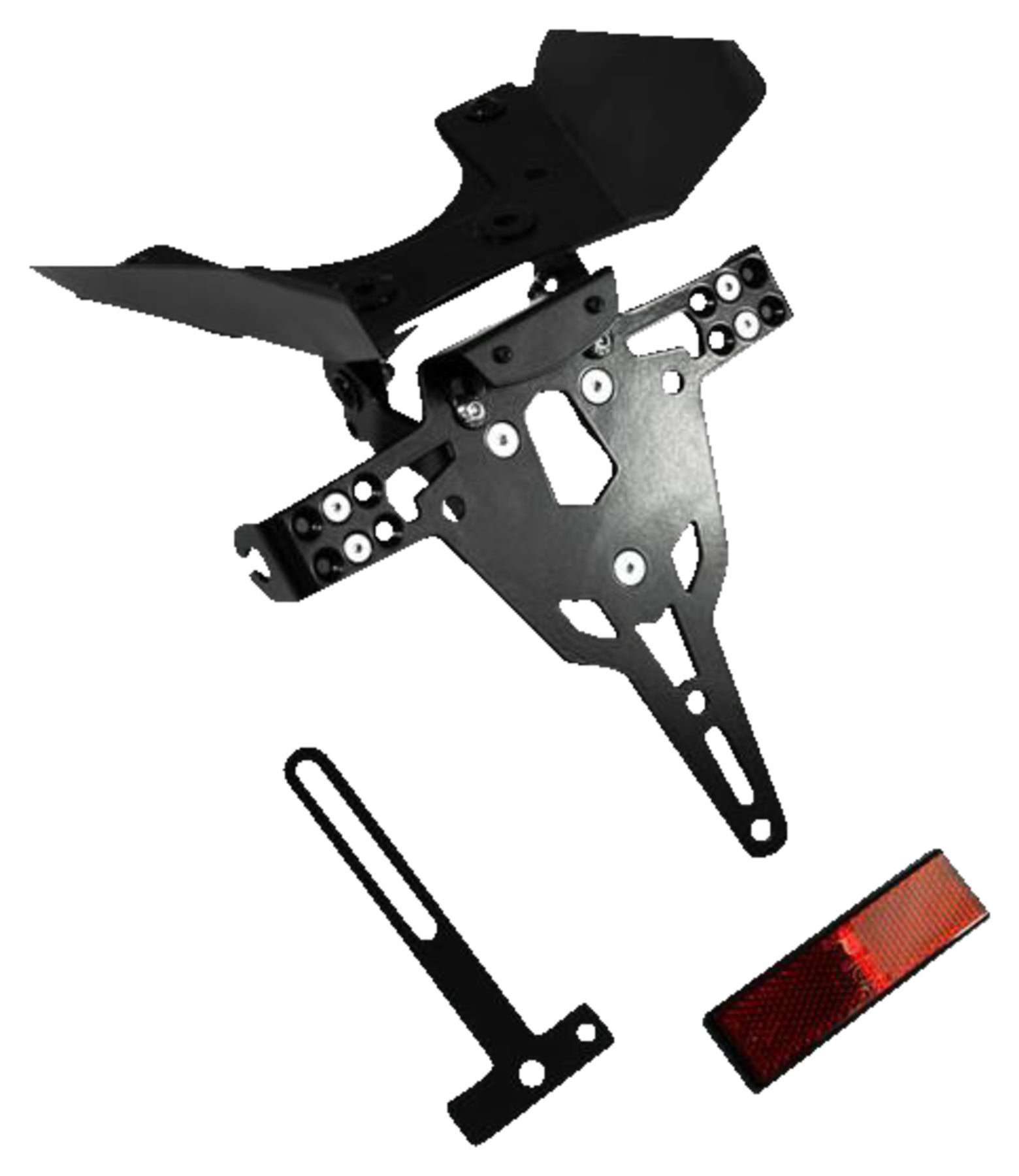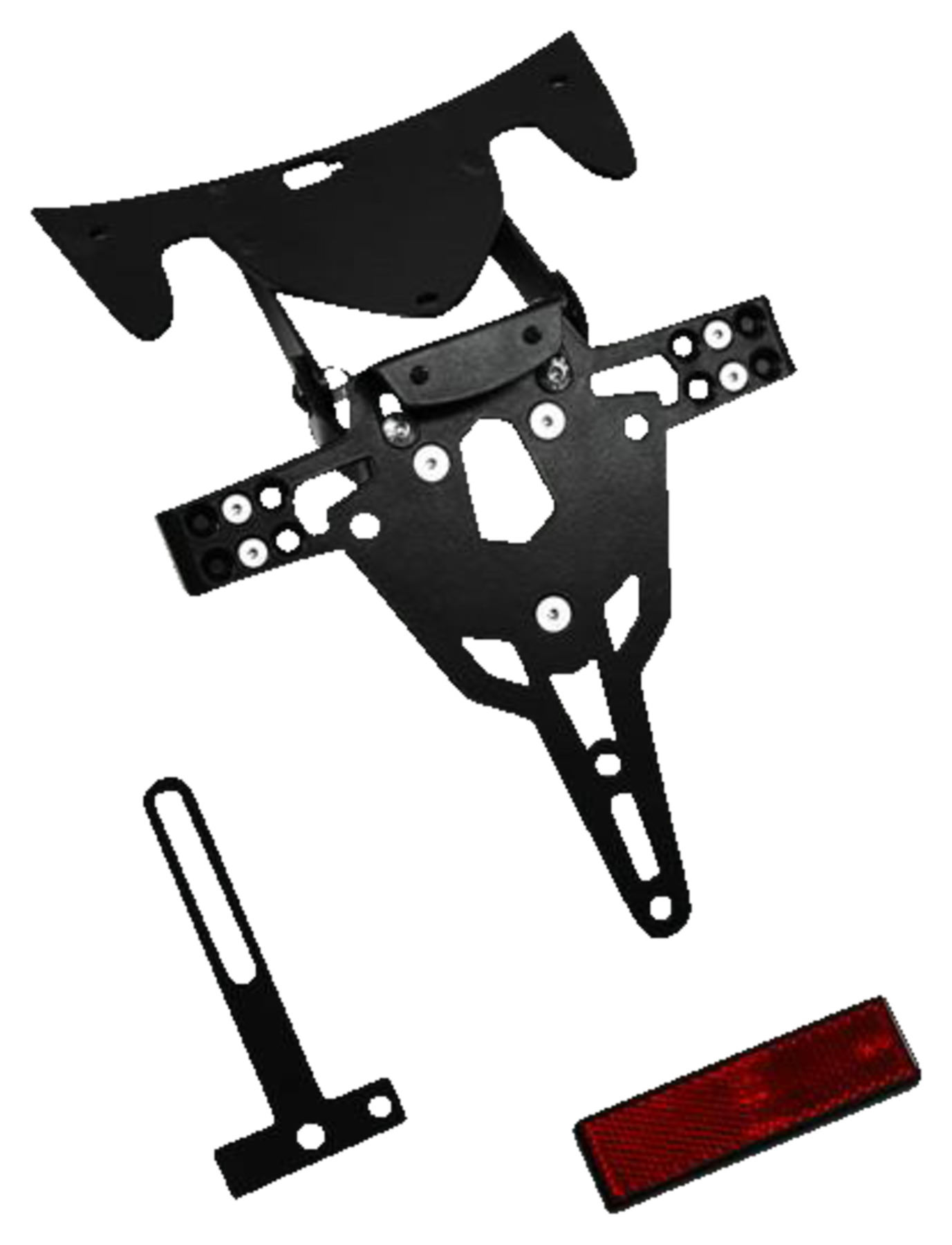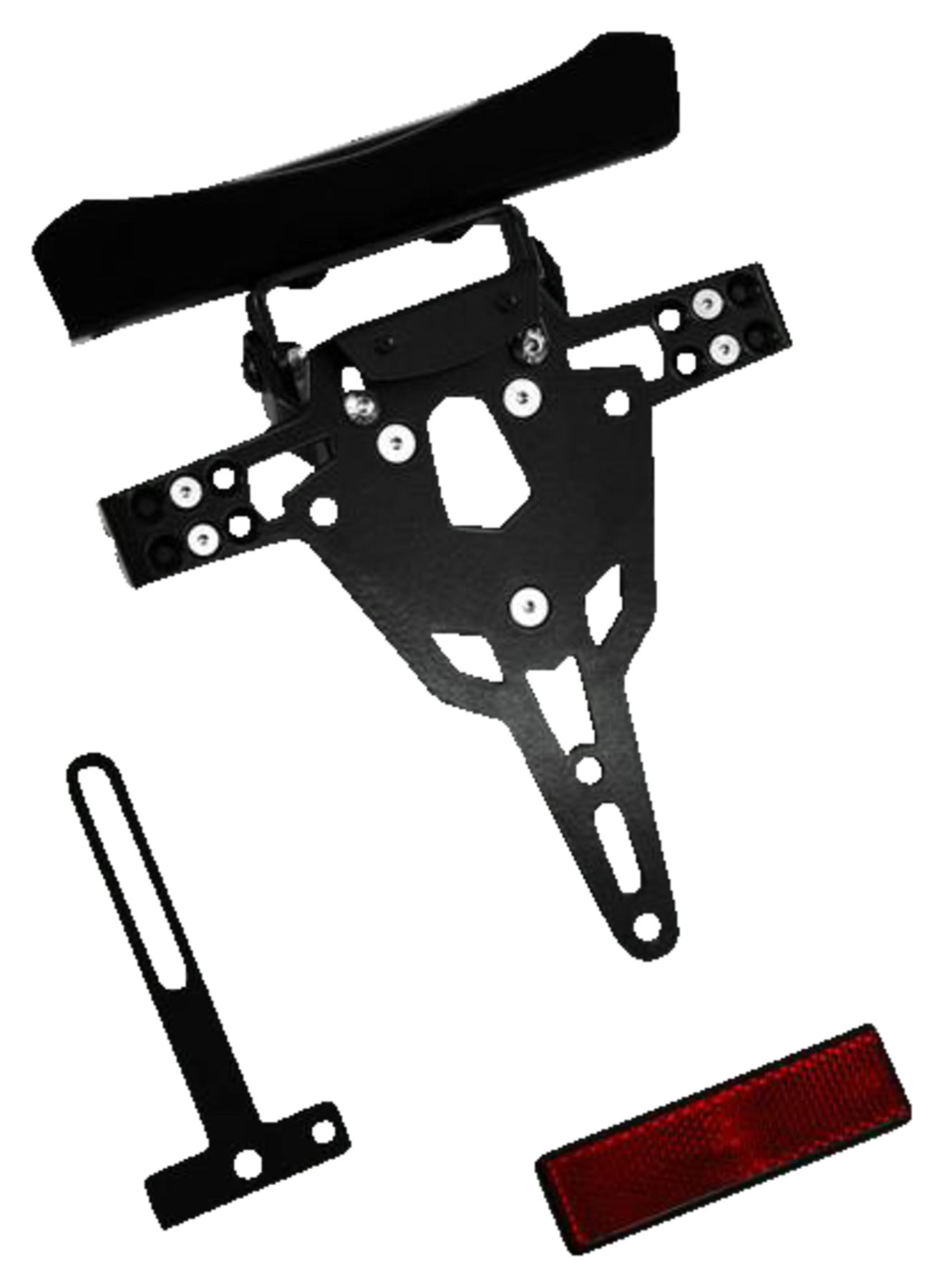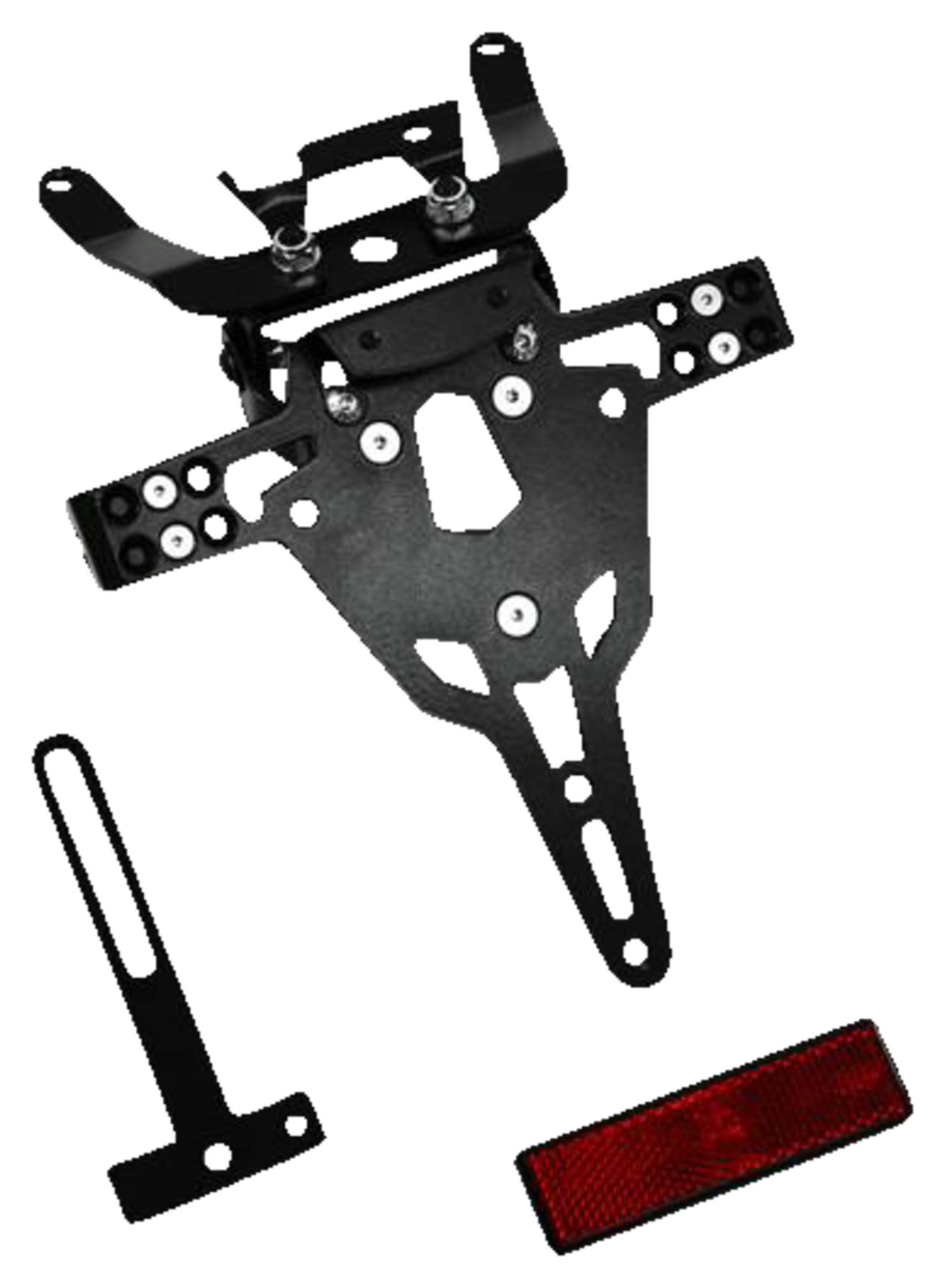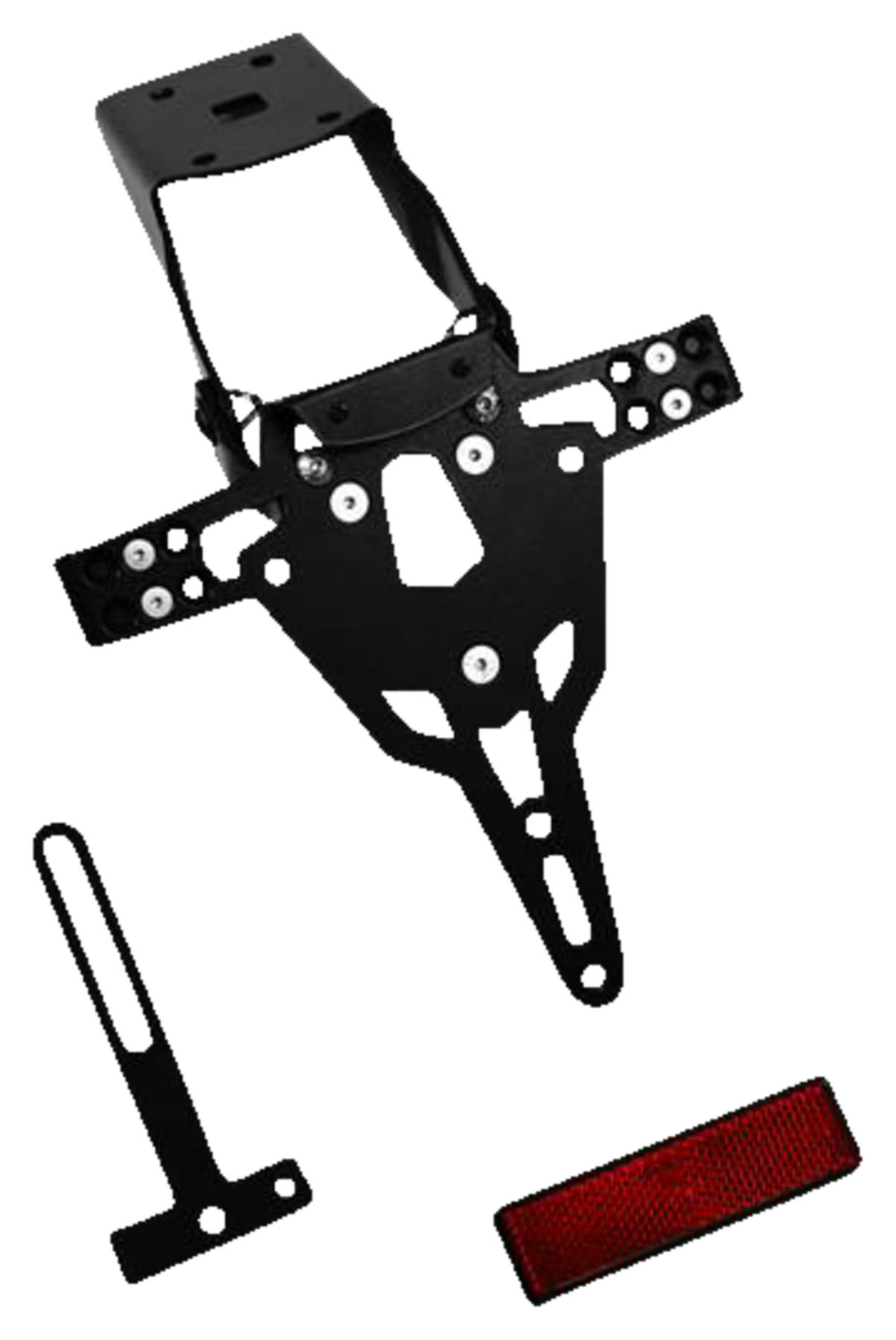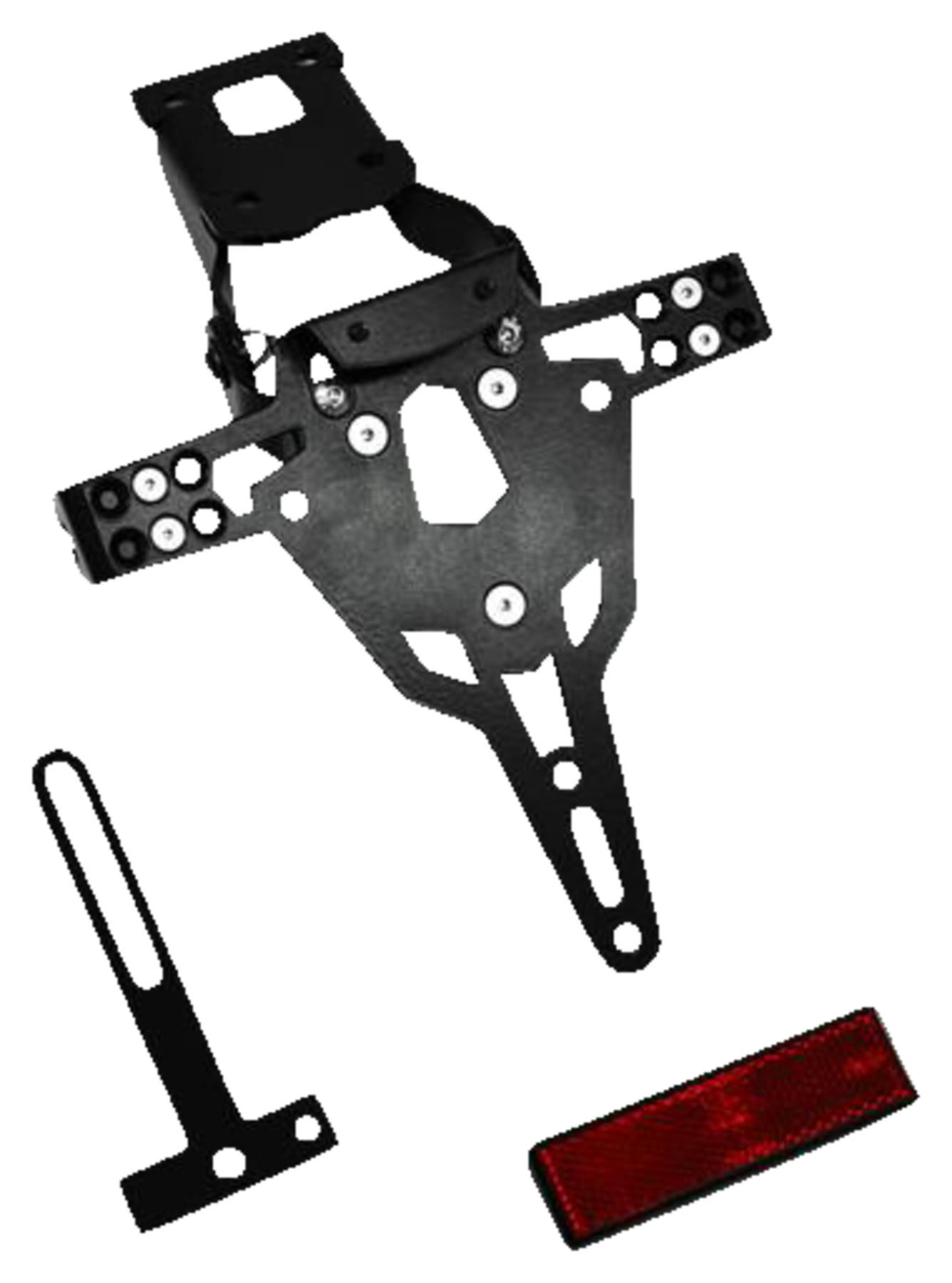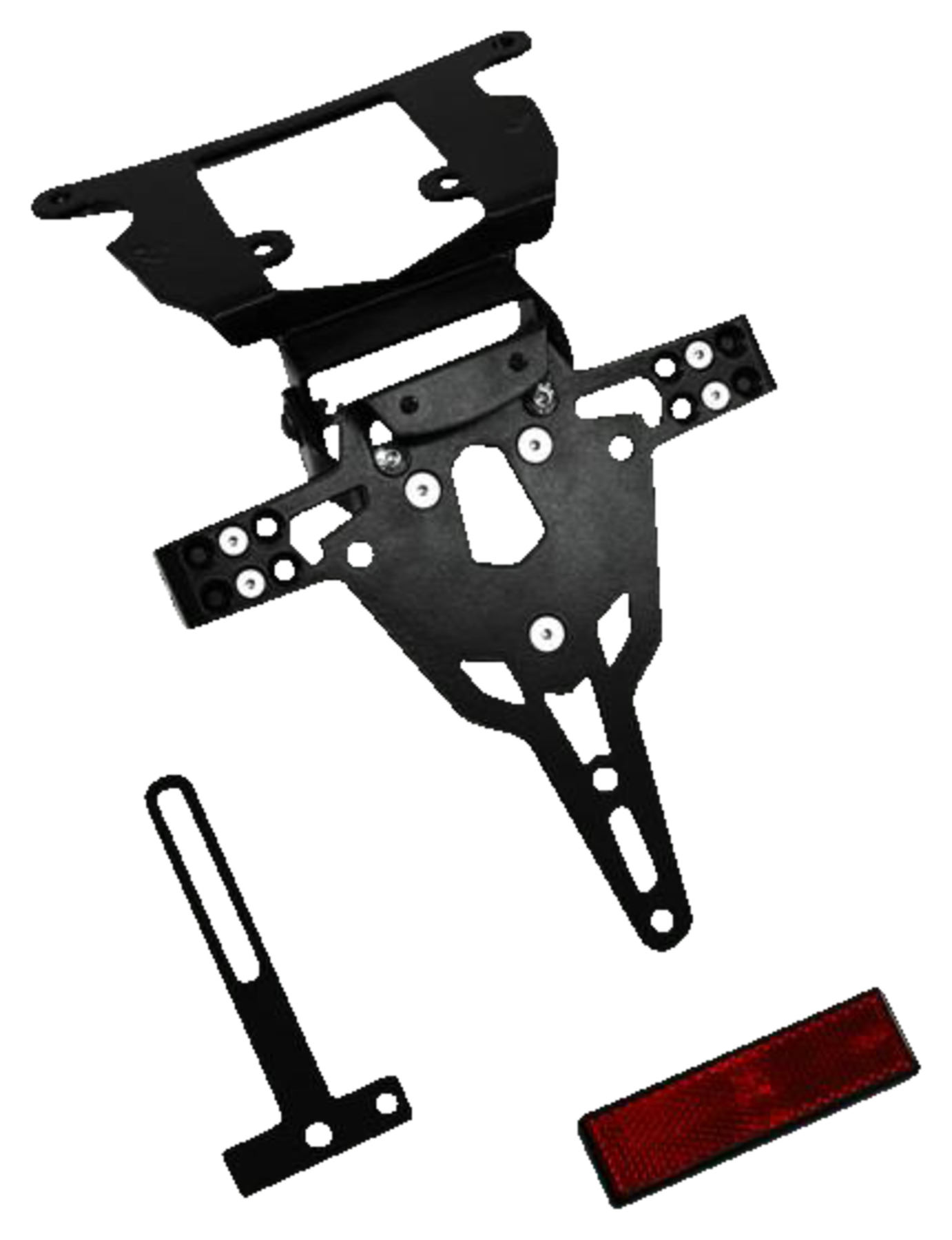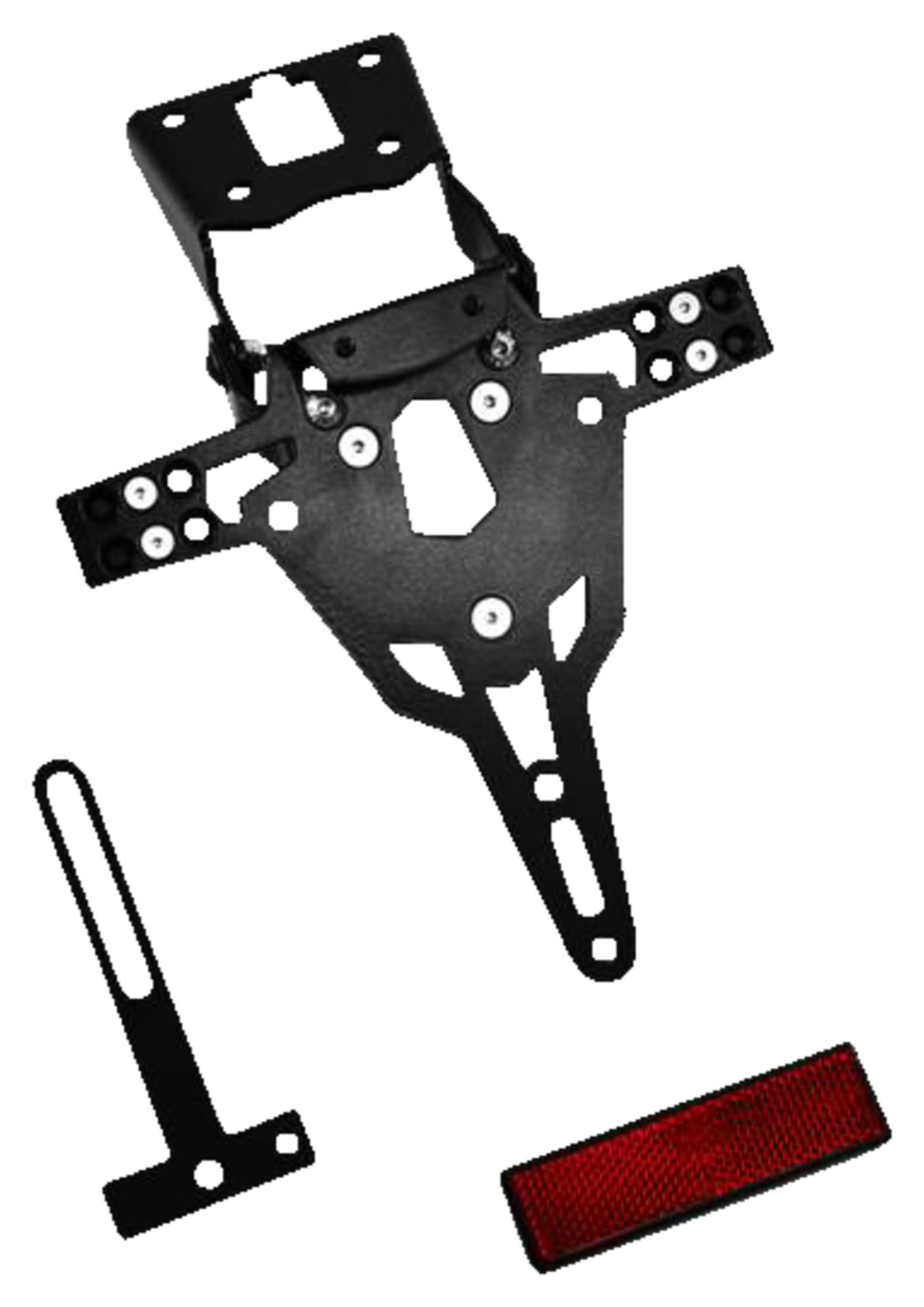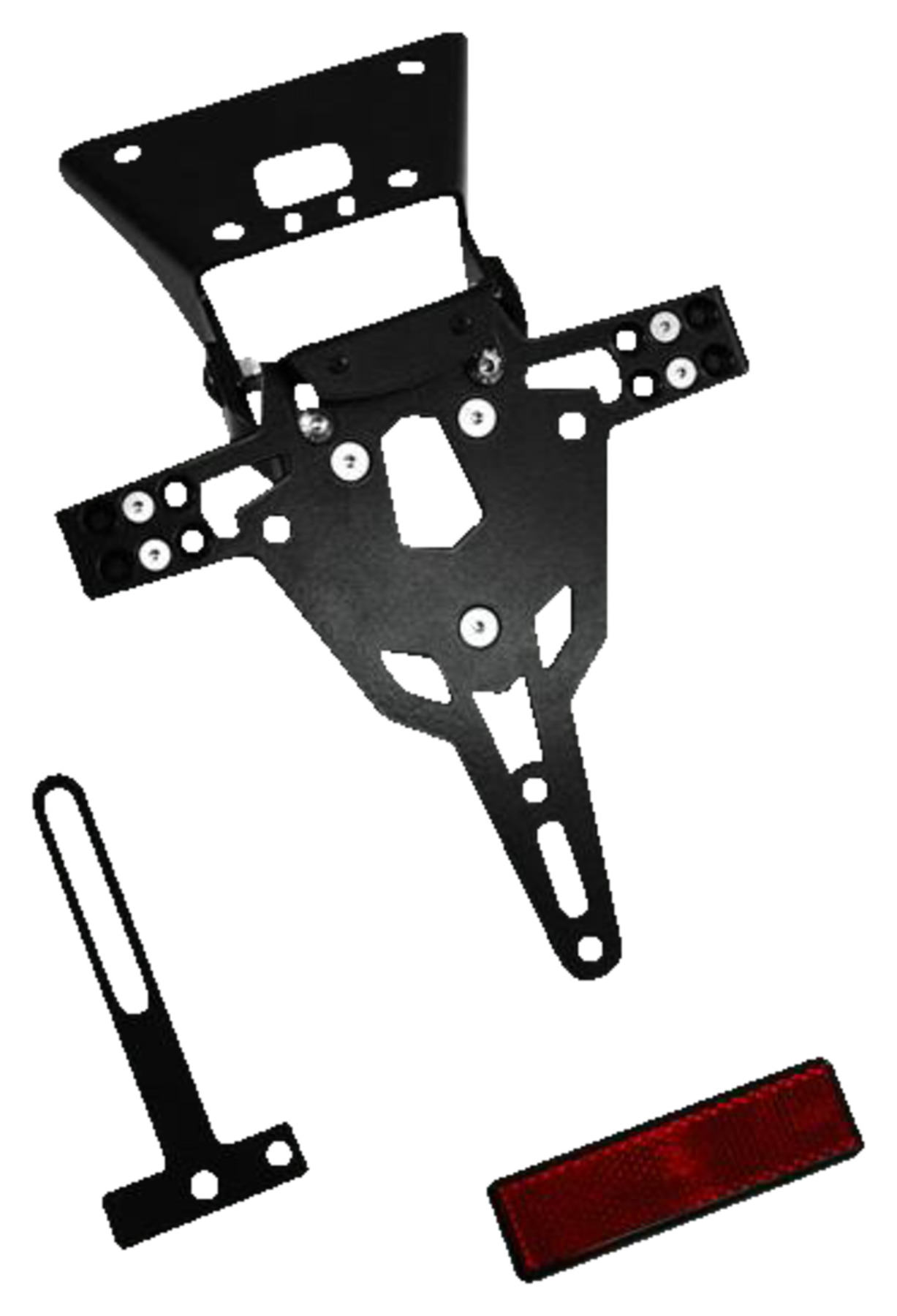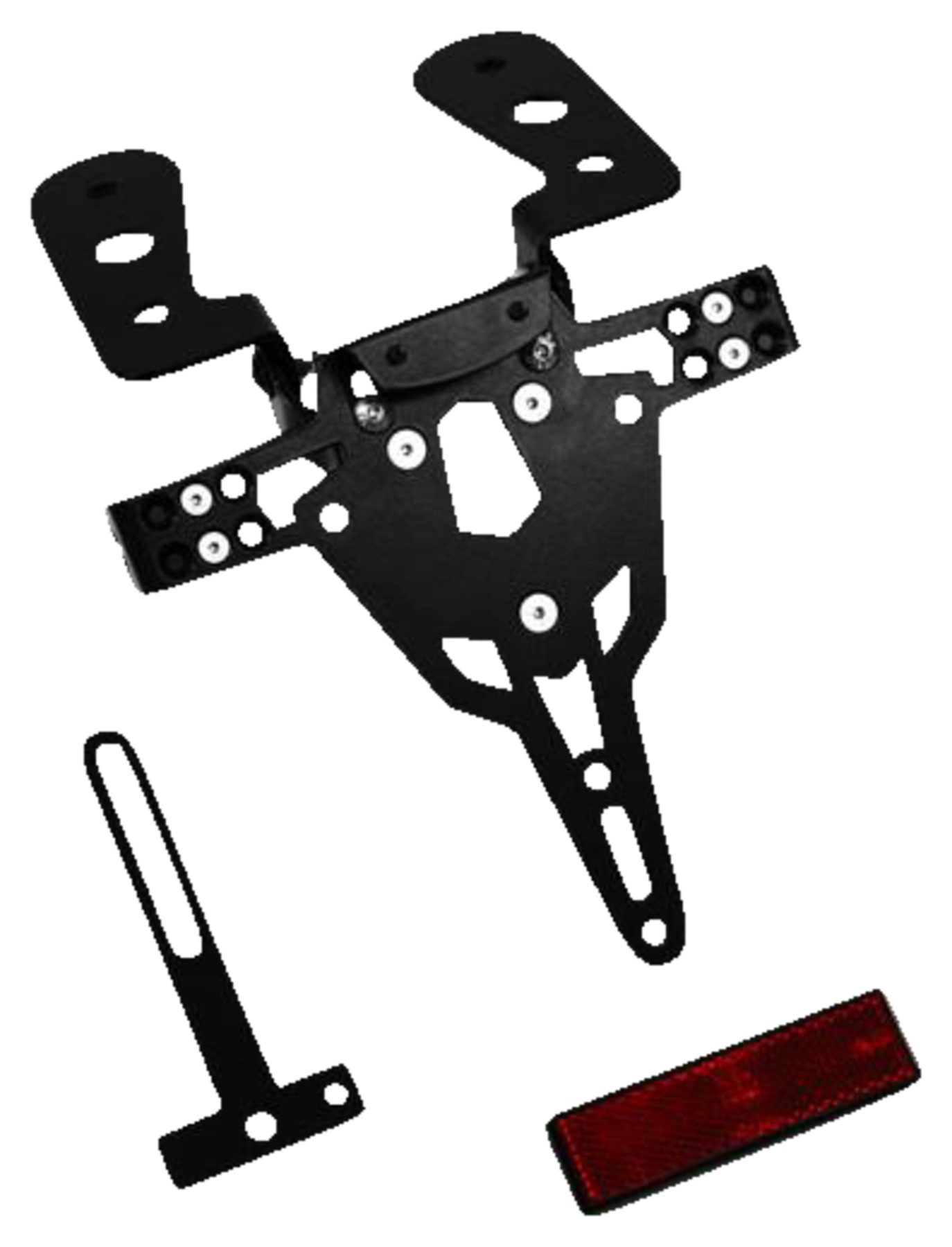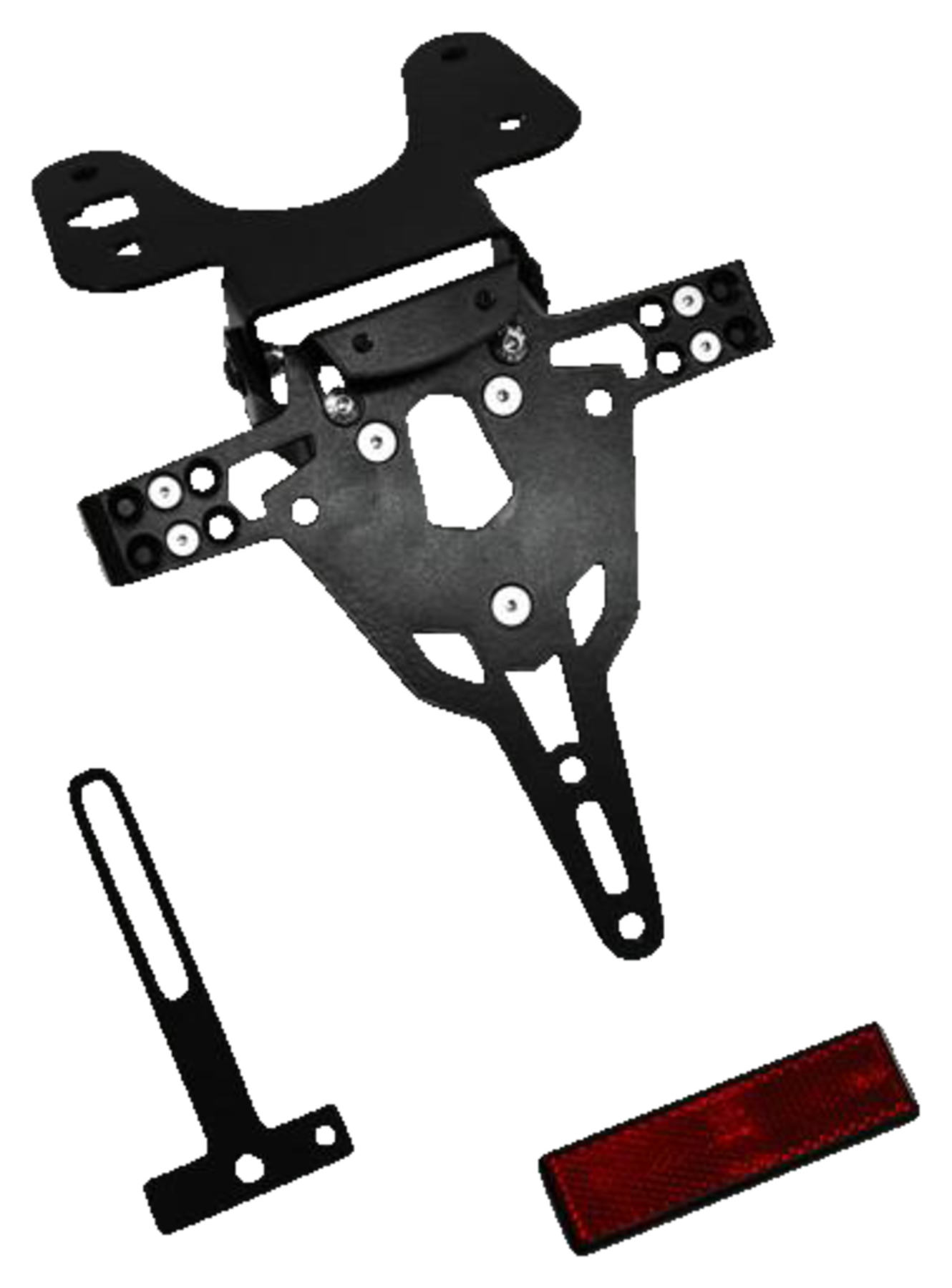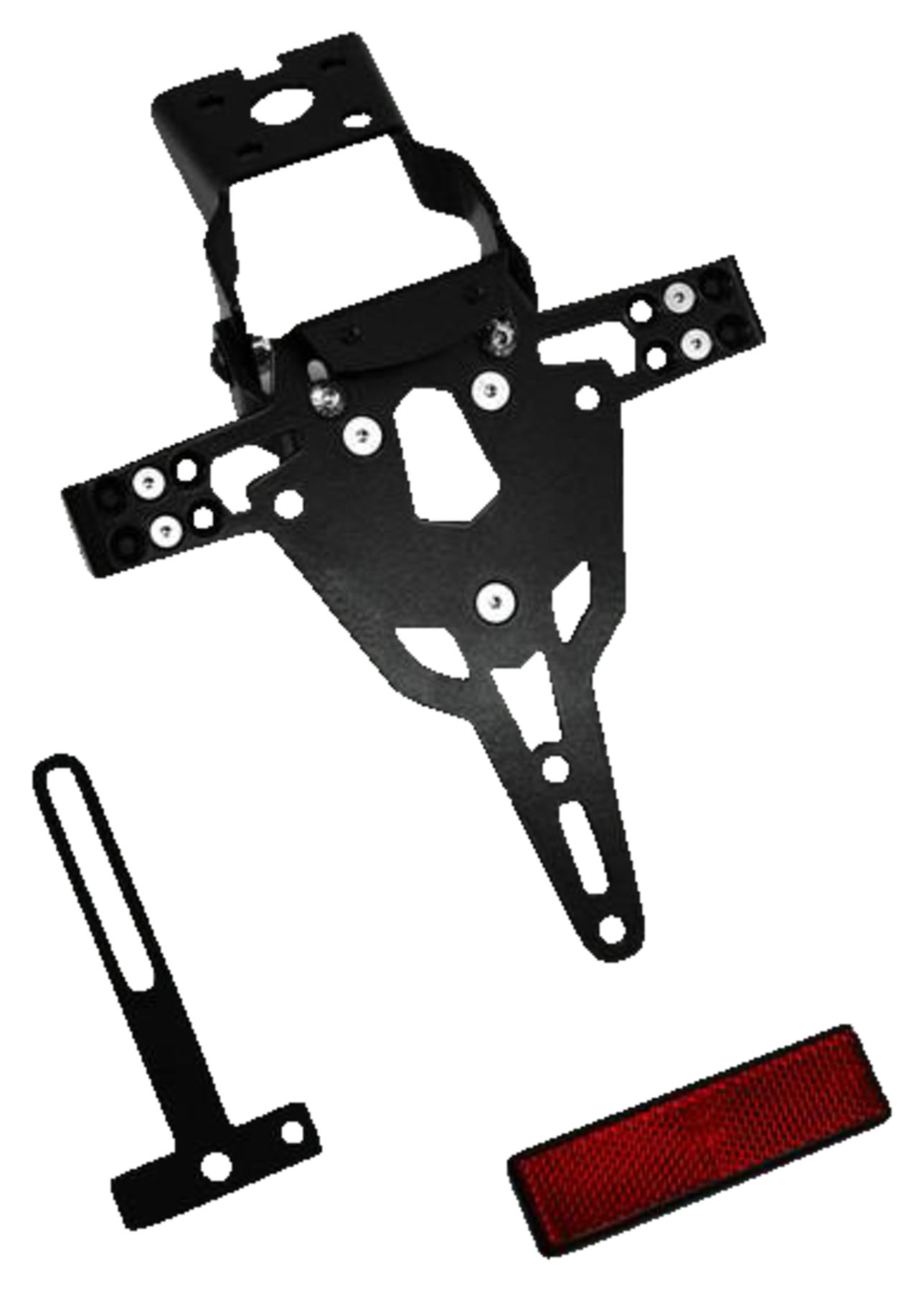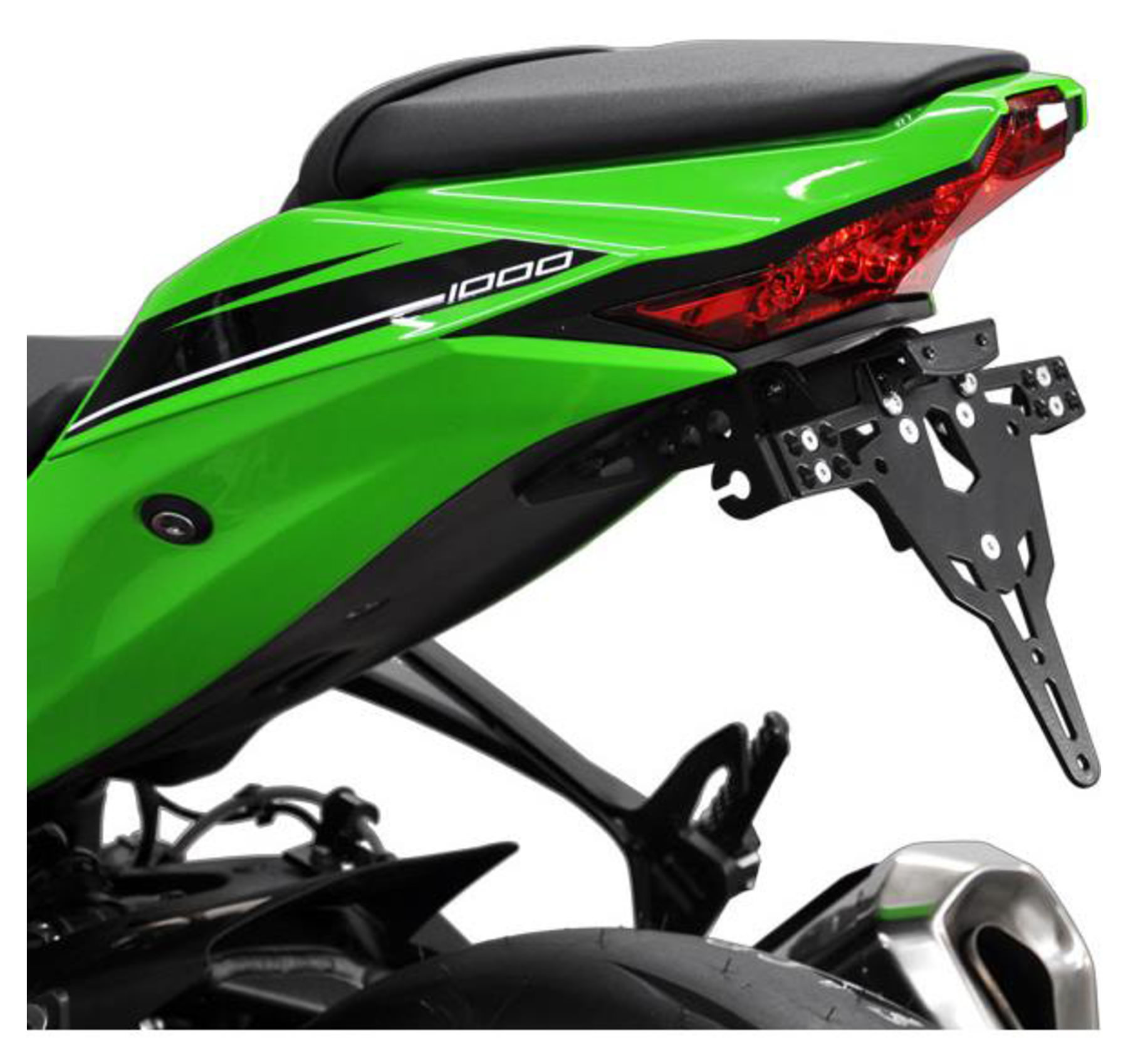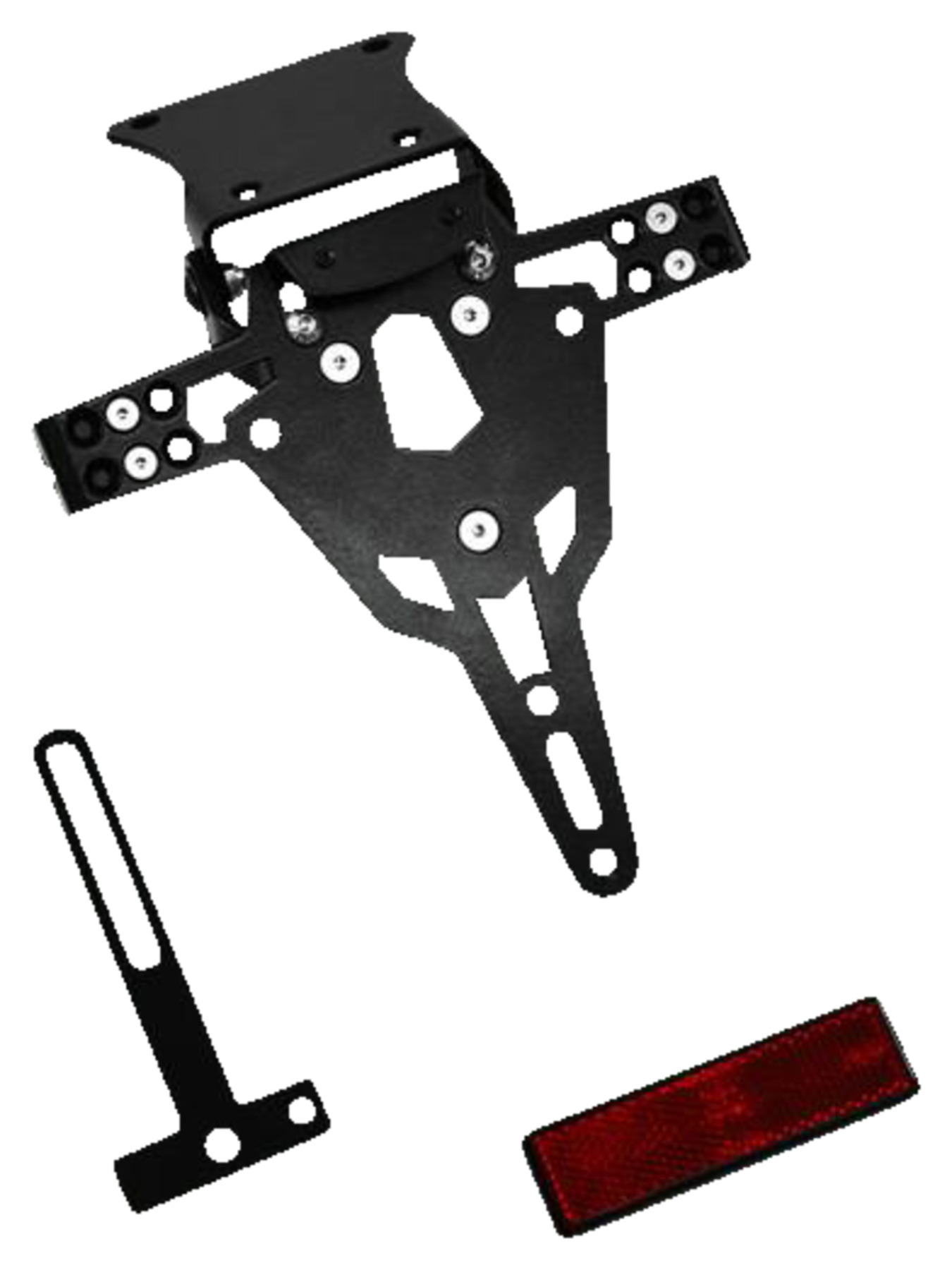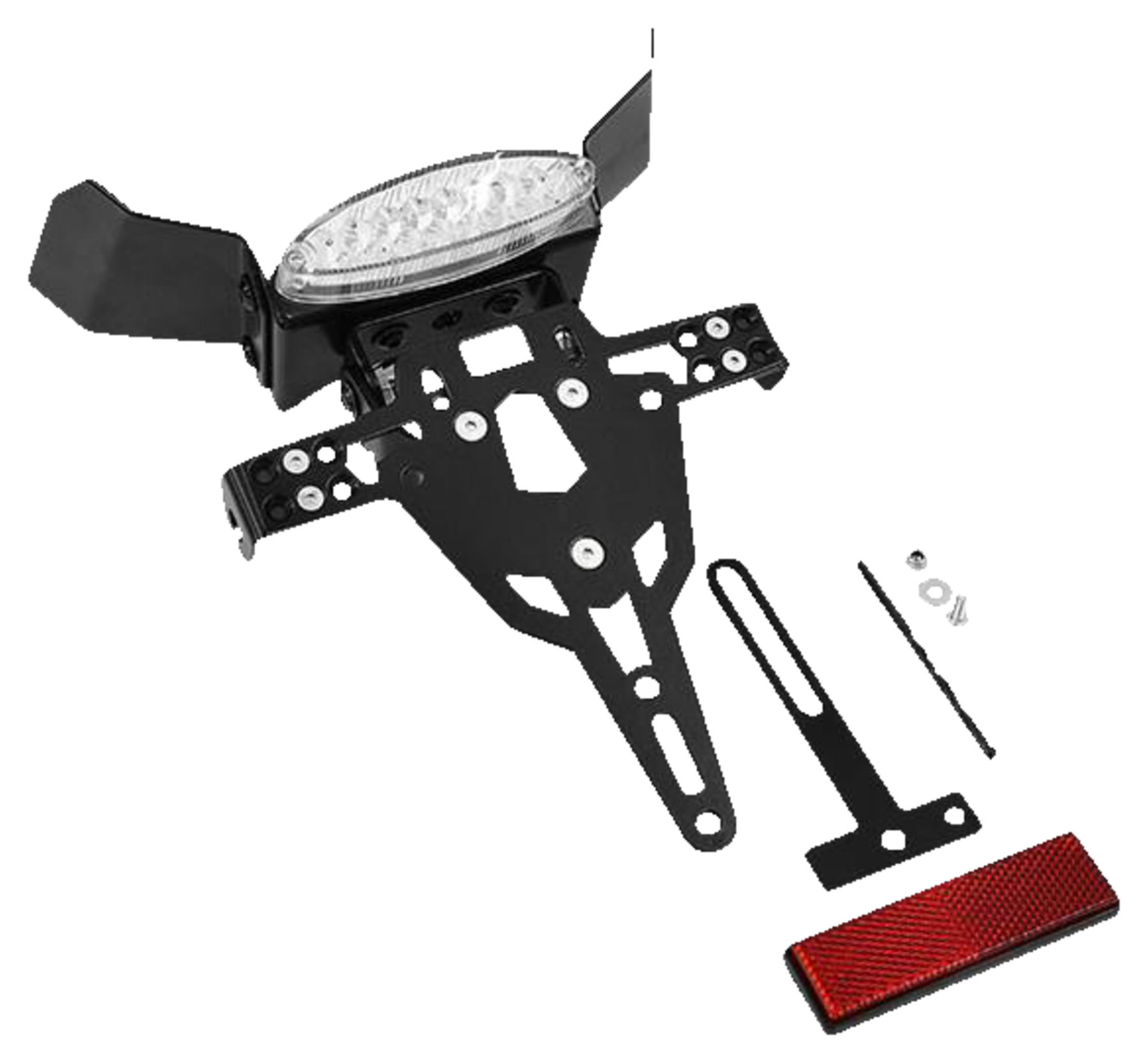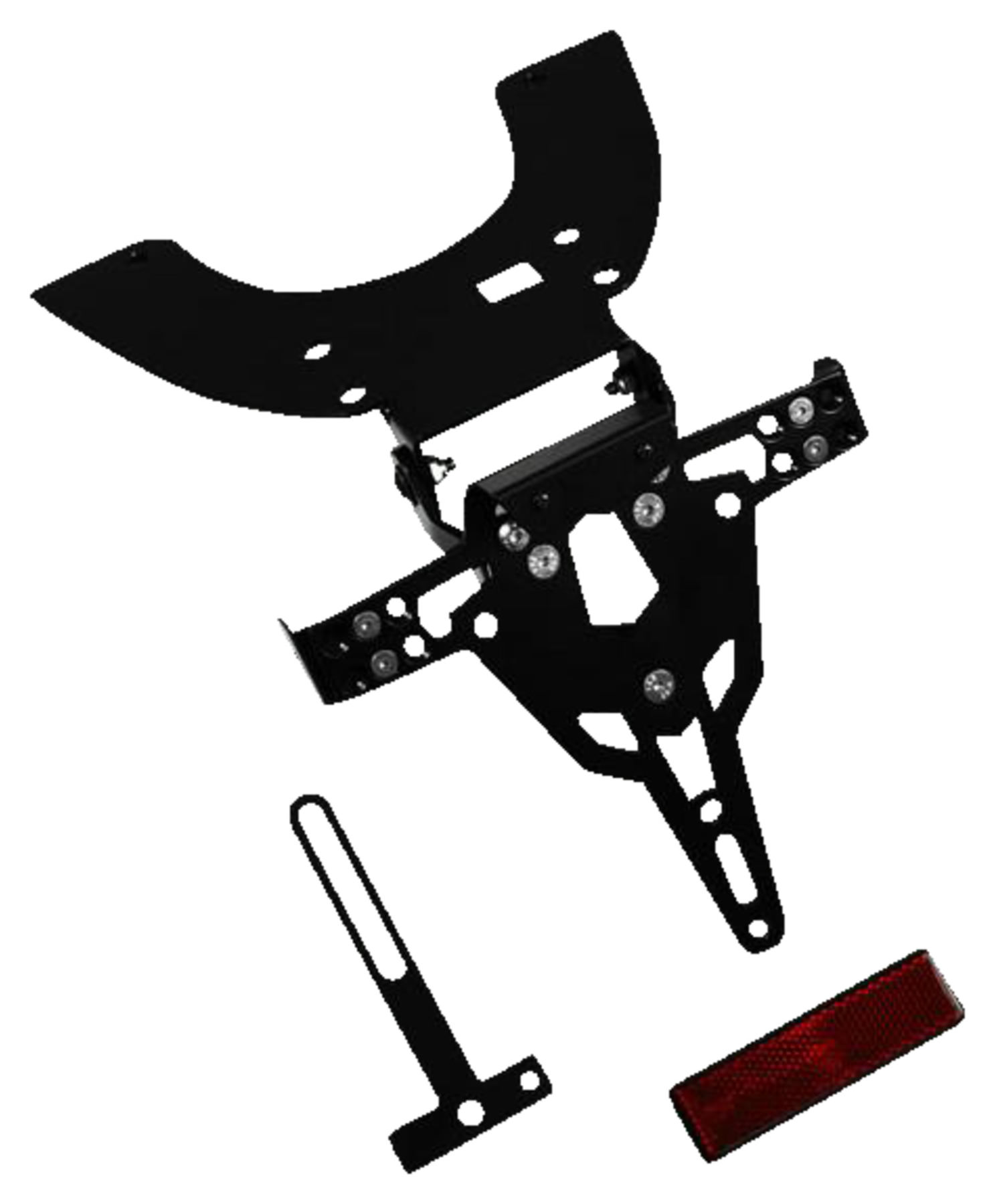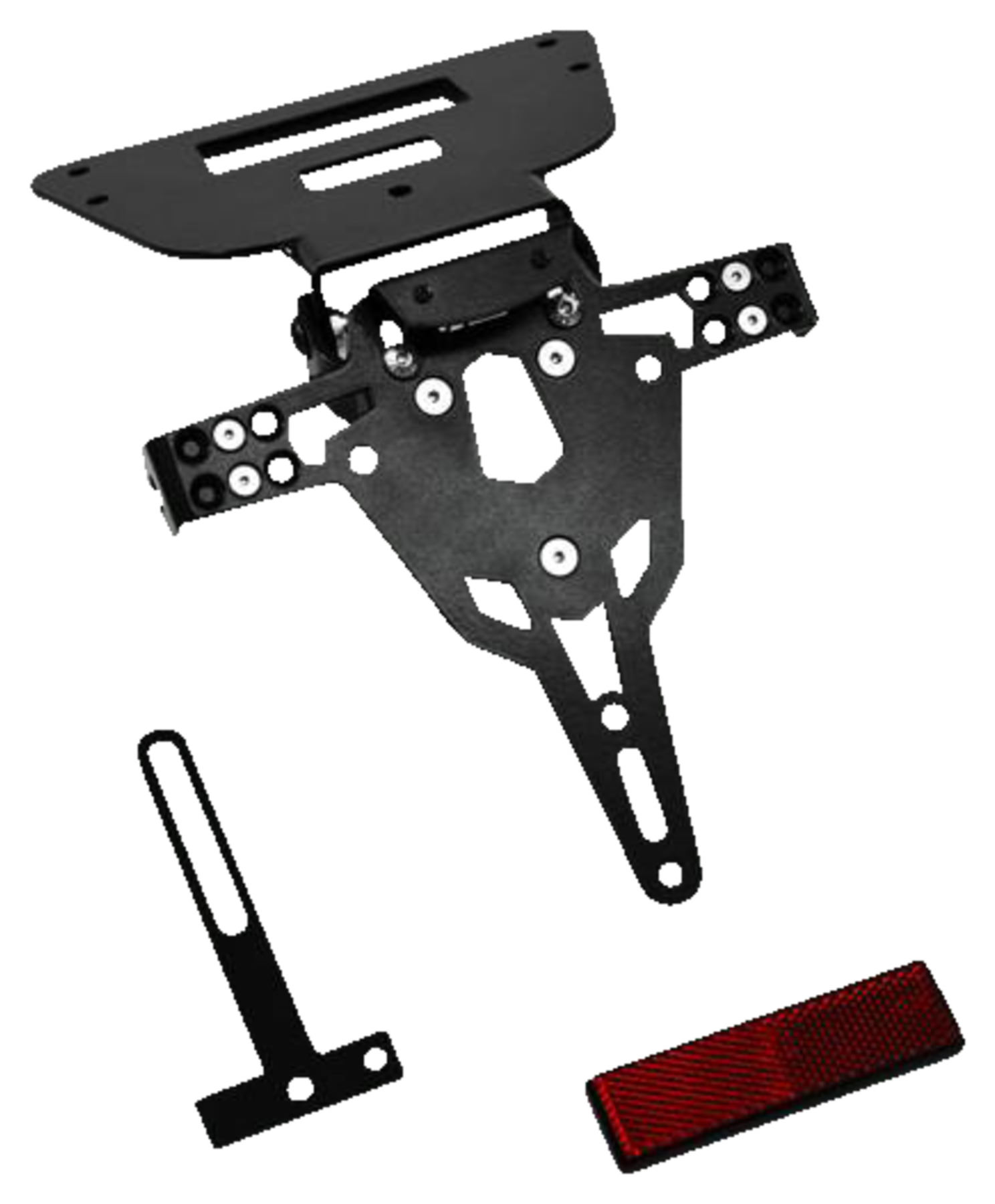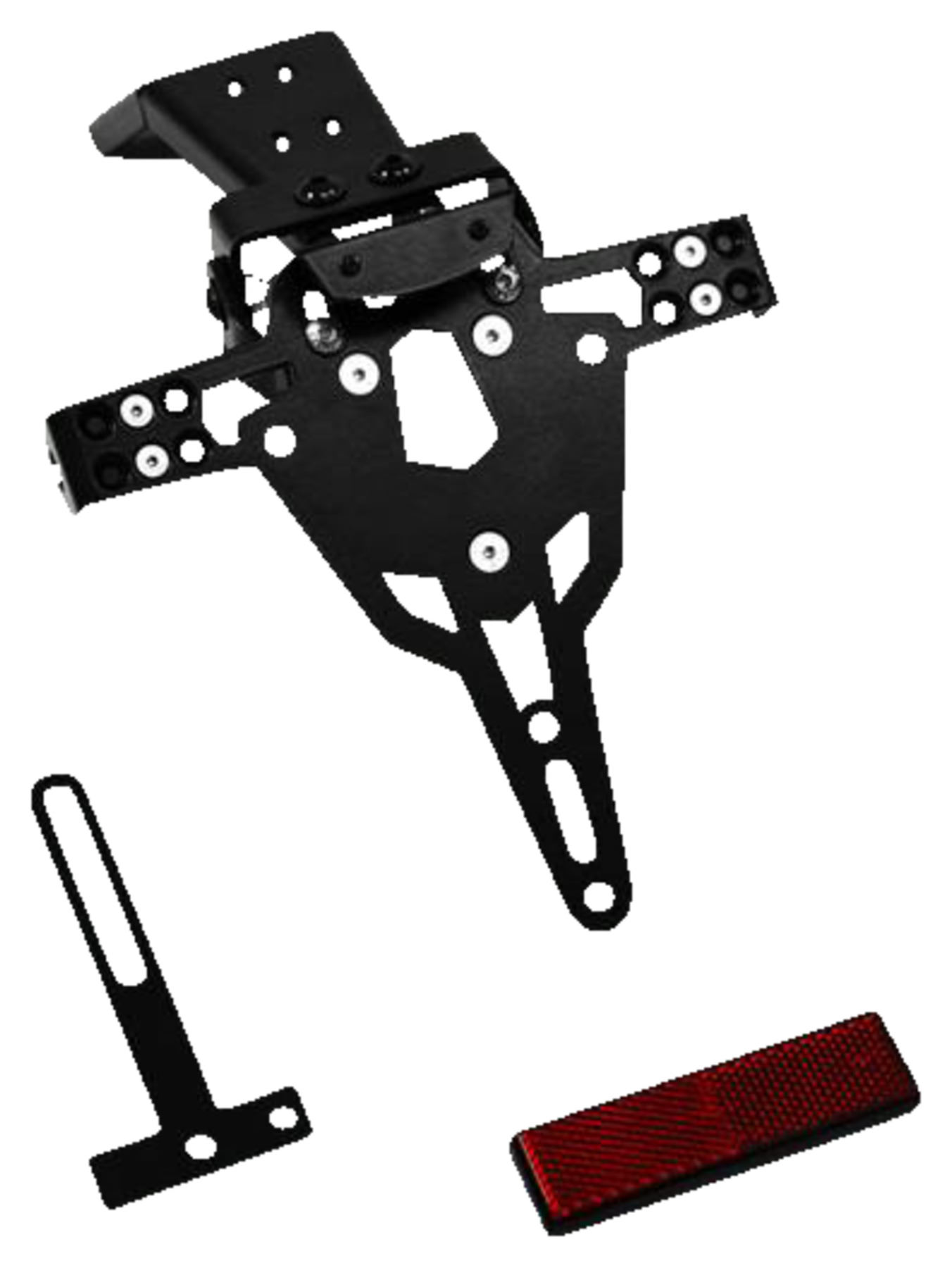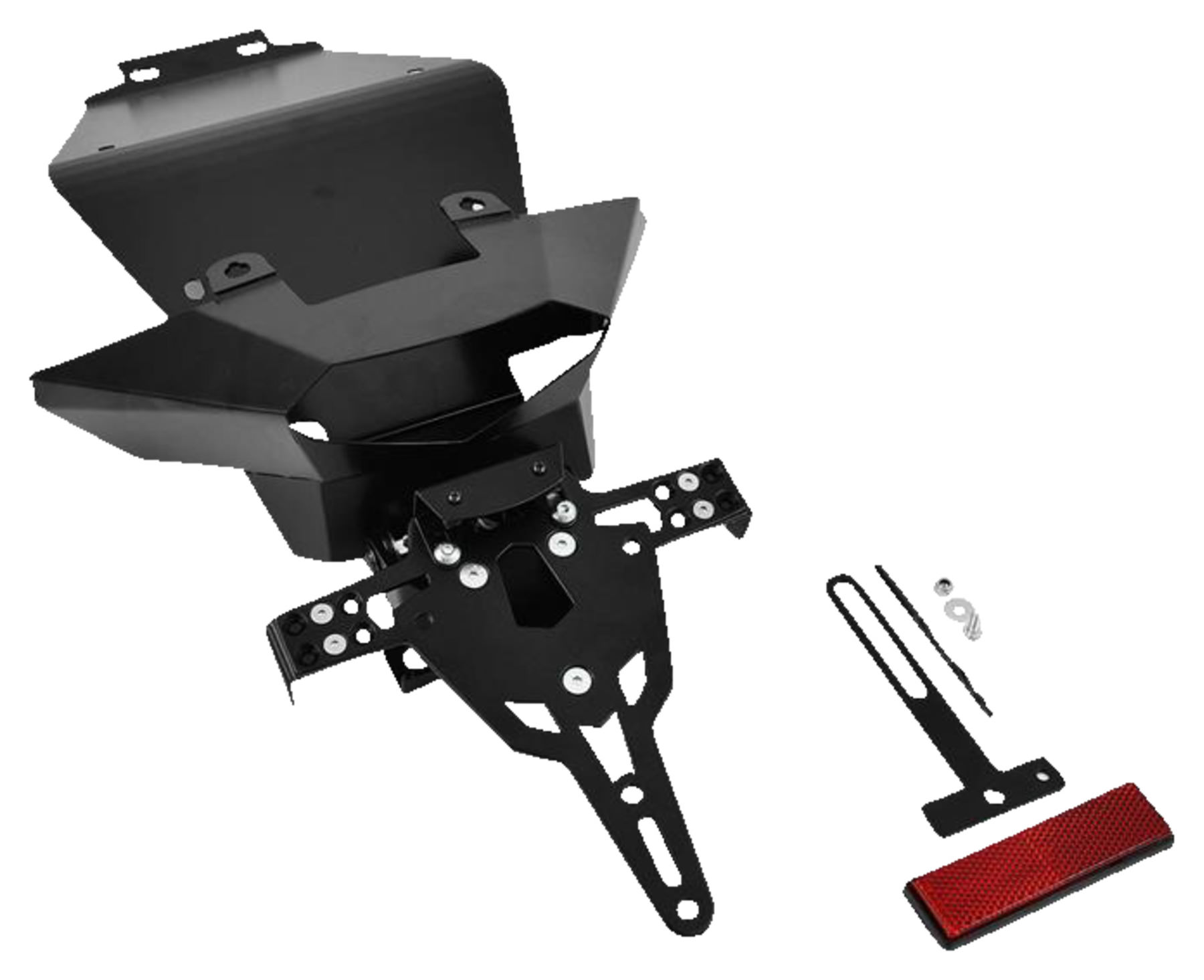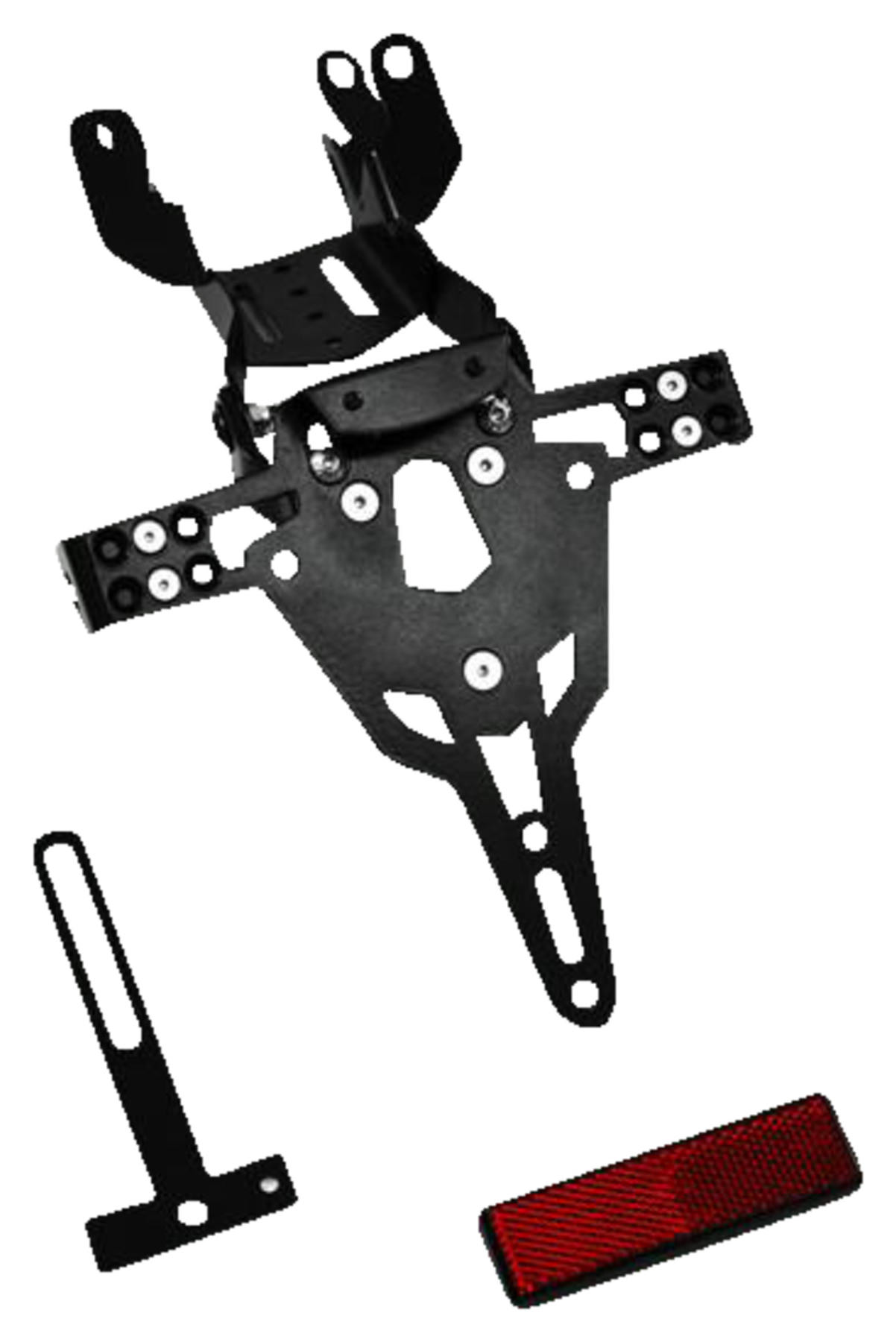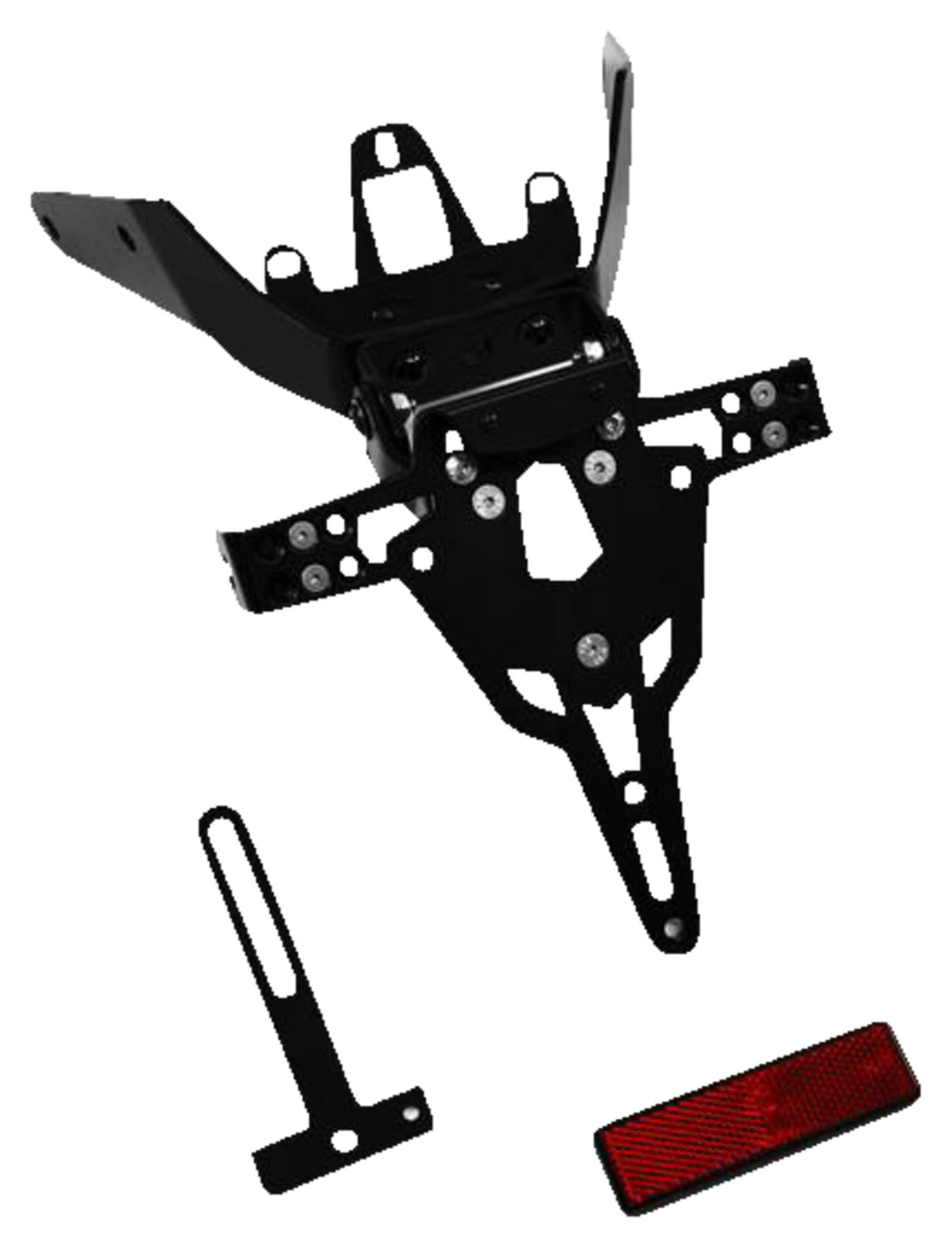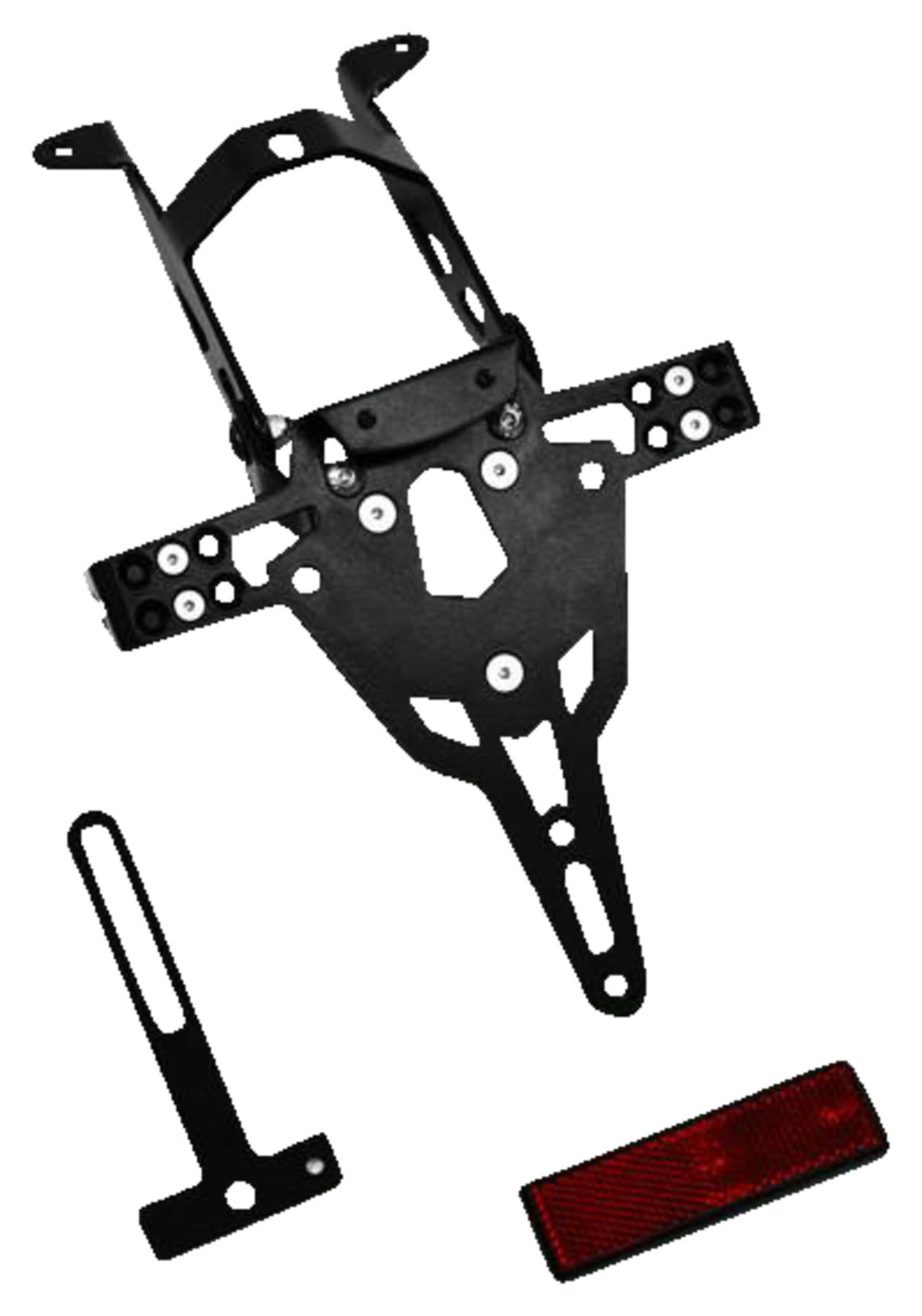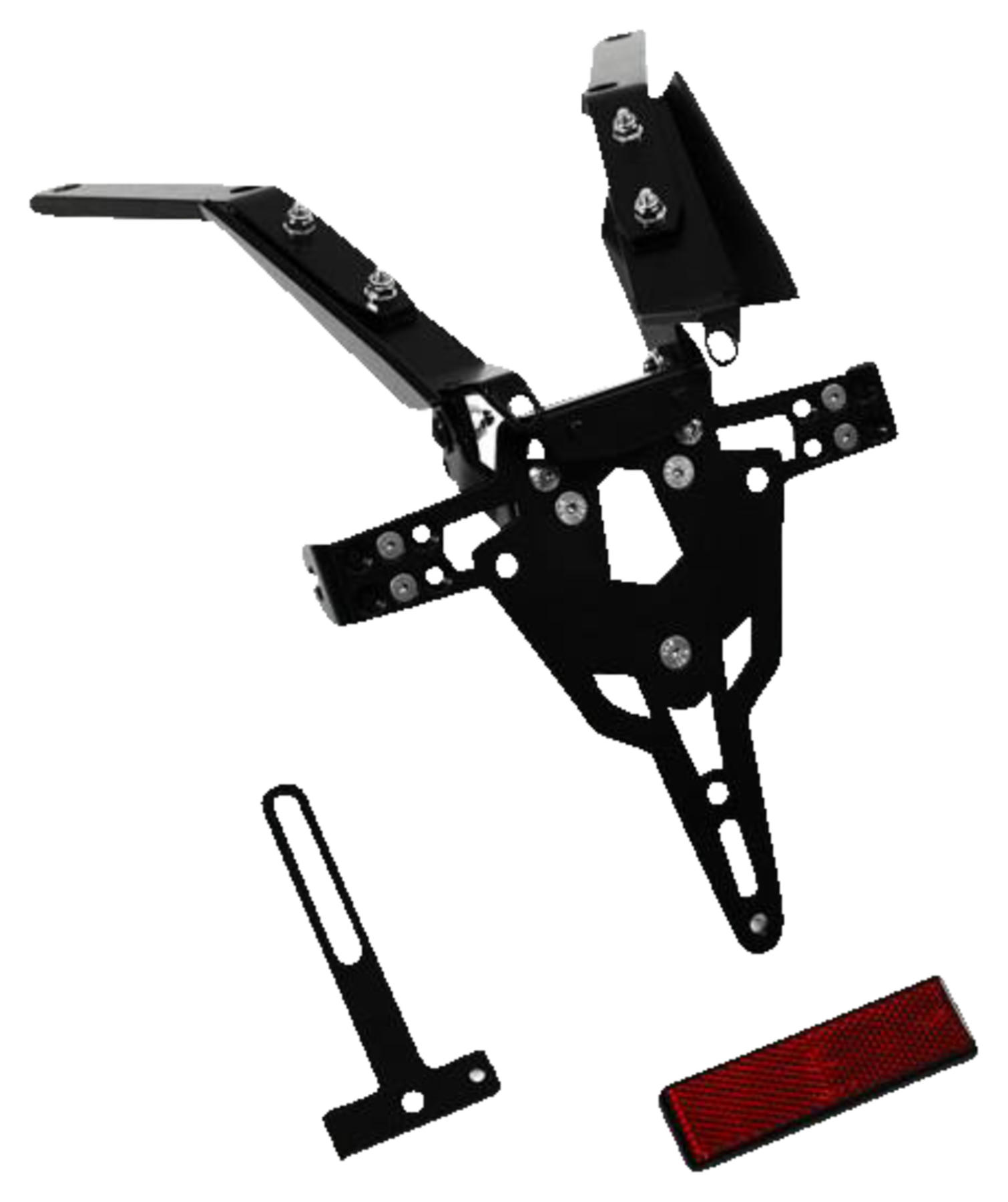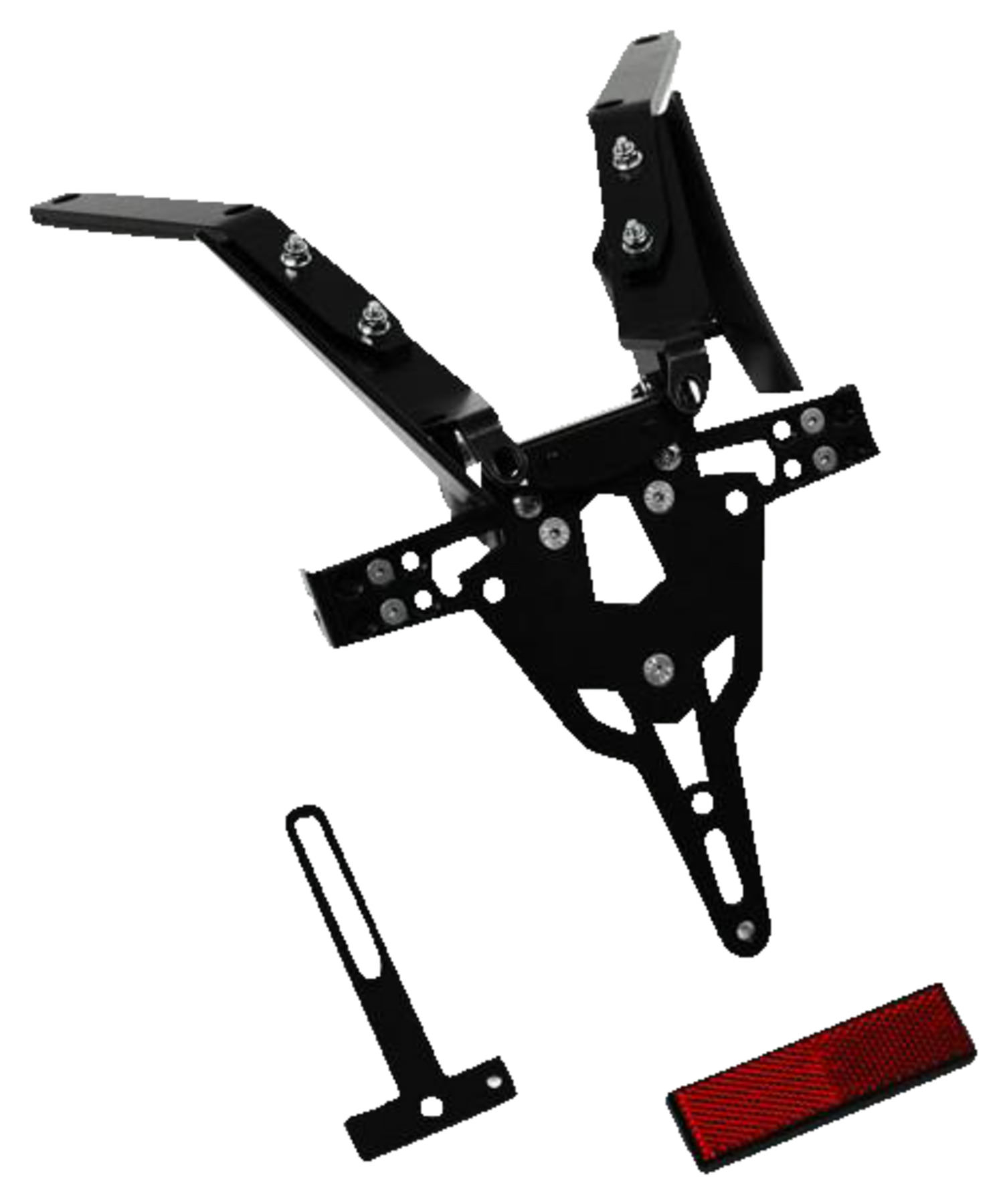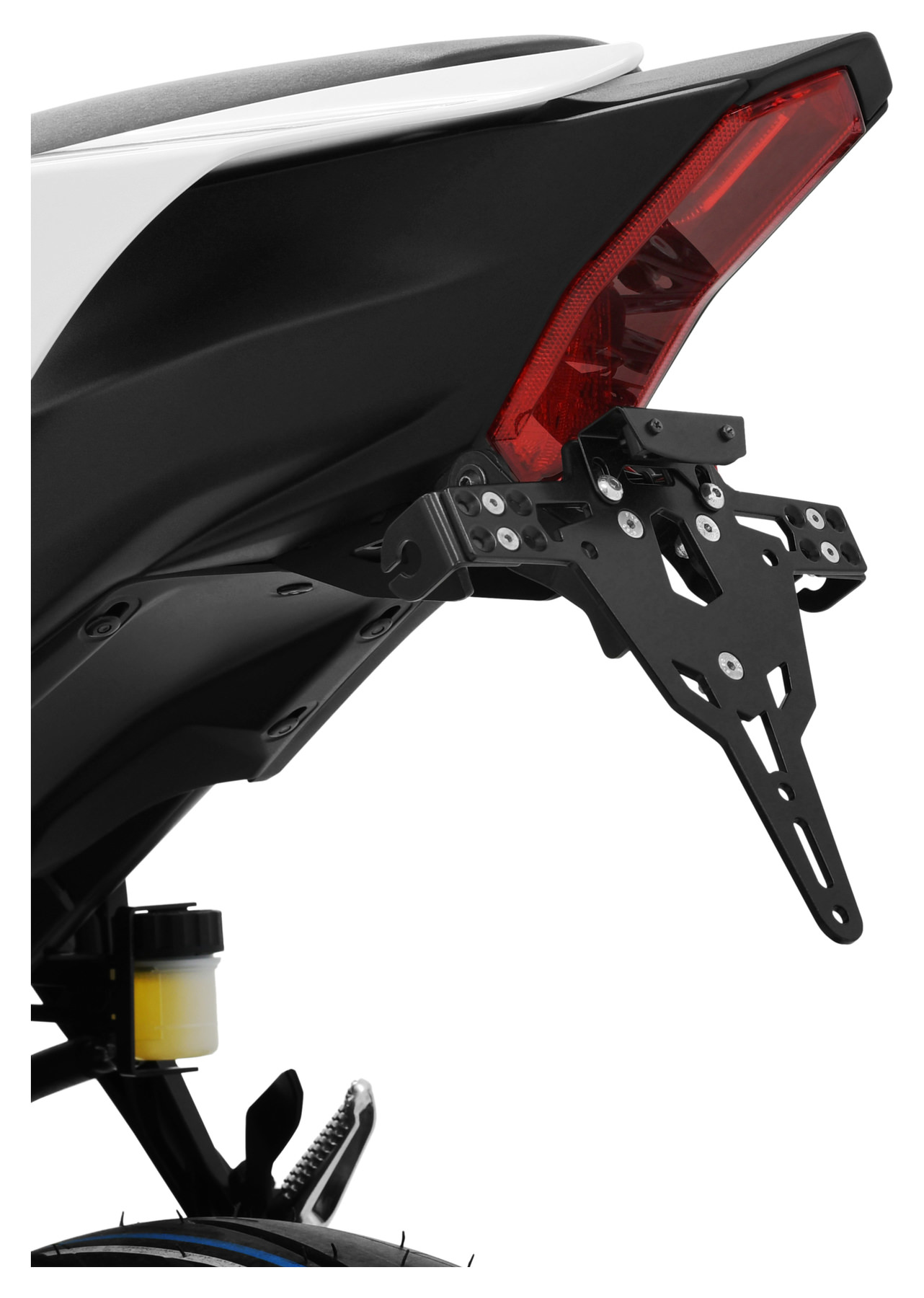 Zieger Pro licence plate holder
incl. licence plate light and reflector
Unfortunately, this product is not compatible with this motorcycle.
Unfortunately, this product is not compatible with this motorcycle. You can find the right for the here: .
2 Price comparison with current recommended retail price.
Free delivery on orders over €199.00
2 year return policy
Fast delivery
Zieger Pro licence plate holder
incl. licence plate light and reflector
To enhance the rear view of your motorbike, Zieger offers the *Pro* number plate holder. It takes a lot of visual weight off the rear and gives it a sporty look to match your motorbike. With LED number plate illumination and reflector, E-approved of course.
Suitable for all types of number plates (width 175 mm)
The screw heads are additionally countersunk for a flat support of the number plate
LED number plate lighting is E-approved
incl. reflector
No parts of the fairing have to be changed
Angle of inclination is fully adjustable
Very good fit, sporty look
No registration required at TÜV, ABE free for Germany
available for many models
Material: aluminium, black powder-coated
Scope of delivery:
1 x licence plate holder incl. mounting set
1 x LED licence plate light "E-approved" incl. holder
1 x Reflector with holder
Note: Please follow the installation instructions provided.
Attention: Only suitable for German licence plates!
You can find billet holders to use the original turn signals under "matching items" or Louis Bike database "My Bike".
Manufacturer details: Zieger
Motorcycle accessories made in Saxony

When Frank Zieger designed and built his first license plate holder back in 2005, the notion of having his own highly successful company still seemed like a distant dream. A metalworker by trade and also a serious motorcycle rider, he simply wanted something better than what was on the market. And from there, things just took off. A one-off item turned into a mini series, and as demand grew, so too did the range of products. Today Zieger employs 28 people in Dresden and Pirna, and the trend is upwards. The license plate holder is still Zieger's best selling product, but his crash bars, rear racks, engine guard plates, paddock stands and many other accessories are enjoying huge popularity.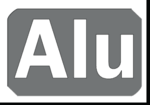 This product is made of high-quality aluminium and will look great on your motorbike. To ensure that it gives you years of pleasure, please observe the following instructions: To keep this product in top condition, it should be treated after long trips in winter, or in rain or salty air (near the coast), and also at periodic intervals.

Water and salt encourage corrosion. After cleaning (e.g. with Procycle Special Gel Cleaner, Order no. 10004909), we recommend regularly polishing aluminium parts with standard aluminium polish (e.g. Alu-Magic, Order no. 10004031).
Product
Art. No.
Availability
Price
Actions
PRO LICENCE PLATE HOLDER
10049682

The item is in stock and will be delivered in 2-5 working days. Note: Stocks are updated online every hour on working days from 7 a.m. to 8 p.m., so there is a good chance that the products are available if they appear online.

Available

€99.00 1
PRO LICENCE PLATE HOLDER - 1290 SUPERDUKE GT 2016-19
10049141

The item is in stock and will be delivered in 2-5 working days. Note: Stocks are updated online every hour on working days from 7 a.m. to 8 p.m., so there is a good chance that the products are available if they appear online.

Available

€99.00 1
PRO LICENCE PLATE HOLDER - 401 VITPILEN/SVARTPILEN
10049152

The item is in stock and will be delivered in 2-5 working days. Note: Stocks are updated online every hour on working days from 7 a.m. to 8 p.m., so there is a good chance that the products are available if they appear online.

Available

€117.00 1
PRO LICENCE PLATE HOLDER - 701 ENDURO/SUPERMOTO
10049134

The item is in stock and will be delivered in 2-5 working days. Note: Stocks are updated online every hour on working days from 7 a.m. to 8 p.m., so there is a good chance that the products are available if they appear online.

Available

€99.00 1
PRO LICENCE PLATE HOLDER - 701 VITPILEN BJ. 2018-19
10049160

The item is in stock and will be delivered in 2-5 working days. Note: Stocks are updated online every hour on working days from 7 a.m. to 8 p.m., so there is a good chance that the products are available if they appear online.

Available

€143.00

1 2 €138.95 1
PRO LICENCE PLATE HOLDER - APRILIA RS 125
10049650

The product will be ordered from the manufacturer for you. Depending on availability, longer delivery times are also possible. We'll let you know if that's the case. You can of course cancel your delivery at any time free of charge.

Available in 7-21 days

€99.00 1
PRO LICENCE PLATE HOLDER - APRILIA RS 250
10049651

The product will be ordered from the manufacturer for you. Depending on availability, longer delivery times are also possible. We'll let you know if that's the case. You can of course cancel your delivery at any time free of charge.

Available in 7-21 days

€99.00 1
PRO LICENCE PLATE HOLDER - APRILIA RS 660 2020-21
10015761

The item is in stock and will be delivered in 2-5 working days. Note: Stocks are updated online every hour on working days from 7 a.m. to 8 p.m., so there is a good chance that the products are available if they appear online.

Available

€99.00 1
PRO LICENCE PLATE HOLDER - APRILIA VARIOUS
10049652

The item is in stock and will be delivered in 2-5 working days. Note: Stocks are updated online every hour on working days from 7 a.m. to 8 p.m., so there is a good chance that the products are available if they appear online.

Available

€103.00 1
PRO LICENCE PLATE HOLDER - APRILIA VARIOUS
10049658

The item is in stock and will be delivered in 2-5 working days. Note: Stocks are updated online every hour on working days from 7 a.m. to 8 p.m., so there is a good chance that the products are available if they appear online.

Available

€109.00 1
PRO LICENCE PLATE HOLDER - BENELLI TNT 1130/TNT 899
10049659

The item is in stock and will be delivered in 2-5 working days. Note: Stocks are updated online every hour on working days from 7 a.m. to 8 p.m., so there is a good chance that the products are available if they appear online.

Available

€99.00

1 2 €94.95 1
PRO LICENCE PLATE HOLDER - BMW R NINET
10049662

The item is in stock and will be delivered in 2-5 working days. Note: Stocks are updated online every hour on working days from 7 a.m. to 8 p.m., so there is a good chance that the products are available if they appear online.

Available

€159.00 1
PRO LICENCE PLATE HOLDER - BMW R1100S
10049660

The item is in stock and will be delivered in 2-5 working days. Note: Stocks are updated online every hour on working days from 7 a.m. to 8 p.m., so there is a good chance that the products are available if they appear online.

Available

€99.00

1 2 €94.95 1
PRO LICENCE PLATE HOLDER - BMW R1200S
10049661

The product will be ordered from the manufacturer for you. Depending on availability, longer delivery times are also possible. We'll let you know if that's the case. You can of course cancel your delivery at any time free of charge.

Available in 7-21 days

€99.00 1
PRO LICENCE PLATE HOLDER - BMW S1000RR/S1000R
10049663

The item is in stock and will be delivered in 2-5 working days. Note: Stocks are updated online every hour on working days from 7 a.m. to 8 p.m., so there is a good chance that the products are available if they appear online.

Available

€99.00 1
PRO LICENCE PLATE HOLDER - BRUTALE 675/800/RR 12-16
10049040

The item is in stock and will be delivered in 2-5 working days. Note: Stocks are updated online every hour on working days from 7 a.m. to 8 p.m., so there is a good chance that the products are available if they appear online.

Available

€99.00 1
PRO LICENCE PLATE HOLDER - CBR 1000 RR 2008-09
10049683

The item is in stock and will be delivered in 2-5 working days. Note: Stocks are updated online every hour on working days from 7 a.m. to 8 p.m., so there is a good chance that the products are available if they appear online.

Available

€179.00

1 2 €174.95 1
PRO LICENCE PLATE HOLDER - CBR 1000 RR 2010-16
10049684

The item is in stock and will be delivered in 2-5 working days. Note: Stocks are updated online every hour on working days from 7 a.m. to 8 p.m., so there is a good chance that the products are available if they appear online.

Available

€99.00 1
PRO LICENCE PLATE HOLDER - CBR 125 R/250 R 2011-16
10049685

The item is in stock and will be delivered in 2-5 working days. Note: Stocks are updated online every hour on working days from 7 a.m. to 8 p.m., so there is a good chance that the products are available if they appear online.

Available

€99.00 1
PRO LICENCE PLATE HOLDER - CBR1000RR FIREBLADE 2017-
10049129

The item is in stock and will be delivered in 2-5 working days. Note: Stocks are updated online every hour on working days from 7 a.m. to 8 p.m., so there is a good chance that the products are available if they appear online.

Available

€103.00 1
PRO LICENCE PLATE HOLDER - CBR600F/CB600F HORNET
10049686

The item is in stock and will be delivered in 2-5 working days. Note: Stocks are updated online every hour on working days from 7 a.m. to 8 p.m., so there is a good chance that the products are available if they appear online.

Available

€99.00 1
PRO LICENCE PLATE HOLDER - CRF1000L AF. MATT BLACK
10049162

The item is in stock and will be delivered in 2-5 working days. Note: Stocks are updated online every hour on working days from 7 a.m. to 8 p.m., so there is a good chance that the products are available if they appear online.

Available

€99.00 1
PRO LICENCE PLATE HOLDER - DAYTONA 675/R 2006-12
10049067

The item is in stock and will be delivered in 2-5 working days. Note: Stocks are updated online every hour on working days from 7 a.m. to 8 p.m., so there is a good chance that the products are available if they appear online.

Available

€109.00

1 2 €104.95 1
PRO LICENCE PLATE HOLDER - DUCATI 848/1098/1198
10049664

The item is in stock and will be delivered in 2-5 working days. Note: Stocks are updated online every hour on working days from 7 a.m. to 8 p.m., so there is a good chance that the products are available if they appear online.

Available

€117.00

1 2 €112.95 1
PRO LICENCE PLATE HOLDER - DUCATI MONSTER 696
10049670

The item is in stock and will be delivered in 2-5 working days. Note: Stocks are updated online every hour on working days from 7 a.m. to 8 p.m., so there is a good chance that the products are available if they appear online.

Available

€139.00

1 2 €134.95 1
PRO LICENCE PLATE HOLDER - DUCATI MONSTER 821 14-16
10049671

The item is in stock and will be delivered in 2-5 working days. Note: Stocks are updated online every hour on working days from 7 a.m. to 8 p.m., so there is a good chance that the products are available if they appear online.

Available

€117.00 1
PRO LICENCE PLATE HOLDER - DUCATI MONSTER 937 21-22
10015768

The item is in stock and will be delivered in 2-5 working days. Note: Stocks are updated online every hour on working days from 7 a.m. to 8 p.m., so there is a good chance that the products are available if they appear online.

Available

€100.00 1
PRO LICENCE PLATE HOLDER - DUCATI PANIGALE
10049128

The item is in stock and will be delivered in 2-5 working days. Note: Stocks are updated online every hour on working days from 7 a.m. to 8 p.m., so there is a good chance that the products are available if they appear online.

Available

€109.00 1
PRO LICENCE PLATE HOLDER - DUCATI PANIGALE
10049144

The item is in stock and will be delivered in 2-5 working days. Note: Stocks are updated online every hour on working days from 7 a.m. to 8 p.m., so there is a good chance that the products are available if they appear online.

Available

€109.00 1
PRO LICENCE PLATE HOLDER - DUCATI PANIGALE
10049665

The item is in stock and will be delivered in 2-5 working days. Note: Stocks are updated online every hour on working days from 7 a.m. to 8 p.m., so there is a good chance that the products are available if they appear online.

Available

€109.00

1 2 €104.95 1
PRO LICENCE PLATE HOLDER - DUCATI PANIGALE
10049673

The item is in stock and will be delivered in 2-5 working days. Note: Stocks are updated online every hour on working days from 7 a.m. to 8 p.m., so there is a good chance that the products are available if they appear online.

Available

€129.00 1
PRO LICENCE PLATE HOLDER - DUCATI SUPERSPORT 2017-19
10049126

The item is in stock and will be delivered in 2-5 working days. Note: Stocks are updated online every hour on working days from 7 a.m. to 8 p.m., so there is a good chance that the products are available if they appear online.

Available

€109.00 1
PRO LICENCE PLATE HOLDER - ER-6 N/ER-6 F 2005-08
10049694

The item is in stock and will be delivered in 2-5 working days. Note: Stocks are updated online every hour on working days from 7 a.m. to 8 p.m., so there is a good chance that the products are available if they appear online.

Available

€99.00 1
PRO LICENCE PLATE HOLDER - ER-6 N/ER-6 F 2009-11
10049695

The item is in stock and will be delivered in 2-5 working days. Note: Stocks are updated online every hour on working days from 7 a.m. to 8 p.m., so there is a good chance that the products are available if they appear online.

Available

€99.00 1
PRO LICENCE PLATE HOLDER - ER-6 N/ER-6 F 2012-16
10049693

The item is in stock and will be delivered in 2-5 working days. Note: Stocks are updated online every hour on working days from 7 a.m. to 8 p.m., so there is a good chance that the products are available if they appear online.

Available

€99.00 1
PRO LICENCE PLATE HOLDER - F4 1000/R/RR 2010-13
10049043

The product will be ordered from the manufacturer for you. Depending on availability, longer delivery times are also possible. We'll let you know if that's the case. You can of course cancel your delivery at any time free of charge.

Available in 7-21 days

€99.00 1
PRO LICENCE PLATE HOLDER - F4 1000/R/RR 2014-18
10049042

The product will be ordered from the manufacturer for you. Depending on availability, longer delivery times are also possible. We'll let you know if that's the case. You can of course cancel your delivery at any time free of charge.

Available in 7-21 days

€99.00 1
PRO LICENCE PLATE HOLDER - GSX-R 600/750 2004-05
10049053

The item is in stock and will be delivered in 2-5 working days. Note: Stocks are updated online every hour on working days from 7 a.m. to 8 p.m., so there is a good chance that the products are available if they appear online.

Available

€99.00

1 2 €94.95 1
PRO LICENCE PLATE HOLDER - GSX-R1000 2003-04
10049048

The item is in stock and will be delivered in 2-5 working days. Note: Stocks are updated online every hour on working days from 7 a.m. to 8 p.m., so there is a good chance that the products are available if they appear online.

Available

€99.00 1
PRO LICENCE PLATE HOLDER - GSX-R1000 2005-06
10049049

The item is in stock and will be delivered in 2-5 working days. Note: Stocks are updated online every hour on working days from 7 a.m. to 8 p.m., so there is a good chance that the products are available if they appear online.

Available

€99.00

1 2 €94.95 1
PRO LICENCE PLATE HOLDER - GSX-R1000 2007-08
10049050

The item is in stock and will be delivered in 2-5 working days. Note: Stocks are updated online every hour on working days from 7 a.m. to 8 p.m., so there is a good chance that the products are available if they appear online.

Available

€99.00 1
PRO LICENCE PLATE HOLDER - GSX-R1000 2009-16
10049051

The item is in stock and will be delivered in 2-5 working days. Note: Stocks are updated online every hour on working days from 7 a.m. to 8 p.m., so there is a good chance that the products are available if they appear online.

Available

€99.00 1
PRO LICENCE PLATE HOLDER - GSX-R1300 HAYABUSA 08-18
10049052

The item is in stock and will be delivered in 2-5 working days. Note: Stocks are updated online every hour on working days from 7 a.m. to 8 p.m., so there is a good chance that the products are available if they appear online.

Available

€99.00 1
PRO LICENCE PLATE HOLDER - GSX-R600/750 2006-07
10049054

The item is in stock and will be delivered in 2-5 working days. Note: Stocks are updated online every hour on working days from 7 a.m. to 8 p.m., so there is a good chance that the products are available if they appear online.

Available

€99.00 1
PRO LICENCE PLATE HOLDER - GSX-R600/750 2008-10
10049055

The item is in stock and will be delivered in 2-5 working days. Note: Stocks are updated online every hour on working days from 7 a.m. to 8 p.m., so there is a good chance that the products are available if they appear online.

Available

€99.00 1
PRO LICENCE PLATE HOLDER - GSX1300 B-KING 2007-12
10049044

The product will be ordered from the manufacturer for you. Depending on availability, longer delivery times are also possible. We'll let you know if that's the case. You can of course cancel your delivery at any time free of charge.

Available in 7-21 days

€117.00 1
PRO LICENCE PLATE HOLDER - HONDA CB 1000 R 2018-19
10049149

The item is in stock and will be delivered in 2-5 working days. Note: Stocks are updated online every hour on working days from 7 a.m. to 8 p.m., so there is a good chance that the products are available if they appear online.

Available

€99.00 1
PRO LICENCE PLATE HOLDER - HONDA CB 1000 R 2021-22
10015767

The item is in stock and will be delivered in 2-5 working days. Note: Stocks are updated online every hour on working days from 7 a.m. to 8 p.m., so there is a good chance that the products are available if they appear online.

Available

€99.00 1
PRO LICENCE PLATE HOLDER - HONDA CB 125 R 2018-19
10049147

The item is in stock and will be delivered in 2-5 working days. Note: Stocks are updated online every hour on working days from 7 a.m. to 8 p.m., so there is a good chance that the products are available if they appear online.

Available

€109.00 1
PRO LICENCE PLATE HOLDER - HONDA CB 300 R BJ 2018-19
10049150

The item is in stock and will be delivered in 2-5 working days. Note: Stocks are updated online every hour on working days from 7 a.m. to 8 p.m., so there is a good chance that the products are available if they appear online.

Available

€109.00 1
PRO LICENCE PLATE HOLDER - HONDA CB/R 650 R 2021-22
10015760

The item is in stock and will be delivered in 2-5 working days. Note: Stocks are updated online every hour on working days from 7 a.m. to 8 p.m., so there is a good chance that the products are available if they appear online.

Available

€99.00 1
PRO LICENCE PLATE HOLDER - HONDA CB1000R 2008-17
10049680

The item is in stock and will be delivered in 2-5 working days. Note: Stocks are updated online every hour on working days from 7 a.m. to 8 p.m., so there is a good chance that the products are available if they appear online.

Available

€99.00 1
PRO LICENCE PLATE HOLDER - HONDA CB650R 2019-
10049158

The item is in stock and will be delivered in 2-5 working days. Note: Stocks are updated online every hour on working days from 7 a.m. to 8 p.m., so there is a good chance that the products are available if they appear online.

Available

€109.00 1
PRO LICENCE PLATE HOLDER - HONDA CBR 1000 RR-R 20-21
10015762

The product will be ordered from the manufacturer for you. Depending on availability, longer delivery times are also possible. We'll let you know if that's the case. You can of course cancel your delivery at any time free of charge.

Available in 7-21 days

€99.00 1
PRO LICENCE PLATE HOLDER - HONDA CBR 600 RR 07-12
10049688

The item is in stock and will be delivered in 2-5 working days. Note: Stocks are updated online every hour on working days from 7 a.m. to 8 p.m., so there is a good chance that the products are available if they appear online.

Available

€117.00 1
PRO LICENCE PLATE HOLDER - HONDA CBR 600 RR 13-17
10049689

The item is in stock and will be delivered in 2-5 working days. Note: Stocks are updated online every hour on working days from 7 a.m. to 8 p.m., so there is a good chance that the products are available if they appear online.

Available

€117.00 1
PRO LICENCE PLATE HOLDER - HONDA CBR 600 RR/1000 RR
10049687

The item is in stock and will be delivered in 2-5 working days. Note: Stocks are updated online every hour on working days from 7 a.m. to 8 p.m., so there is a good chance that the products are available if they appear online.

Available

€109.00 1
PRO LICENCE PLATE HOLDER - HONDA NC 750 S/X 2016-19
10049691

The item is in stock and will be delivered in 2-5 working days. Note: Stocks are updated online every hour on working days from 7 a.m. to 8 p.m., so there is a good chance that the products are available if they appear online.

Available

€99.00 1
PRO LICENCE PLATE HOLDER - HONDA X-ADV 2017-
10049151

The product will be ordered from the manufacturer for you. Depending on availability, longer delivery times are also possible. We'll let you know if that's the case. You can of course cancel your delivery at any time free of charge.

Available in 7-21 days

€231.00 1
PRO LICENCE PLATE HOLDER - HYPERMOTARD 796/1100
10049666

The item is in stock and will be delivered in 2-5 working days. Note: Stocks are updated online every hour on working days from 7 a.m. to 8 p.m., so there is a good chance that the products are available if they appear online.

Available

€109.00

1 2 €104.95 1
PRO LICENCE PLATE HOLDER - HYPERMOTARD 950 BJ. 2019-
10049155

The item is in stock and will be delivered in 2-5 working days. Note: Stocks are updated online every hour on working days from 7 a.m. to 8 p.m., so there is a good chance that the products are available if they appear online.

Available

€109.00 1
PRO LICENCE PLATE HOLDER - KAWASAKI Z 1000 14-18
10049702

The item is in stock and will be delivered in 2-5 working days. Note: Stocks are updated online every hour on working days from 7 a.m. to 8 p.m., so there is a good chance that the products are available if they appear online.

Available

€99.00

1 2 €94.95 1
PRO LICENCE PLATE HOLDER - KAWASAKI Z 125/NINJA 125
10049154

The item is in stock and will be delivered in 2-5 working days. Note: Stocks are updated online every hour on working days from 7 a.m. to 8 p.m., so there is a good chance that the products are available if they appear online.

Available

€99.00 1
PRO LICENCE PLATE HOLDER - KAWASAKI Z 650 2017-20
10049093

The item is in stock and will be delivered in 2-5 working days. Note: Stocks are updated online every hour on working days from 7 a.m. to 8 p.m., so there is a good chance that the products are available if they appear online.

Available

€99.00 1
PRO LICENCE PLATE HOLDER - KAWASAKI Z 800/E 13-16
10049704

The product will be ordered from the manufacturer for you. Depending on availability, longer delivery times are also possible. We'll let you know if that's the case. You can of course cancel your delivery at any time free of charge.

Available in 7-21 days

€99.00 1
PRO LICENCE PLATE HOLDER - KAWASAKI Z 900 RS 2018-
10049145

The item is in stock and will be delivered in 2-5 working days. Note: Stocks are updated online every hour on working days from 7 a.m. to 8 p.m., so there is a good chance that the products are available if they appear online.

Available

€99.00 1
PRO LICENCE PLATE HOLDER - KAWASAKI Z 900/Z H2
10049094

The item is in stock and will be delivered in 2-5 working days. Note: Stocks are updated online every hour on working days from 7 a.m. to 8 p.m., so there is a good chance that the products are available if they appear online.

Available

€99.00 1
PRO LICENCE PLATE HOLDER - KAWASAKI ZX-10R 04-05
10049708

The item is in stock and will be delivered in 2-5 working days. Note: Stocks are updated online every hour on working days from 7 a.m. to 8 p.m., so there is a good chance that the products are available if they appear online.

Available

€99.00 1
PRO LICENCE PLATE HOLDER - KAWASAKI ZX-10R 06-07
10049709

The item is in stock and will be delivered in 2-5 working days. Note: Stocks are updated online every hour on working days from 7 a.m. to 8 p.m., so there is a good chance that the products are available if they appear online.

Available

€99.00 1
PRO LICENCE PLATE HOLDER - KAWASAKI ZX-10R 11-15
10049711

The product will be ordered from the manufacturer for you. Depending on availability, longer delivery times are also possible. We'll let you know if that's the case. You can of course cancel your delivery at any time free of charge.

Available in 7-21 days

€109.00 1
PRO LICENCE PLATE HOLDER - KAWASAKI ZX-10R 16-20
10049713

The item is in stock and will be delivered in 2-5 working days. Note: Stocks are updated online every hour on working days from 7 a.m. to 8 p.m., so there is a good chance that the products are available if they appear online.

Available

€109.00 1
PRO LICENCE PLATE HOLDER - KAWASAKI ZX-6R 05-06
10049714

The item is in stock and will be delivered in 2-5 working days. Note: Stocks are updated online every hour on working days from 7 a.m. to 8 p.m., so there is a good chance that the products are available if they appear online.

Available

€109.00 1
PRO LICENCE PLATE HOLDER - KAWASAKI ZX-6R 07-08
10049715

The item is in stock and will be delivered in 2-5 working days. Note: Stocks are updated online every hour on working days from 7 a.m. to 8 p.m., so there is a good chance that the products are available if they appear online.

Available

€117.00 1
PRO LICENCE PLATE HOLDER - KAWASAKI ZX-6R 636 2019-
10049157

The item is in stock and will be delivered in 2-5 working days. Note: Stocks are updated online every hour on working days from 7 a.m. to 8 p.m., so there is a good chance that the products are available if they appear online.

Available

€99.00 1
PRO LICENCE PLATE HOLDER - KAWASAKI ZZR 1400 2006-18
10049717

The item is in stock and will be delivered in 2-5 working days. Note: Stocks are updated online every hour on working days from 7 a.m. to 8 p.m., so there is a good chance that the products are available if they appear online.

Available

€99.00 1
PRO LICENCE PLATE HOLDER - KTM 1190 RC 8
10049718

The item is in stock and will be delivered in 2-5 working days. Note: Stocks are updated online every hour on working days from 7 a.m. to 8 p.m., so there is a good chance that the products are available if they appear online.

Available

€99.00 1
PRO LICENCE PLATE HOLDER - KTM 125/200/390 DUKE
10049719

The item is in stock and will be delivered in 2-5 working days. Note: Stocks are updated online every hour on working days from 7 a.m. to 8 p.m., so there is a good chance that the products are available if they appear online.

Available

€159.00 1
PRO LICENCE PLATE HOLDER - KTM 1290 SUPER DU.R 20-21
10015764

The item is in stock and will be delivered in 2-5 working days. Note: Stocks are updated online every hour on working days from 7 a.m. to 8 p.m., so there is a good chance that the products are available if they appear online.

Available

€99.00 1
PRO LICENCE PLATE HOLDER - KTM 1290 SUPER DUKE R
10049720

The item is in stock and will be delivered in 2-5 working days. Note: Stocks are updated online every hour on working days from 7 a.m. to 8 p.m., so there is a good chance that the products are available if they appear online.

Available

€109.00

1 2 €104.95 1
PRO LICENCE PLATE HOLDER - KTM 690 DUKE/R 12-19
10049721

The item is in stock and will be delivered in 2-5 working days. Note: Stocks are updated online every hour on working days from 7 a.m. to 8 p.m., so there is a good chance that the products are available if they appear online.

Available

€109.00 1
PRO LICENCE PLATE HOLDER - KTM 690 SMC BJ. 2019-20
10049159

The item is in stock and will be delivered in 2-5 working days. Note: Stocks are updated online every hour on working days from 7 a.m. to 8 p.m., so there is a good chance that the products are available if they appear online.

Available

€99.00 1
PRO LICENCE PLATE HOLDER - KTM 790/890 DUKE
10049148

The item is in stock and will be delivered in 2-5 working days. Note: Stocks are updated online every hour on working days from 7 a.m. to 8 p.m., so there is a good chance that the products are available if they appear online.

Available

€117.00 1
PRO LICENCE PLATE HOLDER - KTM 990 SUPER DUKE R
10049029

The item is in stock and will be delivered in 2-5 working days. Note: Stocks are updated online every hour on working days from 7 a.m. to 8 p.m., so there is a good chance that the products are available if they appear online.

Available

€99.00 1
PRO LICENCE PLATE HOLDER - KTM 990SM/SM R/SM T
10049028

The item is in stock and will be delivered in 2-5 working days. Note: Stocks are updated online every hour on working days from 7 a.m. to 8 p.m., so there is a good chance that the products are available if they appear online.

Available

€99.00 1
PRO LICENCE PLATE HOLDER - KTM RC 125/200/390
10049038

The item is in stock and will be delivered in 2-5 working days. Note: Stocks are updated online every hour on working days from 7 a.m. to 8 p.m., so there is a good chance that the products are available if they appear online.

Available

€99.00 1
PRO LICENCE PLATE HOLDER - KTM VARIOUS
10049723

The item is in stock and will be delivered in 2-5 working days. Note: Stocks are updated online every hour on working days from 7 a.m. to 8 p.m., so there is a good chance that the products are available if they appear online.

Available

€99.00 1
PRO LICENCE PLATE HOLDER - KTM VARIOUS
10049722

The item is in stock and will be delivered in 2-5 working days. Note: Stocks are updated online every hour on working days from 7 a.m. to 8 p.m., so there is a good chance that the products are available if they appear online.

Available

€99.00 1
PRO LICENCE PLATE HOLDER - KTM VARIOUS
10049724

The item is in stock and will be delivered in 2-5 working days. Note: Stocks are updated online every hour on working days from 7 a.m. to 8 p.m., so there is a good chance that the products are available if they appear online.

Available

€99.00 1
PRO LICENCE PLATE HOLDER - KTM125 DUKE 2017-
10049139

The item is in stock and will be delivered in 2-5 working days. Note: Stocks are updated online every hour on working days from 7 a.m. to 8 p.m., so there is a good chance that the products are available if they appear online.

Available

€109.00 1
PRO LICENCE PLATE HOLDER - MONSTER 1200 R 16-19
10049669

The product will be ordered from the manufacturer for you. Depending on availability, longer delivery times are also possible. We'll let you know if that's the case. You can of course cancel your delivery at any time free of charge.

Available in 7-21 days

€117.00 1
PRO LICENCE PLATE HOLDER - MONSTER 1200/S
10049668

The item is in stock and will be delivered in 2-5 working days. Note: Stocks are updated online every hour on working days from 7 a.m. to 8 p.m., so there is a good chance that the products are available if they appear online.

Available

€117.00 1
PRO LICENCE PLATE HOLDER - MONSTER 796/1100/EVO
10049667

The item is in stock and will be delivered in 2-5 working days. Note: Stocks are updated online every hour on working days from 7 a.m. to 8 p.m., so there is a good chance that the products are available if they appear online.

Available

€159.00 1
PRO LICENCE PLATE HOLDER - MULTISTRADA 1200 10-14
10049672

This product is available at week 33.
Current calendar week: 26

Available as of calendar week 33

€99.00 1
PRO LICENCE PLATE HOLDER - MV AGUSTA BRUTALE MODELS
10049039

The product will be ordered from the manufacturer for you. Depending on availability, longer delivery times are also possible. We'll let you know if that's the case. You can of course cancel your delivery at any time free of charge.

Available in 7-21 days

€99.00 1
PRO LICENCE PLATE HOLDER - MV AGUSTA F3 675/800/RR
10049041

The product will be ordered from the manufacturer for you. Depending on availability, longer delivery times are also possible. We'll let you know if that's the case. You can of course cancel your delivery at any time free of charge.

Available in 7-21 days

€99.00 1
PRO LICENCE PLATE HOLDER - NC 700/750 S/X 2012-15
10049690

The item is in stock and will be delivered in 2-5 working days. Note: Stocks are updated online every hour on working days from 7 a.m. to 8 p.m., so there is a good chance that the products are available if they appear online.

Available

€109.00 1
PRO LICENCE PLATE HOLDER - NINJA 250 R 2007-12
10049696

The item is in stock and will be delivered in 2-5 working days. Note: Stocks are updated online every hour on working days from 7 a.m. to 8 p.m., so there is a good chance that the products are available if they appear online.

Available

€99.00 1
PRO LICENCE PLATE HOLDER - NINJA 300 13-16
10049707

The product will be ordered from the manufacturer for you. Depending on availability, longer delivery times are also possible. We'll let you know if that's the case. You can of course cancel your delivery at any time free of charge.

Available in 7-21 days

€99.00 1
PRO LICENCE PLATE HOLDER - NINJA 400/Z 400 2018-20
10049146

The item is in stock and will be delivered in 2-5 working days. Note: Stocks are updated online every hour on working days from 7 a.m. to 8 p.m., so there is a good chance that the products are available if they appear online.

Available

€99.00 1
PRO LICENCE PLATE HOLDER - NUDA 900/R 2012-13
10049692

The item is in stock and will be delivered in 2-5 working days. Note: Stocks are updated online every hour on working days from 7 a.m. to 8 p.m., so there is a good chance that the products are available if they appear online.

Available

€99.00

1 2 €94.95 1
PRO LICENCE PLATE HOLDER - SCRAMBLER 800 2015-17
10049674

The item is in stock and will be delivered in 2-5 working days. Note: Stocks are updated online every hour on working days from 7 a.m. to 8 p.m., so there is a good chance that the products are available if they appear online.

Available

€117.00 1
PRO LICENCE PLATE HOLDER - SFV 650 GLADIUS 09-15
10049058

The item is in stock and will be delivered in 2-5 working days. Note: Stocks are updated online every hour on working days from 7 a.m. to 8 p.m., so there is a good chance that the products are available if they appear online.

Available

€139.00 1
PRO LICENCE PLATE HOLDER - SL 750 SHIVER/GT ABS
10049653

The item is in stock and will be delivered in 2-5 working days. Note: Stocks are updated online every hour on working days from 7 a.m. to 8 p.m., so there is a good chance that the products are available if they appear online.

Available

€103.00 1
PRO LICENCE PLATE HOLDER - SMV 1200 DORSODURO
10049654

The product will be ordered from the manufacturer for you. Depending on availability, longer delivery times are also possible. We'll let you know if that's the case. You can of course cancel your delivery at any time free of charge.

Available in 7-21 days

€109.00

1 2 €104.95 1
PRO LICENCE PLATE HOLDER - SMV 750 DORSODURO 2008-11
10049657

The item is in stock and will be delivered in 2-5 working days. Note: Stocks are updated online every hour on working days from 7 a.m. to 8 p.m., so there is a good chance that the products are available if they appear online.

Available

€109.00 1
PRO LICENCE PLATE HOLDER - SPEED TRIPLE 2011-15
10049068

The item is in stock and will be delivered in 2-5 working days. Note: Stocks are updated online every hour on working days from 7 a.m. to 8 p.m., so there is a good chance that the products are available if they appear online.

Available

€99.00 1
PRO LICENCE PLATE HOLDER - SPEED TRIPLE S/R/RS 16-18
10049069

The item is in stock and will be delivered in 2-5 working days. Note: Stocks are updated online every hour on working days from 7 a.m. to 8 p.m., so there is a good chance that the products are available if they appear online.

Available

€99.00

1 2 €94.95 1
PRO LICENCE PLATE HOLDER - SPEED TRIPLE/R 2005-10
10049161

The item is in stock and will be delivered in 2-5 working days. Note: Stocks are updated online every hour on working days from 7 a.m. to 8 p.m., so there is a good chance that the products are available if they appear online.

Available

€99.00 1
PRO LICENCE PLATE HOLDER - STREET TRIPLE 2007-12
10049070

The item is in stock and will be delivered in 2-5 working days. Note: Stocks are updated online every hour on working days from 7 a.m. to 8 p.m., so there is a good chance that the products are available if they appear online.

Available

€149.00 1
PRO LICENCE PLATE HOLDER - STREETFIGHTER/S/848
10049675

The item is in stock and will be delivered in 2-5 working days. Note: Stocks are updated online every hour on working days from 7 a.m. to 8 p.m., so there is a good chance that the products are available if they appear online.

Available

€117.00 1
PRO LICENCE PLATE HOLDER - SUZUKI GSR600 2006-11
10049046

The item is in stock and will be delivered in 2-5 working days. Note: Stocks are updated online every hour on working days from 7 a.m. to 8 p.m., so there is a good chance that the products are available if they appear online.

Available

€113.00 1
PRO LICENCE PLATE HOLDER - SUZUKI GSR750 2011-16
10049047

The item is in stock and will be delivered in 2-5 working days. Note: Stocks are updated online every hour on working days from 7 a.m. to 8 p.m., so there is a good chance that the products are available if they appear online.

Available

€99.00 1
PRO LICENCE PLATE HOLDER - SUZUKI GSX-R 600/750
10049056

The item is in stock and will be delivered in 2-5 working days. Note: Stocks are updated online every hour on working days from 7 a.m. to 8 p.m., so there is a good chance that the products are available if they appear online.

Available

€99.00

1 2 €94.95 1
PRO LICENCE PLATE HOLDER - SUZUKI GSX-S 1000/F 15-20
10049057

The item is in stock and will be delivered in 2-5 working days. Note: Stocks are updated online every hour on working days from 7 a.m. to 8 p.m., so there is a good chance that the products are available if they appear online.

Available

€99.00 1
PRO LICENCE PLATE HOLDER - SUZUKI GSX-S 750 2017-19
10049119

The item is in stock and will be delivered in 2-5 working days. Note: Stocks are updated online every hour on working days from 7 a.m. to 8 p.m., so there is a good chance that the products are available if they appear online.

Available

€109.00 1
PRO LICENCE PLATE HOLDER - SUZUKI GSX-S1000 2017-
10049127

The product will be ordered from the manufacturer for you. Depending on availability, longer delivery times are also possible. We'll let you know if that's the case. You can of course cancel your delivery at any time free of charge.

Available in 7-21 days

€109.00 1
PRO LICENCE PLATE HOLDER - SUZUKI SV 650 16-20
10049066

The item is in stock and will be delivered in 2-5 working days. Note: Stocks are updated online every hour on working days from 7 a.m. to 8 p.m., so there is a good chance that the products are available if they appear online.

Available

€99.00 1
PRO LICENCE PLATE HOLDER - SUZUKI VARIOUS
10049045

The item is in stock and will be delivered in 2-5 working days. Note: Stocks are updated online every hour on working days from 7 a.m. to 8 p.m., so there is a good chance that the products are available if they appear online.

Available

€99.00 1
PRO LICENCE PLATE HOLDER - SUZUKI VARIOUS
10049143

The item is in stock and will be delivered in 2-5 working days. Note: Stocks are updated online every hour on working days from 7 a.m. to 8 p.m., so there is a good chance that the products are available if they appear online.

Available

€99.00 1
PRO LICENCE PLATE HOLDER - SV 650/1000 S/N 03-08
10049059

The item is in stock and will be delivered in 2-5 working days. Note: Stocks are updated online every hour on working days from 7 a.m. to 8 p.m., so there is a good chance that the products are available if they appear online.

Available

€99.00 1
PRO LICENCE PLATE HOLDER - TR SCRAMBLER 1200XC 18-21
10015763

The item is in stock and will be delivered in 2-5 working days. Note: Stocks are updated online every hour on working days from 7 a.m. to 8 p.m., so there is a good chance that the products are available if they appear online.

Available

€129.00 1
PRO LICENCE PLATE HOLDER - TRIUMPH VARIOUS
10049072

The product will be ordered from the manufacturer for you. Depending on availability, longer delivery times are also possible. We'll let you know if that's the case. You can of course cancel your delivery at any time free of charge.

Available in 7-21 days

€159.00 1
PRO LICENCE PLATE HOLDER - TRIUMPH VARIOUS
10049071

The item is in stock and will be delivered in 2-5 working days. Note: Stocks are updated online every hour on working days from 7 a.m. to 8 p.m., so there is a good chance that the products are available if they appear online.

Available

€99.00 1
PRO LICENCE PLATE HOLDER - TÉNÉRÉ 700 BJ. 2019-20
10049163

The item is in stock and will be delivered in 2-5 working days. Note: Stocks are updated online every hour on working days from 7 a.m. to 8 p.m., so there is a good chance that the products are available if they appear online.

Available

€109.00 1
PRO LICENCE PLATE HOLDER - VARIOUS HONDA MODELS
10049681

The item is in stock and will be delivered in 2-5 working days. Note: Stocks are updated online every hour on working days from 7 a.m. to 8 p.m., so there is a good chance that the products are available if they appear online.

Available

€99.00 1
PRO LICENCE PLATE HOLDER - VERSYS 1000 2012-16
10049697

The product will be ordered from the manufacturer for you. Depending on availability, longer delivery times are also possible. We'll let you know if that's the case. You can of course cancel your delivery at any time free of charge.

Available in 7-21 days

€129.00 1
PRO LICENCE PLATE HOLDER - VERSYS 1000 2017-18
10049095

The item is in stock and will be delivered in 2-5 working days. Note: Stocks are updated online every hour on working days from 7 a.m. to 8 p.m., so there is a good chance that the products are available if they appear online.

Available

€99.00 1
PRO LICENCE PLATE HOLDER - VERSYS 650 2006-09
10049698

The product will be ordered from the manufacturer for you. Depending on availability, longer delivery times are also possible. We'll let you know if that's the case. You can of course cancel your delivery at any time free of charge.

Available in 7-21 days

€99.00 1
PRO LICENCE PLATE HOLDER - VERSYS 650 2010-14
10049699

The product will be ordered from the manufacturer for you. Depending on availability, longer delivery times are also possible. We'll let you know if that's the case. You can of course cancel your delivery at any time free of charge.

Available in 7-21 days

€99.00 1
PRO LICENCE PLATE HOLDER - VERSYS 650 2015-19
10049700

The item is in stock and will be delivered in 2-5 working days. Note: Stocks are updated online every hour on working days from 7 a.m. to 8 p.m., so there is a good chance that the products are available if they appear online.

Available

€99.00 1
PRO LICENCE PLATE HOLDER - YAMAHA MT-03 2006-13
10049075

The item is in stock and will be delivered in 2-5 working days. Note: Stocks are updated online every hour on working days from 7 a.m. to 8 p.m., so there is a good chance that the products are available if they appear online.

Available

€139.00 1
PRO LICENCE PLATE HOLDER - YAMAHA MT-07
10049076

The item is in stock and will be delivered in 2-5 working days. Note: Stocks are updated online every hour on working days from 7 a.m. to 8 p.m., so there is a good chance that the products are available if they appear online.

Available

€99.00 1
PRO LICENCE PLATE HOLDER - YAMAHA MT-07 2021
10015765

The item is in stock and will be delivered in 2-5 working days. Note: Stocks are updated online every hour on working days from 7 a.m. to 8 p.m., so there is a good chance that the products are available if they appear online.

Available

€99.00 1
PRO LICENCE PLATE HOLDER - YAMAHA MT-07 TRACER 16-19
10049077

The item is in stock and will be delivered in 2-5 working days. Note: Stocks are updated online every hour on working days from 7 a.m. to 8 p.m., so there is a good chance that the products are available if they appear online.

Available

€99.00

1 2 €94.95 1
PRO LICENCE PLATE HOLDER - YAMAHA MT-09 2013-16
10049078

The product will be ordered from the manufacturer for you. Depending on availability, longer delivery times are also possible. We'll let you know if that's the case. You can of course cancel your delivery at any time free of charge.

Available in 7-21 days

€99.00

1 2 €94.95 1
PRO LICENCE PLATE HOLDER - YAMAHA MT-09 2017-20
10049096

The item is in stock and will be delivered in 2-5 working days. Note: Stocks are updated online every hour on working days from 7 a.m. to 8 p.m., so there is a good chance that the products are available if they appear online.

Available

€117.00 1
PRO LICENCE PLATE HOLDER - YAMAHA MT-09 2021
10015766

The item is in stock and will be delivered in 2-5 working days. Note: Stocks are updated online every hour on working days from 7 a.m. to 8 p.m., so there is a good chance that the products are available if they appear online.

Available

€99.00 1
PRO LICENCE PLATE HOLDER - YAMAHA MT-09 TRACER 15-19
10049079

The item is in stock and will be delivered in 2-5 working days. Note: Stocks are updated online every hour on working days from 7 a.m. to 8 p.m., so there is a good chance that the products are available if they appear online.

Available

€99.00 1
PRO LICENCE PLATE HOLDER - YAMAHA MT-10 2016-20
10049080

The item is in stock and will be delivered in 2-5 working days. Note: Stocks are updated online every hour on working days from 7 a.m. to 8 p.m., so there is a good chance that the products are available if they appear online.

Available

€99.00 1
PRO LICENCE PLATE HOLDER - YAMAHA MT-125 2014-18
10049081

The item is in stock and will be delivered in 2-5 working days. Note: Stocks are updated online every hour on working days from 7 a.m. to 8 p.m., so there is a good chance that the products are available if they appear online.

Available

€99.00 1
PRO LICENCE PLATE HOLDER - YAMAHA TRACER 7/700 21-22
10015769

The item is in stock and will be delivered in 2-5 working days. Note: Stocks are updated online every hour on working days from 7 a.m. to 8 p.m., so there is a good chance that the products are available if they appear online.

Available

€99.00 1
PRO LICENCE PLATE HOLDER - YAMAHA VARIOUS
10049073

The item is in stock and will be delivered in 2-5 working days. Note: Stocks are updated online every hour on working days from 7 a.m. to 8 p.m., so there is a good chance that the products are available if they appear online.

Available

€99.00 1
PRO LICENCE PLATE HOLDER - YAMAHA VARIOUS
10049074

The item is in stock and will be delivered in 2-5 working days. Note: Stocks are updated online every hour on working days from 7 a.m. to 8 p.m., so there is a good chance that the products are available if they appear online.

Available

€99.00 1
PRO LICENCE PLATE HOLDER - YAMAHA XJ6/DIVERSION/F
10049082

The item is in stock and will be delivered in 2-5 working days. Note: Stocks are updated online every hour on working days from 7 a.m. to 8 p.m., so there is a good chance that the products are available if they appear online.

Available

€99.00 1
PRO LICENCE PLATE HOLDER - YAMAHA XSR 900 2016-18
10049118

The item is in stock and will be delivered in 2-5 working days. Note: Stocks are updated online every hour on working days from 7 a.m. to 8 p.m., so there is a good chance that the products are available if they appear online.

Available

€117.00

1 2 €112.95 1
PRO LICENCE PLATE HOLDER - YAMAHA YZF-R1 04-06
10049085

The item is in stock and will be delivered in 2-5 working days. Note: Stocks are updated online every hour on working days from 7 a.m. to 8 p.m., so there is a good chance that the products are available if they appear online.

Available

€99.00 1
PRO LICENCE PLATE HOLDER - YAMAHA YZF-R1 07-08
10049086

The item is in stock and will be delivered in 2-5 working days. Note: Stocks are updated online every hour on working days from 7 a.m. to 8 p.m., so there is a good chance that the products are available if they appear online.

Available

€99.00 1
PRO LICENCE PLATE HOLDER - YAMAHA YZF-R1 09-14
10049087

The item is in stock and will be delivered in 2-5 working days. Note: Stocks are updated online every hour on working days from 7 a.m. to 8 p.m., so there is a good chance that the products are available if they appear online.

Available

€99.00 1
PRO LICENCE PLATE HOLDER - YAMAHA YZF-R1 2015-20
10049083

The item is in stock and will be delivered in 2-5 working days. Note: Stocks are updated online every hour on working days from 7 a.m. to 8 p.m., so there is a good chance that the products are available if they appear online.

Available

€99.00

1 2 €94.95 1
PRO LICENCE PLATE HOLDER - YAMAHA YZF-R125 08-13
10049088

The item is in stock and will be delivered in 2-5 working days. Note: Stocks are updated online every hour on working days from 7 a.m. to 8 p.m., so there is a good chance that the products are available if they appear online.

Available

€99.00 1
PRO LICENCE PLATE HOLDER - YAMAHA YZF-R125 14-18
10049089

The item is in stock and will be delivered in 2-5 working days. Note: Stocks are updated online every hour on working days from 7 a.m. to 8 p.m., so there is a good chance that the products are available if they appear online.

Available

€99.00

1 2 €94.95 1
PRO LICENCE PLATE HOLDER - YAMAHA YZF-R125 2019-20
10049153

The item is in stock and will be delivered in 2-5 working days. Note: Stocks are updated online every hour on working days from 7 a.m. to 8 p.m., so there is a good chance that the products are available if they appear online.

Available

€99.00 1
PRO LICENCE PLATE HOLDER - YAMAHA YZF-R3 2019-
10049156

The item is in stock and will be delivered in 2-5 working days. Note: Stocks are updated online every hour on working days from 7 a.m. to 8 p.m., so there is a good chance that the products are available if they appear online.

Available

€99.00 1
PRO LICENCE PLATE HOLDER - YAMAHA YZF-R6 1999-02
10049092