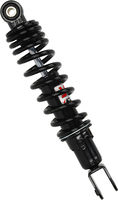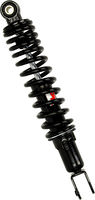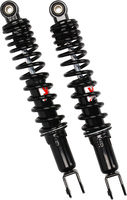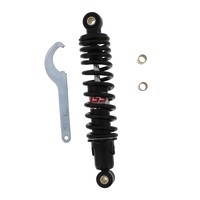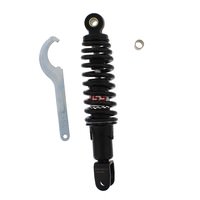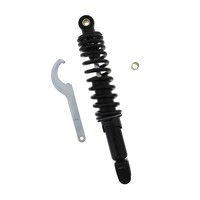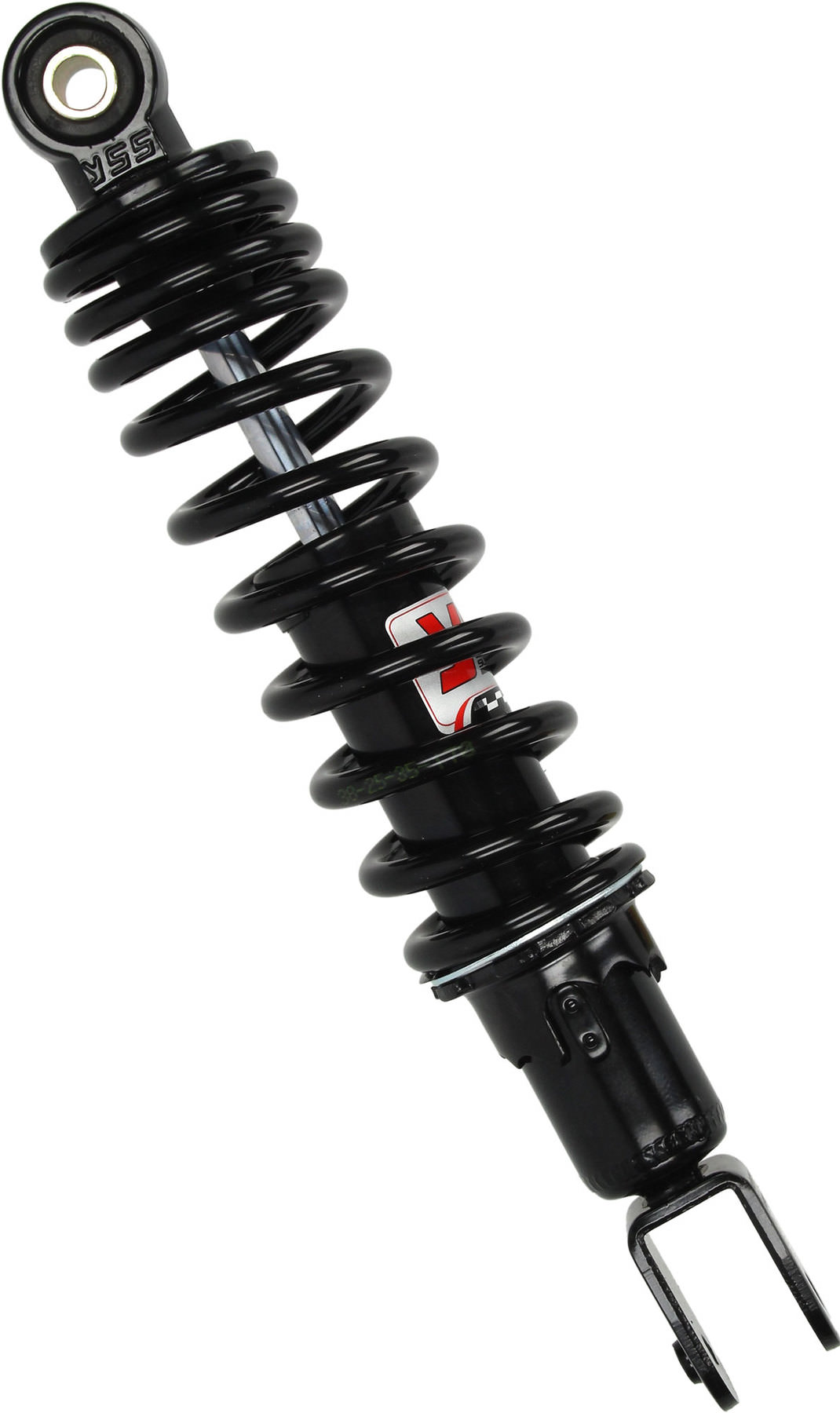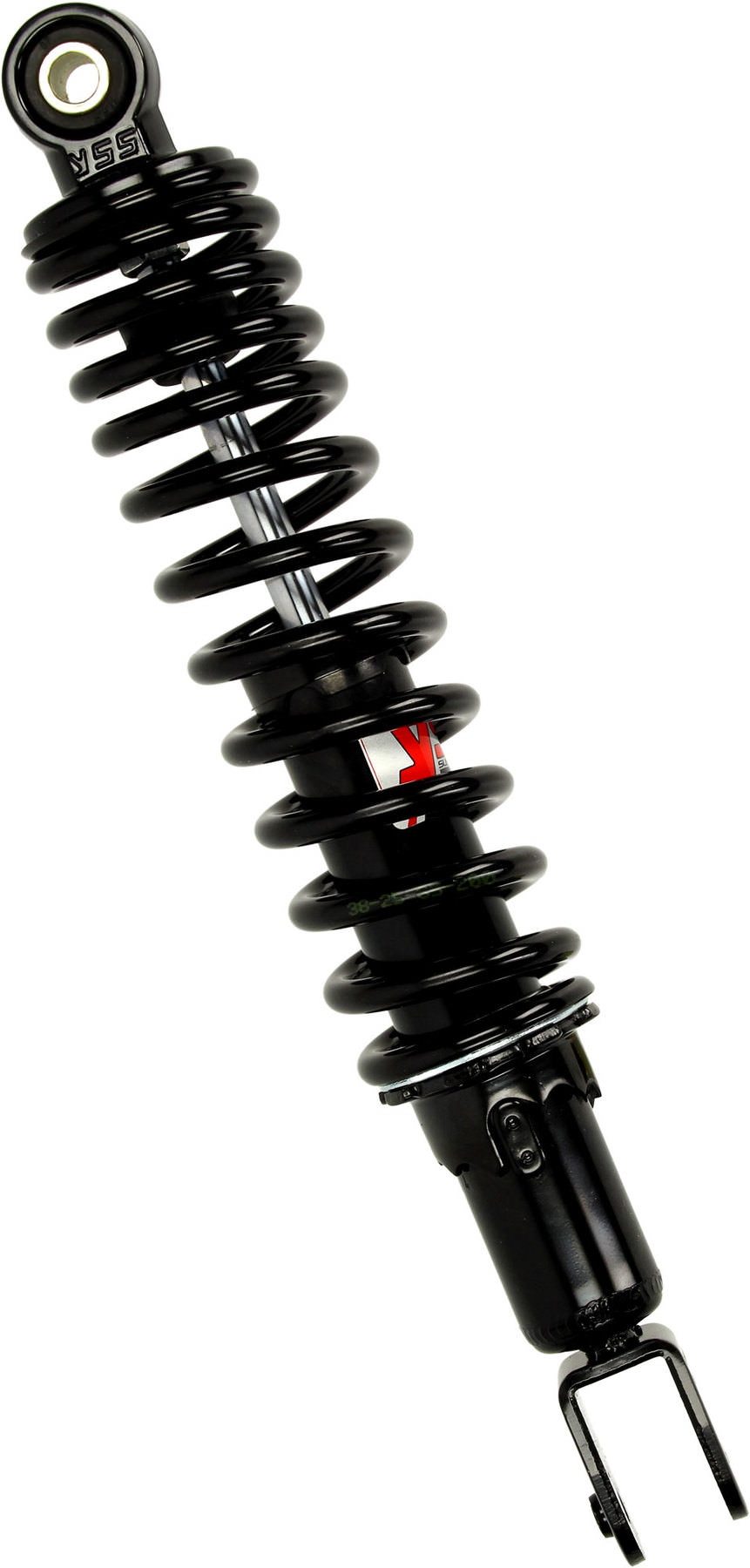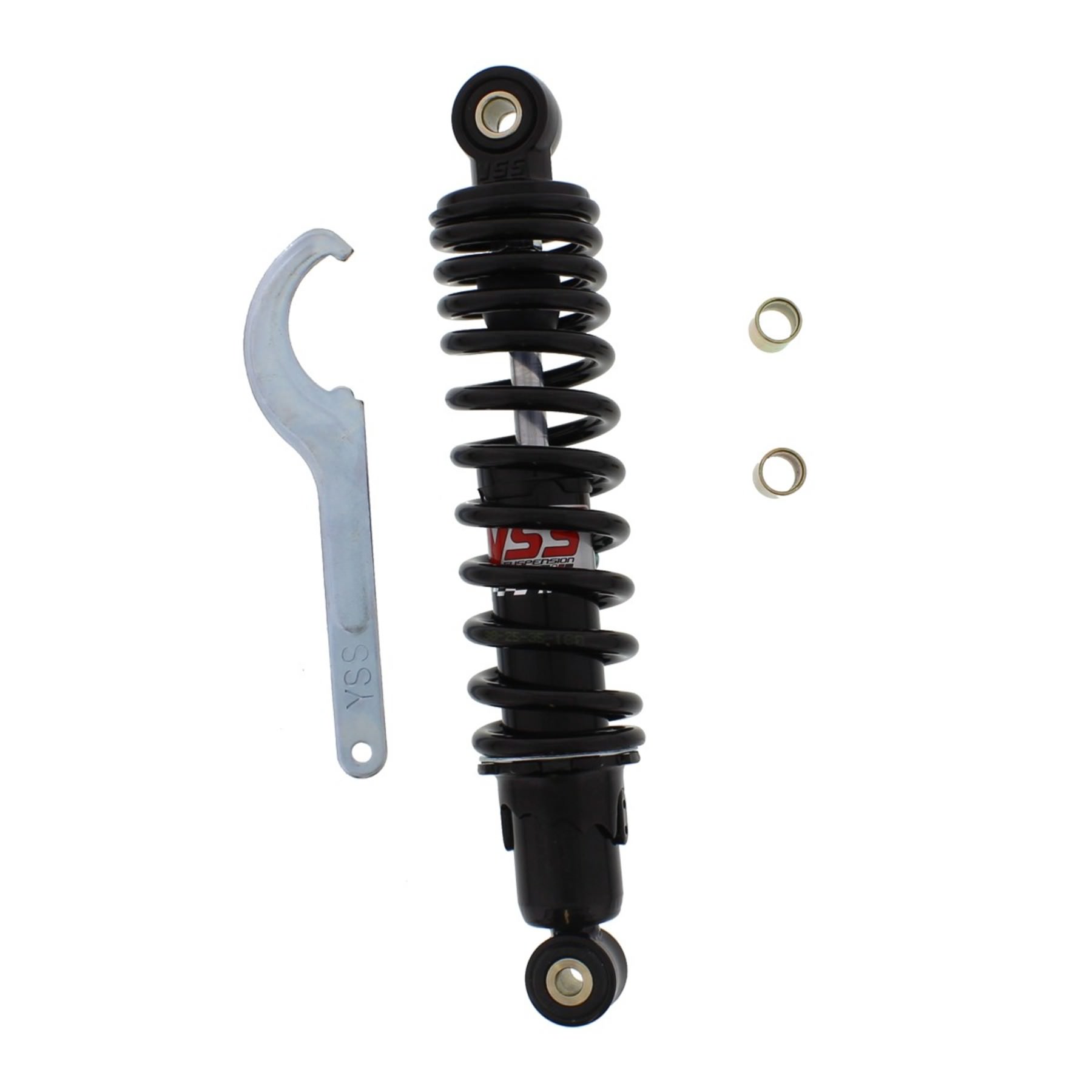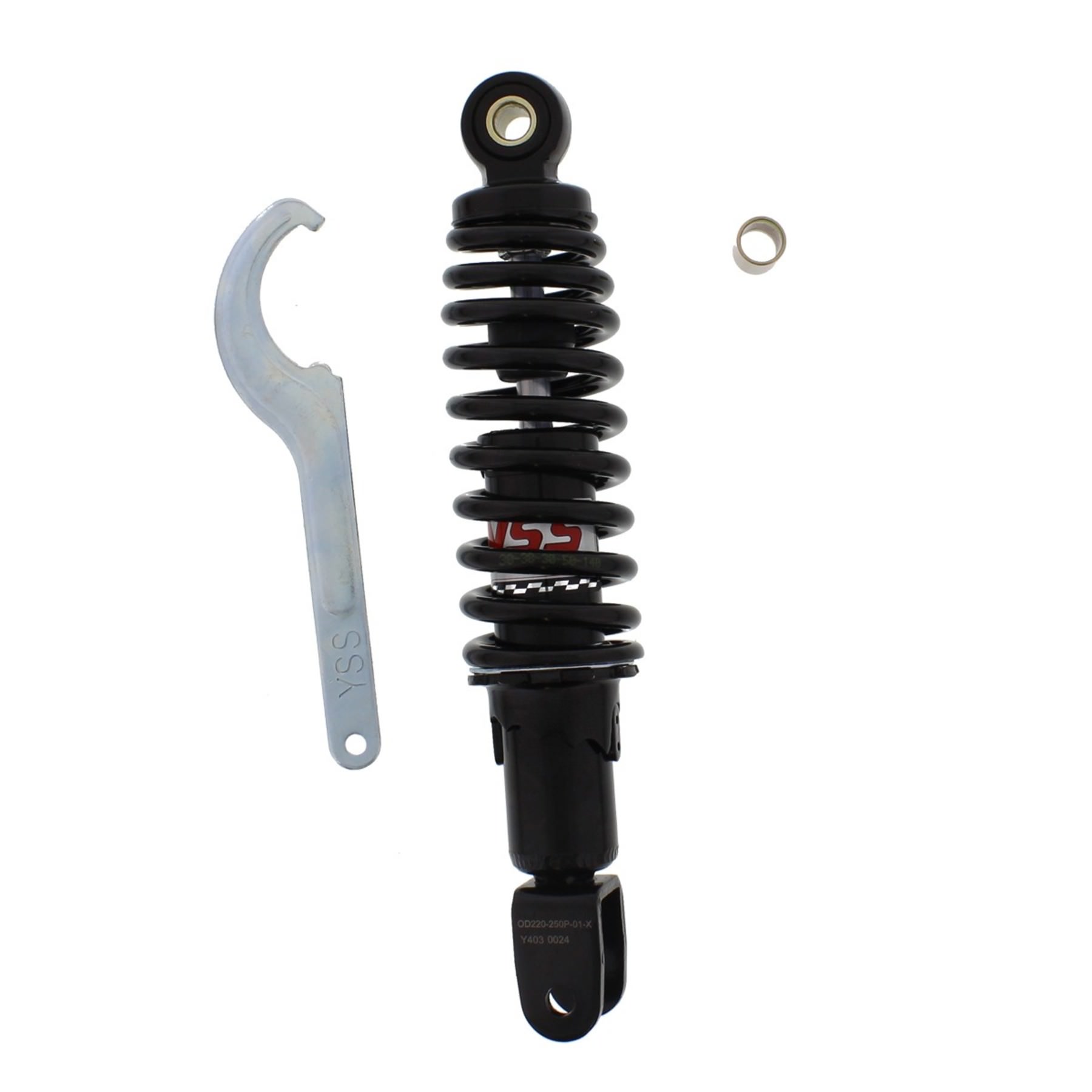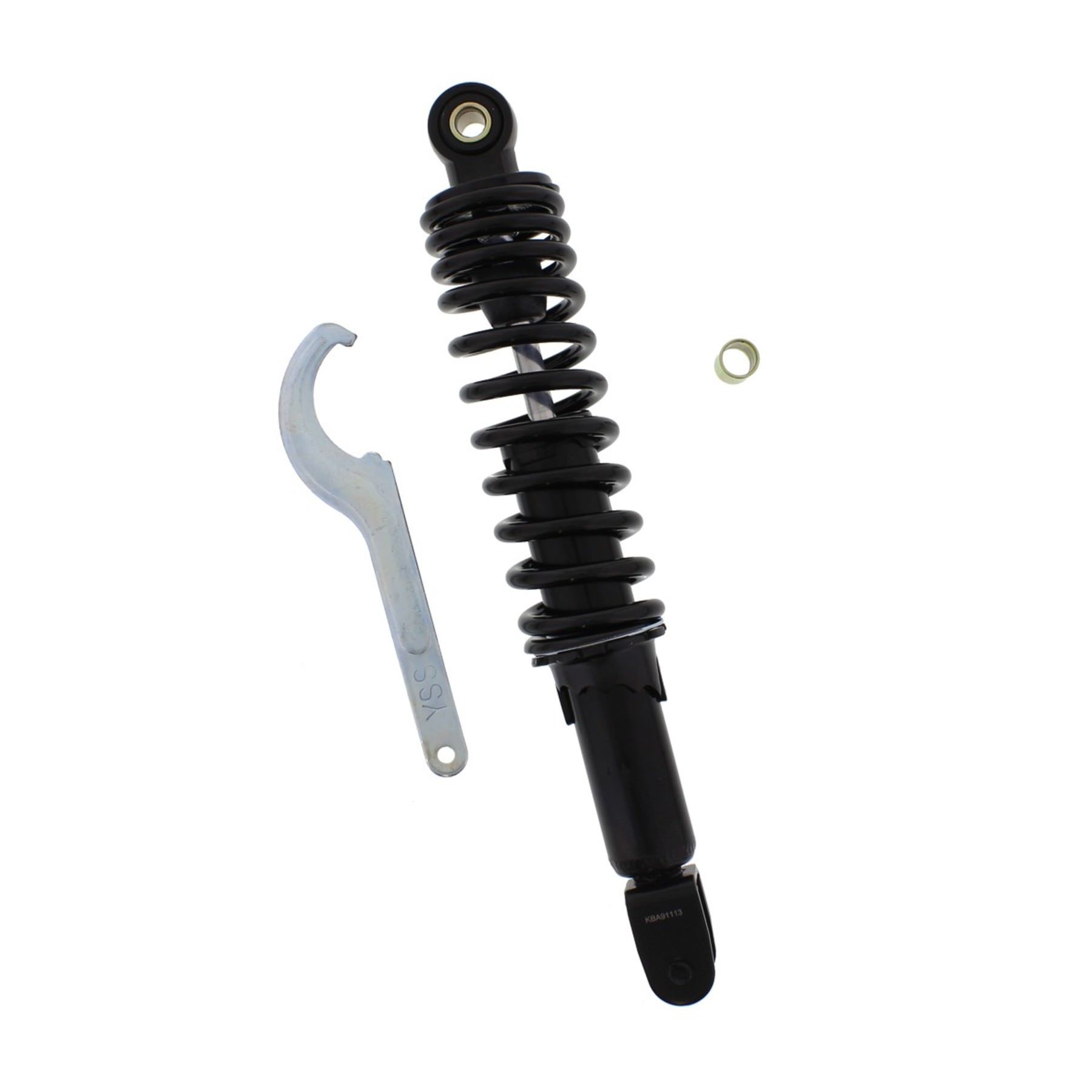 YSS Shockabsorber for Scooter
Type-approved for Germany
Unfortunately, this product is not compatible with this motorcycle.
Unfortunately, this product is not compatible with this motorcycle. You can find the right for the here: .
€

39.991
from
€

35.991
(-10%)
Free delivery on orders over €199.00
2 year return policy
Fast delivery
YSS Shockabsorber for Scooter
Type-approved for Germany
YSS Shock Absorber for Scooter
The specially developed hydraulic shock features a double-action damping system and incremental preload adjustment from the outside. Progressive damping and robustly dimensioned piston rods guarantee sure-footed handling and great road holding in all conditions.
The shock absorbers have a KBA (German Motor Transport Authority) number and are thus approved under German Road Traffic Licensing Regulations (StVZO).
Comprises: Mono = monoshock, Stereo = twin shock
Manufacturer details: YSS Suspension

Go to YSS Suspension brand shop
Low-cost shocks for motorcycles and scooters.

The Thai brand manufacturer is one of the world's largest producers of suspension components and boasts many years of experience gained also in the world of motorcycle racing. The low prices for YSS shocks are made possible by the scale of production. And there is no compromise on quality of material and manufacture with YSS. Particularly attractive is our range of YSS shocks for riders of modern classics who are looking for an affordable and high-quality way to optimise the handling of their motorcycle.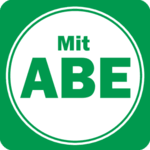 German type approval ("ABE)" allows the relevant accessory to be used on the vehicle models listed in the test report. Here it is the type abbreviation and not the maker's designation that is important for identifying the vehicle. The test report must be carried when riding in case it needs to be presented at a road-side check or vehicle safety inspection.
Accessories with type approval do not have to be registered in the vehicle documents! Those who do not want to carry the test report with them all the time can (for example) arrange to have the product registered by the Technical Inspection Association (subject to a charge).
If the accessory is to be used on a vehicle that is not listed in the type approval, an individual component approval is required. Although ABE type approval confirms the proper installation and safety of the product, it is the inspector who has to decide according to his technical expertise whether it is suitable for use on the vehicle.

An electric scooter with "ABE" approval has a type approval for Germany stating that the relevant vehicle satisfies all the relevant requirements of the eKFV (Small Electric Vehicle Ordinance in Germany) for the approval. In addition, insurance of the electric scooter is compulsory and use on pavements is forbidden. It can only be ridden on cycle paths and on the road (if a cycle path is not available). The minimum age for riding an electric scooter is 14 years. Although a driving license and helmet are not mandatory, they are highly recommended. An electric scooter must always be ridden solo.
Product
Art. No.
Availability
Price
Actions
OE302-285T-01AL-38
10044627

The item is in stock and will be delivered in 2-5 working days. Note: Stocks are updated online every hour on working days from 7 a.m. to 8 p.m., so there is a good chance that the products are available if they appear online.

Available

€139.99

1 €125.99 1
YSS MONO SHOCK ABSORBER - OD220-310P-01-X
10046247

The item is in stock and will be delivered in 2-5 working days. Note: Stocks are updated online every hour on working days from 7 a.m. to 8 p.m., so there is a good chance that the products are available if they appear online.

Available

€48.99

1 €43.99 1
YSS SHOCK ABSORB. MONO - OD220-250P-01-X
10046243

The item is in stock and will be delivered in 2-5 working days. Note: Stocks are updated online every hour on working days from 7 a.m. to 8 p.m., so there is a good chance that the products are available if they appear online.

Available

€39.99

1 €35.99 1
YSS SHOCK ABSORB. MONO - OD220-270P-01
10046245

The item is in stock and will be delivered in 2-5 working days. Note: Stocks are updated online every hour on working days from 7 a.m. to 8 p.m., so there is a good chance that the products are available if they appear online.

Available

€44.99

1 €39.99 1
YSS SHOCK ABSORB. MONO - OD220-280P-01-X
10046150

The item is in stock and will be delivered in 2-5 working days. Note: Stocks are updated online every hour on working days from 7 a.m. to 8 p.m., so there is a good chance that the products are available if they appear online.

Available

€39.99

1 €35.99 1
YSS SHOCK ABSORB. MONO - OD220-285P-02-X
10046151

The item is in stock and will be delivered in 2-5 working days. Note: Stocks are updated online every hour on working days from 7 a.m. to 8 p.m., so there is a good chance that the products are available if they appear online.

Available

€51.99

1 €45.99 1
YSS SHOCK ABSORB. MONO - OD220-290P-01-X
10046152

The item is in stock and will be delivered in 2-5 working days. Note: Stocks are updated online every hour on working days from 7 a.m. to 8 p.m., so there is a good chance that the products are available if they appear online.

Available

€39.99

1 €35.99 1
YSS SHOCK ABSORB. MONO - OD220-320P-01-X
10046153

The item is in stock and will be delivered in 2-5 working days. Note: Stocks are updated online every hour on working days from 7 a.m. to 8 p.m., so there is a good chance that the products are available if they appear online.

Available

€39.99

1 €35.99 1
YSS SHOCK ABSORB. MONO - OD220-330P-02-X
10046241

The item is in stock and will be delivered in 2-5 working days. Note: Stocks are updated online every hour on working days from 7 a.m. to 8 p.m., so there is a good chance that the products are available if they appear online.

Available

€55.99

1 €49.99 1
YSS SHOCK ABSORB. MONO - OD220-340P-01-X
10046246

The item is in stock and will be delivered in 2-5 working days. Note: Stocks are updated online every hour on working days from 7 a.m. to 8 p.m., so there is a good chance that the products are available if they appear online.

Available

€67.99

1 €60.99 1
YSS SHOCK ABSORB. MONO - VD220-260P-02-8-X
10046242

The item is in stock and will be delivered in 2-5 working days. Note: Stocks are updated online every hour on working days from 7 a.m. to 8 p.m., so there is a good chance that the products are available if they appear online.

Available

€39.99

1 €35.99 1
YSS SHOCK ABSORB. MONO - VD222-210T-01-X
10046244

The item is in stock and will be delivered in 2-5 working days. Note: Stocks are updated online every hour on working days from 7 a.m. to 8 p.m., so there is a good chance that the products are available if they appear online.

Available

€70.99

1 €62.99 1
YSS SHOCK ABSORB. STEREO - TD220-340P-03-X
10046154

The item is in stock and will be delivered in 2-5 working days. Note: Stocks are updated online every hour on working days from 7 a.m. to 8 p.m., so there is a good chance that the products are available if they appear online.

Available

€79.99

1 €71.99 1