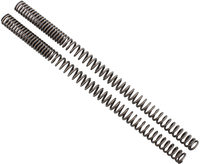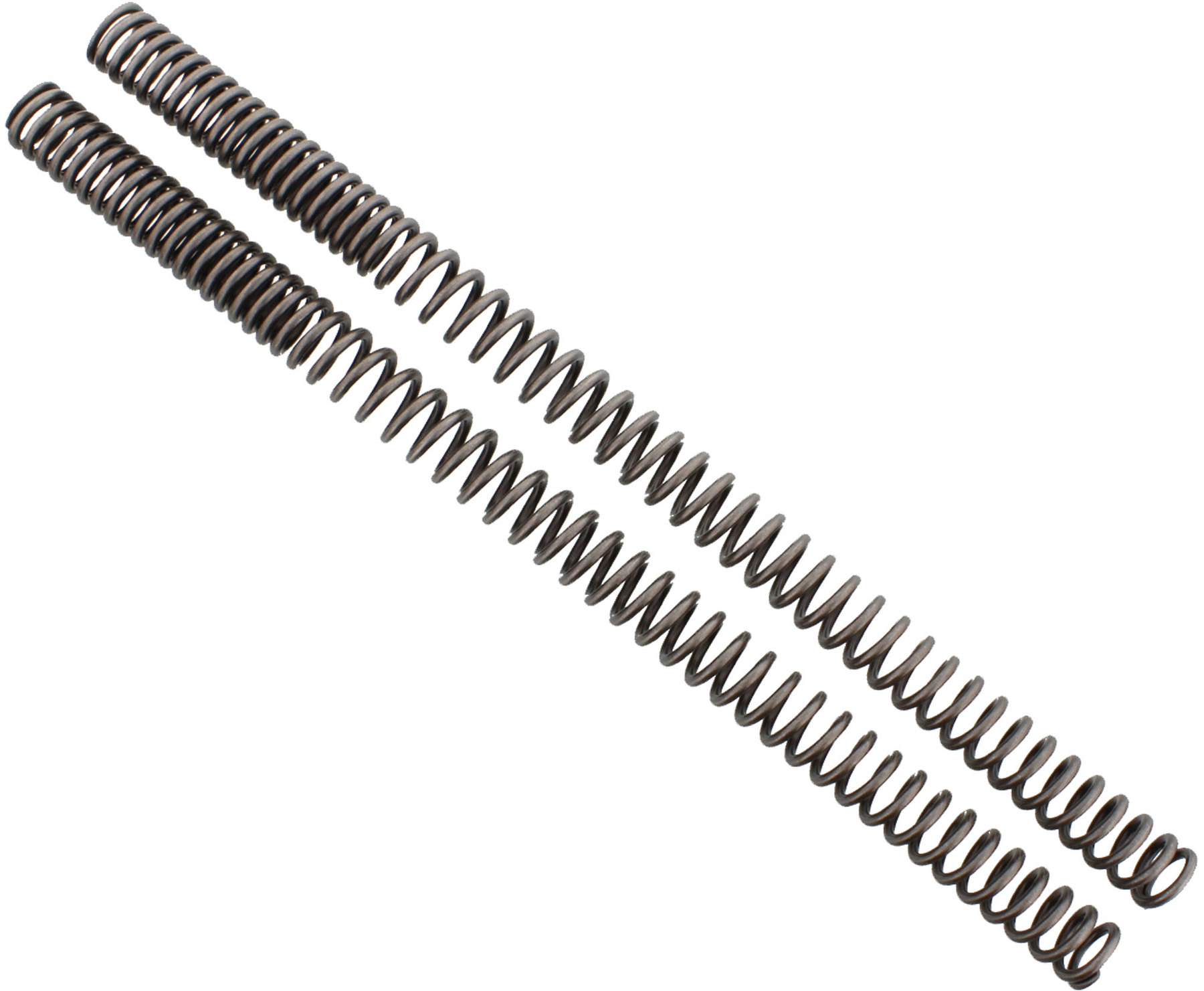 YSS Fork Spring Set
Progressive, type approv.
Unfortunately, this product is not compatible with this motorcycle.
Unfortunately, this product is not compatible with this motorcycle. You can find the right for the here: .
€

99.991
from
€

69.991
(-30%)
Free delivery on orders over €199.00
2 year return policy
Fast delivery
YSS Fork Spring Set
Progressive, type approv.
It's a slow but inexorable process when the comfort, springiness and responsiveness of your telescopic forks gradually deteriorate. The entire front end of your machine dips when you brake, and the ride feels increasingly unstable. Then it's high time for a new set of fork springs. The *Progressive* fork spring set from YSS, with type approval for Germany, are to be recommended.
YSS Suspension is one of the world's biggest manufacturers of suspension components for vehicles. The company has a wealth of experience gained from its involvement in international racing, and all this experience goes into the development of new shock absorption concepts. Our customers can rely on the high-quality engineering of YSS products.
Top-grade stainless steel
Type-approved for Germany
Manufacturer details: YSS Suspension

Go to YSS Suspension brand shop
Low-cost shocks for motorcycles and scooters.

The Thai brand manufacturer is one of the world's largest producers of suspension components and boasts many years of experience gained also in the world of motorcycle racing. The low prices for YSS shocks are made possible by the scale of production. And there is no compromise on quality of material and manufacture with YSS. Particularly attractive is our range of YSS shocks for riders of modern classics who are looking for an affordable and high-quality way to optimise the handling of their motorcycle.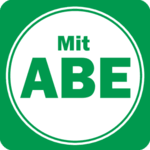 German type approval ("ABE)" allows the relevant accessory to be used on the vehicle models listed in the test report. Here it is the type abbreviation and not the maker's designation that is important for identifying the vehicle. The test report must be carried when riding in case it needs to be presented at a road-side check or vehicle safety inspection.
Accessories with type approval do not have to be registered in the vehicle documents! Those who do not want to carry the test report with them all the time can (for example) arrange to have the product registered by the Technical Inspection Association (subject to a charge).
If the accessory is to be used on a vehicle that is not listed in the type approval, an individual component approval is required. Although ABE type approval confirms the proper installation and safety of the product, it is the inspector who has to decide according to his technical expertise whether it is suitable for use on the vehicle.

An electric scooter with "ABE" approval has a type approval for Germany stating that the relevant vehicle satisfies all the relevant requirements of the eKFV (Small Electric Vehicle Ordinance in Germany) for the approval. In addition, insurance of the electric scooter is compulsory and use on pavements is forbidden. It can only be ridden on cycle paths and on the road (if a cycle path is not available). The minimum age for riding an electric scooter is 14 years. Although a driving license and helmet are not mandatory, they are highly recommended. An electric scooter must always be ridden solo.
Test certificates (TÜV, ABE, material)
Instructions/Guides
Product
Art. No.
Availability
Price
Actions
YSS FORK SPRING SET - PR265I045-060S510
10048802

The item is in stock and will be delivered in 2-5 working days. Note: Stocks are updated online every hour on working days from 7 a.m. to 8 p.m., so there is a good chance that the products are available if they appear online.

Available

€109.99

1 €98.99 1
YSS FORK SPRING SET - PR300I050-075S490
10048827

The product will be ordered from the manufacturer for you. Depending on availability, longer delivery times are also possible. We'll let you know if that's the case. You can of course cancel your delivery at any time free of charge.

Available in 7-21 days

€109.99

1 €98.99 1
YSS FORK SPRING SET - PR300I080-110S515
10048820

The item is in stock and will be delivered in 2-5 working days. Note: Stocks are updated online every hour on working days from 7 a.m. to 8 p.m., so there is a good chance that the products are available if they appear online.

Available

€109.99

1 €98.99 1
YSS FORK SPRING SET - PR305I057-091S330
10048829

The item is in stock and will be delivered in 2-5 working days. Note: Stocks are updated online every hour on working days from 7 a.m. to 8 p.m., so there is a good chance that the products are available if they appear online.

Available

€109.99

1 €98.99 1
YSS FORK SPRING SET - PR305I058-095S427
10048808

The item is in stock and will be delivered in 2-5 working days. Note: Stocks are updated online every hour on working days from 7 a.m. to 8 p.m., so there is a good chance that the products are available if they appear online.

Available

€109.99

1 €98.99 1
YSS FORK SPRING SET - PR305I060-095S520
10048804

The product will be ordered from the manufacturer for you. Depending on availability, longer delivery times are also possible. We'll let you know if that's the case. You can of course cancel your delivery at any time free of charge.

Available in 7-21 days

€109.99

1 €98.99 1
YSS FORK SPRING SET - PR315I069-143S560
10048830

The item is in stock and will be delivered in 2-5 working days. Note: Stocks are updated online every hour on working days from 7 a.m. to 8 p.m., so there is a good chance that the products are available if they appear online.

Available

€109.99

1 €98.99 1
YSS FORK SPRING SET - PR320I050-077S515
10048816

The item is in stock and will be delivered in 2-5 working days. Note: Stocks are updated online every hour on working days from 7 a.m. to 8 p.m., so there is a good chance that the products are available if they appear online.

Available

€109.99

1 €98.99 1
YSS FORK SPRING SET - PR320I057-087S560
10048800

The product will be ordered from the manufacturer for you. Depending on availability, longer delivery times are also possible. We'll let you know if that's the case. You can of course cancel your delivery at any time free of charge.

Available in 7-21 days

€109.99

1 €98.99 1
YSS FORK SPRING SET - PR320I064-077S590
10048812

The item is in stock and will be delivered in 2-5 working days. Note: Stocks are updated online every hour on working days from 7 a.m. to 8 p.m., so there is a good chance that the products are available if they appear online.

Available

€109.99

1 €98.99 1
YSS FORK SPRING SET - PR320I070-095S465
10048815

The item is in stock and will be delivered in 2-5 working days. Note: Stocks are updated online every hour on working days from 7 a.m. to 8 p.m., so there is a good chance that the products are available if they appear online.

Available

€109.99

1 €98.99 1
YSS FORK SPRING SET - PR320I090-140S495
10048819

The item is in stock and will be delivered in 2-5 working days. Note: Stocks are updated online every hour on working days from 7 a.m. to 8 p.m., so there is a good chance that the products are available if they appear online.

Available

€109.99

1 €69.99 1
YSS FORK SPRING SET - PR340I055-075S585
10048809

The item is in stock and will be delivered in 2-5 working days. Note: Stocks are updated online every hour on working days from 7 a.m. to 8 p.m., so there is a good chance that the products are available if they appear online.

Available

€109.99

1 €98.99 1
YSS FORK SPRING SET - PR340I090-120S465
10048825

The item is in stock and will be delivered in 2-5 working days. Note: Stocks are updated online every hour on working days from 7 a.m. to 8 p.m., so there is a good chance that the products are available if they appear online.

Available

€109.99

1 €98.99 1
YSS FORK SPRING SET - PR345I050-077S275
10048817

The item is in stock and will be delivered in 2-5 working days. Note: Stocks are updated online every hour on working days from 7 a.m. to 8 p.m., so there is a good chance that the products are available if they appear online.

Available

€109.99

1 €98.99 1
YSS FORK SPRING SET - PR350I065-090S330
10048803

The item is in stock and will be delivered in 2-5 working days. Note: Stocks are updated online every hour on working days from 7 a.m. to 8 p.m., so there is a good chance that the products are available if they appear online.

Available

€109.99

1 €98.99 1
YSS FORK SPRING SET - PR350I070-100S312
10048826

The item is in stock and will be delivered in 2-5 working days. Note: Stocks are updated online every hour on working days from 7 a.m. to 8 p.m., so there is a good chance that the products are available if they appear online.

Available

€109.99

1 €98.99 1
YSS FORK SPRING SET - PR350I070-115S385
10048822

The product will be ordered from the manufacturer for you. Depending on availability, longer delivery times are also possible. We'll let you know if that's the case. You can of course cancel your delivery at any time free of charge.

Available in 7-21 days

€109.99

1 €98.99 1
YSS FORK SPRING SET - PR350I070-115S410
10048823

The product will be ordered from the manufacturer for you. Depending on availability, longer delivery times are also possible. We'll let you know if that's the case. You can of course cancel your delivery at any time free of charge.

Available in 7-21 days

€109.99

1 €98.99 1
YSS FORK SPRING SET - PR350I072-104S280
10048828

The product will be ordered from the manufacturer for you. Depending on availability, longer delivery times are also possible. We'll let you know if that's the case. You can of course cancel your delivery at any time free of charge.

Available in 7-21 days

€109.99

1 €98.99 1
YSS FORK SPRING SET - PR350I075-090S350
10048806

The item is in stock and will be delivered in 2-5 working days. Note: Stocks are updated online every hour on working days from 7 a.m. to 8 p.m., so there is a good chance that the products are available if they appear online.

Available

€109.99

1 €98.99 1
YSS FORK SPRING SET - PR350I075-105S375
10048811

The item is in stock and will be delivered in 2-5 working days. Note: Stocks are updated online every hour on working days from 7 a.m. to 8 p.m., so there is a good chance that the products are available if they appear online.

Available

€109.99

1 €98.99 1
YSS FORK SPRING SET - PR350I075-115S430
10048805

The item is in stock and will be delivered in 2-5 working days. Note: Stocks are updated online every hour on working days from 7 a.m. to 8 p.m., so there is a good chance that the products are available if they appear online.

Available

€109.99

1 €98.99 1
YSS FORK SPRING SET - PR355J065-105S365
10048821

The product will be ordered from the manufacturer for you. Depending on availability, longer delivery times are also possible. We'll let you know if that's the case. You can of course cancel your delivery at any time free of charge.

Available in 7-21 days

€109.99

1 €98.99 1
YSS FORK SPRING SET - PR360I051-074S530
10048814

The item is in stock and will be delivered in 2-5 working days. Note: Stocks are updated online every hour on working days from 7 a.m. to 8 p.m., so there is a good chance that the products are available if they appear online.

Available

€109.99

1 €98.99 1
YSS FORK SPRING SET - PR365I066-120S387
10048810

The item is in stock and will be delivered in 2-5 working days. Note: Stocks are updated online every hour on working days from 7 a.m. to 8 p.m., so there is a good chance that the products are available if they appear online.

Available

€99.99

1 €89.99 1
YSS FORK SPRING SET - PR365L056-080S308
10048813

The product will be ordered from the manufacturer for you. Depending on availability, longer delivery times are also possible. We'll let you know if that's the case. You can of course cancel your delivery at any time free of charge.

Available in 7-21 days

€109.99

1 €98.99 1
YSS FORK SPRING SET - PR375L080-100S255
10048807

The item is in stock and will be delivered in 2-5 working days. Note: Stocks are updated online every hour on working days from 7 a.m. to 8 p.m., so there is a good chance that the products are available if they appear online.

Available

€109.99

1 €98.99 1
YSS FORK SPRING SET - PR385I085-105S283
10048818

The product will be ordered from the manufacturer for you. Depending on availability, longer delivery times are also possible. We'll let you know if that's the case. You can of course cancel your delivery at any time free of charge.

Available in 7-21 days

€109.99

1 €98.99 1
YSS FORK SPRING SET - PR400S075-119S348
10048824

The product will be ordered from the manufacturer for you. Depending on availability, longer delivery times are also possible. We'll let you know if that's the case. You can of course cancel your delivery at any time free of charge.

Available in 7-21 days

€109.99

1 €98.99 1
YSS FORK SPRING SET - PR420S070-100S282
10048831

The item is in stock and will be delivered in 2-5 working days. Note: Stocks are updated online every hour on working days from 7 a.m. to 8 p.m., so there is a good chance that the products are available if they appear online.

Available

€109.99

1 €98.99 1