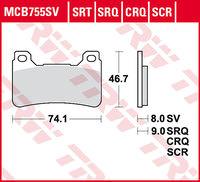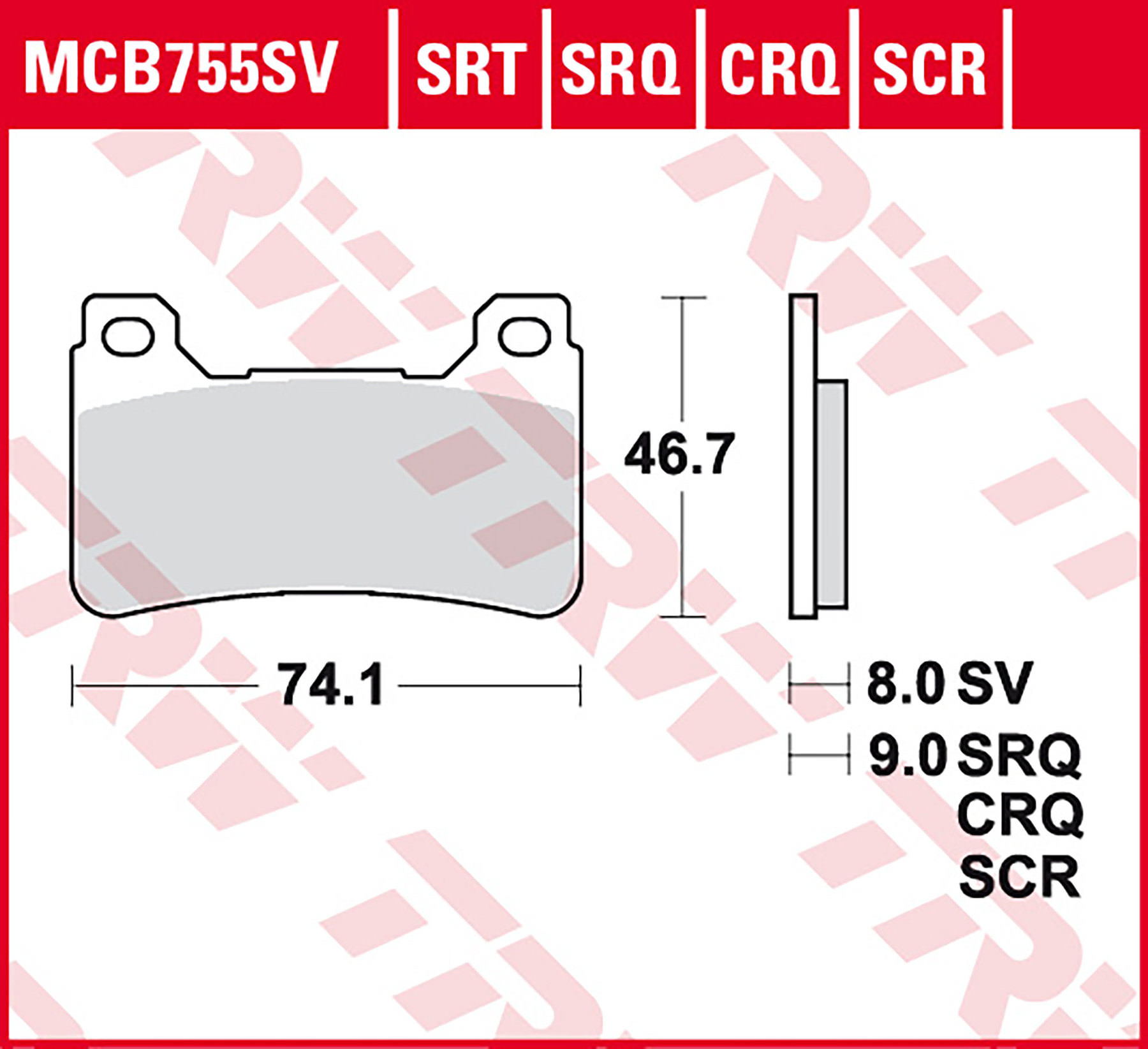 TRW BRAKE-PADS SINTER
MCB 755 SRT
The item is in stock and will be delivered in 2-5 working days. Note: Stocks are updated online every hour on working days from 7 a.m. to 8 p.m., so there is a good chance that the products are available if they appear online.
Available
Free delivery on orders over €199.00
2 year return policy
Fast delivery
TRW BRAKE-PADS SINTER
MCB 755 SRT
You've never experienced braking like this: with sintered metal brake pads from TRW. They're specially designed for the challenges and high thermal loads of the race circuit or touring in the mountains. An innovative production process is used to enable the brake pads to withstand very high loads. At the same time, brakes fitted with these pads give you perfect braking control
These brake pads are a top-quality product offering maximum braking performance with minimal wear.
Exceptional temperature resistance
Excellent response and highly effective braking, even when cold
Superb resilience, including for amateur racing
Good disc compatibility
Type-approved in Germany, street-legal
The price is per set for one brake disc, if you have 2 discs, please order 2x.
The exact dimensions of the brake pads are given in the "Documents" section.

Be sure to watch the Louis Video *How to change brake pads*. Our tips and tricks make it a very simple job!

It is essential to follow the safety instructions printed on the packaging. Organic brake pads can be found in a separate section.
Manufacturer details: TRW

Every second counts when you brake!

TRW Lucas has been manufacturing premium-quality motorbike spare parts since 1976 (ISO 9001, ISO/TS 16949) and is the German market leader for brake discs, brake pads and steel-braided lines. Every time that product tests have been carried out by trade publications over the past 30 years, they have confirmed the excellent quality of these products. They have won test after test. Every second counts when you brake! Don't settle for anything less than quality products from the market leader.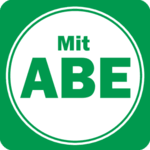 German type approval ("ABE)" allows the relevant accessory to be used on the vehicle models listed in the test report. Here it is the type abbreviation and not the maker's designation that is important for identifying the vehicle. The test report must be carried when riding in case it needs to be presented at a road-side check or vehicle safety inspection.
Accessories with type approval do not have to be registered in the vehicle documents! Those who do not want to carry the test report with them all the time can (for example) arrange to have the product registered by the Technical Inspection Association (subject to a charge).
If the accessory is to be used on a vehicle that is not listed in the type approval, an individual component approval is required. Although ABE type approval confirms the proper installation and safety of the product, it is the inspector who has to decide according to his technical expertise whether it is suitable for use on the vehicle.

An electric scooter with "ABE" approval has a type approval for Germany stating that the relevant vehicle satisfies all the relevant requirements of the eKFV (Small Electric Vehicle Ordinance in Germany) for the approval. In addition, insurance of the electric scooter is compulsory and use on pavements is forbidden. It can only be ridden on cycle paths and on the road (if a cycle path is not available). The minimum age for riding an electric scooter is 14 years. Although a driving license and helmet are not mandatory, they are highly recommended. An electric scooter must always be ridden solo.
Product
Art. No.
Availability
Price
Actions
BRAKE-PADS SINTERMETALL - MCB 681 SRT
10044786

The item is in stock and will be delivered in 2-5 working days. Note: Stocks are updated online every hour on working days from 7 a.m. to 8 p.m., so there is a good chance that the products are available if they appear online.

Available

€50.95 1
BRAKE-PADS SINTERMETALL - MCB 682 SRT
10044787

The item is in stock and will be delivered in 2-5 working days. Note: Stocks are updated online every hour on working days from 7 a.m. to 8 p.m., so there is a good chance that the products are available if they appear online.

Available

€50.95 1
TRW BRAKE-PADS SINTER - MCB 602 SRT FRONT
10051431

The item is in stock and will be delivered in 2-5 working days. Note: Stocks are updated online every hour on working days from 7 a.m. to 8 p.m., so there is a good chance that the products are available if they appear online.

Available

€50.95 1
TRW BRAKE-PADS SINTER - MCB 611 SRT
10044795

The item is in stock and will be delivered in 2-5 working days. Note: Stocks are updated online every hour on working days from 7 a.m. to 8 p.m., so there is a good chance that the products are available if they appear online.

Available

€50.95 1
TRW BRAKE-PADS SINTER - MCB 683 SRT
10044791

The item is in stock and will be delivered in 2-5 working days. Note: Stocks are updated online every hour on working days from 7 a.m. to 8 p.m., so there is a good chance that the products are available if they appear online.

Available

€50.95 1
TRW BRAKE-PADS SINTER - MCB 703 SRT
10044788

The item is in stock and will be delivered in 2-5 working days. Note: Stocks are updated online every hour on working days from 7 a.m. to 8 p.m., so there is a good chance that the products are available if they appear online.

Available

€50.95 1
TRW BRAKE-PADS SINTER - MCB 748 SRT
10044793

The item is in stock and will be delivered in 2-5 working days. Note: Stocks are updated online every hour on working days from 7 a.m. to 8 p.m., so there is a good chance that the products are available if they appear online.

Available

€50.95 1
TRW BRAKE-PADS SINTER - MCB 752 SRT
10044797

The item is in stock and will be delivered in 2-5 working days. Note: Stocks are updated online every hour on working days from 7 a.m. to 8 p.m., so there is a good chance that the products are available if they appear online.

Available

€50.95 1
TRW BRAKE-PADS SINTER - MCB 755 SRT
10044792

The item is in stock and will be delivered in 2-5 working days. Note: Stocks are updated online every hour on working days from 7 a.m. to 8 p.m., so there is a good chance that the products are available if they appear online.

Available

€50.95 1
TRW BRAKE-PADS SINTER - MCB 776 SRT
10044799

The item is in stock and will be delivered in 2-5 working days. Note: Stocks are updated online every hour on working days from 7 a.m. to 8 p.m., so there is a good chance that the products are available if they appear online.

Available

€70.95 1
TRW BRAKE-PADS SINTER - MCB 792 SRT
10044796

The item is in stock and will be delivered in 2-5 working days. Note: Stocks are updated online every hour on working days from 7 a.m. to 8 p.m., so there is a good chance that the products are available if they appear online.

Available

€61.95 1
TRW BRAKE-PADS SINTER - MCB 829 SRT
10044790

The item is in stock and will be delivered in 2-5 working days. Note: Stocks are updated online every hour on working days from 7 a.m. to 8 p.m., so there is a good chance that the products are available if they appear online.

Available

€70.95 1
TRW BRAKE-PADS SINTER - MCB 856 SRT
10044798

The item is in stock and will be delivered in 2-5 working days. Note: Stocks are updated online every hour on working days from 7 a.m. to 8 p.m., so there is a good chance that the products are available if they appear online.

Available

€50.95 1
TRW BRAKE-PADS SINTER - MCB 858 SRT
10044794

The item is in stock and will be delivered in 2-5 working days. Note: Stocks are updated online every hour on working days from 7 a.m. to 8 p.m., so there is a good chance that the products are available if they appear online.

Available

€61.95 1
TRW BRAKE-PADS SINTER - MCB 901 SRT
10044789

The item is in stock and will be delivered in 2-5 working days. Note: Stocks are updated online every hour on working days from 7 a.m. to 8 p.m., so there is a good chance that the products are available if they appear online.

Available

€61.95 1