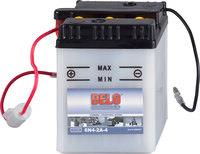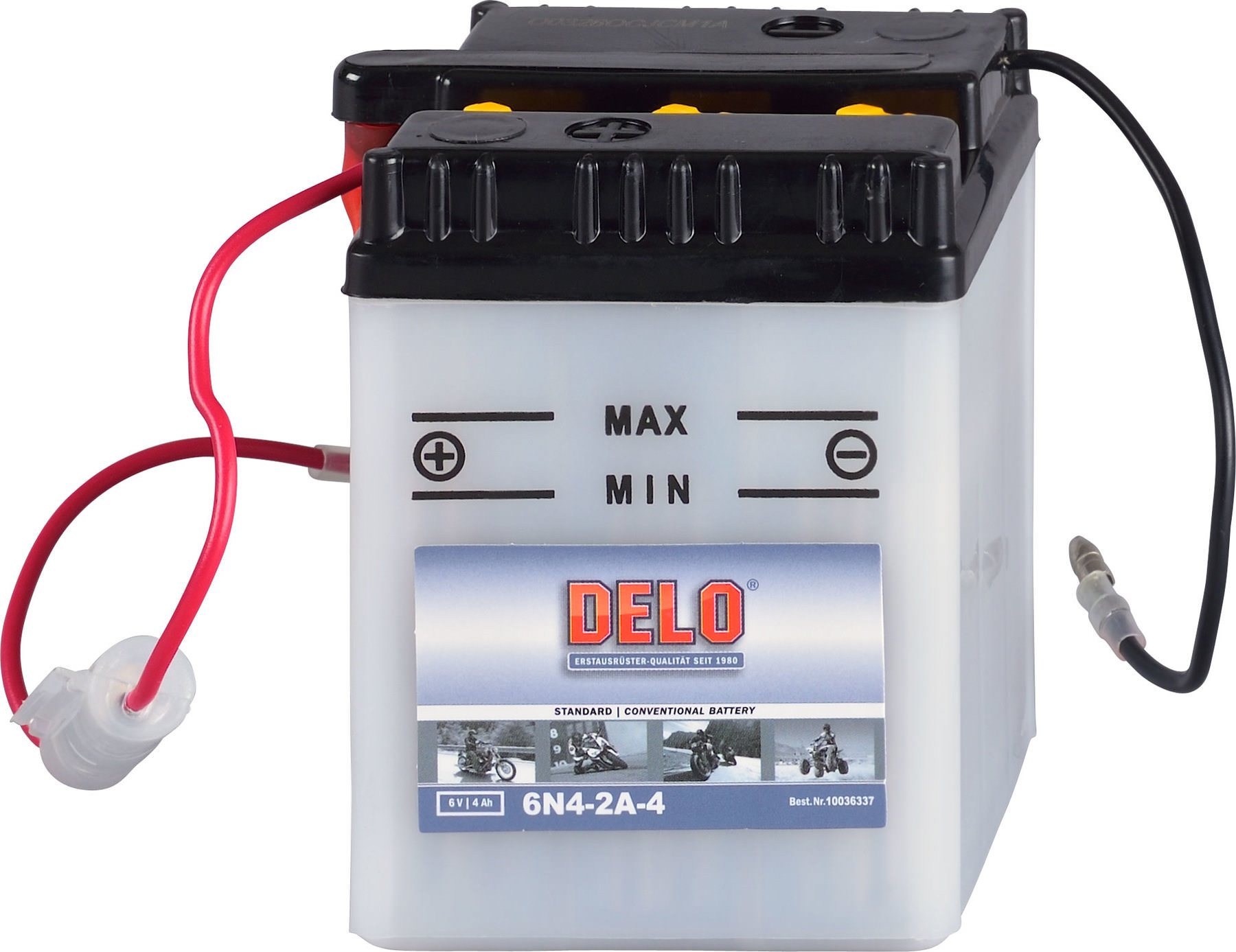 DELO STANDARD BATTERY INCLUDING ACID PACK
Quicktip Batterie Ein- und Ausbau
DELO BATTERY + BCD ACID
6N4-2A-4 6V/4AH SAE25A
Important notes
Figure similar - Photo shows previous modell
The item is in stock and will be delivered in 2-4 working days. Note: Stocks are updated online every hour on working days from 7 a.m. to 8 p.m., so there is a good chance that the products are available if they appear online.
Available
2 Comparison of price as a set and total price if purchased individually
Free delivery on orders over €199.00
2 year return policy
Purchase on invoice
Fast Delivery
Go to currency converter
Please select the desired exchange rate* and enter an amount.
* The source of the exchange rate is the European Central Bank. (As at 19.10.2020). The exchange rate is for information purposes only; it does not provide binding prices for an exchange. In practice, for individual exchanges, the prices for buying and selling currencies can deviate to a greater or lesser extent from these rates – depending on the country, financial institution or bureau de change and also the method of payment. The conversion is given as an indication only.
DELO BATTERY + BCD ACID
6N4-2A-4 6V/4AH SAE25A
DELO motorcycle batteries have been upholding the highest quality standards for more than 40 years. Like all DELO batteries, this standard battery is characterised by exceptionally high cranking power for this type of battery, high power reserves and an exceptionally long service life. Your new standard battery comes with screws (nuts if required), vent hose, acid pack, and detailed operating and installation instructions.
Please note:
batteries are supplied dry and partially charged. The quantity of acid required to fill your battery is also included.

After installation, the acid level must be checked about once a month and, if necessary, topped up with distilled water. No more acid may be added after initial filling!

To prevent acid burns, we recommend using a funnel or acid bottle when filling the battery! Always wear suitable gloves and protective glasses when handling battery acid!
Good to know:
If you are having trouble finding the right battery for your vehicle, please use our product listing in the "Bike database" (top navigation bar). As a general rule, the motorcycle manufacturer specifies the right type of battery for your motorcycle. If you're unsure, simply take a look in your motorcycle owner's manual or check the label on your old battery.

Before initial filling and installation, it is essential to check that the battery fits in your vehicle (size), that the terminals and air flow extraction are in the correct position, and the voltage (V) and capacity (Ah) are correct. Please carefully read the package insert and the safety instructions it contains!

You can find more information in our "Documents" section.
Danger. May be corrosive to metals. Causes severe skin burns and eye damage.
Manufacturer details: Delo

Our appreciation of power

Delo starter batteries are made exclusively for Louis at one of the most cutting-edge battery manufacturers in the world. In order to guarantee the high quality standards of Delo starter batteries, only the highest quality materials are used in their production. Furthermore, each batch is then also thoroughly tried and tested in our Louis test laboratory before going to market. Delo has proven a million times over that it stands for motorcycle battery excellence in OEM quality. Key features of these batteries are their reliability, their cold start performance and their outstanding service life. Not for nothing have Delo starter batteries proven themselves in a multitude of tests ...

Standard batteries
Standard batteries are partially precharged in a dry state and need to be filled with acid (order acid separately) and then charged with a suitable charging device.
The acid is stored in the cells in liquid form.
The level of acid should be checked about once a month. Only use distilled water for topping up.
Never add more acid!

GHS05
Product
Art. No.
Availability
Price
Actions
DELO BATTERY + BCD ACID - 12C16A-3B 51814 12V/19AH

Important notes

Figure similar - Photo shows previous modell

10059816

The item is in stock and will be delivered in 2-4 working days. Note: Stocks are updated online every hour on working days from 7 a.m. to 8 p.m., so there is a good chance that the products are available if they appear online.

Available

€69.99

1 2 €68.22 1
DELO BATTERY + BCD ACID - 12N5.5A-3B 12V/5.5AH

Important notes

Figure similar - Photo shows previous modell

10059806

The item is in stock and will be delivered in 2-4 working days. Note: Stocks are updated online every hour on working days from 7 a.m. to 8 p.m., so there is a good chance that the products are available if they appear online.

Available

€29.99

1 2 €29.23 1
DELO BATTERY + BCD ACID - 6N4-2A-4 6V/4AH SAE25A

Important notes

Figure similar - Photo shows previous modell

10059800

The item is in stock and will be delivered in 2-4 working days. Note: Stocks are updated online every hour on working days from 7 a.m. to 8 p.m., so there is a good chance that the products are available if they appear online.

Available

€14.99

1 2 €14.61 1
DELO BATTERY + BCD ACID - 6N4A-4D 6V/4AH SAE35A

Important notes

Figure similar - Photo shows previous modell

10059799

The item is in stock and will be delivered in 2-4 working days. Note: Stocks are updated online every hour on working days from 7 a.m. to 8 p.m., so there is a good chance that the products are available if they appear online.

Available

€14.99

1 2 €14.61 1
DELO BATTERY + BCD ACID - 6N4B-2A-3 6V/4AH SAE24A

Important notes

Figure similar - Photo shows previous modell

10059801

The item is in stock and will be delivered in 2-4 working days. Note: Stocks are updated online every hour on working days from 7 a.m. to 8 p.m., so there is a good chance that the products are available if they appear online.

Available

€14.99

1 2 €14.61 1
DELO BATTERY + BCD ACID - HYB16A-A 12V/16AH SAE140A

Important notes

Figure similar - Photo shows previous modell

10059790

The item is in stock and will be delivered in 2-4 working days. Note: Stocks are updated online every hour on working days from 7 a.m. to 8 p.m., so there is a good chance that the products are available if they appear online.

Available

€89.99

1 2 €87.72 1
DELO BATTERY + BCD ACID - YB10L-A2 12V/11AH SAE140A

Important notes

Figure similar - Photo shows previous modell

10059786

The item is in stock and will be delivered in 2-4 working days. Note: Stocks are updated online every hour on working days from 7 a.m. to 8 p.m., so there is a good chance that the products are available if they appear online.

Available

€49.99

1 2 €48.72 1
DELO BATTERY + BCD ACID - YB12A-A 12V/12AH SAE135A

Important notes

Figure similar - Photo shows previous modell

10059787

The item is in stock and will be delivered in 2-4 working days. Note: Stocks are updated online every hour on working days from 7 a.m. to 8 p.m., so there is a good chance that the products are available if they appear online.

Available

€54.99

1 2 €53.60 1
DELO BATTERY + BCD ACID - YB12A-B 12V/12AH SAE135A

Important notes

Figure similar - Photo shows previous modell

10059784

The item is in stock and will be delivered in 2-4 working days. Note: Stocks are updated online every hour on working days from 7 a.m. to 8 p.m., so there is a good chance that the products are available if they appear online.

Available

€54.99

1 2 €53.60 1
DELO BATTERY + BCD ACID - YB12AL-A/AI 12V/12AH

Important notes

Figure similar - Photo shows previous modell

10059811

The item is in stock and will be delivered in 2-4 working days. Note: Stocks are updated online every hour on working days from 7 a.m. to 8 p.m., so there is a good chance that the products are available if they appear online.

Available

€54.99

1 2 €53.60 1
DELO BATTERY + BCD ACID - YB14-A2 12V/14AH SAE160A

Important notes

Figure similar - Photo shows previous modell

10059788

The item is in stock and will be delivered in 2-4 working days. Note: Stocks are updated online every hour on working days from 7 a.m. to 8 p.m., so there is a good chance that the products are available if they appear online.

Available

€59.99

1 2 €58.47 1
DELO BATTERY + BCD ACID - YB14L-A2/12N14-3A 12V/14A

Important notes

Figure similar - Photo shows previous modell

10059812

The item is in stock and will be delivered in 2-4 working days. Note: Stocks are updated online every hour on working days from 7 a.m. to 8 p.m., so there is a good chance that the products are available if they appear online.

Available

€59.99

1 2 €58.47 1
DELO BATTERY + BCD ACID - YB16-B 12V/19AH SAE230A

Important notes

Figure similar - Photo shows previous modell

10059794

The item is in stock and will be delivered in 2-4 working days. Note: Stocks are updated online every hour on working days from 7 a.m. to 8 p.m., so there is a good chance that the products are available if they appear online.

Available

€89.99

1 2 €87.72 1
DELO BATTERY + BCD ACID - YB16AL-A2 12V/16AH

Important notes

Figure similar - Photo shows previous modell

10059814

The item is in stock and will be delivered in 2-4 working days. Note: Stocks are updated online every hour on working days from 7 a.m. to 8 p.m., so there is a good chance that the products are available if they appear online.

Available

€79.99

1 2 €77.97 1
DELO BATTERY + BCD ACID - YB16L-B 12V/19AH SAE230A

Important notes

Figure similar - Photo shows previous modell

10059783

The item is in stock and will be delivered in 2-4 working days. Note: Stocks are updated online every hour on working days from 7 a.m. to 8 p.m., so there is a good chance that the products are available if they appear online.

Available

€79.99

1 2 €77.97 1
DELO BATTERY + BCD ACID - YB3L-A 12V/3AH SAE32A

Important notes

Figure similar - Photo shows previous modell

10059780

The item is in stock and will be delivered in 2-4 working days. Note: Stocks are updated online every hour on working days from 7 a.m. to 8 p.m., so there is a good chance that the products are available if they appear online.

Available

€24.99

1 2 €24.36 1
DELO BATTERY + BCD ACID - YB3L-B FB3L-B 12V/3AH

Important notes

Figure similar - Photo shows previous modell

10059805

The item is in stock and will be delivered in 2-4 working days. Note: Stocks are updated online every hour on working days from 7 a.m. to 8 p.m., so there is a good chance that the products are available if they appear online.

Available

€24.99

1 2 €24.36 1
DELO BATTERY + BCD ACID - YB9L-A2 12V/9AH SAE90A

Important notes

Figure similar - Photo shows previous modell

10059785

The item is in stock and will be delivered in 2-4 working days. Note: Stocks are updated online every hour on working days from 7 a.m. to 8 p.m., so there is a good chance that the products are available if they appear online.

Available

€39.99

1 2 €38.98 1
2 Comparison of price as a set and total price if purchased individually