Free delivery on orders over €199.00
2 year return policy
Fast delivery
Vanucci ART X.1
LEATHER COMBI TROUSERS
Sturdy cowhide, at least 1.2 mm thick, livened up with a few sporty details plus attractive design - that's the new basic motorcycle combination trousers, the Vanucci ART X.1. A great choice: these trousers fit brilliantly and can be combined with many different jackets (such as the Vanucci Montigo 3 Combination Jacket).
Comfort/features:

Air vent on the thighs
Perforated stretch fabric at the back of the knees, 82% polyamide, 18% elastane
Power Stretch panels over the knees and seat, 100% polyamide
All-round and short connection zipper
Can be upgraded with knee sliders
Knee sliders not included
2 outside pockets
Protection:

Removable SUPER SHIELD HTP knee and hip protectors
Knee protectors individually positionable by means of fleece insert
3M Scotchlite Reflective Material
ISO 4916 safety seams at the impact points
Material:

Sturdy cowhide, at least 1.2 mm thick
Double layer of leather on knees and seat
Mesh lining (100% polyester)
Manufacturer details: Vanucci

The premium brand from Louis

The Vanucci name is synonymous with premium motorbike clothing for sports and touring bikers who value the highest quality. The collection includes everything from enduro suits for travelling round the world and sporty leather suits for speedy laps of the race course, through to neck warmers and touring boots. Whether you prefer leather or textile, every Vanucci garment offers high-quality materials and high-tech features, such as Sympatex and Outlast, combined with distinctive Italian styling plus all the experience and passion of designer Enrico Vanucci. The same applies to the intelligently designed and sturdy Vanucci luggage systems.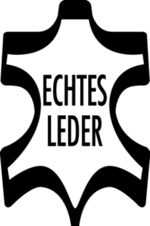 Most traditional, high-quality outer material with cult status for motorcycle clothing and accessories. Unmistakable in its natural, high-quality look, the strong image, ideally suited to both figure-hugging and highly functional designs. The biker's "second skin" still has the edge over any textile material when it comes to safety and resistance to abrasion and tearing. The way the material stretches as the clothing is worn means that leather clothing adapts to the body contours ideally, thus also guaranteeing that protectors fit optimally. Leather clothing should therefore always be bought with a close fit. Impregnation, leather oil and surface coatings guarantee good weather protection and a degree of rainproofing, but unfortunately also limit the breathability. Relatively heavy, but enthusiasts value this as a "quality feature". Looked after properly, it is very durable. Because leather does not itself offer much thermal insulation, the other features of the garment, or the base layers of clothing, must provide some help here.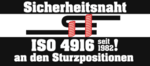 ISO 4916 safety seam
Motorcycle clothing should offer you the best possible protection if you take a tumble.
If you slide across a rough asphalt surface, an abrasion-resistant outer fabric only helps as long as the seams can take the strain. This is why the safety-critical seams on many Louis products are manufactured according to the ISO 4916 standard, that is to say with a visible and a concealed seam. This means that the material will still hold together if the visible seam is torn open by friction.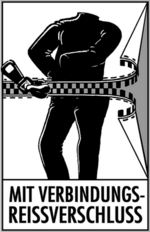 This clothing has a connecting zip.
Product details
outer shell: Cowhide
reinforcement: Double layer on knees and seat
permanent lining: 100% polyester mesh lining
additional feature: Partially stretch material
Removable protectors: On hips and knees
width adjustment: Waist and ankles
Reflective material: 3M ScotchliteTM
Waterproof outside pockets: 0
Non waterproof outside pockets: 2
Knee sliders: can be attached
fit: ergonomic / mid-waist
Country of manufacture: Vietnam
Certification: EN 17092:2020
Class: A
Overview of product features
ISO 4916 safety seams at impact points
Height-adjustable knee protector
Stretchable application
All-round connection zipper
Short connection zipper
Padding
Product
Colour
Size
Art. No.
Availability
Price
Actions
VANUCCI ART X.1 SIZE 24 - LEATHER TROUSERS, BLACK
Black
24
20618124

The item is in stock and will be delivered in 2-5 working days. Note: Stocks are updated online every hour on working days from 7 a.m. to 8 p.m., so there is a good chance that the products are available if they appear online.

Available

€299.99 1
VANUCCI ART X.1 SIZE 25 - LEATHER TROUSERS, BLACK
Black
25
20618125

The item is in stock and will be delivered in 2-5 working days. Note: Stocks are updated online every hour on working days from 7 a.m. to 8 p.m., so there is a good chance that the products are available if they appear online.

Available

€299.99 1
VANUCCI ART X.1 SIZE 26 - LEATHER TROUSERS, BLACK
Black
26
20618126

The item is in stock and will be delivered in 2-5 working days. Note: Stocks are updated online every hour on working days from 7 a.m. to 8 p.m., so there is a good chance that the products are available if they appear online.

Available

€299.99 1
VANUCCI ART X.1 SIZE 27 - LEATHER TROUSERS, BLACK
Black
27
20618127

The item is in stock and will be delivered in 2-5 working days. Note: Stocks are updated online every hour on working days from 7 a.m. to 8 p.m., so there is a good chance that the products are available if they appear online.

Available

€299.99 1
VANUCCI ART X.1 SIZE 28 - LEATHER TROUSERS, BLACK
Black
28
20618128

The item is in stock and will be delivered in 2-5 working days. Note: Stocks are updated online every hour on working days from 7 a.m. to 8 p.m., so there is a good chance that the products are available if they appear online.

Available

€299.99 1
VANUCCI ART X.1 SIZE 44 - LEATHER TROUSERS, BLACK
Black
44
20618144

The item is in stock and will be delivered in 2-5 working days. Note: Stocks are updated online every hour on working days from 7 a.m. to 8 p.m., so there is a good chance that the products are available if they appear online.

Available

€299.99 1
VANUCCI ART X.1 SIZE 46 - LEATHER TROUSERS, BLACK
Black
46
20618146

The item is in stock and will be delivered in 2-5 working days. Note: Stocks are updated online every hour on working days from 7 a.m. to 8 p.m., so there is a good chance that the products are available if they appear online.

Available

€299.99 1
VANUCCI ART X.1 SIZE 48 - LEATHER TROUSERS, BLACK
Black
48
20618148

The item is in stock and will be delivered in 2-5 working days. Note: Stocks are updated online every hour on working days from 7 a.m. to 8 p.m., so there is a good chance that the products are available if they appear online.

Available

€299.99 1
VANUCCI ART X.1 SIZE 50 - LEATHER TROUSERS, BLACK
Black
50
20618150

The item is in stock and will be delivered in 2-5 working days. Note: Stocks are updated online every hour on working days from 7 a.m. to 8 p.m., so there is a good chance that the products are available if they appear online.

Available

€299.99 1
VANUCCI ART X.1 SIZE 52 - LEATHER TROUSERS, BLACK
Black
52
20618152

The item is in stock and will be delivered in 2-5 working days. Note: Stocks are updated online every hour on working days from 7 a.m. to 8 p.m., so there is a good chance that the products are available if they appear online.

Available

€299.99 1
VANUCCI ART X.1 SIZE 54 - LEATHER TROUSERS, BLACK
Black
54
20618154

The item is in stock and will be delivered in 2-5 working days. Note: Stocks are updated online every hour on working days from 7 a.m. to 8 p.m., so there is a good chance that the products are available if they appear online.

Available

€299.99 1
VANUCCI ART X.1 SIZE 56 - LEATHER TROUSERS, BLACK
Black
56
20618156

The item is in stock and will be delivered in 2-5 working days. Note: Stocks are updated online every hour on working days from 7 a.m. to 8 p.m., so there is a good chance that the products are available if they appear online.

Available

€299.99 1
VANUCCI ART X.1 SIZE 58 - LEATHER TROUSERS, BLACK
Black
58
20618158

The item is in stock and will be delivered in 2-5 working days. Note: Stocks are updated online every hour on working days from 7 a.m. to 8 p.m., so there is a good chance that the products are available if they appear online.

Available

€299.99 1
VANUCCI ART X.1 SIZE 60 - LEATHER TROUSERS, BLACK
Black
60
20618160

The item is in stock and will be delivered in 2-5 working days. Note: Stocks are updated online every hour on working days from 7 a.m. to 8 p.m., so there is a good chance that the products are available if they appear online.

Available

€299.99 1
VANUCCI ART X.1 SIZE 62 - LEATHER TROUSERS, BLACK
Black
62
20618162

The item is in stock and will be delivered in 2-5 working days. Note: Stocks are updated online every hour on working days from 7 a.m. to 8 p.m., so there is a good chance that the products are available if they appear online.

Available

€299.99 1
VANUCCI ART X.1 SIZE 64 - LEATHER TROUSERS, BLACK
Black
64
20618164

The item is in stock and will be delivered in 2-5 working days. Note: Stocks are updated online every hour on working days from 7 a.m. to 8 p.m., so there is a good chance that the products are available if they appear online.

Available

€299.99 1
VANUCCI ART X.1 SIZE 94 - LEATHER TROUSERS, BLACK
Black
94
20618194

The item is in stock and will be delivered in 2-5 working days. Note: Stocks are updated online every hour on working days from 7 a.m. to 8 p.m., so there is a good chance that the products are available if they appear online.

Available

€299.99 1
VANUCCI ART X.1 SIZE 98 - LEATHER TROUSERS, BLACK
Black
98
20618198

The item is in stock and will be delivered in 2-5 working days. Note: Stocks are updated online every hour on working days from 7 a.m. to 8 p.m., so there is a good chance that the products are available if they appear online.

Available

€299.99 1
VANUCCI ART X.1 SIZE 102 - LEATHER TROUSERS, BLACK
Black
102
20618102

The item is in stock and will be delivered in 2-5 working days. Note: Stocks are updated online every hour on working days from 7 a.m. to 8 p.m., so there is a good chance that the products are available if they appear online.

Available

€299.99 1
VANUCCI ART X.1 SIZE 106 - LEATHER TROUSERS, BLACK
Black
106
20618106

The item is in stock and will be delivered in 2-5 working days. Note: Stocks are updated online every hour on working days from 7 a.m. to 8 p.m., so there is a good chance that the products are available if they appear online.

Available

€299.99 1
VANUCCI ART X.1 SIZE 110 - LEATHER TROUSERS, BLACK
Black
110
20618110

The item is in stock and will be delivered in 2-5 working days. Note: Stocks are updated online every hour on working days from 7 a.m. to 8 p.m., so there is a good chance that the products are available if they appear online.

Available

€299.99 1
Issue 11-2021
PS magazine tested 9 two-piece leather suits in its 11-2021 issue. The Vanucci VSJ-2 jacket and Vanucci ART.X1 trousers were rated GOOD. The following features were given special mention:

- Good zippers
- Adjustable protectors
- Air vents
- Adjustable waistband
- Wide range of sizes

(8 out of 9 suits in the test were rated Good, and one was judged Very Good)