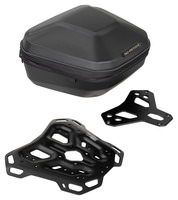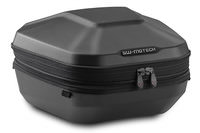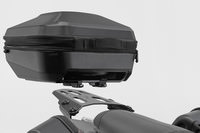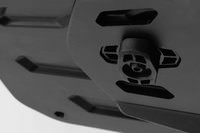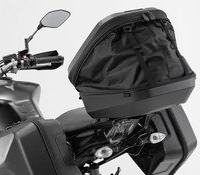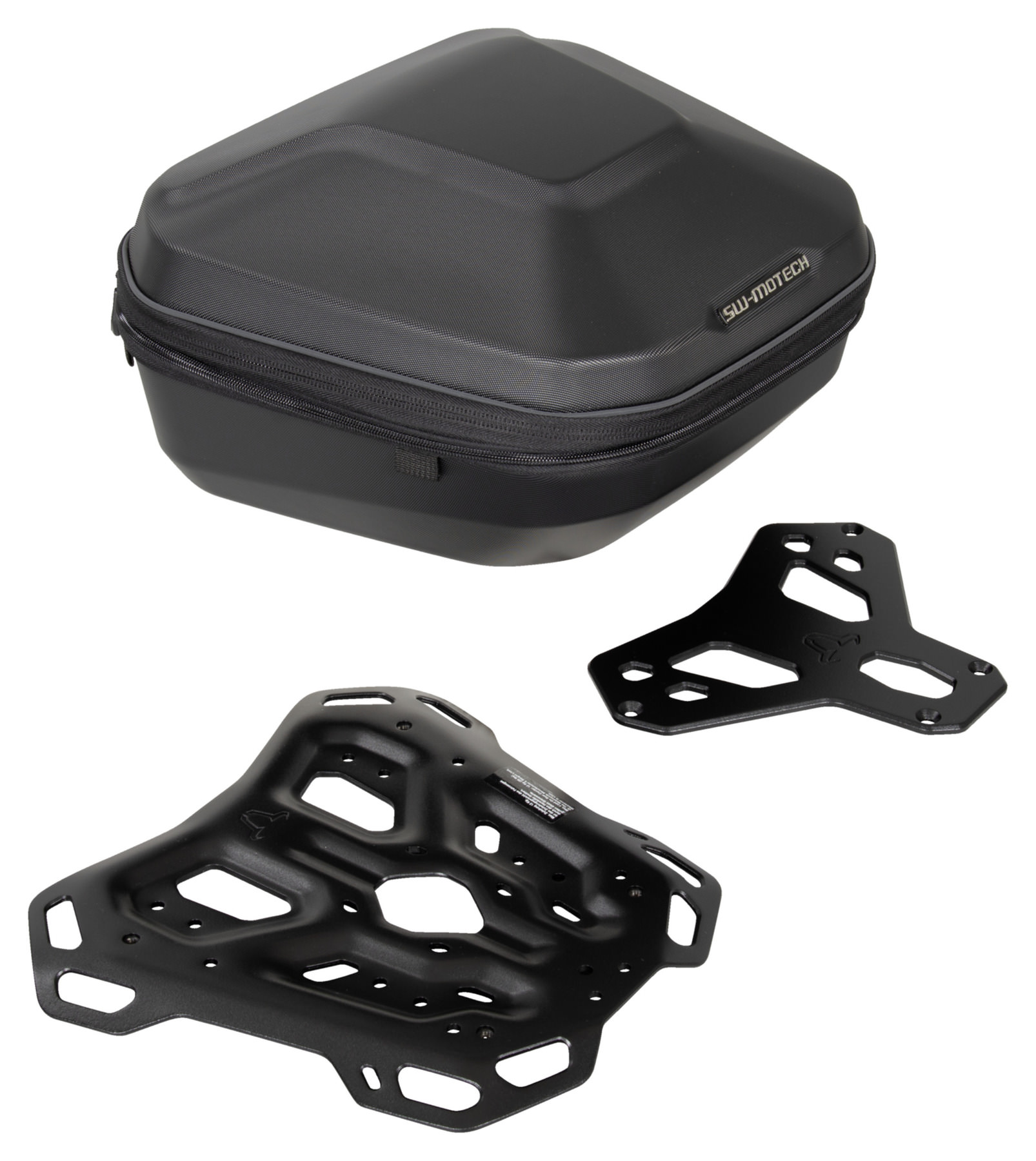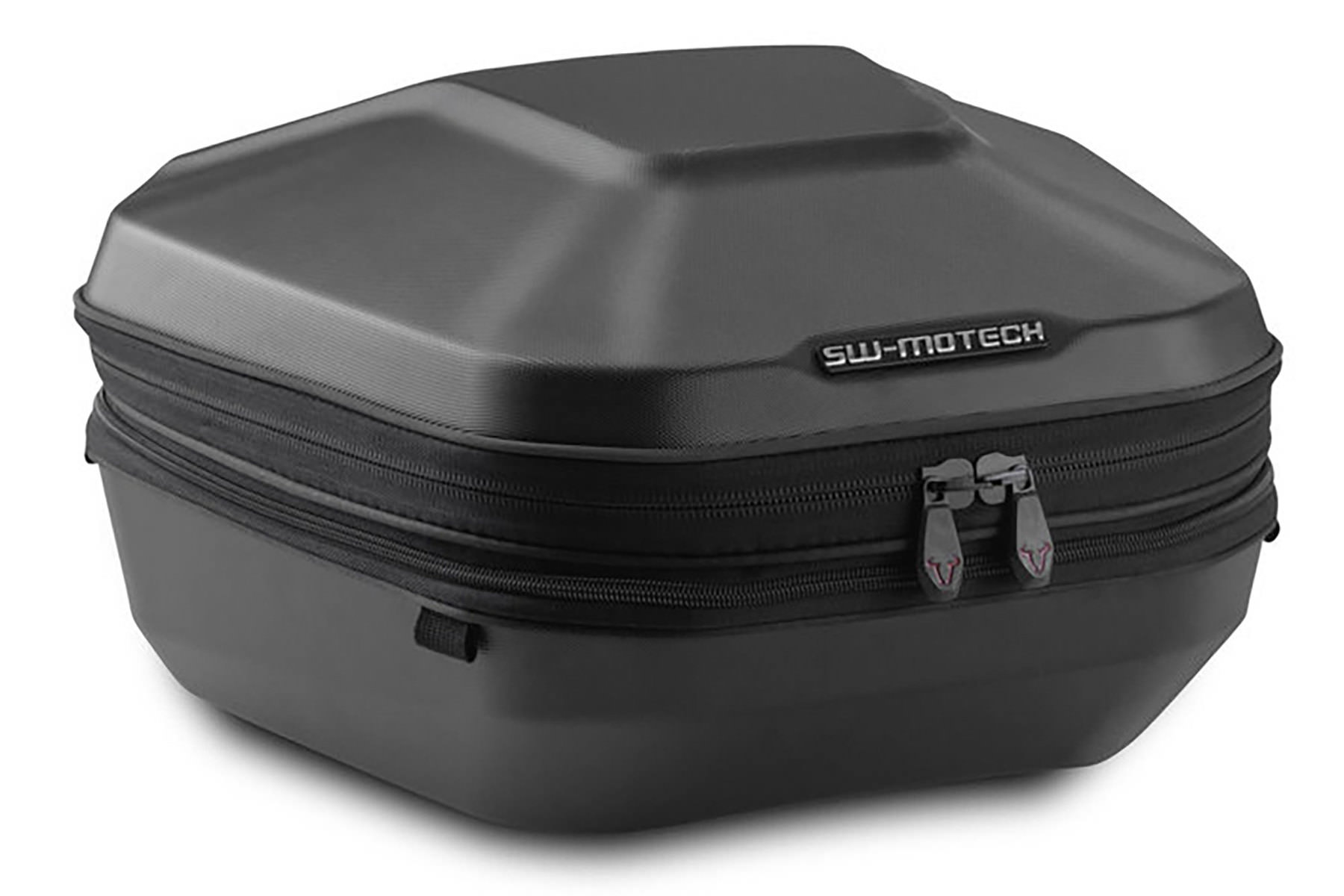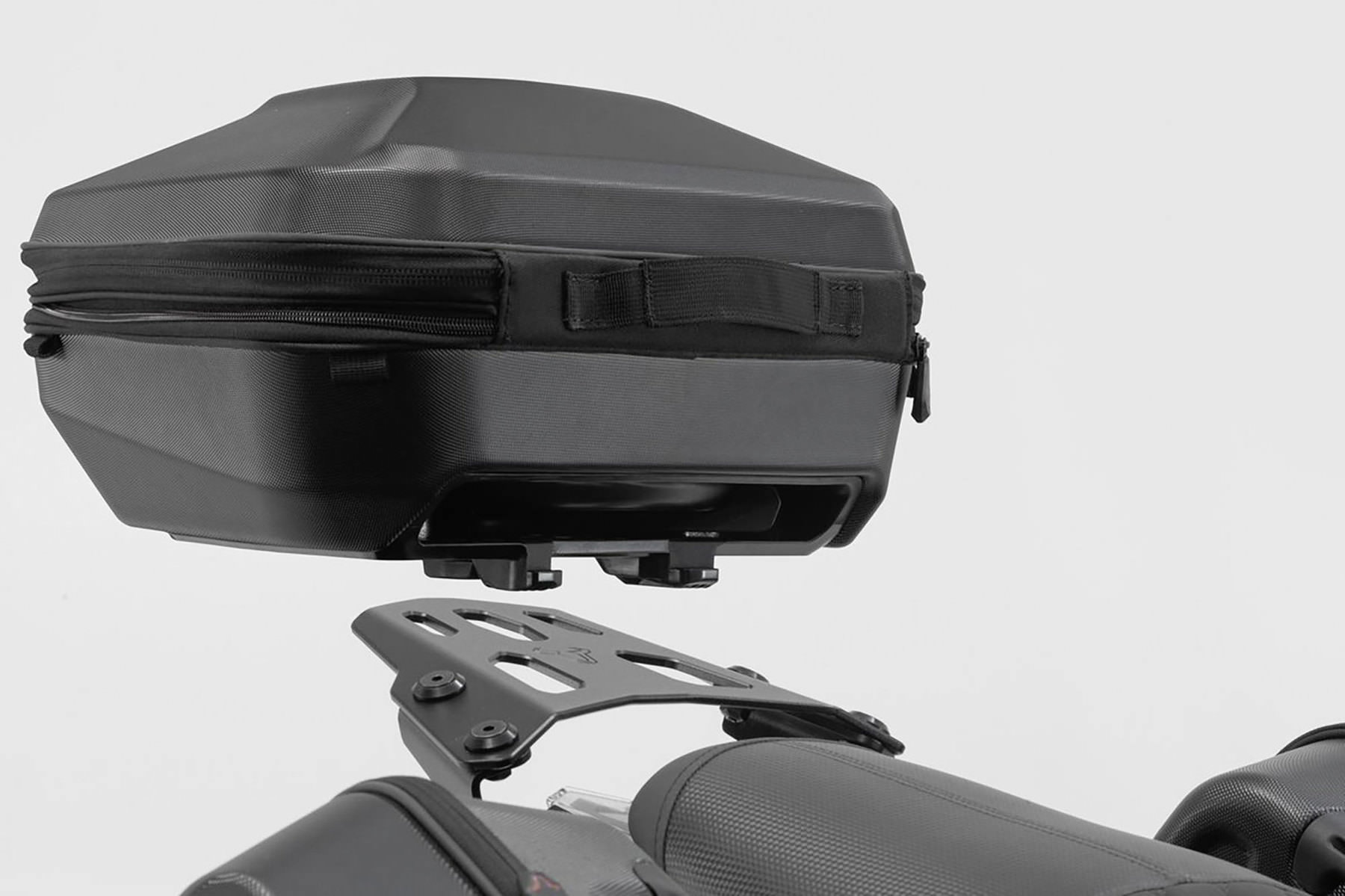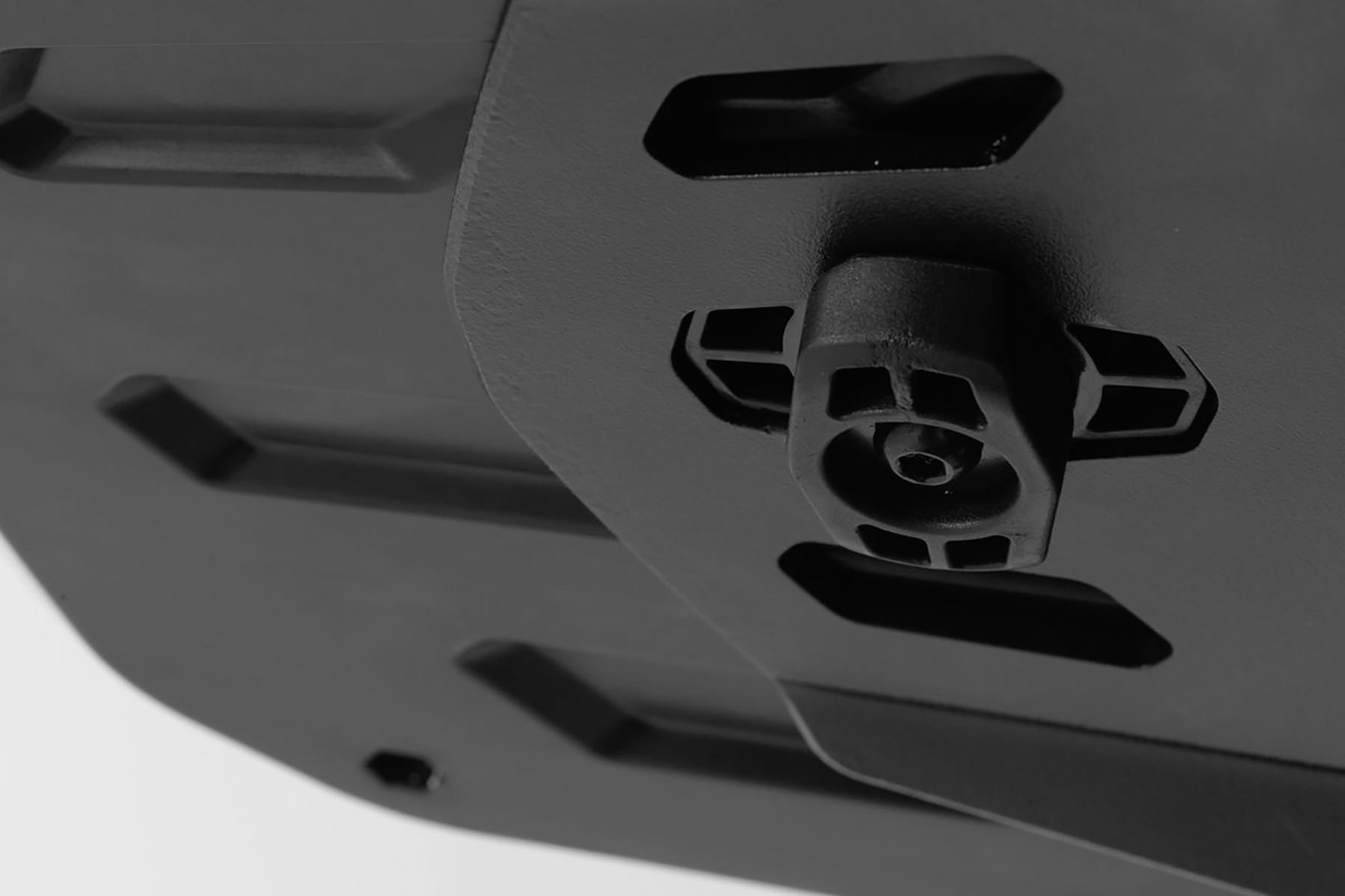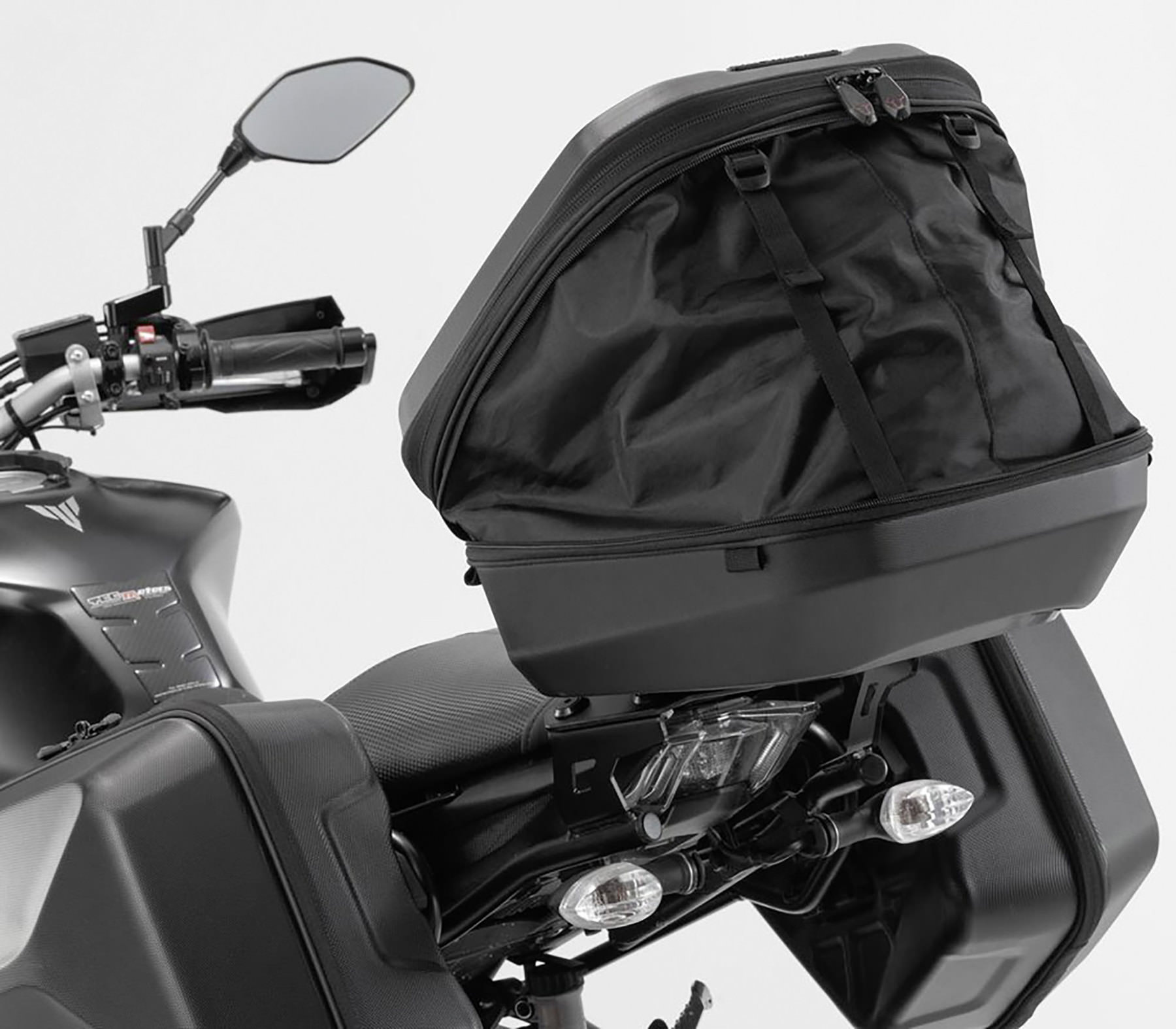 SW-Motech URBAN ABS Topcase-System
16-29 litres, for various models, black
Unfortunately, this product is not compatible with this motorcycle.
Unfortunately, this product is not compatible with this motorcycle. You can find the right for the here: .
Free delivery on orders over €199.00
2 year return policy
Fast delivery
SW-Motech URBAN ABS Topcase-System
16-29 litres, for various models, black
Brilliant for city riding and short excursions, quick and easy to install, and the perfect complement to URBAN ABS Side Cases - that's the URBAN ABS Top Box for sporty motorcycles and naked bikes. Expandable to give you space enough for a complete helmet.
DHV (quick-action) system makes it quick and easy to securely attach the top box to STREET-RACK and ADVENTURE-RACK luggage racks
Durable, sturdy and lightweight construction of 2.5 mm (base) and 2 mm (lid) thick ABS plastic
Full-connection zipper expands the top box from 16 l to 29 l for helmet storage
Integral straps for compressing your luggage prevent the lid from flapping
Model-specific STREET RACK or ADVENTURE RACK available in the set for many motorcycles
Anti-theft protection provided by securing to the rack, lockable zipper and special
motorcycle pannier lock (included)

Carry handle
Reflective details ensure greater safety in road traffic
Textured surface is easy to clean and also scratch-resistant
Spacious mesh compartment inside the lid
Padded interior lining, with bag for storing the pannier lock
Waterproof inner bag
Specs:

Material: ABS plastic/polyester
Colour: black, textured
Weight: 2.3 kg
Dimensions: 40.5 x 36 x 21.5 - 46 cm
Capacity: 16 l - 29 l
Included in delivery
1 x STREET-RACK or ADVENTURE-RACK Rack
1 x URBAN ABS Top case
1 x DHV system for STREET-RACK or ADVENTURE-RACK
1 x Waterproof inner bag
1 x Lock for motorcycle luggage
Mounting instructions
Mounting material
Manufacturer details: SW-Motech

Engineering for motorbikes

SW-MOTECH stands for competence in the development and production of practical solutions in the areas of luggage systems, navigation, ergonomics and safety - all perfectly designed to meet your riding needs. These products stand out thanks to their distinct look, constant high performance, patented technologies and elaborate innovations. Quality, durability and precision are of utmost importance. SW-MOTECH is the ideal companion for every adventure, no matter whether you are on the way to work, on a weekend tour or around globe.
Product
Art. No.
Availability
Price
Actions
16-29 L, KTM 1290 SAR 21-
10069522

The product will be ordered from the manufacturer for you. Depending on availability, longer delivery times are also possible. We'll let you know if that's the case. You can of course cancel your delivery at any time free of charge.

Available in 7-21 days

€370.00 1
16-29 L, VARIOUS KTM
10069246

The product will be ordered from the manufacturer for you. Depending on availability, longer delivery times are also possible. We'll let you know if that's the case. You can of course cancel your delivery at any time free of charge.

Available in 7-21 days

€420.00 1
16-29L, YAMAHA MT-07, 18-
10069092

The product will be ordered from the manufacturer for you. Depending on availability, longer delivery times are also possible. We'll let you know if that's the case. You can of course cancel your delivery at any time free of charge.

Available in 7-21 days

€370.00 1
URBAN ABS TOP BOX SYSTEM - 16-29L, 125/ 390 DUKE 17-
10067487

The item is in stock and will be delivered in 2-5 working days. Note: Stocks are updated online every hour on working days from 7 a.m. to 8 p.m., so there is a good chance that the products are available if they appear online.

Available

€360.00 1
URBAN ABS TOP BOX SYSTEM - 16-29L, CB500F/ CBR 500R
10067489

The item is in stock and will be delivered in 2-5 working days. Note: Stocks are updated online every hour on working days from 7 a.m. to 8 p.m., so there is a good chance that the products are available if they appear online.

Available

€340.00 1
URBAN ABS TOP BOX SYSTEM - 16-29L, CBF500/600/1000
10067466

The product will be ordered from the manufacturer for you. Depending on availability, longer delivery times are also possible. We'll let you know if that's the case. You can of course cancel your delivery at any time free of charge.

Available in 7-21 days

€340.00 1
URBAN ABS TOP BOX SYSTEM - 16-29L, F650/ 700/ 800 GS
10067475

The product will be ordered from the manufacturer for you. Depending on availability, longer delivery times are also possible. We'll let you know if that's the case. You can of course cancel your delivery at any time free of charge.

Available in 7-21 days

€355.00 1
URBAN ABS TOP BOX SYSTEM - 16-29L, F750 /850 GS 17-
10067478

The product will be ordered from the manufacturer for you. Depending on availability, longer delivery times are also possible. We'll let you know if that's the case. You can of course cancel your delivery at any time free of charge.

Available in 7-21 days

€360.00 1
URBAN ABS TOP BOX SYSTEM - 16-29L, F750 /850 GS 17-
10067479

The product will be ordered from the manufacturer for you. Depending on availability, longer delivery times are also possible. We'll let you know if that's the case. You can of course cancel your delivery at any time free of charge.

Available in 7-21 days

€360.00 1
URBAN ABS TOP BOX SYSTEM - 16-29L, G 310 GS (17- )
10067485

The product will be ordered from the manufacturer for you. Depending on availability, longer delivery times are also possible. We'll let you know if that's the case. You can of course cancel your delivery at any time free of charge.

Available in 7-21 days

€360.00 1
URBAN ABS TOP BOX SYSTEM - 16-29L, GSF VARIOUS
10067465

The item is in stock and will be delivered in 2-5 working days. Note: Stocks are updated online every hour on working days from 7 a.m. to 8 p.m., so there is a good chance that the products are available if they appear online.

Available

€345.00 1
URBAN ABS TOP BOX SYSTEM - 16-29L, KTM VARIOUS
10067461

The product will be ordered from the manufacturer for you. Depending on availability, longer delivery times are also possible. We'll let you know if that's the case. You can of course cancel your delivery at any time free of charge.

Available in 7-21 days

€350.00 1
URBAN ABS TOP BOX SYSTEM - 16-29L, MT-07 (14-17)
10067460

The product will be ordered from the manufacturer for you. Depending on availability, longer delivery times are also possible. We'll let you know if that's the case. You can of course cancel your delivery at any time free of charge.

Available in 7-21 days

€350.00 1
URBAN ABS TOP BOX SYSTEM - 16-29L, MT-10 (16- )
10067467

The product will be ordered from the manufacturer for you. Depending on availability, longer delivery times are also possible. We'll let you know if that's the case. You can of course cancel your delivery at any time free of charge.

Available in 7-21 days

€340.00 1
URBAN ABS TOP BOX SYSTEM - 16-29L, NC750X/NC750S 16-
10067488

The product will be ordered from the manufacturer for you. Depending on availability, longer delivery times are also possible. We'll let you know if that's the case. You can of course cancel your delivery at any time free of charge.

Available in 7-21 days

€375.00 1
URBAN ABS TOP BOX SYSTEM - 16-29L, R1200GS/ R1250GS
10067477

The product will be ordered from the manufacturer for you. Depending on availability, longer delivery times are also possible. We'll let you know if that's the case. You can of course cancel your delivery at any time free of charge.

Available in 7-21 days

€380.00 1
URBAN ABS TOP BOX SYSTEM - 16-29L, S1000 XR (15- )
10067476

The item is in stock and will be delivered in 2-5 working days. Note: Stocks are updated online every hour on working days from 7 a.m. to 8 p.m., so there is a good chance that the products are available if they appear online.

Available

€390.00 1
URBAN ABS TOP BOX SYSTEM - 16-29L, S1000 XR (15- )
10067486

The product will be ordered from the manufacturer for you. Depending on availability, longer delivery times are also possible. We'll let you know if that's the case. You can of course cancel your delivery at any time free of charge.

Available in 7-21 days

€390.00 1
URBAN ABS TOP BOX SYSTEM - 16-29L, SPEED TRIPLE 1050
10067468

The product will be ordered from the manufacturer for you. Depending on availability, longer delivery times are also possible. We'll let you know if that's the case. You can of course cancel your delivery at any time free of charge.

Available in 7-21 days

€375.00 1
URBAN ABS TOP BOX SYSTEM - 16-29L, V-STORM 250 (18-)
10067490

The product will be ordered from the manufacturer for you. Depending on availability, longer delivery times are also possible. We'll let you know if that's the case. You can of course cancel your delivery at any time free of charge.

Available in 7-21 days

€265.00 1
URBAN ABS TOP BOX SYSTEM - 16-29L, VERSYS 1000 (12-)
10067492

The product will be ordered from the manufacturer for you. Depending on availability, longer delivery times are also possible. We'll let you know if that's the case. You can of course cancel your delivery at any time free of charge.

Available in 7-21 days

€300.00 1
URBAN ABS TOP BOX SYSTEM - 16-29L, VERSYS 650 (15- )
10067482

The product will be ordered from the manufacturer for you. Depending on availability, longer delivery times are also possible. We'll let you know if that's the case. You can of course cancel your delivery at any time free of charge.

Available in 7-21 days

€370.00 1
URBAN ABS TOP BOX SYSTEM - 16-29L, X-ADV (16- )
10067463

The item is in stock and will be delivered in 2-5 working days. Note: Stocks are updated online every hour on working days from 7 a.m. to 8 p.m., so there is a good chance that the products are available if they appear online.

Available

€350.00 1
URBAN ABS TOP BOX SYSTEM - 16-29L, XT1200Z S.TÉNÉRÉ
10067473

The product will be ordered from the manufacturer for you. Depending on availability, longer delivery times are also possible. We'll let you know if that's the case. You can of course cancel your delivery at any time free of charge.

Available in 7-21 days

€375.00 1
URBAN ABS TOP BOX SYSTEM - 16-29L, Z 650 (16- )
10067462

The item is in stock and will be delivered in 2-5 working days. Note: Stocks are updated online every hour on working days from 7 a.m. to 8 p.m., so there is a good chance that the products are available if they appear online.

Available

€350.00 1
URBAN ABS TOP BOX SYSTEM - 16-29L,1290 SUPER DUKE GT
10067464

The product will be ordered from the manufacturer for you. Depending on availability, longer delivery times are also possible. We'll let you know if that's the case. You can of course cancel your delivery at any time free of charge.

Available in 7-21 days

€365.00 1
URBAN ABS TOP BOX SYSTEM - 16-29L,790 DUKE (18- )
10067451

The product will be ordered from the manufacturer for you. Depending on availability, longer delivery times are also possible. We'll let you know if that's the case. You can of course cancel your delivery at any time free of charge.

Available in 7-21 days

€385.00 1
URBAN ABS TOP BOX SYSTEM - 16-29L,CB500F/ CBR500R
10067494

The product will be ordered from the manufacturer for you. Depending on availability, longer delivery times are also possible. We'll let you know if that's the case. You can of course cancel your delivery at any time free of charge.

Available in 7-21 days

€360.00 1
URBAN ABS TOP BOX SYSTEM - 16-29L,CB500X/FCBR500R
10067456

The product will be ordered from the manufacturer for you. Depending on availability, longer delivery times are also possible. We'll let you know if that's the case. You can of course cancel your delivery at any time free of charge.

Available in 7-21 days

€380.00 1
URBAN ABS TOP BOX SYSTEM - 16-29L,CBR 1100 XX 97-07
10067455

The product will be ordered from the manufacturer for you. Depending on availability, longer delivery times are also possible. We'll let you know if that's the case. You can of course cancel your delivery at any time free of charge.

Available in 7-21 days

€360.00 1
URBAN ABS TOP BOX SYSTEM - 16-29L,CRF 1000L A.TWIN
10067469

The product will be ordered from the manufacturer for you. Depending on availability, longer delivery times are also possible. We'll let you know if that's the case. You can of course cancel your delivery at any time free of charge.

Available in 7-21 days

€350.00 1
URBAN ABS TOP BOX SYSTEM - 16-29L,CRF1000L A.TWIN A.
10067470

The product will be ordered from the manufacturer for you. Depending on availability, longer delivery times are also possible. We'll let you know if that's the case. You can of course cancel your delivery at any time free of charge.

Available in 7-21 days

€365.00 1
URBAN ABS TOP BOX SYSTEM - 16-29L,DL650 /V-STORM 650
10067472

The product will be ordered from the manufacturer for you. Depending on availability, longer delivery times are also possible. We'll let you know if that's the case. You can of course cancel your delivery at any time free of charge.

Available in 7-21 days

€355.00 1
URBAN ABS TOP BOX SYSTEM - 16-29L,G 310 R (16- )
10067495

The product will be ordered from the manufacturer for you. Depending on availability, longer delivery times are also possible. We'll let you know if that's the case. You can of course cancel your delivery at any time free of charge.

Available in 7-21 days

€335.00 1
URBAN ABS TOP BOX SYSTEM - 16-29L,GSX1300R HAYABUSA
10067452

The product will be ordered from the manufacturer for you. Depending on availability, longer delivery times are also possible. We'll let you know if that's the case. You can of course cancel your delivery at any time free of charge.

Available in 7-21 days

€370.00 1
URBAN ABS TOP BOX SYSTEM - 16-29L,MOTO GUZZI V85 TT
10067493

The product will be ordered from the manufacturer for you. Depending on availability, longer delivery times are also possible. We'll let you know if that's the case. You can of course cancel your delivery at any time free of charge.

Available in 7-21 days

€370.00 1
URBAN ABS TOP BOX SYSTEM - 16-29L,MT-09 (16- )
10067453

The product will be ordered from the manufacturer for you. Depending on availability, longer delivery times are also possible. We'll let you know if that's the case. You can of course cancel your delivery at any time free of charge.

Available in 7-21 days

€380.00 1
URBAN ABS TOP BOX SYSTEM - 16-29L,MT-09 TRACER/ GT
10067474

The product will be ordered from the manufacturer for you. Depending on availability, longer delivery times are also possible. We'll let you know if that's the case. You can of course cancel your delivery at any time free of charge.

Available in 7-21 days

€380.00 1
URBAN ABS TOP BOX SYSTEM - 16-29L,R1200R/RS R1250R
10067491

The product will be ordered from the manufacturer for you. Depending on availability, longer delivery times are also possible. We'll let you know if that's the case. You can of course cancel your delivery at any time free of charge.

Available in 7-21 days

€350.00 1
URBAN ABS TOP BOX SYSTEM - 16-29L,TIGER 1200 MODELS
10067484

The product will be ordered from the manufacturer for you. Depending on availability, longer delivery times are also possible. We'll let you know if that's the case. You can of course cancel your delivery at any time free of charge.

Available in 7-21 days

€360.00 1
URBAN ABS TOP BOX SYSTEM - 16-29L,TIGER 800 MODELS
10067483

The product will be ordered from the manufacturer for you. Depending on availability, longer delivery times are also possible. We'll let you know if that's the case. You can of course cancel your delivery at any time free of charge.

Available in 7-21 days

€355.00 1
URBAN ABS TOP BOX SYSTEM - 16-29L,TÉNÉRÉ 700 (19- )
10067496

The product will be ordered from the manufacturer for you. Depending on availability, longer delivery times are also possible. We'll let you know if that's the case. You can of course cancel your delivery at any time free of charge.

Available in 7-21 days

€400.00 1
URBAN ABS TOP BOX SYSTEM - 16-29L,V-STORM 650/1000
10067471

The product will be ordered from the manufacturer for you. Depending on availability, longer delivery times are also possible. We'll let you know if that's the case. You can of course cancel your delivery at any time free of charge.

Available in 7-21 days

€370.00 1
URBAN ABS TOP BOX SYSTEM - 16-29L,Z900RS/ CAFE (17-)
10067457

The item is in stock and will be delivered in 2-5 working days. Note: Stocks are updated online every hour on working days from 7 a.m. to 8 p.m., so there is a good chance that the products are available if they appear online.

Available

€360.00 1
URBAN ABS TOP BOX SYSTEM - 16-29L,ZZR 1400 (06- )
10067454

The product will be ordered from the manufacturer for you. Depending on availability, longer delivery times are also possible. We'll let you know if that's the case. You can of course cancel your delivery at any time free of charge.

Available in 7-21 days

€370.00 1
URBAN ABS TOP CASE SYSTEM - 16-29 L, VARIOUS KTM
10067497

The item is in stock and will be delivered in 2-5 working days. Note: Stocks are updated online every hour on working days from 7 a.m. to 8 p.m., so there is a good chance that the products are available if they appear online.

Available

€390.00 1
URBAN ABS TOP CASE SYSTEM - 16-29L, MULTISTRADA 1200
10067450

The item is in stock and will be delivered in 2-5 working days. Note: Stocks are updated online every hour on working days from 7 a.m. to 8 p.m., so there is a good chance that the products are available if they appear online.

Available

€400.00 1
URBAN ABS TOPCASE-SYSTEM - 16-29 L, BMW
10069081

The product will be ordered from the manufacturer for you. Depending on availability, longer delivery times are also possible. We'll let you know if that's the case. You can of course cancel your delivery at any time free of charge.

Available in 7-21 days

€370.00 1
URBAN ABS TOPCASE-SYSTEM - 16-29 L, BMW R1250GS/ADV
10069080

The product will be ordered from the manufacturer for you. Depending on availability, longer delivery times are also possible. We'll let you know if that's the case. You can of course cancel your delivery at any time free of charge.

Available in 7-21 days

€380.00 1
URBAN ABS TOPCASE-SYSTEM - 16-29 L, GSX1300R 20-
10069673

The product will be ordered from the manufacturer for you. Depending on availability, longer delivery times are also possible. We'll let you know if that's the case. You can of course cancel your delivery at any time free of charge.

Available in 7-21 days

€400.00 1
URBAN ABS TOPCASE-SYSTEM - 16-29 L, KTM 1290 SAR 21-
10069084

The product will be ordered from the manufacturer for you. Depending on availability, longer delivery times are also possible. We'll let you know if that's the case. You can of course cancel your delivery at any time free of charge.

Available in 7-21 days

€390.00 1
URBAN ABS TOPCASE-SYSTEM - 16-29 L, MULTISTR.V4 20-
10069085

The product will be ordered from the manufacturer for you. Depending on availability, longer delivery times are also possible. We'll let you know if that's the case. You can of course cancel your delivery at any time free of charge.

Available in 7-21 days

€350.00 1
URBAN ABS TOPCASE-SYSTEM - 16-29 L, YAMAHA MT-09 20-
10069236

The product will be ordered from the manufacturer for you. Depending on availability, longer delivery times are also possible. We'll let you know if that's the case. You can of course cancel your delivery at any time free of charge.

Available in 7-21 days

€380.00 1
URBAN ABS TOPCASE-SYSTEM - 16-29L, 1290 SUP.D. 16-19
10068463

The product will be ordered from the manufacturer for you. Depending on availability, longer delivery times are also possible. We'll let you know if that's the case. You can of course cancel your delivery at any time free of charge.

Available in 7-21 days

€380.00 1
URBAN ABS TOPCASE-SYSTEM - 16-29L, KAWASAKI Z900 16-
10068464

The product will be ordered from the manufacturer for you. Depending on availability, longer delivery times are also possible. We'll let you know if that's the case. You can of course cancel your delivery at any time free of charge.

Available in 7-21 days

€370.00 1
URBAN ABS TOPCASE-SYSTEM - 16-29L, KTM390 ADV 2019-
10068465

The product will be ordered from the manufacturer for you. Depending on availability, longer delivery times are also possible. We'll let you know if that's the case. You can of course cancel your delivery at any time free of charge.

Available in 7-21 days

€370.00 1
URBAN ABS TOPCASE-SYSTEM - 16-29L, KTM690 DUKE/R 11-
10068467

The product will be ordered from the manufacturer for you. Depending on availability, longer delivery times are also possible. We'll let you know if that's the case. You can of course cancel your delivery at any time free of charge.

Available in 7-21 days

€335.00 1
URBAN ABS TOPCASE-SYSTEM - 16-29L, MT-07 TRAC. 2016-
10068456

The product will be ordered from the manufacturer for you. Depending on availability, longer delivery times are also possible. We'll let you know if that's the case. You can of course cancel your delivery at any time free of charge.

Available in 7-21 days

€350.00 1
URBAN ABS TOPCASE-SYSTEM - 16-29L, MT-09 TRAC. 14-18
10068453

The product will be ordered from the manufacturer for you. Depending on availability, longer delivery times are also possible. We'll let you know if that's the case. You can of course cancel your delivery at any time free of charge.

Available in 7-21 days

€360.00 1
URBAN ABS TOPCASE-SYSTEM - 16-29L, SUZ SV650 2015-
10068466

The product will be ordered from the manufacturer for you. Depending on availability, longer delivery times are also possible. We'll let you know if that's the case. You can of course cancel your delivery at any time free of charge.

Available in 7-21 days

€360.00 1
URBAN ABS TOPCASE-SYSTEM - 16-29L, TRACER 9 21-
10069219

The product will be ordered from the manufacturer for you. Depending on availability, longer delivery times are also possible. We'll let you know if that's the case. You can of course cancel your delivery at any time free of charge.

Available in 7-21 days

€400.00 1
URBAN ABS TOPCASE-SYSTEM - 16-29L, TRACER 9 GT 20-
10069209

The product will be ordered from the manufacturer for you. Depending on availability, longer delivery times are also possible. We'll let you know if that's the case. You can of course cancel your delivery at any time free of charge.

Available in 7-21 days

€400.00 1
URBAN ABS TOPCASE-SYSTEM - 16-29L,690 END/R,SMCR 19-
10068459

The product will be ordered from the manufacturer for you. Depending on availability, longer delivery times are also possible. We'll let you know if that's the case. You can of course cancel your delivery at any time free of charge.

Available in 7-21 days

€350.00 1
URBAN ABS TOPCASE-SYSTEM - 16-29L,BMW F900R/XR 2019-
10068460

The product will be ordered from the manufacturer for you. Depending on availability, longer delivery times are also possible. We'll let you know if that's the case. You can of course cancel your delivery at any time free of charge.

Available in 7-21 days

€370.00 1
URBAN ABS TOPCASE-SYSTEM - 16-29L,CB650F/CBR650F 14-
10068468

The product will be ordered from the manufacturer for you. Depending on availability, longer delivery times are also possible. We'll let you know if that's the case. You can of course cancel your delivery at any time free of charge.

Available in 7-21 days

€350.00 1
URBAN ABS TOPCASE-SYSTEM - 16-29L,CRF1100L A.TW. 19-
10068458

The product will be ordered from the manufacturer for you. Depending on availability, longer delivery times are also possible. We'll let you know if that's the case. You can of course cancel your delivery at any time free of charge.

Available in 7-21 days

€365.00 1
URBAN ABS TOPCASE-SYSTEM - 16-29L,CRF1100L A.TW.A.SP
10068455

The product will be ordered from the manufacturer for you. Depending on availability, longer delivery times are also possible. We'll let you know if that's the case. You can of course cancel your delivery at any time free of charge.

Available in 7-21 days

€350.00 1
URBAN ABS TOPCASE-SYSTEM - 16-29L,GS ADV 1200 1250
10068451

The product will be ordered from the manufacturer for you. Depending on availability, longer delivery times are also possible. We'll let you know if that's the case. You can of course cancel your delivery at any time free of charge.

Available in 7-21 days

€380.00 1
URBAN ABS TOPCASE-SYSTEM - 16-29L,KTM1290 SU.D.R.19-
10068457

The product will be ordered from the manufacturer for you. Depending on availability, longer delivery times are also possible. We'll let you know if that's the case. You can of course cancel your delivery at any time free of charge.

Available in 7-21 days

€360.00 1
URBAN ABS TOPCASE-SYSTEM - 16-29L,STREET TRIPLE 12-
10068461

The product will be ordered from the manufacturer for you. Depending on availability, longer delivery times are also possible. We'll let you know if that's the case. You can of course cancel your delivery at any time free of charge.

Available in 7-21 days

€360.00 1
URBAN ABS TOPCASE-SYSTEM - 16-29L,TI900/GT/RA/PR 19-
10068462

The product will be ordered from the manufacturer for you. Depending on availability, longer delivery times are also possible. We'll let you know if that's the case. You can of course cancel your delivery at any time free of charge.

Available in 7-21 days

€360.00 1
URBAN ABS TOPCASE-SYSTEM - 16-29L,TIGER 1050 SP. 13-
10068454

The product will be ordered from the manufacturer for you. Depending on availability, longer delivery times are also possible. We'll let you know if that's the case. You can of course cancel your delivery at any time free of charge.

Available in 7-21 days

€360.00 1
URBAN ABS TOPCASE-SYSTEM - HONDA X-ADV 20-
10068452

The product will be ordered from the manufacturer for you. Depending on availability, longer delivery times are also possible. We'll let you know if that's the case. You can of course cancel your delivery at any time free of charge.

Available in 7-21 days

€355.00 1
URBAN ABS TOPCASE-SYSTEM - HONDA X-ADV 20-
10069129

The product will be ordered from the manufacturer for you. Depending on availability, longer delivery times are also possible. We'll let you know if that's the case. You can of course cancel your delivery at any time free of charge.

Available in 7-21 days

€365.00 1