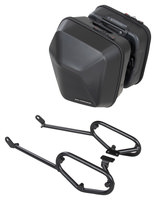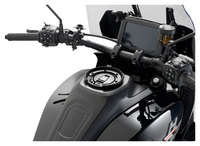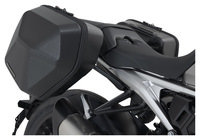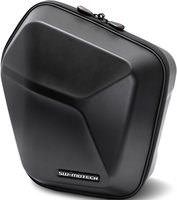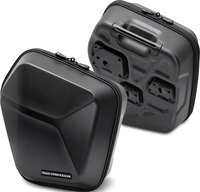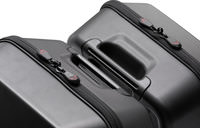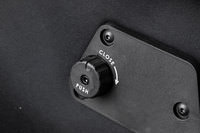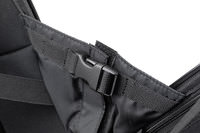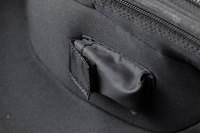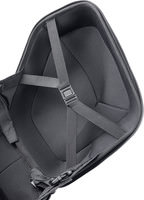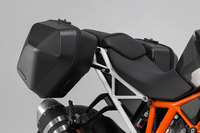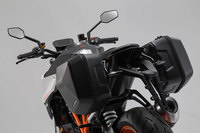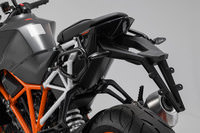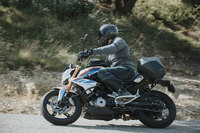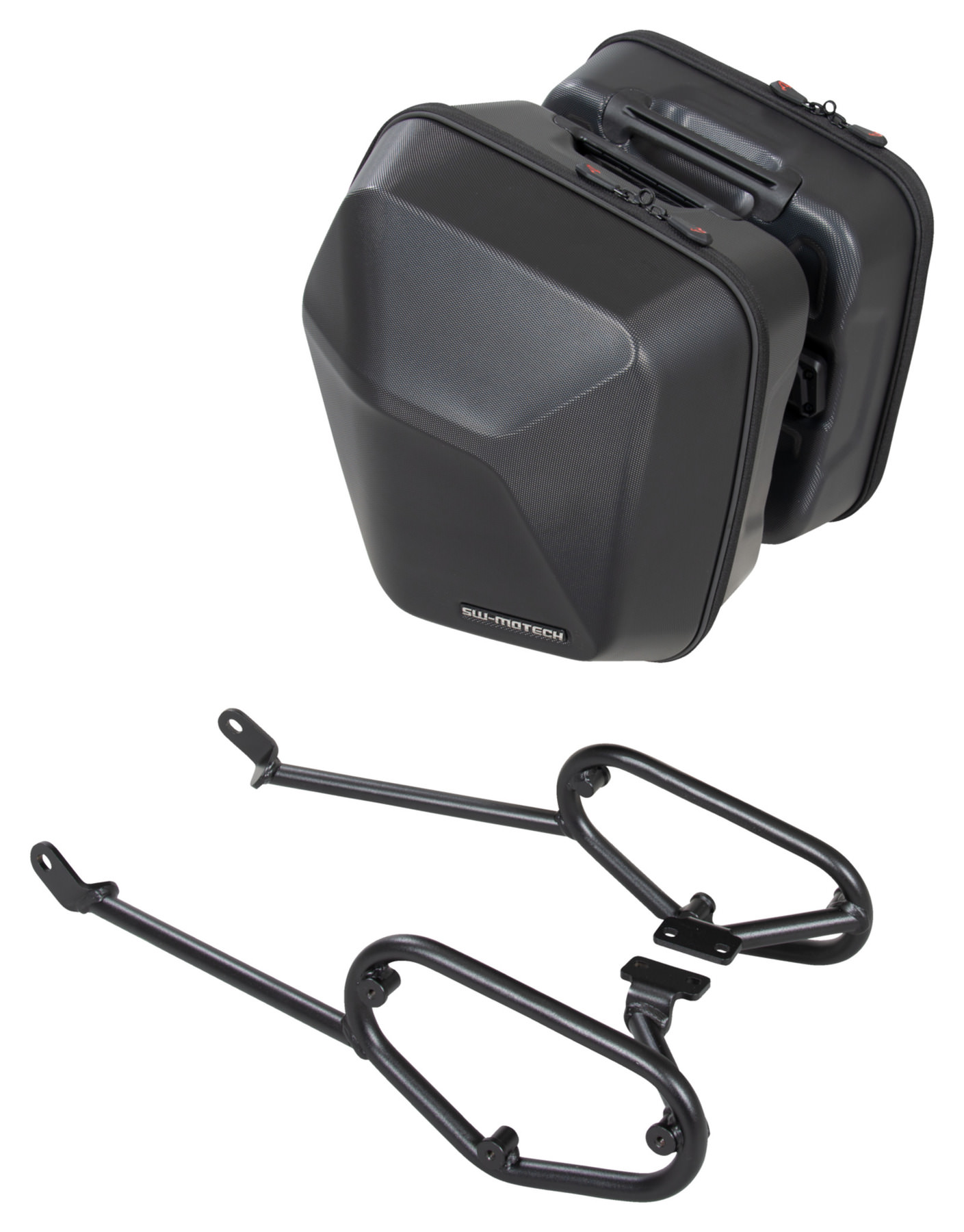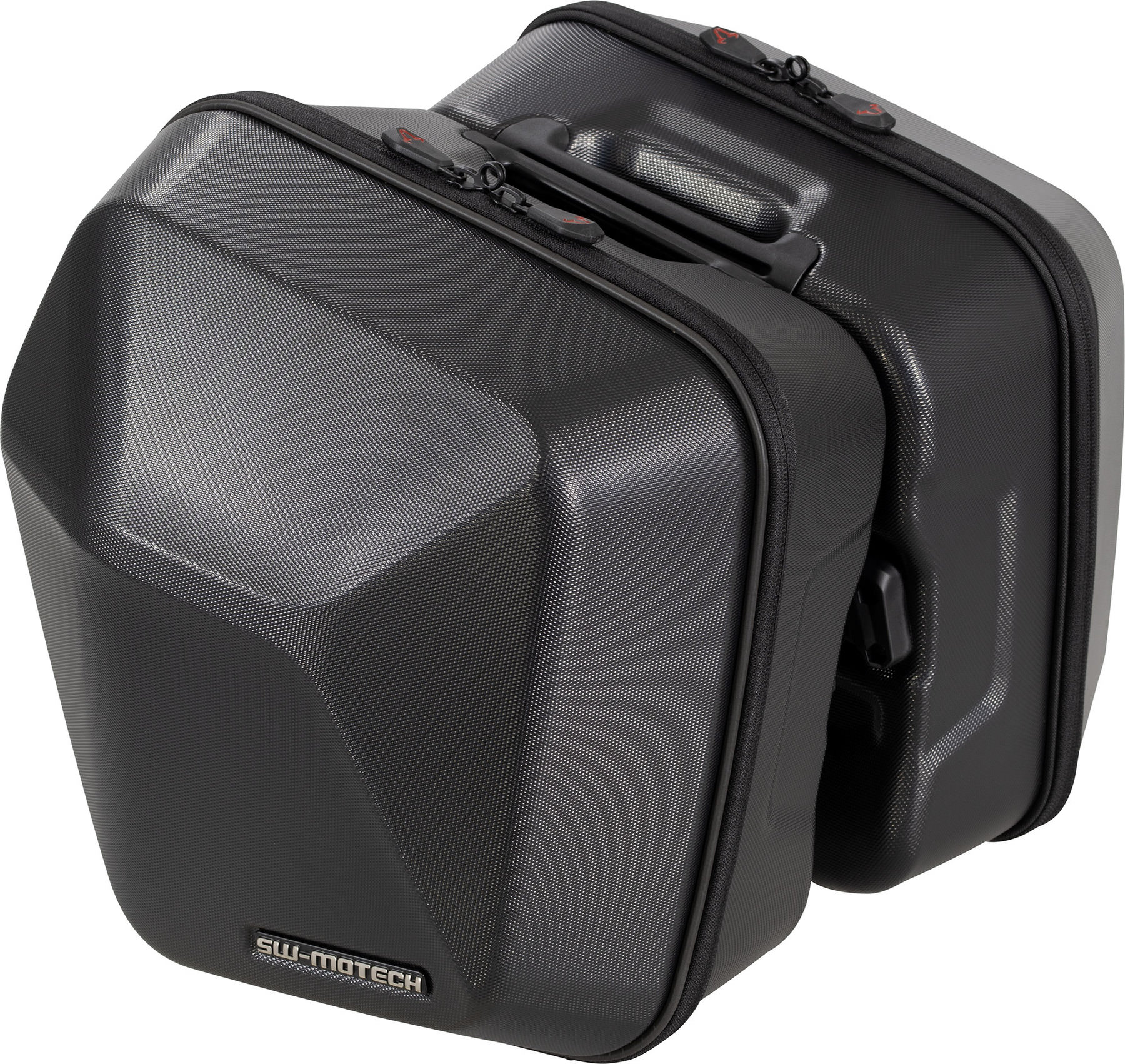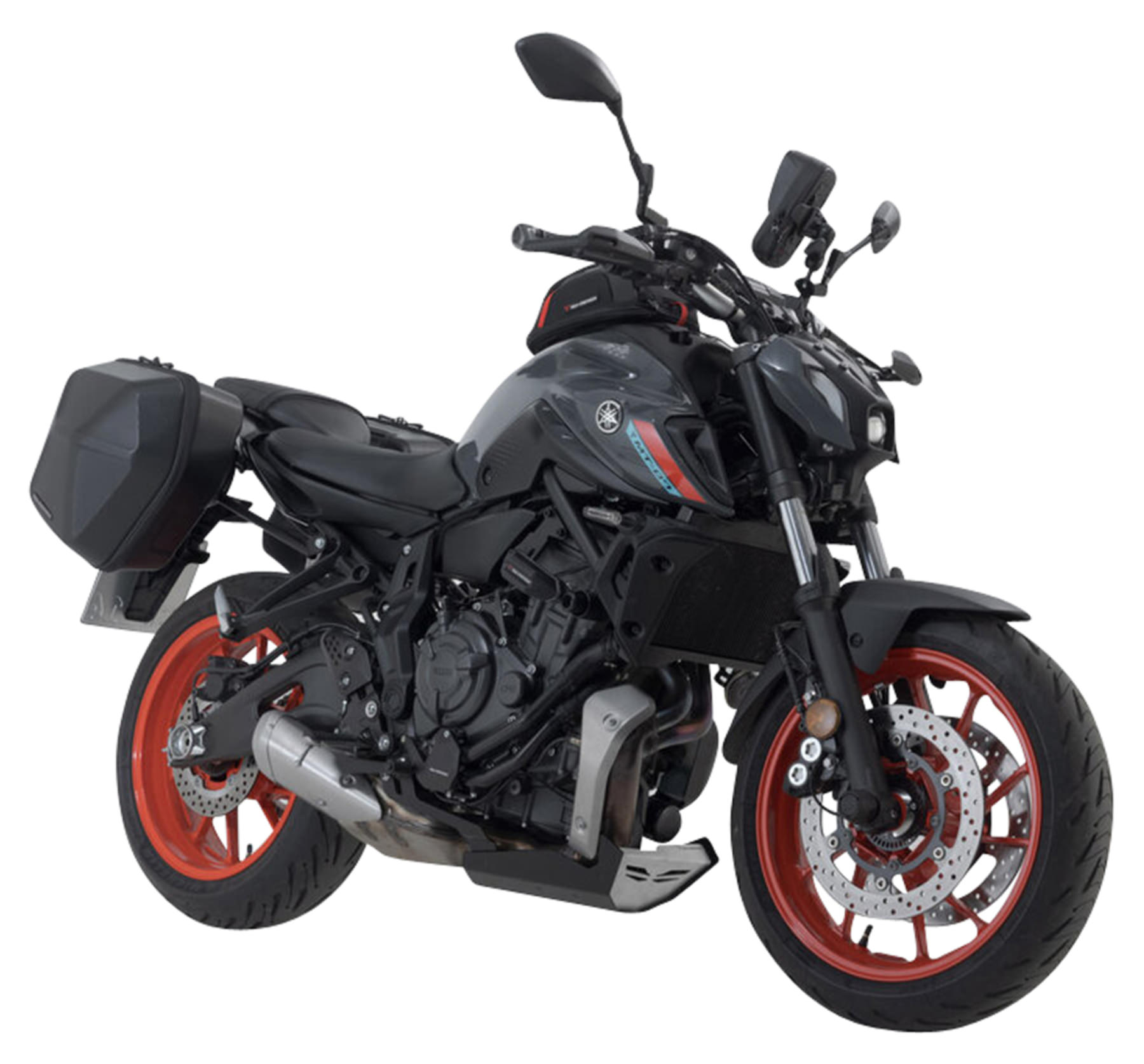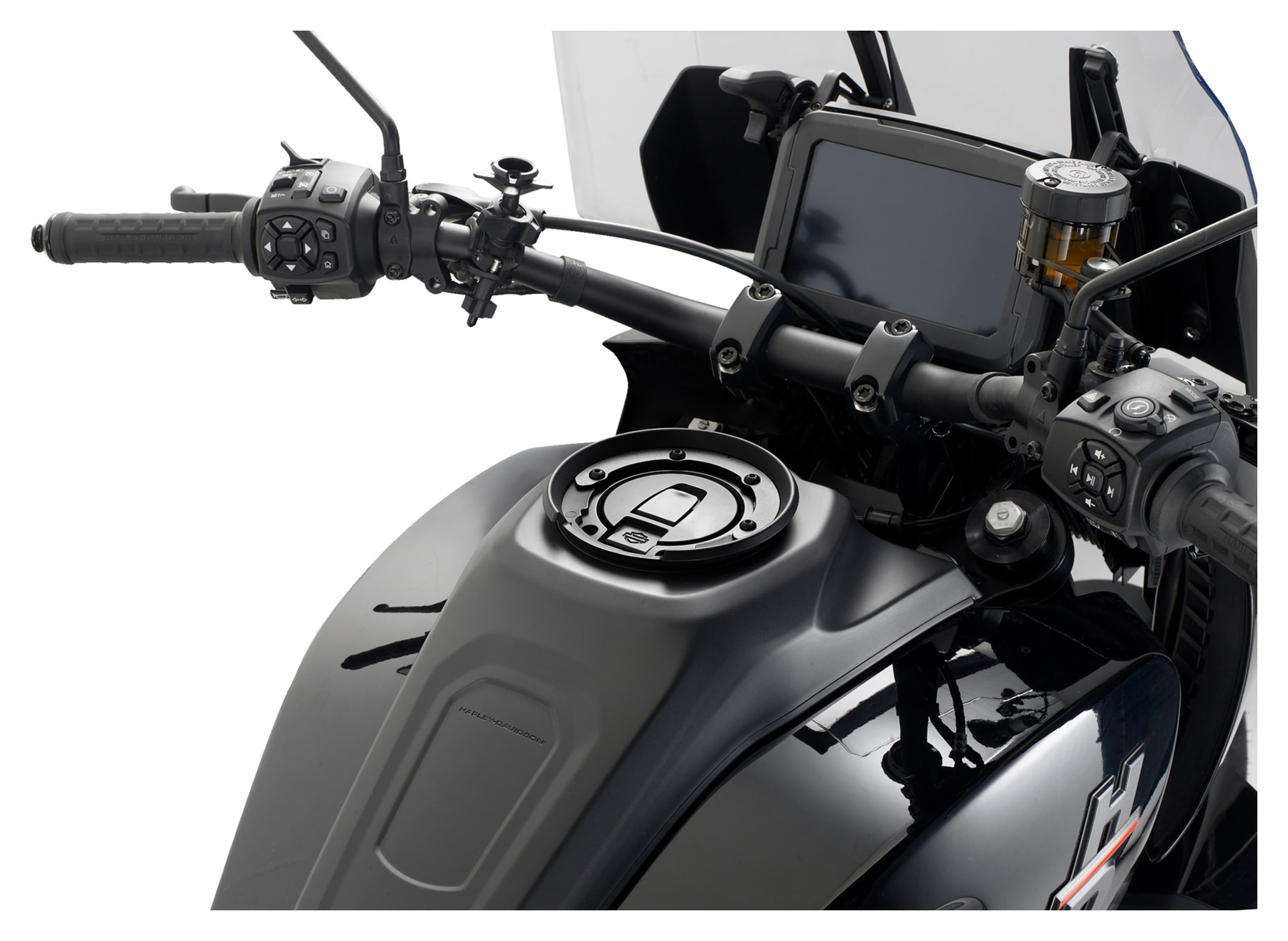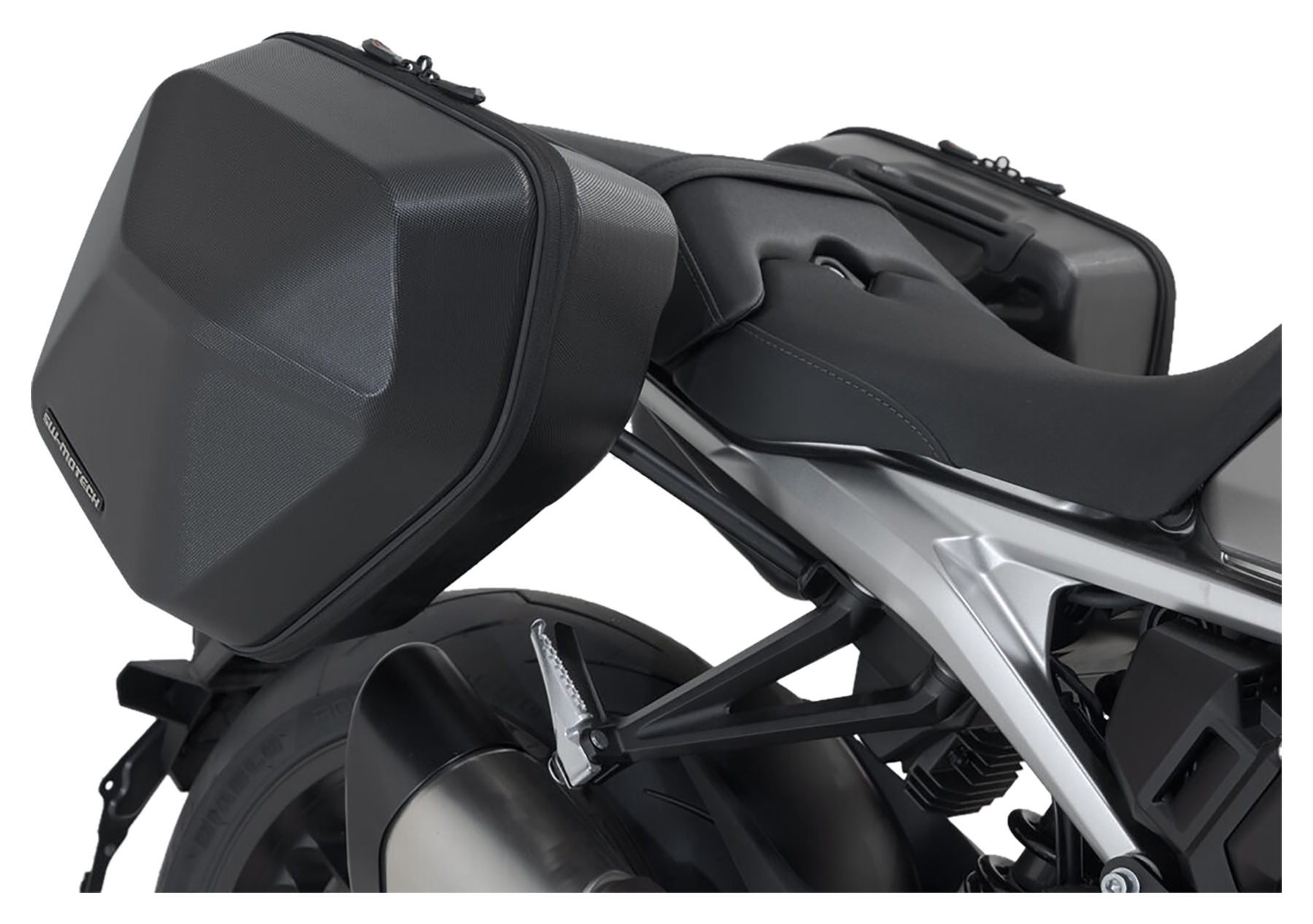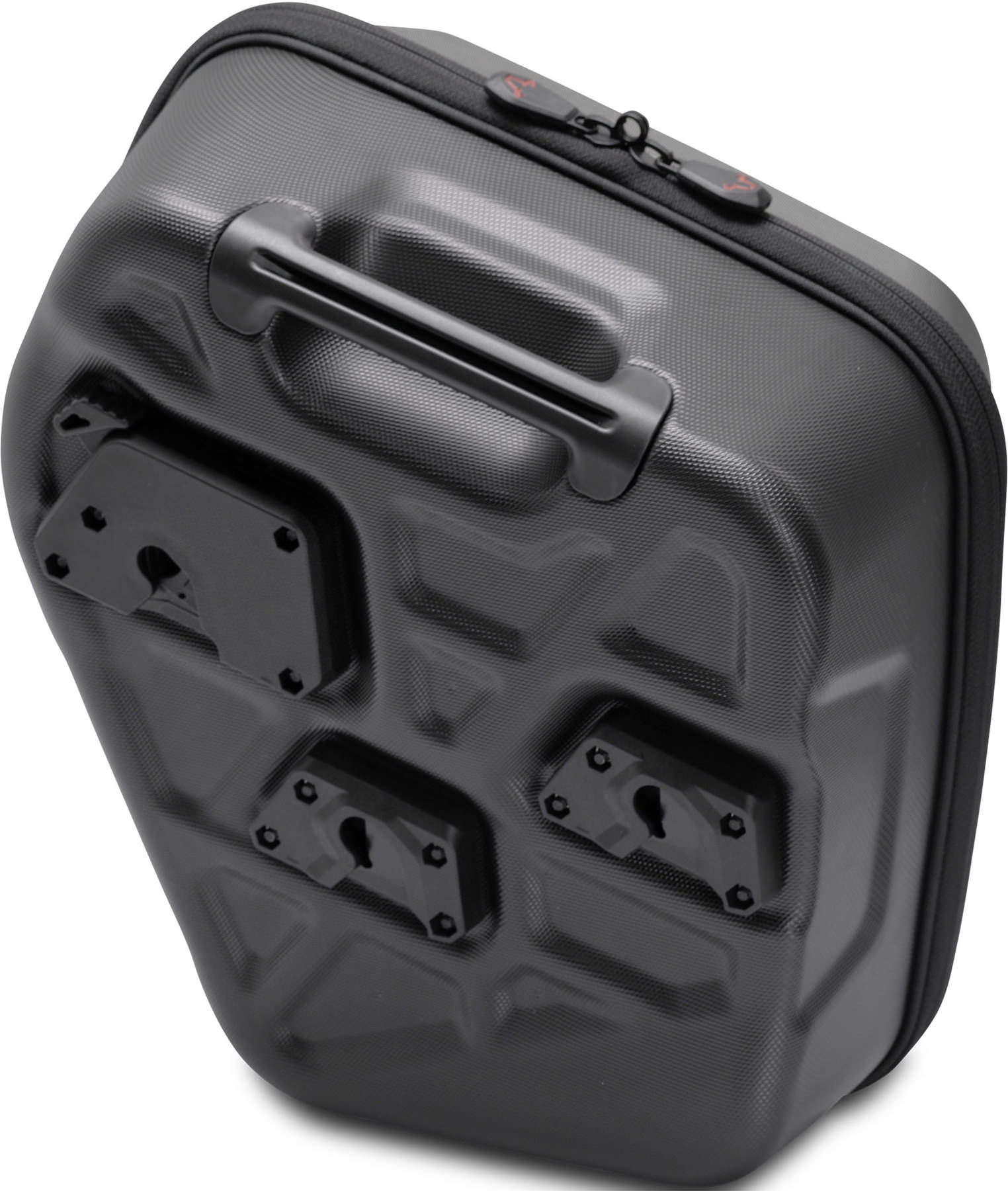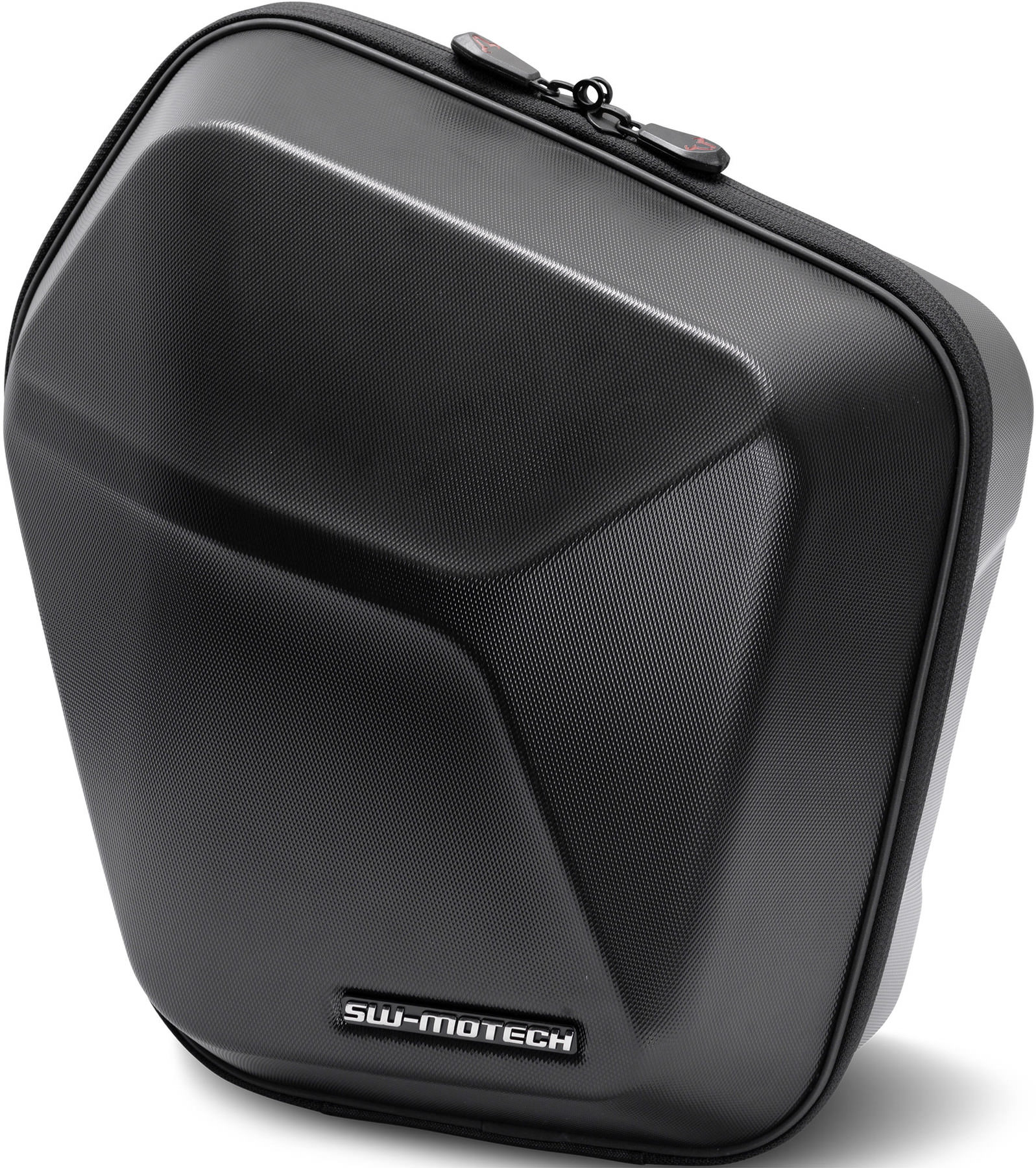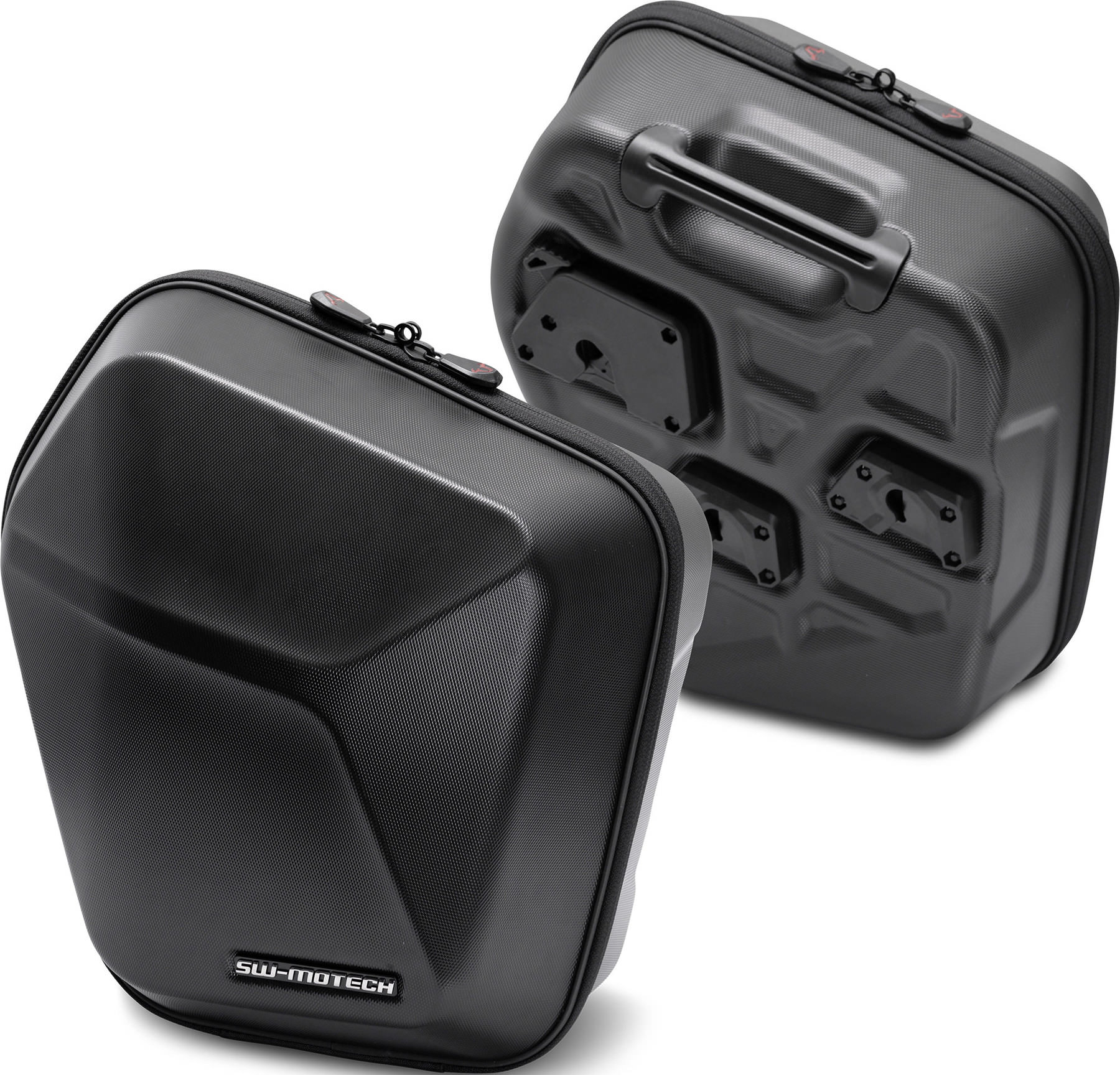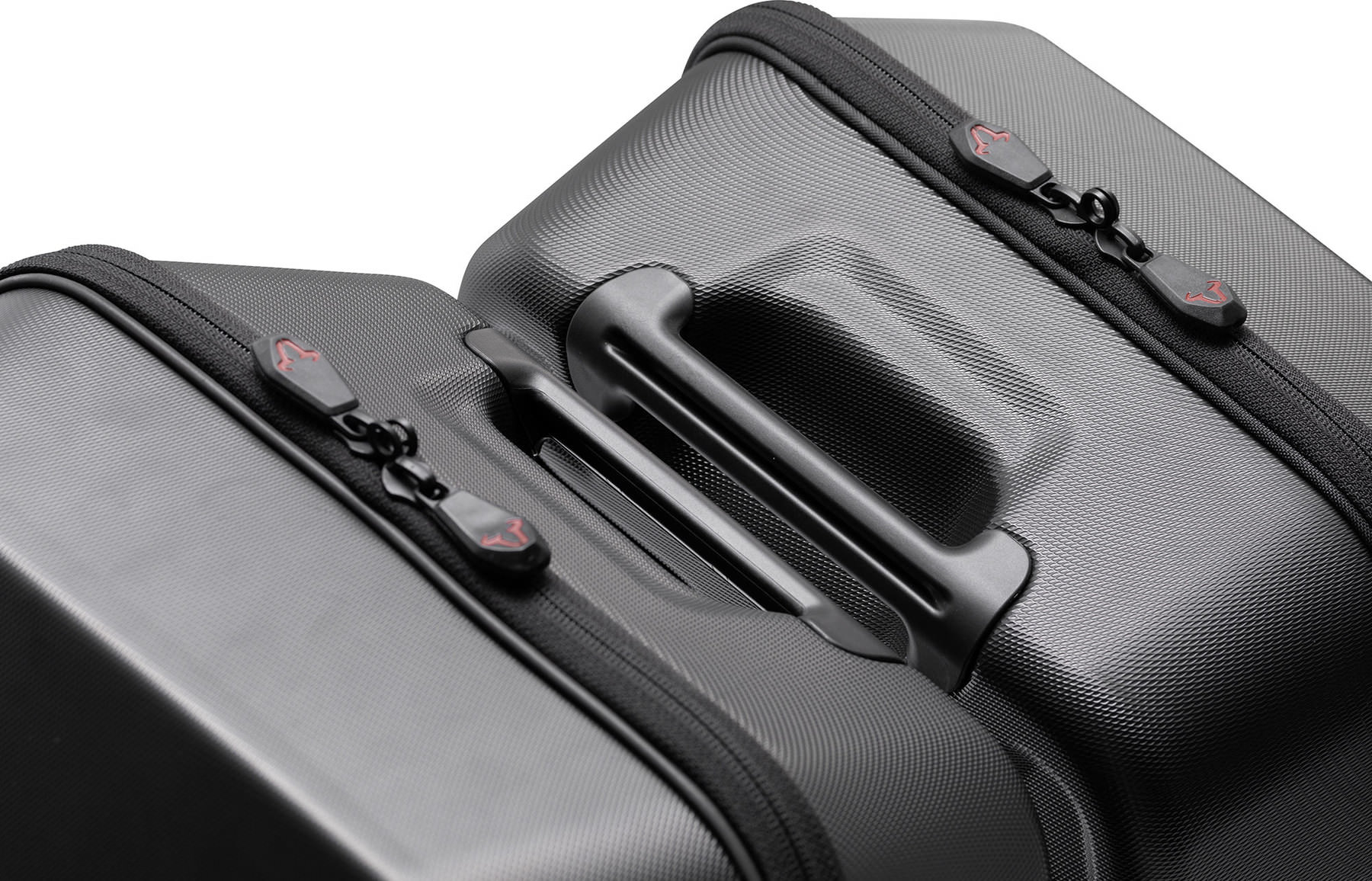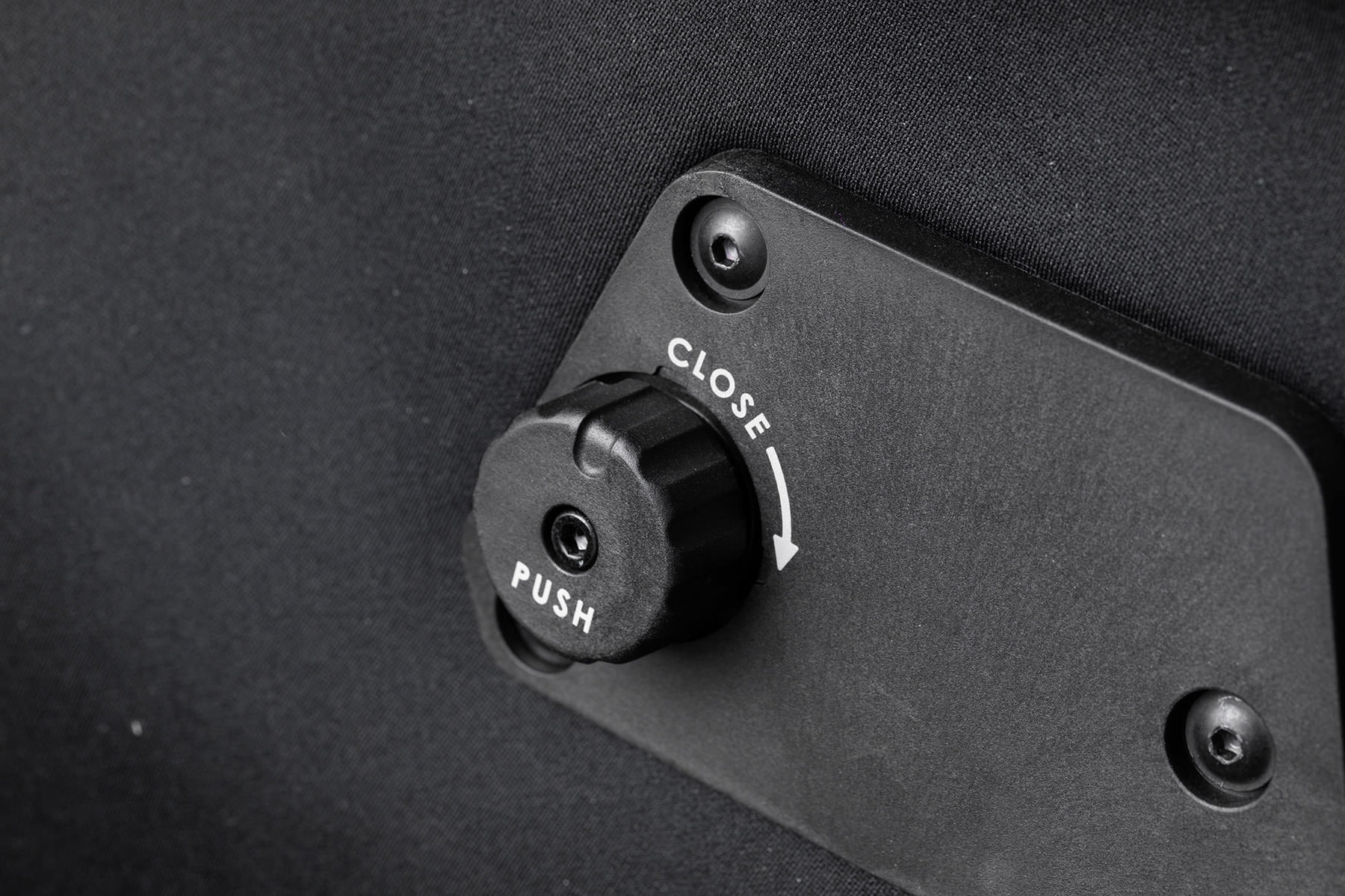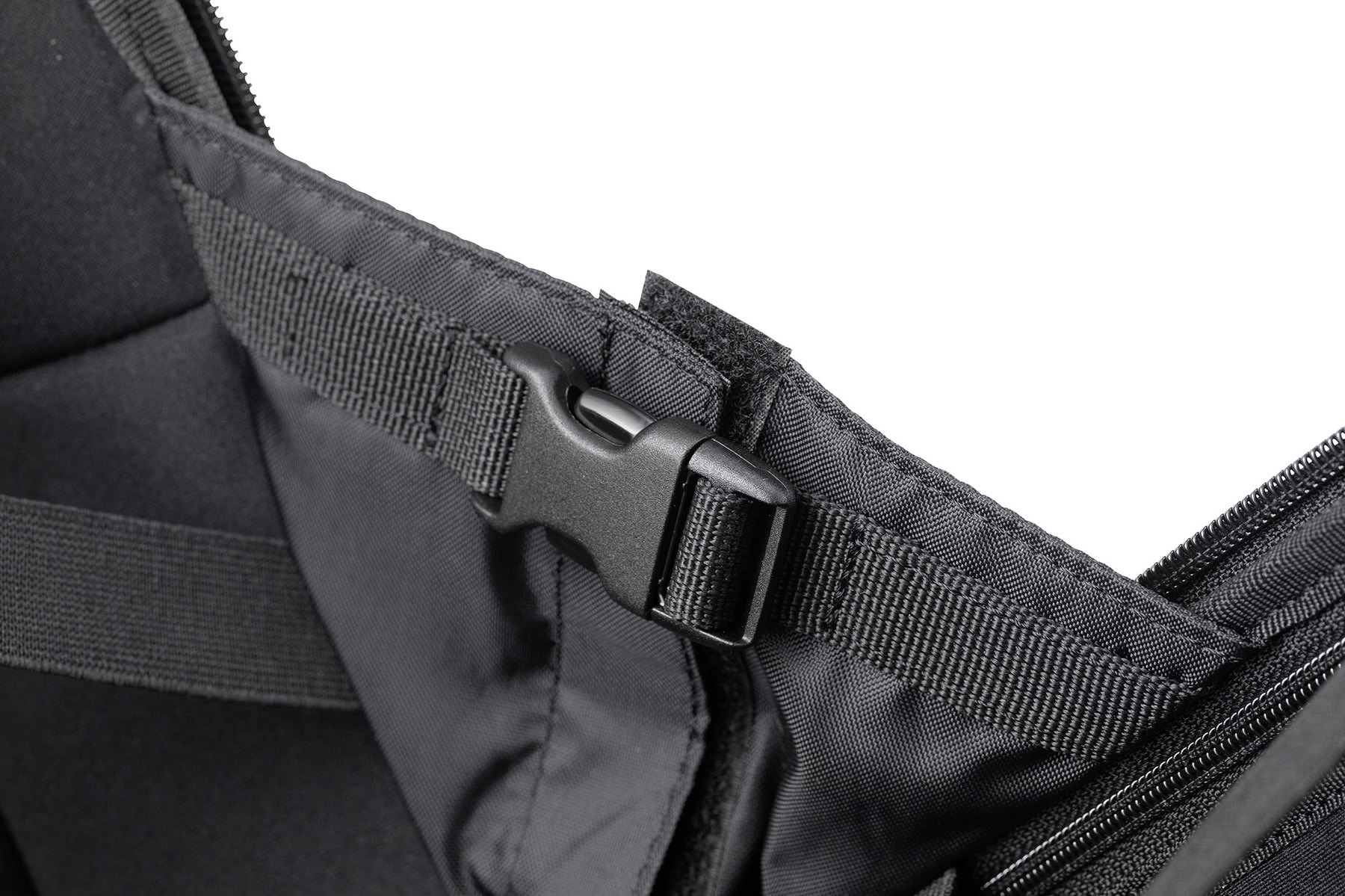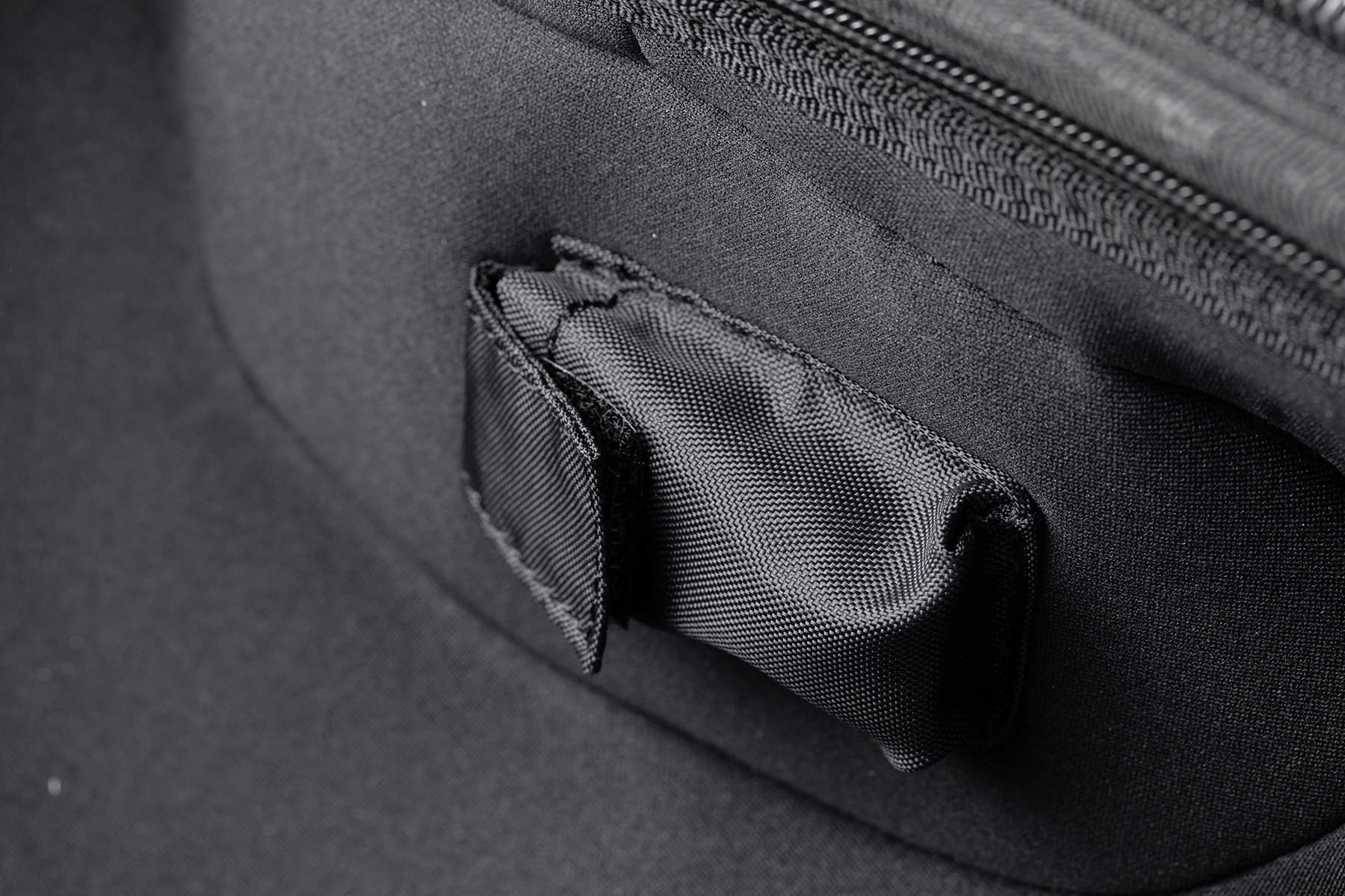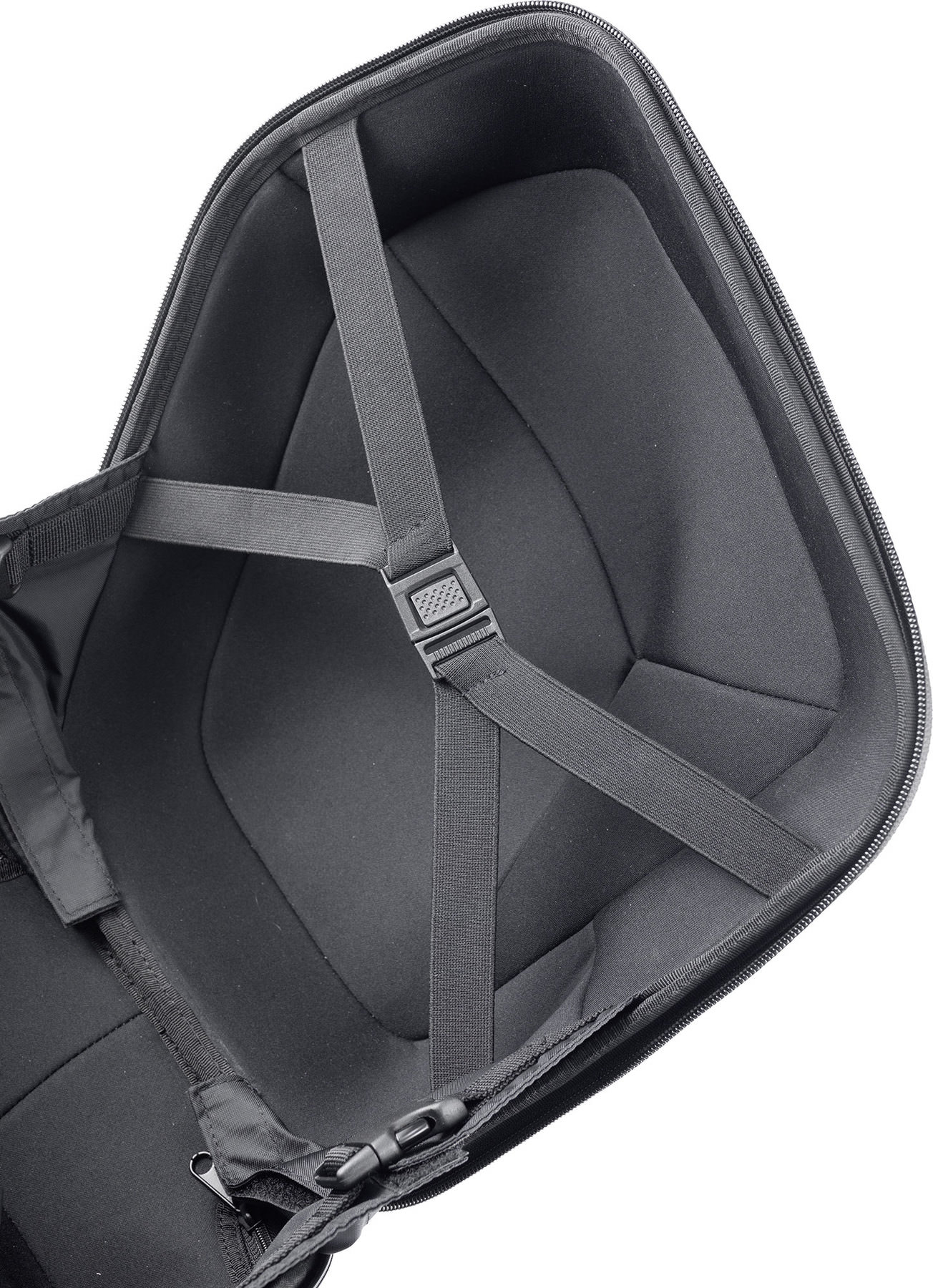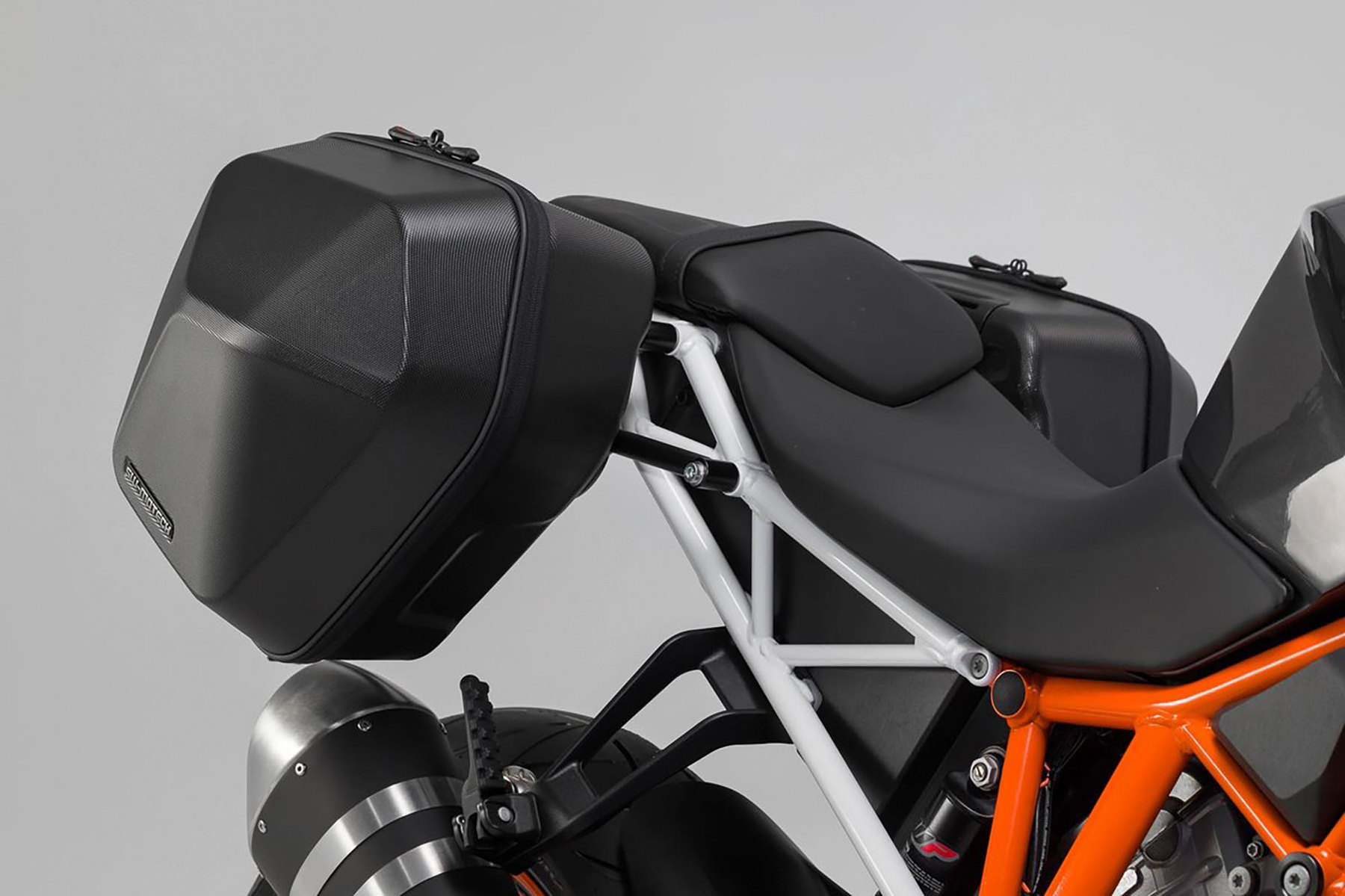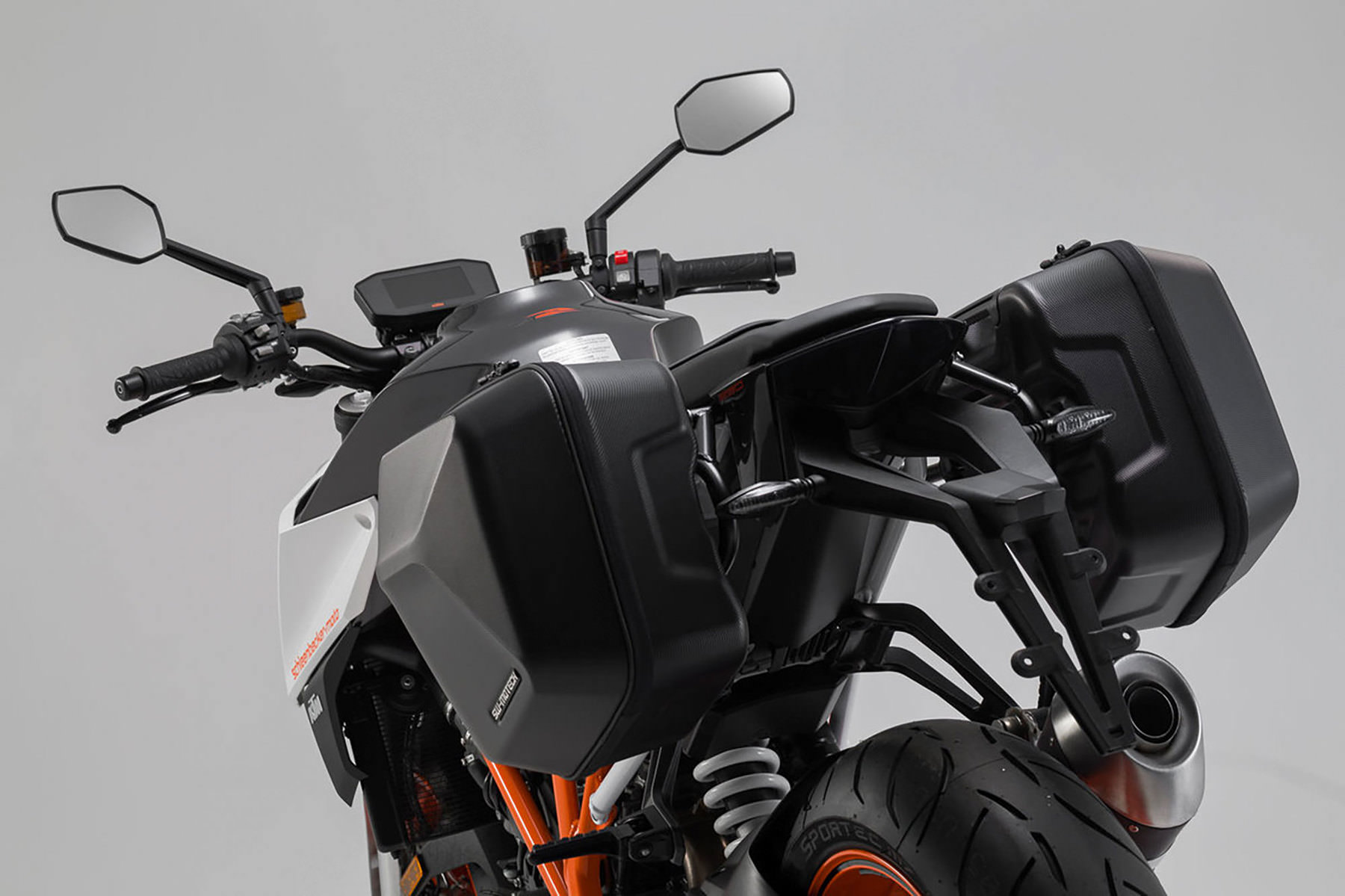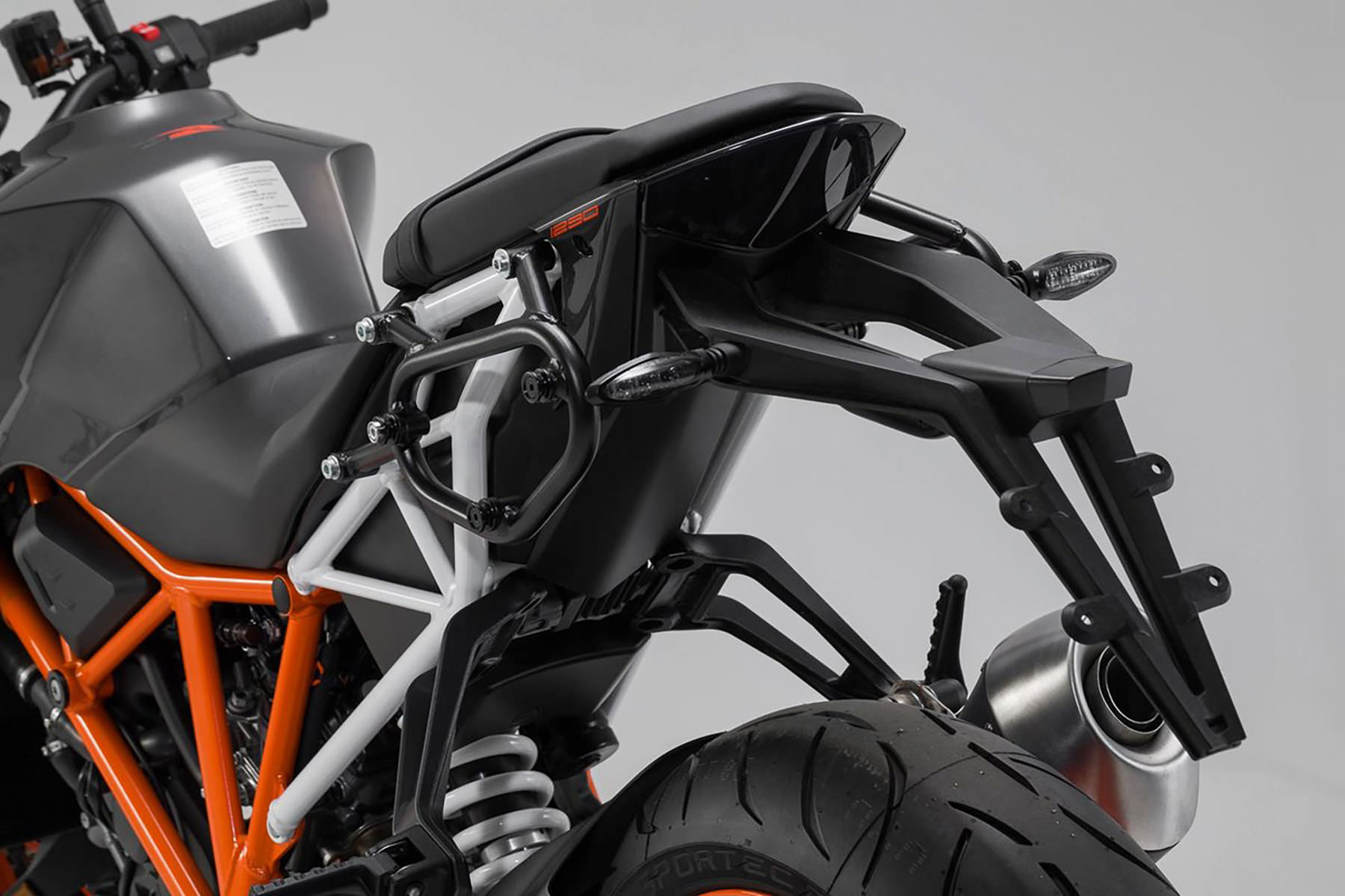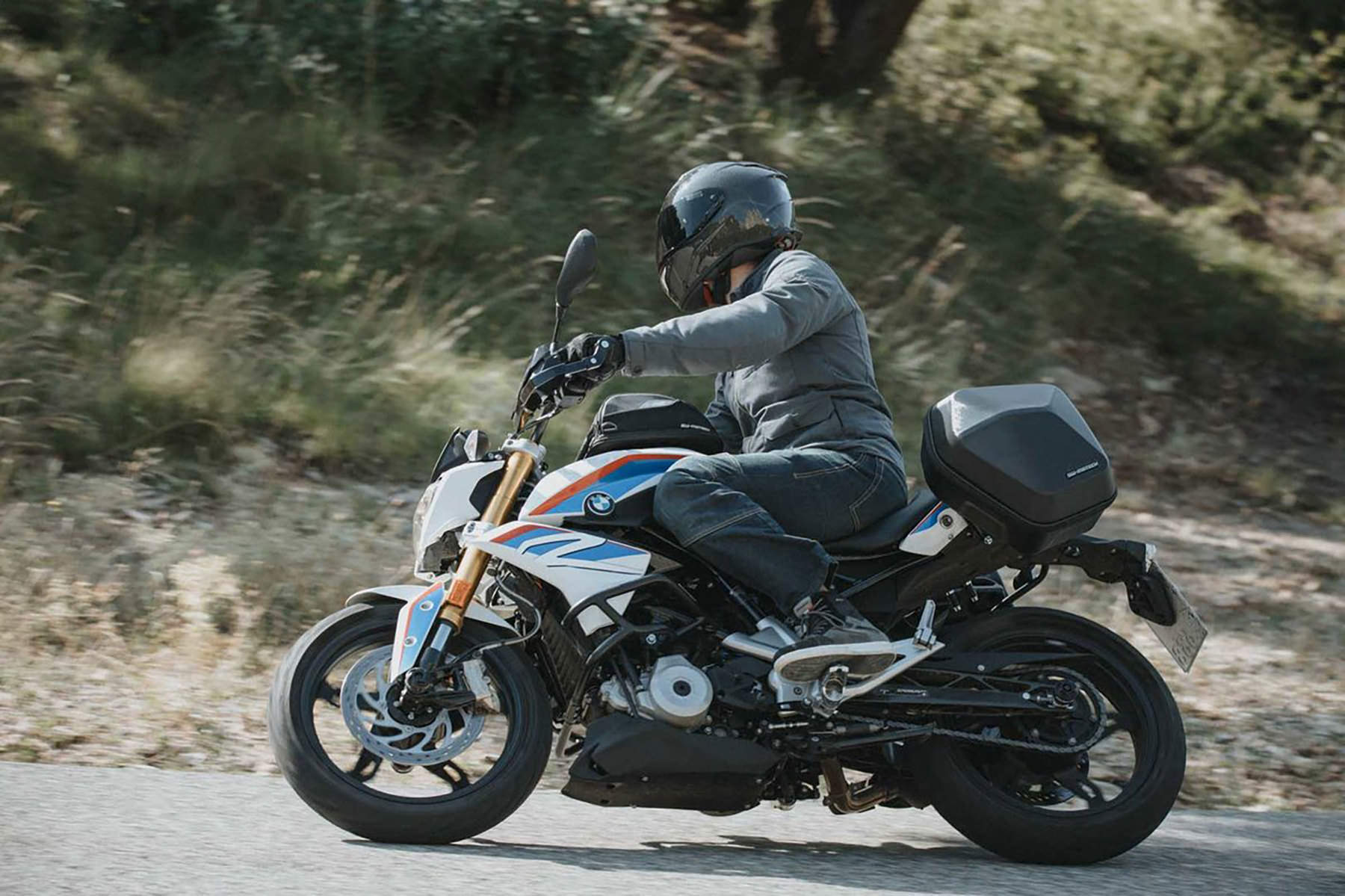 SW-Motech URBAN ABS side case system
2 x 16,5 L, for various models, black
Unfortunately, this product is not compatible with this motorcycle.
Unfortunately, this product is not compatible with this motorcycle. You can find the right for the here: .
Free delivery on orders over €199.00
2 year return policy
Fast delivery
SW-Motech URBAN ABS side case system
2 x 16,5 L, for various models, black
Escaping everyday life, forgetting work for a while, or simply disappearing for the weekend; these are favourite pastimes of many bikers. Owners of sporty and naked bikes have much the same mindset. It just so happens that the *URBAN* ABS side case by SW-Motech is designed with exactly this in mind. They are made of 2.5 mm and 2 mm thick ABS plastic, which makes them durable, robust and light and, with a combined capacity of around 33 litres, they provide enough storage space for a short tour.
The side cases fasten to your motorcycle using the optional SW-Motech SLC side carriers (model-specific) with quick-release fastener system.

Features:

ABS plastic
Anti-theft protection is provided by securing to the SLC side carrier plus lockable zippers
Carry handles allow both cases to be carried in one hand
Reflective details ensure greater safety in road traffic
The textured surface is easy to clean and is also scratch-resistant
The luggage stows away conveniently, thanks to the elastic X-straps
Can be fully opened on the hotel bed or opened only partially on your motorcycle: Lid limiters with clip lock keeps the contents of the case safe and sound
Padded textile lining made of polyester, laminated with PU foam, with pocket for stowing away the motorcycle bag lock
Supplied with waterproof inner bags
Weight of set: approx. 2.8 kg
Dimensions: (W x H x D) approx. 38 x 36 x 24 cm
Capacity: 16.5 l per case
What's included
1 x SLC side carrier right
1 x SLC side carrier left
1 x URBAN ABS side case left, 16.50 l
1 x URBAN ABS side case right, 16.50 l
2 x waterproof inner bags
2 x motorcycle pannier locks
Installation instructions
Fittings
Manufacturer details: SW-Motech

Engineering for motorbikes

SW-MOTECH stands for competence in the development and production of practical solutions in the areas of luggage systems, navigation, ergonomics and safety - all perfectly designed to meet your riding needs. These products stand out thanks to their distinct look, constant high performance, patented technologies and elaborate innovations. Quality, durability and precision are of utmost importance. SW-MOTECH is the ideal companion for every adventure, no matter whether you are on the way to work, on a weekend tour or around globe.
Product
Art. No.
Availability
Price
Actions
2X16,5L CMX1100 REBEL 20-
10069247

The product will be ordered from the manufacturer for you. Depending on availability, longer delivery times are also possible. We'll let you know if that's the case. You can of course cancel your delivery at any time free of charge.

Available in 7-21 days

€480.00 1
AERO SIDE CASE SYSTEM - ABS, MT-07 RM34 20-21
10069023

The item is in stock and will be delivered in 2-5 working days. Note: Stocks are updated online every hour on working days from 7 a.m. to 8 p.m., so there is a good chance that the products are available if they appear online.

Available

€480.00 1
URBAN ABS CASE SYSTEM - 2X16,5L HONDA CB1000R 21-
10069528

The product will be ordered from the manufacturer for you. Depending on availability, longer delivery times are also possible. We'll let you know if that's the case. You can of course cancel your delivery at any time free of charge.

Available in 7-21 days

€460.00 1
URBAN ABS CASE SYSTEM - 2X16,5L STREET TWIN 18-
10069536

The product will be ordered from the manufacturer for you. Depending on availability, longer delivery times are also possible. We'll let you know if that's the case. You can of course cancel your delivery at any time free of charge.

Available in 7-21 days

€460.00 1
URBAN ABS CASE SYSTEM - 2X16,5L TRIDENT 660 21-
10069248

The product will be ordered from the manufacturer for you. Depending on availability, longer delivery times are also possible. We'll let you know if that's the case. You can of course cancel your delivery at any time free of charge.

Available in 7-21 days

€480.00 1
URBAN ABS CASE SYSTEM - 2X16.5L 690 DUKE (2016- )
10067428

The product will be ordered from the manufacturer for you. Depending on availability, longer delivery times are also possible. We'll let you know if that's the case. You can of course cancel your delivery at any time free of charge.

Available in 7-21 days

€460.00 1
URBAN ABS CASE SYSTEM - 2X16.5L BMW G310GS 2017-
10067427

The item is in stock and will be delivered in 2-5 working days. Note: Stocks are updated online every hour on working days from 7 a.m. to 8 p.m., so there is a good chance that the products are available if they appear online.

Available

€450.00 1
URBAN ABS CASE SYSTEM - 2X16.5L CB1000 R (18- )
10067435

The item is in stock and will be delivered in 2-5 working days. Note: Stocks are updated online every hour on working days from 7 a.m. to 8 p.m., so there is a good chance that the products are available if they appear online.

Available

€460.00 1
URBAN ABS CASE SYSTEM - 2X16.5L CB300R/CB125R
10067437

The item is in stock and will be delivered in 2-5 working days. Note: Stocks are updated online every hour on working days from 7 a.m. to 8 p.m., so there is a good chance that the products are available if they appear online.

Available

€460.00 1
URBAN ABS CASE SYSTEM - 2X16.5L CB500F (2016-18)
10067436

The item is in stock and will be delivered in 2-5 working days. Note: Stocks are updated online every hour on working days from 7 a.m. to 8 p.m., so there is a good chance that the products are available if they appear online.

Available

€460.00 1
URBAN ABS CASE SYSTEM - 2X16.5L CB500F/CBR500R
10067444

The item is in stock and will be delivered in 2-5 working days. Note: Stocks are updated online every hour on working days from 7 a.m. to 8 p.m., so there is a good chance that the products are available if they appear online.

Available

€440.00 1
URBAN ABS CASE SYSTEM - 2X16.5L CBR 650F 2016-
10067424

The product will be ordered from the manufacturer for you. Depending on availability, longer delivery times are also possible. We'll let you know if that's the case. You can of course cancel your delivery at any time free of charge.

Available in 7-21 days

€440.00 1
URBAN ABS CASE SYSTEM - 2X16.5L CBR650R / CB650R
10067443

The item is in stock and will be delivered in 2-5 working days. Note: Stocks are updated online every hour on working days from 7 a.m. to 8 p.m., so there is a good chance that the products are available if they appear online.

Available

€460.00 1
URBAN ABS CASE SYSTEM - 2X16.5L F800R/ F800GT 16-
10067440

The product will be ordered from the manufacturer for you. Depending on availability, longer delivery times are also possible. We'll let you know if that's the case. You can of course cancel your delivery at any time free of charge.

Available in 7-21 days

€420.00 1
URBAN ABS CASE SYSTEM - 2X16.5L MASH BS/DT/SF 125
10067438

The product will be ordered from the manufacturer for you. Depending on availability, longer delivery times are also possible. We'll let you know if that's the case. You can of course cancel your delivery at any time free of charge.

Available in 7-21 days

€400.00 1
URBAN ABS CASE SYSTEM - 2X16.5L MONSTER 1200
10067423

The product will be ordered from the manufacturer for you. Depending on availability, longer delivery times are also possible. We'll let you know if that's the case. You can of course cancel your delivery at any time free of charge.

Available in 7-21 days

€440.00 1
URBAN ABS CASE SYSTEM - 2X16.5L MONSTER 1200S 16-
10067426

The product will be ordered from the manufacturer for you. Depending on availability, longer delivery times are also possible. We'll let you know if that's the case. You can of course cancel your delivery at any time free of charge.

Available in 7-21 days

€440.00 1
URBAN ABS CASE SYSTEM - 2X16.5L MONSTER 797 2016-
10067425

The item is in stock and will be delivered in 2-5 working days. Note: Stocks are updated online every hour on working days from 7 a.m. to 8 p.m., so there is a good chance that the products are available if they appear online.

Available

€440.00 1
URBAN ABS CASE SYSTEM - 2X16.5L MT-07 2014-17
10067421

The product will be ordered from the manufacturer for you. Depending on availability, longer delivery times are also possible. We'll let you know if that's the case. You can of course cancel your delivery at any time free of charge.

Available in 7-21 days

€440.00 1
URBAN ABS CASE SYSTEM - 2X16.5L MT-07 2018-
10067429

The item is in stock and will be delivered in 2-5 working days. Note: Stocks are updated online every hour on working days from 7 a.m. to 8 p.m., so there is a good chance that the products are available if they appear online.

Available

€440.00 1
URBAN ABS CASE SYSTEM - 2X16.5L MT-09 2016-17
10067422

The item is in stock and will be delivered in 2-5 working days. Note: Stocks are updated online every hour on working days from 7 a.m. to 8 p.m., so there is a good chance that the products are available if they appear online.

Available

€460.00 1
URBAN ABS CASE SYSTEM - 2X16.5L R.ENFLIED HIMALA.
10067434

The item is in stock and will be delivered in 2-5 working days. Note: Stocks are updated online every hour on working days from 7 a.m. to 8 p.m., so there is a good chance that the products are available if they appear online.

Available

€460.00 1
URBAN ABS CASE SYSTEM - 2X16.5L R1200R/ R1250R/RS
10067442

The item is in stock and will be delivered in 2-5 working days. Note: Stocks are updated online every hour on working days from 7 a.m. to 8 p.m., so there is a good chance that the products are available if they appear online.

Available

€460.00 1
URBAN ABS CASE SYSTEM - 2X16.5L SCRAMBLER 1100
10067430

The product will be ordered from the manufacturer for you. Depending on availability, longer delivery times are also possible. We'll let you know if that's the case. You can of course cancel your delivery at any time free of charge.

Available in 7-21 days

€460.00 1
URBAN ABS CASE SYSTEM - 2X16.5L SPEED TRIPLE 1050
10067433

The product will be ordered from the manufacturer for you. Depending on availability, longer delivery times are also possible. We'll let you know if that's the case. You can of course cancel your delivery at any time free of charge.

Available in 7-21 days

€455.00 1
URBAN ABS CASE SYSTEM - 2X16.5L SPEED TWIN 1200
10067445

The item is in stock and will be delivered in 2-5 working days. Note: Stocks are updated online every hour on working days from 7 a.m. to 8 p.m., so there is a good chance that the products are available if they appear online.

Available

€460.00 1
URBAN ABS CASE SYSTEM - 2X16.5L SPEED TWIN THRUX.
10067446

The product will be ordered from the manufacturer for you. Depending on availability, longer delivery times are also possible. We'll let you know if that's the case. You can of course cancel your delivery at any time free of charge.

Available in 7-21 days

€460.00 1
URBAN ABS CASE SYSTEM - 2X16.5L V-STORM 250 (18-)
10067439

The product will be ordered from the manufacturer for you. Depending on availability, longer delivery times are also possible. We'll let you know if that's the case. You can of course cancel your delivery at any time free of charge.

Available in 7-21 days

€430.00 1
URBAN ABS CASE SYSTEM - 2X16.5L VERSYS X 300 16-
10067418

The item is in stock and will be delivered in 2-5 working days. Note: Stocks are updated online every hour on working days from 7 a.m. to 8 p.m., so there is a good chance that the products are available if they appear online.

Available

€430.00 1
URBAN ABS CASE SYSTEM - 2X16.5L YAMAHA MT03 16-20
10068213

The item is in stock and will be delivered in 2-5 working days. Note: Stocks are updated online every hour on working days from 7 a.m. to 8 p.m., so there is a good chance that the products are available if they appear online.

Available

€450.00 1
URBAN ABS CASE SYSTEM - 2X16.5L YAMAHA NIKEN 18-
10067441

The product will be ordered from the manufacturer for you. Depending on availability, longer delivery times are also possible. We'll let you know if that's the case. You can of course cancel your delivery at any time free of charge.

Available in 7-21 days

€440.00 1
URBAN ABS CASE SYSTEM - 2X16.5L Z650/NINJA 650
10067417

This product is available at week 26.
Current calendar week: 20

Available as of calendar week 26

€440.00 1
URBAN ABS CASE SYSTEM - 2X16.5L,1290 SUPER DUKE R
10067415

The item is in stock and will be delivered in 2-5 working days. Note: Stocks are updated online every hour on working days from 7 a.m. to 8 p.m., so there is a good chance that the products are available if they appear online.

Available

€460.00 1
URBAN ABS CASE SYSTEM - 2X16.5L125/390 DUKE 2017-
10067416

The product will be ordered from the manufacturer for you. Depending on availability, longer delivery times are also possible. We'll let you know if that's the case. You can of course cancel your delivery at any time free of charge.

Available in 7-21 days

€440.00 1
URBAN ABS CASE-SYSTEM - 2X16,5L TRACER 7 16-
10069145

The product will be ordered from the manufacturer for you. Depending on availability, longer delivery times are also possible. We'll let you know if that's the case. You can of course cancel your delivery at any time free of charge.

Available in 7-21 days

€480.00 1
URBAN ABS SIDECASE SYSTEM - 2X16,5L 1290 SUPER R 19-
10068295

The product will be ordered from the manufacturer for you. Depending on availability, longer delivery times are also possible. We'll let you know if that's the case. You can of course cancel your delivery at any time free of charge.

Available in 7-21 days

€460.00 1
URBAN ABS SIDECASE SYSTEM - 2X16,5L CMX1100 REBEL 20-
10069225

The item is in stock and will be delivered in 2-5 working days. Note: Stocks are updated online every hour on working days from 7 a.m. to 8 p.m., so there is a good chance that the products are available if they appear online.

Available

€480.00 1
URBAN ABS SIDECASE SYSTEM - 2X16,5L F750GS/F850GS 17-

Important notes

Only for models with ESA system.

10069251

The product will be ordered from the manufacturer for you. Depending on availability, longer delivery times are also possible. We'll let you know if that's the case. You can of course cancel your delivery at any time free of charge.

Available in 7-21 days

€460.00 1
URBAN ABS SIDECASE SYSTEM - 2X16,5L F900R 4R90/40R90R
10067701

The product will be ordered from the manufacturer for you. Depending on availability, longer delivery times are also possible. We'll let you know if that's the case. You can of course cancel your delivery at any time free of charge.

Available in 7-21 days

€460.00 1
URBAN ABS SIDECASE SYSTEM - 2X16,5L HONDA X-ADV 20-

Important notes

The STREET-RACK luggage carrier 10068230 is required for mounting the SLC side carrier 10069132.

10069132

The product will be ordered from the manufacturer for you. Depending on availability, longer delivery times are also possible. We'll let you know if that's the case. You can of course cancel your delivery at any time free of charge.

Available in 7-21 days

€520.00 1
URBAN ABS SIDECASE SYSTEM - 2X16,5L YAMAHA MT-07 18-
10069250

The product will be ordered from the manufacturer for you. Depending on availability, longer delivery times are also possible. We'll let you know if that's the case. You can of course cancel your delivery at any time free of charge.

Available in 7-21 days

€480.00 1
URBAN ABS SIDECASE SYSTEM - 2X16,5L YAMAHA MT-09 20-
10069249

The product will be ordered from the manufacturer for you. Depending on availability, longer delivery times are also possible. We'll let you know if that's the case. You can of course cancel your delivery at any time free of charge.

Available in 7-21 days

€460.00 1
URBAN ABS SIDECASE SYSTEM - 2X16.5L 790 2019- 890 20-
10068290

The product will be ordered from the manufacturer for you. Depending on availability, longer delivery times are also possible. We'll let you know if that's the case. You can of course cancel your delivery at any time free of charge.

Available in 7-21 days

€460.00 1
URBAN ABS SIDECASE SYSTEM - 2X16.5L BMW G310R 2016-20
10068296

The product will be ordered from the manufacturer for you. Depending on availability, longer delivery times are also possible. We'll let you know if that's the case. You can of course cancel your delivery at any time free of charge.

Available in 7-21 days

€450.00 1
URBAN ABS SIDECASE SYSTEM - 2X16.5L BMW S1000R 2016-
10068293

This product is available at week 21.
Current calendar week: 20

Available as of calendar week 21

€445.00 1
URBAN ABS SIDECASE SYSTEM - 2X16.5L BMW S1000XR 2019-
10068284

The product will be ordered from the manufacturer for you. Depending on availability, longer delivery times are also possible. We'll let you know if that's the case. You can of course cancel your delivery at any time free of charge.

Available in 7-21 days

€510.00 1
URBAN ABS SIDECASE SYSTEM - 2X16.5L BONNEV T120 2015-
10068281

The product will be ordered from the manufacturer for you. Depending on availability, longer delivery times are also possible. We'll let you know if that's the case. You can of course cancel your delivery at any time free of charge.

Available in 7-21 days

€460.00 1
URBAN ABS SIDECASE SYSTEM - 2X16.5L CAFE RACER 17-18
10068287

The product will be ordered from the manufacturer for you. Depending on availability, longer delivery times are also possible. We'll let you know if that's the case. You can of course cancel your delivery at any time free of charge.

Available in 7-21 days

€460.00 1
URBAN ABS SIDECASE SYSTEM - 2X16.5L GSX-S750 2016-
10068291

The product will be ordered from the manufacturer for you. Depending on availability, longer delivery times are also possible. We'll let you know if that's the case. You can of course cancel your delivery at any time free of charge.

Available in 7-21 days

€440.00 1
URBAN ABS SIDECASE SYSTEM - 2X16.5L GUZZI V7 III 16-
10068285

The product will be ordered from the manufacturer for you. Depending on availability, longer delivery times are also possible. We'll let you know if that's the case. You can of course cancel your delivery at any time free of charge.

Available in 7-21 days

€440.00 1
URBAN ABS SIDECASE SYSTEM - 2X16.5L KAWA Z900RS 2017-
10068289

The product will be ordered from the manufacturer for you. Depending on availability, longer delivery times are also possible. We'll let you know if that's the case. You can of course cancel your delivery at any time free of charge.

Available in 7-21 days

€460.00 1
URBAN ABS SIDECASE SYSTEM - 2X16.5L KAWASAKI W800 18-
10068282

The item is in stock and will be delivered in 2-5 working days. Note: Stocks are updated online every hour on working days from 7 a.m. to 8 p.m., so there is a good chance that the products are available if they appear online.

Available

€440.00 1
URBAN ABS SIDECASE SYSTEM - 2X16.5L KTM 390 ADV 2019-
10068288

The product will be ordered from the manufacturer for you. Depending on availability, longer delivery times are also possible. We'll let you know if that's the case. You can of course cancel your delivery at any time free of charge.

Available in 7-21 days

€460.00 1
URBAN ABS SIDECASE SYSTEM - 2X16.5L ROYAL ENF INT CON
10068286

The product will be ordered from the manufacturer for you. Depending on availability, longer delivery times are also possible. We'll let you know if that's the case. You can of course cancel your delivery at any time free of charge.

Available in 7-21 days

€460.00 1
URBAN ABS SIDECASE SYSTEM - 2X16.5L SCRAMBLER MOD 18-
10068299

The product will be ordered from the manufacturer for you. Depending on availability, longer delivery times are also possible. We'll let you know if that's the case. You can of course cancel your delivery at any time free of charge.

Available in 7-21 days

€460.00 1
URBAN ABS SIDECASE SYSTEM - 2X16.5L TENERE 700 19-20
10068283

The product will be ordered from the manufacturer for you. Depending on availability, longer delivery times are also possible. We'll let you know if that's the case. You can of course cancel your delivery at any time free of charge.

Available in 7-21 days

€470.00 1
URBAN ABS SIDECASE SYSTEM - 2X16.5L THRUXT. 1200R TFC
10068298

The product will be ordered from the manufacturer for you. Depending on availability, longer delivery times are also possible. We'll let you know if that's the case. You can of course cancel your delivery at any time free of charge.

Available in 7-21 days

€450.00 1
URBAN ABS SIDECASE SYSTEM - 2X16.5L THRUXTON RS 2019-
10068297

The product will be ordered from the manufacturer for you. Depending on availability, longer delivery times are also possible. We'll let you know if that's the case. You can of course cancel your delivery at any time free of charge.

Available in 7-21 days

€440.00 1
URBAN ABS SIDECASE SYSTEM - 2X16.5L TRACER 9 2020-
10068292

The product will be ordered from the manufacturer for you. Depending on availability, longer delivery times are also possible. We'll let you know if that's the case. You can of course cancel your delivery at any time free of charge.

Available in 7-21 days

€470.00 1
URBAN ABS SIDECASE SYSTEM - 2X16.5L TRK 502 X 2018-
10068294

The product will be ordered from the manufacturer for you. Depending on availability, longer delivery times are also possible. We'll let you know if that's the case. You can of course cancel your delivery at any time free of charge.

Available in 7-21 days

€470.00 1
URBAN ABS SIDECASE SYSTEM - 2X16.5L XSR700 15- XT 19-
10068303

The product will be ordered from the manufacturer for you. Depending on availability, longer delivery times are also possible. We'll let you know if that's the case. You can of course cancel your delivery at any time free of charge.

Available in 7-21 days

€460.00 1
URBAN ABS SIDECASE SYSTEM - 2X16.5L Z900 (16-
10069189

The product will be ordered from the manufacturer for you. Depending on availability, longer delivery times are also possible. We'll let you know if that's the case. You can of course cancel your delivery at any time free of charge.

Available in 7-21 days

€460.00 1