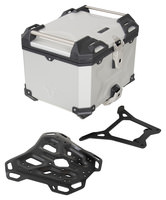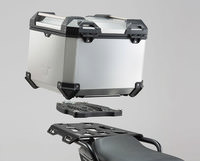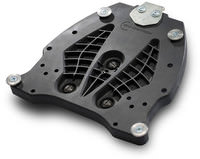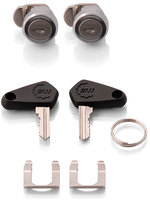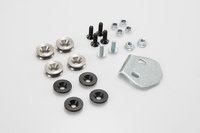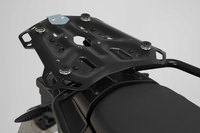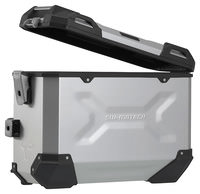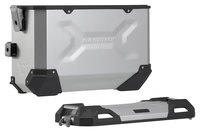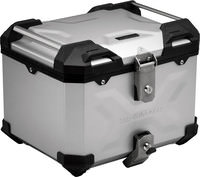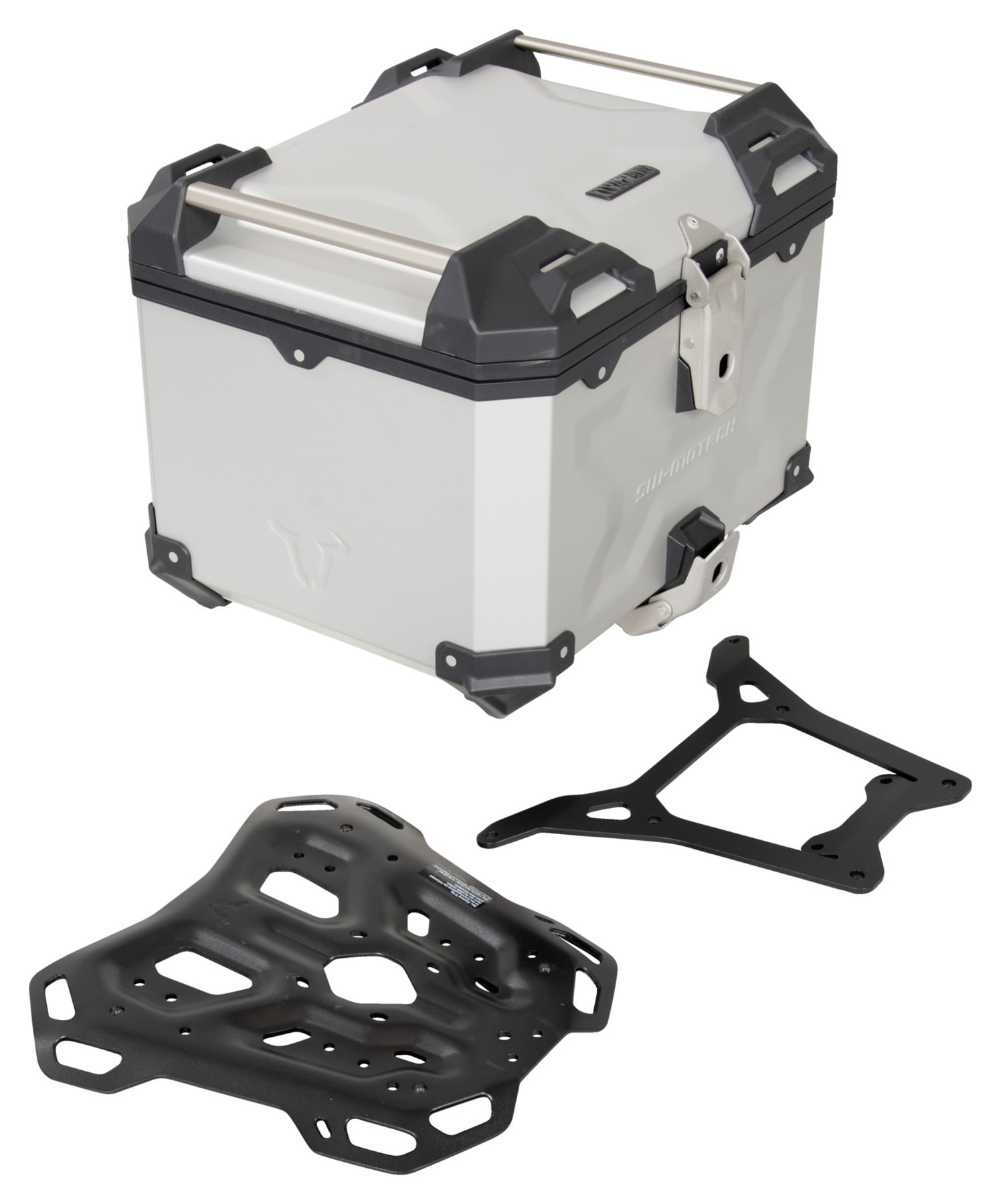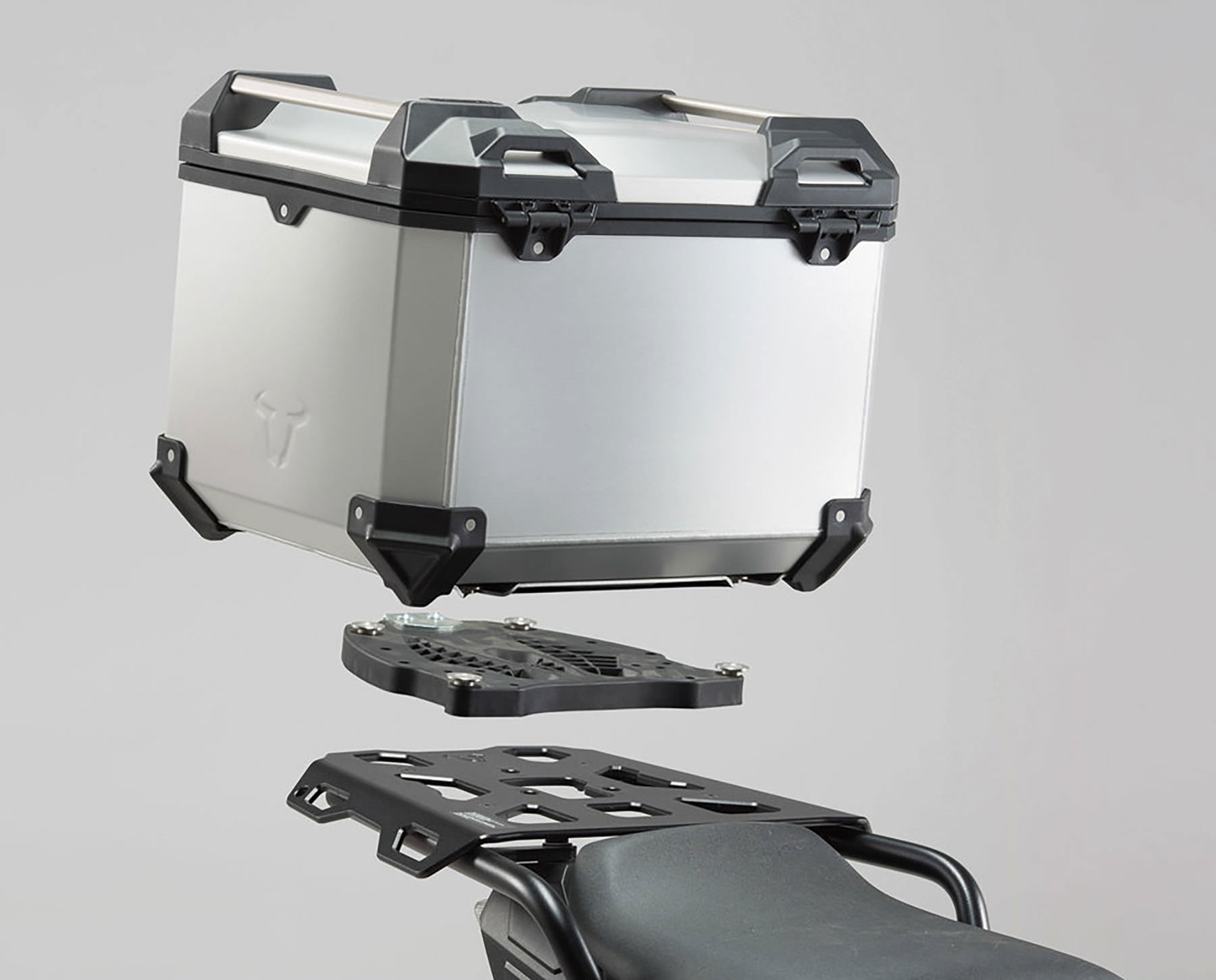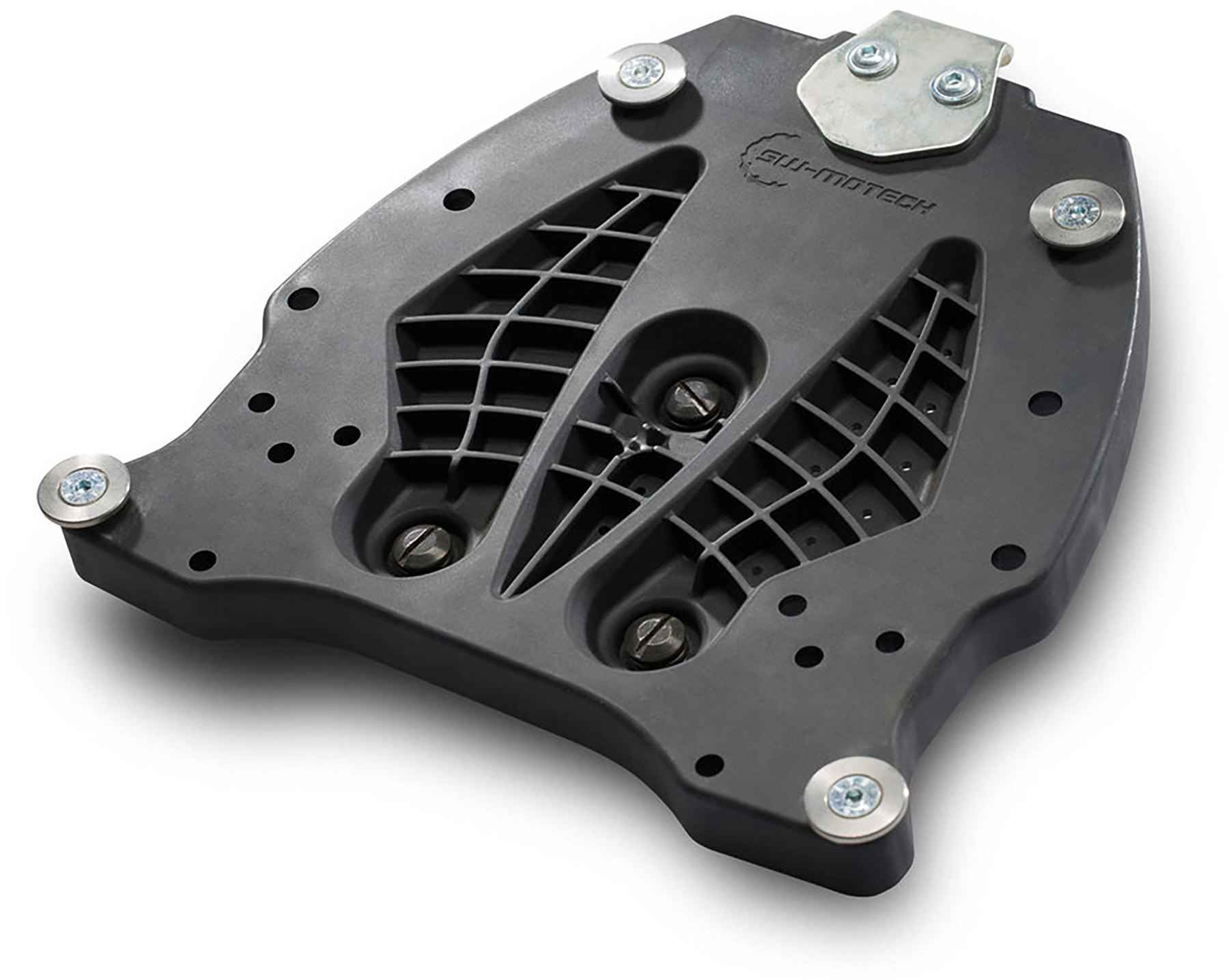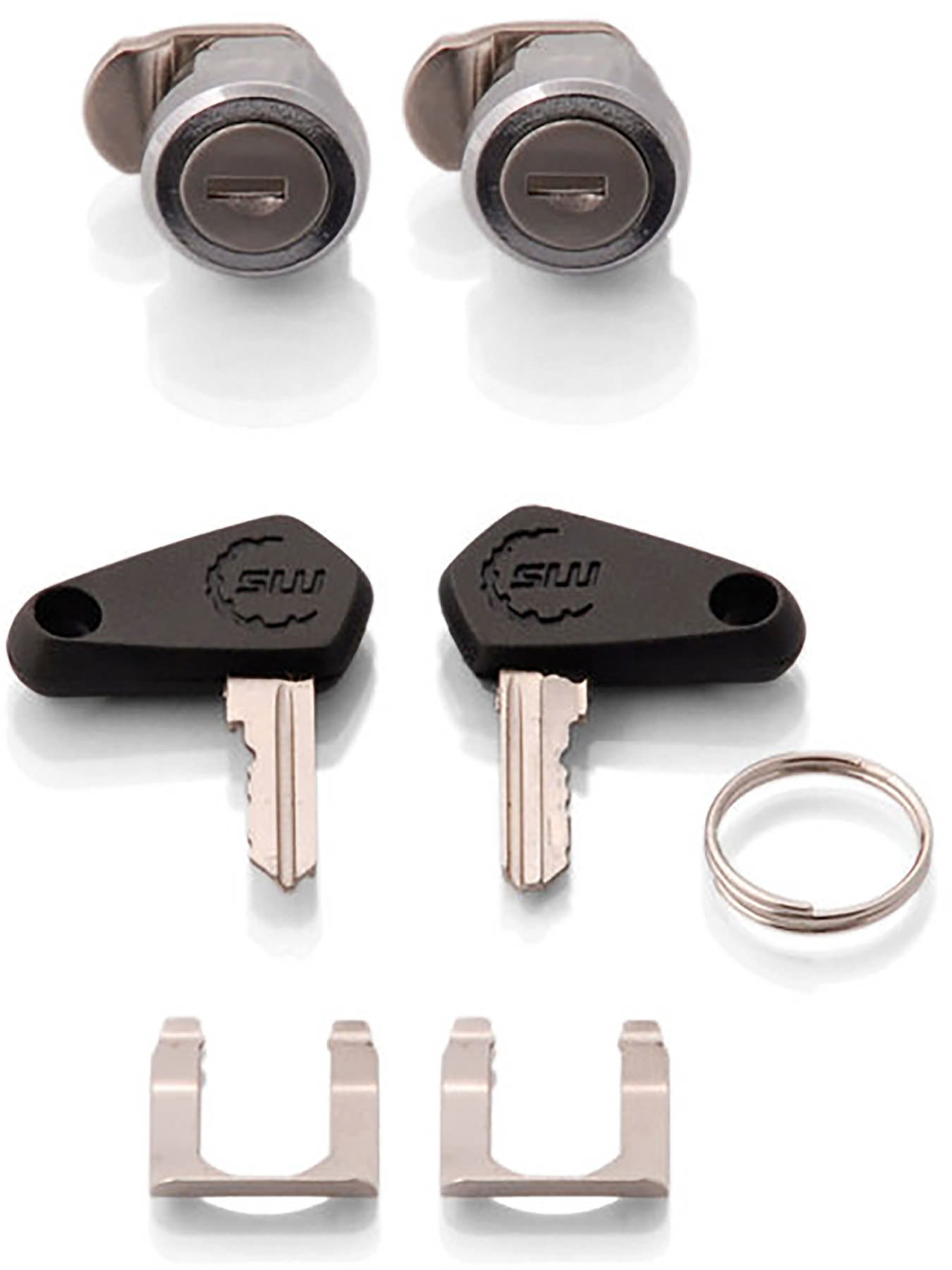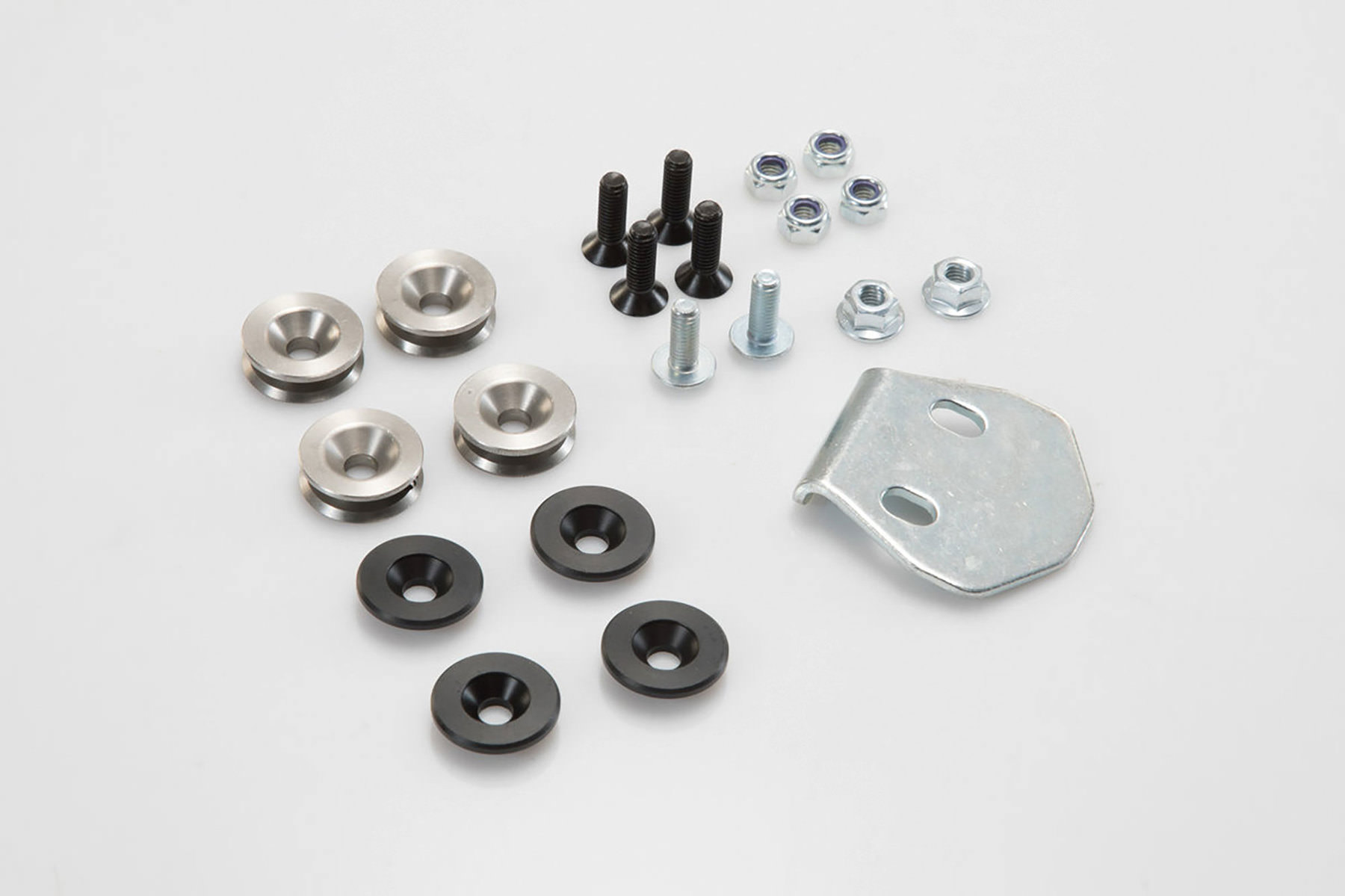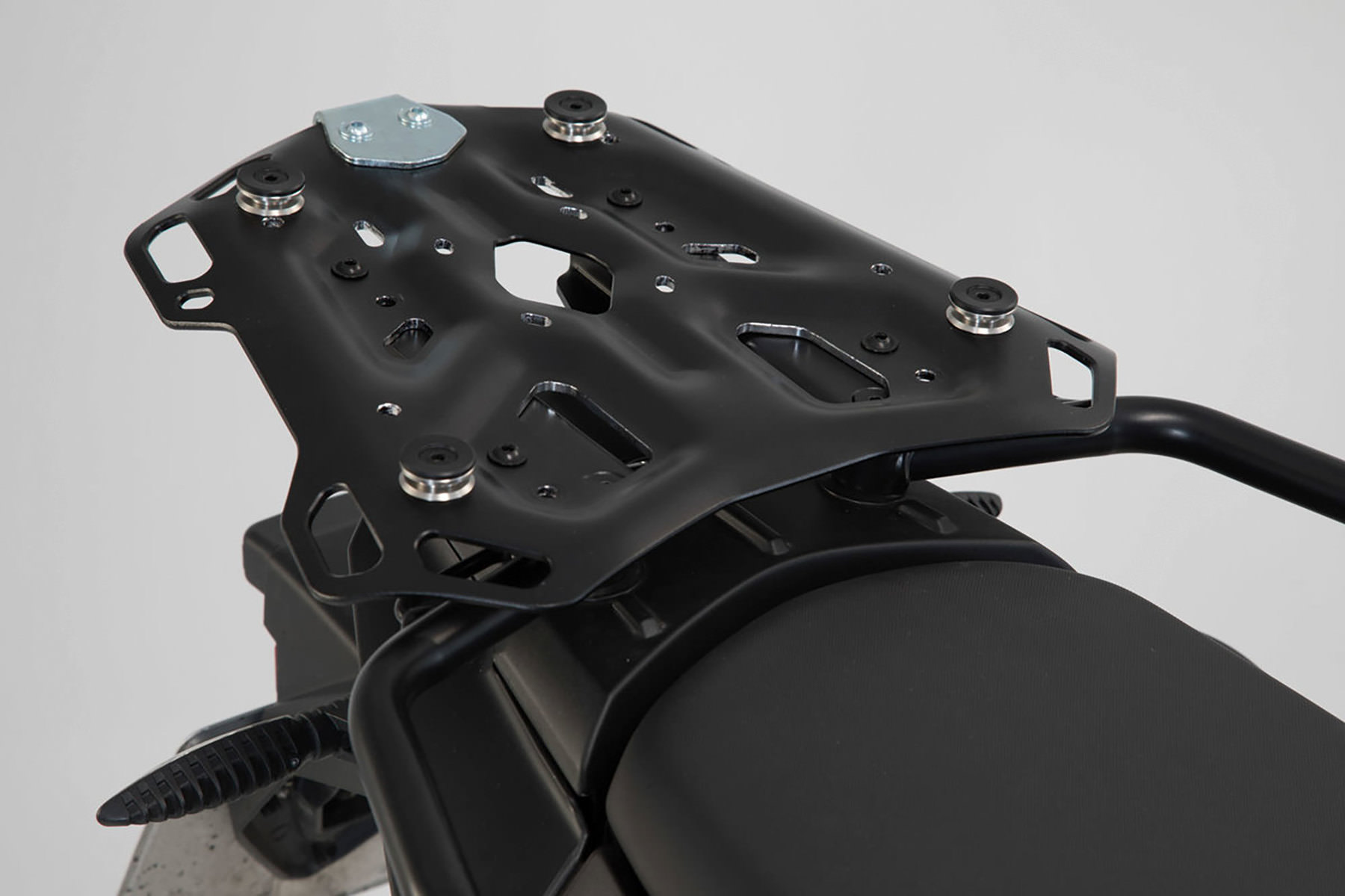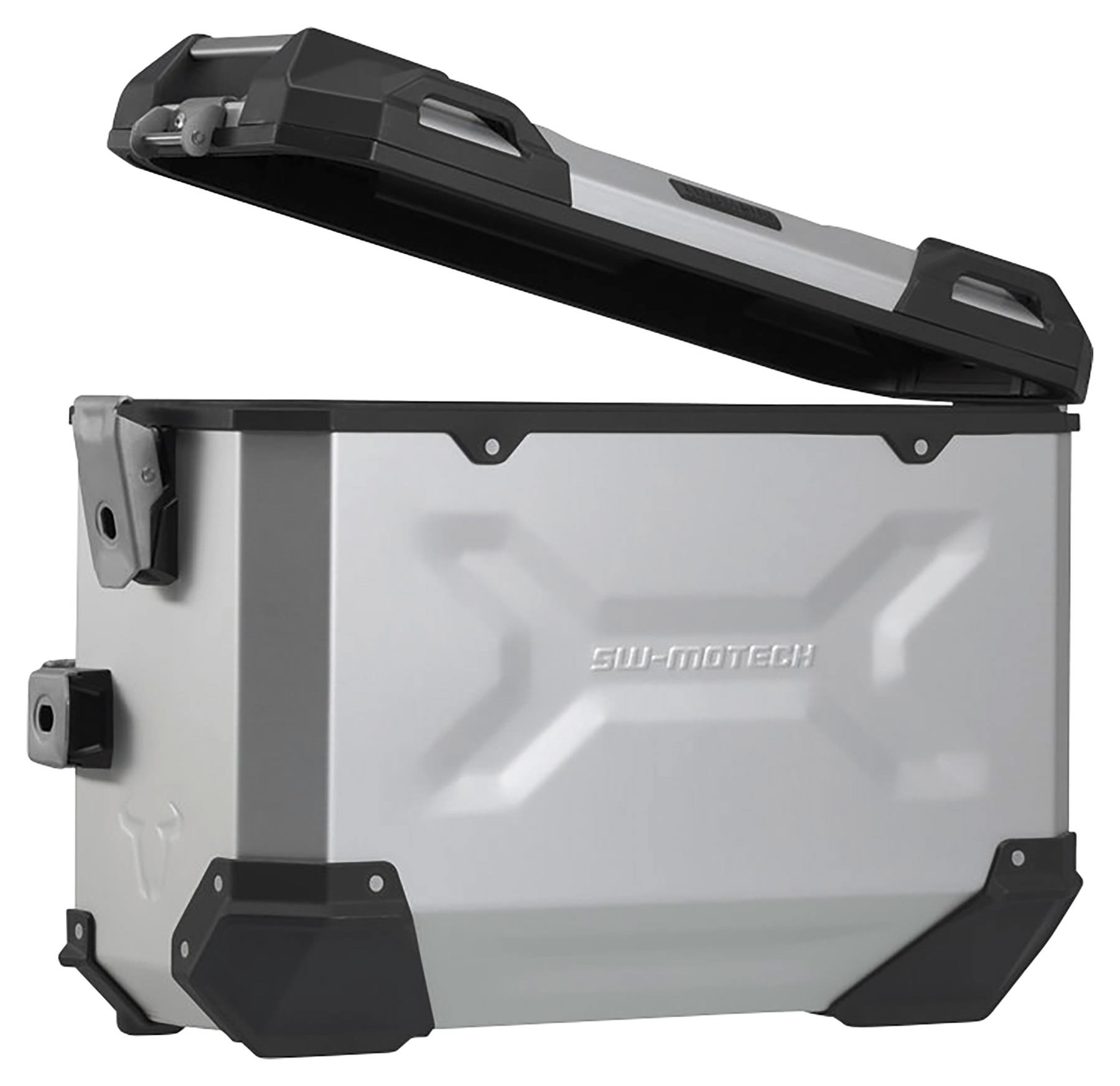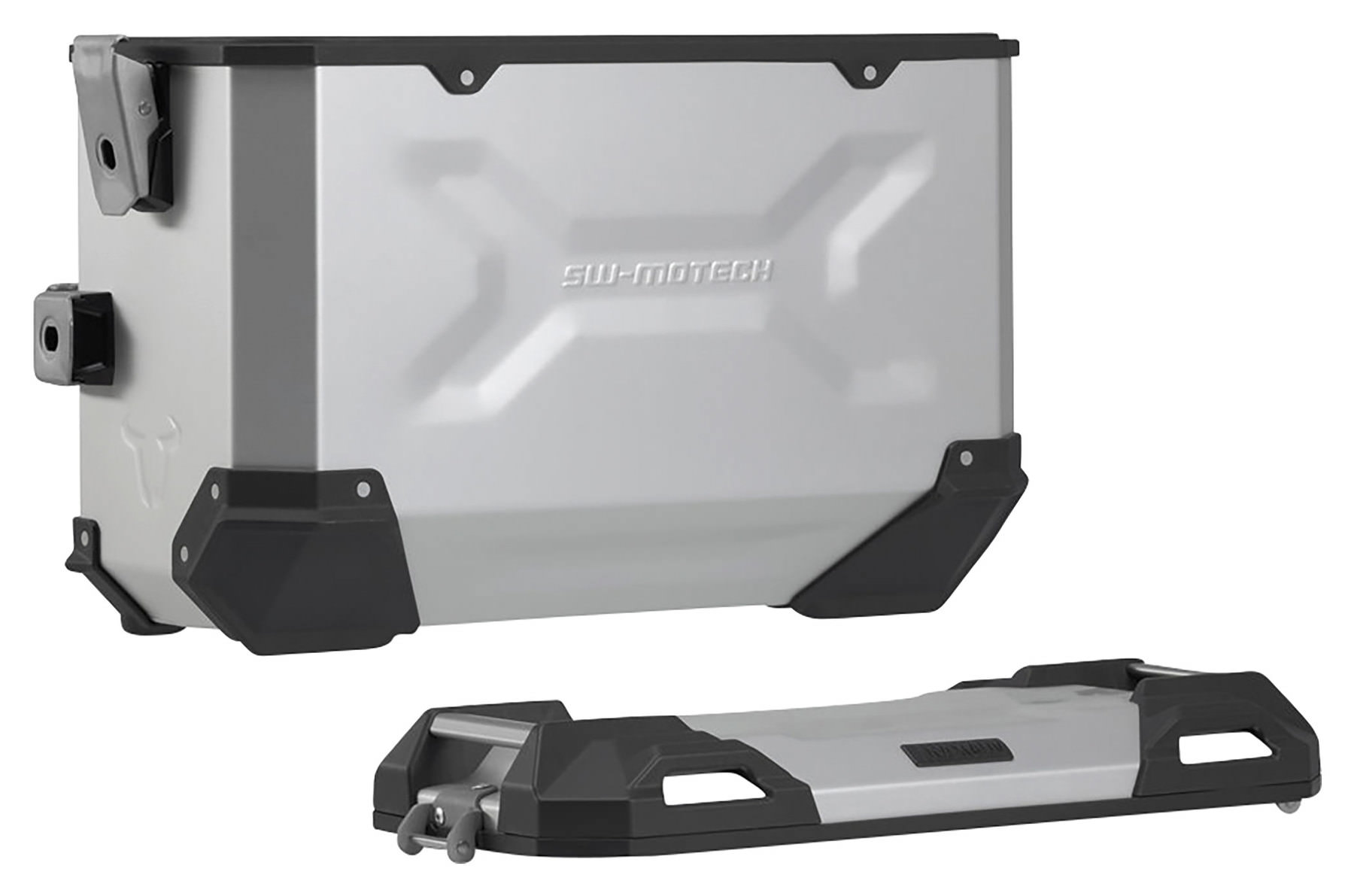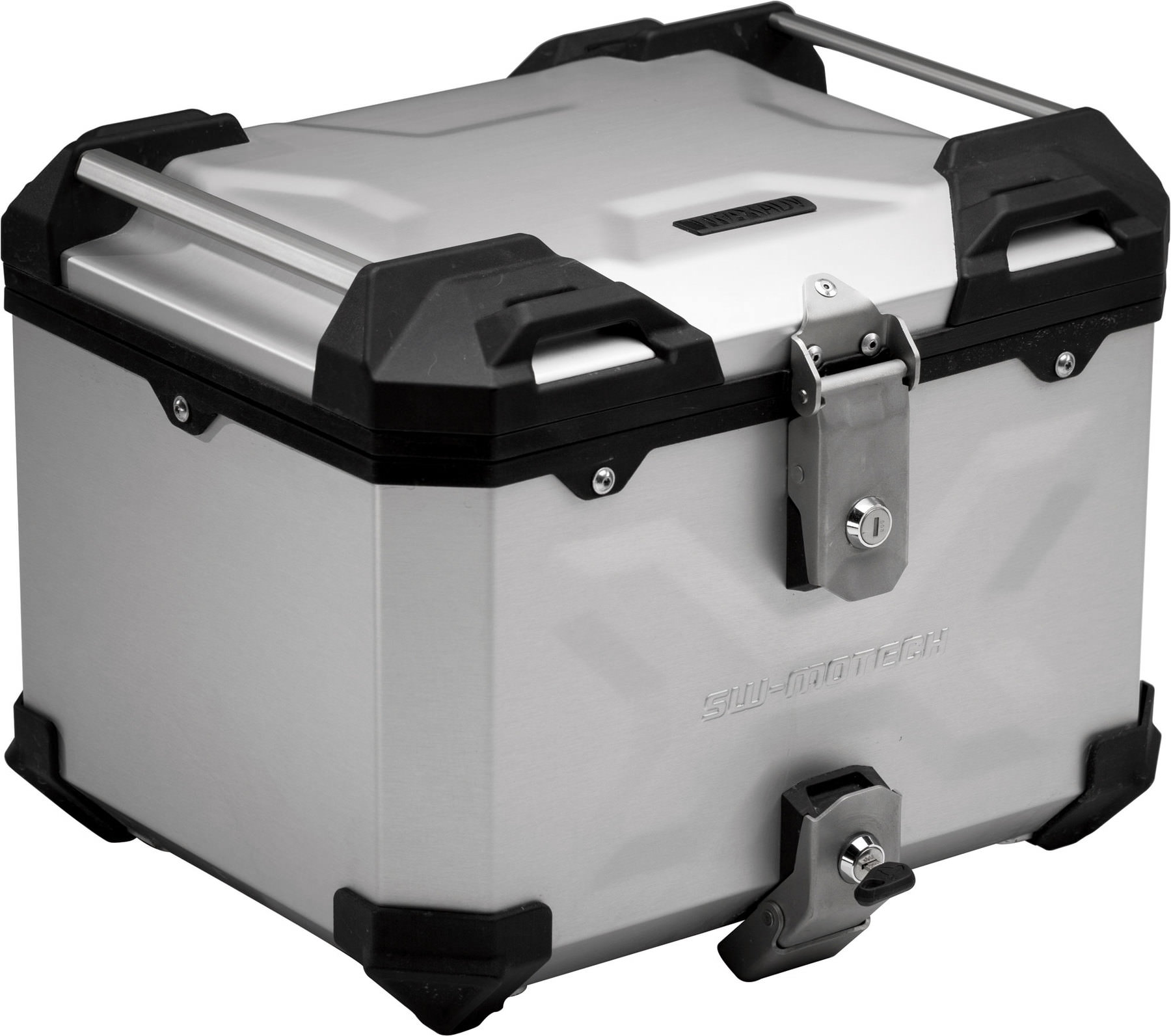 SW-Motech Trax ADV top case system
38 l, for various models, silver
Unfortunately, this product is not compatible with this motorcycle.
Unfortunately, this product is not compatible with this motorcycle. You can find the right for the here: .
Free delivery on orders over €199.00
2 year return policy
Fast delivery
SW-Motech Trax ADV top case system
38 l, for various models, silver
More robust than ever before - with the new Trax Adventure SW-MOTECH provides the ambitious touring driver with an aluminium topcase that crosses borders.
Stronger than ever before - with the new Trax Adventure, SW-MOTECH offers the enthusiastic tourer an aluminium case that sets new standards. Elegant design and perfect quality of make add up to impressive performance, whether in city biking or long-distance touring, even under the toughest conditions. Come sandstorm or deluge, everything stays dry, clean and safe in the Trax.

Securing:

The Trax is installed on the ALU-RACK or STREET-RACK
Features:

Manufactured using a robotic welding process
Dustproof and waterproof design
Strongly slanting bottom edge gives increased cornering clearance
GRP corners protect against damage caused by accidental ground contact
Practical quick-release fastener
Detachable lid
Integral carry handles and tie-down eyelets
Specs:

Material: 1.5-mm aluminium
Colour: Silver (anodised)
Capacity: approx. 38 litres
Dimensions (WxHxD): approx. 41 x 34 x 33 cm
Included in delivery
1 x TRAX ADV Top case, silver
1 x ALU-RACK Rack, black
1 x Adapter plate for ALU-RACK or STREET-RACK
1 x TRAX lock set
1 x Storage bag
2 x Lid limiter
Mounting instructions
Mounting material

Details
Total Weight: 4,8 kg / 10.6 lb
Total Volume: 38,0 l
Manufacturer details: SW-Motech

Engineering for motorbikes

SW-MOTECH stands for competence in the development and production of practical solutions in the areas of luggage systems, navigation, ergonomics and safety - all perfectly designed to meet your riding needs. These products stand out thanks to their distinct look, constant high performance, patented technologies and elaborate innovations. Quality, durability and precision are of utmost importance. SW-MOTECH is the ideal companion for every adventure, no matter whether you are on the way to work, on a weekend tour or around globe.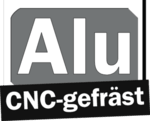 This product is made of high-quality CNC-machined aluminium and will look great on your motorbike.

To ensure that it gives you many years of service, please observe the following care instructions:

1. After installing the product, and each time you wash your motorbike, apply a wax-based care product, e.g. Procycle Polishing Wax, Order no. 10004923 for protection against wind and weather. You may need to repeat the application after an outing in winter weather, rain or salty air (near the coast).

2. Remove any corrosion as soon as possible using a standard aluminium polish (e.g. Autosol Aluminium Polish, Order no. 10004421).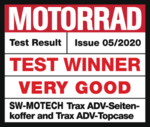 MRD-Testsieger-SW-Motech 05/20
No customer reviews have been submitted for this product.
Be the first to write a review!
Product
Art. No.
Availability
Price
Actions
38L, BMW S1000XR 2019-BLK
10068520

The product will be ordered from the manufacturer for you. Depending on availability, longer delivery times are also possible. We'll let you know if that's the case. You can of course cancel your delivery at any time free of charge.

Available in 7-21 days

€540.00 1
38L, F900R/XR 2019-SILVER
10068516

The product will be ordered from the manufacturer for you. Depending on availability, longer delivery times are also possible. We'll let you know if that's the case. You can of course cancel your delivery at any time free of charge.

Available in 7-21 days

€600.00 1
38L, MT-07 TRAC.16-BLACK
10068530

The product will be ordered from the manufacturer for you. Depending on availability, longer delivery times are also possible. We'll let you know if that's the case. You can of course cancel your delivery at any time free of charge.

Available in 7-21 days

€580.00 1
38L, MT-09 2016- BLACK
10068526

The product will be ordered from the manufacturer for you. Depending on availability, longer delivery times are also possible. We'll let you know if that's the case. You can of course cancel your delivery at any time free of charge.

Available in 7-21 days

€610.00 1
38L, MT-09 2016- SILVER
10068519

The product will be ordered from the manufacturer for you. Depending on availability, longer delivery times are also possible. We'll let you know if that's the case. You can of course cancel your delivery at any time free of charge.

Available in 7-21 days

€610.00 1
38L, TIGER 1050 SP.13-SIL
10068864

The product will be ordered from the manufacturer for you. Depending on availability, longer delivery times are also possible. We'll let you know if that's the case. You can of course cancel your delivery at any time free of charge.

Available in 7-21 days

€590.00 1
38L, VERSYS 1000 2012-BLK
10068518

The product will be ordered from the manufacturer for you. Depending on availability, longer delivery times are also possible. We'll let you know if that's the case. You can of course cancel your delivery at any time free of charge.

Available in 7-21 days

€530.00 1
38L, ZZR1400 06-14 SILVER
10068537

The product will be ordered from the manufacturer for you. Depending on availability, longer delivery times are also possible. We'll let you know if that's the case. You can of course cancel your delivery at any time free of charge.

Available in 7-21 days

€600.00 1
38L,900/GT/RA/PR 19-BLACK
10068523

The product will be ordered from the manufacturer for you. Depending on availability, longer delivery times are also possible. We'll let you know if that's the case. You can of course cancel your delivery at any time free of charge.

Available in 7-21 days

€540.00 1
38L,CRF1100L ADVSP 19-BLK
10068522

The product will be ordered from the manufacturer for you. Depending on availability, longer delivery times are also possible. We'll let you know if that's the case. You can of course cancel your delivery at any time free of charge.

Available in 7-21 days

€530.00 1
38L,MT-07 TRAC.16- SILVER
10068533

The product will be ordered from the manufacturer for you. Depending on availability, longer delivery times are also possible. We'll let you know if that's the case. You can of course cancel your delivery at any time free of charge.

Available in 7-21 days

€580.00 1
38L,MT-09 TR.14-18 SILVER
10068532

The product will be ordered from the manufacturer for you. Depending on availability, longer delivery times are also possible. We'll let you know if that's the case. You can of course cancel your delivery at any time free of charge.

Available in 7-21 days

€580.00 1
38L,MT-09 TRAC.14-18 BLK
10068525

The product will be ordered from the manufacturer for you. Depending on availability, longer delivery times are also possible. We'll let you know if that's the case. You can of course cancel your delivery at any time free of charge.

Available in 7-21 days

€580.00 1
38L,MULTISTR.1200 15-BLK
10068539

The product will be ordered from the manufacturer for you. Depending on availability, longer delivery times are also possible. We'll let you know if that's the case. You can of course cancel your delivery at any time free of charge.

Available in 7-21 days

€630.00 1
38L,R1200 14-18 /50 18-SI
10068536

The product will be ordered from the manufacturer for you. Depending on availability, longer delivery times are also possible. We'll let you know if that's the case. You can of course cancel your delivery at any time free of charge.

Available in 7-21 days

€580.00 1
38L,R1200/-50GSLCADV13-SI
10068517

The product will be ordered from the manufacturer for you. Depending on availability, longer delivery times are also possible. We'll let you know if that's the case. You can of course cancel your delivery at any time free of charge.

Available in 7-21 days

€620.00 1
38L,R1200/50GSLCAD13-BLK
10068528

The product will be ordered from the manufacturer for you. Depending on availability, longer delivery times are also possible. We'll let you know if that's the case. You can of course cancel your delivery at any time free of charge.

Available in 7-21 days

€620.00 1
38L,R1200R/RS 14-18 BLACK
10068531

The product will be ordered from the manufacturer for you. Depending on availability, longer delivery times are also possible. We'll let you know if that's the case. You can of course cancel your delivery at any time free of charge.

Available in 7-21 days

€580.00 1
38L,SP.TR.1050S/RS 18-BLK
10068535

The product will be ordered from the manufacturer for you. Depending on availability, longer delivery times are also possible. We'll let you know if that's the case. You can of course cancel your delivery at any time free of charge.

Available in 7-21 days

€600.00 1
38L,SP.TR.1050S/RS 18-SIL
10068538

The product will be ordered from the manufacturer for you. Depending on availability, longer delivery times are also possible. We'll let you know if that's the case. You can of course cancel your delivery at any time free of charge.

Available in 7-21 days

€600.00 1
38L,TI.900/GT/RA/PR 19-SI
10068515

The product will be ordered from the manufacturer for you. Depending on availability, longer delivery times are also possible. We'll let you know if that's the case. You can of course cancel your delivery at any time free of charge.

Available in 7-21 days

€540.00 1
38L,VAR.MOD GSX/GSF SILV.
10068524

The product will be ordered from the manufacturer for you. Depending on availability, longer delivery times are also possible. We'll let you know if that's the case. You can of course cancel your delivery at any time free of charge.

Available in 7-21 days

€570.00 1
38L,VARIOUS GSF/GSX BLACK
10068534

The product will be ordered from the manufacturer for you. Depending on availability, longer delivery times are also possible. We'll let you know if that's the case. You can of course cancel your delivery at any time free of charge.

Available in 7-21 days

€570.00 1
38L,VERSYS 1000 2012-SILV
10068514

The product will be ordered from the manufacturer for you. Depending on availability, longer delivery times are also possible. We'll let you know if that's the case. You can of course cancel your delivery at any time free of charge.

Available in 7-21 days

€530.00 1
38L,ZZR1400 2006-14 BLACK
10068529

The product will be ordered from the manufacturer for you. Depending on availability, longer delivery times are also possible. We'll let you know if that's the case. You can of course cancel your delivery at any time free of charge.

Available in 7-21 days

€600.00 1
TRAX ADV TOP BOX SYSTEM - 38L, 1290 SUPER DUKE SIL.
10067388

The product will be ordered from the manufacturer for you. Depending on availability, longer delivery times are also possible. We'll let you know if that's the case. You can of course cancel your delivery at any time free of charge.

Available in 7-21 days

€590.00 1
TRAX ADV TOP BOX SYSTEM - 38L, BMW G310 GS 17- SILV
10067364

The item is in stock and will be delivered in 2-5 working days. Note: Stocks are updated online every hour on working days from 7 a.m. to 8 p.m., so there is a good chance that the products are available if they appear online.

Available

€540.00 1
TRAX ADV TOP BOX SYSTEM - 38L, BMW R1200/1250 SILV.
10067336

The item is in stock and will be delivered in 2-5 working days. Note: Stocks are updated online every hour on working days from 7 a.m. to 8 p.m., so there is a good chance that the products are available if they appear online.

Available

€560.00 1
TRAX ADV TOP BOX SYSTEM - 38L, CB1300/S 2003-09 SIL
10067405

The product will be ordered from the manufacturer for you. Depending on availability, longer delivery times are also possible. We'll let you know if that's the case. You can of course cancel your delivery at any time free of charge.

Available in 7-21 days

€560.00 1
TRAX ADV TOP BOX SYSTEM - 38L, CB500X/F/CBR500R SIL
10067381

The product will be ordered from the manufacturer for you. Depending on availability, longer delivery times are also possible. We'll let you know if that's the case. You can of course cancel your delivery at any time free of charge.

Available in 7-21 days

€610.00 1
TRAX ADV TOP BOX SYSTEM - 38L, CRF1000L 2018- SILV.
10067342

The product will be ordered from the manufacturer for you. Depending on availability, longer delivery times are also possible. We'll let you know if that's the case. You can of course cancel your delivery at any time free of charge.

Available in 7-21 days

€550.00 1
TRAX ADV TOP BOX SYSTEM - 38L, CRF1000L AFRICA SIL.
10067338

The product will be ordered from the manufacturer for you. Depending on availability, longer delivery times are also possible. We'll let you know if that's the case. You can of course cancel your delivery at any time free of charge.

Available in 7-21 days

€530.00 1
TRAX ADV TOP BOX SYSTEM - 38L, DL/650/V-STROM SILV.
10067321

The item is in stock and will be delivered in 2-5 working days. Note: Stocks are updated online every hour on working days from 7 a.m. to 8 p.m., so there is a good chance that the products are available if they appear online.

Available

€510.00 1
TRAX ADV TOP BOX SYSTEM - 38L, F650/700/800 GS SILV
10067358

The product will be ordered from the manufacturer for you. Depending on availability, longer delivery times are also possible. We'll let you know if that's the case. You can of course cancel your delivery at any time free of charge.

Available in 7-21 days

€540.00 1
TRAX ADV TOP BOX SYSTEM - 38L, GUZZI V85 TT 19- SIL
10067378

The item is in stock and will be delivered in 2-5 working days. Note: Stocks are updated online every hour on working days from 7 a.m. to 8 p.m., so there is a good chance that the products are available if they appear online.

Available

€550.00 1
TRAX ADV TOP BOX SYSTEM - 38L, HONDA VRF1200X SILV.
10067318

The product will be ordered from the manufacturer for you. Depending on availability, longer delivery times are also possible. We'll let you know if that's the case. You can of course cancel your delivery at any time free of charge.

Available in 7-21 days

€550.00 1
TRAX ADV TOP BOX SYSTEM - 38L, HONDA X-ADV 16- SILV
10067369

The item is in stock and will be delivered in 2-5 working days. Note: Stocks are updated online every hour on working days from 7 a.m. to 8 p.m., so there is a good chance that the products are available if they appear online.

Available

€580.00 1
TRAX ADV TOP BOX SYSTEM - 38L, MT-09/TRACER 17- SIL
10067355

The product will be ordered from the manufacturer for you. Depending on availability, longer delivery times are also possible. We'll let you know if that's the case. You can of course cancel your delivery at any time free of charge.

Available in 7-21 days

€560.00 1
TRAX ADV TOP BOX SYSTEM - 38L, MULTISTRADA 1200 SIL
10067329

The product will be ordered from the manufacturer for you. Depending on availability, longer delivery times are also possible. We'll let you know if that's the case. You can of course cancel your delivery at any time free of charge.

Available in 7-21 days

€570.00 1
TRAX ADV TOP BOX SYSTEM - 38L, NC700S/X 11-14 SILV.
10067314

The item is in stock and will be delivered in 2-5 working days. Note: Stocks are updated online every hour on working days from 7 a.m. to 8 p.m., so there is a good chance that the products are available if they appear online.

Available

€580.00 1
TRAX ADV TOP BOX SYSTEM - 38L, SPRINT 1050 SILVER
10067327

The product will be ordered from the manufacturer for you. Depending on availability, longer delivery times are also possible. We'll let you know if that's the case. You can of course cancel your delivery at any time free of charge.

Available in 7-21 days

€590.00 1
TRAX ADV TOP BOX SYSTEM - 38L, TENERE 700 2019- SIL
10067406

The product will be ordered from the manufacturer for you. Depending on availability, longer delivery times are also possible. We'll let you know if that's the case. You can of course cancel your delivery at any time free of charge.

Available in 7-21 days

€580.00 1
TRAX ADV TOP BOX SYSTEM - 38L, TIGER 1200 11- SILV.
10067325

The item is in stock and will be delivered in 2-5 working days. Note: Stocks are updated online every hour on working days from 7 a.m. to 8 p.m., so there is a good chance that the products are available if they appear online.

Available

€520.00 1
TRAX ADV TOP BOX SYSTEM - 38L, V-STROM 650/1000 SIL
10067334

The product will be ordered from the manufacturer for you. Depending on availability, longer delivery times are also possible. We'll let you know if that's the case. You can of course cancel your delivery at any time free of charge.

Available in 7-21 days

€550.00 1
TRAX ADV TOP BOX SYSTEM - 38L, VARIOUS DUCATI SILV.
10067340

The product will be ordered from the manufacturer for you. Depending on availability, longer delivery times are also possible. We'll let you know if that's the case. You can of course cancel your delivery at any time free of charge.

Available in 7-21 days

€630.00 1
TRAX ADV TOP BOX SYSTEM - 38L, VFR 800X 15- SILVER
10067316

The product will be ordered from the manufacturer for you. Depending on availability, longer delivery times are also possible. We'll let you know if that's the case. You can of course cancel your delivery at any time free of charge.

Available in 7-21 days

€580.00 1
TRAX ADV TOP BOX SYSTEM - 38L,F750/850GS 2017- SILV
10067353

The product will be ordered from the manufacturer for you. Depending on availability, longer delivery times are also possible. We'll let you know if that's the case. You can of course cancel your delivery at any time free of charge.

Available in 7-21 days

€540.00 1
TRAX ADV TOP BOX SYSTEM - 38L,F750/850GS 2017- SILV
10067352

The product will be ordered from the manufacturer for you. Depending on availability, longer delivery times are also possible. We'll let you know if that's the case. You can of course cancel your delivery at any time free of charge.

Available in 7-21 days

€540.00 1
TRAX ADV TOP BOX SYSTEM - 38L,KTM 1290SUPER ADV SIL
10067330

The product will be ordered from the manufacturer for you. Depending on availability, longer delivery times are also possible. We'll let you know if that's the case. You can of course cancel your delivery at any time free of charge.

Available in 7-21 days

€560.00 1
TRAX ADV TOP BOX SYSTEM - 38L,MULTISTR.1200 15- SIL
10067332

The product will be ordered from the manufacturer for you. Depending on availability, longer delivery times are also possible. We'll let you know if that's the case. You can of course cancel your delivery at any time free of charge.

Available in 7-21 days

€630.00 1
TRAX ADV TOP BOX SYSTEM - 38L,NC750X/S 2016- SILV.
10067376

The product will be ordered from the manufacturer for you. Depending on availability, longer delivery times are also possible. We'll let you know if that's the case. You can of course cancel your delivery at any time free of charge.

Available in 7-21 days

€590.00 1
TRAX ADV TOP BOX SYSTEM - 38L,S1000 XR 2015- SILVER
10067359

The product will be ordered from the manufacturer for you. Depending on availability, longer delivery times are also possible. We'll let you know if that's the case. You can of course cancel your delivery at any time free of charge.

Available in 7-21 days

€550.00 1
TRAX ADV TOP BOX SYSTEM - 38L,S1000 XR 2015- SILVER
10067362

The product will be ordered from the manufacturer for you. Depending on availability, longer delivery times are also possible. We'll let you know if that's the case. You can of course cancel your delivery at any time free of charge.

Available in 7-21 days

€570.00 1
TRAX ADV TOP BOX SYSTEM - 38L,TIGER 1050 06-12 SIL.
10067372

The product will be ordered from the manufacturer for you. Depending on availability, longer delivery times are also possible. We'll let you know if that's the case. You can of course cancel your delivery at any time free of charge.

Available in 7-21 days

€570.00 1
TRAX ADV TOP BOX SYSTEM - 38L,TIGER 1200 2011- SILV
10067368

The product will be ordered from the manufacturer for you. Depending on availability, longer delivery times are also possible. We'll let you know if that's the case. You can of course cancel your delivery at any time free of charge.

Available in 7-21 days

€540.00 1
TRAX ADV TOP BOX SYSTEM - 38L,TIGER 800 2010- SILV.
10067346

The item is in stock and will be delivered in 2-5 working days. Note: Stocks are updated online every hour on working days from 7 a.m. to 8 p.m., so there is a good chance that the products are available if they appear online.

Available

€530.00 1
TRAX ADV TOP BOX SYSTEM - 38L,V-STROM 650/XT/DL SIL
10067348

The item is in stock and will be delivered in 2-5 working days. Note: Stocks are updated online every hour on working days from 7 a.m. to 8 p.m., so there is a good chance that the products are available if they appear online.

Available

€540.00 1
TRAX ADV TOP BOX SYSTEM - 38L,VAR. KTM MODELS SIL
10067373

The product will be ordered from the manufacturer for you. Depending on availability, longer delivery times are also possible. We'll let you know if that's the case. You can of course cancel your delivery at any time free of charge.

Available in 7-21 days

€570.00 1
TRAX ADV TOP BOX SYSTEM - 38L,VERSYS 650 2015- SILV
10067366

The product will be ordered from the manufacturer for you. Depending on availability, longer delivery times are also possible. We'll let you know if that's the case. You can of course cancel your delivery at any time free of charge.

Available in 7-21 days

€550.00 1
TRAX ADV TOP BOX SYSTEM - 38L,VRF800 VTEC 02-06 SIL
10067397

The product will be ordered from the manufacturer for you. Depending on availability, longer delivery times are also possible. We'll let you know if that's the case. You can of course cancel your delivery at any time free of charge.

Available in 7-21 days

€590.00 1
TRAX ADV TOP BOX SYSTEM - 38L,XT1200Z TENERE 10 SIL
10067344

The item is in stock and will be delivered in 2-5 working days. Note: Stocks are updated online every hour on working days from 7 a.m. to 8 p.m., so there is a good chance that the products are available if they appear online.

Available

€560.00 1
TRAX ADV TOPCASE-SYSTEM - 38L, 1290 SUPER DUKE SIL.
10069208

The product will be ordered from the manufacturer for you. Depending on availability, longer delivery times are also possible. We'll let you know if that's the case. You can of course cancel your delivery at any time free of charge.

Available in 7-21 days

€580.00 1
TRAX ADV TOPCASE-SYSTEM - 38L, BENELLI TRK502X 18-
10069096

The product will be ordered from the manufacturer for you. Depending on availability, longer delivery times are also possible. We'll let you know if that's the case. You can of course cancel your delivery at any time free of charge.

Available in 7-21 days

€550.00 1
TRAX ADV TOPCASE-SYSTEM - 38L, BMW R1250GS/ADV 21-
10069094

The product will be ordered from the manufacturer for you. Depending on availability, longer delivery times are also possible. We'll let you know if that's the case. You can of course cancel your delivery at any time free of charge.

Available in 7-21 days

€560.00 1
TRAX ADV TOPCASE-SYSTEM - 38L, HONDA X-ADV 20- SILV
10069131

The product will be ordered from the manufacturer for you. Depending on availability, longer delivery times are also possible. We'll let you know if that's the case. You can of course cancel your delivery at any time free of charge.

Available in 7-21 days

€590.00 1
TRAX ADV TOPCASE-SYSTEM - 38L, KTM 1290 S.A. S 21-
10069115

The product will be ordered from the manufacturer for you. Depending on availability, longer delivery times are also possible. We'll let you know if that's the case. You can of course cancel your delivery at any time free of charge.

Available in 7-21 days

€570.00 1
TRAX ADV TOPCASE-SYSTEM - 38L, MULTISTRADA V4 20-
10069114

The product will be ordered from the manufacturer for you. Depending on availability, longer delivery times are also possible. We'll let you know if that's the case. You can of course cancel your delivery at any time free of charge.

Available in 7-21 days

€530.00 1
TRAX ADV TOPCASE-SYSTEM - 38L, NC750X/XD 20- SILVER
10069244

The product will be ordered from the manufacturer for you. Depending on availability, longer delivery times are also possible. We'll let you know if that's the case. You can of course cancel your delivery at any time free of charge.

Available in 7-21 days

€650.00 1
TRAX ADV TOPCASE-SYSTEM - 38L, R1200GS 04-12 SILVER
10068507

The product will be ordered from the manufacturer for you. Depending on availability, longer delivery times are also possible. We'll let you know if that's the case. You can of course cancel your delivery at any time free of charge.

Available in 7-21 days

€600.00 1
TRAX ADV TOPCASE-SYSTEM - 38L, S1000XR 2019- SILVER
10068513

The product will be ordered from the manufacturer for you. Depending on availability, longer delivery times are also possible. We'll let you know if that's the case. You can of course cancel your delivery at any time free of charge.

Available in 7-21 days

€540.00 1
TRAX ADV TOPCASE-SYSTEM - 38L, SUZUKI SV650/1000
10069097

The product will be ordered from the manufacturer for you. Depending on availability, longer delivery times are also possible. We'll let you know if that's the case. You can of course cancel your delivery at any time free of charge.

Available in 7-21 days

€580.00 1
TRAX ADV TOPCASE-SYSTEM - 38L,CRF1100L A.T.A.19-SIL
10068510

The product will be ordered from the manufacturer for you. Depending on availability, longer delivery times are also possible. We'll let you know if that's the case. You can of course cancel your delivery at any time free of charge.

Available in 7-21 days

€530.00 1
TRAX ADV TOPCASE-SYSTEM - 38L,CRF1100L AF.T.19-SILV
10068508

The product will be ordered from the manufacturer for you. Depending on availability, longer delivery times are also possible. We'll let you know if that's the case. You can of course cancel your delivery at any time free of charge.

Available in 7-21 days

€550.00 1
TRAX ADV TOPCASE-SYSTEM - 38L,R1200/50 GS ADV 13-20
10068506

The product will be ordered from the manufacturer for you. Depending on availability, longer delivery times are also possible. We'll let you know if that's the case. You can of course cancel your delivery at any time free of charge.

Available in 7-21 days

€560.00 1