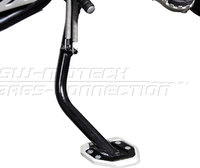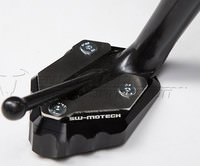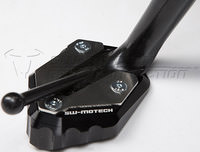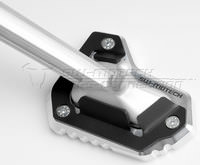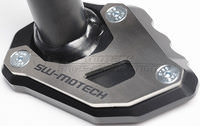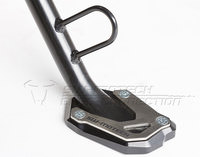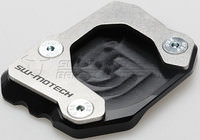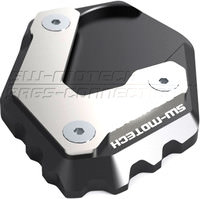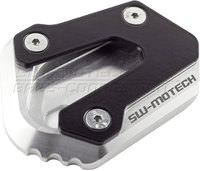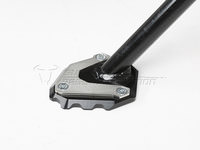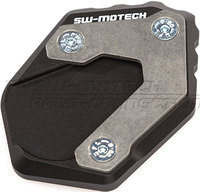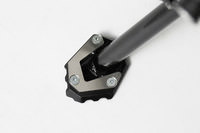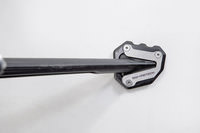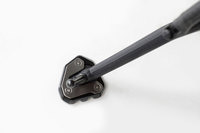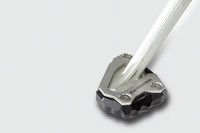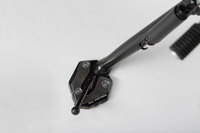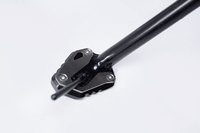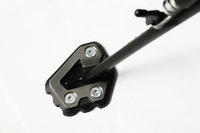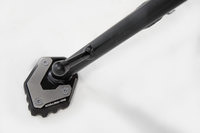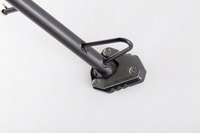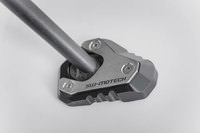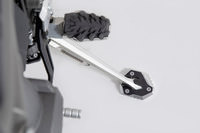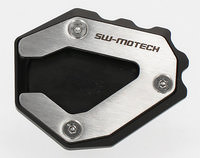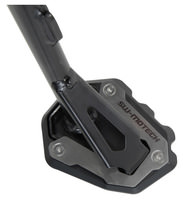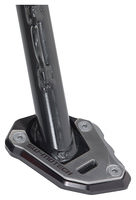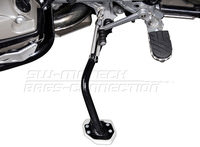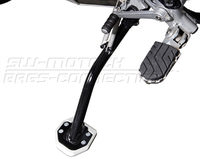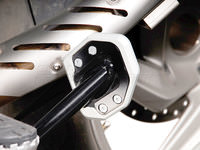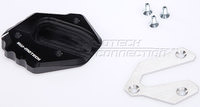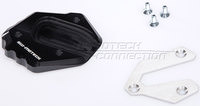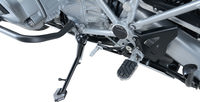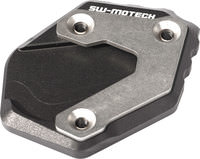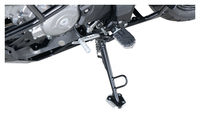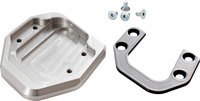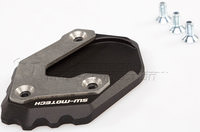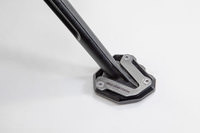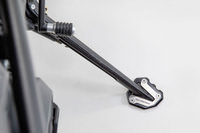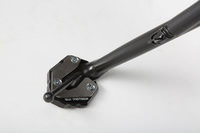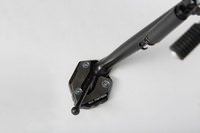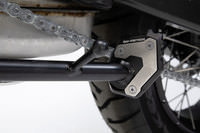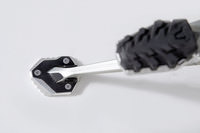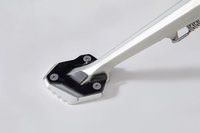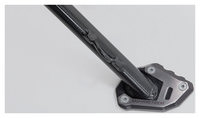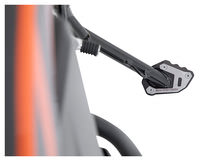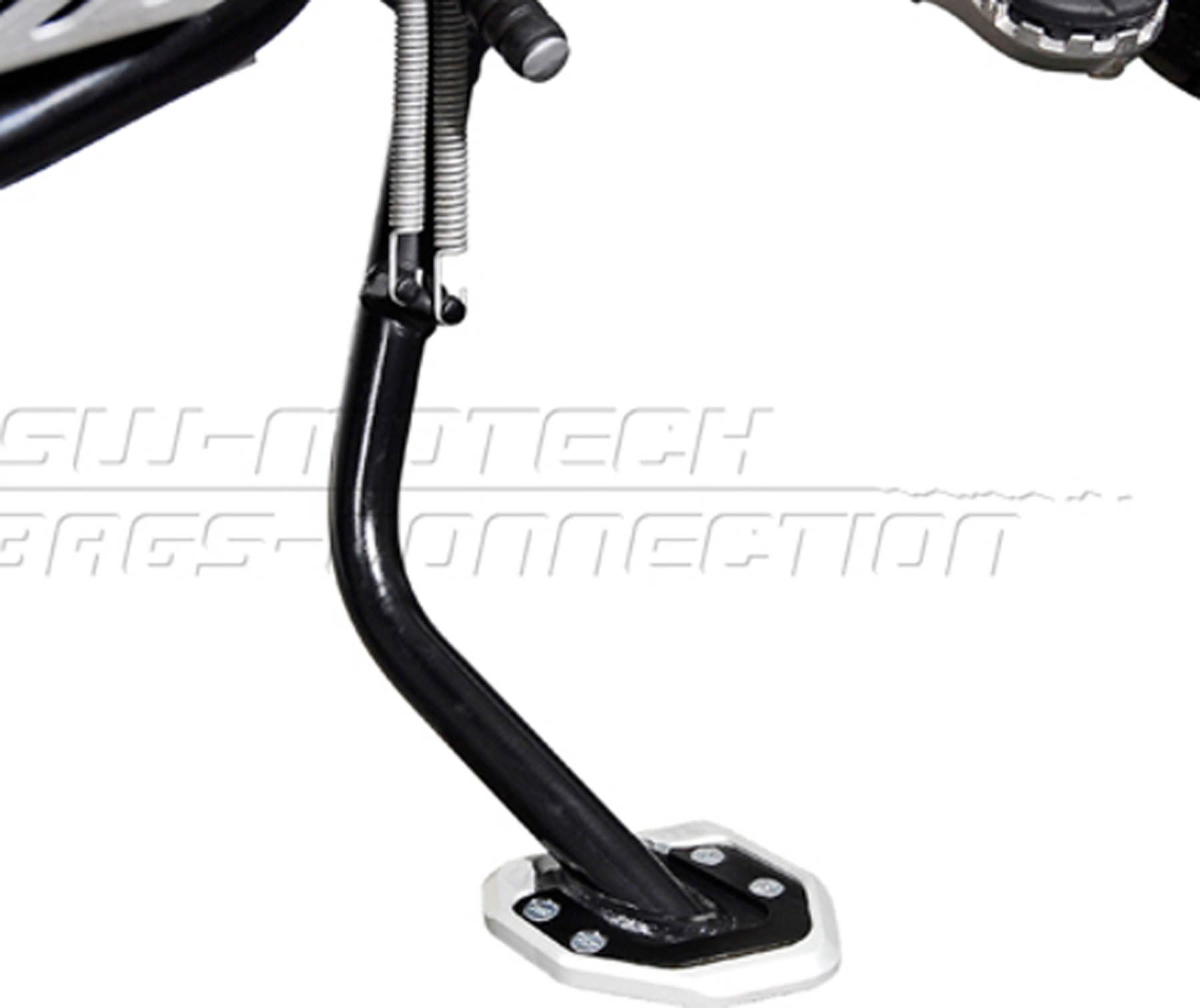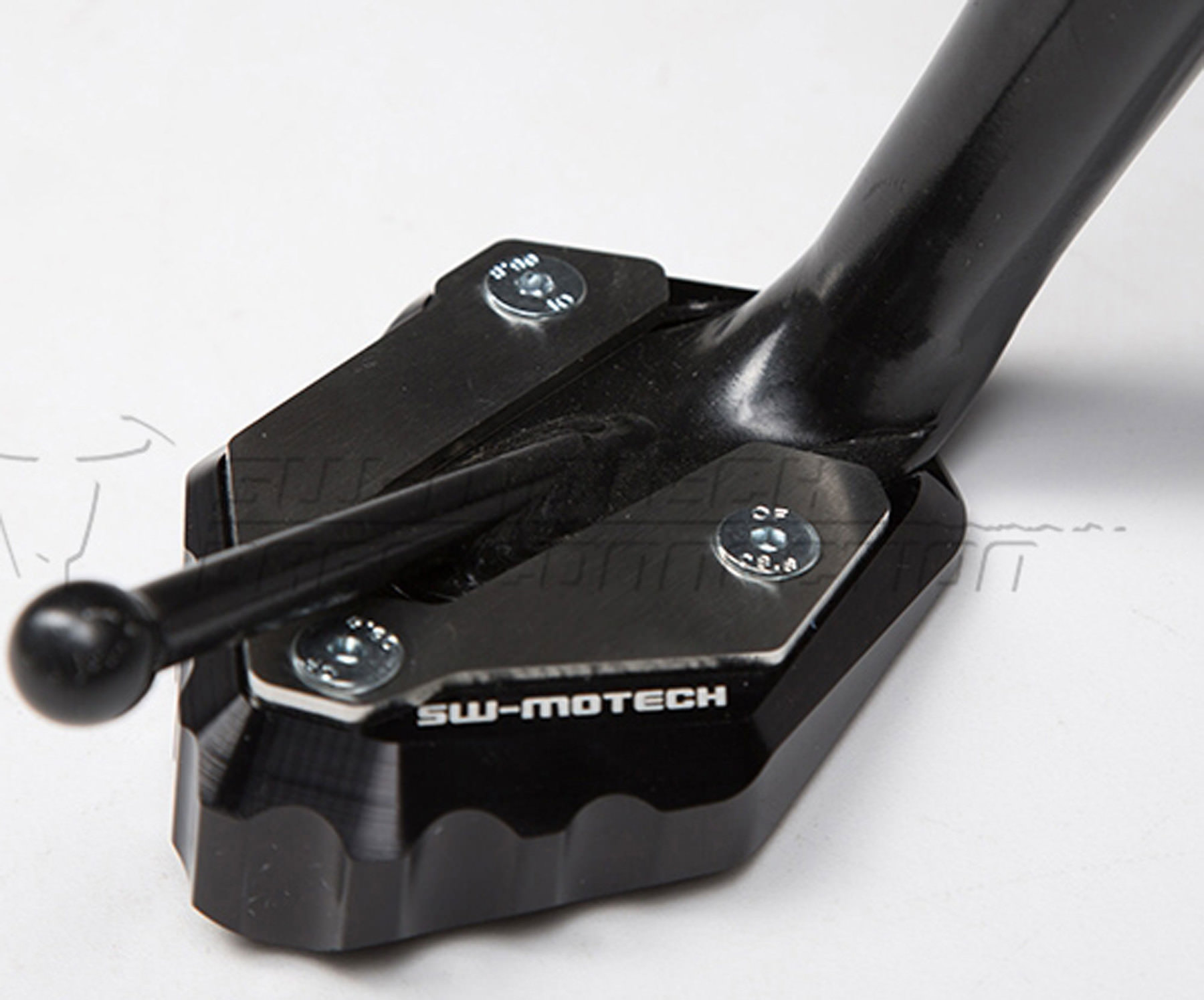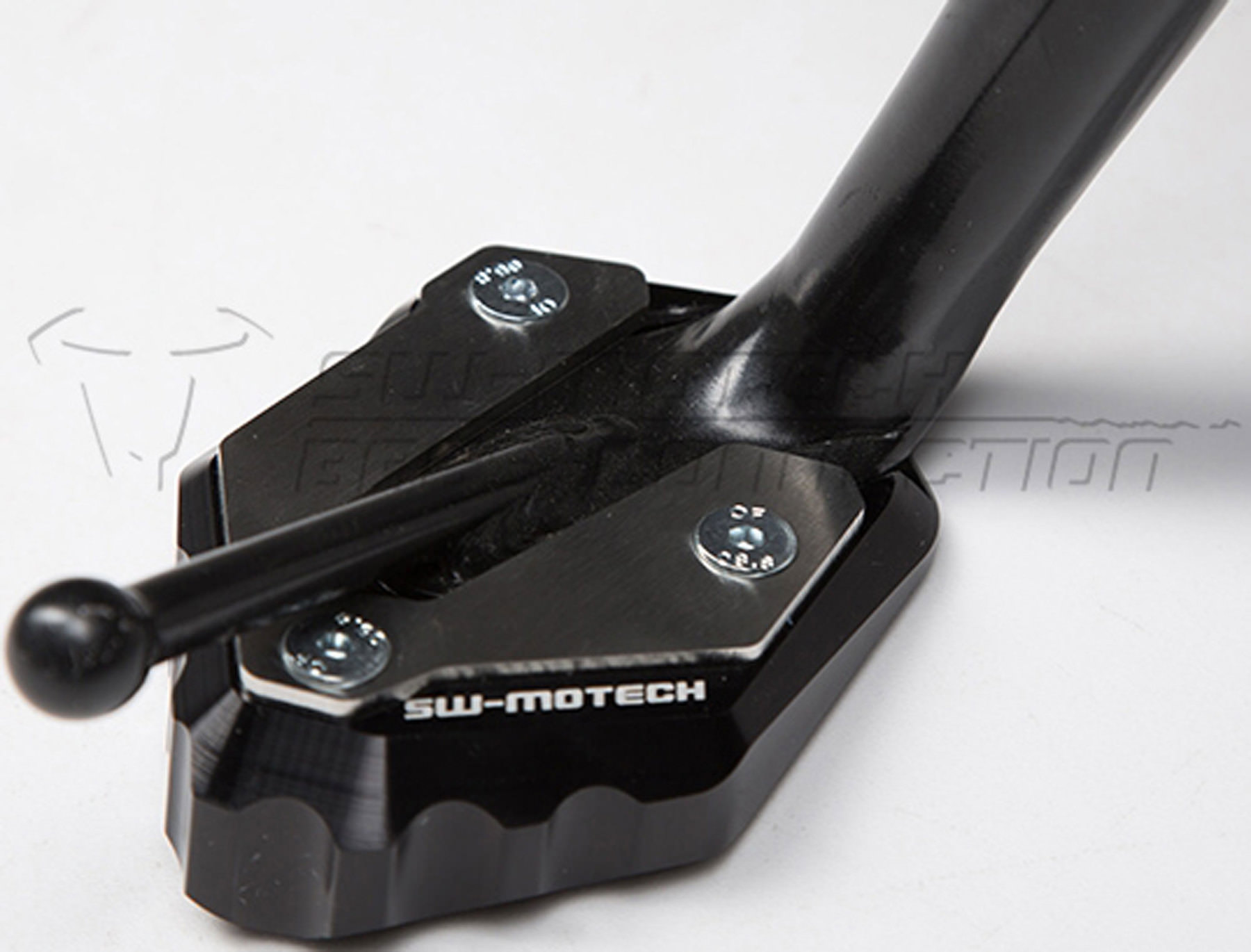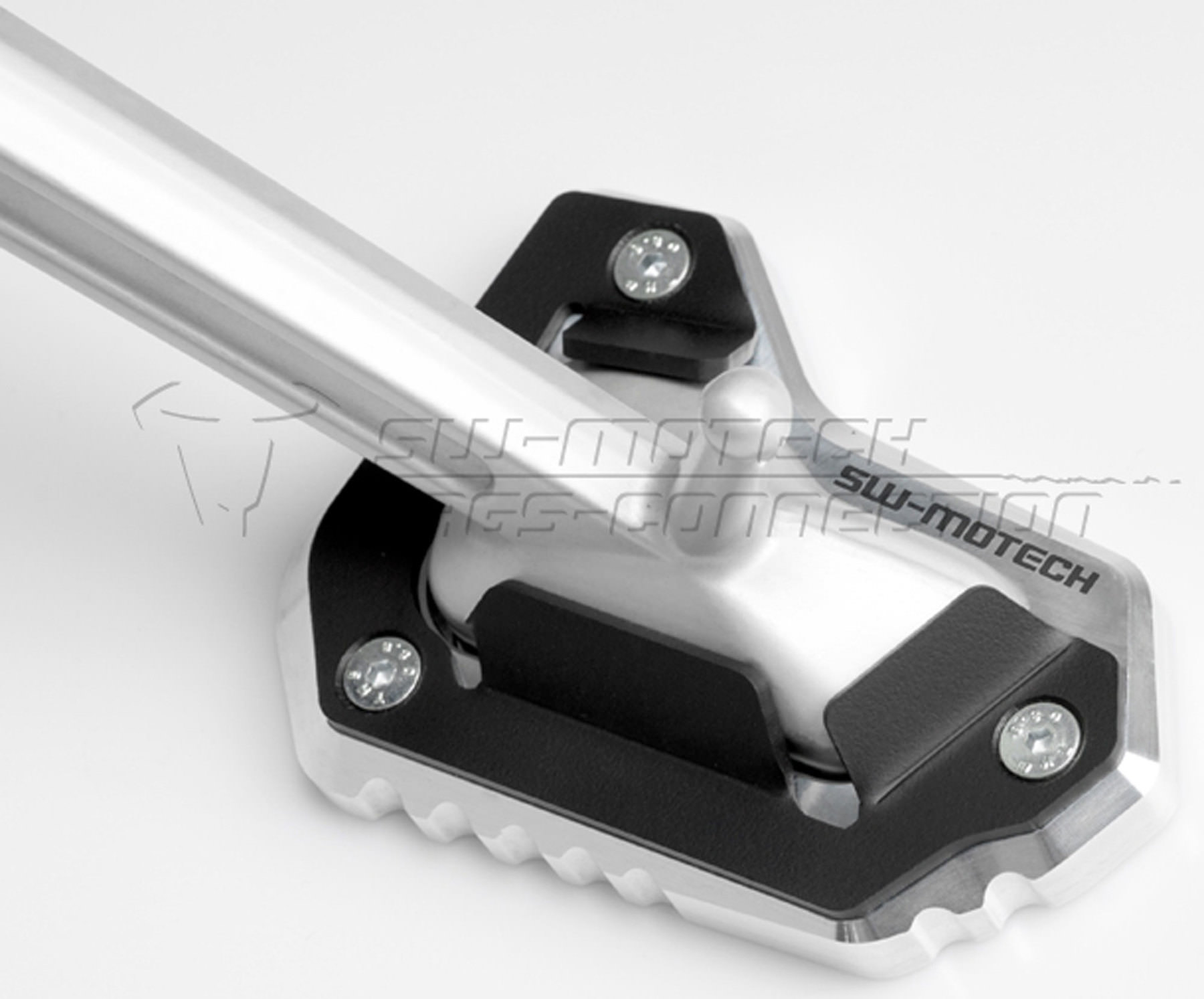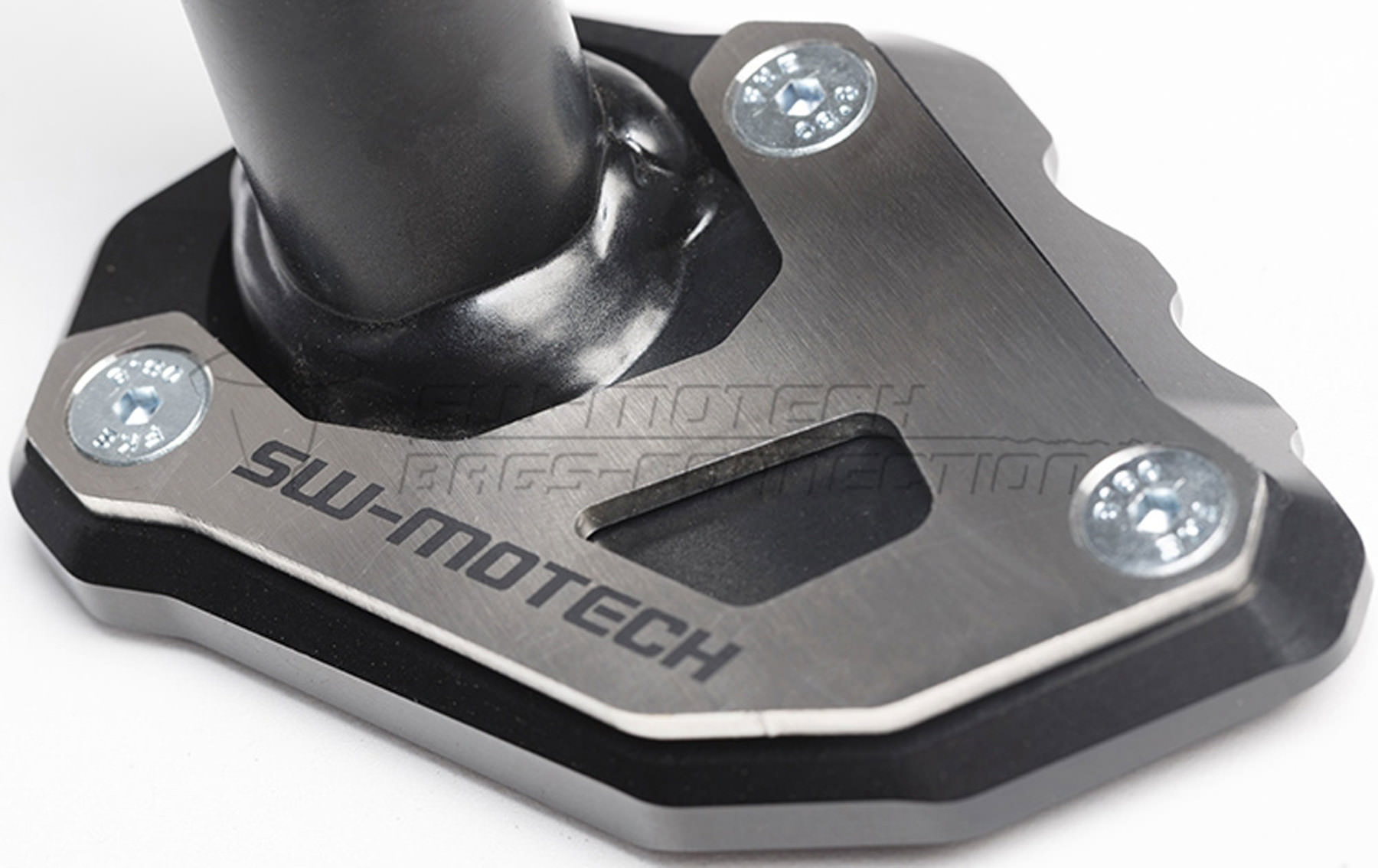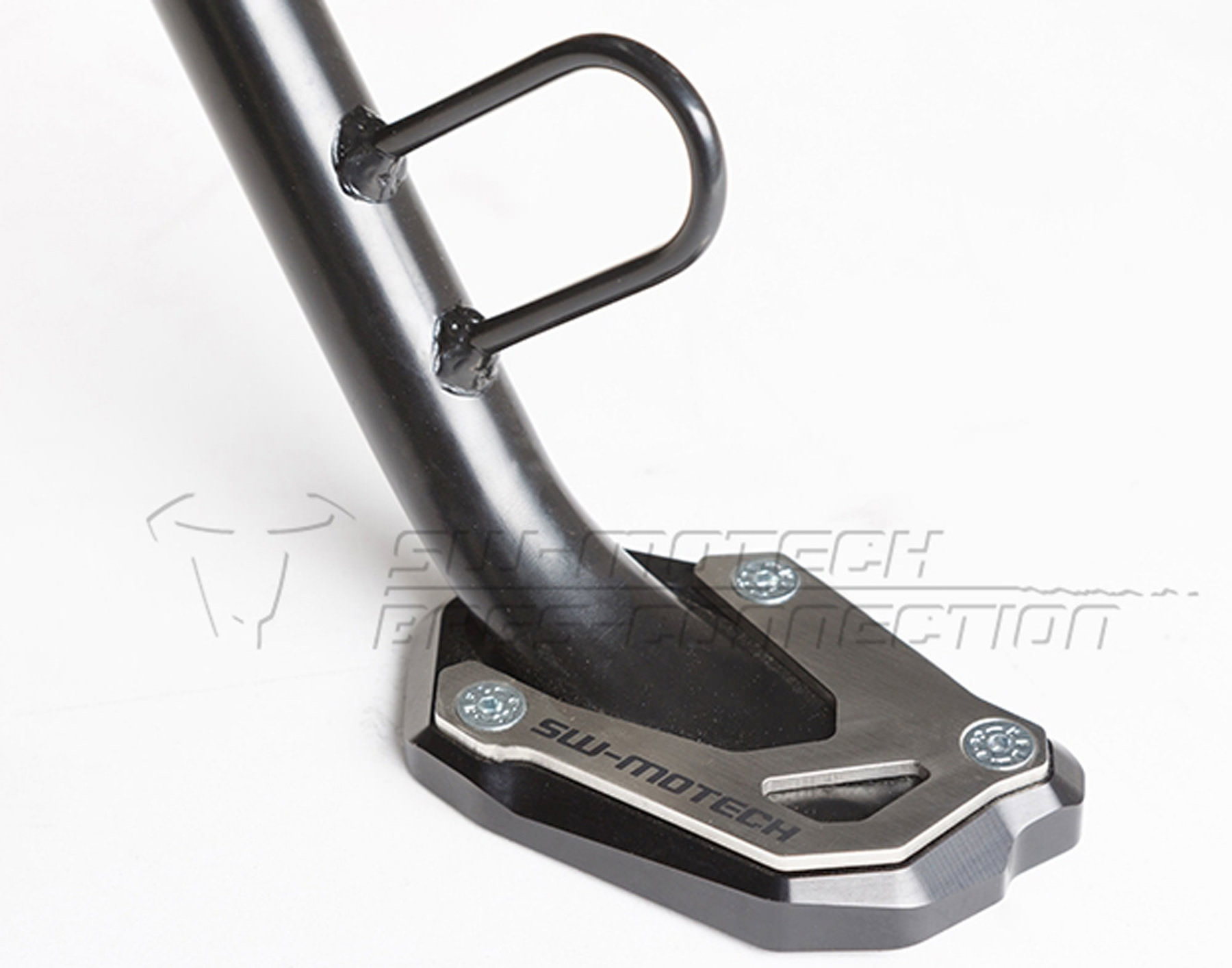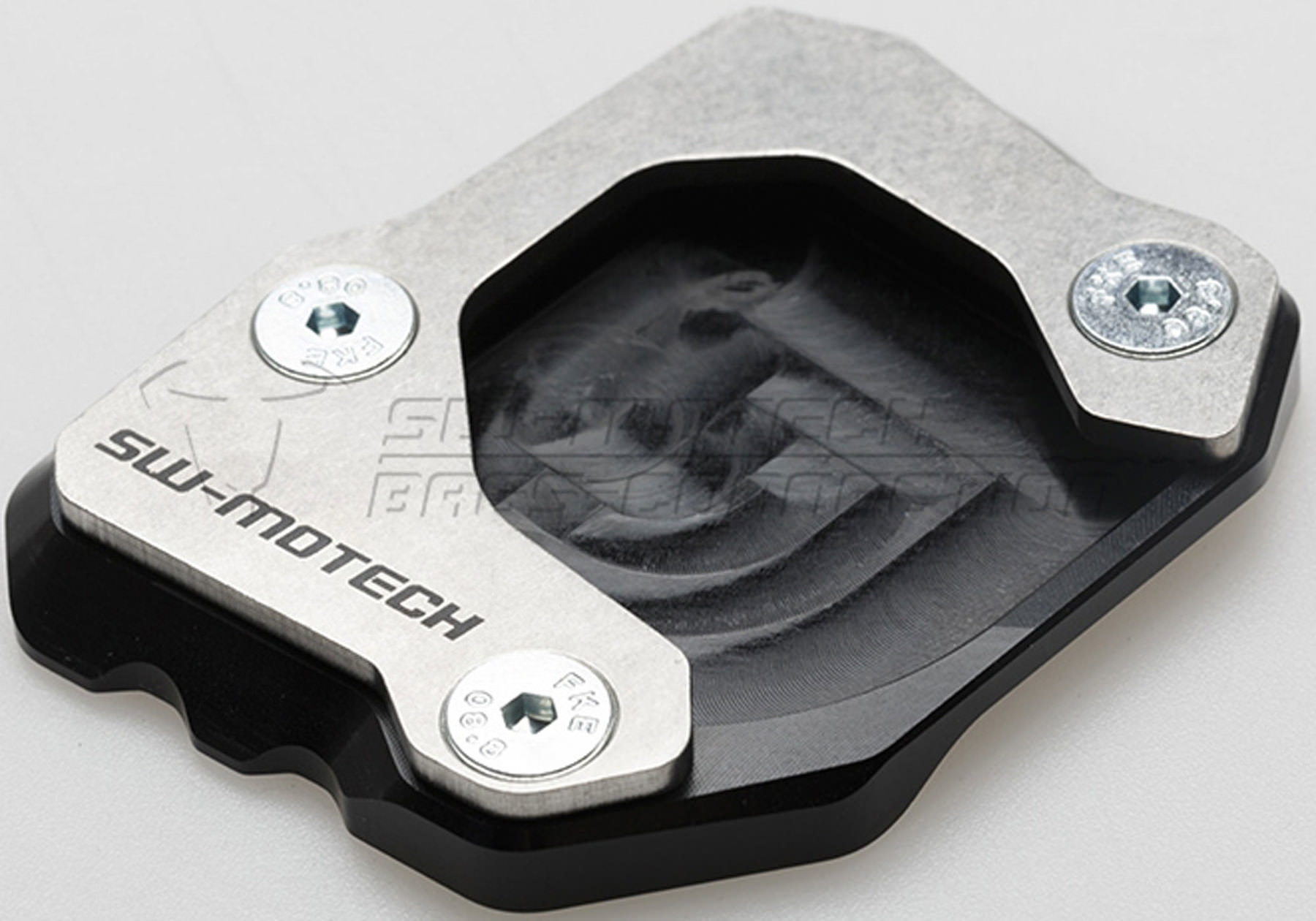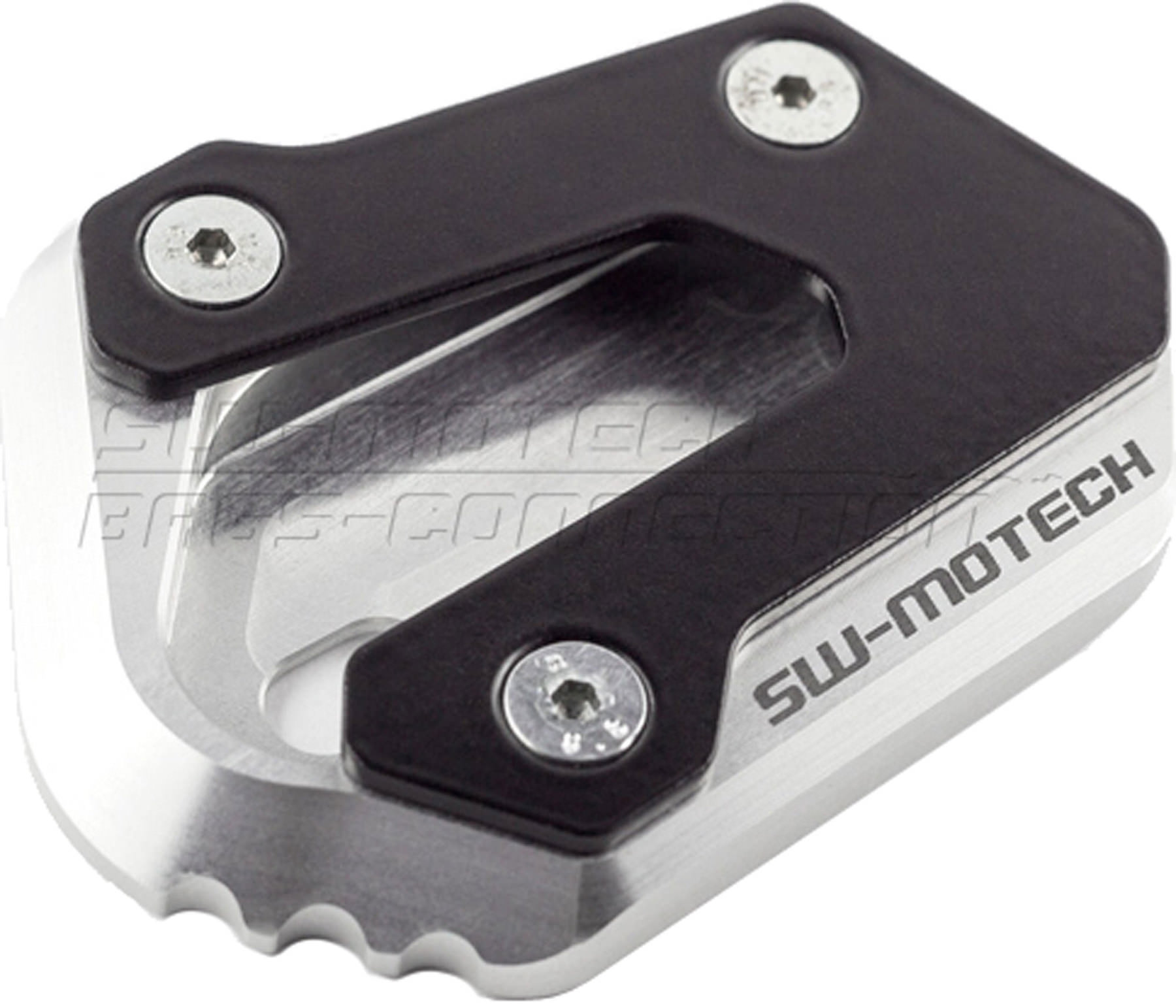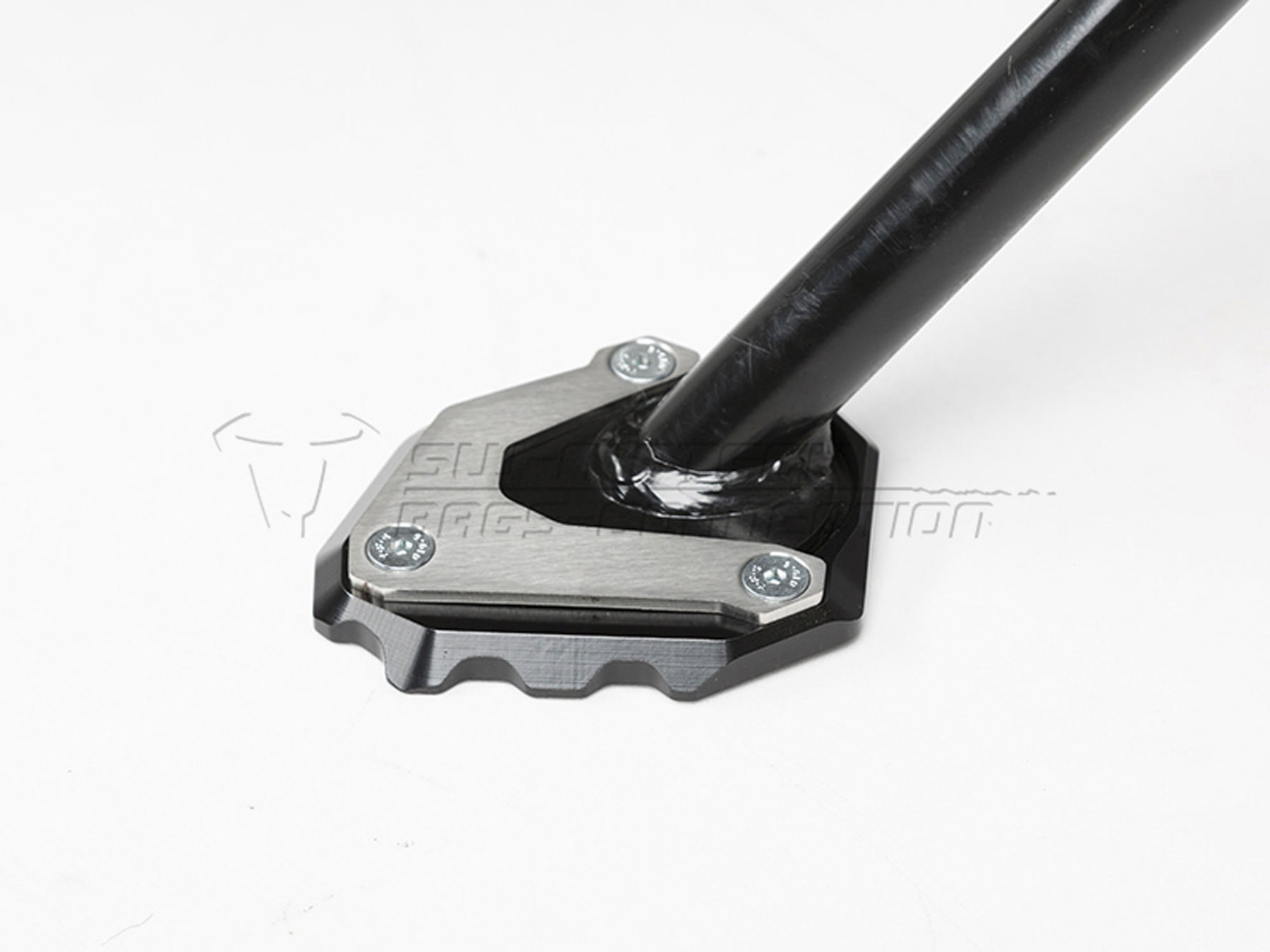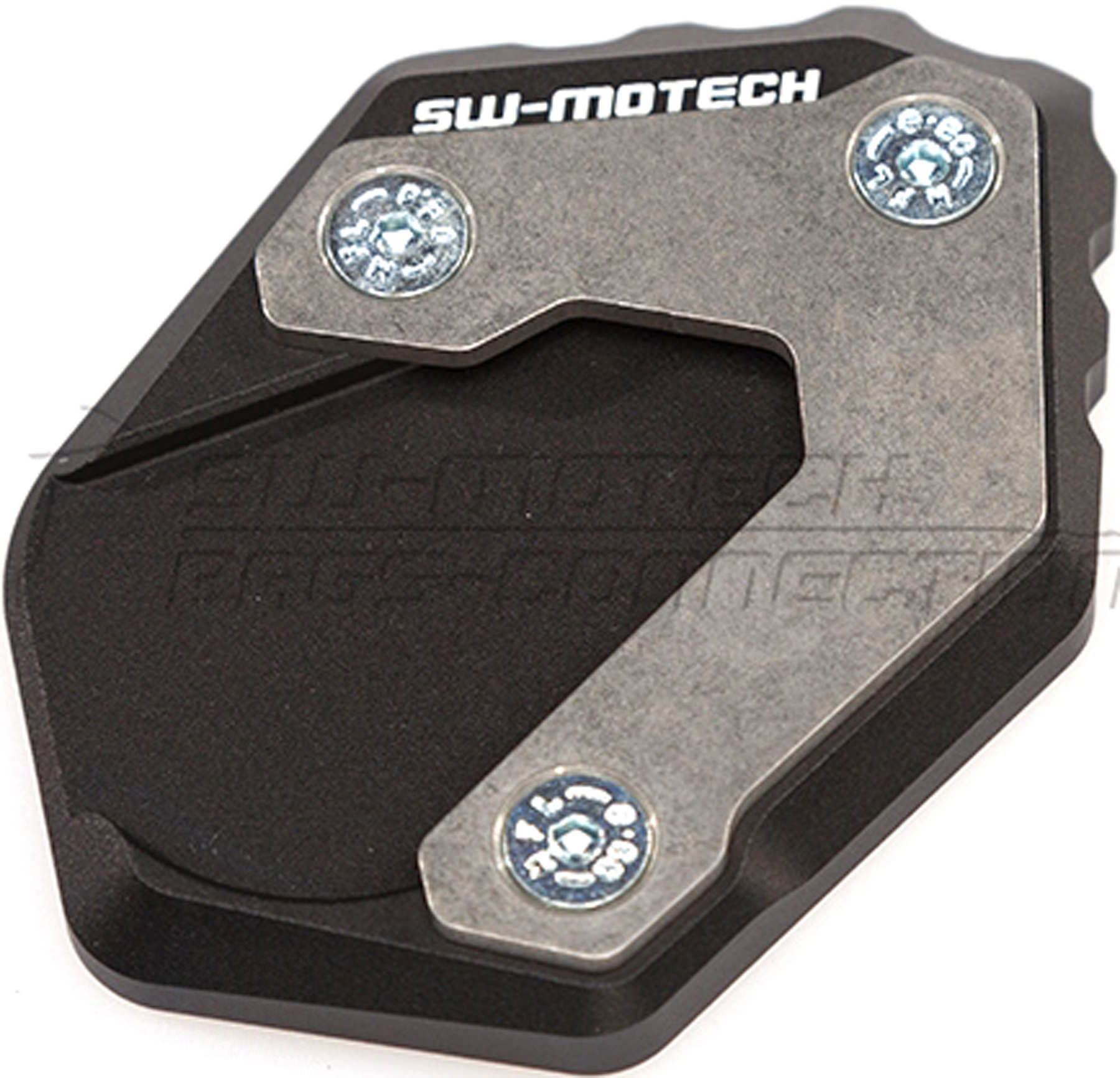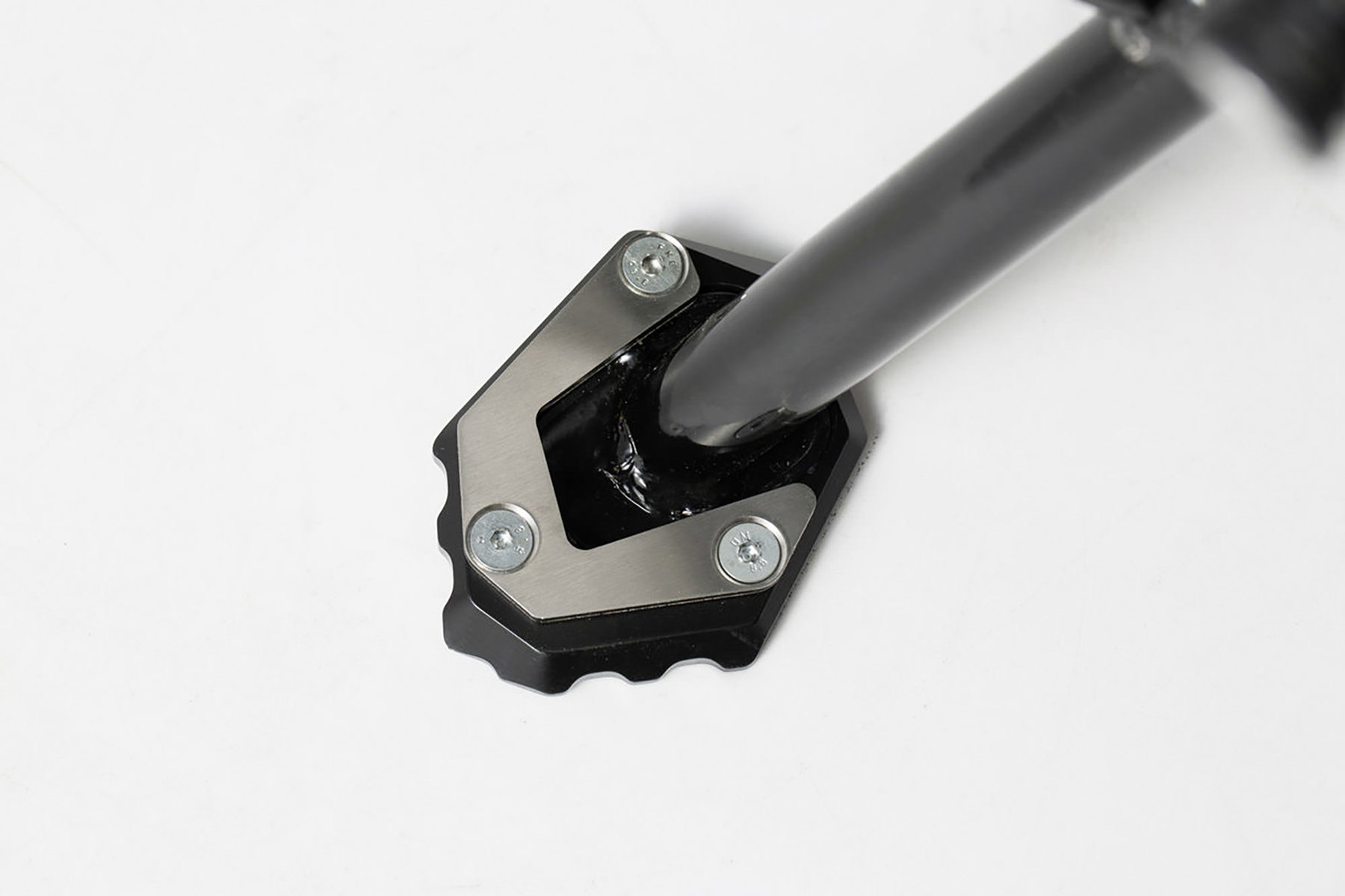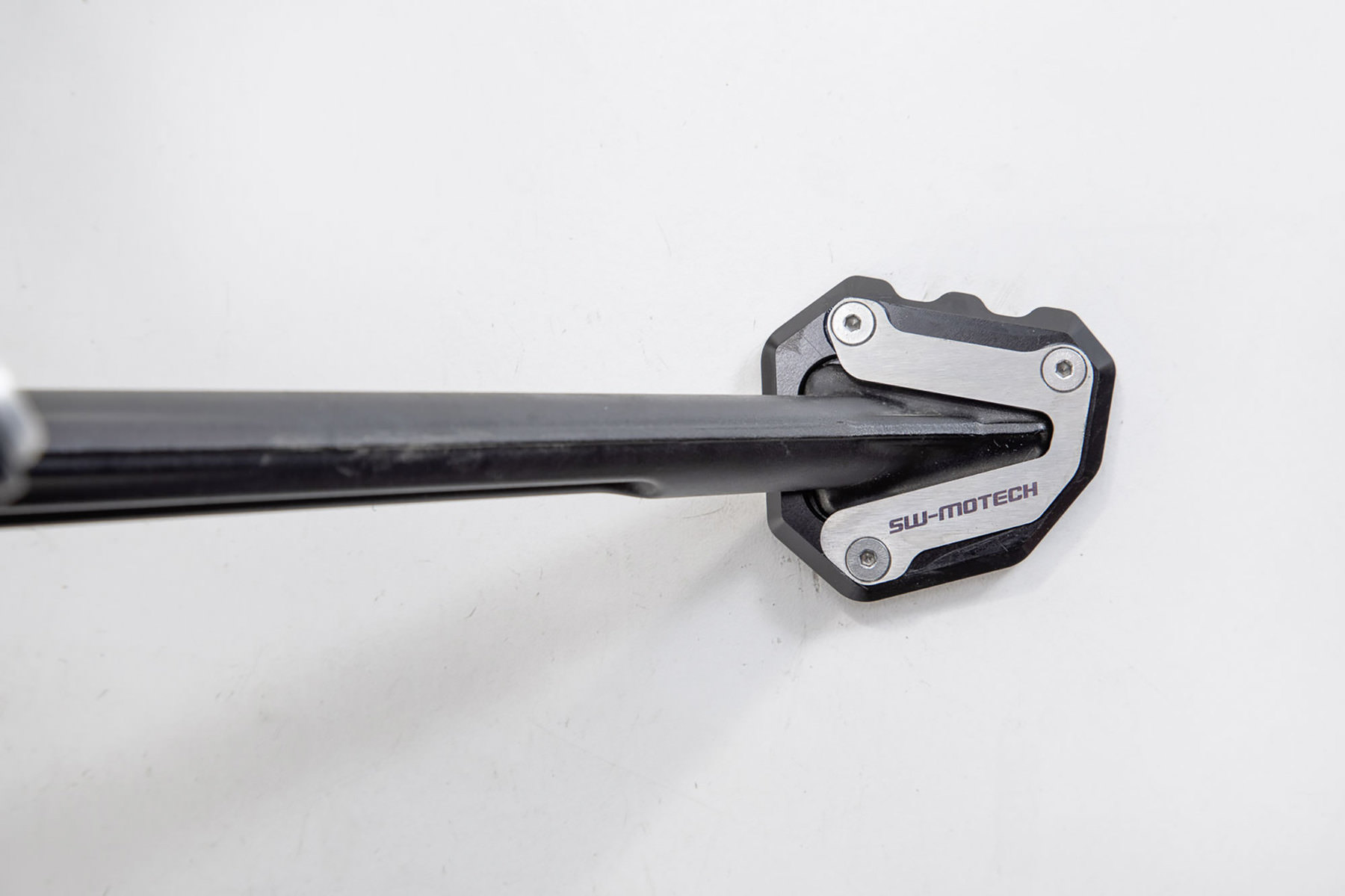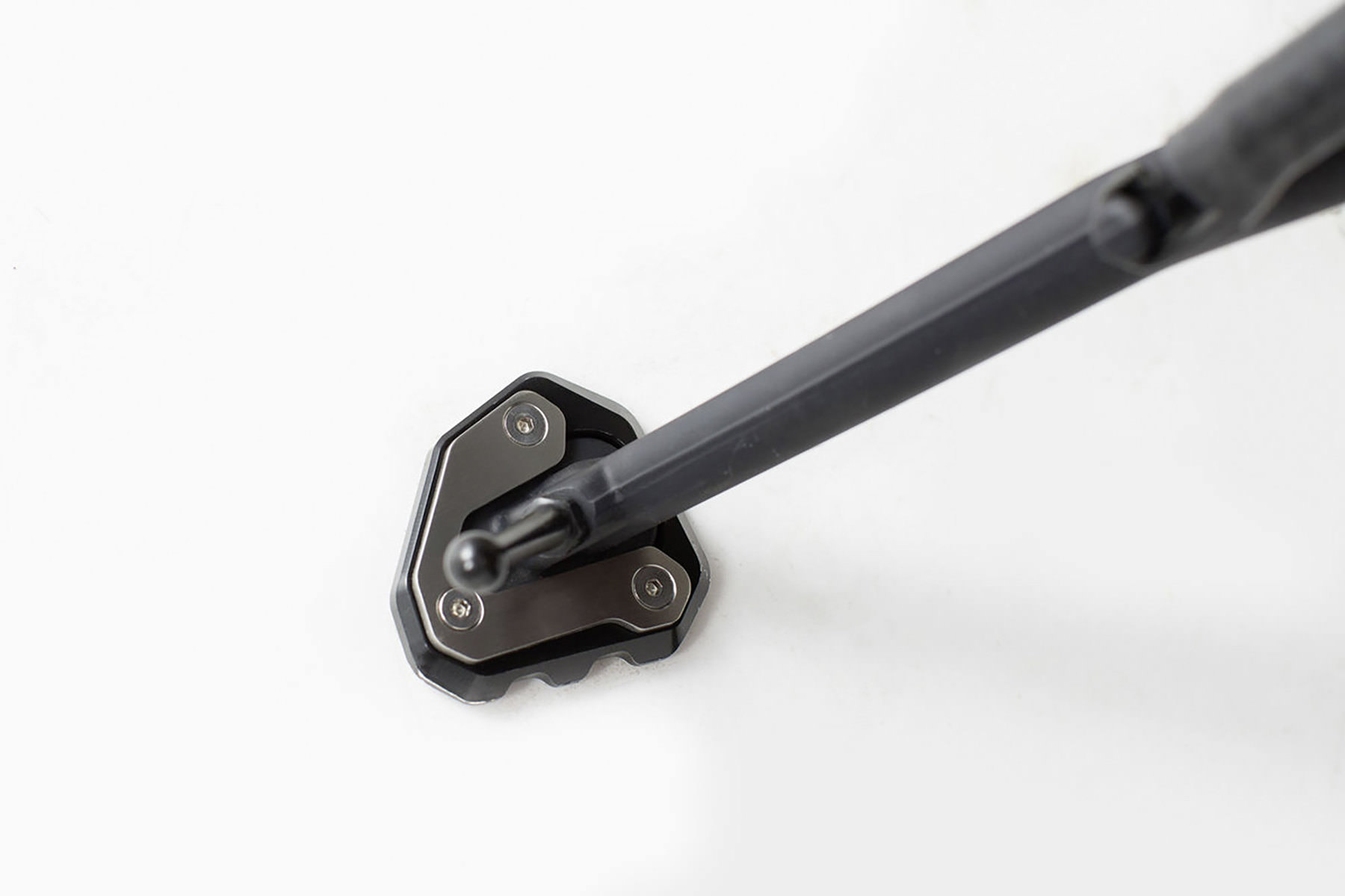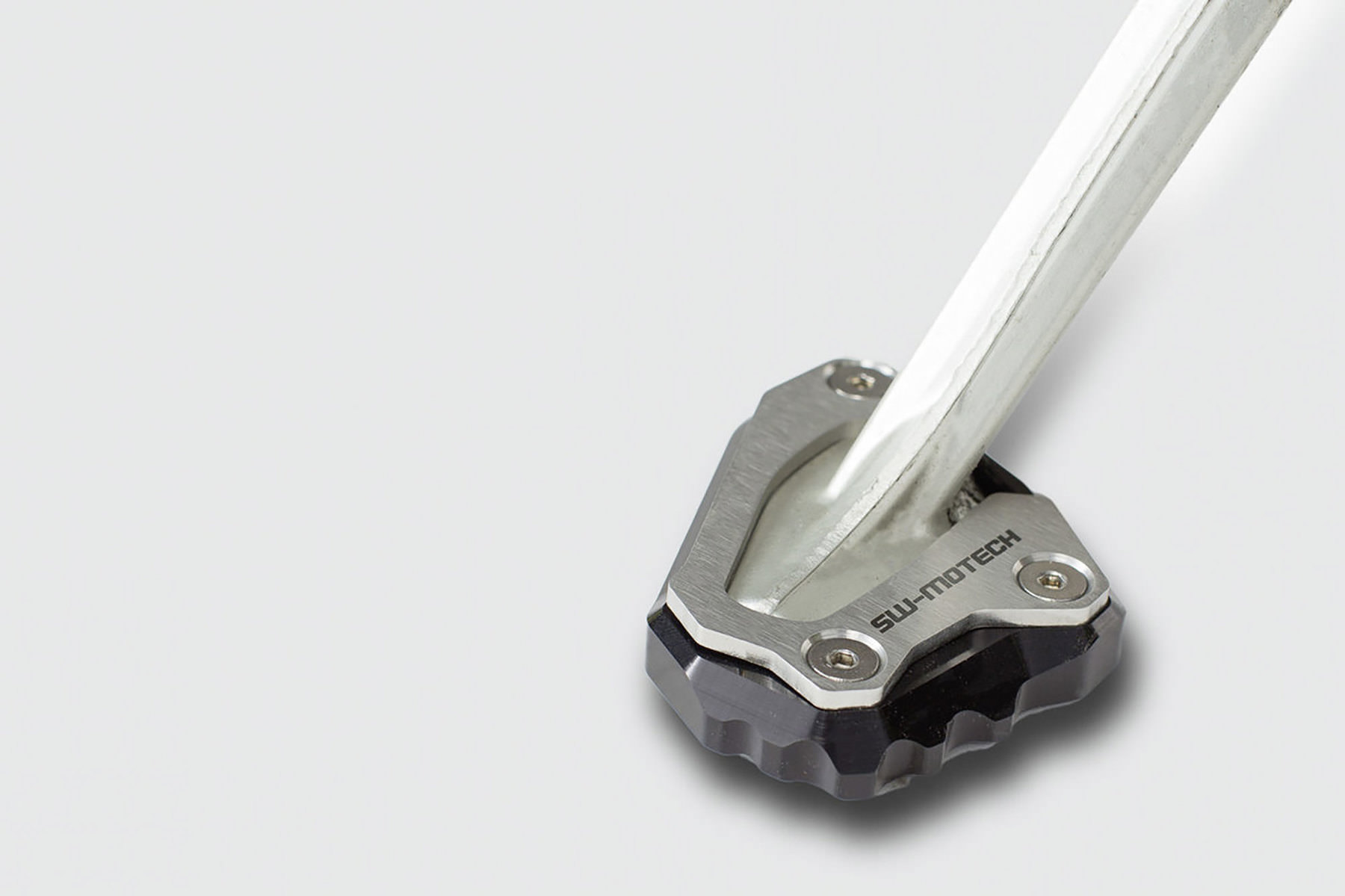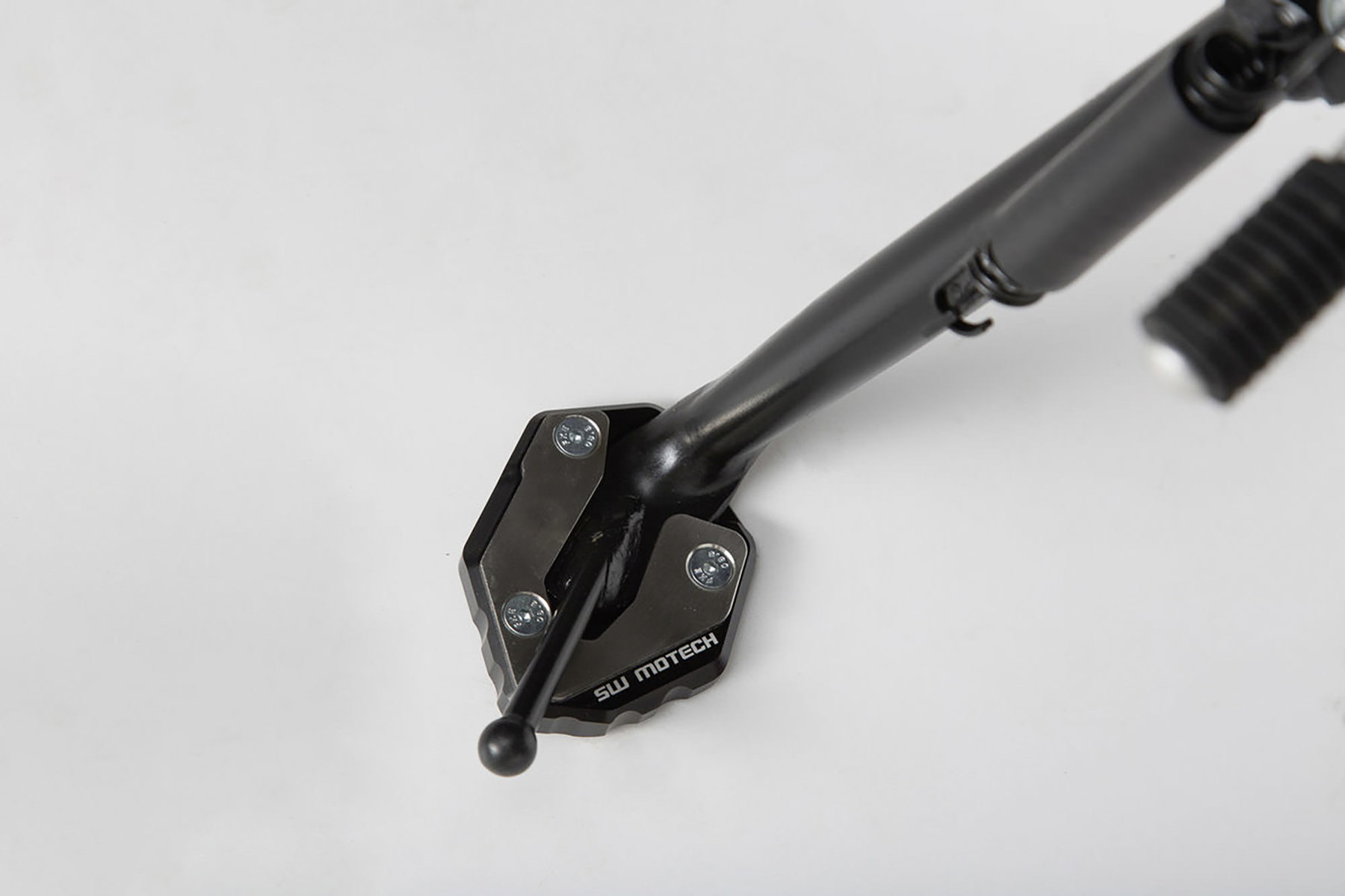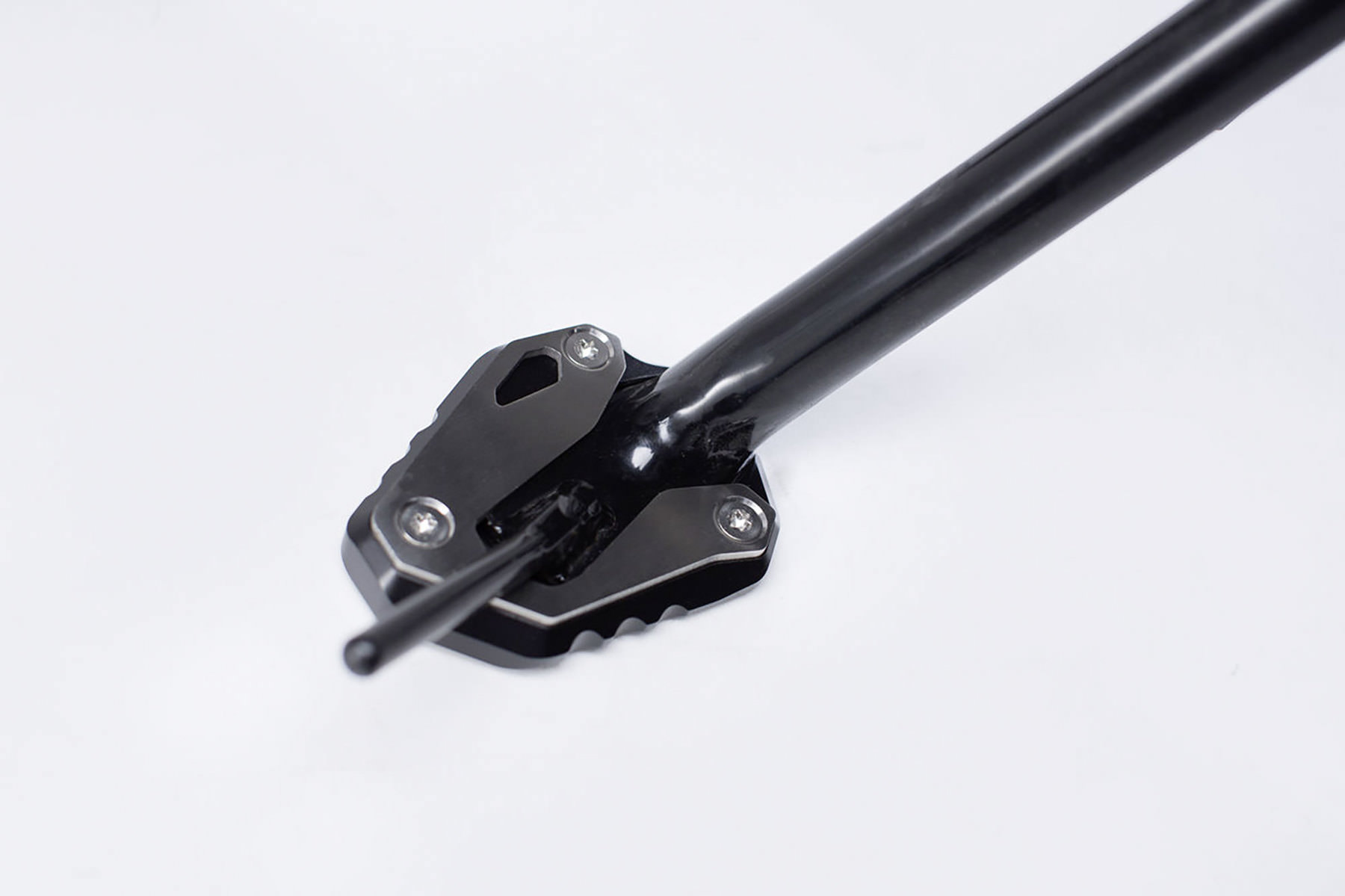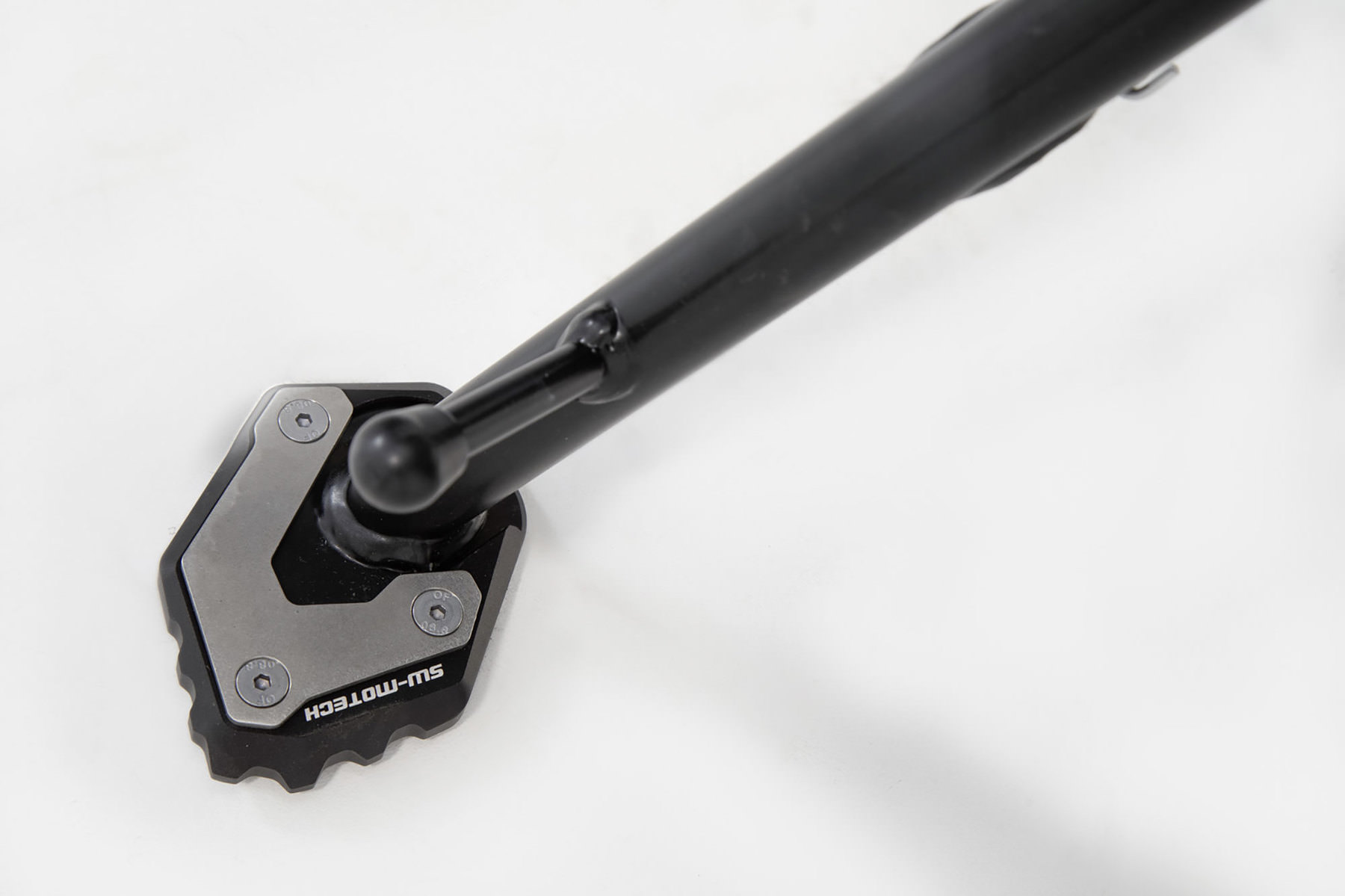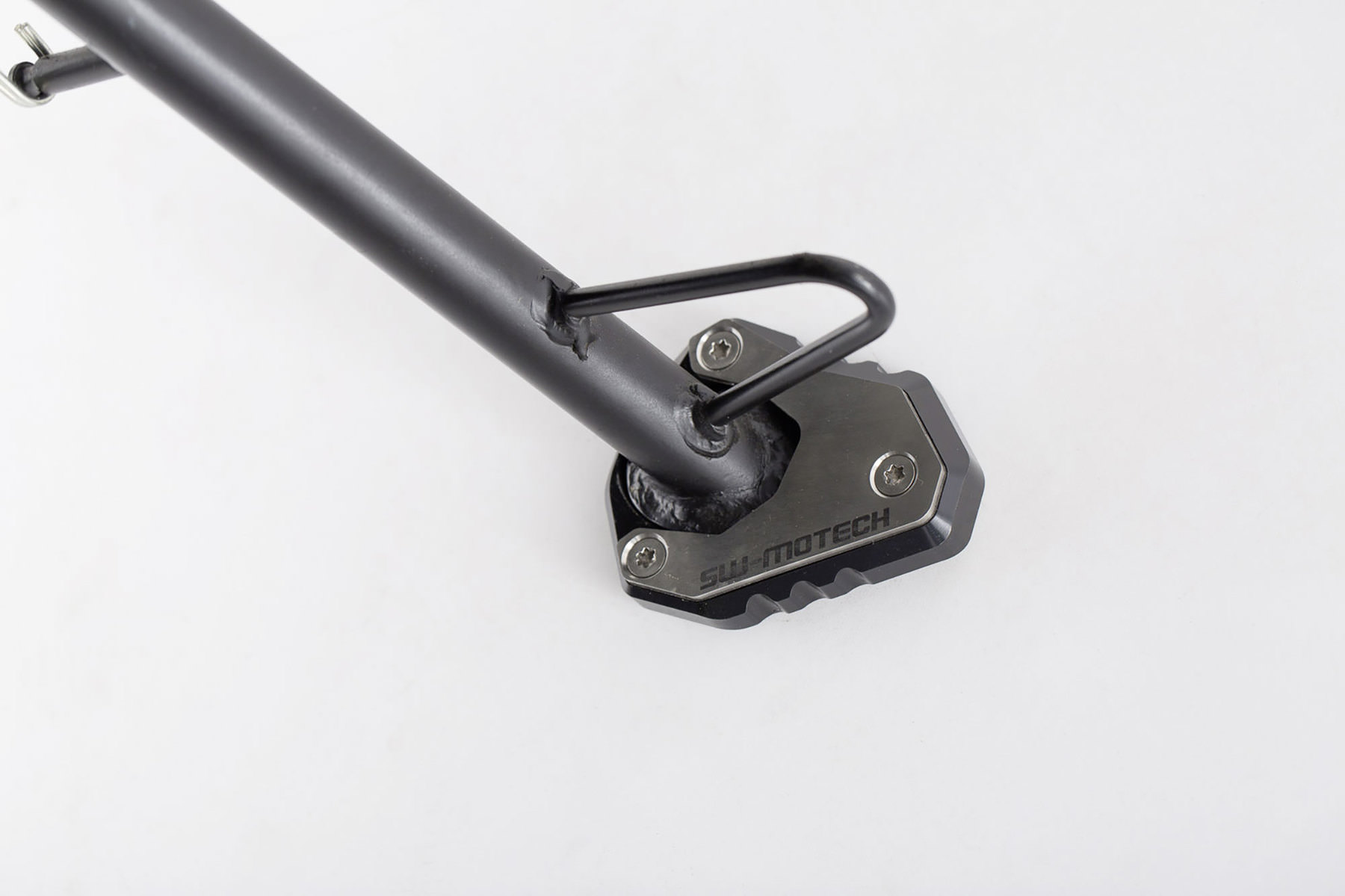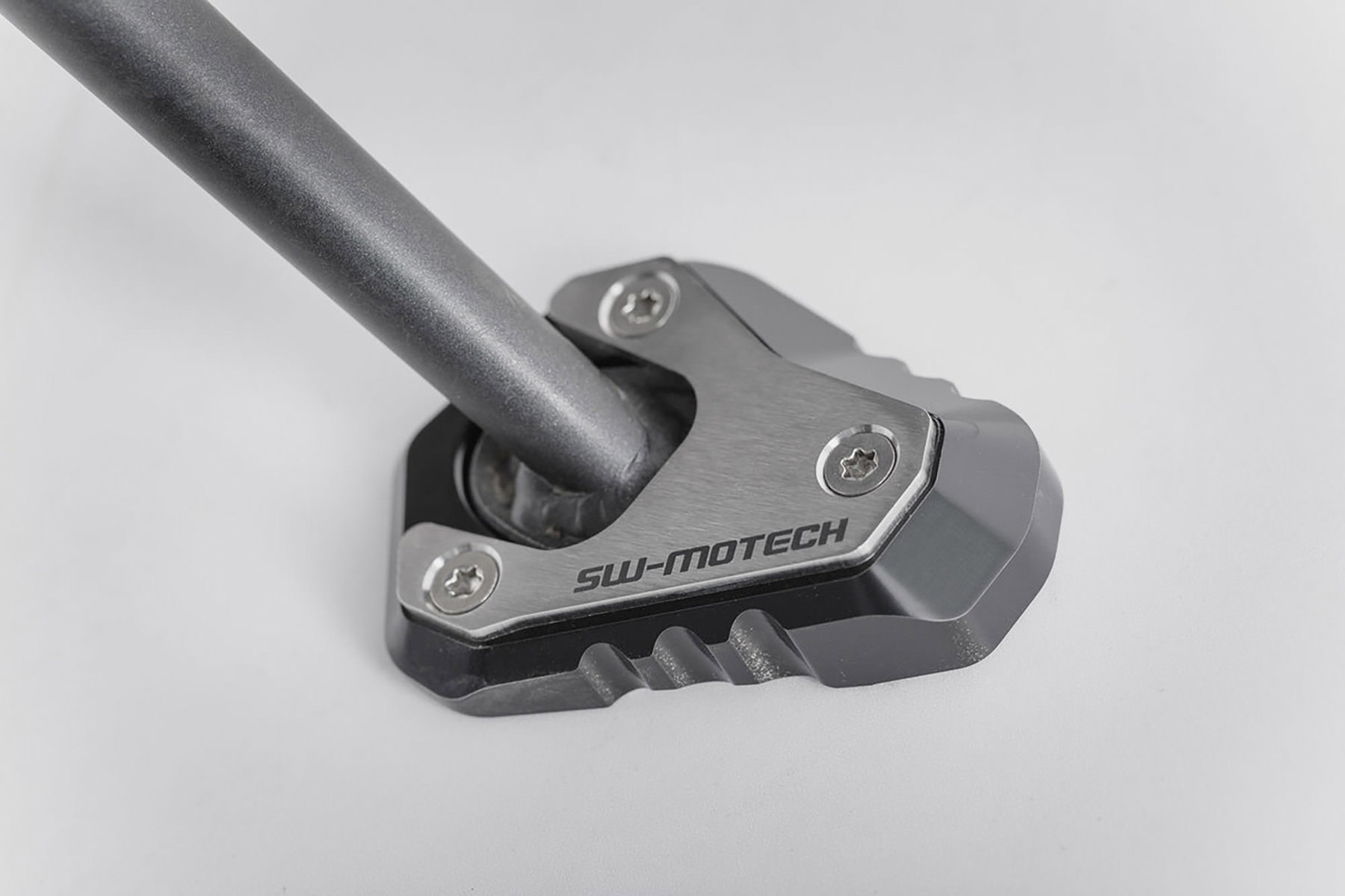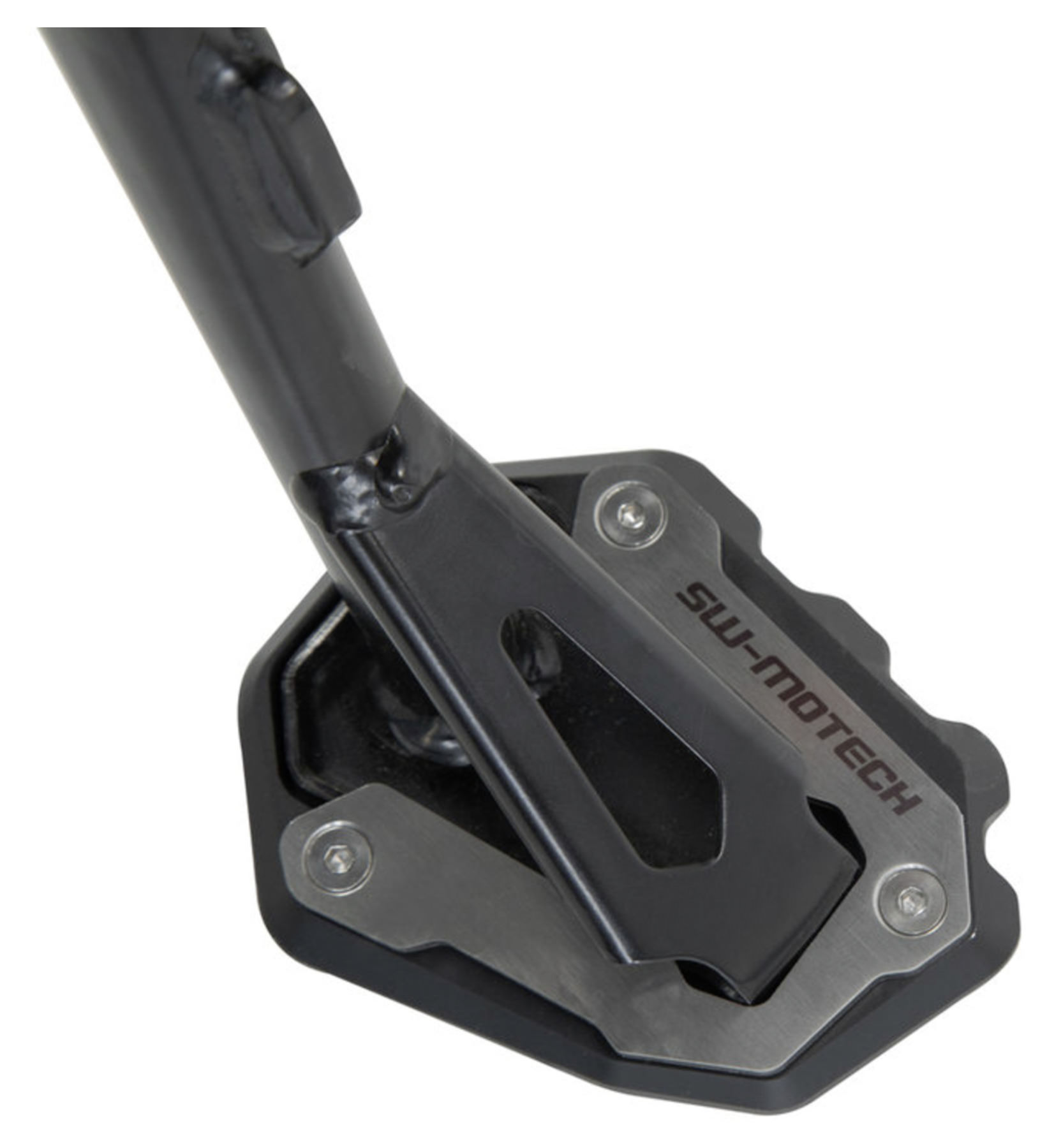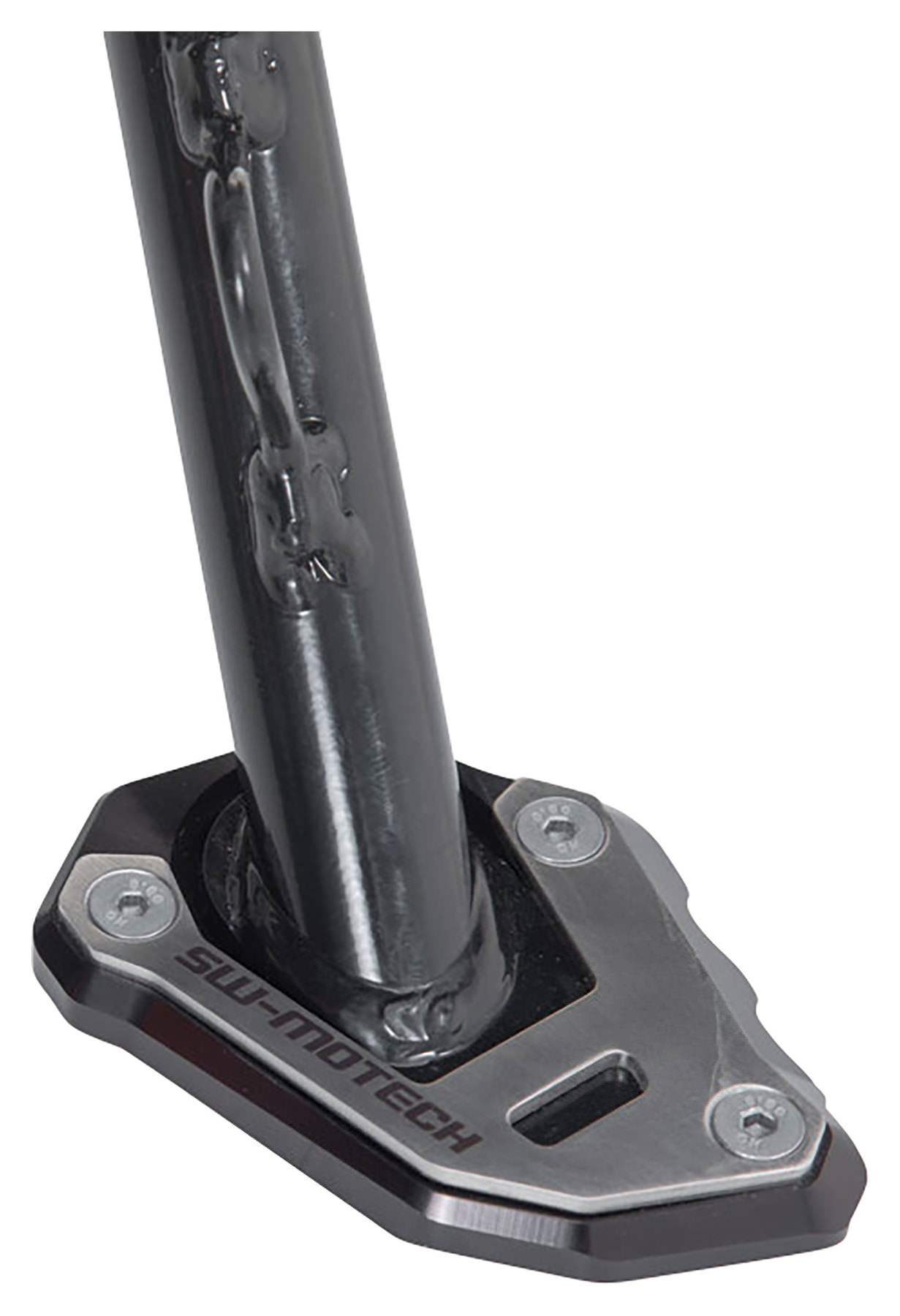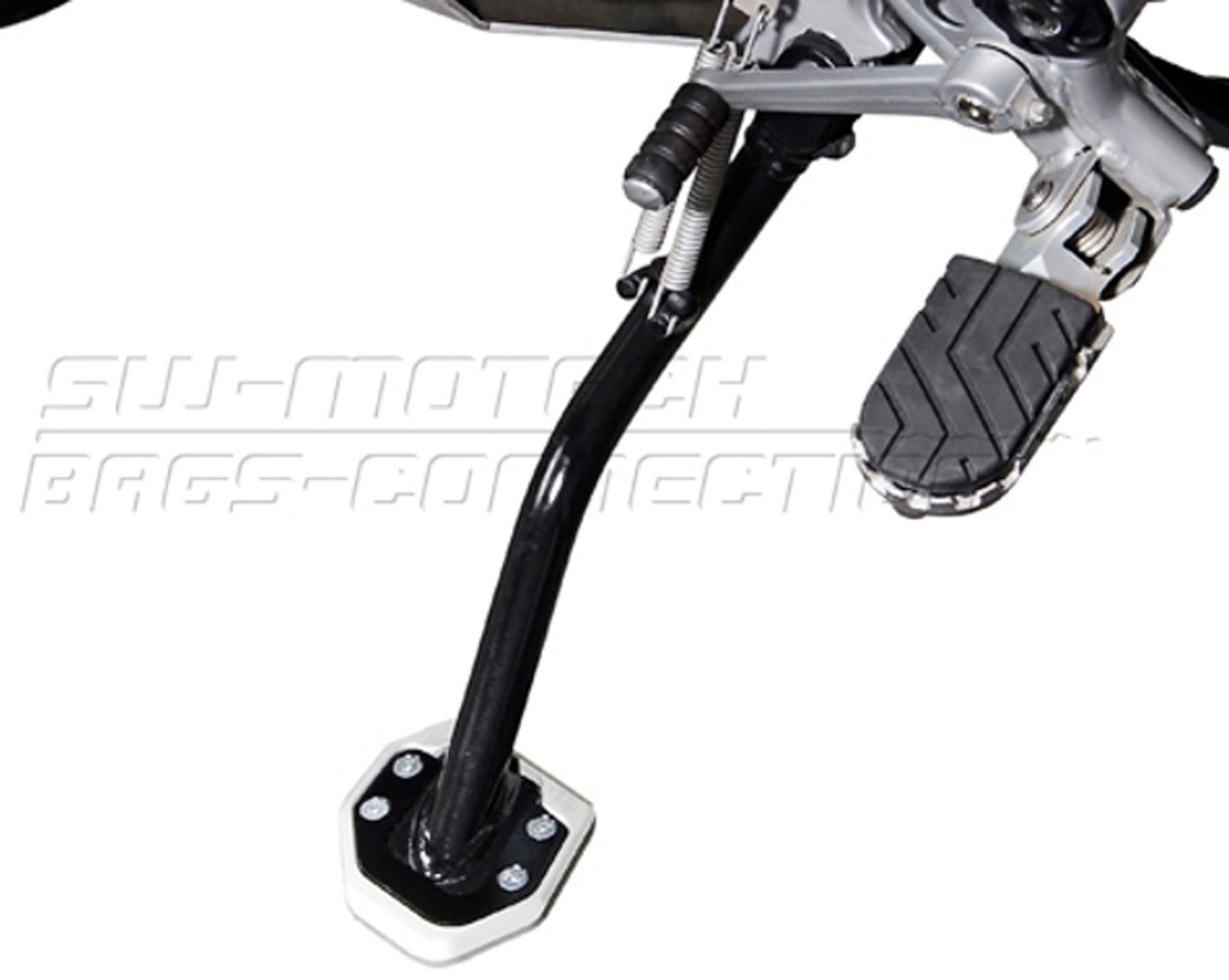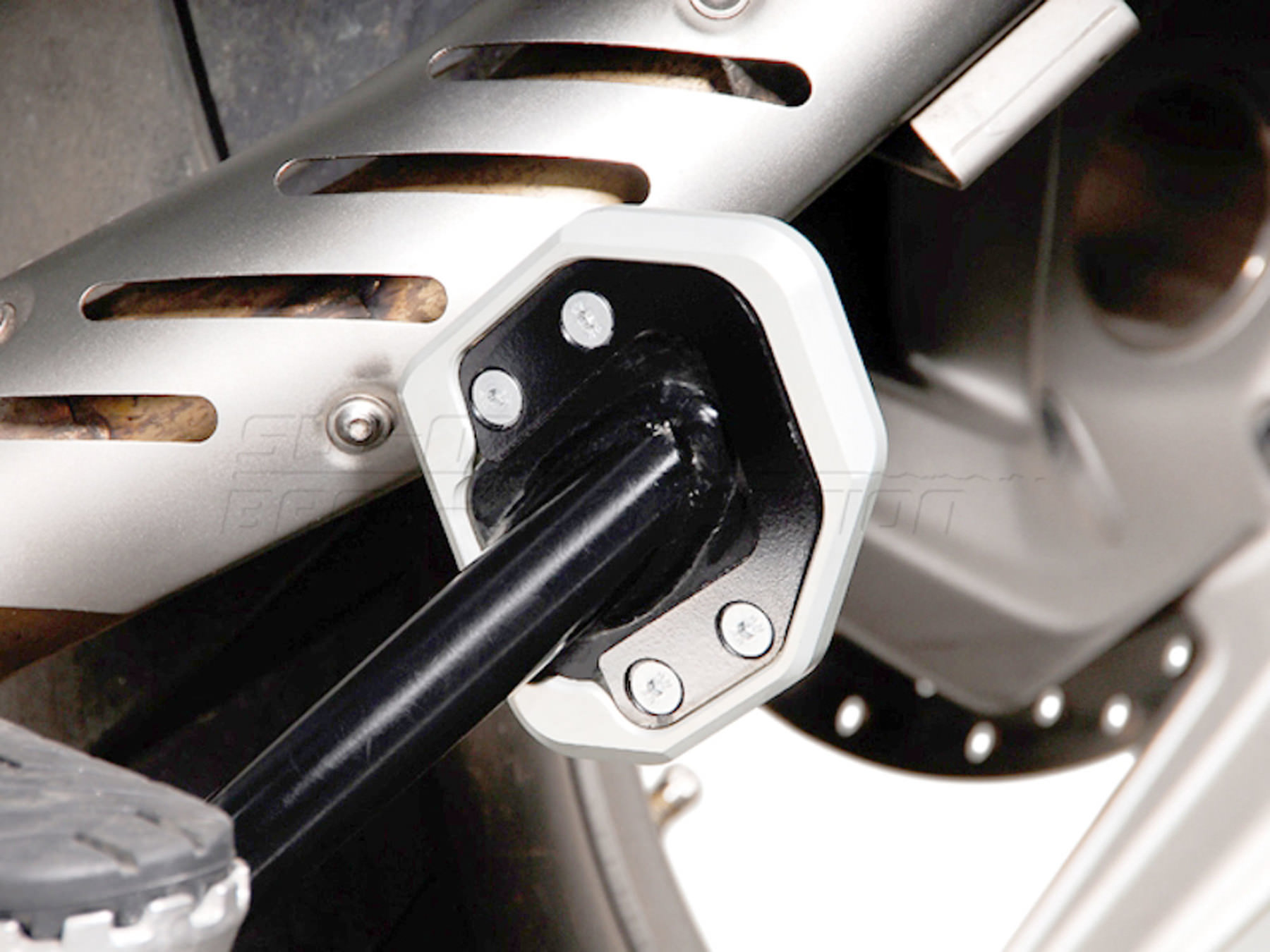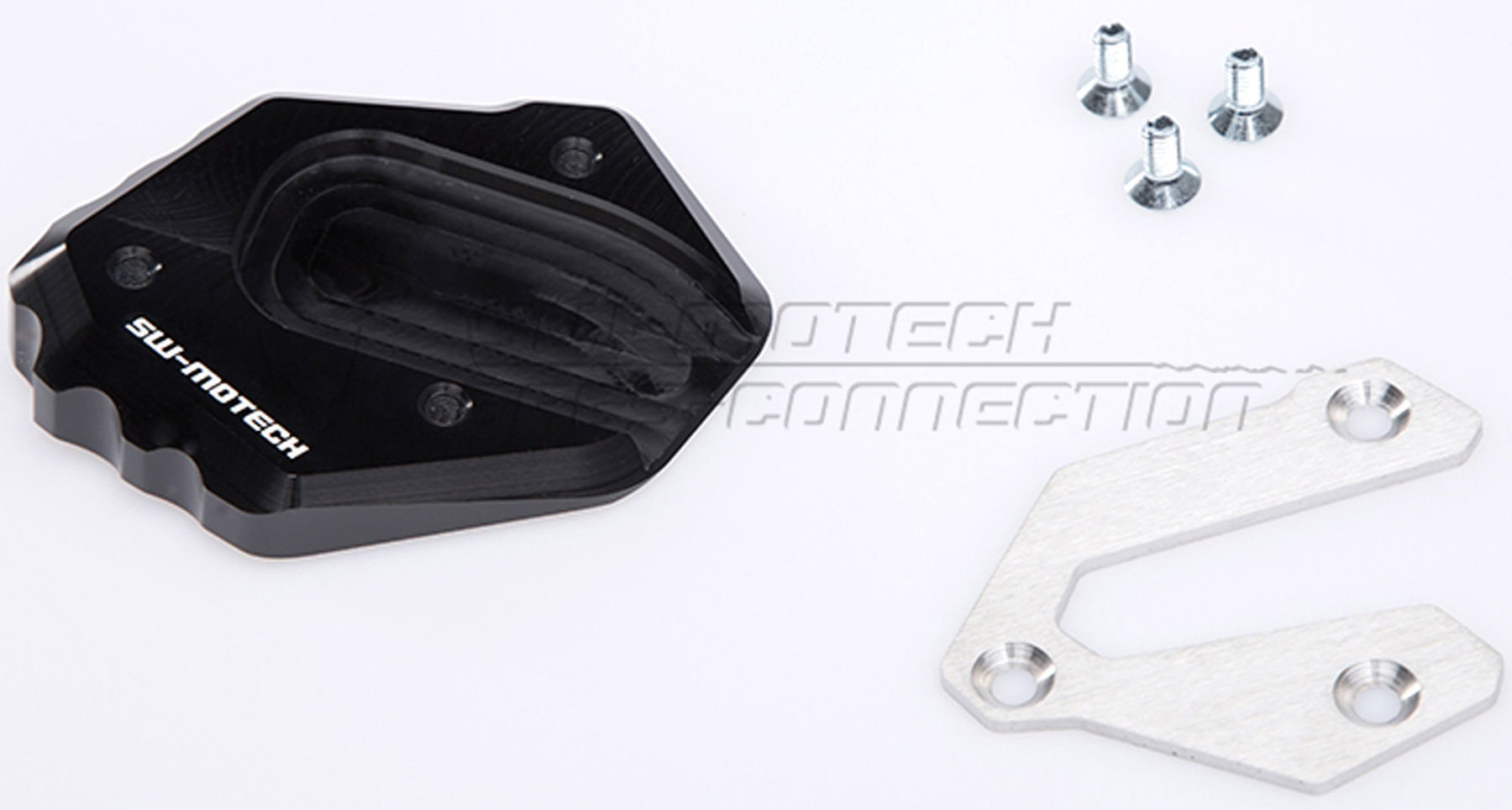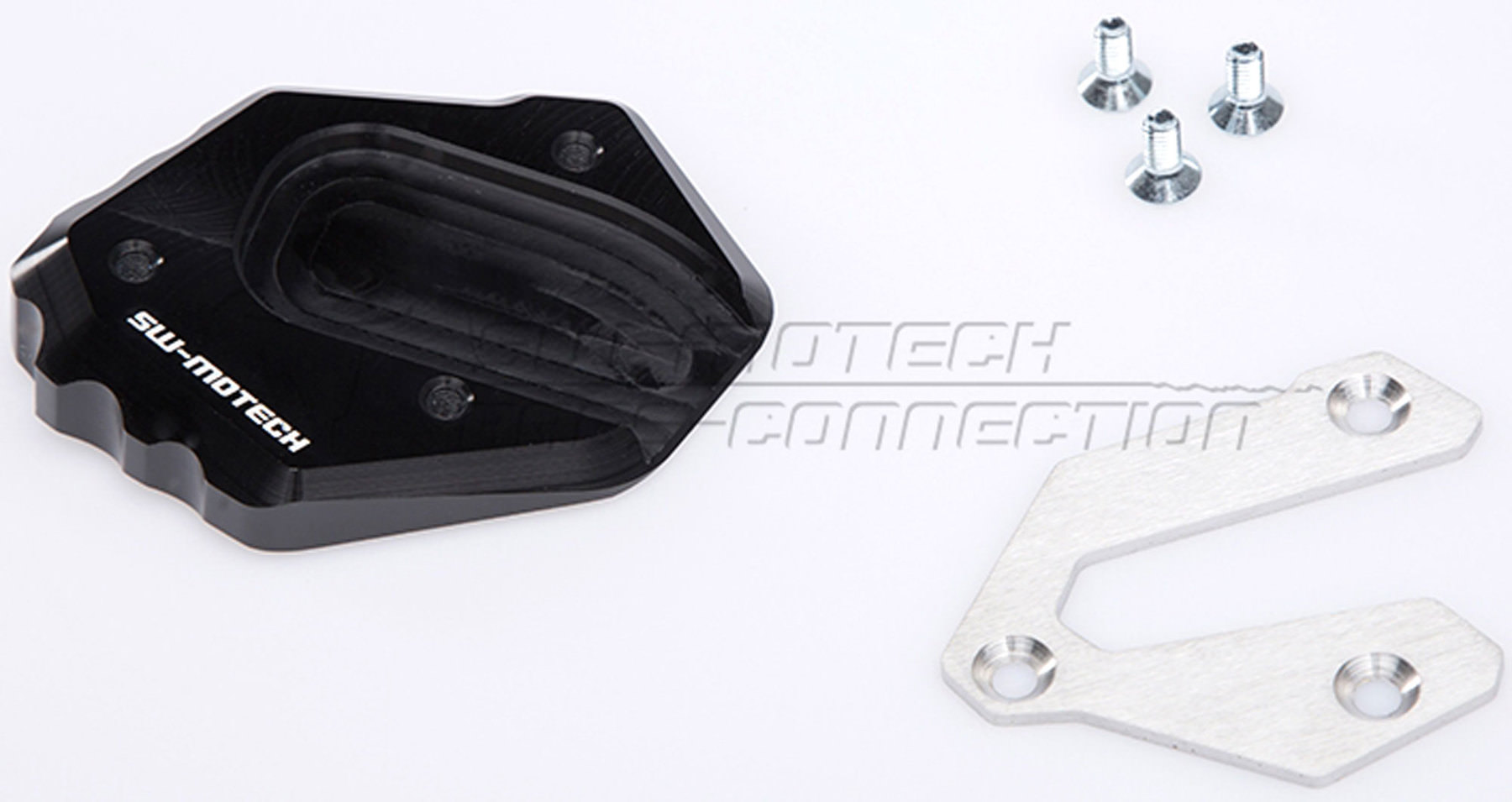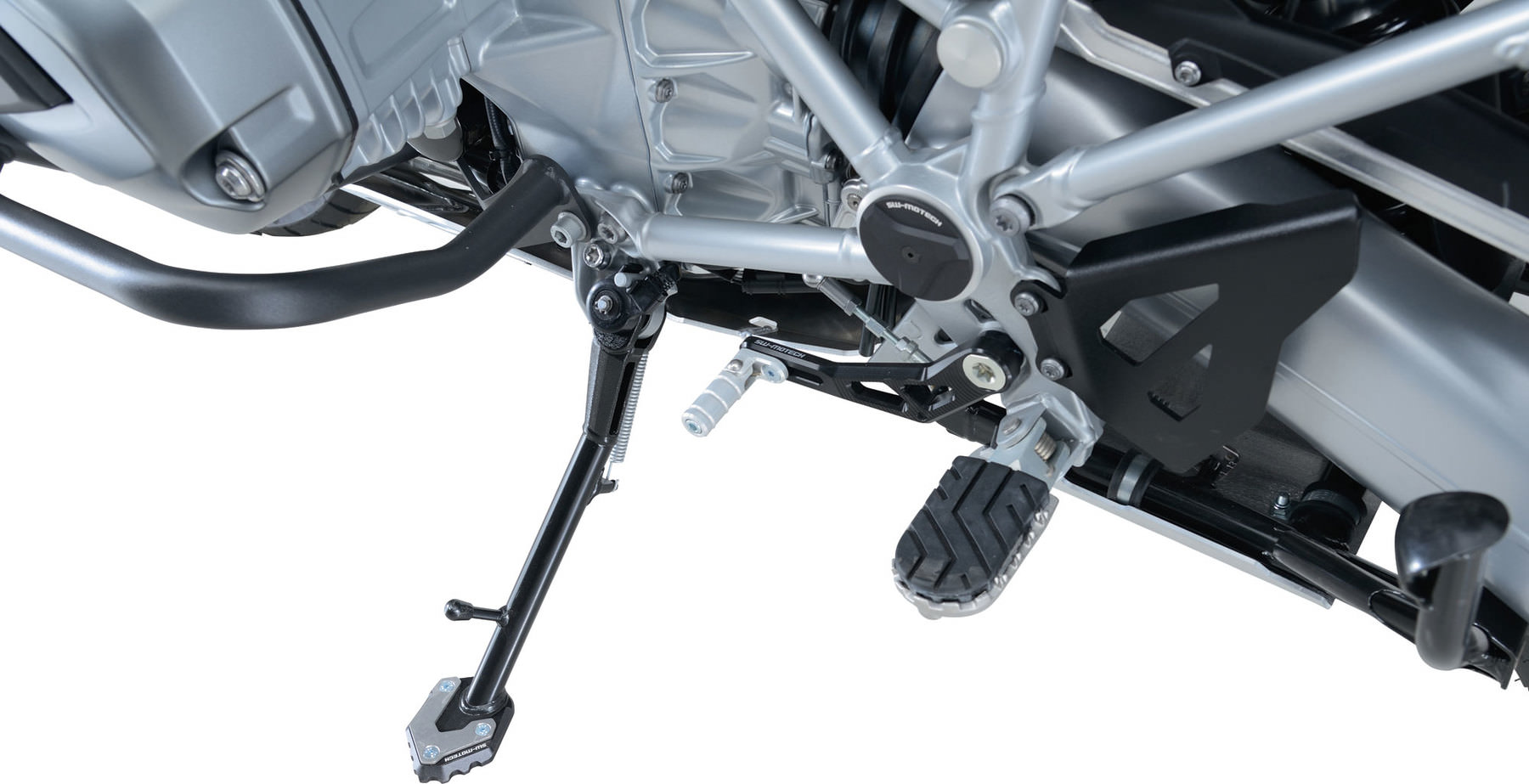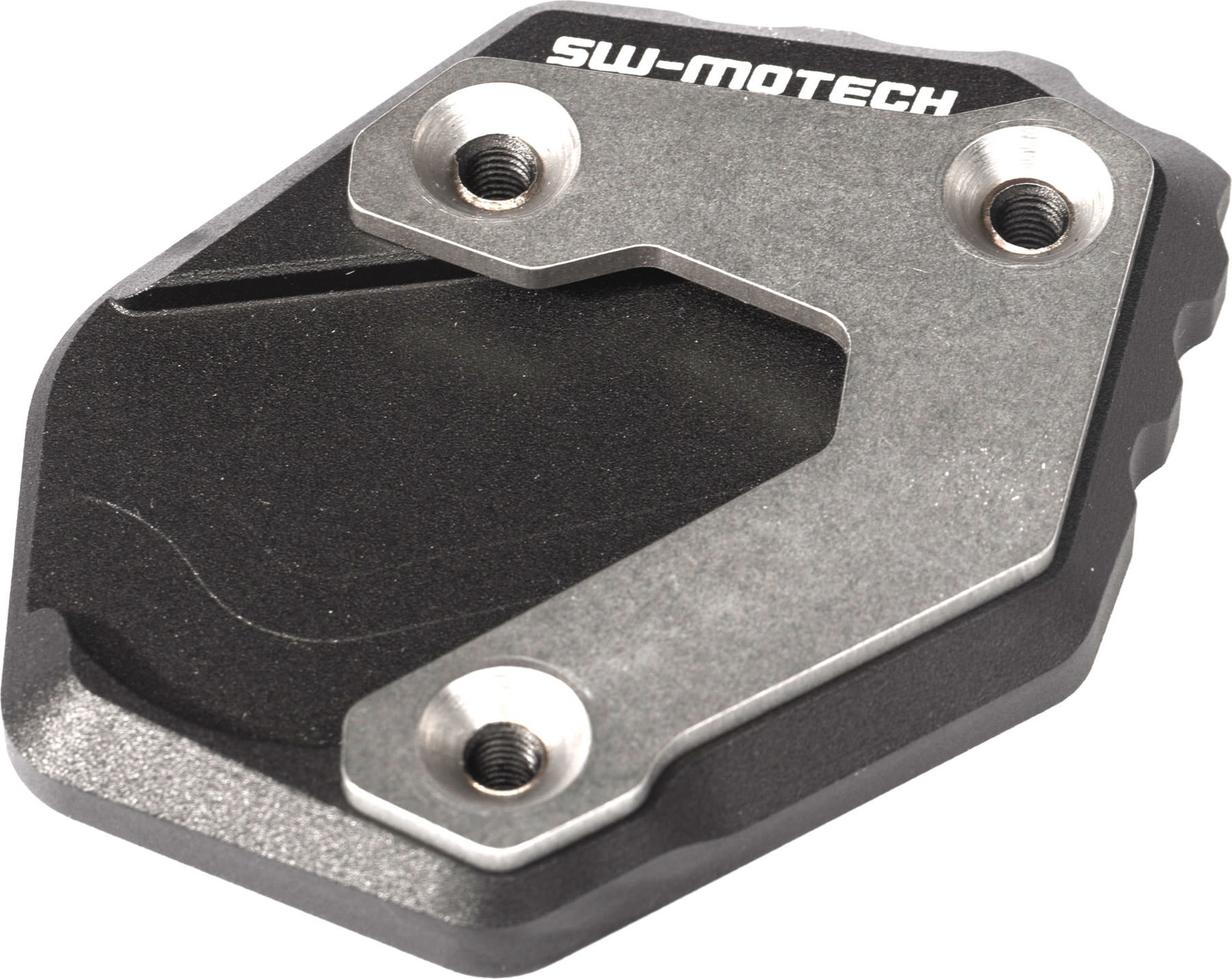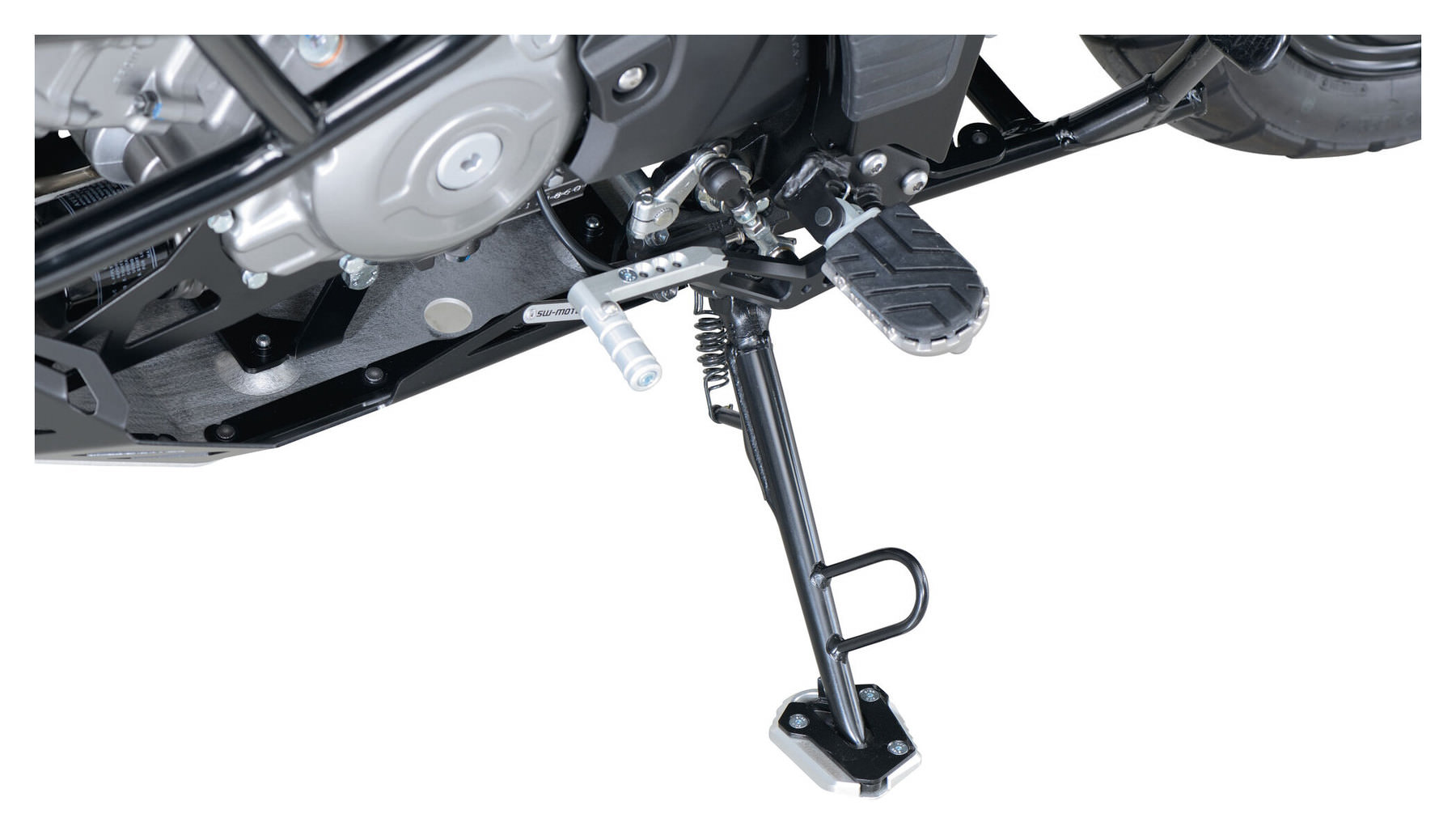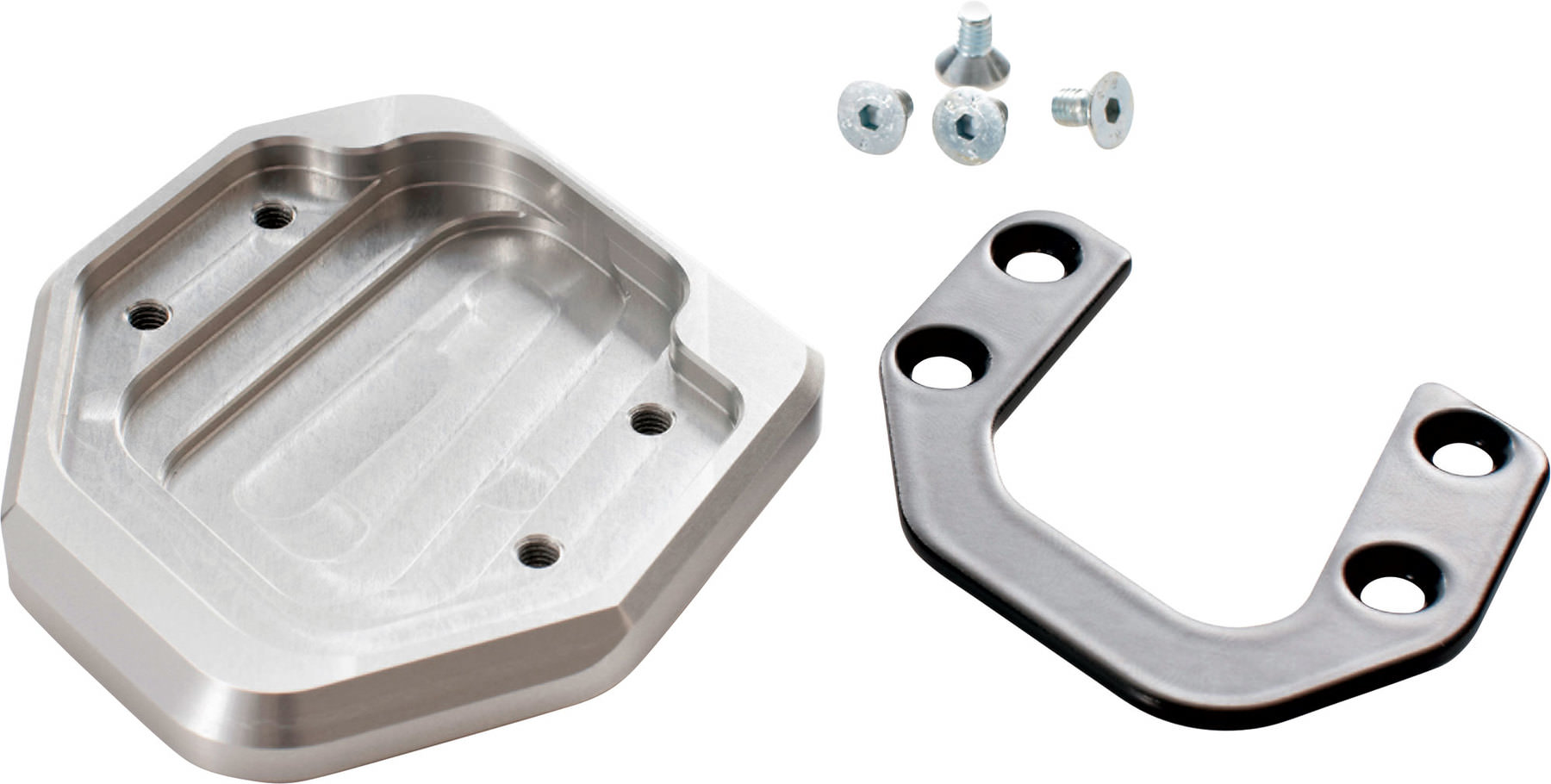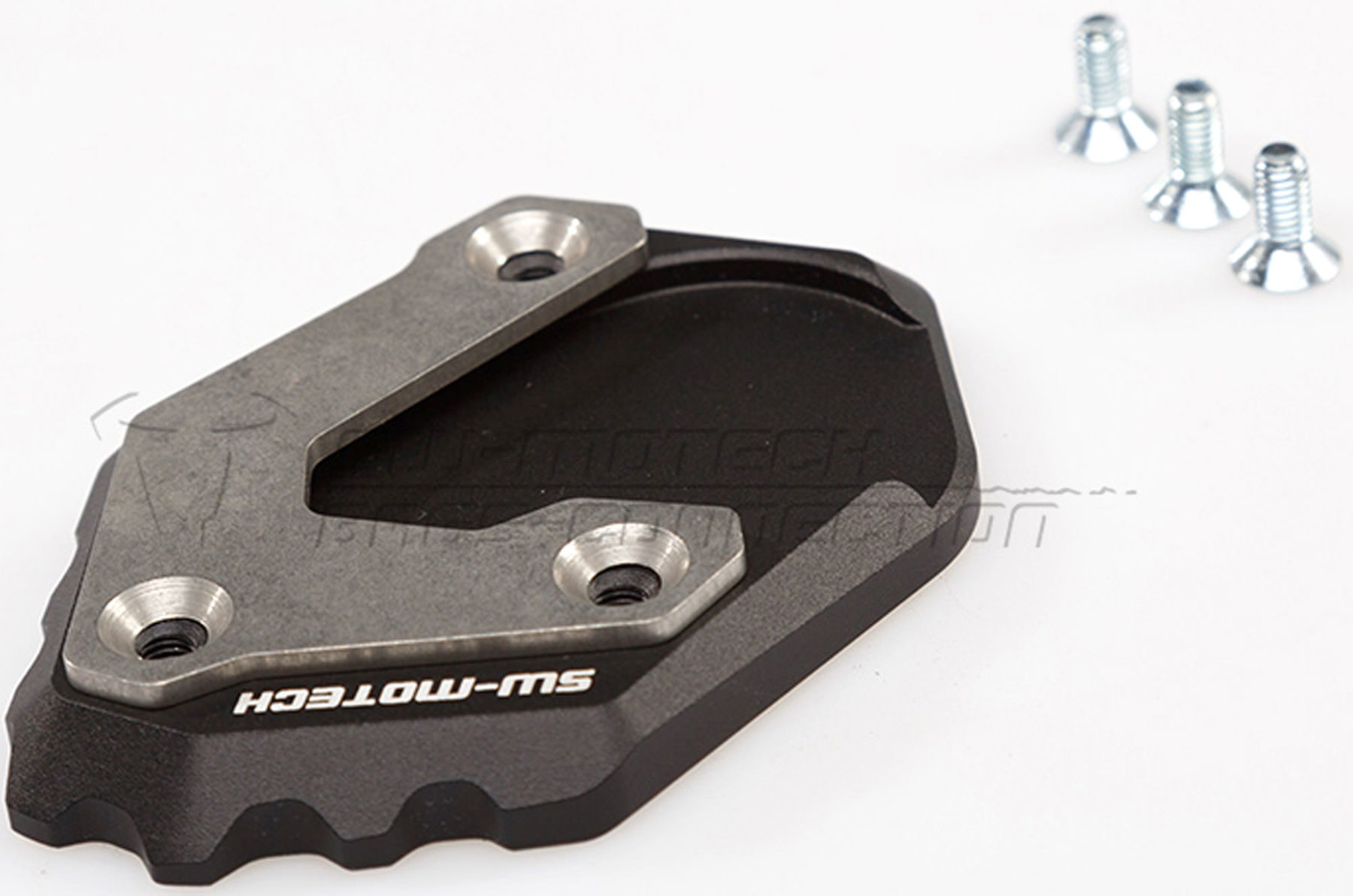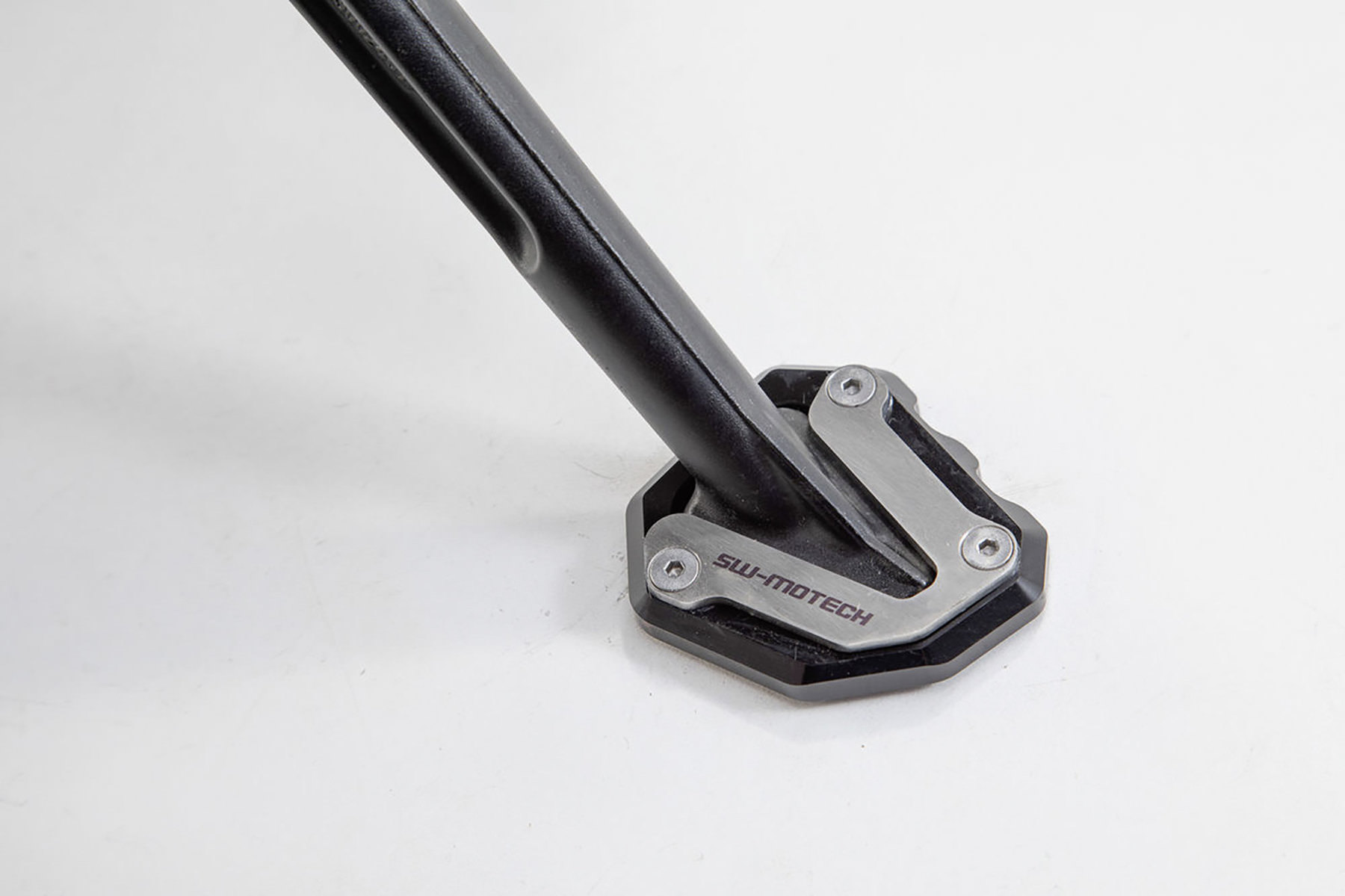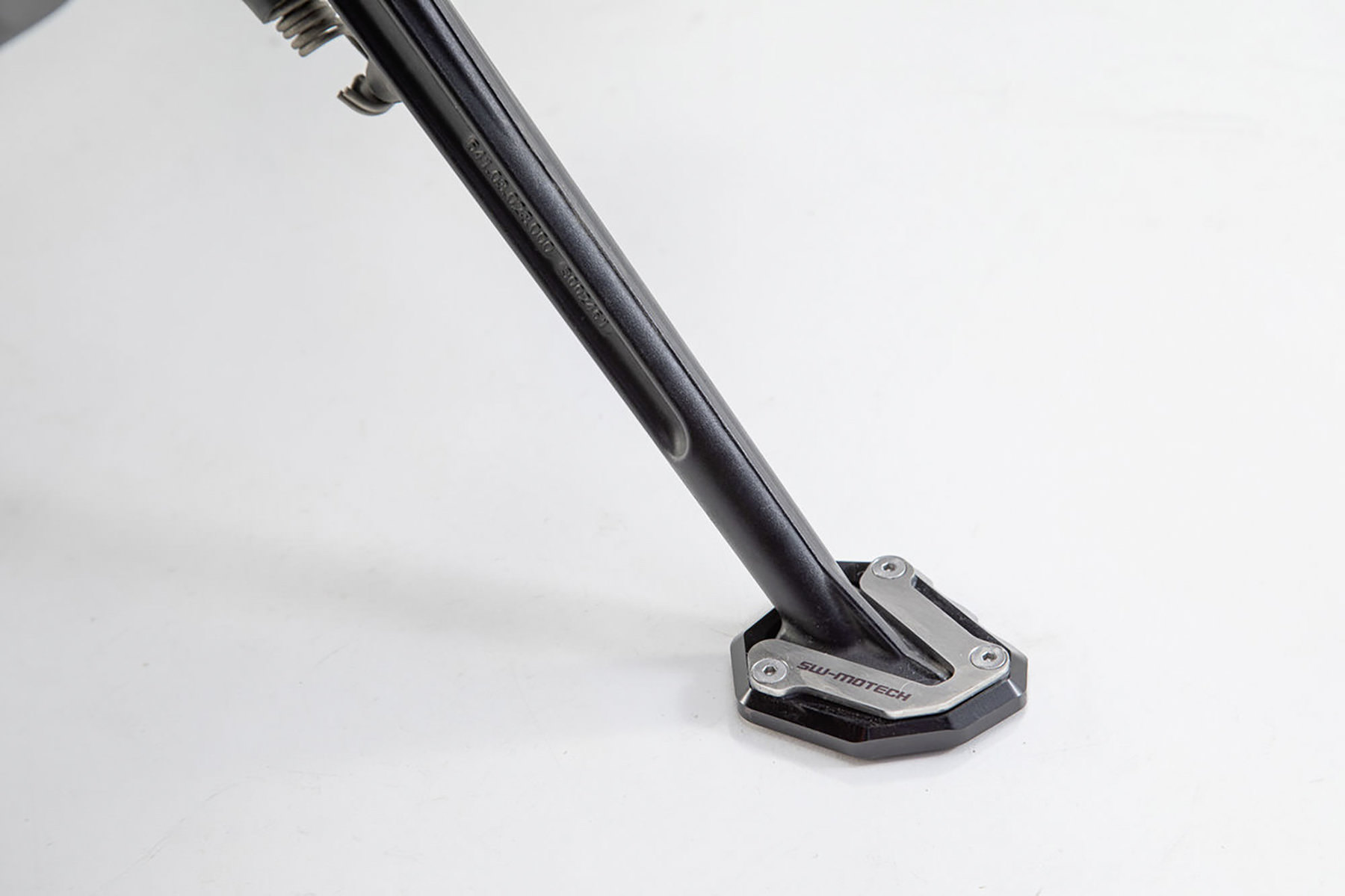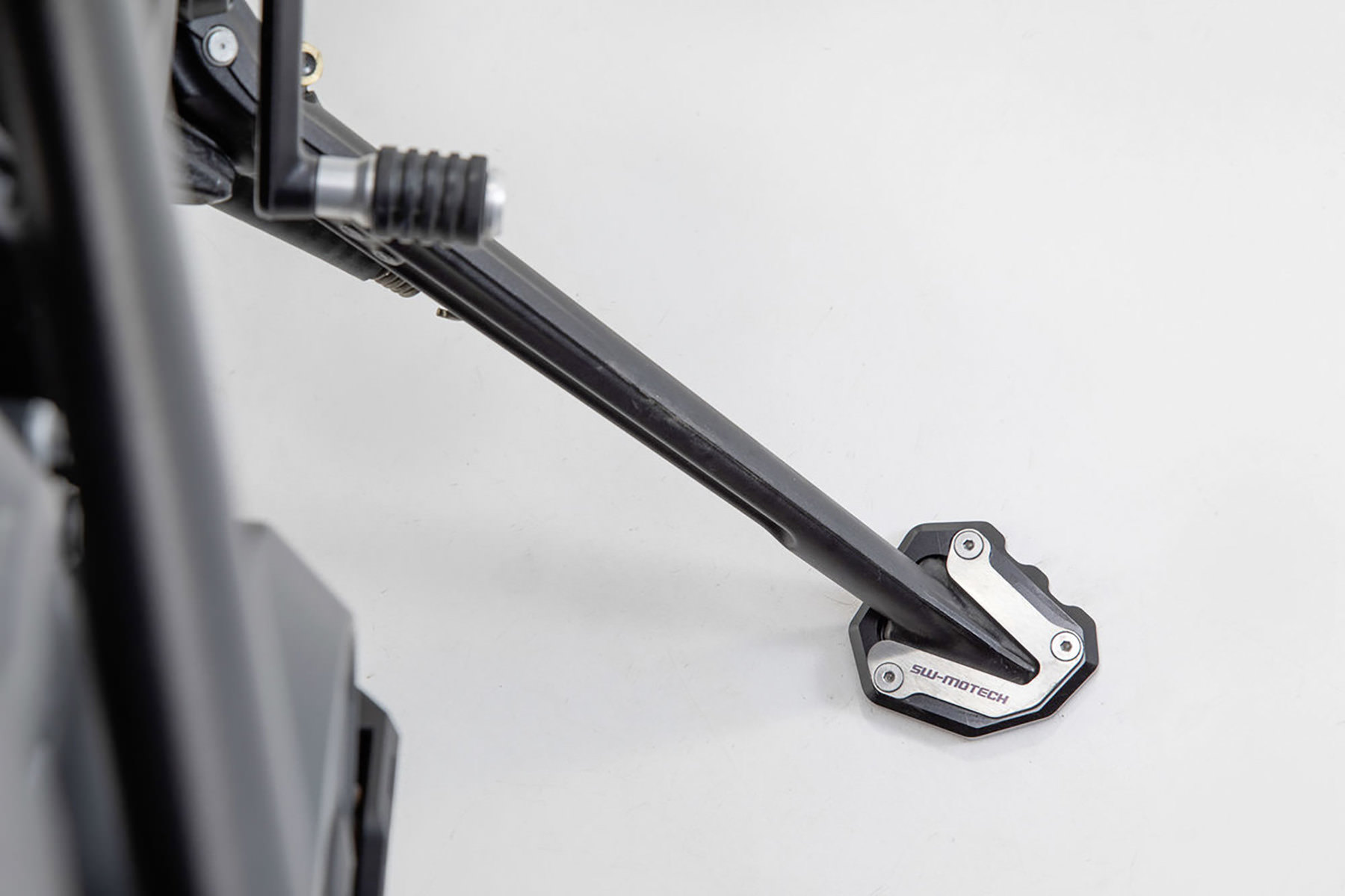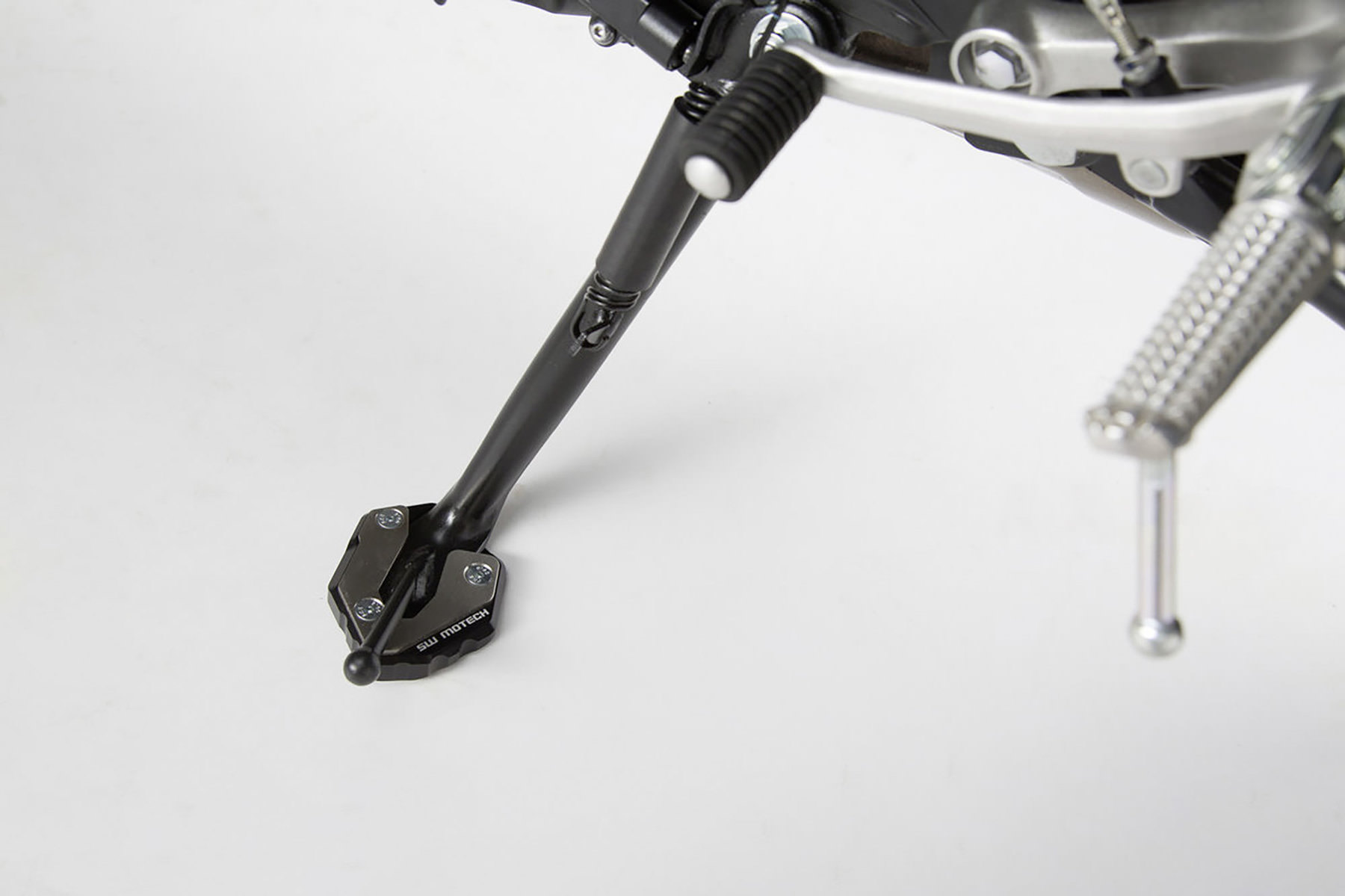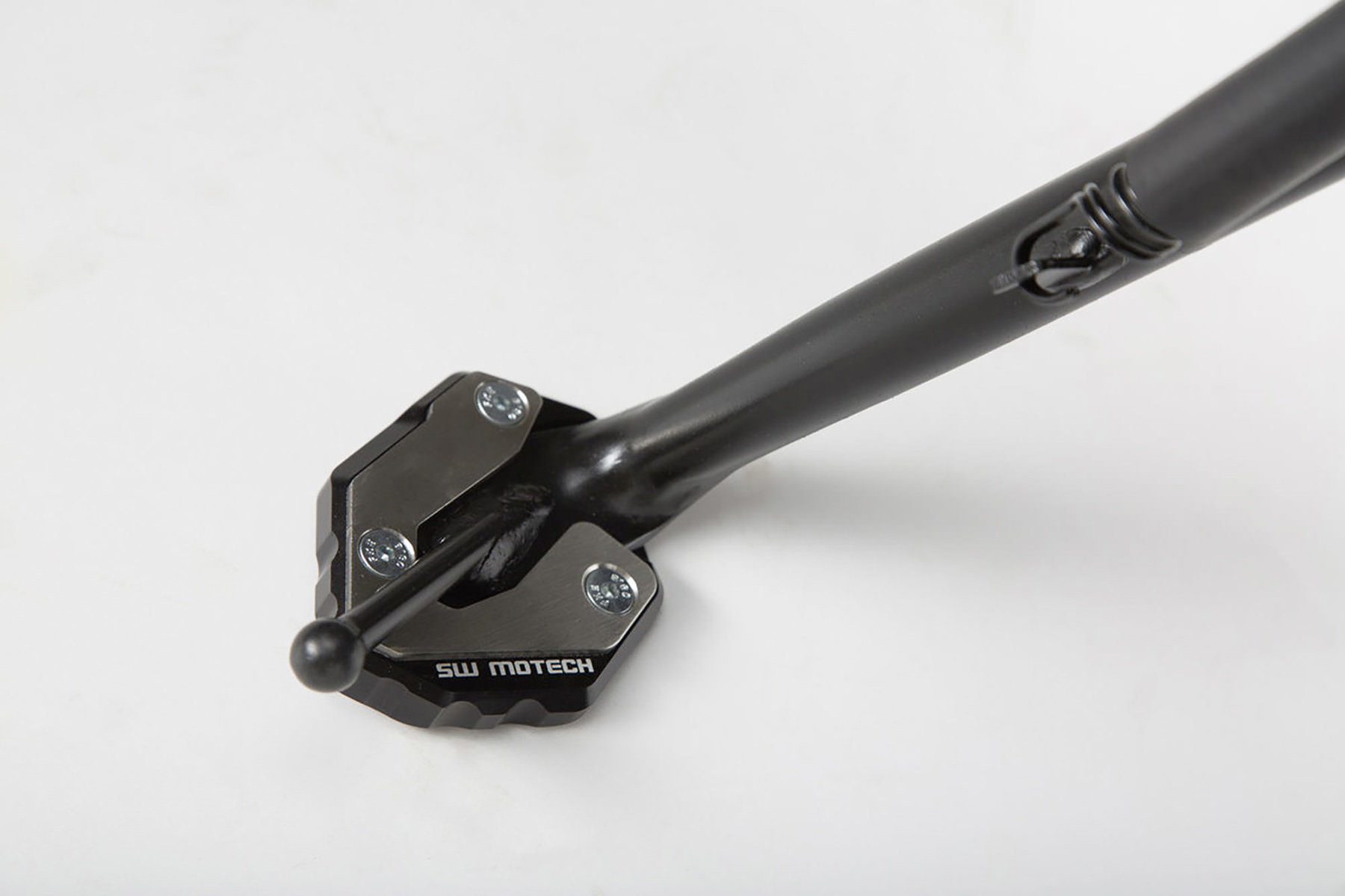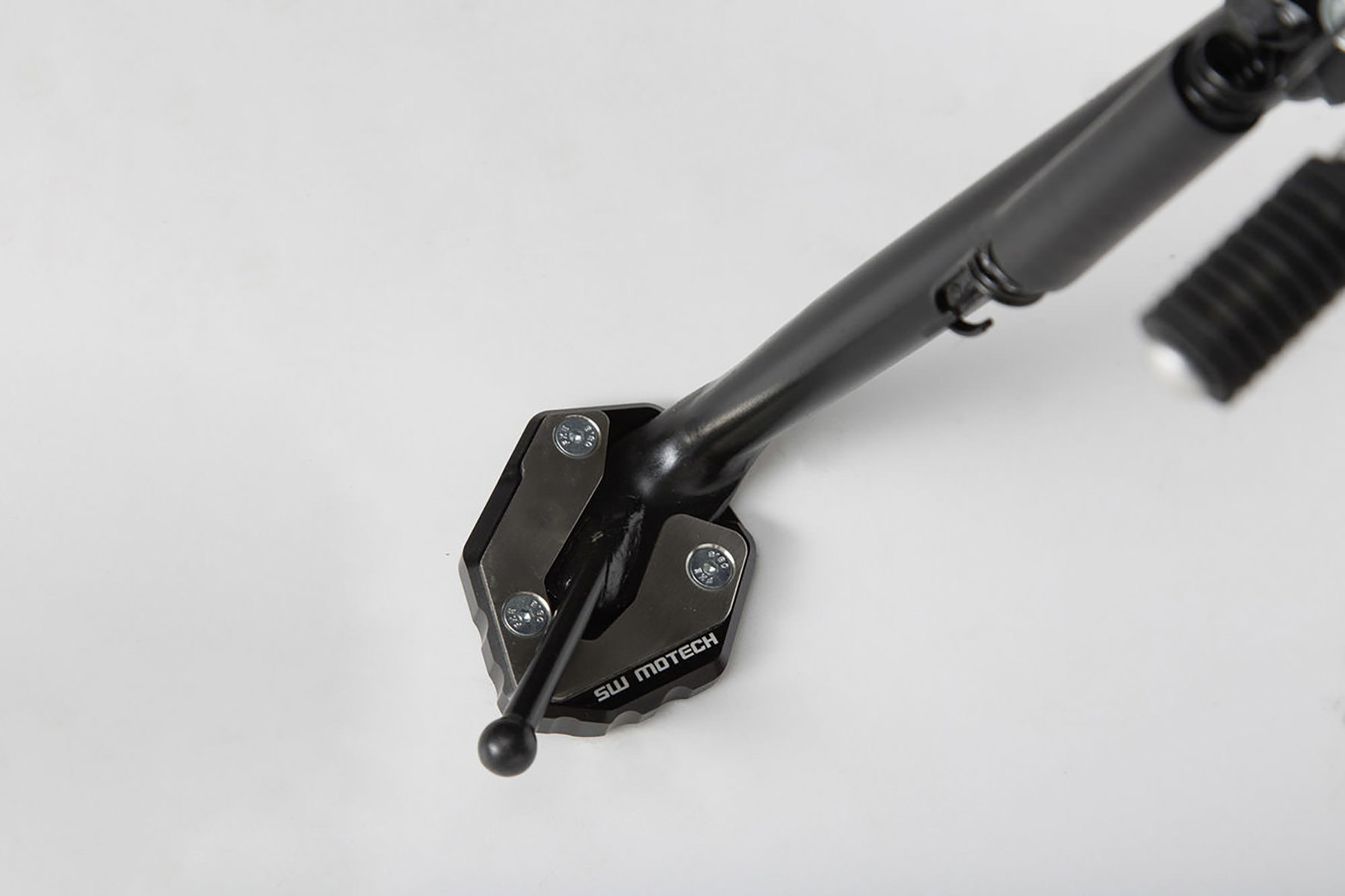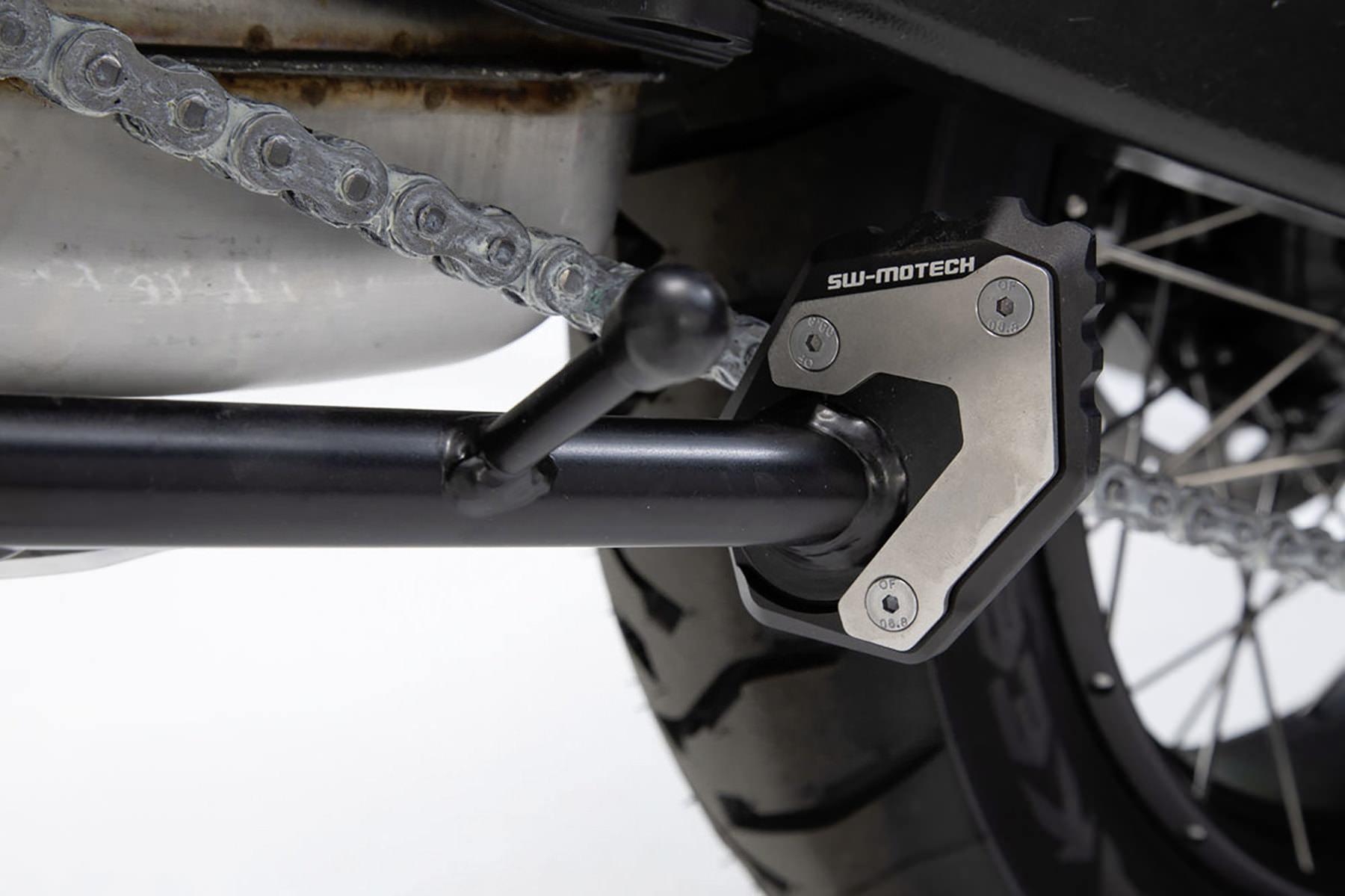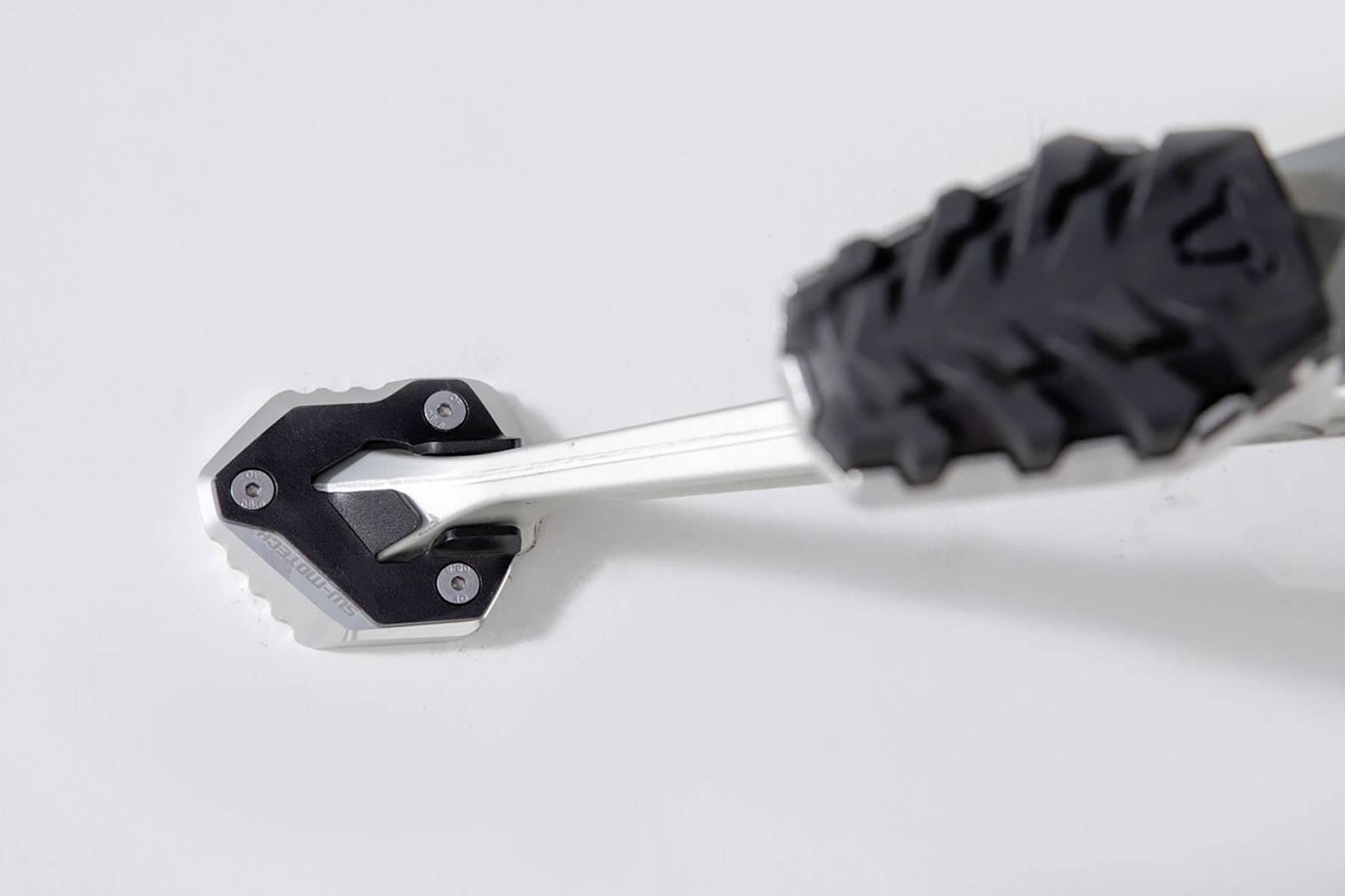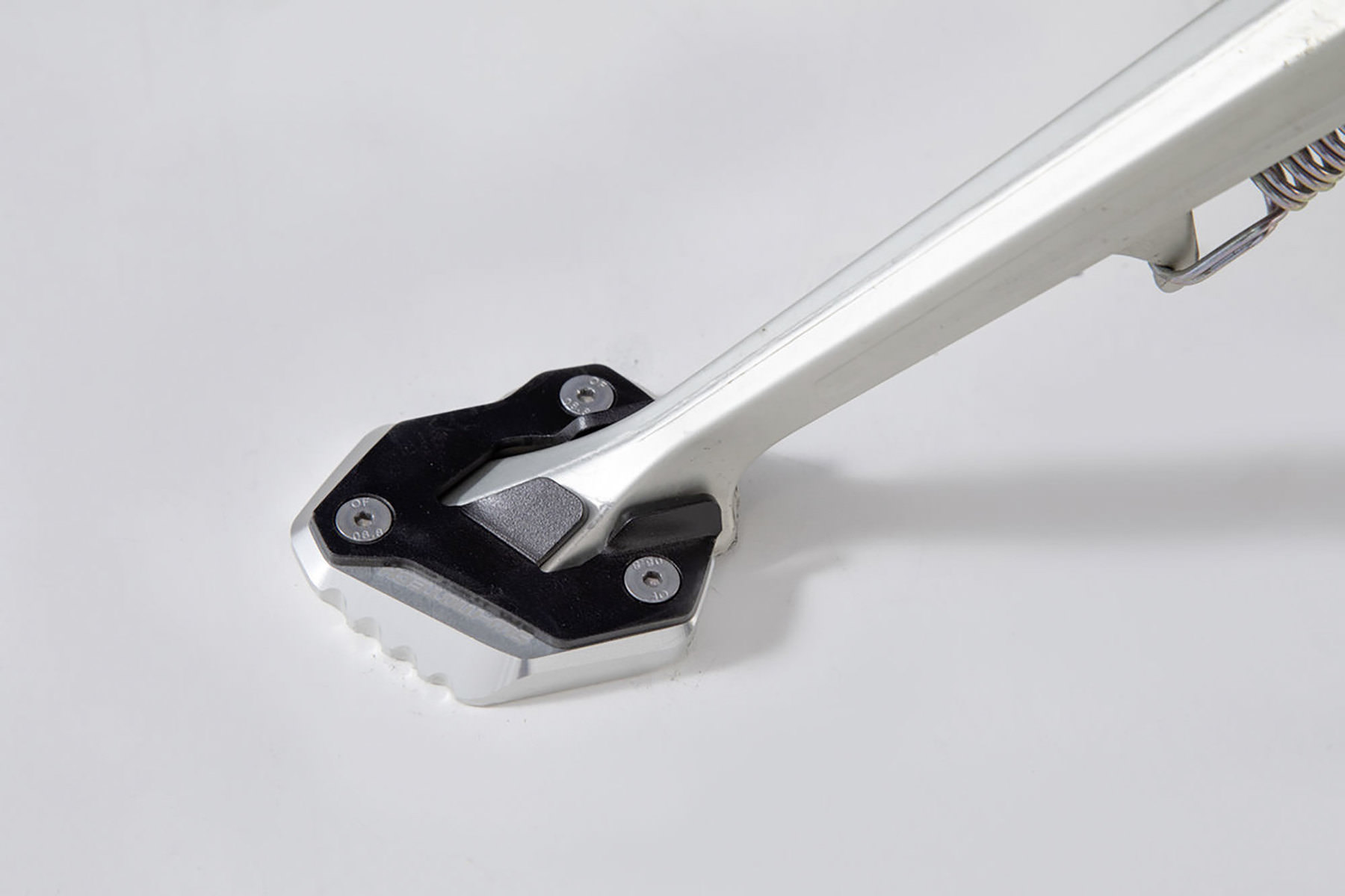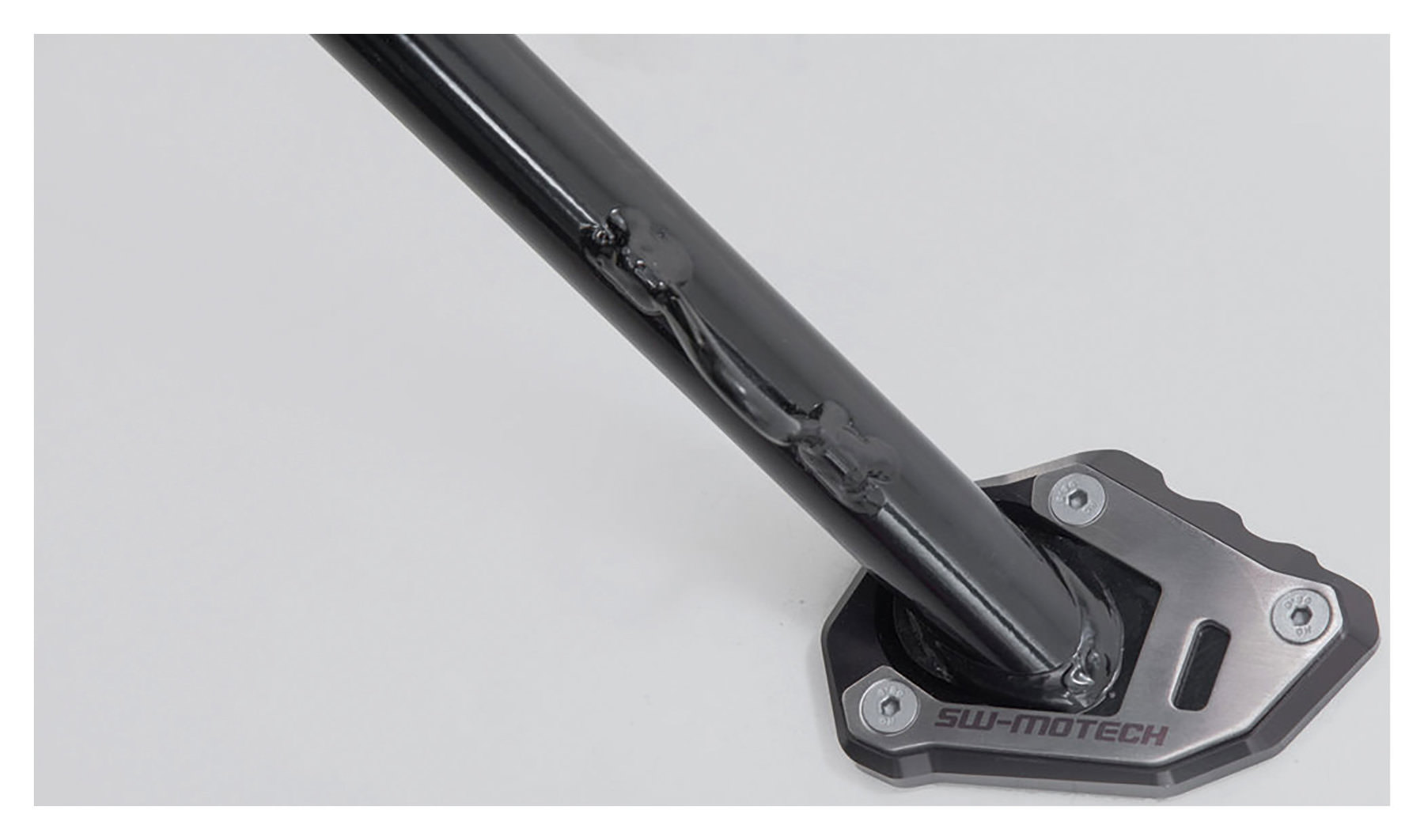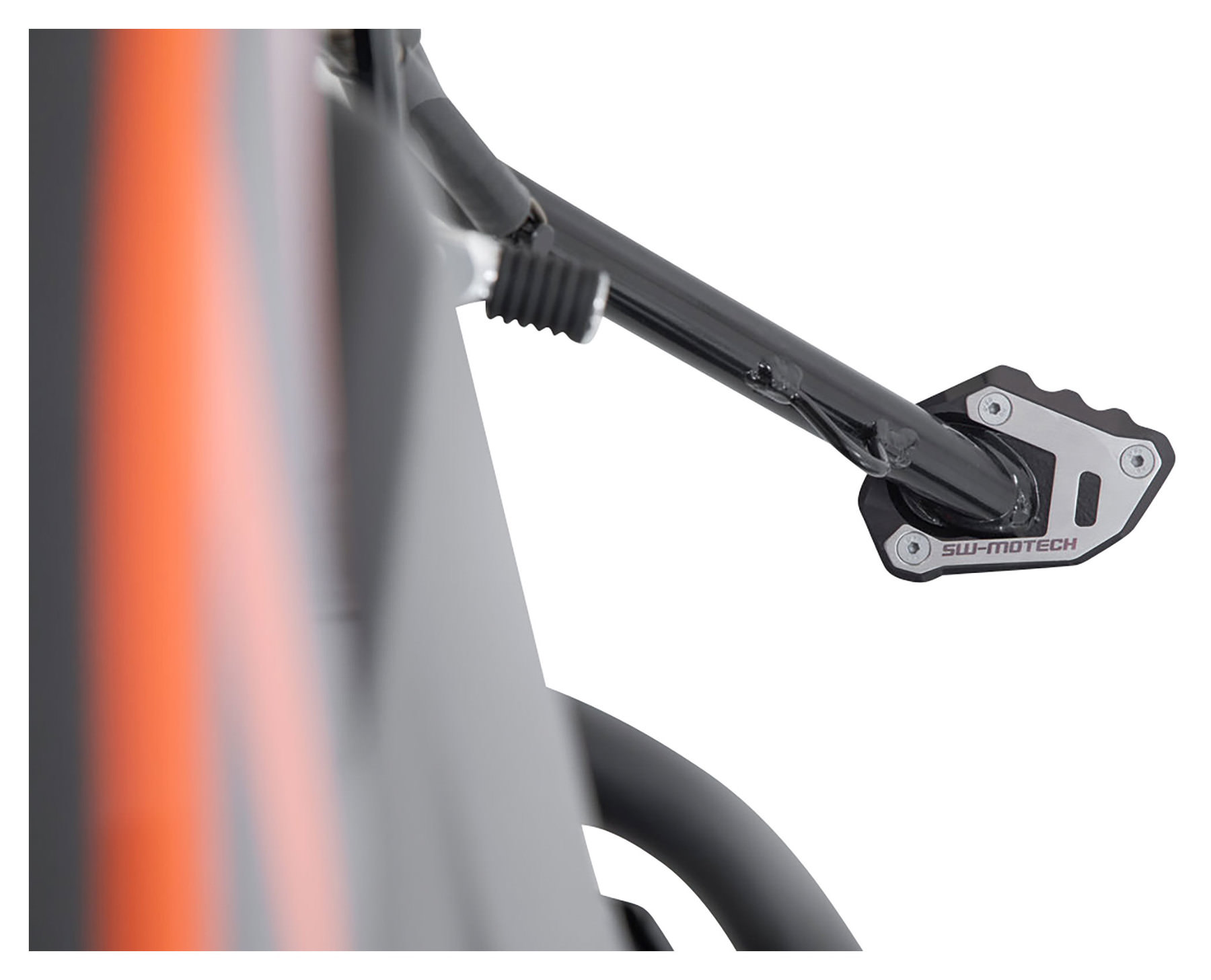 Unfortunately, this product is not compatible with this motorcycle.
Unfortunately, this product is not compatible with this motorcycle. You can find the right for the here: .
Free delivery on orders over €199.00
2 year return policy
Fast delivery
SW-Motech Sidestand Foot
SW-Motech sidestand feets

The shapely side stand extension is CNC-machined from high-strength aluminium alloy.

The much larger contact surface prevents sinking in soft ground

Colour: Silver anodised side stand extension, black powder-coated upper mounting sheet

Comprises:

Foot extension
Mounting material
Installation instructions
Manufacturer details: SW-Motech

Engineering for motorbikes

SW-MOTECH stands for competence in the development and production of practical solutions in the areas of luggage systems, navigation, ergonomics and safety - all perfectly designed to meet your riding needs. These products stand out thanks to their distinct look, constant high performance, patented technologies and elaborate innovations. Quality, durability and precision are of utmost importance. SW-MOTECH is the ideal companion for every adventure, no matter whether you are on the way to work, on a weekend tour or around globe.

This product is made of high-quality CNC-machined aluminium and will look great on your motorbike.

To ensure that it gives you many years of service, please observe the following care instructions:

1. After installing the product, and each time you wash your motorbike, apply a wax-based care product, e.g. Procycle Polishing Wax, Order no. 10004923 for protection against wind and weather. You may need to repeat the application after an outing in winter weather, rain or salty air (near the coast).

2. Remove any corrosion as soon as possible using a standard aluminium polish (e.g. Autosol Aluminium Polish, Order no. 10004421).
Product
Art. No.
Availability
Price
Actions
SIDESTAND FOOT SW-MO. - R1200GS ADV. LC 14-,BLACK
10021717

The item is in stock and will be delivered in 2-5 working days. Note: Stocks are updated online every hour on working days from 7 a.m. to 8 p.m., so there is a good chance that the products are available if they appear online.

Available

€50.00 1
SIDESTAND FOOT SW-MO. - R1200GS BJ.04-12,SILVER

Important notes

10021583

The item is in stock and will be delivered in 2-5 working days. Note: Stocks are updated online every hour on working days from 7 a.m. to 8 p.m., so there is a good chance that the products are available if they appear online.

Available

€50.00 1
SIDESTAND FOOT SW-MOTECH - KTM 1190/1290 ADV./R 14-
10021536

The item is in stock and will be delivered in 2-5 working days. Note: Stocks are updated online every hour on working days from 7 a.m. to 8 p.m., so there is a good chance that the products are available if they appear online.

Available

€50.00 1
SIDESTAND FOOT SW-MOTECH - SW-MOTECH HONDA CRF1000L
10020987

The item is in stock and will be delivered in 2-5 working days. Note: Stocks are updated online every hour on working days from 7 a.m. to 8 p.m., so there is a good chance that the products are available if they appear online.

Available

€50.00 1
SIDESTAND FOOT SW-MOTECH - VAR. TRIUMPH MODELS
10021678

The item is in stock and will be delivered in 2-5 working days. Note: Stocks are updated online every hour on working days from 7 a.m. to 8 p.m., so there is a good chance that the products are available if they appear online.

Available

€45.00 1
SW-MO SIDESTAND FOOT - KTM 790 ADV/R 690 END 19-
10066877

The item is in stock and will be delivered in 2-5 working days. Note: Stocks are updated online every hour on working days from 7 a.m. to 8 p.m., so there is a good chance that the products are available if they appear online.

Available

€50.00 1
SW-MO SIDESTAND FOOT - TRIU.TIGER 1200 EXPL. 11-
10020900

The item is in stock and will be delivered in 2-5 working days. Note: Stocks are updated online every hour on working days from 7 a.m. to 8 p.m., so there is a good chance that the products are available if they appear online.

Available

€50.00 1
SW-MO SIDESTAND FOOT - YAMAHA MT-07 14-
10020899

The item is in stock and will be delivered in 2-5 working days. Note: Stocks are updated online every hour on working days from 7 a.m. to 8 p.m., so there is a good chance that the products are available if they appear online.

Available

€50.00 1
SW-MO SIDESTAND FOOT - YAMAHA MT-09 13-
10020898

The item is in stock and will be delivered in 2-5 working days. Note: Stocks are updated online every hour on working days from 7 a.m. to 8 p.m., so there is a good chance that the products are available if they appear online.

Available

€50.00 1
SW-MOTECH SIDESTAND FOOT - BMR R NINE T, 14-
10021711

The item is in stock and will be delivered in 2-5 working days. Note: Stocks are updated online every hour on working days from 7 a.m. to 8 p.m., so there is a good chance that the products are available if they appear online.

Available

€45.00 1
SW-MOTECH SIDESTAND FOOT - BMW F700GS 2012-
10021538

The item is in stock and will be delivered in 2-5 working days. Note: Stocks are updated online every hour on working days from 7 a.m. to 8 p.m., so there is a good chance that the products are available if they appear online.

Available

€45.00 1
SW-MOTECH SIDESTAND FOOT - BMW G 310 GS 2017-
10029848

The product will be ordered from the manufacturer for you. Depending on availability, longer delivery times are also possible. We'll let you know if that's the case. You can of course cancel your delivery at any time free of charge.

Available in 7-21 days

€45.00 1
SW-MOTECH SIDESTAND FOOT - CRF1100L AFRICA TWIN ADV
10040786

The product will be ordered from the manufacturer for you. Depending on availability, longer delivery times are also possible. We'll let you know if that's the case. You can of course cancel your delivery at any time free of charge.

Available in 7-21 days

€50.00 1
SW-MOTECH SIDESTAND FOOT - DL 1000 V-STROM 14- BLACK
10021537

The item is in stock and will be delivered in 2-5 working days. Note: Stocks are updated online every hour on working days from 7 a.m. to 8 p.m., so there is a good chance that the products are available if they appear online.

Available

€50.00 1
SW-MOTECH SIDESTAND FOOT - DL-650V-STROM 11-,SILVER
10021575

The item is in stock and will be delivered in 2-5 working days. Note: Stocks are updated online every hour on working days from 7 a.m. to 8 p.m., so there is a good chance that the products are available if they appear online.

Available

€50.00 1
SW-MOTECH SIDESTAND FOOT - DUCATI SCRAMBLER, 15-
10021075

The item is in stock and will be delivered in 2-5 working days. Note: Stocks are updated online every hour on working days from 7 a.m. to 8 p.m., so there is a good chance that the products are available if they appear online.

Available

€45.00 1
SW-MOTECH SIDESTAND FOOT - KAWASAKI Z650 2017-
10028803

The item is in stock and will be delivered in 2-5 working days. Note: Stocks are updated online every hour on working days from 7 a.m. to 8 p.m., so there is a good chance that the products are available if they appear online.

Available

€45.00 1
SW-MOTECH SIDESTAND FOOT - KAWASAKI Z900 2016-
10029849

The item is in stock and will be delivered in 2-5 working days. Note: Stocks are updated online every hour on working days from 7 a.m. to 8 p.m., so there is a good chance that the products are available if they appear online.

Available

€50.00 1
SW-MOTECH SIDESTAND FOOT - KTM 1290 SUPER DUKE GT
10031243

The item is in stock and will be delivered in 2-5 working days. Note: Stocks are updated online every hour on working days from 7 a.m. to 8 p.m., so there is a good chance that the products are available if they appear online.

Available

€45.00 1
SW-MOTECH SIDESTAND FOOT - KTM 390 ADV 2019- SW/SI
10040780

The item is in stock and will be delivered in 2-5 working days. Note: Stocks are updated online every hour on working days from 7 a.m. to 8 p.m., so there is a good chance that the products are available if they appear online.

Available

€50.00 1
SW-MOTECH SIDESTAND FOOT - R1200/1250GS 2013-,BLACK
10021573

The item is in stock and will be delivered in 2-5 working days. Note: Stocks are updated online every hour on working days from 7 a.m. to 8 p.m., so there is a good chance that the products are available if they appear online.

Available

€50.00 1
SW-MOTECH SIDESTAND FOOT - TRIUMPH TIGER 800 10-
10021044

The item is in stock and will be delivered in 2-5 working days. Note: Stocks are updated online every hour on working days from 7 a.m. to 8 p.m., so there is a good chance that the products are available if they appear online.

Available

€50.00 1
SW-MOTECH SIDESTAND FOOT - VAR. TRIUMPH 18- BLK/SIL.

Important notes

10030229

The item is in stock and will be delivered in 2-5 working days. Note: Stocks are updated online every hour on working days from 7 a.m. to 8 p.m., so there is a good chance that the products are available if they appear online.

Available

€50.00 1
SW-MOTECH SIDESTAND FOOT - VARIOUS BMW BLK/SILV.
10030169

The item is in stock and will be delivered in 2-5 working days. Note: Stocks are updated online every hour on working days from 7 a.m. to 8 p.m., so there is a good chance that the products are available if they appear online.

Available

€45.00 1
SW-MOTECH SIDESTAND FOOT - VARIOUS BMW BLK/SILV.
10030224

The item is in stock and will be delivered in 2-5 working days. Note: Stocks are updated online every hour on working days from 7 a.m. to 8 p.m., so there is a good chance that the products are available if they appear online.

Available

€45.00 1
SW-MOTECH SIDESTAND FOOT - VARIOUS BMW MODELS
10020983

The item is in stock and will be delivered in 2-5 working days. Note: Stocks are updated online every hour on working days from 7 a.m. to 8 p.m., so there is a good chance that the products are available if they appear online.

Available

€45.00 1
SW-MOTECH SIDESTAND FOOT - VARIOUS DUCATI
10028839

The item is in stock and will be delivered in 2-5 working days. Note: Stocks are updated online every hour on working days from 7 a.m. to 8 p.m., so there is a good chance that the products are available if they appear online.

Available

€50.00 1
SW-MOTECH SIDESTAND FOOT - VARIOUS HONDA BLK/SILV.
10030139

The item is in stock and will be delivered in 2-5 working days. Note: Stocks are updated online every hour on working days from 7 a.m. to 8 p.m., so there is a good chance that the products are available if they appear online.

Available

€45.00 1
SW-MOTECH SIDESTAND FOOT - VARIOUS HONDA BLK/SILV.
10030138

The item is in stock and will be delivered in 2-5 working days. Note: Stocks are updated online every hour on working days from 7 a.m. to 8 p.m., so there is a good chance that the products are available if they appear online.

Available

€45.00 1
SW-MOTECH SIDESTAND FOOT - VARIOUS KTM
10020893

The item is in stock and will be delivered in 2-5 working days. Note: Stocks are updated online every hour on working days from 7 a.m. to 8 p.m., so there is a good chance that the products are available if they appear online.

Available

€40.00 1
SW-MOTECH SIDESTAND FOOT - VARIOUS KTM BLK/SILV.
10030165

The item is in stock and will be delivered in 2-5 working days. Note: Stocks are updated online every hour on working days from 7 a.m. to 8 p.m., so there is a good chance that the products are available if they appear online.

Available

€45.00 1
SW-MOTECH SIDESTAND FOOT - VARIOUS TRIUMPH BLK/SILV.
10030127

The item is in stock and will be delivered in 2-5 working days. Note: Stocks are updated online every hour on working days from 7 a.m. to 8 p.m., so there is a good chance that the products are available if they appear online.

Available

€50.00 1
SW-MOTECH SIDESTAND FOOT - VARIOUS YAMAHA BLK/SILV.
10030166

The product will be ordered from the manufacturer for you. Depending on availability, longer delivery times are also possible. We'll let you know if that's the case. You can of course cancel your delivery at any time free of charge.

Available in 7-21 days

€50.00 1
SW-MOTECH SIDESTAND FOOT - VARIOUS YAMAHA BLK/SILV.
10030167

The item is in stock and will be delivered in 2-5 working days. Note: Stocks are updated online every hour on working days from 7 a.m. to 8 p.m., so there is a good chance that the products are available if they appear online.

Available

€50.00 1
SW-MOTECH SIDESTAND FOOT - VARIOUS YAMAHA BLK/SILV.
10030168

The item is in stock and will be delivered in 2-5 working days. Note: Stocks are updated online every hour on working days from 7 a.m. to 8 p.m., so there is a good chance that the products are available if they appear online.

Available

€50.00 1
SW-MOTECH SIDESTAND FOOT - VERSYS 1000 BLK/SILV.
10030227

The item is in stock and will be delivered in 2-5 working days. Note: Stocks are updated online every hour on working days from 7 a.m. to 8 p.m., so there is a good chance that the products are available if they appear online.

Available

€45.00 1
SW-MOTECH SIDESTAND FOOT - VERSYS 12-14 ER6N 2012-
10021047

The item is in stock and will be delivered in 2-5 working days. Note: Stocks are updated online every hour on working days from 7 a.m. to 8 p.m., so there is a good chance that the products are available if they appear online.

Available

€45.00 1
SW-MOTECH SIDESTAND FOOT - VERSYS 650 BLK/SILV.
10030226

The item is in stock and will be delivered in 2-5 working days. Note: Stocks are updated online every hour on working days from 7 a.m. to 8 p.m., so there is a good chance that the products are available if they appear online.

Available

€45.00 1
SW-MOTECH SIDESTAND FOOT - VERSYS-X300 ABS 2016-
10029850

The item is in stock and will be delivered in 2-5 working days. Note: Stocks are updated online every hour on working days from 7 a.m. to 8 p.m., so there is a good chance that the products are available if they appear online.

Available

€50.00 1