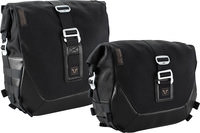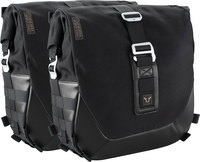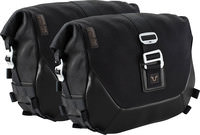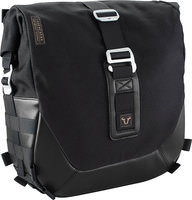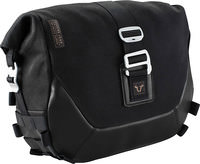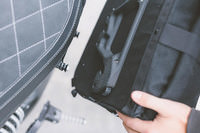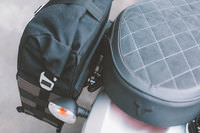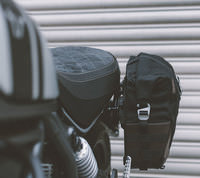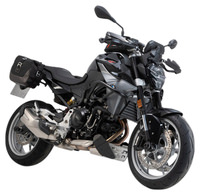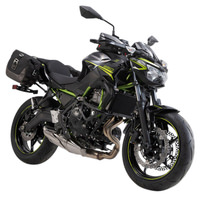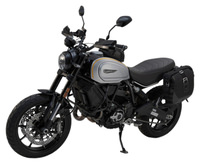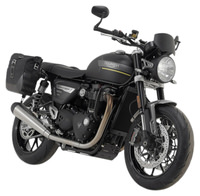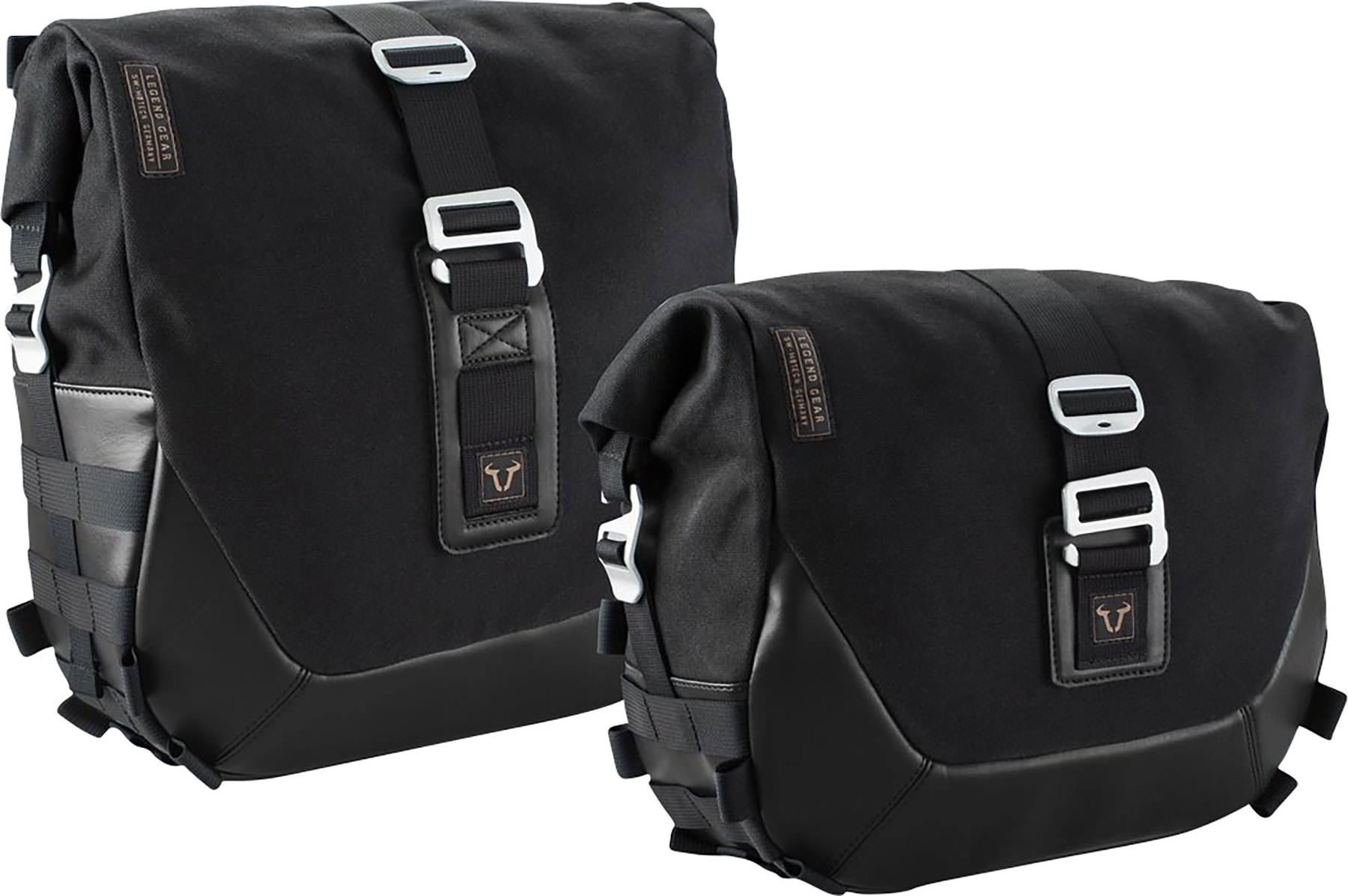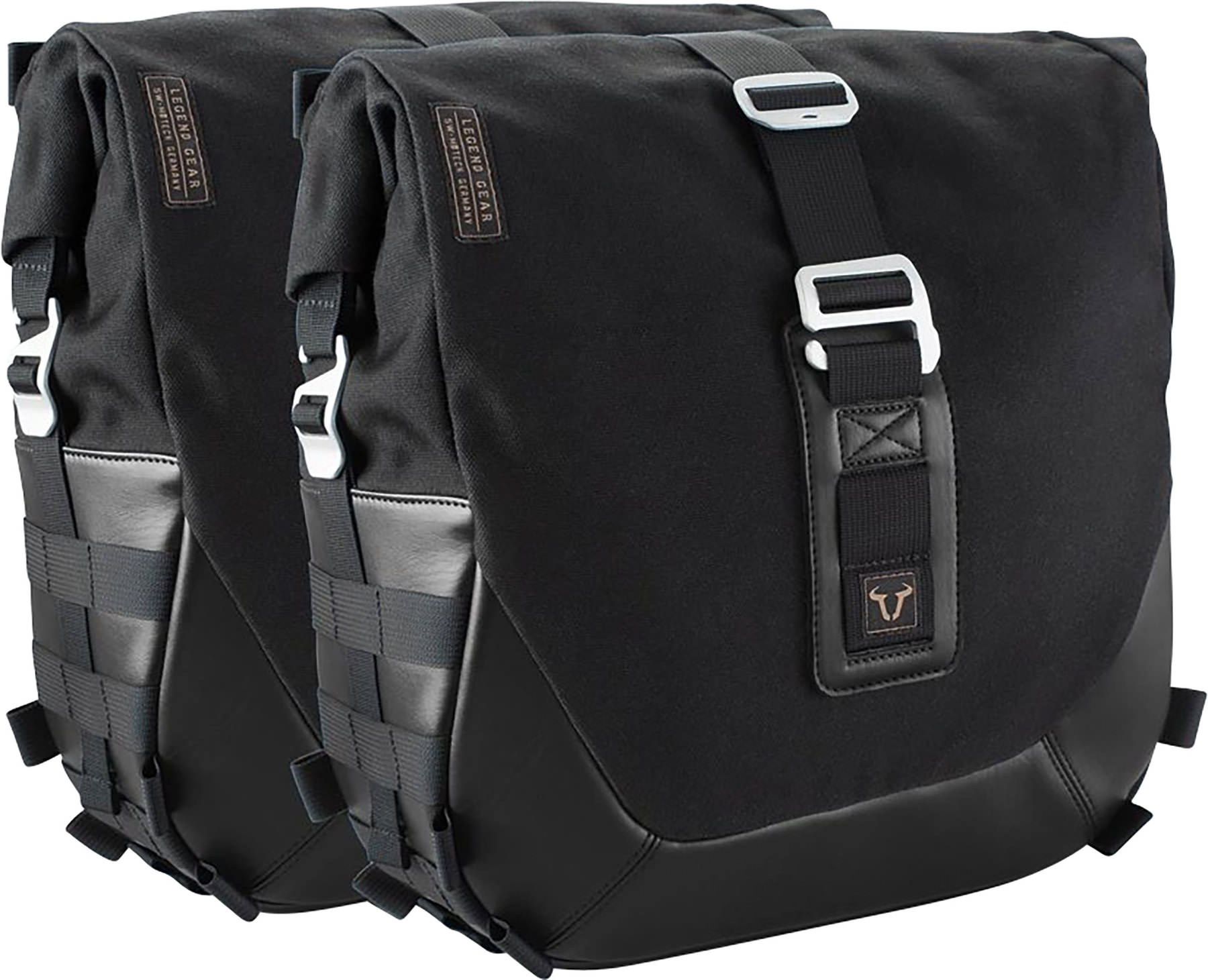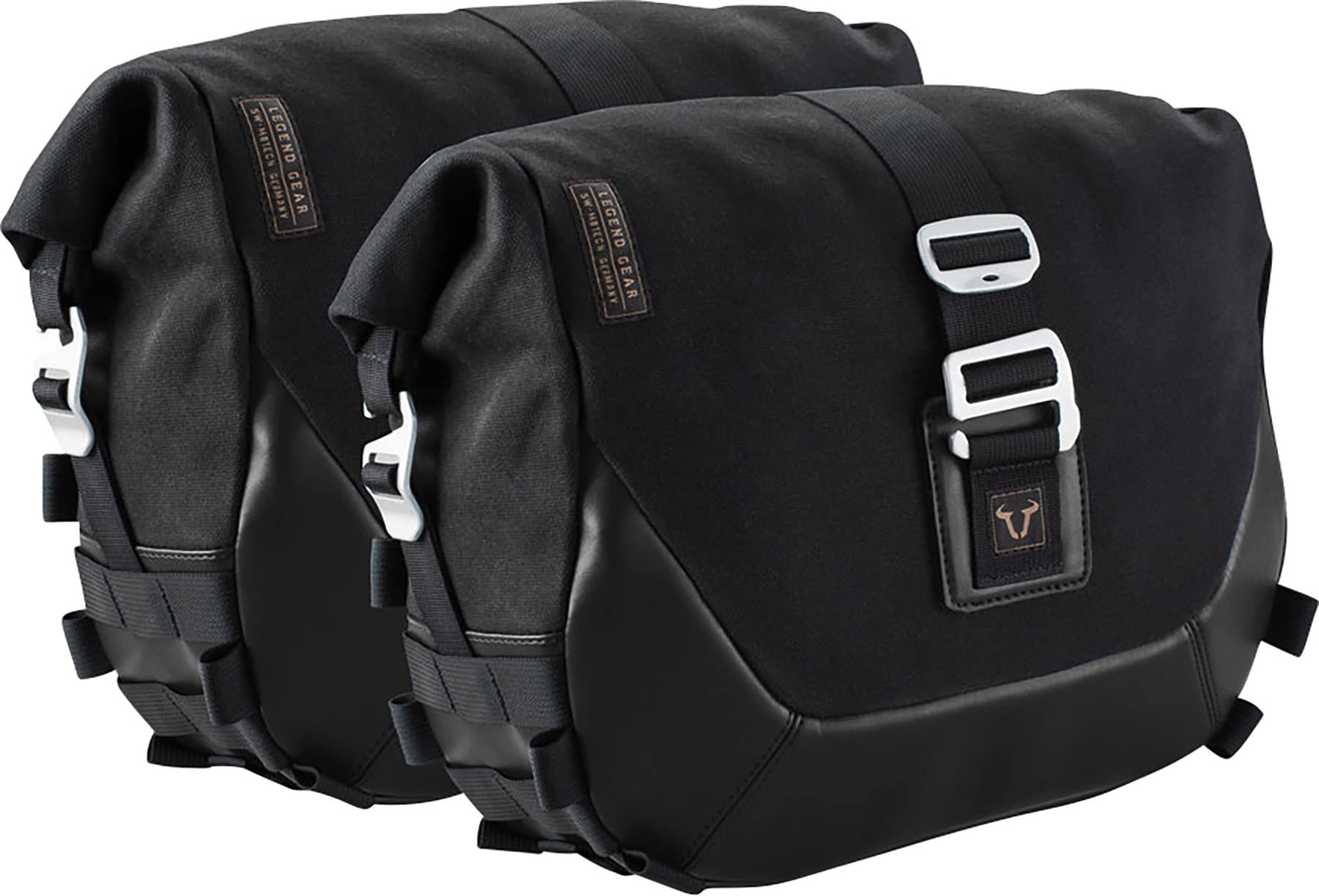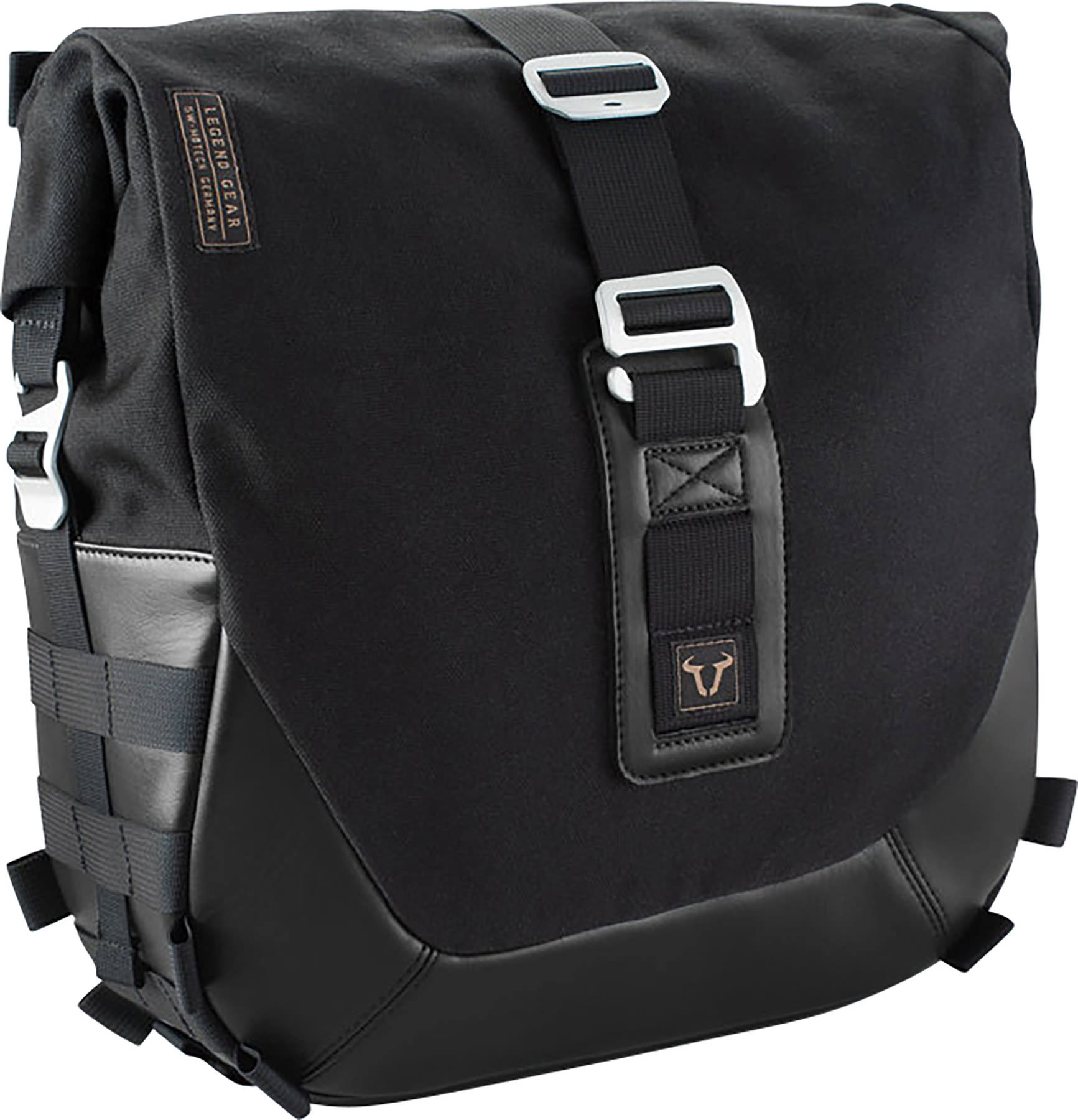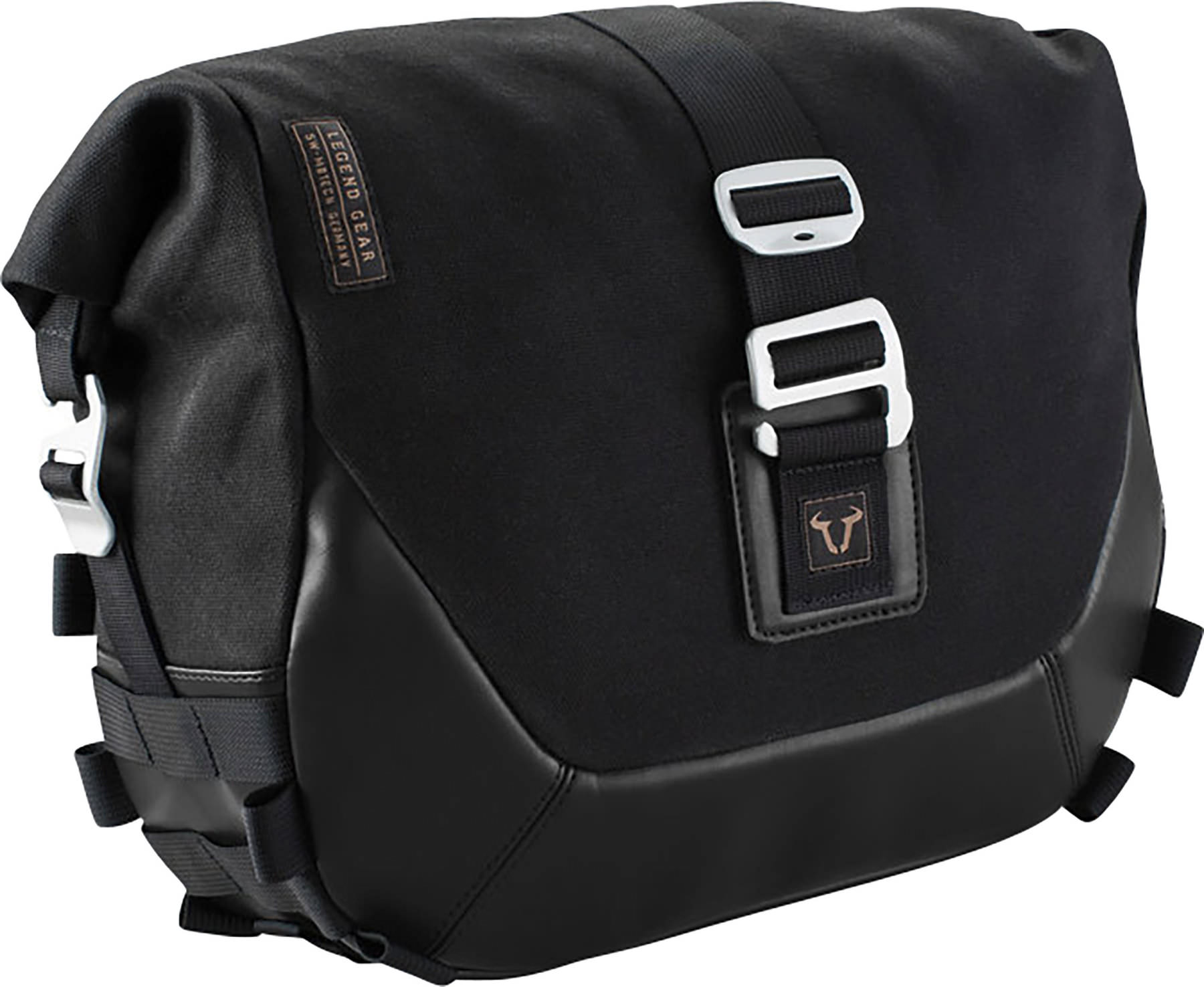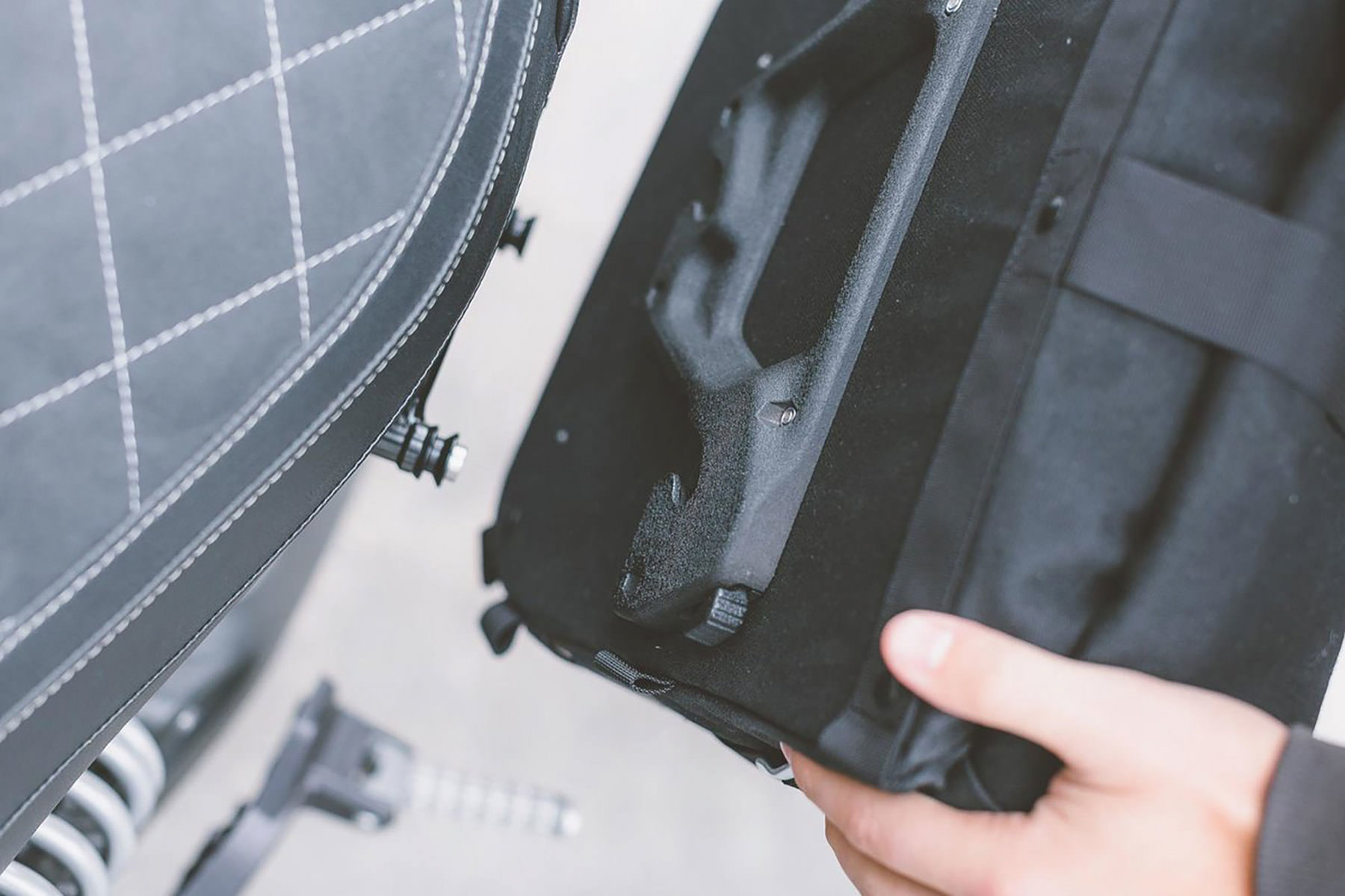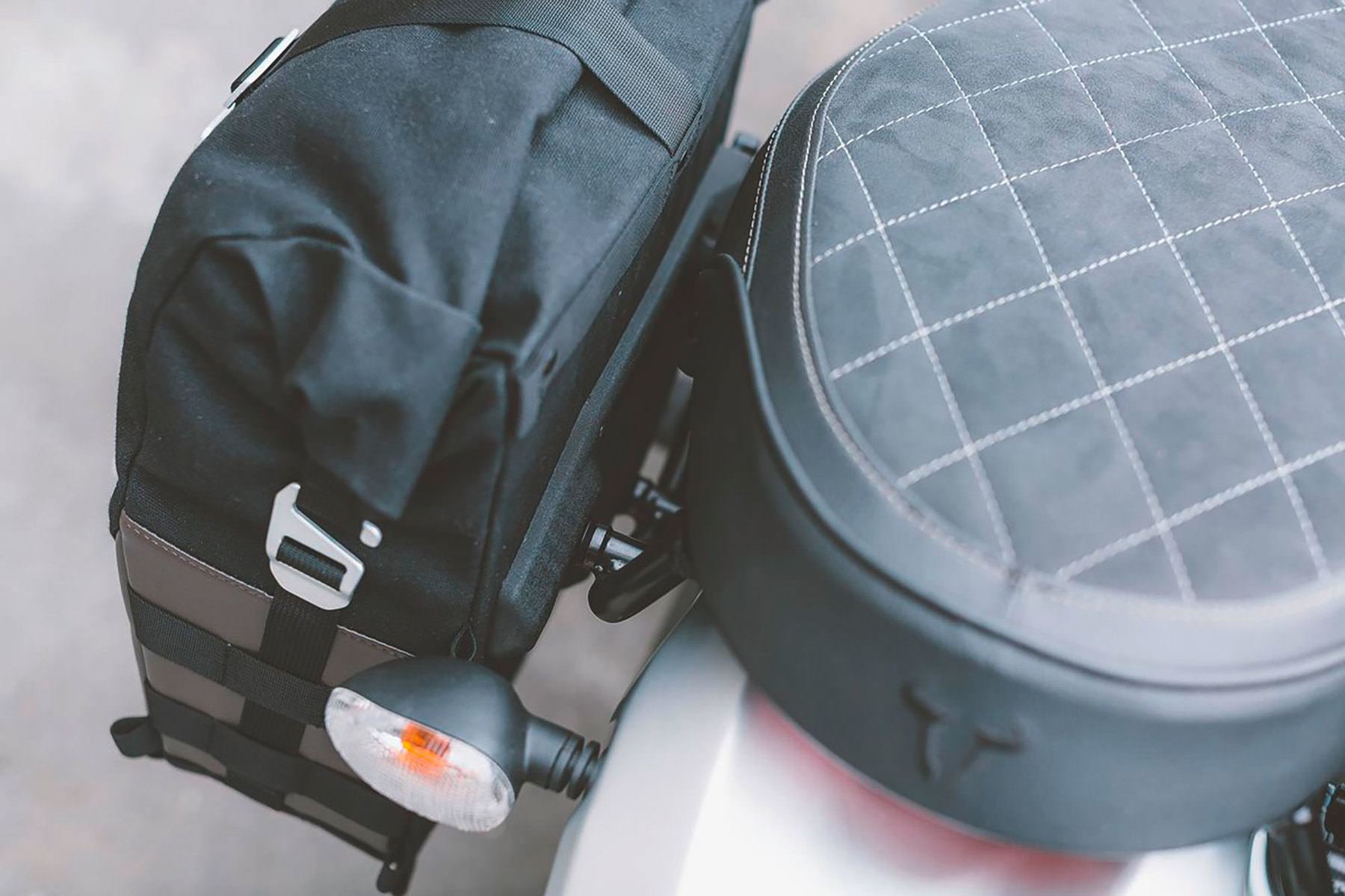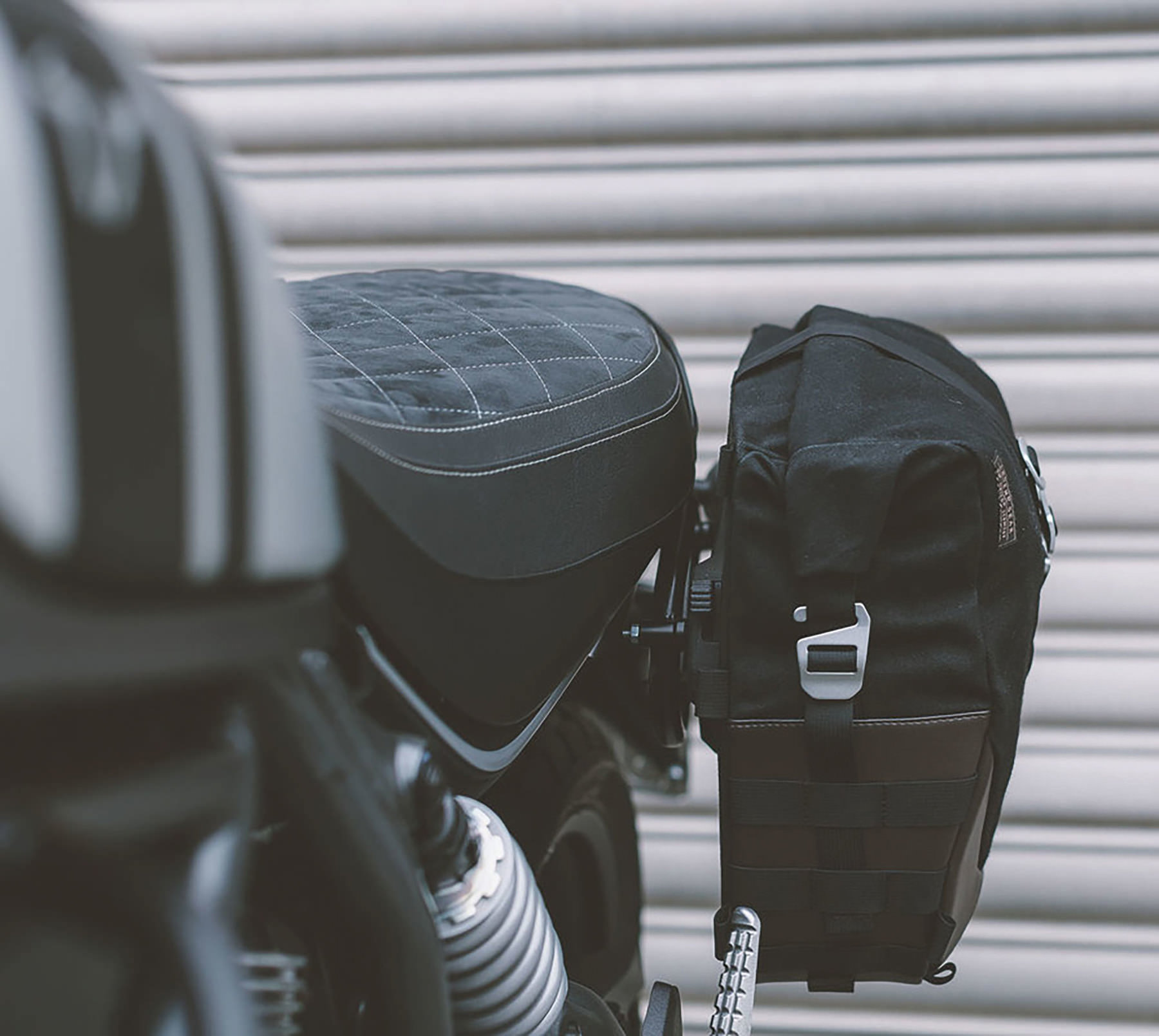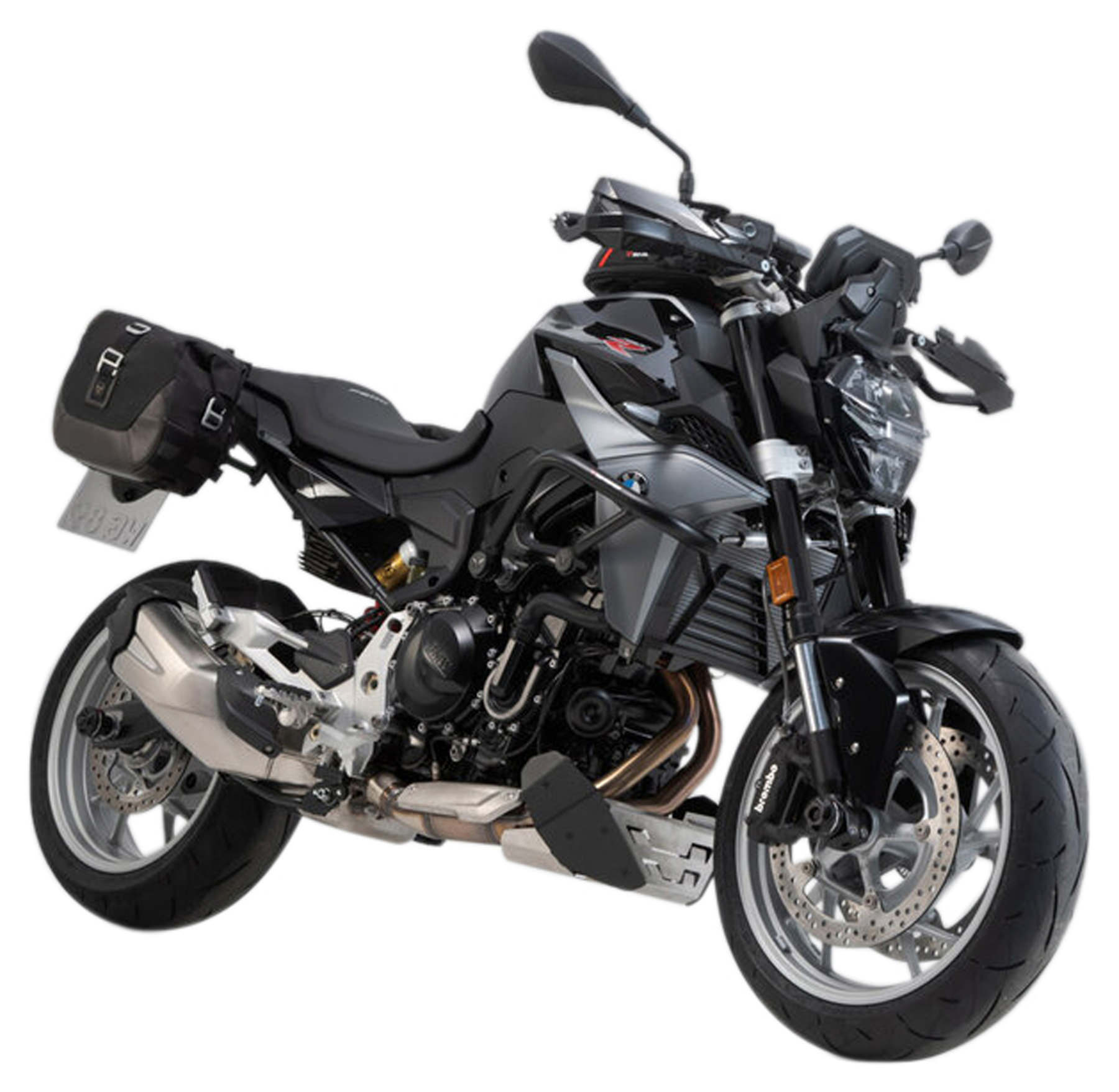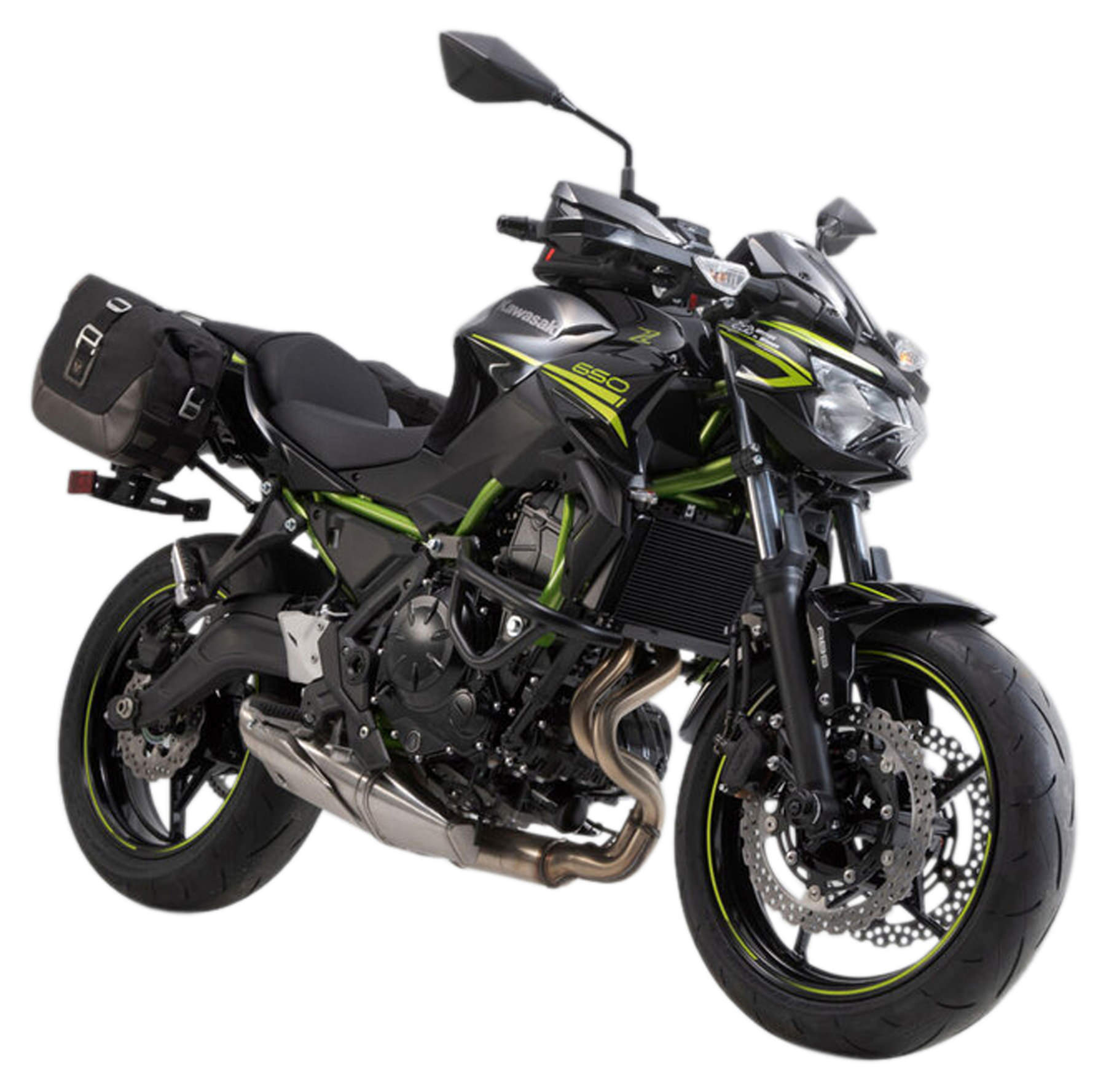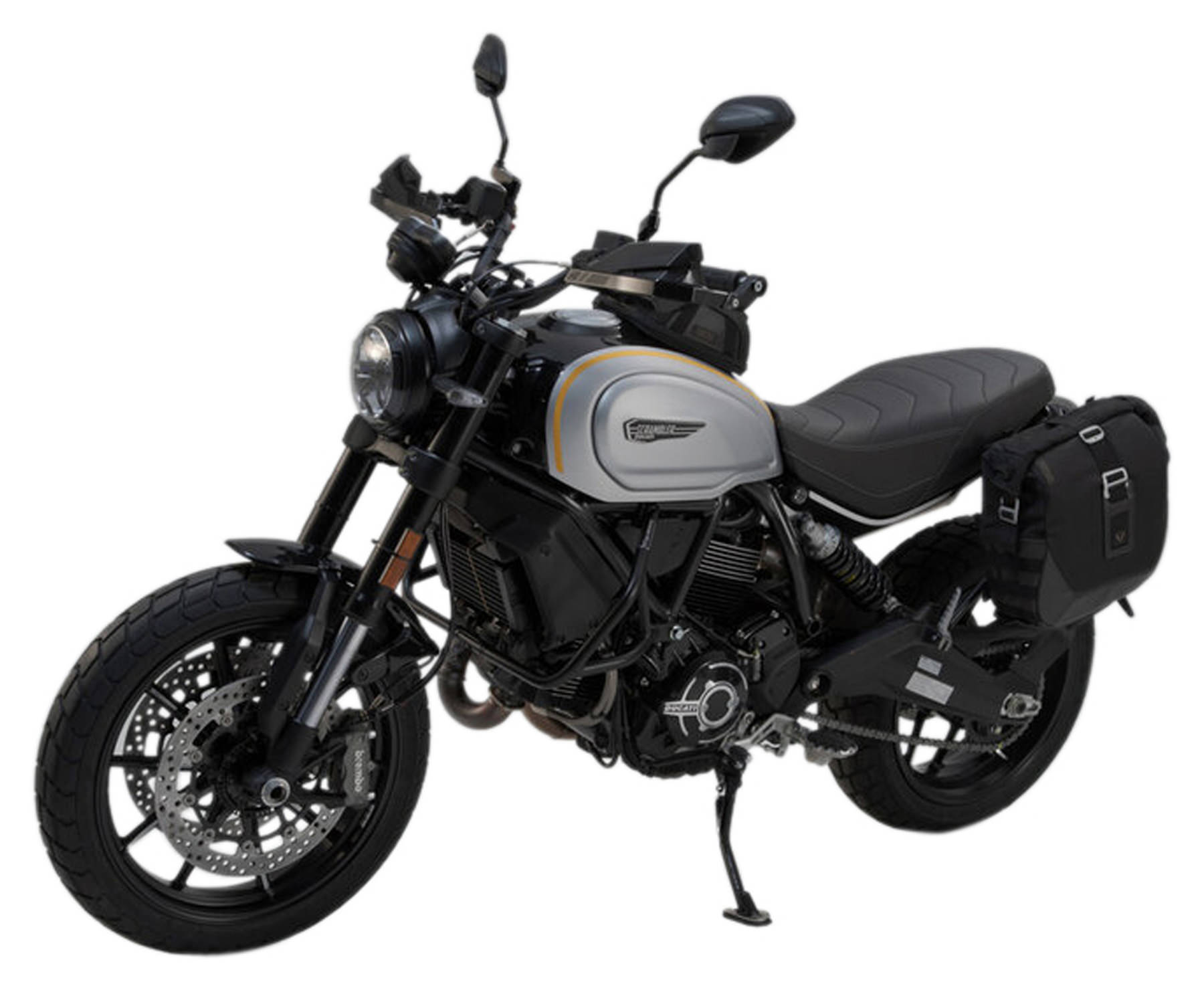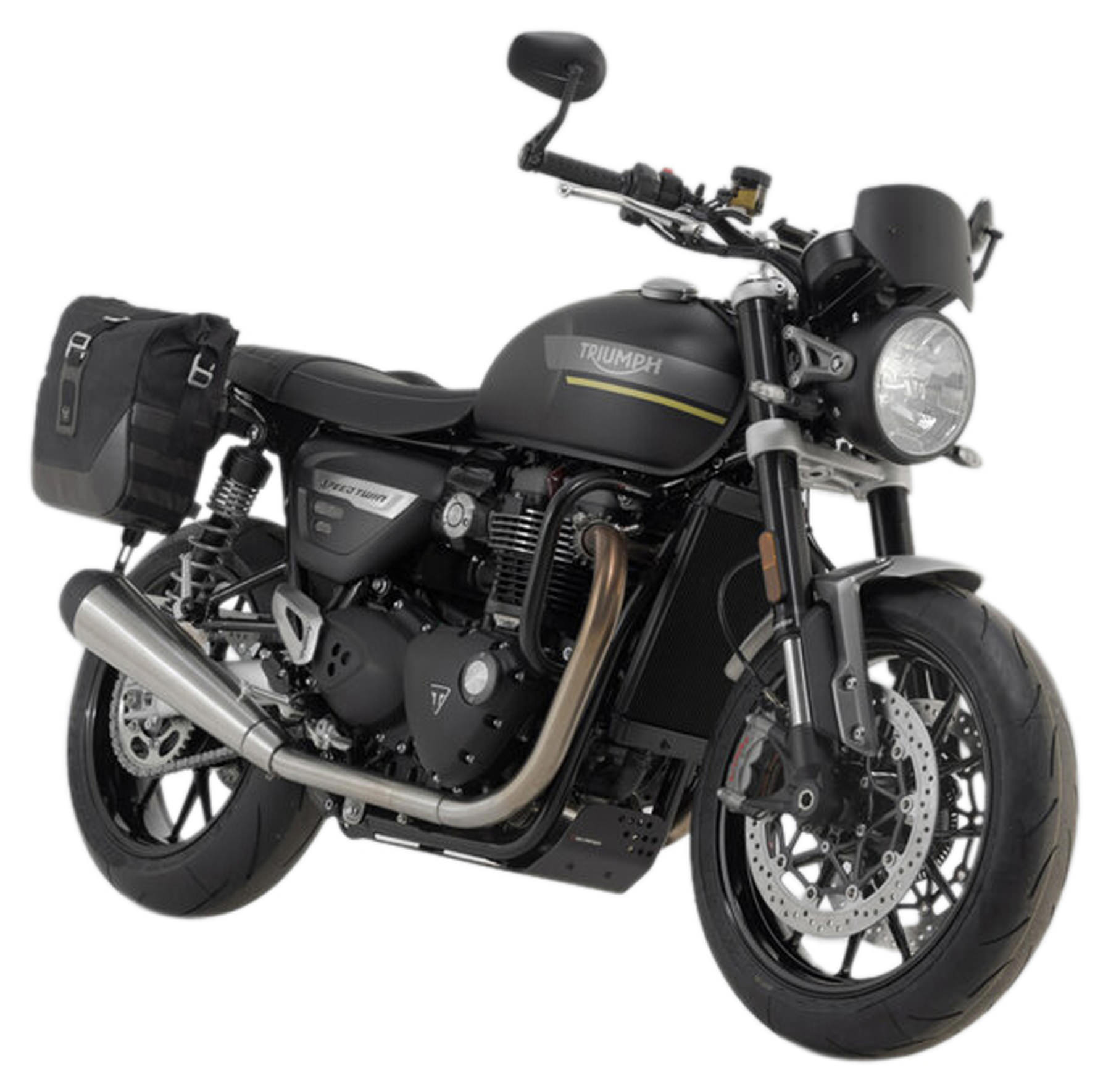 Side Bag System Black Edition LC
Various versions
Unfortunately, this product is not compatible with this motorcycle.
Unfortunately, this product is not compatible with this motorcycle. You can find the right for the here: .
Free delivery on orders over €199.00
2 year return policy
Fast delivery
Side Bag System Black Edition LC
Various versions
The Legend Gear LC1/LC2 side panniers from SW-Motech are characterised by a beautifully classic vintage and retro design. They are available with 9.8 and 13.5 litre capacity. Both models are equipped with an intuitive mounting system for the model-specific, frame-fixed Legend Gear tube side carrier SLC - also available as a set.
Model-specific development of the SLC side carrier for the best fit
Easy installation all necessary parts are included in the set
Attachments for Legend Gear additional bag LA1/LA2
Material: Robust Napalon synthetic leather/water-repellent coated canvas fabric
Waterproof inner bag included
Volume: 9.8/13.5 litres (side bag LC1/LC2)
Size: 14 x 26 x 31 / 14 x 35 x 31 cm (W/H/D side bag LC1/LC2)
Colour: black
incl. mounting instructions and mounting material
incl. model-specific holder
available in different versions depending on model: LC1, LC2, LC1 + LC1, LC2 + LC2, LC1 + LC2
Note:
Seat quality and legroom of the pillion passenger are restricted
Manufacturer details: Legend Gear

Soft luggage systems for retro bikes, cafe racers, scramblers

Fans of retro and custom bikes, cafe racers, scramblers and choppers in particular have been dying to get their hands on Legend Gear luggage systems by SW-MOTECH. And this is not only down to the exceptional design of the diverse soft luggage items and bags, which harmonises in a unique way with the distinctive lines of the latest retro bikes. The exclusive Legend Gear mounts and fastenings also blend perfectly into the overall look. The versatile and sturdy product line is made from modern high-tech materials such as robust nappa faux leather and water-repellent canvas fabric. And the range covers a broad spectrum, stretching from tank bags and saddlebags to a combination of tail bag and backpack.
Product
Art. No.
Availability
Price
Actions
LG PANNIER SYSTEM - LC1+LC1, VAR. H-D MODELS
10066829

The item is in stock and will be delivered in 2-5 working days. Note: Stocks are updated online every hour on working days from 7 a.m. to 8 p.m., so there is a good chance that the products are available if they appear online.

Available

€430.00 1
LG PANNIER SYSTEM - LC1+LC1, VARIOUS MASH 16-
10066794

The product will be ordered from the manufacturer for you. Depending on availability, longer delivery times are also possible. We'll let you know if that's the case. You can of course cancel your delivery at any time free of charge.

Available in 7-21 days

€300.00 1
LG PANNIER SYSTEM - LC1+LC1, VARIOUS R NINET
10066812

The item is in stock and will be delivered in 2-5 working days. Note: Stocks are updated online every hour on working days from 7 a.m. to 8 p.m., so there is a good chance that the products are available if they appear online.

Available

€490.00 1
LG PANNIER SYSTEM - LC1+LC1,THRUXTON 1200 16-
10066819

The product will be ordered from the manufacturer for you. Depending on availability, longer delivery times are also possible. We'll let you know if that's the case. You can of course cancel your delivery at any time free of charge.

Available in 7-21 days

€470.00 1
LG PANNIER SYSTEM - LC1+LC2, CB 1000 R 2018-
10066845

The item is in stock and will be delivered in 2-5 working days. Note: Stocks are updated online every hour on working days from 7 a.m. to 8 p.m., so there is a good chance that the products are available if they appear online.

Available

€495.00 1
LG PANNIER SYSTEM - LC1+LC2, CMX500 REBEL 16-
10066832

The item is in stock and will be delivered in 2-5 working days. Note: Stocks are updated online every hour on working days from 7 a.m. to 8 p.m., so there is a good chance that the products are available if they appear online.

Available

€505.00 1
LG PANNIER SYSTEM - LC1+LC2, H+D DYNA FAT BOY
10066839

The product will be ordered from the manufacturer for you. Depending on availability, longer delivery times are also possible. We'll let you know if that's the case. You can of course cancel your delivery at any time free of charge.

Available in 7-21 days

€445.00 1
LG PANNIER SYSTEM - LC1+LC2, HIMALAYAN 2018-
10066841

The product will be ordered from the manufacturer for you. Depending on availability, longer delivery times are also possible. We'll let you know if that's the case. You can of course cancel your delivery at any time free of charge.

Available in 7-21 days

€495.00 1
LG PANNIER SYSTEM - LC1+LC2, MONSTER 797 16-
10066833

The item is in stock and will be delivered in 2-5 working days. Note: Stocks are updated online every hour on working days from 7 a.m. to 8 p.m., so there is a good chance that the products are available if they appear online.

Available

€475.00 1
LG PANNIER SYSTEM - LC1+LC2, MONSTER 821/1200
10066848

The product will be ordered from the manufacturer for you. Depending on availability, longer delivery times are also possible. We'll let you know if that's the case. You can of course cancel your delivery at any time free of charge.

Available in 7-21 days

€475.00 1
LG PANNIER SYSTEM - LC1+LC2, MONSTER 821/1200

Important notes

Not to be used in combination with ALU-RACK luggage rack.

10066830

The product will be ordered from the manufacturer for you. Depending on availability, longer delivery times are also possible. We'll let you know if that's the case. You can of course cancel your delivery at any time free of charge.

Available in 7-21 days

€445.00 1
LG PANNIER SYSTEM - LC1+LC2, SV 650 (2015- )
10066795

The product will be ordered from the manufacturer for you. Depending on availability, longer delivery times are also possible. We'll let you know if that's the case. You can of course cancel your delivery at any time free of charge.

Available in 7-21 days

€465.00 1
LG PANNIER SYSTEM - LC1+LC2, VAR. H-D MODELS
10066826

The product will be ordered from the manufacturer for you. Depending on availability, longer delivery times are also possible. We'll let you know if that's the case. You can of course cancel your delivery at any time free of charge.

Available in 7-21 days

€505.00 1
LG PANNIER SYSTEM - LC1+LC2, VAR. H-D MODELS
10066822

The product will be ordered from the manufacturer for you. Depending on availability, longer delivery times are also possible. We'll let you know if that's the case. You can of course cancel your delivery at any time free of charge.

Available in 7-21 days

€465.00 1
LG PANNIER SYSTEM - LC1+LC2, VAR. H-D MODELS
10066827

The product will be ordered from the manufacturer for you. Depending on availability, longer delivery times are also possible. We'll let you know if that's the case. You can of course cancel your delivery at any time free of charge.

Available in 7-21 days

€465.00 1
LG PANNIER SYSTEM - LC1+LC2, XJR 1300 (2015-)
10066796

The product will be ordered from the manufacturer for you. Depending on availability, longer delivery times are also possible. We'll let you know if that's the case. You can of course cancel your delivery at any time free of charge.

Available in 7-21 days

€475.00 1
LG PANNIER SYSTEM - LC1+LC2, XSR 900 (2015-)
10066797

The product will be ordered from the manufacturer for you. Depending on availability, longer delivery times are also possible. We'll let you know if that's the case. You can of course cancel your delivery at any time free of charge.

Available in 7-21 days

€520.00 1
LG PANNIER SYSTEM - LC1+LC2, Z900 RS/CAFE 17-
10066840

The item is in stock and will be delivered in 2-5 working days. Note: Stocks are updated online every hour on working days from 7 a.m. to 8 p.m., so there is a good chance that the products are available if they appear online.

Available

€510.00 1
LG PANNIER SYSTEM - LC1+LC2,SCRAMBLER MODELS
10066831

The item is in stock and will be delivered in 2-5 working days. Note: Stocks are updated online every hour on working days from 7 a.m. to 8 p.m., so there is a good chance that the products are available if they appear online.

Available

€495.00 1
LG PANNIER SYSTEM - LC1+LC2,SCRAMBLER MODELS
10066847

The item is in stock and will be delivered in 2-5 working days. Note: Stocks are updated online every hour on working days from 7 a.m. to 8 p.m., so there is a good chance that the products are available if they appear online.

Available

€495.00 1
LG PANNIER SYSTEM - LC1+LC2,SOFTAIL STREETBOB
10066844

The item is in stock and will be delivered in 2-5 working days. Note: Stocks are updated online every hour on working days from 7 a.m. to 8 p.m., so there is a good chance that the products are available if they appear online.

Available

€495.00 1
LG PANNIER SYSTEM - LC1+LC2,SPORTSTER MODELS
10066821

The product will be ordered from the manufacturer for you. Depending on availability, longer delivery times are also possible. We'll let you know if that's the case. You can of course cancel your delivery at any time free of charge.

Available in 7-21 days

€495.00 1
LG PANNIER SYSTEM - LC1, RNINET SCRAMBLER 16-
10066852

The item is in stock and will be delivered in 2-5 working days. Note: Stocks are updated online every hour on working days from 7 a.m. to 8 p.m., so there is a good chance that the products are available if they appear online.

Available

€245.00 1
LG PANNIER SYSTEM - LC1, STREET SCRAMBLER 16-
10066823

The product will be ordered from the manufacturer for you. Depending on availability, longer delivery times are also possible. We'll let you know if that's the case. You can of course cancel your delivery at any time free of charge.

Available in 7-21 days

€240.00 1
LG PANNIER SYSTEM - LC2+LC2, BONNEVILLE/T100

Important notes

Not for the model Triumph Bonneville SE (2009- )!

10066815

The item is in stock and will be delivered in 2-5 working days. Note: Stocks are updated online every hour on working days from 7 a.m. to 8 p.m., so there is a good chance that the products are available if they appear online.

Available

€510.00 1
LG PANNIER SYSTEM - LC2+LC2, CB1100 EX/RS 16-
10066834

The product will be ordered from the manufacturer for you. Depending on availability, longer delivery times are also possible. We'll let you know if that's the case. You can of course cancel your delivery at any time free of charge.

Available in 7-21 days

€490.00 1
LG PANNIER SYSTEM - LC2+LC2, DYNA WIDE GLIDE
10066825

The product will be ordered from the manufacturer for you. Depending on availability, longer delivery times are also possible. We'll let you know if that's the case. You can of course cancel your delivery at any time free of charge.

Available in 7-21 days

€520.00 1
LG PANNIER SYSTEM - LC2+LC2, MONSTER 1200/S
10066835

The product will be ordered from the manufacturer for you. Depending on availability, longer delivery times are also possible. We'll let you know if that's the case. You can of course cancel your delivery at any time free of charge.

Available in 7-21 days

€475.00 1
LG PANNIER SYSTEM - LC2+LC2, RNINET RACER 16-

Important notes

Only with the pillion footrest folded out. Not for use with pillion rider.

10066811

The product will be ordered from the manufacturer for you. Depending on availability, longer delivery times are also possible. We'll let you know if that's the case. You can of course cancel your delivery at any time free of charge.

Available in 7-21 days

€505.00 1
LG PANNIER SYSTEM - LC2+LC2, ROAMER/BOBBER
10066820

The product will be ordered from the manufacturer for you. Depending on availability, longer delivery times are also possible. We'll let you know if that's the case. You can of course cancel your delivery at any time free of charge.

Available in 7-21 days

€490.00 1
LG PANNIER SYSTEM - LC2+LC2, SCR 950 (2016- )
10066799

The product will be ordered from the manufacturer for you. Depending on availability, longer delivery times are also possible. We'll let you know if that's the case. You can of course cancel your delivery at any time free of charge.

Available in 7-21 days

€510.00 1
LG PANNIER SYSTEM - LC2+LC2, SPEEDMASTER 18-
10066843

The product will be ordered from the manufacturer for you. Depending on availability, longer delivery times are also possible. We'll let you know if that's the case. You can of course cancel your delivery at any time free of charge.

Available in 7-21 days

€490.00 1
LG PANNIER SYSTEM - LC2+LC2, TRIUMPH MODELS
10066838

The item is in stock and will be delivered in 2-5 working days. Note: Stocks are updated online every hour on working days from 7 a.m. to 8 p.m., so there is a good chance that the products are available if they appear online.

Available

€480.00 1
LG PANNIER SYSTEM - LC2+LC2, VAR. H-D MODELS
10066828

The product will be ordered from the manufacturer for you. Depending on availability, longer delivery times are also possible. We'll let you know if that's the case. You can of course cancel your delivery at any time free of charge.

Available in 7-21 days

€480.00 1
LG PANNIER SYSTEM - LC2+LC2, VARIOUS TRIUMPH
10066818

The item is in stock and will be delivered in 2-5 working days. Note: Stocks are updated online every hour on working days from 7 a.m. to 8 p.m., so there is a good chance that the products are available if they appear online.

Available

€510.00 1
LG PANNIER SYSTEM - LC2+LC2, VULCAN S (2016-)
10066813

The product will be ordered from the manufacturer for you. Depending on availability, longer delivery times are also possible. We'll let you know if that's the case. You can of course cancel your delivery at any time free of charge.

Available in 7-21 days

€510.00 1
LG PANNIER SYSTEM - LC2+LC2, W800 STREET/CAFE
10066851

The product will be ordered from the manufacturer for you. Depending on availability, longer delivery times are also possible. We'll let you know if that's the case. You can of course cancel your delivery at any time free of charge.

Available in 7-21 days

€490.00 1
LG PANNIER SYSTEM - LC2+LC2, YAMAHA XSR700/XT
10066798

The product will be ordered from the manufacturer for you. Depending on availability, longer delivery times are also possible. We'll let you know if that's the case. You can of course cancel your delivery at any time free of charge.

Available in 7-21 days

€510.00 1
LG PANNIER SYSTEM - LC2+LC2,VARIOUS SCRAMBLER
10066842

The product will be ordered from the manufacturer for you. Depending on availability, longer delivery times are also possible. We'll let you know if that's the case. You can of course cancel your delivery at any time free of charge.

Available in 7-21 days

€510.00 1
LG PANNIER SYSTEM - LC2, SCRAMBLER (2005- )
10066816

The product will be ordered from the manufacturer for you. Depending on availability, longer delivery times are also possible. We'll let you know if that's the case. You can of course cancel your delivery at any time free of charge.

Available in 7-21 days

€255.00 1
LG PANNIER SYSTEM - LC2, SCRAMBLER 1200 XC/XE
10066850

The item is in stock and will be delivered in 2-5 working days. Note: Stocks are updated online every hour on working days from 7 a.m. to 8 p.m., so there is a good chance that the products are available if they appear online.

Available

€255.00 1
LG PANNIER SYSTEM - LC2, STREET SCRAMBLER 18-
10066849

The product will be ordered from the manufacturer for you. Depending on availability, longer delivery times are also possible. We'll let you know if that's the case. You can of course cancel your delivery at any time free of charge.

Available in 7-21 days

€255.00 1
LG PANNIER SYSTEM - LC2, THRUXTON/BONNEVILLE
10066817

The product will be ordered from the manufacturer for you. Depending on availability, longer delivery times are also possible. We'll let you know if that's the case. You can of course cancel your delivery at any time free of charge.

Available in 7-21 days

€480.00 1
LG PANNIER SYSTEM - LC2, VARIOUS V7 III (16-)
10066837

The item is in stock and will be delivered in 2-5 working days. Note: Stocks are updated online every hour on working days from 7 a.m. to 8 p.m., so there is a good chance that the products are available if they appear online.

Available

€490.00 1
LG PANNIER SYSTEM - LC2, XSR 900 ABRATH 2017-
10066836

The product will be ordered from the manufacturer for you. Depending on availability, longer delivery times are also possible. We'll let you know if that's the case. You can of course cancel your delivery at any time free of charge.

Available in 7-21 days

€260.00 1
LG SIDE BAG SYSTEM - LC1+LC1, THRUXTON RS
10051481

The product will be ordered from the manufacturer for you. Depending on availability, longer delivery times are also possible. We'll let you know if that's the case. You can of course cancel your delivery at any time free of charge.

Available in 7-21 days

€460.00 1
LG SIDE BAG SYSTEM - LC2 + LC2 SPEED TWIN
10067999

The product will be ordered from the manufacturer for you. Depending on availability, longer delivery times are also possible. We'll let you know if that's the case. You can of course cancel your delivery at any time free of charge.

Available in 7-21 days

€510.00 1
LG SIDE BAG SYSTEM - LC2+LC2, F 900 R 19-
10051482

The product will be ordered from the manufacturer for you. Depending on availability, longer delivery times are also possible. We'll let you know if that's the case. You can of course cancel your delivery at any time free of charge.

Available in 7-21 days

€510.00 1
LG SIDE BAG SYSTEM - LC2+LC2, Z 650
10051483

The product will be ordered from the manufacturer for you. Depending on availability, longer delivery times are also possible. We'll let you know if that's the case. You can of course cancel your delivery at any time free of charge.

Available in 7-21 days

€490.00 1
LG SIDE BAG SYSTEM - LC2+LC2,CB300R/CB125R 18-
10051480

The product will be ordered from the manufacturer for you. Depending on availability, longer delivery times are also possible. We'll let you know if that's the case. You can of course cancel your delivery at any time free of charge.

Available in 7-21 days

€510.00 1
SIDE BAG SYSTEM - LC2,SCR.1100 PRO/SPORTPRO
10051484

The product will be ordered from the manufacturer for you. Depending on availability, longer delivery times are also possible. We'll let you know if that's the case. You can of course cancel your delivery at any time free of charge.

Available in 7-21 days

€255.00 1