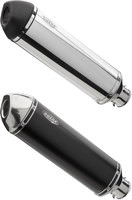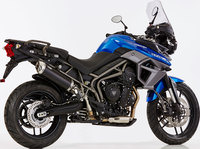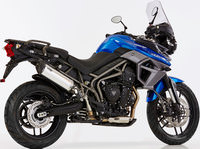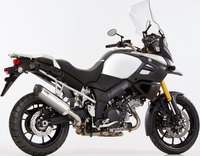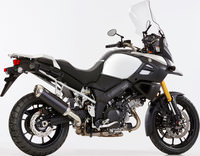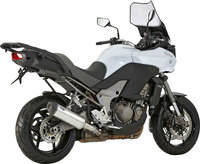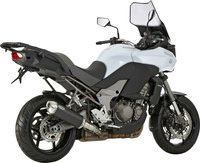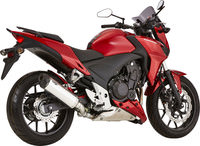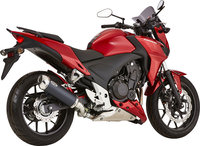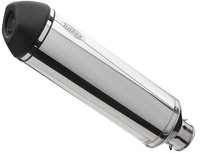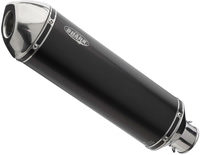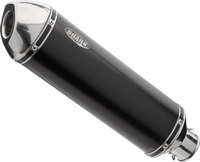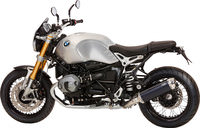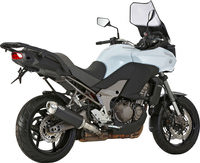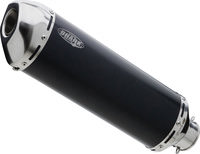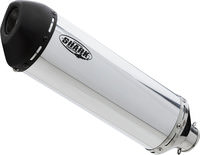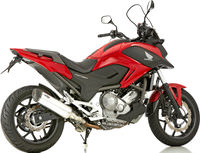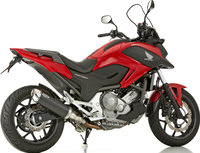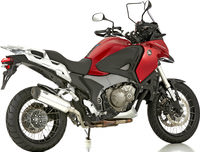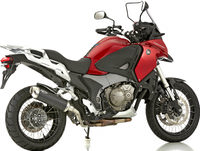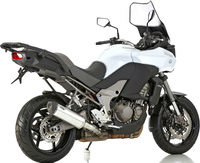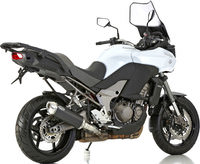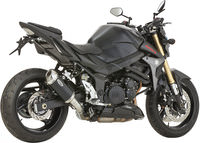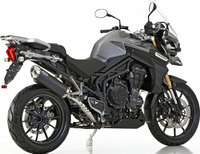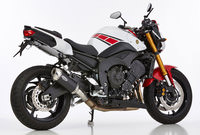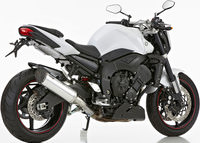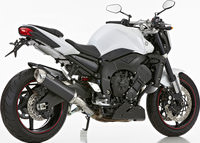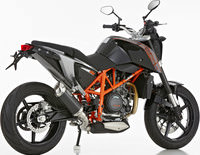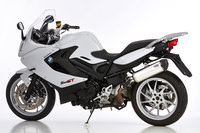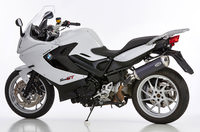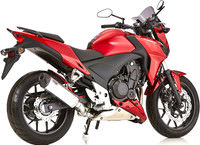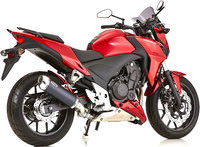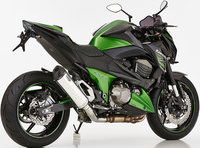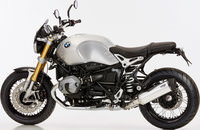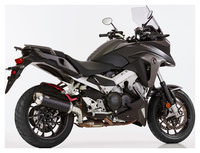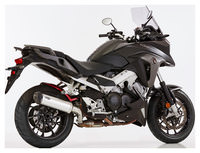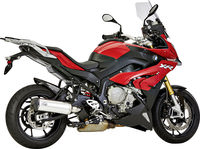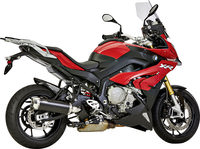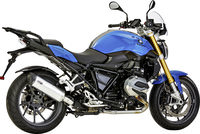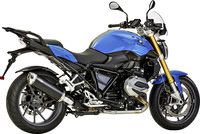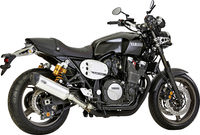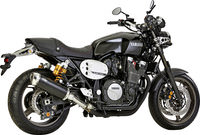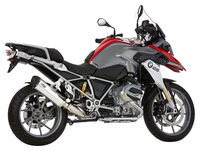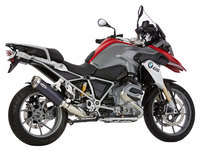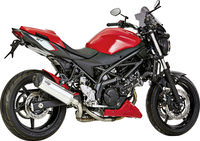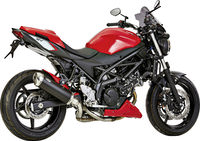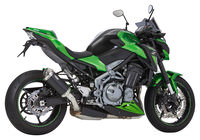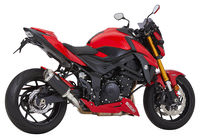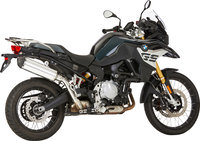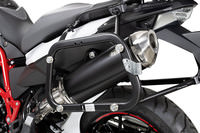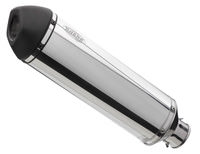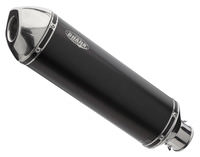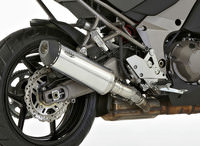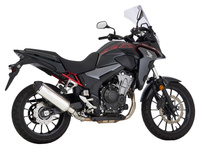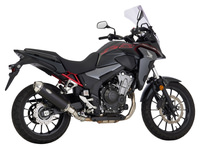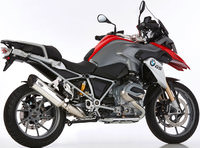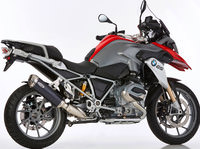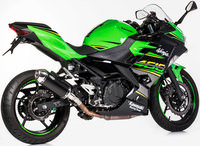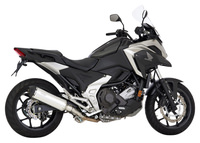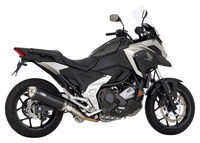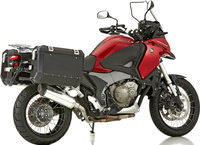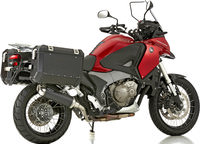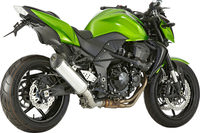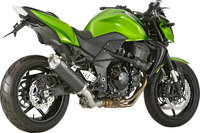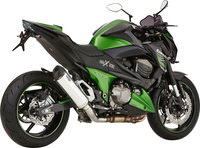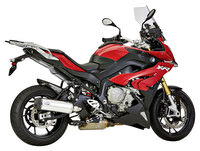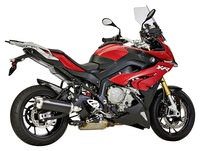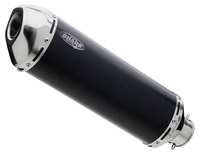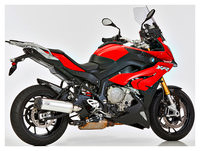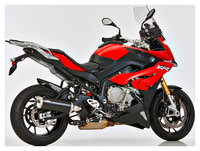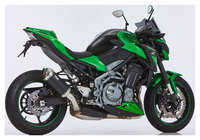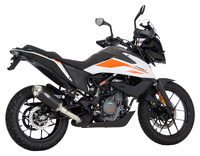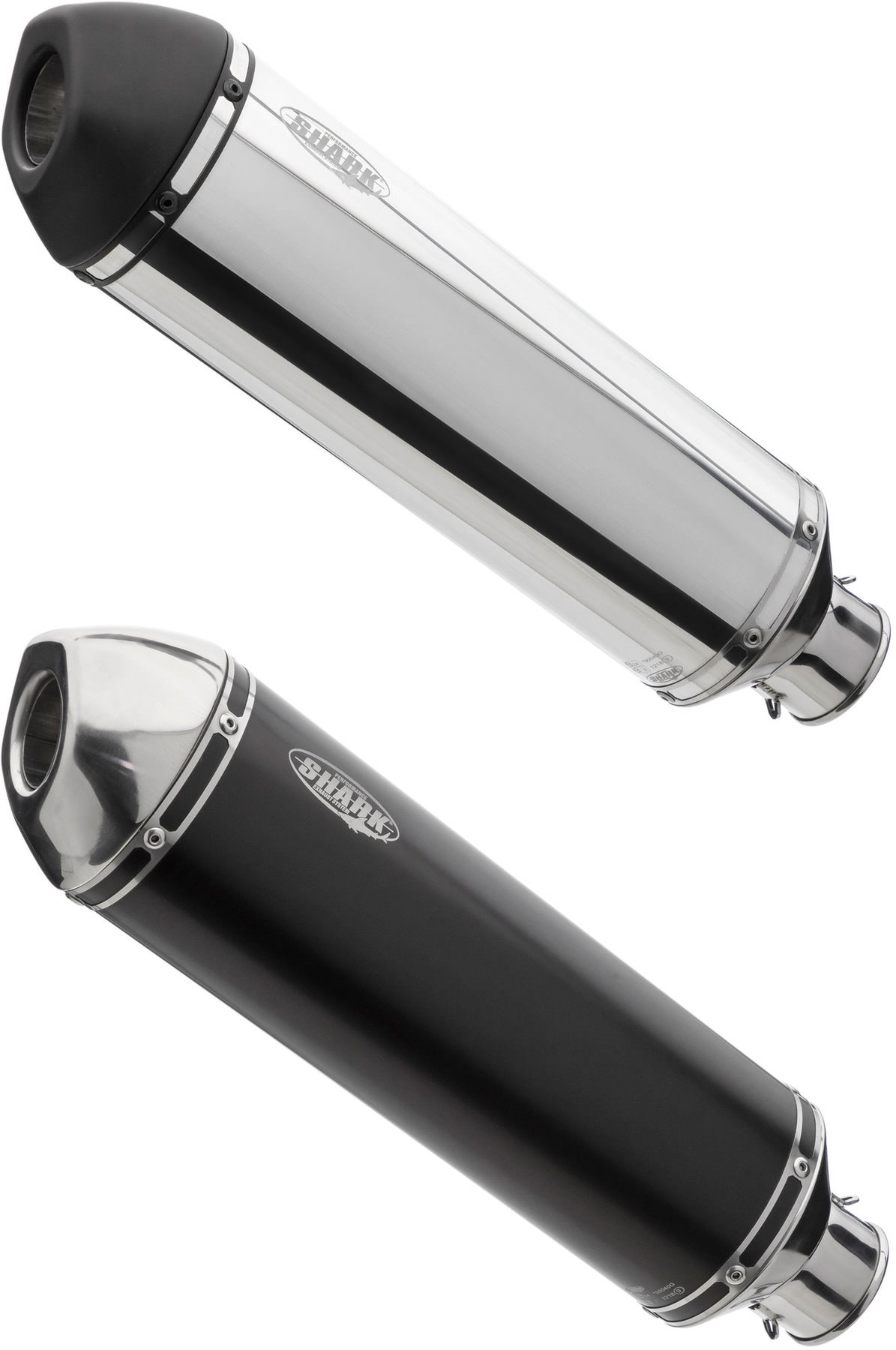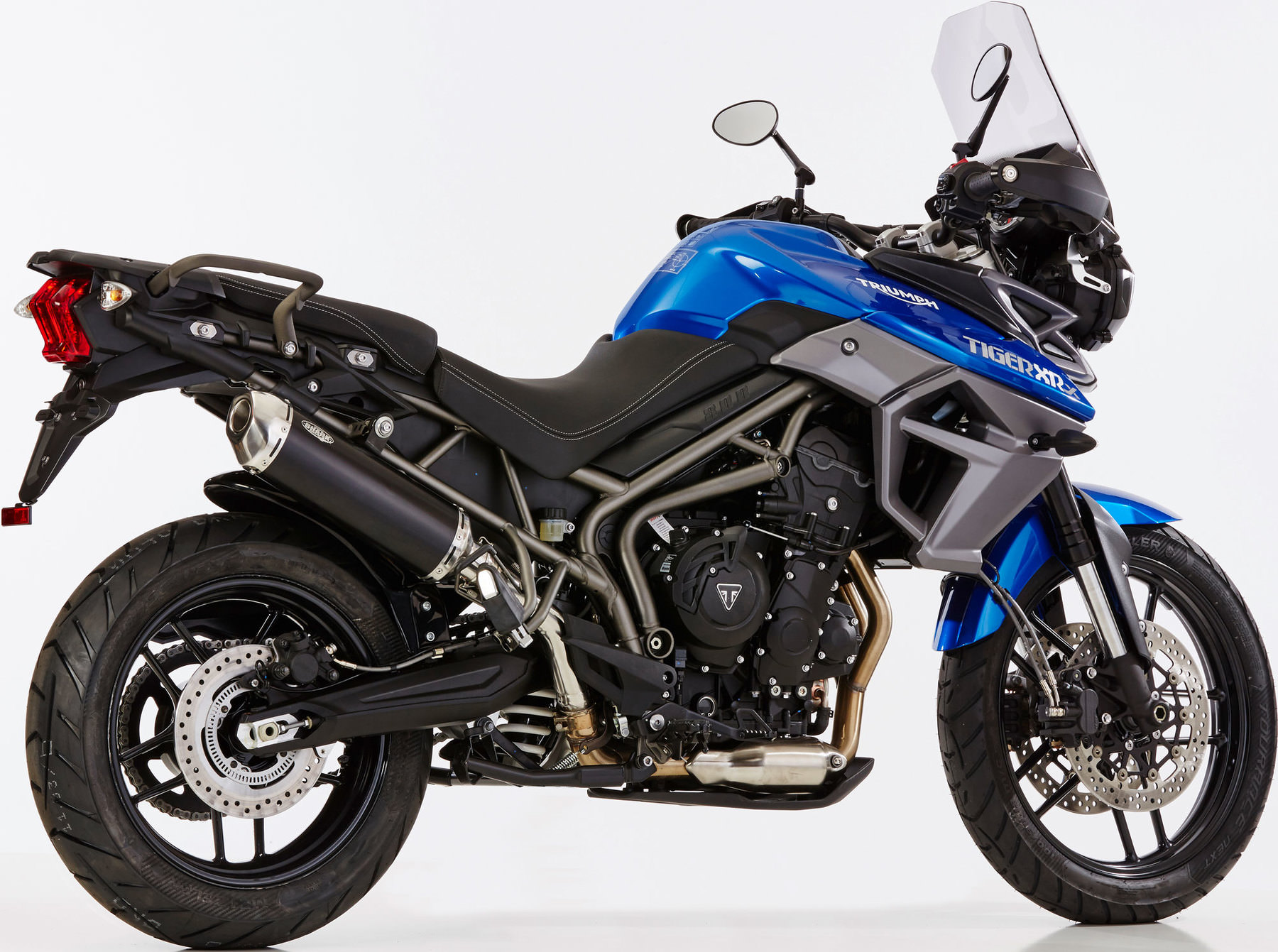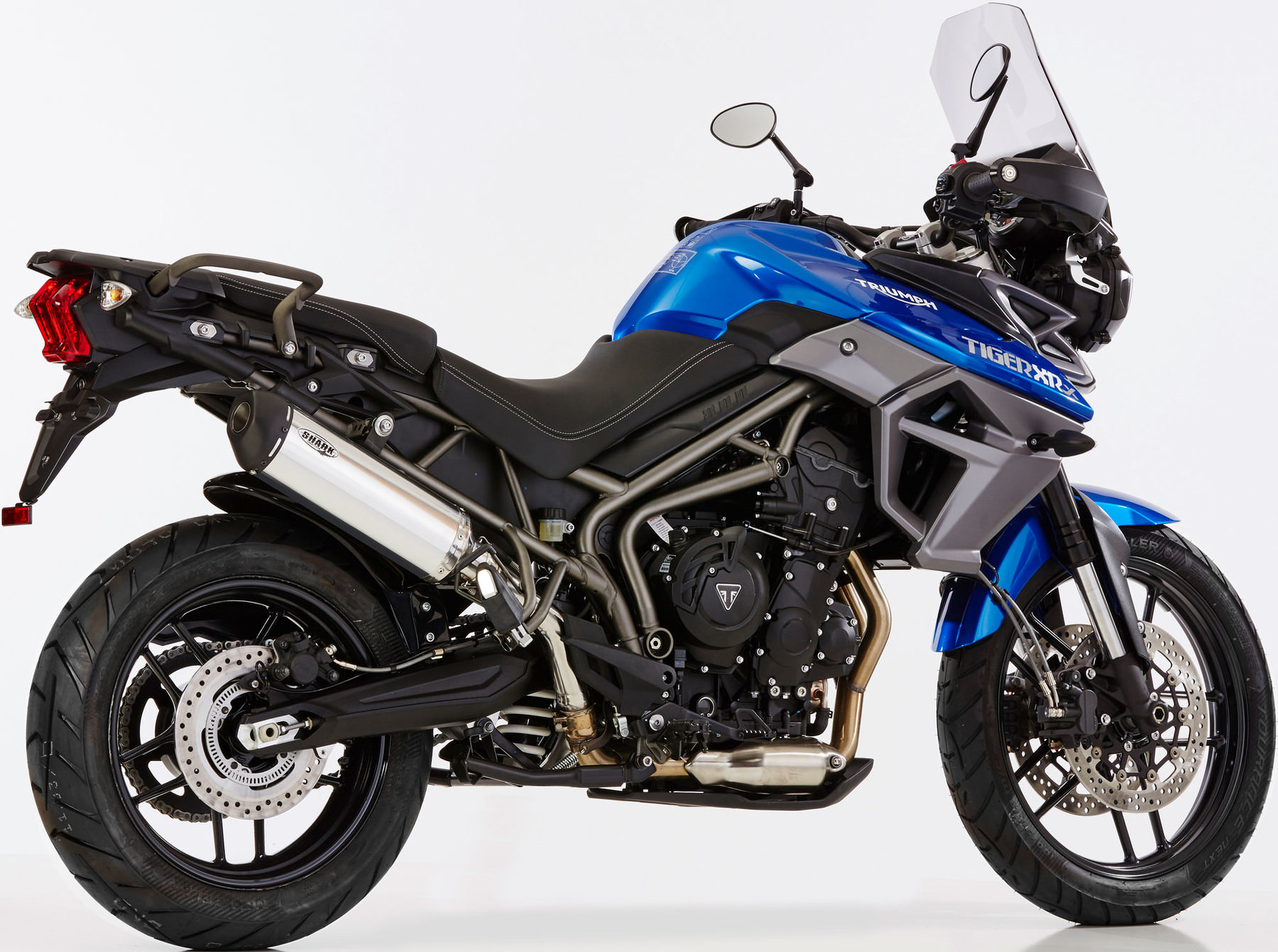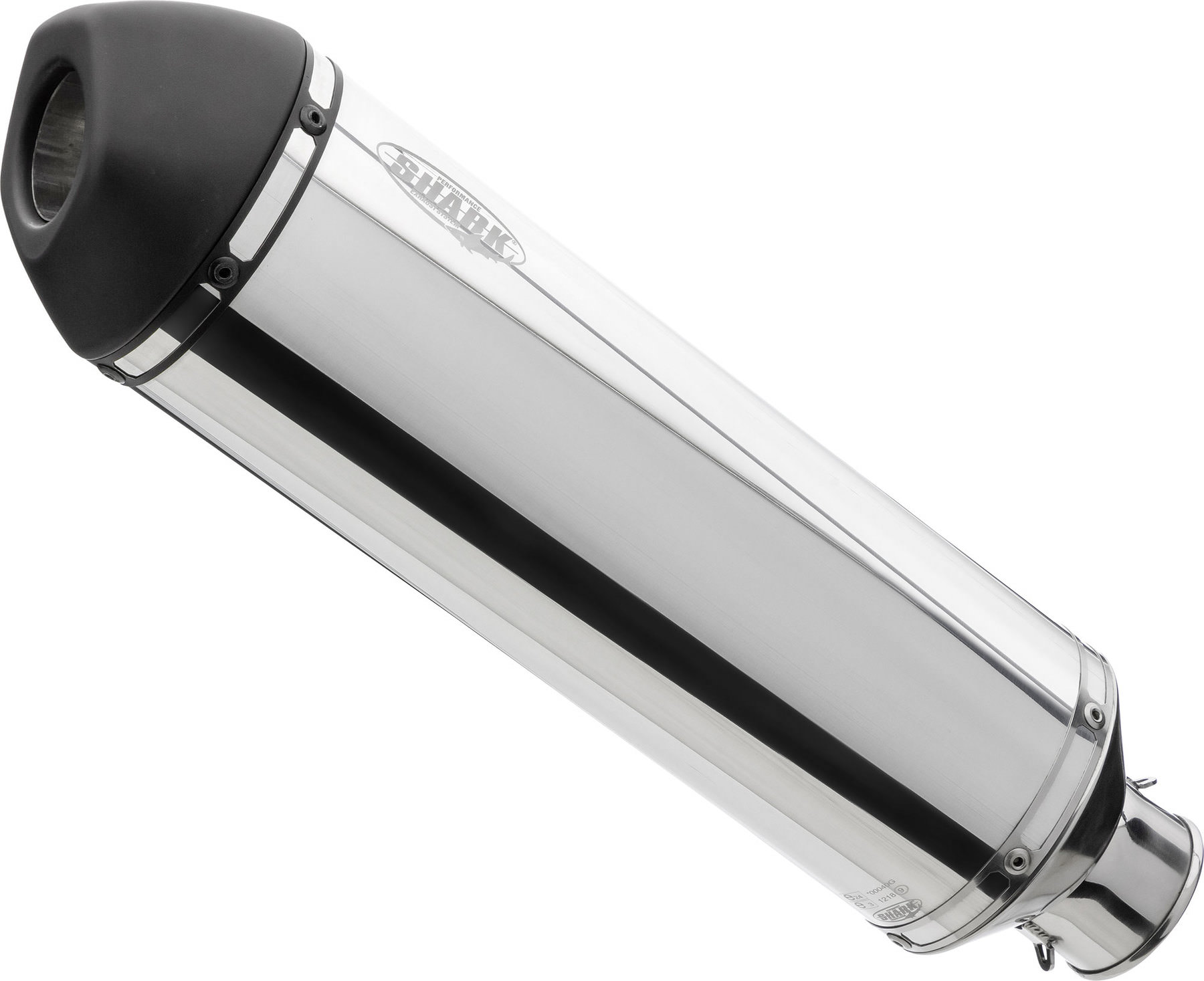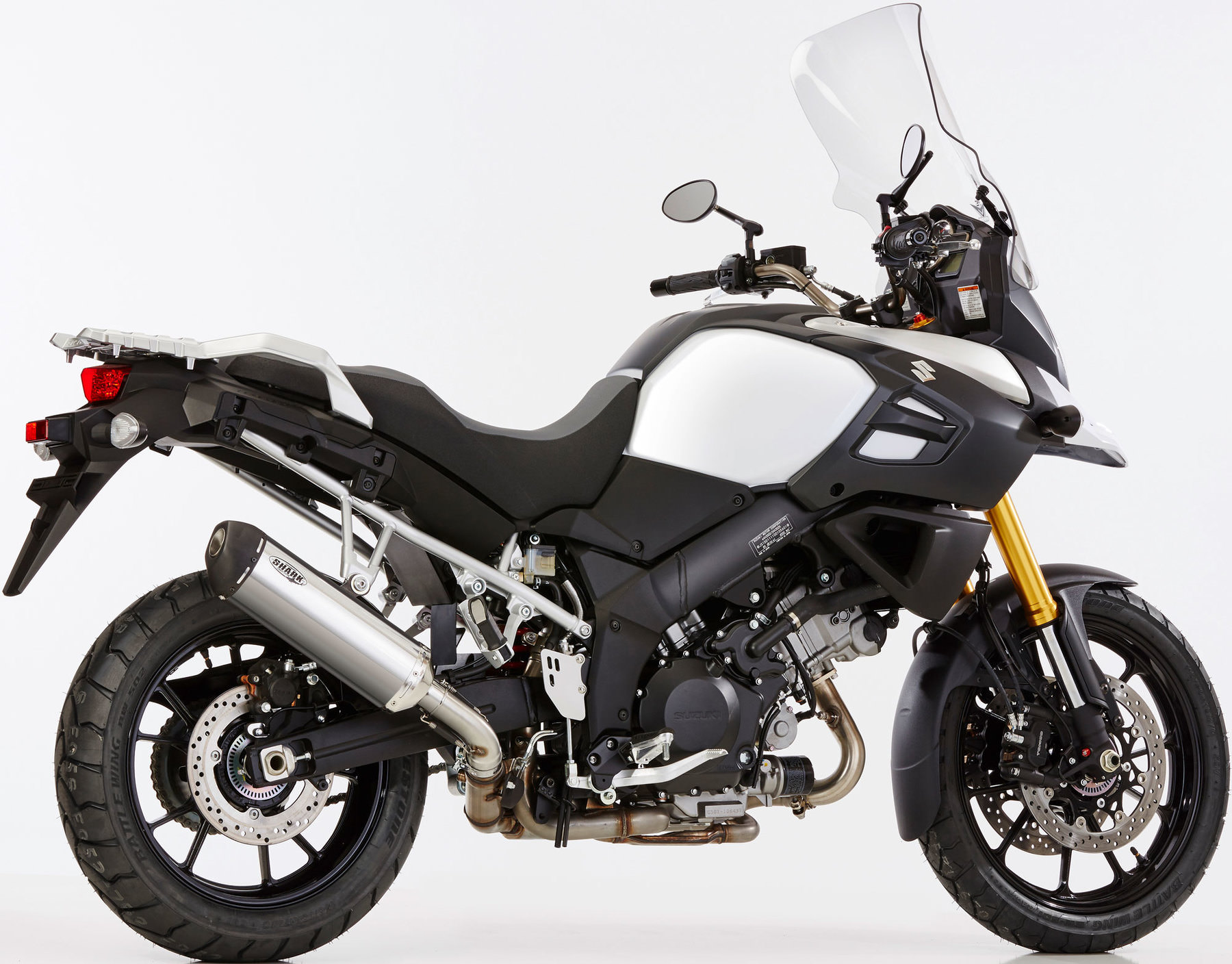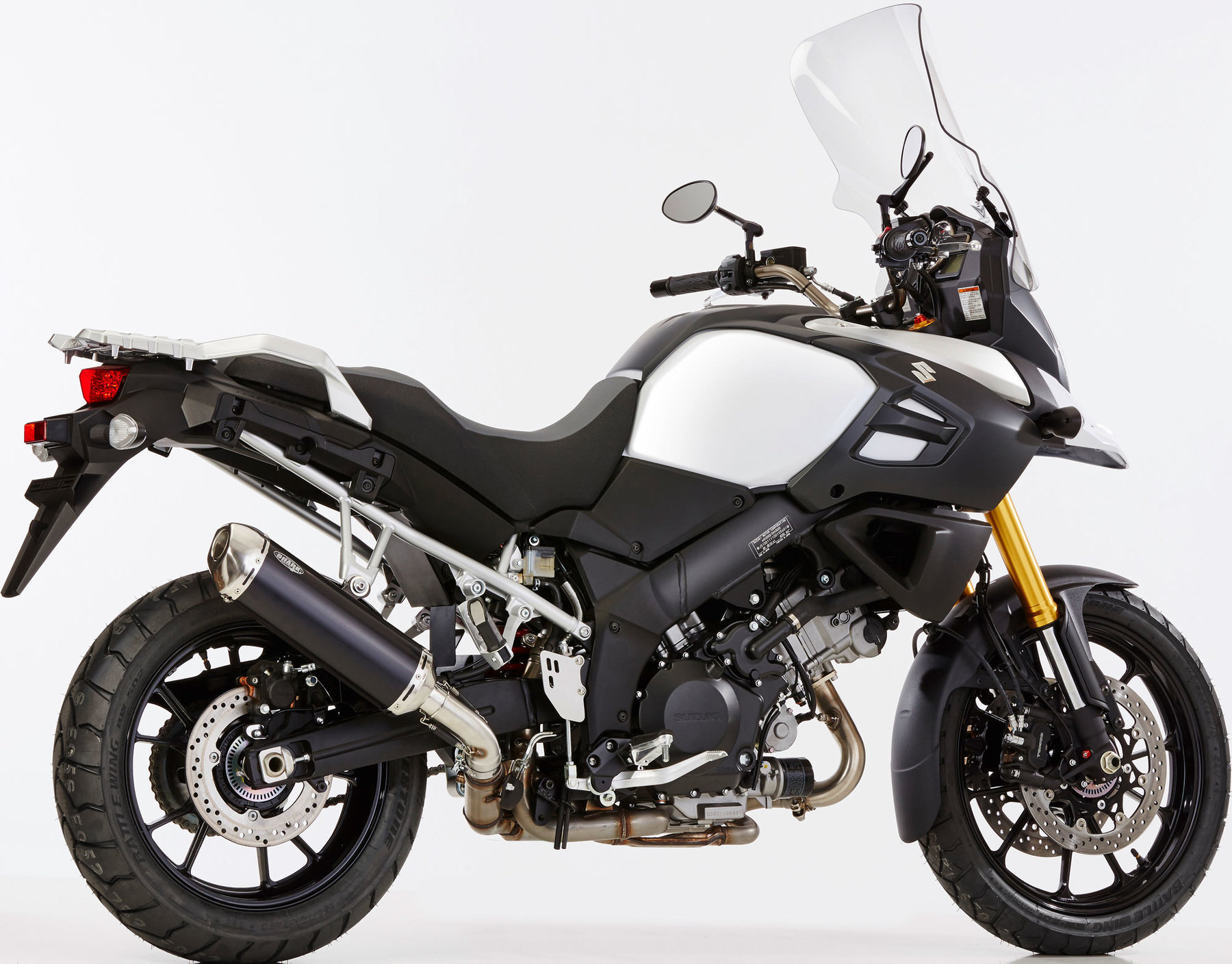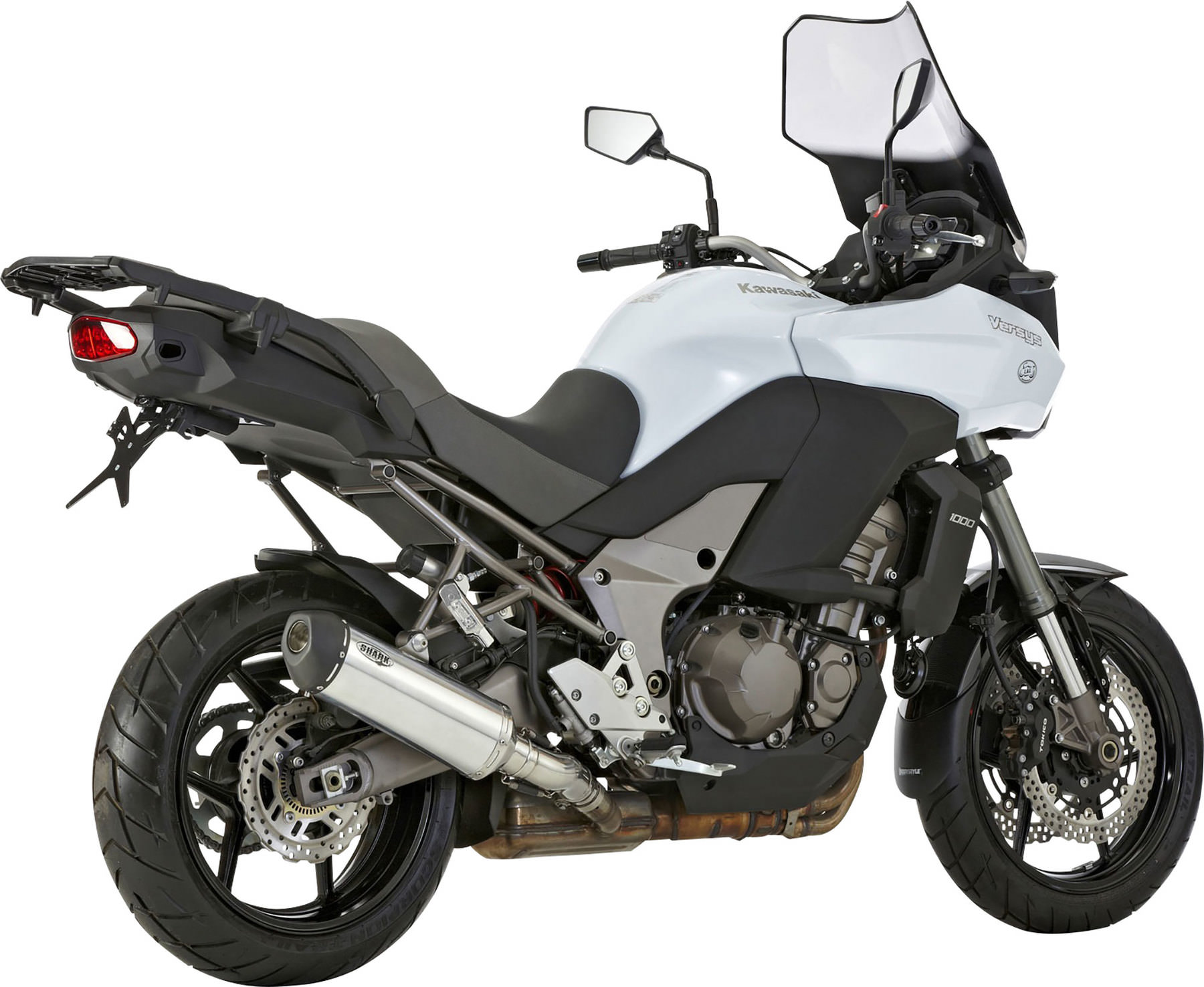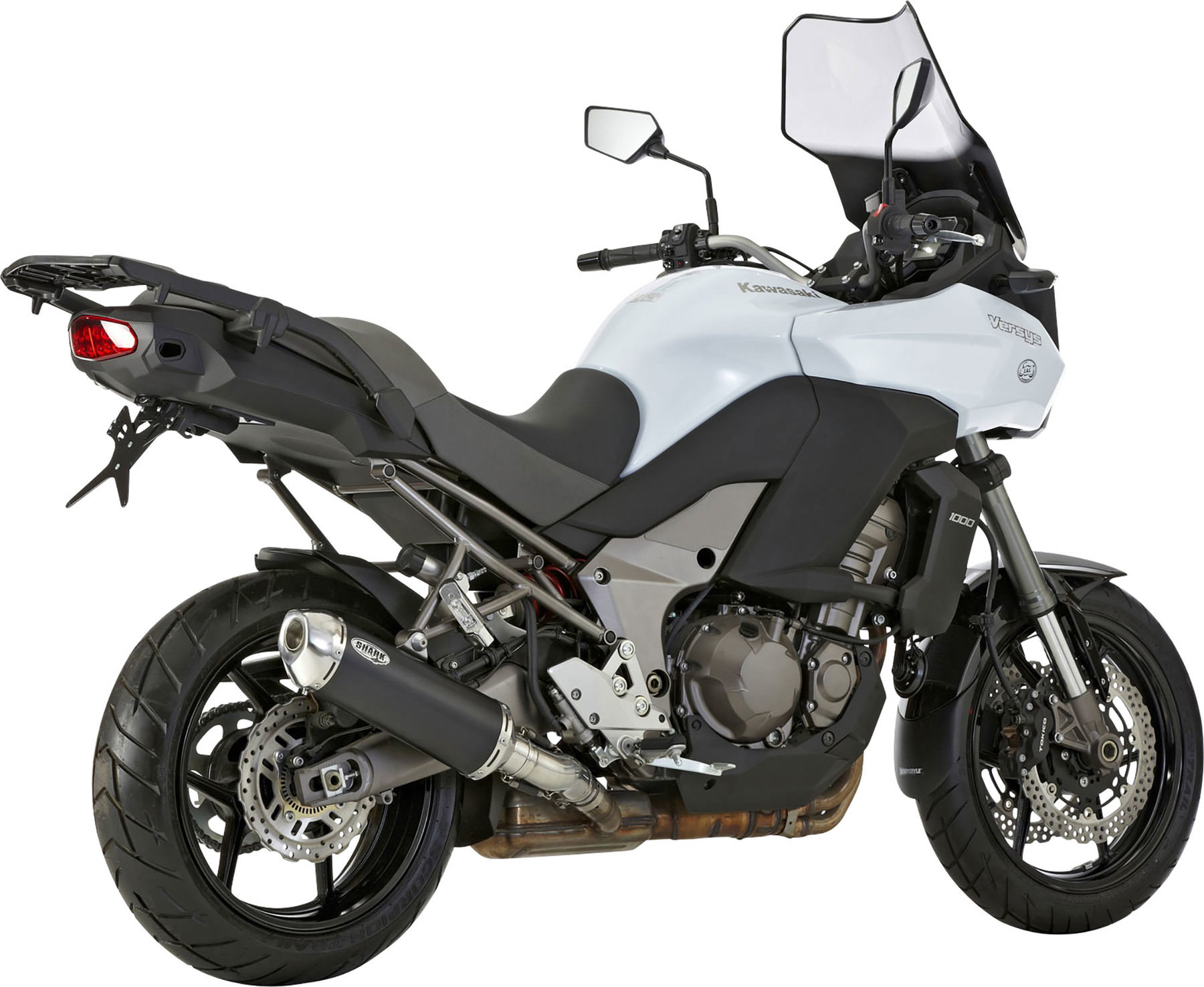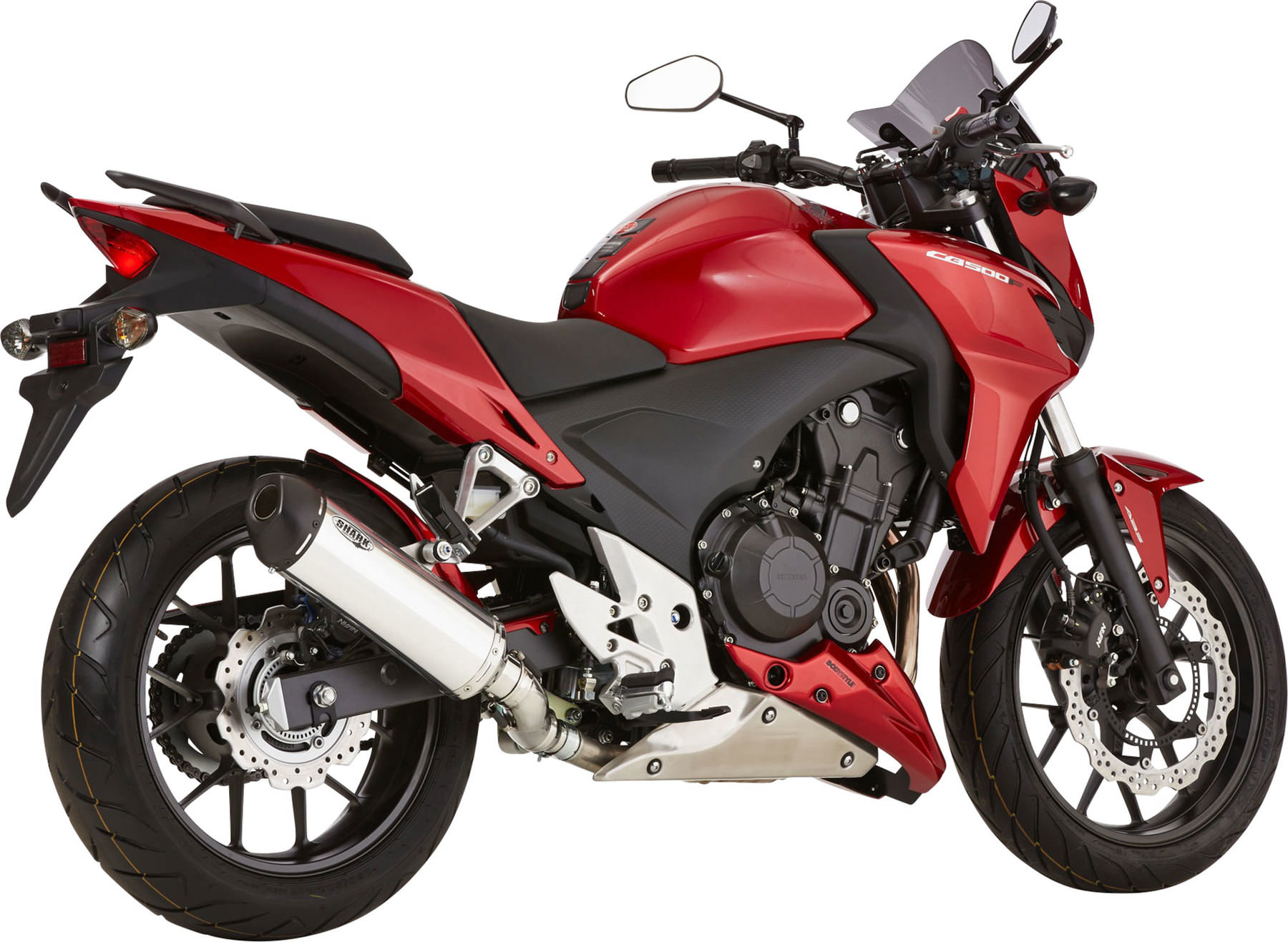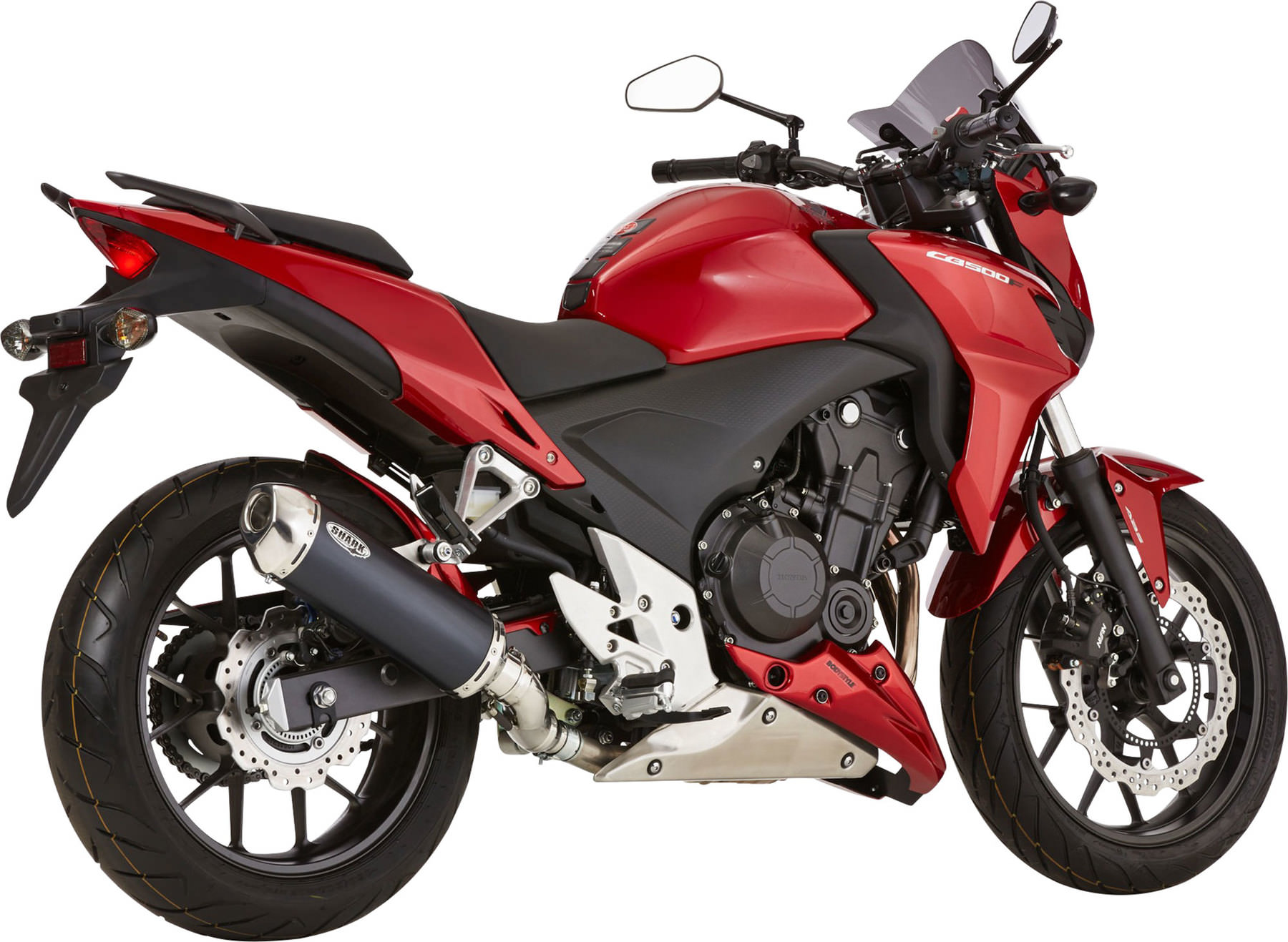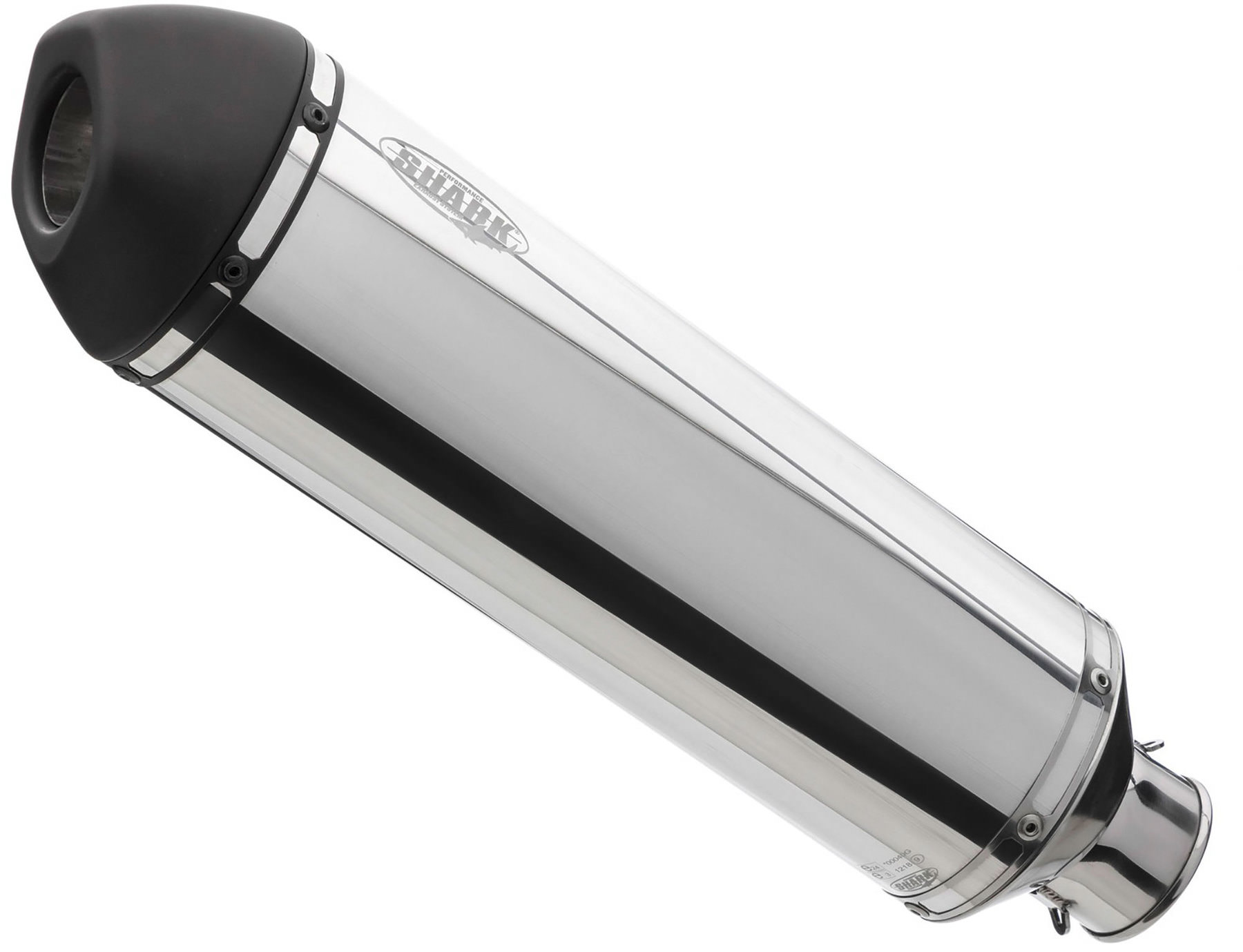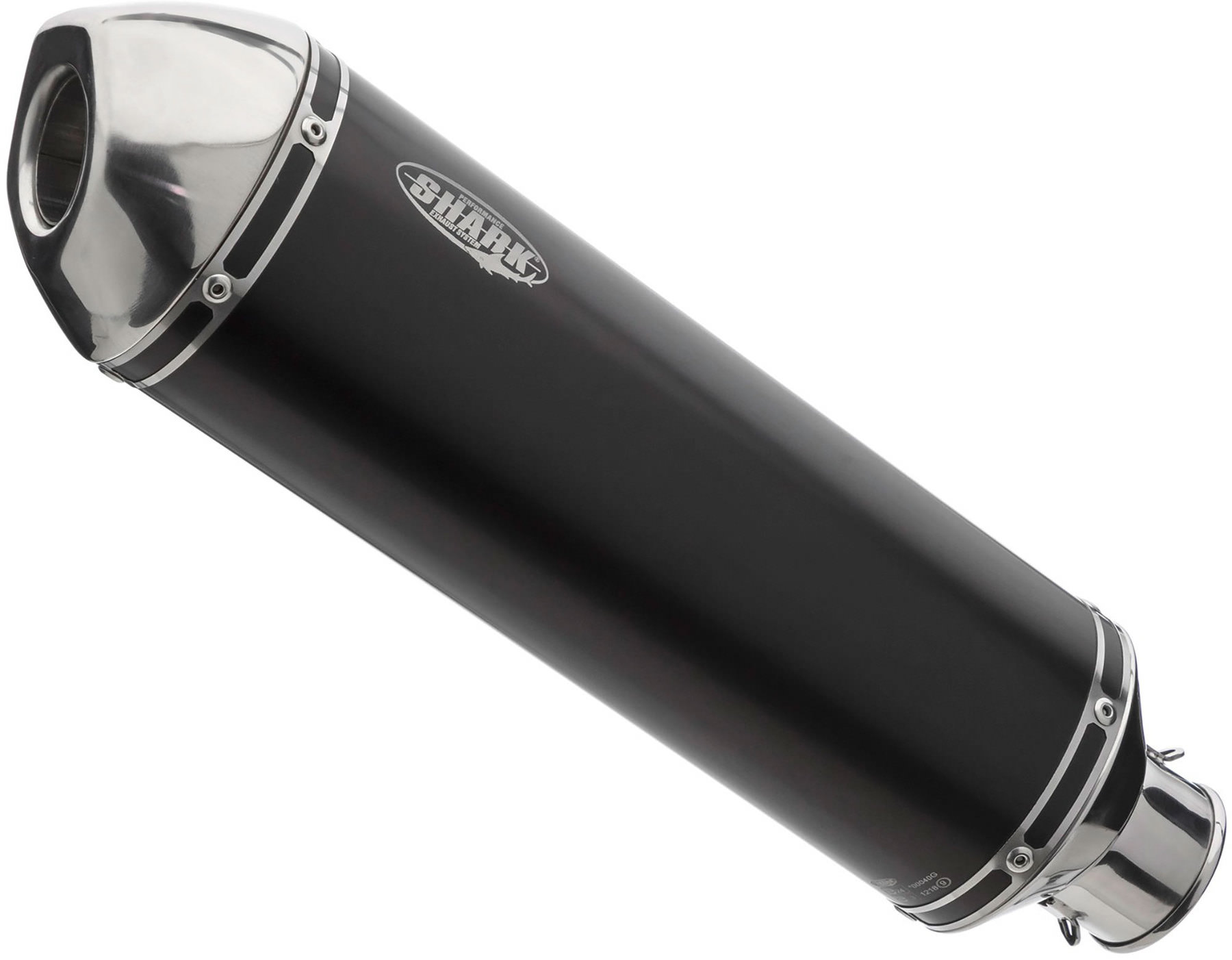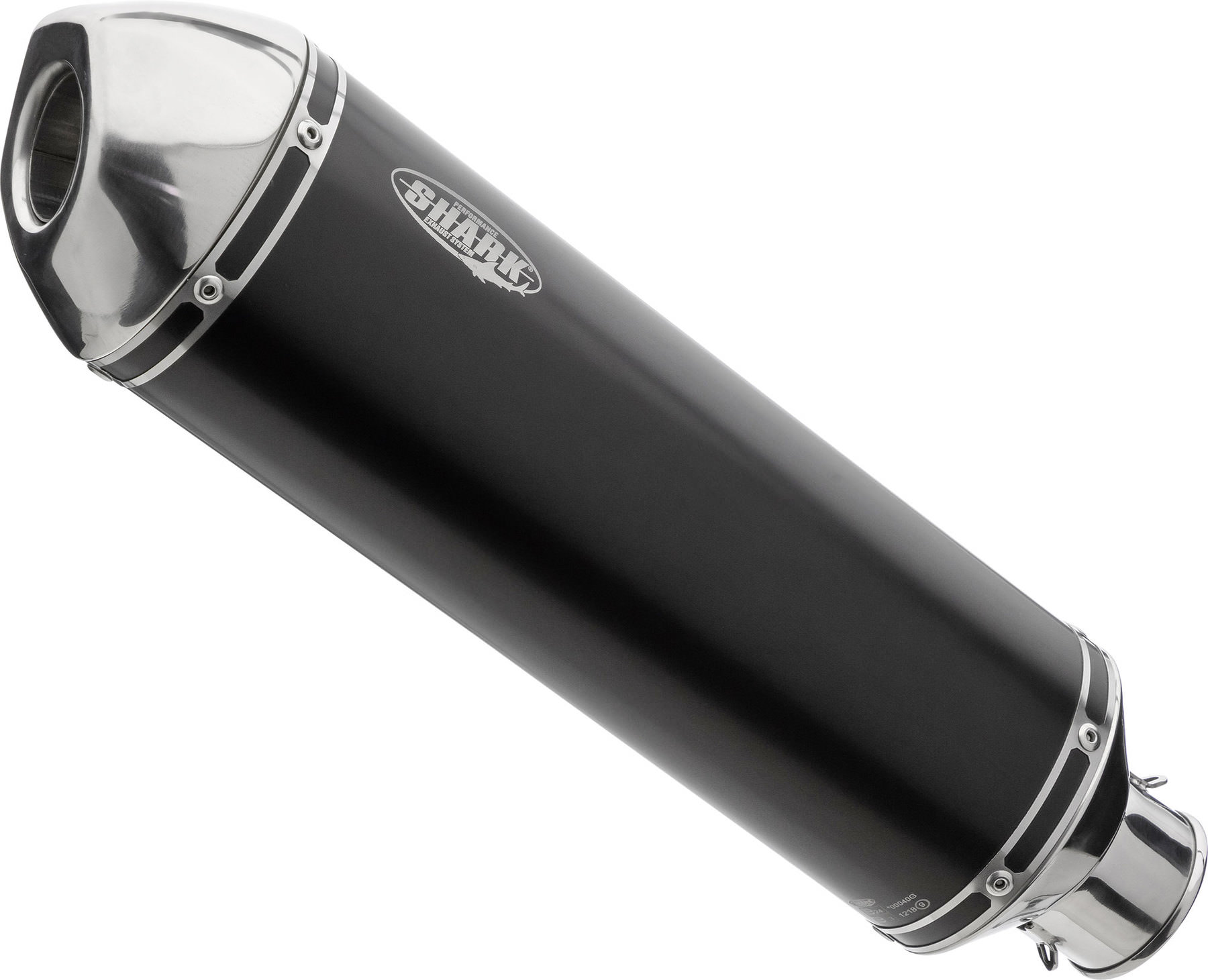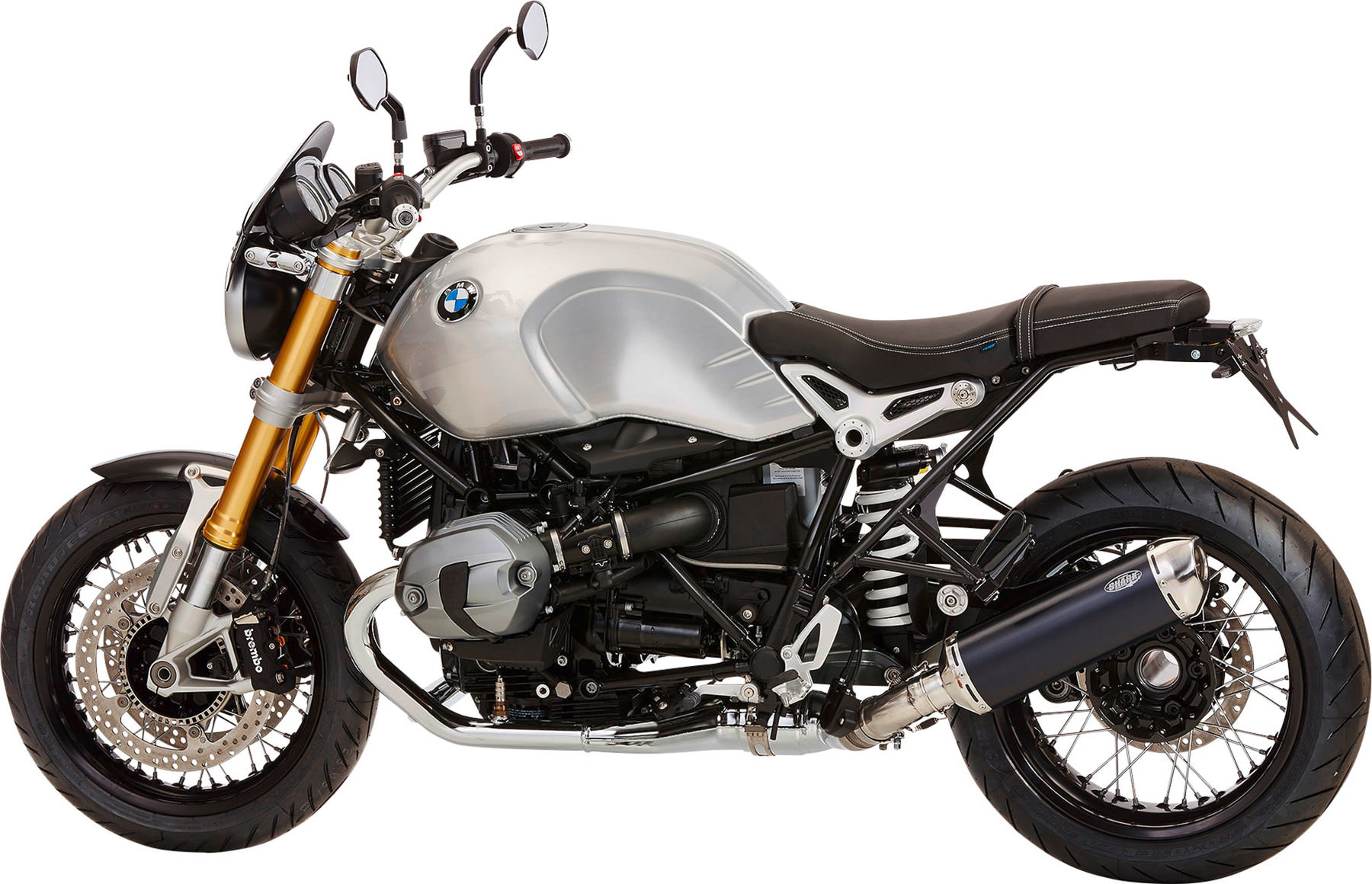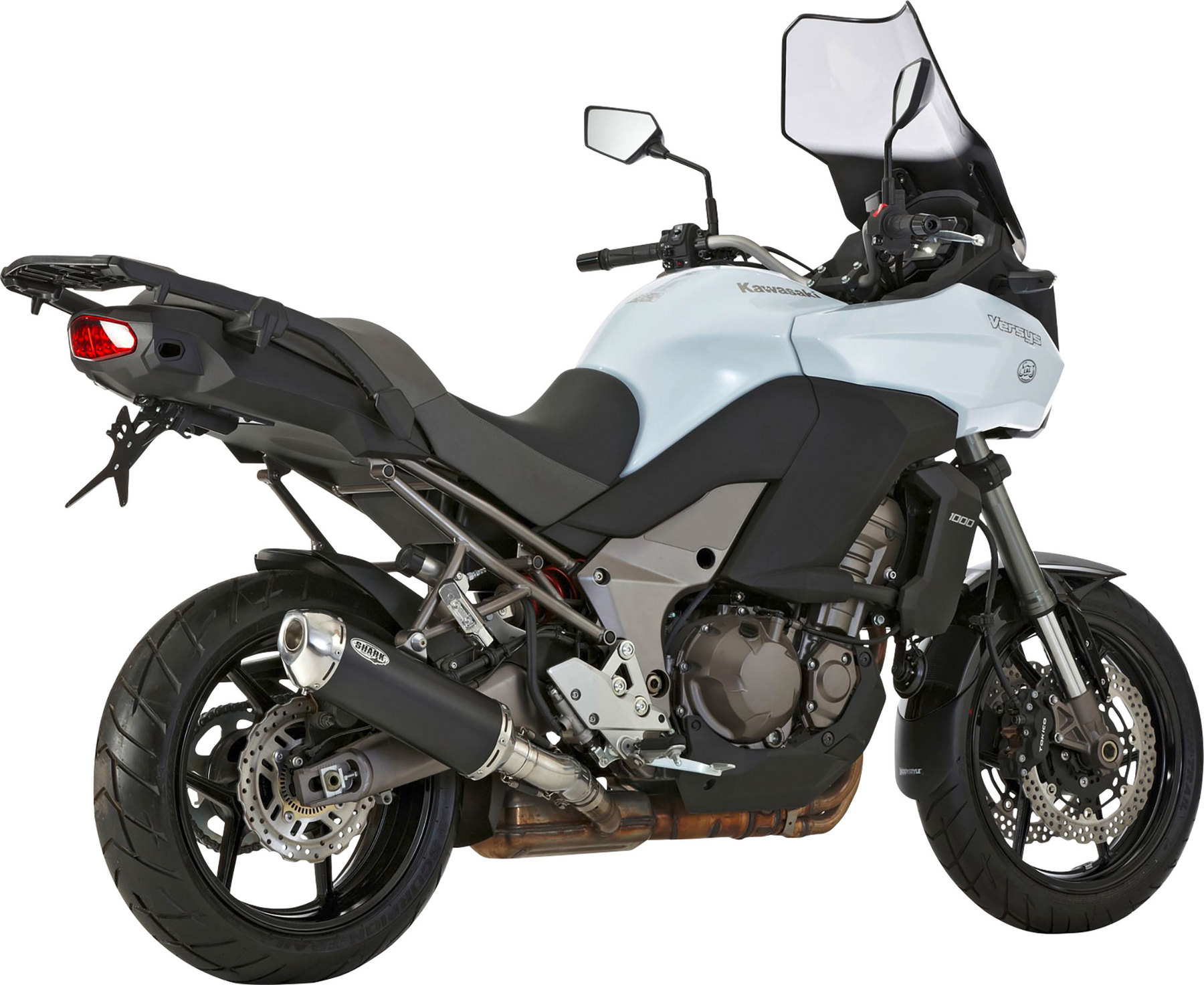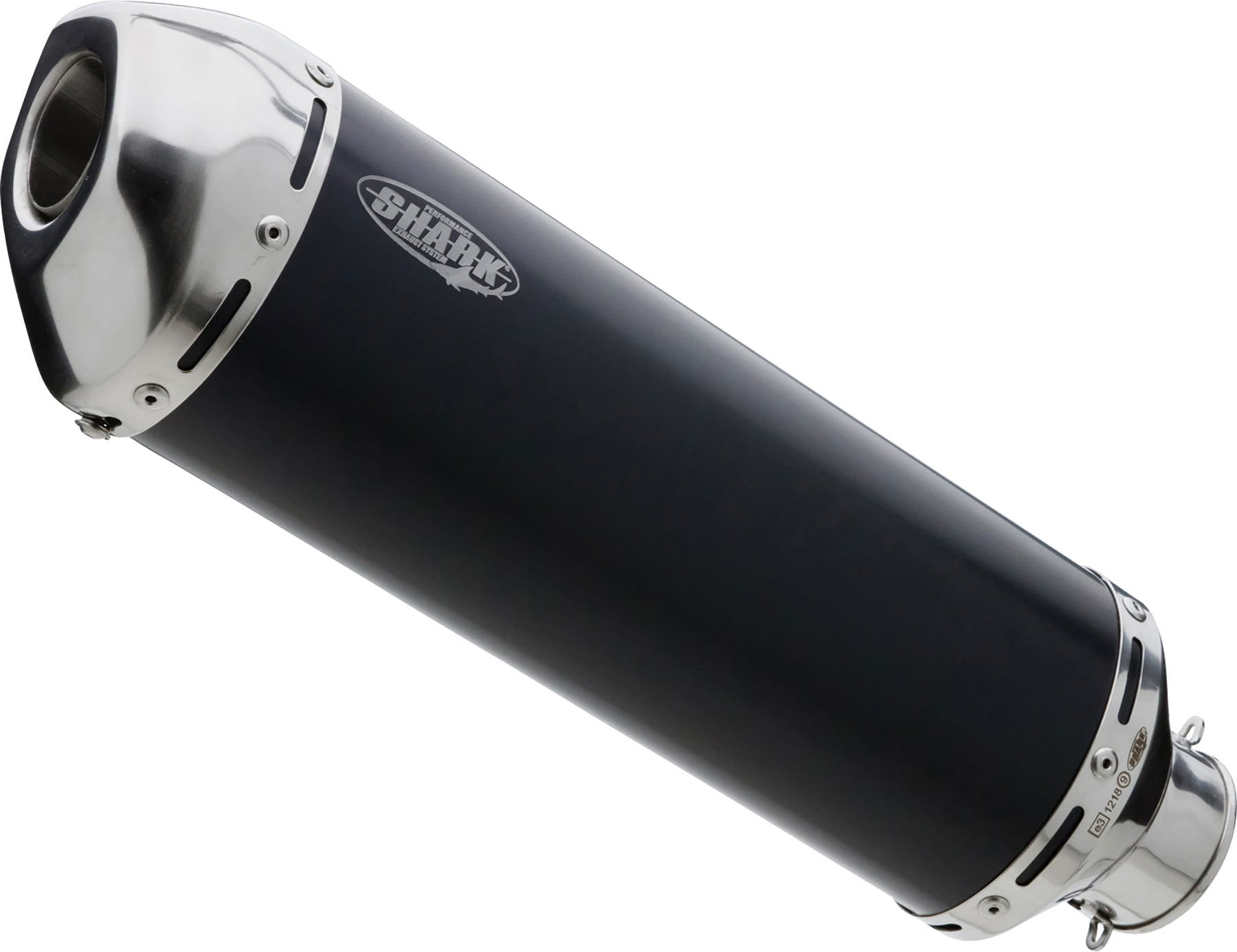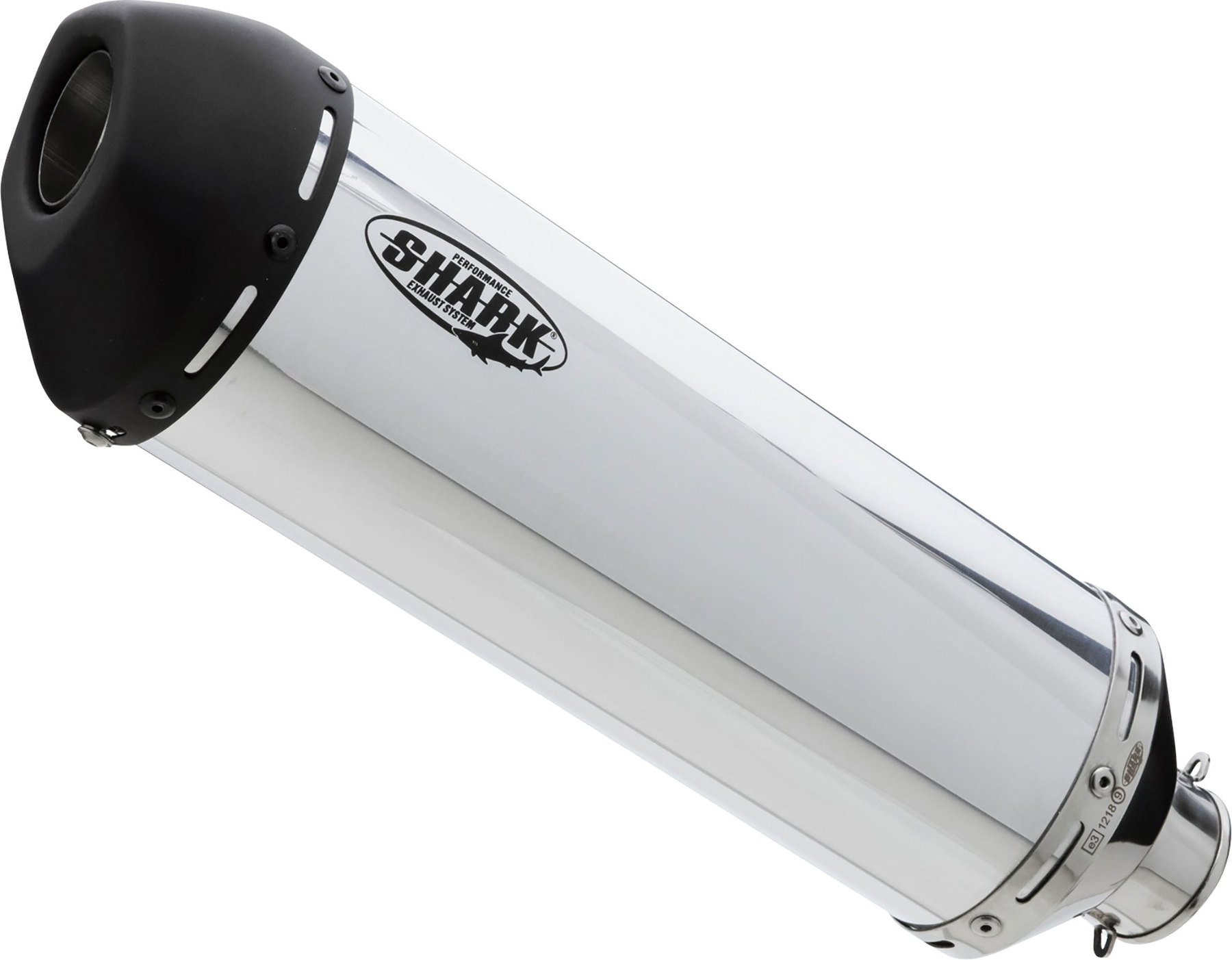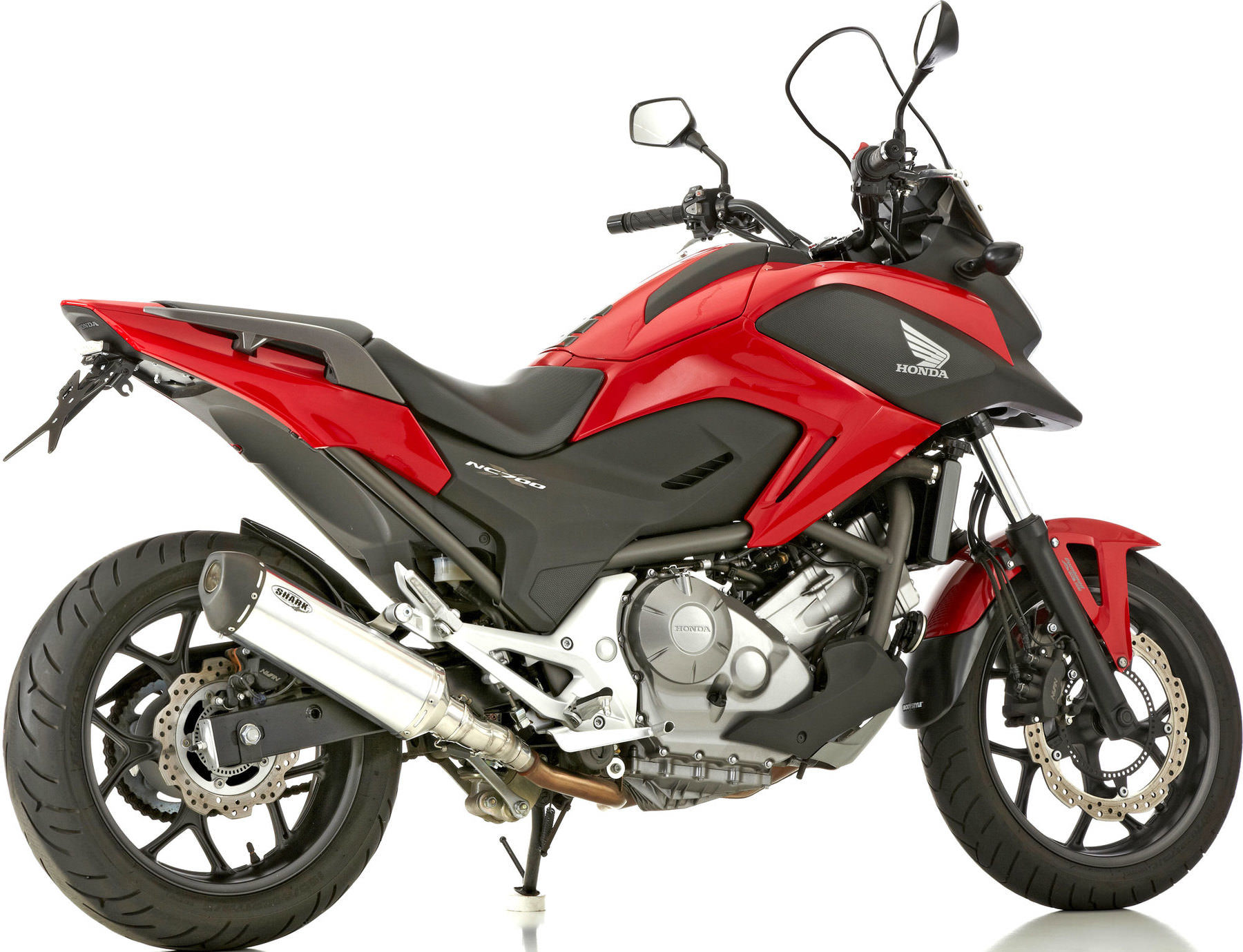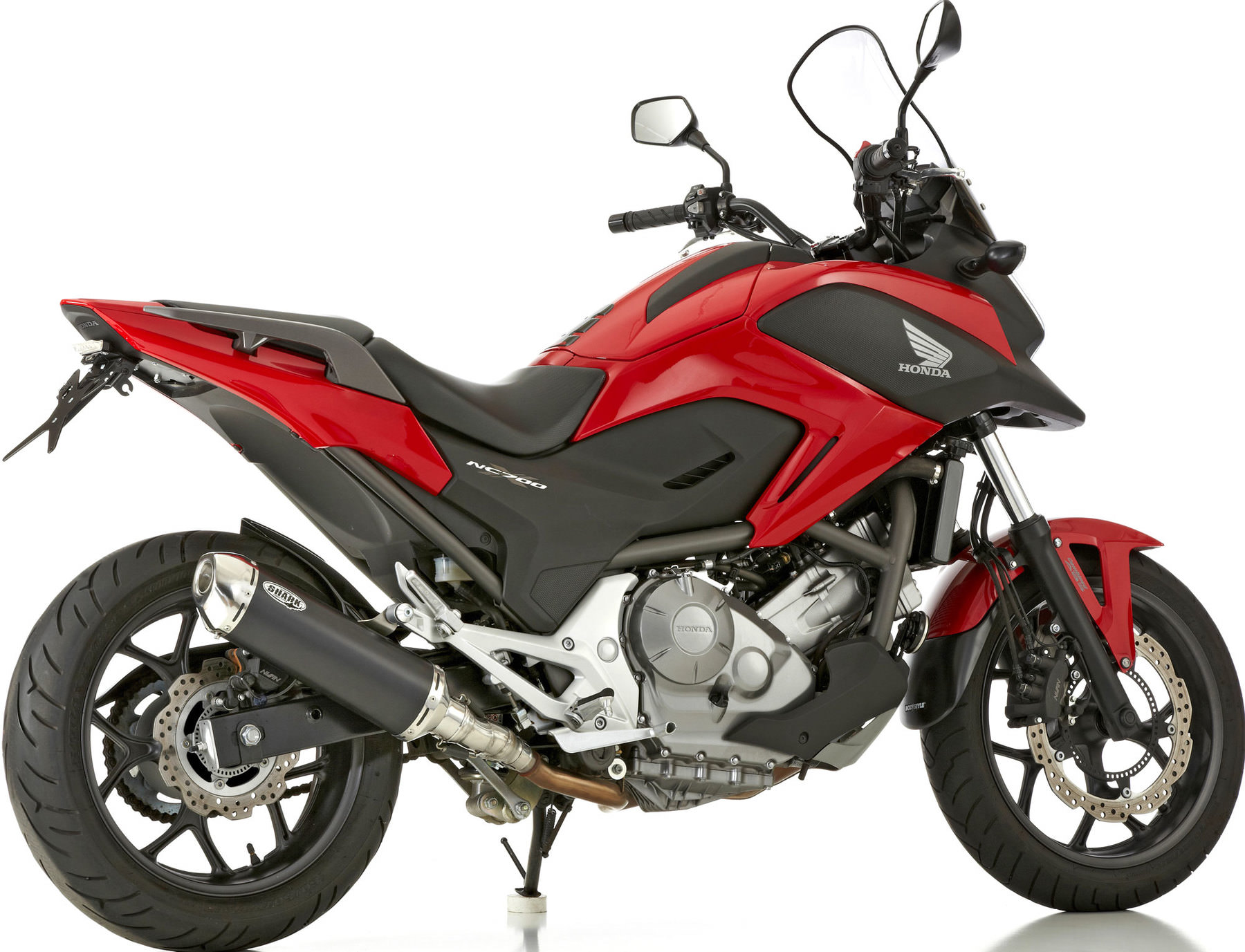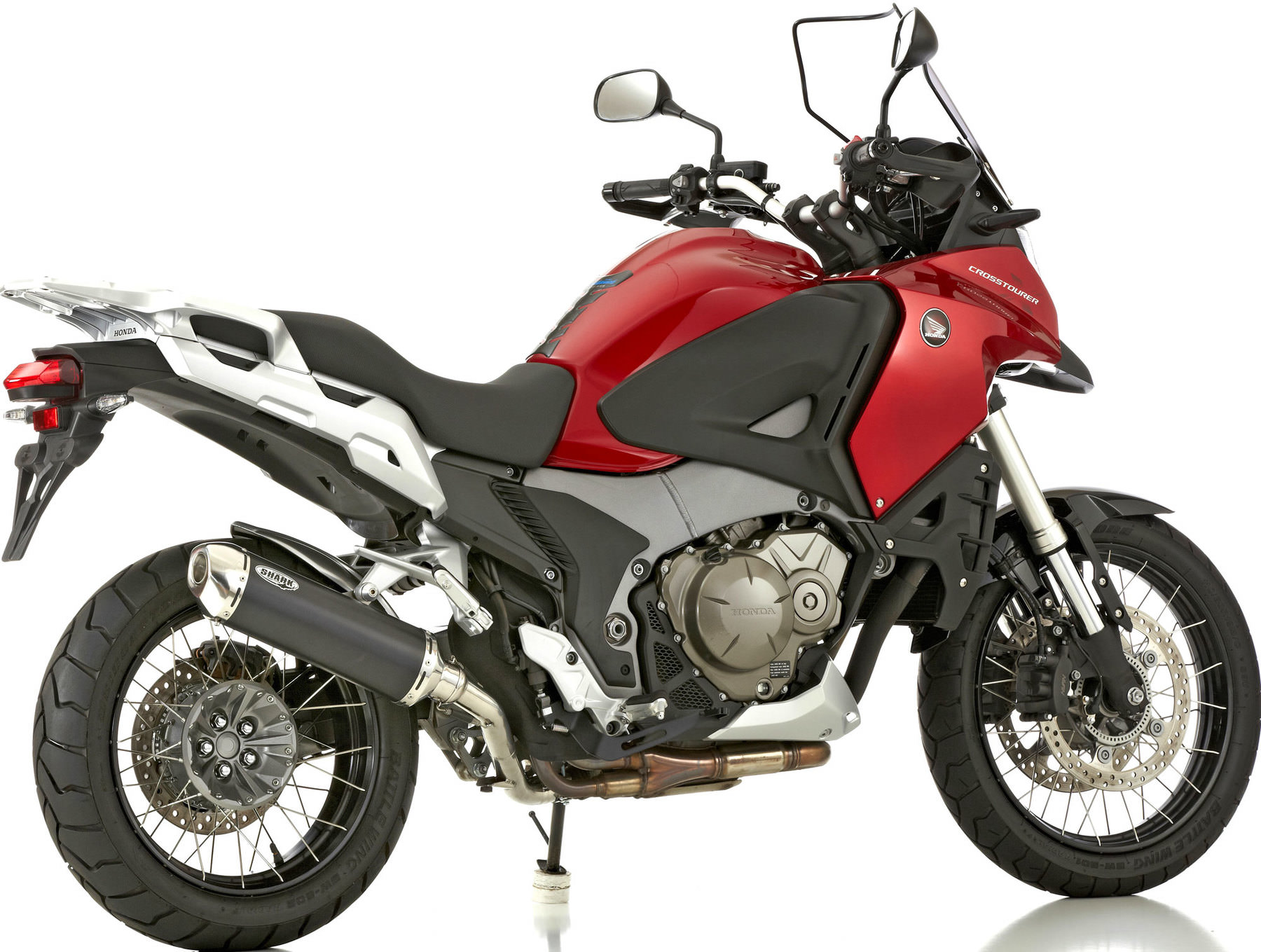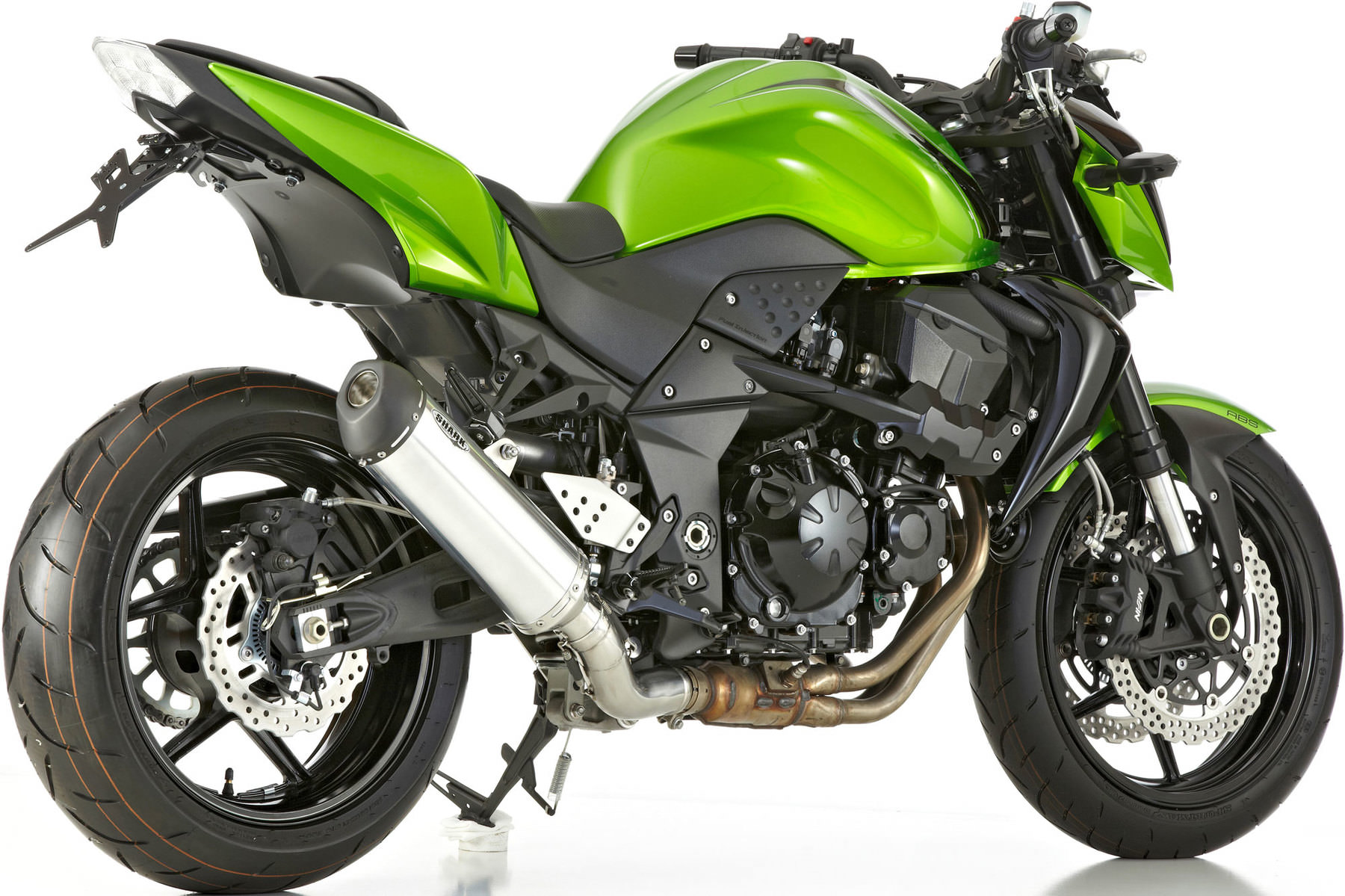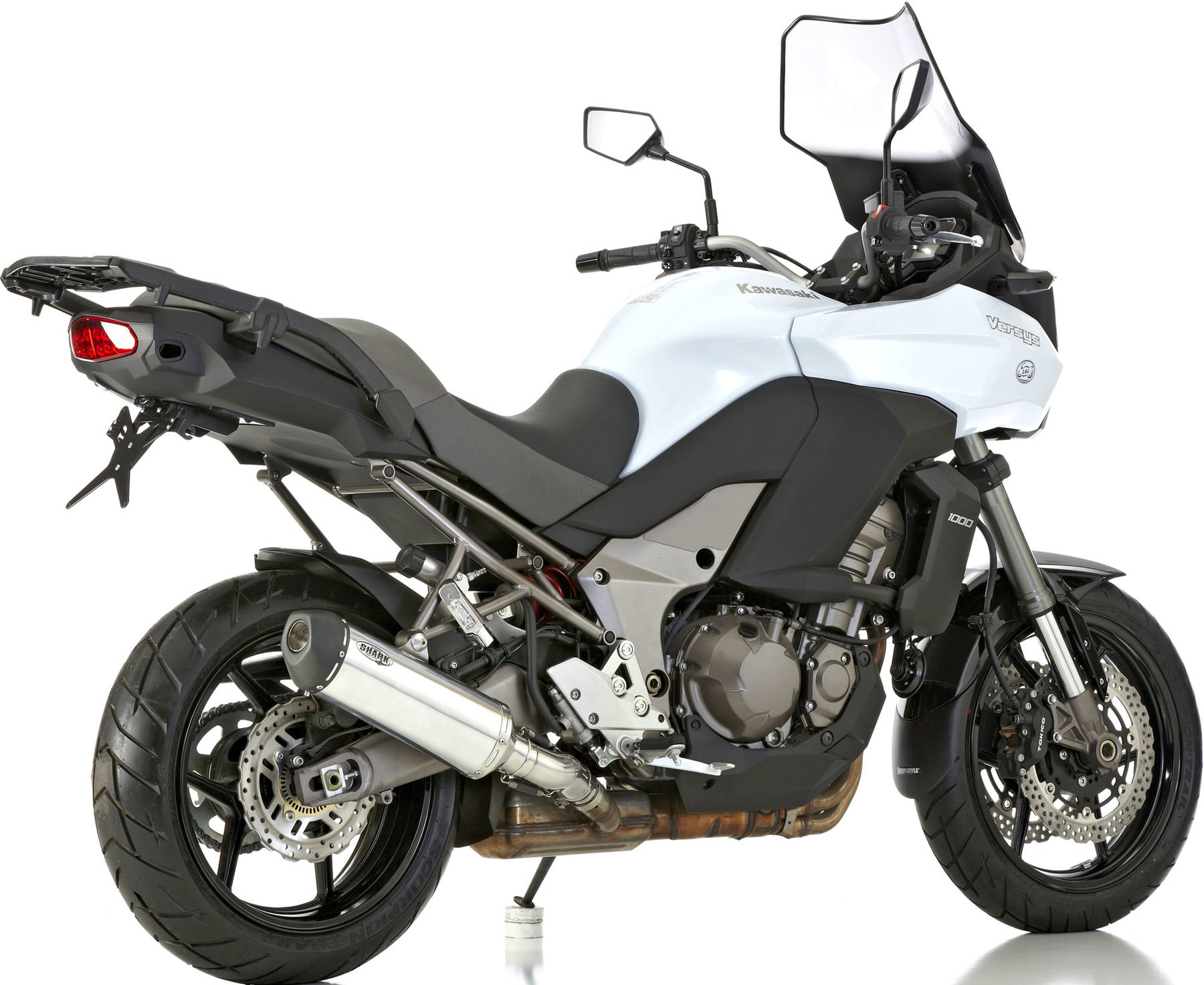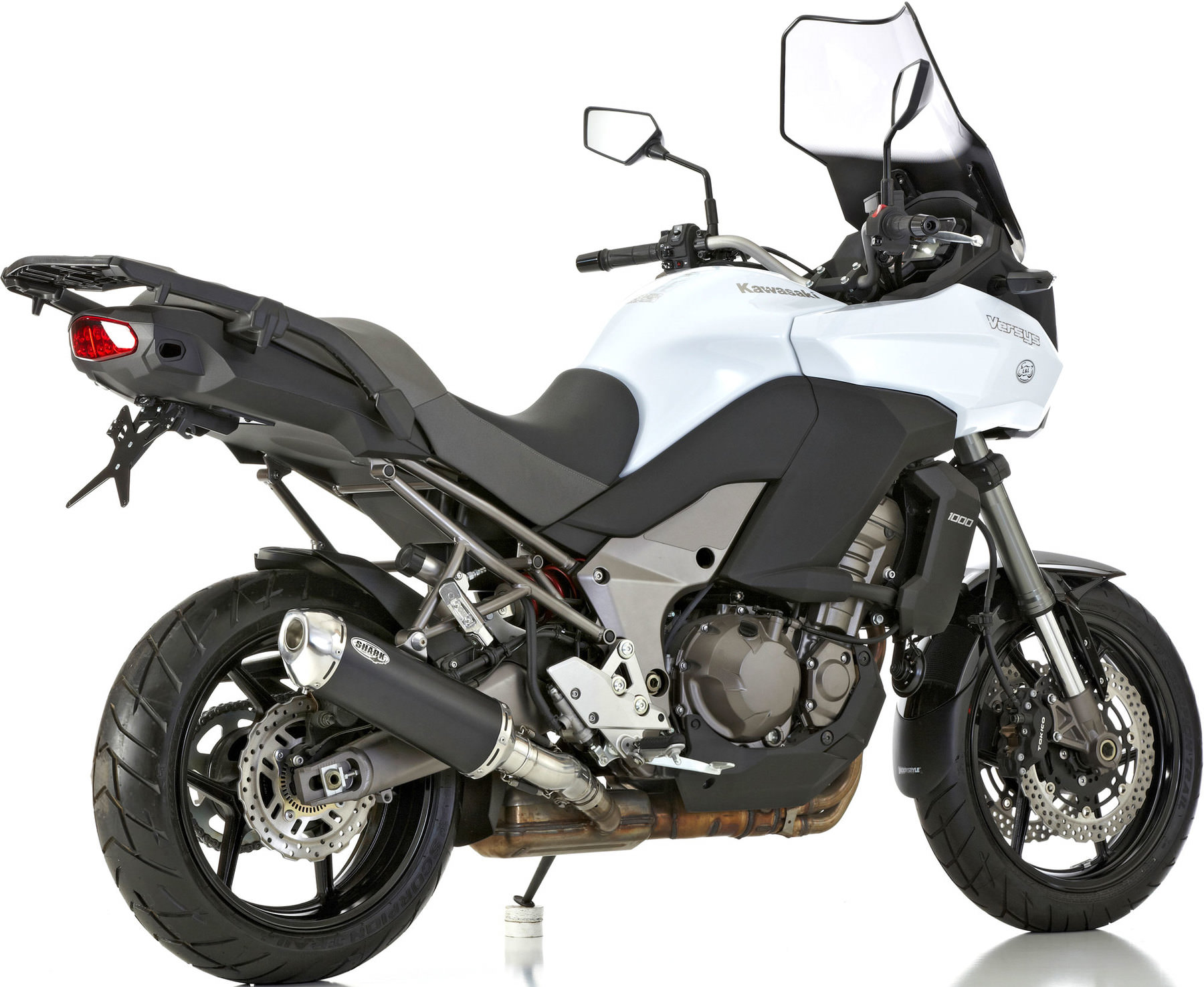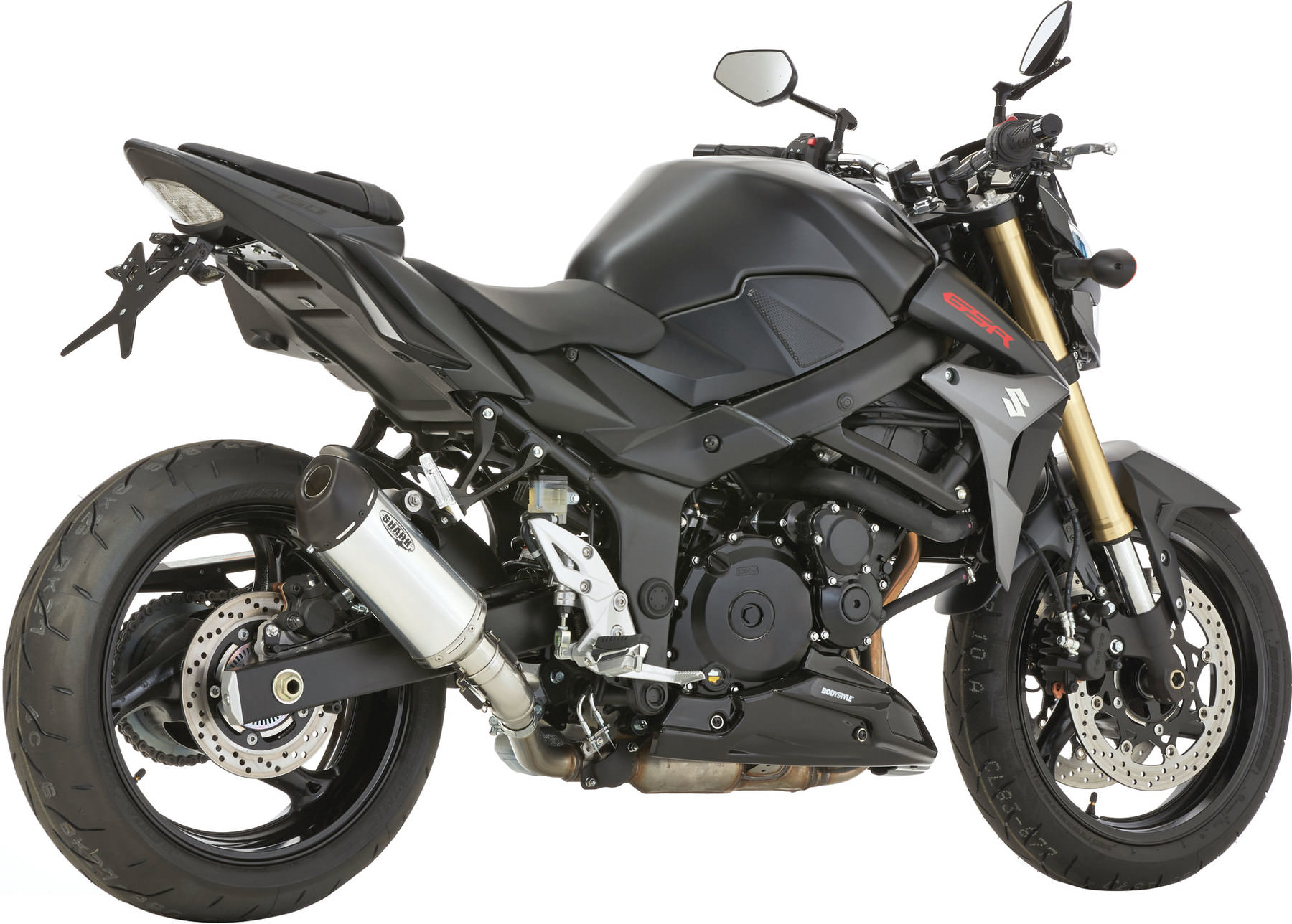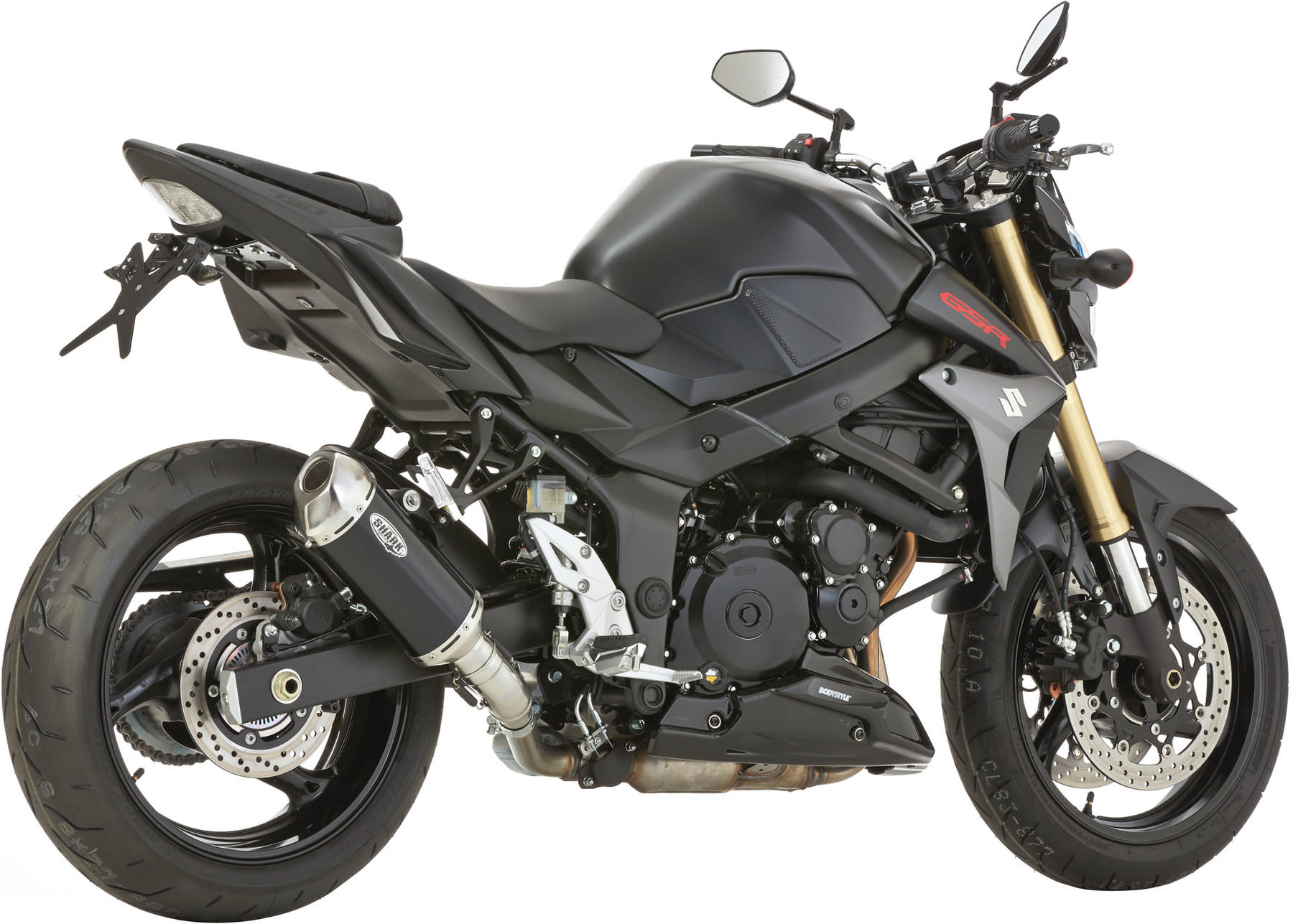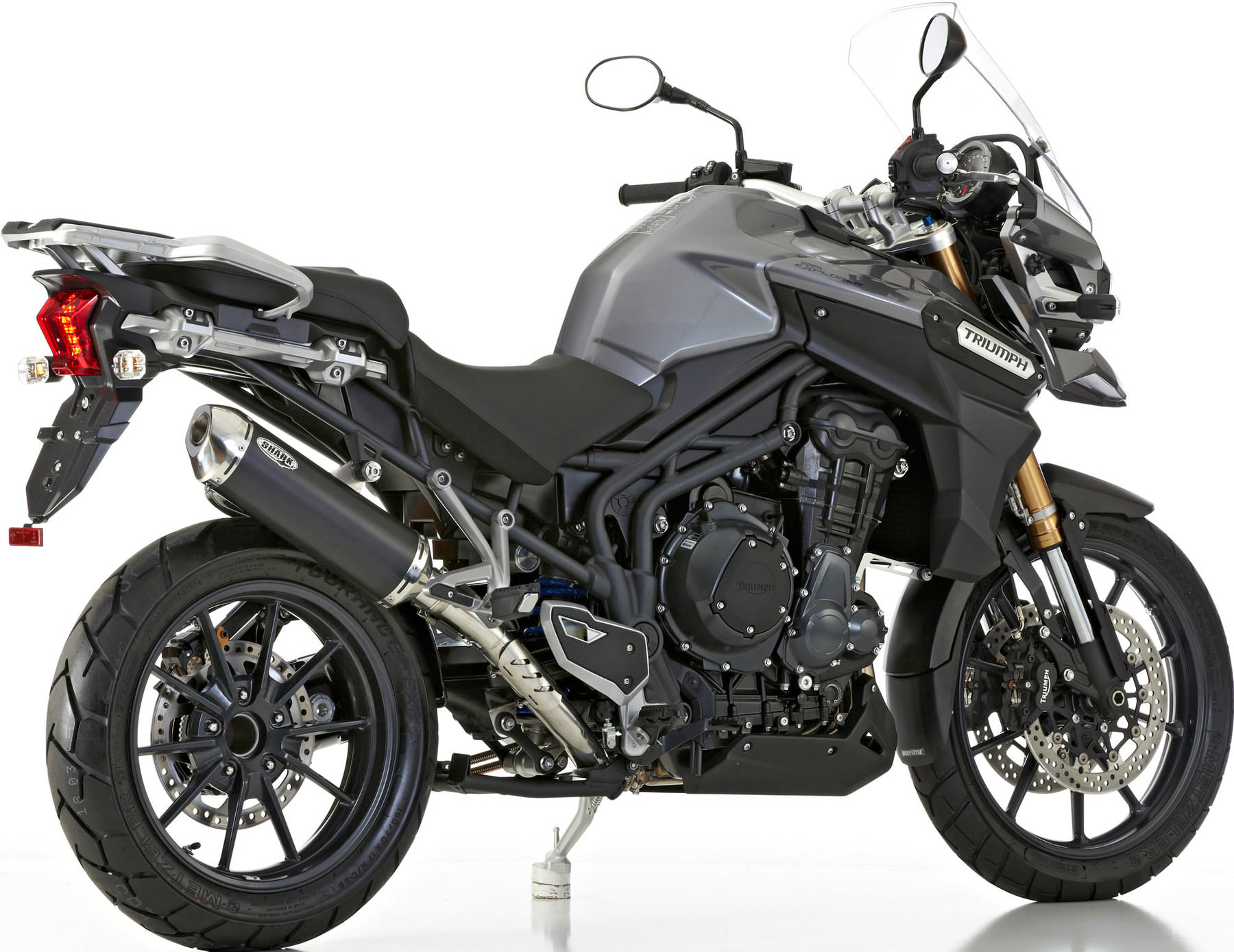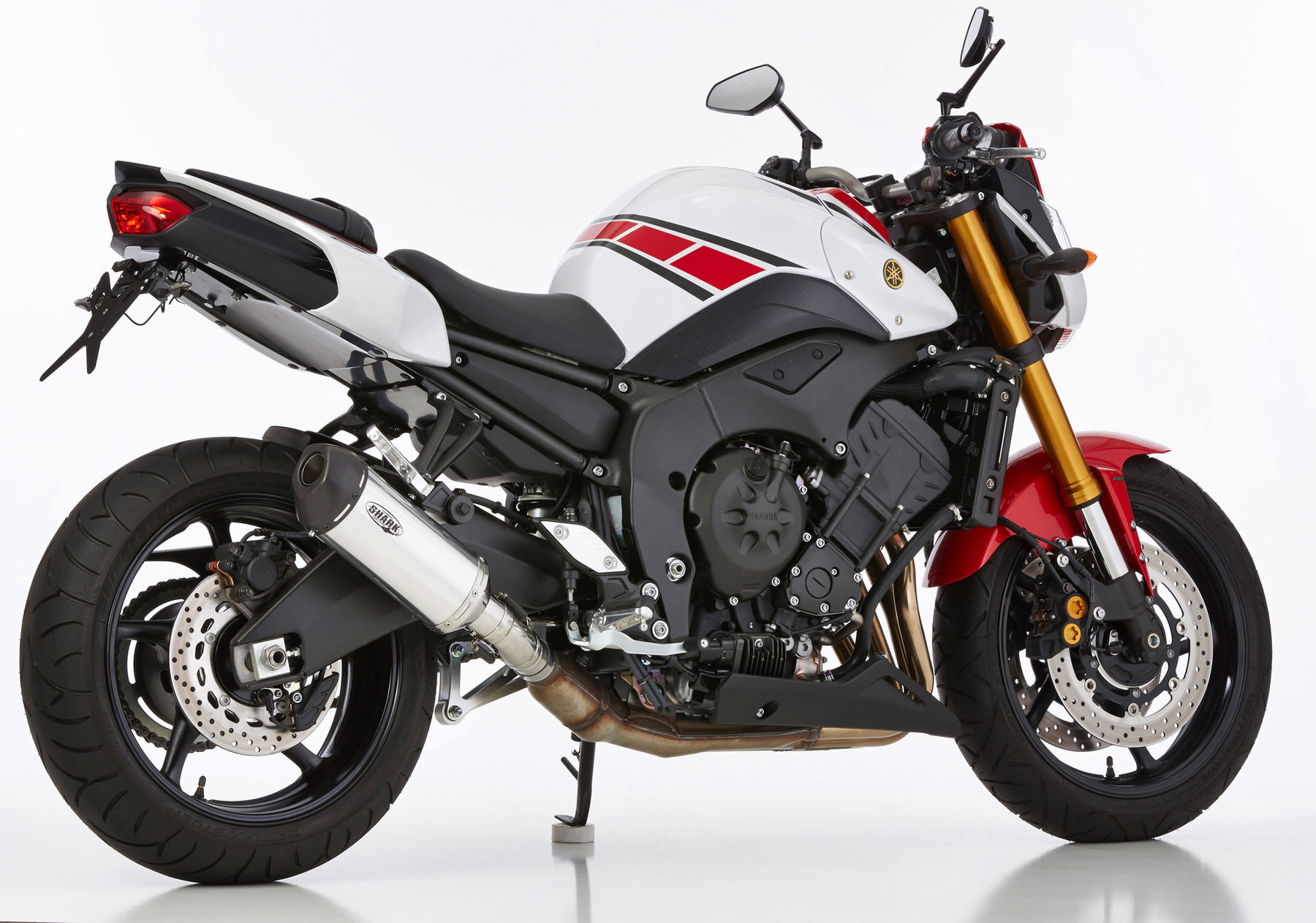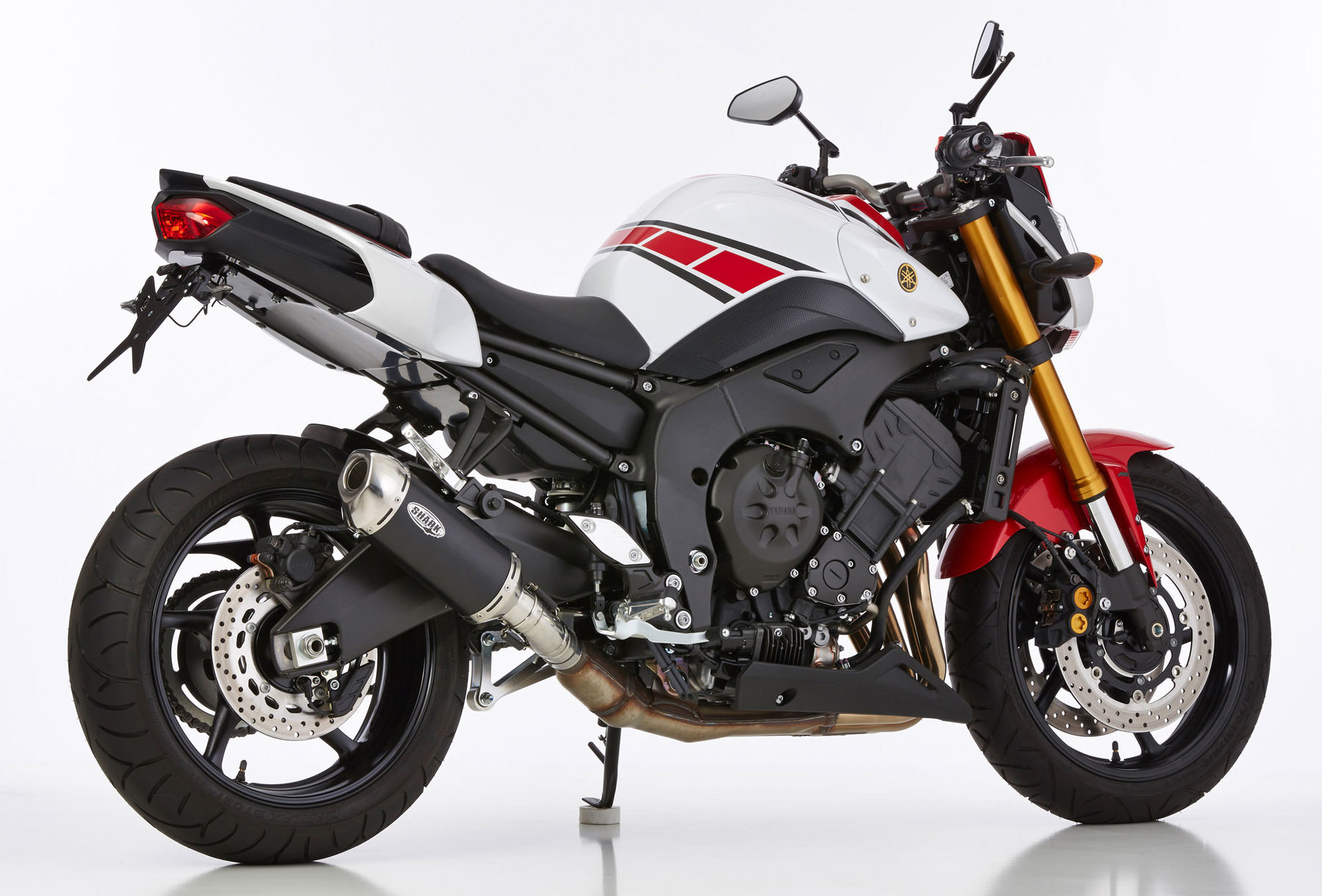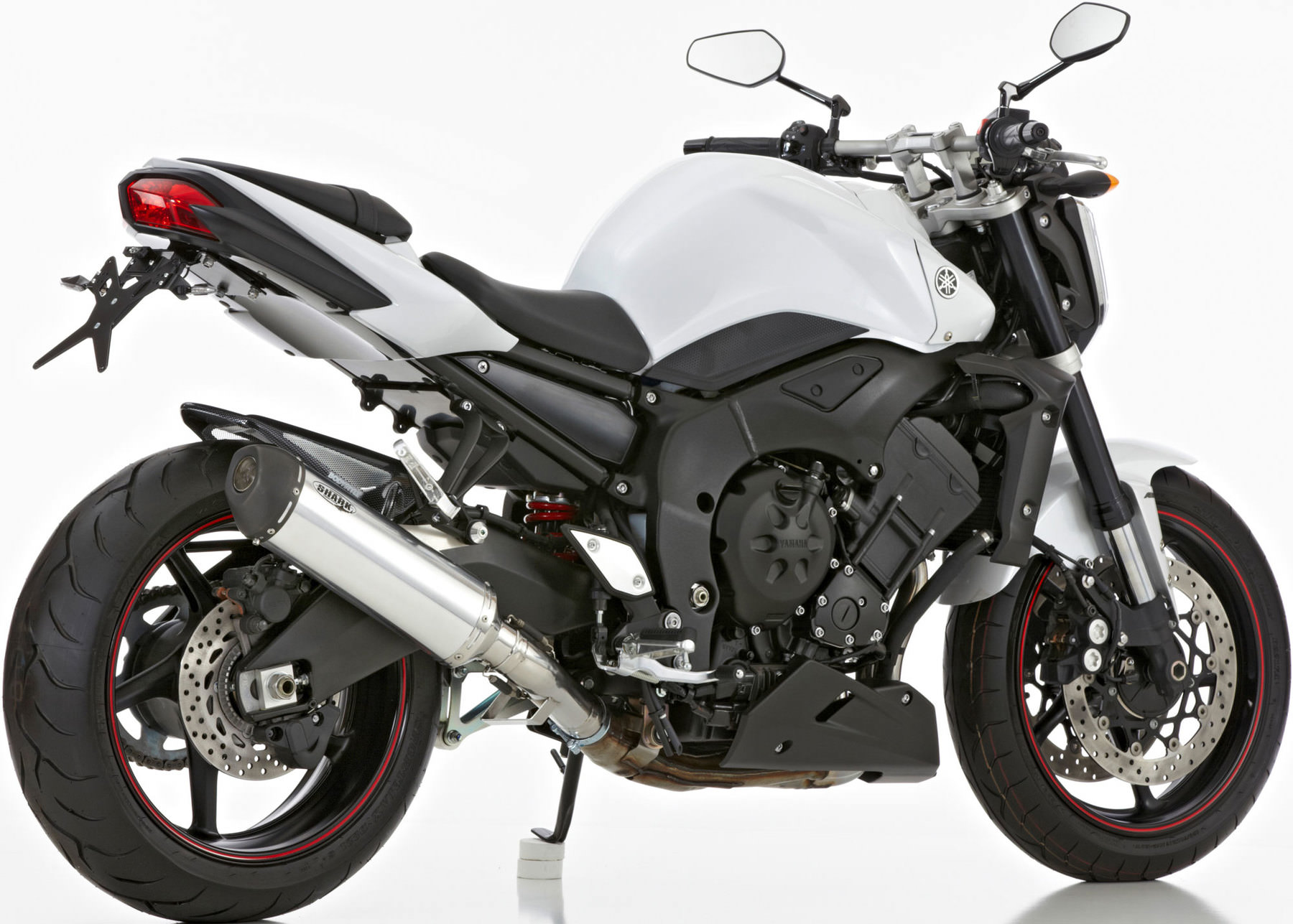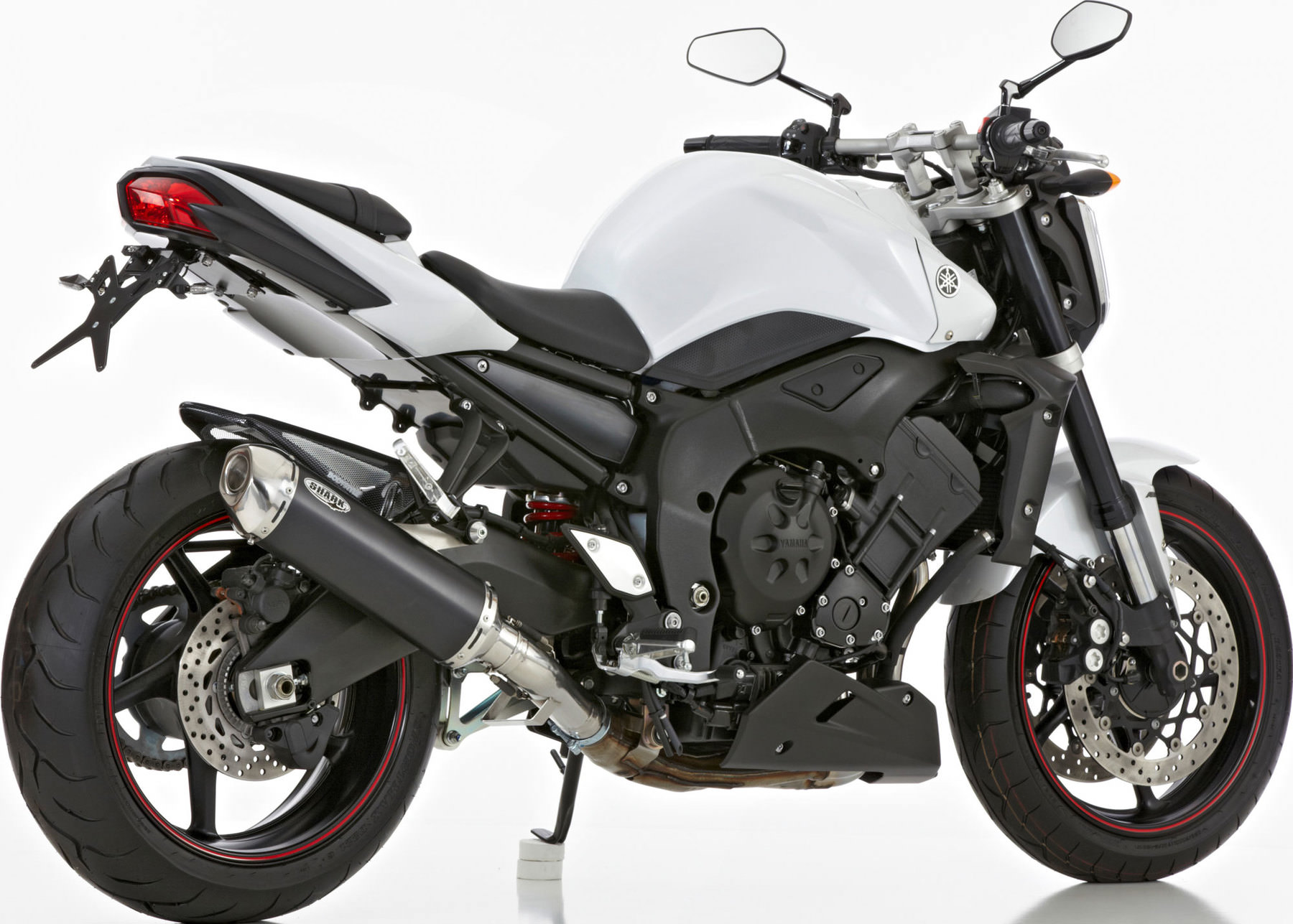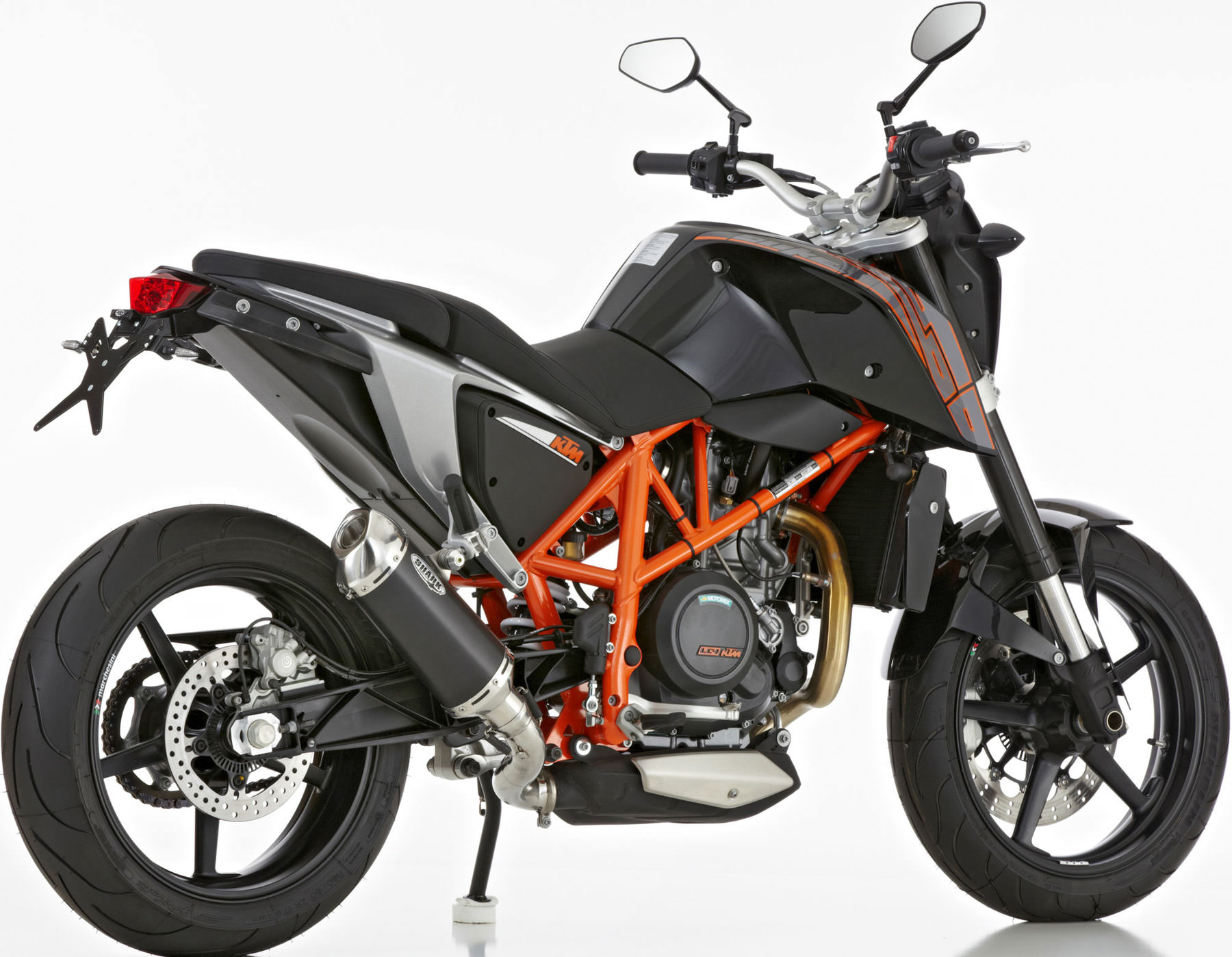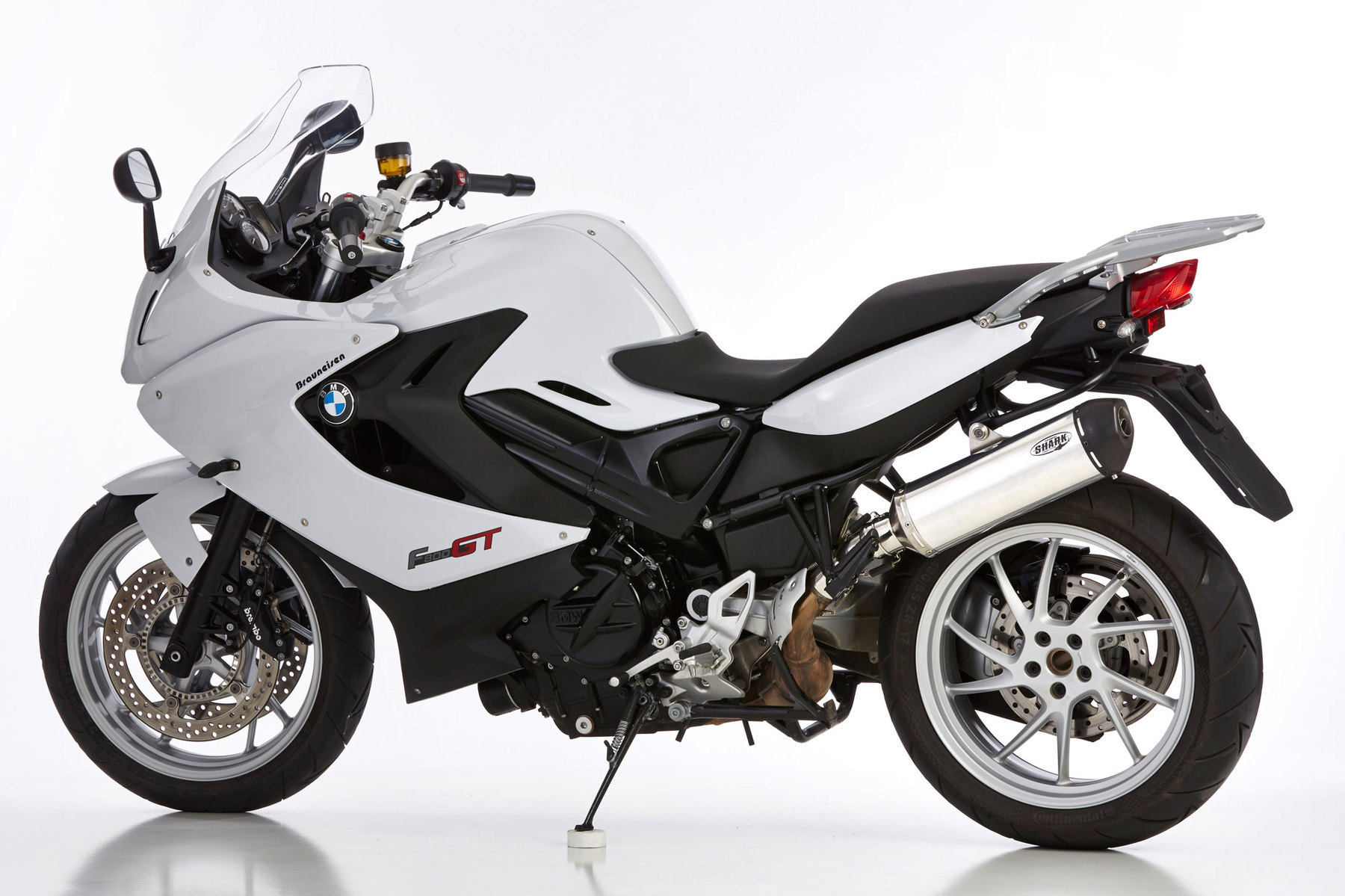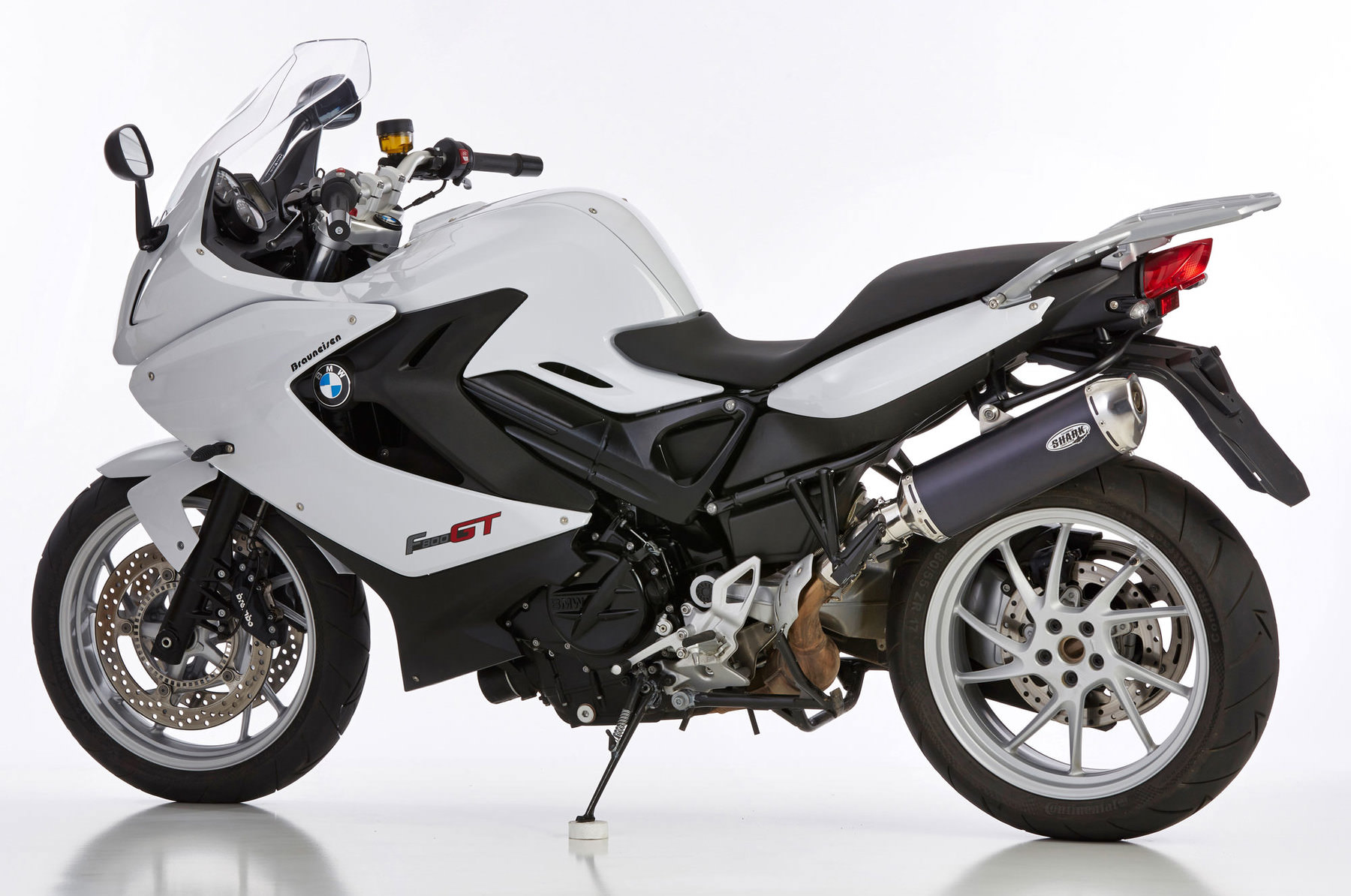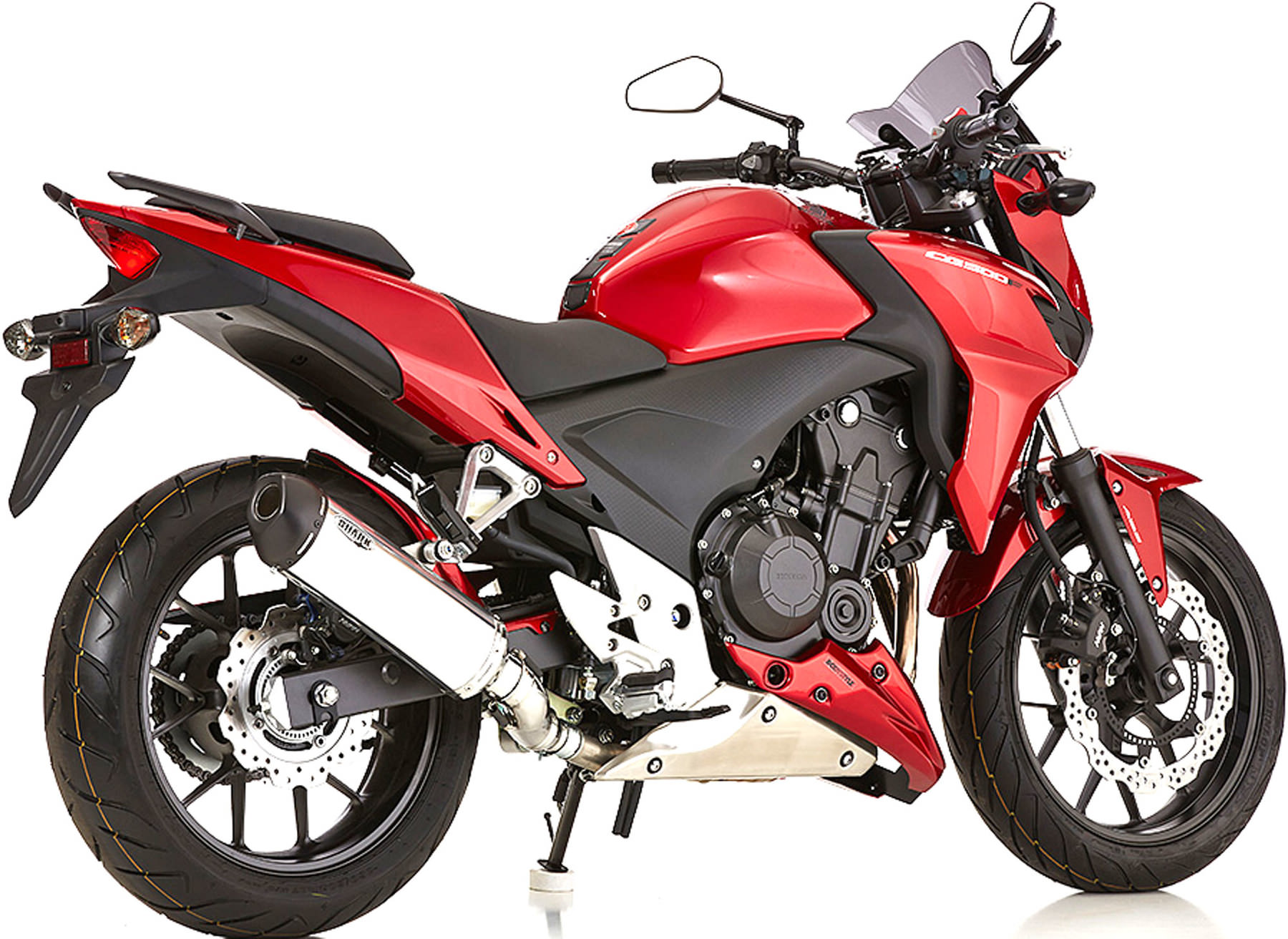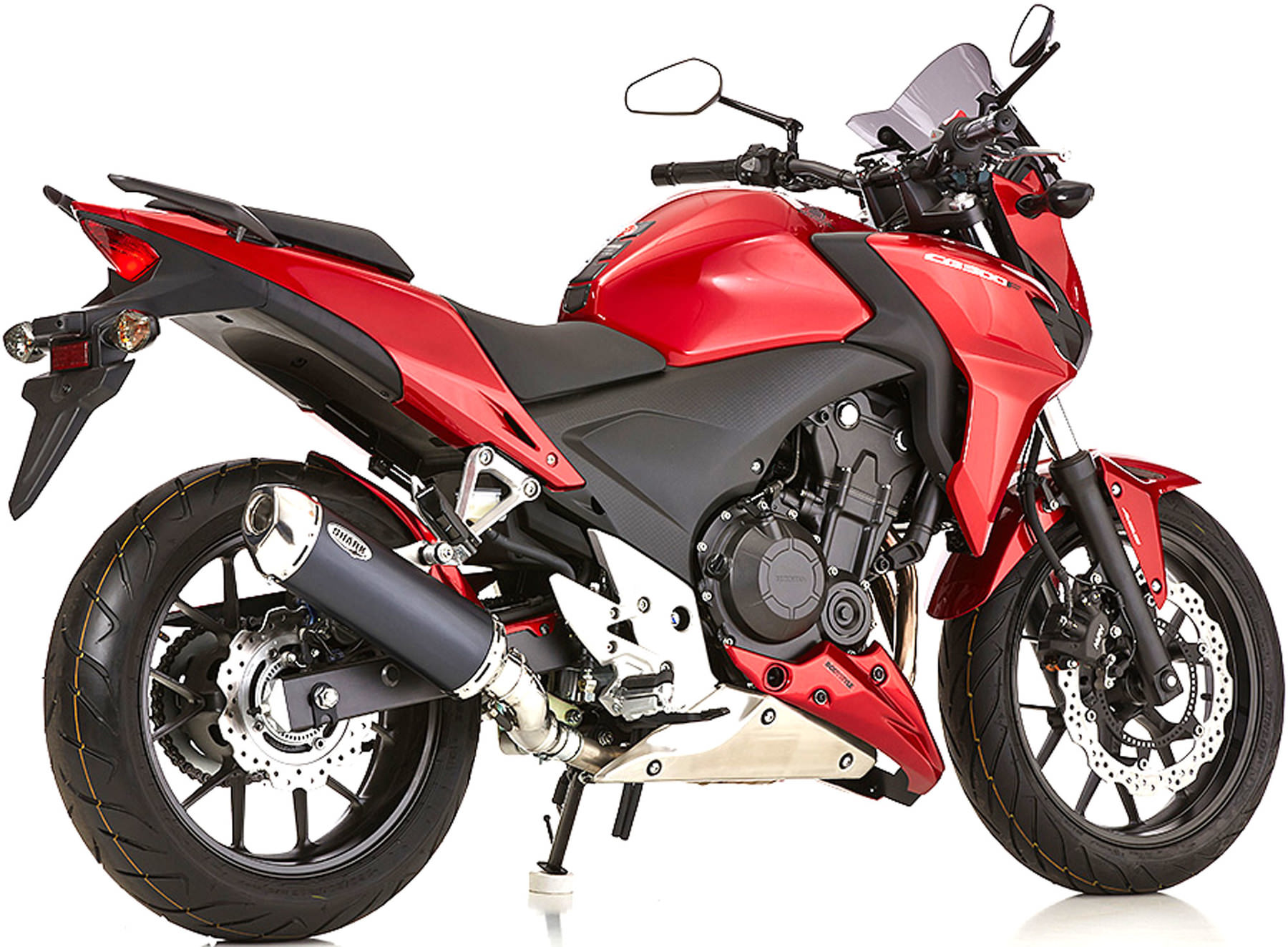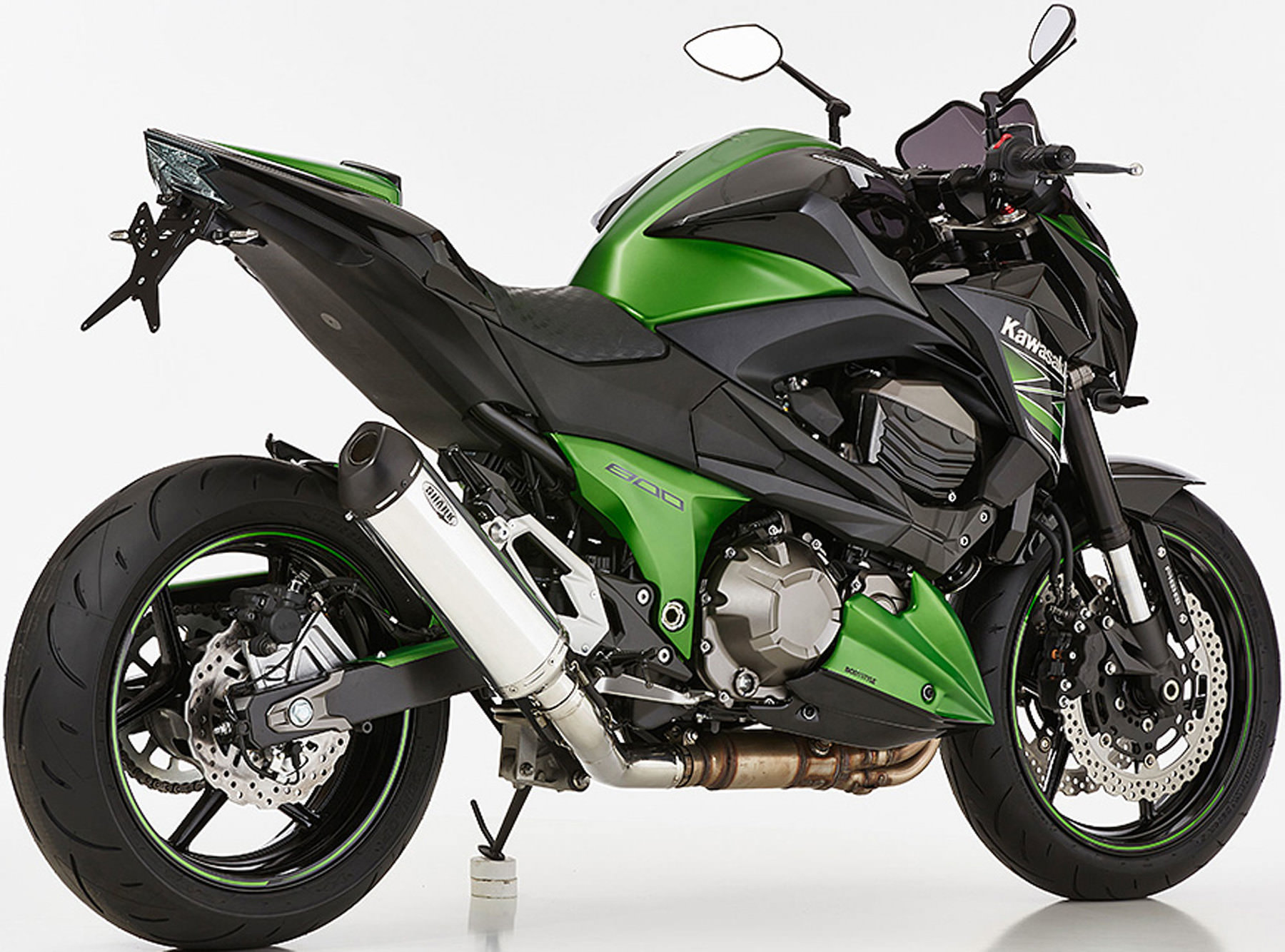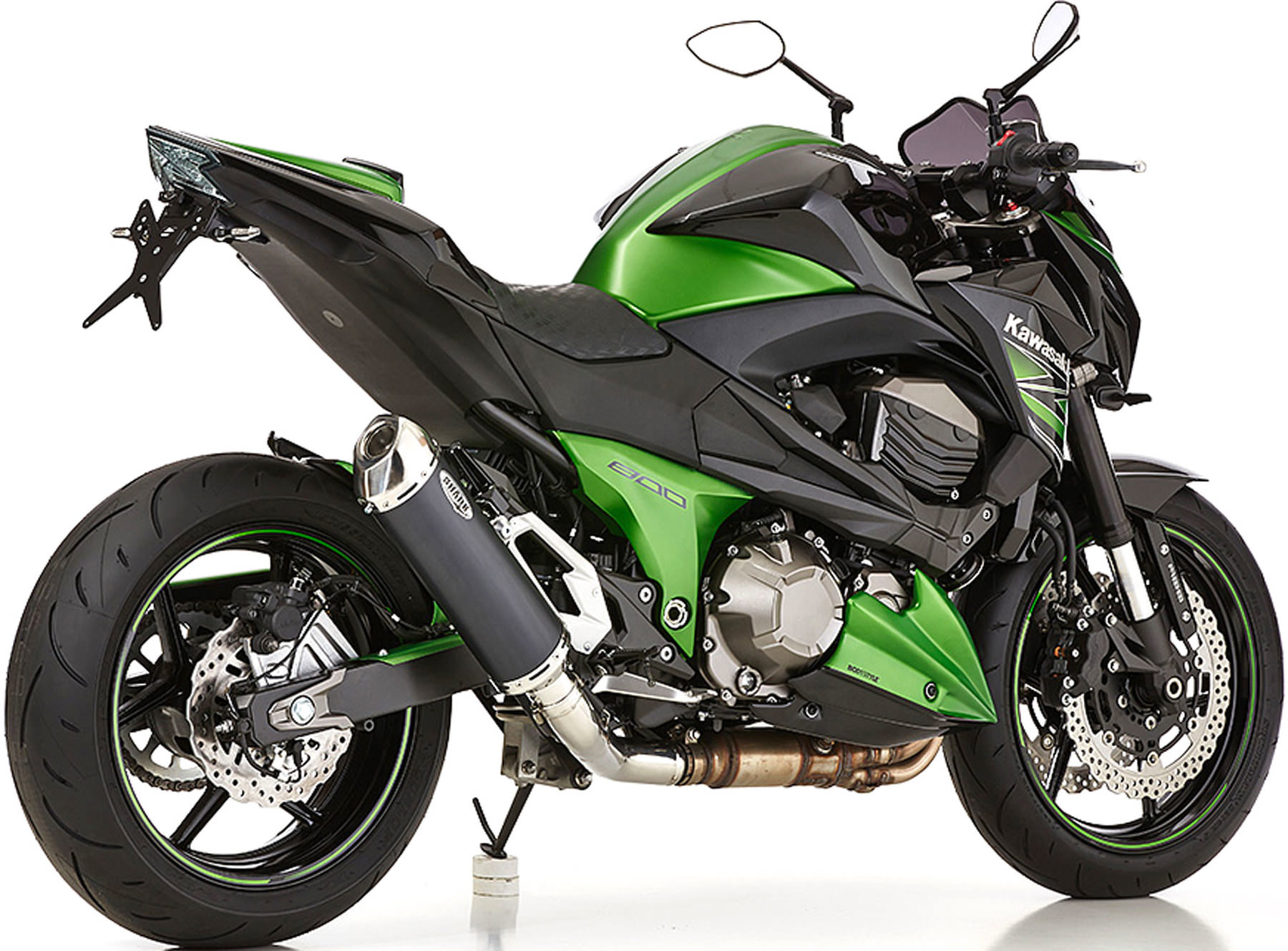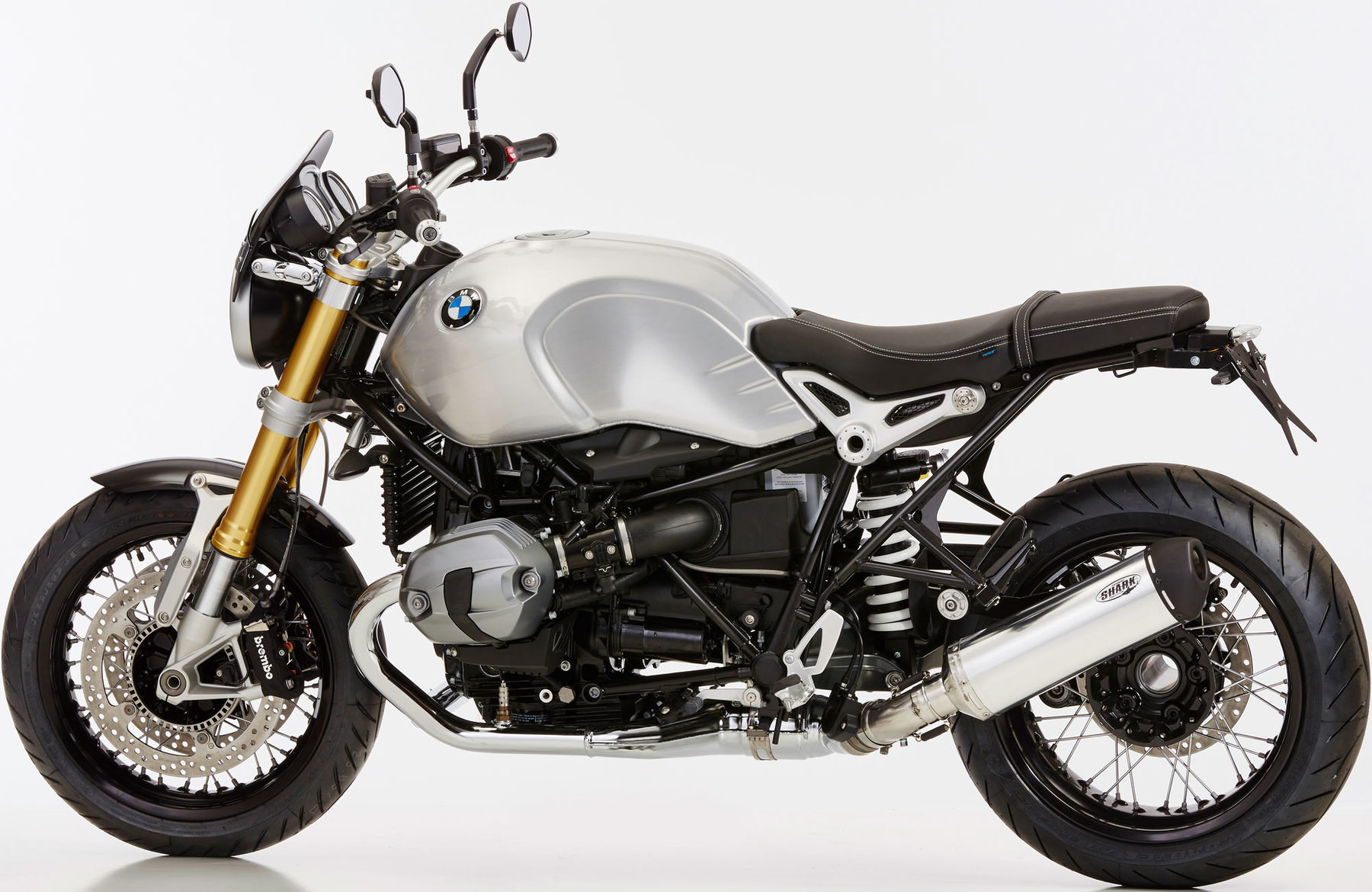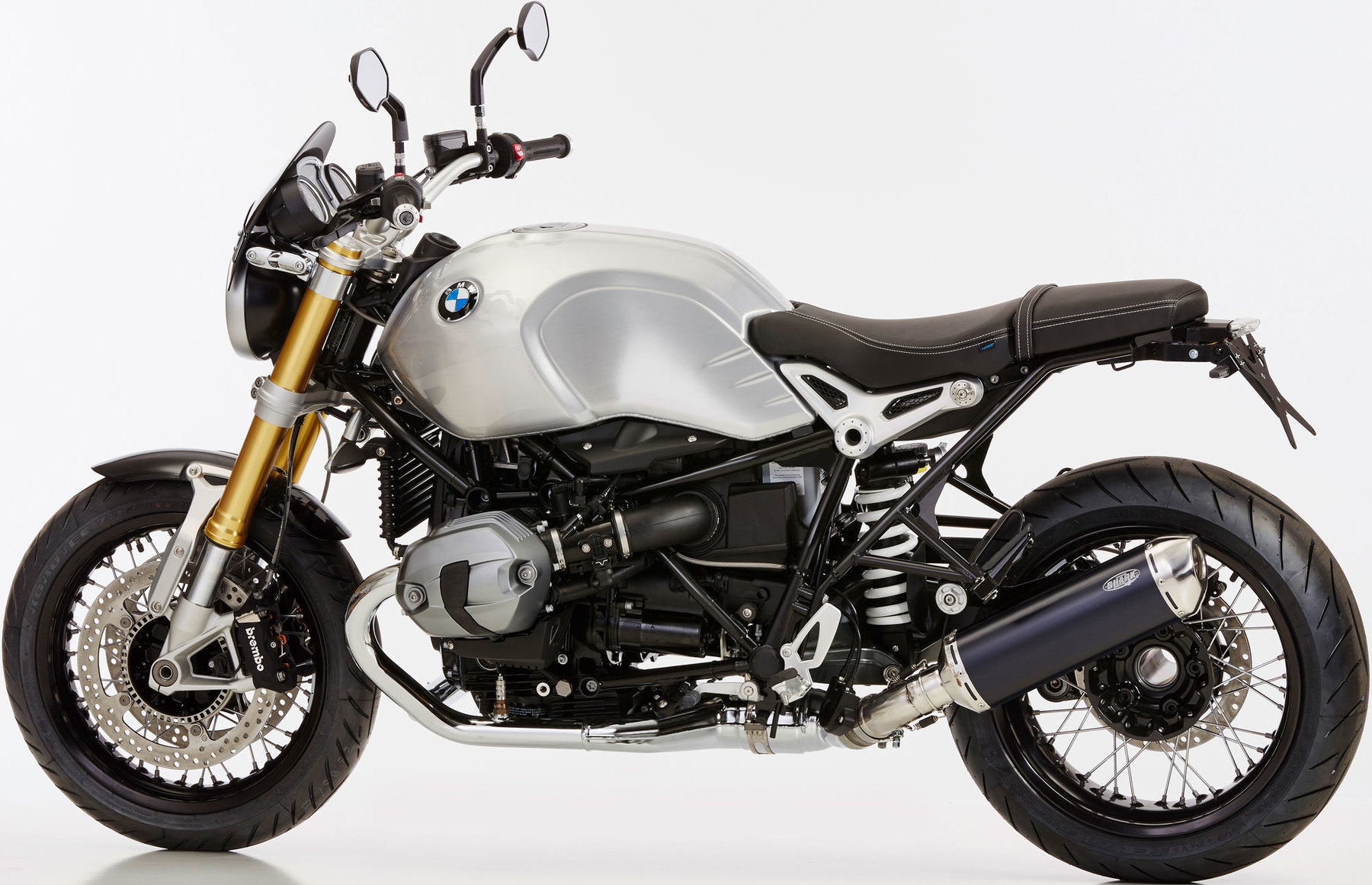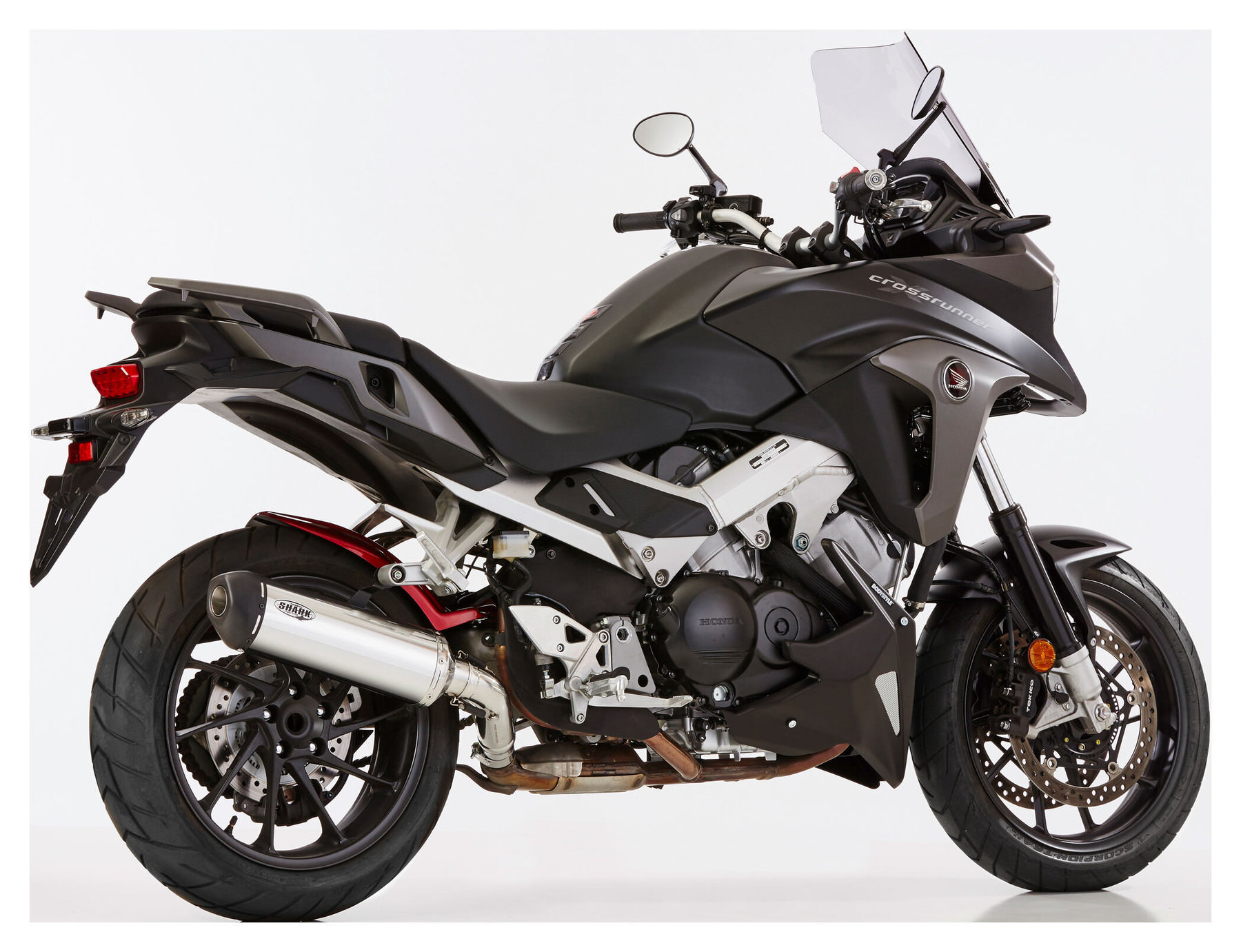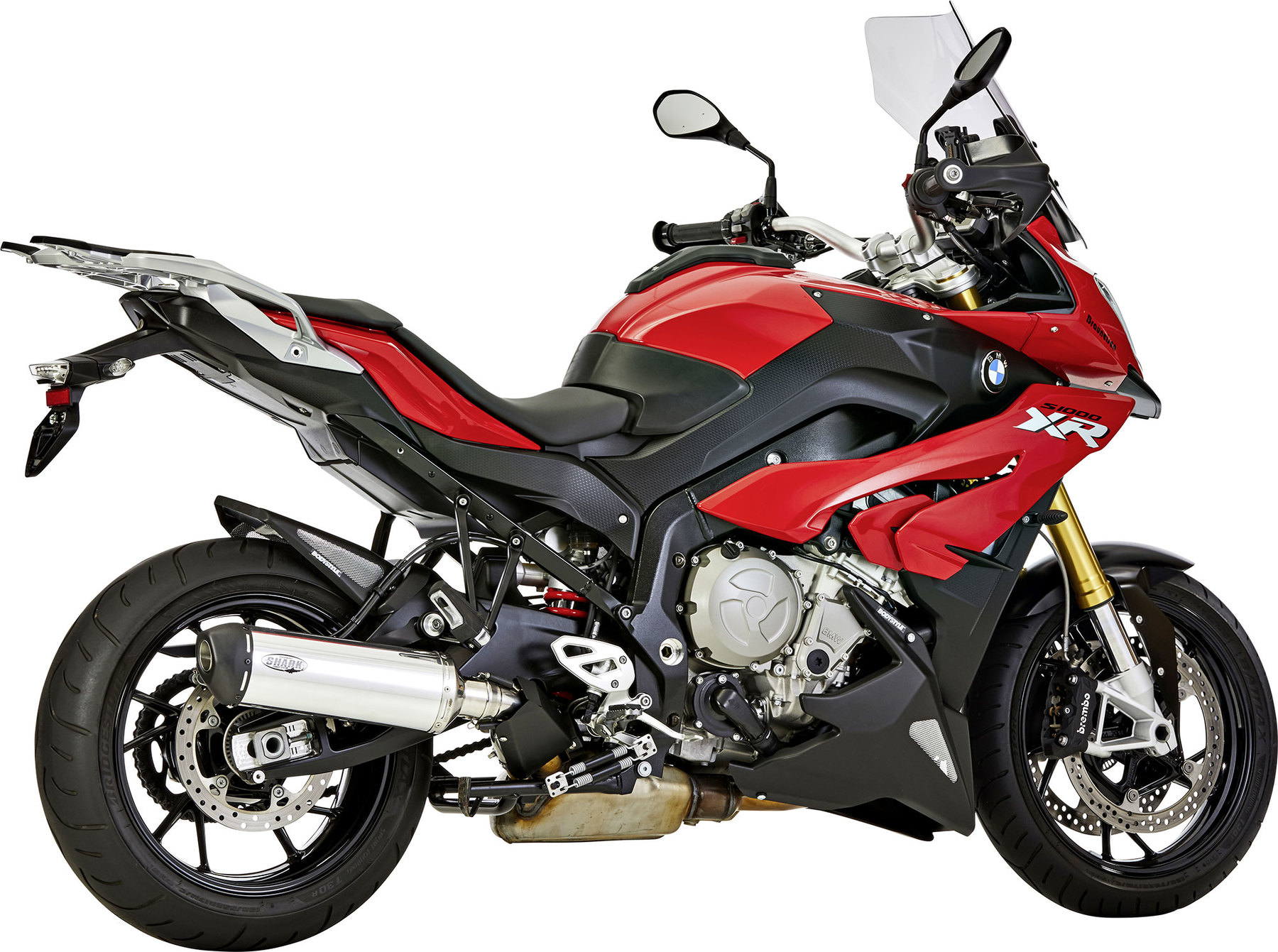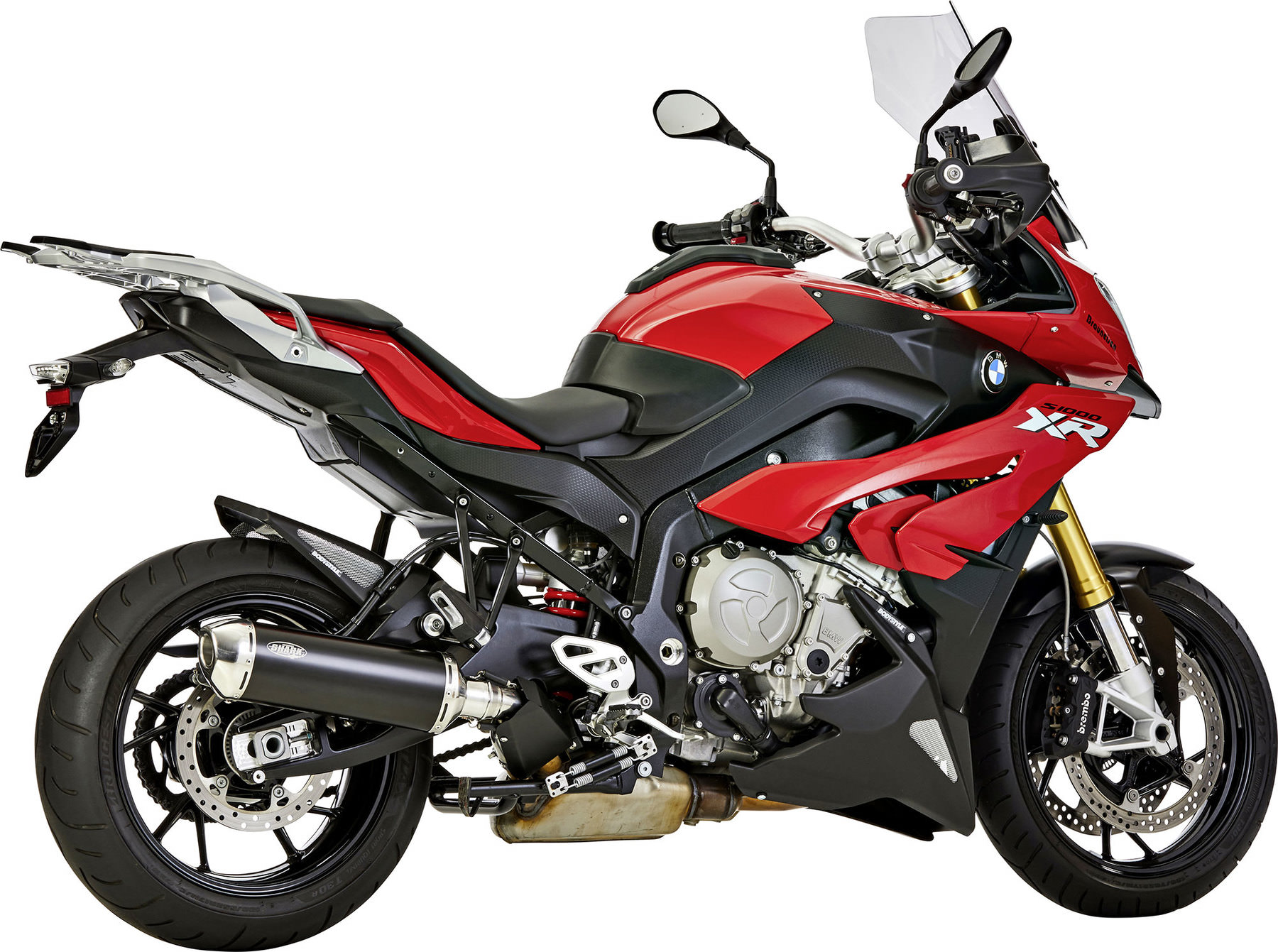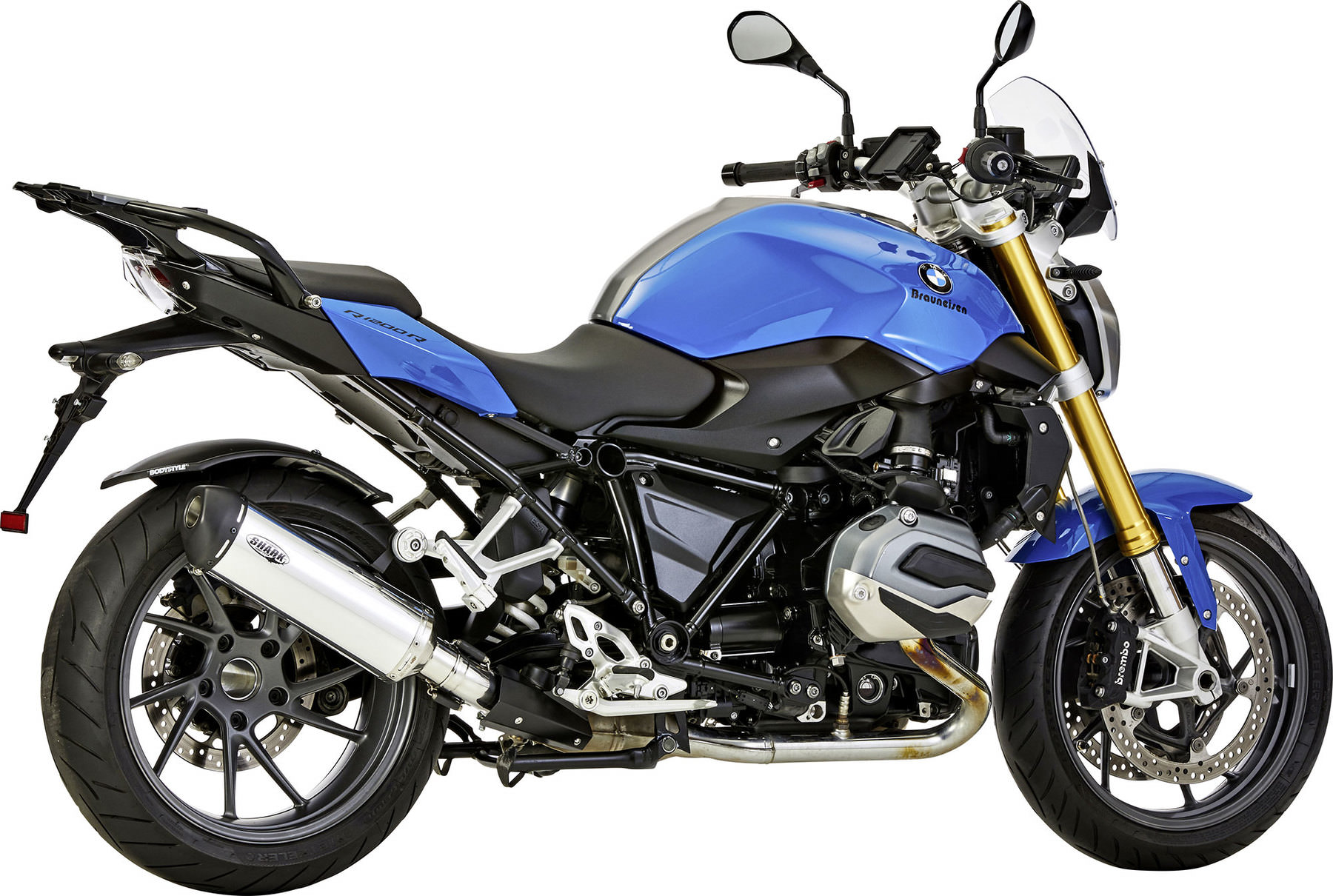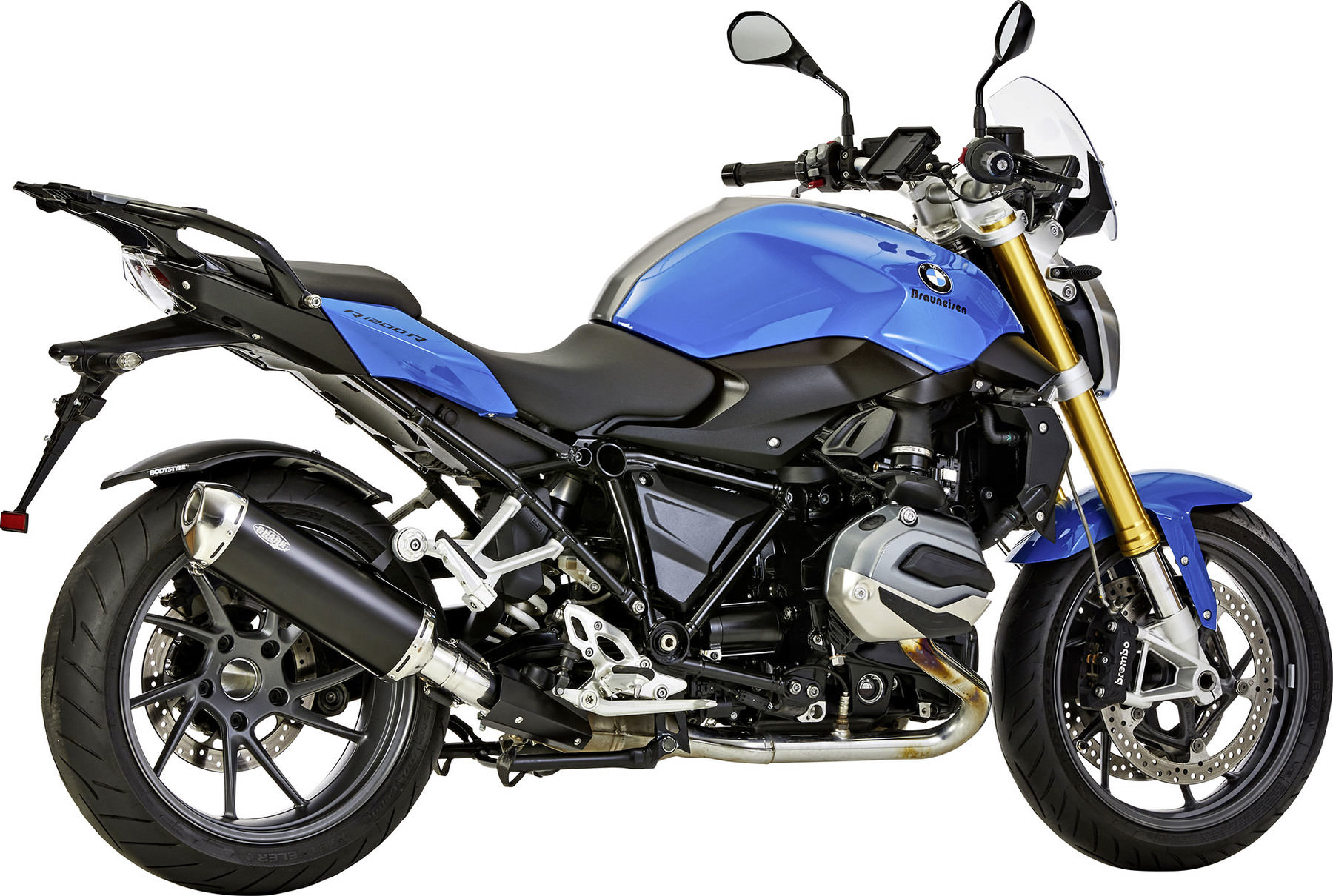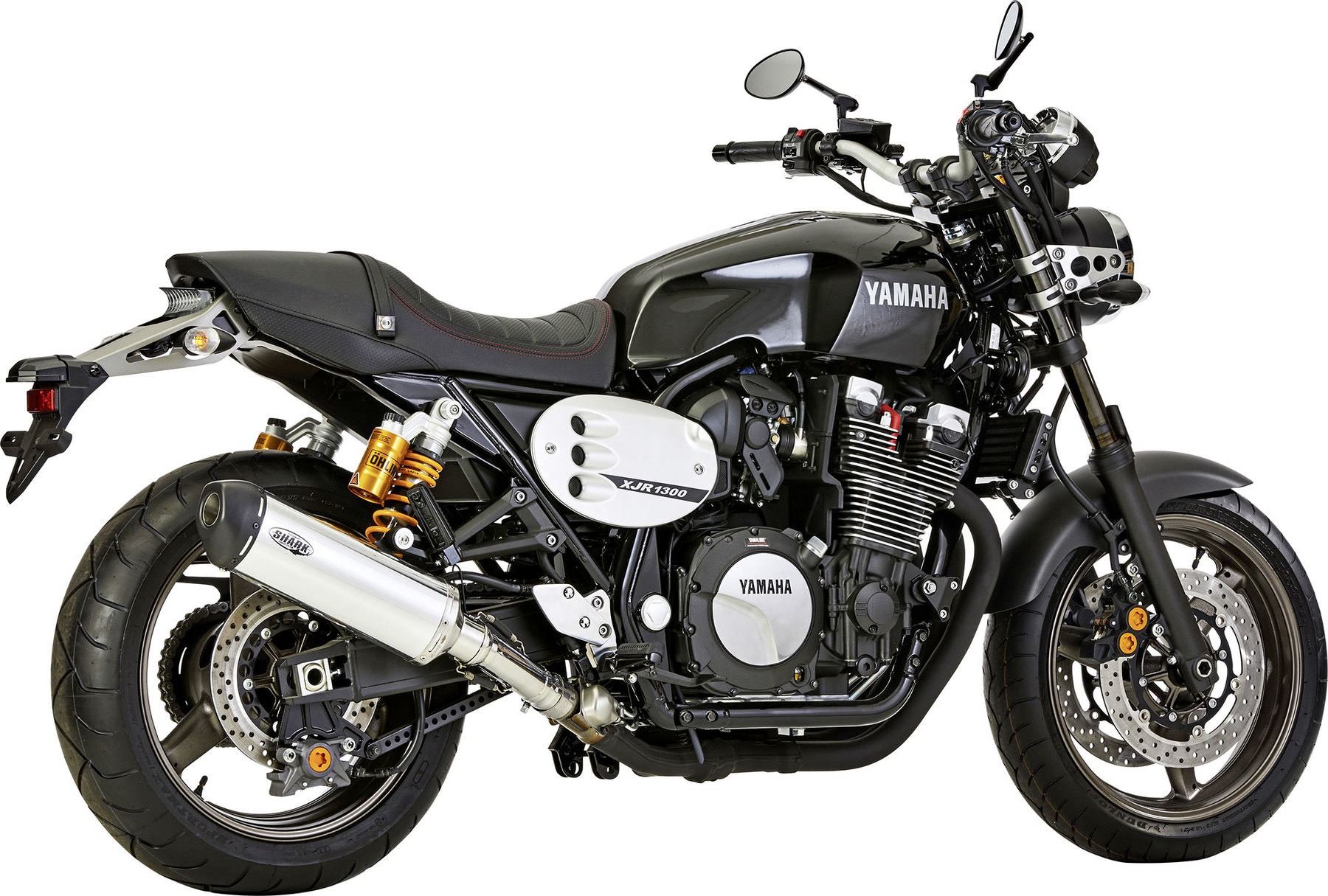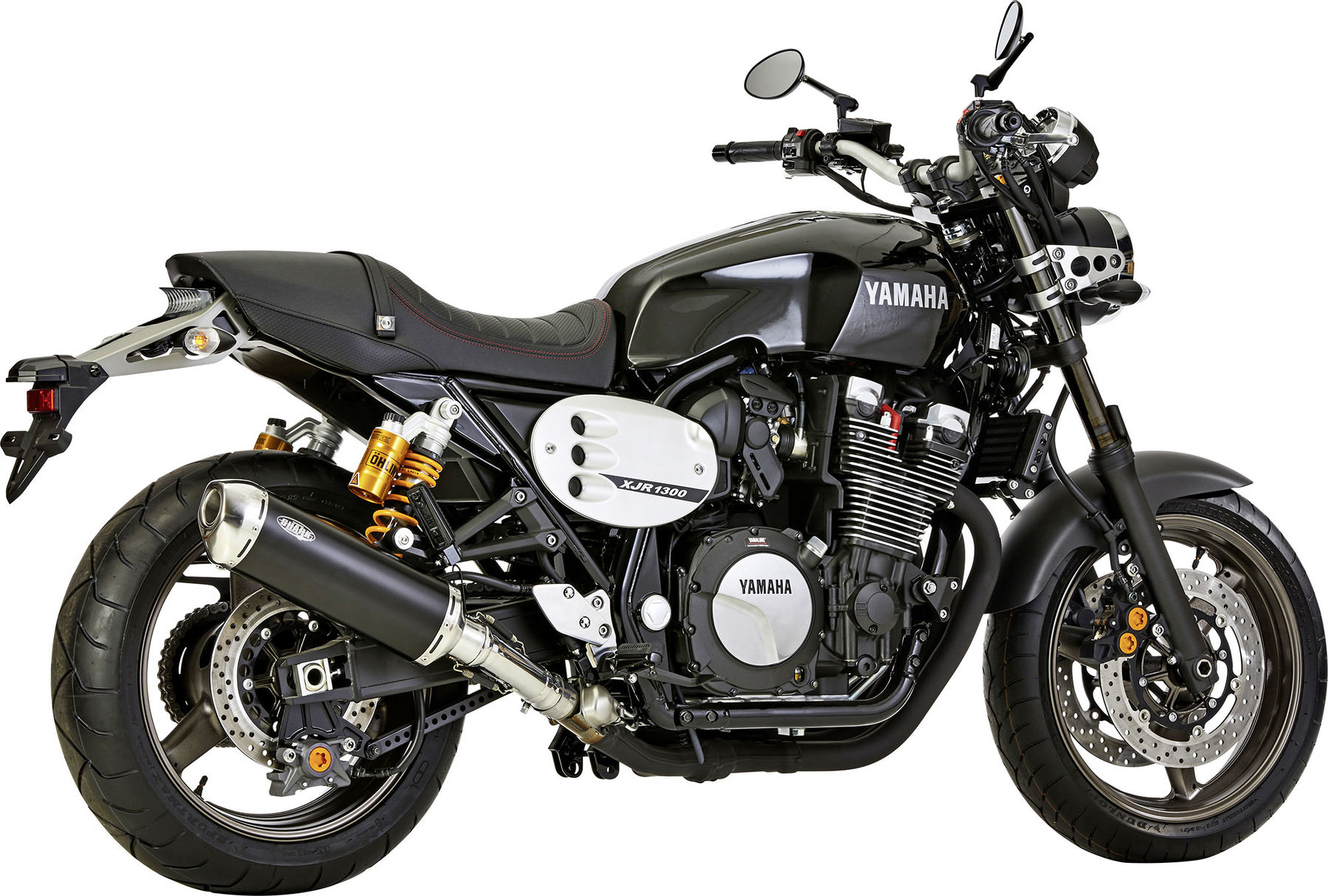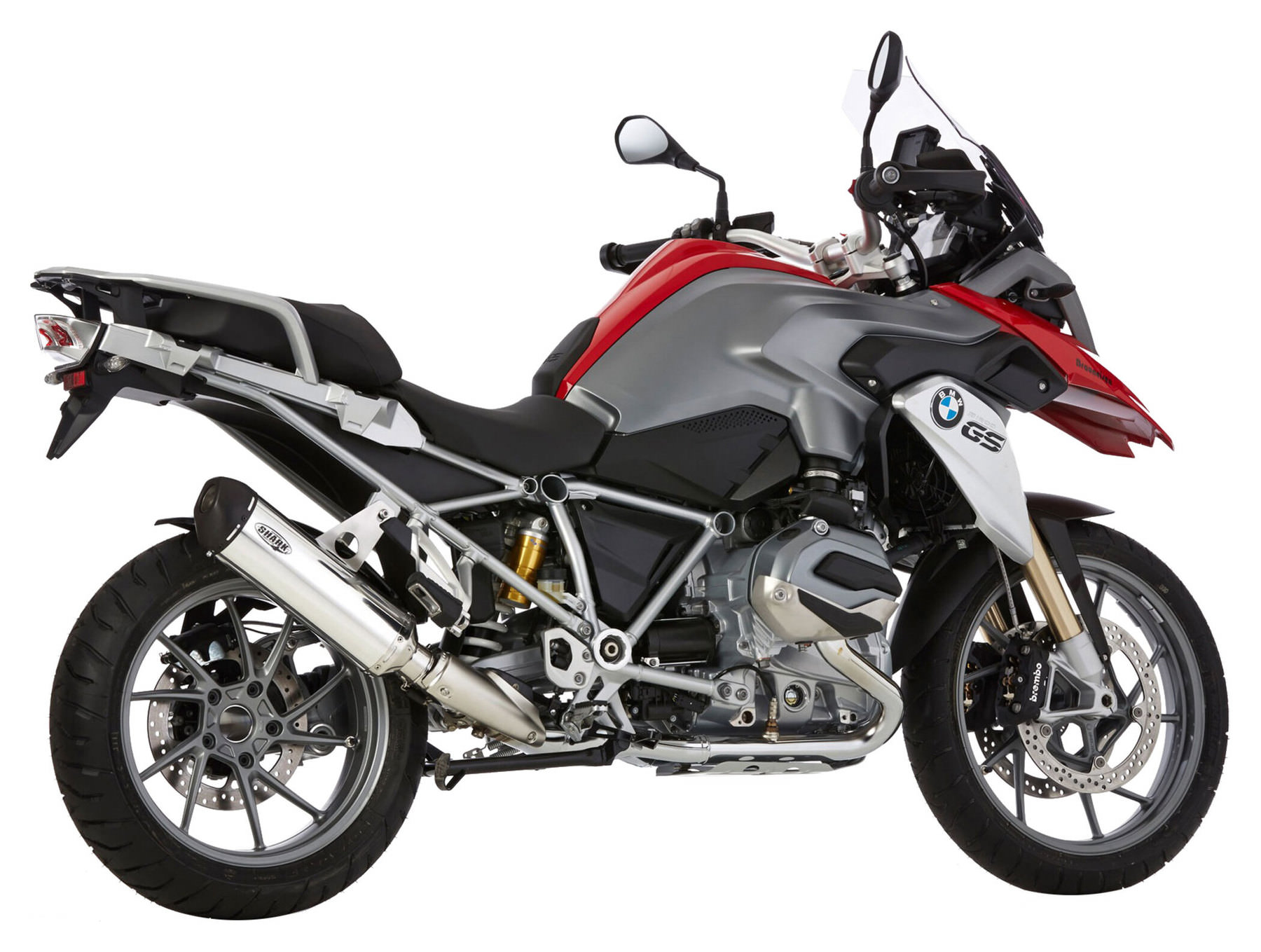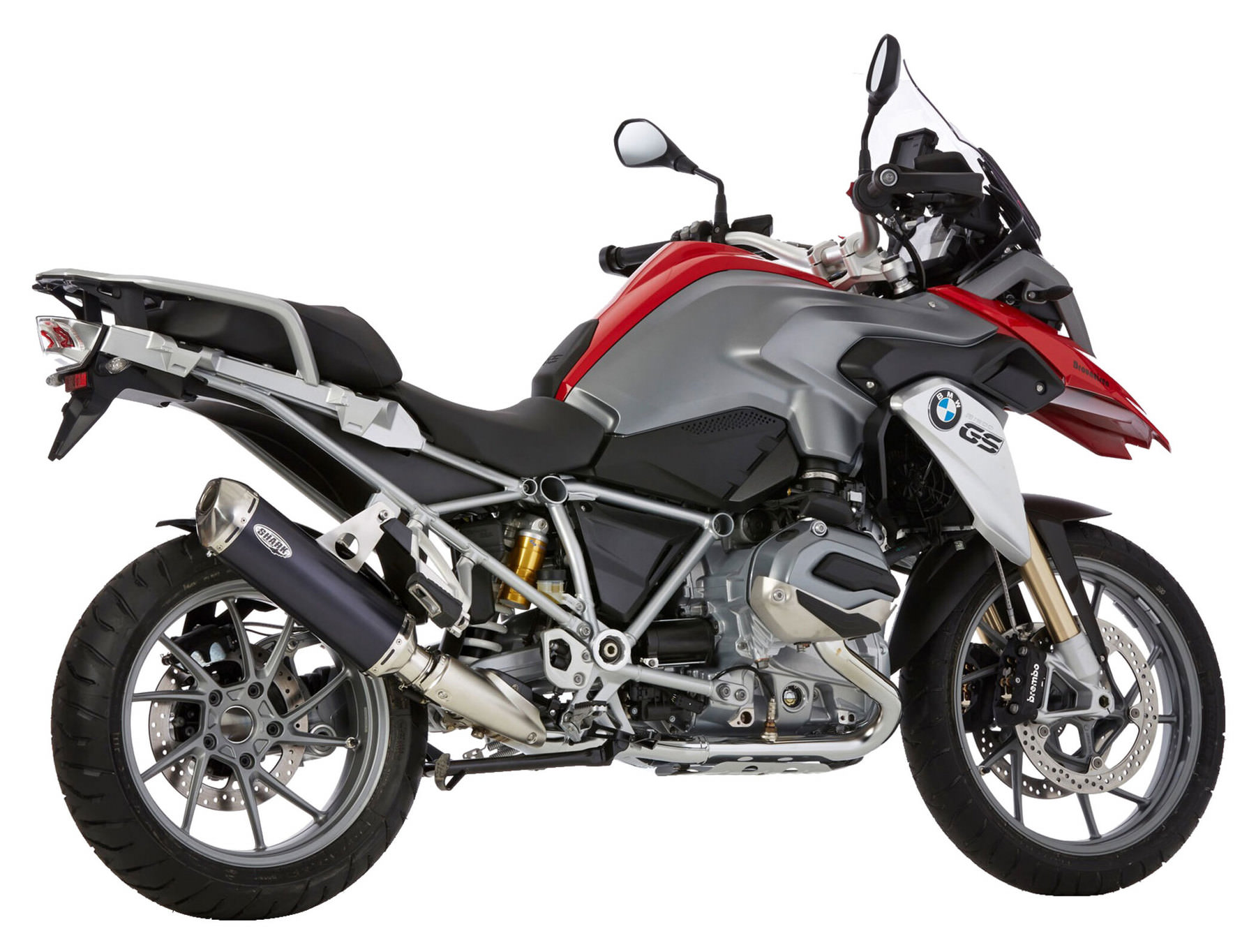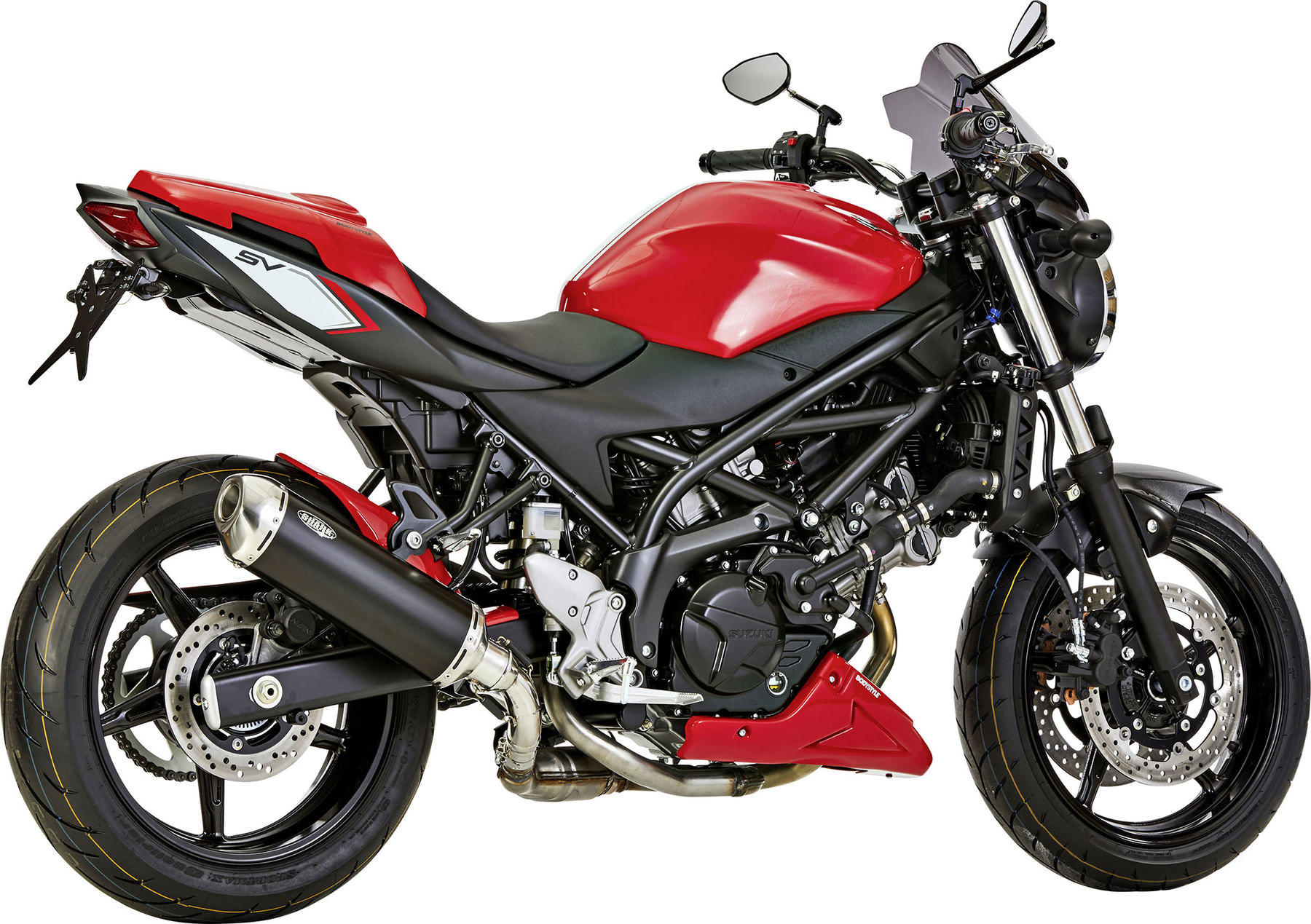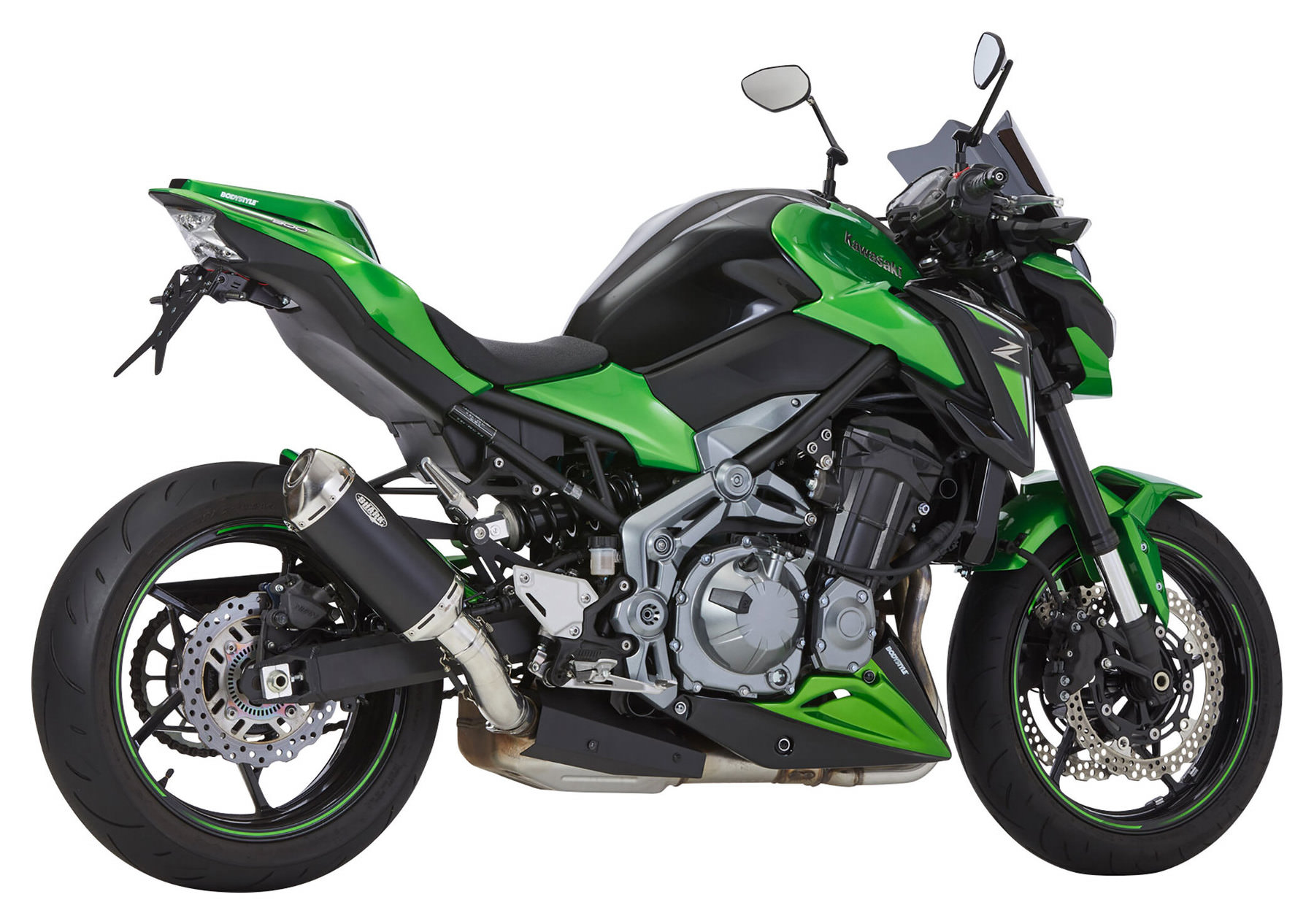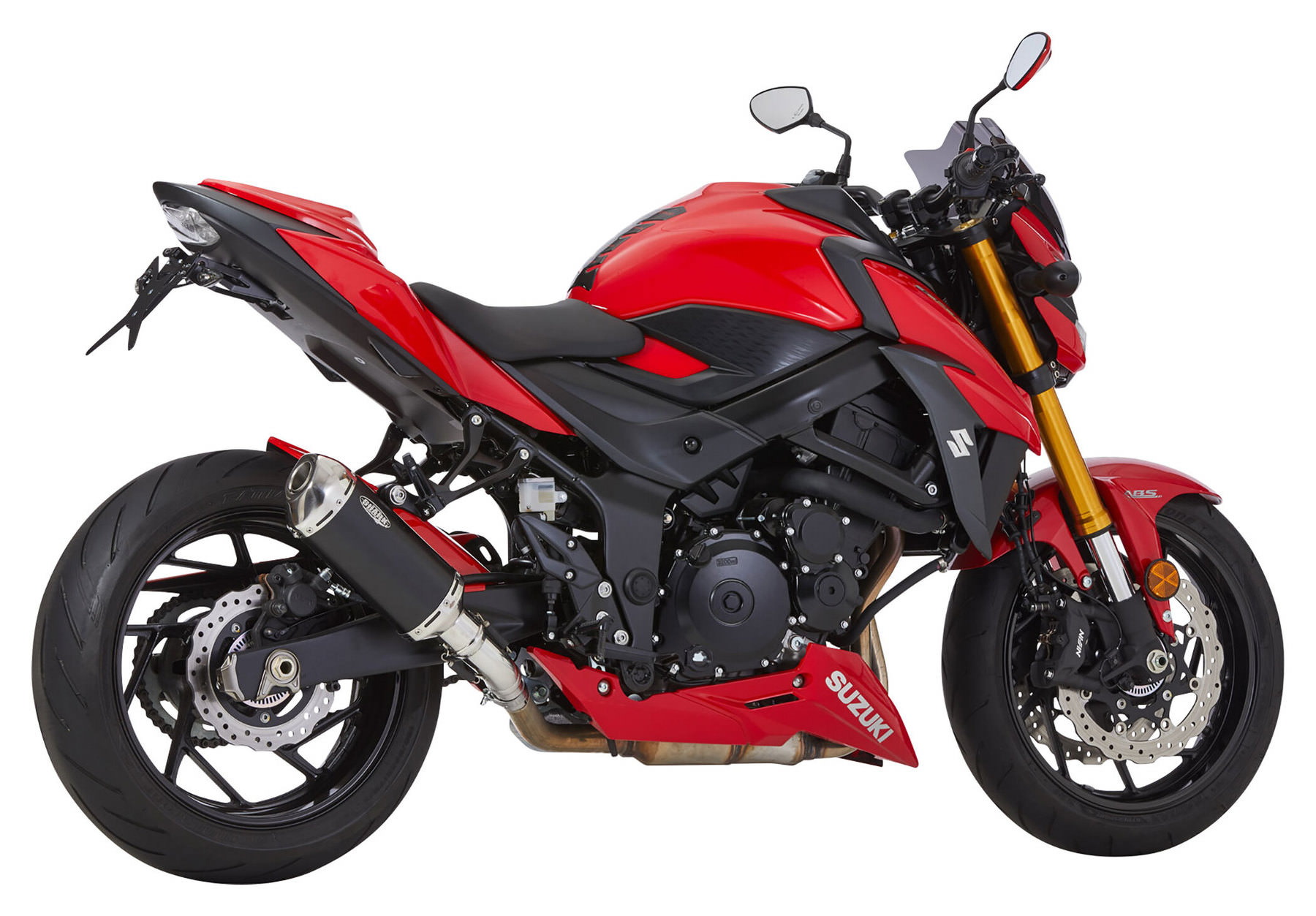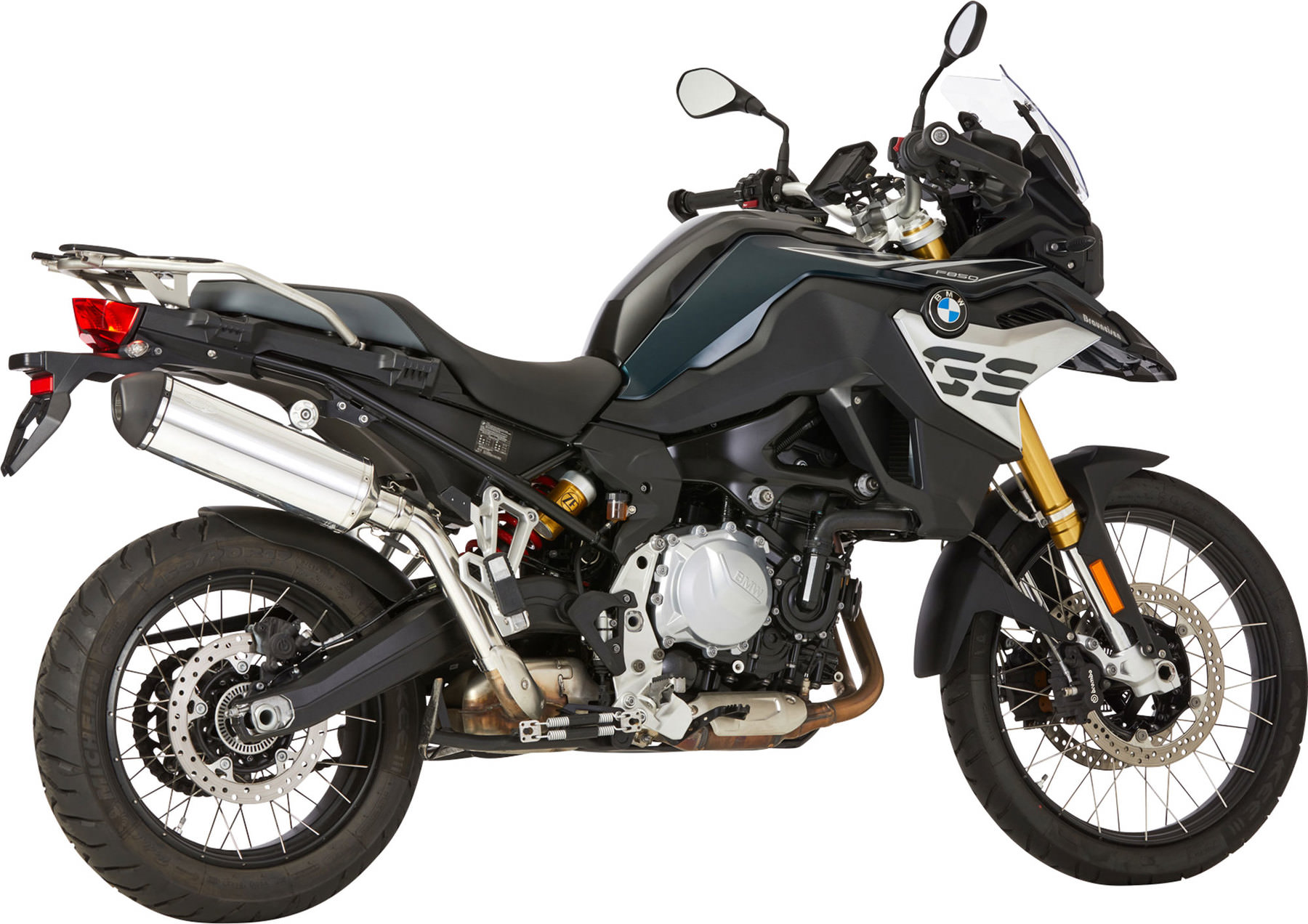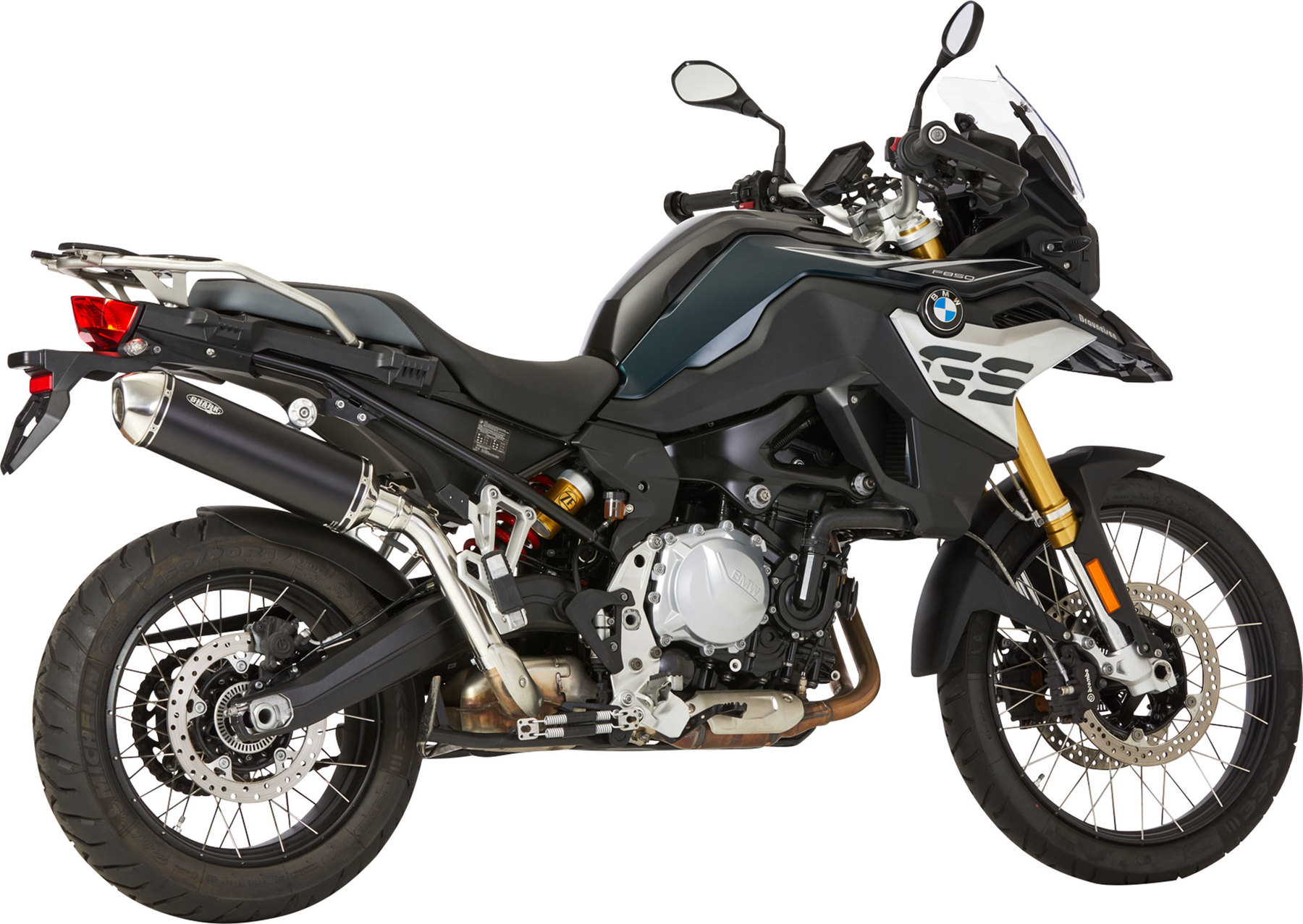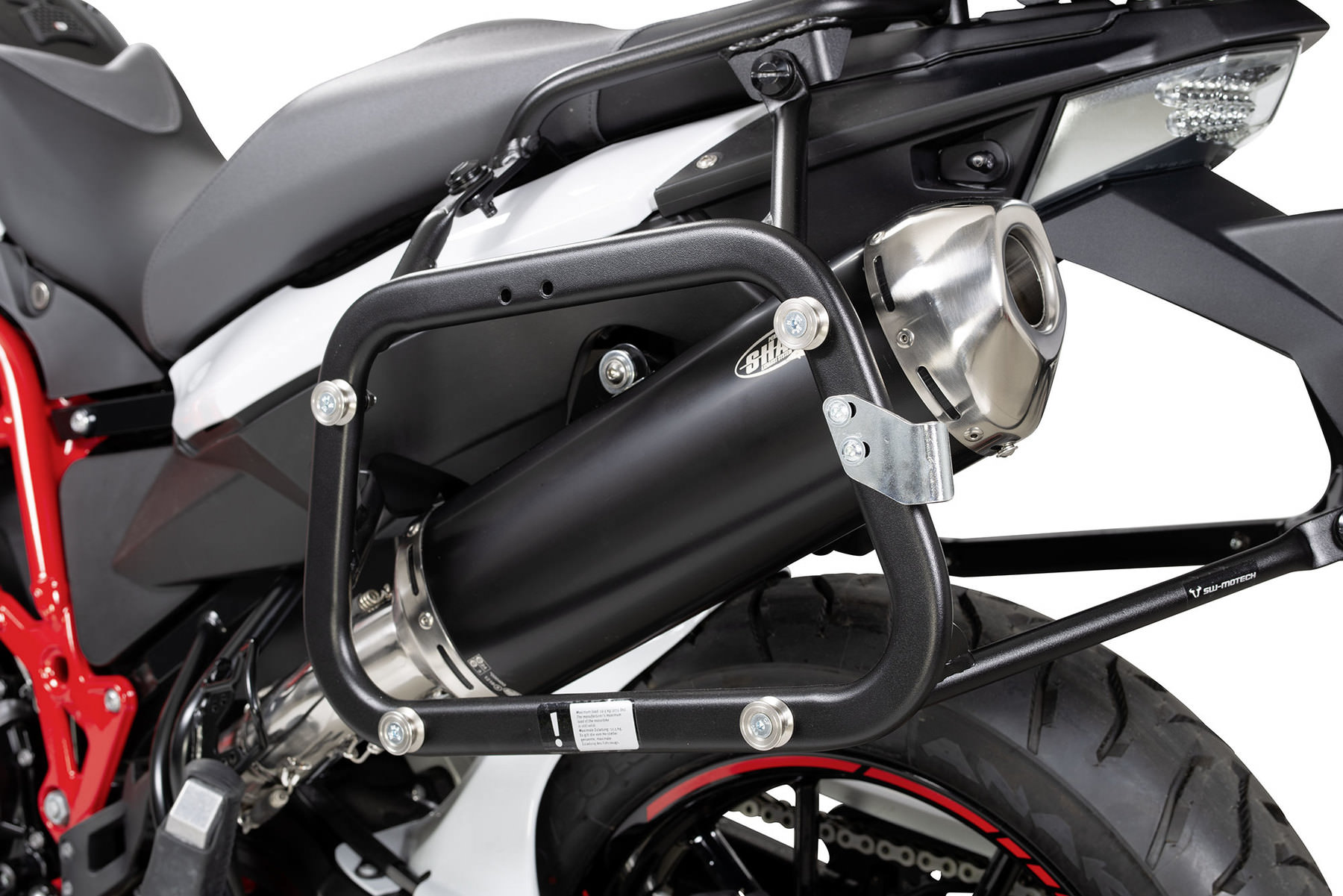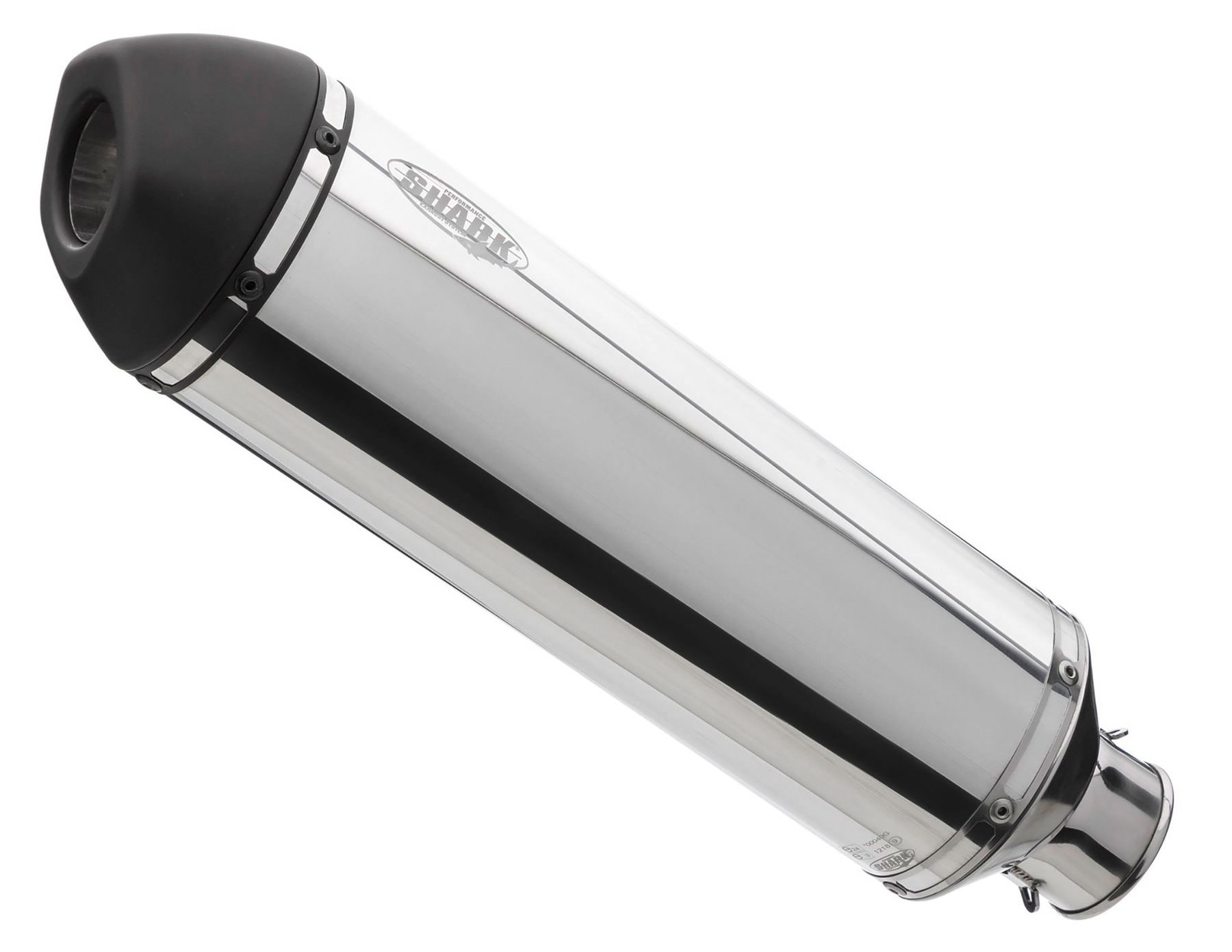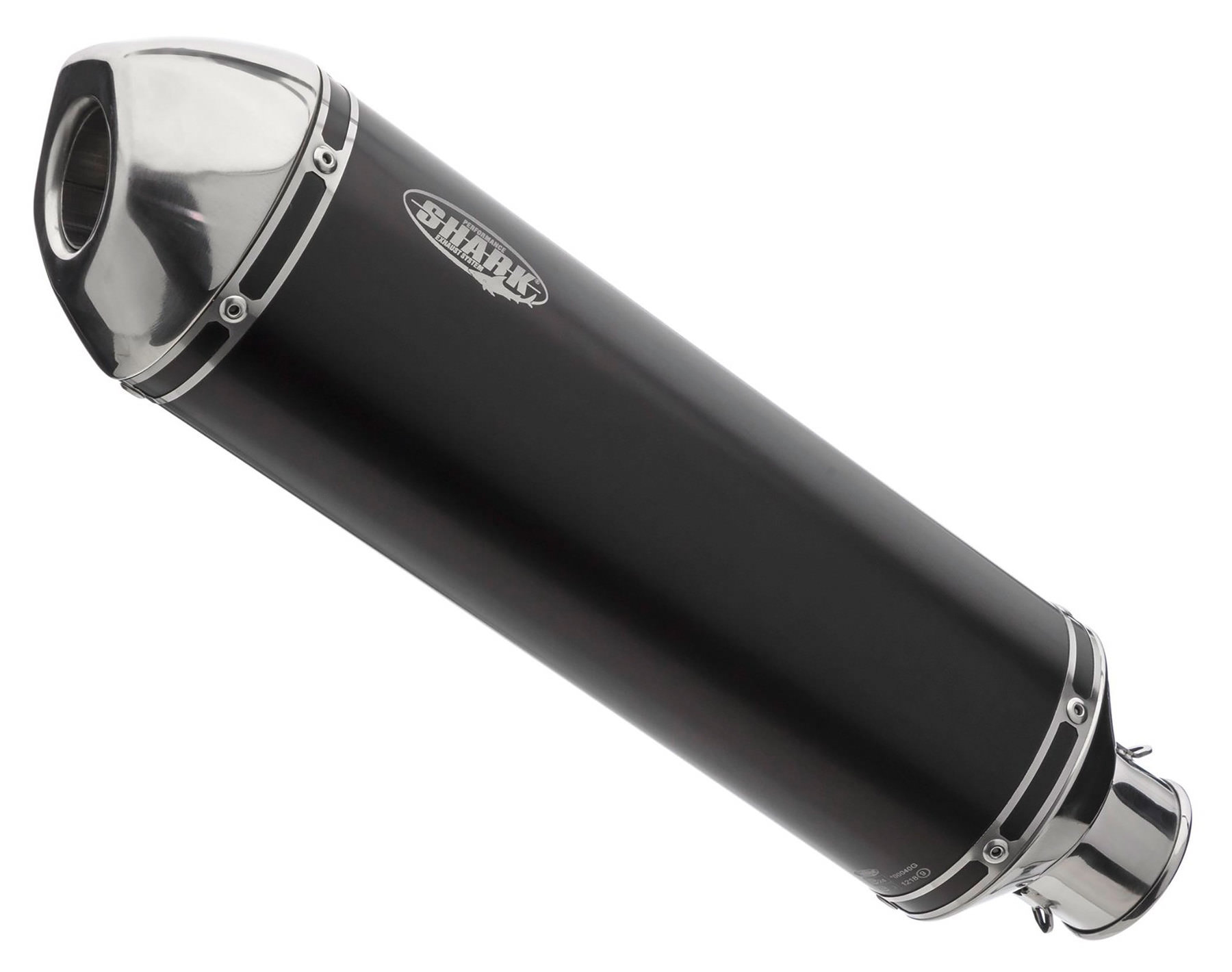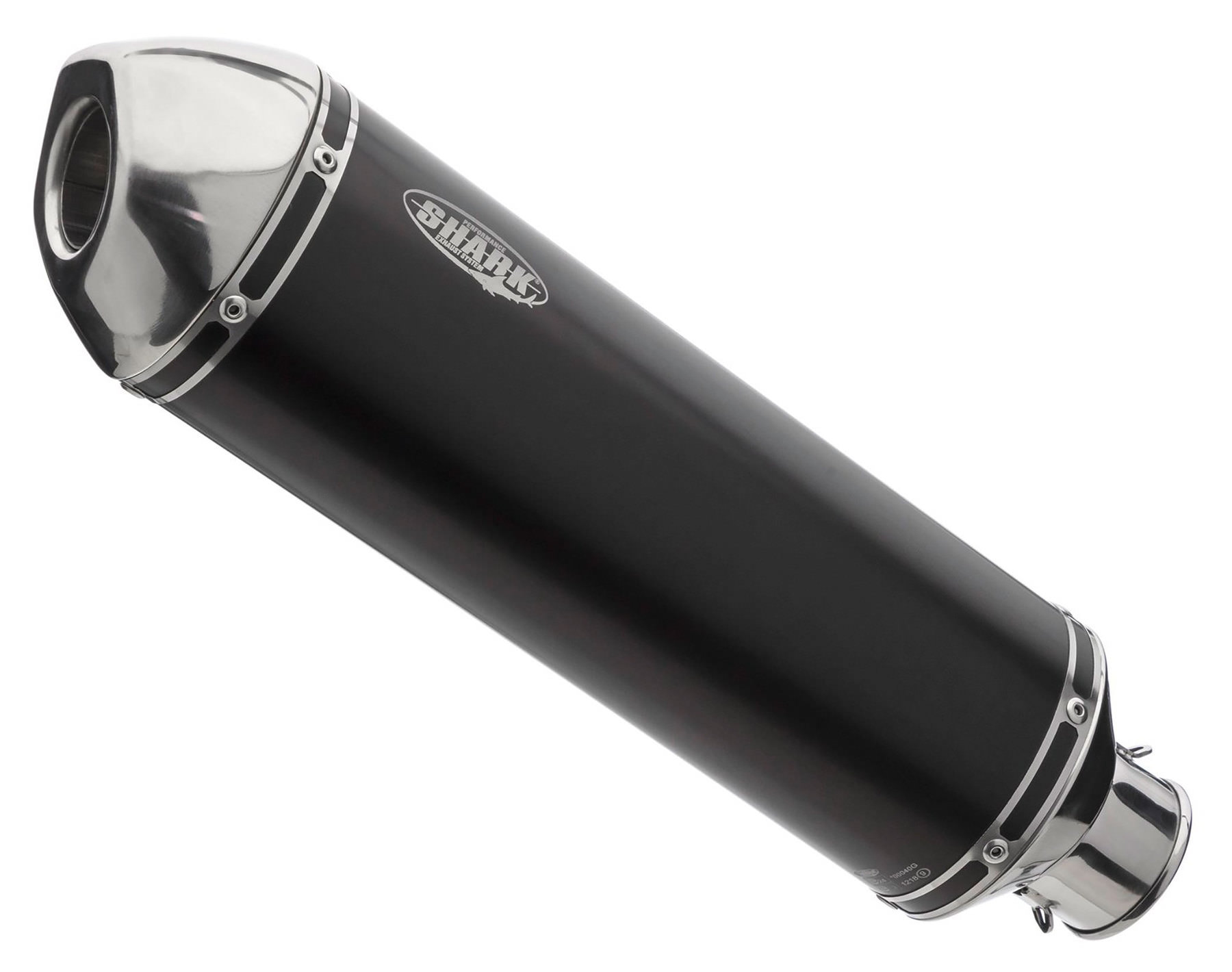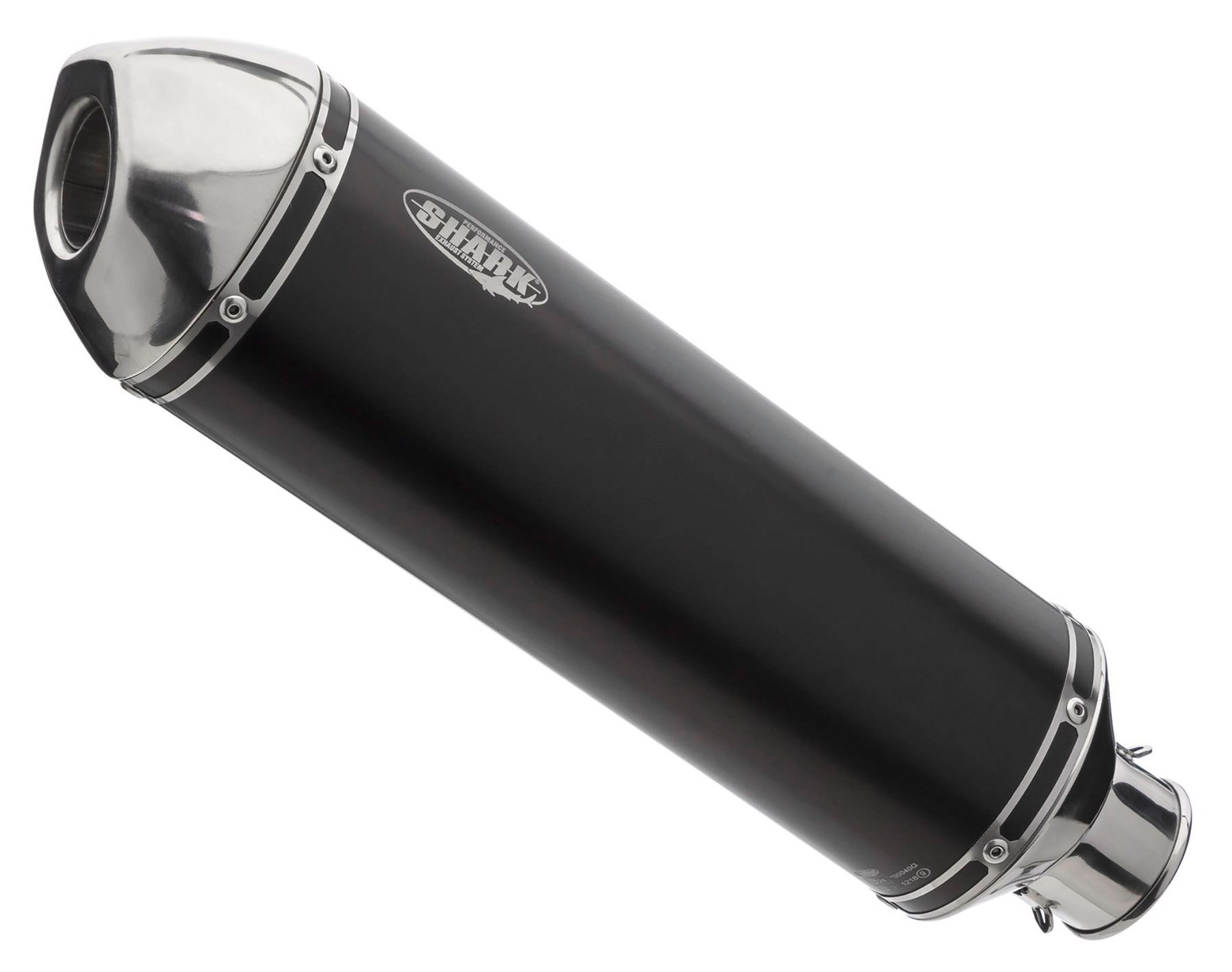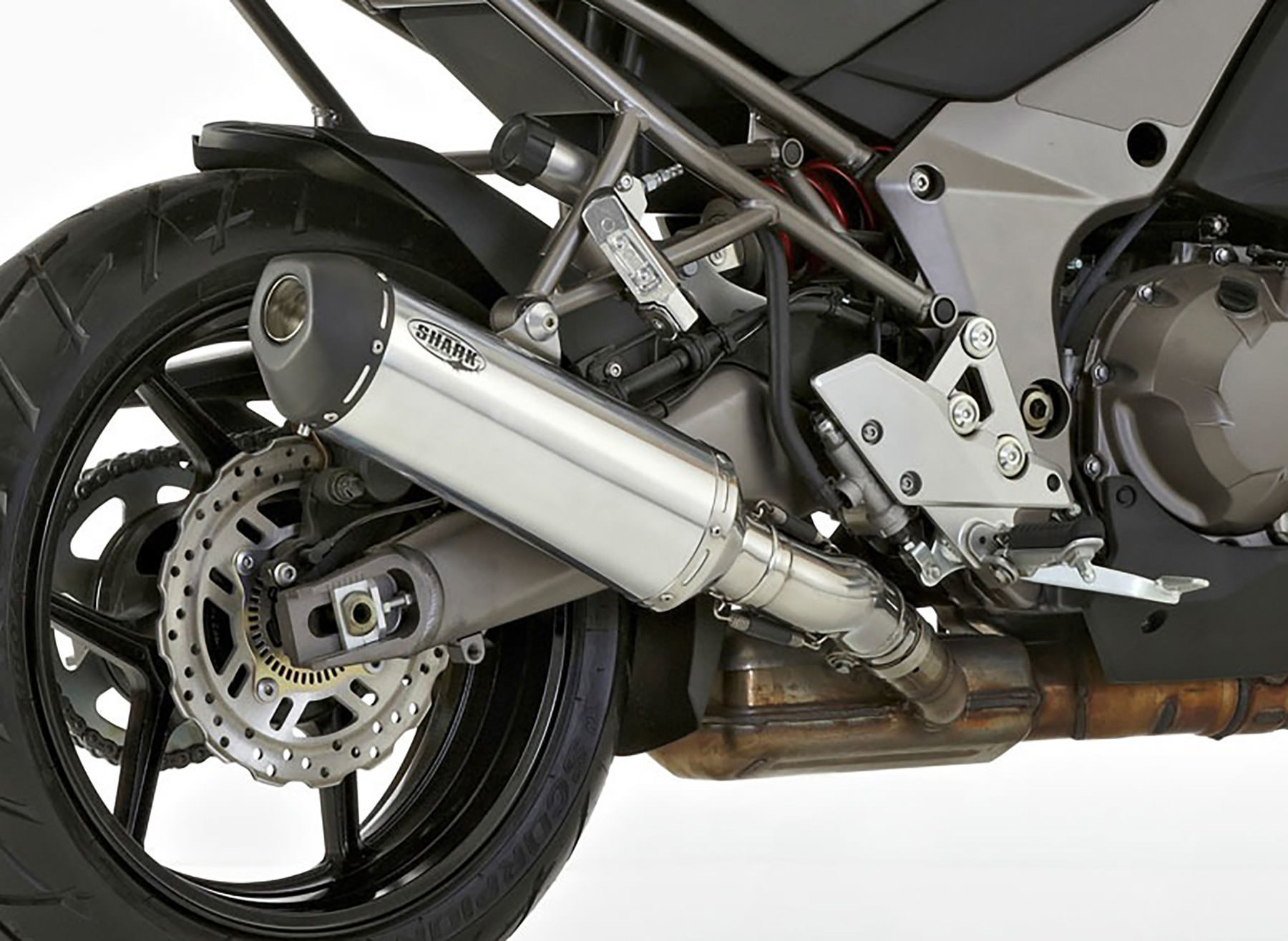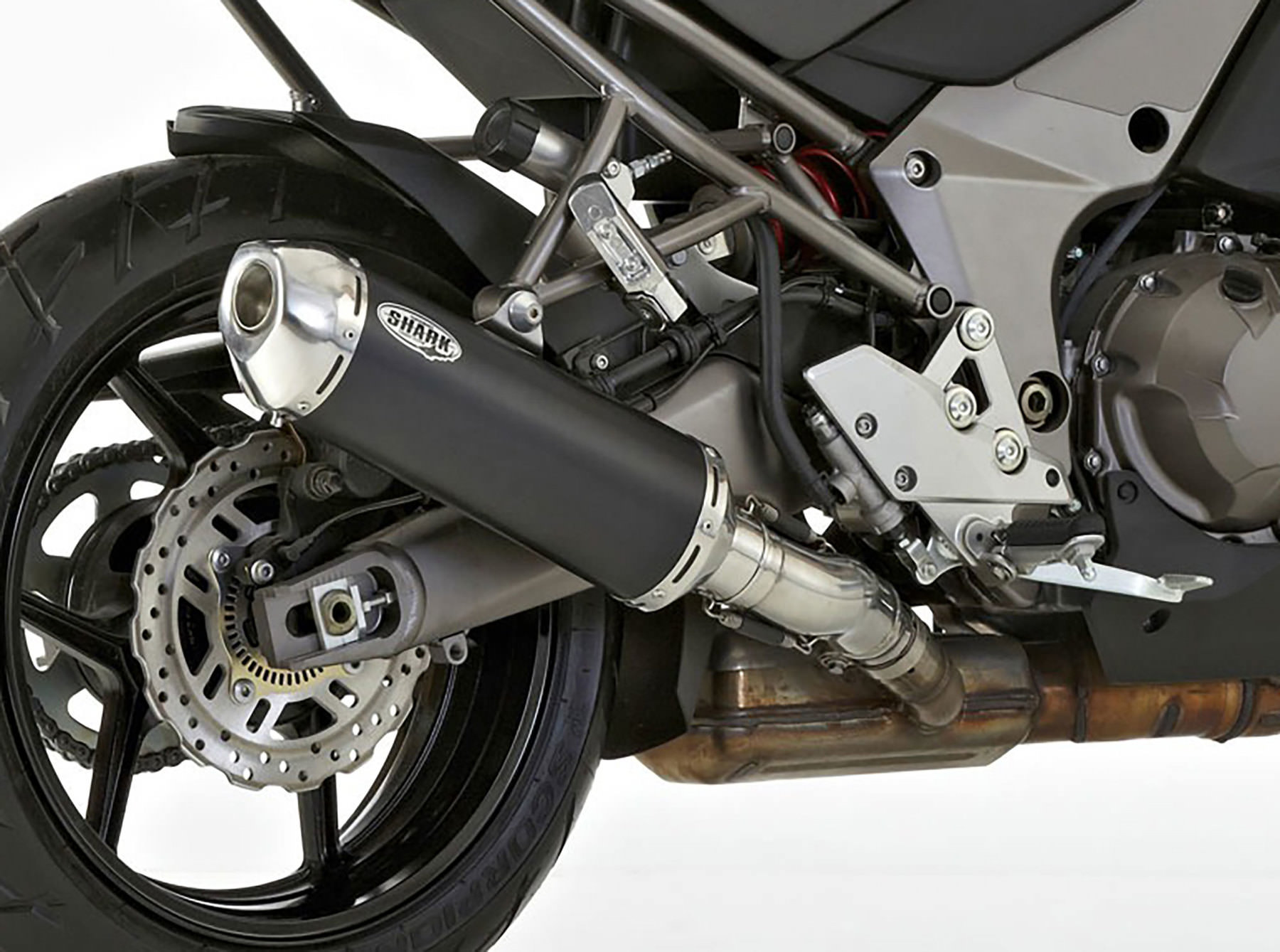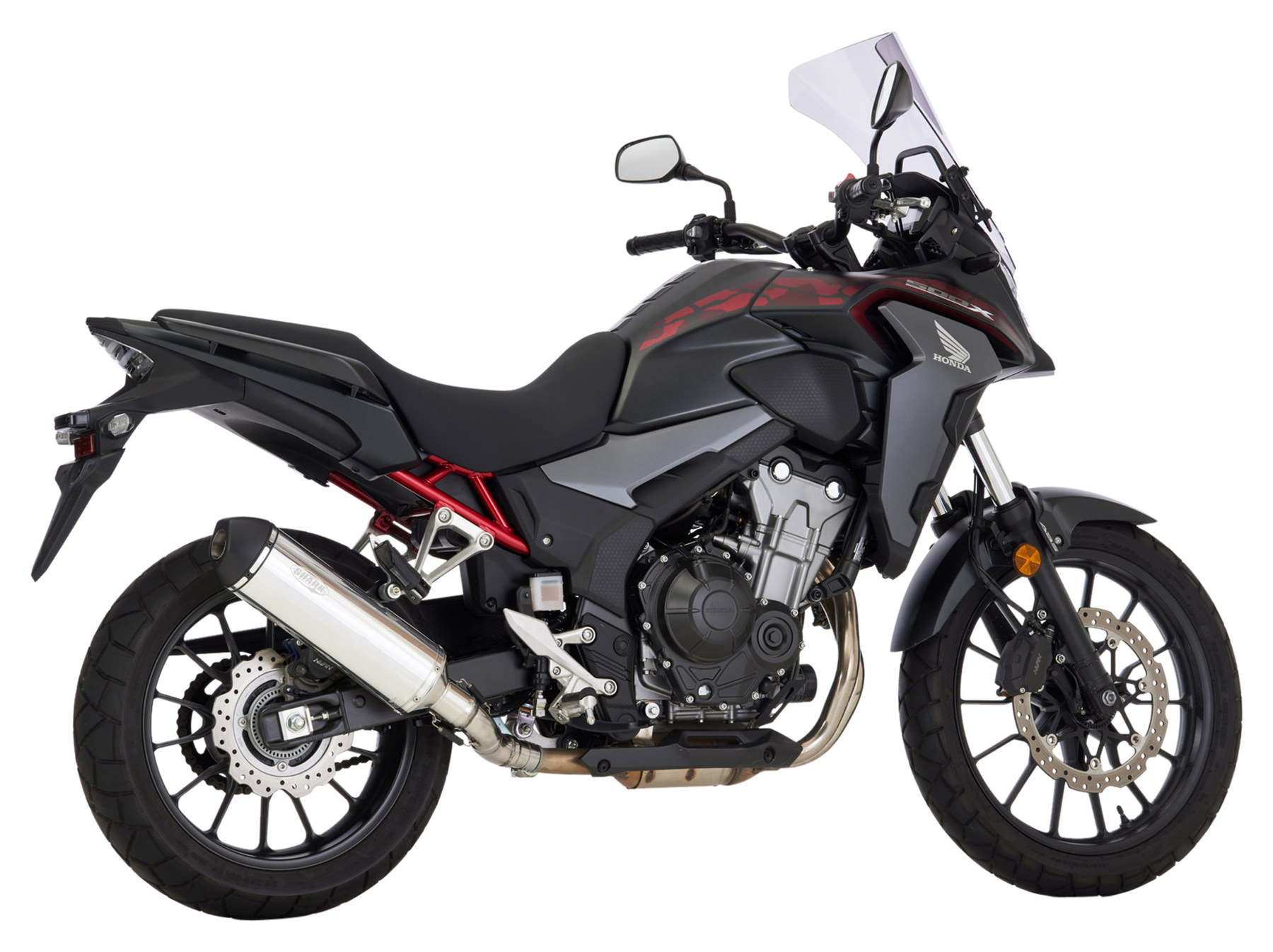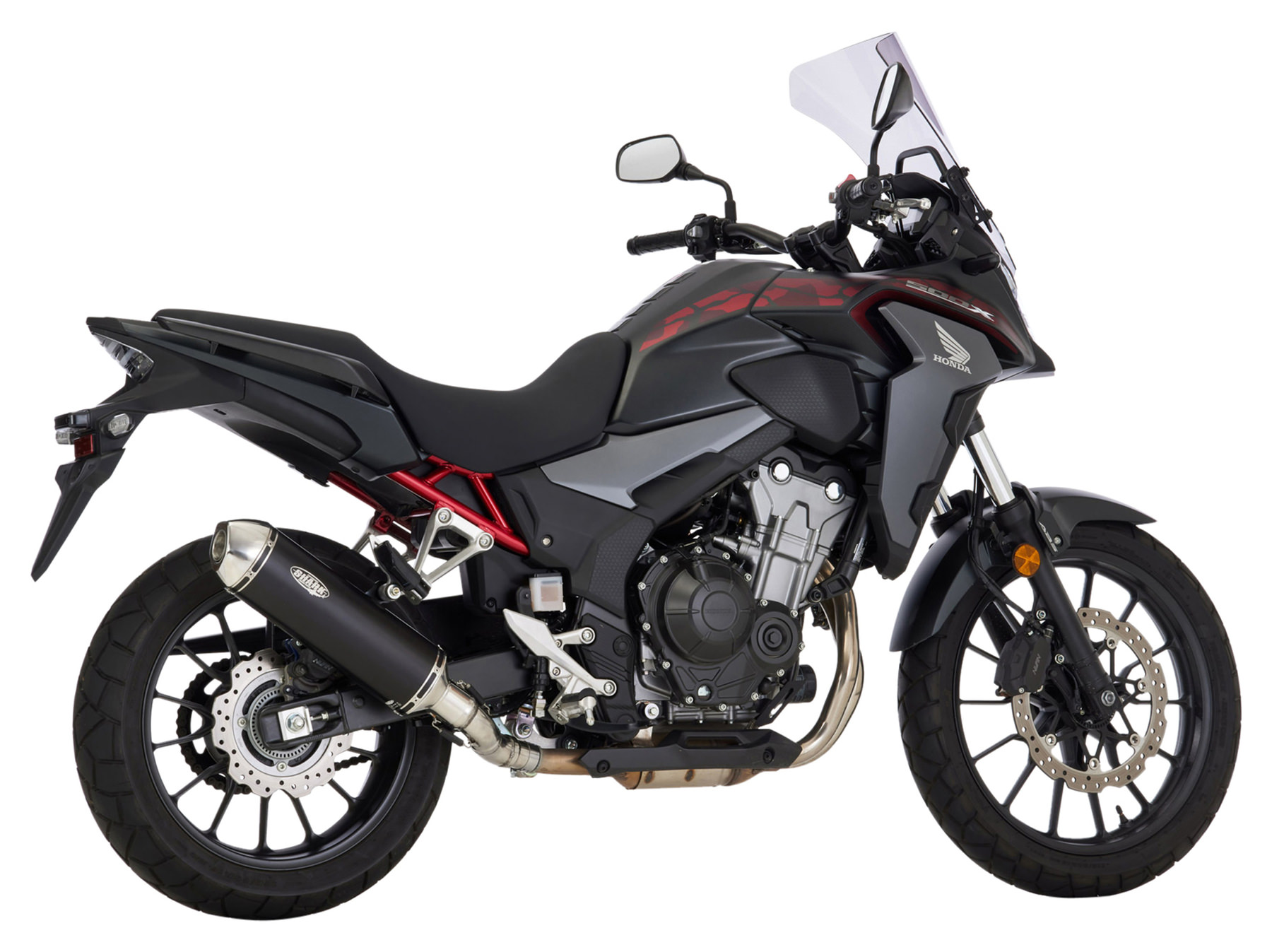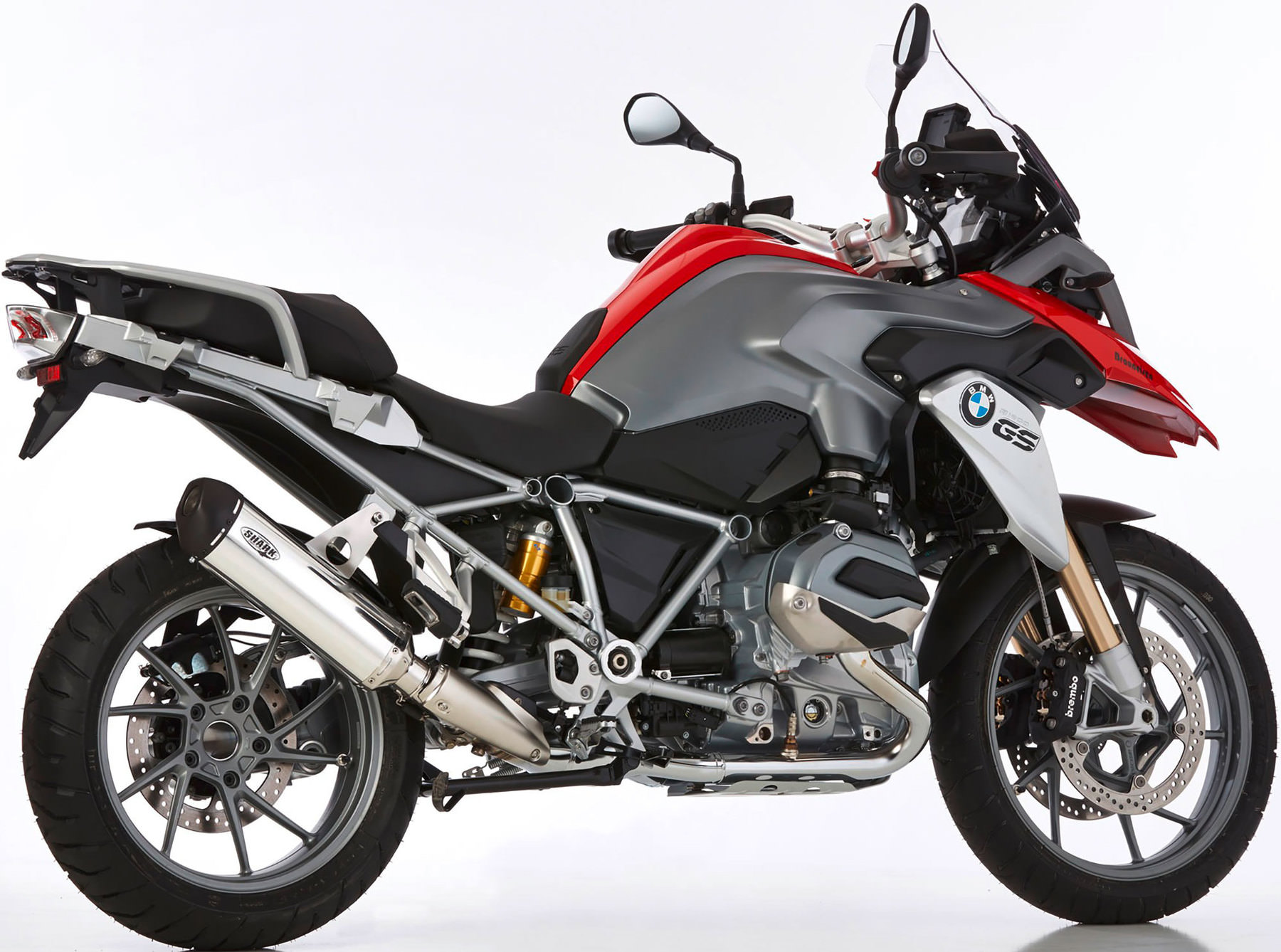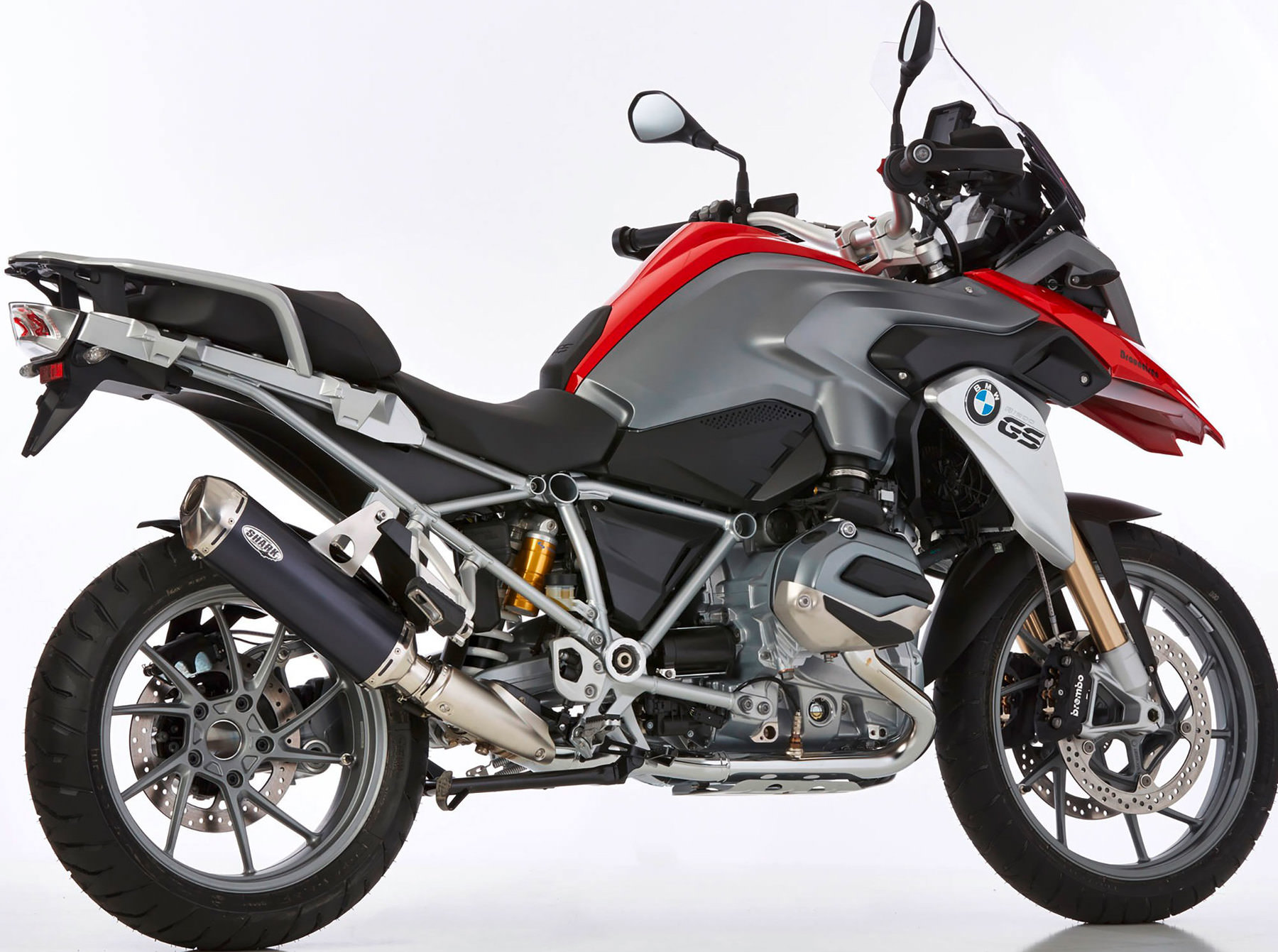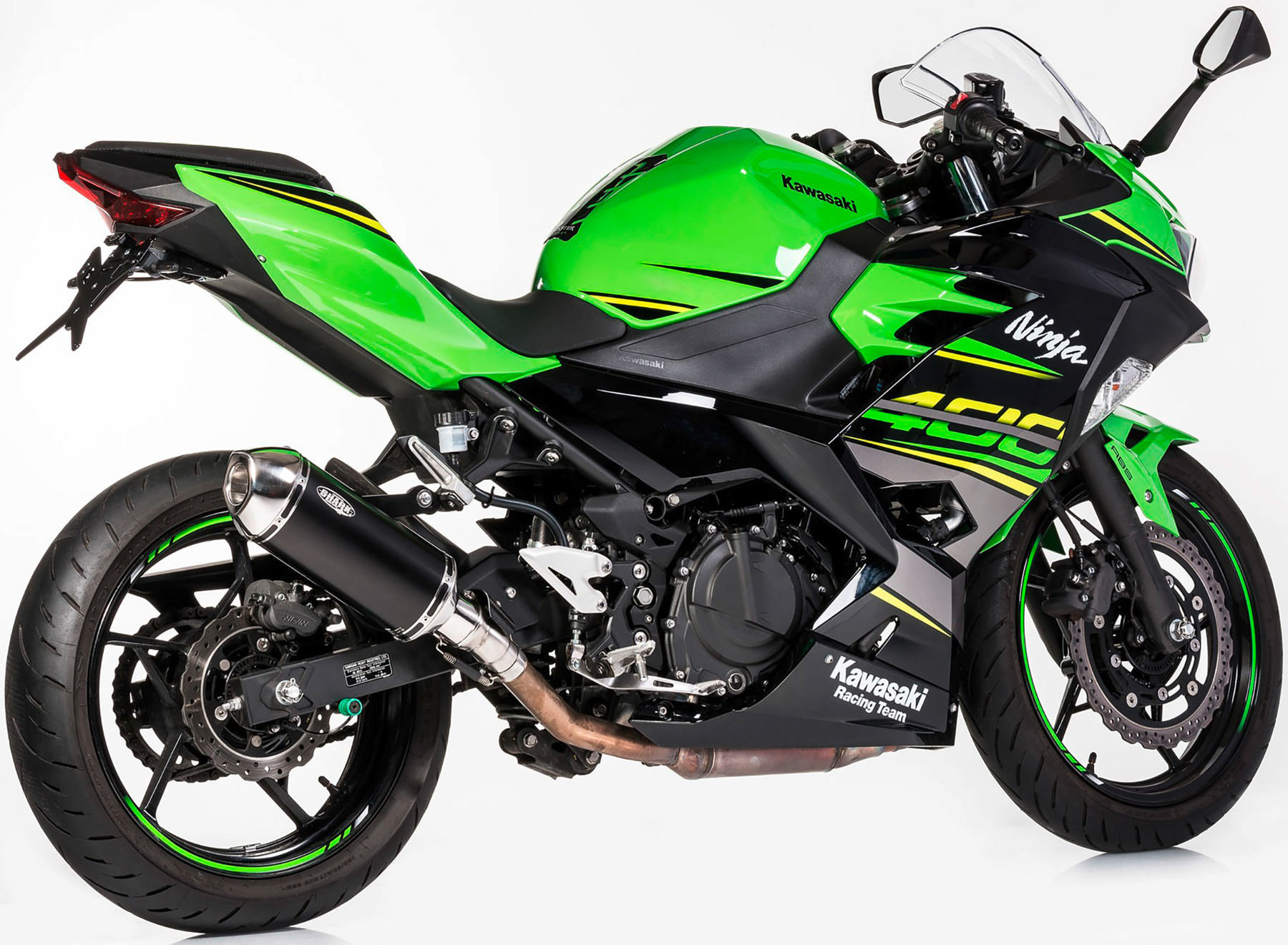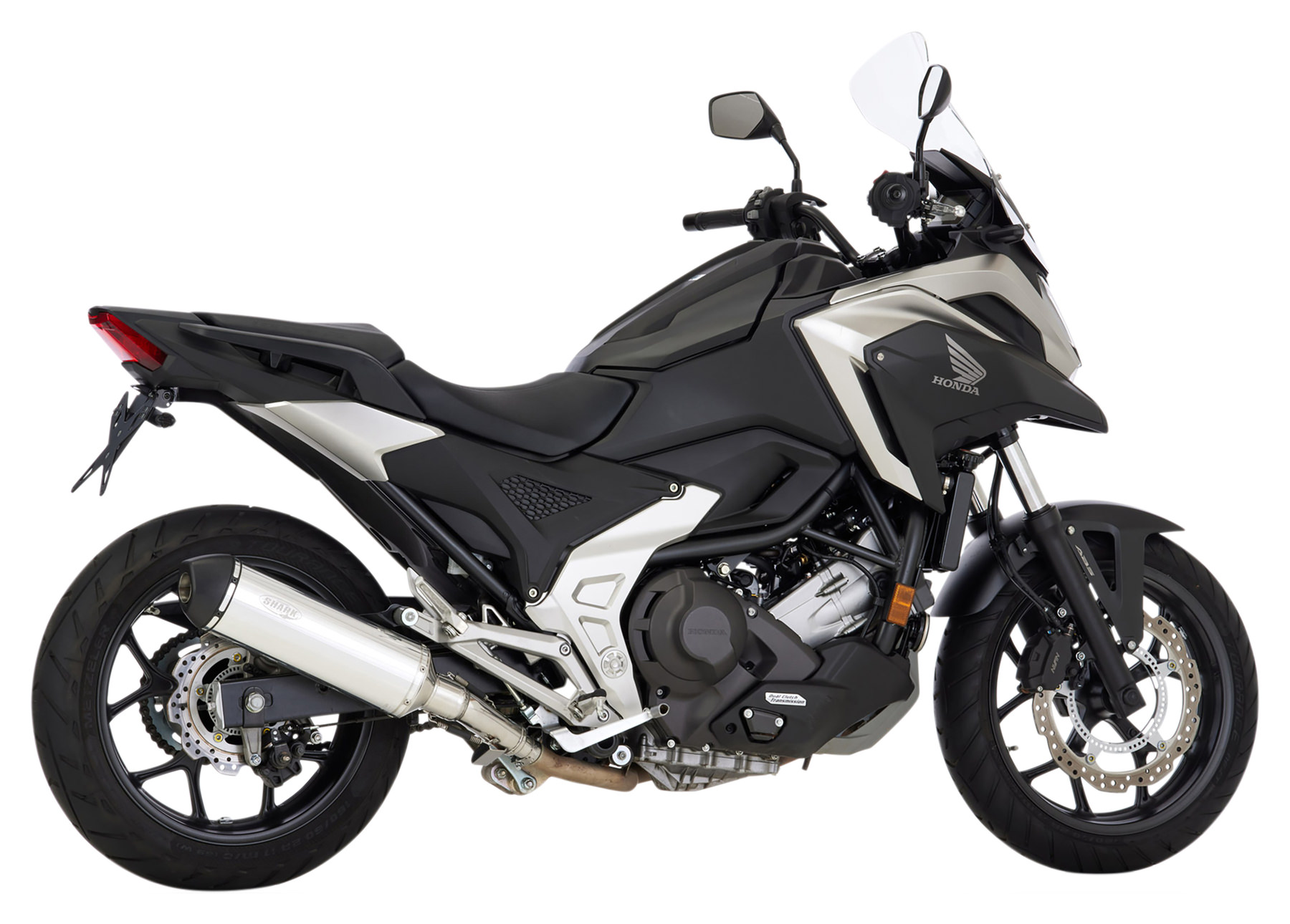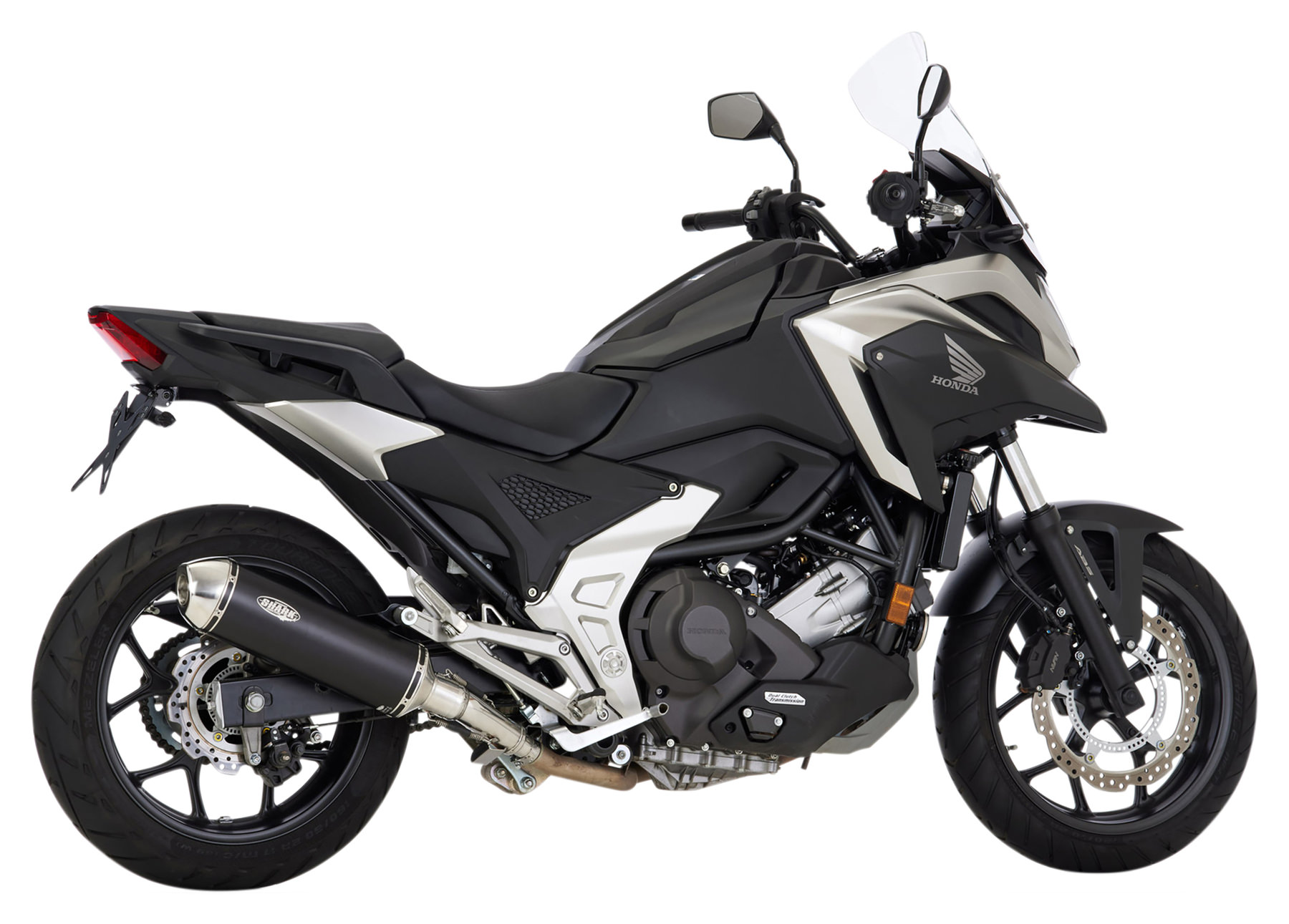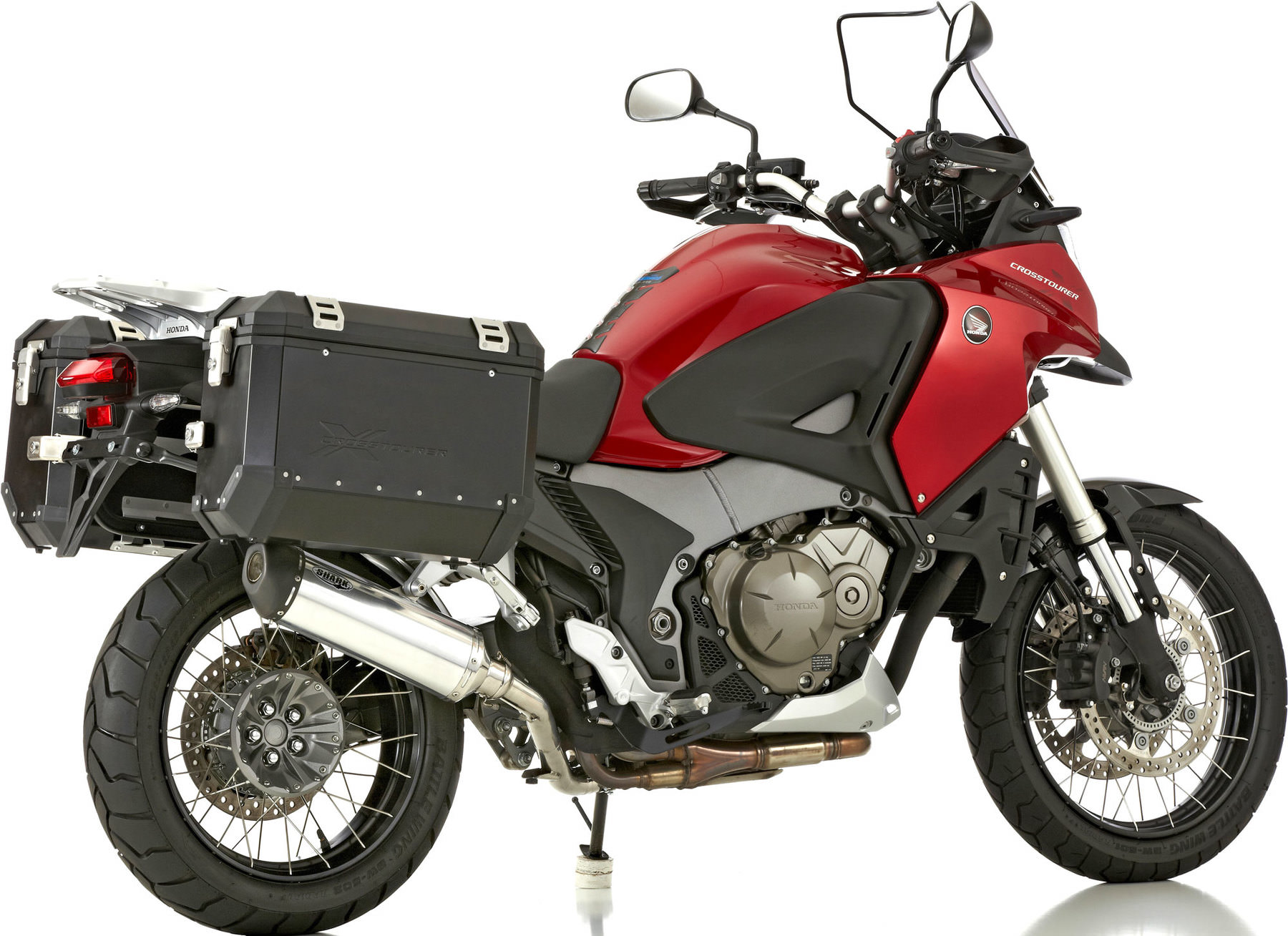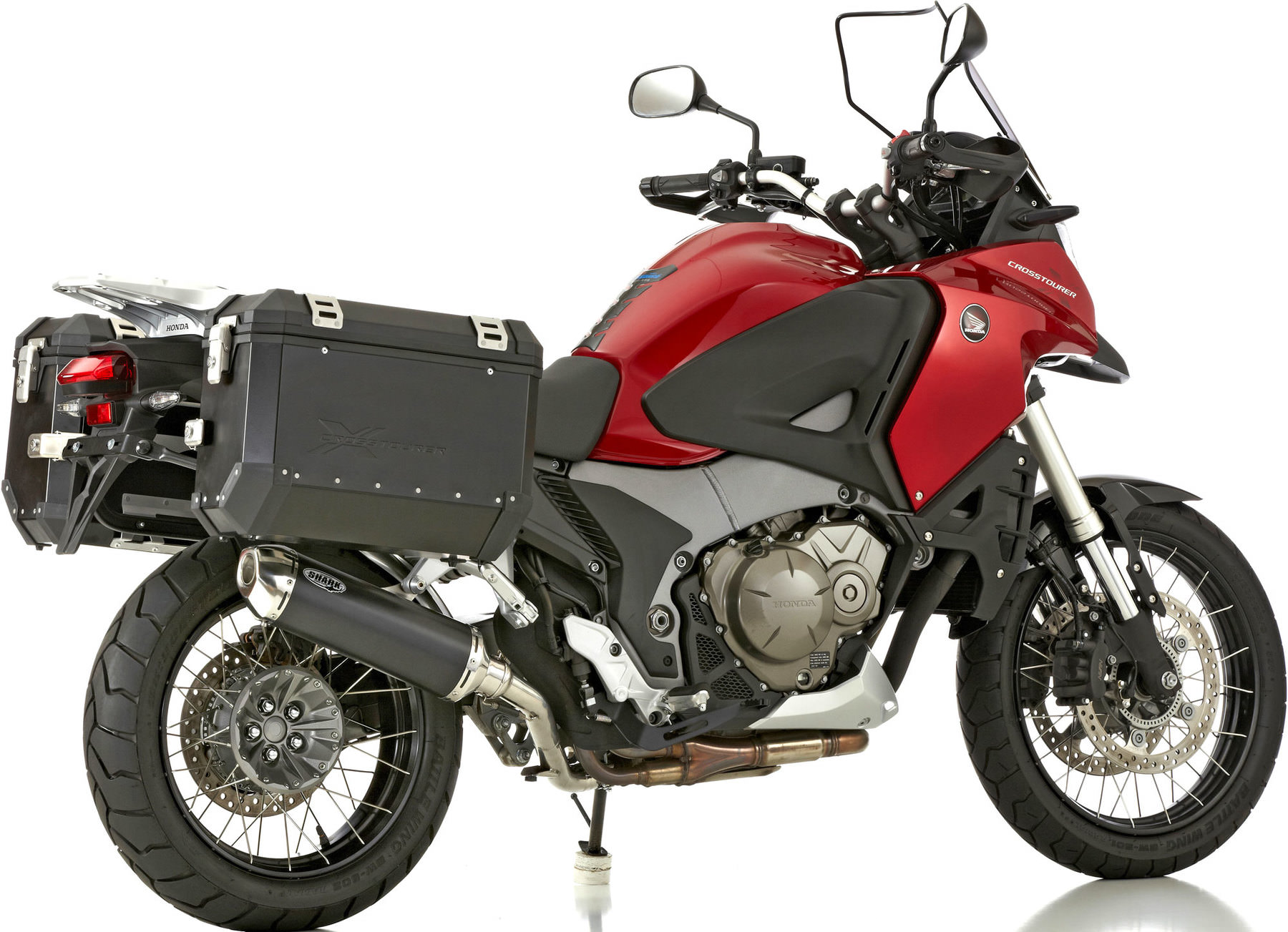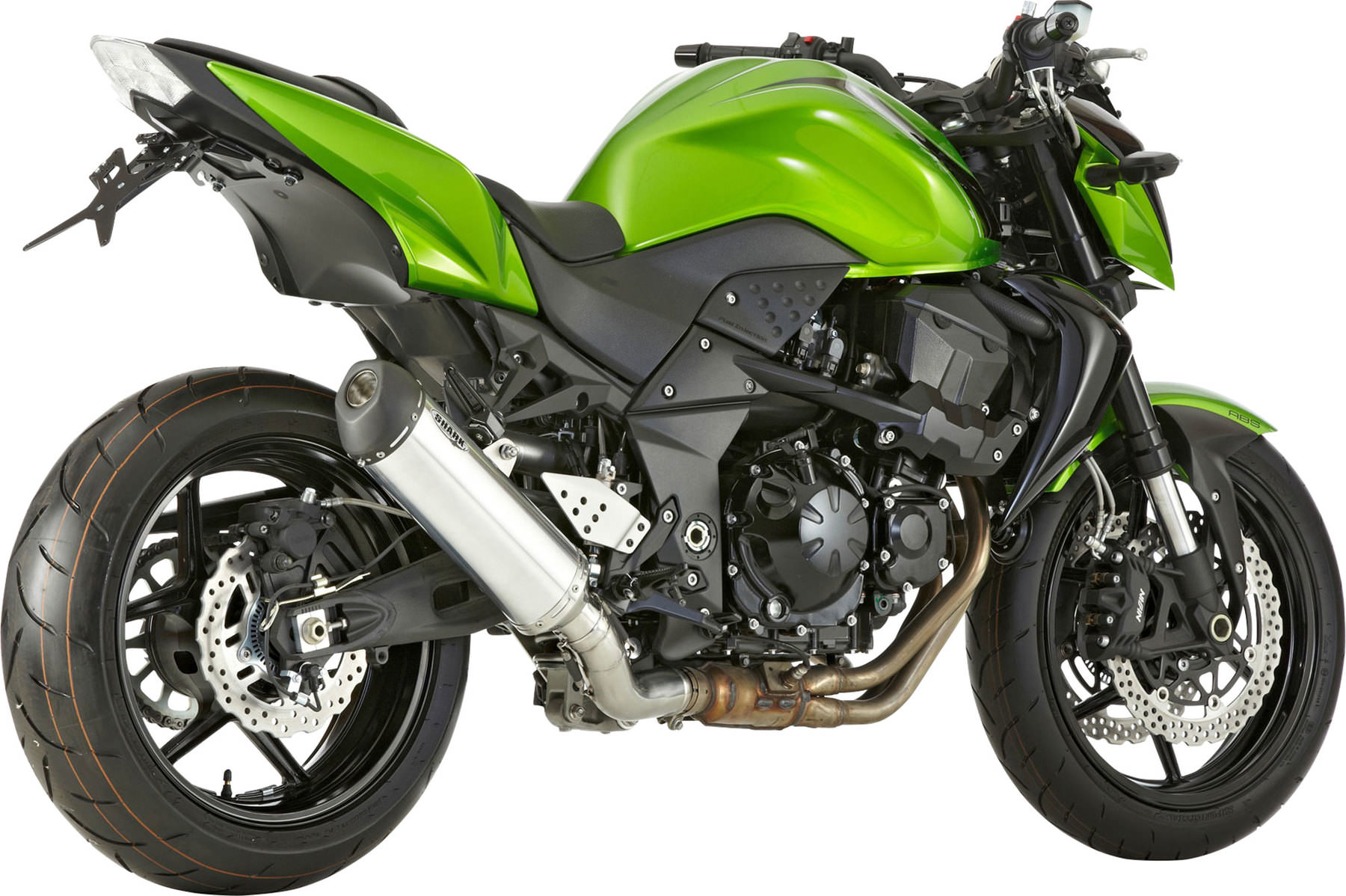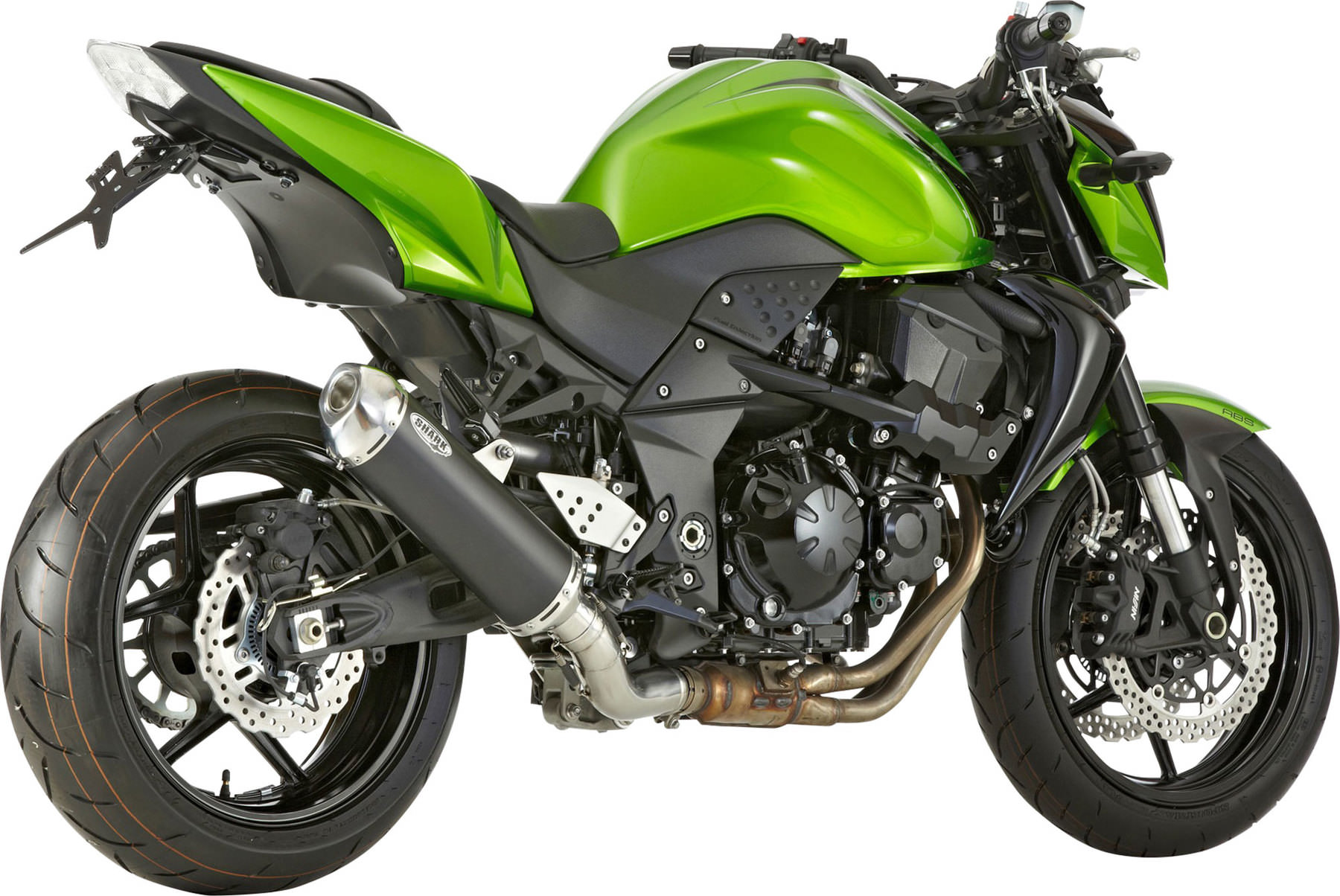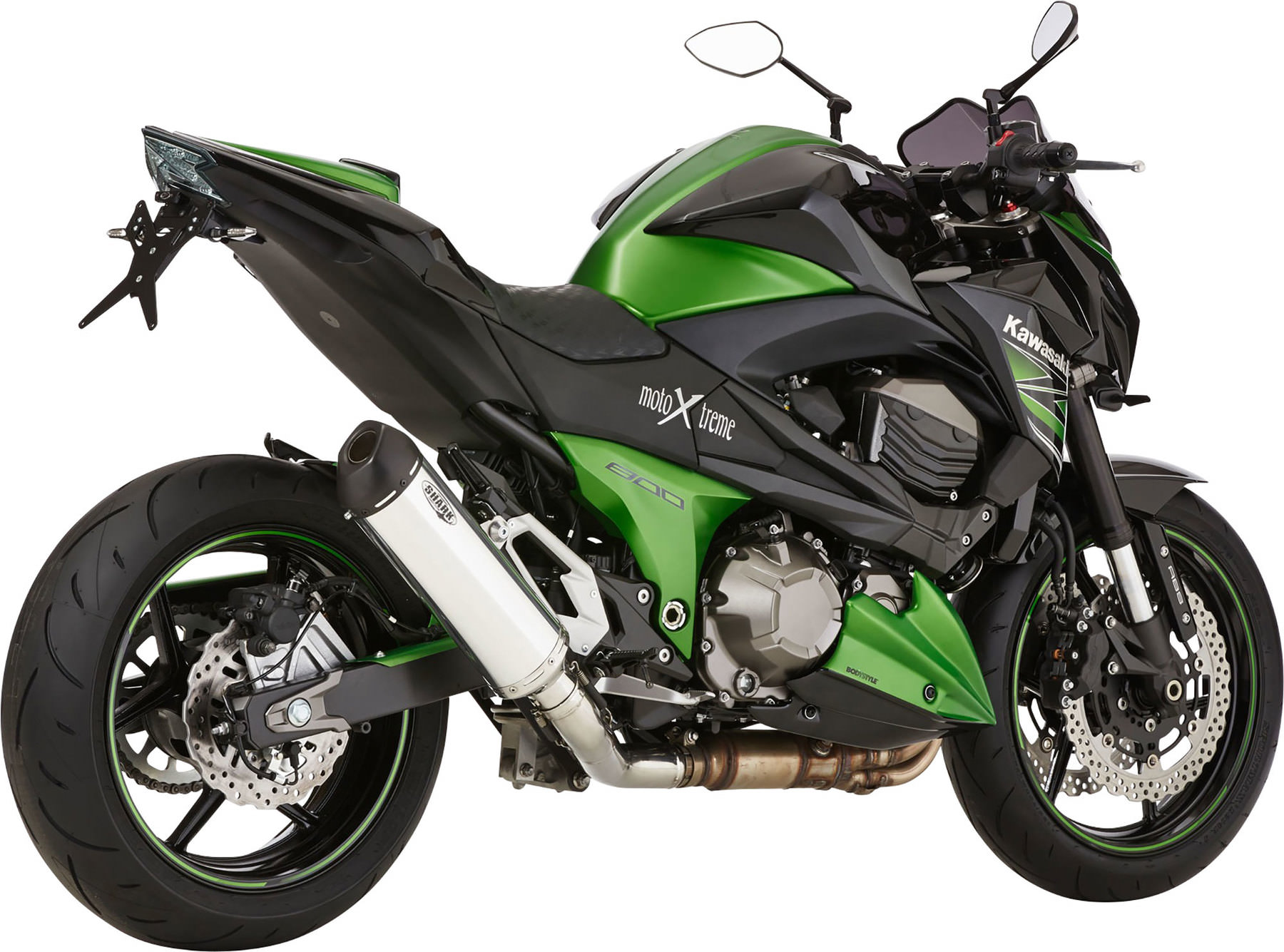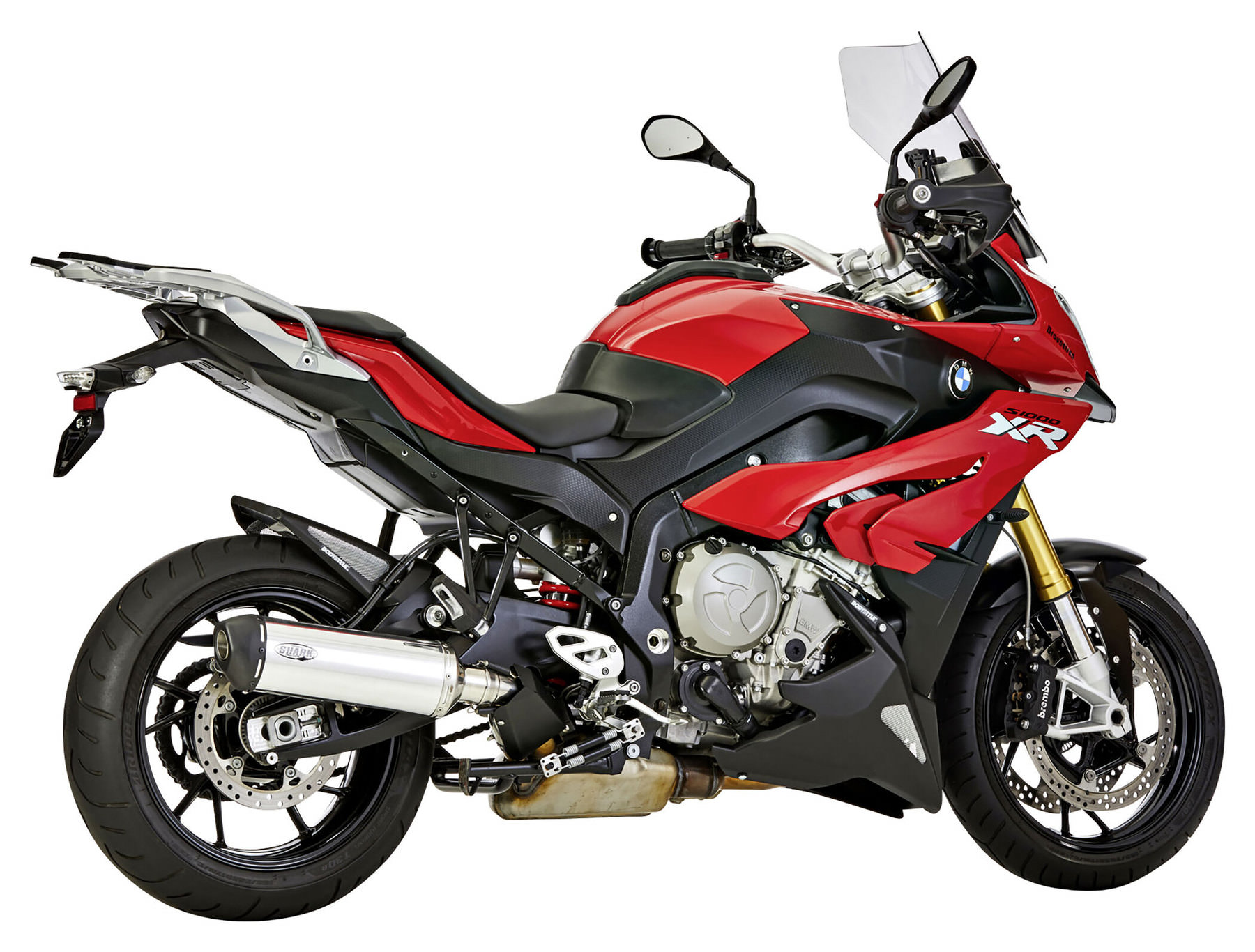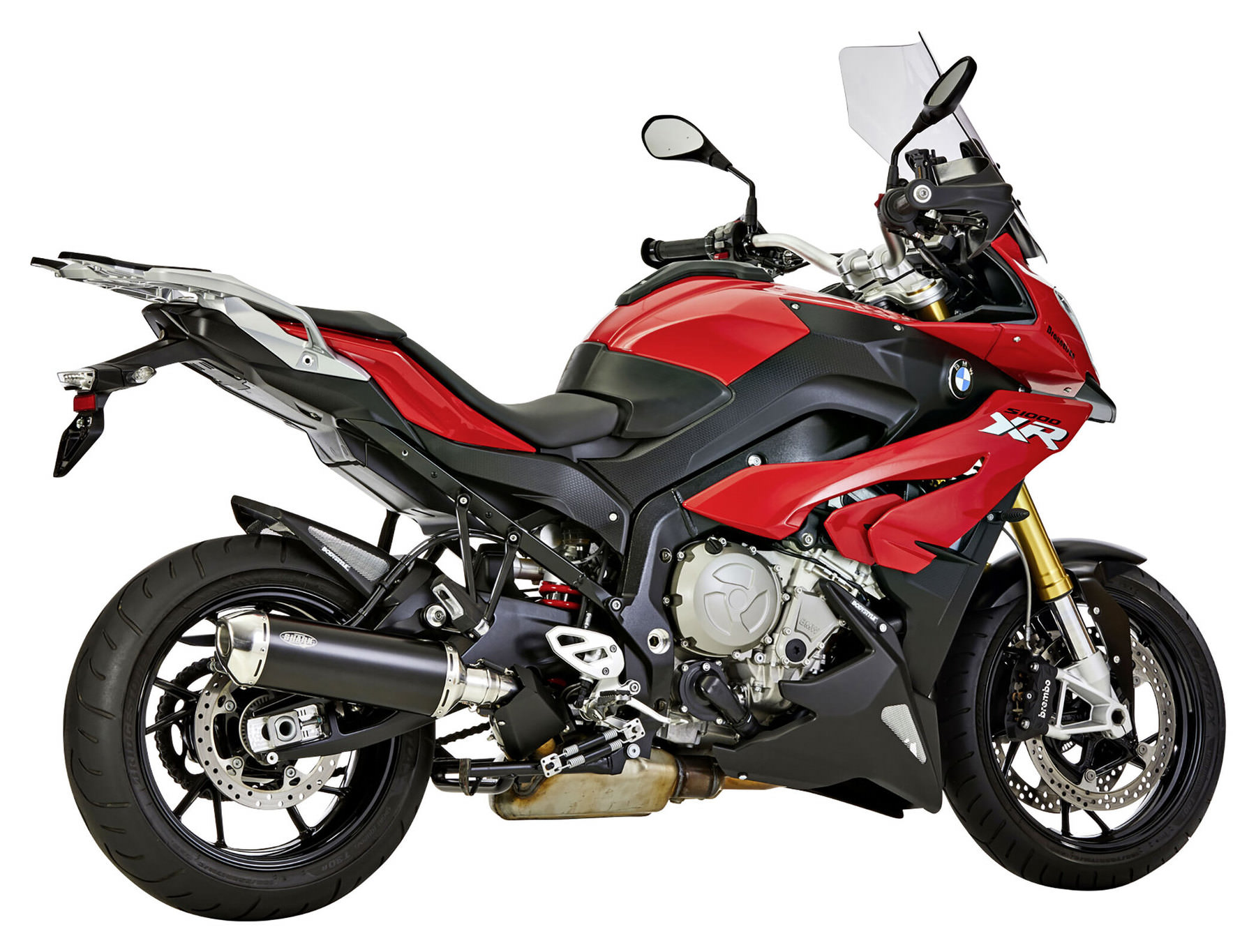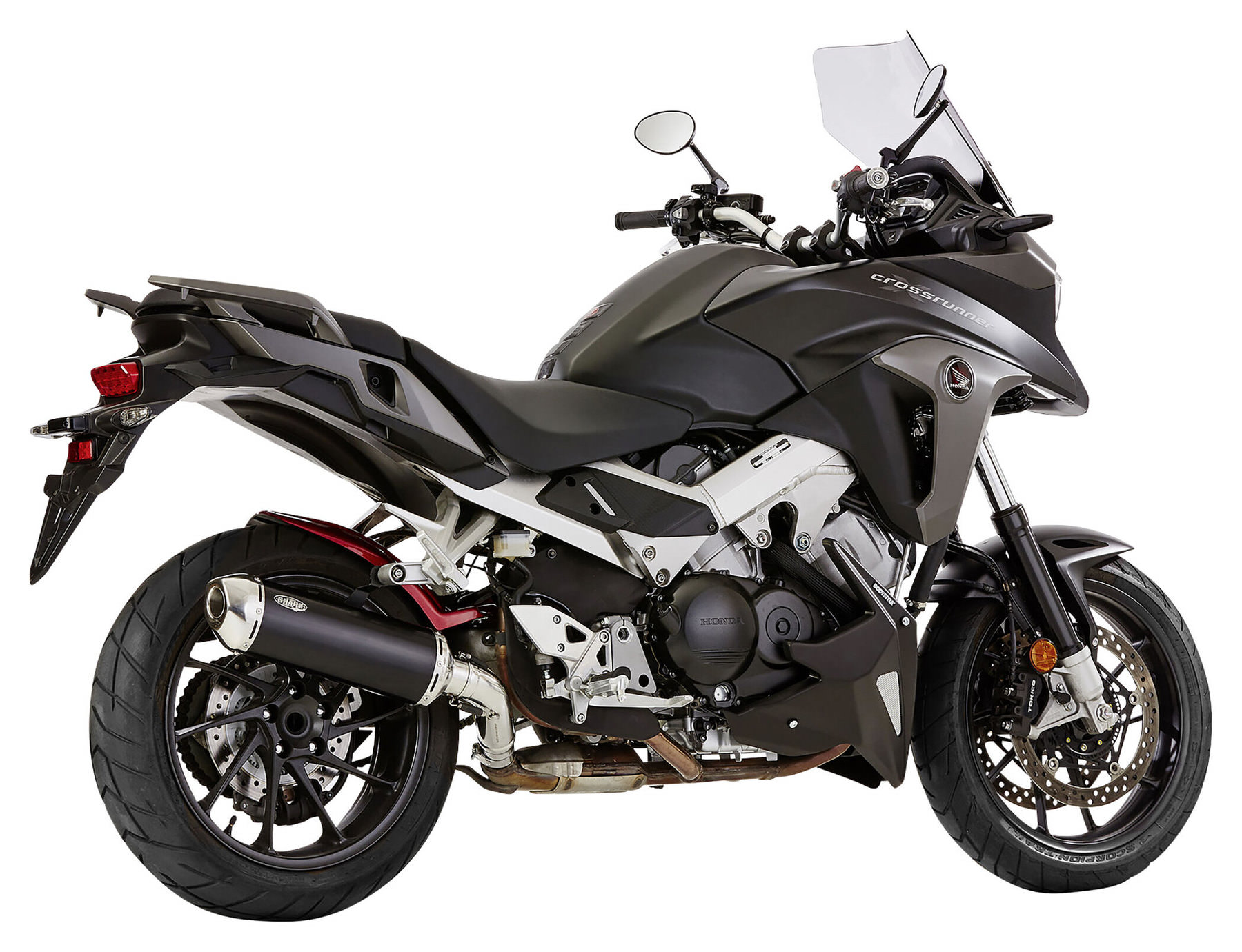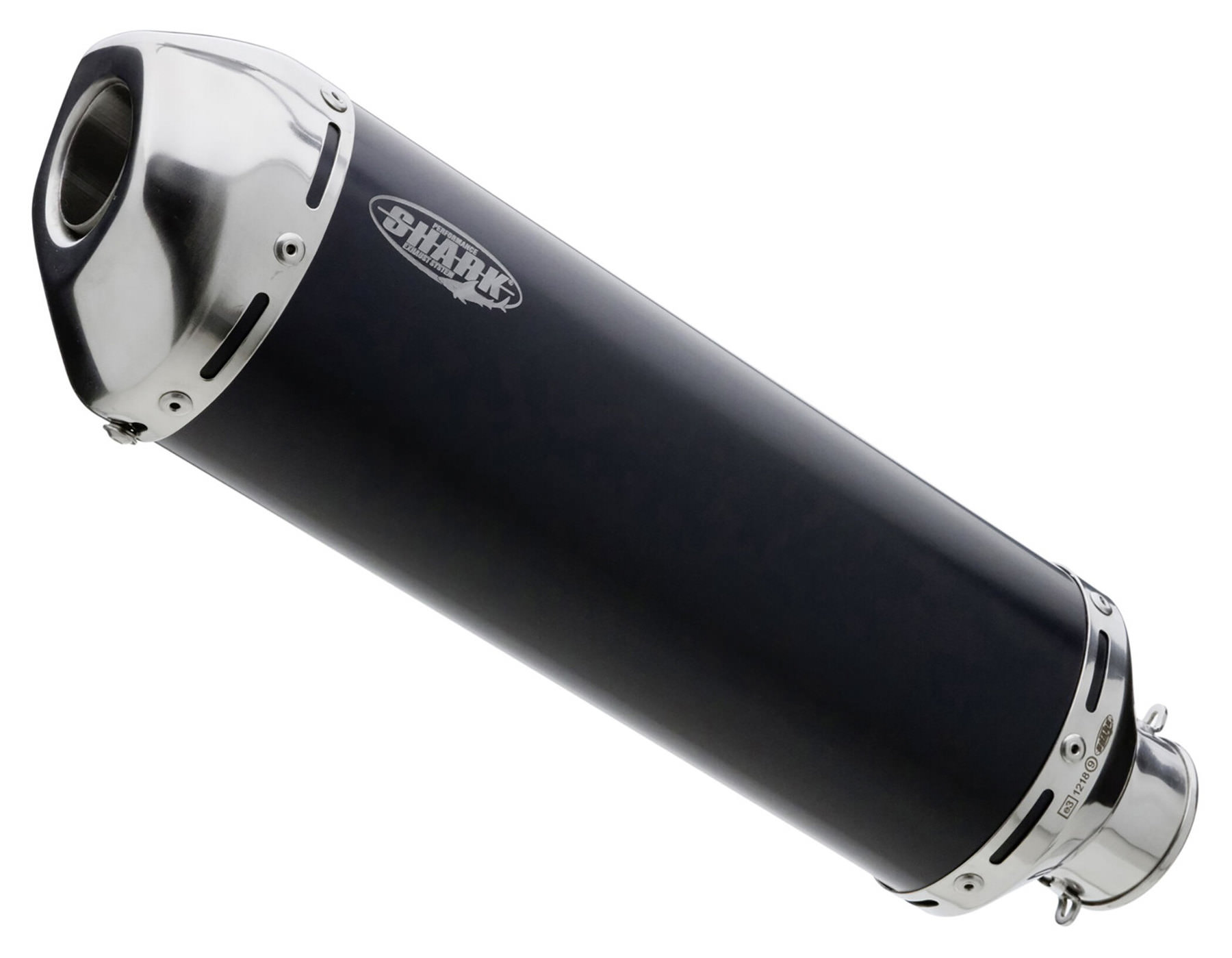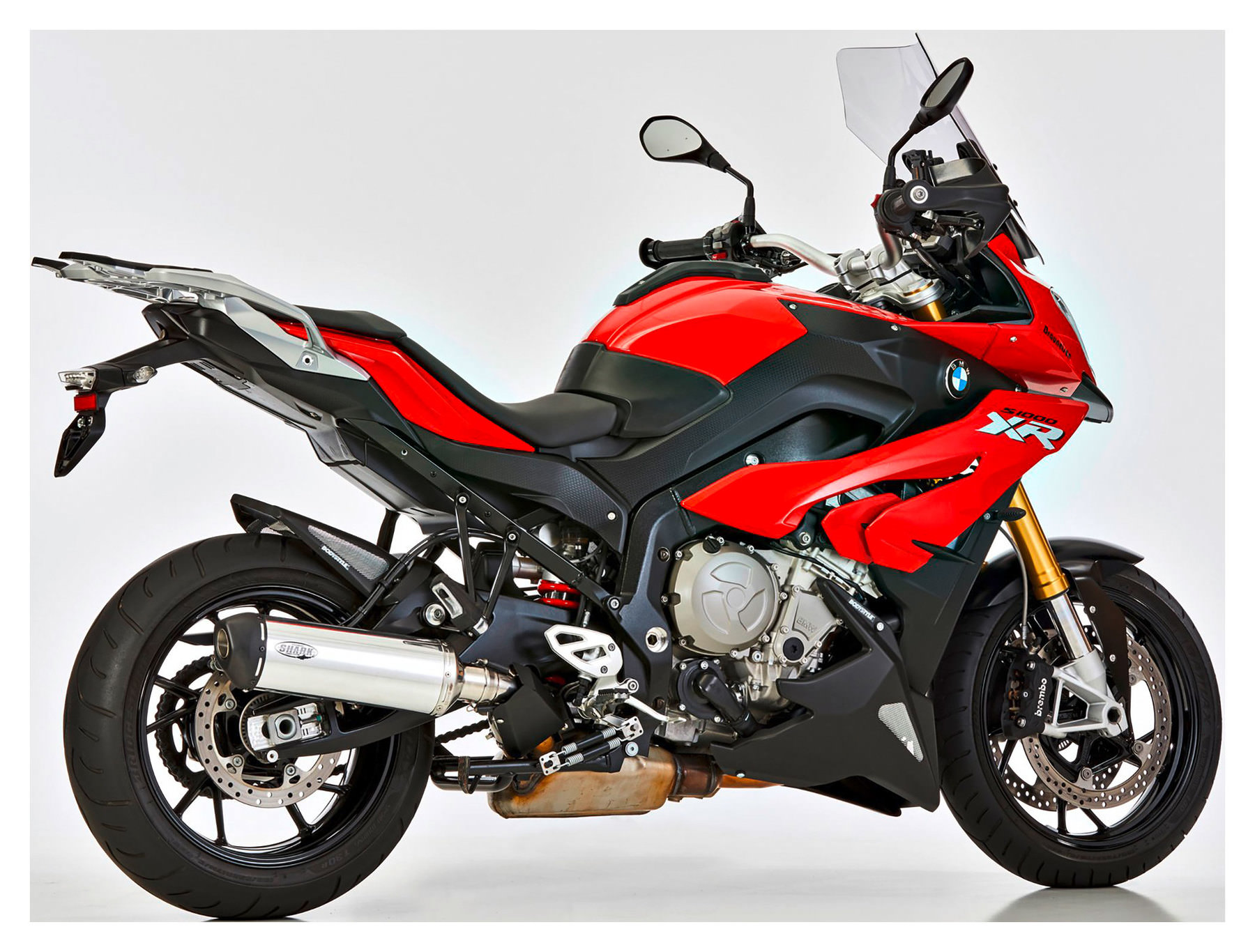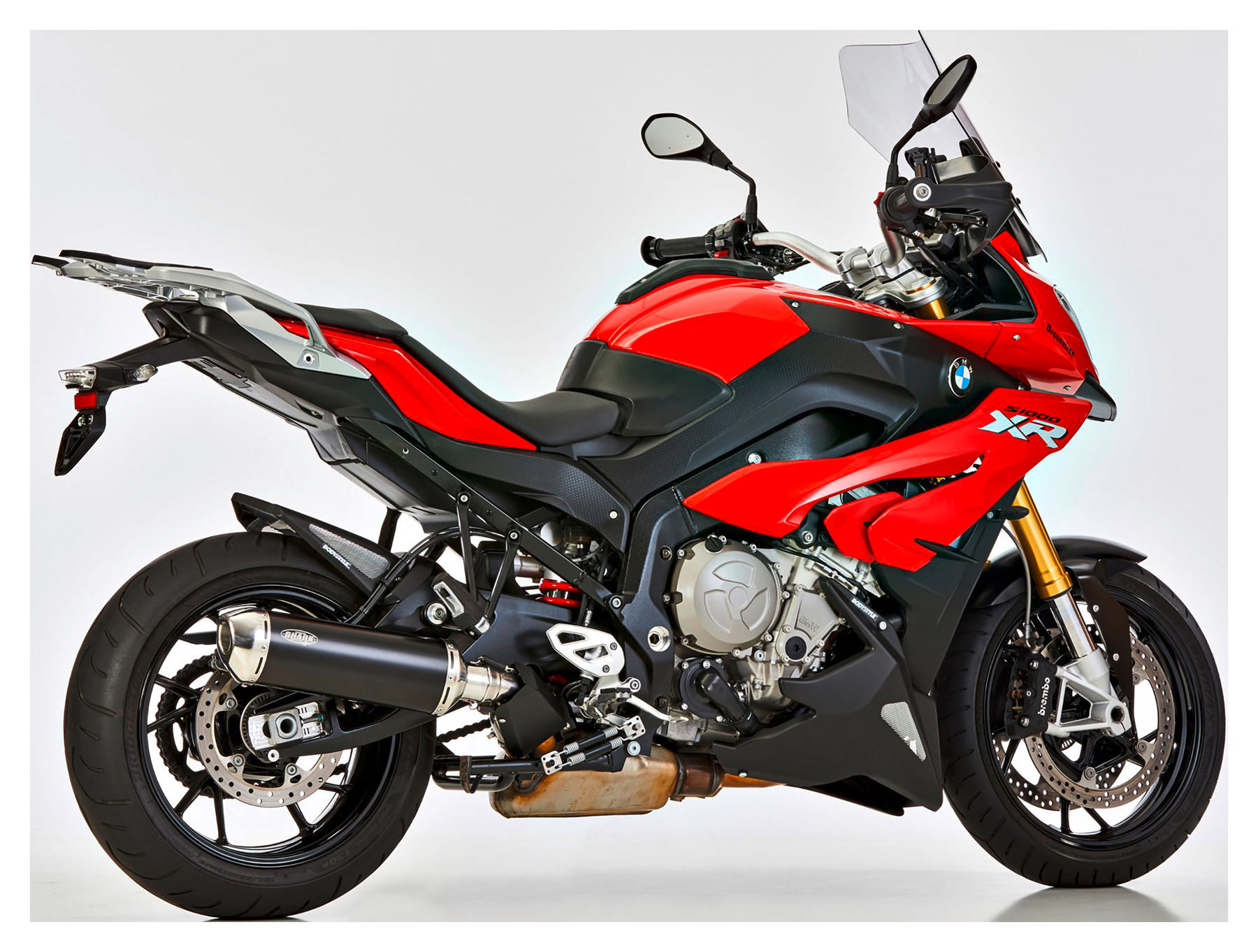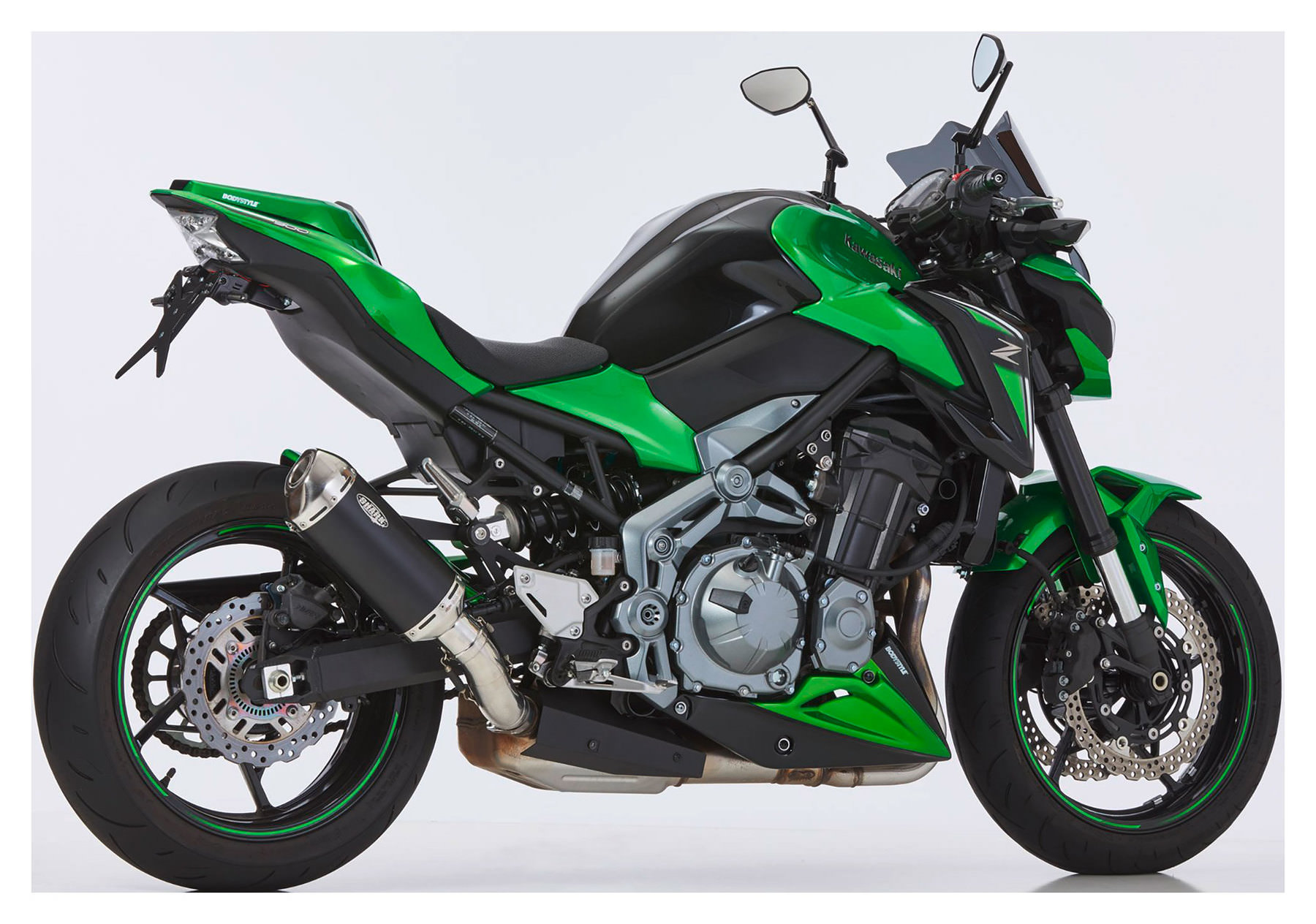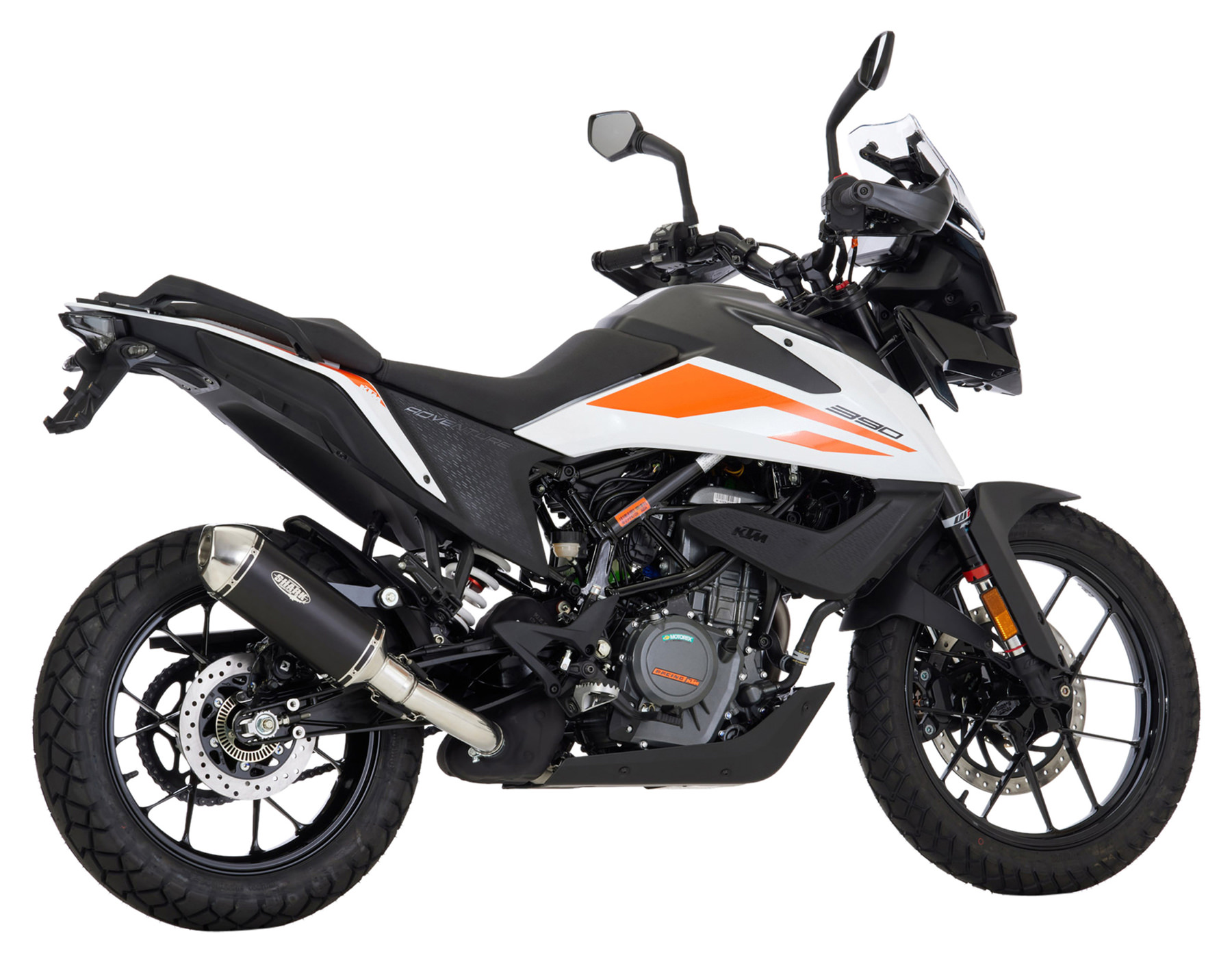 SHARK DSX-5 Rear Silencer
Unfortunately, this product is not compatible with this motorcycle.
Unfortunately, this product is not compatible with this motorcycle. You can find the right for the here: .
€

349.951
2
from
€

279.991
(-19%)
2 Price comparison with current recommended retail price.
Free delivery on orders over €199.00
2 year return policy
Fast delivery
SHARK DSX-5 Rear Silencer
One thing is certain: the Italians are hard to beat when it comes to making exhaust systems and rear silencers with stylish and dynamic design, a sporty-throaty sound and unique high performance. Take the Shark DSX-5 rear silencer with EC type approval, for example. This highly developed exhaust system not only looks fantastic, it also delivers exactly the sound you want for your machine. With EC type approval (E mark).
You can choose the version that best suits your particular motorbike:
polished aluminium silencer with stainless-steel end cap, matt black coated
aluminium silencer, matt black coated with polished stainless-steel end cap
Extremely short rear silencer - at only 36 cm
Sporty sound
Great look and super price - what more could a sports bike rider possibly want? And, better still, it can be fitted to the original manifold, and removed again, in a matter of minutes by means of a threaded bracket.
Slip-on silencers from Shark are supplied with a manifold connection pipe and attachment springs, where necessary.
Installation examples can be found under "Further images"
Information about the shape and design can be found under "Important information".
Manufacturer details: Shark Auspuff

Go to Shark Auspuff brand shop
Performance Exhaust System

The benchmark exhaust systems from Shark ensure top performance throughout the entire speed range and generate the unmistakable racy and throaty Shark sound. Handcrafted using premium quality materials, Shark has become a byword for superior quality and precision fitting. All rear silencers are supplied with EC type approval and removable dB absorber.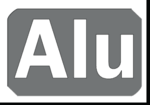 This product is made of high-quality aluminium and will look great on your motorbike. To ensure that it gives you years of pleasure, please observe the following instructions: To keep this product in top condition, it should be treated after long trips in winter, or in rain or salty air (near the coast), and also at periodic intervals.

Water and salt encourage corrosion. After cleaning (e.g. with Procycle Special Gel Cleaner, Order no. 10004909), we recommend regularly polishing aluminium parts with standard aluminium polish (e.g. Alu-Magic, Order no. 10004031).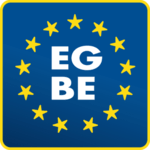 Modern vehicle accessories of different types now frequently carry an "E" approval mark valid throughout Europe. This "E" mark, which is made up of a combination of letters and numbers, is clearly displayed on the product and shows the application tested, the country in which testing was carried out and, where appropriate, the vehicle type to which approval applies. EC type approvals for exhaust systems, for example, are always issued for a specific vehicle type, whereas in the case of lighting, they apply to an entire group of vehicles, e.g. motorcycles.
This certification mark is the sole proof of legality stipulated by law, i.e. no written report or entry in the vehicle documents by a TÜV (German Technical Inspection Association) test centre is required. However, when it comes to installing accessories, the relevant guidelines of the Road Traffic Licensing Regulations (StvZO) must always be observed.
At a roadside check or a TÜV vehicle inspection, the registered keeper is only required to show the "E" mark. It is then up to the official in charge whether to check the mark with the Federal Motor Transport Authority (KBA) in Flensburg (or equivalent type approval authority in other countries), which is able to decode all certification marks.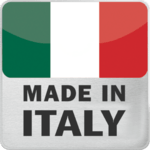 Made in Italy
Instructions/Guides
Links to product
Product
Art. No.
Availability
Price
Actions
ENDSCHALLD. SHARK DSX-5 - 690 DUKE/R 16- SCHWARZ

Important notes

Connector pipe and fastening springs are included.

The original catalytic converter is retained, so retrofitting is not required.

Design: Slip-on 2-1

The exhaust system was tested according to the Euro4 exhaust gas standard.

10036169

The item is in stock and will be delivered in 2-5 working days. Note: Stocks are updated online every hour on working days from 7 a.m. to 8 p.m., so there is a good chance that the products are available if they appear online.

Available

€389.95

1 2 €331.99 1
ENDSCHALLD. SHARK DSX-5 - BMW R 1200 GS (17-18) ALU

Important notes

The silencer is not approved for use without a dB absorber under the German Road Traffic Licensing Regulations (StVZO).

The original catalytic converter is retained, so retrofitting is not required.

Design: Slip-on 2-1

The exhaust system was tested according to the Euro4 exhaust gas standard.

Here fits the db-Killer art.no. 10027138 and art.no. 10013710.

10013711

The product will be ordered from the manufacturer for you. Depending on availability, longer delivery times are also possible. We'll let you know if that's the case. You can of course cancel your delivery at any time free of charge.

Available in 7-21 days

€389.95

1 2 €331.99 1
ENDSCHALLD. SHARK DSX-5 - BMW R NINE T -17 SCHWARZ

Important notes

"Short" rear silencer is approx. 360 mm long.

The original catalytic converter is retained, so retrofitting is not required.

Design: Slip-on 2-1

10013715

The item is in stock and will be delivered in 2-5 working days. Note: Stocks are updated online every hour on working days from 7 a.m. to 8 p.m., so there is a good chance that the products are available if they appear online.

Available

€389.95

1 2 €331.99 1
ENDSCHALLD. SHARK DSX-5 - BMW R1200GS (17-18) SCHW.

Important notes

The silencer is not approved for use without a dB absorber under the German Road Traffic Licensing Regulations (StVZO).

The original catalytic converter is retained, so retrofitting is not required.

Design: Slip-on 2-1

The exhaust system was tested according to the Euro4 exhaust gas standard.

Here fits the db-Killer art.no. 10027138 and art.no. 10013710.

10013712

The product will be ordered from the manufacturer for you. Depending on availability, longer delivery times are also possible. We'll let you know if that's the case. You can of course cancel your delivery at any time free of charge.

Available in 7-21 days

€389.95

1 2 €331.99 1
ENDSCHALLD. SHARK DSX-5 - CB 1300 03- ALU, EG-BE

Important notes

Original cat is no longer used. Catalytic converter not included. Aftermarket catalytic converter (Order no. 10027036) available as an accessory.

Connector pipe and fastening springs are included.

"Short" rear silencer is approx. 360 mm long.

Design: Slip-on 4-1

10035636

The item is in stock and will be delivered in 2-5 working days. Note: Stocks are updated online every hour on working days from 7 a.m. to 8 p.m., so there is a good chance that the products are available if they appear online.

Available

€389.91

1 2 €331.99 1
ENDSCHALLD. SHARK DSX-5 - CB 1300 03- SCHWARZ,EG-BE

Important notes

Original cat is no longer used. Catalytic converter not included. Aftermarket catalytic converter (Order no. 10027036) available as an accessory.

Connector pipe and fastening springs are included.

"Short" rear silencer is approx. 360 mm long.

Design: Slip-on 4-1

10035637

The item is in stock and will be delivered in 2-5 working days. Note: Stocks are updated online every hour on working days from 7 a.m. to 8 p.m., so there is a good chance that the products are available if they appear online.

Available

€389.95

1 2 €331.99 1
ENDSCHALLD. SHARK DSX-5 - CB500F/CBR500R 16-ALU,ABE

Important notes

Connector pipe and fastening springs are included.

The original catalytic converter is retained, so retrofitting is not required.

Design: Slip-on 2-1

10036155

The product will be ordered from the manufacturer for you. Depending on availability, longer delivery times are also possible. We'll let you know if that's the case. You can of course cancel your delivery at any time free of charge.

Available in 7-21 days

€389.95

1 2 €331.99 1
ENDSCHALLD. SHARK DSX-5 - CB500F/CBR500R 16-SCHWARZ

Important notes

Connector pipe and fastening springs are included.

The original catalytic converter is retained, so retrofitting is not required.

Design: Slip-on 2-1

10036156

The item is in stock and will be delivered in 2-5 working days. Note: Stocks are updated online every hour on working days from 7 a.m. to 8 p.m., so there is a good chance that the products are available if they appear online.

Available

€389.95

1 2 €331.99 1
ENDSCHALLD. SHARK DSX-5 - CB500F/X CBR500R 13-,ALU

Important notes

Connector pipe and fastening springs are included.

"Short" rear silencer is approx. 360 mm long.

The original catalytic converter is retained, so retrofitting is not required.

Design: Slip-on 2-1

10035688

The product will be ordered from the manufacturer for you. Depending on availability, longer delivery times are also possible. We'll let you know if that's the case. You can of course cancel your delivery at any time free of charge.

Available in 7-21 days

€389.95

1 2 €331.99 1
ENDSCHALLD. SHARK DSX-5 - CB500F/X CBR500R 13-,SCHW

Important notes

Connector pipe and fastening springs are included.

"Short" rear silencer is approx. 360 mm long.

The original catalytic converter is retained, so retrofitting is not required.

Design: Slip-on 2-1

10035689

The item is in stock and will be delivered in 2-5 working days. Note: Stocks are updated online every hour on working days from 7 a.m. to 8 p.m., so there is a good chance that the products are available if they appear online.

Available

€389.95

1 2 €331.99 1
ENDSCHALLD. SHARK DSX-5 - CB500F/X/ CBR500R 19,SCHW

Important notes

The original catalytic converter is retained, so retrofitting is not required.

Design: Slip-on 2-1

10013709

The product will be ordered from the manufacturer for you. Depending on availability, longer delivery times are also possible. We'll let you know if that's the case. You can of course cancel your delivery at any time free of charge.

Available in 7-21 days

€389.99 1
ENDSCHALLD. SHARK DSX-5 - CB500F/X/ CBR500R 19-,ALU

Important notes

The original catalytic converter is retained, so retrofitting is not required.

Design: Slip-on 2-1

10013708

The product will be ordered from the manufacturer for you. Depending on availability, longer delivery times are also possible. We'll let you know if that's the case. You can of course cancel your delivery at any time free of charge.

Available in 7-21 days

€389.95 1
ENDSCHALLD. SHARK DSX-5 - CBF 1000 F 10- ALU, EG-BE

Important notes

Connector pipe and fastening springs are included.

"Short" rear silencer is approx. 360 mm long.

The original catalytic converter is retained, so retrofitting is not required.

Design: Slip-on 4-1

10035630

The product will be ordered from the manufacturer for you. Depending on availability, longer delivery times are also possible. We'll let you know if that's the case. You can of course cancel your delivery at any time free of charge.

Available in 7-21 days

€389.95

1 2 €331.99 1
ENDSCHALLD. SHARK DSX-5 - CBF 1000 F 10- SCHW.EG-BE

Important notes

Connector pipe and fastening springs are included.

"Short" rear silencer is approx. 360 mm long.

The original catalytic converter is retained, so retrofitting is not required.

Design: Slip-on 4-1

10035631

The item is in stock and will be delivered in 2-5 working days. Note: Stocks are updated online every hour on working days from 7 a.m. to 8 p.m., so there is a good chance that the products are available if they appear online.

Available

€389.95

1 2 €331.99 1
ENDSCHALLD. SHARK DSX-5 - CBF600 04-07 ALU, EG-BE

Important notes

Original cat is no longer used. Catalytic converter not included. Aftermarket catalytic converter with 52 mm diameter (Order no. 10027035) available.

Connector pipe and fastening springs are included.

"Short" rear silencer is approx. 360 mm long.

Design: Slip-on 4-1

10035614

The product will be ordered from the manufacturer for you. Depending on availability, longer delivery times are also possible. We'll let you know if that's the case. You can of course cancel your delivery at any time free of charge.

Available in 7-21 days

€389.95

1 2 €331.99 1
ENDSCHALLD. SHARK DSX-5 - CBF600 08- SCHWARZ, EG-BE

Important notes

Original cat is no longer used. Catalytic converter not included. Aftermarket catalytic converter (Order no. 10027036) available as an accessory.

Connector pipe and fastening springs are included.

"Short" rear silencer is approx. 360 mm long.

Design: Slip-on 4-1

10035617

The product will be ordered from the manufacturer for you. Depending on availability, longer delivery times are also possible. We'll let you know if that's the case. You can of course cancel your delivery at any time free of charge.

Available in 7-21 days

€389.95

1 2 €331.99 1
ENDSCHALLD. SHARK DSX-5 - CBF600 2004-07 BLK E-MARK

Important notes

Original cat is no longer used. Catalytic converter not included. Aftermarket catalytic converter with 52 mm diameter (Order no. 10027035) available.

Connector pipe and fastening springs are included.

"Short" rear silencer is approx. 360 mm long.

Design: Slip-on 4-1

10035615

The product will be ordered from the manufacturer for you. Depending on availability, longer delivery times are also possible. We'll let you know if that's the case. You can of course cancel your delivery at any time free of charge.

Available in 7-21 days

€389.95

1 2 €331.99 1
ENDSCHALLD. SHARK DSX-5 - CBF600 2008-STAINL E-MARK

Important notes

Original cat is no longer used. Catalytic converter not included. Aftermarket catalytic converter (Order no. 10027036) available as an accessory.

Connector pipe and fastening springs are included.

"Short" rear silencer is approx. 360 mm long.

Design: Slip-on 4-1

10035616

The product will be ordered from the manufacturer for you. Depending on availability, longer delivery times are also possible. We'll let you know if that's the case. You can of course cancel your delivery at any time free of charge.

Available in 7-21 days

€389.95

1 2 €331.99 1
ENDSCHALLD. SHARK DSX-5 - CBR600 11-/CB600 07- ALU

Important notes

The original catalytic converter is retained, so retrofitting is not required.

Design: Slip-on 4-1

10035618

The product will be ordered from the manufacturer for you. Depending on availability, longer delivery times are also possible. We'll let you know if that's the case. You can of course cancel your delivery at any time free of charge.

Available in 7-21 days

€359.99

1 2 €331.99 1
ENDSCHALLD. SHARK DSX-5 - CBR600F 01-06 SCHW. EG-BE

Important notes

Original cat is no longer used. Catalytic converter not included. Aftermarket catalytic converter with 52 mm diameter (Order no. 10027035) available.

Connector pipe and fastening springs are included.

"Short" rear silencer is approx. 360 mm long.

Design: Slip-on 4-1

10035623

The item is in stock and will be delivered in 2-5 working days. Note: Stocks are updated online every hour on working days from 7 a.m. to 8 p.m., so there is a good chance that the products are available if they appear online.

Available

€389.95

1 2 €331.99 1
ENDSCHALLD. SHARK DSX-5 - CBR600F 01-06, ALU, EG-BE

Important notes

Original cat is no longer used. Catalytic converter not included. Aftermarket catalytic converter with 52 mm diameter (Order no. 10027035) available.

Connector pipe and fastening springs are included.

"Short" rear silencer is approx. 360 mm long.

Design: Slip-on 4-1

10035622

The product will be ordered from the manufacturer for you. Depending on availability, longer delivery times are also possible. We'll let you know if that's the case. You can of course cancel your delivery at any time free of charge.

Available in 7-21 days

€389.95

1 2 €331.99 1
ENDSCHALLD. SHARK DSX-5 - CBR600F 99-00 ALUM,E-MARK

Important notes

Connector pipe and fastening springs are included.

"Short" rear silencer is approx. 360 mm long.

The original catalytic converter is retained, so retrofitting is not required.

Design: Slip-on 4-1

10035620

The product will be ordered from the manufacturer for you. Depending on availability, longer delivery times are also possible. We'll let you know if that's the case. You can of course cancel your delivery at any time free of charge.

Available in 7-21 days

€359.99

1 2 €331.99 1
ENDSCHALLD. SHARK DSX-5 - CBR600F 99-00 SCHW. EG-BE

Important notes

Connector pipe and fastening springs are included.

"Short" rear silencer is approx. 360 mm long.

The original catalytic converter is retained, so retrofitting is not required.

Design: Slip-on 4-1

10035621

The product will be ordered from the manufacturer for you. Depending on availability, longer delivery times are also possible. We'll let you know if that's the case. You can of course cancel your delivery at any time free of charge.

Available in 7-21 days

€389.95

1 2 €331.99 1
ENDSCHALLD. SHARK DSX-5 - CROSSRUNN. 11- ALU, EG-BE

Important notes

The original catalytic converter is retained, so retrofitting is not required.

Design: Slip-on 4-1

10035628

The product will be ordered from the manufacturer for you. Depending on availability, longer delivery times are also possible. We'll let you know if that's the case. You can of course cancel your delivery at any time free of charge.

Available in 7-21 days

€389.95

1 2 €331.99 1
ENDSCHALLD. SHARK DSX-5 - CROSSRUNN. 11- SCHW.EG-BE

Important notes

The original catalytic converter is retained, so retrofitting is not required.

Design: Slip-on 4-1

10035629

The product will be ordered from the manufacturer for you. Depending on availability, longer delivery times are also possible. We'll let you know if that's the case. You can of course cancel your delivery at any time free of charge.

Available in 7-21 days

€389.95

1 2 €331.99 1
ENDSCHALLD. SHARK DSX-5 - DL1000 V-STROM 18- ALU

Important notes

The silencer is not approved for use without a dB absorber under the German Road Traffic Licensing Regulations (StVZO).

The original catalytic converter is retained, so retrofitting is not required.

Design: Slip-on 4-1

The exhaust system was tested according to the Euro4 exhaust gas standard.

10013704

The product will be ordered from the manufacturer for you. Depending on availability, longer delivery times are also possible. We'll let you know if that's the case. You can of course cancel your delivery at any time free of charge.

Available in 7-21 days

€389.95

1 2 €331.99 1
ENDSCHALLD. SHARK DSX-5 - DL1000 V-STROM 18-SCHWARZ

Important notes

The original catalytic converter is retained, so retrofitting is not required.

Design: Slip-on 4-1

The exhaust system was tested according to the Euro4 exhaust gas standard.

10013705

The item is in stock and will be delivered in 2-5 working days. Note: Stocks are updated online every hour on working days from 7 a.m. to 8 p.m., so there is a good chance that the products are available if they appear online.

Available

€389.95

1 2 €341.95 1
ENDSCHALLD. SHARK DSX-5 - DL1000V-STR. 14-,SCHWARZ

Important notes

The original catalytic converter is retained, so retrofitting is not required.

10035698

The item is in stock and will be delivered in 2-5 working days. Note: Stocks are updated online every hour on working days from 7 a.m. to 8 p.m., so there is a good chance that the products are available if they appear online.

Available

€389.95

1 2 €370.45 1
ENDSCHALLD. SHARK DSX-5 - DL1000V-STR. 15- ALU, ABE

Important notes

Design: Slip-on 2-1

The original catalytic converter is retained, so retrofitting is not required.

10035699

The product will be ordered from the manufacturer for you. Depending on availability, longer delivery times are also possible. We'll let you know if that's the case. You can of course cancel your delivery at any time free of charge.

Available in 7-21 days

€389.95

1 2 €331.99 1
ENDSCHALLD. SHARK DSX-5 - DUKE 690 12-SCHWARZ,EG-BE

Important notes

Connector pipe and fastening springs are included.

"Super Short" rear silencer is approx. 250 mm long.

The original catalytic converter is retained, so retrofitting is not required.

Design: Slip-on 1-1

10035683

The item is in stock and will be delivered in 2-5 working days. Note: Stocks are updated online every hour on working days from 7 a.m. to 8 p.m., so there is a good chance that the products are available if they appear online.

Available

€389.95

1 2 €331.99 1
ENDSCHALLD. SHARK DSX-5 - F 650/800 GS 08-ALU EG-BE

Important notes

Connector pipe and fastening springs are included.

"Short" rear silencer is approx. 360 mm long.

The original catalytic converter is retained, so retrofitting is not required.

Design: Slip-on 2-1

10035600

The product will be ordered from the manufacturer for you. Depending on availability, longer delivery times are also possible. We'll let you know if that's the case. You can of course cancel your delivery at any time free of charge.

Available in 7-21 days

€389.95

1 2 €331.99 1
ENDSCHALLD. SHARK DSX-5 - F 650/800GS 08-SCHW,EG-BE

Important notes

Connector pipe and fastening springs are included.

"Short" rear silencer is approx. 360 mm long.

The original catalytic converter is retained, so retrofitting is not required.

Design: Slip-on 2-1

10035601

The item is in stock and will be delivered in 2-5 working days. Note: Stocks are updated online every hour on working days from 7 a.m. to 8 p.m., so there is a good chance that the products are available if they appear online.

Available

€389.95

1 2 €331.99 1
ENDSCHALLD. SHARK DSX-5 - F 700 GS 13-SCHWARZ,EG-BE

Important notes

Connector pipe and fastening springs are included.

"Short" rear silencer is approx. 360 mm long.

Design: Slip-on 2-1

10035685

The item is in stock and will be delivered in 2-5 working days. Note: Stocks are updated online every hour on working days from 7 a.m. to 8 p.m., so there is a good chance that the products are available if they appear online.

Available

€389.95

1 2 €331.99 1
ENDSCHALLD. SHARK DSX-5 - F 700 GS 16-SCHWARZ,EG-BE

Important notes

The original catalytic converter is retained.

Design: Slip-on 2-1

The exhaust system was tested according to the Euro4 exhaust gas standard

10036991

The product will be ordered from the manufacturer for you. Depending on availability, longer delivery times are also possible. We'll let you know if that's the case. You can of course cancel your delivery at any time free of charge.

Available in 7-21 days

€389.95

1 2 €331.99 1
ENDSCHALLD. SHARK DSX-5 - F 750/850 GS ALU-POLISH.

Important notes

The silencer is not approved for use without a dB absorber under the German Road Traffic Licensing Regulations (StVZO).

The original catalytic converter is retained, so retrofitting is not required.

Design: Slip-on 2-1

The exhaust system was tested according to the Euro4 exhaust gas standard.

10036986

The product will be ordered from the manufacturer for you. Depending on availability, longer delivery times are also possible. We'll let you know if that's the case. You can of course cancel your delivery at any time free of charge.

Available in 7-21 days

€389.95

1 2 €331.99 1
ENDSCHALLD. SHARK DSX-5 - F 800 GT 13-SCHWARZ,EG-BE

Important notes

Connector pipe and fastening springs are included.

"Short" rear silencer is approx. 360 mm long.

Design: Slip-on 2-1

10035687

The item is in stock and will be delivered in 2-5 working days. Note: Stocks are updated online every hour on working days from 7 a.m. to 8 p.m., so there is a good chance that the products are available if they appear online.

Available

€389.95

1 2 €331.99 1
ENDSCHALLD. SHARK DSX-5 - F 800 R 09-SCHWARZ,EG-BE

Important notes

Connector pipe and fastening springs are included.

"Short" rear silencer is approx. 360 mm long.

The original catalytic converter is retained, so retrofitting is not required.

Design: Slip-on 2-1

10035603

The product will be ordered from the manufacturer for you. Depending on availability, longer delivery times are also possible. We'll let you know if that's the case. You can of course cancel your delivery at any time free of charge.

Available in 7-21 days

€389.95

1 2 €331.99 1
ENDSCHALLD. SHARK DSX-5 - F 800/ADV. 18- SCHWARZ

Important notes

The original catalytic converter is retained, so retrofitting is not required.

Design: Slip-on 2-1

The exhaust system was tested according to the Euro4 exhaust gas standard.

10013702

The item is in stock and will be delivered in 2-5 working days. Note: Stocks are updated online every hour on working days from 7 a.m. to 8 p.m., so there is a good chance that the products are available if they appear online.

Available

€389.95

1 2 €331.99 1
ENDSCHALLD. SHARK DSX-5 - F 800GS/ADV.18- ALU.EG-BE

Important notes

The original catalytic converter is retained, so retrofitting is not required.

Design: Slip-on 2-1

The exhaust system was tested according to the Euro4 exhaust gas standard.

10013703

The product will be ordered from the manufacturer for you. Depending on availability, longer delivery times are also possible. We'll let you know if that's the case. You can of course cancel your delivery at any time free of charge.

Available in 7-21 days

€389.95

1 2 €331.99 1
ENDSCHALLD. SHARK DSX-5 - F700GS 2013- ALUM, E-MARK

Important notes

Connector pipe and fastening springs are included.

"Short" rear silencer is approx. 360 mm long.

Design: Slip-on 2-1

10035684

The product will be ordered from the manufacturer for you. Depending on availability, longer delivery times are also possible. We'll let you know if that's the case. You can of course cancel your delivery at any time free of charge.

Available in 7-21 days

€389.95

1 2 €331.99 1
ENDSCHALLD. SHARK DSX-5 - F700GS 2016- ALUM, E-MARK

Important notes

The original catalytic converter is retained.

Design: Slip-on 2-1

The exhaust system conforms to the EURO 4 standard

10036990

The product will be ordered from the manufacturer for you. Depending on availability, longer delivery times are also possible. We'll let you know if that's the case. You can of course cancel your delivery at any time free of charge.

Available in 7-21 days

€389.95

1 2 €331.99 1
ENDSCHALLD. SHARK DSX-5 - F750/850 GS BLACK

Important notes

The silencer is not approved for use without a dB absorber under the German Road Traffic Licensing Regulations (StVZO).

The original catalytic converter is retained, so retrofitting is not required.

Design: Slip-on 2-1

10036988

The item is in stock and will be delivered in 2-5 working days. Note: Stocks are updated online every hour on working days from 7 a.m. to 8 p.m., so there is a good chance that the products are available if they appear online.

Available

€389.95

1 2 €331.99 1
ENDSCHALLD. SHARK DSX-5 - F800GT 2013- ALUM,E-MARK

Important notes

Connector pipe and fastening springs are included.

"Short" rear silencer is approx. 360 mm long.

Design: Slip-on 2-1

10035686

The product will be ordered from the manufacturer for you. Depending on availability, longer delivery times are also possible. We'll let you know if that's the case. You can of course cancel your delivery at any time free of charge.

Available in 7-21 days

€389.95

1 2 €331.99 1
ENDSCHALLD. SHARK DSX-5 - F800R 2009- ALUM. E-MARK

Important notes

Connector pipe and fastening springs are included.

"Short" rear silencer is approx. 360 mm long.

The original catalytic converter is retained, so retrofitting is not required.

Design: Slip-on 2-1

10035602

The product will be ordered from the manufacturer for you. Depending on availability, longer delivery times are also possible. We'll let you know if that's the case. You can of course cancel your delivery at any time free of charge.

Available in 7-21 days

€389.95

1 2 €331.99 1
ENDSCHALLD. SHARK DSX-5 - FZ1/FAZER 06- ALUM,E-MARK

Important notes

Connector pipe and fastening springs are included.

"Short" rear silencer is approx. 360 mm long.

The original catalytic converter is retained, so retrofitting is not required.

Design: Slip-on 4-1

10035678

The product will be ordered from the manufacturer for you. Depending on availability, longer delivery times are also possible. We'll let you know if that's the case. You can of course cancel your delivery at any time free of charge.

Available in 7-21 days

€389.95

1 2 €331.99 1
ENDSCHALLD. SHARK DSX-5 - FZ1/FAZER 06- SCHW. EG-BE

Important notes

Connector pipe and fastening springs are included.

"Short" rear silencer is approx. 360 mm long.

The original catalytic converter is retained, so retrofitting is not required.

Design: Slip-on 4-1

10035679

The product will be ordered from the manufacturer for you. Depending on availability, longer delivery times are also possible. We'll let you know if that's the case. You can of course cancel your delivery at any time free of charge.

Available in 7-21 days

€389.95

1 2 €331.99 1
ENDSCHALLD. SHARK DSX-5 - FZ8/FAZER, 10- SCHW.EG-BE

Important notes

Connector pipe and fastening springs are included.

"Super Short" rear silencer is approx. 250 mm long.

The original catalytic converter is retained, so retrofitting is not required.

Design: Slip-on 4-1

10035675

The item is in stock and will be delivered in 2-5 working days. Note: Stocks are updated online every hour on working days from 7 a.m. to 8 p.m., so there is a good chance that the products are available if they appear online.

Available

€389.95

1 2 €331.99 1
ENDSCHALLD. SHARK DSX-5 - FZ8/FAZER,10- ALU, E-MARK

Important notes

Connector pipe and fastening springs are included.

"Super Short" rear silencer is approx. 250 mm long.

The original catalytic converter is retained, so retrofitting is not required.

Design: Slip-on 4-1

10035674

The item is in stock and will be delivered in 2-5 working days. Note: Stocks are updated online every hour on working days from 7 a.m. to 8 p.m., so there is a good chance that the products are available if they appear online.

Available

€349.99

1 2 €279.99 1
ENDSCHALLD. SHARK DSX-5 - FZS1000 01-05 ALUM,E-MARK

Important notes

Connector pipe and fastening springs are included.

"Short" rear silencer is approx. 360 mm long.

The original catalytic converter is retained, so retrofitting is not required.

Design: Slip-on 4-1

10035676

The item is in stock and will be delivered in 2-5 working days. Note: Stocks are updated online every hour on working days from 7 a.m. to 8 p.m., so there is a good chance that the products are available if they appear online.

Available

€389.95

1 2 €331.99 1
ENDSCHALLD. SHARK DSX-5 - FZS1000 01-05 SCHW.,EG-BE

Important notes

Connector pipe and fastening springs are included.

"Short" rear silencer is approx. 360 mm long.

The original catalytic converter is retained, so retrofitting is not required.

Design: Slip-on 4-1

10035677

The item is in stock and will be delivered in 2-5 working days. Note: Stocks are updated online every hour on working days from 7 a.m. to 8 p.m., so there is a good chance that the products are available if they appear online.

Available

€389.95

1 2 €331.99 1
ENDSCHALLD. SHARK DSX-5 - FZS600FAZER -03 ALU,EG-BE

Important notes

Connector pipe and fastening springs are included.

"Short" rear silencer is approx. 360 mm long.

The original catalytic converter is retained, so retrofitting is not required.

Design: Slip-on 4-1

10035670

The item is in stock and will be delivered in 2-5 working days. Note: Stocks are updated online every hour on working days from 7 a.m. to 8 p.m., so there is a good chance that the products are available if they appear online.

Available

€389.95

1 2 €331.99 1
ENDSCHALLD. SHARK DSX-5 - FZS600FAZER -03 SCHW.EGBE

Important notes

Connector pipe and fastening springs are included.

"Short" rear silencer is approx. 360 mm long.

The original catalytic converter is retained, so retrofitting is not required.

Design: Slip-on 4-1

10035671

The item is in stock and will be delivered in 2-5 working days. Note: Stocks are updated online every hour on working days from 7 a.m. to 8 p.m., so there is a good chance that the products are available if they appear online.

Available

€389.95

1 2 €331.99 1
ENDSCHALLD. SHARK DSX-5 - GSF 1200 BAN. 06 ALU, ABE

Important notes

Connector pipe and fastening springs are included.

The original catalytic converter is retained, so retrofitting is not required.

Design: Slip-on 4-1

10036153

The product will be ordered from the manufacturer for you. Depending on availability, longer delivery times are also possible. We'll let you know if that's the case. You can of course cancel your delivery at any time free of charge.

Available in 7-21 days

€389.95

1 2 €331.99 1
ENDSCHALLD. SHARK DSX-5 - GSF 1200 BAN. 06 SCHWARZ

Important notes

Connector pipe and fastening springs are included.

The original catalytic converter is retained, so retrofitting is not required.

Design: Slip-on 4-1

10036154

The product will be ordered from the manufacturer for you. Depending on availability, longer delivery times are also possible. We'll let you know if that's the case. You can of course cancel your delivery at any time free of charge.

Available in 7-21 days

€389.95

1 2 €331.99 1
ENDSCHALLD. SHARK DSX-5 - GSF 1200/S 01-06 ALU, ABE

Important notes

Original cat is no longer used. Catalytic converter not included. Aftermarket catalytic converter with 52 mm diameter (Order no. 10027035) available.

Connector pipe and fastening springs are included.

"Short" rear silencer is approx. 360 mm long.

Design: Slip-on 4-1

10035662

The product will be ordered from the manufacturer for you. Depending on availability, longer delivery times are also possible. We'll let you know if that's the case. You can of course cancel your delivery at any time free of charge.

Available in 7-21 days

€389.95

1 2 €331.99 1
ENDSCHALLD. SHARK DSX-5 - GSF 1200/S 01-06 SCHW.ABE

Important notes

Original cat is no longer used. Catalytic converter not included. Aftermarket catalytic converter with 52 mm diameter (Order no. 10027035) available.

Connector pipe and fastening springs are included.

"Short" rear silencer is approx. 360 mm long.

Design: Slip-on 4-1

10035663

The item is in stock and will be delivered in 2-5 working days. Note: Stocks are updated online every hour on working days from 7 a.m. to 8 p.m., so there is a good chance that the products are available if they appear online.

Available

€389.95

1 2 €331.99 1
ENDSCHALLD. SHARK DSX-5 - GSF 600/S 96- SCHW.,EG-BE

Important notes

Connector pipe and fastening springs are included.

"Short" rear silencer is approx. 360 mm long.

The original catalytic converter is retained, so retrofitting is not required.

Design: Slip-on 4-1

10035653

The product will be ordered from the manufacturer for you. Depending on availability, longer delivery times are also possible. We'll let you know if that's the case. You can of course cancel your delivery at any time free of charge.

Available in 7-21 days

€389.95

1 2 €331.99 1
ENDSCHALLD. SHARK DSX-5 - GSF 650/1200/1250S ALU

Important notes

Connector pipe and fastening springs are included.

"Short" rear silencer is approx. 360 mm long.

The original catalytic converter is retained, so retrofitting is not required.

Design: Slip-on 4-1

10035656

The product will be ordered from the manufacturer for you. Depending on availability, longer delivery times are also possible. We'll let you know if that's the case. You can of course cancel your delivery at any time free of charge.

Available in 7-21 days

€389.95

1 2 €331.99 1
ENDSCHALLD. SHARK DSX-5 - GSF 650/1200/1250S SCHW.

Important notes

Connector pipe and fastening springs are included.

"Short" rear silencer is approx. 360 mm long.

The original catalytic converter is retained, so retrofitting is not required.

Design: Slip-on 4-1

10035657

The item is in stock and will be delivered in 2-5 working days. Note: Stocks are updated online every hour on working days from 7 a.m. to 8 p.m., so there is a good chance that the products are available if they appear online.

Available

€389.95

1 2 €341.95 1
ENDSCHALLD. SHARK DSX-5 - GSF 650/S -06 SCHW.,EG-BE

Important notes

Original cat is no longer used. Catalytic converter not included. Aftermarket catalytic converter with 52 mm diameter (Order no. 10027035) available.

Connector pipe and fastening springs are included.

"Short" rear silencer is approx. 360 mm long.

Design: Slip-on 4-1

10035655

The item is in stock and will be delivered in 2-5 working days. Note: Stocks are updated online every hour on working days from 7 a.m. to 8 p.m., so there is a good chance that the products are available if they appear online.

Available

€389.95

1 2 €331.99 1
ENDSCHALLD. SHARK DSX-5 - GSF600/S 96- ALUM,E-MARK

Important notes

Connector pipe and fastening springs are included.

"Short" rear silencer is approx. 360 mm long.

The original catalytic converter is retained, so retrofitting is not required.

Design: Slip-on 4-1

10035652

The product will be ordered from the manufacturer for you. Depending on availability, longer delivery times are also possible. We'll let you know if that's the case. You can of course cancel your delivery at any time free of charge.

Available in 7-21 days

€389.95

1 2 €331.99 1
ENDSCHALLD. SHARK DSX-5 - GSF650/S -06 ALUM,E-MARK

Important notes

Original cat is no longer used. Catalytic converter not included. Aftermarket catalytic converter with 52 mm diameter (Order no. 10027035) available.

Connector pipe and fastening springs are included.

"Short" rear silencer is approx. 360 mm long.

Design: Slip-on 4-1

10035654

The product will be ordered from the manufacturer for you. Depending on availability, longer delivery times are also possible. We'll let you know if that's the case. You can of course cancel your delivery at any time free of charge.

Available in 7-21 days

€389.95

1 2 €331.99 1
ENDSCHALLD. SHARK DSX-5 - GSR 750 11-, ALU, EG-BE

Important notes

Connector pipe and fastening springs are included.

"Super Short" rear silencer is approx. 250 mm long.

The original catalytic converter is retained, so retrofitting is not required.

Design: Slip-on 4-1

10035658

The item is in stock and will be delivered in 2-5 working days. Note: Stocks are updated online every hour on working days from 7 a.m. to 8 p.m., so there is a good chance that the products are available if they appear online.

Available

€349.99

1 2 €279.99 1
ENDSCHALLD. SHARK DSX-5 - GSR 750 11-,SCHWARZ,EG-BE

Important notes

Connector pipe and fastening springs are included.

"Super Short" rear silencer is approx. 250 mm long.

The original catalytic converter is retained, so retrofitting is not required.

Design: Slip-on 4-1

10035659

The item is in stock and will be delivered in 2-5 working days. Note: Stocks are updated online every hour on working days from 7 a.m. to 8 p.m., so there is a good chance that the products are available if they appear online.

Available

€389.95

1 2 €331.99 1
ENDSCHALLD. SHARK DSX-5 - GSX 1400 05-SCHWARZ,EG-BE

Important notes

Original cat is no longer used. Catalytic converter not included. Aftermarket catalytic converter (Order no. 10027036) available as an accessory.

Connector pipe and fastening springs are included.

"Short" rear silencer is approx. 360 mm long.

Design: Slip-on 4-1

10035665

The item is in stock and will be delivered in 2-5 working days. Note: Stocks are updated online every hour on working days from 7 a.m. to 8 p.m., so there is a good chance that the products are available if they appear online.

Available

€389.95

1 2 €331.99 1
ENDSCHALLD. SHARK DSX-5 - GSX-S 750 17-, SCHWARZ

Important notes

"Super Short" rear silencer is approx. 250 mm long.

The original catalytic converter is retained, so retrofitting is not required.

Design: Slip-on 4-1

The exhaust system was tested according to the Euro4 exhaust gas standard.

10036197

The item is in stock and will be delivered in 2-5 working days. Note: Stocks are updated online every hour on working days from 7 a.m. to 8 p.m., so there is a good chance that the products are available if they appear online.

Available

€389.95

1 €331.99 1
ENDSCHALLD. SHARK DSX-5 - GSX-S1000/F 15- ,SCHWARZ

Important notes

"Super Short" rear silencer is approx. 250 mm long.

The original catalytic converter is retained, so retrofitting is not required.

Design: Slip-on 4-1

10035977

The product will be ordered from the manufacturer for you. Depending on availability, longer delivery times are also possible. We'll let you know if that's the case. You can of course cancel your delivery at any time free of charge.

Available in 7-21 days

€389.95

1 2 €331.99 1
ENDSCHALLD. SHARK DSX-5 - GSX1400 2005- ALUM,E-MARK

Important notes

Original cat is no longer used. Catalytic converter not included. Aftermarket catalytic converter (Order no. 10027036) available as an accessory.

Connector pipe and fastening springs are included.

"Short" rear silencer is approx. 360 mm long.

Design: Slip-on 4-1

10035664

The product will be ordered from the manufacturer for you. Depending on availability, longer delivery times are also possible. We'll let you know if that's the case. You can of course cancel your delivery at any time free of charge.

Available in 7-21 days

€389.95

1 2 €331.99 1
ENDSCHALLD. SHARK DSX-5 - HONDA X-ADV -17 SCHWARZ

Important notes

"Short" rear silencer is approx. 360 mm long.

The original catalytic converter is retained, so retrofitting is not required.

Design: Slip-on 2-1

10013716

The item is in stock and will be delivered in 2-5 working days. Note: Stocks are updated online every hour on working days from 7 a.m. to 8 p.m., so there is a good chance that the products are available if they appear online.

Available

€349.95

1 2 €279.99 1
ENDSCHALLD. SHARK DSX-5 - INTEGRA 750 2016- BLACK

Important notes

Connector pipe and fastening springs are included.

The original catalytic converter is retained, so retrofitting is not required.

Design: Slip-on 2-1

The exhaust system was tested according to the Euro4 exhaust gas standard.

10036162

The item is in stock and will be delivered in 2-5 working days. Note: Stocks are updated online every hour on working days from 7 a.m. to 8 p.m., so there is a good chance that the products are available if they appear online.

Available

€389.95

1 2 €331.99 1
ENDSCHALLD. SHARK DSX-5 - INTEGRA 750 16- , ALU,ABE

Important notes

Connector pipe and fastening springs are included.

The original catalytic converter is retained, so retrofitting is not required.

Design: Slip-on 2-1

The exhaust system was tested according to the Euro4 exhaust gas standard.

10036161

The product will be ordered from the manufacturer for you. Depending on availability, longer delivery times are also possible. We'll let you know if that's the case. You can of course cancel your delivery at any time free of charge.

Available in 7-21 days

€389.95

1 2 €331.99 1
ENDSCHALLD. SHARK DSX-5 - K1200 S/R 04- SCHW.,EG-BE

Important notes

Original cat is no longer used. Catalytic converter not included. Aftermarket catalytic converter (Order no. 10027036) available as an accessory.

Connector pipe and fastening springs are included.

"Short" rear silencer is approx. 360 mm long.

Design: Slip-on 4-1

10035611

The item is in stock and will be delivered in 2-5 working days. Note: Stocks are updated online every hour on working days from 7 a.m. to 8 p.m., so there is a good chance that the products are available if they appear online.

Available

€389.95 1
ENDSCHALLD. SHARK DSX-5 - K1200S/R 2004-ALUM E-MARK

Important notes

Original cat is no longer used. Catalytic converter not included. Aftermarket catalytic converter (Order no. 10027036) available as an accessory.

Connector pipe and fastening springs are included.

"Short" rear silencer is approx. 360 mm long.

Design: Slip-on 4-1

10035610

The item is in stock and will be delivered in 2-5 working days. Note: Stocks are updated online every hour on working days from 7 a.m. to 8 p.m., so there is a good chance that the products are available if they appear online.

Available

€389.95

1 2 €331.99 1
ENDSCHALLD. SHARK DSX-5 - K1300 S/R 09-SCHWARZ ABE

Important notes

Original cat is no longer used. Catalytic converter not included. Aftermarket catalytic converter (Order no. 10027036) available as an accessory.

Connector pipe and fastening springs are included.

"Short" rear silencer is approx. 360 mm long.

Design: Slip-on 4-1

10035613

The item is in stock and will be delivered in 2-5 working days. Note: Stocks are updated online every hour on working days from 7 a.m. to 8 p.m., so there is a good chance that the products are available if they appear online.

Available

€389.95

1 2 €331.99 1
ENDSCHALLD. SHARK DSX-5 - K1300S/R 09- ALUM,E-MARK

Important notes

Original cat is no longer used. Catalytic converter not included. Aftermarket catalytic converter (Order no. 10027036) available as an accessory.

Connector pipe and fastening springs are included.

"Short" rear silencer is approx. 360 mm long.

Design: Slip-on 4-1

10035612

The product will be ordered from the manufacturer for you. Depending on availability, longer delivery times are also possible. We'll let you know if that's the case. You can of course cancel your delivery at any time free of charge.

Available in 7-21 days

€389.95

1 2 €331.99 1
ENDSCHALLD. SHARK DSX-5 - KAWASAKI VERSYS -17 SCHW.

Important notes

"Short" rear silencer is approx. 360 mm long.

The original catalytic converter is retained, so retrofitting is not required.

Design: Slip-on 4-1

10013717

The product will be ordered from the manufacturer for you. Depending on availability, longer delivery times are also possible. We'll let you know if that's the case. You can of course cancel your delivery at any time free of charge.

Available in 7-21 days

€389.95

1 2 €331.99 1
ENDSCHALLD. SHARK DSX-5 - KTM/HUSQVARNA ALU-POLISH.
10038735

The product will be ordered from the manufacturer for you. Depending on availability, longer delivery times are also possible. We'll let you know if that's the case. You can of course cancel your delivery at any time free of charge.

Available in 7-21 days

€359.99

1 2 €331.99 1
ENDSCHALLD. SHARK DSX-5 - KTM/HUSQVARNA BLACK
10038736

The product will be ordered from the manufacturer for you. Depending on availability, longer delivery times are also possible. We'll let you know if that's the case. You can of course cancel your delivery at any time free of charge.

Available in 7-21 days

€389.99

1 2 €331.99 1
ENDSCHALLD. SHARK DSX-5 - NC 750 S/X BJ.16- SCHWARZ

Important notes

Design: Slip-on 2-1

Connector pipe and fastening springs are included.

The original catalytic converter is retained, so retrofitting is not required.

The exhaust system was tested according to the Euro4 exhaust gas standard.

10036191

The product will be ordered from the manufacturer for you. Depending on availability, longer delivery times are also possible. We'll let you know if that's the case. You can of course cancel your delivery at any time free of charge.

Available in 7-21 days

€389.95

1 2 €331.99 1
ENDSCHALLD. SHARK DSX-5 - NC700,750 S/X,INT.12-SCHW

Important notes

Connector pipe and fastening springs are included.

"Short" rear silencer is approx. 360 mm long.

The original catalytic converter is retained, so retrofitting is not required.

Design: Slip-on 2-1

10035627

The product will be ordered from the manufacturer for you. Depending on availability, longer delivery times are also possible. We'll let you know if that's the case. You can of course cancel your delivery at any time free of charge.

Available in 7-21 days

€389.95

1 2 €331.99 1
ENDSCHALLD. SHARK DSX-5 - NC700,750 S/X,INTE.12-ALU

Important notes

Connector pipe and fastening springs are included.

"Short" rear silencer is approx. 360 mm long.

The original catalytic converter is retained, so retrofitting is not required.

Design: Slip-on 2-1

10035626

The product will be ordered from the manufacturer for you. Depending on availability, longer delivery times are also possible. We'll let you know if that's the case. You can of course cancel your delivery at any time free of charge.

Available in 7-21 days

€389.95

1 2 €331.99 1
ENDSCHALLD. SHARK DSX-5 - NC750S/X 2016-,ALUM,T.APP

Important notes

Connector pipe and fastening springs are included.

The original catalytic converter is retained, so retrofitting is not required.

Design: Slip-on 2-1

The exhaust system was tested according to the Euro4 exhaust gas standard.

10036159

The product will be ordered from the manufacturer for you. Depending on availability, longer delivery times are also possible. We'll let you know if that's the case. You can of course cancel your delivery at any time free of charge.

Available in 7-21 days

€389.95

1 2 €331.99 1
ENDSCHALLD. SHARK DSX-5 - NINJA 400 (18-19) SCHWARZ

Important notes

The silencer is not approved for use without a dB absorber under the German Road Traffic Licensing Regulations (StVZO).

"Super Short" rear silencer is approx. 250 mm long.

The original catalytic converter is retained, so retrofitting is not required.

Design: Slip-on 2-1

The exhaust system was tested according to the Euro4 exhaust gas standard.

Here fits the db-Killer art.no. 10013710.

10013714

The item is in stock and will be delivered in 2-5 working days. Note: Stocks are updated online every hour on working days from 7 a.m. to 8 p.m., so there is a good chance that the products are available if they appear online.

Available

€389.95

1 2 €331.99 1
ENDSCHALLD. SHARK DSX-5 - R 1200 GS 10-12,ALU,EG-BE

Important notes

10035608

The item is in stock and will be delivered in 2-5 working days. Note: Stocks are updated online every hour on working days from 7 a.m. to 8 p.m., so there is a good chance that the products are available if they appear online.

Available

€389.95

1 €331.99 1
ENDSCHALLD. SHARK DSX-5 - R 1200 GS BJ.13-, ALU,ABE

Important notes

Connector pipe and fastening springs are included.

The original catalytic converter is retained, so retrofitting is not required.

Design: Slip-on 2-1

10036157

The item is in stock and will be delivered in 2-5 working days. Note: Stocks are updated online every hour on working days from 7 a.m. to 8 p.m., so there is a good chance that the products are available if they appear online.

Available

€389.95

1 2 €331.99 1
ENDSCHALLD. SHARK DSX-5 - R 1200 R/RS 17- ALU,EG-BE
10036199

The item is in stock and will be delivered in 2-5 working days. Note: Stocks are updated online every hour on working days from 7 a.m. to 8 p.m., so there is a good chance that the products are available if they appear online.

Available

€389.95

1 €331.99 1
ENDSCHALLD. SHARK DSX-5 - R 1200 R/RS 17- SCHWARZ
10036198

The item is in stock and will be delivered in 2-5 working days. Note: Stocks are updated online every hour on working days from 7 a.m. to 8 p.m., so there is a good chance that the products are available if they appear online.

Available

€389.95

1 €331.99 1
ENDSCHALLD. SHARK DSX-5 - R 1200GS 10-12,SCHW,EG-BE
10035609

The product will be ordered from the manufacturer for you. Depending on availability, longer delivery times are also possible. We'll let you know if that's the case. You can of course cancel your delivery at any time free of charge.

Available in 7-21 days

€389.95

1 €331.99 1
ENDSCHALLD. SHARK DSX-5 - R 1200R 07-10 ALU, EG-BE

Important notes

Connector pipe and fastening springs are included.

"Short" rear silencer is approx. 360 mm long.

The original catalytic converter is retained, so retrofitting is not required.

Design: Slip-on 2-1

10035604

The item is in stock and will be delivered in 2-5 working days. Note: Stocks are updated online every hour on working days from 7 a.m. to 8 p.m., so there is a good chance that the products are available if they appear online.

Available

€389.95

1 2 €331.99 1
ENDSCHALLD. SHARK DSX-5 - R 1200R 07-10 SCHWARZ,ABE

Important notes

Connector pipe and fastening springs are included.

"Short" rear silencer is approx. 360 mm long.

The original catalytic converter is retained, so retrofitting is not required.

Design: Slip-on 2-1

10035605

The item is in stock and will be delivered in 2-5 working days. Note: Stocks are updated online every hour on working days from 7 a.m. to 8 p.m., so there is a good chance that the products are available if they appear online.

Available

€389.95

1 2 €331.99 1
ENDSCHALLD. SHARK DSX-5 - R 1200R 11- SCHWARZ,EG-BE

Important notes

Connector pipe and fastening springs are included.

"Short" rear silencer is approx. 360 mm long.

The original catalytic converter is retained, so retrofitting is not required.

Design: Slip-on 2-1

10035607

The product will be ordered from the manufacturer for you. Depending on availability, longer delivery times are also possible. We'll let you know if that's the case. You can of course cancel your delivery at any time free of charge.

Available in 7-21 days

€389.95

1 2 €331.99 1
ENDSCHALLD. SHARK DSX-5 - R NINE T 14- ALU, EG-BE

Important notes

The original catalytic converter is retained, so retrofitting is not required.

Design: Slip-on 2-1

10035696

The product will be ordered from the manufacturer for you. Depending on availability, longer delivery times are also possible. We'll let you know if that's the case. You can of course cancel your delivery at any time free of charge.

Available in 7-21 days

€389.95

1 2 €331.99 1
ENDSCHALLD. SHARK DSX-5 - R NINE T 14-,SCHW., EG-BE

Important notes

The original catalytic converter is retained, so retrofitting is not required.

Design: Slip-on 2-1

10035697

The product will be ordered from the manufacturer for you. Depending on availability, longer delivery times are also possible. We'll let you know if that's the case. You can of course cancel your delivery at any time free of charge.

Available in 7-21 days

€389.95

1 2 €331.99 1
ENDSCHALLD. SHARK DSX-5 - R1200 GS 2013-16 BLACK

Important notes

Connector pipe and fastening springs are included.

The original catalytic converter is retained, so retrofitting is not required.

Design: Slip-on 2-1

10036158

The item is in stock and will be delivered in 2-5 working days. Note: Stocks are updated online every hour on working days from 7 a.m. to 8 p.m., so there is a good chance that the products are available if they appear online.

Available

€389.95

1 2 €331.99 1
ENDSCHALLD. SHARK DSX-5 - R1200 R/RS 15- ALUM,T.APP

Important notes

Connector pipe and fastening springs are included.

The original catalytic converter is retained, so retrofitting is not required.

Design: Slip-on 4-1

10036128

The product will be ordered from the manufacturer for you. Depending on availability, longer delivery times are also possible. We'll let you know if that's the case. You can of course cancel your delivery at any time free of charge.

Available in 7-21 days

€389.95

1 2 €331.99 1
ENDSCHALLD. SHARK DSX-5 - R1200R 2011- ALUM.,E-MARK

Important notes

Connector pipe and fastening springs are included.

"Short" rear silencer is approx. 360 mm long.

The original catalytic converter is retained, so retrofitting is not required.

Design: Slip-on 2-1

10035606

The product will be ordered from the manufacturer for you. Depending on availability, longer delivery times are also possible. We'll let you know if that's the case. You can of course cancel your delivery at any time free of charge.

Available in 7-21 days

€389.95

1 2 €331.99 1
ENDSCHALLD. SHARK DSX-5 - R1200R/RS 2015-, BLACK

Important notes

Connector pipe and fastening springs are included.

The original catalytic converter is retained, so retrofitting is not required.

Design: Slip-on 4-1

10036129

The item is in stock and will be delivered in 2-5 working days. Note: Stocks are updated online every hour on working days from 7 a.m. to 8 p.m., so there is a good chance that the products are available if they appear online.

Available

€389.95

1 2 €331.99 1
ENDSCHALLD. SHARK DSX-5 - R1250 R/RS ALUM.-BLACK
10038732

The product will be ordered from the manufacturer for you. Depending on availability, longer delivery times are also possible. We'll let you know if that's the case. You can of course cancel your delivery at any time free of charge.

Available in 7-21 days

€389.95

1 2 €331.99 1
ENDSCHALLD. SHARK DSX-5 - R1250 R/RS POLISHED ALUM
10038731

The product will be ordered from the manufacturer for you. Depending on availability, longer delivery times are also possible. We'll let you know if that's the case. You can of course cancel your delivery at any time free of charge.

Available in 7-21 days

€389.95

1 2 €331.99 1
ENDSCHALLD. SHARK DSX-5 - S 1000 XR BJ.15-,SCHWARZ

Important notes

Connector pipe and fastening springs are included.

The original catalytic converter is retained, so retrofitting is not required.

Design: Slip-on 4-1

10036127

The product will be ordered from the manufacturer for you. Depending on availability, longer delivery times are also possible. We'll let you know if that's the case. You can of course cancel your delivery at any time free of charge.

Available in 7-21 days

€389.95

1 2 €331.99 1
ENDSCHALLD. SHARK DSX-5 - S 1000XR 17- ALU,ELOXIERT

Important notes

The original catalytic converter is retained, so retrofitting is not required.

Design: Slip-on 4-1

The exhaust system was tested according to the Euro4 exhaust gas standard.

10036983

The product will be ordered from the manufacturer for you. Depending on availability, longer delivery times are also possible. We'll let you know if that's the case. You can of course cancel your delivery at any time free of charge.

Available in 7-21 days

€389.95

1 2 €331.99 1
ENDSCHALLD. SHARK DSX-5 - S 1000XR 17- ALU,POLIERT

Important notes

The original catalytic converter is retained, so retrofitting is not required.

Design: Slip-on 4-1

The exhaust system was tested according to the Euro4 exhaust gas standard.

10036982

The product will be ordered from the manufacturer for you. Depending on availability, longer delivery times are also possible. We'll let you know if that's the case. You can of course cancel your delivery at any time free of charge.

Available in 7-21 days

€389.95

1 2 €331.99 1
ENDSCHALLD. SHARK DSX-5 - S1000XR 2015- ALUM,TYP.AP

Important notes

Connector pipe and fastening springs are included.

The original catalytic converter is retained, so retrofitting is not required.

Design: Slip-on 4-1

10036126

The product will be ordered from the manufacturer for you. Depending on availability, longer delivery times are also possible. We'll let you know if that's the case. You can of course cancel your delivery at any time free of charge.

Available in 7-21 days

€389.95

1 2 €331.99 1
ENDSCHALLD. SHARK DSX-5 - SV650 2016- , ALUM, T.APP

Important notes

Connector pipe and fastening springs are included.

The original catalytic converter is retained, so retrofitting is not required.

Design: Slip-on 2-1

The exhaust system was tested according to the Euro4 exhaust gas standard.

10036192

The product will be ordered from the manufacturer for you. Depending on availability, longer delivery times are also possible. We'll let you know if that's the case. You can of course cancel your delivery at any time free of charge.

Available in 7-21 days

€389.95

1 2 €331.99 1
ENDSCHALLD. SHARK DSX-5 - SV650 2016- BLACK

Important notes

Connector pipe and fastening springs are included.

The original catalytic converter is retained, so retrofitting is not required.

Design: Slip-on 2-1

The exhaust system was tested according to the Euro4 exhaust gas standard.

10036193

The item is in stock and will be delivered in 2-5 working days. Note: Stocks are updated online every hour on working days from 7 a.m. to 8 p.m., so there is a good chance that the products are available if they appear online.

Available

€389.95

1 2 €299.99 1
ENDSCHALLD. SHARK DSX-5 - TENERE 700 ALUM-BLACK
10038740

The product will be ordered from the manufacturer for you. Depending on availability, longer delivery times are also possible. We'll let you know if that's the case. You can of course cancel your delivery at any time free of charge.

Available in 7-21 days

€389.95

1 2 €331.99 1
ENDSCHALLD. SHARK DSX-5 - TENERE 700 POLISHED ALUM
10038739

The product will be ordered from the manufacturer for you. Depending on availability, longer delivery times are also possible. We'll let you know if that's the case. You can of course cancel your delivery at any time free of charge.

Available in 7-21 days

€389.95

1 2 €331.99 1
ENDSCHALLD. SHARK DSX-5 - TIGER 1200 16-, SCHWARZ

Important notes

Connector pipe and fastening springs are included.

The original catalytic converter is retained, so retrofitting is not required.

Design: Slip-on 3-1

The exhaust system was tested according to the Euro4 exhaust gas standard.

10036190

The product will be ordered from the manufacturer for you. Depending on availability, longer delivery times are also possible. We'll let you know if that's the case. You can of course cancel your delivery at any time free of charge.

Available in 7-21 days

€389.95

1 2 €331.99 1
ENDSCHALLD. SHARK DSX-5 - TIGER 1200EX.12-SCHW.EGBE

Important notes

Connector pipe and fastening springs are included.

"Short" rear silencer is approx. 360 mm long.

The original catalytic converter is retained, so retrofitting is not required.

Design: Slip-on 3-1

10035669

The item is in stock and will be delivered in 2-5 working days. Note: Stocks are updated online every hour on working days from 7 a.m. to 8 p.m., so there is a good chance that the products are available if they appear online.

Available

€389.95

1 2 €331.99 1
ENDSCHALLD. SHARK DSX-5 - TIGER 800 2018- ALUM

Important notes

The original catalytic converter is retained, so retrofitting is not required.

Design: Slip-on 3-1

The exhaust system was tested according to the Euro4 exhaust gas standard

10013701

The product will be ordered from the manufacturer for you. Depending on availability, longer delivery times are also possible. We'll let you know if that's the case. You can of course cancel your delivery at any time free of charge.

Available in 7-21 days

€389.95

1 2 €331.99 1
ENDSCHALLD. SHARK DSX-5 - TIGER 800 2018- BLACK

Important notes

The original catalytic converter is retained, so retrofitting is not required.

Design: Slip-on 3-1

The exhaust system was tested according to the Euro4 exhaust gas standard

10013700

The product will be ordered from the manufacturer for you. Depending on availability, longer delivery times are also possible. We'll let you know if that's the case. You can of course cancel your delivery at any time free of charge.

Available in 7-21 days

€389.95

1 2 €331.99 1
ENDSCHALLD. SHARK DSX-5 - TIGER 800/XC 11-ALU,EG-BE

Important notes

Connector pipe and fastening springs are included.

"Short" rear silencer is approx. 360 mm long.

The original catalytic converter is retained, so retrofitting is not required.

Design: Slip-on 3-1

10035666

The product will be ordered from the manufacturer for you. Depending on availability, longer delivery times are also possible. We'll let you know if that's the case. You can of course cancel your delivery at any time free of charge.

Available in 7-21 days

€389.95

1 2 €331.99 1
ENDSCHALLD. SHARK DSX-5 - TIGER 800/XC 11-SCHW.EGBE

Important notes

Connector pipe and fastening springs are included.

"Short" rear silencer is approx. 360 mm long.

The original catalytic converter is retained, so retrofitting is not required.

Design: Slip-on 3-1

10035667

The item is in stock and will be delivered in 2-5 working days. Note: Stocks are updated online every hour on working days from 7 a.m. to 8 p.m., so there is a good chance that the products are available if they appear online.

Available

€389.95 1
ENDSCHALLD. SHARK DSX-5 - VERSYS 1000 12- ALU,EG-BE

Important notes

Connector pipe and fastening springs are included.

"Short" rear silencer is approx. 360 mm long.

The original catalytic converter is retained, so retrofitting is not required.

Design: Slip-on 4-1

10035646

The product will be ordered from the manufacturer for you. Depending on availability, longer delivery times are also possible. We'll let you know if that's the case. You can of course cancel your delivery at any time free of charge.

Available in 7-21 days

€389.95

1 2 €331.99 1
ENDSCHALLD. SHARK DSX-5 - VERSYS 1000 12-SCHW.EG-BE

Important notes

Connector pipe and fastening springs are included.

"Short" rear silencer is approx. 360 mm long.

The original catalytic converter is retained, so retrofitting is not required.

Design: Slip-on 4-1

10035647

The item is in stock and will be delivered in 2-5 working days. Note: Stocks are updated online every hour on working days from 7 a.m. to 8 p.m., so there is a good chance that the products are available if they appear online.

Available

€389.95

1 2 €331.99 1
ENDSCHALLD. SHARK DSX-5 - VERSYS 1000 BJ.19-, ALU

Important notes

The original catalytic converter is retained, so retrofitting is not required.

Design: Slip-on 4-1

10013706

The product will be ordered from the manufacturer for you. Depending on availability, longer delivery times are also possible. We'll let you know if that's the case. You can of course cancel your delivery at any time free of charge.

Available in 7-21 days

€389.95

1 2 €331.99 1
ENDSCHALLD. SHARK DSX-5 - VERSYS 1000 BJ.19-, SCHW.

Important notes

The original catalytic converter is retained, so retrofitting is not required.

Design: Slip-on 4-1

10013707

The item is in stock and will be delivered in 2-5 working days. Note: Stocks are updated online every hour on working days from 7 a.m. to 8 p.m., so there is a good chance that the products are available if they appear online.

Available

€389.95

1 2 €331.99 1
ENDSCHALLD. SHARK DSX-5 - VFR 1200 F 12- SCHW.EG-BE

Important notes

Connector pipe and fastening springs are included.

"Short" rear silencer is approx. 360 mm long.

The original catalytic converter is retained, so retrofitting is not required.

Design: Slip-on 4-1

10035633

The product will be ordered from the manufacturer for you. Depending on availability, longer delivery times are also possible. We'll let you know if that's the case. You can of course cancel your delivery at any time free of charge.

Available in 7-21 days

€389.95

1 2 €331.99 1
ENDSCHALLD. SHARK DSX-5 - VFR 1200 F 12-, ALU,EG-BE

Important notes

Connector pipe and fastening springs are included.

"Short" rear silencer is approx. 360 mm long.

The original catalytic converter is retained, so retrofitting is not required.

Design: Slip-on 4-1

10035632

The product will be ordered from the manufacturer for you. Depending on availability, longer delivery times are also possible. We'll let you know if that's the case. You can of course cancel your delivery at any time free of charge.

Available in 7-21 days

€389.95

1 2 €331.99 1
ENDSCHALLD. SHARK DSX-5 - VFR 800 F/X 14- ,SCHWARZ

Important notes

The original catalytic converter is retained, so retrofitting is not required.

Design: Slip-on 4-1

10035979

The product will be ordered from the manufacturer for you. Depending on availability, longer delivery times are also possible. We'll let you know if that's the case. You can of course cancel your delivery at any time free of charge.

Available in 7-21 days

€389.95

1 2 €331.99 1
ENDSCHALLD. SHARK DSX-5 - VFR 800 F/X 15- ALU, ABE

Important notes

The original catalytic converter is retained, so retrofitting is not required.

Design: Slip-on 4-1

10035980

The item is in stock and will be delivered in 2-5 working days. Note: Stocks are updated online every hour on working days from 7 a.m. to 8 p.m., so there is a good chance that the products are available if they appear online.

Available

€389.95

1 2 €331.99 1
ENDSCHALLD. SHARK DSX-5 - VFR 800F/X 17- ALU,ELOX.

Important notes

The original catalytic converter is retained, so retrofitting is not required.

Design: Slip-on 4-1

The exhaust system was tested according to the Euro4 exhaust gas standard.

10036987

The product will be ordered from the manufacturer for you. Depending on availability, longer delivery times are also possible. We'll let you know if that's the case. You can of course cancel your delivery at any time free of charge.

Available in 7-21 days

€389.95

1 2 €331.99 1
ENDSCHALLD. SHARK DSX-5 - VFR1200X 2016-, ALUM,T.AP

Important notes

Connector pipe and fastening springs are included.

The original catalytic converter is retained, so retrofitting is not required.

Design: Slip-on 4-1

The exhaust system was tested according to the Euro4 exhaust gas standard.

10036163

The item is in stock and will be delivered in 2-5 working days. Note: Stocks are updated online every hour on working days from 7 a.m. to 8 p.m., so there is a good chance that the products are available if they appear online.

Available

€389.95

1 2 €331.99 1
ENDSCHALLD. SHARK DSX-5 - VFR1200X CR.12- ALU,EG-BE

Important notes

Connector pipe and fastening springs are included.

"Short" rear silencer is approx. 360 mm long.

The original catalytic converter is retained, so retrofitting is not required.

Design: Slip-on 4-1

10035634

The product will be ordered from the manufacturer for you. Depending on availability, longer delivery times are also possible. We'll let you know if that's the case. You can of course cancel your delivery at any time free of charge.

Available in 7-21 days

€389.95

1 2 €331.99 1
ENDSCHALLD. SHARK DSX-5 - VFR1200X CR.12-SCHW.EG-BE

Important notes

Connector pipe and fastening springs are included.

"Short" rear silencer is approx. 360 mm long.

The original catalytic converter is retained, so retrofitting is not required.

Design: Slip-on 4-1

10035635

The product will be ordered from the manufacturer for you. Depending on availability, longer delivery times are also possible. We'll let you know if that's the case. You can of course cancel your delivery at any time free of charge.

Available in 7-21 days

€389.95

1 2 €331.99 1
ENDSCHALLD. SHARK DSX-5 - XJR 1300 BJ.07- ALU, ABE

Important notes

Original cat is no longer used. Catalytic converter not included. Aftermarket catalytic converter (Order no. 10027036) available as an accessory.

Connector pipe and fastening springs are included.

Design: Slip-on 4-1

10036130

The product will be ordered from the manufacturer for you. Depending on availability, longer delivery times are also possible. We'll let you know if that's the case. You can of course cancel your delivery at any time free of charge.

Available in 7-21 days

€389.95

1 2 €331.99 1
ENDSCHALLD. SHARK DSX-5 - XJR 1300 BJ.07-, SCHWARZ

Important notes

Original cat is no longer used. Catalytic converter not included. Aftermarket catalytic converter (Order no. 10027036) available as an accessory.

Connector pipe and fastening springs are included.

Design: Slip-on 4-1

10036131

The product will be ordered from the manufacturer for you. Depending on availability, longer delivery times are also possible. We'll let you know if that's the case. You can of course cancel your delivery at any time free of charge.

Available in 7-21 days

€389.95

1 2 €331.99 1
ENDSCHALLD. SHARK DSX-5 - YZF-R6 -02,SCHWARZ,EG-BE

Important notes