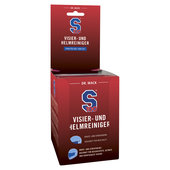 Test reports for S100 VISOR+HELMET CLEANER CLEANING WIPES
Issue 10-2017
"Motorradfahrer" magazine tested various visor cleaners in its 10-2017 issue. S100 Helmet and Visor Cleaner was awarded a RECOMMENDATION and scored maximum points. The following features were given special mention:

- Very good cleaning power
- Fits easily in your tank bag
- Controlled dispense
- Quick and easy polishing
- Very good value for money
Issue 5-2016
"Dream Machines" magazine tested various visor cleaners in its 5-2016 issue. The following features of S100 Visor Cleaner were given special mention:

- Produces a good foam
- Very effective
- Wipe dry after cleaning - job done
Issue 22-2013
"Motorrad" magazine conducted a helmet-cleaner test with three different visor-cleaning cloths in its 22-2013 issue. The S100 Visor Cleaner came out as Test Winner.

- Surface cleaning was good to very good
- Removal of spots of heavy dirt was very good
Issue 11-2008
In the 11/2008 issue, "Motorradfahrer" magazine tested seven different visor cleaning cloths is, and gave the S100 product the "Motorradfahrer Recommendation". The following positive features were emphasised:
Cleaning effect: very good
Value for money: satisfactory
Verdict: Relatively expensive disposable cloth for cleaning your visor on the road, but works very effectively
(Of three visor cleaning cloths tested, only the S100 was given the "Motorradfahrer Recommendation")
Issue 11-2006
The S100 visor and helmet cleaning cloths were recommended by the magazine "Motorrad News" (issue 11/2006). The editor's verdict was: The wet and dry cleaning cloths are large enough and, above all, very effective for cleaning helmet and visor - that's why they get our Best Buy recommendation.