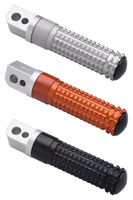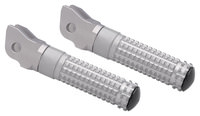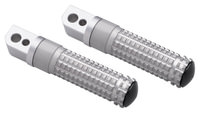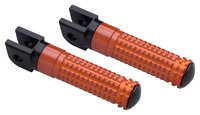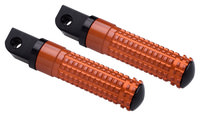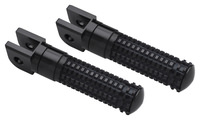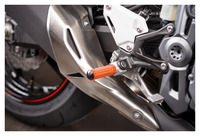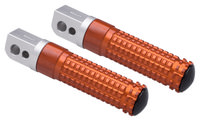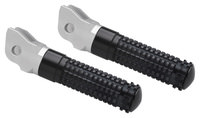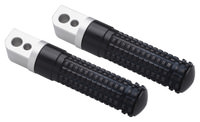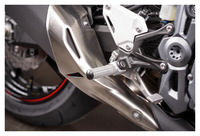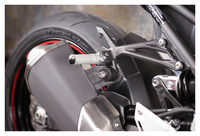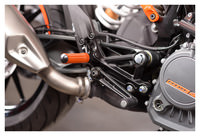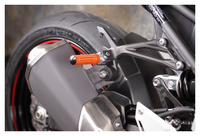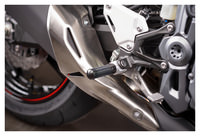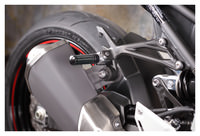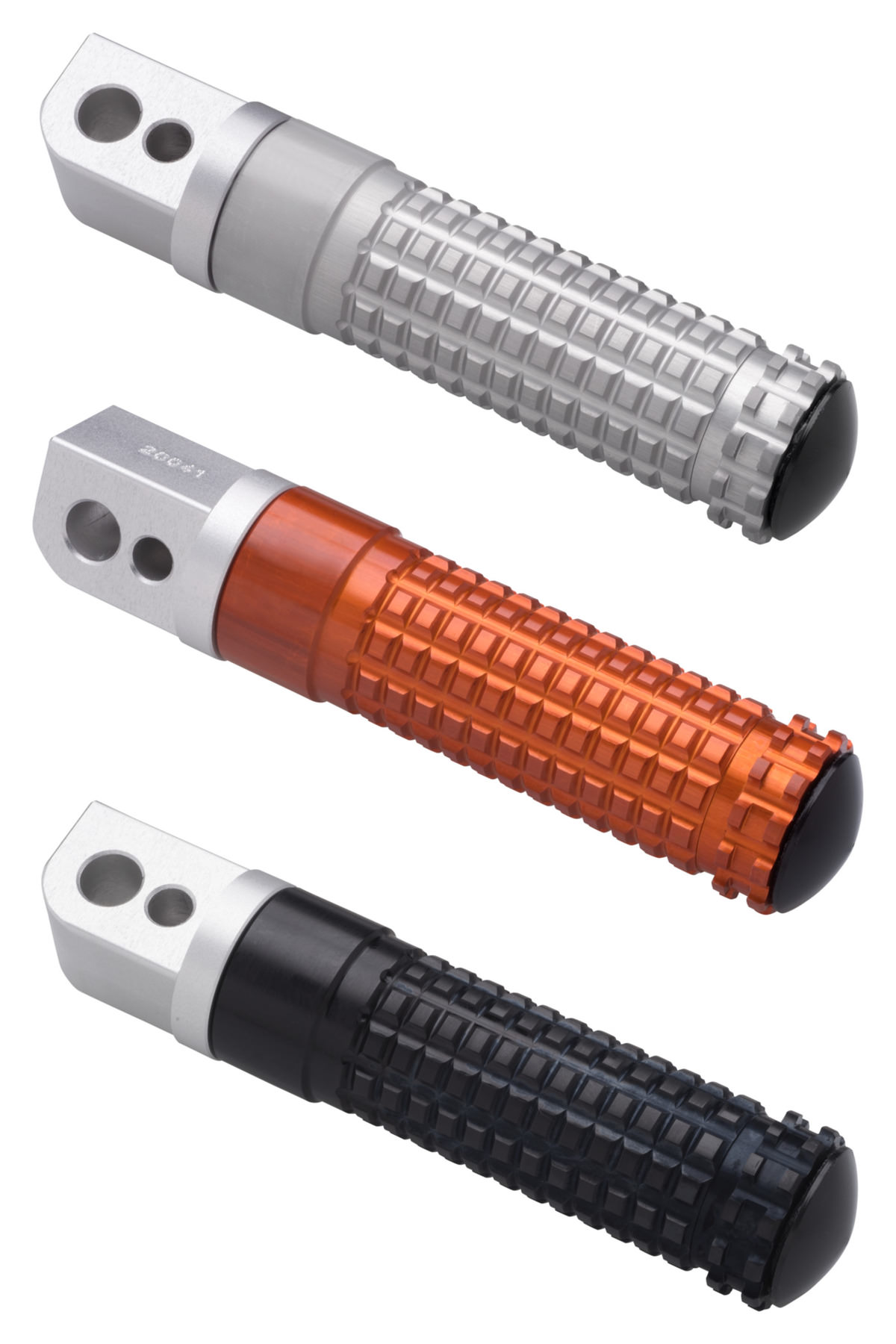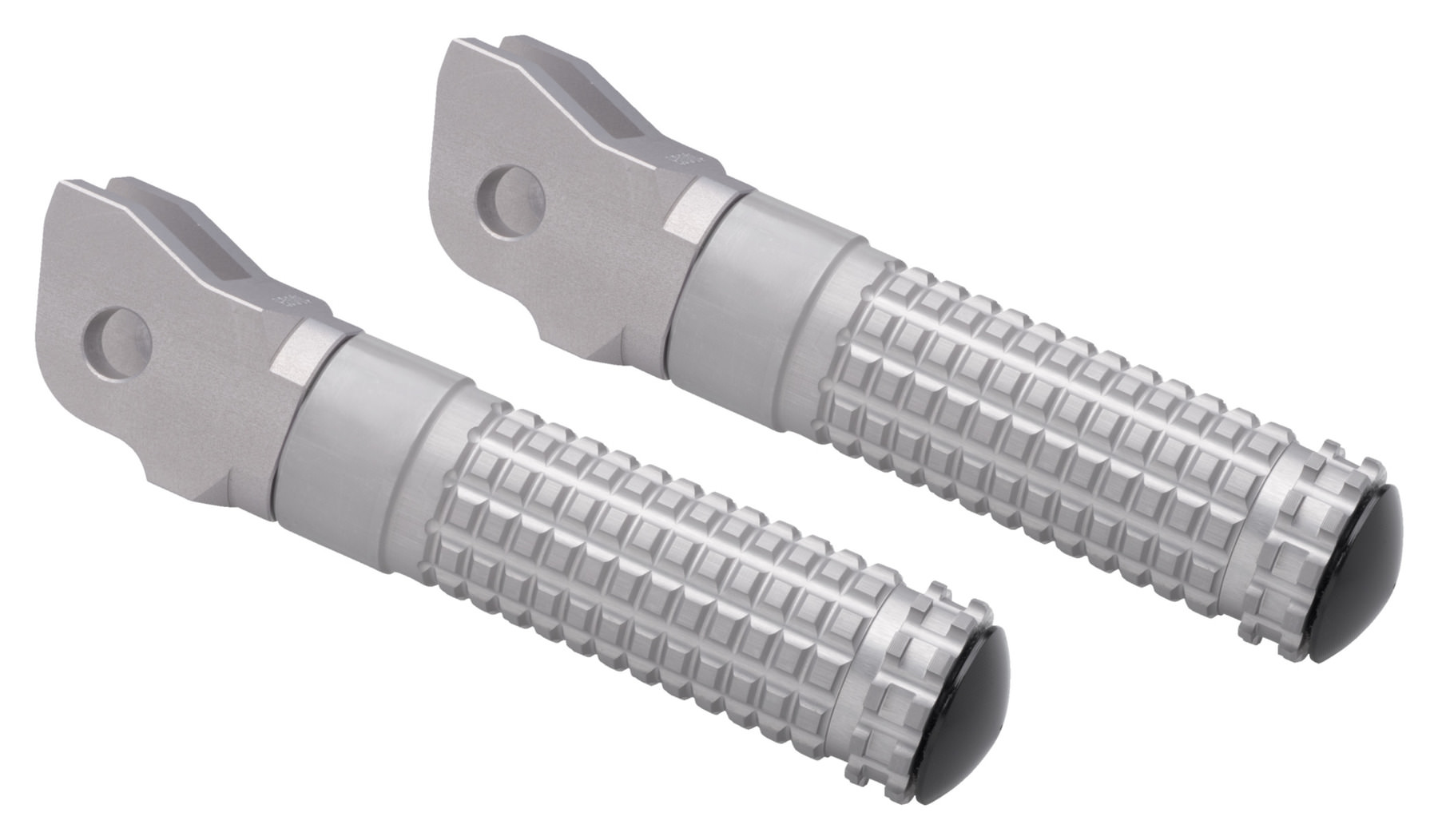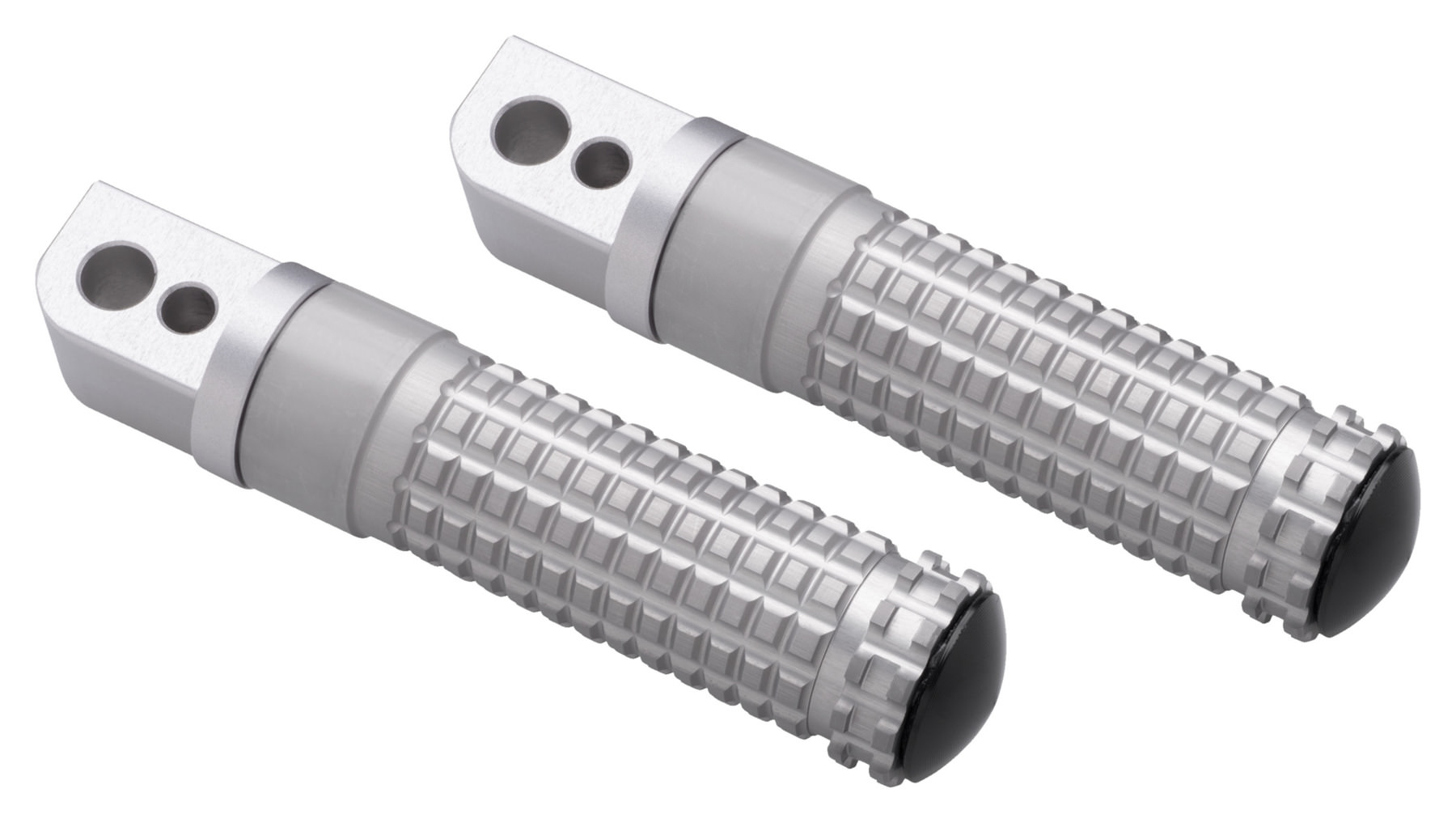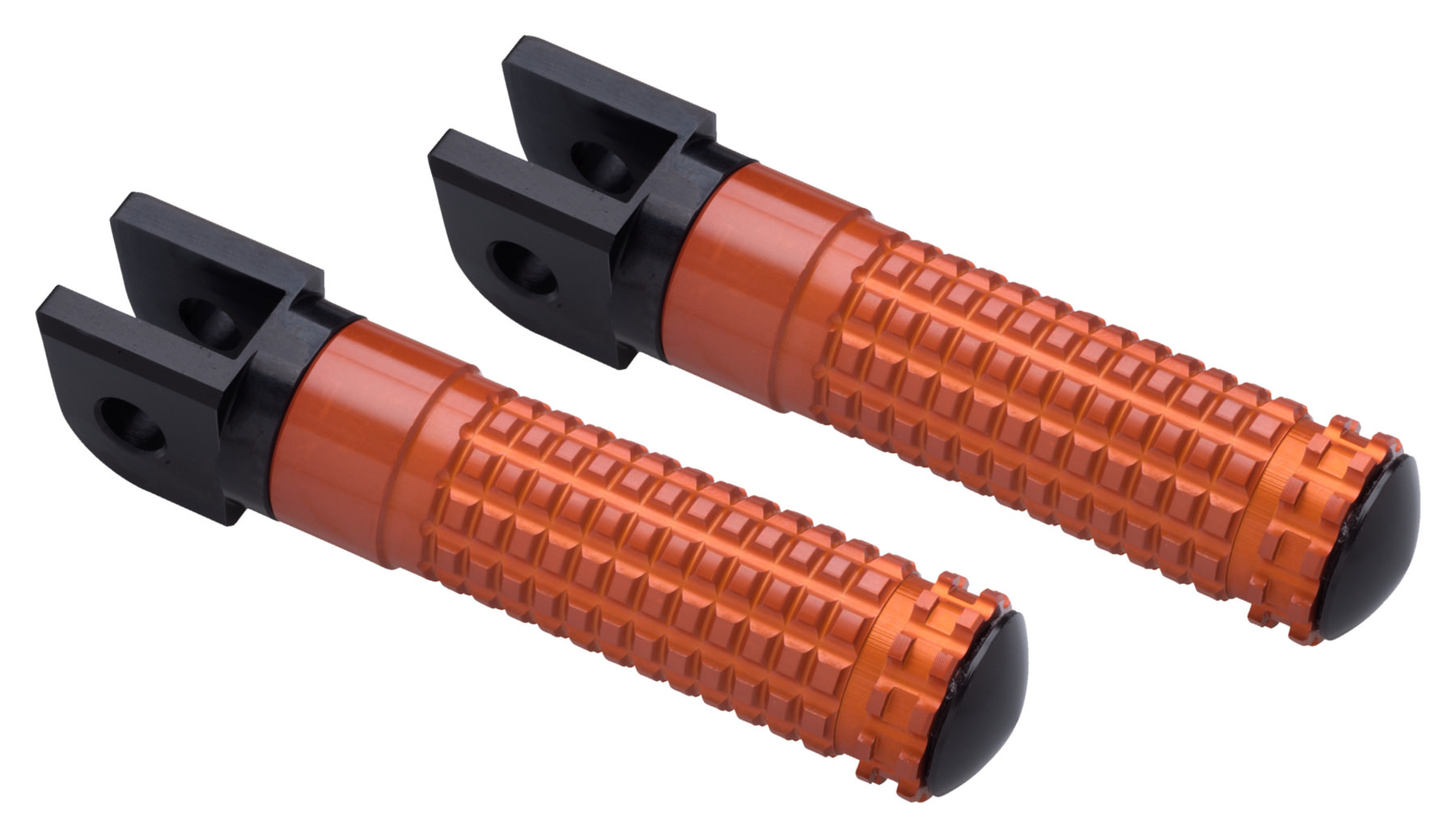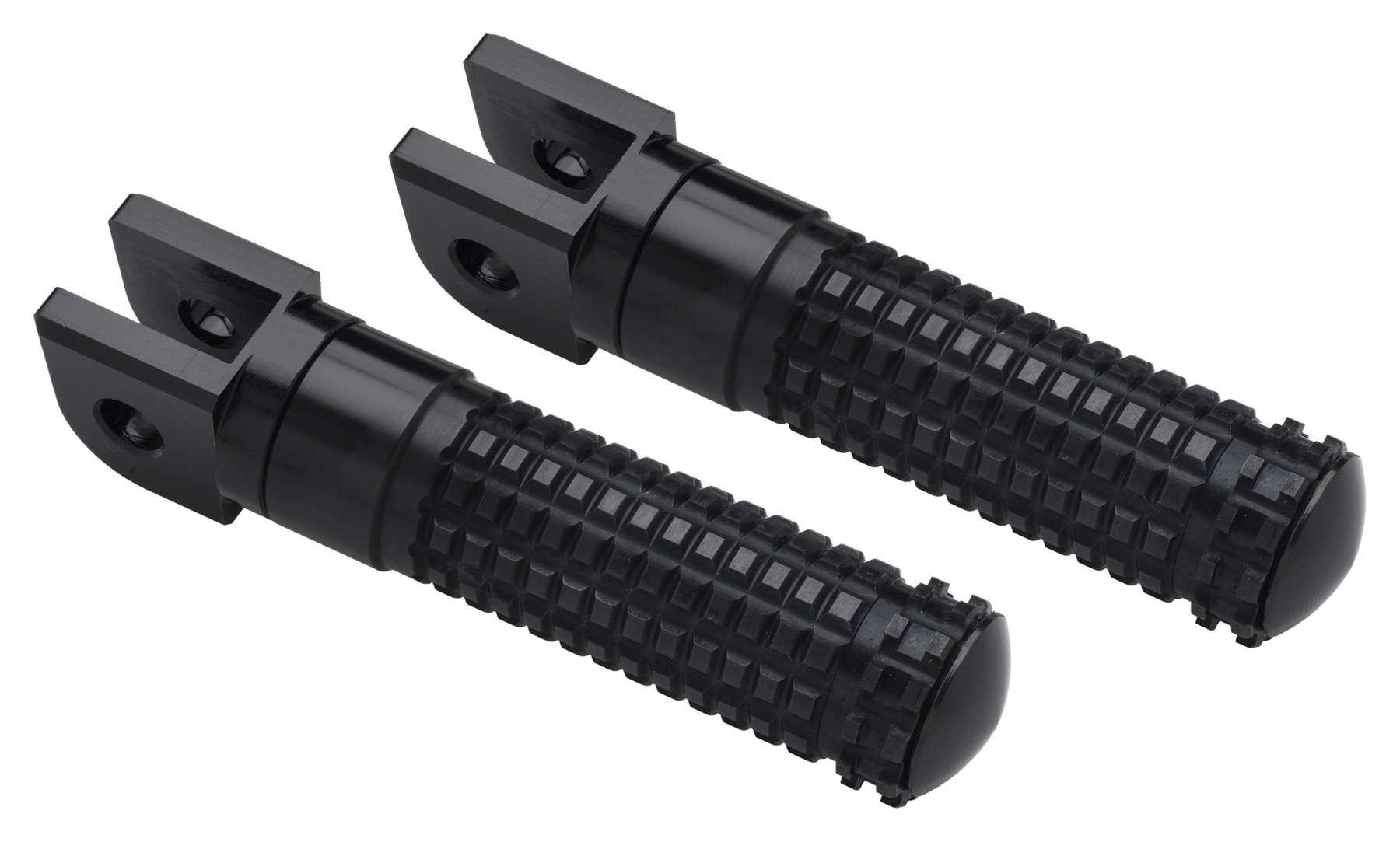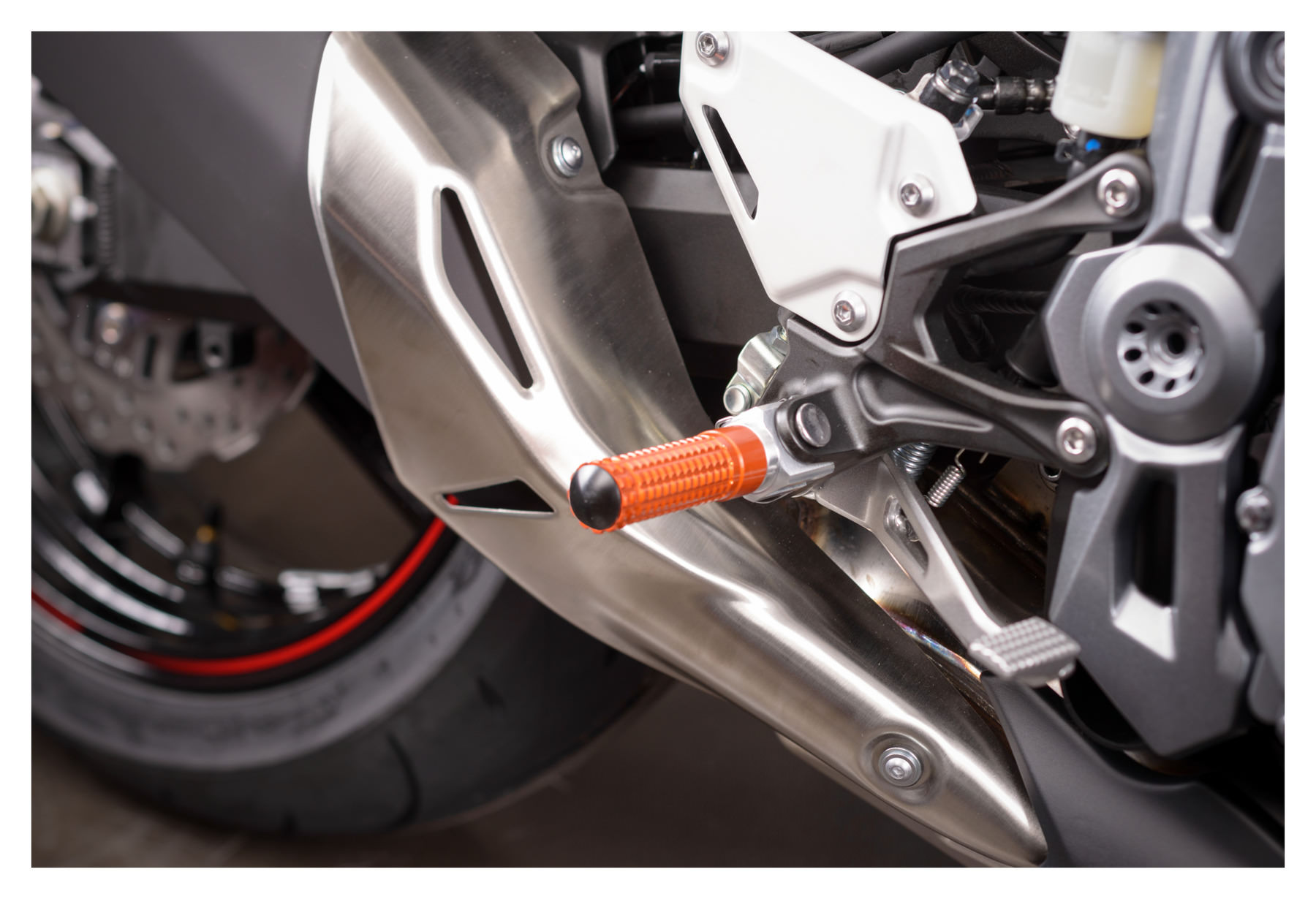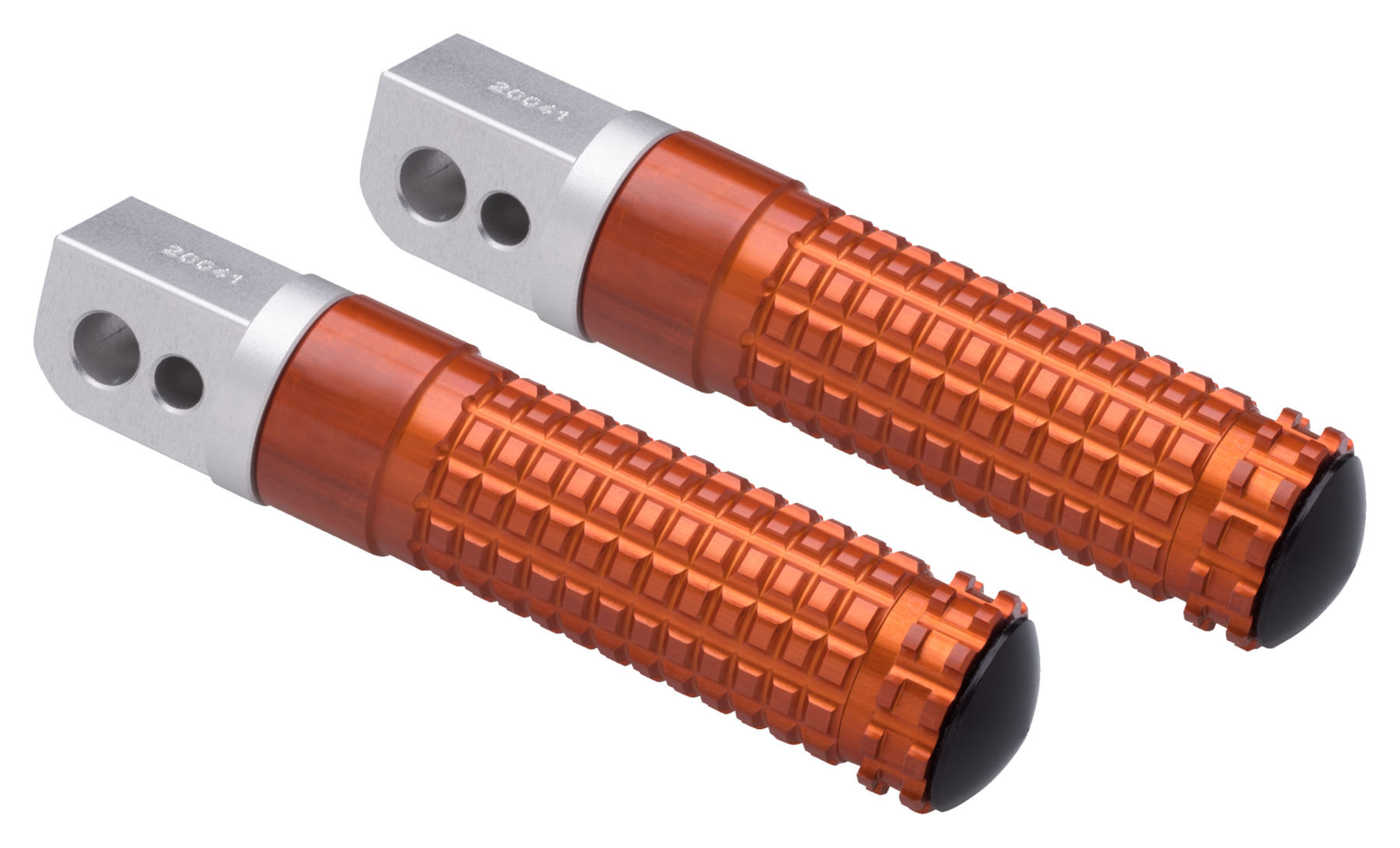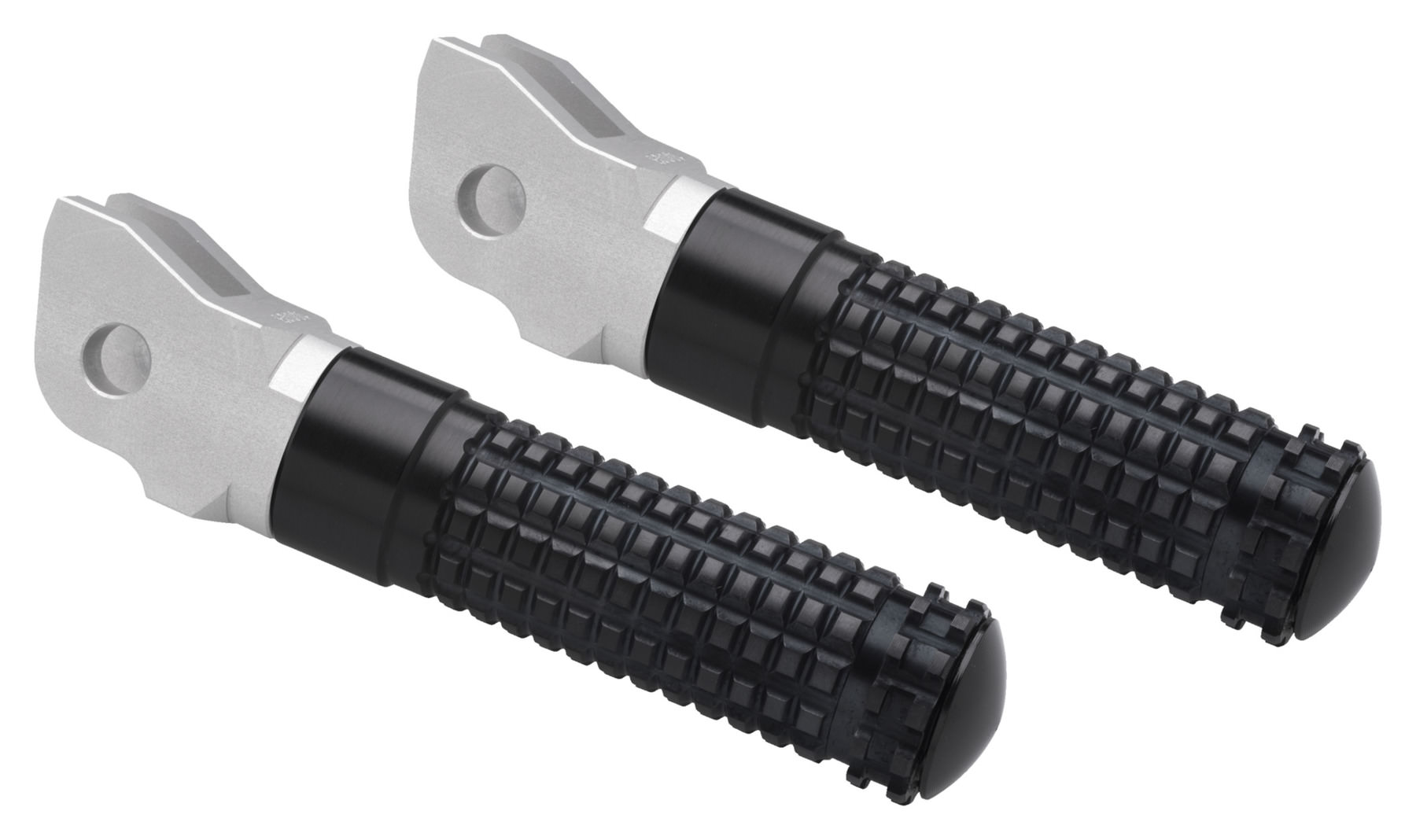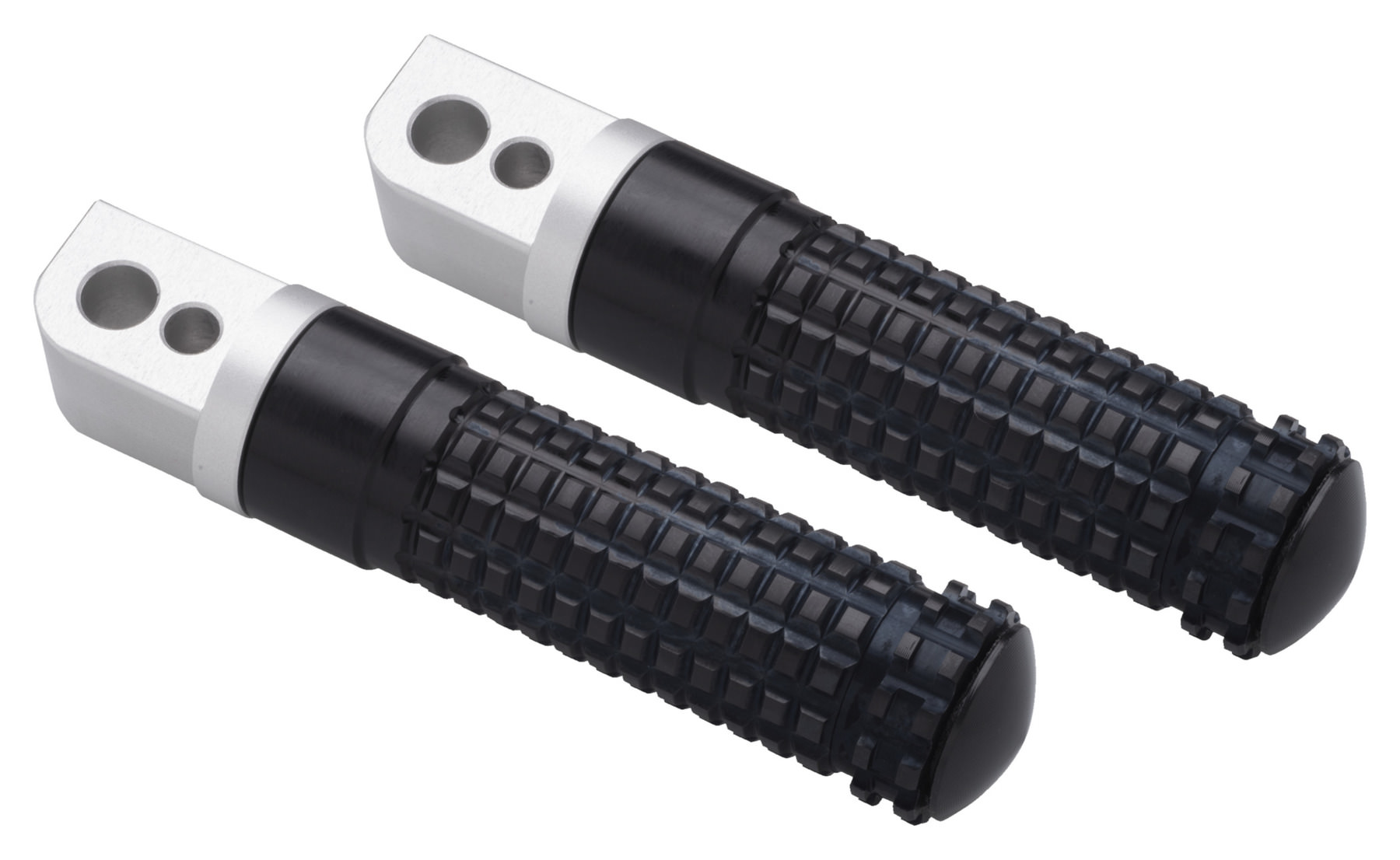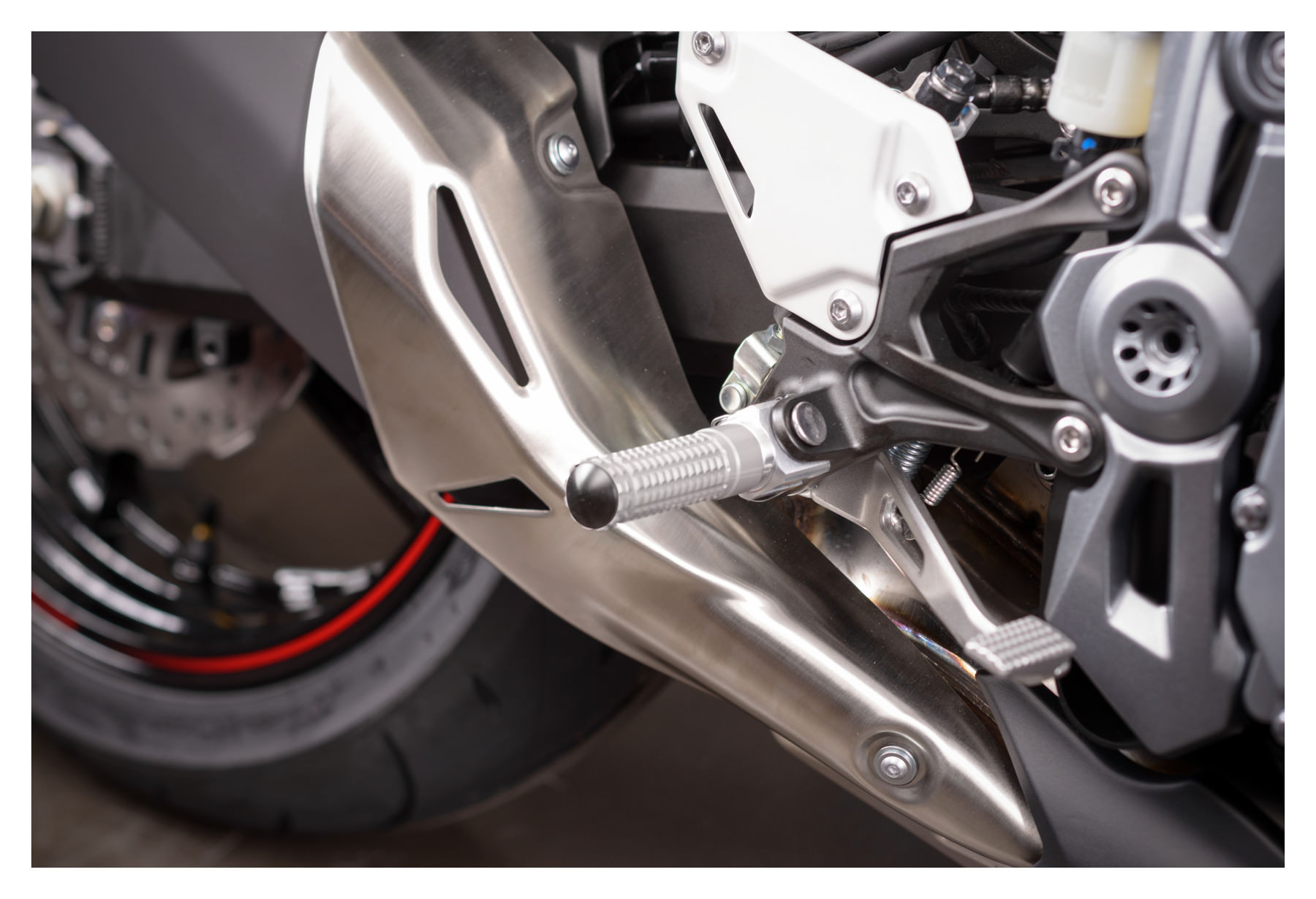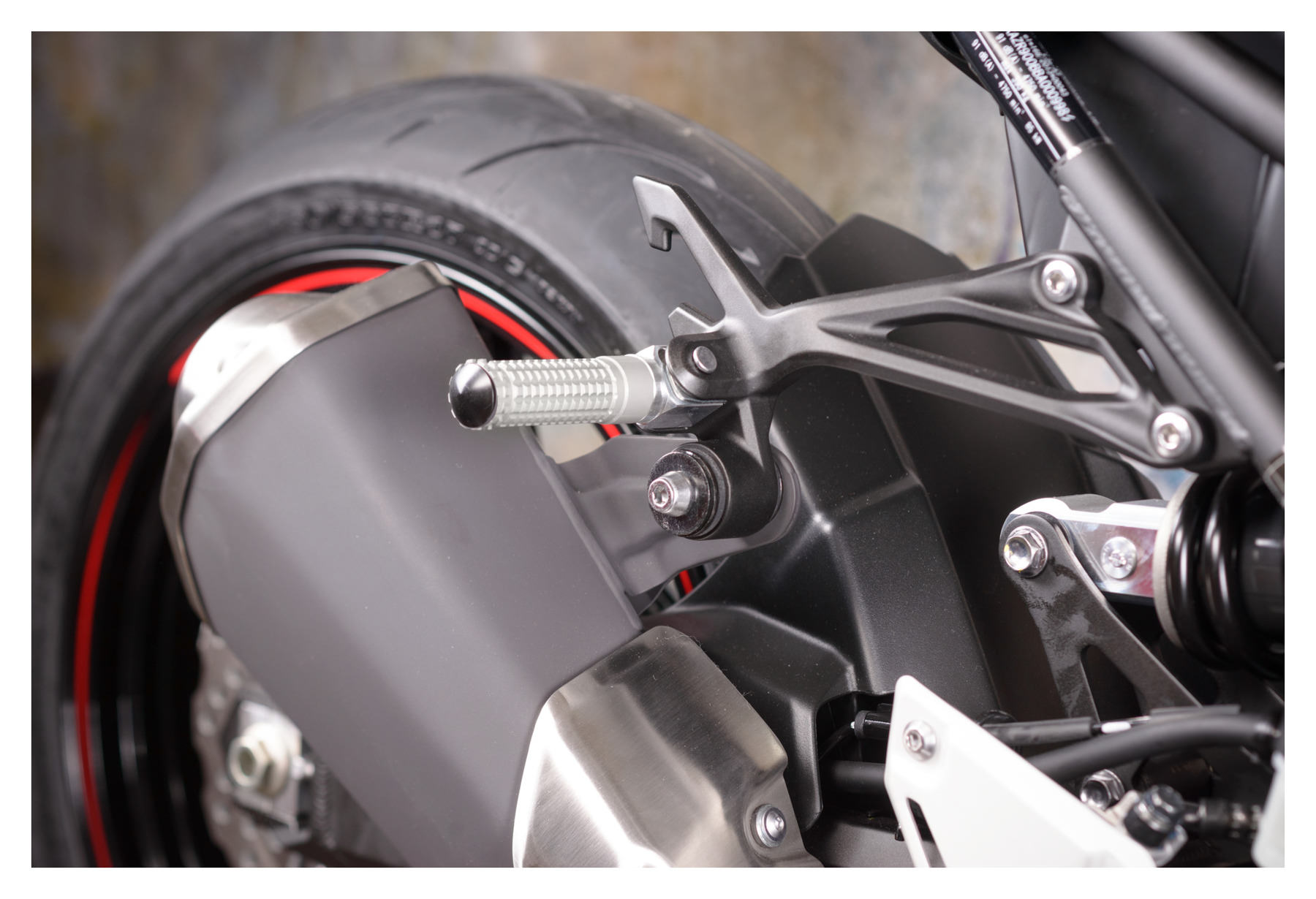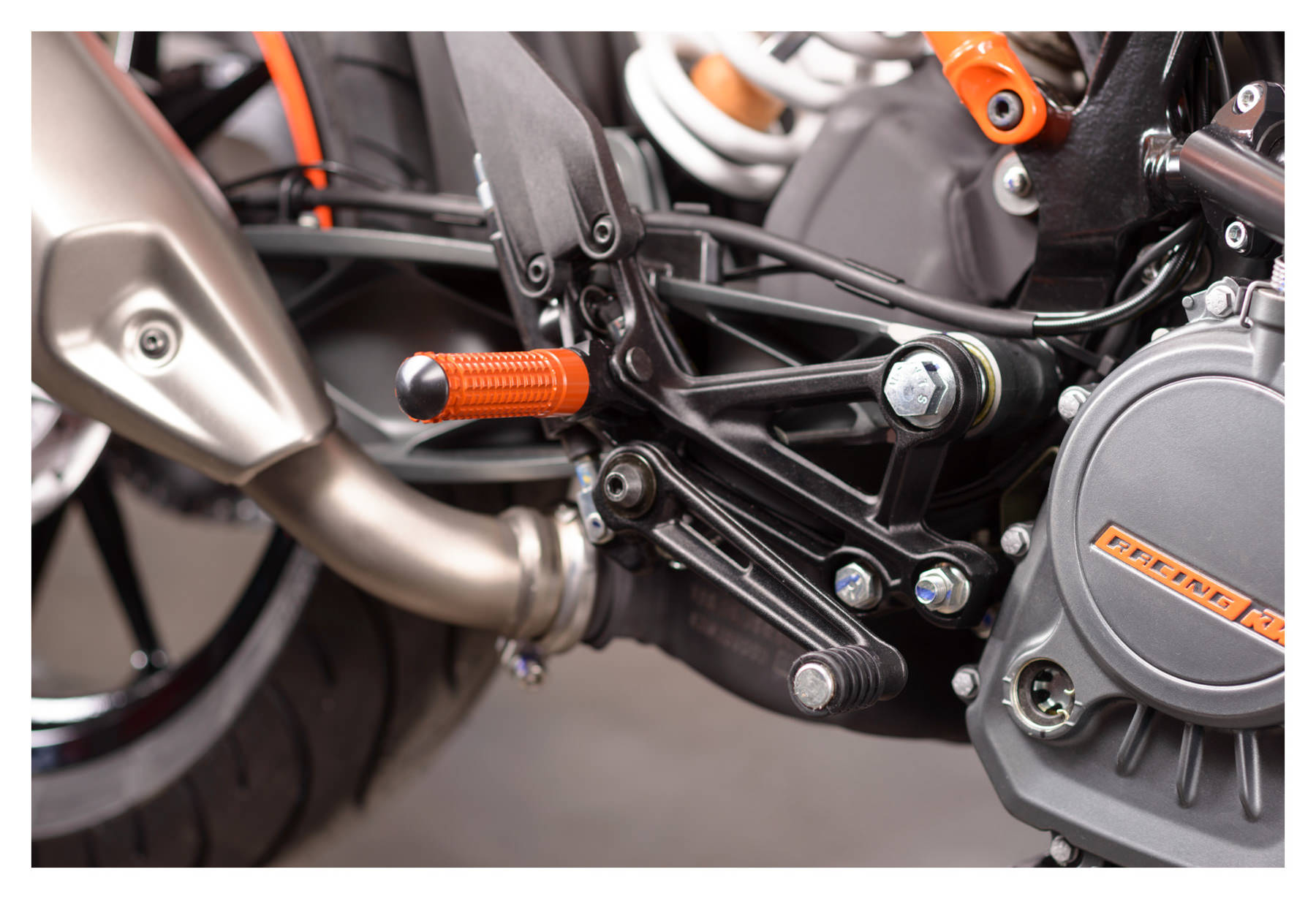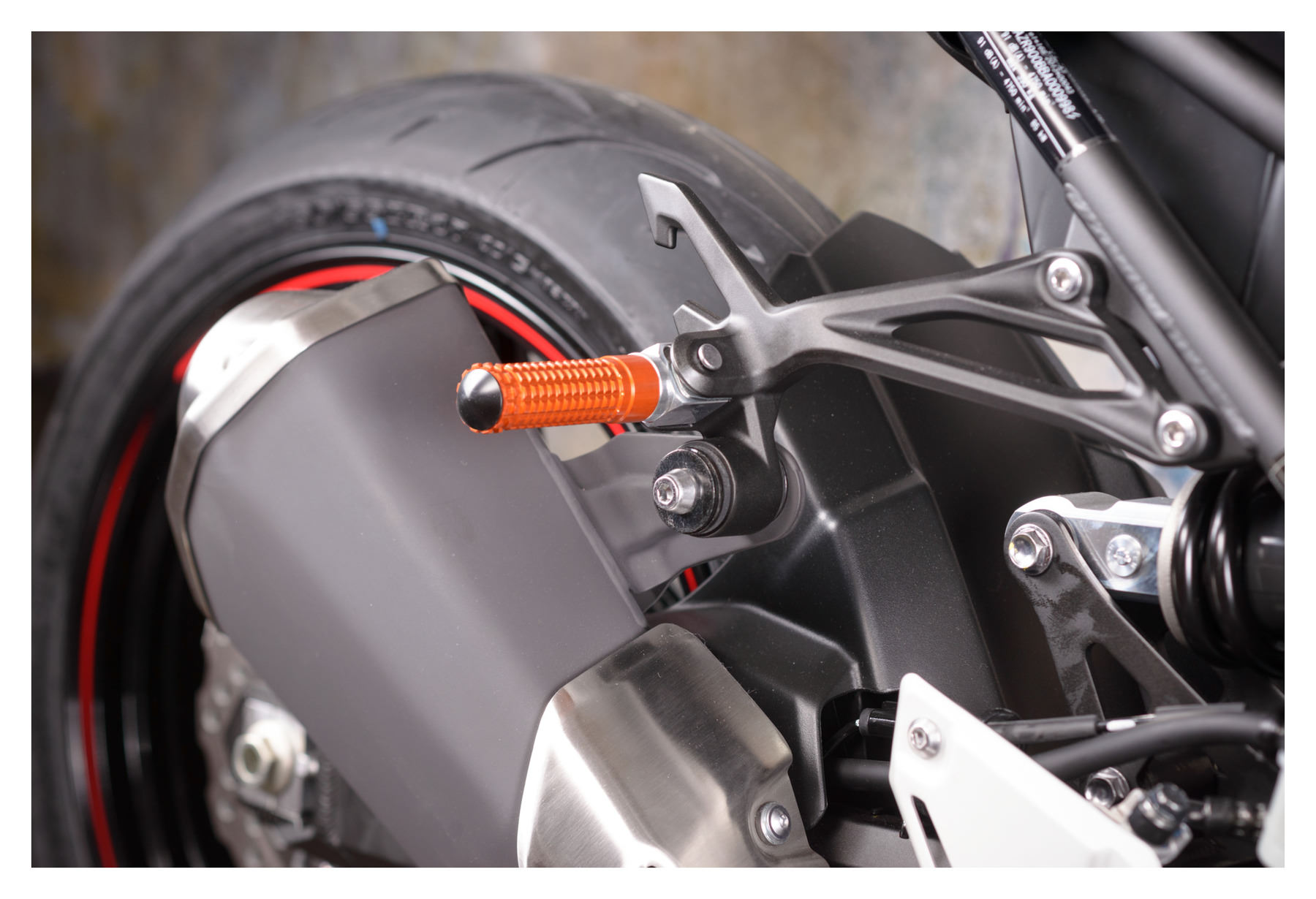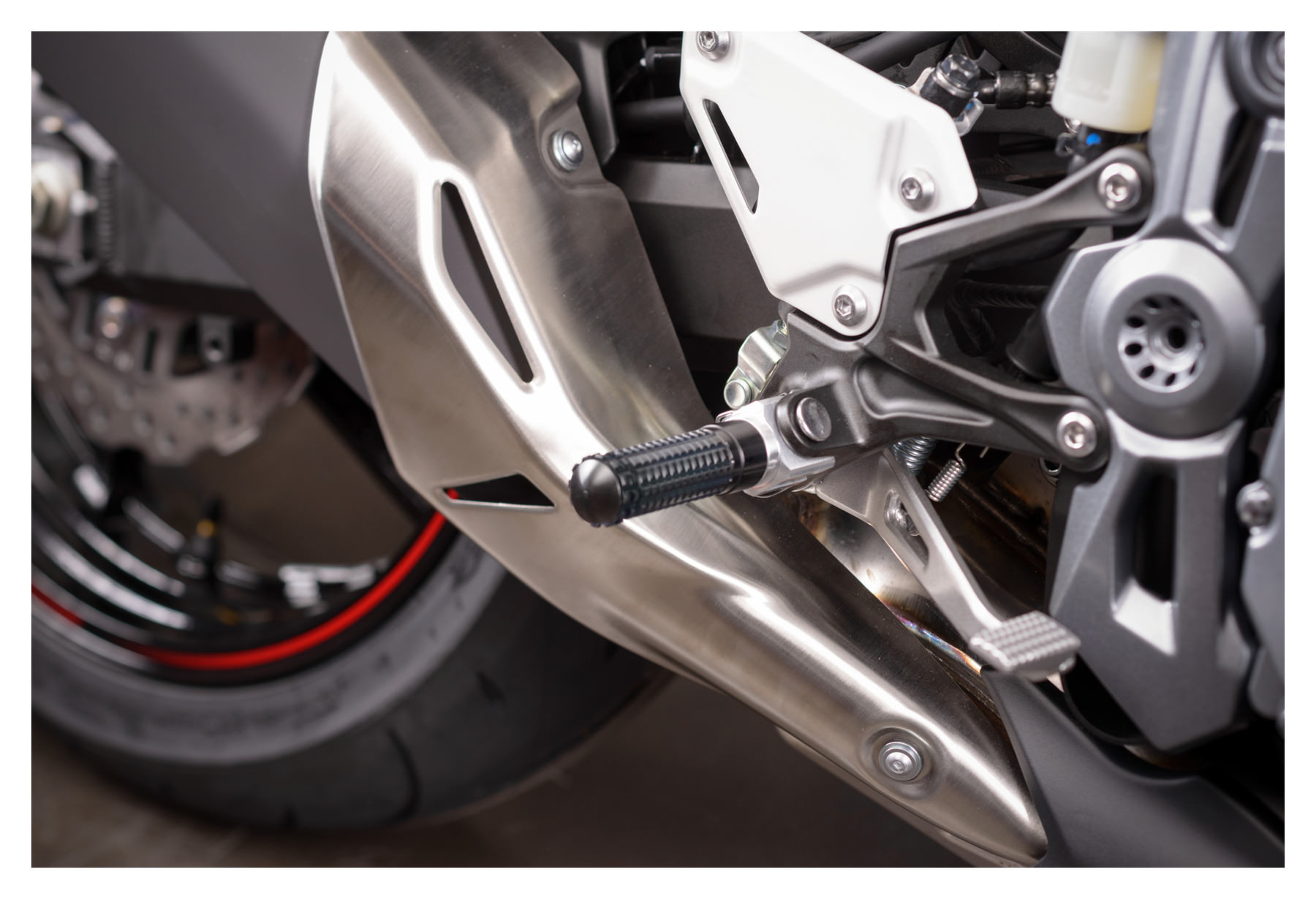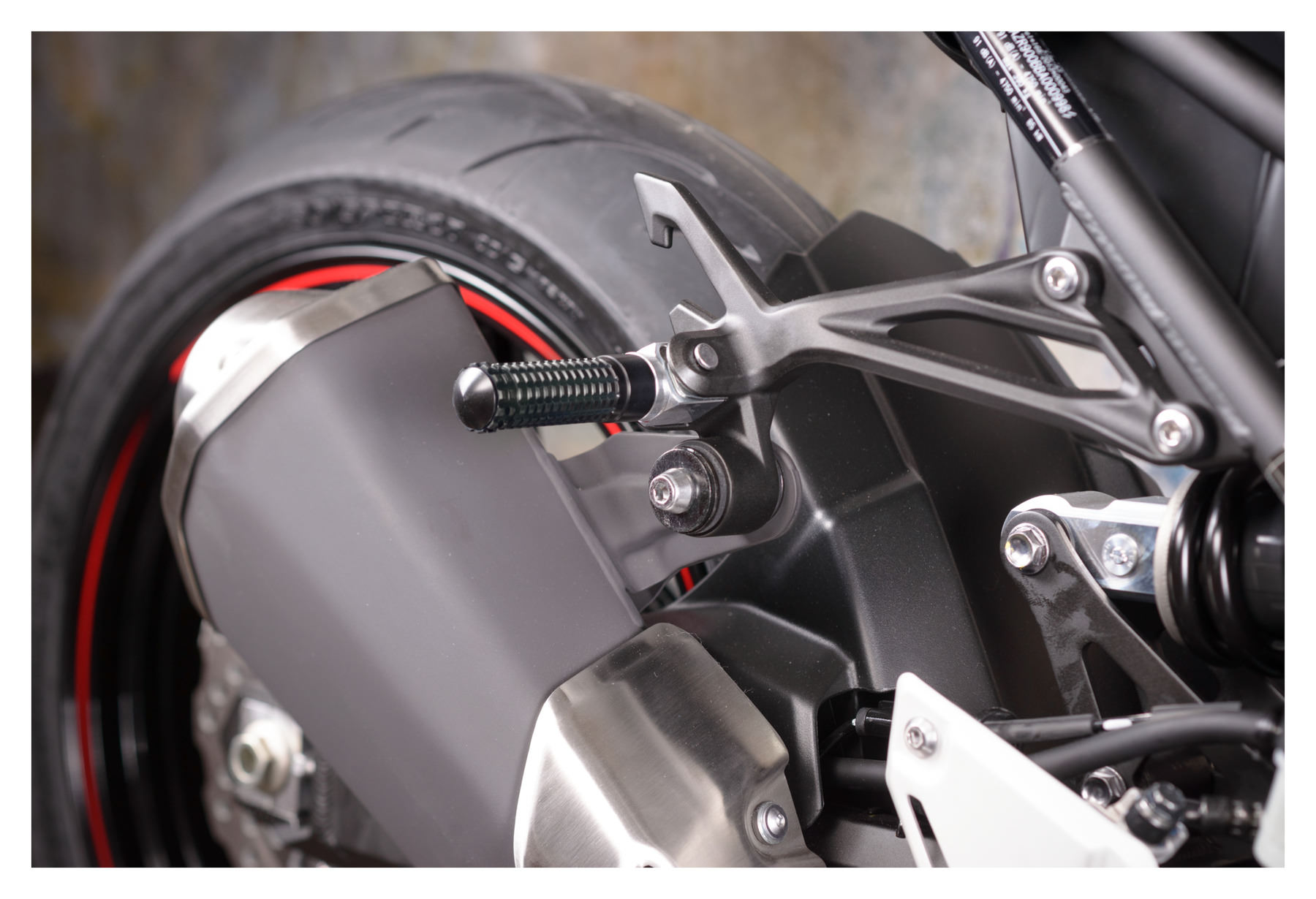 Race footpegs for rider and passenger
Aluminium silver, black or orange
Unfortunately, this product is not compatible with this motorcycle.
Unfortunately, this product is not compatible with this motorcycle. You can find the right for the here: .
Free delivery on orders over €199.00
2 year return policy
Fast delivery
Race footpegs for rider and passenger
Aluminium silver, black or orange
Say goodbye to your old footrests and replace them with light, sporty MIZU *Race* footrests. They're super-strong and their machined finish provides a rock-solid grip. They give you safety in every situation.
Your riding fun doesn't have to be confined to the race track either. Our footrests are supplied with type approval, so you can enjoy their racing characteristics every day. To find out which MIZU *Race* Footrests fit your motorcycle see "All Versions" or "My Bike".
Hinged
Made of high-quality aluminium
Manufactured at our ISO 9001 certified factory in Hilzingen, Germany
Includes type approval for Germany
What's included:
1 pair of MIZU *Race* Footrests, including joint
Installation Instructions
Manufacturer details: MIZU

Honest craftsmanship and good quality from Germany

The history of MIZU GmbH began in 1987 when Michael Zupritt, who gave the company its name, was working on motorbikes in a double garage in Hilzingen. Today, the company produces various attachments and spare parts for motorbikes of all kinds.
From adjustable and foldable brake and clutch levers with ABE and manufacturer's warranty to higher and lowering systems and adjustable footrests. The ergonomics of the conversions is just as important to MIZU as the supply of spare parts. Spare parts can be supplied for all MIZU components, from screws to levers. From the very beginning, the company has focused on delivering honest craftsmanship, innovative technology and good quality from Germany. With success. At MIZU, there is plenty of genuine craftsmanship from masters of their trade.
No customer reviews have been submitted for this product.
Be the first to write a review!
Product
Art. No.
Availability
Price
Actions
MIZU RACE PILLION FOOTR. - BLACK VAR. MODELS
10017825

The product will be ordered from the manufacturer for you. Depending on availability, longer delivery times are also possible. We'll let you know if that's the case. You can of course cancel your delivery at any time free of charge.

Available in 7-21 days

€117.00 1
MIZU RACE PILLION FOOTR. - BLACK VAR. MODELS
10017836

The product will be ordered from the manufacturer for you. Depending on availability, longer delivery times are also possible. We'll let you know if that's the case. You can of course cancel your delivery at any time free of charge.

Available in 7-21 days

€117.00 1
MIZU RACE PILLION FOOTR. - BLACK VAR. MODELS
10017844

The product will be ordered from the manufacturer for you. Depending on availability, longer delivery times are also possible. We'll let you know if that's the case. You can of course cancel your delivery at any time free of charge.

Available in 7-21 days

€117.00 1
MIZU RACE PILLION FOOTR. - BLACK VAR. MODELS
10017843

The product will be ordered from the manufacturer for you. Depending on availability, longer delivery times are also possible. We'll let you know if that's the case. You can of course cancel your delivery at any time free of charge.

Available in 7-21 days

€117.00 1
MIZU RACE PILLION FOOTR. - BLACK VAR. MODELS
10017842

The product will be ordered from the manufacturer for you. Depending on availability, longer delivery times are also possible. We'll let you know if that's the case. You can of course cancel your delivery at any time free of charge.

Available in 7-21 days

€117.00 1
MIZU RACE PILLION FOOTR. - BLACK VAR. MODELS
10017841

The product will be ordered from the manufacturer for you. Depending on availability, longer delivery times are also possible. We'll let you know if that's the case. You can of course cancel your delivery at any time free of charge.

Available in 7-21 days

€117.00 1
MIZU RACE PILLION FOOTR. - BLACK VAR. MODELS
10017840

The product will be ordered from the manufacturer for you. Depending on availability, longer delivery times are also possible. We'll let you know if that's the case. You can of course cancel your delivery at any time free of charge.

Available in 7-21 days

€117.00 1
MIZU RACE PILLION FOOTR. - BLACK VAR. MODELS
10017839

The product will be ordered from the manufacturer for you. Depending on availability, longer delivery times are also possible. We'll let you know if that's the case. You can of course cancel your delivery at any time free of charge.

Available in 7-21 days

€117.00 1
MIZU RACE PILLION FOOTR. - BLACK VAR. MODELS
10017838

The product will be ordered from the manufacturer for you. Depending on availability, longer delivery times are also possible. We'll let you know if that's the case. You can of course cancel your delivery at any time free of charge.

Available in 7-21 days

€117.00 1
MIZU RACE PILLION FOOTR. - BLACK VAR. MODELS
10017837

The product will be ordered from the manufacturer for you. Depending on availability, longer delivery times are also possible. We'll let you know if that's the case. You can of course cancel your delivery at any time free of charge.

Available in 7-21 days

€117.00 1
MIZU RACE PILLION FOOTR. - BLACK VAR. MODELS
10017835

The product will be ordered from the manufacturer for you. Depending on availability, longer delivery times are also possible. We'll let you know if that's the case. You can of course cancel your delivery at any time free of charge.

Available in 7-21 days

€117.00 1
MIZU RACE PILLION FOOTR. - BLACK VAR. MODELS
10017826

The item is in stock and will be delivered in 2-5 working days. Note: Stocks are updated online every hour on working days from 7 a.m. to 8 p.m., so there is a good chance that the products are available if they appear online.

Available

€117.00 1
MIZU RACE PILLION FOOTR. - BLACK VAR. MODELS
10017834

The product will be ordered from the manufacturer for you. Depending on availability, longer delivery times are also possible. We'll let you know if that's the case. You can of course cancel your delivery at any time free of charge.

Available in 7-21 days

€117.00 1
MIZU RACE PILLION FOOTR. - BLACK VAR. MODELS
10017833

The product will be ordered from the manufacturer for you. Depending on availability, longer delivery times are also possible. We'll let you know if that's the case. You can of course cancel your delivery at any time free of charge.

Available in 7-21 days

€117.00 1
MIZU RACE PILLION FOOTR. - BLACK VAR. MODELS
10017832

The product will be ordered from the manufacturer for you. Depending on availability, longer delivery times are also possible. We'll let you know if that's the case. You can of course cancel your delivery at any time free of charge.

Available in 7-21 days

€117.00 1
MIZU RACE PILLION FOOTR. - BLACK VAR. MODELS
10017831

The product will be ordered from the manufacturer for you. Depending on availability, longer delivery times are also possible. We'll let you know if that's the case. You can of course cancel your delivery at any time free of charge.

Available in 7-21 days

€117.00 1
MIZU RACE PILLION FOOTR. - BLACK VAR. MODELS
10017830

The item is in stock and will be delivered in 2-5 working days. Note: Stocks are updated online every hour on working days from 7 a.m. to 8 p.m., so there is a good chance that the products are available if they appear online.

Available

€117.00 1
MIZU RACE PILLION FOOTR. - BLACK VAR. MODELS
10017829

The product will be ordered from the manufacturer for you. Depending on availability, longer delivery times are also possible. We'll let you know if that's the case. You can of course cancel your delivery at any time free of charge.

Available in 7-21 days

€117.00 1
MIZU RACE PILLION FOOTR. - BLACK VAR. MODELS
10017828

The item is in stock and will be delivered in 2-5 working days. Note: Stocks are updated online every hour on working days from 7 a.m. to 8 p.m., so there is a good chance that the products are available if they appear online.

Available

€117.00 1
MIZU RACE PILLION FOOTR. - BLACK VAR. MODELS
10017824

The product will be ordered from the manufacturer for you. Depending on availability, longer delivery times are also possible. We'll let you know if that's the case. You can of course cancel your delivery at any time free of charge.

Available in 7-21 days

€117.00 1
MIZU RACE PILLION FOOTR. - BLACK VAR. MODELS
10017845

The product will be ordered from the manufacturer for you. Depending on availability, longer delivery times are also possible. We'll let you know if that's the case. You can of course cancel your delivery at any time free of charge.

Available in 7-21 days

€117.00 1
MIZU RACE PILLION FOOTR. - BLACK VAR. MODELS
10017827

The product will be ordered from the manufacturer for you. Depending on availability, longer delivery times are also possible. We'll let you know if that's the case. You can of course cancel your delivery at any time free of charge.

Available in 7-21 days

€117.00 1
MIZU RACE PILLION FOOTR. - BLACK/ORANGE VAR. MODELS
10017781

The product will be ordered from the manufacturer for you. Depending on availability, longer delivery times are also possible. We'll let you know if that's the case. You can of course cancel your delivery at any time free of charge.

Available in 7-21 days

€117.00 1
MIZU RACE PILLION FOOTR. - BLACK/ORANGE VAR. MODELS
10017792

The product will be ordered from the manufacturer for you. Depending on availability, longer delivery times are also possible. We'll let you know if that's the case. You can of course cancel your delivery at any time free of charge.

Available in 7-21 days

€117.00 1
MIZU RACE PILLION FOOTR. - BLACK/ORANGE VAR. MODELS
10017780

The product will be ordered from the manufacturer for you. Depending on availability, longer delivery times are also possible. We'll let you know if that's the case. You can of course cancel your delivery at any time free of charge.

Available in 7-21 days

€117.00 1
MIZU RACE PILLION FOOTR. - BLACK/ORANGE VAR. MODELS
10017782

The item is in stock and will be delivered in 2-5 working days. Note: Stocks are updated online every hour on working days from 7 a.m. to 8 p.m., so there is a good chance that the products are available if they appear online.

Available

€117.00 1
MIZU RACE PILLION FOOTR. - BLACK/ORANGE VAR. MODELS
10017783

The item is in stock and will be delivered in 2-5 working days. Note: Stocks are updated online every hour on working days from 7 a.m. to 8 p.m., so there is a good chance that the products are available if they appear online.

Available

€117.00 1
MIZU RACE PILLION FOOTR. - BLACK/ORANGE VAR. MODELS
10017784

The product will be ordered from the manufacturer for you. Depending on availability, longer delivery times are also possible. We'll let you know if that's the case. You can of course cancel your delivery at any time free of charge.

Available in 7-21 days

€117.00 1
MIZU RACE PILLION FOOTR. - BLACK/ORANGE VAR. MODELS
10017785

The product will be ordered from the manufacturer for you. Depending on availability, longer delivery times are also possible. We'll let you know if that's the case. You can of course cancel your delivery at any time free of charge.

Available in 7-21 days

€117.00 1
MIZU RACE PILLION FOOTR. - BLACK/ORANGE VAR. MODELS
10017786

The product will be ordered from the manufacturer for you. Depending on availability, longer delivery times are also possible. We'll let you know if that's the case. You can of course cancel your delivery at any time free of charge.

Available in 7-21 days

€117.00 1
MIZU RACE PILLION FOOTR. - BLACK/ORANGE VAR. MODELS
10017787

The product will be ordered from the manufacturer for you. Depending on availability, longer delivery times are also possible. We'll let you know if that's the case. You can of course cancel your delivery at any time free of charge.

Available in 7-21 days

€117.00 1
MIZU RACE PILLION FOOTR. - BLACK/ORANGE VAR. MODELS
10017788

The product will be ordered from the manufacturer for you. Depending on availability, longer delivery times are also possible. We'll let you know if that's the case. You can of course cancel your delivery at any time free of charge.

Available in 7-21 days

€117.00 1
MIZU RACE PILLION FOOTR. - BLACK/ORANGE VAR. MODELS
10017789

The product will be ordered from the manufacturer for you. Depending on availability, longer delivery times are also possible. We'll let you know if that's the case. You can of course cancel your delivery at any time free of charge.

Available in 7-21 days

€117.00 1
MIZU RACE PILLION FOOTR. - BLACK/ORANGE VAR. MODELS
10017791

The product will be ordered from the manufacturer for you. Depending on availability, longer delivery times are also possible. We'll let you know if that's the case. You can of course cancel your delivery at any time free of charge.

Available in 7-21 days

€117.00 1
MIZU RACE PILLION FOOTR. - BLACK/ORANGE VAR. MODELS
10017790

The product will be ordered from the manufacturer for you. Depending on availability, longer delivery times are also possible. We'll let you know if that's the case. You can of course cancel your delivery at any time free of charge.

Available in 7-21 days

€117.00 1
MIZU RACE PILLION FOOTR. - BLACK/ORANGE VAR. MODELS
10017793

The product will be ordered from the manufacturer for you. Depending on availability, longer delivery times are also possible. We'll let you know if that's the case. You can of course cancel your delivery at any time free of charge.

Available in 7-21 days

€117.00 1
MIZU RACE PILLION FOOTR. - BLACK/ORANGE VAR. MODELS
10017795

The product will be ordered from the manufacturer for you. Depending on availability, longer delivery times are also possible. We'll let you know if that's the case. You can of course cancel your delivery at any time free of charge.

Available in 7-21 days

€117.00 1
MIZU RACE PILLION FOOTR. - BLACK/ORANGE VAR. MODELS
10017796

The product will be ordered from the manufacturer for you. Depending on availability, longer delivery times are also possible. We'll let you know if that's the case. You can of course cancel your delivery at any time free of charge.

Available in 7-21 days

€117.00 1
MIZU RACE PILLION FOOTR. - BLACK/ORANGE VAR. MODELS
10017797

The product will be ordered from the manufacturer for you. Depending on availability, longer delivery times are also possible. We'll let you know if that's the case. You can of course cancel your delivery at any time free of charge.

Available in 7-21 days

€117.00 1
MIZU RACE PILLION FOOTR. - BLACK/ORANGE VAR. MODELS
10017798

The product will be ordered from the manufacturer for you. Depending on availability, longer delivery times are also possible. We'll let you know if that's the case. You can of course cancel your delivery at any time free of charge.

Available in 7-21 days

€117.00 1
MIZU RACE PILLION FOOTR. - BLACK/ORANGE VAR. MODELS
10017799

The product will be ordered from the manufacturer for you. Depending on availability, longer delivery times are also possible. We'll let you know if that's the case. You can of course cancel your delivery at any time free of charge.

Available in 7-21 days

€117.00 1
MIZU RACE PILLION FOOTR. - BLACK/ORANGE VAR. MODELS
10017800

The product will be ordered from the manufacturer for you. Depending on availability, longer delivery times are also possible. We'll let you know if that's the case. You can of course cancel your delivery at any time free of charge.

Available in 7-21 days

€117.00 1
MIZU RACE PILLION FOOTR. - BLACK/ORANGE VAR. MODELS
10017801

The product will be ordered from the manufacturer for you. Depending on availability, longer delivery times are also possible. We'll let you know if that's the case. You can of course cancel your delivery at any time free of charge.

Available in 7-21 days

€117.00 1
MIZU RACE PILLION FOOTR. - BLACK/ORANGE VAR. MODELS
10017794

The product will be ordered from the manufacturer for you. Depending on availability, longer delivery times are also possible. We'll let you know if that's the case. You can of course cancel your delivery at any time free of charge.

Available in 7-21 days

€117.00 1
MIZU RACE PILLION FOOTR. - BLACK/SILVER VAR. MODELS
10017892

The product will be ordered from the manufacturer for you. Depending on availability, longer delivery times are also possible. We'll let you know if that's the case. You can of course cancel your delivery at any time free of charge.

Available in 7-21 days

€117.00 1
MIZU RACE PILLION FOOTR. - BLACK/SILVER VAR. MODELS
10017895

The product will be ordered from the manufacturer for you. Depending on availability, longer delivery times are also possible. We'll let you know if that's the case. You can of course cancel your delivery at any time free of charge.

Available in 7-21 days

€117.00 1
MIZU RACE PILLION FOOTR. - BLACK/SILVER VAR. MODELS
10017894

The product will be ordered from the manufacturer for you. Depending on availability, longer delivery times are also possible. We'll let you know if that's the case. You can of course cancel your delivery at any time free of charge.

Available in 7-21 days

€117.00 1
MIZU RACE PILLION FOOTR. - BLACK/SILVER VAR. MODELS
10017893

The product will be ordered from the manufacturer for you. Depending on availability, longer delivery times are also possible. We'll let you know if that's the case. You can of course cancel your delivery at any time free of charge.

Available in 7-21 days

€117.00 1
MIZU RACE PILLION FOOTR. - BLACK/SILVER VAR. MODELS
10017889

The product will be ordered from the manufacturer for you. Depending on availability, longer delivery times are also possible. We'll let you know if that's the case. You can of course cancel your delivery at any time free of charge.

Available in 7-21 days

€117.00 1
MIZU RACE PILLION FOOTR. - BLACK/SILVER VAR. MODELS
10017891

The product will be ordered from the manufacturer for you. Depending on availability, longer delivery times are also possible. We'll let you know if that's the case. You can of course cancel your delivery at any time free of charge.

Available in 7-21 days

€117.00 1
MIZU RACE PILLION FOOTR. - BLACK/SILVER VAR. MODELS
10017890

The product will be ordered from the manufacturer for you. Depending on availability, longer delivery times are also possible. We'll let you know if that's the case. You can of course cancel your delivery at any time free of charge.

Available in 7-21 days

€117.00 1
MIZU RACE PILLION FOOTR. - BLACK/SILVER VAR. MODELS
10017887

The product will be ordered from the manufacturer for you. Depending on availability, longer delivery times are also possible. We'll let you know if that's the case. You can of course cancel your delivery at any time free of charge.

Available in 7-21 days

€117.00 1
MIZU RACE PILLION FOOTR. - BLACK/SILVER VAR. MODELS
10017888

The product will be ordered from the manufacturer for you. Depending on availability, longer delivery times are also possible. We'll let you know if that's the case. You can of course cancel your delivery at any time free of charge.

Available in 7-21 days

€117.00 1
MIZU RACE PILLION FOOTR. - BLACK/SILVER VAR. MODELS
10017897

The product will be ordered from the manufacturer for you. Depending on availability, longer delivery times are also possible. We'll let you know if that's the case. You can of course cancel your delivery at any time free of charge.

Available in 7-21 days

€117.00 1
MIZU RACE PILLION FOOTR. - BLACK/SILVER VAR. MODELS
10017896

The product will be ordered from the manufacturer for you. Depending on availability, longer delivery times are also possible. We'll let you know if that's the case. You can of course cancel your delivery at any time free of charge.

Available in 7-21 days

€117.00 1
MIZU RACE PILLION FOOTR. - BLACK/SILVER VAR. MODELS
10017899

The product will be ordered from the manufacturer for you. Depending on availability, longer delivery times are also possible. We'll let you know if that's the case. You can of course cancel your delivery at any time free of charge.

Available in 7-21 days

€117.00 1
MIZU RACE PILLION FOOTR. - BLACK/SILVER VAR. MODELS
10017898

The product will be ordered from the manufacturer for you. Depending on availability, longer delivery times are also possible. We'll let you know if that's the case. You can of course cancel your delivery at any time free of charge.

Available in 7-21 days

€117.00 1
MIZU RACE PILLION FOOTR. - BLACK/SILVER VAR. MODELS
10017900

The product will be ordered from the manufacturer for you. Depending on availability, longer delivery times are also possible. We'll let you know if that's the case. You can of course cancel your delivery at any time free of charge.

Available in 7-21 days

€117.00 1
MIZU RACE PILLION FOOTR. - BLACK/SILVER VAR. MODELS
10017901

The product will be ordered from the manufacturer for you. Depending on availability, longer delivery times are also possible. We'll let you know if that's the case. You can of course cancel your delivery at any time free of charge.

Available in 7-21 days

€117.00 1
MIZU RACE PILLION FOOTR. - BLACK/SILVER VAR. MODELS
10017902

The product will be ordered from the manufacturer for you. Depending on availability, longer delivery times are also possible. We'll let you know if that's the case. You can of course cancel your delivery at any time free of charge.

Available in 7-21 days

€117.00 1
MIZU RACE PILLION FOOTR. - BLACK/SILVER VAR. MODELS
10017903

The product will be ordered from the manufacturer for you. Depending on availability, longer delivery times are also possible. We'll let you know if that's the case. You can of course cancel your delivery at any time free of charge.

Available in 7-21 days

€117.00 1
MIZU RACE PILLION FOOTR. - BLACK/SILVER VAR. MODELS
10017904

The product will be ordered from the manufacturer for you. Depending on availability, longer delivery times are also possible. We'll let you know if that's the case. You can of course cancel your delivery at any time free of charge.

Available in 7-21 days

€117.00 1
MIZU RACE PILLION FOOTR. - BLACK/SILVER VAR. MODELS
10017905

The product will be ordered from the manufacturer for you. Depending on availability, longer delivery times are also possible. We'll let you know if that's the case. You can of course cancel your delivery at any time free of charge.

Available in 7-21 days

€117.00 1
MIZU RACE PILLION FOOTR. - BLACK/SILVER VAR. MODELS
10017906

The product will be ordered from the manufacturer for you. Depending on availability, longer delivery times are also possible. We'll let you know if that's the case. You can of course cancel your delivery at any time free of charge.

Available in 7-21 days

€117.00 1
MIZU RACE PILLION FOOTR. - BLACK/SILVER VAR. MODELS
10017907

The product will be ordered from the manufacturer for you. Depending on availability, longer delivery times are also possible. We'll let you know if that's the case. You can of course cancel your delivery at any time free of charge.

Available in 7-21 days

€117.00 1
MIZU RACE PILLION FOOTR. - BLACK/SILVER VAR. MODELS
10017908

The product will be ordered from the manufacturer for you. Depending on availability, longer delivery times are also possible. We'll let you know if that's the case. You can of course cancel your delivery at any time free of charge.

Available in 7-21 days

€117.00 1
MIZU RACE PILLION FOOTR. - SILV./ORANGE VAR. MODELS
10017941

The product will be ordered from the manufacturer for you. Depending on availability, longer delivery times are also possible. We'll let you know if that's the case. You can of course cancel your delivery at any time free of charge.

Available in 7-21 days

€117.00 1
MIZU RACE PILLION FOOTR. - SILV./ORANGE VAR. MODELS
10017944

The product will be ordered from the manufacturer for you. Depending on availability, longer delivery times are also possible. We'll let you know if that's the case. You can of course cancel your delivery at any time free of charge.

Available in 7-21 days

€117.00 1
MIZU RACE PILLION FOOTR. - SILV./ORANGE VAR. MODELS
10017943

The product will be ordered from the manufacturer for you. Depending on availability, longer delivery times are also possible. We'll let you know if that's the case. You can of course cancel your delivery at any time free of charge.

Available in 7-21 days

€117.00 1
MIZU RACE PILLION FOOTR. - SILV./ORANGE VAR. MODELS
10017942

The product will be ordered from the manufacturer for you. Depending on availability, longer delivery times are also possible. We'll let you know if that's the case. You can of course cancel your delivery at any time free of charge.

Available in 7-21 days

€117.00 1
MIZU RACE PILLION FOOTR. - SILV./ORANGE VAR. MODELS
10017937

The product will be ordered from the manufacturer for you. Depending on availability, longer delivery times are also possible. We'll let you know if that's the case. You can of course cancel your delivery at any time free of charge.

Available in 7-21 days

€117.00 1
MIZU RACE PILLION FOOTR. - SILV./ORANGE VAR. MODELS
10017940

The product will be ordered from the manufacturer for you. Depending on availability, longer delivery times are also possible. We'll let you know if that's the case. You can of course cancel your delivery at any time free of charge.

Available in 7-21 days

€117.00 1
MIZU RACE PILLION FOOTR. - SILV./ORANGE VAR. MODELS
10017939

The item is in stock and will be delivered in 2-5 working days. Note: Stocks are updated online every hour on working days from 7 a.m. to 8 p.m., so there is a good chance that the products are available if they appear online.

Available

€117.00 1
MIZU RACE PILLION FOOTR. - SILV./ORANGE VAR. MODELS
10017938

The product will be ordered from the manufacturer for you. Depending on availability, longer delivery times are also possible. We'll let you know if that's the case. You can of course cancel your delivery at any time free of charge.

Available in 7-21 days

€117.00 1
MIZU RACE PILLION FOOTR. - SILV./ORANGE VAR. MODELS
10017946

The product will be ordered from the manufacturer for you. Depending on availability, longer delivery times are also possible. We'll let you know if that's the case. You can of course cancel your delivery at any time free of charge.

Available in 7-21 days

€117.00 1
MIZU RACE PILLION FOOTR. - SILV./ORANGE VAR. MODELS
10017945

The product will be ordered from the manufacturer for you. Depending on availability, longer delivery times are also possible. We'll let you know if that's the case. You can of course cancel your delivery at any time free of charge.

Available in 7-21 days

€117.00 1
MIZU RACE PILLION FOOTR. - SILV./ORANGE VAR. MODELS
10017951

The product will be ordered from the manufacturer for you. Depending on availability, longer delivery times are also possible. We'll let you know if that's the case. You can of course cancel your delivery at any time free of charge.

Available in 7-21 days

€117.00 1
MIZU RACE PILLION FOOTR. - SILV./ORANGE VAR. MODELS
10017947

The product will be ordered from the manufacturer for you. Depending on availability, longer delivery times are also possible. We'll let you know if that's the case. You can of course cancel your delivery at any time free of charge.

Available in 7-21 days

€117.00 1
MIZU RACE PILLION FOOTR. - SILV./ORANGE VAR. MODELS
10017948

The product will be ordered from the manufacturer for you. Depending on availability, longer delivery times are also possible. We'll let you know if that's the case. You can of course cancel your delivery at any time free of charge.

Available in 7-21 days

€117.00 1
MIZU RACE PILLION FOOTR. - SILV./ORANGE VAR. MODELS
10017949

The product will be ordered from the manufacturer for you. Depending on availability, longer delivery times are also possible. We'll let you know if that's the case. You can of course cancel your delivery at any time free of charge.

Available in 7-21 days

€117.00 1
MIZU RACE PILLION FOOTR. - SILV./ORANGE VAR. MODELS
10017950

The product will be ordered from the manufacturer for you. Depending on availability, longer delivery times are also possible. We'll let you know if that's the case. You can of course cancel your delivery at any time free of charge.

Available in 7-21 days

€117.00 1
MIZU RACE PILLION FOOTR. - SILV./ORANGE VAR. MODELS
10017935

The product will be ordered from the manufacturer for you. Depending on availability, longer delivery times are also possible. We'll let you know if that's the case. You can of course cancel your delivery at any time free of charge.

Available in 7-21 days

€117.00 1
MIZU RACE PILLION FOOTR. - SILV./ORANGE VAR. MODELS
10017952

The product will be ordered from the manufacturer for you. Depending on availability, longer delivery times are also possible. We'll let you know if that's the case. You can of course cancel your delivery at any time free of charge.

Available in 7-21 days

€117.00 1
MIZU RACE PILLION FOOTR. - SILV./ORANGE VAR. MODELS
10017934

The product will be ordered from the manufacturer for you. Depending on availability, longer delivery times are also possible. We'll let you know if that's the case. You can of course cancel your delivery at any time free of charge.

Available in 7-21 days

€117.00 1
MIZU RACE PILLION FOOTR. - SILV./ORANGE VAR. MODELS
10017933

The product will be ordered from the manufacturer for you. Depending on availability, longer delivery times are also possible. We'll let you know if that's the case. You can of course cancel your delivery at any time free of charge.

Available in 7-21 days

€117.00 1
MIZU RACE PILLION FOOTR. - SILV./ORANGE VAR. MODELS
10017932

The product will be ordered from the manufacturer for you. Depending on availability, longer delivery times are also possible. We'll let you know if that's the case. You can of course cancel your delivery at any time free of charge.

Available in 7-21 days

€117.00 1
MIZU RACE PILLION FOOTR. - SILV./ORANGE VAR. MODELS
10017953

The product will be ordered from the manufacturer for you. Depending on availability, longer delivery times are also possible. We'll let you know if that's the case. You can of course cancel your delivery at any time free of charge.

Available in 7-21 days

€117.00 1
MIZU RACE PILLION FOOTR. - SILV./ORANGE VAR. MODELS
10017936

The item is in stock and will be delivered in 2-5 working days. Note: Stocks are updated online every hour on working days from 7 a.m. to 8 p.m., so there is a good chance that the products are available if they appear online.

Available

€117.00 1
MIZU RACE PILLION FOOTR. - SILVER VARIOUS MODELS
10017377

The product will be ordered from the manufacturer for you. Depending on availability, longer delivery times are also possible. We'll let you know if that's the case. You can of course cancel your delivery at any time free of charge.

Available in 7-21 days

€117.00 1
MIZU RACE PILLION FOOTR. - SILVER VARIOUS MODELS
10017358

The product will be ordered from the manufacturer for you. Depending on availability, longer delivery times are also possible. We'll let you know if that's the case. You can of course cancel your delivery at any time free of charge.

Available in 7-21 days

€117.00 1
MIZU RACE PILLION FOOTR. - SILVER VARIOUS MODELS
10017478

The product will be ordered from the manufacturer for you. Depending on availability, longer delivery times are also possible. We'll let you know if that's the case. You can of course cancel your delivery at any time free of charge.

Available in 7-21 days

€117.00 1
MIZU RACE PILLION FOOTR. - SILVER VARIOUS MODELS
10017357

The product will be ordered from the manufacturer for you. Depending on availability, longer delivery times are also possible. We'll let you know if that's the case. You can of course cancel your delivery at any time free of charge.

Available in 7-21 days

€117.00 1
MIZU RACE PILLION FOOTR. - SILVER VARIOUS MODELS
10017485

The product will be ordered from the manufacturer for you. Depending on availability, longer delivery times are also possible. We'll let you know if that's the case. You can of course cancel your delivery at any time free of charge.

Available in 7-21 days

€117.00 1
MIZU RACE PILLION FOOTR. - SILVER VARIOUS MODELS
10017484

The product will be ordered from the manufacturer for you. Depending on availability, longer delivery times are also possible. We'll let you know if that's the case. You can of course cancel your delivery at any time free of charge.

Available in 7-21 days

€117.00 1
MIZU RACE PILLION FOOTR. - SILVER VARIOUS MODELS
10017483

The product will be ordered from the manufacturer for you. Depending on availability, longer delivery times are also possible. We'll let you know if that's the case. You can of course cancel your delivery at any time free of charge.

Available in 7-21 days

€117.00 1
MIZU RACE PILLION FOOTR. - SILVER VARIOUS MODELS
10017482

The product will be ordered from the manufacturer for you. Depending on availability, longer delivery times are also possible. We'll let you know if that's the case. You can of course cancel your delivery at any time free of charge.

Available in 7-21 days

€117.00 1
MIZU RACE PILLION FOOTR. - SILVER VARIOUS MODELS
10017481

The product will be ordered from the manufacturer for you. Depending on availability, longer delivery times are also possible. We'll let you know if that's the case. You can of course cancel your delivery at any time free of charge.

Available in 7-21 days

€117.00 1
MIZU RACE PILLION FOOTR. - SILVER VARIOUS MODELS
10017480

The product will be ordered from the manufacturer for you. Depending on availability, longer delivery times are also possible. We'll let you know if that's the case. You can of course cancel your delivery at any time free of charge.

Available in 7-21 days

€117.00 1
MIZU RACE PILLION FOOTR. - SILVER VARIOUS MODELS
10017479

The product will be ordered from the manufacturer for you. Depending on availability, longer delivery times are also possible. We'll let you know if that's the case. You can of course cancel your delivery at any time free of charge.

Available in 7-21 days

€117.00 1
MIZU RACE PILLION FOOTR. - SILVER VARIOUS MODELS
10017477

The product will be ordered from the manufacturer for you. Depending on availability, longer delivery times are also possible. We'll let you know if that's the case. You can of course cancel your delivery at any time free of charge.

Available in 7-21 days

€117.00 1
MIZU RACE PILLION FOOTR. - SILVER VARIOUS MODELS
10017399

The product will be ordered from the manufacturer for you. Depending on availability, longer delivery times are also possible. We'll let you know if that's the case. You can of course cancel your delivery at any time free of charge.

Available in 7-21 days

€117.00 1
MIZU RACE PILLION FOOTR. - SILVER VARIOUS MODELS
10017379

The product will be ordered from the manufacturer for you. Depending on availability, longer delivery times are also possible. We'll let you know if that's the case. You can of course cancel your delivery at any time free of charge.

Available in 7-21 days

€117.00 1
MIZU RACE PILLION FOOTR. - SILVER VARIOUS MODELS
10017378

The product will be ordered from the manufacturer for you. Depending on availability, longer delivery times are also possible. We'll let you know if that's the case. You can of course cancel your delivery at any time free of charge.

Available in 7-21 days

€117.00 1
MIZU RACE PILLION FOOTR. - SILVER VARIOUS MODELS
10017355

The product will be ordered from the manufacturer for you. Depending on availability, longer delivery times are also possible. We'll let you know if that's the case. You can of course cancel your delivery at any time free of charge.

Available in 7-21 days

€117.00 1
MIZU RACE PILLION FOOTR. - SILVER VARIOUS MODELS
10017369

The product will be ordered from the manufacturer for you. Depending on availability, longer delivery times are also possible. We'll let you know if that's the case. You can of course cancel your delivery at any time free of charge.

Available in 7-21 days

€117.00 1
MIZU RACE PILLION FOOTR. - SILVER VARIOUS MODELS
10017368

The item is in stock and will be delivered in 2-5 working days. Note: Stocks are updated online every hour on working days from 7 a.m. to 8 p.m., so there is a good chance that the products are available if they appear online.

Available

€117.00 1
MIZU RACE PILLION FOOTR. - SILVER VARIOUS MODELS
10017367

The product will be ordered from the manufacturer for you. Depending on availability, longer delivery times are also possible. We'll let you know if that's the case. You can of course cancel your delivery at any time free of charge.

Available in 7-21 days

€117.00 1
MIZU RACE PILLION FOOTR. - SILVER VARIOUS MODELS
10017366

The product will be ordered from the manufacturer for you. Depending on availability, longer delivery times are also possible. We'll let you know if that's the case. You can of course cancel your delivery at any time free of charge.

Available in 7-21 days

€117.00 1
MIZU RACE PILLION FOOTR. - SILVER VARIOUS MODELS
10017359

The product will be ordered from the manufacturer for you. Depending on availability, longer delivery times are also possible. We'll let you know if that's the case. You can of course cancel your delivery at any time free of charge.

Available in 7-21 days

€117.00 1
MIZU RACE PILLION FOOTR. - SILVER VARIOUS MODELS
10017356

The product will be ordered from the manufacturer for you. Depending on availability, longer delivery times are also possible. We'll let you know if that's the case. You can of course cancel your delivery at any time free of charge.

Available in 7-21 days

€117.00 1
MIZU RACE PILLION FOOTR. - SILVER/BLACK VAR. MODELS
10017979

The product will be ordered from the manufacturer for you. Depending on availability, longer delivery times are also possible. We'll let you know if that's the case. You can of course cancel your delivery at any time free of charge.

Available in 7-21 days

€117.00 1
MIZU RACE PILLION FOOTR. - SILVER/BLACK VAR. MODELS
10017978

The product will be ordered from the manufacturer for you. Depending on availability, longer delivery times are also possible. We'll let you know if that's the case. You can of course cancel your delivery at any time free of charge.

Available in 7-21 days

€117.00 1
MIZU RACE PILLION FOOTR. - SILVER/BLACK VAR. MODELS
10017977

The product will be ordered from the manufacturer for you. Depending on availability, longer delivery times are also possible. We'll let you know if that's the case. You can of course cancel your delivery at any time free of charge.

Available in 7-21 days

€117.00 1
MIZU RACE PILLION FOOTR. - SILVER/BLACK VAR. MODELS
10017988

The product will be ordered from the manufacturer for you. Depending on availability, longer delivery times are also possible. We'll let you know if that's the case. You can of course cancel your delivery at any time free of charge.

Available in 7-21 days

€117.00 1
MIZU RACE PILLION FOOTR. - SILVER/BLACK VAR. MODELS
10017995

The product will be ordered from the manufacturer for you. Depending on availability, longer delivery times are also possible. We'll let you know if that's the case. You can of course cancel your delivery at any time free of charge.

Available in 7-21 days

€117.00 1
MIZU RACE PILLION FOOTR. - SILVER/BLACK VAR. MODELS
10017994

The product will be ordered from the manufacturer for you. Depending on availability, longer delivery times are also possible. We'll let you know if that's the case. You can of course cancel your delivery at any time free of charge.

Available in 7-21 days

€117.00 1
MIZU RACE PILLION FOOTR. - SILVER/BLACK VAR. MODELS
10017993

The item is in stock and will be delivered in 2-5 working days. Note: Stocks are updated online every hour on working days from 7 a.m. to 8 p.m., so there is a good chance that the products are available if they appear online.

Available

€117.00 1
MIZU RACE PILLION FOOTR. - SILVER/BLACK VAR. MODELS
10017991

The product will be ordered from the manufacturer for you. Depending on availability, longer delivery times are also possible. We'll let you know if that's the case. You can of course cancel your delivery at any time free of charge.

Available in 7-21 days

€117.00 1
MIZU RACE PILLION FOOTR. - SILVER/BLACK VAR. MODELS
10017990

The product will be ordered from the manufacturer for you. Depending on availability, longer delivery times are also possible. We'll let you know if that's the case. You can of course cancel your delivery at any time free of charge.

Available in 7-21 days

€117.00 1
MIZU RACE PILLION FOOTR. - SILVER/BLACK VAR. MODELS
10017989

The product will be ordered from the manufacturer for you. Depending on availability, longer delivery times are also possible. We'll let you know if that's the case. You can of course cancel your delivery at any time free of charge.

Available in 7-21 days

€117.00 1
MIZU RACE PILLION FOOTR. - SILVER/BLACK VAR. MODELS
10017987

The product will be ordered from the manufacturer for you. Depending on availability, longer delivery times are also possible. We'll let you know if that's the case. You can of course cancel your delivery at any time free of charge.

Available in 7-21 days

€117.00 1
MIZU RACE PILLION FOOTR. - SILVER/BLACK VAR. MODELS
10017997

The product will be ordered from the manufacturer for you. Depending on availability, longer delivery times are also possible. We'll let you know if that's the case. You can of course cancel your delivery at any time free of charge.

Available in 7-21 days

€117.00 1
MIZU RACE PILLION FOOTR. - SILVER/BLACK VAR. MODELS
10017986

The product will be ordered from the manufacturer for you. Depending on availability, longer delivery times are also possible. We'll let you know if that's the case. You can of course cancel your delivery at any time free of charge.

Available in 7-21 days

€117.00 1
MIZU RACE PILLION FOOTR. - SILVER/BLACK VAR. MODELS
10017985

The product will be ordered from the manufacturer for you. Depending on availability, longer delivery times are also possible. We'll let you know if that's the case. You can of course cancel your delivery at any time free of charge.

Available in 7-21 days

€117.00 1
MIZU RACE PILLION FOOTR. - SILVER/BLACK VAR. MODELS
10017984

The item is in stock and will be delivered in 2-5 working days. Note: Stocks are updated online every hour on working days from 7 a.m. to 8 p.m., so there is a good chance that the products are available if they appear online.

Available

€117.00 1
MIZU RACE PILLION FOOTR. - SILVER/BLACK VAR. MODELS
10017983

The product will be ordered from the manufacturer for you. Depending on availability, longer delivery times are also possible. We'll let you know if that's the case. You can of course cancel your delivery at any time free of charge.

Available in 7-21 days

€117.00 1
MIZU RACE PILLION FOOTR. - SILVER/BLACK VAR. MODELS
10017982

The product will be ordered from the manufacturer for you. Depending on availability, longer delivery times are also possible. We'll let you know if that's the case. You can of course cancel your delivery at any time free of charge.

Available in 7-21 days

€117.00 1
MIZU RACE PILLION FOOTR. - SILVER/BLACK VAR. MODELS
10017981

The product will be ordered from the manufacturer for you. Depending on availability, longer delivery times are also possible. We'll let you know if that's the case. You can of course cancel your delivery at any time free of charge.

Available in 7-21 days

€117.00 1
MIZU RACE PILLION FOOTR. - SILVER/BLACK VAR. MODELS
10017980

The product will be ordered from the manufacturer for you. Depending on availability, longer delivery times are also possible. We'll let you know if that's the case. You can of course cancel your delivery at any time free of charge.

Available in 7-21 days

€117.00 1
MIZU RACE PILLION FOOTR. - SILVER/BLACK VAR. MODELS
10017996

The product will be ordered from the manufacturer for you. Depending on availability, longer delivery times are also possible. We'll let you know if that's the case. You can of course cancel your delivery at any time free of charge.

Available in 7-21 days

€117.00 1
MIZU RACE PILLION FOOTR. - SILVER/BLACK VAR. MODELS
10017992

The product will be ordered from the manufacturer for you. Depending on availability, longer delivery times are also possible. We'll let you know if that's the case. You can of course cancel your delivery at any time free of charge.

Available in 7-21 days

€117.00 1
MIZU RACE PILLION FOOTR. - SILVER/BLACK VAR. MODELS
10017998

The product will be ordered from the manufacturer for you. Depending on availability, longer delivery times are also possible. We'll let you know if that's the case. You can of course cancel your delivery at any time free of charge.

Available in 7-21 days

€117.00 1
MIZU RACE RIDER FOOTREST - BLACK VAR. MODELS
10017816

The product will be ordered from the manufacturer for you. Depending on availability, longer delivery times are also possible. We'll let you know if that's the case. You can of course cancel your delivery at any time free of charge.

Available in 7-21 days

€117.00 1
MIZU RACE RIDER FOOTREST - BLACK VAR. MODELS
10017802

The item is in stock and will be delivered in 2-5 working days. Note: Stocks are updated online every hour on working days from 7 a.m. to 8 p.m., so there is a good chance that the products are available if they appear online.

Available

€117.00 1
MIZU RACE RIDER FOOTREST - BLACK VAR. MODELS
10017803

The item is in stock and will be delivered in 2-5 working days. Note: Stocks are updated online every hour on working days from 7 a.m. to 8 p.m., so there is a good chance that the products are available if they appear online.

Available

€117.00 1
MIZU RACE RIDER FOOTREST - BLACK VAR. MODELS
10017804

The product will be ordered from the manufacturer for you. Depending on availability, longer delivery times are also possible. We'll let you know if that's the case. You can of course cancel your delivery at any time free of charge.

Available in 7-21 days

€117.00 1
MIZU RACE RIDER FOOTREST - BLACK VAR. MODELS
10017822

The product will be ordered from the manufacturer for you. Depending on availability, longer delivery times are also possible. We'll let you know if that's the case. You can of course cancel your delivery at any time free of charge.

Available in 7-21 days

€117.00 1
MIZU RACE RIDER FOOTREST - BLACK VAR. MODELS
10017821

The product will be ordered from the manufacturer for you. Depending on availability, longer delivery times are also possible. We'll let you know if that's the case. You can of course cancel your delivery at any time free of charge.

Available in 7-21 days

€117.00 1
MIZU RACE RIDER FOOTREST - BLACK VAR. MODELS
10017805

The item is in stock and will be delivered in 2-5 working days. Note: Stocks are updated online every hour on working days from 7 a.m. to 8 p.m., so there is a good chance that the products are available if they appear online.

Available

€117.00 1
MIZU RACE RIDER FOOTREST - BLACK VAR. MODELS
10017819

The product will be ordered from the manufacturer for you. Depending on availability, longer delivery times are also possible. We'll let you know if that's the case. You can of course cancel your delivery at any time free of charge.

Available in 7-21 days

€117.00 1
MIZU RACE RIDER FOOTREST - BLACK VAR. MODELS
10017818

The product will be ordered from the manufacturer for you. Depending on availability, longer delivery times are also possible. We'll let you know if that's the case. You can of course cancel your delivery at any time free of charge.

Available in 7-21 days

€117.00 1
MIZU RACE RIDER FOOTREST - BLACK VAR. MODELS
10017817

The product will be ordered from the manufacturer for you. Depending on availability, longer delivery times are also possible. We'll let you know if that's the case. You can of course cancel your delivery at any time free of charge.

Available in 7-21 days

€117.00 1
MIZU RACE RIDER FOOTREST - BLACK VAR. MODELS
10017820

The product will be ordered from the manufacturer for you. Depending on availability, longer delivery times are also possible. We'll let you know if that's the case. You can of course cancel your delivery at any time free of charge.

Available in 7-21 days

€117.00 1
MIZU RACE RIDER FOOTREST - BLACK VAR. MODELS
10017815

The product will be ordered from the manufacturer for you. Depending on availability, longer delivery times are also possible. We'll let you know if that's the case. You can of course cancel your delivery at any time free of charge.

Available in 7-21 days

€117.00 1
MIZU RACE RIDER FOOTREST - BLACK VAR. MODELS
10017809

The product will be ordered from the manufacturer for you. Depending on availability, longer delivery times are also possible. We'll let you know if that's the case. You can of course cancel your delivery at any time free of charge.

Available in 7-21 days

€117.00 1
MIZU RACE RIDER FOOTREST - BLACK VAR. MODELS
10017806

The item is in stock and will be delivered in 2-5 working days. Note: Stocks are updated online every hour on working days from 7 a.m. to 8 p.m., so there is a good chance that the products are available if they appear online.

Available

€117.00 1
MIZU RACE RIDER FOOTREST - BLACK VAR. MODELS
10017814

The item is in stock and will be delivered in 2-5 working days. Note: Stocks are updated online every hour on working days from 7 a.m. to 8 p.m., so there is a good chance that the products are available if they appear online.

Available

€117.00 1
MIZU RACE RIDER FOOTREST - BLACK VAR. MODELS
10017808

The item is in stock and will be delivered in 2-5 working days. Note: Stocks are updated online every hour on working days from 7 a.m. to 8 p.m., so there is a good chance that the products are available if they appear online.

Available

€117.00 1
MIZU RACE RIDER FOOTREST - BLACK VAR. MODELS
10017807

The product will be ordered from the manufacturer for you. Depending on availability, longer delivery times are also possible. We'll let you know if that's the case. You can of course cancel your delivery at any time free of charge.

Available in 7-21 days

€117.00 1
MIZU RACE RIDER FOOTREST - BLACK VAR. MODELS
10017810

The product will be ordered from the manufacturer for you. Depending on availability, longer delivery times are also possible. We'll let you know if that's the case. You can of course cancel your delivery at any time free of charge.

Available in 7-21 days

€117.00 1
MIZU RACE RIDER FOOTREST - BLACK VAR. MODELS
10017823

The product will be ordered from the manufacturer for you. Depending on availability, longer delivery times are also possible. We'll let you know if that's the case. You can of course cancel your delivery at any time free of charge.

Available in 7-21 days

€117.00 1
MIZU RACE RIDER FOOTREST - BLACK VAR. MODELS
10017811

The product will be ordered from the manufacturer for you. Depending on availability, longer delivery times are also possible. We'll let you know if that's the case. You can of course cancel your delivery at any time free of charge.

Available in 7-21 days

€117.00 1
MIZU RACE RIDER FOOTREST - BLACK VAR. MODELS
10017812

The product will be ordered from the manufacturer for you. Depending on availability, longer delivery times are also possible. We'll let you know if that's the case. You can of course cancel your delivery at any time free of charge.

Available in 7-21 days

€117.00 1
MIZU RACE RIDER FOOTREST - BLACK VAR. MODELS
10017813

The product will be ordered from the manufacturer for you. Depending on availability, longer delivery times are also possible. We'll let you know if that's the case. You can of course cancel your delivery at any time free of charge.

Available in 7-21 days

€117.00 1
MIZU RACE RIDER FOOTREST - BLACK/ORANGE VAR. MODELS
10017734

The product will be ordered from the manufacturer for you. Depending on availability, longer delivery times are also possible. We'll let you know if that's the case. You can of course cancel your delivery at any time free of charge.

Available in 7-21 days

€117.00 1
MIZU RACE RIDER FOOTREST - BLACK/ORANGE VAR. MODELS
10017735

The product will be ordered from the manufacturer for you. Depending on availability, longer delivery times are also possible. We'll let you know if that's the case. You can of course cancel your delivery at any time free of charge.

Available in 7-21 days

€117.00 1
MIZU RACE RIDER FOOTREST - BLACK/ORANGE VAR. MODELS
10017736

The product will be ordered from the manufacturer for you. Depending on availability, longer delivery times are also possible. We'll let you know if that's the case. You can of course cancel your delivery at any time free of charge.

Available in 7-21 days

€117.00 1
MIZU RACE RIDER FOOTREST - BLACK/ORANGE VAR. MODELS
10017737

The product will be ordered from the manufacturer for you. Depending on availability, longer delivery times are also possible. We'll let you know if that's the case. You can of course cancel your delivery at any time free of charge.

Available in 7-21 days

€117.00 1
MIZU RACE RIDER FOOTREST - BLACK/ORANGE VAR. MODELS
10017738

The product will be ordered from the manufacturer for you. Depending on availability, longer delivery times are also possible. We'll let you know if that's the case. You can of course cancel your delivery at any time free of charge.

Available in 7-21 days

€117.00 1
MIZU RACE RIDER FOOTREST - BLACK/ORANGE VAR. MODELS
10017739

The product will be ordered from the manufacturer for you. Depending on availability, longer delivery times are also possible. We'll let you know if that's the case. You can of course cancel your delivery at any time free of charge.

Available in 7-21 days

€117.00 1
MIZU RACE RIDER FOOTREST - BLACK/ORANGE VAR. MODELS
10017740

The product will be ordered from the manufacturer for you. Depending on availability, longer delivery times are also possible. We'll let you know if that's the case. You can of course cancel your delivery at any time free of charge.

Available in 7-21 days

€117.00 1
MIZU RACE RIDER FOOTREST - BLACK/ORANGE VAR. MODELS
10017741

The product will be ordered from the manufacturer for you. Depending on availability, longer delivery times are also possible. We'll let you know if that's the case. You can of course cancel your delivery at any time free of charge.

Available in 7-21 days

€117.00 1
MIZU RACE RIDER FOOTREST - BLACK/ORANGE VAR. MODELS
10017742

The product will be ordered from the manufacturer for you. Depending on availability, longer delivery times are also possible. We'll let you know if that's the case. You can of course cancel your delivery at any time free of charge.

Available in 7-21 days

€117.00 1
MIZU RACE RIDER FOOTREST - BLACK/ORANGE VAR. MODELS
10017743

The product will be ordered from the manufacturer for you. Depending on availability, longer delivery times are also possible. We'll let you know if that's the case. You can of course cancel your delivery at any time free of charge.

Available in 7-21 days

€117.00 1
MIZU RACE RIDER FOOTREST - BLACK/ORANGE VAR. MODELS
10017744

The product will be ordered from the manufacturer for you. Depending on availability, longer delivery times are also possible. We'll let you know if that's the case. You can of course cancel your delivery at any time free of charge.

Available in 7-21 days

€117.00 1
MIZU RACE RIDER FOOTREST - BLACK/ORANGE VAR. MODELS
10017745

The product will be ordered from the manufacturer for you. Depending on availability, longer delivery times are also possible. We'll let you know if that's the case. You can of course cancel your delivery at any time free of charge.

Available in 7-21 days

€117.00 1
MIZU RACE RIDER FOOTREST - BLACK/ORANGE VAR. MODELS
10017746

The product will be ordered from the manufacturer for you. Depending on availability, longer delivery times are also possible. We'll let you know if that's the case. You can of course cancel your delivery at any time free of charge.

Available in 7-21 days

€117.00 1
MIZU RACE RIDER FOOTREST - BLACK/ORANGE VAR. MODELS
10017748

The product will be ordered from the manufacturer for you. Depending on availability, longer delivery times are also possible. We'll let you know if that's the case. You can of course cancel your delivery at any time free of charge.

Available in 7-21 days

€117.00 1
MIZU RACE RIDER FOOTREST - BLACK/ORANGE VAR. MODELS
10017749

The product will be ordered from the manufacturer for you. Depending on availability, longer delivery times are also possible. We'll let you know if that's the case. You can of course cancel your delivery at any time free of charge.

Available in 7-21 days

€117.00 1
MIZU RACE RIDER FOOTREST - BLACK/ORANGE VAR. MODELS
10017762

The product will be ordered from the manufacturer for you. Depending on availability, longer delivery times are also possible. We'll let you know if that's the case. You can of course cancel your delivery at any time free of charge.

Available in 7-21 days

€117.00 1
MIZU RACE RIDER FOOTREST - BLACK/ORANGE VAR. MODELS
10017773

The product will be ordered from the manufacturer for you. Depending on availability, longer delivery times are also possible. We'll let you know if that's the case. You can of course cancel your delivery at any time free of charge.

Available in 7-21 days

€117.00 1
MIZU RACE RIDER FOOTREST - BLACK/ORANGE VAR. MODELS
10017776

The product will be ordered from the manufacturer for you. Depending on availability, longer delivery times are also possible. We'll let you know if that's the case. You can of course cancel your delivery at any time free of charge.

Available in 7-21 days

€117.00 1
MIZU RACE RIDER FOOTREST - BLACK/ORANGE VAR. MODELS
10017777

The product will be ordered from the manufacturer for you. Depending on availability, longer delivery times are also possible. We'll let you know if that's the case. You can of course cancel your delivery at any time free of charge.

Available in 7-21 days

€117.00 1
MIZU RACE RIDER FOOTREST - BLACK/ORANGE VAR. MODELS
10017778

The product will be ordered from the manufacturer for you. Depending on availability, longer delivery times are also possible. We'll let you know if that's the case. You can of course cancel your delivery at any time free of charge.

Available in 7-21 days

€117.00 1
MIZU RACE RIDER FOOTREST - BLACK/ORANGE VAR. MODELS
10017747

The product will be ordered from the manufacturer for you. Depending on availability, longer delivery times are also possible. We'll let you know if that's the case. You can of course cancel your delivery at any time free of charge.

Available in 7-21 days

€117.00 1
MIZU RACE RIDER FOOTREST - BLACK/ORANGE VAR. MODELS
10017779

The product will be ordered from the manufacturer for you. Depending on availability, longer delivery times are also possible. We'll let you know if that's the case. You can of course cancel your delivery at any time free of charge.

Available in 7-21 days

€117.00 1
MIZU RACE RIDER FOOTREST - BLACK/SILVER VAR. MODELS
10017881

The product will be ordered from the manufacturer for you. Depending on availability, longer delivery times are also possible. We'll let you know if that's the case. You can of course cancel your delivery at any time free of charge.

Available in 7-21 days

€117.00 1
MIZU RACE RIDER FOOTREST - BLACK/SILVER VAR. MODELS
10017879

The product will be ordered from the manufacturer for you. Depending on availability, longer delivery times are also possible. We'll let you know if that's the case. You can of course cancel your delivery at any time free of charge.

Available in 7-21 days

€117.00 1
MIZU RACE RIDER FOOTREST - BLACK/SILVER VAR. MODELS
10017880

The product will be ordered from the manufacturer for you. Depending on availability, longer delivery times are also possible. We'll let you know if that's the case. You can of course cancel your delivery at any time free of charge.

Available in 7-21 days

€117.00 1
MIZU RACE RIDER FOOTREST - BLACK/SILVER VAR. MODELS
10017885

The product will be ordered from the manufacturer for you. Depending on availability, longer delivery times are also possible. We'll let you know if that's the case. You can of course cancel your delivery at any time free of charge.

Available in 7-21 days

€117.00 1
MIZU RACE RIDER FOOTREST - BLACK/SILVER VAR. MODELS
10017882

The product will be ordered from the manufacturer for you. Depending on availability, longer delivery times are also possible. We'll let you know if that's the case. You can of course cancel your delivery at any time free of charge.

Available in 7-21 days

€117.00 1
MIZU RACE RIDER FOOTREST - BLACK/SILVER VAR. MODELS
10017883

The product will be ordered from the manufacturer for you. Depending on availability, longer delivery times are also possible. We'll let you know if that's the case. You can of course cancel your delivery at any time free of charge.

Available in 7-21 days

€117.00 1
MIZU RACE RIDER FOOTREST - BLACK/SILVER VAR. MODELS
10017884

The product will be ordered from the manufacturer for you. Depending on availability, longer delivery times are also possible. We'll let you know if that's the case. You can of course cancel your delivery at any time free of charge.

Available in 7-21 days

€117.00 1
MIZU RACE RIDER FOOTREST - BLACK/SILVER VAR. MODELS
10017877

The product will be ordered from the manufacturer for you. Depending on availability, longer delivery times are also possible. We'll let you know if that's the case. You can of course cancel your delivery at any time free of charge.

Available in 7-21 days

€117.00 1
MIZU RACE RIDER FOOTREST - BLACK/SILVER VAR. MODELS
10017878

The product will be ordered from the manufacturer for you. Depending on availability, longer delivery times are also possible. We'll let you know if that's the case. You can of course cancel your delivery at any time free of charge.

Available in 7-21 days

€117.00 1
MIZU RACE RIDER FOOTREST - BLACK/SILVER VAR. MODELS
10017859

The product will be ordered from the manufacturer for you. Depending on availability, longer delivery times are also possible. We'll let you know if that's the case. You can of course cancel your delivery at any time free of charge.

Available in 7-21 days

€117.00 1
MIZU RACE RIDER FOOTREST - BLACK/SILVER VAR. MODELS
10017876

The product will be ordered from the manufacturer for you. Depending on availability, longer delivery times are also possible. We'll let you know if that's the case. You can of course cancel your delivery at any time free of charge.

Available in 7-21 days

€117.00 1
MIZU RACE RIDER FOOTREST - BLACK/SILVER VAR. MODELS
10017875

The product will be ordered from the manufacturer for you. Depending on availability, longer delivery times are also possible. We'll let you know if that's the case. You can of course cancel your delivery at any time free of charge.

Available in 7-21 days

€117.00 1
MIZU RACE RIDER FOOTREST - BLACK/SILVER VAR. MODELS
10017869

The item is in stock and will be delivered in 2-5 working days. Note: Stocks are updated online every hour on working days from 7 a.m. to 8 p.m., so there is a good chance that the products are available if they appear online.

Available

€117.00 1
MIZU RACE RIDER FOOTREST - BLACK/SILVER VAR. MODELS
10017864

The product will be ordered from the manufacturer for you. Depending on availability, longer delivery times are also possible. We'll let you know if that's the case. You can of course cancel your delivery at any time free of charge.

Available in 7-21 days

€117.00 1
MIZU RACE RIDER FOOTREST - BLACK/SILVER VAR. MODELS
10017858

The product will be ordered from the manufacturer for you. Depending on availability, longer delivery times are also possible. We'll let you know if that's the case. You can of course cancel your delivery at any time free of charge.

Available in 7-21 days

€117.00 1
MIZU RACE RIDER FOOTREST - BLACK/SILVER VAR. MODELS
10017857

The product will be ordered from the manufacturer for you. Depending on availability, longer delivery times are also possible. We'll let you know if that's the case. You can of course cancel your delivery at any time free of charge.

Available in 7-21 days

€117.00 1
MIZU RACE RIDER FOOTREST - BLACK/SILVER VAR. MODELS
10017856

The product will be ordered from the manufacturer for you. Depending on availability, longer delivery times are also possible. We'll let you know if that's the case. You can of course cancel your delivery at any time free of charge.

Available in 7-21 days

€117.00 1
MIZU RACE RIDER FOOTREST - BLACK/SILVER VAR. MODELS
10017849

The product will be ordered from the manufacturer for you. Depending on availability, longer delivery times are also possible. We'll let you know if that's the case. You can of course cancel your delivery at any time free of charge.

Available in 7-21 days

€117.00 1
MIZU RACE RIDER FOOTREST - BLACK/SILVER VAR. MODELS
10017848

The product will be ordered from the manufacturer for you. Depending on availability, longer delivery times are also possible. We'll let you know if that's the case. You can of course cancel your delivery at any time free of charge.

Available in 7-21 days

€117.00 1
MIZU RACE RIDER FOOTREST - BLACK/SILVER VAR. MODELS
10017846

The product will be ordered from the manufacturer for you. Depending on availability, longer delivery times are also possible. We'll let you know if that's the case. You can of course cancel your delivery at any time free of charge.

Available in 7-21 days

€117.00 1
MIZU RACE RIDER FOOTREST - BLACK/SILVER VAR. MODELS
10017886

The product will be ordered from the manufacturer for you. Depending on availability, longer delivery times are also possible. We'll let you know if that's the case. You can of course cancel your delivery at any time free of charge.

Available in 7-21 days

€117.00 1
MIZU RACE RIDER FOOTREST - BLACK/SILVER VAR. MODELS
10017847

The item is in stock and will be delivered in 2-5 working days. Note: Stocks are updated online every hour on working days from 7 a.m. to 8 p.m., so there is a good chance that the products are available if they appear online.

Available

€117.00 1
MIZU RACE RIDER FOOTREST - SILV./ORANGE VAR. MODELS
10017931

The product will be ordered from the manufacturer for you. Depending on availability, longer delivery times are also possible. We'll let you know if that's the case. You can of course cancel your delivery at any time free of charge.

Available in 7-21 days

€117.00 1
MIZU RACE RIDER FOOTREST - SILV./ORANGE VAR. MODELS
10017917

The product will be ordered from the manufacturer for you. Depending on availability, longer delivery times are also possible. We'll let you know if that's the case. You can of course cancel your delivery at any time free of charge.

Available in 7-21 days

€117.00 1
MIZU RACE RIDER FOOTREST - SILV./ORANGE VAR. MODELS
10017909

The product will be ordered from the manufacturer for you. Depending on availability, longer delivery times are also possible. We'll let you know if that's the case. You can of course cancel your delivery at any time free of charge.

Available in 7-21 days

€117.00 1
MIZU RACE RIDER FOOTREST - SILV./ORANGE VAR. MODELS
10017910

The product will be ordered from the manufacturer for you. Depending on availability, longer delivery times are also possible. We'll let you know if that's the case. You can of course cancel your delivery at any time free of charge.

Available in 7-21 days

€117.00 1
MIZU RACE RIDER FOOTREST - SILV./ORANGE VAR. MODELS
10017911

The product will be ordered from the manufacturer for you. Depending on availability, longer delivery times are also possible. We'll let you know if that's the case. You can of course cancel your delivery at any time free of charge.

Available in 7-21 days

€117.00 1
MIZU RACE RIDER FOOTREST - SILV./ORANGE VAR. MODELS
10017912

The product will be ordered from the manufacturer for you. Depending on availability, longer delivery times are also possible. We'll let you know if that's the case. You can of course cancel your delivery at any time free of charge.

Available in 7-21 days

€117.00 1
MIZU RACE RIDER FOOTREST - SILV./ORANGE VAR. MODELS
10017913

The product will be ordered from the manufacturer for you. Depending on availability, longer delivery times are also possible. We'll let you know if that's the case. You can of course cancel your delivery at any time free of charge.

Available in 7-21 days

€117.00 1
MIZU RACE RIDER FOOTREST - SILV./ORANGE VAR. MODELS
10017914

The product will be ordered from the manufacturer for you. Depending on availability, longer delivery times are also possible. We'll let you know if that's the case. You can of course cancel your delivery at any time free of charge.

Available in 7-21 days

€117.00 1
MIZU RACE RIDER FOOTREST - SILV./ORANGE VAR. MODELS
10017915

The product will be ordered from the manufacturer for you. Depending on availability, longer delivery times are also possible. We'll let you know if that's the case. You can of course cancel your delivery at any time free of charge.

Available in 7-21 days

€117.00 1
MIZU RACE RIDER FOOTREST - SILV./ORANGE VAR. MODELS
10017916

The product will be ordered from the manufacturer for you. Depending on availability, longer delivery times are also possible. We'll let you know if that's the case. You can of course cancel your delivery at any time free of charge.

Available in 7-21 days

€117.00 1
MIZU RACE RIDER FOOTREST - SILV./ORANGE VAR. MODELS
10017918

The product will be ordered from the manufacturer for you. Depending on availability, longer delivery times are also possible. We'll let you know if that's the case. You can of course cancel your delivery at any time free of charge.

Available in 7-21 days

€117.00 1
MIZU RACE RIDER FOOTREST - SILV./ORANGE VAR. MODELS
10017930

The product will be ordered from the manufacturer for you. Depending on availability, longer delivery times are also possible. We'll let you know if that's the case. You can of course cancel your delivery at any time free of charge.

Available in 7-21 days

€117.00 1
MIZU RACE RIDER FOOTREST - SILV./ORANGE VAR. MODELS
10017919

The product will be ordered from the manufacturer for you. Depending on availability, longer delivery times are also possible. We'll let you know if that's the case. You can of course cancel your delivery at any time free of charge.

Available in 7-21 days

€117.00 1
MIZU RACE RIDER FOOTREST - SILV./ORANGE VAR. MODELS
10017920

The product will be ordered from the manufacturer for you. Depending on availability, longer delivery times are also possible. We'll let you know if that's the case. You can of course cancel your delivery at any time free of charge.

Available in 7-21 days

€117.00 1
MIZU RACE RIDER FOOTREST - SILV./ORANGE VAR. MODELS
10017921

The product will be ordered from the manufacturer for you. Depending on availability, longer delivery times are also possible. We'll let you know if that's the case. You can of course cancel your delivery at any time free of charge.

Available in 7-21 days

€117.00 1
MIZU RACE RIDER FOOTREST - SILV./ORANGE VAR. MODELS
10017923

The product will be ordered from the manufacturer for you. Depending on availability, longer delivery times are also possible. We'll let you know if that's the case. You can of course cancel your delivery at any time free of charge.

Available in 7-21 days

€117.00 1
MIZU RACE RIDER FOOTREST - SILV./ORANGE VAR. MODELS
10017924

The product will be ordered from the manufacturer for you. Depending on availability, longer delivery times are also possible. We'll let you know if that's the case. You can of course cancel your delivery at any time free of charge.

Available in 7-21 days

€117.00 1
MIZU RACE RIDER FOOTREST - SILV./ORANGE VAR. MODELS
10017925

The product will be ordered from the manufacturer for you. Depending on availability, longer delivery times are also possible. We'll let you know if that's the case. You can of course cancel your delivery at any time free of charge.

Available in 7-21 days

€117.00 1
MIZU RACE RIDER FOOTREST - SILV./ORANGE VAR. MODELS
10017926

The product will be ordered from the manufacturer for you. Depending on availability, longer delivery times are also possible. We'll let you know if that's the case. You can of course cancel your delivery at any time free of charge.

Available in 7-21 days

€117.00 1
MIZU RACE RIDER FOOTREST - SILV./ORANGE VAR. MODELS
10017927

The product will be ordered from the manufacturer for you. Depending on availability, longer delivery times are also possible. We'll let you know if that's the case. You can of course cancel your delivery at any time free of charge.

Available in 7-21 days

€117.00 1
MIZU RACE RIDER FOOTREST - SILV./ORANGE VAR. MODELS
10017929

The product will be ordered from the manufacturer for you. Depending on availability, longer delivery times are also possible. We'll let you know if that's the case. You can of course cancel your delivery at any time free of charge.

Available in 7-21 days

€117.00 1
MIZU RACE RIDER FOOTREST - SILV./ORANGE VAR. MODELS
10017928

The product will be ordered from the manufacturer for you. Depending on availability, longer delivery times are also possible. We'll let you know if that's the case. You can of course cancel your delivery at any time free of charge.

Available in 7-21 days

€117.00 1
MIZU RACE RIDER FOOTREST - SILVER VARIOUS MODELS
10017008

The product will be ordered from the manufacturer for you. Depending on availability, longer delivery times are also possible. We'll let you know if that's the case. You can of course cancel your delivery at any time free of charge.

Available in 7-21 days

€117.00 1
MIZU RACE RIDER FOOTREST - SILVER VARIOUS MODELS
10017999

The product will be ordered from the manufacturer for you. Depending on availability, longer delivery times are also possible. We'll let you know if that's the case. You can of course cancel your delivery at any time free of charge.

Available in 7-21 days

€117.00 1
MIZU RACE RIDER FOOTREST - SILVER VARIOUS MODELS
10017297

The product will be ordered from the manufacturer for you. Depending on availability, longer delivery times are also possible. We'll let you know if that's the case. You can of course cancel your delivery at any time free of charge.

Available in 7-21 days

€117.00 1
MIZU RACE RIDER FOOTREST - SILVER VARIOUS MODELS
10017353

The product will be ordered from the manufacturer for you. Depending on availability, longer delivery times are also possible. We'll let you know if that's the case. You can of course cancel your delivery at any time free of charge.

Available in 7-21 days

€117.00 1
MIZU RACE RIDER FOOTREST - SILVER VARIOUS MODELS
10017352

The product will be ordered from the manufacturer for you. Depending on availability, longer delivery times are also possible. We'll let you know if that's the case. You can of course cancel your delivery at any time free of charge.

Available in 7-21 days

€117.00 1
MIZU RACE RIDER FOOTREST - SILVER VARIOUS MODELS
10017351

The product will be ordered from the manufacturer for you. Depending on availability, longer delivery times are also possible. We'll let you know if that's the case. You can of course cancel your delivery at any time free of charge.

Available in 7-21 days

€117.00 1
MIZU RACE RIDER FOOTREST - SILVER VARIOUS MODELS
10017350

The product will be ordered from the manufacturer for you. Depending on availability, longer delivery times are also possible. We'll let you know if that's the case. You can of course cancel your delivery at any time free of charge.

Available in 7-21 days

€117.00 1
MIZU RACE RIDER FOOTREST - SILVER VARIOUS MODELS
10017344

The product will be ordered from the manufacturer for you. Depending on availability, longer delivery times are also possible. We'll let you know if that's the case. You can of course cancel your delivery at any time free of charge.

Available in 7-21 days

€117.00 1
MIZU RACE RIDER FOOTREST - SILVER VARIOUS MODELS
10017343

The product will be ordered from the manufacturer for you. Depending on availability, longer delivery times are also possible. We'll let you know if that's the case. You can of course cancel your delivery at any time free of charge.

Available in 7-21 days

€117.00 1
MIZU RACE RIDER FOOTREST - SILVER VARIOUS MODELS
10017342

The product will be ordered from the manufacturer for you. Depending on availability, longer delivery times are also possible. We'll let you know if that's the case. You can of course cancel your delivery at any time free of charge.

Available in 7-21 days

€117.00 1
MIZU RACE RIDER FOOTREST - SILVER VARIOUS MODELS
10017299

The product will be ordered from the manufacturer for you. Depending on availability, longer delivery times are also possible. We'll let you know if that's the case. You can of course cancel your delivery at any time free of charge.

Available in 7-21 days

€117.00 1
MIZU RACE RIDER FOOTREST - SILVER VARIOUS MODELS
10017296

The product will be ordered from the manufacturer for you. Depending on availability, longer delivery times are also possible. We'll let you know if that's the case. You can of course cancel your delivery at any time free of charge.

Available in 7-21 days

€117.00 1
MIZU RACE RIDER FOOTREST - SILVER VARIOUS MODELS
10017009

The product will be ordered from the manufacturer for you. Depending on availability, longer delivery times are also possible. We'll let you know if that's the case. You can of course cancel your delivery at any time free of charge.

Available in 7-21 days

€117.00 1
MIZU RACE RIDER FOOTREST - SILVER VARIOUS MODELS
10017295

The item is in stock and will be delivered in 2-5 working days. Note: Stocks are updated online every hour on working days from 7 a.m. to 8 p.m., so there is a good chance that the products are available if they appear online.

Available

€117.00 1
MIZU RACE RIDER FOOTREST - SILVER VARIOUS MODELS
10017294

The product will be ordered from the manufacturer for you. Depending on availability, longer delivery times are also possible. We'll let you know if that's the case. You can of course cancel your delivery at any time free of charge.

Available in 7-21 days

€117.00 1
MIZU RACE RIDER FOOTREST - SILVER VARIOUS MODELS
10017249

The product will be ordered from the manufacturer for you. Depending on availability, longer delivery times are also possible. We'll let you know if that's the case. You can of course cancel your delivery at any time free of charge.

Available in 7-21 days

€117.00 1
MIZU RACE RIDER FOOTREST - SILVER VARIOUS MODELS
10017248

The product will be ordered from the manufacturer for you. Depending on availability, longer delivery times are also possible. We'll let you know if that's the case. You can of course cancel your delivery at any time free of charge.

Available in 7-21 days

€117.00 1
MIZU RACE RIDER FOOTREST - SILVER VARIOUS MODELS
10017189

The item is in stock and will be delivered in 2-5 working days. Note: Stocks are updated online every hour on working days from 7 a.m. to 8 p.m., so there is a good chance that the products are available if they appear online.

Available

€117.00 1
MIZU RACE RIDER FOOTREST - SILVER VARIOUS MODELS
10017184

The item is in stock and will be delivered in 2-5 working days. Note: Stocks are updated online every hour on working days from 7 a.m. to 8 p.m., so there is a good chance that the products are available if they appear online.

Available

€117.00 1
MIZU RACE RIDER FOOTREST - SILVER VARIOUS MODELS
10017183

The product will be ordered from the manufacturer for you. Depending on availability, longer delivery times are also possible. We'll let you know if that's the case. You can of course cancel your delivery at any time free of charge.

Available in 7-21 days

€117.00 1
MIZU RACE RIDER FOOTREST - SILVER VARIOUS MODELS
10017182

The product will be ordered from the manufacturer for you. Depending on availability, longer delivery times are also possible. We'll let you know if that's the case. You can of course cancel your delivery at any time free of charge.

Available in 7-21 days

€117.00 1
MIZU RACE RIDER FOOTREST - SILVER VARIOUS MODELS
10017354

The product will be ordered from the manufacturer for you. Depending on availability, longer delivery times are also possible. We'll let you know if that's the case. You can of course cancel your delivery at any time free of charge.

Available in 7-21 days

€117.00 1
MIZU RACE RIDER FOOTREST - SILVER/BLACK VAR. MODELS
10017956

The product will be ordered from the manufacturer for you. Depending on availability, longer delivery times are also possible. We'll let you know if that's the case. You can of course cancel your delivery at any time free of charge.

Available in 7-21 days

€117.00 1
MIZU RACE RIDER FOOTREST - SILVER/BLACK VAR. MODELS
10017957

The product will be ordered from the manufacturer for you. Depending on availability, longer delivery times are also possible. We'll let you know if that's the case. You can of course cancel your delivery at any time free of charge.

Available in 7-21 days

€117.00 1