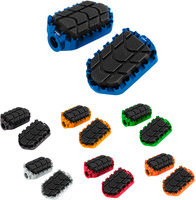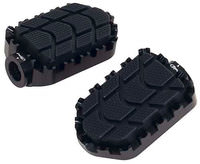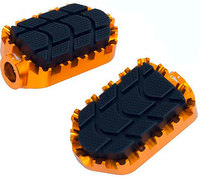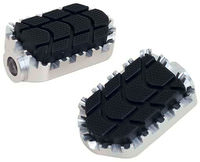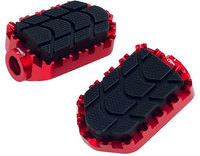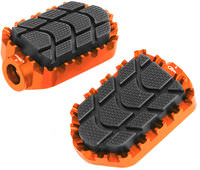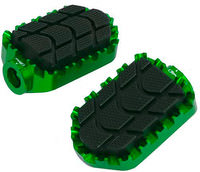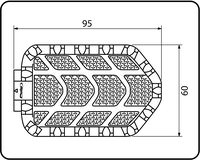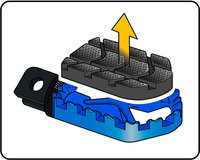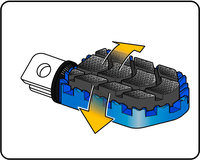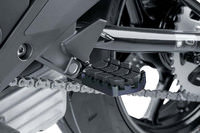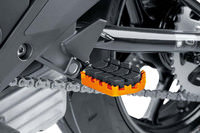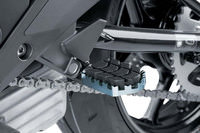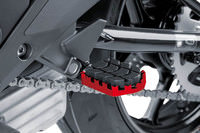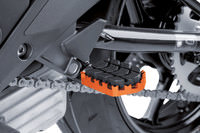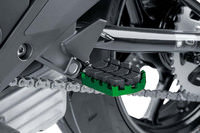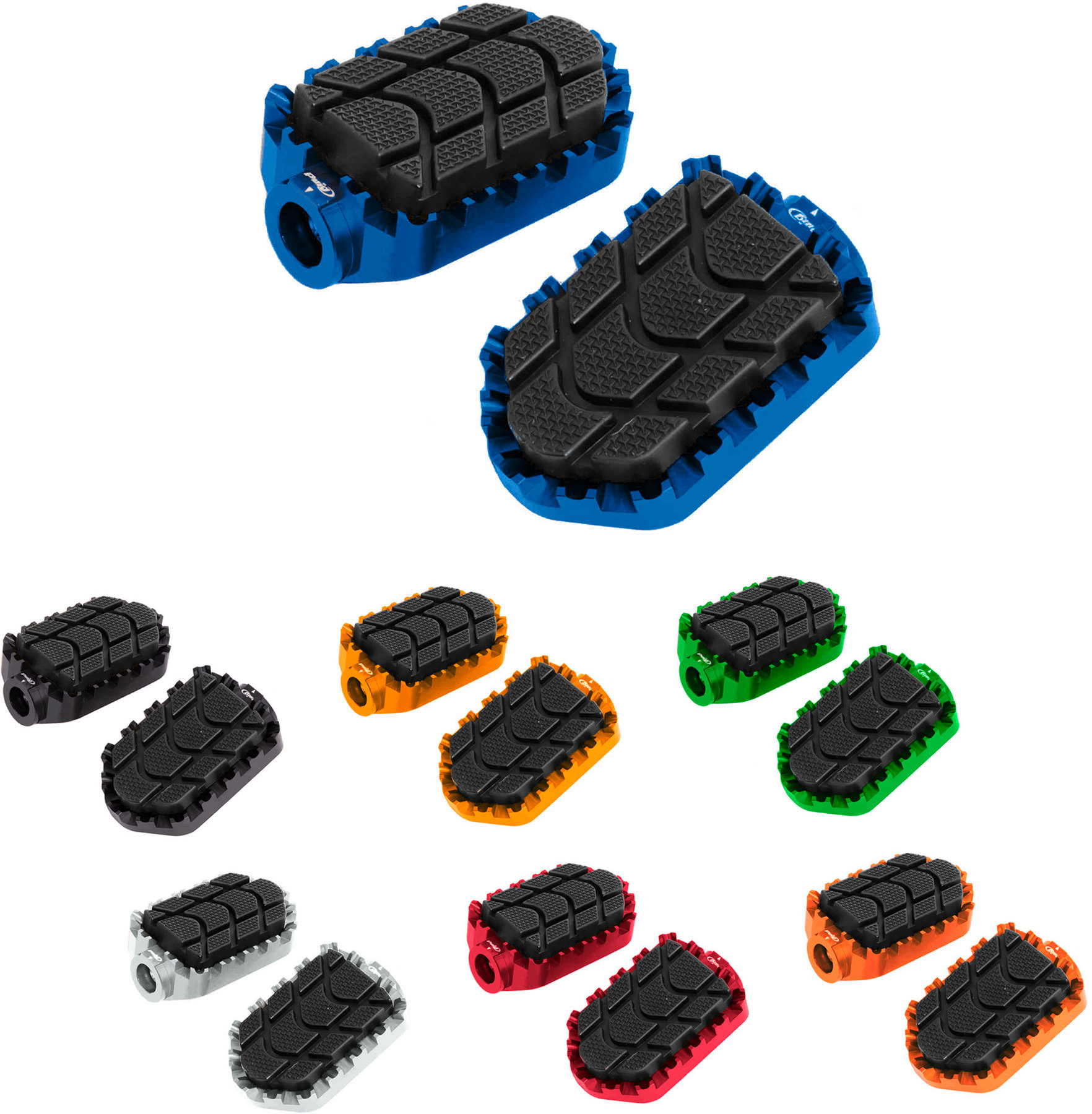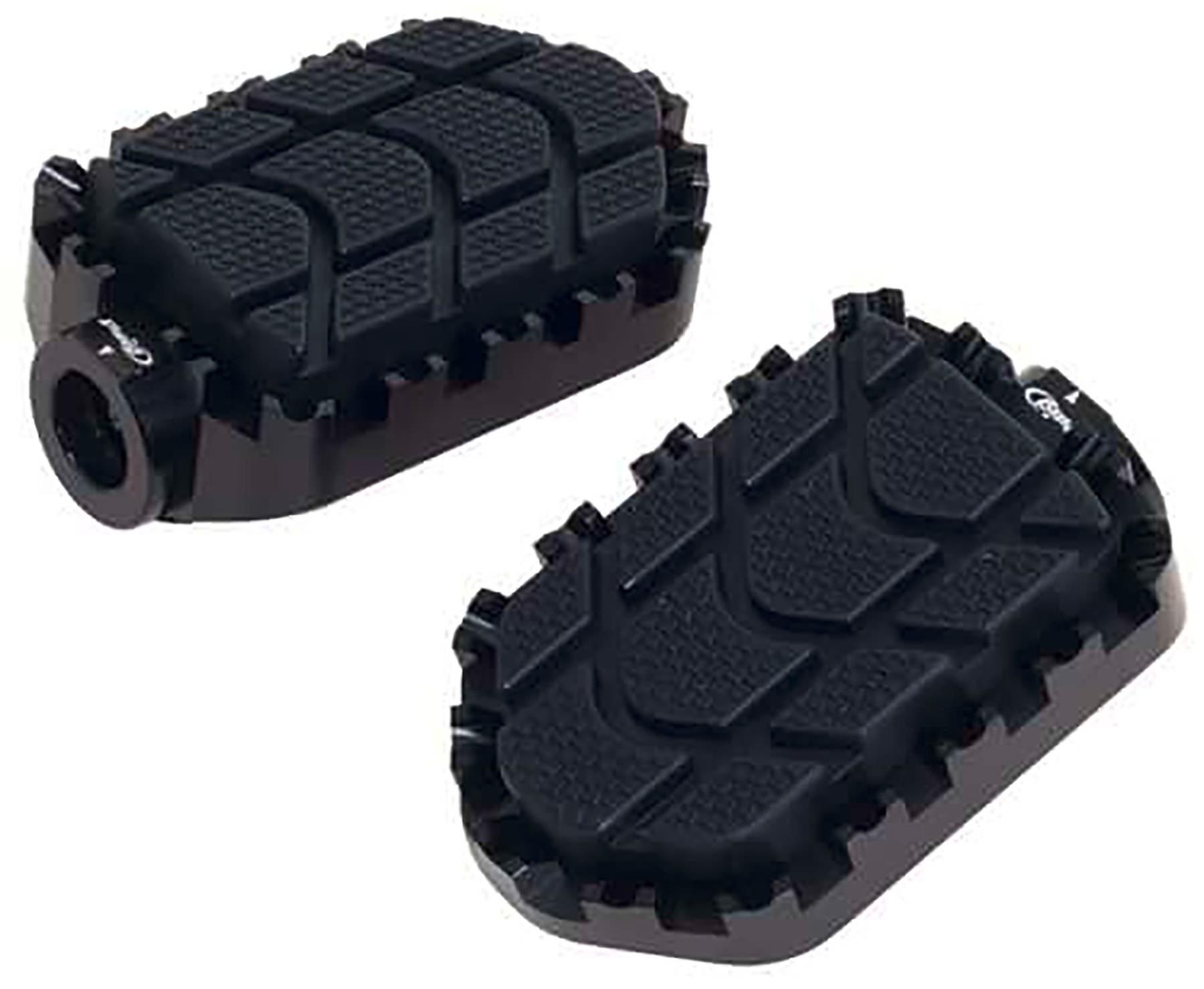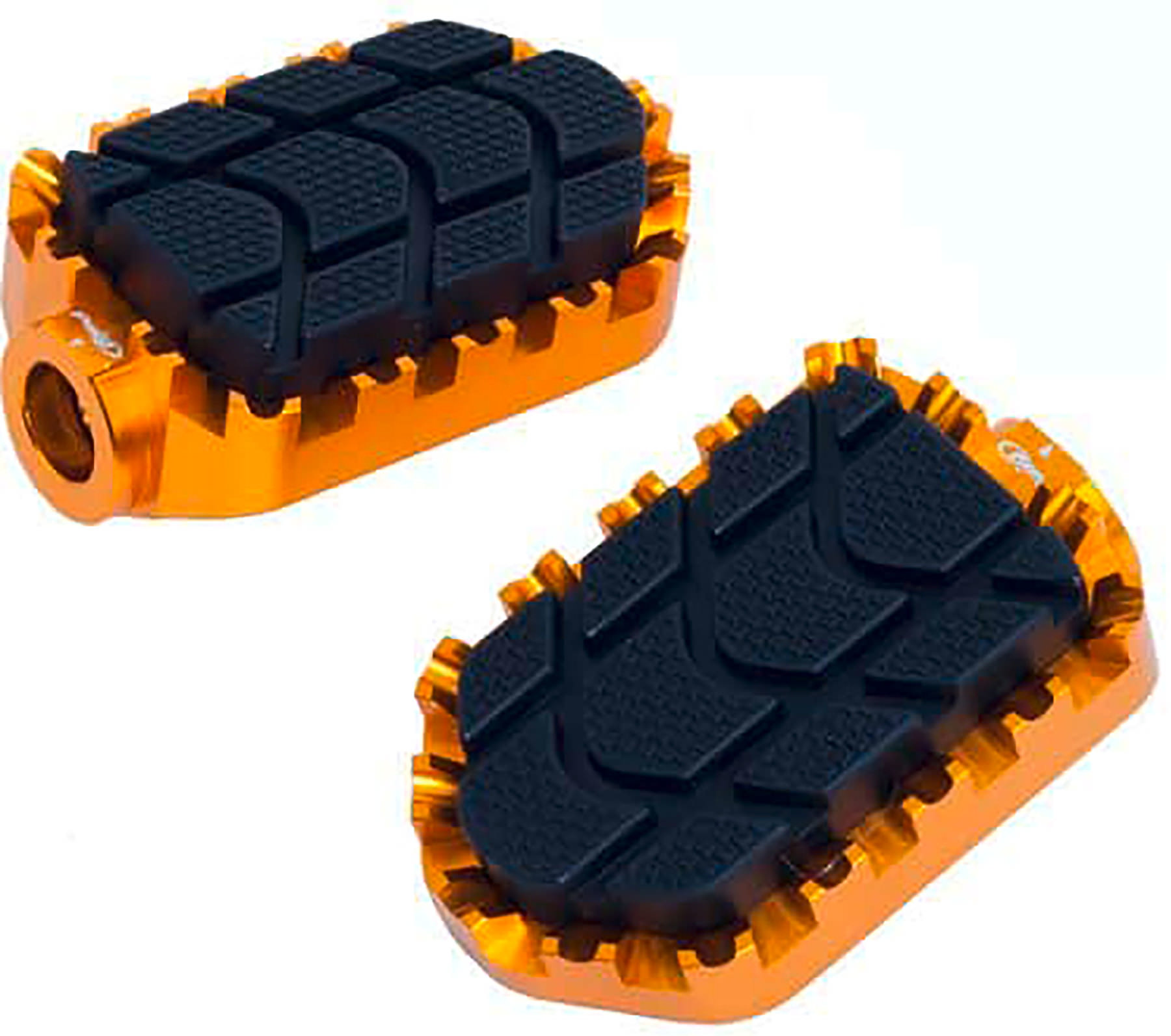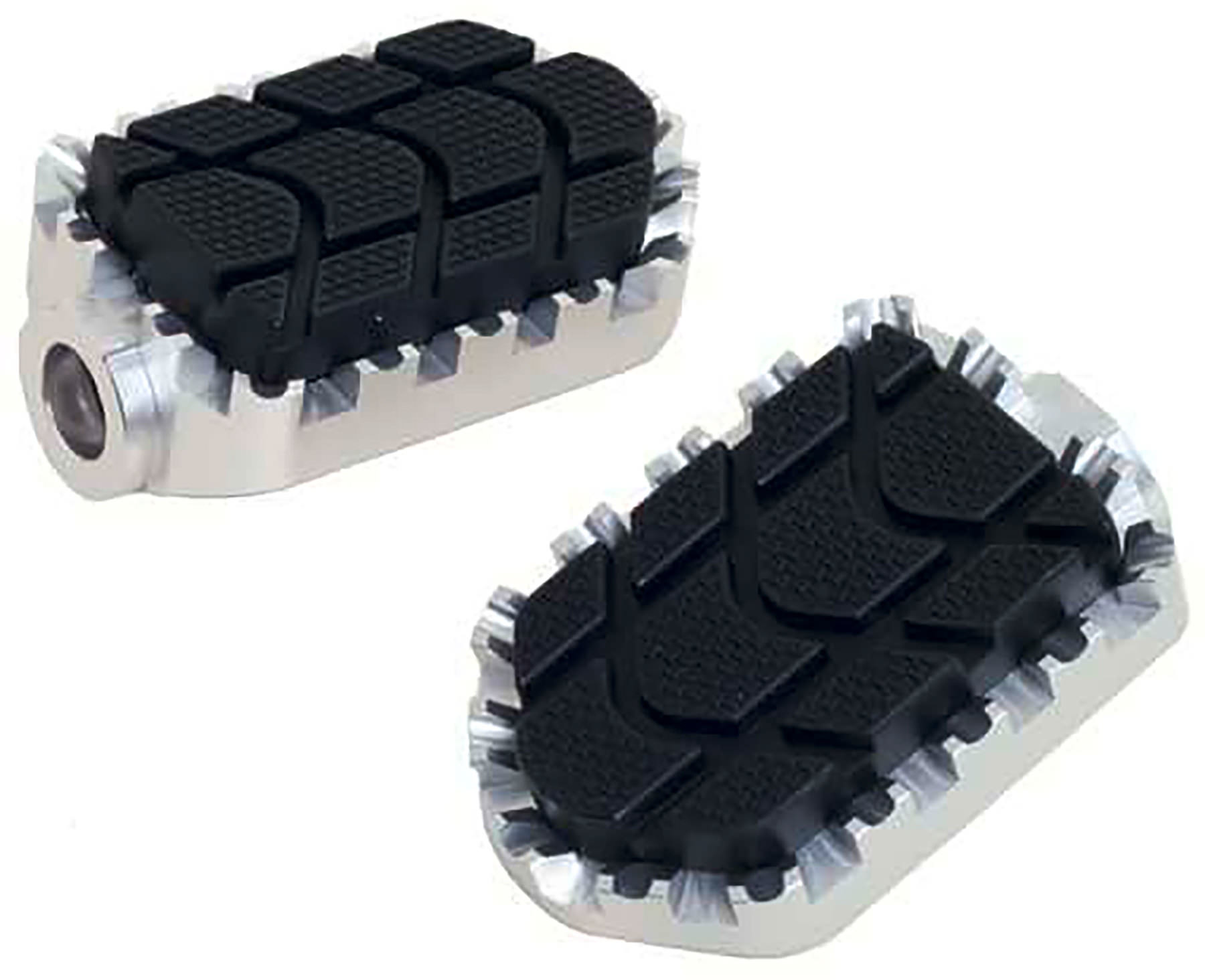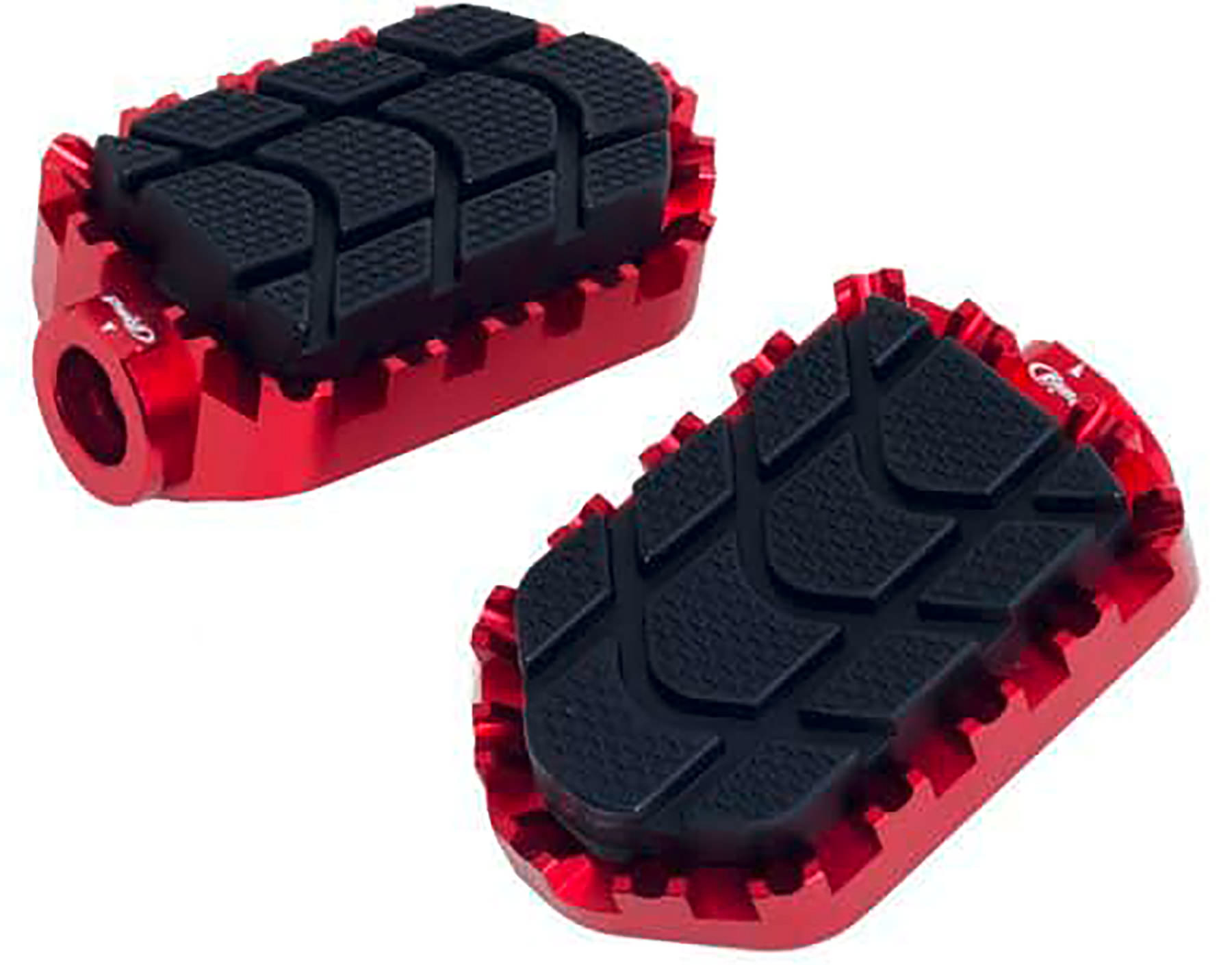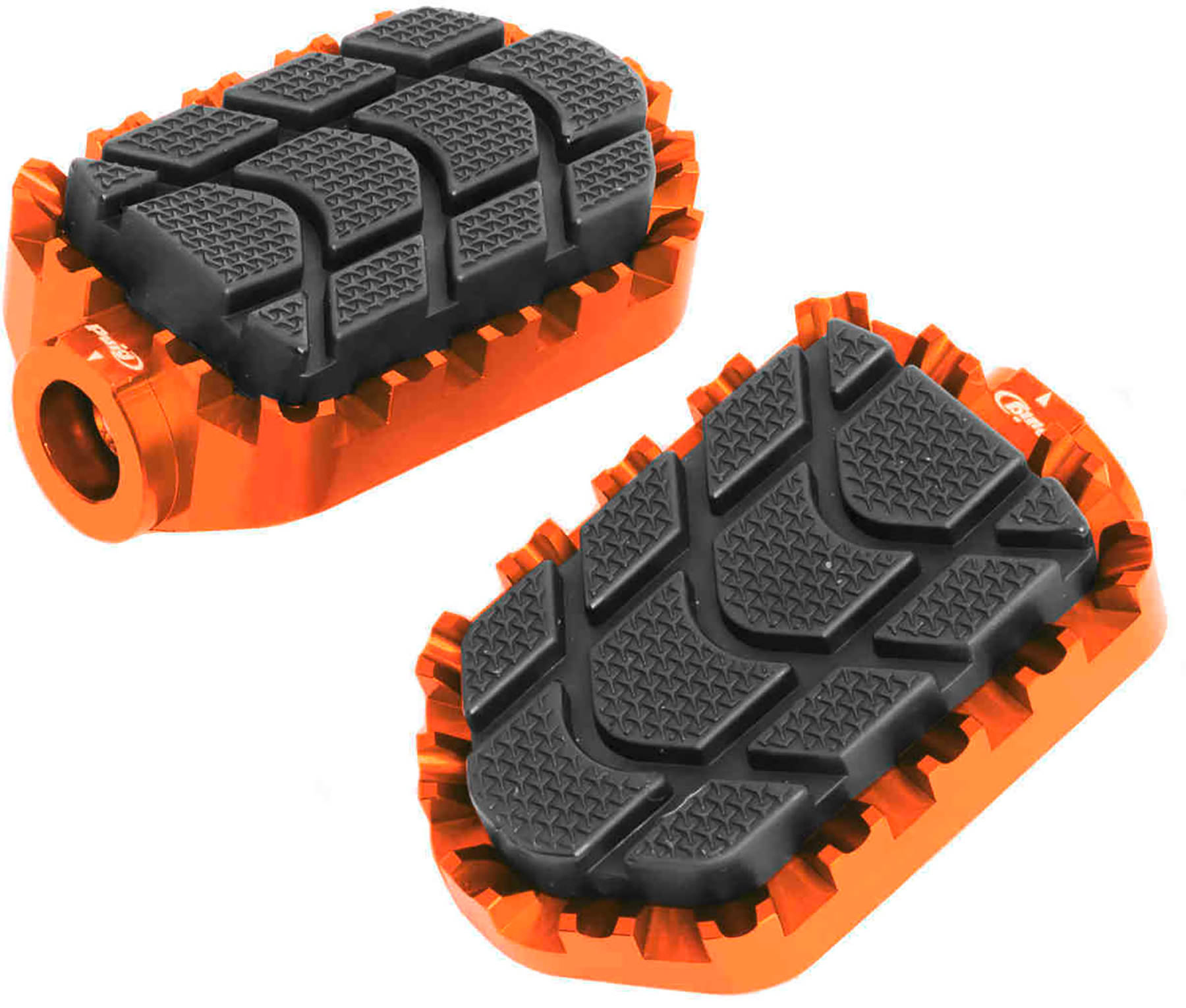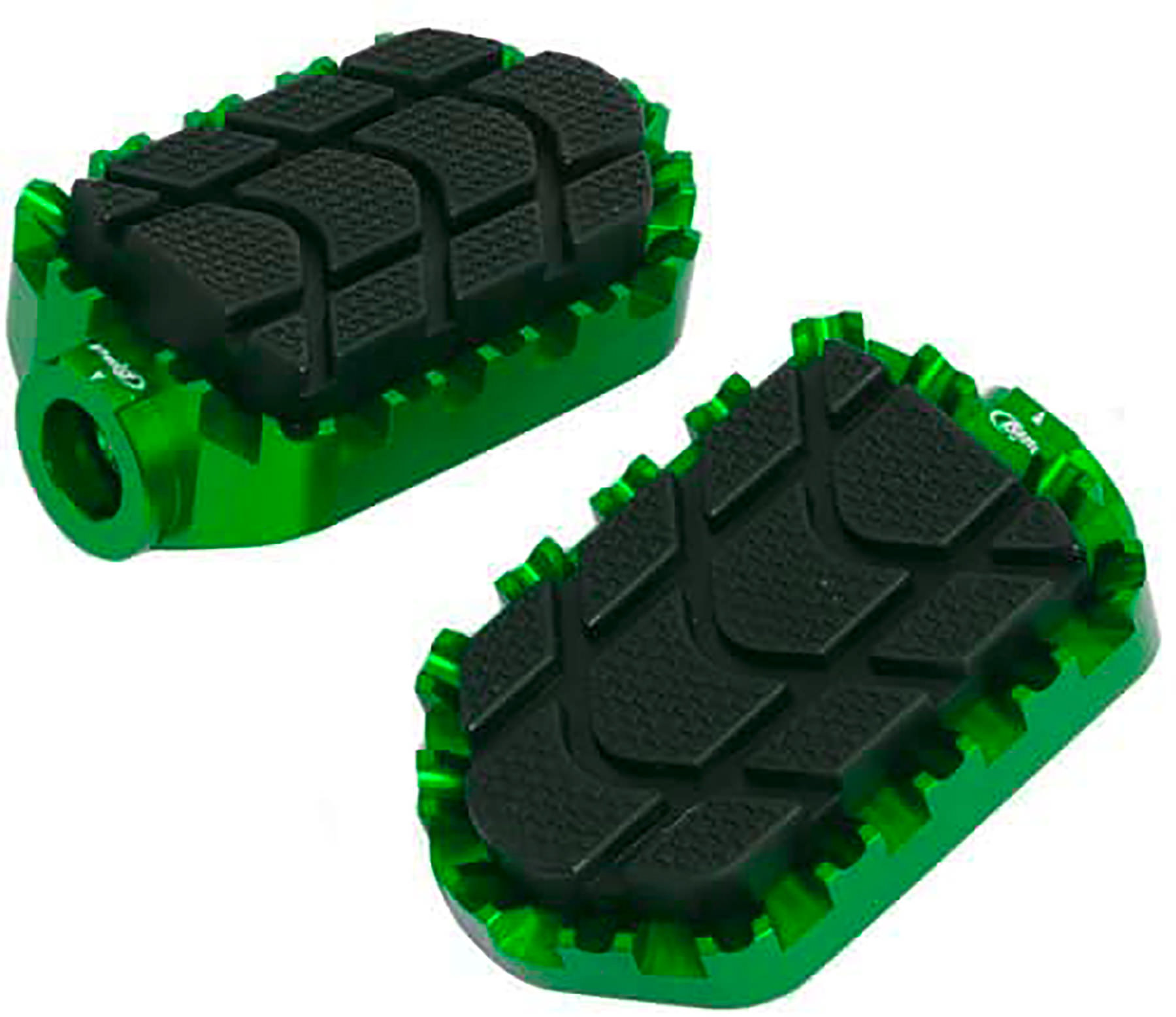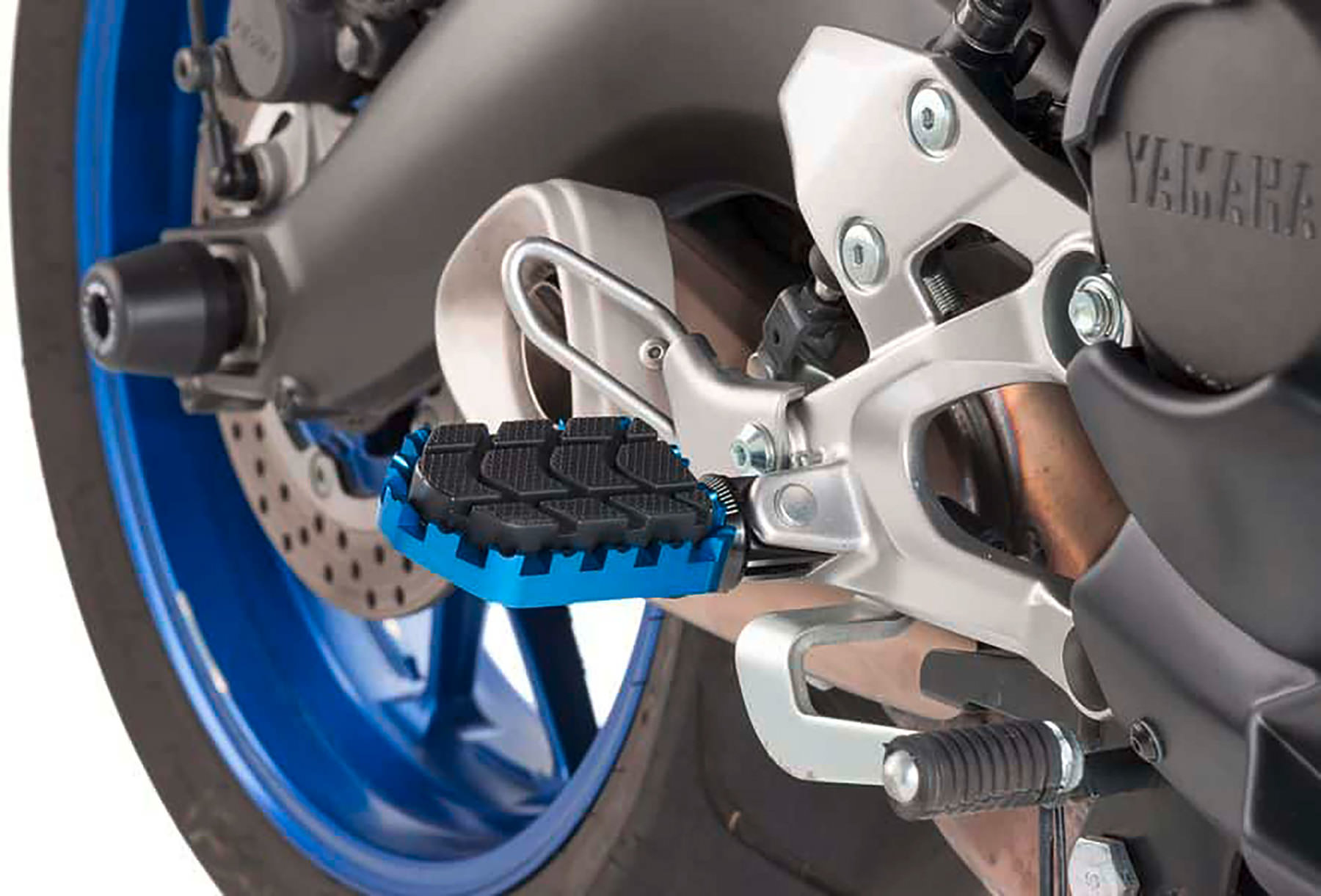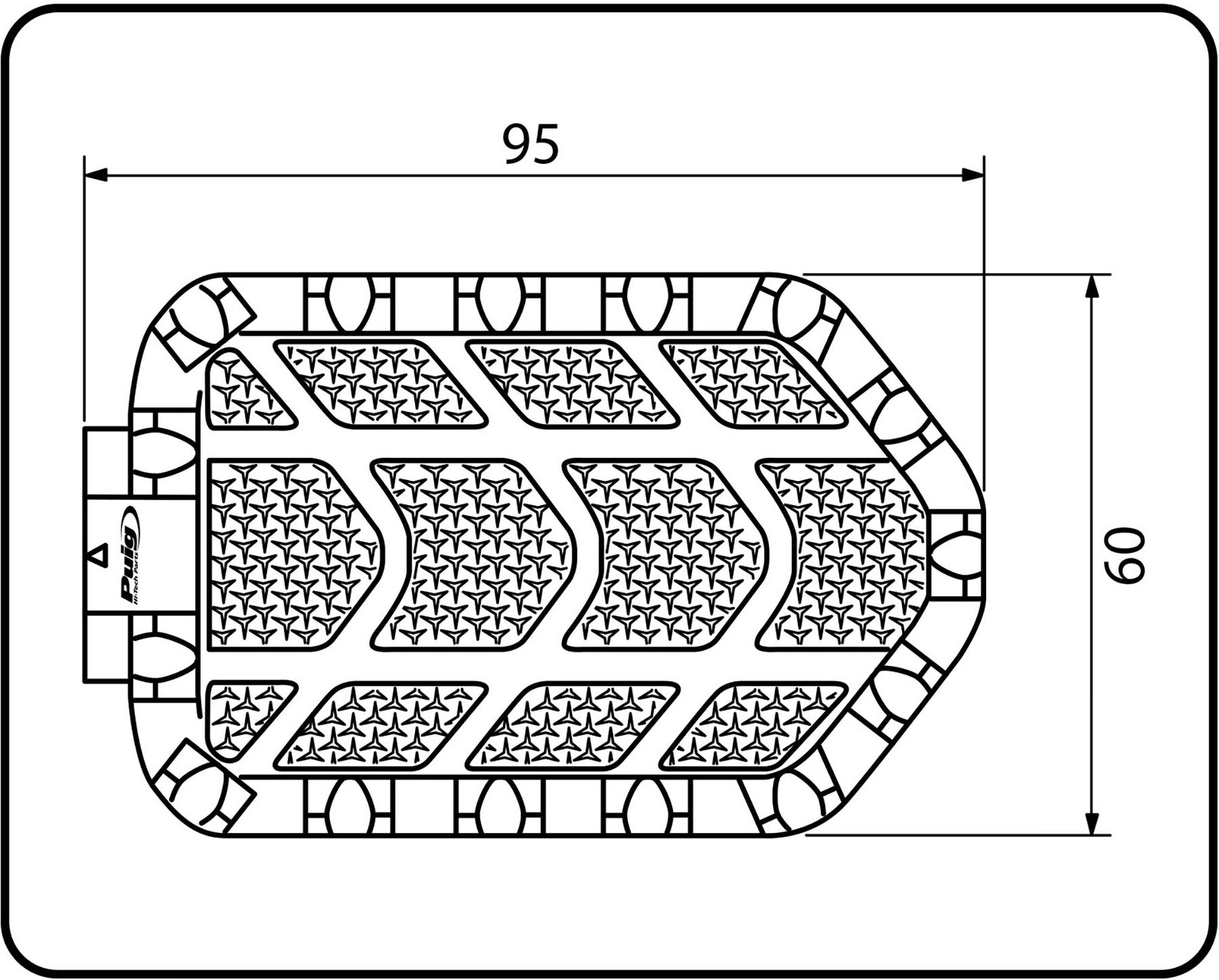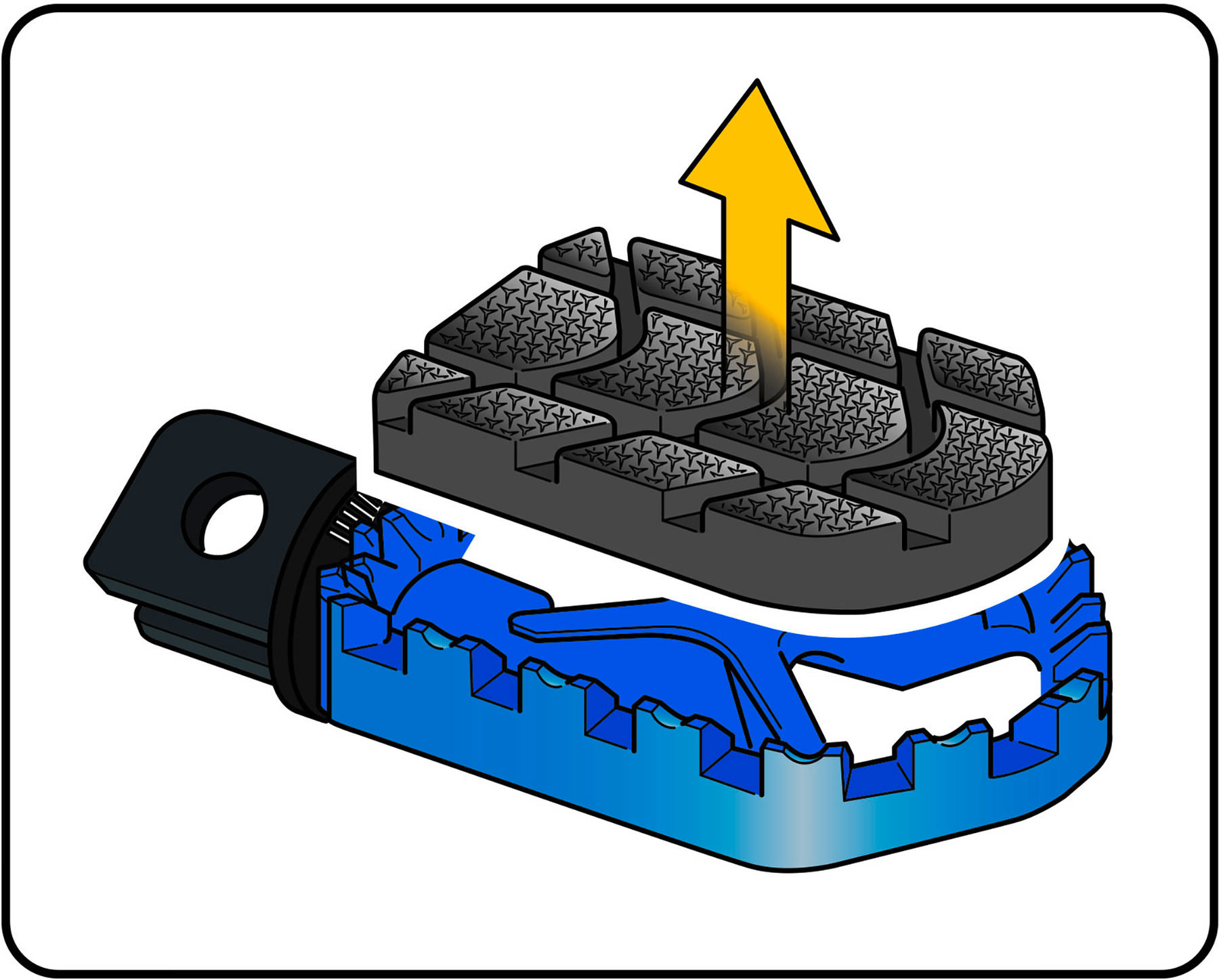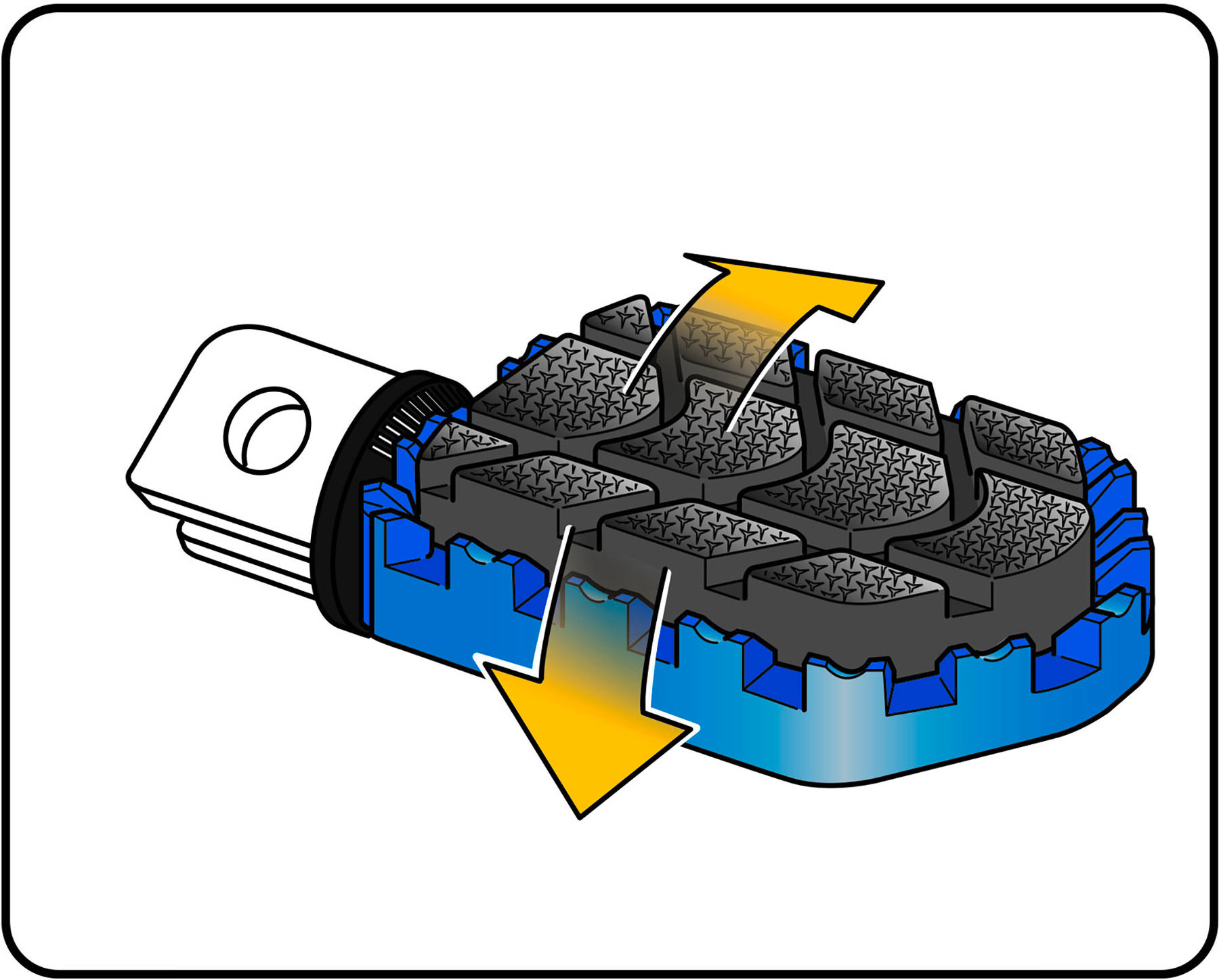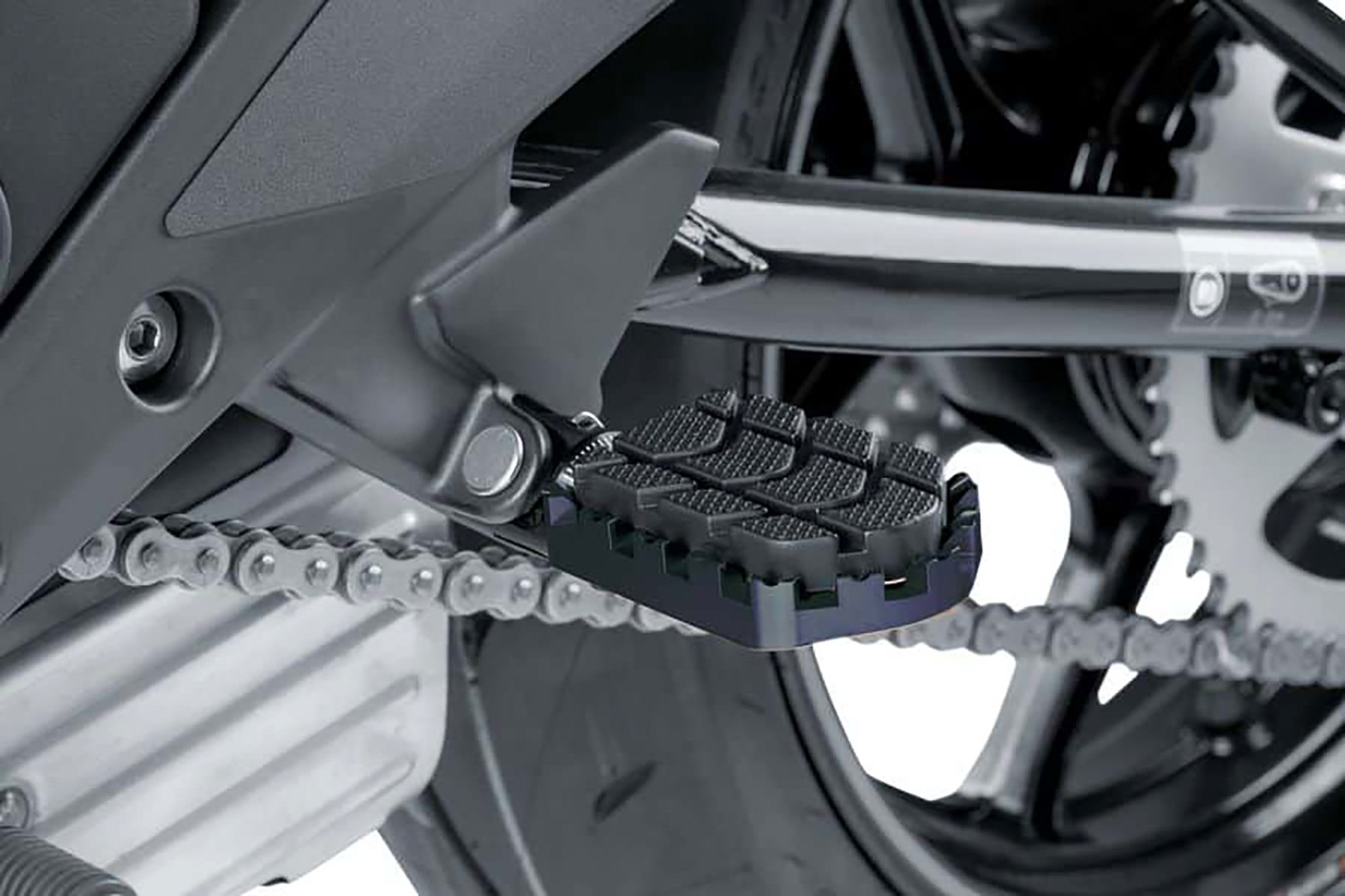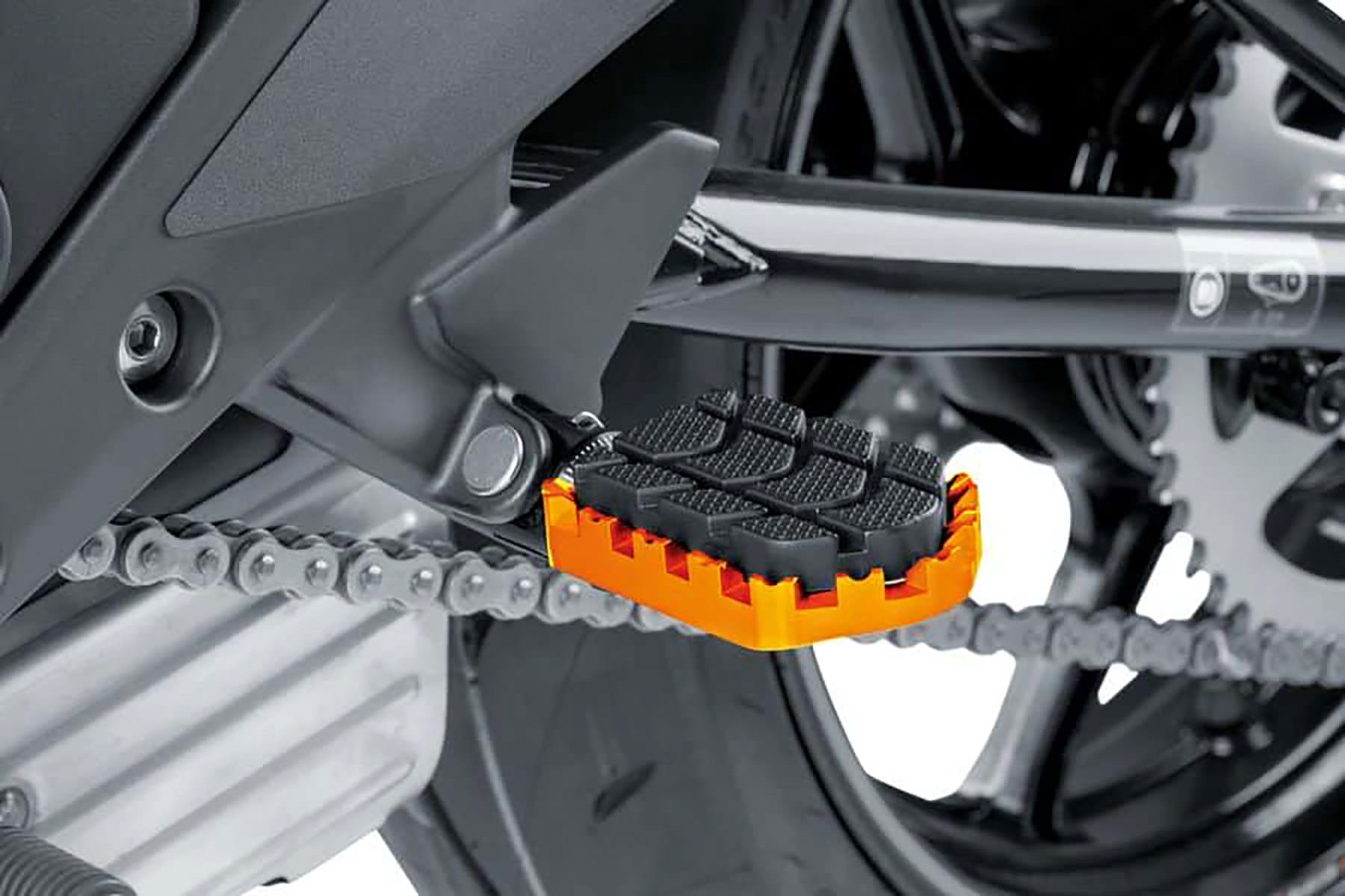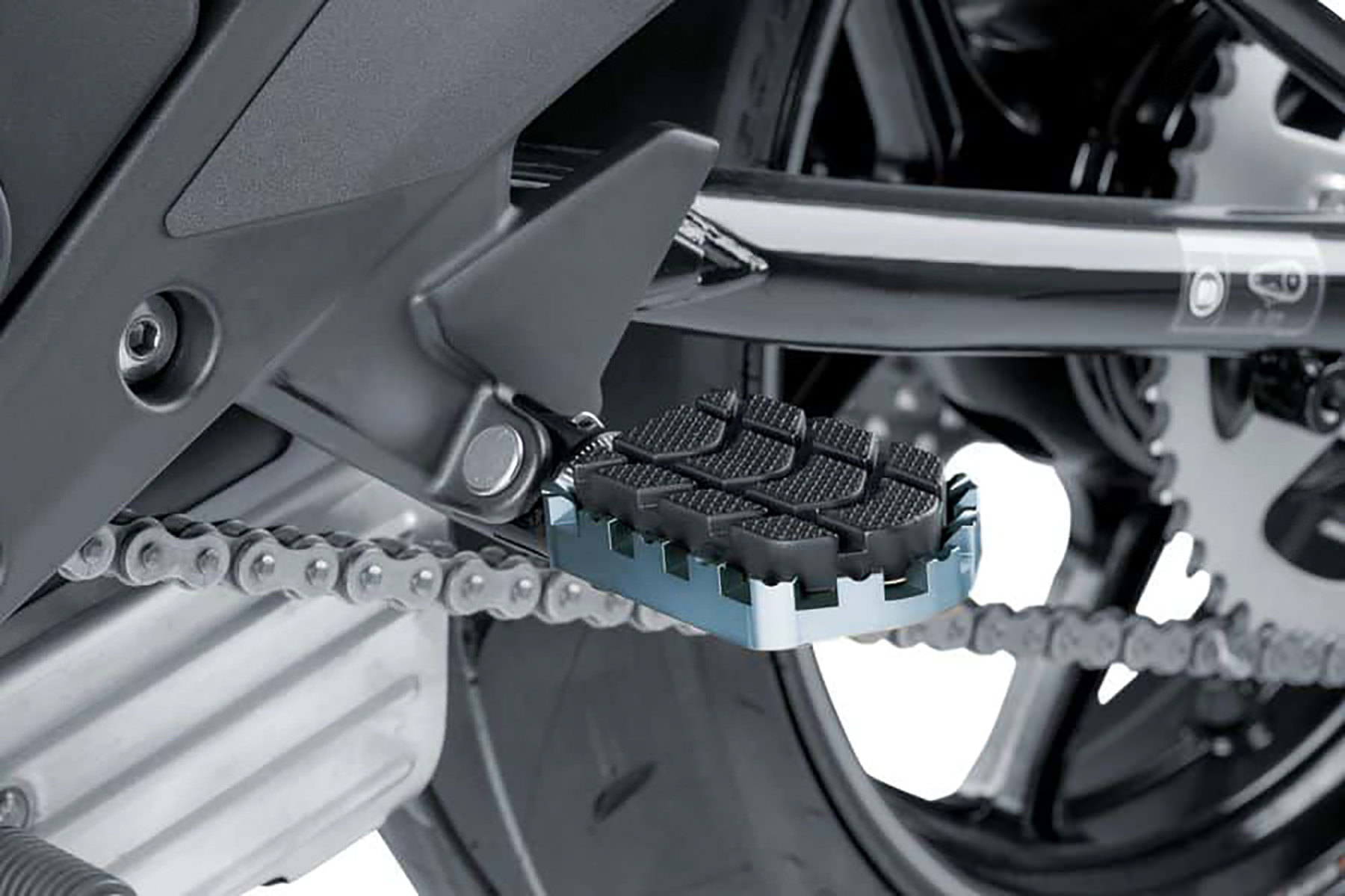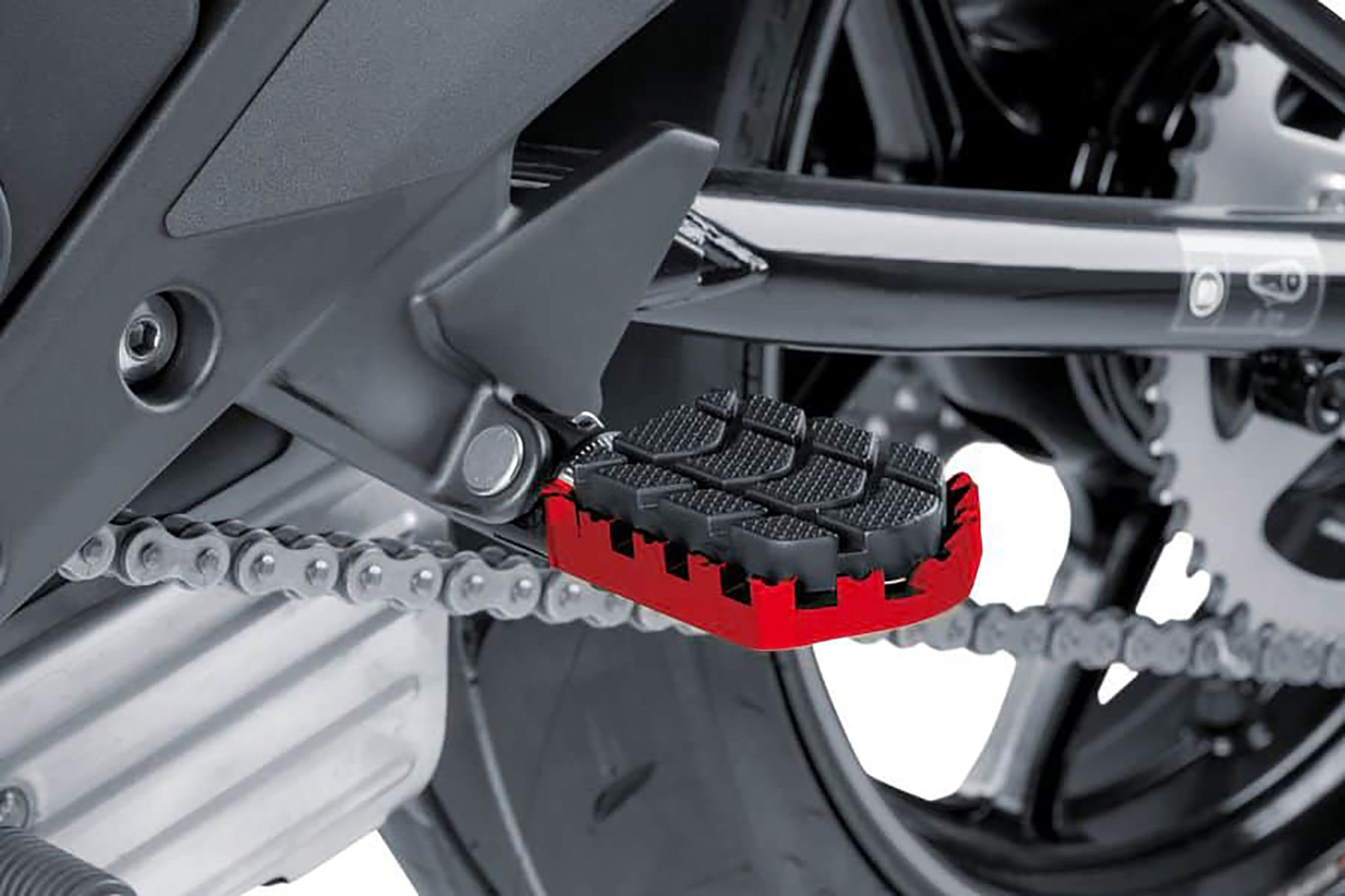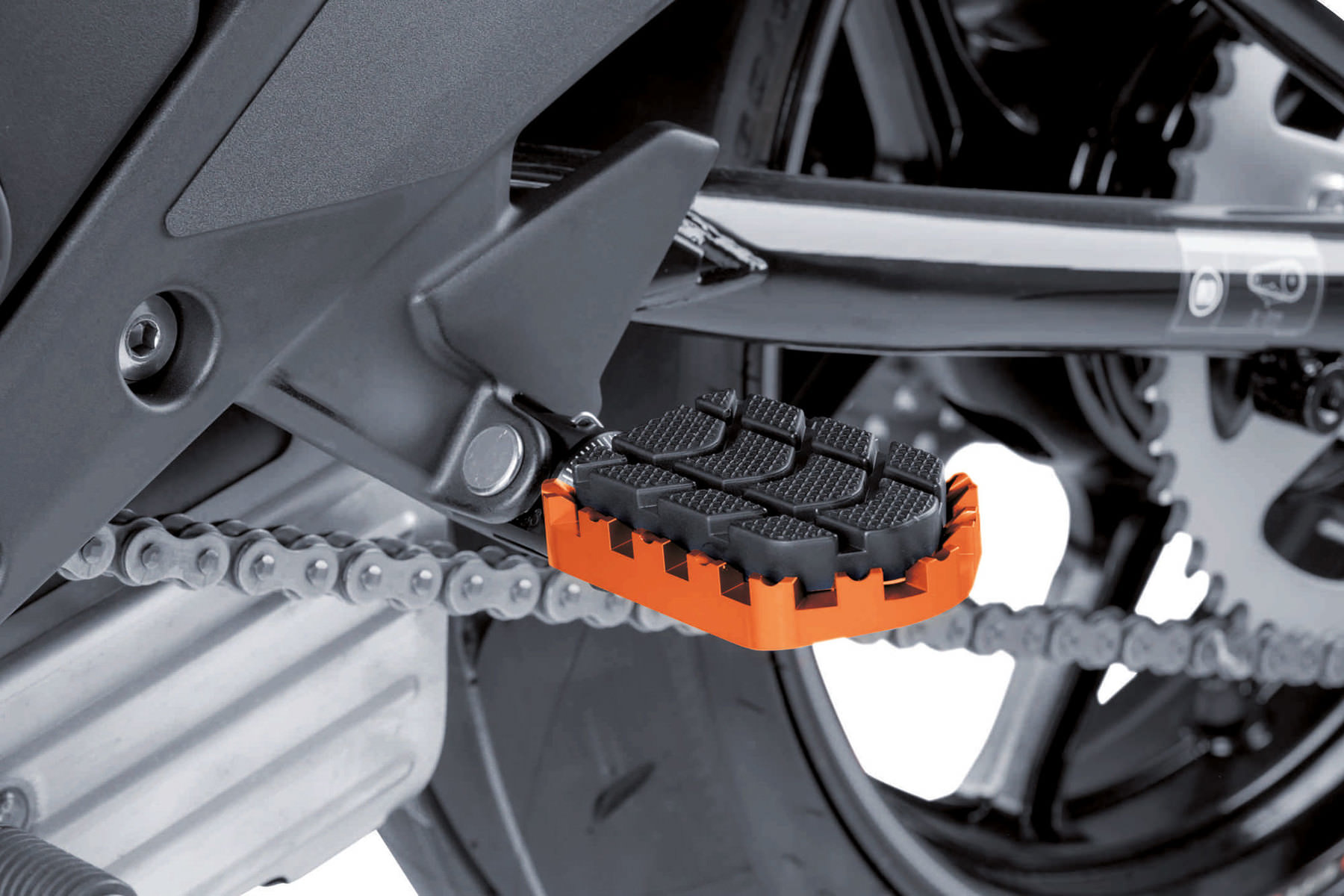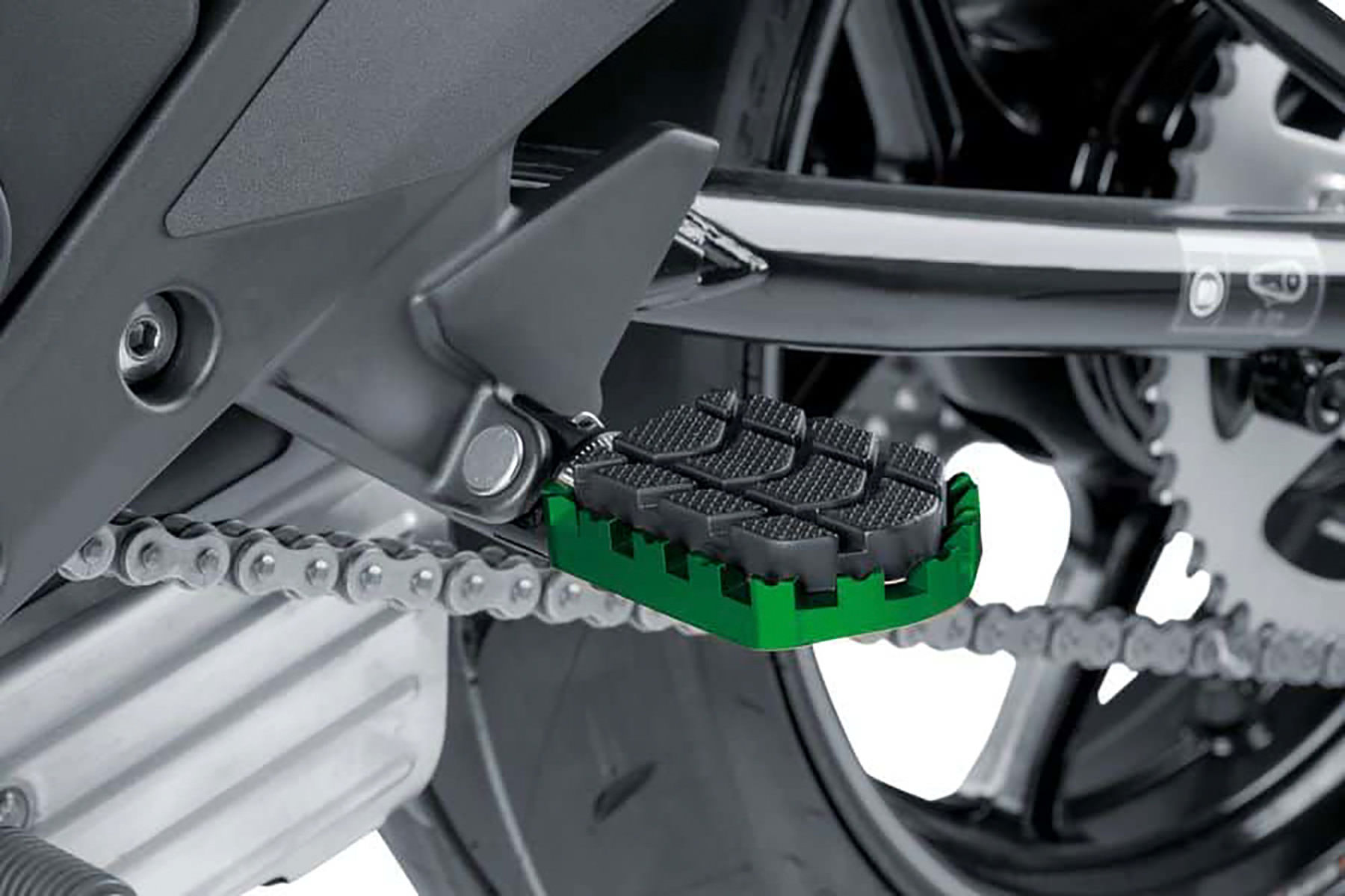 Puig Enduro Footrest Set
Range of colours
Unfortunately, this product is not compatible with this motorcycle.
Unfortunately, this product is not compatible with this motorcycle. You can find the right for the here: .
Free delivery on orders over €199.00
2 year return policy
Fast delivery
Puig Enduro Footrest Set
Range of colours
Puig has developed this series of enduro footrests especially for motorcycles that are built for riding through all kinds of terrain, both off-road and on-road. That's why the Puig *Enduro* sets have special removable rubber pads that can be inserted into the rests and removed again as required. With a length of 95 mm and a width of 60 mm, these footrests give every biker a good-sized platform for their feet to make the ride comfortable at all times. With German type approval.
The footrests are available for various motorbikes. You'll find the right ones for your bike in "My Bike". Or go to All Versions.
Installation on the original footrest bracket
Available in 7 colours: Blue, black, gold, silver, red, orange and green
Removable rubber inserts for every terrain (footrests can be used with or without inserts)
Adaptable to suit every terrain
Wide platform
Dimensions: 95 mm long x 60 mm wide
A lightweight 440 g
Extremely sturdy
Anodised aluminium
Tilt adjustment
Markings for optimum installation accuracy
Certified in accordance with German Technical Inspection Association (TÜV) guidelines
With vehicle type approval for Germany
Sold in pairs, incl. model-specific mounting kit
Manufacturer details: Puig

Motorbike windshields and styling parts

Exactly 50 years ago the Puig company was founded not far from Barcelona. With the most modern development and production techniques, high-grade products for the automotive and motorcycle sector are still made on the 8,000 m2 site today. The best racers in the world choose Puig shields. The fairing windshields for production bikes draw directly from the experience and developments in MotoGP racing. The range of products also includes high-quality rear huggers, belly pans and crash bars. Of course, all items are supplied with type approval and installation instructions.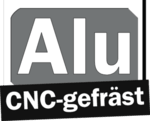 This product is made of high-quality CNC-machined aluminium and will look great on your motorbike.

To ensure that it gives you many years of service, please observe the following care instructions:

1. After installing the product, and each time you wash your motorbike, apply a wax-based care product, e.g. Procycle Polishing Wax, Order no. 10004923 for protection against wind and weather. You may need to repeat the application after an outing in winter weather, rain or salty air (near the coast).

2. Remove any corrosion as soon as possible using a standard aluminium polish (e.g. Autosol Aluminium Polish, Order no. 10004421).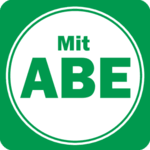 German type approval ("ABE)" allows the relevant accessory to be used on the vehicle models listed in the test report. Here it is the type abbreviation and not the maker's designation that is important for identifying the vehicle. The test report must be carried when riding in case it needs to be presented at a road-side check or vehicle safety inspection.
Accessories with type approval do not have to be registered in the vehicle documents! Those who do not want to carry the test report with them all the time can (for example) arrange to have the product registered by the Technical Inspection Association (subject to a charge).
If the accessory is to be used on a vehicle that is not listed in the type approval, an individual component approval is required. Although ABE type approval confirms the proper installation and safety of the product, it is the inspector who has to decide according to his technical expertise whether it is suitable for use on the vehicle.

An electric scooter with "ABE" approval has a type approval for Germany stating that the relevant vehicle satisfies all the relevant requirements of the eKFV (Small Electric Vehicle Ordinance in Germany) for the approval. In addition, insurance of the electric scooter is compulsory and use on pavements is forbidden. It can only be ridden on cycle paths and on the road (if a cycle path is not available). The minimum age for riding an electric scooter is 14 years. Although a driving license and helmet are not mandatory, they are highly recommended. An electric scooter must always be ridden solo.
Test certificates (TÜV, ABE, material)
Product
Art. No.
Availability
Price
Actions
PUIG FOOTREST ENDURO SET - 3815N,YAMAHA TENERE, BLUE
10059691

The item is in stock and will be delivered in 2-5 working days. Note: Stocks are updated online every hour on working days from 7 a.m. to 8 p.m., so there is a good chance that the products are available if they appear online.

Available

€132.99 1
PUIG FOOTREST ENDURO SET - 3815N,YAMAHA TENERE, RED
10059695

The item is in stock and will be delivered in 2-5 working days. Note: Stocks are updated online every hour on working days from 7 a.m. to 8 p.m., so there is a good chance that the products are available if they appear online.

Available

€132.99 1
PUIG FOOTREST ENDURO SET - 3815N,YAMAHA TENERE,BLACK
10059692

The item is in stock and will be delivered in 2-5 working days. Note: Stocks are updated online every hour on working days from 7 a.m. to 8 p.m., so there is a good chance that the products are available if they appear online.

Available

€132.99 1
PUIG FOOTREST ENDURO SET - 3815N,YAMAHA TENERE,GOLD
10059693

The item is in stock and will be delivered in 2-5 working days. Note: Stocks are updated online every hour on working days from 7 a.m. to 8 p.m., so there is a good chance that the products are available if they appear online.

Available

€132.99 1
PUIG FOOTREST ENDURO SET - 3815N,YAMAHA TENERE,GREEN
10059697

The item is in stock and will be delivered in 2-5 working days. Note: Stocks are updated online every hour on working days from 7 a.m. to 8 p.m., so there is a good chance that the products are available if they appear online.

Available

€132.99 1
PUIG FOOTREST ENDURO SET - 3815N,YAMAHA TENERE,ORANG
10059696

The item is in stock and will be delivered in 2-5 working days. Note: Stocks are updated online every hour on working days from 7 a.m. to 8 p.m., so there is a good chance that the products are available if they appear online.

Available

€132.99 1
PUIG FOOTREST ENDURO SET - 3815N,YAMAHA TENERE,SILV
10059694

The item is in stock and will be delivered in 2-5 working days. Note: Stocks are updated online every hour on working days from 7 a.m. to 8 p.m., so there is a good chance that the products are available if they appear online.

Available

€132.99 1
PUIG FOOTREST ENDURO SET - 3869N,HONDA CRF1100L, RED
10059649

The item is in stock and will be delivered in 2-5 working days. Note: Stocks are updated online every hour on working days from 7 a.m. to 8 p.m., so there is a good chance that the products are available if they appear online.

Available

€129.99 1
PUIG FOOTREST ENDURO SET - 3869N,HONDA CRF1100L,BLK
10059646

The item is in stock and will be delivered in 2-5 working days. Note: Stocks are updated online every hour on working days from 7 a.m. to 8 p.m., so there is a good chance that the products are available if they appear online.

Available

€129.99 1
PUIG FOOTREST ENDURO SET - 3869N,HONDA CRF1100L,BLUE
10059645

The item is in stock and will be delivered in 2-5 working days. Note: Stocks are updated online every hour on working days from 7 a.m. to 8 p.m., so there is a good chance that the products are available if they appear online.

Available

€129.99 1
PUIG FOOTREST ENDURO SET - 3869N,HONDA CRF1100L,GOLD
10059647

The item is in stock and will be delivered in 2-5 working days. Note: Stocks are updated online every hour on working days from 7 a.m. to 8 p.m., so there is a good chance that the products are available if they appear online.

Available

€129.99 1
PUIG FOOTREST ENDURO SET - 3869N,HONDA CRF1100L,GRN
10059662

The item is in stock and will be delivered in 2-5 working days. Note: Stocks are updated online every hour on working days from 7 a.m. to 8 p.m., so there is a good chance that the products are available if they appear online.

Available

€129.99 1
PUIG FOOTREST ENDURO SET - 3869N,HONDA CRF1100L,ORAN
10059661

The item is in stock and will be delivered in 2-5 working days. Note: Stocks are updated online every hour on working days from 7 a.m. to 8 p.m., so there is a good chance that the products are available if they appear online.

Available

€129.99 1
PUIG FOOTREST ENDURO SET - 3869N,HONDA CRF1100L,SILV
10059648

The item is in stock and will be delivered in 2-5 working days. Note: Stocks are updated online every hour on working days from 7 a.m. to 8 p.m., so there is a good chance that the products are available if they appear online.

Available

€129.99 1
PUIG FOOTREST ENDURO SET - 6449N,KAWA. VERSYS, BLACK
10059664

The item is in stock and will be delivered in 2-5 working days. Note: Stocks are updated online every hour on working days from 7 a.m. to 8 p.m., so there is a good chance that the products are available if they appear online.

Available

€122.99 1
PUIG FOOTREST ENDURO SET - 6449N,KAWA. VERSYS, BLUE
10059663

The item is in stock and will be delivered in 2-5 working days. Note: Stocks are updated online every hour on working days from 7 a.m. to 8 p.m., so there is a good chance that the products are available if they appear online.

Available

€122.99 1
PUIG FOOTREST ENDURO SET - 6449N,KAWA. VERSYS, GOLD
10059665

The item is in stock and will be delivered in 2-5 working days. Note: Stocks are updated online every hour on working days from 7 a.m. to 8 p.m., so there is a good chance that the products are available if they appear online.

Available

€122.99 1
PUIG FOOTREST ENDURO SET - 6449N,KAWA. VERSYS, GREEN
10059669

The item is in stock and will be delivered in 2-5 working days. Note: Stocks are updated online every hour on working days from 7 a.m. to 8 p.m., so there is a good chance that the products are available if they appear online.

Available

€122.99 1
PUIG FOOTREST ENDURO SET - 6449N,KAWA. VERSYS, RED
10059667

The item is in stock and will be delivered in 2-5 working days. Note: Stocks are updated online every hour on working days from 7 a.m. to 8 p.m., so there is a good chance that the products are available if they appear online.

Available

€122.99 1
PUIG FOOTREST ENDURO SET - 6449N,KAWA. VERSYS,ORANGE
10059668

The item is in stock and will be delivered in 2-5 working days. Note: Stocks are updated online every hour on working days from 7 a.m. to 8 p.m., so there is a good chance that the products are available if they appear online.

Available

€122.99 1
PUIG FOOTREST ENDURO SET - 6449N,KAWA. VERSYS,SILVER
10059666

The item is in stock and will be delivered in 2-5 working days. Note: Stocks are updated online every hour on working days from 7 a.m. to 8 p.m., so there is a good chance that the products are available if they appear online.

Available

€122.99 1
PUIG FOOTREST ENDURO SET - 6456N,YAMAHA TRACER, BLUE
10059684

The item is in stock and will be delivered in 2-5 working days. Note: Stocks are updated online every hour on working days from 7 a.m. to 8 p.m., so there is a good chance that the products are available if they appear online.

Available

€124.99 1
PUIG FOOTREST ENDURO SET - 6456N,YAMAHA TRACER, RED
10059688

The item is in stock and will be delivered in 2-5 working days. Note: Stocks are updated online every hour on working days from 7 a.m. to 8 p.m., so there is a good chance that the products are available if they appear online.

Available

€124.99 1
PUIG FOOTREST ENDURO SET - 6456N,YAMAHA TRACER,BLACK
10059685

The item is in stock and will be delivered in 2-5 working days. Note: Stocks are updated online every hour on working days from 7 a.m. to 8 p.m., so there is a good chance that the products are available if they appear online.

Available

€124.99 1
PUIG FOOTREST ENDURO SET - 6456N,YAMAHA TRACER,GOLD
10059686

The item is in stock and will be delivered in 2-5 working days. Note: Stocks are updated online every hour on working days from 7 a.m. to 8 p.m., so there is a good chance that the products are available if they appear online.

Available

€124.99 1
PUIG FOOTREST ENDURO SET - 6456N,YAMAHA TRACER,GREEN
10059690

The item is in stock and will be delivered in 2-5 working days. Note: Stocks are updated online every hour on working days from 7 a.m. to 8 p.m., so there is a good chance that the products are available if they appear online.

Available

€124.99 1
PUIG FOOTREST ENDURO SET - 6456N,YAMAHA TRACER,ORANG
10059689

The item is in stock and will be delivered in 2-5 working days. Note: Stocks are updated online every hour on working days from 7 a.m. to 8 p.m., so there is a good chance that the products are available if they appear online.

Available

€124.99 1
PUIG FOOTREST ENDURO SET - 6456N,YAMAHA TRACER,SILV
10059687

The item is in stock and will be delivered in 2-5 working days. Note: Stocks are updated online every hour on working days from 7 a.m. to 8 p.m., so there is a good chance that the products are available if they appear online.

Available

€124.99 1
PUIG FOOTREST ENDURO SET - 6703N, HONDA CB500X, BLUE
10059638

The item is in stock and will be delivered in 2-5 working days. Note: Stocks are updated online every hour on working days from 7 a.m. to 8 p.m., so there is a good chance that the products are available if they appear online.

Available

€122.99 1
PUIG FOOTREST ENDURO SET - 6703N, HONDA CB500X, GOLD
10059640

The item is in stock and will be delivered in 2-5 working days. Note: Stocks are updated online every hour on working days from 7 a.m. to 8 p.m., so there is a good chance that the products are available if they appear online.

Available

€122.99 1
PUIG FOOTREST ENDURO SET - 6703N, HONDA CB500X, RED
10059642

The item is in stock and will be delivered in 2-5 working days. Note: Stocks are updated online every hour on working days from 7 a.m. to 8 p.m., so there is a good chance that the products are available if they appear online.

Available

€122.99 1
PUIG FOOTREST ENDURO SET - 6703N, HONDA CB500X,BLACK
10059639

The item is in stock and will be delivered in 2-5 working days. Note: Stocks are updated online every hour on working days from 7 a.m. to 8 p.m., so there is a good chance that the products are available if they appear online.

Available

€122.99 1
PUIG FOOTREST ENDURO SET - 6703N,HONDA CB500X, GREEN
10059644

The item is in stock and will be delivered in 2-5 working days. Note: Stocks are updated online every hour on working days from 7 a.m. to 8 p.m., so there is a good chance that the products are available if they appear online.

Available

€122.99 1
PUIG FOOTREST ENDURO SET - 6703N,HONDA CB500X,ORANGE
10059643

The item is in stock and will be delivered in 2-5 working days. Note: Stocks are updated online every hour on working days from 7 a.m. to 8 p.m., so there is a good chance that the products are available if they appear online.

Available

€122.99 1
PUIG FOOTREST ENDURO SET - 6703N,HONDA CB500X,SILVER
10059641

The item is in stock and will be delivered in 2-5 working days. Note: Stocks are updated online every hour on working days from 7 a.m. to 8 p.m., so there is a good chance that the products are available if they appear online.

Available

€122.99 1
PUIG FOOTREST ENDURO SET - 6791N,SUZUKI V-STORM, RED
10059681

The item is in stock and will be delivered in 2-5 working days. Note: Stocks are updated online every hour on working days from 7 a.m. to 8 p.m., so there is a good chance that the products are available if they appear online.

Available

€121.99 1
PUIG FOOTREST ENDURO SET - 6791N,SUZUKI V-STORM,BLK
10059678

The item is in stock and will be delivered in 2-5 working days. Note: Stocks are updated online every hour on working days from 7 a.m. to 8 p.m., so there is a good chance that the products are available if they appear online.

Available

€121.99 1
PUIG FOOTREST ENDURO SET - 6791N,SUZUKI V-STORM,BLUE
10059677

The item is in stock and will be delivered in 2-5 working days. Note: Stocks are updated online every hour on working days from 7 a.m. to 8 p.m., so there is a good chance that the products are available if they appear online.

Available

€121.99 1
PUIG FOOTREST ENDURO SET - 6791N,SUZUKI V-STORM,GOLD
10059679

The item is in stock and will be delivered in 2-5 working days. Note: Stocks are updated online every hour on working days from 7 a.m. to 8 p.m., so there is a good chance that the products are available if they appear online.

Available

€121.99 1
PUIG FOOTREST ENDURO SET - 6791N,SUZUKI V-STORM,GRN
10059683

The item is in stock and will be delivered in 2-5 working days. Note: Stocks are updated online every hour on working days from 7 a.m. to 8 p.m., so there is a good chance that the products are available if they appear online.

Available

€121.99 1
PUIG FOOTREST ENDURO SET - 6791N,SUZUKI V-STORM,ORAN
10059682

The item is in stock and will be delivered in 2-5 working days. Note: Stocks are updated online every hour on working days from 7 a.m. to 8 p.m., so there is a good chance that the products are available if they appear online.

Available

€121.99 1
PUIG FOOTREST ENDURO SET - 6791N,SUZUKI V-STORM,SILV
10059680

The item is in stock and will be delivered in 2-5 working days. Note: Stocks are updated online every hour on working days from 7 a.m. to 8 p.m., so there is a good chance that the products are available if they appear online.

Available

€121.99 1
PUIG FOOTREST ENDURO SET - 7246N, BMW F750/F850, RED
10059621

The item is in stock and will be delivered in 2-5 working days. Note: Stocks are updated online every hour on working days from 7 a.m. to 8 p.m., so there is a good chance that the products are available if they appear online.

Available

€132.99 1
PUIG FOOTREST ENDURO SET - 7246N, BMW F750/F850,BLUE
10059617

The item is in stock and will be delivered in 2-5 working days. Note: Stocks are updated online every hour on working days from 7 a.m. to 8 p.m., so there is a good chance that the products are available if they appear online.

Available

€132.99 1
PUIG FOOTREST ENDURO SET - 7246N, BMW F750/F850,GOLD
10059619

The item is in stock and will be delivered in 2-5 working days. Note: Stocks are updated online every hour on working days from 7 a.m. to 8 p.m., so there is a good chance that the products are available if they appear online.

Available

€132.99 1
PUIG FOOTREST ENDURO SET - 7246N, BMW F750/F850,ORAN
10059622

The item is in stock and will be delivered in 2-5 working days. Note: Stocks are updated online every hour on working days from 7 a.m. to 8 p.m., so there is a good chance that the products are available if they appear online.

Available

€132.99 1
PUIG FOOTREST ENDURO SET - 7246N, BMW F750/F850,SILV
10059620

The item is in stock and will be delivered in 2-5 working days. Note: Stocks are updated online every hour on working days from 7 a.m. to 8 p.m., so there is a good chance that the products are available if they appear online.

Available

€132.99 1
PUIG FOOTREST ENDURO SET - 7246N,BMW F750/F850,BLACK
10059618

The item is in stock and will be delivered in 2-5 working days. Note: Stocks are updated online every hour on working days from 7 a.m. to 8 p.m., so there is a good chance that the products are available if they appear online.

Available

€132.99 1
PUIG FOOTREST ENDURO SET - 7246N,BMW F750/F850,GREEN
10059623

The item is in stock and will be delivered in 2-5 working days. Note: Stocks are updated online every hour on working days from 7 a.m. to 8 p.m., so there is a good chance that the products are available if they appear online.

Available

€132.99 1
PUIG FOOTREST ENDURO SET - 7248N,R1200GS ADVEN. BLUE
10059698

The item is in stock and will be delivered in 2-5 working days. Note: Stocks are updated online every hour on working days from 7 a.m. to 8 p.m., so there is a good chance that the products are available if they appear online.

Available

€135.99 1
PUIG FOOTREST ENDURO SET - 7248N,R1200GS ADVEN. GOLD
10059773

The item is in stock and will be delivered in 2-5 working days. Note: Stocks are updated online every hour on working days from 7 a.m. to 8 p.m., so there is a good chance that the products are available if they appear online.

Available

€135.99 1
PUIG FOOTREST ENDURO SET - 7248N,R1200GS ADVEN. ORAN
10059776

The item is in stock and will be delivered in 2-5 working days. Note: Stocks are updated online every hour on working days from 7 a.m. to 8 p.m., so there is a good chance that the products are available if they appear online.

Available

€135.99 1
PUIG FOOTREST ENDURO SET - 7248N,R1200GS ADVEN. RED
10059775

The item is in stock and will be delivered in 2-5 working days. Note: Stocks are updated online every hour on working days from 7 a.m. to 8 p.m., so there is a good chance that the products are available if they appear online.

Available

€135.99 1
PUIG FOOTREST ENDURO SET - 7248N,R1200GS ADVEN. SILV
10059774

The item is in stock and will be delivered in 2-5 working days. Note: Stocks are updated online every hour on working days from 7 a.m. to 8 p.m., so there is a good chance that the products are available if they appear online.

Available

€135.99 1
PUIG FOOTREST ENDURO SET - 7248N,R1200GS ADVEN.BLACK
10059699

The item is in stock and will be delivered in 2-5 working days. Note: Stocks are updated online every hour on working days from 7 a.m. to 8 p.m., so there is a good chance that the products are available if they appear online.

Available

€135.99 1
PUIG FOOTREST ENDURO SET - 7248N,R1200GS ADVEN.GREEN
10059777

The item is in stock and will be delivered in 2-5 working days. Note: Stocks are updated online every hour on working days from 7 a.m. to 8 p.m., so there is a good chance that the products are available if they appear online.

Available

€135.99 1
PUIG FOOTREST ENDURO SET - 7268N,KTM 1050/1090, BLUE
10059670

The item is in stock and will be delivered in 2-5 working days. Note: Stocks are updated online every hour on working days from 7 a.m. to 8 p.m., so there is a good chance that the products are available if they appear online.

Available

€133.99 1
PUIG FOOTREST ENDURO SET - 7268N,KTM 1050/1090, GOLD
10059672

The item is in stock and will be delivered in 2-5 working days. Note: Stocks are updated online every hour on working days from 7 a.m. to 8 p.m., so there is a good chance that the products are available if they appear online.

Available

€133.99 1
PUIG FOOTREST ENDURO SET - 7268N,KTM 1050/1090, RED
10059674

The item is in stock and will be delivered in 2-5 working days. Note: Stocks are updated online every hour on working days from 7 a.m. to 8 p.m., so there is a good chance that the products are available if they appear online.

Available

€133.99 1
PUIG FOOTREST ENDURO SET - 7268N,KTM 1050/1090,BLACK
10059671

The item is in stock and will be delivered in 2-5 working days. Note: Stocks are updated online every hour on working days from 7 a.m. to 8 p.m., so there is a good chance that the products are available if they appear online.

Available

€133.99 1
PUIG FOOTREST ENDURO SET - 7268N,KTM 1050/1090,GREEN
10059676

The item is in stock and will be delivered in 2-5 working days. Note: Stocks are updated online every hour on working days from 7 a.m. to 8 p.m., so there is a good chance that the products are available if they appear online.

Available

€133.99 1
PUIG FOOTREST ENDURO SET - 7268N,KTM 1050/1090,ORANG
10059675

The item is in stock and will be delivered in 2-5 working days. Note: Stocks are updated online every hour on working days from 7 a.m. to 8 p.m., so there is a good chance that the products are available if they appear online.

Available

€133.99 1
PUIG FOOTREST ENDURO SET - 7268N,KTM 1050/1090,SILV
10059673

The item is in stock and will be delivered in 2-5 working days. Note: Stocks are updated online every hour on working days from 7 a.m. to 8 p.m., so there is a good chance that the products are available if they appear online.

Available

€133.99 1
PUIG FOOTREST ENDURO SET - 9471N, BMW R1200GS, BLACK
10059625

The item is in stock and will be delivered in 2-5 working days. Note: Stocks are updated online every hour on working days from 7 a.m. to 8 p.m., so there is a good chance that the products are available if they appear online.

Available

€135.99 1
PUIG FOOTREST ENDURO SET - 9471N, BMW R1200GS, BLUE
10059624

The item is in stock and will be delivered in 2-5 working days. Note: Stocks are updated online every hour on working days from 7 a.m. to 8 p.m., so there is a good chance that the products are available if they appear online.

Available

€135.99 1
PUIG FOOTREST ENDURO SET - 9471N, BMW R1200GS, GOLD
10059626

The item is in stock and will be delivered in 2-5 working days. Note: Stocks are updated online every hour on working days from 7 a.m. to 8 p.m., so there is a good chance that the products are available if they appear online.

Available

€135.99 1
PUIG FOOTREST ENDURO SET - 9471N, BMW R1200GS, GREEN
10059637

The item is in stock and will be delivered in 2-5 working days. Note: Stocks are updated online every hour on working days from 7 a.m. to 8 p.m., so there is a good chance that the products are available if they appear online.

Available

€135.99 1
PUIG FOOTREST ENDURO SET - 9471N, BMW R1200GS, RED
10059628

The item is in stock and will be delivered in 2-5 working days. Note: Stocks are updated online every hour on working days from 7 a.m. to 8 p.m., so there is a good chance that the products are available if they appear online.

Available

€135.99 1
PUIG FOOTREST ENDURO SET - 9471N, BMW R1200GS,SILVER
10059627

The item is in stock and will be delivered in 2-5 working days. Note: Stocks are updated online every hour on working days from 7 a.m. to 8 p.m., so there is a good chance that the products are available if they appear online.

Available

€135.99 1
PUIG FOOTREST ENDURO SET - 9471N,BMW R1200GS, ORANGE
10059629

The item is in stock and will be delivered in 2-5 working days. Note: Stocks are updated online every hour on working days from 7 a.m. to 8 p.m., so there is a good chance that the products are available if they appear online.

Available

€135.99 1