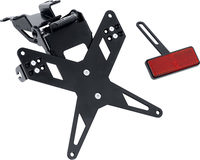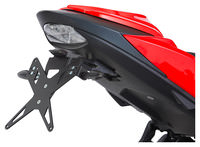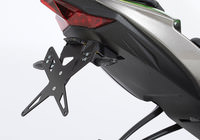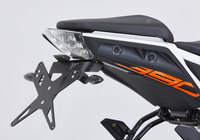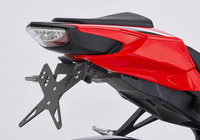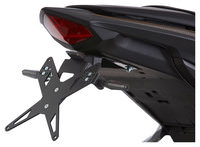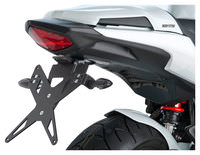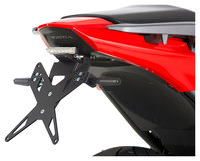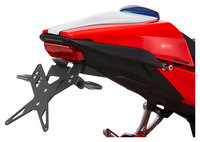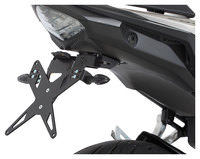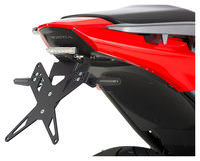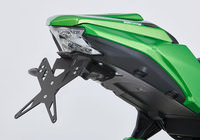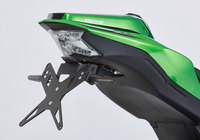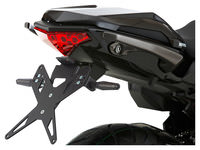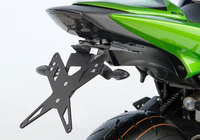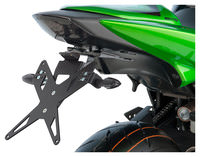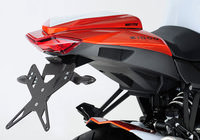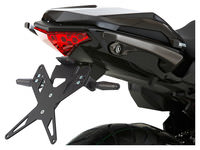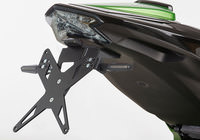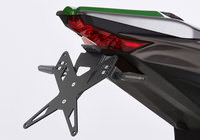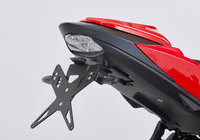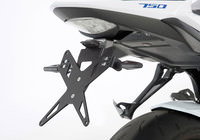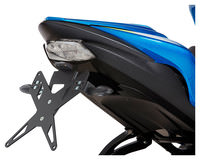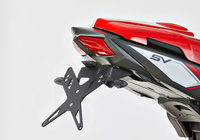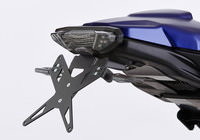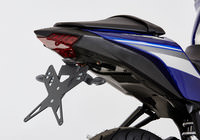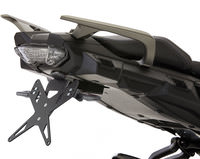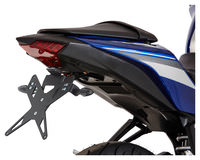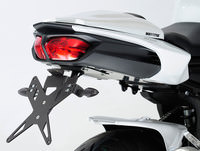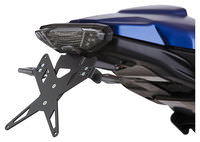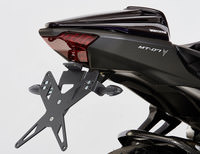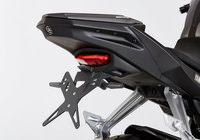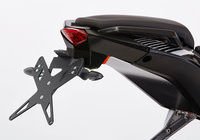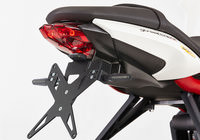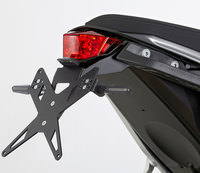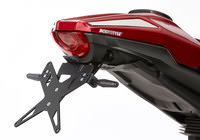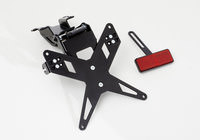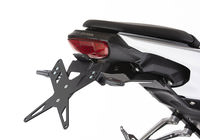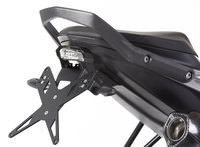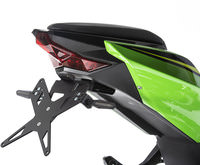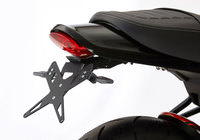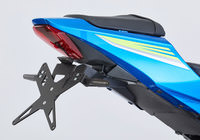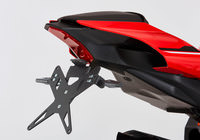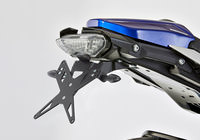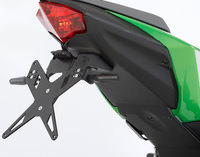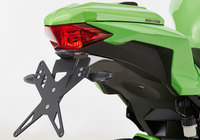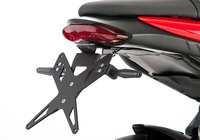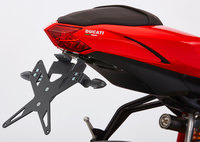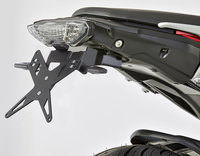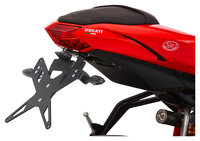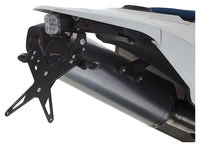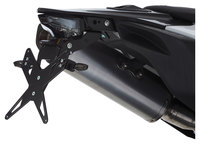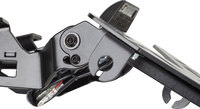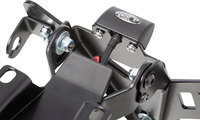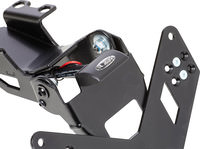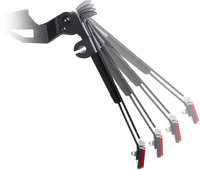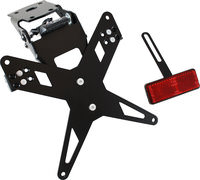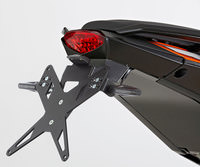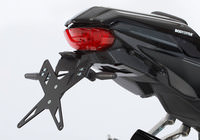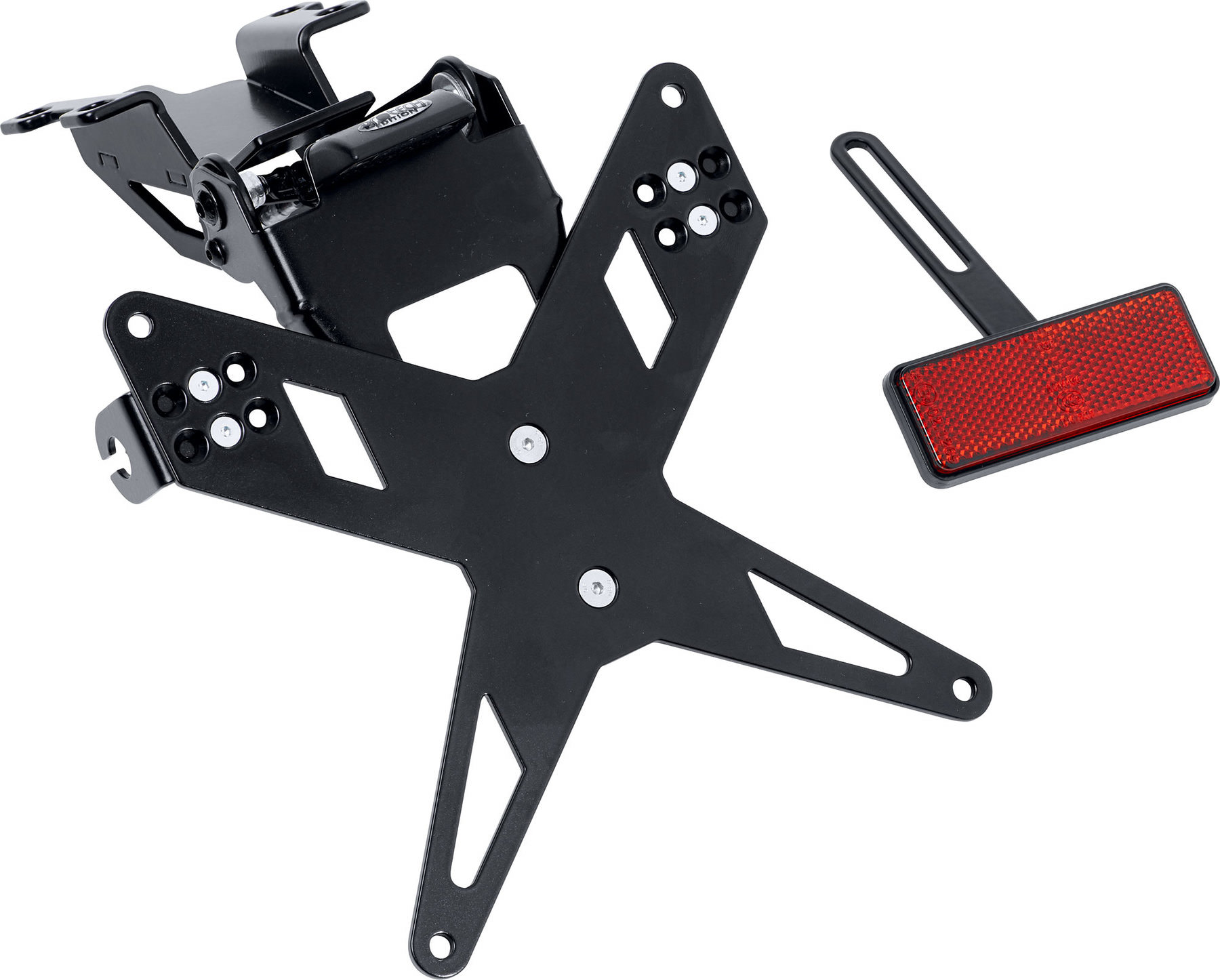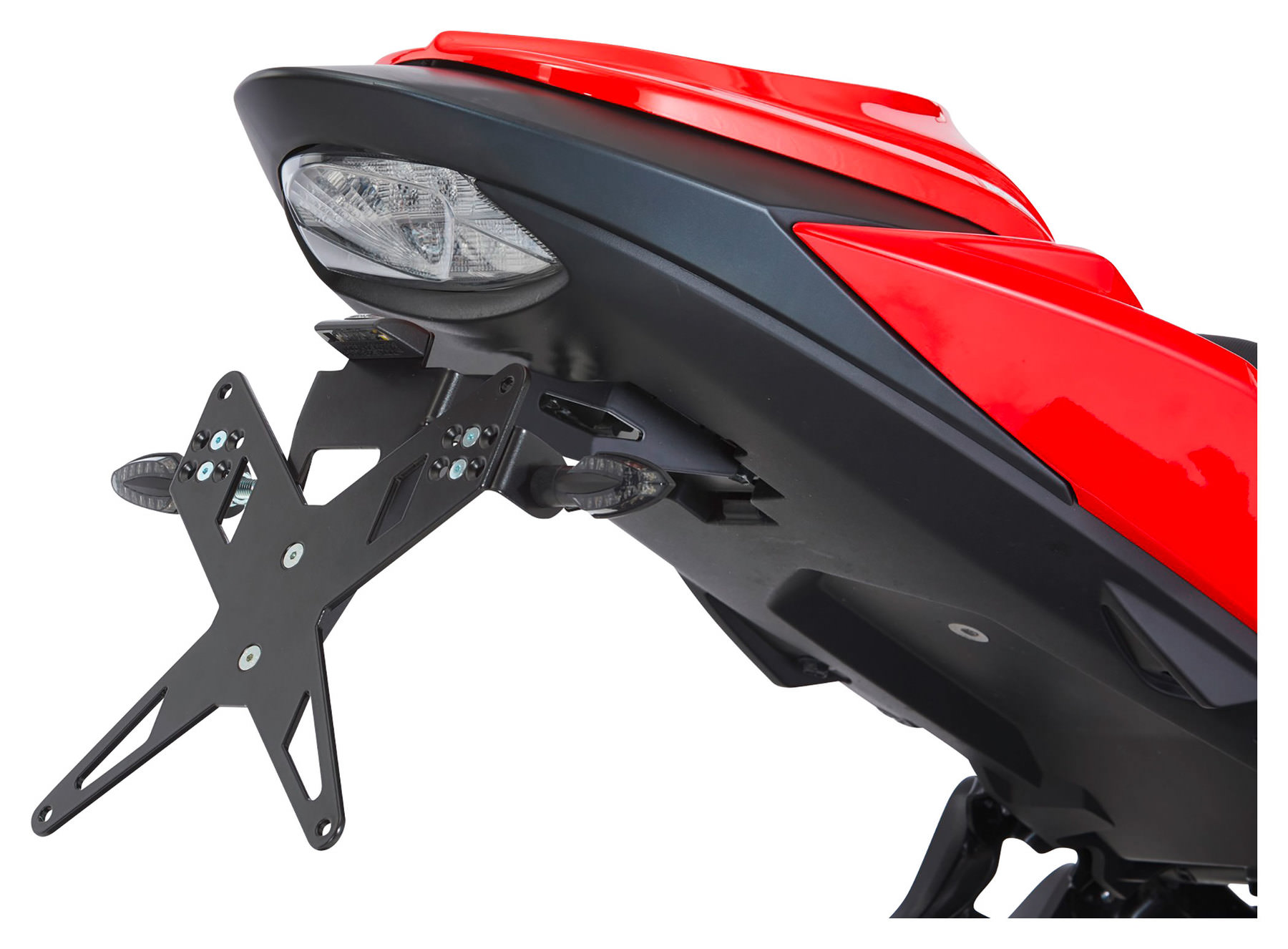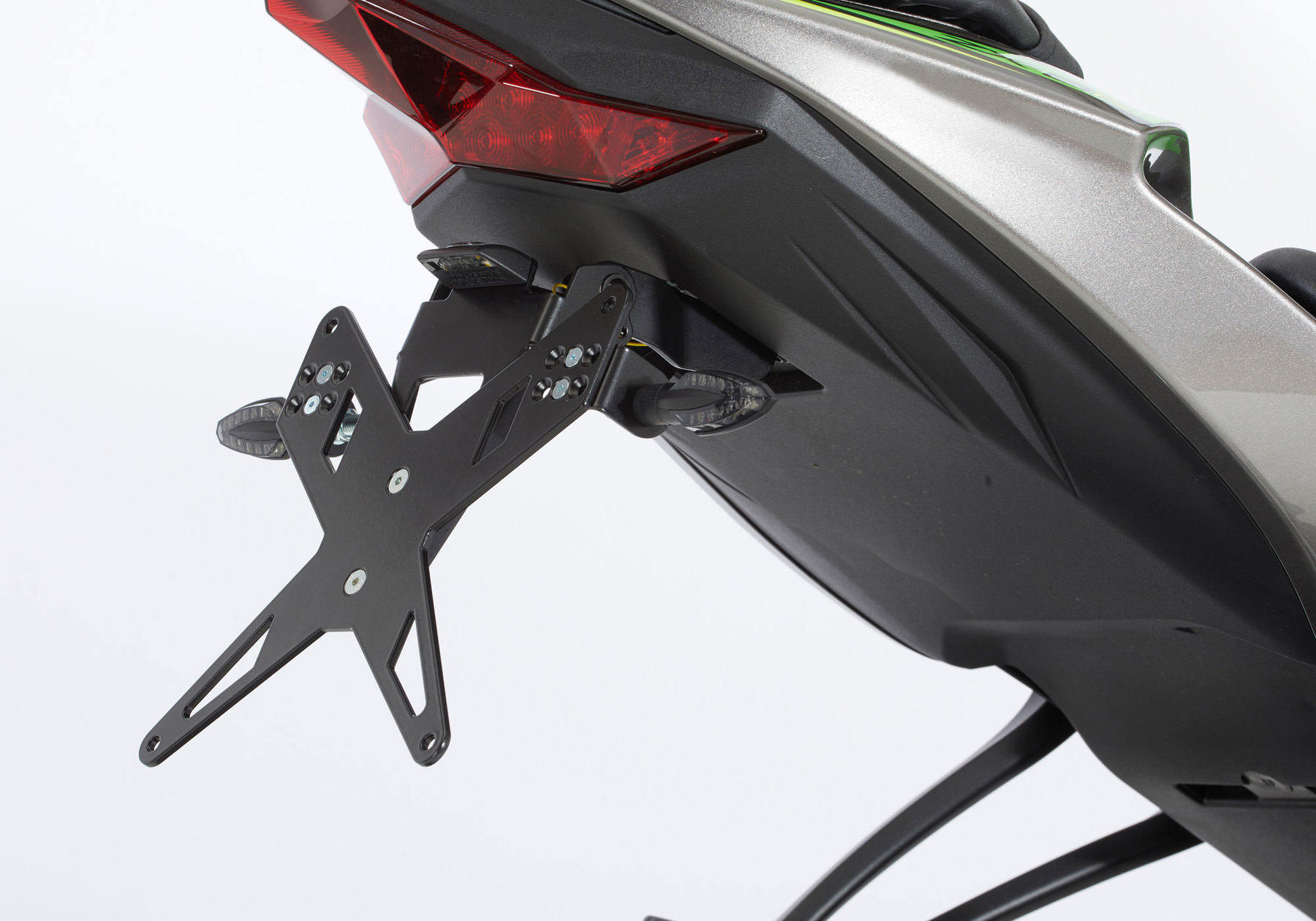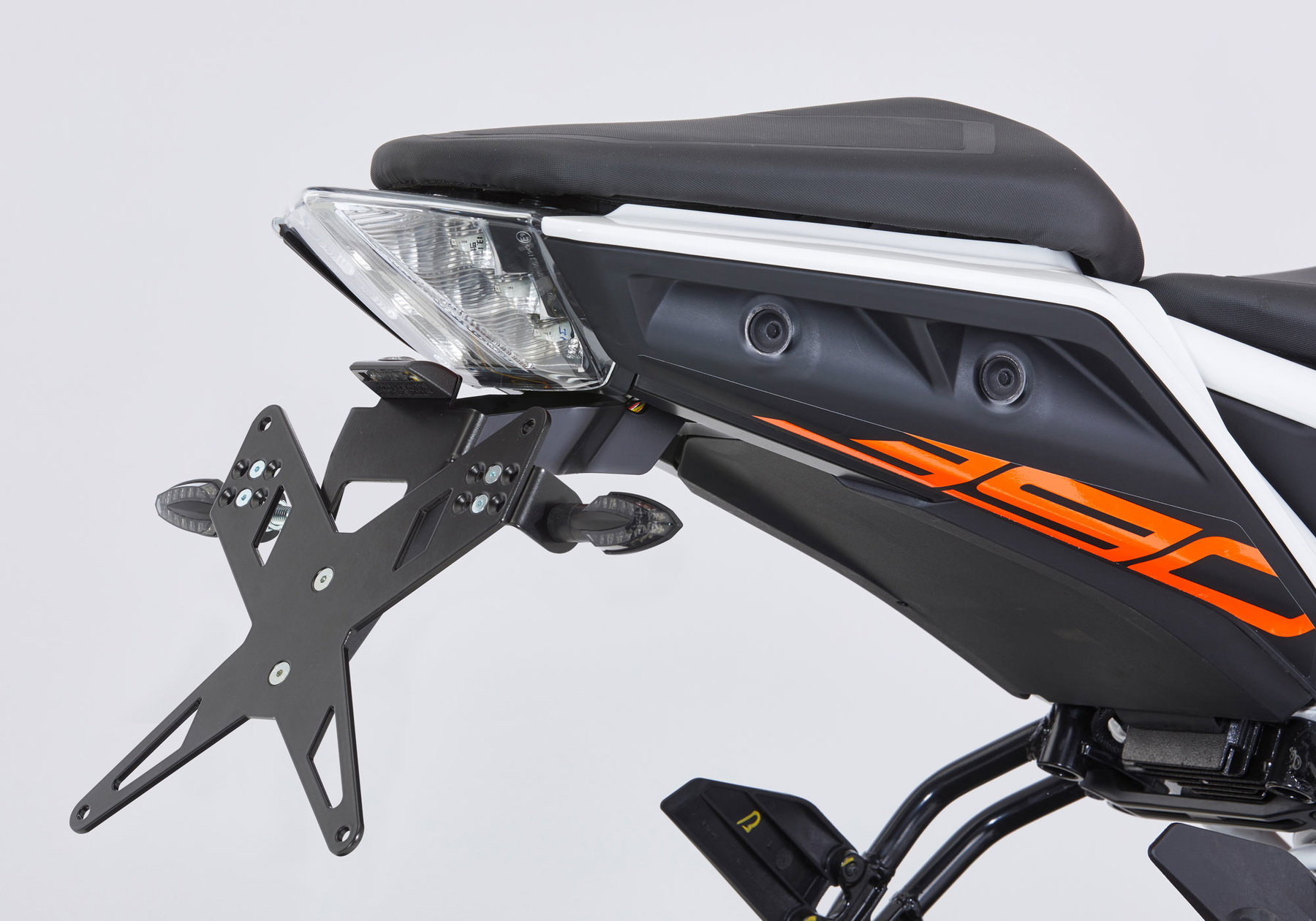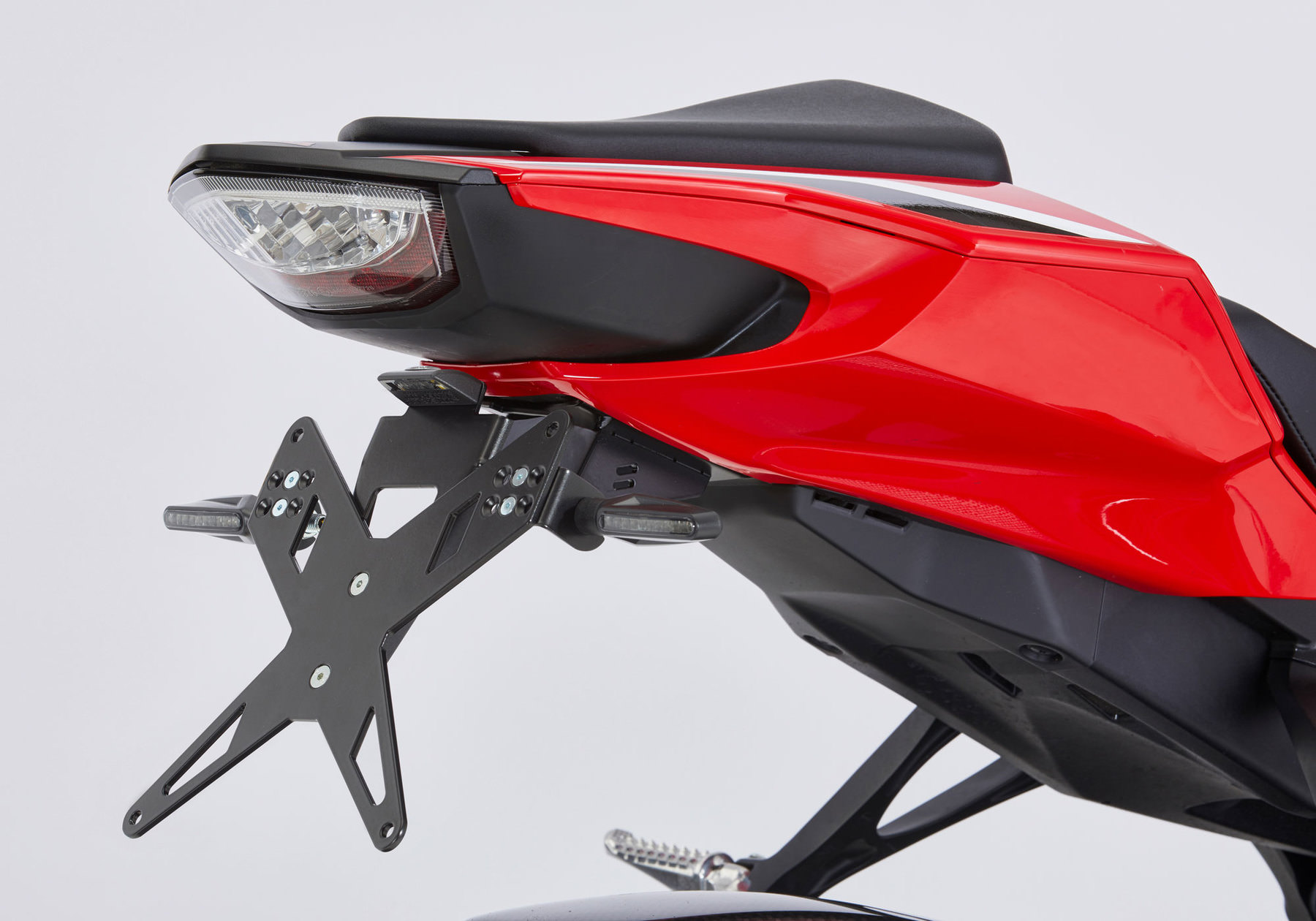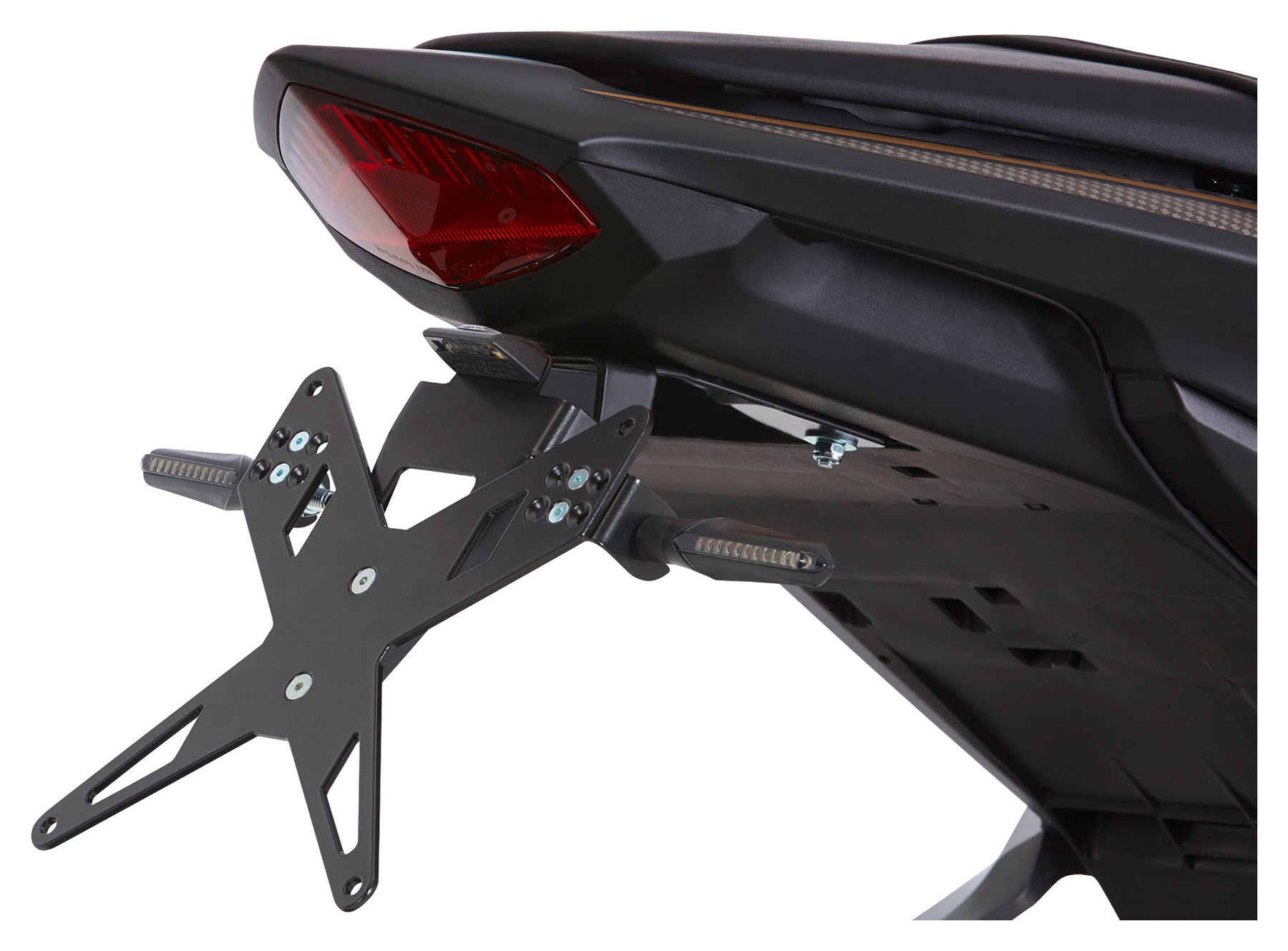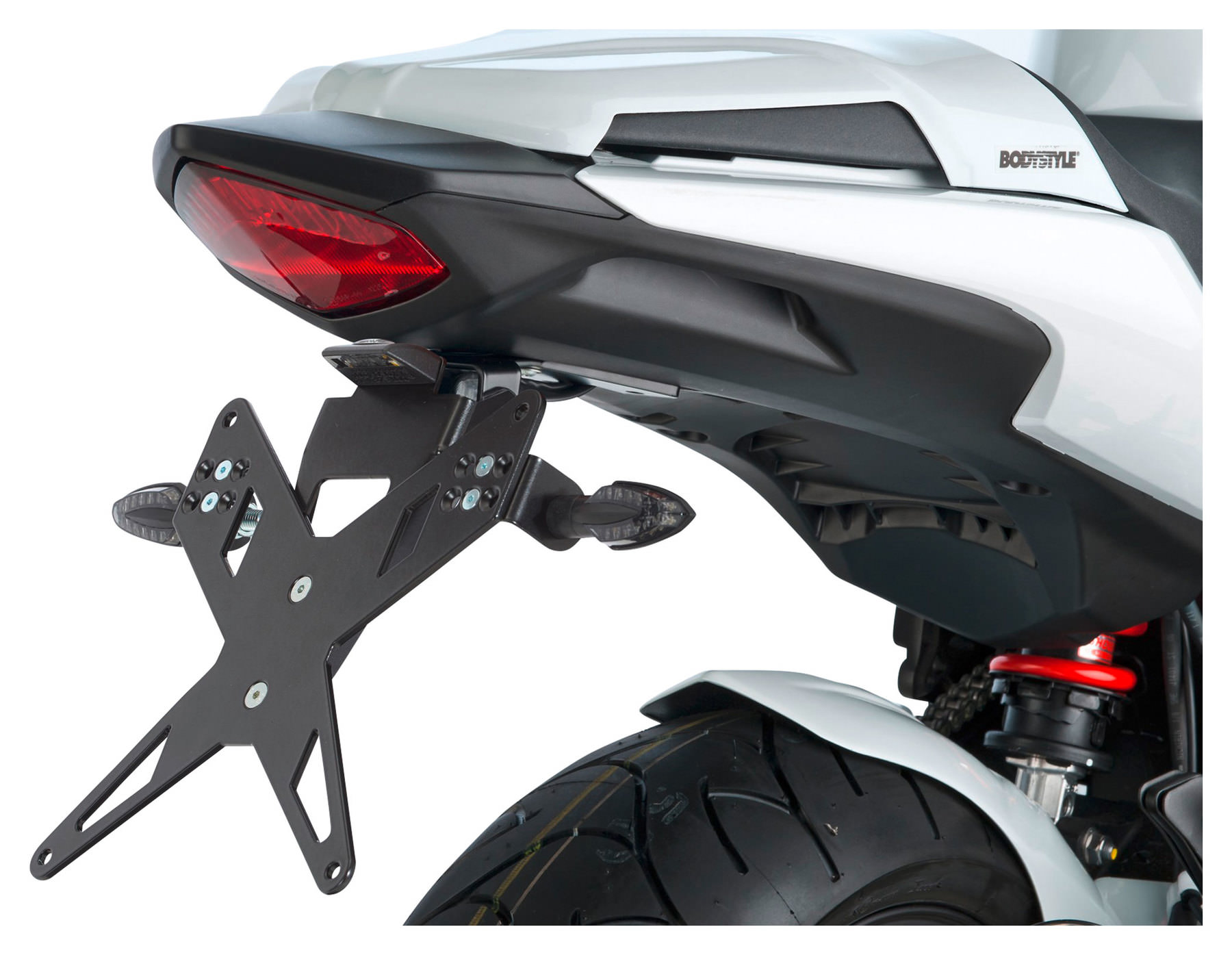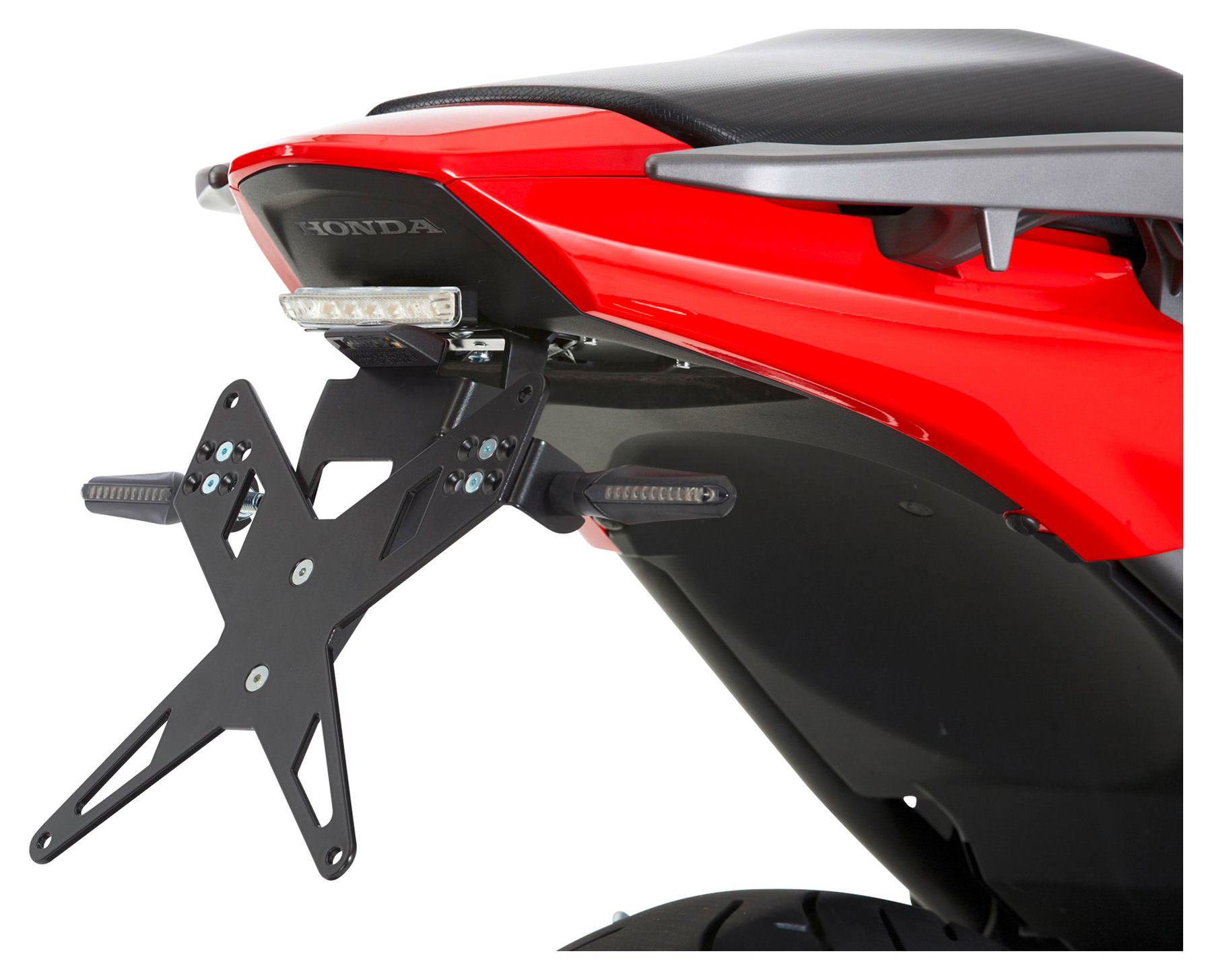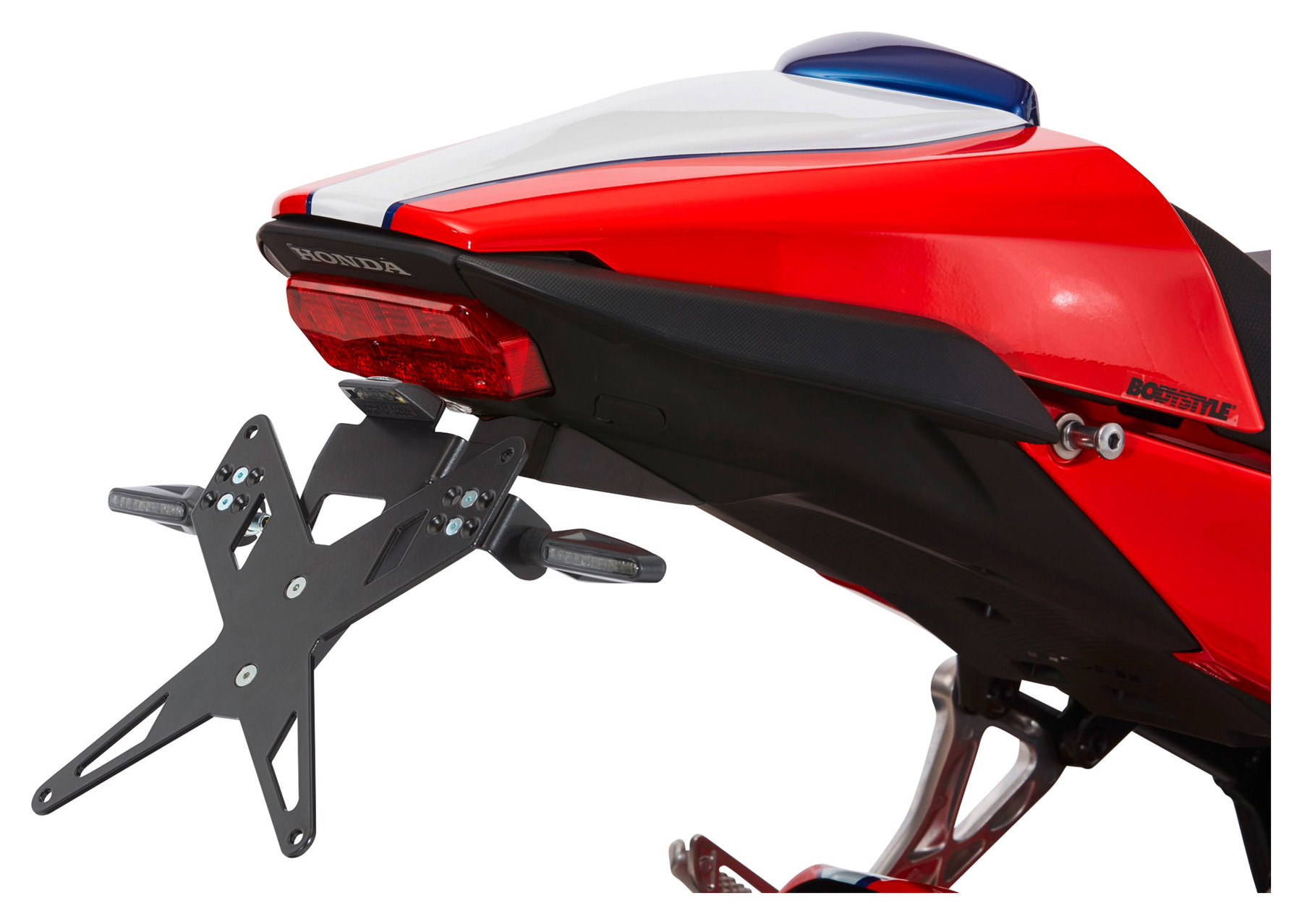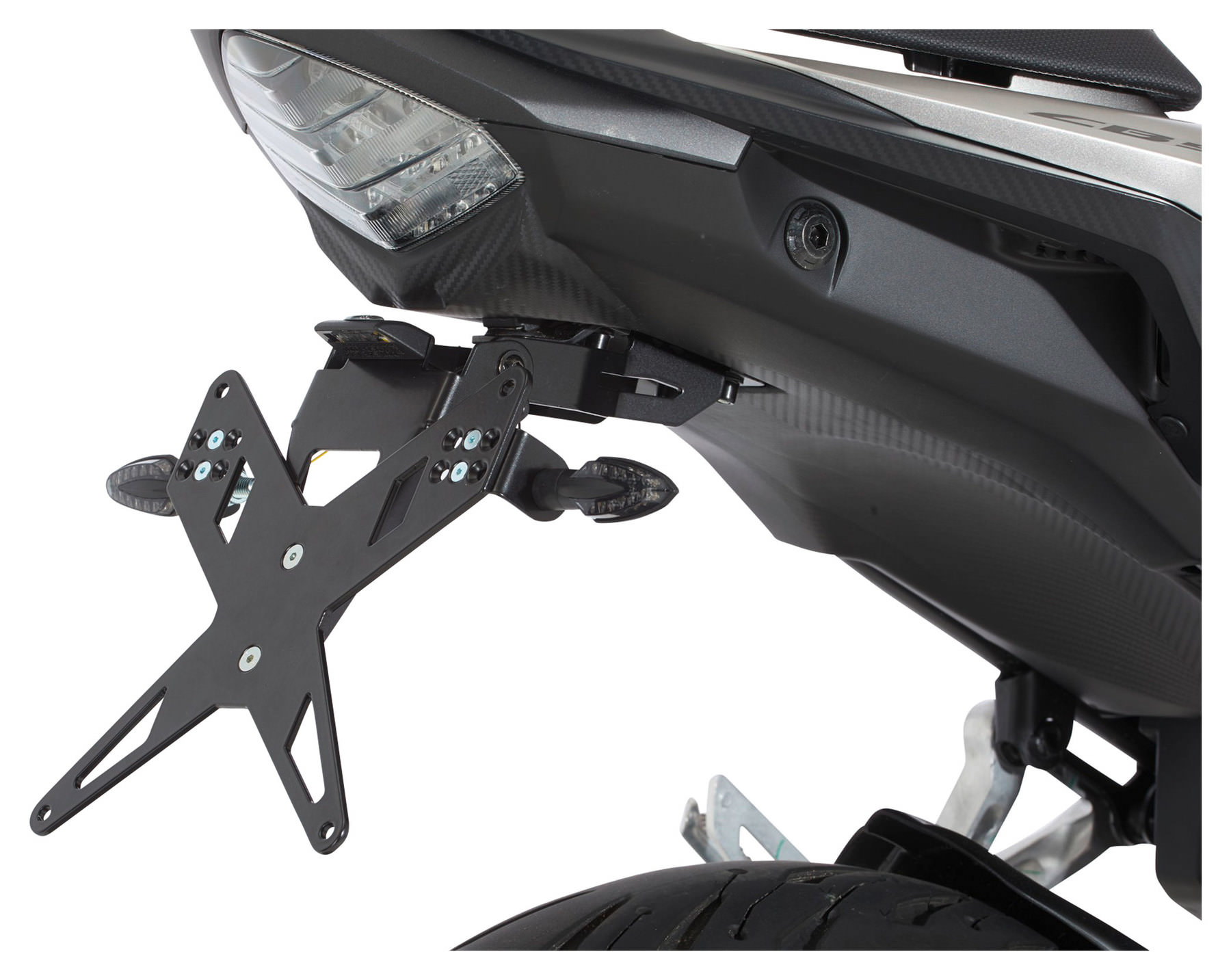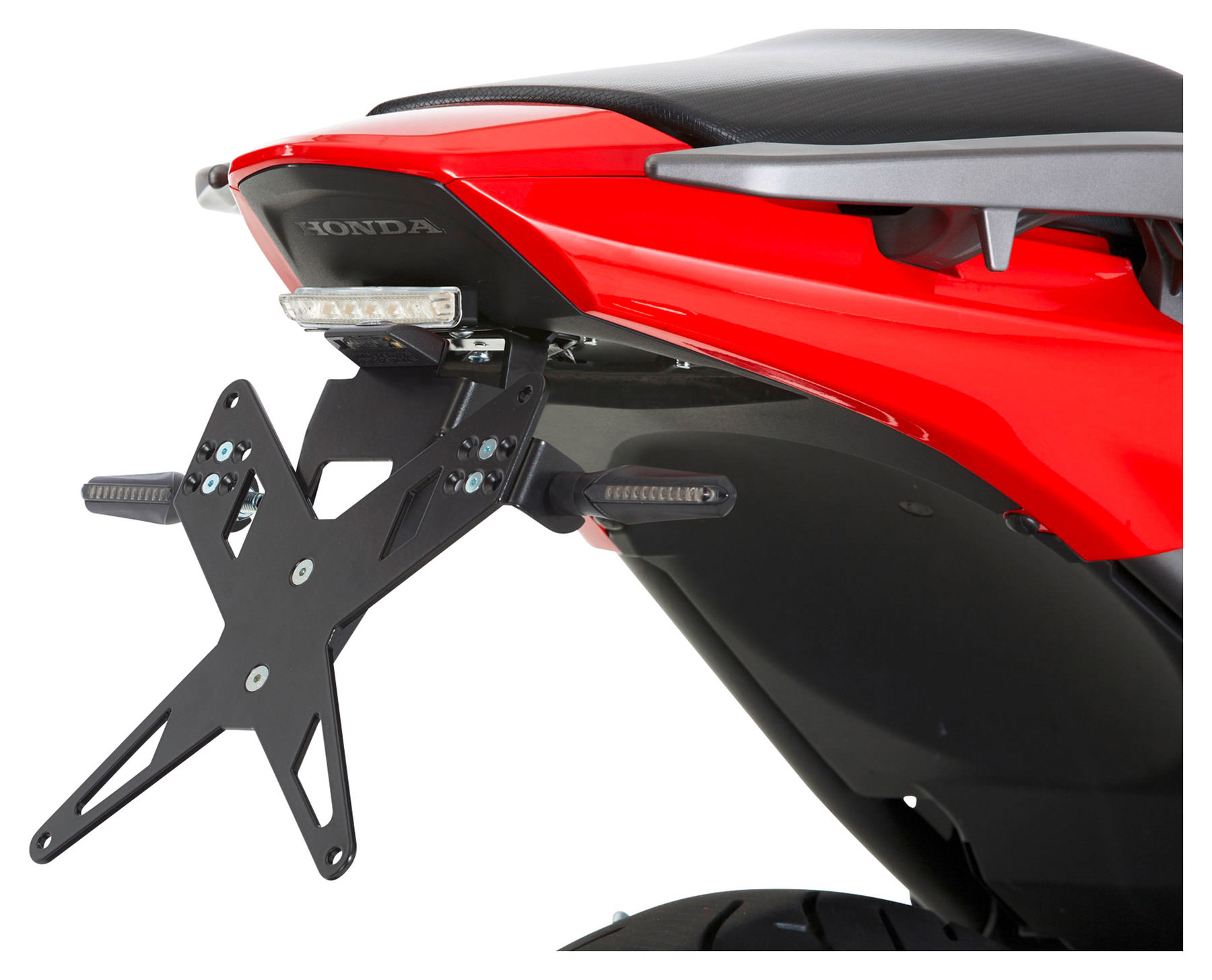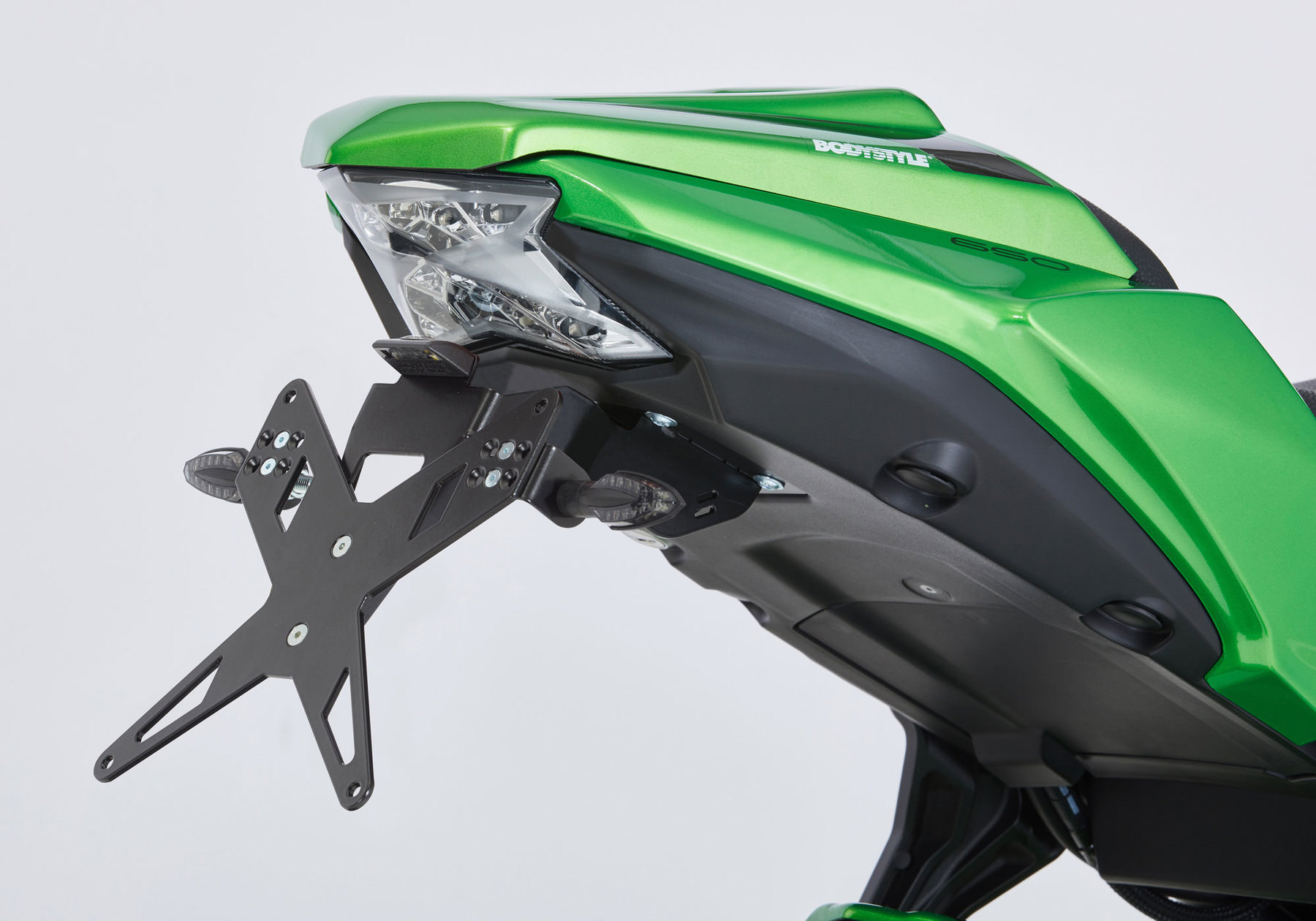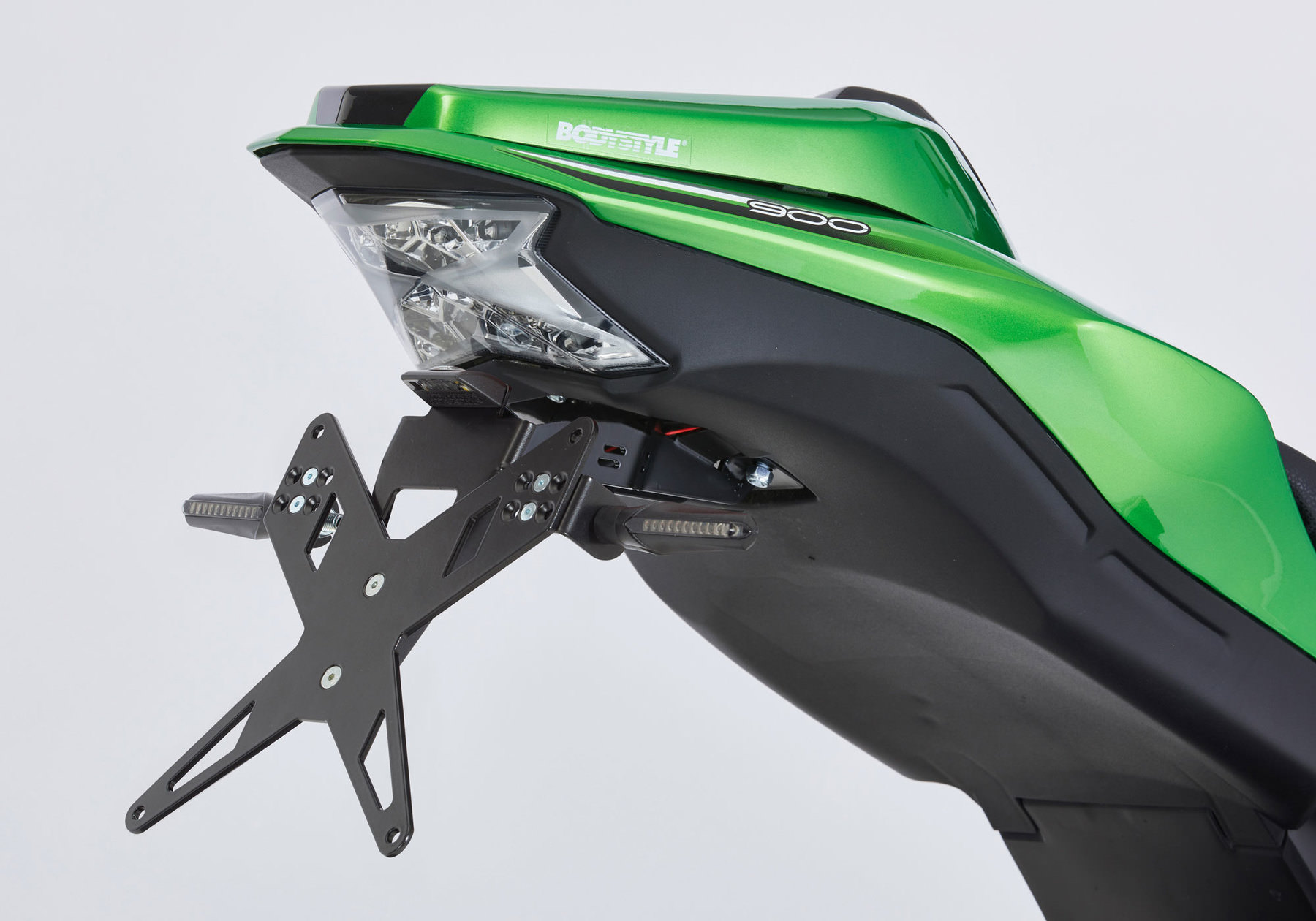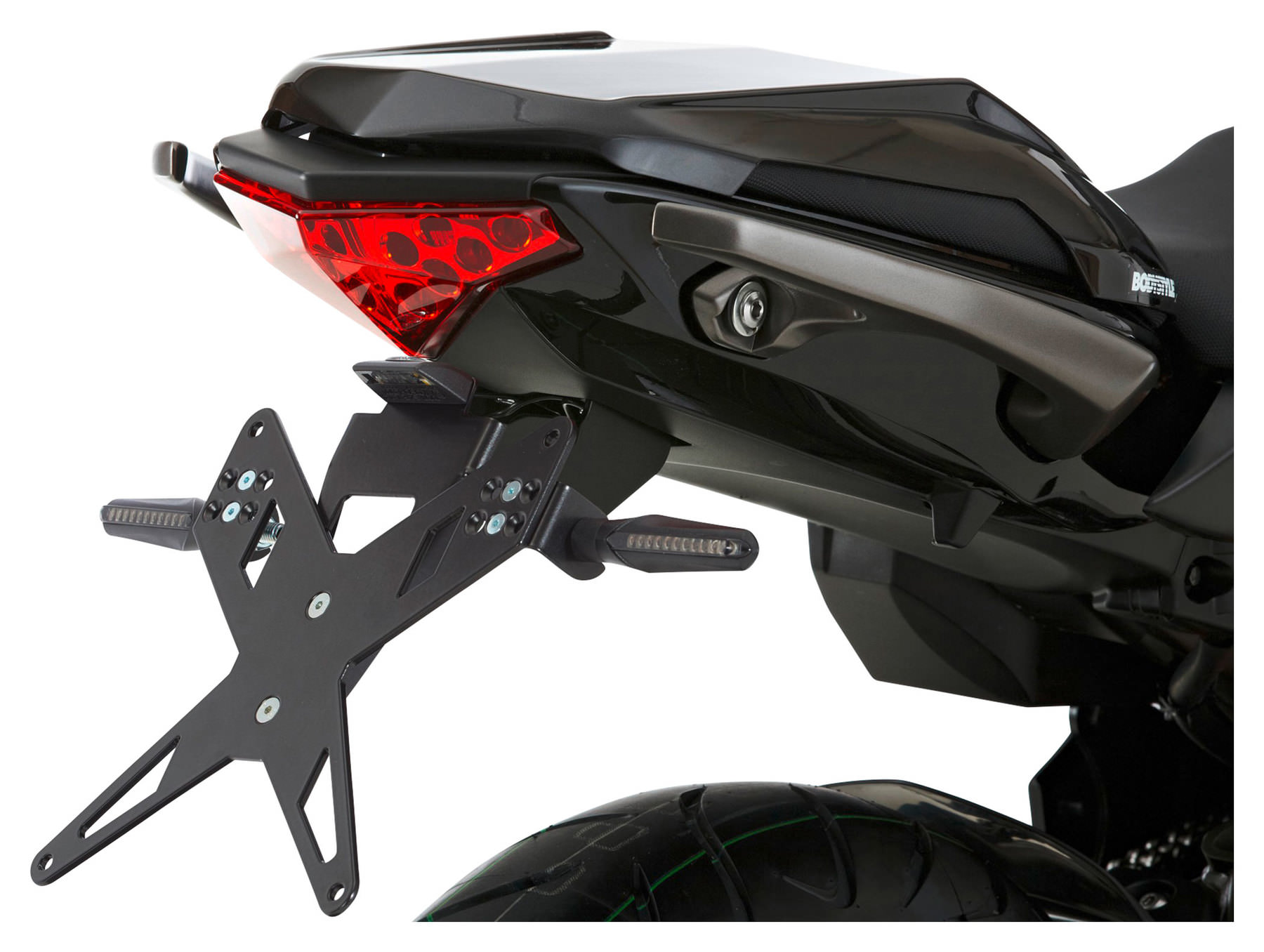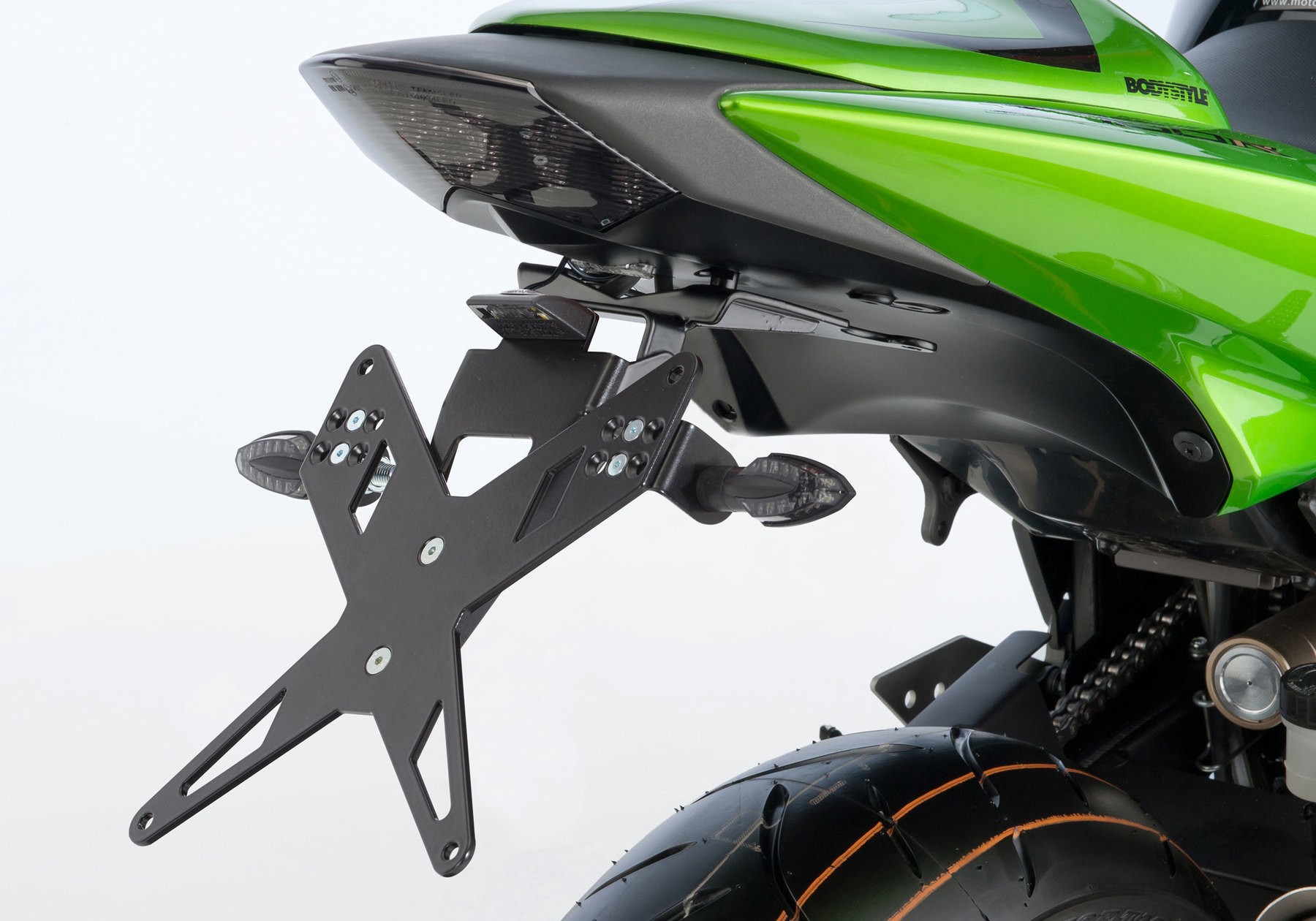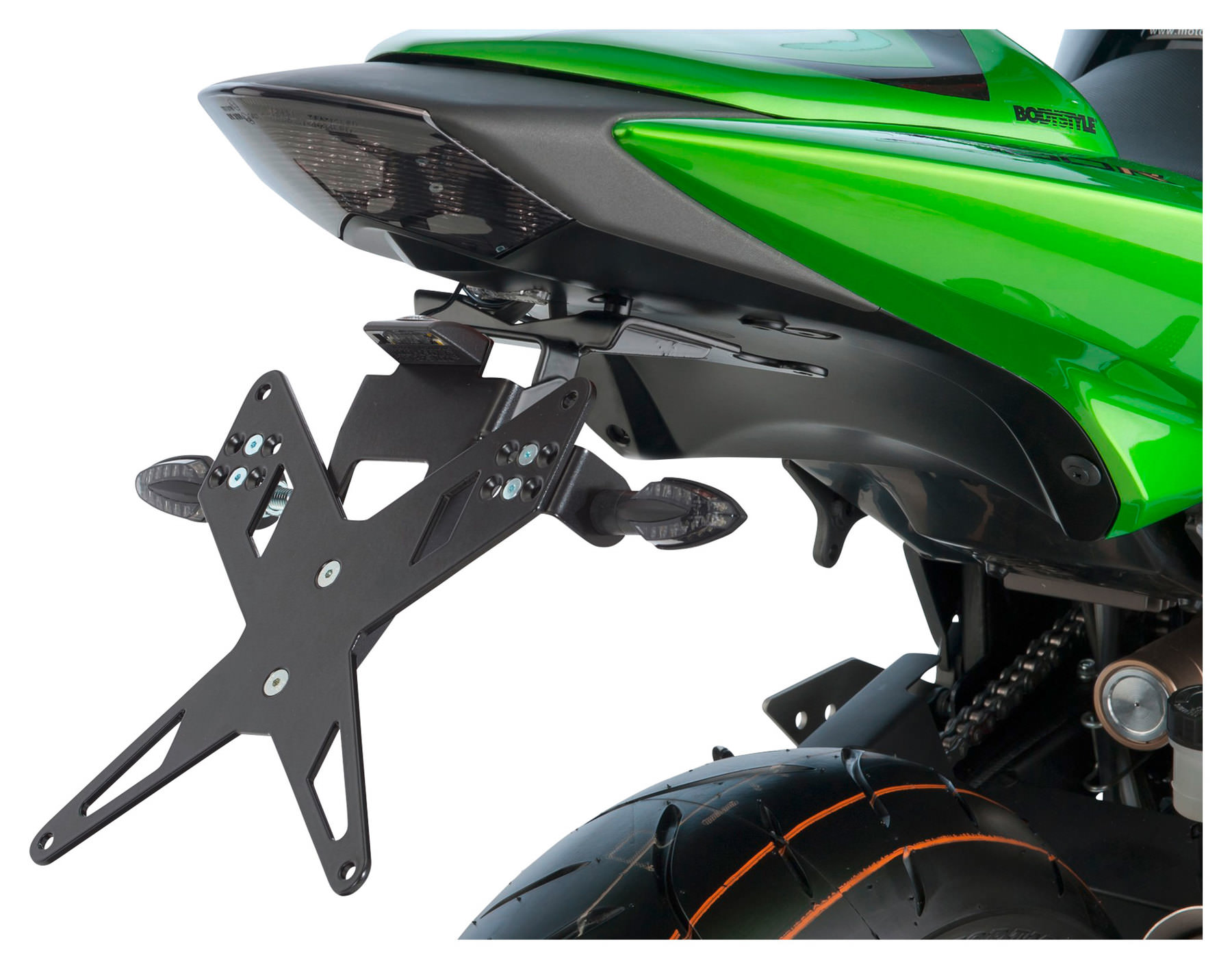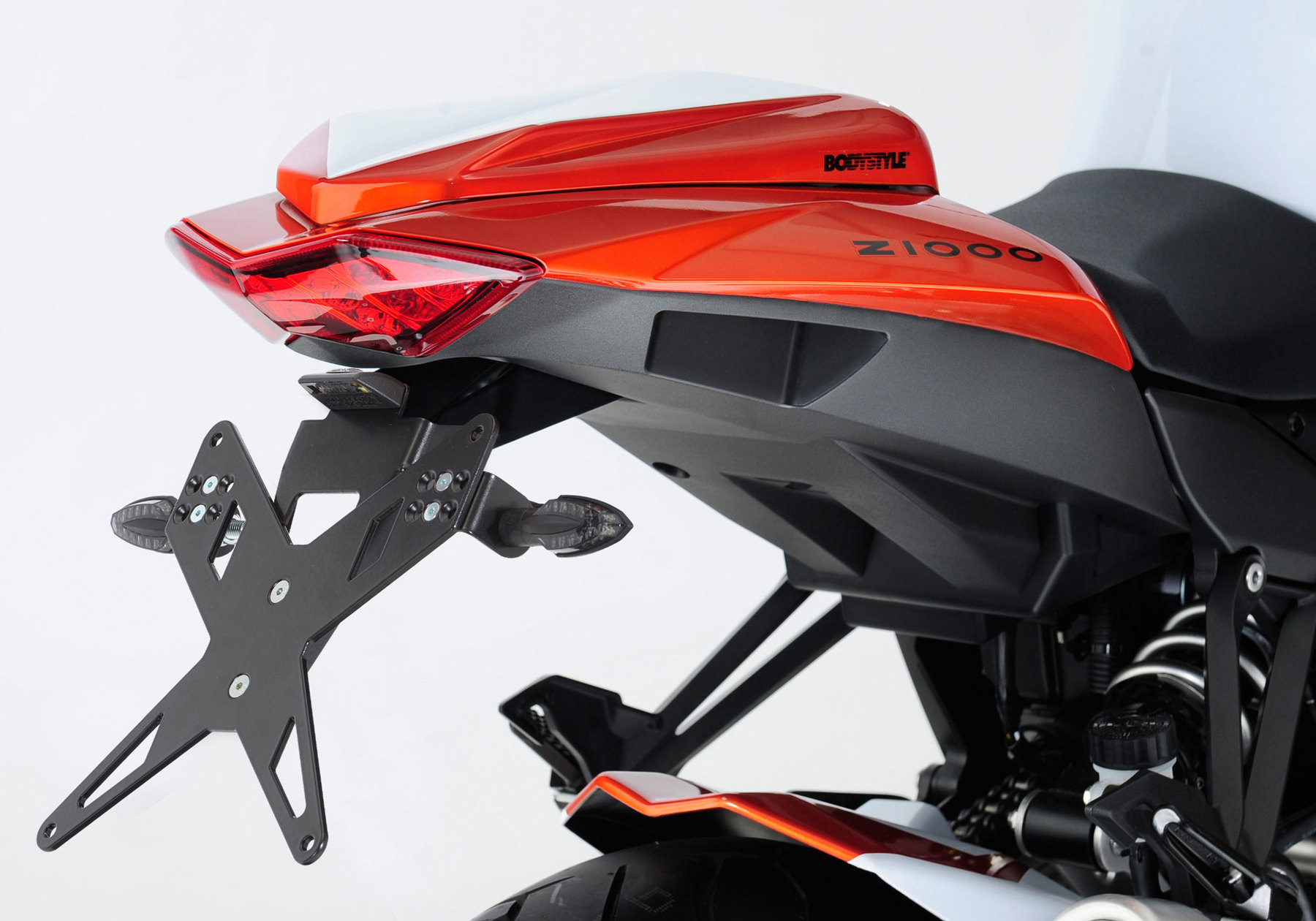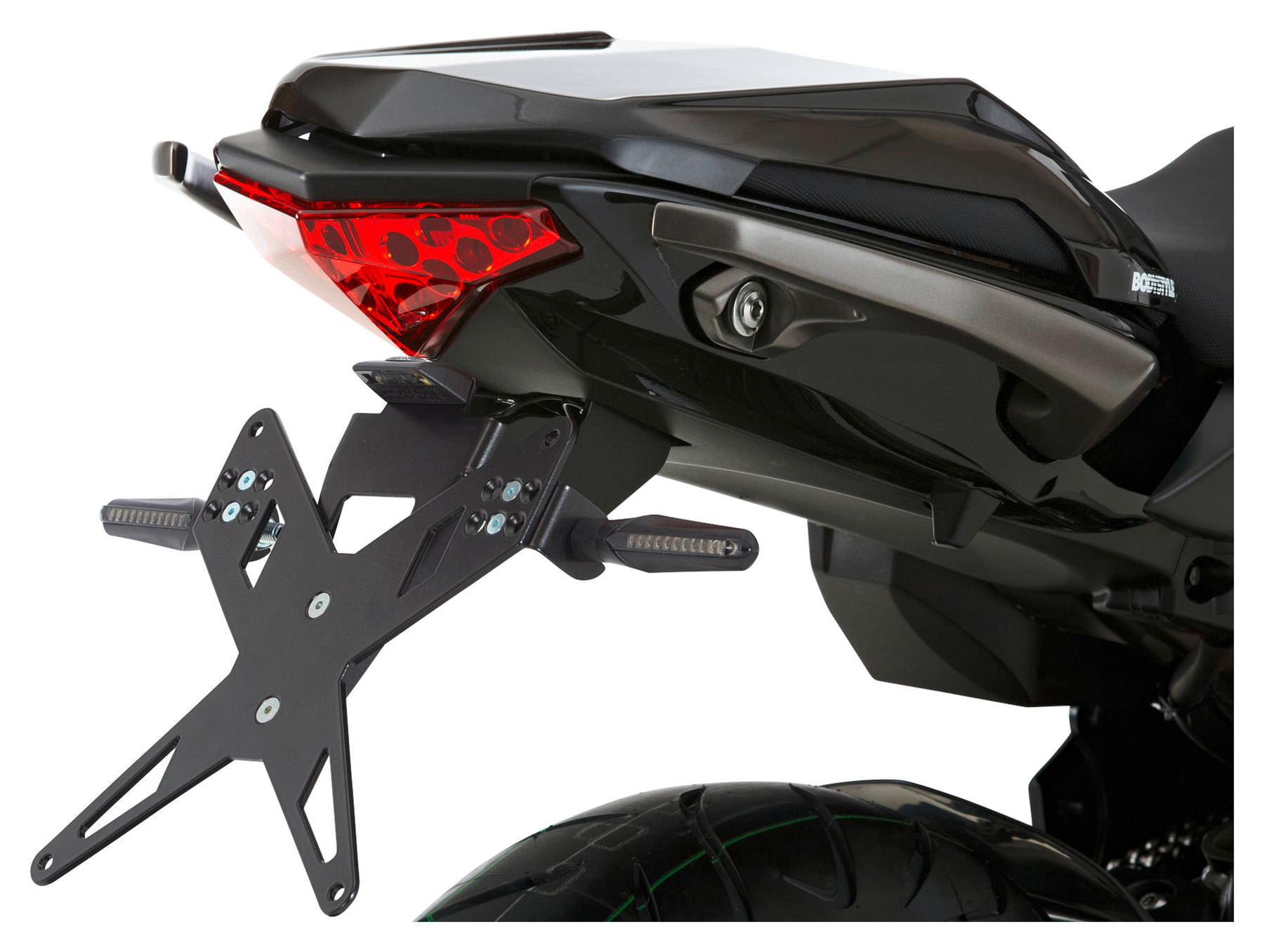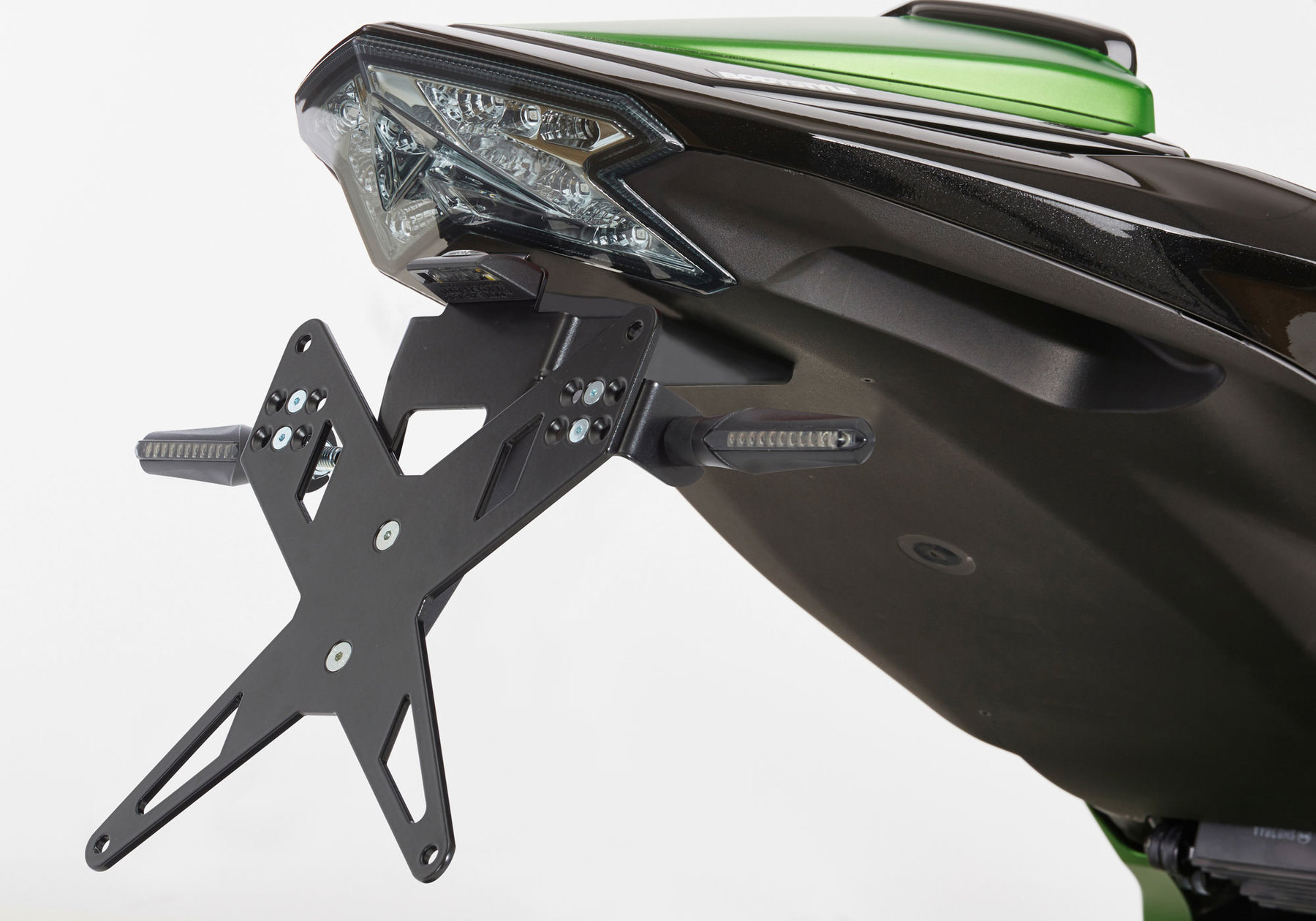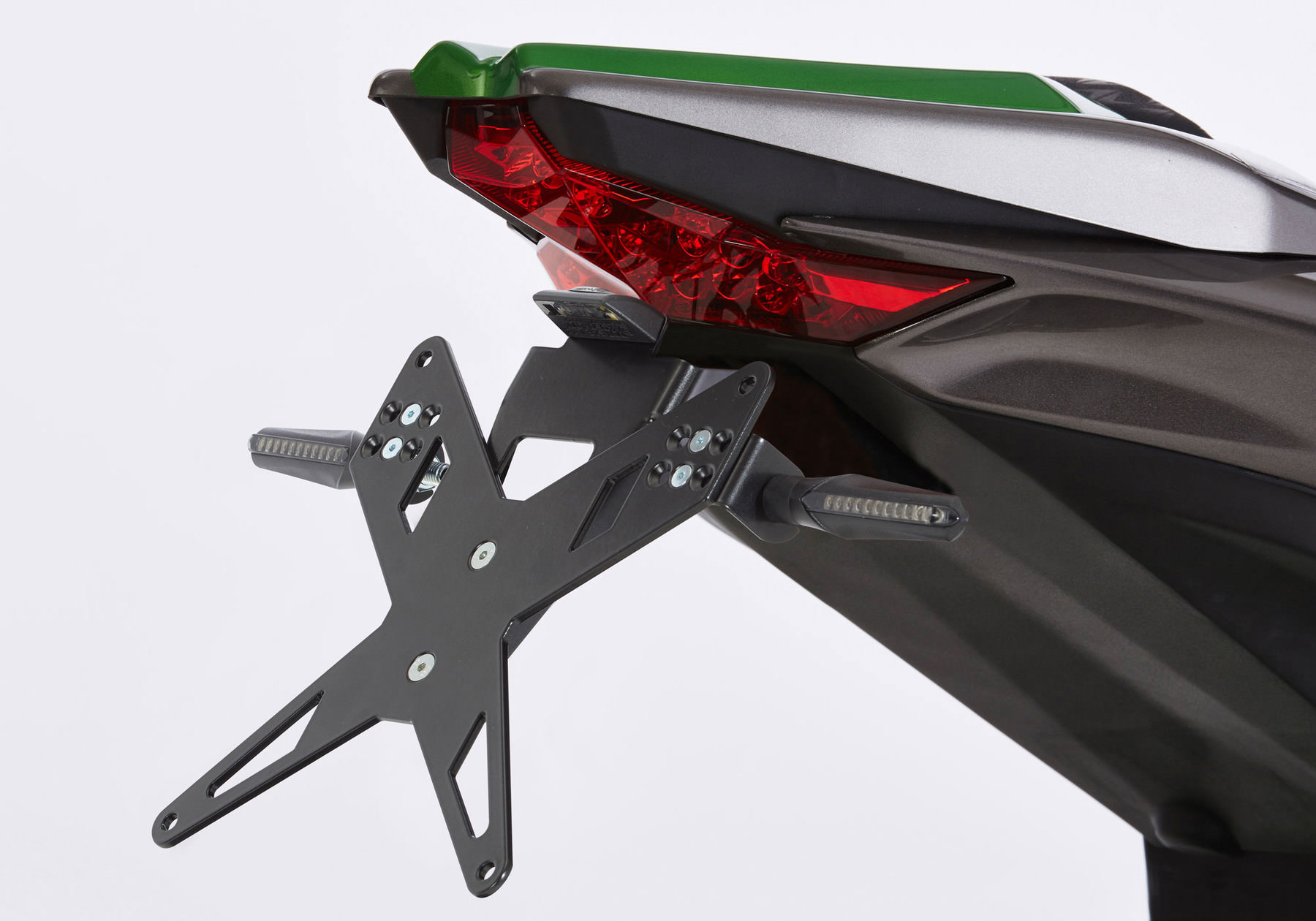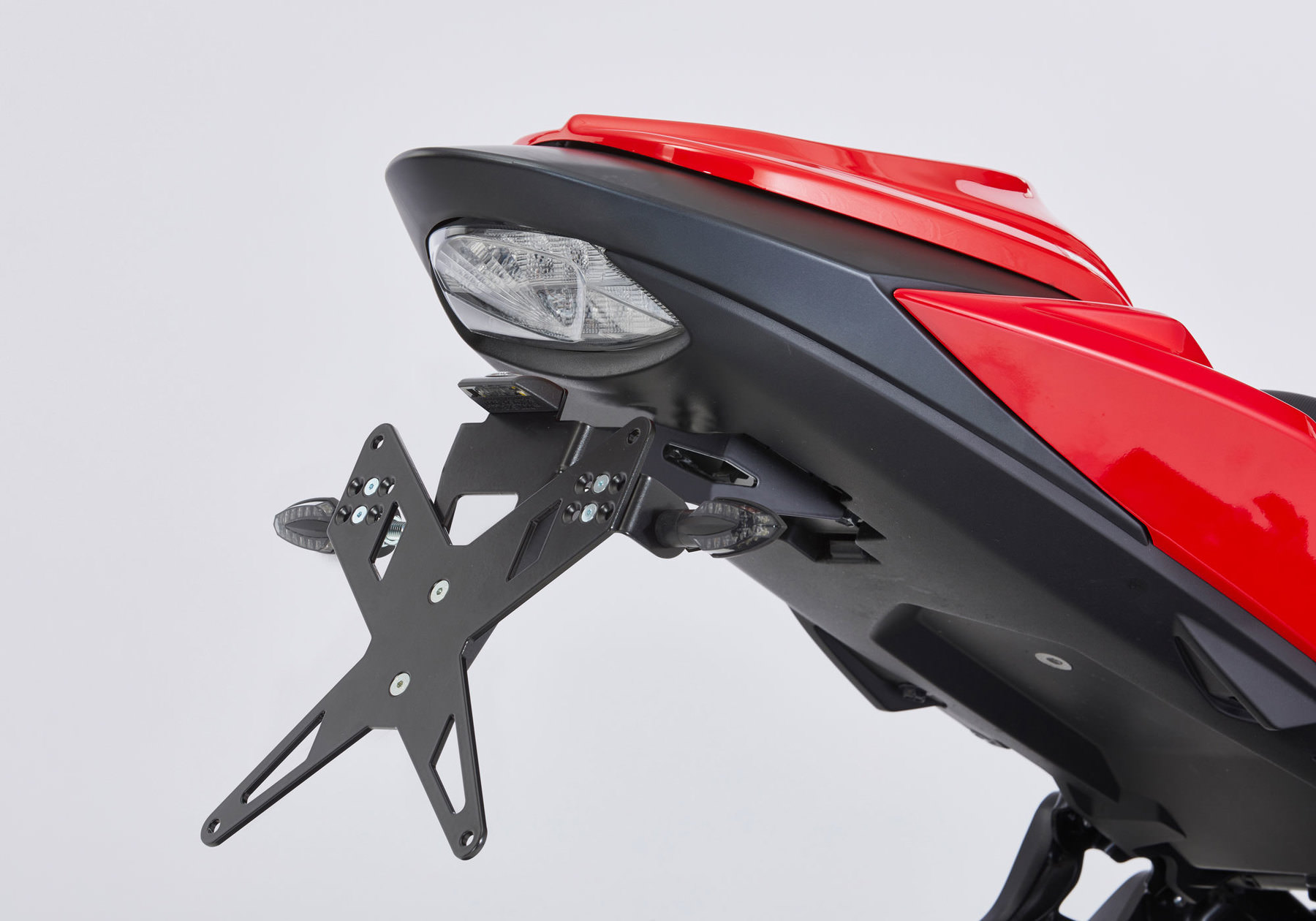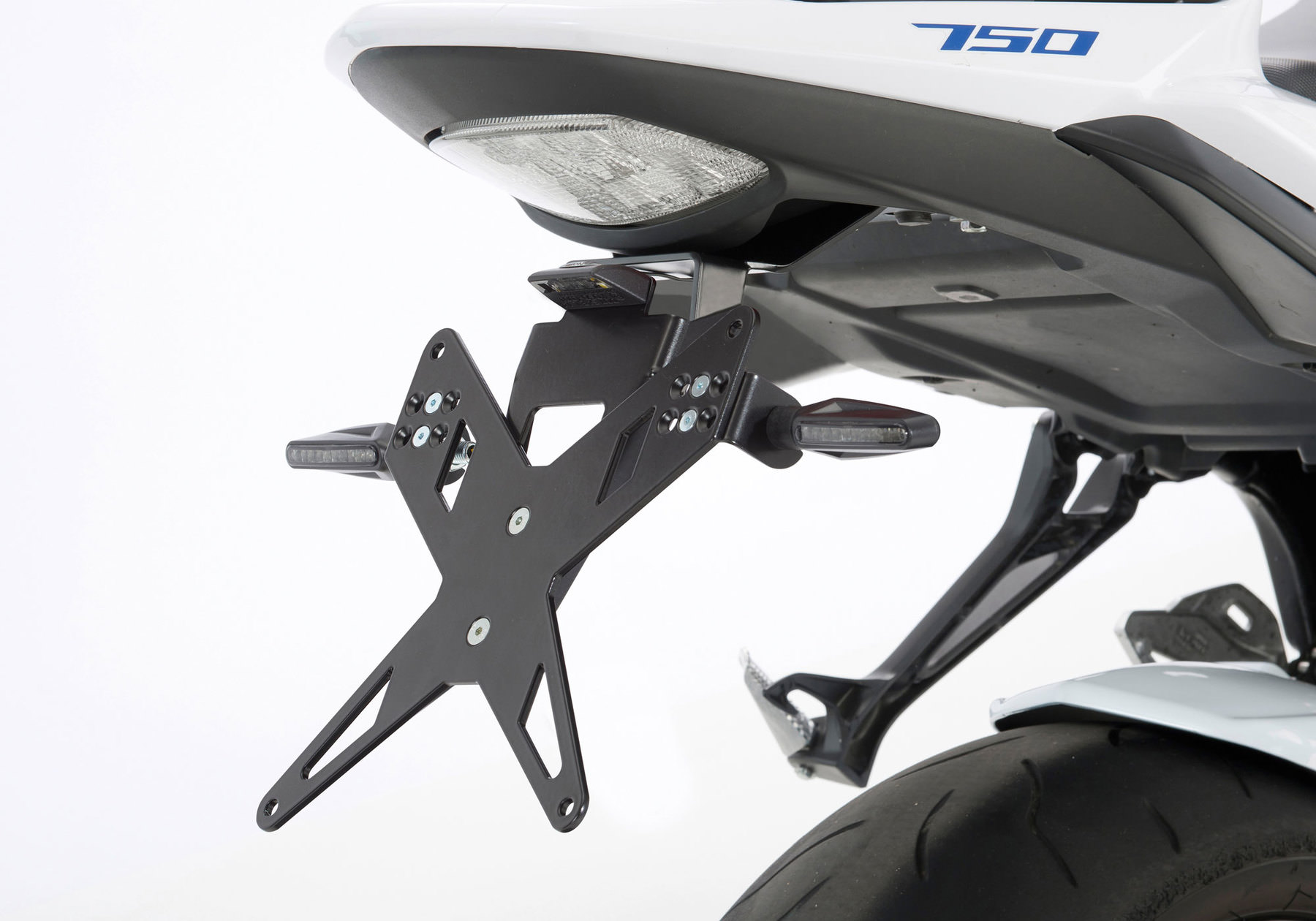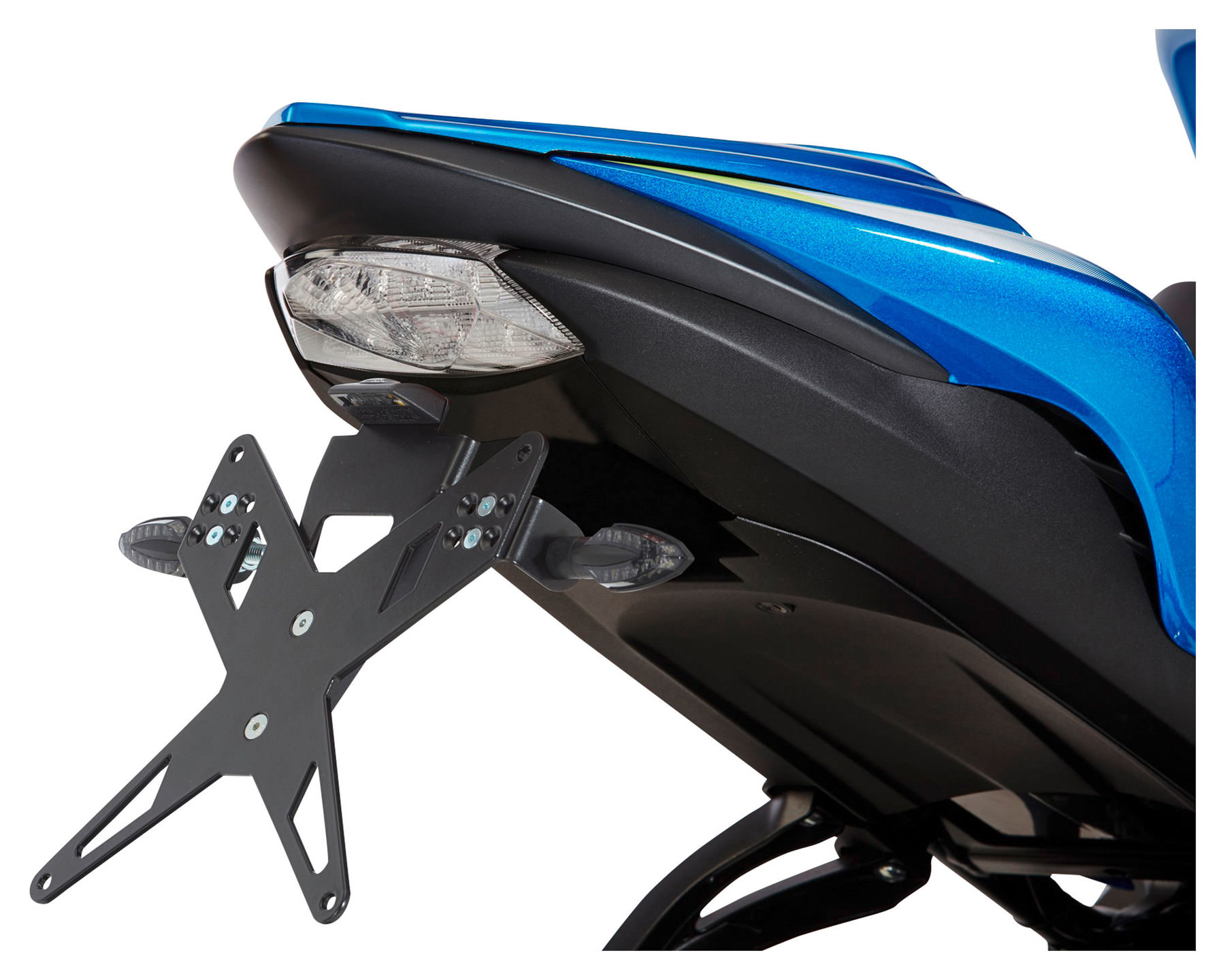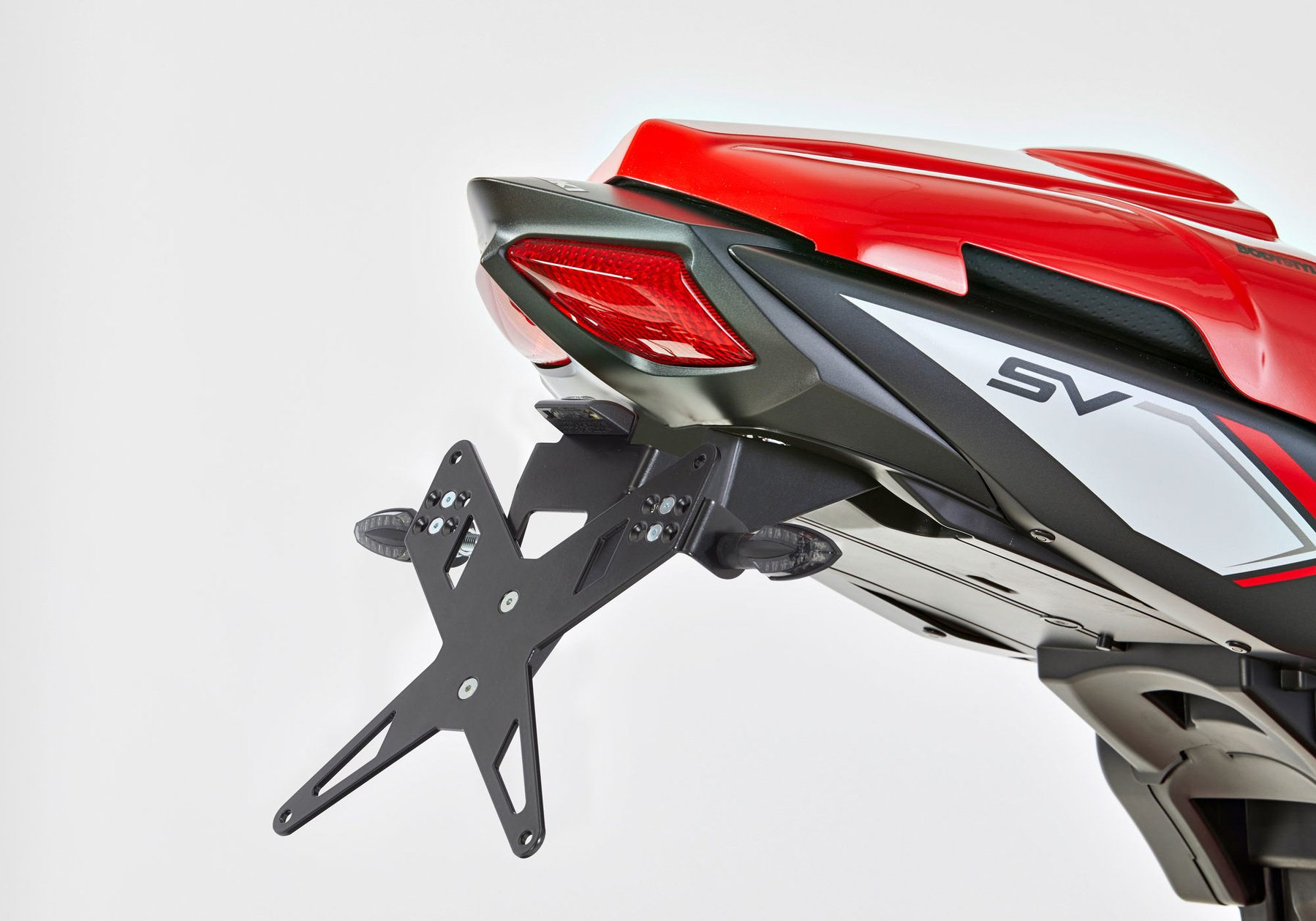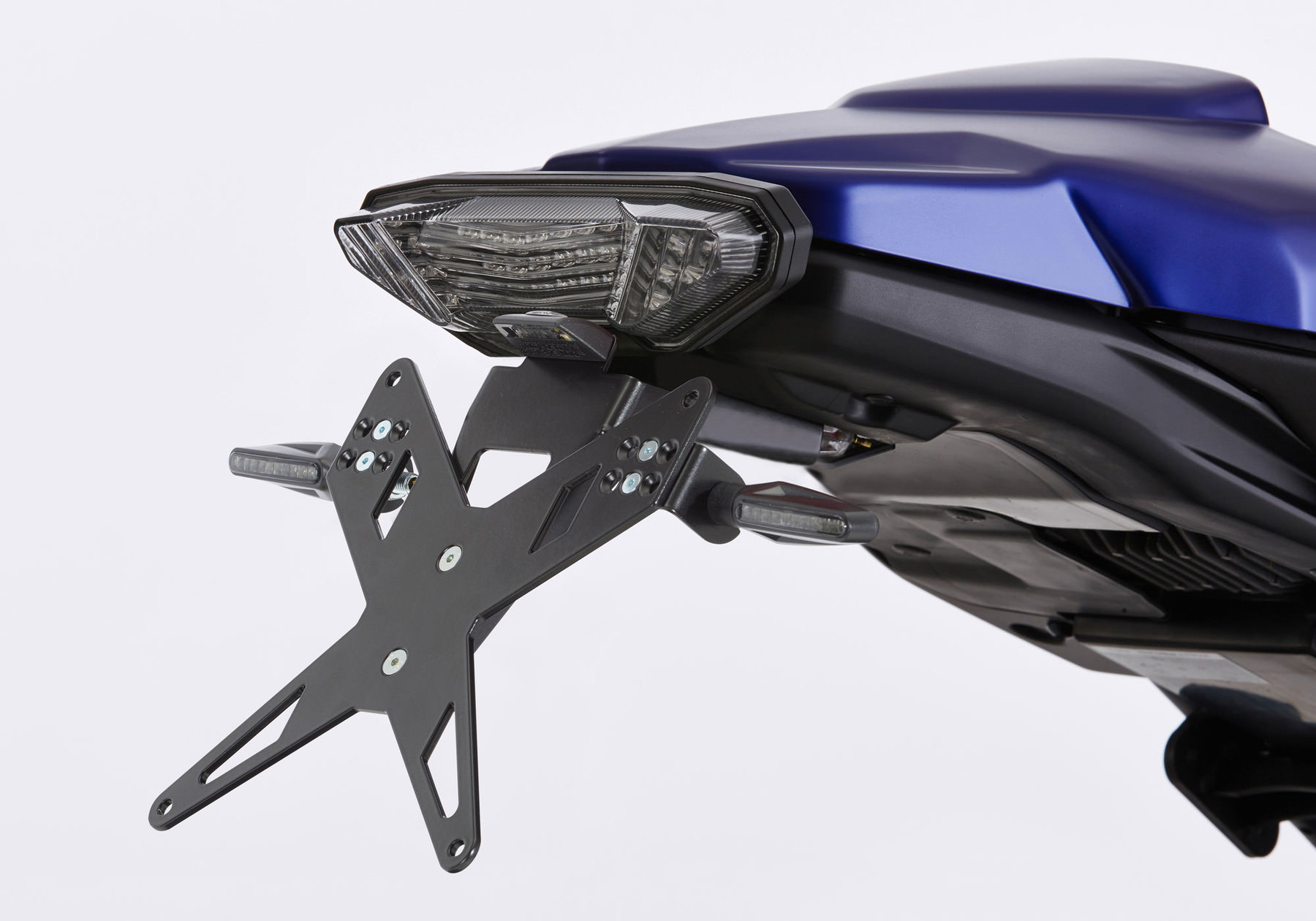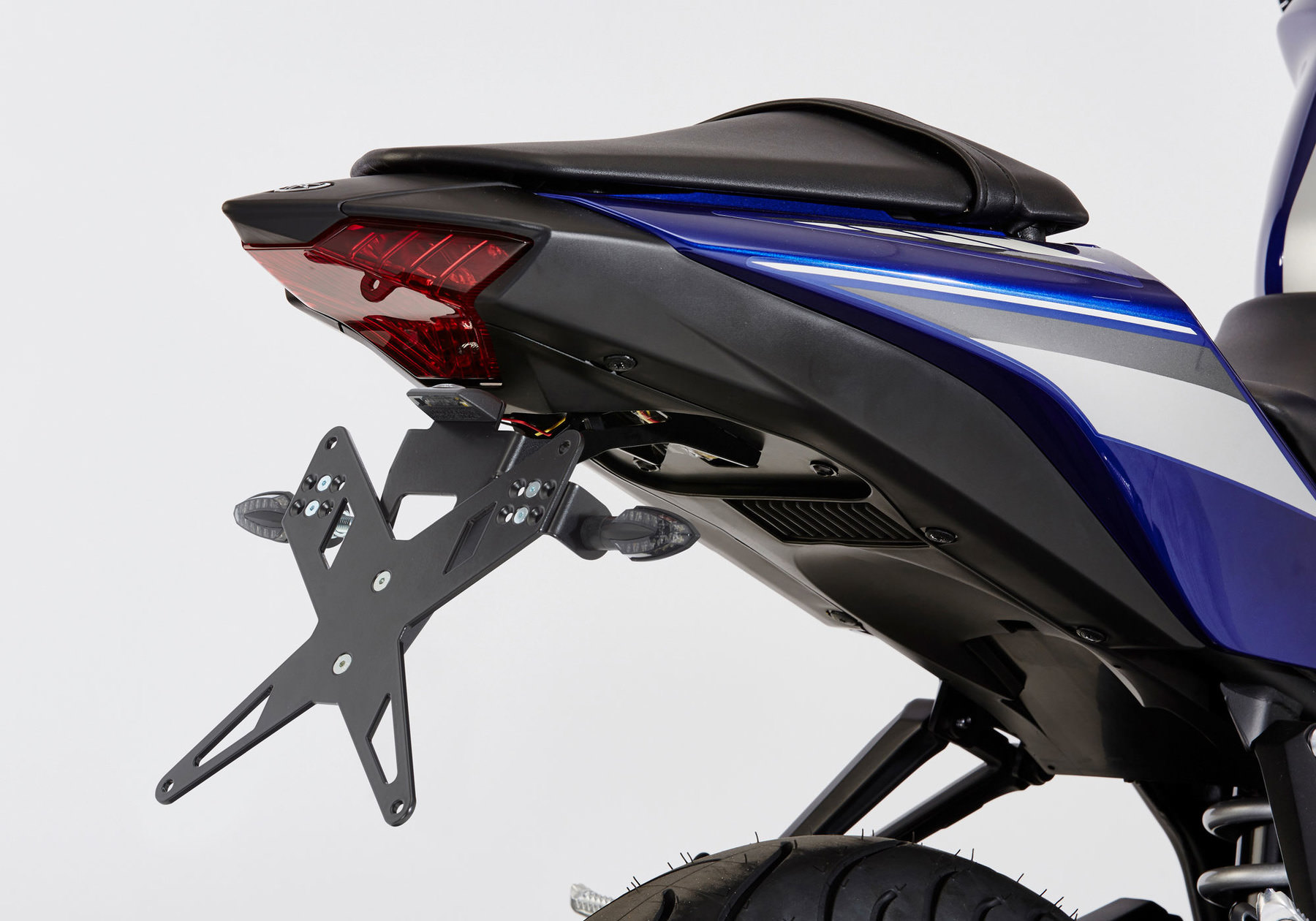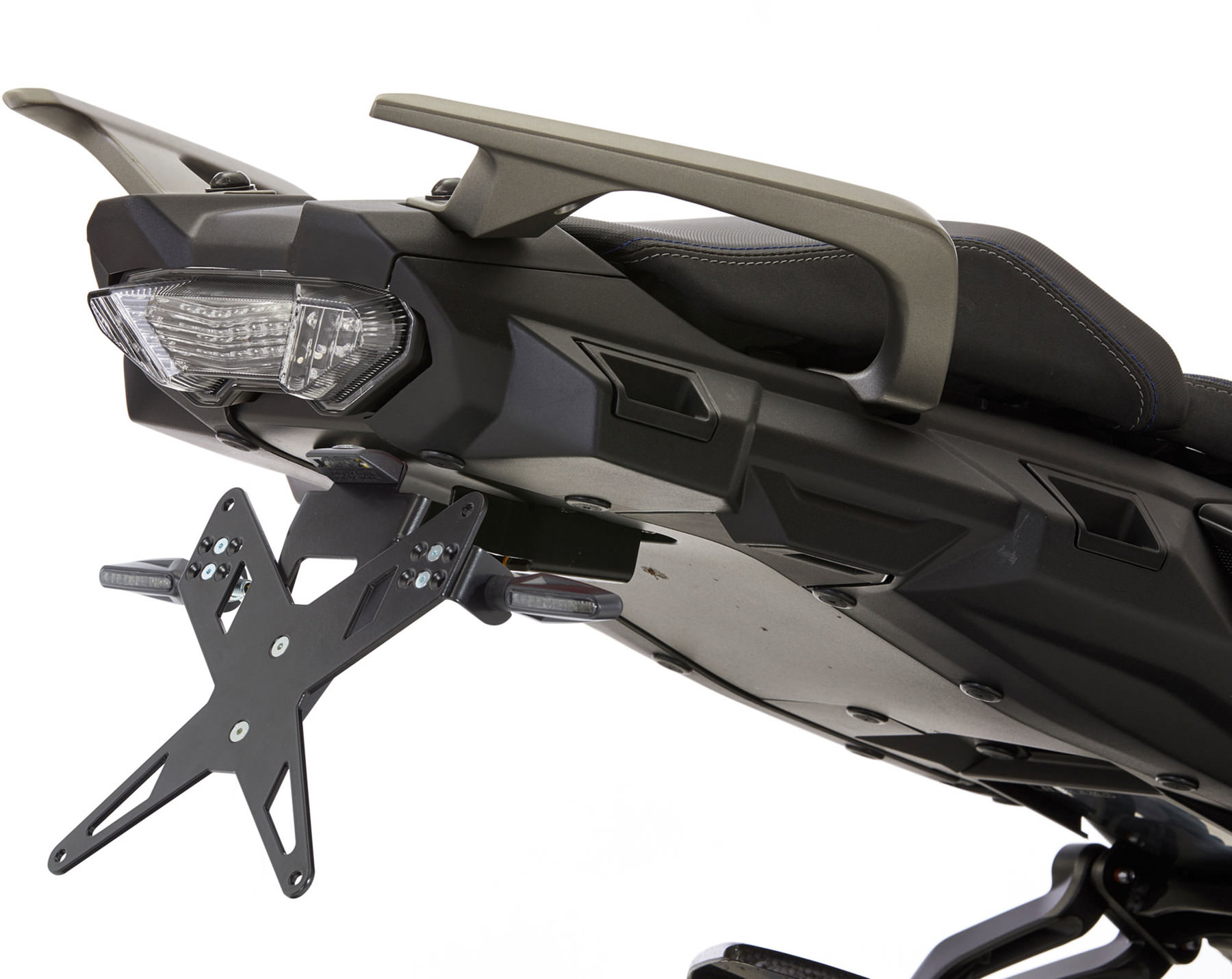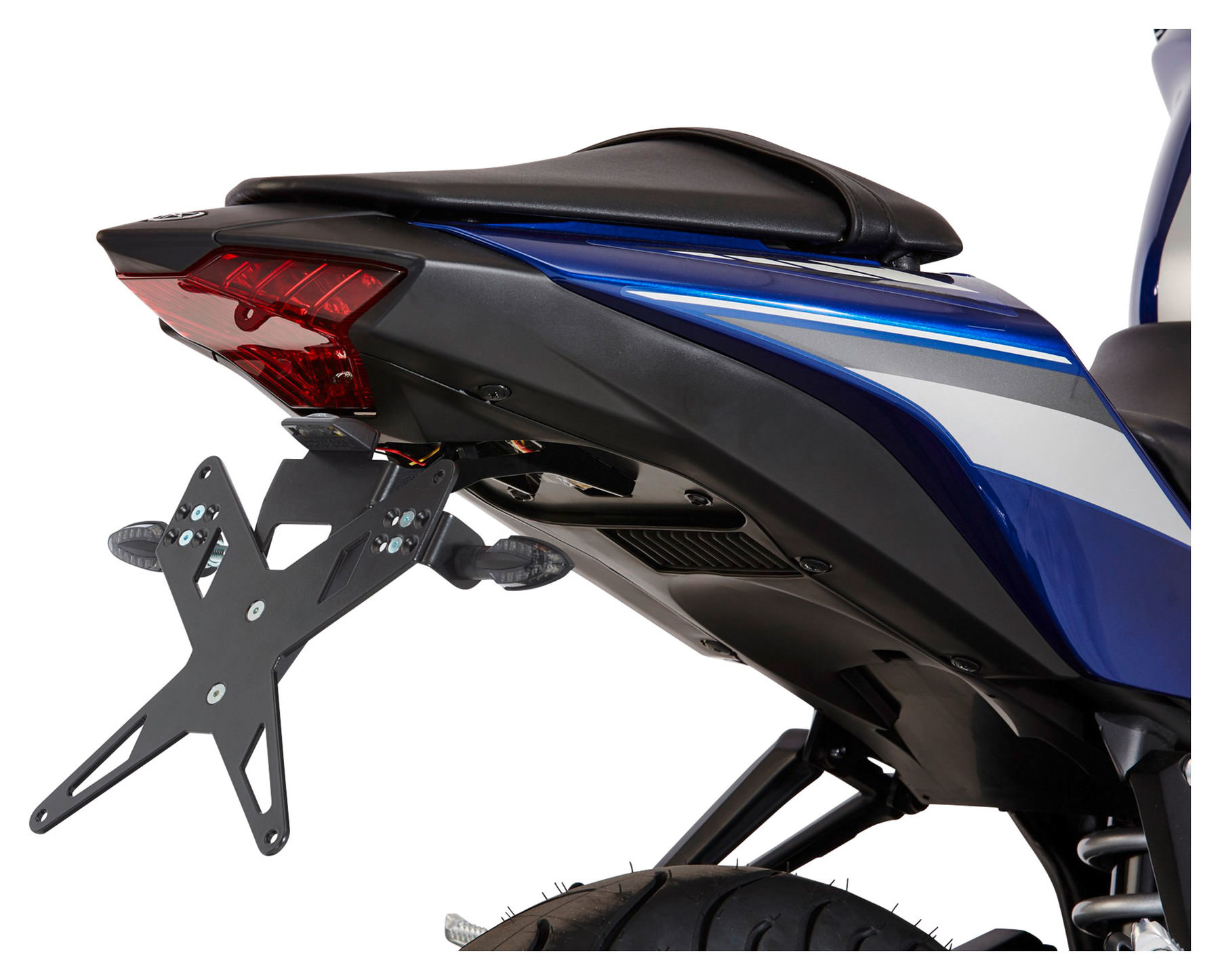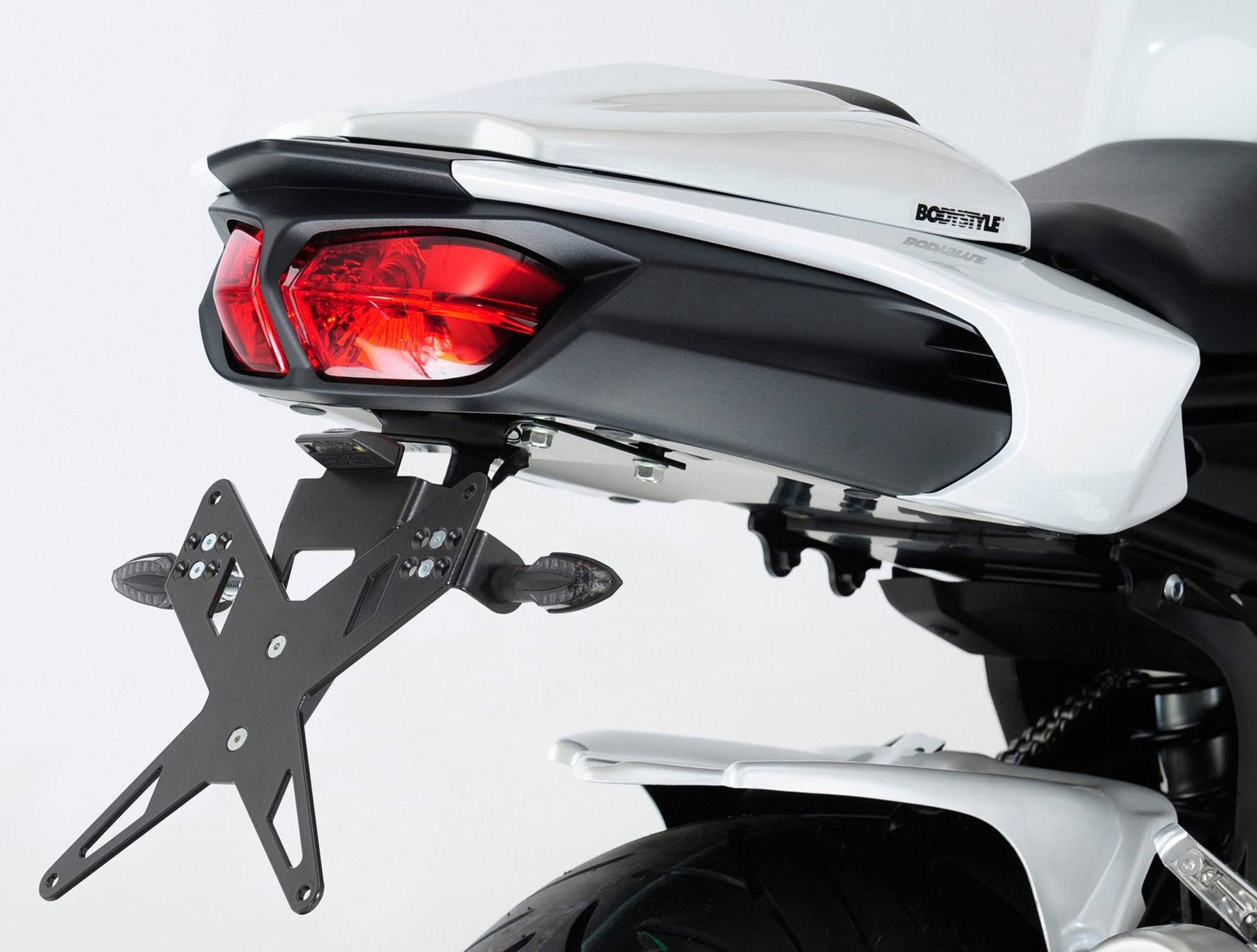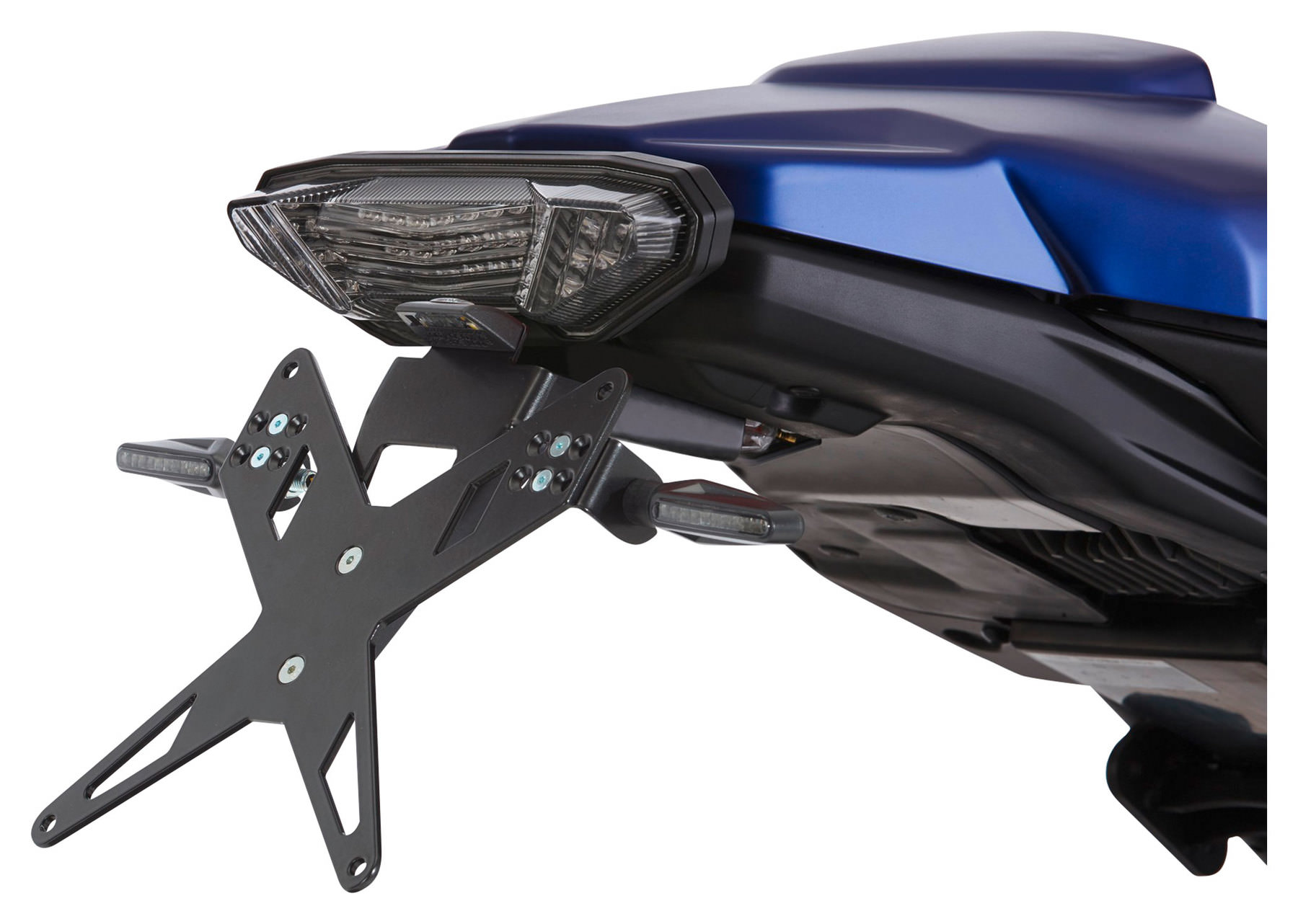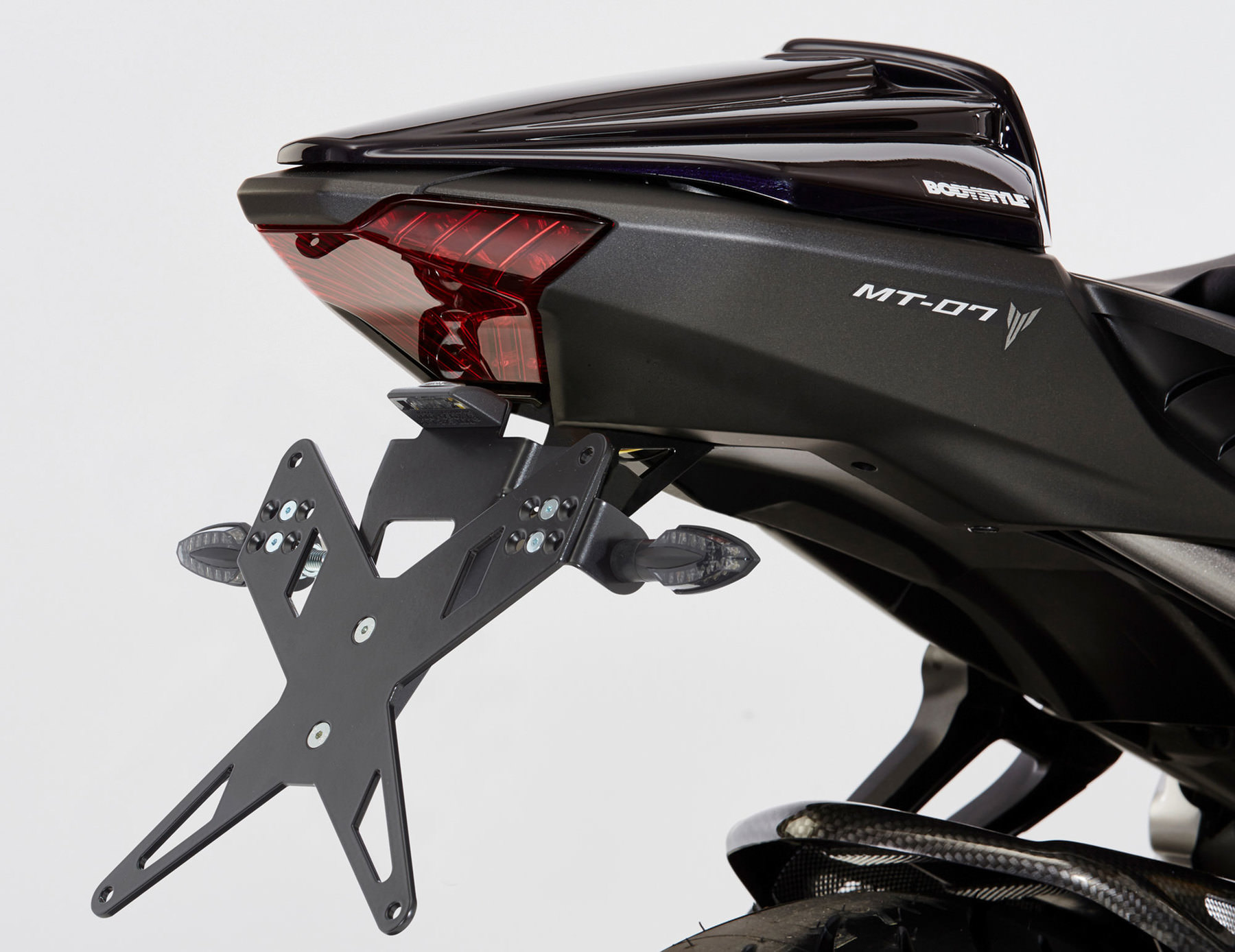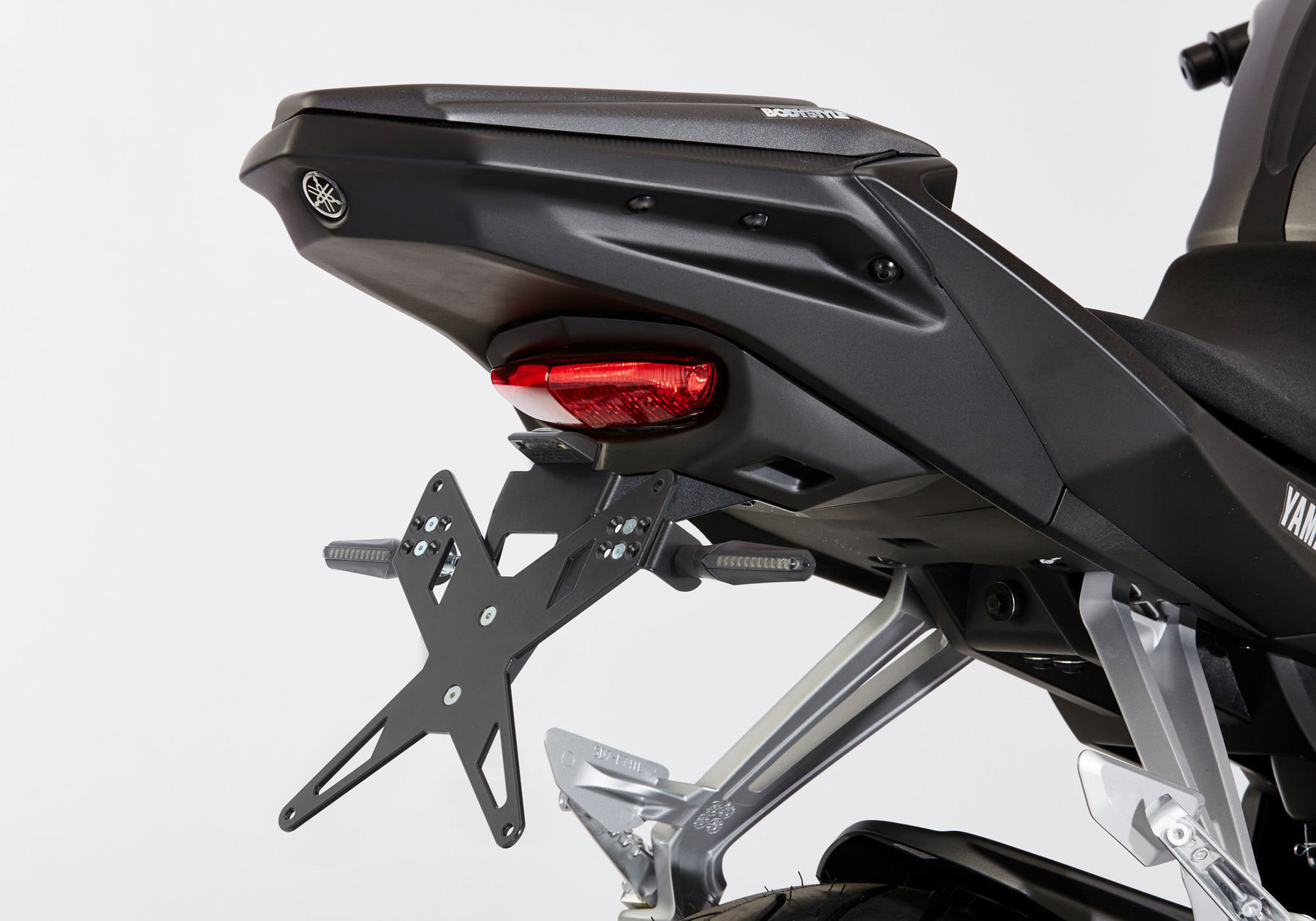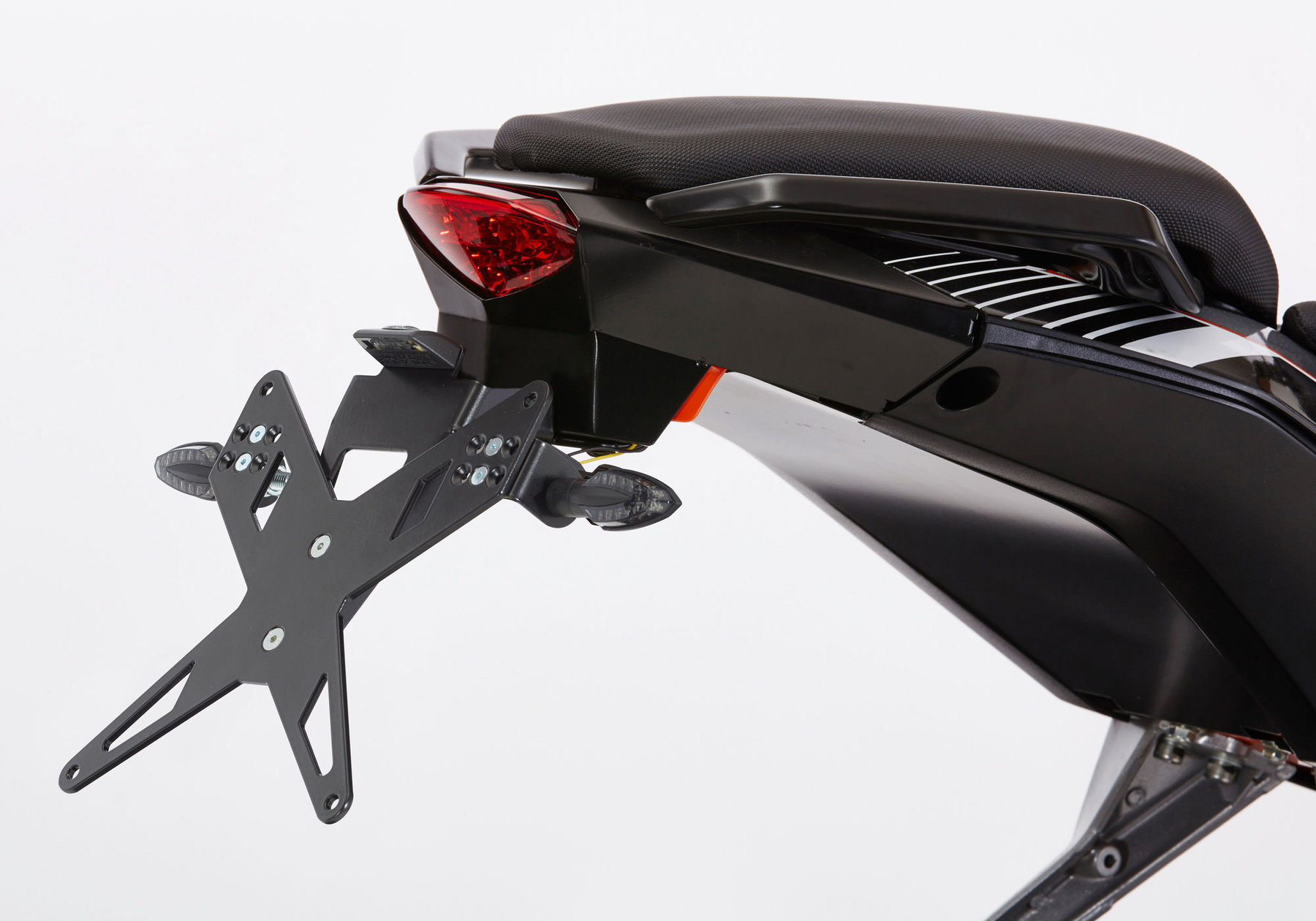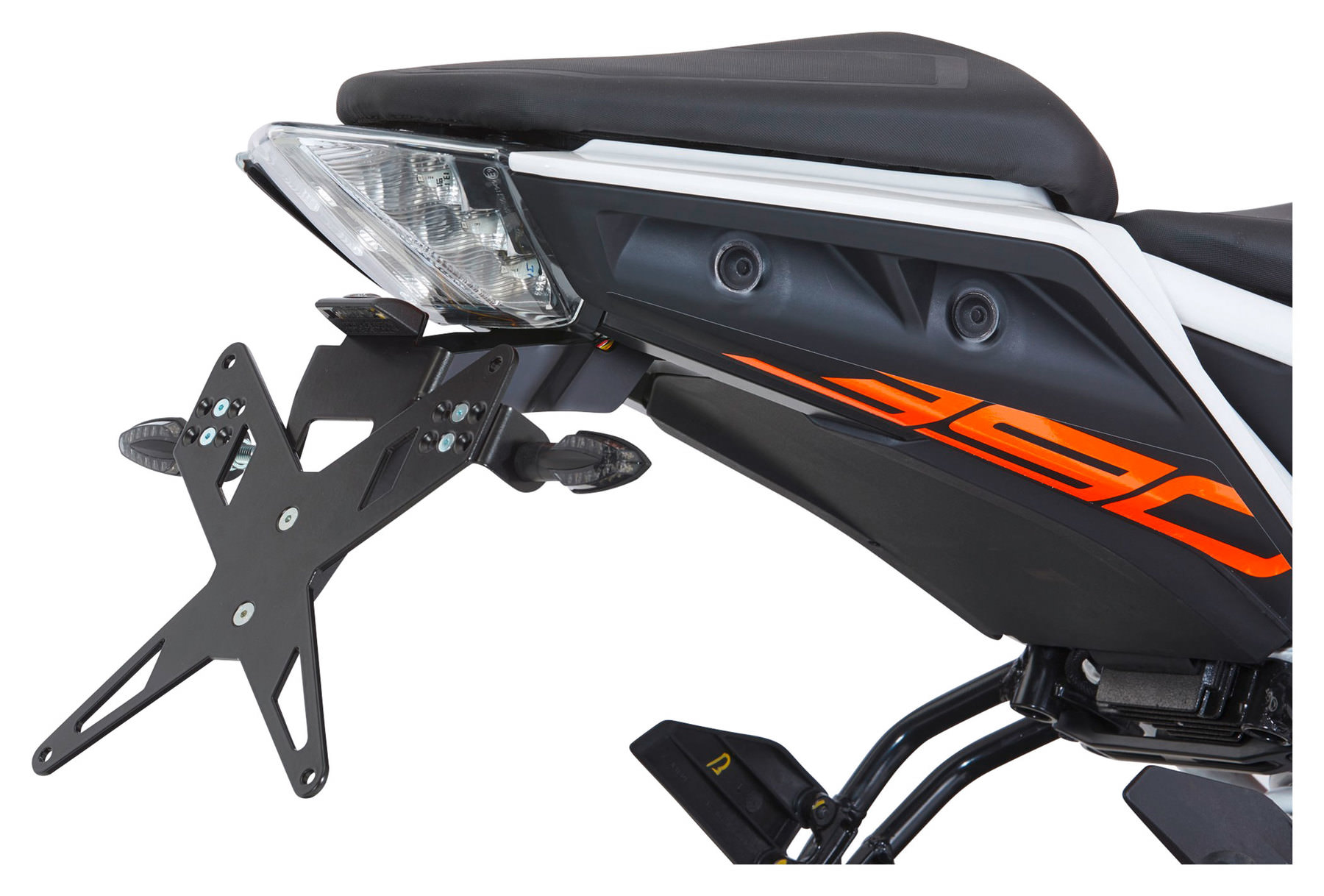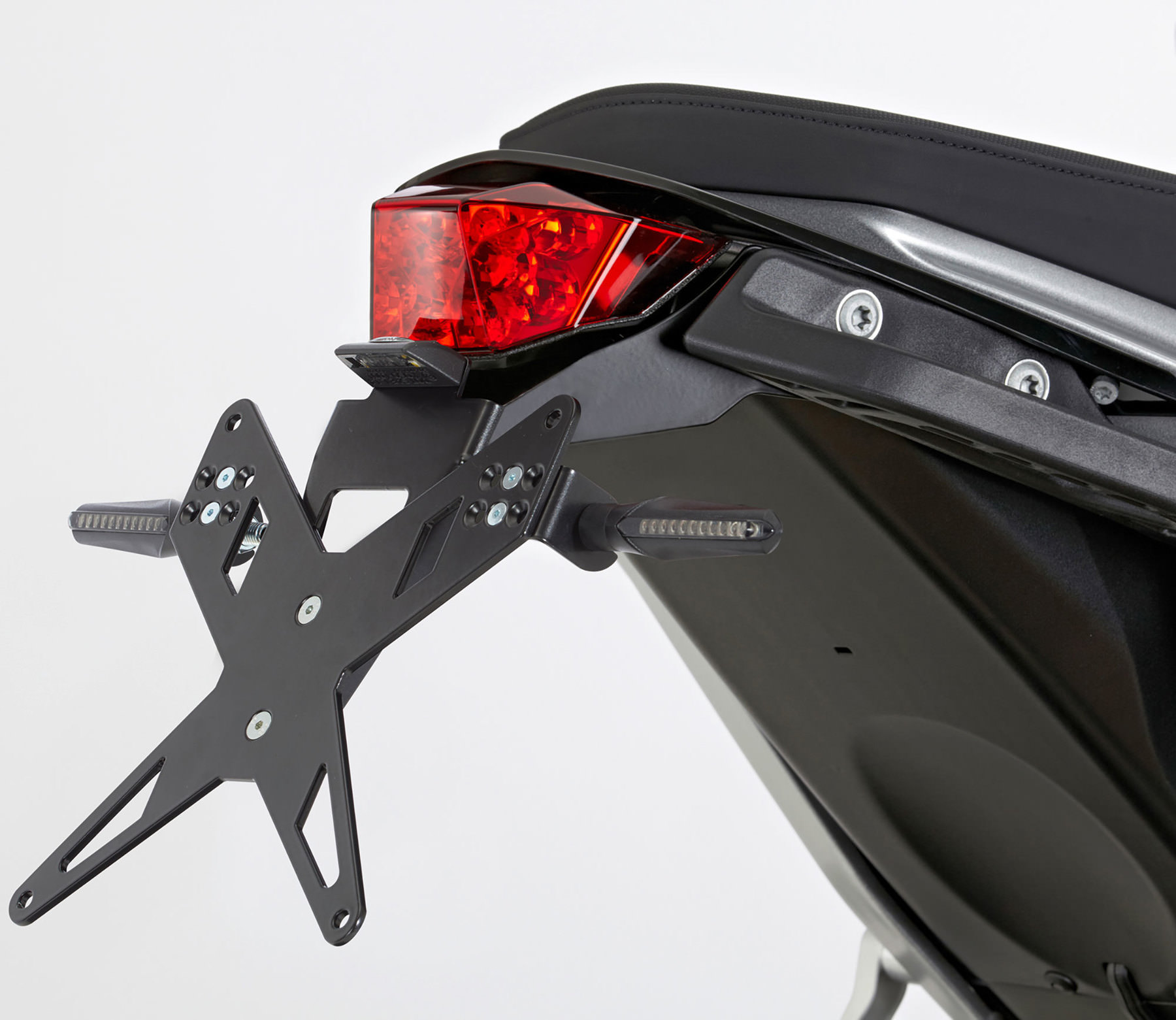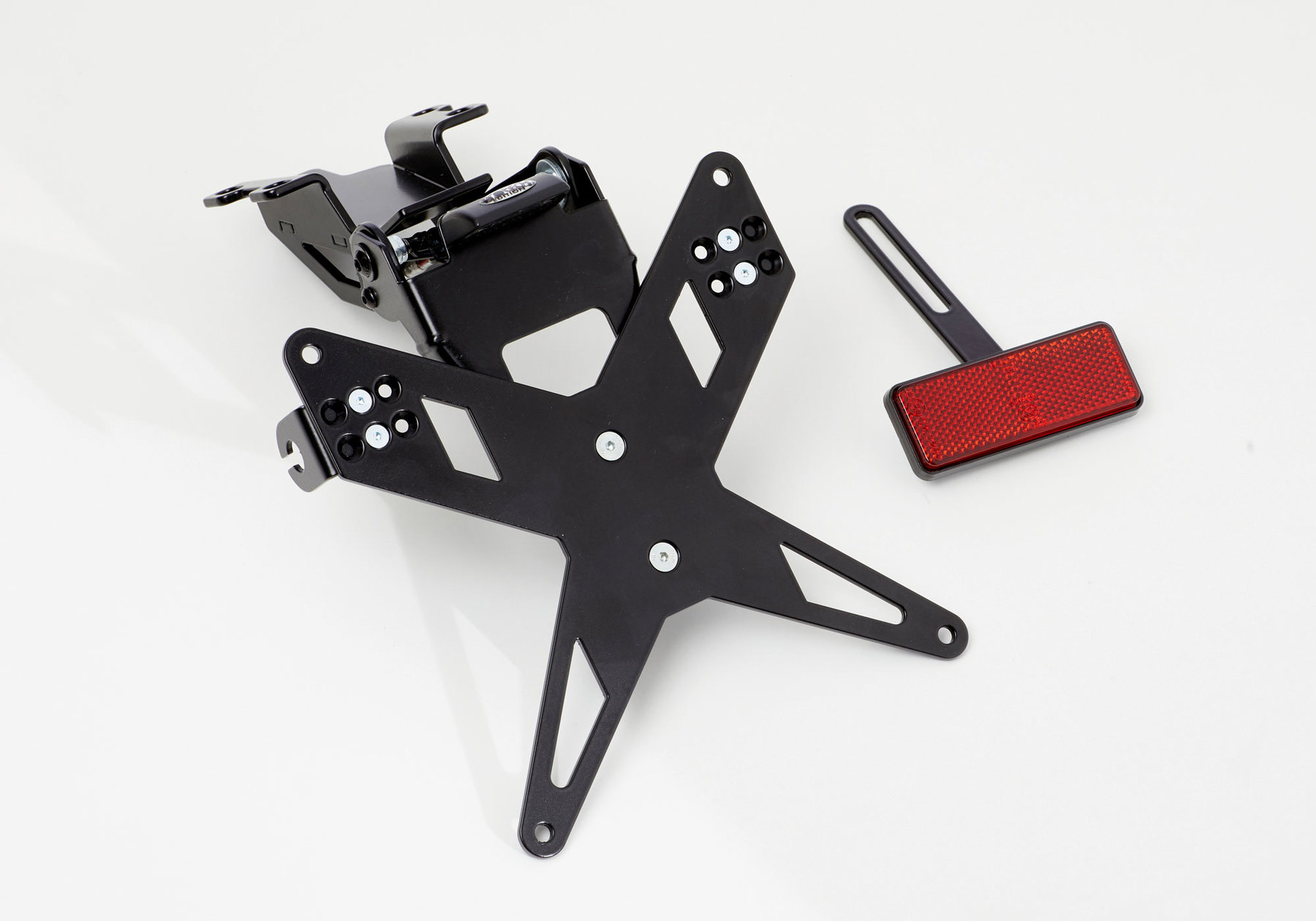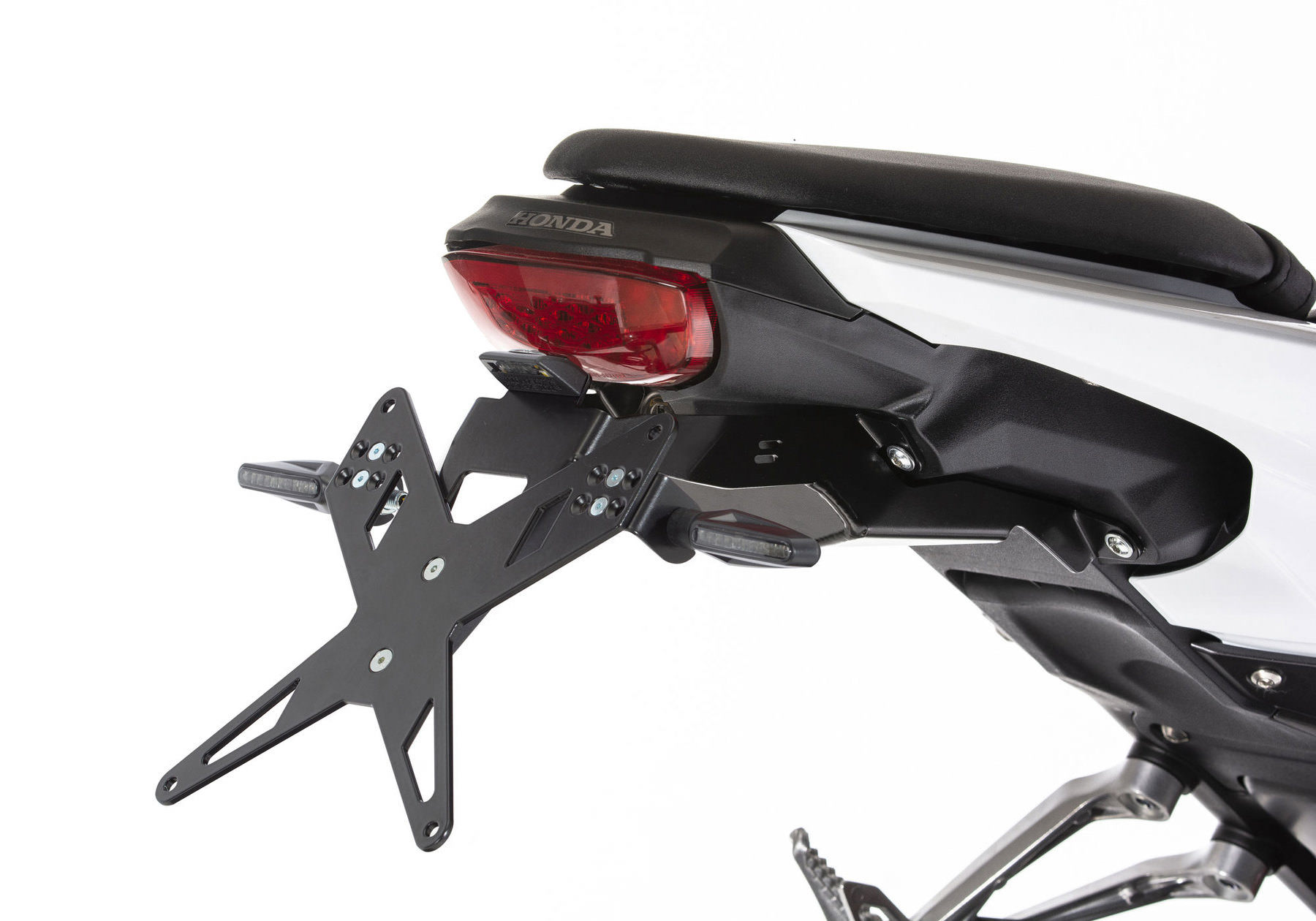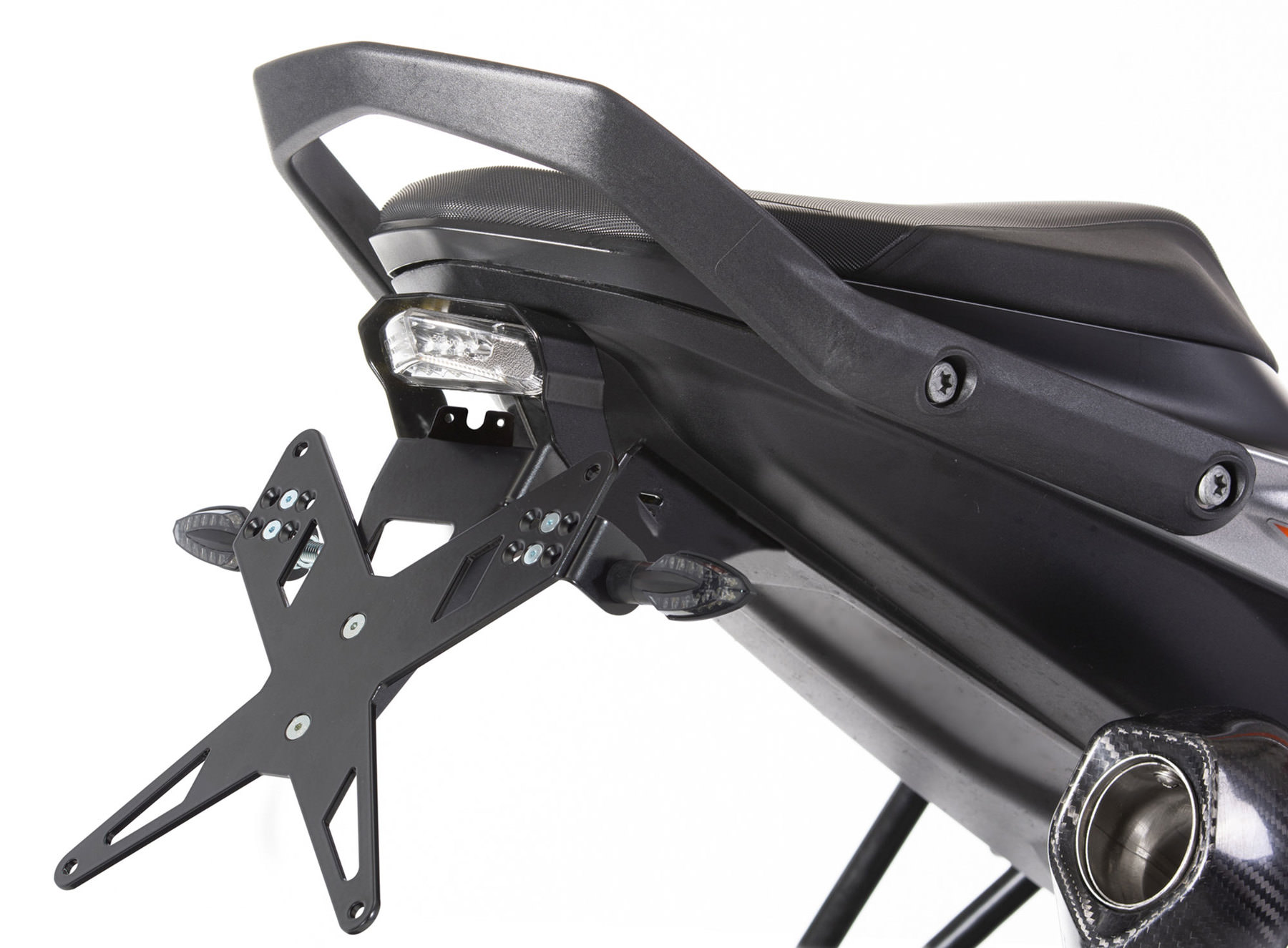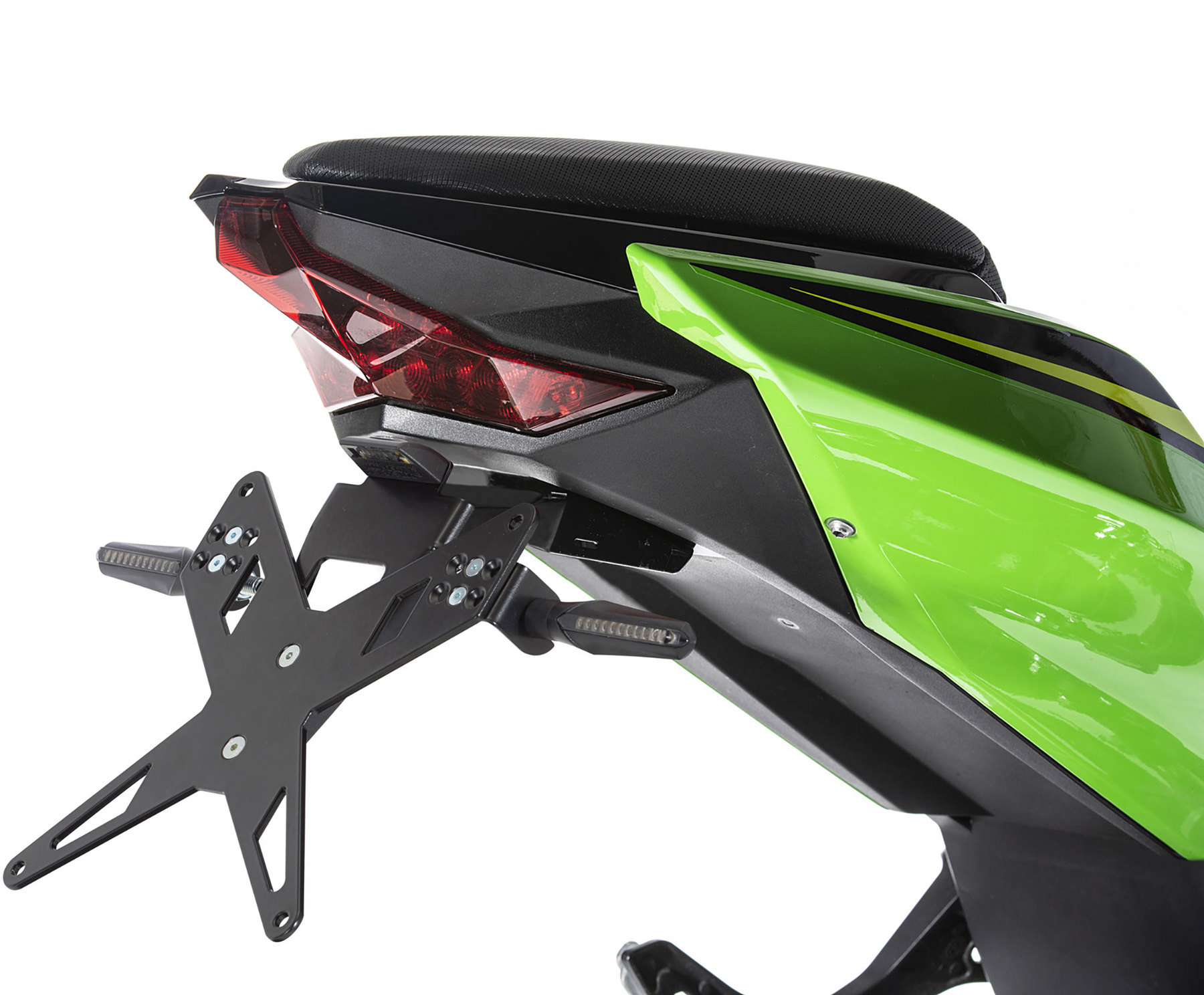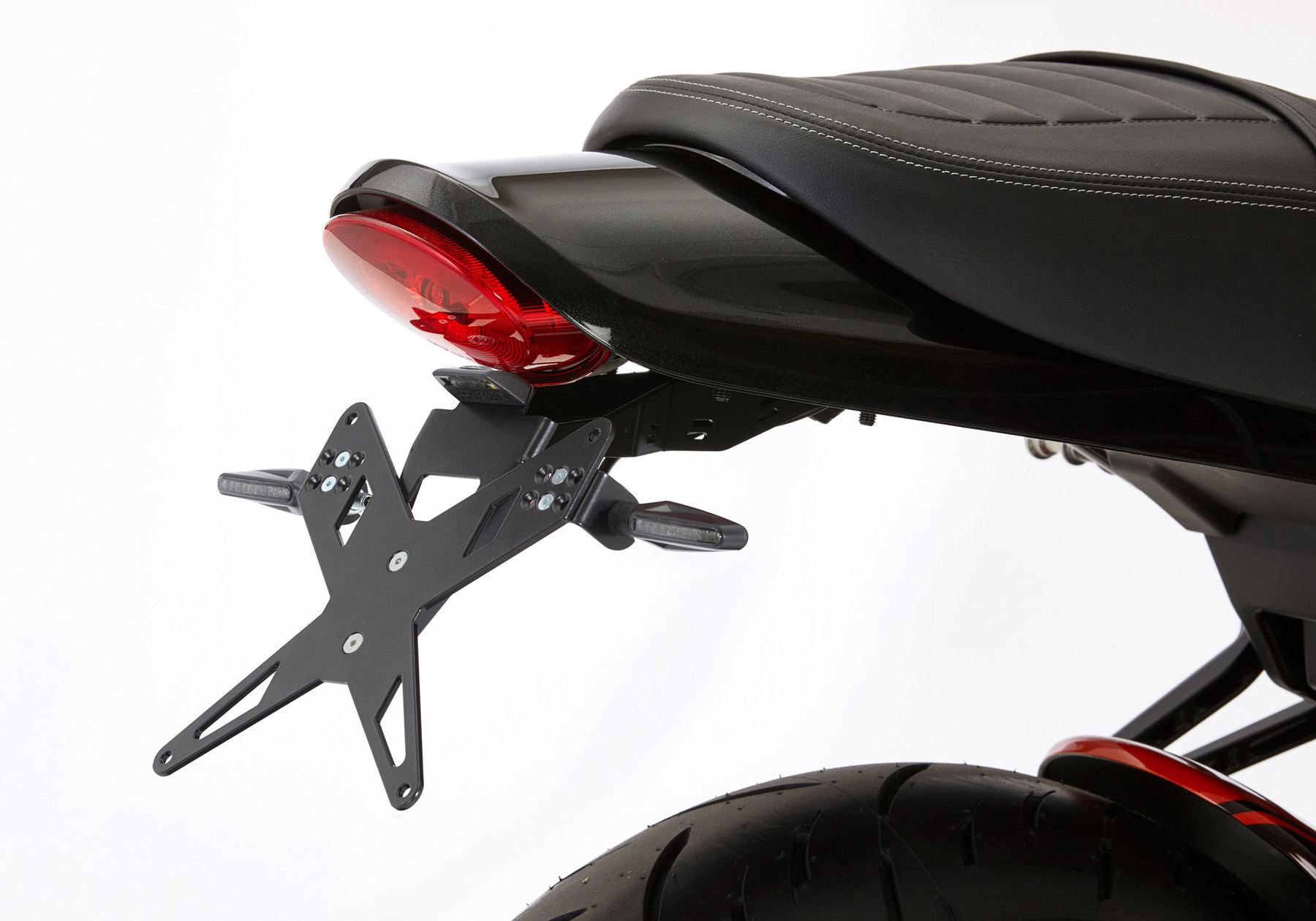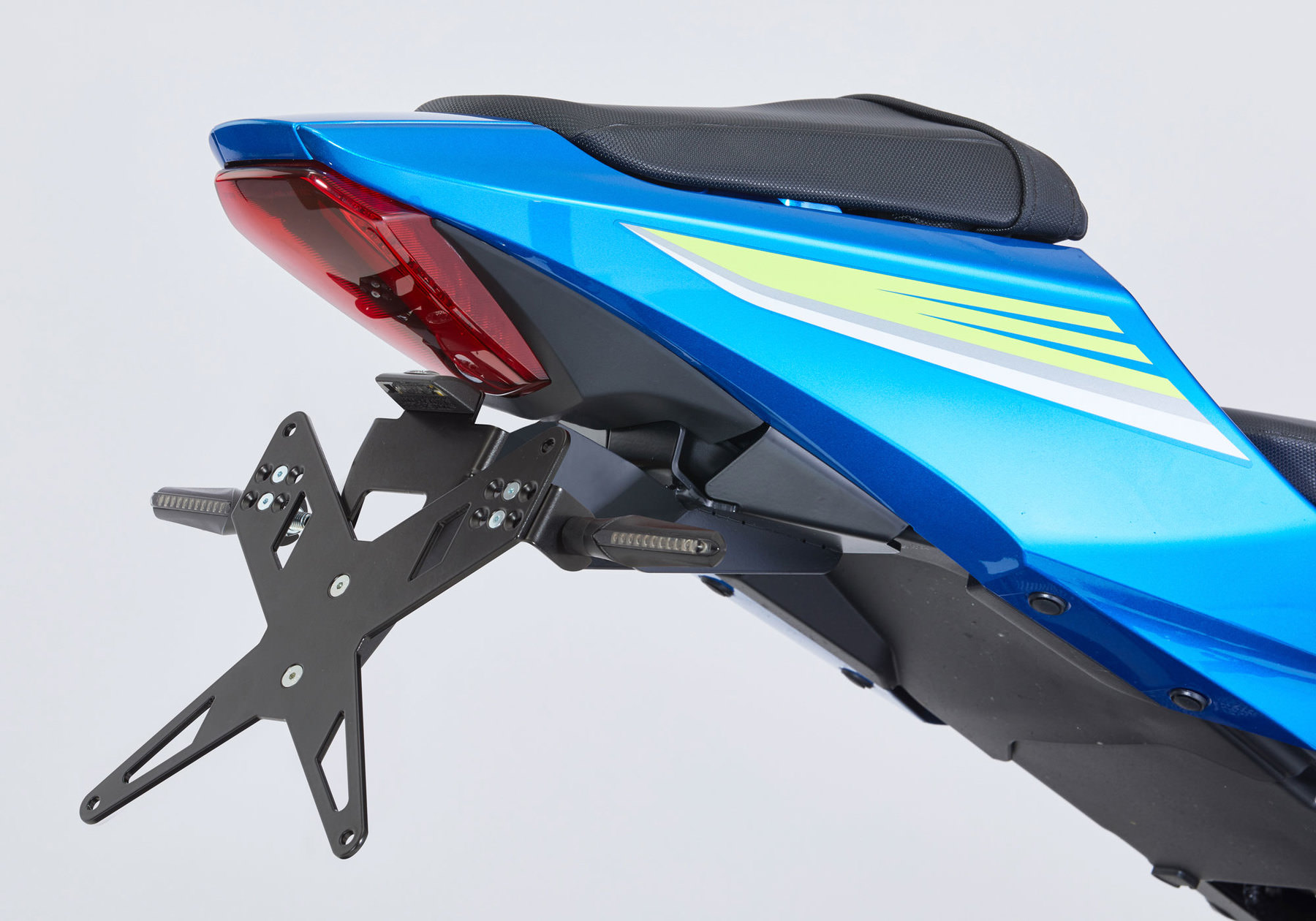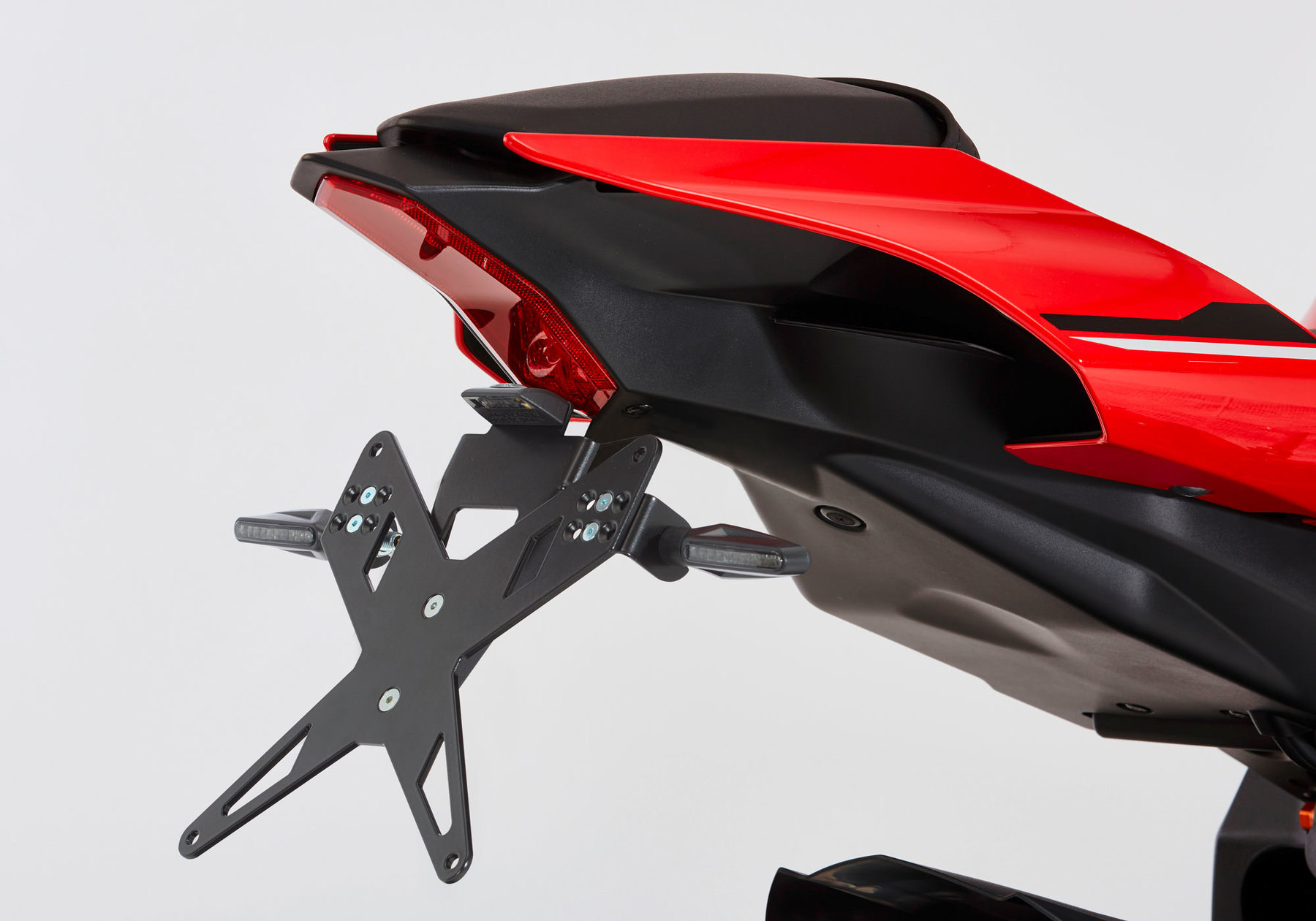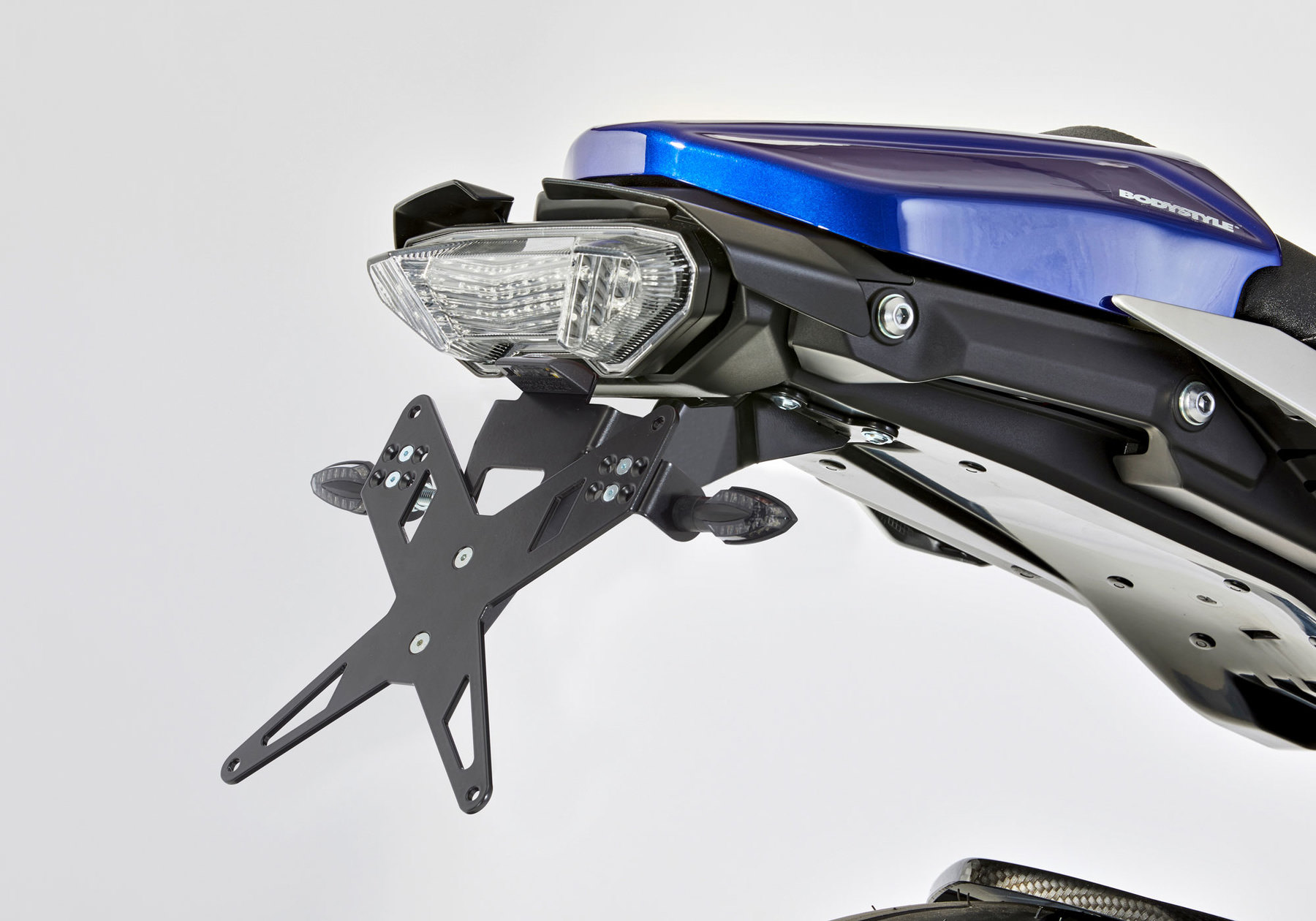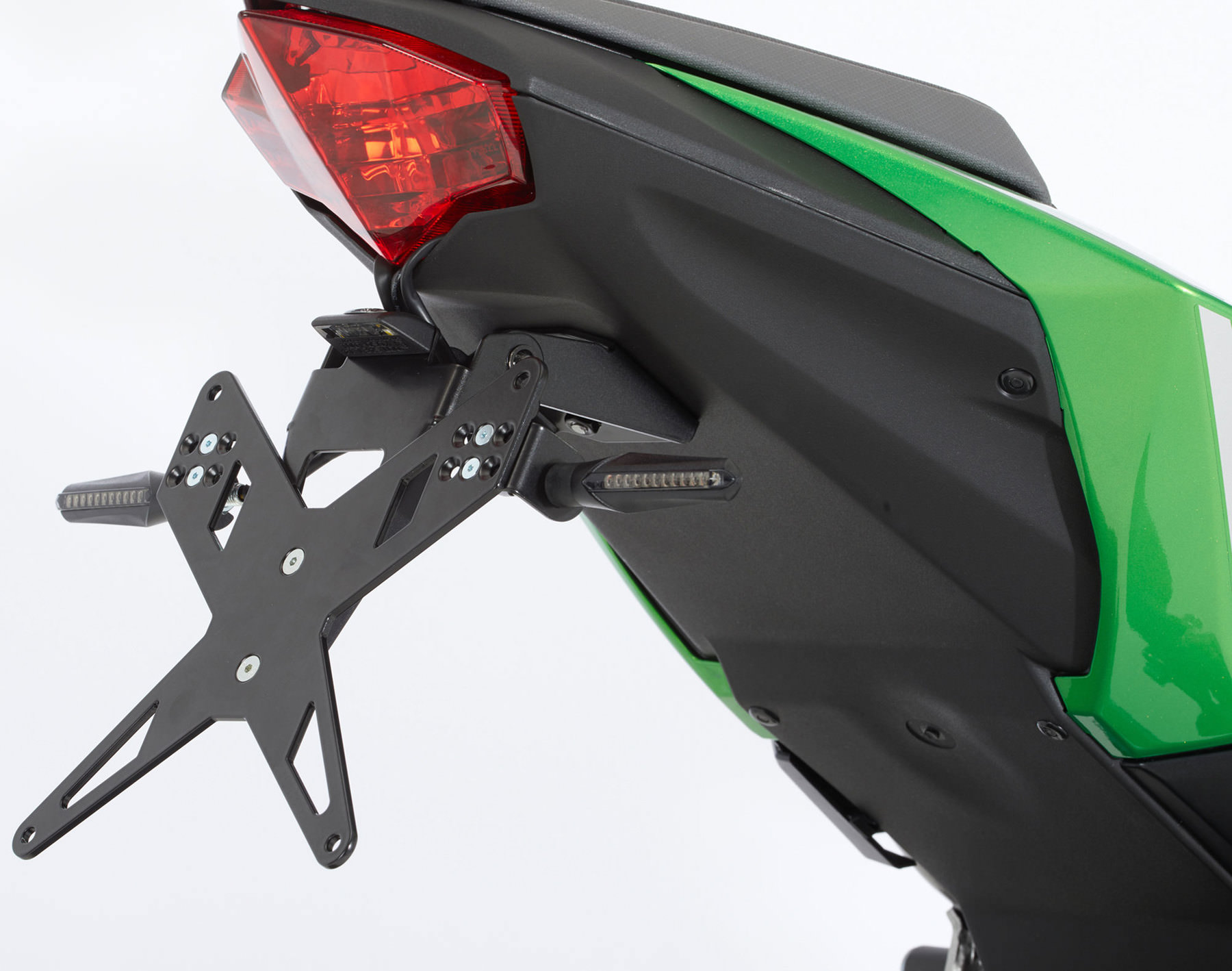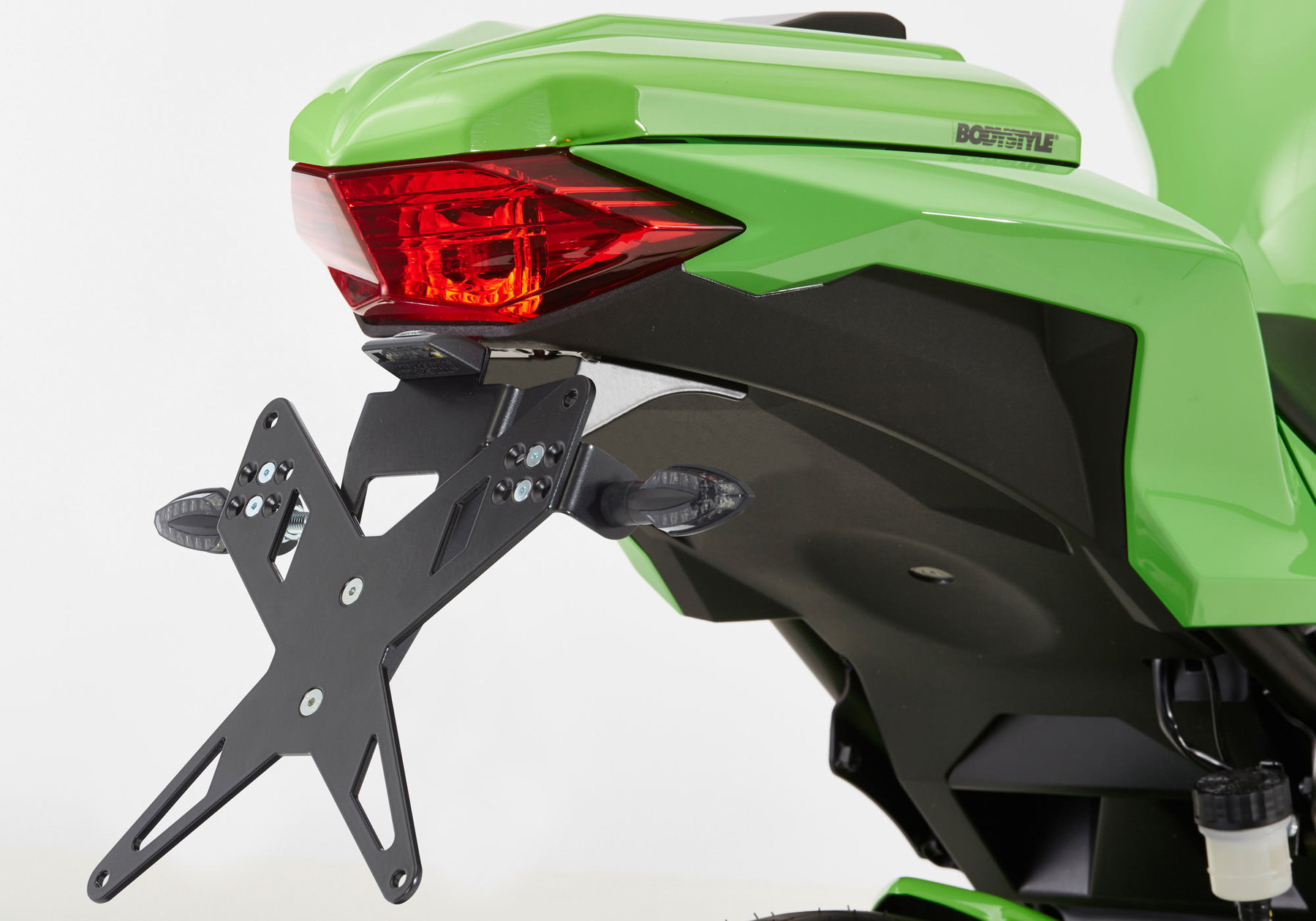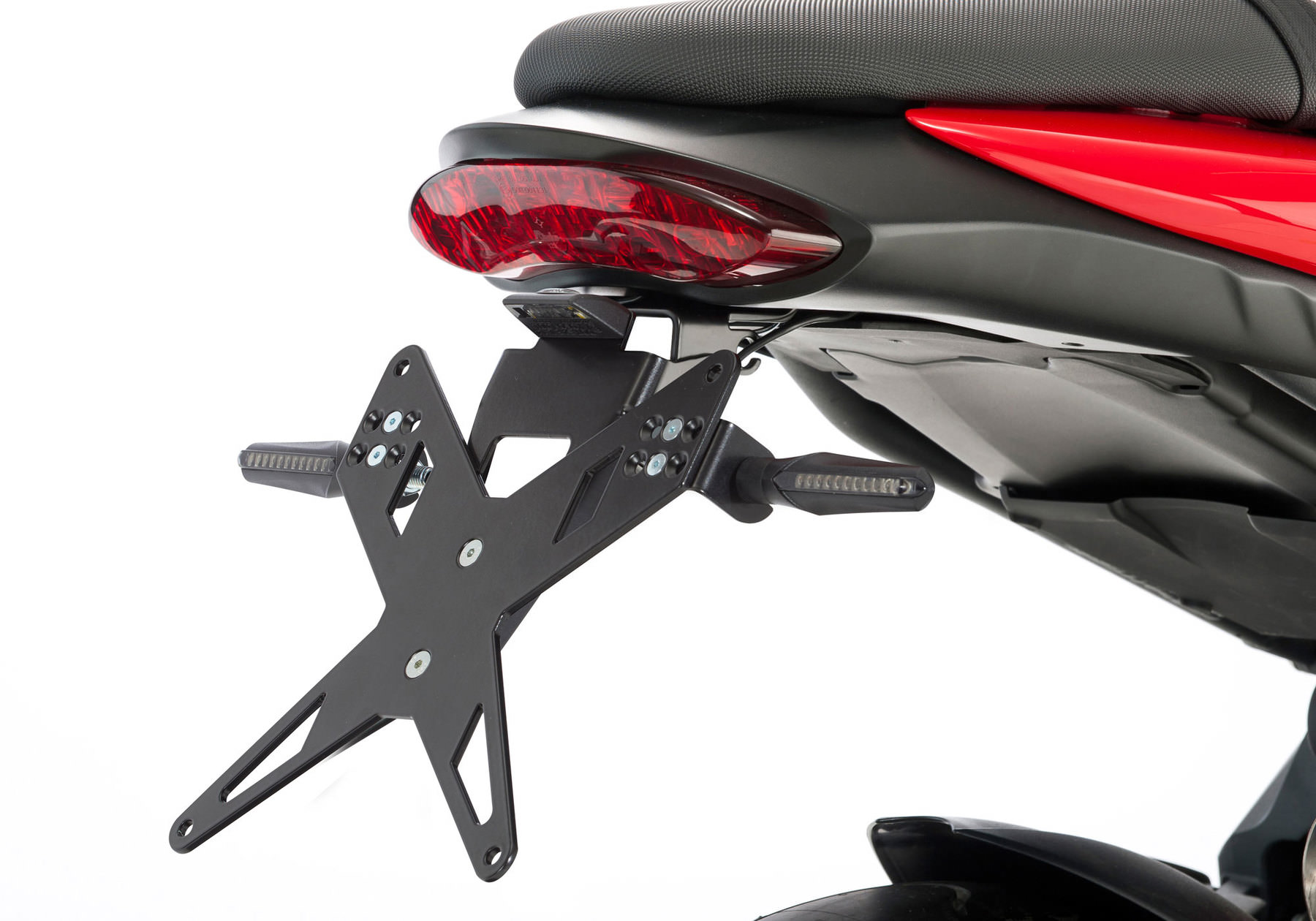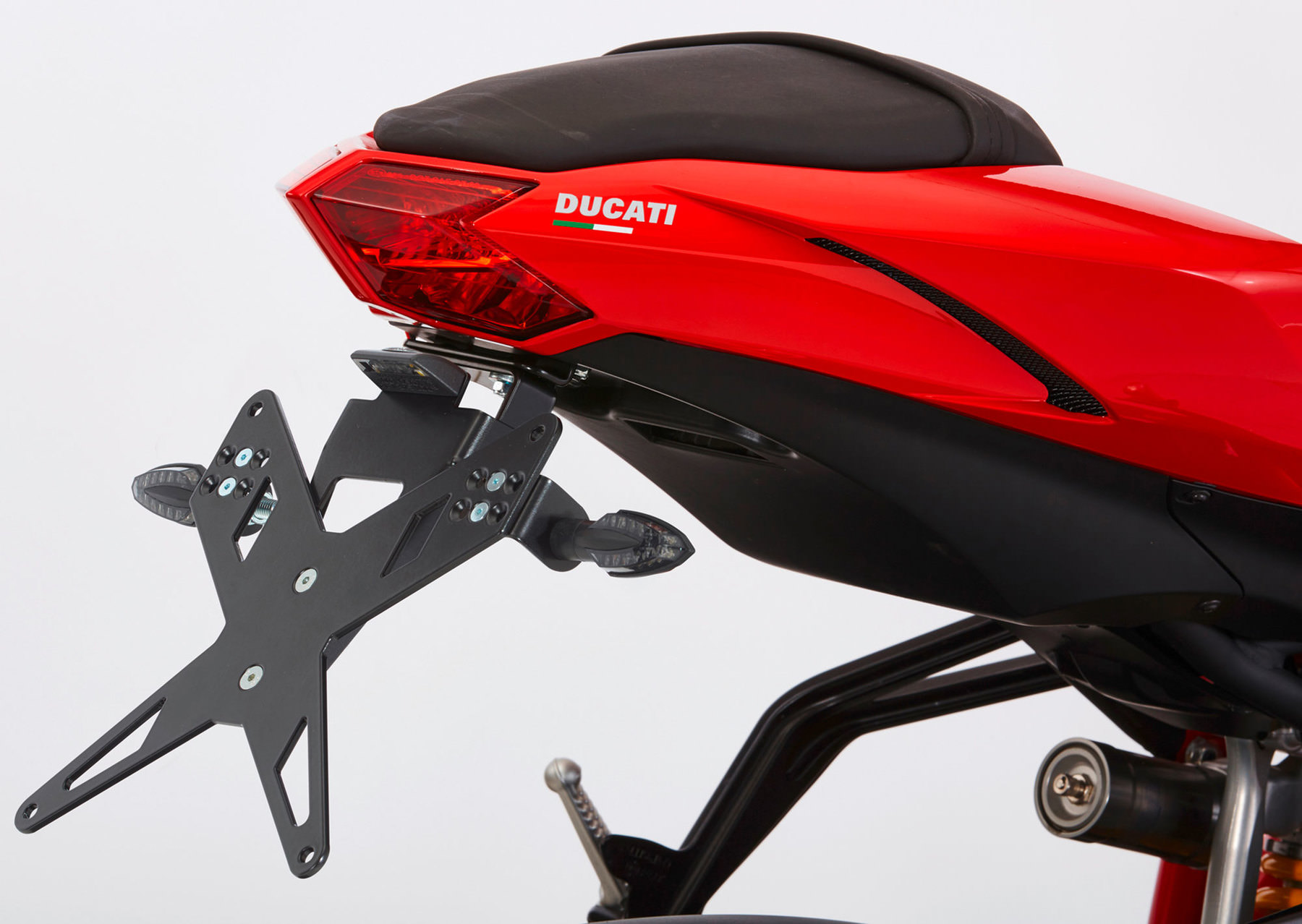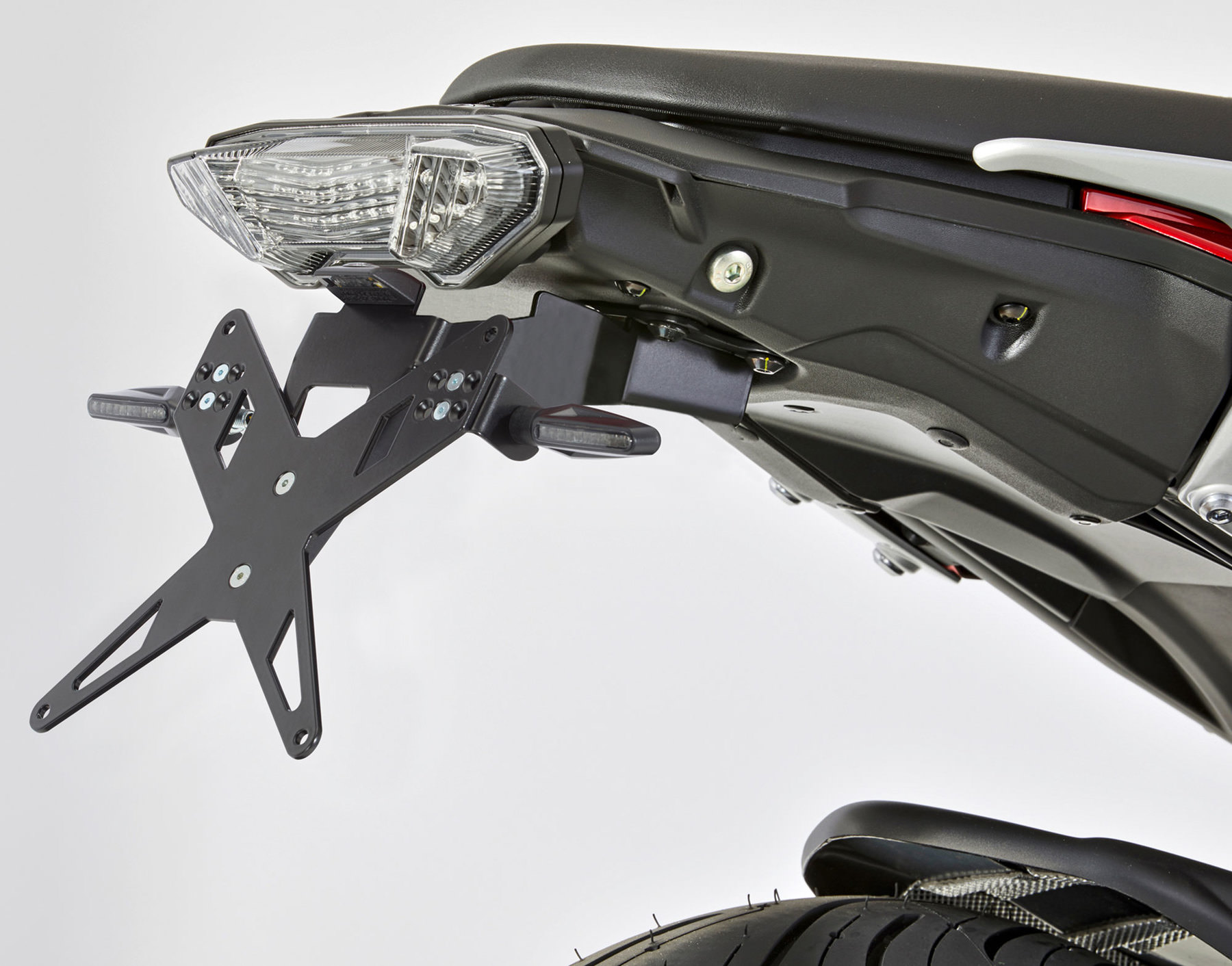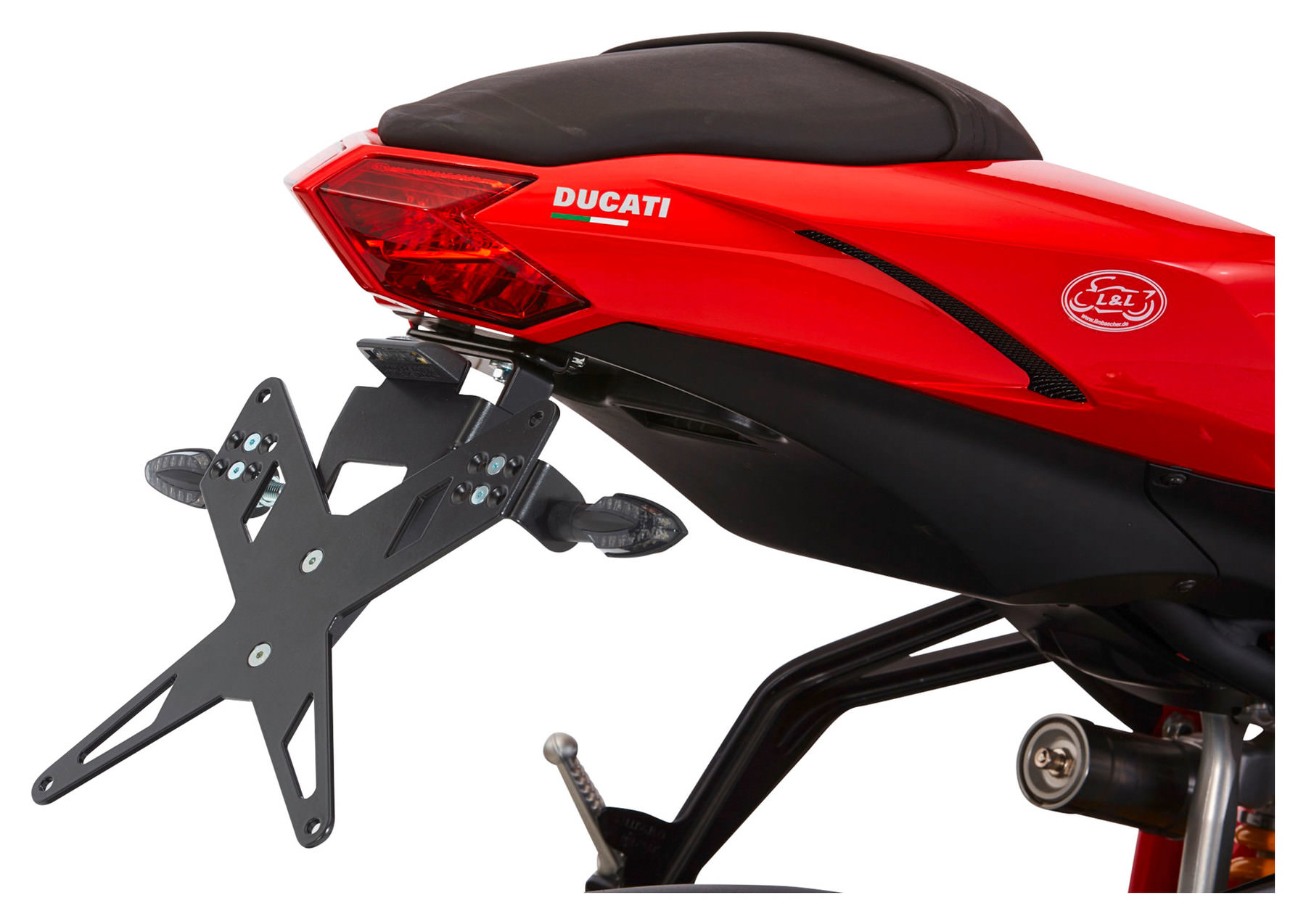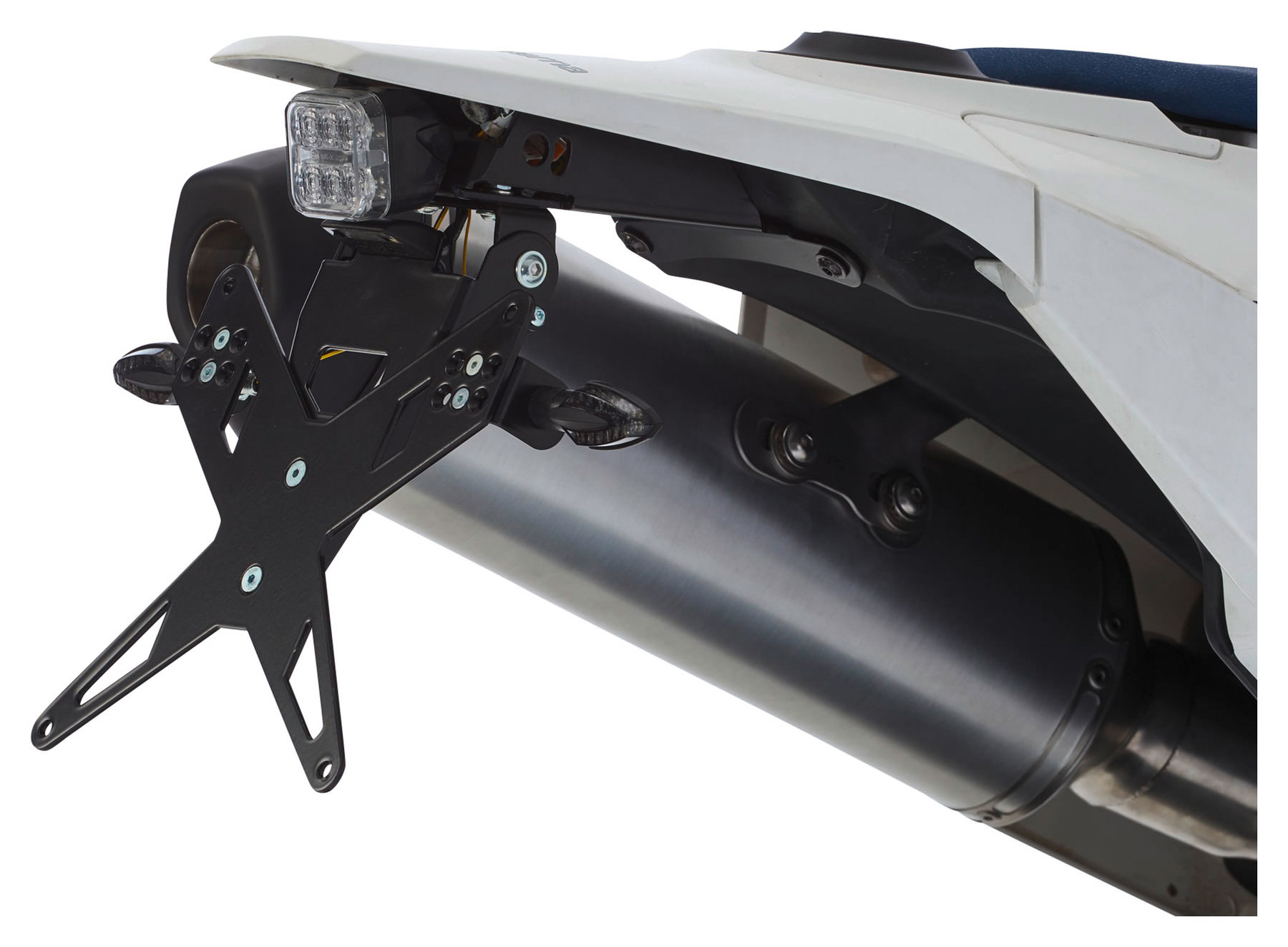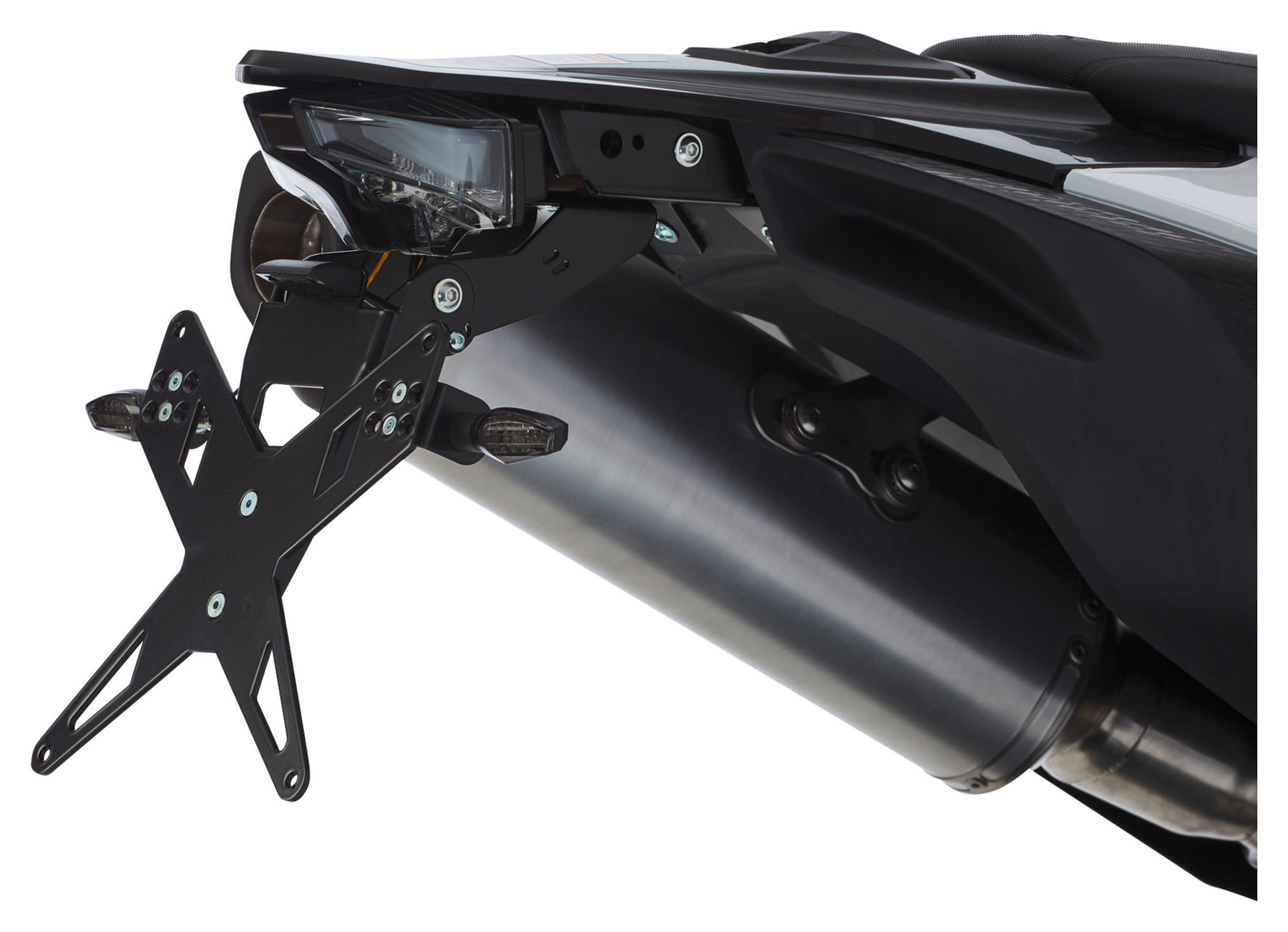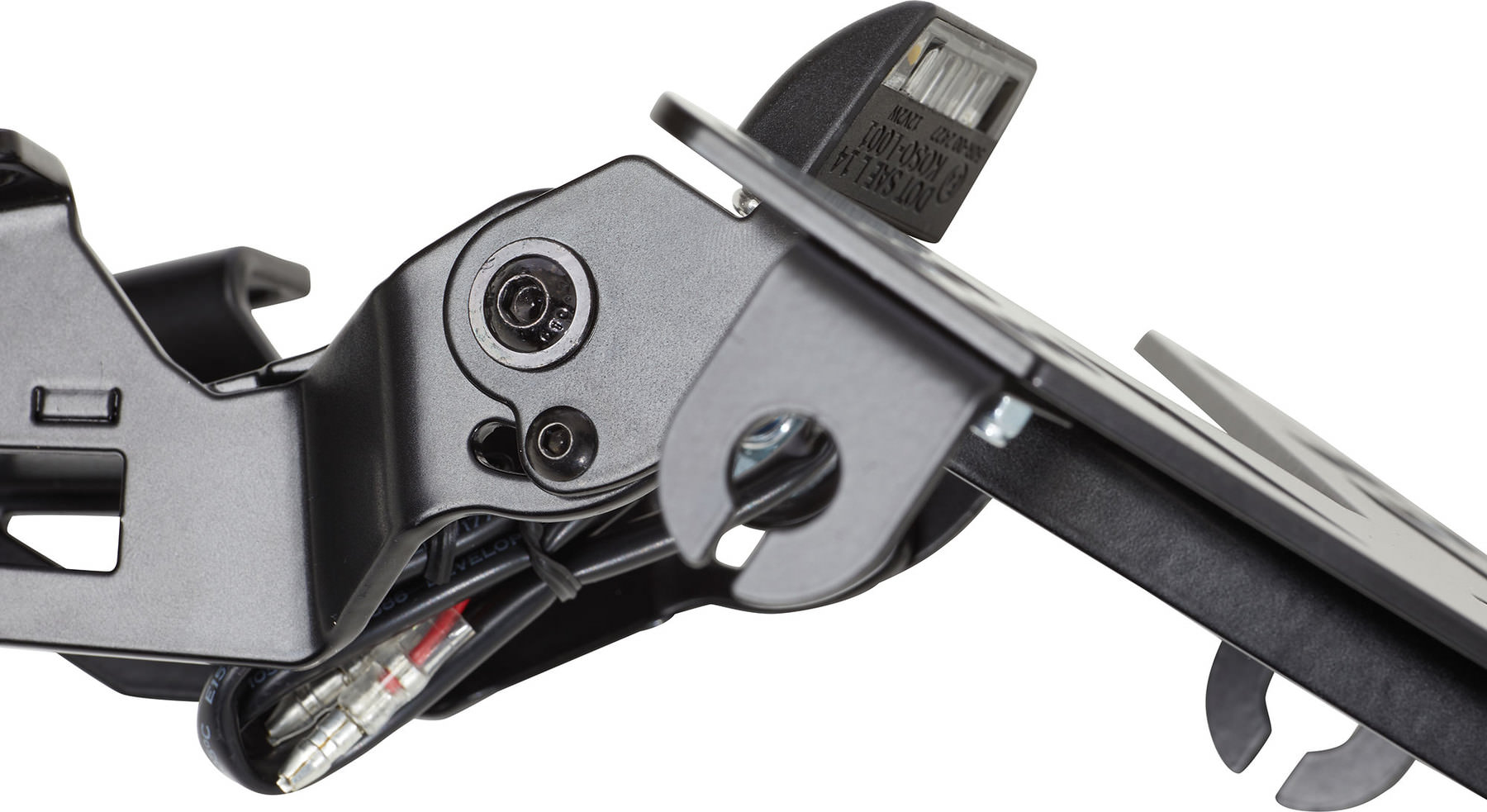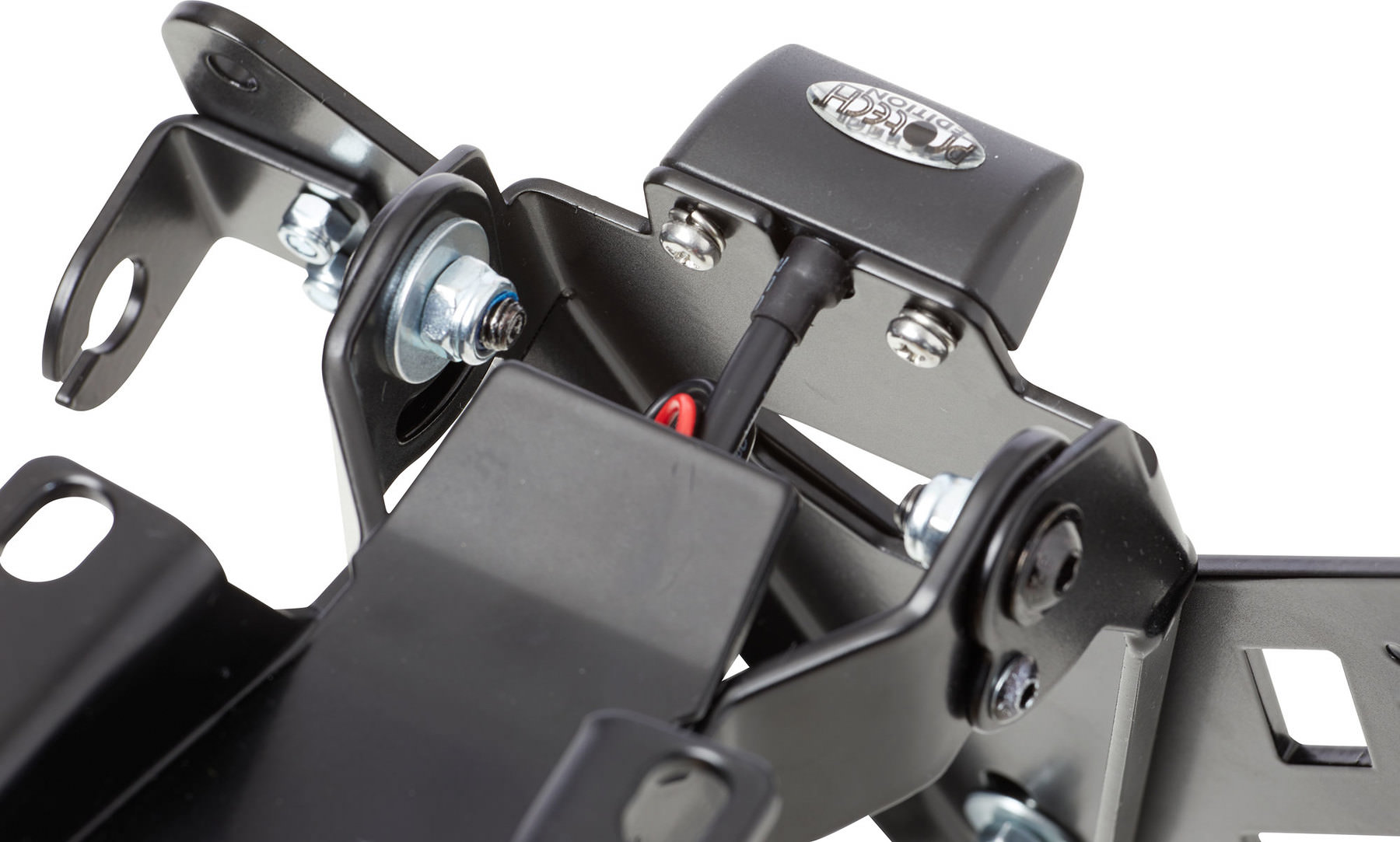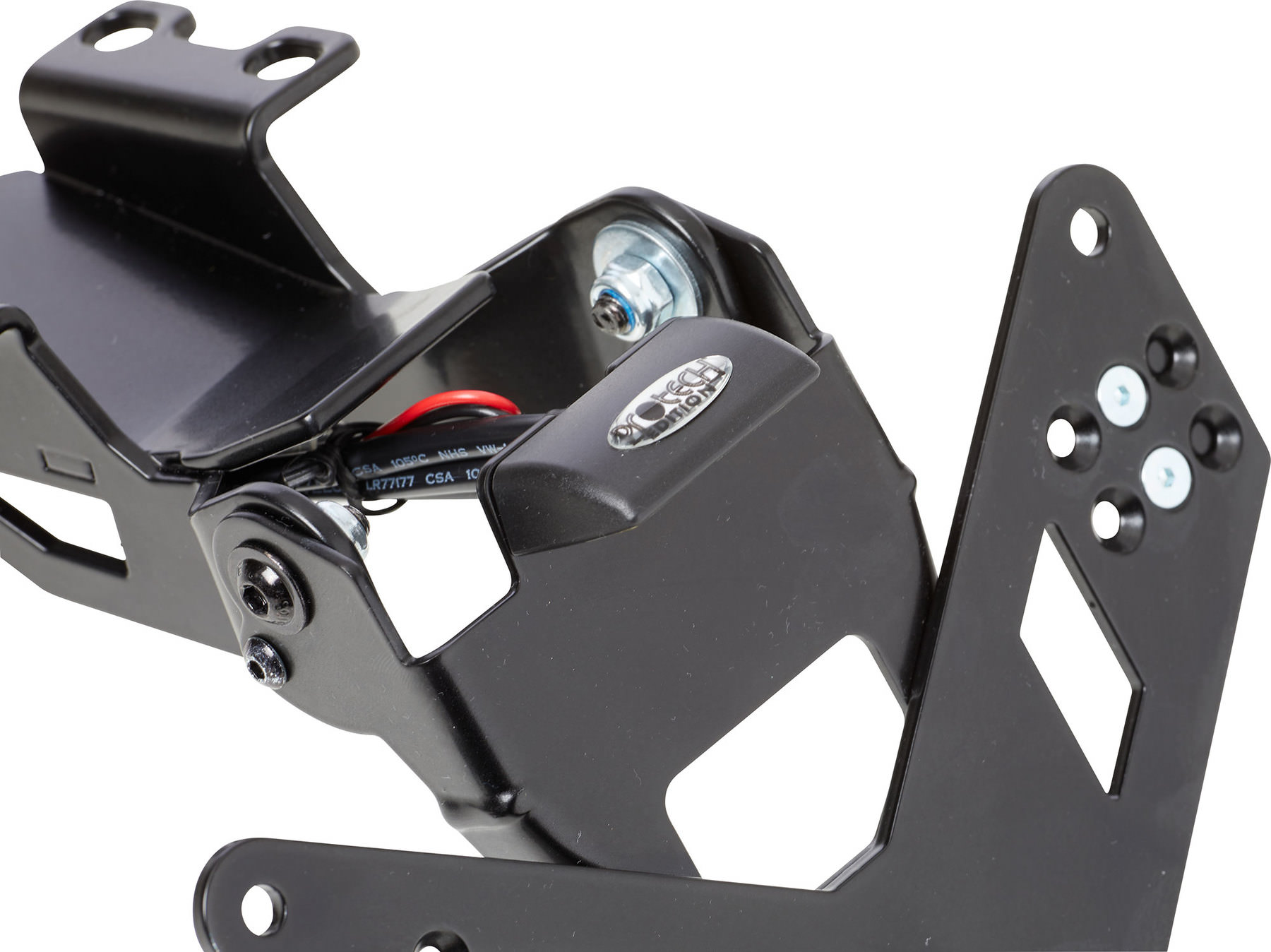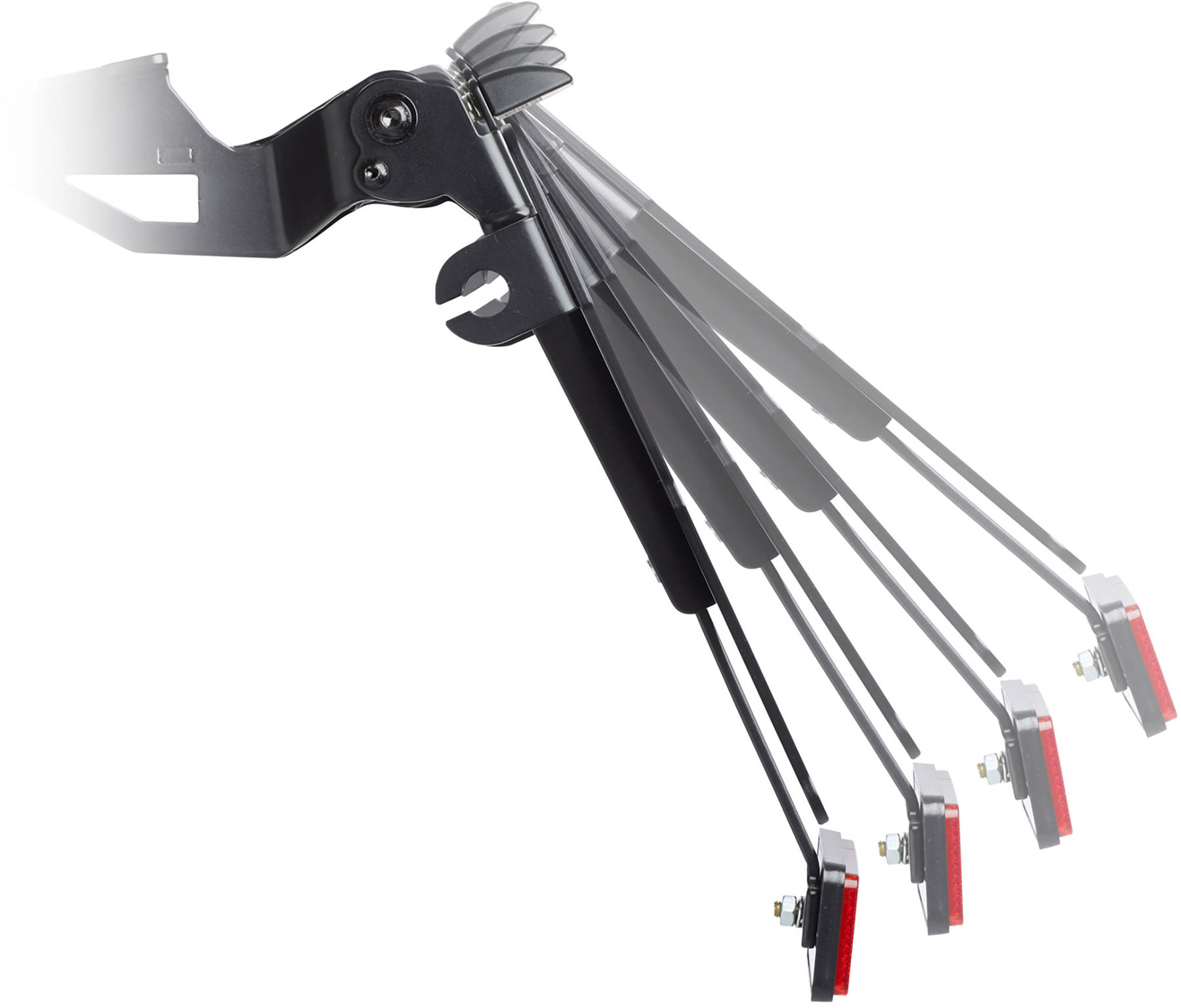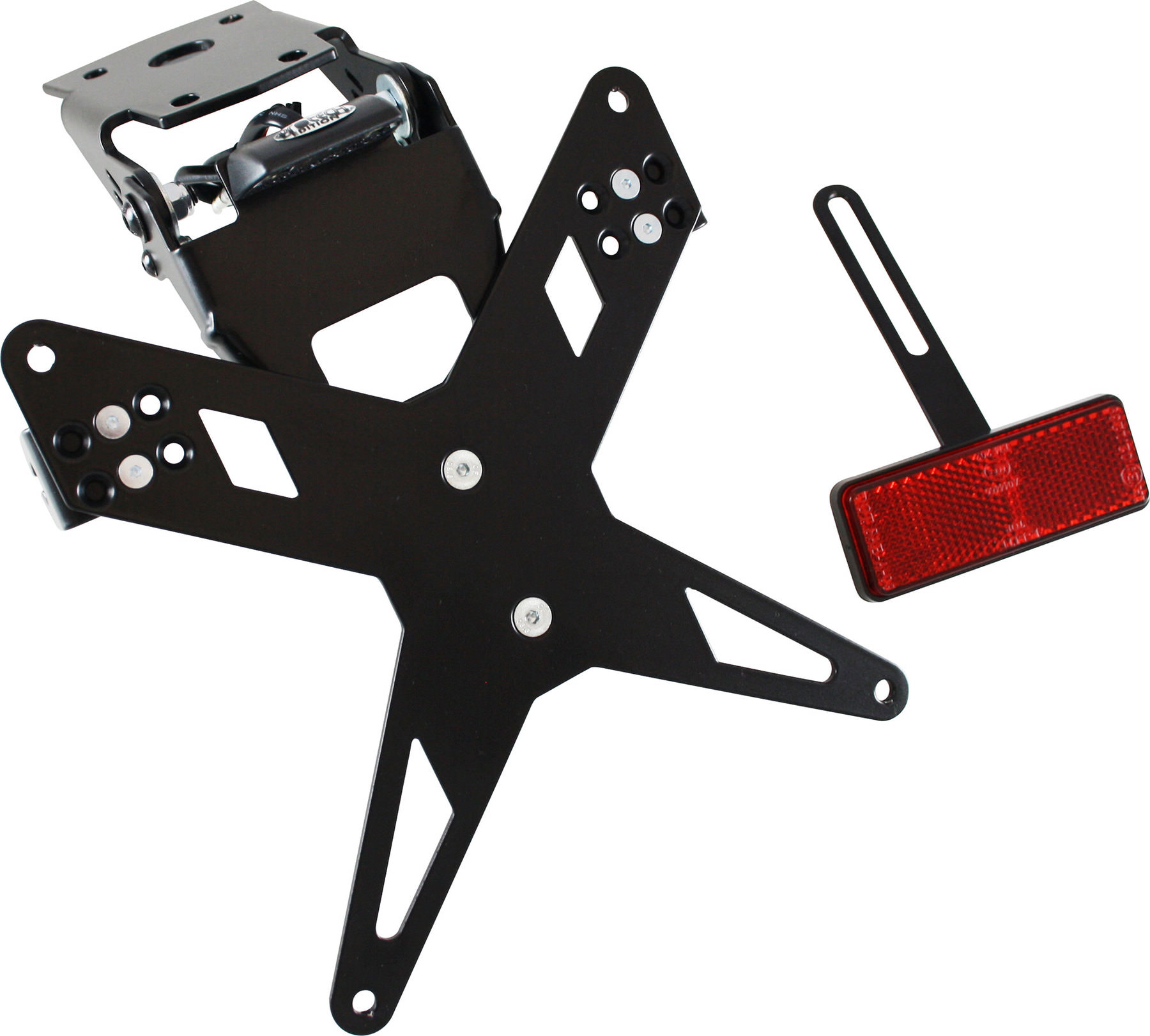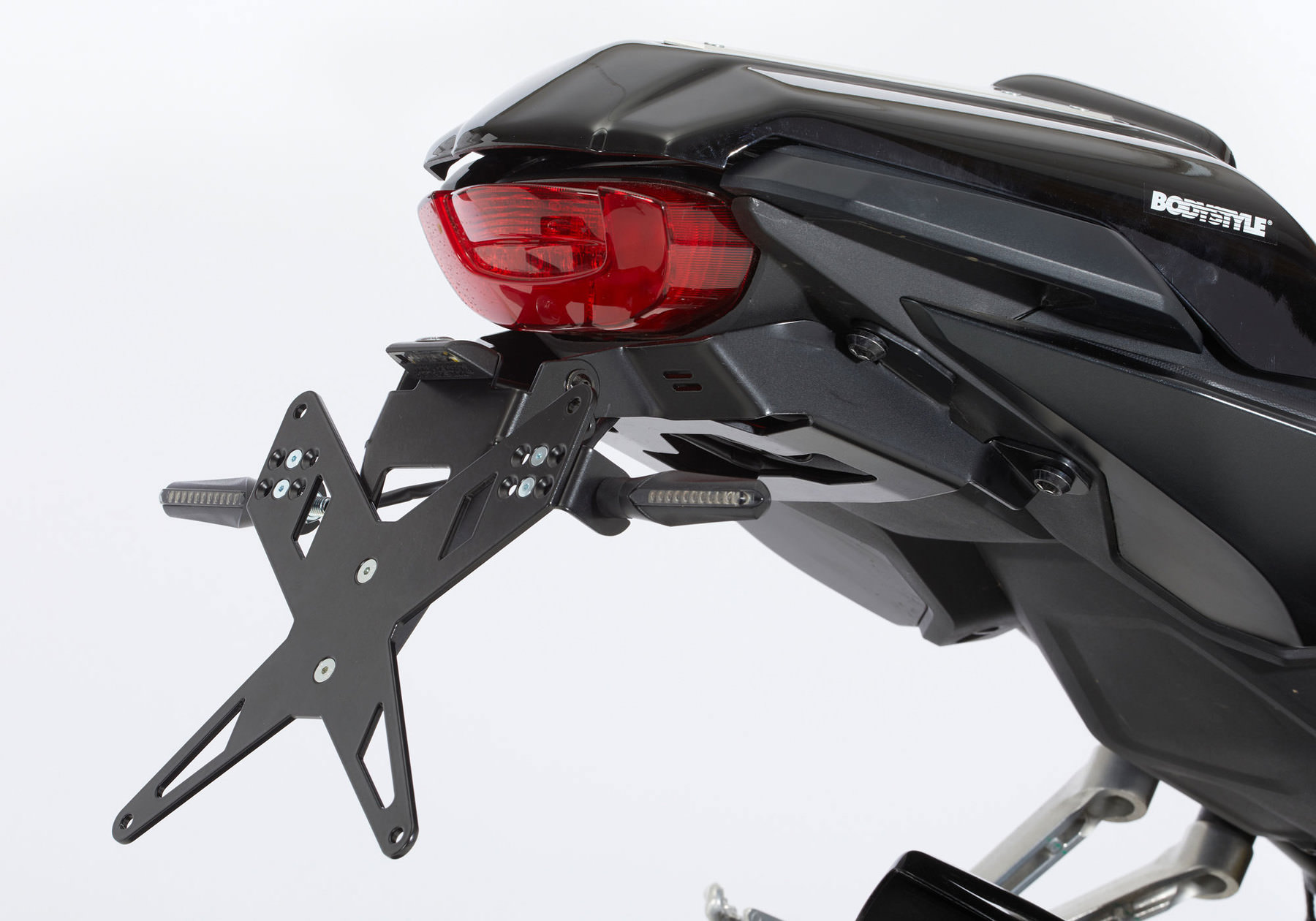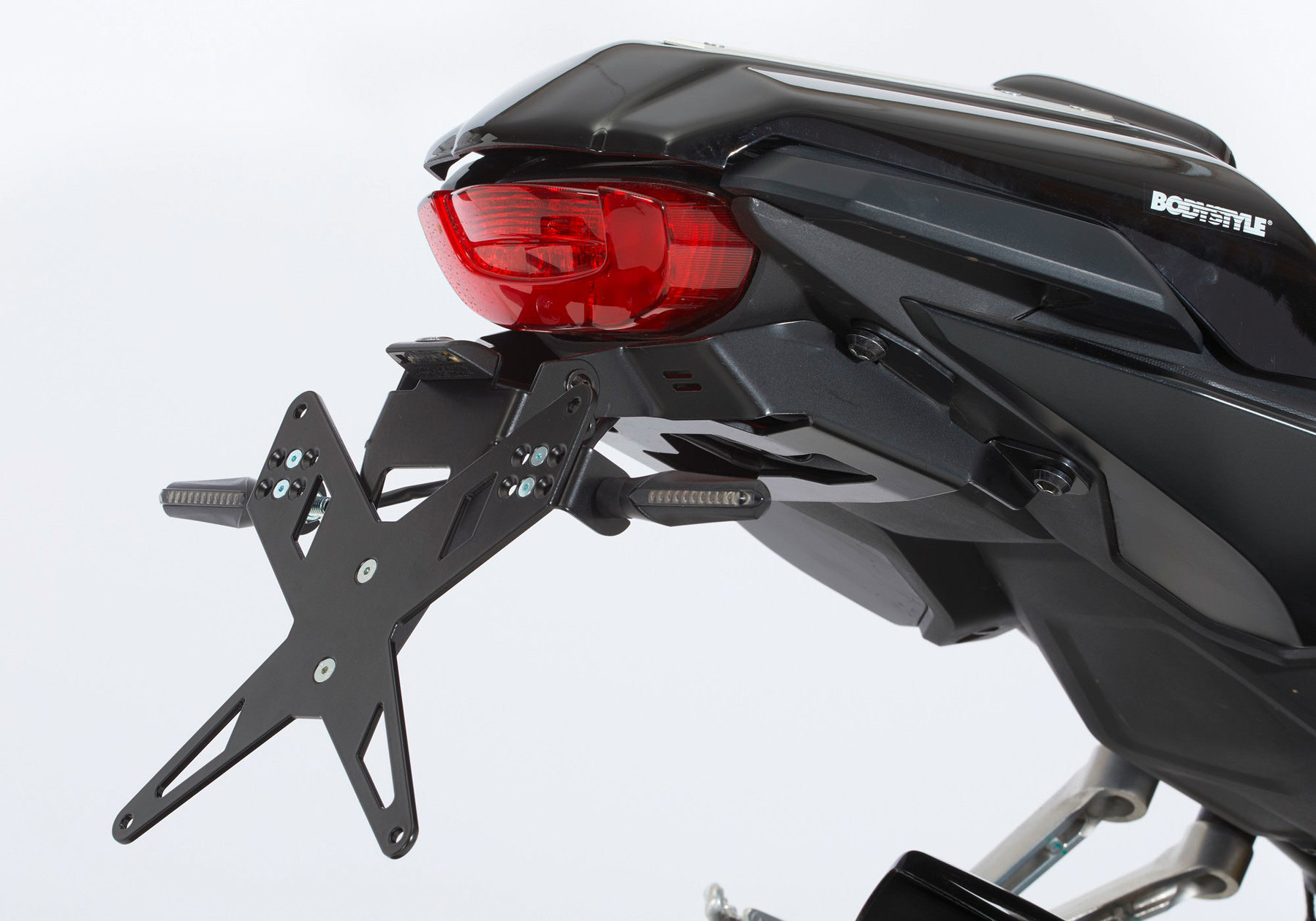 PROTECH License Plate Bracket X-SHAPE
for various models, black
Unfortunately, this product is not compatible with this motorcycle.
Unfortunately, this product is not compatible with this motorcycle. You can find the right for the here: .
Free delivery on orders over €199.00
2 year return policy
Fast delivery
PROTECH License Plate Bracket X-SHAPE
for various models, black
The *X-Shape* license plate holder is made by Protech. In contrast to its predecessor, the angle of the stainless steel/aluminium holder with new LED lighting is infinitely adjustable. The lighting is now actually also screwed instead of glued. *X-Shape* holders are available for various motorcycle models in black with powder coated finish. You can find a license plate holder to match your bike under "My Bike".
Material: Stainless steel/aluminium, black powder coated

Features:

High-quality SMD LED license plate illumination (E-approved)
Adjustable turn signal mounting (suitable for LED accessory indicators)
Reflector (screwed to angled T-bracket)
Features:

Angle of license plate holder is infinitely variable
Width of turn signal mount can be adjusted
Dimensions of license plate holder: (W x H) 175 x 190 mm
Comprises:
1 license plate holder with LED tail light and reflector

Next generation license plate holder: The PROTECH X-SHAPE license plate holder is improved in design and functionality and gives bikes a sporty precious rear view. This black powder-coated filigree holder made of high-quality aluminium and stainless steel is robust and weather-restistant. The indicator fixing points are adjustable in width (175-210 mm) and the inclination angle is steplessly adjustable via long slots (fixation with screws on both sides). The license plate holder (dimensions: ca. h190xw175 mm) is attached to the original holder. Delivered with top-quality SMD-LED-license plate light (e-approved), reflector and angled t-bar.
Manufacturer details: PROTECH

License Plate Brackets, Chain Guards and Radiator Covers

Protech enhances motorcycles, both in terms of styling and technical design. Stainless steel and aluminium accessories from Protech for many popular motorcycle models are both high-quality and great-looking. The slender yet very strong license plate brackets blend with the design of your machine better than many stock brackets. This is equally true of the laser-cut Protech chain guards. And the radiator covers are not only eye-catching, but also protect the delicate radiator fins against stone chip damage.
Product
Art. No.
Availability
Price
Actions
PROTECH LIC. PL. BRACKET - DUCATI HYPERMOTARD 950/SP
10018991

The item is in stock and will be delivered in 2-5 working days. Note: Stocks are updated online every hour on working days from 7 a.m. to 8 p.m., so there is a good chance that the products are available if they appear online.

Available

€119.95 1
PROTECH LIC. PL. BRACKET - X-SHAPE 790 DUKE 2018-
10018992

The item is in stock and will be delivered in 2-5 working days. Note: Stocks are updated online every hour on working days from 7 a.m. to 8 p.m., so there is a good chance that the products are available if they appear online.

Available

€129.95 1
PROTECH LIC. PL. BRACKET - X-SHAPE CB/CBR650F
10018737

The item is in stock and will be delivered in 2-5 working days. Note: Stocks are updated online every hour on working days from 7 a.m. to 8 p.m., so there is a good chance that the products are available if they appear online.

Available

€99.95 1
PROTECH LIC. PL. BRACKET - X-SHAPE CB/CBR650R 2019-
10018989

The item is in stock and will be delivered in 2-5 working days. Note: Stocks are updated online every hour on working days from 7 a.m. to 8 p.m., so there is a good chance that the products are available if they appear online.

Available

€119.95 1
PROTECH LIC. PL. BRACKET - X-SHAPE CB125R 2018-20
10018990

The item is in stock and will be delivered in 2-5 working days. Note: Stocks are updated online every hour on working days from 7 a.m. to 8 p.m., so there is a good chance that the products are available if they appear online.

Available

€119.95 1
PROTECH LIC. PL. BRACKET - X-SHAPE CBR 1000 R 2018-
10018988

The item is in stock and will be delivered in 2-5 working days. Note: Stocks are updated online every hour on working days from 7 a.m. to 8 p.m., so there is a good chance that the products are available if they appear online.

Available

€99.95 1
PROTECH LIC. PL. BRACKET - X-SHAPE CBR1000RR 2017-
10018733

The item is in stock and will be delivered in 2-5 working days. Note: Stocks are updated online every hour on working days from 7 a.m. to 8 p.m., so there is a good chance that the products are available if they appear online.

Available

€99.95 1
PROTECH LIC. PL. BRACKET - X-SHAPE DUCATI PANIGALE
10049814

The item is in stock and will be delivered in 2-5 working days. Note: Stocks are updated online every hour on working days from 7 a.m. to 8 p.m., so there is a good chance that the products are available if they appear online.

Available

€149.95 1
PROTECH LIC. PL. BRACKET - X-SHAPE DUKE 125/390 17-
10018731

The item is in stock and will be delivered in 2-5 working days. Note: Stocks are updated online every hour on working days from 7 a.m. to 8 p.m., so there is a good chance that the products are available if they appear online.

Available

€119.95 1
PROTECH LIC. PL. BRACKET - X-SHAPE ER6 N/F 2009-2011
10018743

The item is in stock and will be delivered in 2-5 working days. Note: Stocks are updated online every hour on working days from 7 a.m. to 8 p.m., so there is a good chance that the products are available if they appear online.

Available

€99.95 1
PROTECH LIC. PL. BRACKET - X-SHAPE ER6 N/F 2012-
10018747

The item is in stock and will be delivered in 2-5 working days. Note: Stocks are updated online every hour on working days from 7 a.m. to 8 p.m., so there is a good chance that the products are available if they appear online.

Available

€99.95 1
PROTECH LIC. PL. BRACKET - X-SHAPE FZ1/FZ8 FAZER
10018971

The item is in stock and will be delivered in 2-5 working days. Note: Stocks are updated online every hour on working days from 7 a.m. to 8 p.m., so there is a good chance that the products are available if they appear online.

Available

€99.95 1
PROTECH LIC. PL. BRACKET - X-SHAPE FZ6/FAZER 04-
10018972

The item is in stock and will be delivered in 2-5 working days. Note: Stocks are updated online every hour on working days from 7 a.m. to 8 p.m., so there is a good chance that the products are available if they appear online.

Available

€99.95 1
PROTECH LIC. PL. BRACKET - X-SHAPE GSX-R 1000 2017-
10018995

The item is in stock and will be delivered in 2-5 working days. Note: Stocks are updated online every hour on working days from 7 a.m. to 8 p.m., so there is a good chance that the products are available if they appear online.

Available

€99.95 1
PROTECH LIC. PL. BRACKET - X-SHAPE GSX-R 125 17-
10018327

The item is in stock and will be delivered in 2-5 working days. Note: Stocks are updated online every hour on working days from 7 a.m. to 8 p.m., so there is a good chance that the products are available if they appear online.

Available

€99.95 1
PROTECH LIC. PL. BRACKET - X-SHAPE GSX-S1000/F
10018962

The item is in stock and will be delivered in 2-5 working days. Note: Stocks are updated online every hour on working days from 7 a.m. to 8 p.m., so there is a good chance that the products are available if they appear online.

Available

€99.95 1
PROTECH LIC. PL. BRACKET - X-SHAPE HONDA CB1000R
10018734

The item is in stock and will be delivered in 2-5 working days. Note: Stocks are updated online every hour on working days from 7 a.m. to 8 p.m., so there is a good chance that the products are available if they appear online.

Available

€99.95 1
PROTECH LIC. PL. BRACKET - X-SHAPE KAWA ER6 N/F -08
10018742

The item is in stock and will be delivered in 2-5 working days. Note: Stocks are updated online every hour on working days from 7 a.m. to 8 p.m., so there is a good chance that the products are available if they appear online.

Available

€99.95 1
PROTECH LIC. PL. BRACKET - X-SHAPE KAWA. Z1000 2014-
10018749

The item is in stock and will be delivered in 2-5 working days. Note: Stocks are updated online every hour on working days from 7 a.m. to 8 p.m., so there is a good chance that the products are available if they appear online.

Available

€99.95 1
PROTECH LIC. PL. BRACKET - X-SHAPE KAWASAKI Z800/E
10018748

The item is in stock and will be delivered in 2-5 working days. Note: Stocks are updated online every hour on working days from 7 a.m. to 8 p.m., so there is a good chance that the products are available if they appear online.

Available

€99.95 1
PROTECH LIC. PL. BRACKET - X-SHAPE KAWASAKI Z900
10018741

The item is in stock and will be delivered in 2-5 working days. Note: Stocks are updated online every hour on working days from 7 a.m. to 8 p.m., so there is a good chance that the products are available if they appear online.

Available

€99.95 1
PROTECH LIC. PL. BRACKET - X-SHAPE MT 125 2014-
10018975

The item is in stock and will be delivered in 2-5 working days. Note: Stocks are updated online every hour on working days from 7 a.m. to 8 p.m., so there is a good chance that the products are available if they appear online.

Available

€99.95 1
PROTECH LIC. PL. BRACKET - X-SHAPE MT-07/MOTOCAGE
10018974

The item is in stock and will be delivered in 2-5 working days. Note: Stocks are updated online every hour on working days from 7 a.m. to 8 p.m., so there is a good chance that the products are available if they appear online.

Available

€99.95 1
PROTECH LIC. PL. BRACKET - X-SHAPE MT-09 TRACER
10018966

The item is in stock and will be delivered in 2-5 working days. Note: Stocks are updated online every hour on working days from 7 a.m. to 8 p.m., so there is a good chance that the products are available if they appear online.

Available

€99.95 1
PROTECH LIC. PL. BRACKET - X-SHAPE MT-10 2016-
10018998

The item is in stock and will be delivered in 2-5 working days. Note: Stocks are updated online every hour on working days from 7 a.m. to 8 p.m., so there is a good chance that the products are available if they appear online.

Available

€99.95 1
PROTECH LIC. PL. BRACKET - X-SHAPE NINJA 125 2019-
10018999

The item is in stock and will be delivered in 2-5 working days. Note: Stocks are updated online every hour on working days from 7 a.m. to 8 p.m., so there is a good chance that the products are available if they appear online.

Available

€99.95 1
PROTECH LIC. PL. BRACKET - X-SHAPE NINJA 400 18-
10018993

The item is in stock and will be delivered in 2-5 working days. Note: Stocks are updated online every hour on working days from 7 a.m. to 8 p.m., so there is a good chance that the products are available if they appear online.

Available

€99.95 1
PROTECH LIC. PL. BRACKET - X-SHAPE SUZUKI GSR 750
10018961

The item is in stock and will be delivered in 2-5 working days. Note: Stocks are updated online every hour on working days from 7 a.m. to 8 p.m., so there is a good chance that the products are available if they appear online.

Available

€99.95 1
PROTECH LIC. PL. BRACKET - X-SHAPE SV 650 2017-
10018963

The item is in stock and will be delivered in 2-5 working days. Note: Stocks are updated online every hour on working days from 7 a.m. to 8 p.m., so there is a good chance that the products are available if they appear online.

Available

€99.95 1
PROTECH LIC. PL. BRACKET - X-SHAPE SV650 03-/SV1000
10018959

The item is in stock and will be delivered in 2-5 working days. Note: Stocks are updated online every hour on working days from 7 a.m. to 8 p.m., so there is a good chance that the products are available if they appear online.

Available

€99.95 1
PROTECH LIC. PL. BRACKET - X-SHAPE VARIOUS DUCATI
10018996

The item is in stock and will be delivered in 2-5 working days. Note: Stocks are updated online every hour on working days from 7 a.m. to 8 p.m., so there is a good chance that the products are available if they appear online.

Available

€119.95 1
PROTECH LIC. PL. BRACKET - X-SHAPE VARIOUS KTM
10018978

The item is in stock and will be delivered in 2-5 working days. Note: Stocks are updated online every hour on working days from 7 a.m. to 8 p.m., so there is a good chance that the products are available if they appear online.

Available

€109.95 1
PROTECH LIC. PL. BRACKET - X-SHAPE VARIOUS KTM
10018976

The item is in stock and will be delivered in 2-5 working days. Note: Stocks are updated online every hour on working days from 7 a.m. to 8 p.m., so there is a good chance that the products are available if they appear online.

Available

€99.95 1
PROTECH LIC. PL. BRACKET - X-SHAPE VARIOUS TRIUMPH
10018977

The item is in stock and will be delivered in 2-5 working days. Note: Stocks are updated online every hour on working days from 7 a.m. to 8 p.m., so there is a good chance that the products are available if they appear online.

Available

€99.95 1
PROTECH LIC. PL. BRACKET - X-SHAPE VARIOUS YAMAHA
10018973

The item is in stock and will be delivered in 2-5 working days. Note: Stocks are updated online every hour on working days from 7 a.m. to 8 p.m., so there is a good chance that the products are available if they appear online.

Available

€99.95 1
PROTECH LIC. PL. BRACKET - X-SHAPE XJ6 DIVERSION
10018969

The item is in stock and will be delivered in 2-5 working days. Note: Stocks are updated online every hour on working days from 7 a.m. to 8 p.m., so there is a good chance that the products are available if they appear online.

Available

€99.95 1
PROTECH LIC. PL. BRACKET - X-SHAPE YAHAMA MT-09 17-
10018964

The item is in stock and will be delivered in 2-5 working days. Note: Stocks are updated online every hour on working days from 7 a.m. to 8 p.m., so there is a good chance that the products are available if they appear online.

Available

€129.95 1
PROTECH LIC. PL. BRACKET - X-SHAPE YZF R1 2015-
10018997

The product will be ordered from the manufacturer for you. Depending on availability, longer delivery times are also possible. We'll let you know if that's the case. You can of course cancel your delivery at any time free of charge.

Available in 7-21 days

€99.95 1
PROTECH LIC. PL. BRACKET - X-SHAPE YZF R3/MT-03 15-
10018965

The item is in stock and will be delivered in 2-5 working days. Note: Stocks are updated online every hour on working days from 7 a.m. to 8 p.m., so there is a good chance that the products are available if they appear online.

Available

€99.95 1
PROTECH LIC. PL. BRACKET - X-SHAPE YZF-R 125 2019-
10018328

The item is in stock and will be delivered in 2-5 working days. Note: Stocks are updated online every hour on working days from 7 a.m. to 8 p.m., so there is a good chance that the products are available if they appear online.

Available

€99.95 1
PROTECH LIC. PL. BRACKET - X-SHAPE YZF-R1 2004-06
10018970

The item is in stock and will be delivered in 2-5 working days. Note: Stocks are updated online every hour on working days from 7 a.m. to 8 p.m., so there is a good chance that the products are available if they appear online.

Available

€99.95 1
PROTECH LIC. PL. BRACKET - X-SHAPE YZF-R6/R1 2003-05
10018968

The item is in stock and will be delivered in 2-5 working days. Note: Stocks are updated online every hour on working days from 7 a.m. to 8 p.m., so there is a good chance that the products are available if they appear online.

Available

€99.95 1
PROTECH LIC. PL. BRACKET - X-SHAPE Z900RS 2018-
10018994

The item is in stock and will be delivered in 2-5 working days. Note: Stocks are updated online every hour on working days from 7 a.m. to 8 p.m., so there is a good chance that the products are available if they appear online.

Available

€99.95 1
PROTECH LIC. PL. BRACKET - X-SHAPE ZX-6R 2019-
10018329

The item is in stock and will be delivered in 2-5 working days. Note: Stocks are updated online every hour on working days from 7 a.m. to 8 p.m., so there is a good chance that the products are available if they appear online.

Available

€99.95 1
PROTECH LIC. PL. BRACKET - X-SHAPE, VARIOUS BMW
10018732

The item is in stock and will be delivered in 2-5 working days. Note: Stocks are updated online every hour on working days from 7 a.m. to 8 p.m., so there is a good chance that the products are available if they appear online.

Available

€99.95 1
PROTECH LIC. PL. BRACKET - X-SHAPE, VARIOUS HONDA
10018738

The item is in stock and will be delivered in 2-5 working days. Note: Stocks are updated online every hour on working days from 7 a.m. to 8 p.m., so there is a good chance that the products are available if they appear online.

Available

€99.95 1
PROTECH LIC. PL. BRACKET - X-SHAPE, VARIOUS HONDA
10018735

The item is in stock and will be delivered in 2-5 working days. Note: Stocks are updated online every hour on working days from 7 a.m. to 8 p.m., so there is a good chance that the products are available if they appear online.

Available

€99.95 1
PROTECH LIC. PL. BRACKET - X-SHAPE, VARIOUS HONDA
10018736

The item is in stock and will be delivered in 2-5 working days. Note: Stocks are updated online every hour on working days from 7 a.m. to 8 p.m., so there is a good chance that the products are available if they appear online.

Available

€149.95 1
PROTECH LIC. PL. BRACKET - X-SHAPE, VARIOUS HONDA
10018739

The item is in stock and will be delivered in 2-5 working days. Note: Stocks are updated online every hour on working days from 7 a.m. to 8 p.m., so there is a good chance that the products are available if they appear online.

Available

€99.95 1
PROTECH LIC. PL. BRACKET - X-SHAPE, VARIOUS KAWASAKI

Important notes

Article not suitable in combination with original suitcases

10018746

The item is in stock and will be delivered in 2-5 working days. Note: Stocks are updated online every hour on working days from 7 a.m. to 8 p.m., so there is a good chance that the products are available if they appear online.

Available

€99.95 1
PROTECH LIC. PL. BRACKET - X-SHAPE, VARIOUS KAWASAKI
10018744

The item is in stock and will be delivered in 2-5 working days. Note: Stocks are updated online every hour on working days from 7 a.m. to 8 p.m., so there is a good chance that the products are available if they appear online.

Available

€99.95 1
PROTECH LIC. PL. BRACKET - X-SHAPE, VARIOUS KAWASAKI
10018745

The item is in stock and will be delivered in 2-5 working days. Note: Stocks are updated online every hour on working days from 7 a.m. to 8 p.m., so there is a good chance that the products are available if they appear online.

Available

€99.95 1
PROTECH LIC. PL. BRACKET - X-SHAPE, VARIOUS KAWASAKI
10018740

The item is in stock and will be delivered in 2-5 working days. Note: Stocks are updated online every hour on working days from 7 a.m. to 8 p.m., so there is a good chance that the products are available if they appear online.

Available

€99.95 1
PROTECH LIC. PL. BRACKET - X-SHAPE, VARIOUS SUZUKI
10018958

The item is in stock and will be delivered in 2-5 working days. Note: Stocks are updated online every hour on working days from 7 a.m. to 8 p.m., so there is a good chance that the products are available if they appear online.

Available

€99.95 1
PROTECH LIC. PL. BRACKET - X-SHAPE, YZF 125 R 2014-
10018967

The item is in stock and will be delivered in 2-5 working days. Note: Stocks are updated online every hour on working days from 7 a.m. to 8 p.m., so there is a good chance that the products are available if they appear online.

Available

€99.95 1
PROTECH LIC. PL. BRACKET - X-SHAPE, YZF 690 R 2012-
10018987

The item is in stock and will be delivered in 2-5 working days. Note: Stocks are updated online every hour on working days from 7 a.m. to 8 p.m., so there is a good chance that the products are available if they appear online.

Available

€99.95 1
PROTECH LIC. PL. HOLDER - X-SHAPE 690 SMC R 14-
10049816

The item is in stock and will be delivered in 2-5 working days. Note: Stocks are updated online every hour on working days from 7 a.m. to 8 p.m., so there is a good chance that the products are available if they appear online.

Available

€119.95 1
PROTECH LIC. PL. HOLDER - X-SHAPE CBR1000RR 10-
10049803

The item is in stock and will be delivered in 2-5 working days. Note: Stocks are updated online every hour on working days from 7 a.m. to 8 p.m., so there is a good chance that the products are available if they appear online.

Available

€99.95 1
PROTECH LIC. PL. HOLDER - X-SHAPE DUCATI PANIG. V4
10049818

The item is in stock and will be delivered in 2-5 working days. Note: Stocks are updated online every hour on working days from 7 a.m. to 8 p.m., so there is a good chance that the products are available if they appear online.

Available

€119.95 1
PROTECH LIC. PL. HOLDER - X-SHAPE HUSQVARNA 701 16-
10049819

The item is in stock and will be delivered in 2-5 working days. Note: Stocks are updated online every hour on working days from 7 a.m. to 8 p.m., so there is a good chance that the products are available if they appear online.

Available

€109.95 1
PROTECH LIC. PL. HOLDER - X-SHAPE KAWASAKI ZX10R
10049812

The item is in stock and will be delivered in 2-5 working days. Note: Stocks are updated online every hour on working days from 7 a.m. to 8 p.m., so there is a good chance that the products are available if they appear online.

Available

€99.95 1
PROTECH LIC. PL. HOLDER - X-SHAPE KTM 690 ENDURO R
10049821

The item is in stock and will be delivered in 2-5 working days. Note: Stocks are updated online every hour on working days from 7 a.m. to 8 p.m., so there is a good chance that the products are available if they appear online.

Available

€99.95 1
PROTECH LIC. PL. HOLDER - X-SHAPE KTM S DUKE GT 16-
10049800

The item is in stock and will be delivered in 2-5 working days. Note: Stocks are updated online every hour on working days from 7 a.m. to 8 p.m., so there is a good chance that the products are available if they appear online.

Available

€109.95 1
PROTECH LIC. PL. HOLDER - X-SHAPE SPEED TRIPLE 11-
10049809

The item is in stock and will be delivered in 2-5 working days. Note: Stocks are updated online every hour on working days from 7 a.m. to 8 p.m., so there is a good chance that the products are available if they appear online.

Available

€99.95 1
PROTECH LIC. PL. HOLDER - X-SHAPE SUPERSPORT S 17-
10049811

The item is in stock and will be delivered in 2-5 working days. Note: Stocks are updated online every hour on working days from 7 a.m. to 8 p.m., so there is a good chance that the products are available if they appear online.

Available

€119.95 1
PROTECH LIC. PL. HOLDER - X-SHAPE VARIOUS DUCATI
10049802

The product will be ordered from the manufacturer for you. Depending on availability, longer delivery times are also possible. We'll let you know if that's the case. You can of course cancel your delivery at any time free of charge.

Available in 7-21 days

€119.95 1
PROTECH LIC. PL. HOLDER - X-SHAPE VARIOUS KAWASAKI
10049805

The item is in stock and will be delivered in 2-5 working days. Note: Stocks are updated online every hour on working days from 7 a.m. to 8 p.m., so there is a good chance that the products are available if they appear online.

Available

€99.95 1
PROTECH LIC. PL. HOLDER - X-SHAPE YAMAHA TRACER 18-
10049813

The item is in stock and will be delivered in 2-5 working days. Note: Stocks are updated online every hour on working days from 7 a.m. to 8 p.m., so there is a good chance that the products are available if they appear online.

Available

€99.95 1
PROTECH LIC. PL. HOLDER - X-SHAPE YAMAHA YZF-R6 17-
10049810

The item is in stock and will be delivered in 2-5 working days. Note: Stocks are updated online every hour on working days from 7 a.m. to 8 p.m., so there is a good chance that the products are available if they appear online.

Available

€99.95 1
PROTECH LIC. PL. HOLDER - X-SHAPE YZF-R6 06-
10049807

The item is in stock and will be delivered in 2-5 working days. Note: Stocks are updated online every hour on working days from 7 a.m. to 8 p.m., so there is a good chance that the products are available if they appear online.

Available

€99.95 1