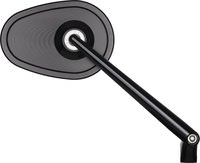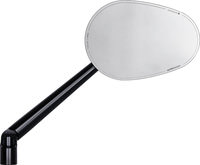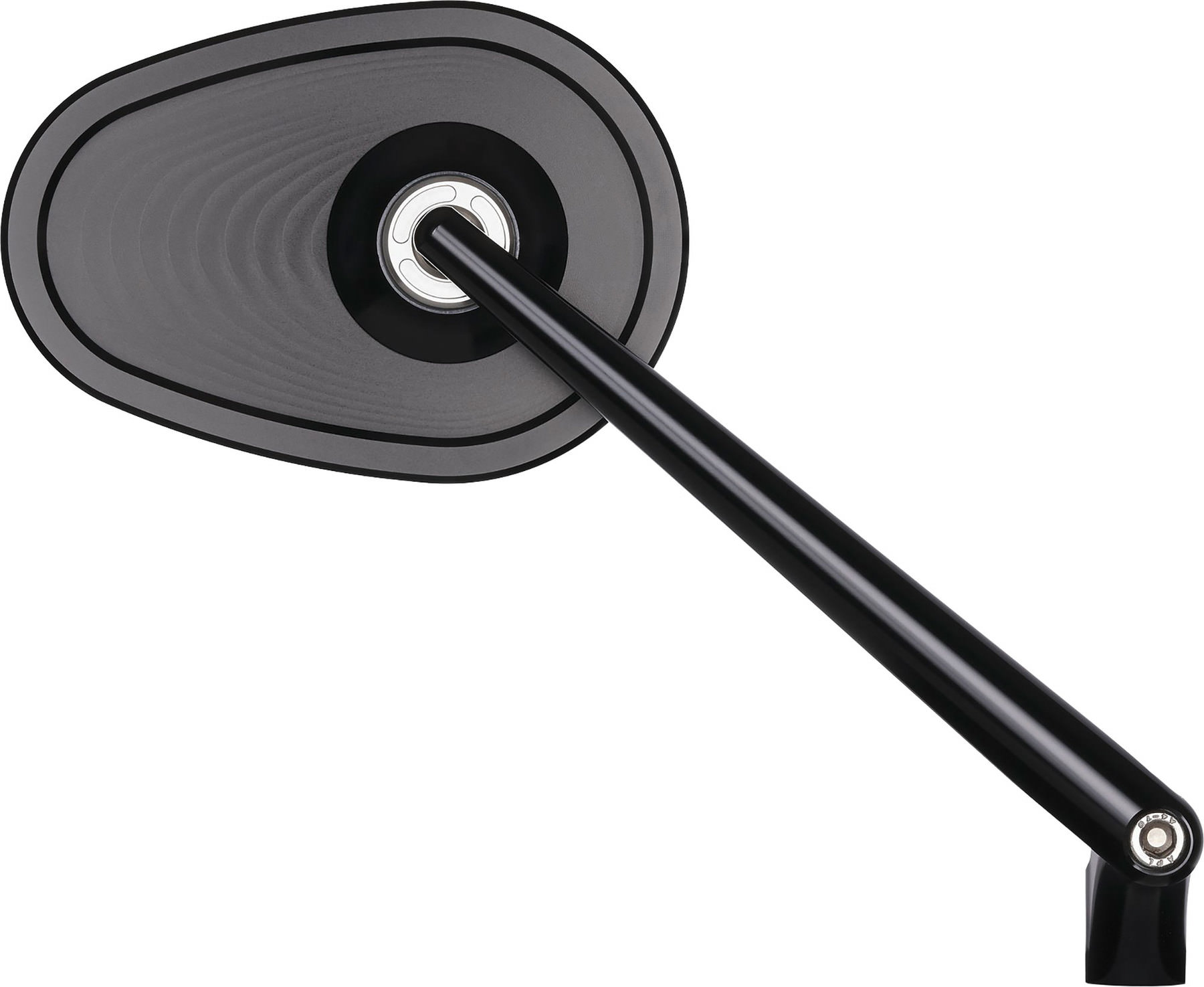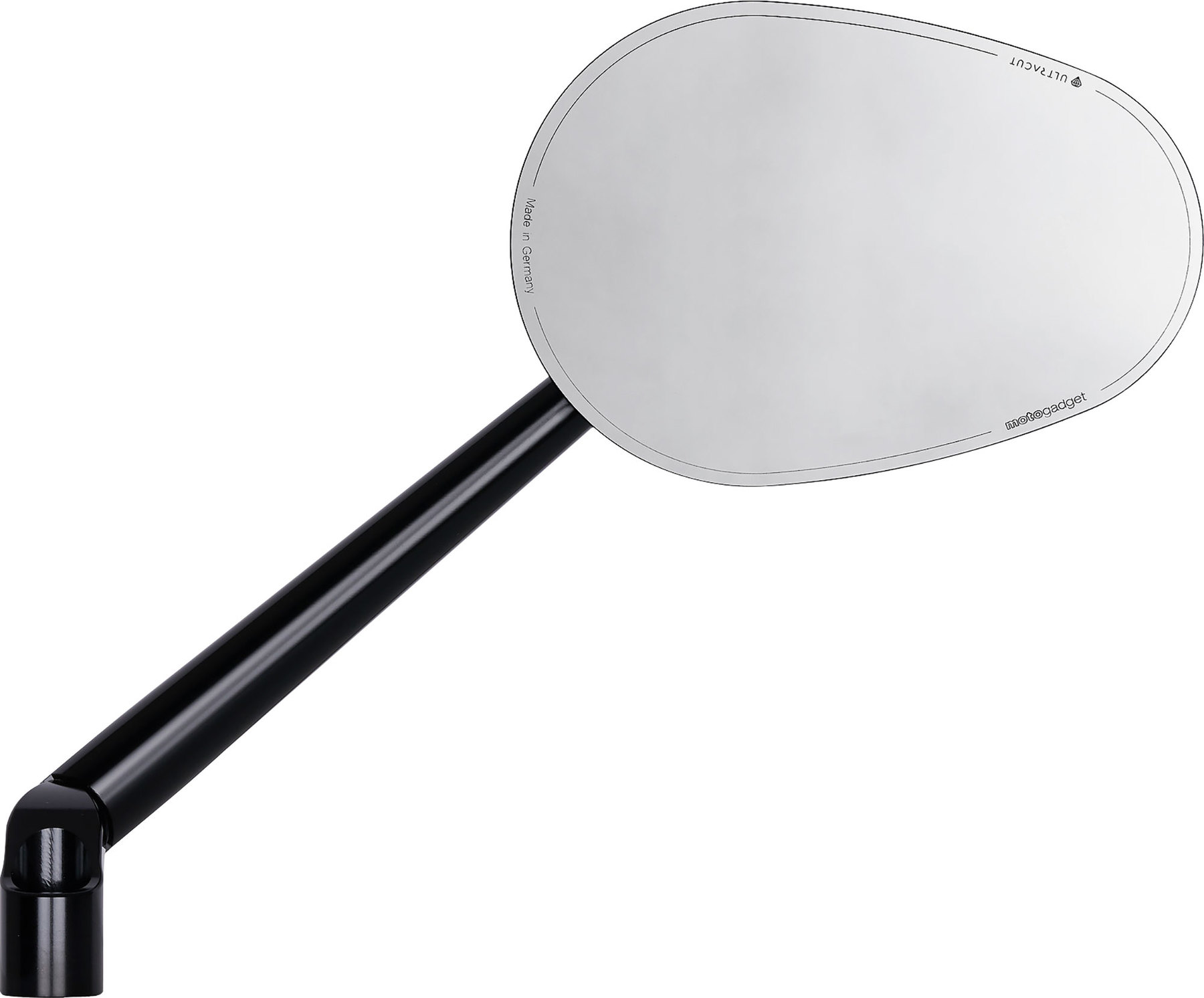 mo.view club glassless
mirror for right and left
Dimensioned drawing
This product is available at week 21.
Current calendar week: 21
Available as of calendar week 21
Free delivery on orders over €199.00
2 year return policy
Fast delivery
mo.view club glassless
mirror for right and left
The *mo.view club* from motogadget really is an extremely slim aluminium handlebar mirror. And the clever thing is that these m.views aren't actually mirrors - or at least not glass mirrors. The aluminium itself is the reflective surface! These design masterpieces are made entirely from CNC-machined, black anodised aluminium.
A special process is used to grind and polish the "mirror surface" so finely that it really does reflect without any distortion. So there's no need to use a heavy glass lens or housing. Instead what you get is a motorcycle rearview mirror that looks sensational and is also very lightweight compared to "normal" handlebar mirrors.

motogadget *mo.view club* mirrors are compact, with clean lines, and perfect for a wide range of motorcycles. They can be mounted on the handlebar using any M10 mirror thread. Three securing screws with different threads are included. These mirrors can be mounted right and left.

Specifications:

Can be mounted right and left
ECE-approved
Dimensions in mm (see dimensioned drawing): a=80, b=115, c= 220.
What's included:

1 mo.view club mirror
2 screws: M10 x 1.5 and M10 x 1.25 with right-hand thread
1 screw M10 x 1.25 with left-hand thread
Instructions
Good to know:
motogadget now presents exclusively its mo.view glassless mirror range. What makes these motorcycle mirrors special is the patented reflective surface, which is actually machined into the metal of the mirror body. The result is a weightless design with no border or frame, and the mirror body itself is very slender and lightweight.
The mirror has no lens that can get broken or fall out!

The convex mirror surface is produced by a process known as fly cutting, which uses a diamond tool on ultra high-precision machines. Then sophisticated plasma coating in a vacuum creates a surface that is resistant to oxidation, corrosion and scratches.

The mirror body, stem and bar-end clamp are machined from solid aluminium on CNC machines and given a high-quality anodised finish. All the screws are made of stainless steel. The precision ball joint makes the mirror easy to adjust and gives great stability.
Manufacturer details: motogadget

High Class Instruments & Accessories - MADE IN GERMANY

Anyone who is serious about customising cannot fail to appreciate the quality of motogadget products. In no time at all, the Berlin-based manufacturer has achieved virtually cult status with its high-class instruments. The reason is the exceptional functionality of motogadget products, but most importantly their extremely clean design, high-quality materials, top engineering and absolute reliability.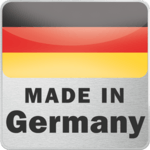 QUALITY MADE IN GERMANY!

By purchasing this item you have chosen a premium-quality product with superior German workmanship. This internationally acknowledged mark of quality means that this product is the result of efficiently coordinated development and production processes, technological expertise, continuous quality controls.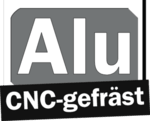 This product is made of high-quality CNC-machined aluminium and will look great on your motorbike.

To ensure that it gives you many years of service, please observe the following care instructions:

1. After installing the product, and each time you wash your motorbike, apply a wax-based care product, e.g. Procycle Polishing Wax, Order no. 10004923 for protection against wind and weather. You may need to repeat the application after an outing in winter weather, rain or salty air (near the coast).

2. Remove any corrosion as soon as possible using a standard aluminium polish (e.g. Autosol Aluminium Polish, Order no. 10004421).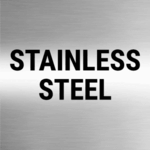 Stainless steel is a collective term for rustproof steel. It is much more resistant to corrosion than non-alloyed steels. Stainless steel does not deteriorate, and is hygienic, UV-resistant, non-corroding, fracture-proof, non-toxic and environmentally friendly. It does not weather and can be recycled in its entirety, even after many years. Technically, the term "stainless steel" refers to corrosion-resistant steel alloys with a wide variety of compositions but always containing a high percentage of chromium (usually a minimum of 10.5%)

.

MAINTENANCE:
Stainless steel should be cleaned regularly like all other materials, especially after exposure to salty air (near the coast), and also at regular intervals.
Water can easily collect in corners, edges and screw connections, resulting in corrosion. So careful cleaning is important, and if necessary screws should be undone in order to clean the parts thoroughly.
Do not leave rusty steel parts against stainless steel to avoid the rust "contamination".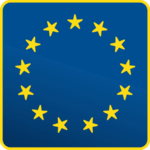 Modern vehicle accessories of different types now frequently carry an "E" approval mark valid throughout Europe. This "E" mark, which is made up of a combination of letters and numbers, is clearly displayed on the product and shows the application tested, the country in which testing was carried out and, where appropriate, the vehicle type to which approval applies. EC type approval for exhaust systems, for example, are always issued for a specific vehicle type, whereas in the case of lighting, they apply to an entire group of vehicles, e.g. motorcycles.
This certification mark is the sole proof of legality stipulated by law, i.e. no written report or entry in the vehicle documents by TÜV (German Technical Inspection Association) is required. However, when it comes to installing accessories, the relevant guidelines of the Road Traffic Licensing Regulations (StvZO) must always be observed.
At at a roadside check or a TÜV vehicle inspection, the registered keeper is only required to show the "E" mark. It is then up to the official in charge whether to check the mark with the Federal Motor Transport Authority (KBA) in Flensburg (or equivalent type approval authority in other countries), which is able to decode all certification marks.

Original parts on newer vehicles that have been given an "E" mark at the factory may only be replaced with accessories that have likewise undergone E-approval. An E-certified mirror may not, for example, by replaced with a mirror that only has TÜV approval under the German vehicle licensing regulations.
Product
Art. No.
Availability
Price
Actions
MOTOGADGET MO.VIEW CLUB - MIRROR FOR R+L,SOLD INDIV
10040167

This product is available at week 21.
Current calendar week: 21

Available as of calendar week 21

€109.00 1
Issue 3-2019
MO magazine tested the M-View mirror in its 3-2019 issue and awarded it an MO RECOMMENDATION. The following features were given special mention:

- no breakable glass
- easy to adjust via ball joint
- versatile, adapter included
- elegant and flat