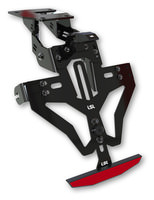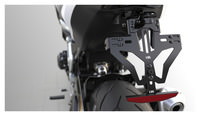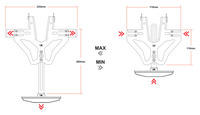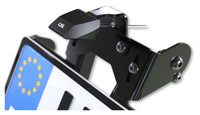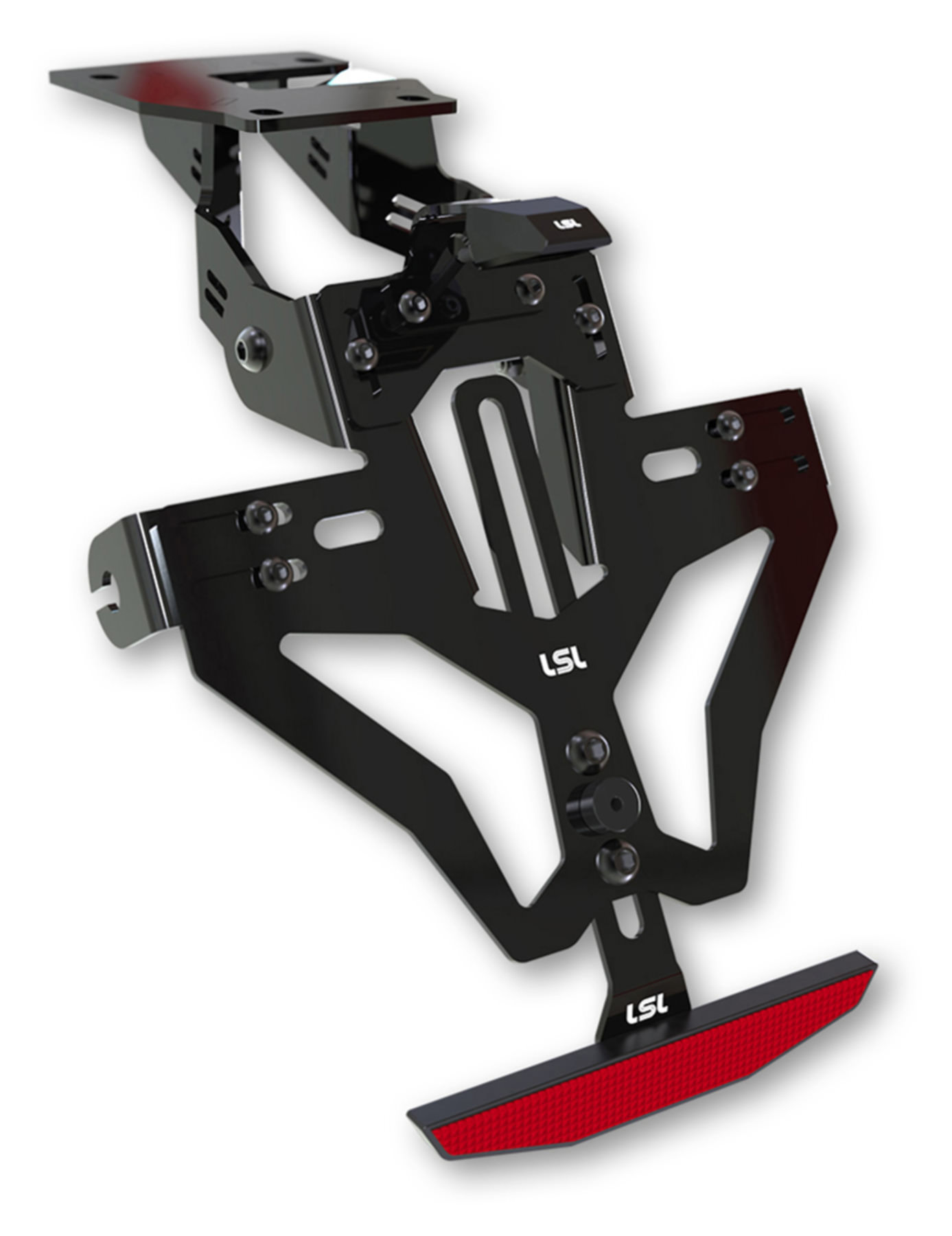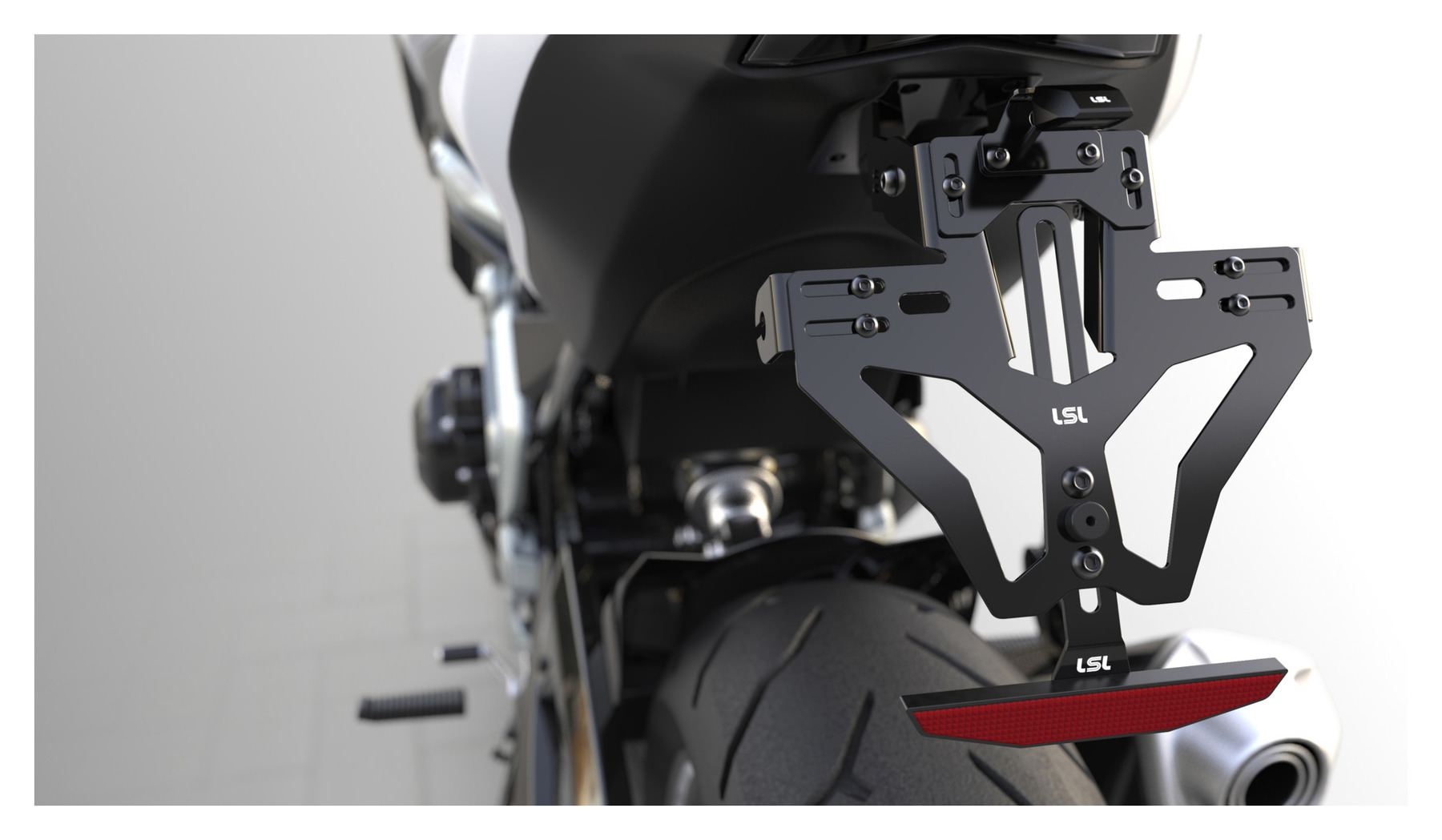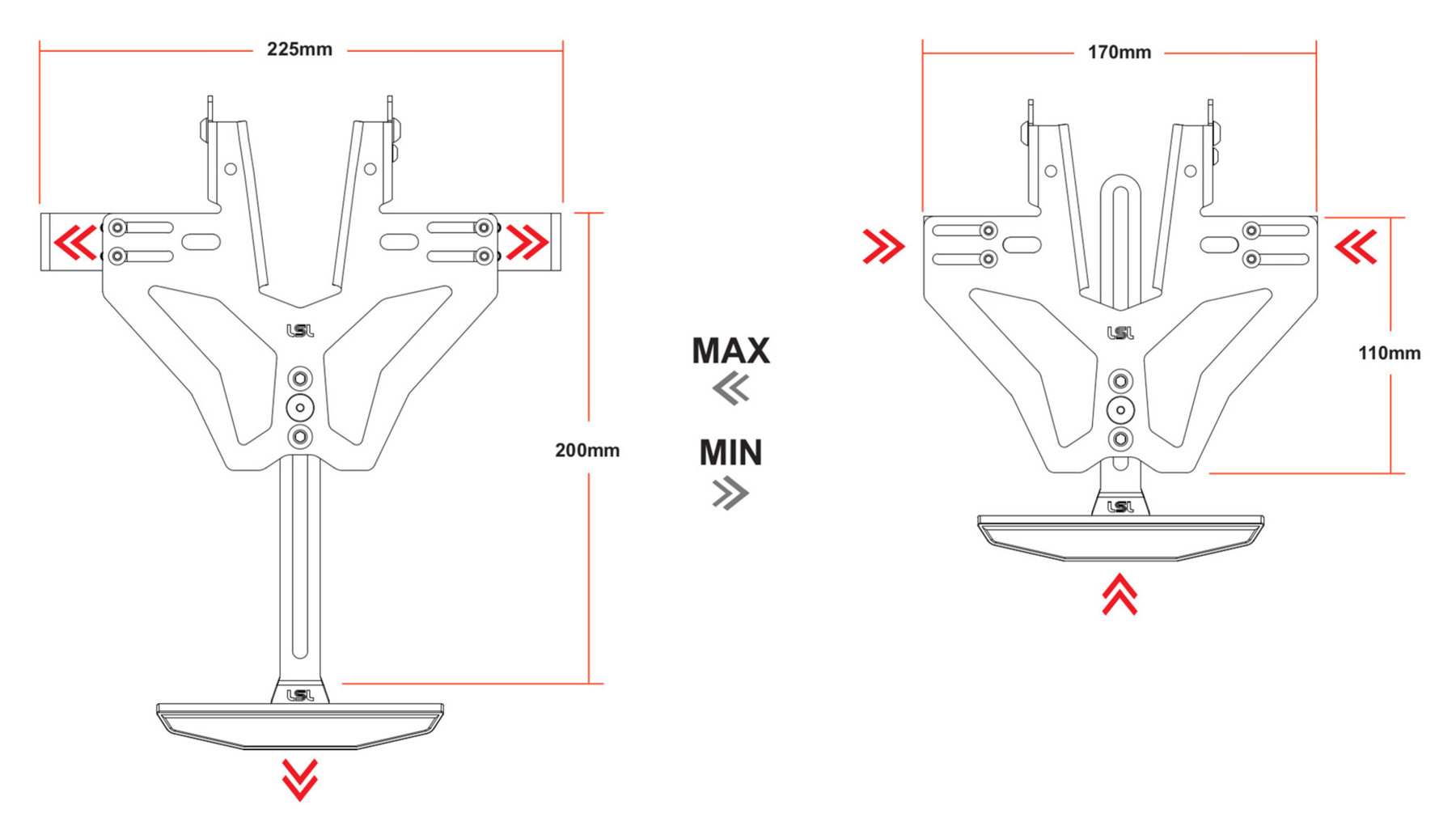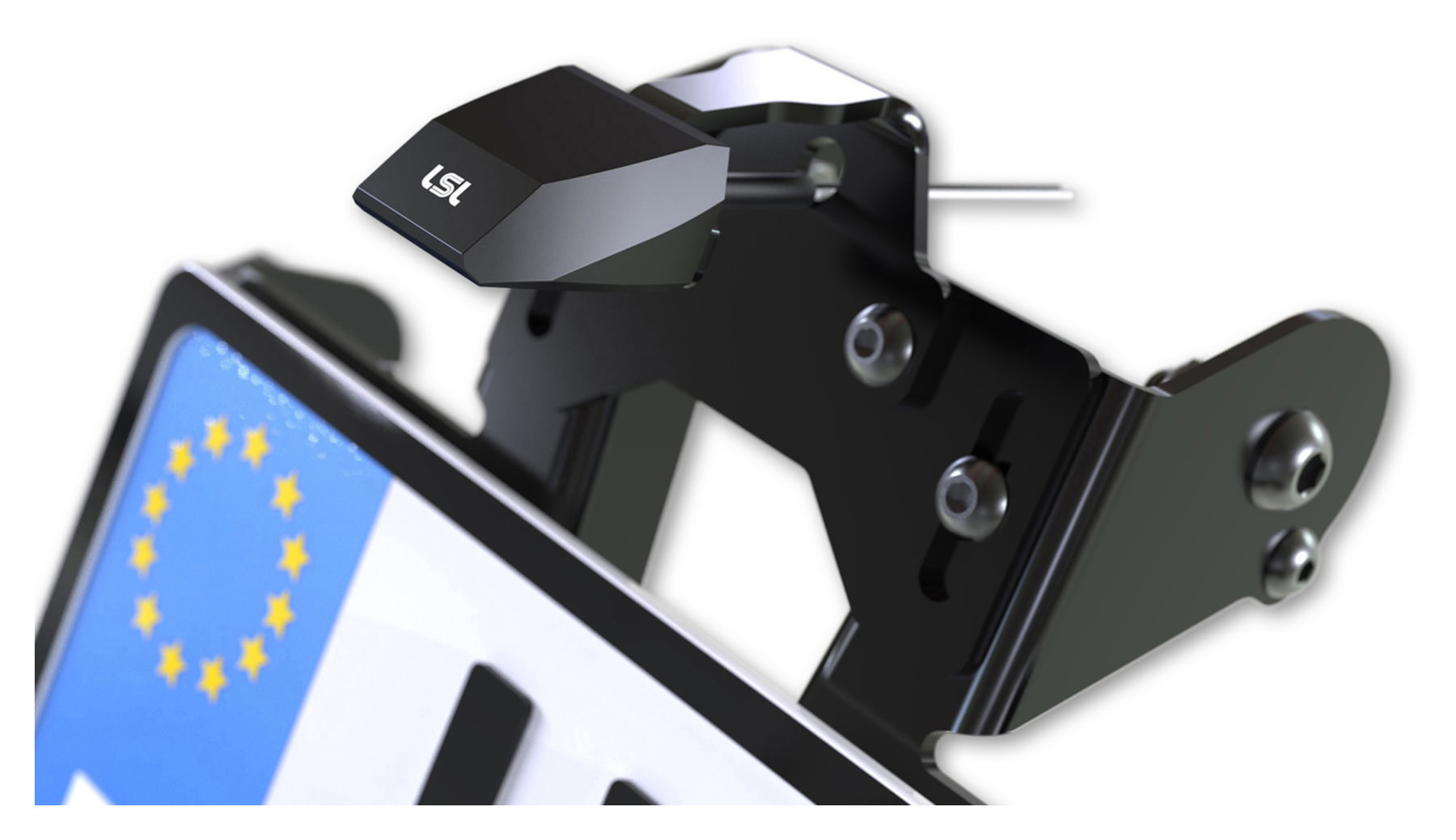 Mantis-RS PRO license plate holder
with licence plate light, various models
Unfortunately, this product is not compatible with this motorcycle.
Unfortunately, this product is not compatible with this motorcycle. You can find the right for the here: .
Free delivery on orders over €199.00
2 year return policy
Fast delivery
Mantis-RS PRO license plate holder
with licence plate light, various models
Somehow the design that the developers at LSL gave the *MANTIS-RS PRO* licence plate holder with licence plate light must have reminded them of a "praying mantis". It looks delicate, incredibly sporty and "light" when placed on the rear of your motorbike. It fits your vehicle perfectly and emphasises the beautiful lines.
As we are used to from LSL, everything has been thought of: the model-specific mounting of the LSL *MANTIS-RS PRO* allows replacement without further drilling or cutting on the vehicle. The design fits perfectly to the rear of your motorbike and uses the original attachment points on the vehicle. To protect the cables from damage, sharp-edged feed-throughs on the *LSL MANTIS-RS PRO* licence plate holder are protected with rubber membrane grommets.
The licence plate is made of 2 mm thick sheet steel, laser-cut, edged and weather-resistant black powder-coated. The licence plate is fixed in the correct position by an additional locking screw.
The width-adjustable indicator holders of the LSL *MANTIS-RS PRO* are suitable for all types of accessory turn signals. Adapting to the most diverse EU licence plates is no problem. The mounting holes for the turn signals have a diameter of 10 mm and are slotted to the side. This makes it possible to mount the turn signals without disconnecting them from the wiring harness.
The slider for mounting the rear reflector is individually adjustable. Adaptation to the different designs of EU number plates is easy. The two rubber washers supplied serve to reduce vibrations when screwing on the number plate. An additional rubber buffer supports the number plate on the underside.
This PRO version includes the very small LSL number plate light, milled from high-quality aluminium, with mounting plate and support arm. The bracket is adjustable in height and designed to allow mounting in the legally required position.
model-specific number plate holder
steplessly adjustable indicator holder
slotted indicator holder for easy mounting without cable separation
Continuously adjustable reflector, E-approved
suitable for European number plates
Continuously adjustable angle of inclination
Additional screw for optimum positional security
Simple fixing without further work steps (e.g. drilling)
Easy mounting of the licence plate through slotted holes
Licence plate light incl. holder included in delivery
Steplessly adjustable licence plate light
Many different options for mounting the licence plate light
E-approved
Scope of delivery:
1 x LSL *MANTIS-RS PRO licence plate holder with licence plate light
1 x model-specific bracket with mounting parts
2 x adjustable indicator brackets
1 x rear reflector with adjustable holder
Mounting instructions
Notes:
If side reflectors are fitted to your original number plate holder, these must be refitted in a suitable position or replaced with new ones.
Manufacturer details: LSL

Design and function at the highest level

Anybody who looks at the LSL conversion projects can see straight away that the people work with a great deal of passion and at least equally as much technical expertise. It is true that LSL places enormous value on creating a great look for all of its products, but maximum biking pleasure through excellent performance is always central to every product development. LSL has made an extremely good name for itself in the field of ergonomic optimization (handlebars, grips, levers and footrests). LSL also specialises in chassis- and hydraulic components, crash protection and lighting. Several accolades testify to the fact that LSL has taken the right approach with its commitment to technical finesse and quality without compromise - such as the fact LSL has won the 2013 "PS" magazine readers choice award in the "accessories/conversions" category for the fifth consecutive time.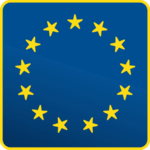 Modern vehicle accessories of different types now frequently carry an "E" approval mark valid throughout Europe. This "E" mark, which is made up of a combination of letters and numbers, is clearly displayed on the product and shows the application tested, the country in which testing was carried out and, where appropriate, the vehicle type to which approval applies. EC type approval for exhaust systems, for example, are always issued for a specific vehicle type, whereas in the case of lighting, they apply to an entire group of vehicles, e.g. motorcycles.
This certification mark is the sole proof of legality stipulated by law, i.e. no written report or entry in the vehicle documents by TÜV (German Technical Inspection Association) is required. However, when it comes to installing accessories, the relevant guidelines of the Road Traffic Licensing Regulations (StvZO) must always be observed.
At at a roadside check or a TÜV vehicle inspection, the registered keeper is only required to show the "E" mark. It is then up to the official in charge whether to check the mark with the Federal Motor Transport Authority (KBA) in Flensburg (or equivalent type approval authority in other countries), which is able to decode all certification marks.

Original parts on newer vehicles that have been given an "E" mark at the factory may only be replaced with accessories that have likewise undergone E-approval. An E-certified mirror may not, for example, by replaced with a mirror that only has TÜV approval under the German vehicle licensing regulations.
No customer reviews have been submitted for this product.
Be the first to write a review!
Product
Art. No.
Availability
Price
Actions
LSL MANTIS-RS PRO LIC.PL. - 125/200/390 DUKE 2011-17
10049646

The product will be ordered from the manufacturer for you. Depending on availability, longer delivery times are also possible. We'll let you know if that's the case. You can of course cancel your delivery at any time free of charge.

Available in 7-21 days

€159.95 1
LSL MANTIS-RS PRO LIC.PL. - 125/390 DUKE 17-
10049730

The item is in stock and will be delivered in 2-5 working days. Note: Stocks are updated online every hour on working days from 7 a.m. to 8 p.m., so there is a good chance that the products are available if they appear online.

Available

€109.95 1
LSL MANTIS-RS PRO LIC.PL. - 401 VITPILEN/SVARTPILEN
10049760

The product will be ordered from the manufacturer for you. Depending on availability, longer delivery times are also possible. We'll let you know if that's the case. You can of course cancel your delivery at any time free of charge.

Available in 7-21 days

€119.95 1
LSL MANTIS-RS PRO LIC.PL. - 690 DUKE / R 2012-20
10049726

The product will be ordered from the manufacturer for you. Depending on availability, longer delivery times are also possible. We'll let you know if that's the case. You can of course cancel your delivery at any time free of charge.

Available in 7-21 days

€109.95 1
LSL MANTIS-RS PRO LIC.PL. - 690 SMC 2019-
10049732

The product will be ordered from the manufacturer for you. Depending on availability, longer delivery times are also possible. We'll let you know if that's the case. You can of course cancel your delivery at any time free of charge.

Available in 7-21 days

€119.95 1
LSL MANTIS-RS PRO LIC.PL. - 690 SMC/ENDURO/R 2008-14
10049648

The product will be ordered from the manufacturer for you. Depending on availability, longer delivery times are also possible. We'll let you know if that's the case. You can of course cancel your delivery at any time free of charge.

Available in 7-21 days

€99.95 1
LSL MANTIS-RS PRO LIC.PL. - 690 SMC/ENDURO/R 2014-17
10049728

The product will be ordered from the manufacturer for you. Depending on availability, longer delivery times are also possible. We'll let you know if that's the case. You can of course cancel your delivery at any time free of charge.

Available in 7-21 days

€109.95 1
LSL MANTIS-RS PRO LIC.PL. - 701 ENDURO/SUPERMOTO 16-
10049758

The product will be ordered from the manufacturer for you. Depending on availability, longer delivery times are also possible. We'll let you know if that's the case. You can of course cancel your delivery at any time free of charge.

Available in 7-21 days

€109.95 1
LSL MANTIS-RS PRO LIC.PL. - 701 VITPILEN FROM 2018-
10049762

The product will be ordered from the manufacturer for you. Depending on availability, longer delivery times are also possible. We'll let you know if that's the case. You can of course cancel your delivery at any time free of charge.

Available in 7-21 days

€139.95 1
LSL MANTIS-RS PRO LIC.PL. - CB1000R 2018-
10049751

The product will be ordered from the manufacturer for you. Depending on availability, longer delivery times are also possible. We'll let you know if that's the case. You can of course cancel your delivery at any time free of charge.

Available in 7-21 days

€119.95 1
LSL MANTIS-RS PRO LIC.PL. - CB300R 2018-
10049754

The product will be ordered from the manufacturer for you. Depending on availability, longer delivery times are also possible. We'll let you know if that's the case. You can of course cancel your delivery at any time free of charge.

Available in 7-21 days

€109.95 1
LSL MANTIS-RS PRO LIC.PL. - CB500F/CBR500R 2016-19
10049744

The product will be ordered from the manufacturer for you. Depending on availability, longer delivery times are also possible. We'll let you know if that's the case. You can of course cancel your delivery at any time free of charge.

Available in 7-21 days

€99.95 1
LSL MANTIS-RS PRO LIC.PL. - CB650 R/CBR650 R 2019-
10049756

The product will be ordered from the manufacturer for you. Depending on availability, longer delivery times are also possible. We'll let you know if that's the case. You can of course cancel your delivery at any time free of charge.

Available in 7-21 days

€109.95 1
LSL MANTIS-RS PRO LIC.PL. - CB650F/CBR650F 2014-19
10049742

The product will be ordered from the manufacturer for you. Depending on availability, longer delivery times are also possible. We'll let you know if that's the case. You can of course cancel your delivery at any time free of charge.

Available in 7-21 days

€99.95 1
LSL MANTIS-RS PRO LIC.PL. - CBR 125 R 2018-
10049748

The item is in stock and will be delivered in 2-5 working days. Note: Stocks are updated online every hour on working days from 7 a.m. to 8 p.m., so there is a good chance that the products are available if they appear online.

Available

€122.00 1
LSL MANTIS-RS PRO LIC.PL. - CBR1000RR FIREBLADE SP/2
10049746

The product will be ordered from the manufacturer for you. Depending on availability, longer delivery times are also possible. We'll let you know if that's the case. You can of course cancel your delivery at any time free of charge.

Available in 7-21 days

€109.95 1
LSL MANTIS-RS PRO LIC.PL. - CBR600/1000 RR 2003-08
10049738

The product will be ordered from the manufacturer for you. Depending on availability, longer delivery times are also possible. We'll let you know if that's the case. You can of course cancel your delivery at any time free of charge.

Available in 7-21 days

€119.95 1
LSL MANTIS-RS PRO LIC.PL. - CBR600RR 2007-13
10049740

The product will be ordered from the manufacturer for you. Depending on availability, longer delivery times are also possible. We'll let you know if that's the case. You can of course cancel your delivery at any time free of charge.

Available in 7-21 days

€129.95 1
LSL MANTIS-RS PRO LIC.PL. - ER-6N/F 05-0918-
10049764

The item is in stock and will be delivered in 2-5 working days. Note: Stocks are updated online every hour on working days from 7 a.m. to 8 p.m., so there is a good chance that the products are available if they appear online.

Available

€99.95 1
LSL MANTIS-RS PRO LIC.PL. - ER-6N/F 12-17
10049767

The product will be ordered from the manufacturer for you. Depending on availability, longer delivery times are also possible. We'll let you know if that's the case. You can of course cancel your delivery at any time free of charge.

Available in 7-21 days

€99.95 1
LSL MANTIS-RS PRO LIC.PL. - FZ6/FAZER/S2 2004-11
10049868

The item is in stock and will be delivered in 2-5 working days. Note: Stocks are updated online every hour on working days from 7 a.m. to 8 p.m., so there is a good chance that the products are available if they appear online.

Available

€99.95 1
LSL MANTIS-RS PRO LIC.PL. - GSX-R/GSX-S125 2017-
10049860

The product will be ordered from the manufacturer for you. Depending on availability, longer delivery times are also possible. We'll let you know if that's the case. You can of course cancel your delivery at any time free of charge.

Available in 7-21 days

€99.95 1
LSL MANTIS-RS PRO LIC.PL. - GSX-S 1000/F 2015-
10049854

The product will be ordered from the manufacturer for you. Depending on availability, longer delivery times are also possible. We'll let you know if that's the case. You can of course cancel your delivery at any time free of charge.

Available in 7-21 days

€99.95 1
LSL MANTIS-RS PRO LIC.PL. - GSX-S 750 17-
10049858

The product will be ordered from the manufacturer for you. Depending on availability, longer delivery times are also possible. We'll let you know if that's the case. You can of course cancel your delivery at any time free of charge.

Available in 7-21 days

€109.95 1
LSL MANTIS-RS PRO LIC.PL. - HYPERMOTARD 950 2019-
10049630

The product will be ordered from the manufacturer for you. Depending on availability, longer delivery times are also possible. We'll let you know if that's the case. You can of course cancel your delivery at any time free of charge.

Available in 7-21 days

€139.95 1
LSL MANTIS-RS PRO LIC.PL. - MT-07 2013-
10049870

The item is in stock and will be delivered in 2-5 working days. Note: Stocks are updated online every hour on working days from 7 a.m. to 8 p.m., so there is a good chance that the products are available if they appear online.

Available

€99.95 1
LSL MANTIS-RS PRO LIC.PL. - MT-09 2017-
10049876

The product will be ordered from the manufacturer for you. Depending on availability, longer delivery times are also possible. We'll let you know if that's the case. You can of course cancel your delivery at any time free of charge.

Available in 7-21 days

€119.95 1
LSL MANTIS-RS PRO LIC.PL. - MT-125 2014-20
10049862

The product will be ordered from the manufacturer for you. Depending on availability, longer delivery times are also possible. We'll let you know if that's the case. You can of course cancel your delivery at any time free of charge.

Available in 7-21 days

€99.95 1
LSL MANTIS-RS PRO LIC.PL. - NINJA 400 18-/Z400 19-
10049845

The product will be ordered from the manufacturer for you. Depending on availability, longer delivery times are also possible. We'll let you know if that's the case. You can of course cancel your delivery at any time free of charge.

Available in 7-21 days

€99.95 1
LSL MANTIS-RS PRO LIC.PL. - S1000R/RR 2009-20
10049624

The product will be ordered from the manufacturer for you. Depending on availability, longer delivery times are also possible. We'll let you know if that's the case. You can of course cancel your delivery at any time free of charge.

Available in 7-21 days

€99.95 1
LSL MANTIS-RS PRO LIC.PL. - SPEED TRIPLE S/R/RS 2016-
10049734

The item is in stock and will be delivered in 2-5 working days. Note: Stocks are updated online every hour on working days from 7 a.m. to 8 p.m., so there is a good chance that the products are available if they appear online.

Available

€129.95 1
LSL MANTIS-RS PRO LIC.PL. - SUZUKI SV 650 2016-
10049856

The product will be ordered from the manufacturer for you. Depending on availability, longer delivery times are also possible. We'll let you know if that's the case. You can of course cancel your delivery at any time free of charge.

Available in 7-21 days

€99.95 1
LSL MANTIS-RS PRO LIC.PL. - SV 650/1000 S/N 2003-09
10049852

The product will be ordered from the manufacturer for you. Depending on availability, longer delivery times are also possible. We'll let you know if that's the case. You can of course cancel your delivery at any time free of charge.

Available in 7-21 days

€99.95 1
LSL MANTIS-RS PRO LIC.PL. - VARIOUS KAWASAKI MODELS
10049769

The product will be ordered from the manufacturer for you. Depending on availability, longer delivery times are also possible. We'll let you know if that's the case. You can of course cancel your delivery at any time free of charge.

Available in 7-21 days

€99.95 1
LSL MANTIS-RS PRO LIC.PL. - VARIOUS MONSTER MODELS
10049628

The product will be ordered from the manufacturer for you. Depending on availability, longer delivery times are also possible. We'll let you know if that's the case. You can of course cancel your delivery at any time free of charge.

Available in 7-21 days

€119.95 1
LSL MANTIS-RS PRO LIC.PL. - YZF-R1 02-03/YZF-R6 03-06
10049866

The product will be ordered from the manufacturer for you. Depending on availability, longer delivery times are also possible. We'll let you know if that's the case. You can of course cancel your delivery at any time free of charge.

Available in 7-21 days

€99.95 1
LSL MANTIS-RS PRO LIC.PL. - YZF-R125 2014-19
10049872

The item is in stock and will be delivered in 2-5 working days. Note: Stocks are updated online every hour on working days from 7 a.m. to 8 p.m., so there is a good chance that the products are available if they appear online.

Available

€99.95 1
LSL MANTIS-RS PRO LIC.PL. - YZF-R125 2019-
10049878

The product will be ordered from the manufacturer for you. Depending on availability, longer delivery times are also possible. We'll let you know if that's the case. You can of course cancel your delivery at any time free of charge.

Available in 7-21 days

€99.95 1
LSL MANTIS-RS PRO LIC.PL. - YZF-R3 02-18/MT-03 16-19
10049874

The product will be ordered from the manufacturer for you. Depending on availability, longer delivery times are also possible. We'll let you know if that's the case. You can of course cancel your delivery at any time free of charge.

Available in 7-21 days

€109.95 1
LSL MANTIS-RS PRO LIC.PL. - YZF-R6 1999-03
10049864

The product will be ordered from the manufacturer for you. Depending on availability, longer delivery times are also possible. We'll let you know if that's the case. You can of course cancel your delivery at any time free of charge.

Available in 7-21 days

€99.95 1
LSL MANTIS-RS PRO LIC.PL. - Z 1000/SX 2010-17
10049771

The product will be ordered from the manufacturer for you. Depending on availability, longer delivery times are also possible. We'll let you know if that's the case. You can of course cancel your delivery at any time free of charge.

Available in 7-21 days

€99.95 1
LSL MANTIS-RS PRO LIC.PL. - Z125 19-/NINJA 125 19-
10049849

The product will be ordered from the manufacturer for you. Depending on availability, longer delivery times are also possible. We'll let you know if that's the case. You can of course cancel your delivery at any time free of charge.

Available in 7-21 days

€99.95 1
LSL MANTIS-RS PRO LIC.PL. - Z1400 14-
10049799

The product will be ordered from the manufacturer for you. Depending on availability, longer delivery times are also possible. We'll let you know if that's the case. You can of course cancel your delivery at any time free of charge.

Available in 7-21 days

€99.95 1
LSL MANTIS-RS PRO LIC.PL. - Z650 2017-
10049841

This product is available at week 22.
Current calendar week: 20

Available as of calendar week 22

€99.95 1
LSL MANTIS-RS PRO LIC.PL. - Z800/E 2013-17
10049797

The product will be ordered from the manufacturer for you. Depending on availability, longer delivery times are also possible. We'll let you know if that's the case. You can of course cancel your delivery at any time free of charge.

Available in 7-21 days

€99.95 1
LSL MANTIS-RS PRO LIC.PL. - Z900 2017-/Z H2 2020-
10049843

The item is in stock and will be delivered in 2-5 working days. Note: Stocks are updated online every hour on working days from 7 a.m. to 8 p.m., so there is a good chance that the products are available if they appear online.

Available

€99.95 1
LSL MANTIS-RS PRO LIC.PL. - Z900RS 2018-
10049847

The product will be ordered from the manufacturer for you. Depending on availability, longer delivery times are also possible. We'll let you know if that's the case. You can of course cancel your delivery at any time free of charge.

Available in 7-21 days

€99.95 1