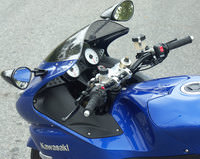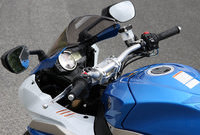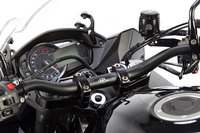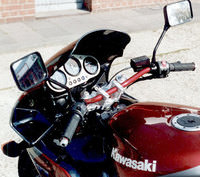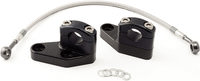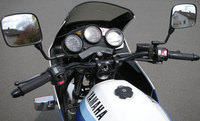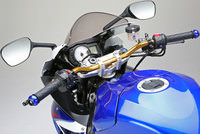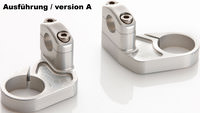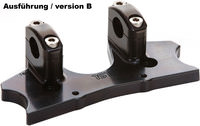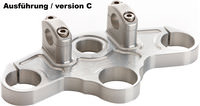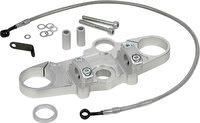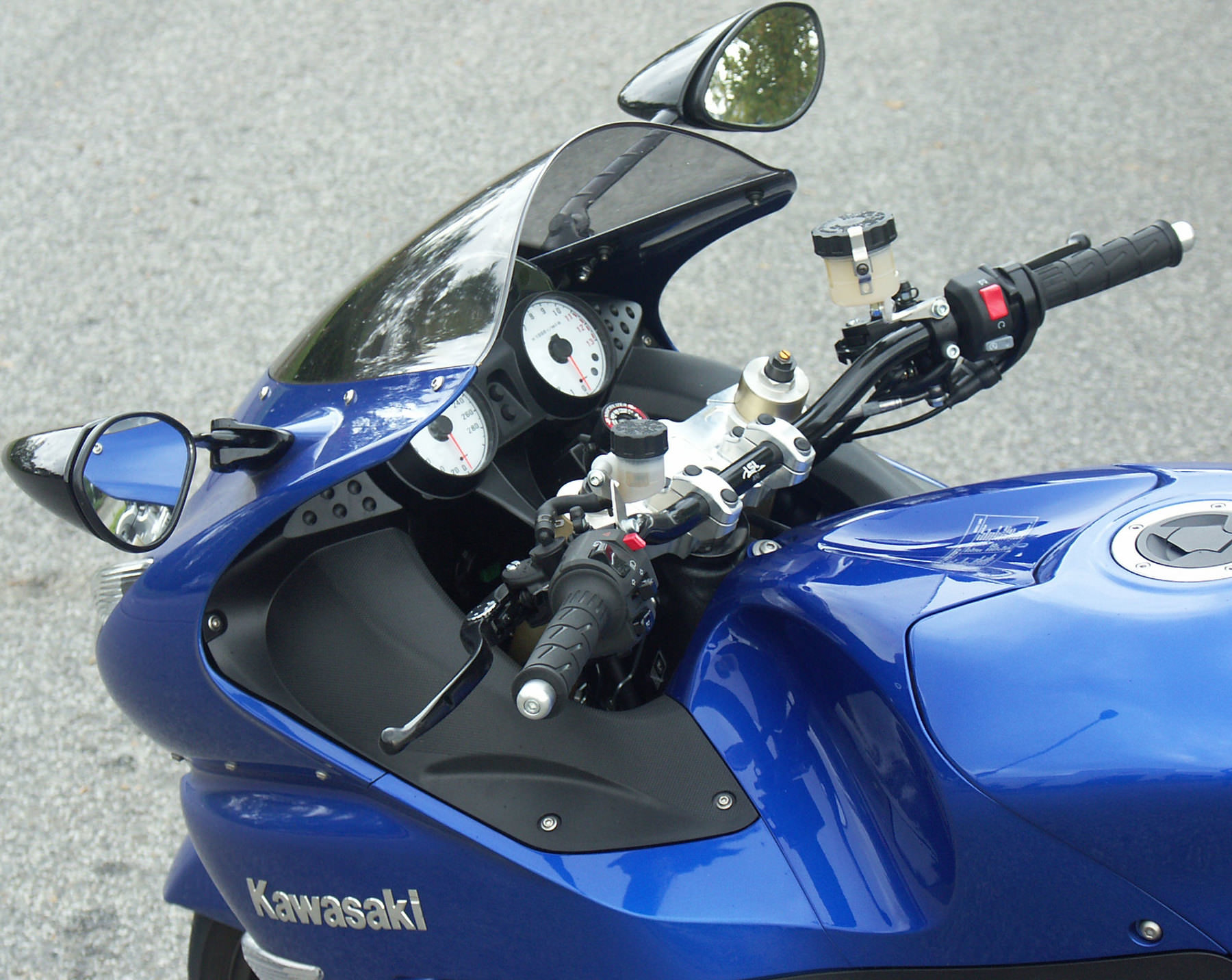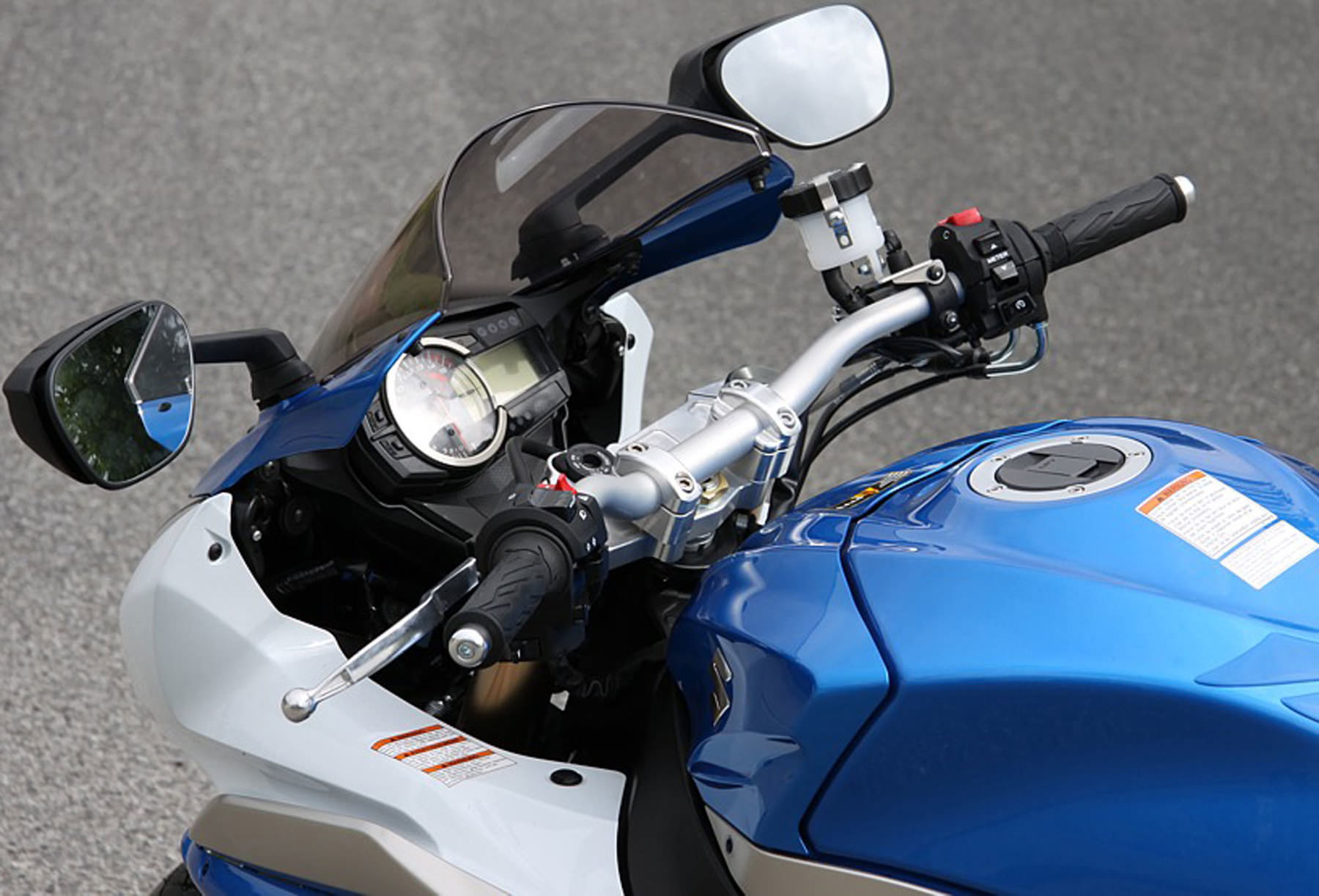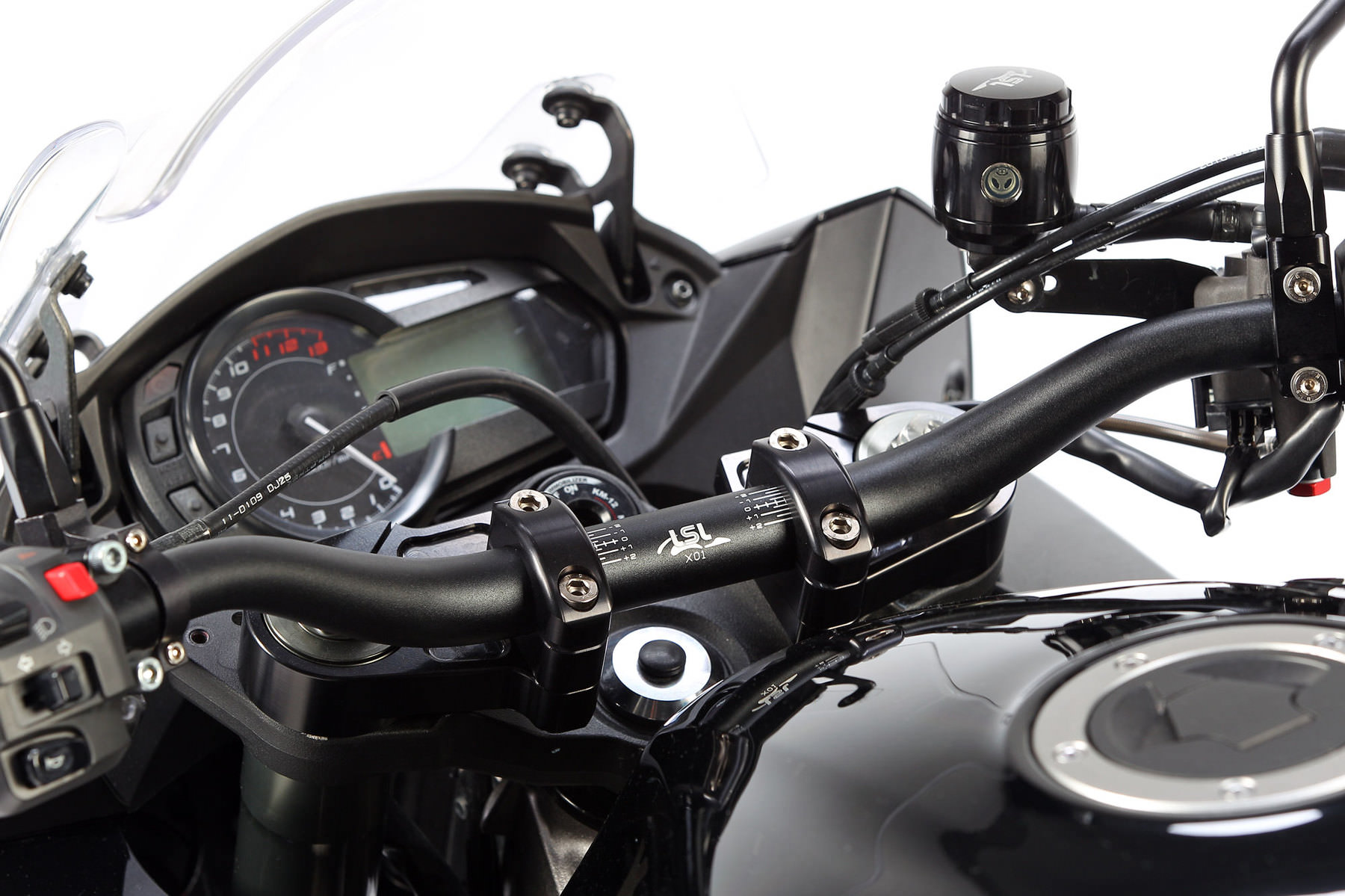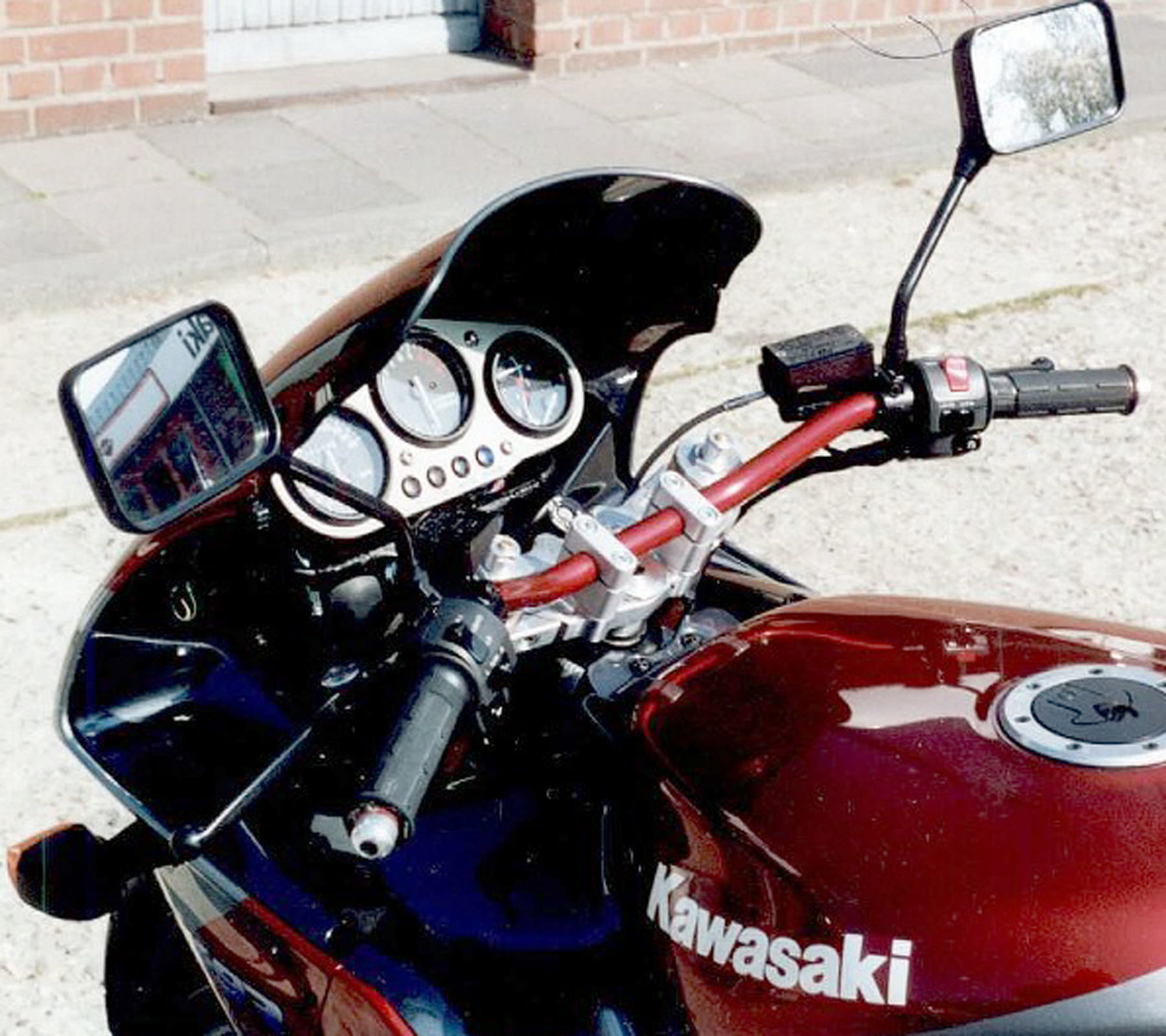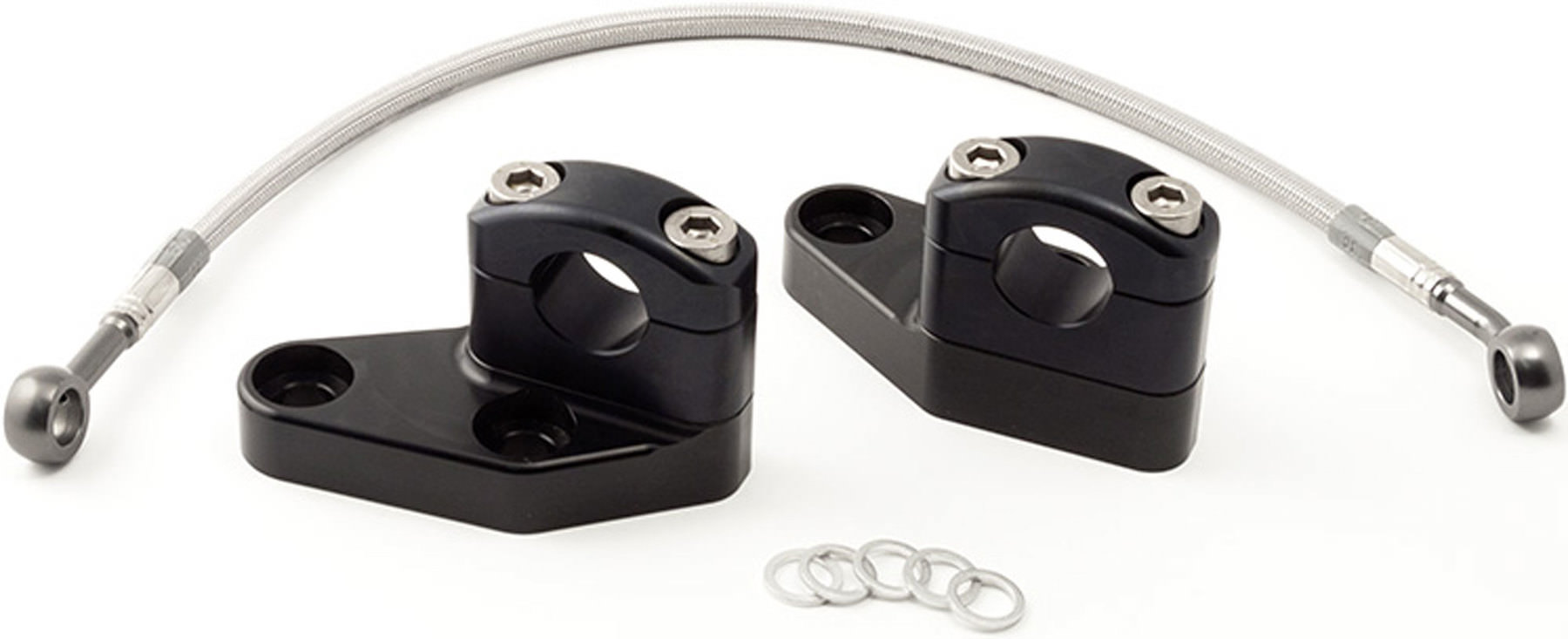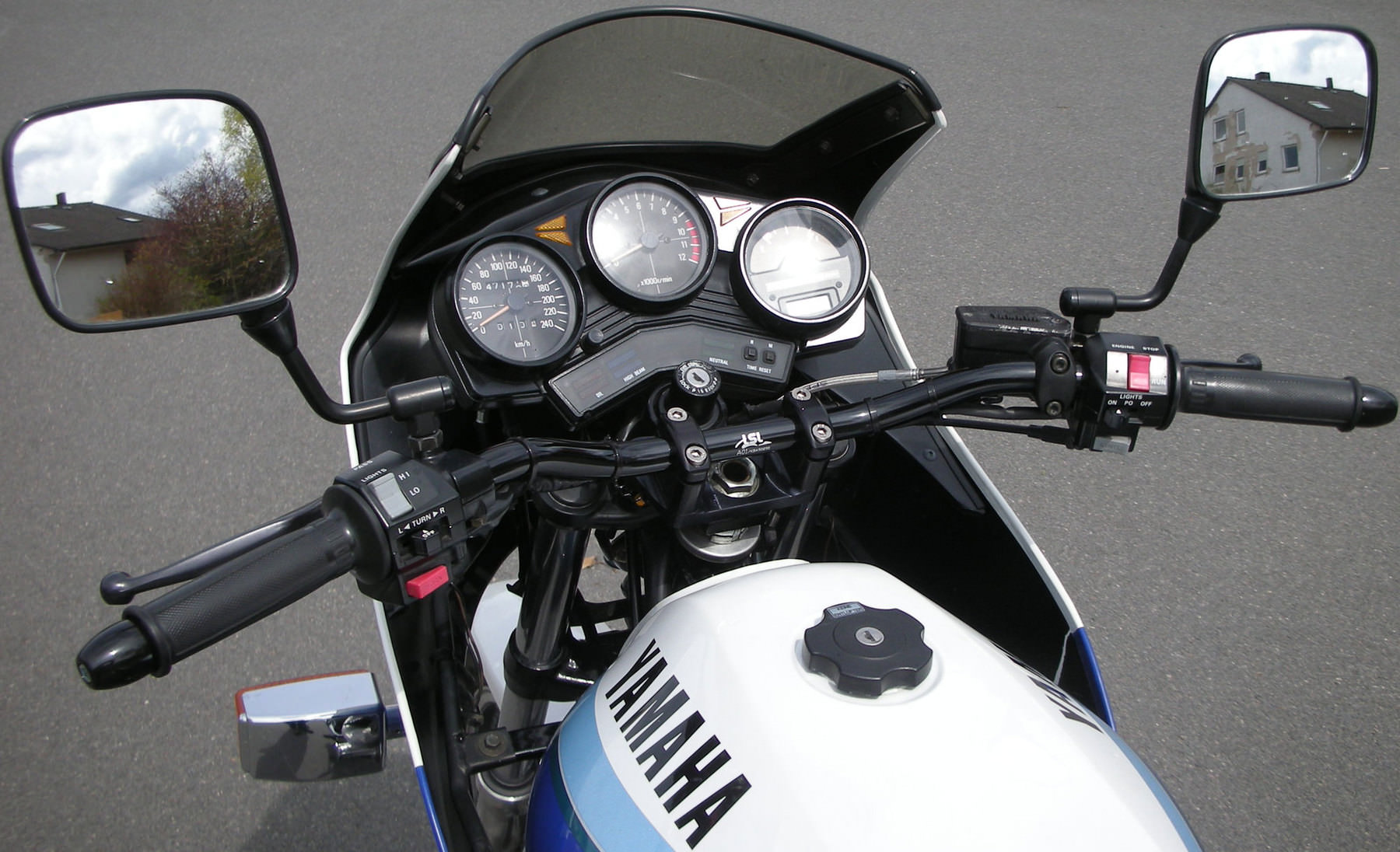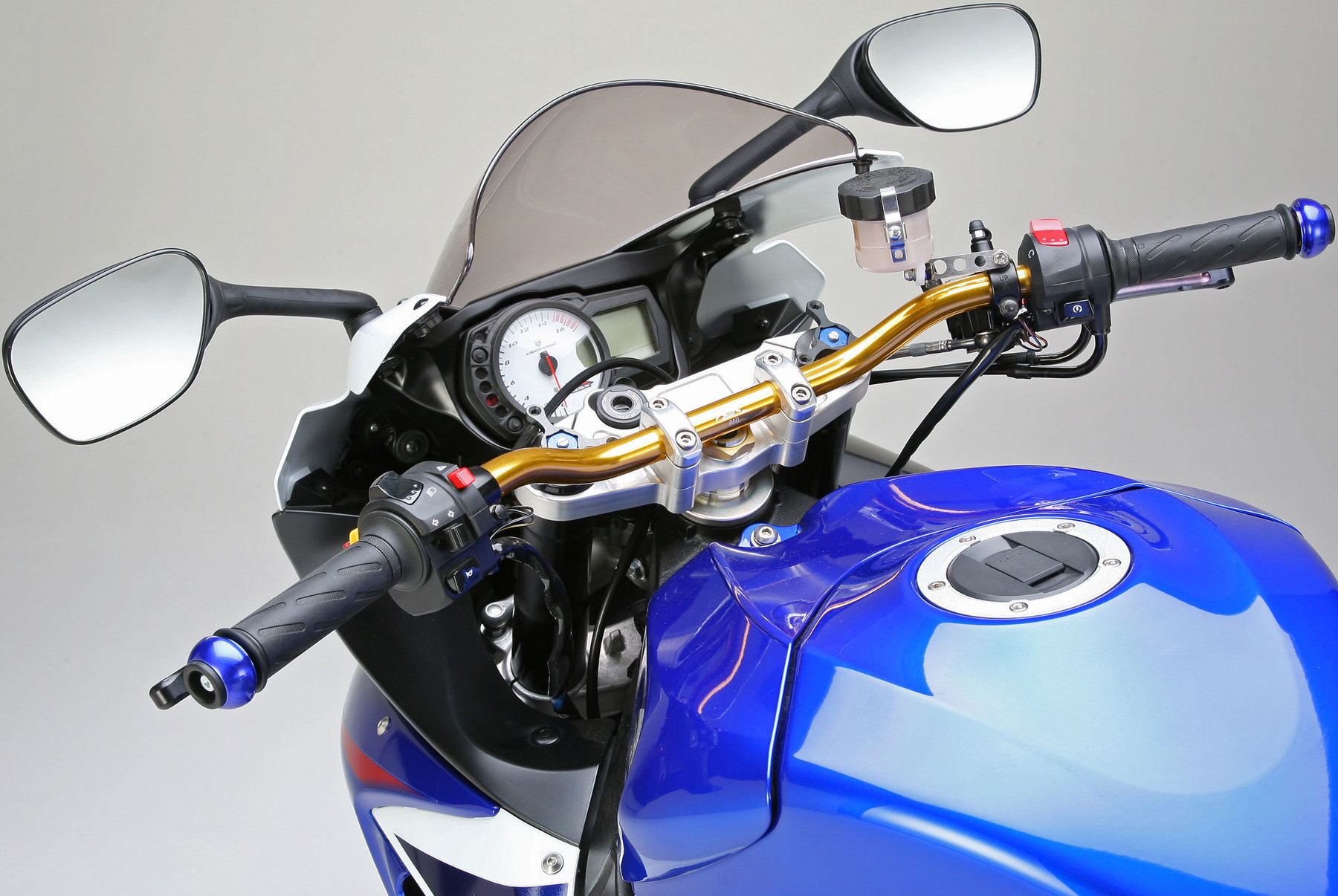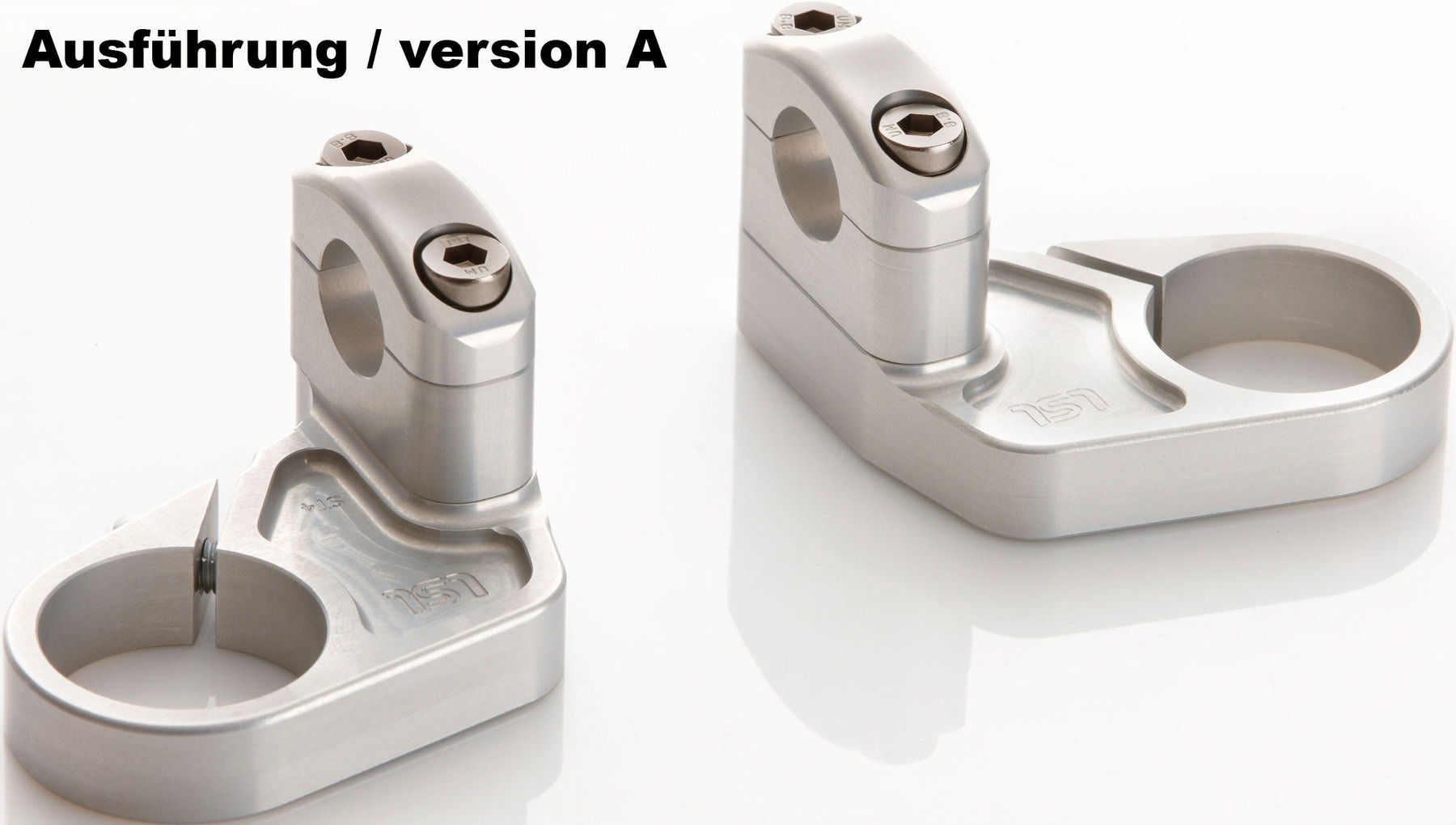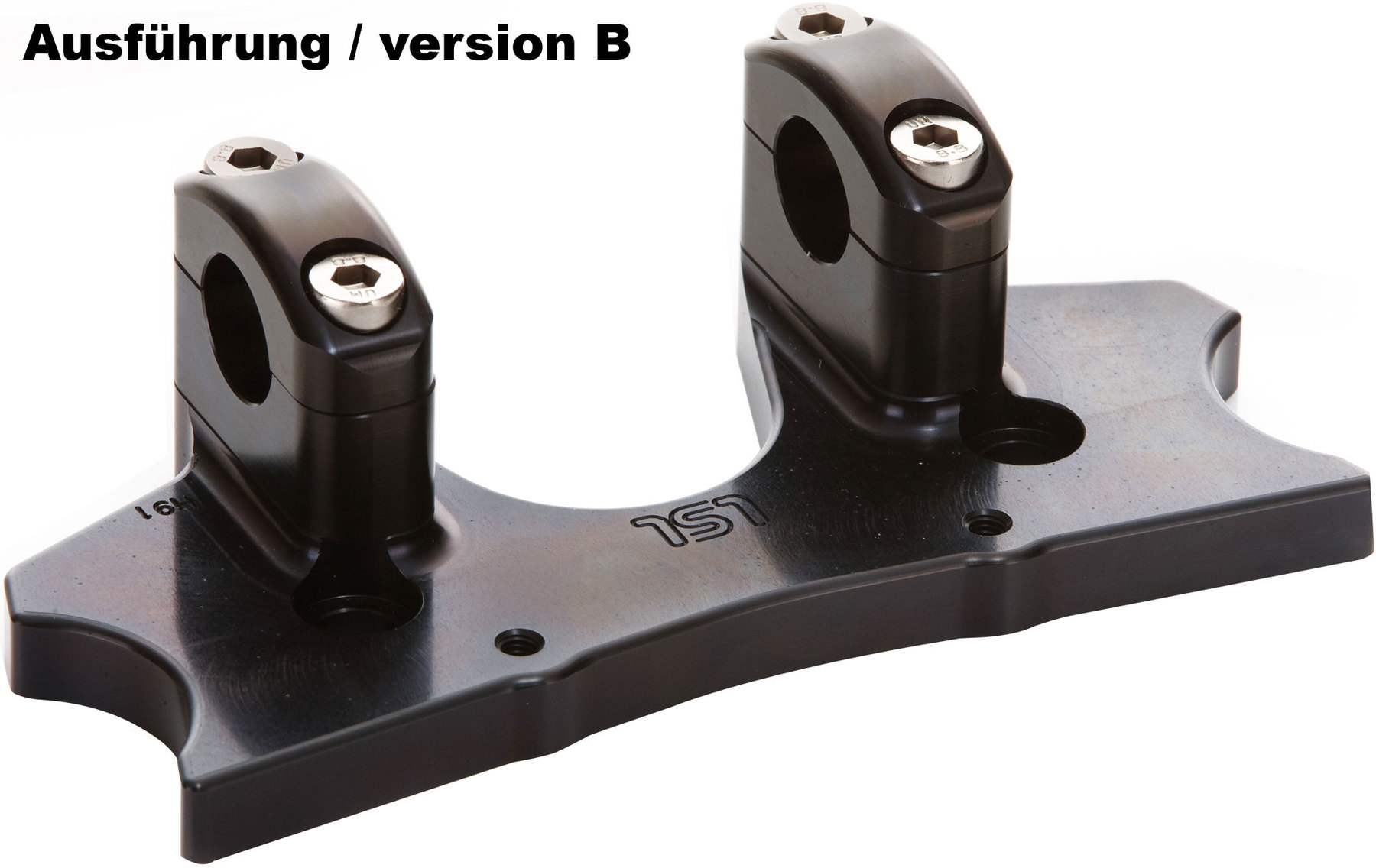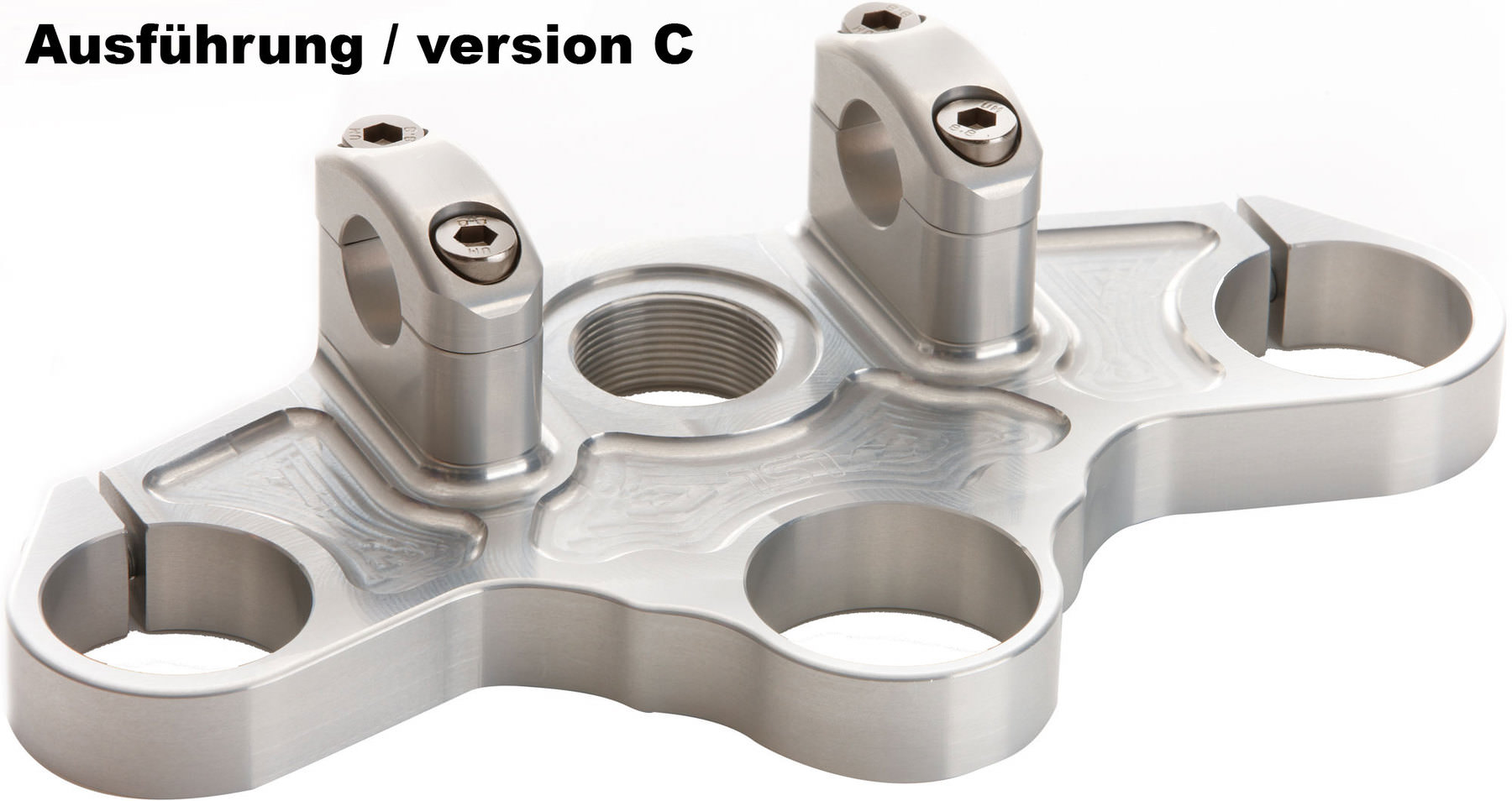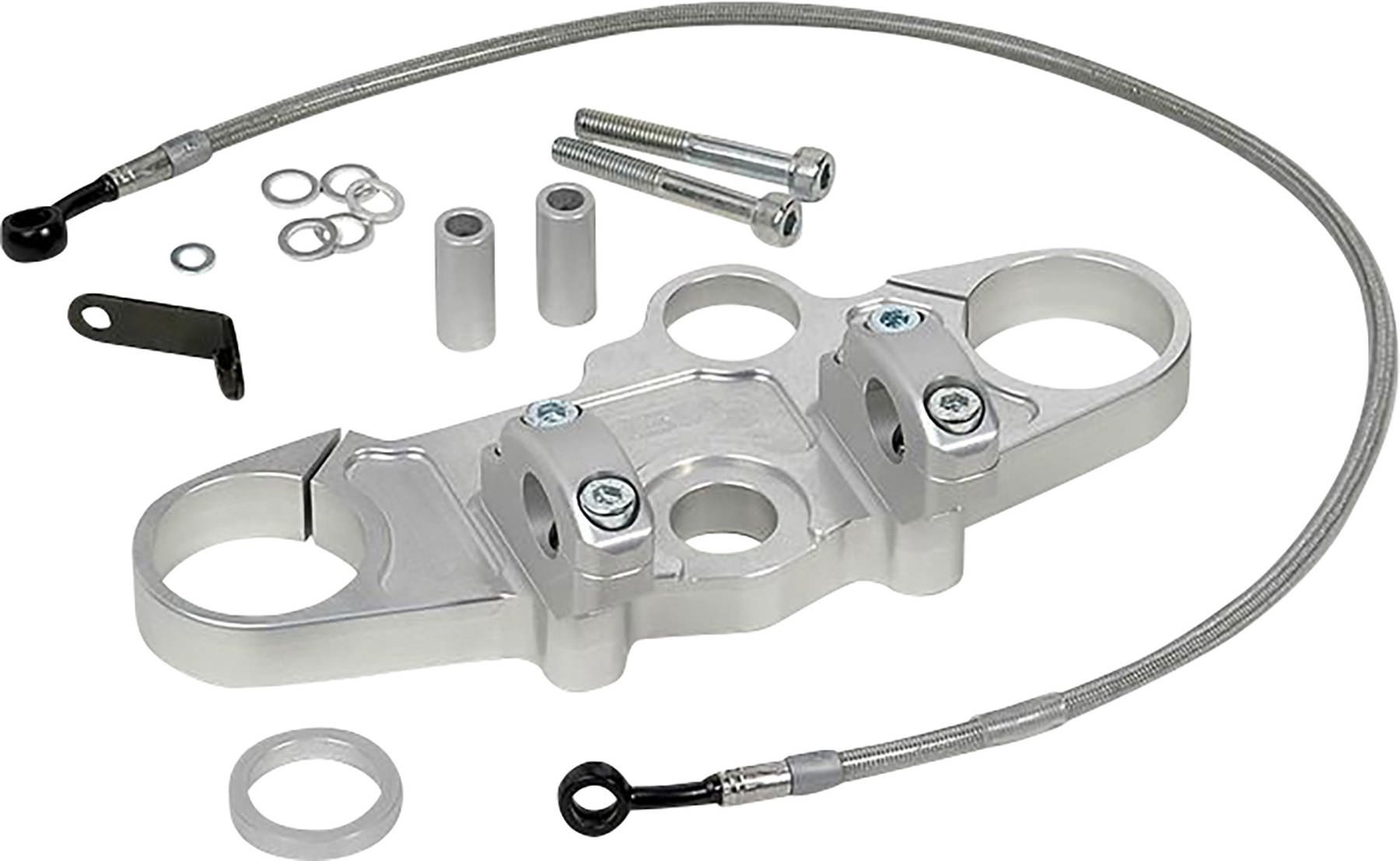 LSL Superbike Handlebar Kits
Various Models
Unfortunately, this product is not compatible with this motorcycle.
Unfortunately, this product is not compatible with this motorcycle. You can find the right for the here: .
Free delivery on orders over €199.00
2 year return policy
Fast delivery
LSL Superbike Handlebar Kits
Various Models
The extreme riding position that comes with low clip-on handlebars on some superbikes is wholly unsuited to town riding or holiday touring. The LSL Superbike Kits are the answer for a more relaxed and therefore safer sitting posture. Fitting a Superbike Kit can often enable braking distances to be reduced considerably:
The wider handlebar also improves handling.
Depending on the model, the kit includes clamps (only Suzuki GS500E), fork tube adapter plates, triple tree adapter plates or completely new triple trees for the handlebar mounts.
Where necessary for a specific model, longer steel brake lines, cables and fittings are included.
With TÜV test certificate valid for Germany.
Important: The Superbike Kits do not include the handlebar itself!
It is therefore essential to observe the mounting instruction for your model. Here you will find all the important details concerning the correct type of handlebar, correct kit version and, where applicable, specific features of each superbike handlebar kit available here.
Manufacturer details: LSL

Design and function at the highest level

Anybody who looks at the LSL conversion projects can see straight away that the people work with a great deal of passion and at least equally as much technical expertise. It is true that LSL places enormous value on creating a great look for all of its products, but maximum biking pleasure through excellent performance is always central to every product development. LSL has made an extremely good name for itself in the field of ergonomic optimization (handlebars, grips, levers and footrests). LSL also specialises in chassis- and hydraulic components, crash protection and lighting. Several accolades testify to the fact that LSL has taken the right approach with its commitment to technical finesse and quality without compromise - such as the fact LSL has won the 2013 "PS" magazine readers choice award in the "accessories/conversions" category for the fifth consecutive time.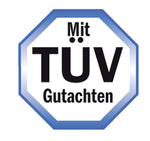 Technical accessories whose operational safety depends not only on their own strength and function, but also on proper installation on the vehicle, are often supplied with a TÜV (German Technical Inspection Association) certificate. The user is obliged to have such accessories immediately registered in the vehicle papers by a TÜV test centre. This also involves the TÜV inspector checking the vehicle's operational safety. A charge is made for such registration.
Today, TÜV reports are increasingly issued for specific types of vehicle. However, no manufacturer is able (e.g. for cost reasons) to have their products tested on all vehicles which might use them. If a vehicle model is not listed, it is the inspector who has to decide about registration on the basis of his technical expertise; the strength of the product and its roadworthiness are confirmed by the existing TÜV report.
Since 2002, TÜV only accepts component certificates which include verification of the manufacturer's quality management system according to the requirements of §19 Appendix XIX of the German Road Traffic Licensing Regulations (StVZO) in the form of a valid certification document. Older reports can now only be used in exceptional circumstances in the course of a full technical inspection (Bauratabnahme), but the inspector is by no means obliged to make the entry in the papers.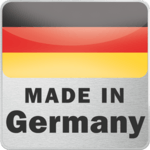 QUALITY MADE IN GERMANY!

By purchasing this item you have chosen a premium-quality product with superior German workmanship. This internationally acknowledged mark of quality means that this product is the result of efficiently coordinated development and production processes, technological expertise, continuous quality controls.
Product
Art. No.
Availability
Price
Actions
GPZ 500 S 87
10047436

The product will be ordered from the manufacturer for you. Depending on availability, longer delivery times are also possible. We'll let you know if that's the case. You can of course cancel your delivery at any time free of charge.

Available in 7-21 days

€209.95 1
LSL SUPERBI. HANDLEB.KIT* - GSX-R750/1000 00-03/01-02

Important notes

Fairing and windshield must be shortened.

Brake line is included:

Design: complete triple tree.

10021364

The item is in stock and will be delivered in 2-5 working days. Note: Stocks are updated online every hour on working days from 7 a.m. to 8 p.m., so there is a good chance that the products are available if they appear online.

Available

€349.95 1
LSL SUPERBI. HANDLEB.KIT* - YZF 1000T. 96-97 (4VD)
10021344

The product will be ordered from the manufacturer for you. Depending on availability, longer delivery times are also possible. We'll let you know if that's the case. You can of course cancel your delivery at any time free of charge.

Available in 7-21 days

€369.95 1
LSL SUPERBI. HANDLEB.KIT* - YZF-R1 00-01 (RN04)

Important notes

Brake line is included:

Clutch line or clutch cable is included.

Design: complete triple tree.

Fairing must be shortened

10021351

The item is in stock and will be delivered in 2-5 working days. Note: Stocks are updated online every hour on working days from 7 a.m. to 8 p.m., so there is a good chance that the products are available if they appear online.

Available

€399.95 1
LSL SUPERBI. HANDLEB.KIT* - ZX-6 R 98-99 (ZX600G)

Important notes

Fairing and windshield must be shortened.

Brake line is included:

Design: Triple tree adapter plates.

10021341

The item is in stock and will be delivered in 2-5 working days. Note: Stocks are updated online every hour on working days from 7 a.m. to 8 p.m., so there is a good chance that the products are available if they appear online.

Available

€199.95 1
LSL SUPERBI. HANDLEB.KIT* - ZX-9 R 98-99 (ZX900C/D

Important notes

Fairing and windshield must be shortened.

Brake line is included:

Clutch line or clutch cable is included.

Design: complete triple tree.

10021336

The item is in stock and will be delivered in 2-5 working days. Note: Stocks are updated online every hour on working days from 7 a.m. to 8 p.m., so there is a good chance that the products are available if they appear online.

Available

€299.95 1
LSL SUPERBIKE HANDLEB.KIT - BMW F800S/ST 06-

Important notes

Design: complete triple tree.

10021390

The item is in stock and will be delivered in 2-5 working days. Note: Stocks are updated online every hour on working days from 7 a.m. to 8 p.m., so there is a good chance that the products are available if they appear online.

Available

€239.95 1
LSL SUPERBIKE HANDLEB.KIT - BMW K 1200RS ALL

Important notes

Brake line is included:

Design: Fork tube adapter plates.

10021382

The item is in stock and will be delivered in 2-5 working days. Note: Stocks are updated online every hour on working days from 7 a.m. to 8 p.m., so there is a good chance that the products are available if they appear online.

Available

€219.95 1
LSL SUPERBIKE HANDLEB.KIT - BMW R1100S WO. ABS 01-06

Important notes

If you wish to continue using the original heated grip system and bar-end weights, you should use the LSL LMB1 Handlebar, Order no. 10021617.

Brake line is included:

Design: Fork tube adapter plates.

10021381

The product will be ordered from the manufacturer for you. Depending on availability, longer delivery times are also possible. We'll let you know if that's the case. You can of course cancel your delivery at any time free of charge.

Available in 7-21 days

€249.95 1
LSL SUPERBIKE HANDLEB.KIT - BMW R1100S WO. ABS -00

Important notes

If you wish to continue using the original heated grip system and bar-end weights, you should use the LSL LMB1 Handlebar, Order no. 10021617.

Brake line is included:

Design: Fork tube adapter plates.

10021380

The item is in stock and will be delivered in 2-5 working days. Note: Stocks are updated online every hour on working days from 7 a.m. to 8 p.m., so there is a good chance that the products are available if they appear online.

Available

€249.95 1
LSL SUPERBIKE HANDLEB.KIT - BMW R1200S 06-

Important notes

With this superbike kit, you must only use the flat superbike steel handlebar, Order no. 10021490. Please order separately.

Design: complete triple tree.

10021391

The product will be ordered from the manufacturer for you. Depending on availability, longer delivery times are also possible. We'll let you know if that's the case. You can of course cancel your delivery at any time free of charge.

Available in 7-21 days

€259.95 1
LSL SUPERBIKE HANDLEB.KIT - CBR 1100 XX 99- (SC35)

Important notes

Brake line is included:

Clutch line or clutch cable is included.

Design: Fork tube adapter plates.

10021366

The item is in stock and will be delivered in 2-5 working days. Note: Stocks are updated online every hour on working days from 7 a.m. to 8 p.m., so there is a good chance that the products are available if they appear online.

Available

€349.95 1
LSL SUPERBIKE HANDLEB.KIT - CBR1100XX -98 (SC35)

Important notes

Fairing windshield must be shortened.

Clutch line or clutch cable is included.

Design: Fork tube adapter plates.

10021320

The item is in stock and will be delivered in 2-5 working days. Note: Stocks are updated online every hour on working days from 7 a.m. to 8 p.m., so there is a good chance that the products are available if they appear online.

Available

€249.95 1
LSL SUPERBIKE HANDLEB.KIT - CBR600F 99-07(PC35) *

Important notes

Fairing windshield must be shortened.

Brake line is included:

Design: Fork tube adapter plates.

10021348

The item is in stock and will be delivered in 2-5 working days. Note: Stocks are updated online every hour on working days from 7 a.m. to 8 p.m., so there is a good chance that the products are available if they appear online.

Available

€299.95 1
LSL SUPERBIKE HANDLEB.KIT - DUCATI ST2/ST4 -2003

Important notes

10039190

The product will be ordered from the manufacturer for you. Depending on availability, longer delivery times are also possible. We'll let you know if that's the case. You can of course cancel your delivery at any time free of charge.

Available in 7-21 days

€299.95 1
LSL SUPERBIKE HANDLEB.KIT - FJR 1300 -05

Important notes

Design: Triple tree adapter plates.

10021352

The product will be ordered from the manufacturer for you. Depending on availability, longer delivery times are also possible. We'll let you know if that's the case. You can of course cancel your delivery at any time free of charge.

Available in 7-21 days

€169.95 1
LSL SUPERBIKE HANDLEB.KIT - FZ 750 -92 (ALLE)

Important notes

Brake line is included:

Design: Triple tree adapter plates.

10021327

The item is in stock and will be delivered in 2-5 working days. Note: Stocks are updated online every hour on working days from 7 a.m. to 8 p.m., so there is a good chance that the products are available if they appear online.

Available

€209.95 1
LSL SUPERBIKE HANDLEB.KIT - FZR 1000 89-90 (3LE)*

Important notes

Fairing and windshield must be shortened.

Brake line is included:

Design: Triple tree adapter plates.

10021330

The item is in stock and will be delivered in 2-5 working days. Note: Stocks are updated online every hour on working days from 7 a.m. to 8 p.m., so there is a good chance that the products are available if they appear online.

Available

€229.95 1
LSL SUPERBIKE HANDLEB.KIT - GPZ 1100 95- (ZXT10E)

Important notes

Brake line is included:

Design: Triple tree adapter plates.

10021335

The item is in stock and will be delivered in 2-5 working days. Note: Stocks are updated online every hour on working days from 7 a.m. to 8 p.m., so there is a good chance that the products are available if they appear online.

Available

€209.95 1
LSL SUPERBIKE HANDLEB.KIT - GPZ 500S 94- (EX500D/E

Important notes

Brake line is included:

Design: Triple tree adapter plates.

10021340

The item is in stock and will be delivered in 2-5 working days. Note: Stocks are updated online every hour on working days from 7 a.m. to 8 p.m., so there is a good chance that the products are available if they appear online.

Available

€209.95 1
LSL SUPERBIKE HANDLEB.KIT - GPZ 900 R 84-89 ZX900A

Important notes

Brake line is included:

Design: Triple tree adapter plates.

10021211

The item is in stock and will be delivered in 2-5 working days. Note: Stocks are updated online every hour on working days from 7 a.m. to 8 p.m., so there is a good chance that the products are available if they appear online.

Available

€199.95 1
LSL SUPERBIKE HANDLEB.KIT - GS 500 E -00 (GM51B)

Important notes

Only handlebar clamps for triple tree are included.

We recommend fitting the LSL Naked Bike Handlebar, L02.

10021218

The item is in stock and will be delivered in 2-5 working days. Note: Stocks are updated online every hour on working days from 7 a.m. to 8 p.m., so there is a good chance that the products are available if they appear online.

Available

€139.95 1
LSL SUPERBIKE HANDLEB.KIT - GSX 1100 F ALL (GV72C)

Important notes

Brake line is included:

Design: Triple tree adapter plates.

10021331

The product will be ordered from the manufacturer for you. Depending on availability, longer delivery times are also possible. We'll let you know if that's the case. You can of course cancel your delivery at any time free of charge.

Available in 7-21 days

€219.95 1
LSL SUPERBIKE HANDLEB.KIT - GSX 1300 HAYABUSA (-07) *

Important notes

Fairing windshield must be shortened.

Brake line is included:

Clutch line or clutch cable is included.

Design: Triple tree adapter plates.

10021346

The item is in stock and will be delivered in 2-5 working days. Note: Stocks are updated online every hour on working days from 7 a.m. to 8 p.m., so there is a good chance that the products are available if they appear online.

Available

€309.95 1
LSL SUPERBIKE HANDLEB.KIT - GSX 600 F -97

Important notes

Brake line is included:

Design: Triple tree adapter plates.

10021217

The item is in stock and will be delivered in 2-5 working days. Note: Stocks are updated online every hour on working days from 7 a.m. to 8 p.m., so there is a good chance that the products are available if they appear online.

Available

€219.95 1
LSL SUPERBIKE HANDLEB.KIT - GSX 600 F 98- (AJ)

Important notes

Brake line is included:

Design: Fork tube adapter plates.

10021337

The item is in stock and will be delivered in 2-5 working days. Note: Stocks are updated online every hour on working days from 7 a.m. to 8 p.m., so there is a good chance that the products are available if they appear online.

Available

€219.95 1
LSL SUPERBIKE HANDLEB.KIT - GSX 750F 03-

Important notes

Brake line is included:

Design: Triple tree adapter plates.

10021383

The item is in stock and will be delivered in 2-5 working days. Note: Stocks are updated online every hour on working days from 7 a.m. to 8 p.m., so there is a good chance that the products are available if they appear online.

Available

€199.95 1
LSL SUPERBIKE HANDLEB.KIT - GSX 750F 88-02 (GR78A)

Important notes

Brake line is included:

Design: Triple tree adapter plates.

10021329

The item is in stock and will be delivered in 2-5 working days. Note: Stocks are updated online every hour on working days from 7 a.m. to 8 p.m., so there is a good chance that the products are available if they appear online.

Available

€219.95 1
LSL SUPERBIKE HANDLEB.KIT - GSX-R 1000 S 03-04

Important notes

Fairing windshield must be shortened.

Brake line is included:

Design: complete triple tree.

10021370

The item is in stock and will be delivered in 2-5 working days. Note: Stocks are updated online every hour on working days from 7 a.m. to 8 p.m., so there is a good chance that the products are available if they appear online.

Available

€359.95 1
LSL SUPERBIKE HANDLEB.KIT - GSX-R 1300 HAYABUSA,08- *

Important notes

Fairing windshield must be shortened.

Brake line is included:

Design: Triple tree adapter plates.

Only the double-butted handlebar in superbike style is compatible with this superbike kit (e.g. Order no. 10021611).

10021323

The item is in stock and will be delivered in 2-5 working days. Note: Stocks are updated online every hour on working days from 7 a.m. to 8 p.m., so there is a good chance that the products are available if they appear online.

Available

€279.95 1
LSL SUPERBIKE HANDLEB.KIT - GSX-R 1300, ABS, 13-

Important notes

Fairing windshield must be shortened.

Brake line is included:

Design: Triple tree adapter plates.

Only the double-butted handlebar in superbike style is compatible with this superbike kit (e.g. Order no. 10021611).

10021093

The product will be ordered from the manufacturer for you. Depending on availability, longer delivery times are also possible. We'll let you know if that's the case. You can of course cancel your delivery at any time free of charge.

Available in 7-21 days

€289.95 1
LSL SUPERBIKE HANDLEB.KIT - GSX-R 600/750 04-05

Important notes

Brake line is included:

Design: complete triple tree.

10021376

The item is in stock and will be delivered in 2-5 working days. Note: Stocks are updated online every hour on working days from 7 a.m. to 8 p.m., so there is a good chance that the products are available if they appear online.

Available

€359.95 1
LSL SUPERBIKE HANDLEB.KIT - GSX-R 750T 96-99 *

Important notes

Fairing and windshield must be shortened.

Brake line is included:

Design: complete triple tree.

10021384

The item is in stock and will be delivered in 2-5 working days. Note: Stocks are updated online every hour on working days from 7 a.m. to 8 p.m., so there is a good chance that the products are available if they appear online.

Available

€319.95 1
LSL SUPERBIKE HANDLEB.KIT - GSX1100R 93-96 (GU75C)*

Important notes

Fairing and windshield must be shortened.

Brake line is included:

Design: Triple tree adapter plates.

10021222

The item is in stock and will be delivered in 2-5 working days. Note: Stocks are updated online every hour on working days from 7 a.m. to 8 p.m., so there is a good chance that the products are available if they appear online.

Available

€199.95 1
LSL SUPERBIKE HANDLEB.KIT - HONDA X11 ALL (SC42)

Important notes

Design: Triple tree adapter plates.

10021347

The item is in stock and will be delivered in 2-5 working days. Note: Stocks are updated online every hour on working days from 7 a.m. to 8 p.m., so there is a good chance that the products are available if they appear online.

Available

€189.95 1
LSL SUPERBIKE HANDLEB.KIT - HONDA, VARIOUS
10021205

The item is in stock and will be delivered in 2-5 working days. Note: Stocks are updated online every hour on working days from 7 a.m. to 8 p.m., so there is a good chance that the products are available if they appear online.

Available

€199.95 1
LSL SUPERBIKE HANDLEB.KIT - K1200S/1300S 04-/09- TUEV

Important notes

Superbike conversion moves the handlebar close to the original mirror,which is why the Mirror Kit 10028865 is needed-please order at the same time.

Design: complete triple tree.

Only the double-butted handlebar in superbike style is compatible with this superbike kit (e.g. Order no. 10021611).

10021102

The item is in stock and will be delivered in 2-5 working days. Note: Stocks are updated online every hour on working days from 7 a.m. to 8 p.m., so there is a good chance that the products are available if they appear online.

Available

€319.95 1
LSL SUPERBIKE HANDLEB.KIT - K1300R 09-

Important notes

Black triple tree

Throttle cable is included.

Design: complete triple tree.

Only the flat double-butted handlebar in superbike style is compatible with this superbike kit.

10021285

The item is in stock and will be delivered in 2-5 working days. Note: Stocks are updated online every hour on working days from 7 a.m. to 8 p.m., so there is a good chance that the products are available if they appear online.

Available

€439.95 1
LSL SUPERBIKE HANDLEB.KIT - KAWASAKI ZZR-1400 06-11

Important notes

Brake line is included:

Design: complete triple tree.

Only the flat double-butted handlebar in superbike style is compatible with this superbike kit.

10021392

The product will be ordered from the manufacturer for you. Depending on availability, longer delivery times are also possible. We'll let you know if that's the case. You can of course cancel your delivery at any time free of charge.

Available in 7-21 days

€369.95 1
LSL SUPERBIKE HANDLEB.KIT - KIT, BMW S1000RR 09-11

Important notes

Fairing and windshield must be shortened.

Brake line is included:

Design: complete triple tree.

Only the flat double-butted handlebar in superbike style is compatible with this superbike kit.

10021176

The product will be ordered from the manufacturer for you. Depending on availability, longer delivery times are also possible. We'll let you know if that's the case. You can of course cancel your delivery at any time free of charge.

Available in 7-21 days

€369.95 1
LSL SUPERBIKE HANDLEB.KIT - KIT, GPZ 500 S 88-93

Important notes

Brake line is included:

Design: Triple tree adapter plates.

10021163

The product will be ordered from the manufacturer for you. Depending on availability, longer delivery times are also possible. We'll let you know if that's the case. You can of course cancel your delivery at any time free of charge.

Available in 7-21 days

€209.95 1
LSL SUPERBIKE HANDLEB.KIT - KIT, HONDA CBR600F 11-

Important notes

Fairing windshield must be shortened.

Brake line is included:

Clutch line or clutch cable is included.

Design: Fork tube adapter plates.

Only the flat superbike handlebar is compatible with this superbike kit.

10021289

The product will be ordered from the manufacturer for you. Depending on availability, longer delivery times are also possible. We'll let you know if that's the case. You can of course cancel your delivery at any time free of charge.

Available in 7-21 days

€299.95 1
LSL SUPERBIKE HANDLEB.KIT - KIT, K1200R 05-08, BLACK

Important notes

Throttle cable is included.

Design: complete triple tree.

10021286

The item is in stock and will be delivered in 2-5 working days. Note: Stocks are updated online every hour on working days from 7 a.m. to 8 p.m., so there is a good chance that the products are available if they appear online.

Available

€369.95 1
LSL SUPERBIKE HANDLEB.KIT - KIT, KAWASAKI Z1000SX 11-

Important notes

Design: Triple tree adapter plates.

10021271

The item is in stock and will be delivered in 2-5 working days. Note: Stocks are updated online every hour on working days from 7 a.m. to 8 p.m., so there is a good chance that the products are available if they appear online.

Available

€209.95 1
LSL SUPERBIKE HANDLEB.KIT - KIT, VARIOUS HONDA
10021294

The product will be ordered from the manufacturer for you. Depending on availability, longer delivery times are also possible. We'll let you know if that's the case. You can of course cancel your delivery at any time free of charge.

Available in 7-21 days

€219.95 1
LSL SUPERBIKE HANDLEB.KIT - KIT,BMW S1000RR 12-

Important notes

Fairing and windshield must be shortened.

Brake line is included:

Design: complete triple tree.

Only the flat double-butted handlebar in superbike style is compatible with this superbike kit.

10021297

The product will be ordered from the manufacturer for you. Depending on availability, longer delivery times are also possible. We'll let you know if that's the case. You can of course cancel your delivery at any time free of charge.

Available in 7-21 days

€389.95 1
LSL SUPERBIKE HANDLEB.KIT - KIT,CBR1000RR ABS, 09-11

Important notes

Brake line is included:

Clutch line or clutch cable is included.

Design: complete triple tree.

Only the flat superbike handlebar is compatible with this superbike kit.

10021111

The product will be ordered from the manufacturer for you. Depending on availability, longer delivery times are also possible. We'll let you know if that's the case. You can of course cancel your delivery at any time free of charge.

Available in 7-21 days

€369.95 1
LSL SUPERBIKE HANDLEB.KIT - KIT,GTR1400ABS TOUR B XB3

Important notes

Brake line is included:

Design: Triple tree adapter plates.

Only the Type Tour B double-butted handlebar is compatible with this superbike kit.

10021209

The product will be ordered from the manufacturer for you. Depending on availability, longer delivery times are also possible. We'll let you know if that's the case. You can of course cancel your delivery at any time free of charge.

Available in 7-21 days

€299.95 1
LSL SUPERBIKE HANDLEB.KIT - KIT,SUZ.GSX-R 600/750 11-

Important notes

Clutch line or clutch cable is included.

Design: complete triple tree.

10021273

The product will be ordered from the manufacturer for you. Depending on availability, longer delivery times are also possible. We'll let you know if that's the case. You can of course cancel your delivery at any time free of charge.

Available in 7-21 days

€329.95 1
LSL SUPERBIKE HANDLEB.KIT - KIT,VFR1200DF WITH DSG 10

Important notes

Design: Fork tube adapter plates.

Only the flat double-butted handlebar in superbike style is compatible with this superbike kit.

10021250

The item is in stock and will be delivered in 2-5 working days. Note: Stocks are updated online every hour on working days from 7 a.m. to 8 p.m., so there is a good chance that the products are available if they appear online.

Available

€209.95 1
LSL SUPERBIKE HANDLEB.KIT - KIT,VFR1200F WITHOUT DSG

Important notes

Design: Fork tube adapter plates.

Only the flat double-butted handlebar in superbike style is compatible with this superbike kit.

10021114

The item is in stock and will be delivered in 2-5 working days. Note: Stocks are updated online every hour on working days from 7 a.m. to 8 p.m., so there is a good chance that the products are available if they appear online.

Available

€209.95 1
LSL SUPERBIKE HANDLEB.KIT - KIT,YZF-R1 09-11

Important notes

Fairing windshield must be shortened.

Brake line is included:

Design: complete triple tree.

Only the flat superbike handlebar is compatible with this superbike kit.

10021221

The product will be ordered from the manufacturer for you. Depending on availability, longer delivery times are also possible. We'll let you know if that's the case. You can of course cancel your delivery at any time free of charge.

Available in 7-21 days

€369.95 1
LSL SUPERBIKE HANDLEB.KIT - SPRINT ST WITHOUT GH 05-

Important notes

Clutch line or clutch cable is included.

Design: Triple tree adapter plates.

10021394

The item is in stock and will be delivered in 2-5 working days. Note: Stocks are updated online every hour on working days from 7 a.m. to 8 p.m., so there is a good chance that the products are available if they appear online.

Available

€269.95 1
LSL SUPERBIKE HANDLEB.KIT - SPRINTST WITHOUT GH.99-04

Important notes

Brake line is included:

Clutch line or clutch cable is included.

Design: Triple tree adapter plates.

10021393

The product will be ordered from the manufacturer for you. Depending on availability, longer delivery times are also possible. We'll let you know if that's the case. You can of course cancel your delivery at any time free of charge.

Available in 7-21 days

€259.95 1
LSL SUPERBIKE HANDLEB.KIT - SUZ. GSX-R 1000 07-08

Important notes

Brake line is included:

Clutch line or clutch cable is included.

Design: complete triple tree.

Only the flat superbike handlebar is compatible with this superbike kit.

10021343

The item is in stock and will be delivered in 2-5 working days. Note: Stocks are updated online every hour on working days from 7 a.m. to 8 p.m., so there is a good chance that the products are available if they appear online.

Available

€359.95 1
LSL SUPERBIKE HANDLEB.KIT - SUZ. GSX-R 1000 09-11

Important notes

Brake line is included:

Design: complete triple tree.

Only the flat superbike handlebar is compatible with this superbike kit.

10021110

The item is in stock and will be delivered in 2-5 working days. Note: Stocks are updated online every hour on working days from 7 a.m. to 8 p.m., so there is a good chance that the products are available if they appear online.

Available

€329.95 1
LSL SUPERBIKE HANDLEB.KIT - SUZ. GSX-R 600/750 06-10

Important notes

Brake line is included:

Clutch line or clutch cable is included.

Design: complete triple tree.

10021399

The item is in stock and will be delivered in 2-5 working days. Note: Stocks are updated online every hour on working days from 7 a.m. to 8 p.m., so there is a good chance that the products are available if they appear online.

Available

€329.95 1
LSL SUPERBIKE HANDLEB.KIT - SV 1000 S 03-

Important notes

Brake line is included:

Throttle cable is included.

Design: complete triple tree.

Only the flat superbike handlebar is compatible with this superbike kit.

10021369

The item is in stock and will be delivered in 2-5 working days. Note: Stocks are updated online every hour on working days from 7 a.m. to 8 p.m., so there is a good chance that the products are available if they appear online.

Available

€389.95 1
LSL SUPERBIKE HANDLEB.KIT - SV 650 S 00-02 *

Important notes

Fairing windshield must be shortened.

Brake line is included:

Clutch line or clutch cable is included.

Design: complete triple tree.

Only the flat superbike handlebar is compatible with this superbike kit.

10021367

The product will be ordered from the manufacturer for you. Depending on availability, longer delivery times are also possible. We'll let you know if that's the case. You can of course cancel your delivery at any time free of charge.

Available in 7-21 days

€369.95 1
LSL SUPERBIKE HANDLEB.KIT - SV 650 S 07-,MIT ABS

Important notes

Brake line is included:

Design: complete triple tree.

Only the flat superbike handlebar is compatible with this superbike kit.

10021389

The product will be ordered from the manufacturer for you. Depending on availability, longer delivery times are also possible. We'll let you know if that's the case. You can of course cancel your delivery at any time free of charge.

Available in 7-21 days

€349.95 1
LSL SUPERBIKE HANDLEB.KIT - SV 650S W.O. ABS 03-08

Important notes

Brake line is included:

Design: complete triple tree.

Only the flat superbike handlebar is compatible with this superbike kit.

10021368

The item is in stock and will be delivered in 2-5 working days. Note: Stocks are updated online every hour on working days from 7 a.m. to 8 p.m., so there is a good chance that the products are available if they appear online.

Available

€359.95 1
LSL SUPERBIKE HANDLEB.KIT - TRIUMPH T595/T955I

Important notes

Brake line is included:

Design: complete triple tree.

10021396

The product will be ordered from the manufacturer for you. Depending on availability, longer delivery times are also possible. We'll let you know if that's the case. You can of course cancel your delivery at any time free of charge.

Available in 7-21 days

€349.95 1
LSL SUPERBIKE HANDLEB.KIT - VARIOUS HONDA MODELS*

Important notes

Brake line is included:

Design: Fork tube adapter plates.

10021208

The item is in stock and will be delivered in 2-5 working days. Note: Stocks are updated online every hour on working days from 7 a.m. to 8 p.m., so there is a good chance that the products are available if they appear online.

Available

€279.95 1
LSL SUPERBIKE HANDLEB.KIT - VFR 750 F /CBR 1000 F

Important notes

Design: Fork tube adapter plates.

10021207

The item is in stock and will be delivered in 2-5 working days. Note: Stocks are updated online every hour on working days from 7 a.m. to 8 p.m., so there is a good chance that the products are available if they appear online.

Available

€199.95 1
LSL SUPERBIKE HANDLEB.KIT - VFR 800 F 02- (RC46)

Important notes

Design: Fork tube adapter plates.

Only the flat superbike handlebar is compatible with this superbike kit.

10021361

The product will be ordered from the manufacturer for you. Depending on availability, longer delivery times are also possible. We'll let you know if that's the case. You can of course cancel your delivery at any time free of charge.

Available in 7-21 days

€229.95 1
LSL SUPERBIKE HANDLEB.KIT - VFR 800 F 98-01 (RC46)

Important notes

Design: Fork tube adapter plates.

Only the flat superbike handlebar is compatible with this superbike kit.

10021360

The item is in stock and will be delivered in 2-5 working days. Note: Stocks are updated online every hour on working days from 7 a.m. to 8 p.m., so there is a good chance that the products are available if they appear online.

Available

€229.95 1
LSL SUPERBIKE HANDLEB.KIT - XBR 500 / GB 500 (ALL)

Important notes

Brake line is included:

Design: Fork tube adapter plates.

10021206

The item is in stock and will be delivered in 2-5 working days. Note: Stocks are updated online every hour on working days from 7 a.m. to 8 p.m., so there is a good chance that the products are available if they appear online.

Available

€219.95 1
LSL SUPERBIKE HANDLEB.KIT - XJ900 83-94 (31A/58L/4BB)

Important notes

Brake line is included:

Design: Triple tree adapter plates.

10021334

The item is in stock and will be delivered in 2-5 working days. Note: Stocks are updated online every hour on working days from 7 a.m. to 8 p.m., so there is a good chance that the products are available if they appear online.

Available

€219.95 1
LSL SUPERBIKE HANDLEB.KIT - YAMAHA FJ 1200 EXCEPT ABS

Important notes

Brake line is included:

Design: Triple tree adapter plates.

10021225

The product will be ordered from the manufacturer for you. Depending on availability, longer delivery times are also possible. We'll let you know if that's the case. You can of course cancel your delivery at any time free of charge.

Available in 7-21 days

€219.95 1
LSL SUPERBIKE HANDLEB.KIT - YAMAHA SZR 660 ALL

Important notes

Fairing windshield must be shortened.

Brake line is included:

Clutch line or clutch cable is included.

Design: Triple tree adapter plates.

10021398

The item is in stock and will be delivered in 2-5 working days. Note: Stocks are updated online every hour on working days from 7 a.m. to 8 p.m., so there is a good chance that the products are available if they appear online.

Available

€369.95 1
LSL SUPERBIKE HANDLEB.KIT - YZF-R1 04-05

Important notes

Fairing and windshield must be shortened.

Clutch line or clutch cable is included.

Design: complete triple tree.

10021387

The product will be ordered from the manufacturer for you. Depending on availability, longer delivery times are also possible. We'll let you know if that's the case. You can of course cancel your delivery at any time free of charge.

Available in 7-21 days

€419.95 1
LSL SUPERBIKE HANDLEB.KIT - YZF-R1 06

Important notes

Fairing and windshield must be shortened.

Brake line is included:

Clutch line or clutch cable is included.

Design: complete triple tree.

10021388

The product will be ordered from the manufacturer for you. Depending on availability, longer delivery times are also possible. We'll let you know if that's the case. You can of course cancel your delivery at any time free of charge.

Available in 7-21 days

€419.95 1
LSL SUPERBIKE HANDLEB.KIT - YZF-R1, 12-, BLACK

Important notes

Fairing windshield must be shortened.

Brake line is included:

Design: complete triple tree.

Only the flat superbike handlebar is compatible with this superbike kit.

10021094

The product will be ordered from the manufacturer for you. Depending on availability, longer delivery times are also possible. We'll let you know if that's the case. You can of course cancel your delivery at any time free of charge.

Available in 7-21 days

€399.95 1
LSL SUPERBIKE HANDLEB.KIT - ZX-12R 00-01 (ZXT20A)

Important notes

Brake line is included:

Clutch line or clutch cable is included.

Design: complete triple tree.

10021350

The item is in stock and will be delivered in 2-5 working days. Note: Stocks are updated online every hour on working days from 7 a.m. to 8 p.m., so there is a good chance that the products are available if they appear online.

Available

€379.95 1
LSL SUPERBIKE HANDLEB.KIT - ZX-9 R 94-97 (ZX900B)*

Important notes

Fairing and windshield must be shortened.

Fairing Support Kit (Order no. 10006351) is needed - please order at the same time.

Brake line is included:

Design: complete triple tree.

10021322

The item is in stock and will be delivered in 2-5 working days. Note: Stocks are updated online every hour on working days from 7 a.m. to 8 p.m., so there is a good chance that the products are available if they appear online.

Available

€299.95 1
LSL SUPERBIKE HANDLEB.KIT - ZZR 1200 02-

Important notes

Brake line is included:

Design: Triple tree adapter plates.

Only the flat superbike handlebar is compatible with this superbike kit.

10021374

The item is in stock and will be delivered in 2-5 working days. Note: Stocks are updated online every hour on working days from 7 a.m. to 8 p.m., so there is a good chance that the products are available if they appear online.

Available

€209.95 1
LSL SUPERBIKE HANDLEB.KIT - ZZR 600 90-92/93-05 *

Important notes

Brake line is included:

Design: Triple tree adapter plates.

10021333

The item is in stock and will be delivered in 2-5 working days. Note: Stocks are updated online every hour on working days from 7 a.m. to 8 p.m., so there is a good chance that the products are available if they appear online.

Available

€209.95 1
LSL SUPERBIKE HANDLEB.KIT - ZZR-1100 90-92 (ZXT10C

Important notes

Brake line is included:

Design: Triple tree adapter plates.

10021212

The product will be ordered from the manufacturer for you. Depending on availability, longer delivery times are also possible. We'll let you know if that's the case. You can of course cancel your delivery at any time free of charge.

Available in 7-21 days

€209.95 1
LSL SUPERBIKE HANDLEB.KIT - ZZR-1100 93- (ZXT10D)

Important notes

Brake line is included:

Design: Triple tree adapter plates.

10021214

The item is in stock and will be delivered in 2-5 working days. Note: Stocks are updated online every hour on working days from 7 a.m. to 8 p.m., so there is a good chance that the products are available if they appear online.

Available

€229.95 1
LSL SUPERBIKE-HANDLEBAR - KIT, VARIOUS BUELL

Important notes

Brake line is included:

Design: complete triple tree.

10021279

The product will be ordered from the manufacturer for you. Depending on availability, longer delivery times are also possible. We'll let you know if that's the case. You can of course cancel your delivery at any time free of charge.

Available in 7-21 days

€329.95 1
SUPERBIKE-HANDLEBAR KIT - BMW R1100S W. ABS -00

Important notes

If you wish to continue using the original heated grip system and bar-end weights, you should use the LSL LMB1 Handlebar, Order no. 10021617.

Brake line is included:

Design: Fork tube adapter plates.

10021282

The item is in stock and will be delivered in 2-5 working days. Note: Stocks are updated online every hour on working days from 7 a.m. to 8 p.m., so there is a good chance that the products are available if they appear online.

Available

€199.95 1
SUPERBIKE-HANDLEBAR KIT - BMW R1100S W. ABS 01-06

Important notes

If you wish to continue using the original heated grip system and bar-end weights, you should use the LSL LMB1 Handlebar, Order no. 10021617.

Brake line is included:

Design: Fork tube adapter plates.

10021283

The item is in stock and will be delivered in 2-5 working days. Note: Stocks are updated online every hour on working days from 7 a.m. to 8 p.m., so there is a good chance that the products are available if they appear online.

Available

€199.95 1