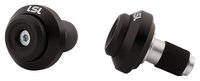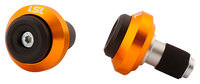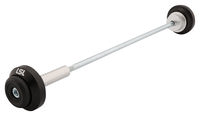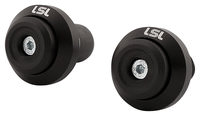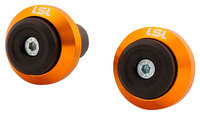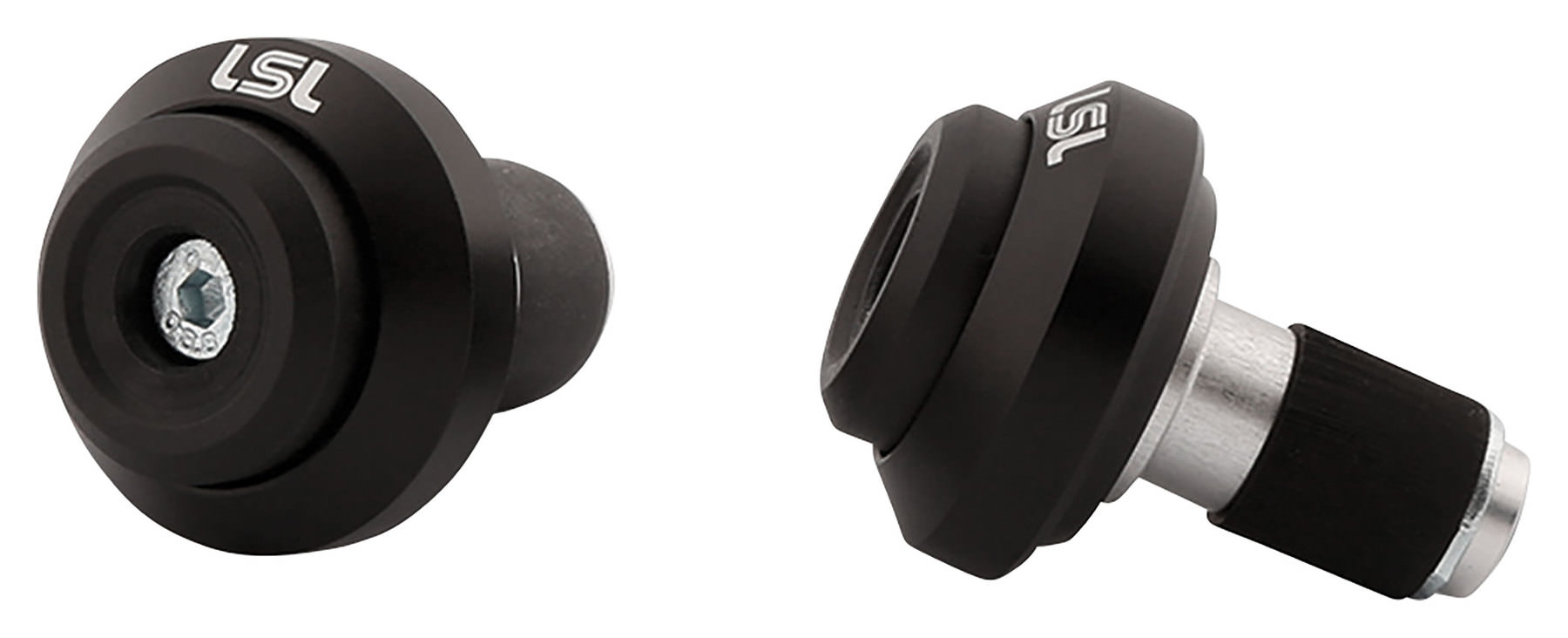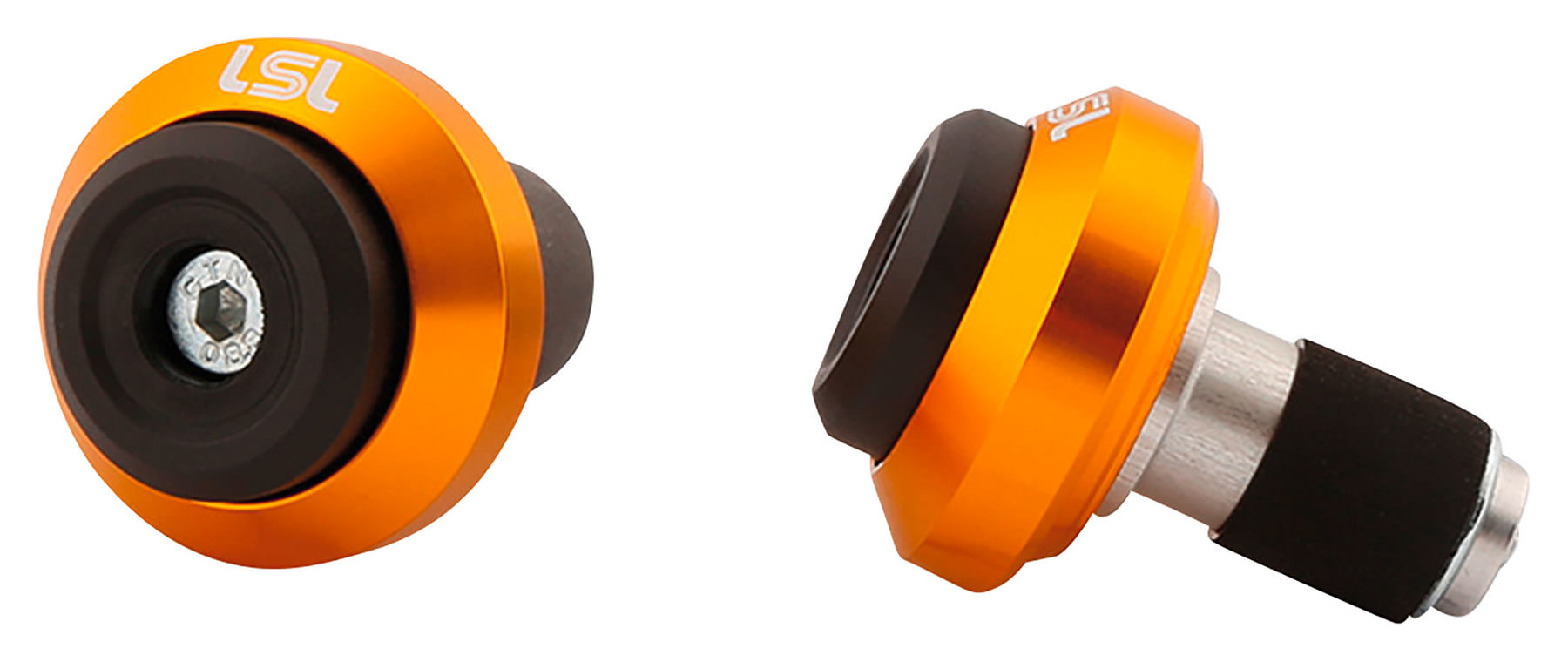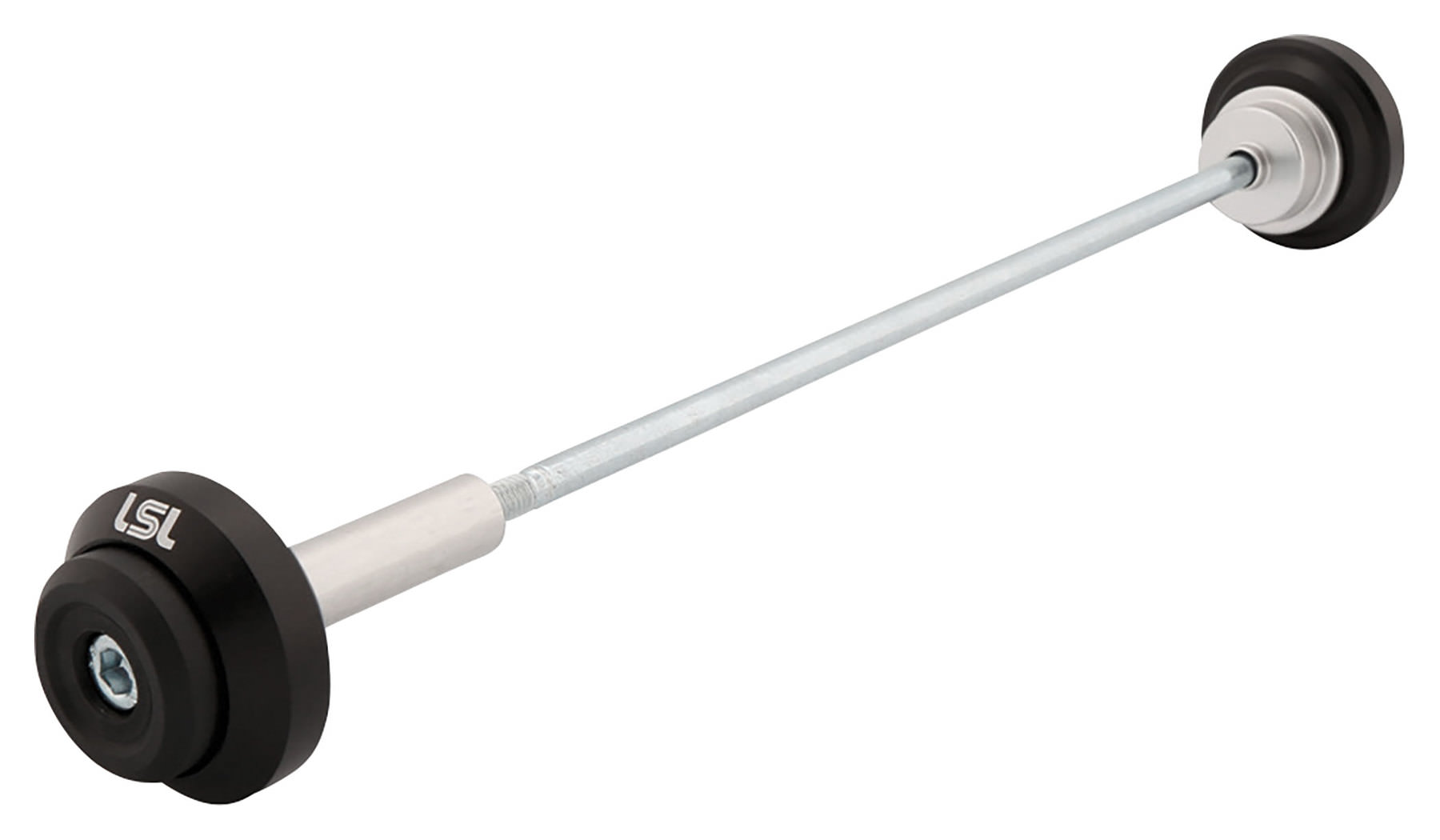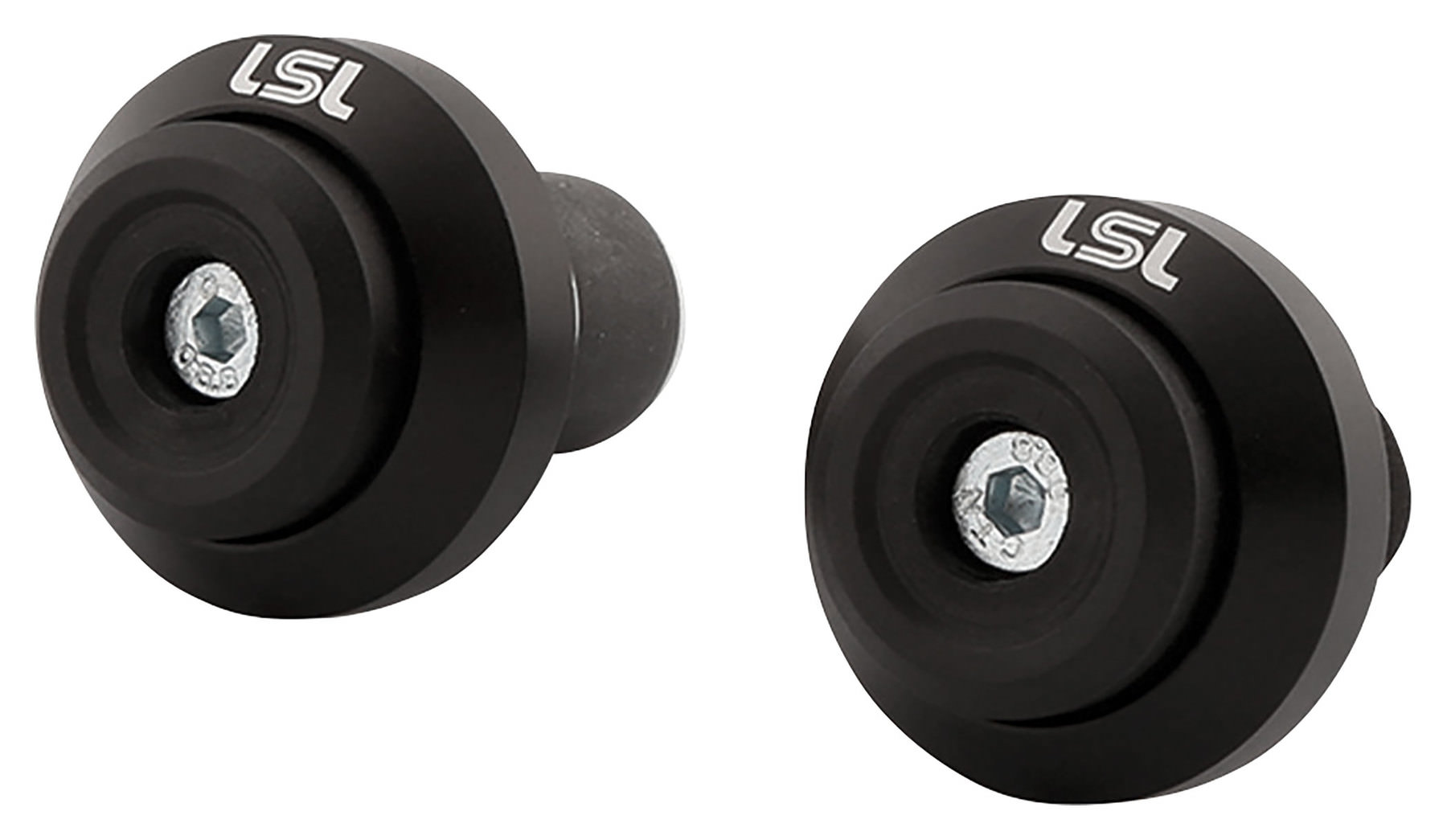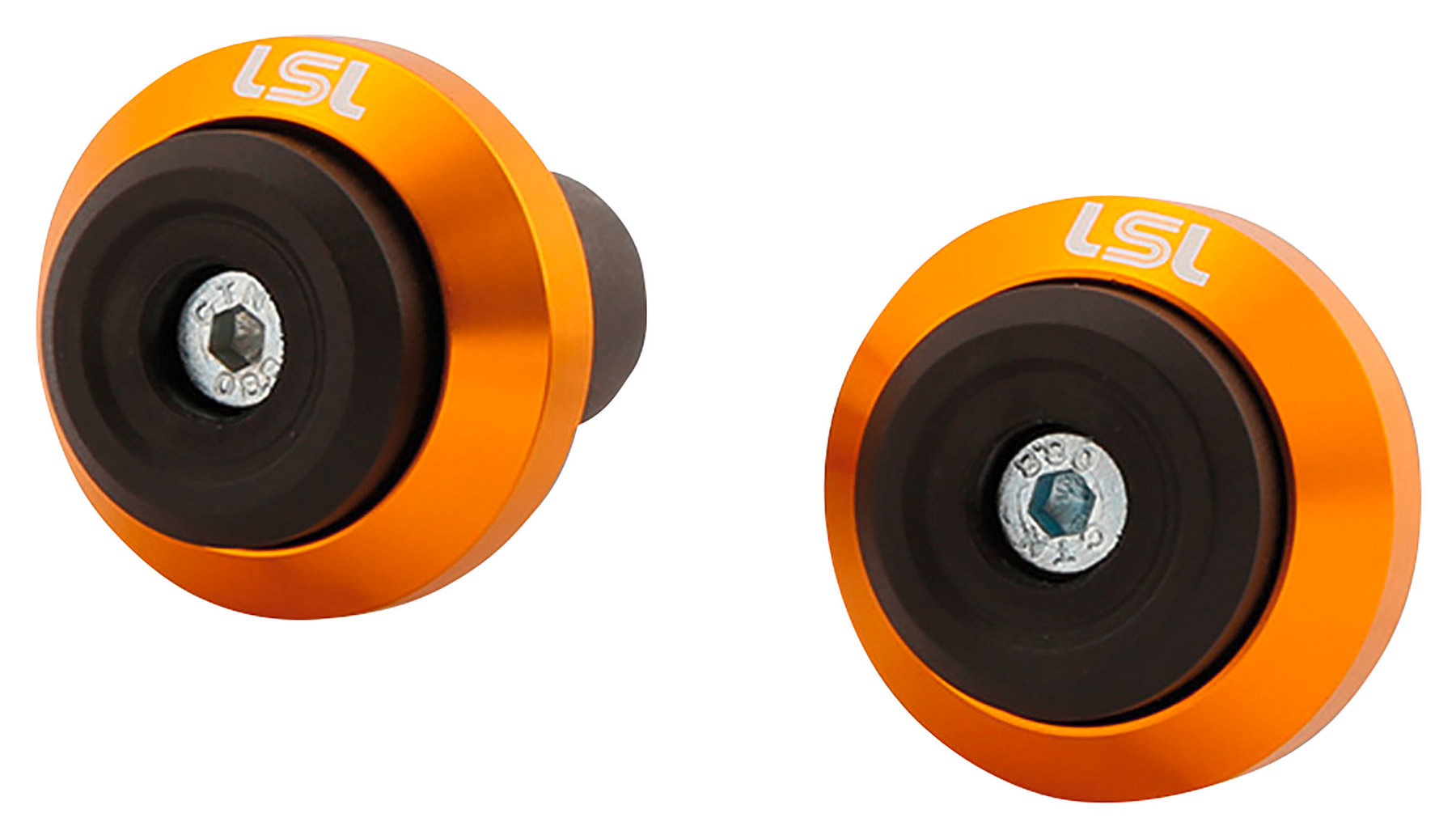 LSL GONIA Axle Ball, rear
Unfortunately, this product is not compatible with this motorcycle.
Unfortunately, this product is not compatible with this motorcycle. You can find the right for the here: .
Free delivery on orders over €199.00
2 year return policy
Fast delivery
LSL GONIA Axle Ball, rear
With the Gonia Design series (mirrors, handlebar ends, crash pads), LSL has already a great deal of success. This must be continued. With the LSL axle balls *Gonia* BACK, the chances are quite good. In the same design as the *Gonia* bar ends, axle balls are now also available for the rear axles of the current sport models. Made of aluminium and anodized in the colours: black, red and gold.
The LSL axle balls protect the axle in case of a fall and are a real optical highlight on your vehicle.
CNC milled axle balls made of aluminium, black, red or gold anodized
Mounting by means of continuous screw connection or clamping (hollow axle)
delivery: 1 x complete set with mounting and axle balls
For front axles there are the LSL axle balls *Gonia* VORNE (10068000).
Manufacturer details: LSL

Design and function at the highest level

Anybody who looks at the LSL conversion projects can see straight away that the people work with a great deal of passion and at least equally as much technical expertise. It is true that LSL places enormous value on creating a great look for all of its products, but maximum biking pleasure through excellent performance is always central to every product development. LSL has made an extremely good name for itself in the field of ergonomic optimization (handlebars, grips, levers and footrests). LSL also specialises in chassis- and hydraulic components, crash protection and lighting. Several accolades testify to the fact that LSL has taken the right approach with its commitment to technical finesse and quality without compromise - such as the fact LSL has won the 2013 "PS" magazine readers choice award in the "accessories/conversions" category for the fifth consecutive time.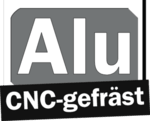 This product is made of high-quality CNC-machined aluminium and will look great on your motorbike.

To ensure that it gives you many years of service, please observe the following care instructions:

1. After installing the product, and each time you wash your motorbike, apply a wax-based care product, e.g. Procycle Polishing Wax, Order no. 10004923 for protection against wind and weather. You may need to repeat the application after an outing in winter weather, rain or salty air (near the coast).

2. Remove any corrosion as soon as possible using a standard aluminium polish (e.g. Autosol Aluminium Polish, Order no. 10004421).
Product
Art. No.
Availability
Price
Actions
LSL GONIA AXLE BALL - APRILIA BLACK, REAR
10068386

The item is in stock and will be delivered in 2-5 working days. Note: Stocks are updated online every hour on working days from 7 a.m. to 8 p.m., so there is a good chance that the products are available if they appear online.

Available

€59.95 1
LSL GONIA AXLE BALL - APRILIA RED, REAR
10068350

The product will be ordered from the manufacturer for you. Depending on availability, longer delivery times are also possible. We'll let you know if that's the case. You can of course cancel your delivery at any time free of charge.

Available in 7-21 days

€59.95 1
LSL GONIA AXLE BALL - BMW/HON./YAMA REAR CARB
10068593

The product will be ordered from the manufacturer for you. Depending on availability, longer delivery times are also possible. We'll let you know if that's the case. You can of course cancel your delivery at any time free of charge.

Available in 7-21 days

€59.95 1
LSL GONIA AXLE BALL - BMW/YAMAHA RED, REAR
10068352

The product will be ordered from the manufacturer for you. Depending on availability, longer delivery times are also possible. We'll let you know if that's the case. You can of course cancel your delivery at any time free of charge.

Available in 7-21 days

€59.95 1
LSL GONIA AXLE BALL - BMW/YAMAHA RED, REAR
10068351

The item is in stock and will be delivered in 2-5 working days. Note: Stocks are updated online every hour on working days from 7 a.m. to 8 p.m., so there is a good chance that the products are available if they appear online.

Available

€59.95 1
LSL GONIA AXLE BALL - BUELL XB-9R/12 RED REAR
10068354

The item is in stock and will be delivered in 2-5 working days. Note: Stocks are updated online every hour on working days from 7 a.m. to 8 p.m., so there is a good chance that the products are available if they appear online.

Available

€59.95 1
LSL GONIA AXLE BALL - DIV. KTM, ORANGE
10069447

The product will be ordered from the manufacturer for you. Depending on availability, longer delivery times are also possible. We'll let you know if that's the case. You can of course cancel your delivery at any time free of charge.

Available in 7-21 days

€59.95 1
LSL GONIA AXLE BALL - DR-Z400SM BLACK, REAR
10068408

The product will be ordered from the manufacturer for you. Depending on availability, longer delivery times are also possible. We'll let you know if that's the case. You can of course cancel your delivery at any time free of charge.

Available in 7-21 days

€59.95 1
LSL GONIA AXLE BALL - DR-Z400SM GOLD, REAR
10068437

The product will be ordered from the manufacturer for you. Depending on availability, longer delivery times are also possible. We'll let you know if that's the case. You can of course cancel your delivery at any time free of charge.

Available in 7-21 days

€59.95 1
LSL GONIA AXLE BALL - DR-Z400SM RED, REAR
10068374

The product will be ordered from the manufacturer for you. Depending on availability, longer delivery times are also possible. We'll let you know if that's the case. You can of course cancel your delivery at any time free of charge.

Available in 7-21 days

€59.95 1
LSL GONIA AXLE BALL - G310R BLACK, REAR
10068388

The product will be ordered from the manufacturer for you. Depending on availability, longer delivery times are also possible. We'll let you know if that's the case. You can of course cancel your delivery at any time free of charge.

Available in 7-21 days

€59.95 1
LSL GONIA AXLE BALL - G310R GOLD, REAR
10068417

The product will be ordered from the manufacturer for you. Depending on availability, longer delivery times are also possible. We'll let you know if that's the case. You can of course cancel your delivery at any time free of charge.

Available in 7-21 days

€59.95 1
LSL GONIA AXLE BALL - G310R REAR, RED
10068353

The product will be ordered from the manufacturer for you. Depending on availability, longer delivery times are also possible. We'll let you know if that's the case. You can of course cancel your delivery at any time free of charge.

Available in 7-21 days

€59.95 1
LSL GONIA AXLE BALL - GSX-R1000 BLACK, REAR
10068411

The item is in stock and will be delivered in 2-5 working days. Note: Stocks are updated online every hour on working days from 7 a.m. to 8 p.m., so there is a good chance that the products are available if they appear online.

Available

€59.95 1
LSL GONIA AXLE BALL - GSX-R1000 GOLD, REAR
10068439

The product will be ordered from the manufacturer for you. Depending on availability, longer delivery times are also possible. We'll let you know if that's the case. You can of course cancel your delivery at any time free of charge.

Available in 7-21 days

€59.95 1
LSL GONIA AXLE BALL - GSX-R1000 RED, REAR
10068378

The item is in stock and will be delivered in 2-5 working days. Note: Stocks are updated online every hour on working days from 7 a.m. to 8 p.m., so there is a good chance that the products are available if they appear online.

Available

€59.95 1
LSL GONIA AXLE BALL - GSX-S1000 BLACK, REAR
10068410

The product will be ordered from the manufacturer for you. Depending on availability, longer delivery times are also possible. We'll let you know if that's the case. You can of course cancel your delivery at any time free of charge.

Available in 7-21 days

€59.95 1
LSL GONIA AXLE BALL - GSX-S1000 GOLD, REAR
10068438

The product will be ordered from the manufacturer for you. Depending on availability, longer delivery times are also possible. We'll let you know if that's the case. You can of course cancel your delivery at any time free of charge.

Available in 7-21 days

€59.95 1
LSL GONIA AXLE BALL - GSX-S1000 RED, REAR
10068377

The item is in stock and will be delivered in 2-5 working days. Note: Stocks are updated online every hour on working days from 7 a.m. to 8 p.m., so there is a good chance that the products are available if they appear online.

Available

€59.95 1
LSL GONIA AXLE BALL - MT-09 -2016 GOLD, REAR
10068443

The item is in stock and will be delivered in 2-5 working days. Note: Stocks are updated online every hour on working days from 7 a.m. to 8 p.m., so there is a good chance that the products are available if they appear online.

Available

€59.95 1
LSL GONIA AXLE BALL - MT-09 2016- RED, REAR
10068382

The item is in stock and will be delivered in 2-5 working days. Note: Stocks are updated online every hour on working days from 7 a.m. to 8 p.m., so there is a good chance that the products are available if they appear online.

Available

€59.95 1
LSL GONIA AXLE BALL - MT-09 2017- RED, REAR
10068385

The product will be ordered from the manufacturer for you. Depending on availability, longer delivery times are also possible. We'll let you know if that's the case. You can of course cancel your delivery at any time free of charge.

Available in 7-21 days

€59.95 1
LSL GONIA AXLE BALL - MT-09, 2017- GOLD, REAR
10068446

The product will be ordered from the manufacturer for you. Depending on availability, longer delivery times are also possible. We'll let you know if that's the case. You can of course cancel your delivery at any time free of charge.

Available in 7-21 days

€59.95 1
LSL GONIA AXLE BALL - NUDA 900 BLACK, REAR
10068397

The product will be ordered from the manufacturer for you. Depending on availability, longer delivery times are also possible. We'll let you know if that's the case. You can of course cancel your delivery at any time free of charge.

Available in 7-21 days

€59.95 1
LSL GONIA AXLE BALL - NUDA 900 GOLD, REAR
10068426

The product will be ordered from the manufacturer for you. Depending on availability, longer delivery times are also possible. We'll let you know if that's the case. You can of course cancel your delivery at any time free of charge.

Available in 7-21 days

€59.95 1
LSL GONIA AXLE BALL - NUDA 900 RED, REAR
10068362

The product will be ordered from the manufacturer for you. Depending on availability, longer delivery times are also possible. We'll let you know if that's the case. You can of course cancel your delivery at any time free of charge.

Available in 7-21 days

€59.95 1
LSL GONIA AXLE BALL - SM510R BLACK, REAR
10068396

The product will be ordered from the manufacturer for you. Depending on availability, longer delivery times are also possible. We'll let you know if that's the case. You can of course cancel your delivery at any time free of charge.

Available in 7-21 days

€59.95 1
LSL GONIA AXLE BALL - SM510R GOLD, REAR
10068425

The product will be ordered from the manufacturer for you. Depending on availability, longer delivery times are also possible. We'll let you know if that's the case. You can of course cancel your delivery at any time free of charge.

Available in 7-21 days

€59.95 1
LSL GONIA AXLE BALL - SM510R IE RED, REAR
10068361

The product will be ordered from the manufacturer for you. Depending on availability, longer delivery times are also possible. We'll let you know if that's the case. You can of course cancel your delivery at any time free of charge.

Available in 7-21 days

€59.95 1
LSL GONIA AXLE BALL - VAR. APRILIA GOLD, REAR
10068415

The product will be ordered from the manufacturer for you. Depending on availability, longer delivery times are also possible. We'll let you know if that's the case. You can of course cancel your delivery at any time free of charge.

Available in 7-21 days

€59.95 1
LSL GONIA AXLE BALL - VAR. BUELL BLACK, REAR
10068389

The product will be ordered from the manufacturer for you. Depending on availability, longer delivery times are also possible. We'll let you know if that's the case. You can of course cancel your delivery at any time free of charge.

Available in 7-21 days

€59.95 1
LSL GONIA AXLE BALL - VAR. BUELL GOLD, REAR
10068418

The product will be ordered from the manufacturer for you. Depending on availability, longer delivery times are also possible. We'll let you know if that's the case. You can of course cancel your delivery at any time free of charge.

Available in 7-21 days

€59.95 1
LSL GONIA AXLE BALL - VAR. DUCATI BLACK, REAR
10068393

The product will be ordered from the manufacturer for you. Depending on availability, longer delivery times are also possible. We'll let you know if that's the case. You can of course cancel your delivery at any time free of charge.

Available in 7-21 days

€59.95 1
LSL GONIA AXLE BALL - VAR. DUCATI BLACK, REAR
10068392

The item is in stock and will be delivered in 2-5 working days. Note: Stocks are updated online every hour on working days from 7 a.m. to 8 p.m., so there is a good chance that the products are available if they appear online.

Available

€59.95 1
LSL GONIA AXLE BALL - VAR. DUCATI BLACK, REAR
10068391

The item is in stock and will be delivered in 2-5 working days. Note: Stocks are updated online every hour on working days from 7 a.m. to 8 p.m., so there is a good chance that the products are available if they appear online.

Available

€59.95 1
LSL GONIA AXLE BALL - VAR. DUCATI BLACK, REAR
10068390

The product will be ordered from the manufacturer for you. Depending on availability, longer delivery times are also possible. We'll let you know if that's the case. You can of course cancel your delivery at any time free of charge.

Available in 7-21 days

€59.95 1
LSL GONIA AXLE BALL - VAR. DUCATI GOLD, REAR
10068419

The product will be ordered from the manufacturer for you. Depending on availability, longer delivery times are also possible. We'll let you know if that's the case. You can of course cancel your delivery at any time free of charge.

Available in 7-21 days

€59.95 1
LSL GONIA AXLE BALL - VAR. DUCATI GOLD, REAR
10068420

The product will be ordered from the manufacturer for you. Depending on availability, longer delivery times are also possible. We'll let you know if that's the case. You can of course cancel your delivery at any time free of charge.

Available in 7-21 days

€59.95 1
LSL GONIA AXLE BALL - VAR. DUCATI GOLD, REAR
10068421

The product will be ordered from the manufacturer for you. Depending on availability, longer delivery times are also possible. We'll let you know if that's the case. You can of course cancel your delivery at any time free of charge.

Available in 7-21 days

€59.95 1
LSL GONIA AXLE BALL - VAR. DUCATI GOLD, REAR
10068422

The product will be ordered from the manufacturer for you. Depending on availability, longer delivery times are also possible. We'll let you know if that's the case. You can of course cancel your delivery at any time free of charge.

Available in 7-21 days

€59.95 1
LSL GONIA AXLE BALL - VAR. HONDA BLACK, REAR
10068394

The product will be ordered from the manufacturer for you. Depending on availability, longer delivery times are also possible. We'll let you know if that's the case. You can of course cancel your delivery at any time free of charge.

Available in 7-21 days

€59.95 1
LSL GONIA AXLE BALL - VAR. HONDA BLACK, REAR
10068395

The product will be ordered from the manufacturer for you. Depending on availability, longer delivery times are also possible. We'll let you know if that's the case. You can of course cancel your delivery at any time free of charge.

Available in 7-21 days

€59.95 1
LSL GONIA AXLE BALL - VAR. HONDA GOLD, REAR
10068423

The product will be ordered from the manufacturer for you. Depending on availability, longer delivery times are also possible. We'll let you know if that's the case. You can of course cancel your delivery at any time free of charge.

Available in 7-21 days

€59.95 1
LSL GONIA AXLE BALL - VAR. HONDA GOLD, REAR
10068424

The product will be ordered from the manufacturer for you. Depending on availability, longer delivery times are also possible. We'll let you know if that's the case. You can of course cancel your delivery at any time free of charge.

Available in 7-21 days

€59.95 1
LSL GONIA AXLE BALL - VAR. KAWASAKI BLACK, REAR
10068398

The product will be ordered from the manufacturer for you. Depending on availability, longer delivery times are also possible. We'll let you know if that's the case. You can of course cancel your delivery at any time free of charge.

Available in 7-21 days

€59.95 1
LSL GONIA AXLE BALL - VAR. KAWASAKI BLACK, REAR
10068400

The item is in stock and will be delivered in 2-5 working days. Note: Stocks are updated online every hour on working days from 7 a.m. to 8 p.m., so there is a good chance that the products are available if they appear online.

Available

€59.95 1
LSL GONIA AXLE BALL - VAR. KAWASAKI BLACK, REAR
10068399

The item is in stock and will be delivered in 2-5 working days. Note: Stocks are updated online every hour on working days from 7 a.m. to 8 p.m., so there is a good chance that the products are available if they appear online.

Available

€59.95 1
LSL GONIA AXLE BALL - VAR. KAWASAKI GOLD REAR
10068428

The product will be ordered from the manufacturer for you. Depending on availability, longer delivery times are also possible. We'll let you know if that's the case. You can of course cancel your delivery at any time free of charge.

Available in 7-21 days

€59.95 1
LSL GONIA AXLE BALL - VAR. KAWASAKI GOLD REAR
10068429

The item is in stock and will be delivered in 2-5 working days. Note: Stocks are updated online every hour on working days from 7 a.m. to 8 p.m., so there is a good chance that the products are available if they appear online.

Available

€59.95 1
LSL GONIA AXLE BALL - VAR. KAWASAKI GOLD REAR
10068427

The product will be ordered from the manufacturer for you. Depending on availability, longer delivery times are also possible. We'll let you know if that's the case. You can of course cancel your delivery at any time free of charge.

Available in 7-21 days

€59.95 1
LSL GONIA AXLE BALL - VAR. KAWASAKI RED, REAR
10068363

The product will be ordered from the manufacturer for you. Depending on availability, longer delivery times are also possible. We'll let you know if that's the case. You can of course cancel your delivery at any time free of charge.

Available in 7-21 days

€59.95 1
LSL GONIA AXLE BALL - VAR. KAWASAKI RED, REAR
10068364

The item is in stock and will be delivered in 2-5 working days. Note: Stocks are updated online every hour on working days from 7 a.m. to 8 p.m., so there is a good chance that the products are available if they appear online.

Available

€59.95 1
LSL GONIA AXLE BALL - VAR. KAWASAKI RED, REAR
10068365

The product will be ordered from the manufacturer for you. Depending on availability, longer delivery times are also possible. We'll let you know if that's the case. You can of course cancel your delivery at any time free of charge.

Available in 7-21 days

€59.95 1
LSL GONIA AXLE BALL - VAR. KAWASAKI RED, REAR
10068366

The product will be ordered from the manufacturer for you. Depending on availability, longer delivery times are also possible. We'll let you know if that's the case. You can of course cancel your delivery at any time free of charge.

Available in 7-21 days

€59.95 1
LSL GONIA AXLE BALL - VAR. MODELS BLACK REAR
10068405

The item is in stock and will be delivered in 2-5 working days. Note: Stocks are updated online every hour on working days from 7 a.m. to 8 p.m., so there is a good chance that the products are available if they appear online.

Available

€59.95 1
LSL GONIA AXLE BALL - VAR. MODELS BLACK REAR
10068401

The product will be ordered from the manufacturer for you. Depending on availability, longer delivery times are also possible. We'll let you know if that's the case. You can of course cancel your delivery at any time free of charge.

Available in 7-21 days

€59.95 1
LSL GONIA AXLE BALL - VAR. MODELS BLACK REAR
10068387

The item is in stock and will be delivered in 2-5 working days. Note: Stocks are updated online every hour on working days from 7 a.m. to 8 p.m., so there is a good chance that the products are available if they appear online.

Available

€59.95 1
LSL GONIA AXLE BALL - VAR. MODELS BLACK, REAR
10068414

The item is in stock and will be delivered in 2-5 working days. Note: Stocks are updated online every hour on working days from 7 a.m. to 8 p.m., so there is a good chance that the products are available if they appear online.

Available

€59.95 1
LSL GONIA AXLE BALL - VAR. MODELS GOLD, REAR
10068416

The product will be ordered from the manufacturer for you. Depending on availability, longer delivery times are also possible. We'll let you know if that's the case. You can of course cancel your delivery at any time free of charge.

Available in 7-21 days

€59.95 1
LSL GONIA AXLE BALL - VAR. MODELS GOLD, REAR
10068442

The item is in stock and will be delivered in 2-5 working days. Note: Stocks are updated online every hour on working days from 7 a.m. to 8 p.m., so there is a good chance that the products are available if they appear online.

Available

€59.95 1
LSL GONIA AXLE BALL - VAR. MODELS GOLD, REAR
10068434

The product will be ordered from the manufacturer for you. Depending on availability, longer delivery times are also possible. We'll let you know if that's the case. You can of course cancel your delivery at any time free of charge.

Available in 7-21 days

€59.95 1
LSL GONIA AXLE BALL - VAR. MODELS GOLD, REAR
10068430

The product will be ordered from the manufacturer for you. Depending on availability, longer delivery times are also possible. We'll let you know if that's the case. You can of course cancel your delivery at any time free of charge.

Available in 7-21 days

€59.95 1
LSL GONIA AXLE BALL - VAR. SUZUKI BLACK, REAR
10068407

The product will be ordered from the manufacturer for you. Depending on availability, longer delivery times are also possible. We'll let you know if that's the case. You can of course cancel your delivery at any time free of charge.

Available in 7-21 days

€59.95 1
LSL GONIA AXLE BALL - VAR. SUZUKI BLACK, REAR
10068406

The product will be ordered from the manufacturer for you. Depending on availability, longer delivery times are also possible. We'll let you know if that's the case. You can of course cancel your delivery at any time free of charge.

Available in 7-21 days

€59.95 1
LSL GONIA AXLE BALL - VAR. SUZUKI BLACK, REAR
10068409

The item is in stock and will be delivered in 2-5 working days. Note: Stocks are updated online every hour on working days from 7 a.m. to 8 p.m., so there is a good chance that the products are available if they appear online.

Available

€59.95 1
LSL GONIA AXLE BALL - VAR. SUZUKI GOLD, REAR
10068375

The product will be ordered from the manufacturer for you. Depending on availability, longer delivery times are also possible. We'll let you know if that's the case. You can of course cancel your delivery at any time free of charge.

Available in 7-21 days

€59.95 1
LSL GONIA AXLE BALL - VAR. SUZUKI GOLD, REAR
10068436

The item is in stock and will be delivered in 2-5 working days. Note: Stocks are updated online every hour on working days from 7 a.m. to 8 p.m., so there is a good chance that the products are available if they appear online.

Available

€59.95 1
LSL GONIA AXLE BALL - VAR. SUZUKI GOLD, REAR
10068435

The product will be ordered from the manufacturer for you. Depending on availability, longer delivery times are also possible. We'll let you know if that's the case. You can of course cancel your delivery at any time free of charge.

Available in 7-21 days

€59.95 1
LSL GONIA AXLE BALL - VAR. TRIUMPH BLACK, REAR
10068412

The product will be ordered from the manufacturer for you. Depending on availability, longer delivery times are also possible. We'll let you know if that's the case. You can of course cancel your delivery at any time free of charge.

Available in 7-21 days

€59.95 1
LSL GONIA AXLE BALL - VAR. TRIUMPH BLACK, REAR
10068413

The item is in stock and will be delivered in 2-5 working days. Note: Stocks are updated online every hour on working days from 7 a.m. to 8 p.m., so there is a good chance that the products are available if they appear online.

Available

€59.95 1
LSL GONIA AXLE BALL - VAR. TRIUMPH GOLD, REAR
10068441

The product will be ordered from the manufacturer for you. Depending on availability, longer delivery times are also possible. We'll let you know if that's the case. You can of course cancel your delivery at any time free of charge.

Available in 7-21 days

€59.95 1
LSL GONIA AXLE BALL - VAR. TRIUMPH GOLD, REAR
10068440

The item is in stock and will be delivered in 2-5 working days. Note: Stocks are updated online every hour on working days from 7 a.m. to 8 p.m., so there is a good chance that the products are available if they appear online.

Available

€59.95 1
LSL GONIA AXLE BALL - VARIOUS DUCATI RED, REAR
10068357

The product will be ordered from the manufacturer for you. Depending on availability, longer delivery times are also possible. We'll let you know if that's the case. You can of course cancel your delivery at any time free of charge.

Available in 7-21 days

€59.95 1
LSL GONIA AXLE BALL - VARIOUS DUCATI RED, REAR
10068358

The product will be ordered from the manufacturer for you. Depending on availability, longer delivery times are also possible. We'll let you know if that's the case. You can of course cancel your delivery at any time free of charge.

Available in 7-21 days

€59.95 1
LSL GONIA AXLE BALL - VARIOUS DUCATI RED, REAR
10068355

The product will be ordered from the manufacturer for you. Depending on availability, longer delivery times are also possible. We'll let you know if that's the case. You can of course cancel your delivery at any time free of charge.

Available in 7-21 days

€59.95 1
LSL GONIA AXLE BALL - VARIOUS DUCATI RED, REAR
10068356

The product will be ordered from the manufacturer for you. Depending on availability, longer delivery times are also possible. We'll let you know if that's the case. You can of course cancel your delivery at any time free of charge.

Available in 7-21 days

€59.95 1
LSL GONIA AXLE BALL - VARIOUS HONDA RED, REAR
10068359

The product will be ordered from the manufacturer for you. Depending on availability, longer delivery times are also possible. We'll let you know if that's the case. You can of course cancel your delivery at any time free of charge.

Available in 7-21 days

€59.95 1
LSL GONIA AXLE BALL - VARIOUS HONDA RED, REAR
10068360

The item is in stock and will be delivered in 2-5 working days. Note: Stocks are updated online every hour on working days from 7 a.m. to 8 p.m., so there is a good chance that the products are available if they appear online.

Available

€59.95 1
LSL GONIA AXLE BALL - VARIOUS MODELS RED, REAR
10068367

The item is in stock and will be delivered in 2-5 working days. Note: Stocks are updated online every hour on working days from 7 a.m. to 8 p.m., so there is a good chance that the products are available if they appear online.

Available

€59.95 1
LSL GONIA AXLE BALL - VARIOUS MODELS RED, REAR
10068381

The item is in stock and will be delivered in 2-5 working days. Note: Stocks are updated online every hour on working days from 7 a.m. to 8 p.m., so there is a good chance that the products are available if they appear online.

Available

€59.95 1
LSL GONIA AXLE BALL - VARIOUS MODELS RED, REAR
10068371

The item is in stock and will be delivered in 2-5 working days. Note: Stocks are updated online every hour on working days from 7 a.m. to 8 p.m., so there is a good chance that the products are available if they appear online.

Available

€59.95 1
LSL GONIA AXLE BALL - VARIOUS SUZUKI RED, REAR
10068376

The product will be ordered from the manufacturer for you. Depending on availability, longer delivery times are also possible. We'll let you know if that's the case. You can of course cancel your delivery at any time free of charge.

Available in 7-21 days

€59.95 1
LSL GONIA AXLE BALL - VARIOUS SUZUKI RED, REAR
10068372

The product will be ordered from the manufacturer for you. Depending on availability, longer delivery times are also possible. We'll let you know if that's the case. You can of course cancel your delivery at any time free of charge.

Available in 7-21 days

€59.95 1
LSL GONIA AXLE BALL - VARIOUS SUZUKI RED, REAR
10068373

The product will be ordered from the manufacturer for you. Depending on availability, longer delivery times are also possible. We'll let you know if that's the case. You can of course cancel your delivery at any time free of charge.

Available in 7-21 days

€59.95 1
LSL GONIA AXLE BALL - VARIOUS TRIUMPH RED, REAR
10068380

The product will be ordered from the manufacturer for you. Depending on availability, longer delivery times are also possible. We'll let you know if that's the case. You can of course cancel your delivery at any time free of charge.

Available in 7-21 days

€59.95 1
LSL GONIA AXLE BALL - VARIOUS TRIUMPH RED, REAR
10068379

The product will be ordered from the manufacturer for you. Depending on availability, longer delivery times are also possible. We'll let you know if that's the case. You can of course cancel your delivery at any time free of charge.

Available in 7-21 days

€59.95 1
LSL GONIA AXLE BALL - VERSYS 1000 BLK, REAR
10068403

The product will be ordered from the manufacturer for you. Depending on availability, longer delivery times are also possible. We'll let you know if that's the case. You can of course cancel your delivery at any time free of charge.

Available in 7-21 days

€59.95 1
LSL GONIA AXLE BALL - VERSYS 1000 GOLD, REAR
10068432

The product will be ordered from the manufacturer for you. Depending on availability, longer delivery times are also possible. We'll let you know if that's the case. You can of course cancel your delivery at any time free of charge.

Available in 7-21 days

€59.95 1
LSL GONIA AXLE BALL - VERSYS 1000 RED, REAR
10068369

The product will be ordered from the manufacturer for you. Depending on availability, longer delivery times are also possible. We'll let you know if that's the case. You can of course cancel your delivery at any time free of charge.

Available in 7-21 days

€59.95 1
LSL GONIA AXLE BALL - XJR1300 GOLD, REAR
10068444

The product will be ordered from the manufacturer for you. Depending on availability, longer delivery times are also possible. We'll let you know if that's the case. You can of course cancel your delivery at any time free of charge.

Available in 7-21 days

€59.95 1
LSL GONIA AXLE BALL - XJR1300 RED, REAR
10068383

The product will be ordered from the manufacturer for you. Depending on availability, longer delivery times are also possible. We'll let you know if that's the case. You can of course cancel your delivery at any time free of charge.

Available in 7-21 days

€59.95 1
LSL GONIA AXLE BALL - YZF-R3 GOLD, REAR
10068445

The product will be ordered from the manufacturer for you. Depending on availability, longer delivery times are also possible. We'll let you know if that's the case. You can of course cancel your delivery at any time free of charge.

Available in 7-21 days

€59.95 1
LSL GONIA AXLE BALL - YZF-R3 RED, REAR
10068384

The product will be ordered from the manufacturer for you. Depending on availability, longer delivery times are also possible. We'll let you know if that's the case. You can of course cancel your delivery at any time free of charge.

Available in 7-21 days

€59.95 1
LSL GONIA AXLE BALL - Z1000 BLACK, REAR
10068402

The product will be ordered from the manufacturer for you. Depending on availability, longer delivery times are also possible. We'll let you know if that's the case. You can of course cancel your delivery at any time free of charge.

Available in 7-21 days

€59.95 1
LSL GONIA AXLE BALL - Z1000 GOLD, REAR
10068431

The product will be ordered from the manufacturer for you. Depending on availability, longer delivery times are also possible. We'll let you know if that's the case. You can of course cancel your delivery at any time free of charge.

Available in 7-21 days

€59.95 1
LSL GONIA AXLE BALL - Z1000 RED, REAR
10068368

The product will be ordered from the manufacturer for you. Depending on availability, longer delivery times are also possible. We'll let you know if that's the case. You can of course cancel your delivery at any time free of charge.

Available in 7-21 days

€59.95 1
LSL GONIA AXLE BALL - Z650 BLACK, REAR
10068404

The item is in stock and will be delivered in 2-5 working days. Note: Stocks are updated online every hour on working days from 7 a.m. to 8 p.m., so there is a good chance that the products are available if they appear online.

Available

€59.95 1
LSL GONIA AXLE BALL - Z650 GOLD, REAR
10068433

The product will be ordered from the manufacturer for you. Depending on availability, longer delivery times are also possible. We'll let you know if that's the case. You can of course cancel your delivery at any time free of charge.

Available in 7-21 days

€59.95 1
LSL GONIA AXLE BALL - Z650 RED, REAR
10068370

The item is in stock and will be delivered in 2-5 working days. Note: Stocks are updated online every hour on working days from 7 a.m. to 8 p.m., so there is a good chance that the products are available if they appear online.

Available

€59.95 1