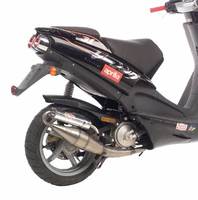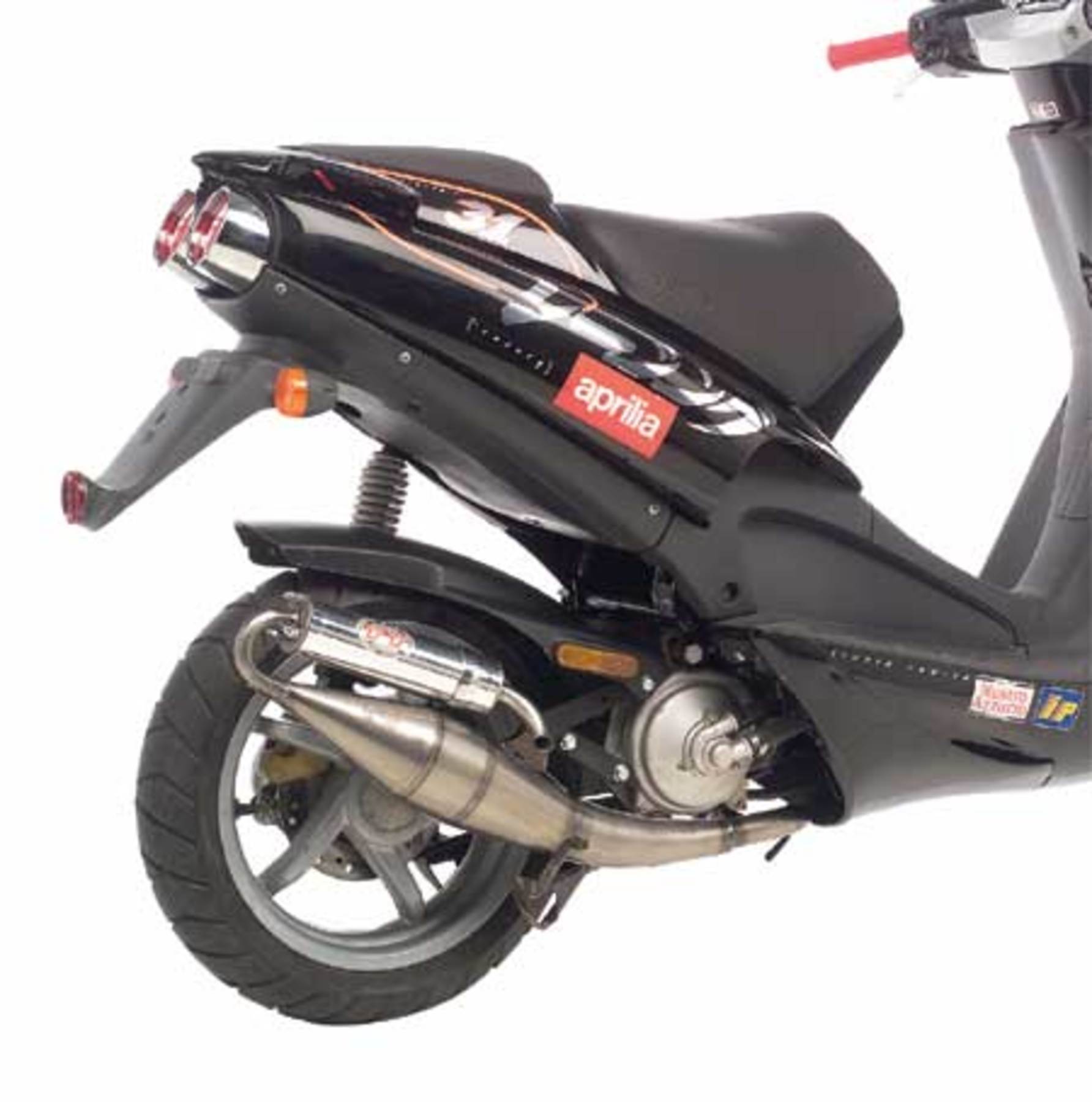 LEOVINCE HANDMADE TT SCOOTER EXHAUSTS
LeoVince Scooter Exhausts
Unfortunately, this product is not compatible with this motorcycle.
Unfortunately, this product is not compatible with this motorcycle. You can find the right for the here: .
Free delivery on orders over €199.00
2 year return policy
Fast delivery
LeoVince Scooter Exhausts
A compact scooter makes a great little runabout. These sturdy machines quickly get you from A to B, and at the same time are great fun to ride. The LeoVince scooter exhaust *TT Handmade* is perfect for a scooter that's used every day. It's designed specifically for getting the best performance out of any 50cc 2-stroke scooter engine. EC type-approved (E-marked).
Rear silencer made of aluminium, expansion chamber clear lacquered
The baffle can be removed for the race track (not permissible for road use under the German Road Traffic Licensing Regulations (StVZO))
Please note that these exhausts must not be used on derated motorcycles on public roads.

A parts list and a copy of the EC type approval can be found in Documents.
Manufacturer details: Leo Vince

Always the first choice

Leo Vince - the name alone is enough to set any biker's pulse racing! It is evocative of innovative design, race track and ... of course, Italy. Born in Monticello d'Alba, near Torino, but now a truly international name! Scarcely any other exhaust manufacturer in the world has succeeded in building such a reputation for quality and performance over the last twenty years. Whether super-elegant, high-performance exhaust systems for modern scooters and maxi scooters or powerful slip-ons and bolt-ons - Leo Vince is always the first choice. The numerous test wins in motorbike magazines and the number of European Championship and World Championship titles are impressive proof of the innovativeness and superior engineering of this world-renowned brand.

Modern vehicle accessories of different types now frequently carry an "E" approval mark valid throughout Europe. This "E" mark, which is made up of a combination of letters and numbers, is clearly displayed on the product and shows the application tested, the country in which testing was carried out and, where appropriate, the vehicle type to which approval applies. EC type approvals for exhaust systems, for example, are always issued for a specific vehicle type, whereas in the case of lighting, they apply to an entire group of vehicles, e.g. motorcycles.
This certification mark is the sole proof of legality stipulated by law, i.e. no written report or entry in the vehicle documents by a TÜV (German Technical Inspection Association) test centre is required. However, when it comes to installing accessories, the relevant guidelines of the Road Traffic Licensing Regulations (StvZO) must always be observed.
At a roadside check or a TÜV vehicle inspection, the registered keeper is only required to show the "E" mark. It is then up to the official in charge whether to check the mark with the Federal Motor Transport Authority (KBA) in Flensburg (or equivalent type approval authority in other countries), which is able to decode all certification marks.
Product
Art. No.
Availability
Price
Actions
HANDMADE TT SCOOTER EXH. - SR50R 05-12 /SPORT 03-04
10031604

The item is in stock and will be delivered in 2-5 working days. Note: Stocks are updated online every hour on working days from 7 a.m. to 8 p.m., so there is a good chance that the products are available if they appear online.

Available

€140.00 1
LEO VINCE HANDMADE TT - AEROX /NITRO 50 - 99
10031626

The item is in stock and will be delivered in 2-5 working days. Note: Stocks are updated online every hour on working days from 7 a.m. to 8 p.m., so there is a good chance that the products are available if they appear online.

Available

€140.00 1
LEO VINCE HANDMADE TT - BUXY-M/METAL-X/VIVACITY50
10031618

The item is in stock and will be delivered in 2-5 working days. Note: Stocks are updated online every hour on working days from 7 a.m. to 8 p.m., so there is a good chance that the products are available if they appear online.

Available

€140.00 1
LEO VINCE HANDMADE TT - BW S/BOOSTER/SLIDER/STUNT
10031627

The item is in stock and will be delivered in 2-5 working days. Note: Stocks are updated online every hour on working days from 7 a.m. to 8 p.m., so there is a good chance that the products are available if they appear online.

Available

€140.00 1
LEO VINCE HANDMADE TT - EXPLORER/GENERIC/KEEWAY
10031748

The item is in stock and will be delivered in 2-5 working days. Note: Stocks are updated online every hour on working days from 7 a.m. to 8 p.m., so there is a good chance that the products are available if they appear online.

Available

€140.00 1
LEO VINCE HANDMADE TT - F12 PHANTOM 50 BJ.99-
10031614

The item is in stock and will be delivered in 2-5 working days. Note: Stocks are updated online every hour on working days from 7 a.m. to 8 p.m., so there is a good chance that the products are available if they appear online.

Available

€140.00 1
LEO VINCE HANDMADE TT - JET-FORCE 50 03-/SPEEDF.
10031619

The item is in stock and will be delivered in 2-5 working days. Note: Stocks are updated online every hour on working days from 7 a.m. to 8 p.m., so there is a good chance that the products are available if they appear online.

Available

€140.00 1
LEO VINCE HANDMADE TT - LUDIX ONE 04-/NEW VIVAC.
10031745

The item is in stock and will be delivered in 2-5 working days. Note: Stocks are updated online every hour on working days from 7 a.m. to 8 p.m., so there is a good chance that the products are available if they appear online.

Available

€140.00 1
LEO VINCE HANDMADE TT - RUNNER/STALKER/NTT 50
10031609

The item is in stock and will be delivered in 2-5 working days. Note: Stocks are updated online every hour on working days from 7 a.m. to 8 p.m., so there is a good chance that the products are available if they appear online.

Available

€140.00 1
LEO VINCE HANDMADE TT - SPEEDFIGHT 2 BJ. 01-
10031621

The item is in stock and will be delivered in 2-5 working days. Note: Stocks are updated online every hour on working days from 7 a.m. to 8 p.m., so there is a good chance that the products are available if they appear online.

Available

€140.00 1
LEO VINCE HANDMADE TT - SR50STEALTH/AEROX/NITRO
10031602

The item is in stock and will be delivered in 2-5 working days. Note: Stocks are updated online every hour on working days from 7 a.m. to 8 p.m., so there is a good chance that the products are available if they appear online.

Available

€140.00 1
LEO VINCE HANDMADE TT - STORM/TYPHOON /ZIP 50 -99
10031611

The item is in stock and will be delivered in 2-5 working days. Note: Stocks are updated online every hour on working days from 7 a.m. to 8 p.m., so there is a good chance that the products are available if they appear online.

Available

€140.00 1
ROLLERAUSPUFF HANDMADE TT - KYMCO TOP-BOY BJ. 00-
10031628

The item is in stock and will be delivered in 2-5 working days. Note: Stocks are updated online every hour on working days from 7 a.m. to 8 p.m., so there is a good chance that the products are available if they appear online.

Available

€140.00 1