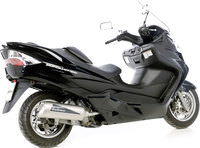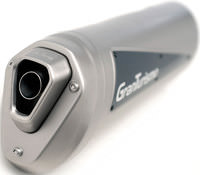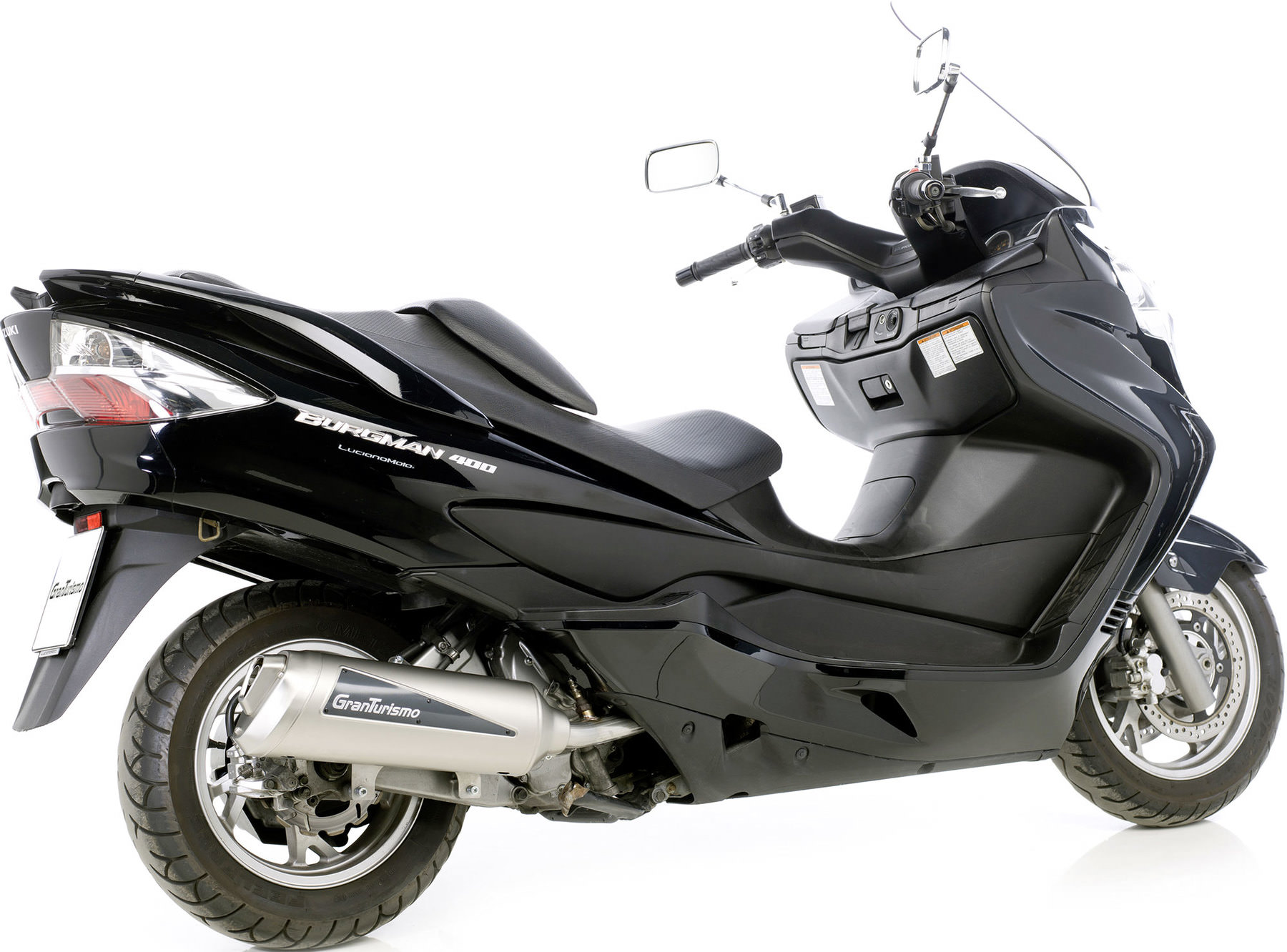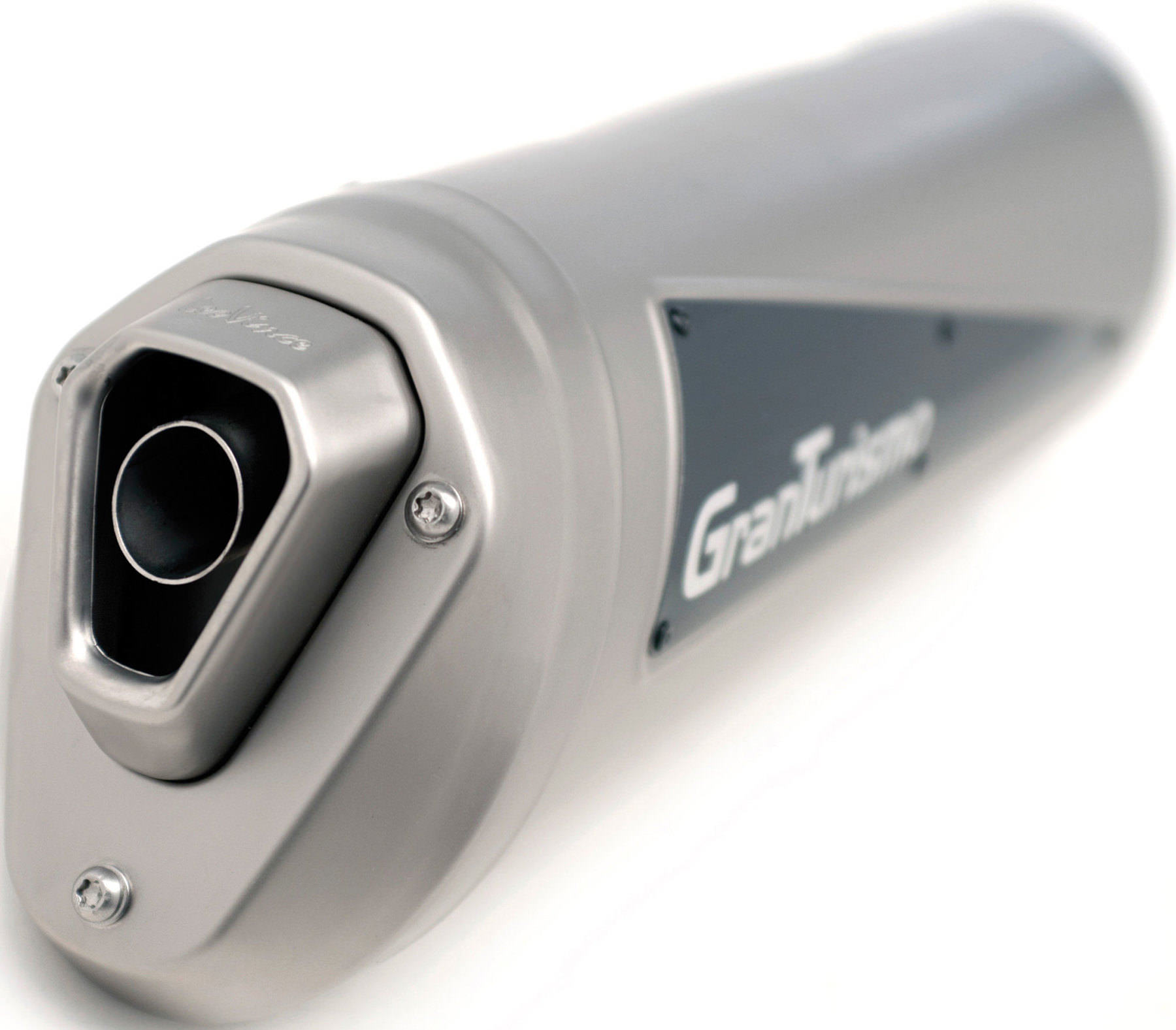 LeoVince Granturismo Scooter Exhaust
stainless steal
Important notes
The original catalytic converter is retained, so retrofitting is not required.
This product is available at week 17.
Current calendar week: 15
Available as of calendar week 17
Free delivery on orders over €199.00
2 year return policy
Fast delivery
LeoVince Granturismo Scooter Exhaust
stainless steal
With the GranTurismo exhaust system, LeoVince offers a highly recommended product for high-engine-capacity maxi-scooters. It combines advanced technology with innovative design and great durability. The GranTurismo is sporty but not loud. Its ingeniously designed "internal workings" ensure inspiring performance and a great sound.
The conical silencer body, made of stainless steel, and the trapezoid end cap give the GranTurismo an extremely slimline and elegant look. The metal itself is heat-resistant and offers maximum corrosion resistance that lasts
The end cap is also made of deep-drawn stainless steel, welded on the inside, with outstanding design. The highly original shape, an irregular hexagon, creates soft lines with rounded corners, further emphasising the oval structure of the silencer as a whole
The exhaust gases and combustion noise are filtered/suppressed in the first section by means of a newly developed, silicone-based packing material and an ageing-resistant filter. Before the gases can escape, they are directed through a partition, whose special design ensures maximum performance while also reducing the noise to a very acceptable level
The silencer and manifold are connected by means of a semi-elastic graphite bush, which holds them together securely, while still permitting a degree of flexibility. This creates a vibration-proof connection between the two parts
Manufacturer details: Leo Vince

Always the first choice

Leo Vince - the name alone is enough to set any biker's pulse racing! It is evocative of innovative design, race track and ... of course, Italy. Born in Monticello d'Alba, near Torino, but now a truly international name! Scarcely any other exhaust manufacturer in the world has succeeded in building such a reputation for quality and performance over the last twenty years. Whether super-elegant, high-performance exhaust systems for modern scooters and maxi scooters or powerful slip-ons and bolt-ons - Leo Vince is always the first choice. The numerous test wins in motorbike magazines and the number of European Championship and World Championship titles are impressive proof of the innovativeness and superior engineering of this world-renowned brand.

Modern vehicle accessories of different types now frequently carry an "E" approval mark valid throughout Europe. This "E" mark, which is made up of a combination of letters and numbers, is clearly displayed on the product and shows the application tested, the country in which testing was carried out and, where appropriate, the vehicle type to which approval applies. EC type approvals for exhaust systems, for example, are always issued for a specific vehicle type, whereas in the case of lighting, they apply to an entire group of vehicles, e.g. motorcycles.
This certification mark is the sole proof of legality stipulated by law, i.e. no written report or entry in the vehicle documents by a TÜV (German Technical Inspection Association) test centre is required. However, when it comes to installing accessories, the relevant guidelines of the Road Traffic Licensing Regulations (StvZO) must always be observed.
At a roadside check or a TÜV vehicle inspection, the registered keeper is only required to show the "E" mark. It is then up to the official in charge whether to check the mark with the Federal Motor Transport Authority (KBA) in Flensburg (or equivalent type approval authority in other countries), which is able to decode all certification marks.

Stainless steel is a collective term for rustproof steel. It is much more resistant to corrosion than non-alloyed steels. Stainless steel does not deteriorate, and is hygienic, UV-resistant, non-corroding, fracture-proof, non-toxic and environmentally friendly. It does not weather and can be recycled in its entirety, even after many years. Technically, the term "stainless steel" refers to corrosion-resistant steel alloys with a wide variety of compositions but always containing a high percentage of chromium (usually a minimum of 10.5%)

.

MAINTENANCE:
Stainless steel should be cleaned regularly like all other materials, especially after exposure to salty air (near the coast), and also at regular intervals.
Water can easily collect in corners, edges and screw connections, resulting in corrosion. So careful cleaning is important, and if necessary screws should be undone in order to clean the parts thoroughly.
Do not leave rusty steel parts against stainless steel to avoid the rust "contamination".

Made in Italy
Product
Art. No.
Availability
Price
Actions
SCOOTER EXH. GRANTURISMO - AN 400 BURGMAN 07-13

Important notes

The original catalytic converter is retained, so retrofitting is not required.

10032893

This product is available at week 17.
Current calendar week: 15

Available as of calendar week 17

€389.00

1 €329.99 1