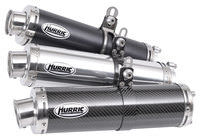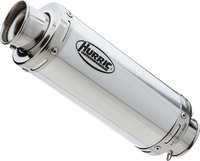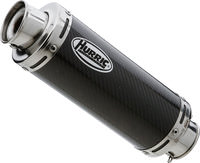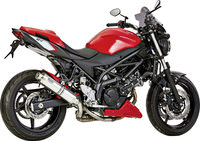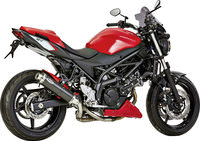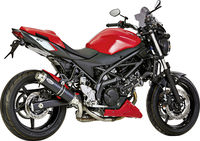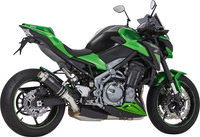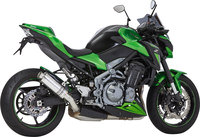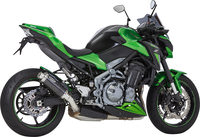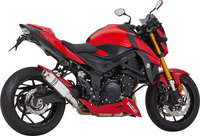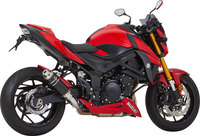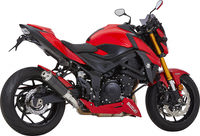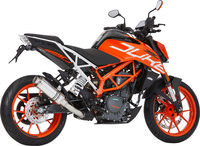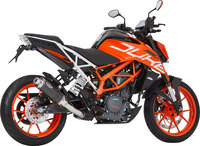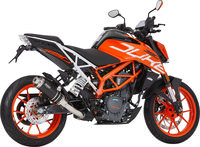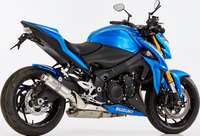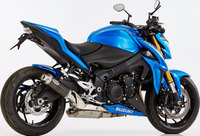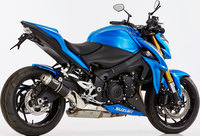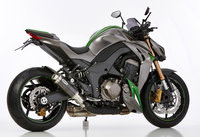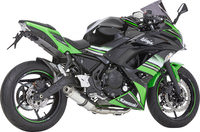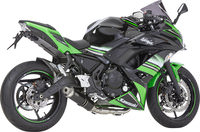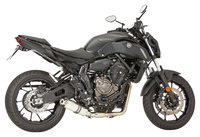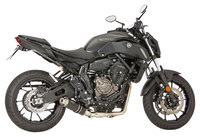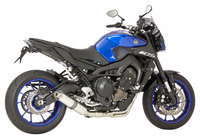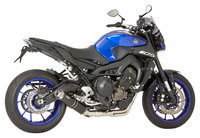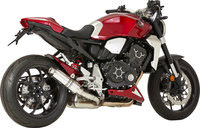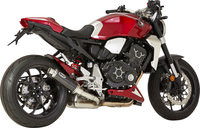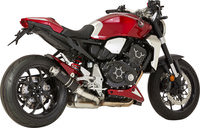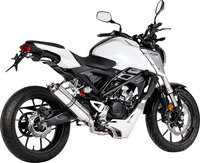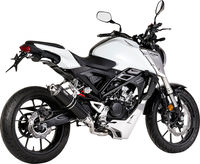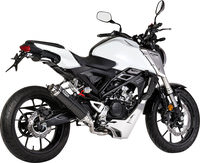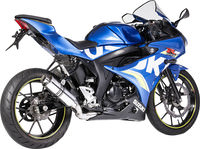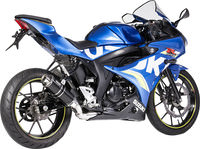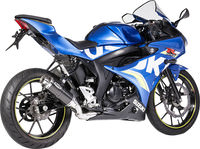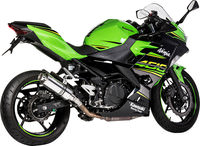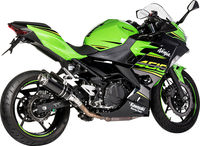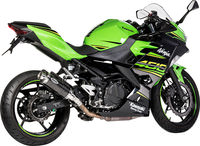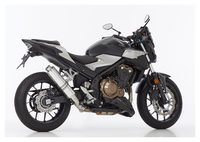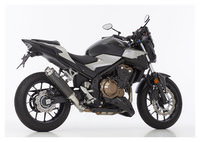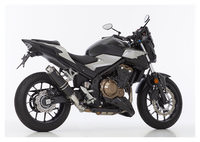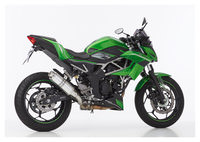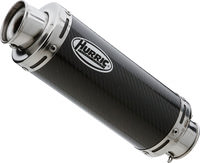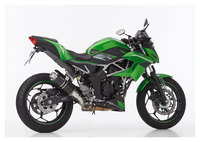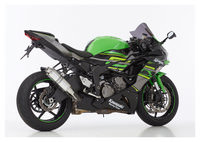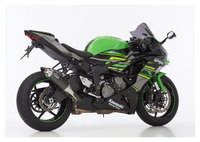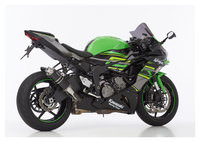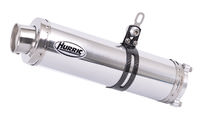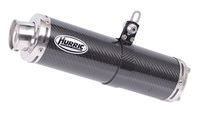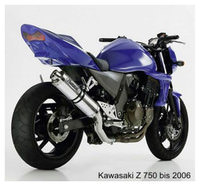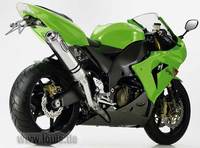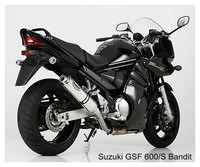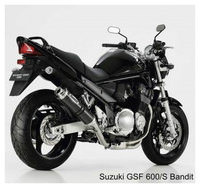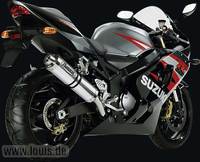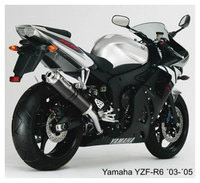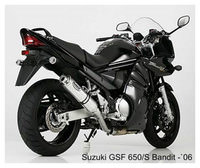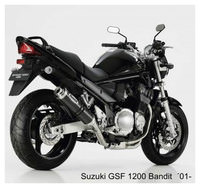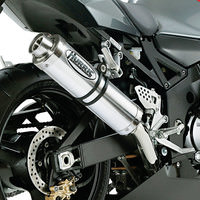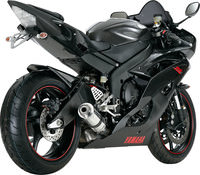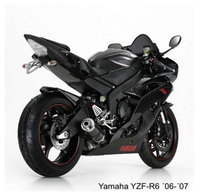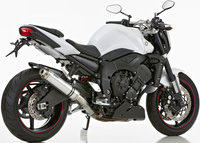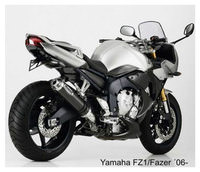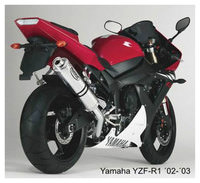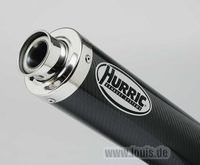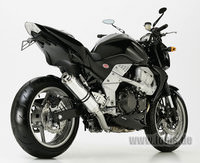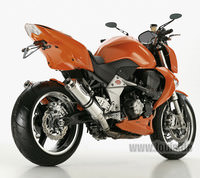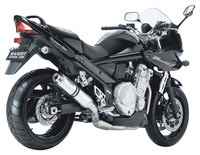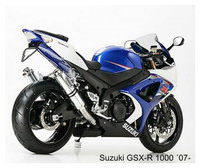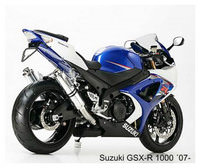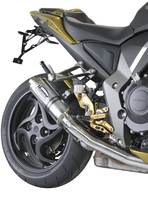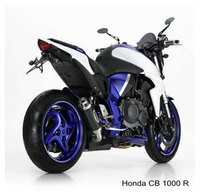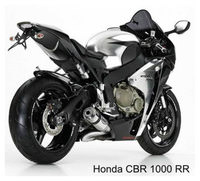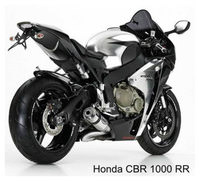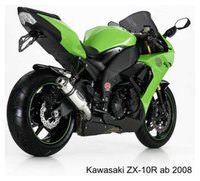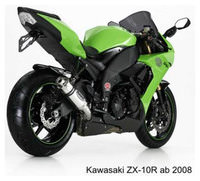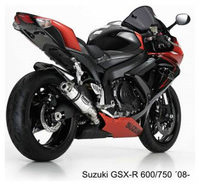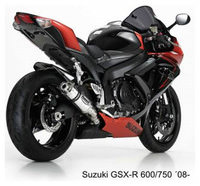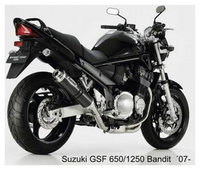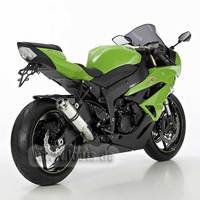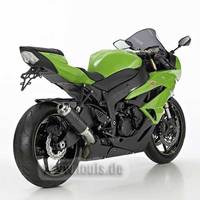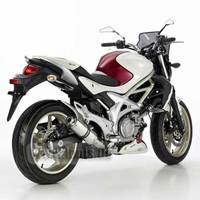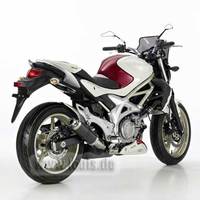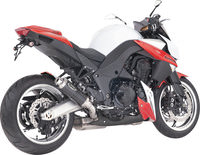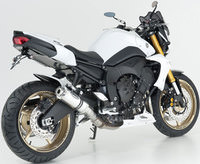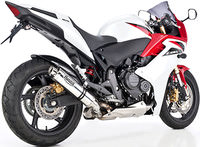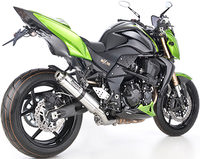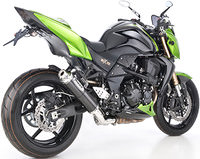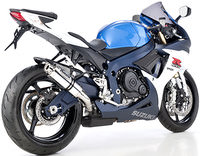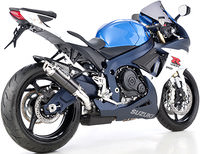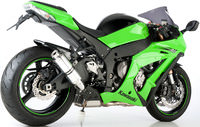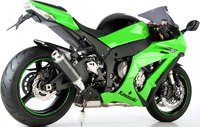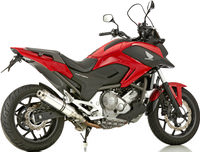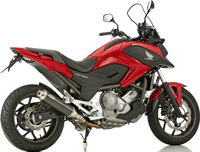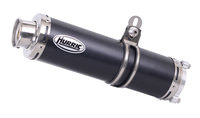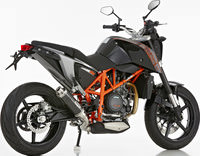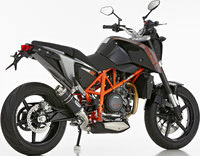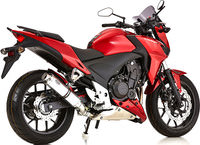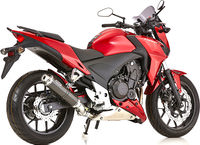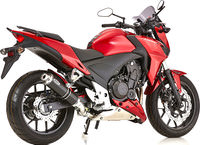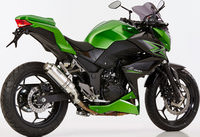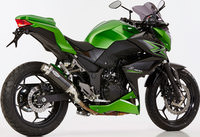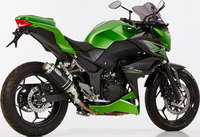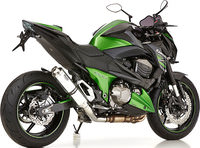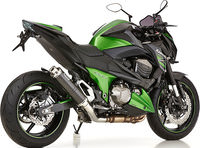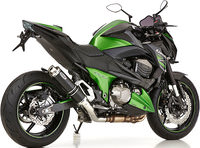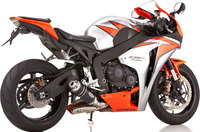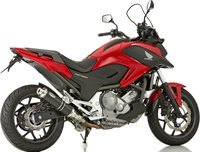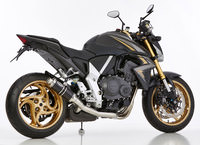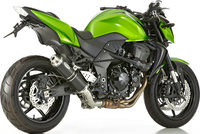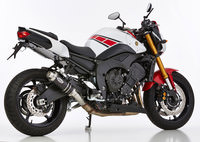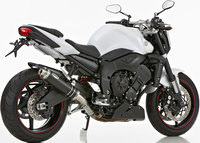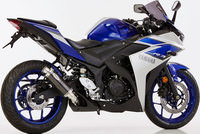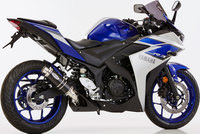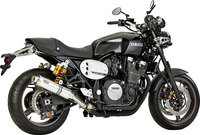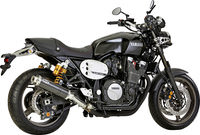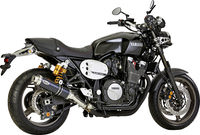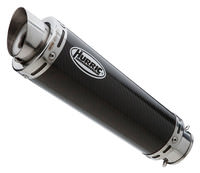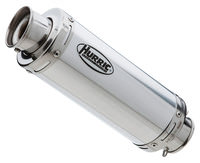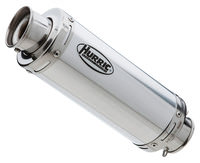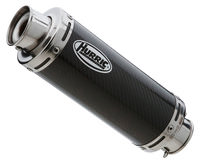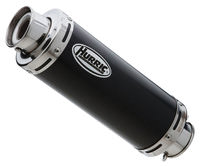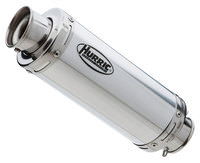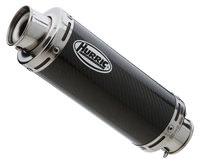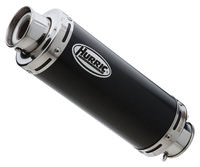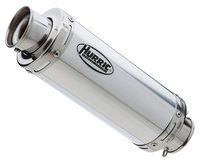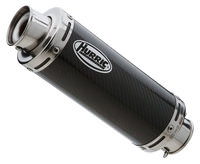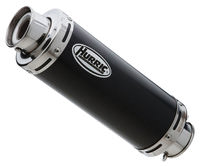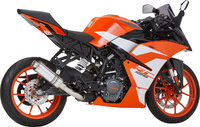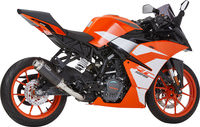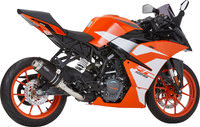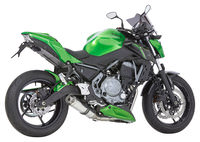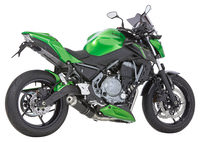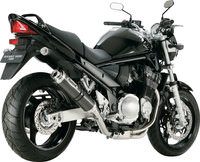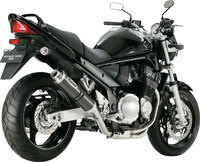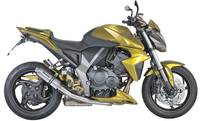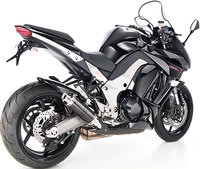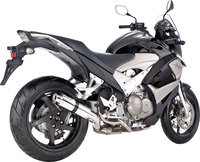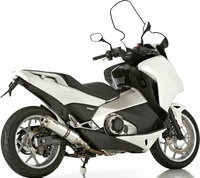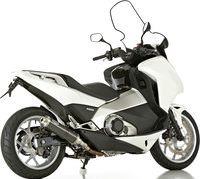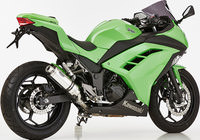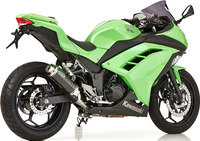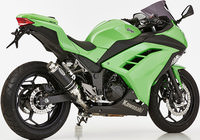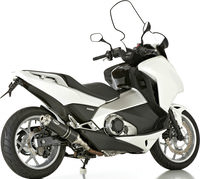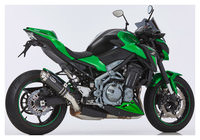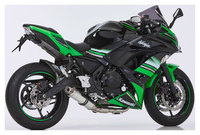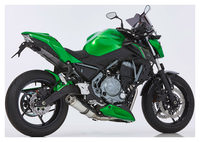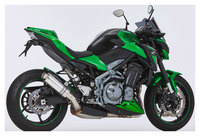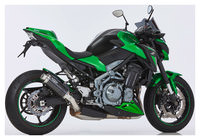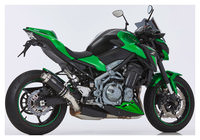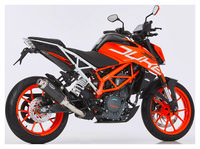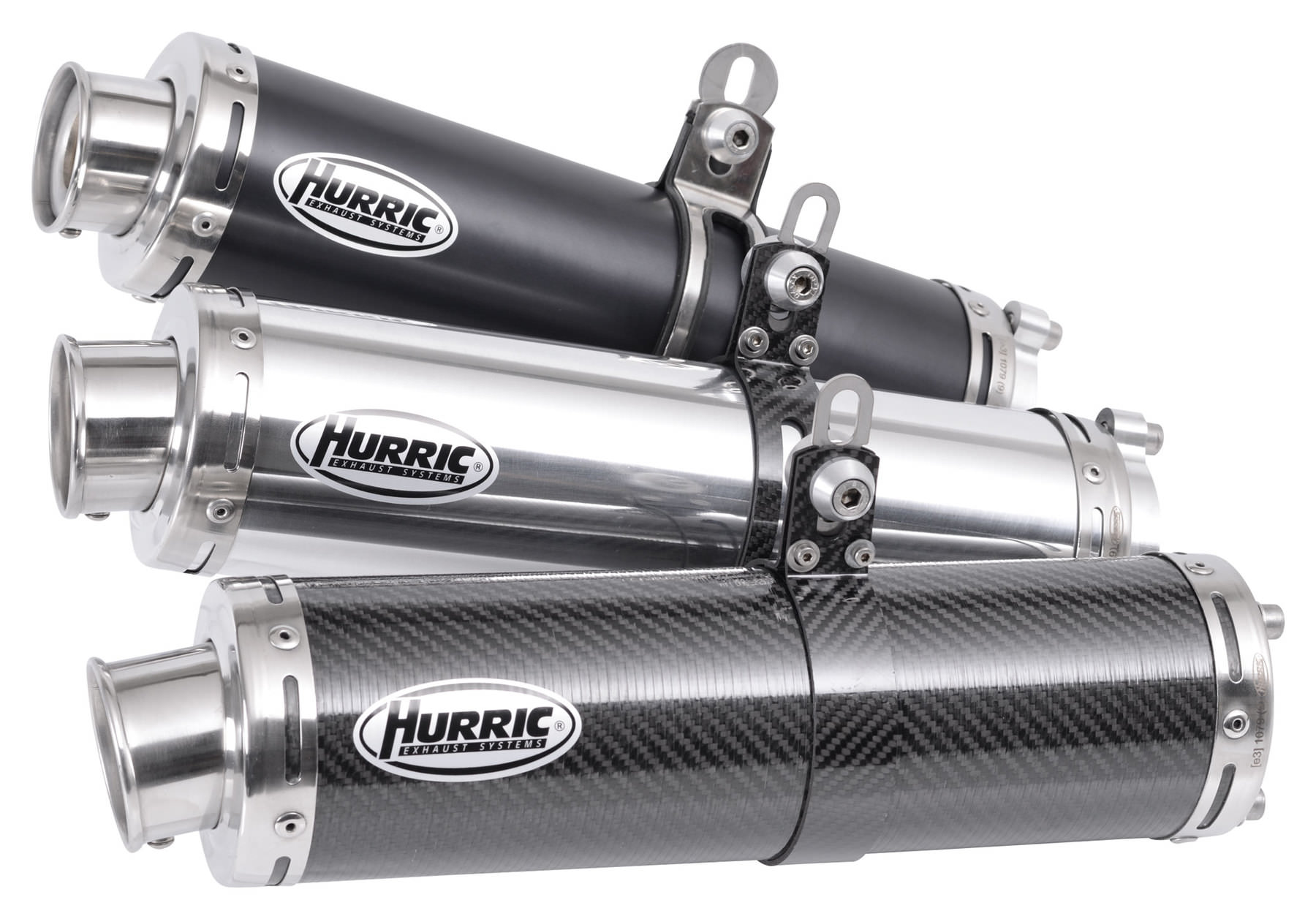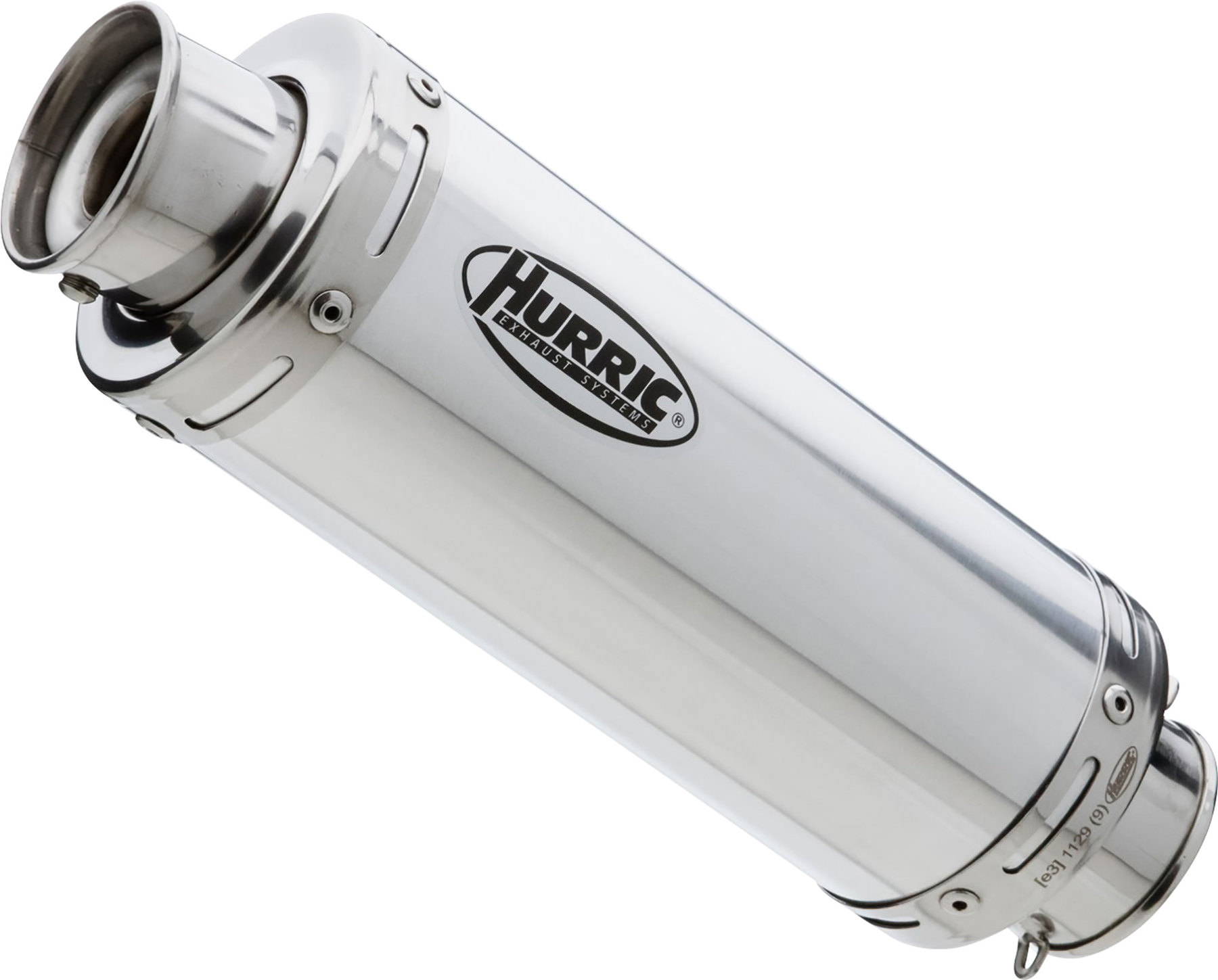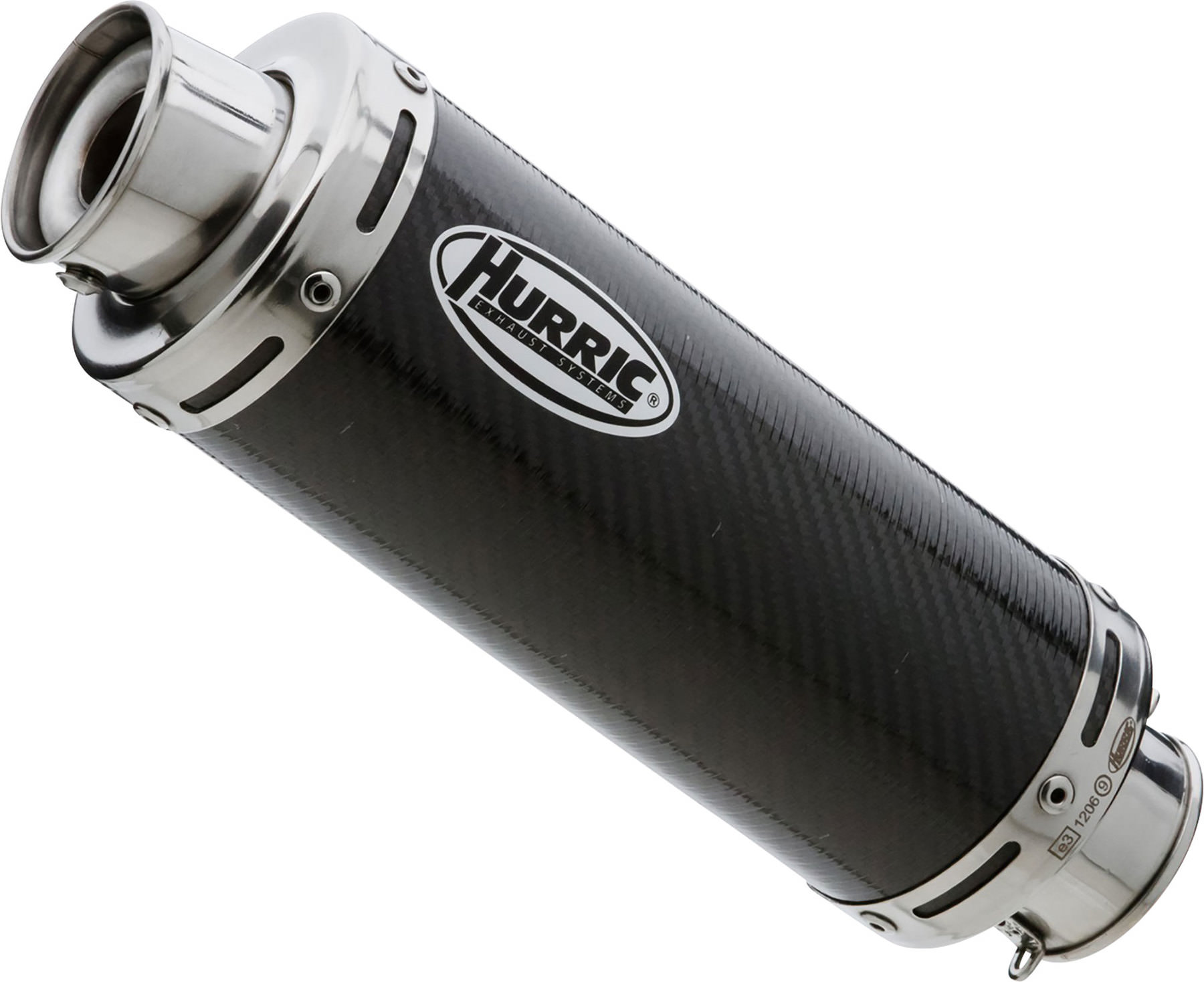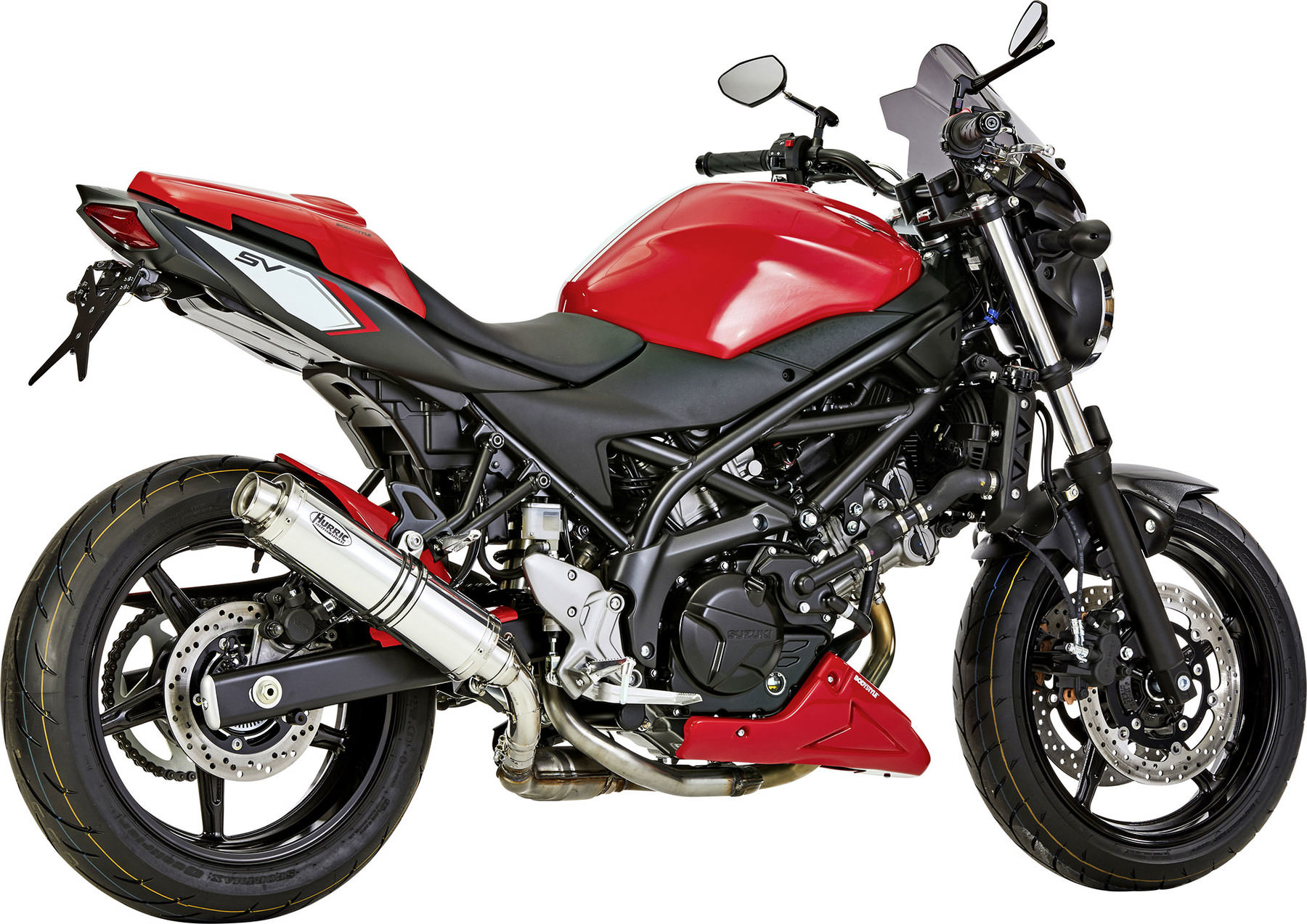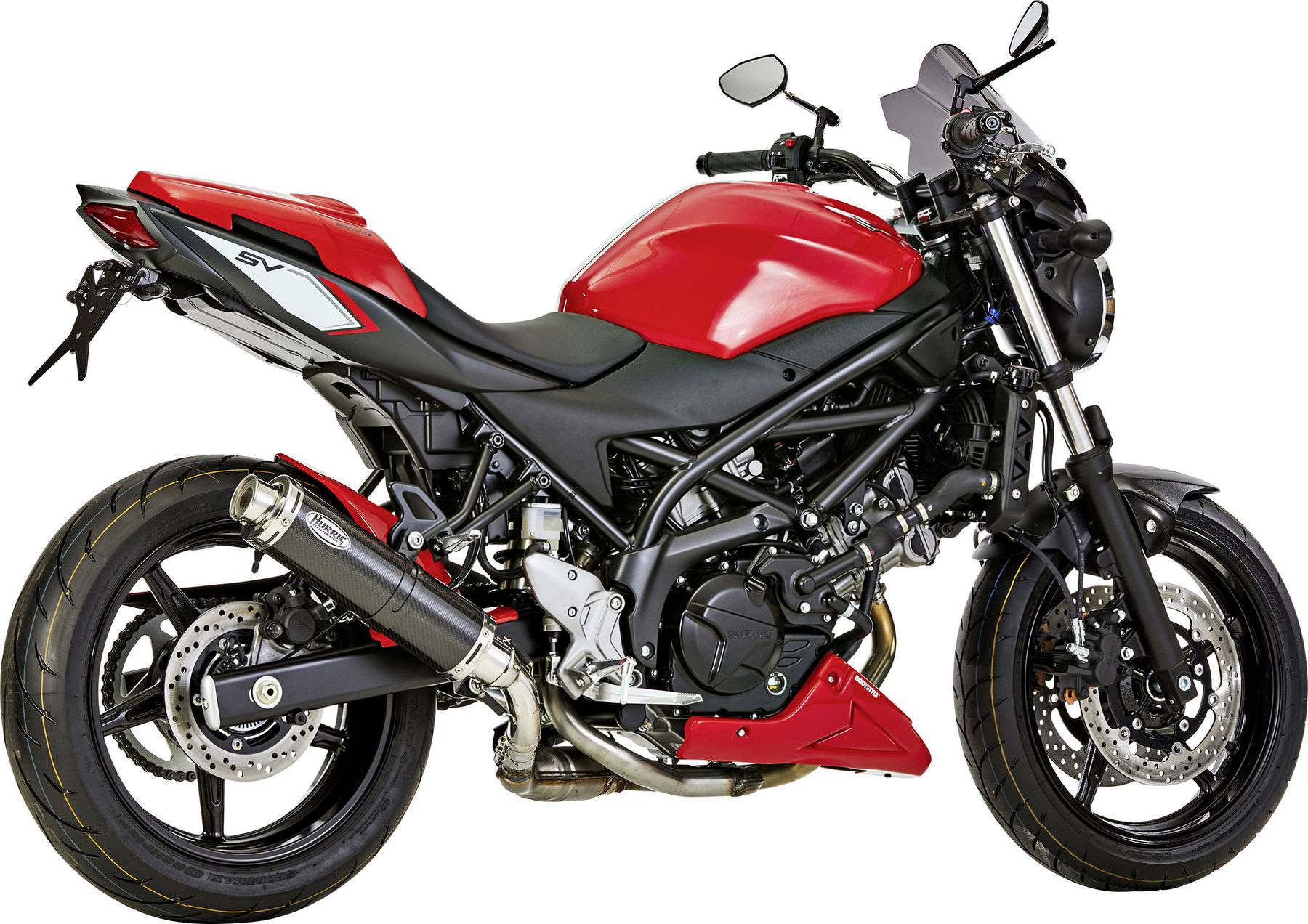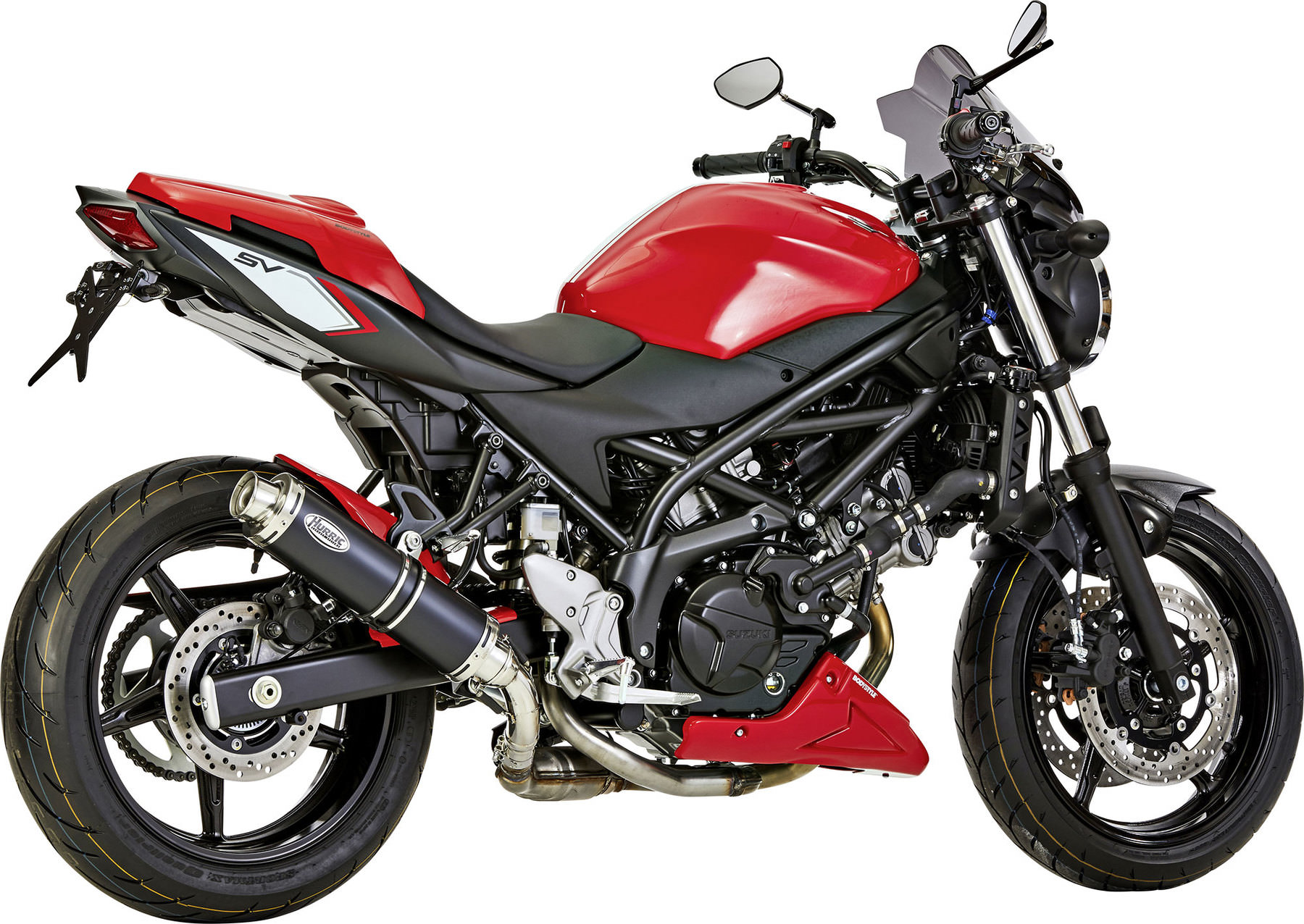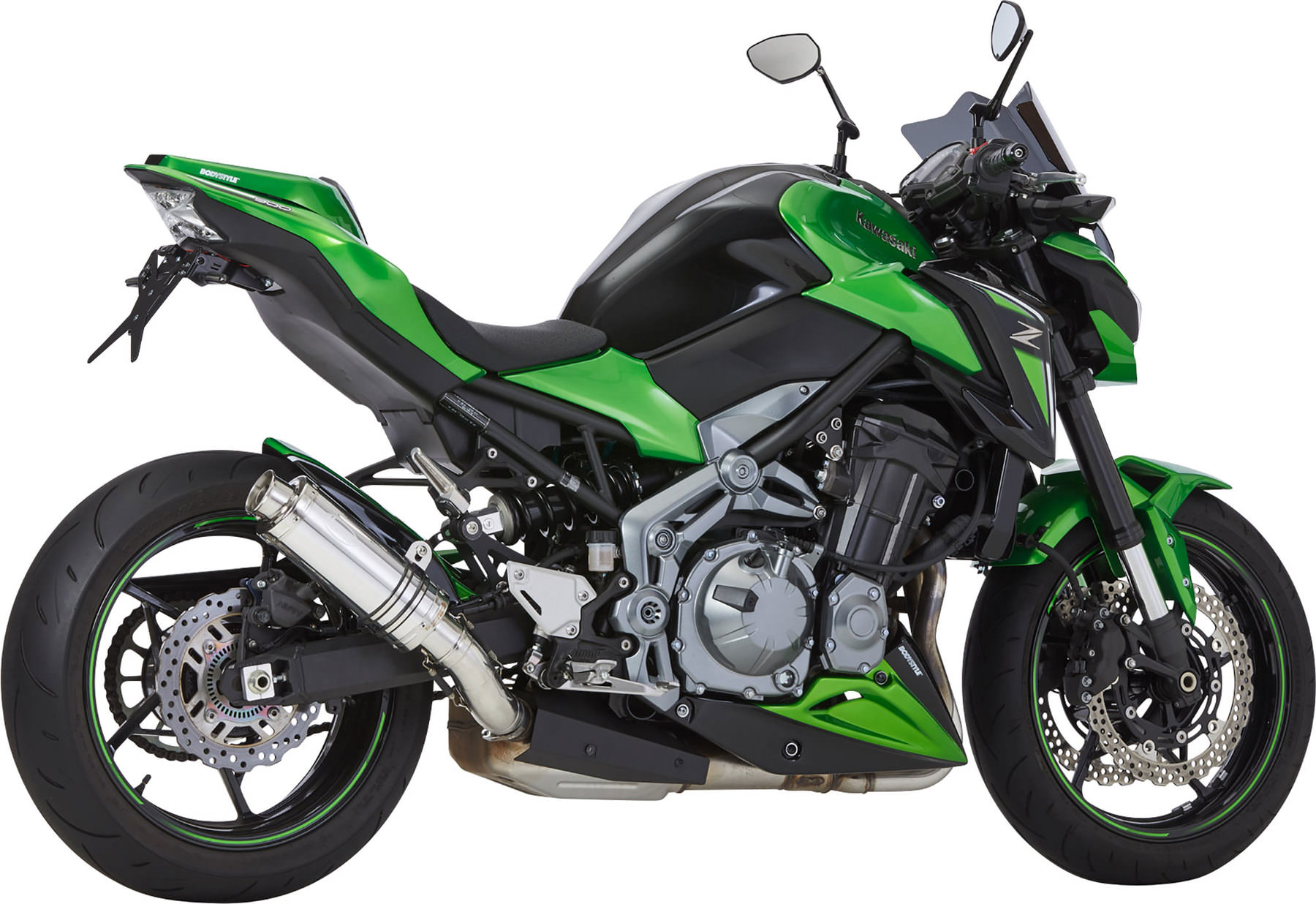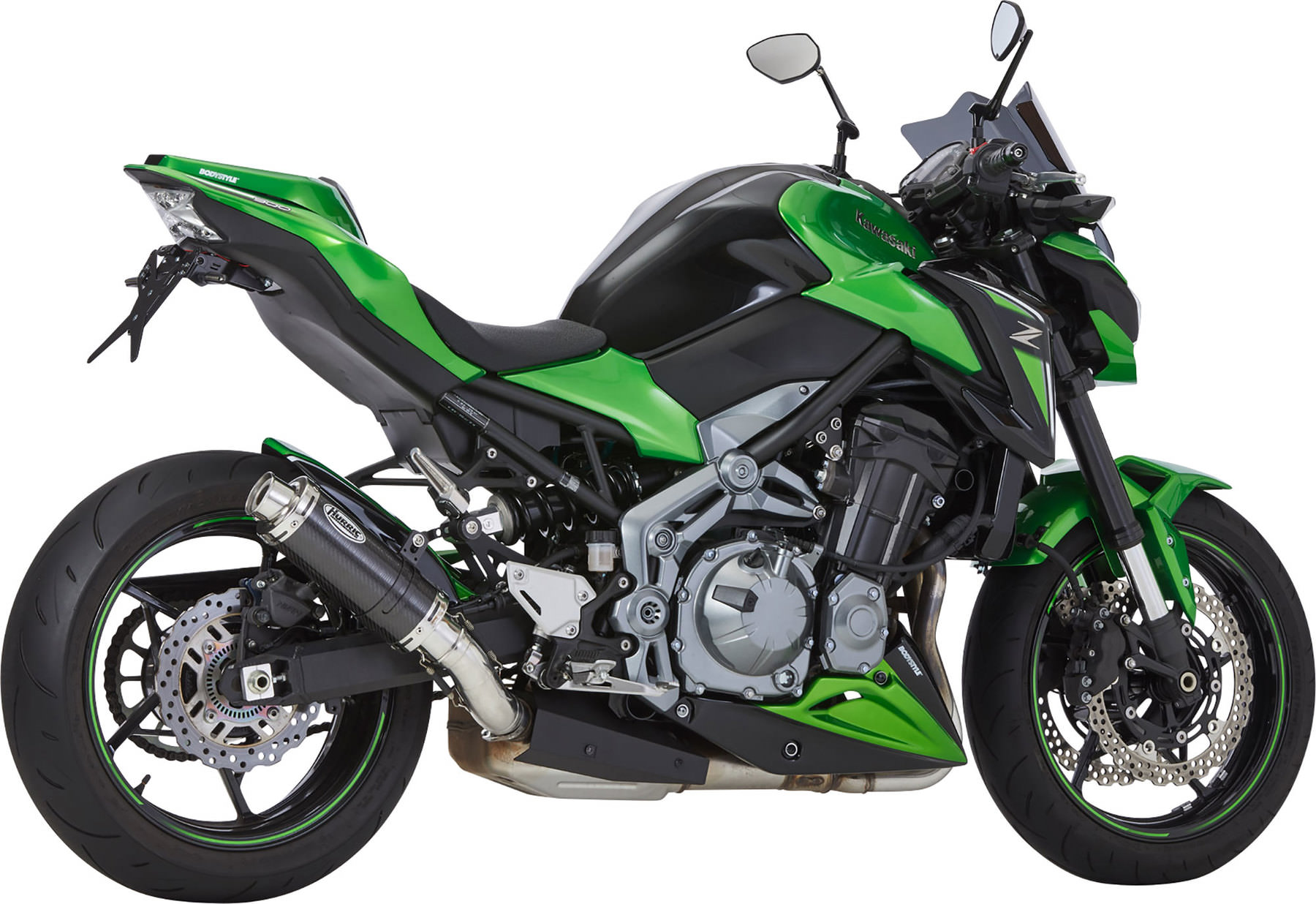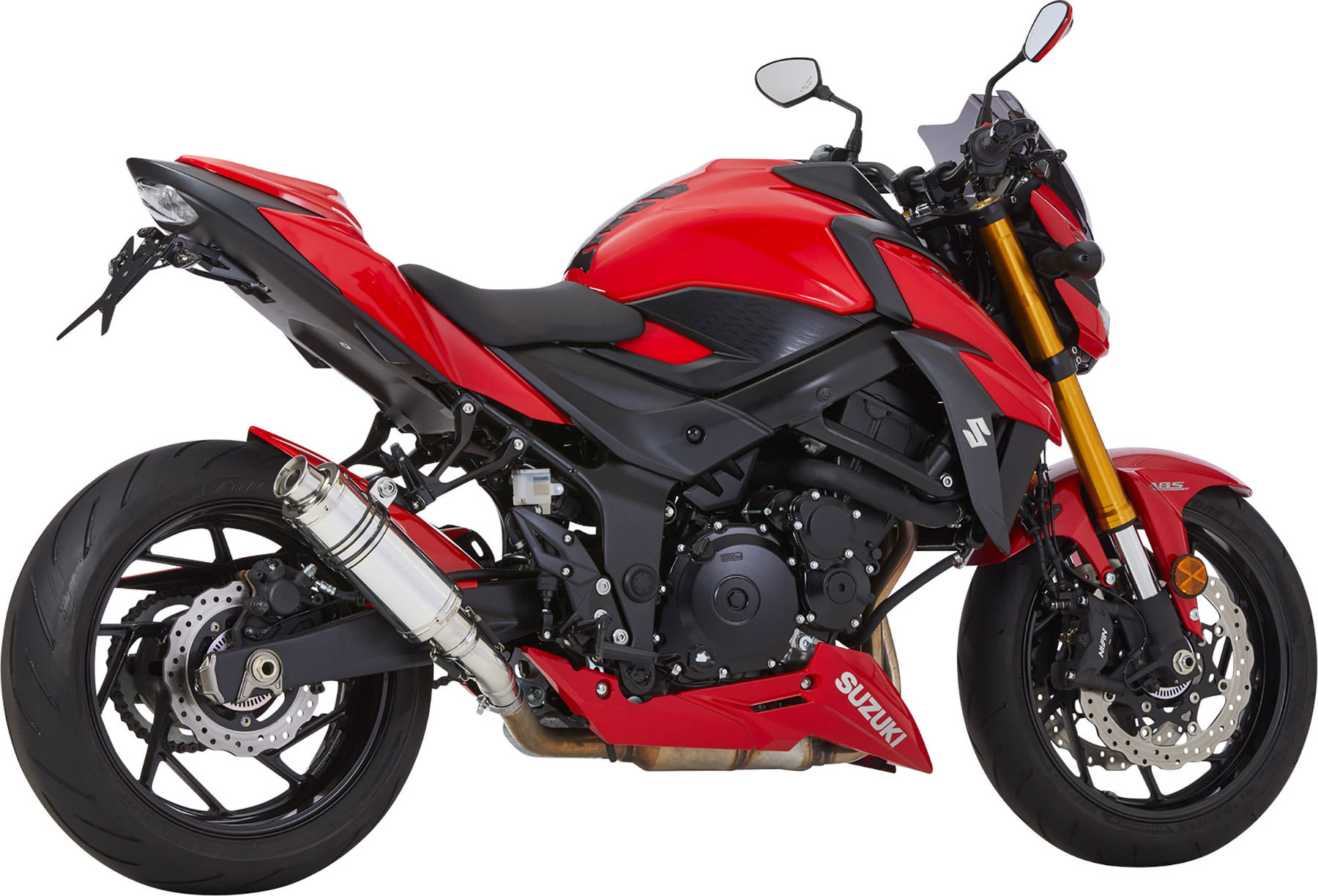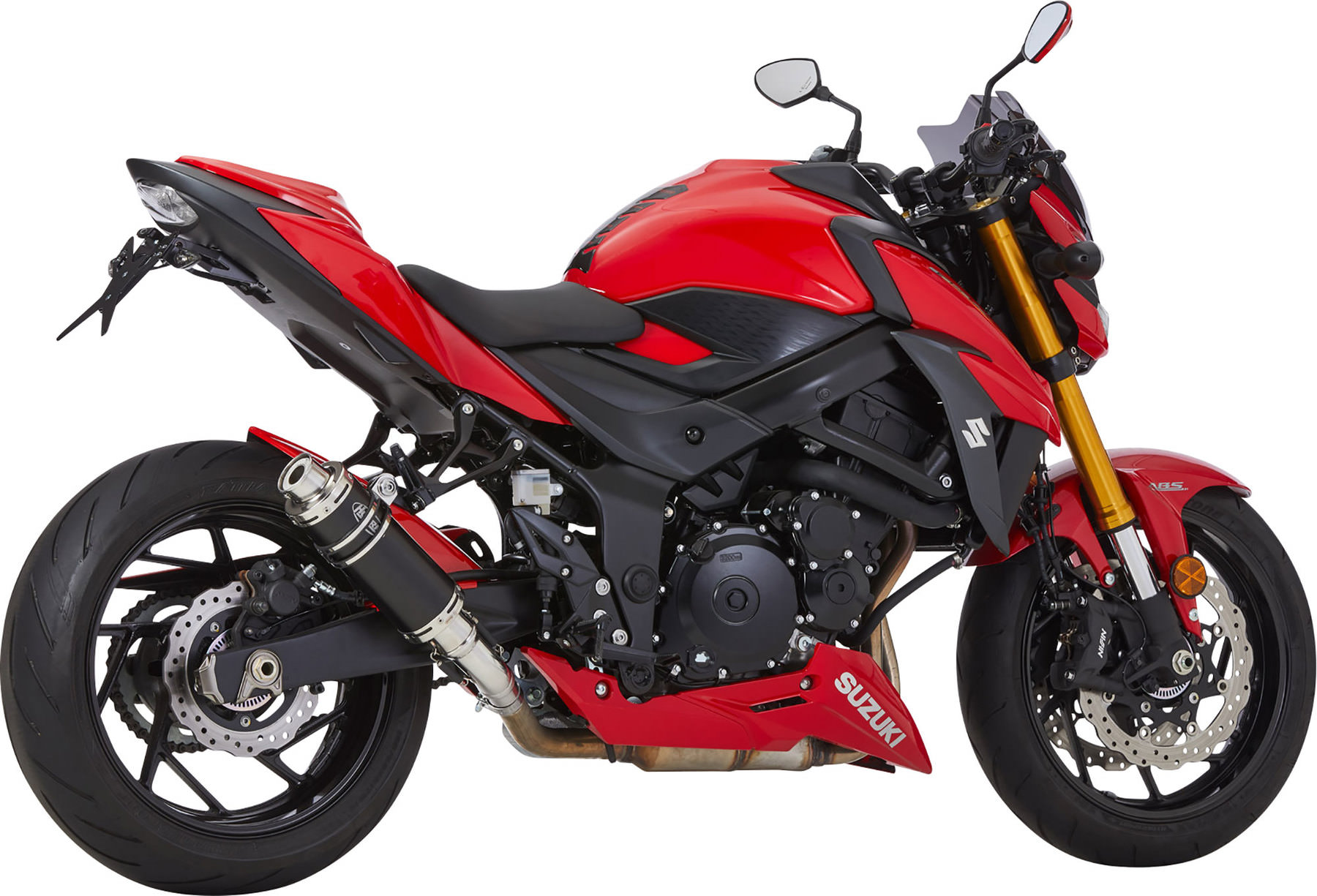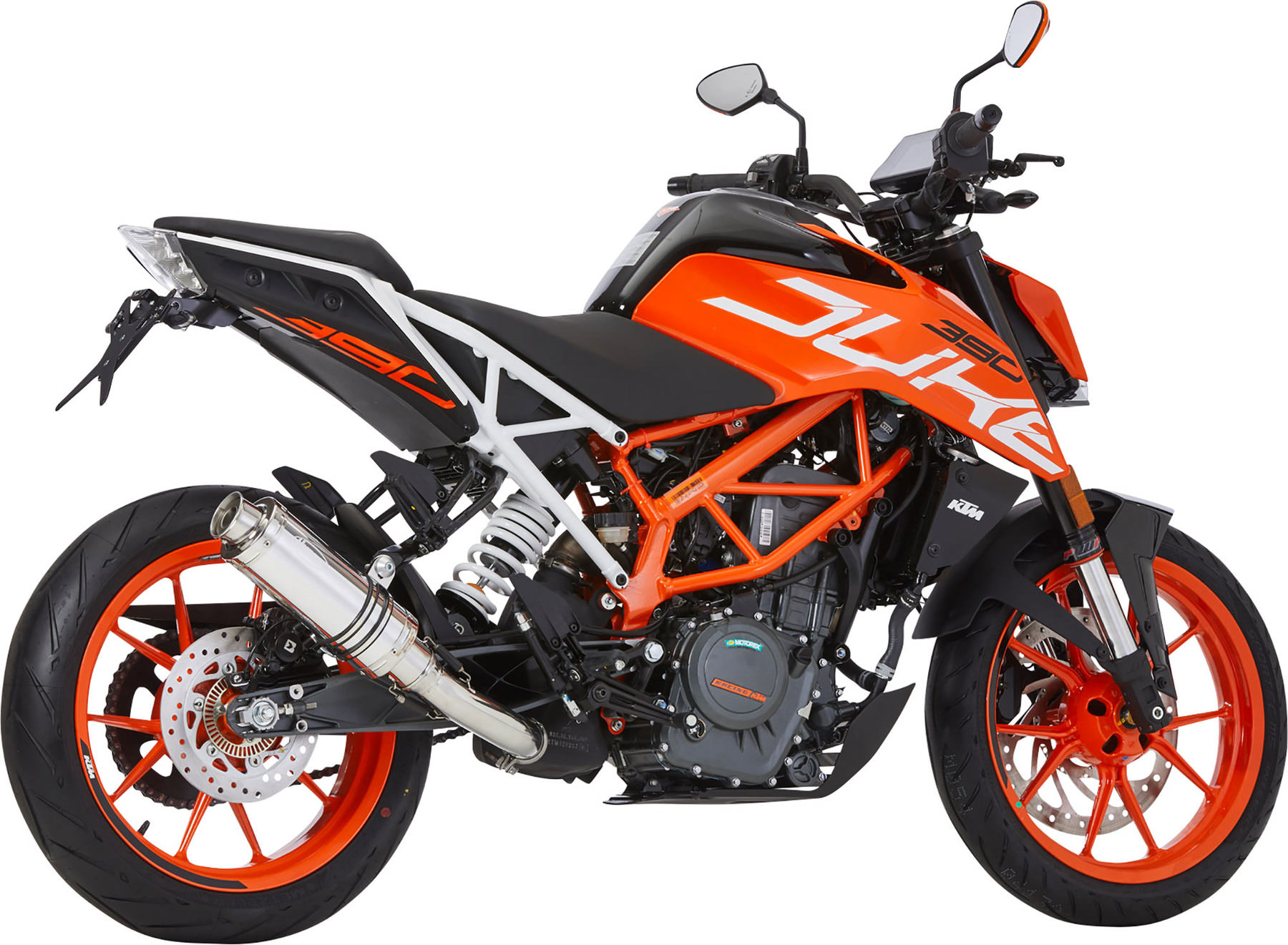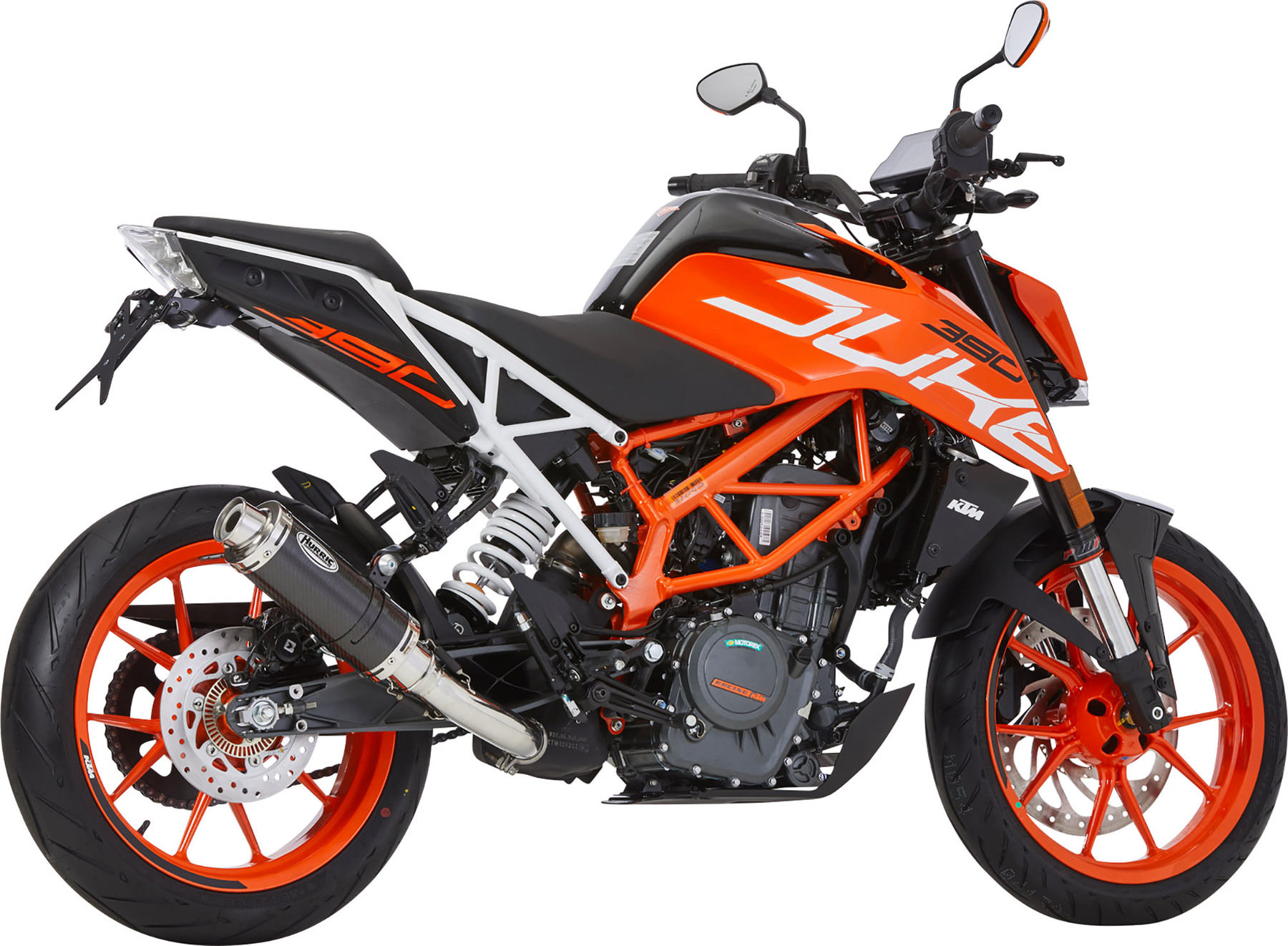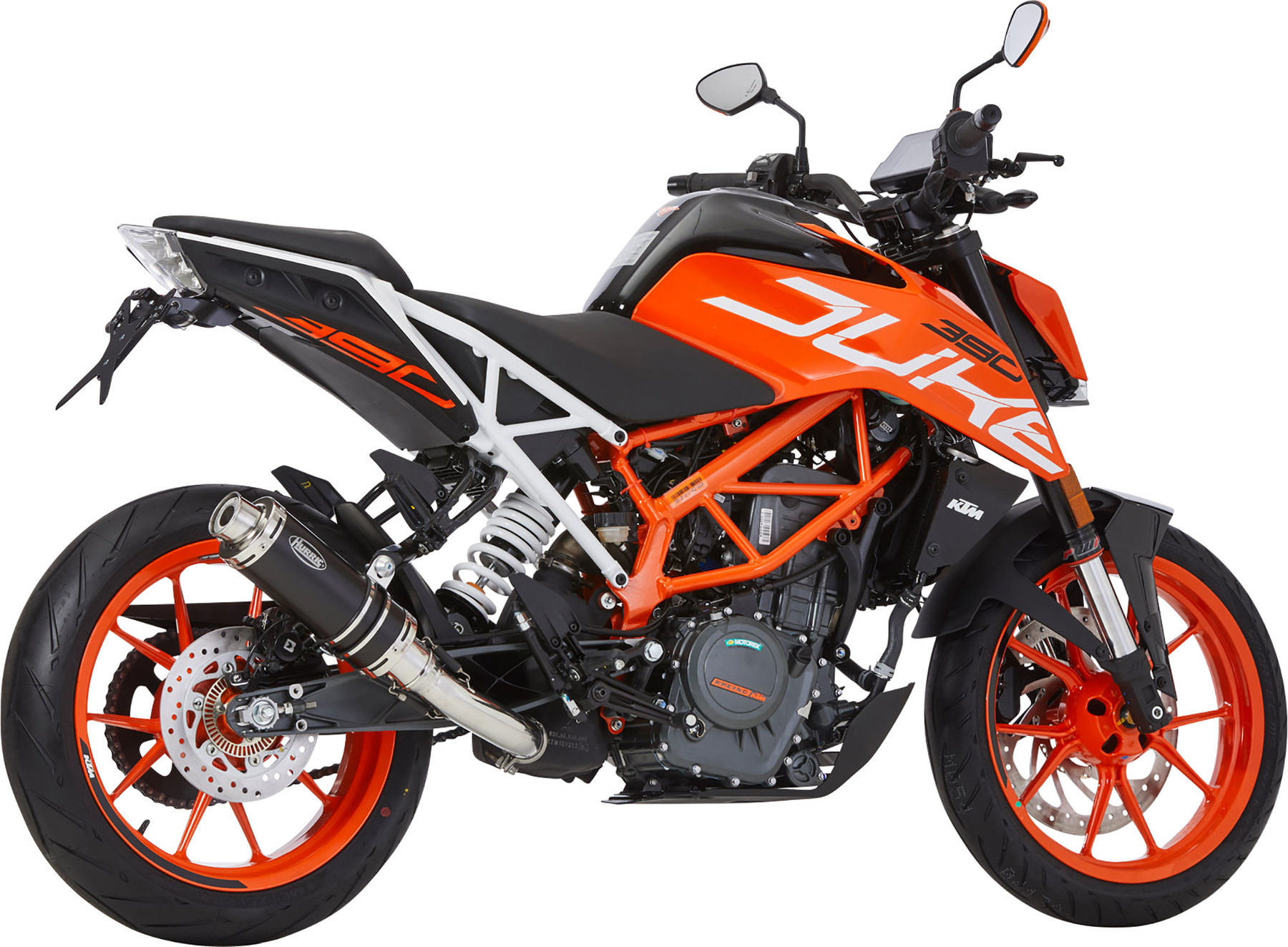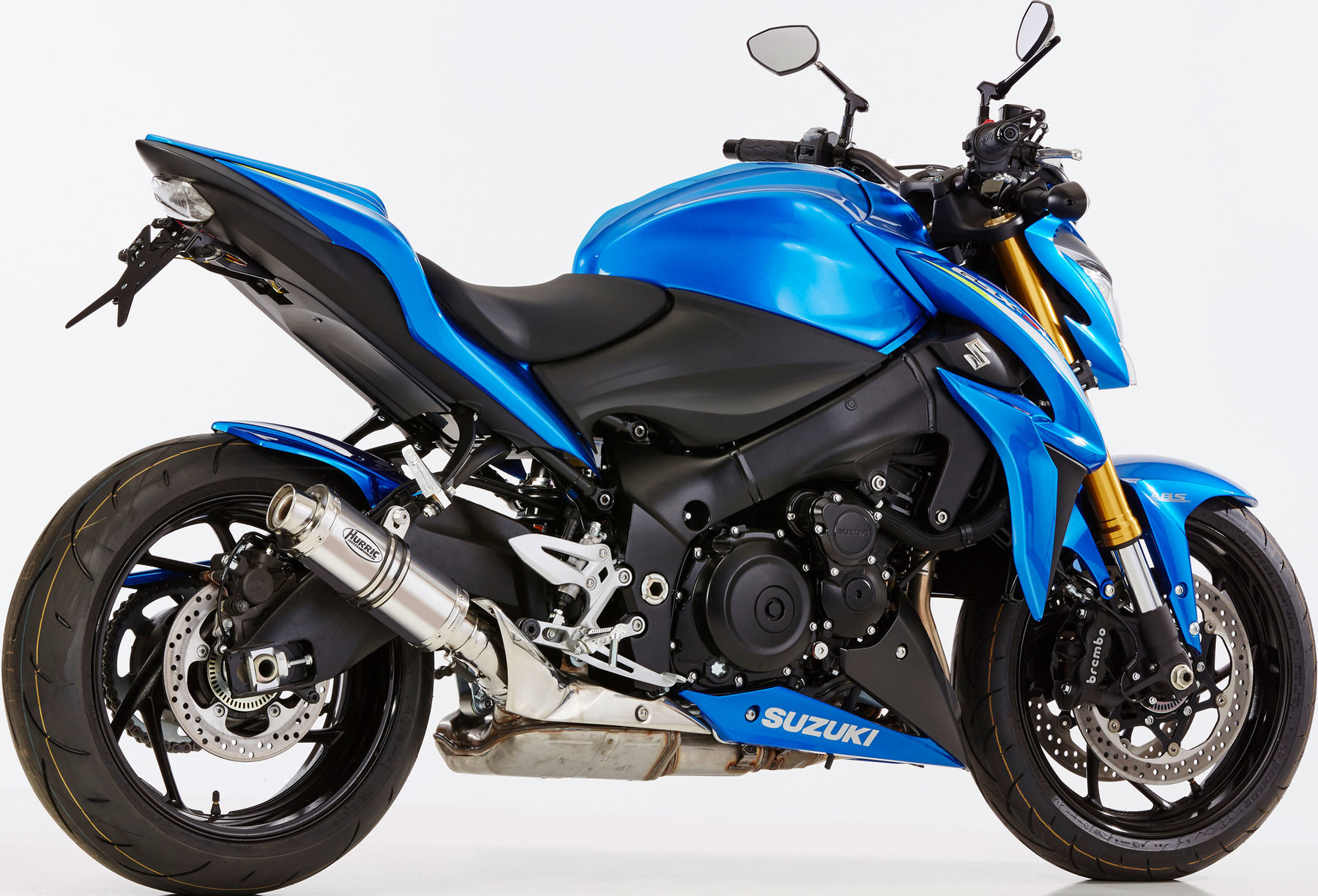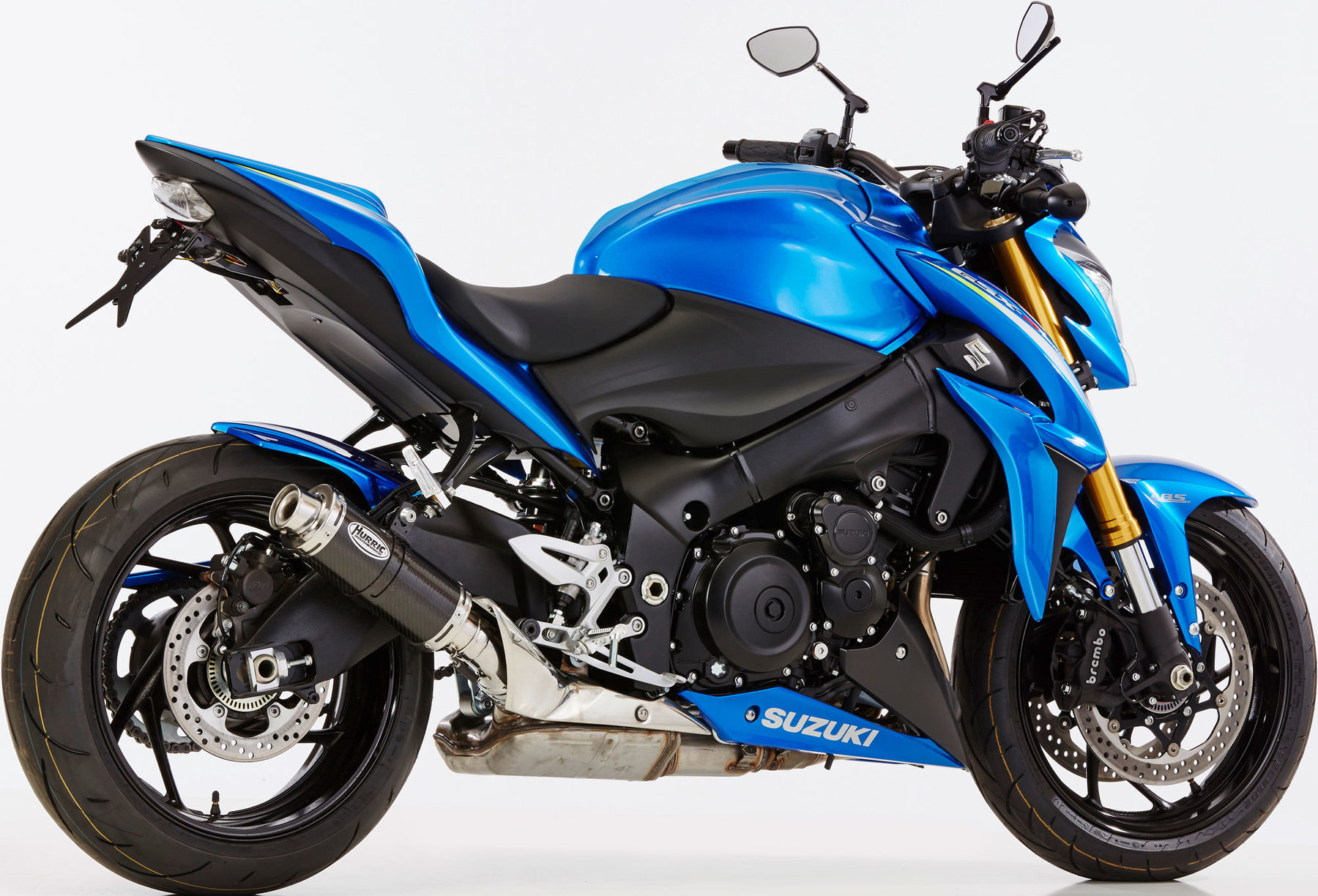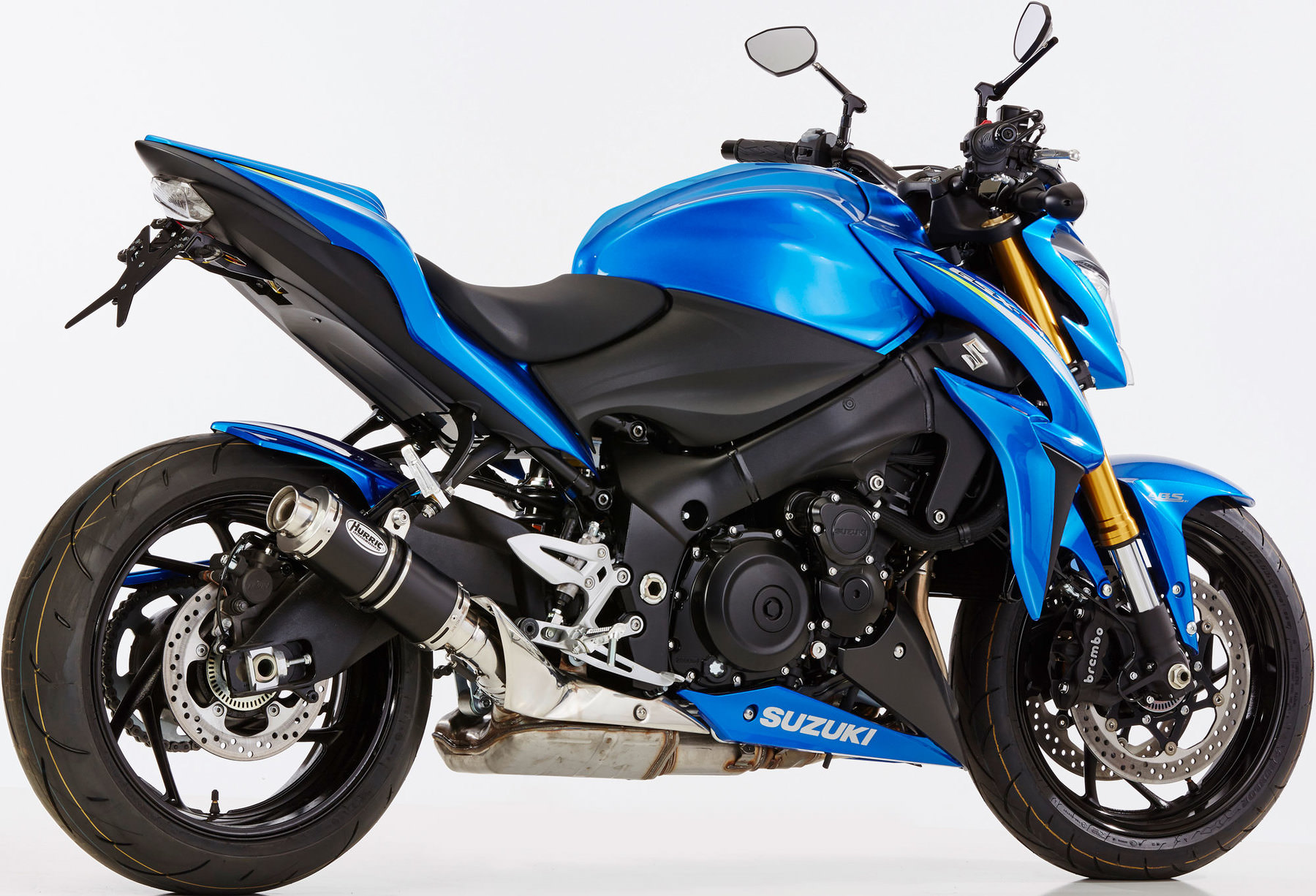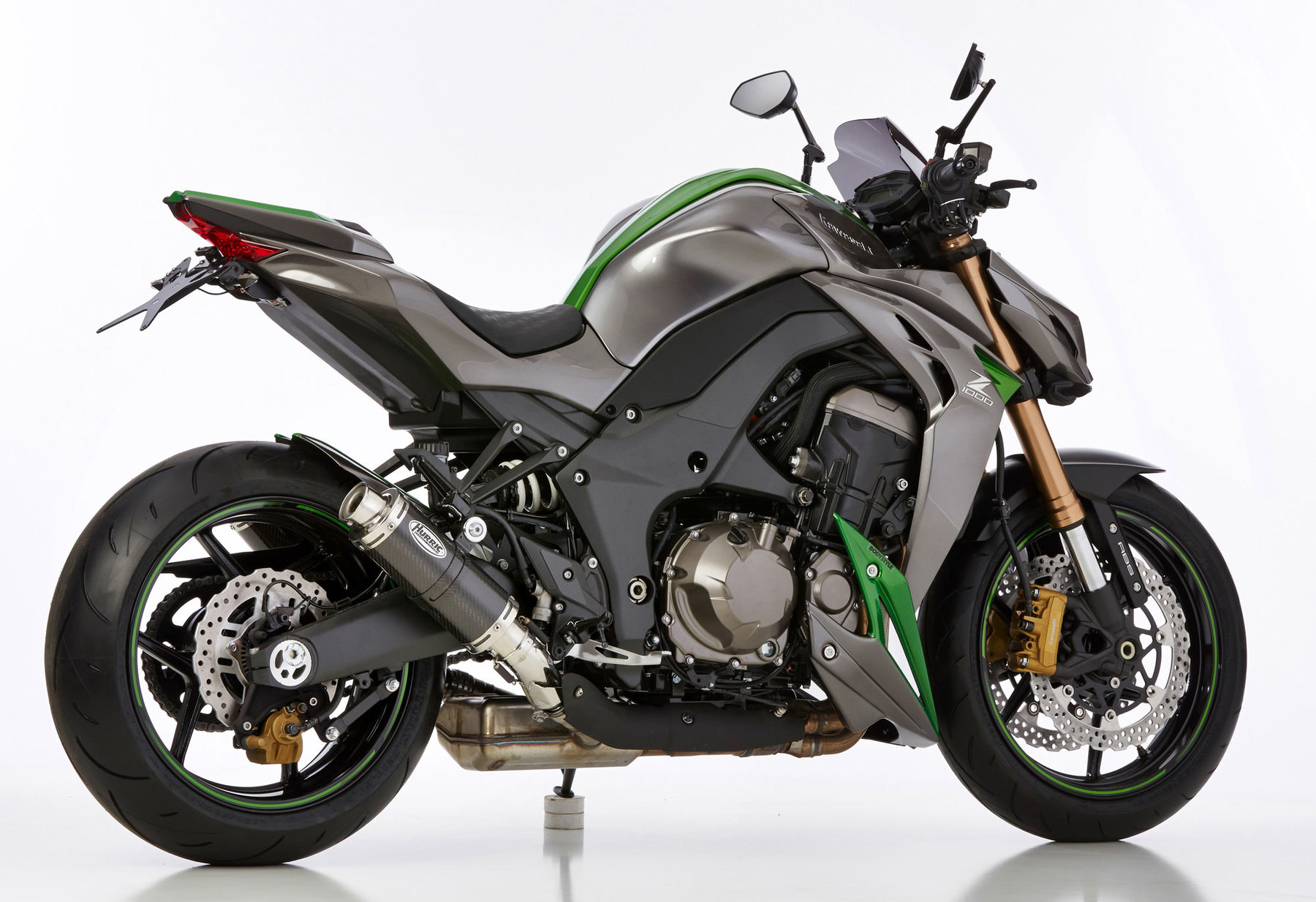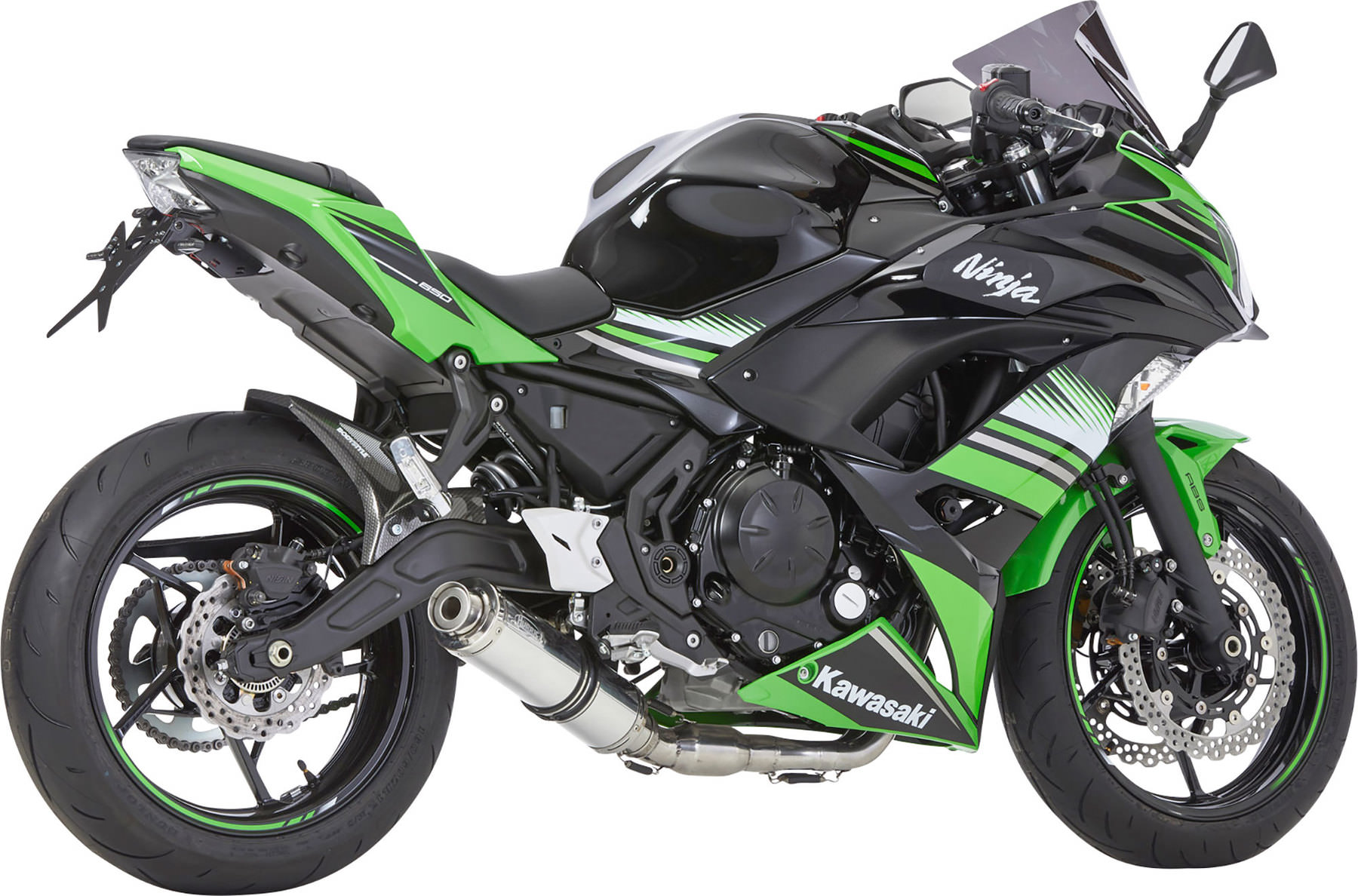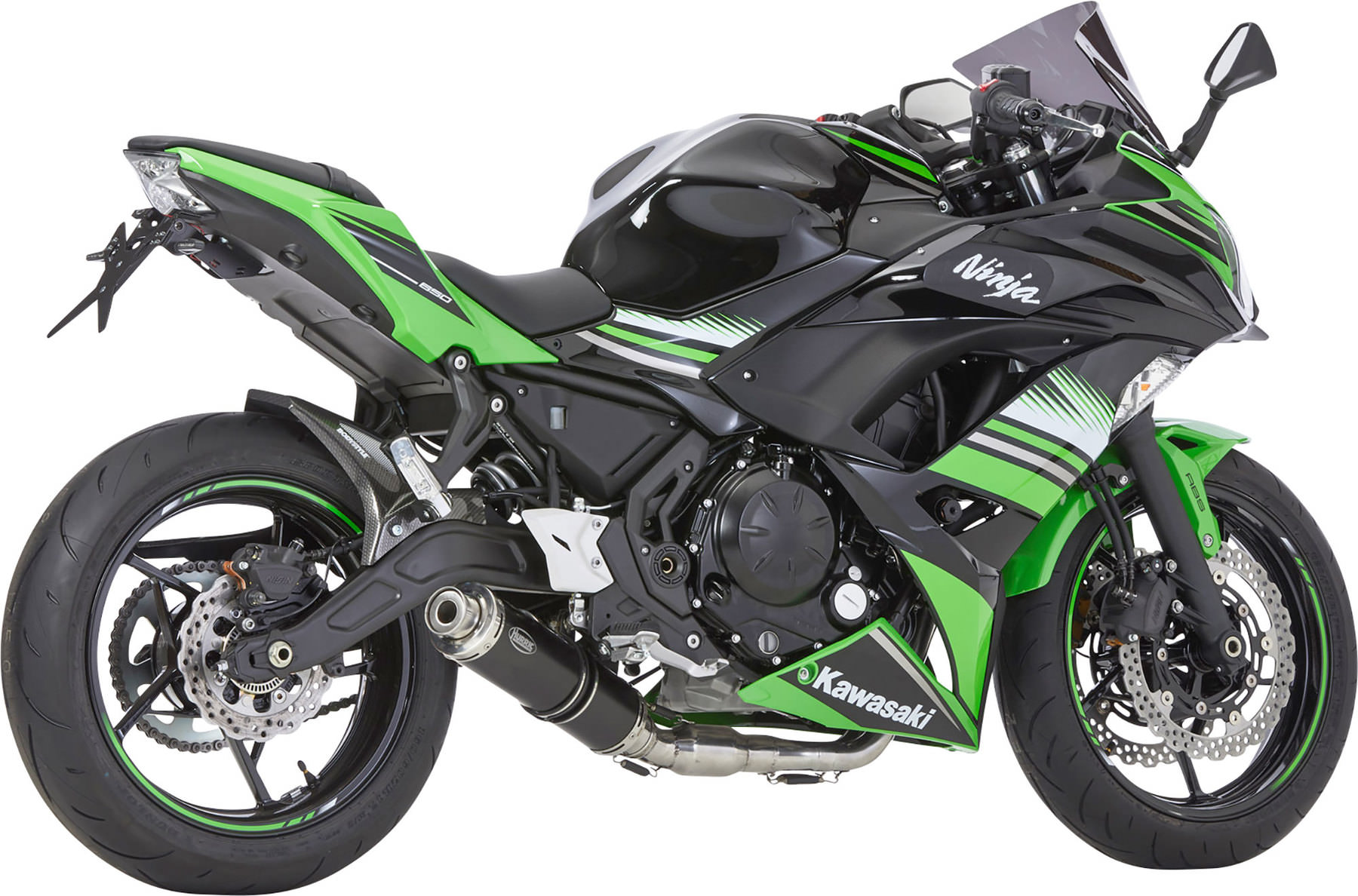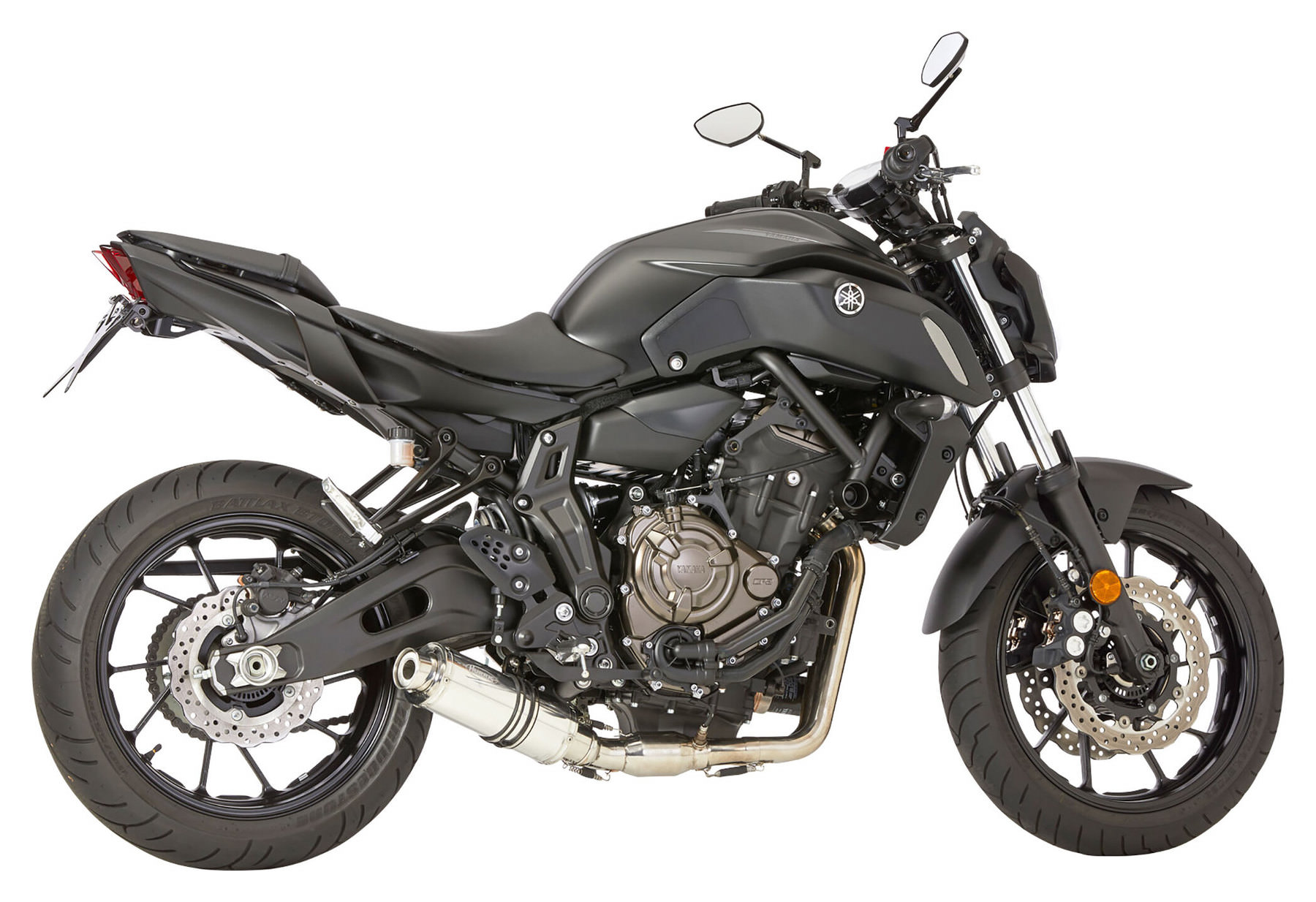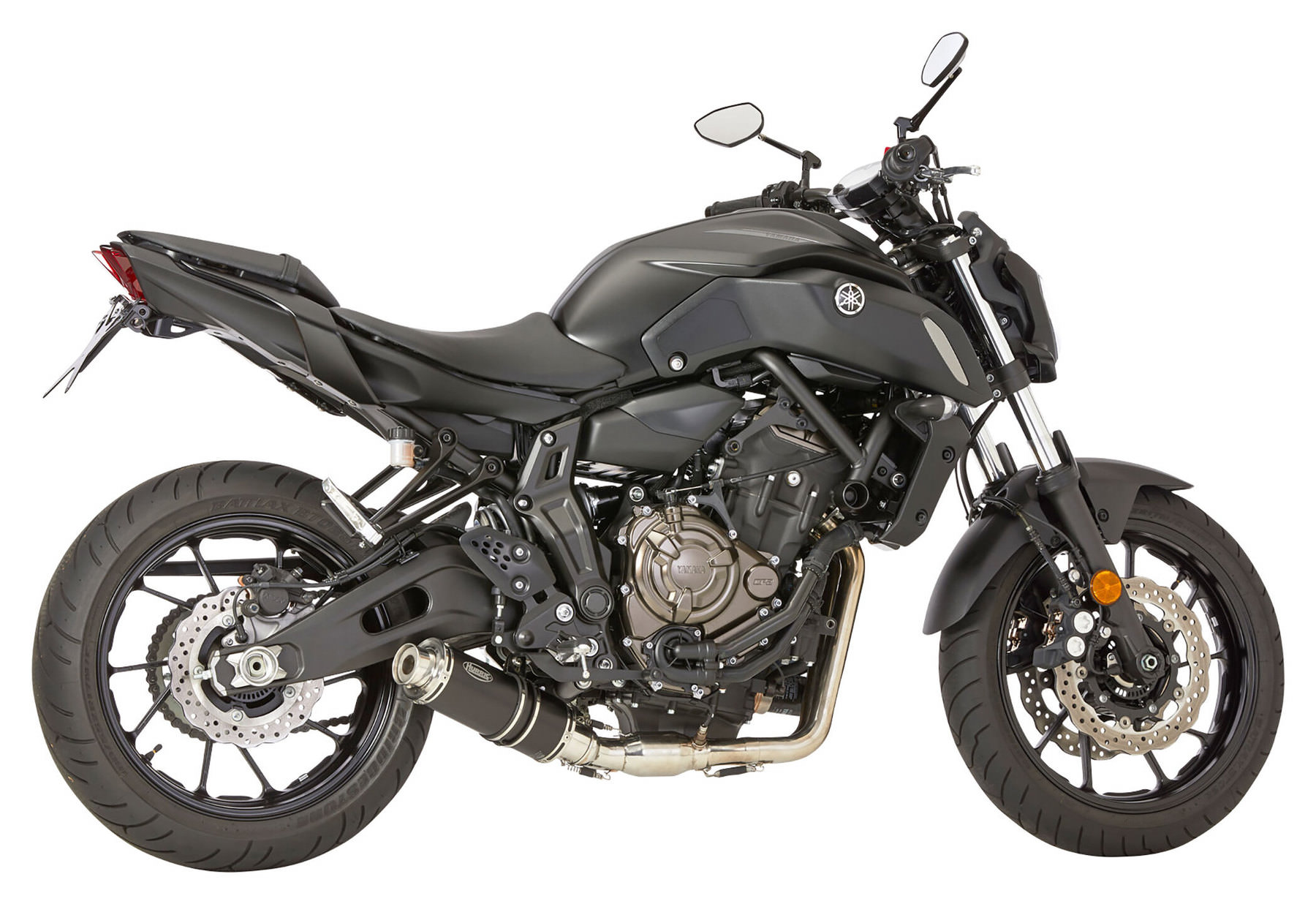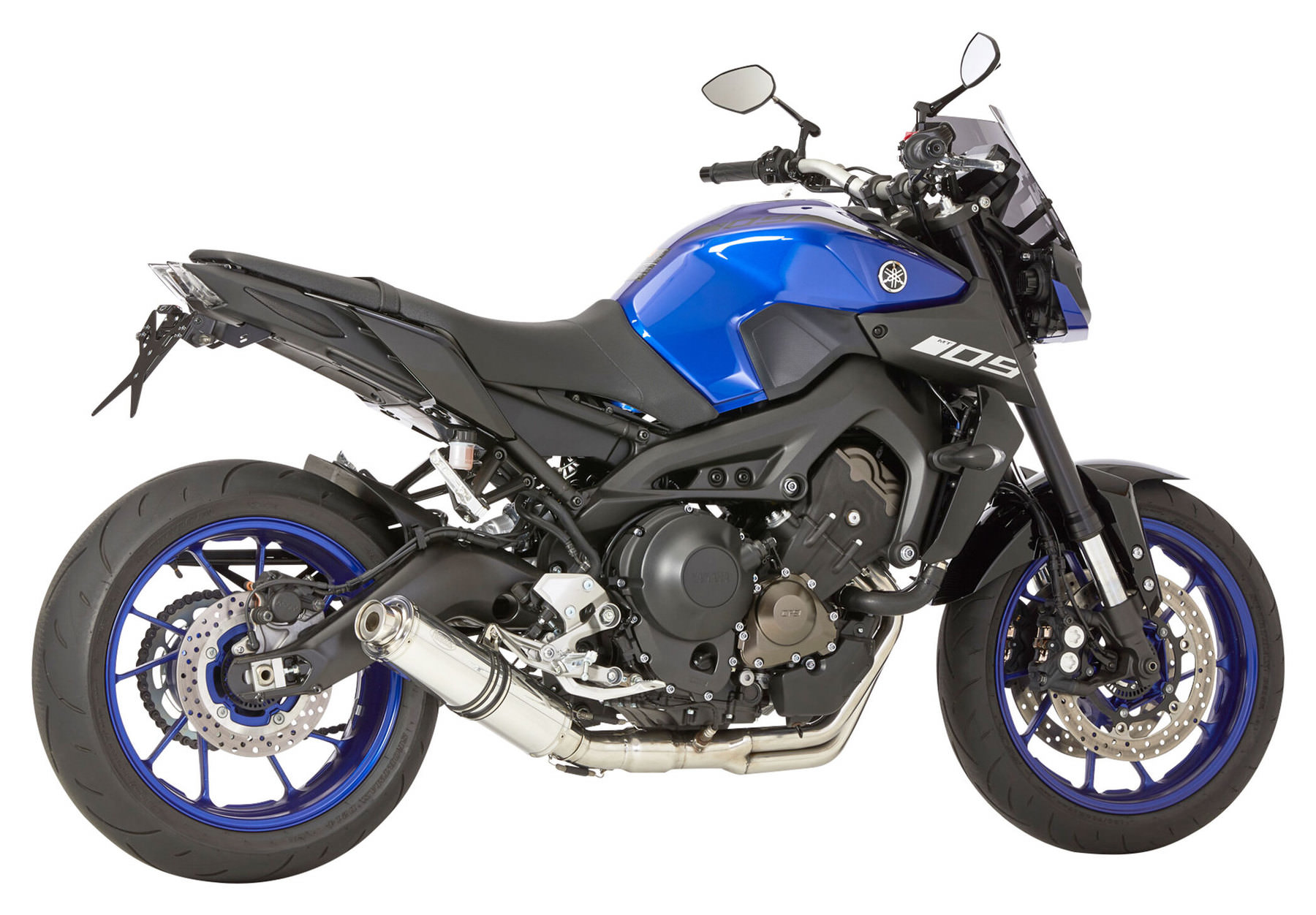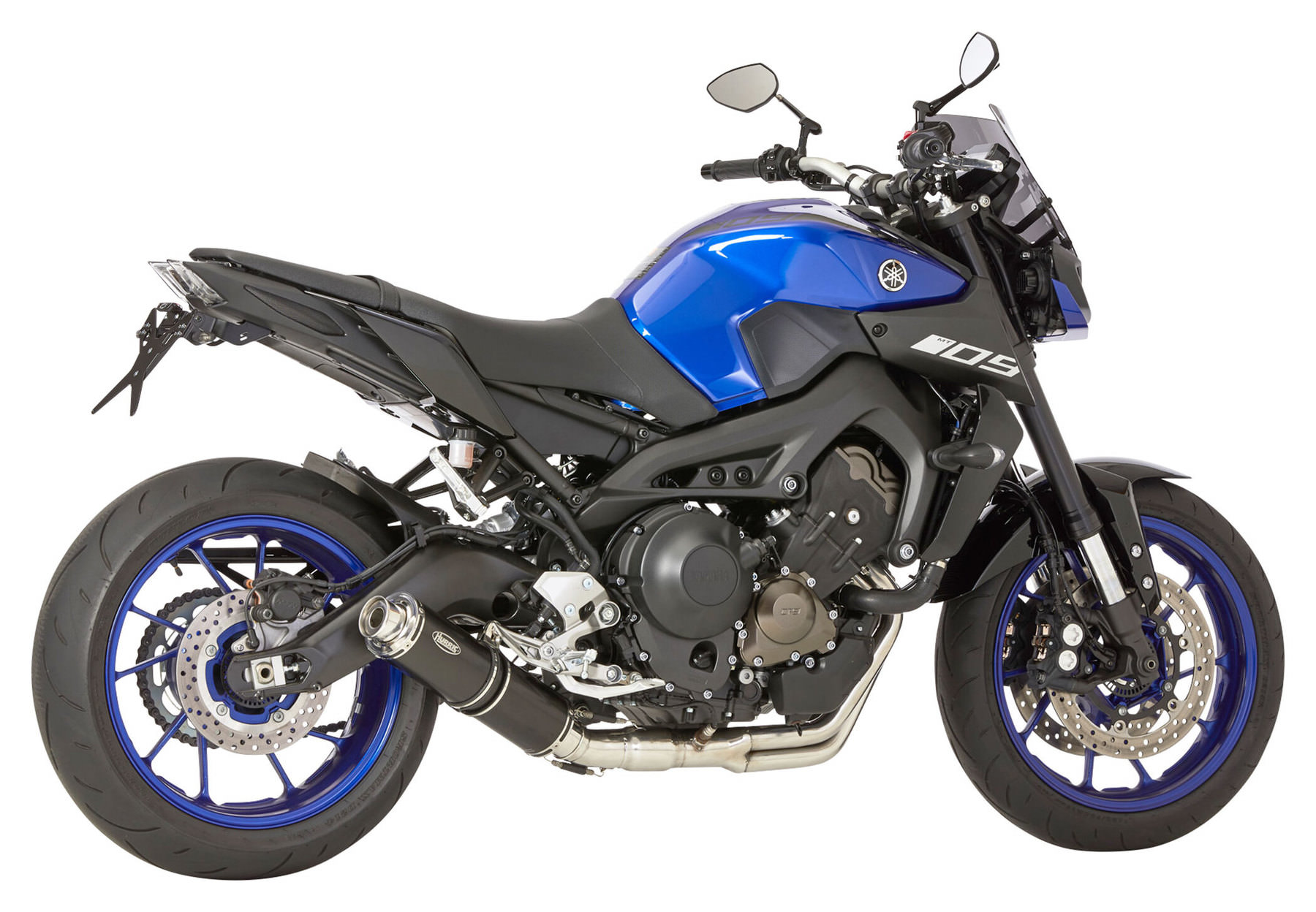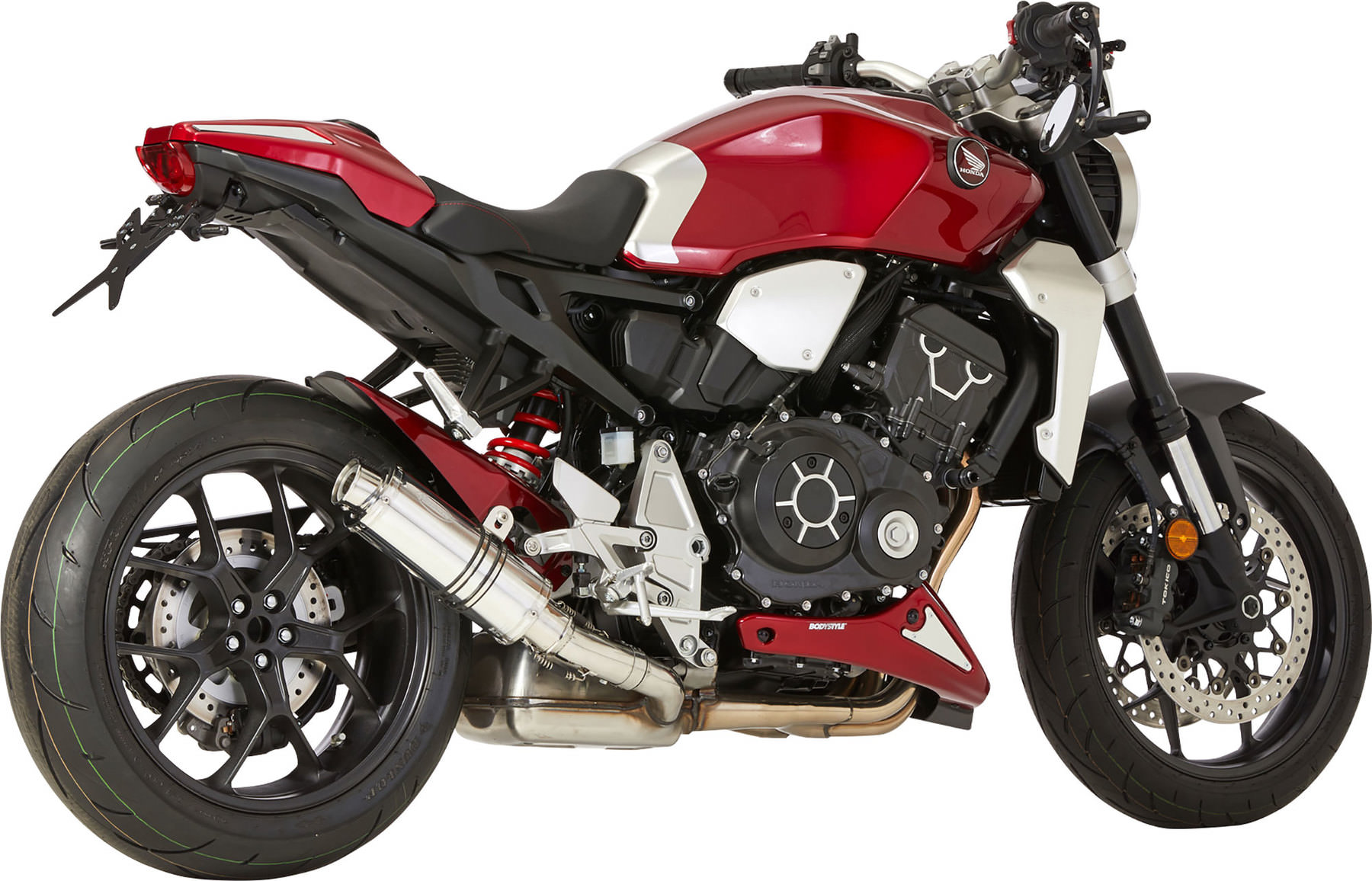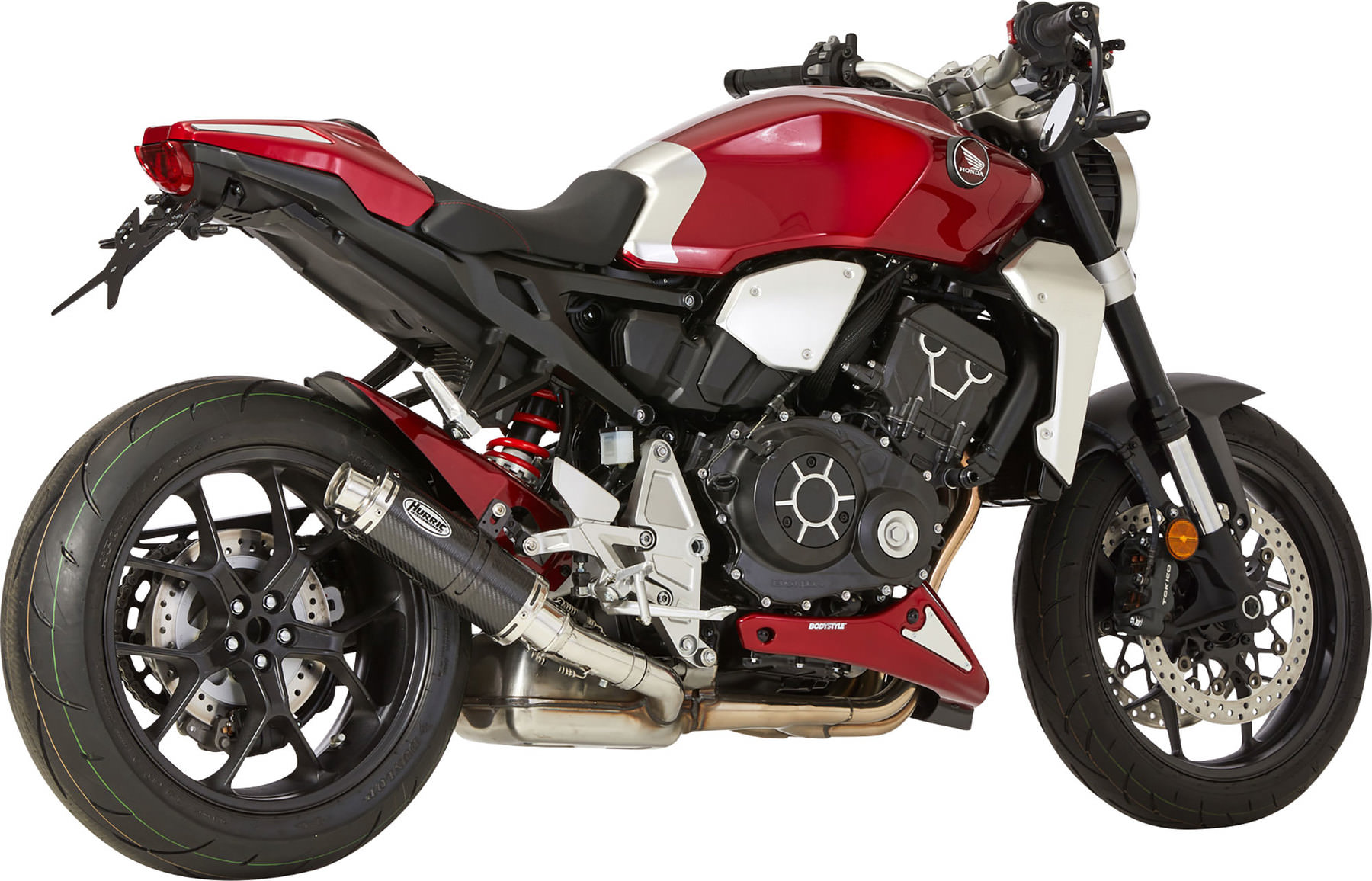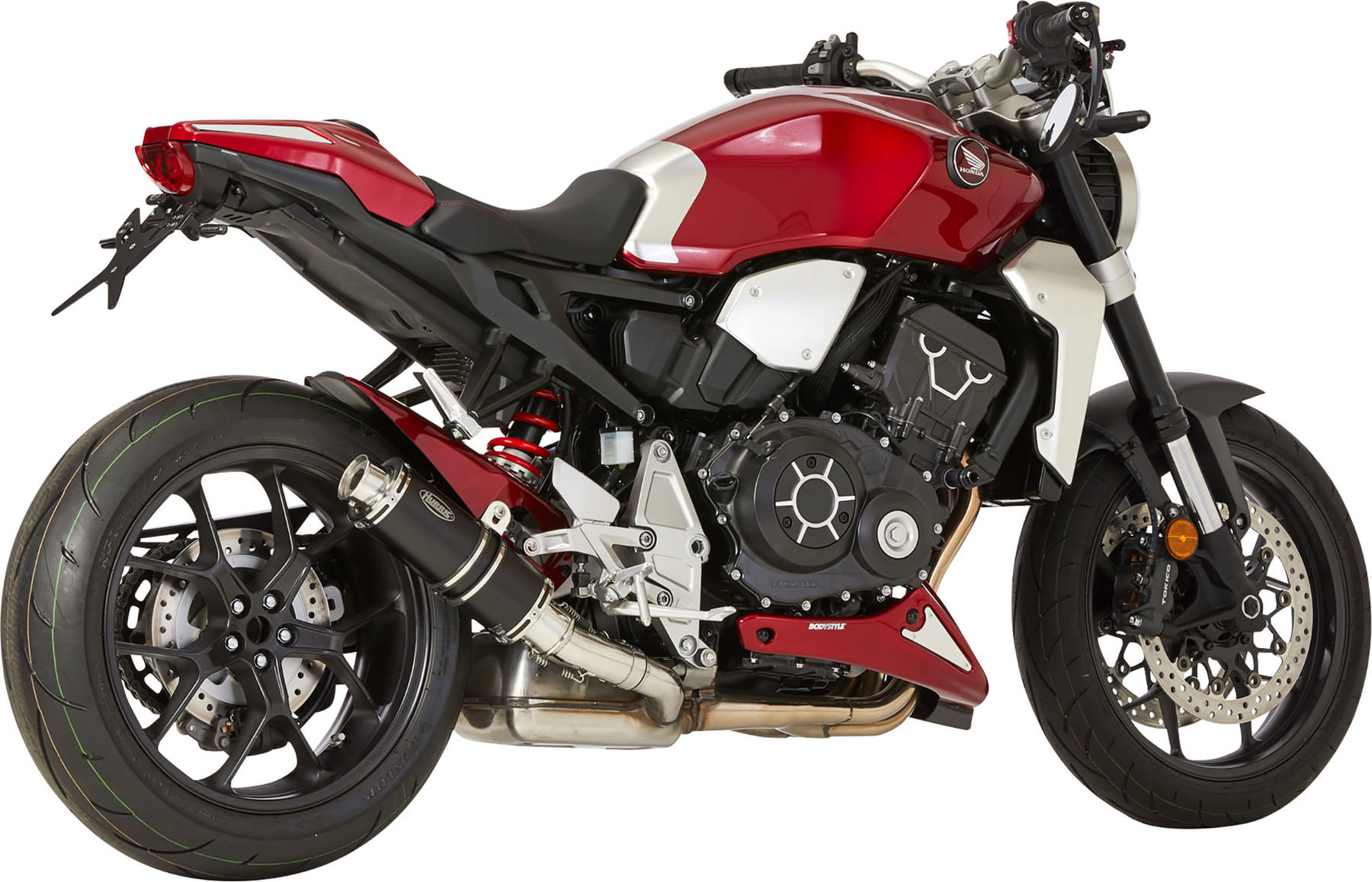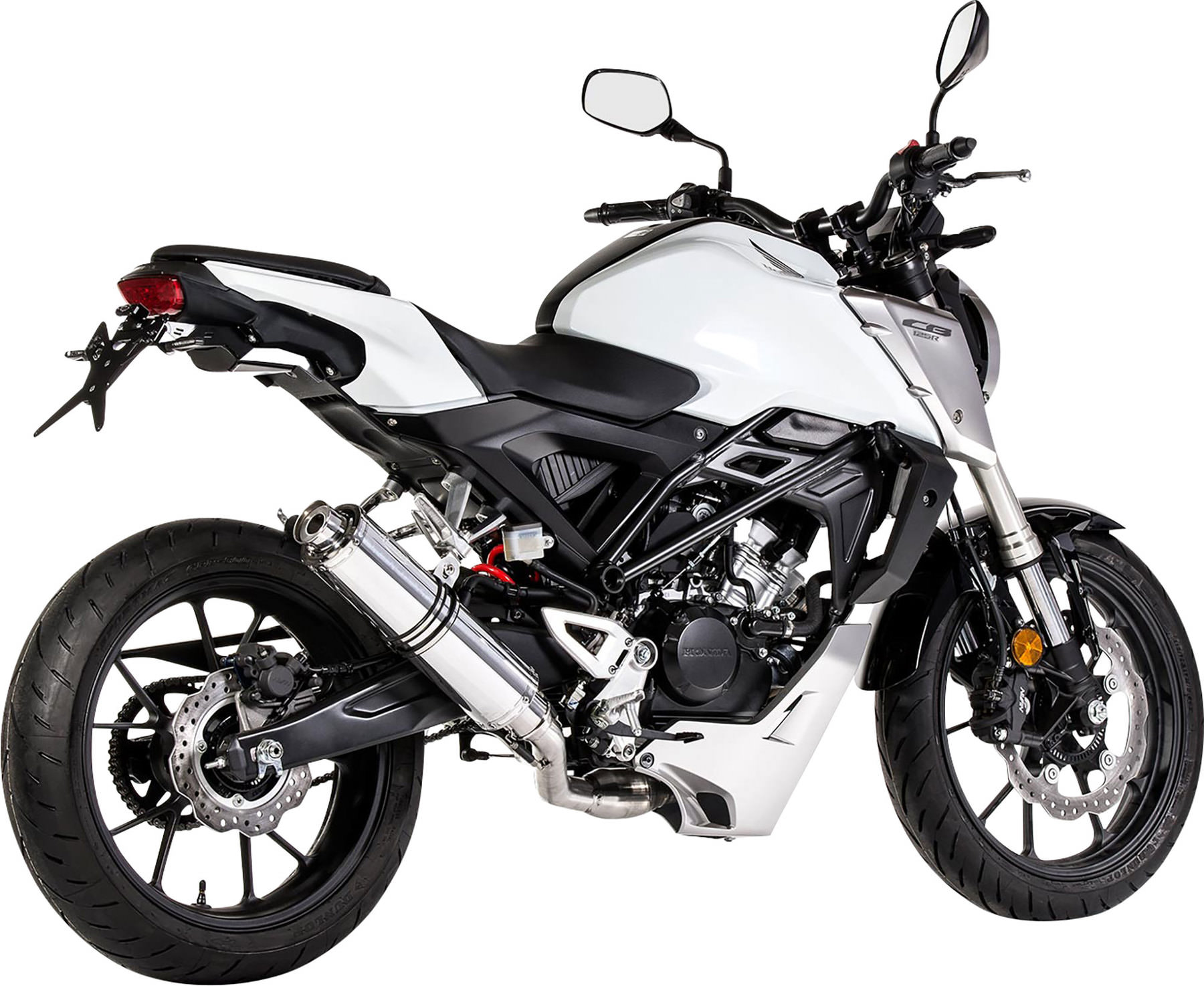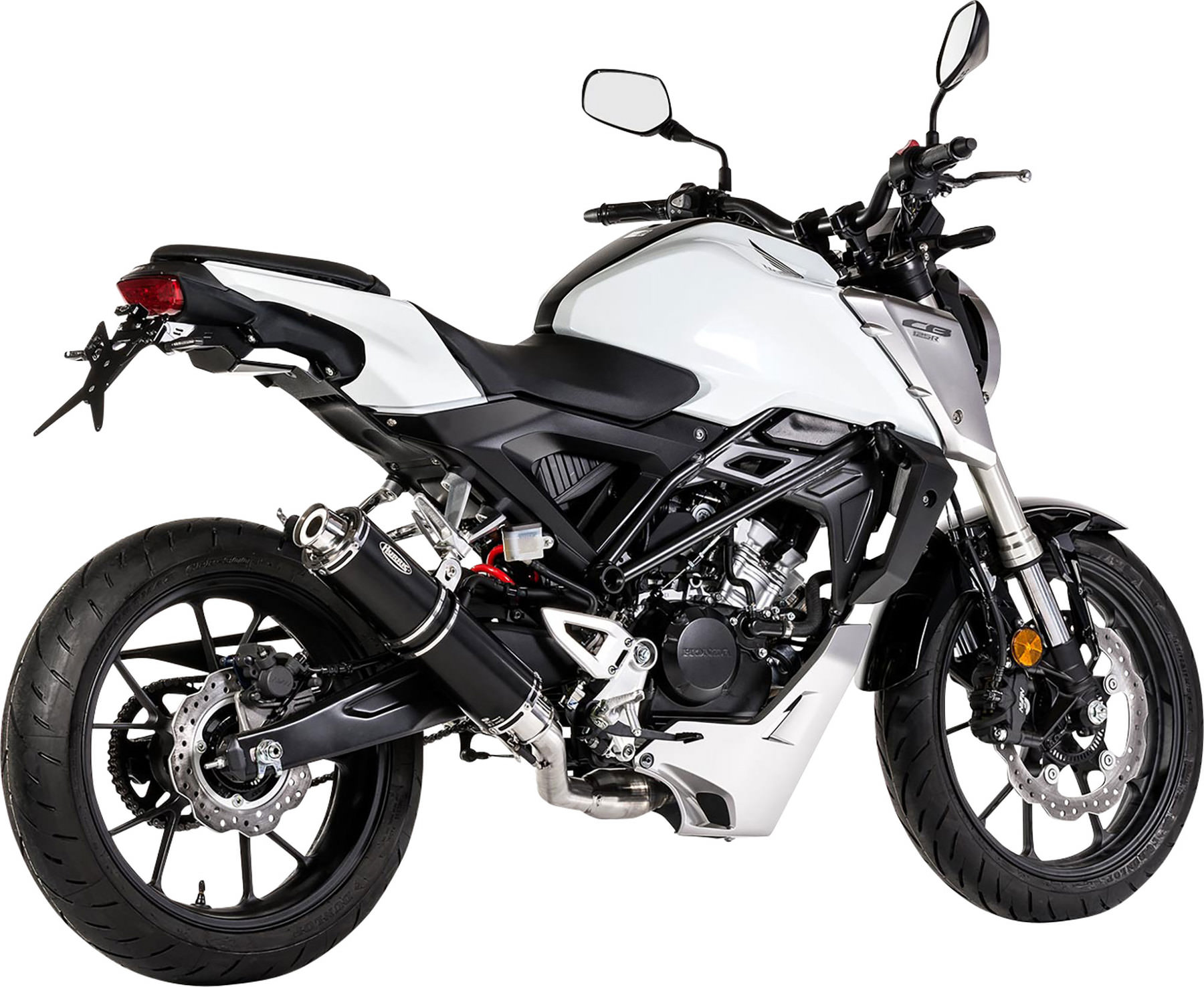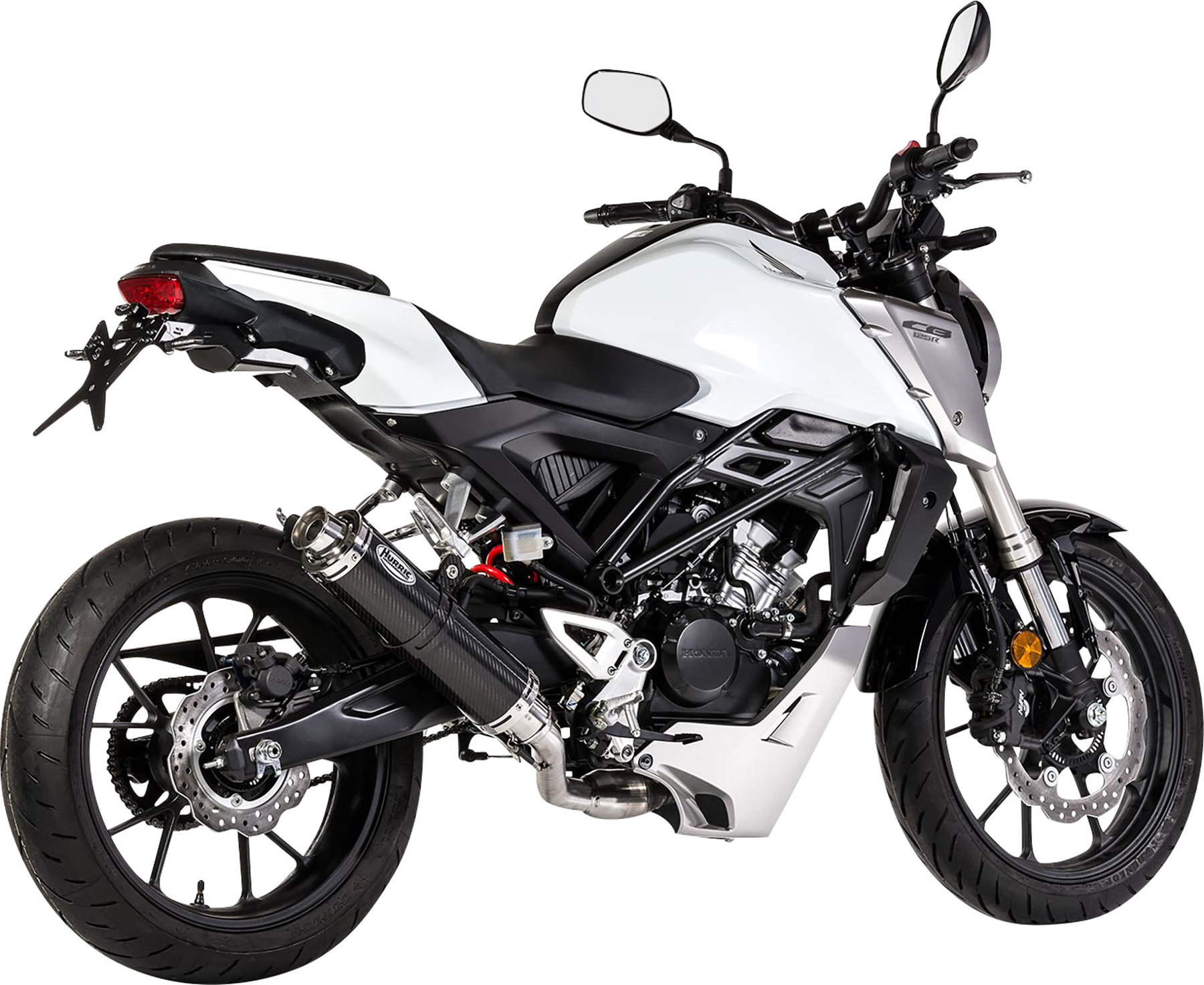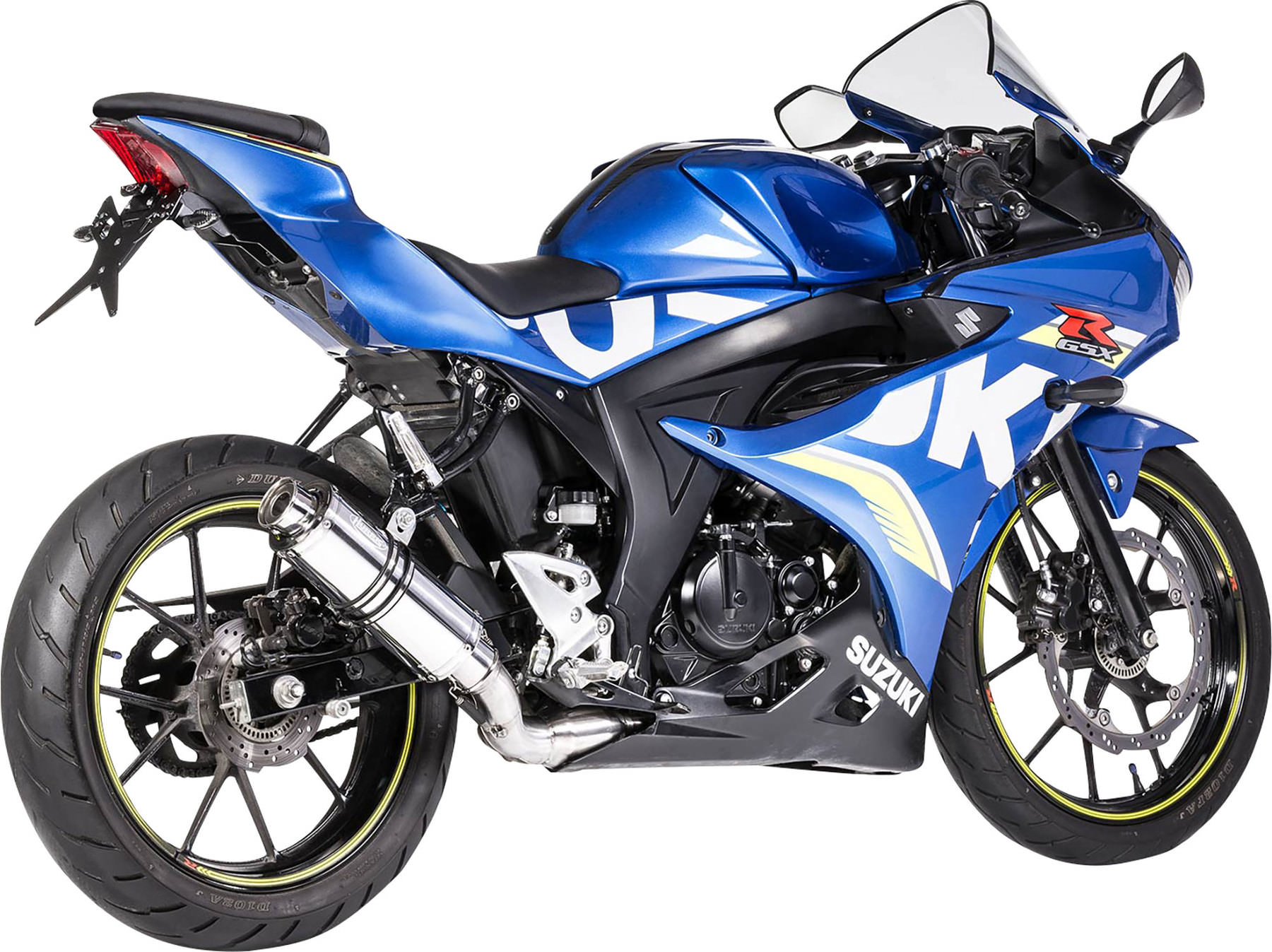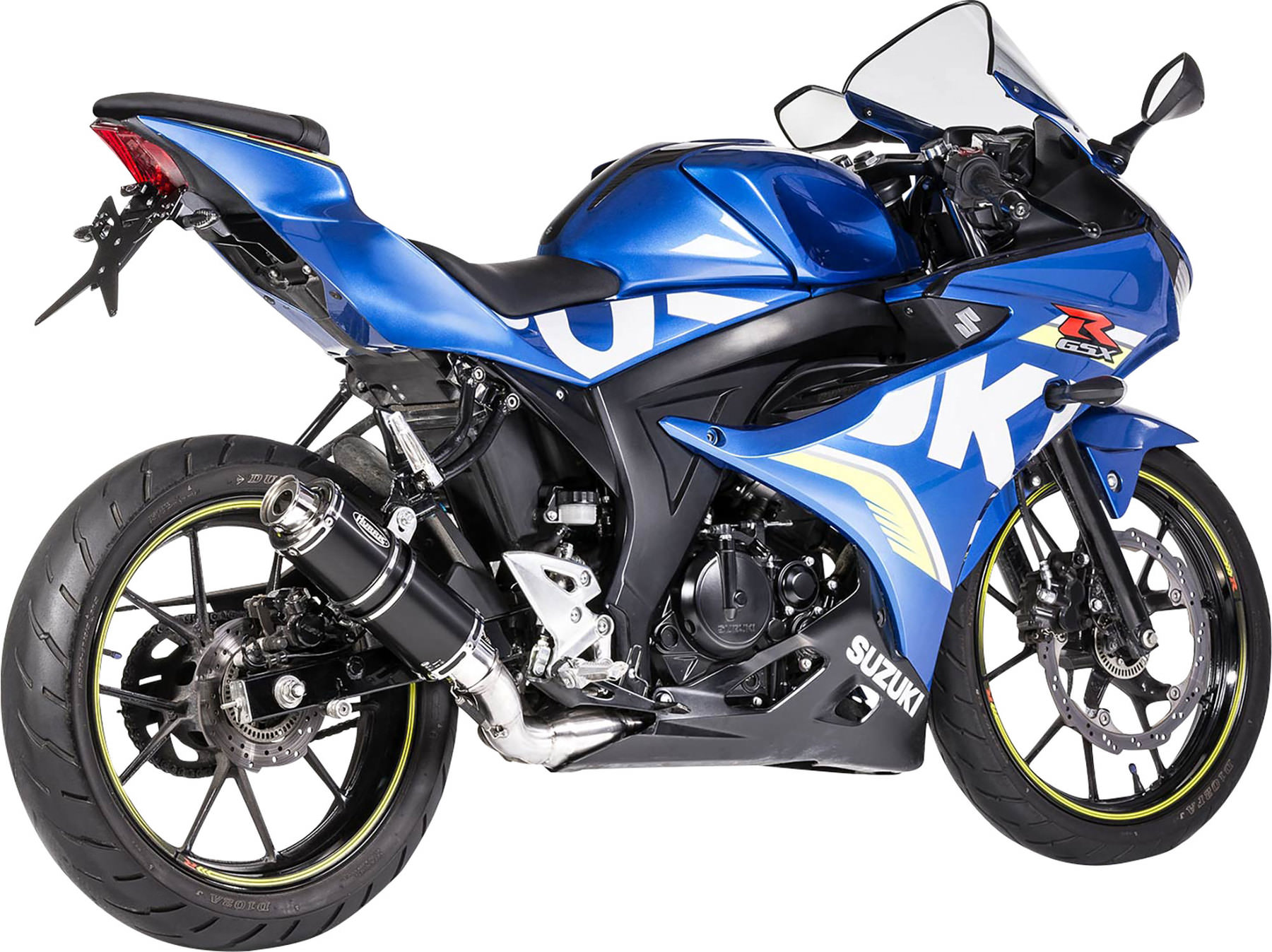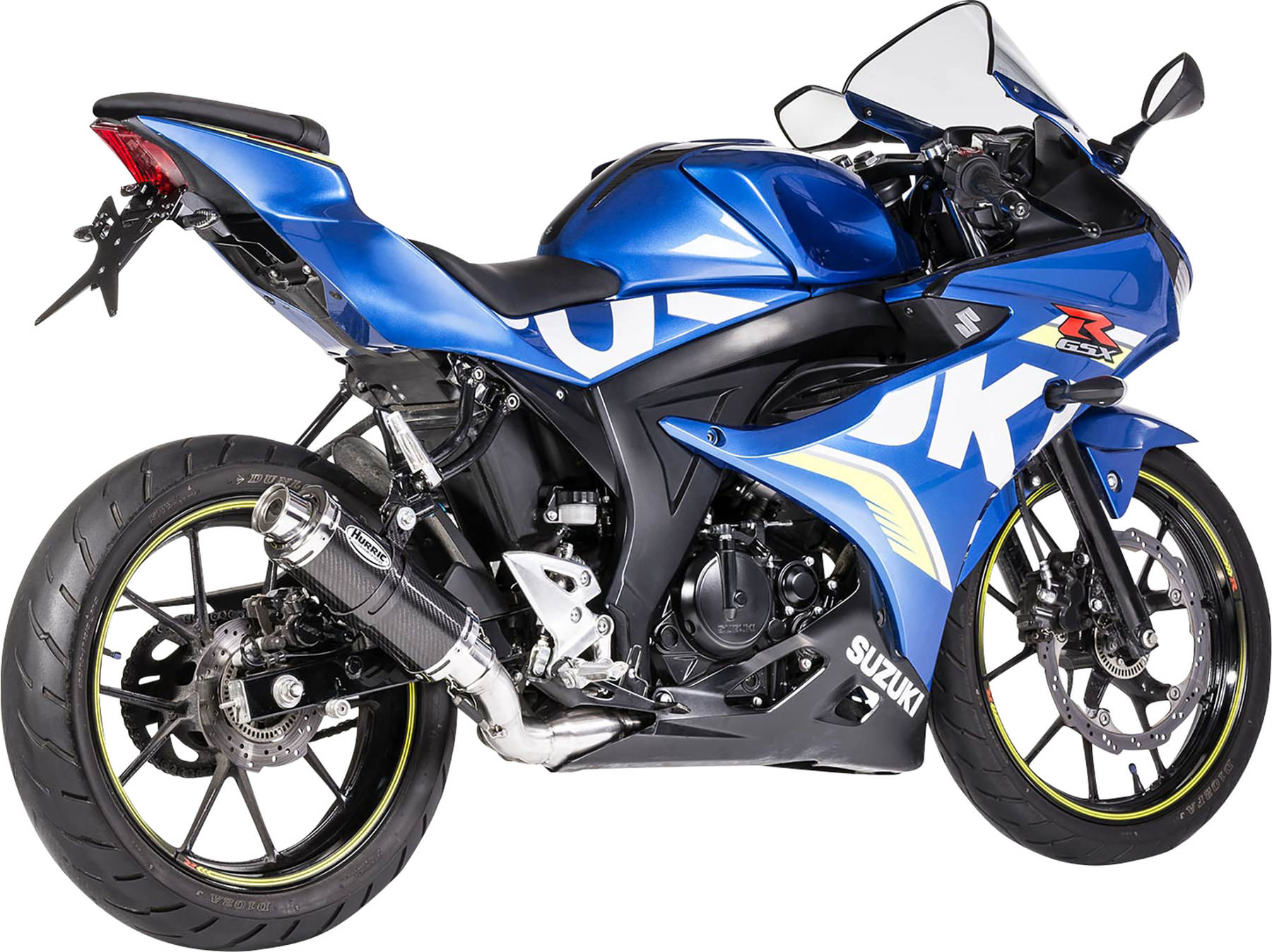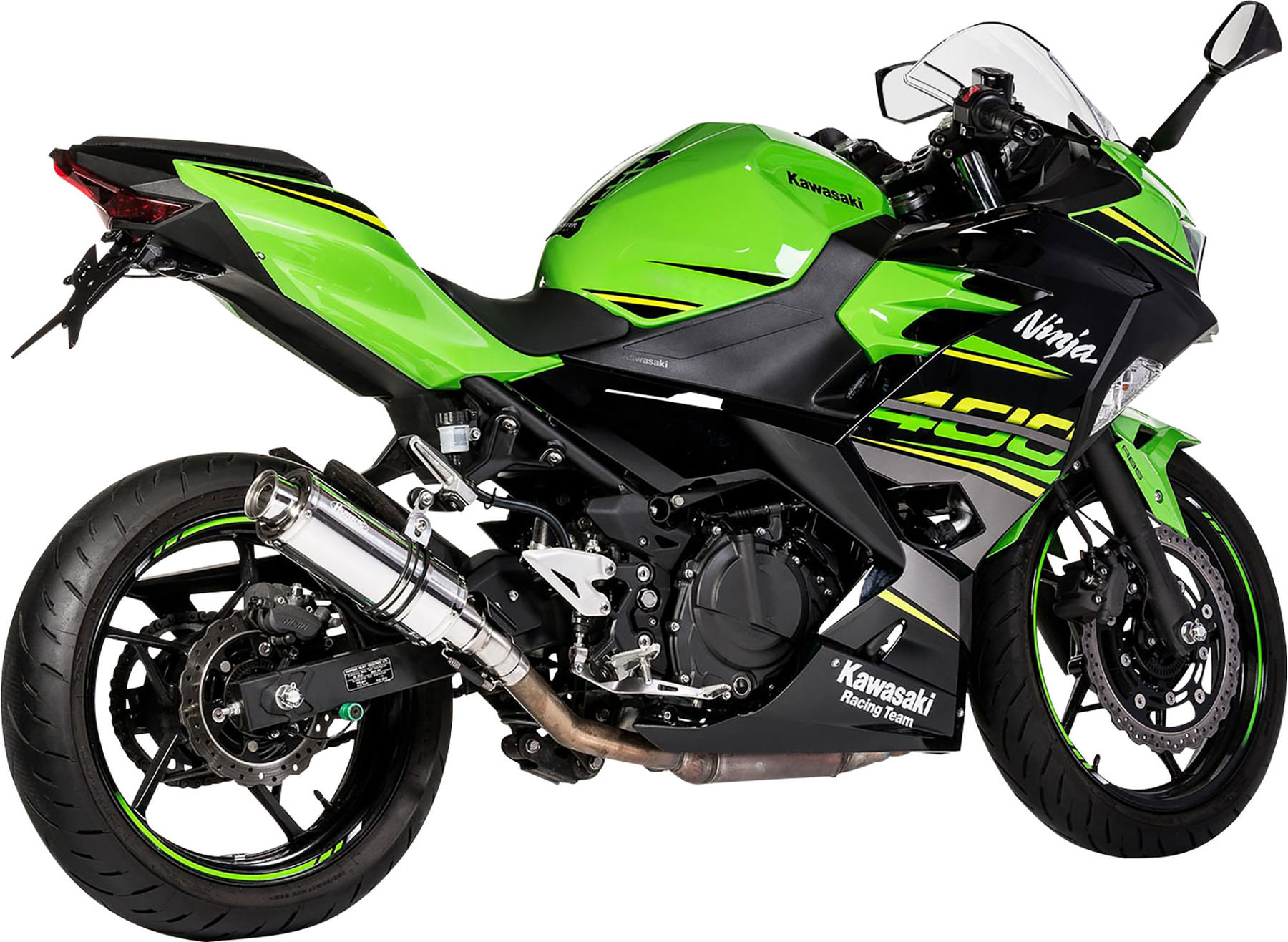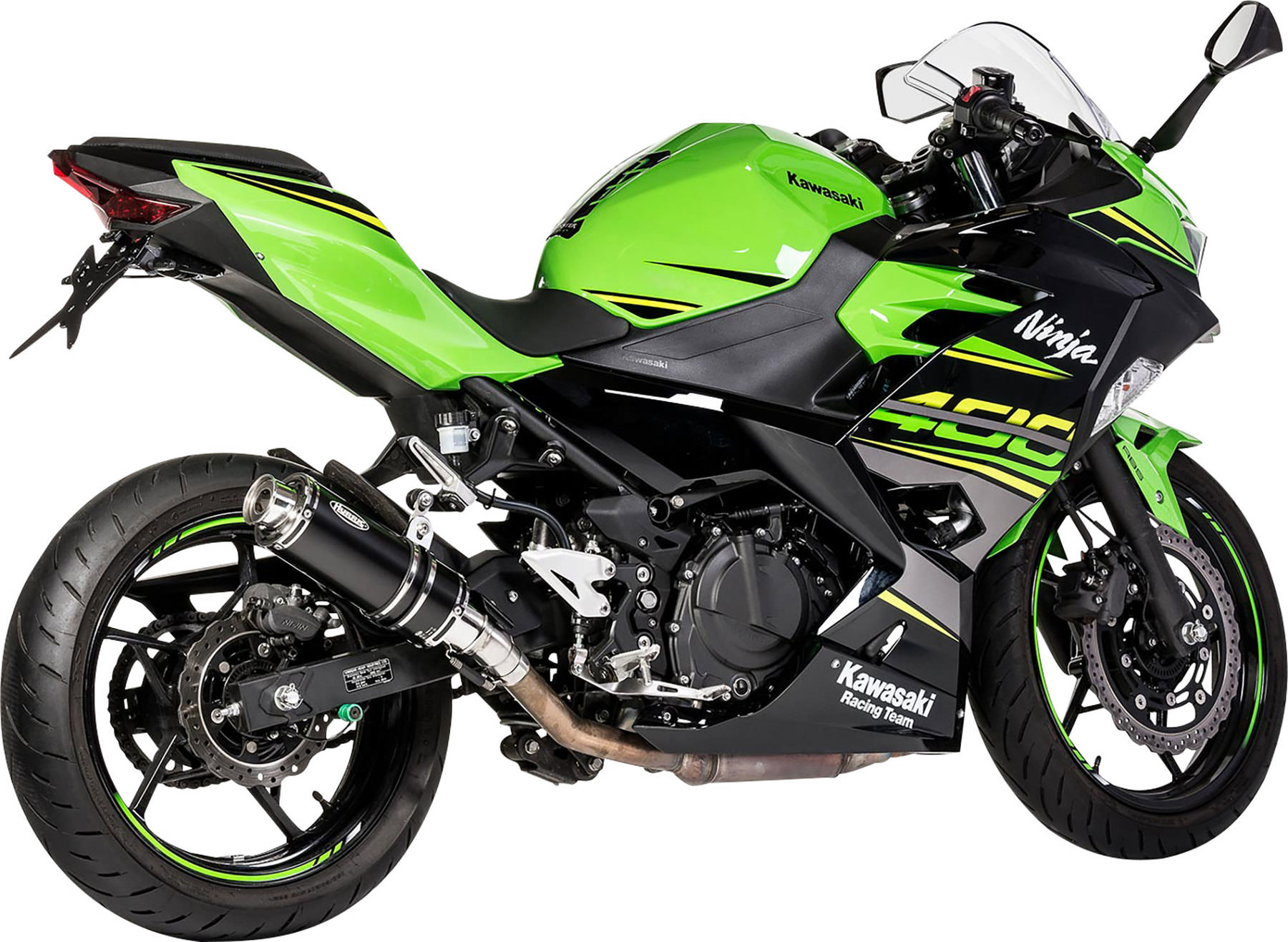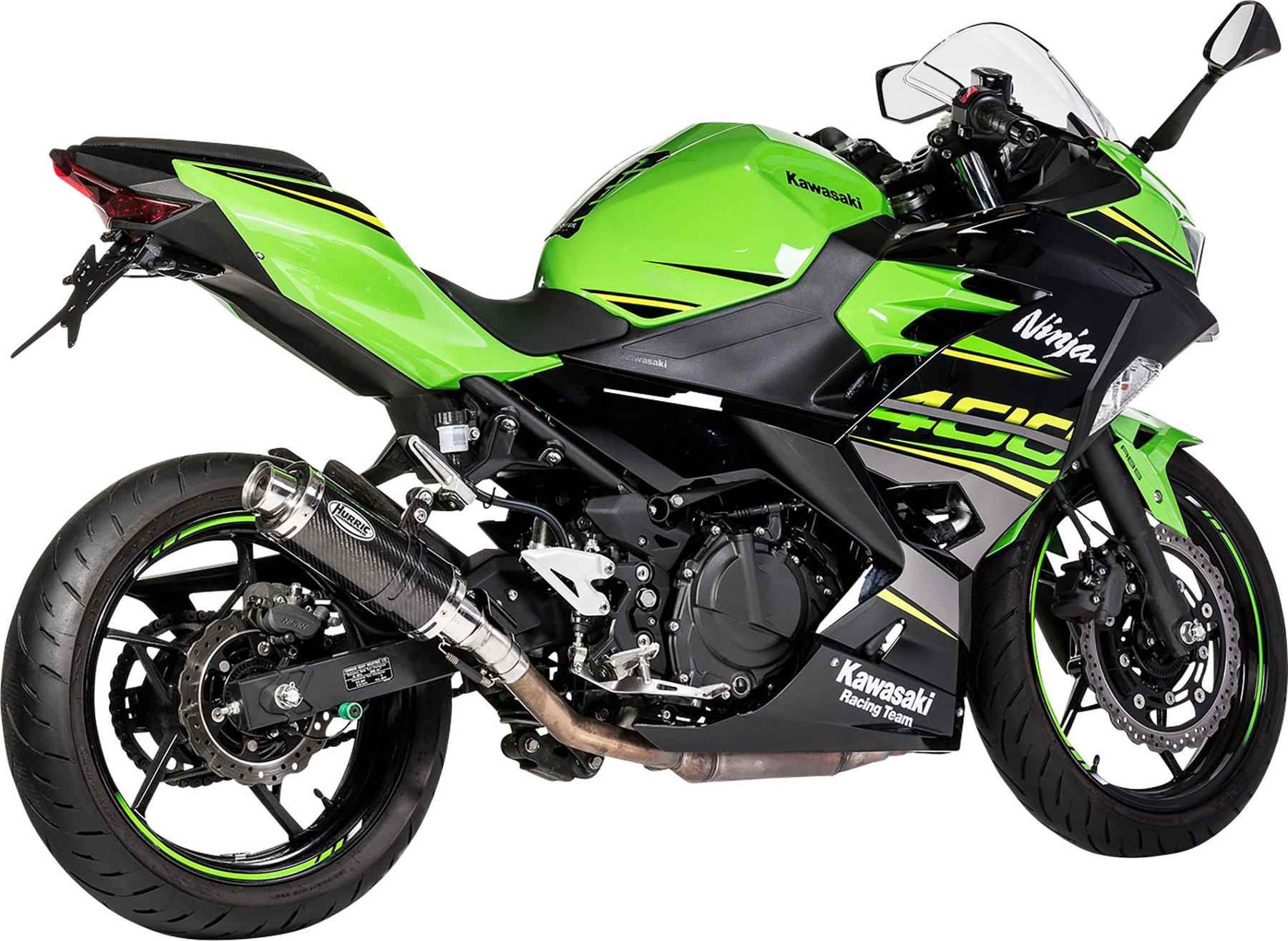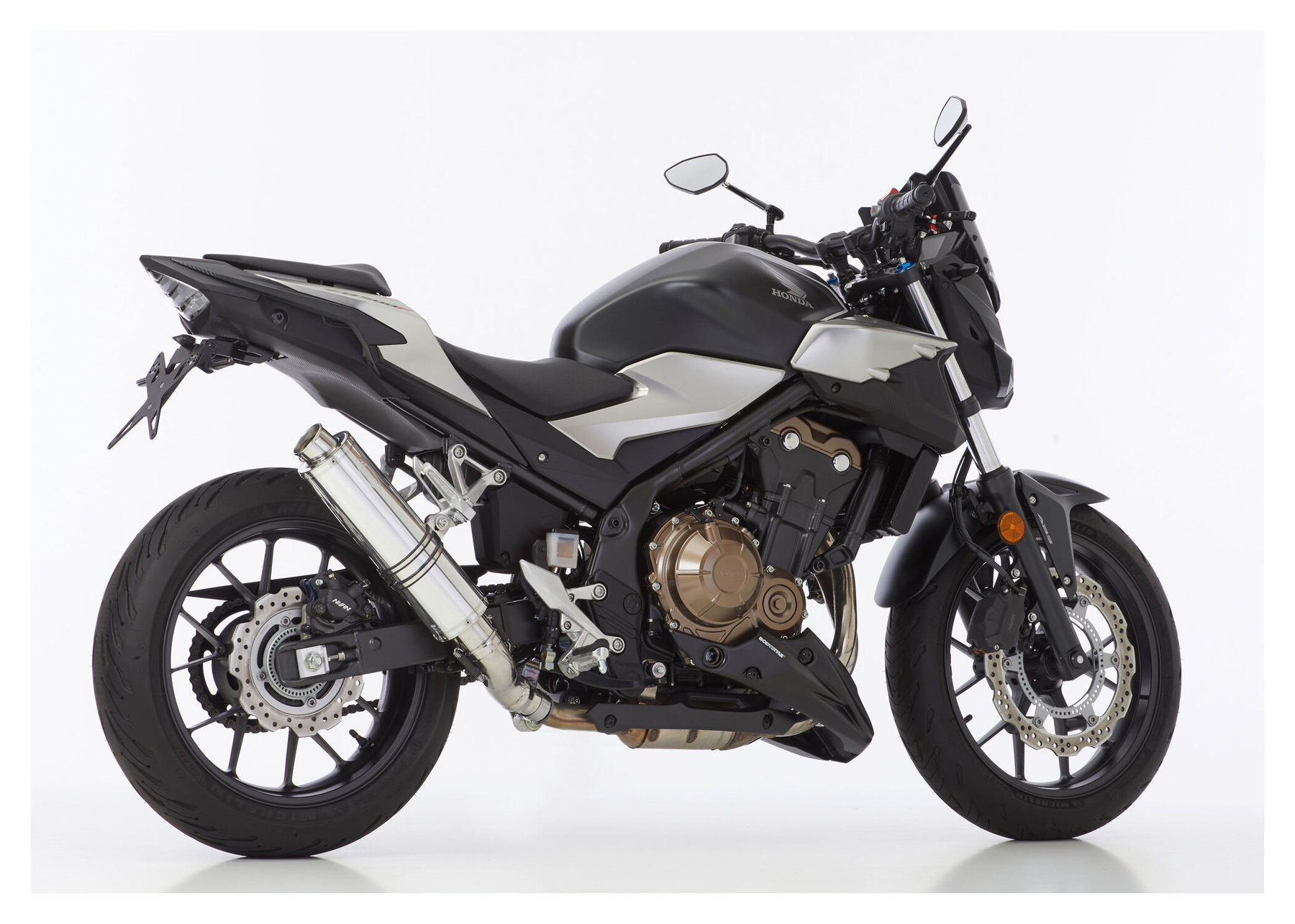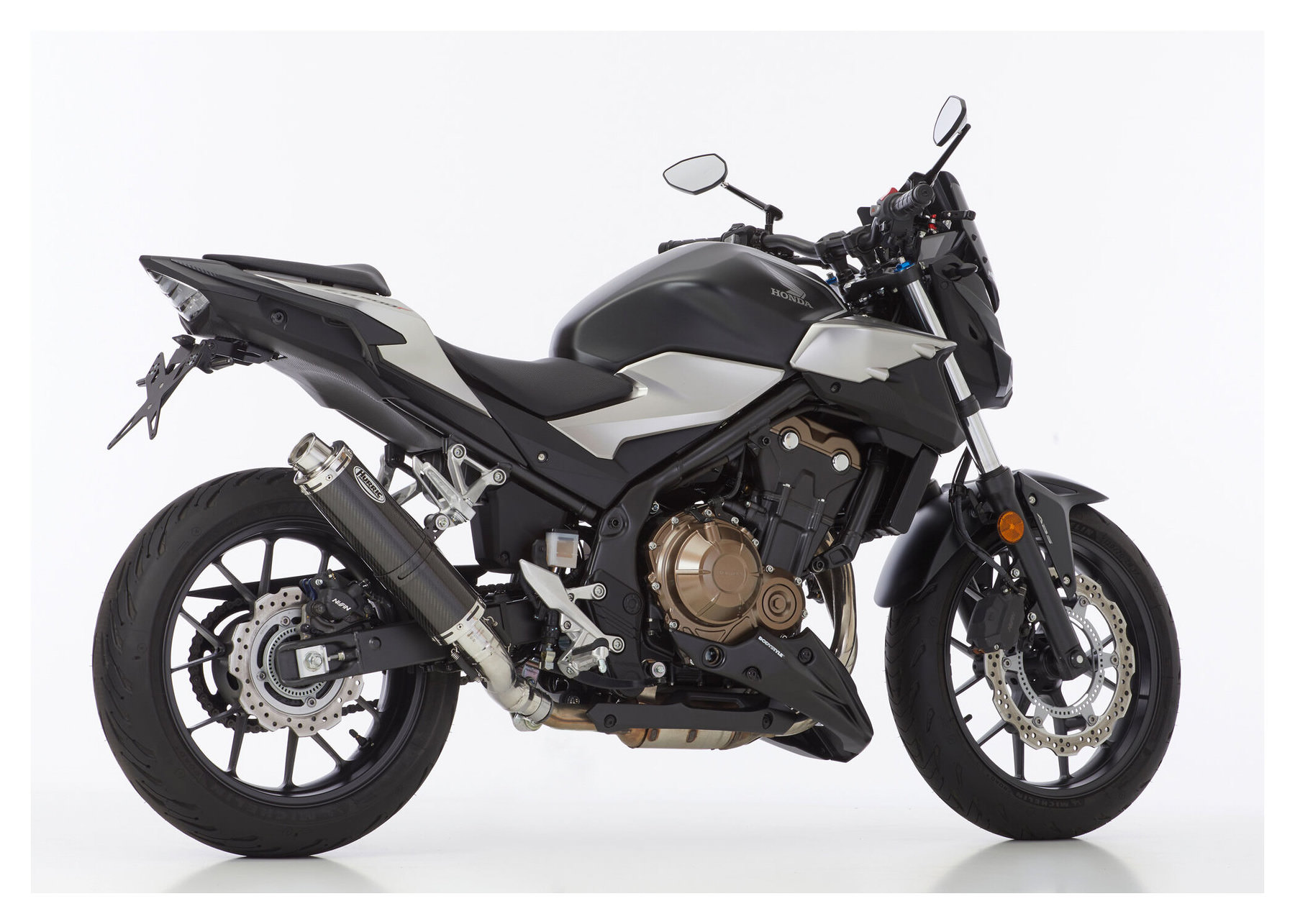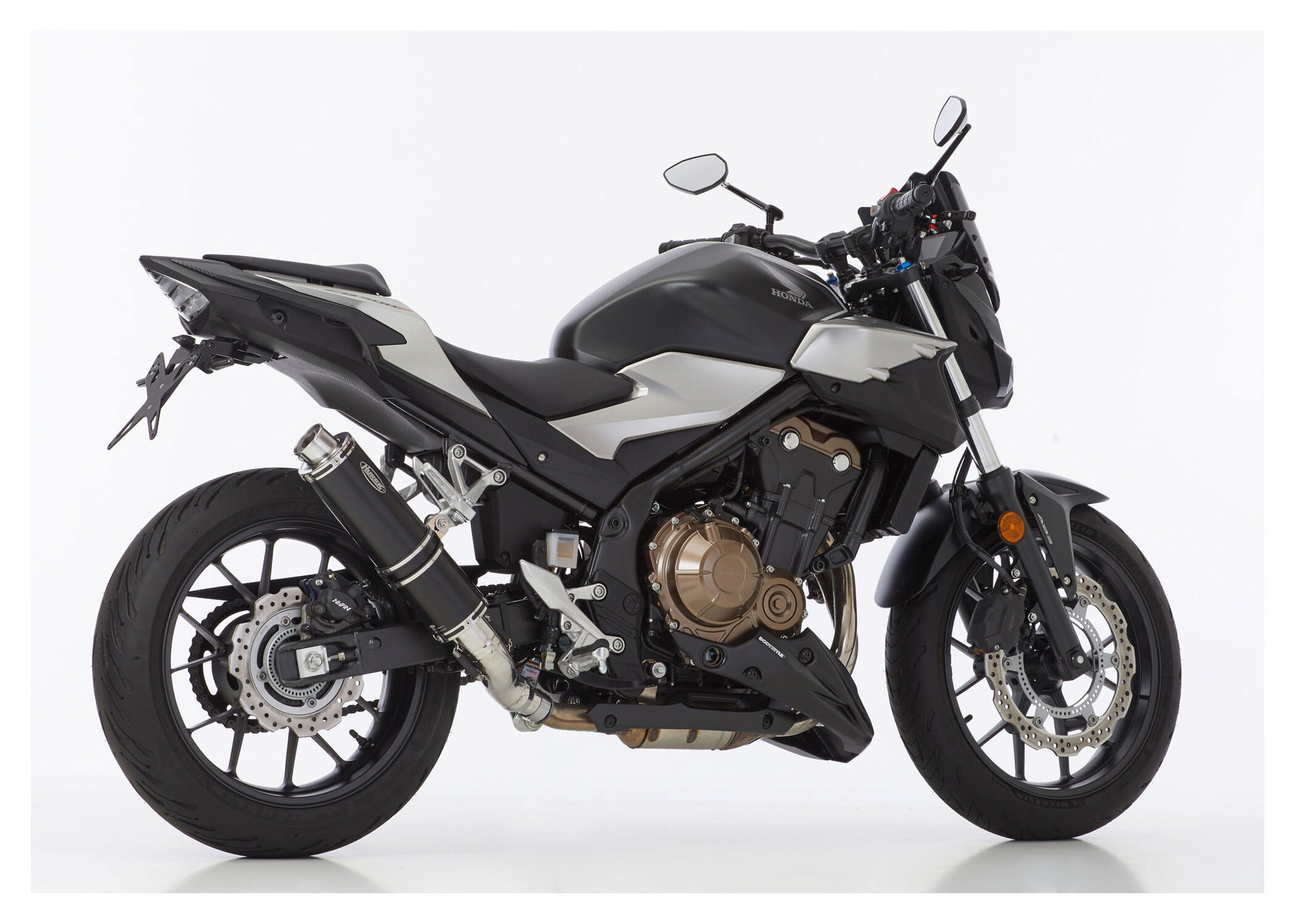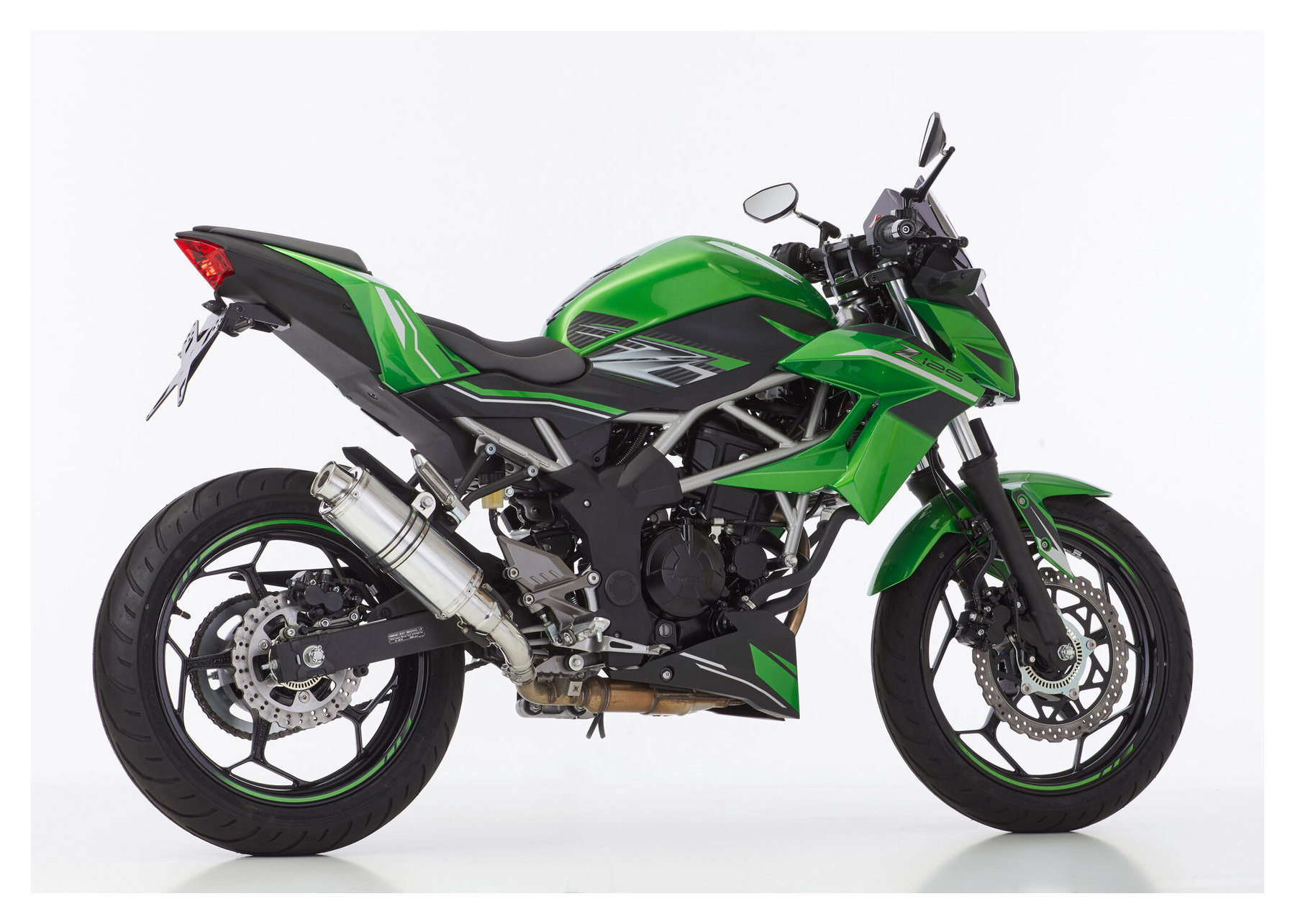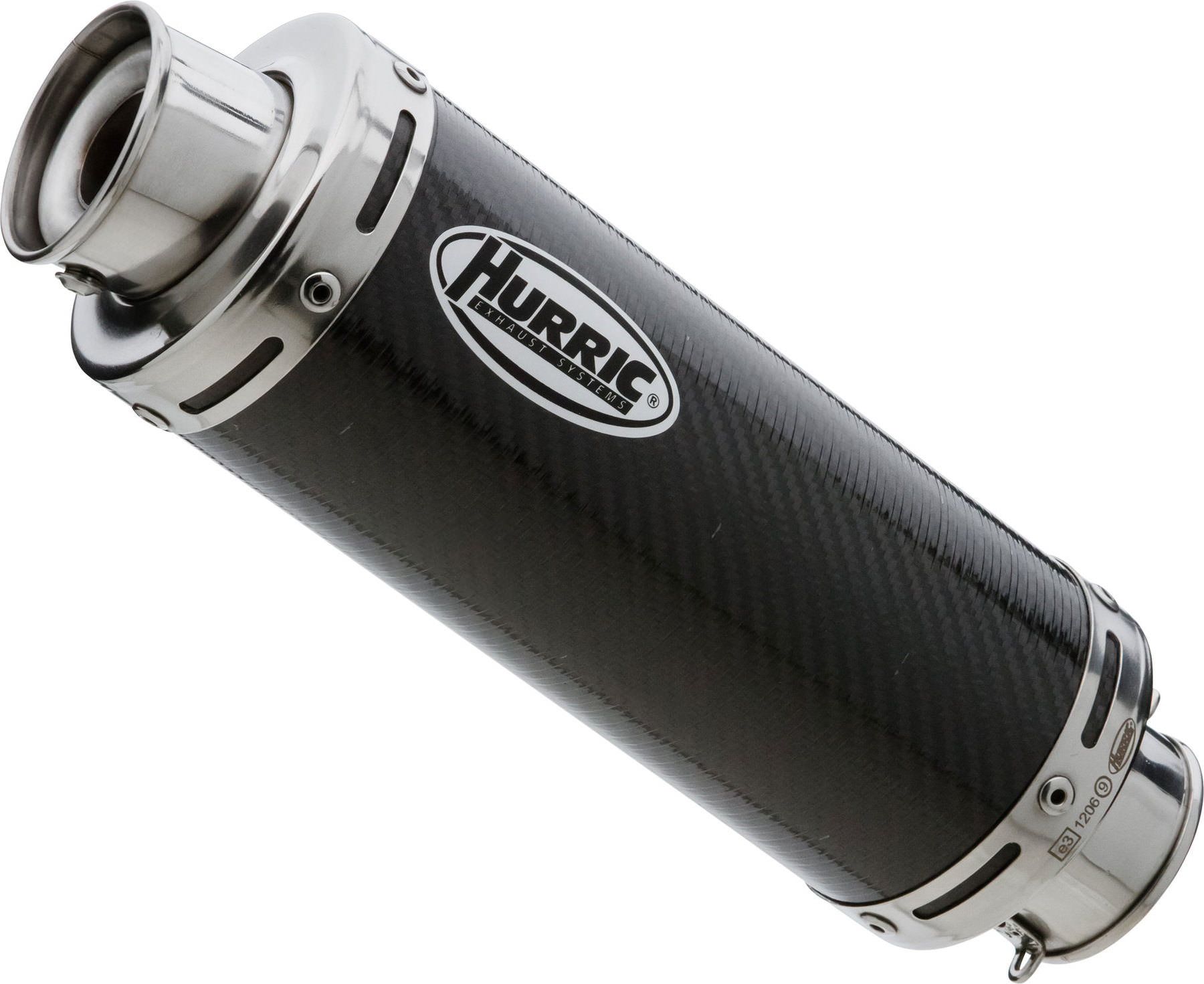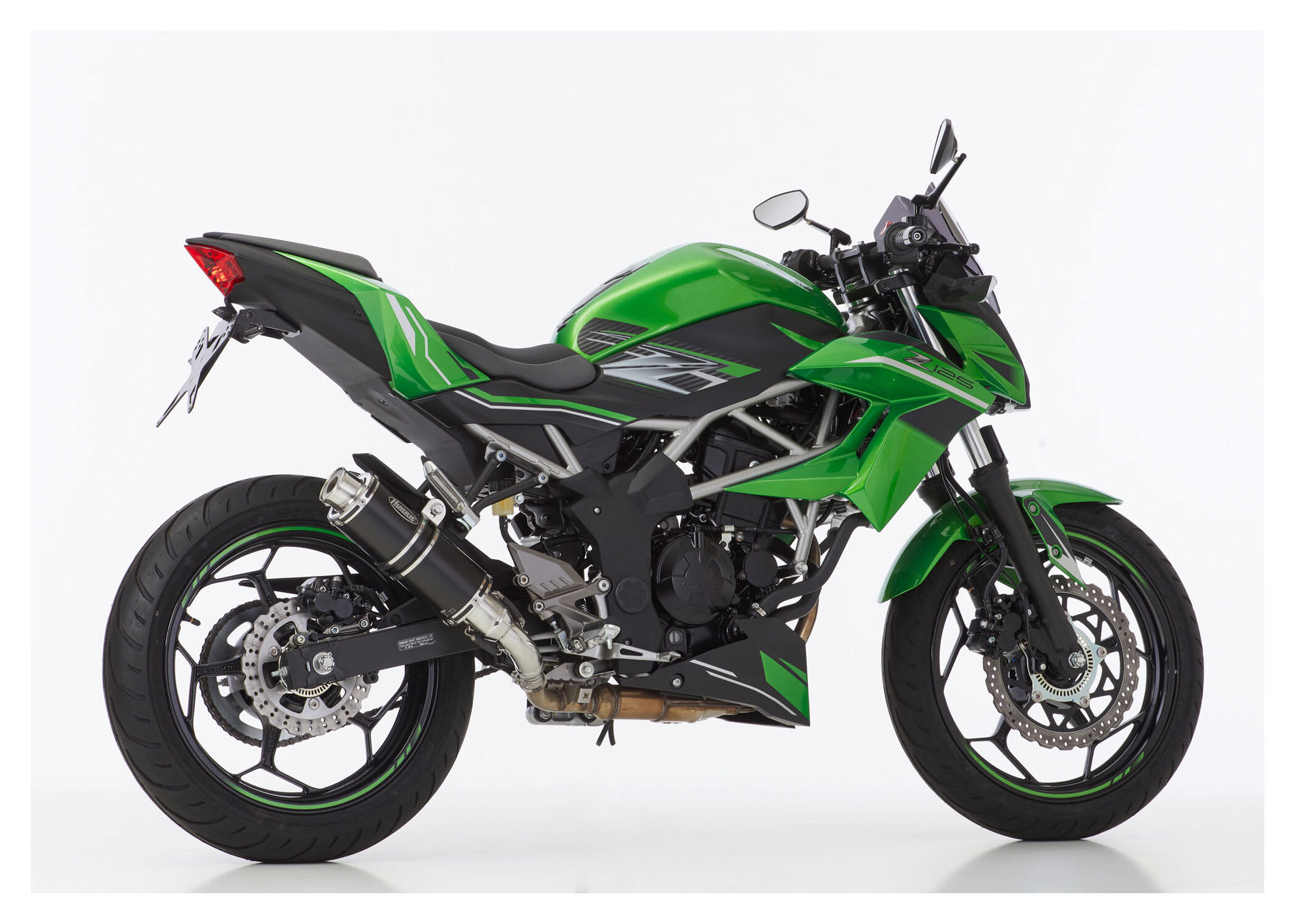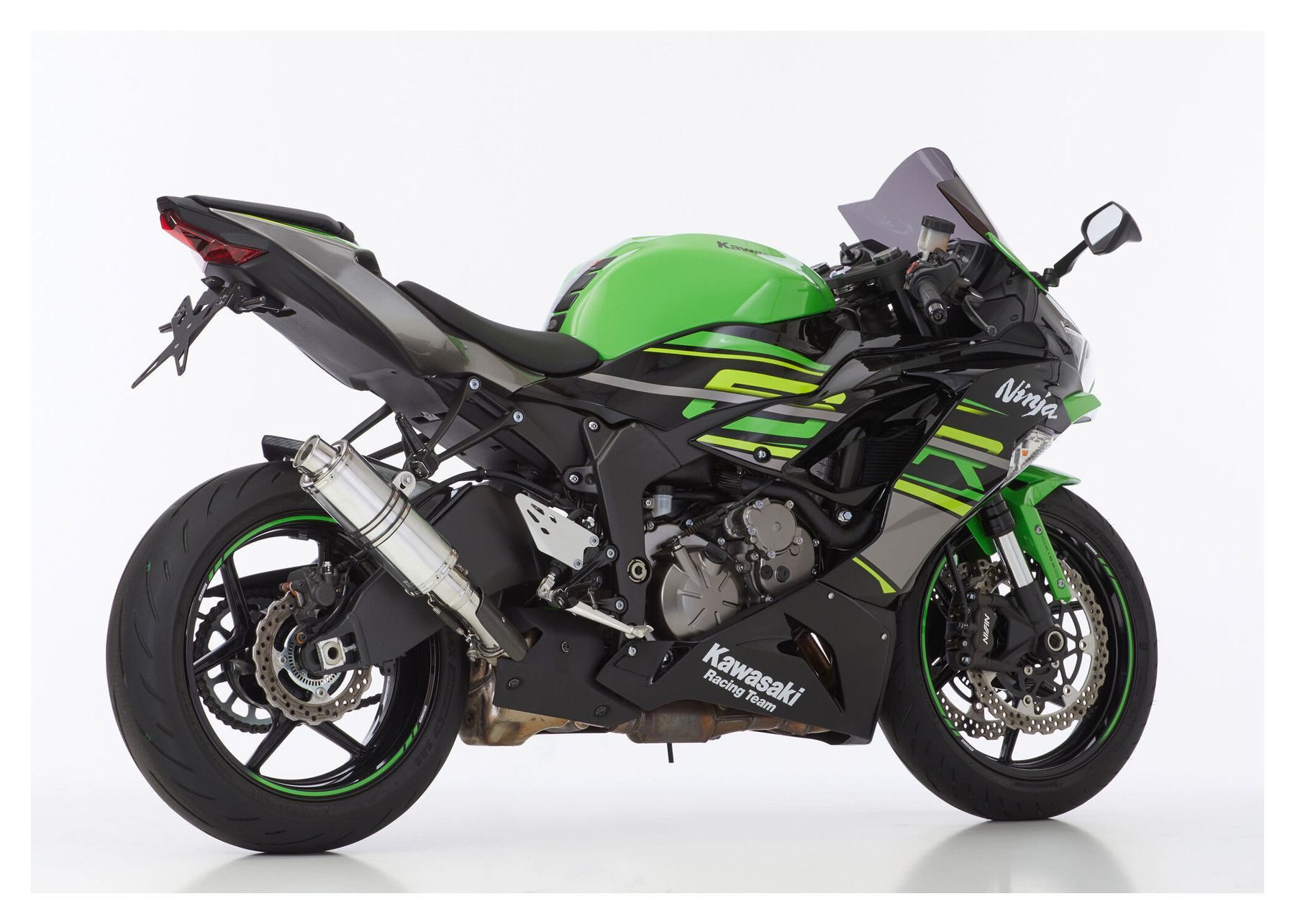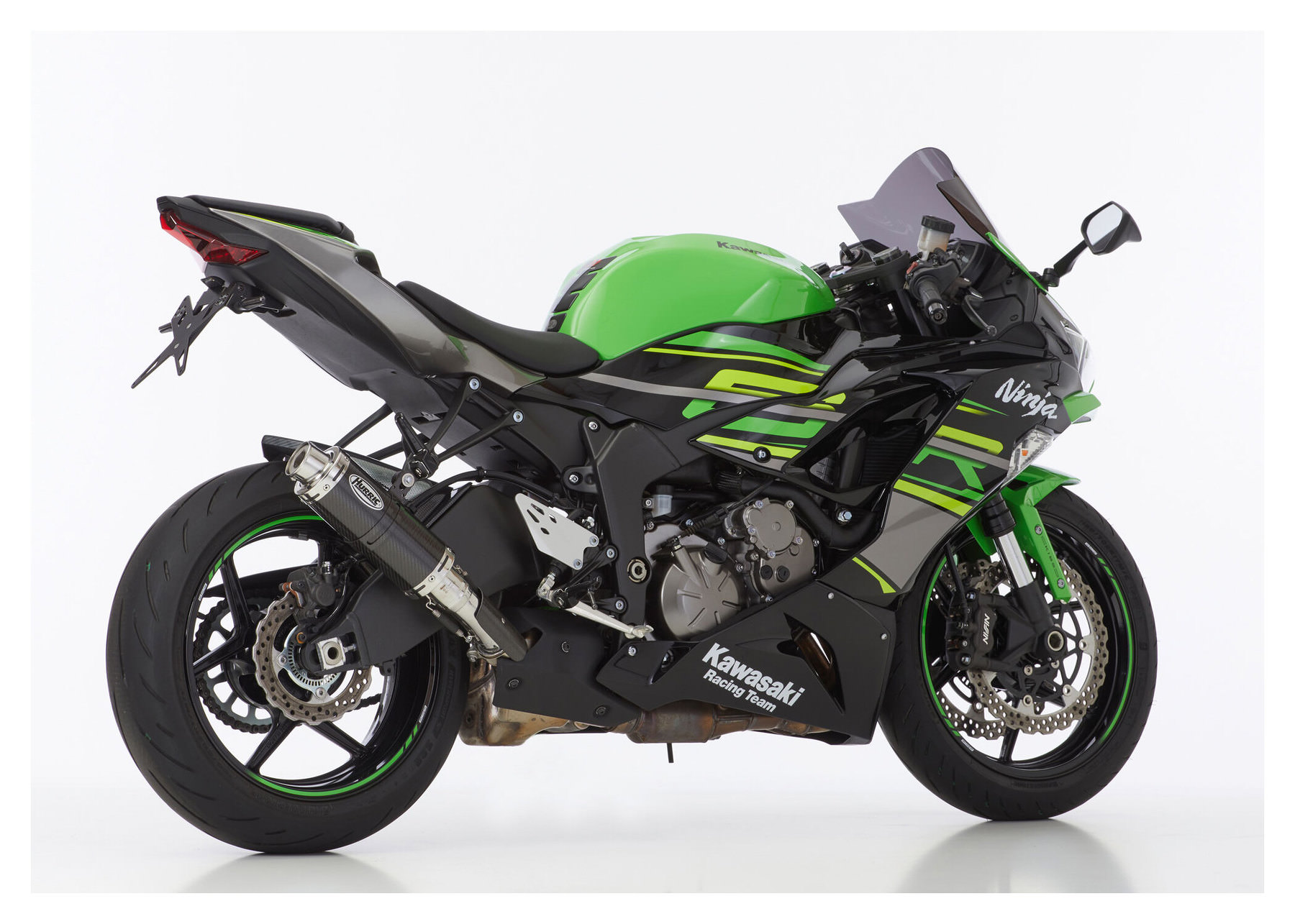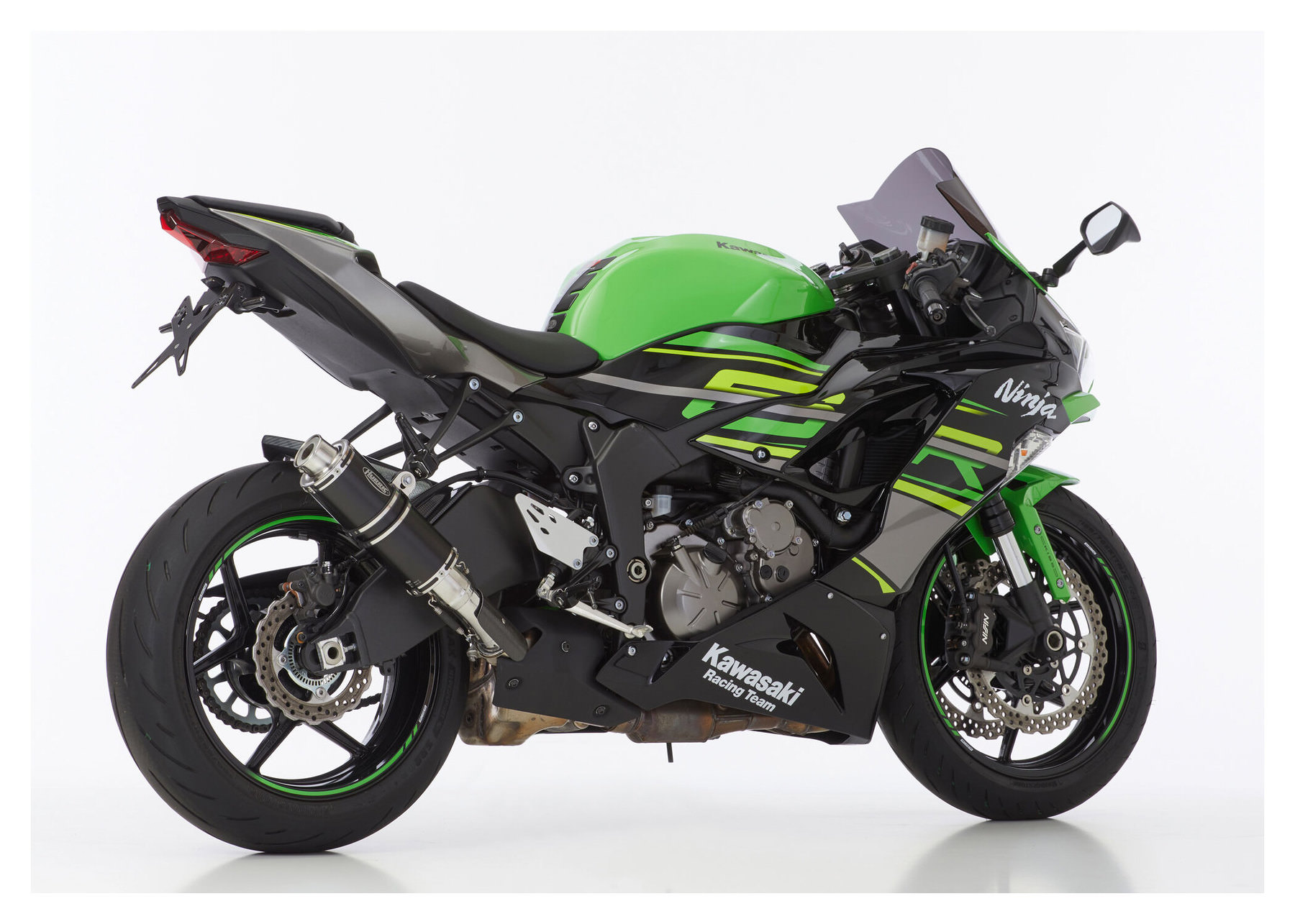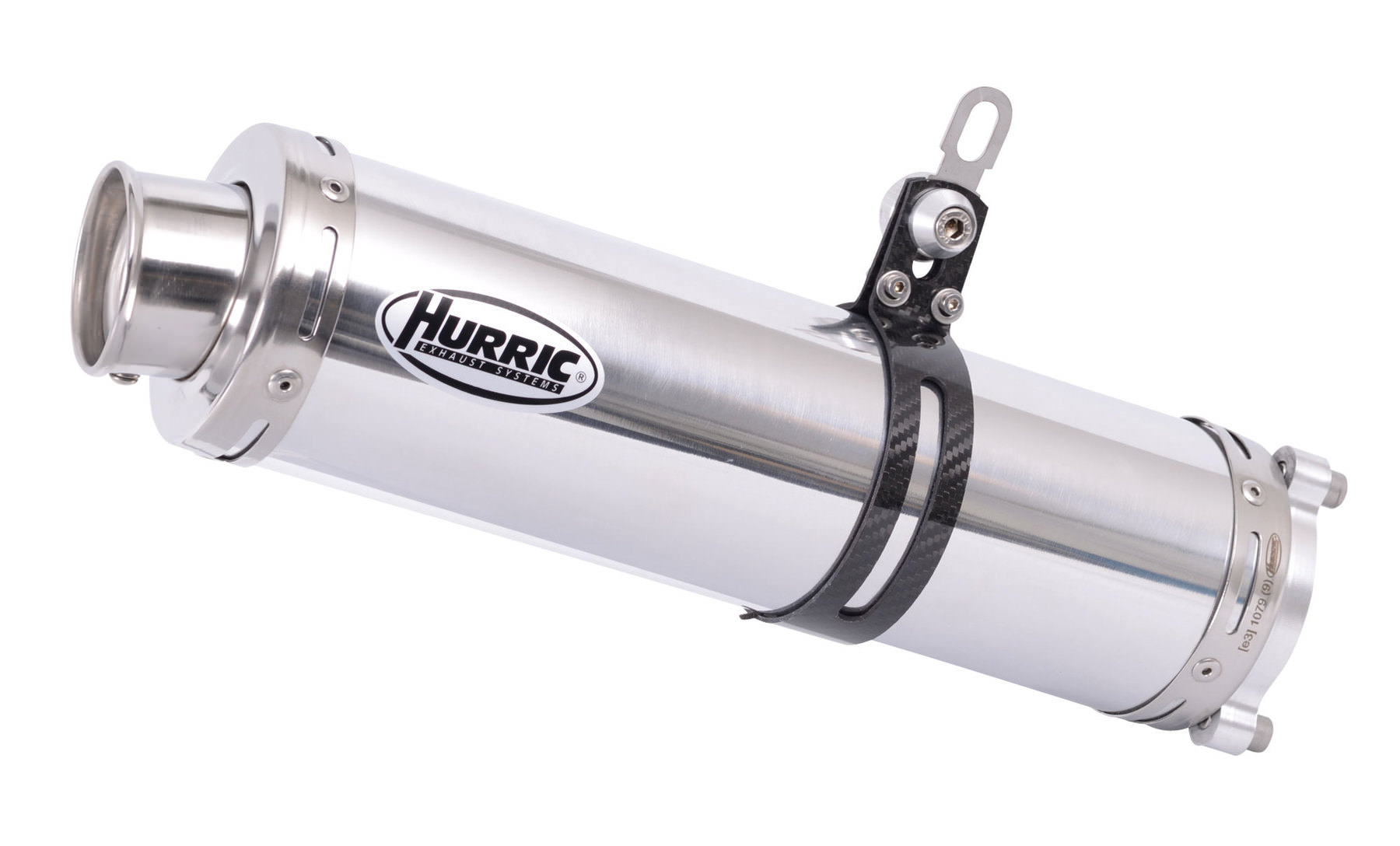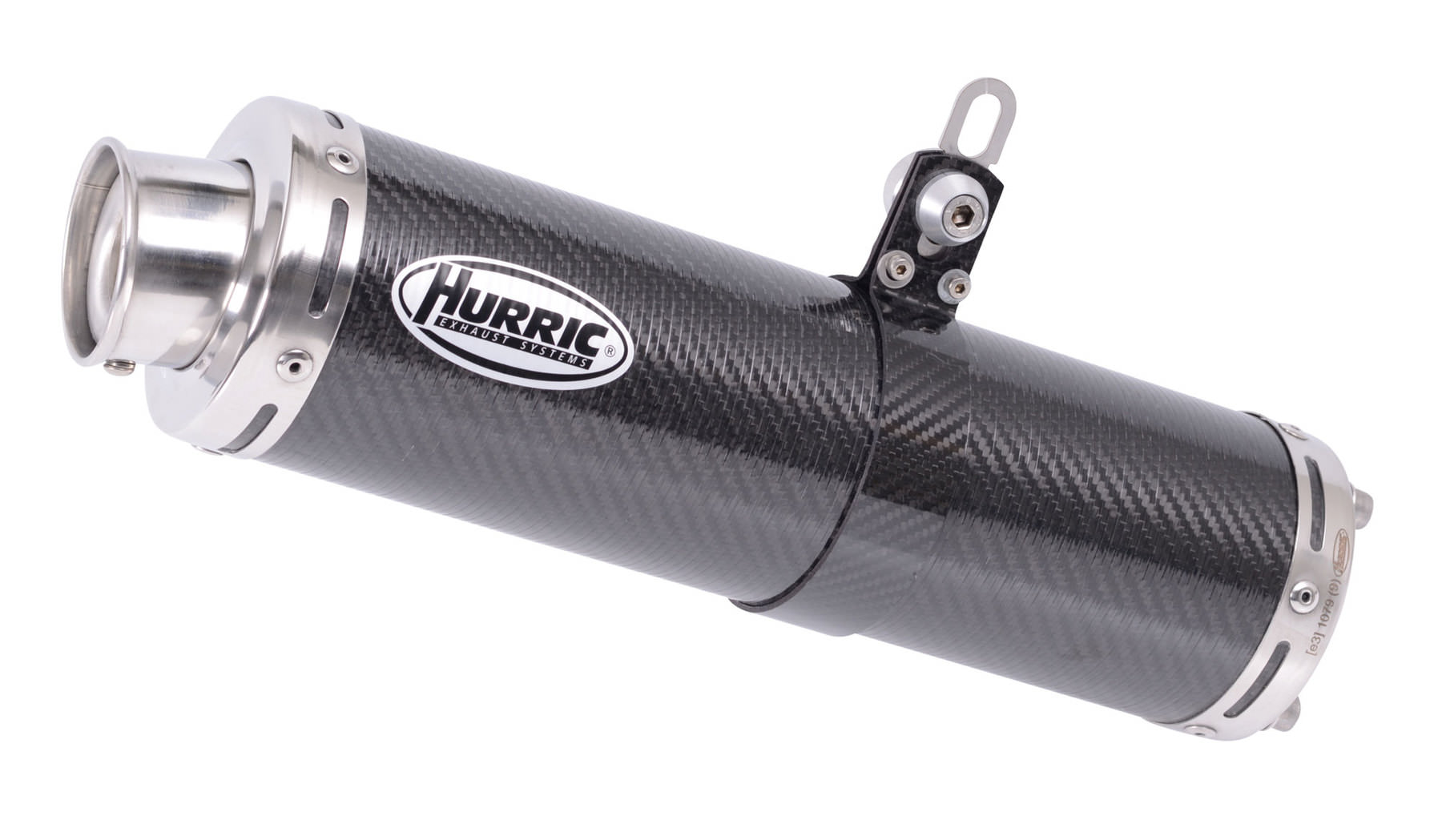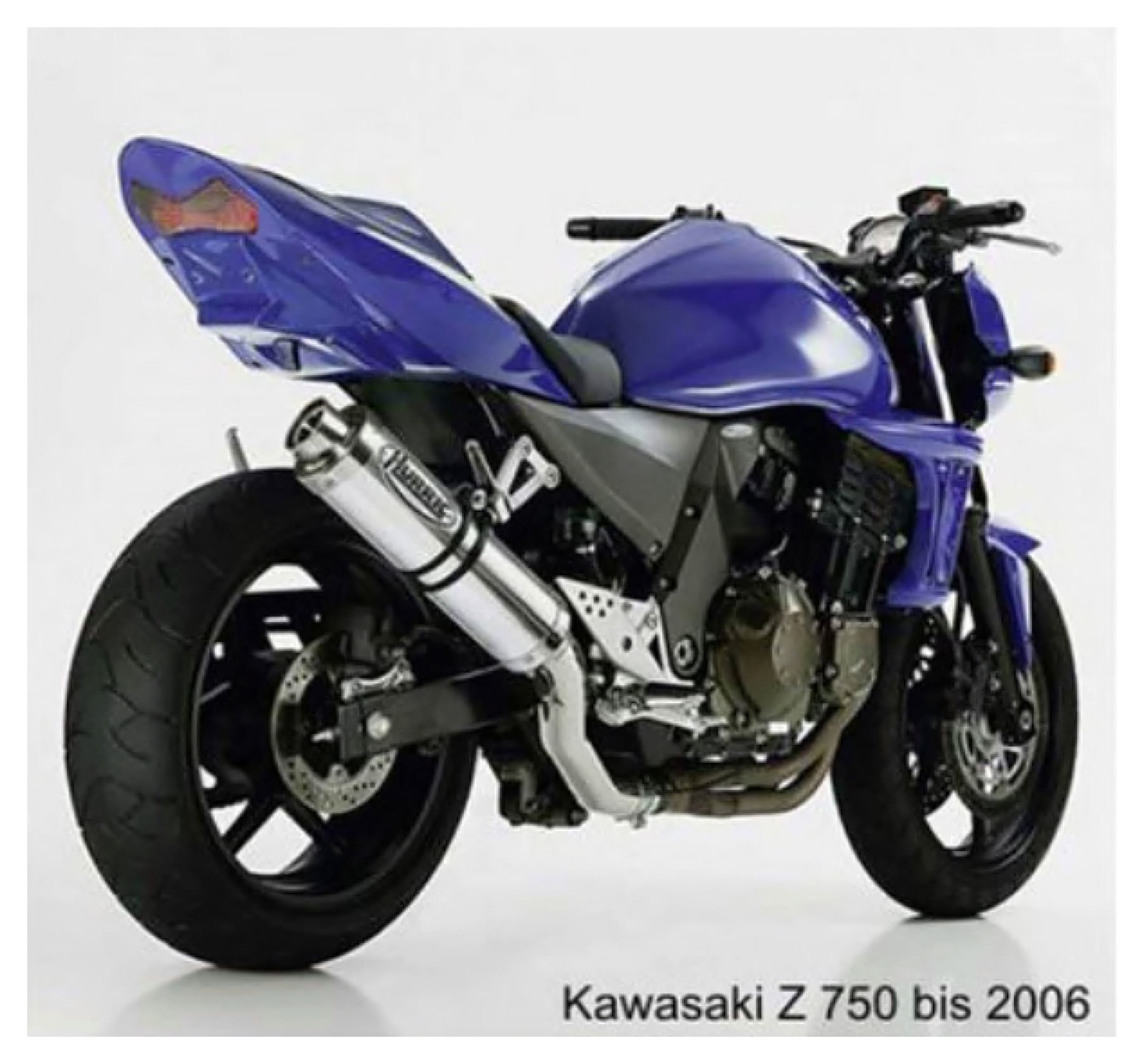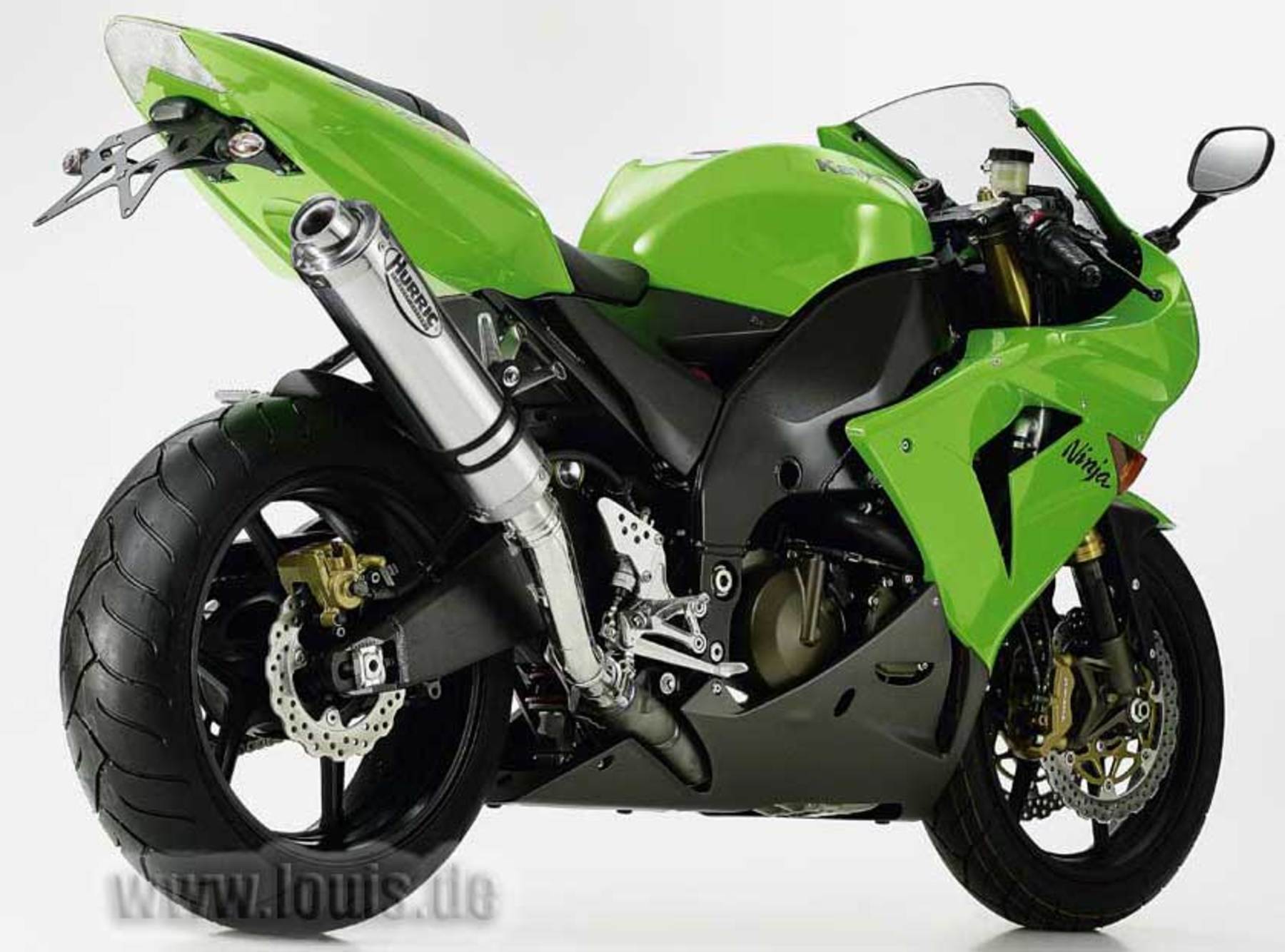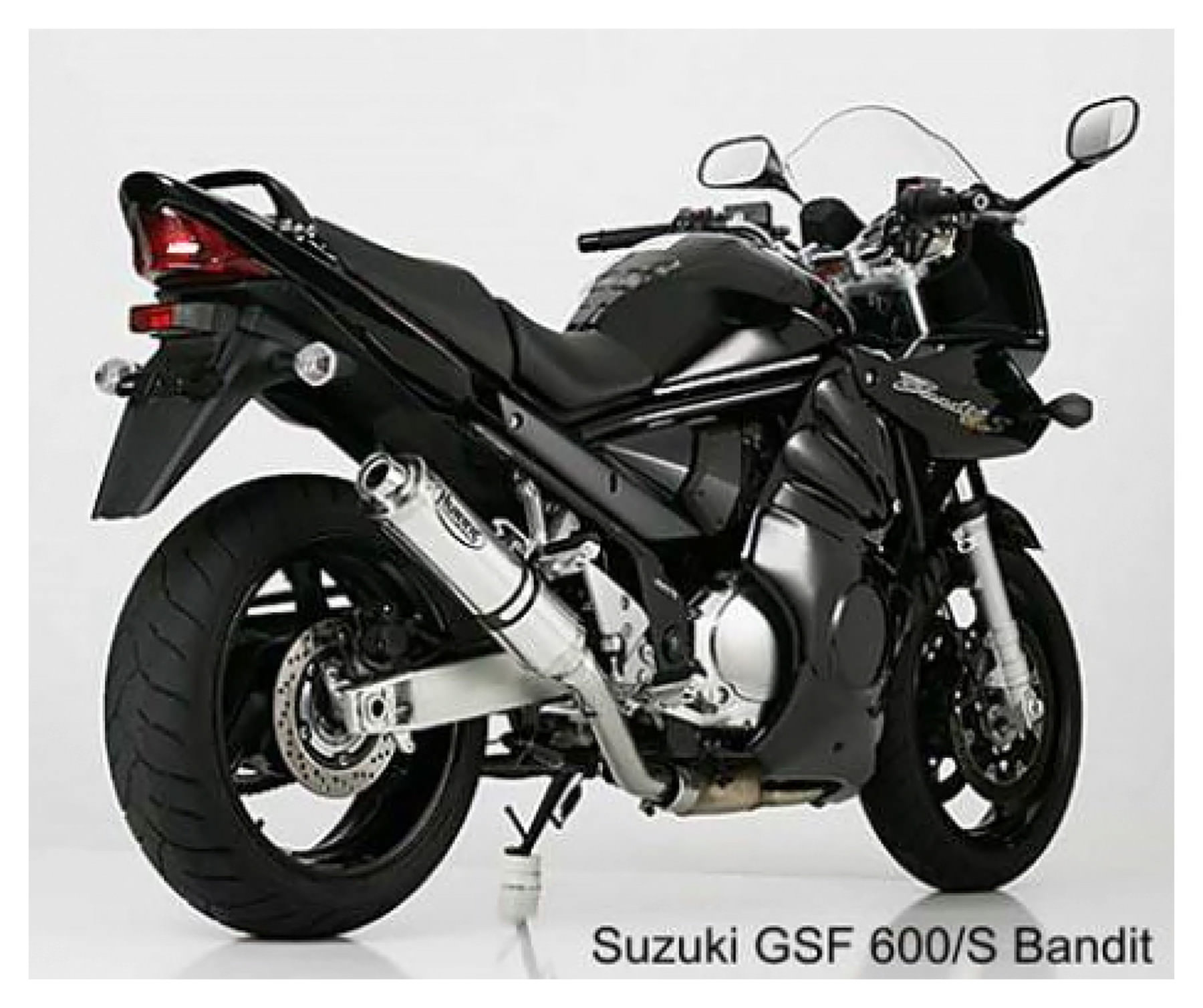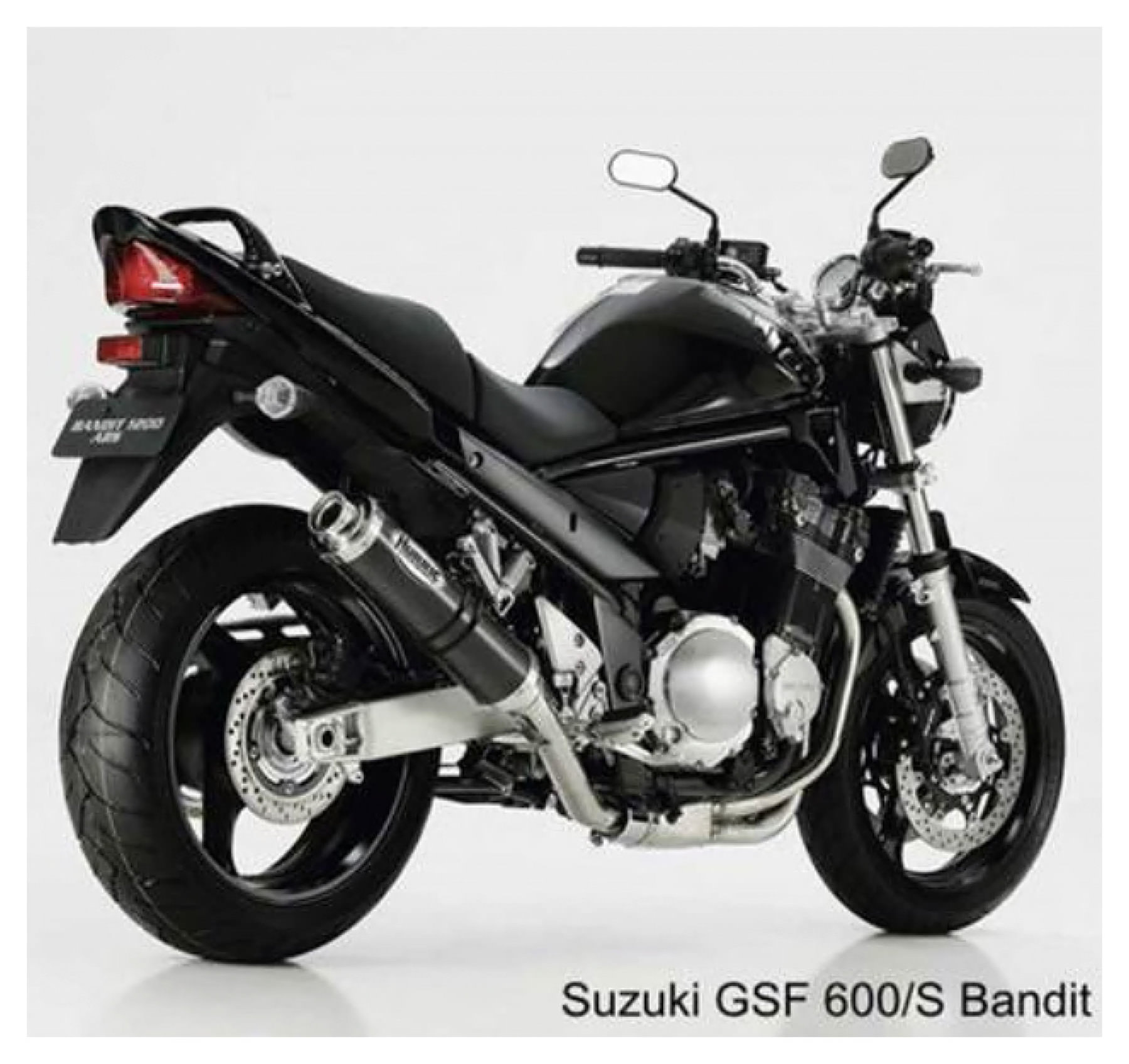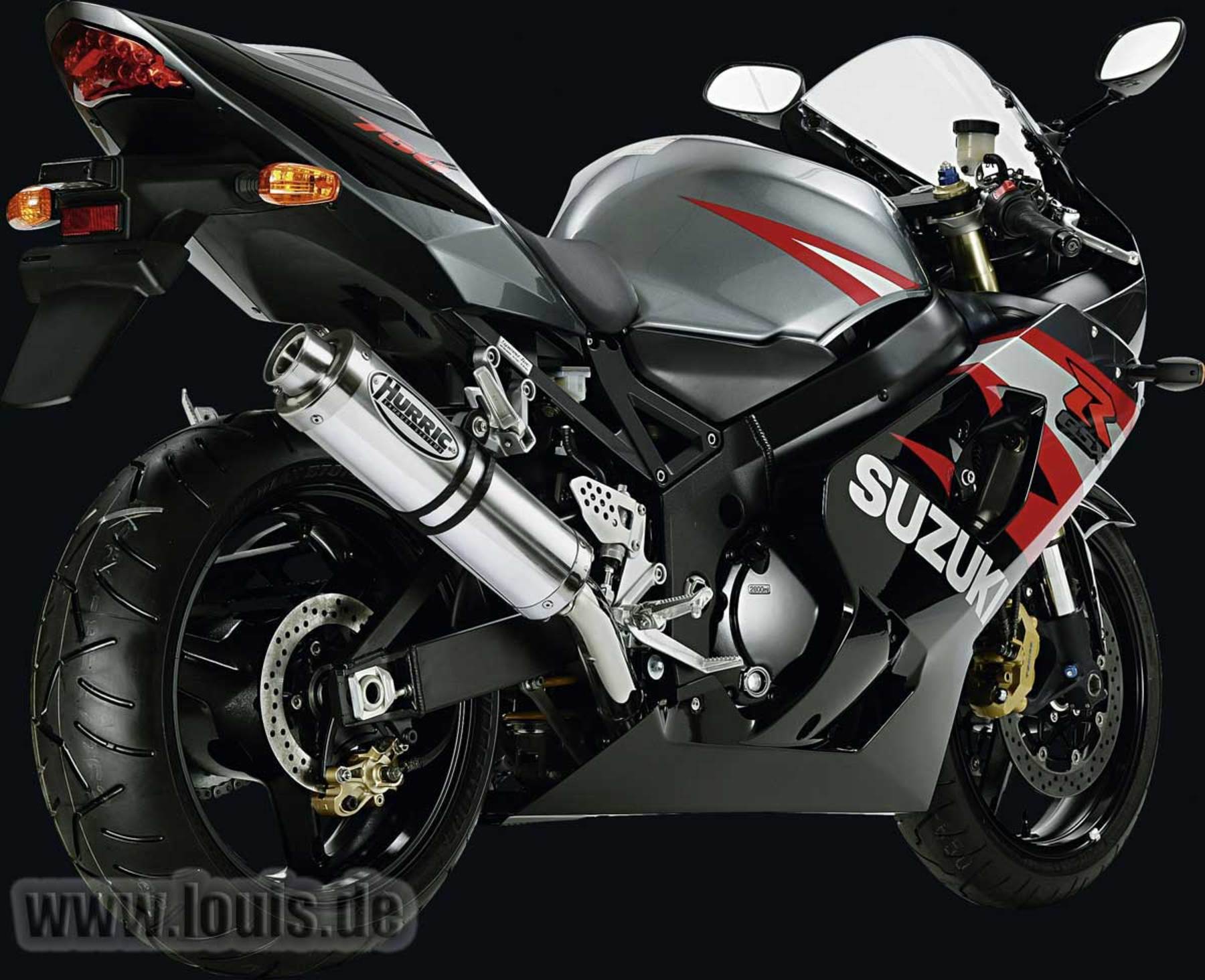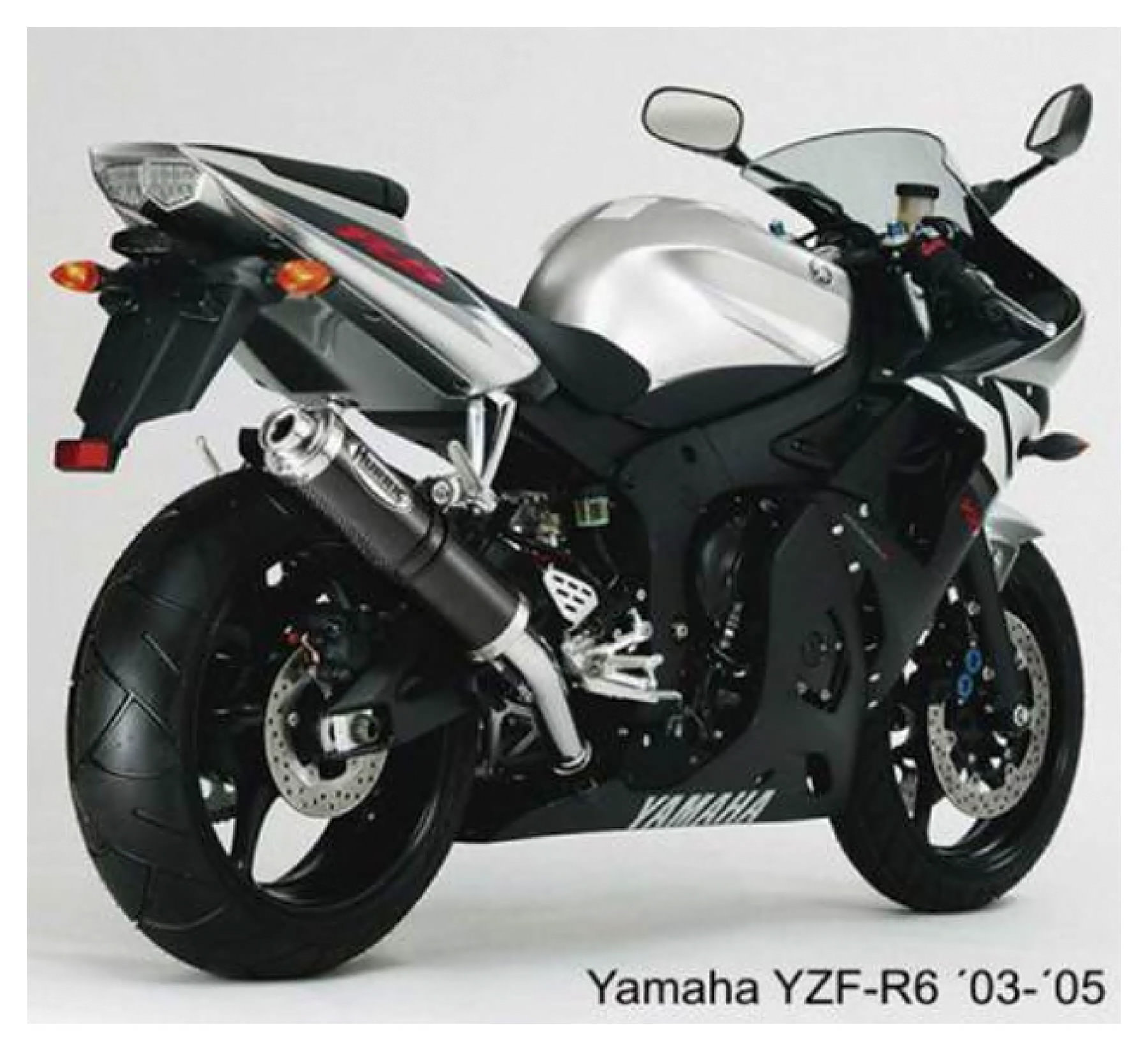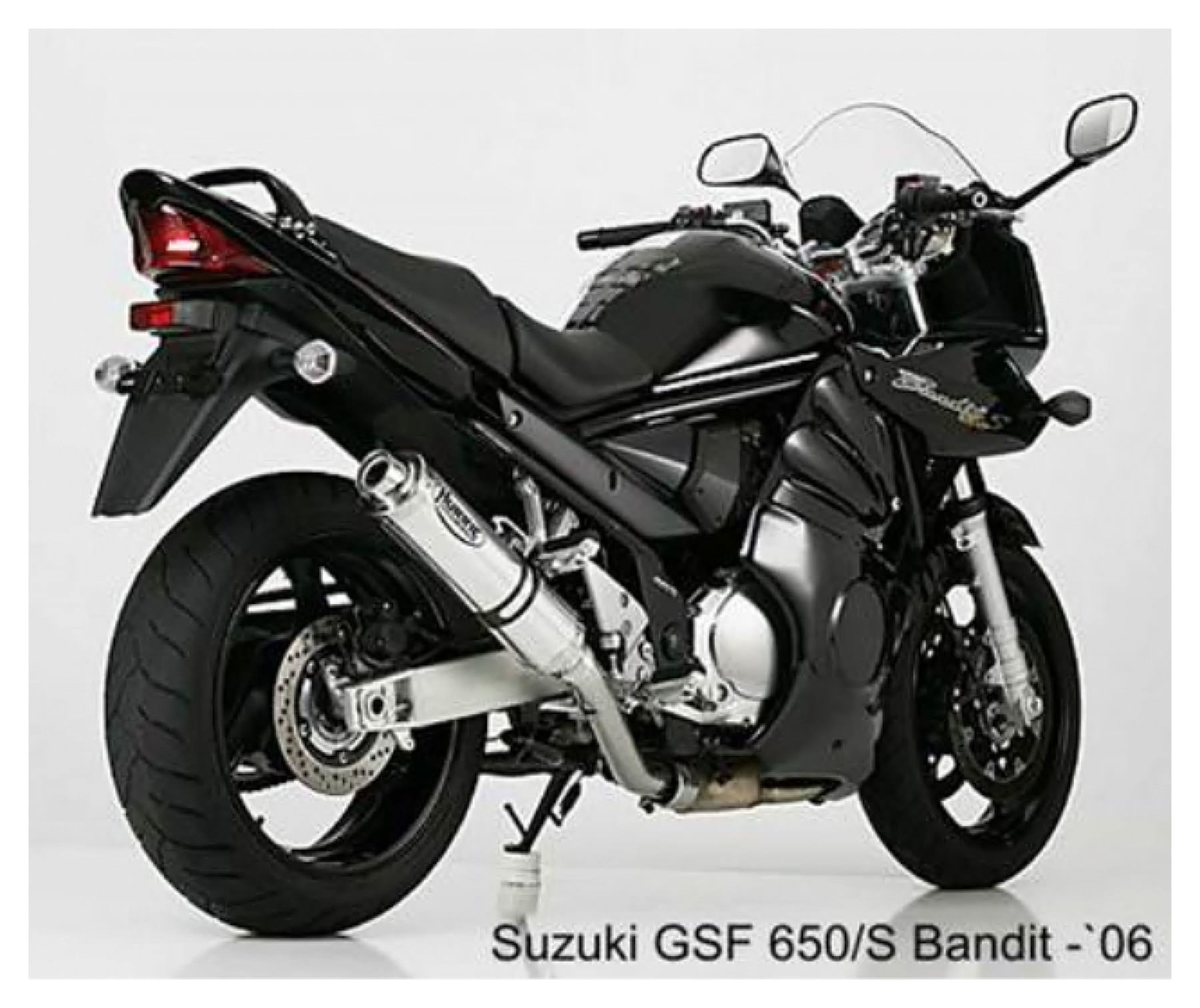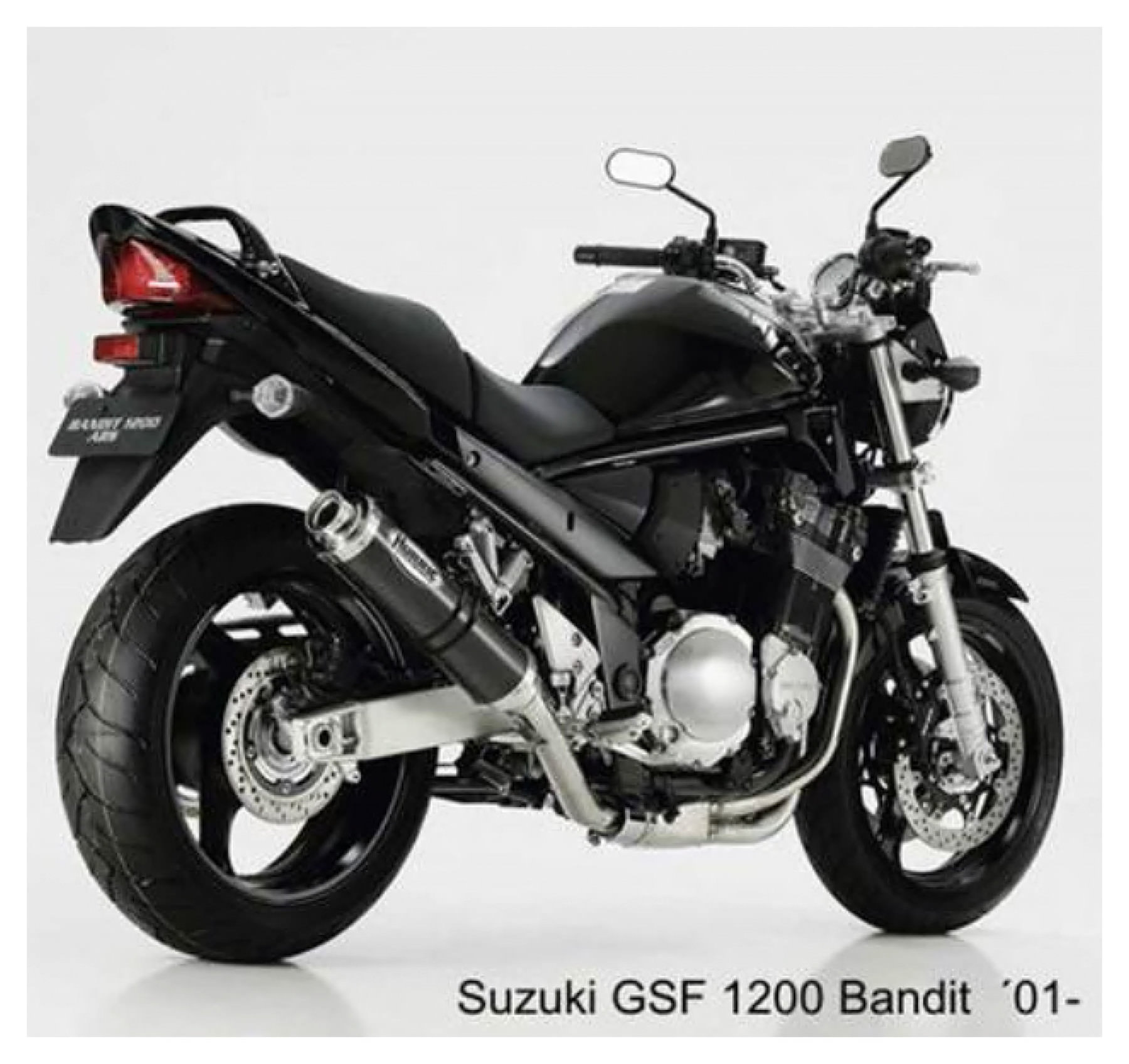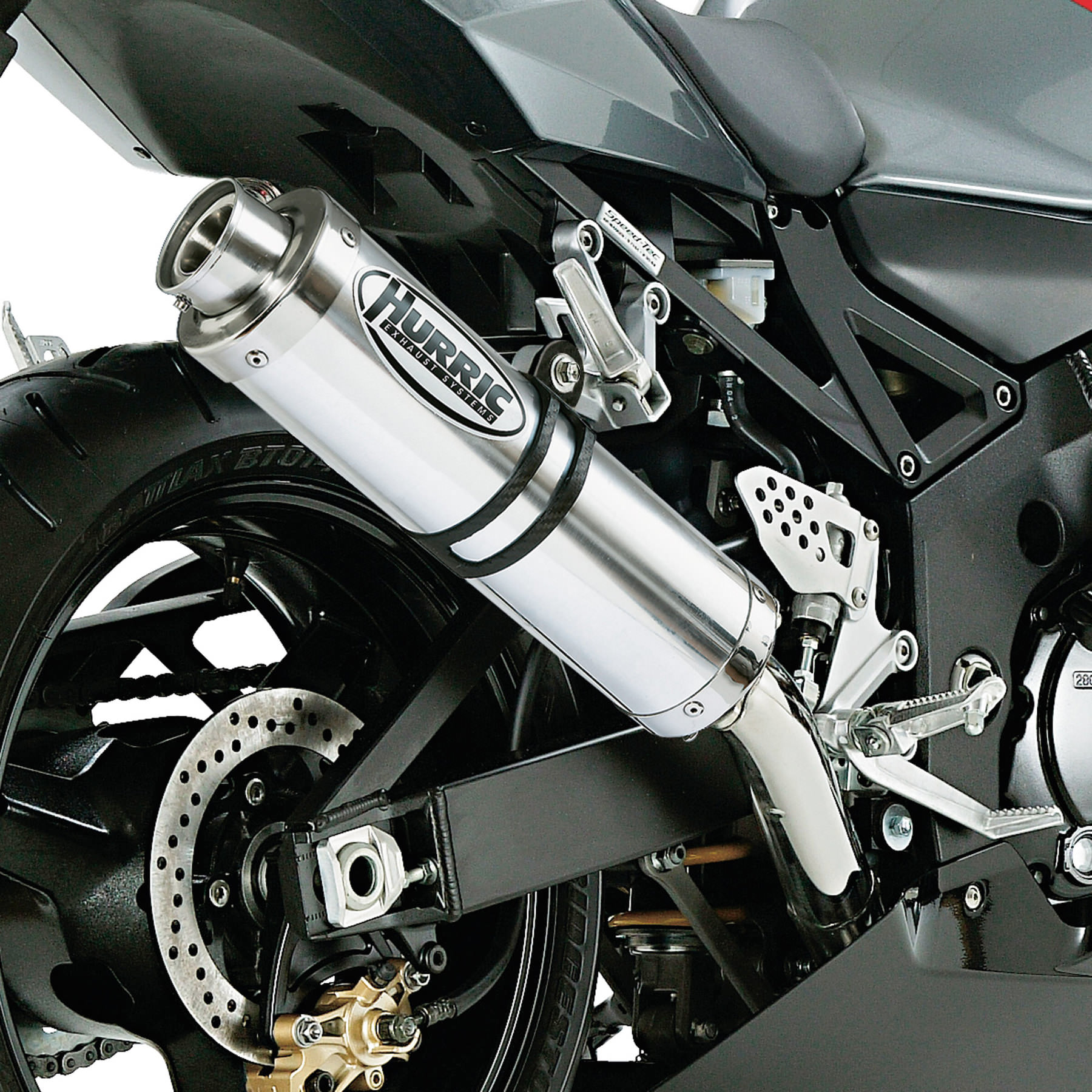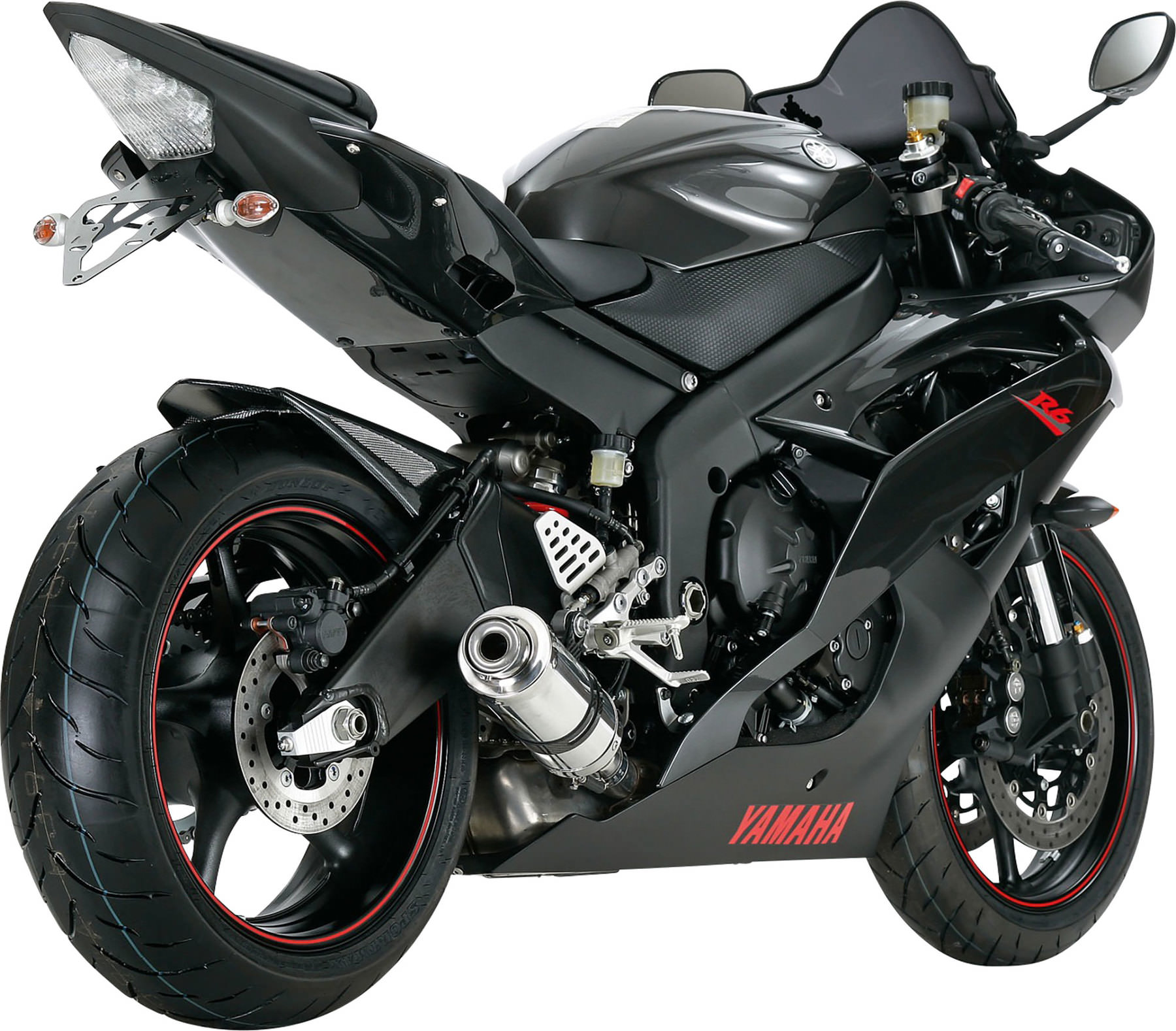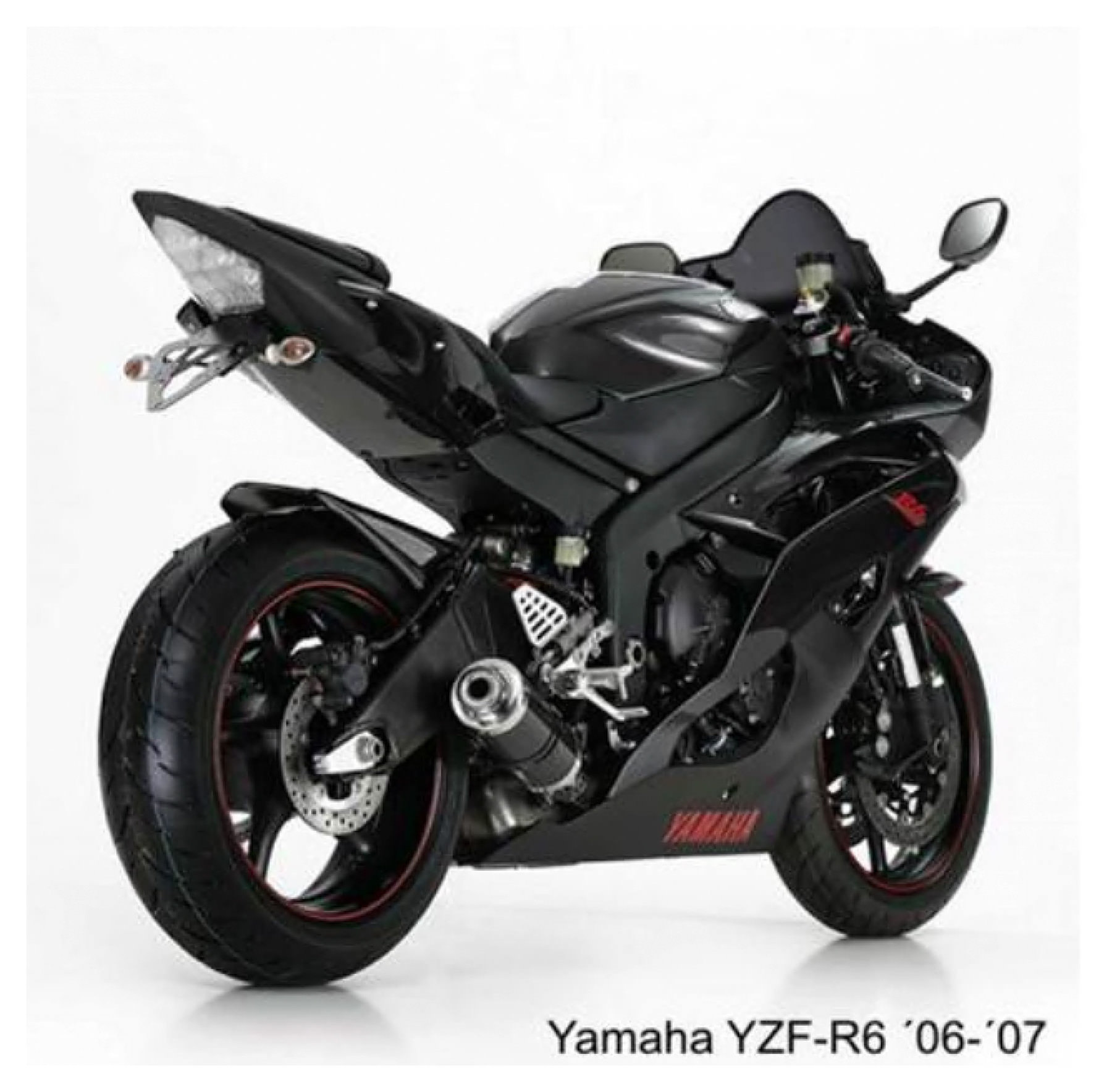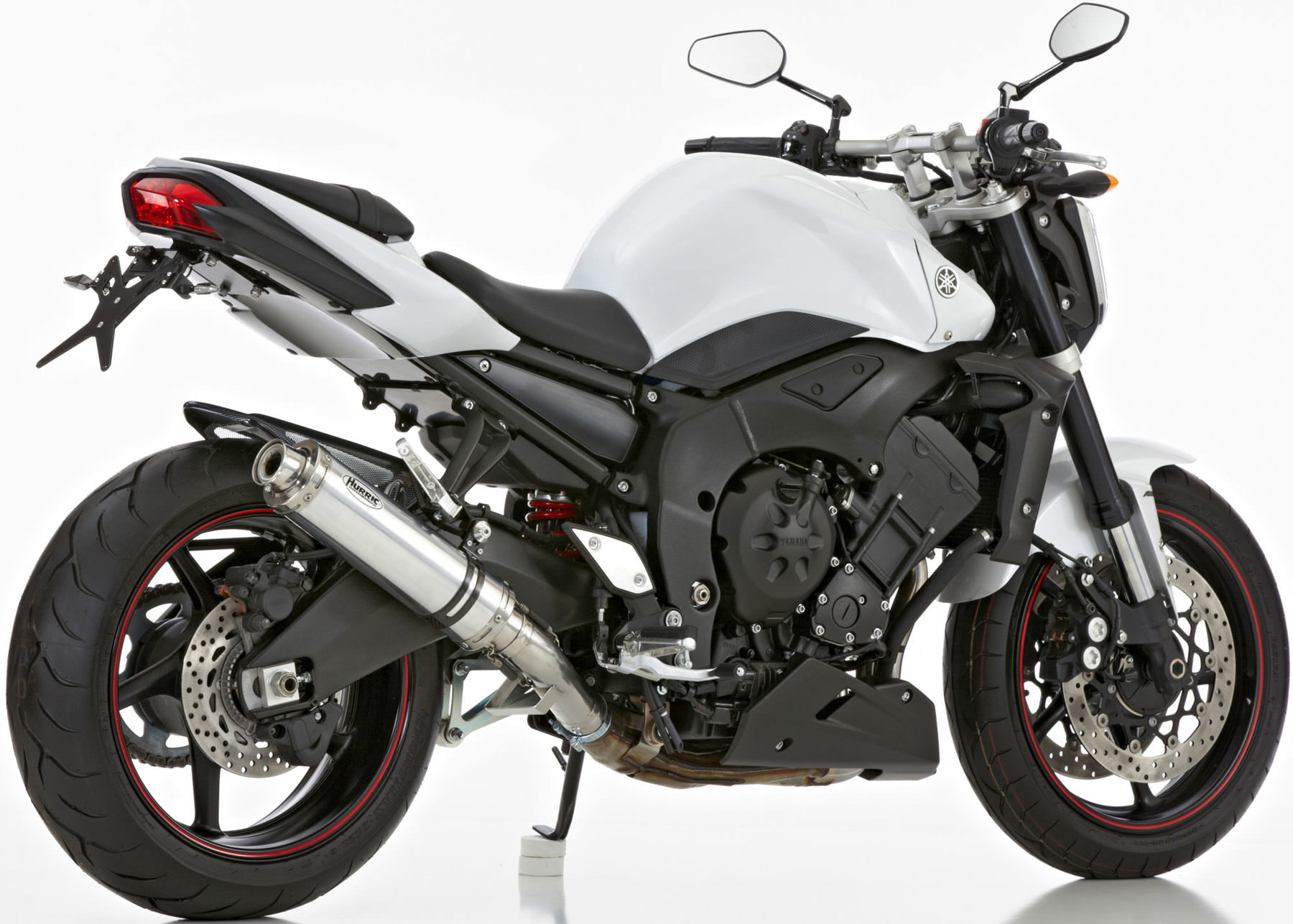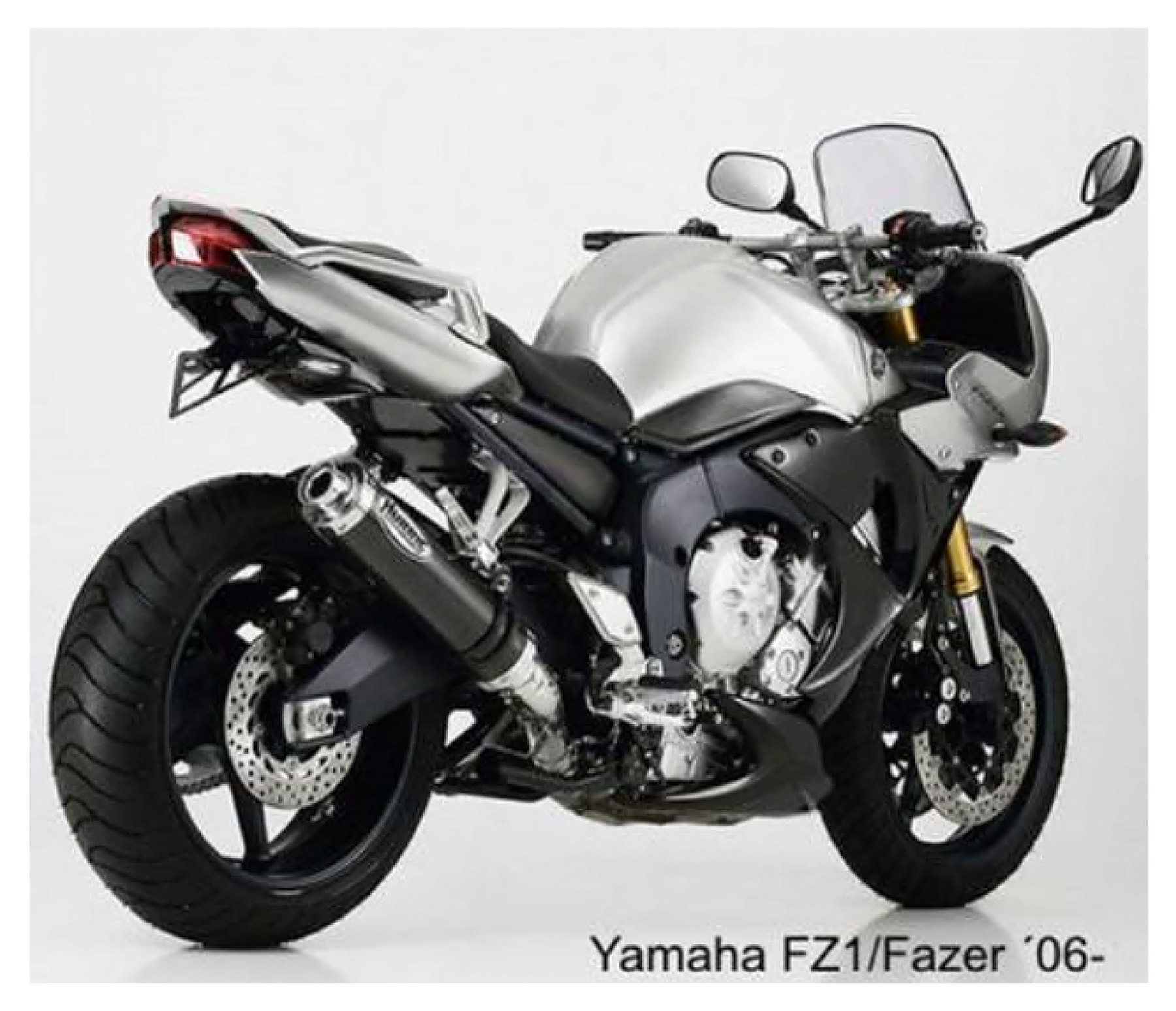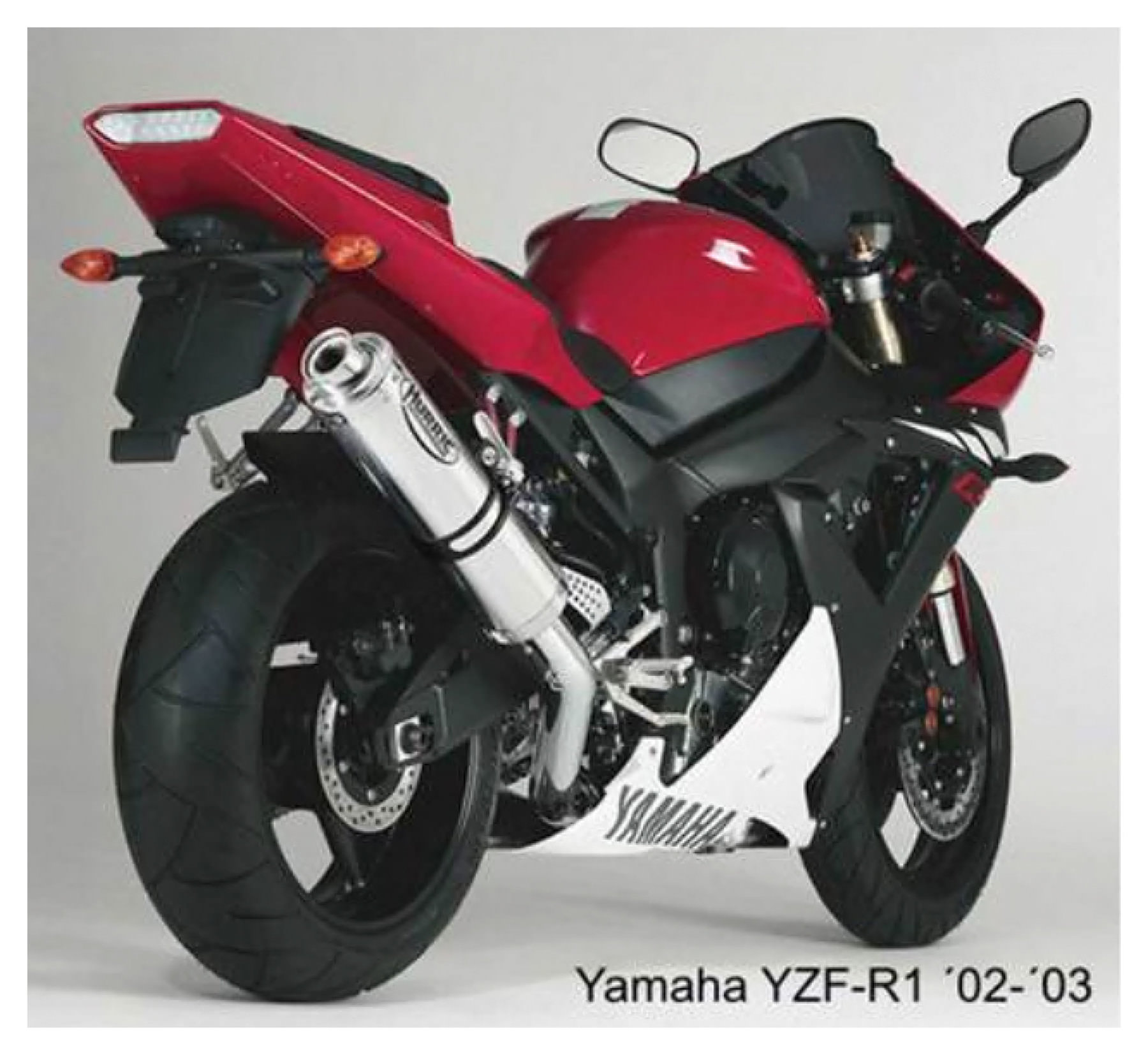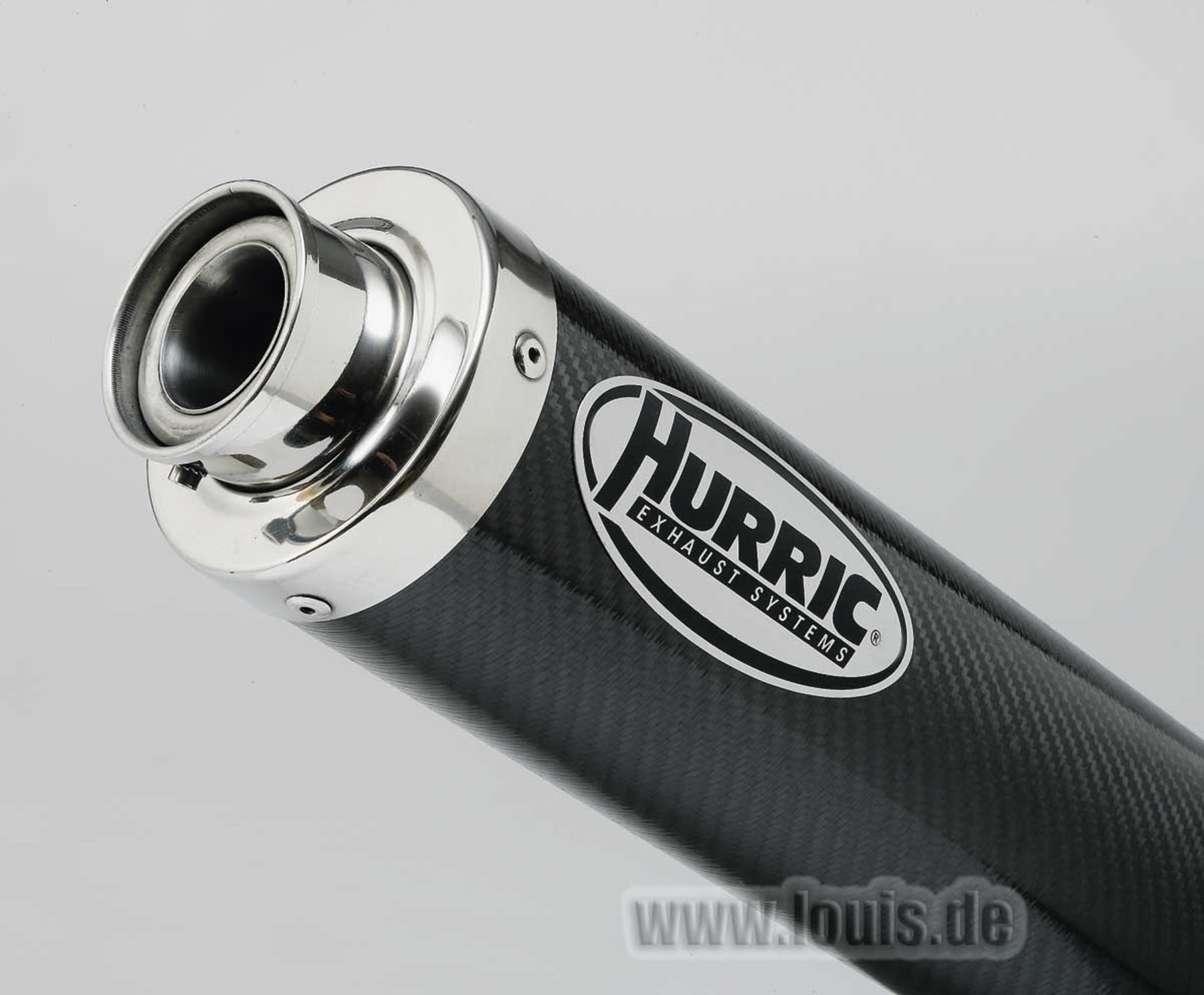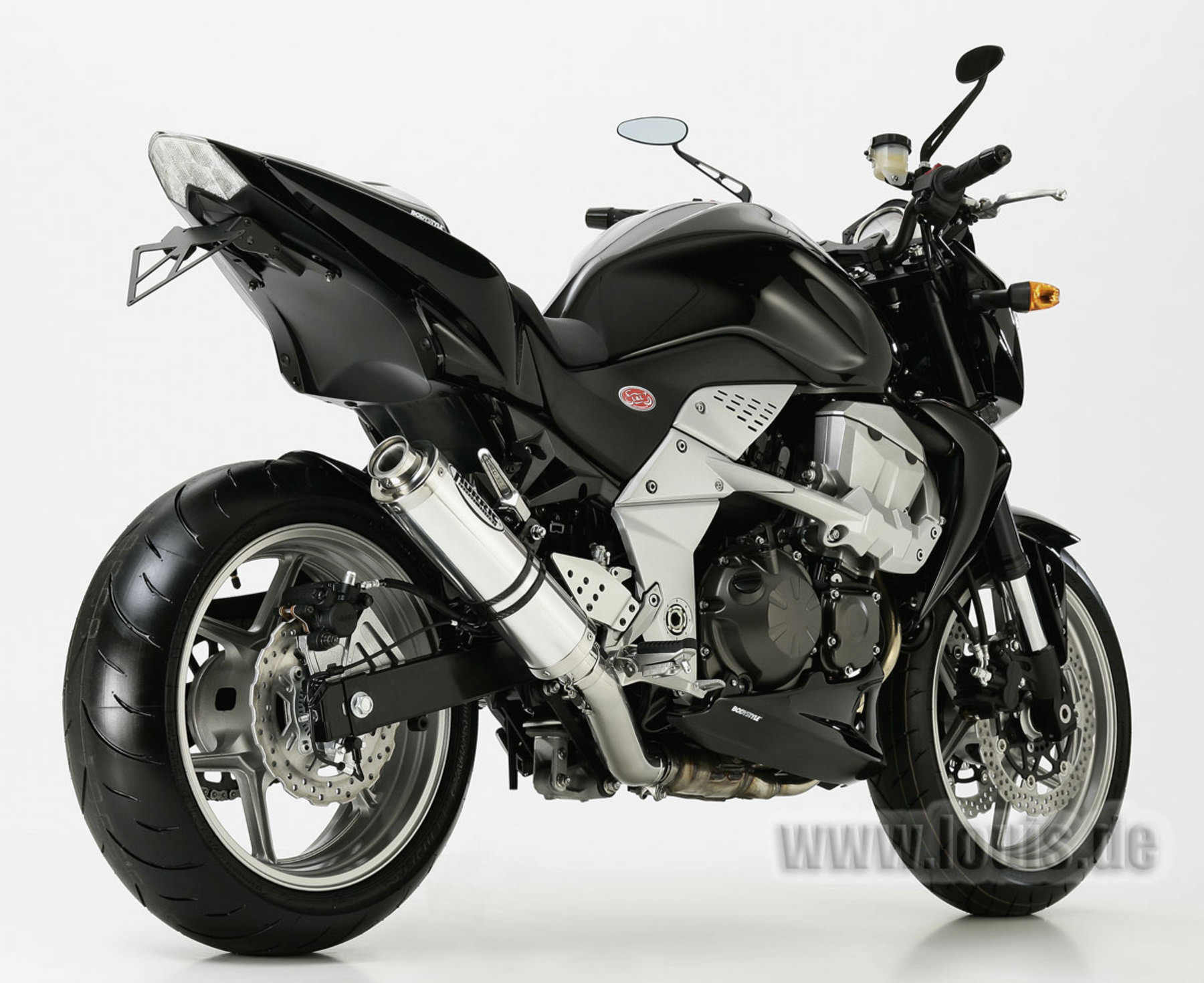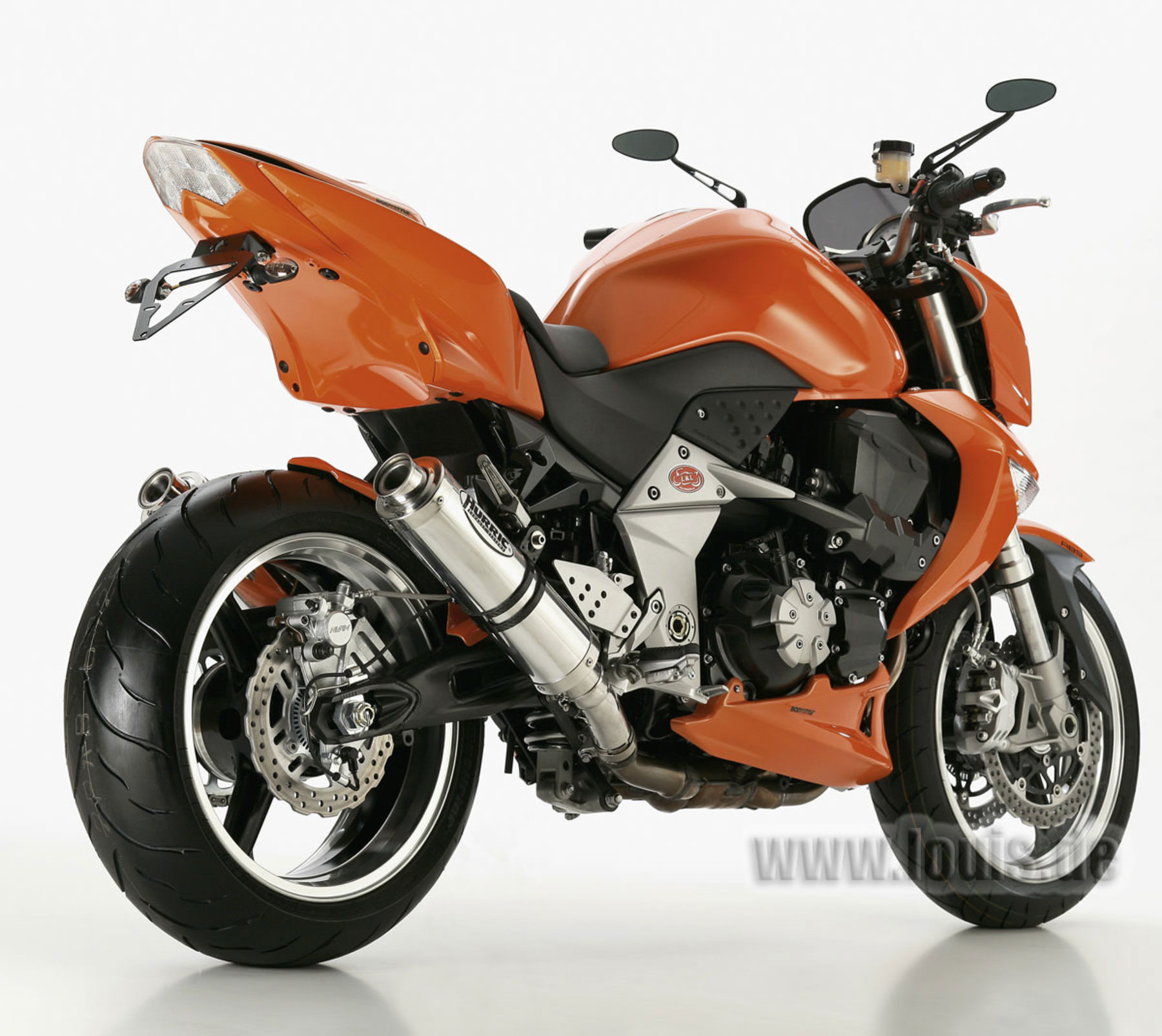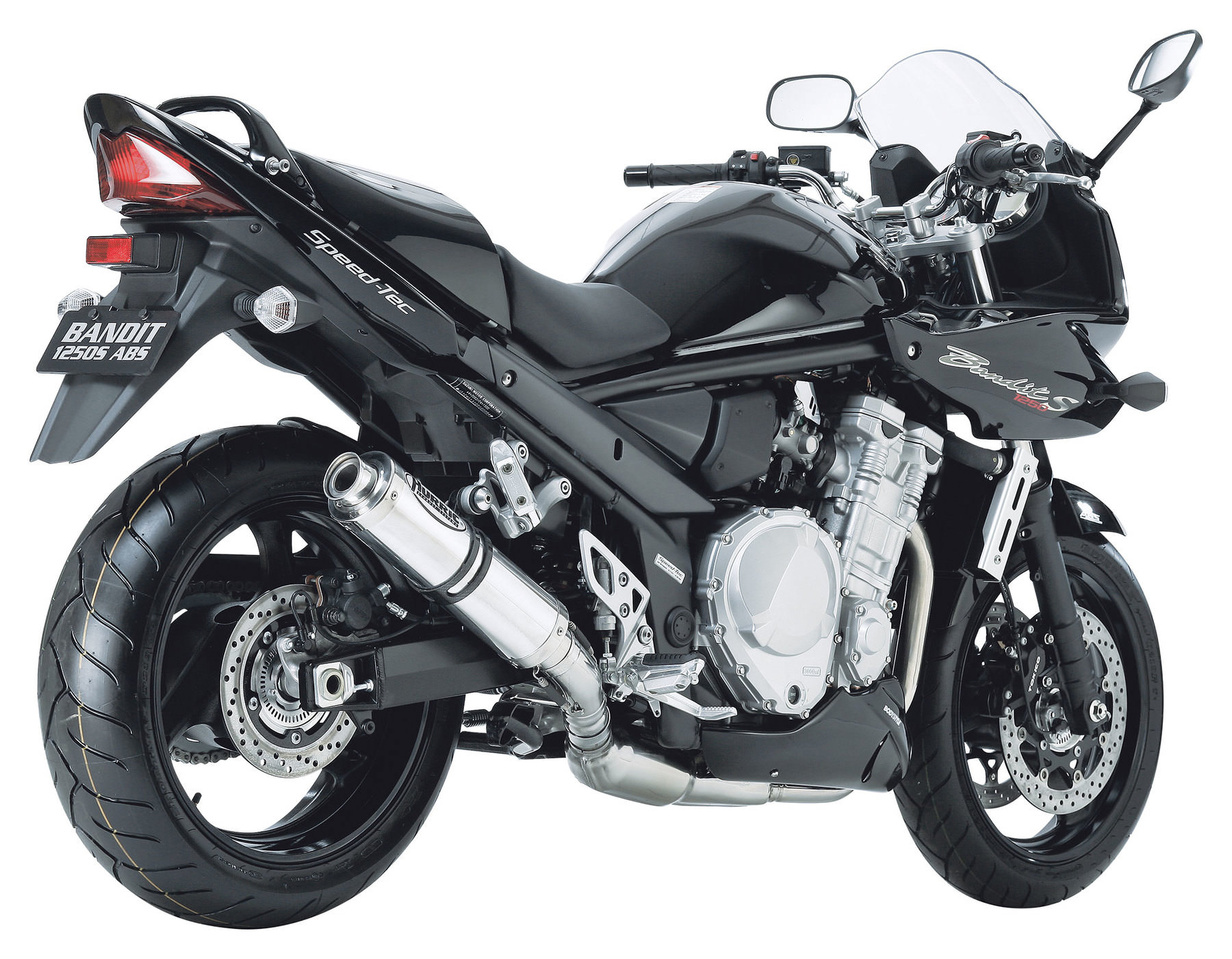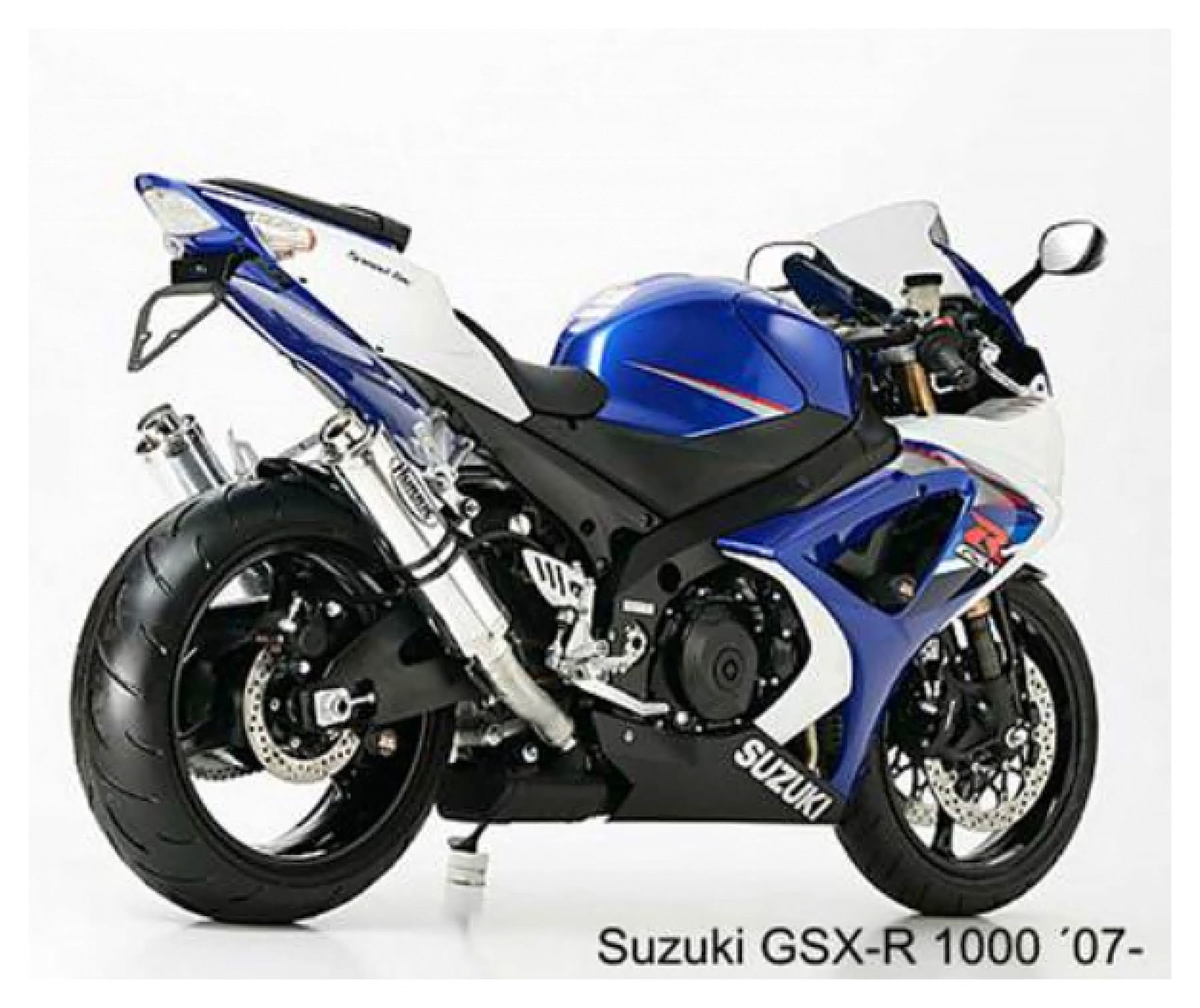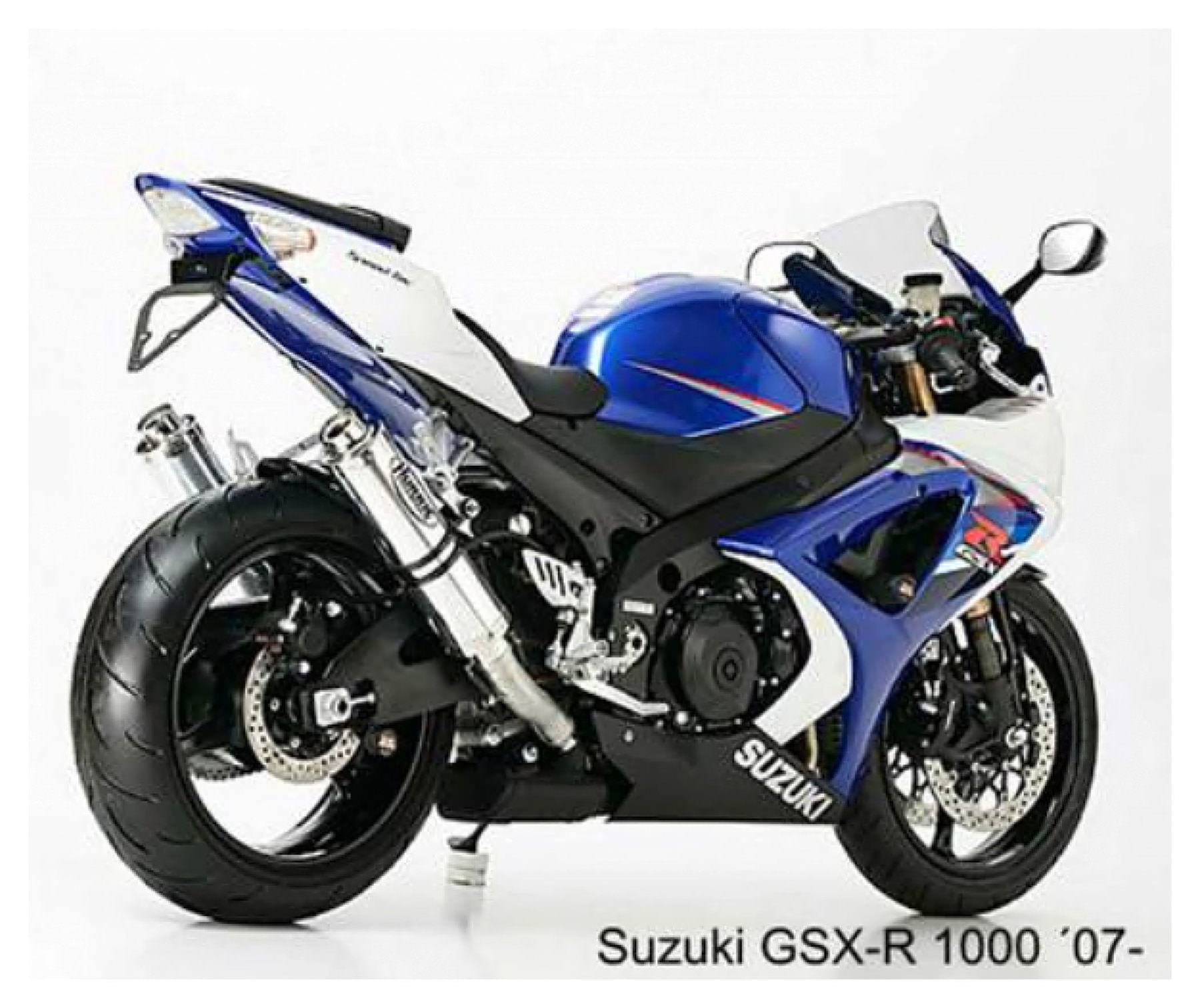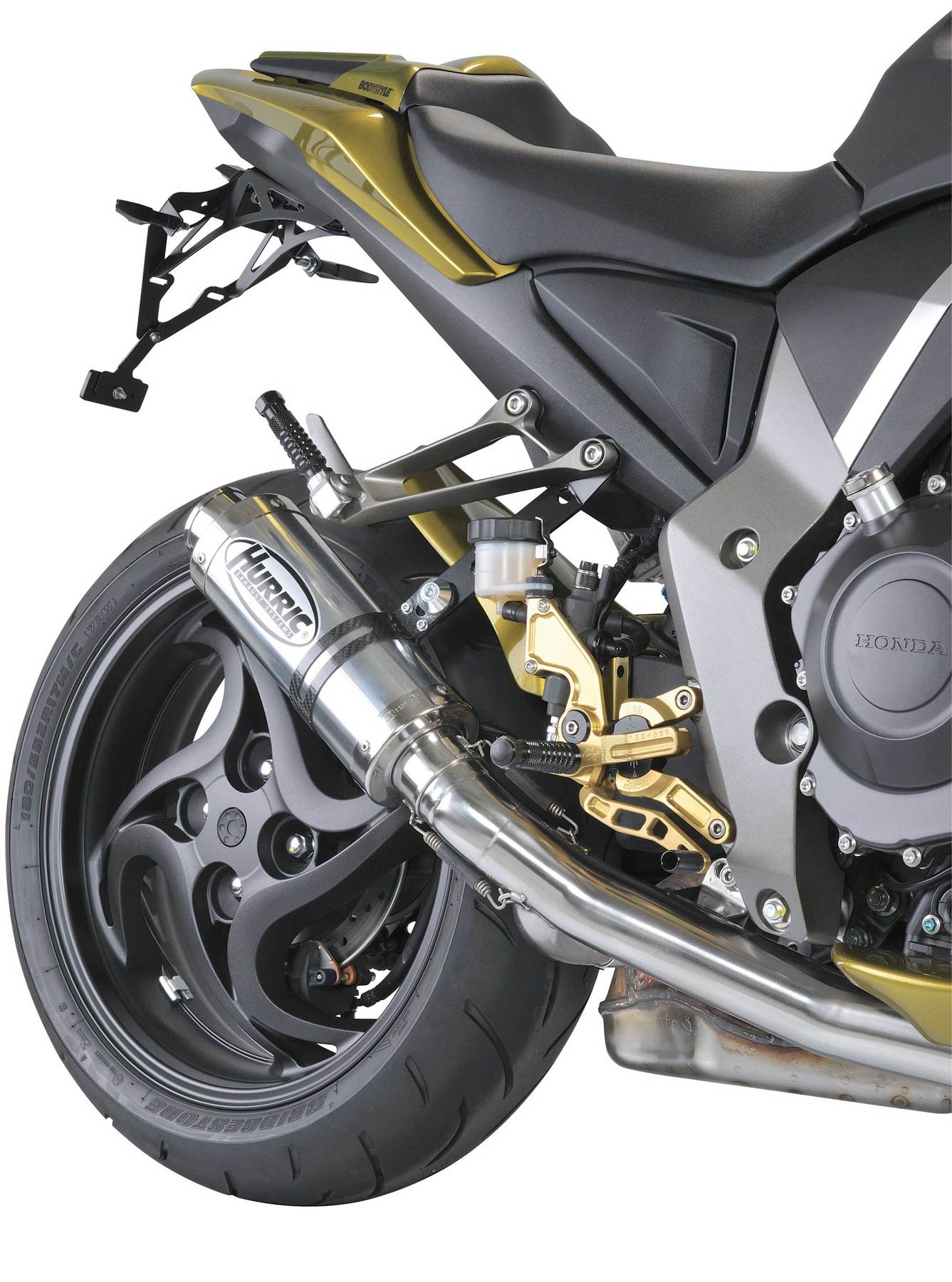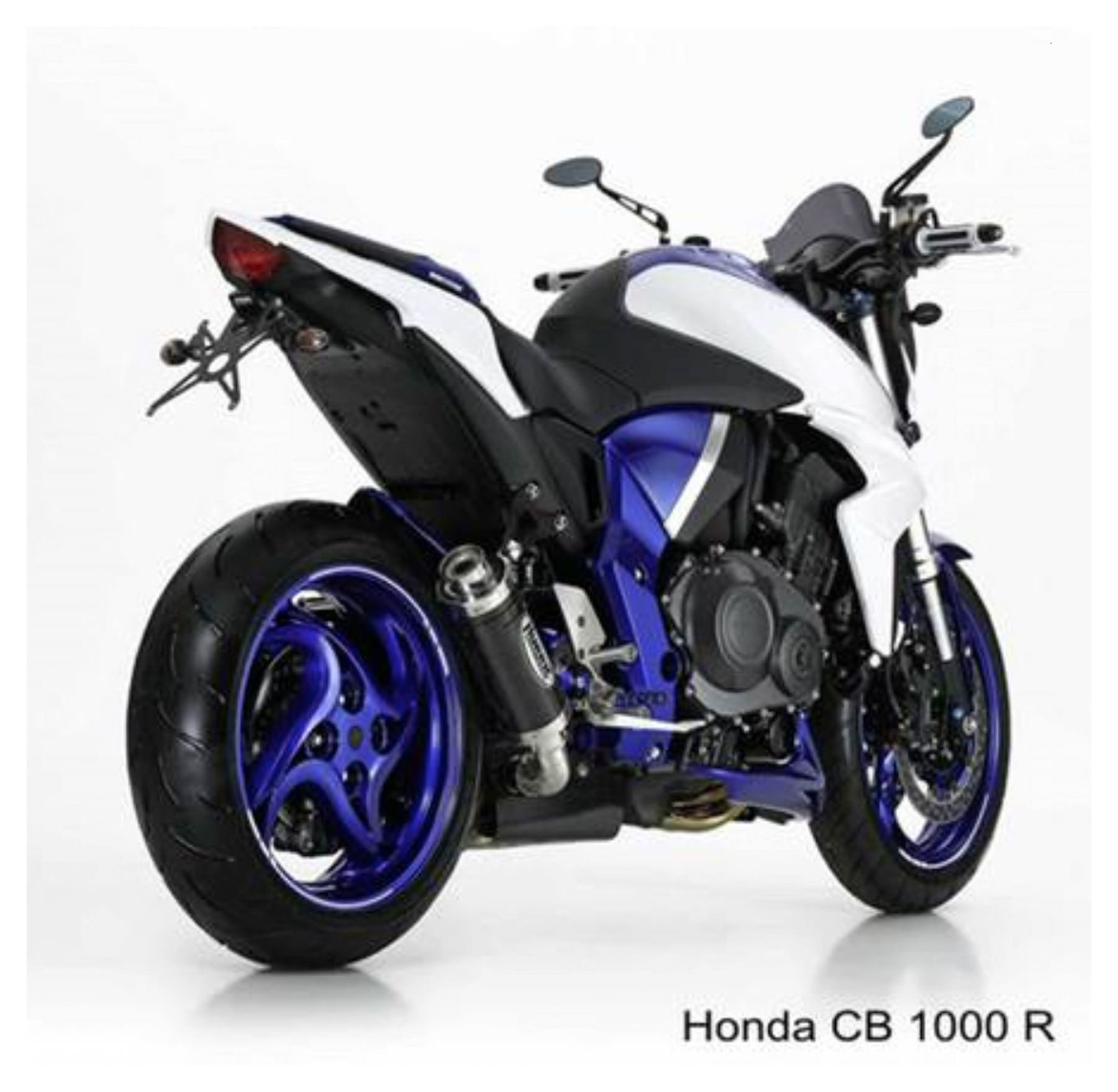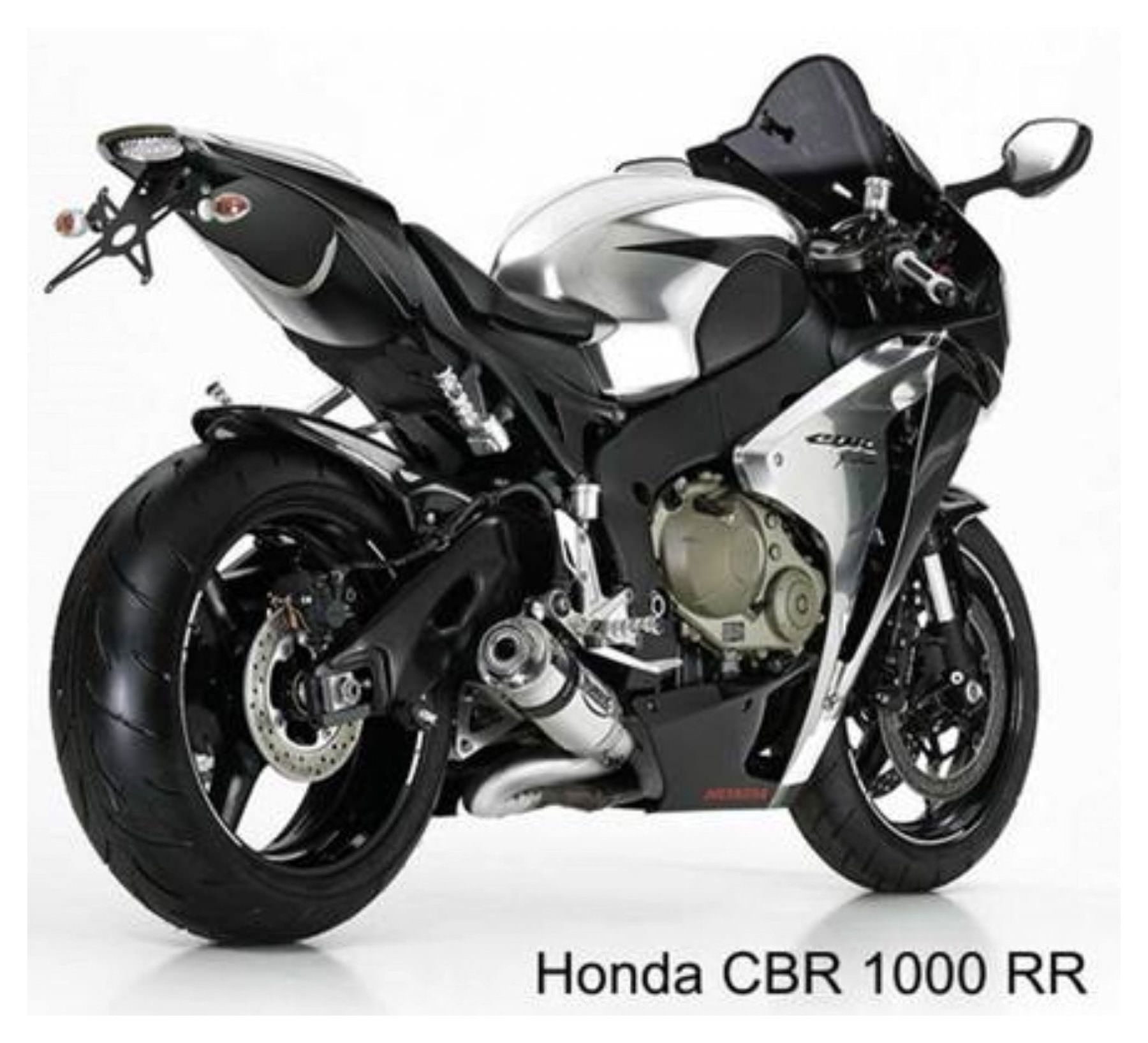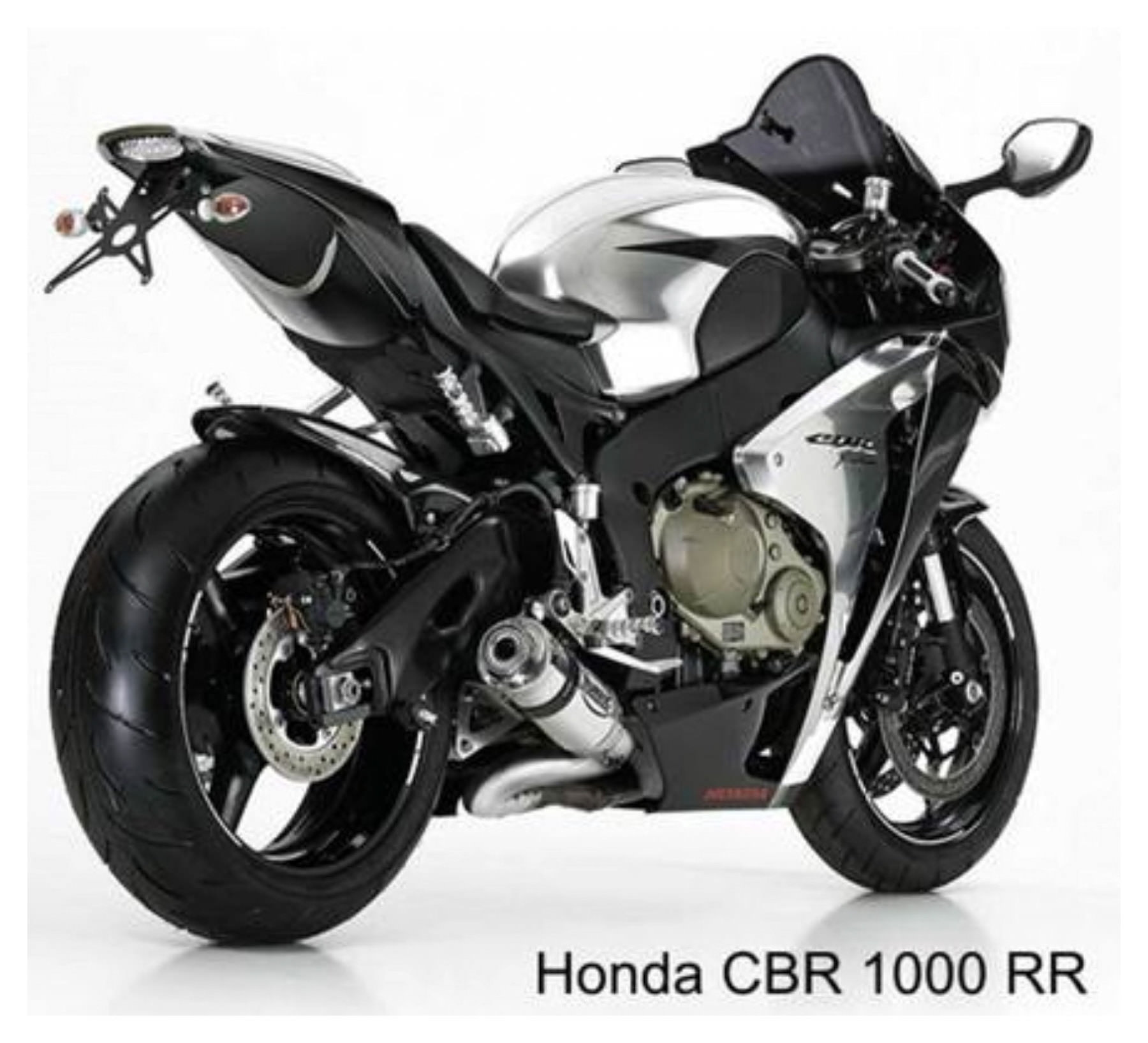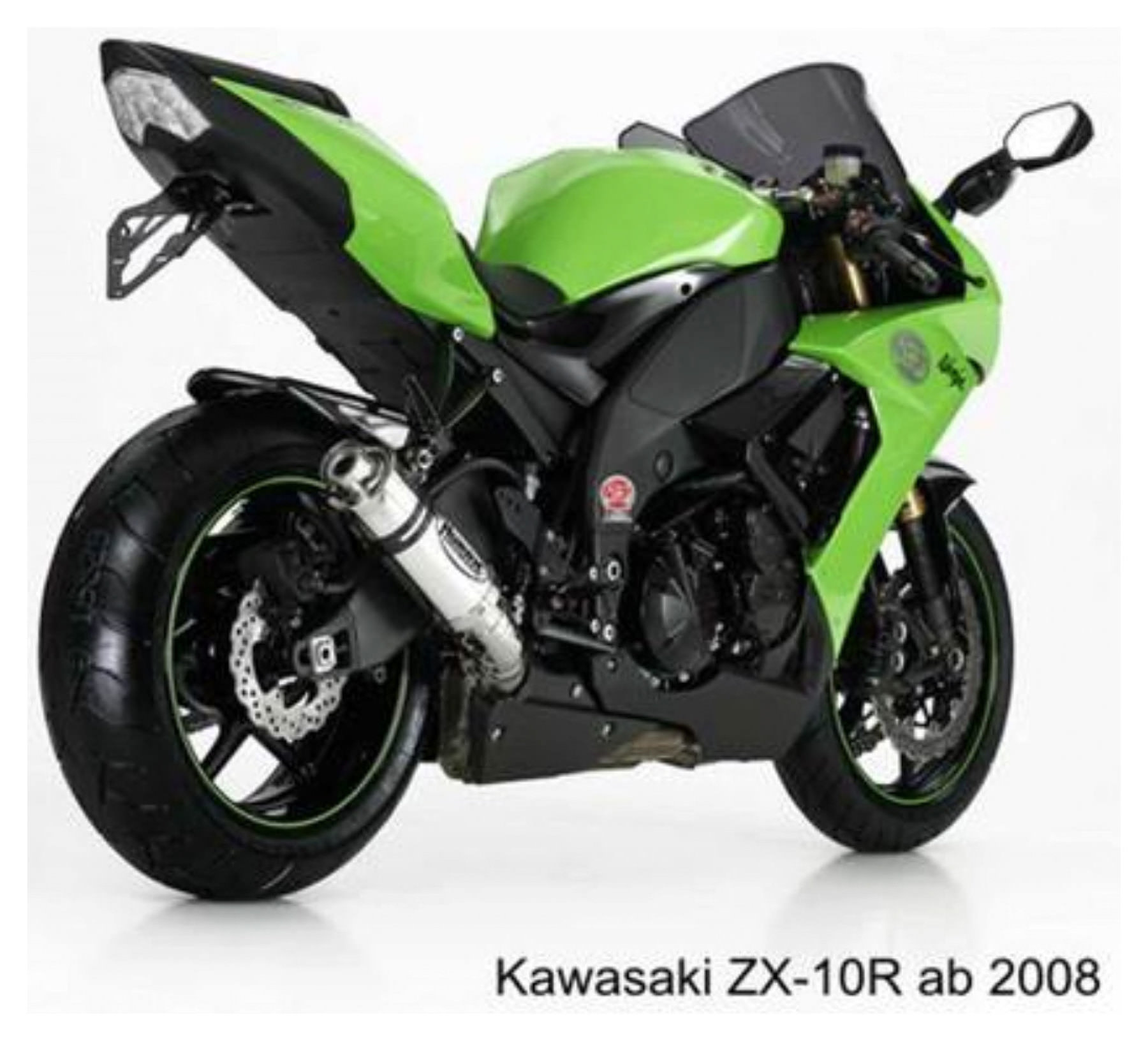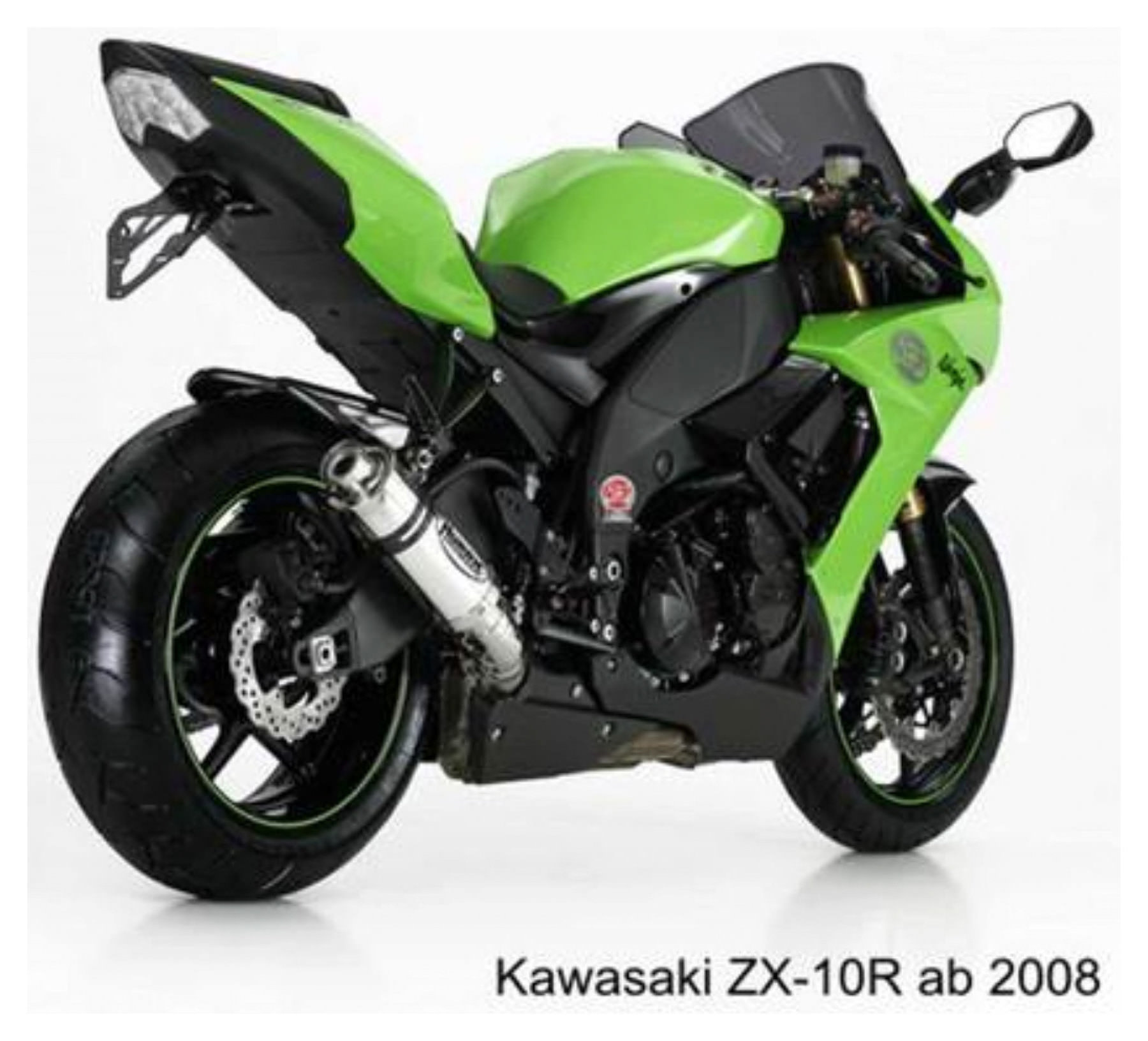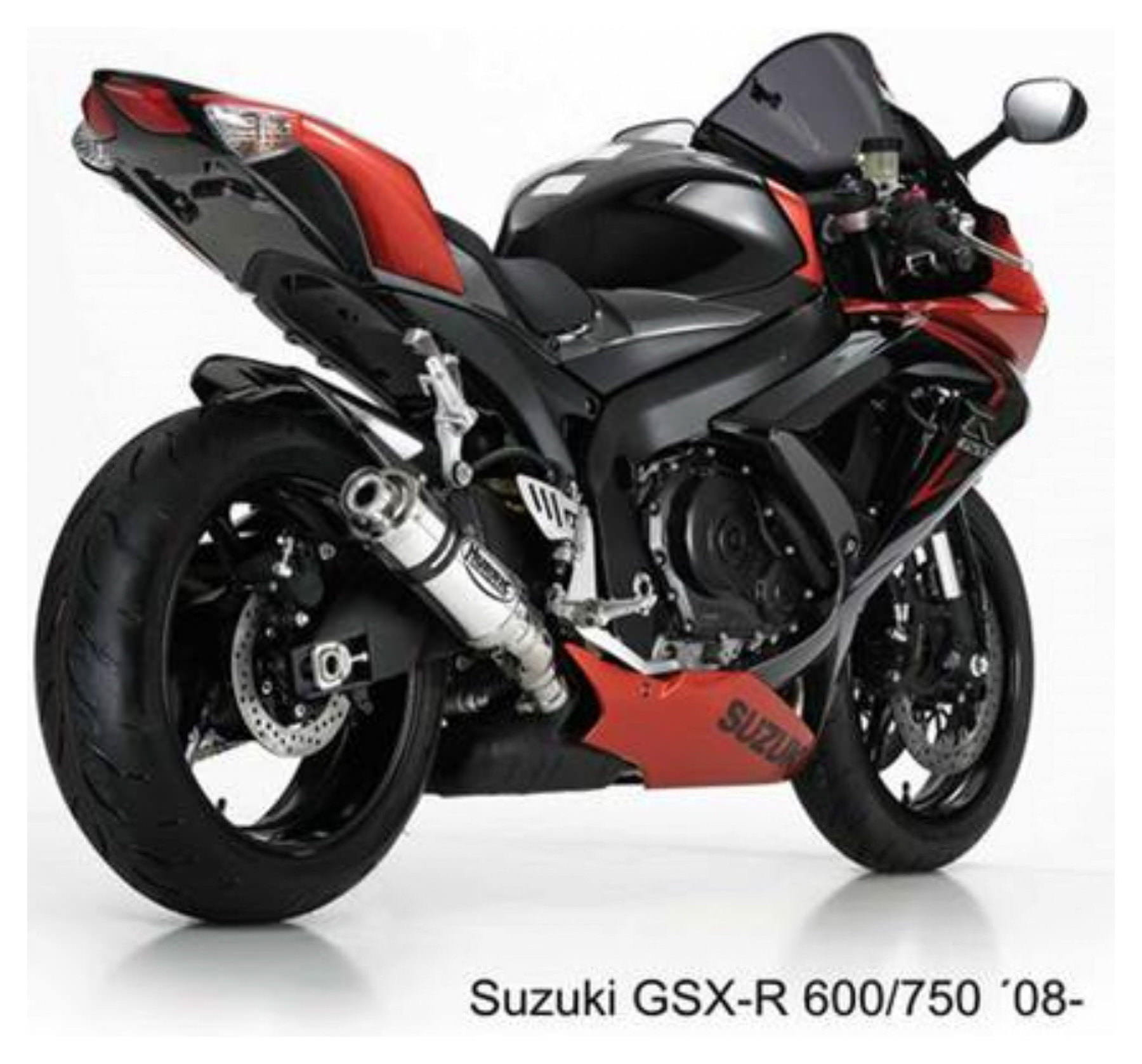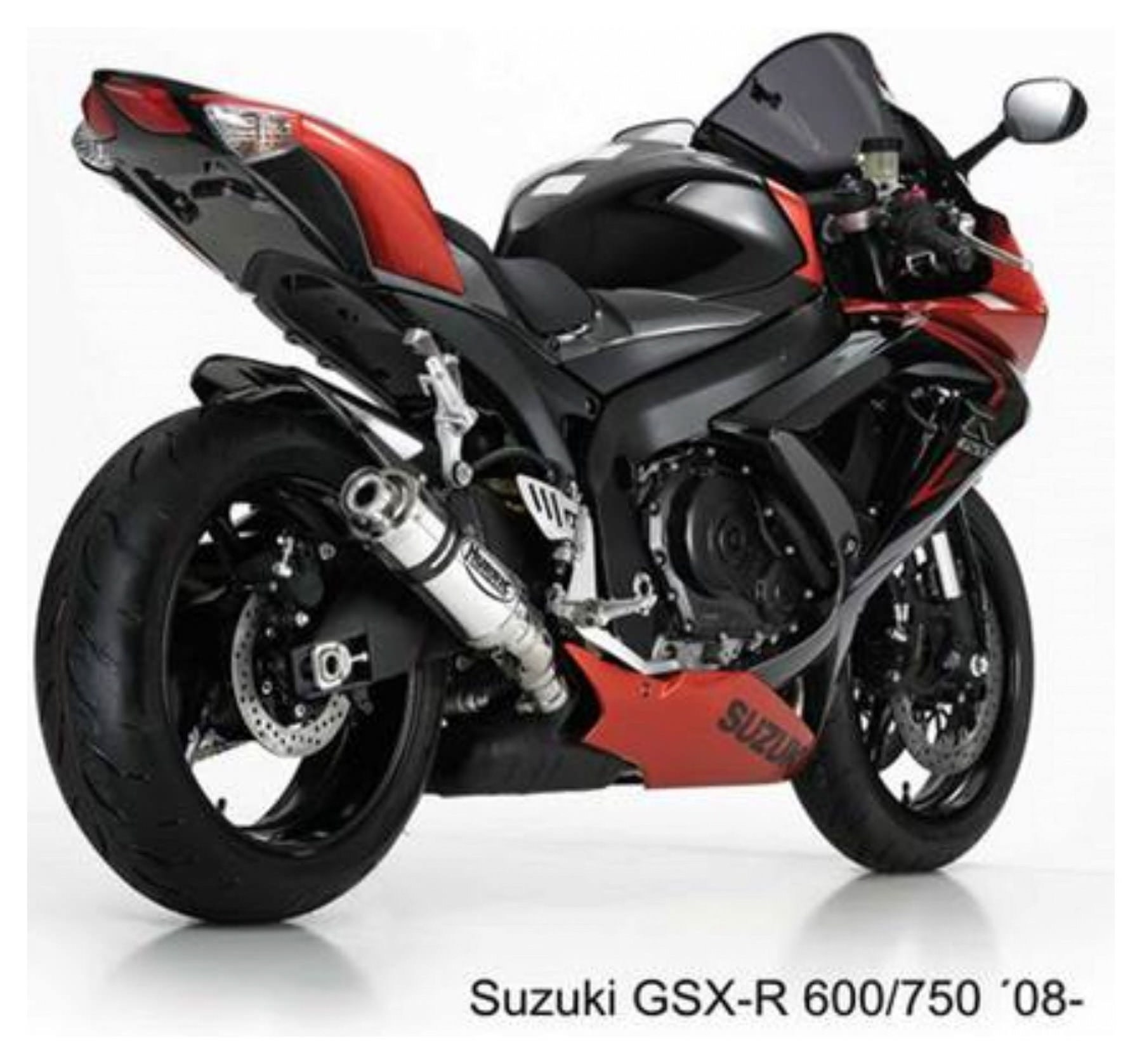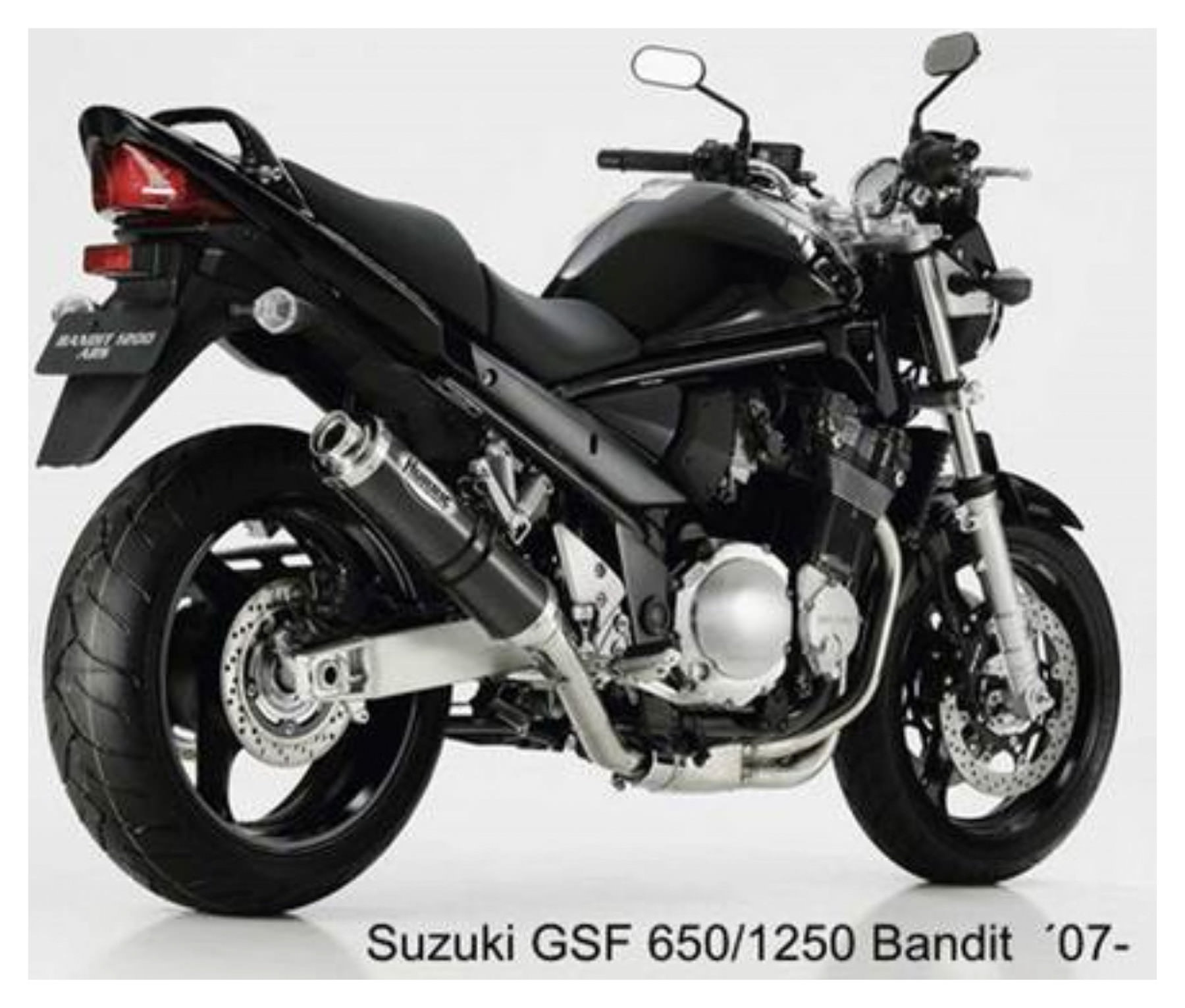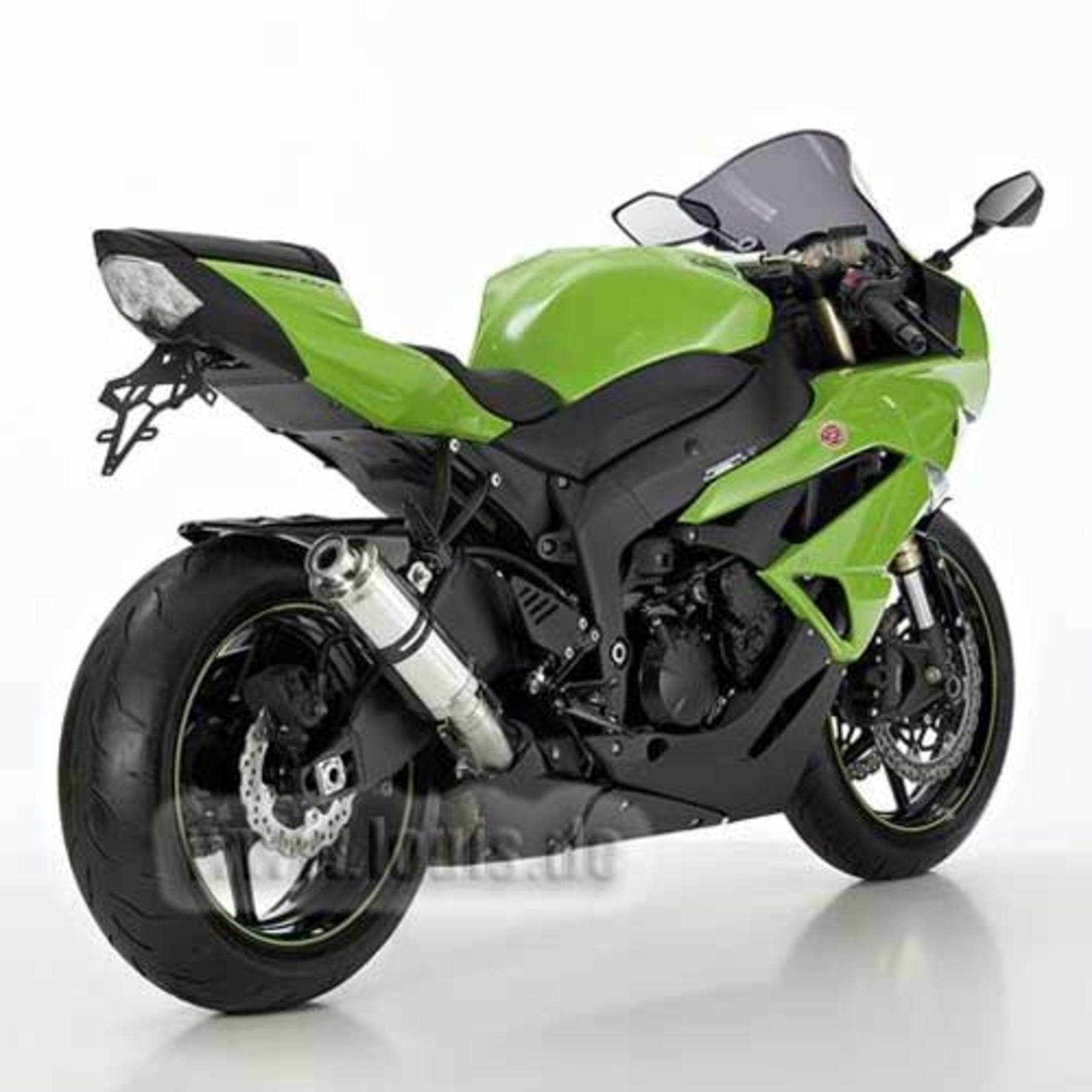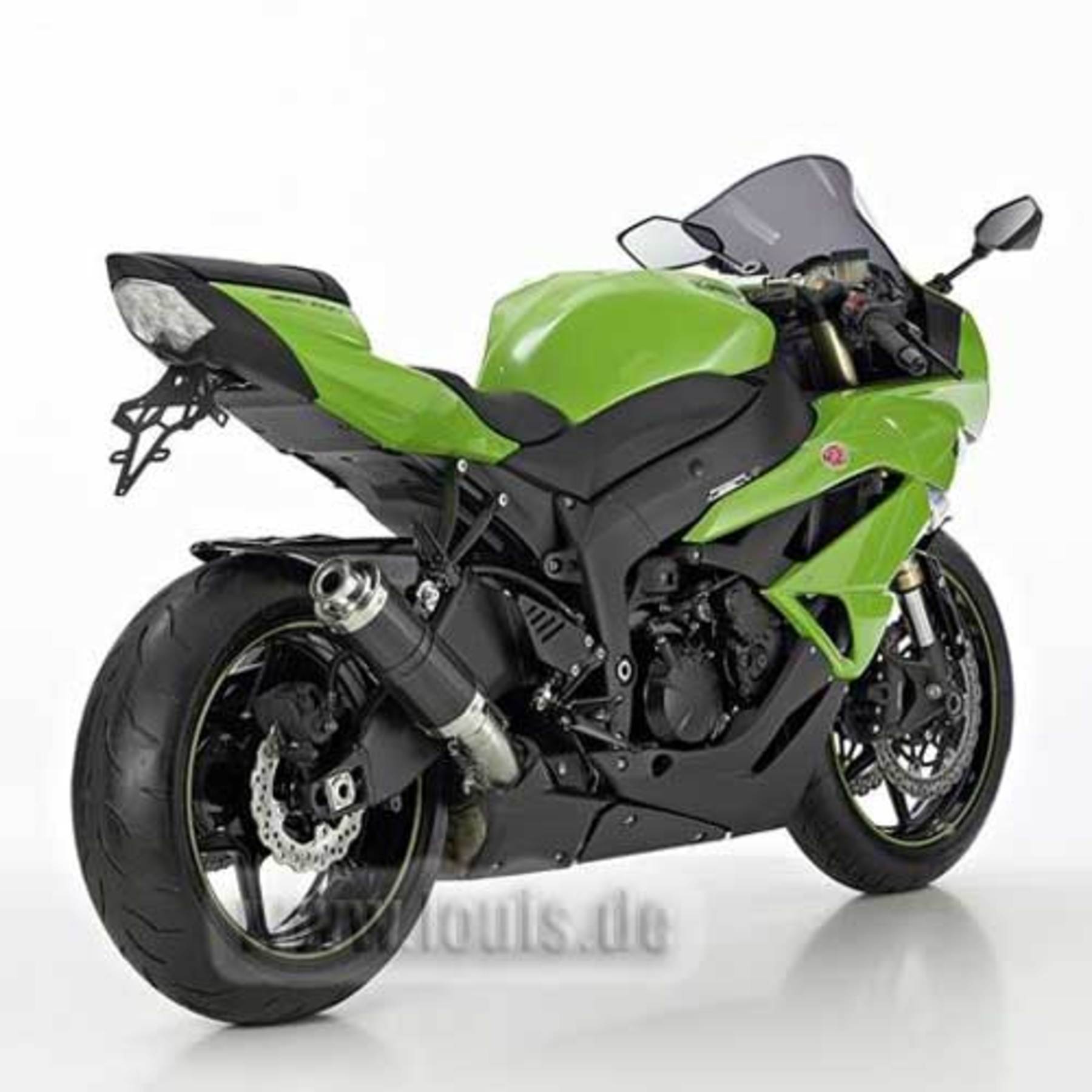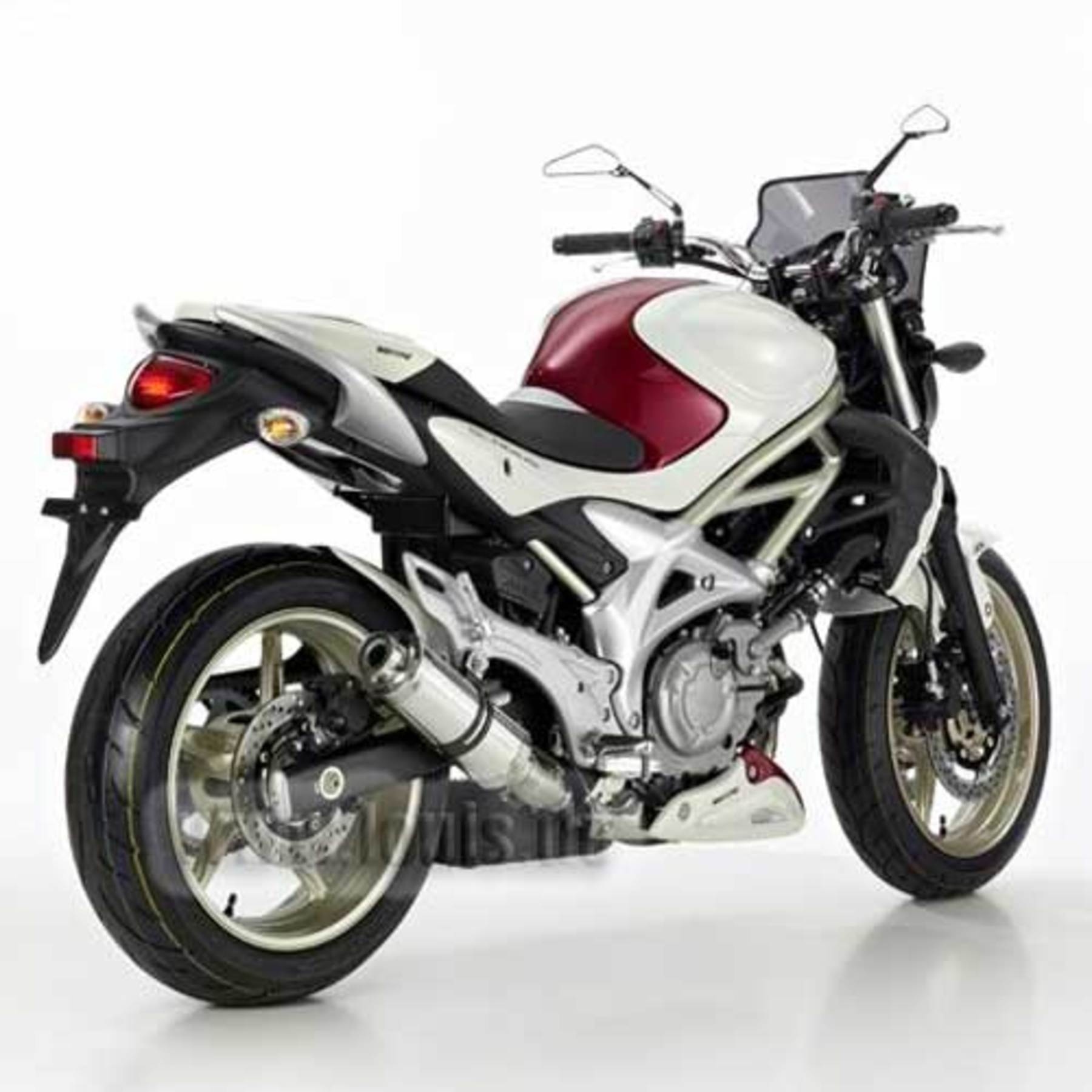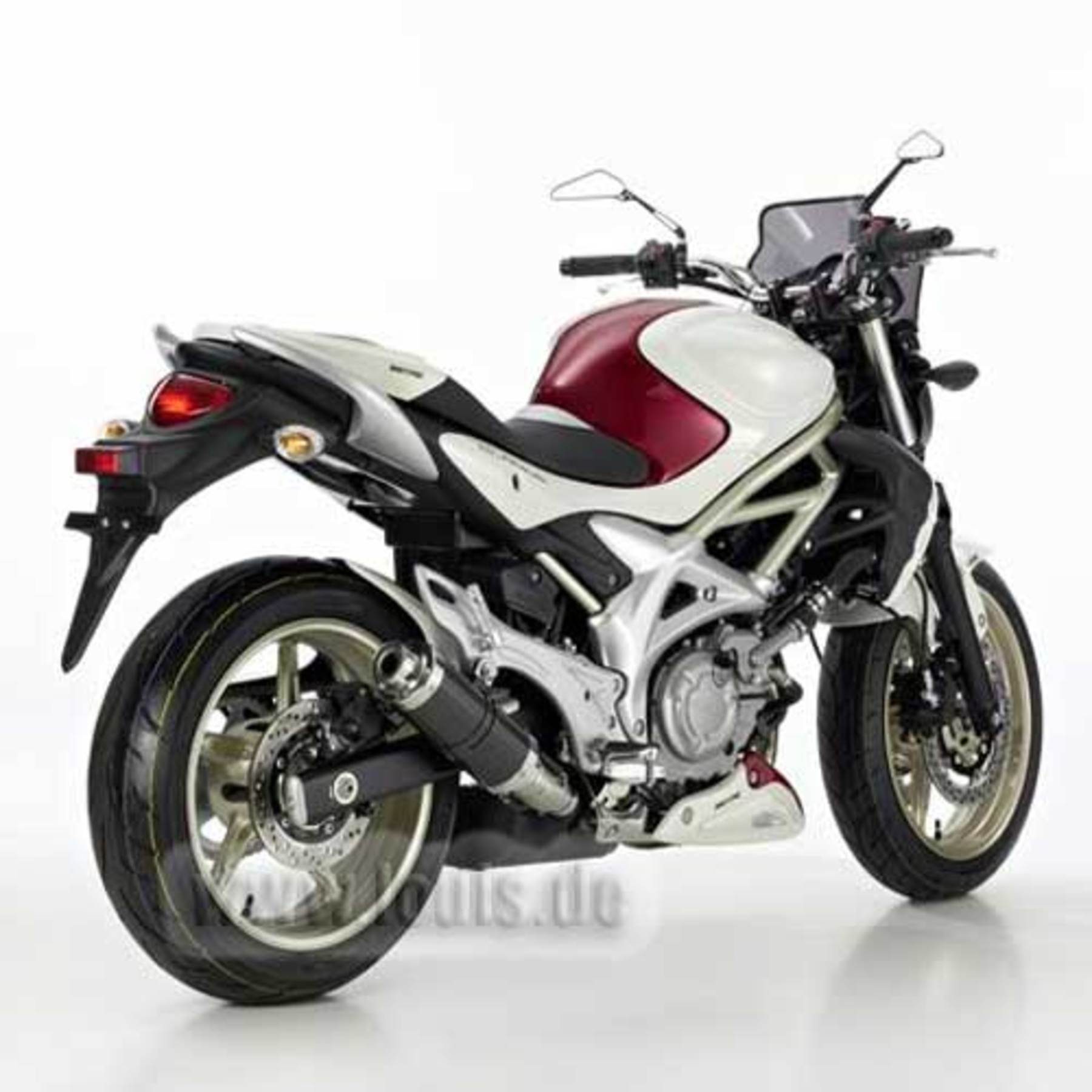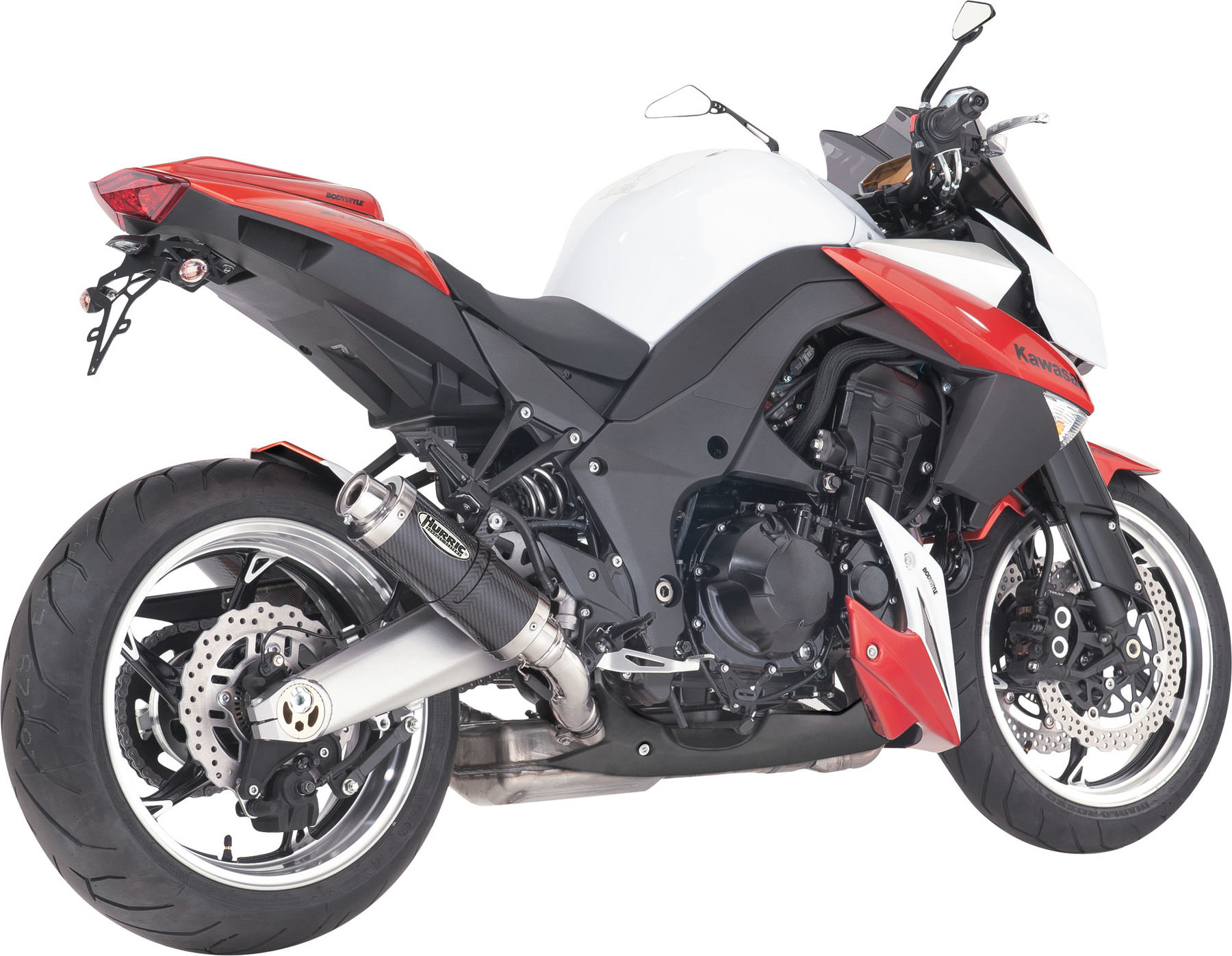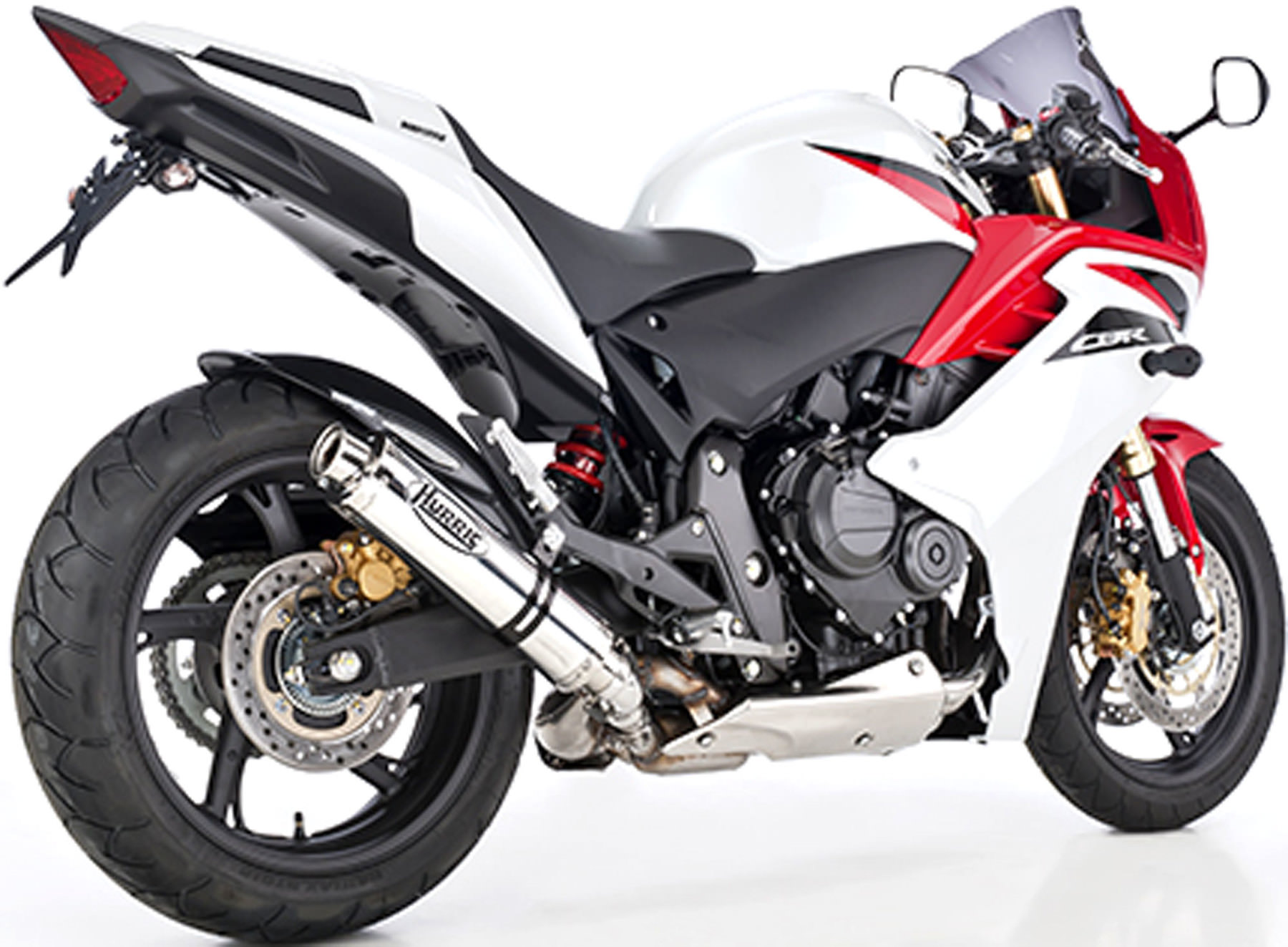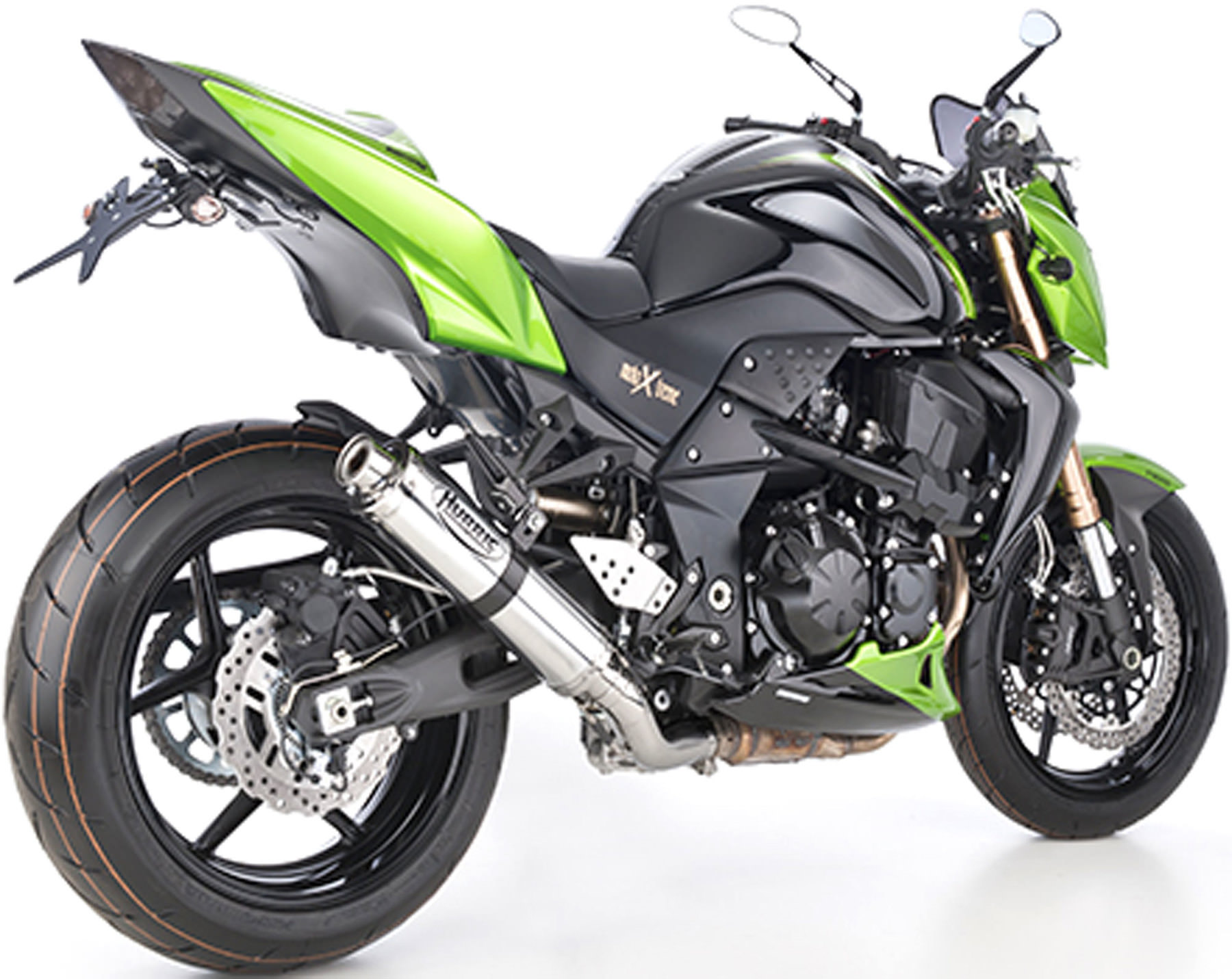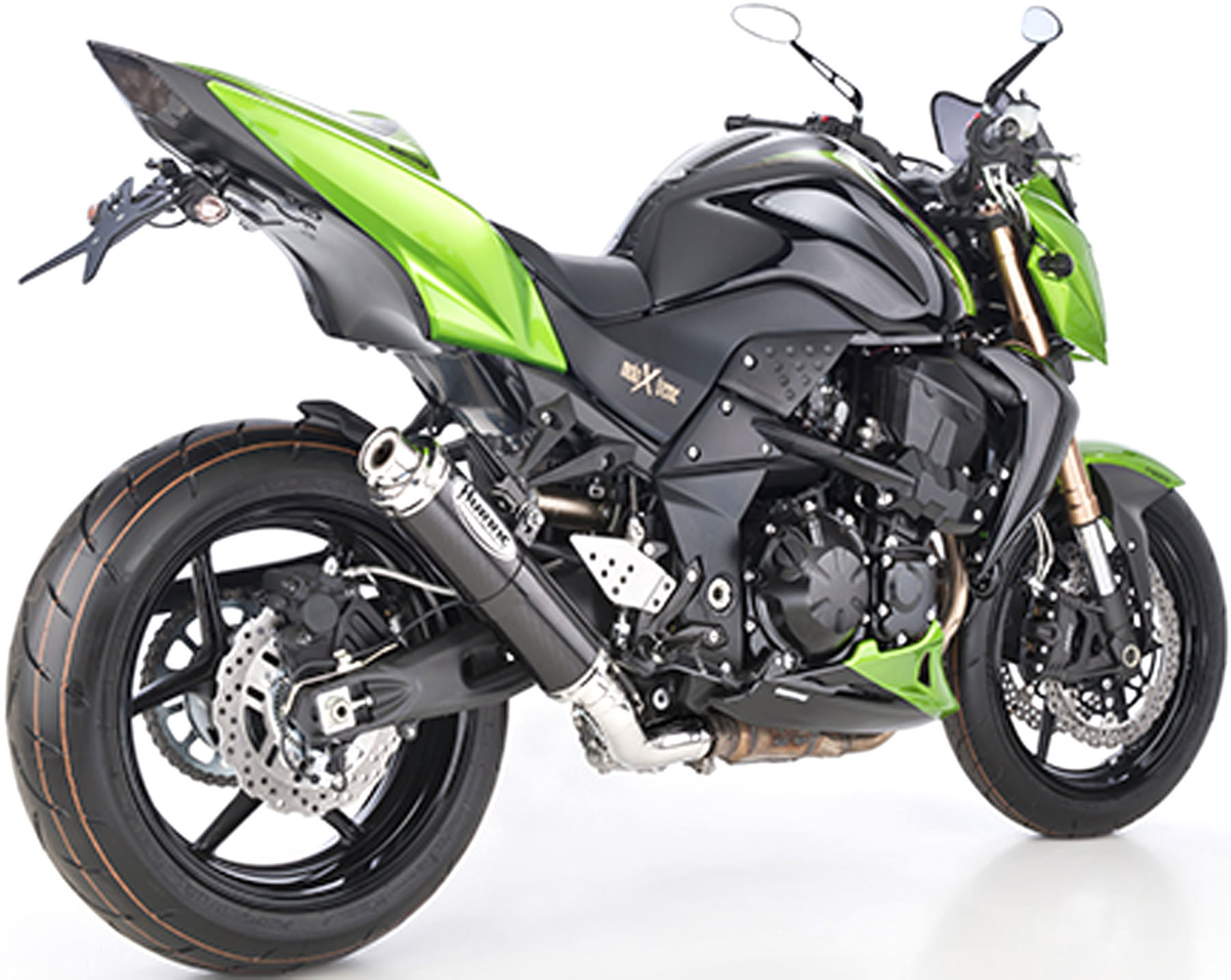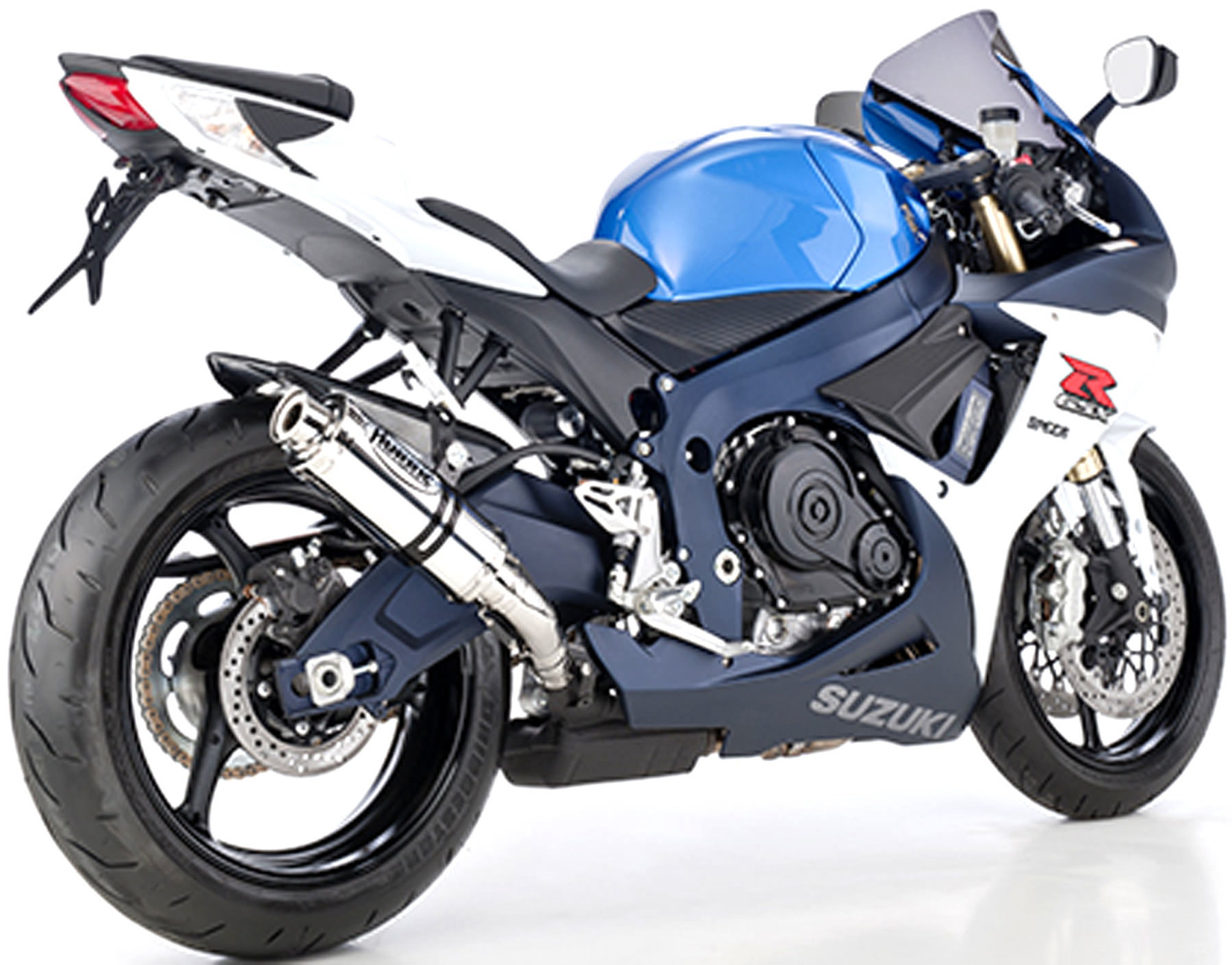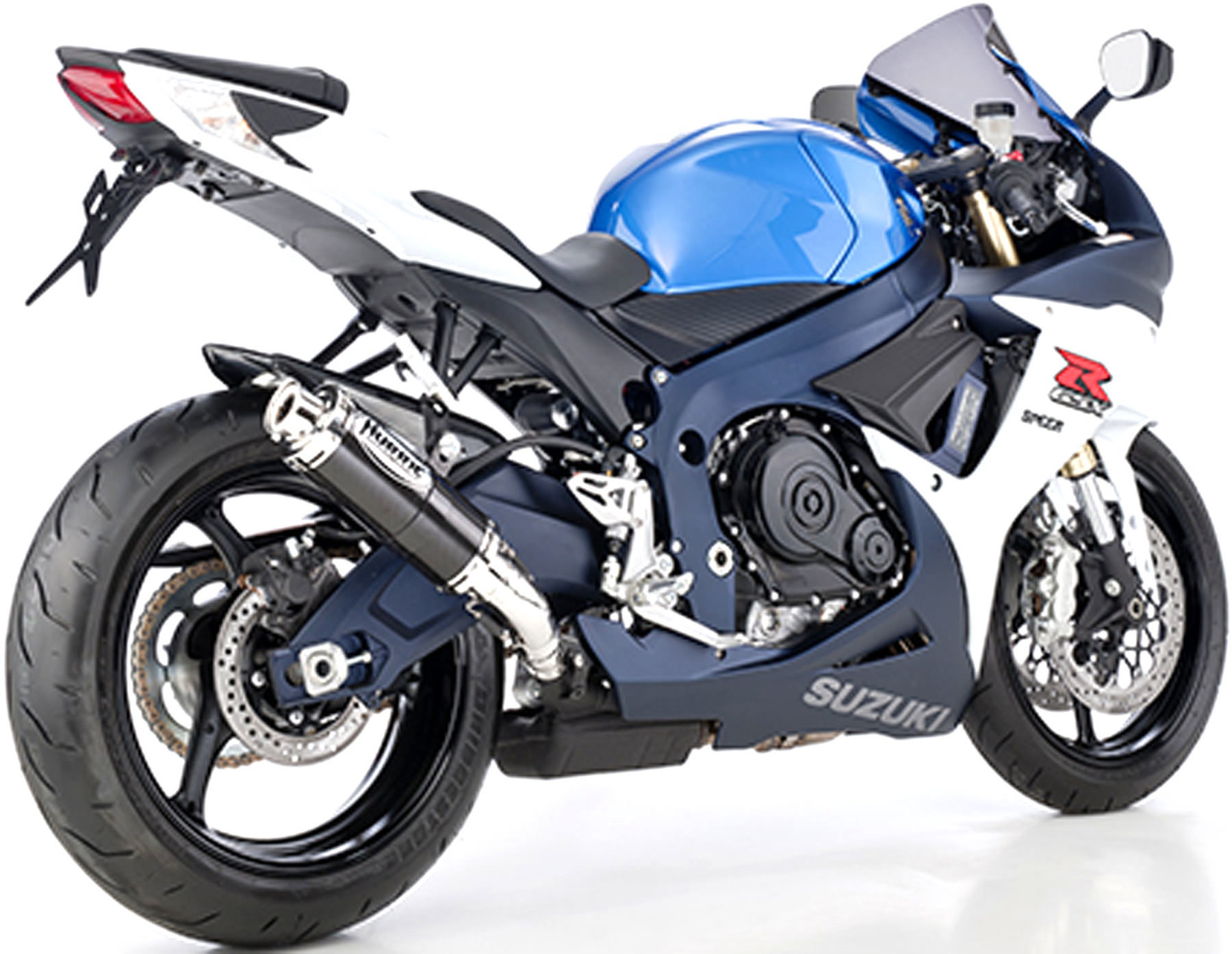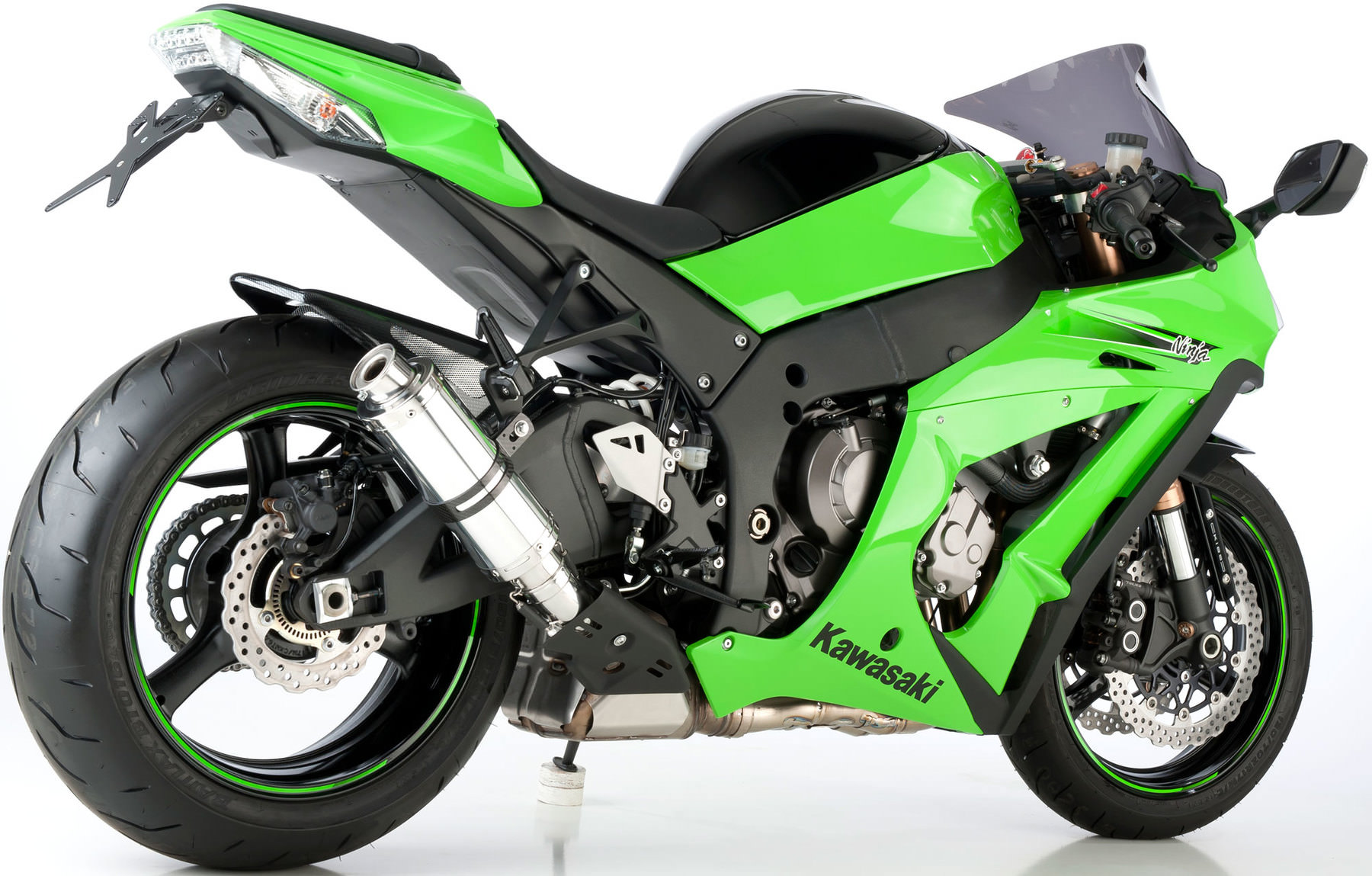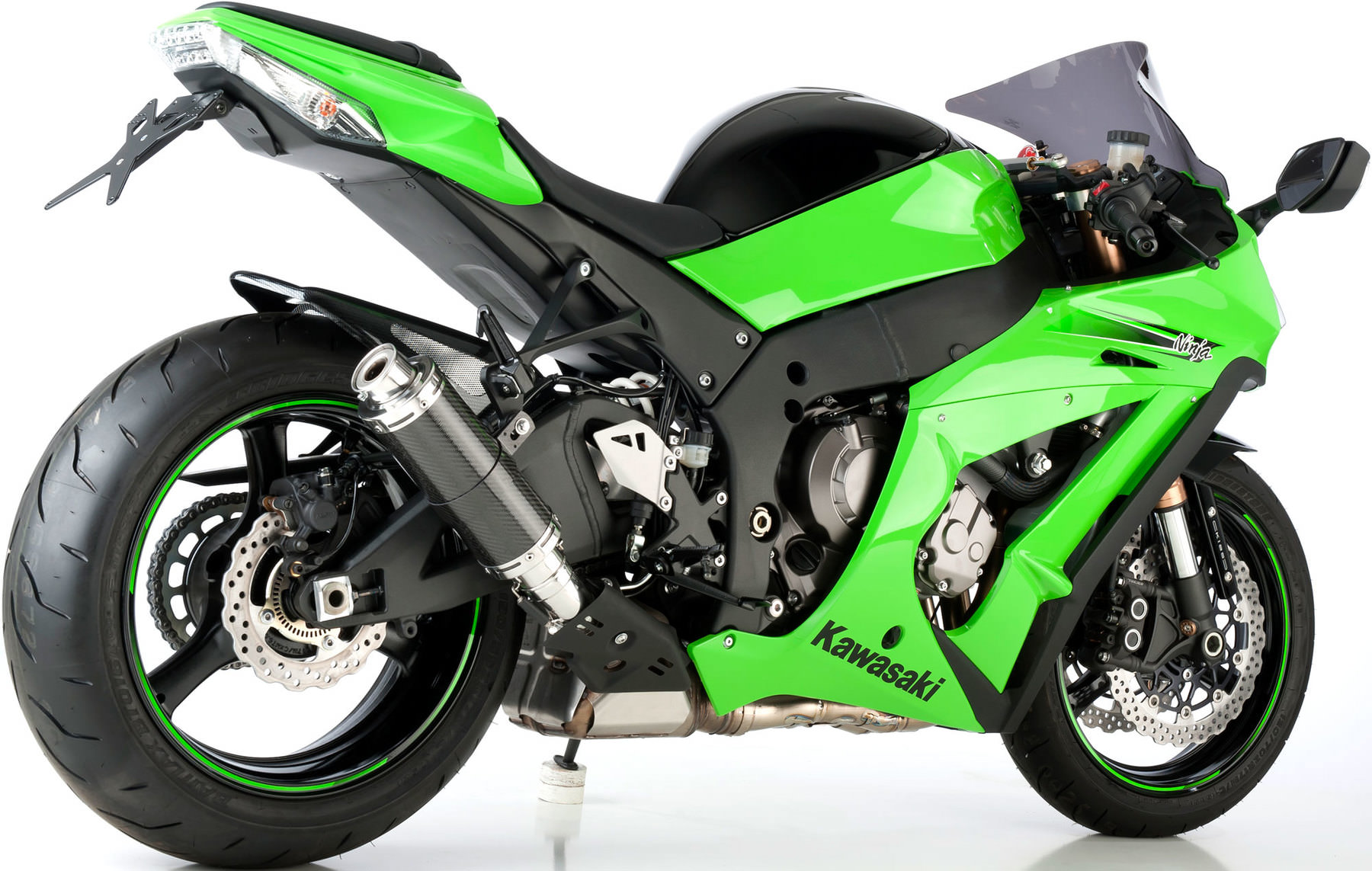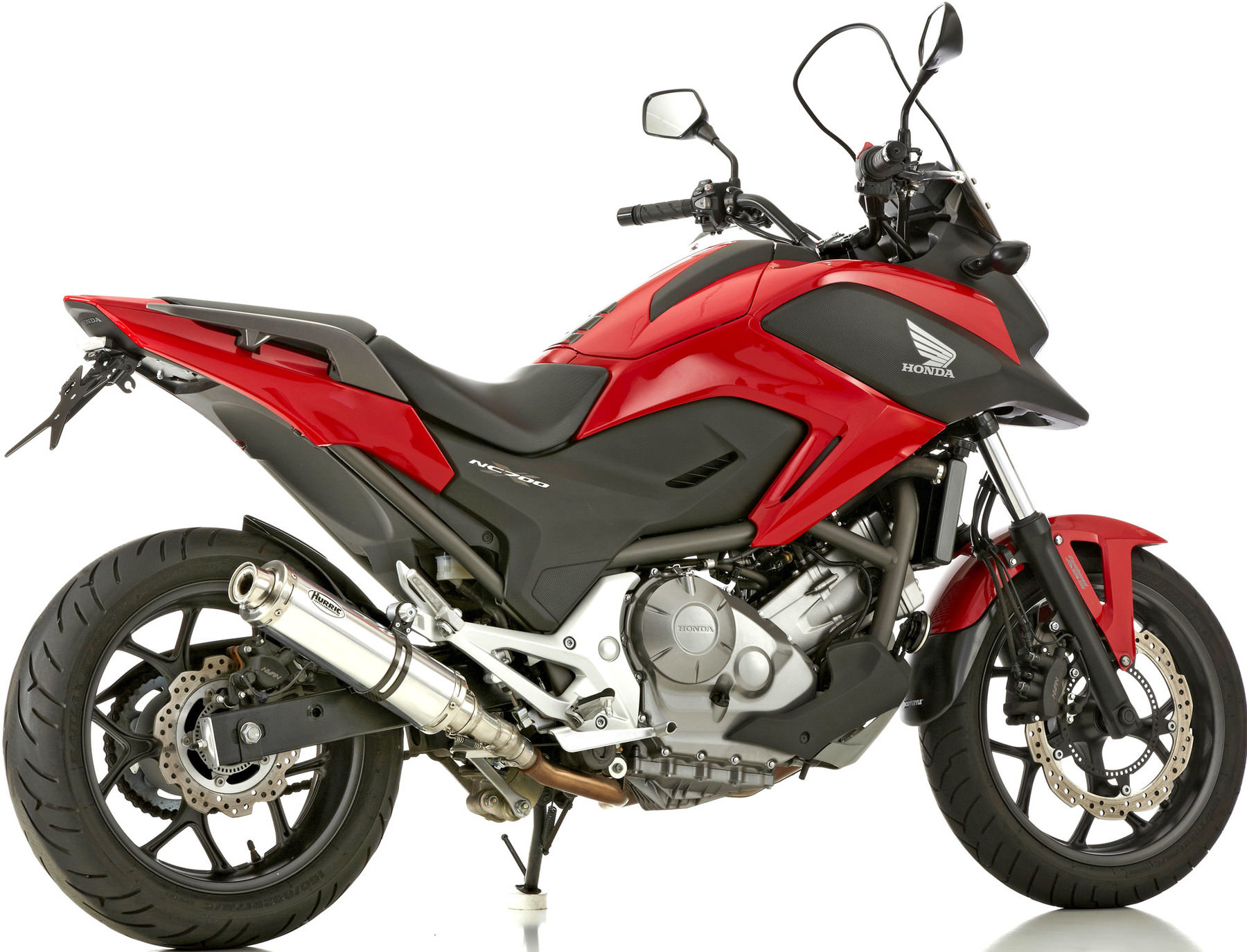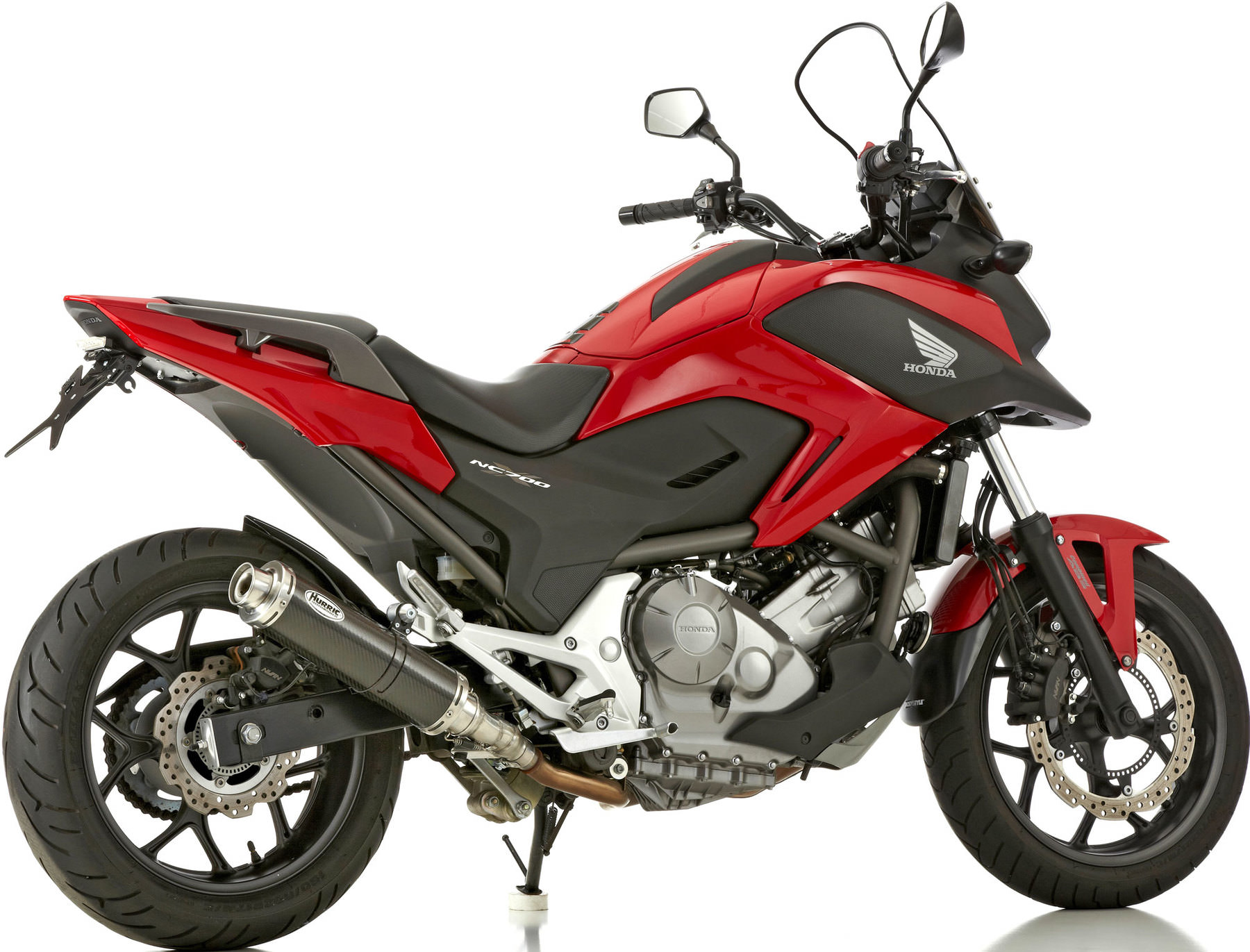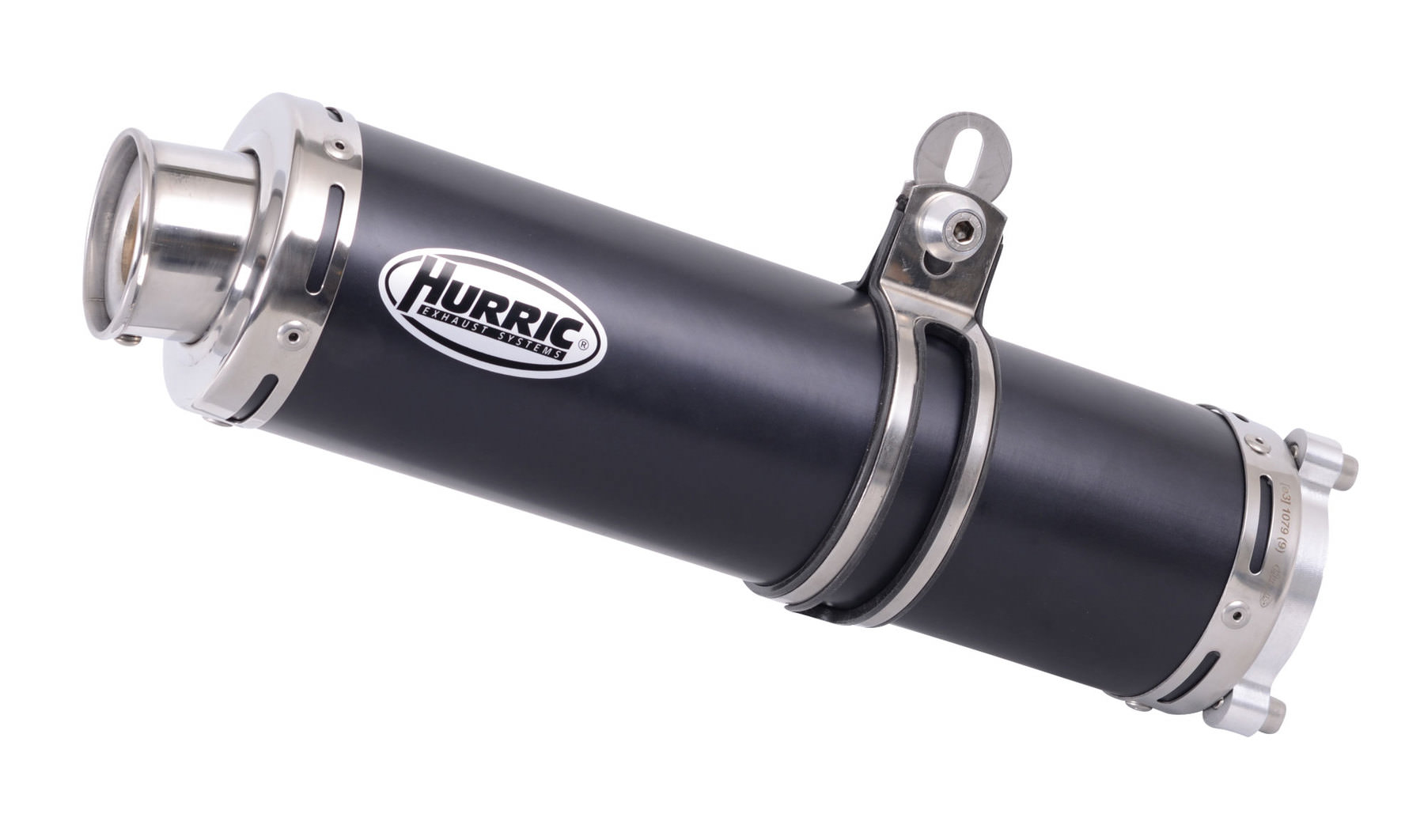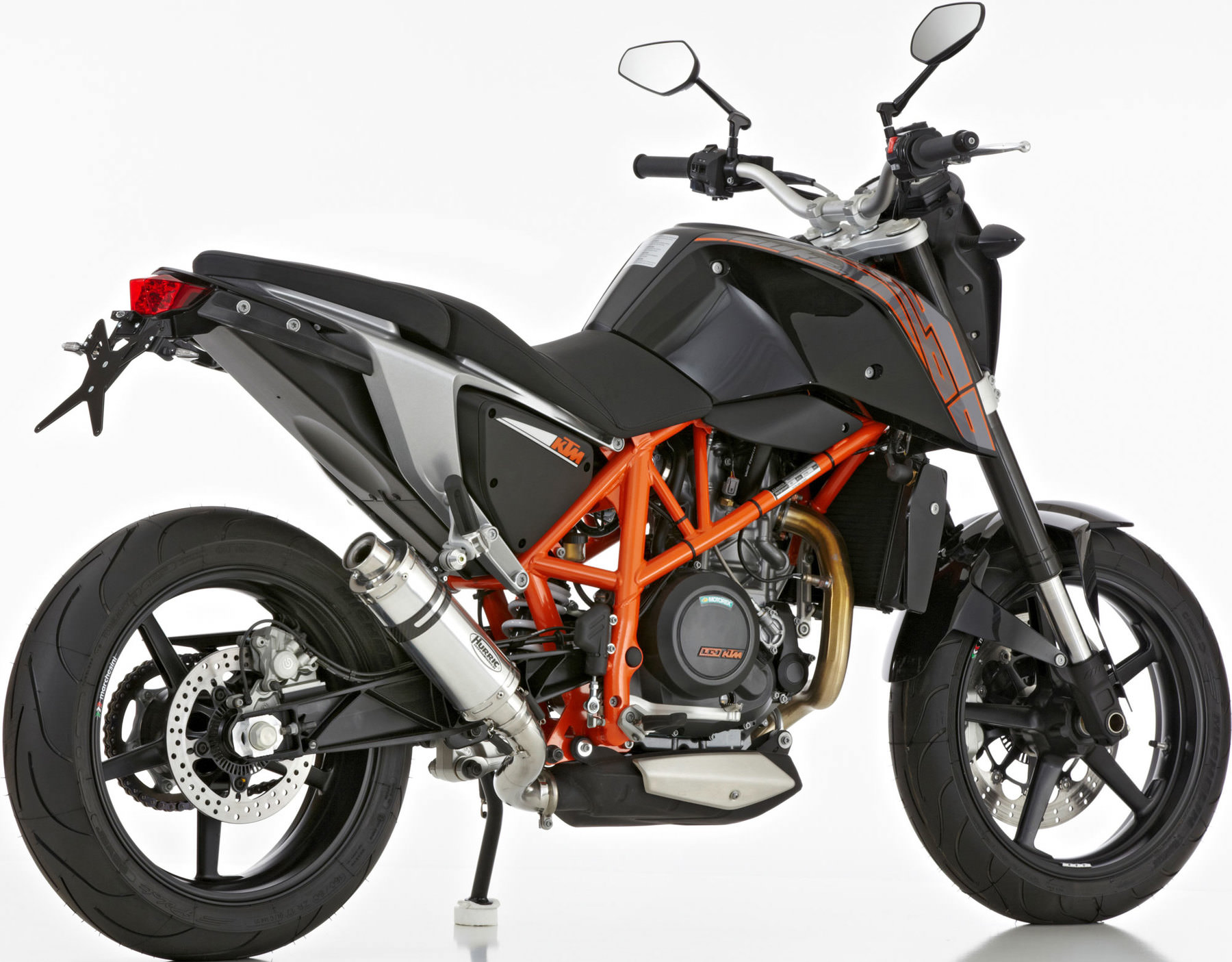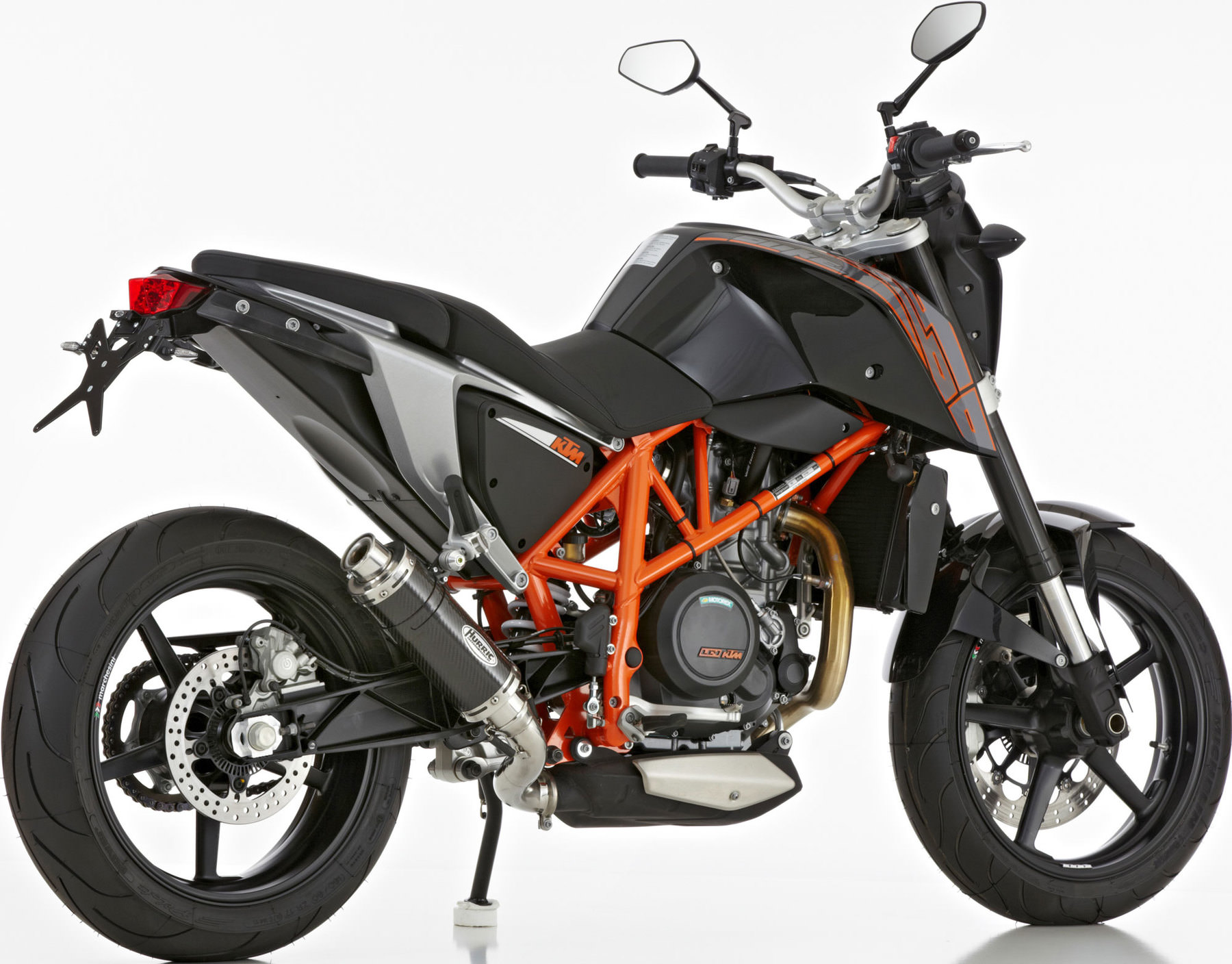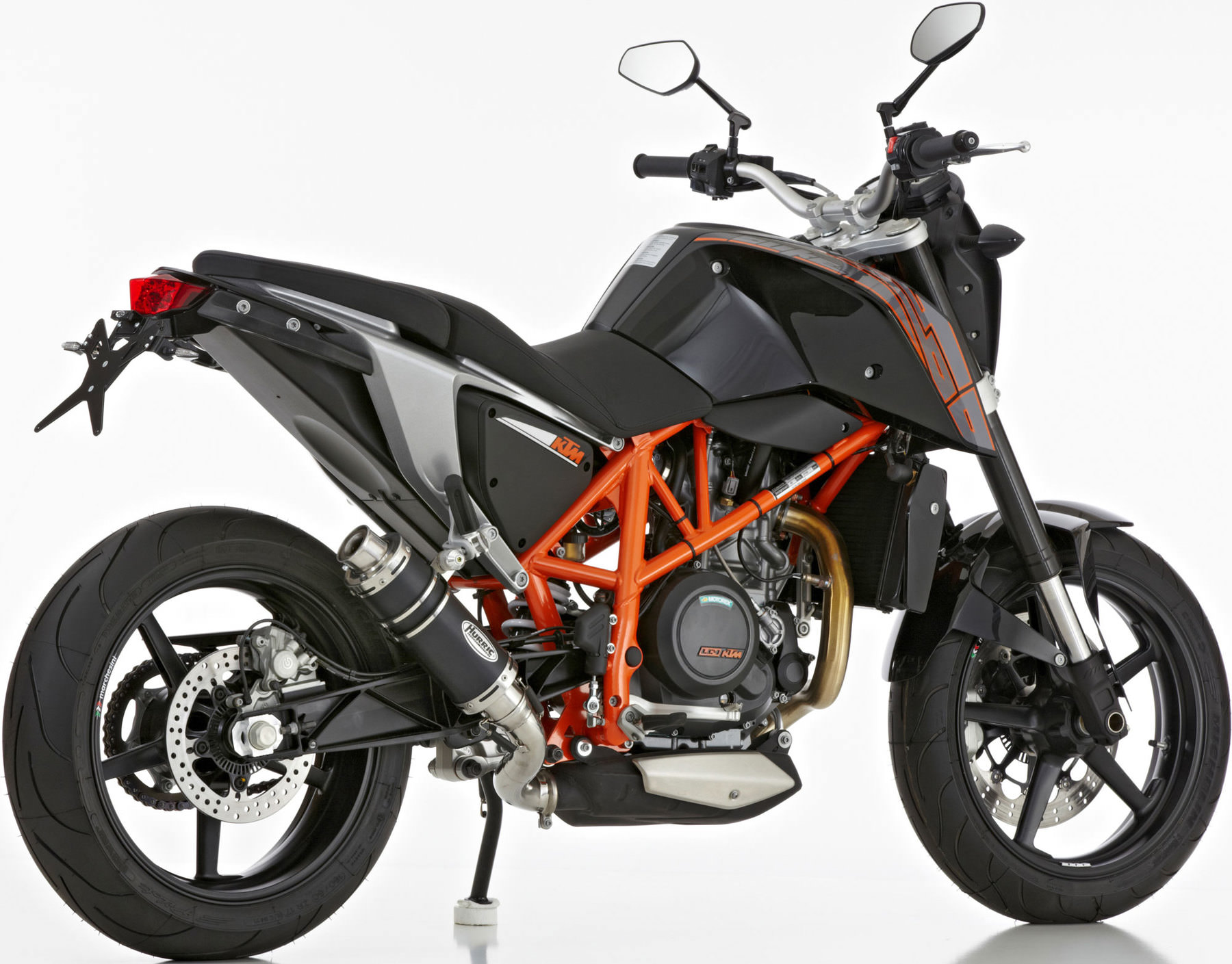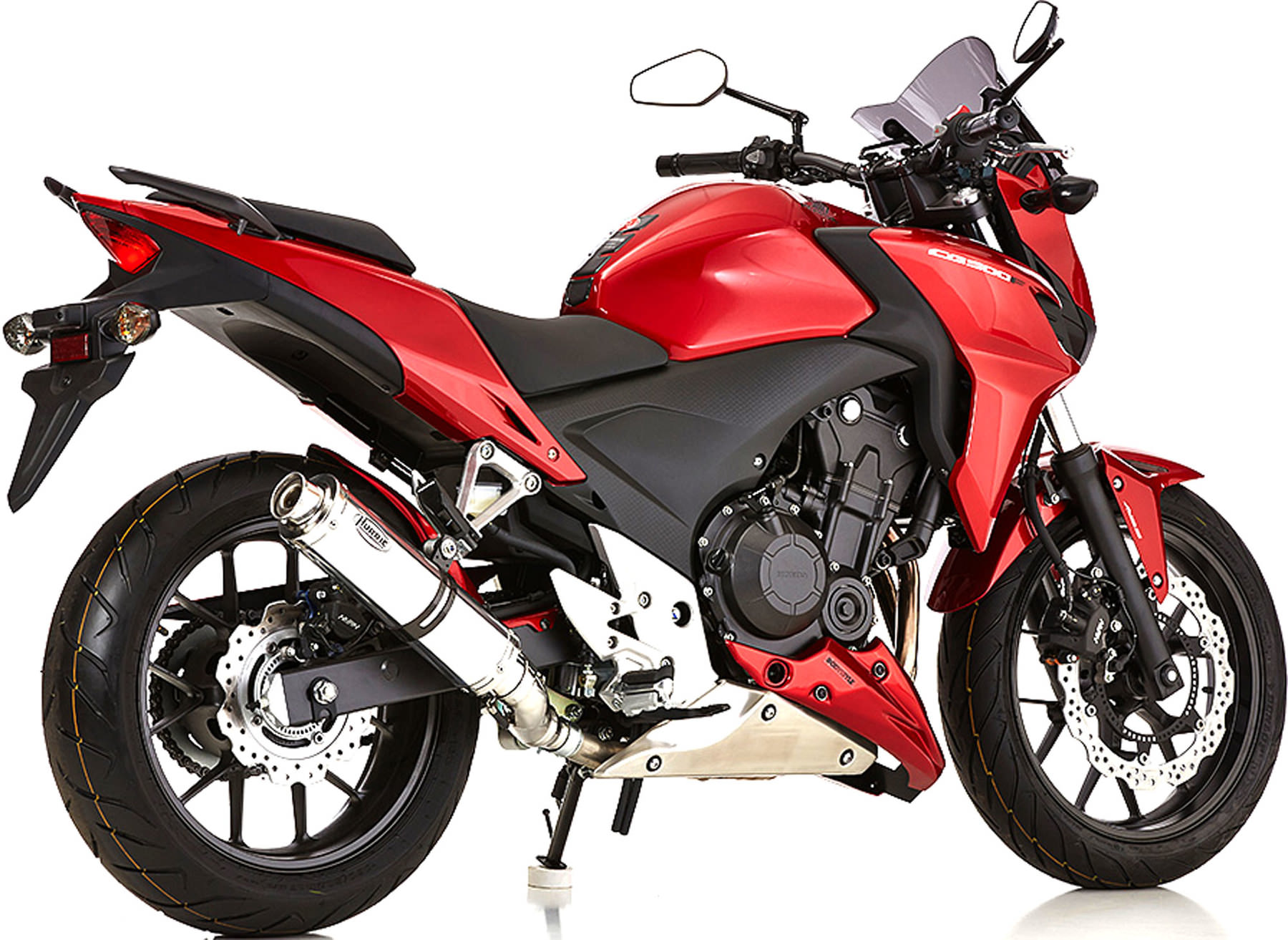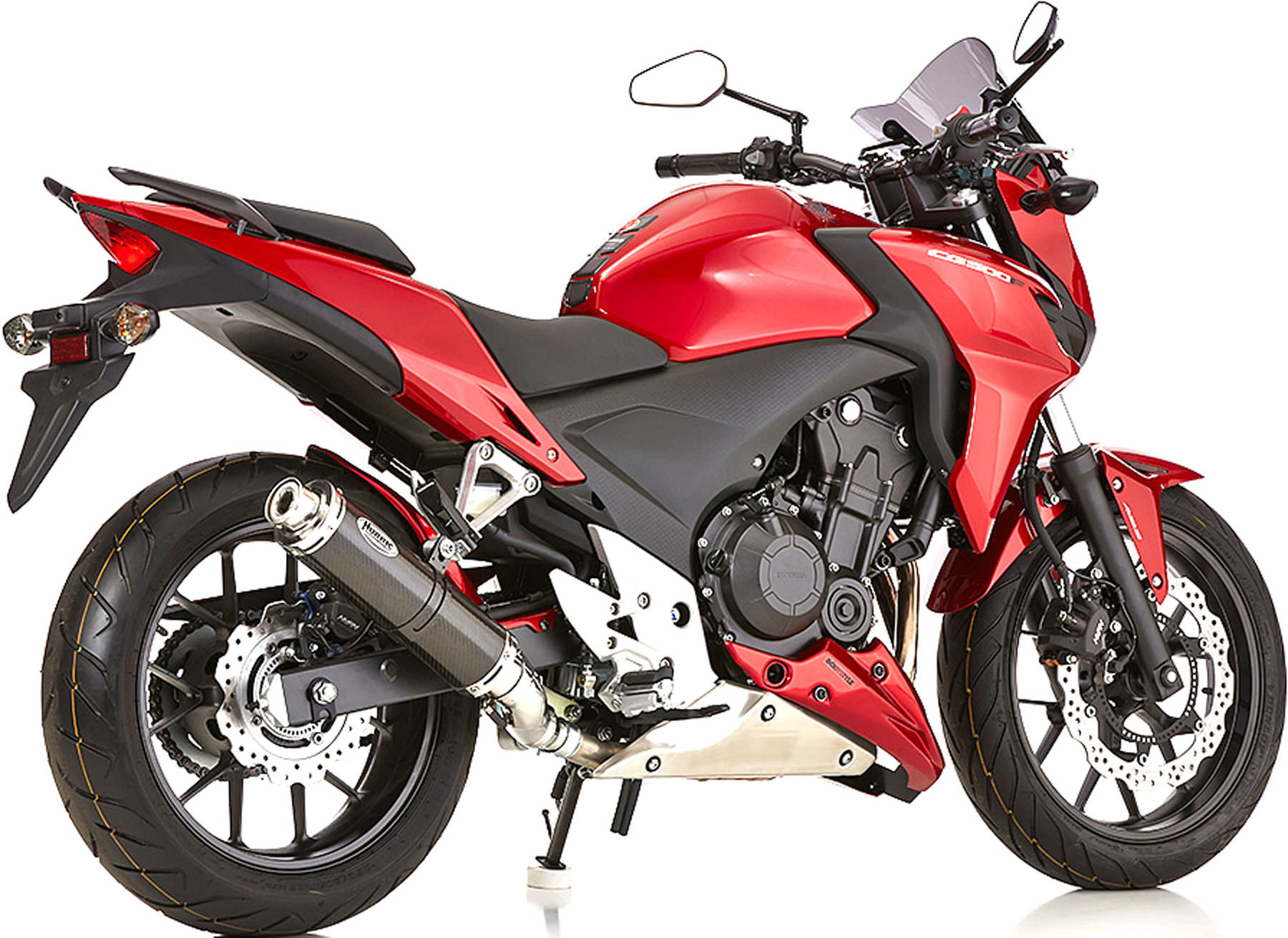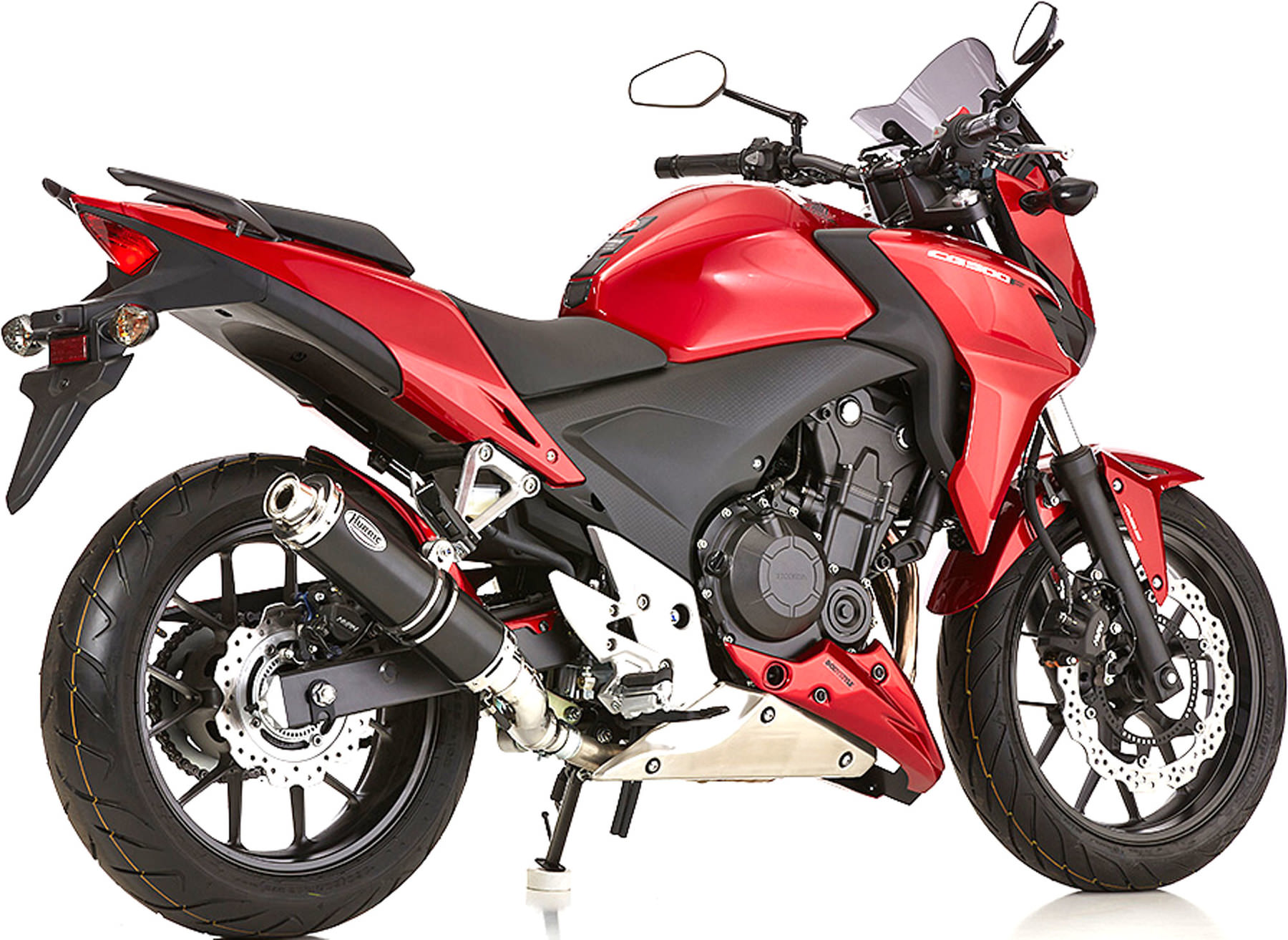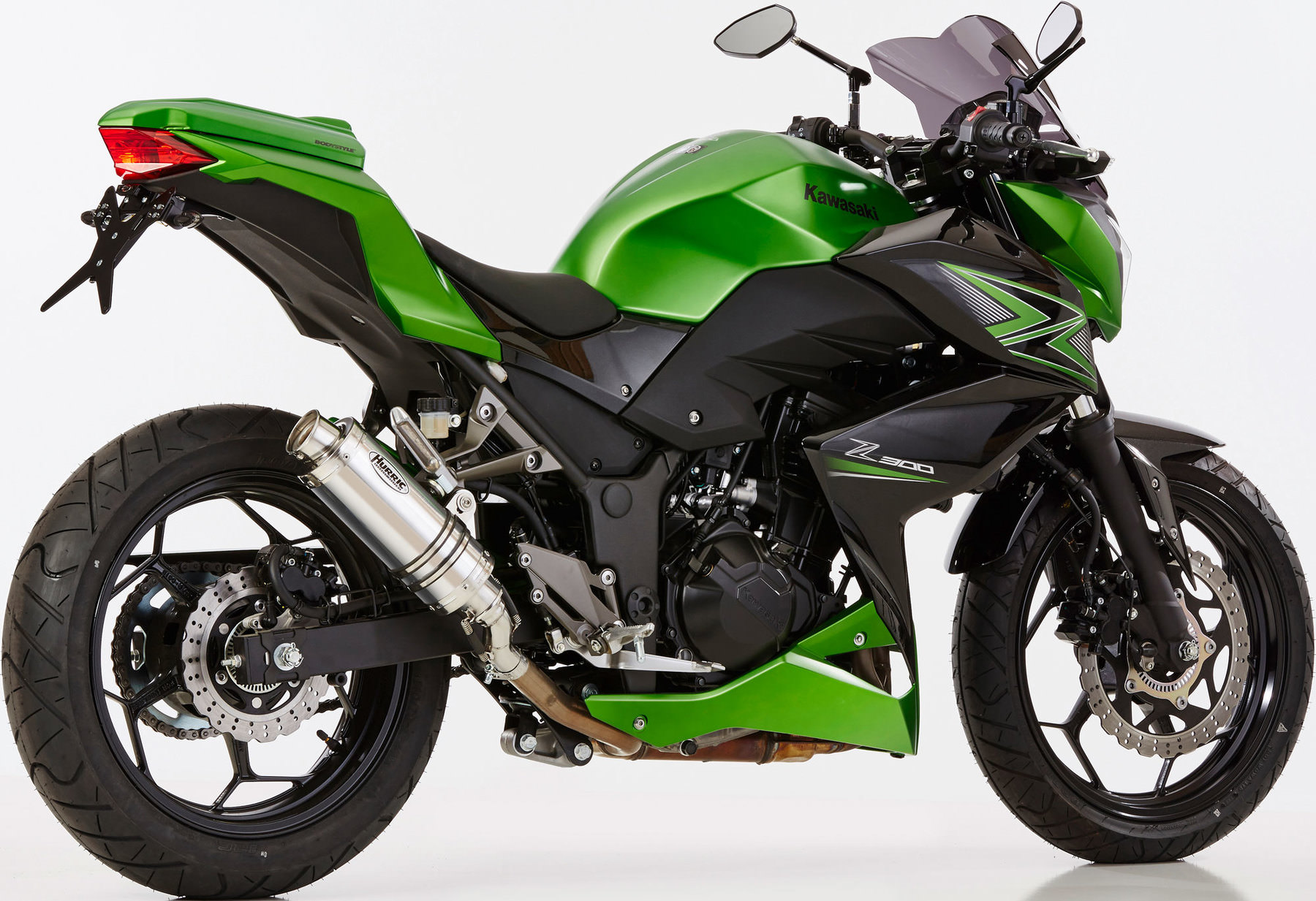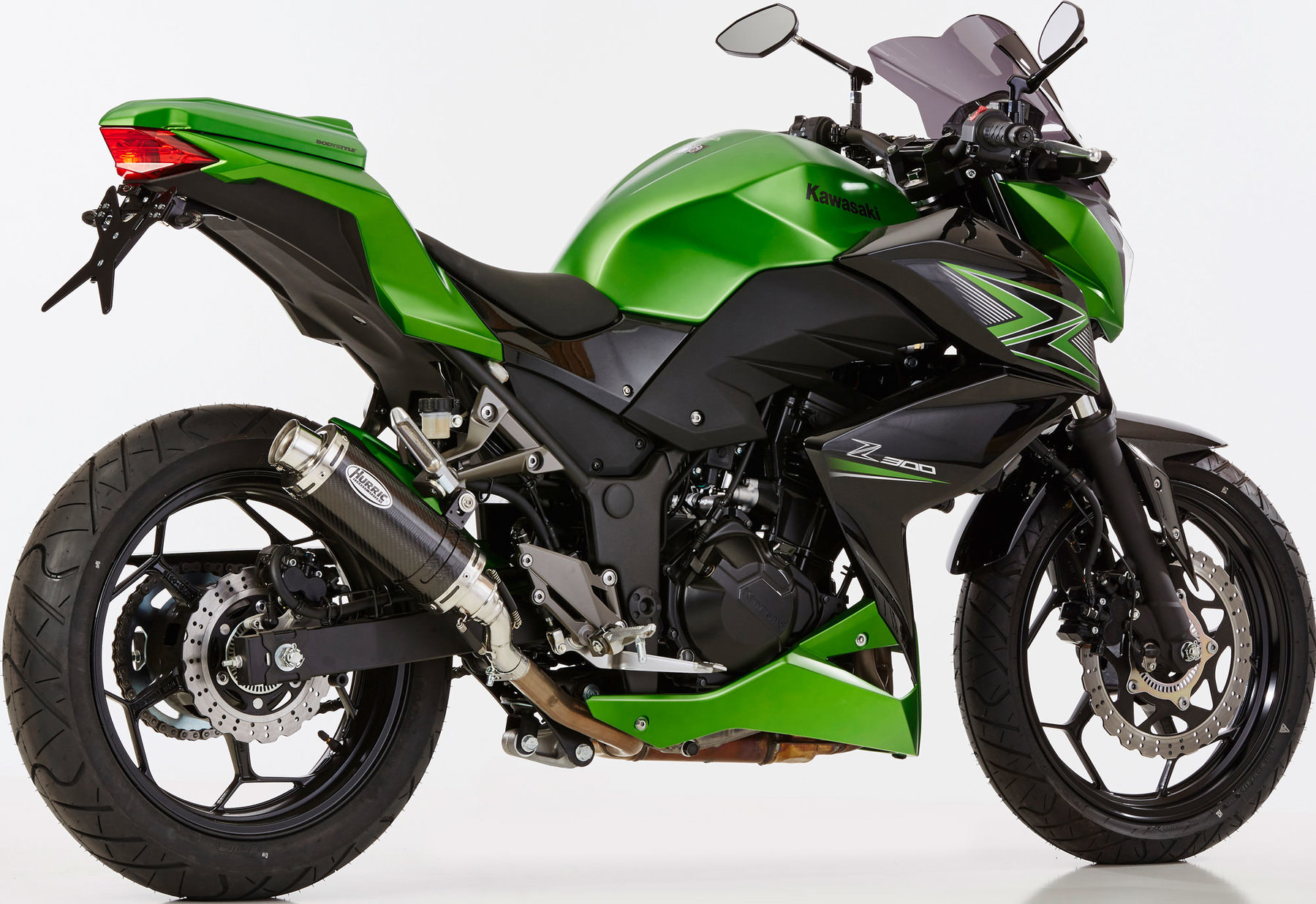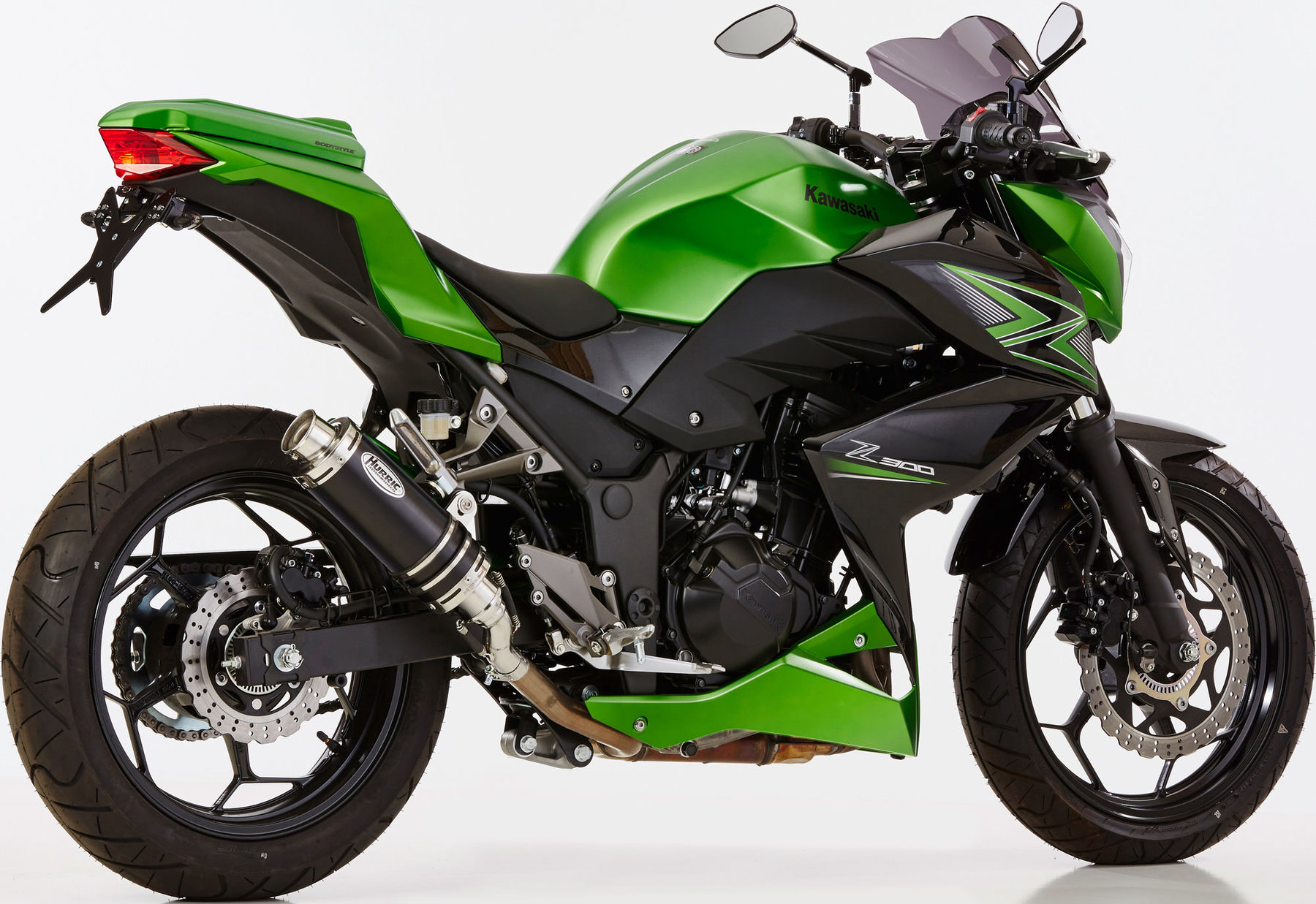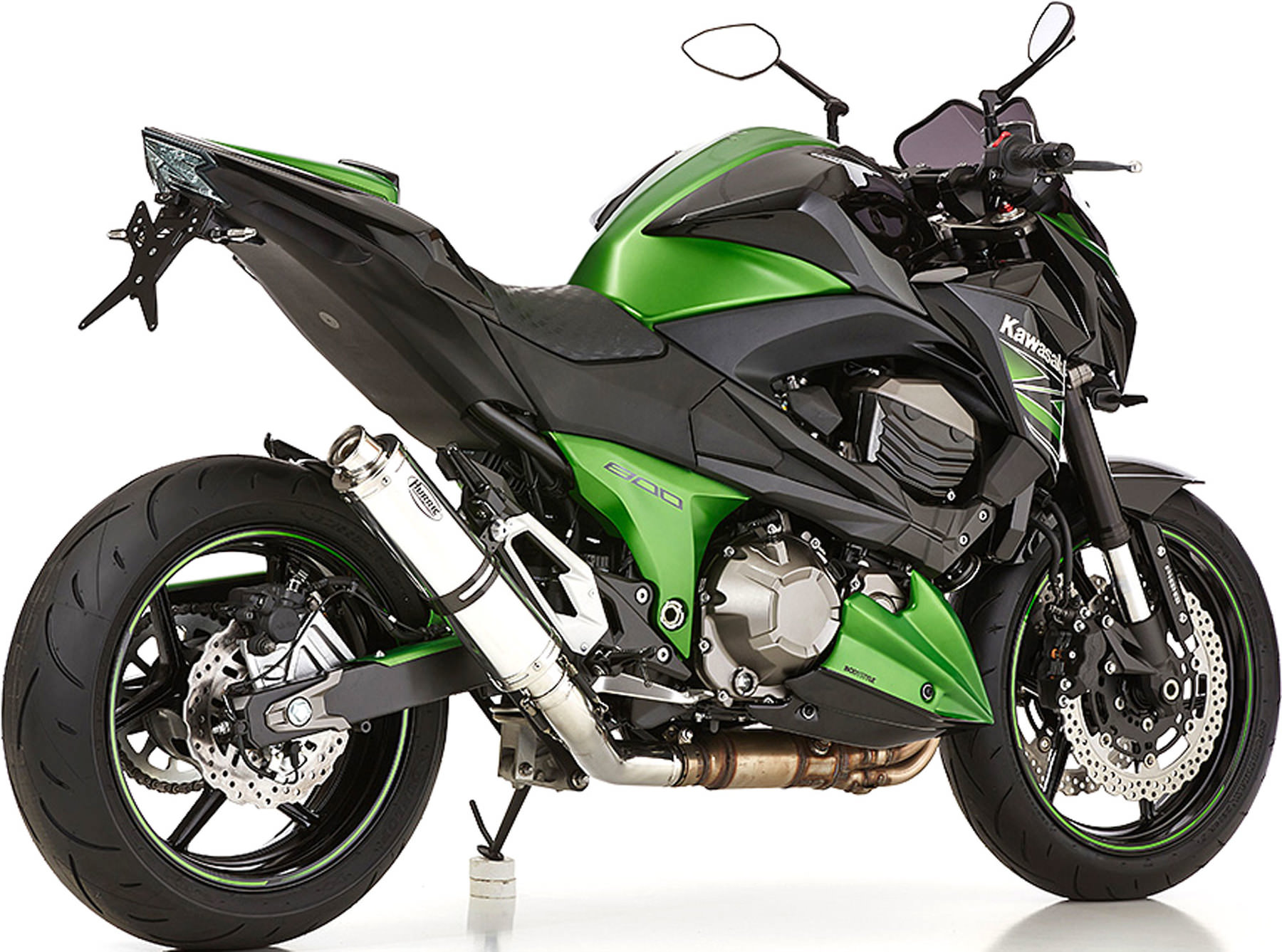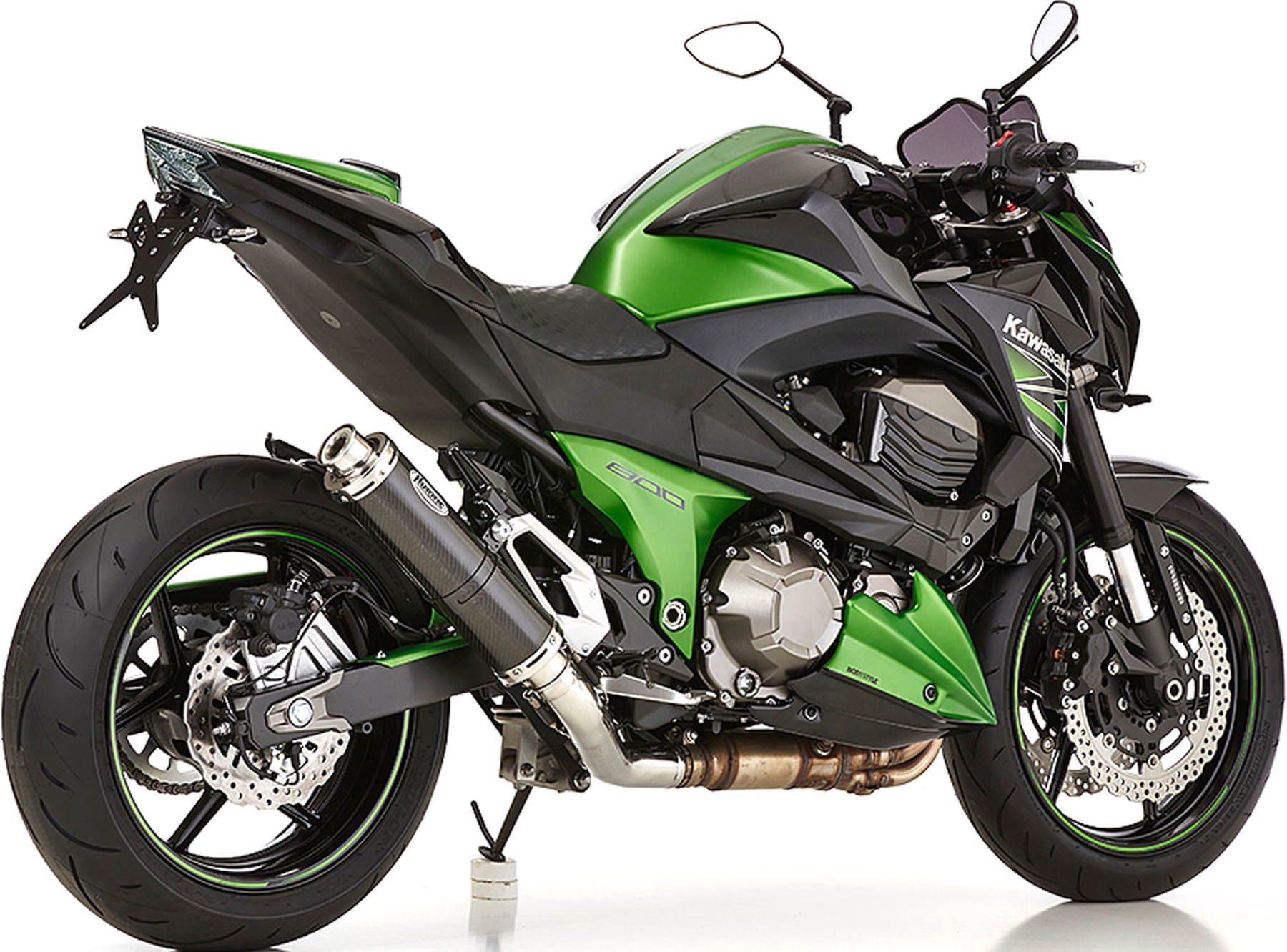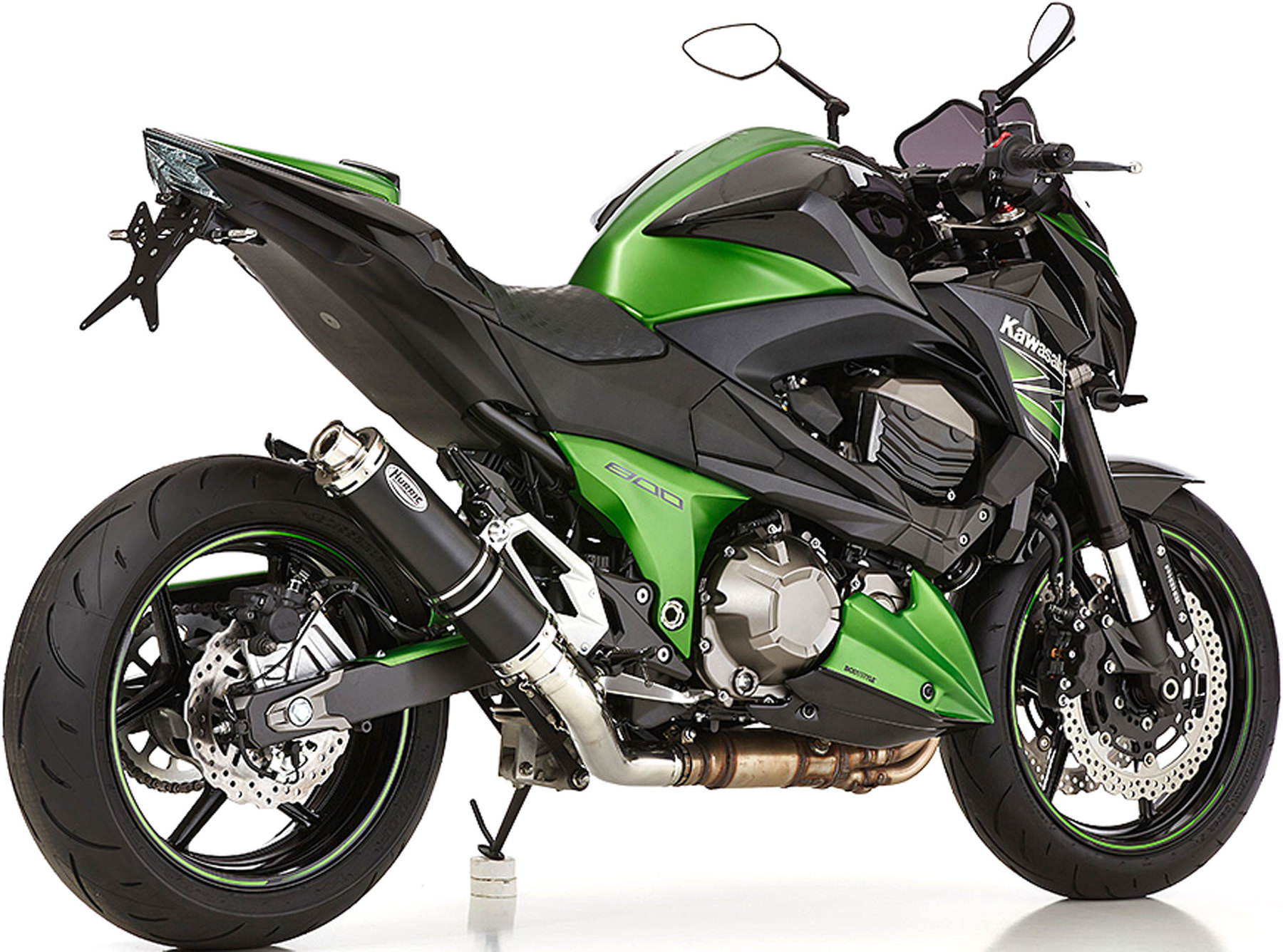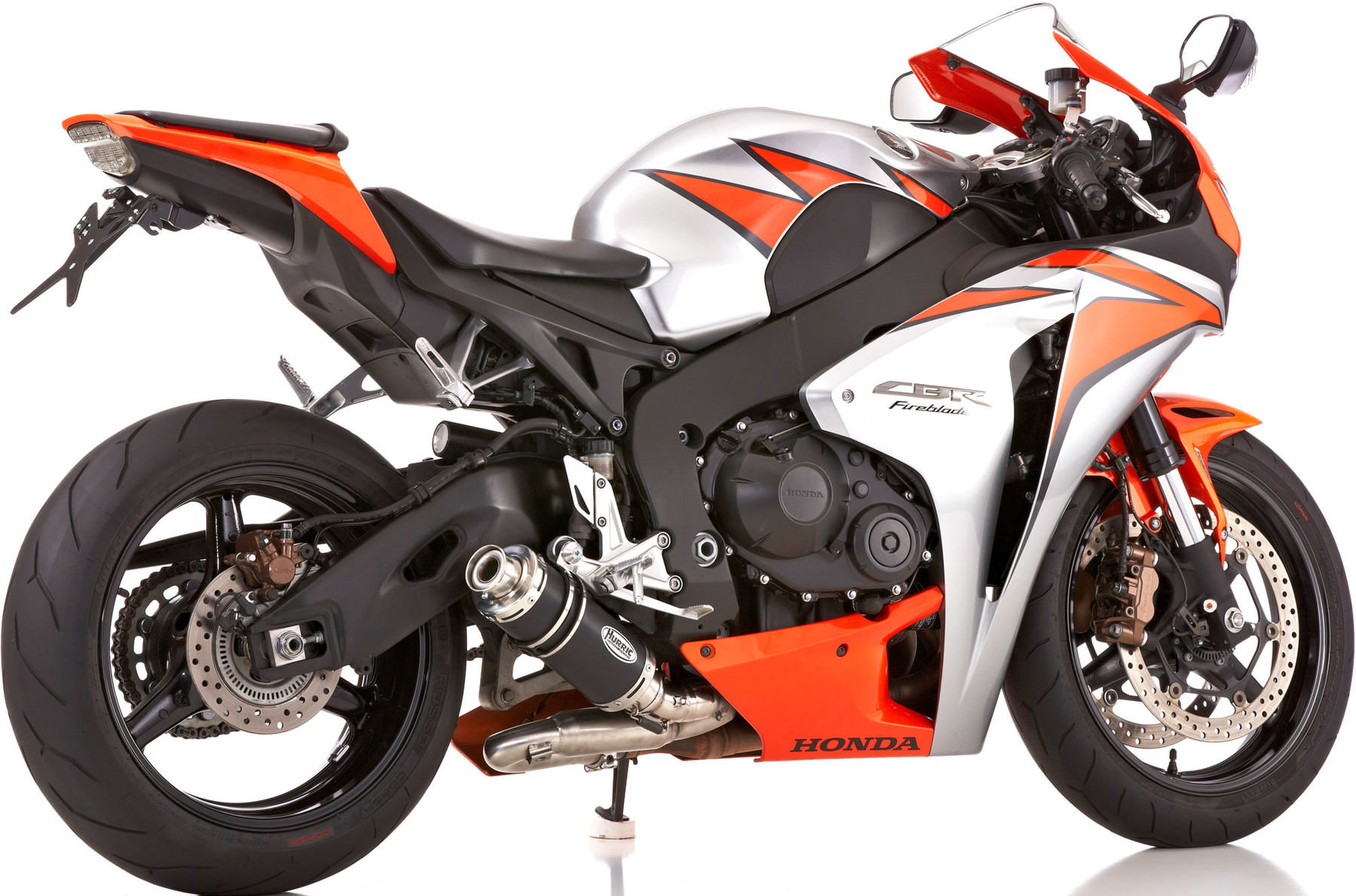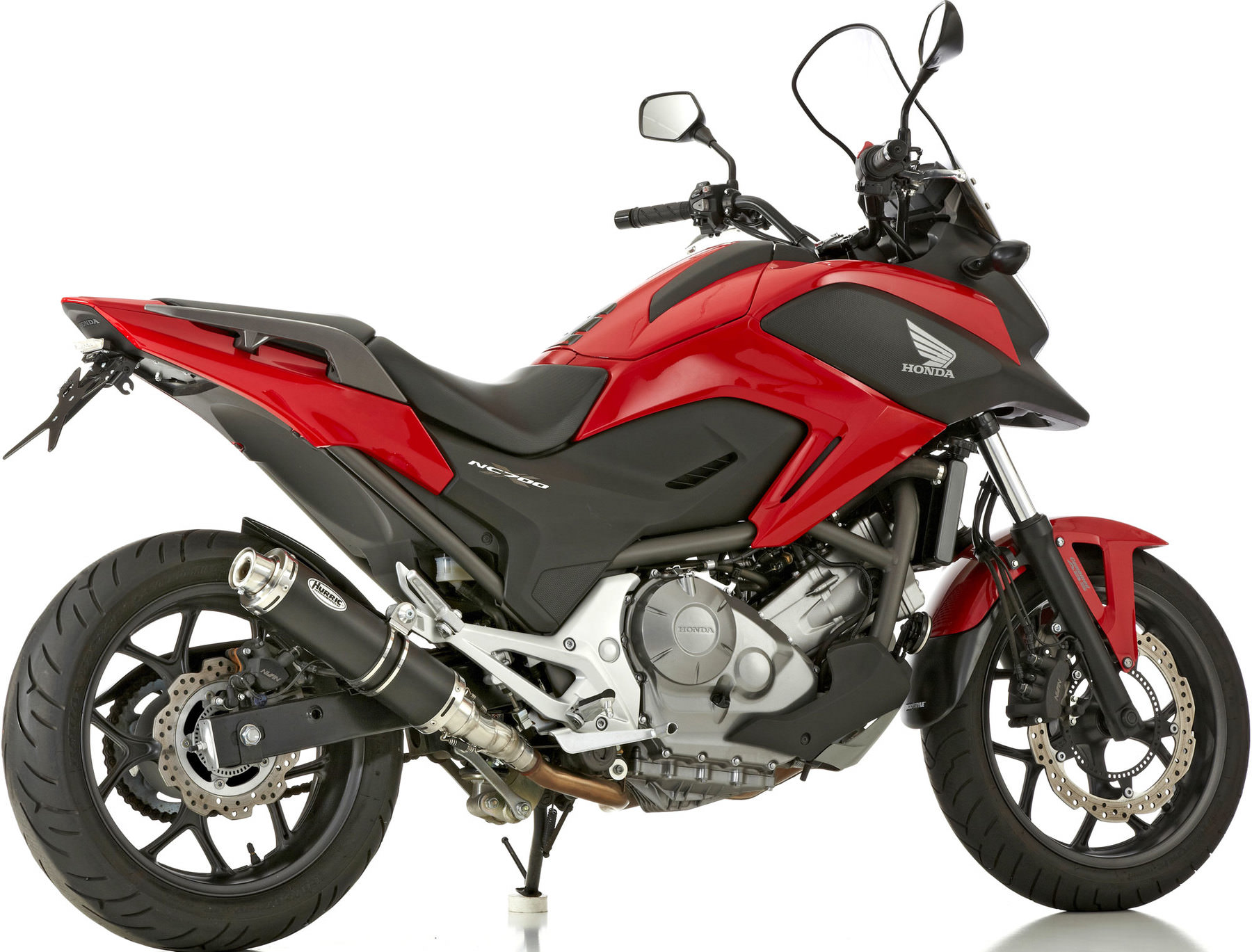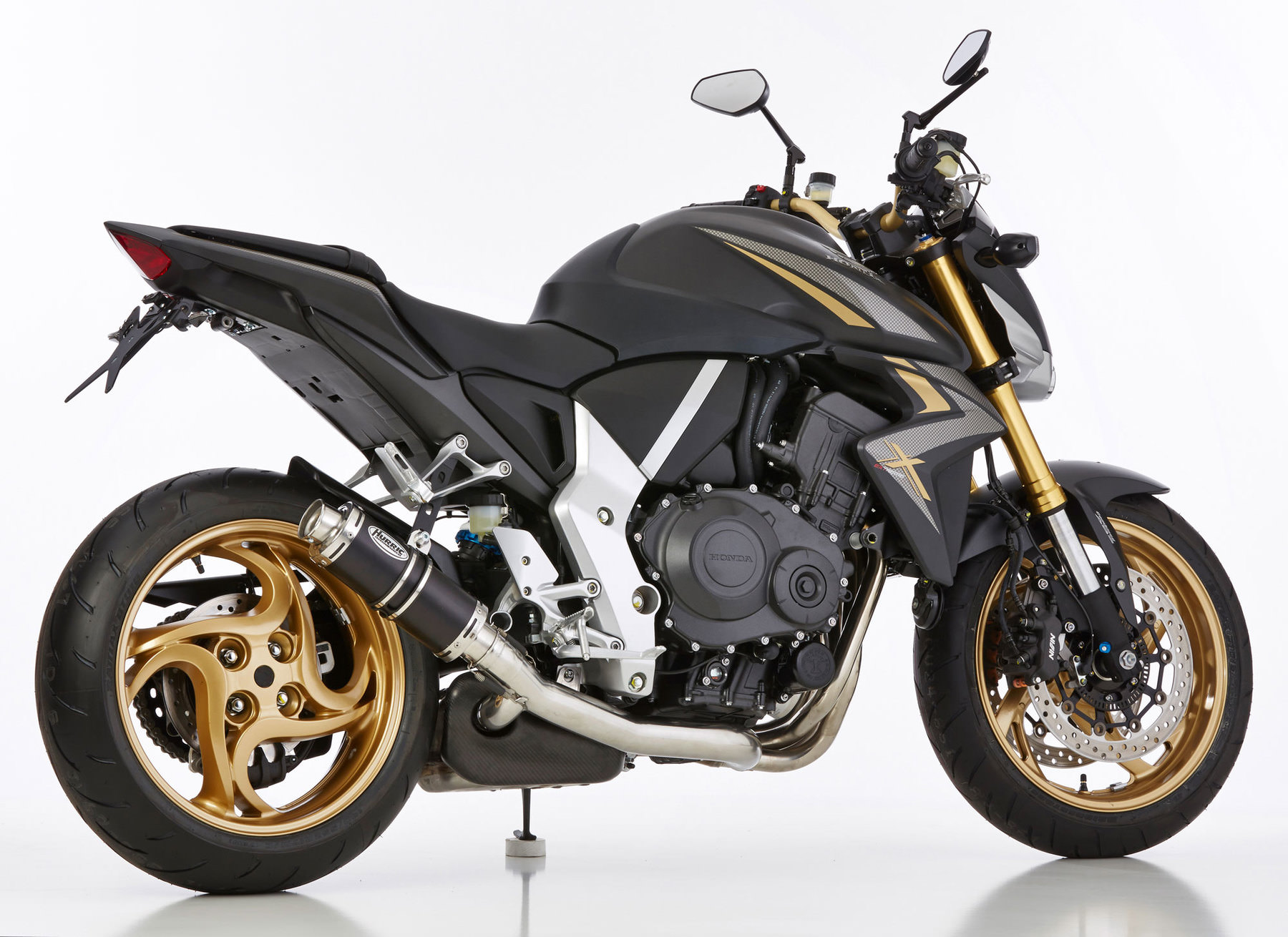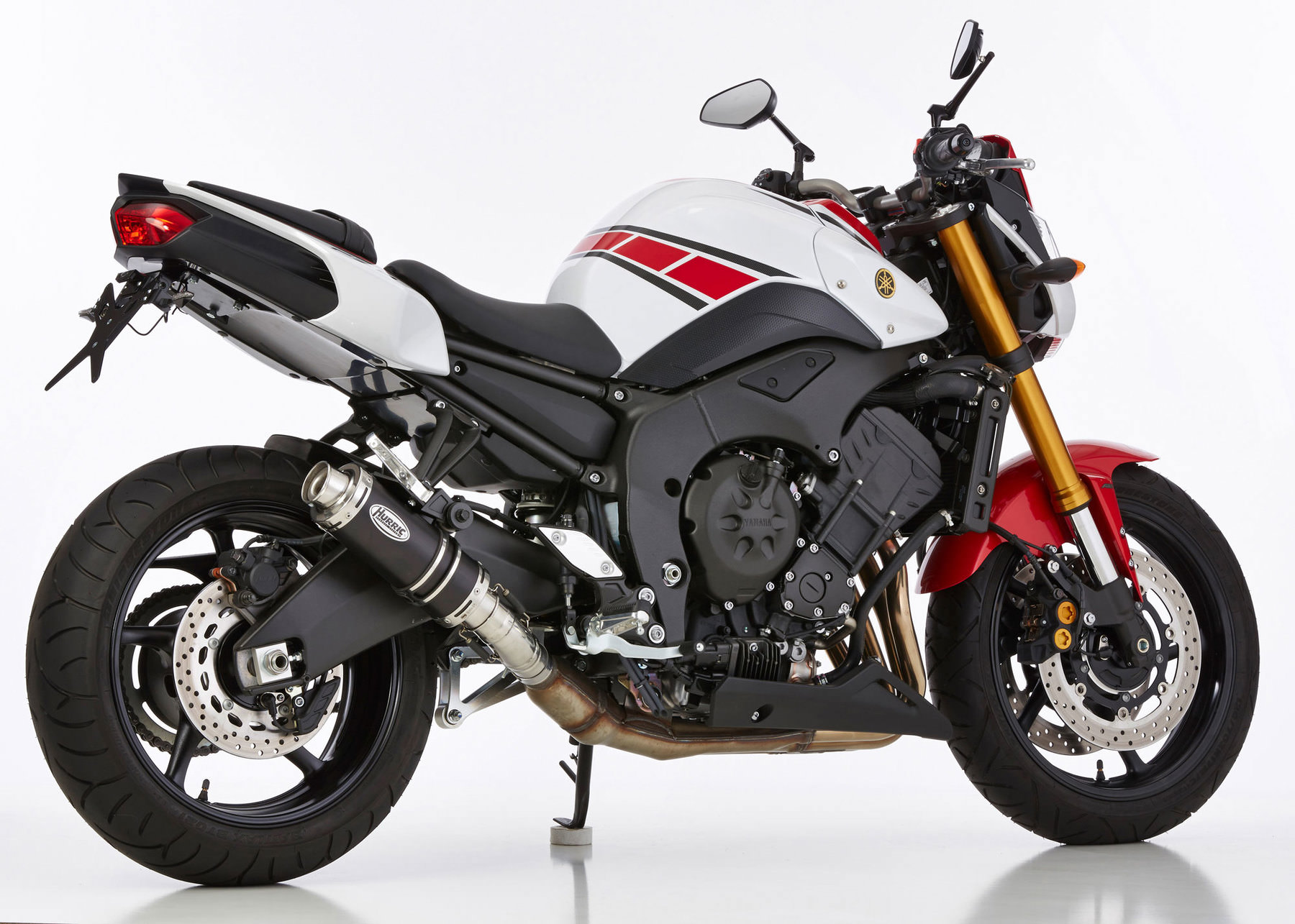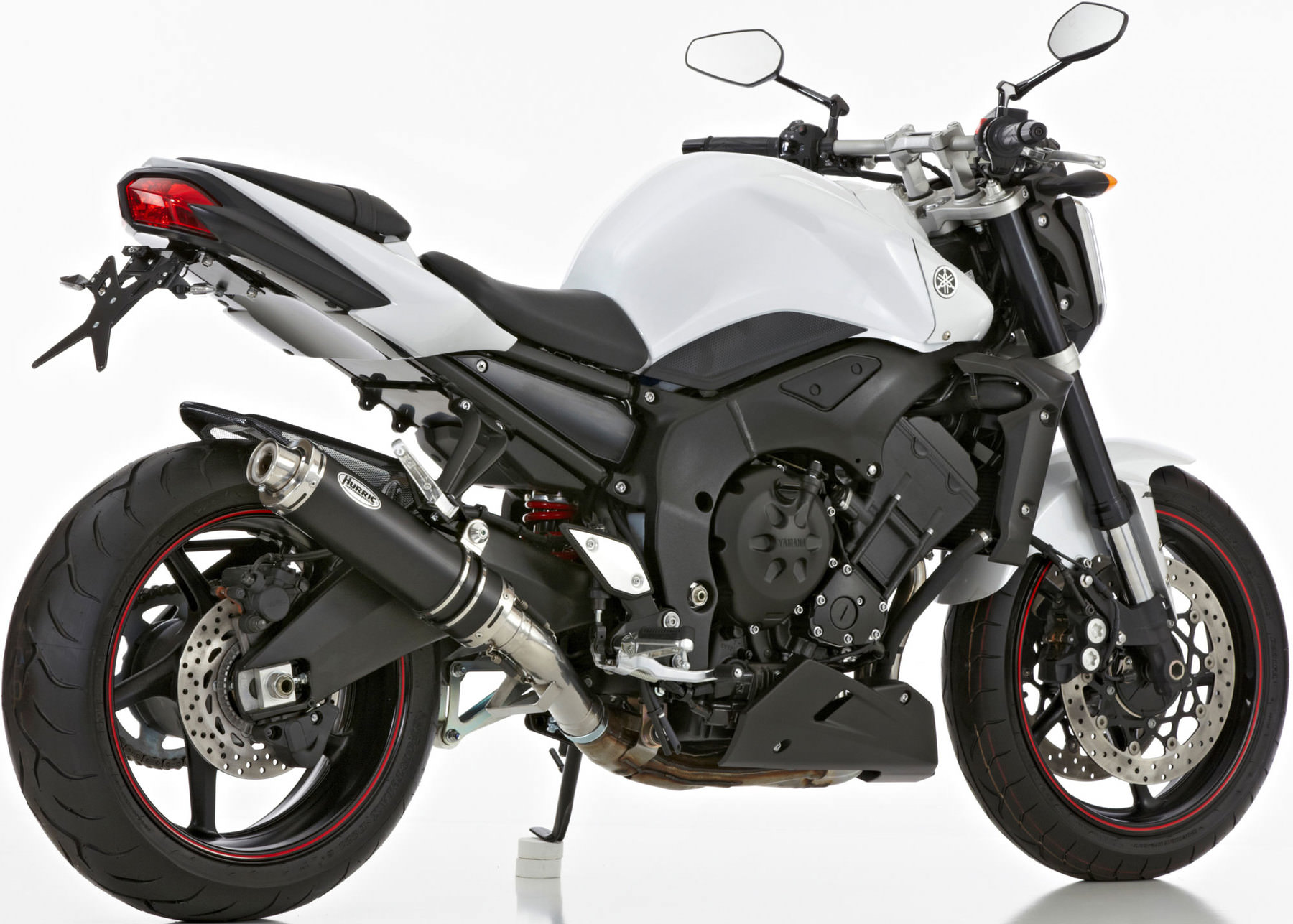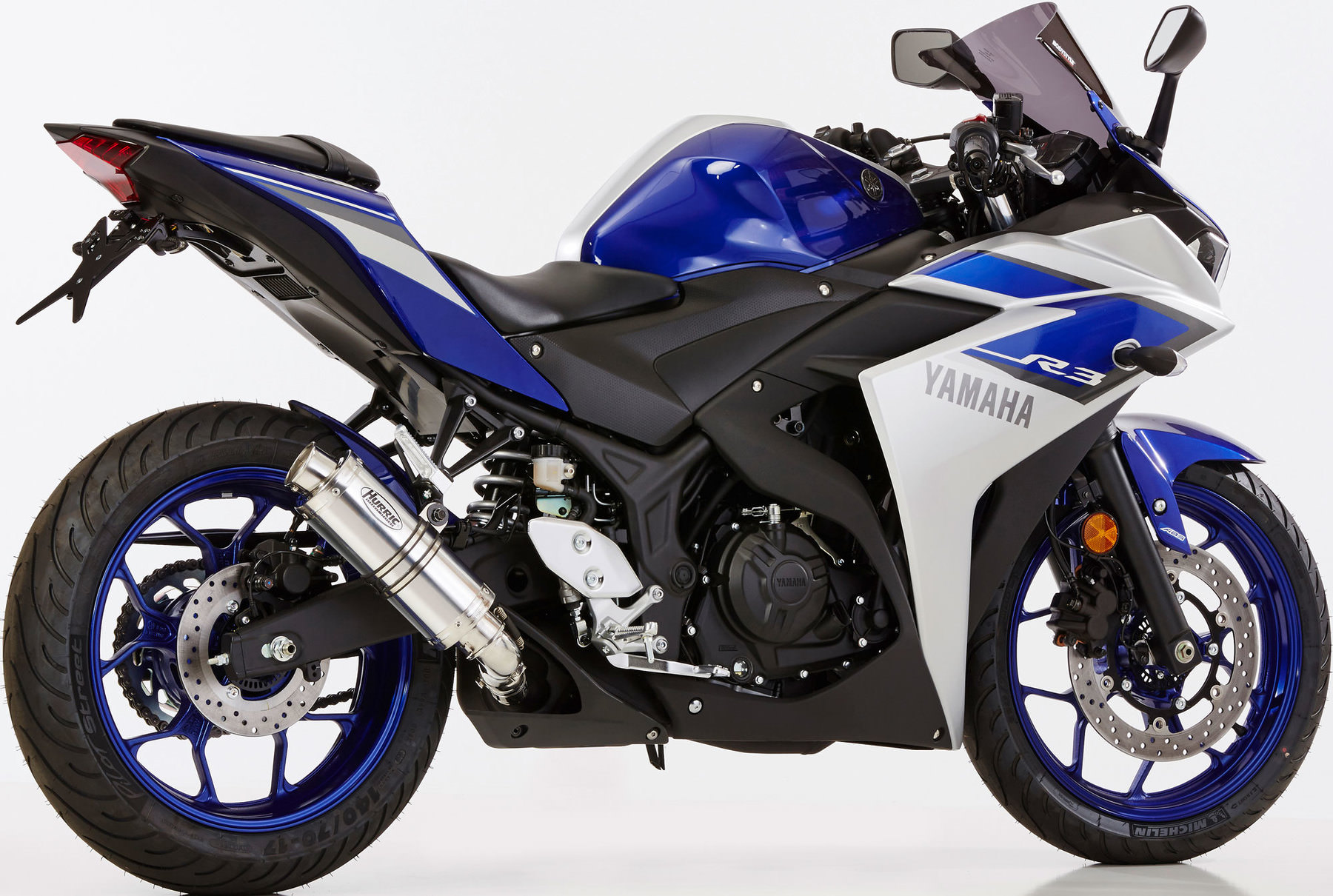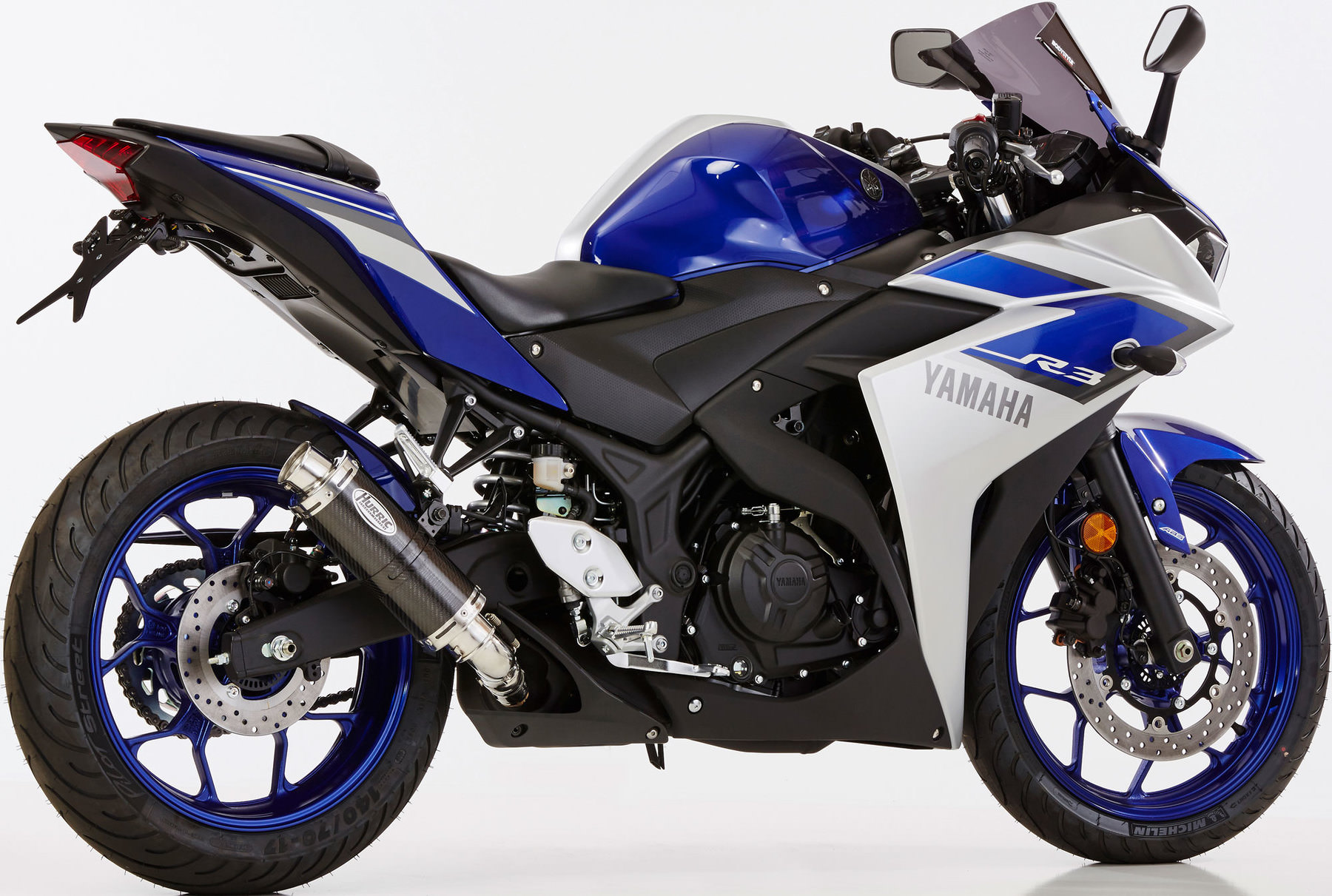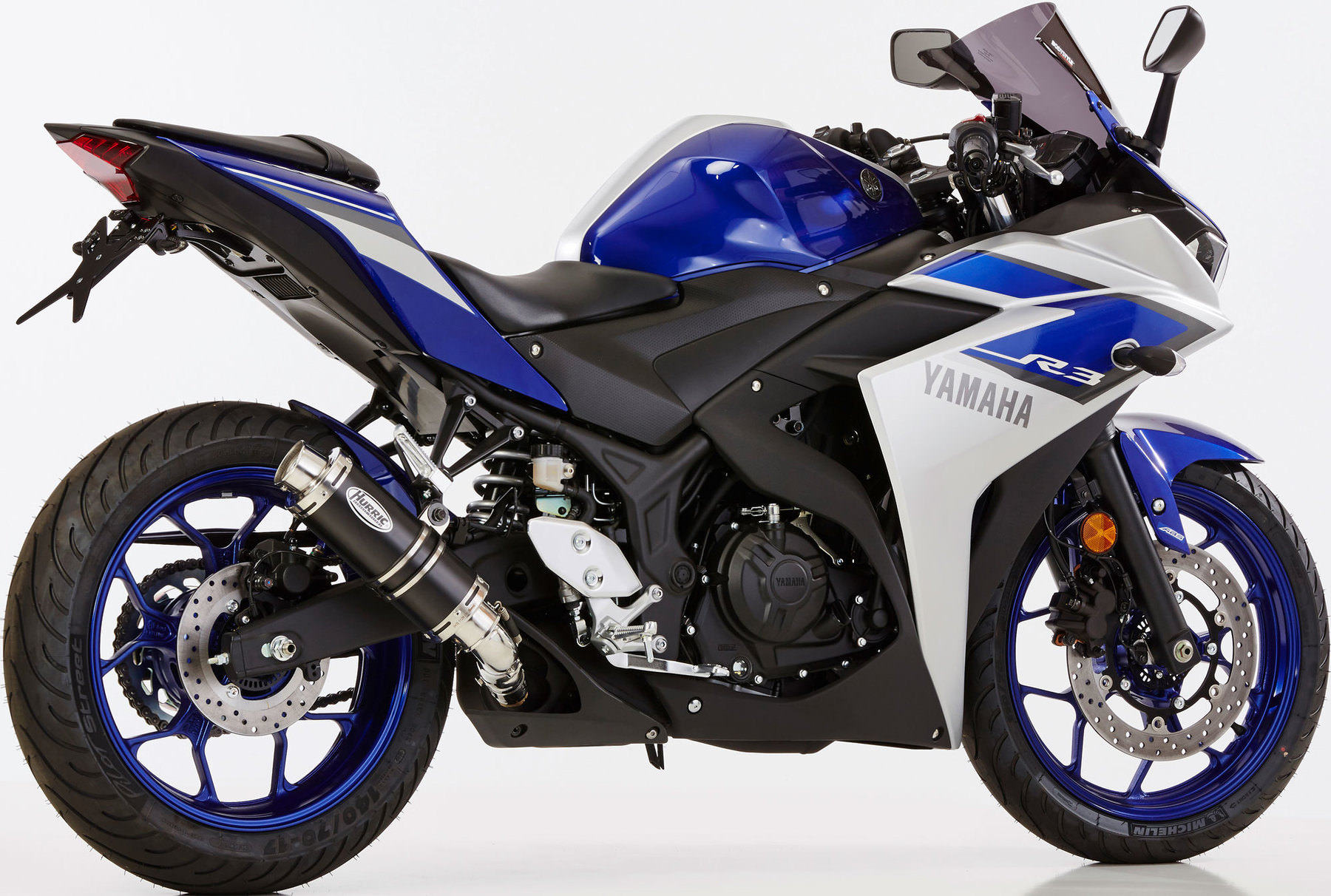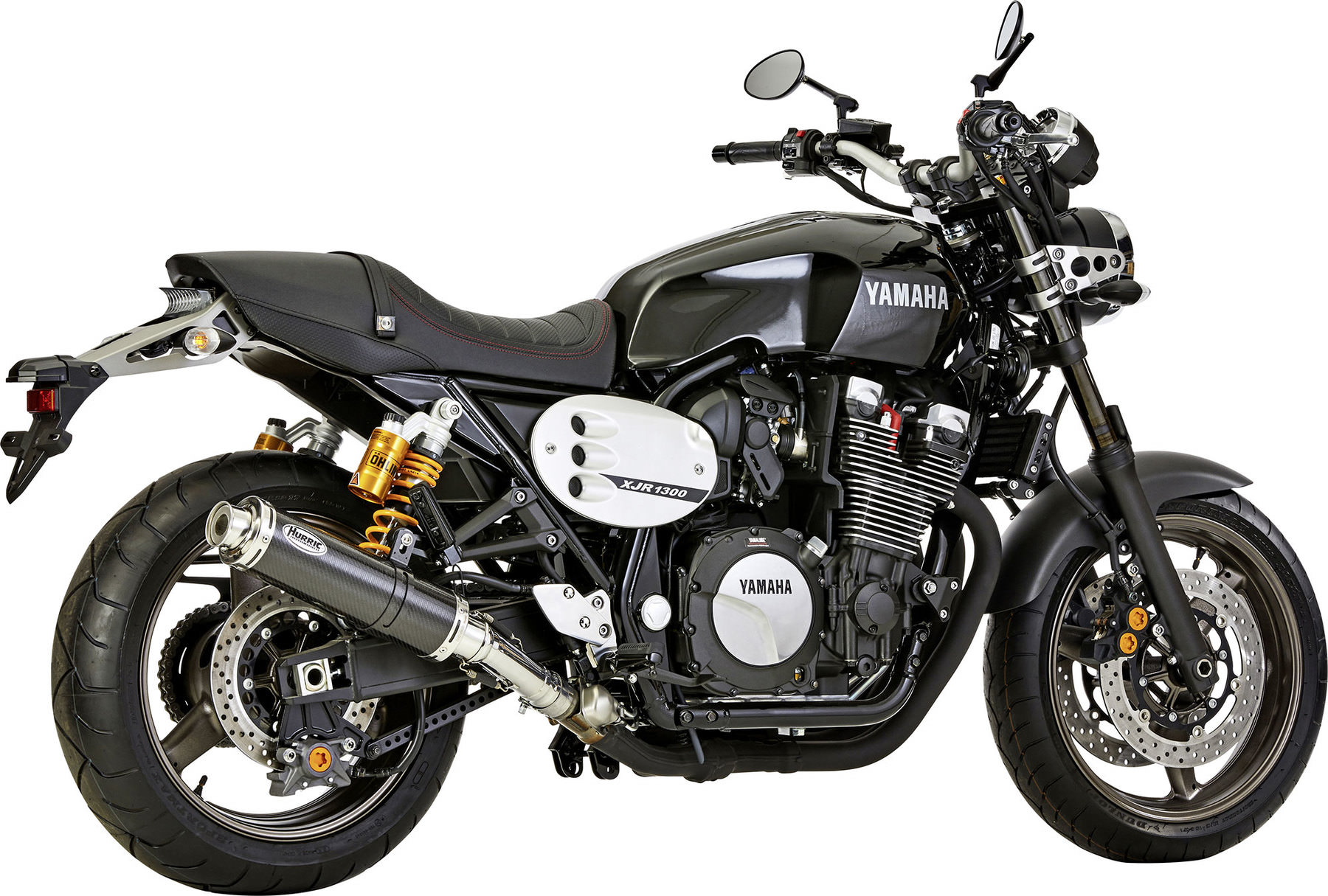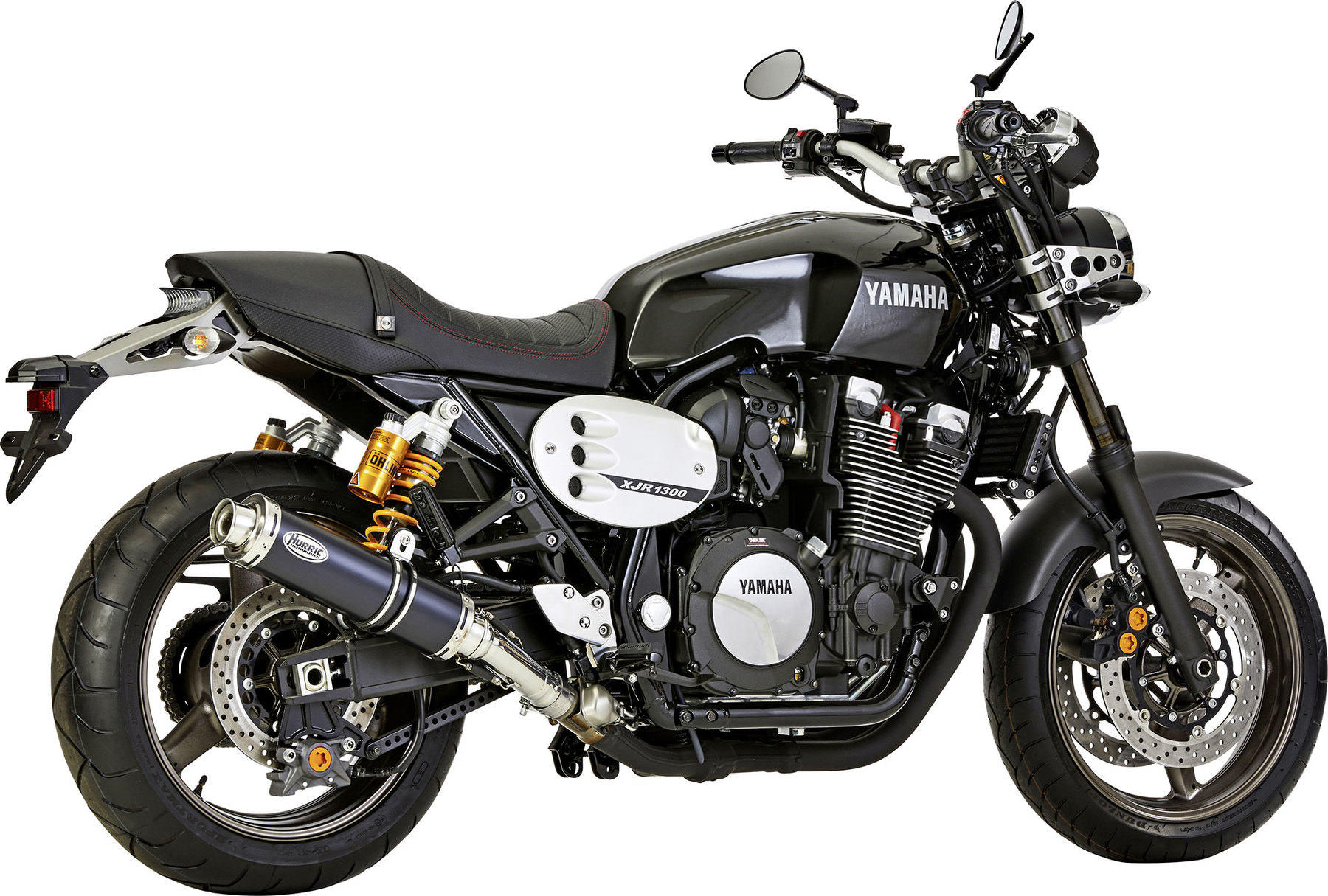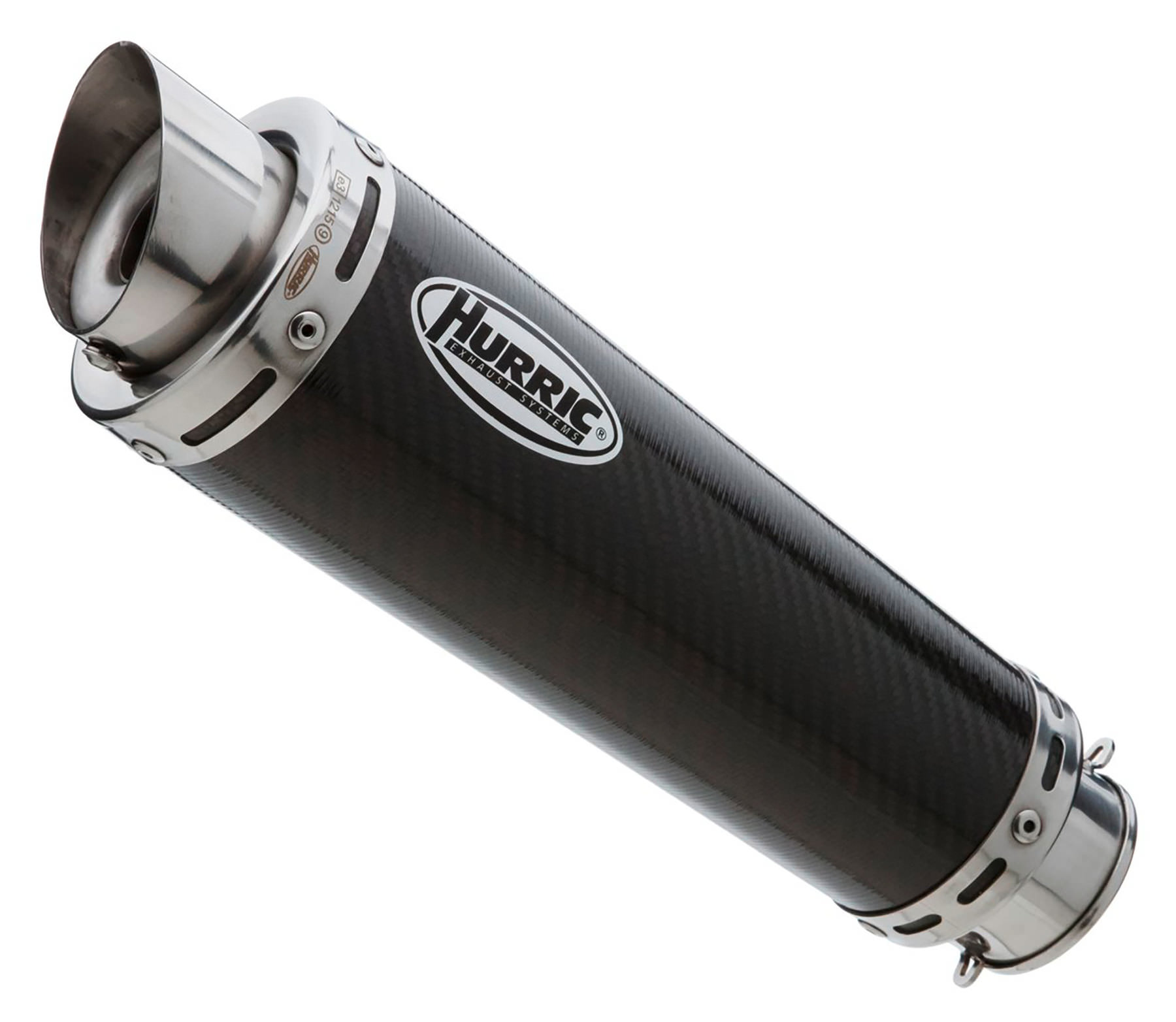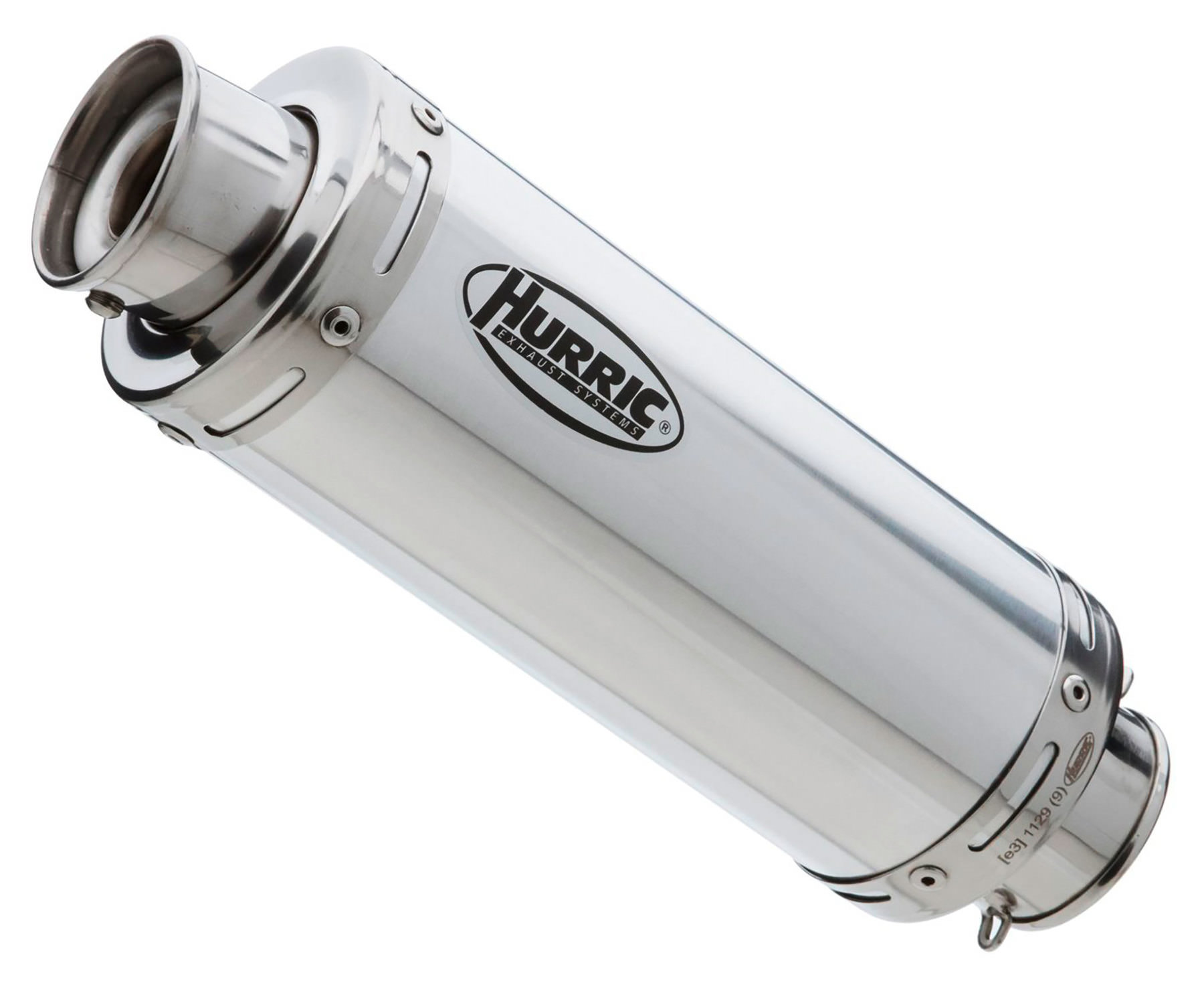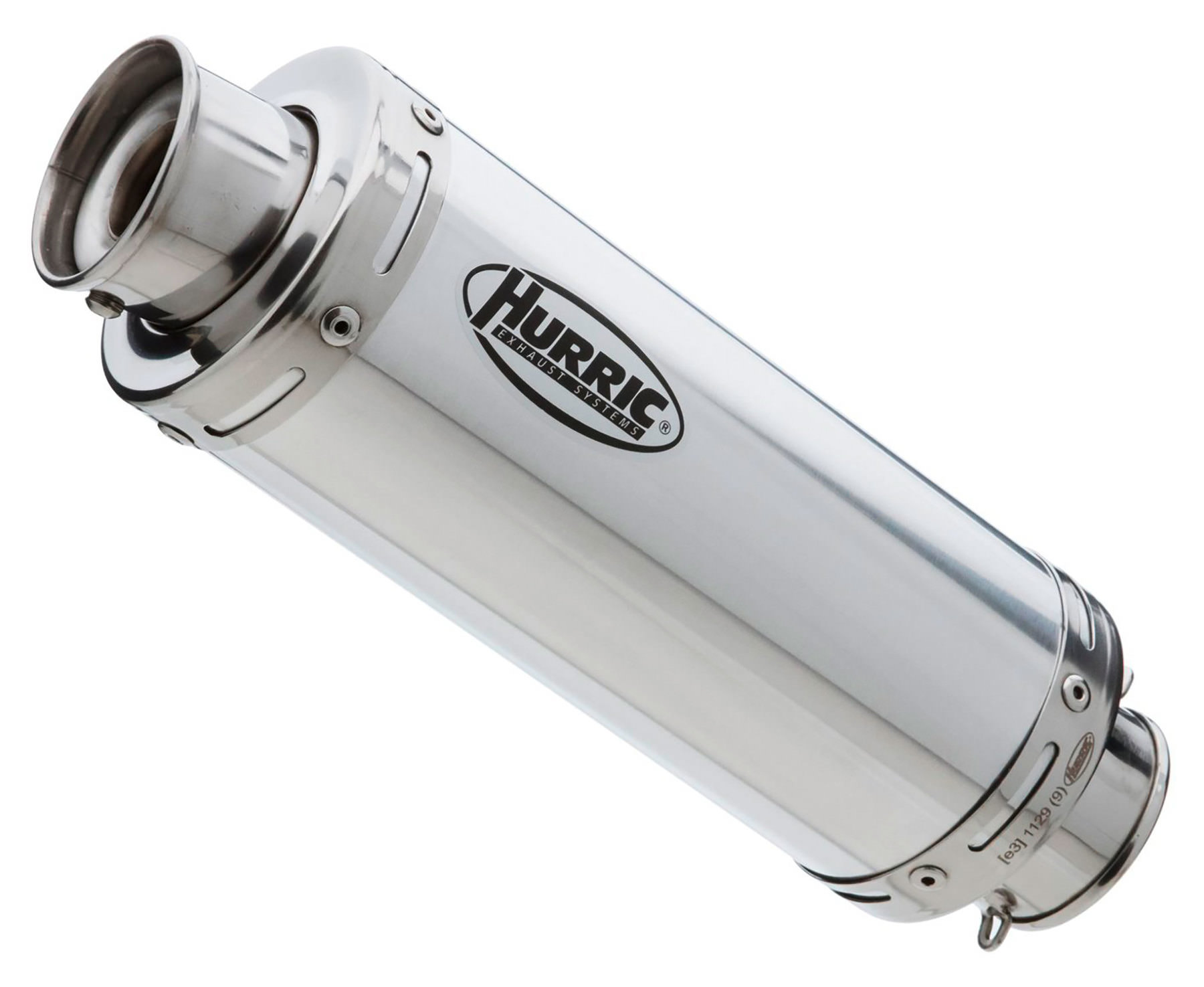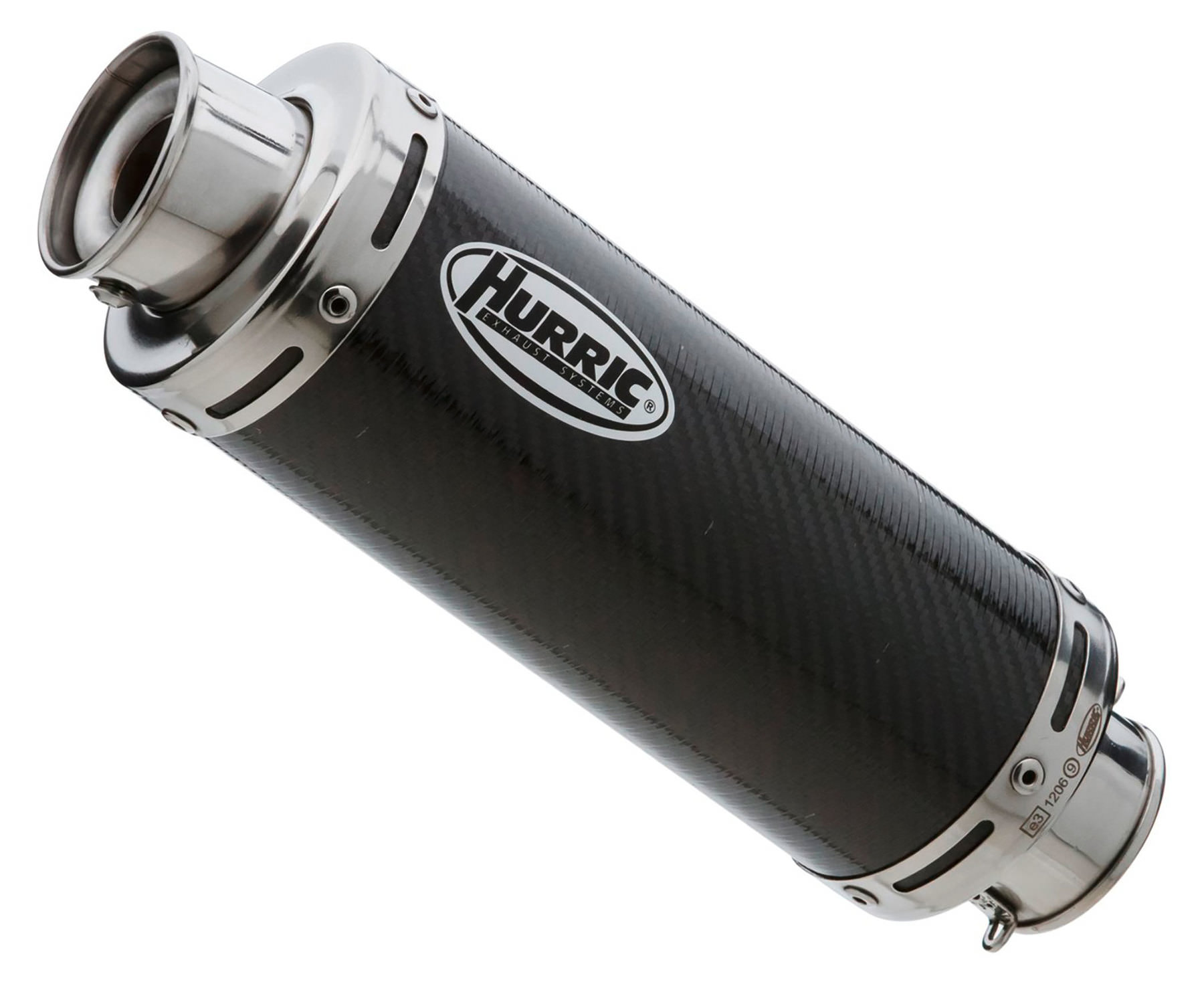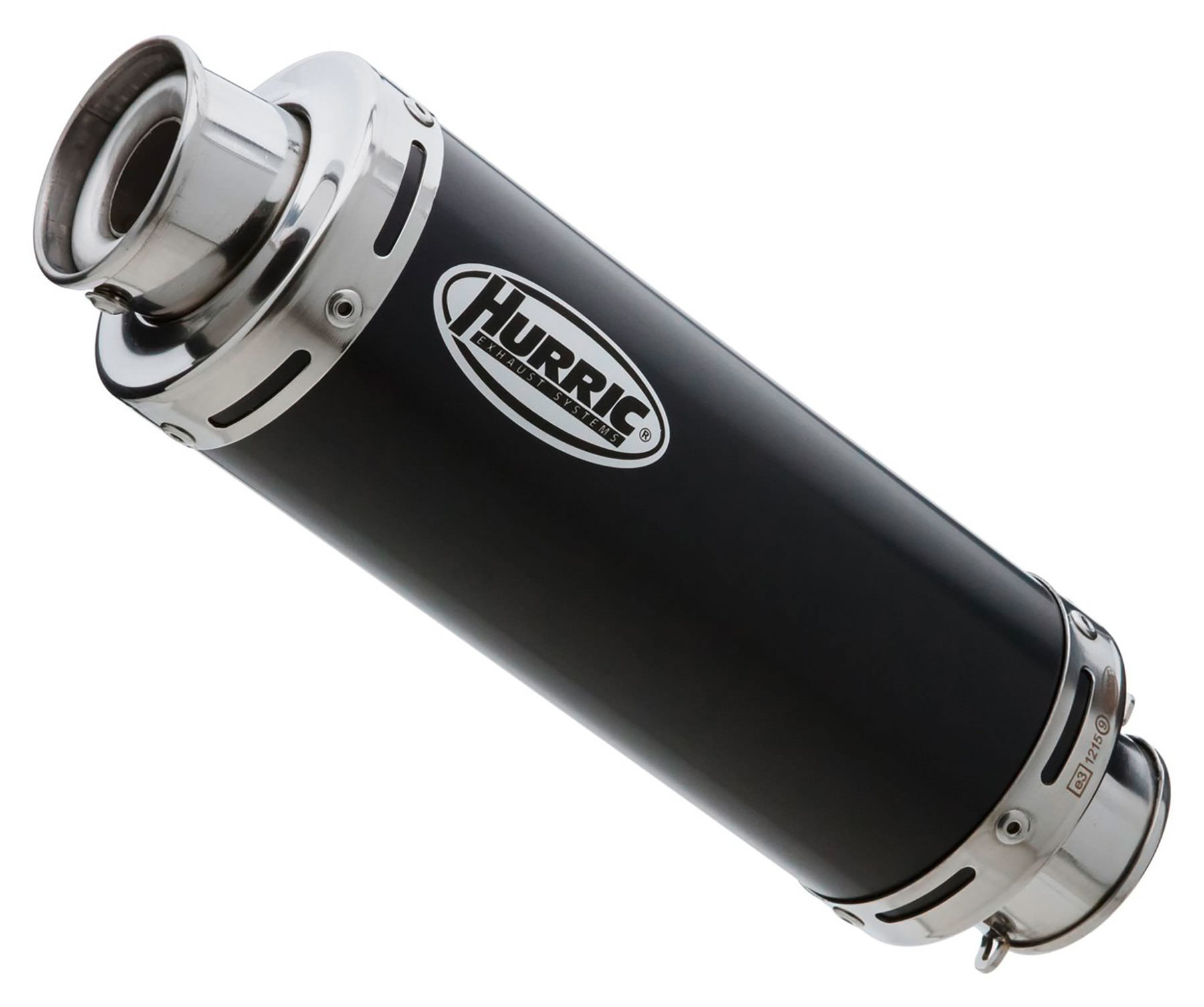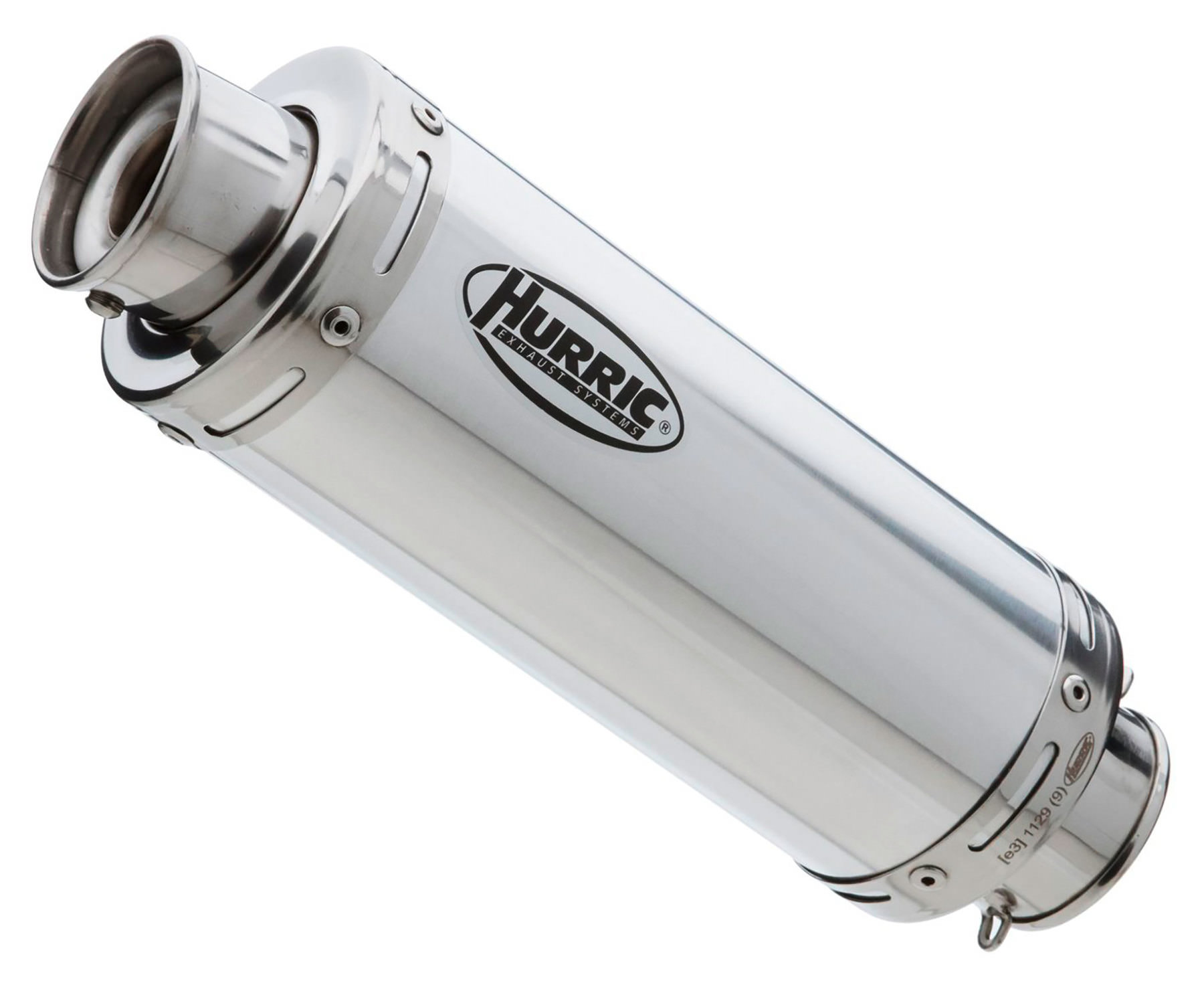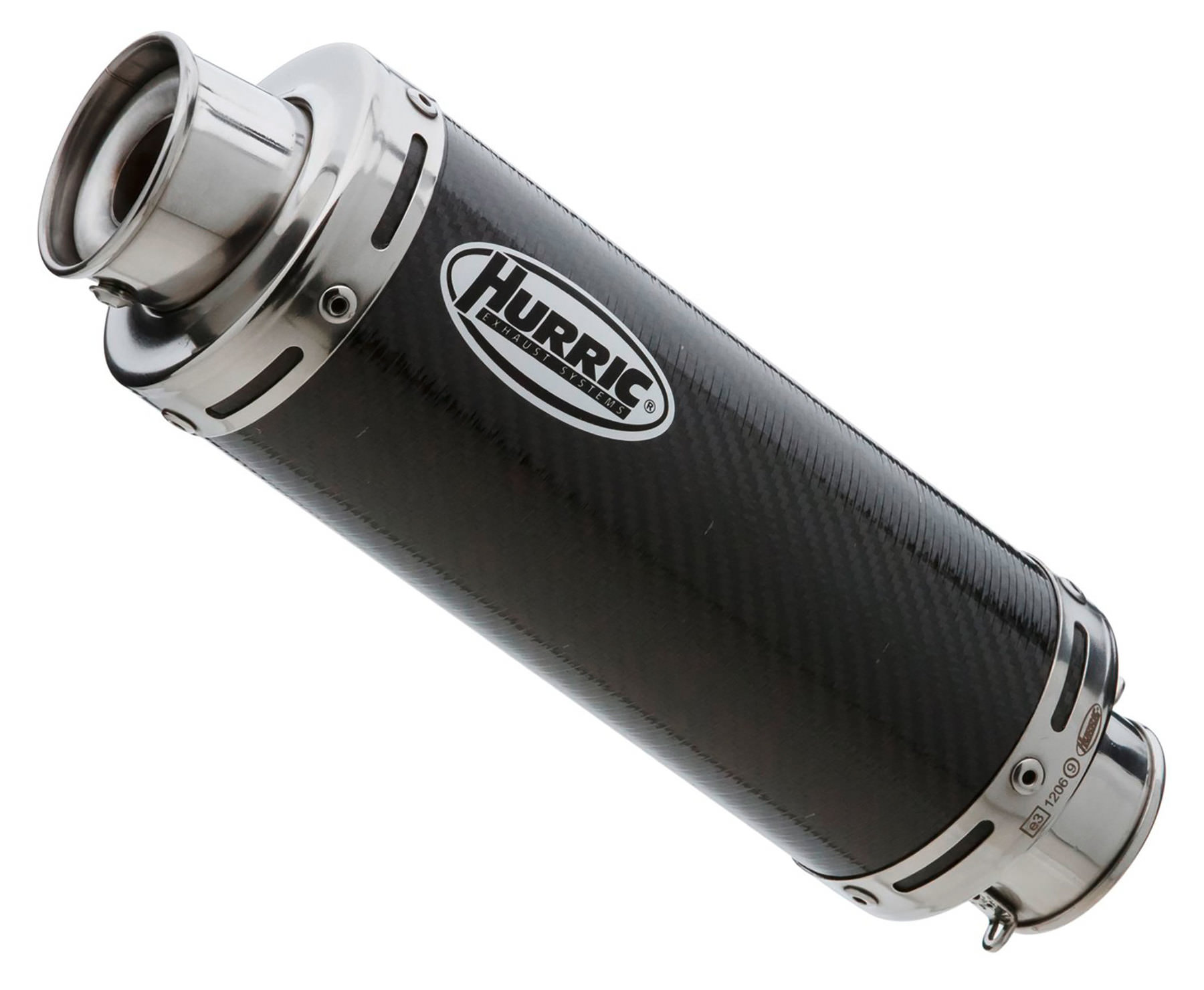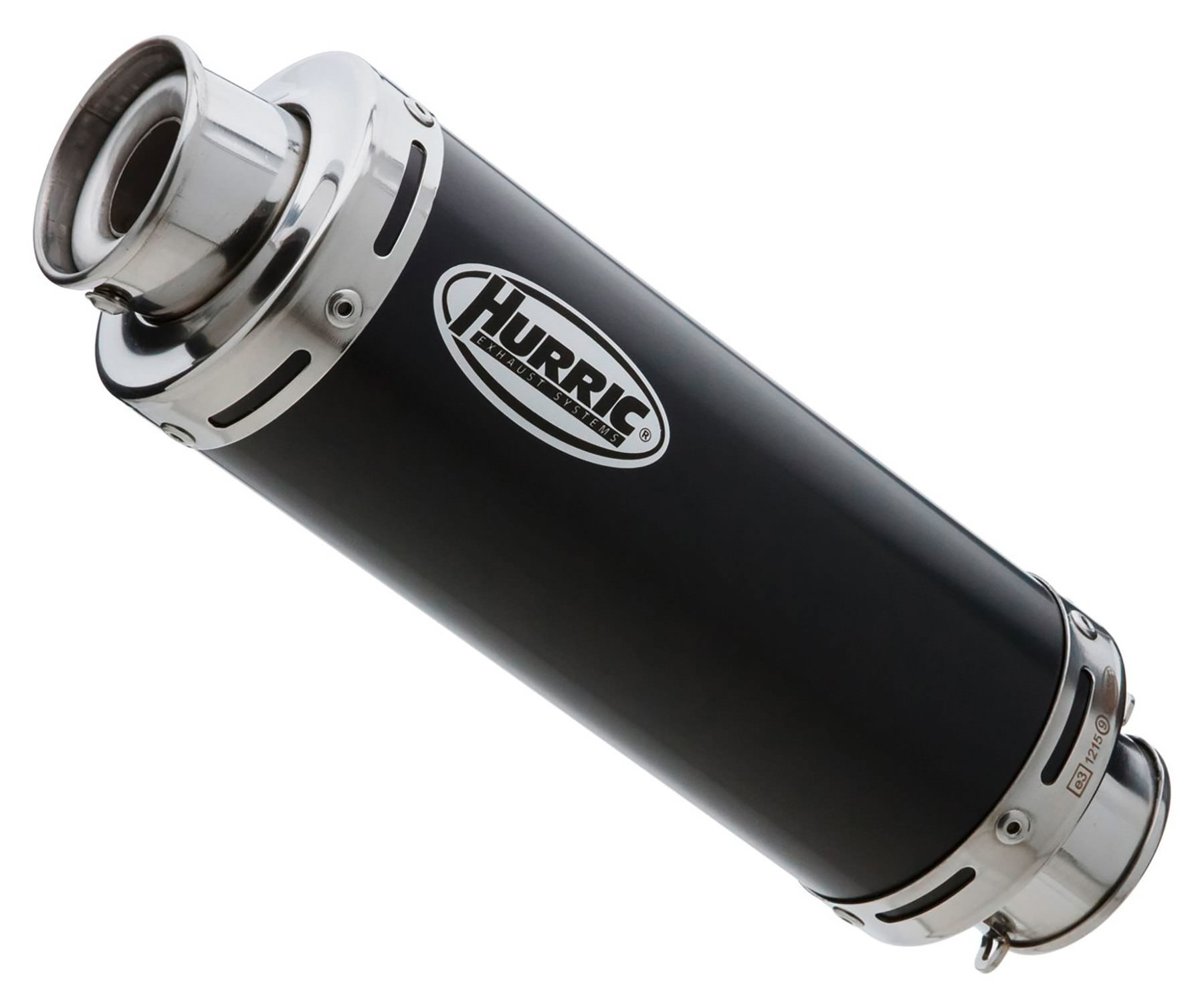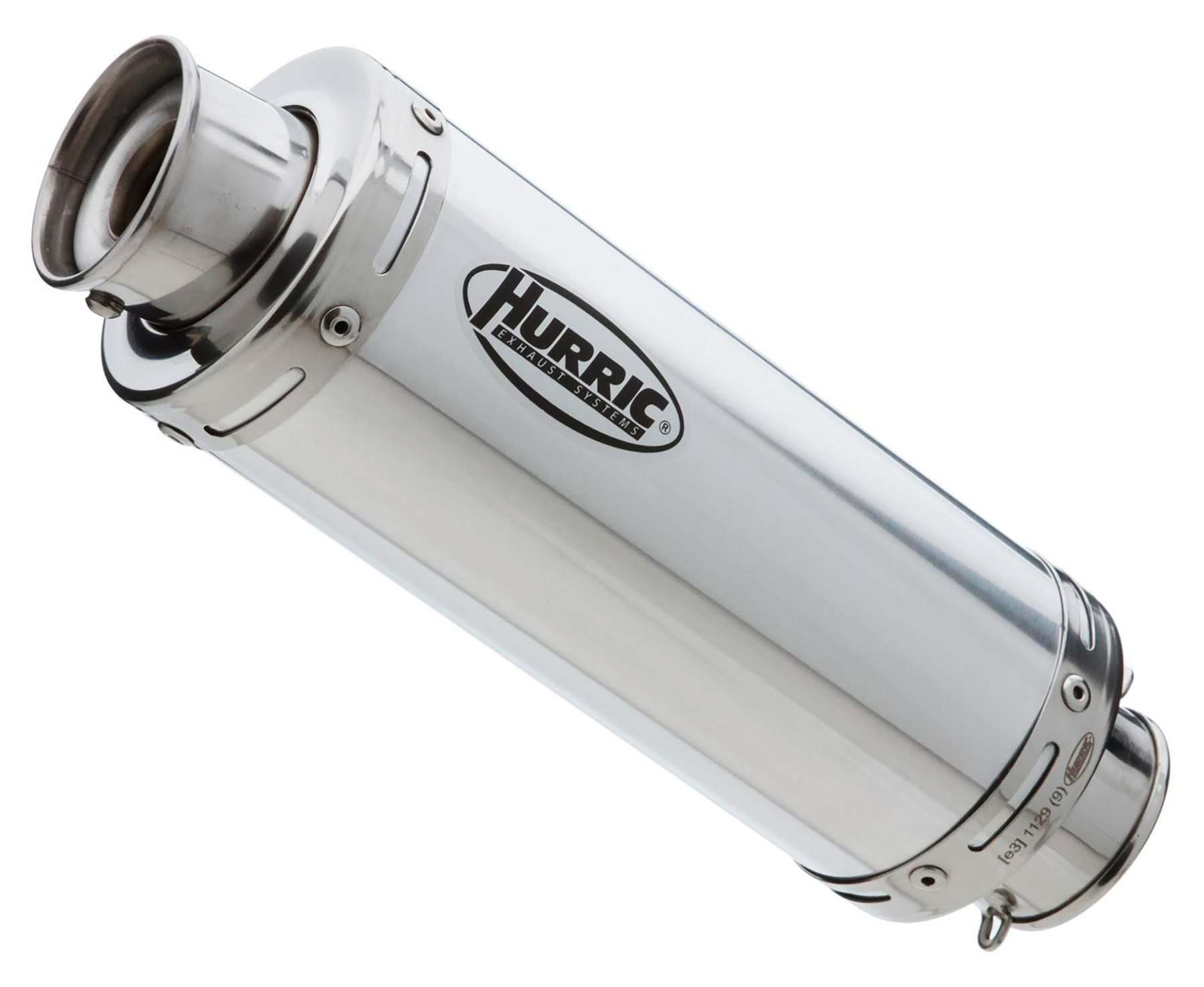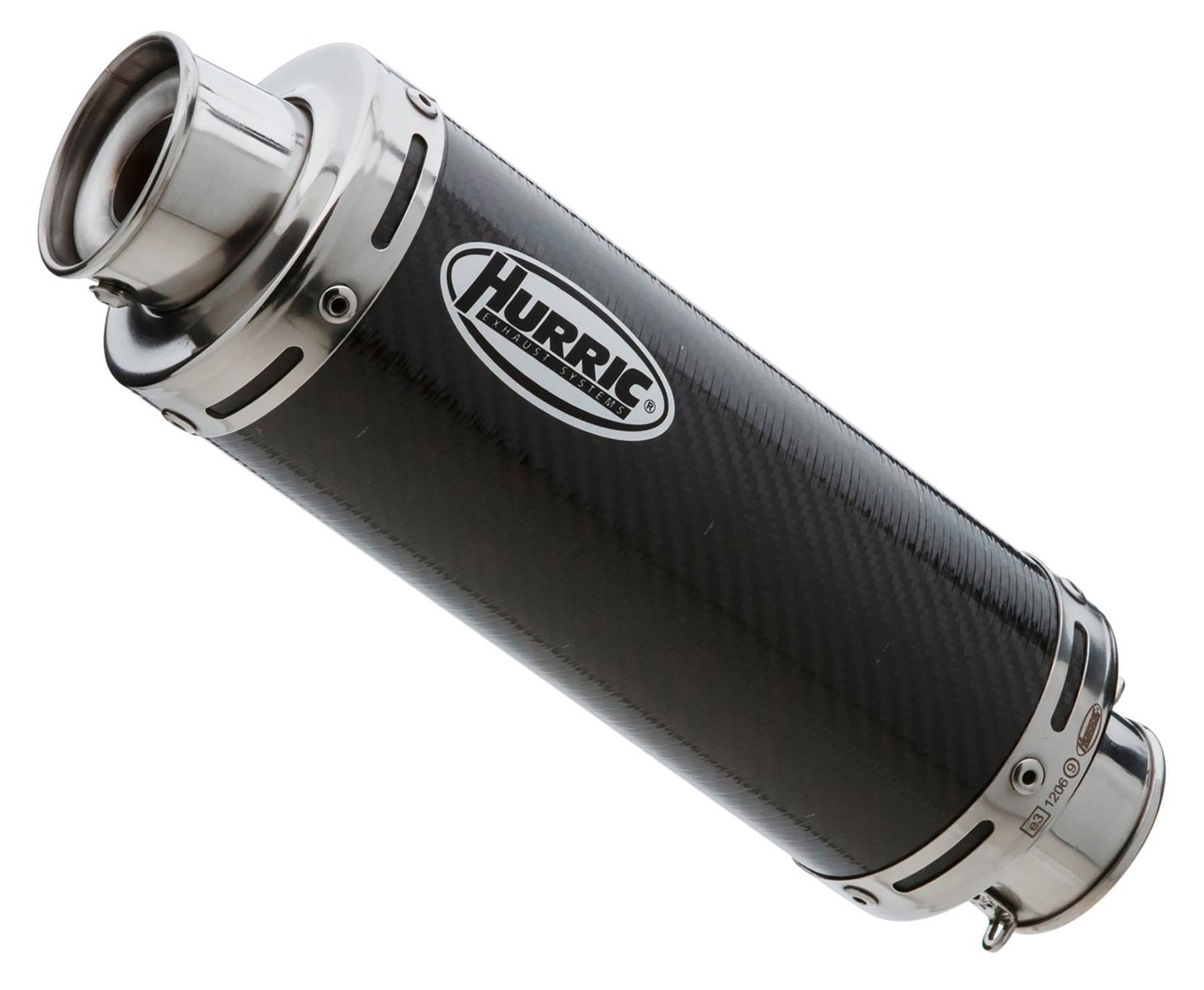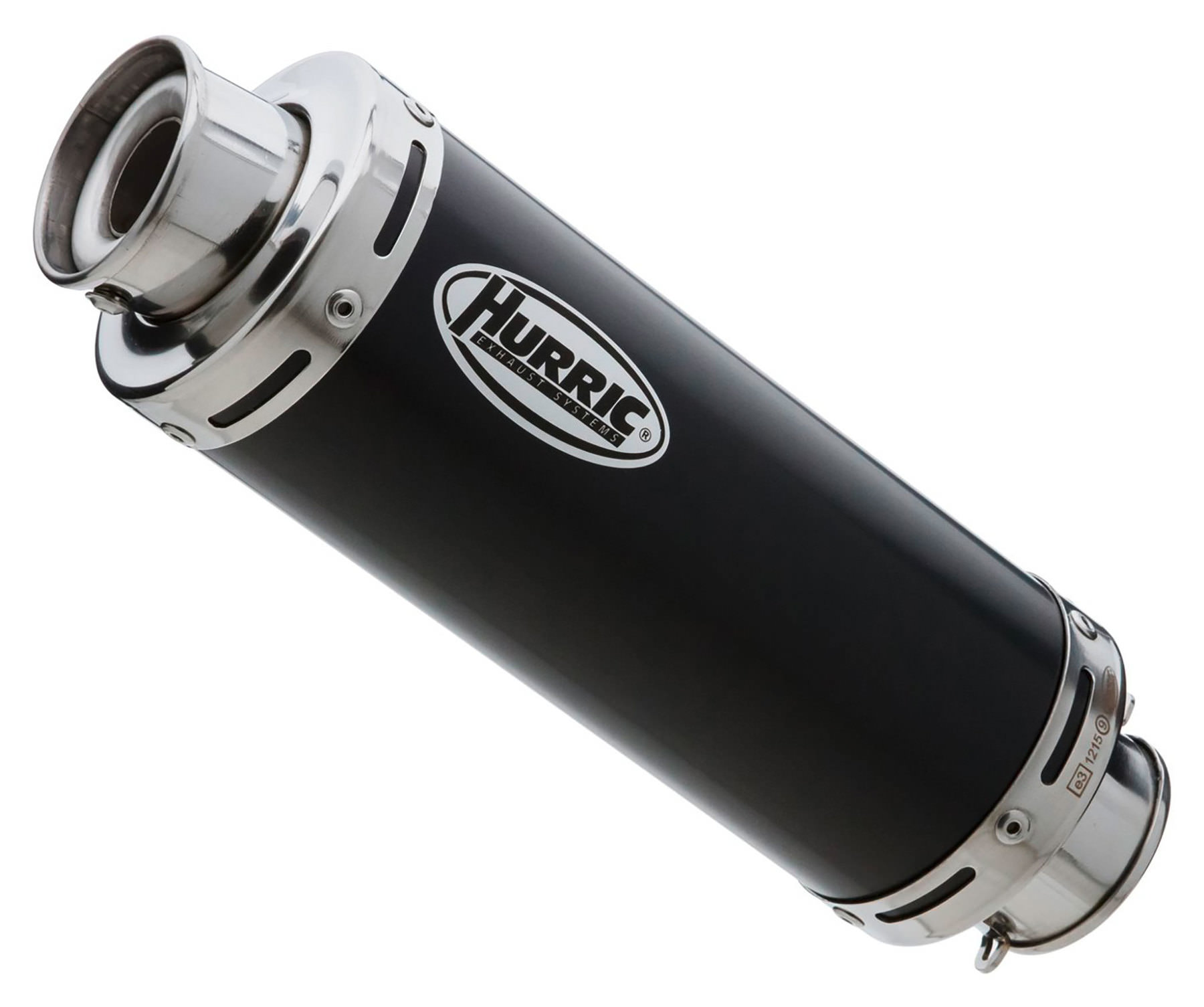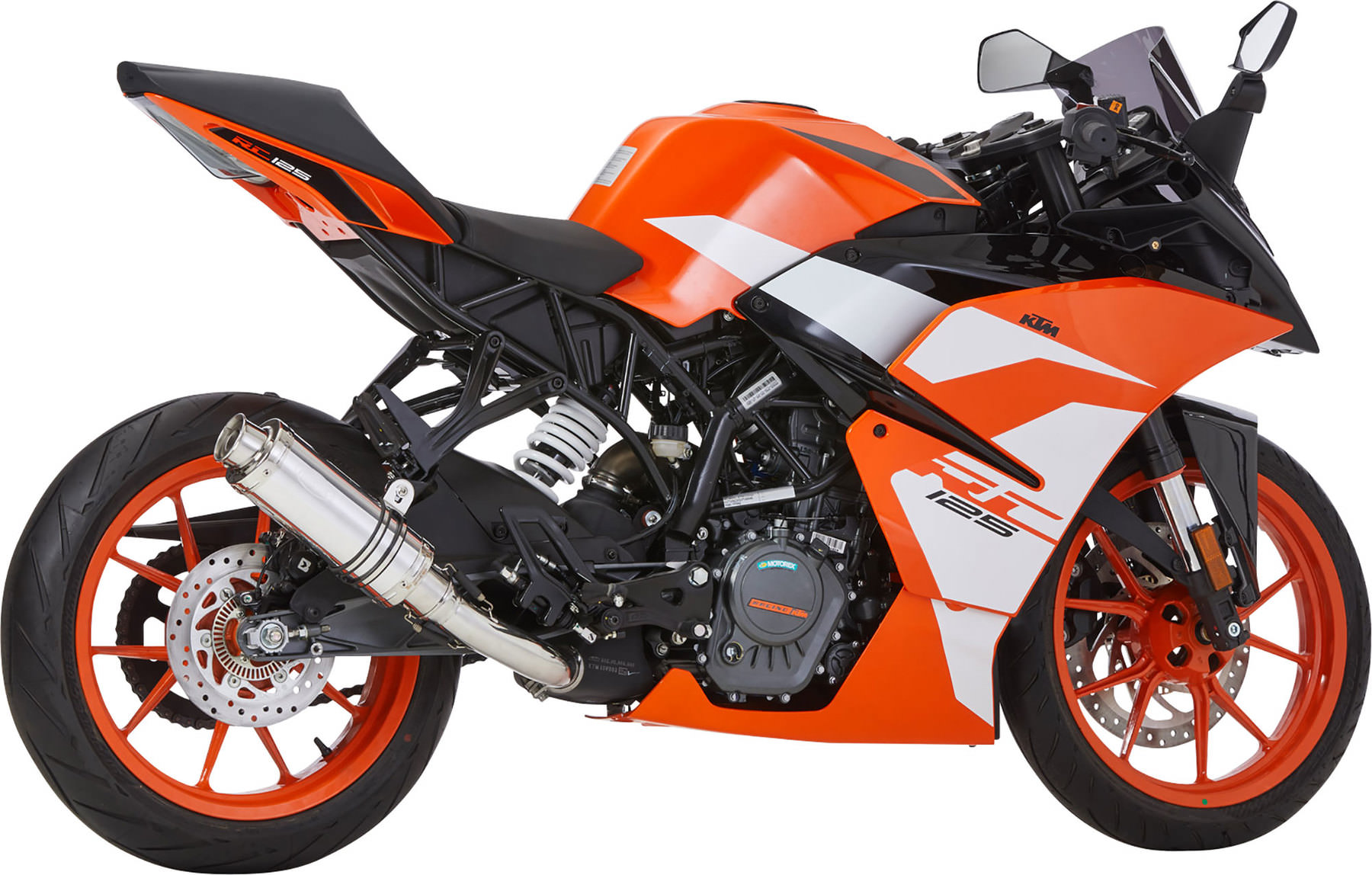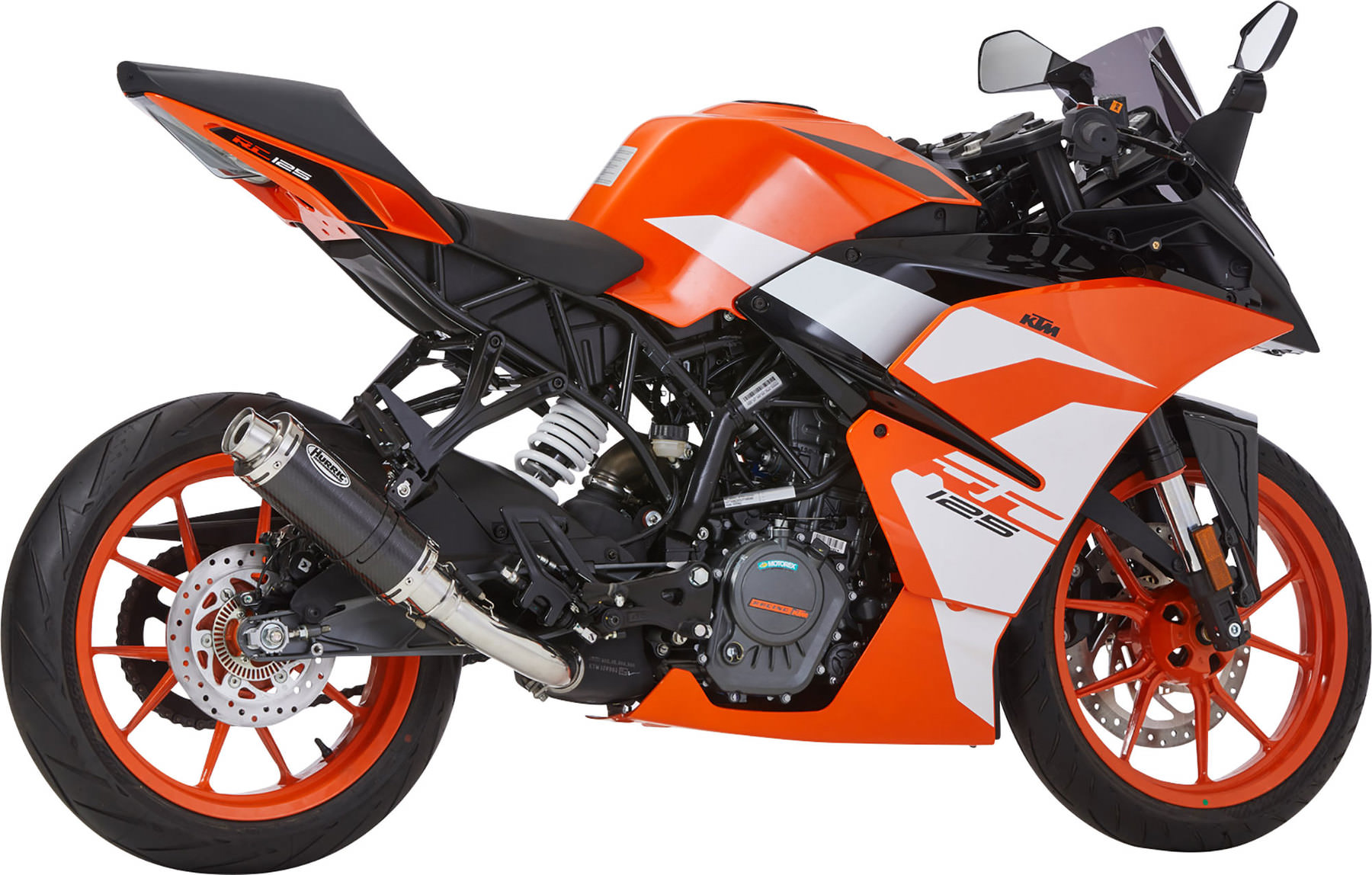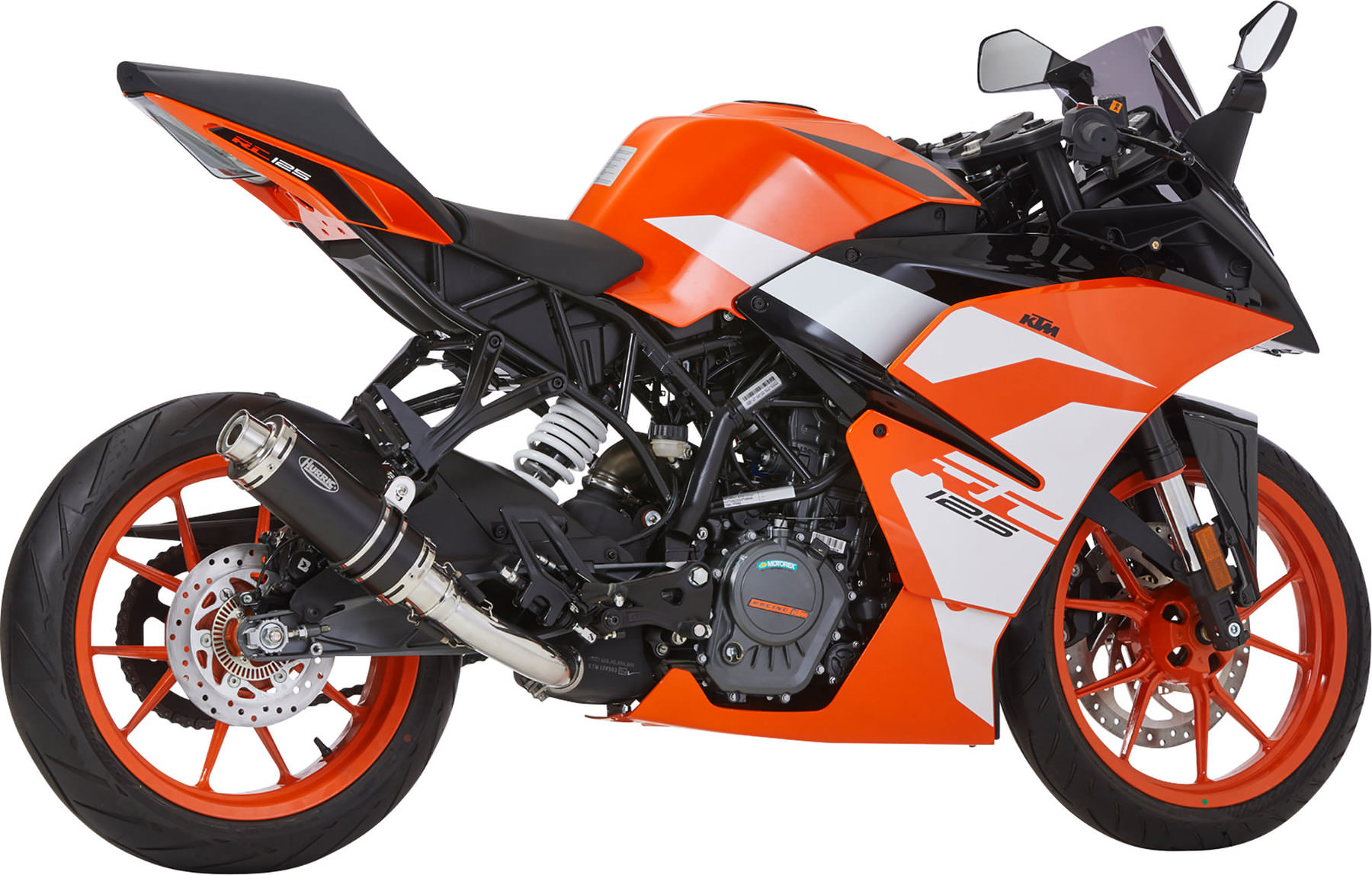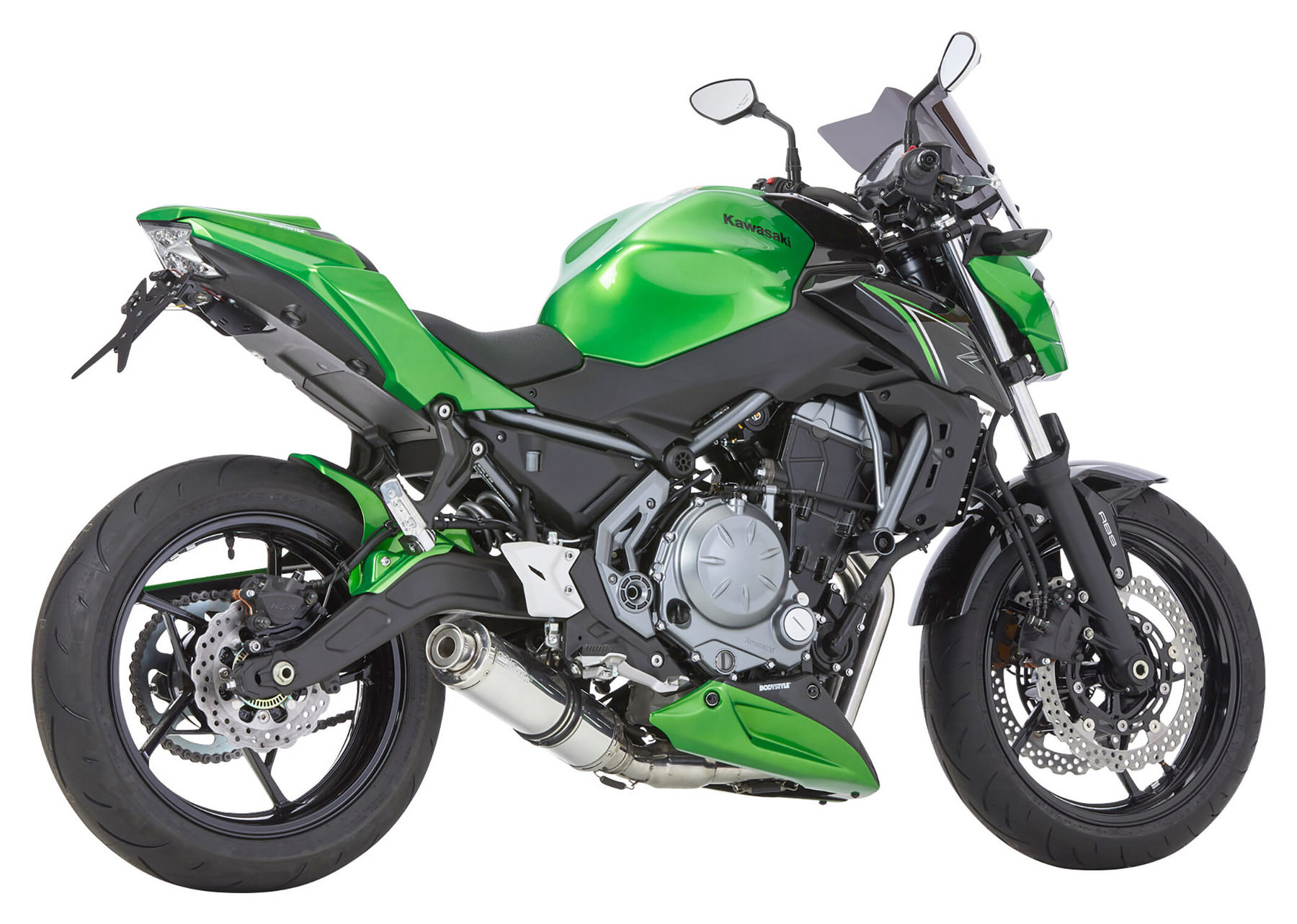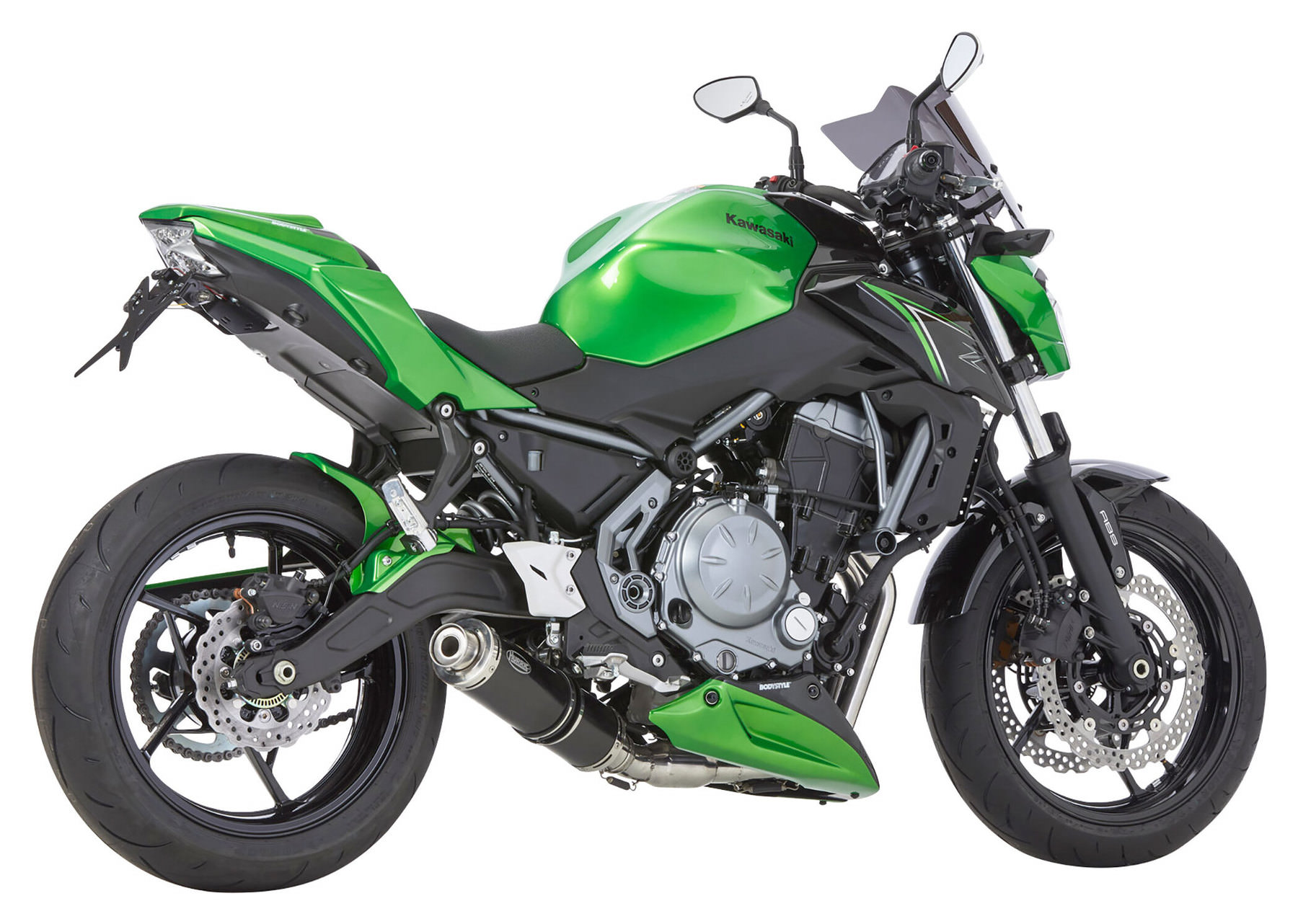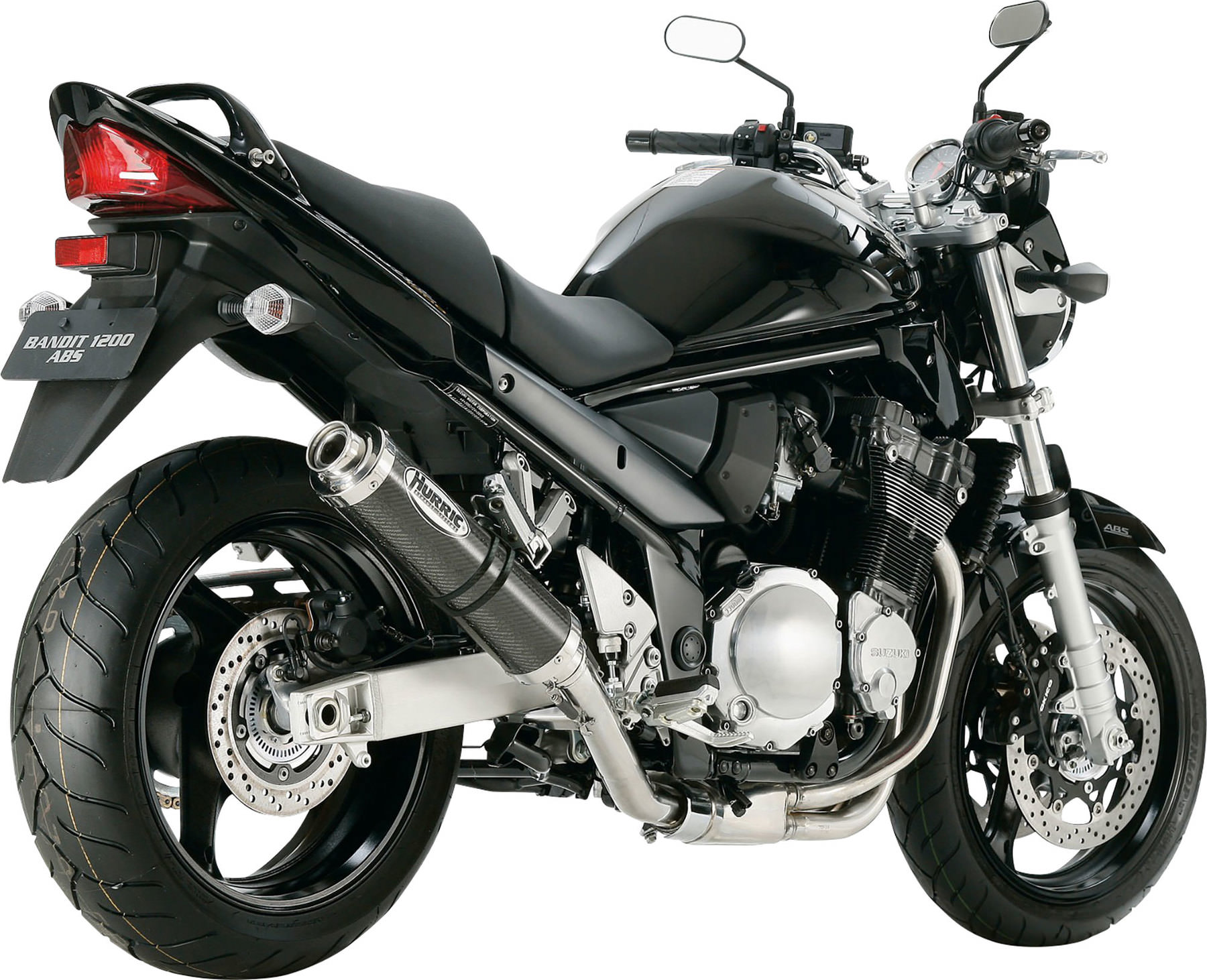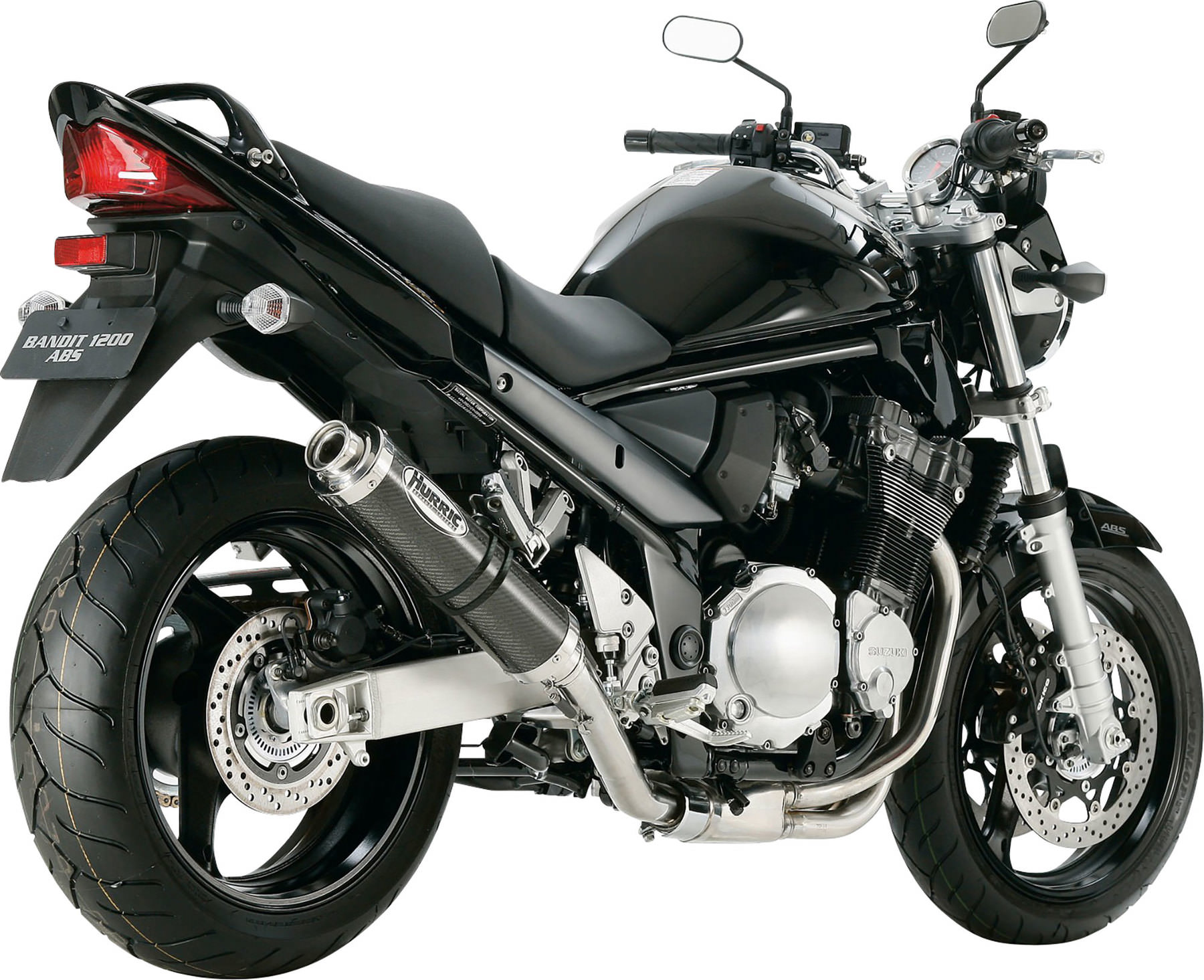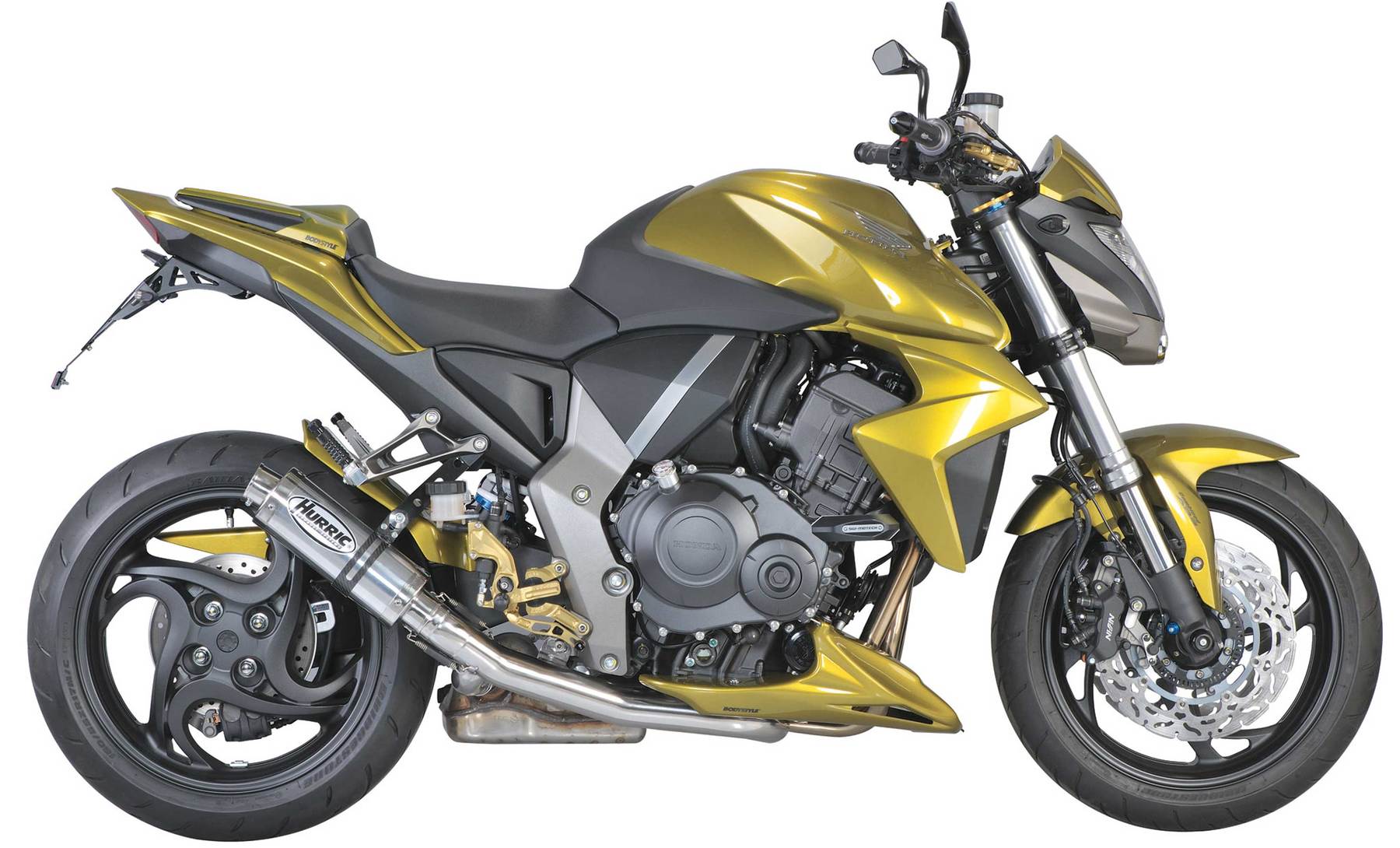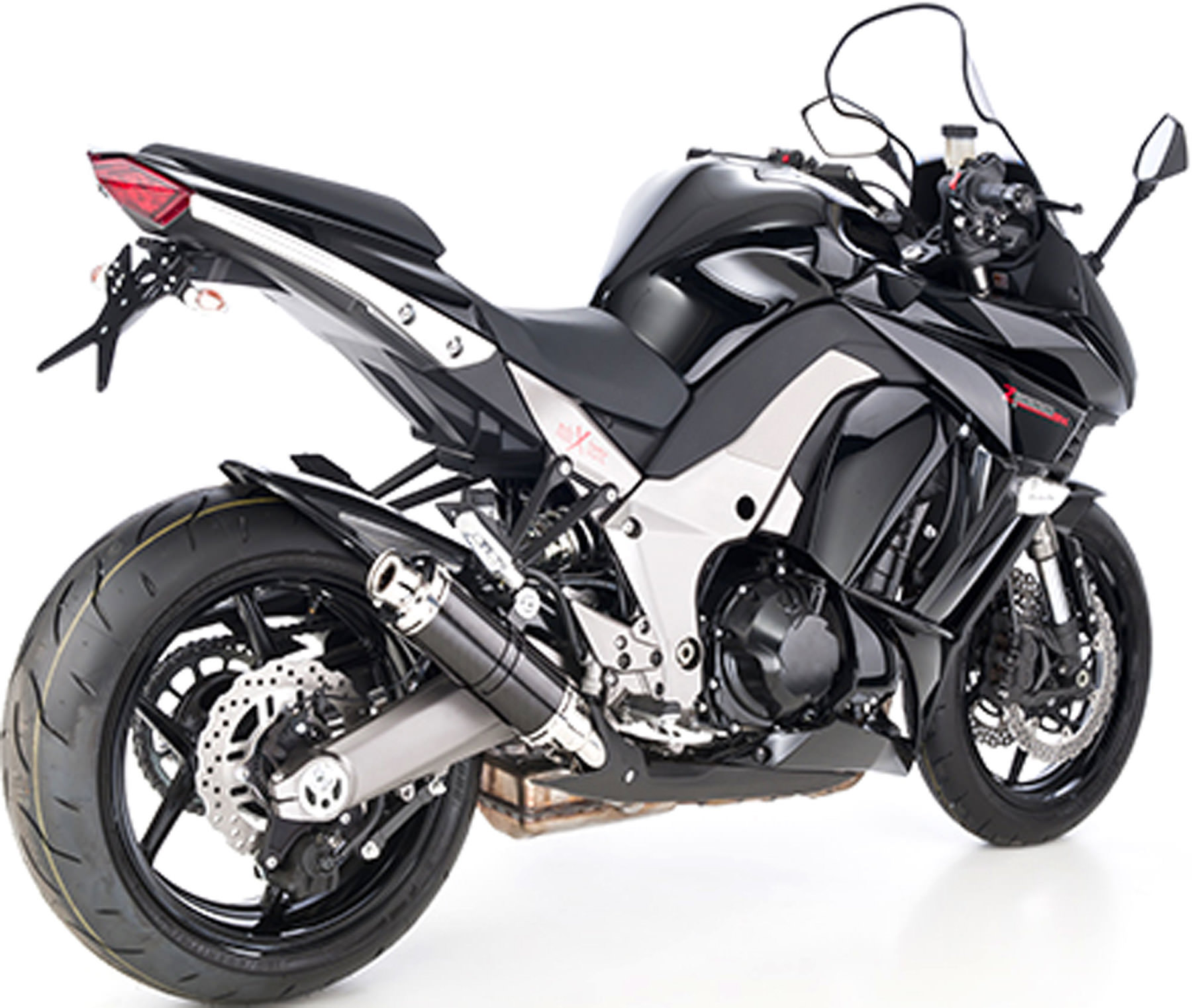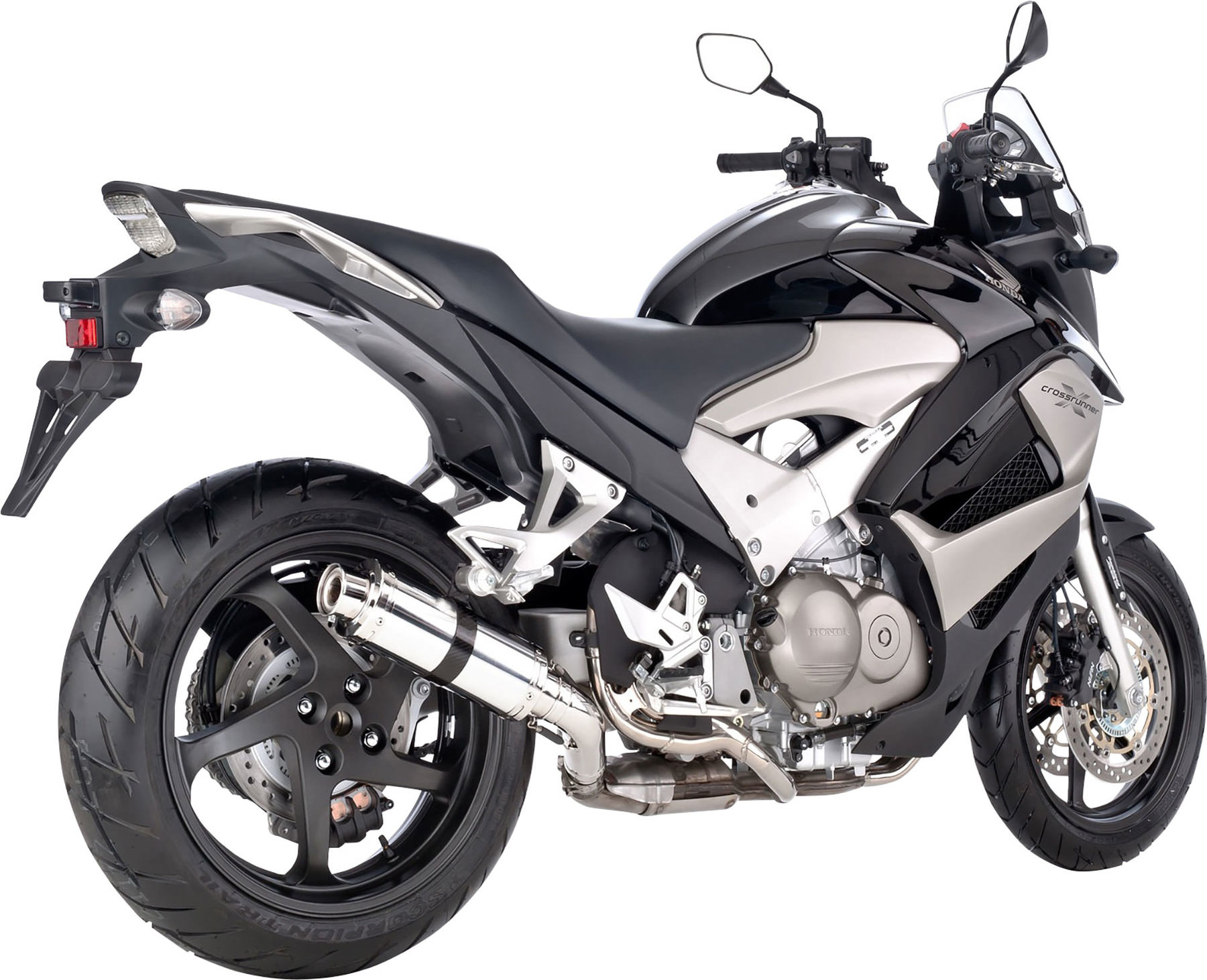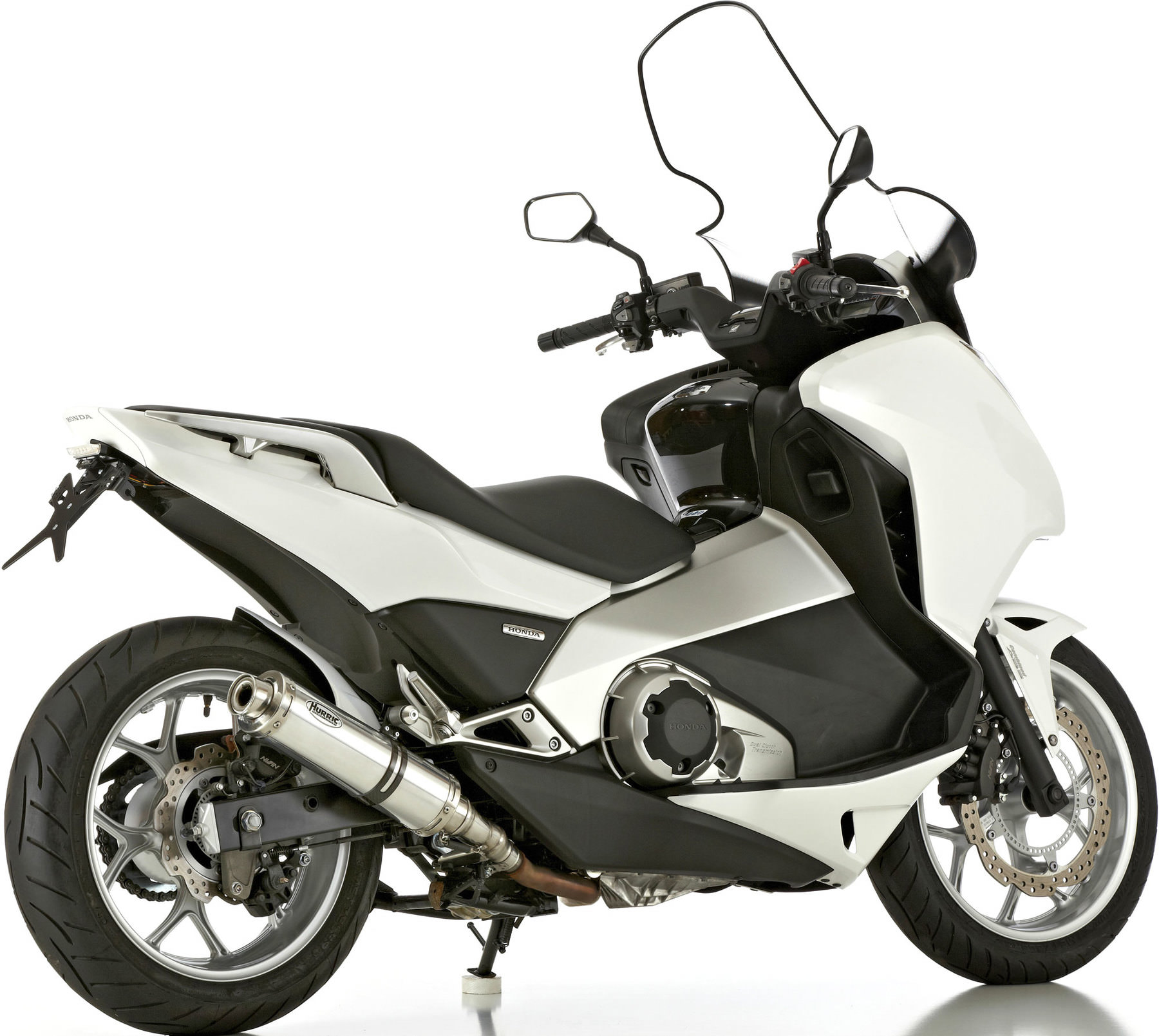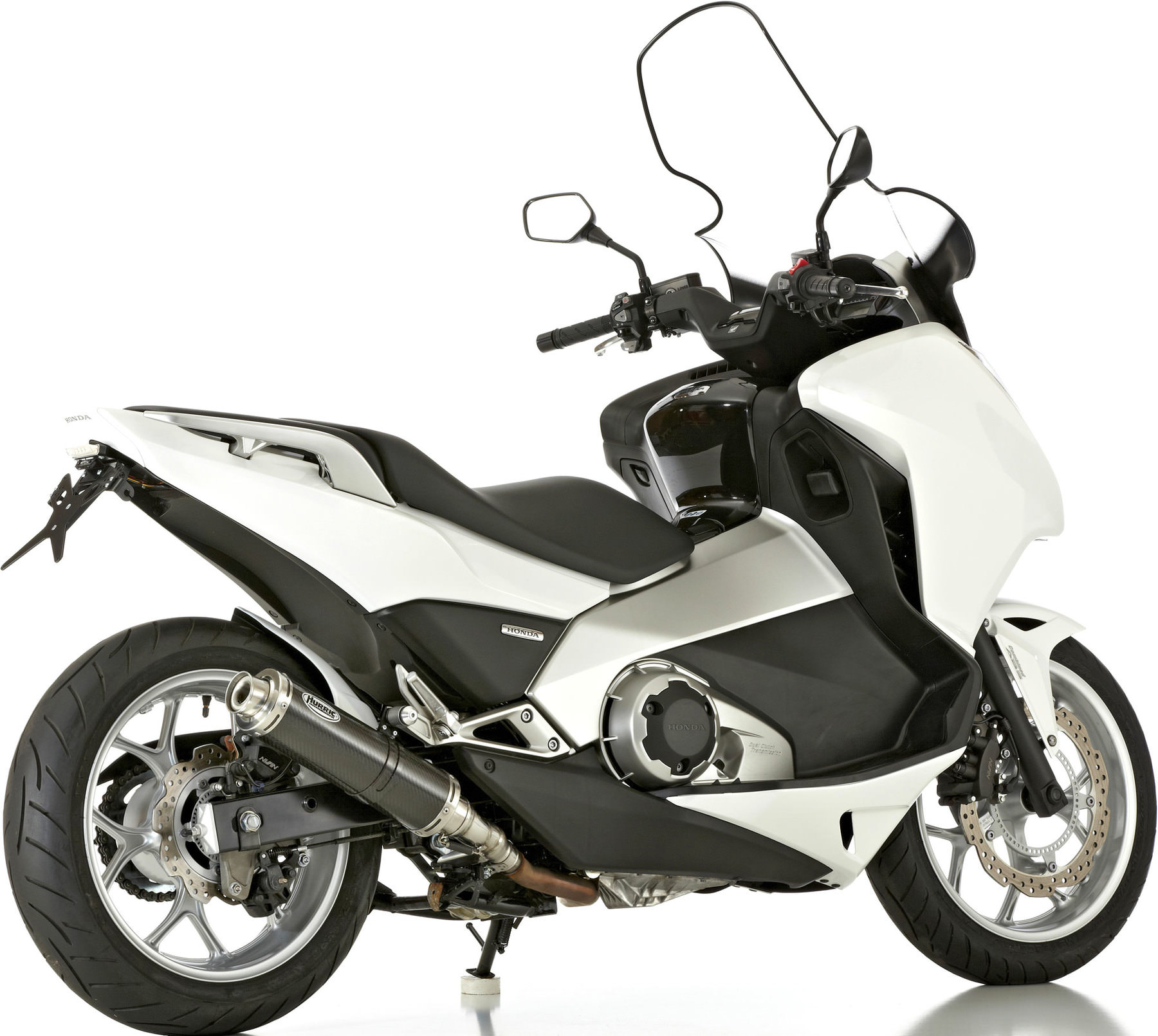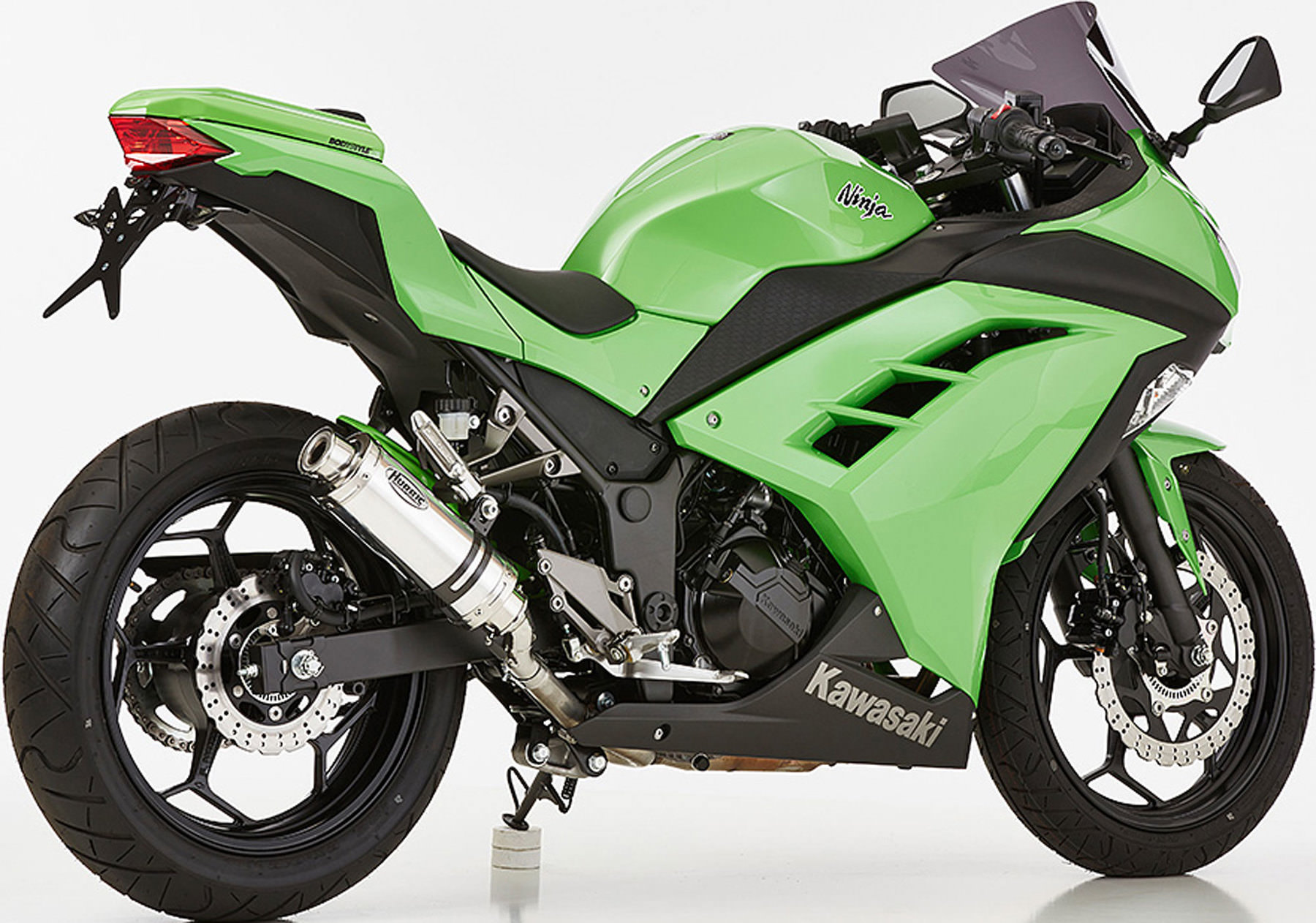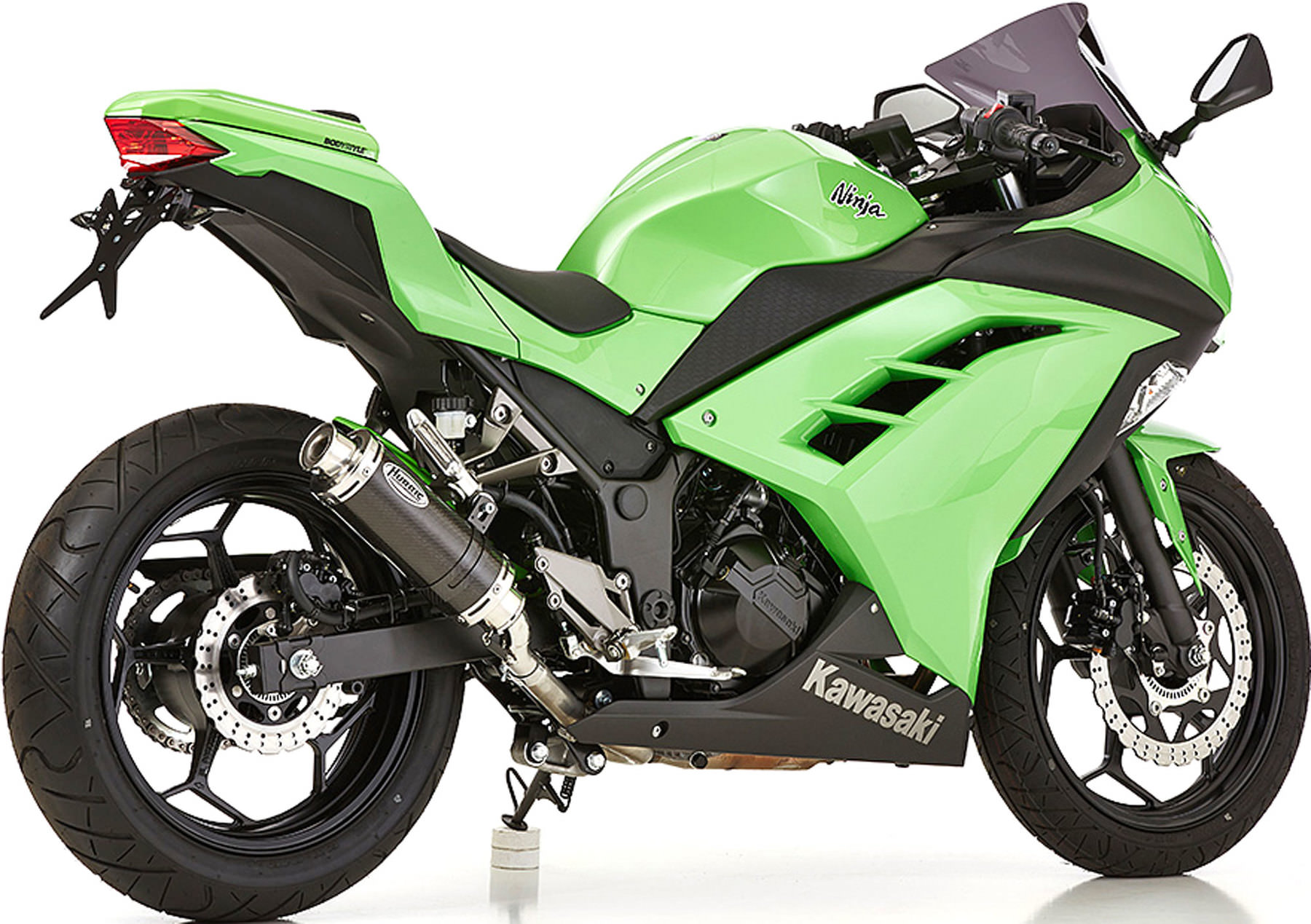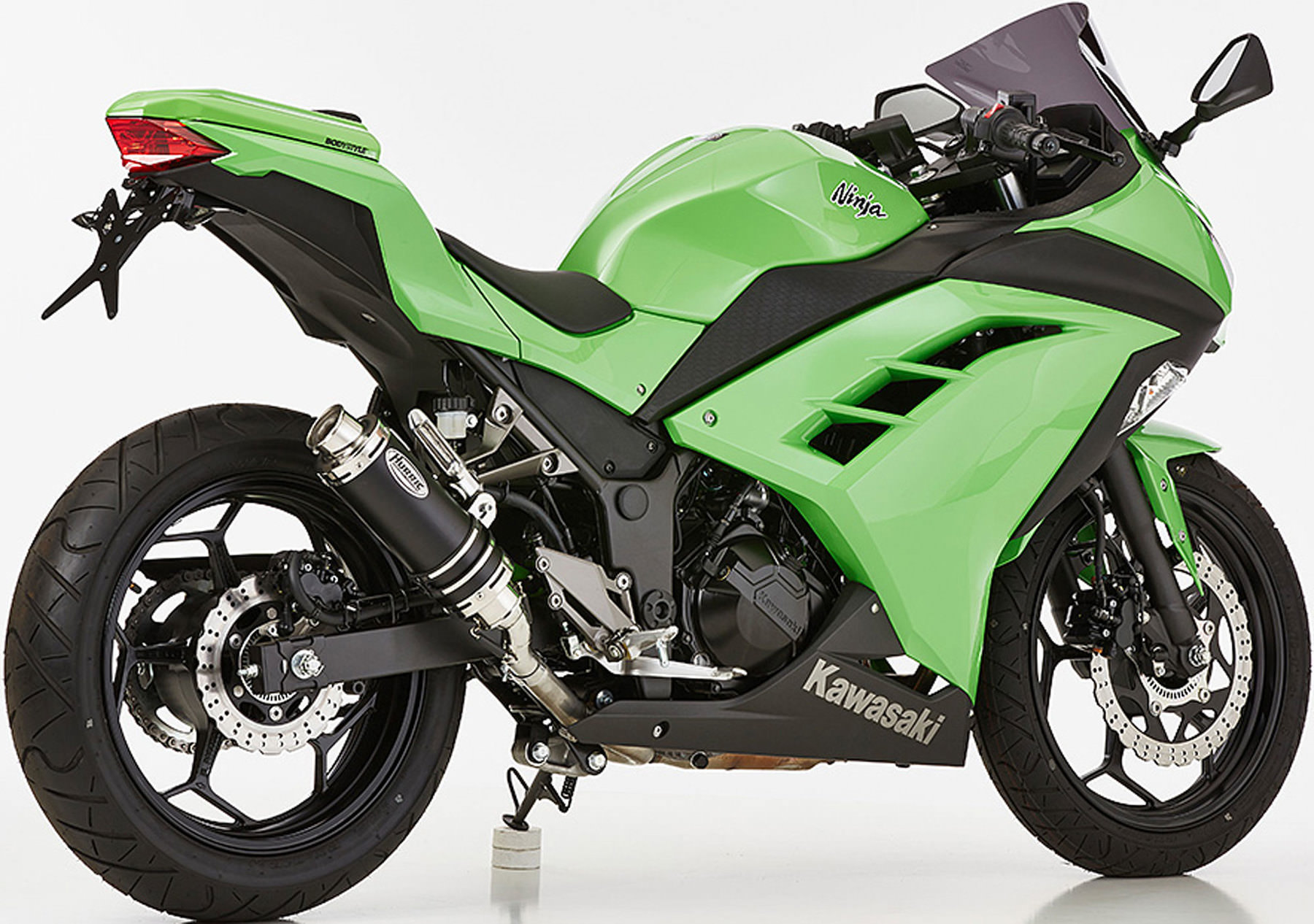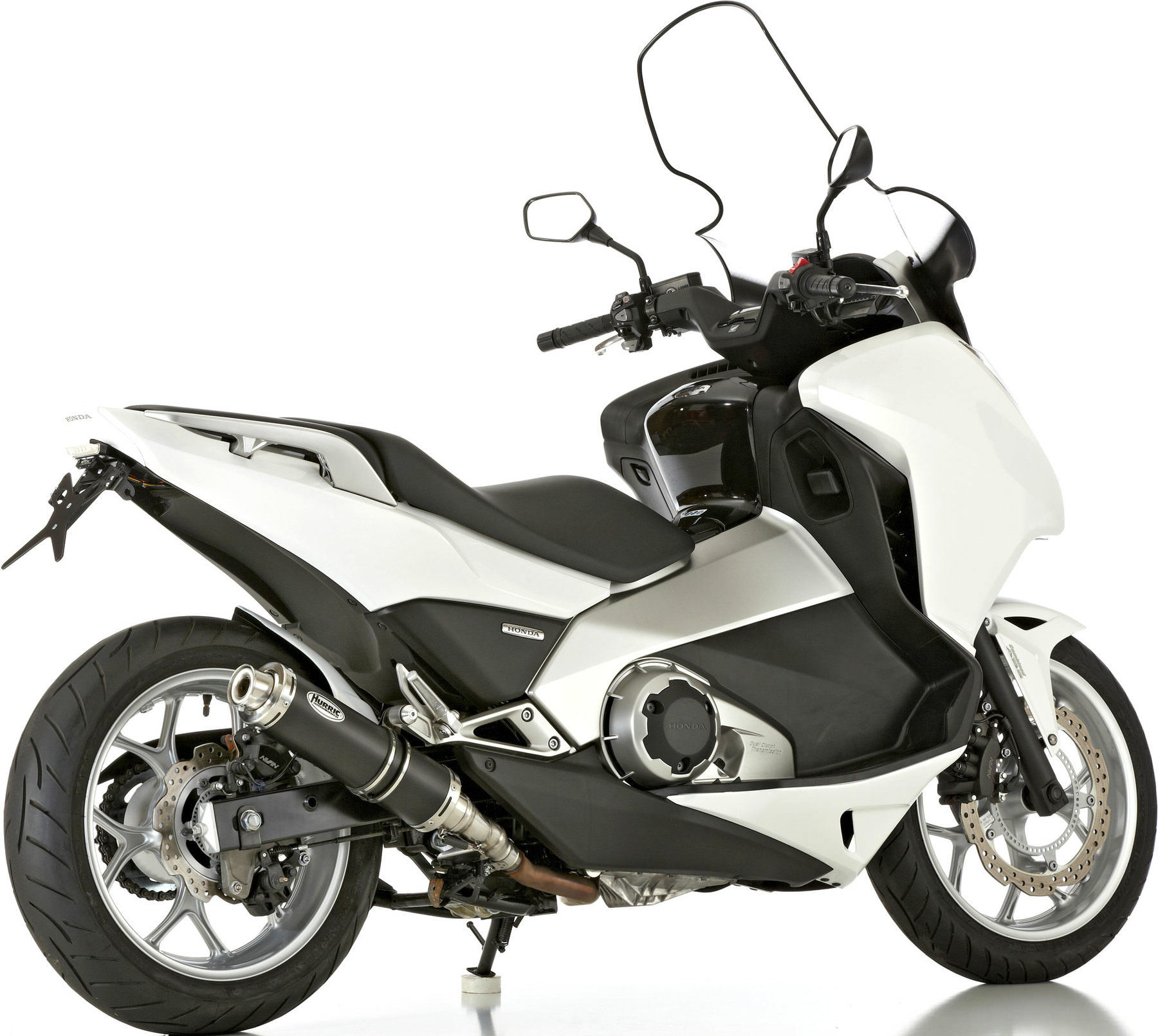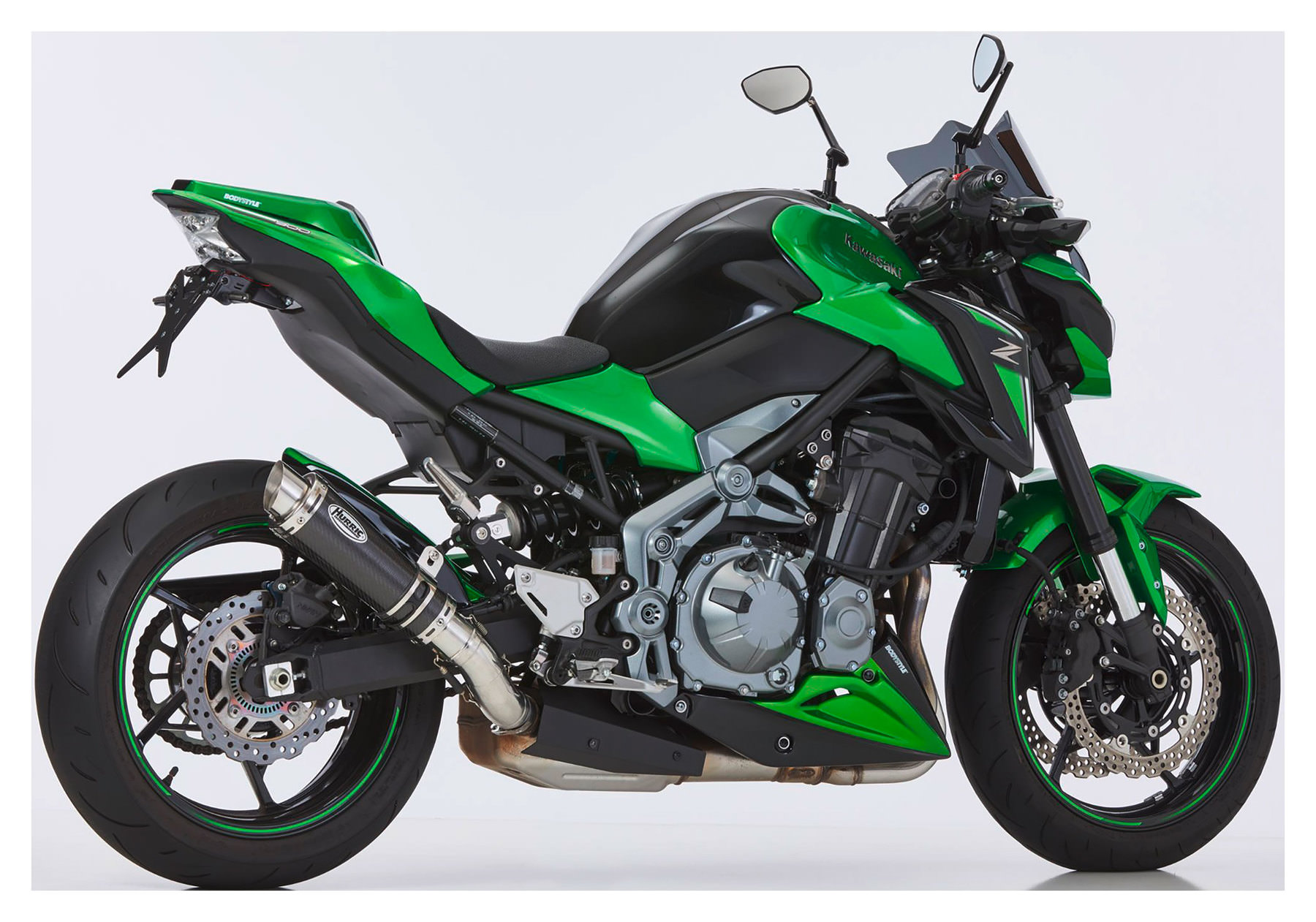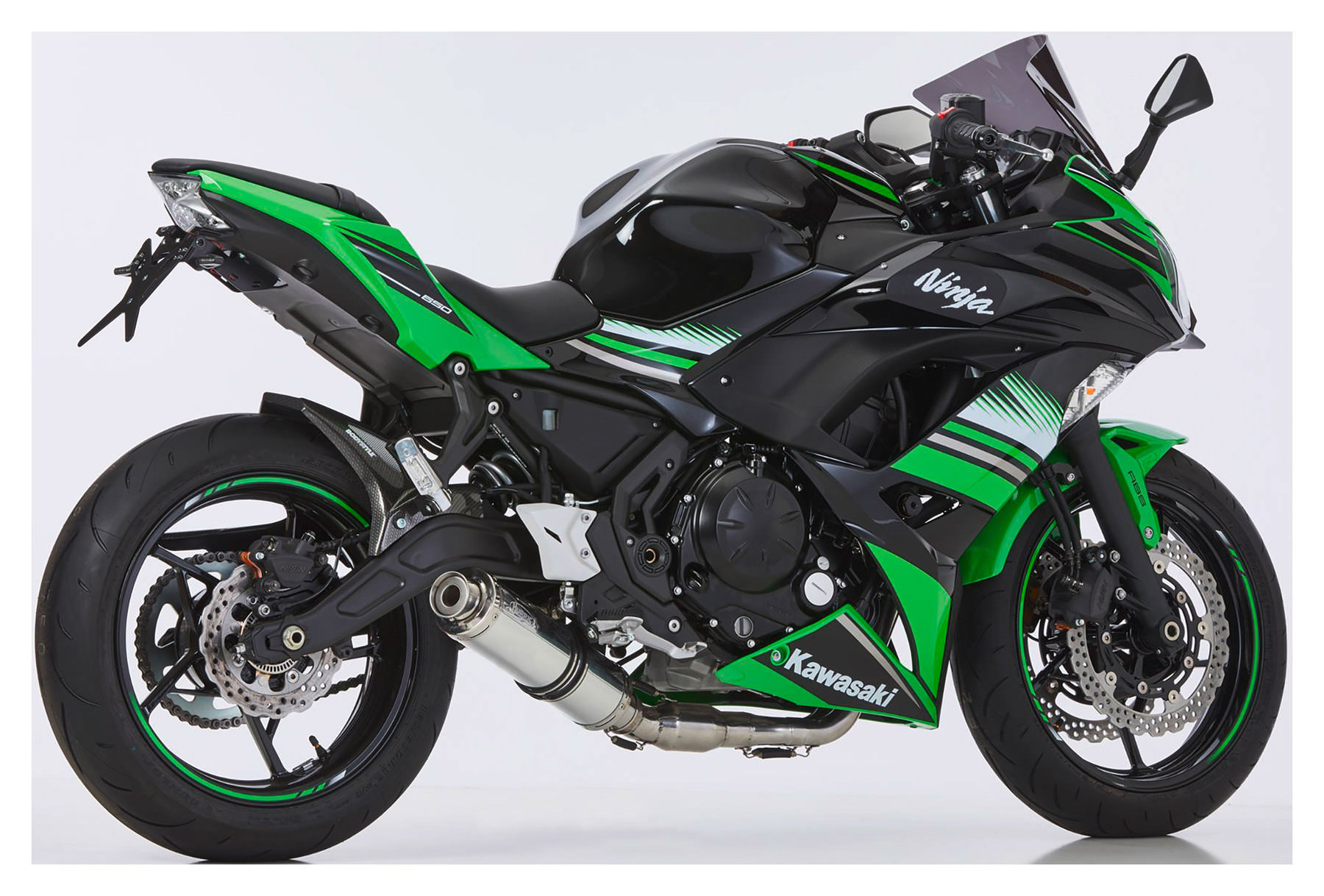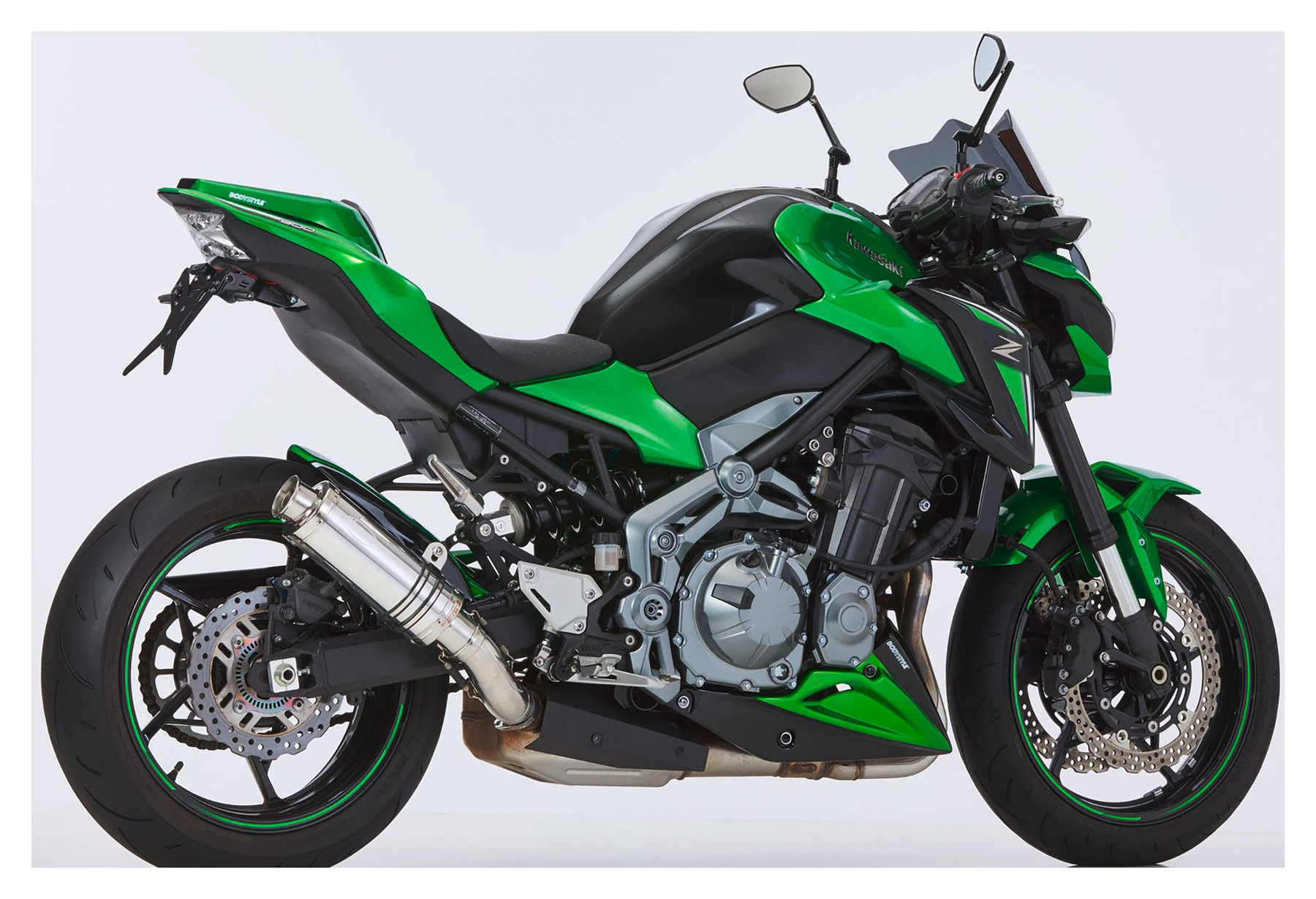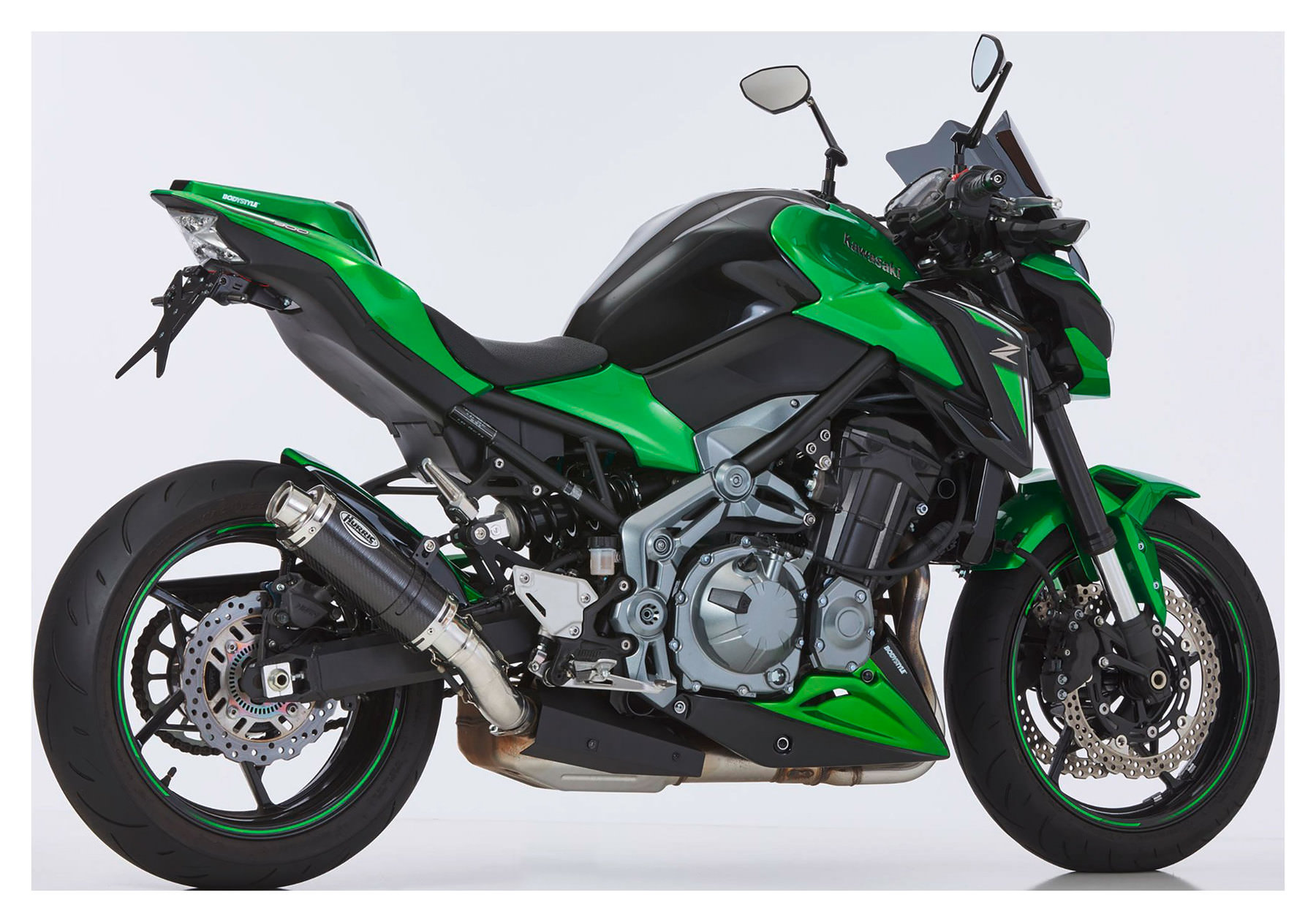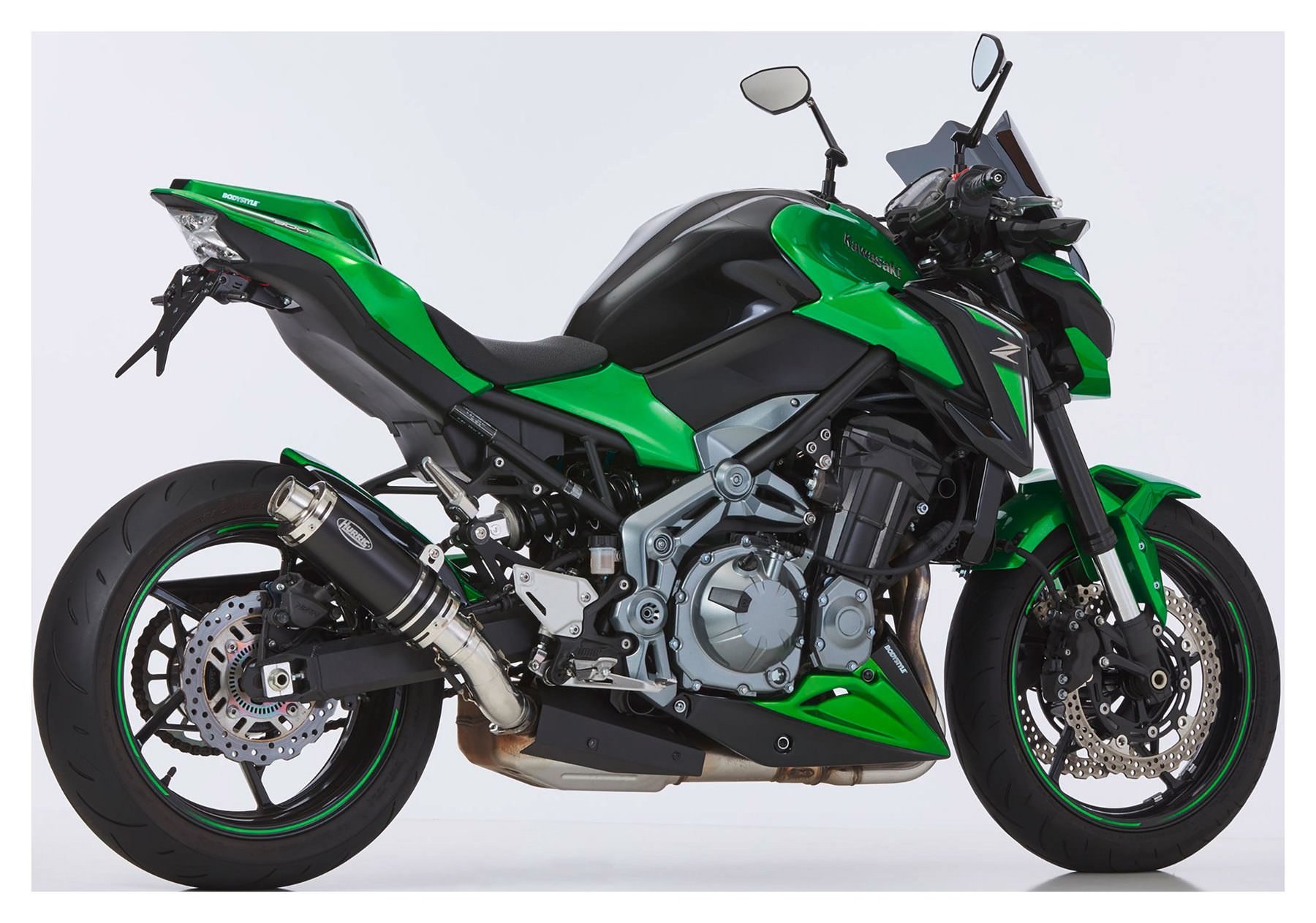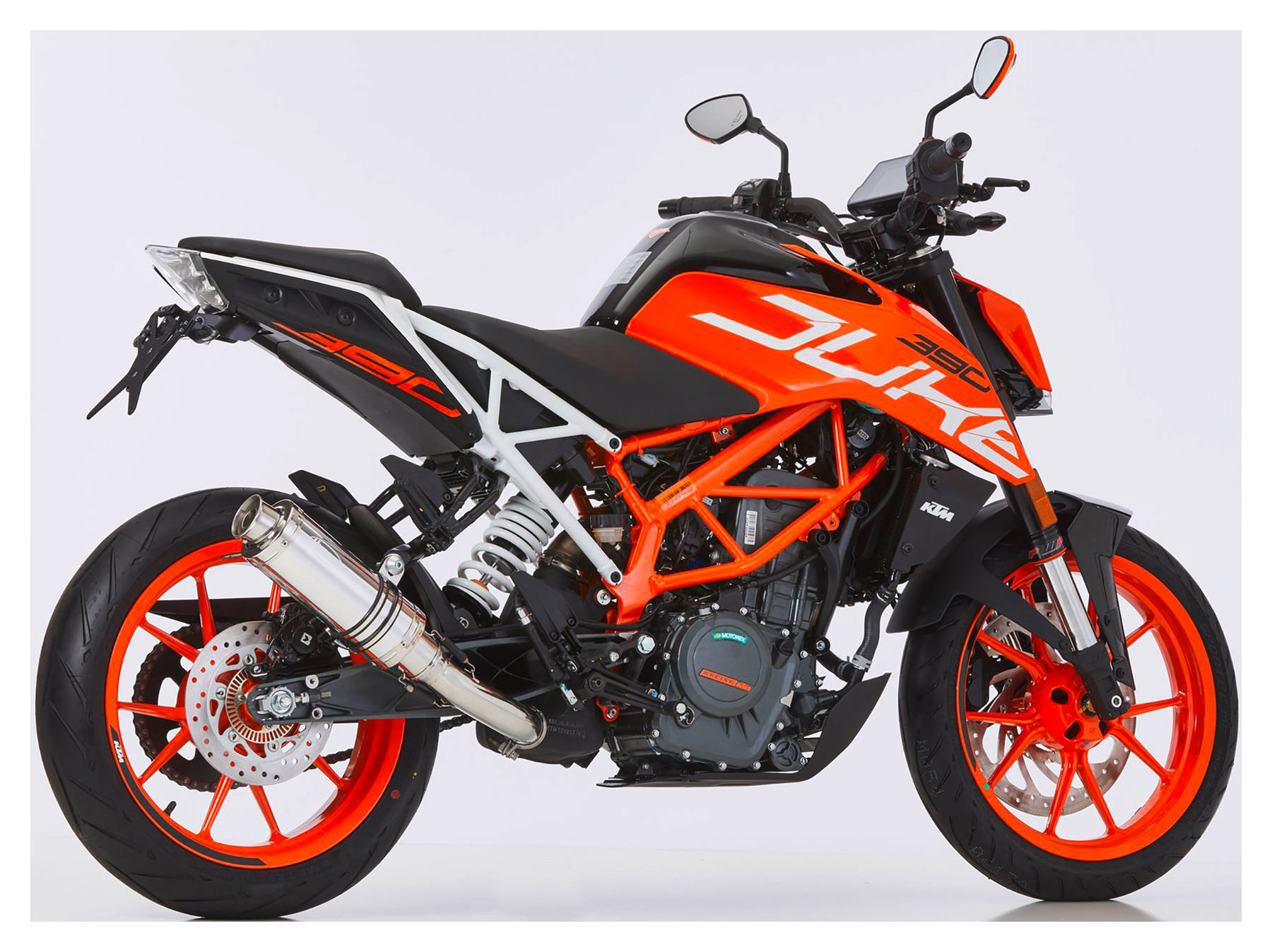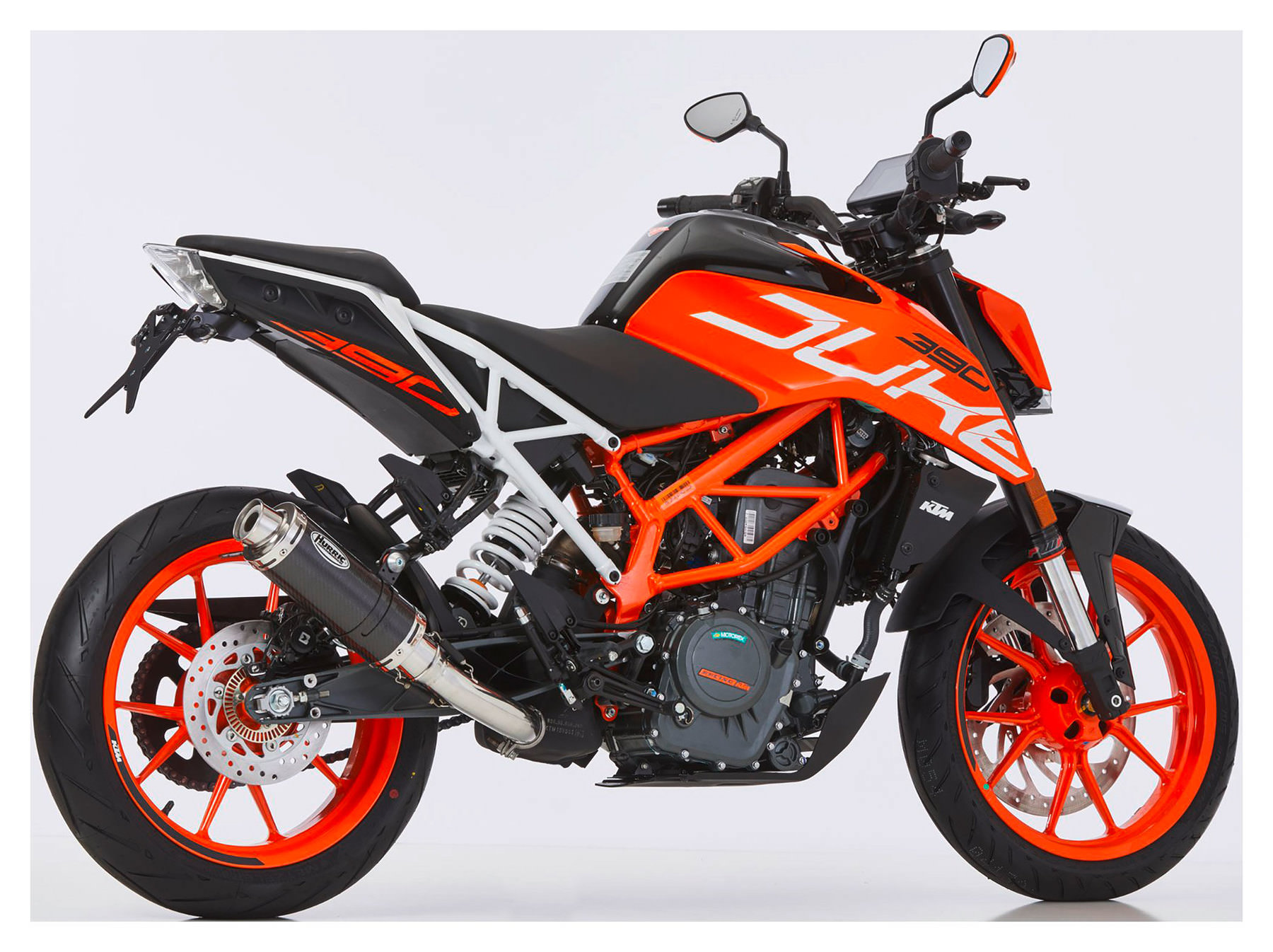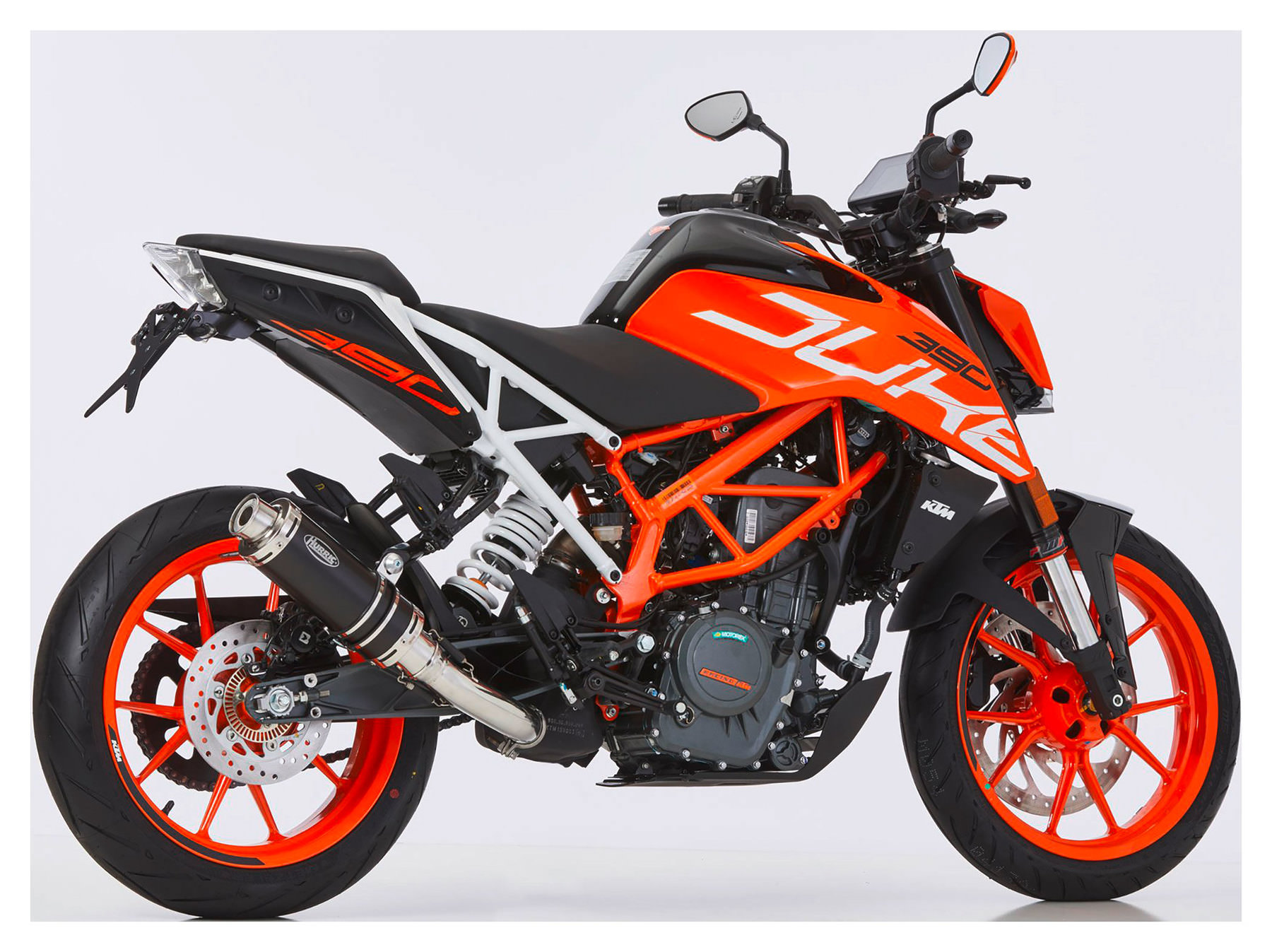 HURRIC Supersport Exhaust
Unfortunately, this product is not compatible with this motorcycle.
Unfortunately, this product is not compatible with this motorcycle. You can find the right for the here: .
€

259.951
2
from
€

236.991
(-8%)
2 Price comparison with current recommended retail price.
Free delivery on orders over €199.00
2 year return policy
Fast delivery
HURRIC Supersport Exhaust
If a product has the word "Supersport" in its name, then you know it's pretty special. And that's certainly true of the Hurric Supersport Rear Silencer. Short, strong and super-sporty. With a sound and a performance that many far more expensive silencers would do well to imitate.
Available in a choice of polished aluminium, matt black aluminium or carbon
The carbon version is secured with a real carbon clamp, while the aluminium and black versions use a stainless-steel clamp
Installation and removal on/from the original manifold takes just minutes
EC type-approved
Information about the shape and design can be found under "Important information".

Length: vehicle-specific, from approx. 26.5 cm to 36 cm
Diameter: approx. 10 cm
Manufacturer details: Hurric

Exhaust systems

The high-performance aftermarket silencer generation from Hurric is characterised by its throaty sound, high-quality engineering and excellent price-performance ratio. Thanks to countless recommendations in independent trade magazines, these rear silencers have established themselves as a sure-fire winner on the accessories market. All rear silencers are supplied with EC type approval and removable dB absorber.

Modern vehicle accessories of different types now frequently carry an "E" approval mark valid throughout Europe. This "E" mark, which is made up of a combination of letters and numbers, is clearly displayed on the product and shows the application tested, the country in which testing was carried out and, where appropriate, the vehicle type to which approval applies. EC type approvals for exhaust systems, for example, are always issued for a specific vehicle type, whereas in the case of lighting, they apply to an entire group of vehicles, e.g. motorcycles.
This certification mark is the sole proof of legality stipulated by law, i.e. no written report or entry in the vehicle documents by a TÜV (German Technical Inspection Association) test centre is required. However, when it comes to installing accessories, the relevant guidelines of the Road Traffic Licensing Regulations (StvZO) must always be observed.
At a roadside check or a TÜV vehicle inspection, the registered keeper is only required to show the "E" mark. It is then up to the official in charge whether to check the mark with the Federal Motor Transport Authority (KBA) in Flensburg (or equivalent type approval authority in other countries), which is able to decode all certification marks.
Product
Art. No.
Availability
Price
Actions
HURRIC SS EXHAUST-SYSTEM - MT-07 2014- ALUMINIUM

Important notes

Rear silencer: "Super Short" length approx. 260 mm.

Original cat is no longer used. Catalytic converter is included.

Design: Full system 2-1

10012232

The product will be ordered from the manufacturer for you. Depending on availability, longer delivery times are also possible. We'll let you know if that's the case. You can of course cancel your delivery at any time free of charge.

Available in 7-21 days

€619.99

1 €569.99 1
HURRIC SS EXHAUST-SYSTEM - MT-07 2014- BLACK

Important notes

Rear silencer: "Super Short" length approx. 260 mm.

Original cat is no longer used. Catalytic converter is included.

Design: Full system 2-1

10012233

The item is in stock and will be delivered in 2-5 working days. Note: Stocks are updated online every hour on working days from 7 a.m. to 8 p.m., so there is a good chance that the products are available if they appear online.

Available

€619.99

1 €569.99 1
HURRIC SS EXHAUST-SYSTEM - MT-09 2014- ALUMINIUM

Important notes

Original cat is no longer used. Catalytic converter is included.

"Short" rear silencer is approx. 360 mm long.

Design: Full system 3-1

10012234

The product will be ordered from the manufacturer for you. Depending on availability, longer delivery times are also possible. We'll let you know if that's the case. You can of course cancel your delivery at any time free of charge.

Available in 7-21 days

€719.99

1 €664.99 1
HURRIC SS EXHAUST-SYSTEM - MT-09 2014- MATT BLACK

Important notes

Original cat is no longer used. Catalytic converter is included.

"Short" rear silencer is approx. 360 mm long.

Design: Full system 3-1

The exhaust system was tested according to the Euro4 exhaust gas standard

10012235

The product will be ordered from the manufacturer for you. Depending on availability, longer delivery times are also possible. We'll let you know if that's the case. You can of course cancel your delivery at any time free of charge.

Available in 7-21 days

€719.99

1 €664.99 1
HURRIC SS EXHAUST-SYSTEM - NINJA 650, Z650 ALUMINIUM

Important notes

Original cat is no longer used. Catalytic converter is included.

"Short" rear silencer is approx. 360 mm long.

Design: Full system 2-1

10012230

The product will be ordered from the manufacturer for you. Depending on availability, longer delivery times are also possible. We'll let you know if that's the case. You can of course cancel your delivery at any time free of charge.

Available in 7-21 days

€619.99

1 €569.99 1
HURRIC SS EXHAUST-SYSTEM - NINJA 650, Z650 BLACK

Important notes

Original cat is no longer used. Catalytic converter is included.

"Short" rear silencer is approx. 360 mm long.

Design: Full system 2-1

10012231

The product will be ordered from the manufacturer for you. Depending on availability, longer delivery times are also possible. We'll let you know if that's the case. You can of course cancel your delivery at any time free of charge.

Available in 7-21 days

€619.99

1 €569.99 1
HURRIC SUPERSP. FULL.SYS. - 650/Z650,2-1 ALUM. 2020-
10039100

The product will be ordered from the manufacturer for you. Depending on availability, longer delivery times are also possible. We'll let you know if that's the case. You can of course cancel your delivery at any time free of charge.

Available in 7-21 days

€599.99

1 €569.99 1
HURRIC SUPERSP. FULL.SYS. - MT-125/YZF-R125, CARB 20-

Important notes

The exhaust system conforms to the EURO 4 standard

10039322

The product will be ordered from the manufacturer for you. Depending on availability, longer delivery times are also possible. We'll let you know if that's the case. You can of course cancel your delivery at any time free of charge.

Available in 7-21 days

€619.95

1 €569.99 1
HURRIC SUPERSP. FULL.SYS. - MT-125/YZF-R125,ALU.2020-

Important notes

The exhaust system conforms to the EURO 4 standard

10039199

The product will be ordered from the manufacturer for you. Depending on availability, longer delivery times are also possible. We'll let you know if that's the case. You can of course cancel your delivery at any time free of charge.

Available in 7-21 days

€519.99

1 €474.99 1
HURRIC SUPERSP. FULL.SYS. - MT-125/YZF-R125,BL 2020-

Important notes

The exhaust system conforms to the EURO 4 standard

10039378

The product will be ordered from the manufacturer for you. Depending on availability, longer delivery times are also possible. We'll let you know if that's the case. You can of course cancel your delivery at any time free of charge.

Available in 7-21 days

€519.99

1 €474.99 1
HURRIC SUPERSP. SILENCER - 390 ADV. 1-1, ALUM. 2020-
10039419

The product will be ordered from the manufacturer for you. Depending on availability, longer delivery times are also possible. We'll let you know if that's the case. You can of course cancel your delivery at any time free of charge.

Available in 7-21 days

€309.99

1 €284.99 1
HURRIC SUPERSP. SILENCER - 390 ADV. 1-1, CARB 2020-
10039507

The product will be ordered from the manufacturer for you. Depending on availability, longer delivery times are also possible. We'll let you know if that's the case. You can of course cancel your delivery at any time free of charge.

Available in 7-21 days

€419.99

1 €379.99 1
HURRIC SUPERSP. SILENCER - 390 ADV. 1-1,ALUM.BL 20-
10039512

The product will be ordered from the manufacturer for you. Depending on availability, longer delivery times are also possible. We'll let you know if that's the case. You can of course cancel your delivery at any time free of charge.

Available in 7-21 days

€329.99

1 €303.99 1
HURRIC SUPERSP. SILENCER - CB/CBR500 2017-BLK/E-MARK

Important notes

Design: Slip-on 2-1

"Short" rear silencer is approx. 360 mm long.

The exhaust system was tested according to the Euro4 exhaust gas standard.

The original catalytic converter stays in place.

10039769

The item is in stock and will be delivered in 2-5 working days. Note: Stocks are updated online every hour on working days from 7 a.m. to 8 p.m., so there is a good chance that the products are available if they appear online.

Available

€329.99

1 €284.99 1
HURRIC SUPERSP. SILENCER - GSF650 BANDIT ALUM/E-MARK

Important notes

Design: Slip-on 4-1

The original catalytic converter stays in place.

10040423

The item is in stock and will be delivered in 2-5 working days. Note: Stocks are updated online every hour on working days from 7 a.m. to 8 p.m., so there is a good chance that the products are available if they appear online.

Available

€309.99

1 €284.99 1
HURRIC SUPERSP. SILENCER - Z900, 4-1, ALUM. 2020-
10039412

The product will be ordered from the manufacturer for you. Depending on availability, longer delivery times are also possible. We'll let you know if that's the case. You can of course cancel your delivery at any time free of charge.

Available in 7-21 days

€309.99

1 €284.99 1
HURRIC SUPERSP. SILENCER - Z900, 4-1, ALUM. BL 2020-
10039418

The item is in stock and will be delivered in 2-5 working days. Note: Stocks are updated online every hour on working days from 7 a.m. to 8 p.m., so there is a good chance that the products are available if they appear online.

Available

€329.99

1 €303.99 1
HURRIC SUPERSP. SILENCER - Z900, 4-1, CARBON 2020-
10039416

The product will be ordered from the manufacturer for you. Depending on availability, longer delivery times are also possible. We'll let you know if that's the case. You can of course cancel your delivery at any time free of charge.

Available in 7-21 days

€419.95

1 €379.99 1
HURRIC SUPERSP. SILENCER - Z900,4-1 CARBON 2020-
10039098

The product will be ordered from the manufacturer for you. Depending on availability, longer delivery times are also possible. We'll let you know if that's the case. You can of course cancel your delivery at any time free of charge.

Available in 7-21 days

€419.95

1 €379.99 1
HURRIC SUPERSPORT EXHAUST - 690 DUKE /R 16-ALU /EG-BE

Important notes

The original catalytic converter is retained, so retrofitting is not required.

Connector pipe and fastening springs are included.

Design: Slip-on 2-1

The exhaust system was tested according to the Euro4 exhaust gas standard.

10012209

The product will be ordered from the manufacturer for you. Depending on availability, longer delivery times are also possible. We'll let you know if that's the case. You can of course cancel your delivery at any time free of charge.

Available in 7-21 days

€309.99

1 €284.99 1
HURRIC SUPERSPORT EXHAUST - 690 DUKE /R 16-CARBON ABE

Important notes

The original catalytic converter is retained, so retrofitting is not required.

Connector pipe and fastening springs are included.

Design: Slip-on 2-1

The exhaust system was tested according to the Euro4 exhaust gas standard.

10012210

The product will be ordered from the manufacturer for you. Depending on availability, longer delivery times are also possible. We'll let you know if that's the case. You can of course cancel your delivery at any time free of charge.

Available in 7-21 days

€419.99

1 €379.99 1
HURRIC SUPERSPORT EXHAUST - 690 DUKE /R 2016- BLACK

Important notes

The original catalytic converter is retained, so retrofitting is not required.

Connector pipe and fastening springs are included.

Design: Slip-on 2-1

The exhaust system was tested according to the Euro4 exhaust gas standard.

10012211

The item is in stock and will be delivered in 2-5 working days. Note: Stocks are updated online every hour on working days from 7 a.m. to 8 p.m., so there is a good chance that the products are available if they appear online.

Available

€329.99

1 €303.99 1
HURRIC SUPERSPORT EXHAUST - CB 1000 R 08-CARBON,EG-BE

Important notes

The original catalytic converter is retained, so retrofitting is not required.

Design: Slip-on 4-1

Rear silencer: "Super Short" length approx. 260 mm.

10027290

The item is in stock and will be delivered in 2-5 working days. Note: Stocks are updated online every hour on working days from 7 a.m. to 8 p.m., so there is a good chance that the products are available if they appear online.

Available

€479.99

1 2 €436.99 1
HURRIC SUPERSPORT EXHAUST - CB 125 R BJ.18- BLACK

Important notes

Original cat is no longer used. Catalytic converter is included.

The silencer is not approved for use without a dB absorber under the German Road Traffic Licensing Regulations (StVZO).

Design: Full system 1-1

The exhaust system was tested according to the Euro4 exhaust gas standard

10012240

The item is in stock and will be delivered in 2-5 working days. Note: Stocks are updated online every hour on working days from 7 a.m. to 8 p.m., so there is a good chance that the products are available if they appear online.

Available

€519.99

1 €474.99 1
HURRIC SUPERSPORT EXHAUST - CB/CBR 500 16- ALU /EG-BE

Important notes

Connector pipe and fastening springs are included.

Design: Slip-on 2-1

"Short" rear silencer is approx. 360 mm long.

The original catalytic converter is retained, so retrofitting is not required.

The exhaust system was tested according to the Euro4 exhaust gas standard

10035983

The item is in stock and will be delivered in 2-5 working days. Note: Stocks are updated online every hour on working days from 7 a.m. to 8 p.m., so there is a good chance that the products are available if they appear online.

Available

€309.99

1 €284.99 1
HURRIC SUPERSPORT EXHAUST - CB/CBR 500 16- CARB/EG-BE

Important notes

Connector pipe and fastening springs are included.

"Short" rear silencer is approx. 360 mm long.

The original catalytic converter is retained, so retrofitting is not required.

Design: Slip-on 2-1

The exhaust system was tested according to the Euro4 exhaust gas standard

10035984

The product will be ordered from the manufacturer for you. Depending on availability, longer delivery times are also possible. We'll let you know if that's the case. You can of course cancel your delivery at any time free of charge.

Available in 7-21 days

€419.99

1 €379.99 1
HURRIC SUPERSPORT EXHAUST - CB/CBR 500 16- SCHW/EG-BE

Important notes

Connector pipe and fastening springs are included.

"Short" rear silencer is approx. 360 mm long.

The original catalytic converter is retained, so retrofitting is not required.

Design: Slip-on 2-1

The exhaust system was tested according to the Euro4 exhaust gas standard

10035991

The item is in stock and will be delivered in 2-5 working days. Note: Stocks are updated online every hour on working days from 7 a.m. to 8 p.m., so there is a good chance that the products are available if they appear online.

Available

€329.99

1 €303.99 1
HURRIC SUPERSPORT EXHAUST - CB1000 R 08-SCHWARZ EG-BE

Important notes

Silencer supplied is "Super Short" version (length: 250 mm).

Carbon trim for collector available as an accessory (Order no. 10027095).

Connector pipe and fastening springs are included.

Design: Slip-on 4-1

10035916

The product will be ordered from the manufacturer for you. Depending on availability, longer delivery times are also possible. We'll let you know if that's the case. You can of course cancel your delivery at any time free of charge.

Available in 7-21 days

€369.99

1 €341.99 1
HURRIC SUPERSPORT EXHAUST - CB1000R 08- ALUM, E-MARK

Important notes

Silencer supplied is "Super Short" version (length: 250 mm).

Carbon trim for collector available as an accessory (Order no. 10027095).

Connector pipe and fastening springs are included.

Design: Slip-on 4-1

10027289

The product will be ordered from the manufacturer for you. Depending on availability, longer delivery times are also possible. We'll let you know if that's the case. You can of course cancel your delivery at any time free of charge.

Available in 7-21 days

€359.99

1 €331.99 1
HURRIC SUPERSPORT EXHAUST - CB1000R 18- CARBON

Important notes

The original catalytic converter is retained, so retrofitting is not required.

Design: Slip-on 4-1

The exhaust system was tested according to the Euro4 exhaust gas standard

10012237

The product will be ordered from the manufacturer for you. Depending on availability, longer delivery times are also possible. We'll let you know if that's the case. You can of course cancel your delivery at any time free of charge.

Available in 7-21 days

€419.99

1 €379.99 1
HURRIC SUPERSPORT EXHAUST - CB1000R 2018- BLACK

Important notes

The original catalytic converter is retained, so retrofitting is not required.

Design: Slip-on 4-1

The exhaust system was tested according to the Euro4 exhaust gas standard

10012238

The product will be ordered from the manufacturer for you. Depending on availability, longer delivery times are also possible. We'll let you know if that's the case. You can of course cancel your delivery at any time free of charge.

Available in 7-21 days

€329.99

1 €303.99 1
HURRIC SUPERSPORT EXHAUST - CB1000R 2018- ALUMINIUM

Important notes

The original catalytic converter is retained, so retrofitting is not required.

Design: Slip-on 4-1

The exhaust system was tested according to the Euro4 exhaust gas standard

10012236

The product will be ordered from the manufacturer for you. Depending on availability, longer delivery times are also possible. We'll let you know if that's the case. You can of course cancel your delivery at any time free of charge.

Available in 7-21 days

€309.99

1 €284.99 1
HURRIC SUPERSPORT EXHAUST - CB125R 2018- ALUMINIUM

Important notes

Original cat is no longer used. Catalytic converter is included.

The silencer is not approved for use without a dB absorber under the German Road Traffic Licensing Regulations (StVZO).

Design: Full system 1-1

The exhaust system was tested according to the Euro4 exhaust gas standard

10012239

The product will be ordered from the manufacturer for you. Depending on availability, longer delivery times are also possible. We'll let you know if that's the case. You can of course cancel your delivery at any time free of charge.

Available in 7-21 days

€519.99

1 €474.99 1
HURRIC SUPERSPORT EXHAUST - CB125R 2018- CARBON

Important notes

Original cat is no longer used. Catalytic converter is included.

The silencer is not approved for use without a dB absorber under the German Road Traffic Licensing Regulations (StVZO).

Design: Full system 1-1

The exhaust system was tested according to the Euro4 exhaust gas standard

10012241

The product will be ordered from the manufacturer for you. Depending on availability, longer delivery times are also possible. We'll let you know if that's the case. You can of course cancel your delivery at any time free of charge.

Available in 7-21 days

€619.99

1 €569.99 1
HURRIC SUPERSPORT EXHAUST - CB500 F/X,CBR 500 R, ALU

Important notes

The original catalytic converter is retained, so retrofitting is not required.

Connector pipe and fastening springs are included.

Design: Slip-on 2-1

10027345

The item is in stock and will be delivered in 2-5 working days. Note: Stocks are updated online every hour on working days from 7 a.m. to 8 p.m., so there is a good chance that the products are available if they appear online.

Available

€309.99

1 €284.99 1
HURRIC SUPERSPORT EXHAUST - CB500 F/X,CBR 500R, SCHW.

Important notes

The original catalytic converter is retained, so retrofitting is not required.

Connector pipe and fastening springs are included.

Design: Slip-on 2-1

10027347

The product will be ordered from the manufacturer for you. Depending on availability, longer delivery times are also possible. We'll let you know if that's the case. You can of course cancel your delivery at any time free of charge.

Available in 7-21 days

€329.99

1 €303.99 1
HURRIC SUPERSPORT EXHAUST - CB500 F/X,CBR500R,CARBON

Important notes

The original catalytic converter is retained, so retrofitting is not required.

Design: Slip-on 2-1

10027346

The item is in stock and will be delivered in 2-5 working days. Note: Stocks are updated online every hour on working days from 7 a.m. to 8 p.m., so there is a good chance that the products are available if they appear online.

Available

€419.99

1 €379.99 1
HURRIC SUPERSPORT EXHAUST - CB600HOR.07-/CBR600 SCHW.

Important notes

The original catalytic converter is retained, so retrofitting is not required.

Connector pipe and fastening springs are included.

Design: Slip-on 4-1

10035905

The product will be ordered from the manufacturer for you. Depending on availability, longer delivery times are also possible. We'll let you know if that's the case. You can of course cancel your delivery at any time free of charge.

Available in 7-21 days

€329.99

1 €303.99 1
HURRIC SUPERSPORT EXHAUST - CB600HORN./CBR 600 F, ALU

Important notes

The original catalytic converter is retained, so retrofitting is not required.

Connector pipe and fastening springs are included.

Design: Slip-on 4-1

10027318

The item is in stock and will be delivered in 2-5 working days. Note: Stocks are updated online every hour on working days from 7 a.m. to 8 p.m., so there is a good chance that the products are available if they appear online.

Available

€309.99

1 €284.99 1
HURRIC SUPERSPORT EXHAUST - CB600HORN./CBR600F CARB.

Important notes

The original catalytic converter is retained, so retrofitting is not required.

Design: Slip-on 4-1

10027319

The product will be ordered from the manufacturer for you. Depending on availability, longer delivery times are also possible. We'll let you know if that's the case. You can of course cancel your delivery at any time free of charge.

Available in 7-21 days

€419.99

1 €379.99 1
HURRIC SUPERSPORT EXHAUST - CB650/CBR650 R 19- BLACK
10039611

The product will be ordered from the manufacturer for you. Depending on availability, longer delivery times are also possible. We'll let you know if that's the case. You can of course cancel your delivery at any time free of charge.

Available in 7-21 days

€949.99

1 €873.99 1
HURRIC SUPERSPORT EXHAUST - CB650/CBR650 R 19- SILVER
10039610

The product will be ordered from the manufacturer for you. Depending on availability, longer delivery times are also possible. We'll let you know if that's the case. You can of course cancel your delivery at any time free of charge.

Available in 7-21 days

€949.99

1 €873.99 1
HURRIC SUPERSPORT EXHAUST - CBF 600 04-07 CARB./EG-BE

Important notes

Exhaust system is only EC approved with catalytic converter, available as an optional extra! See "Compatible products".

Original cat is no longer used.Catalytic converter not included.Aftermarket catalytic converter with 52 mm diameter (no. 10027035) available.

Design: Slip-on 4-1

10027203

The product will be ordered from the manufacturer for you. Depending on availability, longer delivery times are also possible. We'll let you know if that's the case. You can of course cancel your delivery at any time free of charge.

Available in 7-21 days

€419.99

1 3 €379.99 1
HURRIC SUPERSPORT EXHAUST - CBF 600 04-07 SCHW. EG-BE

Important notes

Original cat is no longer used.Catalytic converter not included.Aftermarket catalytic converter with 52 mm diameter (no. 10027035) available.

Connector pipe and fastening springs are included.

Design: Slip-on 4-1

10035906

This product is available at week 38.
Current calendar week: 30

Available as of calendar week 38

€329.99

1 €303.99 1
HURRIC SUPERSPORT EXHAUST - CBF 600 08- SCHWARZ EG-BE

Important notes

Original cat is no longer used. Catalytic converter not included. Aftermarket catalytic converter with 60 mm diameter (Order no. 10027036) available.

Connector pipe and fastening springs are included.

Design: Slip-on 4-1

Rear silencer: Hurric RAC1 "Short" length approx. 360 mm.

10035907

The product will be ordered from the manufacturer for you. Depending on availability, longer delivery times are also possible. We'll let you know if that's the case. You can of course cancel your delivery at any time free of charge.

Available in 7-21 days

€329.99

1 €303.99 1
HURRIC SUPERSPORT EXHAUST - CBF600 04-07 ALUM/E-MARK

Important notes

Original cat is no longer used.Catalytic converter not included.Aftermarket catalytic converter with 52 mm diameter (no. 10027035) available.

Connector pipe and fastening springs are included.

Design: Slip-on 4-1

10027202

The item is in stock and will be delivered in 2-5 working days. Note: Stocks are updated online every hour on working days from 7 a.m. to 8 p.m., so there is a good chance that the products are available if they appear online.

Available

€309.99

1 €284.99 1
HURRIC SUPERSPORT EXHAUST - CBF600 08- CARBON / O.KAT

Important notes

Original cat is no longer used. Catalytic converter not included. Aftermarket catalytic converter with 60 mm diameter (Order no. 10027036) available.

Connector pipe and fastening springs are included.

Design: Slip-on 4-1

10027305

The product will be ordered from the manufacturer for you. Depending on availability, longer delivery times are also possible. We'll let you know if that's the case. You can of course cancel your delivery at any time free of charge.

Available in 7-21 days

€419.99

1 2 €379.99 1
HURRIC SUPERSPORT EXHAUST - CBF600 08-ALU/EG-BE O.KAT

Important notes

Original cat is no longer used. Catalytic converter not included. Aftermarket catalytic converter with 60 mm diameter (Order no. 10027036) available.

Connector pipe and fastening springs are included.

Design: Slip-on 4-1

Rear silencer: Hurric RAC1 "Short" length approx. 360 mm.

10027304

The item is in stock and will be delivered in 2-5 working days. Note: Stocks are updated online every hour on working days from 7 a.m. to 8 p.m., so there is a good chance that the products are available if they appear online.

Available

€309.99

1 €284.99 1
HURRIC SUPERSPORT EXHAUST - CBR 1000RR/SP 14-,ALU,ABE

Important notes

Silencer supplied is "Super Short" version (length: 250 mm).

Connector pipe and fastening springs are included.

Design: Slip-on 4-1

10027382

The product will be ordered from the manufacturer for you. Depending on availability, longer delivery times are also possible. We'll let you know if that's the case. You can of course cancel your delivery at any time free of charge.

Available in 7-21 days

€359.99

1 €331.99 1
HURRIC SUPERSPORT EXHAUST - CBR 1000RR/SP 14-,SCHWARZ

Important notes

Silencer supplied is "Super Short" version (length: 250 mm).

Connector pipe and fastening springs are included.

Design: Slip-on 4-1

10027383

The product will be ordered from the manufacturer for you. Depending on availability, longer delivery times are also possible. We'll let you know if that's the case. You can of course cancel your delivery at any time free of charge.

Available in 7-21 days

€369.99

1 €341.99 1
HURRIC SUPERSPORT EXHAUST - CBR 600F 01-06 ALU /EG-BE

Important notes

Original cat is no longer used.Catalytic converter not included.Aftermarket catalytic converter with 52 mm diameter (no. 10027035) available.

Connector pipe and fastening springs are included.

Design: Slip-on 4-1

10027208

The product will be ordered from the manufacturer for you. Depending on availability, longer delivery times are also possible. We'll let you know if that's the case. You can of course cancel your delivery at any time free of charge.

Available in 7-21 days

€309.99

1 €284.99 1
HURRIC SUPERSPORT EXHAUST - CBR 600F 01-06 SCHW.EG-BE

Important notes

Original cat is no longer used.Catalytic converter not included.Aftermarket catalytic converter with 52 mm diameter (no. 10027035) available.

Connector pipe and fastening springs are included.

Design: Slip-on 4-1

10035910

The product will be ordered from the manufacturer for you. Depending on availability, longer delivery times are also possible. We'll let you know if that's the case. You can of course cancel your delivery at any time free of charge.

Available in 7-21 days

€329.99

1 €303.99 1
HURRIC SUPERSPORT EXHAUST - CBR 600F 91-98 ALU /EG-BE

Important notes

The original catalytic converter is retained, so retrofitting is not required.

Connector pipe and fastening springs are included.

Design: Slip-on 4-1

10027204

The product will be ordered from the manufacturer for you. Depending on availability, longer delivery times are also possible. We'll let you know if that's the case. You can of course cancel your delivery at any time free of charge.

Available in 7-21 days

€309.99

1 €284.99 1
HURRIC SUPERSPORT EXHAUST - CBR 600F 91-98 SCHW.EG-BE

Important notes

The original catalytic converter is retained, so retrofitting is not required.

Connector pipe and fastening springs are included.

Design: Slip-on 4-1

10035908

The product will be ordered from the manufacturer for you. Depending on availability, longer delivery times are also possible. We'll let you know if that's the case. You can of course cancel your delivery at any time free of charge.

Available in 7-21 days

€329.99

1 €303.99 1
HURRIC SUPERSPORT EXHAUST - CBR 600F 99-00 ALU /EG-BE

Important notes

The original catalytic converter is retained, so retrofitting is not required.

Connector pipe and fastening springs are included.

Design: Slip-on 4-1

10027206

The item is in stock and will be delivered in 2-5 working days. Note: Stocks are updated online every hour on working days from 7 a.m. to 8 p.m., so there is a good chance that the products are available if they appear online.

Available

€309.99

1 €284.99 1
HURRIC SUPERSPORT EXHAUST - CBR 600F 99-00 SCHW.EG-BE

Important notes

The original catalytic converter is retained, so retrofitting is not required.

Connector pipe and fastening springs are included.

Design: Slip-on 4-1

10035909

The product will be ordered from the manufacturer for you. Depending on availability, longer delivery times are also possible. We'll let you know if that's the case. You can of course cancel your delivery at any time free of charge.

Available in 7-21 days

€329.99

1 €303.99 1
HURRIC SUPERSPORT EXHAUST - CBR1000RR 08- O.KAT ALU

Important notes

Original cat is no longer used. Catalytic converter not included. Aftermarket catalytic converter with 60 mm diameter (Order no. 10027036) available.

Design: Slip-on 4-1

Rear silencer: "Super Short" length approx. 260 mm.

10027291

The item is in stock and will be delivered in 2-5 working days. Note: Stocks are updated online every hour on working days from 7 a.m. to 8 p.m., so there is a good chance that the products are available if they appear online.

Available

€359.99

1 3 €331.99 1
HURRIC SUPERSPORT EXHAUST - CBR1000RR 08- O.KAT, CAR.

Important notes

Original cat is no longer used. Catalytic converter not included. Aftermarket catalytic converter with 60 mm diameter (Order no. 10027036) available.

Design: Slip-on 4-1

Rear silencer: "Super Short" length approx. 260 mm.

10027292

The product will be ordered from the manufacturer for you. Depending on availability, longer delivery times are also possible. We'll let you know if that's the case. You can of course cancel your delivery at any time free of charge.

Available in 7-21 days

€479.99

1 3 €436.99 1
HURRIC SUPERSPORT EXHAUST - CBR600F 01- CARBON/E-MARK

Important notes

Exhaust system is only EC approved with catalytic converter, available as an optional extra! See "Compatible products".

10027209

The product will be ordered from the manufacturer for you. Depending on availability, longer delivery times are also possible. We'll let you know if that's the case. You can of course cancel your delivery at any time free of charge.

Available in 7-21 days

€419.99

1 €379.99 1
HURRIC SUPERSPORT EXHAUST - CBR600F 01- CARBON/E-MARK

Important notes

Exhaust system is only EC approved with catalytic converter, available as an optional extra! See "Compatible products".

10027211

The product will be ordered from the manufacturer for you. Depending on availability, longer delivery times are also possible. We'll let you know if that's the case. You can of course cancel your delivery at any time free of charge.

Available in 7-21 days

€419.99

1 €379.99 1
HURRIC SUPERSPORT EXHAUST - CBR600F 91-98CARBON/EG-BE

Important notes

The original catalytic converter is retained.

10027205

The product will be ordered from the manufacturer for you. Depending on availability, longer delivery times are also possible. We'll let you know if that's the case. You can of course cancel your delivery at any time free of charge.

Available in 7-21 days

€419.99

1 €379.99 1
HURRIC SUPERSPORT EXHAUST - CBR600F 99-00CARBON/EG-BE

Important notes

The original catalytic converter is retained.

Design: Slip-on 4-1

10027207

The product will be ordered from the manufacturer for you. Depending on availability, longer delivery times are also possible. We'll let you know if that's the case. You can of course cancel your delivery at any time free of charge.

Available in 7-21 days

€419.99

1 2 €379.99 1
HURRIC SUPERSPORT EXHAUST - CBR600F SPORT 01-ALU/EGBE

Important notes

Original cat is no longer used.Catalytic converter not included.Aftermarket catalytic converter with 52 mm diameter (no. 10027035) available.

Connector pipe and fastening springs are included.

Design: Slip-on 4-1

10027210

The item is in stock and will be delivered in 2-5 working days. Note: Stocks are updated online every hour on working days from 7 a.m. to 8 p.m., so there is a good chance that the products are available if they appear online.

Available

€309.99

1 €284.99 1
HURRIC SUPERSPORT EXHAUST - CBR600F SPORT.01-07 SCHW.

Important notes

Original cat is no longer used.Catalytic converter not included.Aftermarket catalytic converter with 52 mm diameter (no. 10027035) available.

Connector pipe and fastening springs are included.

Design: Slip-on 4-1

10035911

The product will be ordered from the manufacturer for you. Depending on availability, longer delivery times are also possible. We'll let you know if that's the case. You can of course cancel your delivery at any time free of charge.

Available in 7-21 days

€329.99

1 €303.99 1
HURRIC SUPERSPORT EXHAUST - CBR900-99/GSX-R600/750ALU

Important notes

The original catalytic converter is retained, so retrofitting is not required.

Design: Bolt-on 4-1

10027212

This product is available at week 33.
Current calendar week: 30

Available as of calendar week 33

€259.99

1 3 €236.99 1
HURRIC SUPERSPORT EXHAUST - CBR900-99/GSXR600/750SCHW

Important notes

The original catalytic converter is retained, so retrofitting is not required.

Design: Bolt-on 4-1

10035914

This product is available at week 30.
Current calendar week: 30

Available as of calendar week 30

€279.99

1 €255.99 1
HURRIC SUPERSPORT EXHAUST - CBR900RR 00-SCHWARZ EG-BE

Important notes

Original cat is no longer used. Catalytic converter not included.

Design: Bolt-on 4-1

10035915

The item is in stock and will be delivered in 2-5 working days. Note: Stocks are updated online every hour on working days from 7 a.m. to 8 p.m., so there is a good chance that the products are available if they appear online.

Available

€279.99

1 €255.99 1
HURRIC SUPERSPORT EXHAUST - CBR900RR 2000-ALUM/E-MARK

Important notes

Original cat is no longer used. Catalytic converter not included.

Design: Bolt-on 4-1

10027213

The item is in stock and will be delivered in 2-5 working days. Note: Stocks are updated online every hour on working days from 7 a.m. to 8 p.m., so there is a good chance that the products are available if they appear online.

Available

€259.99

1 3 €236.99 1
HURRIC SUPERSPORT EXHAUST - CROSSRUNNER 11- ALU,EG-BE

Important notes

The original catalytic converter is retained, so retrofitting is not required.

Design: Slip-on 4-1

10027320

The product will be ordered from the manufacturer for you. Depending on availability, longer delivery times are also possible. We'll let you know if that's the case. You can of course cancel your delivery at any time free of charge.

Available in 7-21 days

€309.99

1 3 €284.99 1
HURRIC SUPERSPORT EXHAUST - CROSSRUNNER 11-CARB.EG-BE

Important notes

The original catalytic converter is retained, so retrofitting is not required.

Design: Slip-on 4-1

10027321

The product will be ordered from the manufacturer for you. Depending on availability, longer delivery times are also possible. We'll let you know if that's the case. You can of course cancel your delivery at any time free of charge.

Available in 7-21 days

€419.99

1 €379.99 1
HURRIC SUPERSPORT EXHAUST - DUKE 690 12-,ALUM, E-MARK

Important notes

Silencer supplied is "Super Short" version (length: 250 mm).

Connector pipe and fastening springs are included.

Design: Slip-on 1-1

10027342

The product will be ordered from the manufacturer for you. Depending on availability, longer delivery times are also possible. We'll let you know if that's the case. You can of course cancel your delivery at any time free of charge.

Available in 7-21 days

€309.99

1 €284.99 1
HURRIC SUPERSPORT EXHAUST - DUKE 690 12-,CARBON,EG-BE

Important notes

The original catalytic converter is retained, so retrofitting is not required.

Design: Slip-on 1-1

10027343

The product will be ordered from the manufacturer for you. Depending on availability, longer delivery times are also possible. We'll let you know if that's the case. You can of course cancel your delivery at any time free of charge.

Available in 7-21 days

€419.99

1 €379.99 1
HURRIC SUPERSPORT EXHAUST - DUKE 690 12-,SCHW. ,EG-BE

Important notes

The original catalytic converter is retained, so retrofitting is not required.

Design: Slip-on 1-1

10027344

The product will be ordered from the manufacturer for you. Depending on availability, longer delivery times are also possible. We'll let you know if that's the case. You can of course cancel your delivery at any time free of charge.

Available in 7-21 days

€329.99

1 €303.99 1
HURRIC SUPERSPORT EXHAUST - FZ-1 /FAZER 06-ALU/EG-BE

Important notes

The original catalytic converter is retained, so retrofitting is not required.

Connector pipe and fastening springs are included.

Design: Slip-on 4-1

10027271

The product will be ordered from the manufacturer for you. Depending on availability, longer delivery times are also possible. We'll let you know if that's the case. You can of course cancel your delivery at any time free of charge.

Available in 7-21 days

€309.99

1 €284.99 1
HURRIC SUPERSPORT EXHAUST - FZ1 /FAZER 06- SCHW.EG-BE

Important notes

The original catalytic converter is retained, so retrofitting is not required.

Connector pipe and fastening springs are included.

Design: Slip-on 4-1

10035948

The product will be ordered from the manufacturer for you. Depending on availability, longer delivery times are also possible. We'll let you know if that's the case. You can of course cancel your delivery at any time free of charge.

Available in 7-21 days

€329.99

1 €303.99 1
HURRIC SUPERSPORT EXHAUST - FZ1 /FAZER 06-CARB./EG-BE

Important notes

The original catalytic converter is retained, so retrofitting is not required.

Design: Slip-on 4-1

10027272

The product will be ordered from the manufacturer for you. Depending on availability, longer delivery times are also possible. We'll let you know if that's the case. You can of course cancel your delivery at any time free of charge.

Available in 7-21 days

€419.99

1 €379.99 1
HURRIC SUPERSPORT EXHAUST - FZ8/FAZER 10- ALU, EG-BE

Important notes

Silencer supplied is "Super Short" version (length: 250 mm).

Connector pipe and fastening springs are included.

Design: Slip-on 4-1

10027316

The product will be ordered from the manufacturer for you. Depending on availability, longer delivery times are also possible. We'll let you know if that's the case. You can of course cancel your delivery at any time free of charge.

Available in 7-21 days

€309.99

1 €284.99 1
HURRIC SUPERSPORT EXHAUST - FZ8/FAZER 10- CARB. EG-BE

Important notes

The original catalytic converter is retained, so retrofitting is not required.

Design: Slip-on 4-1

10027317

The item is in stock and will be delivered in 2-5 working days. Note: Stocks are updated online every hour on working days from 7 a.m. to 8 p.m., so there is a good chance that the products are available if they appear online.

Available

€419.99

1 €379.99 1
HURRIC SUPERSPORT EXHAUST - FZ8/FAZER 10- SCHW. EG-BE

Important notes

Silencer supplied is "Super Short" version (length: 250 mm).

Connector pipe and fastening springs are included.

Design: Slip-on 4-1

10035946

The product will be ordered from the manufacturer for you. Depending on availability, longer delivery times are also possible. We'll let you know if that's the case. You can of course cancel your delivery at any time free of charge.

Available in 7-21 days

€329.99

1 €303.99 1
HURRIC SUPERSPORT EXHAUST - FZS 1000 FAZER ALU/EG-BE

Important notes

The original catalytic converter is retained, so retrofitting is not required.

Connector pipe and fastening springs are included.

Design: Slip-on 4-1

10027269

The item is in stock and will be delivered in 2-5 working days. Note: Stocks are updated online every hour on working days from 7 a.m. to 8 p.m., so there is a good chance that the products are available if they appear online.

Available

€309.99

1 €284.99 1
HURRIC SUPERSPORT EXHAUST - FZS 1000 FAZER CARB/EG-BE

Important notes

The original catalytic converter is retained, so retrofitting is not required.

Design: Slip-on 4-1

10027270

The product will be ordered from the manufacturer for you. Depending on availability, longer delivery times are also possible. We'll let you know if that's the case. You can of course cancel your delivery at any time free of charge.

Available in 7-21 days

€419.99

1 €379.99 1
HURRIC SUPERSPORT EXHAUST - FZS 600 FAZER CARB./EG-BE

Important notes

The original catalytic converter is retained, so retrofitting is not required.

Design: Slip-on 4-1

10027262

The product will be ordered from the manufacturer for you. Depending on availability, longer delivery times are also possible. We'll let you know if that's the case. You can of course cancel your delivery at any time free of charge.

Available in 7-21 days

€419.99

1 €379.99 1
HURRIC SUPERSPORT EXHAUST - FZS 600FAZER -03ALU/EG-BE

Important notes

The original catalytic converter is retained, so retrofitting is not required.

Connector pipe and fastening springs are included.

Design: Slip-on 4-1

10027261

The item is in stock and will be delivered in 2-5 working days. Note: Stocks are updated online every hour on working days from 7 a.m. to 8 p.m., so there is a good chance that the products are available if they appear online.

Available

€309.99

1 €284.99 1
HURRIC SUPERSPORT EXHAUST - FZS1000FAZER 01-05 SCHW.

Important notes

The original catalytic converter is retained, so retrofitting is not required.

Connector pipe and fastening springs are included.

Design: Slip-on 4-1

10035947

The product will be ordered from the manufacturer for you. Depending on availability, longer delivery times are also possible. We'll let you know if that's the case. You can of course cancel your delivery at any time free of charge.

Available in 7-21 days

€319.99

1 €303.99 1
HURRIC SUPERSPORT EXHAUST - FZS600 FAZER -03 SCHW.ABE

Important notes

The original catalytic converter is retained, so retrofitting is not required.

Connector pipe and fastening springs are included.

Design: Slip-on 4-1

10035943

The product will be ordered from the manufacturer for you. Depending on availability, longer delivery times are also possible. We'll let you know if that's the case. You can of course cancel your delivery at any time free of charge.

Available in 7-21 days

€329.99

1 €303.99 1
HURRIC SUPERSPORT EXHAUST - GSF 600 BANDIT ALU /EG-BE

Important notes

The original catalytic converter is retained, so retrofitting is not required.

Connector pipe and fastening springs are included.

Design: Slip-on 4-1

10027236

The item is in stock and will be delivered in 2-5 working days. Note: Stocks are updated online every hour on working days from 7 a.m. to 8 p.m., so there is a good chance that the products are available if they appear online.

Available

€309.99

1 €284.99 1
HURRIC SUPERSPORT EXHAUST - GSF 650 BANDIT ALU/EG-BE

Important notes

Original cat is no longer used.Catalytic converter not included.Aftermarket catalytic converter with 52 mm diameter (no. 10027035) available.

Connector pipe and fastening springs are included.

Design: Slip-on 4-1

10027245

The item is in stock and will be delivered in 2-5 working days. Note: Stocks are updated online every hour on working days from 7 a.m. to 8 p.m., so there is a good chance that the products are available if they appear online.

Available

€309.99

1 €284.99 1
HURRIC SUPERSPORT EXHAUST - GSF 650 BANDIT CARB.EG-BE

Important notes

The original catalytic converter is discarded, if it exists!

Original cat is no longer used.Catalytic converter not included.Aftermarket catalytic converter with 52 mm diameter (no. 10027035) available.

Design: Slip-on 4-1

10027246

The product will be ordered from the manufacturer for you. Depending on availability, longer delivery times are also possible. We'll let you know if that's the case. You can of course cancel your delivery at any time free of charge.

Available in 7-21 days

€419.99

1 3 €379.99 1
HURRIC SUPERSPORT EXHAUST - GSF 650/1250 07-ALU,EG-BE

Important notes

The original catalytic converter is retained, so retrofitting is not required.

Connector pipe and fastening springs are included.

Design: Slip-on 4-1

10027285

The item is in stock and will be delivered in 2-5 working days. Note: Stocks are updated online every hour on working days from 7 a.m. to 8 p.m., so there is a good chance that the products are available if they appear online.

Available

€309.99

1 €284.99 1
HURRIC SUPERSPORT EXHAUST - GSF 650/1250 07-CAR,EG-BE

Important notes

The original catalytic converter is retained, so retrofitting is not required.

Design: Slip-on 4-1

10027299

The product will be ordered from the manufacturer for you. Depending on availability, longer delivery times are also possible. We'll let you know if that's the case. You can of course cancel your delivery at any time free of charge.

Available in 7-21 days

€419.99

1 €379.99 1
HURRIC SUPERSPORT EXHAUST - GSF 650/S -06 SCHW. EG-BE

Important notes

Original cat is no longer used.Catalytic converter not included.Aftermarket catalytic converter with 52 mm diameter (no. 10027035) available.

Connector pipe and fastening springs are included.

Design: Slip-on 4-1

10035933

The item is in stock and will be delivered in 2-5 working days. Note: Stocks are updated online every hour on working days from 7 a.m. to 8 p.m., so there is a good chance that the products are available if they appear online.

Available

€329.99

1 €303.99 1
HURRIC SUPERSPORT EXHAUST - GSF/GSX 650/1250 SCHW.ABE

Important notes

The original catalytic converter is retained, so retrofitting is not required.

Connector pipe and fastening springs are included.

Design: Slip-on 4-1

10035934

The item is in stock and will be delivered in 2-5 working days. Note: Stocks are updated online every hour on working days from 7 a.m. to 8 p.m., so there is a good chance that the products are available if they appear online.

Available

€329.99

1 €303.99 1
HURRIC SUPERSPORT EXHAUST - GSF1200 BAND.01-05,CARBON

Important notes

Original cat is no longer used.Catalytic converter not included.Aftermarket catalytic converter with 52 mm diameter (no. 10027035) available.

Design: Slip-on 4-1

10027254

The item is in stock and will be delivered in 2-5 working days. Note: Stocks are updated online every hour on working days from 7 a.m. to 8 p.m., so there is a good chance that the products are available if they appear online.

Available

€419.99

1 €379.99 1
HURRIC SUPERSPORT EXHAUST - GSF1200/S -03 SCHW.,EG-BE

Important notes

The original catalytic converter is retained, so retrofitting is not required.

Design: Bolt-on 4-1

10035938

This product is available at week 30.
Current calendar week: 30

Available as of calendar week 30

€279.99

1 €255.99 1
HURRIC SUPERSPORT EXHAUST - GSF1200/S 01-05 SCHW. ABE

Important notes

Original cat is no longer used.Catalytic converter not included.Aftermarket catalytic converter with 52 mm diameter (no. 10027035) available.

Connector pipe and fastening springs are included.

Design: Slip-on 4-1

10035939

The item is in stock and will be delivered in 2-5 working days. Note: Stocks are updated online every hour on working days from 7 a.m. to 8 p.m., so there is a good chance that the products are available if they appear online.

Available

€329.99

1 €303.99 1
HURRIC SUPERSPORT EXHAUST - GSF1200BAND.-03 ALU/EG-BE

Important notes

The original catalytic converter is retained, so retrofitting is not required.

Design: Bolt-on 4-1

10027252

The item is in stock and will be delivered in 2-5 working days. Note: Stocks are updated online every hour on working days from 7 a.m. to 8 p.m., so there is a good chance that the products are available if they appear online.

Available

€259.95 1
HURRIC SUPERSPORT EXHAUST - GSF1200BAND.06 ALU/E-MARK

Important notes

Original cat is no longer used. Catalytic converter not included. Aftermarket catalytic converter with 60 mm diameter (Order no. 10027036) available.

Connector pipe and fastening springs are included.

Design: Slip-on 4-1

10027255

The item is in stock and will be delivered in 2-5 working days. Note: Stocks are updated online every hour on working days from 7 a.m. to 8 p.m., so there is a good chance that the products are available if they appear online.

Available

€309.99

1 €284.99 1
HURRIC SUPERSPORT EXHAUST - GSF1200BAND.06 CARB/EG-BE

Important notes

Original cat is no longer used.Catalytic converter not included.Aftermarket catalytic converter with 52 mm diameter (no. 10027035) available.

Connector pipe and fastening springs are included.

Design: Slip-on 4-1

10027256

The product will be ordered from the manufacturer for you. Depending on availability, longer delivery times are also possible. We'll let you know if that's the case. You can of course cancel your delivery at any time free of charge.

Available in 7-21 days

€419.99

1 3 €379.99 1
HURRIC SUPERSPORT EXHAUST - GSF1200BAND.06 SCHW/EG-BE

Important notes

The original catalytic converter is retained, so retrofitting is not required.

Connector pipe and fastening springs are included.

Design: Slip-on 4-1

10035958

The item is in stock and will be delivered in 2-5 working days. Note: Stocks are updated online every hour on working days from 7 a.m. to 8 p.m., so there is a good chance that the products are available if they appear online.

Available

€329.99

1 €303.99 1
HURRIC SUPERSPORT EXHAUST - GSF1200BANDIT 01-05, ALU

Important notes

Original cat is no longer used.Catalytic converter not included.Aftermarket catalytic converter with 52 mm diameter (no. 10027035) available.

Connector pipe and fastening springs are included.

Design: Slip-on 4-1

10027253

The product will be ordered from the manufacturer for you. Depending on availability, longer delivery times are also possible. We'll let you know if that's the case. You can of course cancel your delivery at any time free of charge.

Available in 7-21 days

€309.99

1 €284.99 1
HURRIC SUPERSPORT EXHAUST - GSF600/S BLACK, E-MARK

Important notes

The original catalytic converter is retained, so retrofitting is not required.

Connector pipe and fastening springs are included.

Design: Slip-on 4-1

10035928

The item is in stock and will be delivered in 2-5 working days. Note: Stocks are updated online every hour on working days from 7 a.m. to 8 p.m., so there is a good chance that the products are available if they appear online.

Available

€329.95 1
HURRIC SUPERSPORT EXHAUST - GSF600BANDIT CARBON/EG-BE

Important notes

The original catalytic converter is retained.

10027237

The item is in stock and will be delivered in 2-5 working days. Note: Stocks are updated online every hour on working days from 7 a.m. to 8 p.m., so there is a good chance that the products are available if they appear online.

Available

€419.99

1 €379.99 1
HURRIC SUPERSPORT EXHAUST - GSR 750 11- SCHWARZ,EG-BE

Important notes

Silencer supplied is "Super Short" version (length: 250 mm).

Connector pipe and fastening springs are included.

Design: Slip-on 4-1

10035936

The item is in stock and will be delivered in 2-5 working days. Note: Stocks are updated online every hour on working days from 7 a.m. to 8 p.m., so there is a good chance that the products are available if they appear online.

Available

€329.99

1 €303.99 1
HURRIC SUPERSPORT EXHAUST - GSR750 2011-,ALUM,E-MARK

Important notes

Silencer supplied is "Super Short" version (length: 250 mm).

Connector pipe and fastening springs are included.

Design: Slip-on 4-1

10027327

The product will be ordered from the manufacturer for you. Depending on availability, longer delivery times are also possible. We'll let you know if that's the case. You can of course cancel your delivery at any time free of charge.

Available in 7-21 days

€309.99

1 €284.99 1
HURRIC SUPERSPORT EXHAUST - GSR750 2011-,CARB.,E-MARK

Important notes

The original catalytic converter is retained, so retrofitting is not required.

Design: Slip-on 4-1

10027328

The product will be ordered from the manufacturer for you. Depending on availability, longer delivery times are also possible. We'll let you know if that's the case. You can of course cancel your delivery at any time free of charge.

Available in 7-21 days

€419.99

1 €379.99 1
HURRIC SUPERSPORT EXHAUST - GSX 1400 -04 CARBON/EG-BE

Important notes

The original catalytic converter is retained, so retrofitting is not required.

Design: Slip-on 4-2

10027258

The product will be ordered from the manufacturer for you. Depending on availability, longer delivery times are also possible. We'll let you know if that's the case. You can of course cancel your delivery at any time free of charge.

Available in 7-21 days

€859.99

1 3 €787.99 1
HURRIC SUPERSPORT EXHAUST - GSX 1400 -04, SCHW. EG-BE

Important notes

The original catalytic converter is retained, so retrofitting is not required.

Connector pipe and fastening springs are included.

Design: Slip-on 4-2

10035940

The product will be ordered from the manufacturer for you. Depending on availability, longer delivery times are also possible. We'll let you know if that's the case. You can of course cancel your delivery at any time free of charge.

Available in 7-21 days

€659.99

1 €607.99 1
HURRIC SUPERSPORT EXHAUST - GSX 1400 05- CARBON/EG-BE

Important notes

The original catalytic converter is retained, so retrofitting is not required.

Design: Slip-on 4-1

10027260

The item is in stock and will be delivered in 2-5 working days. Note: Stocks are updated online every hour on working days from 7 a.m. to 8 p.m., so there is a good chance that the products are available if they appear online.

Available

€419.99

1 €379.99 1
HURRIC SUPERSPORT EXHAUST - GSX 1400 05-, SCHW. EG-BE

Important notes

Original cat is no longer used. Catalytic converter not included. Aftermarket catalytic converter with 60 mm diameter (Order no. 10027036) available.

Connector pipe and fastening springs are included.

Design: Slip-on 4-1

10035941

The item is in stock and will be delivered in 2-5 working days. Note: Stocks are updated online every hour on working days from 7 a.m. to 8 p.m., so there is a good chance that the products are available if they appear online.

Available

€329.99

1 €303.99 1
HURRIC SUPERSPORT EXHAUST - GSX-R 1000 05-06ALU/EG-BE

Important notes

Original cat is no longer used.Catalytic converter not included.Aftermarket catalytic converter with 52 mm diameter (no. 10027035) available.

Design: Slip-on 4-1

10027248

The item is in stock and will be delivered in 2-5 working days. Note: Stocks are updated online every hour on working days from 7 a.m. to 8 p.m., so there is a good chance that the products are available if they appear online.

Available

€299.99

1 3 €284.99 1
HURRIC SUPERSPORT EXHAUST - GSX-R 1000 07-08,SCHW.4-2

Important notes

The original catalytic converter is retained, so retrofitting is not required.

Design: Slip-on 4-2

10027288

The item is in stock and will be delivered in 2-5 working days. Note: Stocks are updated online every hour on working days from 7 a.m. to 8 p.m., so there is a good chance that the products are available if they appear online.

Available

€659.99

1 3 €599.99 1