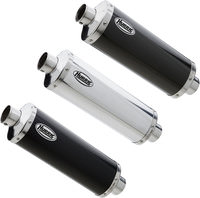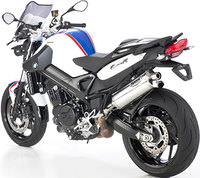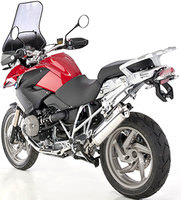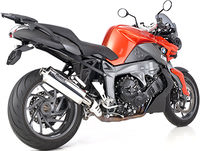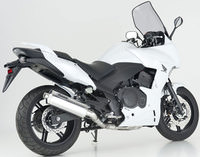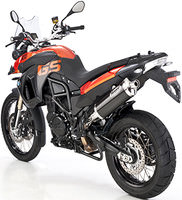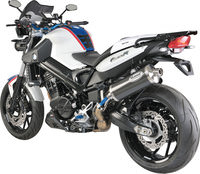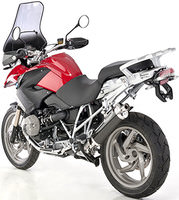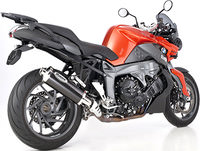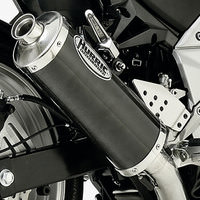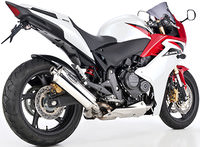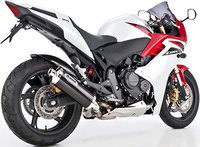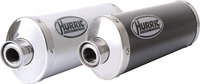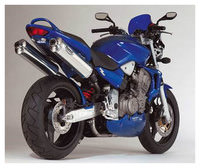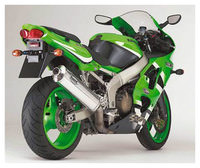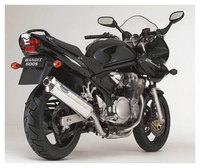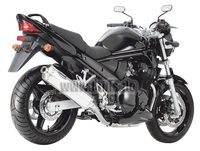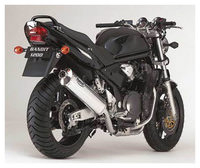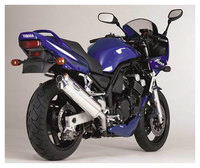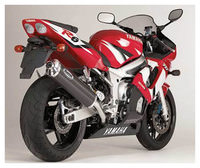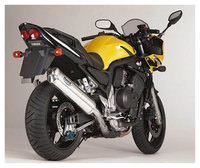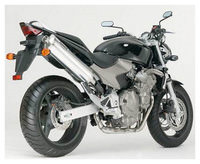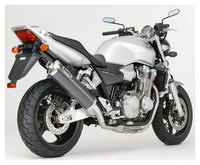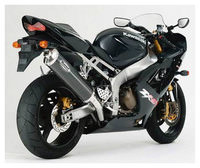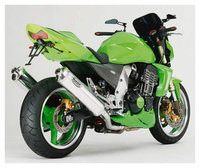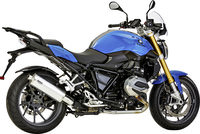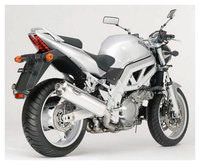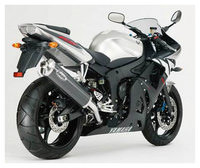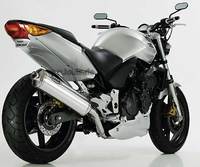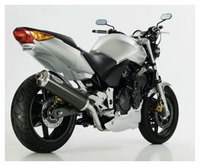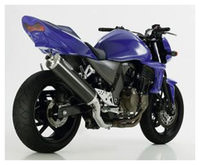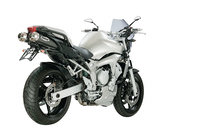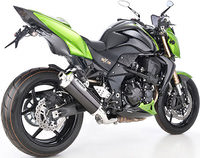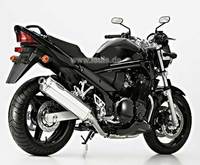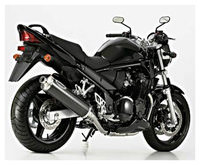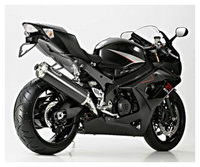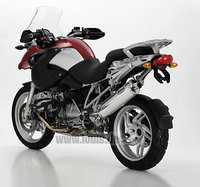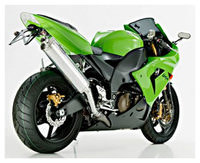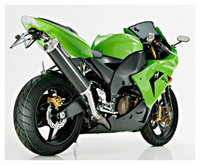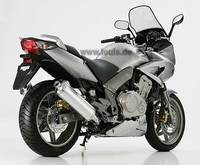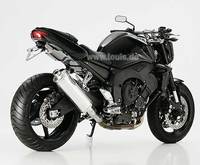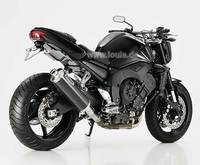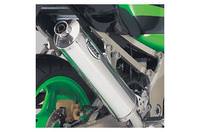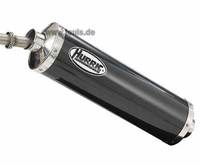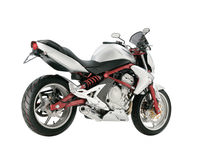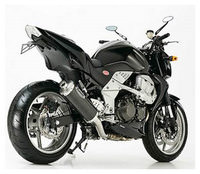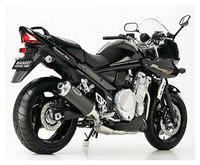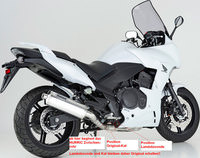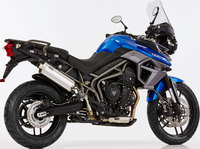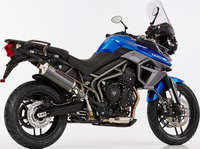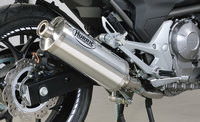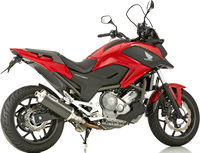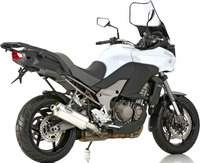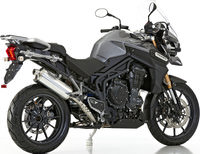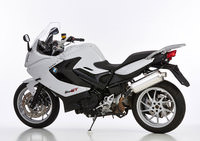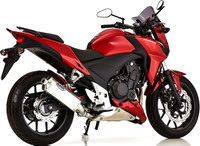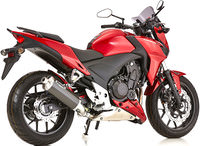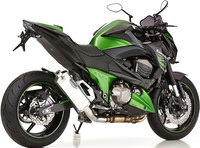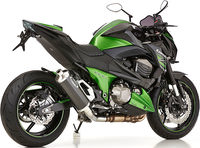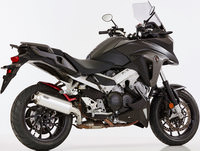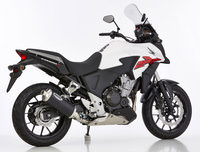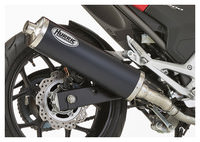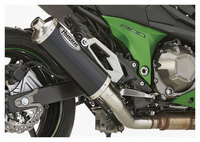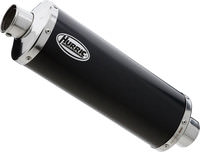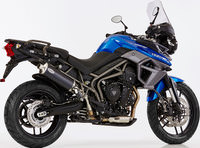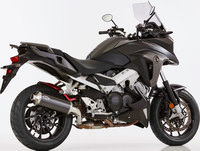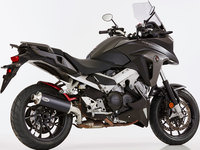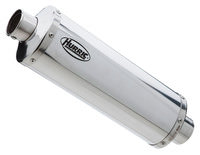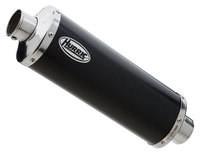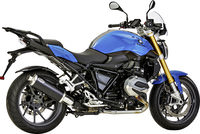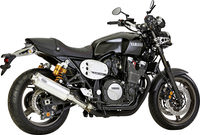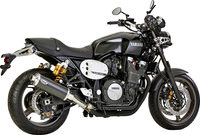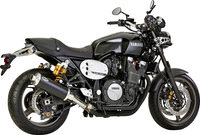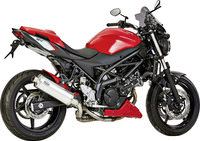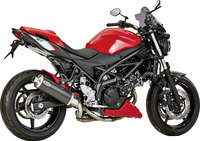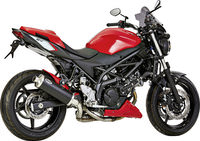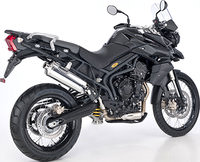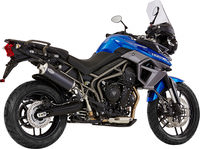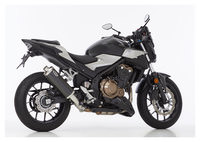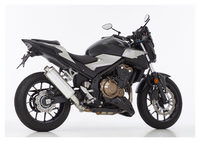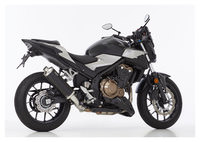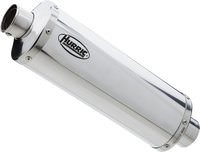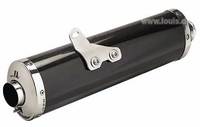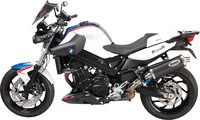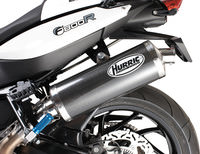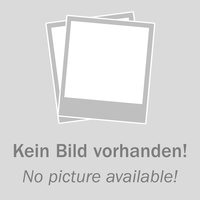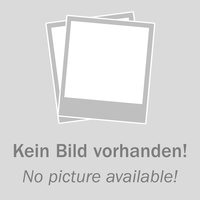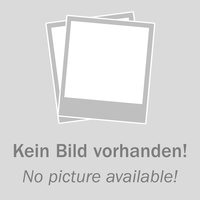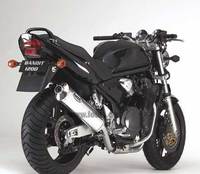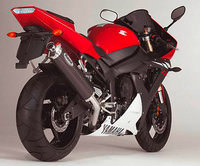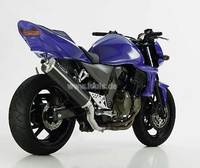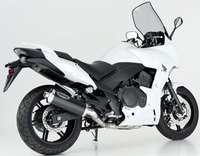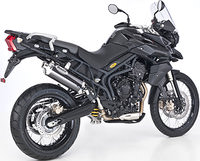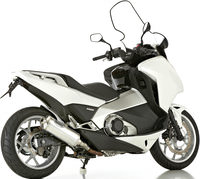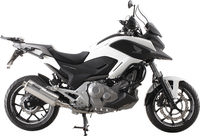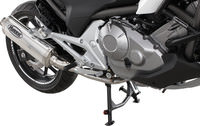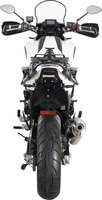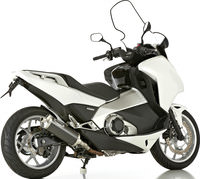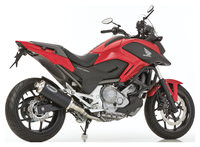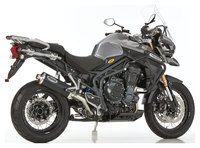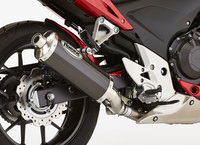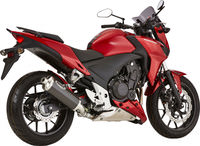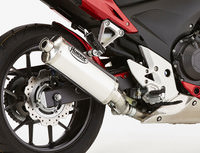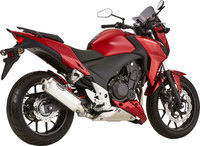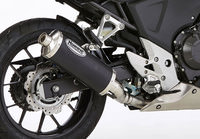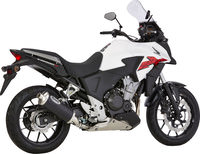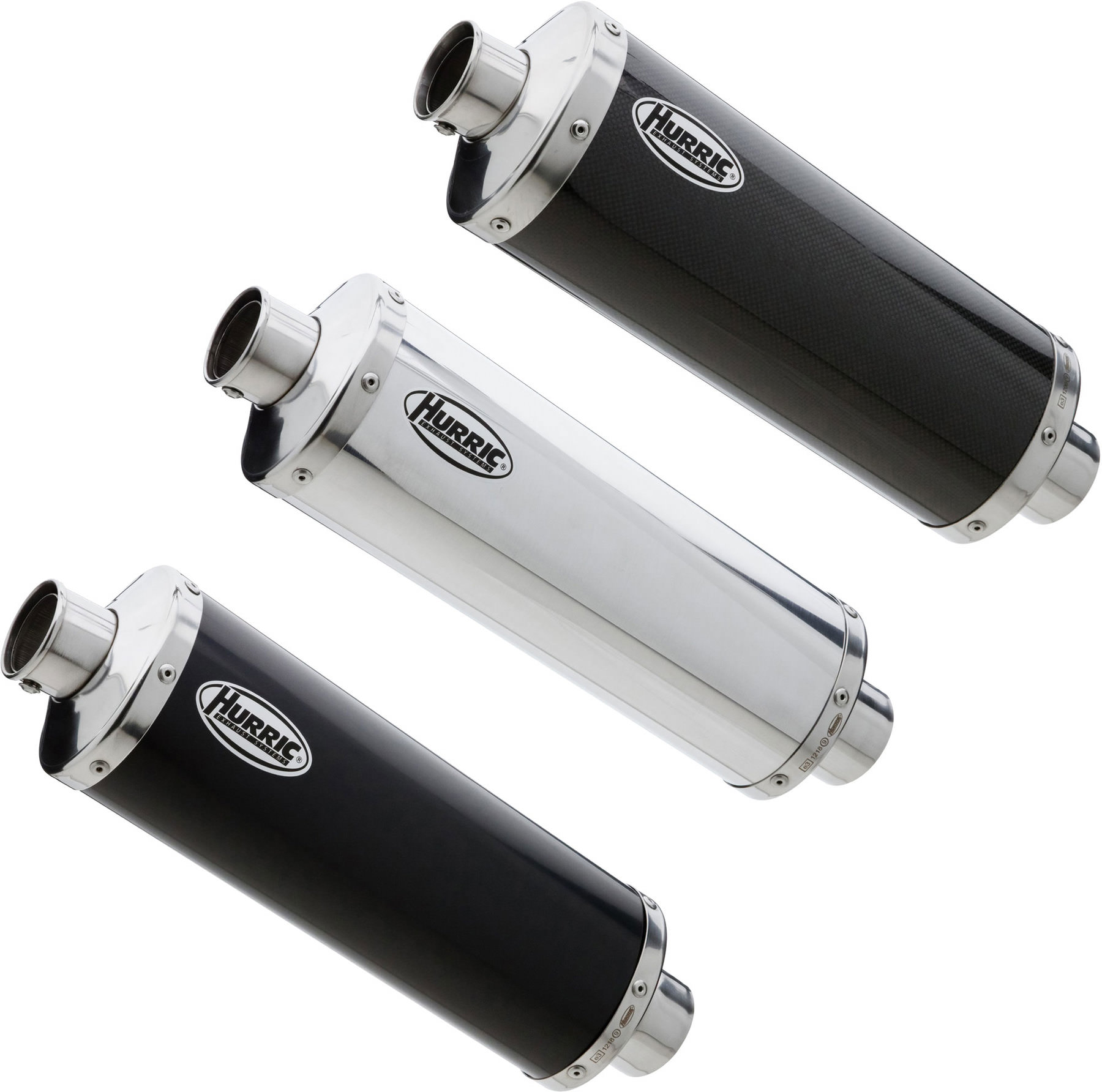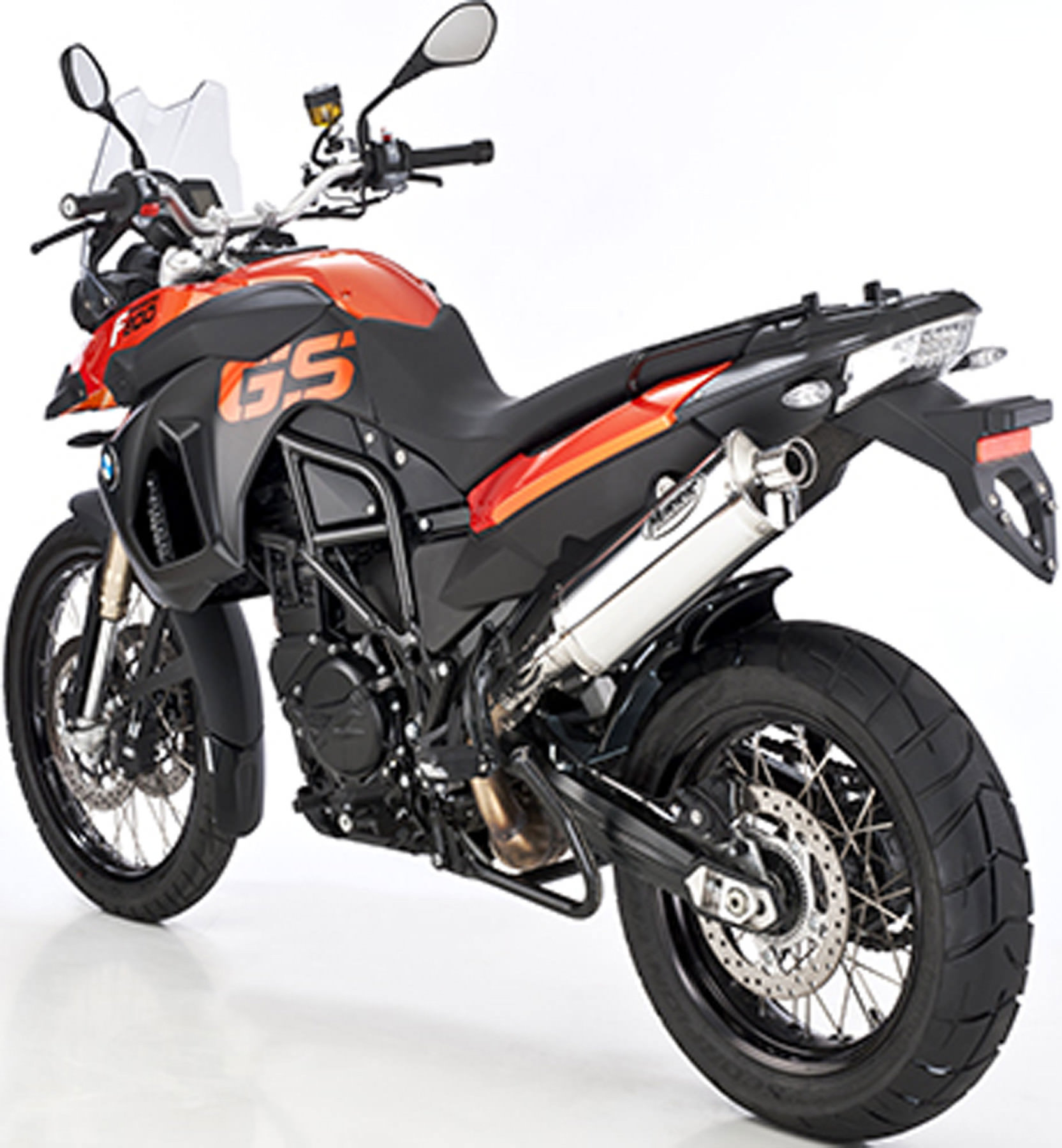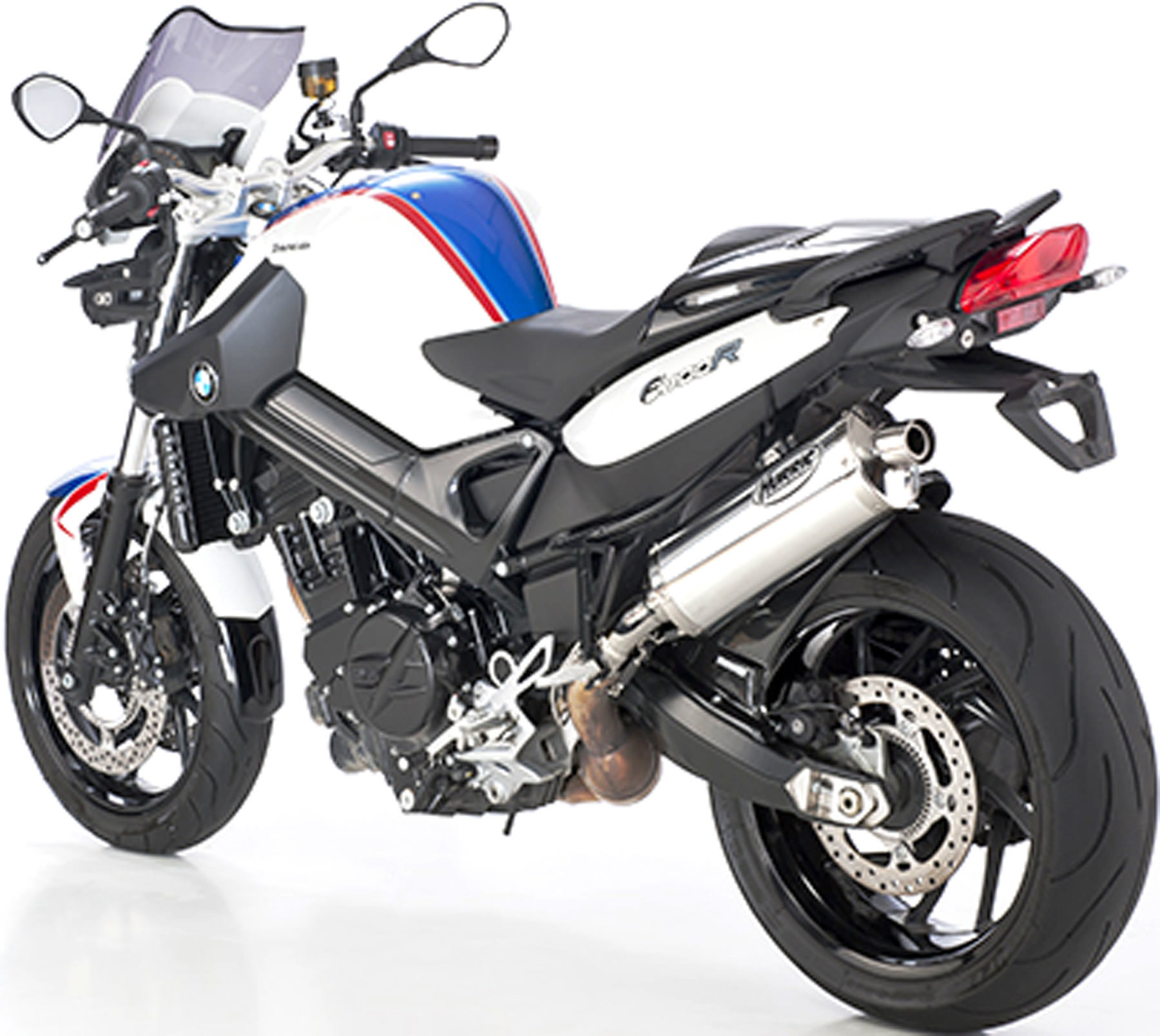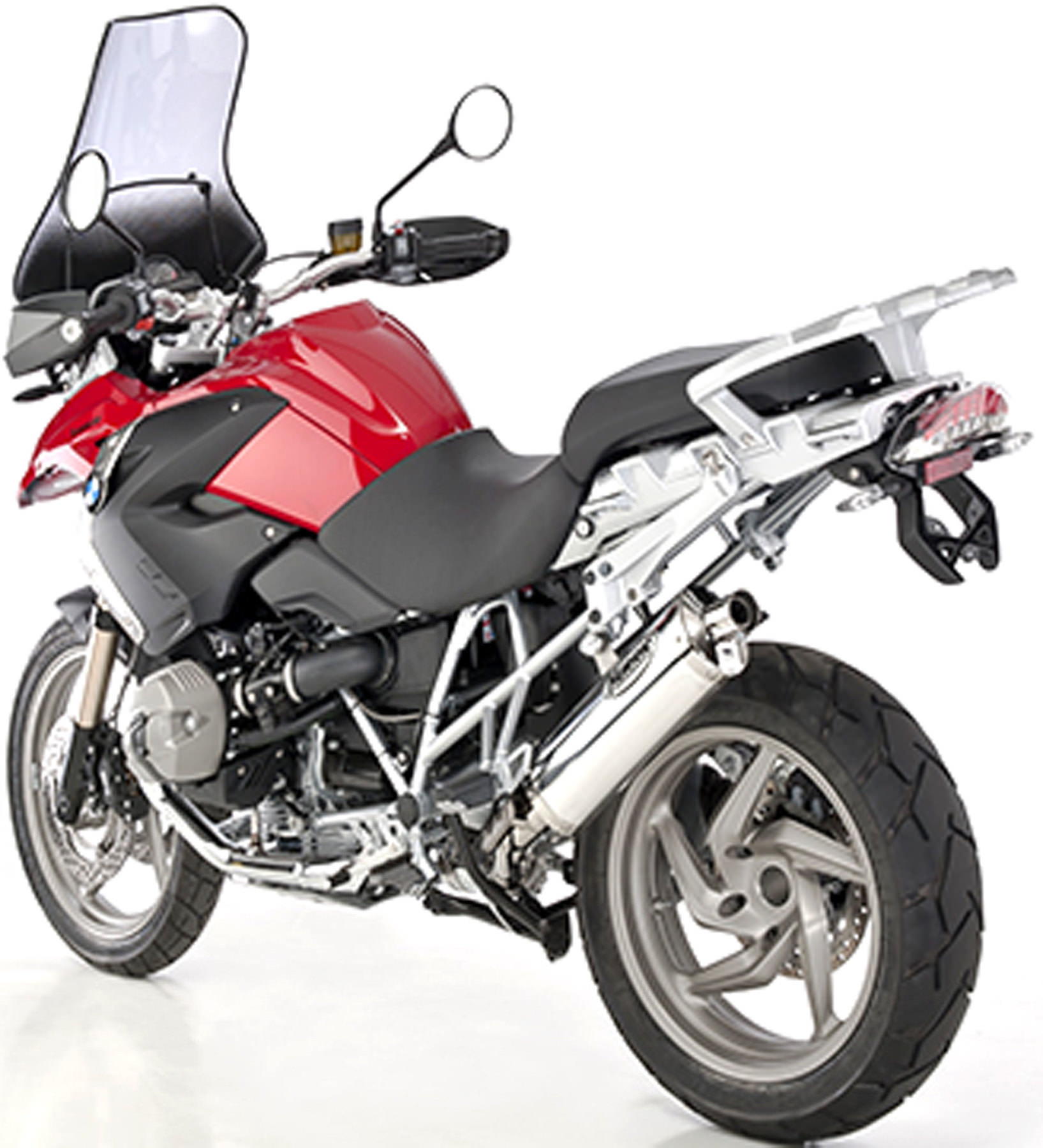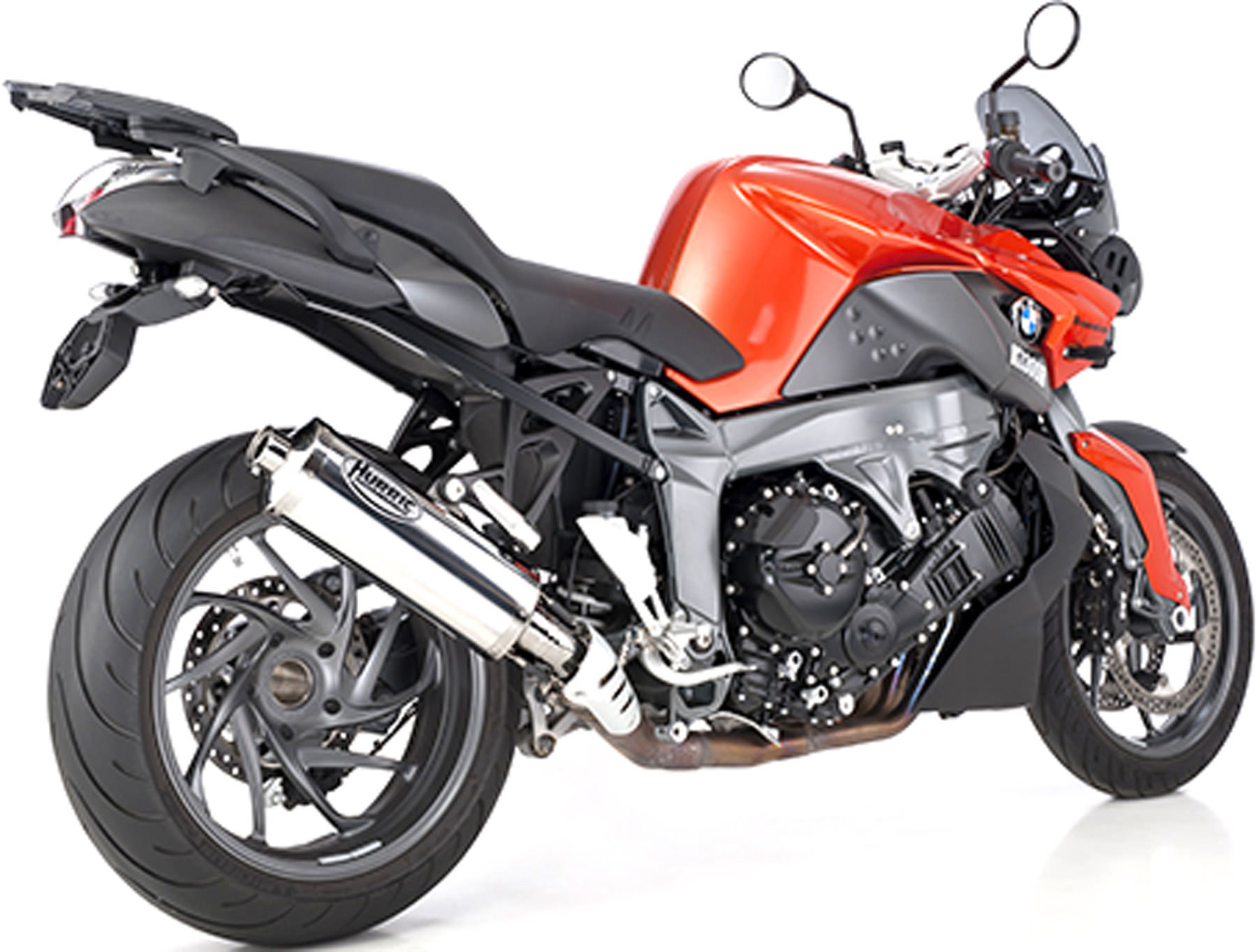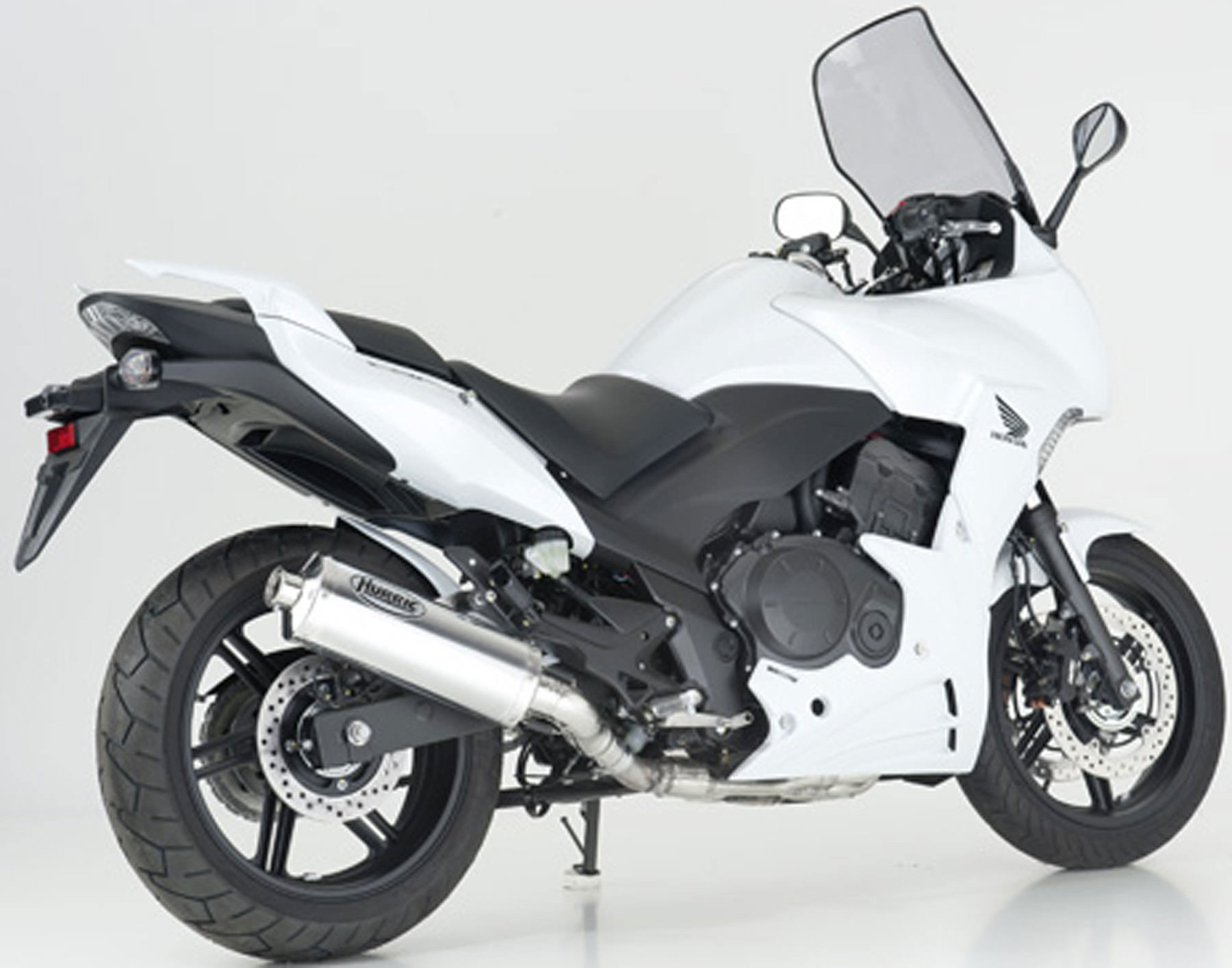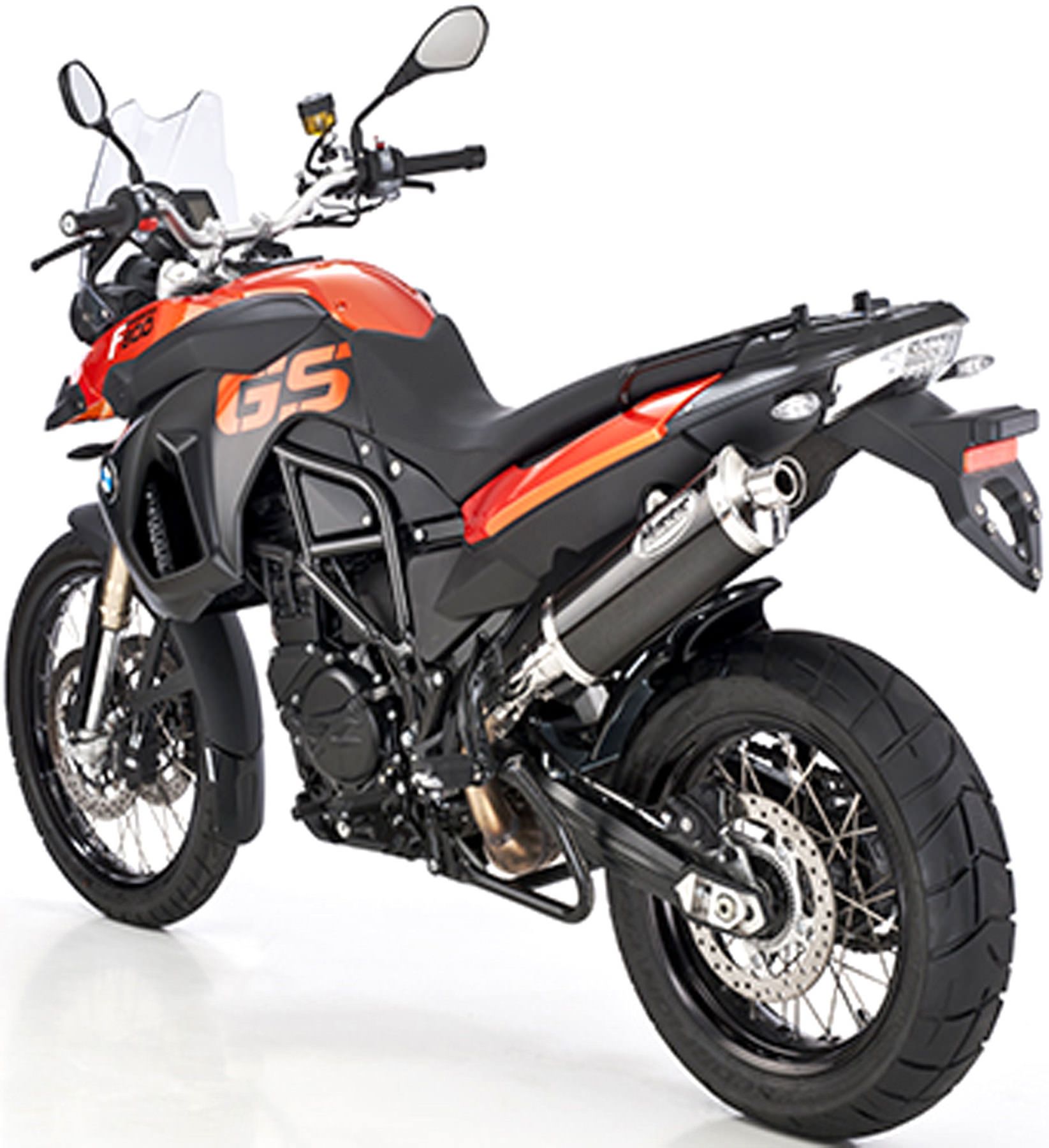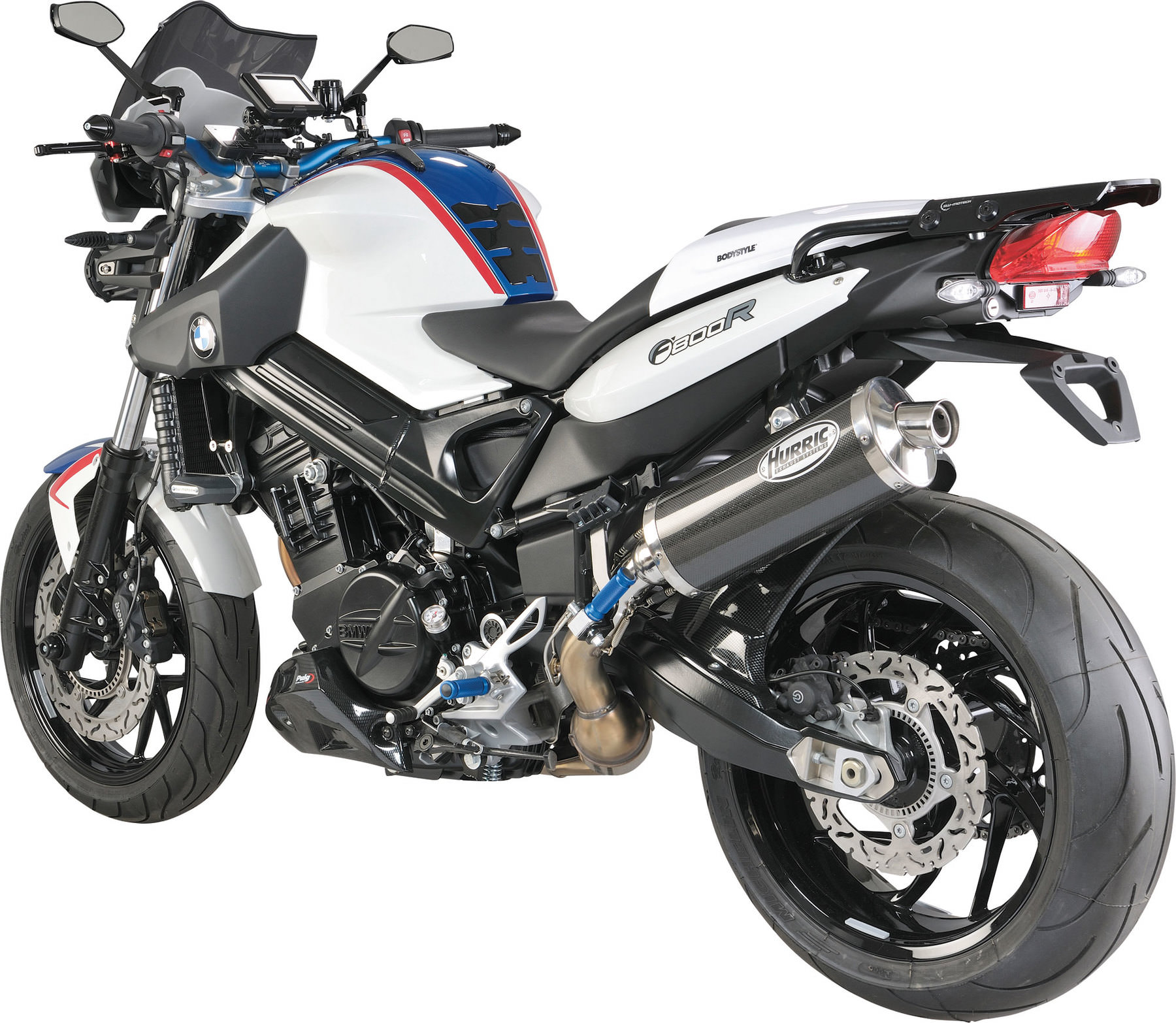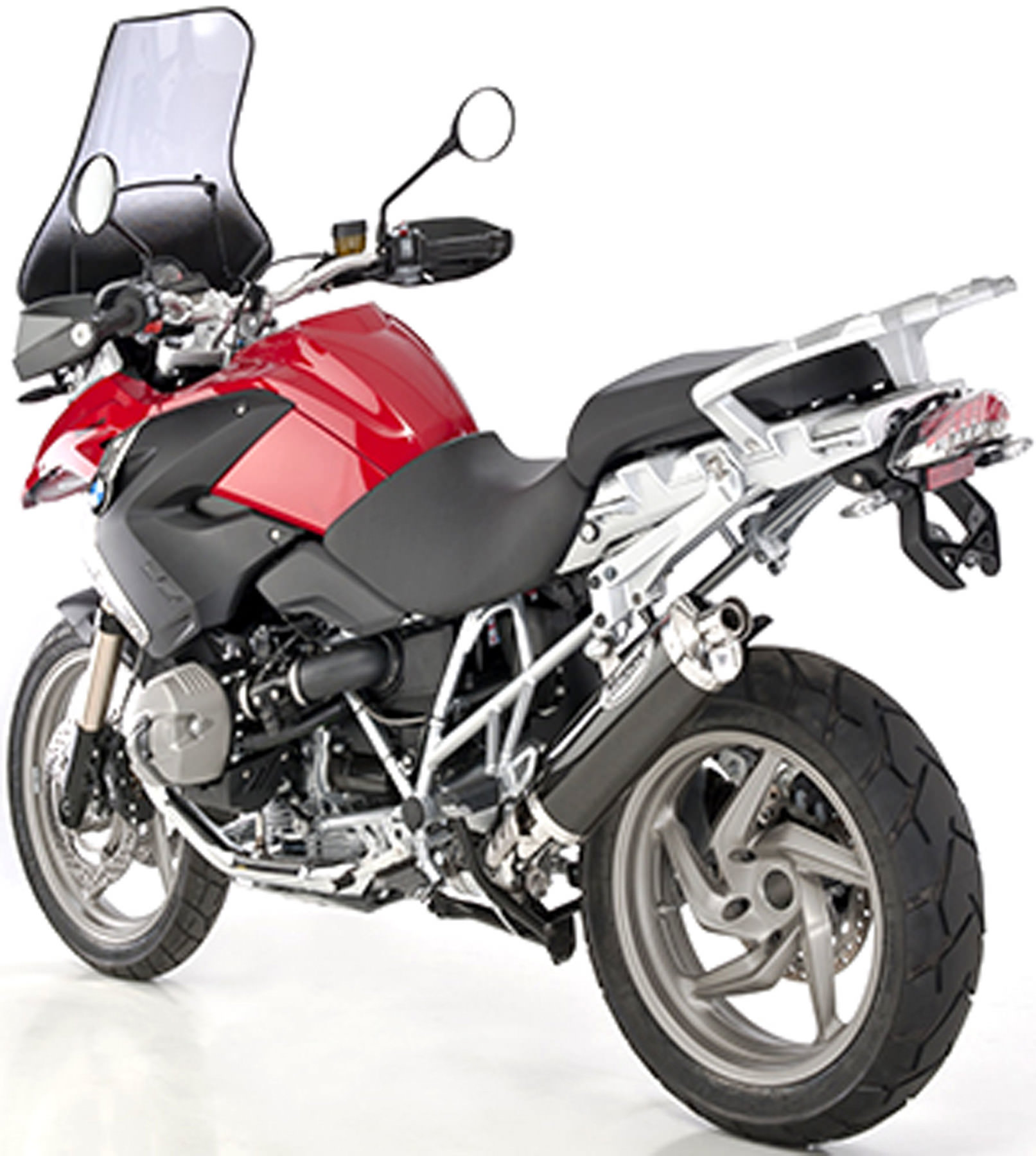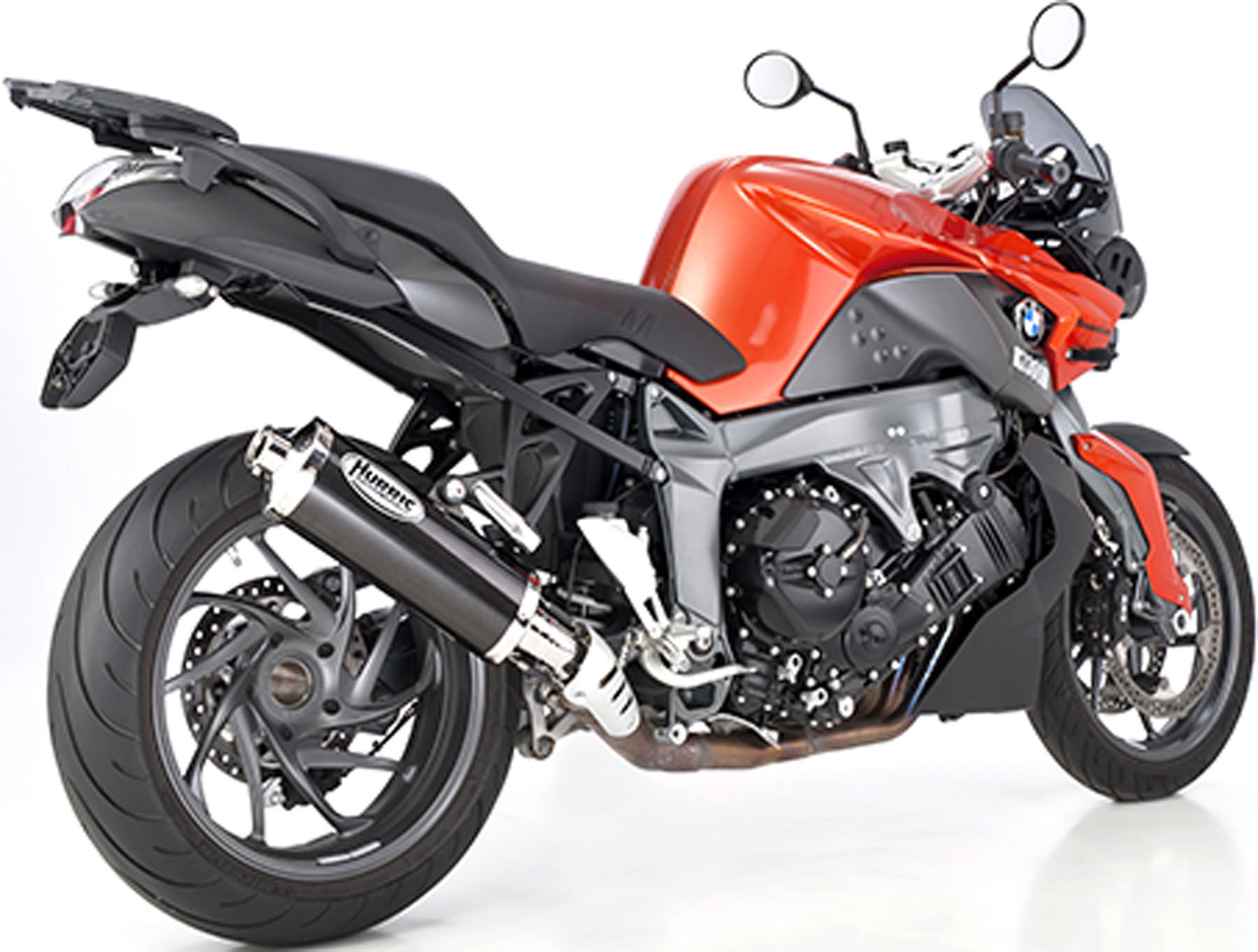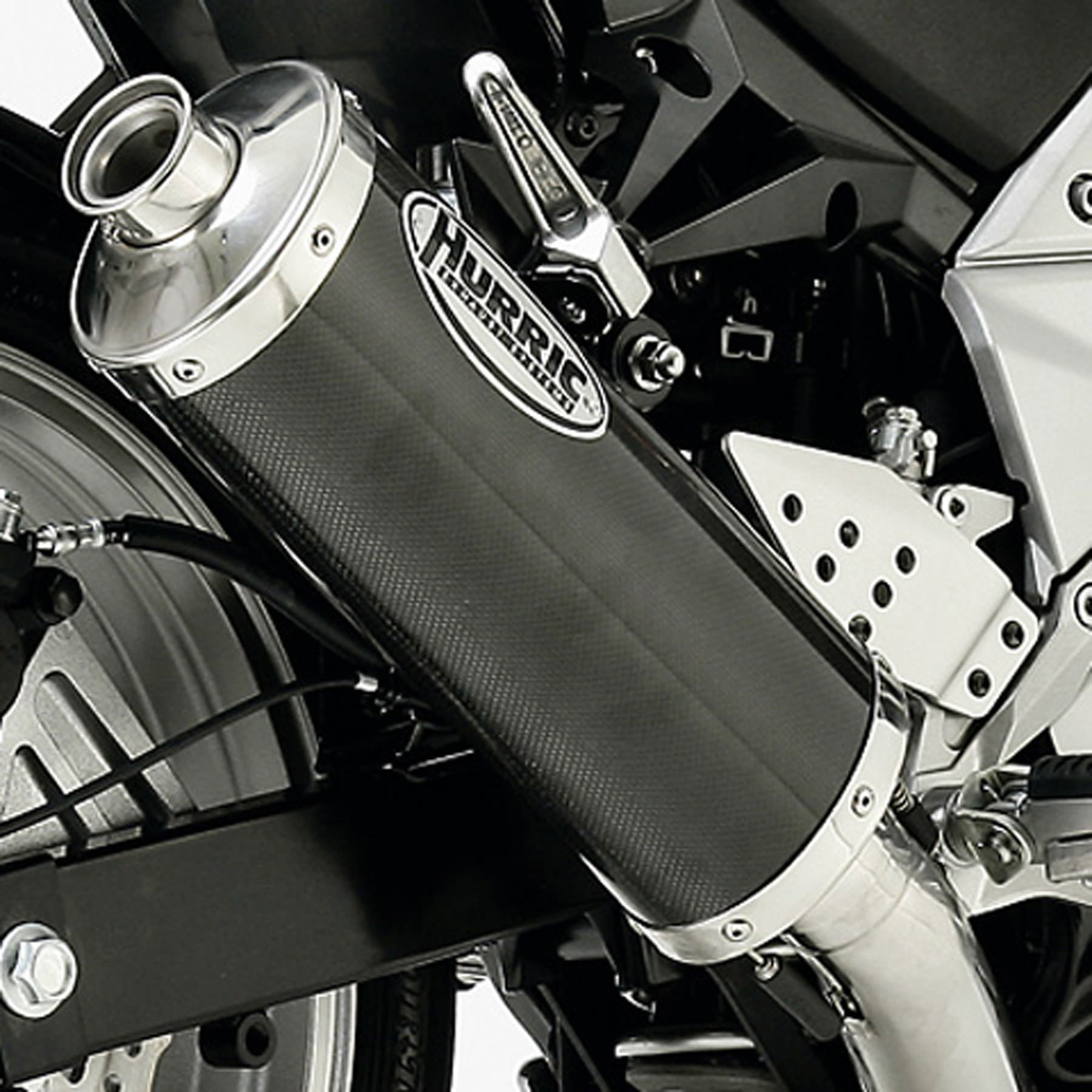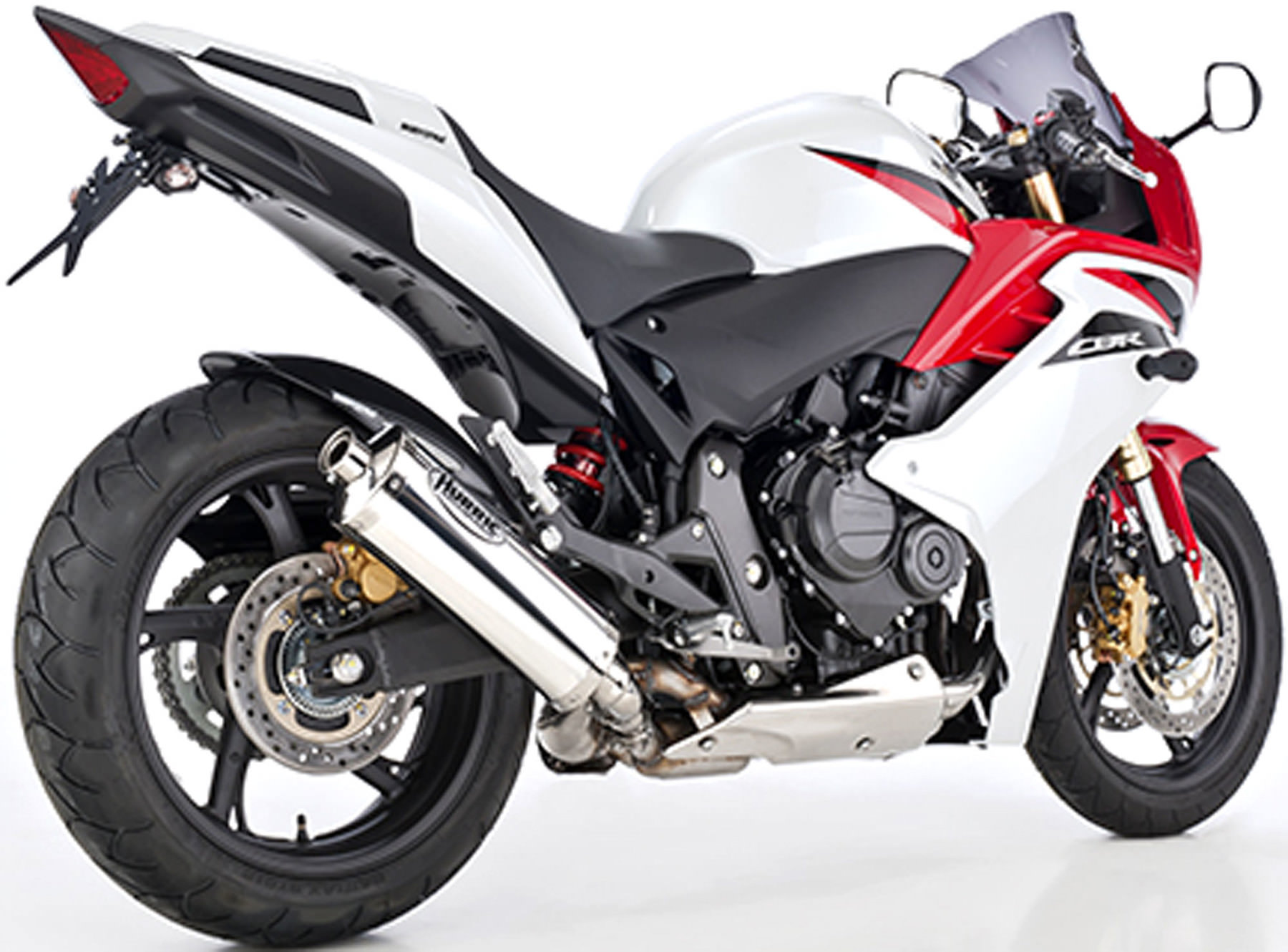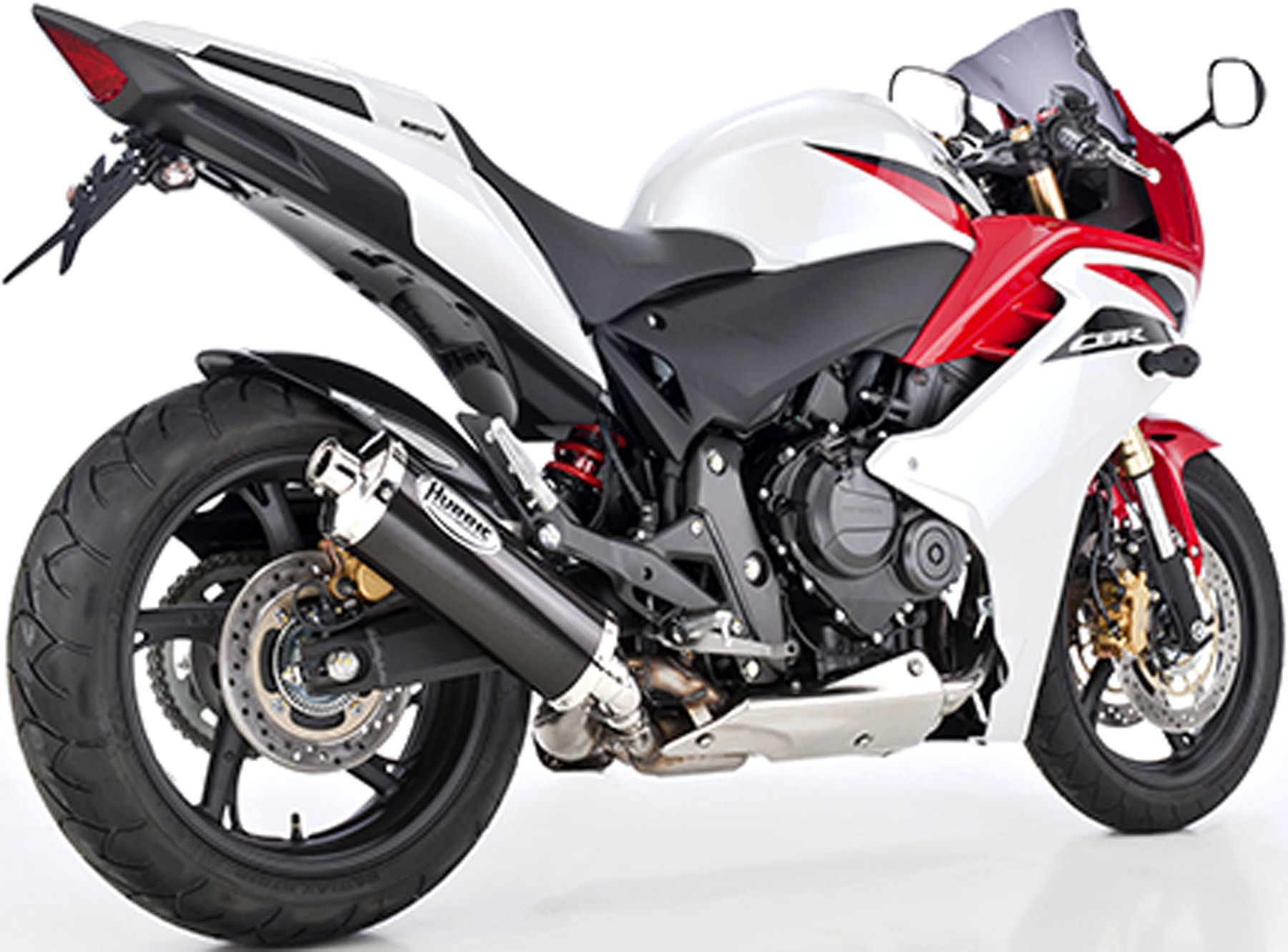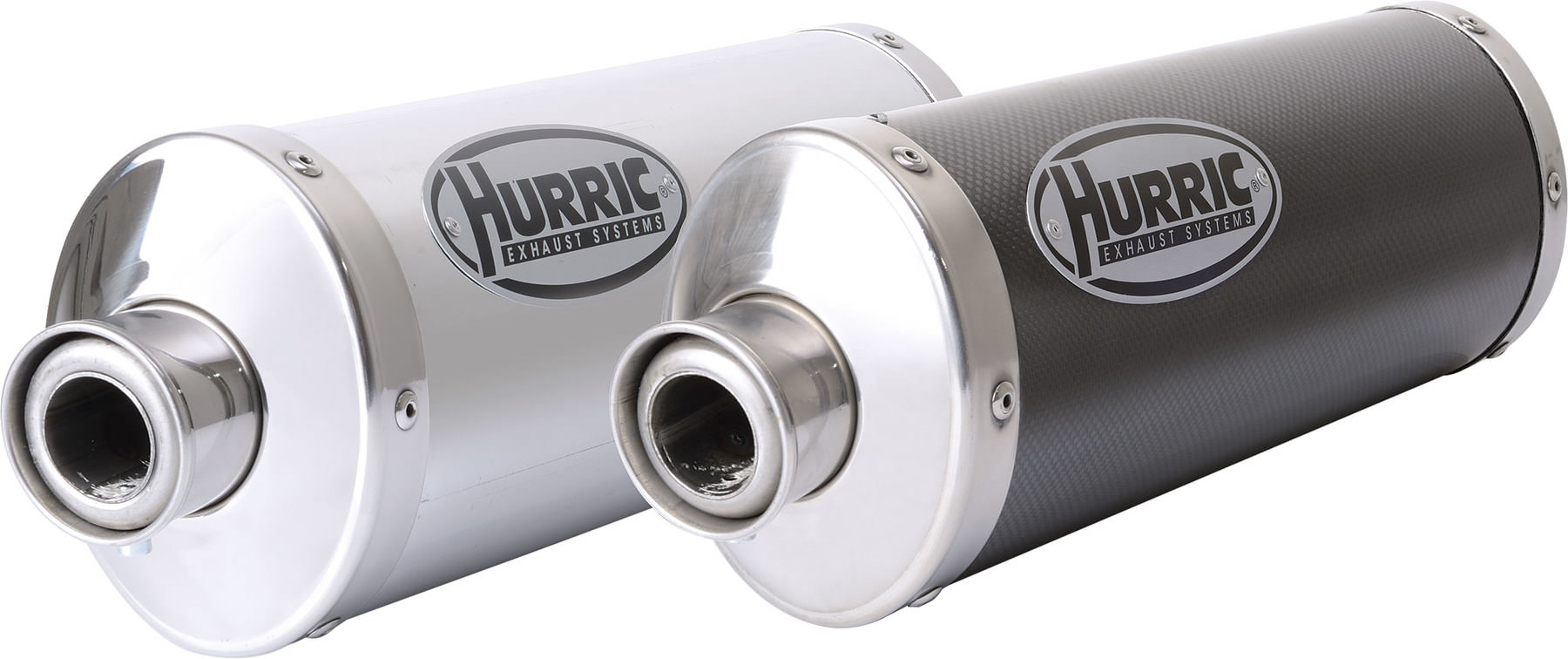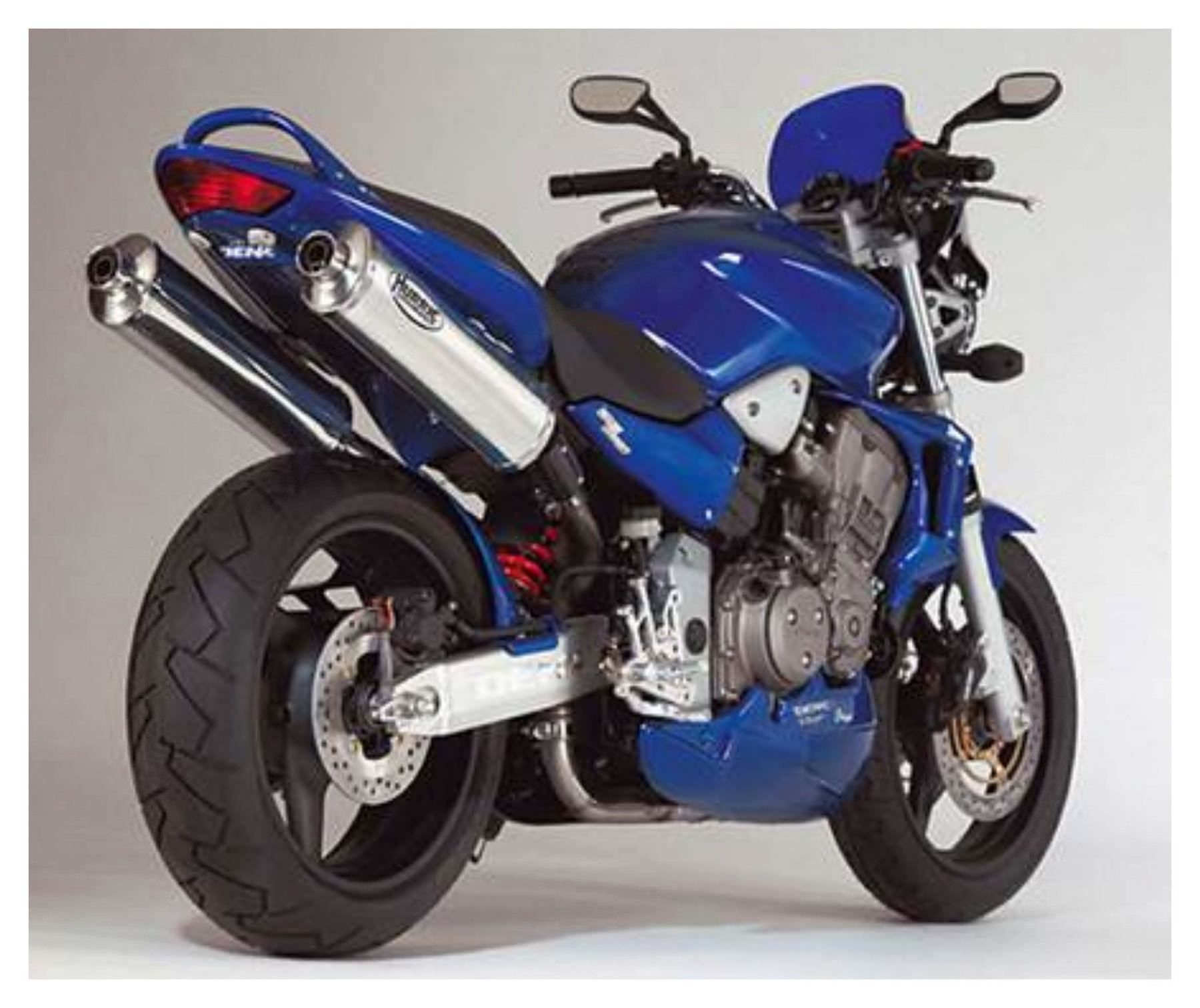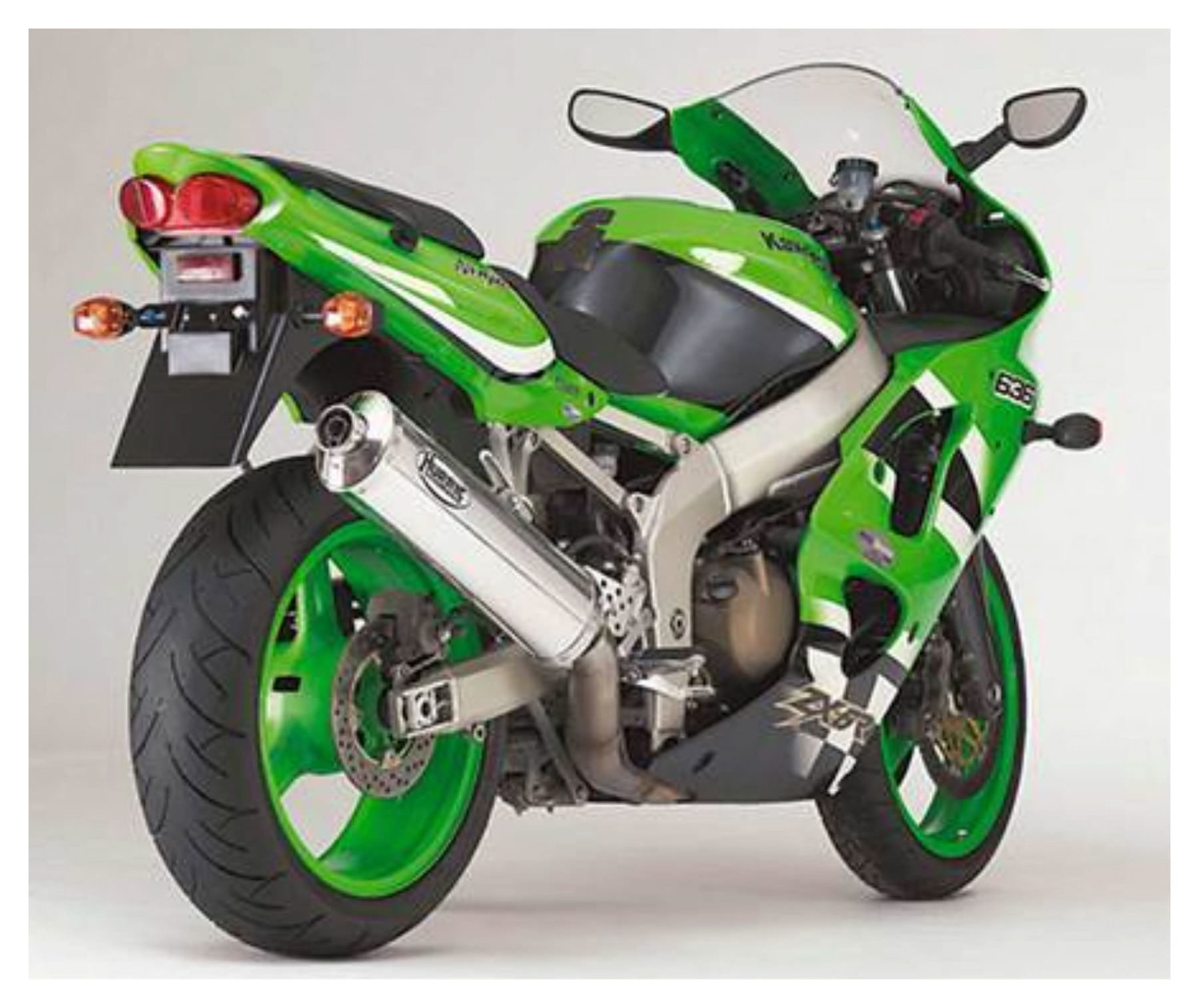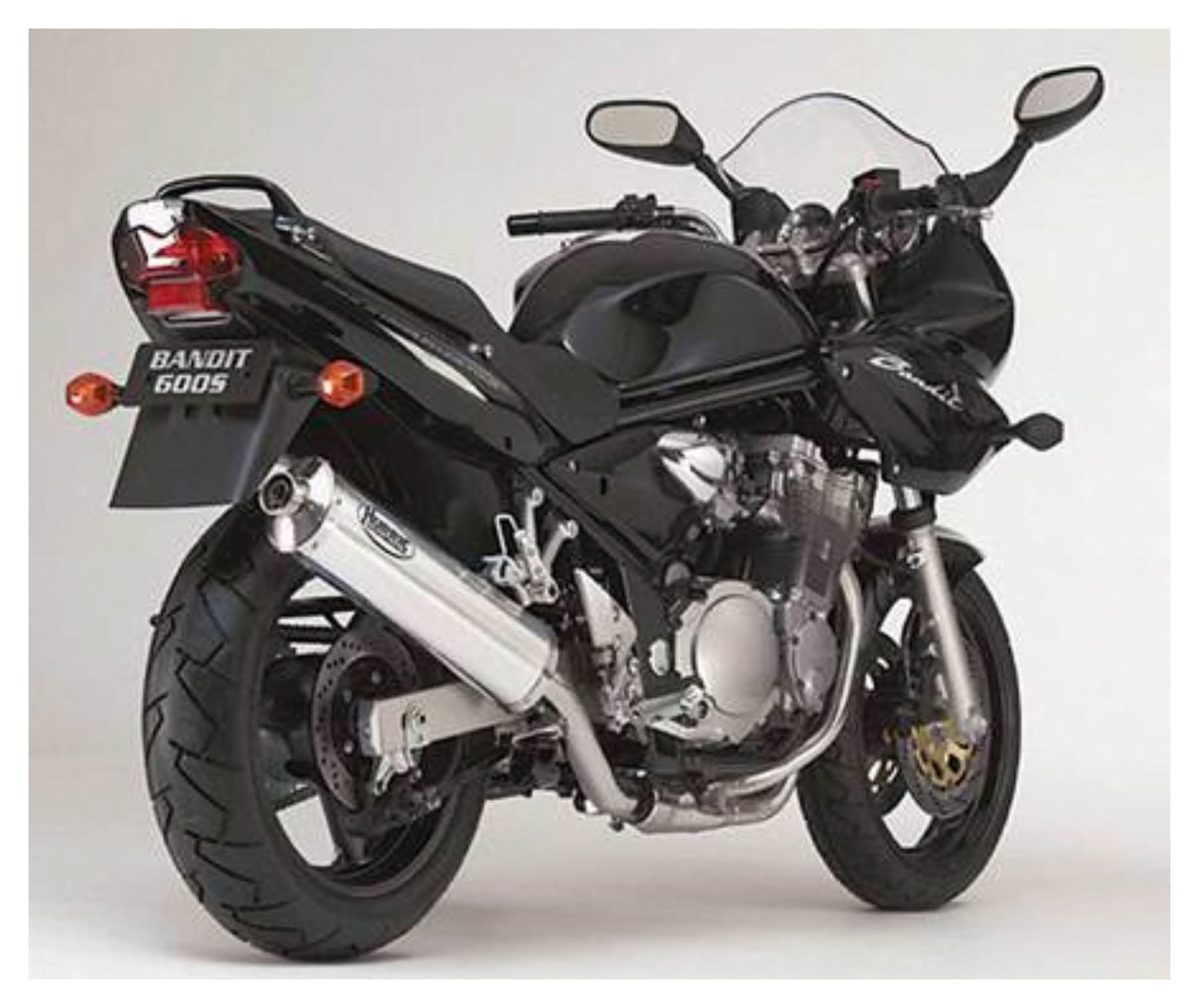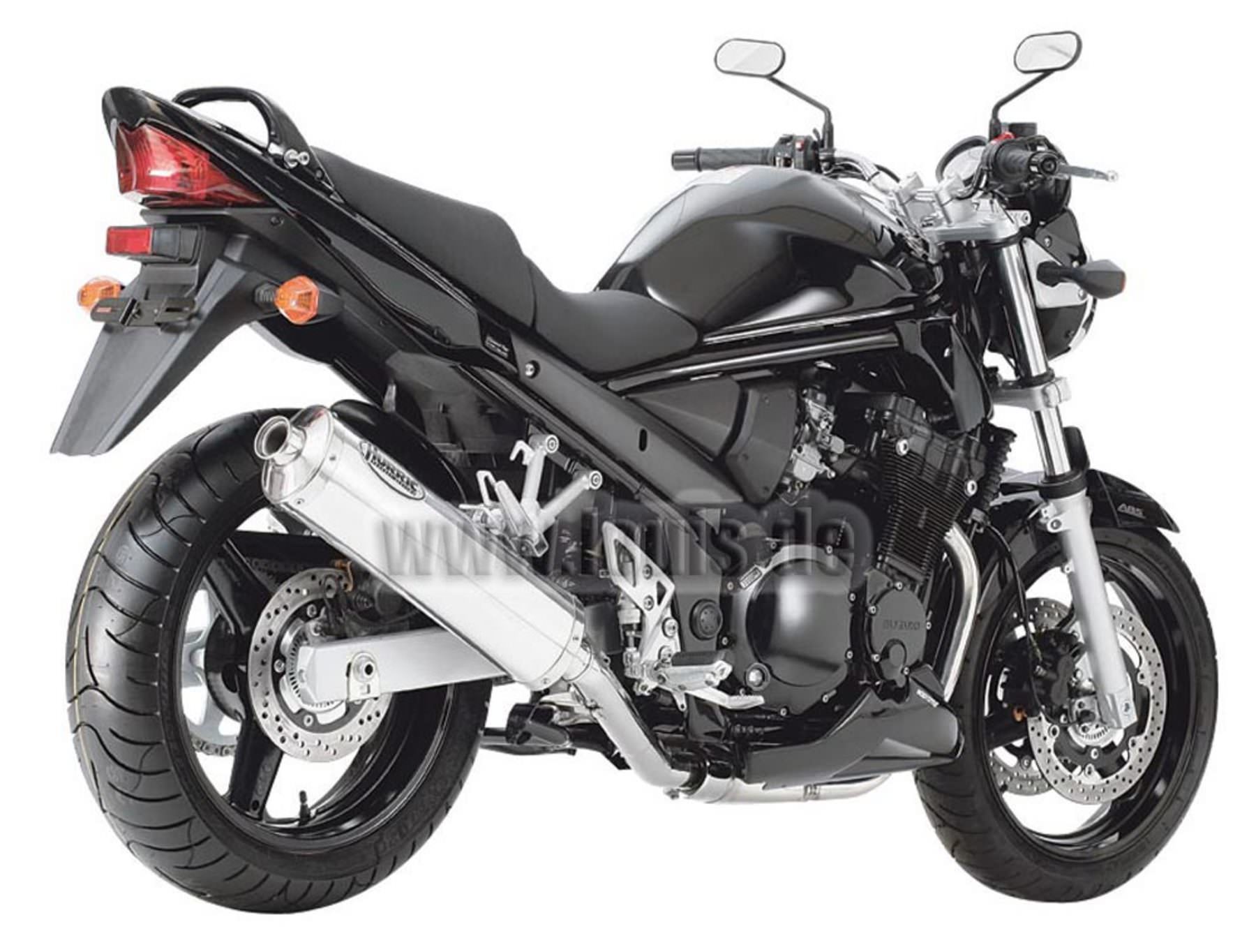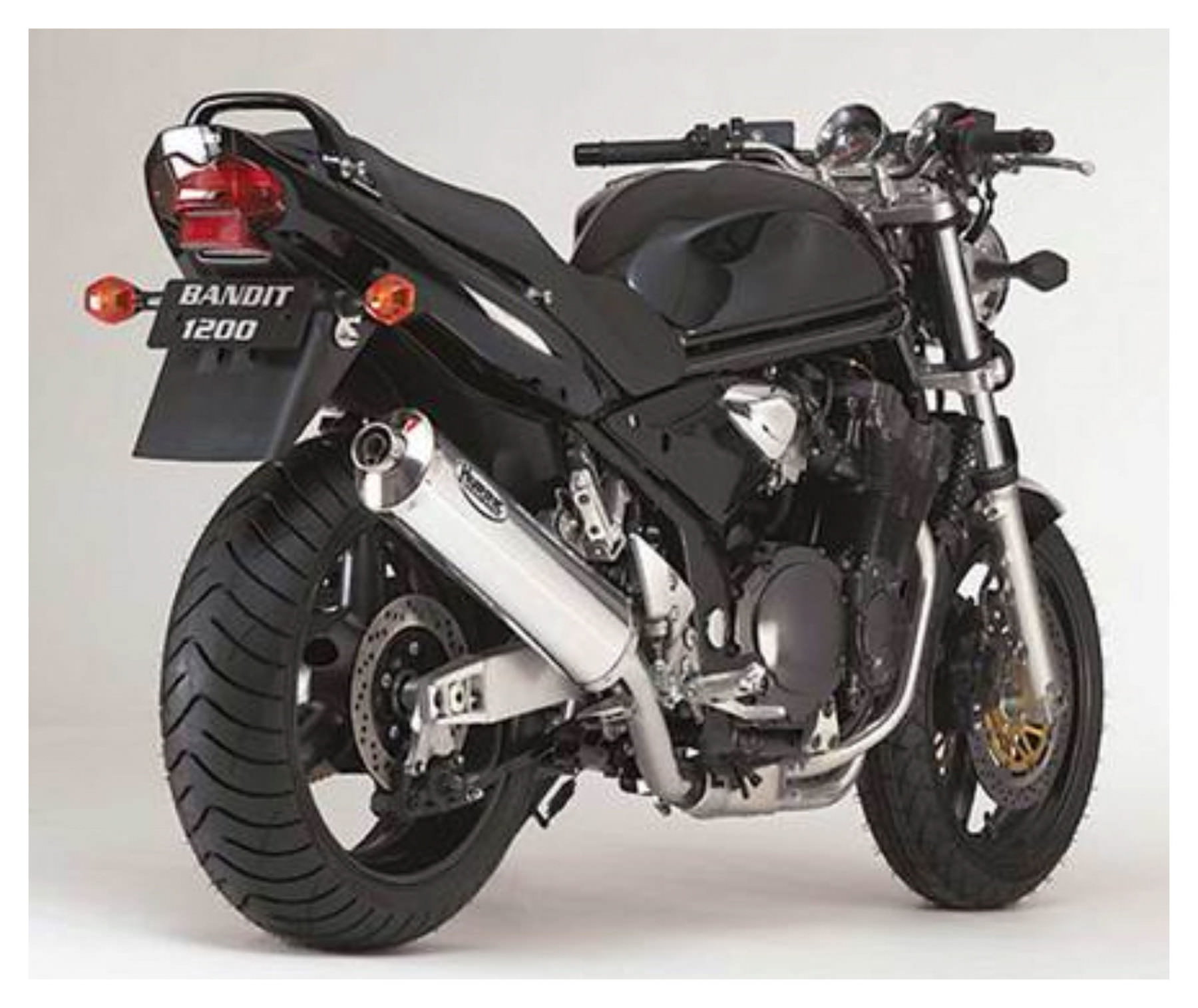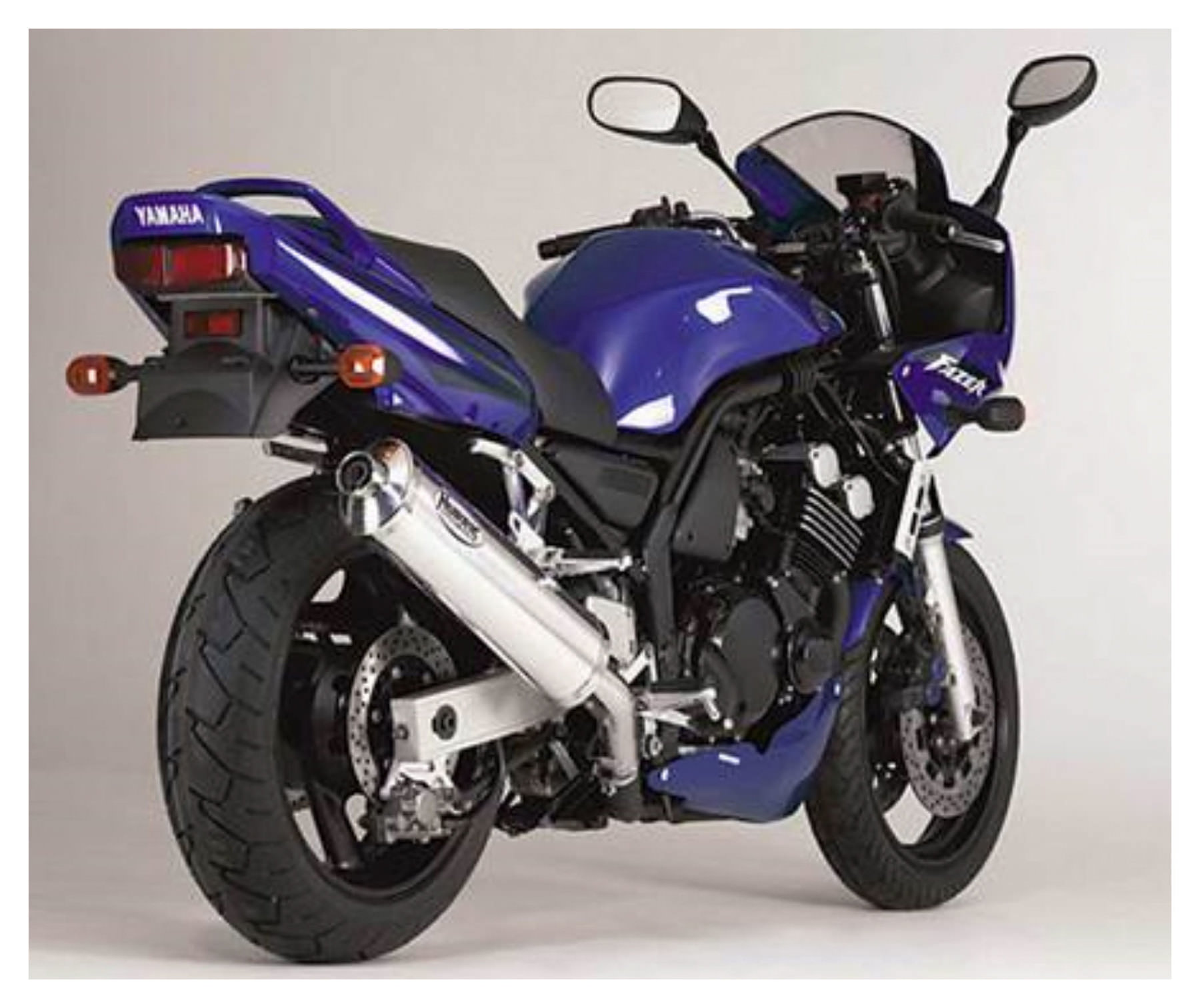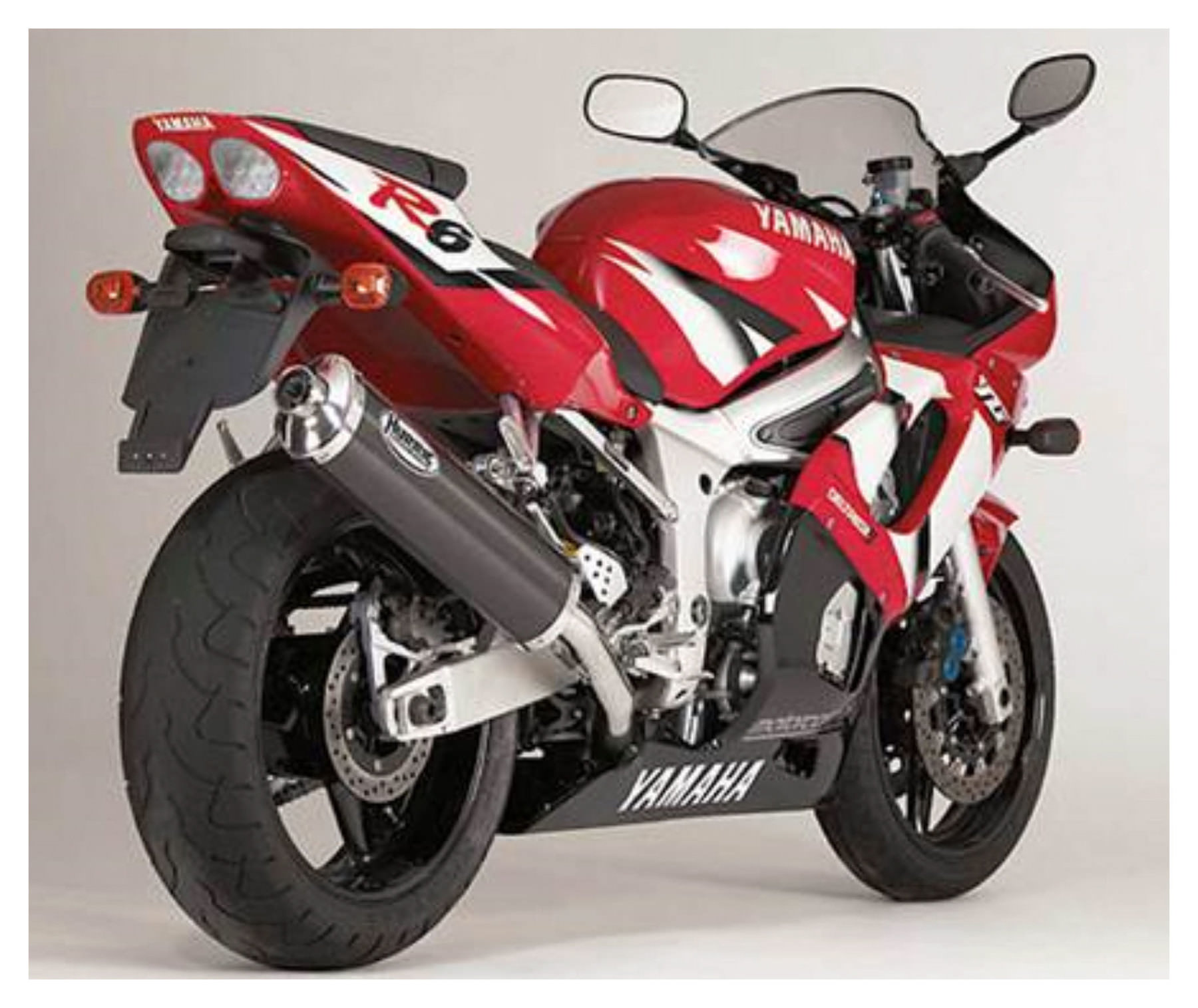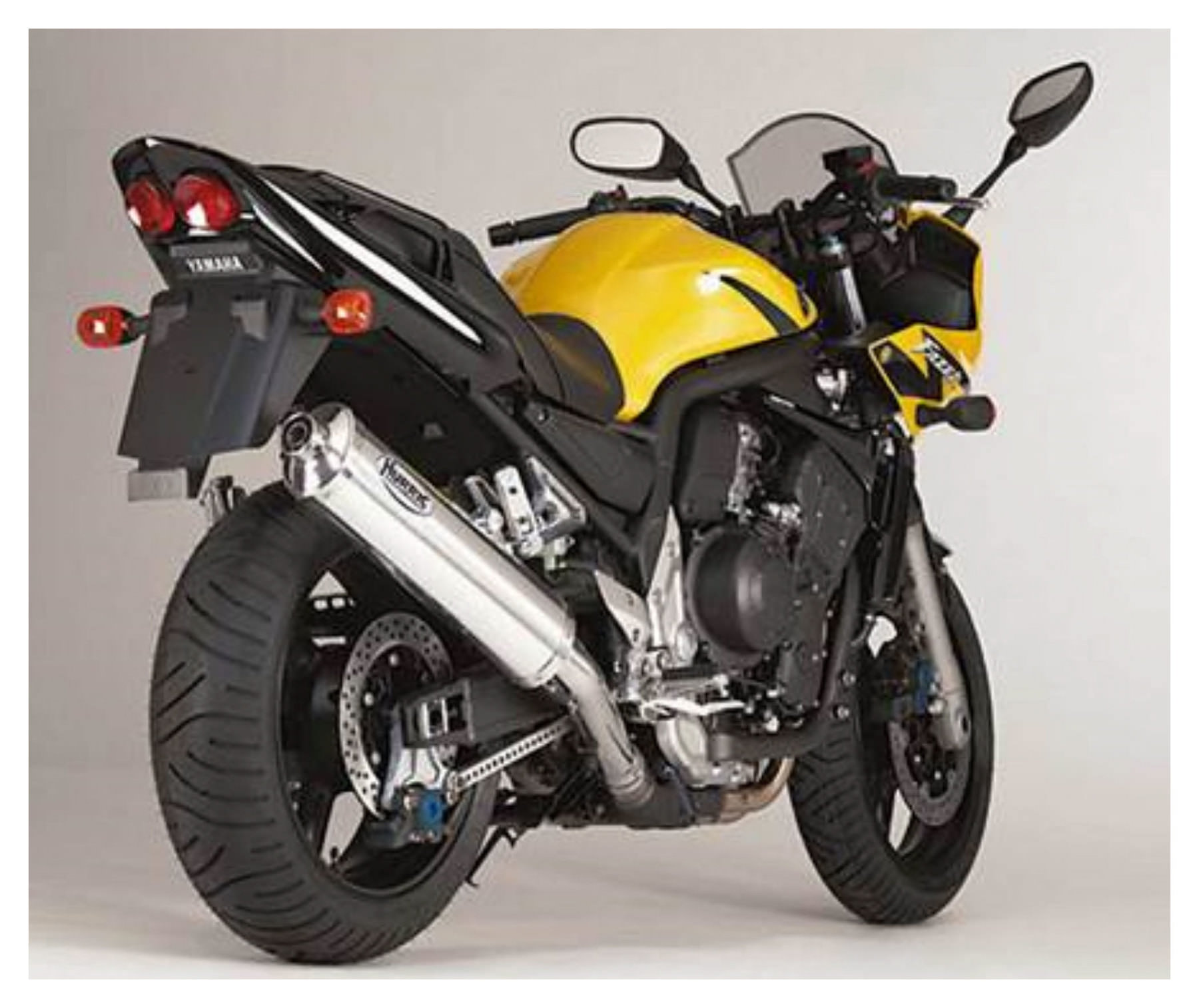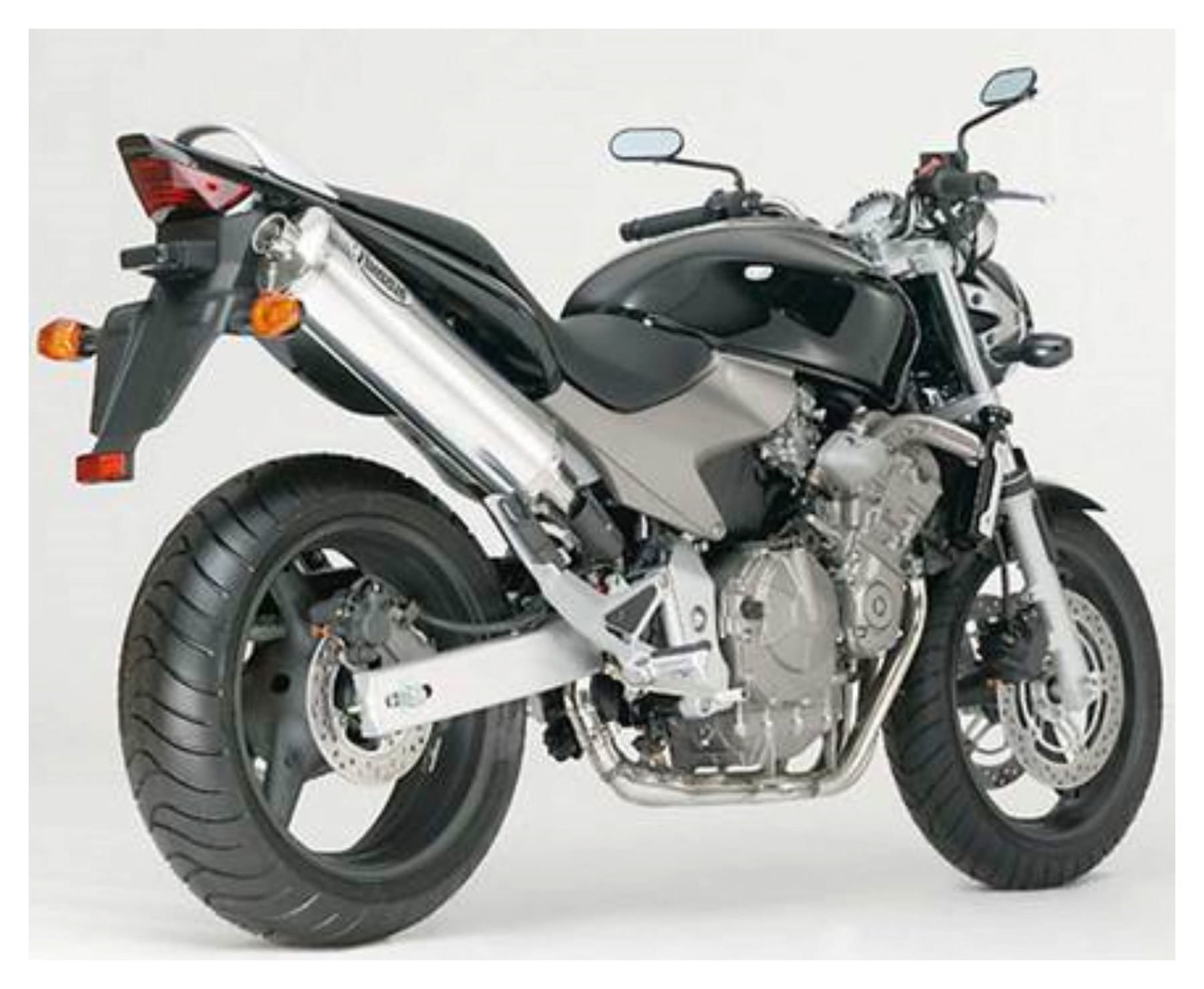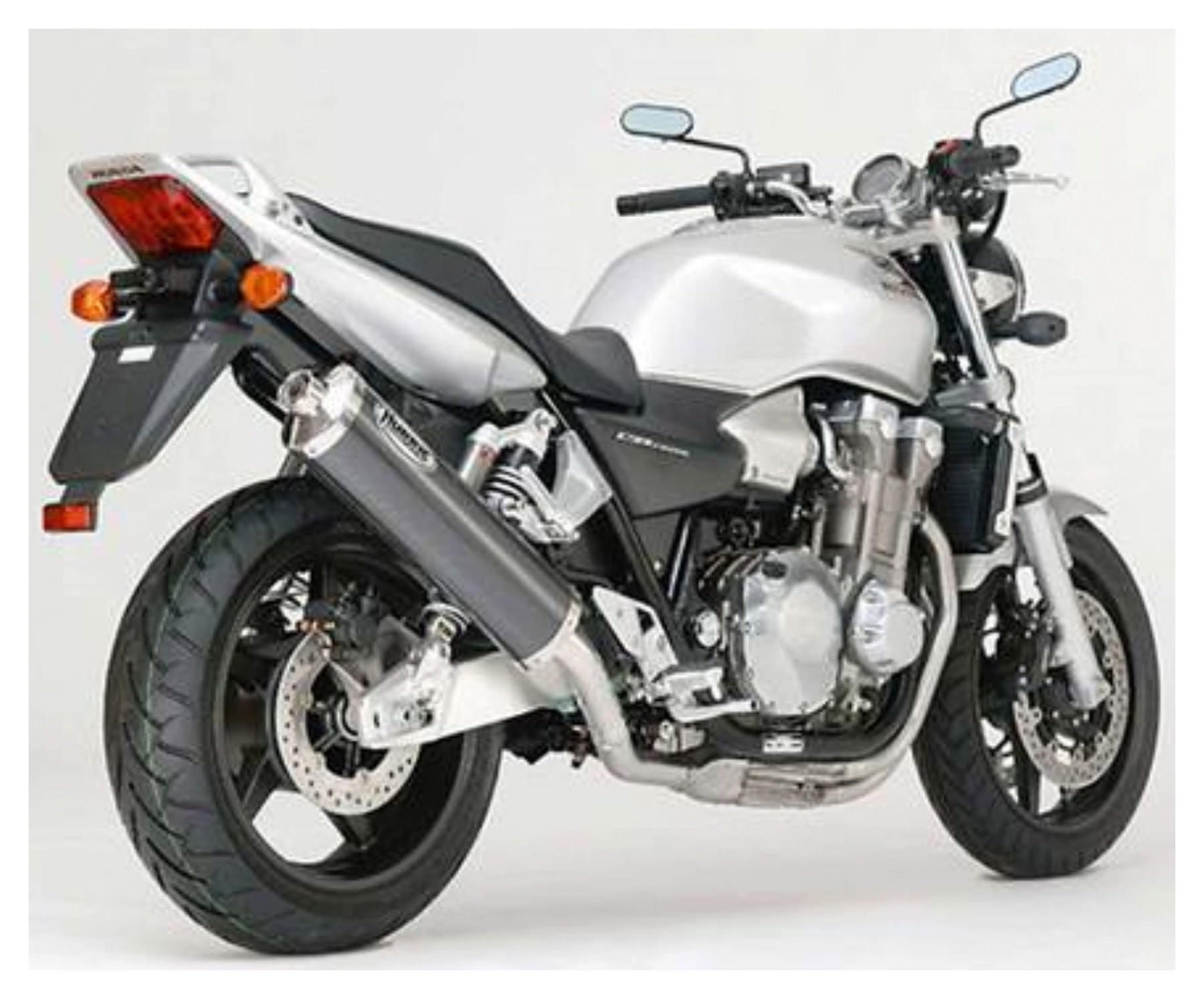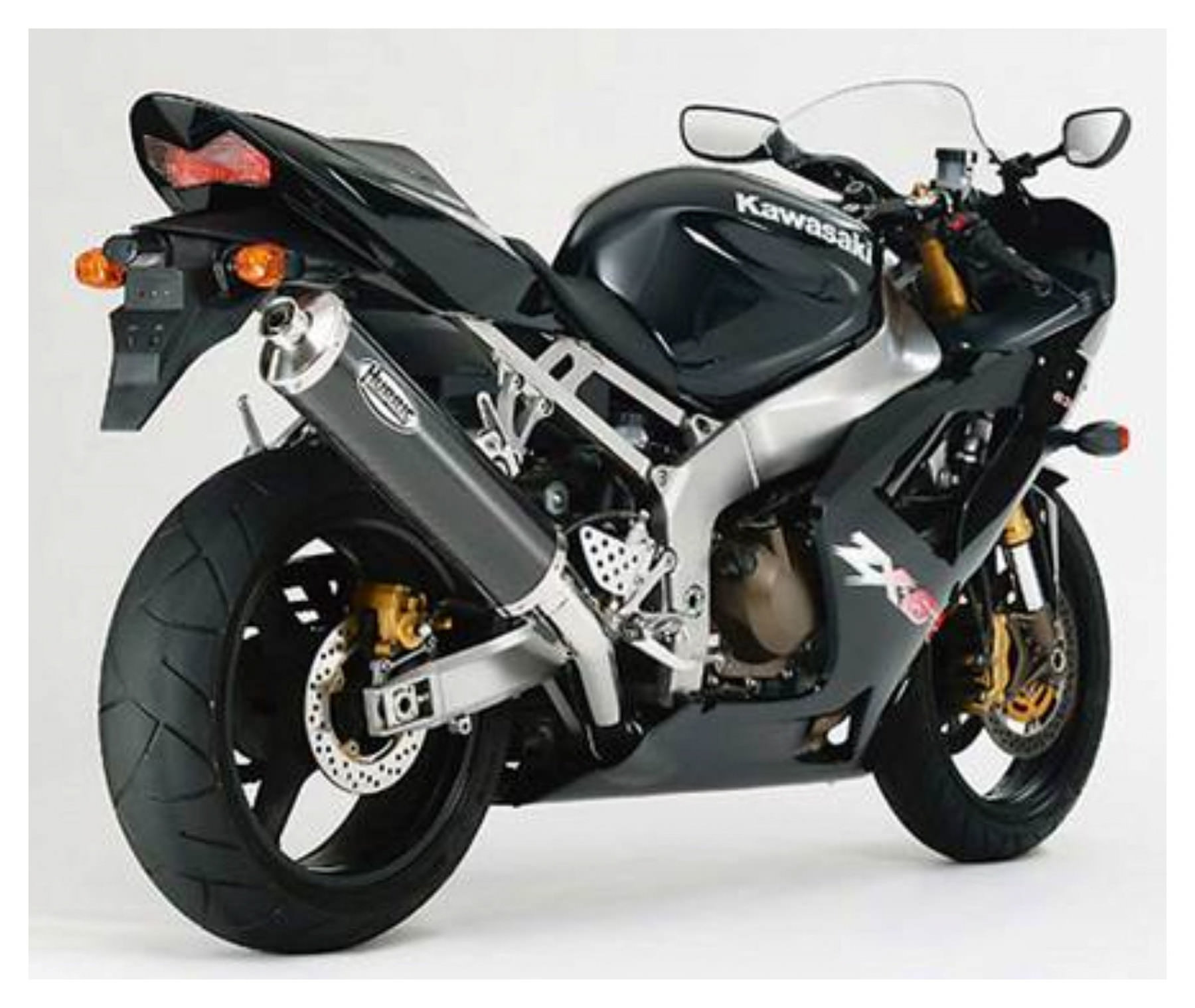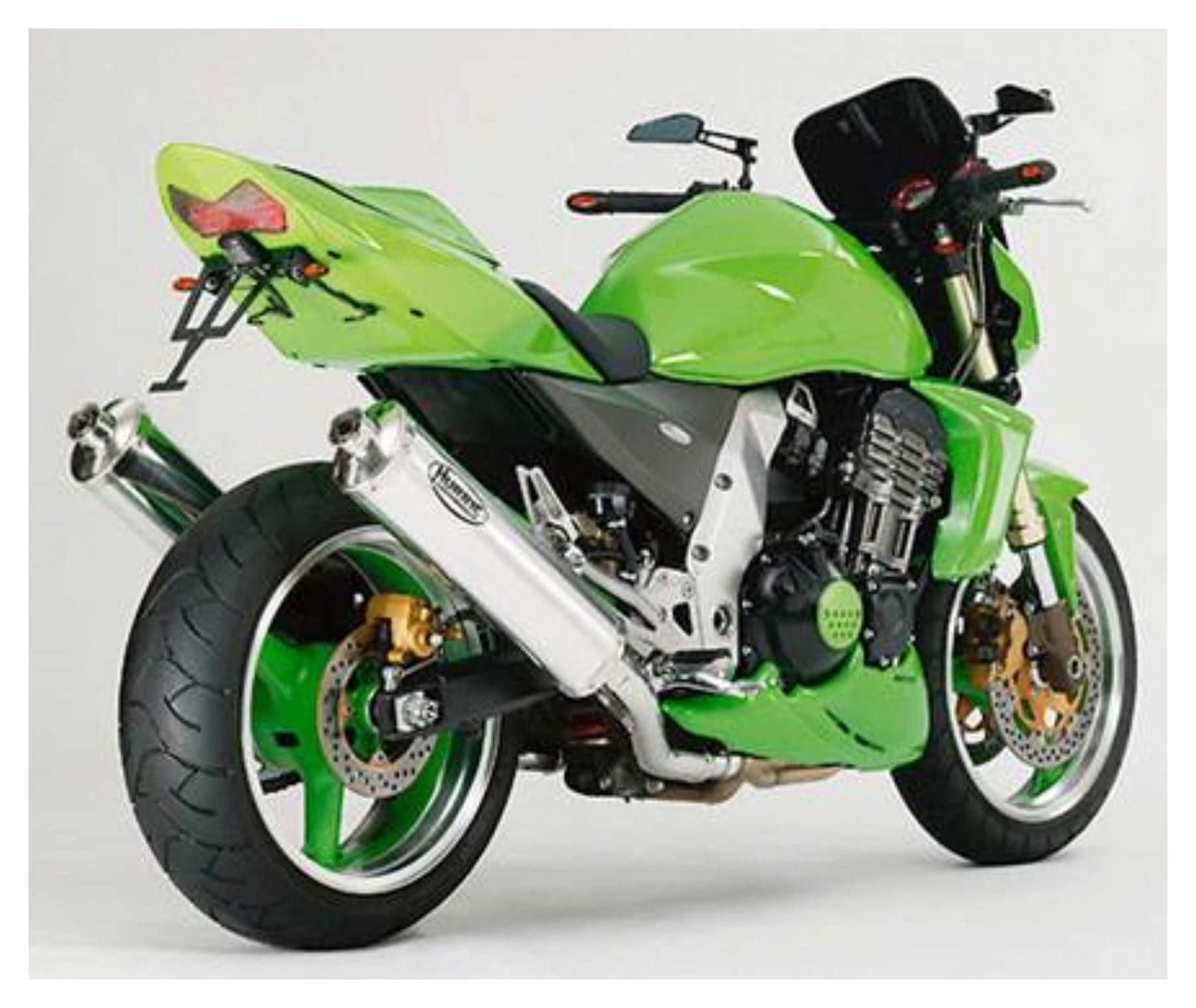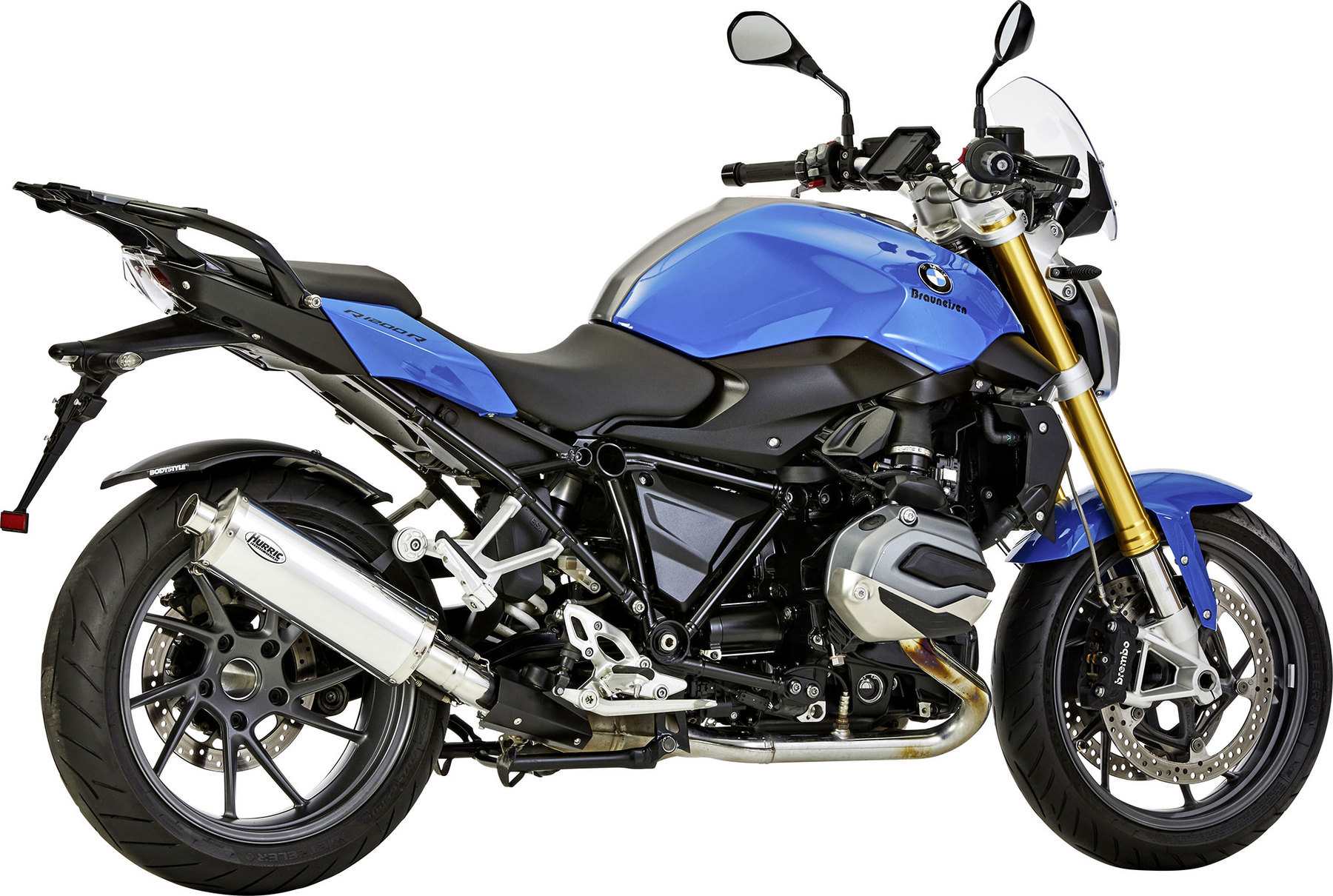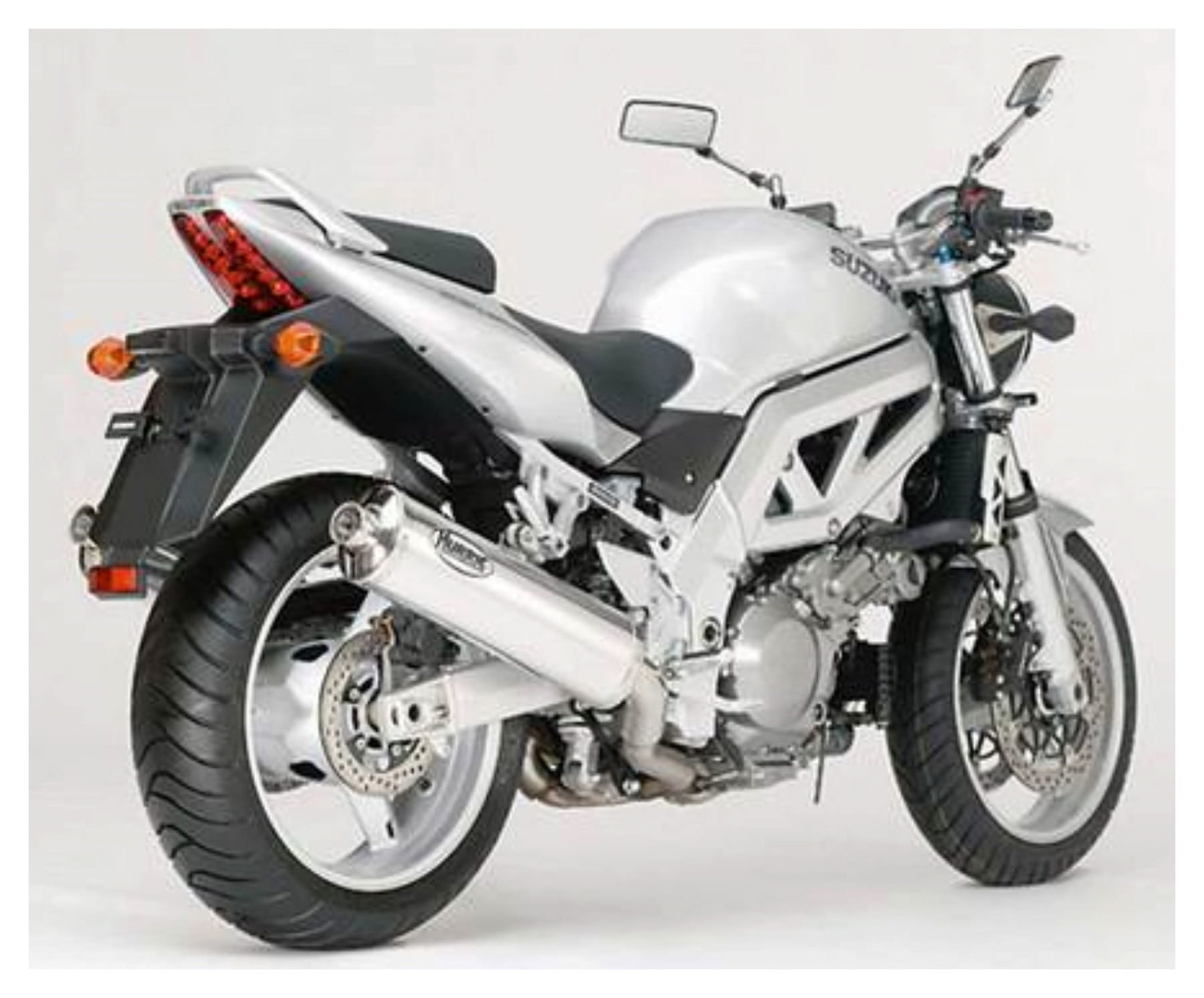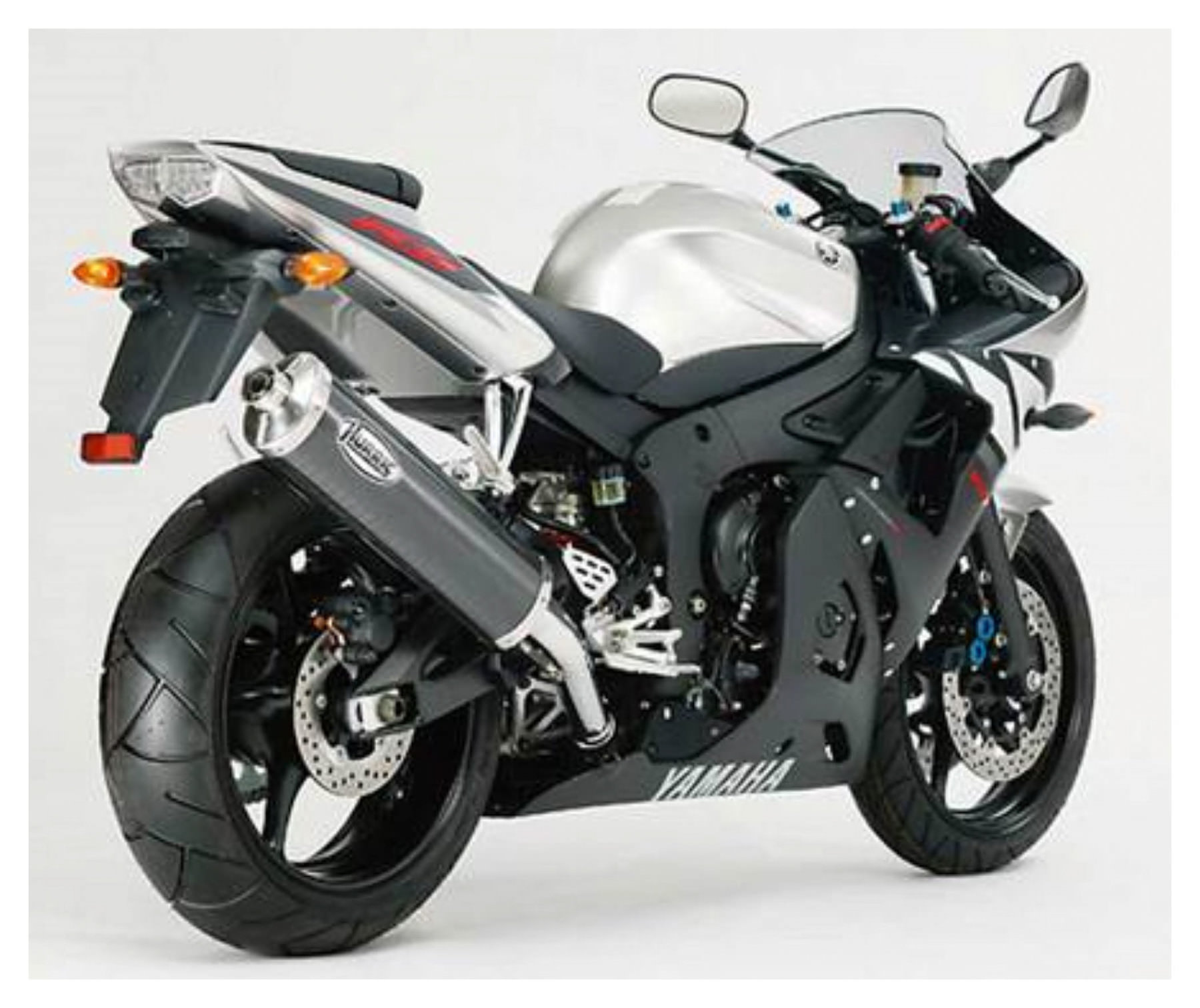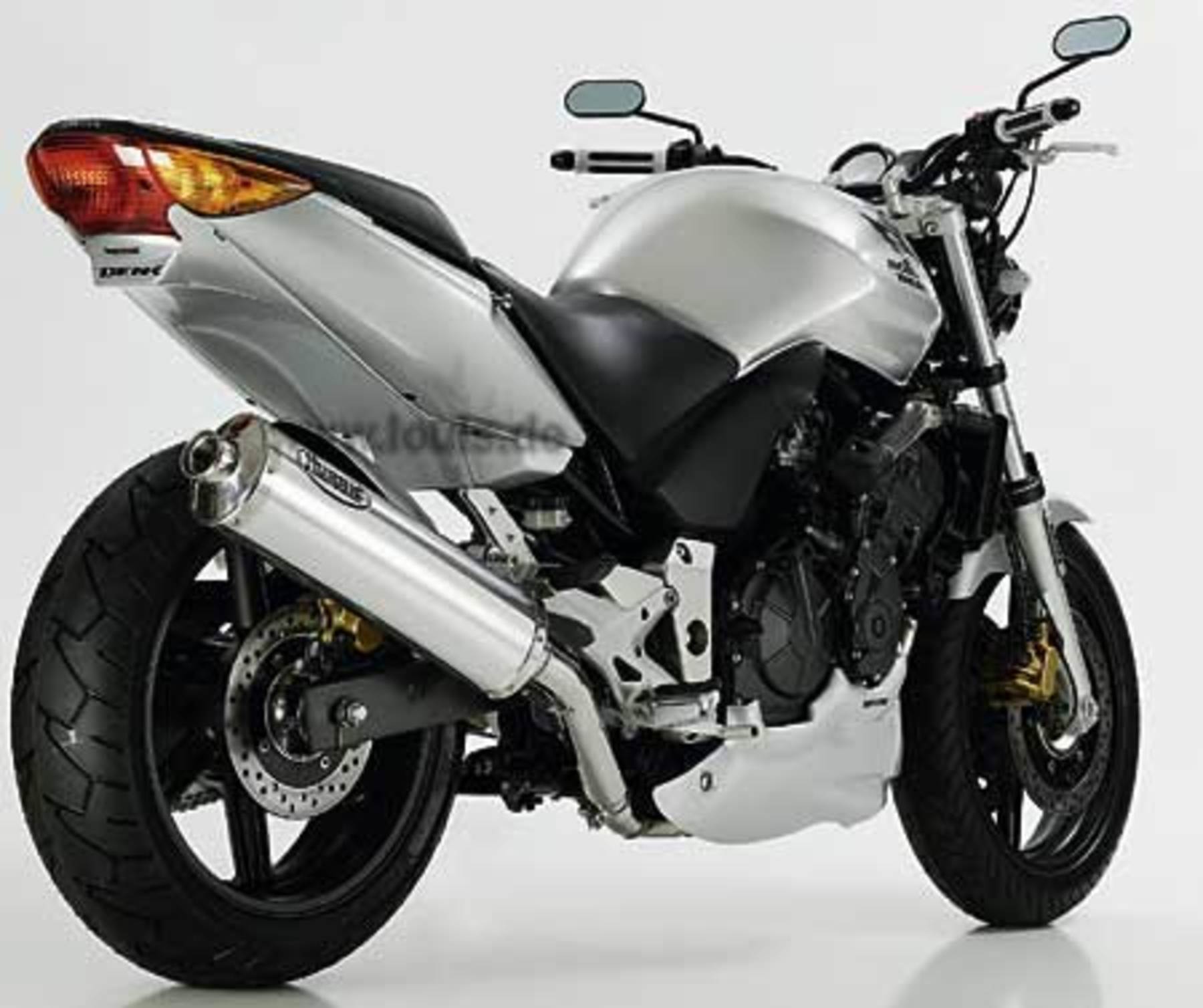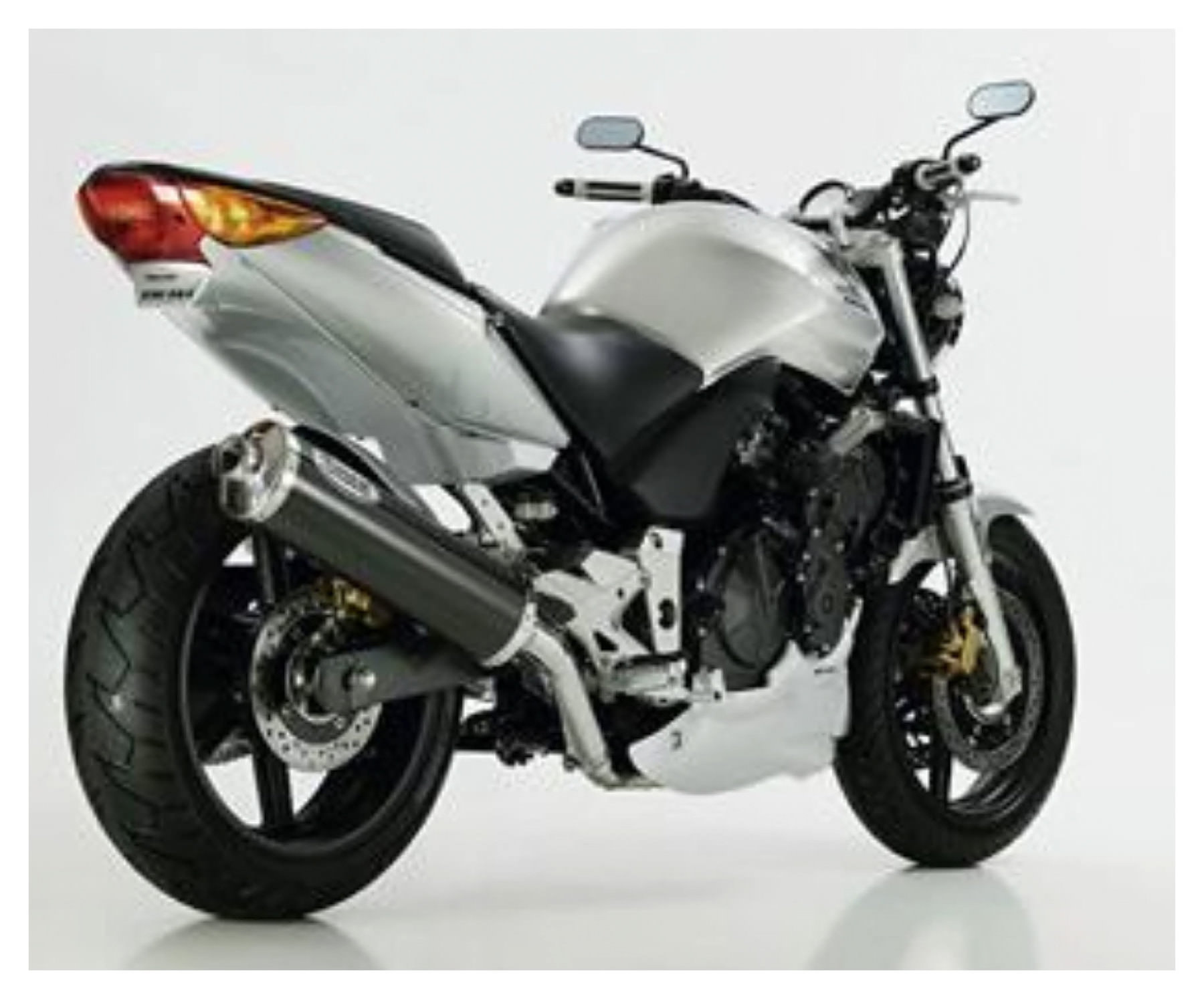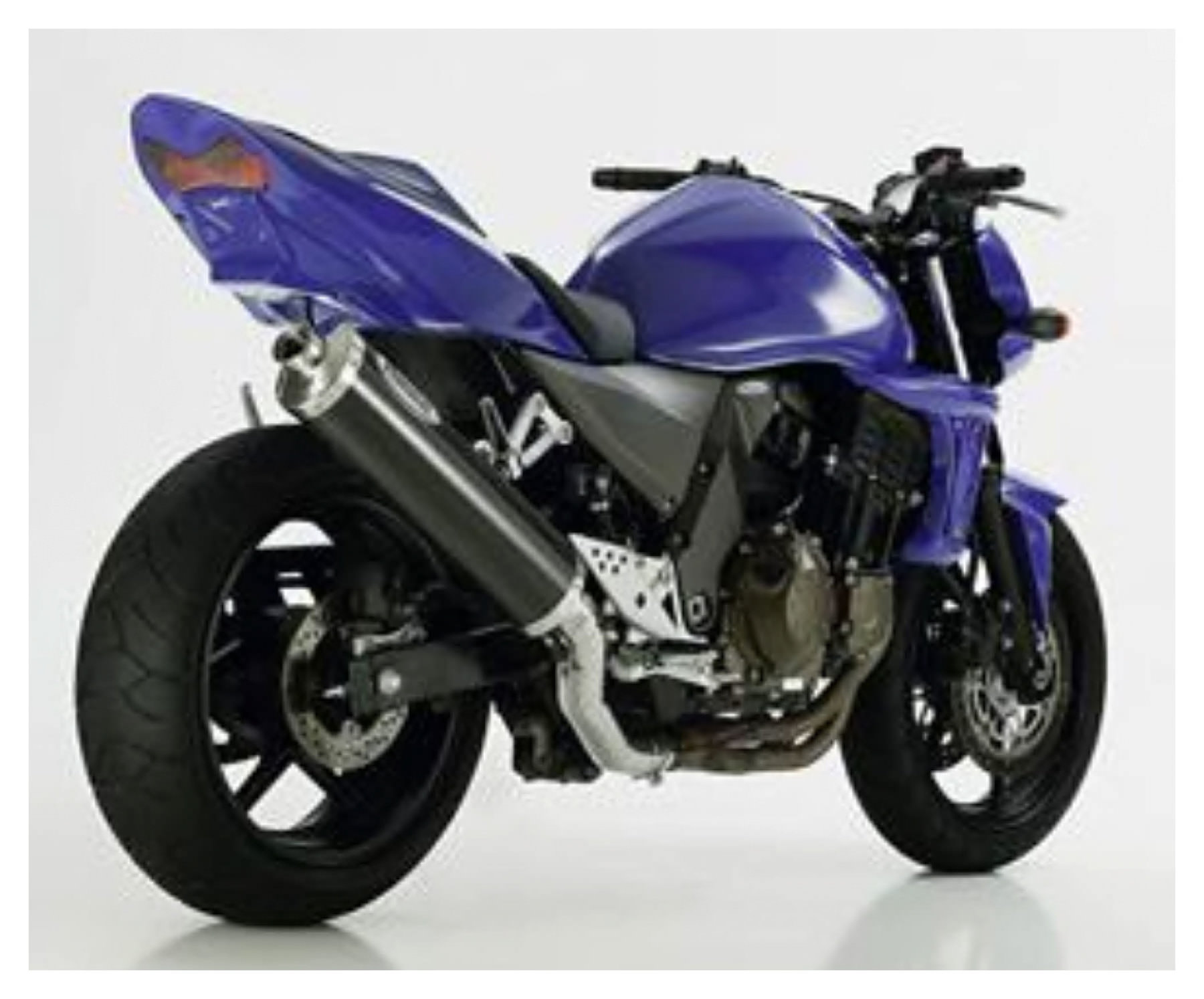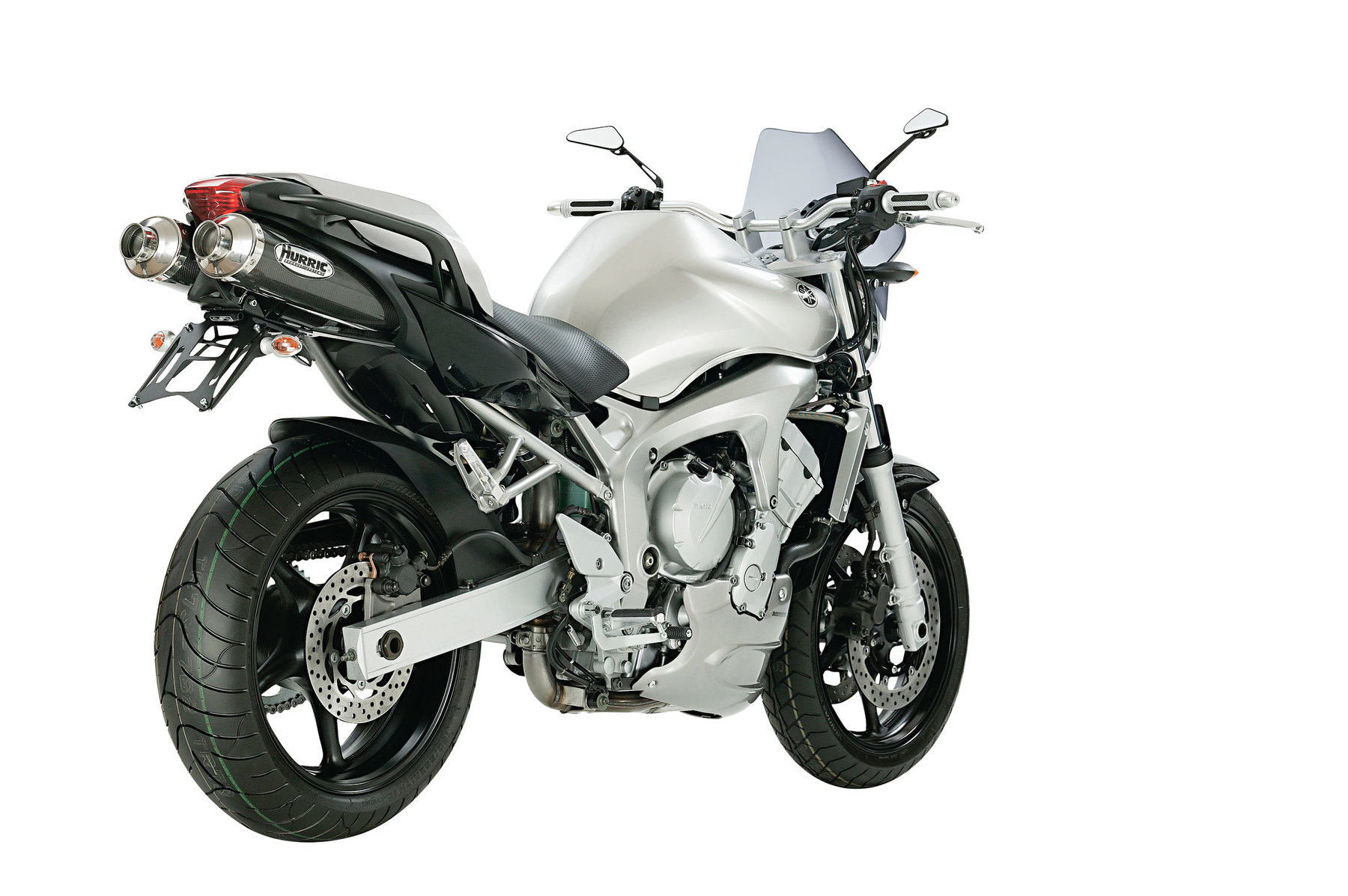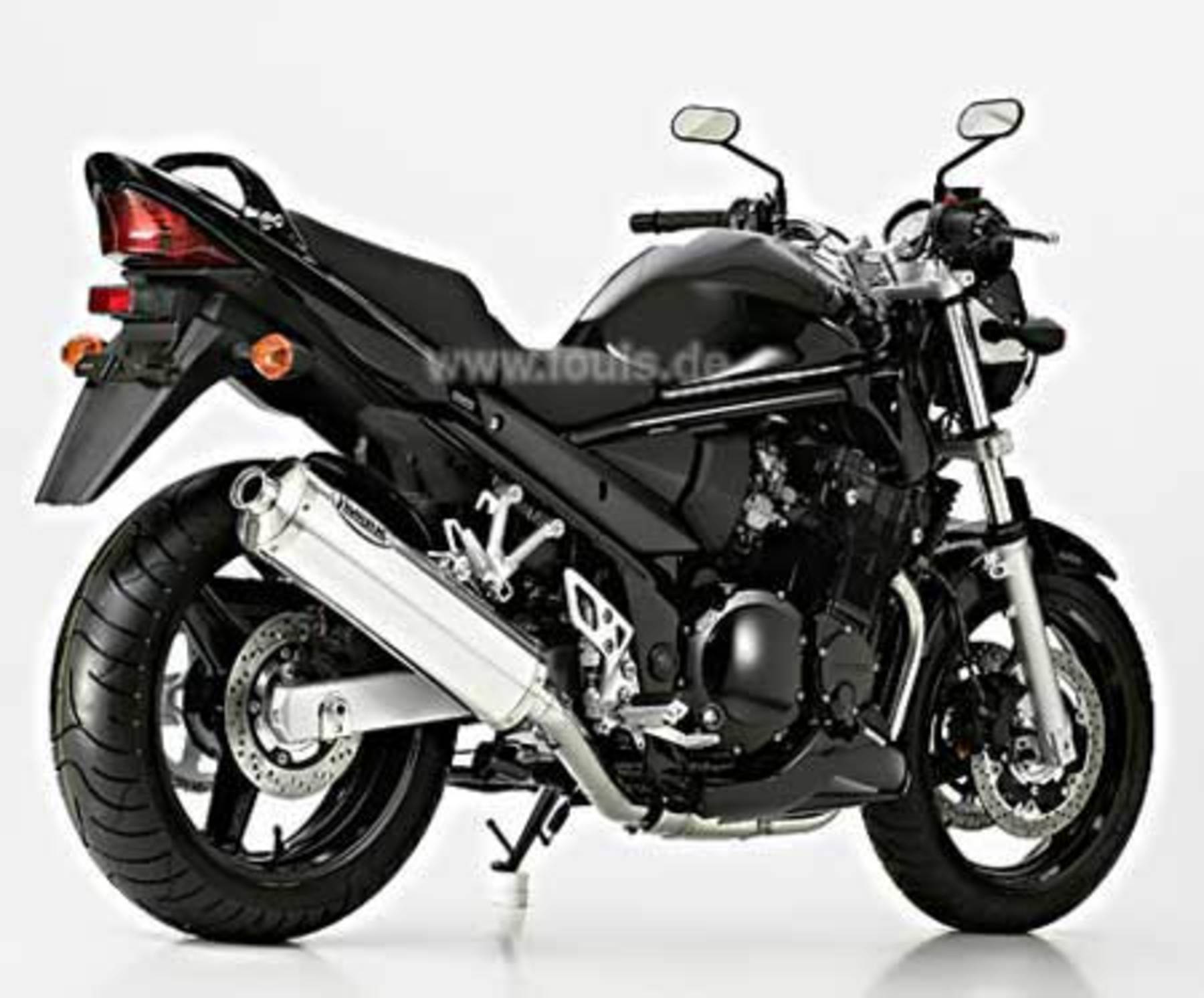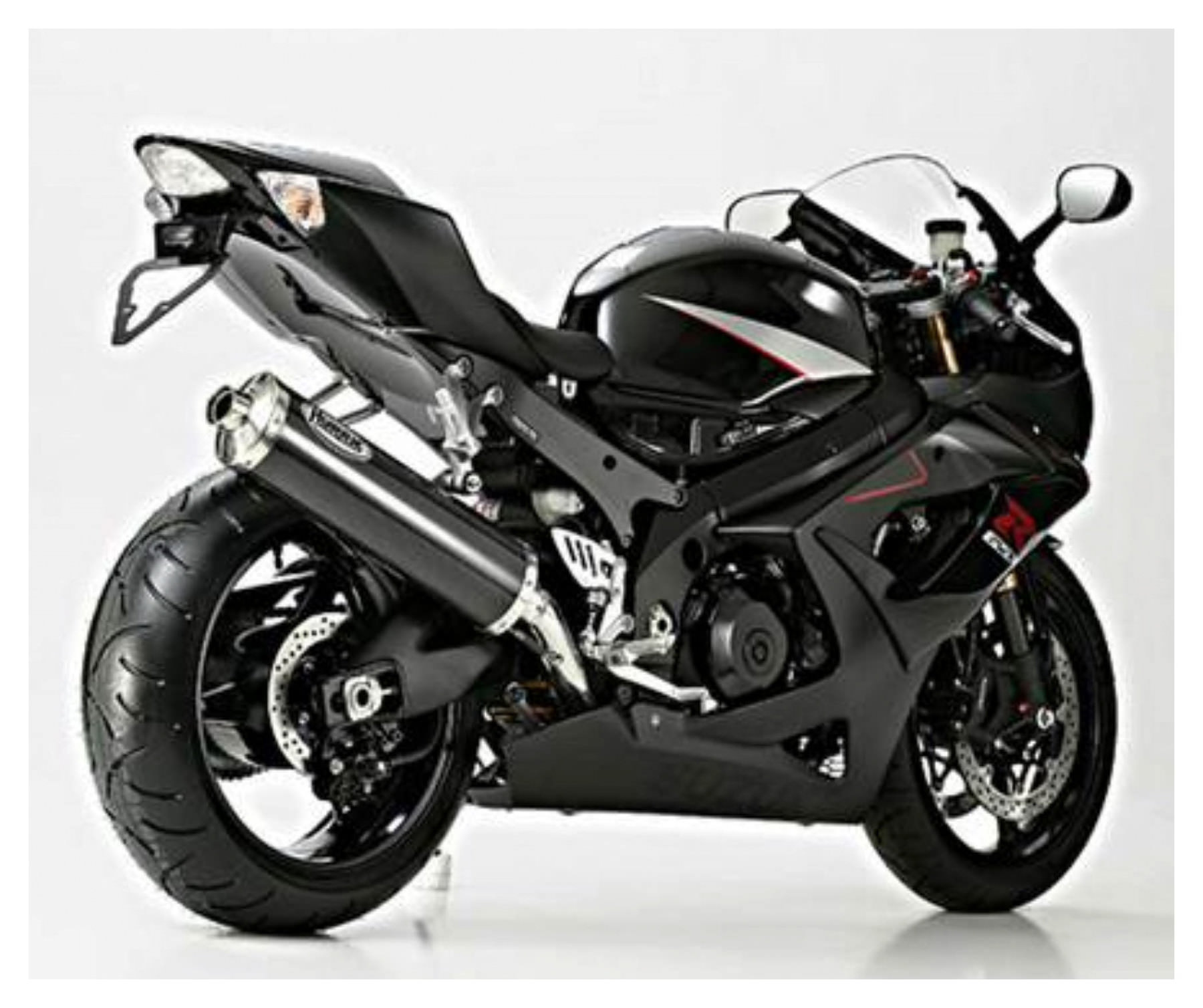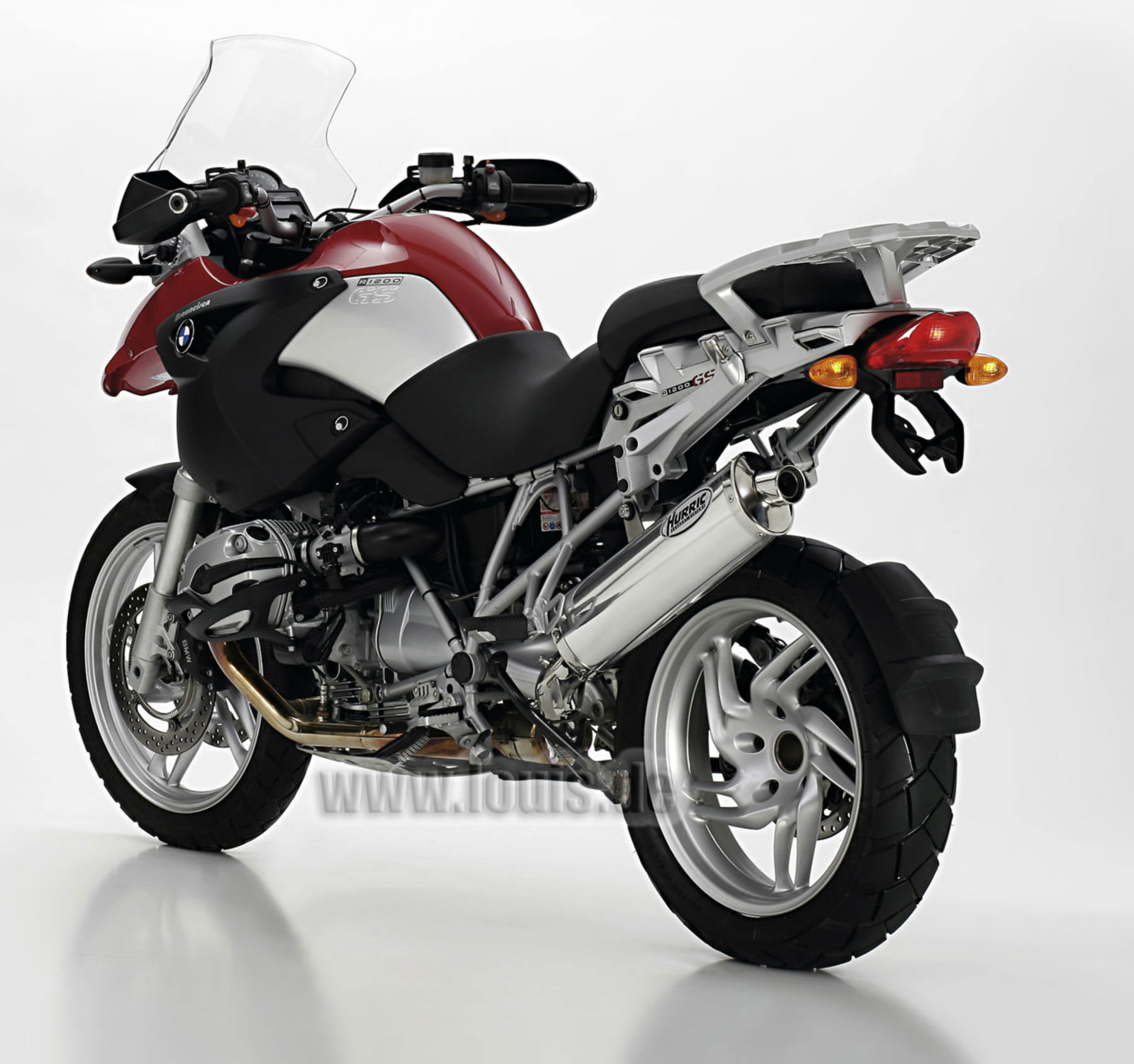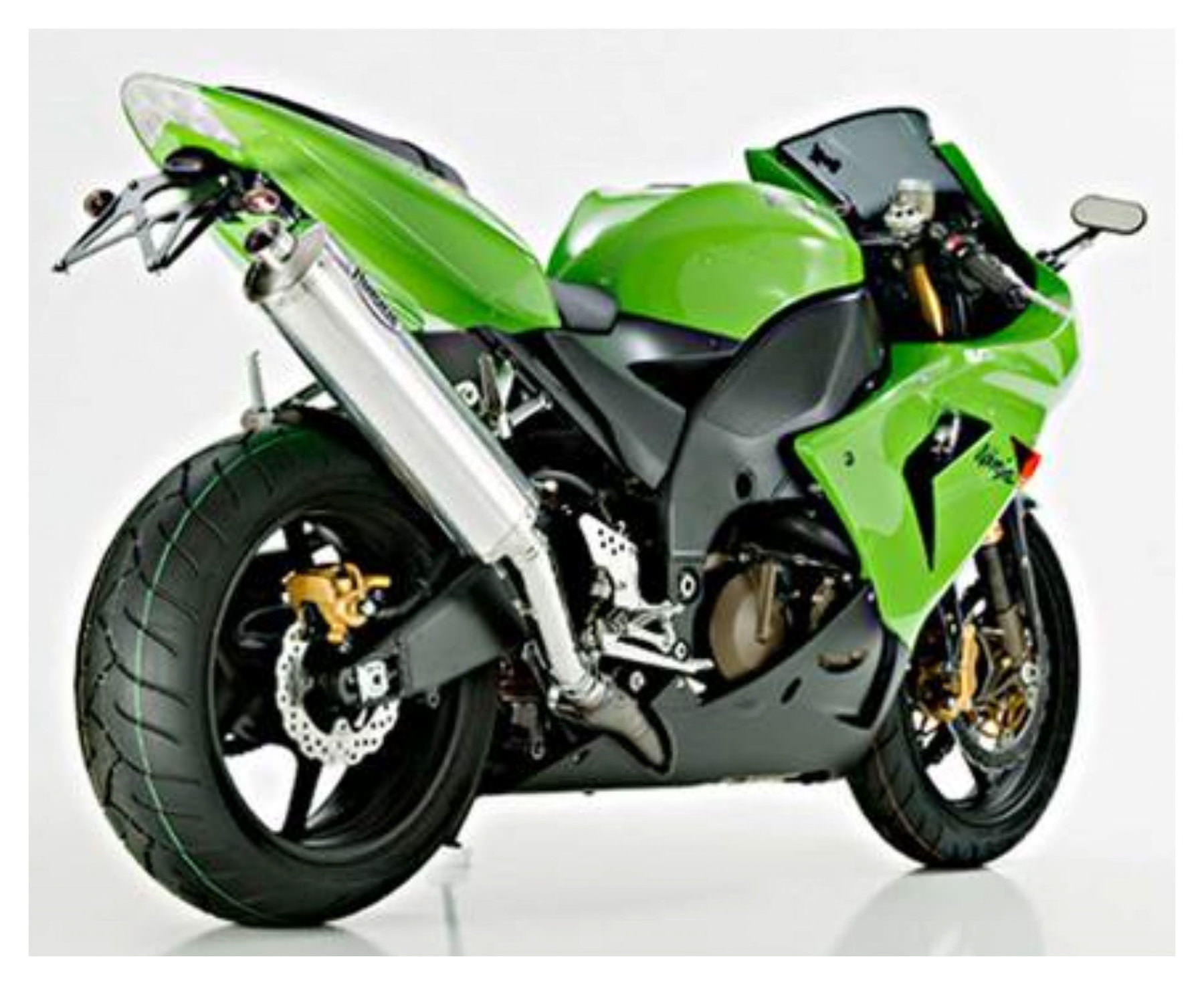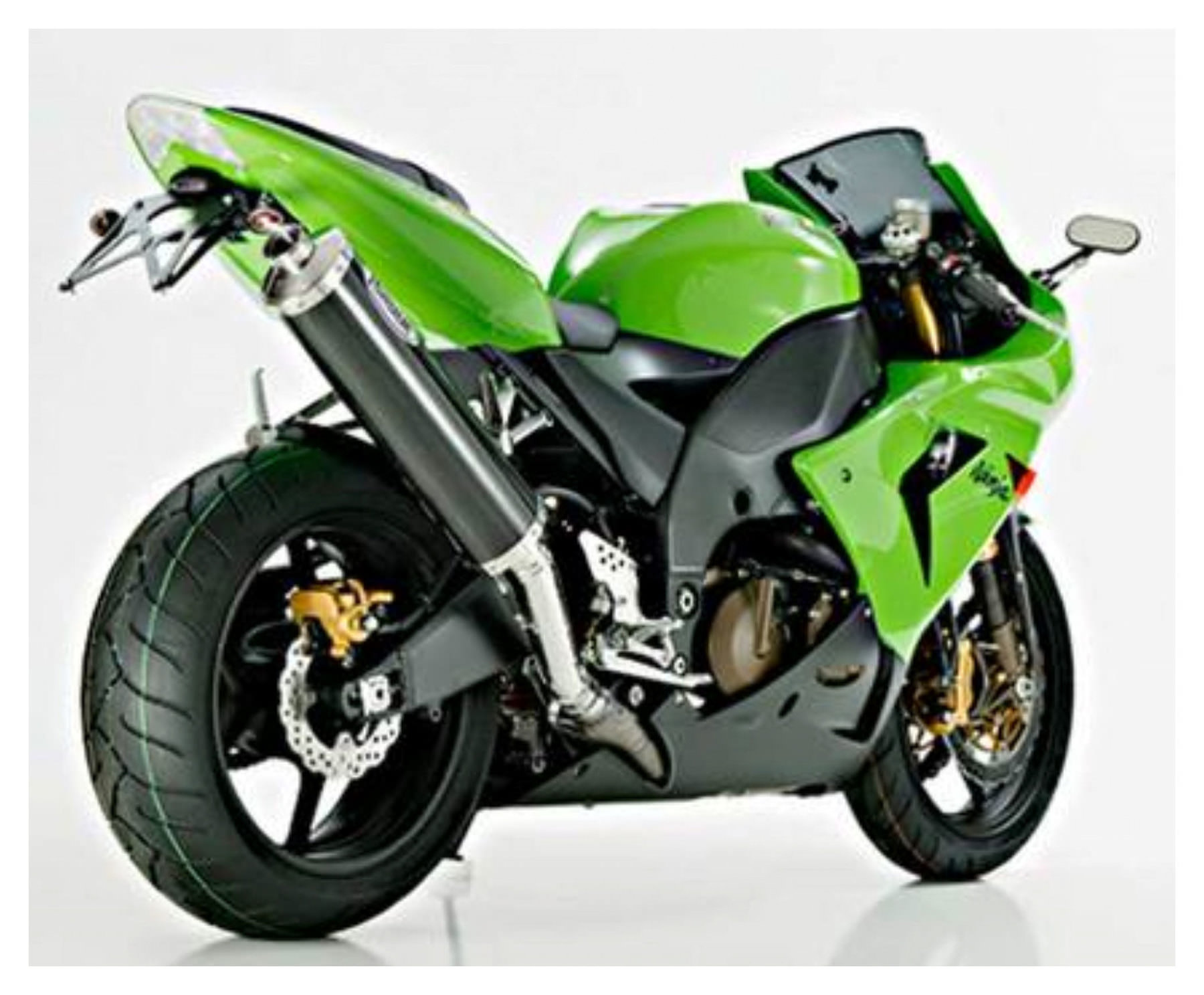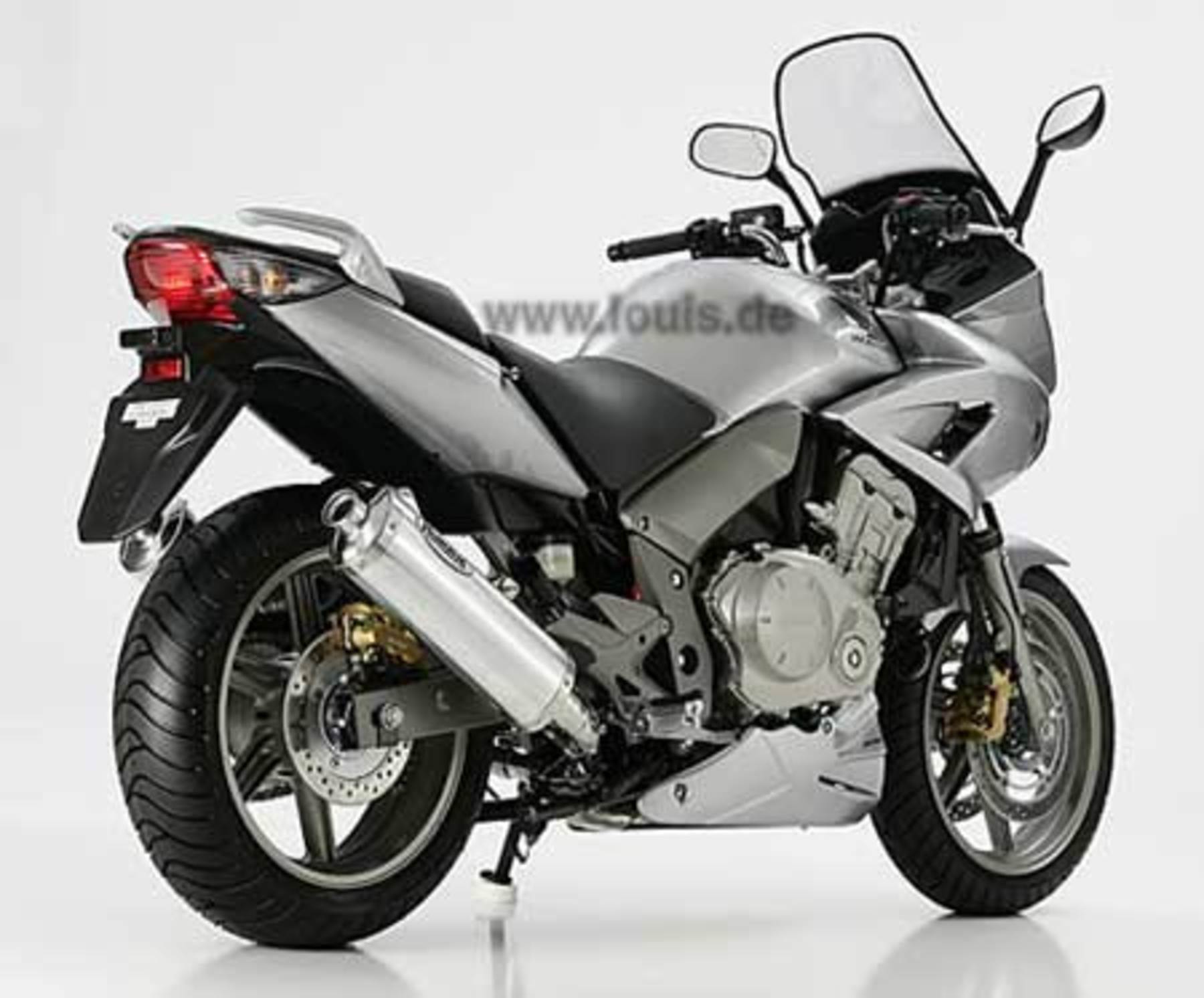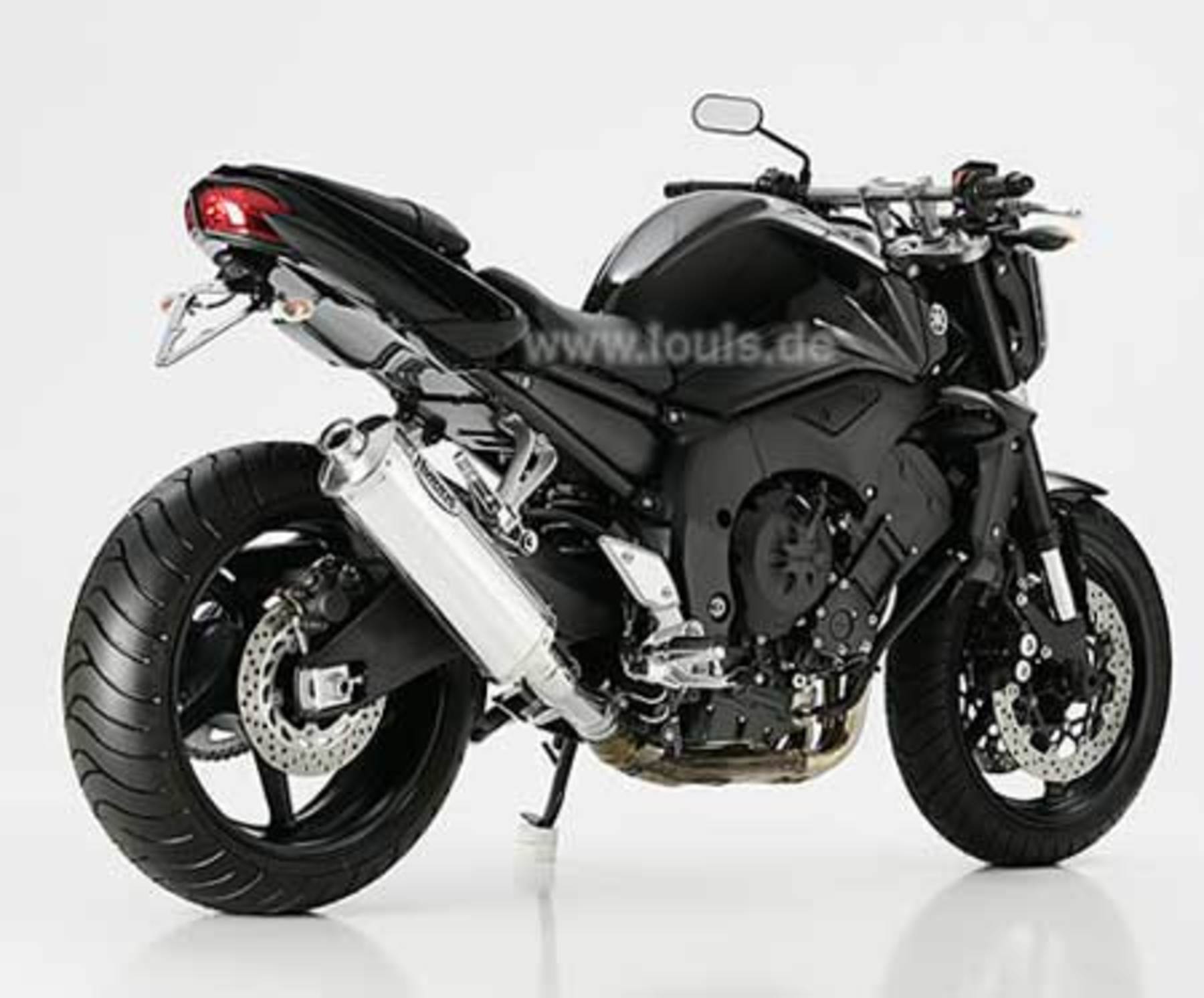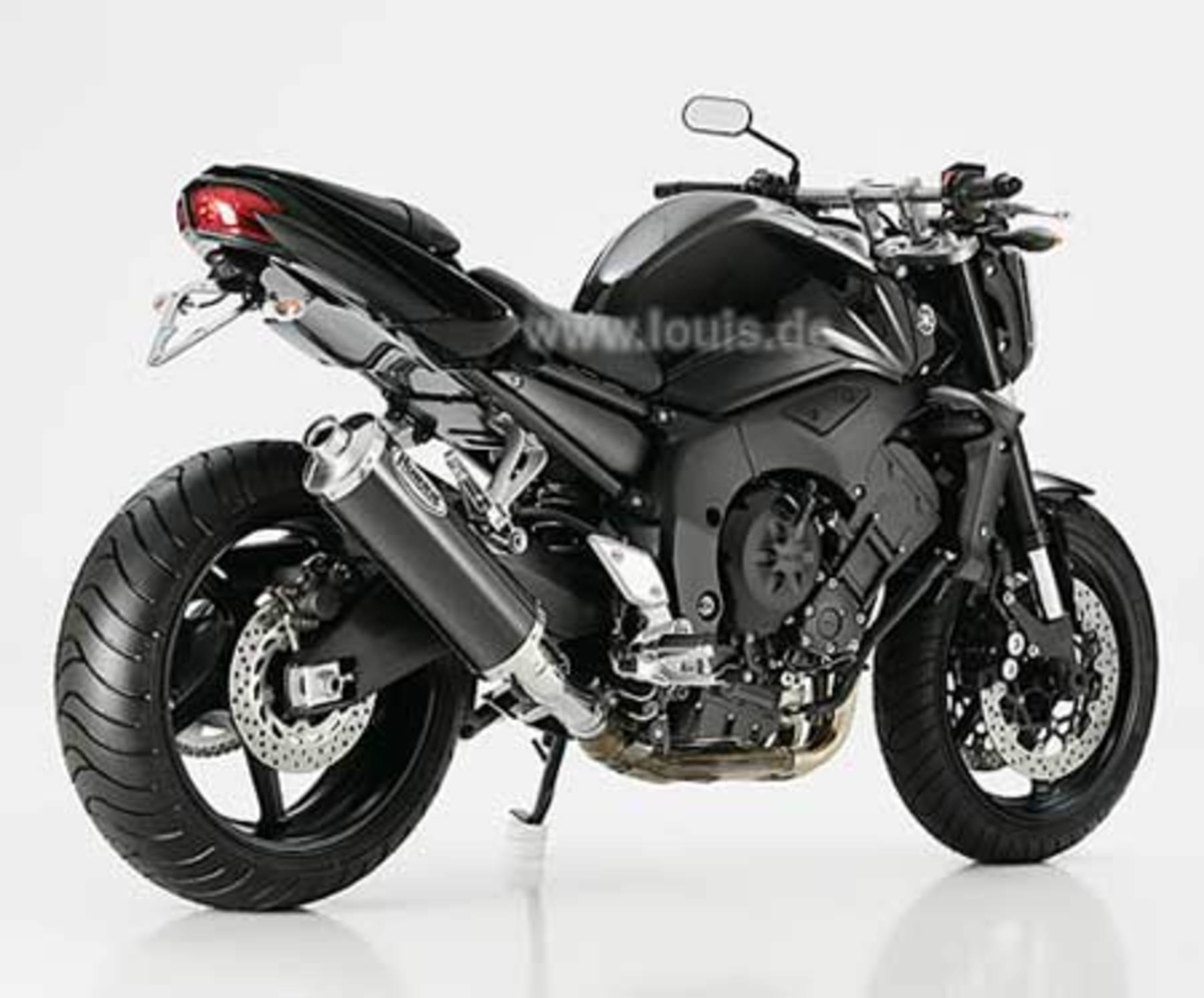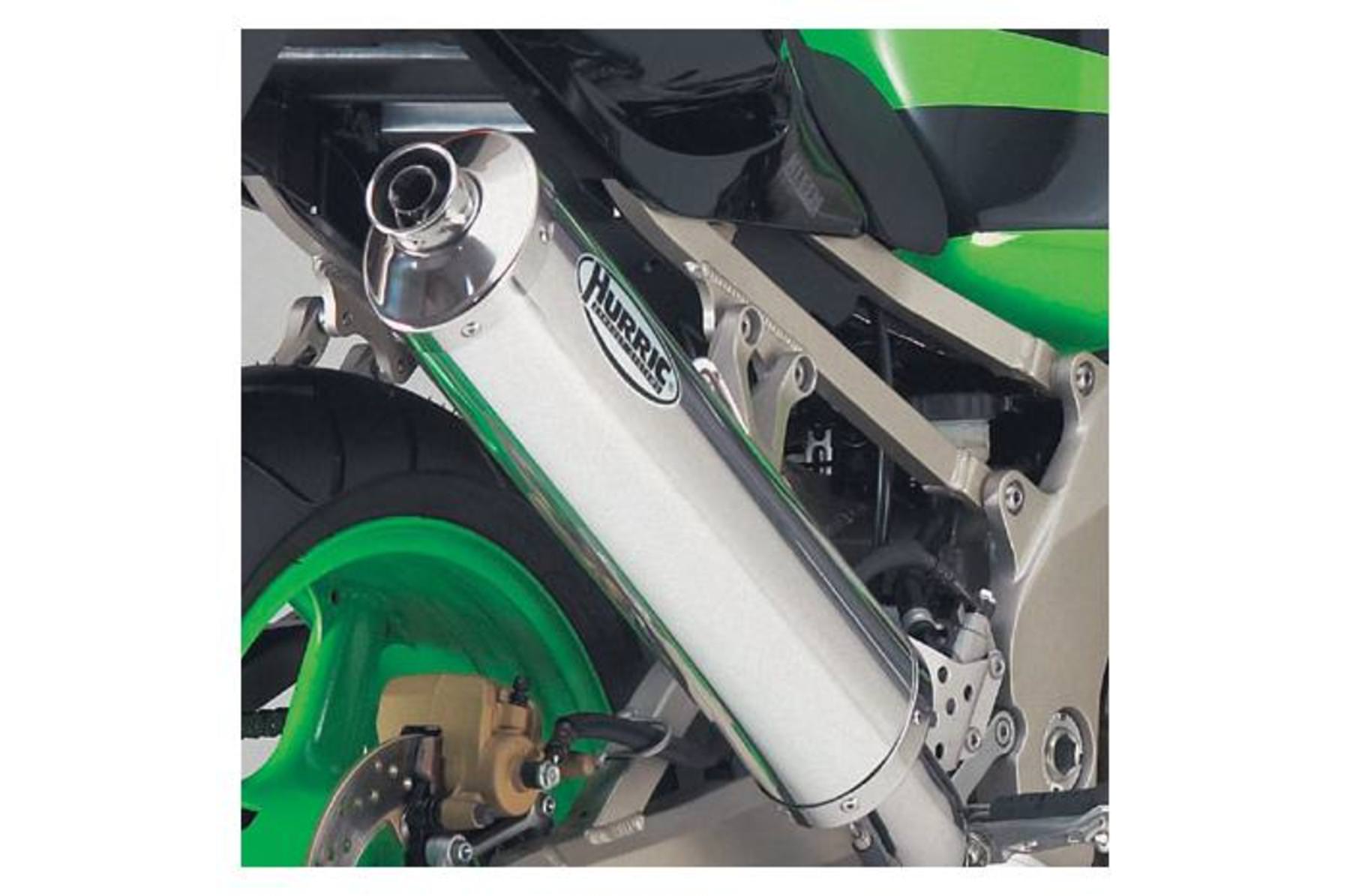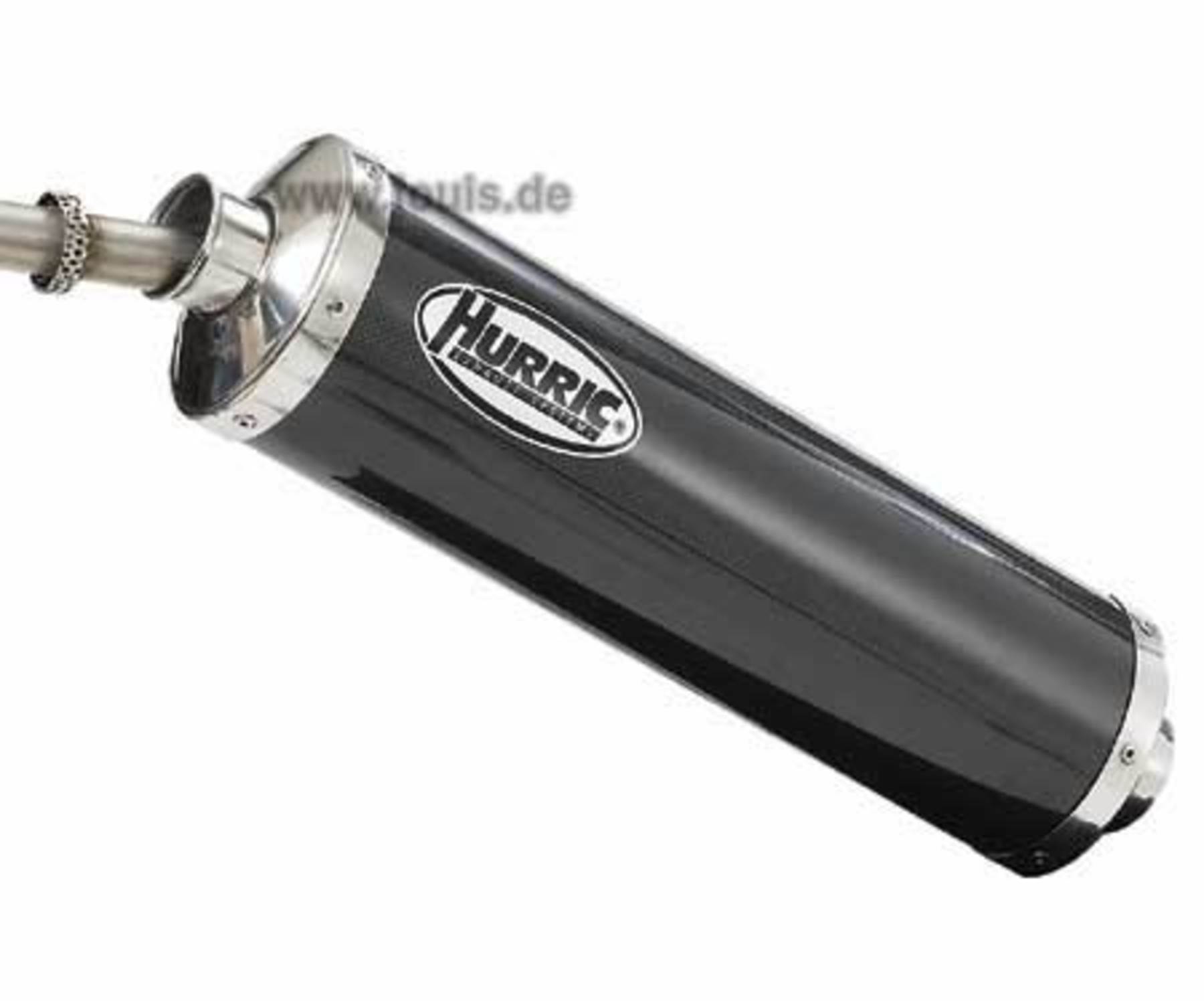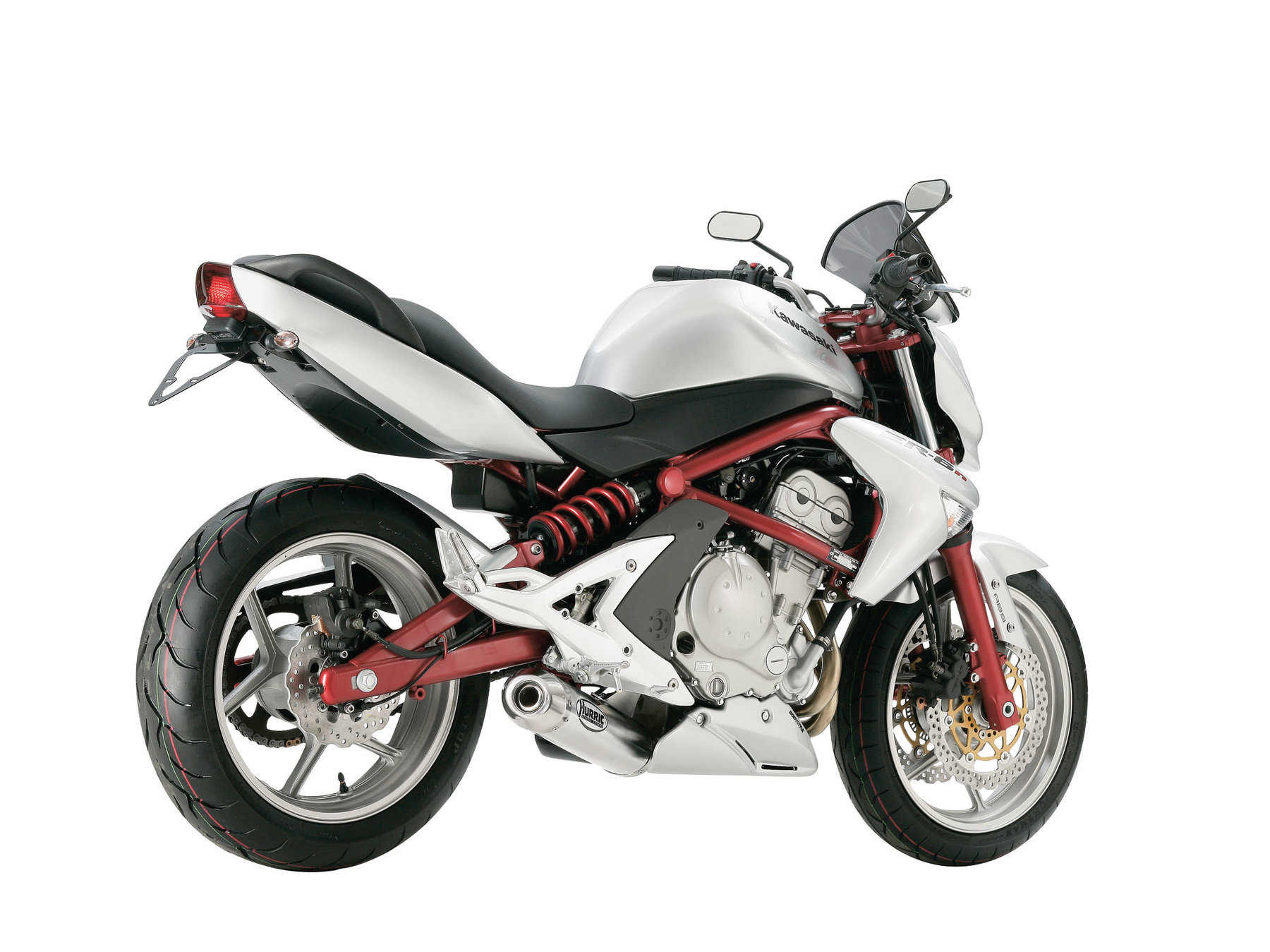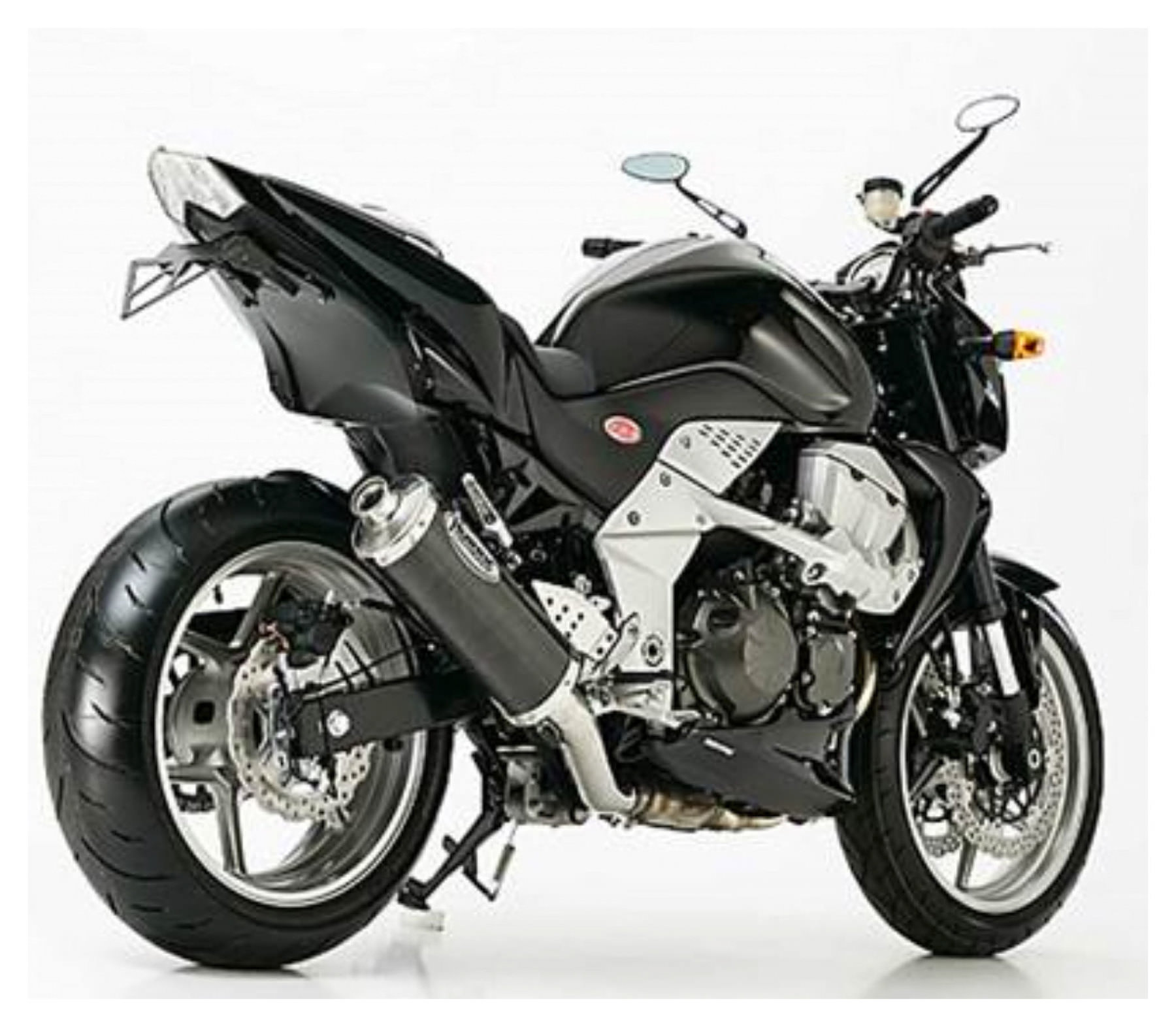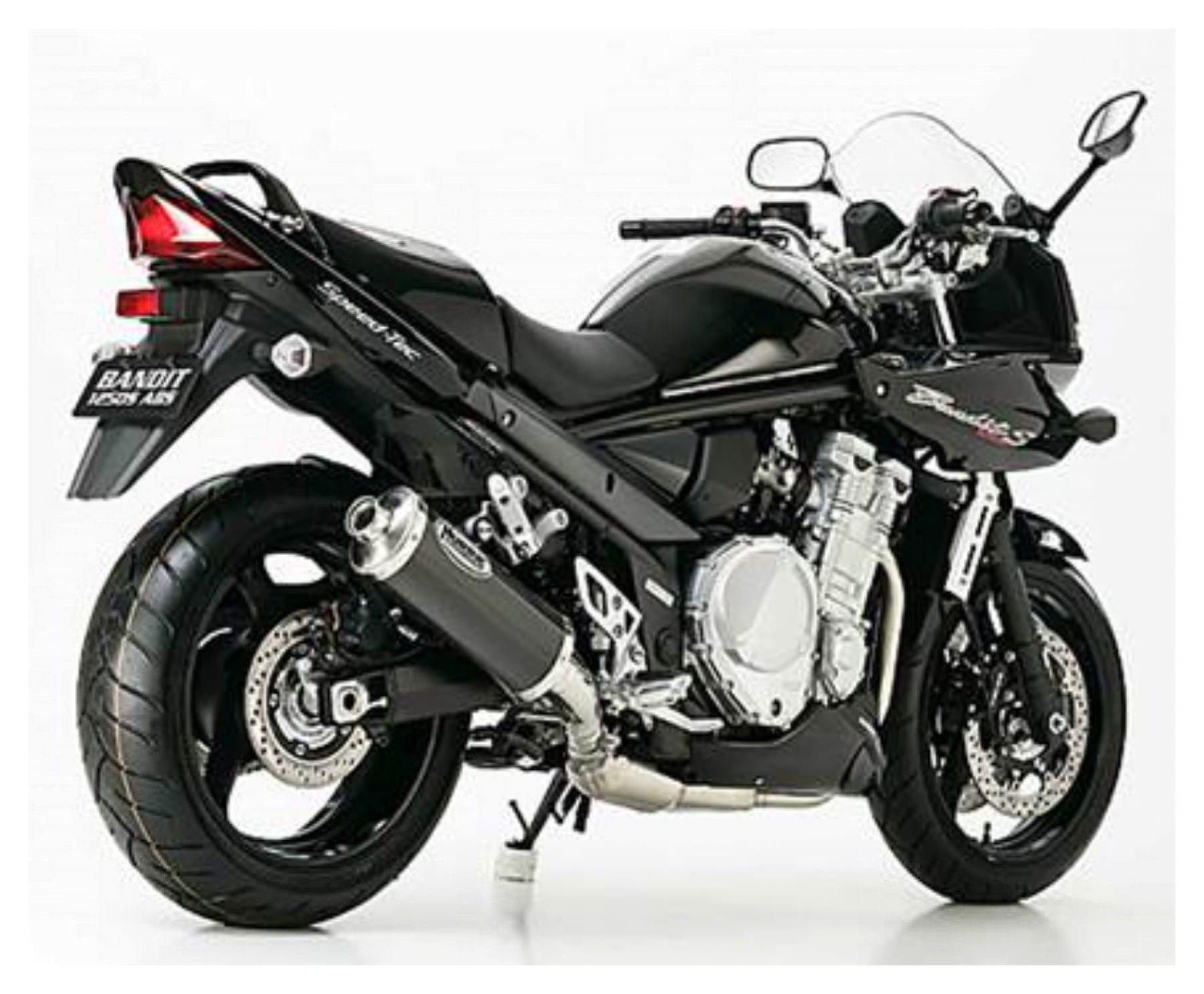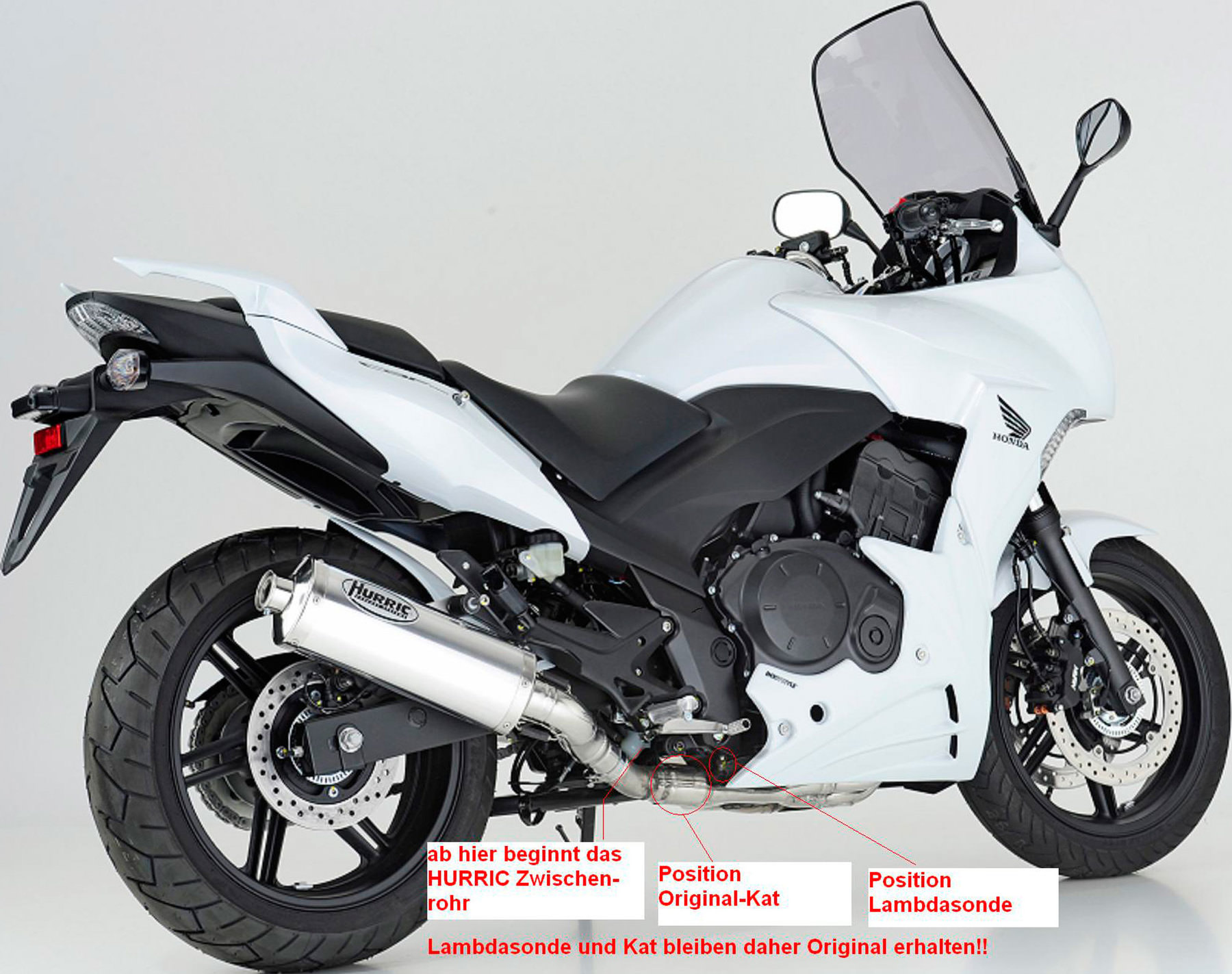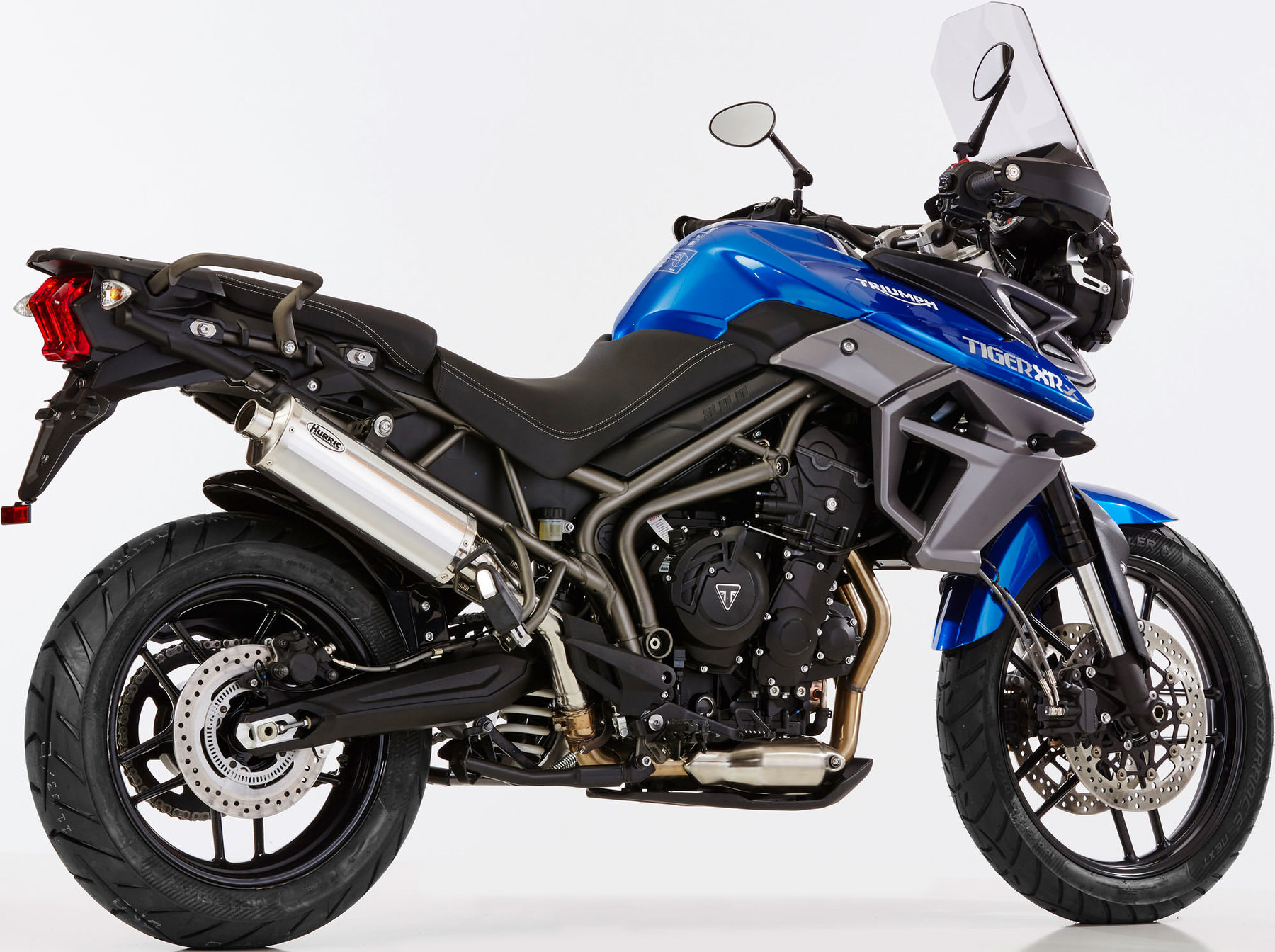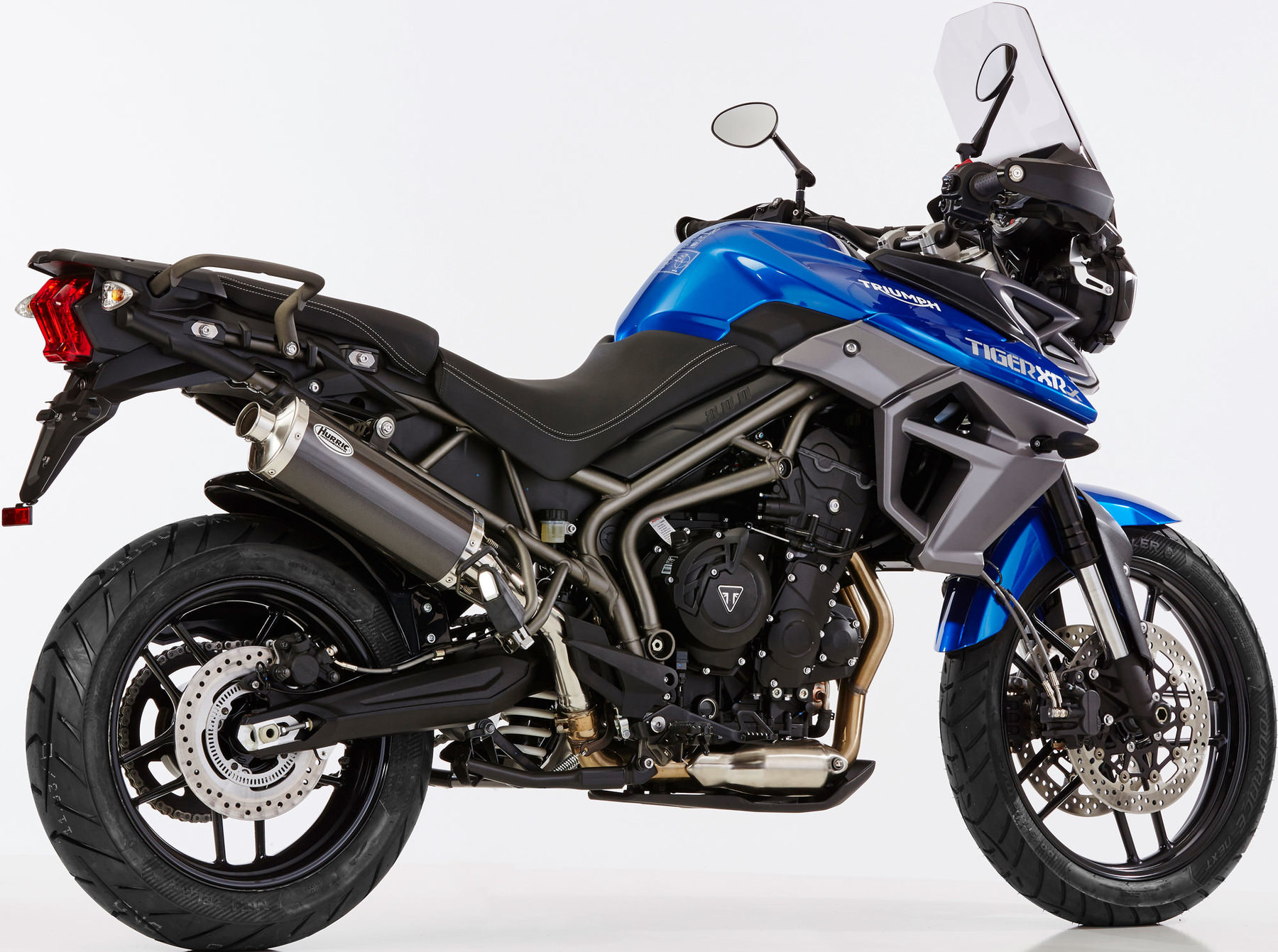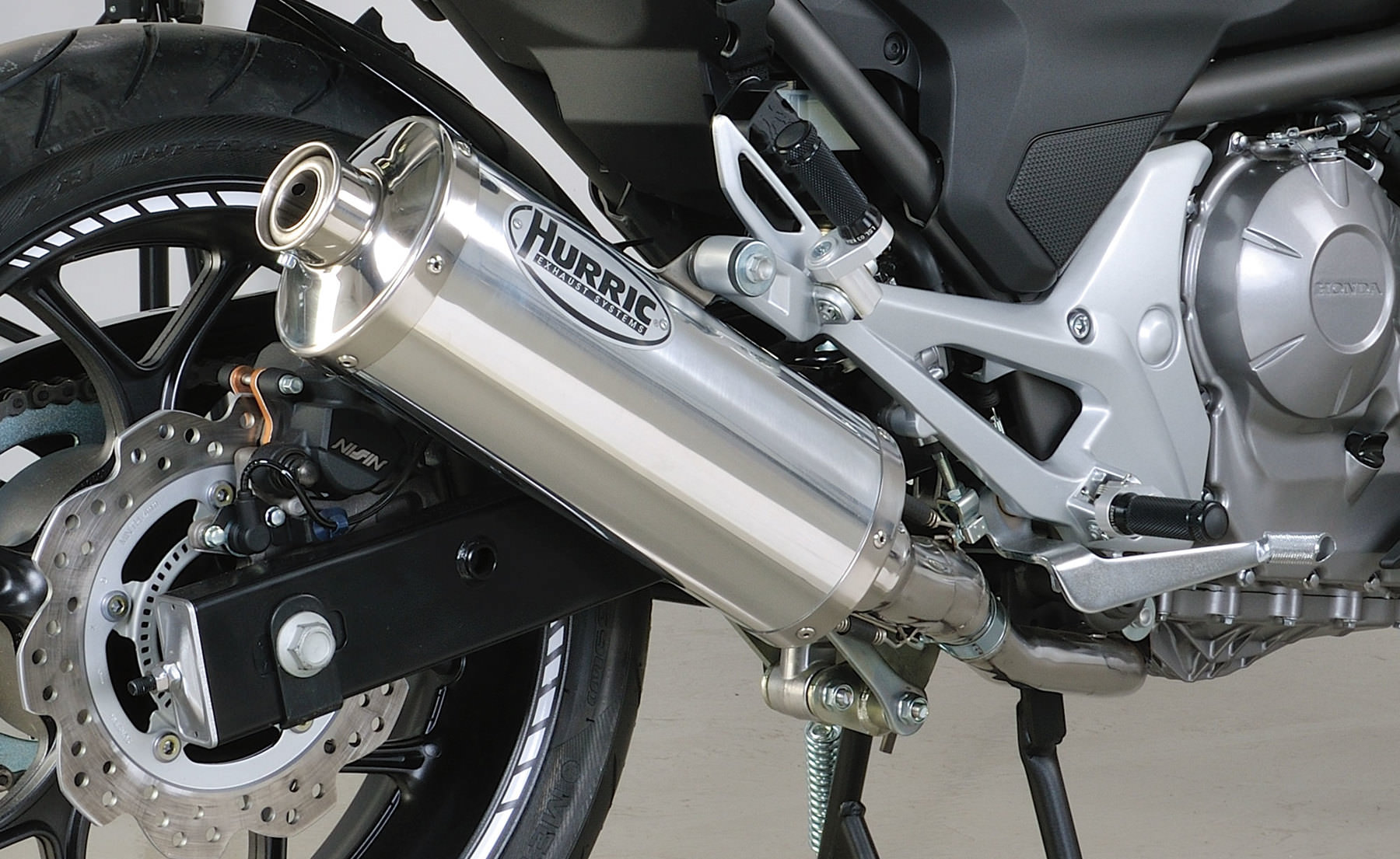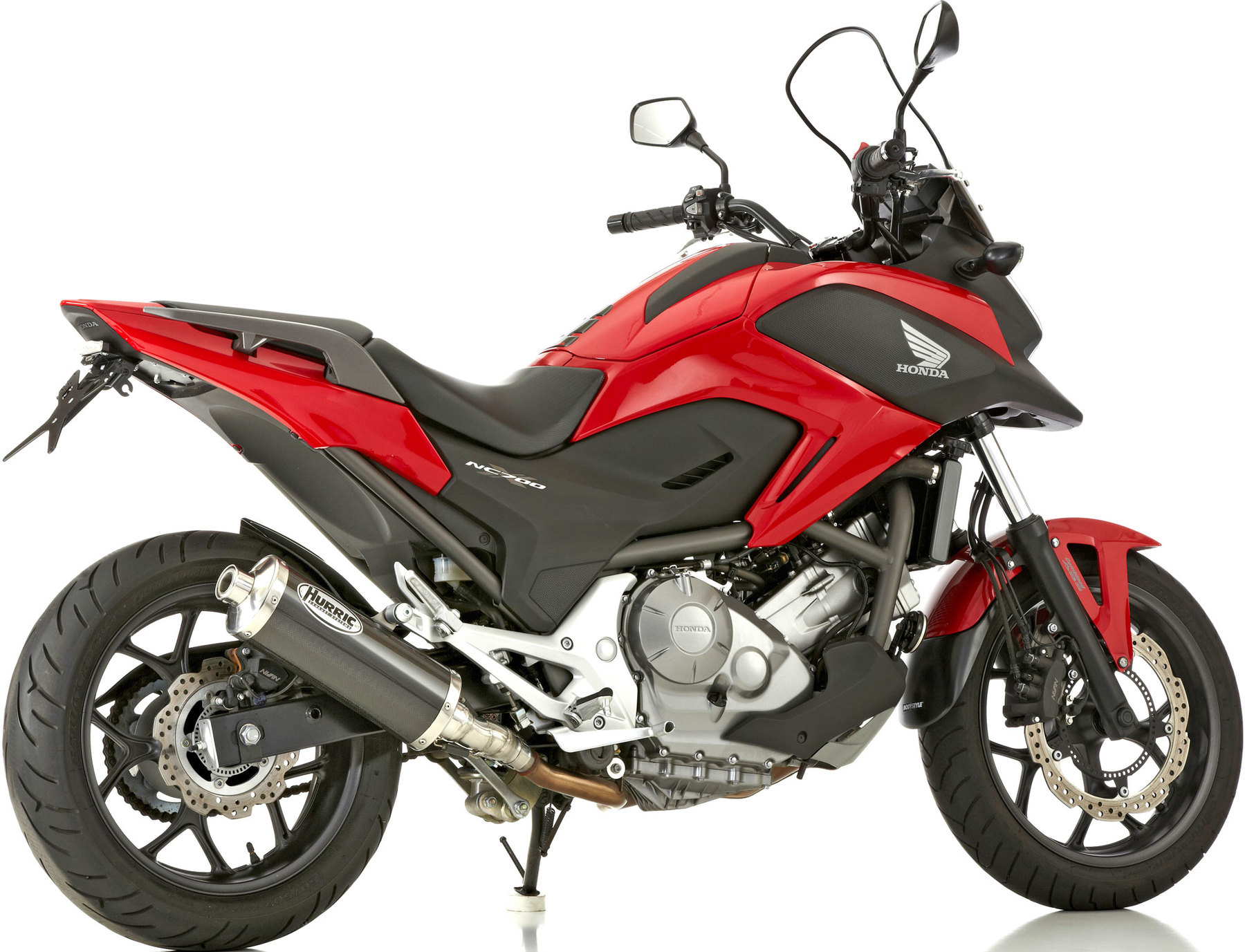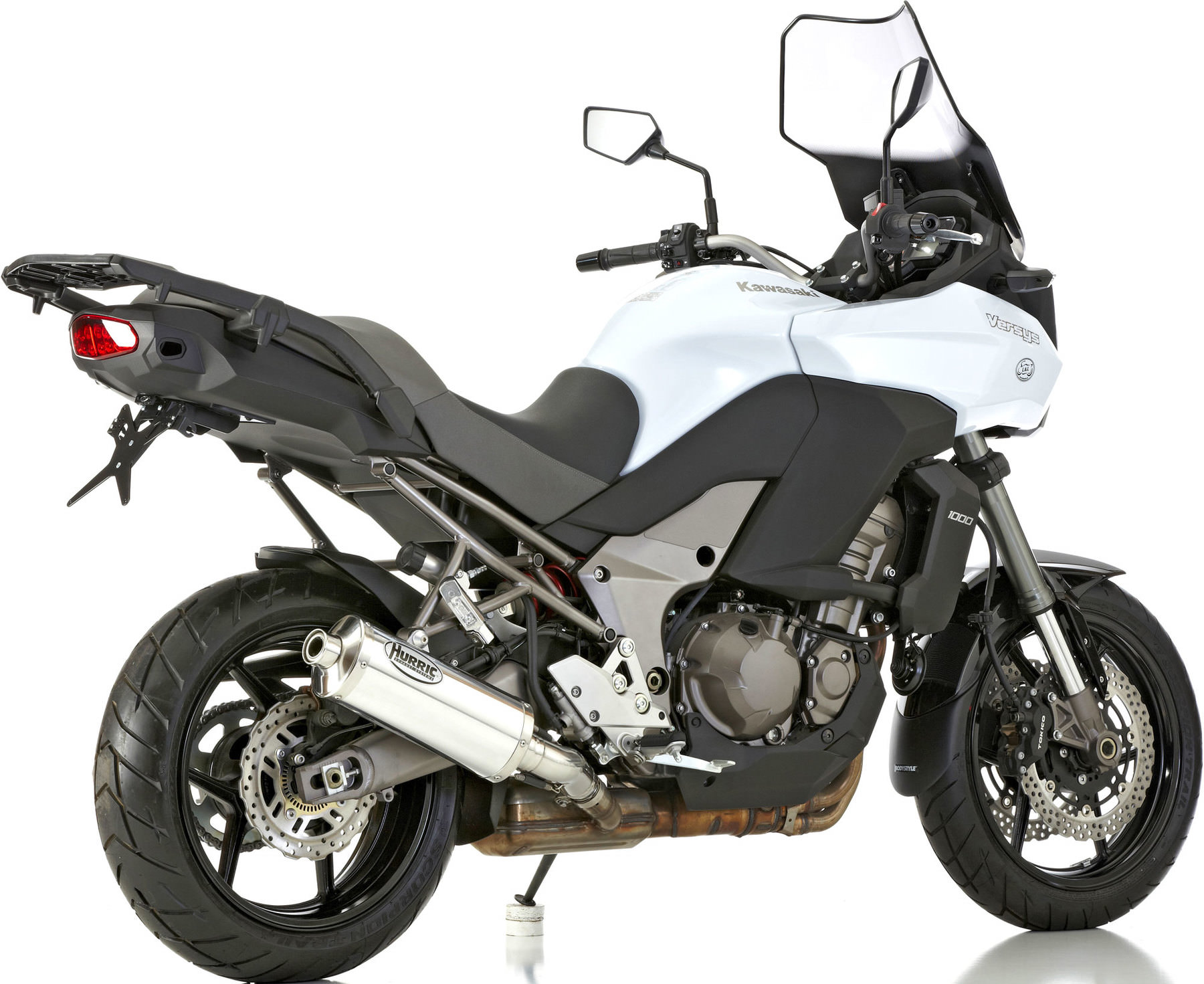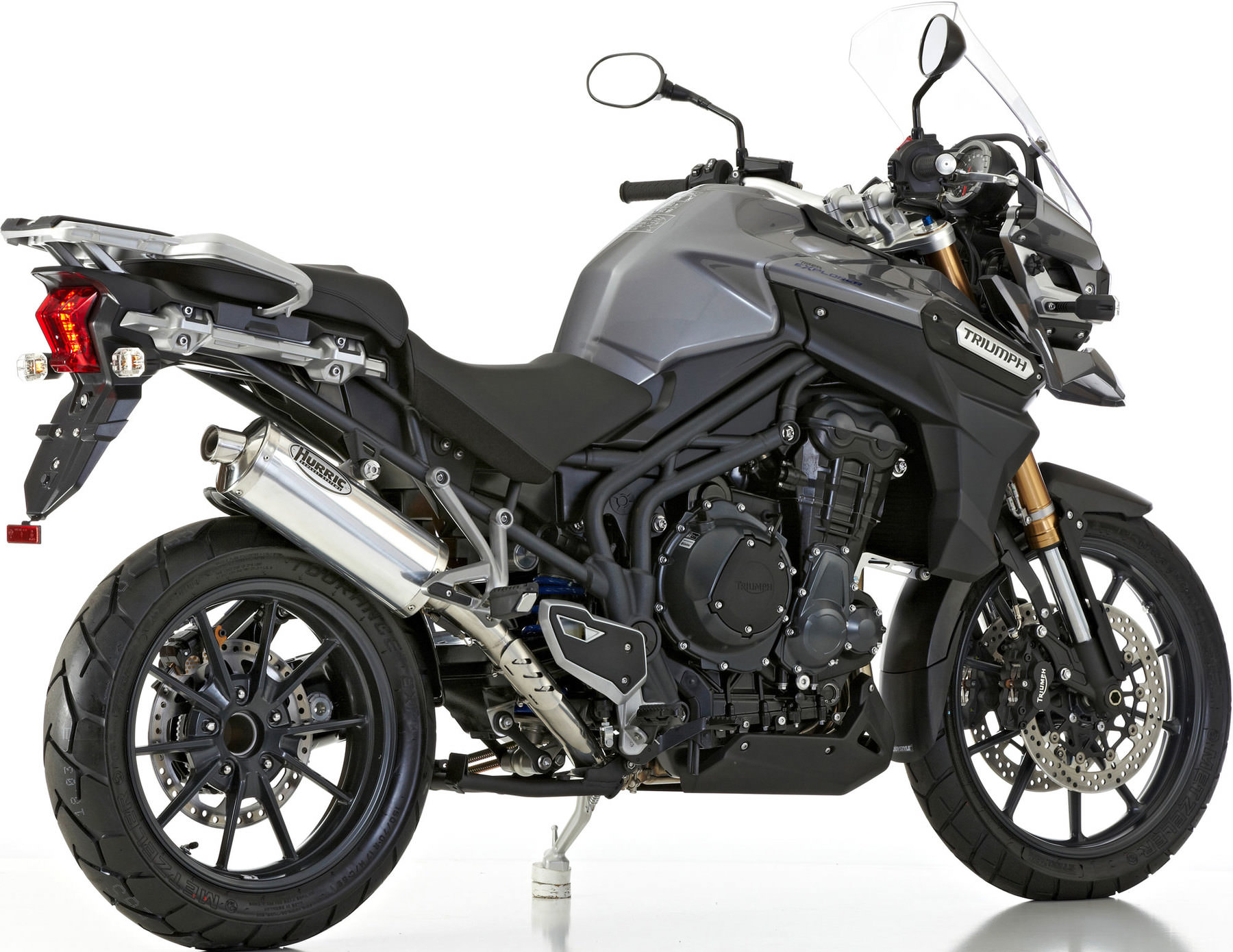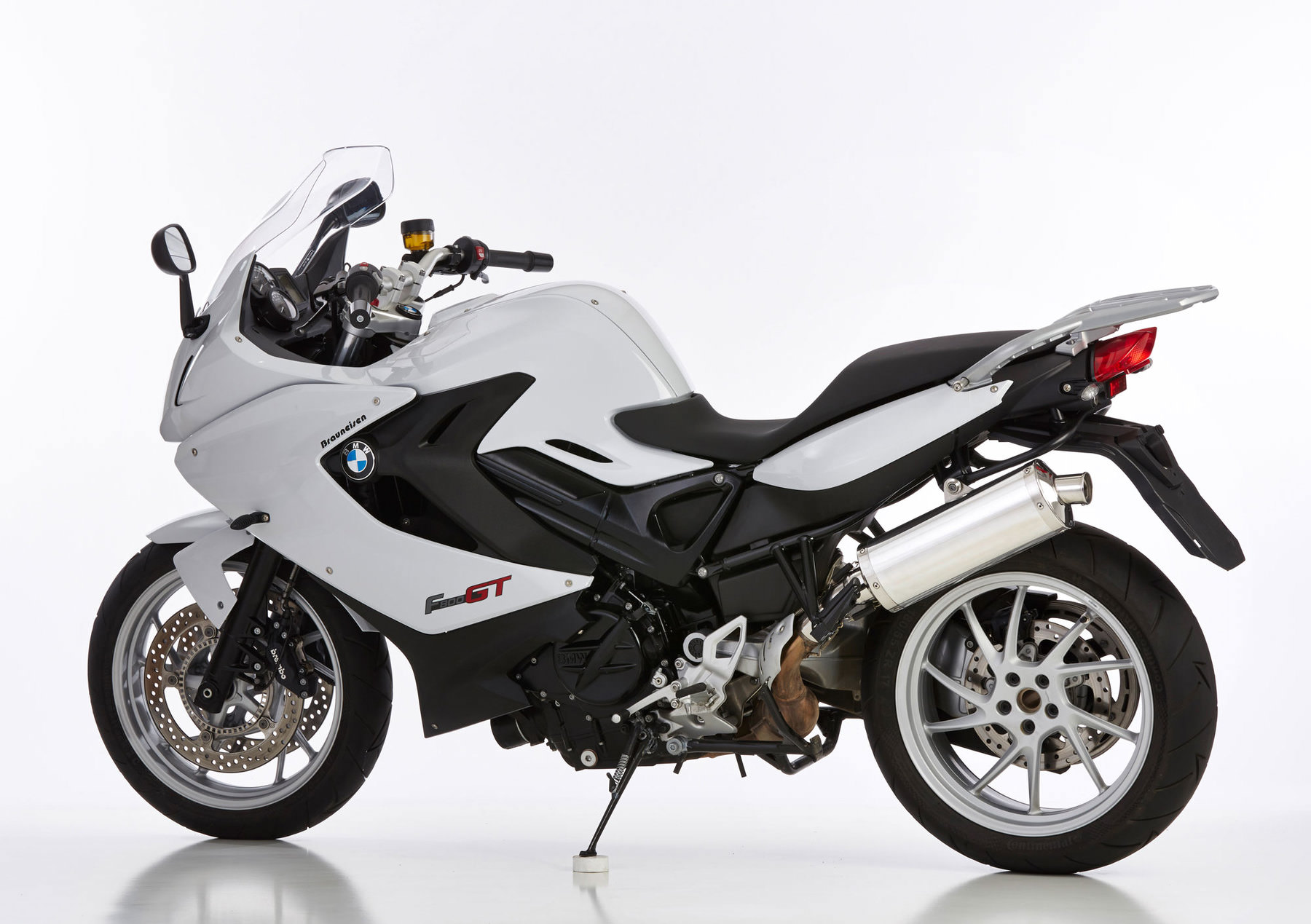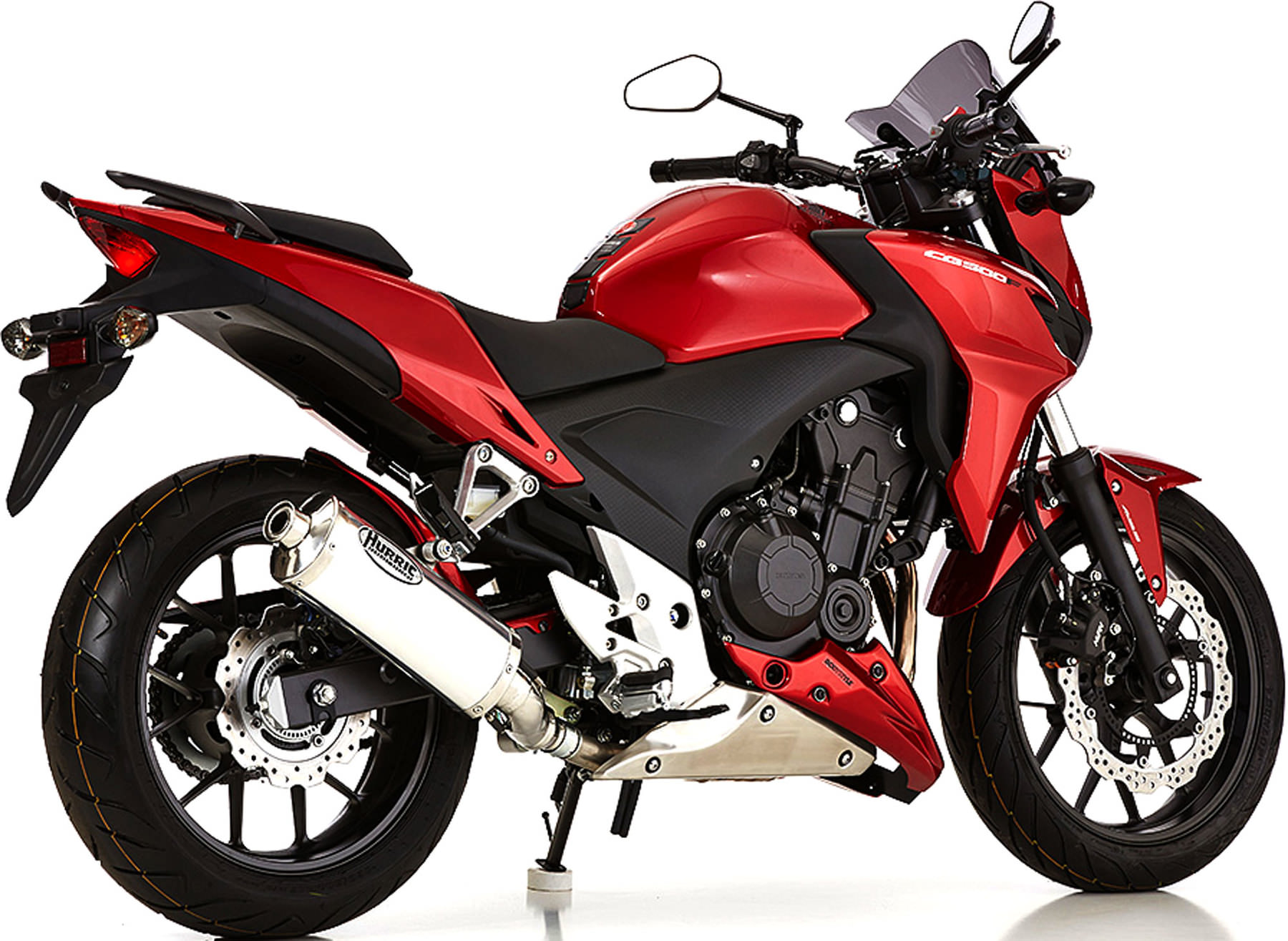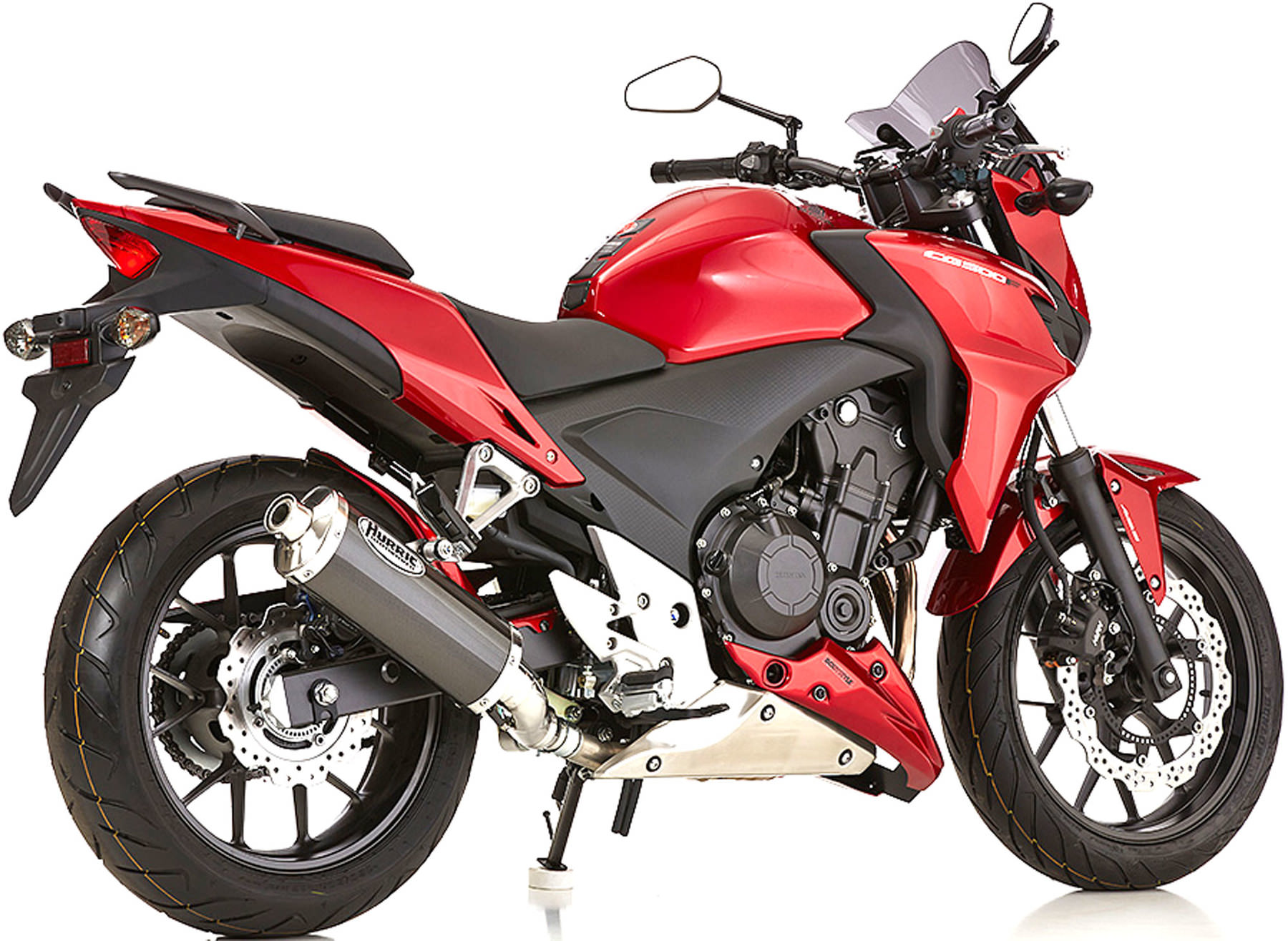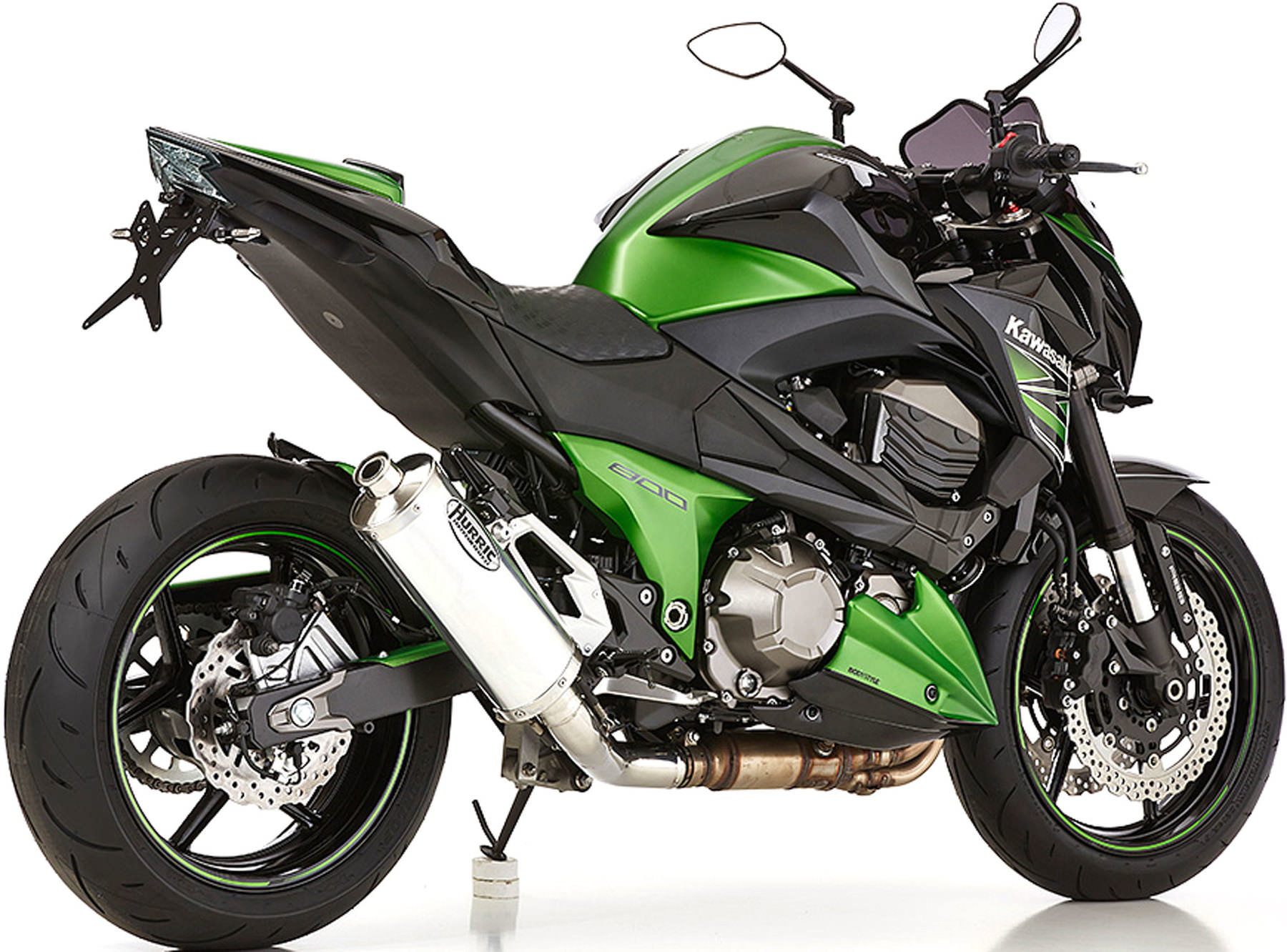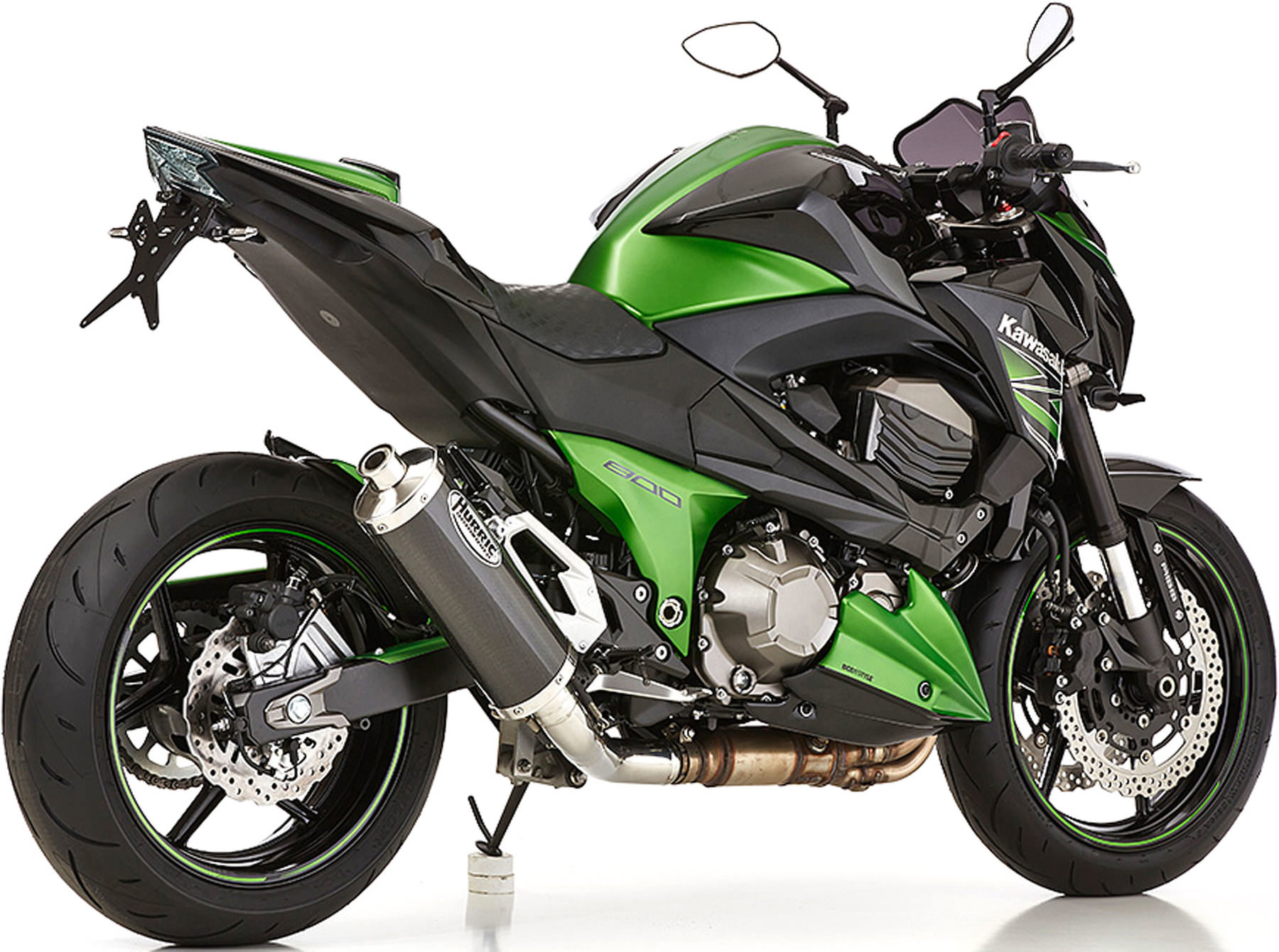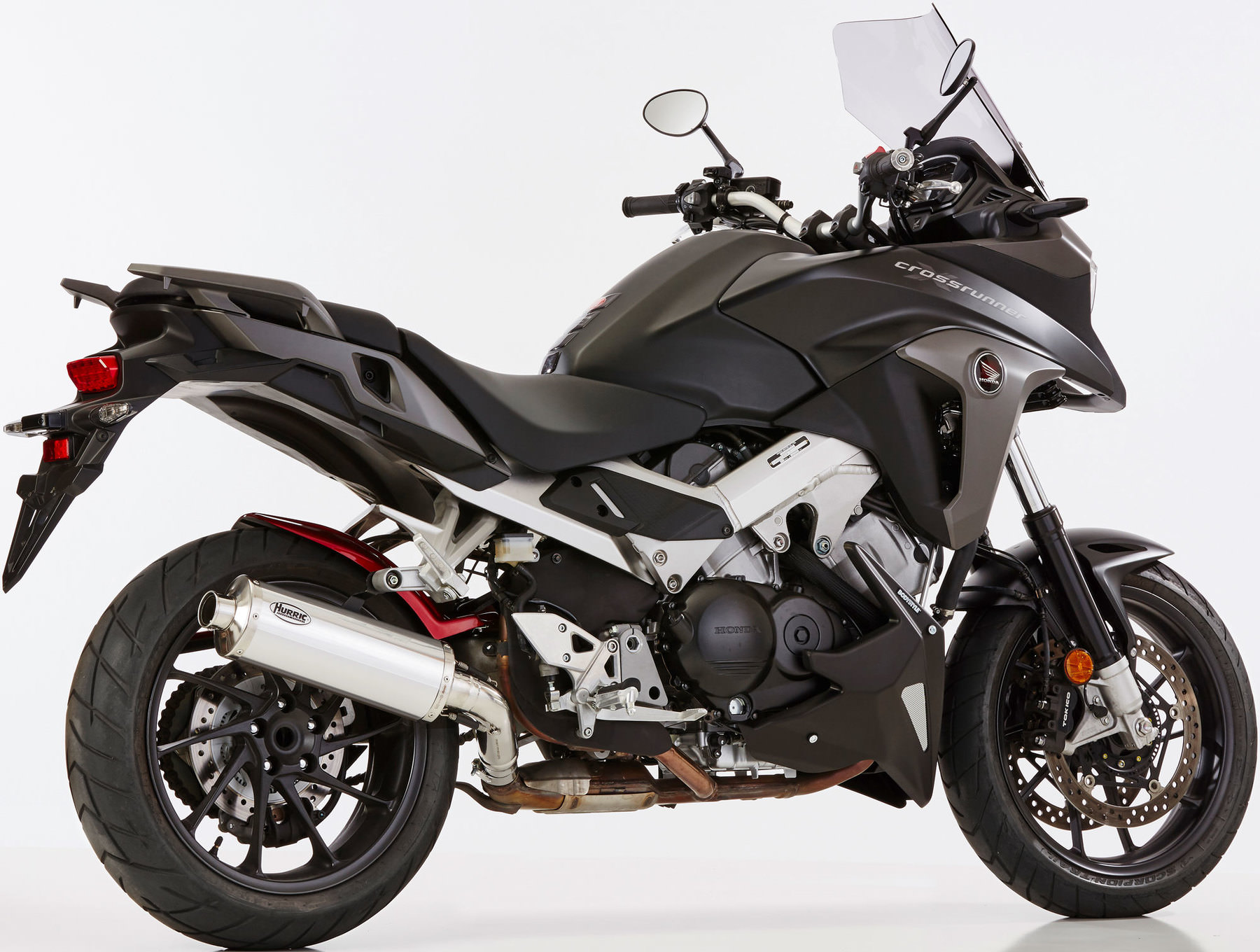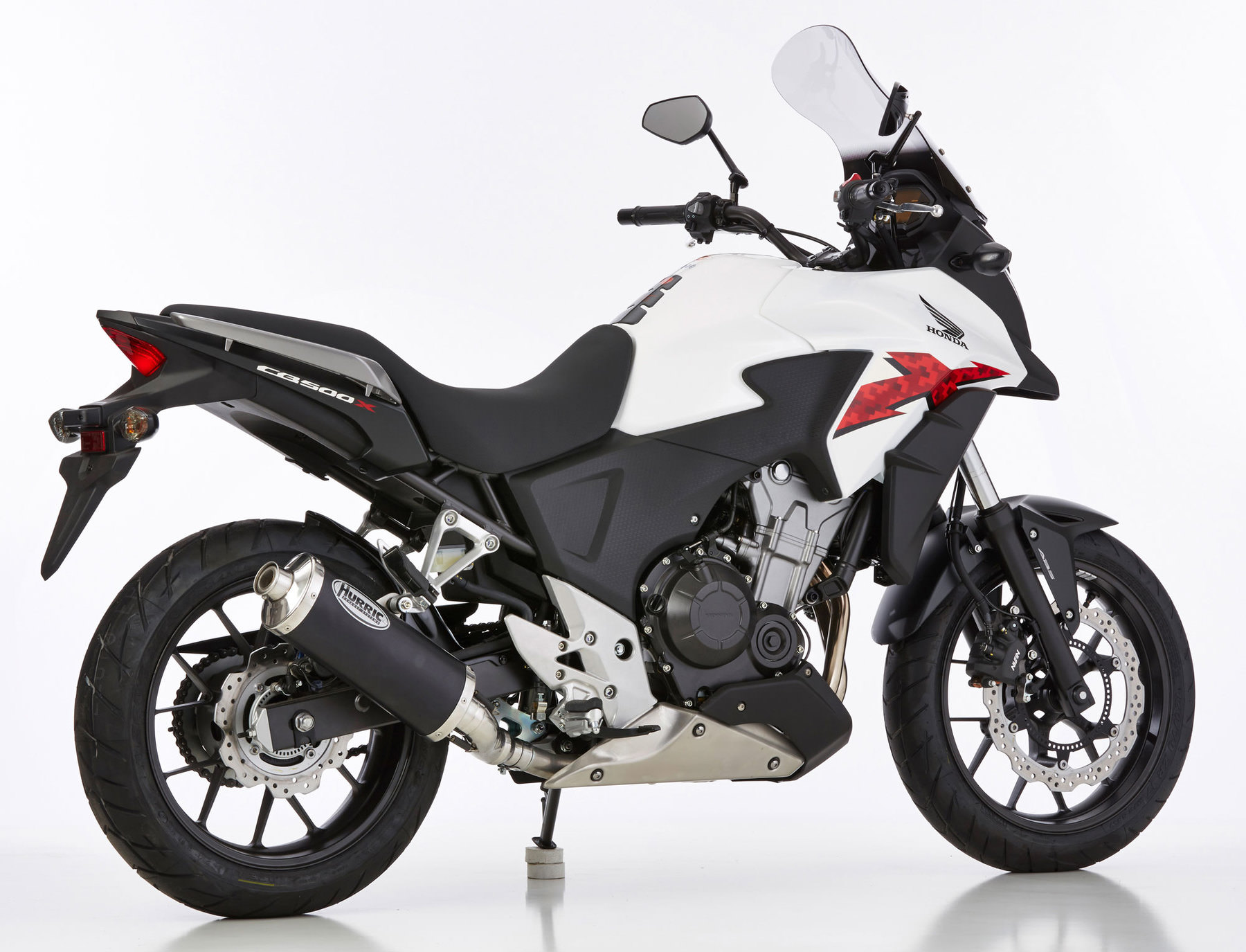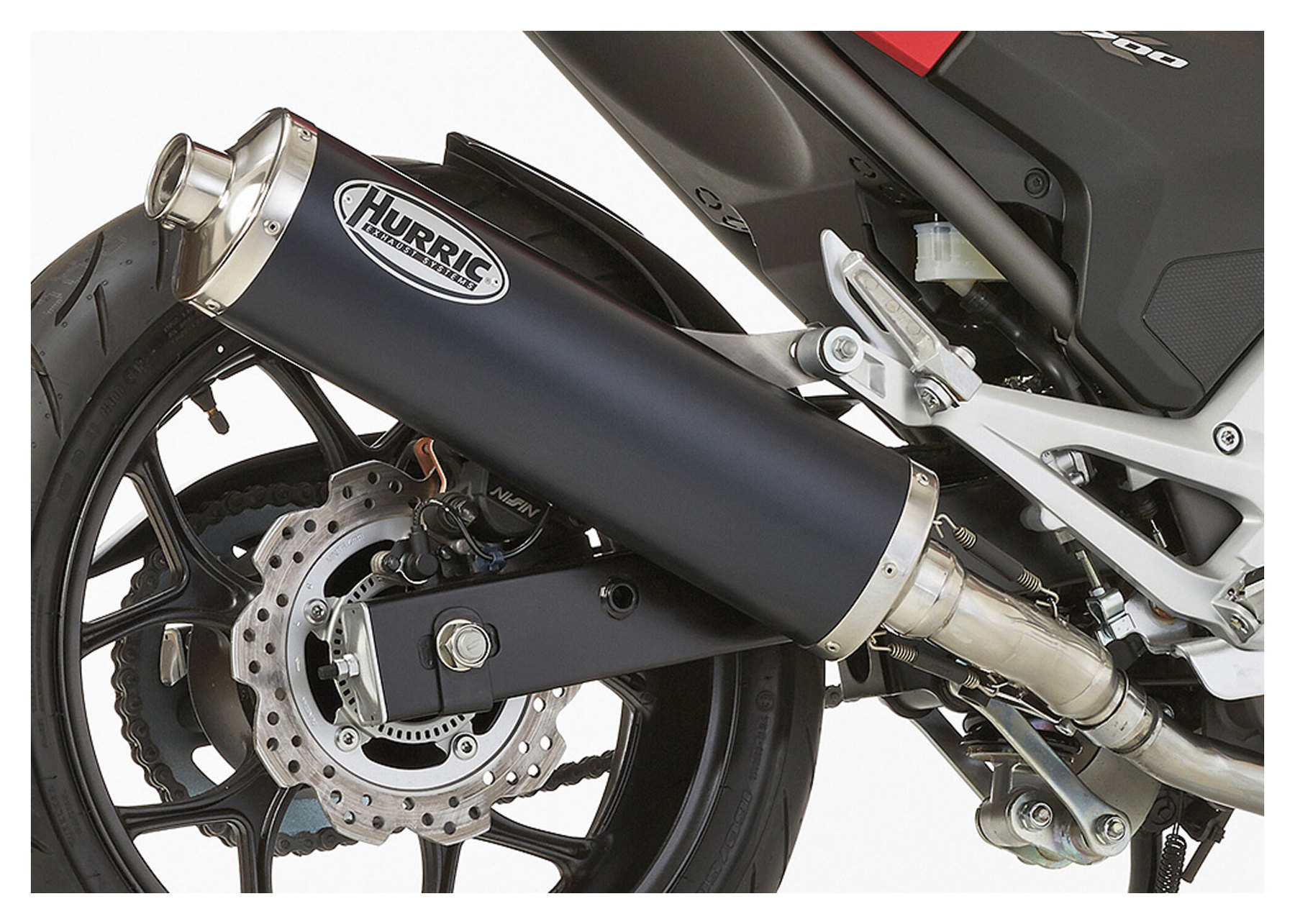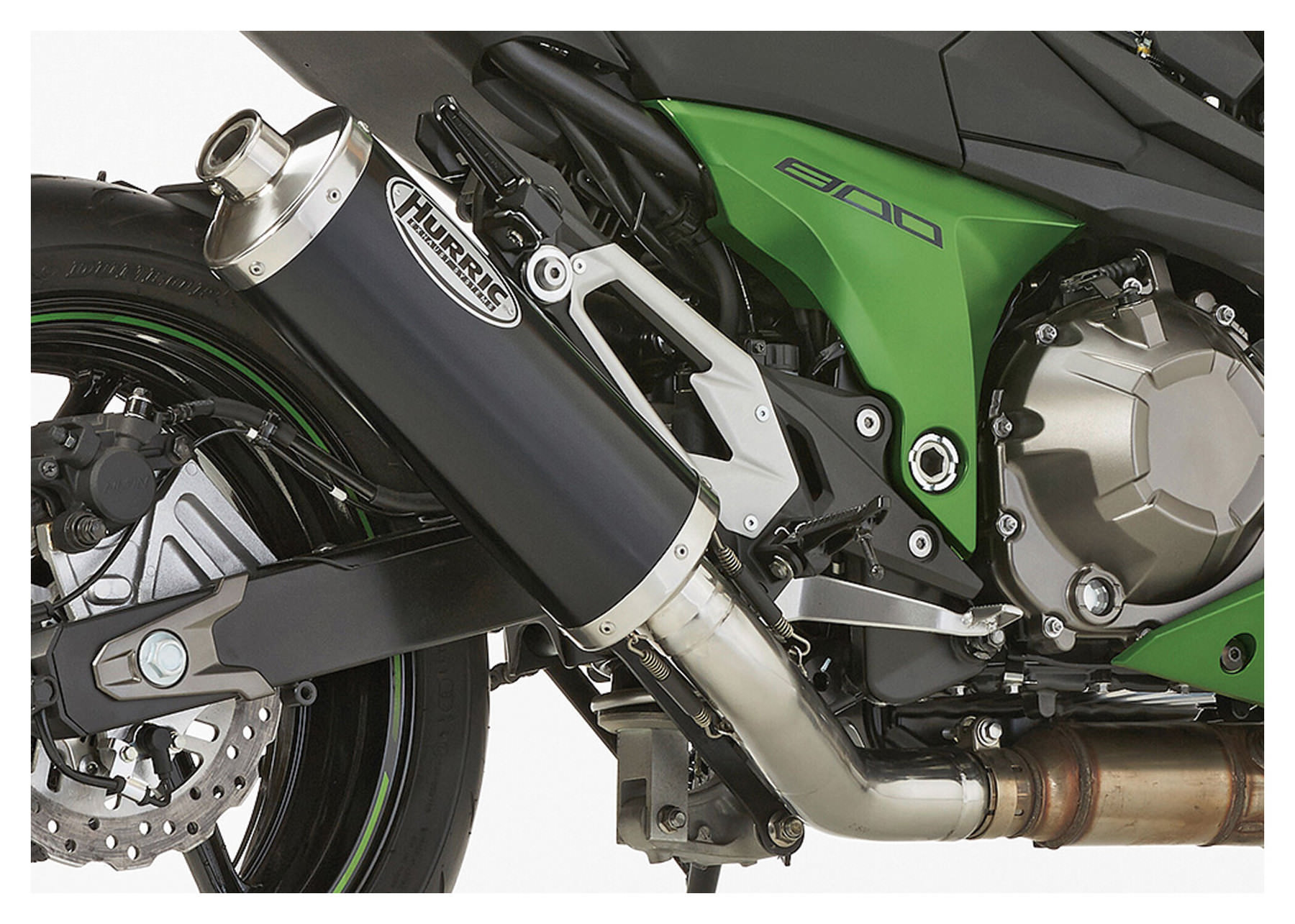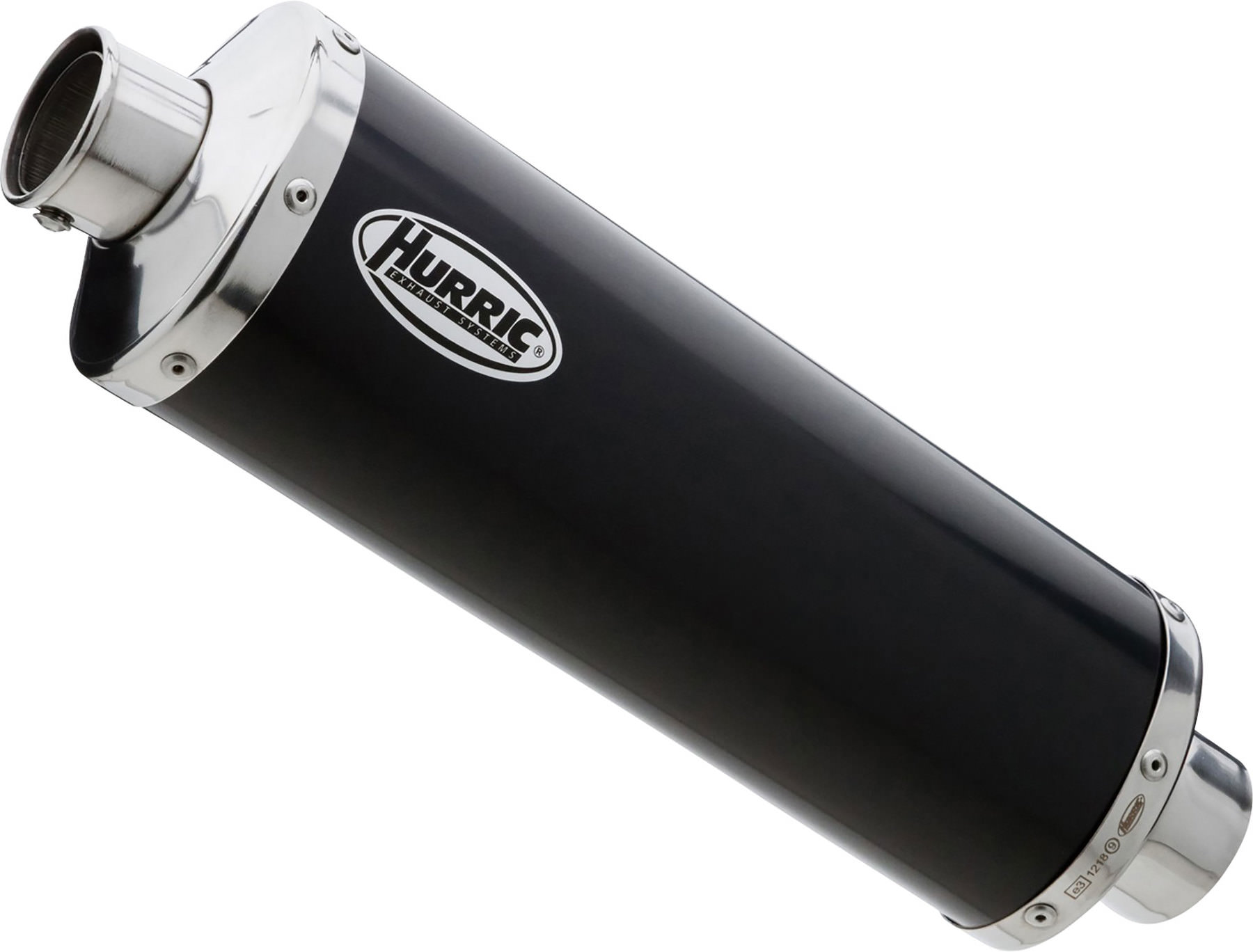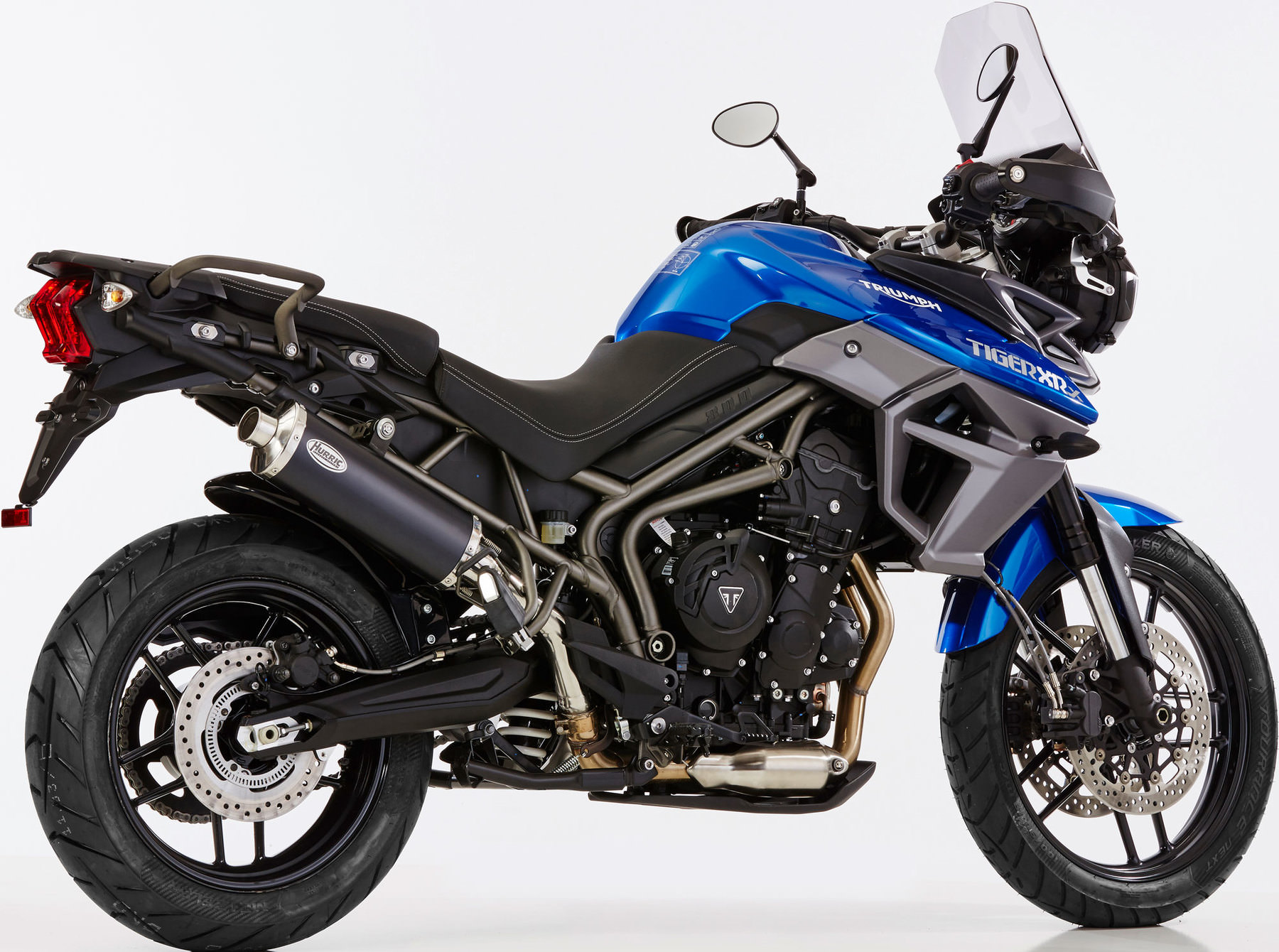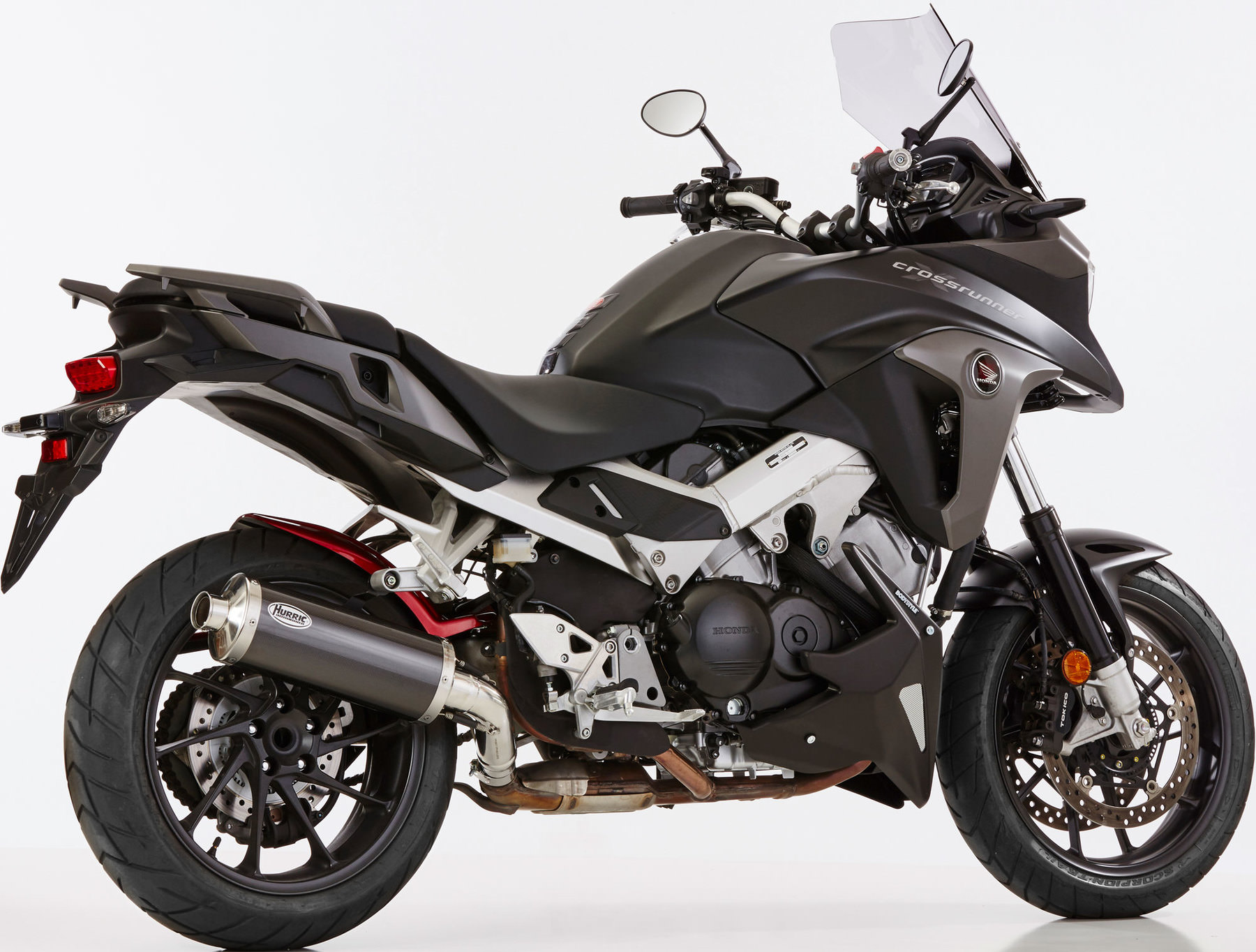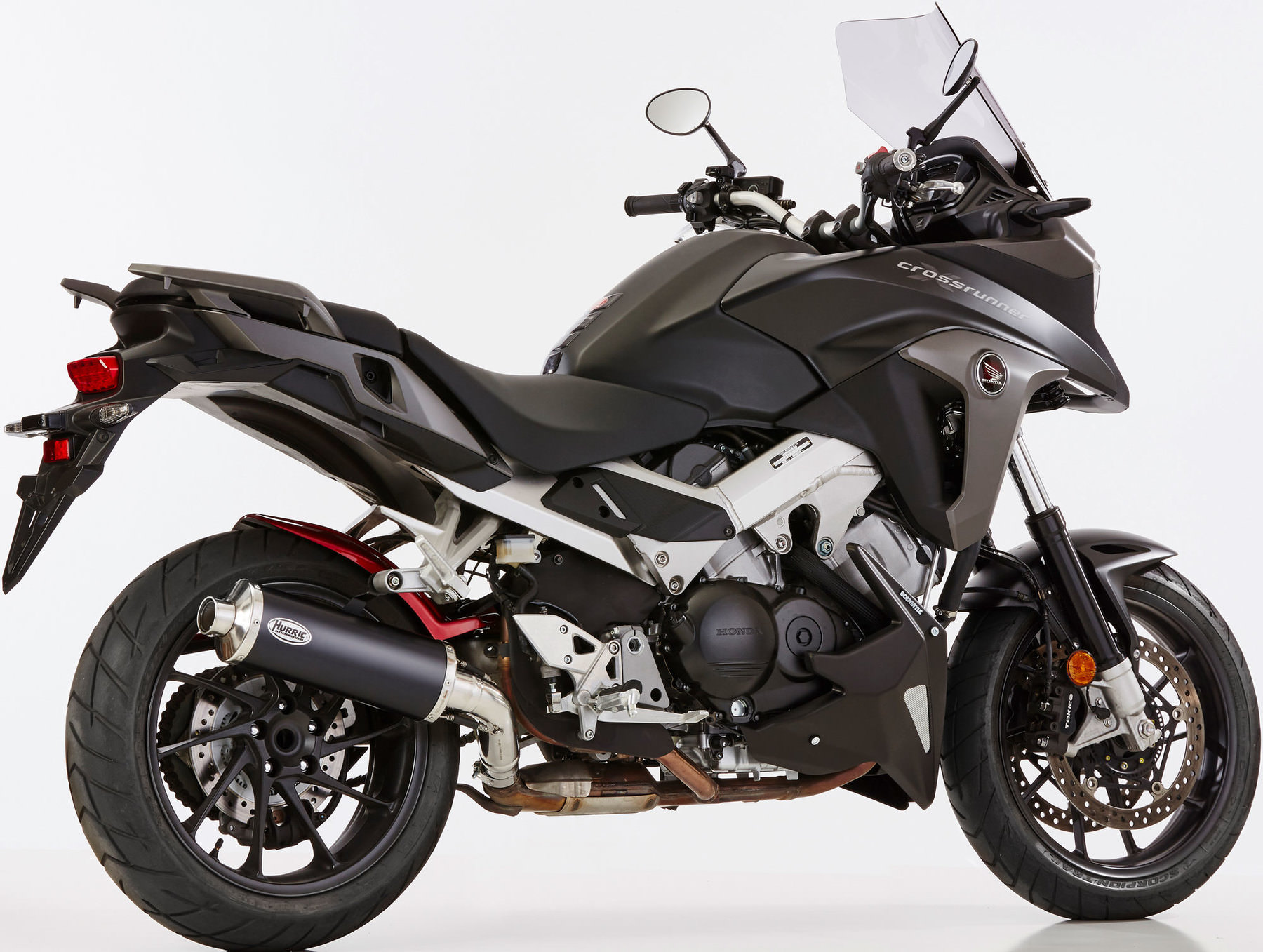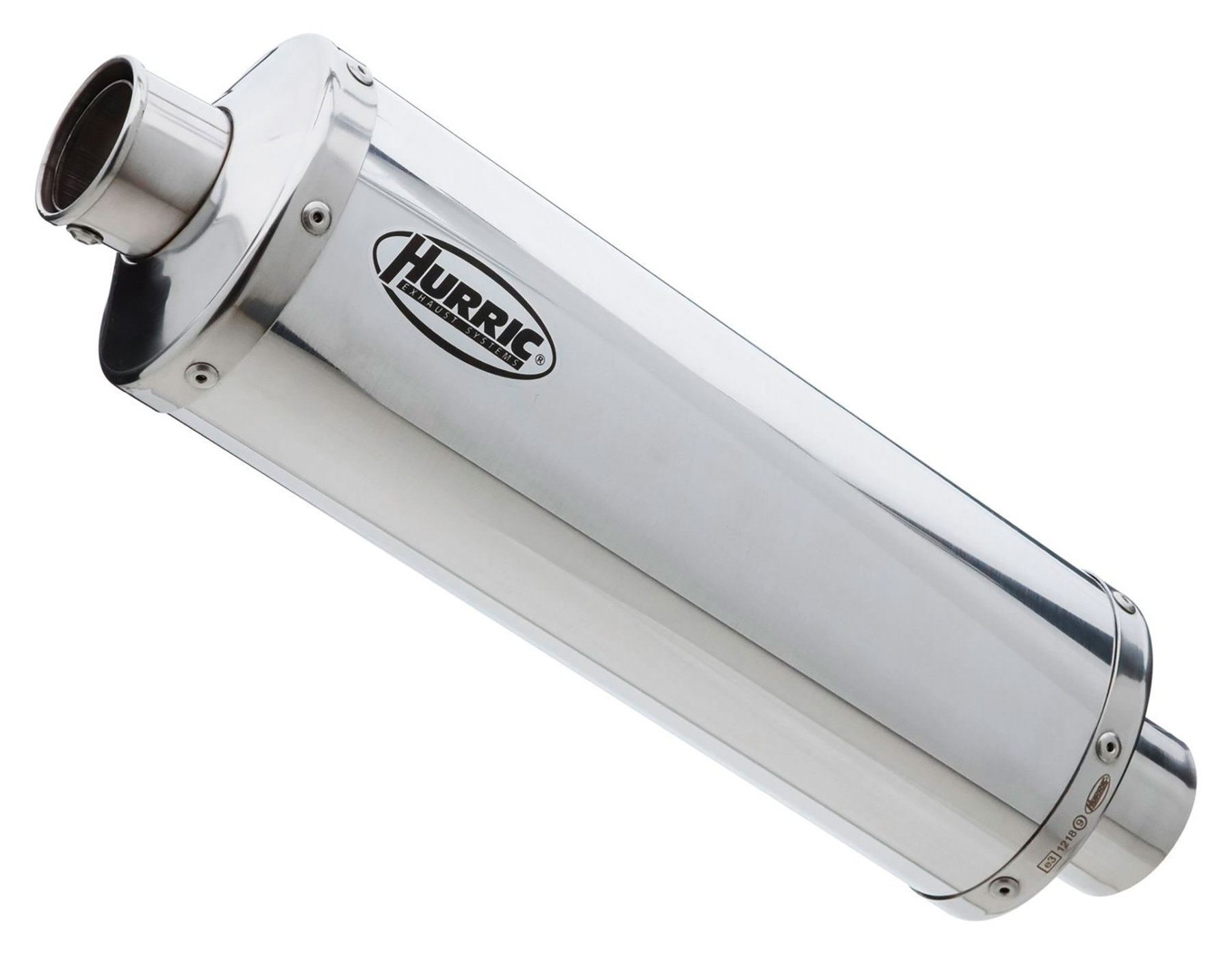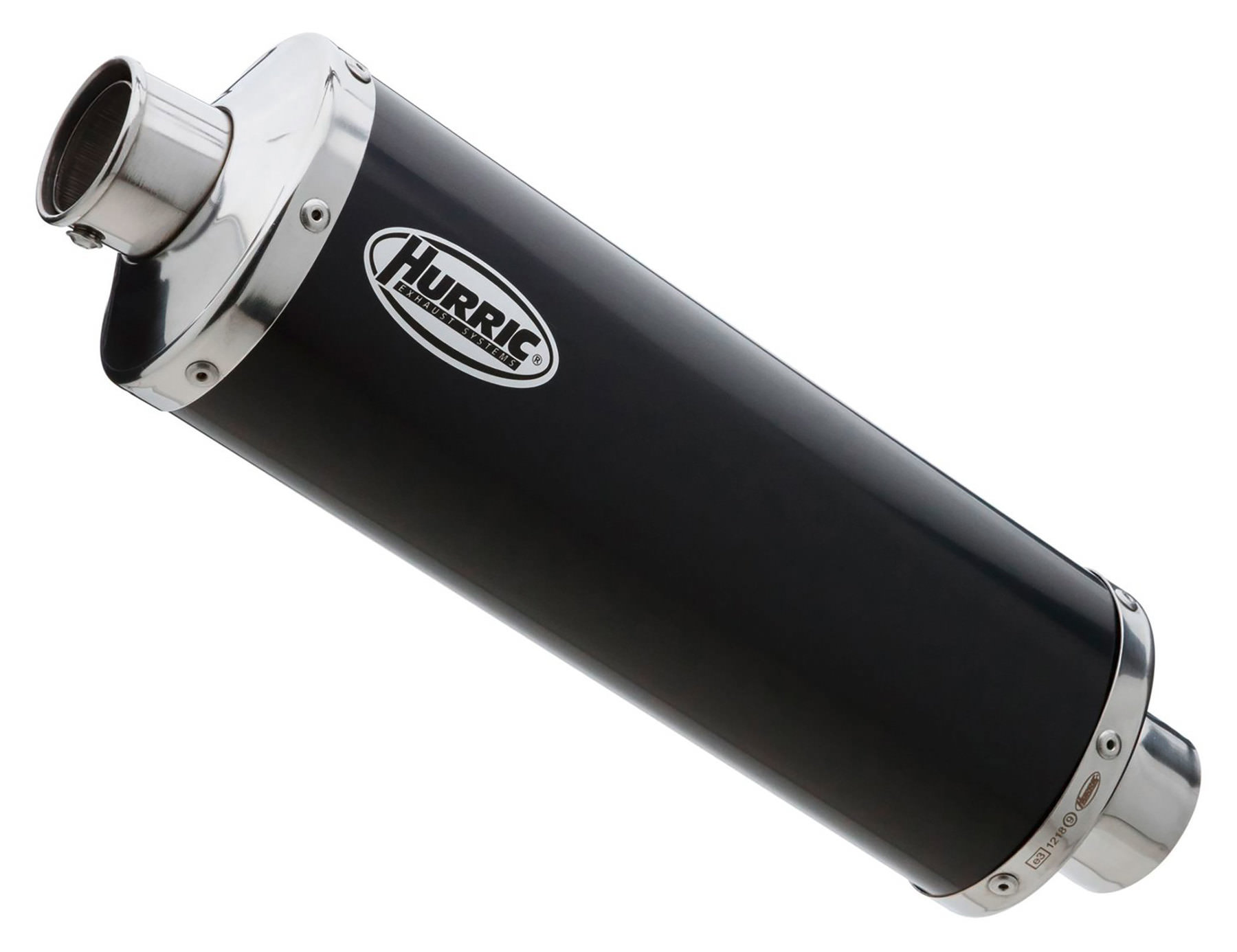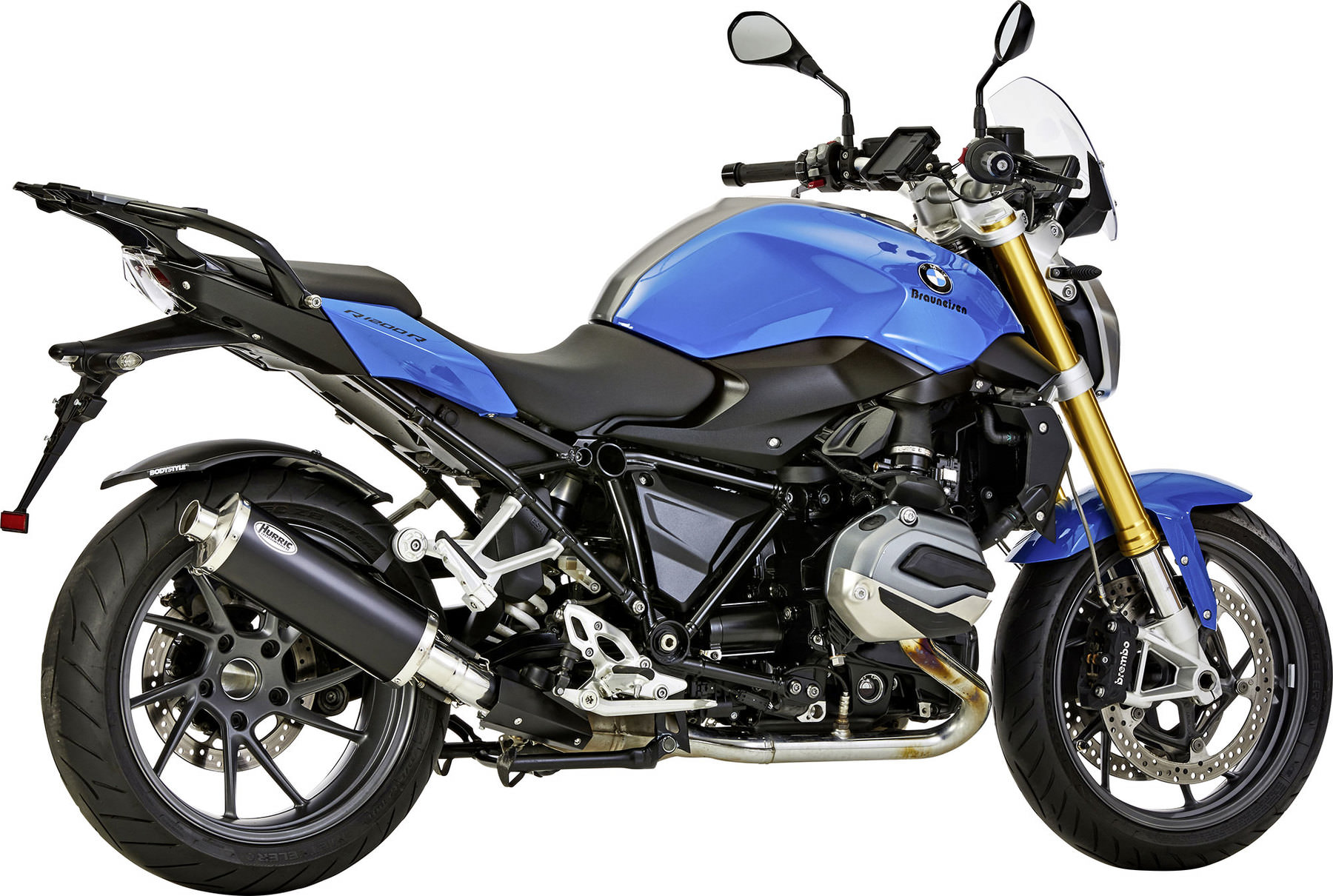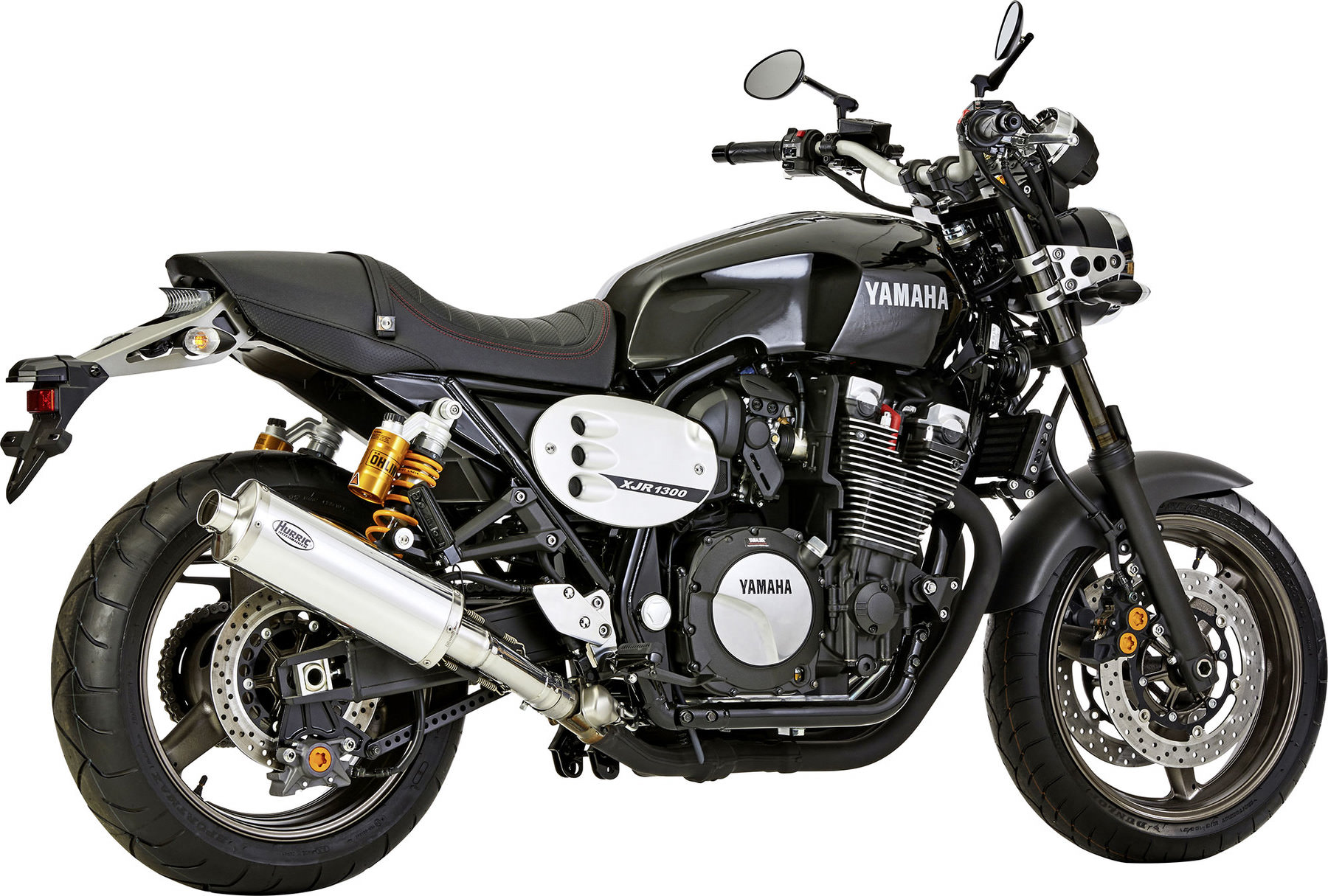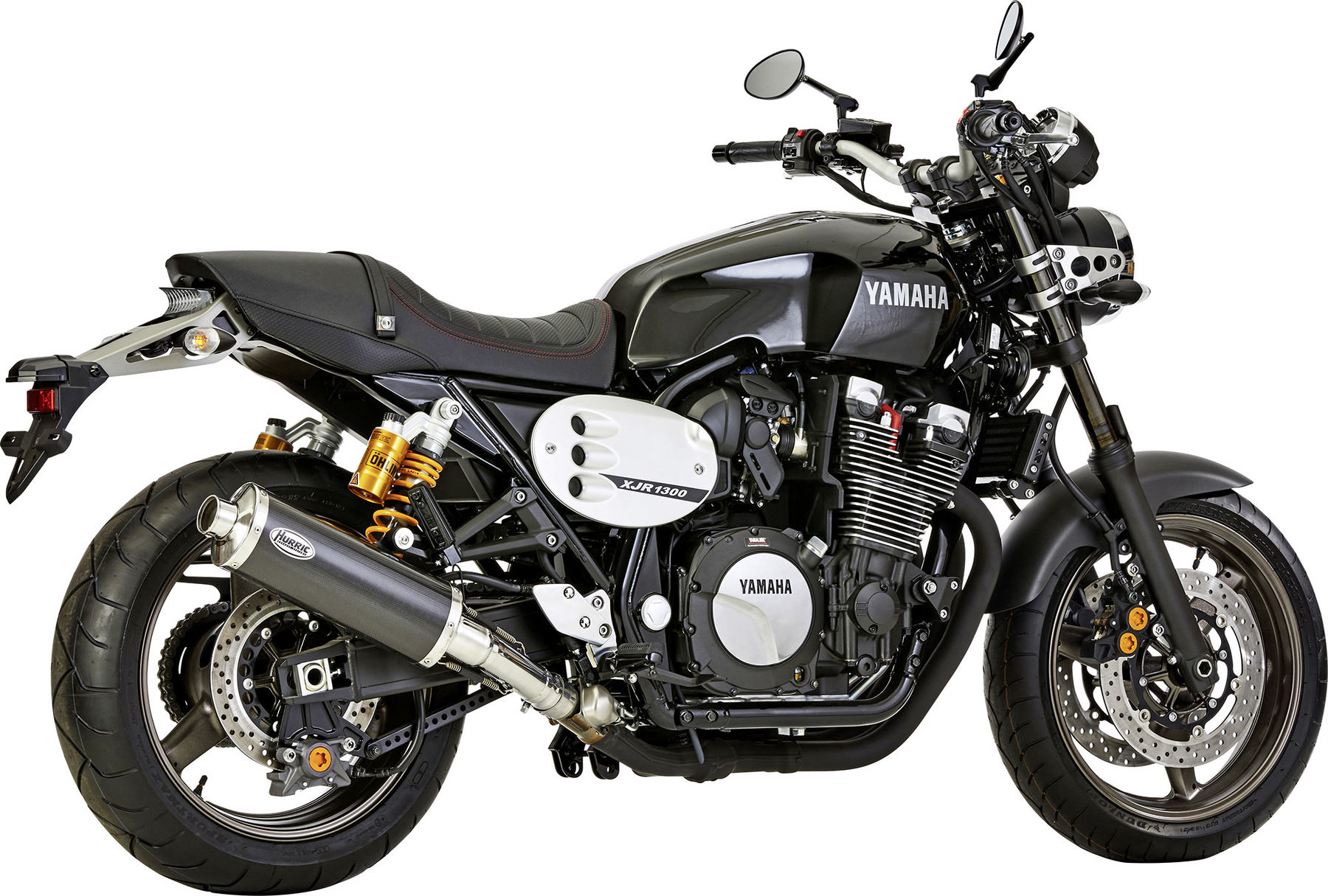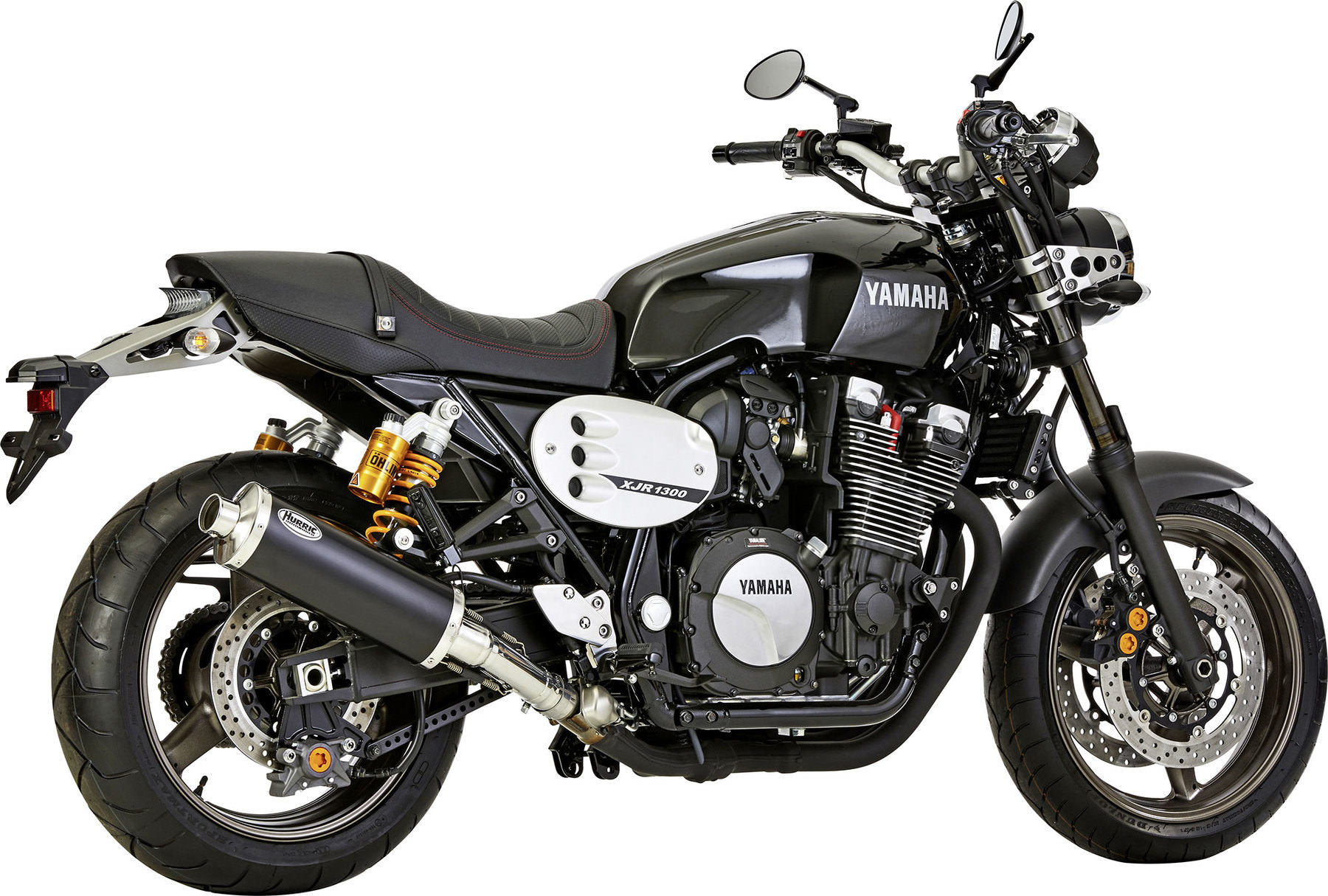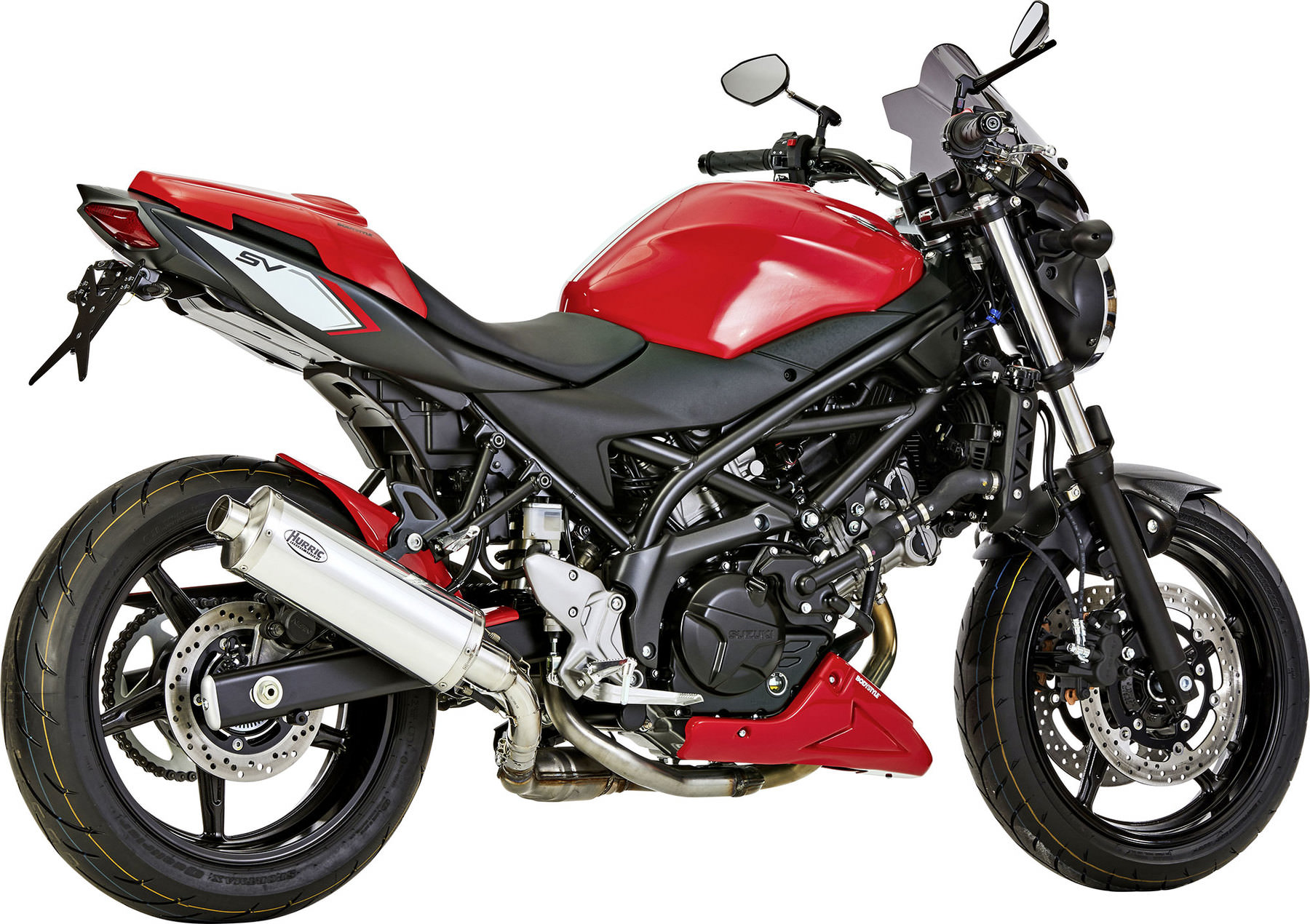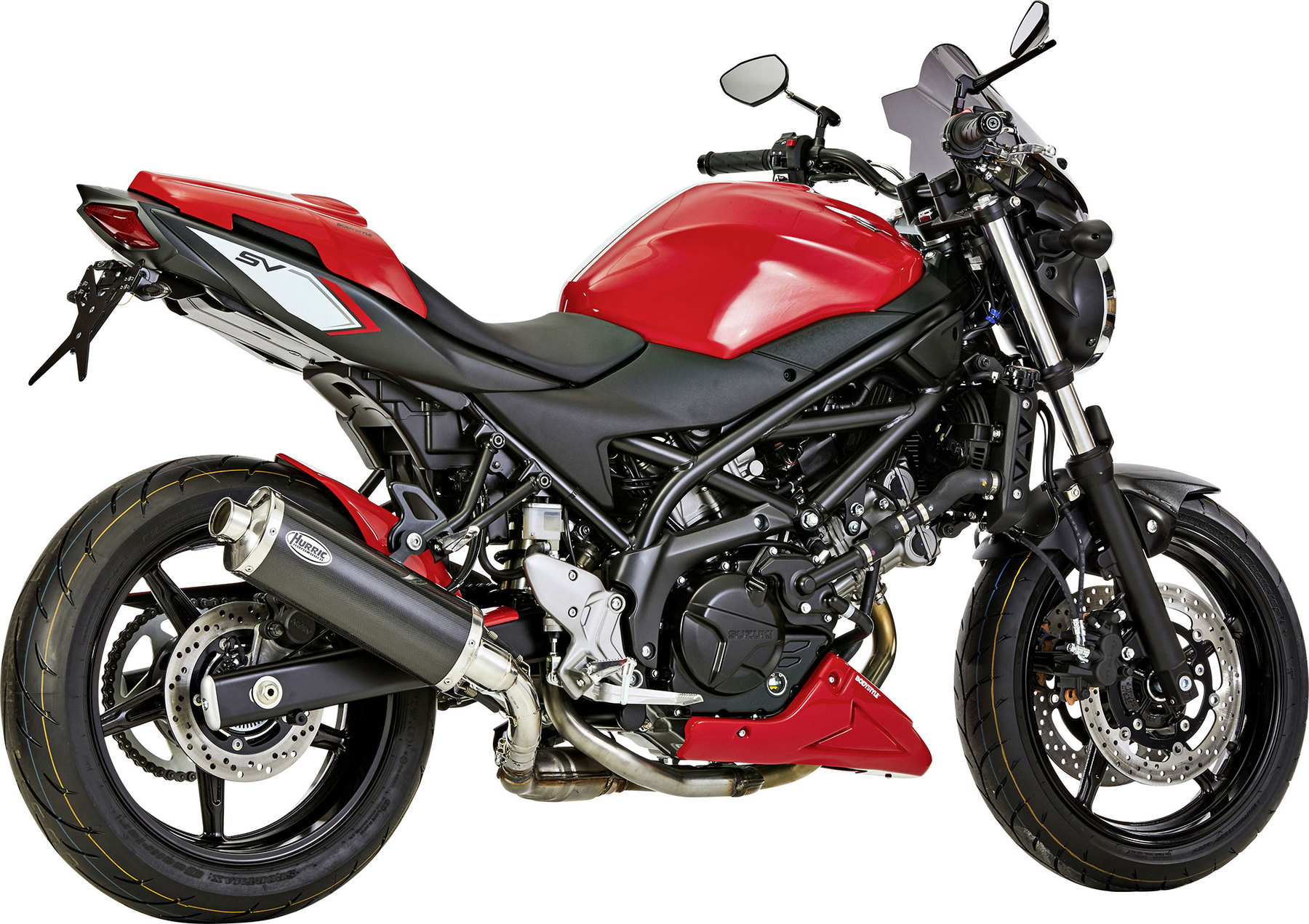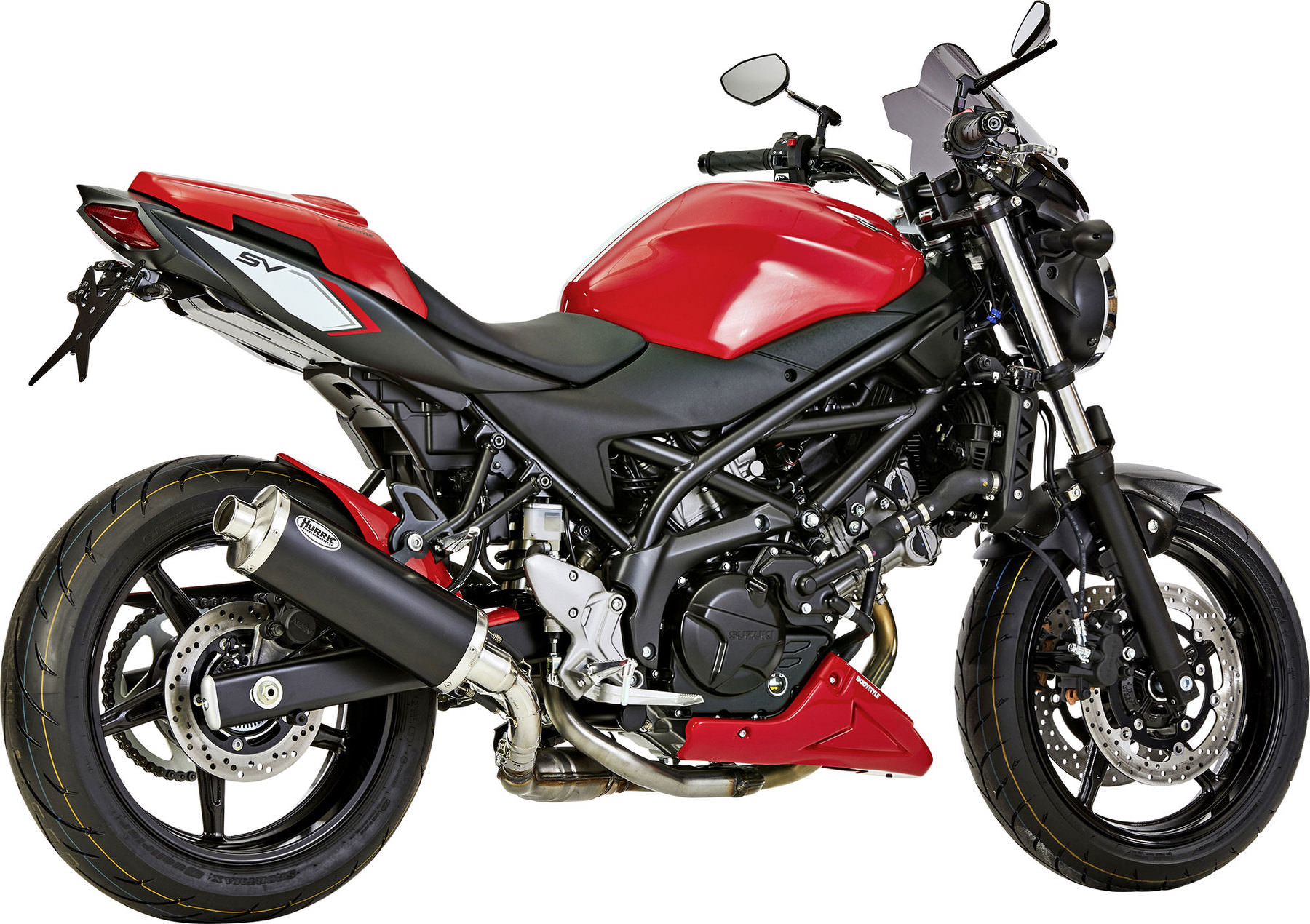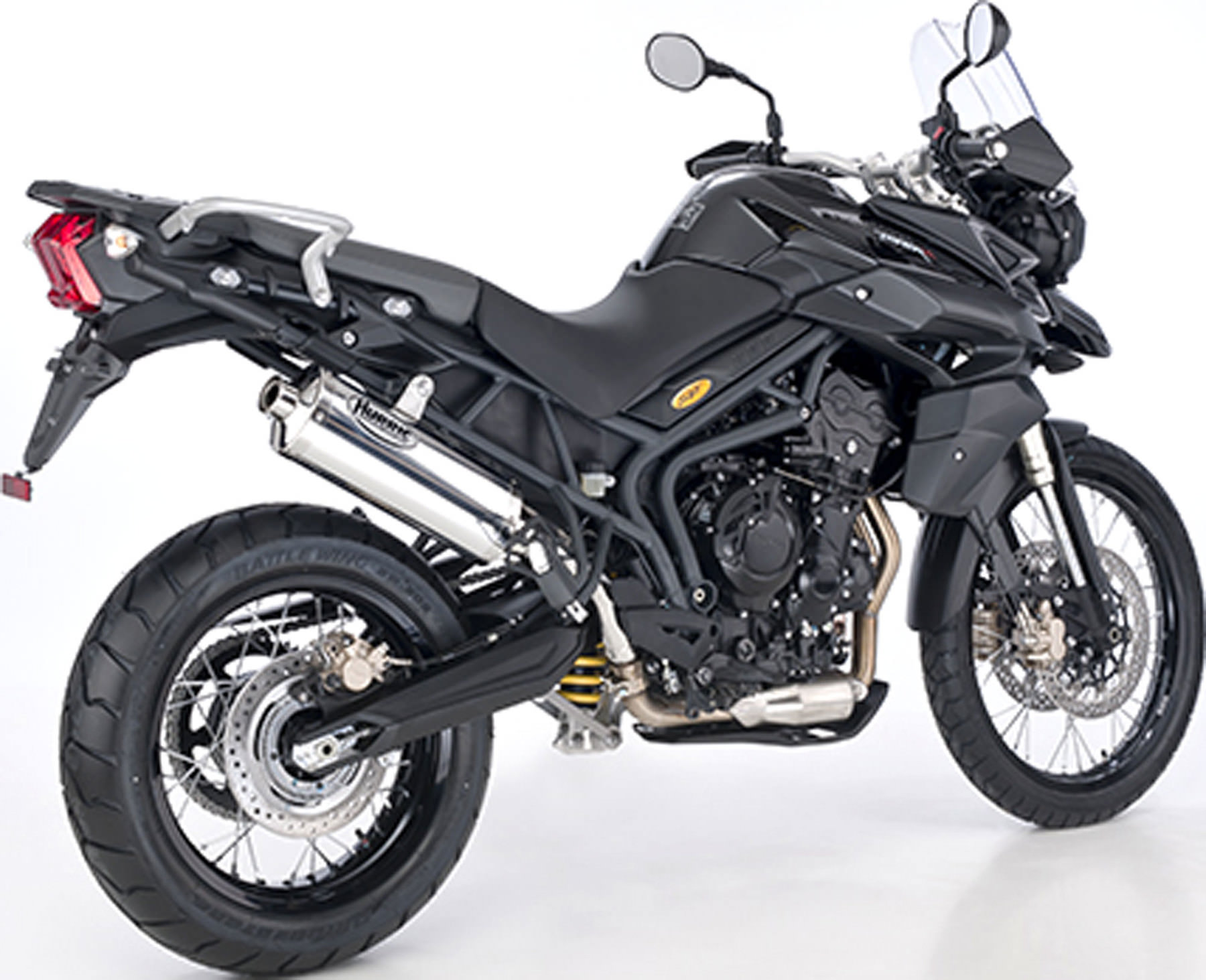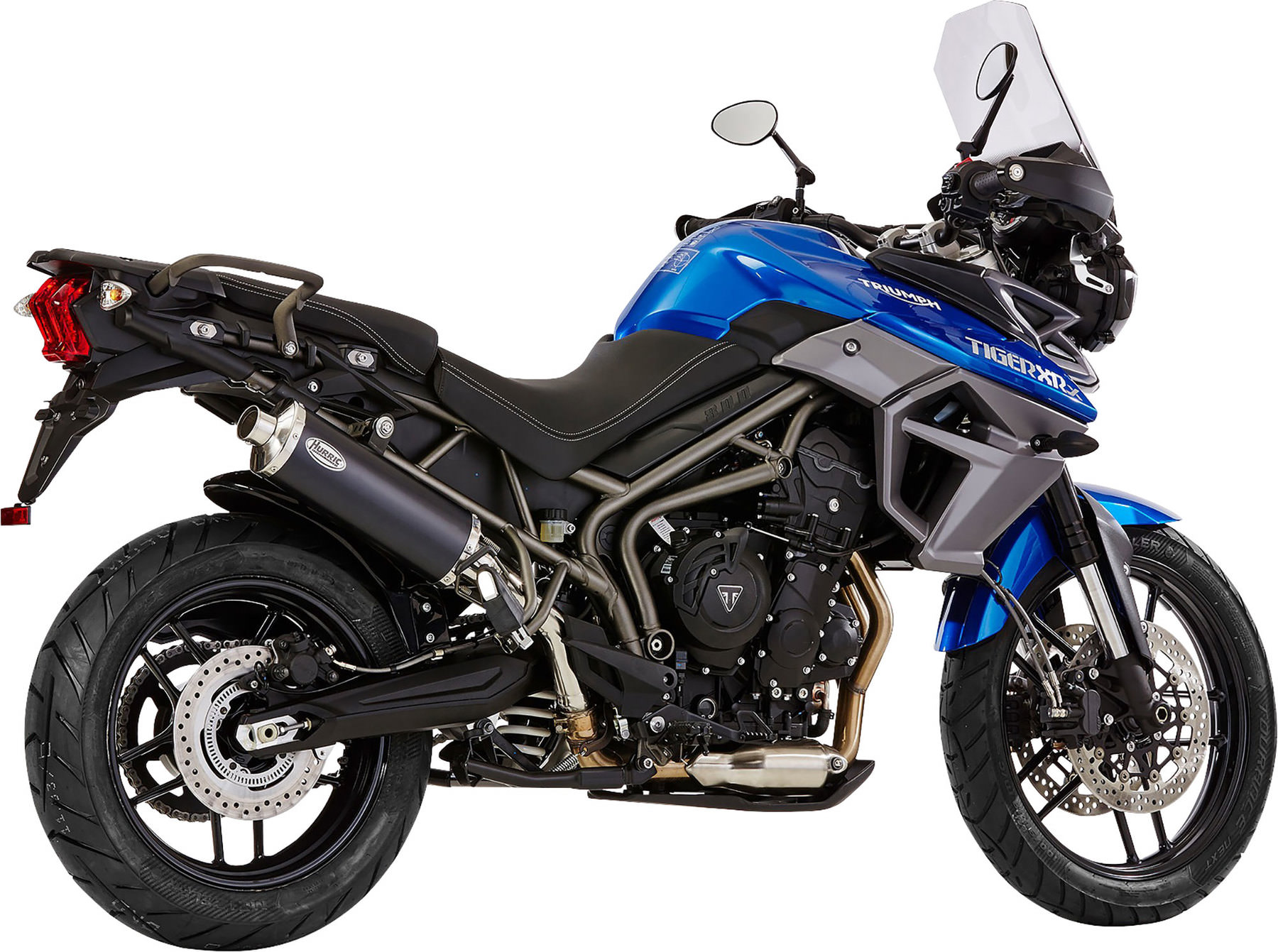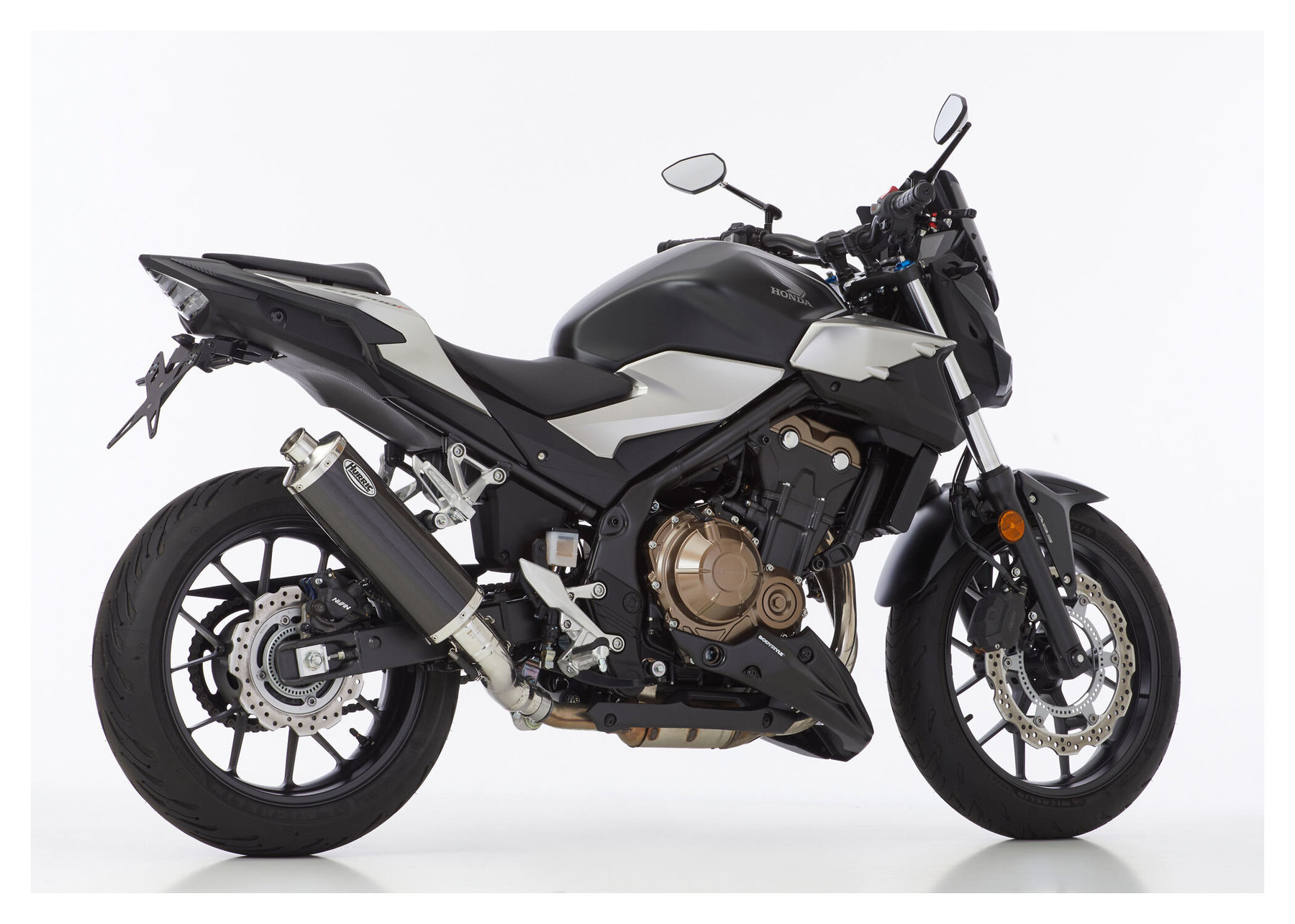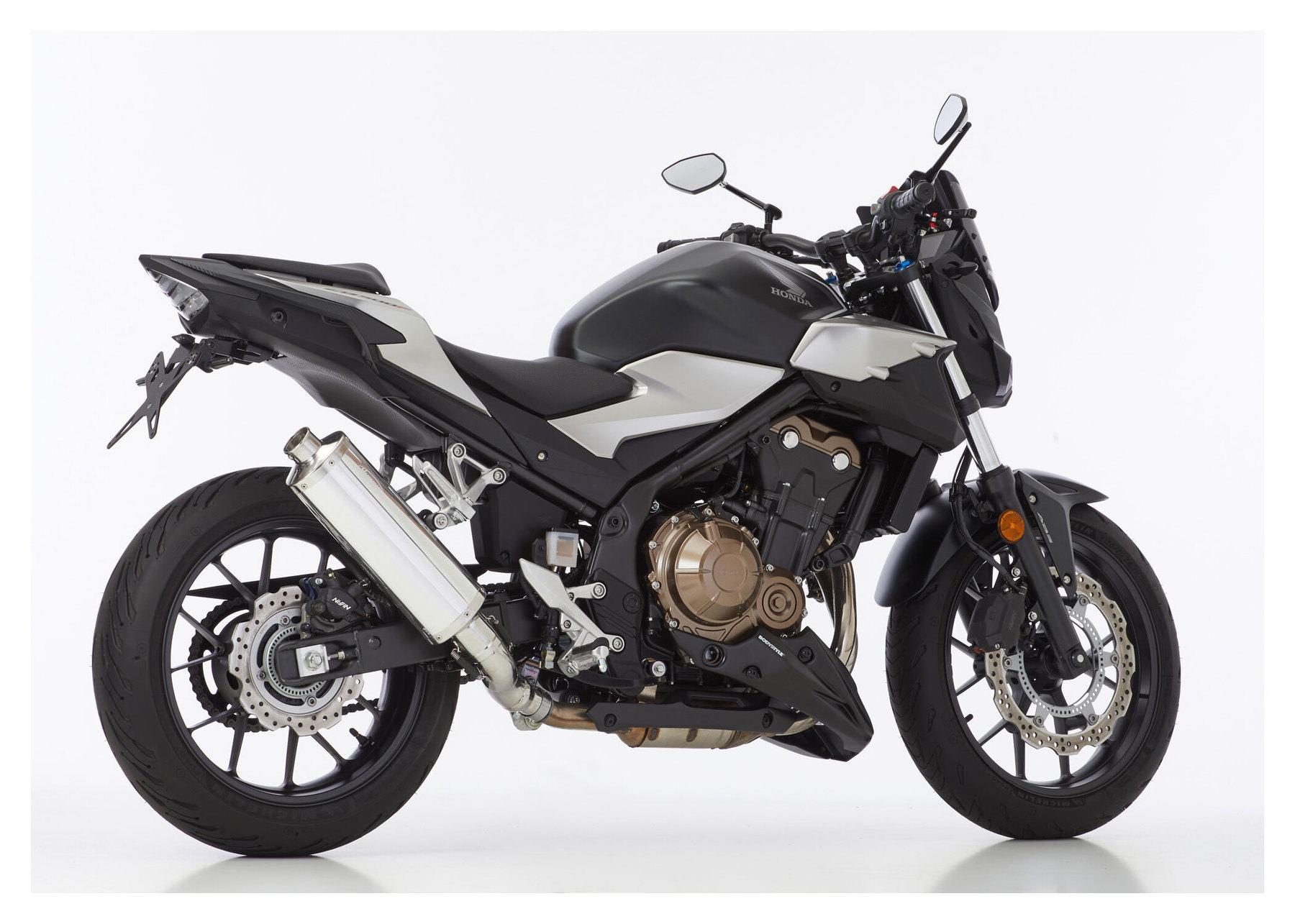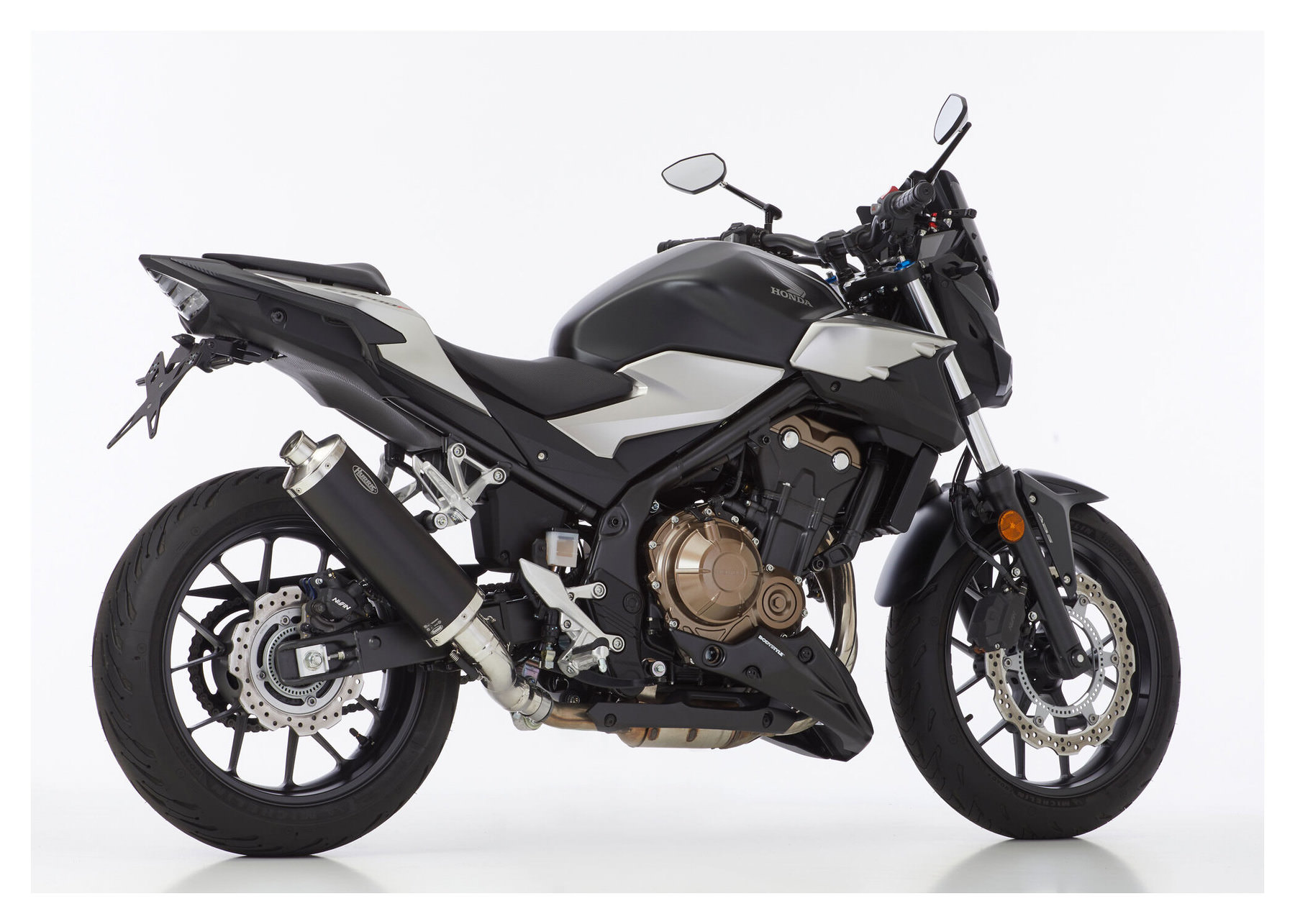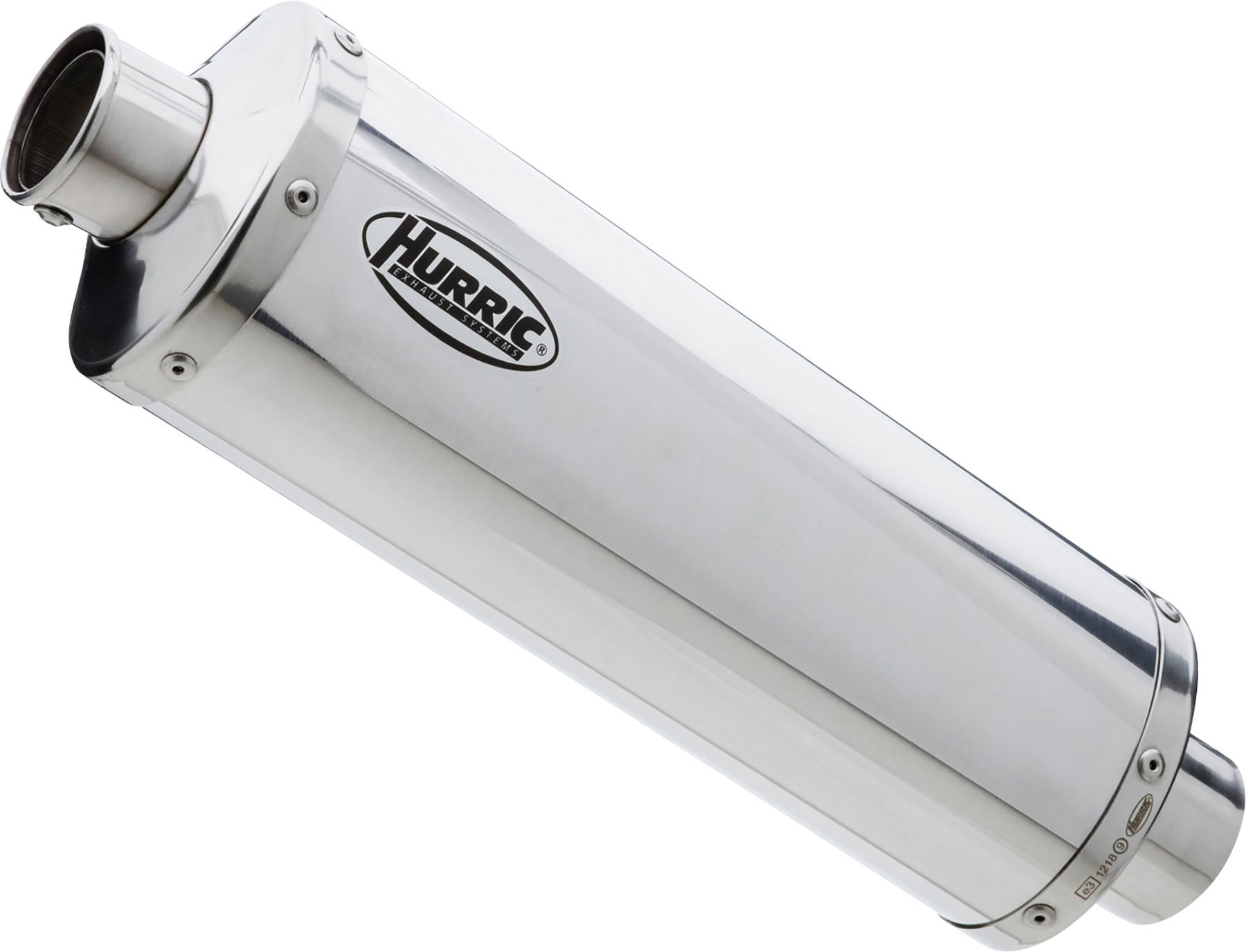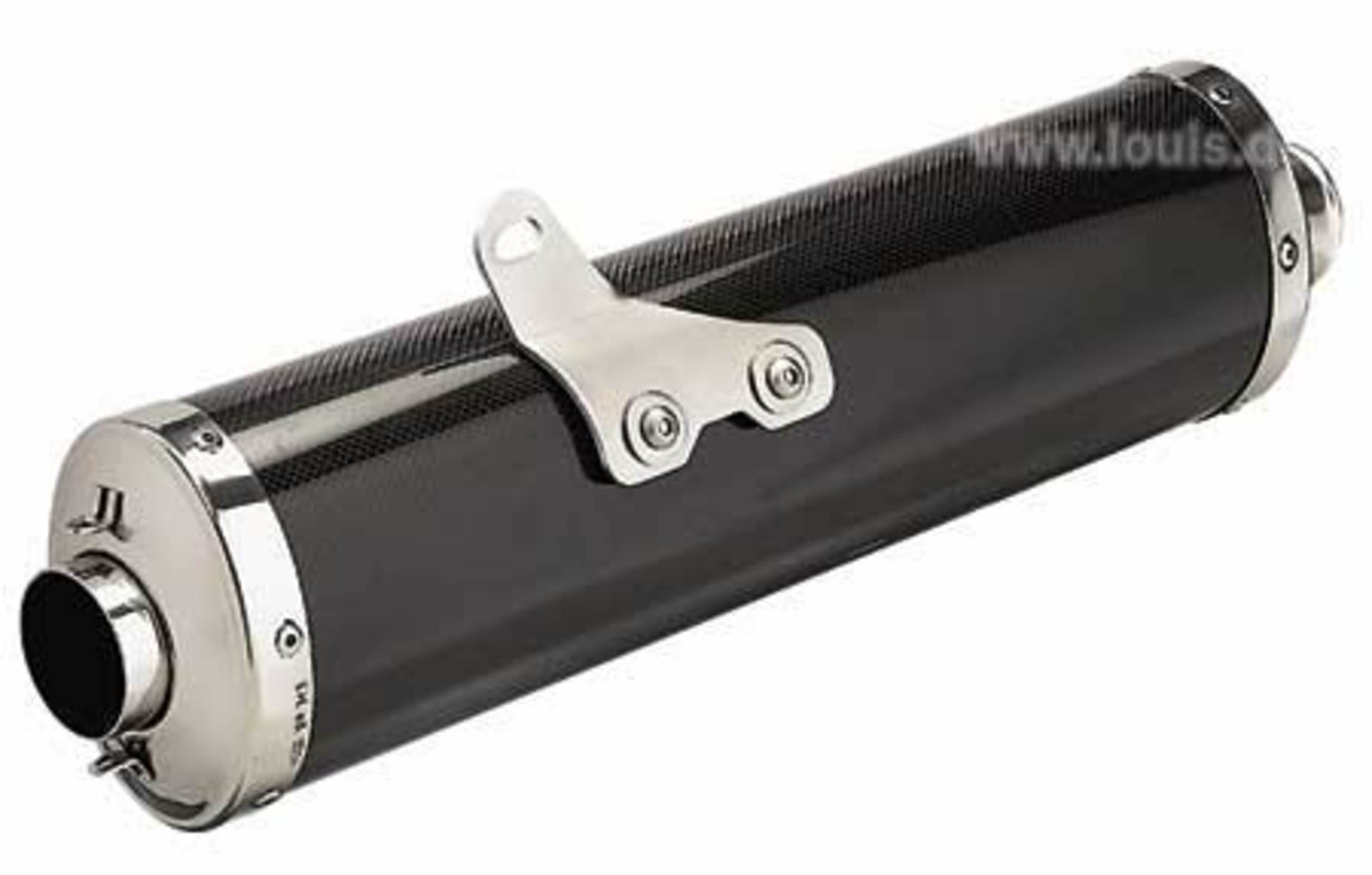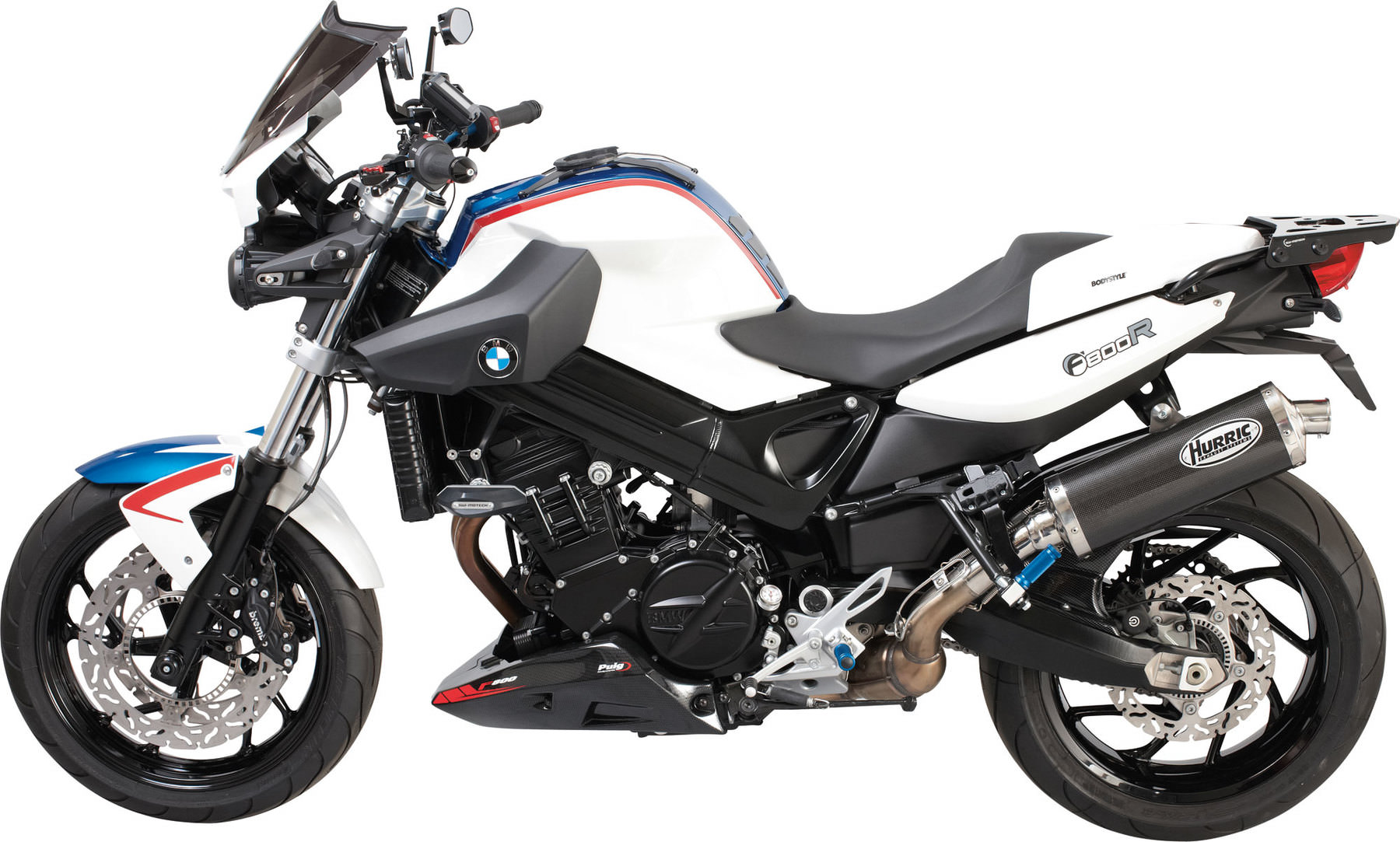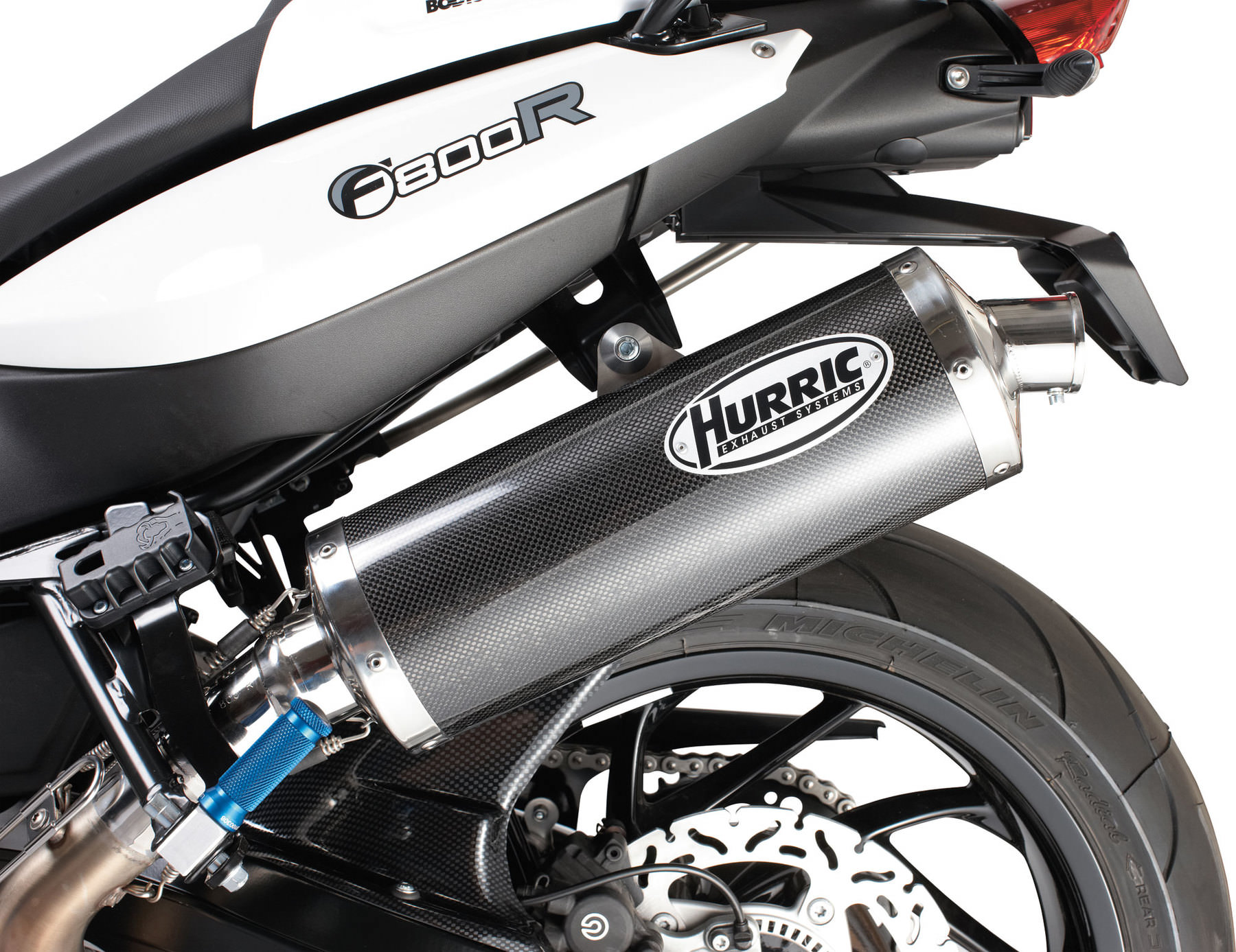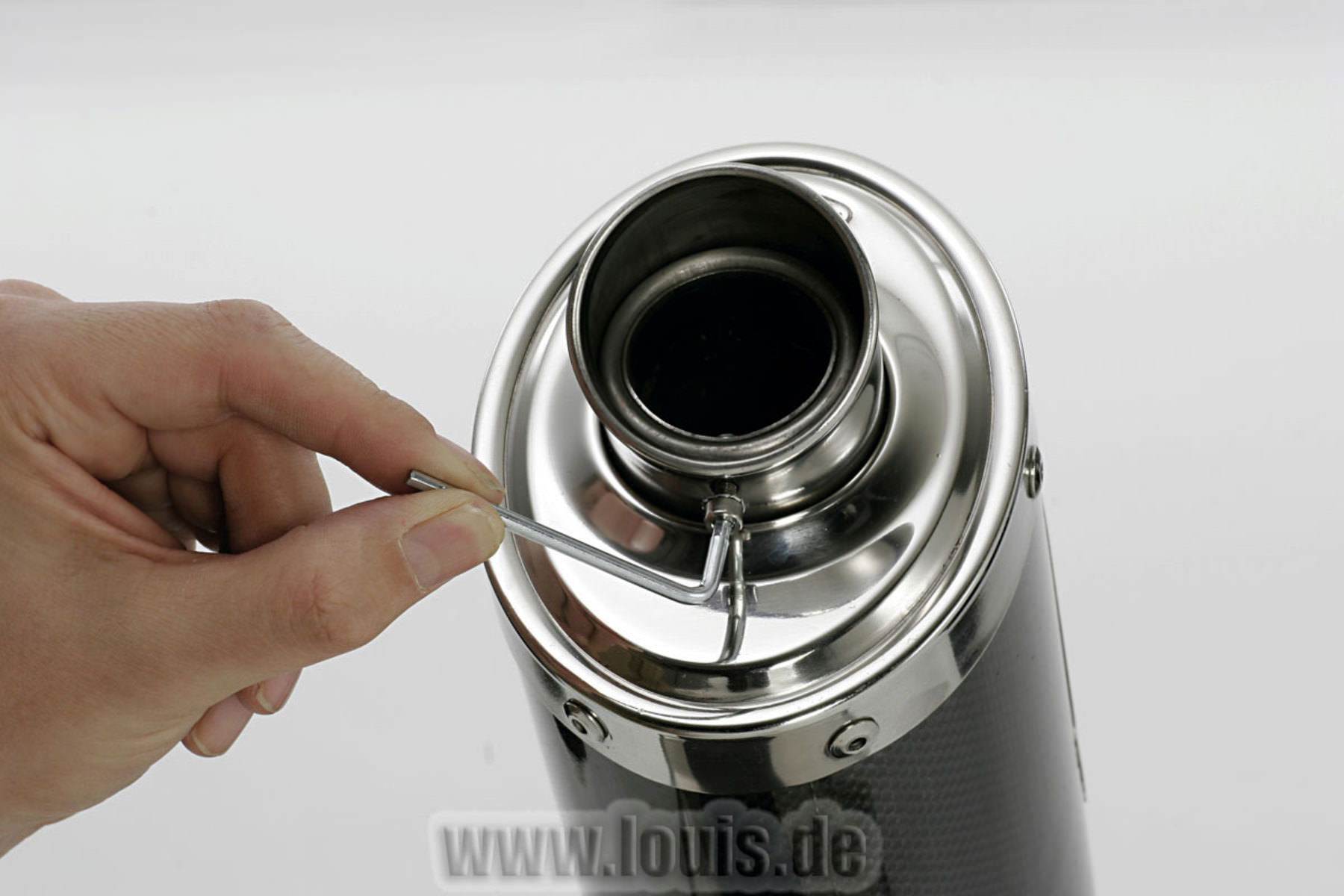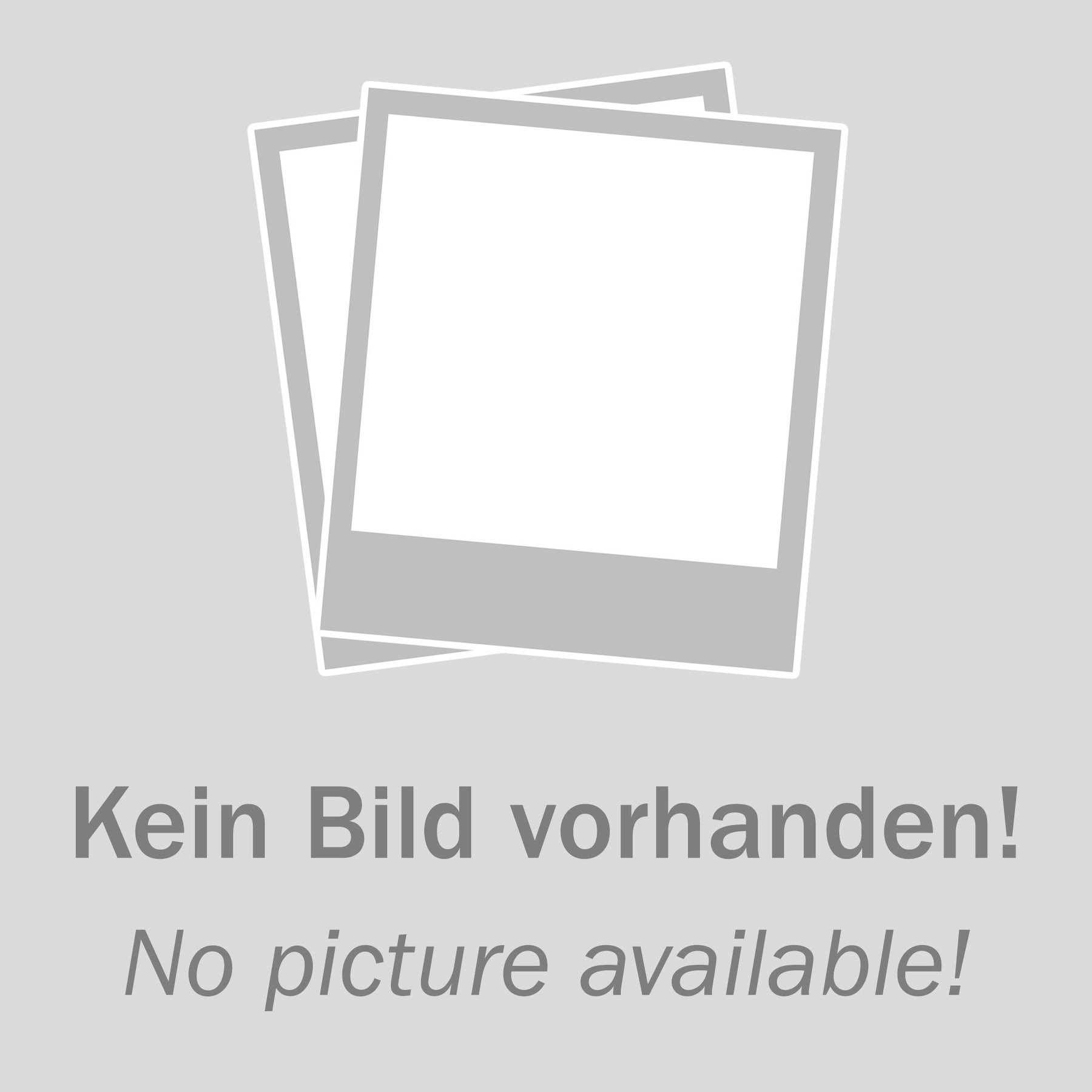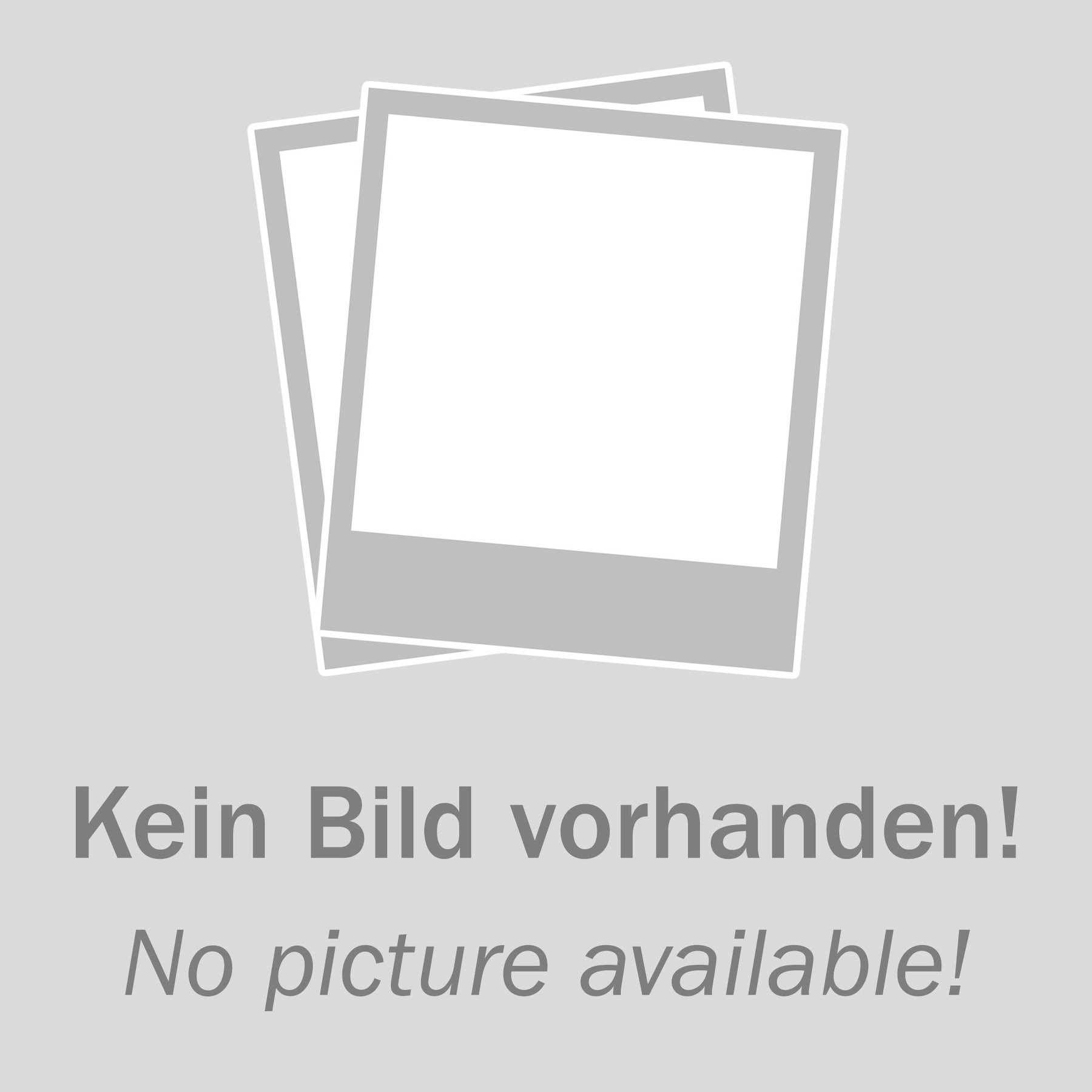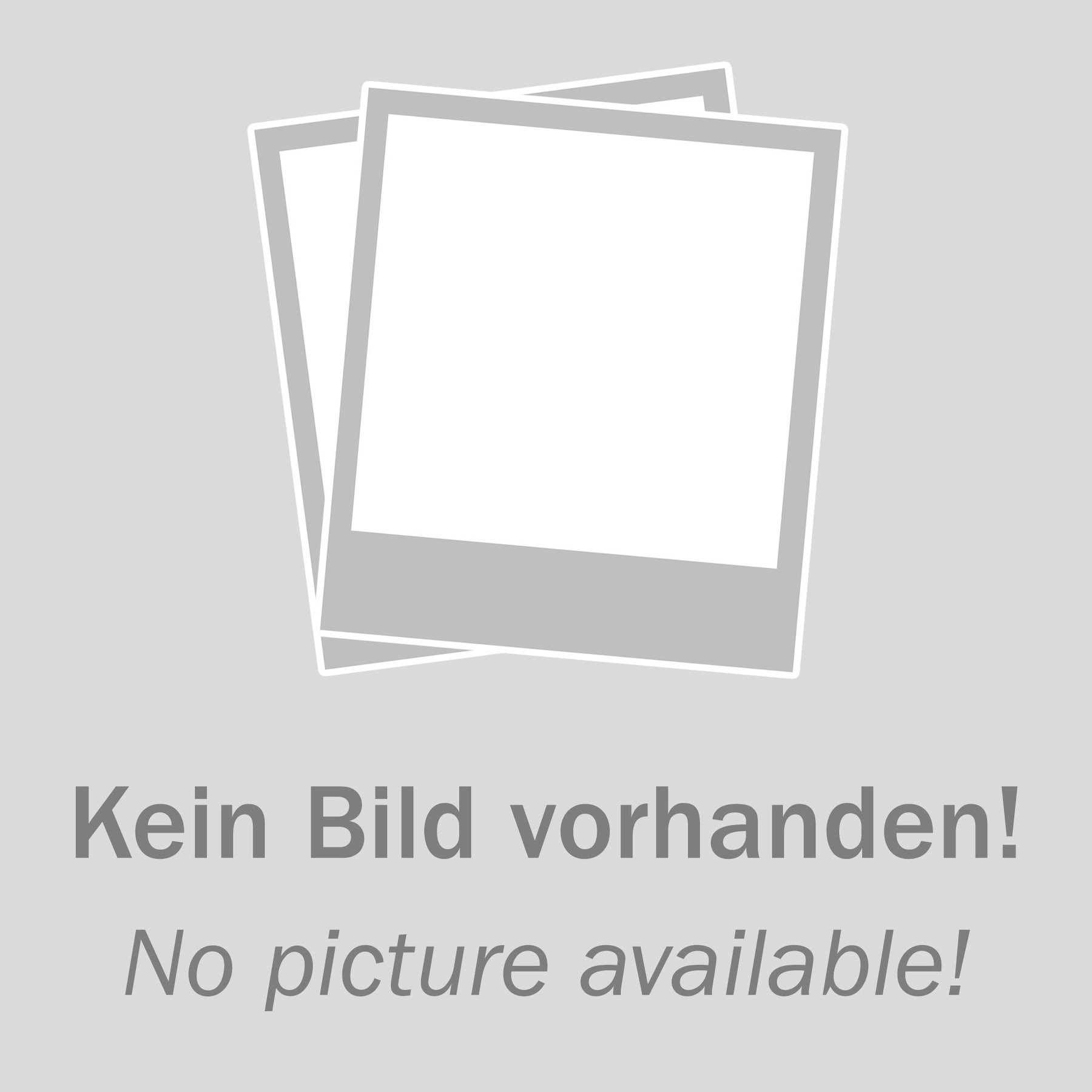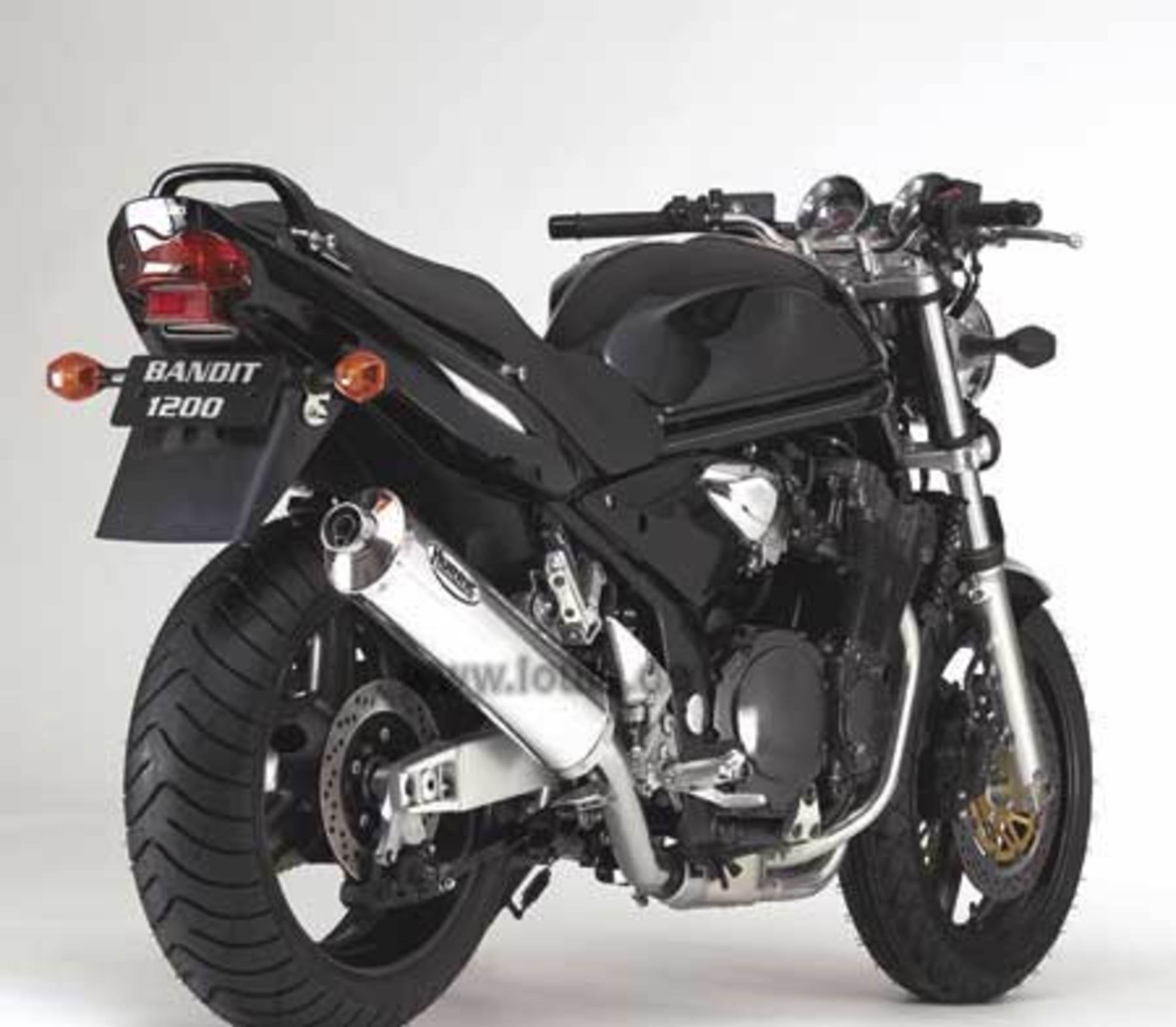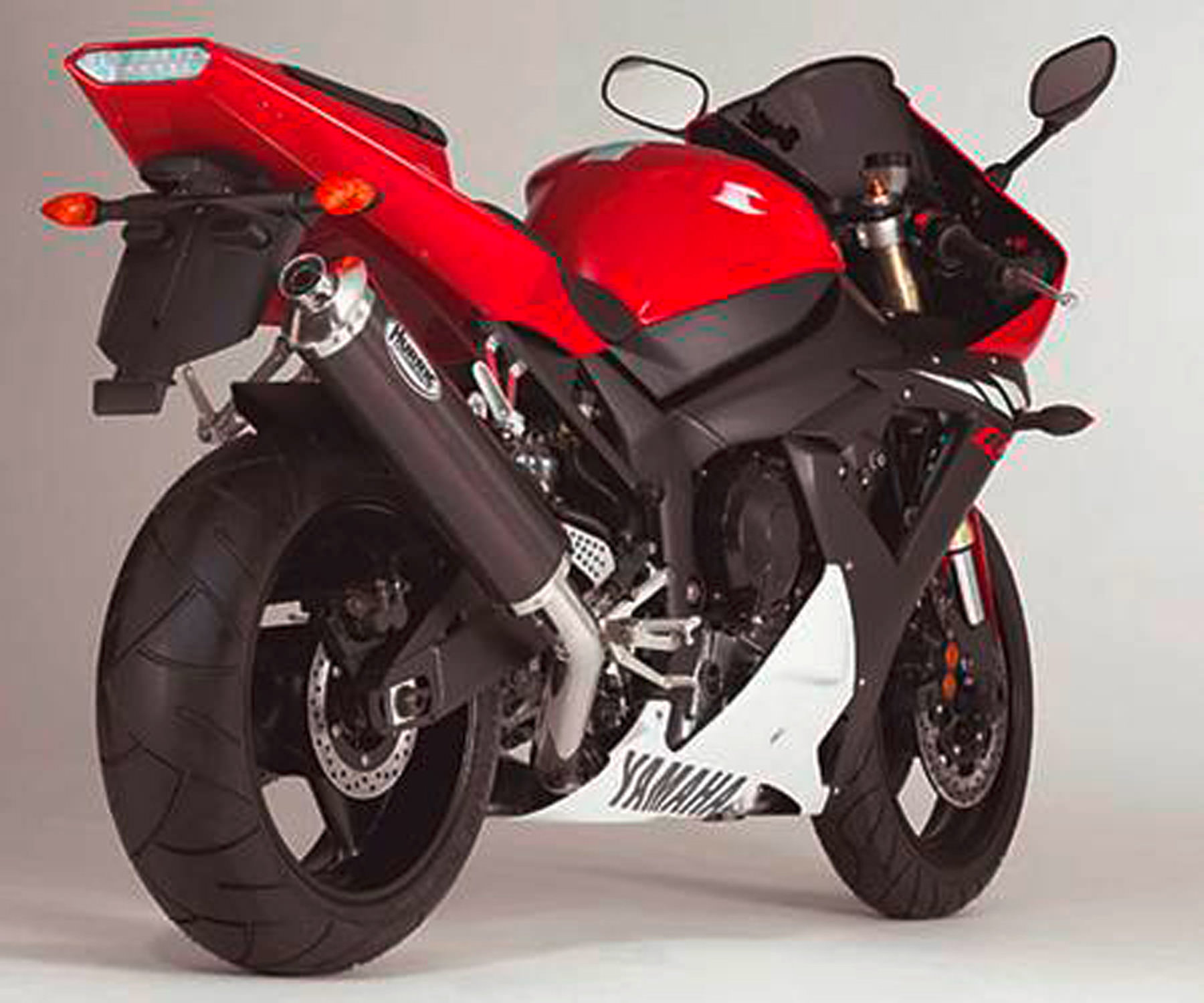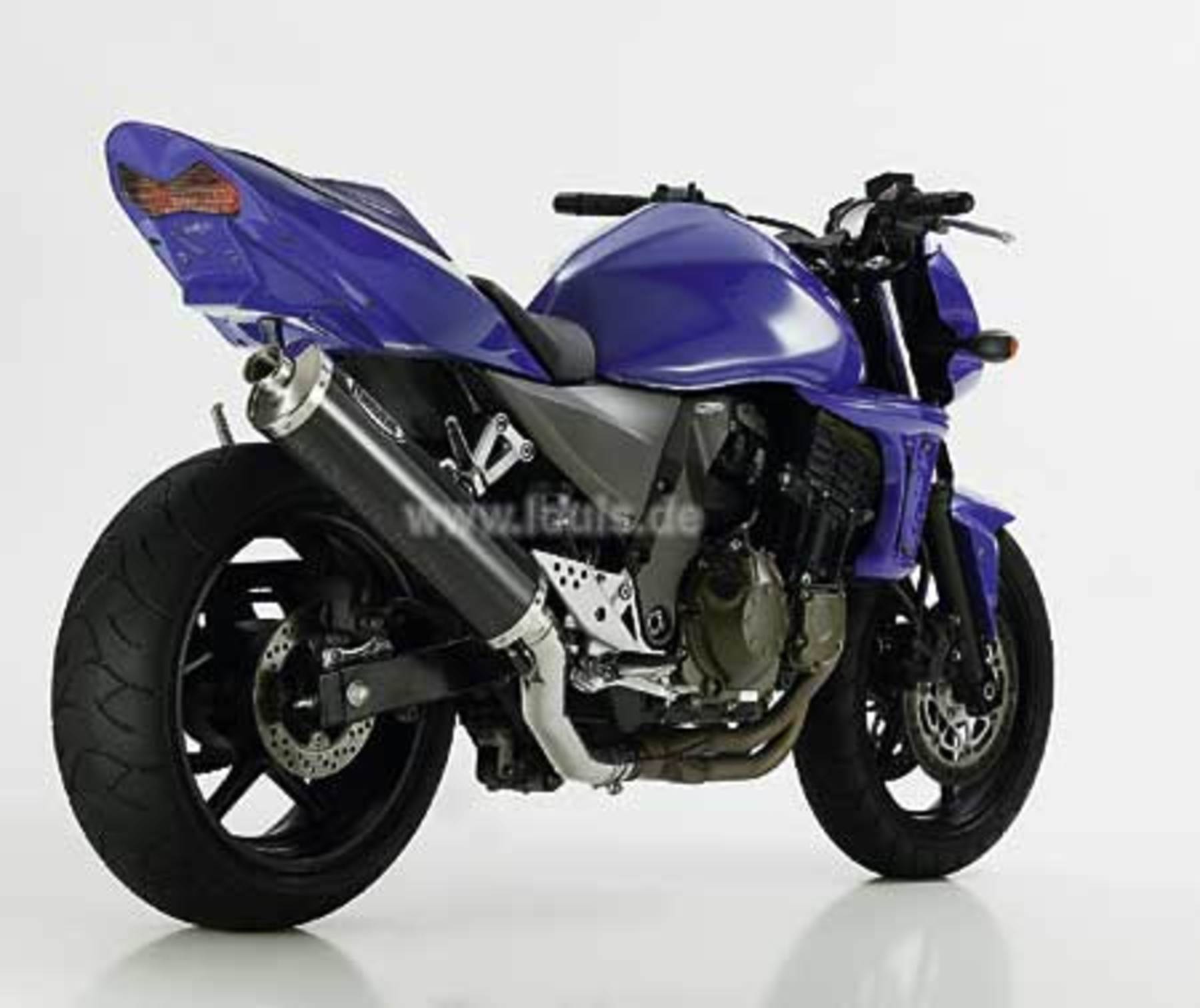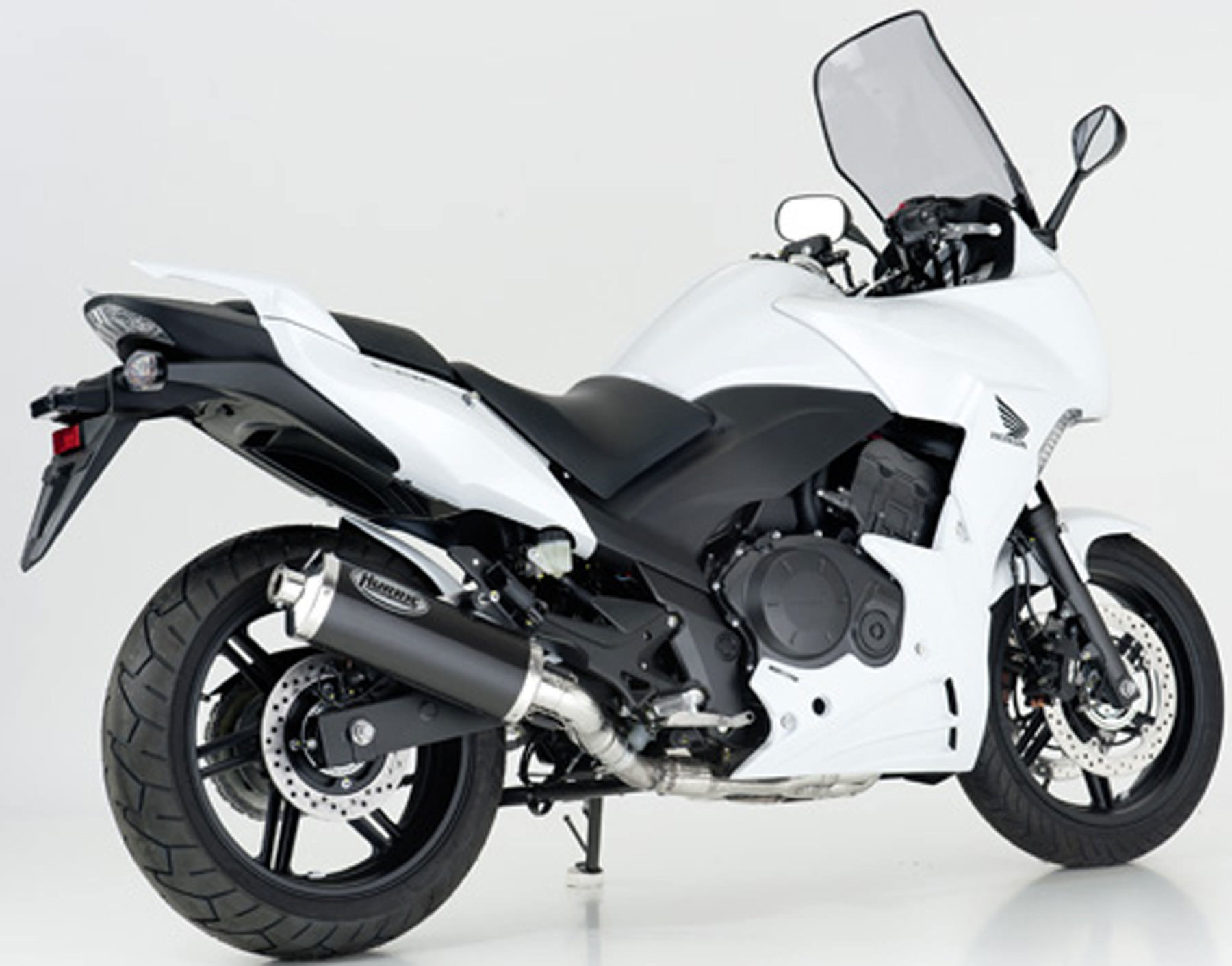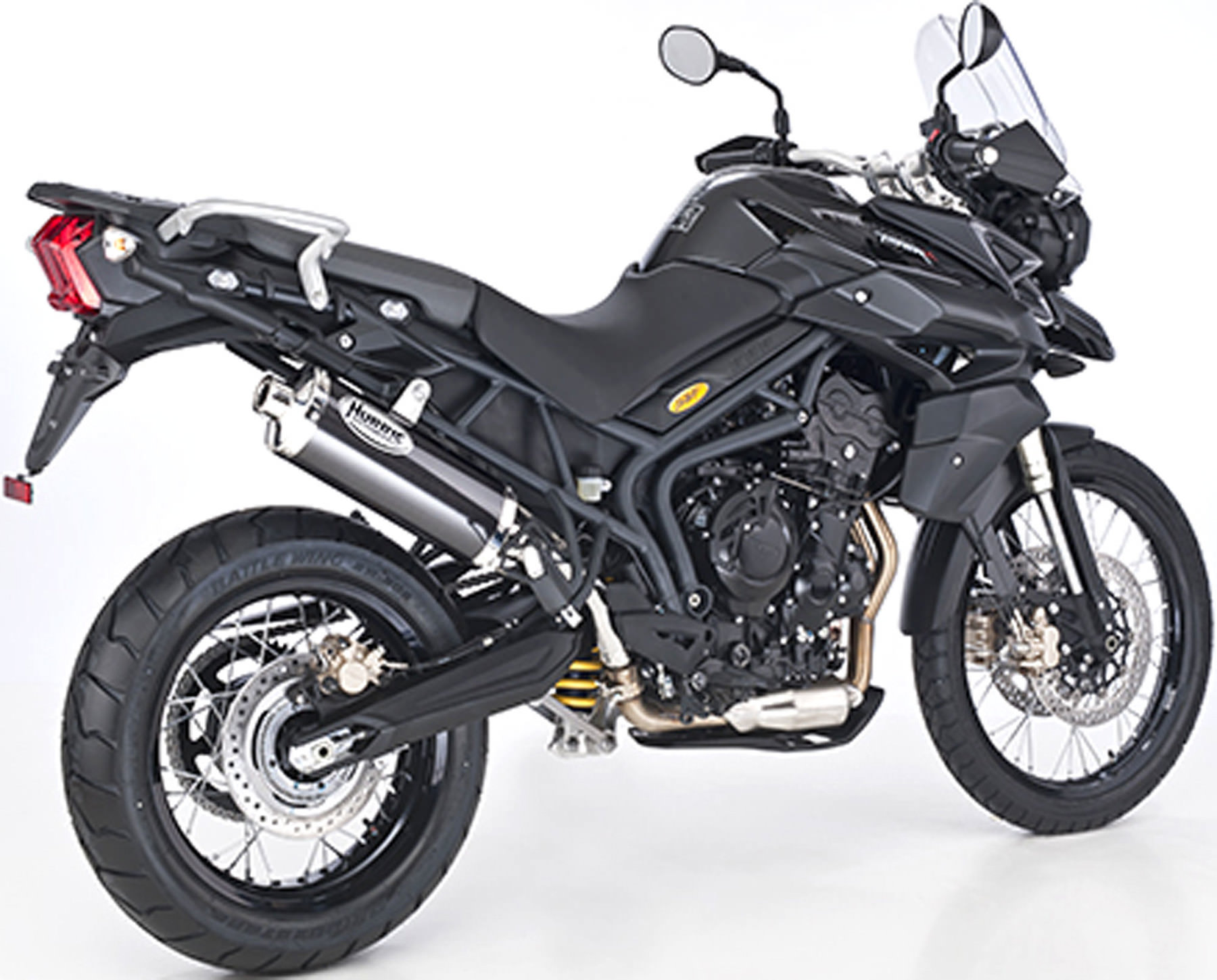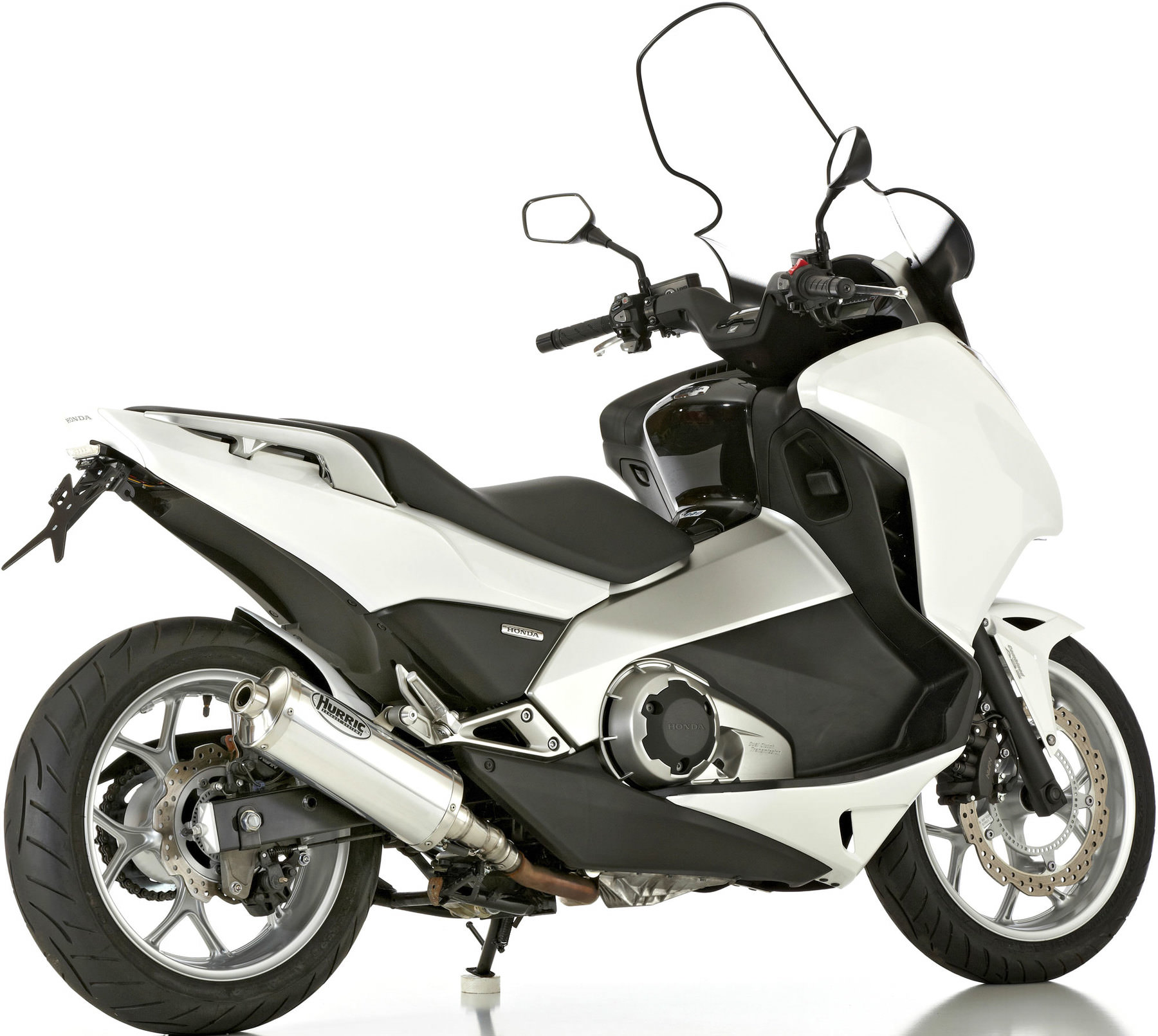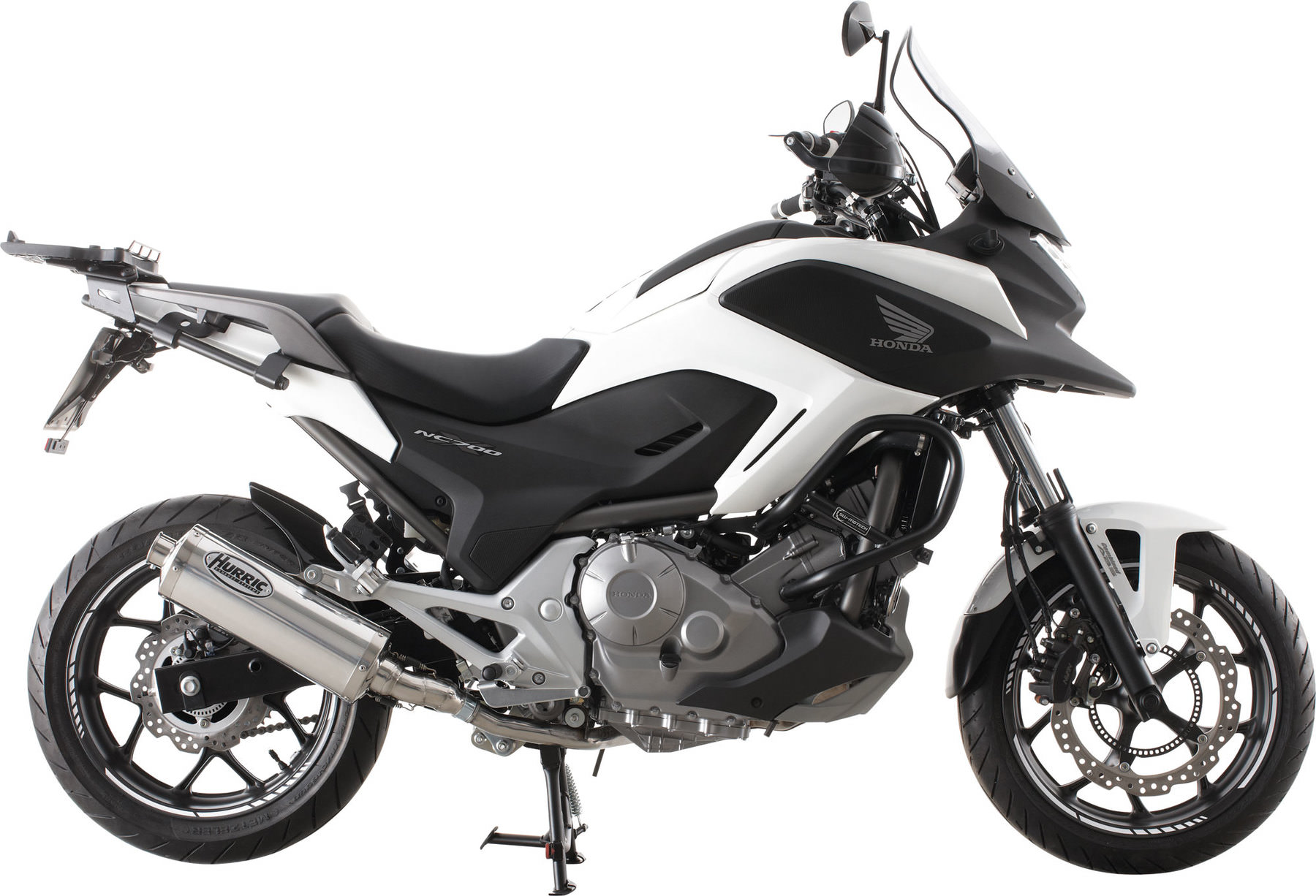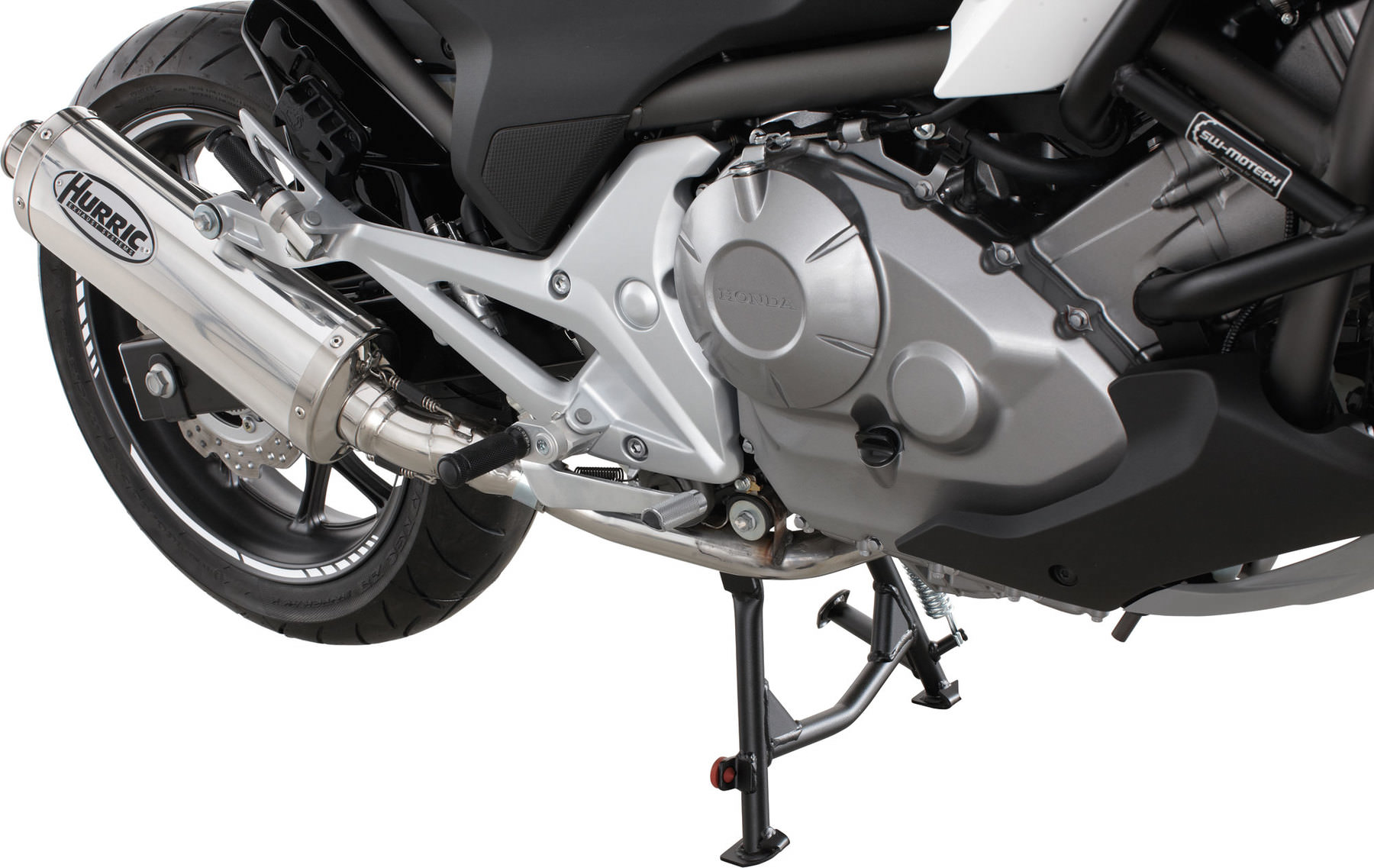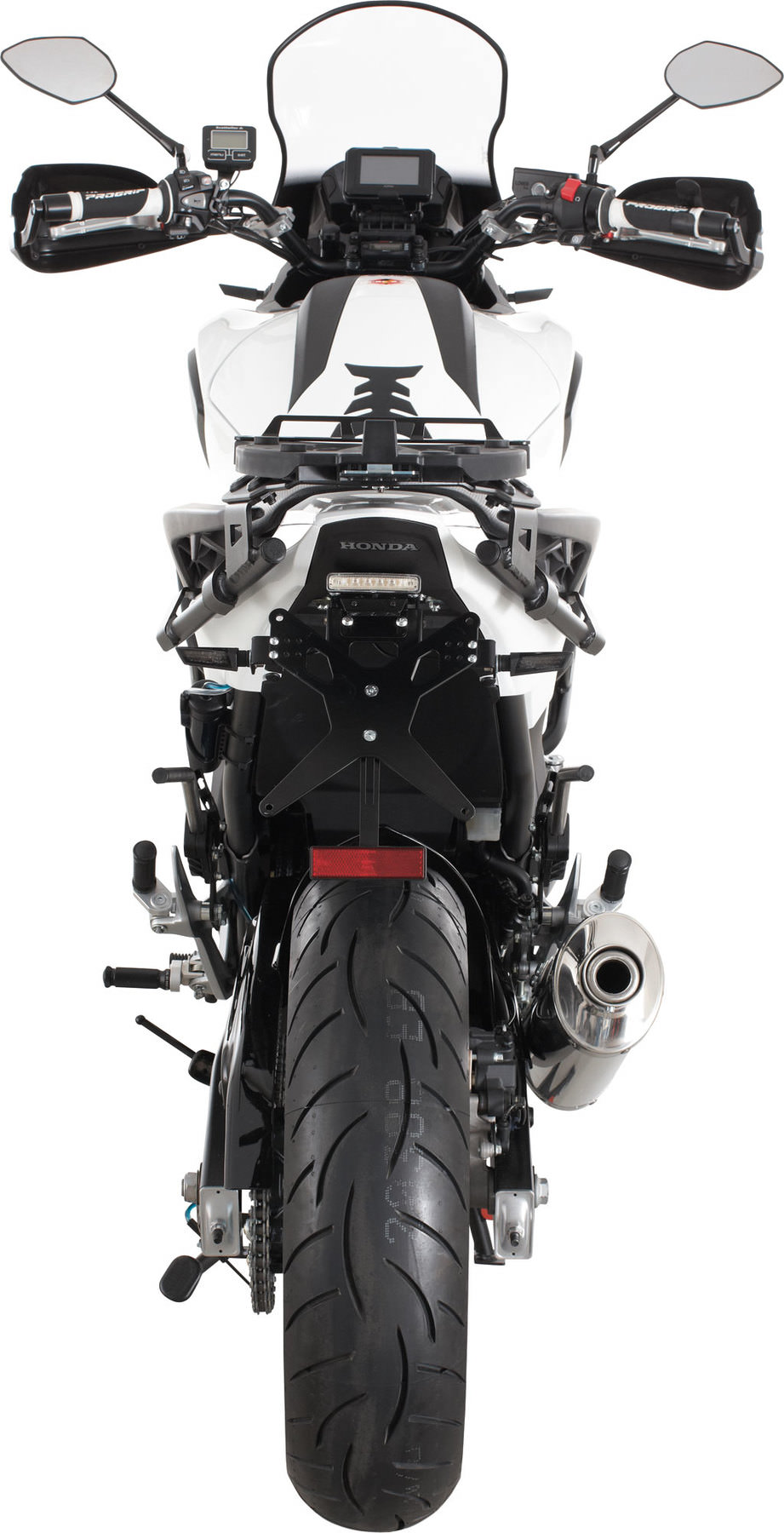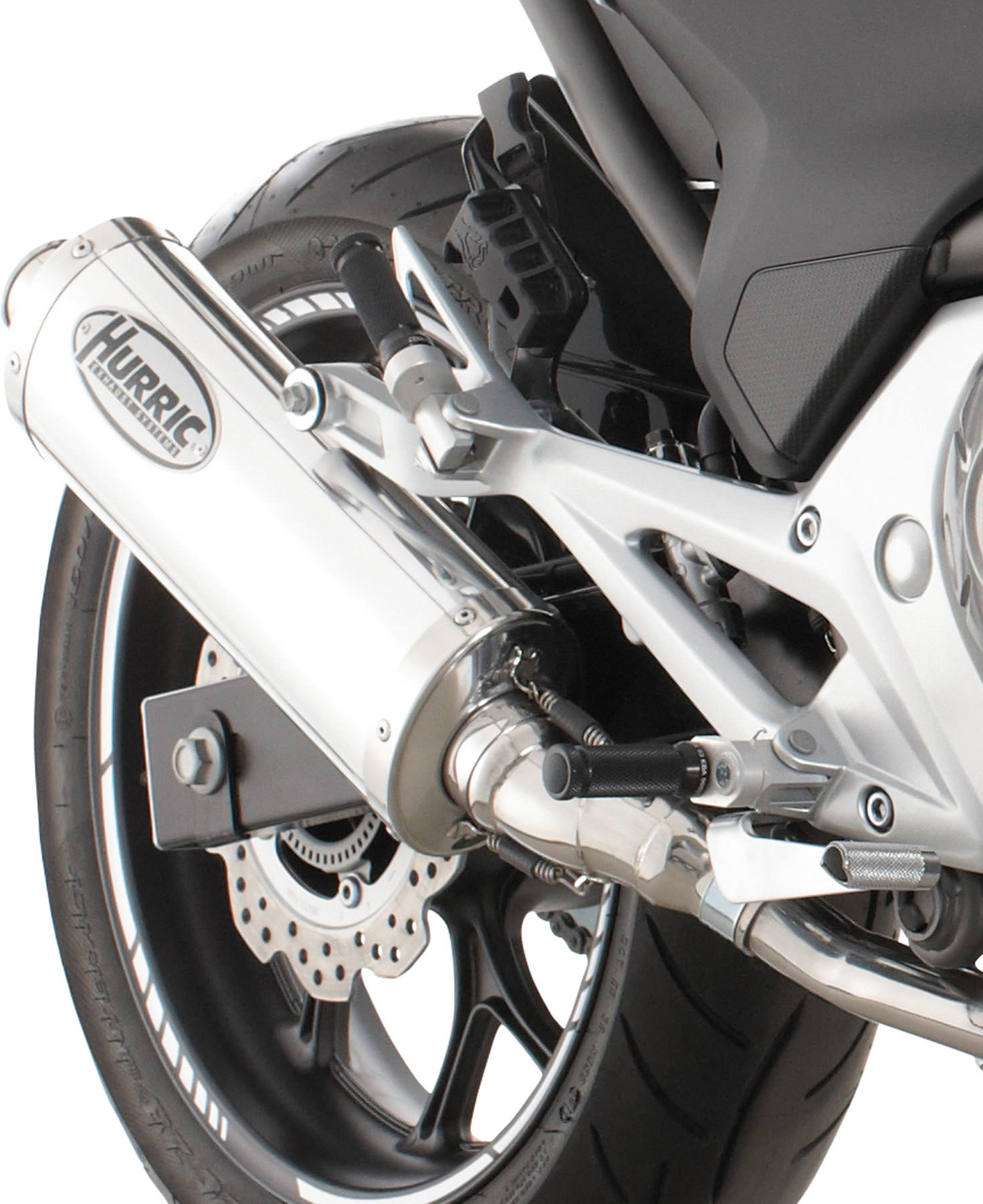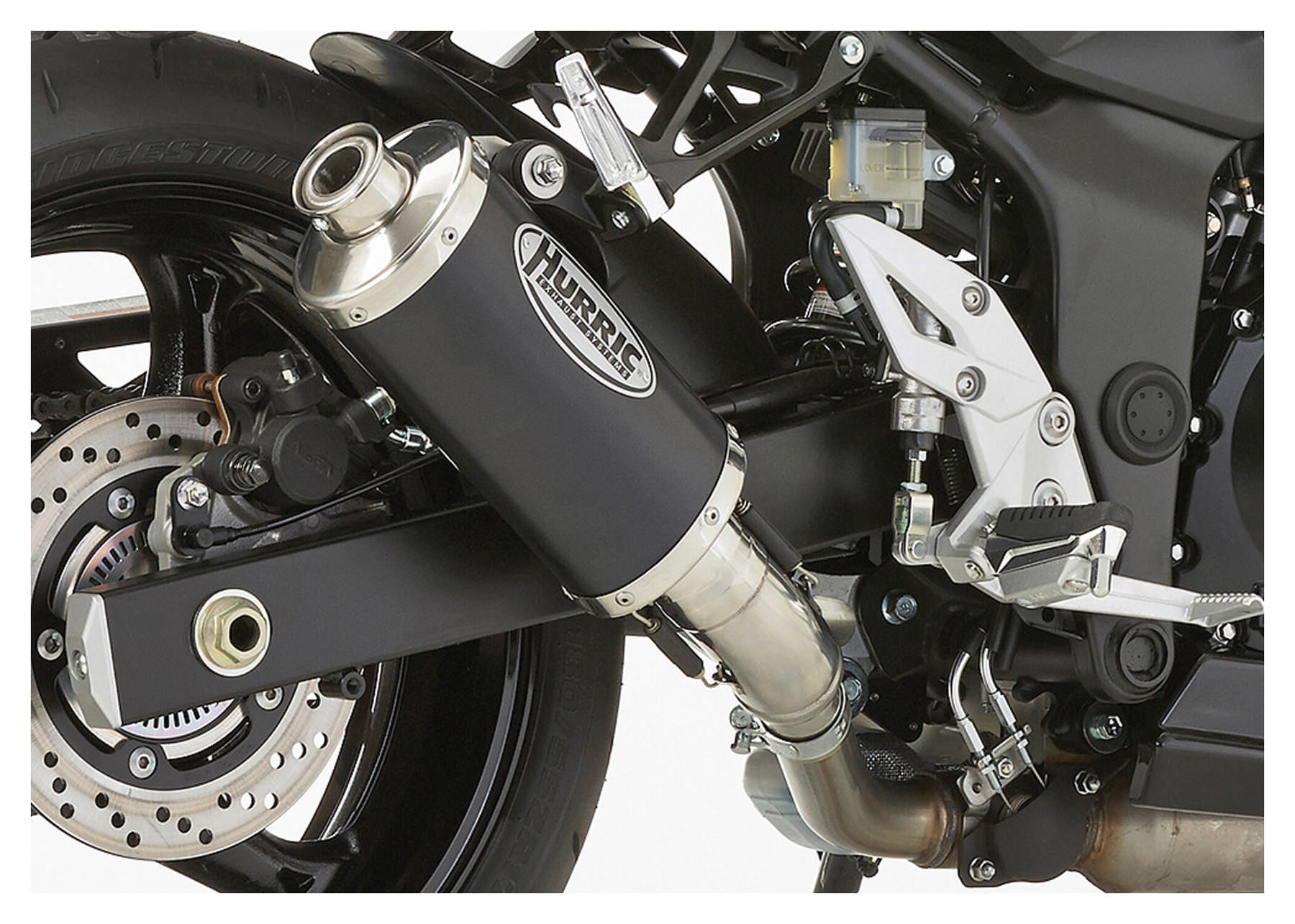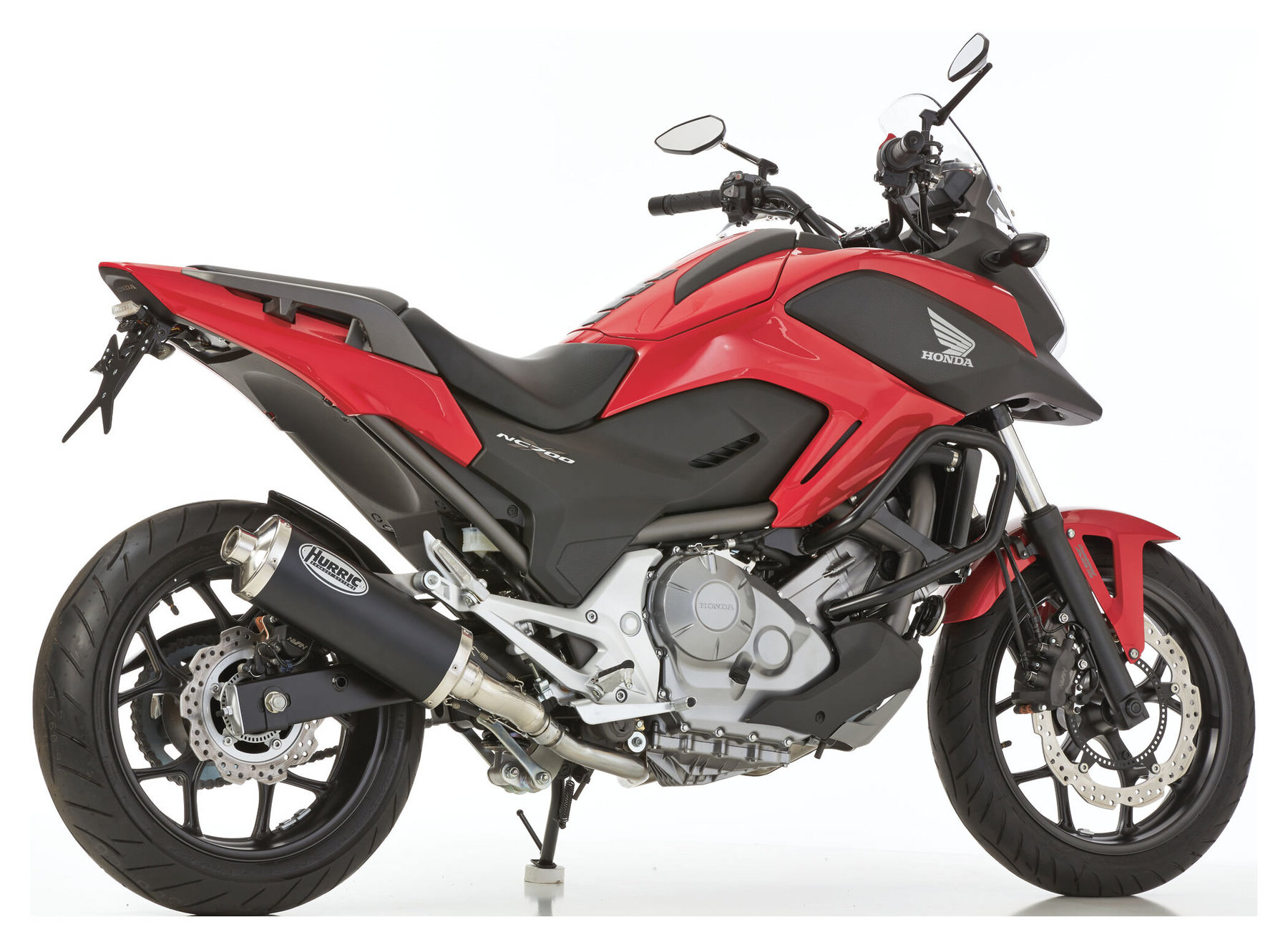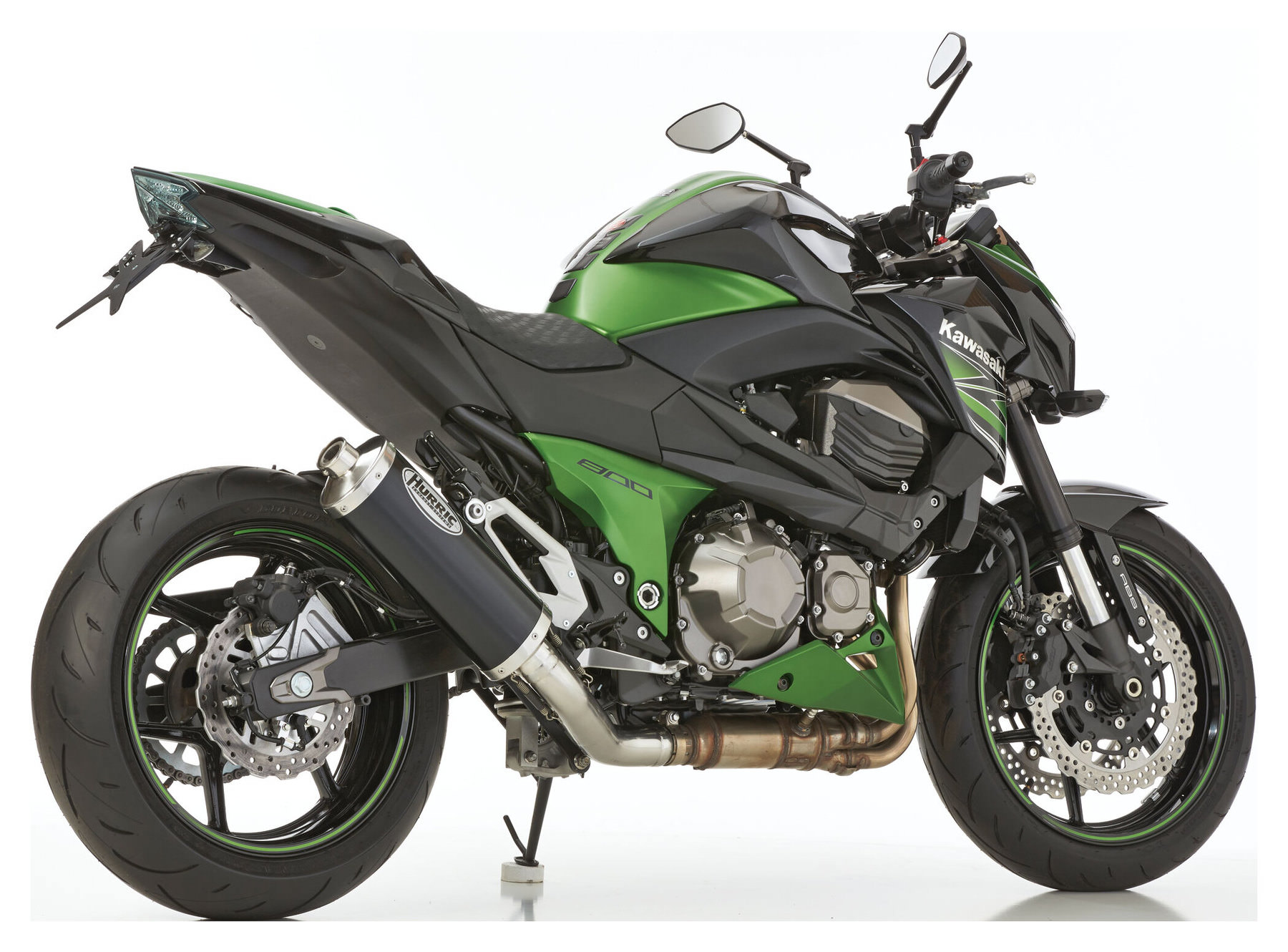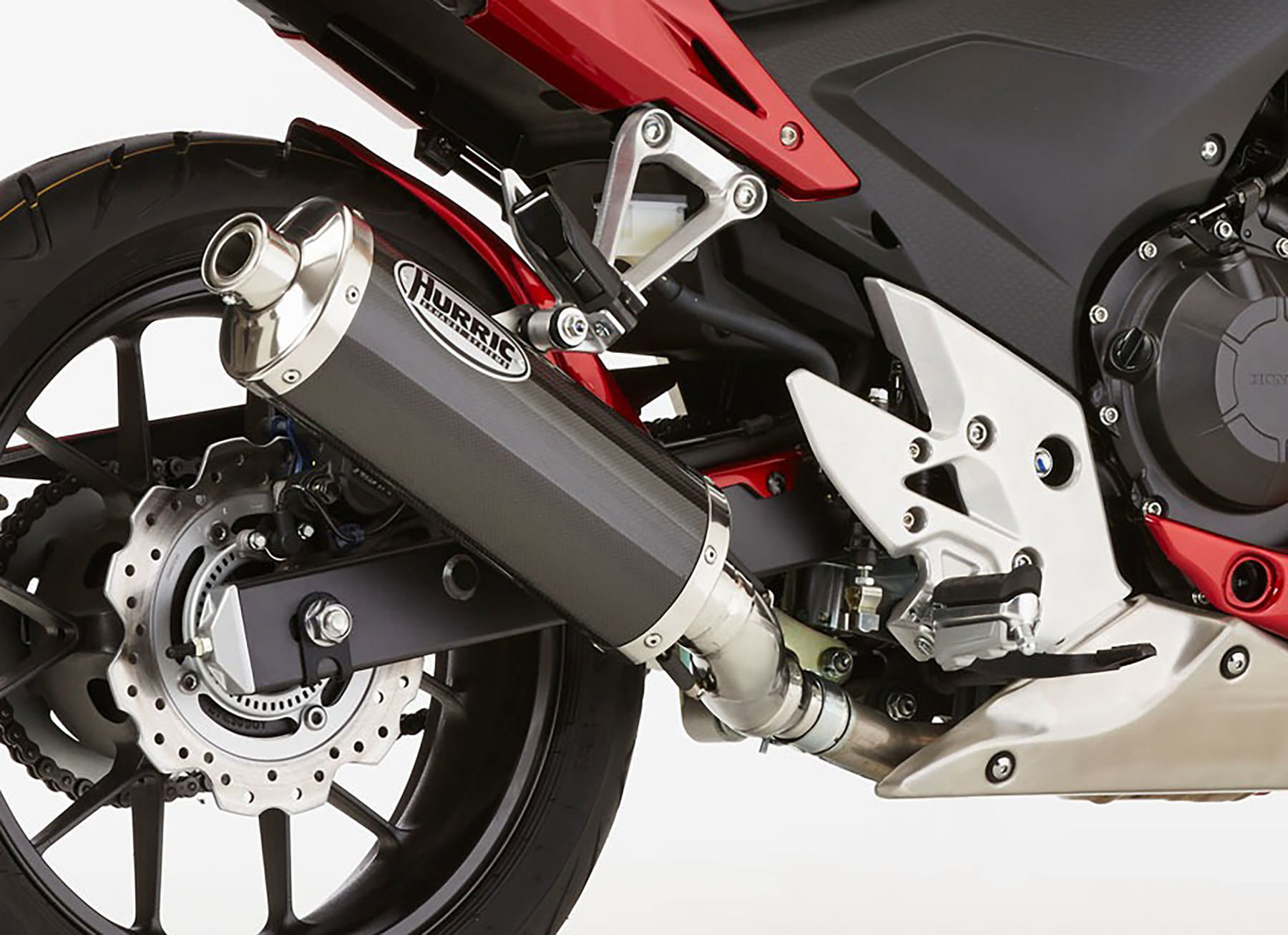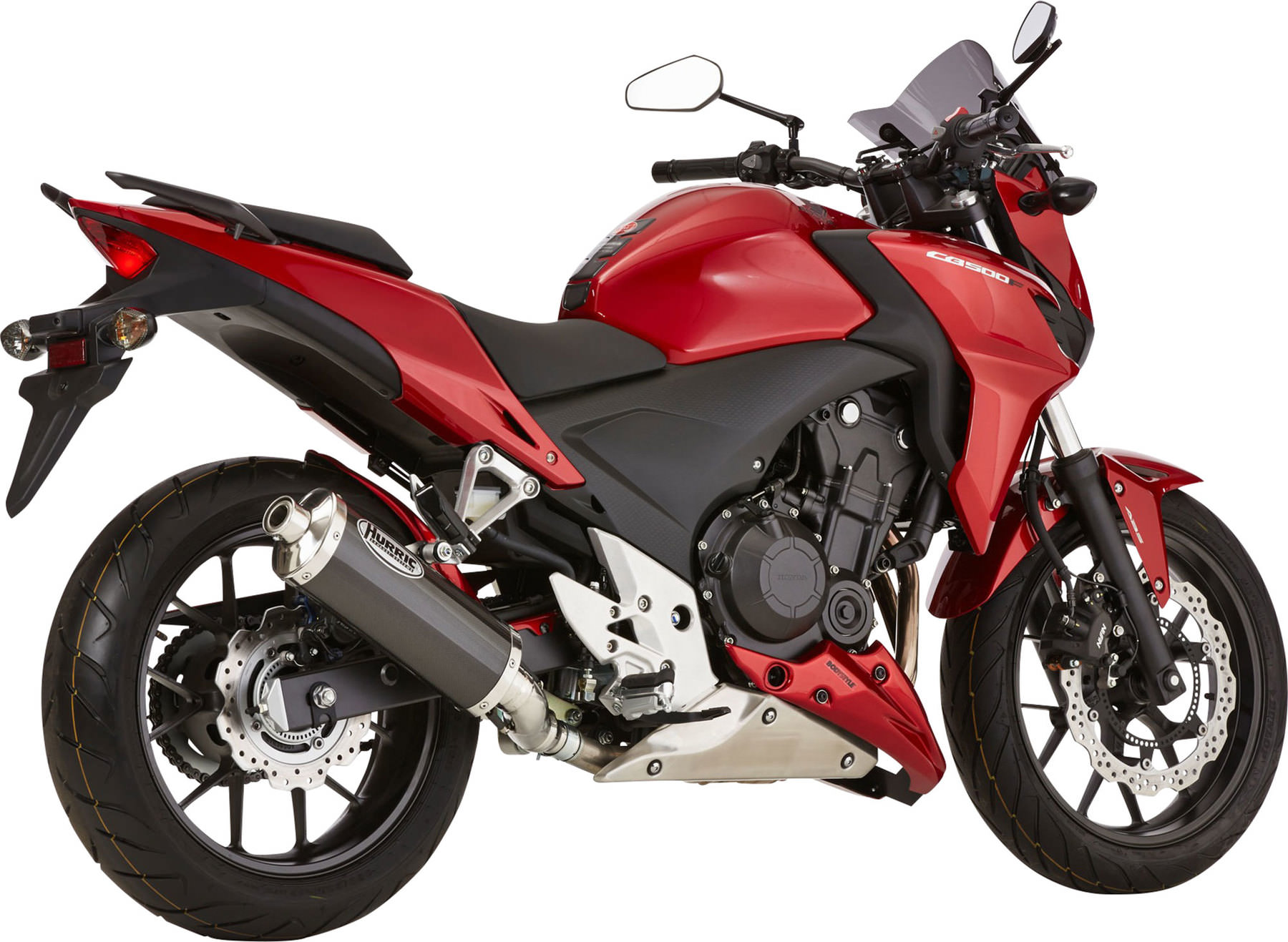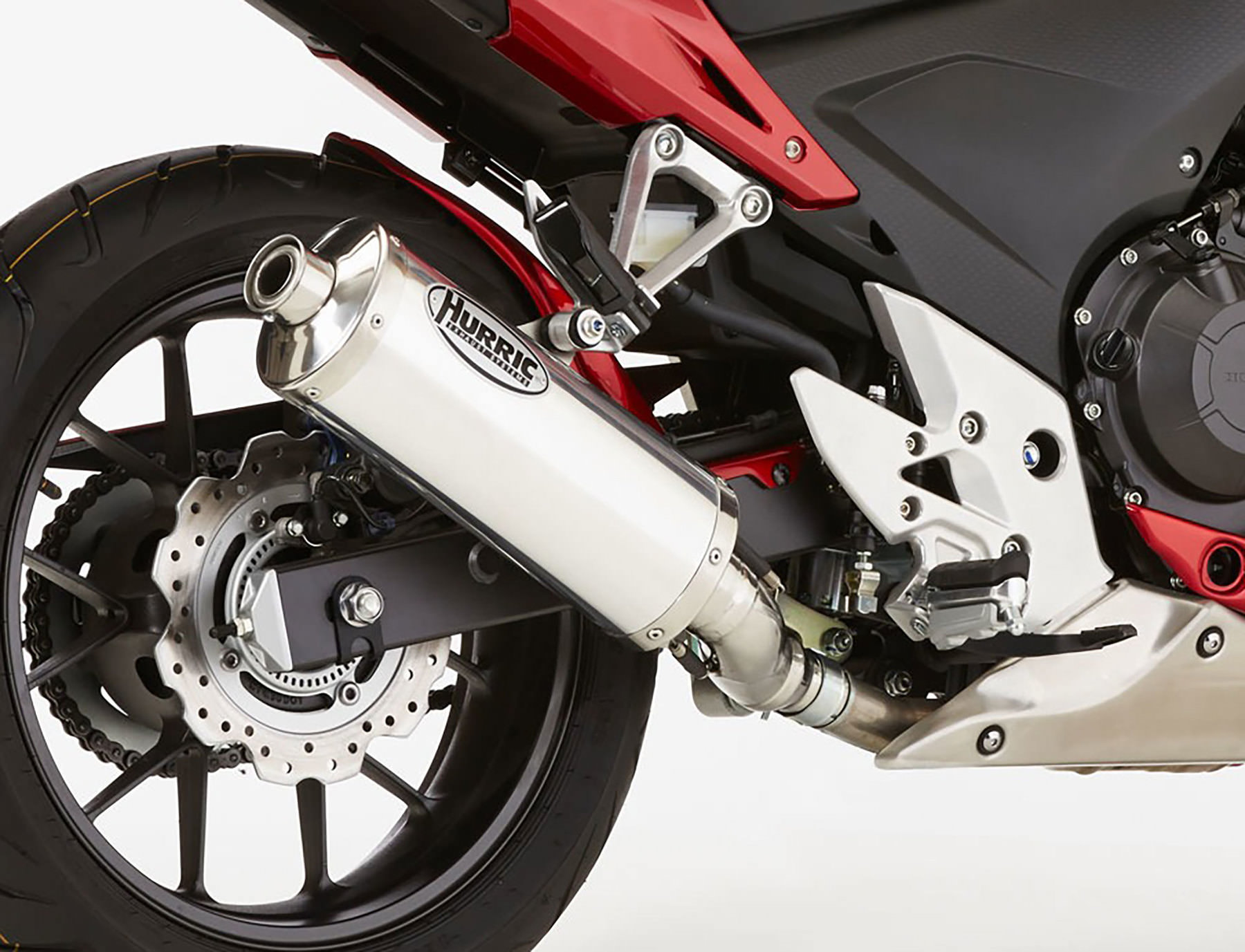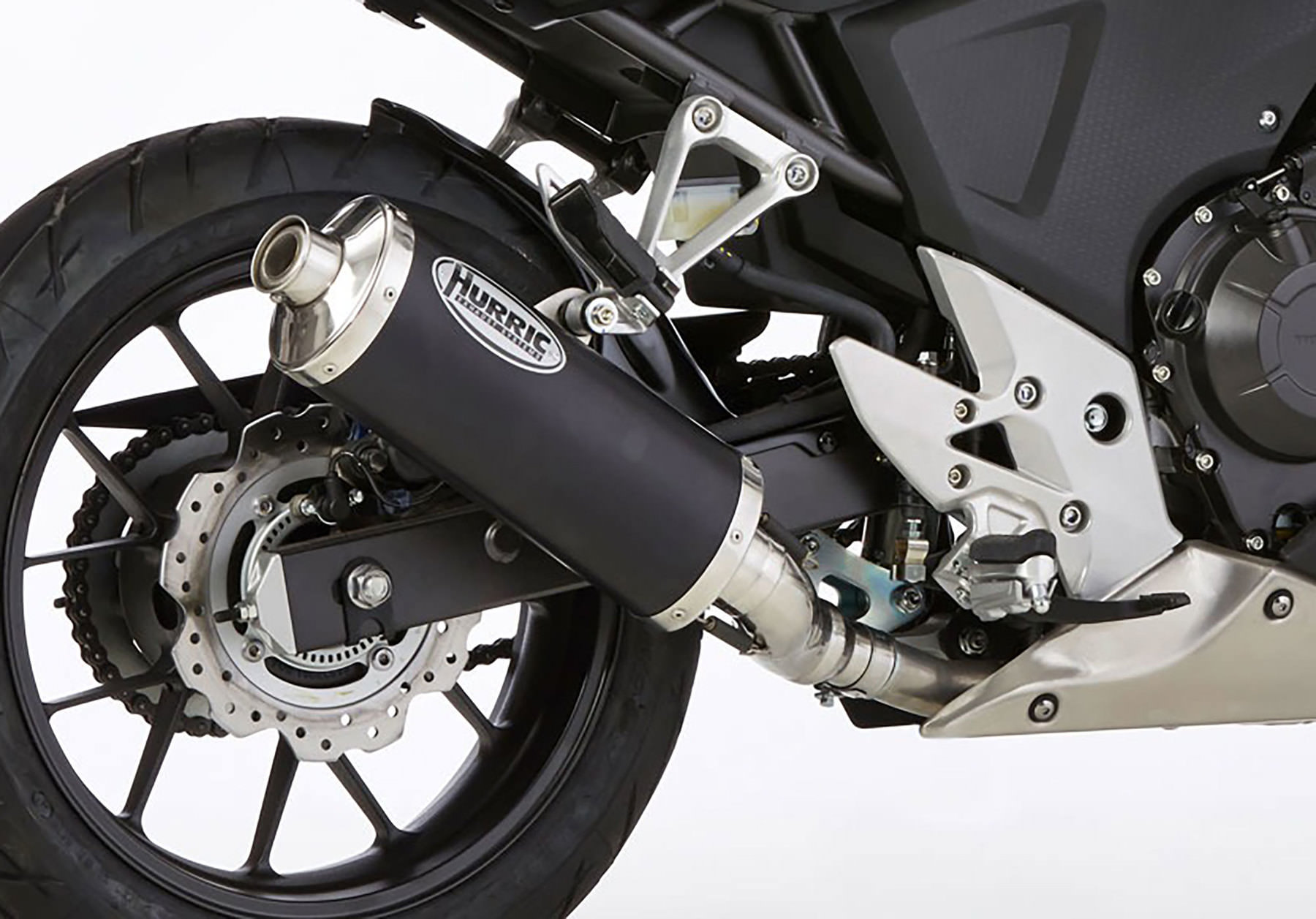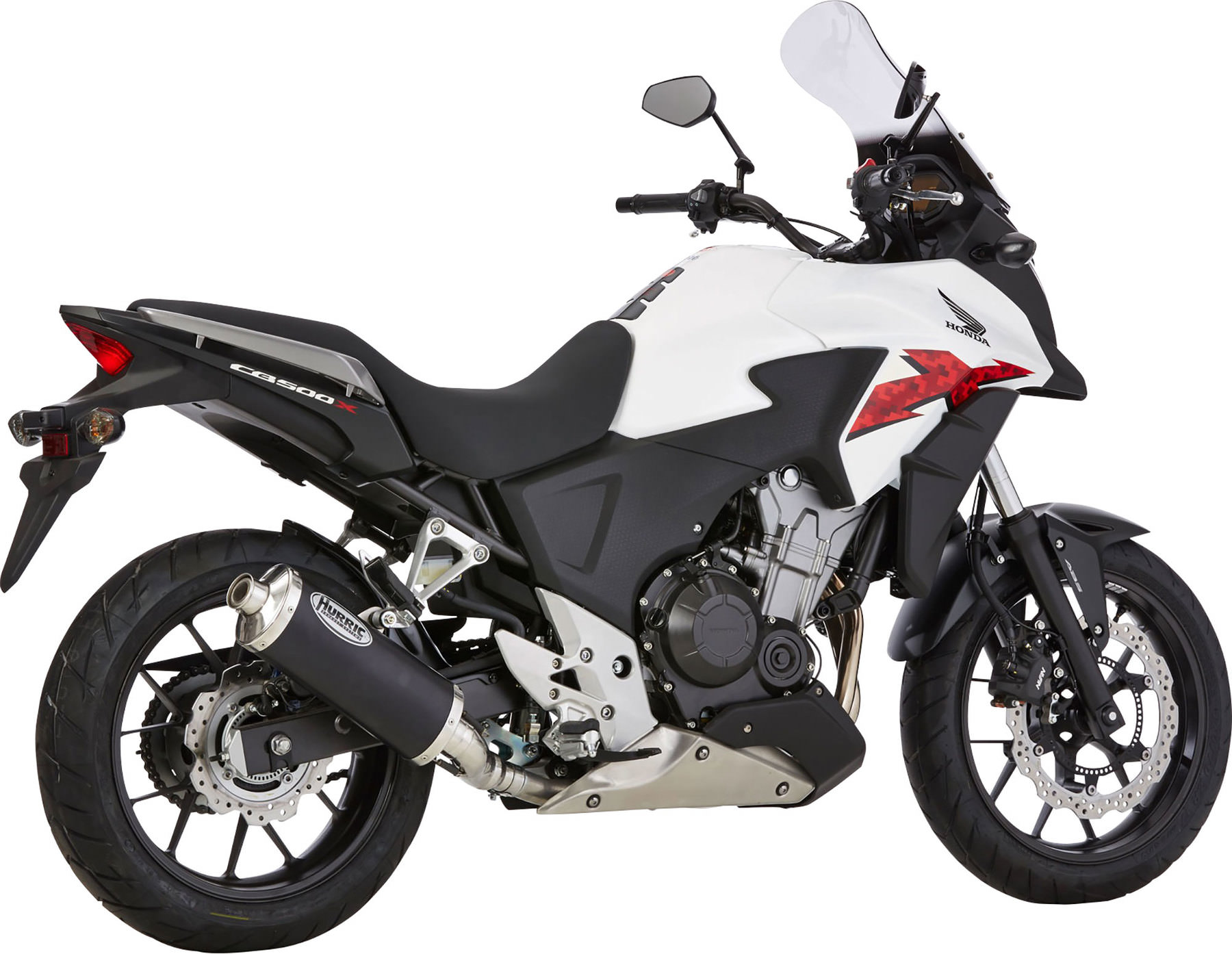 Unfortunately, this product is not compatible with this motorcycle.
Unfortunately, this product is not compatible with this motorcycle. You can find the right for the here: .
€

259.991
from
€

179.991
(-30%)
Free delivery on orders over €199.00
2 year return policy
Fast delivery
HURRIC RAC1 Exhaust
Welcome to the world of Hurric. For everyone who loves a sporty sound and an understated look for their motorbike, we offer the Hurric RAC1 Rear Silence at a super price. The RAC1 slip-on silencer is a comparative lightweight at around 2,500 g, so don't be surprised to find that your machine is suddenly somewhat livelier as you pull out of the bends. Superb performance at a fantastic price - and installation in place of your OEM rear silence only takes a matter of minutes.
Comes in a choice of polished aluminium (silver), black aluminium (anodised) or carbon with stainless steel undercover Installation by means of a threaded bracket
Removing the dB absorber gives you an open racing silencer (not approved for road use under the German Road Traffic Licensing Regulations (StVZO))
Slip-on silencers are supplied with a manifold connection pipe and attachment springs, where necessary.
Length: from approx. 250 mm to 450 mm
Diameter: approx. 130 mm

Information about the shape and design can be found under "Important information".
Manufacturer details: Hurric

Exhaust systems

The high-performance aftermarket silencer generation from Hurric is characterised by its throaty sound, high-quality engineering and excellent price-performance ratio. Thanks to countless recommendations in independent trade magazines, these rear silencers have established themselves as a sure-fire winner on the accessories market. All rear silencers are supplied with EC type approval and removable dB absorber.

Modern vehicle accessories of different types now frequently carry an "E" approval mark valid throughout Europe. This "E" mark, which is made up of a combination of letters and numbers, is clearly displayed on the product and shows the application tested, the country in which testing was carried out and, where appropriate, the vehicle type to which approval applies. EC type approvals for exhaust systems, for example, are always issued for a specific vehicle type, whereas in the case of lighting, they apply to an entire group of vehicles, e.g. motorcycles.
This certification mark is the sole proof of legality stipulated by law, i.e. no written report or entry in the vehicle documents by a TÜV (German Technical Inspection Association) test centre is required. However, when it comes to installing accessories, the relevant guidelines of the Road Traffic Licensing Regulations (StvZO) must always be observed.
At a roadside check or a TÜV vehicle inspection, the registered keeper is only required to show the "E" mark. It is then up to the official in charge whether to check the mark with the Federal Motor Transport Authority (KBA) in Flensburg (or equivalent type approval authority in other countries), which is able to decode all certification marks.
Product
Art. No.
Availability
Price
Actions
HURRIC RAC1 DAEMPF. M.KAT - CBF 1000 06-(SC58)ALU,ABE

Important notes

Original cat is no longer used. Catalytic converter is included.

Connector pipe and fastening springs are included.

Design: Slip-on 4-2

Rear silencer: Hurric RAC1 "Short" length approx. 360 mm.

10030989

The item is in stock and will be delivered in 2-5 working days. Note: Stocks are updated online every hour on working days from 7 a.m. to 8 p.m., so there is a good chance that the products are available if they appear online.

Available

€699.99

1 €664.99 1
HURRIC RAC1 DAEMPF. M.KAT - ER6N/F 06-11/VERSYS, ALU

Important notes

Original cat is no longer used. Catalytic converter is included.

Design: Slip-on 2-1

Here fits the db-Killer art.no. 10027034

10032602

The item is in stock and will be delivered in 2-5 working days. Note: Stocks are updated online every hour on working days from 7 a.m. to 8 p.m., so there is a good chance that the products are available if they appear online.

Available

€369.99

1 €341.99 1
HURRIC RAC1 ENDDAEMPFER - CBF 1000F 10- CARB.,EG-BE

Important notes

The original catalytic converter is retained, so retrofitting is not required.

Design: Slip-on 4-1

10032604

The product will be ordered from the manufacturer for you. Depending on availability, longer delivery times are also possible. We'll let you know if that's the case. You can of course cancel your delivery at any time free of charge.

Available in 7-21 days

€419.99

1 2 €379.99 1
HURRIC RAC1 ENDDAEMPFER - R 1200GS 10-13 CARBON,ABE

Important notes

The original catalytic converter is retained, so retrofitting is not required.

Design: Slip-on 2-1

10030432

The item is in stock and will be delivered in 2-5 working days. Note: Stocks are updated online every hour on working days from 7 a.m. to 8 p.m., so there is a good chance that the products are available if they appear online.

Available

€399.99

1 €239.99 1
HURRIC RAC1 ENDDAEMPFER - R1200GS/ADVENT.10-13, ALU

Important notes

The original catalytic converter is retained, so retrofitting is not required.

Connector pipe and fastening springs are included.

Design: Slip-on 2-1

Rear silencer: Hurric RAC1 "Short" length approx. 360 mm.

10030424

The product will be ordered from the manufacturer for you. Depending on availability, longer delivery times are also possible. We'll let you know if that's the case. You can of course cancel your delivery at any time free of charge.

Available in 7-21 days

€309.99

1 2 €284.99 1
HURRIC RAC1 ENDDAEMPFER - R1200R 06-10 CARBON,EG-BE

Important notes

The original catalytic converter is retained, so retrofitting is not required.

Design: Slip-on 2-1

10030415

The product will be ordered from the manufacturer for you. Depending on availability, longer delivery times are also possible. We'll let you know if that's the case. You can of course cancel your delivery at any time free of charge.

Available in 7-21 days

€399.99

1 €379.99 1
HURRIC RAC1 ERSATZDAEMPF. - F 650/800GS 08- ALU,EG-BE

Important notes

The original catalytic converter is retained, so retrofitting is not required.

Connector pipe and fastening springs are included.

Design: Slip-on 2-1

Rear silencer: Hurric RAC1 "Short" length approx. 360 mm.

10030421

The product will be ordered from the manufacturer for you. Depending on availability, longer delivery times are also possible. We'll let you know if that's the case. You can of course cancel your delivery at any time free of charge.

Available in 7-21 days

€309.99

1 €284.99 1
HURRIC RAC1 ERSATZDÄMPFER - 790 ADVENTURE/R BLACK
10039607

The item is in stock and will be delivered in 2-5 working days. Note: Stocks are updated online every hour on working days from 7 a.m. to 8 p.m., so there is a good chance that the products are available if they appear online.

Available

€309.99

1 3 €284.99 1
HURRIC RAC1 ERSATZDÄMPFER - 790 ADVENTURE/R SILVER
10039606

The product will be ordered from the manufacturer for you. Depending on availability, longer delivery times are also possible. We'll let you know if that's the case. You can of course cancel your delivery at any time free of charge.

Available in 7-21 days

€309.99

1 3 €284.99 1
HURRIC RAC1 ERSATZDÄMPFER - CB 1300 ALU, ABE

Important notes

Original cat is no longer used. Catalytic converter not included. Aftermarket catalytic converter with 60 mm diameter (Order no. 10027036) available.

Connector pipe and fastening springs are included.

Design: Slip-on 4-1

10030894

The item is in stock and will be delivered in 2-5 working days. Note: Stocks are updated online every hour on working days from 7 a.m. to 8 p.m., so there is a good chance that the products are available if they appear online.

Available

€309.99

1 €284.99 1
HURRIC RAC1 ERSATZDÄMPFER - CB 1300 CARBON, ABE

Important notes

Original cat is no longer used. Catalytic converter not included. Aftermarket catalytic converter with 60 mm diameter (Order no. 10027036) available.

Design: Slip-on 4-1

10030895

The product will be ordered from the manufacturer for you. Depending on availability, longer delivery times are also possible. We'll let you know if that's the case. You can of course cancel your delivery at any time free of charge.

Available in 7-21 days

€419.99

1 2 €379.99 1
HURRIC RAC1 ERSATZDÄMPFER - CB 1300 03-,BLACK,EG-BE

Important notes

The original catalytic converter is retained, so retrofitting is not required.

Design: Slip-on 4-1

10035571

The item is in stock and will be delivered in 2-5 working days. Note: Stocks are updated online every hour on working days from 7 a.m. to 8 p.m., so there is a good chance that the products are available if they appear online.

Available

€309.99

1 €239.99 1
HURRIC RAC1 ERSATZDÄMPFER - CB 600 HORNET -02 ALU,ABE

Important notes

The original catalytic converter is retained, so retrofitting is not required.

Connector pipe and fastening springs are included.

Design: Slip-on 4-1

10030890

The item is in stock and will be delivered in 2-5 working days. Note: Stocks are updated online every hour on working days from 7 a.m. to 8 p.m., so there is a good chance that the products are available if they appear online.

Available

€309.99

1 €284.99 1
HURRIC RAC1 ERSATZDÄMPFER - CB 600 HORNET -02 CAR,ABE

Important notes

The original catalytic converter is retained, so retrofitting is not required.

Design: Slip-on 4-1

10030891

The product will be ordered from the manufacturer for you. Depending on availability, longer delivery times are also possible. We'll let you know if that's the case. You can of course cancel your delivery at any time free of charge.

Available in 7-21 days

€419.99

1 €379.99 1
HURRIC RAC1 ERSATZDÄMPFER - CB 900 HORNET ALUM, T.APP

Important notes

The original catalytic converter is retained, so retrofitting is not required.

Connector pipe and fastening springs are included.

Design: Slip-on 4-2

10030856

The item is in stock and will be delivered in 2-5 working days. Note: Stocks are updated online every hour on working days from 7 a.m. to 8 p.m., so there is a good chance that the products are available if they appear online.

Available

€519.99

1 €474.99 1
HURRIC RAC1 ERSATZDÄMPFER - CB/CBR 500 16- ALU,EG-BE

Important notes

Connector pipe and fastening springs are included.

"Short" rear silencer is approx. 360 mm long.

The original catalytic converter is retained, so retrofitting is not required.

Design: Slip-on 2-1

10039107

The product will be ordered from the manufacturer for you. Depending on availability, longer delivery times are also possible. We'll let you know if that's the case. You can of course cancel your delivery at any time free of charge.

Available in 7-21 days

€309.95

1 €284.99 1
HURRIC RAC1 ERSATZDÄMPFER - CB/CBR 500 16- BLK,EG-BE

Important notes

Connector pipe and fastening springs are included.

"Short" rear silencer is approx. 360 mm long.

The original catalytic converter is retained, so retrofitting is not required.

Design: Slip-on 2-1

10039109

The product will be ordered from the manufacturer for you. Depending on availability, longer delivery times are also possible. We'll let you know if that's the case. You can of course cancel your delivery at any time free of charge.

Available in 7-21 days

€309.99

1 €284.99 1
HURRIC RAC1 ERSATZDÄMPFER - CB/CBR 500 16- CARB,EG-BE

Important notes

Connector pipe and fastening springs are included.

"Short" rear silencer is approx. 360 mm long.

The original catalytic converter is retained, so retrofitting is not required.

Design: Slip-on 2-1

10039108

The product will be ordered from the manufacturer for you. Depending on availability, longer delivery times are also possible. We'll let you know if that's the case. You can of course cancel your delivery at any time free of charge.

Available in 7-21 days

€419.99

1 €379.99 1
HURRIC RAC1 ERSATZDÄMPFER - CB500 F/X,CBR 500 R, ALU

Important notes

The original catalytic converter is retained, so retrofitting is not required.

Connector pipe and fastening springs are included.

Design: Slip-on 2-1

Rear silencer: Hurric RAC1 "Short" length approx. 360 mm.

10032626

The product will be ordered from the manufacturer for you. Depending on availability, longer delivery times are also possible. We'll let you know if that's the case. You can of course cancel your delivery at any time free of charge.

Available in 7-21 days

€309.99

1 €284.99 1
HURRIC RAC1 ERSATZDÄMPFER - CB500 F/X,CBR500R, CARBON

Important notes

The original catalytic converter is retained, so retrofitting is not required.

Design: Slip-on 2-1

10032627

The product will be ordered from the manufacturer for you. Depending on availability, longer delivery times are also possible. We'll let you know if that's the case. You can of course cancel your delivery at any time free of charge.

Available in 7-21 days

€419.99

1 €379.99 1
HURRIC RAC1 ERSATZDÄMPFER - CB500 F/X,R BJ.19, BLK

Important notes

The original catalytic converter is retained, so retrofitting is not required.

Design: Slip-on 2-1

10039158

The product will be ordered from the manufacturer for you. Depending on availability, longer delivery times are also possible. We'll let you know if that's the case. You can of course cancel your delivery at any time free of charge.

Available in 7-21 days

€309.99

1 €284.99 1
HURRIC RAC1 ERSATZDÄMPFER - CB500 F/X,R, BJ.19 ALU

Important notes

The original catalytic converter is retained, so retrofitting is not required.

Design: Slip-on 2-1

10039157

The product will be ordered from the manufacturer for you. Depending on availability, longer delivery times are also possible. We'll let you know if that's the case. You can of course cancel your delivery at any time free of charge.

Available in 7-21 days

€309.99

1 €284.99 1
HURRIC RAC1 ERSATZDÄMPFER - CB500 F/X,R, BJ.19 CARBON
10039156

The product will be ordered from the manufacturer for you. Depending on availability, longer delivery times are also possible. We'll let you know if that's the case. You can of course cancel your delivery at any time free of charge.

Available in 7-21 days

€419.99

1 €379.99 1
HURRIC RAC1 ERSATZDÄMPFER - CB500F/X CBR500R BLACK

Important notes

The original catalytic converter is retained, so retrofitting is not required.

Design: Slip-on 2-1

10035560

The product will be ordered from the manufacturer for you. Depending on availability, longer delivery times are also possible. We'll let you know if that's the case. You can of course cancel your delivery at any time free of charge.

Available in 7-21 days

€309.99

1 €284.99 1
HURRIC RAC1 ERSATZDÄMPFER - CB600 HORN./CBR 600F, ALU

Important notes

The original catalytic converter is retained, so retrofitting is not required.

Design: Slip-on 4-1

10030437

The product will be ordered from the manufacturer for you. Depending on availability, longer delivery times are also possible. We'll let you know if that's the case. You can of course cancel your delivery at any time free of charge.

Available in 7-21 days

€309.99

1 2 €284.99 1
HURRIC RAC1 ERSATZDÄMPFER - CB600 HORN./CBR 600F,CAR.

Important notes

The original catalytic converter is retained, so retrofitting is not required.

Design: Slip-on 4-1

10030438

The product will be ordered from the manufacturer for you. Depending on availability, longer delivery times are also possible. We'll let you know if that's the case. You can of course cancel your delivery at any time free of charge.

Available in 7-21 days

€419.99

1 2 €379.99 1
HURRIC RAC1 ERSATZDÄMPFER - CB600HORN.-02 BLACK EG-BE

Important notes

The original catalytic converter is retained, so retrofitting is not required.

Design: Slip-on 4-1

10035563

The item is in stock and will be delivered in 2-5 working days. Note: Stocks are updated online every hour on working days from 7 a.m. to 8 p.m., so there is a good chance that the products are available if they appear online.

Available

€309.99

1 €284.99 1
HURRIC RAC1 ERSATZDÄMPFER - CB600HORN.03-06 BLACK ABE

Important notes

Original cat is no longer used.Catalytic converter not included.Aftermarket catalytic converter with 52 mm diameter (no. 10027035) available.

Connector pipe and fastening springs are included.

Design: Slip-on 4-1

10035564

The product will be ordered from the manufacturer for you. Depending on availability, longer delivery times are also possible. We'll let you know if that's the case. You can of course cancel your delivery at any time free of charge.

Available in 7-21 days

€299.99

1 3 €284.99 1
HURRIC RAC1 ERSATZDÄMPFER - CB600HORNET 03-06 ALU,ABE

Important notes

Original cat is no longer used.Catalytic converter not included.Aftermarket catalytic converter with 52 mm diameter (no. 10027035) available.

Connector pipe and fastening springs are included.

Design: Slip-on 4-1

10030892

The product will be ordered from the manufacturer for you. Depending on availability, longer delivery times are also possible. We'll let you know if that's the case. You can of course cancel your delivery at any time free of charge.

Available in 7-21 days

€299.99

1 3 €284.99 1
HURRIC RAC1 ERSATZDÄMPFER - CB600HORNET 03-06 CAR,ABE

Important notes

Original cat is no longer used.Catalytic converter not included.Aftermarket catalytic converter with 52 mm diameter (no. 10027035) available.

Connector pipe and fastening springs are included.

Design: Slip-on 4-1

10030893

The product will be ordered from the manufacturer for you. Depending on availability, longer delivery times are also possible. We'll let you know if that's the case. You can of course cancel your delivery at any time free of charge.

Available in 7-21 days

€399.99

1 €379.99 1
HURRIC RAC1 ERSATZDÄMPFER - CBF 1000 06- ALU

Important notes

Original cat is no longer used. Catalytic converter not included.

Connector pipe and fastening springs are included.

Design: Slip-on 4-2

Rear silencer: Hurric RAC1 "Short" length approx. 360 mm.

10030949

The product will be ordered from the manufacturer for you. Depending on availability, longer delivery times are also possible. We'll let you know if that's the case. You can of course cancel your delivery at any time free of charge.

Available in 7-21 days

€619.99

1 €569.99 1
HURRIC RAC1 ERSATZDÄMPFER - CBF 1000 F 10- ALU, EG-BE

Important notes

The original catalytic converter is retained, so retrofitting is not required.

Connector pipe and fastening springs are included.

Design: Slip-on 4-1

Rear silencer: Hurric RAC1 "Short" length approx. 360 mm.

10030427

The item is in stock and will be delivered in 2-5 working days. Note: Stocks are updated online every hour on working days from 7 a.m. to 8 p.m., so there is a good chance that the products are available if they appear online.

Available

€309.99

1 €284.99 1
HURRIC RAC1 ERSATZDÄMPFER - CBF 1000F 10- BLACK,ABE

Important notes

The original catalytic converter is retained, so retrofitting is not required.

Design: Slip-on 4-1

10035568

The item is in stock and will be delivered in 2-5 working days. Note: Stocks are updated online every hour on working days from 7 a.m. to 8 p.m., so there is a good chance that the products are available if they appear online.

Available

€309.99

1 €284.99 1
HURRIC RAC1 ERSATZDÄMPFER - CBF 600 04-07 ALU, ABE

Important notes

Original cat is no longer used.Catalytic converter not included.Aftermarket catalytic converter with 52 mm diameter (no. 10027035) available.

Connector pipe and fastening springs are included.

Design: Slip-on 4-1

10030918

The product will be ordered from the manufacturer for you. Depending on availability, longer delivery times are also possible. We'll let you know if that's the case. You can of course cancel your delivery at any time free of charge.

Available in 7-21 days

€309.99

1 €284.99 1
HURRIC RAC1 ERSATZDÄMPFER - CBF 600 08- ALU, ABE

Important notes

Original cat is no longer used. Catalytic converter not included. Aftermarket catalytic converter with 60 mm diameter (Order no. 10027036) available.

Connector pipe and fastening springs are included.

Design: Slip-on 4-1

Rear silencer: Hurric RAC1 "Short" length approx. 360 mm.

10032600

The item is in stock and will be delivered in 2-5 working days. Note: Stocks are updated online every hour on working days from 7 a.m. to 8 p.m., so there is a good chance that the products are available if they appear online.

Available

€309.99

1 €284.99 1
HURRIC RAC1 ERSATZDÄMPFER - CBF 600 08- CARBON,EG-BE

Important notes

Original cat is no longer used. Catalytic converter not included. Aftermarket catalytic converter with 60 mm diameter (Order no. 10027036) available.

Connector pipe and fastening springs are included.

Design: Slip-on 4-1

Rear silencer: Hurric RAC1 "Short" length approx. 360 mm.

10032601

The item is in stock and will be delivered in 2-5 working days. Note: Stocks are updated online every hour on working days from 7 a.m. to 8 p.m., so there is a good chance that the products are available if they appear online.

Available

€419.99

1 €239.99 1
HURRIC RAC1 ERSATZDÄMPFER - CBF 600 04-07 CARBON,ABE

Important notes

The original catalytic converter is retained, so retrofitting is not required.

Design: Slip-on 4-1

10030919

The product will be ordered from the manufacturer for you. Depending on availability, longer delivery times are also possible. We'll let you know if that's the case. You can of course cancel your delivery at any time free of charge.

Available in 7-21 days

€419.99

1 €379.99 1
HURRIC RAC1 ERSATZDÄMPFER - CBF600 04-07 BLACK, ABE

Important notes

The original catalytic converter is retained, so retrofitting is not required.

Design: Slip-on 4-1

10035561

The item is in stock and will be delivered in 2-5 working days. Note: Stocks are updated online every hour on working days from 7 a.m. to 8 p.m., so there is a good chance that the products are available if they appear online.

Available

€309.99

1 €284.99 1
HURRIC RAC1 ERSATZDÄMPFER - CBF600 08- BLACK,EG-BE

Important notes

Original cat is no longer used. Catalytic converter not included. Aftermarket catalytic converter with 60 mm diameter (Order no. 10027036) available.

Connector pipe and fastening springs are included.

Design: Slip-on 4-1

Rear silencer: Hurric RAC1 "Short" length approx. 360 mm.

10035562

The item is in stock and will be delivered in 2-5 working days. Note: Stocks are updated online every hour on working days from 7 a.m. to 8 p.m., so there is a good chance that the products are available if they appear online.

Available

€309.99

1 €284.99 1
HURRIC RAC1 ERSATZDÄMPFER - CBR 600F 01- ALU, ABE

Important notes

Original cat is no longer used.Catalytic converter not included.Aftermarket catalytic converter with 52 mm diameter (no. 10027035) available.

Connector pipe and fastening springs are included.

Design: Slip-on 4-1

10030852

The product will be ordered from the manufacturer for you. Depending on availability, longer delivery times are also possible. We'll let you know if that's the case. You can of course cancel your delivery at any time free of charge.

Available in 7-21 days

€309.99

1 €284.99 1
HURRIC RAC1 ERSATZDÄMPFER - CBR 600F 01- CARB. ABE

Important notes

Original cat is no longer used.Catalytic converter not included.Aftermarket catalytic converter with 52 mm diameter (no. 10027035) available.

Design: Slip-on 4-1

10030853

The product will be ordered from the manufacturer for you. Depending on availability, longer delivery times are also possible. We'll let you know if that's the case. You can of course cancel your delivery at any time free of charge.

Available in 7-21 days

€419.99

1 2 €379.99 1
HURRIC RAC1 ERSATZDÄMPFER - CBR 600F 99-00 ALU, ABE

Important notes

The original catalytic converter is retained, so retrofitting is not required.

Connector pipe and fastening springs are included.

Design: Slip-on 4-1

10030850

The product will be ordered from the manufacturer for you. Depending on availability, longer delivery times are also possible. We'll let you know if that's the case. You can of course cancel your delivery at any time free of charge.

Available in 7-21 days

€309.99

1 €284.99 1
HURRIC RAC1 ERSATZDÄMPFER - CBR 600F 99-00 CARB. ABE

Important notes

10030851

The item is in stock and will be delivered in 2-5 working days. Note: Stocks are updated online every hour on working days from 7 a.m. to 8 p.m., so there is a good chance that the products are available if they appear online.

Available

€419.99

1 2 €379.99 1
HURRIC RAC1 ERSATZDÄMPFER - CBR 600F SPORT ALU, ABE

Important notes

Original cat is no longer used.Catalytic converter not included.Aftermarket catalytic converter with 52 mm diameter (no. 10027035) available.

Design: Slip-on 4-1

Original cat is no longer used.

10030854

The product will be ordered from the manufacturer for you. Depending on availability, longer delivery times are also possible. We'll let you know if that's the case. You can of course cancel your delivery at any time free of charge.

Available in 7-21 days

€309.99

1 2 €284.99 1
HURRIC RAC1 ERSATZDÄMPFER - CBR 600F SPORT CARB. ABE

Important notes

Original cat is no longer used.Catalytic converter not included.Aftermarket catalytic converter with 52 mm diameter (no. 10027035) available.

Design: Slip-on 4-1

10030855

The product will be ordered from the manufacturer for you. Depending on availability, longer delivery times are also possible. We'll let you know if that's the case. You can of course cancel your delivery at any time free of charge.

Available in 7-21 days

€419.99

1 2 €379.99 1
HURRIC RAC1 ERSATZDÄMPFER - CBR600F 01-06 BLACK,ABE

Important notes

The original catalytic converter is retained, so retrofitting is not required.

Design: Slip-on 4-1

10035566

The product will be ordered from the manufacturer for you. Depending on availability, longer delivery times are also possible. We'll let you know if that's the case. You can of course cancel your delivery at any time free of charge.

Available in 7-21 days

€309.99

1 €284.99 1
HURRIC RAC1 ERSATZDÄMPFER - CBR600F 99-00 BLACK,ABE

Important notes

The original catalytic converter is retained, so retrofitting is not required.

Design: Slip-on 4-1

10035565

The product will be ordered from the manufacturer for you. Depending on availability, longer delivery times are also possible. We'll let you know if that's the case. You can of course cancel your delivery at any time free of charge.

Available in 7-21 days

€309.99

1 €284.99 1
HURRIC RAC1 ERSATZDÄMPFER - CROSSRUNNER 11-,ALU,EG-BE

Important notes

The original catalytic converter is retained, so retrofitting is not required.

Design: Slip-on 4-1

10030439

The product will be ordered from the manufacturer for you. Depending on availability, longer delivery times are also possible. We'll let you know if that's the case. You can of course cancel your delivery at any time free of charge.

Available in 7-21 days

€309.99

1 2 €284.99 1
HURRIC RAC1 ERSATZDÄMPFER - CROSSRUNNER 11-,CAR,EG-BE

Important notes

The original catalytic converter is retained, so retrofitting is not required.

Design: Slip-on 4-1

10030440

The product will be ordered from the manufacturer for you. Depending on availability, longer delivery times are also possible. We'll let you know if that's the case. You can of course cancel your delivery at any time free of charge.

Available in 7-21 days

€419.99

1 2 €379.99 1
HURRIC RAC1 ERSATZDÄMPFER - ER6 N/F 06-08/VERSYS ALU

Important notes

Original cat is no longer used. Catalytic converter not included.

Design: Slip-on 2-1

Here fits the db-Killer art.no. 10027034

10030970

The item is in stock and will be delivered in 2-5 working days. Note: Stocks are updated online every hour on working days from 7 a.m. to 8 p.m., so there is a good chance that the products are available if they appear online.

Available

€259.99

1 €236.99 1
HURRIC RAC1 ERSATZDÄMPFER - F 650/800GS 08- CAR,EG-BE

Important notes

The original catalytic converter is retained, so retrofitting is not required.

Design: Slip-on 2-1

10030430

The product will be ordered from the manufacturer for you. Depending on availability, longer delivery times are also possible. We'll let you know if that's the case. You can of course cancel your delivery at any time free of charge.

Available in 7-21 days

€399.99

1 €379.99 1
HURRIC RAC1 ERSATZDÄMPFER - F 700 GS 17- ALU

Important notes

The original catalytic converter is retained, so retrofitting is not required.

Design: Slip-on 2-1

The exhaust system was tested according to the Euro4 exhaust gas standard

10039131

The product will be ordered from the manufacturer for you. Depending on availability, longer delivery times are also possible. We'll let you know if that's the case. You can of course cancel your delivery at any time free of charge.

Available in 7-21 days

€309.99

1 €284.99 1
HURRIC RAC1 ERSATZDÄMPFER - F 700 GS 17- BLACK

Important notes

The original catalytic converter is retained, so retrofitting is not required.

Design: Slip-on 2-1

The exhaust system was tested according to the Euro4 exhaust gas standard

10039130

The product will be ordered from the manufacturer for you. Depending on availability, longer delivery times are also possible. We'll let you know if that's the case. You can of course cancel your delivery at any time free of charge.

Available in 7-21 days

€309.99

1 €284.99 1
HURRIC RAC1 ERSATZDÄMPFER - F 700 GS 17- CARBON

Important notes

The original catalytic converter is retained, so retrofitting is not required.

Design: Slip-on 2-1

The exhaust system was tested according to the Euro4 exhaust gas standard

10039132

The product will be ordered from the manufacturer for you. Depending on availability, longer delivery times are also possible. We'll let you know if that's the case. You can of course cancel your delivery at any time free of charge.

Available in 7-21 days

€399.99

1 €379.99 1
HURRIC RAC1 ERSATZDÄMPFER - F 700GS 13- ALU, EG-BE

Important notes

The original catalytic converter is retained, so retrofitting is not required.

Design: Slip-on 2-1

10032622

The product will be ordered from the manufacturer for you. Depending on availability, longer delivery times are also possible. We'll let you know if that's the case. You can of course cancel your delivery at any time free of charge.

Available in 7-21 days

€309.99

1 €284.99 1
HURRIC RAC1 ERSATZDÄMPFER - F 700GS 13-, CARBON,EG-BE

Important notes

The original catalytic converter is retained, so retrofitting is not required.

Design: Slip-on 2-1

10032623

The product will be ordered from the manufacturer for you. Depending on availability, longer delivery times are also possible. We'll let you know if that's the case. You can of course cancel your delivery at any time free of charge.

Available in 7-21 days

€399.99

1 €379.99 1
HURRIC RAC1 ERSATZDÄMPFER - F 800 GS/ADV. 17- ALU

Important notes

The original catalytic converter is retained, so retrofitting is not required.

Design: Slip-on 2-1

The exhaust system was tested according to the Euro4 exhaust gas standard

10039134

The item is in stock and will be delivered in 2-5 working days. Note: Stocks are updated online every hour on working days from 7 a.m. to 8 p.m., so there is a good chance that the products are available if they appear online.

Available

€309.99

1 €284.99 1
HURRIC RAC1 ERSATZDÄMPFER - F 800 GS/ADV. 17- BLACK

Important notes

The original catalytic converter is retained, so retrofitting is not required.

Design: Slip-on 2-1

The exhaust system was tested according to the Euro4 exhaust gas standard

10039135

The product will be ordered from the manufacturer for you. Depending on availability, longer delivery times are also possible. We'll let you know if that's the case. You can of course cancel your delivery at any time free of charge.

Available in 7-21 days

€309.99

1 €284.99 1
HURRIC RAC1 ERSATZDÄMPFER - F 800 GS/ADV. 17- CARBON

Important notes

The original catalytic converter is retained, so retrofitting is not required.

Design: Slip-on 2-1

The exhaust system was tested according to the Euro4 exhaust gas standard

10039133

The product will be ordered from the manufacturer for you. Depending on availability, longer delivery times are also possible. We'll let you know if that's the case. You can of course cancel your delivery at any time free of charge.

Available in 7-21 days

€399.99

1 €379.99 1
HURRIC RAC1 ERSATZDÄMPFER - F 800 GT BJ.17- ALU

Important notes

The original catalytic converter is retained, so retrofitting is not required.

Design: Slip-on 2-1

The exhaust system was tested according to the Euro4 exhaust gas standard

10039137

The product will be ordered from the manufacturer for you. Depending on availability, longer delivery times are also possible. We'll let you know if that's the case. You can of course cancel your delivery at any time free of charge.

Available in 7-21 days

€309.99

1 €284.99 1
HURRIC RAC1 ERSATZDÄMPFER - F 800 GT BJ.17- BLACK

Important notes

The original catalytic converter is retained, so retrofitting is not required.

Design: Slip-on 2-1

The exhaust system was tested according to the Euro4 exhaust gas standard

10039136

The product will be ordered from the manufacturer for you. Depending on availability, longer delivery times are also possible. We'll let you know if that's the case. You can of course cancel your delivery at any time free of charge.

Available in 7-21 days

€309.99

1 €284.99 1
HURRIC RAC1 ERSATZDÄMPFER - F 800 GT BJ.17- CARBON

Important notes

The original catalytic converter is retained, so retrofitting is not required.

Design: Slip-on 2-1

The exhaust system was tested according to the Euro4 exhaust gas standard

10039138

The product will be ordered from the manufacturer for you. Depending on availability, longer delivery times are also possible. We'll let you know if that's the case. You can of course cancel your delivery at any time free of charge.

Available in 7-21 days

€399.99

1 €379.99 1
HURRIC RAC1 ERSATZDÄMPFER - F 800 R BJ.17- ALU

Important notes

The original catalytic converter is retained, so retrofitting is not required.

Design: Slip-on 2-1

The exhaust system was tested according to the Euro4 exhaust gas standard

10039144

The product will be ordered from the manufacturer for you. Depending on availability, longer delivery times are also possible. We'll let you know if that's the case. You can of course cancel your delivery at any time free of charge.

Available in 7-21 days

€309.99

1 €284.99 1
HURRIC RAC1 ERSATZDÄMPFER - F 800 R BJ.17- BLACK

Important notes

The original catalytic converter is retained, so retrofitting is not required.

Design: Slip-on 2-1

The exhaust system was tested according to the Euro4 exhaust gas standard

10039145

The product will be ordered from the manufacturer for you. Depending on availability, longer delivery times are also possible. We'll let you know if that's the case. You can of course cancel your delivery at any time free of charge.

Available in 7-21 days

€309.99

1 €284.99 1
HURRIC RAC1 ERSATZDÄMPFER - F 800 R BJ.17- CARBON

Important notes

The original catalytic converter is retained, so retrofitting is not required.

Design: Slip-on 2-1

The exhaust system was tested according to the Euro4 exhaust gas standard

10039139

The product will be ordered from the manufacturer for you. Depending on availability, longer delivery times are also possible. We'll let you know if that's the case. You can of course cancel your delivery at any time free of charge.

Available in 7-21 days

€399.99

1 €379.99 1
HURRIC RAC1 ERSATZDÄMPFER - F 800 R BJ.09- ALU, EG-BE

Important notes

The original catalytic converter is retained, so retrofitting is not required.

Connector pipe and fastening springs are included.

Design: Slip-on 2-1

Rear silencer: Hurric RAC1 "Short" length approx. 360 mm.

10030422

The item is in stock and will be delivered in 2-5 working days. Note: Stocks are updated online every hour on working days from 7 a.m. to 8 p.m., so there is a good chance that the products are available if they appear online.

Available

€309.99

1 €284.99 1
HURRIC RAC1 ERSATZDÄMPFER - F 800 R BJ.09- CARB.EG-BE

Important notes

The original catalytic converter is retained, so retrofitting is not required.

Design: Slip-on 2-1

10030431

The product will be ordered from the manufacturer for you. Depending on availability, longer delivery times are also possible. We'll let you know if that's the case. You can of course cancel your delivery at any time free of charge.

Available in 7-21 days

€399.99

1 €379.99 1
HURRIC RAC1 ERSATZDÄMPFER - F 800GT 13-, ALU, EG-BE

Important notes

The original catalytic converter is retained, so retrofitting is not required.

Connector pipe and fastening springs are included.

Design: Slip-on 2-1

Rear silencer: Hurric RAC1 "Short" length approx. 360 mm.

10032624

The product will be ordered from the manufacturer for you. Depending on availability, longer delivery times are also possible. We'll let you know if that's the case. You can of course cancel your delivery at any time free of charge.

Available in 7-21 days

€309.99

1 €284.99 1
HURRIC RAC1 ERSATZDÄMPFER - F 800GT 13-, CARBON,EG-BE

Important notes

The original catalytic converter is retained, so retrofitting is not required.

Design: Slip-on 2-1

10032625

The item is in stock and will be delivered in 2-5 working days. Note: Stocks are updated online every hour on working days from 7 a.m. to 8 p.m., so there is a good chance that the products are available if they appear online.

Available

€399.99

1 €379.99 1
HURRIC RAC1 ERSATZDÄMPFER - F 800R 09- BLACK, EG-BE

Important notes

The original catalytic converter is retained, so retrofitting is not required.

Design: Slip-on 2-1

10035553

The item is in stock and will be delivered in 2-5 working days. Note: Stocks are updated online every hour on working days from 7 a.m. to 8 p.m., so there is a good chance that the products are available if they appear online.

Available

€309.99

1 €284.99 1
HURRIC RAC1 ERSATZDÄMPFER - F650/800GS 08- BLACK

Important notes

The original catalytic converter is retained, so retrofitting is not required.

Design: Slip-on 2-1

10035550

The item is in stock and will be delivered in 2-5 working days. Note: Stocks are updated online every hour on working days from 7 a.m. to 8 p.m., so there is a good chance that the products are available if they appear online.

Available

€309.99

1 €284.99 1
HURRIC RAC1 ERSATZDÄMPFER - F700GS 12- BLACK, EG-BE

Important notes

The original catalytic converter is retained, so retrofitting is not required.

Design: Slip-on 2-1

10035551

The item is in stock and will be delivered in 2-5 working days. Note: Stocks are updated online every hour on working days from 7 a.m. to 8 p.m., so there is a good chance that the products are available if they appear online.

Available

€309.99

1 €179.99 1
HURRIC RAC1 ERSATZDÄMPFER - F800GT 13- BLACK, EG-BE

Important notes

The original catalytic converter is retained, so retrofitting is not required.

Design: Slip-on 2-1

10035552

The product will be ordered from the manufacturer for you. Depending on availability, longer delivery times are also possible. We'll let you know if that's the case. You can of course cancel your delivery at any time free of charge.

Available in 7-21 days

€309.99

1 €284.99 1
HURRIC RAC1 ERSATZDÄMPFER - FZ1 FAZER 06- CARBON

Important notes

The original catalytic converter is retained, so retrofitting is not required.

Design: Slip-on 4-1

10030956

The product will be ordered from the manufacturer for you. Depending on availability, longer delivery times are also possible. We'll let you know if that's the case. You can of course cancel your delivery at any time free of charge.

Available in 7-21 days

€419.99

1 2 €379.99 1
HURRIC RAC1 ERSATZDÄMPFER - FZ1 FAZER 06- ALU

Important notes

The original catalytic converter is retained, so retrofitting is not required.

Design: Slip-on 4-1

10030955

The product will be ordered from the manufacturer for you. Depending on availability, longer delivery times are also possible. We'll let you know if that's the case. You can of course cancel your delivery at any time free of charge.

Available in 7-21 days

€309.99

1 2 €284.99 1
HURRIC RAC1 ERSATZDÄMPFER - FZ6/FAZER/S2 04- ALU, ABE

Important notes

The original catalytic converter is retained, so retrofitting is not required.

Connector pipe and fastening springs are included.

Design: Slip-on 4-2

Rear silencer: Hurric RAC1 "Short" length approx. 360 mm.

10030930

The item is in stock and will be delivered in 2-5 working days. Note: Stocks are updated online every hour on working days from 7 a.m. to 8 p.m., so there is a good chance that the products are available if they appear online.

Available

€619.99

1 €569.99 1
HURRIC RAC1 ERSATZDÄMPFER - FZS 1000 FAZER ALU, ABE

Important notes

The original catalytic converter is retained, so retrofitting is not required.

Design: Slip-on 4-1

10030884

The product will be ordered from the manufacturer for you. Depending on availability, longer delivery times are also possible. We'll let you know if that's the case. You can of course cancel your delivery at any time free of charge.

Available in 7-21 days

€309.99

1 2 €284.99 1
HURRIC RAC1 ERSATZDÄMPFER - FZS 1000 FAZER CARBON,ABE

Important notes

The original catalytic converter is retained, so retrofitting is not required.

Design: Slip-on 4-1

10030885

The product will be ordered from the manufacturer for you. Depending on availability, longer delivery times are also possible. We'll let you know if that's the case. You can of course cancel your delivery at any time free of charge.

Available in 7-21 days

€419.99

1 2 €379.99 1
HURRIC RAC1 ERSATZDÄMPFER - FZS 600 FAZER ALU, ABE

Important notes

The original catalytic converter is retained, so retrofitting is not required.

Connector pipe and fastening springs are included.

Design: Slip-on 4-1

10030880

The item is in stock and will be delivered in 2-5 working days. Note: Stocks are updated online every hour on working days from 7 a.m. to 8 p.m., so there is a good chance that the products are available if they appear online.

Available

€309.99

1 €284.99 1
HURRIC RAC1 ERSATZDÄMPFER - FZS 600 FAZER CARBON, ABE

Important notes

The original catalytic converter is retained, so retrofitting is not required.

Design: Slip-on 4-1

10030881

The item is in stock and will be delivered in 2-5 working days. Note: Stocks are updated online every hour on working days from 7 a.m. to 8 p.m., so there is a good chance that the products are available if they appear online.

Available

€419.99

1 €379.99 1
HURRIC RAC1 ERSATZDÄMPFER - FZS600 FAZER,BLACK, ABE

Important notes

The original catalytic converter is retained, so retrofitting is not required.

Design: Slip-on 4-1

10035587

The product will be ordered from the manufacturer for you. Depending on availability, longer delivery times are also possible. We'll let you know if that's the case. You can of course cancel your delivery at any time free of charge.

Available in 7-21 days

€309.99

1 €284.99 1
HURRIC RAC1 ERSATZDÄMPFER - GSF 600 BANDIT ALU, ABE

Important notes

The original catalytic converter is retained, so retrofitting is not required.

Connector pipe and fastening springs are included.

Design: Slip-on 4-1

10030868

The item is in stock and will be delivered in 2-5 working days. Note: Stocks are updated online every hour on working days from 7 a.m. to 8 p.m., so there is a good chance that the products are available if they appear online.

Available

€309.99

1 €284.99 1
HURRIC RAC1 ERSATZDÄMPFER - GSF 600 BANDIT CARBON,ABE

Important notes

The original catalytic converter is retained, so retrofitting is not required.

Design: Slip-on 4-1

10030869

The product will be ordered from the manufacturer for you. Depending on availability, longer delivery times are also possible. We'll let you know if that's the case. You can of course cancel your delivery at any time free of charge.

Available in 7-21 days

€419.99

1 €379.99 1
HURRIC RAC1 ERSATZDÄMPFER - GSF 650 BAND 07-ALU,EG-BE

Important notes

The original catalytic converter is retained, so retrofitting is not required.

Design: Slip-on 4-1

10030975

The product will be ordered from the manufacturer for you. Depending on availability, longer delivery times are also possible. We'll let you know if that's the case. You can of course cancel your delivery at any time free of charge.

Available in 7-21 days

€309.99

1 2 €284.99 1
HURRIC RAC1 ERSATZDÄMPFER - GSF1200 01-05, BLACKEG-BE

Important notes

Original cat is no longer used.Catalytic converter not included.Aftermarket catalytic converter with 52 mm diameter (no. 10027035) available.

Design: Slip-on 4-1

10035583

The item is in stock and will be delivered in 2-5 working days. Note: Stocks are updated online every hour on working days from 7 a.m. to 8 p.m., so there is a good chance that the products are available if they appear online.

Available

€299.99

1 €284.99 1
HURRIC RAC1 ERSATZDÄMPFER - GSF1200 BAND. BJ.06 ALU

Important notes

The original catalytic converter is retained, so retrofitting is not required.

Connector pipe and fastening springs are included.

Design: Slip-on 4-1

10030965

The product will be ordered from the manufacturer for you. Depending on availability, longer delivery times are also possible. We'll let you know if that's the case. You can of course cancel your delivery at any time free of charge.

Available in 7-21 days

€309.99

1 €284.99 1
HURRIC RAC1 ERSATZDÄMPFER - GSF1200 BAND. BJ.06 BLACK

Important notes

The original catalytic converter is retained, so retrofitting is not required.

Connector pipe and fastening springs are included.

Design: Slip-on 4-1

10030876

The item is in stock and will be delivered in 2-5 working days. Note: Stocks are updated online every hour on working days from 7 a.m. to 8 p.m., so there is a good chance that the products are available if they appear online.

Available

€309.99

1 €284.99 1
HURRIC RAC1 ERSATZDÄMPFER - GSF1200 BAND. BJ.06 CARB.

Important notes

The original catalytic converter is retained, so retrofitting is not required.

Connector pipe and fastening springs are included.

Design: Slip-on 4-1

10030966

The item is in stock and will be delivered in 2-5 working days. Note: Stocks are updated online every hour on working days from 7 a.m. to 8 p.m., so there is a good chance that the products are available if they appear online.

Available

€419.99

1 €379.99 1
HURRIC RAC1 ERSATZDÄMPFER - GSF1200 BAND.- 03 ALU,ABE

Important notes

The original catalytic converter is retained, so retrofitting is not required.

Design: Bolt-on 4-1

10030872

The item is in stock and will be delivered in 2-5 working days. Note: Stocks are updated online every hour on working days from 7 a.m. to 8 p.m., so there is a good chance that the products are available if they appear online.

Available

€259.99

1 €236.99 1
HURRIC RAC1 ERSATZDÄMPFER - GSF1200 BAND.01-05ALU,ABE

Important notes

Original cat is no longer used.Catalytic converter not included.Aftermarket catalytic converter with 52 mm diameter (no. 10027035) available.

Connector pipe and fastening springs are included.

Design: Slip-on 4-1

10030878

The item is in stock and will be delivered in 2-5 working days. Note: Stocks are updated online every hour on working days from 7 a.m. to 8 p.m., so there is a good chance that the products are available if they appear online.

Available

€309.99

1 €284.99 1
HURRIC RAC1 ERSATZDÄMPFER - GSF1200BAND 01-05CARB.ABE

Important notes

The original catalytic converter is retained, so retrofitting is not required.

Design: Slip-on 4-1

10030879

The product will be ordered from the manufacturer for you. Depending on availability, longer delivery times are also possible. We'll let you know if that's the case. You can of course cancel your delivery at any time free of charge.

Available in 7-21 days

€419.99

1 €379.99 1
HURRIC RAC1 ERSATZDÄMPFER - GSF600/S BAN.96-,BLACKABE

Important notes

The original catalytic converter is retained, so retrofitting is not required.

Design: Slip-on 4-1

10035579

The product will be ordered from the manufacturer for you. Depending on availability, longer delivery times are also possible. We'll let you know if that's the case. You can of course cancel your delivery at any time free of charge.

Available in 7-21 days

€309.99

1 €284.99 1
HURRIC RAC1 ERSATZDÄMPFER - GSF650/1200/1250S,BLACK

Important notes

The original catalytic converter is retained, so retrofitting is not required.

Design: Slip-on 4-1

10035581

The item is in stock and will be delivered in 2-5 working days. Note: Stocks are updated online every hour on working days from 7 a.m. to 8 p.m., so there is a good chance that the products are available if they appear online.

Available

€309.99

1 €284.99 1
HURRIC RAC1 ERSATZDÄMPFER - GSF650/1250 BAND.07- ALU

Important notes

The original catalytic converter is retained, so retrofitting is not required.

Connector pipe and fastening springs are included.

Design: Slip-on 4-1

Rear silencer: Hurric RAC1 "Short" length approx. 360 mm.

10030976

The item is in stock and will be delivered in 2-5 working days. Note: Stocks are updated online every hour on working days from 7 a.m. to 8 p.m., so there is a good chance that the products are available if they appear online.

Available

€309.99

1 €284.99 1
HURRIC RAC1 ERSATZDÄMPFER - GSF650/1250 BAND.07- CARB

Important notes

The original catalytic converter is retained, so retrofitting is not required.

Design: Slip-on 4-1

10030979

The product will be ordered from the manufacturer for you. Depending on availability, longer delivery times are also possible. We'll let you know if that's the case. You can of course cancel your delivery at any time free of charge.

Available in 7-21 days

€419.99

1 €379.99 1
HURRIC RAC1 ERSATZDÄMPFER - GSF650/1250 BAND.07-BLACK
10039159

The item is in stock and will be delivered in 2-5 working days. Note: Stocks are updated online every hour on working days from 7 a.m. to 8 p.m., so there is a good chance that the products are available if they appear online.

Available

€309.99

1 €284.99 1
HURRIC RAC1 ERSATZDÄMPFER - GSF650/S BAN.-06,BLACKABE

Important notes

Original cat is no longer used.Catalytic converter not included.Aftermarket catalytic converter with 52 mm diameter (no. 10027035) available.

Design: Slip-on 4-1

10035580

The item is in stock and will be delivered in 2-5 working days. Note: Stocks are updated online every hour on working days from 7 a.m. to 8 p.m., so there is a good chance that the products are available if they appear online.

Available

€309.99

1 €284.99 1
HURRIC RAC1 ERSATZDÄMPFER - GSF650/S BANDIT 05-06 ALU

Important notes

Original cat is no longer used.Catalytic converter not included.Aftermarket catalytic converter with 52 mm diameter (no. 10027035) available.

Connector pipe and fastening springs are included.

Design: Slip-on 4-1

10030940

The item is in stock and will be delivered in 2-5 working days. Note: Stocks are updated online every hour on working days from 7 a.m. to 8 p.m., so there is a good chance that the products are available if they appear online.

Available

€309.99

1 €284.99 1
HURRIC RAC1 ERSATZDÄMPFER - GSF650/S BANDIT 05-06 CAR

Important notes

Original cat is no longer used.Catalytic converter not included.Aftermarket catalytic converter with 52 mm diameter (no. 10027035) available.

Design: Slip-on 4-1

10030941

The product will be ordered from the manufacturer for you. Depending on availability, longer delivery times are also possible. We'll let you know if that's the case. You can of course cancel your delivery at any time free of charge.

Available in 7-21 days

€419.99

1 €379.99 1
HURRIC RAC1 ERSATZDÄMPFER - GSX 1000R 05-06 CARB.ABE

Important notes

Original cat is no longer used.Catalytic converter not included.Aftermarket catalytic converter with 52 mm diameter (no. 10027035) available.

Design: Slip-on 4-1

10030943

The product will be ordered from the manufacturer for you. Depending on availability, longer delivery times are also possible. We'll let you know if that's the case. You can of course cancel your delivery at any time free of charge.

Available in 7-21 days

€399.99

1 2 €379.99 1
HURRIC RAC1 ERSATZDÄMPFER - GSX 1400 ALU, ABE

Important notes

The original catalytic converter is retained, so retrofitting is not required.

Design: Slip-on 4-2

10030914

The product will be ordered from the manufacturer for you. Depending on availability, longer delivery times are also possible. We'll let you know if that's the case. You can of course cancel your delivery at any time free of charge.

Available in 7-21 days

€619.99

1 2 €569.99 1
HURRIC RAC1 ERSATZDÄMPFER - GSX 1400 05- ALU

Important notes

Original cat is no longer used. Catalytic converter not included. Aftermarket catalytic converter with 60 mm diameter (Order no. 10027036) available.

Connector pipe and fastening springs are included.

Design: Slip-on 4-1

10030971

The product will be ordered from the manufacturer for you. Depending on availability, longer delivery times are also possible. We'll let you know if that's the case. You can of course cancel your delivery at any time free of charge.

Available in 7-21 days

€309.99

1 €284.99 1
HURRIC RAC1 ERSATZDÄMPFER - GSX 1400 05- CARBON

Important notes

The original catalytic converter is retained, so retrofitting is not required.

Design: Slip-on 4-1

10030972

The product will be ordered from the manufacturer for you. Depending on availability, longer delivery times are also possible. We'll let you know if that's the case. You can of course cancel your delivery at any time free of charge.

Available in 7-21 days

€419.99

1 €379.99 1
HURRIC RAC1 ERSATZDÄMPFER - GSX1400 05-,BLACK,EG-BE

Important notes

The original catalytic converter is retained, so retrofitting is not required.

Design: Slip-on 4-1

10035585

The item is in stock and will be delivered in 2-5 working days. Note: Stocks are updated online every hour on working days from 7 a.m. to 8 p.m., so there is a good chance that the products are available if they appear online.

Available

€309.99

1 €284.99 1
HURRIC RAC1 ERSATZDÄMPFER - INTEGRA 750 16- ALU,EG-BE

Important notes

The original catalytic converter is retained, so retrofitting is not required.

Connector pipe and fastening springs are included.

Design: Slip-on 2-1

The exhaust system was tested according to the Euro4 exhaust gas standard.

10039113

The product will be ordered from the manufacturer for you. Depending on availability, longer delivery times are also possible. We'll let you know if that's the case. You can of course cancel your delivery at any time free of charge.

Available in 7-21 days

€309.99

1 €284.99 1
HURRIC RAC1 ERSATZDÄMPFER - INTEGRA 750 16- BLACK

Important notes

The original catalytic converter is retained, so retrofitting is not required.

Connector pipe and fastening springs are included.

Design: Slip-on 2-1

The exhaust system was tested according to the Euro4 exhaust gas standard.

10039115

The product will be ordered from the manufacturer for you. Depending on availability, longer delivery times are also possible. We'll let you know if that's the case. You can of course cancel your delivery at any time free of charge.

Available in 7-21 days

€309.95

1 €284.99 1
HURRIC RAC1 ERSATZDÄMPFER - INTEGRA 750, 16-,CARBON

Important notes

The original catalytic converter is retained, so retrofitting is not required.

Connector pipe and fastening springs are included.

Design: Slip-on 2-1

The exhaust system was tested according to the Euro4 exhaust gas standard.

10039114

The product will be ordered from the manufacturer for you. Depending on availability, longer delivery times are also possible. We'll let you know if that's the case. You can of course cancel your delivery at any time free of charge.

Available in 7-21 days

€419.99

1 €379.99 1
HURRIC RAC1 ERSATZDÄMPFER - K 1200 S/R 04- ALU, EG-BE

Important notes

Original cat is no longer used. Catalytic converter not included. Aftermarket catalytic converter with 60 mm diameter (Order no. 10027036) available.

Connector pipe and fastening springs are included.

Design: Slip-on 4-1

Rear silencer: Hurric RAC1 "Short" length approx. 360 mm.

10030425

The item is in stock and will be delivered in 2-5 working days. Note: Stocks are updated online every hour on working days from 7 a.m. to 8 p.m., so there is a good chance that the products are available if they appear online.

Available

€309.99

1 €284.99 1
HURRIC RAC1 ERSATZDÄMPFER - K 1200 S/R 04- CARB.EG-BE

Important notes

Original cat is no longer used. Catalytic converter not included. Aftermarket catalytic converter with 60 mm diameter (Order no. 10027036) available.

Connector pipe and fastening springs are included.

Design: Slip-on 4-1

Rear silencer: Hurric RAC1 "Short" length approx. 360 mm.

10030434

The product will be ordered from the manufacturer for you. Depending on availability, longer delivery times are also possible. We'll let you know if that's the case. You can of course cancel your delivery at any time free of charge.

Available in 7-21 days

€419.99

1 €379.99 1
HURRIC RAC1 ERSATZDÄMPFER - K 1300 S/R 06- ALU, EG-BE

Important notes

Original cat is no longer used. Catalytic converter not included. Aftermarket catalytic converter with 60 mm diameter (Order no. 10027036) available.

Connector pipe and fastening springs are included.

Design: Slip-on 4-1

Rear silencer: Hurric RAC1 "Short" length approx. 360 mm.

10030426

The product will be ordered from the manufacturer for you. Depending on availability, longer delivery times are also possible. We'll let you know if that's the case. You can of course cancel your delivery at any time free of charge.

Available in 7-21 days

€309.99

1 €284.99 1
HURRIC RAC1 ERSATZDÄMPFER - K 1300 S/R 06- CARB.EG-BE

Important notes

Original cat is no longer used. Catalytic converter not included. Aftermarket catalytic converter with 60 mm diameter (Order no. 10027036) available.

Connector pipe and fastening springs are included.

Design: Slip-on 4-1

Rear silencer: Hurric RAC1 "Short" length approx. 360 mm.

10030433

The product will be ordered from the manufacturer for you. Depending on availability, longer delivery times are also possible. We'll let you know if that's the case. You can of course cancel your delivery at any time free of charge.

Available in 7-21 days

€419.99

1 €379.99 1
HURRIC RAC1 ERSATZDÄMPFER - K1200S/R 04-BLACK,EG-BE

Important notes

Original cat is no longer used. Catalytic converter not included. Aftermarket catalytic converter with 60 mm diameter (Order no. 10027036) available.

Connector pipe and fastening springs are included.

Design: Slip-on 4-1

Rear silencer: Hurric RAC1 "Short" length approx. 360 mm.

10035558

The item is in stock and will be delivered in 2-5 working days. Note: Stocks are updated online every hour on working days from 7 a.m. to 8 p.m., so there is a good chance that the products are available if they appear online.

Available

€309.99

1 €284.99 1
HURRIC RAC1 ERSATZDÄMPFER - K1300S/R 09-BLACK,EG-BE

Important notes

Original cat is no longer used. Catalytic converter not included. Aftermarket catalytic converter with 60 mm diameter (Order no. 10027036) available.

Connector pipe and fastening springs are included.

Design: Slip-on 4-1

Rear silencer: Hurric RAC1 "Short" length approx. 360 mm.

10035559

The product will be ordered from the manufacturer for you. Depending on availability, longer delivery times are also possible. We'll let you know if that's the case. You can of course cancel your delivery at any time free of charge.

Available in 7-21 days

€309.99

1 €284.99 1
HURRIC RAC1 ERSATZDÄMPFER - NC 750 S/X 16- ALU,EG-BE

Important notes

The original catalytic converter is retained, so retrofitting is not required.

Connector pipe and fastening springs are included.

Design: Slip-on 2-1

The exhaust system was tested according to the Euro4 exhaust gas standard.

10039110

The product will be ordered from the manufacturer for you. Depending on availability, longer delivery times are also possible. We'll let you know if that's the case. You can of course cancel your delivery at any time free of charge.

Available in 7-21 days

€309.95

1 €284.99 1
HURRIC RAC1 ERSATZDÄMPFER - NC 750 S/X 16- BLACK

Important notes

The original catalytic converter is retained, so retrofitting is not required.

Connector pipe and fastening springs are included.

Design: Slip-on 2-1

The exhaust system was tested according to the Euro4 exhaust gas standard.

10039112

The product will be ordered from the manufacturer for you. Depending on availability, longer delivery times are also possible. We'll let you know if that's the case. You can of course cancel your delivery at any time free of charge.

Available in 7-21 days

€309.99

1 €284.99 1
HURRIC RAC1 ERSATZDÄMPFER - NC 750 S/X 16-,CARBON,ABE

Important notes

The original catalytic converter is retained, so retrofitting is not required.

Connector pipe and fastening springs are included.

Design: Slip-on 2-1

The exhaust system was tested according to the Euro4 exhaust gas standard.

10039111

The product will be ordered from the manufacturer for you. Depending on availability, longer delivery times are also possible. We'll let you know if that's the case. You can of course cancel your delivery at any time free of charge.

Available in 7-21 days

€419.99

1 €379.99 1
HURRIC RAC1 ERSATZDÄMPFER - NC700,750 S/X INTE. BLACK

Important notes

The original catalytic converter is retained, so retrofitting is not required.

Design: Slip-on 2-1

10035567

The product will be ordered from the manufacturer for you. Depending on availability, longer delivery times are also possible. We'll let you know if that's the case. You can of course cancel your delivery at any time free of charge.

Available in 7-21 days

€309.99

1 €284.99 1
HURRIC RAC1 ERSATZDÄMPFER - NC700,750S/X INTEG,12-ALU

Important notes

The original catalytic converter is retained, so retrofitting is not required.

Connector pipe and fastening springs are included.

Design: Slip-on 2-1

Rear silencer: Hurric RAC1 "Short" length approx. 360 mm.

10032614

The item is in stock and will be delivered in 2-5 working days. Note: Stocks are updated online every hour on working days from 7 a.m. to 8 p.m., so there is a good chance that the products are available if they appear online.

Available

€309.99

1 €284.99 1
HURRIC RAC1 ERSATZDÄMPFER - NC700/750 S/X 12- CARBON

Important notes

The original catalytic converter is retained, so retrofitting is not required.

Design: Slip-on 2-1

10032615

The product will be ordered from the manufacturer for you. Depending on availability, longer delivery times are also possible. We'll let you know if that's the case. You can of course cancel your delivery at any time free of charge.

Available in 7-21 days

€419.99

1 €379.99 1
HURRIC RAC1 ERSATZDÄMPFER - R 1200 GS -09 ALU, ABE

Important notes

The original catalytic converter is retained, so retrofitting is not required.

Connector pipe and fastening springs are included.

Design: Slip-on 2-1

10030946

The item is in stock and will be delivered in 2-5 working days. Note: Stocks are updated online every hour on working days from 7 a.m. to 8 p.m., so there is a good chance that the products are available if they appear online.

Available

€309.99

1 €284.99 1
HURRIC RAC1 ERSATZDÄMPFER - R 1200 R 11- ALU EG-BE

Important notes

The original catalytic converter is retained, so retrofitting is not required.

Connector pipe and fastening springs are included.

Design: Slip-on 2-1

Rear silencer: Hurric RAC1 "Short" length approx. 360 mm.

10030435

The item is in stock and will be delivered in 2-5 working days. Note: Stocks are updated online every hour on working days from 7 a.m. to 8 p.m., so there is a good chance that the products are available if they appear online.

Available

€309.99

1 €284.99 1
HURRIC RAC1 ERSATZDÄMPFER - R 1200 R/RS 15- ALU,EG-BE

Important notes

The original catalytic converter is retained, so retrofitting is not required.

Connector pipe and fastening springs are included.

Design: Slip-on 2-1

10030901

The product will be ordered from the manufacturer for you. Depending on availability, longer delivery times are also possible. We'll let you know if that's the case. You can of course cancel your delivery at any time free of charge.

Available in 7-21 days

€309.99

1 €284.99 1
HURRIC RAC1 ERSATZDÄMPFER - R 1200R 11- BLACK,EG-BE

Important notes

The original catalytic converter is retained, so retrofitting is not required.

Design: Slip-on 2-1

10035555

The item is in stock and will be delivered in 2-5 working days. Note: Stocks are updated online every hour on working days from 7 a.m. to 8 p.m., so there is a good chance that the products are available if they appear online.

Available

€309.99

1 €239.99 1
HURRIC RAC1 ERSATZDÄMPFER - R 1200R 11- CARBON, EG-BE

Important notes

The original catalytic converter is retained, so retrofitting is not required.

Design: Slip-on 2-1

10030436

The product will be ordered from the manufacturer for you. Depending on availability, longer delivery times are also possible. We'll let you know if that's the case. You can of course cancel your delivery at any time free of charge.

Available in 7-21 days

€399.99

1 3 €379.99 1
HURRIC RAC1 ERSATZDÄMPFER - R 1200R/RS 17- ALU

Important notes

The original catalytic converter is retained, so retrofitting is not required.

Design: Slip-on 2-1

The exhaust system was tested according to the Euro4 exhaust gas standard

10039147

The product will be ordered from the manufacturer for you. Depending on availability, longer delivery times are also possible. We'll let you know if that's the case. You can of course cancel your delivery at any time free of charge.

Available in 7-21 days

€309.99

1 €284.99 1
HURRIC RAC1 ERSATZDÄMPFER - R 1200R/RS 17- BLACK

Important notes

The original catalytic converter is retained, so retrofitting is not required.

Design: Slip-on 2-1

The exhaust system was tested according to the Euro4 exhaust gas standard

10039146

The product will be ordered from the manufacturer for you. Depending on availability, longer delivery times are also possible. We'll let you know if that's the case. You can of course cancel your delivery at any time free of charge.

Available in 7-21 days

€309.99

1 €284.99 1