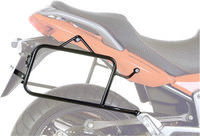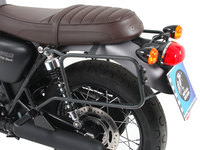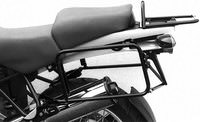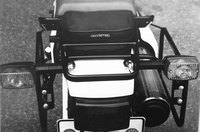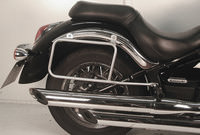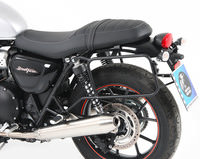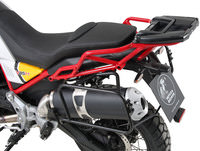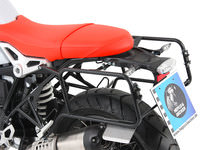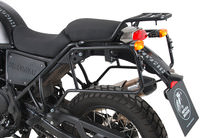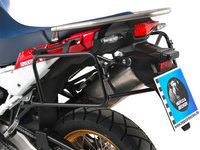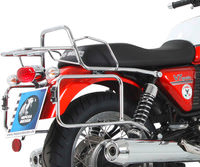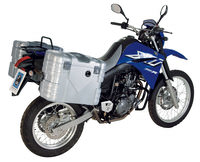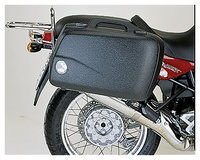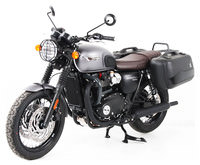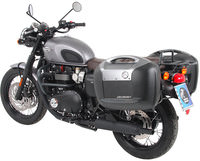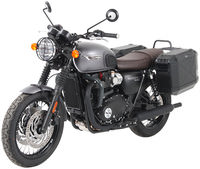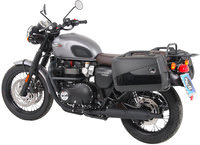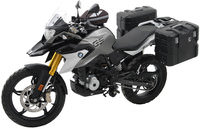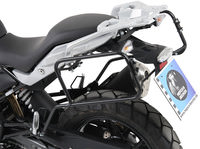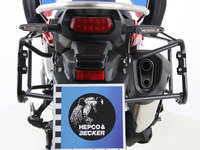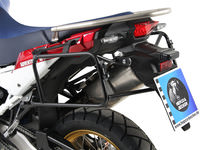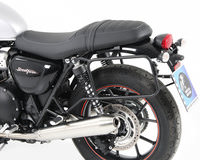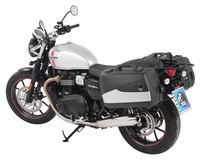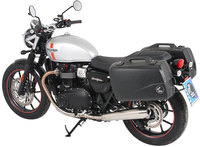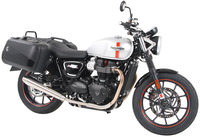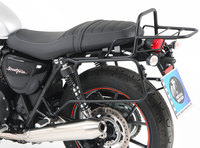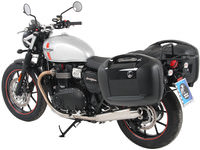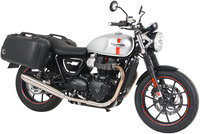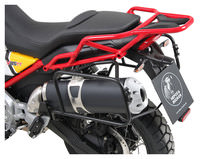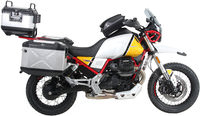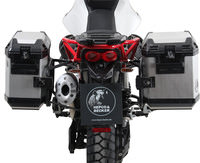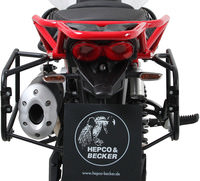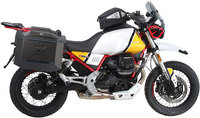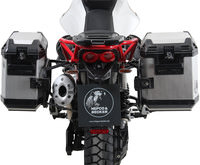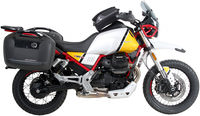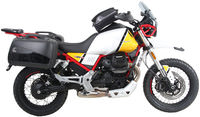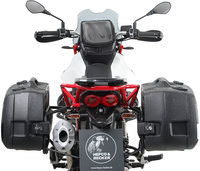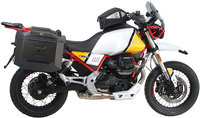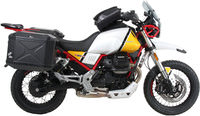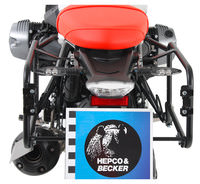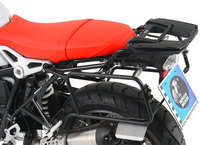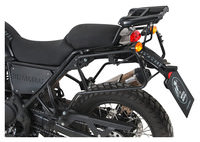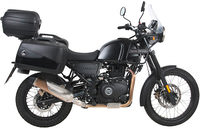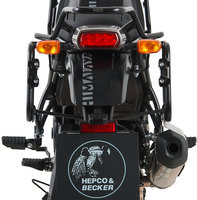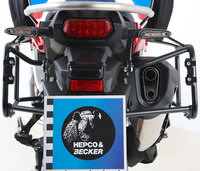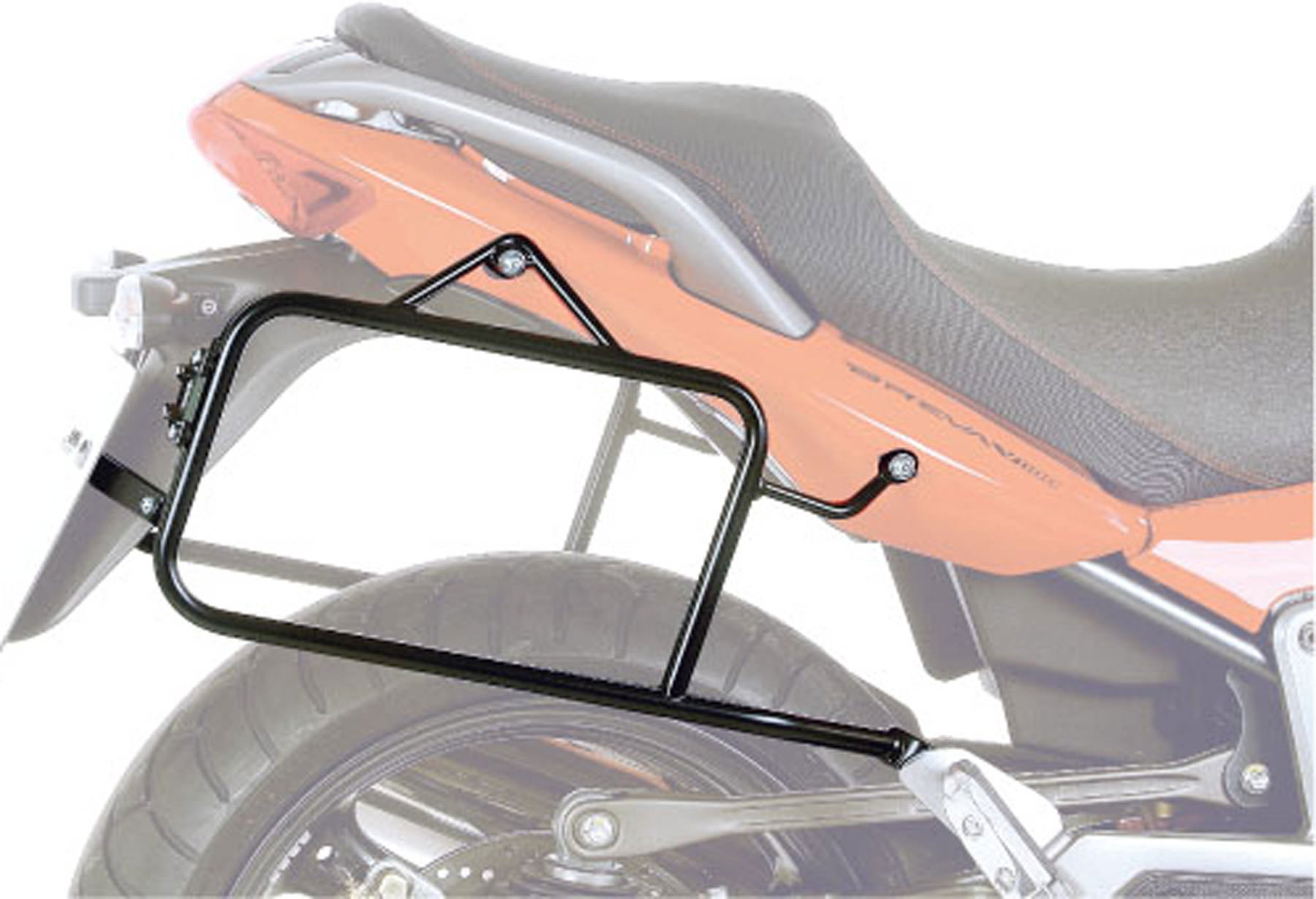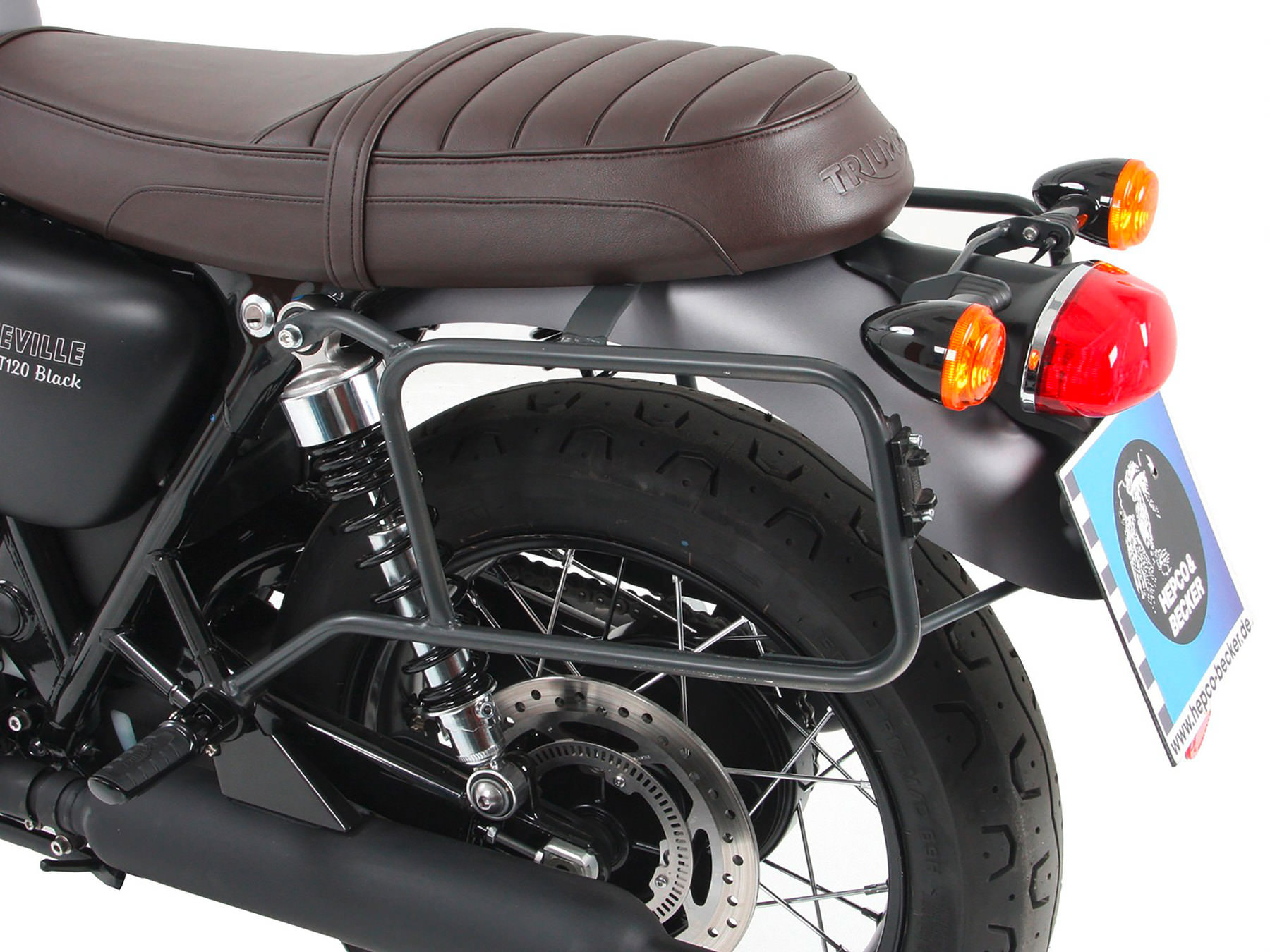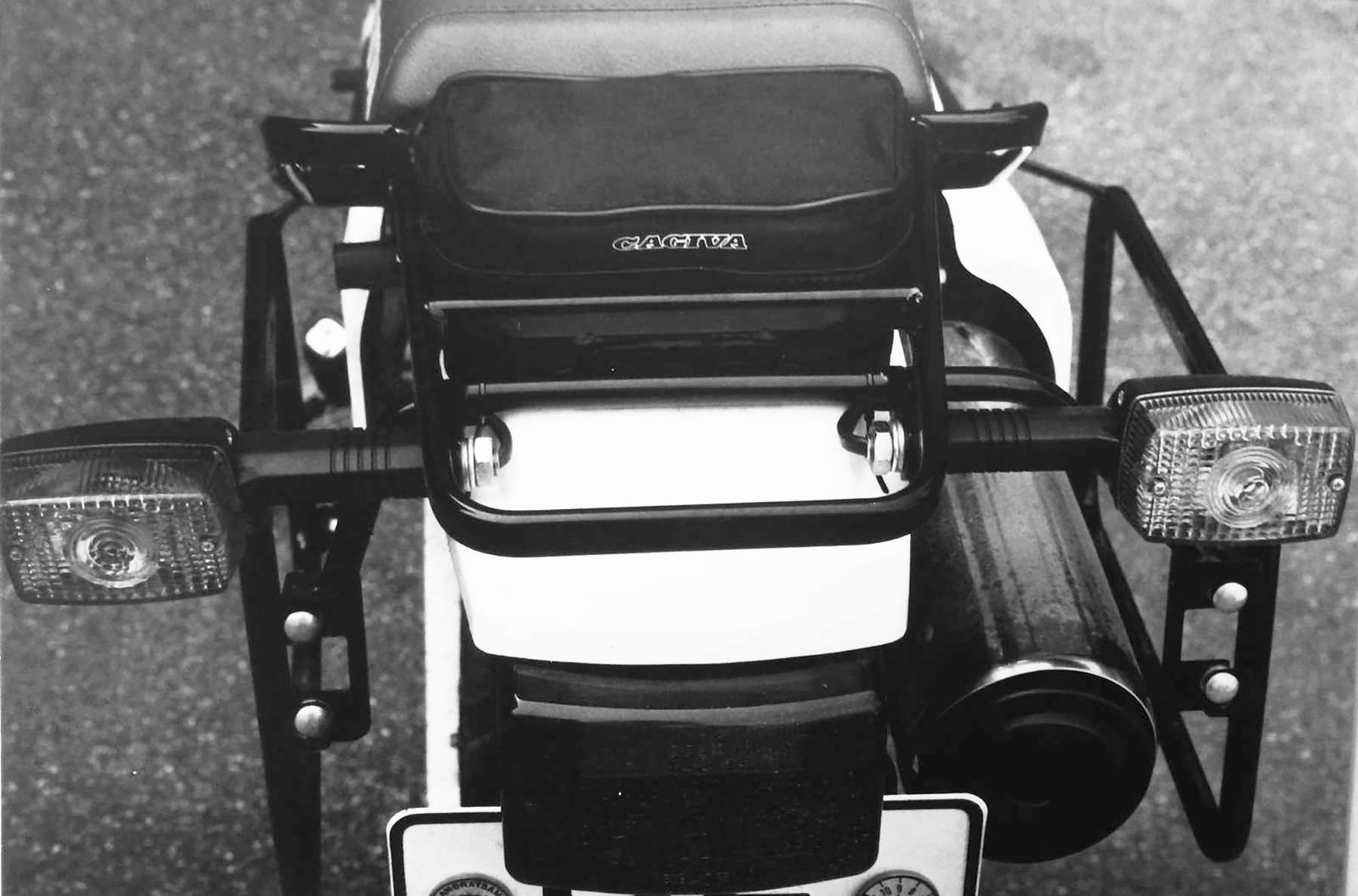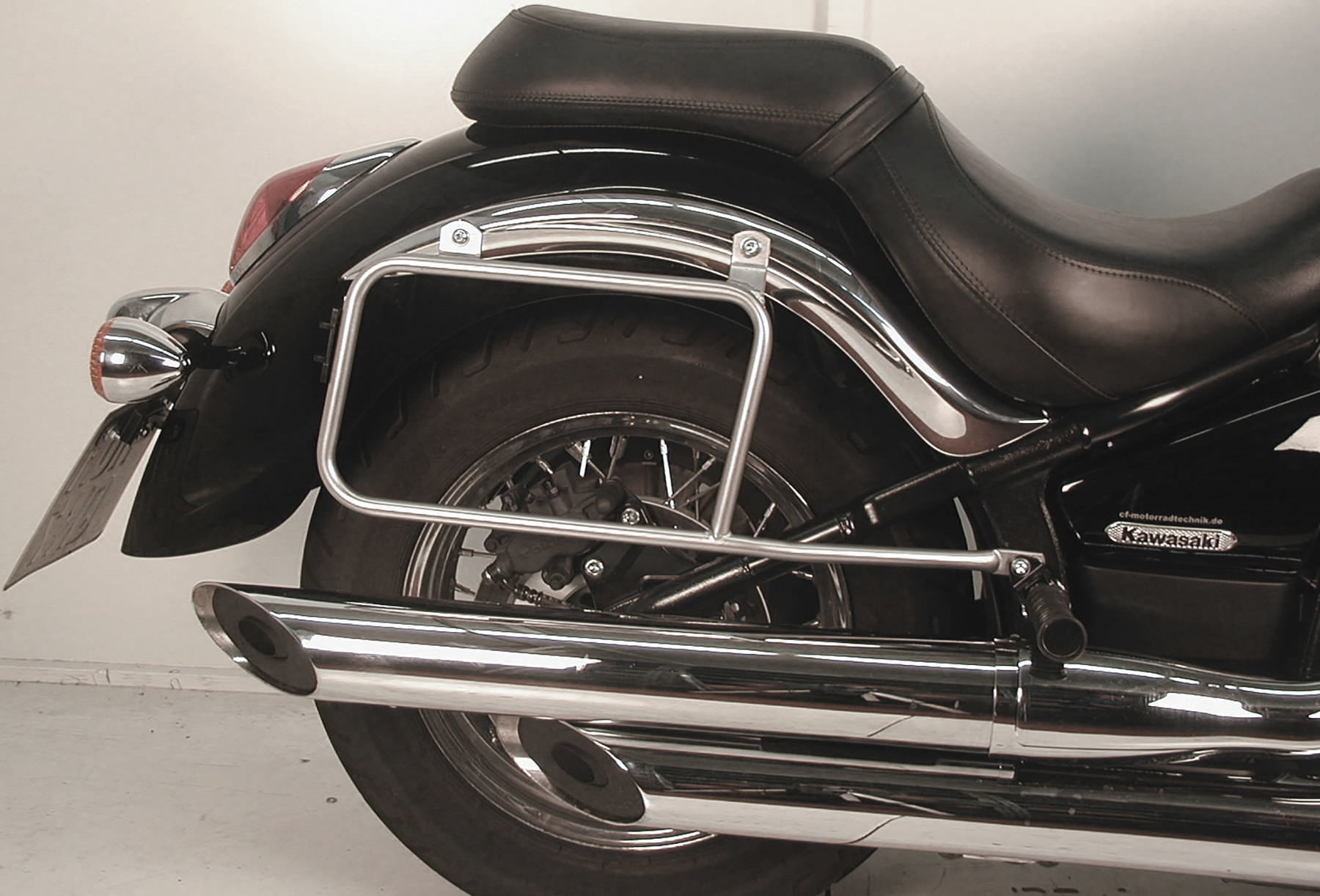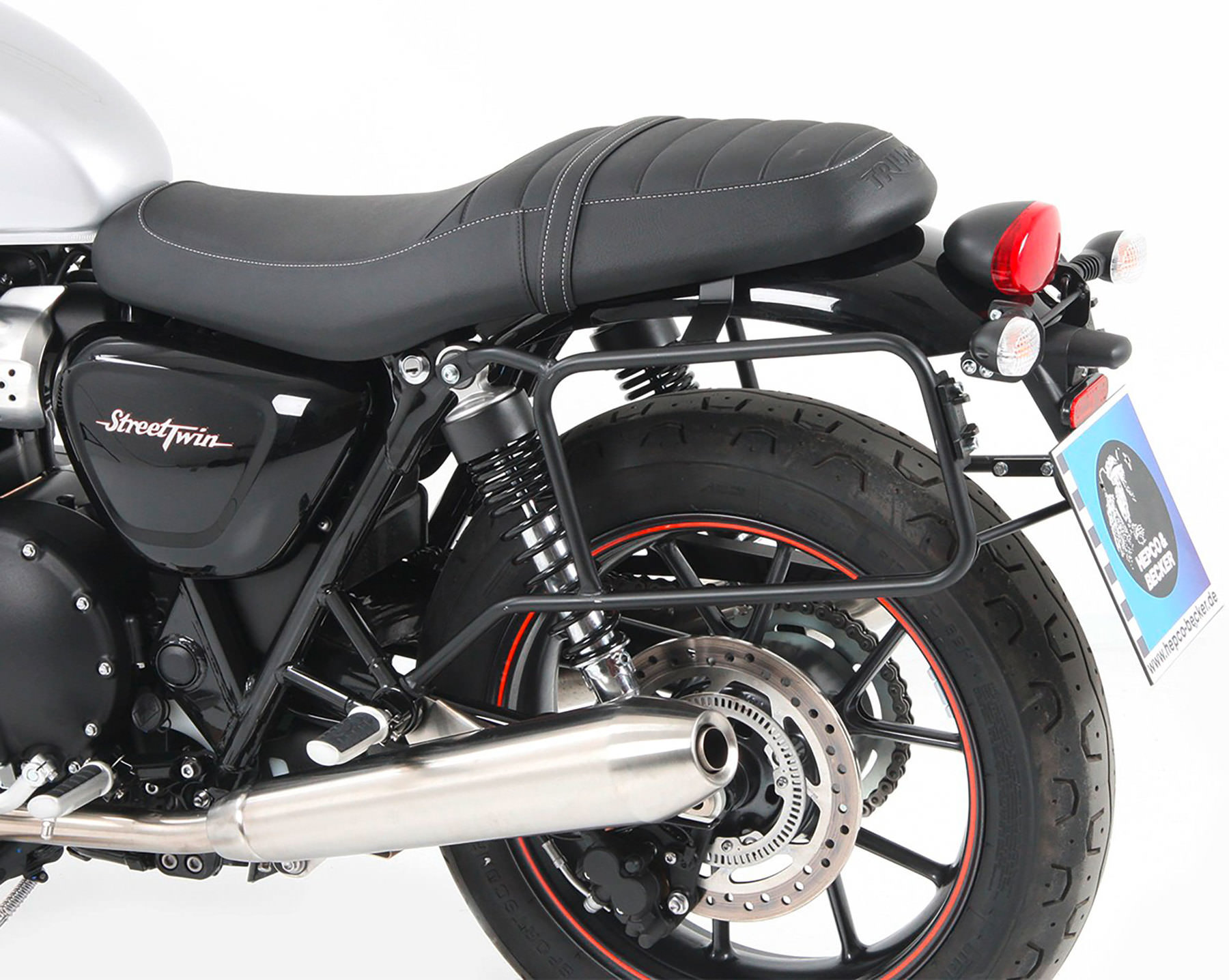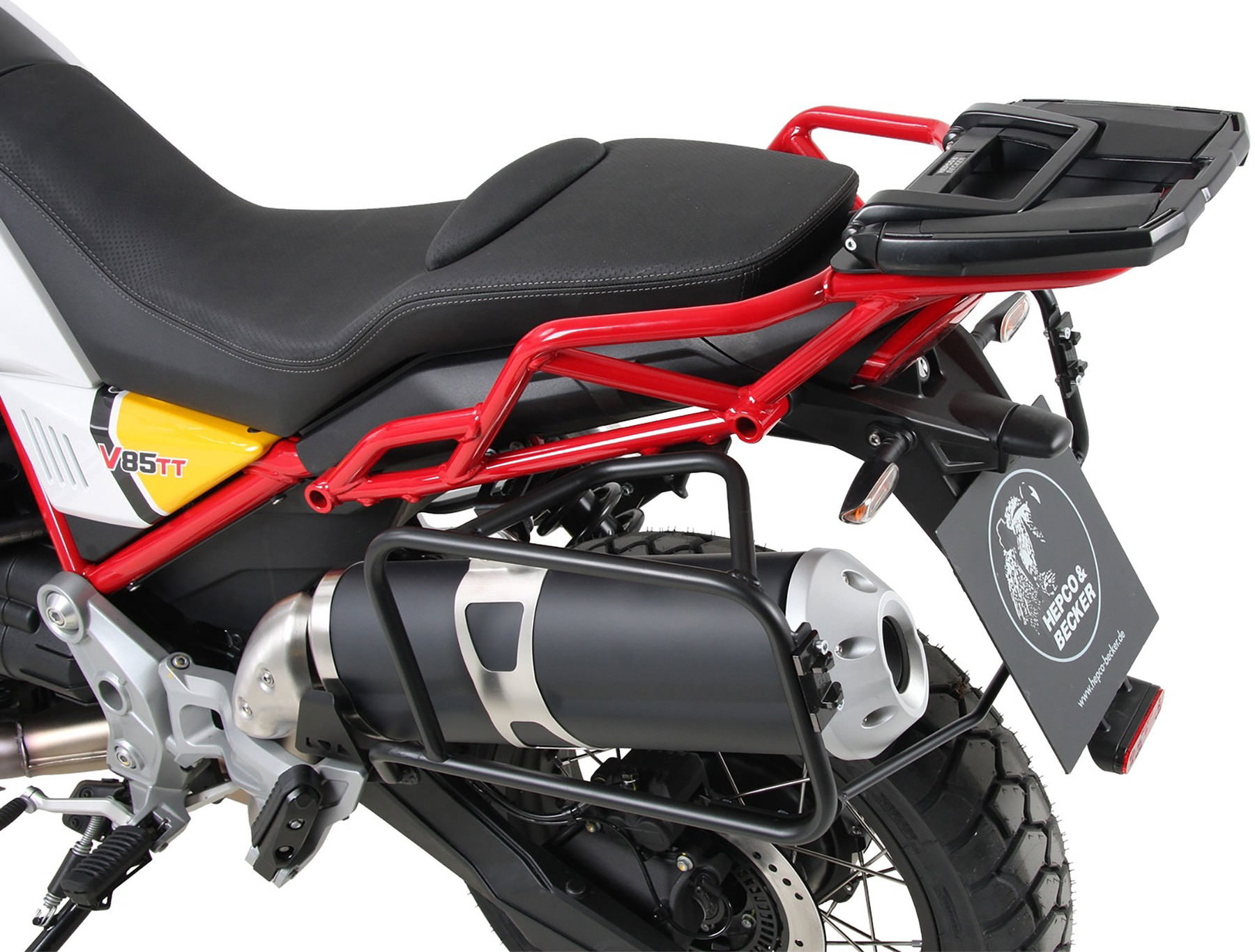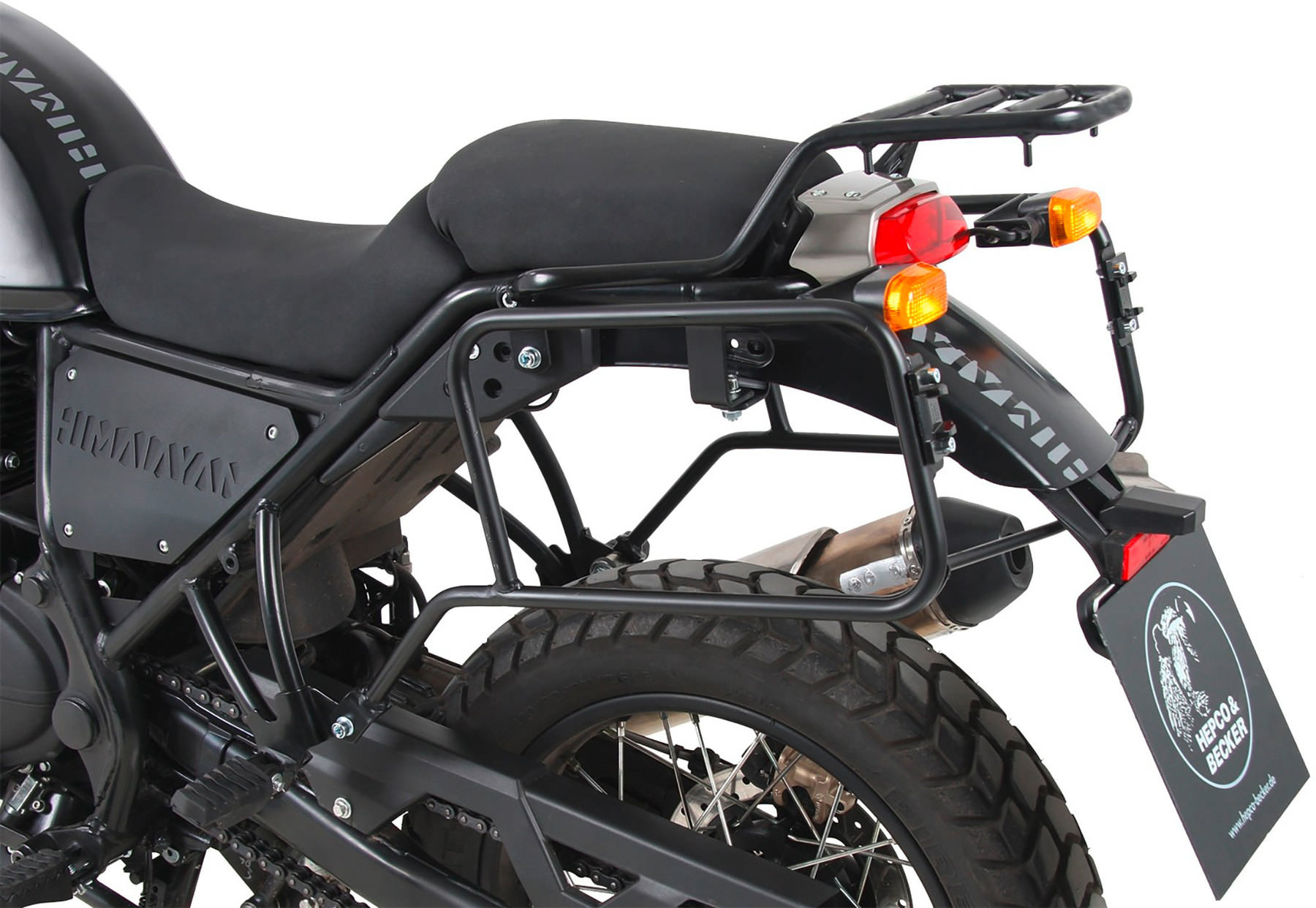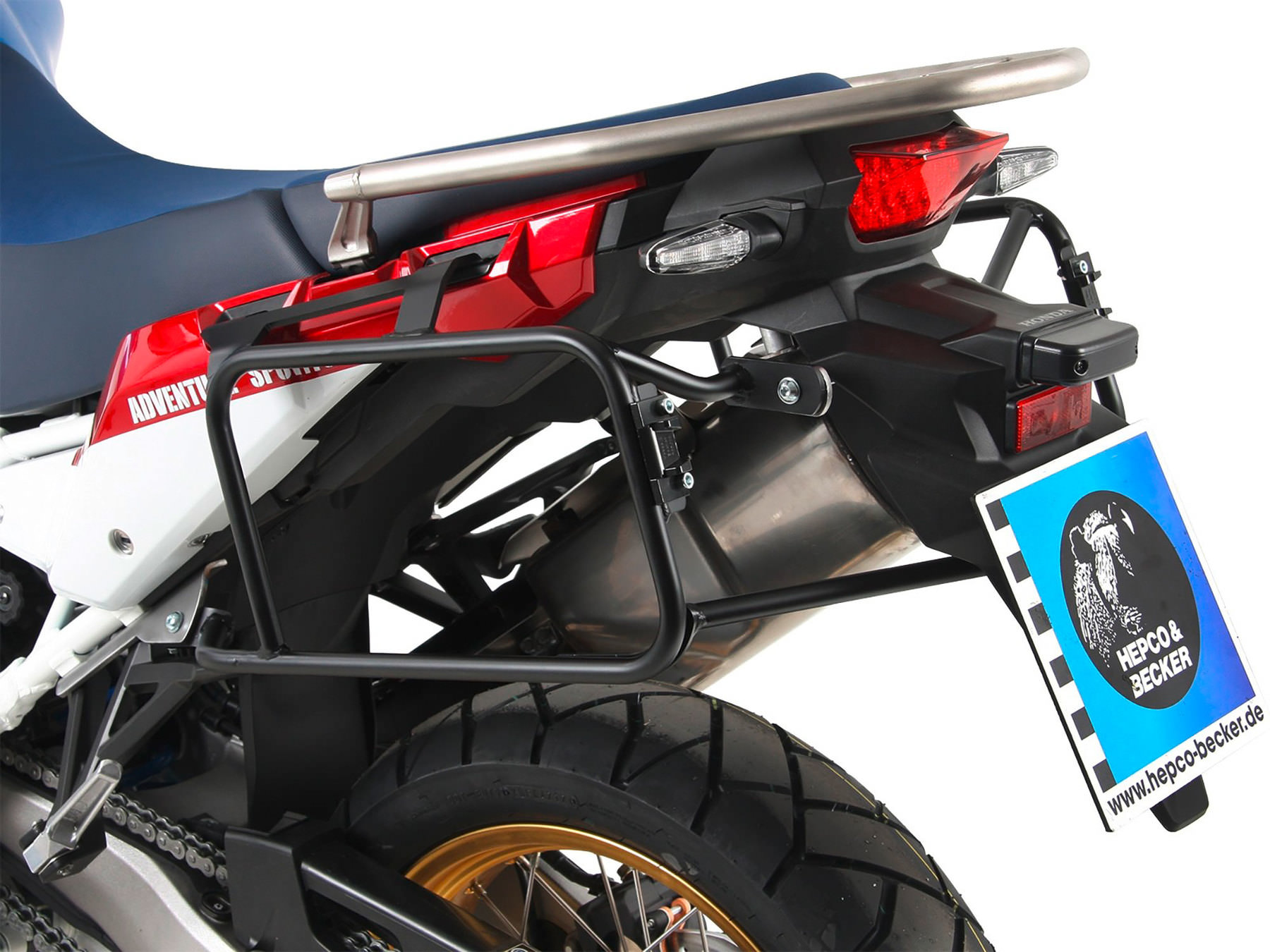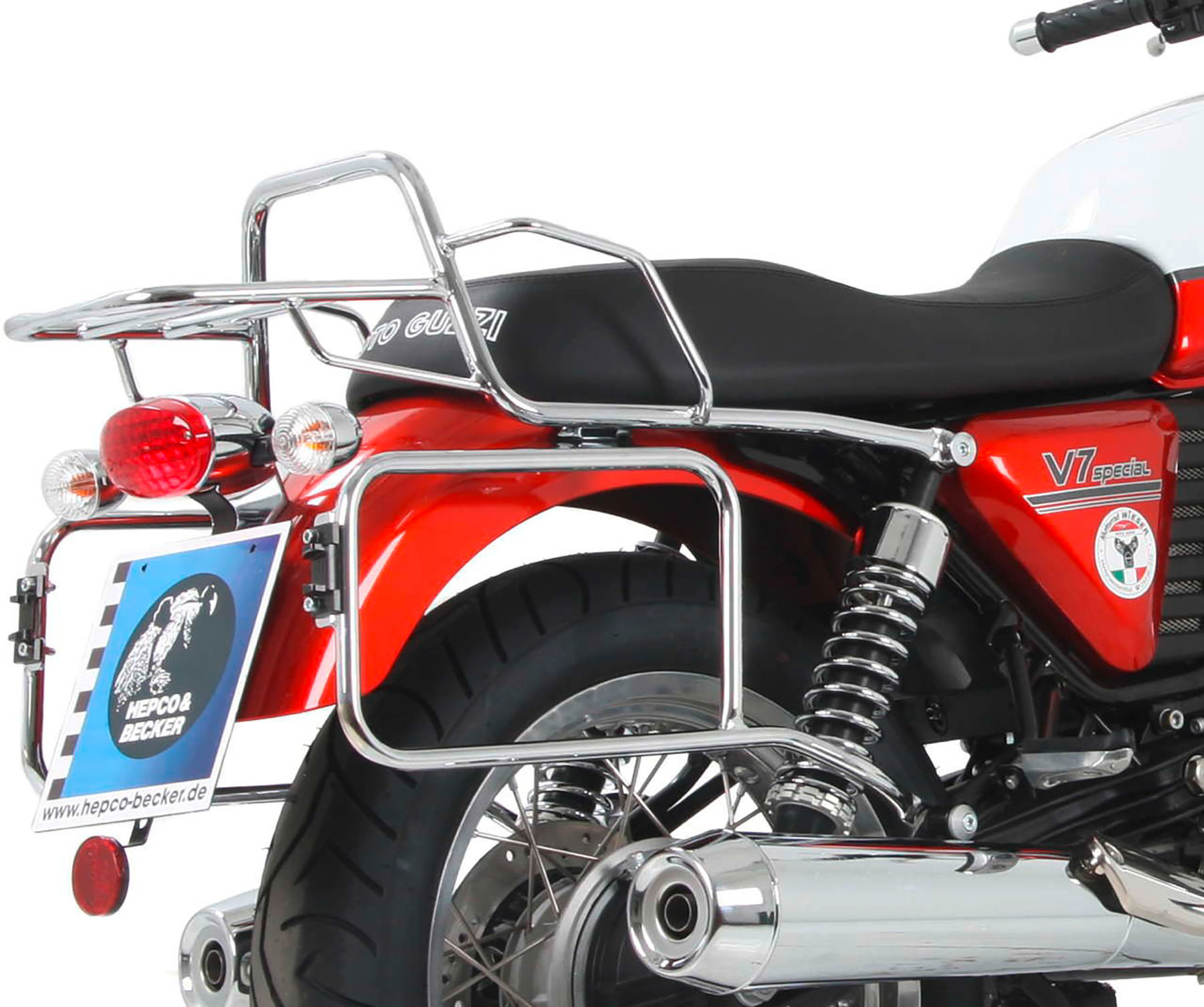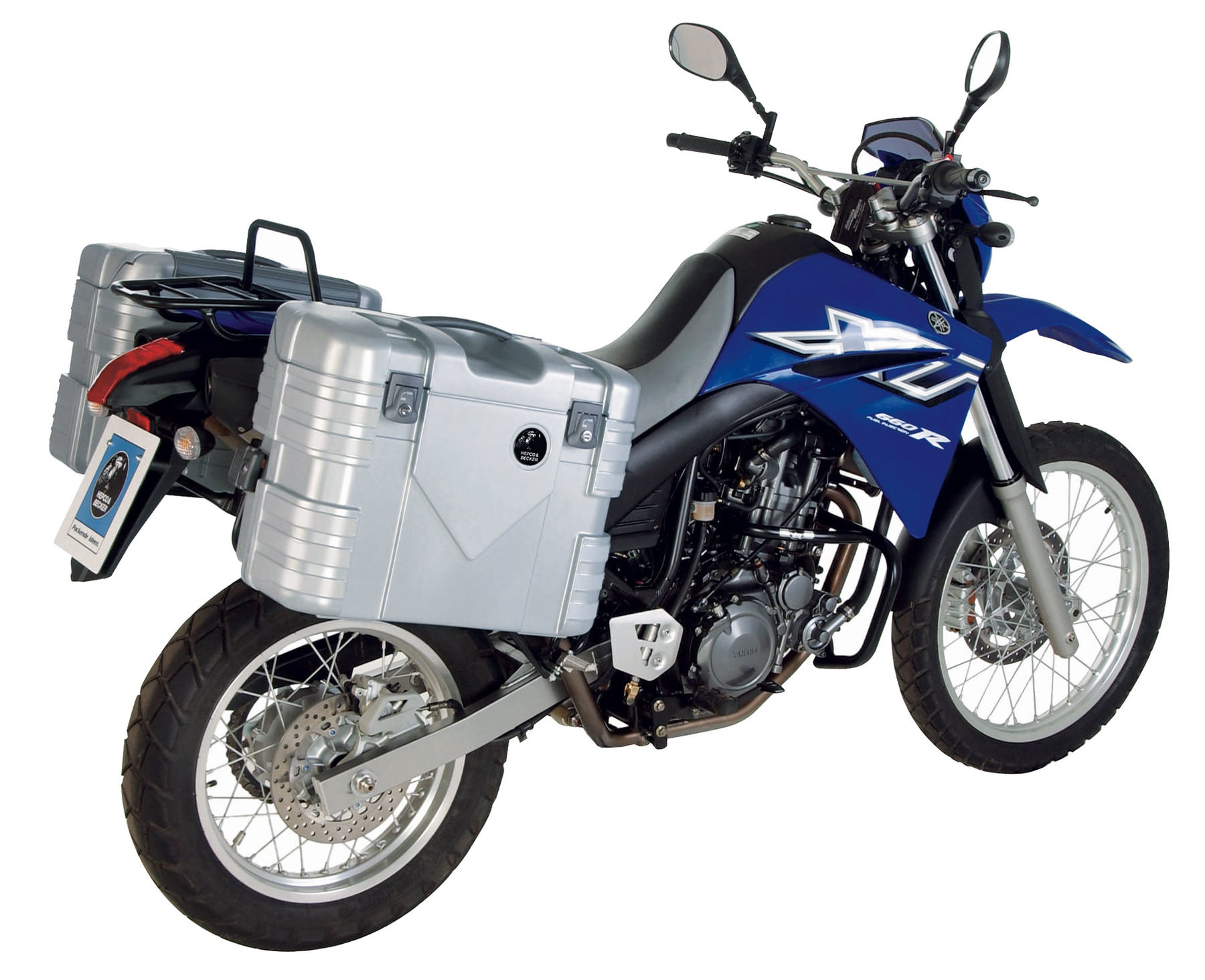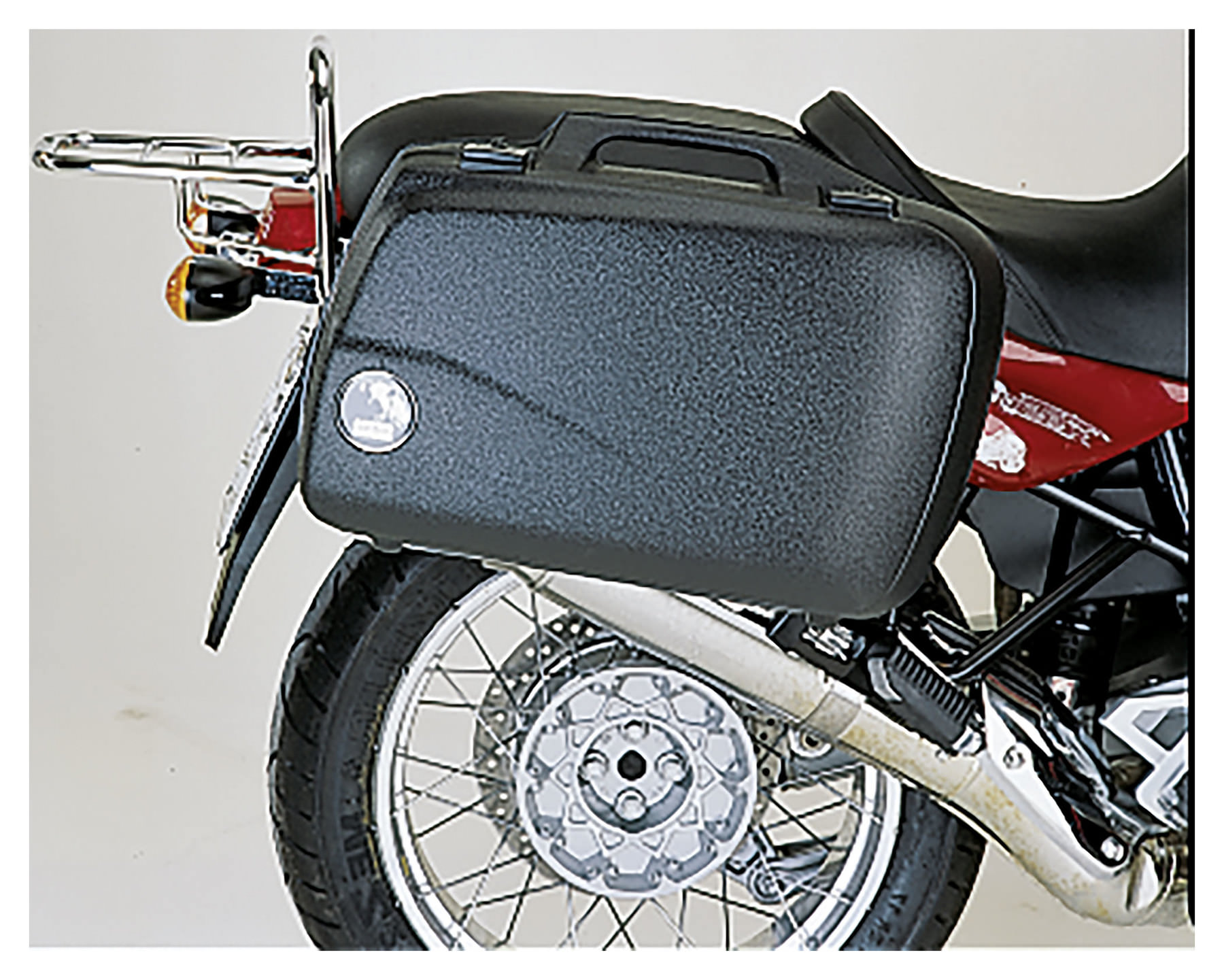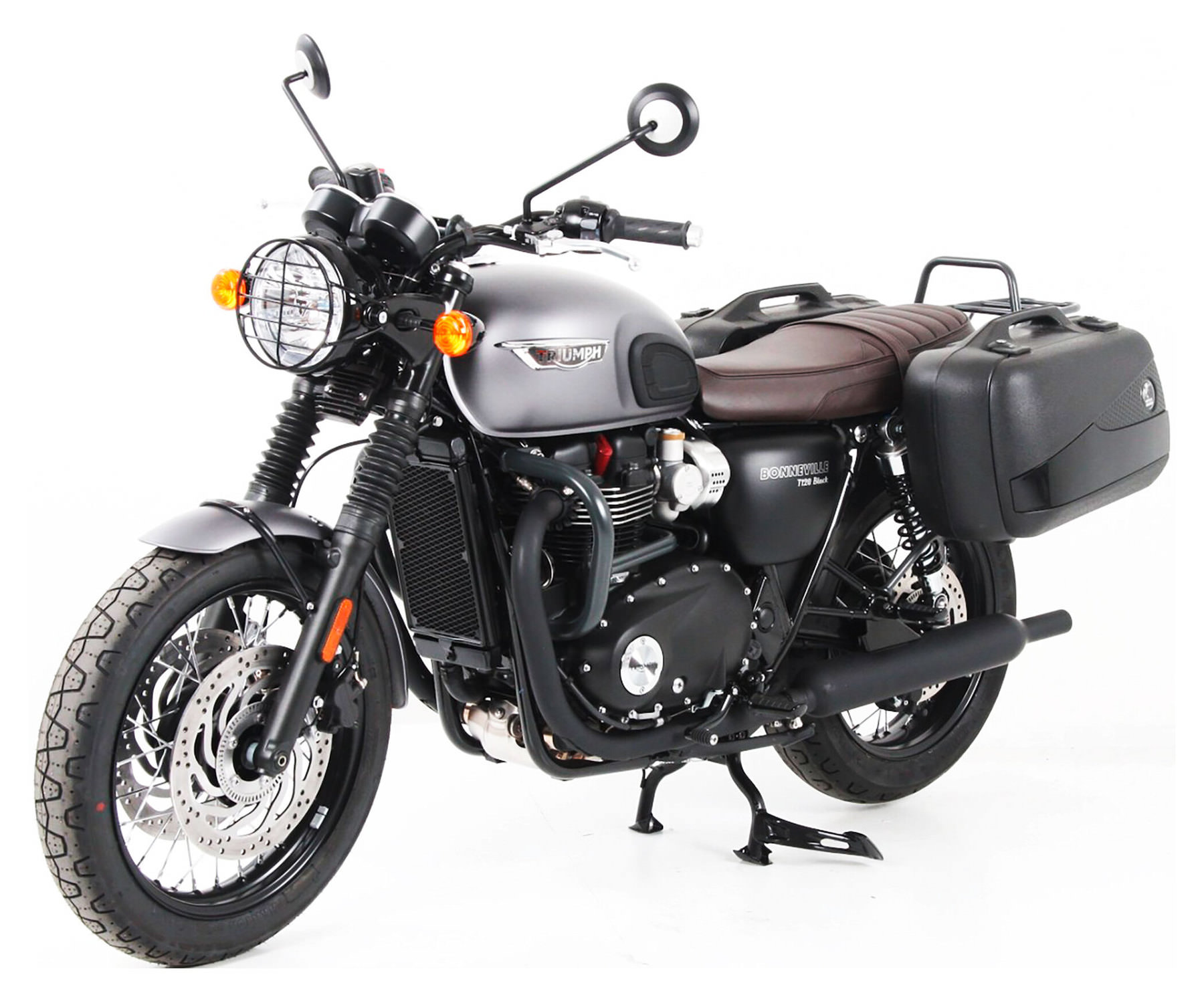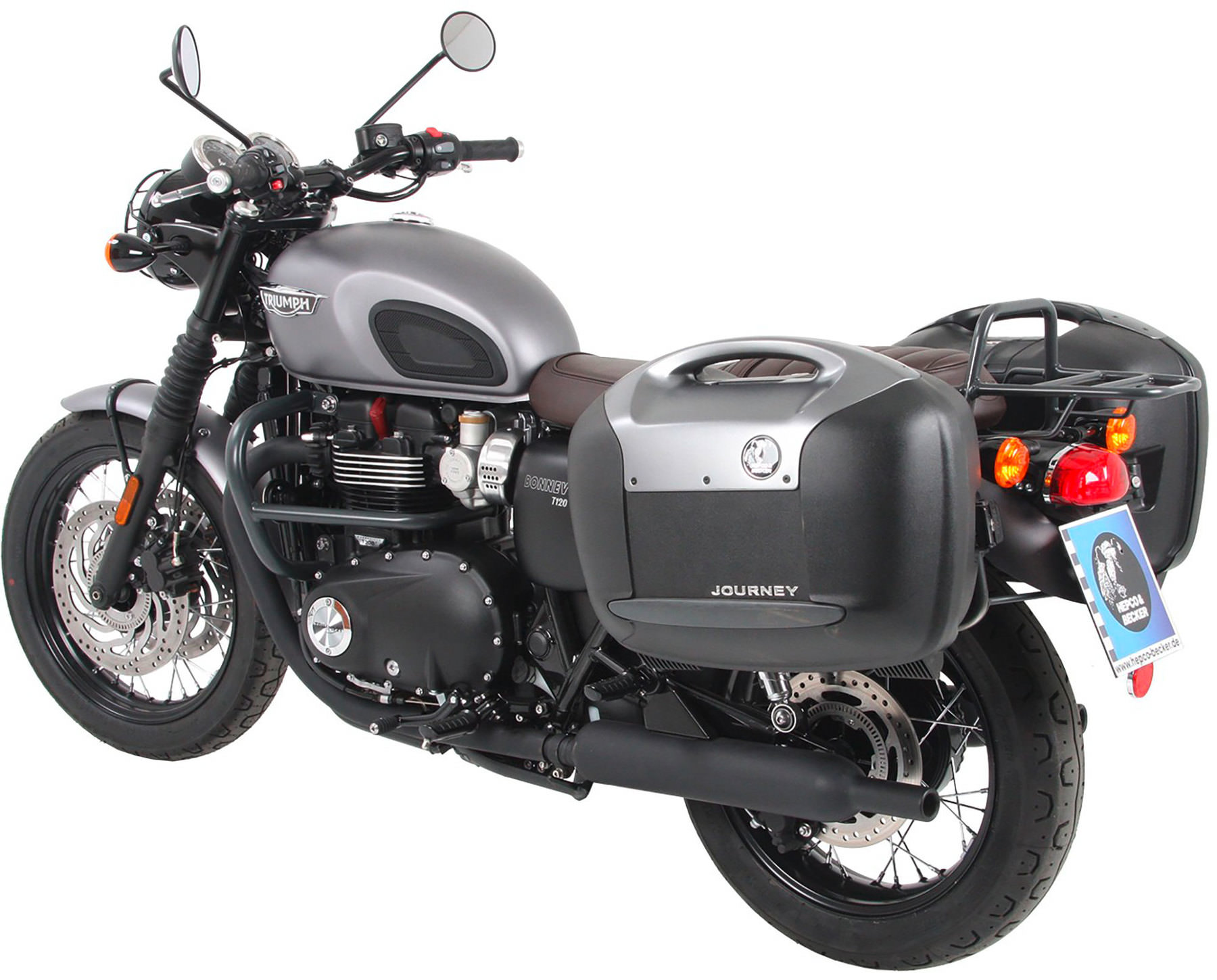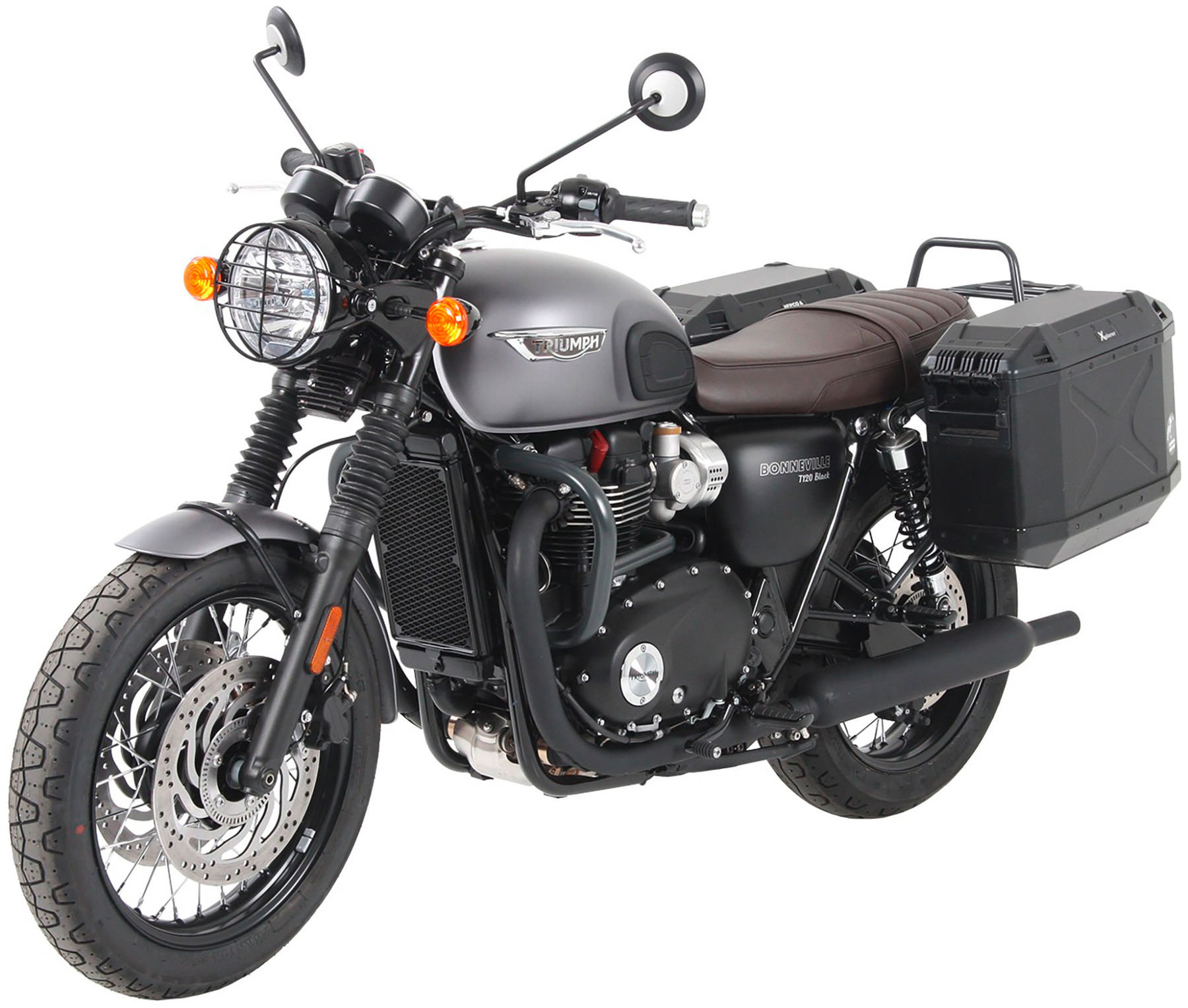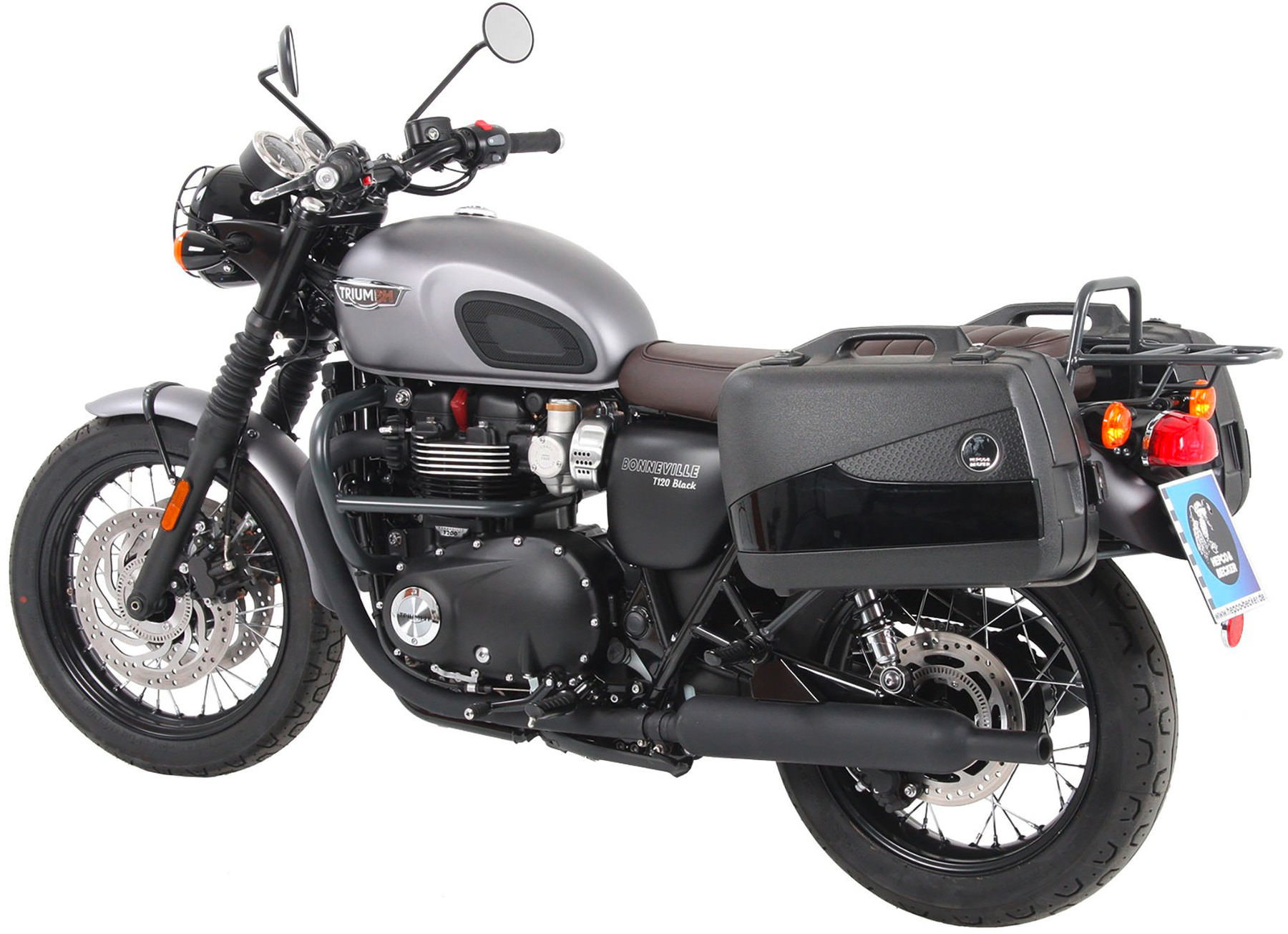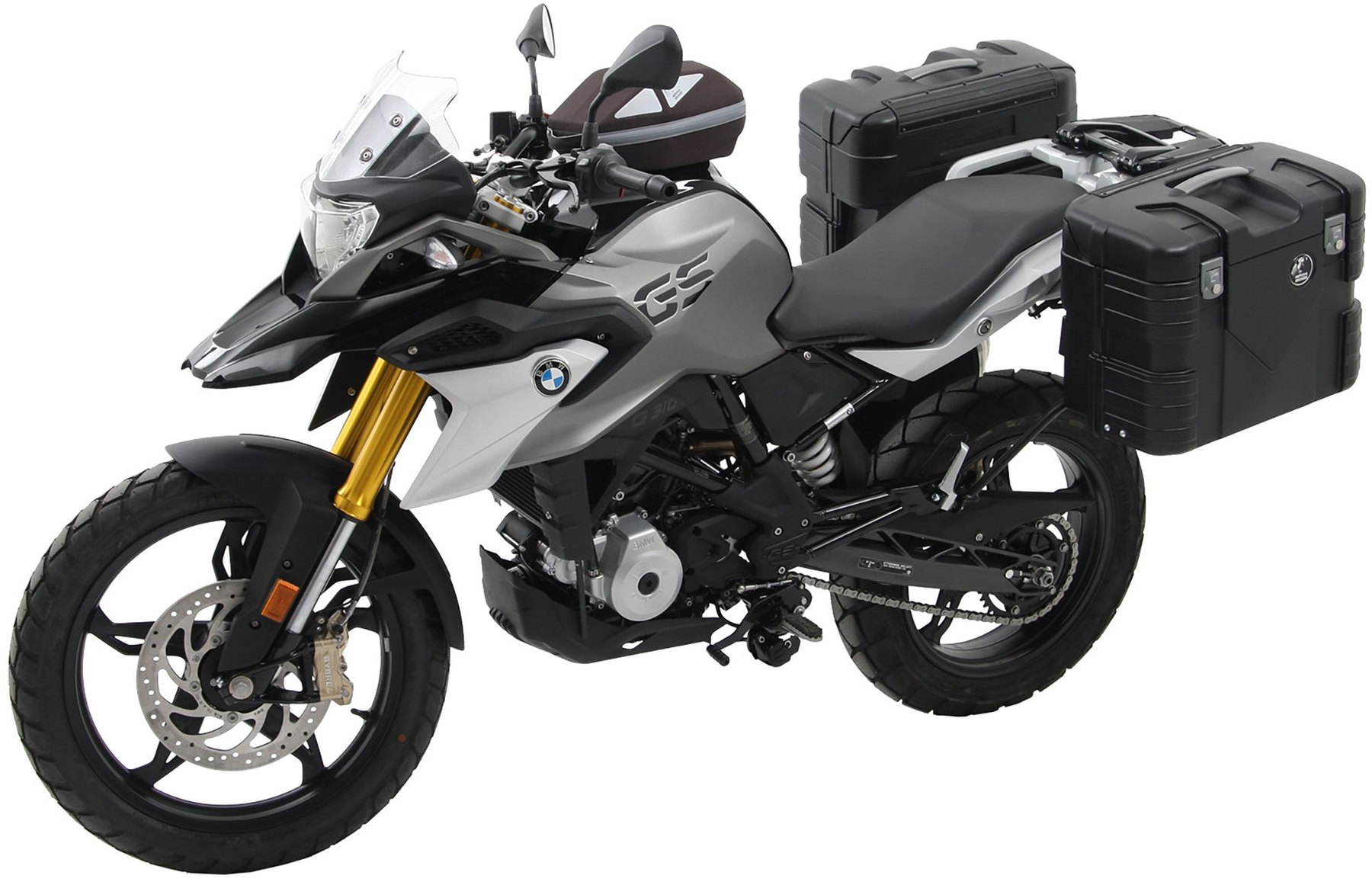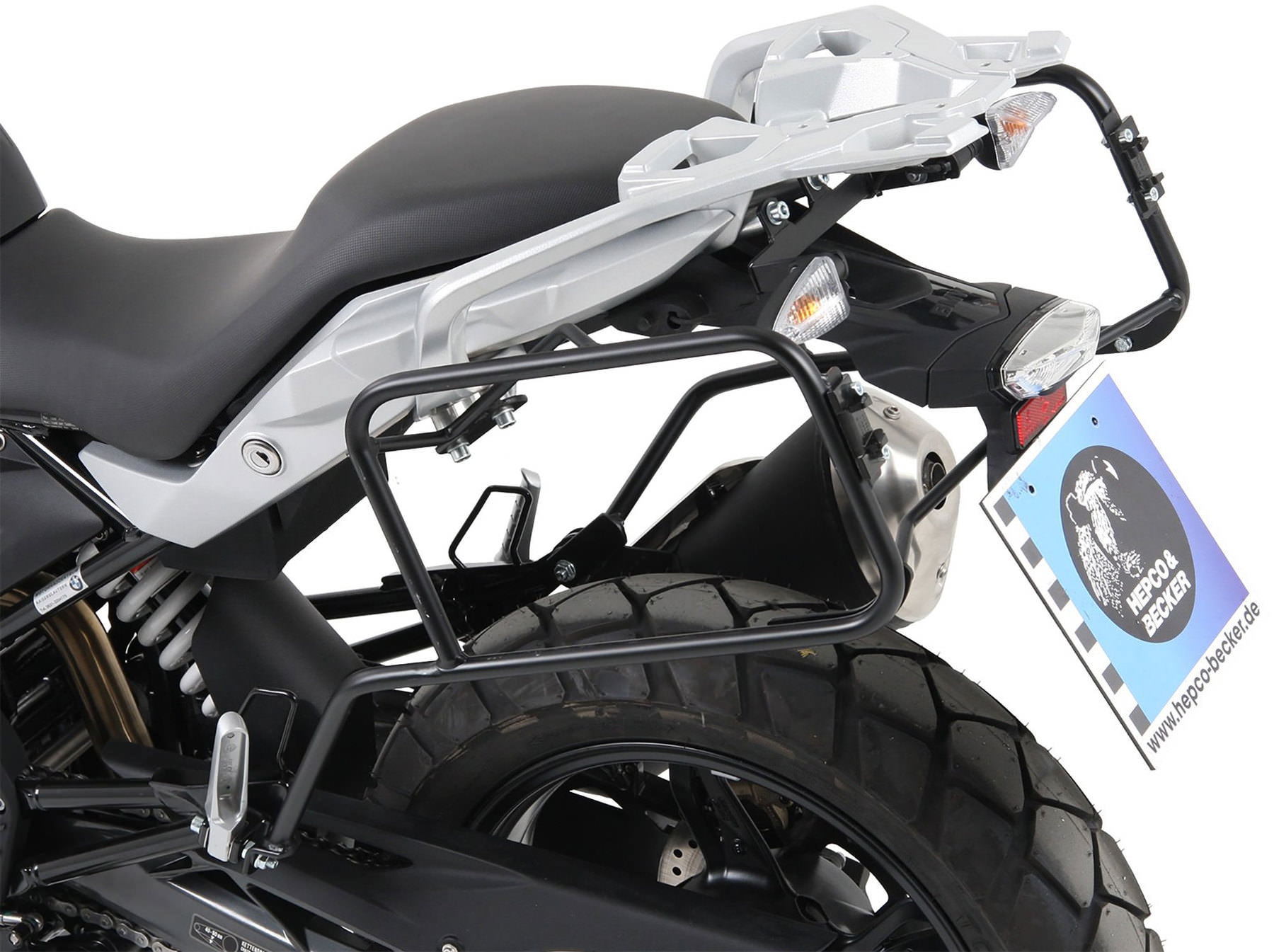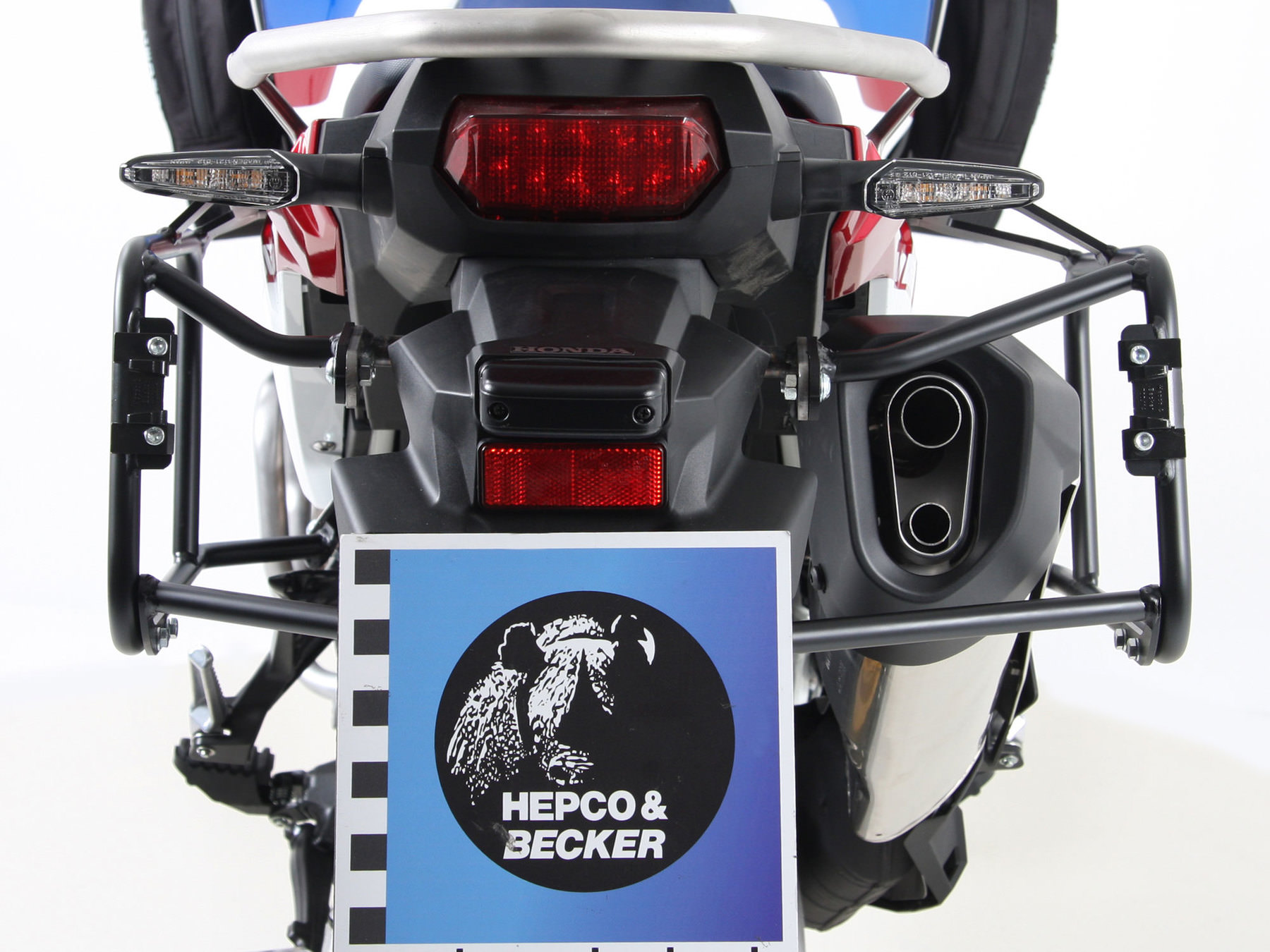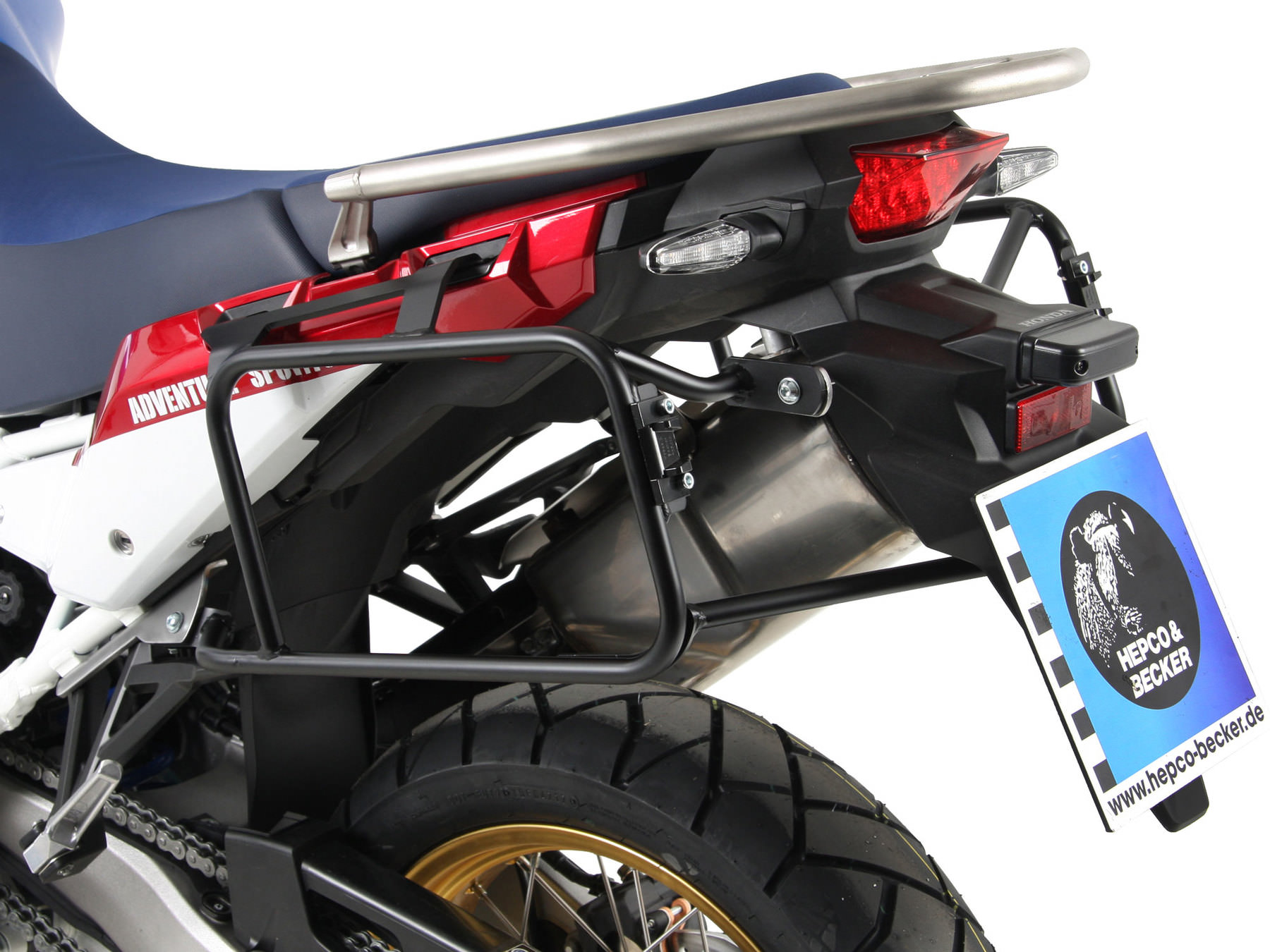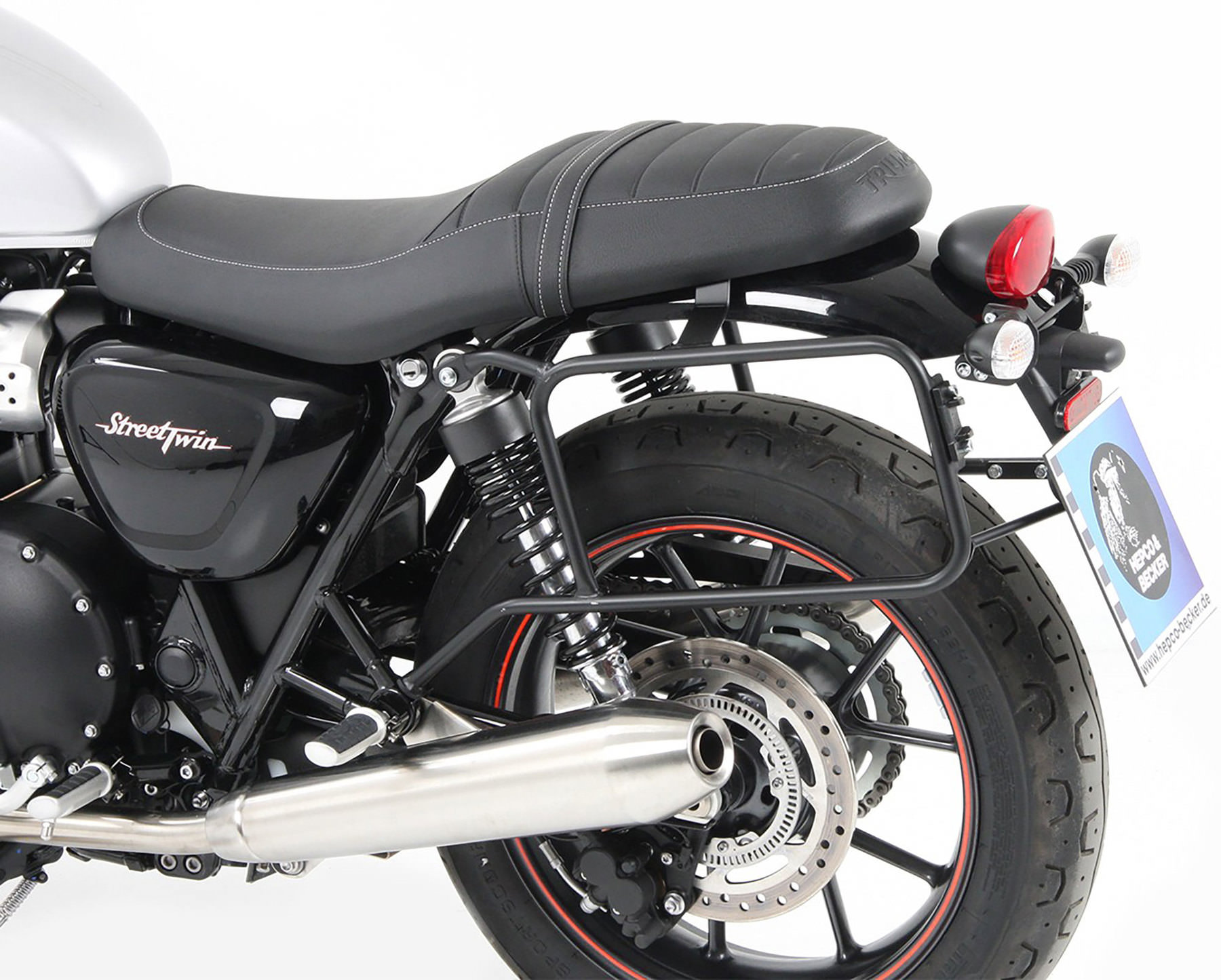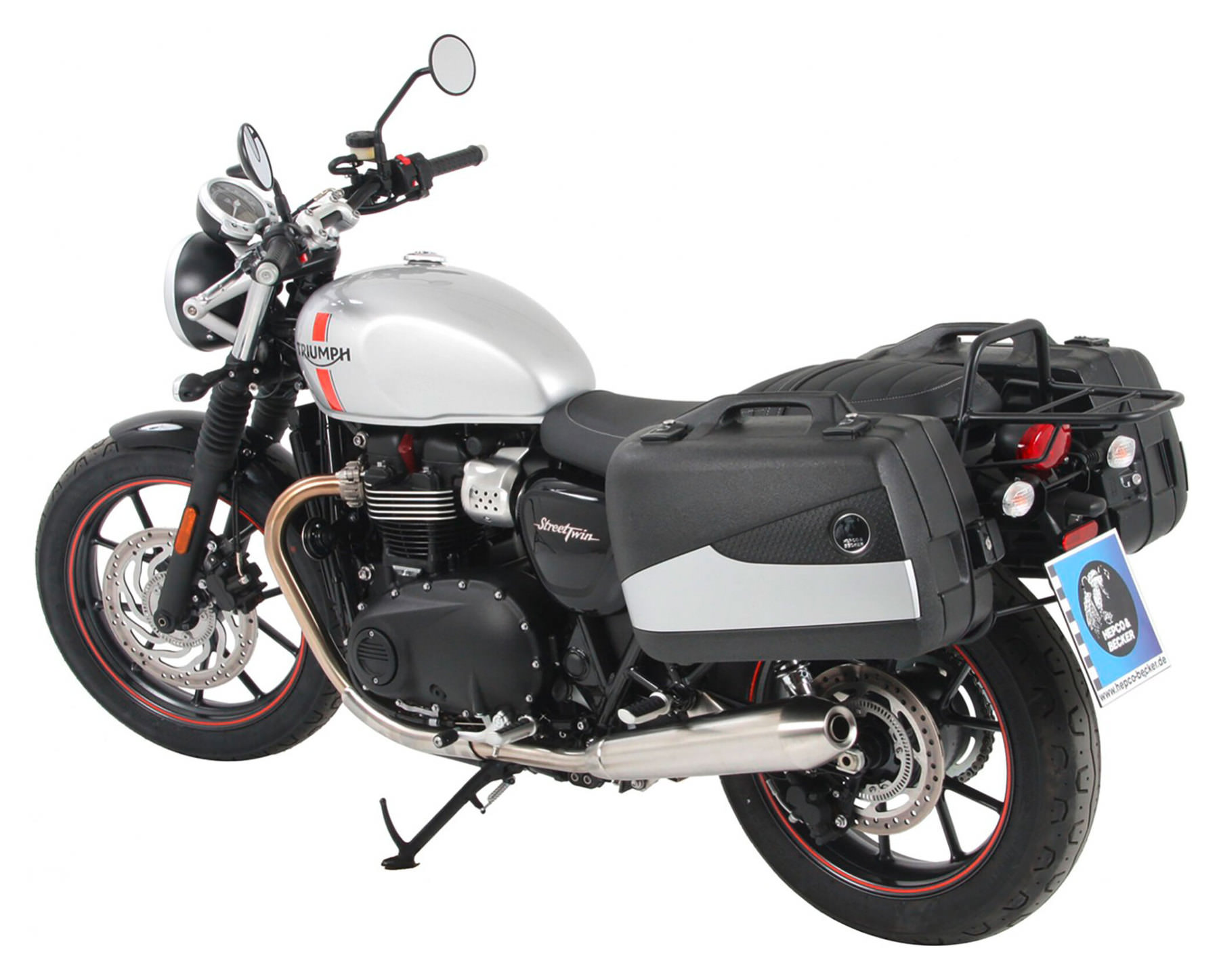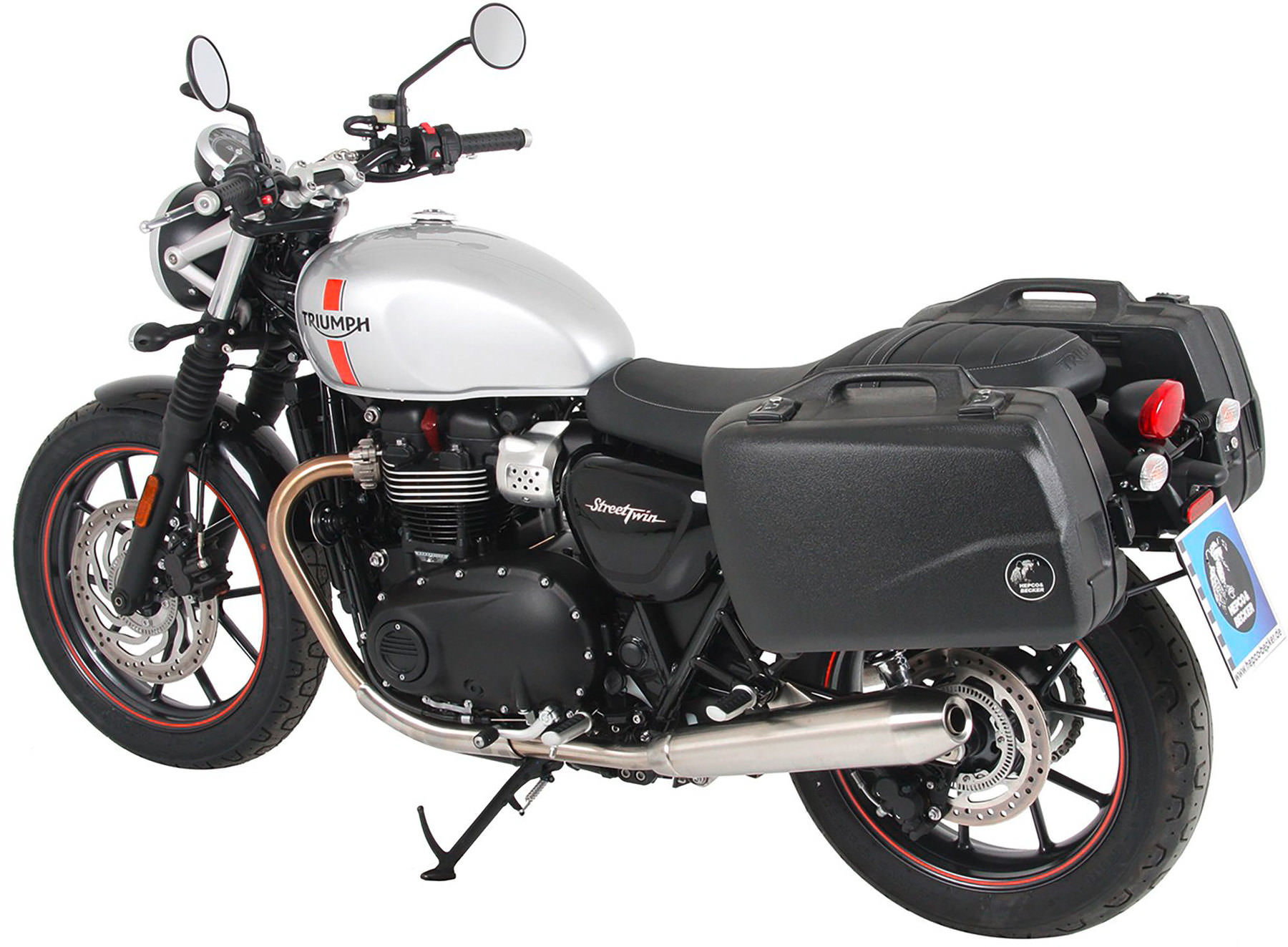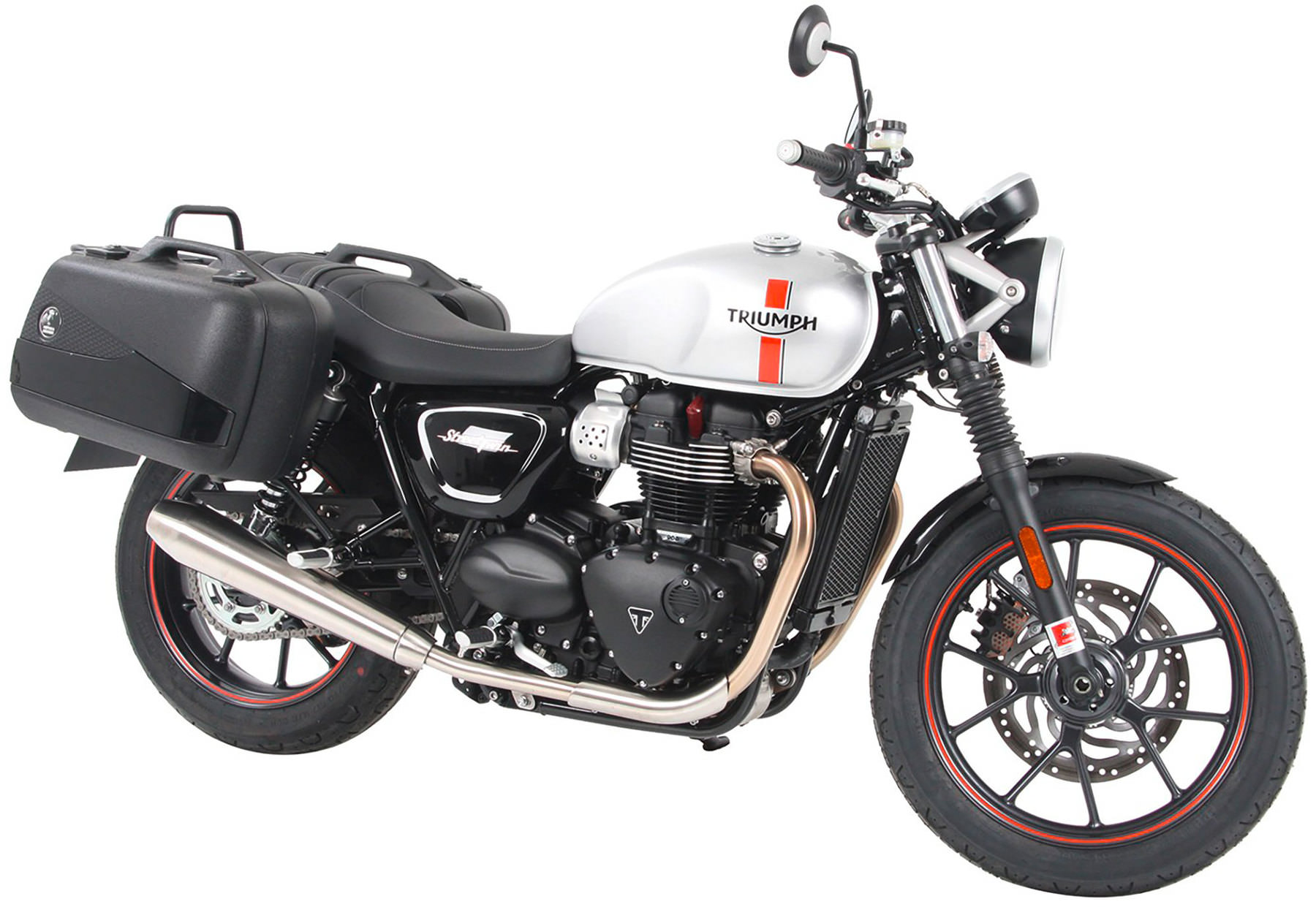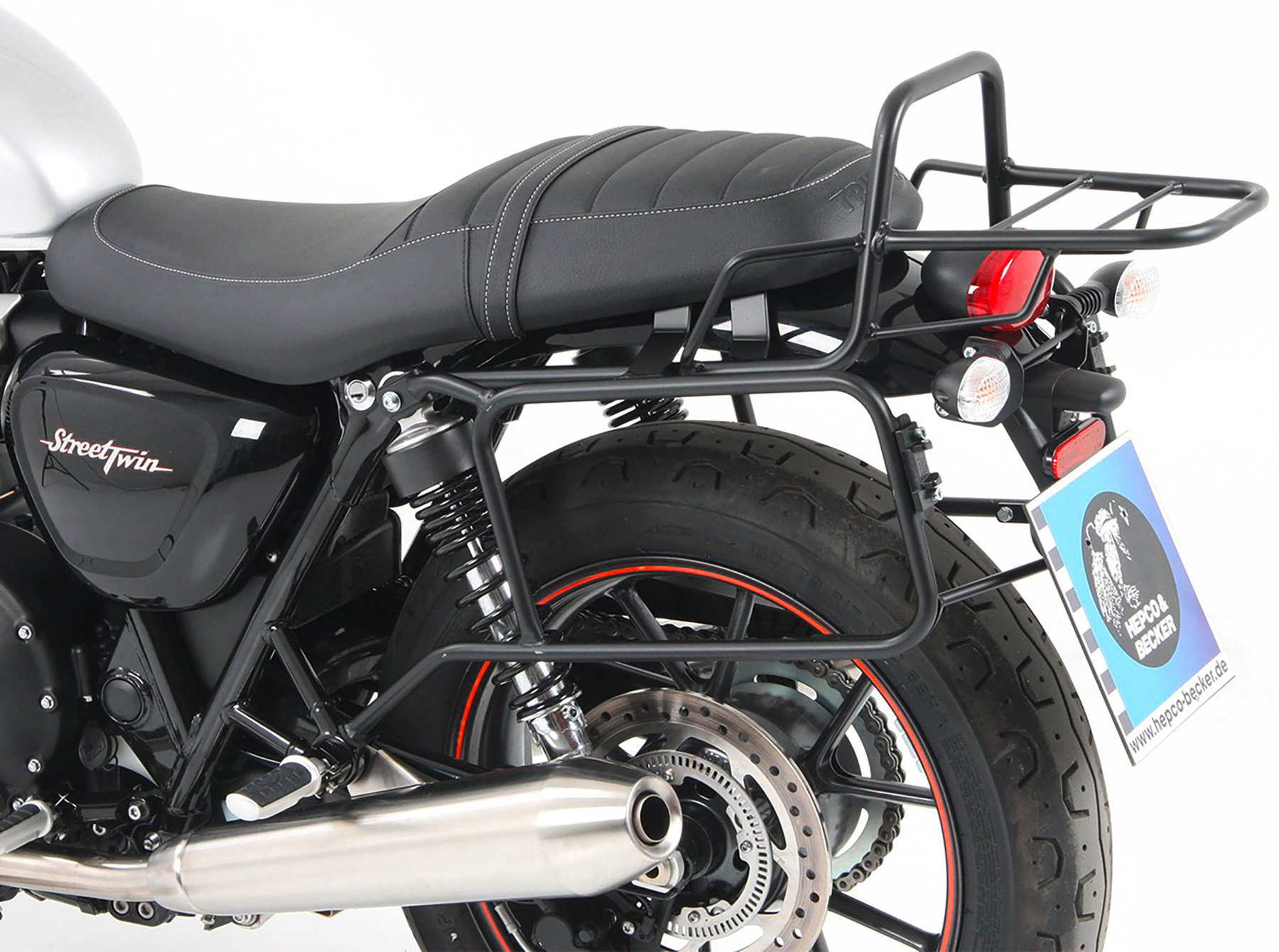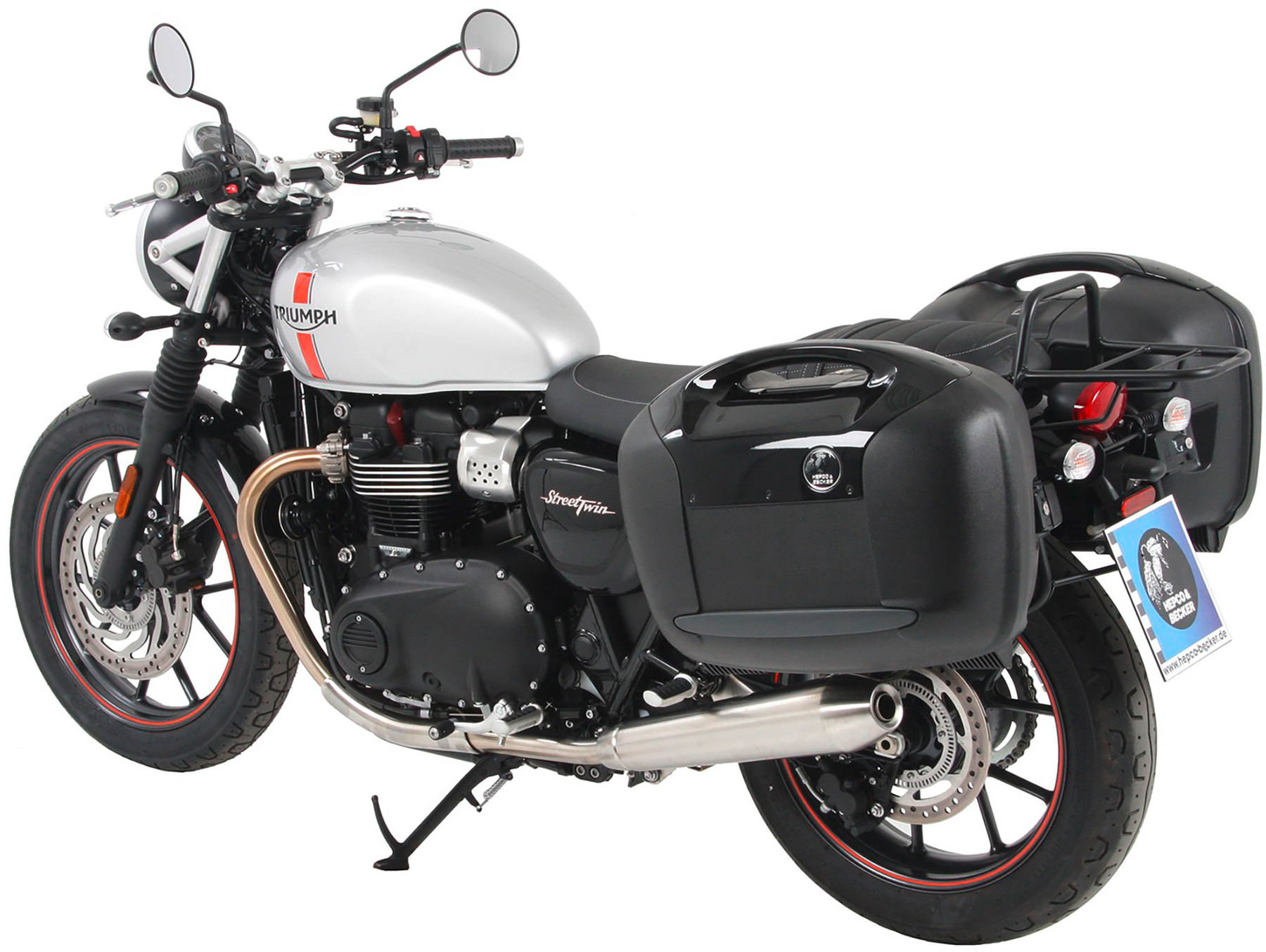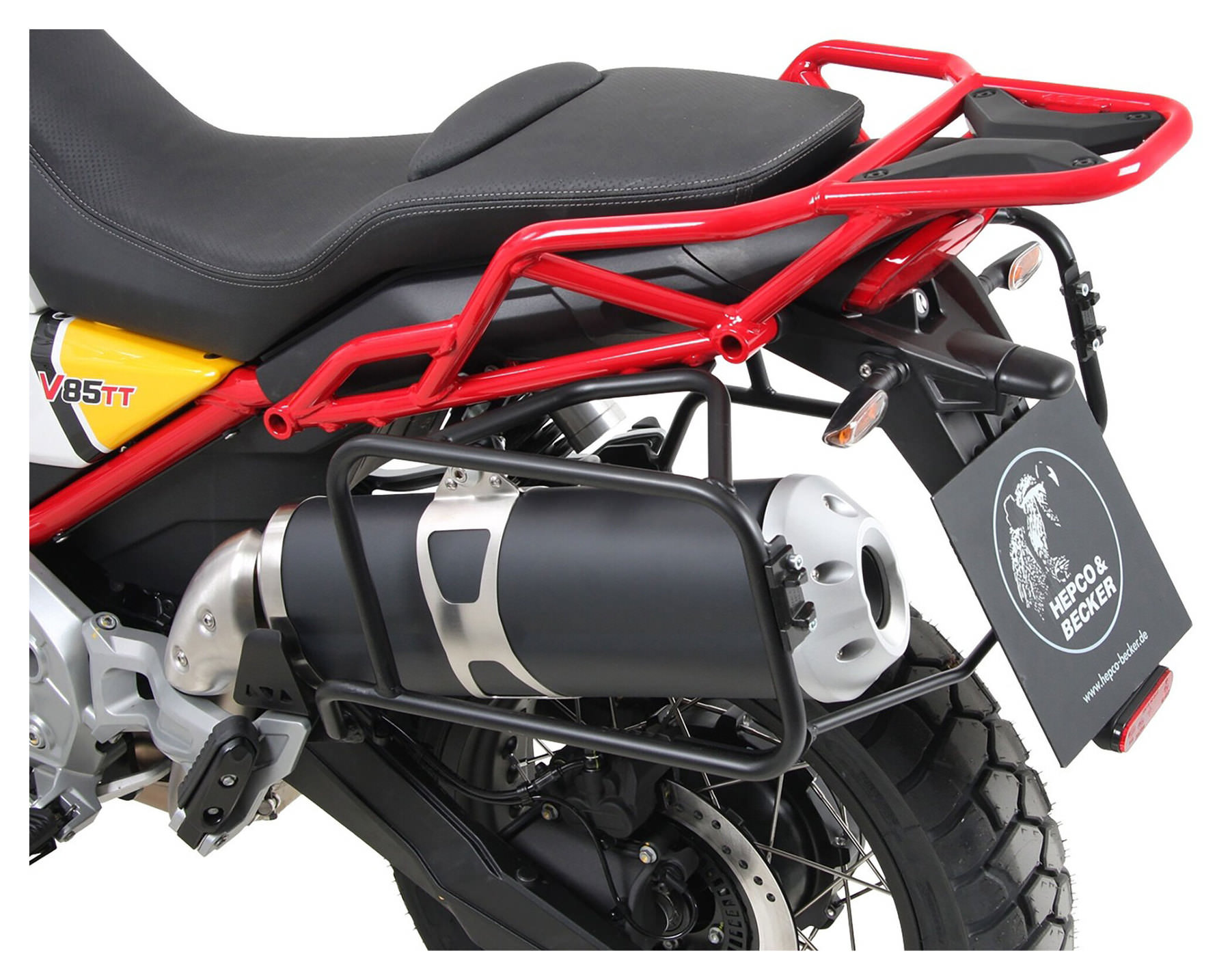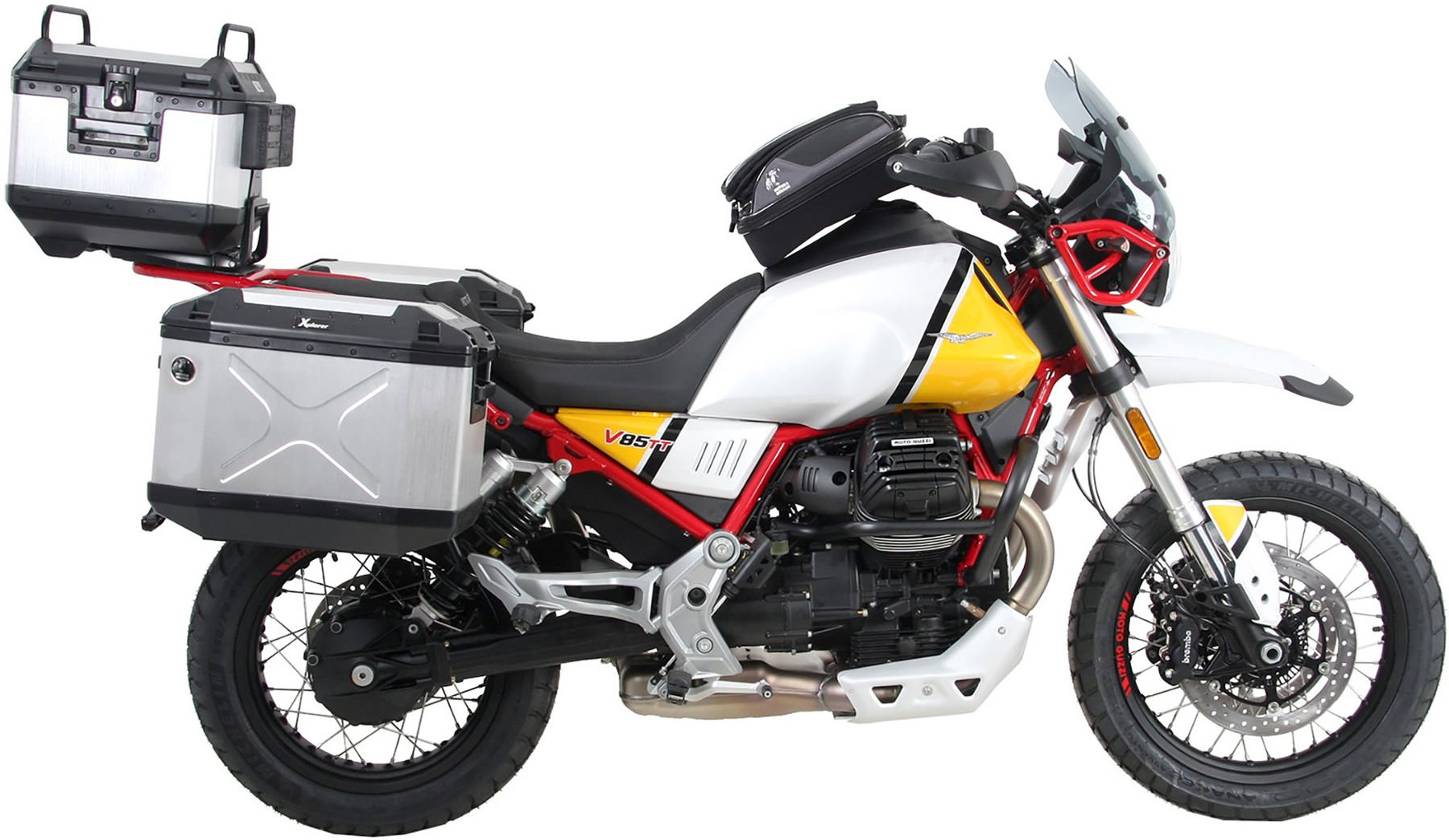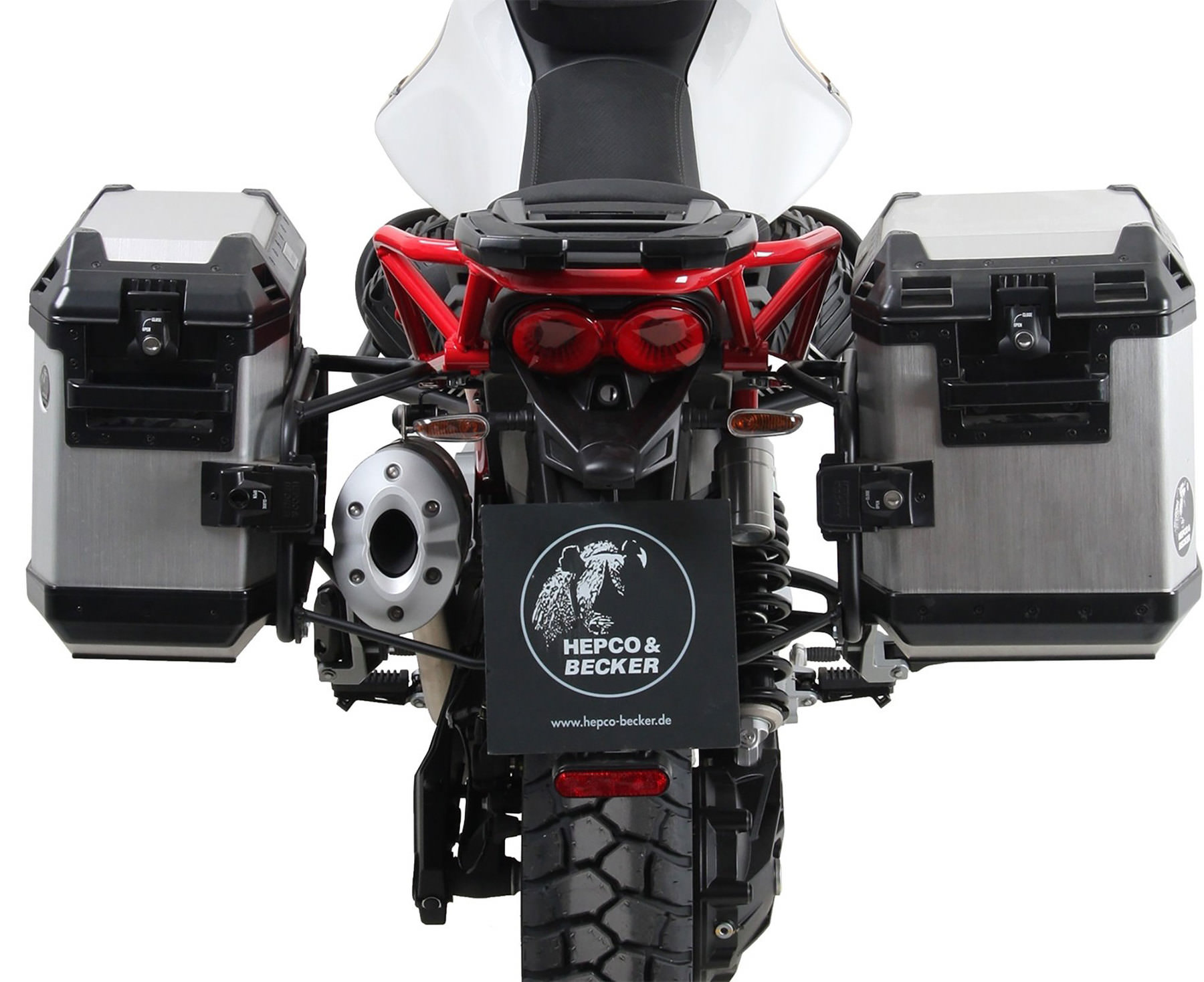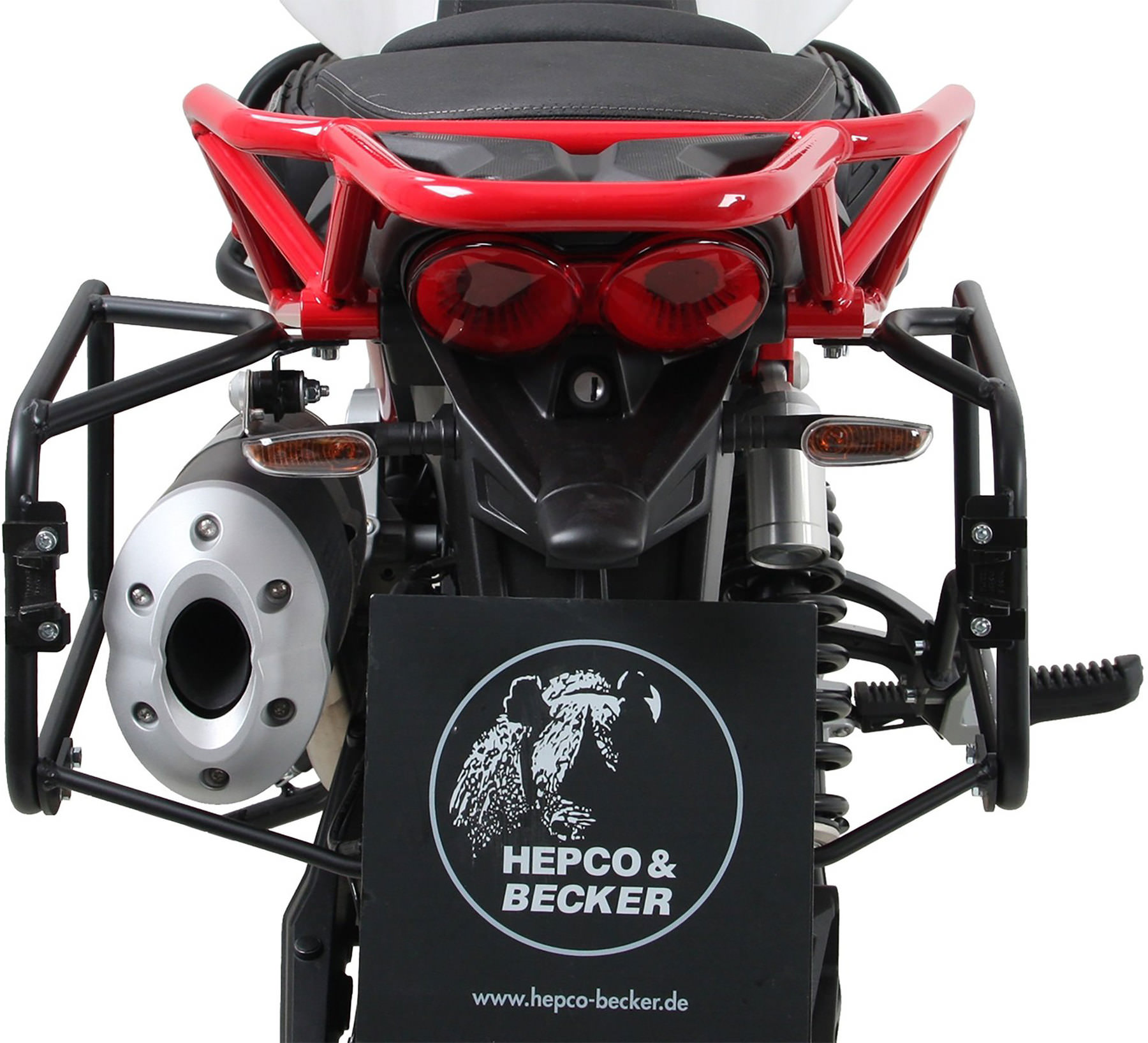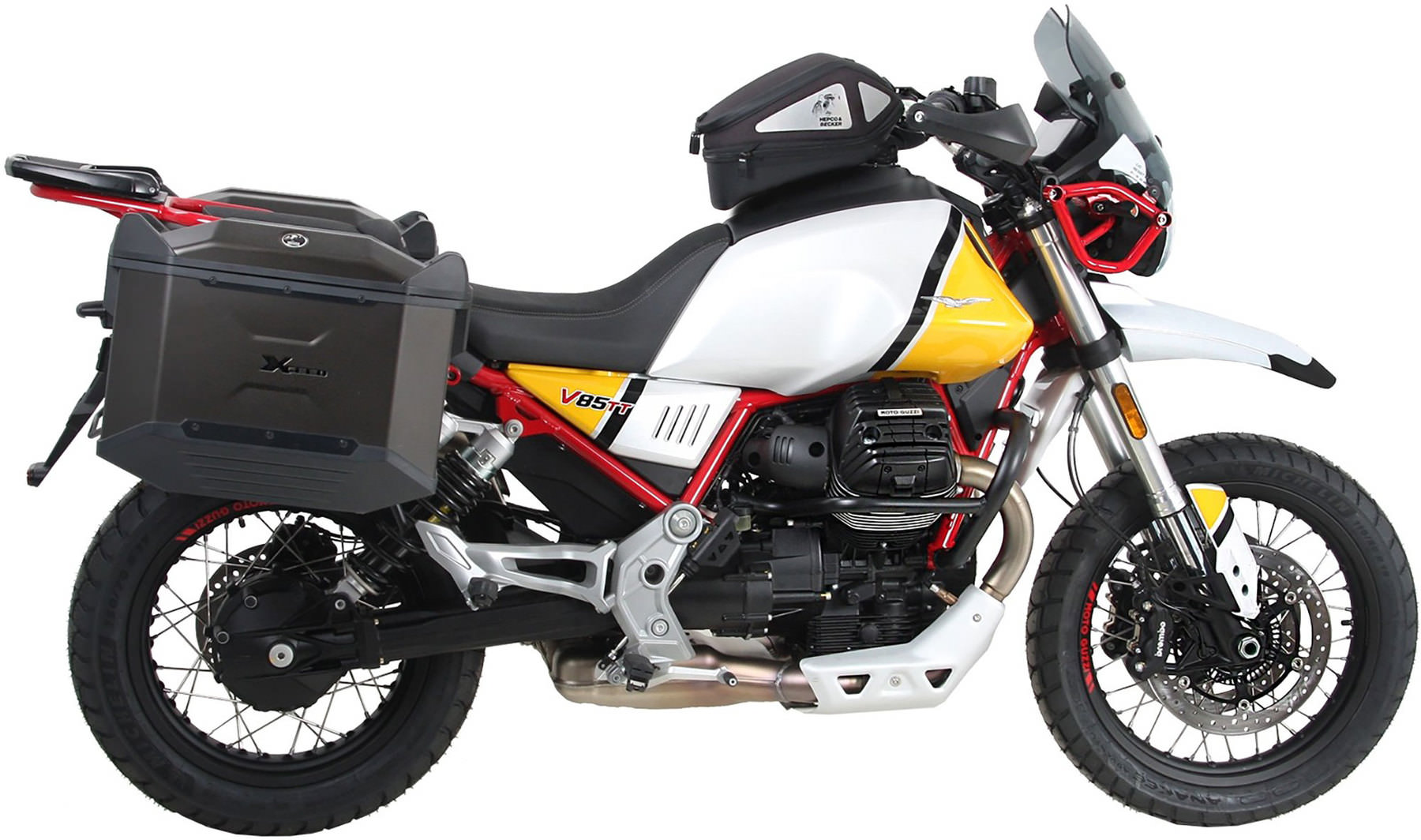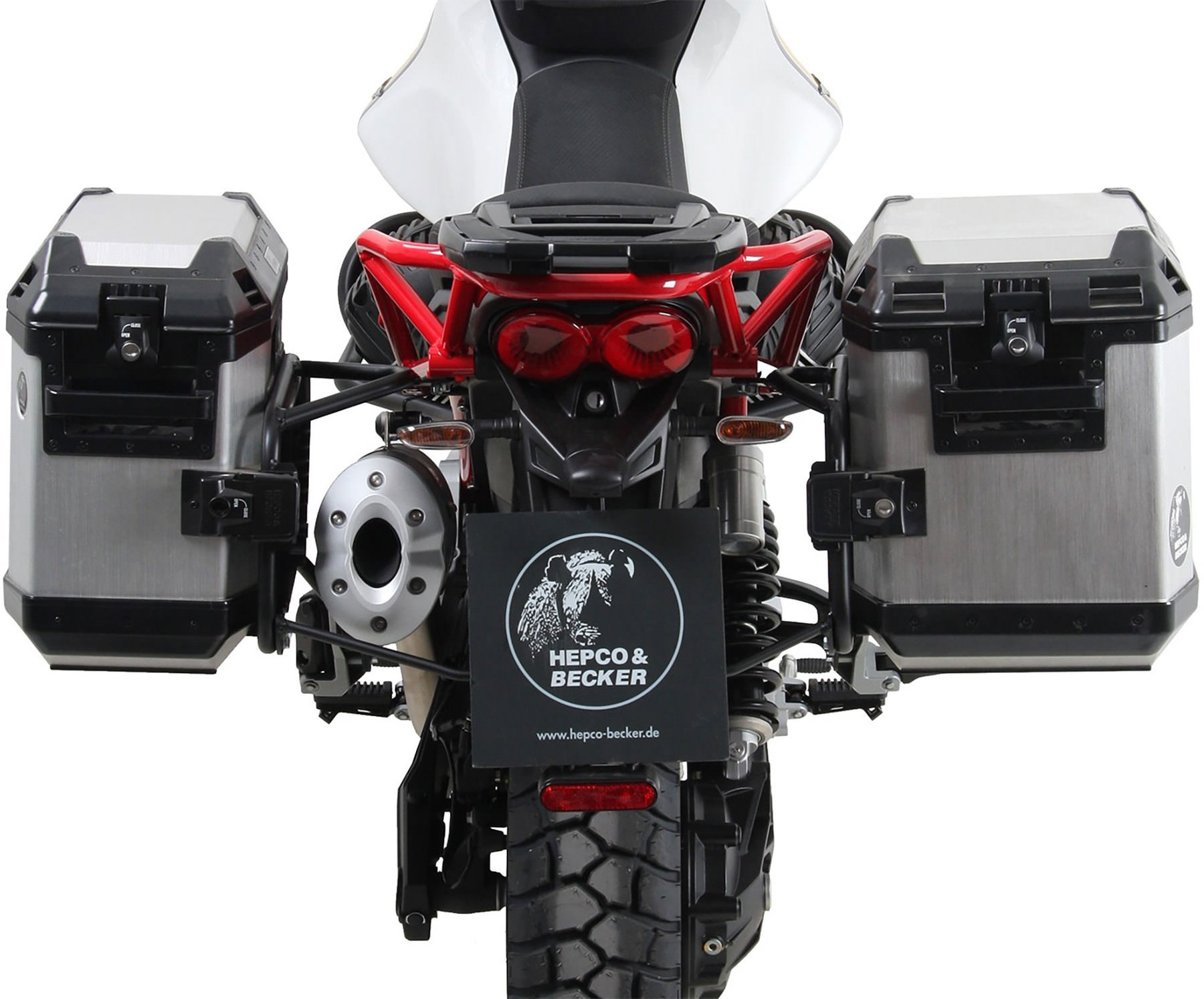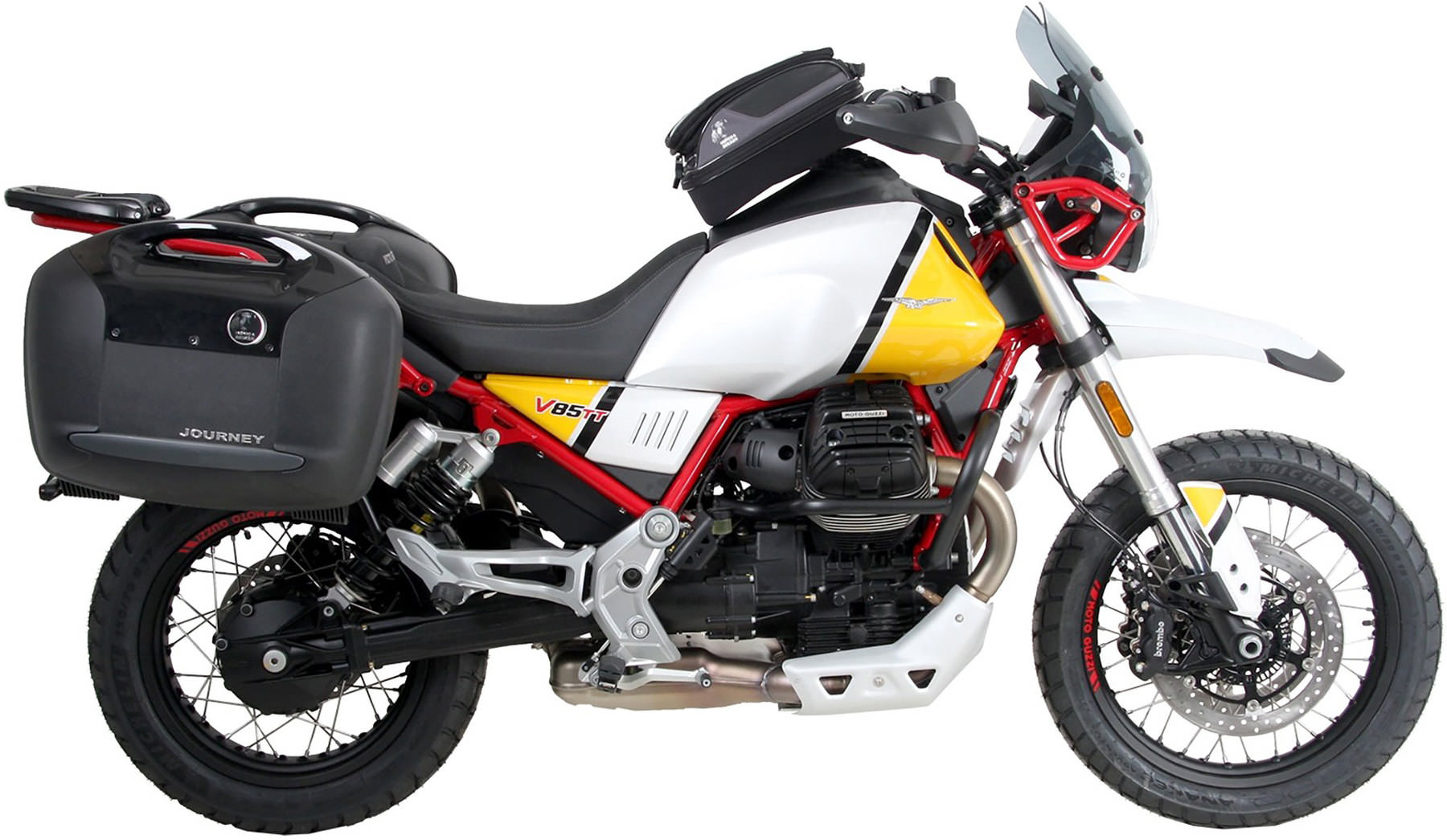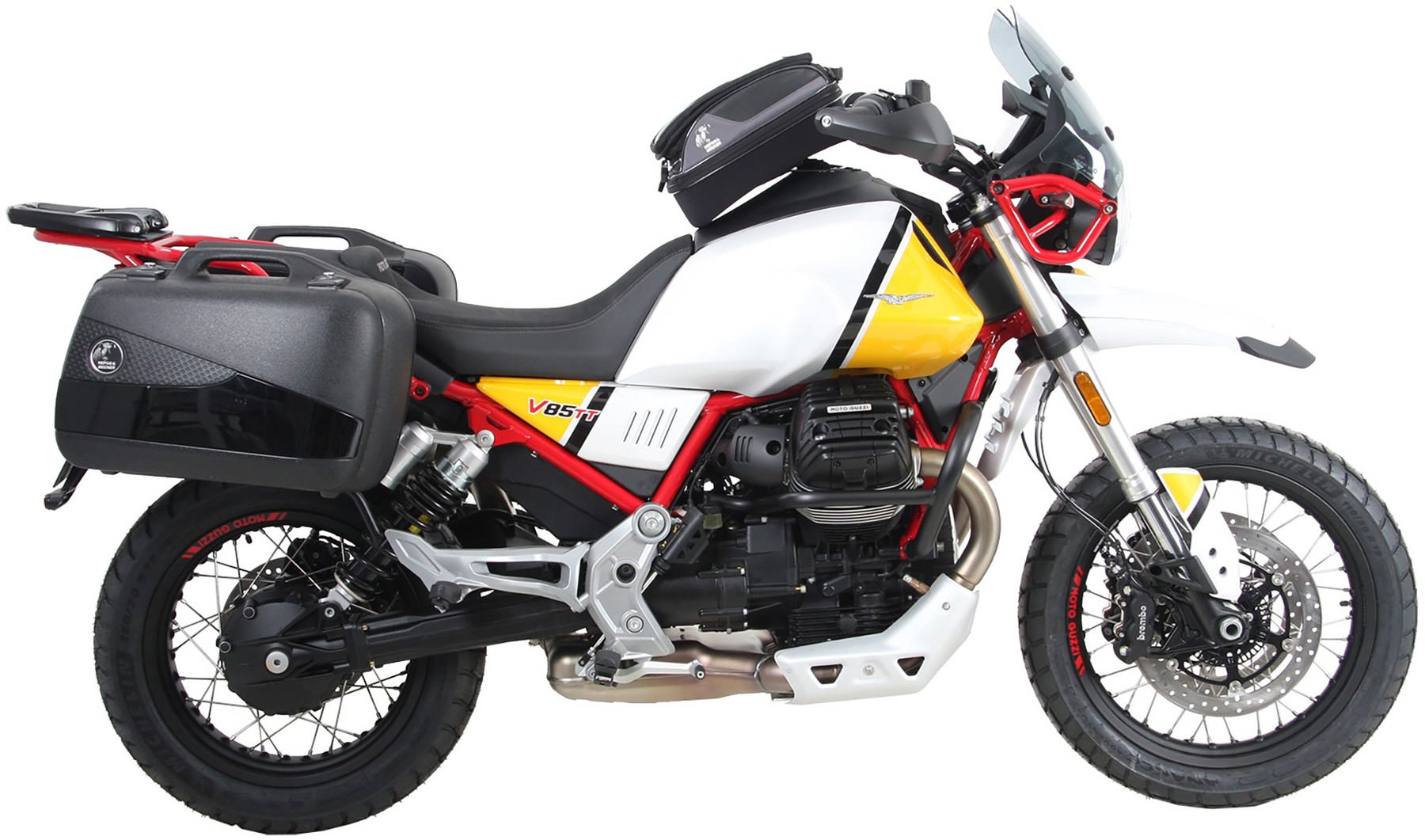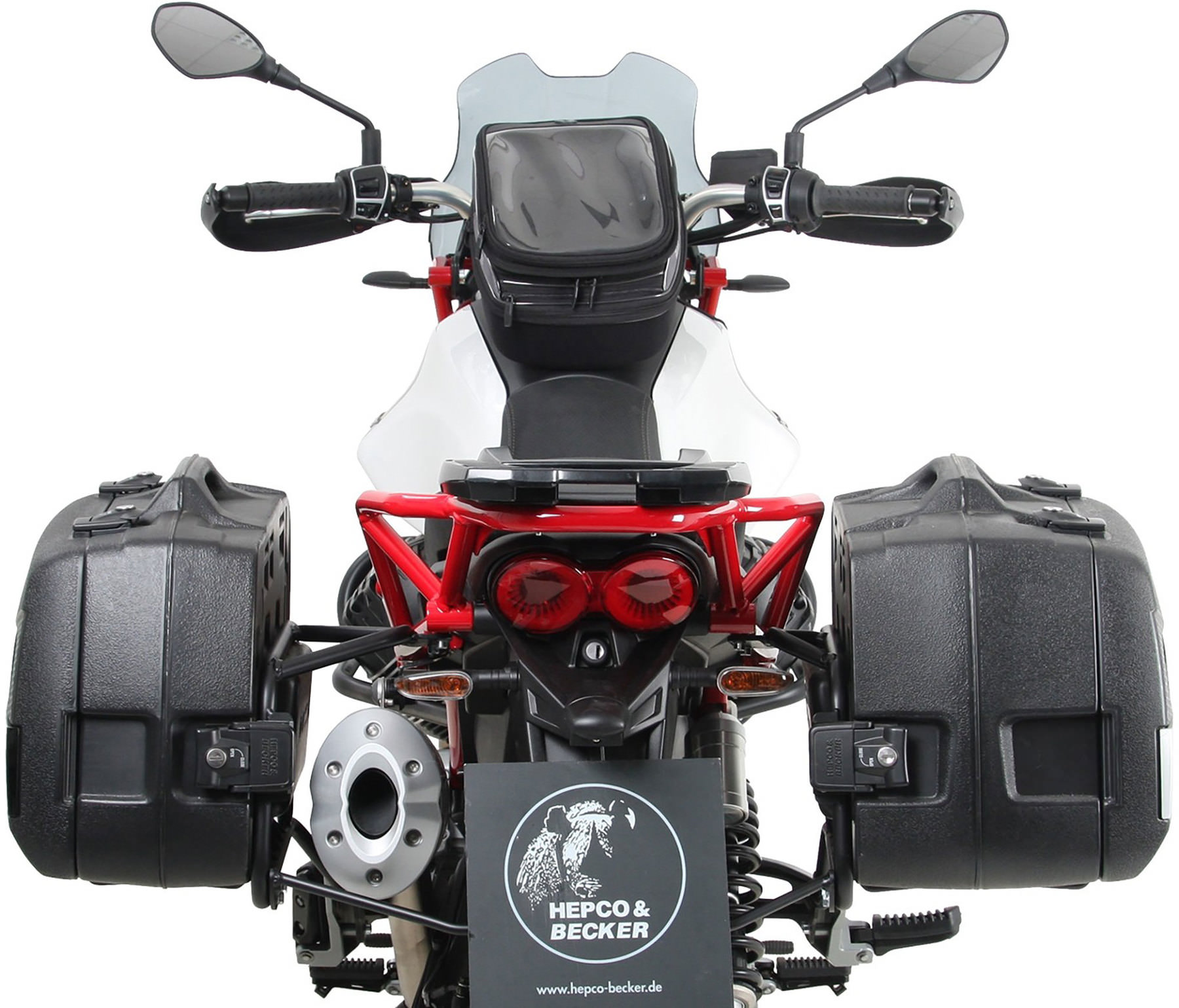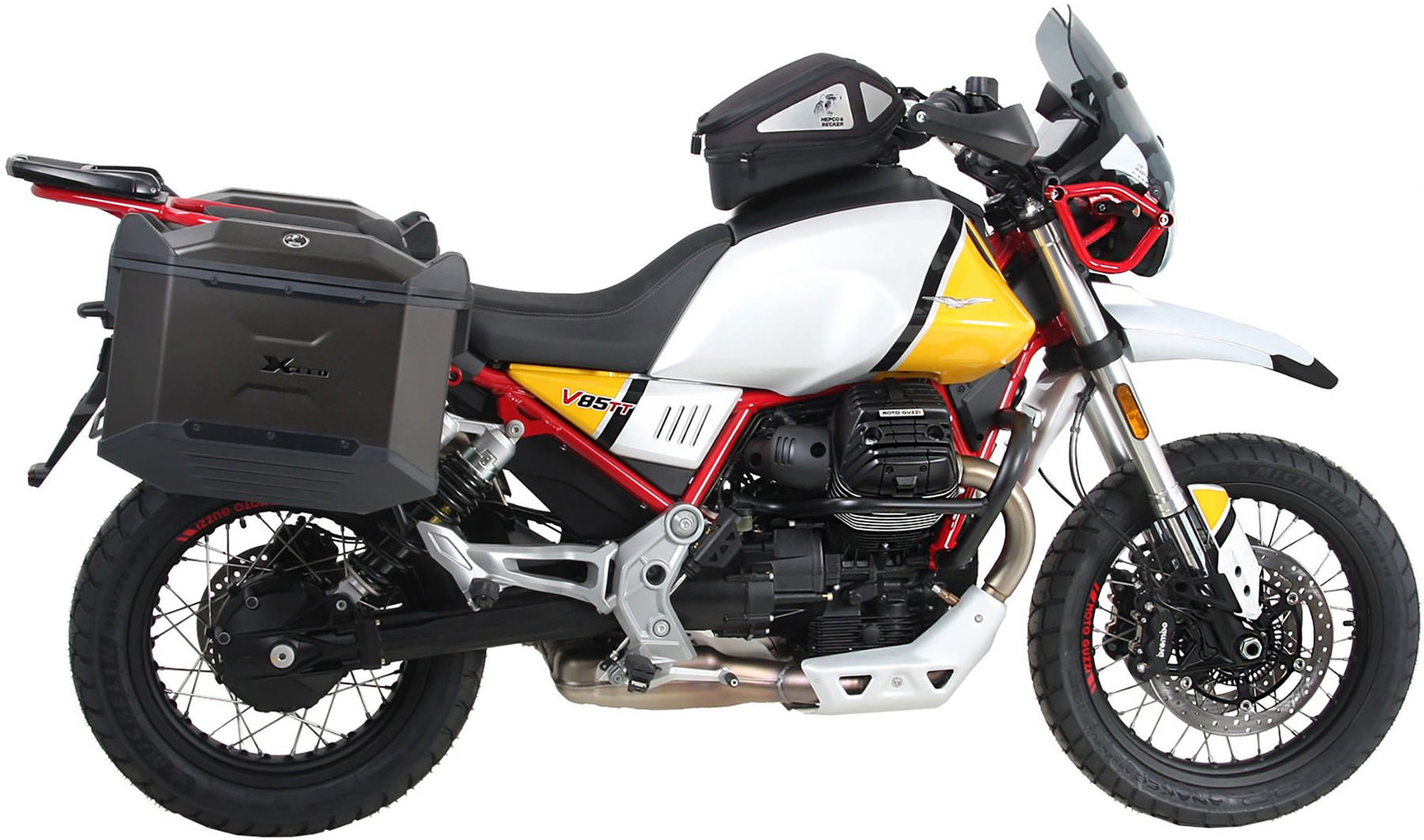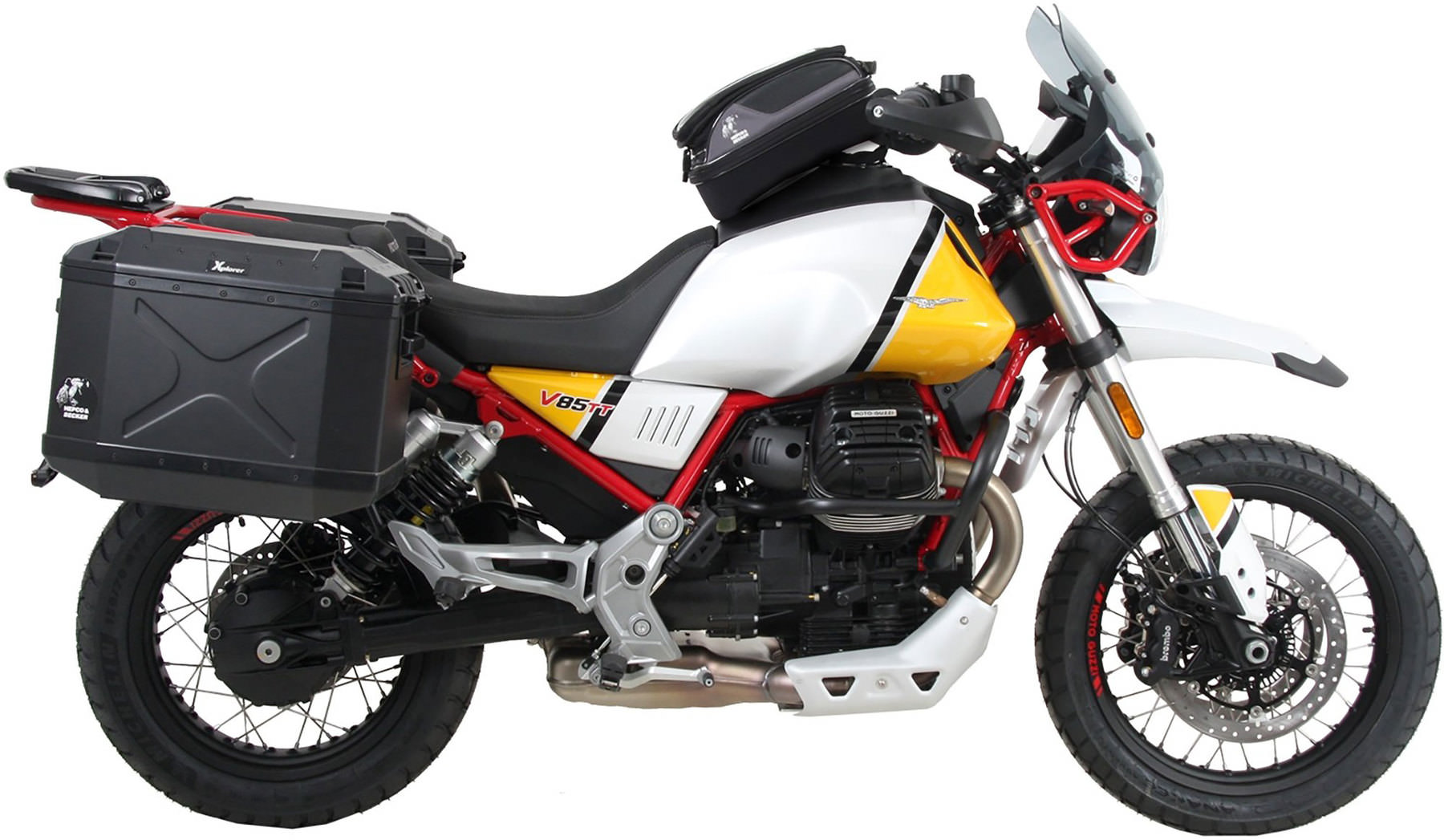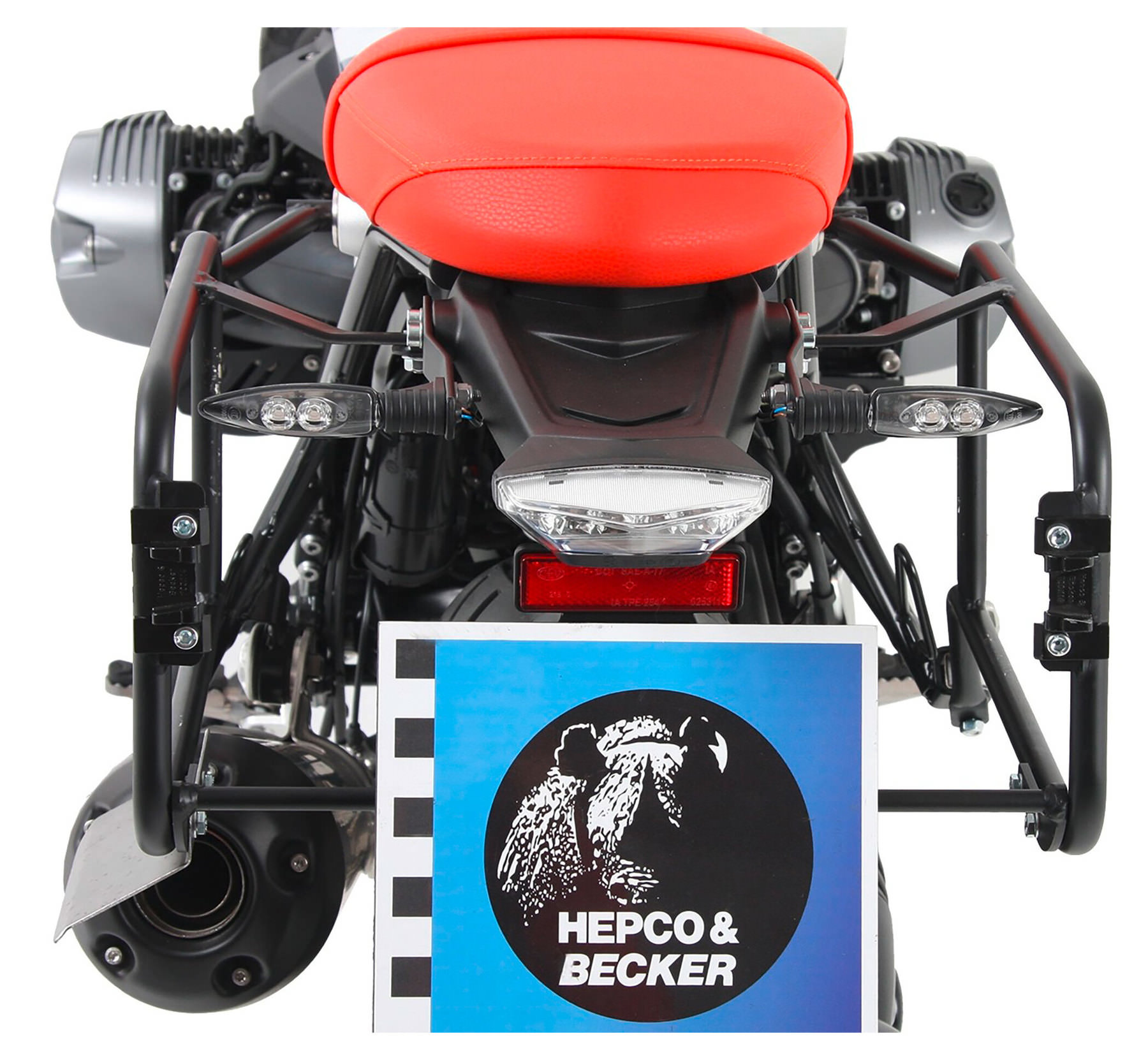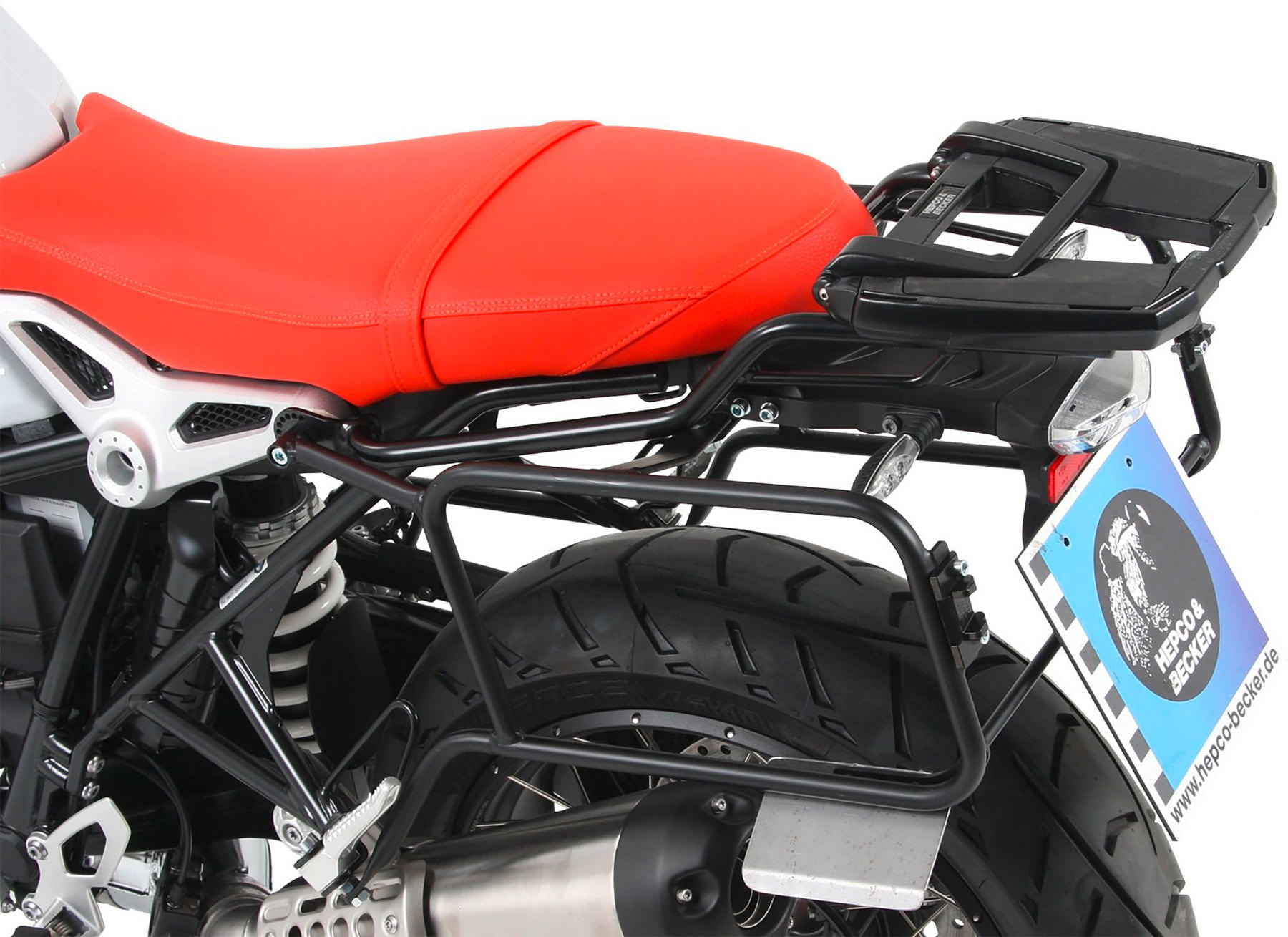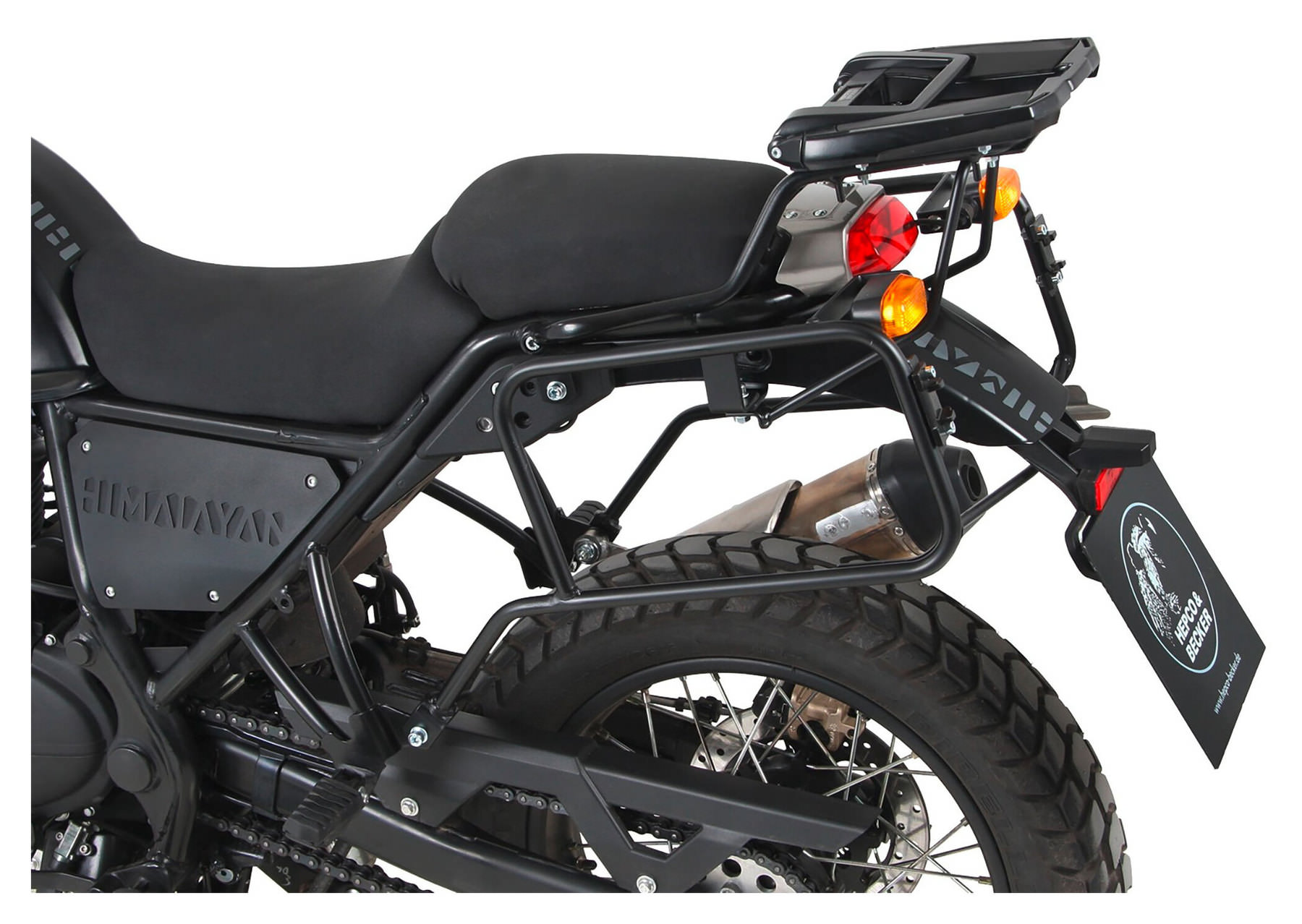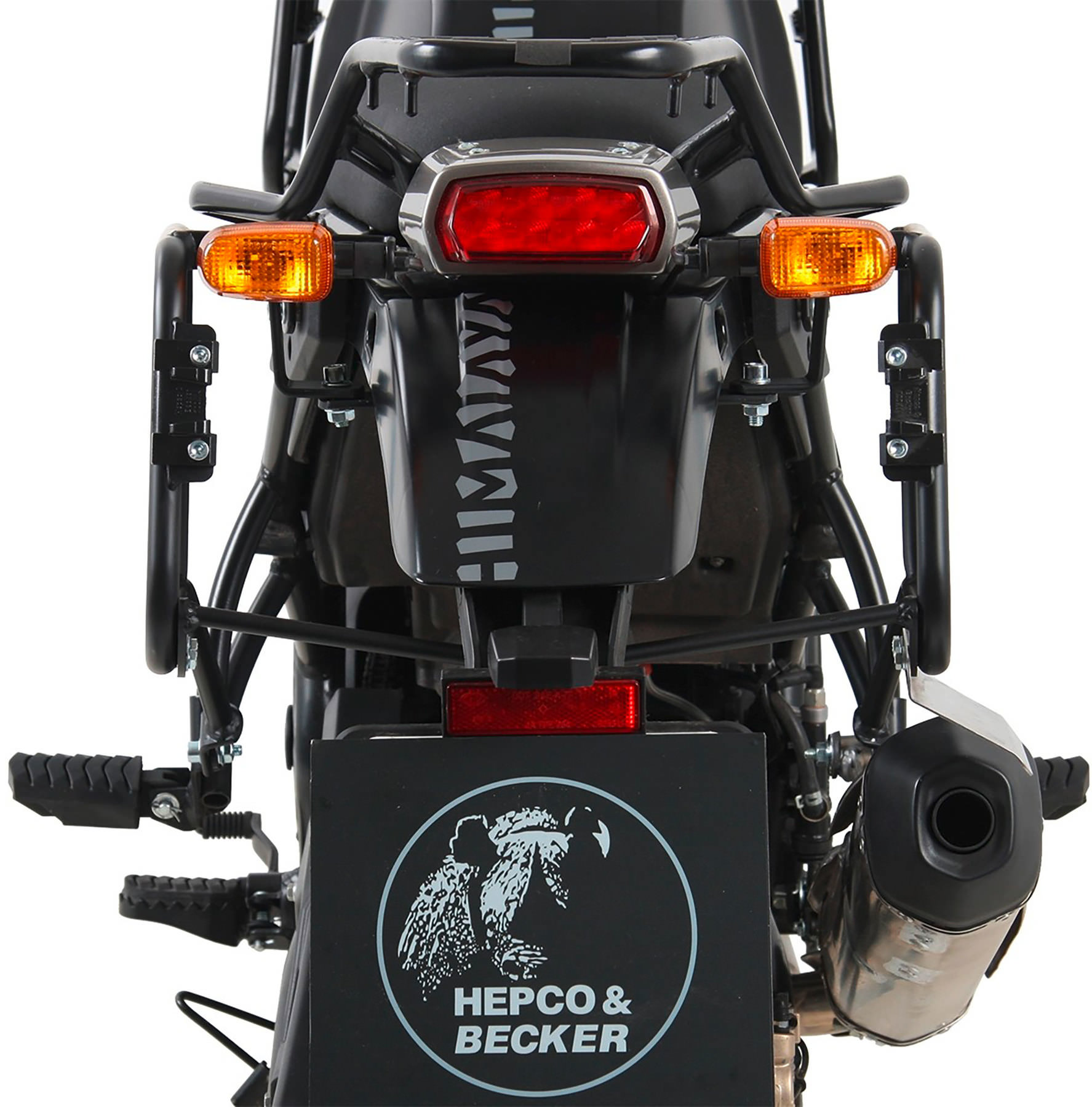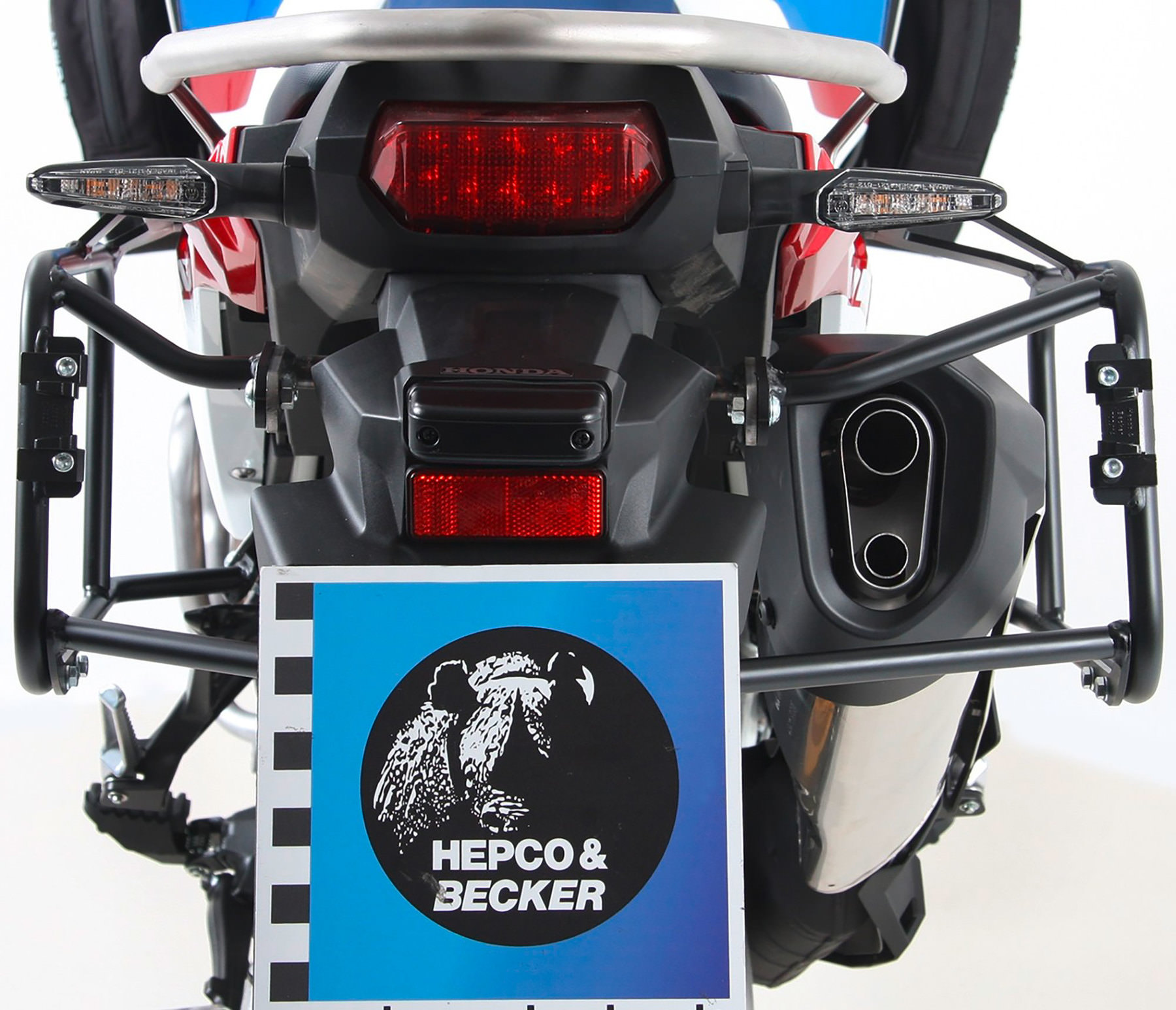 Hepco & Becker Sidecase Carrier
Unfortunately, this product is not compatible with this motorcycle.
Unfortunately, this product is not compatible with this motorcycle. You can find the right for the here: .
€

155.001
2
from
€

89.991
(-41%)
2 Price comparison with current recommended retail price.
Free delivery on orders over €199.00
2 year return policy
Fast delivery
Hepco & Becker Sidecase Carrier
Hepco & Becker side-case carrier:

The first choice for long distance journeys. Side-carrier from stable tubular steel construction to stay at the vehicle. This carrier allows you to carry 2 Hepco & Becker hard cases and can easily be retrofittet with a Hepco & Becker top-case carrier if more space and an additional case is desired.
Solidly made tubular steel construction
Precision fit; vehicle-specific design makes it easy to install
Carrier-system can stay at the vehicle due to a sturdy mounting system
Suitable for Hepco & Becker side-cases
Depending on vehicle type in black- or silver-coated and chromed available
NOTE:
Hepco & Becker ALUMINIUM ADAPTERS are not included because they are only inside the side- and topcases - please order separately item.no.: 10024409.
Manufacturer details: Hepco & Becker

Go to Hepco & Becker brand shop
Luggage systems

Motorcycle luggage and Hepco & Becker - almost perfectly synonymous. For decades, globetrotters and touring bikers have sworn by the German-produced durable products. They always rank as one of the best in comparative tests performed by the trade press when it comes to precision, weather resistance and functionality. Hepco products have long been a firm favourite in the Detlev Louis range. Due to a growing demand for racks for classic bikes, retro bikes and less popular vehicles, we have further expanded our product range and now present the entire Hepco & Becker luggage rack range for you to choose from.

QUALITY MADE IN GERMANY!

By purchasing this item you have chosen a premium-quality product with superior German workmanship. This internationally acknowledged mark of quality means that this product is the result of efficiently coordinated development and production processes, technological expertise, continuous quality controls.
Product
Art. No.
Availability
Price
Actions
H+B SIDE CARRIER - GUZZI V7 III BLACK
10066496

The product will be ordered from the manufacturer for you. Depending on availability, longer delivery times are also possible. We'll let you know if that's the case. You can of course cancel your delivery at any time free of charge.

Available in 7-21 days

€290.00 1
H+B SIDE CARRIER - GUZZI V7 III CHROME
10066499

The product will be ordered from the manufacturer for you. Depending on availability, longer delivery times are also possible. We'll let you know if that's the case. You can of course cancel your delivery at any time free of charge.

Available in 7-21 days

€300.00 1
H+B SIDE CASE CARRIER - BMW R NINET (14-) BLACK
10066751

The item is in stock and will be delivered in 2-5 working days. Note: Stocks are updated online every hour on working days from 7 a.m. to 8 p.m., so there is a good chance that the products are available if they appear online.

Available

€275.00 1
H+B SIDE CASE CARRIER - C 800 INTRUDER (-08) BLK
10066755

The product will be ordered from the manufacturer for you. Depending on availability, longer delivery times are also possible. We'll let you know if that's the case. You can of course cancel your delivery at any time free of charge.

Available in 7-21 days

€280.00 1
H+B SIDE CASE CARRIER - HIMALAYAN (2018-) BLACK
10066752

The item is in stock and will be delivered in 2-5 working days. Note: Stocks are updated online every hour on working days from 7 a.m. to 8 p.m., so there is a good chance that the products are available if they appear online.

Available

€210.00 1
H+B SIDE CASE CARRIER - HONDA CB500 X 17- ANTHRA.
10066519

The product will be ordered from the manufacturer for you. Depending on availability, longer delivery times are also possible. We'll let you know if that's the case. You can of course cancel your delivery at any time free of charge.

Available in 7-21 days

€275.00 1
H+B SIDE CASE CARRIER - STREET TWIN (16-18) CHROM
10066758

The product will be ordered from the manufacturer for you. Depending on availability, longer delivery times are also possible. We'll let you know if that's the case. You can of course cancel your delivery at any time free of charge.

Available in 7-21 days

€315.00 1
H+B SIDE CASE CARRIER - STREET TWIN 16-18 BLACK
10066690

The item is in stock and will be delivered in 2-5 working days. Note: Stocks are updated online every hour on working days from 7 a.m. to 8 p.m., so there is a good chance that the products are available if they appear online.

Available

€290.00 1
H+B SIDE CASE CARRIER - T120/T100/BLACK 16- BLACK
10066756

The product will be ordered from the manufacturer for you. Depending on availability, longer delivery times are also possible. We'll let you know if that's the case. You can of course cancel your delivery at any time free of charge.

Available in 7-21 days

€290.00 1
H+B SIDE CASE CARRIER - T120/T100/BLK 16- CHROME
10029463

The product will be ordered from the manufacturer for you. Depending on availability, longer delivery times are also possible. We'll let you know if that's the case. You can of course cancel your delivery at any time free of charge.

Available in 7-21 days

€315.00 1
H+B SIDE CASE CARRIER - TENERE (2019-) BLACK
10066759

The product will be ordered from the manufacturer for you. Depending on availability, longer delivery times are also possible. We'll let you know if that's the case. You can of course cancel your delivery at any time free of charge.

Available in 7-21 days

€265.00 1
H+B SIDE CASE CARRIER - V85 TT (2019-) BLACK
10066692

The item is in stock and will be delivered in 2-5 working days. Note: Stocks are updated online every hour on working days from 7 a.m. to 8 p.m., so there is a good chance that the products are available if they appear online.

Available

€230.00 1
H+B SIDE CASE RACK - TIGER900 RALLY GT PRO 20-
10067830

The item is in stock and will be delivered in 2-5 working days. Note: Stocks are updated online every hour on working days from 7 a.m. to 8 p.m., so there is a good chance that the products are available if they appear online.

Available

€240.00 1
H+B SIDE RACK, LEFT - V7 II STORNELLO CHROME

Important notes

10066468

The product will be ordered from the manufacturer for you. Depending on availability, longer delivery times are also possible. We'll let you know if that's the case. You can of course cancel your delivery at any time free of charge.

Available in 7-21 days

€165.00 1
H+B SIDE RACK, LEFT - V7 II STORNELLO BLACK

Important notes

10066467

The item is in stock and will be delivered in 2-5 working days. Note: Stocks are updated online every hour on working days from 7 a.m. to 8 p.m., so there is a good chance that the products are available if they appear online.

Available

€155.00

1 2 €89.99 1
H+B SIDECASE CARRIER - 1000 CALIF. II -85 CHROME
60556258

The product will be ordered from the manufacturer for you. Depending on availability, longer delivery times are also possible. We'll let you know if that's the case. You can of course cancel your delivery at any time free of charge.

Available in 7-21 days

€365.00 1
H+B SIDECASE CARRIER - 1000 CALIF.II 85- CHROME
60556259

The product will be ordered from the manufacturer for you. Depending on availability, longer delivery times are also possible. We'll let you know if that's the case. You can of course cancel your delivery at any time free of charge.

Available in 7-21 days

€360.00 1
H+B SIDECASE CARRIER - 1200 SPORT BLACK
60556265

The product will be ordered from the manufacturer for you. Depending on availability, longer delivery times are also possible. We'll let you know if that's the case. You can of course cancel your delivery at any time free of charge.

Available in 7-21 days

€275.00 1
H+B SIDECASE CARRIER - 950/990 LC8 ADVE./S BLACK
10024093

The product will be ordered from the manufacturer for you. Depending on availability, longer delivery times are also possible. We'll let you know if that's the case. You can of course cancel your delivery at any time free of charge.

Available in 7-21 days

€315.00 1
H+B SIDECASE CARRIER - AMERICA -10 CHROME
60556500

The item is in stock and will be delivered in 2-5 working days. Note: Stocks are updated online every hour on working days from 7 a.m. to 8 p.m., so there is a good chance that the products are available if they appear online.

Available

€340.00 1
H+B SIDECASE CARRIER - BMW G310GS 17- BLACK
10066099

The item is in stock and will be delivered in 2-5 working days. Note: Stocks are updated online every hour on working days from 7 a.m. to 8 p.m., so there is a good chance that the products are available if they appear online.

Available

€230.00 1
H+B SIDECASE CARRIER - BMW R 850/1100 GS BLACK
10066004

The product will be ordered from the manufacturer for you. Depending on availability, longer delivery times are also possible. We'll let you know if that's the case. You can of course cancel your delivery at any time free of charge.

Available in 7-21 days

€290.00 1
H+B SIDECASE CARRIER - BONNEVILLE/T100/SE CHROME

Important notes

Solo luggage rack can not be combined with Hepco & Becker side case carrier

60556501

The item is in stock and will be delivered in 2-5 working days. Note: Stocks are updated online every hour on working days from 7 a.m. to 8 p.m., so there is a good chance that the products are available if they appear online.

Available

€315.00 1
H+B SIDECASE CARRIER - BREVA/NORGE BLACK
10065917

The item is in stock and will be delivered in 2-5 working days. Note: Stocks are updated online every hour on working days from 7 a.m. to 8 p.m., so there is a good chance that the products are available if they appear online.

Available

€275.00 1
H+B SIDECASE CARRIER - BT1100 BULLDOG BLACK
10023743

The product will be ordered from the manufacturer for you. Depending on availability, longer delivery times are also possible. We'll let you know if that's the case. You can of course cancel your delivery at any time free of charge.

Available in 7-21 days

€300.00 1
H+B SIDECASE CARRIER - C1800 R -10 CHROME
10066186

The product will be ordered from the manufacturer for you. Depending on availability, longer delivery times are also possible. We'll let you know if that's the case. You can of course cancel your delivery at any time free of charge.

Available in 7-21 days

€325.00 1
H+B SIDECASE CARRIER - C1800 R 11- CHROME
60556424

The product will be ordered from the manufacturer for you. Depending on availability, longer delivery times are also possible. We'll let you know if that's the case. You can of course cancel your delivery at any time free of charge.

Available in 7-21 days

€325.00 1
H+B SIDECASE CARRIER - C800 INTRUDER 09- CHROME
60556416

The product will be ordered from the manufacturer for you. Depending on availability, longer delivery times are also possible. We'll let you know if that's the case. You can of course cancel your delivery at any time free of charge.

Available in 7-21 days

€265.00 1
H+B SIDECASE CARRIER - CA125/CMX250 REBEL CHROME
60556100

The product will be ordered from the manufacturer for you. Depending on availability, longer delivery times are also possible. We'll let you know if that's the case. You can of course cancel your delivery at any time free of charge.

Available in 7-21 days

€245.00 1
H+B SIDECASE CARRIER - CALI. AQUILA NERA CHROME
60556264

The product will be ordered from the manufacturer for you. Depending on availability, longer delivery times are also possible. We'll let you know if that's the case. You can of course cancel your delivery at any time free of charge.

Available in 7-21 days

€315.00 1
H+B SIDECASE CARRIER - CALI.SPEC./SP/AL/TI CHR.
10023751

The product will be ordered from the manufacturer for you. Depending on availability, longer delivery times are also possible. We'll let you know if that's the case. You can of course cancel your delivery at any time free of charge.

Available in 7-21 days

€315.00 1
H+B SIDECASE CARRIER - CALIF.EV CLAS. 01- CHROME
10023749

The product will be ordered from the manufacturer for you. Depending on availability, longer delivery times are also possible. We'll let you know if that's the case. You can of course cancel your delivery at any time free of charge.

Available in 7-21 days

€315.00 1
H+B SIDECASE CARRIER - CALIFORNIA III 88- CHROME
60556260

The product will be ordered from the manufacturer for you. Depending on availability, longer delivery times are also possible. We'll let you know if that's the case. You can of course cancel your delivery at any time free of charge.

Available in 7-21 days

€360.00 1
H+B SIDECASE CARRIER - CALIFORNIA JACKAL CHROME
10023753

The product will be ordered from the manufacturer for you. Depending on availability, longer delivery times are also possible. We'll let you know if that's the case. You can of course cancel your delivery at any time free of charge.

Available in 7-21 days

€315.00 1
H+B SIDECASE CARRIER - CALIFORNIA METAL CHROME
60556263

The product will be ordered from the manufacturer for you. Depending on availability, longer delivery times are also possible. We'll let you know if that's the case. You can of course cancel your delivery at any time free of charge.

Available in 7-21 days

€315.00 1
H+B SIDECASE CARRIER - CALIFORNIA STONE CHROME
10023757

The product will be ordered from the manufacturer for you. Depending on availability, longer delivery times are also possible. We'll let you know if that's the case. You can of course cancel your delivery at any time free of charge.

Available in 7-21 days

€315.00 1
H+B SIDECASE CARRIER - CALIFORNIA1100/EVO CHROME
10023747

The product will be ordered from the manufacturer for you. Depending on availability, longer delivery times are also possible. We'll let you know if that's the case. You can of course cancel your delivery at any time free of charge.

Available in 7-21 days

€315.00 1
H+B SIDECASE CARRIER - CB 1300/S 03-09 BLACK
10023764

The product will be ordered from the manufacturer for you. Depending on availability, longer delivery times are also possible. We'll let you know if that's the case. You can of course cancel your delivery at any time free of charge.

Available in 7-21 days

€315.00 1
H+B SIDECASE CARRIER - CB1000 BIG ONE CHROME
60556115

The product will be ordered from the manufacturer for you. Depending on availability, longer delivery times are also possible. We'll let you know if that's the case. You can of course cancel your delivery at any time free of charge.

Available in 7-21 days

€365.00 1
H+B SIDECASE CARRIER - CB900 F HORNET BLACK
10024906

The product will be ordered from the manufacturer for you. Depending on availability, longer delivery times are also possible. We'll let you know if that's the case. You can of course cancel your delivery at any time free of charge.

Available in 7-21 days

€300.00 1
H+B SIDECASE CARRIER - CBR1100XX BLACK
10024447

The item is in stock and will be delivered in 2-5 working days. Note: Stocks are updated online every hour on working days from 7 a.m. to 8 p.m., so there is a good chance that the products are available if they appear online.

Available

€300.00

1 2 €179.99 1
H+B SIDECASE CARRIER - CBR600 F 1999- BLACK

Important notes

Only side case carrier, original luggage rack (if provided) remains at vehicle

10023703

The product will be ordered from the manufacturer for you. Depending on availability, longer delivery times are also possible. We'll let you know if that's the case. You can of course cancel your delivery at any time free of charge.

Available in 7-21 days

€290.00 1
H+B SIDECASE CARRIER - CBR600 F 97-98 BLACK

Important notes

Only side case carrier, original luggage rack (if provided) remains at vehicle

10066151

The product will be ordered from the manufacturer for you. Depending on availability, longer delivery times are also possible. We'll let you know if that's the case. You can of course cancel your delivery at any time free of charge.

Available in 7-21 days

€290.00 1
H+B SIDECASE CARRIER - CBR900 RR -99 BLACK

Important notes

Limited legroom for pillion rider when Junior 30/40 litre and alu-cases are used

Solo luggage rack can not be combined with Hepco & Becker side case carrier

60556114

The product will be ordered from the manufacturer for you. Depending on availability, longer delivery times are also possible. We'll let you know if that's the case. You can of course cancel your delivery at any time free of charge.

Available in 7-21 days

€325.00 1
H+B SIDECASE CARRIER - CFR1000L 18- SCREWED
10066689

The item is in stock and will be delivered in 2-5 working days. Note: Stocks are updated online every hour on working days from 7 a.m. to 8 p.m., so there is a good chance that the products are available if they appear online.

Available

€240.00 1
H+B SIDECASE CARRIER - CRF1000 AFRICA TWIN 18-
10067200

The item is in stock and will be delivered in 2-5 working days. Note: Stocks are updated online every hour on working days from 7 a.m. to 8 p.m., so there is a good chance that the products are available if they appear online.

Available

€240.00 1
H+B SIDECASE CARRIER - CRF1000L 16-
10066461

The product will be ordered from the manufacturer for you. Depending on availability, longer delivery times are also possible. We'll let you know if that's the case. You can of course cancel your delivery at any time free of charge.

Available in 7-21 days

€240.00 1
H+B SIDECASE CARRIER - DR-Z400/S BLACK
60556400

The product will be ordered from the manufacturer for you. Depending on availability, longer delivery times are also possible. We'll let you know if that's the case. You can of course cancel your delivery at any time free of charge.

Available in 7-21 days

€290.00 1
H+B SIDECASE CARRIER - DR600 DAKAR 89-90 BLACK
60556402

The product will be ordered from the manufacturer for you. Depending on availability, longer delivery times are also possible. We'll let you know if that's the case. You can of course cancel your delivery at any time free of charge.

Available in 7-21 days

€335.00 1
H+B SIDECASE CARRIER - DR600 S/R 88-89 BLACK
60556401

The product will be ordered from the manufacturer for you. Depending on availability, longer delivery times are also possible. We'll let you know if that's the case. You can of course cancel your delivery at any time free of charge.

Available in 7-21 days

€335.00 1
H+B SIDECASE CARRIER - DR650 R 91 BLACK
60556404

The product will be ordered from the manufacturer for you. Depending on availability, longer delivery times are also possible. We'll let you know if that's the case. You can of course cancel your delivery at any time free of charge.

Available in 7-21 days

€335.00 1
H+B SIDECASE CARRIER - DR650 R 92- BLACK
60556405

The product will be ordered from the manufacturer for you. Depending on availability, longer delivery times are also possible. We'll let you know if that's the case. You can of course cancel your delivery at any time free of charge.

Available in 7-21 days

€360.00 1
H+B SIDECASE CARRIER - DR650 RS/RSE BLACK
60556406

The product will be ordered from the manufacturer for you. Depending on availability, longer delivery times are also possible. We'll let you know if that's the case. You can of course cancel your delivery at any time free of charge.

Available in 7-21 days

€340.00 1
H+B SIDECASE CARRIER - DR750 BIG -88 BLACK

Important notes

Winkerlamps remain in original position

60556407

The product will be ordered from the manufacturer for you. Depending on availability, longer delivery times are also possible. We'll let you know if that's the case. You can of course cancel your delivery at any time free of charge.

Available in 7-21 days

€325.00 1
H+B SIDECASE CARRIER - DR800 BIG 89-90 BLACK

Important notes

Winkerlamps remain in original position

60556413

The product will be ordered from the manufacturer for you. Depending on availability, longer delivery times are also possible. We'll let you know if that's the case. You can of course cancel your delivery at any time free of charge.

Available in 7-21 days

€335.00 1
H+B SIDECASE CARRIER - DR800 BIG 91- BLACK

Important notes

Winkerlamps remain in original position

60556414

The item is in stock and will be delivered in 2-5 working days. Note: Stocks are updated online every hour on working days from 7 a.m. to 8 p.m., so there is a good chance that the products are available if they appear online.

Available

€300.00 1
H+B SIDECASE CARRIER - DR800S BJ.92- BLACK

Important notes

No luggage rack, only specific adapter for mounting on original luggage carrier

Winkerlamps remain in original position

10023947

The product will be ordered from the manufacturer for you. Depending on availability, longer delivery times are also possible. We'll let you know if that's the case. You can of course cancel your delivery at any time free of charge.

Available in 7-21 days

€300.00 1
H+B SIDECASE CARRIER - EL125 ELIMINATOR CHROME

Important notes

Luggage rack suitable for topcase; not combinable with original sissybar

60556150

The product will be ordered from the manufacturer for you. Depending on availability, longer delivery times are also possible. We'll let you know if that's the case. You can of course cancel your delivery at any time free of charge.

Available in 7-21 days

€230.00 1
H+B SIDECASE CARRIER - ELEFANT 350/750 -86 BLACK
10066009

The product will be ordered from the manufacturer for you. Depending on availability, longer delivery times are also possible. We'll let you know if that's the case. You can of course cancel your delivery at any time free of charge.

Available in 7-21 days

€360.00 1
H+B SIDECASE CARRIER - ELEFANT 750/900 IE BLACK

Important notes

Winkerlamps remain in original position

60556050

The product will be ordered from the manufacturer for you. Depending on availability, longer delivery times are also possible. We'll let you know if that's the case. You can of course cancel your delivery at any time free of charge.

Available in 7-21 days

€360.00 1
H+B SIDECASE CARRIER - ELEFANT 900 IE BLACK

Important notes

Winkerlamps remain in original position

60556051

The product will be ordered from the manufacturer for you. Depending on availability, longer delivery times are also possible. We'll let you know if that's the case. You can of course cancel your delivery at any time free of charge.

Available in 7-21 days

€360.00 1
H+B SIDECASE CARRIER - ER-6N/F -2008 BLACK
10023779

The item is in stock and will be delivered in 2-5 working days. Note: Stocks are updated online every hour on working days from 7 a.m. to 8 p.m., so there is a good chance that the products are available if they appear online.

Available

€255.00

1 2 €149.99 1
H+B SIDECASE CARRIER - ETV1000 CAPONORD BLACK
60556005

The product will be ordered from the manufacturer for you. Depending on availability, longer delivery times are also possible. We'll let you know if that's the case. You can of course cancel your delivery at any time free of charge.

Available in 7-21 days

€325.00 1
H+B SIDECASE CARRIER - F650 -96/ST 97- BLACK

Important notes

No luggage rack, only specific adapter for mounting on original luggage carrier

Winkerlamps remain in original position

60556015

The item is in stock and will be delivered in 2-5 working days. Note: Stocks are updated online every hour on working days from 7 a.m. to 8 p.m., so there is a good chance that the products are available if they appear online.

Available

€290.00 1
H+B SIDECASE CARRIER - F650 CS SILVER

Important notes

Only side case carrier, original luggage rack (if provided) remains at vehicle

10024924

The item is in stock and will be delivered in 2-5 working days. Note: Stocks are updated online every hour on working days from 7 a.m. to 8 p.m., so there is a good chance that the products are available if they appear online.

Available

€290.00 1
H+B SIDECASE CARRIER - F650 GS/DAKAR -03 SILVER

Important notes

Only side case carrier, original luggage rack (if provided) remains at vehicle

10023759

The item is in stock and will be delivered in 2-5 working days. Note: Stocks are updated online every hour on working days from 7 a.m. to 8 p.m., so there is a good chance that the products are available if they appear online.

Available

€280.00 1
H+B SIDECASE CARRIER - F650/700/800 GS BLACK
60556018

The product will be ordered from the manufacturer for you. Depending on availability, longer delivery times are also possible. We'll let you know if that's the case. You can of course cancel your delivery at any time free of charge.

Available in 7-21 days

€280.00 1
H+B SIDECASE CARRIER - F650GS/DAKAR 2004- SILVER

Important notes

Only side case carrier, original luggage rack (if provided) remains at vehicle

10024797

The product will be ordered from the manufacturer for you. Depending on availability, longer delivery times are also possible. We'll let you know if that's the case. You can of course cancel your delivery at any time free of charge.

Available in 7-21 days

€280.00 1
H+B SIDECASE CARRIER - F6C CUSTOM CHROME
10023710

The product will be ordered from the manufacturer for you. Depending on availability, longer delivery times are also possible. We'll let you know if that's the case. You can of course cancel your delivery at any time free of charge.

Available in 7-21 days

€315.00 1
H+B SIDECASE CARRIER - FJR1300 01-05 BLACK
10024884

The item is in stock and will be delivered in 2-5 working days. Note: Stocks are updated online every hour on working days from 7 a.m. to 8 p.m., so there is a good chance that the products are available if they appear online.

Available

€275.00 1
H+B SIDECASE CARRIER - FJR1300 06- BLACK
10024858

The item is in stock and will be delivered in 2-5 working days. Note: Stocks are updated online every hour on working days from 7 a.m. to 8 p.m., so there is a good chance that the products are available if they appear online.

Available

€255.00 1
H+B SIDECASE CARRIER - FZ 1/FAZER BLACK

Important notes

Side case carrier can only be mounted with luggage carrier

10023789

The product will be ordered from the manufacturer for you. Depending on availability, longer delivery times are also possible. We'll let you know if that's the case. You can of course cancel your delivery at any time free of charge.

Available in 7-21 days

€200.00 1
H+B SIDECASE CARRIER - FZ 6/FAZER 04-06 SILVER
10065913

The product will be ordered from the manufacturer for you. Depending on availability, longer delivery times are also possible. We'll let you know if that's the case. You can of course cancel your delivery at any time free of charge.

Available in 7-21 days

€265.00 1
H+B SIDECASE CARRIER - FZS 1000 FAZER BLACK
10024882

The item is in stock and will be delivered in 2-5 working days. Note: Stocks are updated online every hour on working days from 7 a.m. to 8 p.m., so there is a good chance that the products are available if they appear online.

Available

€260.00

1 2 €203.60 1
H+B SIDECASE CARRIER - FZS 600/S 2000-03 BLACK
10024880

This product is available at week 17.
Current calendar week: 15

Available as of calendar week 17

€255.00

1 2 €139.99 1
H+B SIDECASE CARRIER - FZS600/S FAZER -99 BLACK
10024860

The product will be ordered from the manufacturer for you. Depending on availability, longer delivery times are also possible. We'll let you know if that's the case. You can of course cancel your delivery at any time free of charge.

Available in 7-21 days

€260.00 1
H+B SIDECASE CARRIER - GPX750 R BLACK

Important notes

Limited legroom for pillion rider when Junior 30/40 litre and alu-cases are used

60556158

The product will be ordered from the manufacturer for you. Depending on availability, longer delivery times are also possible. We'll let you know if that's the case. You can of course cancel your delivery at any time free of charge.

Available in 7-21 days

€315.00 1
H+B SIDECASE CARRIER - GPZ1000 RX BLACK

Important notes

Limited legroom for pillion rider when Junior 30/40 litre and alu-cases are used

Winkerlamps remain in original position

60556162

The product will be ordered from the manufacturer for you. Depending on availability, longer delivery times are also possible. We'll let you know if that's the case. You can of course cancel your delivery at any time free of charge.

Available in 7-21 days

€325.00 1
H+B SIDECASE CARRIER - GR.CANYON 900 98-99 BLACK
60556052

The product will be ordered from the manufacturer for you. Depending on availability, longer delivery times are also possible. We'll let you know if that's the case. You can of course cancel your delivery at any time free of charge.

Available in 7-21 days

€360.00 1
H+B SIDECASE CARRIER - GRISO 850/1100 BLACK
10023791

The product will be ordered from the manufacturer for you. Depending on availability, longer delivery times are also possible. We'll let you know if that's the case. You can of course cancel your delivery at any time free of charge.

Available in 7-21 days

€260.00 1
H+B SIDECASE CARRIER - GS500 E 01- BLACK

Important notes

Limited legroom for pillion rider when Junior 30/40 litre and alu-cases are used

10023727

The product will be ordered from the manufacturer for you. Depending on availability, longer delivery times are also possible. We'll let you know if that's the case. You can of course cancel your delivery at any time free of charge.

Available in 7-21 days

€255.00 1
H+B SIDECASE CARRIER - GSF1200 S 01-05 BLACK
10024878

The item is in stock and will be delivered in 2-5 working days. Note: Stocks are updated online every hour on working days from 7 a.m. to 8 p.m., so there is a good chance that the products are available if they appear online.

Available

€255.00 1
H+B SIDECASE CARRIER - GSF1200/S 06- BLACK
10023787

The product will be ordered from the manufacturer for you. Depending on availability, longer delivery times are also possible. We'll let you know if that's the case. You can of course cancel your delivery at any time free of charge.

Available in 7-21 days

€255.00 1
H+B SIDECASE CARRIER - GSF600/S BANDIT 00- BLACK
10024876

The item is in stock and will be delivered in 2-5 working days. Note: Stocks are updated online every hour on working days from 7 a.m. to 8 p.m., so there is a good chance that the products are available if they appear online.

Available

€255.00 1
H+B SIDECASE CARRIER - GSF650/S M.ABS -06 BLACK
10023776

The product will be ordered from the manufacturer for you. Depending on availability, longer delivery times are also possible. We'll let you know if that's the case. You can of course cancel your delivery at any time free of charge.

Available in 7-21 days

€275.00 1
H+B SIDECASE CARRIER - GSF650/S O.ABS -06 BLACK
10024778

The item is in stock and will be delivered in 2-5 working days. Note: Stocks are updated online every hour on working days from 7 a.m. to 8 p.m., so there is a good chance that the products are available if they appear online.

Available

€255.00 1
H+B SIDECASE CARRIER - GSR 600 06- BLACK
10023785

The product will be ordered from the manufacturer for you. Depending on availability, longer delivery times are also possible. We'll let you know if that's the case. You can of course cancel your delivery at any time free of charge.

Available in 7-21 days

€255.00 1
H+B SIDECASE CARRIER - GSX-R1100 91-92 BLACK

Important notes

Limited legroom for pillion rider when Junior 30/40 litre and alu-cases are used

60556419

The product will be ordered from the manufacturer for you. Depending on availability, longer delivery times are also possible. We'll let you know if that's the case. You can of course cancel your delivery at any time free of charge.

Available in 7-21 days

€325.00 1
H+B SIDECASE CARRIER - GSX-R1100 W 93-94 BLACK
60556420

The product will be ordered from the manufacturer for you. Depending on availability, longer delivery times are also possible. We'll let you know if that's the case. You can of course cancel your delivery at any time free of charge.

Available in 7-21 days

€325.00 1
H+B SIDECASE CARRIER - GSX-R750 88-90 BLACK

Important notes

Limited legroom for pillion rider when Junior 30/40 litre and alu-cases are used

60556408

The product will be ordered from the manufacturer for you. Depending on availability, longer delivery times are also possible. We'll let you know if that's the case. You can of course cancel your delivery at any time free of charge.

Available in 7-21 days

€325.00 1
H+B SIDECASE CARRIER - GSX-R750 92- BLACK

Important notes

Limited legroom for pillion rider when Junior 30/40 litre and alu-cases are used

60556410

The product will be ordered from the manufacturer for you. Depending on availability, longer delivery times are also possible. We'll let you know if that's the case. You can of course cancel your delivery at any time free of charge.

Available in 7-21 days

€325.00 1
H+B SIDECASE CARRIER - GSX-R750 W 93 BLACK

Important notes

Limited legroom for pillion rider when Junior 30/40 litre and alu-cases are used

60556411

The product will be ordered from the manufacturer for you. Depending on availability, longer delivery times are also possible. We'll let you know if that's the case. You can of course cancel your delivery at any time free of charge.

Available in 7-21 days

€325.00 1
H+B SIDECASE CARRIER - GSX-R750 W 94-95 BLACK

Important notes

Limited legroom for pillion rider when Junior 30/40 litre and alu-cases are used

60556412

The product will be ordered from the manufacturer for you. Depending on availability, longer delivery times are also possible. We'll let you know if that's the case. You can of course cancel your delivery at any time free of charge.

Available in 7-21 days

€325.00 1
H+B SIDECASE CARRIER - GSX1300 R HAYAB.-07 BLACK

Important notes

For models with 4in2 exhaust only

10023734

The item is in stock and will be delivered in 2-5 working days. Note: Stocks are updated online every hour on working days from 7 a.m. to 8 p.m., so there is a good chance that the products are available if they appear online.

Available

€275.00 1
H+B SIDECASE CARRIER - GSX1400 02-04 BLACK
10024912

The product will be ordered from the manufacturer for you. Depending on availability, longer delivery times are also possible. We'll let you know if that's the case. You can of course cancel your delivery at any time free of charge.

Available in 7-21 days

€290.00 1
H+B SIDECASE CARRIER - GSX1400 05- BLACK
10024913

The product will be ordered from the manufacturer for you. Depending on availability, longer delivery times are also possible. We'll let you know if that's the case. You can of course cancel your delivery at any time free of charge.

Available in 7-21 days

€290.00 1
H+B SIDECASE CARRIER - GSX600 F 1998- BLACK
10024910

The product will be ordered from the manufacturer for you. Depending on availability, longer delivery times are also possible. We'll let you know if that's the case. You can of course cancel your delivery at any time free of charge.

Available in 7-21 days

€260.00 1
H+B SIDECASE CARRIER - GSX750 F 03- BLACK
10023768

The product will be ordered from the manufacturer for you. Depending on availability, longer delivery times are also possible. We'll let you know if that's the case. You can of course cancel your delivery at any time free of charge.

Available in 7-21 days

€260.00 1
H+B SIDECASE CARRIER - GSX750/1200 BLACK
10024521

The product will be ordered from the manufacturer for you. Depending on availability, longer delivery times are also possible. We'll let you know if that's the case. You can of course cancel your delivery at any time free of charge.

Available in 7-21 days

€260.00 1
H+B SIDECASE CARRIER - GSX750F 1998-02 BLACK
10024849

The item is in stock and will be delivered in 2-5 working days. Note: Stocks are updated online every hour on working days from 7 a.m. to 8 p.m., so there is a good chance that the products are available if they appear online.

Available

€260.00

1 2 €149.99 1
H+B SIDECASE CARRIER - GT1000 BLACK
60556063

The product will be ordered from the manufacturer for you. Depending on availability, longer delivery times are also possible. We'll let you know if that's the case. You can of course cancel your delivery at any time free of charge.

Available in 7-21 days

€315.00 1
H+B SIDECASE CARRIER - HEXAGON 125 BLACK

Important notes

Side case carrier can only be mounted with luggage carrier

60556320

The product will be ordered from the manufacturer for you. Depending on availability, longer delivery times are also possible. We'll let you know if that's the case. You can of course cancel your delivery at any time free of charge.

Available in 7-21 days

€190.00 1
H+B SIDECASE CARRIER - HONDA XLV 750 R BLACK
10066000

The product will be ordered from the manufacturer for you. Depending on availability, longer delivery times are also possible. We'll let you know if that's the case. You can of course cancel your delivery at any time free of charge.

Available in 7-21 days

€360.00 1
H+B SIDECASE CARRIER - K1200 S/K1300 S BLACK

Important notes

Only side case carrier, original luggage rack (if provided) remains at vehicle

10024799

The product will be ordered from the manufacturer for you. Depending on availability, longer delivery times are also possible. We'll let you know if that's the case. You can of course cancel your delivery at any time free of charge.

Available in 7-21 days

€315.00 1
H+B SIDECASE CARRIER - K1200/1300 R BLACK
10024834

The product will be ordered from the manufacturer for you. Depending on availability, longer delivery times are also possible. We'll let you know if that's the case. You can of course cancel your delivery at any time free of charge.

Available in 7-21 days

€315.00 1
H+B SIDECASE CARRIER - KLE500 (LE500A) BLACK
10023714

The product will be ordered from the manufacturer for you. Depending on availability, longer delivery times are also possible. We'll let you know if that's the case. You can of course cancel your delivery at any time free of charge.

Available in 7-21 days

€300.00 1
H+B SIDECASE CARRIER - KLR 650 95- BLACK

Important notes

No luggage rack, only specific adapter for mounting on original luggage carrier

10024812

The product will be ordered from the manufacturer for you. Depending on availability, longer delivery times are also possible. We'll let you know if that's the case. You can of course cancel your delivery at any time free of charge.

Available in 7-21 days

€315.00 1
H+B SIDECASE CARRIER - KLR650 -92 BLACK
60556155

The product will be ordered from the manufacturer for you. Depending on availability, longer delivery times are also possible. We'll let you know if that's the case. You can of course cancel your delivery at any time free of charge.

Available in 7-21 days

€335.00 1
H+B SIDECASE CARRIER - KLR650 TENGAI BLACK
60556156

The product will be ordered from the manufacturer for you. Depending on availability, longer delivery times are also possible. We'll let you know if that's the case. You can of course cancel your delivery at any time free of charge.

Available in 7-21 days

€335.00 1
H+B SIDECASE CARRIER - KLX650 (C1-C2) BLACK
10024814

The product will be ordered from the manufacturer for you. Depending on availability, longer delivery times are also possible. We'll let you know if that's the case. You can of course cancel your delivery at any time free of charge.

Available in 7-21 days

€315.00 1
H+B SIDECASE CARRIER - KTM 125/200 DUKE BLACK
10066011

The product will be ordered from the manufacturer for you. Depending on availability, longer delivery times are also possible. We'll let you know if that's the case. You can of course cancel your delivery at any time free of charge.

Available in 7-21 days

€225.00 1
H+B SIDECASE CARRIER - KTM 390 DUKE BLACK
10066012

The product will be ordered from the manufacturer for you. Depending on availability, longer delivery times are also possible. We'll let you know if that's the case. You can of course cancel your delivery at any time free of charge.

Available in 7-21 days

€225.00 1
H+B SIDECASE CARRIER - LC4 620/ADVENTURE BLACK
60556200

The product will be ordered from the manufacturer for you. Depending on availability, longer delivery times are also possible. We'll let you know if that's the case. You can of course cancel your delivery at any time free of charge.

Available in 7-21 days

€380.00 1
H+B SIDECASE CARRIER - LC4 ADVENTURE -98 BLACK
60556201

The product will be ordered from the manufacturer for you. Depending on availability, longer delivery times are also possible. We'll let you know if that's the case. You can of course cancel your delivery at any time free of charge.

Available in 7-21 days

€400.00 1
H+B SIDECASE CARRIER - LC4-E 400/640 99- BLACK
10024782

The product will be ordered from the manufacturer for you. Depending on availability, longer delivery times are also possible. We'll let you know if that's the case. You can of course cancel your delivery at any time free of charge.

Available in 7-21 days

€380.00 1
H+B SIDECASE CARRIER - M1500 09- CHROME
10024490

The product will be ordered from the manufacturer for you. Depending on availability, longer delivery times are also possible. We'll let you know if that's the case. You can of course cancel your delivery at any time free of charge.

Available in 7-21 days

€315.00 1
H+B SIDECASE CARRIER - M1800 R CHROME
60556423

The product will be ordered from the manufacturer for you. Depending on availability, longer delivery times are also possible. We'll let you know if that's the case. You can of course cancel your delivery at any time free of charge.

Available in 7-21 days

€325.00 1
H+B SIDECASE CARRIER - M600/750/900 -99 BLACK

Important notes

Limited legroom for pillion rider when Junior 30/40 litre and alu-cases are used

Side case carrier can only be mounted with luggage carrier

60556060

The product will be ordered from the manufacturer for you. Depending on availability, longer delivery times are also possible. We'll let you know if that's the case. You can of course cancel your delivery at any time free of charge.

Available in 7-21 days

€200.00 1
H+B SIDECASE CARRIER - M800 INTRUDER -09 CHROME
10066179

The product will be ordered from the manufacturer for you. Depending on availability, longer delivery times are also possible. We'll let you know if that's the case. You can of course cancel your delivery at any time free of charge.

Available in 7-21 days

€265.00 1
H+B SIDECASE CARRIER - M800 INTRUDER 10- CHROME
10066180

The product will be ordered from the manufacturer for you. Depending on availability, longer delivery times are also possible. We'll let you know if that's the case. You can of course cancel your delivery at any time free of charge.

Available in 7-21 days

€270.00 1
H+B SIDECASE CARRIER - MONSTER 900IE 00-05 BLACK
60556062

The product will be ordered from the manufacturer for you. Depending on availability, longer delivery times are also possible. We'll let you know if that's the case. You can of course cancel your delivery at any time free of charge.

Available in 7-21 days

€325.00 1
H+B SIDECASE CARRIER - MT-03 BLACK
10066201

The product will be ordered from the manufacturer for you. Depending on availability, longer delivery times are also possible. We'll let you know if that's the case. You can of course cancel your delivery at any time free of charge.

Available in 7-21 days

€230.00 1
H+B SIDECASE CARRIER - MULTISTR.620-1100 BLACK
60556061

The product will be ordered from the manufacturer for you. Depending on availability, longer delivery times are also possible. We'll let you know if that's the case. You can of course cancel your delivery at any time free of charge.

Available in 7-21 days

€360.00 1
H+B SIDECASE CARRIER - NAVIGATOR 1000 BLACK

Important notes

No luggage rack, only specific adapter for mounting on original luggage carrier

60556053

The product will be ordered from the manufacturer for you. Depending on availability, longer delivery times are also possible. We'll let you know if that's the case. You can of course cancel your delivery at any time free of charge.

Available in 7-21 days

€360.00 1
H+B SIDECASE CARRIER - NEVADA 750 ANNIV.10- CHR.
60556255

The item is in stock and will be delivered in 2-5 working days. Note: Stocks are updated online every hour on working days from 7 a.m. to 8 p.m., so there is a good chance that the products are available if they appear online.

Available

€290.00 1
H+B SIDECASE CARRIER - NEVADA 750 CLAS.04- CHR.
60556254

The product will be ordered from the manufacturer for you. Depending on availability, longer delivery times are also possible. We'll let you know if that's the case. You can of course cancel your delivery at any time free of charge.

Available in 7-21 days

€290.00 1
H+B SIDECASE CARRIER - NEVADA 750/CLUB 95- CHR.

Important notes

Only in conjunction with OEM-sissybar

60556253

The product will be ordered from the manufacturer for you. Depending on availability, longer delivery times are also possible. We'll let you know if that's the case. You can of course cancel your delivery at any time free of charge.

Available in 7-21 days

€315.00 1
H+B SIDECASE CARRIER - NX250 BLACK
60556102

The item is in stock and will be delivered in 2-5 working days. Note: Stocks are updated online every hour on working days from 7 a.m. to 8 p.m., so there is a good chance that the products are available if they appear online.

Available

€300.00 1
H+B SIDECASE CARRIER - NX650 DOMIN. -91 BLACK

Important notes

No luggage rack, only specific adapter for mounting on original luggage carrier

60556107

The product will be ordered from the manufacturer for you. Depending on availability, longer delivery times are also possible. We'll let you know if that's the case. You can of course cancel your delivery at any time free of charge.

Available in 7-21 days

€325.00 1
H+B SIDECASE CARRIER - NX650 DOMIN.92-94 BLACK

Important notes

No luggage rack, only specific adapter for mounting on original luggage carrier

60556108

The item is in stock and will be delivered in 2-5 working days. Note: Stocks are updated online every hour on working days from 7 a.m. to 8 p.m., so there is a good chance that the products are available if they appear online.

Available

€325.00 1
H+B SIDECASE CARRIER - NX650 DOMINATOR 95- BLACK
10023705

The product will be ordered from the manufacturer for you. Depending on availability, longer delivery times are also possible. We'll let you know if that's the case. You can of course cancel your delivery at any time free of charge.

Available in 7-21 days

€300.00 1
H+B SIDECASE CARRIER - PEGASO 650 92-95 BLACK

Important notes

Winkerlamps remain in original position

60556002

The product will be ordered from the manufacturer for you. Depending on availability, longer delivery times are also possible. We'll let you know if that's the case. You can of course cancel your delivery at any time free of charge.

Available in 7-21 days

€335.00 1
H+B SIDECASE CARRIER - PEGASO 650 96 BLACK

Important notes

Winkerlamps remain in original position

60556003

The product will be ordered from the manufacturer for you. Depending on availability, longer delivery times are also possible. We'll let you know if that's the case. You can of course cancel your delivery at any time free of charge.

Available in 7-21 days

€325.00 1
H+B SIDECASE CARRIER - PEGASO/GARDA 650 97- BLK.

Important notes

Winkerlamps remain in original position

60556004

The product will be ordered from the manufacturer for you. Depending on availability, longer delivery times are also possible. We'll let you know if that's the case. You can of course cancel your delivery at any time free of charge.

Available in 7-21 days

€325.00 1
H+B SIDECASE CARRIER - QUOTA 1000/1100 ES BLACK
60556261

The product will be ordered from the manufacturer for you. Depending on availability, longer delivery times are also possible. We'll let you know if that's the case. You can of course cancel your delivery at any time free of charge.

Available in 7-21 days

€325.00 1
H+B SIDECASE CARRIER - R 1200 GS ADV. 14- ANTHR.
10066008

The product will be ordered from the manufacturer for you. Depending on availability, longer delivery times are also possible. We'll let you know if that's the case. You can of course cancel your delivery at any time free of charge.

Available in 7-21 days

€275.00 1
H+B SIDECASE CARRIER - R1150GS ADVENTURE BLACK

Important notes

Only side case carrier, original luggage rack (if provided) remains at vehicle

10066137

The product will be ordered from the manufacturer for you. Depending on availability, longer delivery times are also possible. We'll let you know if that's the case. You can of course cancel your delivery at any time free of charge.

Available in 7-21 days

€315.00 1
H+B SIDECASE CARRIER - R1200 GS -07 SILVER

Important notes

Only side case carrier, original luggage rack (if provided) remains at vehicle

10023773

The product will be ordered from the manufacturer for you. Depending on availability, longer delivery times are also possible. We'll let you know if that's the case. You can of course cancel your delivery at any time free of charge.

Available in 7-21 days

€315.00 1
H+B SIDECASE CARRIER - R1200 GS -07 BLACK

Important notes

Only side case carrier, original luggage rack (if provided) remains at vehicle

10066138

The product will be ordered from the manufacturer for you. Depending on availability, longer delivery times are also possible. We'll let you know if that's the case. You can of course cancel your delivery at any time free of charge.

Available in 7-21 days

€315.00 1
H+B SIDECASE CARRIER - R1200 GS ADV. 08-13 BLACK
10066006

The product will be ordered from the manufacturer for you. Depending on availability, longer delivery times are also possible. We'll let you know if that's the case. You can of course cancel your delivery at any time free of charge.

Available in 7-21 days

€315.00 1
H+B SIDECASE CARRIER - R1200GS ADV. 08-13 CHROME
10066007

The product will be ordered from the manufacturer for you. Depending on availability, longer delivery times are also possible. We'll let you know if that's the case. You can of course cancel your delivery at any time free of charge.

Available in 7-21 days

€315.00 1
H+B SIDECASE CARRIER - R80 G/S PD -88 BLACK

Important notes

Limited legroom for pillion rider when Junior 30/40 litre and alu-cases are used

Carrier fits solo and two person seats

60556019

The product will be ordered from the manufacturer for you. Depending on availability, longer delivery times are also possible. We'll let you know if that's the case. You can of course cancel your delivery at any time free of charge.

Available in 7-21 days

€360.00 1
H+B SIDECASE CARRIER - R80 R/R100 R CHROME
60556020

The product will be ordered from the manufacturer for you. Depending on availability, longer delivery times are also possible. We'll let you know if that's the case. You can of course cancel your delivery at any time free of charge.

Available in 7-21 days

€315.00 1
H+B SIDECASE CARRIER - R80/100 GS/PD 88- BLACK

Important notes

Winkerlamps remain in original position

Carrier fits solo and two person seats

60556016

The product will be ordered from the manufacturer for you. Depending on availability, longer delivery times are also possible. We'll let you know if that's the case. You can of course cancel your delivery at any time free of charge.

Available in 7-21 days

€290.00 1
H+B SIDECASE CARRIER - R80/100 GS/PD 88- BLACK

Important notes

Winkerlamps remain in original position

Carrier fits solo and two person seats

Symetrical sidecase carrier for models with low down 2in2 exhaust system

60556017

The product will be ordered from the manufacturer for you. Depending on availability, longer delivery times are also possible. We'll let you know if that's the case. You can of course cancel your delivery at any time free of charge.

Available in 7-21 days

€315.00 1
H+B SIDECASE CARRIER - R850 R -2002/R1100R BLACK

Important notes

Only side case carrier, original luggage rack (if provided) remains at vehicle

10024508

The product will be ordered from the manufacturer for you. Depending on availability, longer delivery times are also possible. We'll let you know if that's the case. You can of course cancel your delivery at any time free of charge.

Available in 7-21 days

€310.00 1
H+B SIDECASE CARRIER - R850/1100/1150 GS BLACK

Important notes

Only side case carrier, original luggage rack (if provided) remains at vehicle

10024862

The item is in stock and will be delivered in 2-5 working days. Note: Stocks are updated online every hour on working days from 7 a.m. to 8 p.m., so there is a good chance that the products are available if they appear online.

Available

€290.00 1
H+B SIDECASE CARRIER - R850/1200C CHROME

Important notes

Only side case carrier, original luggage rack (if provided) remains at vehicle

10024828

The item is in stock and will be delivered in 2-5 working days. Note: Stocks are updated online every hour on working days from 7 a.m. to 8 p.m., so there is a good chance that the products are available if they appear online.

Available

€340.00

1 2 €199.99 1
H+B SIDECASE CARRIER - R850R 03-/R1150 R BLACK
60556021

The item is in stock and will be delivered in 2-5 working days. Note: Stocks are updated online every hour on working days from 7 a.m. to 8 p.m., so there is a good chance that the products are available if they appear online.

Available

€325.00 1
H+B SIDECASE CARRIER - RF600 R -94 BLACK

Important notes

Limited legroom for pillion rider when Junior 30/40 litre and alu-cases are used

60556403

The product will be ordered from the manufacturer for you. Depending on availability, longer delivery times are also possible. We'll let you know if that's the case. You can of course cancel your delivery at any time free of charge.

Available in 7-21 days

€300.00 1
H+B SIDECASE CARRIER - RF900 R/R S2 BLACK
60556418

The product will be ordered from the manufacturer for you. Depending on availability, longer delivery times are also possible. We'll let you know if that's the case. You can of course cancel your delivery at any time free of charge.

Available in 7-21 days

€315.00 1
H+B SIDECASE CARRIER - ROCKET III CHROME
60556506

The product will be ordered from the manufacturer for you. Depending on availability, longer delivery times are also possible. We'll let you know if that's the case. You can of course cancel your delivery at any time free of charge.

Available in 7-21 days

€360.00 1
H+B SIDECASE CARRIER - ROCKET III ROADST. CHROME
10065922

The product will be ordered from the manufacturer for you. Depending on availability, longer delivery times are also possible. We'll let you know if that's the case. You can of course cancel your delivery at any time free of charge.

Available in 7-21 days

€360.00 1
H+B SIDECASE CARRIER - ROCKET III ROADST.BLACK
10066469

The product will be ordered from the manufacturer for you. Depending on availability, longer delivery times are also possible. We'll let you know if that's the case. You can of course cancel your delivery at any time free of charge.

Available in 7-21 days

€360.00 1
H+B SIDECASE CARRIER - SAXON 500 COUNTRY BLACK
60556300

The product will be ordered from the manufacturer for you. Depending on availability, longer delivery times are also possible. We'll let you know if that's the case. You can of course cancel your delivery at any time free of charge.

Available in 7-21 days

€300.00 1
H+B SIDECASE CARRIER - SHADOW 750 08- CHROME
60556112

The product will be ordered from the manufacturer for you. Depending on availability, longer delivery times are also possible. We'll let you know if that's the case. You can of course cancel your delivery at any time free of charge.

Available in 7-21 days

€290.00 1
H+B SIDECASE CARRIER - SLR650 CHROME

Important notes

Winkerlamps remain in original position

60556117

The item is in stock and will be delivered in 2-5 working days. Note: Stocks are updated online every hour on working days from 7 a.m. to 8 p.m., so there is a good chance that the products are available if they appear online.

Available

€335.00 1
H+B SIDECASE CARRIER - SPEEDMASTER -10 CHROME
60556502

The product will be ordered from the manufacturer for you. Depending on availability, longer delivery times are also possible. We'll let you know if that's the case. You can of course cancel your delivery at any time free of charge.

Available in 7-21 days

€340.00 1
H+B SIDECASE CARRIER - SPEEDMASTER 11- CHROME
60556507

The product will be ordered from the manufacturer for you. Depending on availability, longer delivery times are also possible. We'll let you know if that's the case. You can of course cancel your delivery at any time free of charge.

Available in 7-21 days

€340.00 1
H+B SIDECASE CARRIER - SPRINT RS 00- BLACK

Important notes

10065910

The product will be ordered from the manufacturer for you. Depending on availability, longer delivery times are also possible. We'll let you know if that's the case. You can of course cancel your delivery at any time free of charge.

Available in 7-21 days

€360.00 1
H+B SIDECASE CARRIER - SPRINT ST/RS 99- BLACK

Important notes

Models with mono-swingarm

10023818

The item is in stock and will be delivered in 2-5 working days. Note: Stocks are updated online every hour on working days from 7 a.m. to 8 p.m., so there is a good chance that the products are available if they appear online.

Available

€340.00 1
H+B SIDECASE CARRIER - SPRINT ST1050 BLACK
60556504

The product will be ordered from the manufacturer for you. Depending on availability, longer delivery times are also possible. We'll let you know if that's the case. You can of course cancel your delivery at any time free of charge.

Available in 7-21 days

€290.00 1
H+B SIDECASE CARRIER - SV 650/S 99-02 BLACK
10024851

The product will be ordered from the manufacturer for you. Depending on availability, longer delivery times are also possible. We'll let you know if that's the case. You can of course cancel your delivery at any time free of charge.

Available in 7-21 days

€275.00 1
H+B SIDECASE CARRIER - SV1000/S BLACK
10023732

The product will be ordered from the manufacturer for you. Depending on availability, longer delivery times are also possible. We'll let you know if that's the case. You can of course cancel your delivery at any time free of charge.

Available in 7-21 days

€315.00 1
H+B SIDECASE CARRIER - SV650/S 03- BLACK
10023730

The product will be ordered from the manufacturer for you. Depending on availability, longer delivery times are also possible. We'll let you know if that's the case. You can of course cancel your delivery at any time free of charge.

Available in 7-21 days

€335.00 1
H+B SIDECASE CARRIER - TDM900/A 02- BLACK
10024922

The item is in stock and will be delivered in 2-5 working days. Note: Stocks are updated online every hour on working days from 7 a.m. to 8 p.m., so there is a good chance that the products are available if they appear online.

Available

€275.00 1
H+B SIDECASE CARRIER - THRUXTON CHROME
60556503

The product will be ordered from the manufacturer for you. Depending on availability, longer delivery times are also possible. We'll let you know if that's the case. You can of course cancel your delivery at any time free of charge.

Available in 7-21 days

€315.00 1
H+B SIDECASE CARRIER - THUNDERBIRD 1600 CHROME
60556505

The product will be ordered from the manufacturer for you. Depending on availability, longer delivery times are also possible. We'll let you know if that's the case. You can of course cancel your delivery at any time free of charge.

Available in 7-21 days

€315.00 1
H+B SIDECASE CARRIER - TIGER 900/955I BLACK

Important notes

30 litre Hepco & Backer cases recommended

Winkerlamps remain in original position

10023797

The item is in stock and will be delivered in 2-5 working days. Note: Stocks are updated online every hour on working days from 7 a.m. to 8 p.m., so there is a good chance that the products are available if they appear online.

Available

€300.00 1
H+B SIDECASE CARRIER - TR 1 81- BLACK
60556612

The product will be ordered from the manufacturer for you. Depending on availability, longer delivery times are also possible. We'll let you know if that's the case. You can of course cancel your delivery at any time free of charge.

Available in 7-21 days

€365.00 1
H+B SIDECASE CARRIER - TT600 R/RE 98- BLACK
60556602

The product will be ordered from the manufacturer for you. Depending on availability, longer delivery times are also possible. We'll let you know if that's the case. You can of course cancel your delivery at any time free of charge.

Available in 7-21 days

€430.00 1
H+B SIDECASE CARRIER - TUAREG 600 WIND BLACK

Important notes

Winkerlamps remain in original position

60556001

The product will be ordered from the manufacturer for you. Depending on availability, longer delivery times are also possible. We'll let you know if that's the case. You can of course cancel your delivery at any time free of charge.

Available in 7-21 days

€325.00 1
H+B SIDECASE CARRIER - V10 CENTA./GT/SPORT BLACK
60556262

The product will be ordered from the manufacturer for you. Depending on availability, longer delivery times are also possible. We'll let you know if that's the case. You can of course cancel your delivery at any time free of charge.

Available in 7-21 days

€325.00 1
H+B SIDECASE CARRIER - V65 FLORIDA 92- CHROME
60556250

The product will be ordered from the manufacturer for you. Depending on availability, longer delivery times are also possible. We'll let you know if that's the case. You can of course cancel your delivery at any time free of charge.

Available in 7-21 days

€300.00 1
H+B SIDECASE CARRIER - V65 NTX BLACK
60556251

The product will be ordered from the manufacturer for you. Depending on availability, longer delivery times are also possible. We'll let you know if that's the case. You can of course cancel your delivery at any time free of charge.

Available in 7-21 days

€335.00 1
H+B SIDECASE CARRIER - V65 TT BJ.85 BLACK
60556252

The product will be ordered from the manufacturer for you. Depending on availability, longer delivery times are also possible. We'll let you know if that's the case. You can of course cancel your delivery at any time free of charge.

Available in 7-21 days

€290.00 1
H+B SIDECASE CARRIER - V7/V7 II CHROME
60556257

The product will be ordered from the manufacturer for you. Depending on availability, longer delivery times are also possible. We'll let you know if that's the case. You can of course cancel your delivery at any time free of charge.

Available in 7-21 days

€300.00 1
H+B SIDECASE CARRIER - V7/V7 II BLACK
60556256

The item is in stock and will be delivered in 2-5 working days. Note: Stocks are updated online every hour on working days from 7 a.m. to 8 p.m., so there is a good chance that the products are available if they appear online.

Available

€290.00 1
H+B SIDECASE CARRIER - V750 BREVA BLACK
10023745

The item is in stock and will be delivered in 2-5 working days. Note: Stocks are updated online every hour on working days from 7 a.m. to 8 p.m., so there is a good chance that the products are available if they appear online.

Available

€275.00 1
H+B SIDECASE CARRIER - VARADERO 125 01-06 BLACK

Important notes

Only side case carrier, original luggage rack (if provided) remains at vehicle

10024450