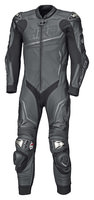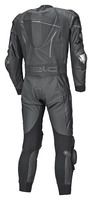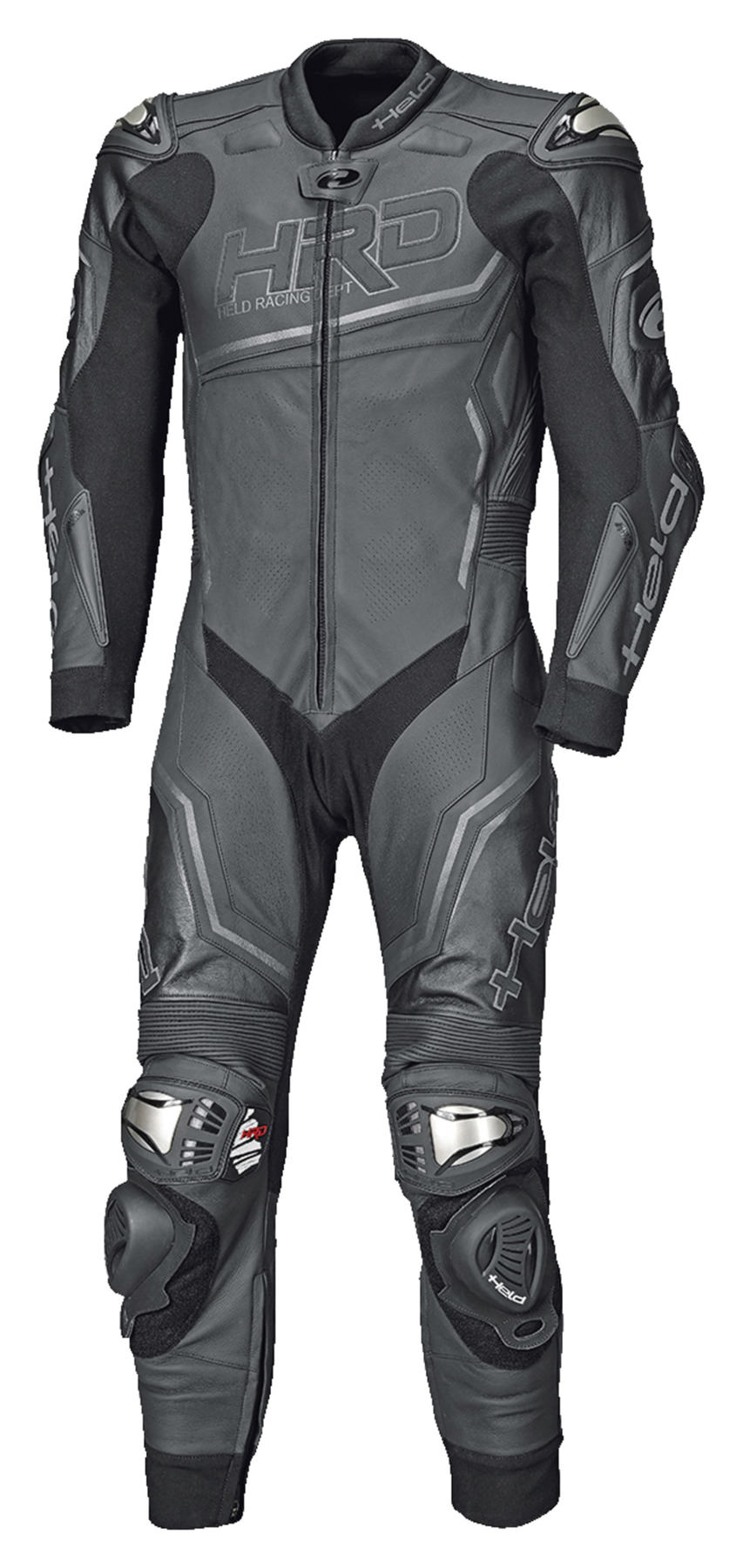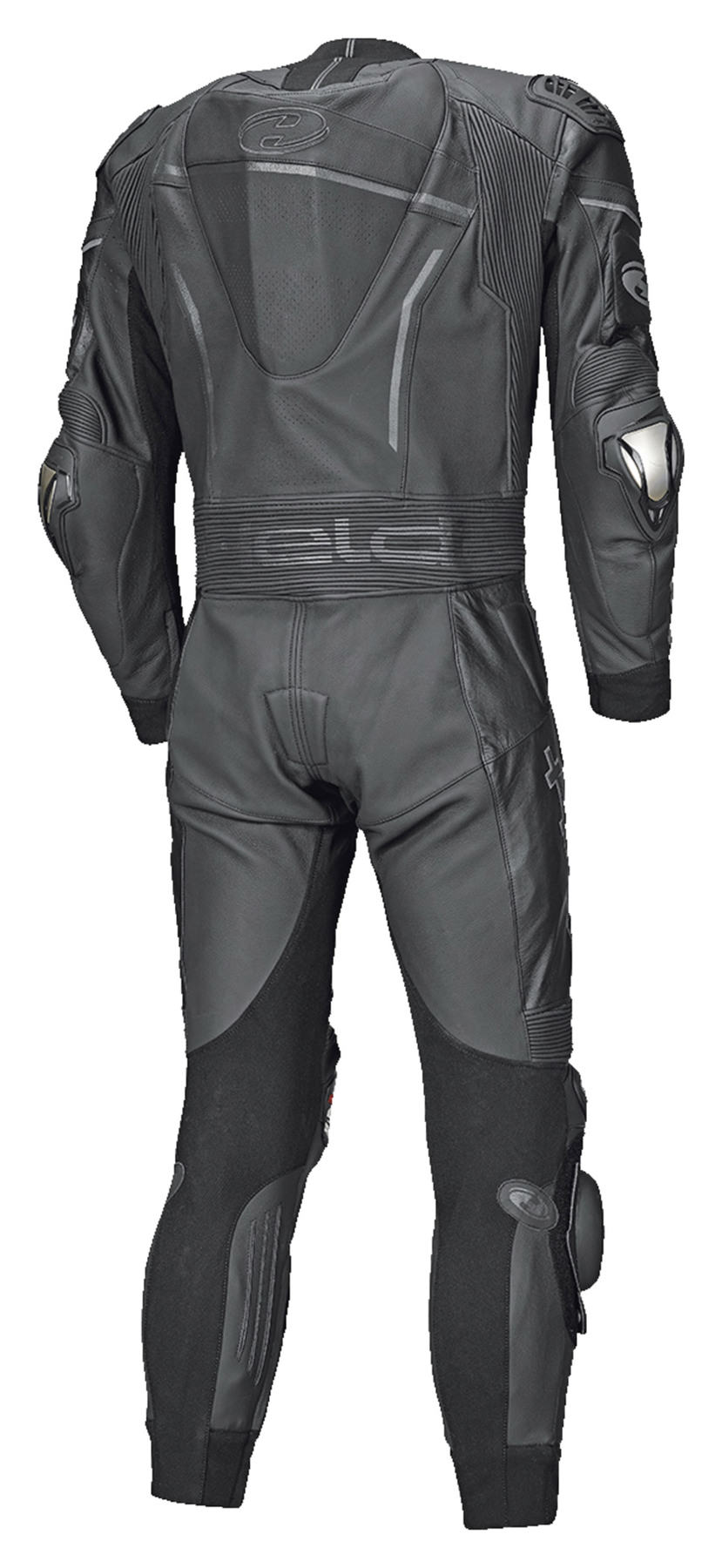 HELD SLADE II 52110 1-PIECE SUIT
208089_Sport_Highlights_2021_SladeII_de
Held-20019086-Einbau_2tlg_Brustprotektor
Held-20019168-20019169-20019181-Einbau_R-Protektor_Kombi
Held Slade II 52110 1-piece suit
Free delivery on orders over €199.00
2 year return policy
Fast delivery
Held Slade II 52110 1-piece suit
They really do exist: the 1-piece leather suit that fits like a glove, that fits your anatomy like a second skin, that adapts and supports you in all areas of motorcycling. It is the Held *Slade II 52110* 1-piece motorbike suit. Superbly equipped, made of the best and most abrasion-resistant leathers (cowhide and kangaroo), in top shape for the racetrack, with an excellent fit and at an absolutely insane price.

Comfort/Features:
3D spacer fabric at the back
AirVents at the front
Front zip can also be used as an Air-Vent
Perforated leather inserts
Leather stretch at the back, shoulder and knees
Elastic material on arms, crotch and back of knees, 74 % polyamide, 18 % aramid, 8 % polyurethane
Comfort collar with soft trim
Anti-slip pad on the inside of the knee
Aerodynamic back
Knee sliders included
1 inside document pocket
Protection:
SAS-TEC protectors on shoulders and elbows, back, hips, tailbone and knees.
Elbow and knee protectors height adjustable
Titanium protectors on shoulders, elbows and knees
Hard plastic reinforcement on forearm
Safety seams according to ISO 4916 at the fall positions
Optional: Held chest protector (20019086) can be retrofitted
Material:
Leather mix of 1.1-1.3 mm thick cowhide and 1.2 mm thick kangaroo leather
Leather double at the seat
Removable lining: 100 % polyester
Please note the different size chart for this item. You can find it under "Documents".
Manufacturer details: Held

Made by bikers for bikers

What began as a small glove-making business back in 1946 is now one of Germany's largest motorcycle clothing and accessory firms. Ever since they developed the first out-and-out racing glove for Toni Mang, back in 1983, Held has rightly been regarded as THE glove brand. Continuous development and innovation coupled with top-quality craftsmanship have built an excellent reputation. And one that has long since extended far beyond gloves: textile and leather clothing, helmets, tank bags and saddlebags are just a few of the products from the Allgäu-based family firm creating a sensation around the biking world.
Product details
Outer shell: kangaroo and cow leather mix
Reinforcement: Double layer of leather on seat
removable lining: 100%polyester mesh lining
removable lining: Shoulder, elbow, back, hip, tailbone, knee
protector pockets: Chest
Waterproof outside pockets: 0
Non waterproof outside pockets: 0
Kneeslider: can be attached
fit: racing
Country of manufacture: Vietnam
Certification: EN 17092:2020
Class: AAA
Overview of product features
ISO 4916 safty seams at impact points
Height-adjustable elbow and knee protector
Stretchable applications
Ventilation system
Pocket for documents
Aerodynamic shaped back
Anti slip tape at innerhem
Comfort collar with soft edge
Product
Colour
Size
Art. No.
Availability
Price
Actions
HELD SLADE II SZ.25 SHORT - 52110 1-PIECE SUIT BLACK

Important notes

Please note that a different size guide applies to this product. You can find it under "Documents".

Black
25
20808925

The item is in stock and will be delivered in 2-5 working days. Note: Stocks are updated online every hour on working days from 7 a.m. to 8 p.m., so there is a good chance that the products are available if they appear online.

Available

€1,099.00 1
HELD SLADE II SZ.26 SHORT - 52110 1-PIECE SUIT BLACK

Important notes

Please note that a different size guide applies to this product. You can find it under "Documents".

Black
26
20808926

The item is in stock and will be delivered in 2-5 working days. Note: Stocks are updated online every hour on working days from 7 a.m. to 8 p.m., so there is a good chance that the products are available if they appear online.

Available

€1,099.00 1
HELD SLADE II SZ.27 SHORT - 52110 1-PIECE SUIT BLACK

Important notes

Please note that a different size guide applies to this product. You can find it under "Documents".

Black
27
20808927

The item is in stock and will be delivered in 2-5 working days. Note: Stocks are updated online every hour on working days from 7 a.m. to 8 p.m., so there is a good chance that the products are available if they appear online.

Available

€1,099.00 1
HELD SLADE II SZ.28 SHORT - 52110 1-PIECE SUIT BLACK

Important notes

Please note that a different size guide applies to this product. You can find it under "Documents".

Black
28
20808928

The item is in stock and will be delivered in 2-5 working days. Note: Stocks are updated online every hour on working days from 7 a.m. to 8 p.m., so there is a good chance that the products are available if they appear online.

Available

€1,099.00 1
HELD SLADE II SZ.29 SHORT - 52110 1-PIECE SUIT BLACK

Important notes

Please note that a different size guide applies to this product. You can find it under "Documents".

Black
29
20808929

The item is in stock and will be delivered in 2-5 working days. Note: Stocks are updated online every hour on working days from 7 a.m. to 8 p.m., so there is a good chance that the products are available if they appear online.

Available

€1,099.00 1
HELD SLADE II SZ.30 SHORT - 52110 1-PIECE SUIT BLACK

Important notes

Please note that a different size guide applies to this product. You can find it under "Documents".

Black
30
20808930

The item is in stock and will be delivered in 2-5 working days. Note: Stocks are updated online every hour on working days from 7 a.m. to 8 p.m., so there is a good chance that the products are available if they appear online.

Available

€1,099.00 1
HELD SLADE II SIZE 46 - 52110 1-PIECE SUIT BLACK

Important notes

Please note that a different size guide applies to this product. You can find it under "Documents".

Black
46
20808946

The item is in stock and will be delivered in 2-5 working days. Note: Stocks are updated online every hour on working days from 7 a.m. to 8 p.m., so there is a good chance that the products are available if they appear online.

Available

€1,099.00 1
HELD SLADE II SIZE 48 - 52110 1-PIECE SUIT BLACK

Important notes

Please note that a different size guide applies to this product. You can find it under "Documents".

Black
48
20808948

The item is in stock and will be delivered in 2-5 working days. Note: Stocks are updated online every hour on working days from 7 a.m. to 8 p.m., so there is a good chance that the products are available if they appear online.

Available

€1,099.00 1
HELD SLADE II SIZE 50 - 52110 1-PIECE SUIT BLACK

Important notes

Please note that a different size guide applies to this product. You can find it under "Documents".

Black
50
20808950

The item is in stock and will be delivered in 2-5 working days. Note: Stocks are updated online every hour on working days from 7 a.m. to 8 p.m., so there is a good chance that the products are available if they appear online.

Available

€1,099.00 1
HELD SLADE II SIZE 52 - 52110 1-PIECE SUIT BLACK

Important notes

Please note that a different size guide applies to this product. You can find it under "Documents".

Black
52
20808952

The item is in stock and will be delivered in 2-5 working days. Note: Stocks are updated online every hour on working days from 7 a.m. to 8 p.m., so there is a good chance that the products are available if they appear online.

Available

€1,099.00 1
HELD SLADE II SIZE 54 - 52110 1-PIECE SUIT BLACK

Important notes

Please note that a different size guide applies to this product. You can find it under "Documents".

Black
54
20808954

The item is in stock and will be delivered in 2-5 working days. Note: Stocks are updated online every hour on working days from 7 a.m. to 8 p.m., so there is a good chance that the products are available if they appear online.

Available

€1,099.00 1
HELD SLADE II SIZE 56 - 52110 1-PIECE SUIT BLACK

Important notes

Please note that a different size guide applies to this product. You can find it under "Documents".

Black
56
20808956

The item is in stock and will be delivered in 2-5 working days. Note: Stocks are updated online every hour on working days from 7 a.m. to 8 p.m., so there is a good chance that the products are available if they appear online.

Available

€1,099.00 1
HELD SLADE II SIZE 58 - 52110 1-PIECE SUIT BLACK

Important notes

Please note that a different size guide applies to this product. You can find it under "Documents".

Black
58
20808958

The item is in stock and will be delivered in 2-5 working days. Note: Stocks are updated online every hour on working days from 7 a.m. to 8 p.m., so there is a good chance that the products are available if they appear online.

Available

€1,099.00 1
HELD SLADE II SIZE 60 - 52110 1-PIECE SUIT BLACK

Important notes

Please note that a different size guide applies to this product. You can find it under "Documents".

Black
60
20808960

This product is available at week 39.
Current calendar week: 21

Available as of calendar week 39

€1,099.00 1
HELD SLADE II SZ. 98 LONG - 52110 1-PIECE SUIT BLACK

Important notes

Please note that a different size guide applies to this product. You can find it under "Documents".

Black
98
20808998

The item is in stock and will be delivered in 2-5 working days. Note: Stocks are updated online every hour on working days from 7 a.m. to 8 p.m., so there is a good chance that the products are available if they appear online.

Available

€1,099.00 1
HELD SLADE II SZ.102 LONG - 52110 1-PIECE SUIT BLACK

Important notes

Please note that a different size guide applies to this product. You can find it under "Documents".

Black
102
20808902

The item is in stock and will be delivered in 2-5 working days. Note: Stocks are updated online every hour on working days from 7 a.m. to 8 p.m., so there is a good chance that the products are available if they appear online.

Available

€1,099.00 1
HELD SLADE II SZ.106 LONG - 52110 1-PIECE SUIT BLACK

Important notes

Please note that a different size guide applies to this product. You can find it under "Documents".

Black
106
20808906

The item is in stock and will be delivered in 2-5 working days. Note: Stocks are updated online every hour on working days from 7 a.m. to 8 p.m., so there is a good chance that the products are available if they appear online.

Available

€1,099.00 1
HELD SLADE II SZ.110 LONG - 52110 1-PIECE SUIT BLACK

Important notes

Please note that a different size guide applies to this product. You can find it under "Documents".

Black
110
20808910

The item is in stock and will be delivered in 2-5 working days. Note: Stocks are updated online every hour on working days from 7 a.m. to 8 p.m., so there is a good chance that the products are available if they appear online.

Available

€1,099.00 1