Free delivery on orders over €199.00
2 year return policy
Fast delivery
Held Phantom II 2312 Gloves
For years now, the 'Phantom' motorcycle glove has been a firm favourite in the Held range, and this top race glove has received Best Buy recommendations from numerous leading motorcycle magazines. Better featured than ever and with even cooler design, the Held Phantom II is in pole position ahead of the competition.
Highly abrasion-resistant kangaroo leather and stingray trim, real titanium knuckle armour, impact-absorbing special foam and first-class quality of make certainly justify the price of this luxury, top-range glove.

Comfort/features:

Colour-fast and sweatproof
Titanium knuckle armour
GRP shell on the edge of the forearm
Fingers and edge of the forearm reinforced with SuperFabric brand material (68% epoxy resin, 32% polyester)
Ball of thumb is padded and covered with highly abrasion-resistant stingray
Back and thumb padded with impact-absorbing SUPROTECT special foam
Back, cuff, ring finger and little finger lined with KEVLAR (brand fibres)
Special step seam for optimal pressure-free comfort
Strongly pre-curved palm, without any creases
Perforated sides of fingers
Tunnel wrist strap and hook-and-loop cuff adjustment
Visor wiper
Material:

Highly abrasion-resistant kangaroo leather
Unlined palm
Certificates:

CE certified according to EN 13594:2015
Please note: You can also order short or long glove sizes. These differ by 0.5 cm in the finger length compared to the standard size!
Manufacturer details: Held

Made by bikers for bikers

What began as a small glove-making business back in 1946 is now one of Germany's largest motorcycle clothing and accessory firms. Ever since they developed the first out-and-out racing glove for Toni Mang, back in 1983, Held has rightly been regarded as THE glove brand. Continuous development and innovation coupled with top-quality craftsmanship have built an excellent reputation. And one that has long since extended far beyond gloves: textile and leather clothing, helmets, tank bags and saddlebags are just a few of the products from the Allgäu-based family firm creating a sensation around the biking world.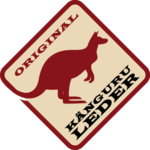 Kangaroo leather
There are around 48 different species of kangaroo, some of which are protected. However, the population of the huge Macropus giganteus kangaroo has grown so rapidly that it has become a real pest. This is why it is permitted to shoot this animal with a trapper's licence from the Australian government and to export it subject to the terms of the Washington Convention on endangered species (CITES).
A special dying technique ensures that our kangaroo leather is absolutely colour-fast, while a special tanning process makes it highly resistant to moisture and sweat.
Normal leather becomes hard and brittle and shrinks when exposed to the wet, and in particular to perspiration. Kangaroos do not sweat through their skin, but only under their tail and on their tongue. So the surface of a kangaroo skin has no pores, and this also affects the fibre structure. While the fibre structure of cowhide becomes slightly looser when subjected to stress, it remains more tight-knit in kangaroo leather.

SuperFabric brand technology ia an advanced, multi-step engineered process that takes ordinary fabrics and transforms them into a variety of unique, protective solutions, known collectively as SuperFabric brand materials. These new protective fabrics is engineered for optimum resistance to cut, punctures and abrasions while remaining highly flexible. Optional properties such as flame resistance, specialized grip and more, make for a complete customized solution.
Product details
Outershell back of the hand: Kangaroo leather
Outershell palm: Kangaroo leather
Reinforcement ball of the thumb: SuperFabric
Lining: unlined
Width Adjustment: cuff and wrist
Knuckle protection: Real titanium
Country of manufacture: Hungary
Certification: CE certified according to EN 13594:2015
Overview of product features
Stretchable applications
Knuckle protection
Ball of the thumb protection
Visor wiper
Palm unlined
3D comfort thumb
Back reinforced with aramid
Product
Colour
Size
Art. No.
Availability
Price
Actions
HELD PHANTOM II SIZE 6.5 - 2312 GLOVES, BLACK
Black
06
20150506

The item is in stock and will be delivered in 2-5 working days. Note: Stocks are updated online every hour on working days from 7 a.m. to 8 p.m., so there is a good chance that the products are available if they appear online.

Available

€299.95 1
HELD PHANTOM II SZ.07 - 2312 GLOVES, BLACK
Black
07
20136407

The item is in stock and will be delivered in 2-5 working days. Note: Stocks are updated online every hour on working days from 7 a.m. to 8 p.m., so there is a good chance that the products are available if they appear online.

Available

€299.95 1
HELD PHANTOM II SHORT.07 - 2312 GLOVES, BLACK
Black
07
20150607

The item is in stock and will be delivered in 2-5 working days. Note: Stocks are updated online every hour on working days from 7 a.m. to 8 p.m., so there is a good chance that the products are available if they appear online.

Available

€299.95 1
HELD PHANTOM II LONG.07 - 2312 GLOVES, BLACK
Black
07
20150707

The item is in stock and will be delivered in 2-5 working days. Note: Stocks are updated online every hour on working days from 7 a.m. to 8 p.m., so there is a good chance that the products are available if they appear online.

Available

€299.95 1
HELD PHANTOM II SZ.08 - 2312 GLOVES, BLACK
Black
08
20136408

The item is in stock and will be delivered in 2-5 working days. Note: Stocks are updated online every hour on working days from 7 a.m. to 8 p.m., so there is a good chance that the products are available if they appear online.

Available

€299.95 1
HELD PHANTOM II LONG.08 - 2312 GLOVES, BLACK
Black
08
20150708

The item is in stock and will be delivered in 2-5 working days. Note: Stocks are updated online every hour on working days from 7 a.m. to 8 p.m., so there is a good chance that the products are available if they appear online.

Available

€299.95 1
HELD PHANTOM II SZ.09 - 2312 GLOVES, BLACK
Black
09
20136409

The item is in stock and will be delivered in 2-5 working days. Note: Stocks are updated online every hour on working days from 7 a.m. to 8 p.m., so there is a good chance that the products are available if they appear online.

Available

€299.95 1
HELD PHANTOM II SIZE 9.5 - 2312 GLOVES, BLACK
Black
09
20150509

The item is in stock and will be delivered in 2-5 working days. Note: Stocks are updated online every hour on working days from 7 a.m. to 8 p.m., so there is a good chance that the products are available if they appear online.

Available

€299.95 1
HELD PHANTOM II LONG.09 - 2312 GLOVES, BLACK
Black
09
20150709

The item is in stock and will be delivered in 2-5 working days. Note: Stocks are updated online every hour on working days from 7 a.m. to 8 p.m., so there is a good chance that the products are available if they appear online.

Available

€299.95 1
HELD PHANTOM II 2312 - GLOVES, SIZE 10, BLACK
Black
10
20136410

The item is in stock and will be delivered in 2-5 working days. Note: Stocks are updated online every hour on working days from 7 a.m. to 8 p.m., so there is a good chance that the products are available if they appear online.

Available

€299.95 1
HELD PHANTOM II SHORT.10 - 2312 GLOVES, BLACK
Black
10
20150610

The item is in stock and will be delivered in 2-5 working days. Note: Stocks are updated online every hour on working days from 7 a.m. to 8 p.m., so there is a good chance that the products are available if they appear online.

Available

€299.95 1
HELD PHANTOM II LONG.10 - 2312 GLOVES, BLACK
Black
10
20150710

The item is in stock and will be delivered in 2-5 working days. Note: Stocks are updated online every hour on working days from 7 a.m. to 8 p.m., so there is a good chance that the products are available if they appear online.

Available

€299.95 1
HELD PHANTOM II SZ.11 - 2312 GLOVES, BLACK
Black
11
20136411

The item is in stock and will be delivered in 2-5 working days. Note: Stocks are updated online every hour on working days from 7 a.m. to 8 p.m., so there is a good chance that the products are available if they appear online.

Available

€299.95 1
HELD PHANTOM II SHORT.11 - 2312 GLOVES, BLACK
Black
11
20150611

The item is in stock and will be delivered in 2-5 working days. Note: Stocks are updated online every hour on working days from 7 a.m. to 8 p.m., so there is a good chance that the products are available if they appear online.

Available

€299.95 1
HELD PHANTOM II LONG.11 - 2312 GLOVES, BLACK
Black
11
20150711

The item is in stock and will be delivered in 2-5 working days. Note: Stocks are updated online every hour on working days from 7 a.m. to 8 p.m., so there is a good chance that the products are available if they appear online.

Available

€299.95 1
HELD PHANTOM II SZ.12 - 2312 GLOVES, BLACK
Black
12
20136412

The item is in stock and will be delivered in 2-5 working days. Note: Stocks are updated online every hour on working days from 7 a.m. to 8 p.m., so there is a good chance that the products are available if they appear online.

Available

€299.95 1
Issue 7-2018
"PS" magazine tested ten sport gloves in its 7-2018 issue. The Held Phantom II was the sole test winner. The following features were given special mention:

- Super leather quality
- Easy to put on and take off
- Very sturdy design
- Exemplary protection against trapped/squashed fingers and glove being pulled off
- Aramid protective lining with wide coverage
- Very good range of sizes
- Visor wiper
- Good durability
Issue 10-2018
"Motorrad" magazine tested the Held Phantom II in its 10-2018 issue, awarding it a "VERY GOOD" rating and voting it "TEST WINNER" amongst ten high-end sport gloves. The following features were given special mention:

- Easy to put on and take off
- Super leather quality
- Very sturdy design
- Exemplary protection against trapped/squashed fingers and glove being pulled off
- Generous use of aramid for added protection
- Very good range of sizes
- Visor wiper
- Top protection
- Good durability
Issue 4-2018
"Motorrad News" magazine tested the Held Phantom II in its 4-2018 issue. The following features were given special mention:

- Superbly made
- No unattractive creases
- Perfect fit
- Super direct brake lever feel
- Fingers stay very mobile
- Firm fit at the wrist
- Outstanding protective features for great safety