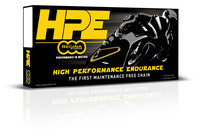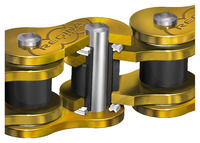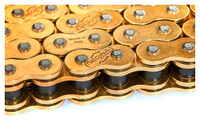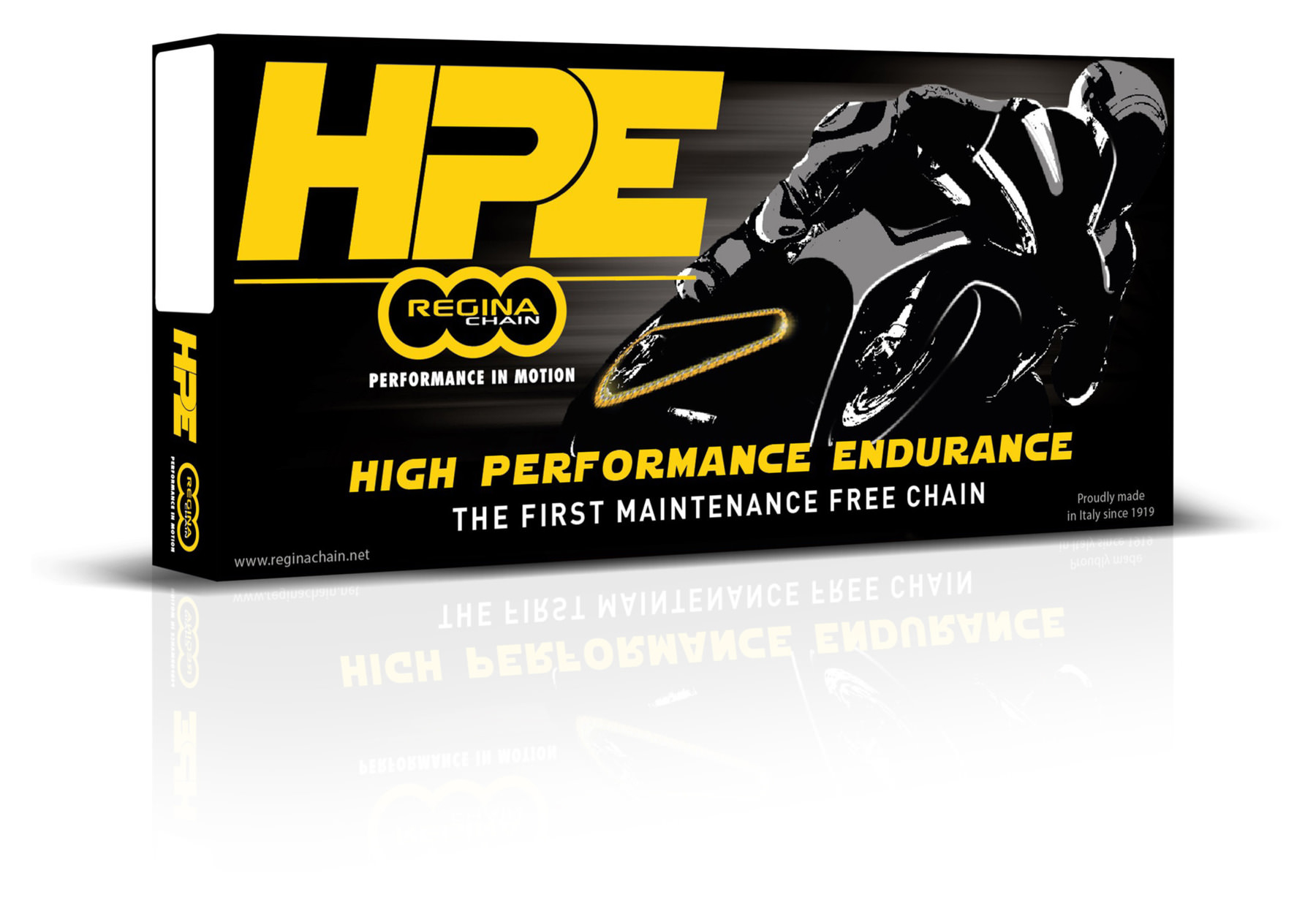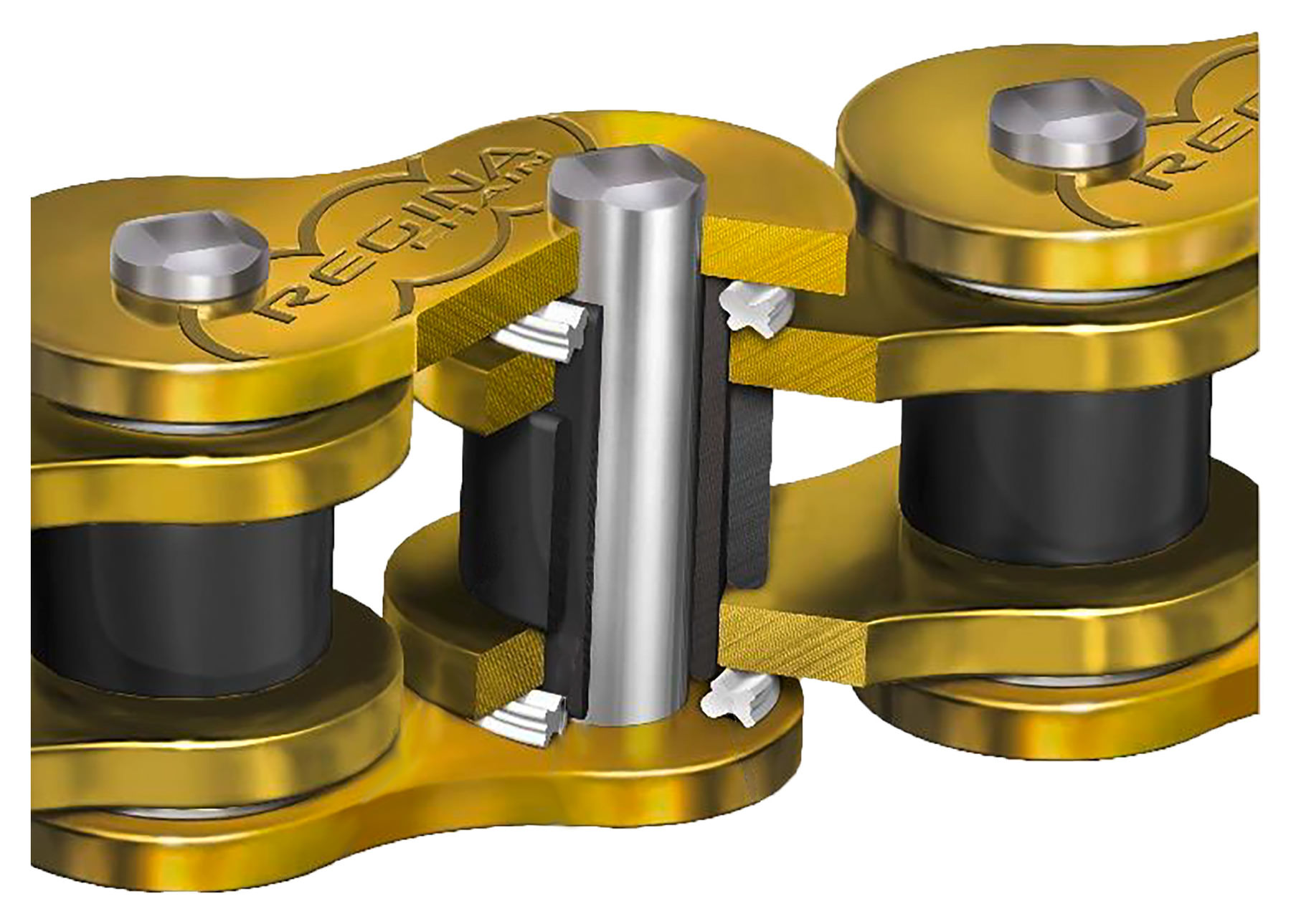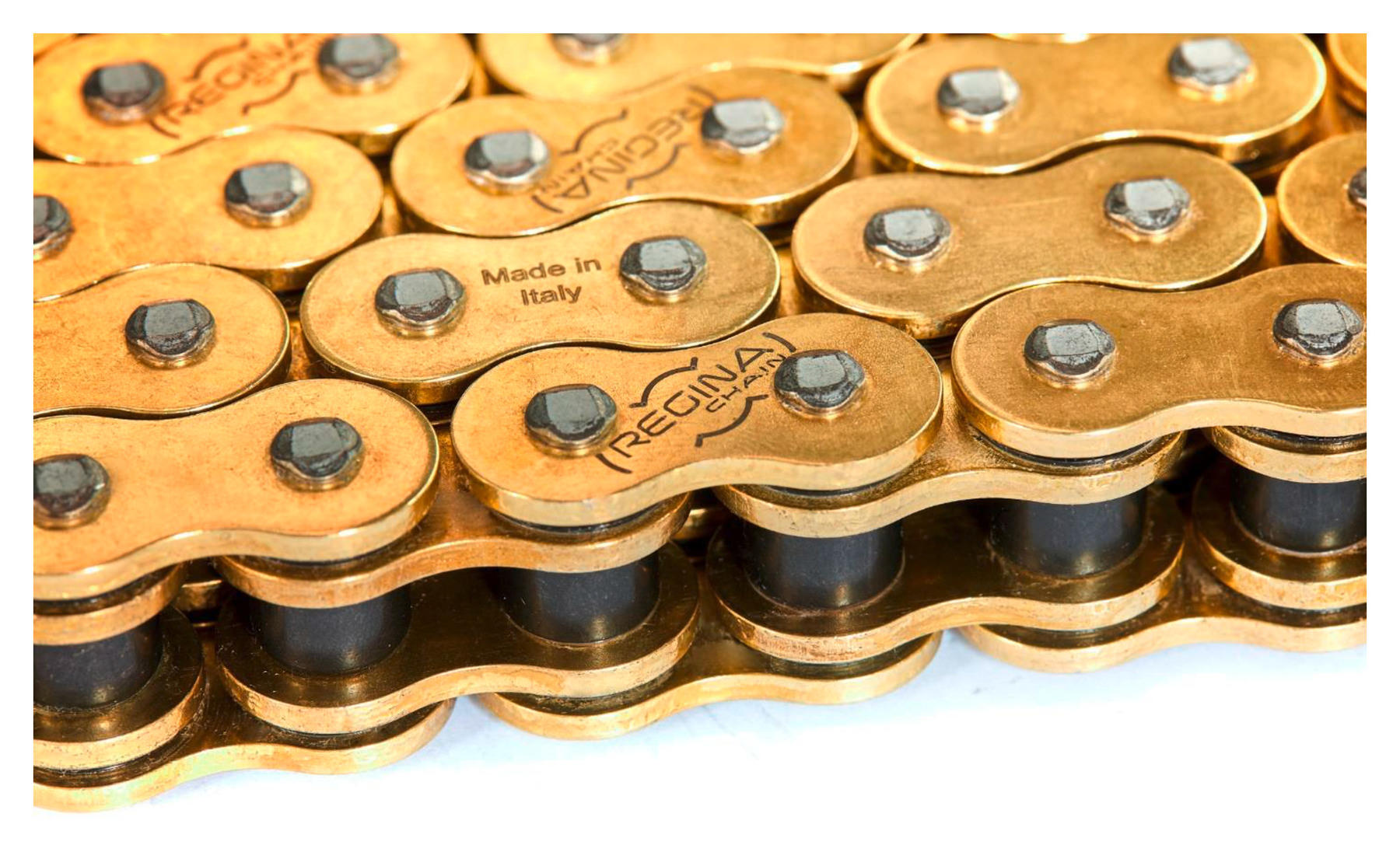 Drive chains HPE 525 maintenance free
Rivet link included
Free delivery on orders over €199.00
2 year return policy
Fast delivery
Drive chains HPE 525 maintenance free
Rivet link included
So why is it that nobody has invented a motorcycle drive chain that's essentially maintenance-free? Well, actually they have, because now the Italian chain specialist Regina has come up with a world-first. The company has revolutionised drive technology with the innovative Regina *High Performance Endurance* (HPE) chain!

It's safe to say that one of the least enjoyable things about owning a motorcycle with chain drive is that the chain needs regular care and maintenance. And the general rule is: better to clean and lubricate it more often rather than less. Then you'll definitely get more life out of your chain - even if it is a hassle. After all, drive chains, or chain and sprocket kits, rarely come cheap and are time consuming to install and remove.

But now you can say goodbye to all that work, with the Regina *HPE*. The surfaces of the rollers and bushes in this rather special chain are coated with hydrogen-free, tetrahedral amorphous carbon (ta-C) - also referred to as "industrial diamond". This coating reduces power loss and increases efficiency. What's more, the Regina *HPE* chain requires no cleaning or lubrication. So you won't have to get your hands dirty, and it's also better for the environment. But the best thing about the maintenance-free *HPE*is that it's just as durable as a well maintained standard O-ring chain. What's also good is that no specially coated sprockets are required.
Absolute world first
No cleaning or lubrication
Rollers and bushes coated with ta-C
Less power loss
Environmentally sustainable
No specially coated sprockets required
Care instructions:
To guarantee the function and aesthetics, please follow 3 simple rules:
Clean and relubricate the chain:
after washing the motorbike
after a ride in wet and/or salty or dusty conditions
Before storing the motorbike at the end of the season (winter).
regrease the chain once a year
Check the chain tension every 3,000 km.
Manufacturer details: Regina

Chain-kit

Regina ? Queen. A fitting name for a chain that has played its part in many World Championships, spanning every motorcycle racing discipline. Since 1874 Regina, based in Merate, near Milan, has specialised in making drive chains. Legends such as Mike Hailwood and Giacomo Agostini benefited from the manufacturer's continuous pursuit of optimum function and maximum reliability. Joey Dunlop and Carl Fogarty rode to TT victory with Regina chains. To this day, ongoing development ensures that Regina chains hold pole position, both on and off the racetrack.
Product
Art. No.
Availability
Price
Actions
REGINA HPE - CHAIN 525 - 104 LINKS OPEN WITH LOCK
10017600

The item is in stock and will be delivered in 2-5 working days. Note: Stocks are updated online every hour on working days from 7 a.m. to 8 p.m., so there is a good chance that the products are available if they appear online.

Available

€239.99 1
REGINA HPE - CHAIN 525 - 108 LINKS OPEN WITH LOCK
10017601

The item is in stock and will be delivered in 2-5 working days. Note: Stocks are updated online every hour on working days from 7 a.m. to 8 p.m., so there is a good chance that the products are available if they appear online.

Available

€249.99 1
REGINA HPE - CHAIN 525 - 110 LINKS OPEN WITH LOCK
10017602

The item is in stock and will be delivered in 2-5 working days. Note: Stocks are updated online every hour on working days from 7 a.m. to 8 p.m., so there is a good chance that the products are available if they appear online.

Available

€249.99 1
REGINA HPE - CHAIN 525 - 112 LINKS OPEN WITH LOCK
10017603

The item is in stock and will be delivered in 2-5 working days. Note: Stocks are updated online every hour on working days from 7 a.m. to 8 p.m., so there is a good chance that the products are available if they appear online.

Available

€259.99 1
REGINA HPE - CHAIN 525 - 114 LINKS OPEN WITH LOCK
10017604

The item is in stock and will be delivered in 2-5 working days. Note: Stocks are updated online every hour on working days from 7 a.m. to 8 p.m., so there is a good chance that the products are available if they appear online.

Available

€259.99 1
REGINA HPE - CHAIN 525 - 116 LINKS OPEN WITH LOCK
10017605

The item is in stock and will be delivered in 2-5 working days. Note: Stocks are updated online every hour on working days from 7 a.m. to 8 p.m., so there is a good chance that the products are available if they appear online.

Available

€264.99 1
REGINA HPE - CHAIN 525 - 118 LINKS OPEN WITH LOCK
10017606

The item is in stock and will be delivered in 2-5 working days. Note: Stocks are updated online every hour on working days from 7 a.m. to 8 p.m., so there is a good chance that the products are available if they appear online.

Available

€269.99 1
REGINA HPE - CHAIN 525 - 120 LINKS OPEN WITH LOCK
10017607

The item is in stock and will be delivered in 2-5 working days. Note: Stocks are updated online every hour on working days from 7 a.m. to 8 p.m., so there is a good chance that the products are available if they appear online.

Available

€274.99 1
REGINA HPE - CHAIN 525 - 122 LINKS OPEN WITH LOCK
10017608

The item is in stock and will be delivered in 2-5 working days. Note: Stocks are updated online every hour on working days from 7 a.m. to 8 p.m., so there is a good chance that the products are available if they appear online.

Available

€279.99 1
REGINA HPE - CHAIN 525 - 124 LINKS OPEN WITH LOCK
10017609

The item is in stock and will be delivered in 2-5 working days. Note: Stocks are updated online every hour on working days from 7 a.m. to 8 p.m., so there is a good chance that the products are available if they appear online.

Available

€279.99 1
REGINA HPE - CHAIN 525 - 128 LINKS OPEN WITH LOCK
10017610

The item is in stock and will be delivered in 2-5 working days. Note: Stocks are updated online every hour on working days from 7 a.m. to 8 p.m., so there is a good chance that the products are available if they appear online.

Available

€289.99 1
REGINA HPE - CHAIN 525 - 106 LINKS OPEN WITH LOCK
10017611

The item is in stock and will be delivered in 2-5 working days. Note: Stocks are updated online every hour on working days from 7 a.m. to 8 p.m., so there is a good chance that the products are available if they appear online.

Available

€244.99 1