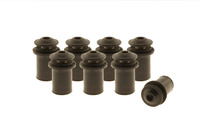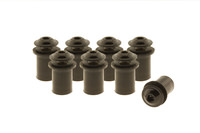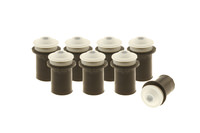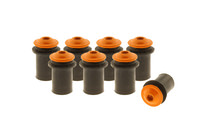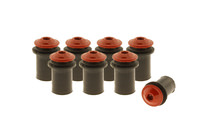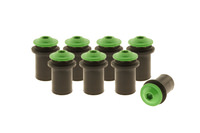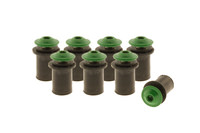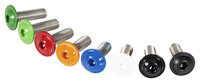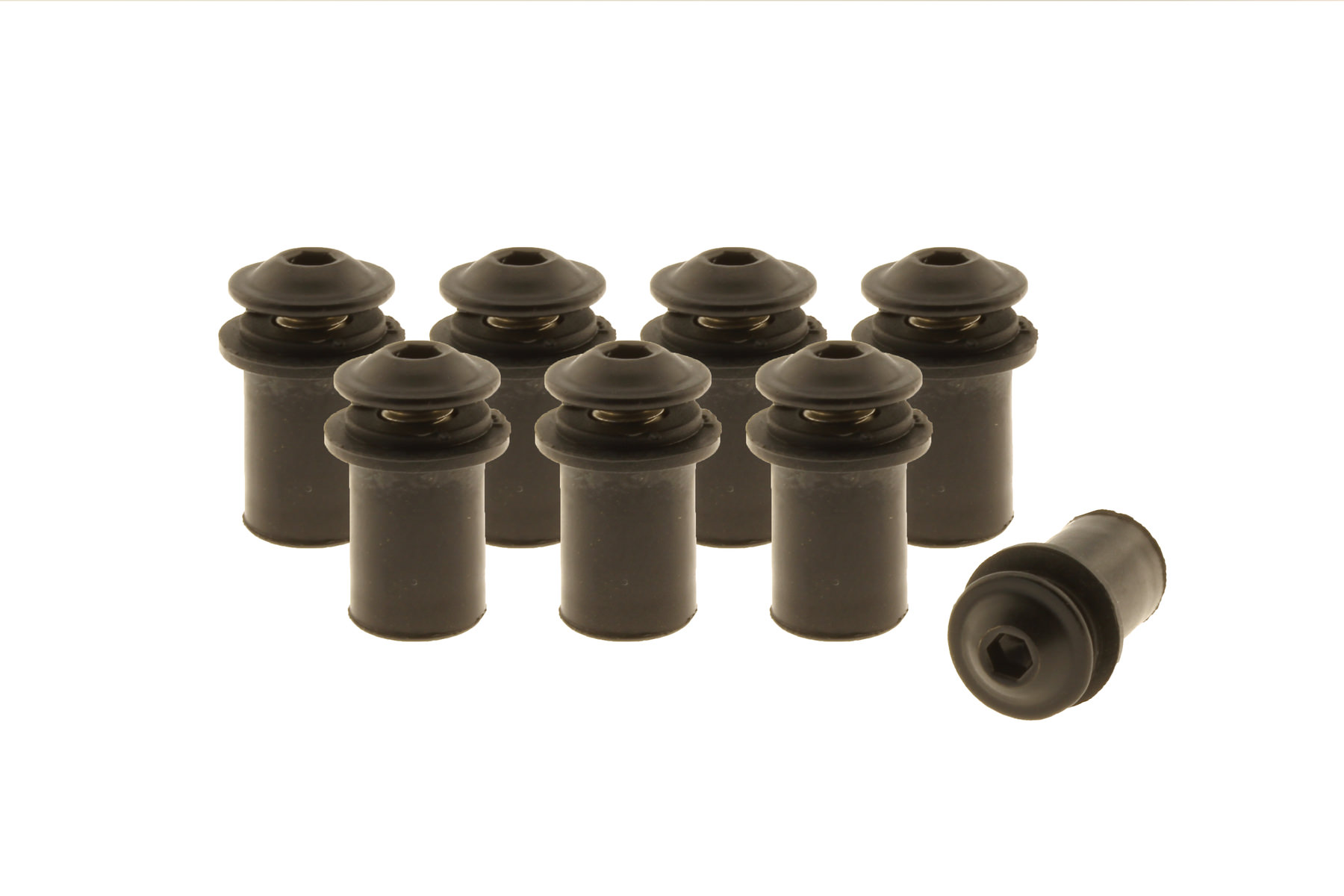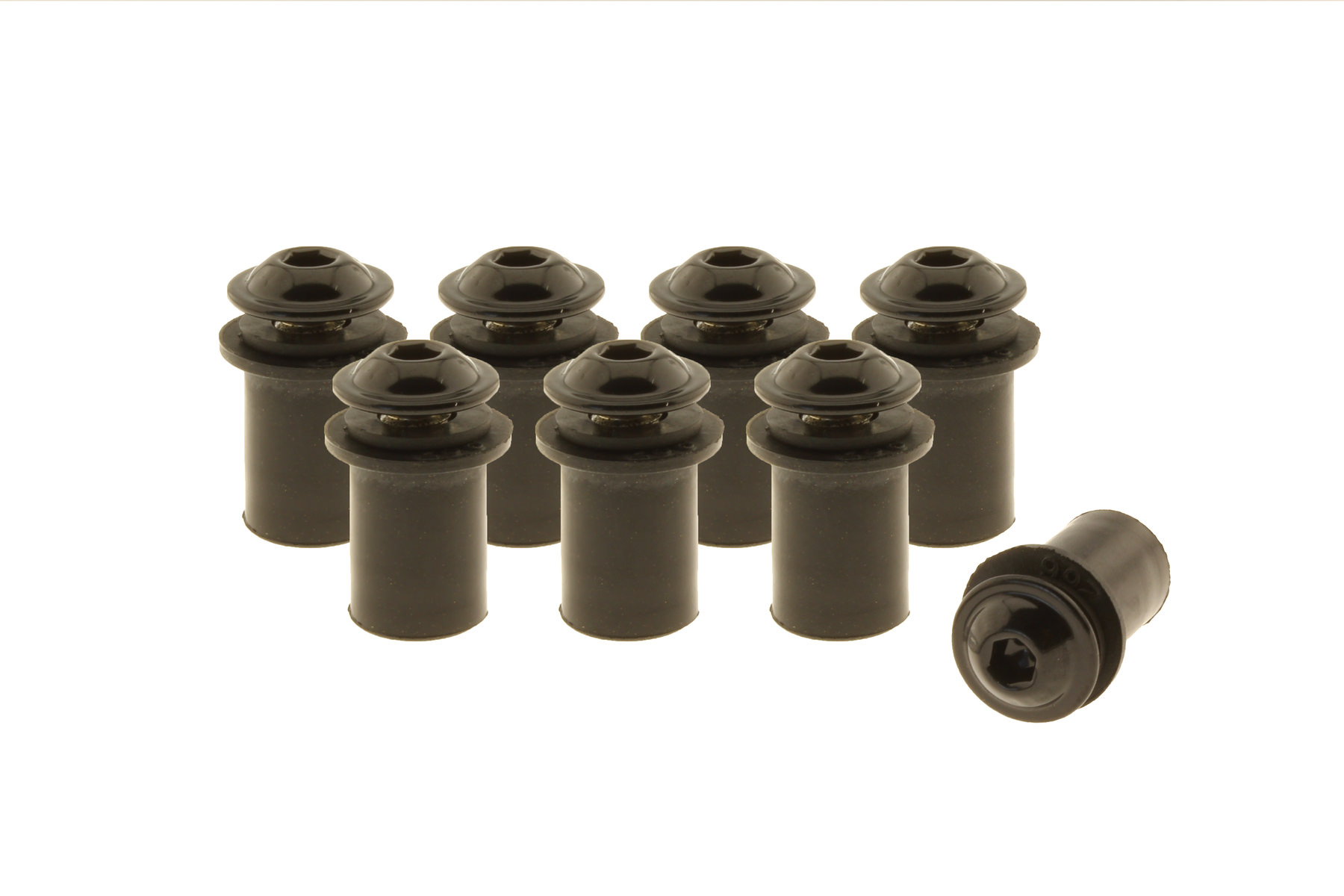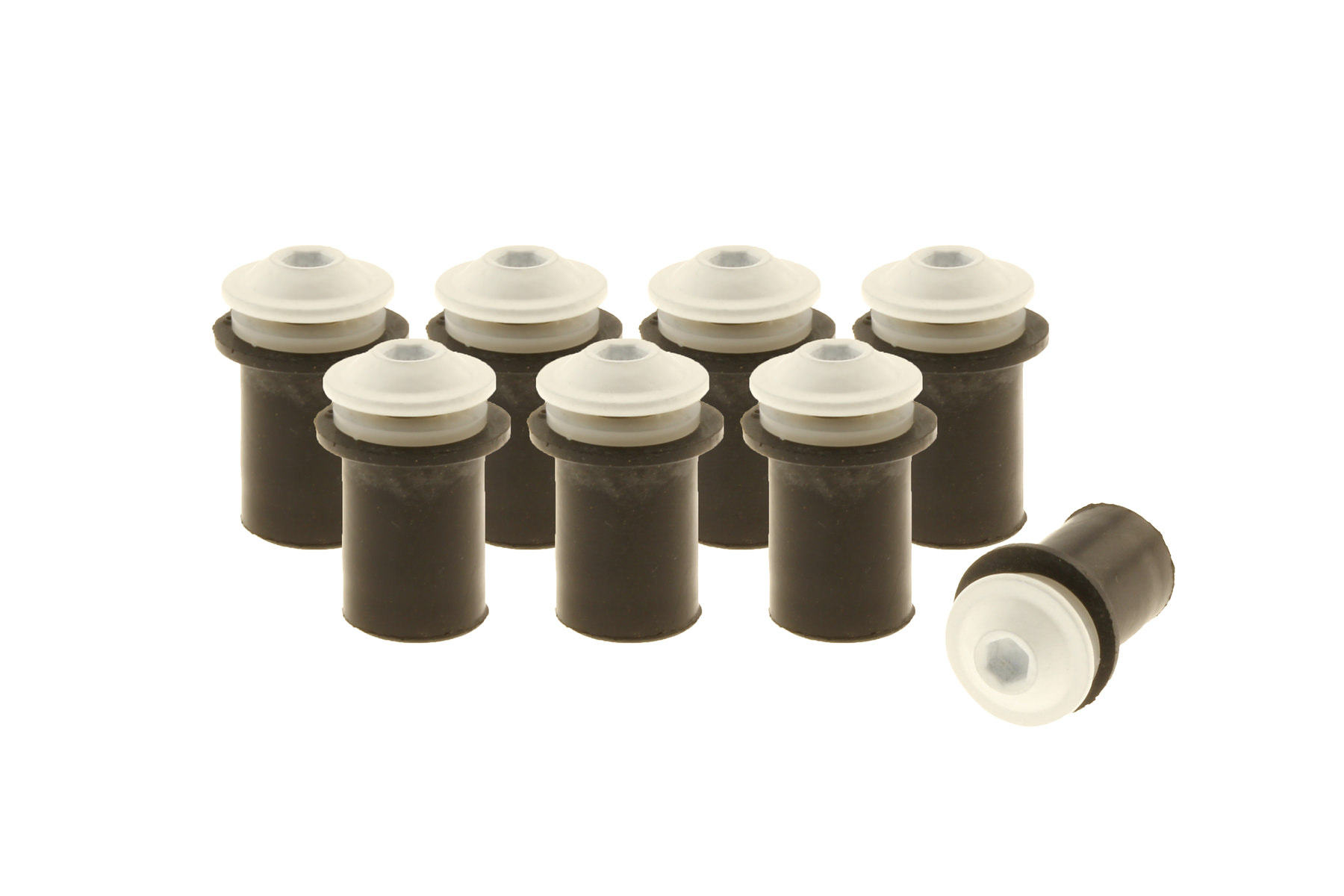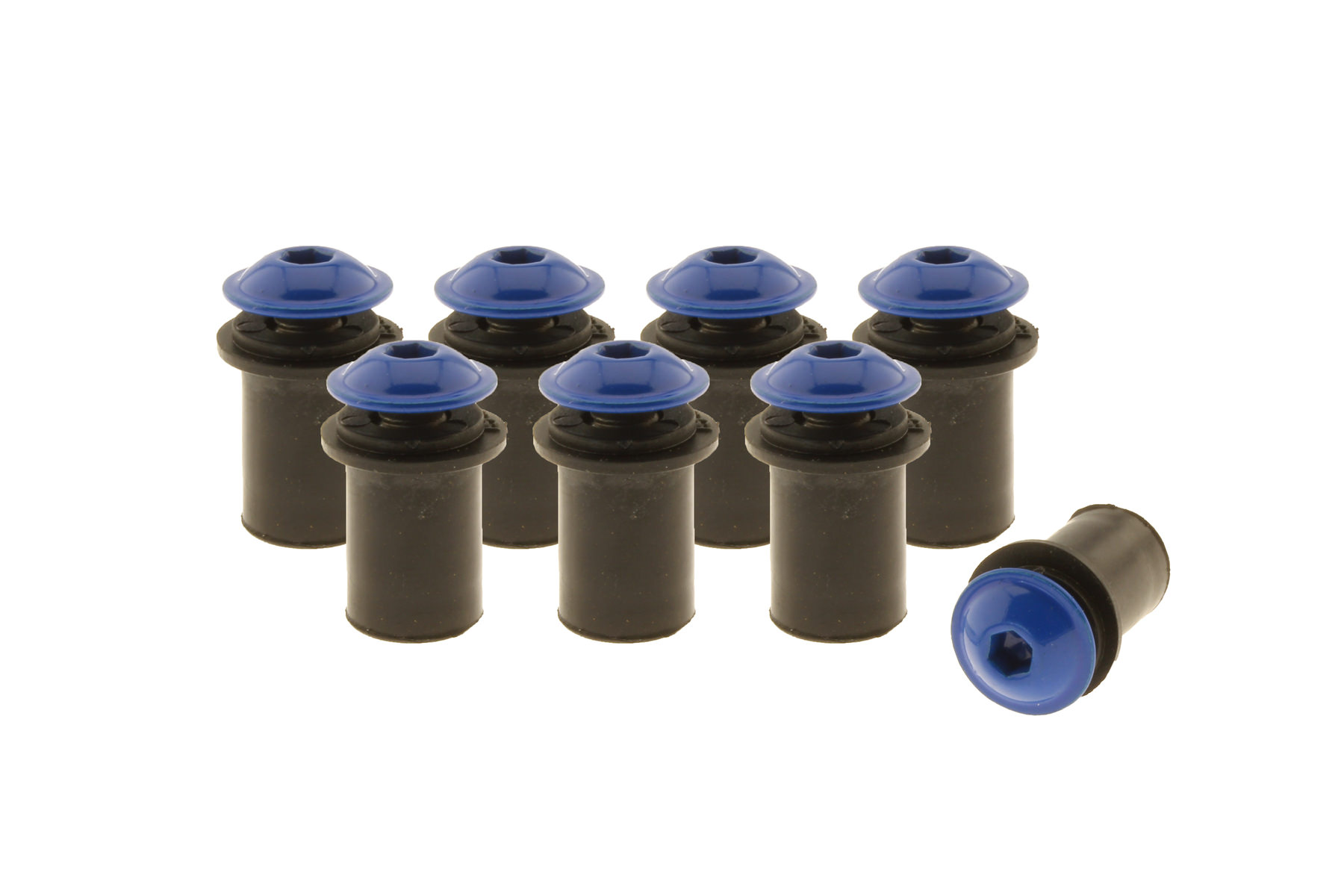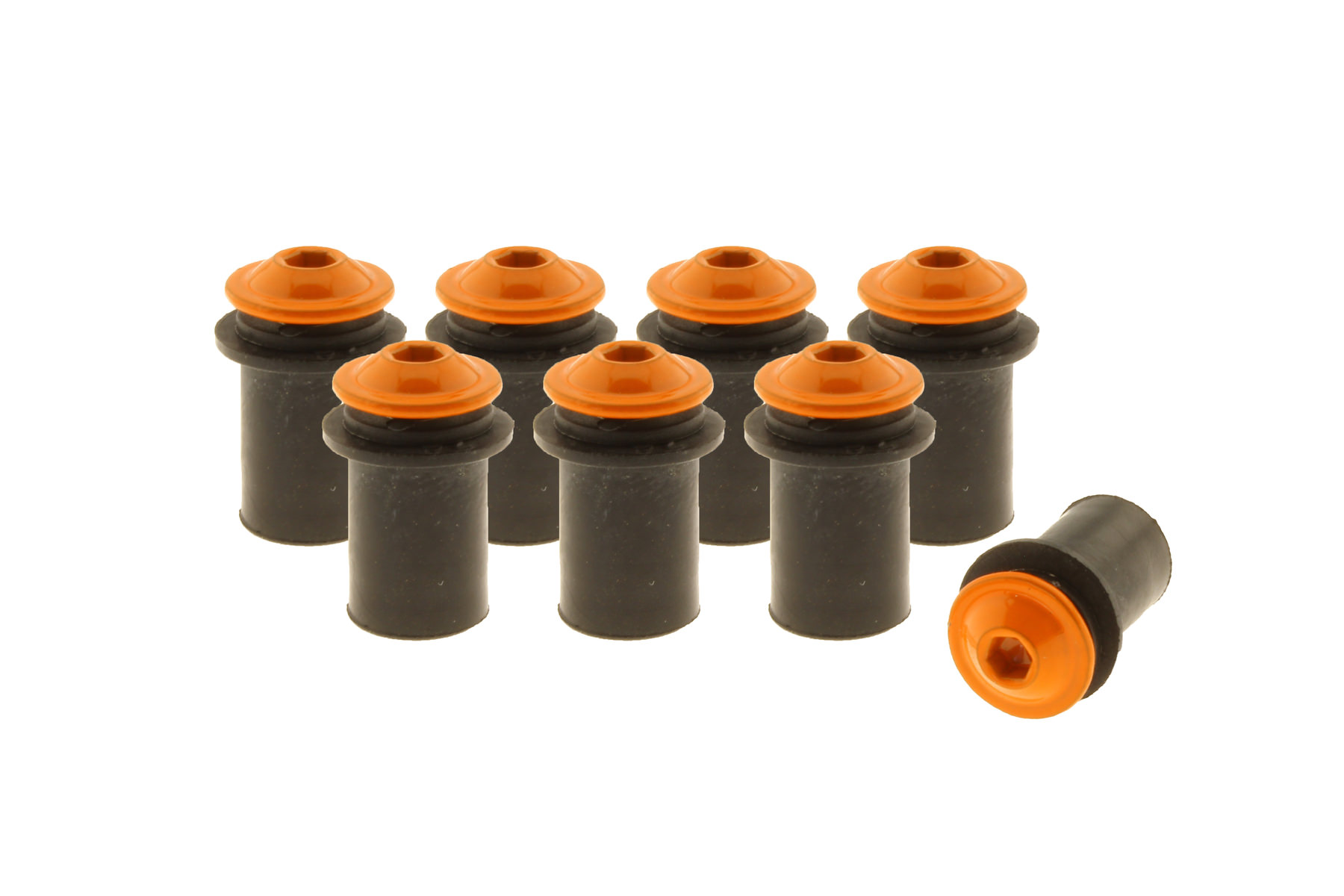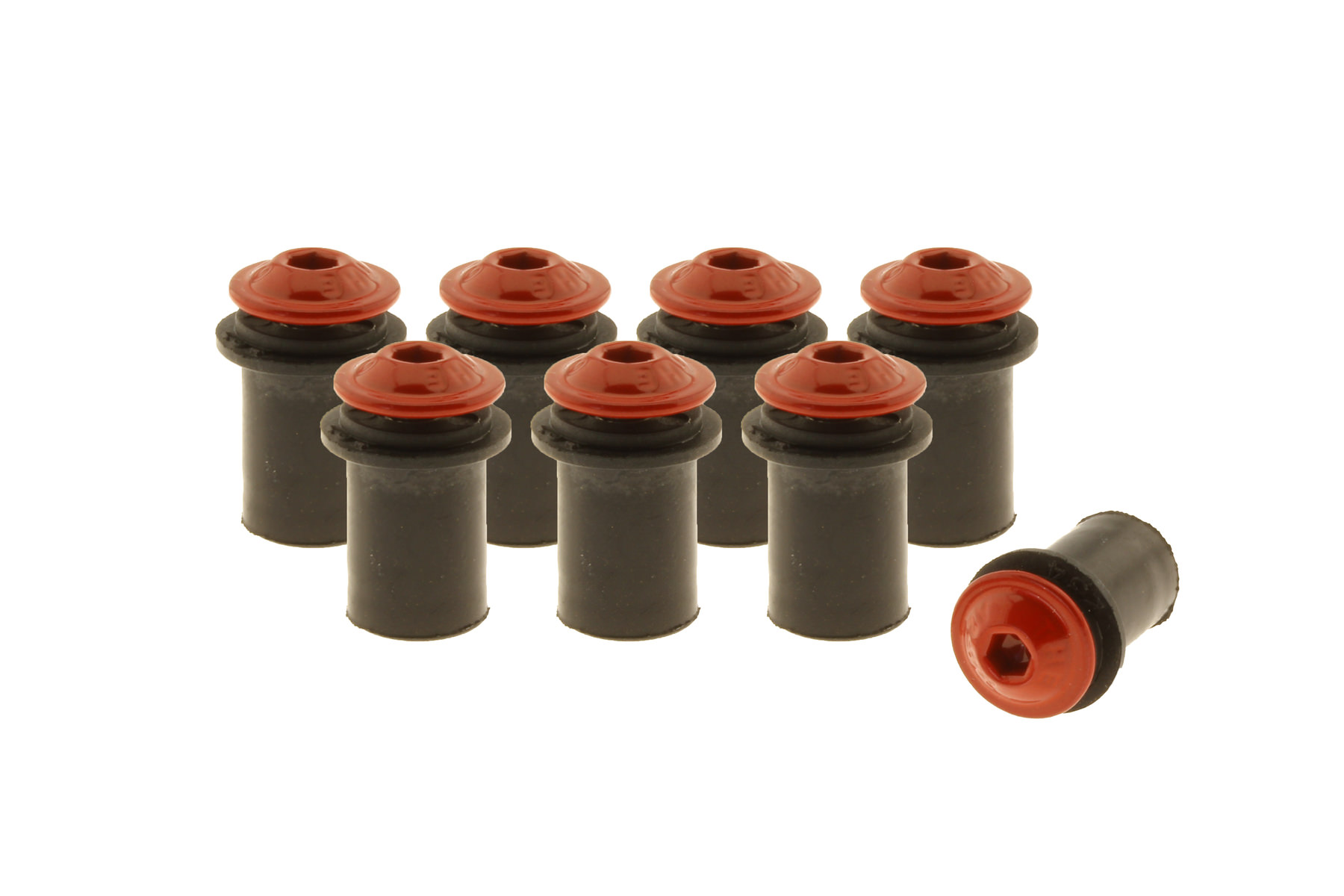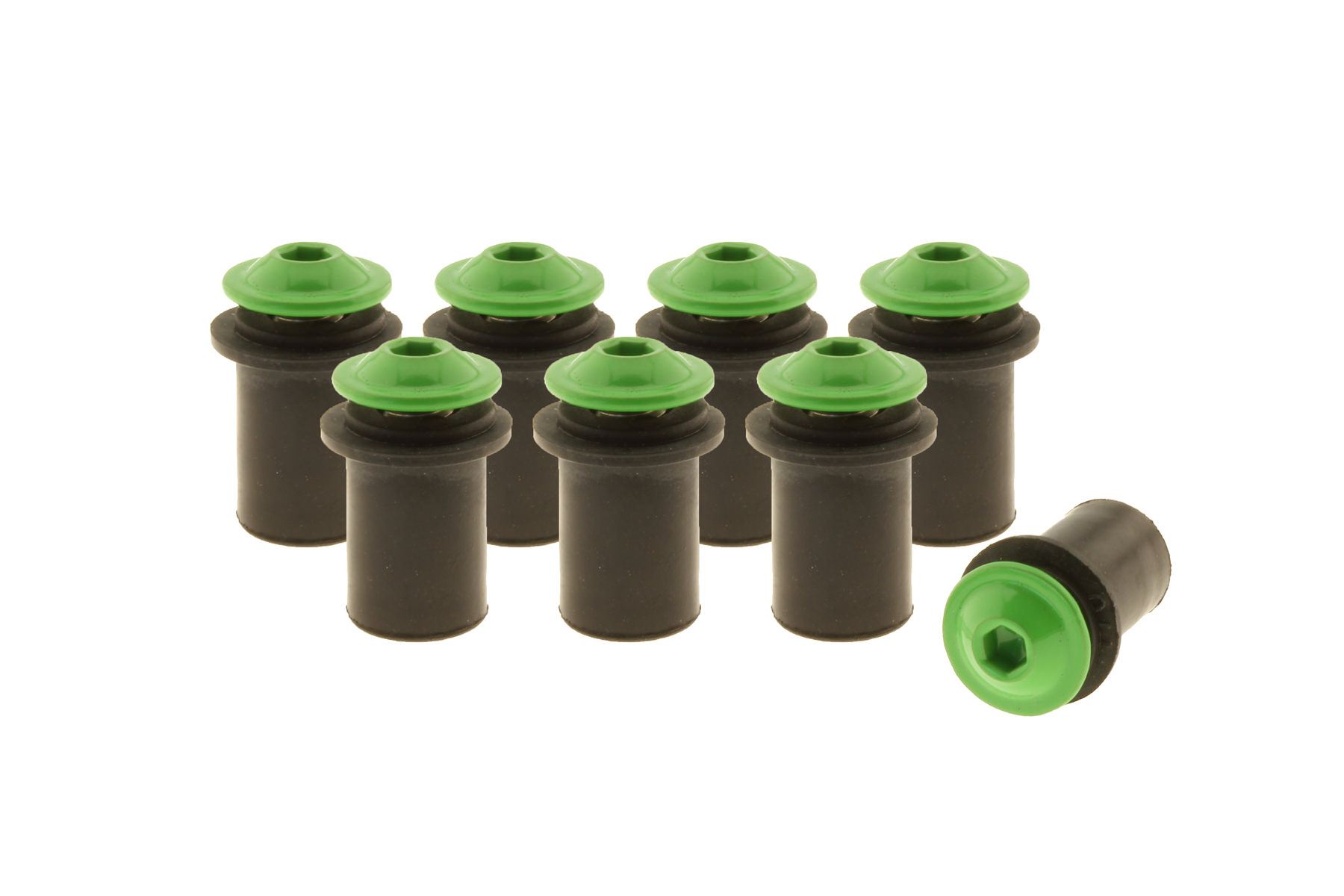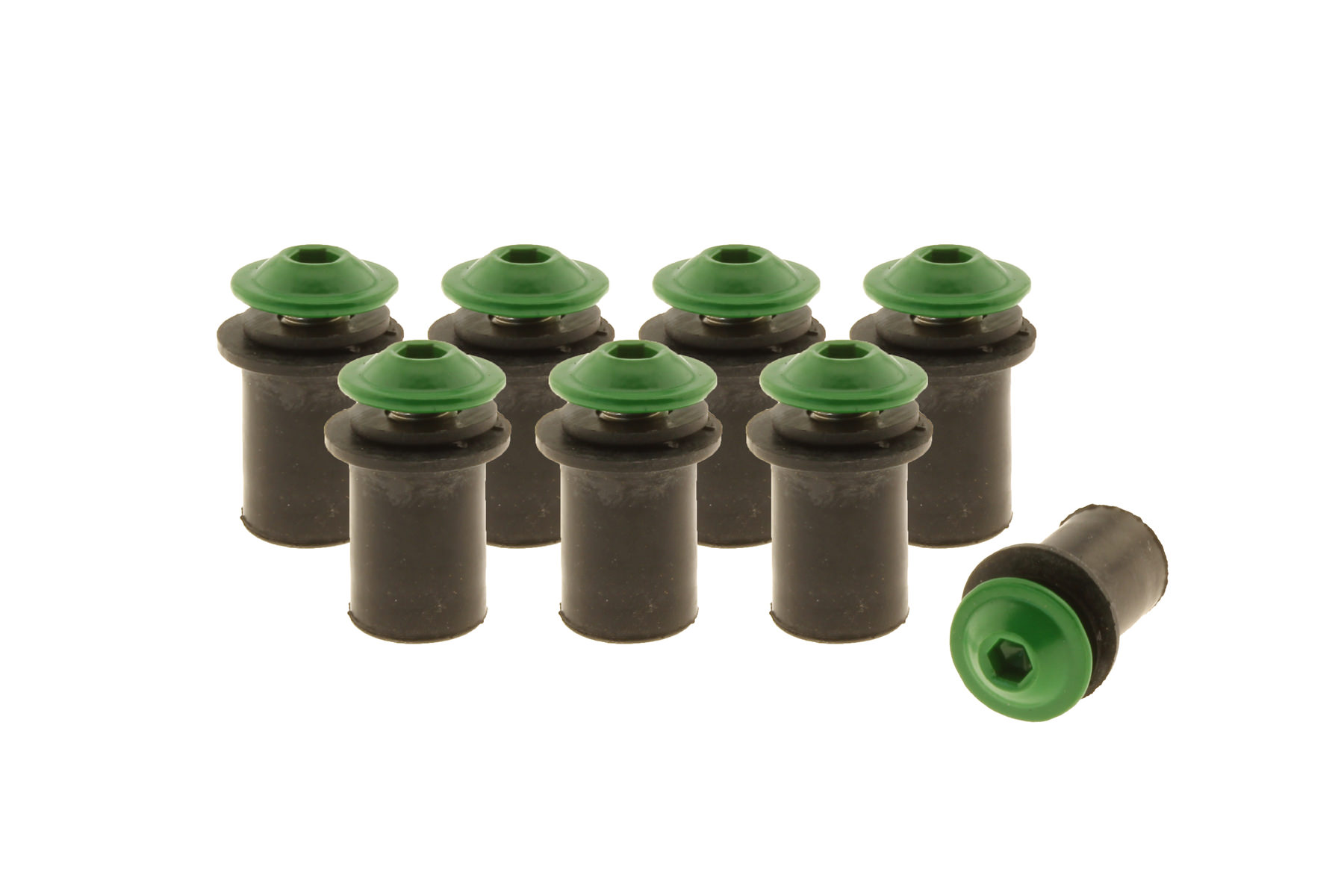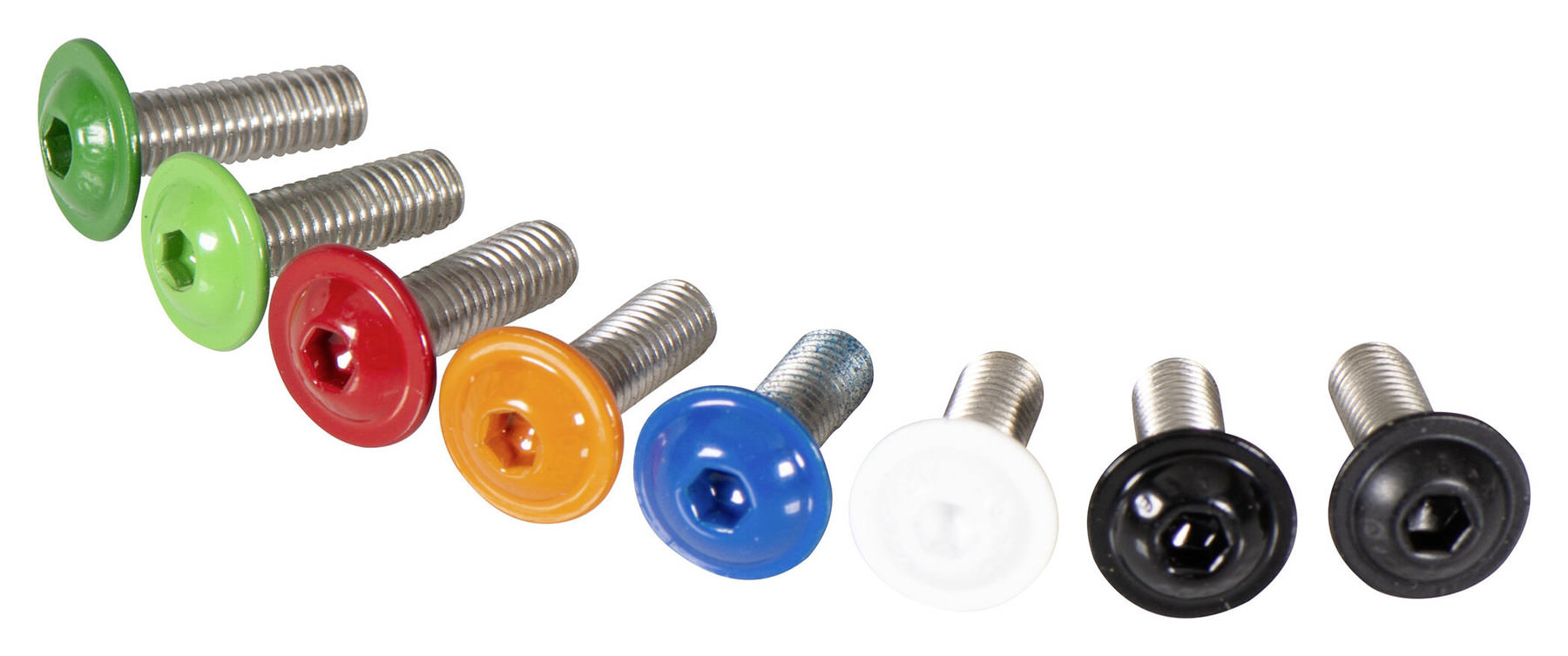 Bolt set for fairing windshields
8-piece in sizes M4, M5 and M6
€

9.991
from
€

2.991
(-70%)
Free delivery on orders over €199.00
2 year return policy
Fast delivery
Bolt set for fairing windshields
8-piece in sizes M4, M5 and M6
The small screws for fairing windshields vary greatly. Not necessarily in terms of their shape, but certainly their colour and the quality of the powder coating. We rate Screws4Bikes very highly.
You would struggle to scratch the bolt heads. They're just so well made!
Quantity: set of 8 bolts, plastic washers and rubber nuts

They come in all the normal fairing colours:

Matt black
Black
White
Blue
Orange
Red
Light green
Green
Available sizes:

M4 x 16 mm
M5 x 16 mm
M6 x 16 mm
Manufacturer details: Screws4Bikes

The fact is, with most stock motorcycles, too little attention is given to the design of screws and bolts. That's why Screws4Bikes offer the perfect alternative for all motorbike perfectionists: metric and imperial screw/bolt sets made of high-grade stainless steel. Very convenient when you're doing a conversion, and you save money at the same time, compared to buying screws and bolts individually. These high-quality screws and bolts come in a range of designs, including with a powder-coated head. So what's the benefit? That extra something for the look of your bike. Plus the reassuring feeling that comes with quality made to last.
Product
Art. No.
Availability
Price
Actions
M4x16 BOLT SET, 8-PIECE - FOR WINDSHIELDS, BLK MATT
10038670

The item is in stock and will be delivered in 2-5 working days. Note: Stocks are updated online every hour on working days from 7 a.m. to 8 p.m., so there is a good chance that the products are available if they appear online.

Available

€11.99 1
M4x16 BOLT SET, 8-PIECE - FOR WINDSHIELDS,BLK GLOSS
10038671

The item is in stock and will be delivered in 2-5 working days. Note: Stocks are updated online every hour on working days from 7 a.m. to 8 p.m., so there is a good chance that the products are available if they appear online.

Available

€11.99 1
M4x16 BOLT SET, 8-PIECE - FOR WINDSHIELDS, WHI MATT
10038672

The item is in stock and will be delivered in 2-5 working days. Note: Stocks are updated online every hour on working days from 7 a.m. to 8 p.m., so there is a good chance that the products are available if they appear online.

Available

Please remember that "Last chance" items can sell out fast, especially when the price has been slashed and the clothes sizes you are looking for are popular. "Last chance" items may no longer be available in all Louis stores!

€9.99

1 €4.99 1
M4x16 BOLT SET, 8-PIECE - FOR WINDSHIELDS,BLU GLOSS
10038673

The item is in stock and will be delivered in 2-5 working days. Note: Stocks are updated online every hour on working days from 7 a.m. to 8 p.m., so there is a good chance that the products are available if they appear online.

Available

€9.99

1 €4.99 1
M4x16 BOLT SET, 8-PIECE - FOR WINDSHIELDS, ORANGE
10038674

The item is in stock and will be delivered in 2-5 working days. Note: Stocks are updated online every hour on working days from 7 a.m. to 8 p.m., so there is a good chance that the products are available if they appear online.

Available

Please remember that "Last chance" items can sell out fast, especially when the price has been slashed and the clothes sizes you are looking for are popular. "Last chance" items may no longer be available in all Louis stores!

€9.99

1 €3.99 1
M4x16 BOLT SET, 8-PIECE - FOR WINDSHIELDS,RED GLOSS
10038675

The item is in stock and will be delivered in 2-5 working days. Note: Stocks are updated online every hour on working days from 7 a.m. to 8 p.m., so there is a good chance that the products are available if they appear online.

Available

€11.99 1
M4x16 BOLT SET, 8-PIECE - FOR WINDSHIELDS,LT GREEN
10038676

The item is in stock and will be delivered in 2-5 working days. Note: Stocks are updated online every hour on working days from 7 a.m. to 8 p.m., so there is a good chance that the products are available if they appear online.

Available

Please remember that "Last chance" items can sell out fast, especially when the price has been slashed and the clothes sizes you are looking for are popular. "Last chance" items may no longer be available in all Louis stores!

€9.99

1 €2.99 1
M4x16 BOLT SET, 8-PIECE - FOR WINDSHIELDS,DK GREEN
10038677

The item is in stock and will be delivered in 2-5 working days. Note: Stocks are updated online every hour on working days from 7 a.m. to 8 p.m., so there is a good chance that the products are available if they appear online.

Available

Please remember that "Last chance" items can sell out fast, especially when the price has been slashed and the clothes sizes you are looking for are popular. "Last chance" items may no longer be available in all Louis stores!

€9.99

1 €2.99 1
M5x16 BOLT SET, 8-PIECE - FOR WINDSHIELDS, BLK MATT
10038678

The item is in stock and will be delivered in 2-5 working days. Note: Stocks are updated online every hour on working days from 7 a.m. to 8 p.m., so there is a good chance that the products are available if they appear online.

Available

€11.99 1
M5x16 BOLT SET, 8-PIECE - FOR WINDSHIELDS,BLK GLOSS
10038679

The item is in stock and will be delivered in 2-5 working days. Note: Stocks are updated online every hour on working days from 7 a.m. to 8 p.m., so there is a good chance that the products are available if they appear online.

Available

€11.99 1
M5x16 BOLT SET, 8-PIECE - FOR WINDSHIELDS, WHI MATT
10038680

The item is in stock and will be delivered in 2-5 working days. Note: Stocks are updated online every hour on working days from 7 a.m. to 8 p.m., so there is a good chance that the products are available if they appear online.

Available

€11.99 1
M5x16 BOLT SET, 8-PIECE - FOR WINDSHIELDS,BLU GLOSS
10038681

The item is in stock and will be delivered in 2-5 working days. Note: Stocks are updated online every hour on working days from 7 a.m. to 8 p.m., so there is a good chance that the products are available if they appear online.

Available

€11.99 1
M5x16 BOLT SET, 8-PIECE - FOR WINDSHIELDS, ORANGE
10038682

The item is in stock and will be delivered in 2-5 working days. Note: Stocks are updated online every hour on working days from 7 a.m. to 8 p.m., so there is a good chance that the products are available if they appear online.

Available

Please remember that "Last chance" items can sell out fast, especially when the price has been slashed and the clothes sizes you are looking for are popular. "Last chance" items may no longer be available in all Louis stores!

€11.99

1 €6.99 1
M5x16 BOLT SET, 8-PIECE - FOR WINDSHIELDS,RED GLOSS
10038683

The item is in stock and will be delivered in 2-5 working days. Note: Stocks are updated online every hour on working days from 7 a.m. to 8 p.m., so there is a good chance that the products are available if they appear online.

Available

€11.99 1
M5x16 BOLT SET, 8-PIECE - FOR WINDSHIELDS,LT GREEN
10038684

The item is in stock and will be delivered in 2-5 working days. Note: Stocks are updated online every hour on working days from 7 a.m. to 8 p.m., so there is a good chance that the products are available if they appear online.

Available

€11.99 1
M5x16 BOLT SET, 8-PIECE - FOR WINDSHIELDS,DK GREEN
10038685

The item is in stock and will be delivered in 2-5 working days. Note: Stocks are updated online every hour on working days from 7 a.m. to 8 p.m., so there is a good chance that the products are available if they appear online.

Available

Please remember that "Last chance" items can sell out fast, especially when the price has been slashed and the clothes sizes you are looking for are popular. "Last chance" items may no longer be available in all Louis stores!

€9.99

1 €4.99 1
M6x16 BOLT SET, 8-PIECE - FOR WINDSHIELDS, BLK MATT
10038686

The item is in stock and will be delivered in 2-5 working days. Note: Stocks are updated online every hour on working days from 7 a.m. to 8 p.m., so there is a good chance that the products are available if they appear online.

Available

€12.99 1
M6x16 BOLT SET, 8-PIECE - FOR WINDSHIELDS,BLK GLOSS
10038687

The item is in stock and will be delivered in 2-5 working days. Note: Stocks are updated online every hour on working days from 7 a.m. to 8 p.m., so there is a good chance that the products are available if they appear online.

Available

€12.99 1
M6x16 BOLT SET, 8-PIECE - FOR WINDSHIELDS, WHI MATT
10038688

The item is in stock and will be delivered in 2-5 working days. Note: Stocks are updated online every hour on working days from 7 a.m. to 8 p.m., so there is a good chance that the products are available if they appear online.

Available

€12.99 1
M6x16 BOLT SET, 8-PIECE - FOR WINDSHIELDS,BLU GLOSS
10038689

The item is in stock and will be delivered in 2-5 working days. Note: Stocks are updated online every hour on working days from 7 a.m. to 8 p.m., so there is a good chance that the products are available if they appear online.

Available

€12.99 1
M6x16 BOLT SET, 8-PIECE - FOR WINDSHIELDS, ORANGE
10038690

The item is in stock and will be delivered in 2-5 working days. Note: Stocks are updated online every hour on working days from 7 a.m. to 8 p.m., so there is a good chance that the products are available if they appear online.

Available

Please remember that "Last chance" items can sell out fast, especially when the price has been slashed and the clothes sizes you are looking for are popular. "Last chance" items may no longer be available in all Louis stores!

€12.99

1 €6.99 1
M6x16 BOLT SET, 8-PIECE - FOR WINDSHIELDS,RED GLOSS
10038691

The item is in stock and will be delivered in 2-5 working days. Note: Stocks are updated online every hour on working days from 7 a.m. to 8 p.m., so there is a good chance that the products are available if they appear online.

Available

€12.99 1
M6x16 BOLT SET, 8-PIECE - FOR WINDSHIELDS,LT GREEN
10038741

The item is in stock and will be delivered in 2-5 working days. Note: Stocks are updated online every hour on working days from 7 a.m. to 8 p.m., so there is a good chance that the products are available if they appear online.

Available

Please remember that "Last chance" items can sell out fast, especially when the price has been slashed and the clothes sizes you are looking for are popular. "Last chance" items may no longer be available in all Louis stores!

€9.99

1 €2.99 1
M6x16 BOLT SET, 8-PIECE - FOR WINDSHIELDS,DK GREEN
10038742

The item is in stock and will be delivered in 2-5 working days. Note: Stocks are updated online every hour on working days from 7 a.m. to 8 p.m., so there is a good chance that the products are available if they appear online.

Available

Please remember that "Last chance" items can sell out fast, especially when the price has been slashed and the clothes sizes you are looking for are popular. "Last chance" items may no longer be available in all Louis stores!

€9.99

1 €4.99 1