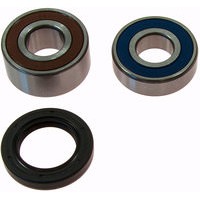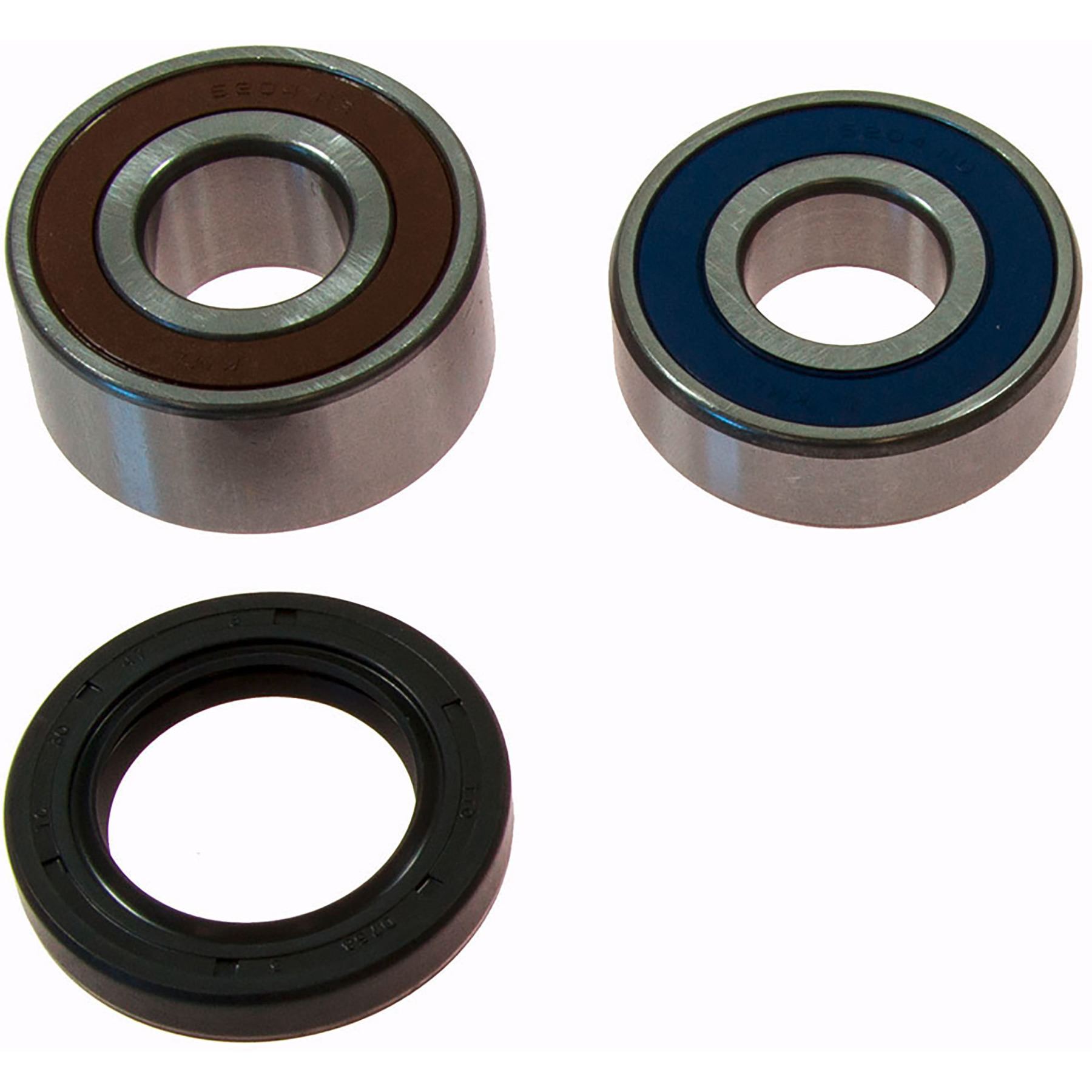 COMPL. WHEEL BEARING SET
ABR 25-1020
This product is available at week 17.
Current calendar week: 14
Available as of calendar week 17
Free delivery on orders over €199.00
2 year return policy
Purchase on invoice
Fast Delivery
Go to currency converter
Please select the desired exchange rate* and enter an amount.
* The source of the exchange rate is the European Central Bank. (As at 03.04.2020). The exchange rate is for information purposes only; it does not provide binding prices for an exchange. In practice, for individual exchanges, the prices for buying and selling currencies can deviate to a greater or lesser extent from these rates – depending on the country, financial institution or bureau de change and also the method of payment. The conversion is given as an indication only.
All Balls Racing Wheel Bearing Set
Tolerance class ABEC 3
After thousands of kilometers, even the best wheel bearing will be broken one day and you need new ones. For example, the complete wheel bearing sets from All Balls Racing. These are high-speed wheel bearings manufactured according to tolerance class ABEC 3. Special, integrated lip seals made of rubber protect the All Balls wheel bearings from dirt and water, thus keeping the bearing grease clean. For long bearing life.
Scope of delivery:
1 wheel bearing complete set for front or rear, including radial shaft seals (further details on scope of delivery can be found under the heading Documents)
Product
Order no.
Availability
Price
Actions
COMPL. WHEEL BEARING SET - 25-1392
10051506

The item is in stock and will be delivered in 2-4 working days. Note: Stocks are updated online every hour on working days from 7 a.m. to 8 p.m., so there is a good chance that the products are available if they appear online.

Available

€57.99 1
COMPL. WHEEL BEARING SET - ABR 25-1020
10051522

This product is available at week 17.
Current calendar week: 14

Available as of calendar week 17

€40.99 1
COMPL. WHEEL BEARING SET - ABR 25-1077
10051509

The item is in stock and will be delivered in 2-4 working days. Note: Stocks are updated online every hour on working days from 7 a.m. to 8 p.m., so there is a good chance that the products are available if they appear online.

Available

€23.99 1
COMPL. WHEEL BEARING SET - ABR 25-1111
10051515

The item is in stock and will be delivered in 2-4 working days. Note: Stocks are updated online every hour on working days from 7 a.m. to 8 p.m., so there is a good chance that the products are available if they appear online.

Available

€37.99 1
COMPL. WHEEL BEARING SET - ABR 25-1120
10051517

The item is in stock and will be delivered in 2-4 working days. Note: Stocks are updated online every hour on working days from 7 a.m. to 8 p.m., so there is a good chance that the products are available if they appear online.

Available

€16.99 1
COMPL. WHEEL BEARING SET - ABR 25-1147
10051502

The item is in stock and will be delivered in 2-4 working days. Note: Stocks are updated online every hour on working days from 7 a.m. to 8 p.m., so there is a good chance that the products are available if they appear online.

Available

€14.99 1
COMPL. WHEEL BEARING SET - ABR 25-1210
10051513

The item is in stock and will be delivered in 2-4 working days. Note: Stocks are updated online every hour on working days from 7 a.m. to 8 p.m., so there is a good chance that the products are available if they appear online.

Available

€13.99 1
COMPL. WHEEL BEARING SET - ABR 25-1222
10051512

The item is in stock and will be delivered in 2-4 working days. Note: Stocks are updated online every hour on working days from 7 a.m. to 8 p.m., so there is a good chance that the products are available if they appear online.

Available

€22.99 1
COMPL. WHEEL BEARING SET - ABR 25-1230
10051523

The item is in stock and will be delivered in 2-4 working days. Note: Stocks are updated online every hour on working days from 7 a.m. to 8 p.m., so there is a good chance that the products are available if they appear online.

Available

€25.99 1
COMPL. WHEEL BEARING SET - ABR 25-1238
10051520

The item is in stock and will be delivered in 2-4 working days. Note: Stocks are updated online every hour on working days from 7 a.m. to 8 p.m., so there is a good chance that the products are available if they appear online.

Available

€48.99 1
COMPL. WHEEL BEARING SET - ABR 25-1257
10051507

The item is in stock and will be delivered in 2-4 working days. Note: Stocks are updated online every hour on working days from 7 a.m. to 8 p.m., so there is a good chance that the products are available if they appear online.

Available

€42.99 1
COMPL. WHEEL BEARING SET - ABR 25-1269
10051518

The item is in stock and will be delivered in 2-4 working days. Note: Stocks are updated online every hour on working days from 7 a.m. to 8 p.m., so there is a good chance that the products are available if they appear online.

Available

€34.99 1
COMPL. WHEEL BEARING SET - ABR 25-1273
10051500

The item is in stock and will be delivered in 2-4 working days. Note: Stocks are updated online every hour on working days from 7 a.m. to 8 p.m., so there is a good chance that the products are available if they appear online.

Available

€27.99 1
COMPL. WHEEL BEARING SET - ABR 25-1276
10051505

The item is in stock and will be delivered in 2-4 working days. Note: Stocks are updated online every hour on working days from 7 a.m. to 8 p.m., so there is a good chance that the products are available if they appear online.

Available

€26.99 1
COMPL. WHEEL BEARING SET - ABR 25-1316
10051516

The item is in stock and will be delivered in 2-4 working days. Note: Stocks are updated online every hour on working days from 7 a.m. to 8 p.m., so there is a good chance that the products are available if they appear online.

Available

€26.99 1
COMPL. WHEEL BEARING SET - ABR 25-1334
10051514

The item is in stock and will be delivered in 2-4 working days. Note: Stocks are updated online every hour on working days from 7 a.m. to 8 p.m., so there is a good chance that the products are available if they appear online.

Available

€28.99 1
COMPL. WHEEL BEARING SET - ABR 25-1351
10051504

The item is in stock and will be delivered in 2-4 working days. Note: Stocks are updated online every hour on working days from 7 a.m. to 8 p.m., so there is a good chance that the products are available if they appear online.

Available

€15.99 1
COMPL. WHEEL BEARING SET - ABR 25-1378
10051519

The item is in stock and will be delivered in 2-4 working days. Note: Stocks are updated online every hour on working days from 7 a.m. to 8 p.m., so there is a good chance that the products are available if they appear online.

Available

€27.99 1
COMPL. WHEEL BEARING SET - ABR 25-1379
10051508

The item is in stock and will be delivered in 2-4 working days. Note: Stocks are updated online every hour on working days from 7 a.m. to 8 p.m., so there is a good chance that the products are available if they appear online.

Available

€21.99 1
COMPL. WHEEL BEARING SET - ABR 25-1389
10051521

The item is in stock and will be delivered in 2-4 working days. Note: Stocks are updated online every hour on working days from 7 a.m. to 8 p.m., so there is a good chance that the products are available if they appear online.

Available

€22.99 1
COMPL. WHEEL BEARING SET - ABR 25-1402
10051501

The item is in stock and will be delivered in 2-4 working days. Note: Stocks are updated online every hour on working days from 7 a.m. to 8 p.m., so there is a good chance that the products are available if they appear online.

Available

€32.99 1
COMPL. WHEEL BEARING SET - ABR 25-1403
10051503

The item is in stock and will be delivered in 2-4 working days. Note: Stocks are updated online every hour on working days from 7 a.m. to 8 p.m., so there is a good chance that the products are available if they appear online.

Available

€35.99 1
COMPL. WHEEL BEARING SET - ABR 25-1404
10051525

The item is in stock and will be delivered in 2-4 working days. Note: Stocks are updated online every hour on working days from 7 a.m. to 8 p.m., so there is a good chance that the products are available if they appear online.

Available

€27.99 1
COMPL. WHEEL BEARING SET - ABR 25-1510
10051510

The item is in stock and will be delivered in 2-4 working days. Note: Stocks are updated online every hour on working days from 7 a.m. to 8 p.m., so there is a good chance that the products are available if they appear online.

Available

€22.99 1
COMPL. WHEEL BEARING SET - ABR 25-1605
10051524

The item is in stock and will be delivered in 2-4 working days. Note: Stocks are updated online every hour on working days from 7 a.m. to 8 p.m., so there is a good chance that the products are available if they appear online.

Available

€29.99 1
COMPL. WHEEL BEARING SET - ABR 25-1653
10051511

The item is in stock and will be delivered in 2-4 working days. Note: Stocks are updated online every hour on working days from 7 a.m. to 8 p.m., so there is a good chance that the products are available if they appear online.

Available

€26.99 1